Pickup truck nation
Welcome to the USA, the land of the pickup truck. You can't understate just how popular the pickup is on the roads and highways of the United States. For years, the two best-selling vehicles in this country have routinely been the Ford F-Series pickup and its rival, the Chevrolet Silverado. Naturally the aftermarket is there to follow.
It's no surprise then the pickup trucks make up a huge part of the SEMA Show every year, where it seems like more than half of the vehicles on display are a pickup of some sort. In the past we've usually skipped over most of these trucks during our coverage, but this year I thought I'd spend a little more time investigating the SEMA truck scene.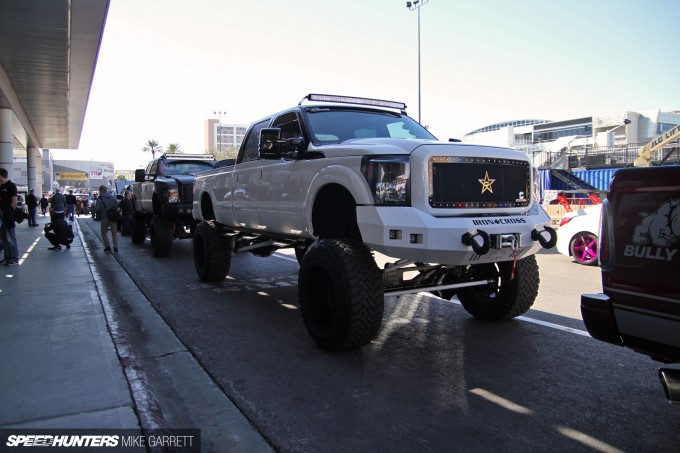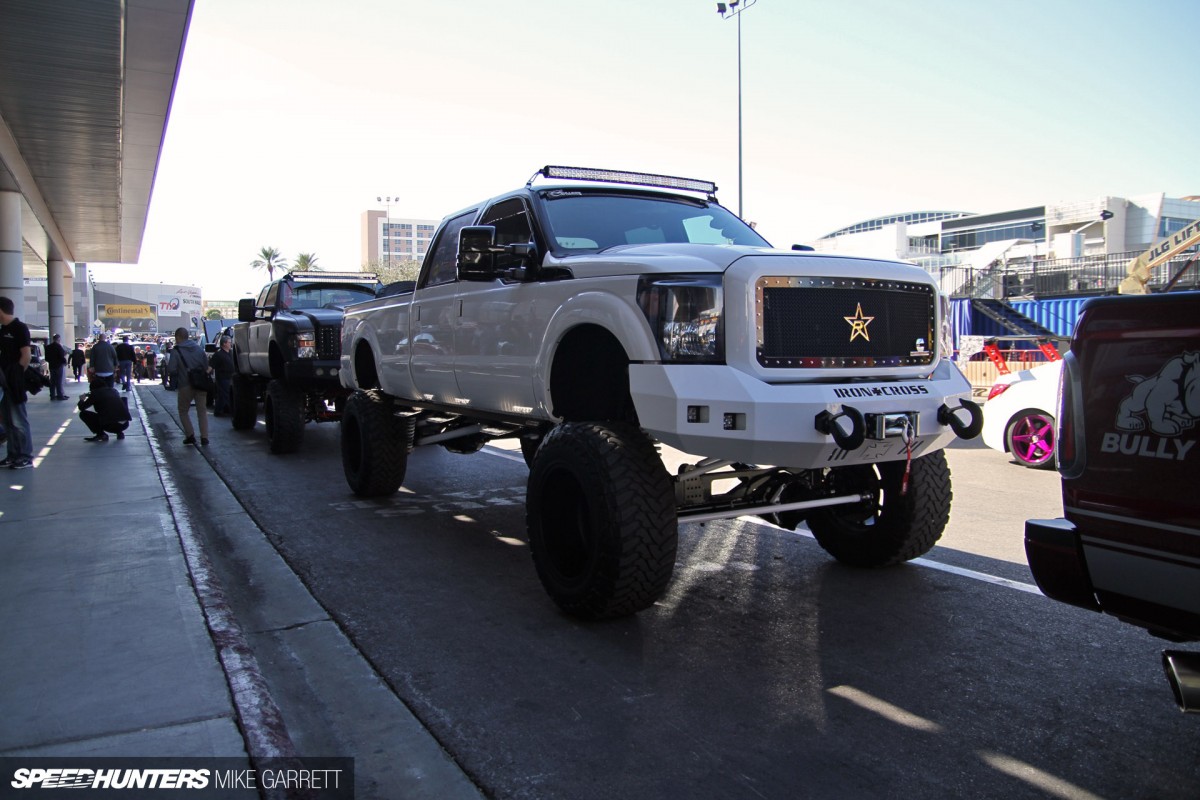 Many of the trucks shown at SEMA are gigantic beasts with outrageous lift kits or dubbed out SUVs that I find pretty cheesy. Obviously I'm not going to be covering that sort of thing in here, but you might be surprised to find out just how cool some of the trucks of SEMA are.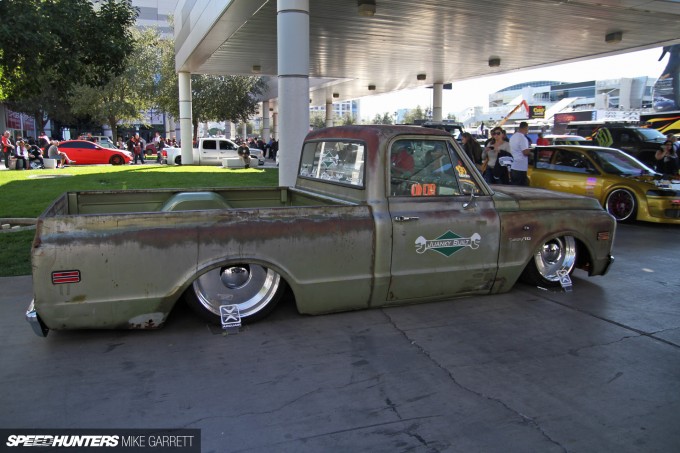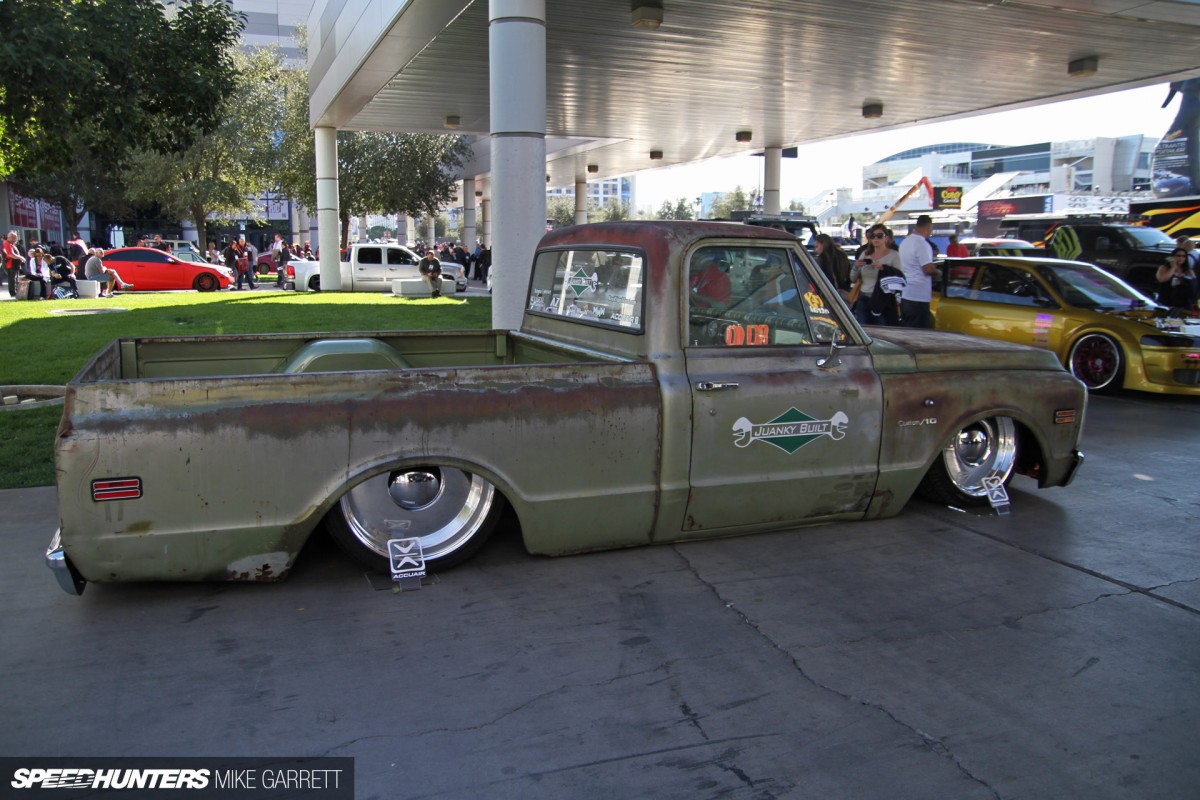 As you'll see, many of the trucks I decided to share are from the lower end of the ride height spectrum – and these slammed pickups were out in big numbers.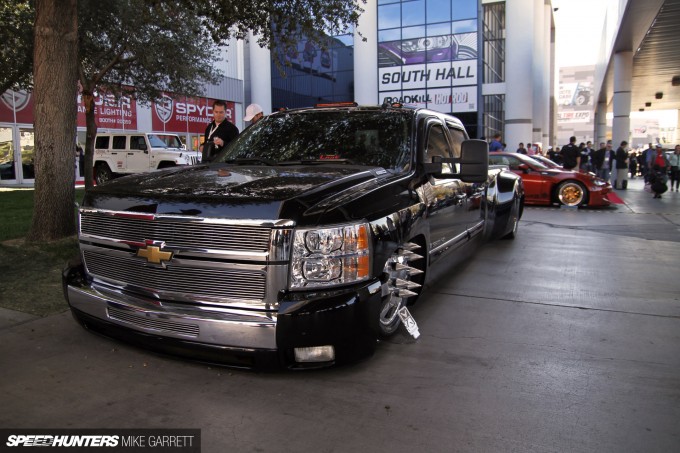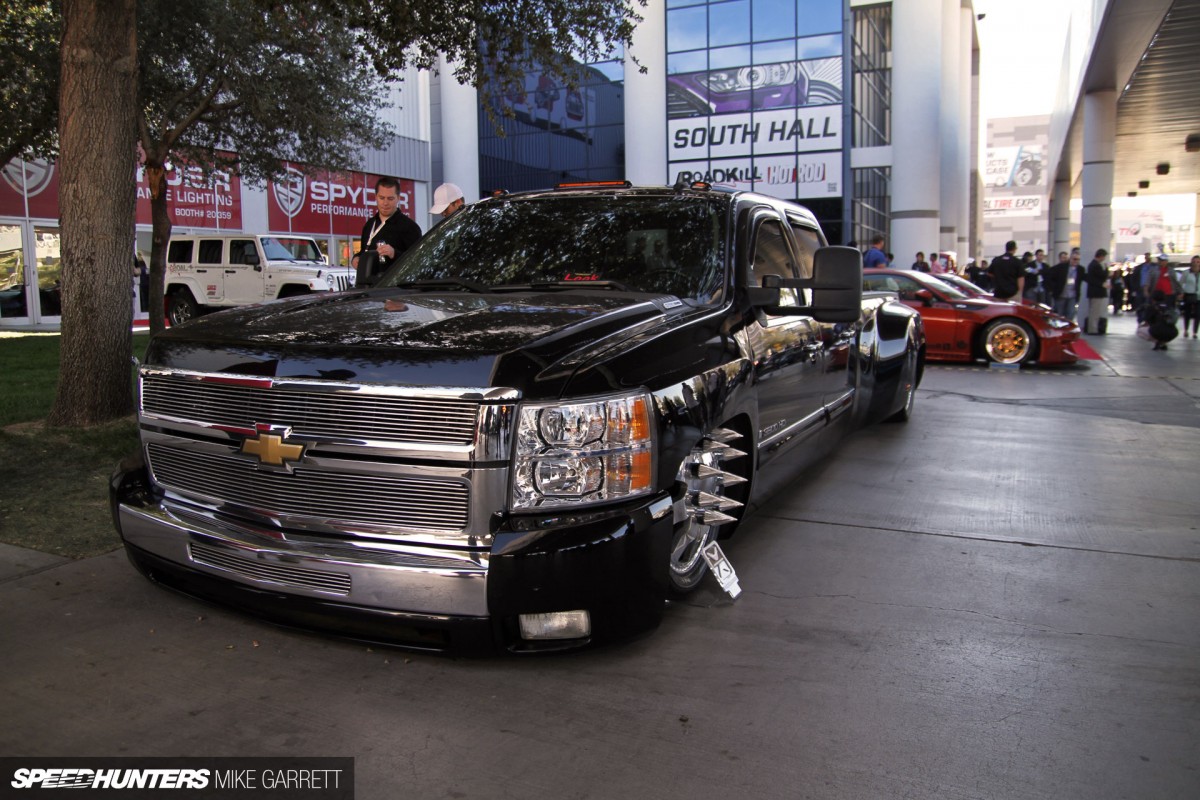 And really, when it comes to customized pickup trucks there's no middle ground – you either make the thing sit as high as possible, or as low as possible. I guess I'm just a sucker for a vehicle that's sitting on the ground – be it a sports car, pickup, delivery van or anything else.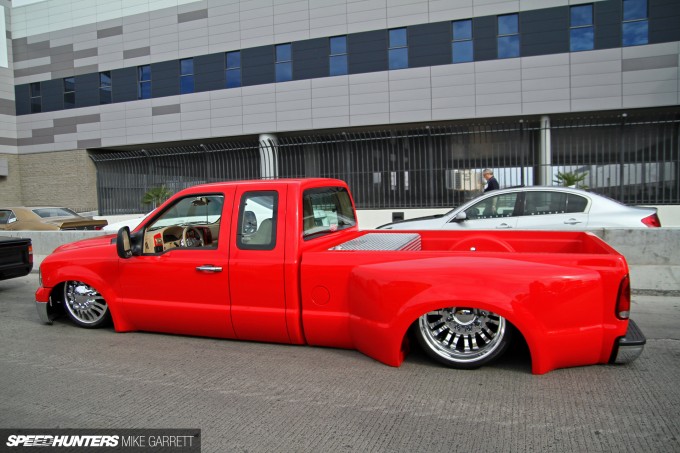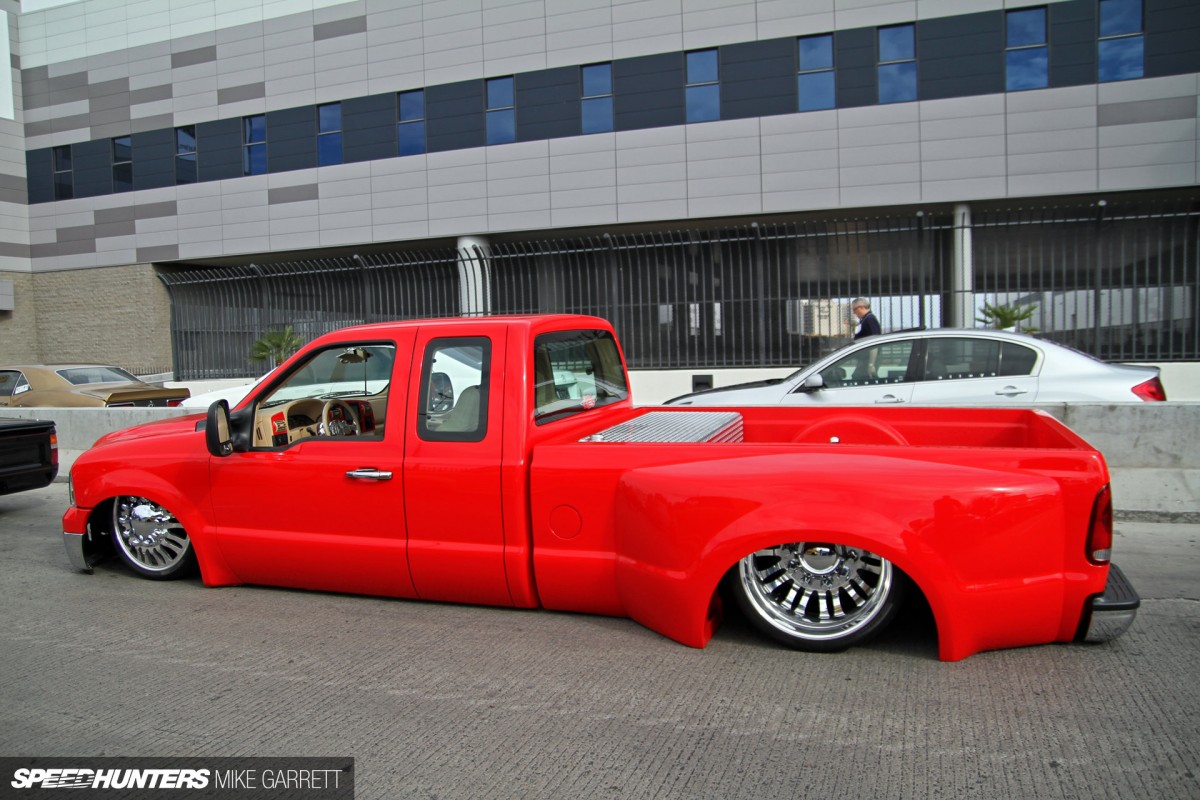 There's something especially cool about a slammed dually. I remember loving the look of a lowered dually when I was a kid, and the feeling has never gone away – even as the trucks have grown bigger and more high tech.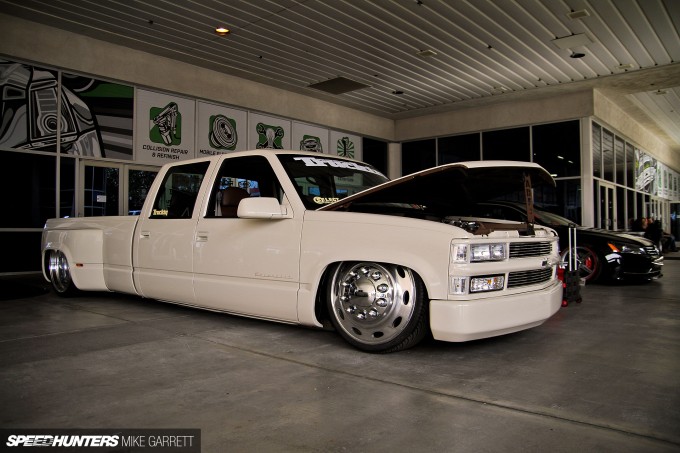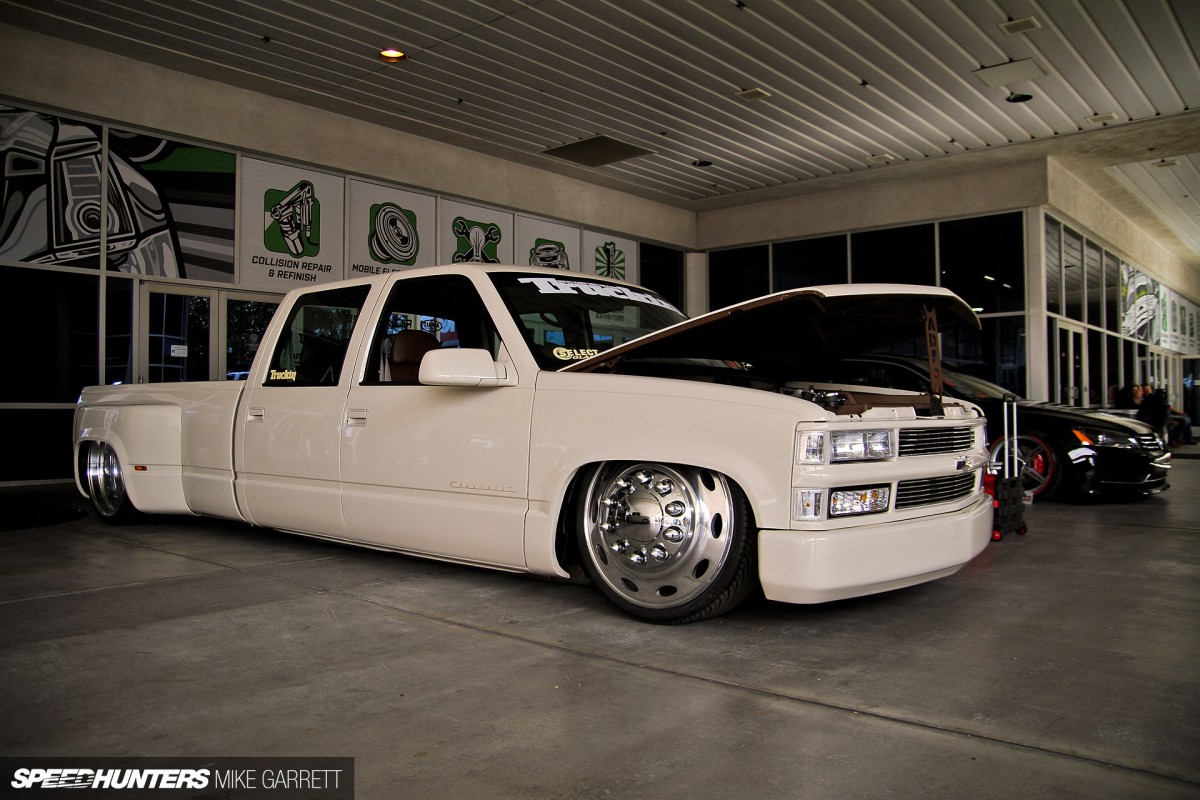 Ah yes, here's a good example of the classic style Chevy dually. The ones I remember didn't sit quite this low or have wheels quite this big, but the feeling is all the same.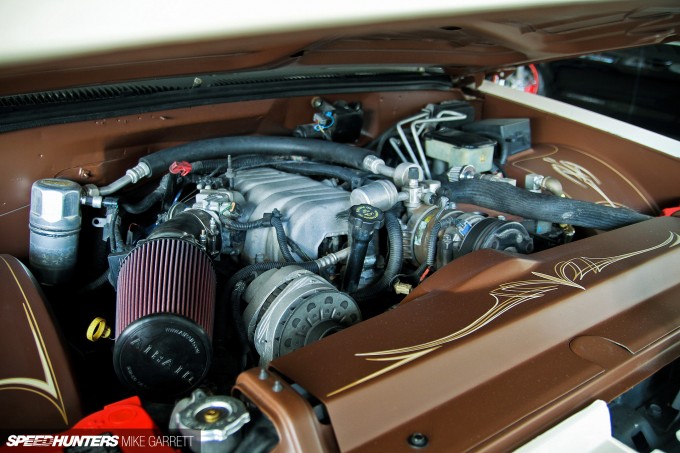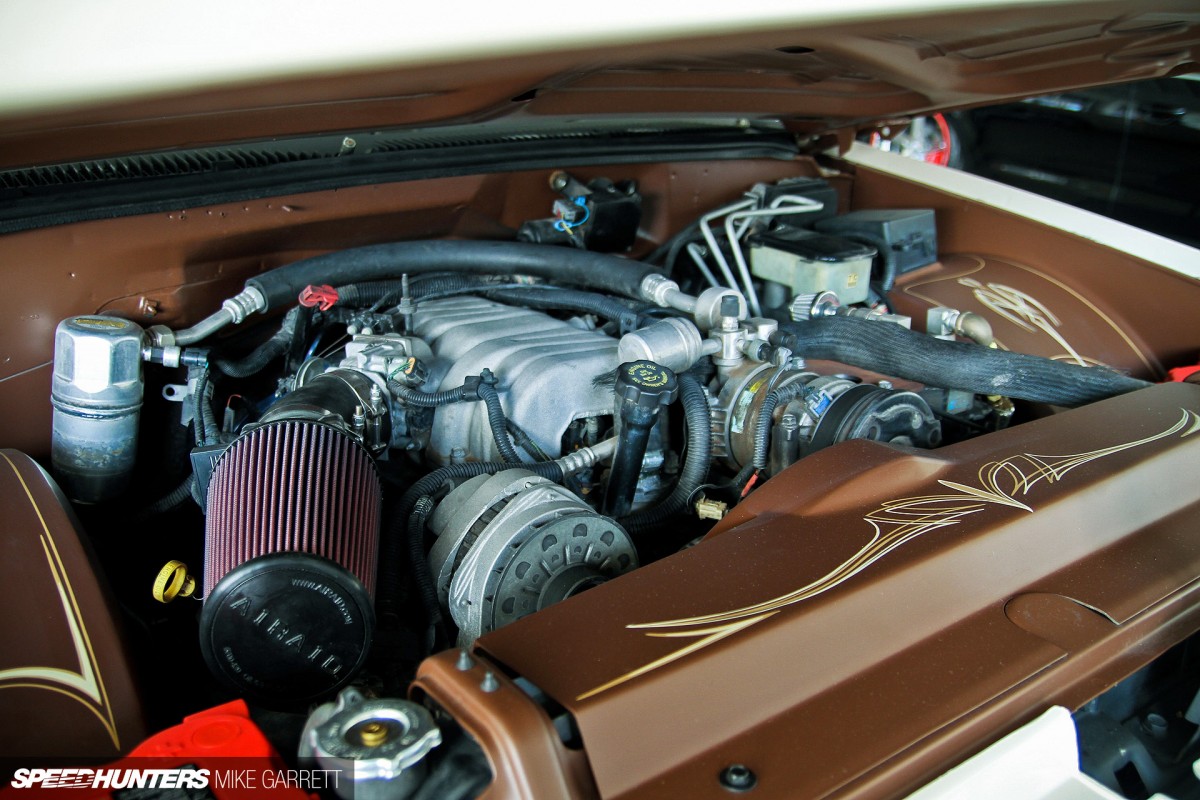 But of course a lot of these trucks have an appeal that goes beyond the exterior. Many of them are also packing engine swaps or other high horsepower goodies under their hoods…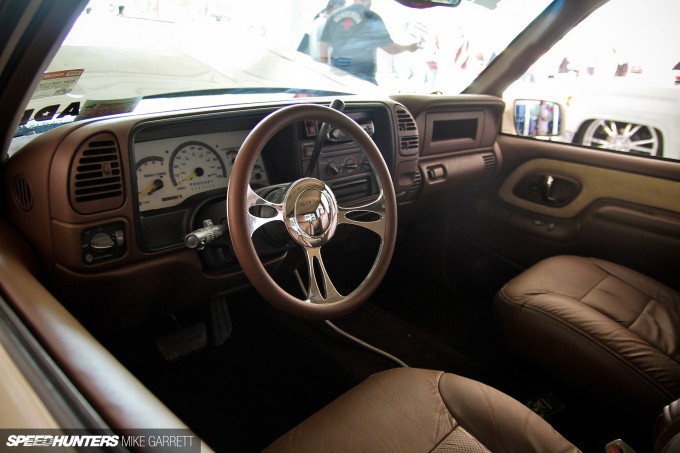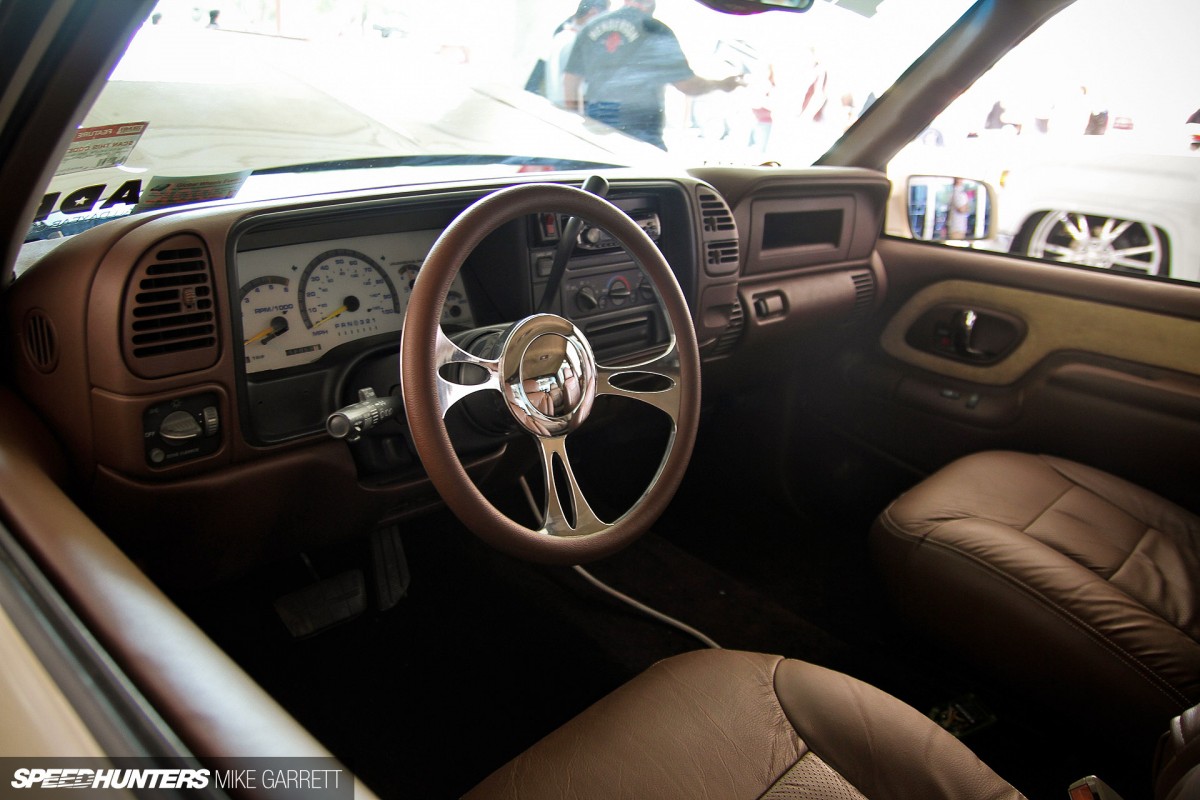 … along with interiors that are done to match. Even though I'm not a huge fan of billet, the style usually fits well on trucks like these.
Heavy haulin'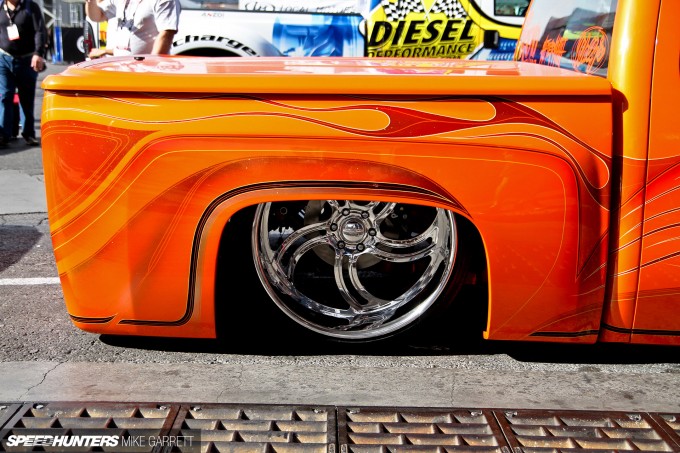 A lot of the trucks being shown were pretty over the top in their presentation, but that's really part of the fun. Whether or not you like all of the styling elements, it's impossible not to appreciate the work that the builders have put into these things.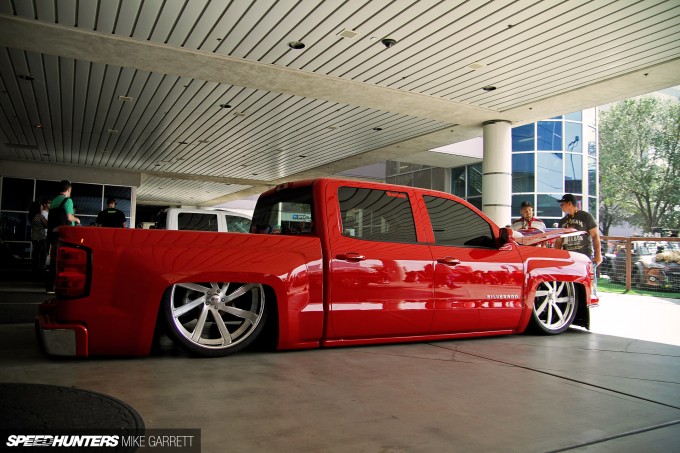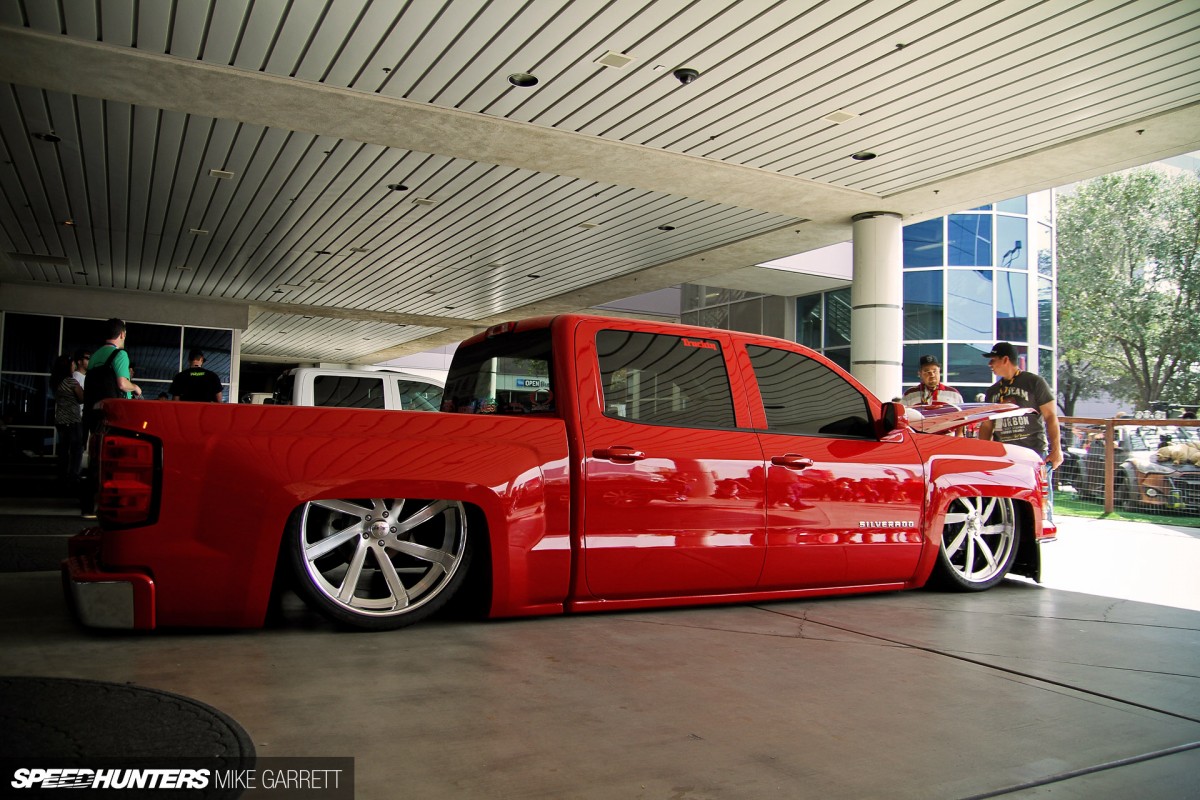 That's one of the things I love most about these trucks. While many of the cars at SEMA have custom wheels and bolt-on aftermarket parts, these heavily lowered trucks are sporting some very impressive fabrication. It isn't easy to take a brand new pickup and then drop it to the floor while tucking 24″ wheels.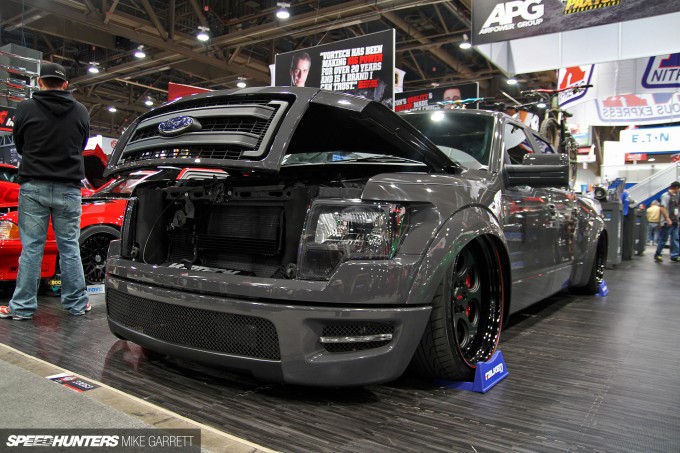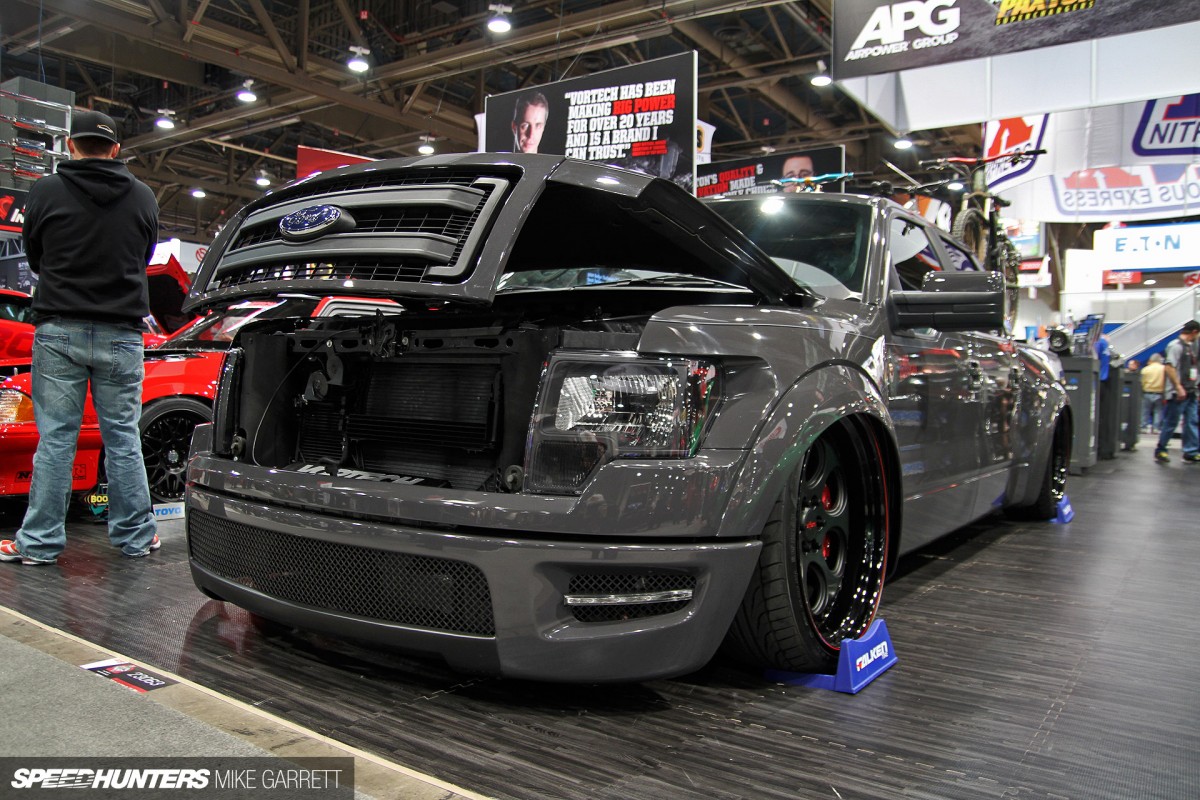 The Vortech Superchargers booth was home to this airbagged Ford F-Series pickup by Tjin Edition, and it had quite a different vibe than your average SEMA show truck.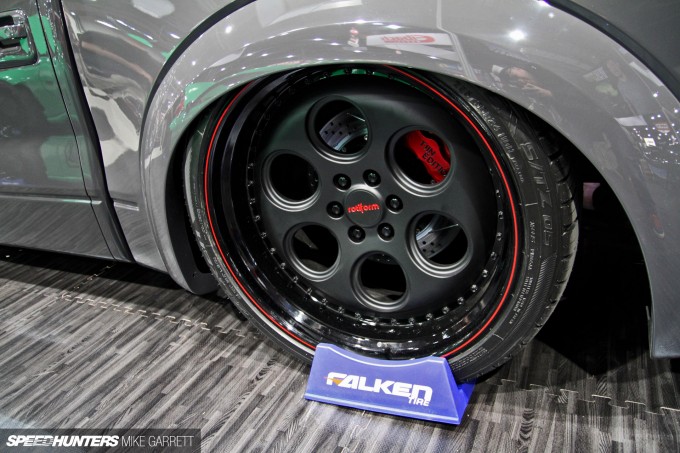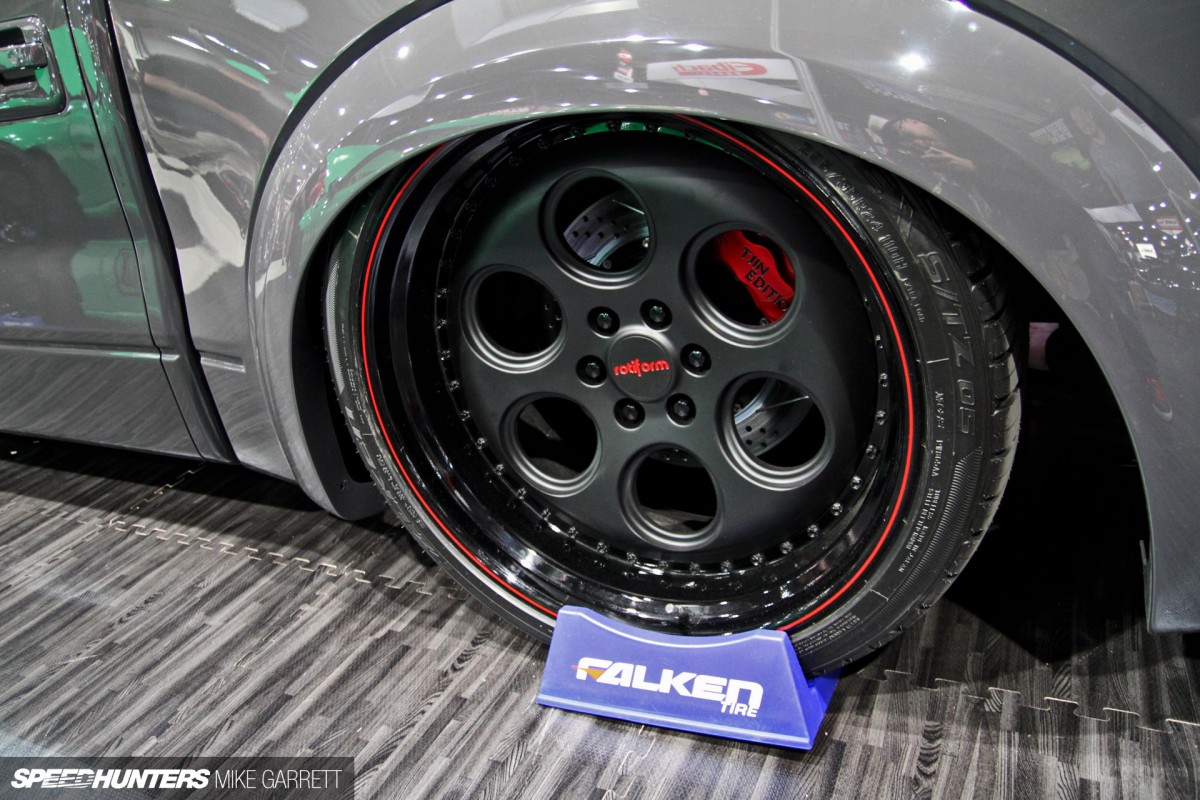 No billet here. Check out those gigantic 24″ one-off Rotiform DIAs.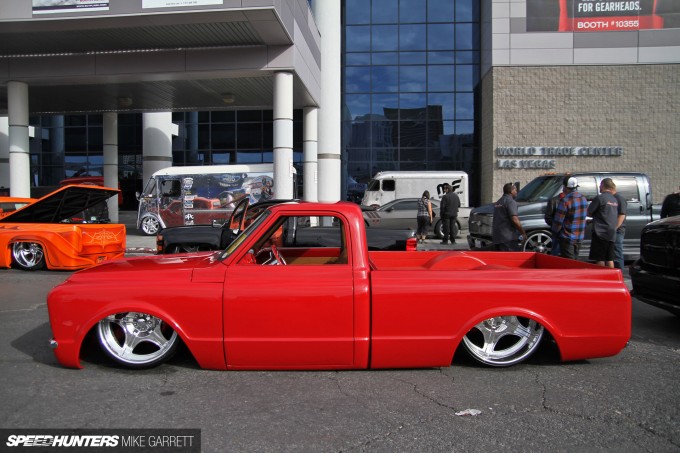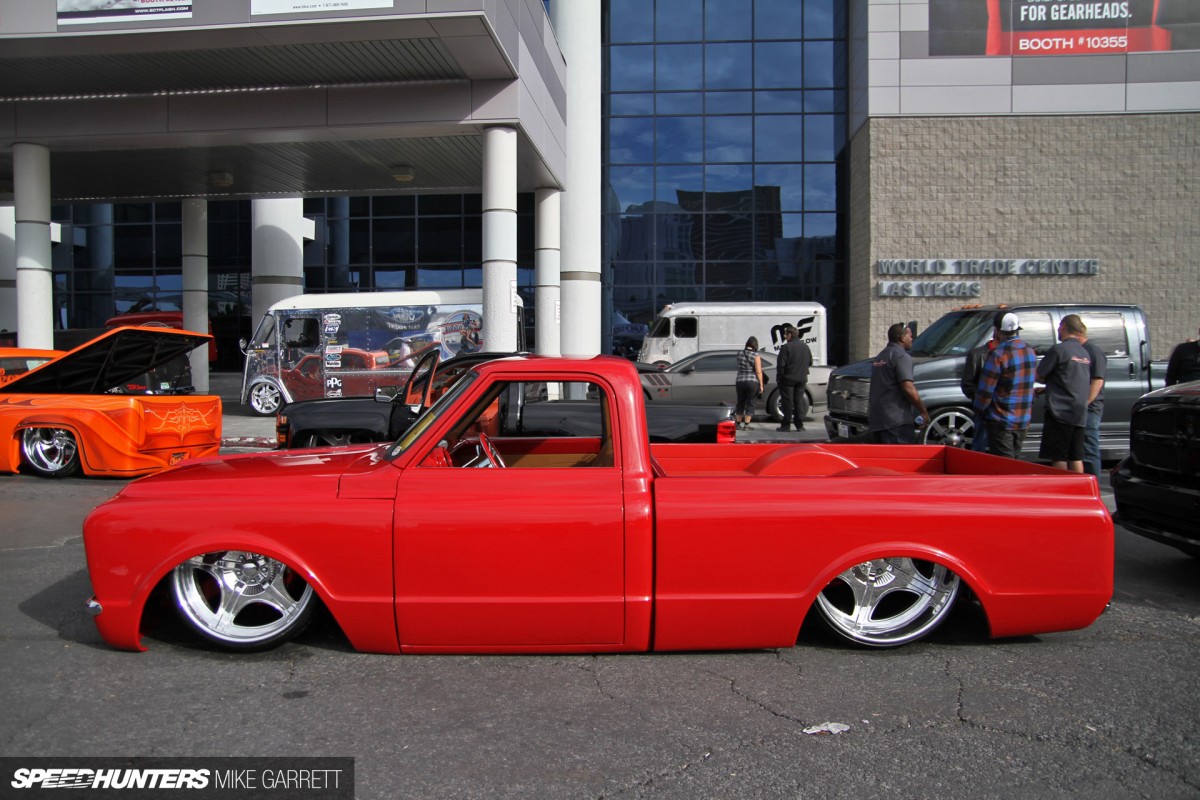 For as good as the late model trucks are, it's really the vintage pickups that are the most fun to look at – and SEMA was full of them this year.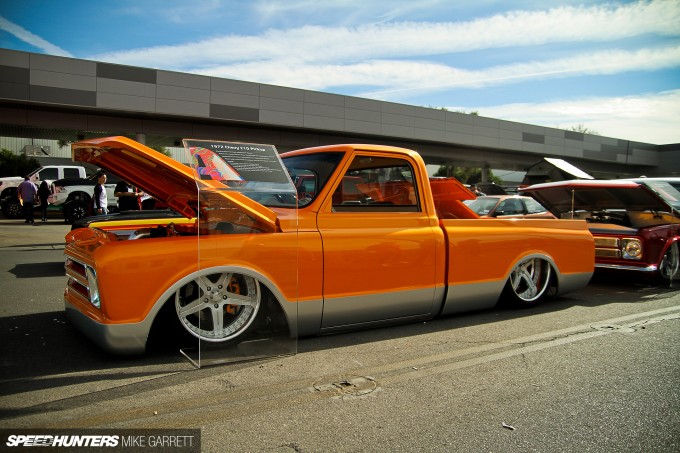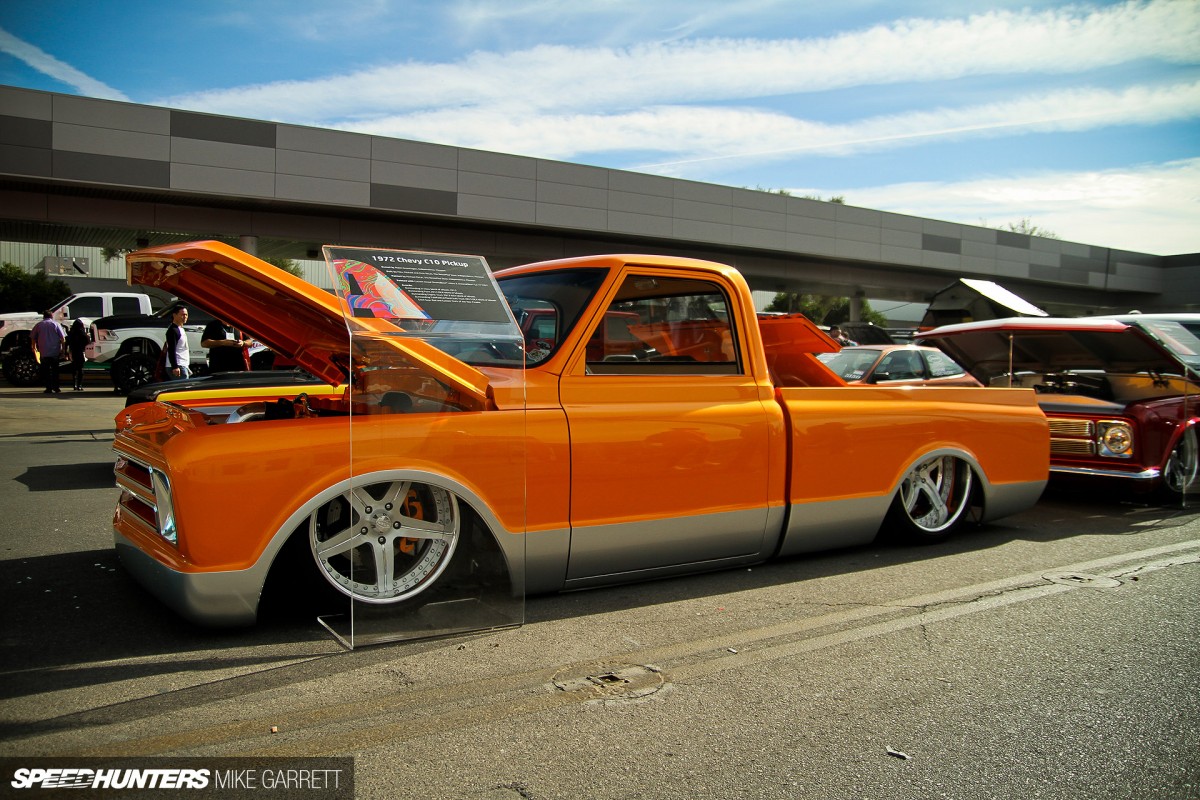 Here's a gorgeous '72 Chevy C10 that came to Vegas all the way from Independence, Missouri. When it comes to show trucks, it's hard to get much better than this.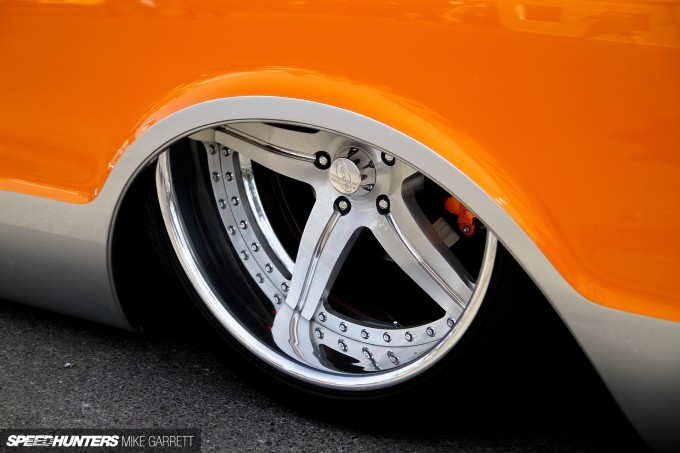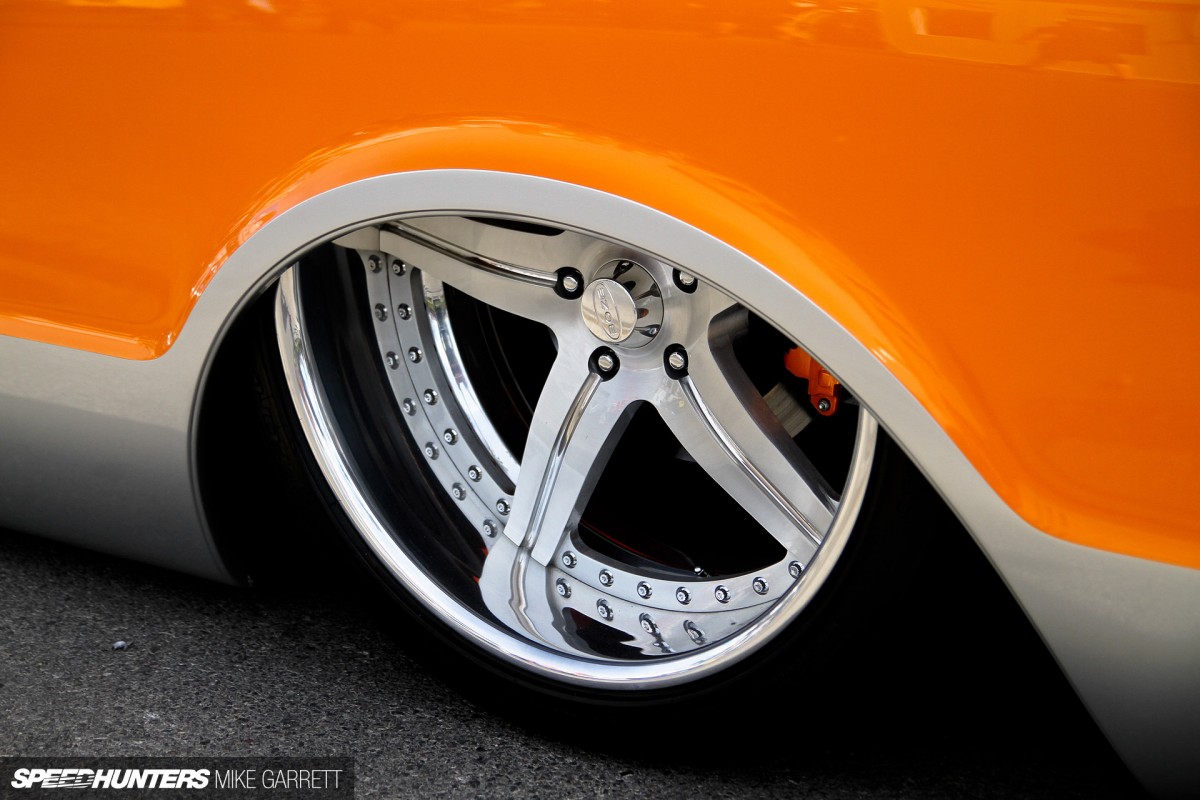 The paint and bodywork on this truck were downright incredible, as was the way the Boze Forged wheels tucked so perfectly into the fenders.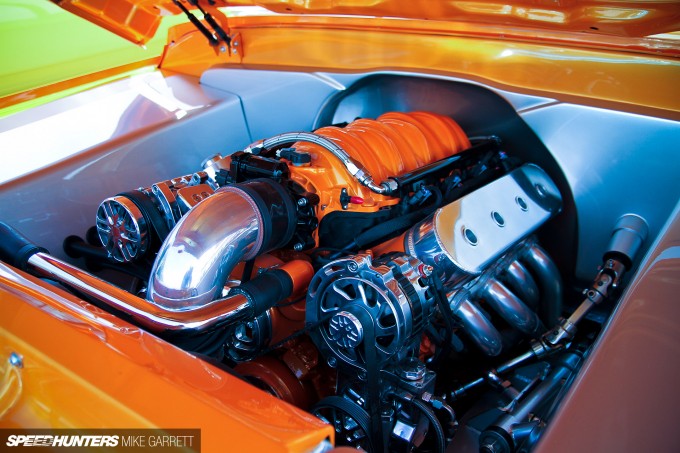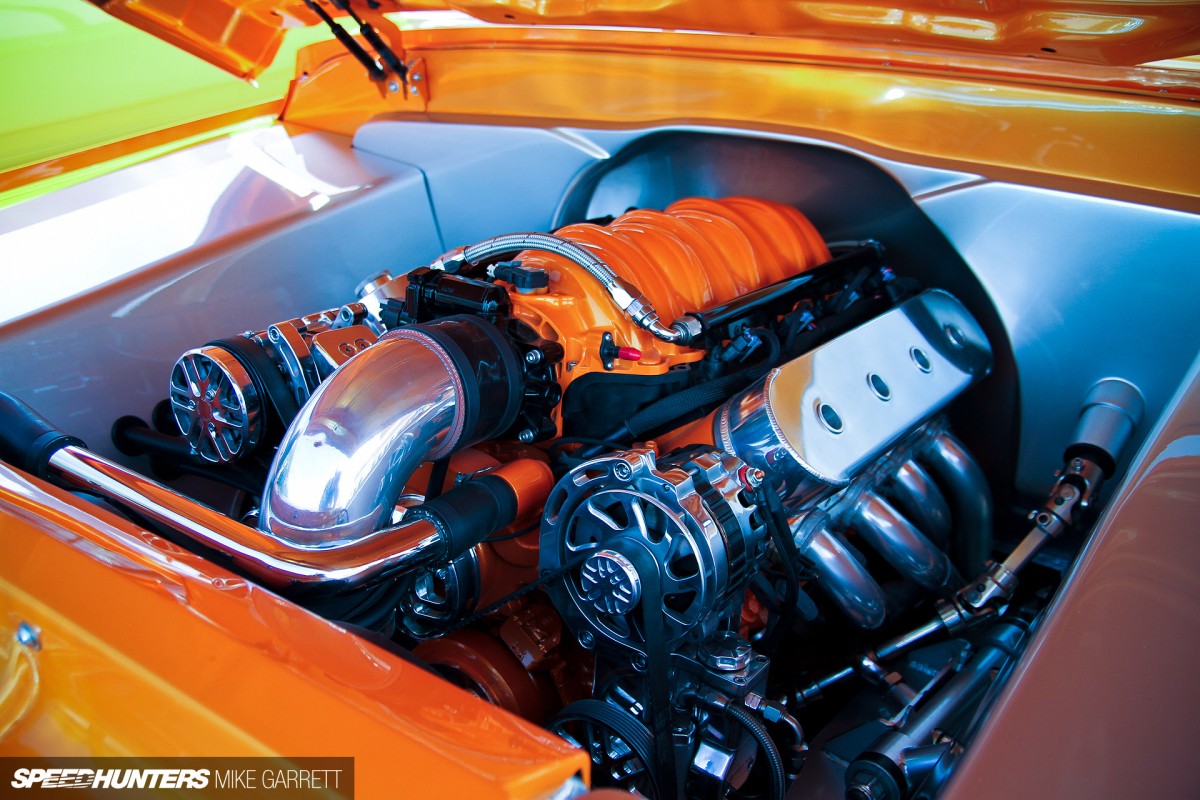 The ultra clean details also extend to the C10's engine bay, which is home to an LS swap.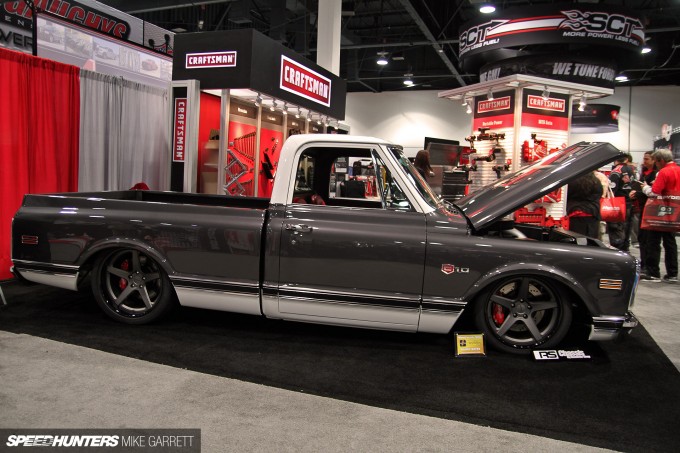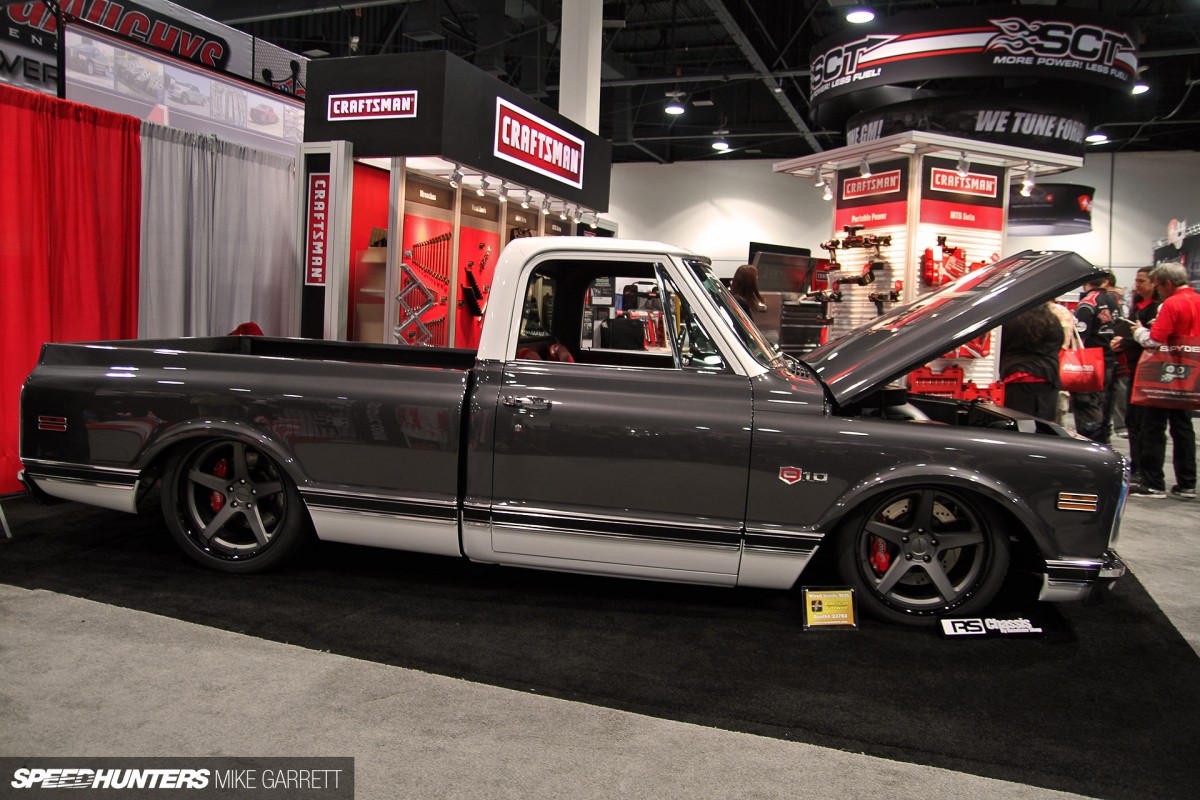 The Craftsman Tool booth was home to this C10 built by the Roadster Shop in Illinois. This was one of my favorite pickups of the show, built more like a pro touring muscle car than a traditional show truck. It's been restored from the ground up and is riding on a custom Roadster Shop chassis.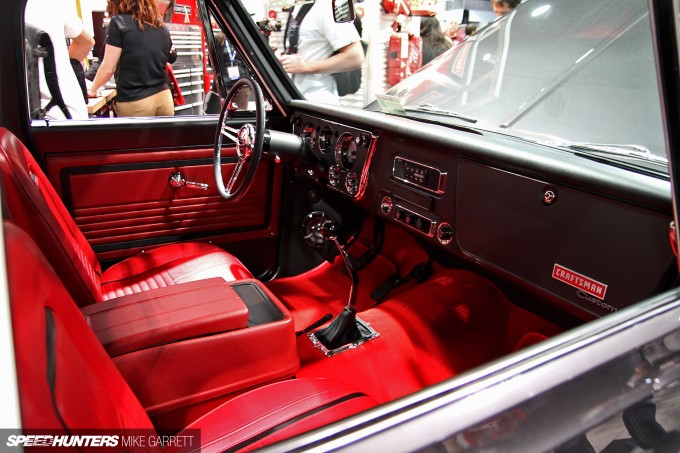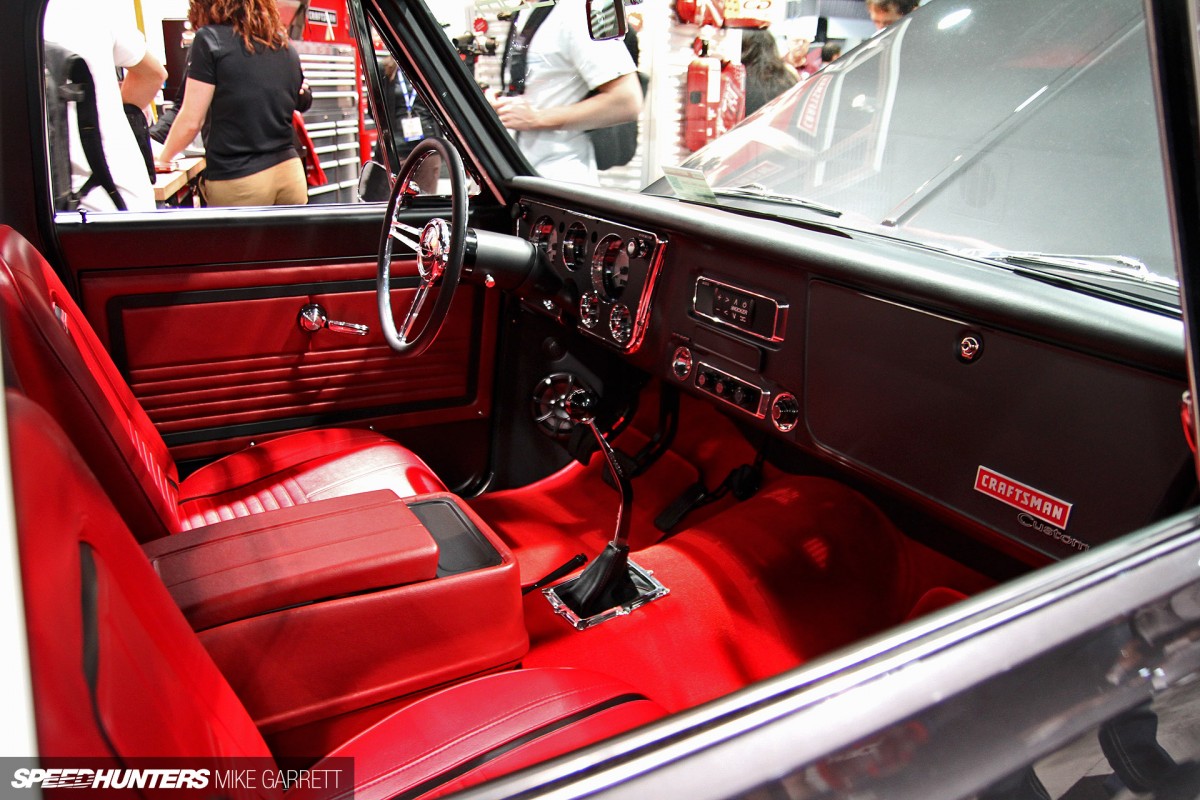 Rather than going all out with the billet accessories, the truck has been kept very clean and functional throughout. Now that that the build is complete, the finished machine will be auctioned off for charity at Barrett-Jackson.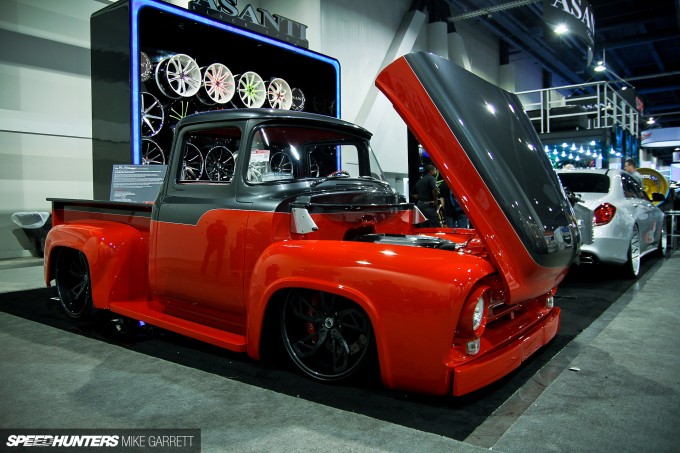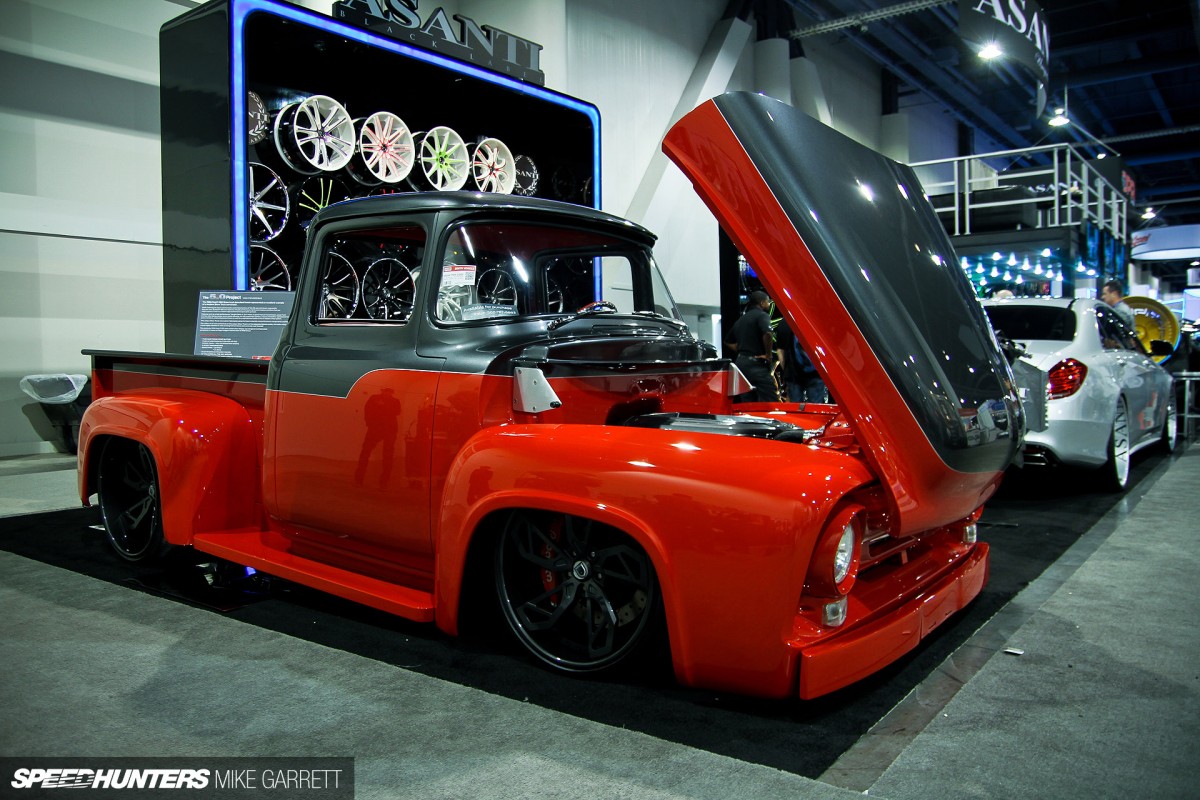 Let's not forget about the Fords now. This heavily customized F-series was found in the Asanti Wheels booth.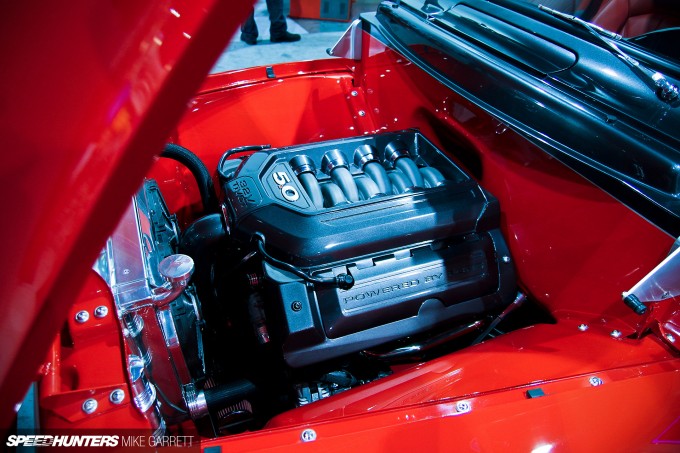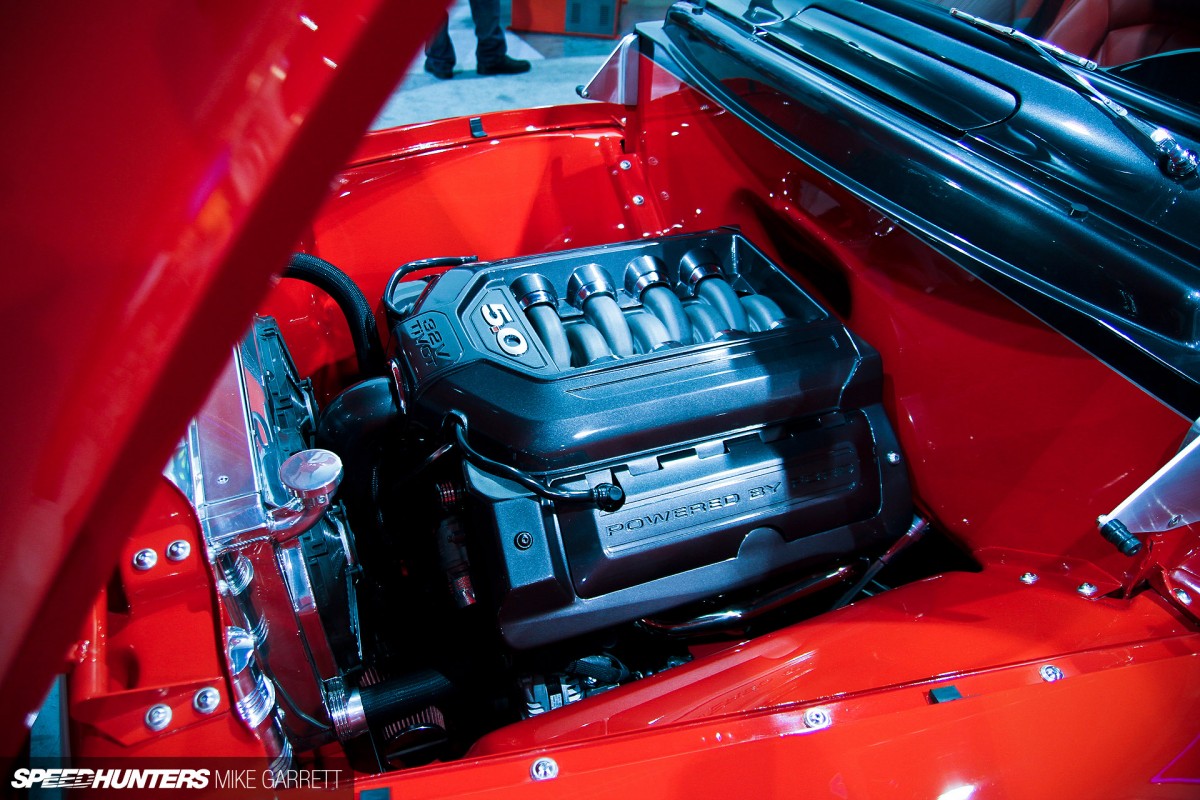 Aside from the custom body and chassis work, the truck was also powered by one of Ford's 5.0 liter Coyote V8s straight out of the Mustang GT.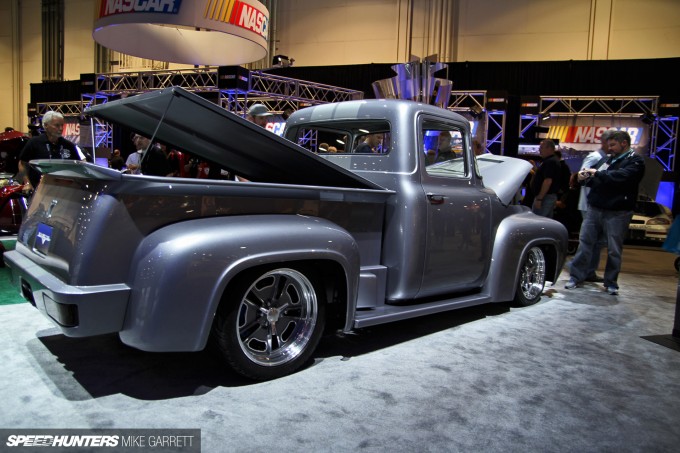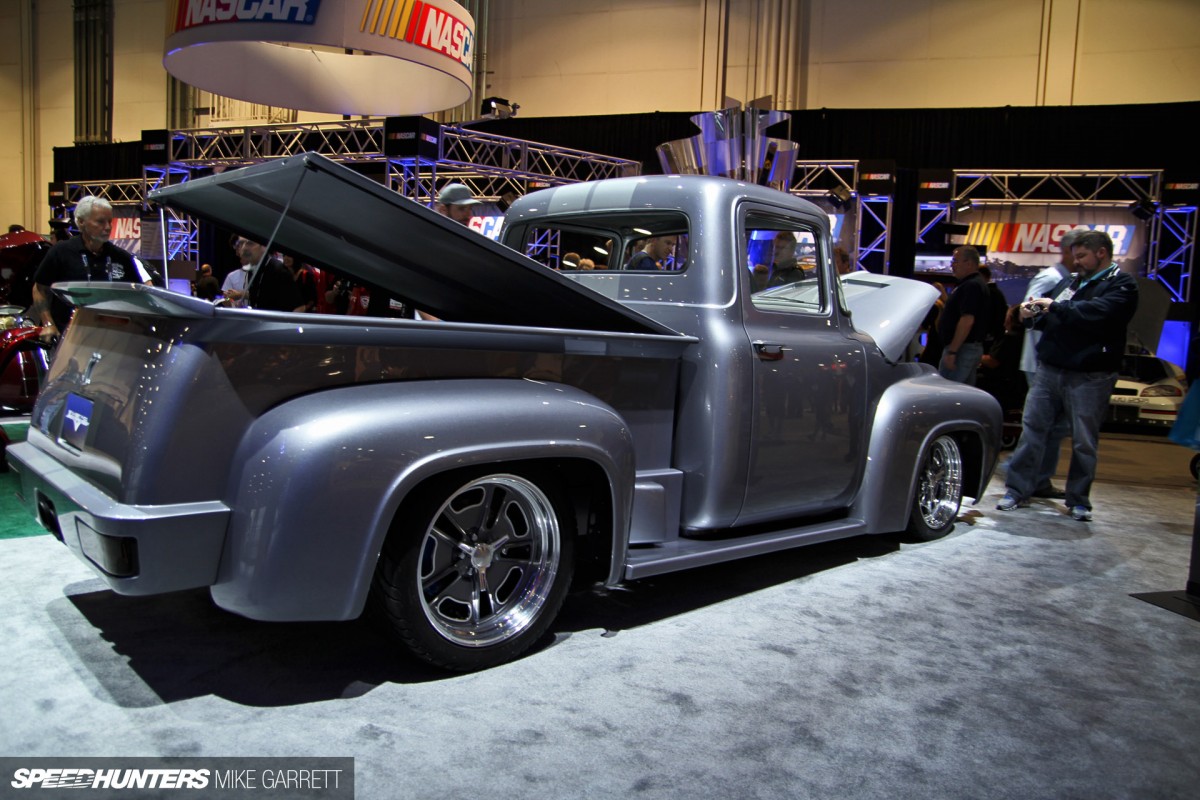 Ford's own booth was home to this '56 F-100 known as Snakebit, which has also been built to be auctioned off for charity.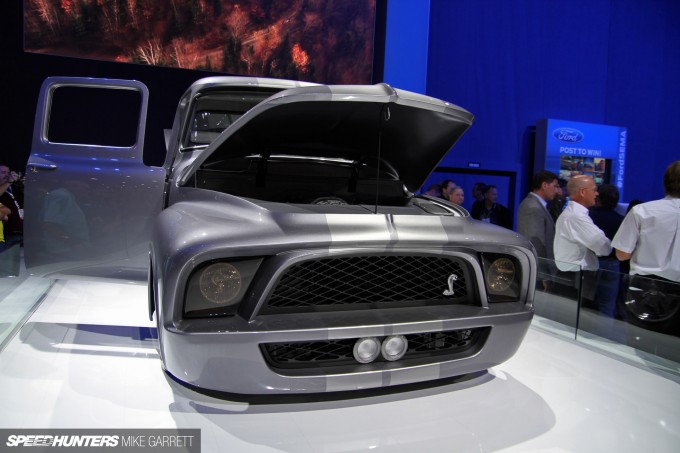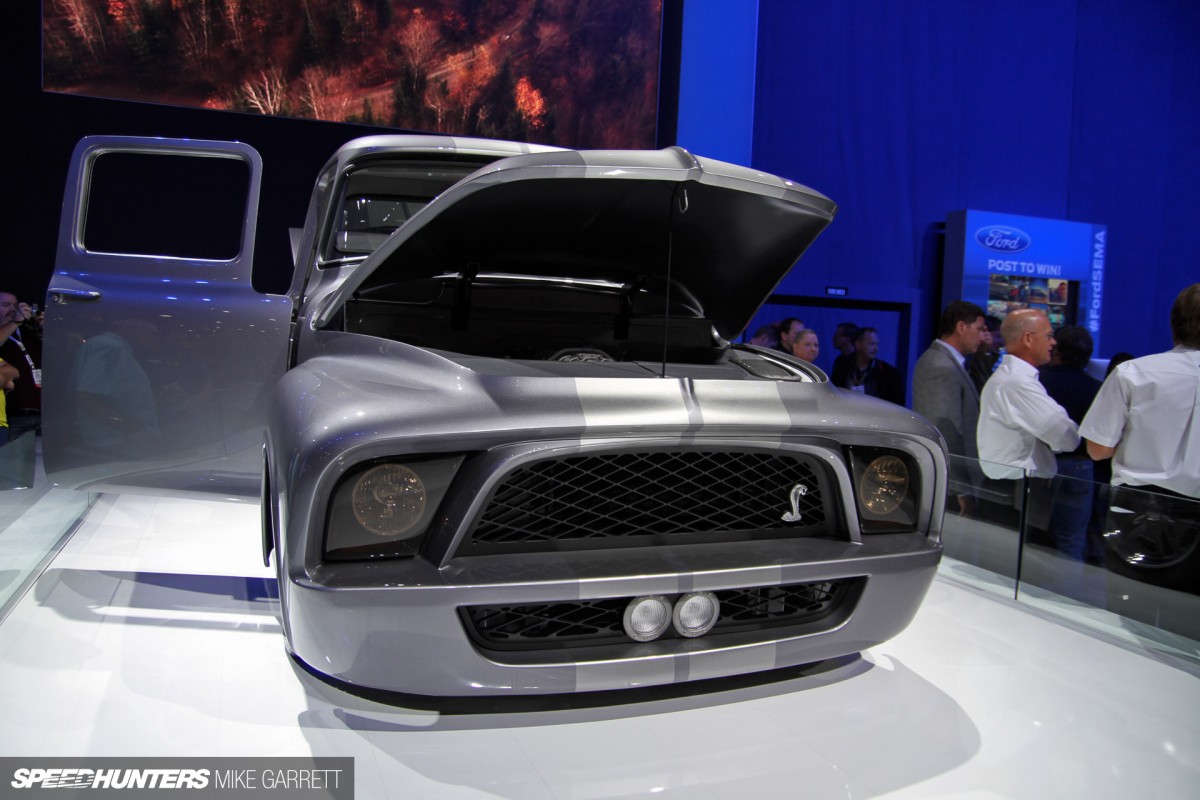 As you can see, the styling of the truck is heavily inspired by the Shelby GT500 Mustang…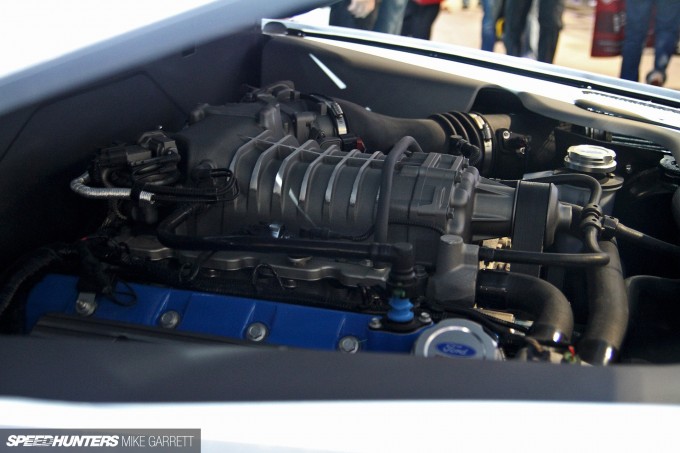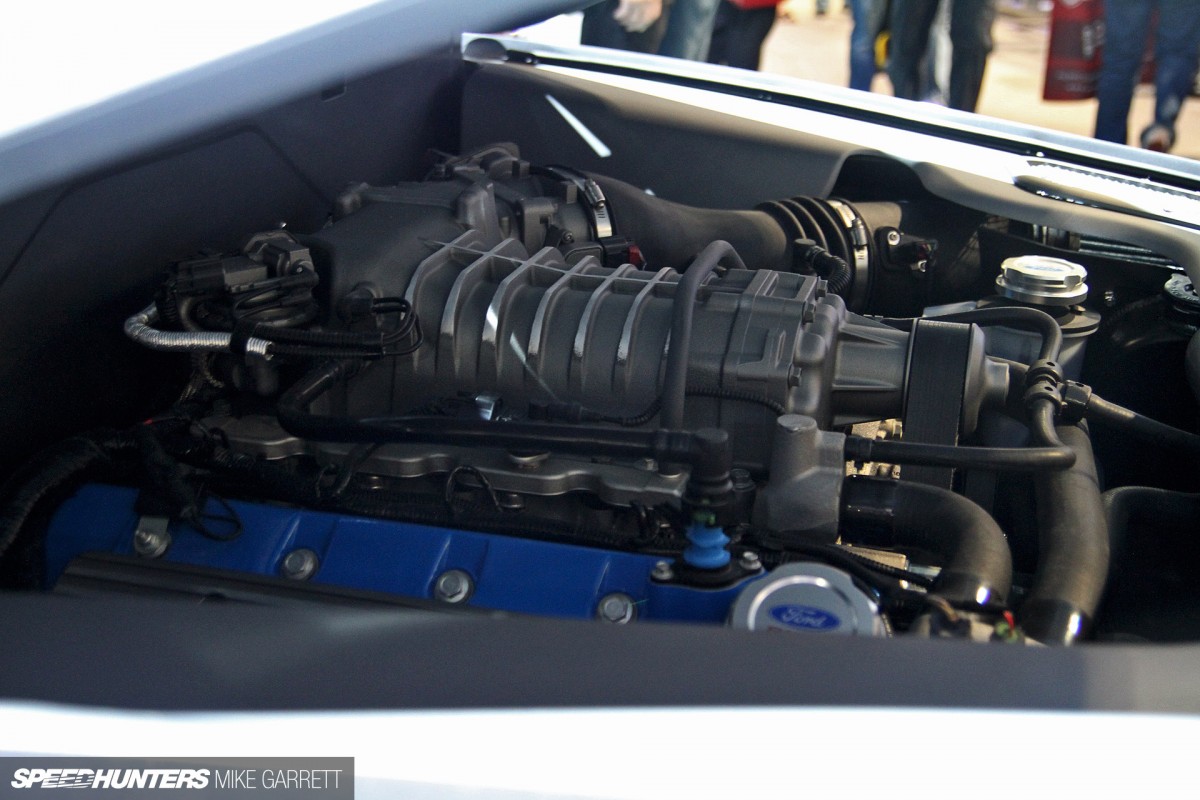 … and naturally its power comes from a 550 horsepower supercharged 5.4 mated to a six-speed stick.
Top picks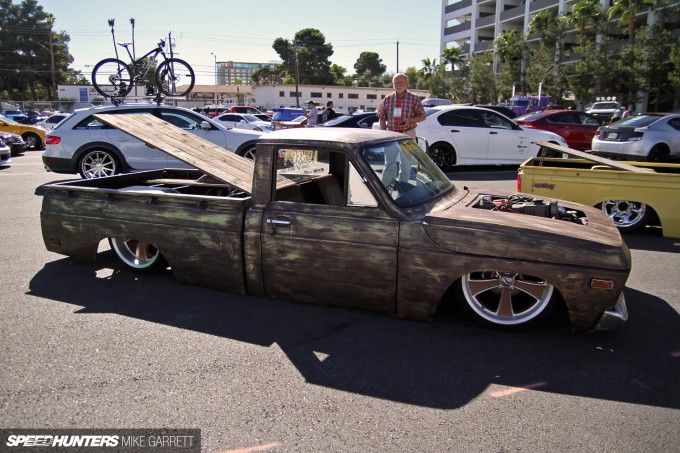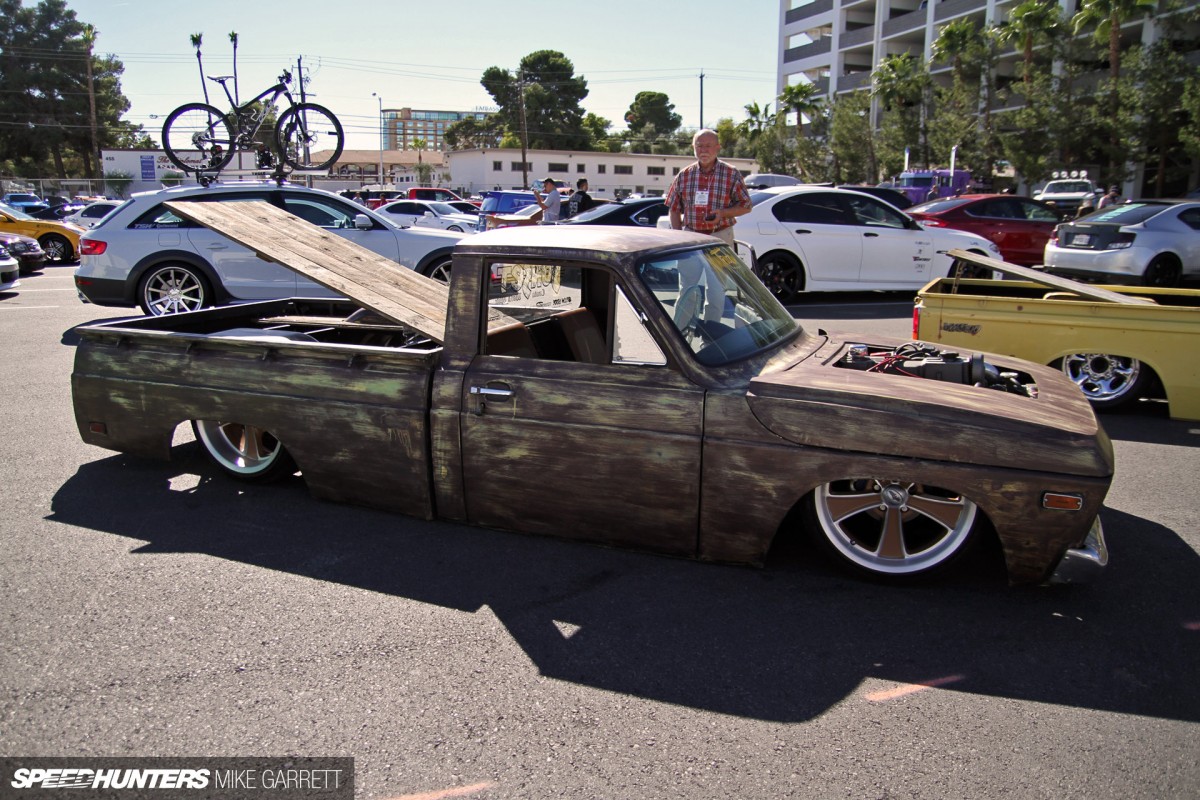 Like your custom trucks a little less polished? You'll probably dig this '73 Mazda 1800 out of Alberta, Canada.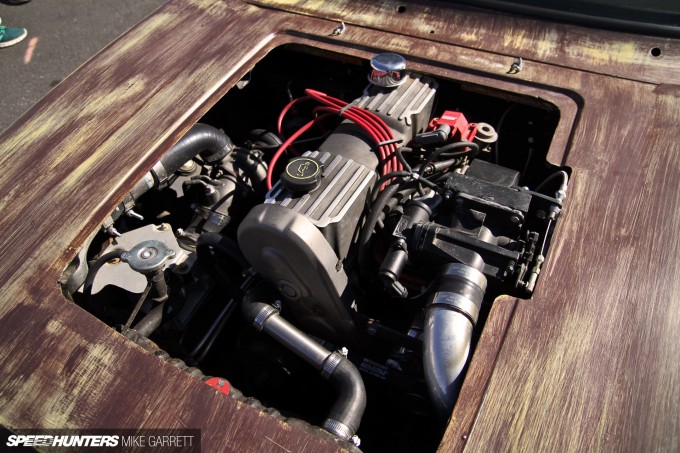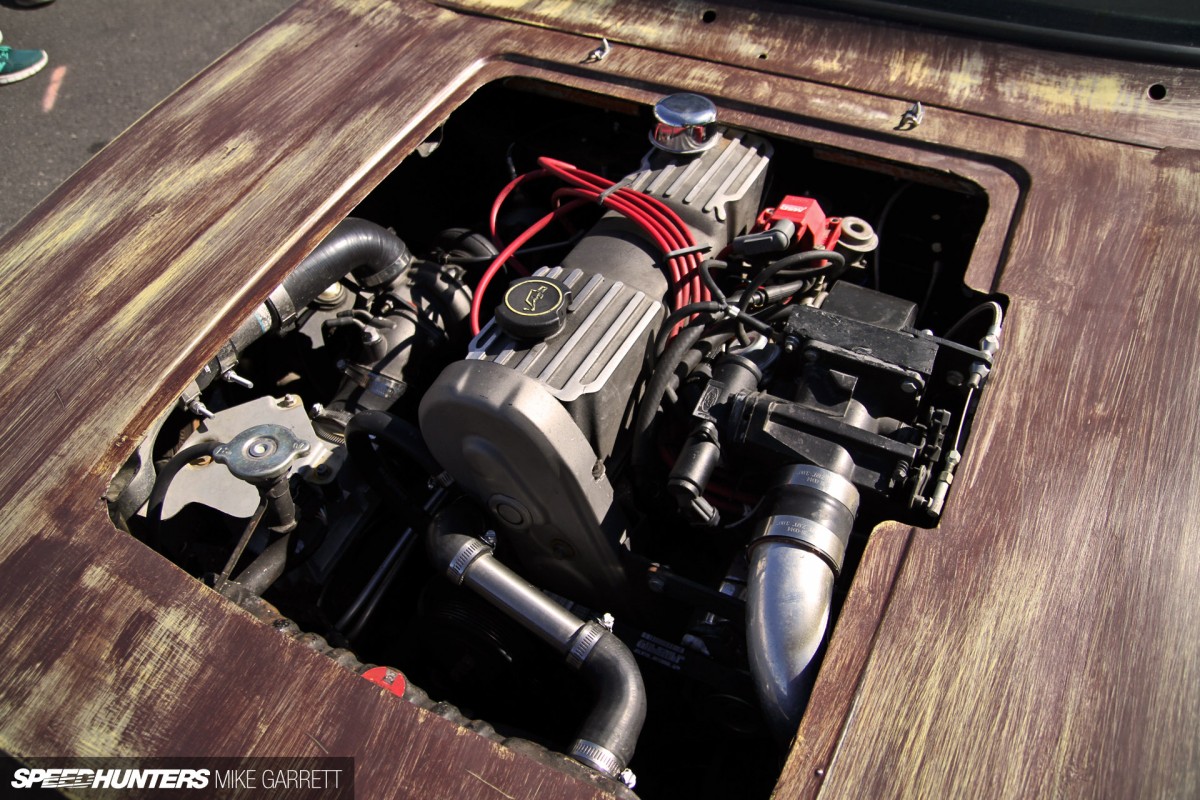 Aside from its patina-covered body and heavily worked chassis, the little Mazda is powered by one of Ford's 2.3 liter turbocharged four cylinder engines. Definitely one of the most unique trucks at the entire show.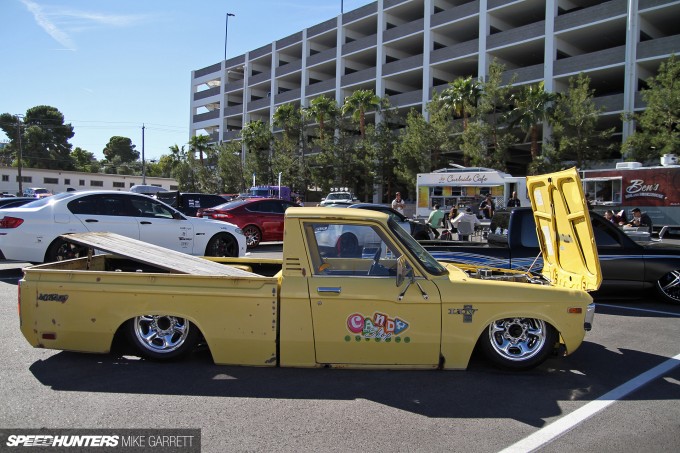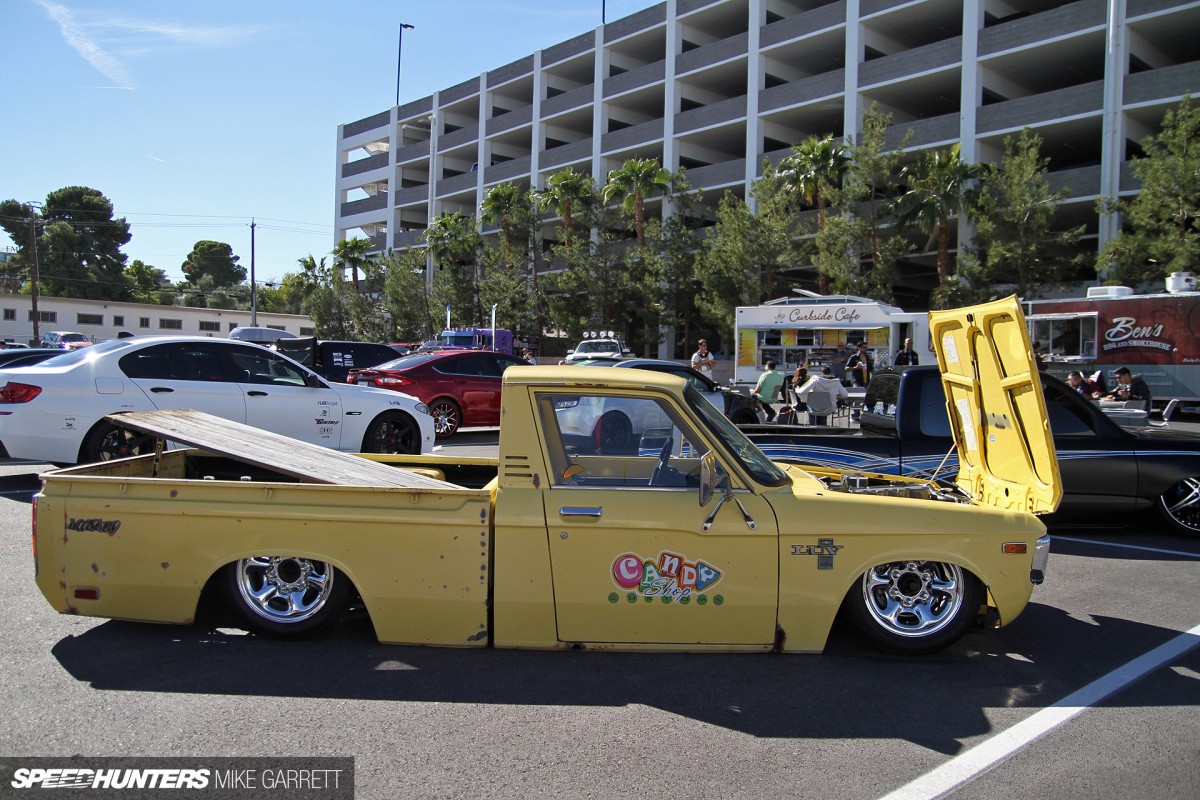 Sitting next to the Mazda was the equally slammed Chevy LUV. If you didn't know, LUV was actually designed by Isuzu in Japan, and as you can see, it looks quite good dumped to the ground.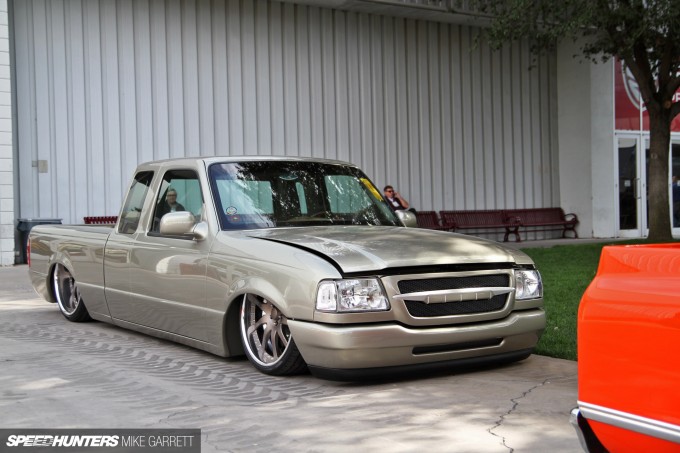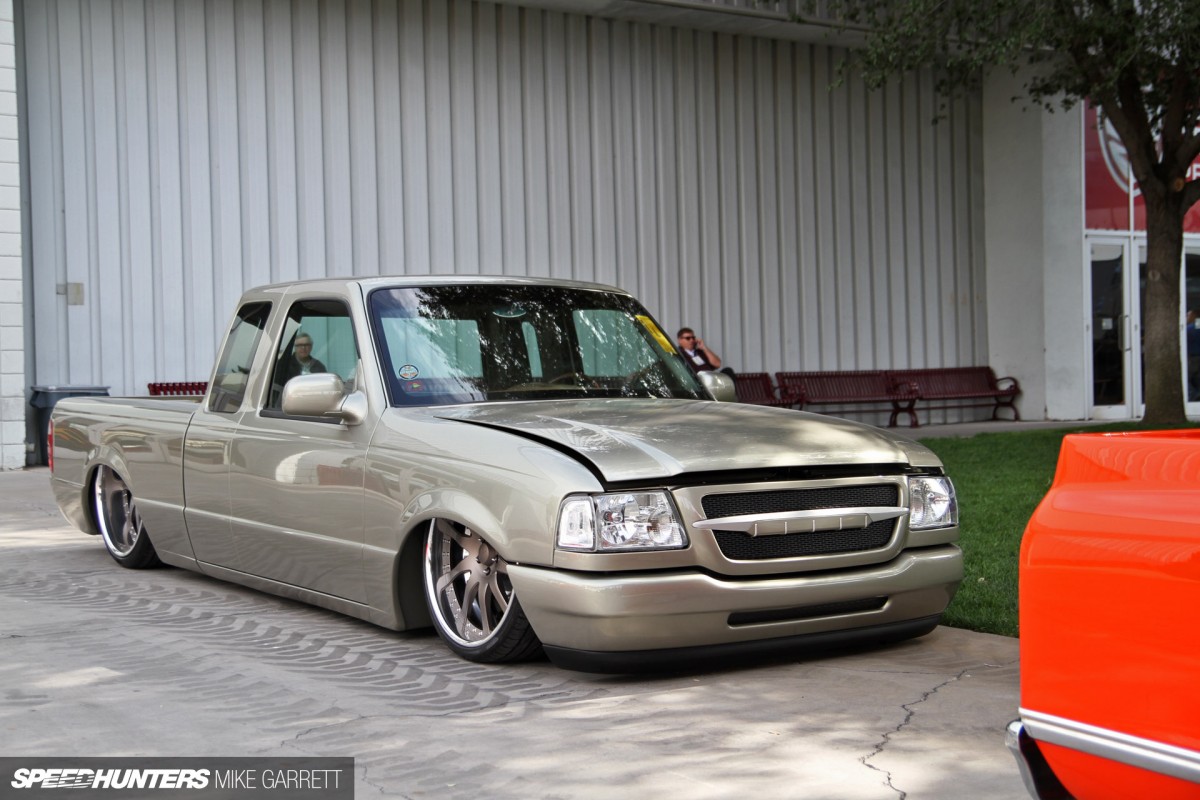 Another one of my favorites was this 2000 Ford Ranger built by Tennessee's Little Shop of Horrors. The mini truck boom may have faded long ago, but it's really cool to seeing shops building small pickups like this.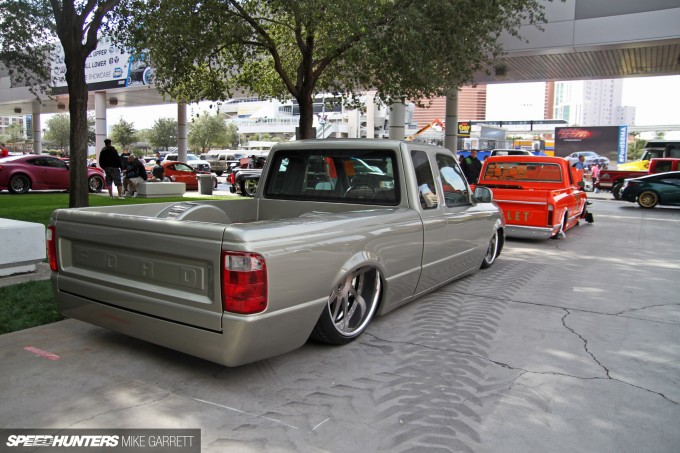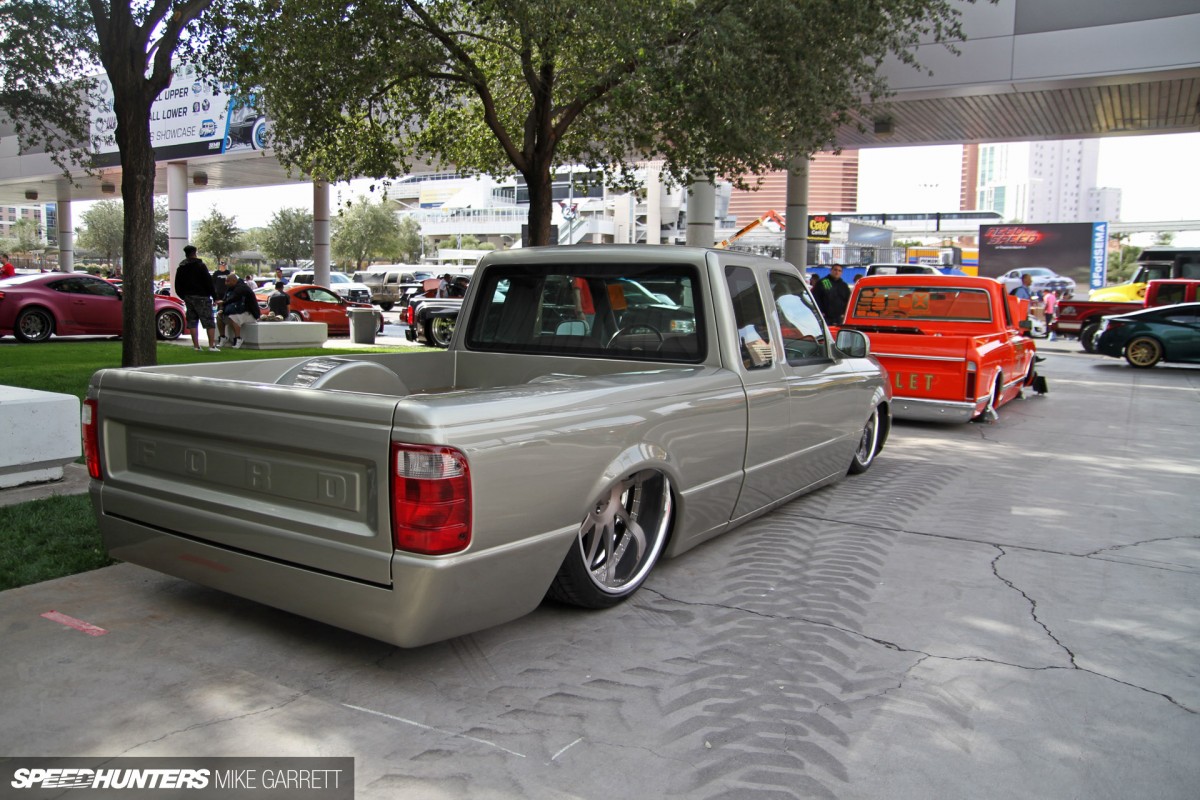 And this particular Ranger is so much more than your typical minitruck – in fact it might be the most impressive minitruck I've ever seen. It's got a full custom chassis and is somehow tucking a combination of 22 and 24 inch wheels.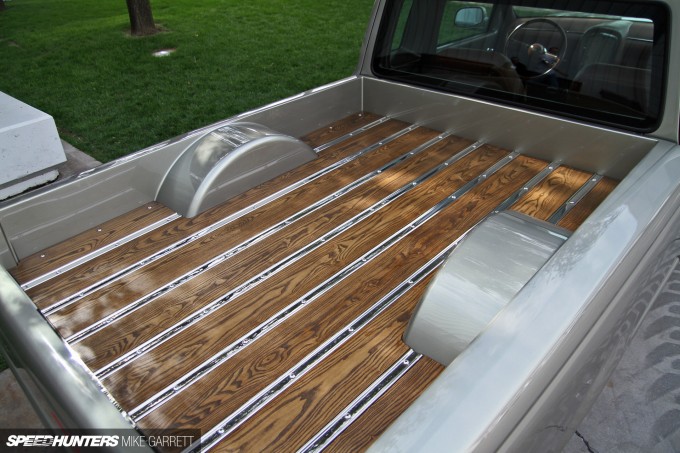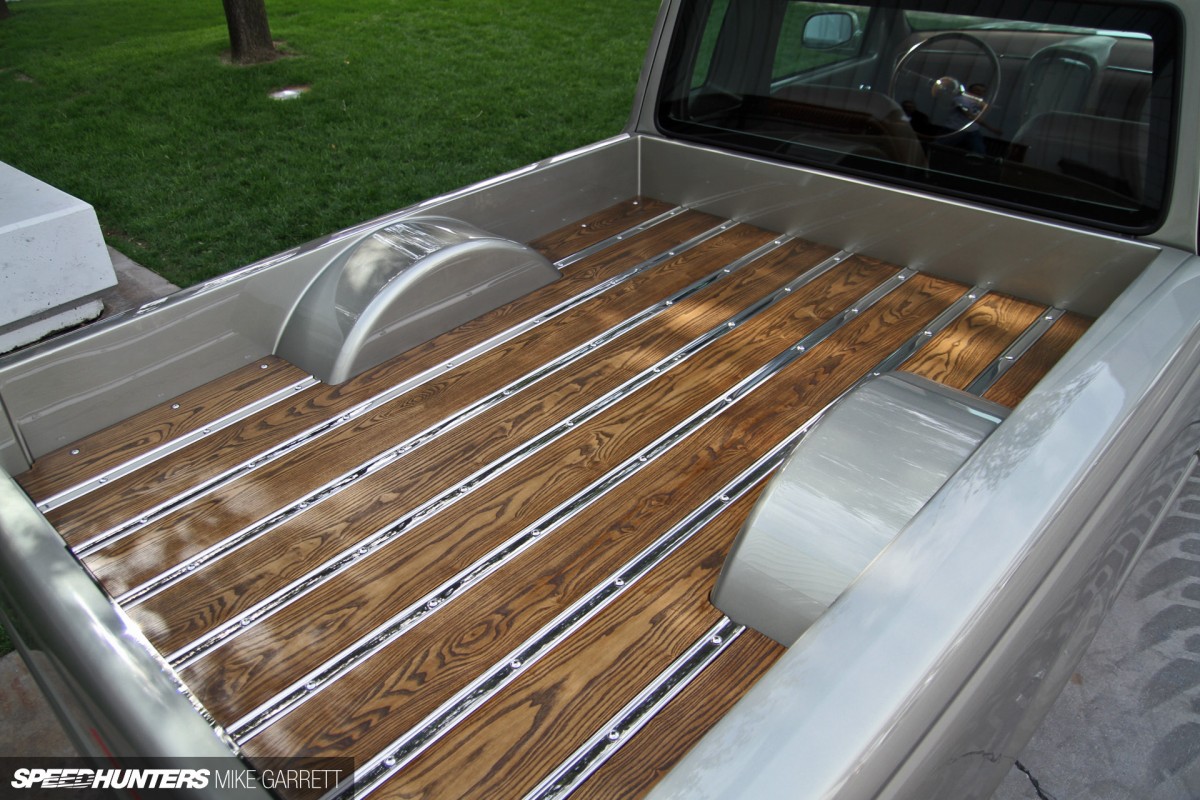 There are so many other details too, like wood paneling in the bed and an interior that features a Shoebox Ford dashboard, a '40 Ford steering wheel and vintage Volkswagen seats.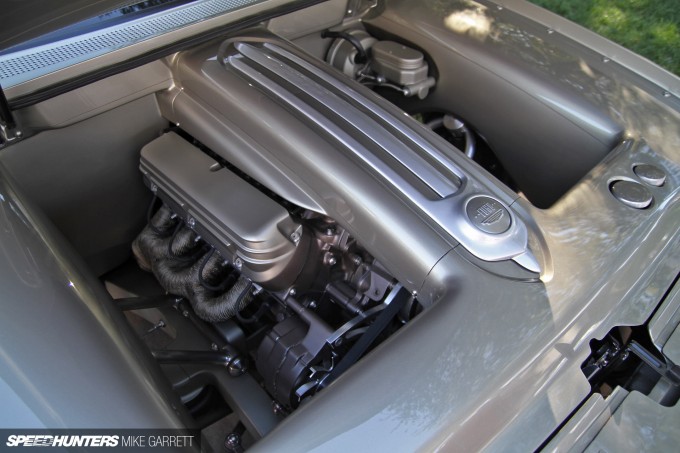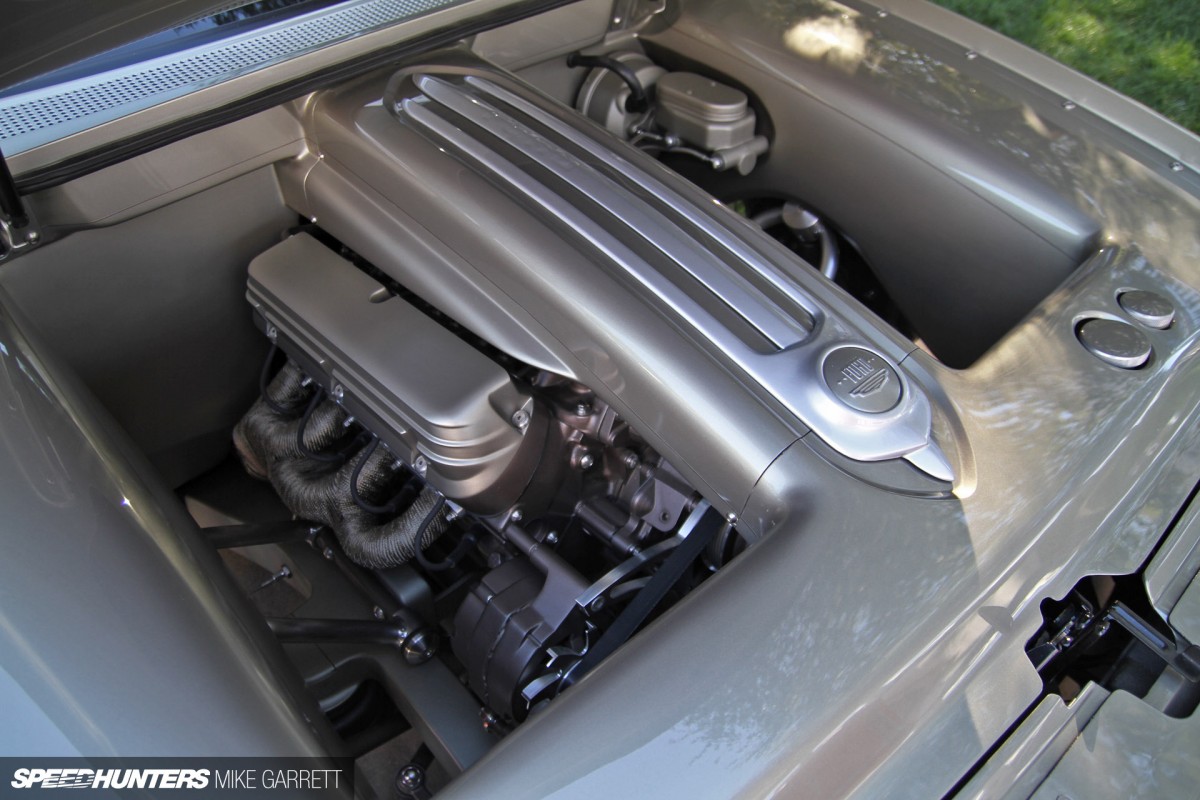 It's powered by a 1988 5.0 small bock, which is set in a completely customized engine bay. Damn impressive stuff here.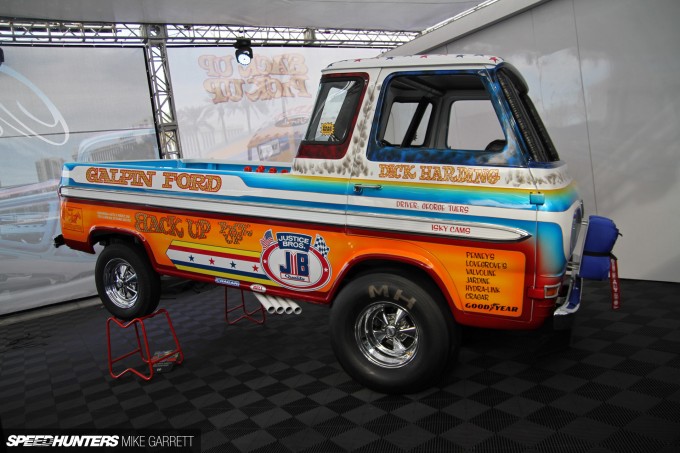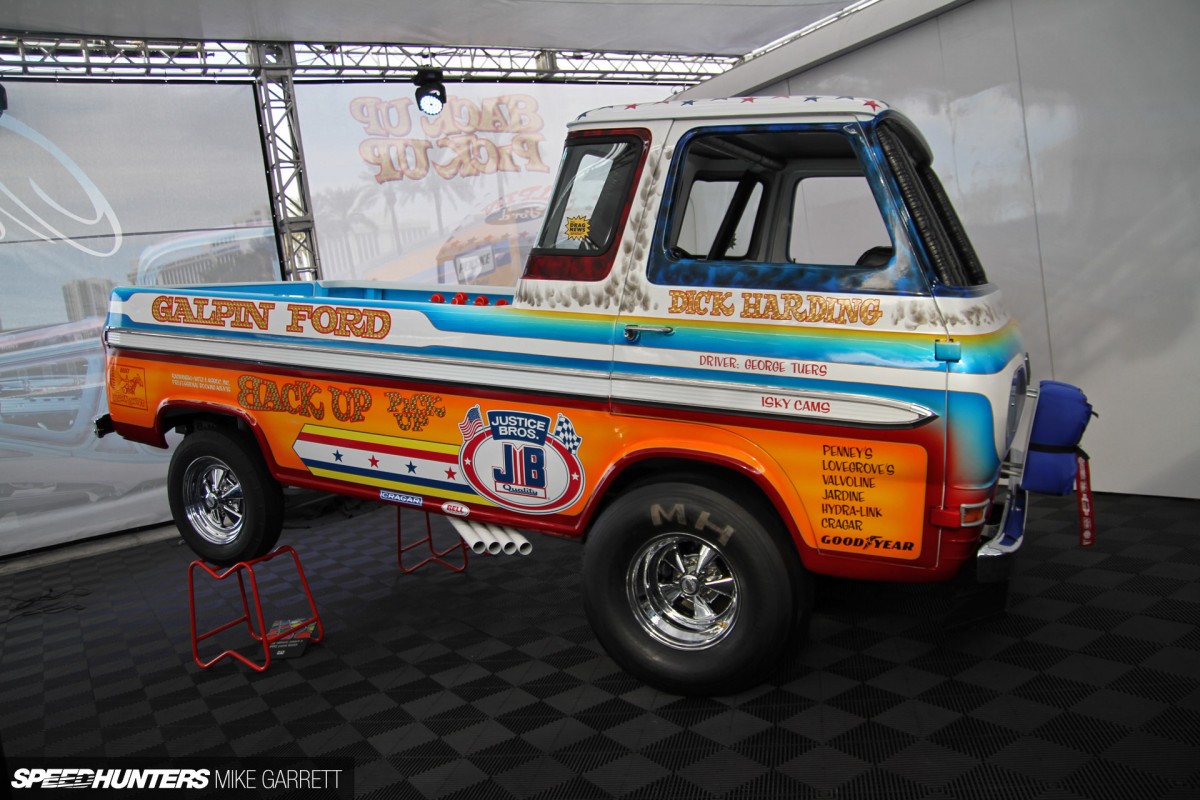 Last but not least, we have this piece of art found in Galpin Ford's display. It's a perfect replica of the Back Up Pickup exhibition racer driven by Dick Harding and George Tuers in the late '60s and early '70s.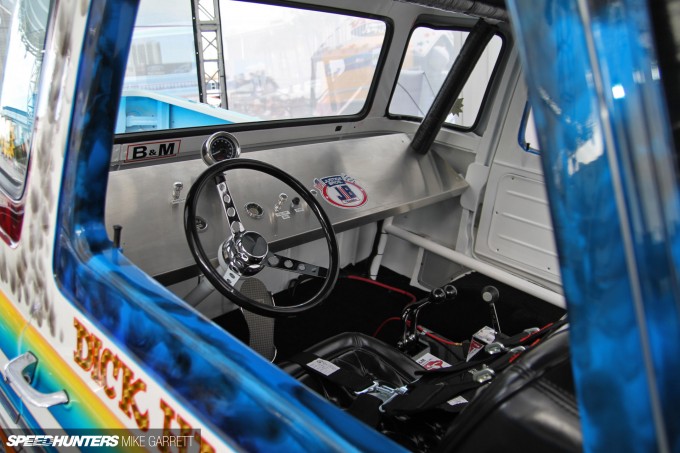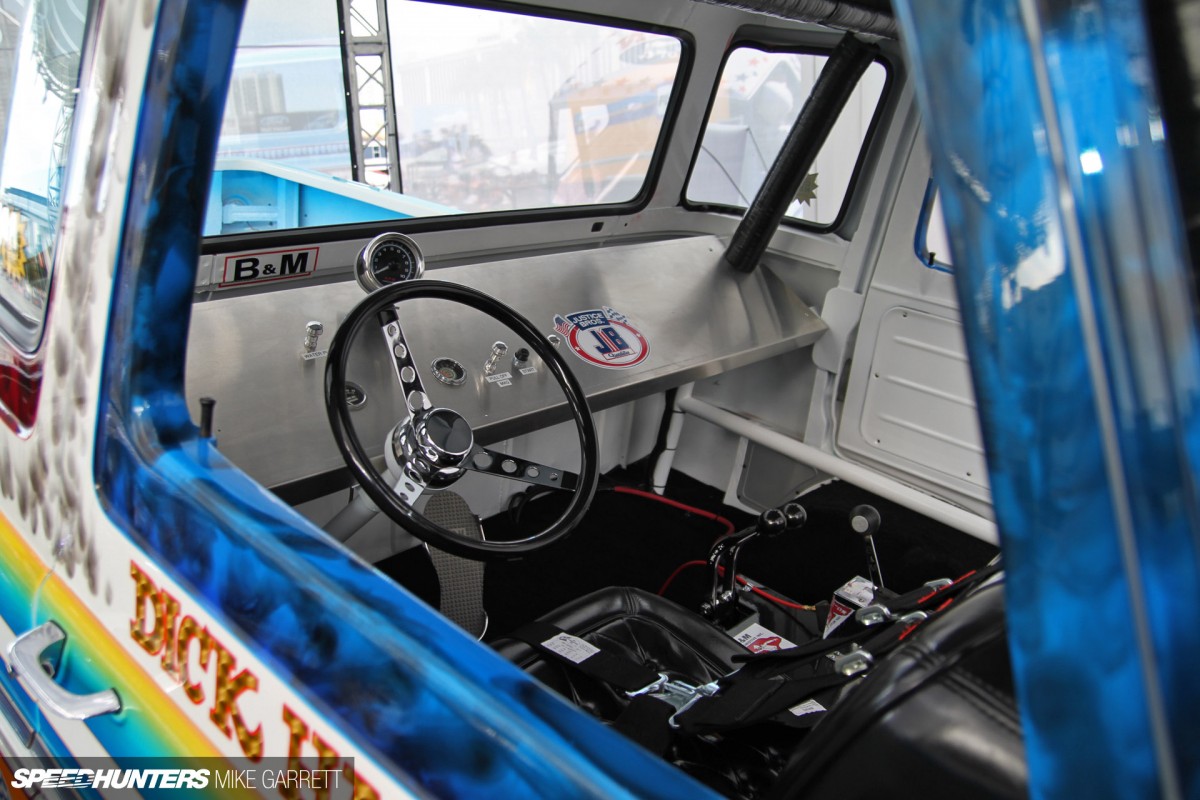 It's based on a 1965 Ford Econoline and it was built to do outrageous wheelstands. This was accomplished by essentially turning everything around – including the driver's seat.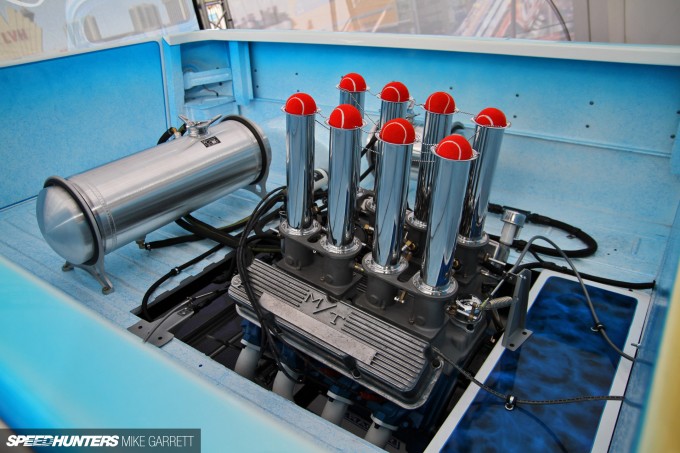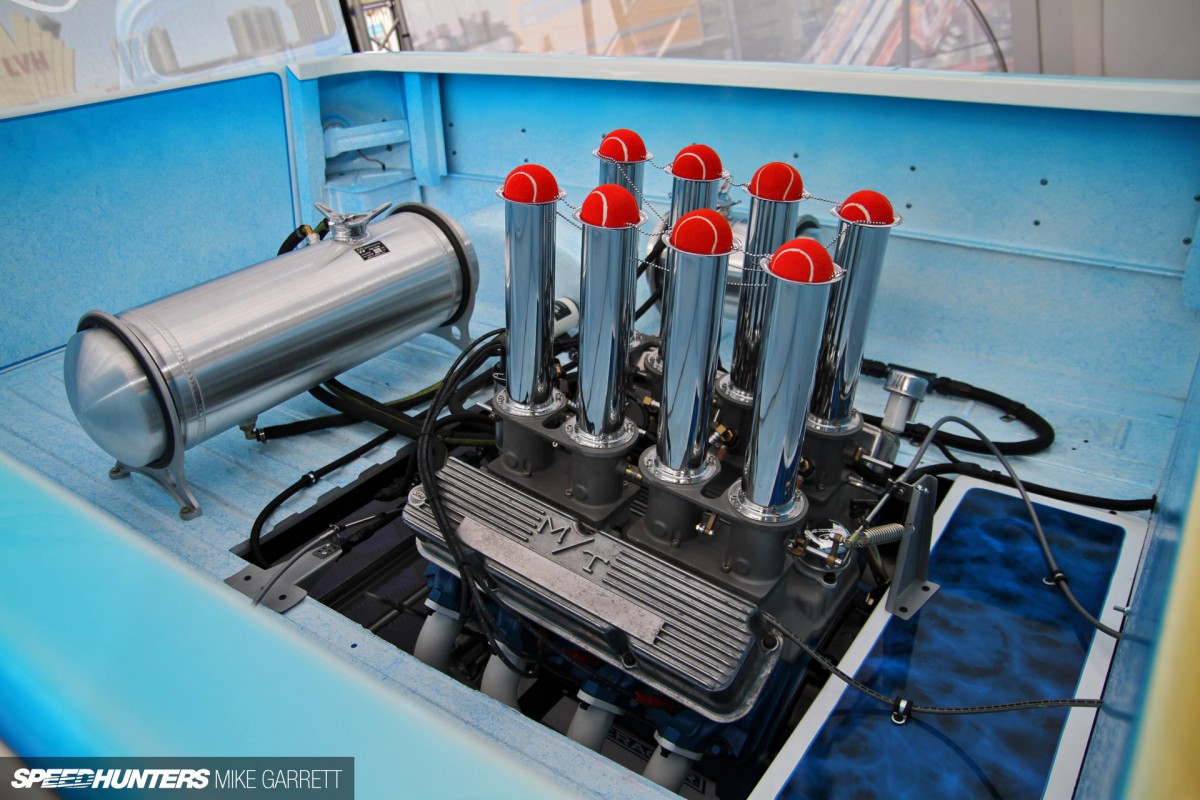 Helping to lift the front end (or should I say back end?) is a 950 horsepower injected Ford 427 sitting in the middle of the bed.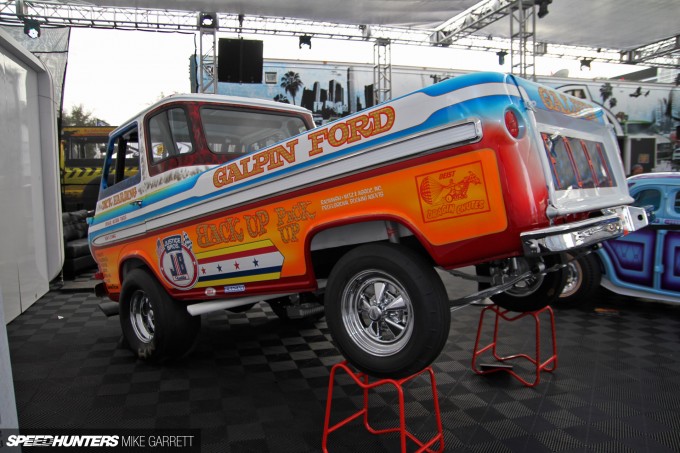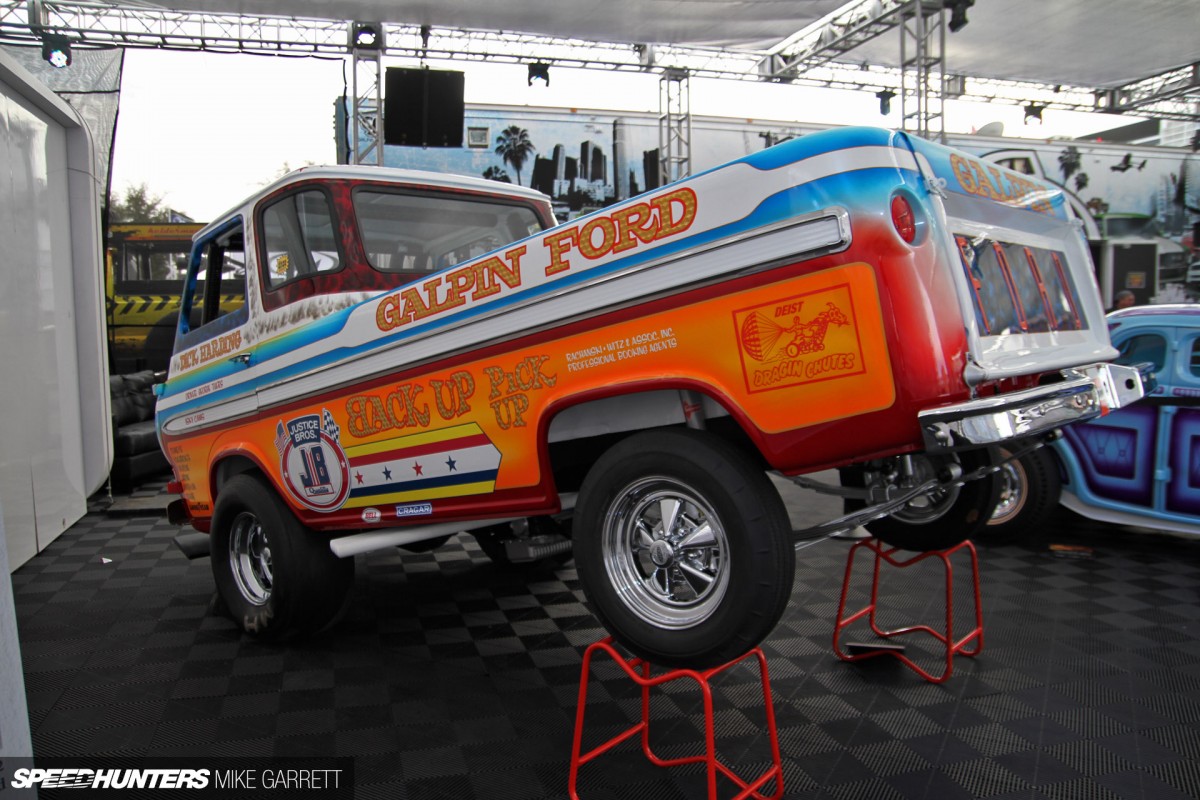 Not only does this wild Ford make me want to time travel to back to the '60s like no other, it's also a fine way to wrap up our look at some of SEMA's coolest pickups.
Until next time, keep on truckin'.