This is first detailed look of a car that everyone has pretty much already seen. Such is the power of the internet, where news spreads as it happens and is old a day later. Except there is nothing old about the ride you see here. This is the freshest and at the same time one of the most extreme aesthetic treatments the new-gen 86 has received. Technically speaking however this is actually a Scion FR-S, the car that Kei Miura of TRA Kyoto imported into Japan…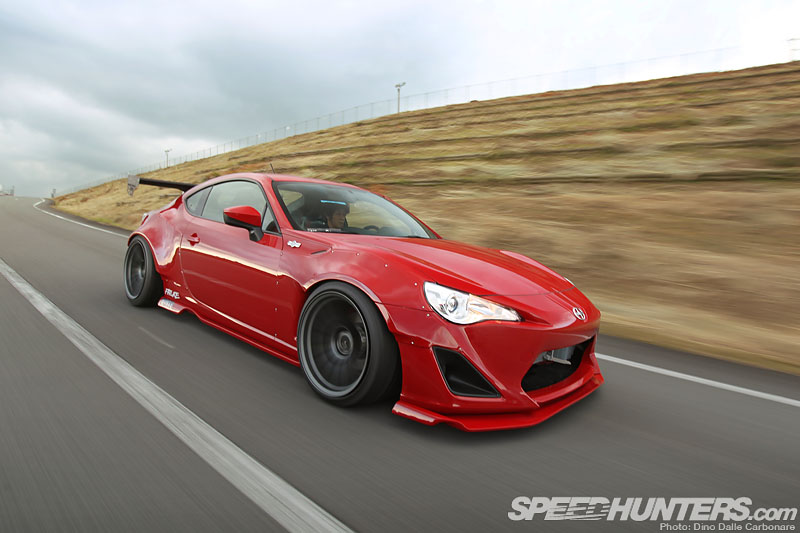 …to develop his instantly recognizable widebody aero that everyone currently wants to get their hands on. It isn't a first per se, as Miura actually supplied Fredric Aasbo's GT86 with his kit ready for its first public unveil this past summer at Gatebil. Fredric's car actually wears the master of the kit…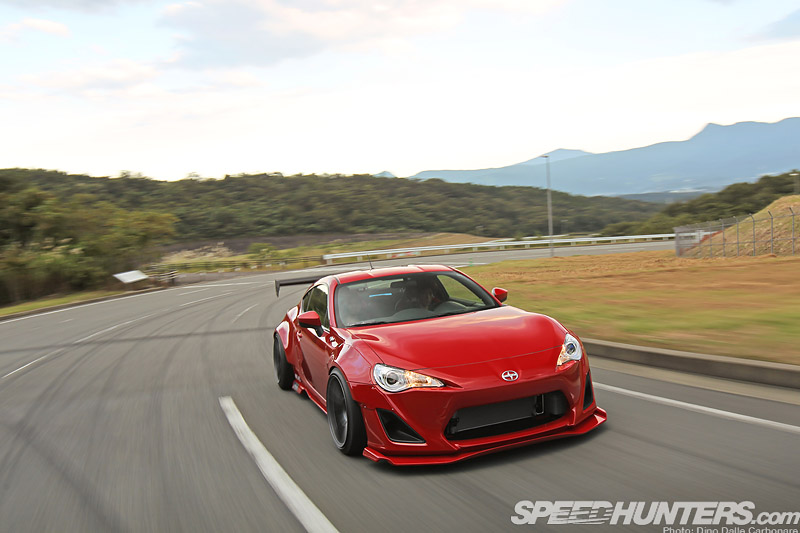 …shipped off to Norway just in time to be painted and stickered up for the car's debut. The soon-to-be-turbocharged new GReddy Japan FR-S is also sporting the  same kit as is Imai-san's Bee-Racing Subaru BRZ. But while we might have all seen it before, it's Miura's own car that everyone – including myself – were waiting to see.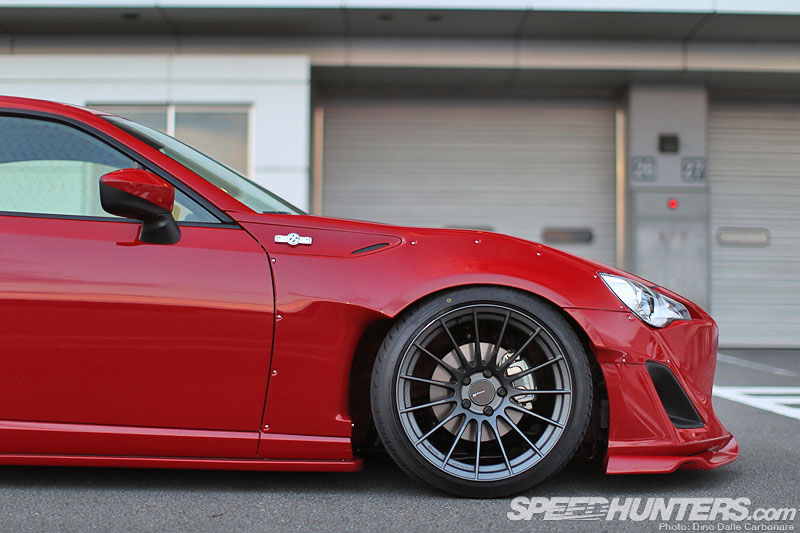 So when he showed up this past weekend at the Slammed Society show in Fuji Speedway I made sure that I'd get a chance at immortalizing it…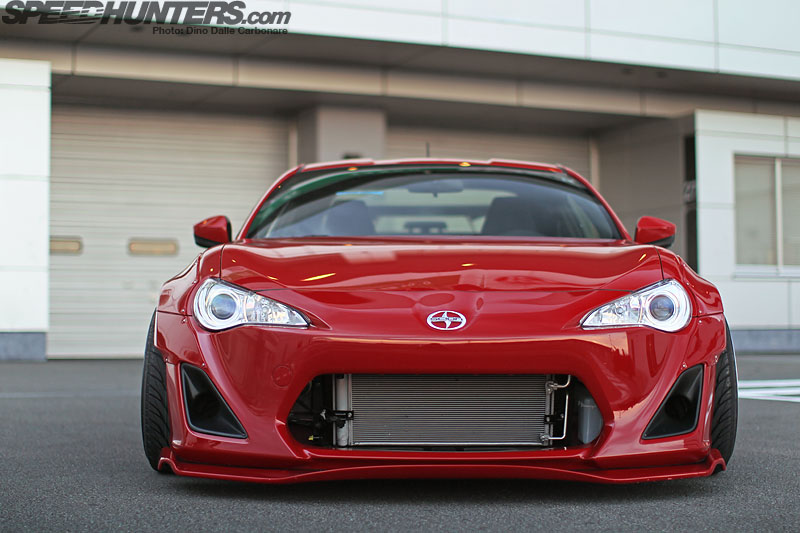 …because, simply said, it looks amazing. If you are an 86/GT86/FR-S/BRZ owner, this is what your street-registered car could look like. It's not a fully prepped pro-drift car, nor an equally extreme demo car, but the wild street car it was always meant to be in Miura's head.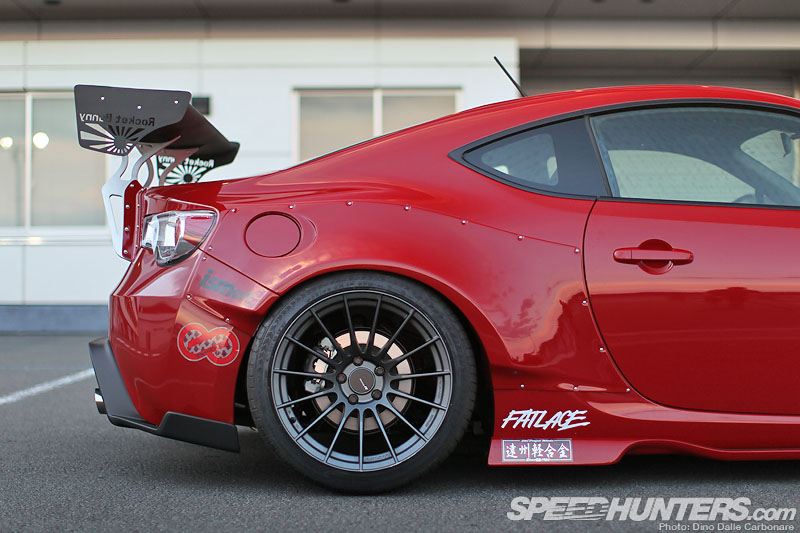 It is still very much a work in progress, but so close to completion that it was deemed more than ready to be shown off, which is why Enkei had it on their display area at the event.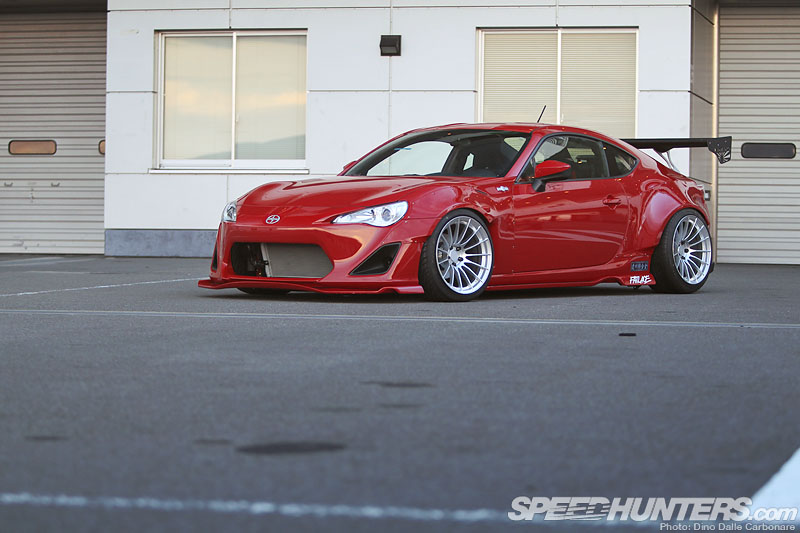 After spending some time with the car, taking in all those lines and details, what comes across almost instantly is its simplicity. Rather than going against the original design of the base car, Miura concentrated on working with what was already there. An analogy would be a body builder working his muscles, toning his body rather than bolting on synthetic and fake looking implants.  There is continuity from the front…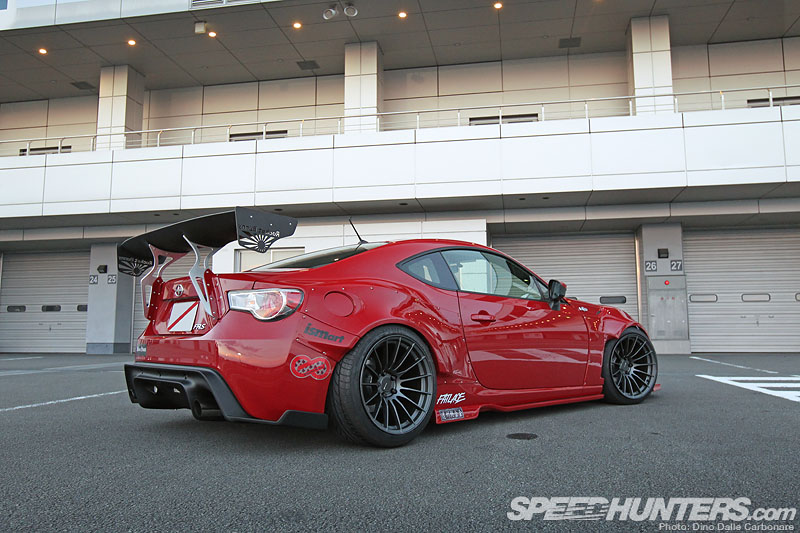 …all the way to the back, which is finished off with the mother of all rear wings, taking obvious inspiration from the rear end of the BenSopra R35 GT-R.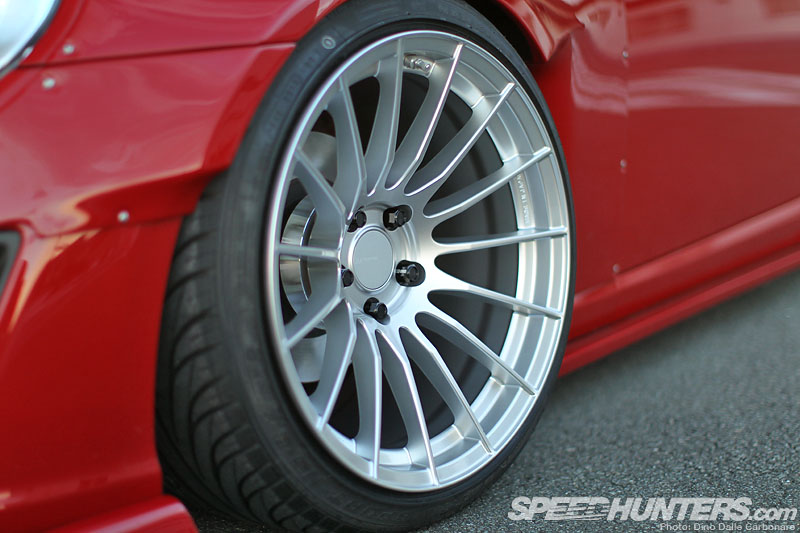 Miura's set of delicious oldschool BBS mesh rims, which suit the car down to a tee, were removed at the show and replaced with Enkei's new deeply-concave, multi-spoke RS05RRs – "sparkle silver" on the driver's side and "matte gunmetal" on the passenger side. While they may give the car a completely different look compared to the BBS, they are a great choice for the Rocket Bunny kitted FR-S, which manages to suit quite a lot of different styles.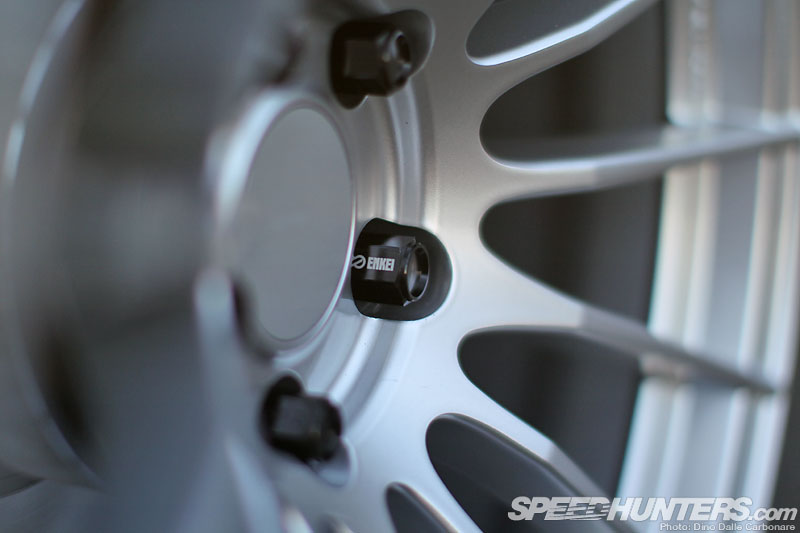 Attention to detail, Enkei branded lightweight wheel nuts.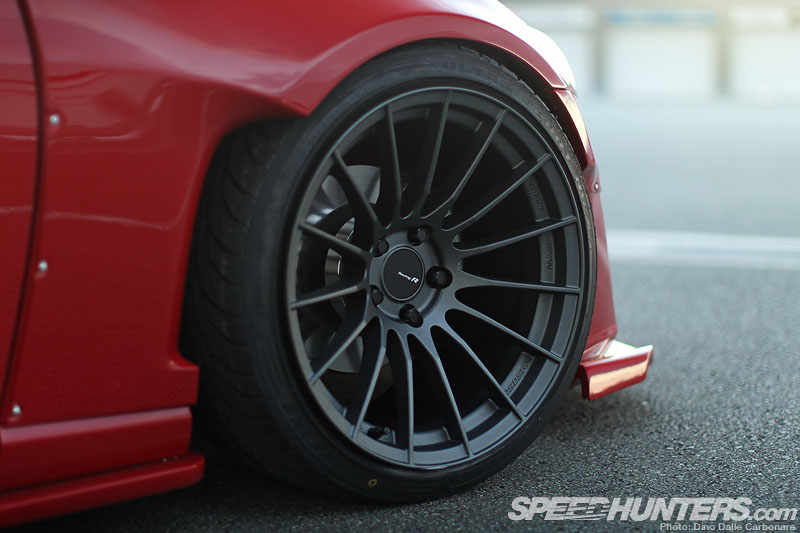 The rims used measure 18×10.5J +22 all round and are wrapped in 255/35R18 Nankang Ultra Sport tires up front and Achilles ATR Sport 265/35R18 at the rear. It was tough deciding which color the RS05RRs looked better in, the silver or the gunmetal.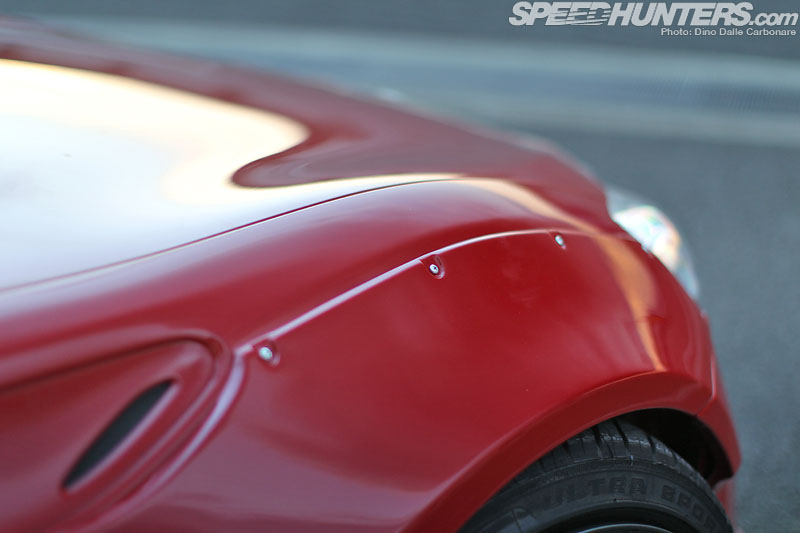 Miura is a respected aero maker in Japan because he is one of a very few out there that uses CAD to design his kits, rendering them in a variety of colors and with different wheels before deciding what to go for. Once a design has been decided upon it is fed into a milling machine, which accurately shapes the negatives of the moulds out of special compressed polystyrene. This is the reason why his kits fit just as well as a stock body part…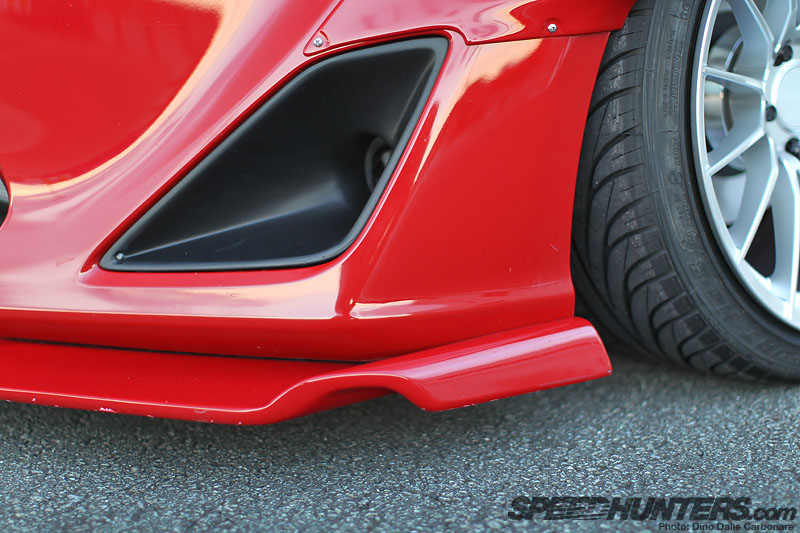 …and why he has made a name for himself. Believe it or not, but his brands – Rocket Bunny, 6666 Customs, Number 6 – only take up a very small percentage of his time as he is contracted to produce tons of aero products for other established Japanese brands. Aside from the obvious riveted-on front and rear overfenders the FR-S's kit also consists of a more aggressive front armed with a lip spoiler…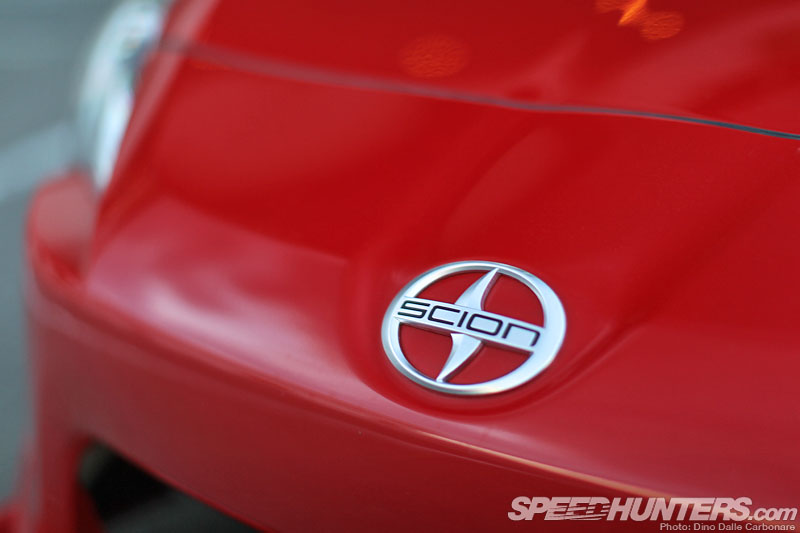 …to help create that initial visual impact when viewed head on.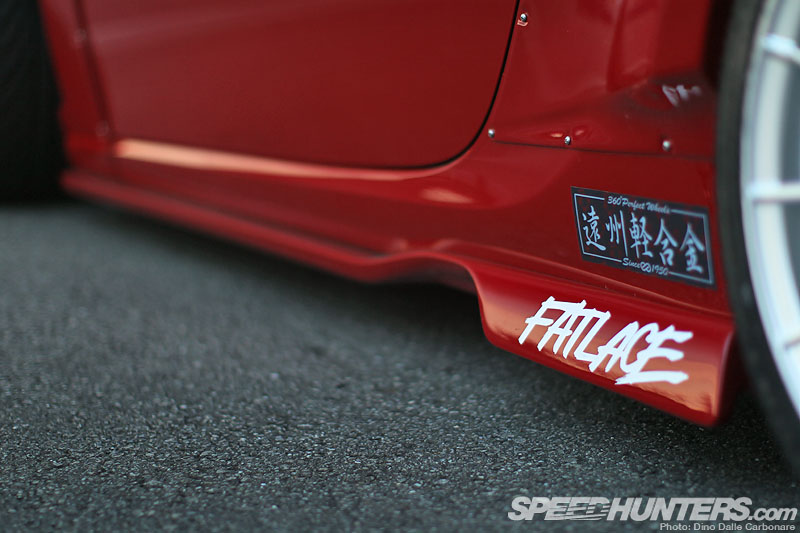 The profile is boosted by skirts that, as they meet the rear wheel arches, emulate the curvature found up front on the lip spoiler.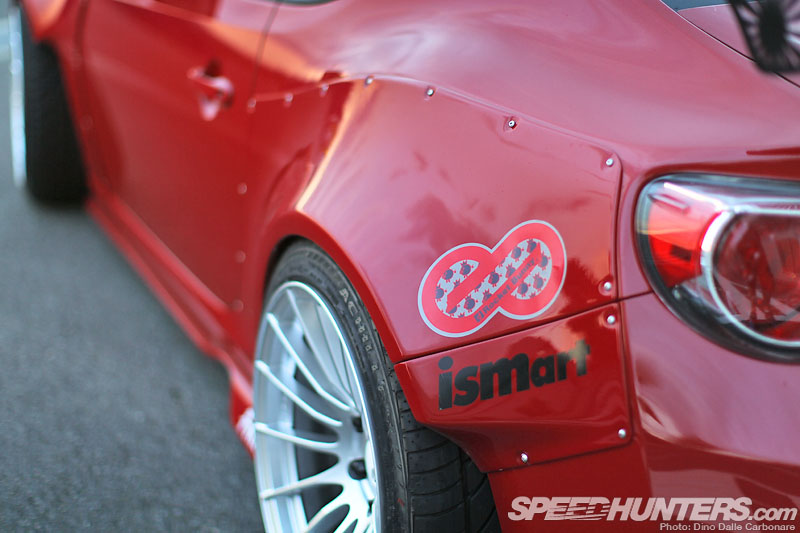 There is no smoothing or blending of the overfenders, that would be totally against the Rocket Bunny way where details like the fenders need to be as in your face as possible.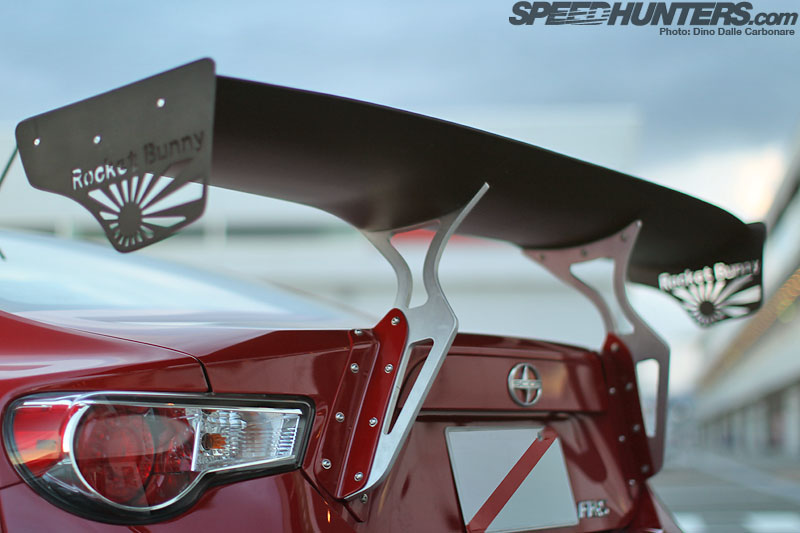 And it doesn't get more extreme than that GT-wing out back, bolted onto the rear side of the trunk…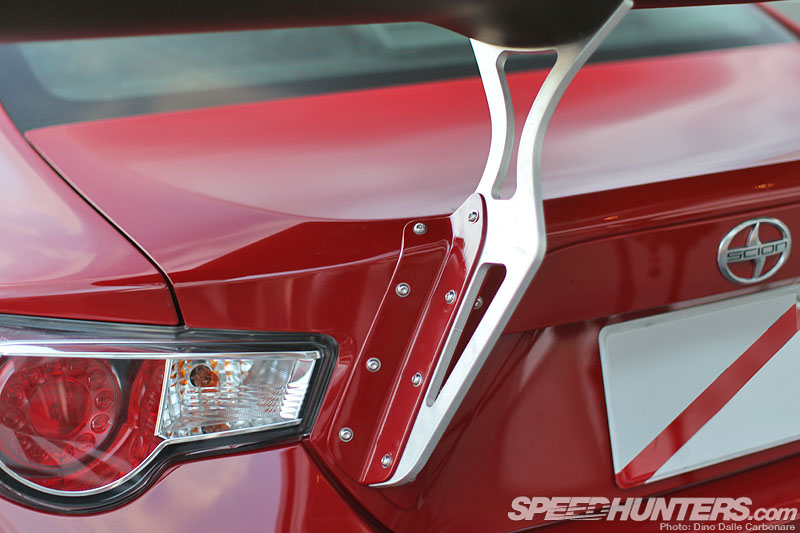 …via a set of FRP brackets, contoured to follow the lines of the stock lid. Again, lots of exposed bolts.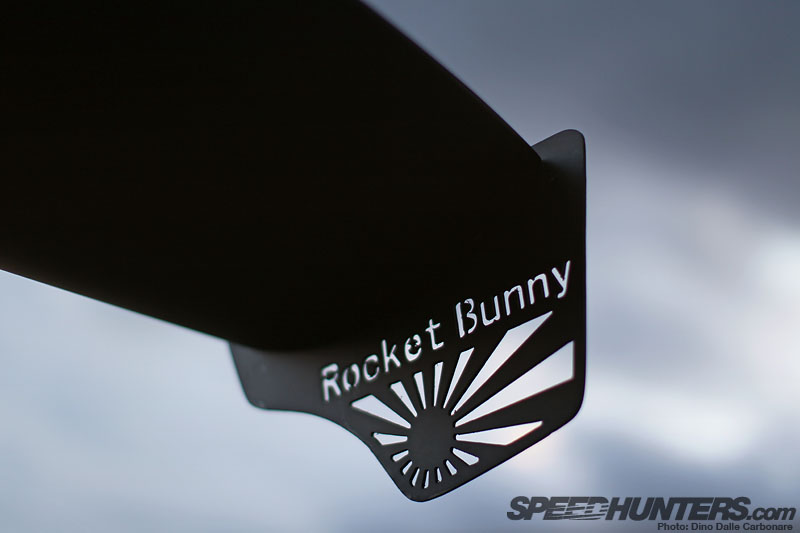 The Rocker Bunny kit continues…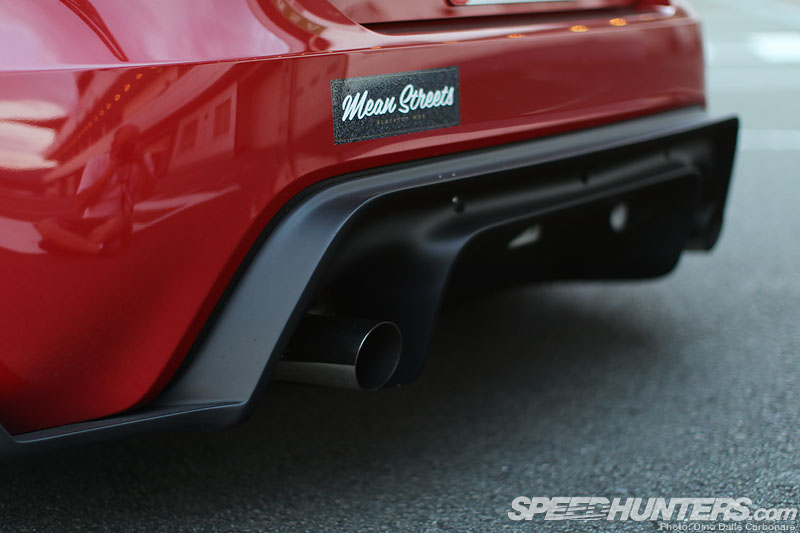 …with an extractor-type lower bumper section, to inject some super car looks to that rear end. Miura is currently running a straight through twin exit exhaust system which really boosts the natural "raspyness" of the flat-4 motor…strangely making it sound more like a tuned 4AG than a boxer.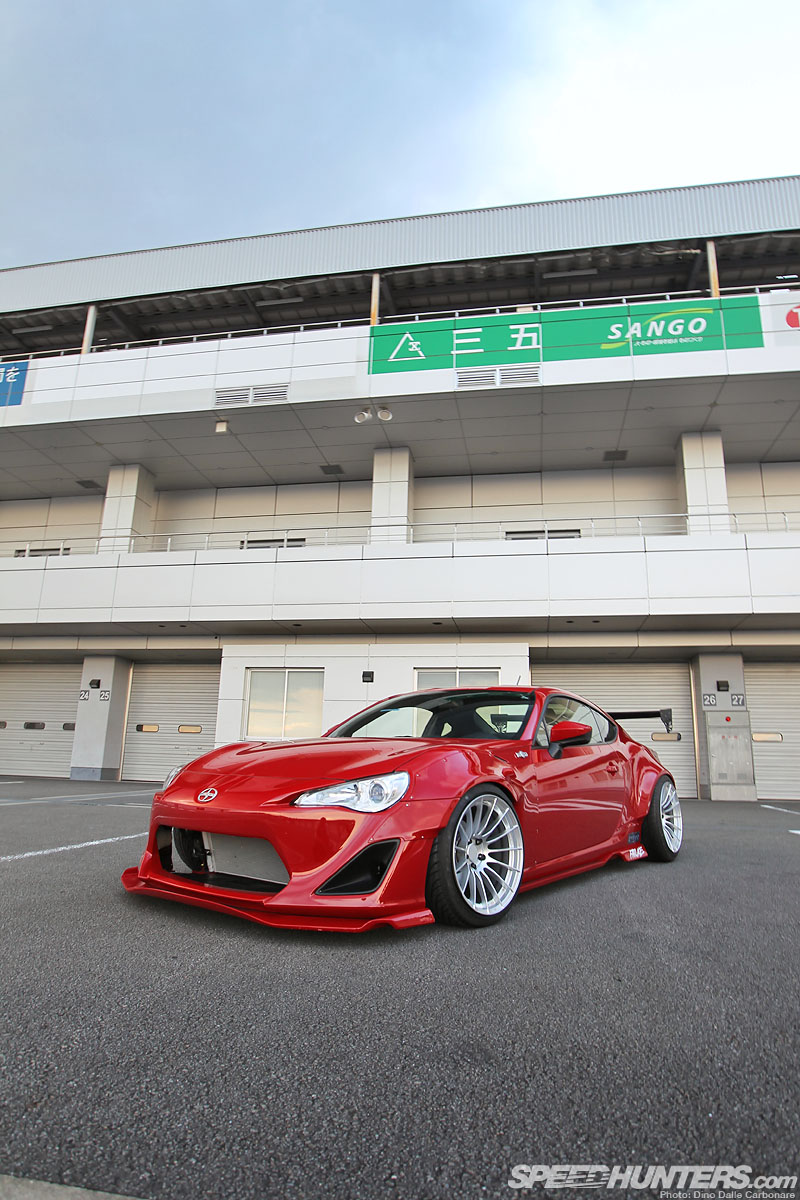 Thanks to a set of KW adjustable dampers the FR-S sits just right, low enough to look good but not too low that it is undrivable.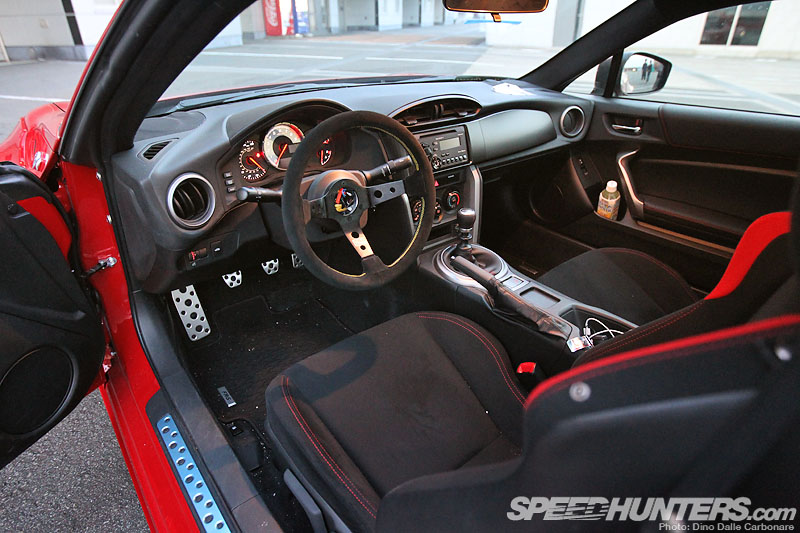 Since the car has spent most of its time inside the TRA Kyoto HQ getting its kit fitted and being worked on, Miura hasn't gotten to the interior quite yet.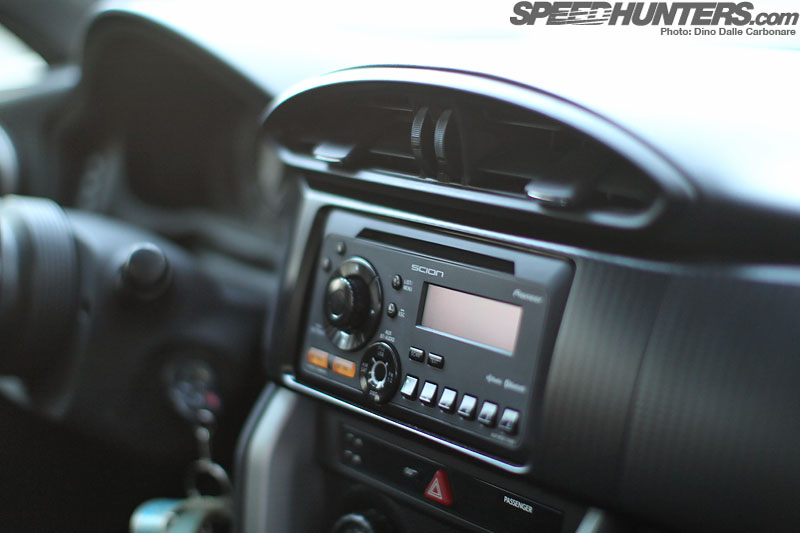 So along with the double DIN Scion audio head unit…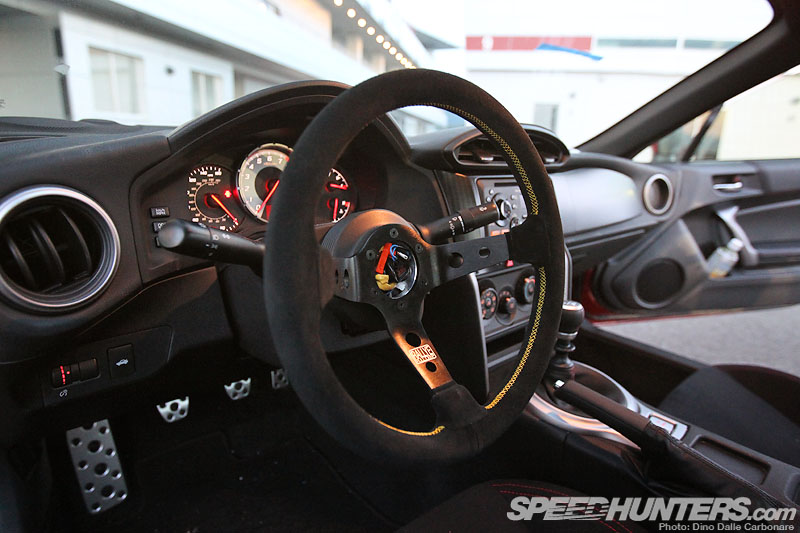 …he has only had the time to swap out the stock steering wheel for something a little more sporty.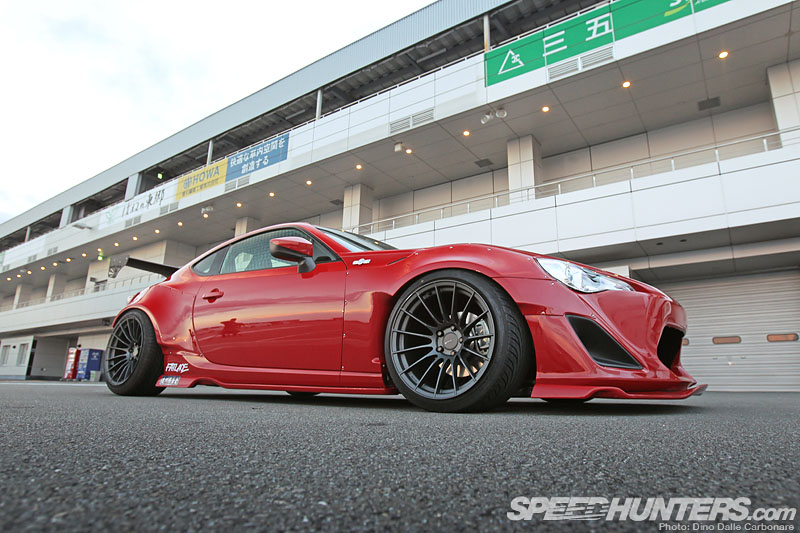 Sparkle silver or matte gunmetal? Uhm…it's a tough choice!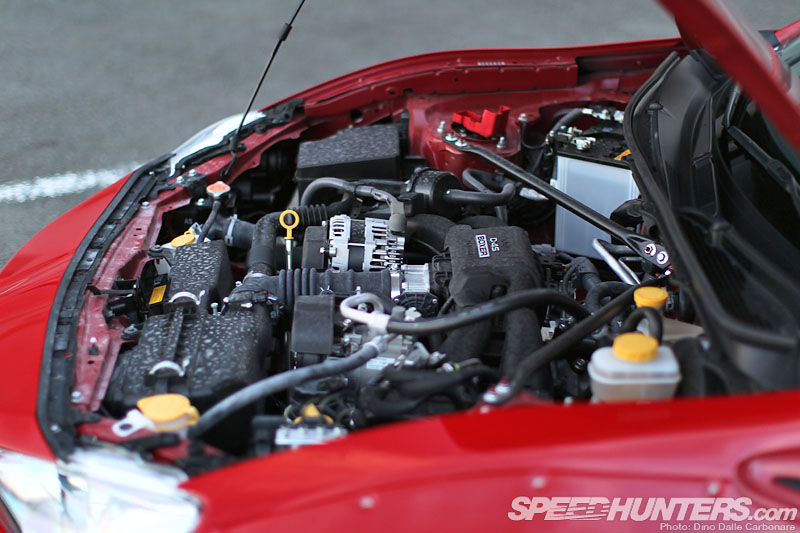 Aside from the exhaust system the engine has been left stock, and by the looks of it has not even been washed since the car arrived in Japan. There's quite a lot of white dust covering various plastic covers and the airbox, coming from all the sanding of the FRP body panels that was done during paint-prep. Much like Nakai's RWB cars, a certain element of roughness kind of suits Miura's rides.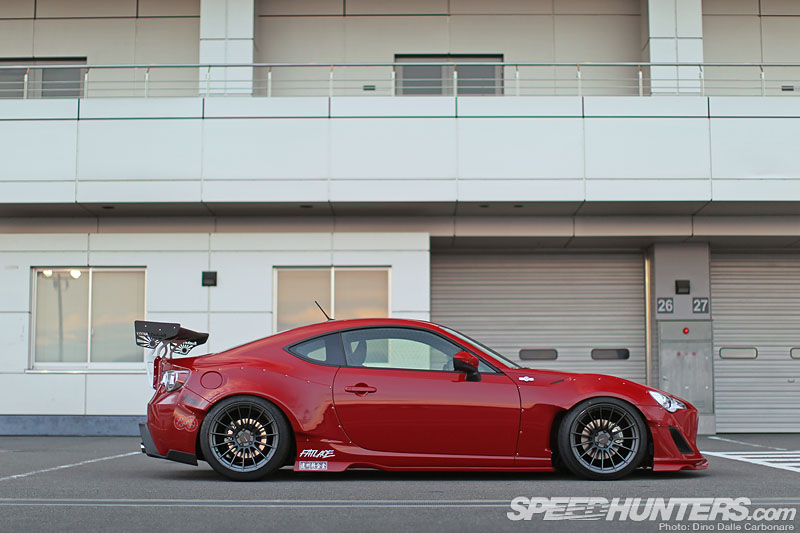 Miura is not one to keep his cars looking pretty for long. He likes driving, and driving hard, so once he gets a bit of free time he will be hitting tracks like Meihan for a bit of sideways action.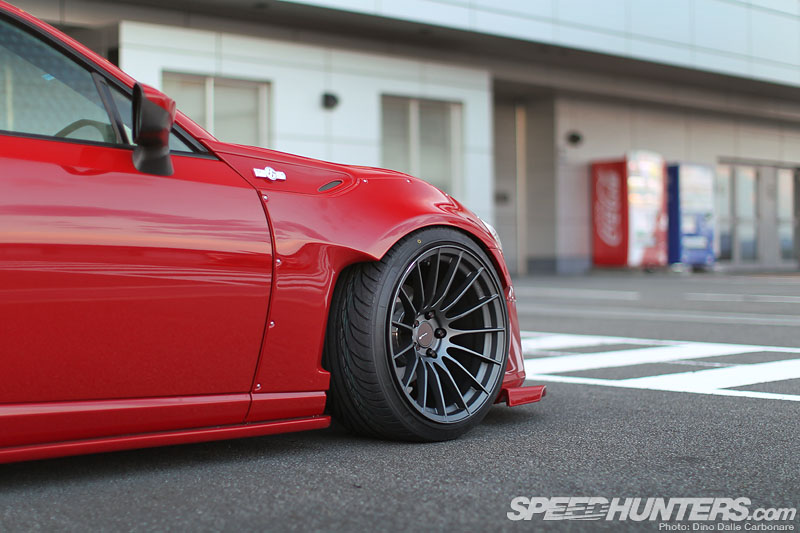 The pretty Enkei wheels will have to give way to the 15-inch BBS for track use, smaller tires are cheaper after all.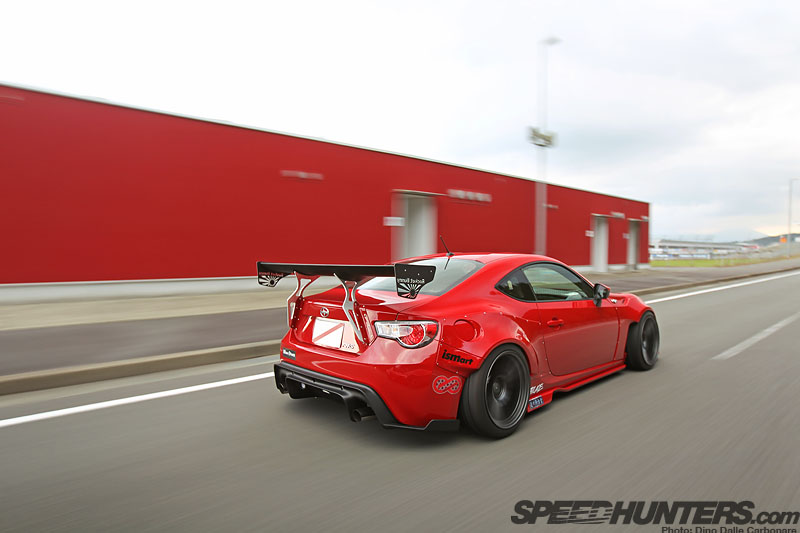 Cruising around the access roads inside Fuji Speedway the FR-S looked nothing short of breathtaking. I'm probably not alone in saying this, but every time I look at these pictures I can't help but want one! Scratch that, crave one!
-Dino Dalle Carbonare
---
---
---