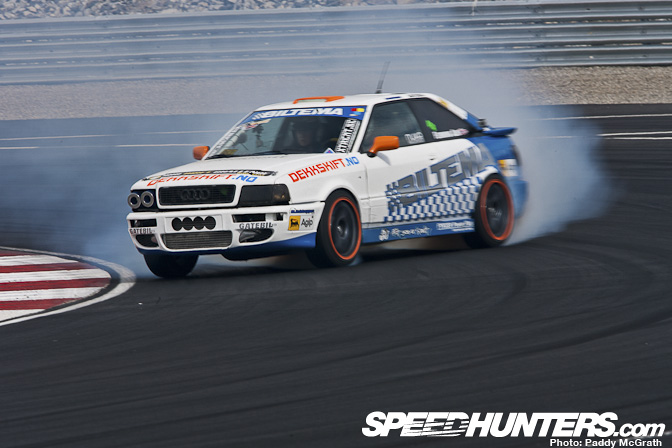 Gatebil – a name within our culture synonymous automotive insanity. I think insanity along with incomprehensible are probably the only two words that come close to describing the events which continue to unfold around us. I'm sure most of you have seen the videos or maybe have seen photographs from previous years but I can promise you that nothing has prepared any of us for the Gatebil experience.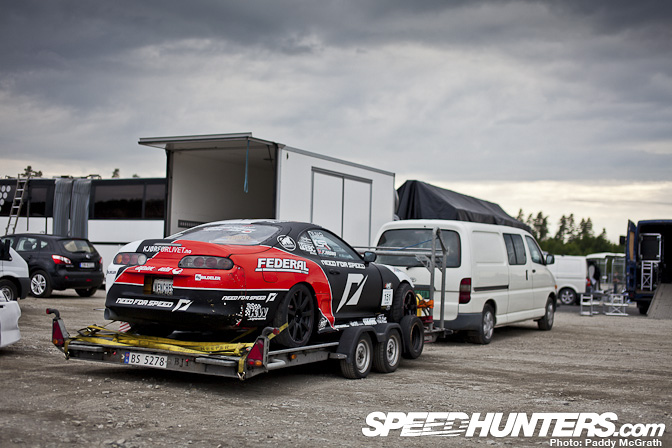 The Gatebil events have been running since 1993 – when a group of enthusiasts got together and hired out a track to vent their motoring frustrations.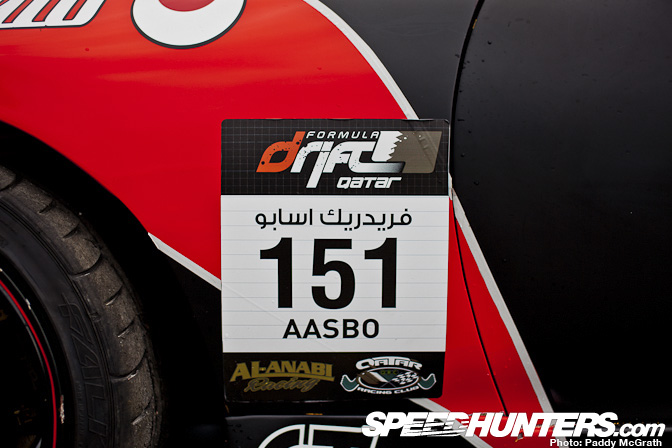 There maybe worse, but I've never visited a country before where the government appears to be so anti-car. Drivers here are crippled with extraordinary taxes that cover everything from horsepower to weight. Couple this with no-nonsense police enforcement where a simple speeding ticket anywhere else can lose you your license here, along with a fine which is based on a percentage of your annual salary.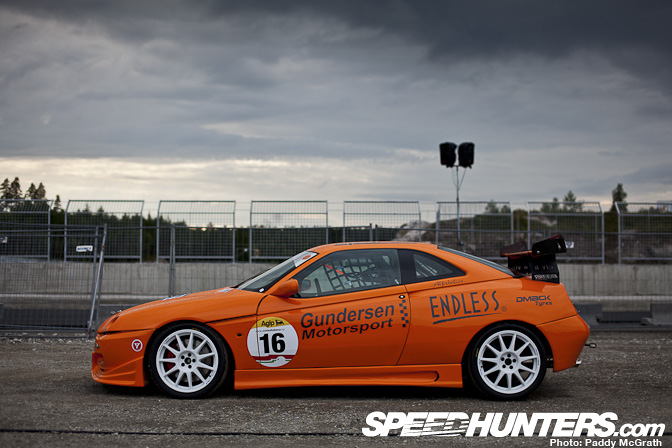 With a government seemingly trying to do everything in its power to stop people enjoying their cars, it makes it even more amazing what has come from these enthusiasts fighting back.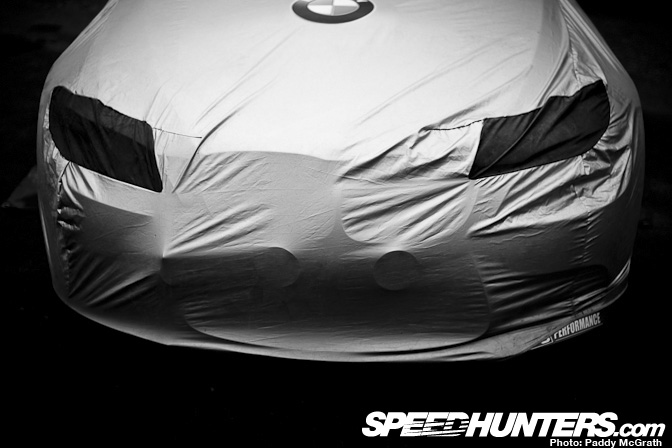 The variety and quality of cars at Gatebil is truely on another level. You might not always appreciate their styling, but the craftsmanship is top notch.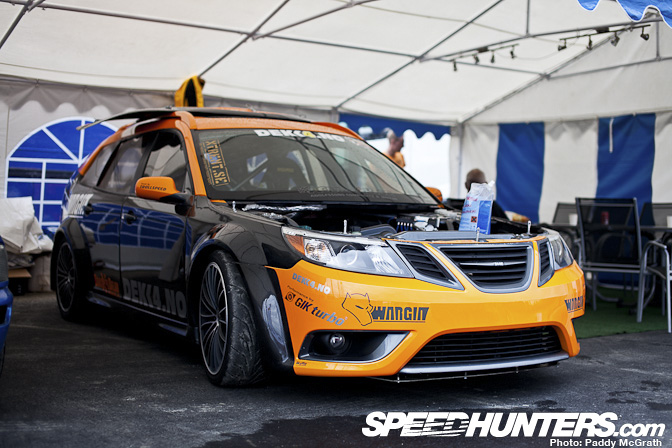 Where else would you see a semi-tube framed, carbon bodied Saab Aerodeck …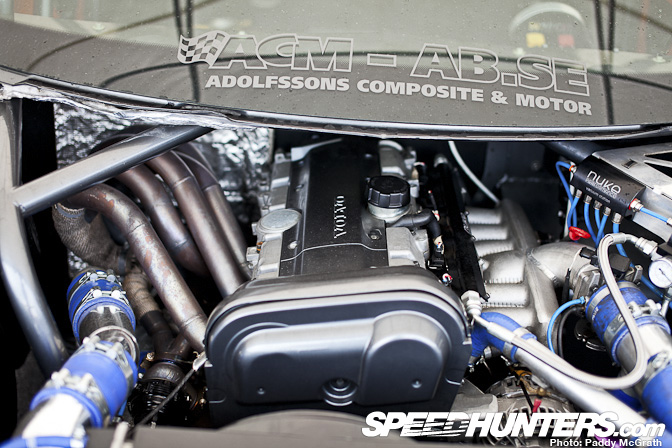 … with a turbocharged five cylinder Volvo engine mounted back through the bulkhead, sending power to the rear wheels ?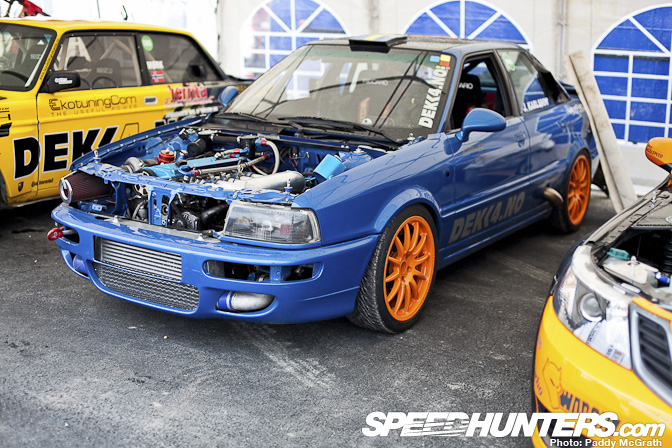 Big horsepower and four wheel drive is where these guys are at.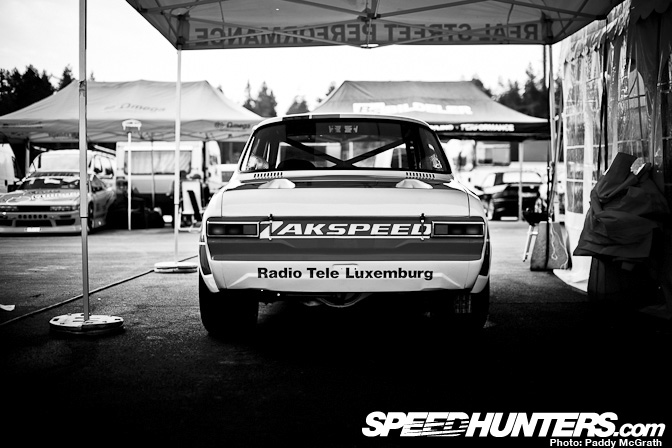 In saying that, they've plenty of time for the traditional FR layout. This Zakspeed replica MKI Escort was just one of hundreds of amazing cars.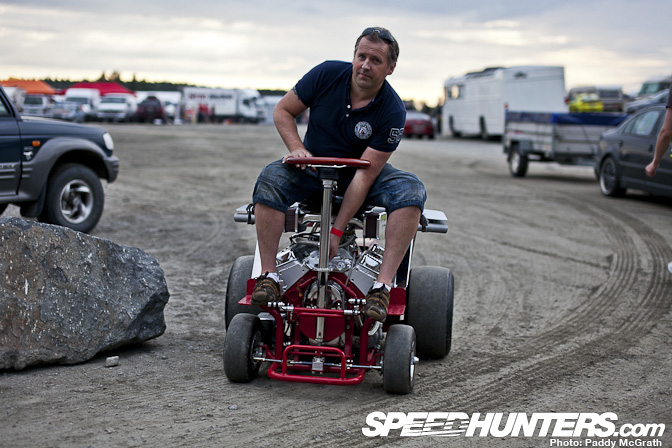 Even the pit vehicles were out of this world …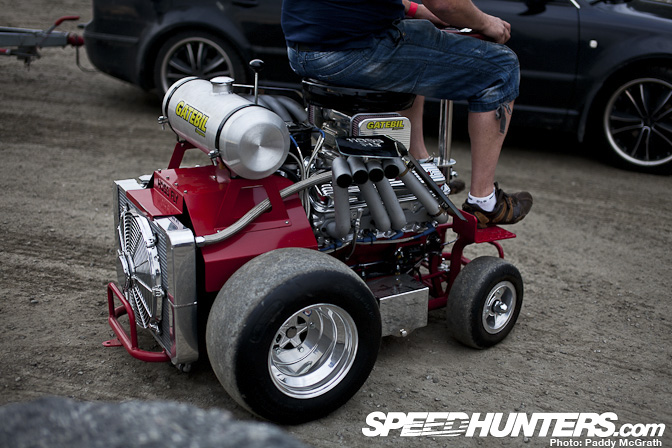 … V8 powered barstool anyone ?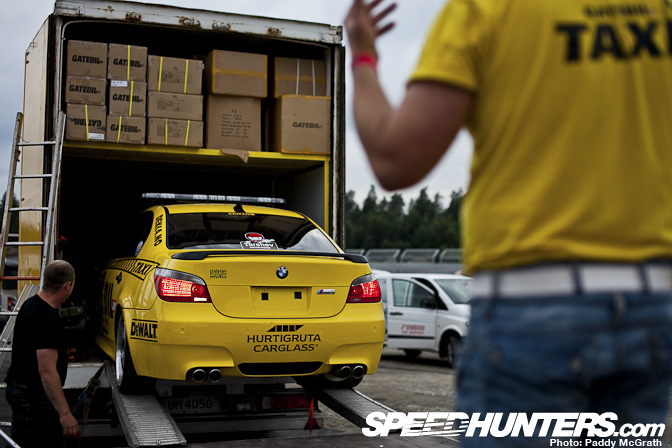 The Gatebil Taxi service isn't your traditional cab. Caged and big powered M5 equipped with four bucket seats and harnesses which allows anyone to sample the on-track action.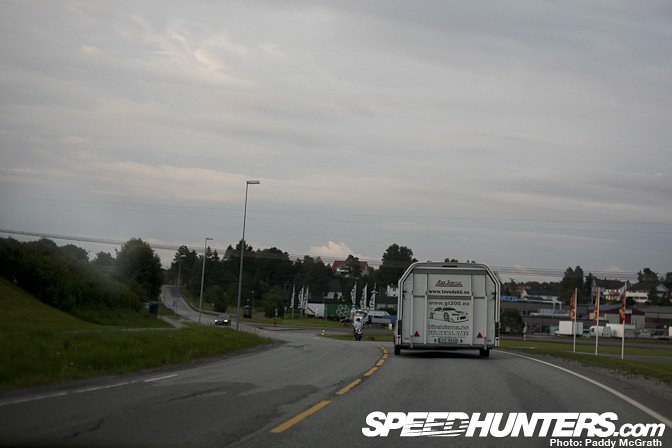 The entire area around the event has transformed into a sort of automotive spotters haven.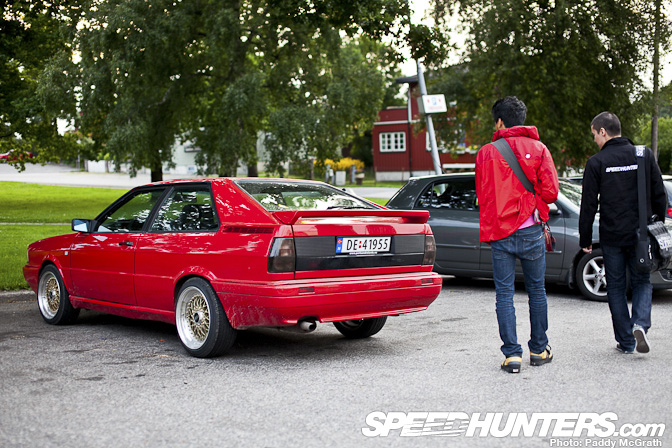 Anywhere else in the world, a Quattro Sport on BBS RS would have people salivating, but here it's kind of ordinary.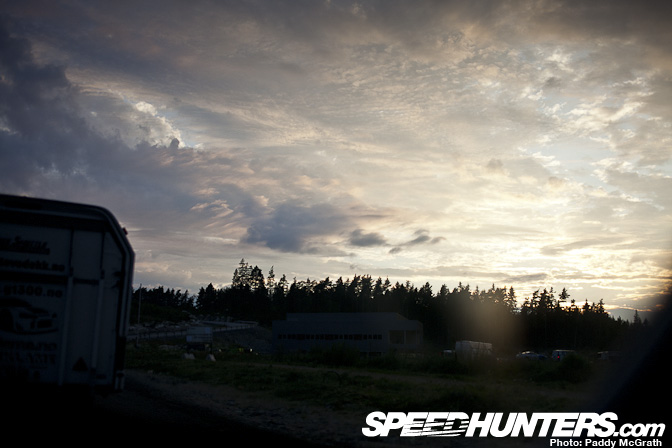 Combine all these things in a scenic land where it never really gets dark and the results are plain to see for everyone.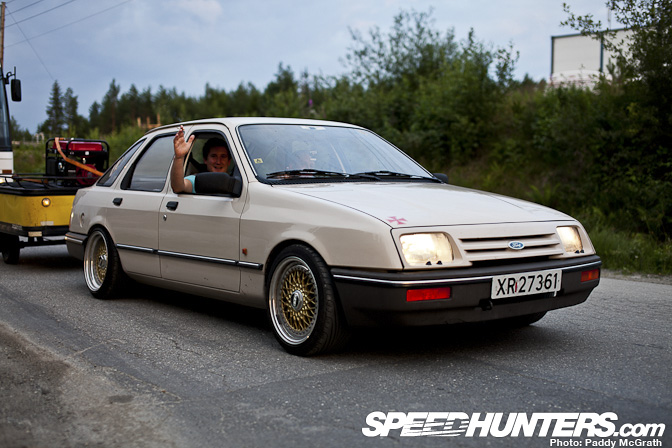 This BBS wearing Sierra was sat in traffic behind us as we returned to the venue on Thursday evening – blasting Tina Turner's Simply the Best.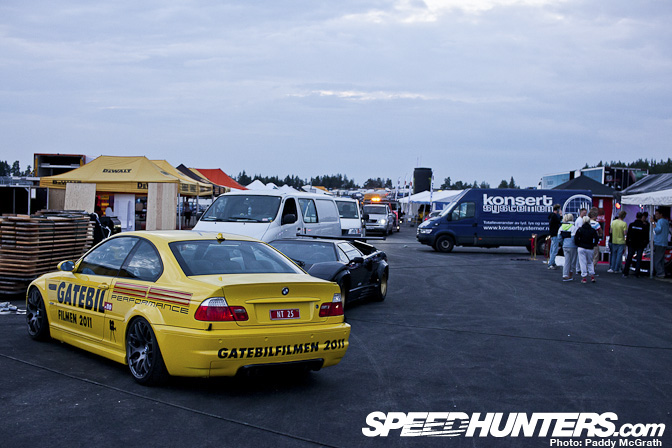 As you may have seen from Larry's behind the scenes post, Thursday was all about the setup. Yes, it was the first Countach I've ever seen in the metal but little did I know there was much more to come.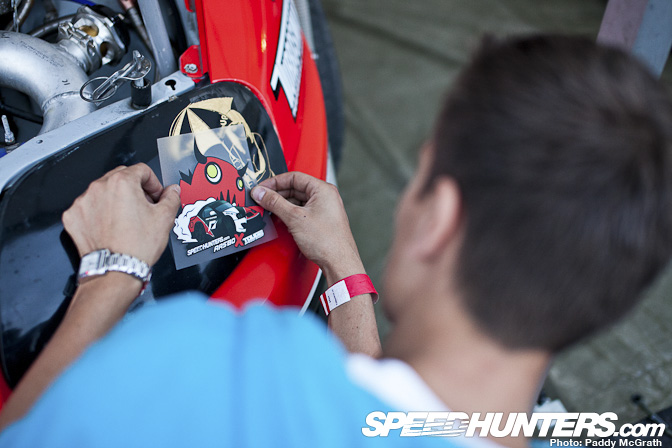 Fredric applying the new stickers created by the guys at Touge Automotive – anyone here this weekend could do worse than to call over to the Team Need for Speed electro lounge to grab some of these.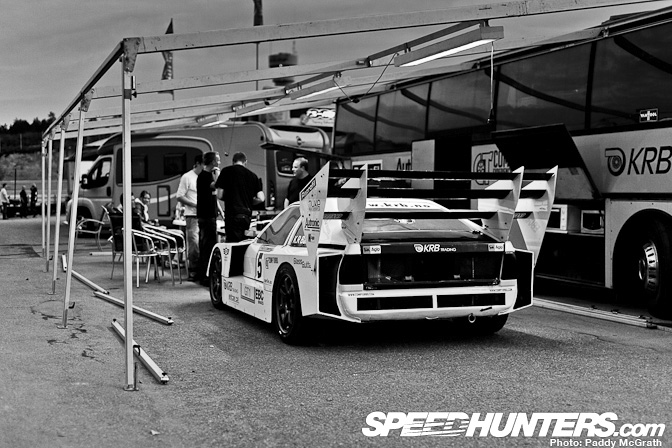 It's all about function – I've tried talking to people about this car but I'm finding it difficult to get a straight answer about the details. However, sub-900KGs and circa 800BHP probably wouldn't be too far off the mark.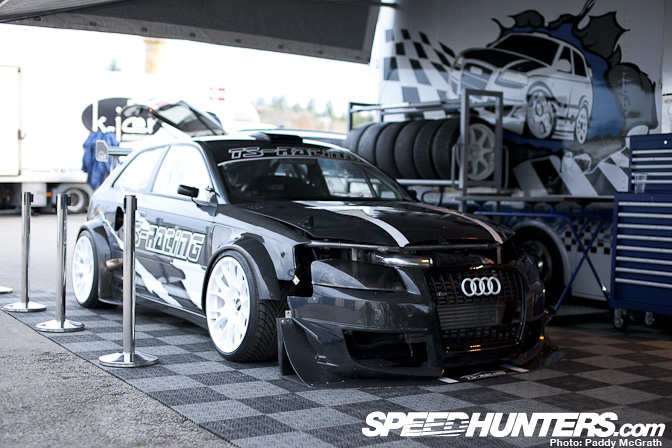 This carbon bodied S3 is allegedly over 1000BHP. I'll try and hunt down more information on these cars before the weekend is out.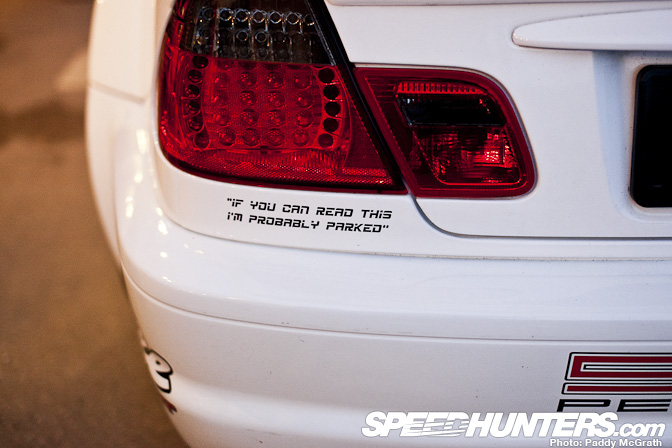 With a supercharged V8 under the bonnet, this E46 certainly didn't hang around.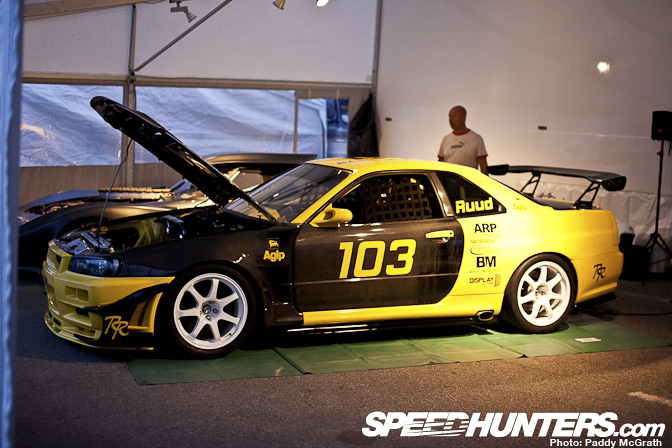 No matter where you look, there were amazing cars.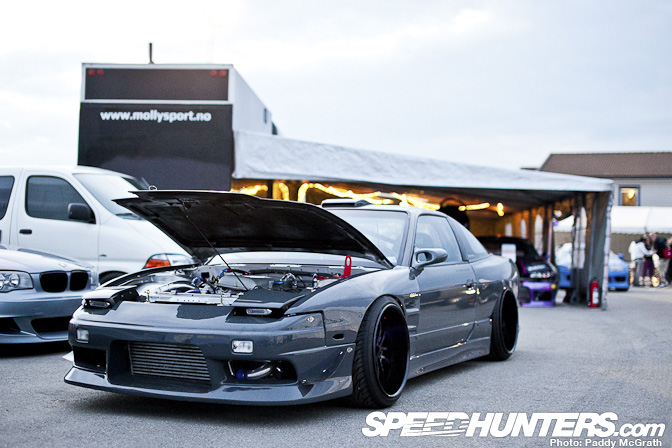 This amazing RPS13 isn't here for the show, it's here for the track …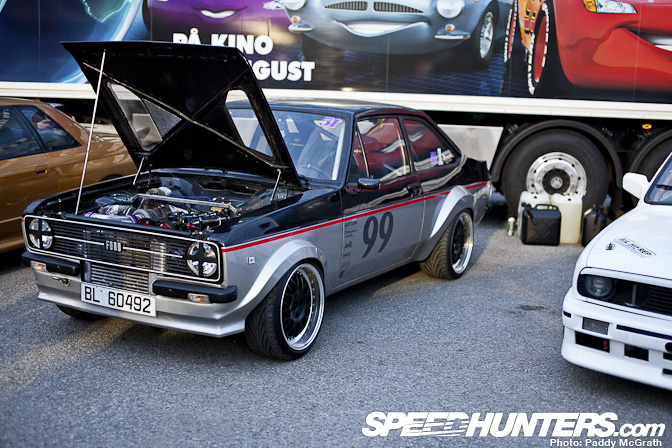 Turbocharged Cosworth YB engine in a lightweight MKII Escort – a simple recipe to put a smile on your face (and a stain in your underwear)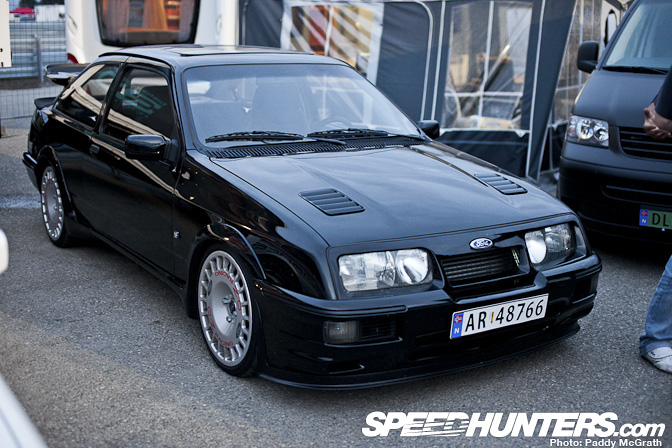 Someday I will own an RS Cosworth and this trip to Norway is doing my future bank balance no favours.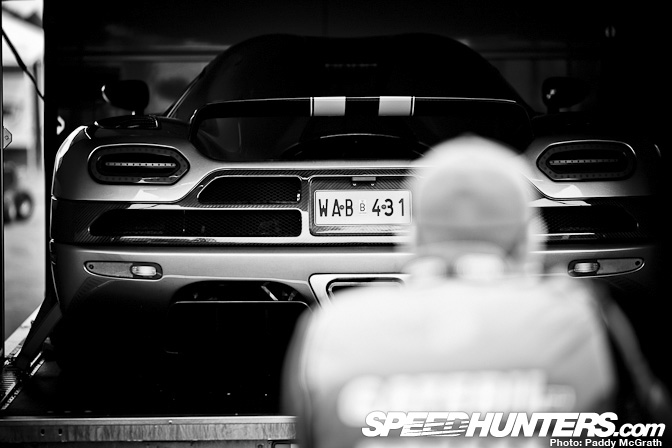 Arriving on the Friday morning and the surrealism continues – What appeared to be just another jeep and trailer combination was hiding the new Koenigsegg Agera inside.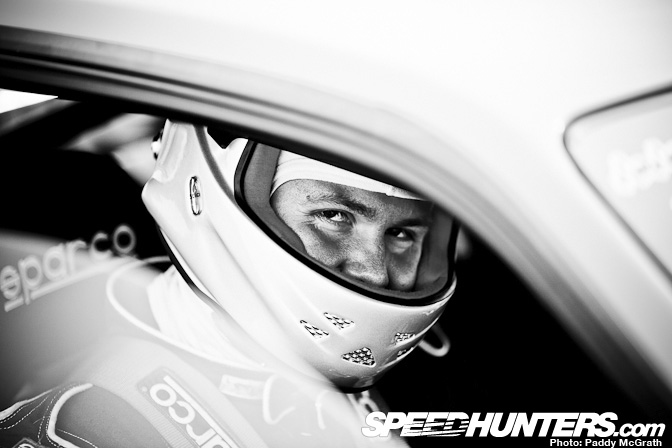 Do you even need to take a guess why this guys is smiling ?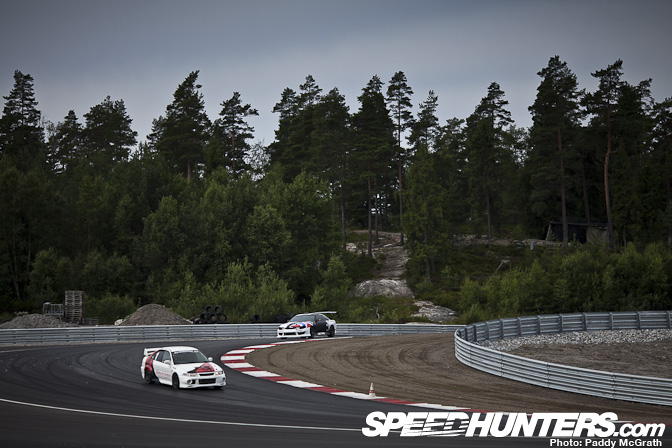 The Rudskogen circuit has actually been extended and this weekend's event is the first time the new track will be used in anger. It's already proving a hit with the drivers.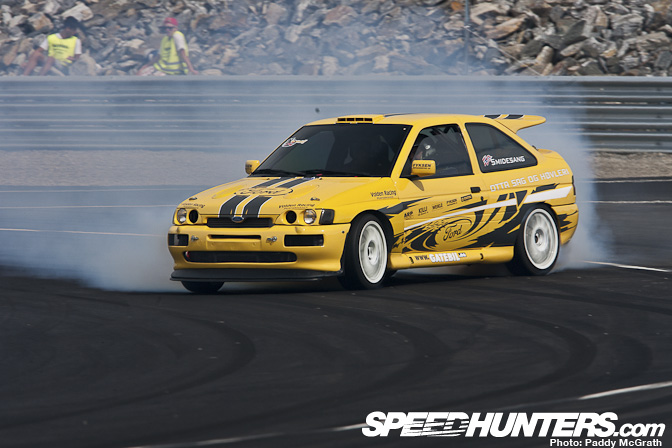 For the last couple of months, I've become slightly disillusioned with drifting and it's charm has begun to wear thin – the Norwegians have come up with the perfect solution to this problem …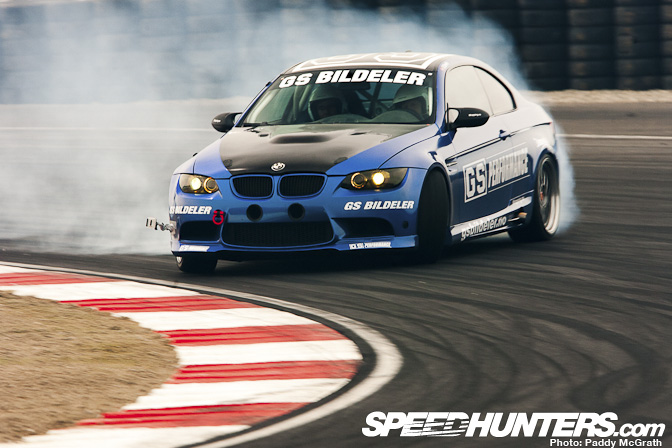 …. it's not about angle or line it's all about aggression and my word does it make drifting exciting to watch, regardless of the platform.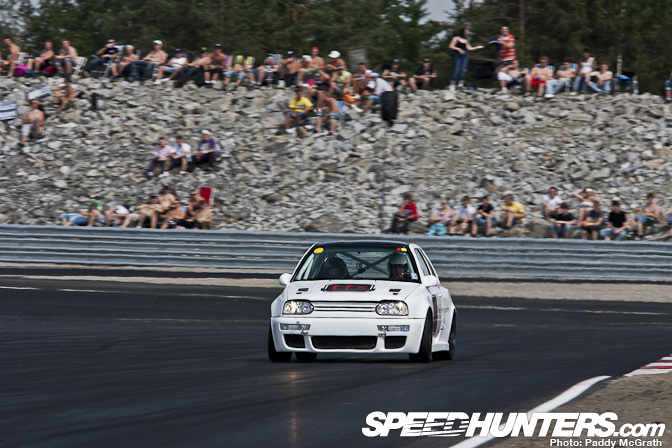 This MKIII Golf was packing some huge horsepower and a rear wheel drive conversion. The sight and sound of watching it trying to put its power down was one of those moments which you just couldn't help but smile.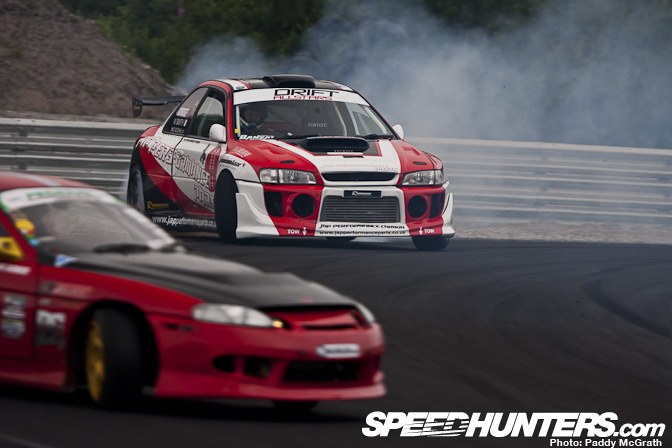 Drift Allstars regular Walton Smith arrived yesterday (Friday) and today is joined by his older brother Julian Smith who has just arrived here having drove his ex-Blitz ER34 from the UK.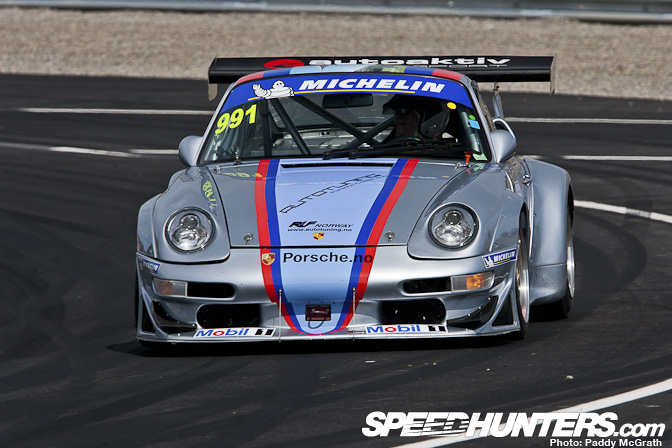 The mix of classes on track at any one time is pretty mesmerising, a guy trying to set a hot lap could be followed by a drifter followed by a monster powered four wheel drive car trying to smoke the surrounding environment out of it.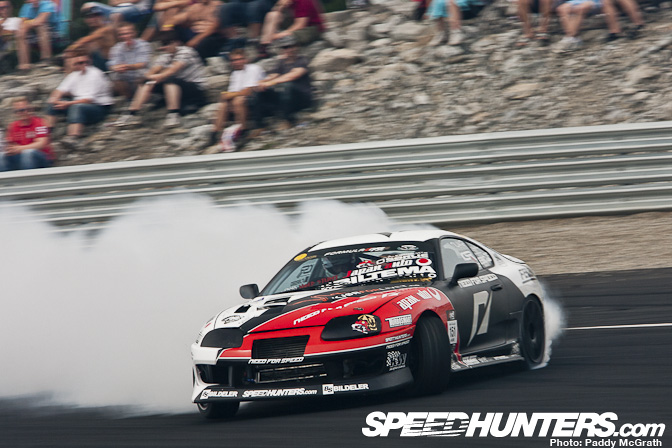 After a small ECU problem yesterday, Fredric is back on track and putting down some amazing runs, leaving the assembled spectators awe struck.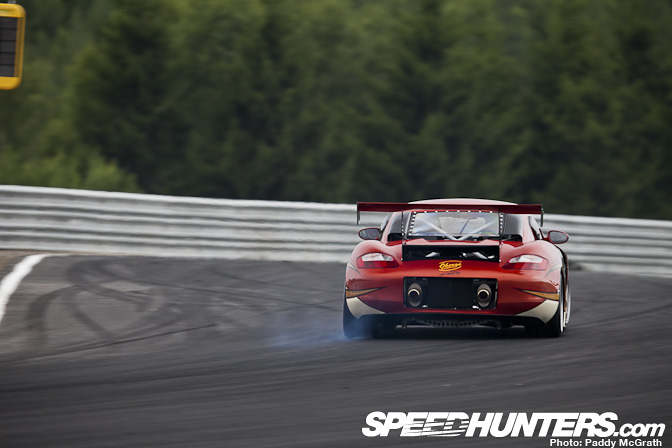 This Porsche Cayman was competing in the extreme class of the Time Attack part of the event yesterday.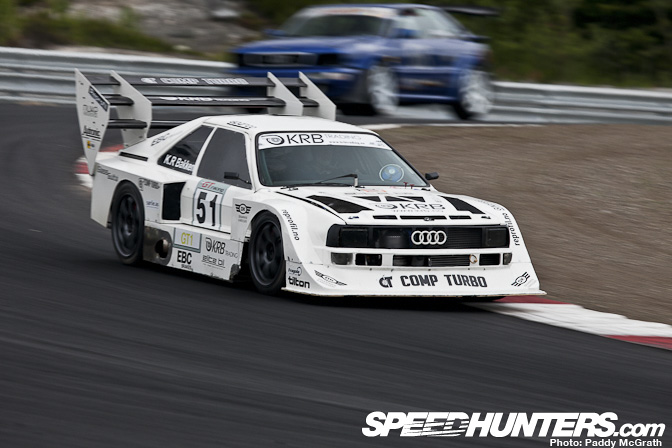 The KRB Audi is even more insane in person than you could possible imagine.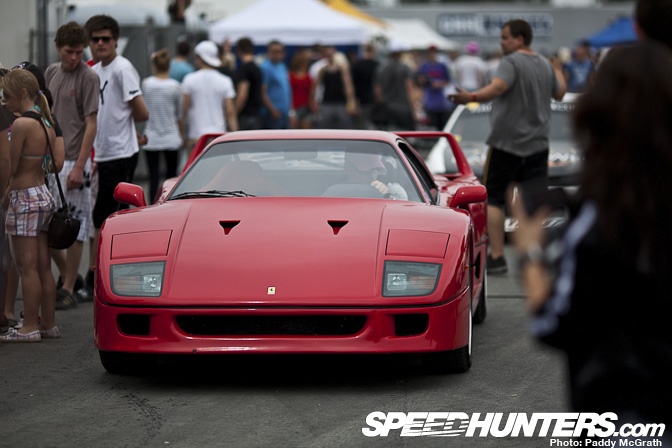 Wrapping up yesterday's proceedings I was greeted by the sight of this F40 navigating the paddock. For some of you this may not be anything special but I've pretty much idolised the F40 since I was a kid and this was the first time I've ever seen one in the metal. It's incredible when something you've lusted after for so long lives up to every expectation.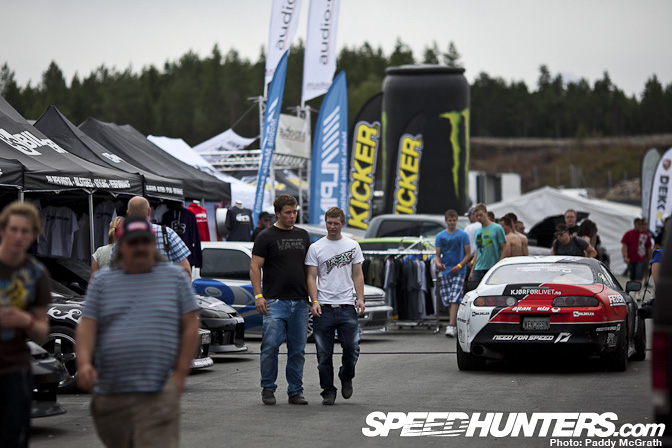 I'm currently sat in the Need for Speed electro lounge, it's just before noon on Saturday. Fredric and the team are busy preparing the car for its first runs of the day, there is a strong smell of burned rubber floating through the paddock and I can hear what must surely be the Koenigsegg CCR setting some hot laps on track. 
You'll have to excuse me folks, I need to get back out there. Rod should be along later once he collects his jaw from the floor with his view on the event so far.
-
Paddy McGrath