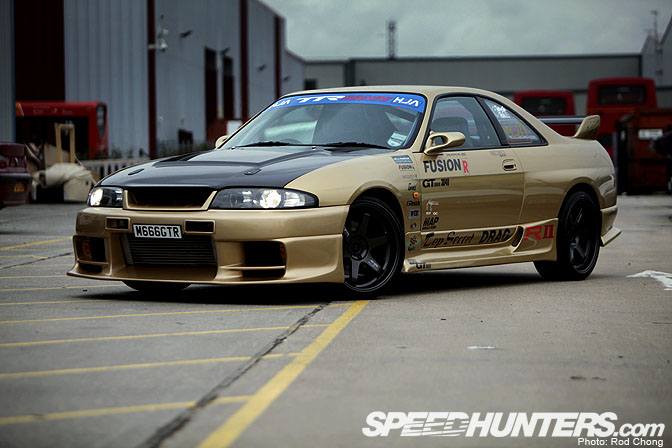 I hope you guys enjoyed Skyline Week on Speedhunters and found it to be a somewhat eye opening experience. I had a sense that the Skyline community was a global massive, but seeing all of the reader's rides submissions has deepened my understanding of this international scene. One key cultural flashpoint for all things GT-R related is the UK -someone once told me there are now more GT-Rs in the UK than in Japan itself! It's a statement which very much could be true given the strength of this community.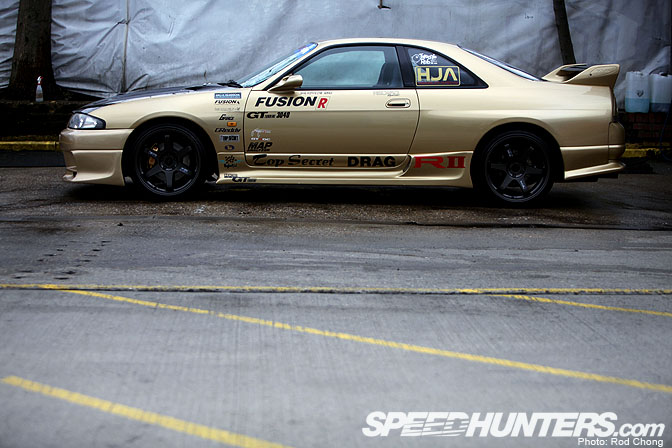 I've been spending a lot of time in the UK the past few months, so last week decided to try and set up a date with this very special R33. I'd heard about this car from a colleague of mine who works at the SMS game studio and had been interested in shooting the car for some time. So when the plan for Skyline week was solidified, it was the perfect excuse to meet up with and photograph this legendary machine.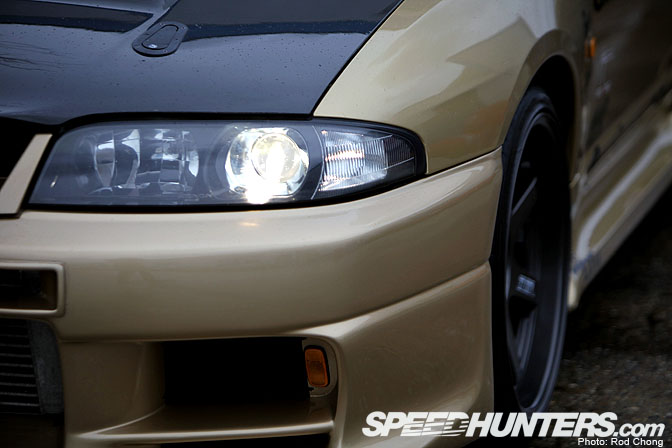 I hope you just reviewed the video I posted a few hours ago.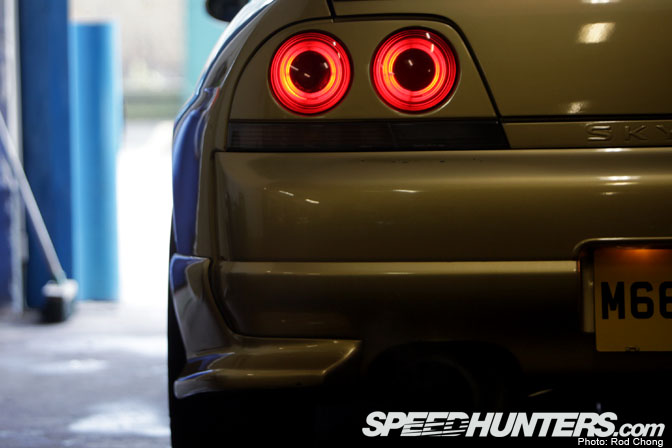 It's a section from the Max Power video "Beasts from the East" which infamously featured footage of this car hitting 205 mph at the hands of its builder Smoky
Nagata.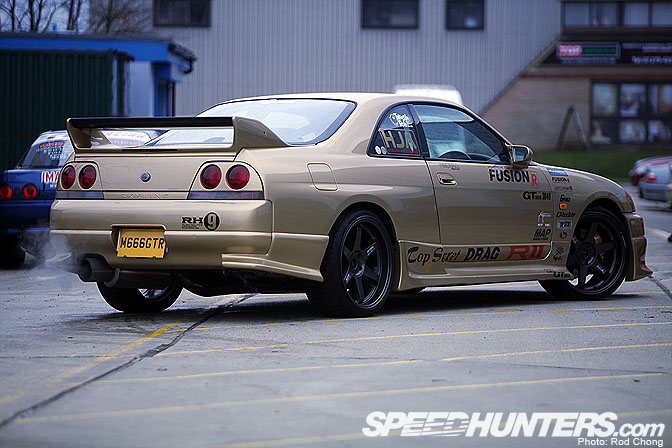 At the time of the car's creation, it was one of the most extreme builds ever attempted with a whopping 1200 bhp on tap, to propel the R33 to nine second quarter mile runs…. And remember this was and still is, a street legal machine.
After its life as a Top Secret demo car was over, the Drag R II was sold to the British Skyline fanatic, Tim Webster who imported it into the UK. At the time, he also owned the Jun Hyper Lemon II and the Duke R33 drag machine too…. all famous machines from this time period.
Tim didn't really do much with the car, he was busy building up his own tuned up R34 Nur. So the R33 collected dust for a few years until Tweenie Rob from the UK GT-R tuning house TR Racing bought the car.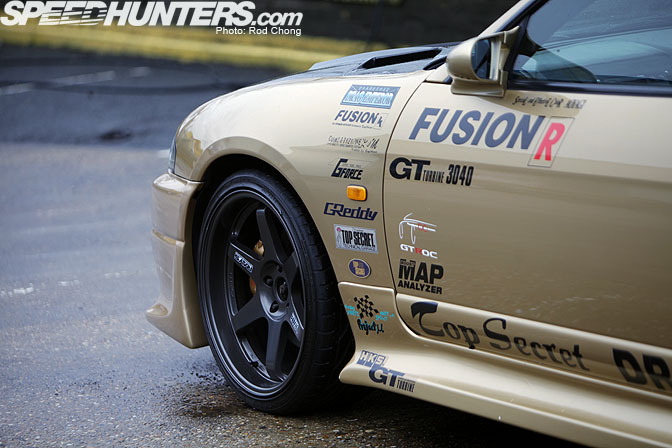 It was at this moment that a customer of his we'll call G Man saw the machine and knew he had to have it. "I had always loved the car since seeing it in the videos but never thought I'd get to see it in the flesh, let alone own it…..from the moment I saw it tucked in a corner at the workshop I just had to have it so I sold my 560hp R32 and bugged Rob everyday to sell it to me which he eventually did."
It's quite the machine to be in the possession of, as it's a piece of living automotive history.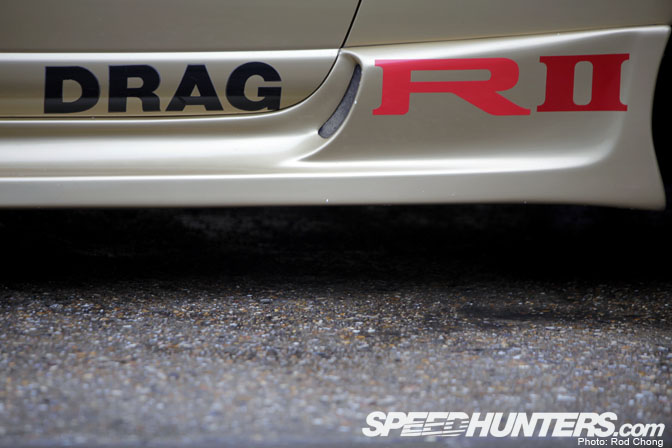 So let's examine the car together. The first thing that struck me about it was how you could read the history of the car just by looking at all the stickers on it. Each marking tells its own story.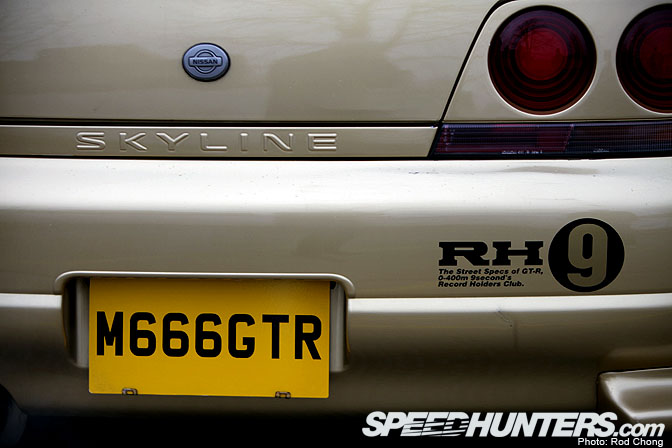 Take this sticker on the rear bumper for example.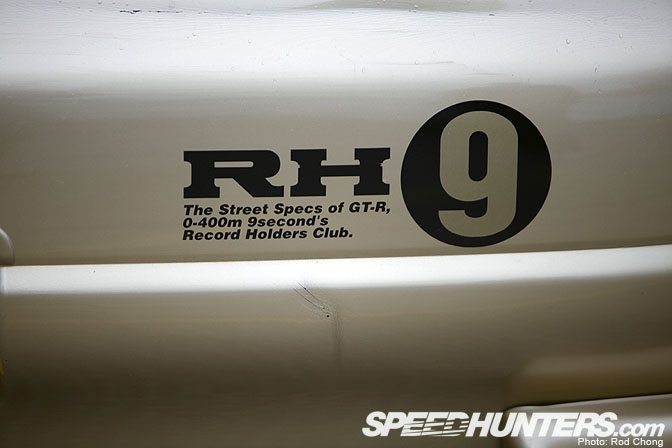 You can see here the car is part of an exclusive group: the 0-400m 9 second club.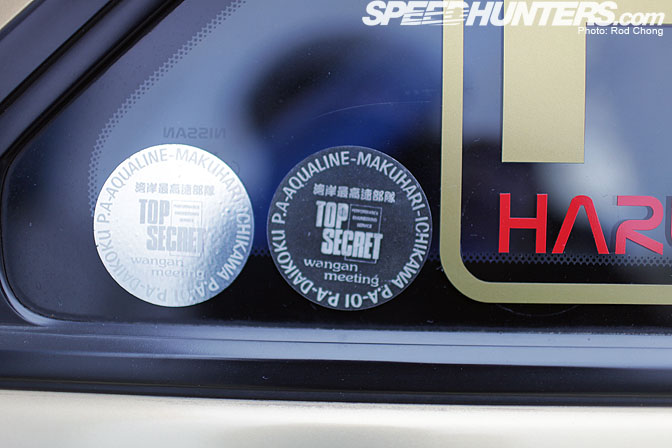 These small stickers on the side of the car commemorate some Daikoku Wangan meets. It makes you wonder what else Smokey got up to in this car.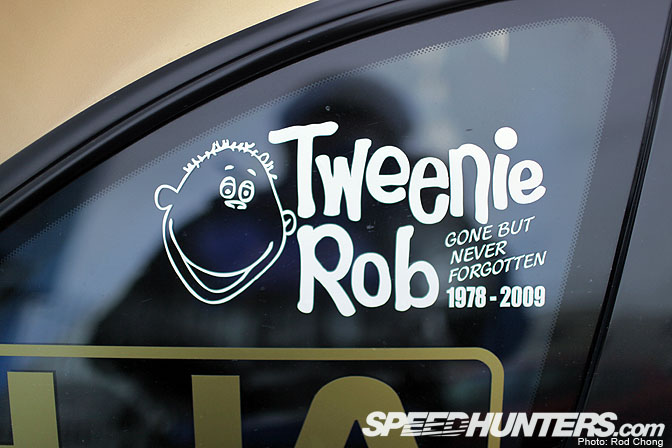 This sticker is more recent and points to the recent tragic death of Tweenie Rob in late 2009 in a road accident. It's an event which has sent some shockwaves through the UK Skyline scene unfortunately.
The wear on this sticker reminds me of the faded stickers you sometimes see on old vintage drag race cars.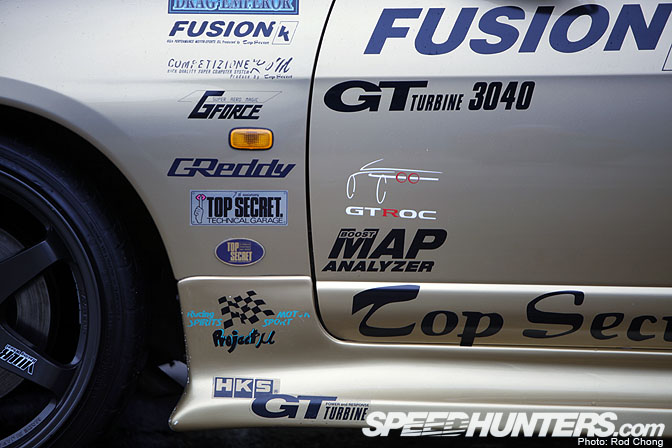 No doubt some of you are members of the GTR Owners Club.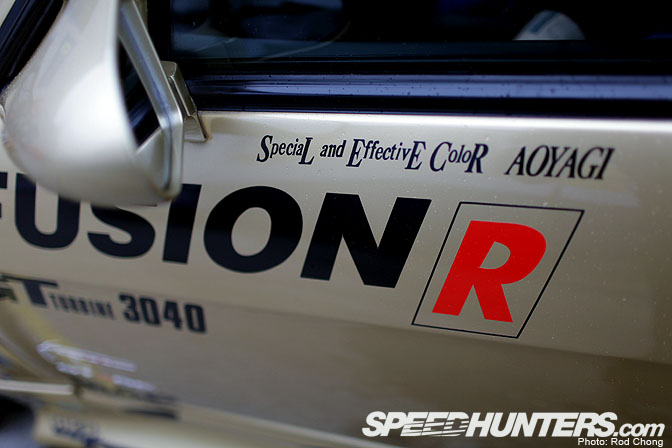 Ahh you gotta love the JDM Engrish!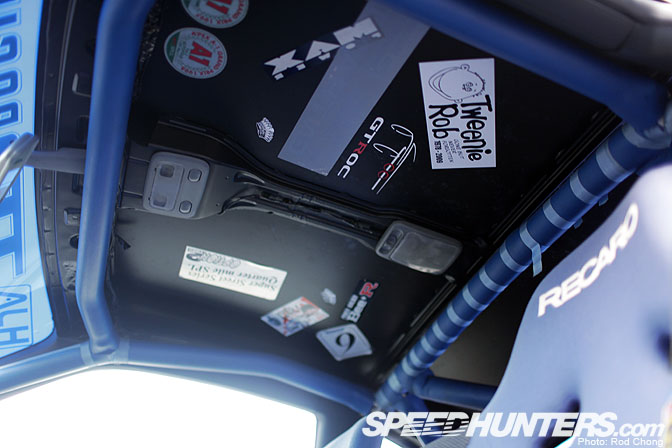 The stickers on the inside of the roof are particularly interesting -especially the Max Power decal. It was placed there at the time of the car's original video appearance.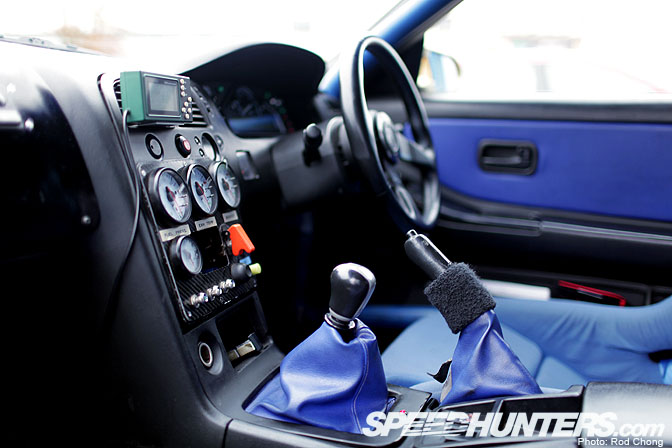 It's interesting to see that the cockpit looks unchanged from the Max Power video shoot too. The car is still very close to it's original build spec.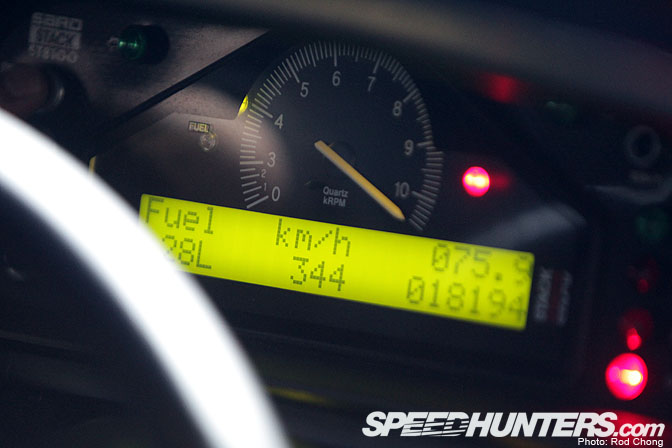 Data memory: the car's computer indicate that the car has previously hit a top speed of 344kph! That's even faster than the 328 figure shown in the Max Power video!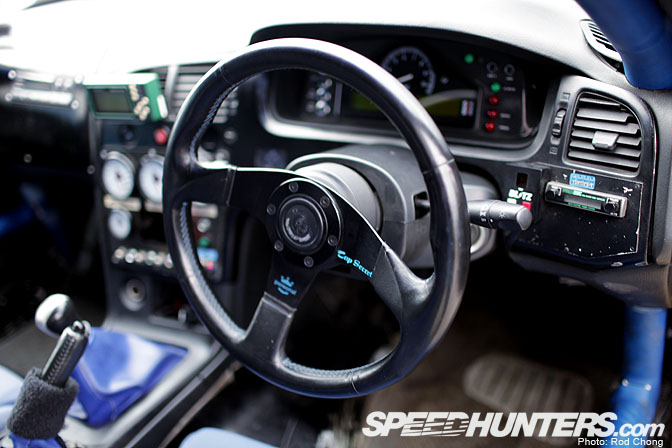 One can only imagine what this car done in its previous Japanese life on darkened Wangan freeways.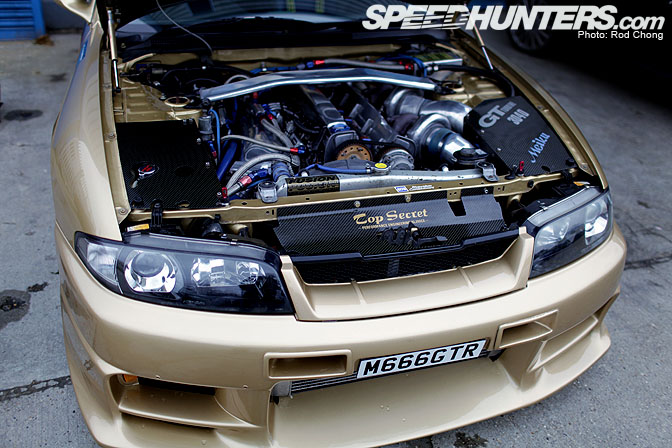 So let's look into the heart of this gold rocket.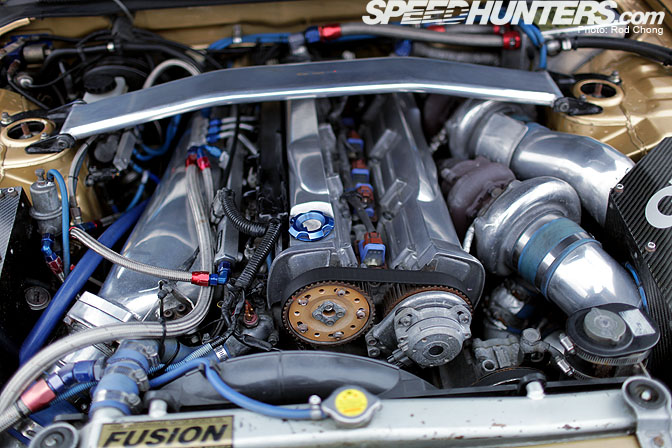 And the engine specs:
NISMO N1 RB26DETT (24U) ENGINE BLOCK
TRUST SPL FORGED PISTONS
TRUST SPL H-BEAM CONRODS
TRUST SPL FULL COUNTER BILLET CRANKSHAFT
TRUST SPL H1 DRAG CAMSHAFTS
NISMO N1 WATER PUMP
TOMEI HIGH FLOW OIL PUMP
TOP SECRET SPL SUMP
TOP SECRET MODIFIED CYLINDER HEAD
TOMEI 1000CC FUEL INJECTORS (X6)
TOMEI FUEL RAIL, PRESSURE REGULATOR AND RAIL ADAPTOR
BOSCH 280L/HR FUEL PUMPS (X3) AND AEROQUIP HOSES/FITMENTS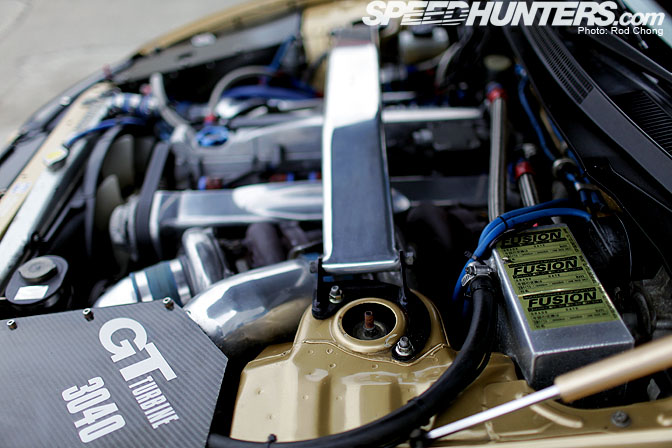 TOP SECRET SWIRL TANK
TRUST INDUCTION KIT AND HARD PIPES
TOP SECRET CARBON FIBRE INDUCTION BOX
HKS GT3040 TURBOS (X2) WHICH HAVE BEEN REBUILT WITH A DIFFERENT SPEC
TRUST TYPE C HIGH FLOW WASTEGATES (X2)
TOP SECRET PRO INLET MANIFOLD (PLENUM)
TOP SECRET 100MM BILLET ALI THROTTLE BODY
TOP SECRET SCREAMER PIPES (X2)
TOP SECRET DRAG TITANIUM FRONT PIPE
TOP SECRET DRAG TITANIUM EXHAUST
TRUST 4 CORE INTERCOOLER AND HARD PIPES
HKS FCON V-PRO GOLD ECU
BLITZ BOOST CONTROLLER
TOP SECRET ALI RADIATOR
TOP SECRET OIL CATCH TANK
TOP SECRET CARBON FIBRE SLAM/COOLING PANEL
SPLITFIRE COIL PACKS
The original Enkei 18″ x 10″ wheels have been replaced with TE37s 19″ X 9.5" on all four corners. G Man does have the originals through and I'm sure they'll be needed when this car ends up in some kind of special modified car museum in the distant future.
So what's it like to live with a car like this? After I finished shooting the Drag R II, G Man offered to give me a ride to the local train station so I could get back to London.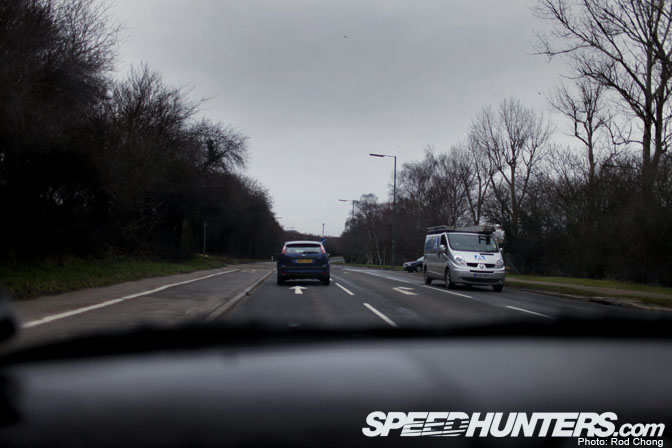 I have to admit, the experience of being inside of this car is as harsh as they come. It seems pretty tough to drive, even with the boost turned down…. there is a sense of rage to the Drag R, like it's angry to be confined to anything but the Wangan or the Autobahn.
Even at idle, it's well over 100db inside the car. Earplug are a necessity!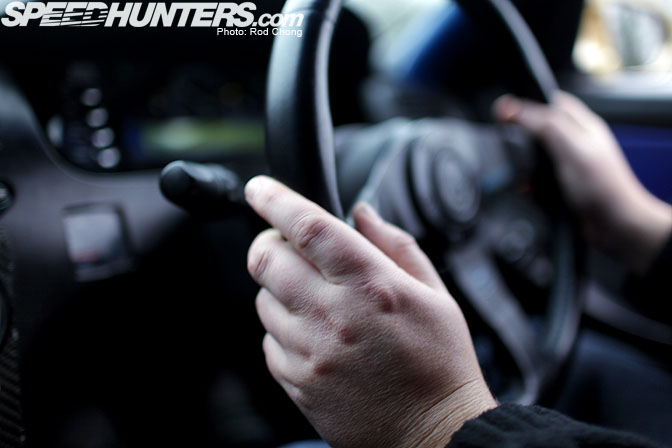 Very few hands have touched this wheel. G Man must feel some honour to be the custodian of such a car.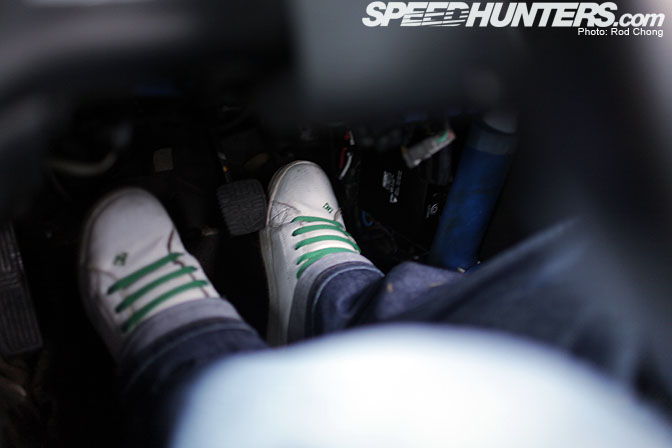 TBH, he doesn't drive the car much, it's almost too extreme to take out on normal roads.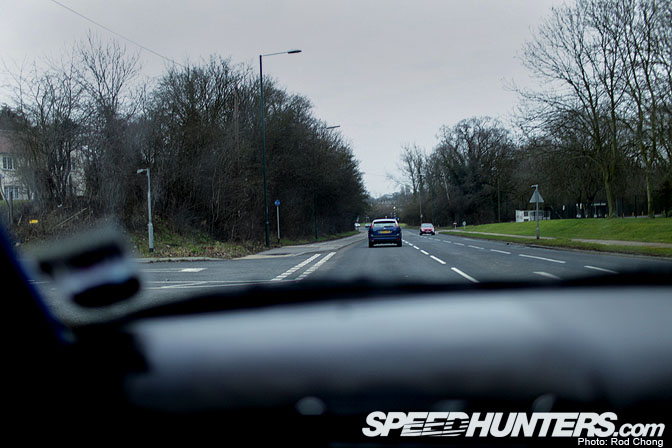 These photos don't really convey the smell of exhaust fumes that seep into the cockpit. Nor the tightness of the Recaro seats..  Sitting in this car you are unable move at all; I cut a slim figure, but even so, I felt pretty stuffed into the seat.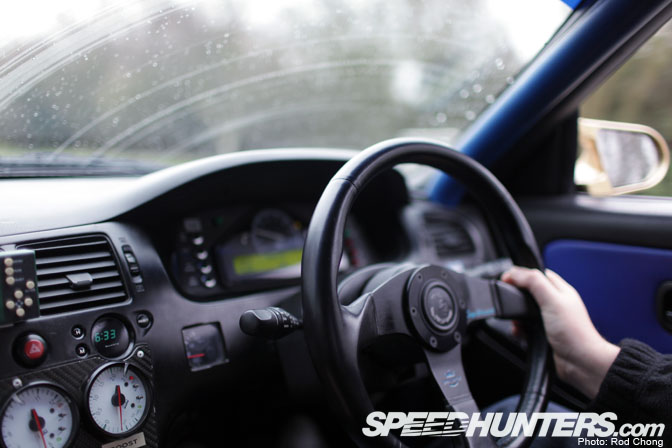 But I suppose these descriptions are the whole point of such a car. This machine is an exercise of barrier breaking, from an era when 1000 bhp was a new level of auto-terror never seen before in a Japanese tuned car. Harshness be damned…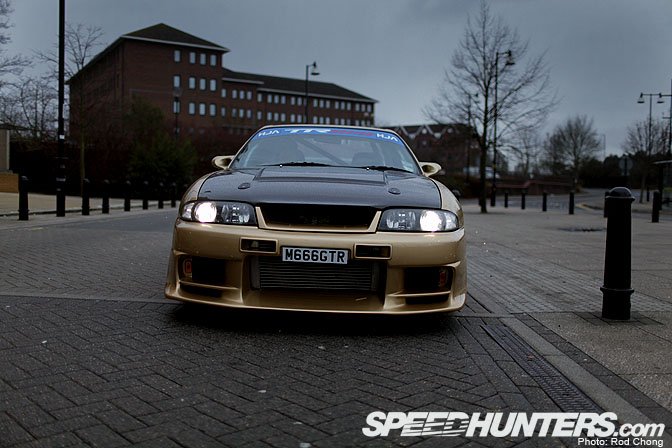 As G Man dropped me off at the train station, I just had to take one more look at this amazing piece of living automotive history and took a few more snap shops.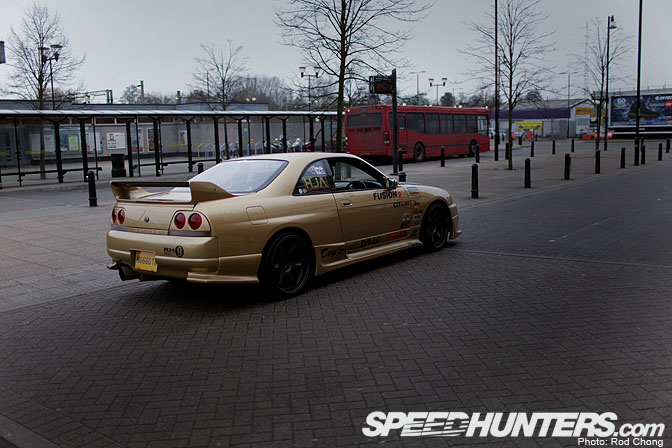 I'll leave the last word to G Man:
"We intended to bring it to some shows/events to keep the legend alive as it is without a doubt a piece of Skyline history and both felt it had been tucked away for too long and forgotten about.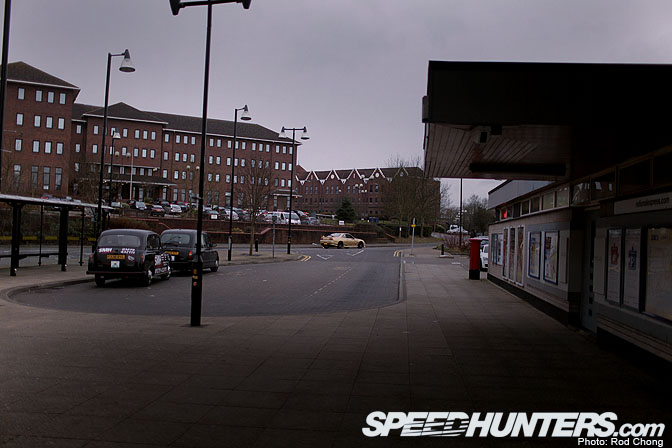 "The car will always remind me of Rob and the laughs we used to have, he
loved it just as much as I did and would always find a lame excuse to
take it out for a spin whenever I was up the workshop."
CHASSIS & DRIVETRAIN
R34 GETRAG 6 SPEED GEARBOX WITH OS GIKEN INPUT SHAFT
OS GIKEN R4C MULTI PLATE CLUTCH & FLYWHEEL
NISMO CLUTCH SLAVE CYLINDER
MOCAL 21 ROW OIL COOLER KIT
TOP SECRET SUPER KA1 SUSPENSION
TOP SECRET TENSION RODS WITH CARBON FIBRE BLADES
R34 BREMBO BRAKES
CUSCO 2.0 WAY REAR DIFFERENTIAL
UPRATED & DIFFERENT RATIO FRONT DIFFERENTIAL
TOP SECRET FRONT STRUT BRACE
TOP SECRET REAR STRUT BRACE
EXTERIOR
FULL REPAINT IN TOP SECRET GOLD
TOP SECRET DECALS/STICKERS
TOP SECRET G-FORCE FRONT BUMPER
TOP SECRET G-FORCE WINKER DUCT
TOP SECRET G-FORCE SIDE SKIRTS
TOP SECRET G-FORCE REAR UNDERFINS/SPATS
TOP SECRET G-FORCE  MIRRORS
TOP SECRET G-FORCE CARBON FIBRE BONNET
TOP SECRET G-FORCE INTERCOOLER VENTS
TOP SECRET METAL EMBLEMS
TOP SECRET BONNET DAMPERS
TOP SECRET LOCKABLE AEROCATCHES
NISMO CARBON FIBRE TWIN/SPLIT REAR SPOILER BLADES
NISSAN XENON HEADLIGHTS
LEXAN 5MM REAR WINDSCREEN
INTERIOR
STACK (ST8100M-AR) DASH DISPLAY
SARD CARBON FIBRE DASH HOUSING
TOP SECRET/CUSCO THROUGH DASH ROLLCAGE INC DOOR & REAR BARS
TOP SECRET 'PERSONAL' STEERING WHEEL & HUB/BOSS
RECARO PROFI SPG SEATS (X2)
RECARO SIDE MOUNTS, SLIDE RAILS & SUB-FRAMES (x2)
SABELT 4 POINT HARNESSES (X2)
HKS GRID DANCER DASH E-TS ATTESA CONTROLLER
HURST LINE LOCK
HKS BOOST/OIL PRESSURE/EXHAUST TEMP/FUEL PRESSURE GAUGES MOUNTED IN CARBON FIBRE PANEL
: Rod Chong