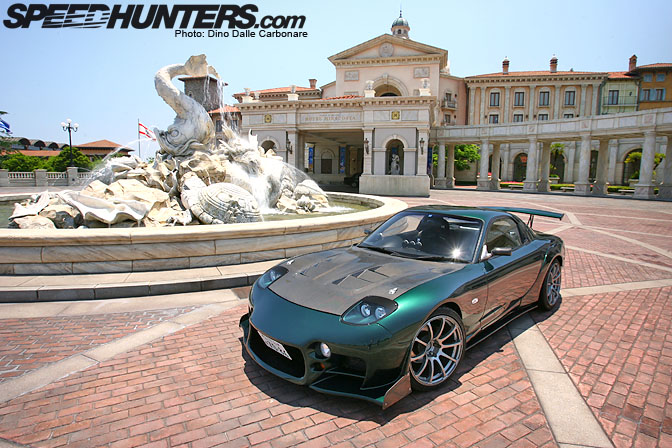 This is a car I've been meaning to feature for a while now. It was built by my friend Russ, the man behind the RE-Extreme blog, the place to go to for the latest news on anything and everything related to the RX7. Before Russ got rid of this, his second RE-Extreme project car, we met up in the Tokyo Bay ready to immortalize his very unique ride.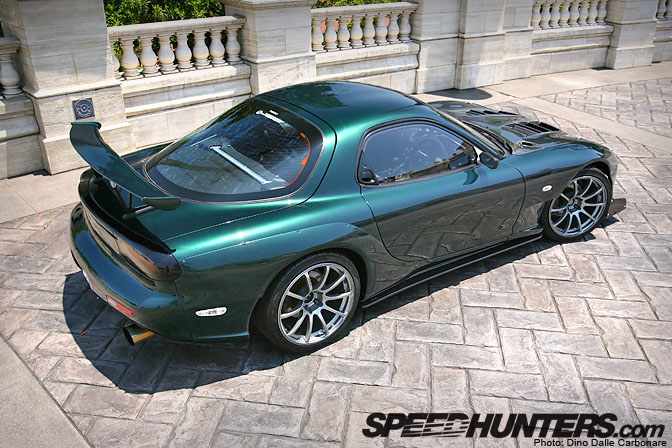 After much searching we ended up at a Hotel in Tokyo Disneyland, which provided a very nice, yet very un-Japanese backdrop!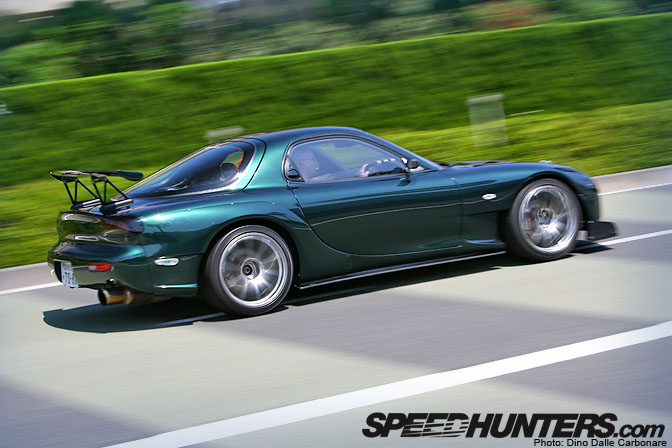 Before embarking on this project Russ took lots of time to think about what direction to go with his FD. One definite requirement was to be as original as possible choosing a good mix of bits and pieces for that bespoke look. There is no denying the FD3S is by far one of the most aesthetically pleasing cars ever to come out of Japan, without even beginning to consider the possibilities the aftermarket offers. Flick through the pages of the Hyper Rev series of books dedicated to this shape and you will be surprised at just how many body parts are available, a list that keeps growing even if the car has been out of production for years now!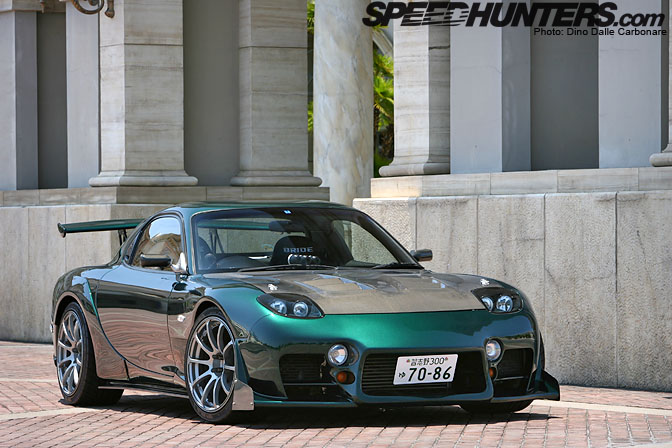 He got things going with one of RE Amemiya's most controversially styled front ends, the Facer 9 front bumper, with that unmistakable protruding central air dam. This was joined by a fixed headlight conversion and a vented carbon fiber hood, both from RE Amemiya. The Feed Afflux front fenders matched up perfectly to the front bumper, despite being from a different maker, giving a more menacing stance thanks to their increased width.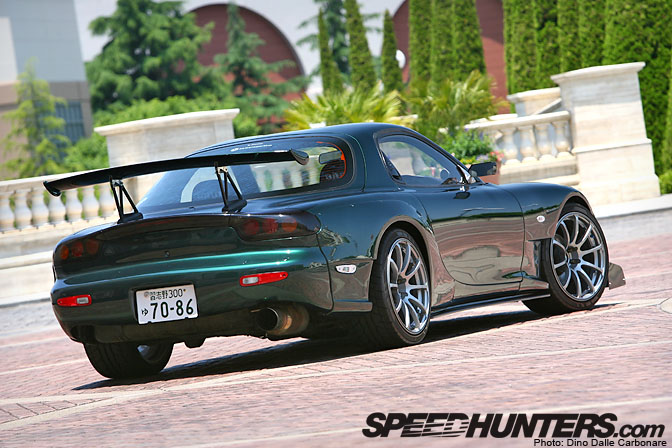 Feed rear over-fenders gave an equal widening to the back of the car and I think the riveted-on look really worked on this application. The carbon Feed side skirts and Craft Square side mirrors proved to be great accents.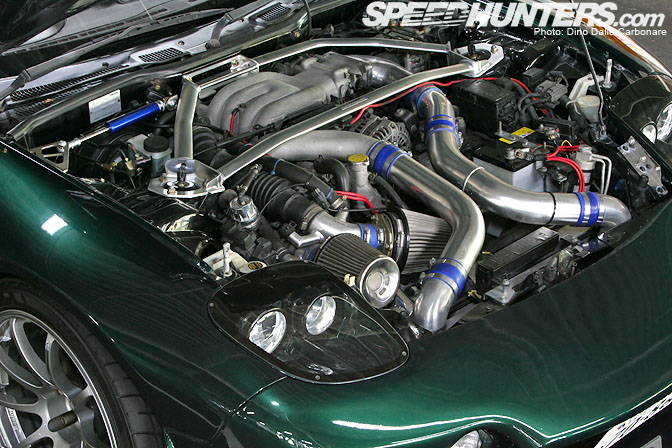 Russ often took his FD out on tight and challenging mountain passes, touge in Japanese, so he wanted to unleash a few more horses from the little blender of an engine that is the 13B.  He headed to Panspeed who managed to extract 380 hp thanks to a reprogrammed ECU, a full aluminum piping kit and intercooler upgrade.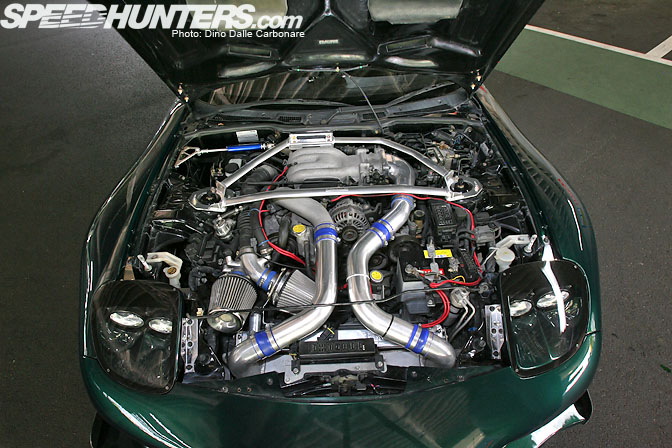 Blitz filters and the GReddy elbow pipe helped give better throttle response.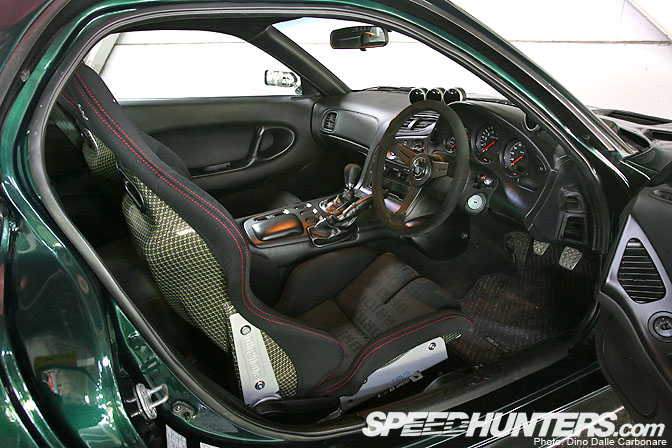 Check out those nice Bride carbon-Kevlar bucket seats. I could never manage to sit in those things so I wouldn't be able to tell you if they were comfortable of not, but honestly when they look so good, who cares right!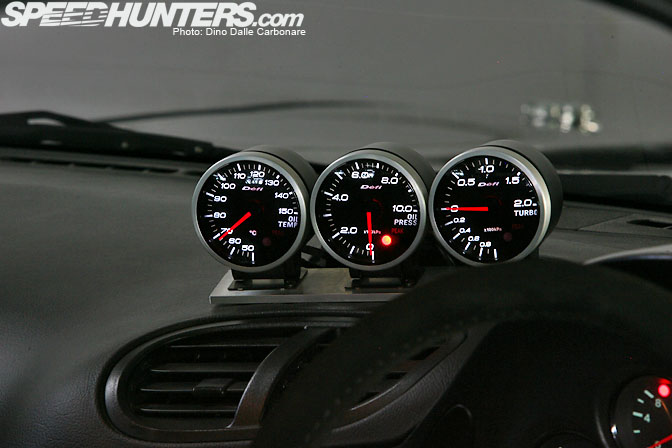 Additional instrumentation was handled by Defi with this triplet of dials fixed onto the dashboard…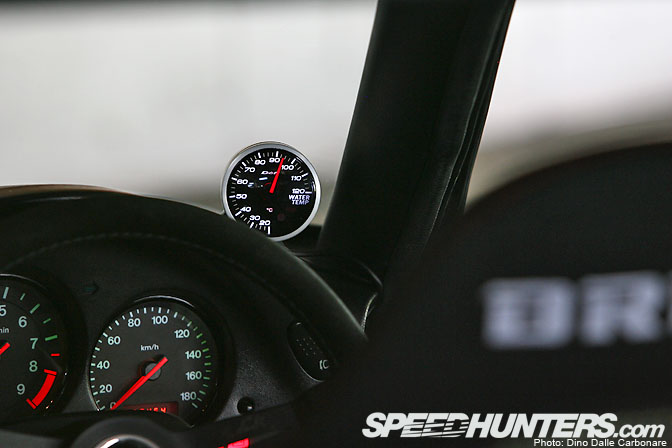 …and the water temperature meter on the other side of the main instrument cowl.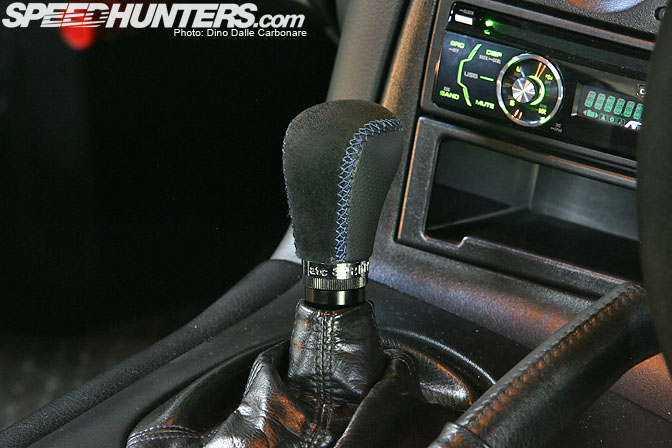 This was quite the tactile experience, the ATC Sprint alcantara shifter knob.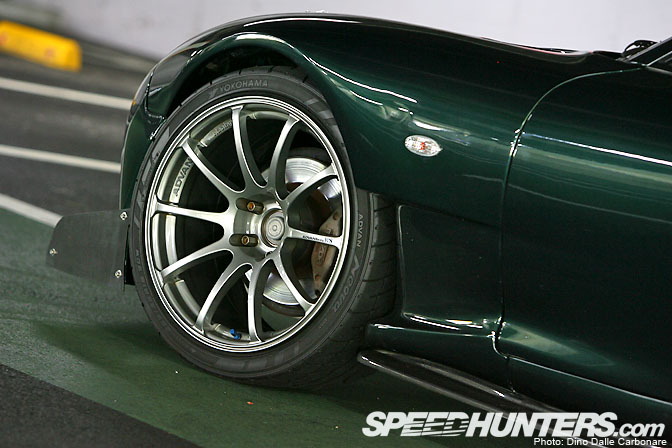 Russ did a great job picking the wheels, 10Jx18" silver Advan RS front and rear. They were wrapped in Neova rubber 255/35/18 all round. The Aragosta adjustable suspension allowed for a nice drop in ride height, which ultimately made the car a bit of a pain to drive around in the city.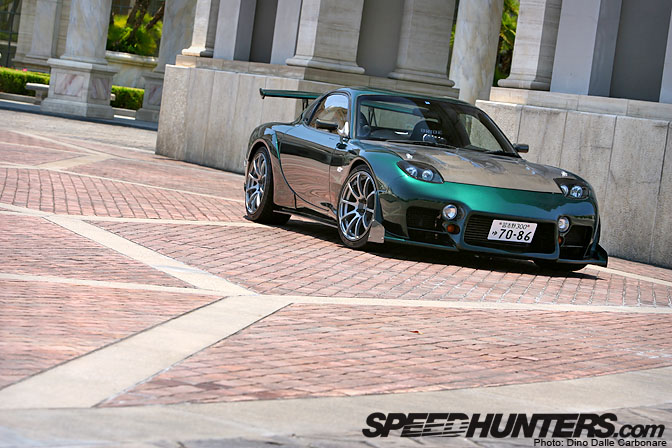 What really enhanced the uniqueness of this particular FD was the color, a Mazda "Metallic Highland Green" Russ chose after much deliberation.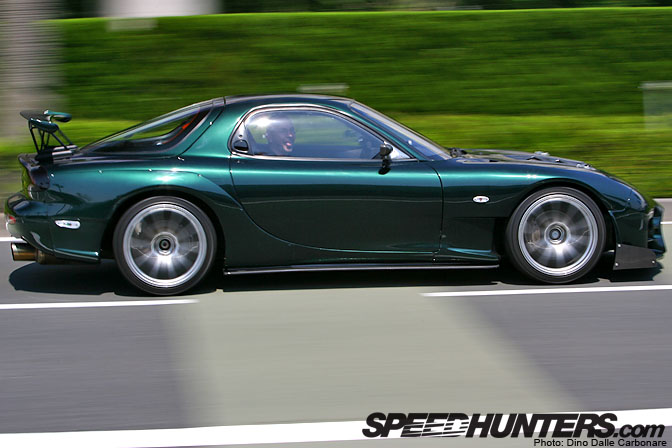 Here is Russ giving the camera a silly face!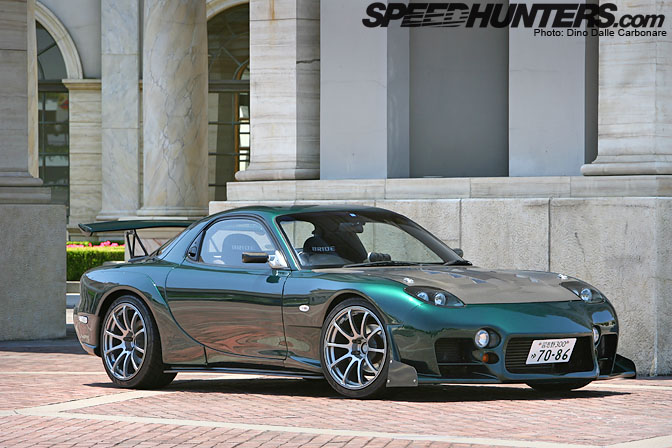 Russ got rid of his FD due to the simple fact that he was using it less and less. He had no trouble finding a buyer and it was soon shipped off to the UK.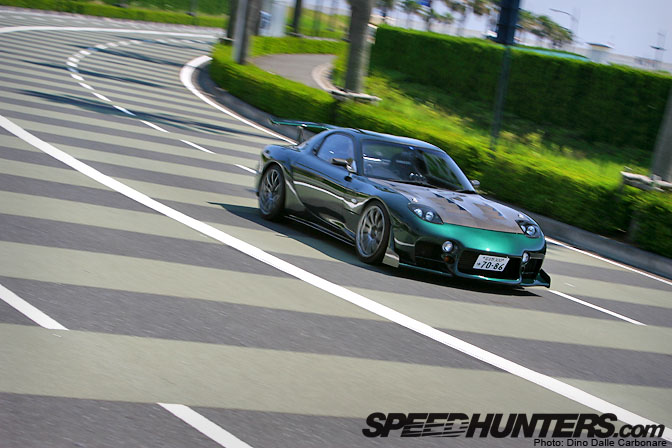 Since getting rid of the RX7 Russ now rides around in a new Mazda Roadster, might not be a rotary but at least he stayed faithful to the brand! It's one car I keep meaning to shoot but until I do so, you can check out his new GT Roadster blog to see what he gets up to with his new ride. 
The specs: 
Engine:
- Pan Speed ECU
- GReddy Elbow Pipe
- Pan Speed Intercooler and piping utilizing Blitz intercooler core
- Blitz SUS Air Filter Kit
- Blitz Dual Drive Blow Off Valve
- Blitz NUR Spec Exhaust
- NGK 10.5 Plugs
- Nology Leads
- Knight Sports Twin Oil Sensor Attachment
- Koyo Type Z Alloy Radiator
- VS-One Engine Brace
Transmission:
- HKS LA Clutch Kit
Suspension & Brakes:
- Aragosta adjustable suspension kit
- 10.3 kg/mm springs front, 7.8 kg/mm rear
- Cusco Stabilizer Bar front
- Cusco Stabilizer Bar rear
- Okuyama – Carbing 3 point strut Brace with Master Cylinder Support
- Cusco Rear Strut Brace
- Project µ Carbon HC+ pads all round
Wheels & Tires:
- Yokohama Advan RS Silver 10Jx18" +25 front & rear
- Yokohama Advan Neova 255/35/18
Exterior:
- RE-Amemiya Facer 9 Front Bumper 
- RE-Amemiya Hood 9 Carbon Cooling Hood
- RE-Amemiya Sleek Light Kit Clear H11 type 
- Fujita Engineering FEED Afflux Wide Fender Front 
- Fujita Engineering FEED Afflux Wide Fender Rear
- Fujita Engineering FEED Afflux Carbon Side Step
- AutoExe Rear GT FD-02 Wing
- Craft Square Carbon TC/N1 Mirror
- Clear side markers
- Aerial Hole Filled
- Door Mirror Holes Filled
- Flip front number plate stay
- Mazda Metallic Highland Green (Genuine Mazda 2007 MX5 color) painted by Sugiyama Bankin
Interior:
- Bride carbon-Kevlar racing bucket seats (reclinable)
- Nardi Classic 360 alcantara steering wheel  
- ATC Sprint alcantara gear knob
- Fet boss and spacer
- Defi Control Unit II 
- Defi BF Meters: water temp., boost, oil temp., oil press.
- Carrozzeria CD player DEH P530 (color changeable display)
-Dino Dalle Carbonare