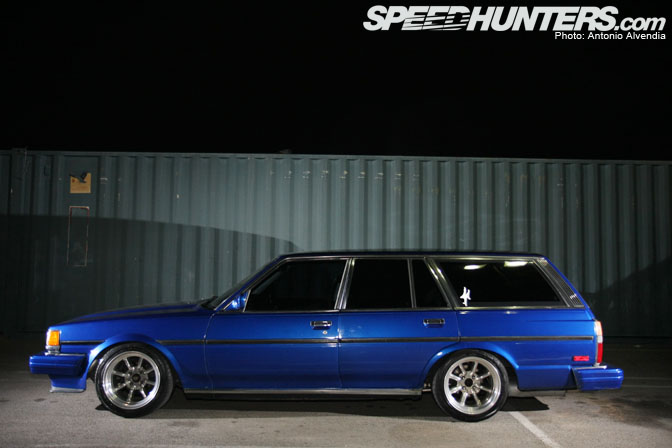 Who says station wagons can't be cool? Taka Aono's MX72 Toyota Cressida station wagon is definitely proof that even station wagons have "cool car potential" if they're done up right. Here's the side view of Taka's street driven MX72 Cressida. It is painted 350Z blue metallic, with gold pearl, thanks to US Earth Custom Coach, a body shop in Torrance CA that specializes in custom paint and modified cars. Notice the stance from the side? This isn't your mom's station wagon – it has more aggressive wheel fitment and drop than many AE86s, Miatas, and even S13s! People need to get up to speed!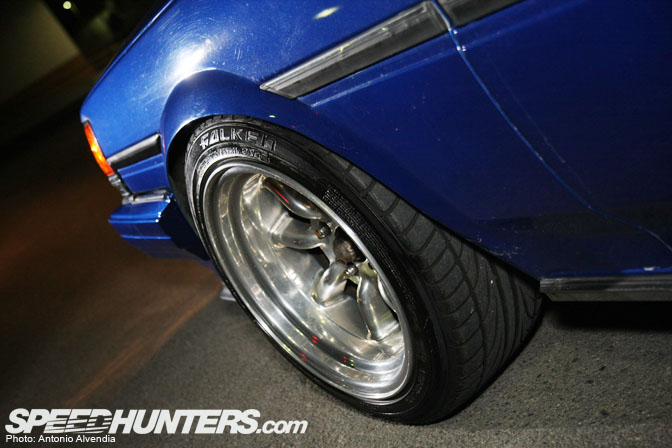 That is one incredibly blingin set of polished RS Watanabe R wheels. Since everyone probably wants to ask "WHAT SIZE ARE THOSE?!" Cressida owners might want to take notes… 16x9J. Negative 13 offset. The tires, which aren't too stretched because Taka needs a larger contact patch for the street, are Falken 225/45/R16.
It's very difficult to achieve a good, precise stance with normal springs and shocks. This being said, Taka put Driftpro front and rear coilovers on the car to keep it low, yet handling well.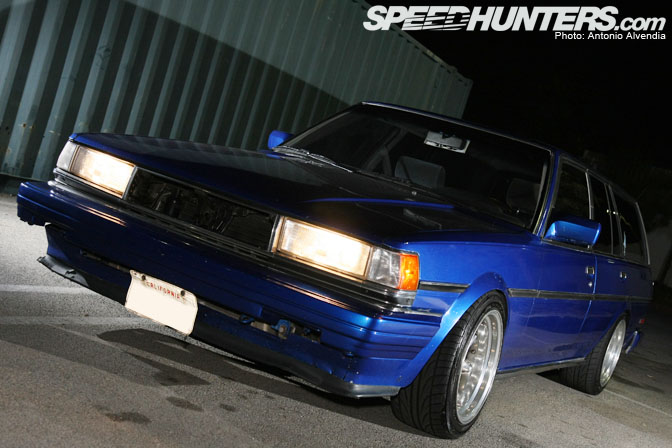 Up front, we have an OEM front chin spoiler, removed front grill, and some headlights that don't look incredibly bright compared to today's headlight standards, haha. Let's examine the stance of the car again, this time from the front. I like the wheel fitment on this Cressida. It's an example of what real people can do on their real daily driven street cars. The stretch and camber isn't too aggressive, don't be scared!
Since it's a street car, it also has a front license plate so that cops won't pull him over just for a $25 fix it ticket.
One more thing… can you see the Blitz intercooler from the front of this car?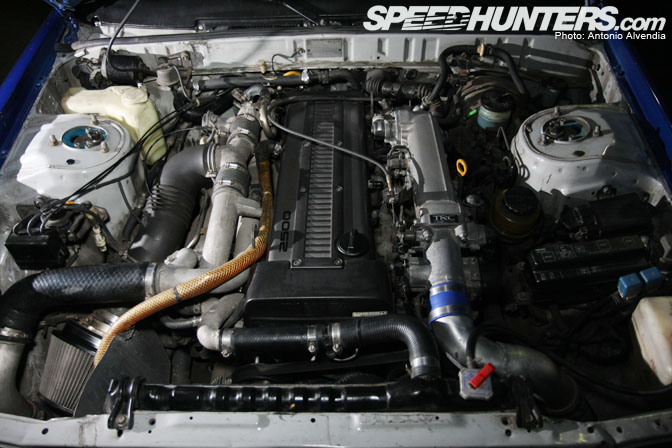 Wait one minute. Blitz intercooler?! That's right… this isn't the engine you would normally see in a Cressida of this year! This is a 1JZGTE 2.5 liter twin turbo engine from a JZX90 Toyota Mark II/ Cresta/Chaser! This car is a true sleeper; I honestly don't think people would expect it to have such an engine if they just observed Taka cruising down the street. (I always see him driving this car down the street randomly when I'm in his area.)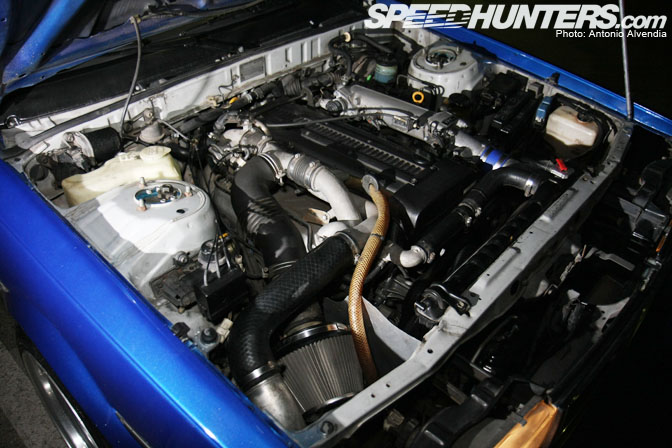 Let's get into more detail. In order to keep this 1J running smoothly, Taka had the ECU rom tuned by Technosquare. Tadashi and the Watanabe brothers from Technosquare are experts at tuning Japanese cars – especially ECUs, I would highly recommend them. Taka also used a generic y-pipe from eBay, a 3 inch downpipe, and 80mm ID RSR pipe for the exhaust.
If you want to do this type of engine swap in your Cressida, you will want to look for an R154 manual Toyota transmission, and also a Mark I Toyota Supra rear end. Taka chose to equip his Cressida wagon with an OS Giken Super Lock LSD, so he can drift with this car! That's right, he DRIFTS with this Cressida wagon occasionally! I'll post videos later.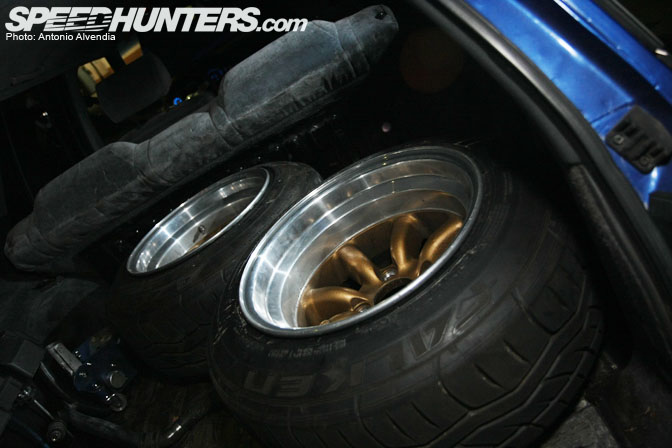 If you know Taka Aono personally, or if you've ever seen him at the track, you'll know that he likes to be prepared to work on his cars at all times. This means he always has a toolbox close by, and usually has spare parts with him in case of a throttle body or fuel pump failure, etc. Well I suppose he's prepared to swap out his wheels in the event of a flat tire too –  I spotted yet ANOTHER set of super wide RS Watanabe Type R wheels sitting in the trunk area of his Cressida!
I bet most people would be super envious of Taka… the spare high end racing wheels he has floating around in his trunk are wider and have a more aggressive offset than the wheels that most people run on their cars as their main/only set! Now that's dedication. Taka knows what's up.
-Antonio Alvendia