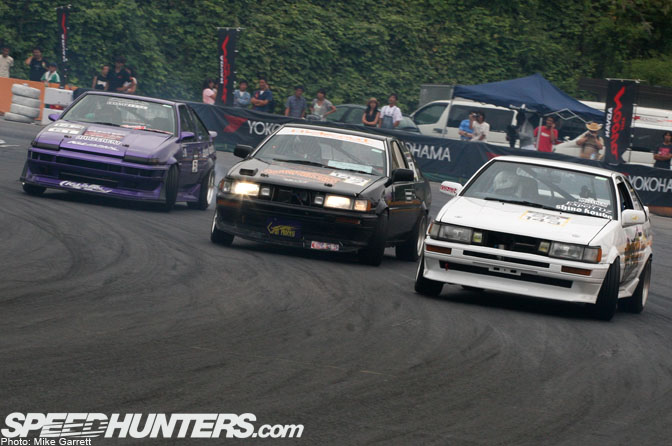 Once we agreed that we'd dedicate February to Toyota, I started thinking about all the cool AE86 material I'd be able to post up this month. I may not be as big of a Hachi Roku maniac as Antonio (is anybody?), but I've had the pleasure of owning and modifying one, and I can say for sure that it's one of my favorite cars. One of the things I like most about the 86 is the way it can fit right into so many different "scenes". You'll AE86's at classic car meets, drift gatherings, track days, autocross and gymkhana, and even rally events. That said, there are few places where the AE86 shines more than as a home-built drift car. If you name any one of today's pro drifters in Japan (and many around the world), chances are they have driven an AE86 at some point in time, and  lot of them still own them.
I figured grassroots AE86 drift cars would be a good place to start my AE86 posts, so let's get on with it.
Most of these photos were taken over the past year in Japan, but I've also thrown in a couple shots I took in the US before moving.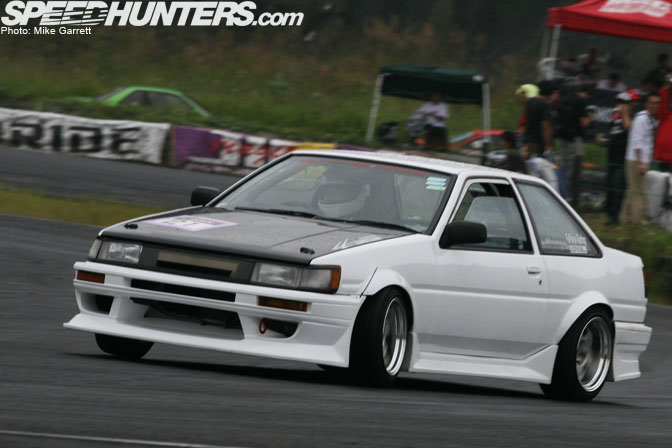 I'll open with this Levin coupe from last year's MSC round at Nikko Circuit. The AE86 is one of those cars that looks fine with factory bumpers (the Japan market ones at least), but if you're going to run aftermarket aero, you could do no worse than the Run Free stuff seen on this car. Most AE86 guys and drift fans should be familiar with Kouichi Yamashita and his company, Run Free. There are few people as dedicated to one type of car as Yamashita is to the AE86.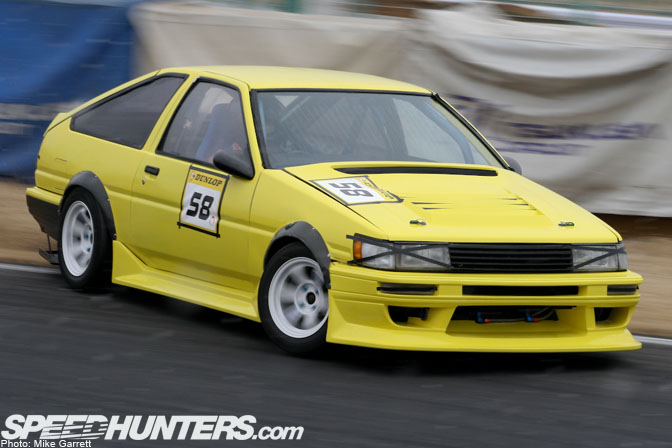 Here's another Run Free-equipped Levin drifting through a light snowstorm at Tsukuba Circuit last year. Out of all the 86's I've seen, this one has left a big impression on me for some reason. Maybe it's the combination of the old school flares and TE37's or the Run Free aero and a big diffuser under the rear bumper. Maybe it was the Mooneyes rear license plate that matched the body of the car…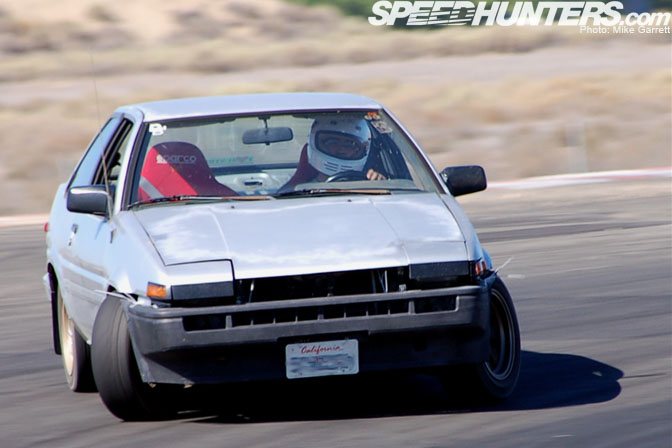 And now we go from snowy Tsukuba Circuit to Buttonwillow Raceway, California where this AE86 coupe was drifting during an event held in the summer of '08. Buttonwillow is a bit like Tsukuba in the fact that drift events are rare, but when they do happen, it's worth the wait. I'd say this car is pretty typical of the track-driven AE86 drift cars in the states.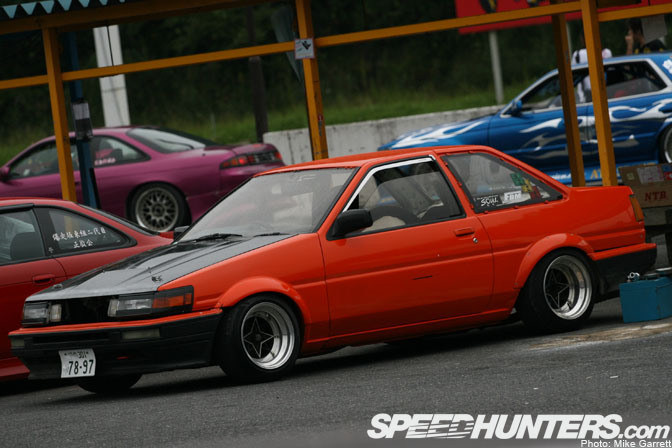 And a car typical of privateer AE86's in Japan. Wheels, stance, and it's done. Of course another good thing about the AE86 is the 4×114.3 bolt pattern which means there's an unlimited supply of cool wheels for the car out there. I guess that's the envious 4×100 Miata guy in me speaking…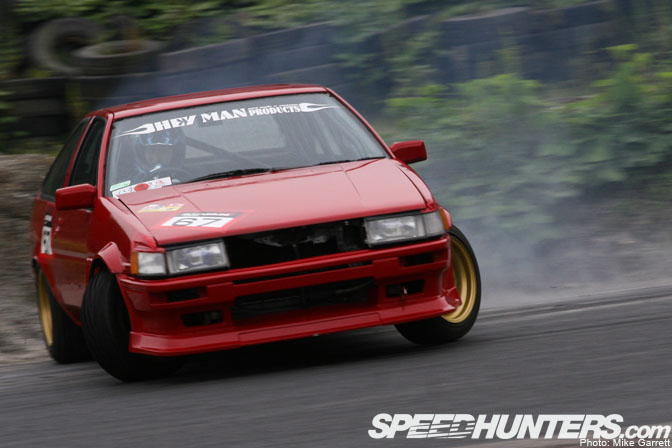 A Levin from the HEY MAN team demonstrating some nice steering angle at Nikko CIrcuit. It's scenes like this that really sum up grassroots drifting in Japan for me.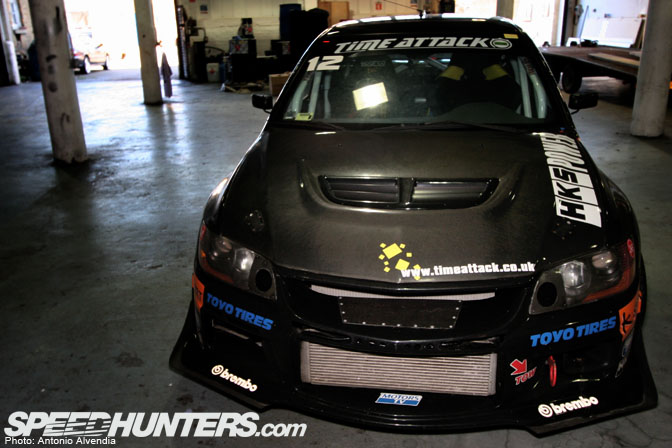 Masaki Ukita's turbocharged Levin coupe during the D1 Street Legal finale at Tsukuba Circuit, an event Ukita traveled to all the way from Kagawa Prefecture on Shikoku Island! Ukita's been one of the only people driving an AE86 in D1SL competition, but he had some good results last season.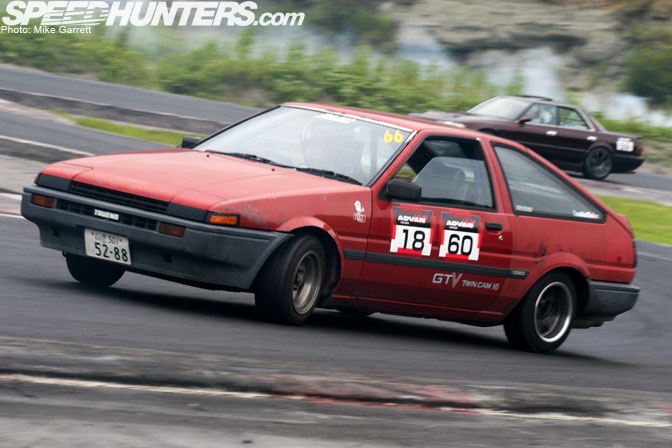 Having the perfect wheels and and show-quality car matter little when you are out on the track having as much fun as this guy. Those tiny rims and 175 width tires are also great for sliding around…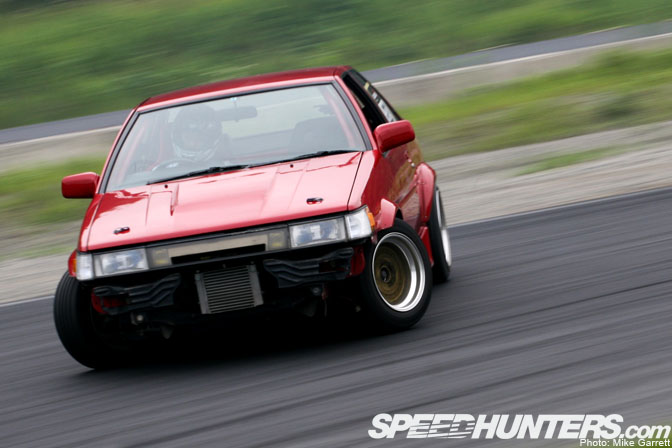 Another great thing about AE86's – the sound. In my opinion the 4AGE is one of the best sounding inline fours out there, and with a set of throttle bodies or carbs it gets even better. If only these photos could include sound clips…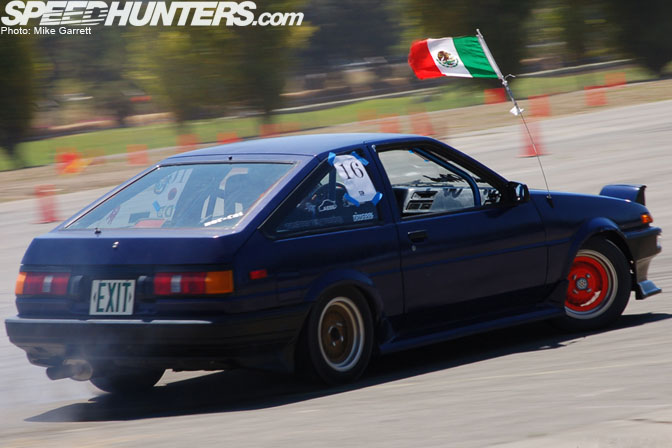 I took this photo during the 2007 "Motoring J-Style" event in Vallejo, California. Viva Mexico! Speaking of Motoring J-Style, I'm looking forward to the 2009 edition of the event…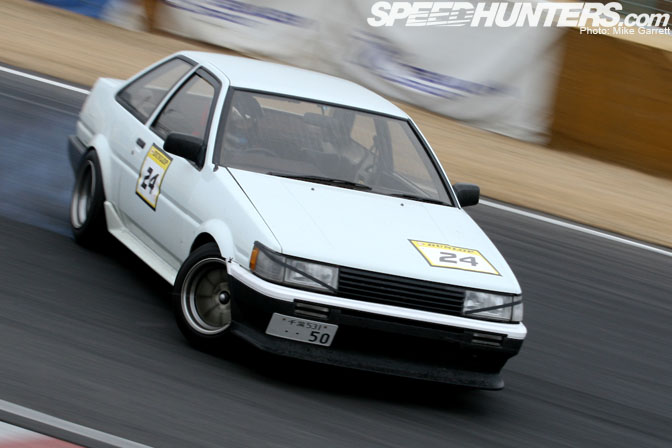 Another two-door Levin at Tsukuba Circuit. Just the basics, and nothing wrong with that.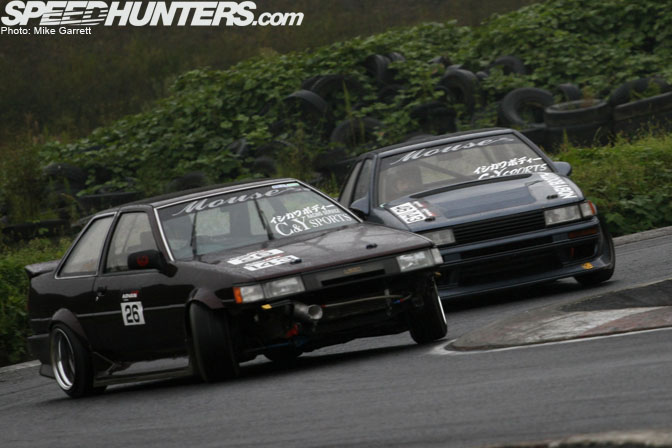 This post wouldn't be complete without some of the cars from Team Mouse. Seeing these guys drift at Nikko Circuit forever changed me. Anyone down for some Team Mouse desktops this month?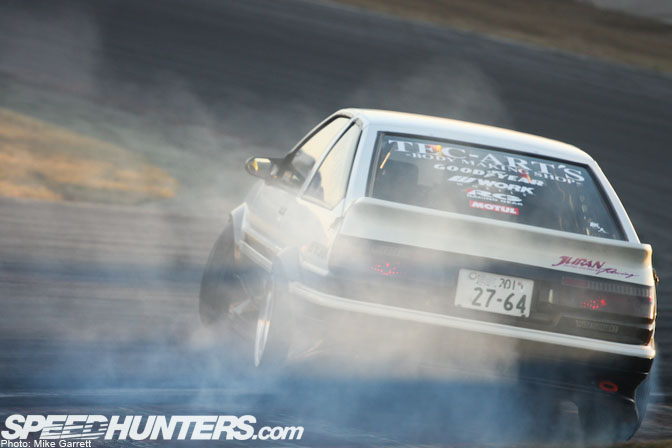 And finally, the Tec-Arts panda Trueno looking (and driving) flawless at Tsukuba. This car has got to be one the best looking, best sounding, and most well-balanced AE86's on the planet. 
In putting together this post I realized that I unintentionally posted way more Levins than Truenos, so expect plenty of pop-up light love in the next post.
-Mike Garrett