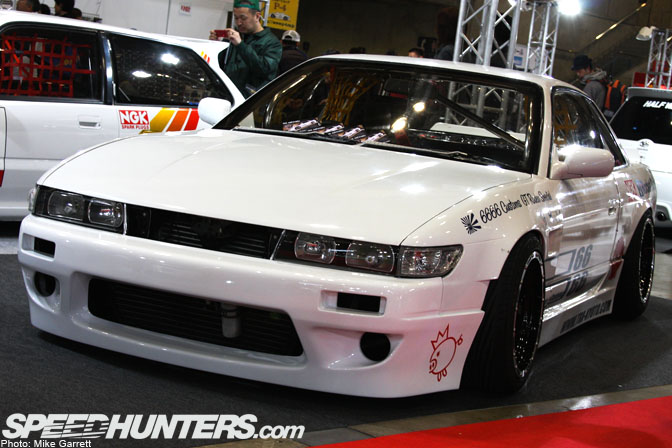 For this Auto Salon post, I'll be highlighting some of the Nissan S-chassis cars found at this year's show. You all know that the Silvia and 180 are still Japan's most popular tuning platforms, and every year Tokyo Auto Salon is full of freshly built examples. If and when the next generation Silvia is released, it's virtually guaranteed to become a favorite among car builders in Japan, but until then we'll have to settle for these S13's, S14's, and S15's. No problem!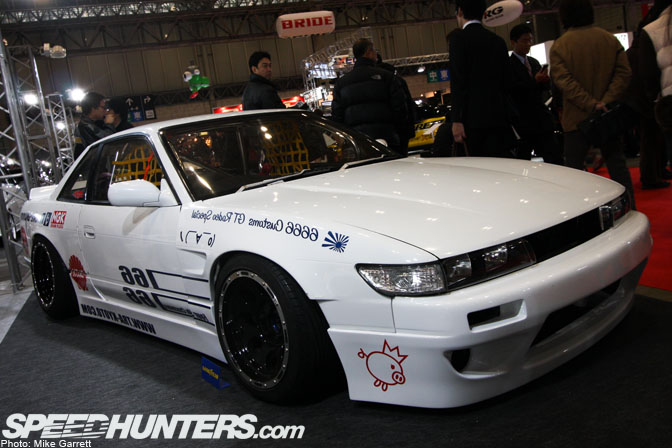 I'll start with TRA Kyoto "Rocket Bunny" S13 Silvia. This car and the other Rocket Bunny cars have been cult favorites, appearing all over blogs and forums in recent times. This was actually my first time seeing this car in person, and I have to say it looks just as cool in the flesh as it does in photos. Not only does the Rocket Bunny aero look awesome, but I really like wheel and tire set-up on this car. These smaller wheels are a big contrast from the 19's and even 20's popping up on Silvias recently. I also really like the added touch of the yellow safety nets in the cockpit.
The whole vibe of the Rocket Bunny S13 is a mix of vintage Japanese style and NASCAR style. NASCAR may be loathed my most of the "JDM" crowd out there, but I think you guys would be surprised by the amount of NASCAR-inspired stuff seen on tuned cars in Japan.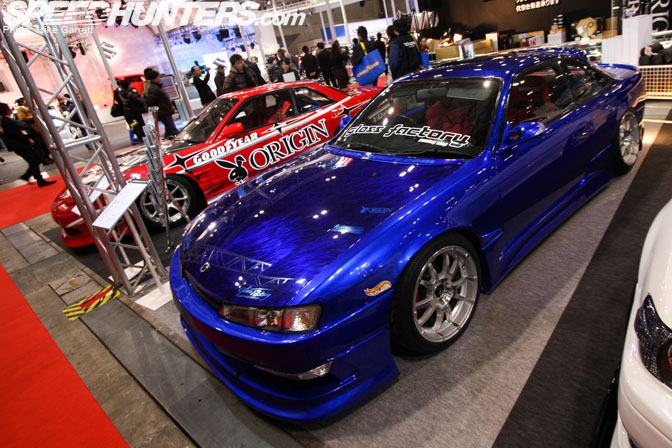 Origin had a couple Silvias in their booth, including the blue Gloss Factory S14.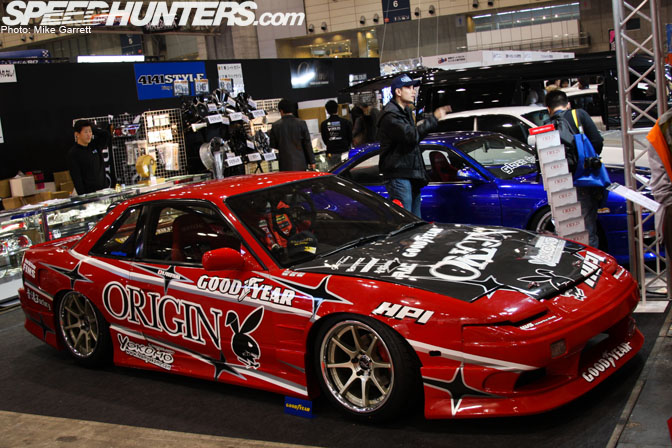 The Origin D1 Street Legal One-Via was there as well. Both cars were equipped with offerings from Origin's growing line of wheels.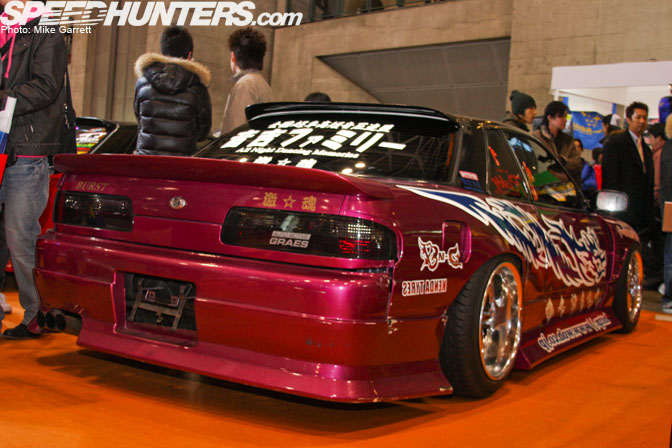 The Drift Tengoku booth is always best place to check out drift cars at Auto Salon. Here's an S13 from Team BURST. Check the tri-tipped exhaust.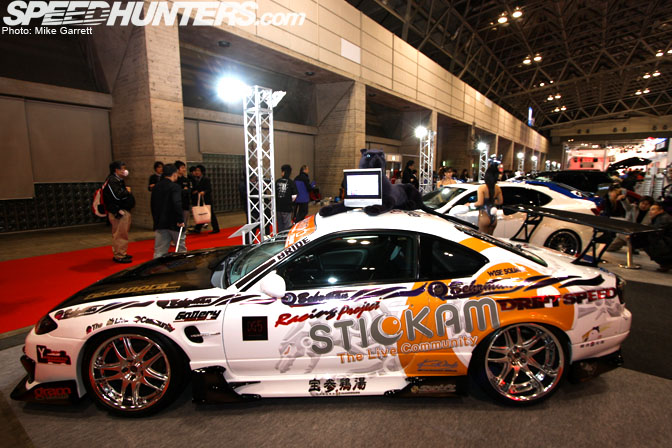 Wisesquare brought their S15 out on a set of blingin' Volks.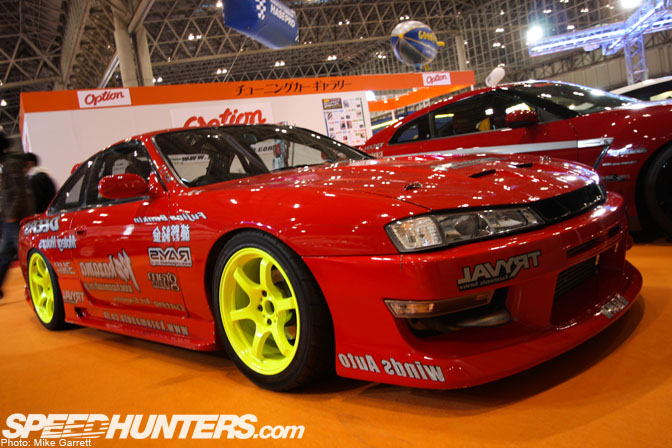 This S14 was on display in the Option booth. The neon colored Gramlights 57D's seemed to be big on drift cars in 2008, but I only saw a few sets on show cars this year.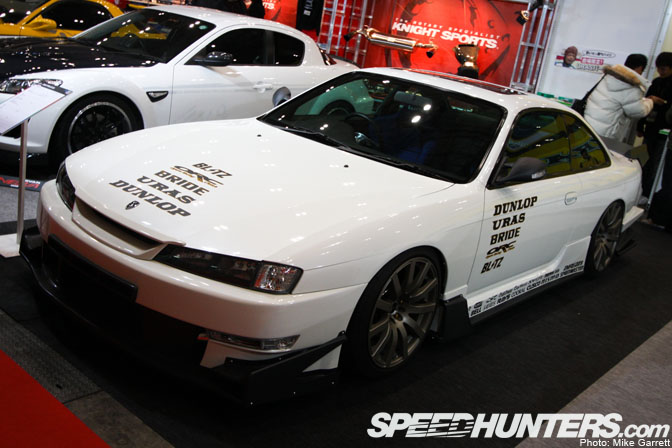 URAS brought their S14 Silvia demo car equipped with their GT aero kit. I wasn't a big fan when I first saw this kit, but I've grown to like it quite a bit recently. Hirashima's orange S14 from D1 Street Legal is a big reason why.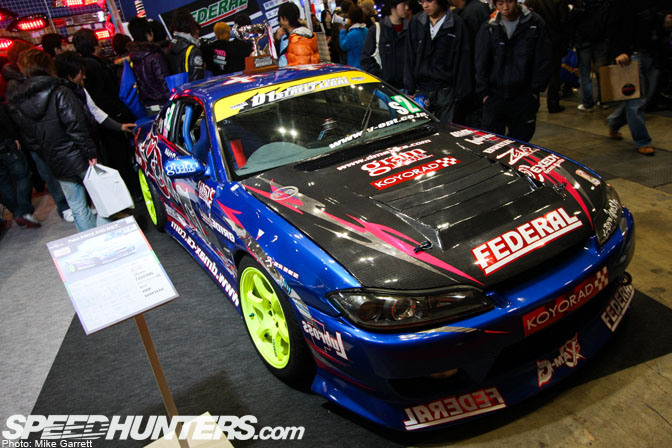 Speaking of D1 Street Legal, here's Naoki Nakamura's S15 in the D-MAX booth.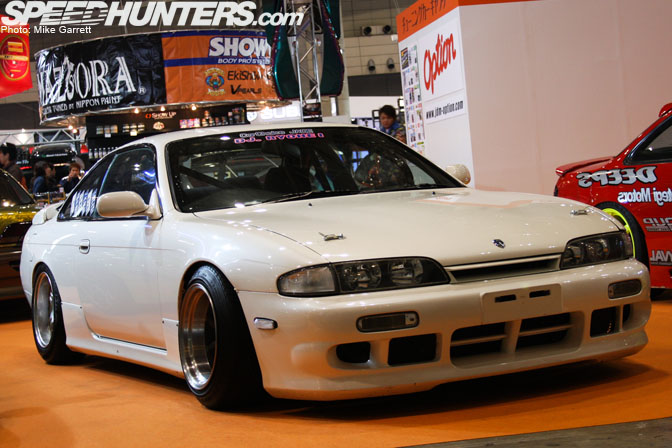 Check out this simple-looking RB-powered S14 in the Drift Tengoku booth. This was one of my favorites.
It pulls of the small-wheel look nicely with a pair of 15" RS Watanabes in the front and Demon Cambers in the rear.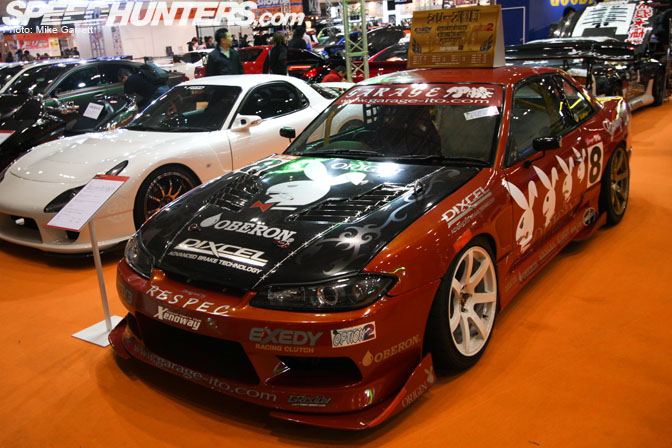 One of the only grip-tuned Silvias at the show was this S13 with the S15 "strawberry face" conversion. This car runs in the Option 2 endurance race series.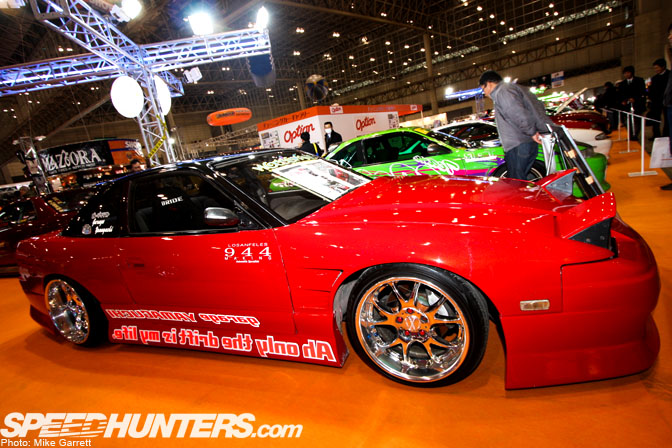 Another One-Via in the Doriten booth. One of the cool things about this booth is that that the cars aren't company-owned demo cars, but privately owned machines that the editors picked to represent the magazine. Also not to be missed in the Doriten booth is their famous wall of drift team stickers from all over the place.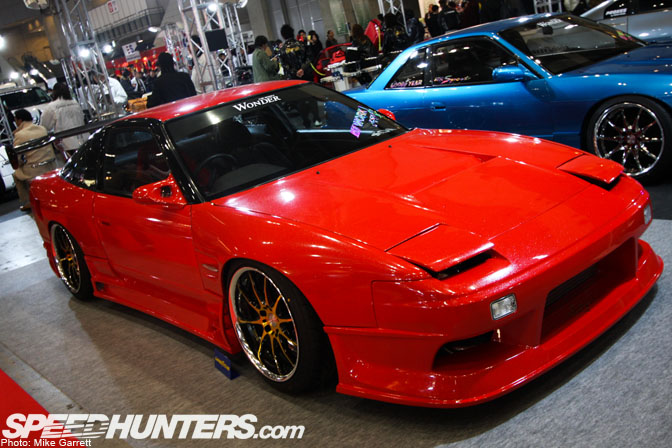 If I remember right, the "180SX GLARE SPL" from Car Modify Wonder was the only RPS13 at this year's show. It's equipped with the new GLARE aero kit.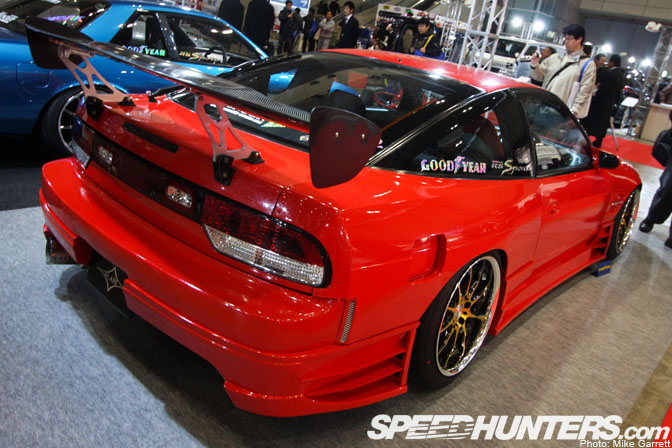 Here's the rear view. I'm not sure about those vents on the on the back bumper and side skirts, but the rest of the kit looks good. The car was complimented by a set of 18"X10 Work XSX 03C's all around. Man, wheel names are getting complicated these days…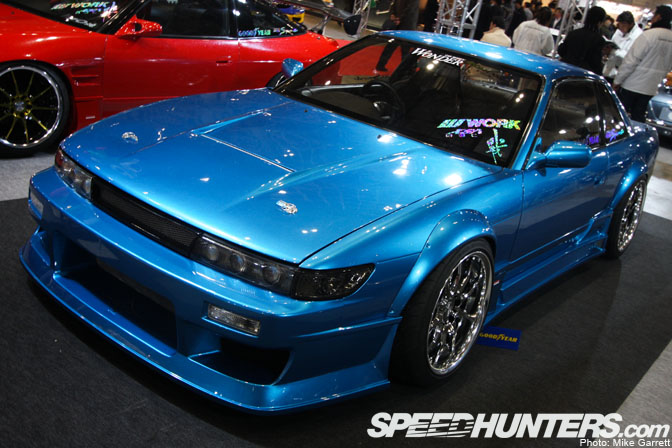 Right next to the 180 was an S13 Silvia done in similar style. I especially liked the overfenders on this car.
OK, time for to start prepping pics for the next post. I still have a LOT to cover, including the import cars, Hondas, Mazdas, Subarus, Toyotas, Skylines, compacts, vans, and a lot more….
-Mike Garrett