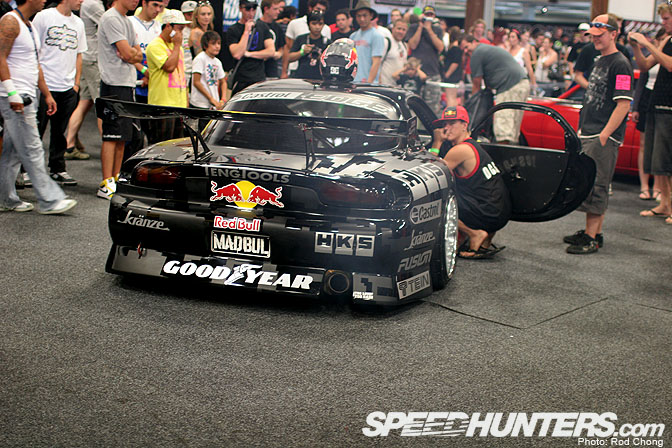 If you are someone who spends an unhealthy amount of time filling your life with all manner of automotive addictions, then New Zealand is probably one of the coolest places to live anywhere!… It is home to a tight knit automotive scene who have access to all manner of imported cars, tons of race tracks, incredible roads, and a fantastic lifestyle. This paradise island seems to be rather geared towards personalized cars- for whatever style tickles your fancy!
New Zealand is the country that invented bungie jumping…. need I say more? It's a rather laid back land, filled with rather rambunctious folks, who aren't too fluffed by rules and regulations… There is definitely no nanny-state here. For example have a look at the above photo from this past weekend's "V" 4&Rotary Nationals. You'll notice there is a large crowd gathered around Mike Whiddett's "Mad Bull" RX7… While they may be somewhat drawn to its deep dish, wide body stance, the main reason they've formed a throng, is that he's fired the four rotor monster up…. Indoors!…. Craziness!
Have a think about how loud this was…. That's New Zealand for you…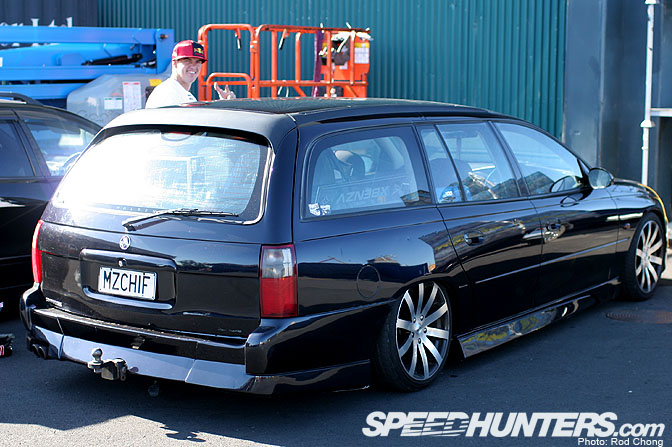 My day started out with a quick flight up from Nelson to Auckland… Mad Mike picked me up from the airport in his daily driver, this super-slammed Holden wagon… Pretty cool ride!
It's quite noticeable when driving about Auckland, in such a ultra-low machine, just how well maintained the roads are… they are billiard table smooth. It must make the ownership of a modified car fairly enjoyable.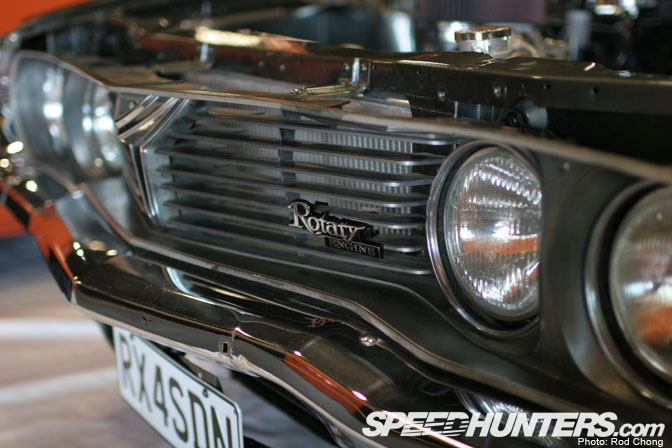 Mad Mike mentioned to me, I'd be able to see lots of crazy rotary machines at the nationals, but nothing could have prepared me to see just how mad the NZ scene is…
I met with the editors from NZ Performance Car magazine at the show and they were able to give me the run down about the local scene…. Here is something to think about: the population of New Zealand is 4.1 million people…. the circulation of NZPC magazine is a staggering 310,000! That's approximately around 3x larger than the top US tuning magazines.. It's also the number one automotive magazine in the country….
So per-capita, I'm sure this makes New Zealand one of the most car-mad countries in the world no?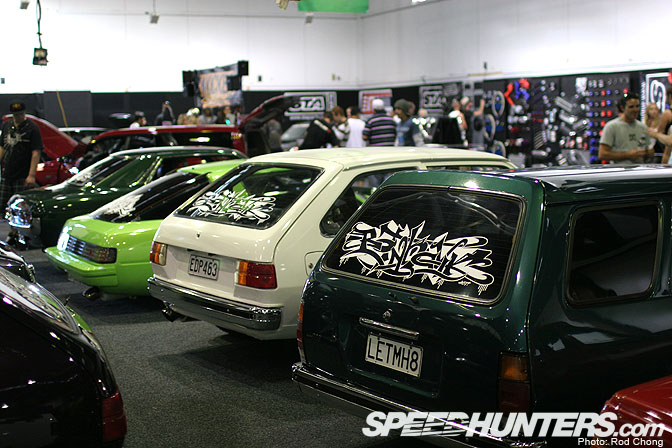 One of the first items I noticed upon entering the show, was the presence of many car clubs. Most the street cars at the show proudly displayed their club logos… many were done in this graffiti style.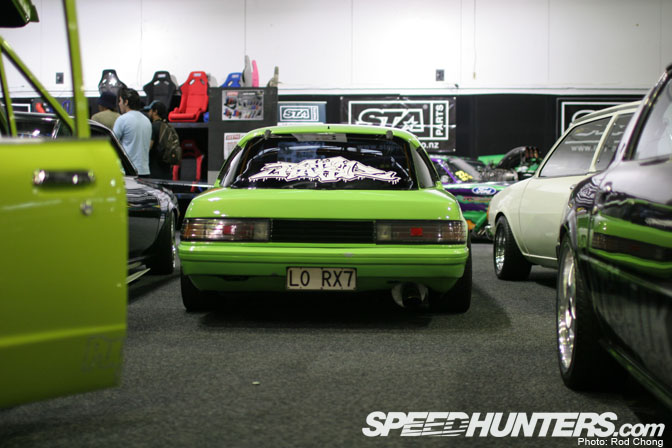 This slammed RX7 has great stance…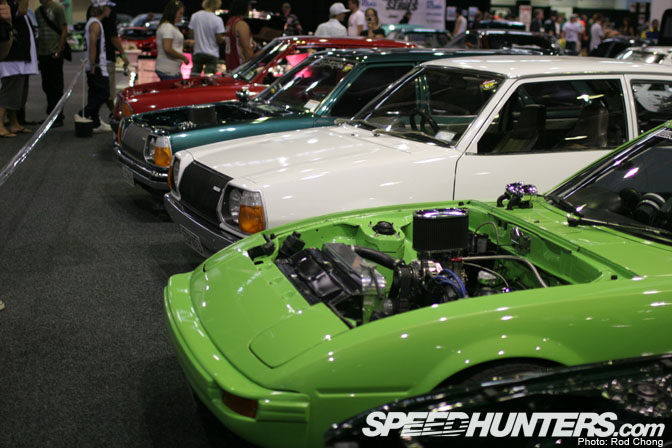 You'll notice the two cars beside it are late '70s Mazda 323s….. I'm told these models, along with the 626 are very popular cars in the NZ scene…. so much so, that values for mint chassis are on the increase.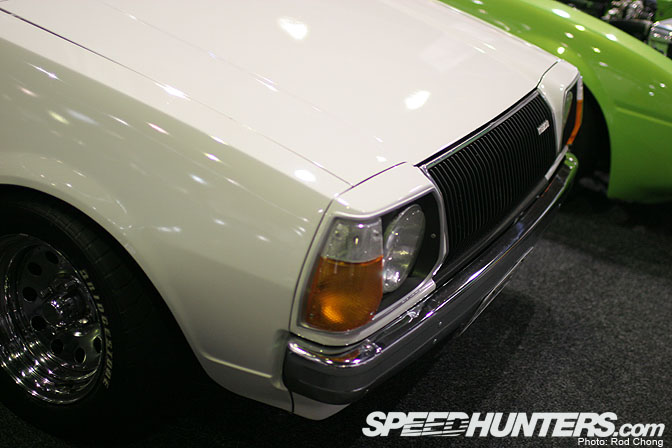 …. of course in NZ, any self respecting 323 or 626 MUST be converted to rotary power… The 4&Rotary Nationals was rather full of these types of cars… IFAIK these cars were called GLCs in North America… who would have thought there is an entire automotive subculture devoted to these machines!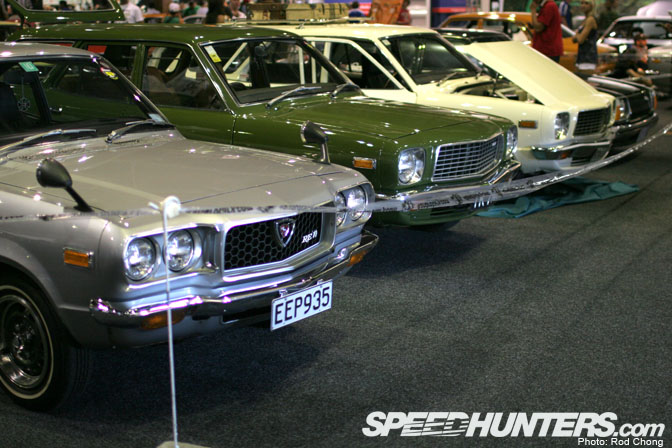 There were plenty of unmolested Japanese cars on display too… by and large the majority of them were Mazdas… On the left is a RX3 while on the right are some NZDM 808 wagons.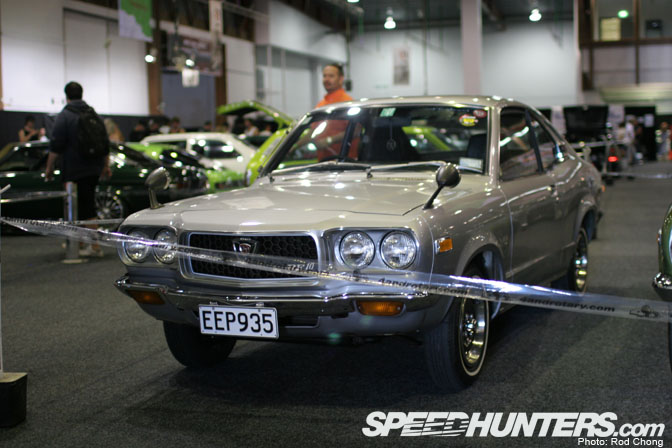 If you owned this mint piece of automotive history would you drop it to the weeds and add some deep offset vintage Japanese wheels? I know I would!….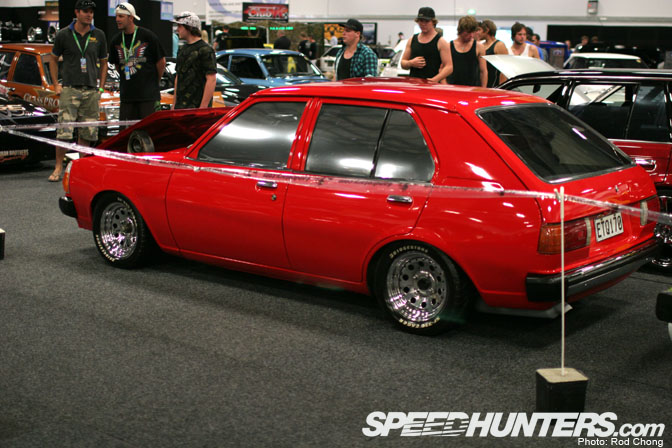 Are you ready for some pure New Zealand car style? Check the wheel and tire combo on this clean Rotory converted 323….. These are a big part of the NZ vintage car scene: old
school Bridgestone Eagers mated to chrome modular wheels…. The rims are made by local
company Mangels….. I'll do a full article on "Modgies & Eagers"
style in the coming days…
While I'd prefer to see a set of deep dish Japanese wheels on this car, I can appreciate the overall style. It's clean, looks period correct-ish, is in proportion, has good stance. This Modgies & Eagers style reminds me a bit of Japanese NASCAR style, Just add window nets, paint the wheels black and go haha…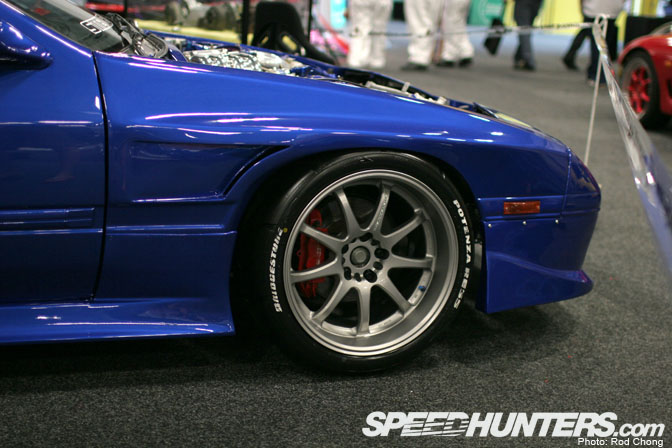 Weren't white tire logos one of the new "it" trends at Tokyo Auto Salon this year?… this track style FC is bang on up to date then….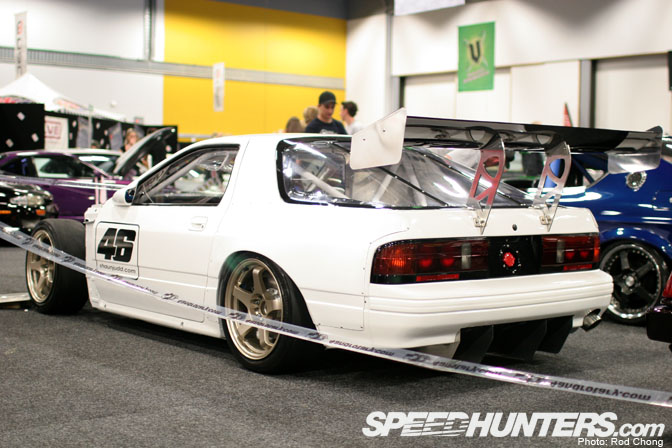 Talking about FCs… this race prepared version caught me dead in my tracks….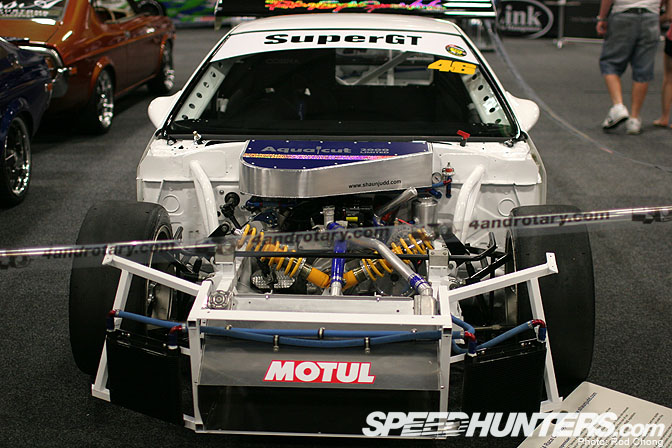 It's been front and back halfed with full race in-board double wishbone suspension installed. Putting out around 350 bhp from its 13B engine, it races in a local series aptly named "Super GT"… I'll need to check this out one day…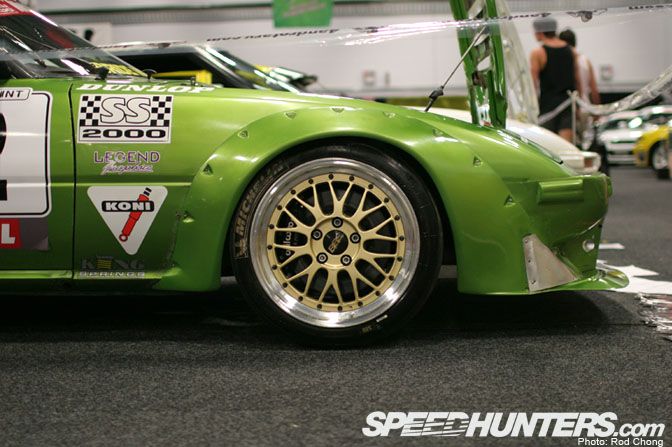 I also had eyes for this IMSA GTU style SA22C…. yum… so clean.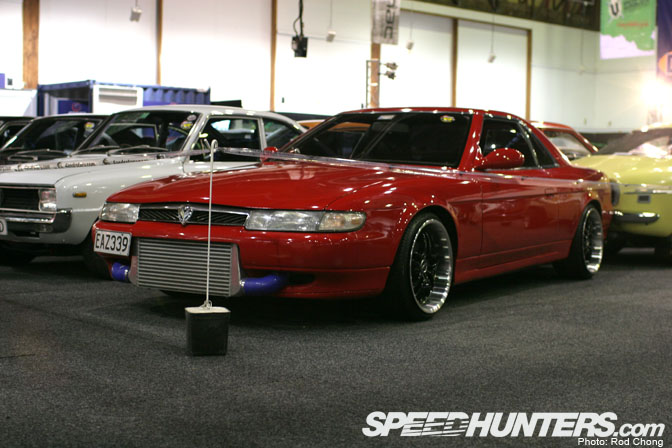 One of my favourite street cars was this purposeful looking Cosmo. …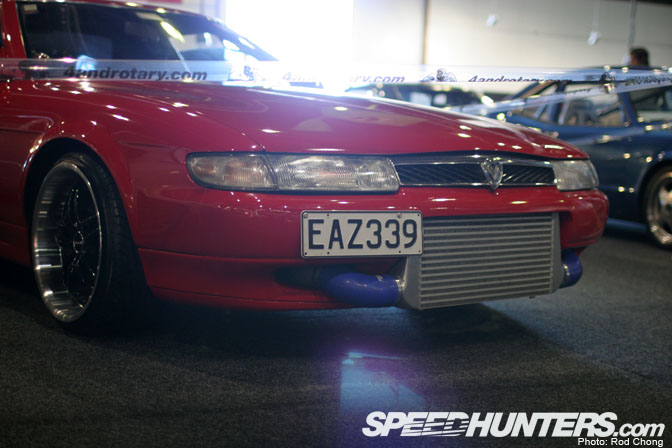 I'm not sure what the crazy intercooler is connected to, but was impressed with the overall effect… it had some dish, and some stretch… perhaps not an extreme amount of aggressive wheel fitment, but still a nice looking car. I can see why the Cosmo is such a respected machine with Rotory heads…. What is cool for Kiwis, is that it's not too hard to arrange ownership of a new-ish Japanese car like this one….
As of January of this year some new restrictions have come into effect, but for the most part the country is flush with JDM imported cars… New Zealanders also drive on the same side of the road as the Japanese… very convenient.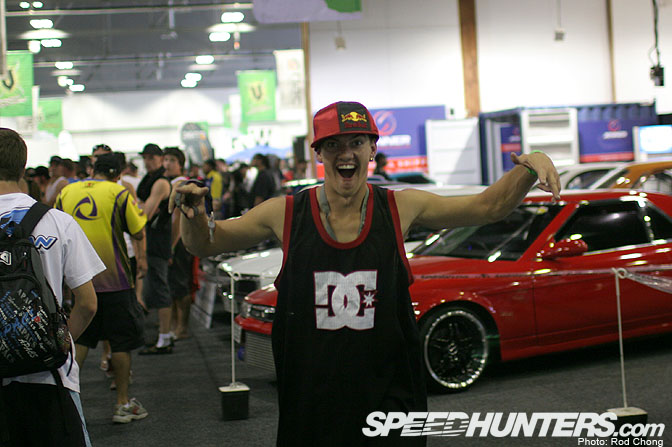 Get out of the shot Mike!… I'm trying to shoot the Cosmo!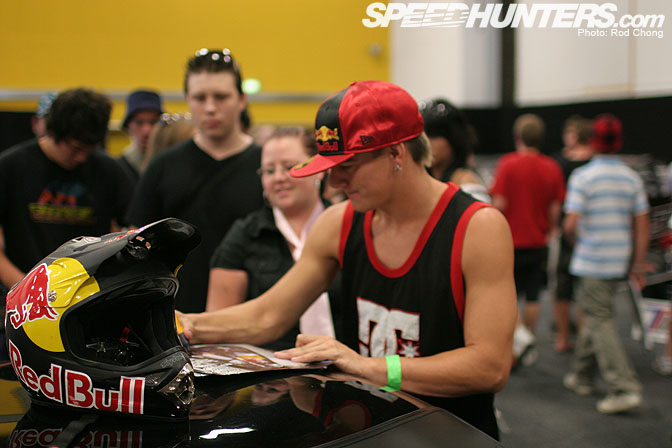 It's interesting to see how popular Mad Mike is with race and drift fans in his local NZ…… Here he's conducting a signing session….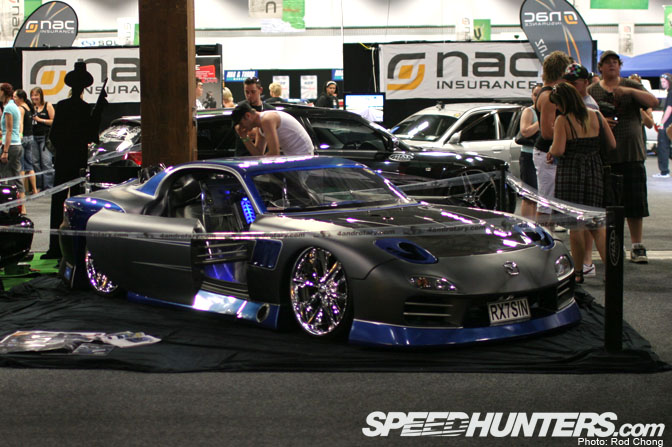 Another thread with the NZ scene seems to be crazy Spo-Com style show cars, filled to the brim with subwoofers, LCD screens and amplifiers… not really my cup of tea though.
This RX7 is a well known car in the country and picked up several awards at the show…. It graced the cover of NZ Performance Car Magazine in late 2007.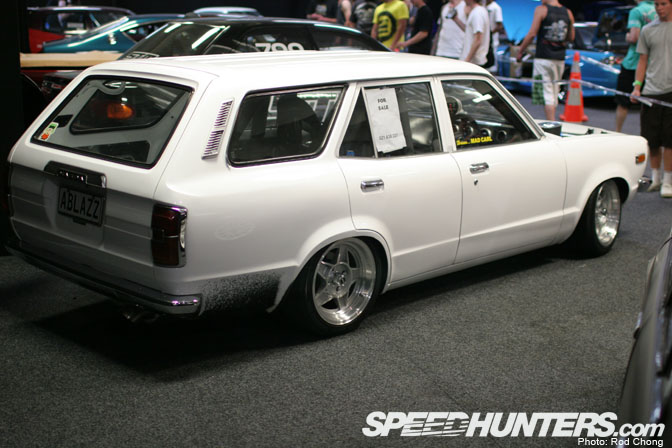 This Rotary powered, Mazda 808 station wagon is a former Mad Mike Whiddett build; constructed for burn-out competitions… I like!
We'll look at this car in more detail in the coming days.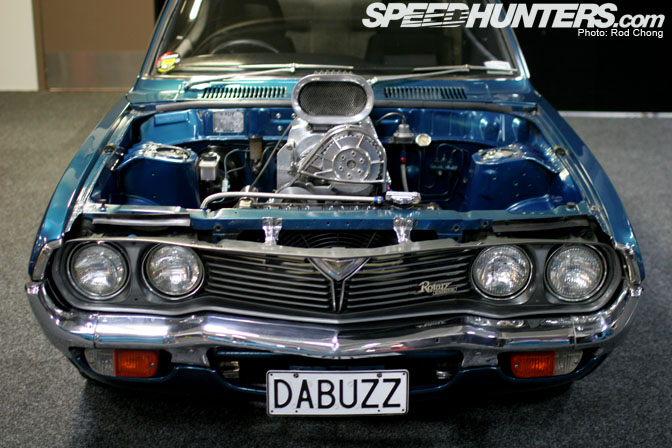 A V8 conversion into an old school RX4?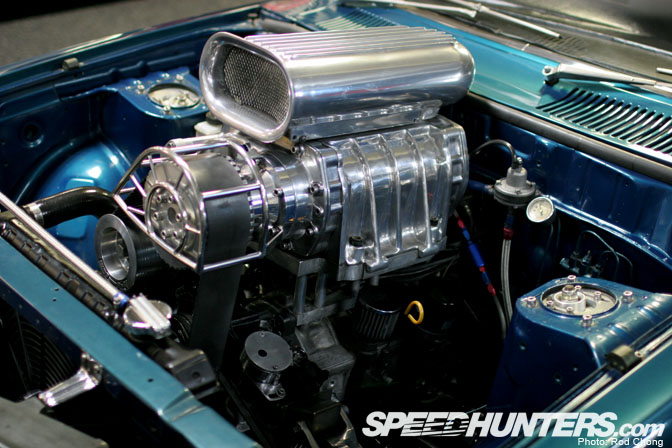 Absolutely not!… under the supercharger is a Rotory! Funny that the blower looks larger than the engine!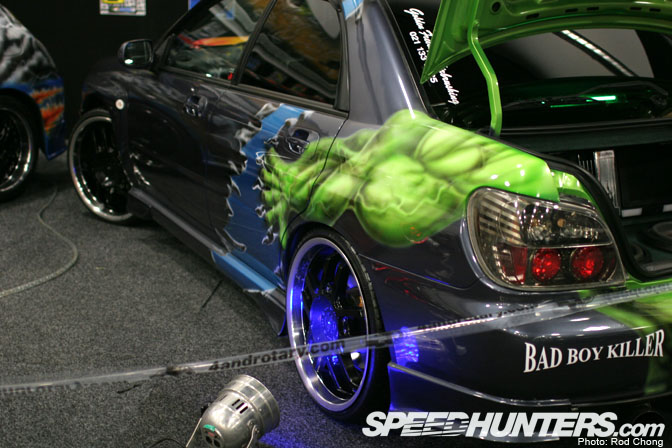 The spirit of rice does live on to some degree in New Zealand for the moment. The NZ Performance Car editors did say that trends are shifting away from this build style….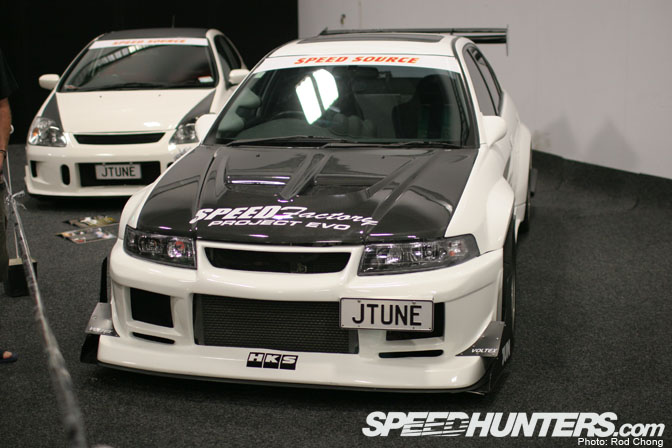 … towards more of a performance "Time Attack" Style. From what I'm told, there isn't too much of a hardcore "JDM" tuning following in New Zealand ATM… you know, people making sure to buy the exact name brand Japanese sourced parts and upgrades for their cars…
While the pros and cons of JDM style builds has been hotly debated in North American for a while now, this Evo 6 is considered to be opening up new territory in the New Zealand scene. Props to its builder Jacky Tse from JTune…..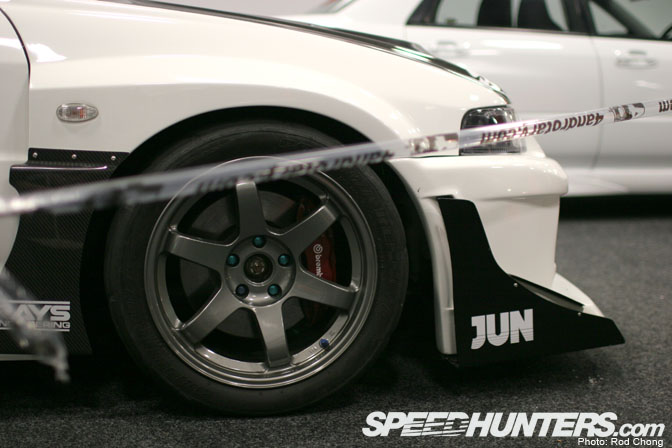 This car has all the right bits on it…. I was thinking about the Varis Evo 5 while taking these shots…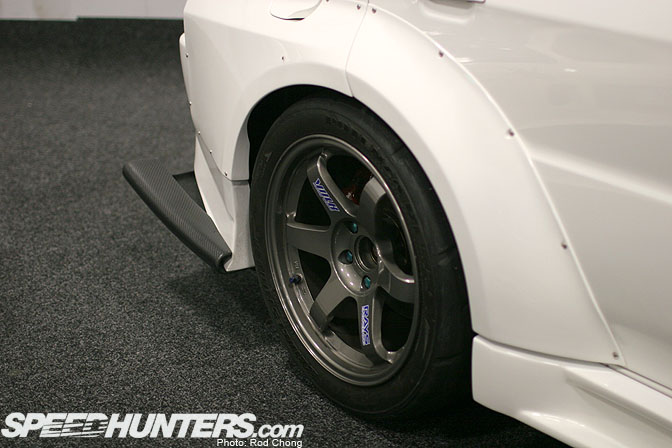 This is an in-progress build currently… definitely one of my show favs….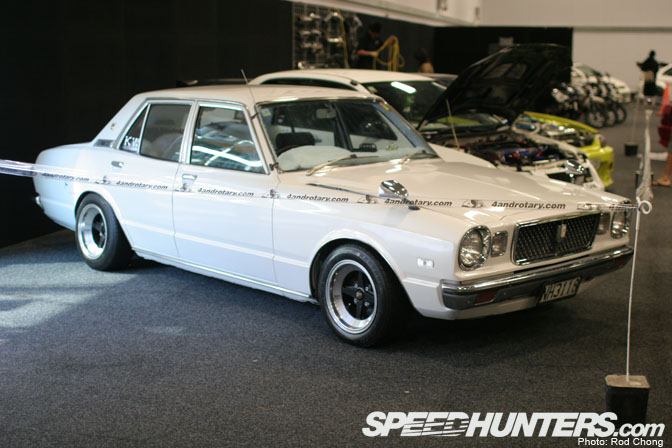 Another top pick: this four door MarkII/Cressida. This is proper no?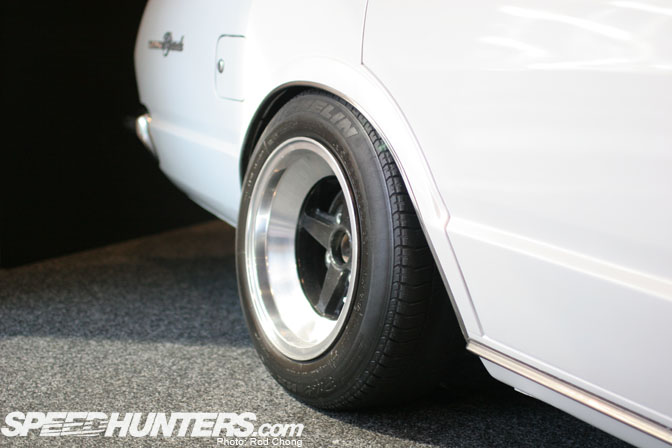 Mmmmmm…..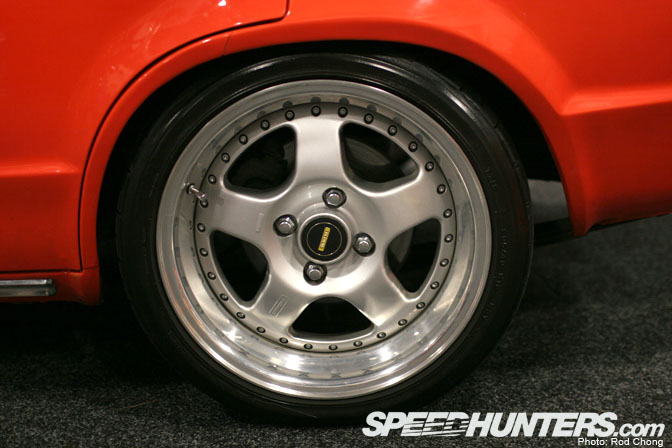 On the subject of rims…. It seems like a lot of vintage cars in New Zealand use wheels from the Australian wheels manufacturer Simmons…. I'll show you more examples in a later post and you can tell us what you think of this style…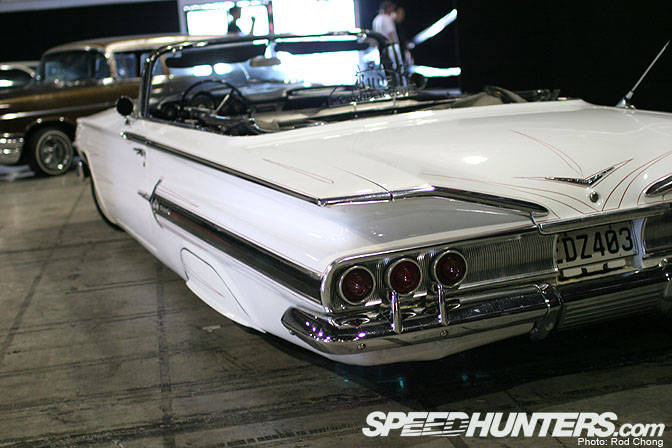 The Old School Rydz Lowrider Club had a large display tail dragging machines… This 1960 Impala was probably my favourite…. Just soooo coooooolll….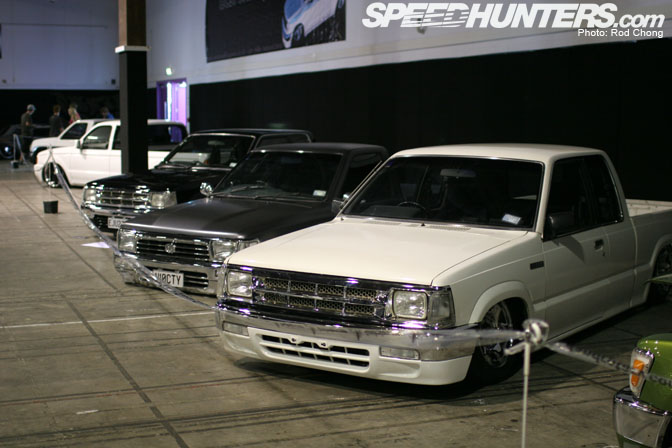 There also was a Mini-truck section too… it didn't quite capture my imagination though..
I remember when the mini-truck scene first hit big… was that the mid eighties? I wanted one of these slammed pickups real bad back then.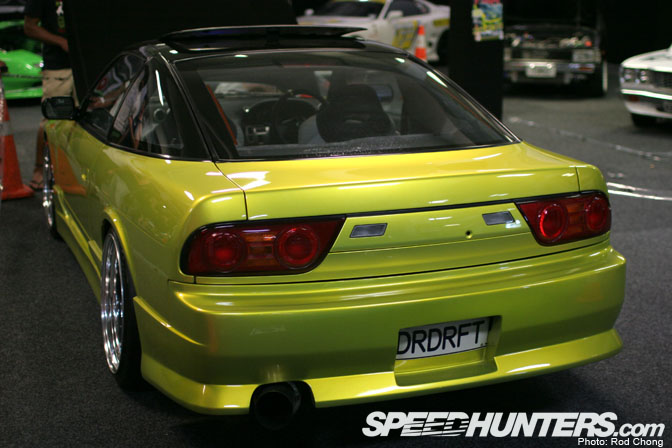 This clean S13 was on show in the NZ Performance Car Magazine display area. Apparently this was the first ever drift car to ever feature in the magazine back in 1998 or so…. since then it's been rebuilt and restyled… Hmmm… could use a few zip ties perhaps? :>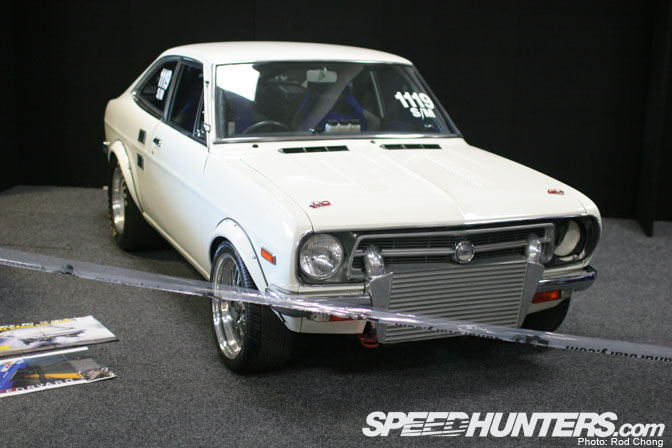 Another style of car that is distinctly "Oceanic", is the wide popularity of high performance vintage Japanese drag cars. There are quite a few builds like this Datsun 1200 running down the quarter mile in this part of the world. Unfortunately I couldn't make the drag race portion of the "V" 4&Rotary Nations in person the following day, but we'll be able to show some photos soon(ish)…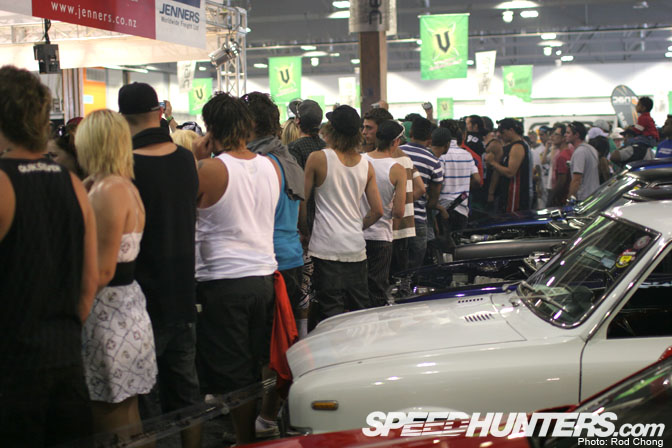 Behind this crowd of people, two top level Australian drag cars were doing their best impression of WWII.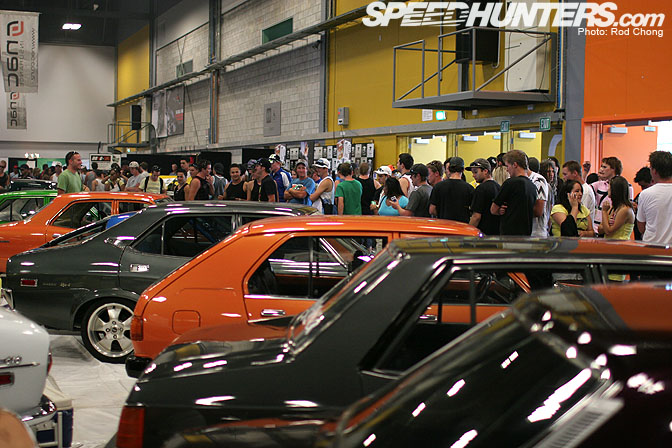 Not to be out-done… this owners of this row of street cars decided to do their own "cacklefest"… these are all rotaries remember…. it was LOUD!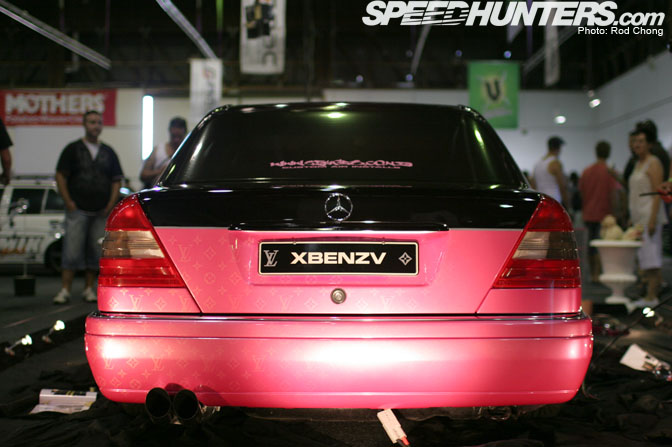 In addition to the Red Bull RX7, Mad Mike Whiddett and his lady, Toni debuted this Louis Vutton themed ground scraping Merc… Notice the gradated monograms…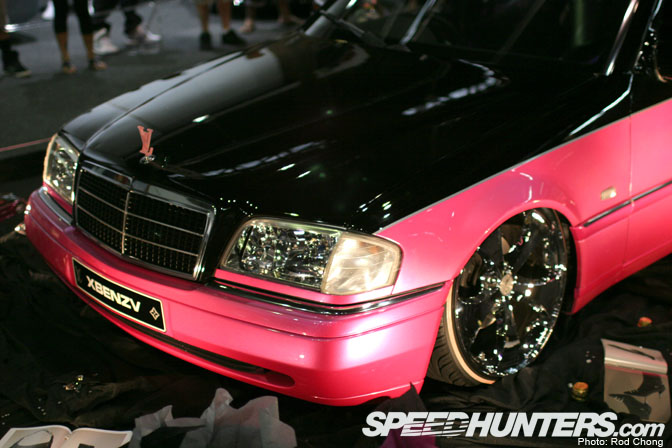 From what I'm told this is another New Zealand specific car subculture…. Stock bodied euro-sedans outfitted with large wheels and slammed to the ground on full air bags….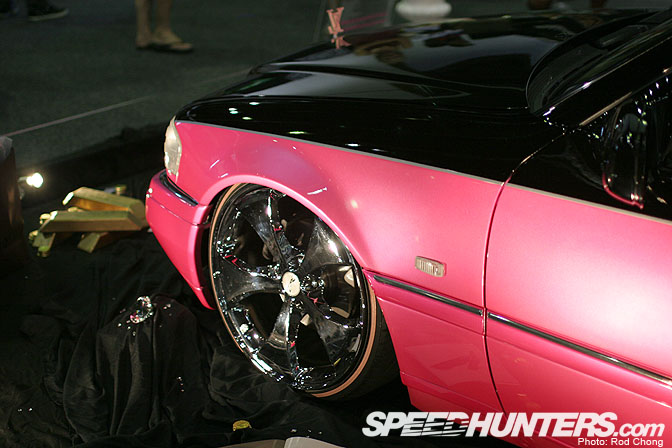 Mike and Toni also installed a twin turbo Lexus V8 engine to boot… you know, just to be a bit different….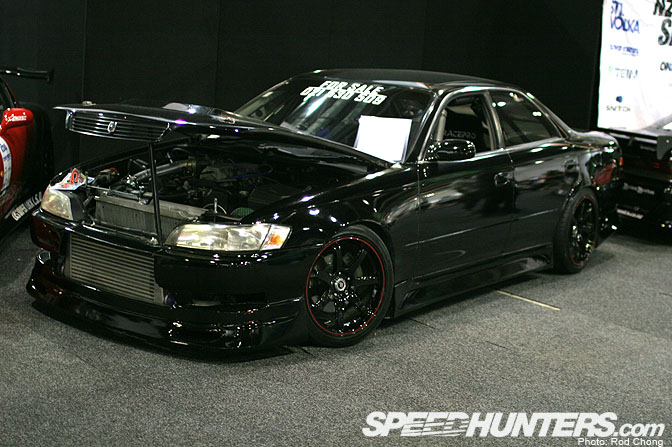 I'm not too much of a bling person, myself though and kept returning to the car parked just behind the XBENZV… this JZX-90 Toyota Mark II…. It's the only car of this type I've ever seen outside of Japan… I'd say this car is more extreme that your typical drift street car doing rounds at Ebisu Circui though. It used to be a professional drift car, complete with full race interior and a twin turbo V8 setup but has been converted to street use… Just so cool…. I'd totally drive a car like this!
Ok that's it for the moment… much more to follow!
:R