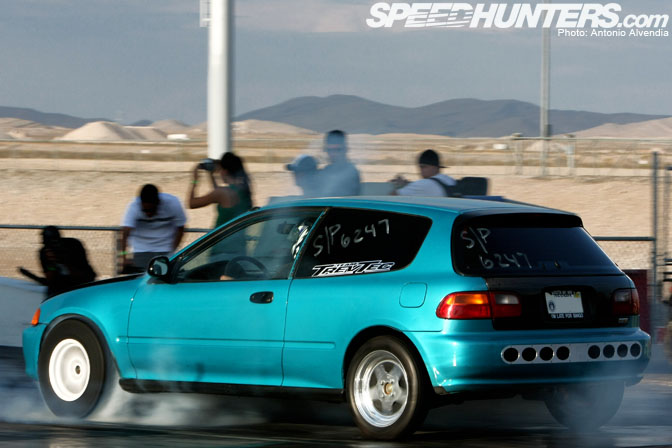 Since we already posted a previous story about Battle of the
Imports, I thought I'd just make a quick gallery of some of the drag
Hondas at the event. There were TONS of them all over the place! It
seems like Battle of the Imports is the place to be if you want to see
the best of the privateer drag race prepared Hondas. The west coast had
a strong showing at this event, but I know it's only a fraction of the
cars that are really out there!
It seemed like there were quite a few drag Hondas doing 11 and 10
second quarter mile runs nowadays… I remember when there were only a
select few that could manage that! Everyone is definitely stepping up
their game! Enjoy the gallery!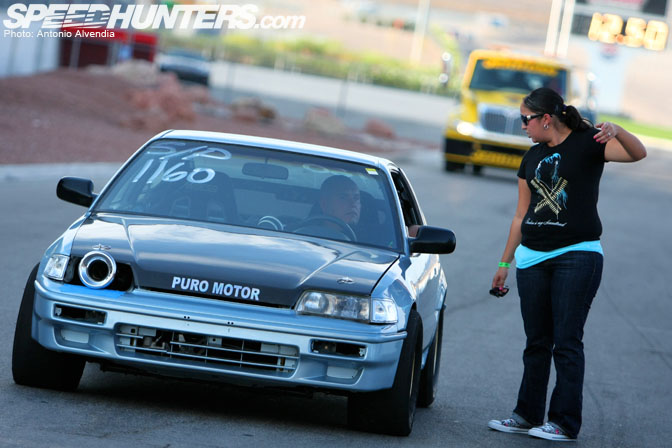 Check the big velocity stack installed where this CRX's headlight should be! All motor son!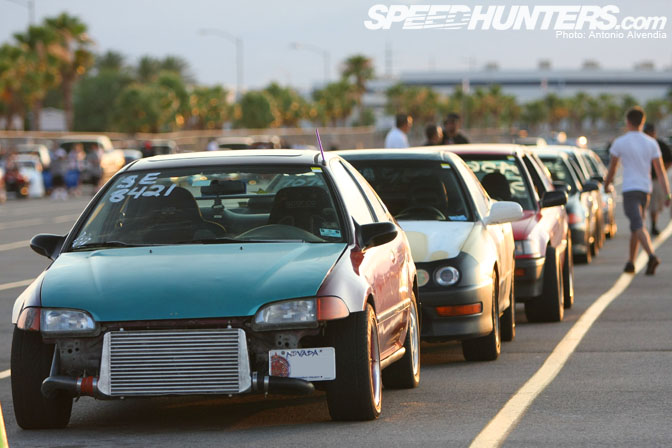 There were long lines of Hondas in line on the grid – we're talking
Civics, Integras, CRXes, and even a Fit and an Insight! I did see a few
other cars, like DSMs and a drag racing Evo, but they were few and far
between.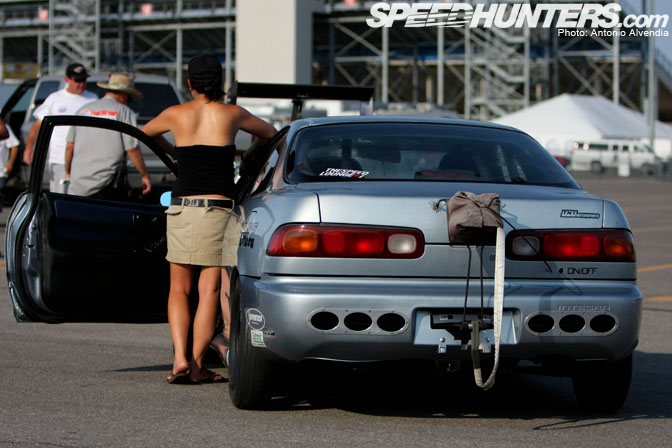 Yup, that's right. This DC Integra from TNT Motorsports/J's Racing is owned and driven by a girl! Act like ya know!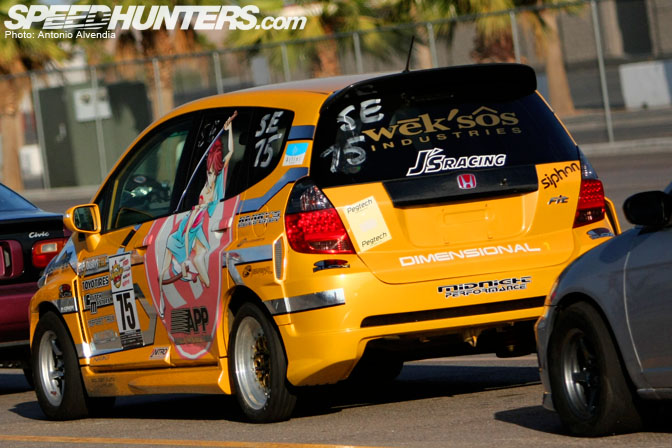 This Fit has been in a bunch of magazines – stateside and in the UK as well!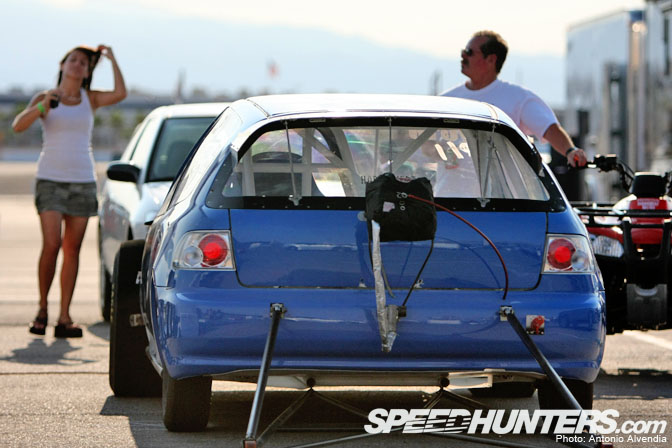 This shade of blue with a white rollcage… I just had a flashback
of Viet Lam's famous Wicked Racing EG Civic from back in the day!
Except his car was rocking Sprint Hart CPR wheels. Super fresh.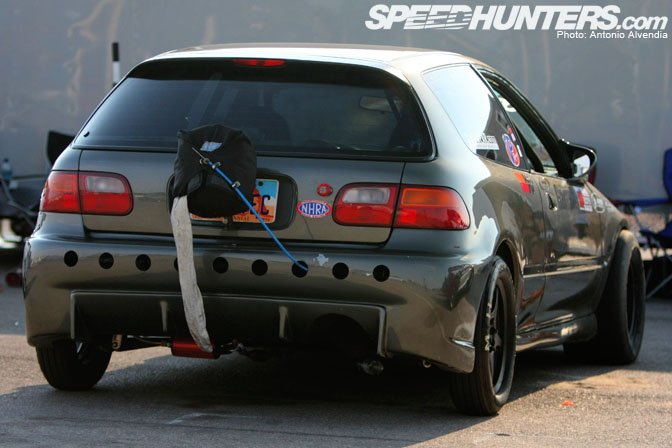 This dark metallic green color looks very cool on this Civic! Look
at the super skinny wheels in back, contrasted to the humongous drag
slicks up front! I also think the aero mirror is a nice touch.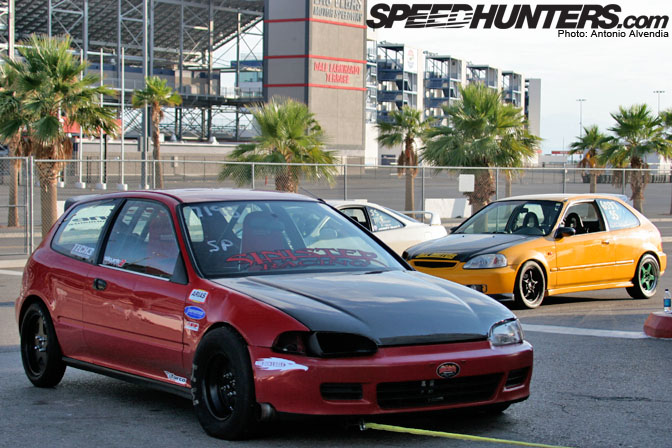 This EG Civic from Sinister Racing is pretty fast – the owner told
me he won his class several times at Battle of the Imports events. This
car definitely looks like an old school style Honda drag car – very
grassroots looking, but you know he means business with those drag
wheel setup and the exhaust coming out of the bumper.
I liked the yellow EK in the background too, looks like a typical
JDM Civic you'd find on the streets, but they had it out at the track
in Vegas for some 1320 action!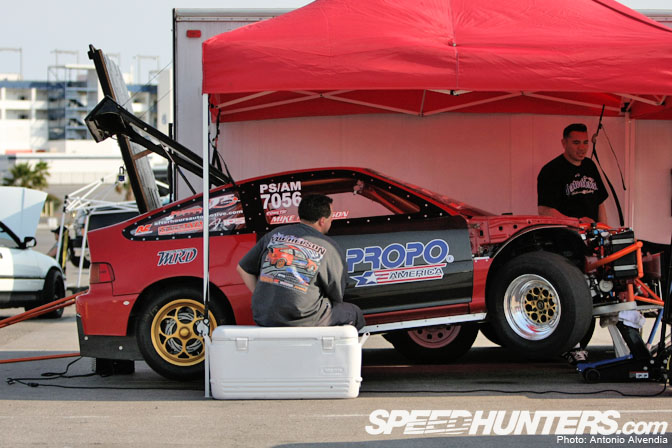 This CRX was pretty developed, with wheelie bars, and custom
bracking/bracketry around the engine components at the front of the
car. It also has slotted brake rotors, which are normally found more on
road race cars, rather than drag cars. I don't think slotted rotors
would really help drag cars too much, from a braking performance
aspect, because the driver only needs to hit the brakes once at the end
of the dragstrip. Maybe the car owner just decided to use slotted
rotors anyway, because the slots continually resurface the brake pad,
leaving it with a fresh, even surface better rotor/brake pad contact
when stopping the car.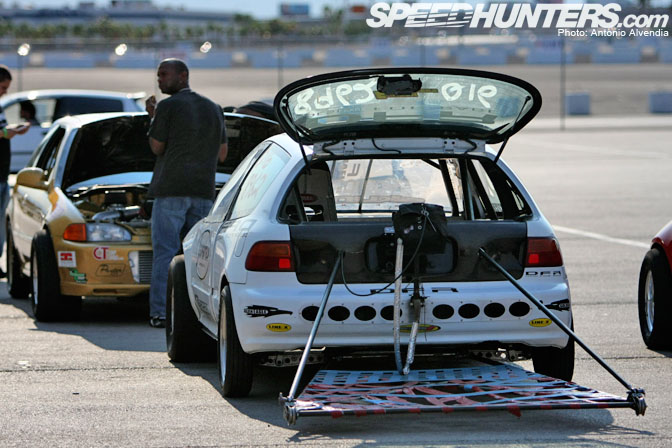 Wheelie bars, parachute, CF rear door, lightening holes in the bumper, and drag slicks… this guy apparently means business.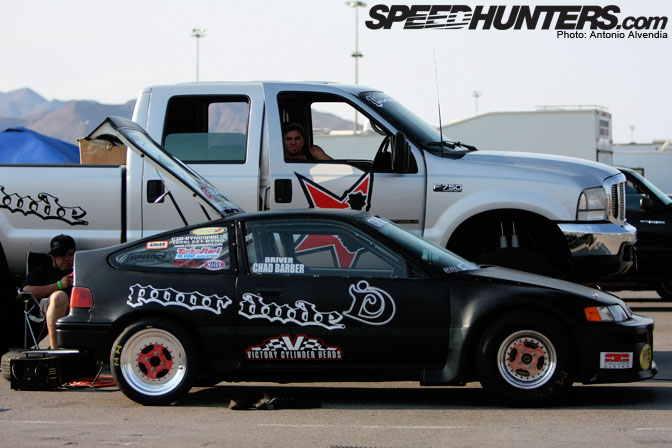 I like the Bogart wheels on this CRX – it reminds me of SSR Mark 2 wheels!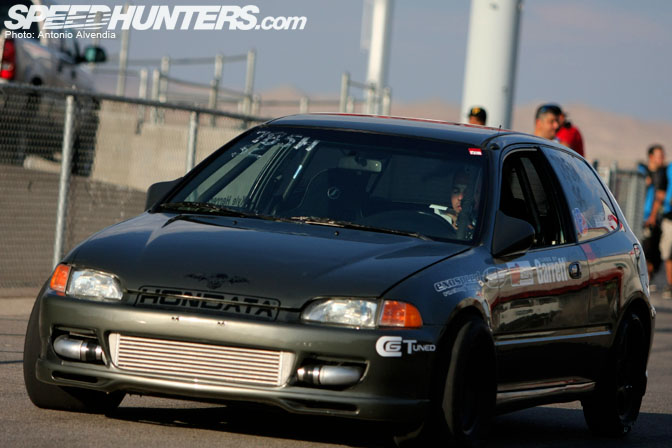 Nice looking Civic – I like how the owner of this EG hatchback paid
enough attention to the aesthetics of the car to include the
lightweight aero mirrors and the front chin spoiler.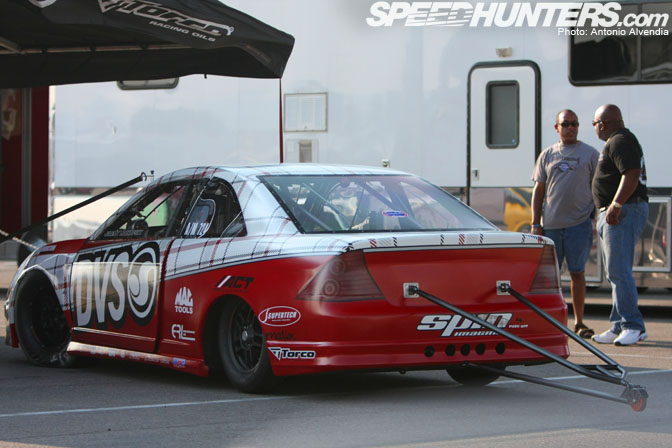 I think you guys should know this guy – Jeremy Lookofsky, definitely
one of the big names in Honda drag racing. I wonder what the
difference/advantage of having a single-wheel wheelie bar is, as
opposed to a wheelie bar with two wheels? I'm sure that some of the
Speedhunters readers definitely know more than me when it comes to
these things.
-Antonio Alvendia
Scenes from Battle of the Imports Las Vegas