Ever since I saw the Built By Legends BNR34 Nissan Skyline GT-R as a naked chassis at last year's R's Meeting, I've been eagerly awaiting the finished product.
At the 2023 R's Meeting, held recently at Fuji Speedway (stay tuned for my main event story), I didn't just see one BBL R34, but two of them. What a way to complete the RB26-powered GT-R set.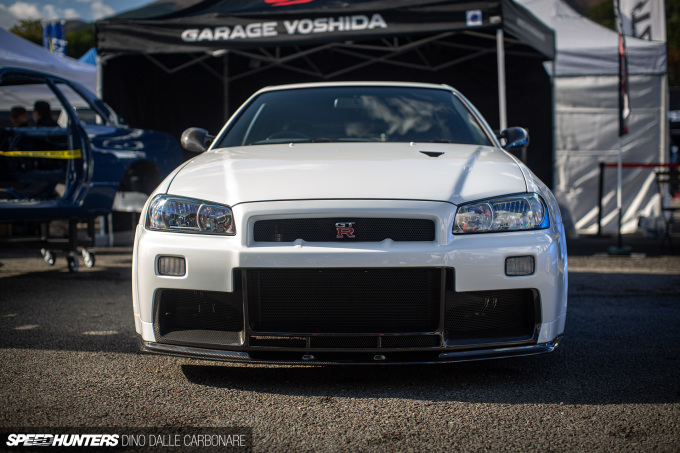 As I featured the BBL BNR32 GT-R in 2021 and then BBL's BCNR33 GT-R earlier this year, there were expectations of what the BBL BNR34 GT-R's general spec would be. But I think Built By Legends took everyone by surprise with the front bumper redesign.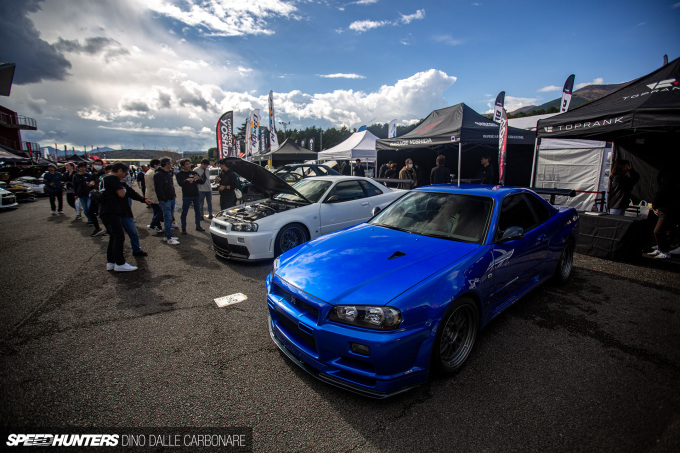 The Bayside Blue BBL car was displayed with a stock bumper and middle lip, but it too will be getting the same bumper treatment as the white car.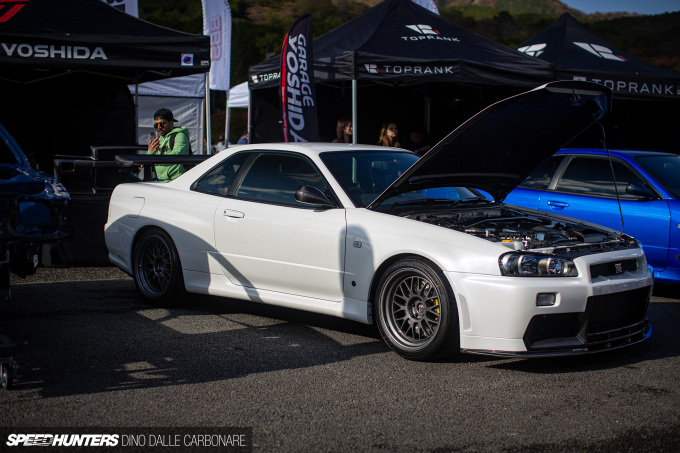 I'm planning a full driving experience feature on one of these BBL R34 GT-Rs – as I did with their R32 and R33 restomods – but for this quick first look I thought I'd run through the upgrades I could see.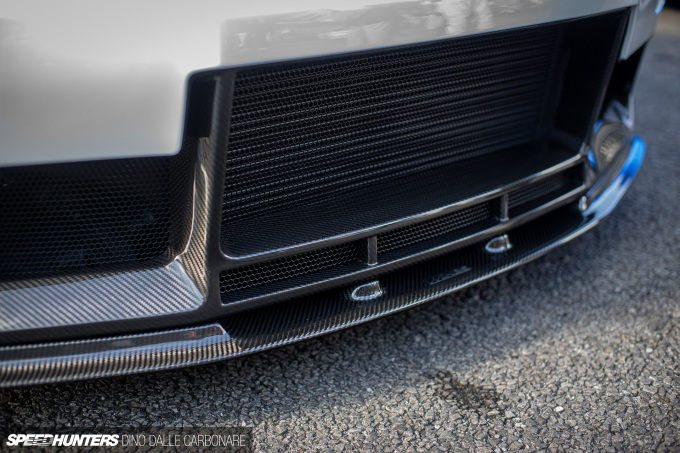 Let's start with that front bumper, which is in dry carbon fiber. What makes this one different to the other BBL GT-Rs is the restyle. While it maintains the OEM top section and grille, there's a JGTC GT500-inspired lower main section which is further highlighted by the way it's been painted.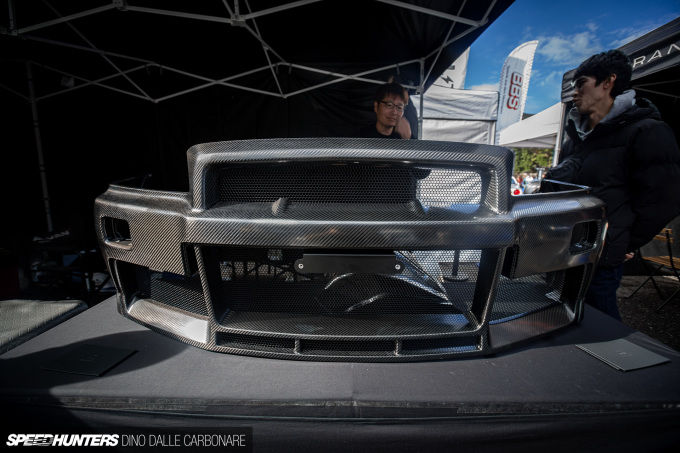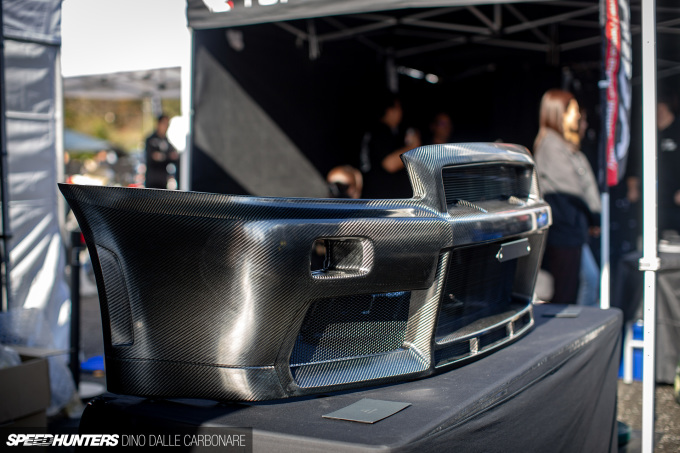 The bumper destined for the blue car was on display at Garage Yoshida's booth, and having the chance to pick it up I was blown away by how light it is. I am guessing just under 2kg, but Built By Legends are yet to publish its official weight.
While the eye will obviously pick up the aesthetic differences, the BBL bumper is a largely dictated by function. By this I mean increased air flow on both larger lateral openings, a bigger center intercooler section, and triple vents where the bumper will ultimately meet the soon-to-be-released, new-style dry carbon front diffuser from Mine's.
Since we're at the front end, let's take a quick look under the dry carbon V-spec II-style hood that BBL have created.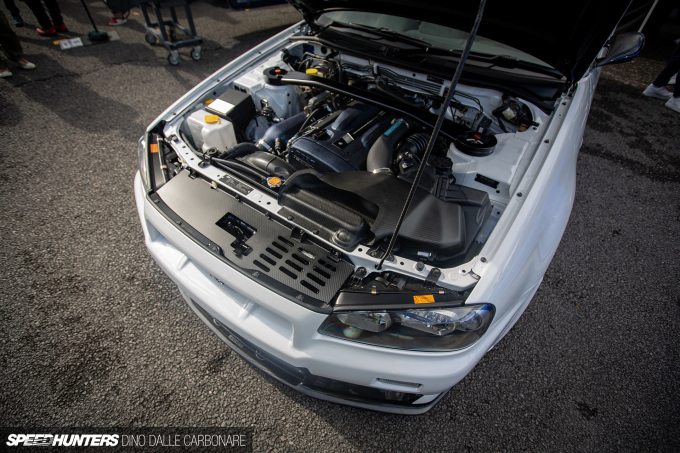 At the heart of both BBL BNR34s are Mine's 600+hp RB28 engines; the same setups as used in the BBL R32 and R33.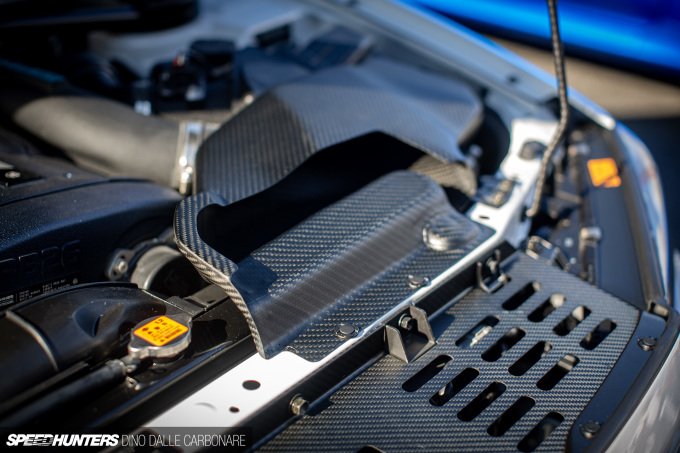 I'll go into all the details in the full feature, but one thing that stood out to me straight away is this not-yet-released OEM air box air scoop, which is another featherweight part made from dry carbon.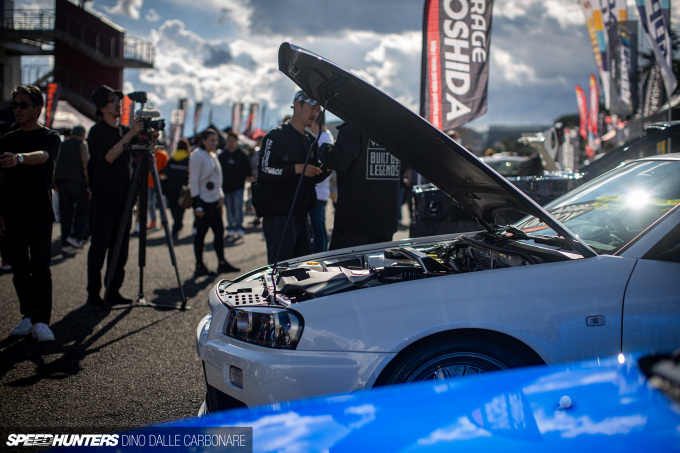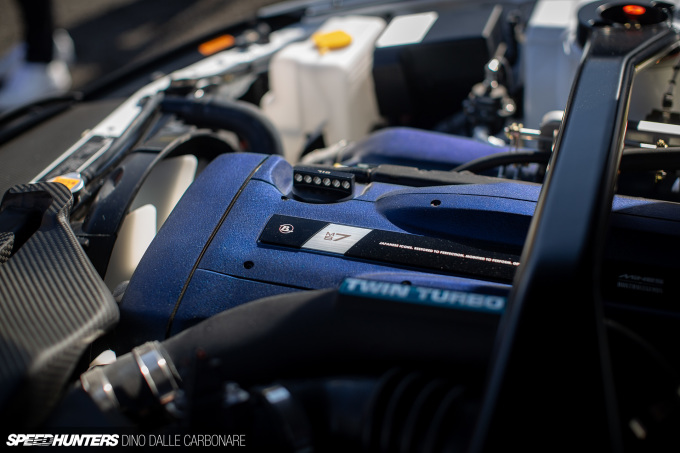 Both cars were receiving a lot of attention at R's Meeting, especially from overseas visitors. This is good news for BBL as the builds are targeted at international buyers.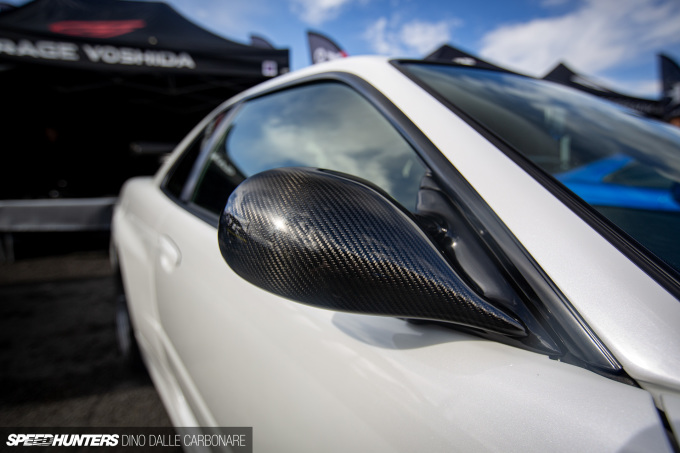 The carbon fiber details continue with a pair of Mine's E36 M3-style mirrors, custom-finished with a transparent clear-coat for the white car and slight blue-tinted clear for the blue one.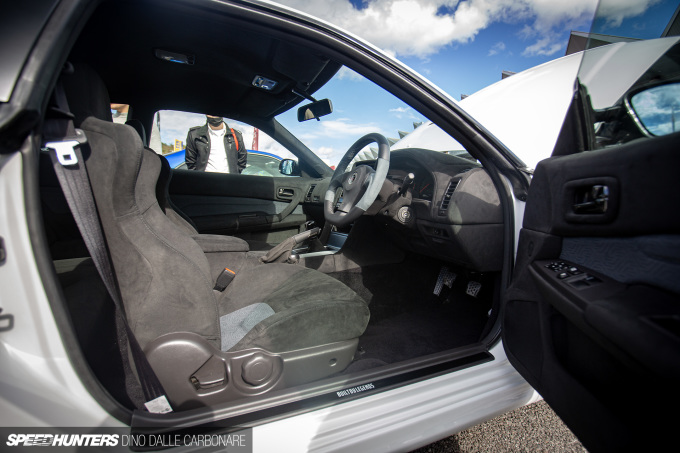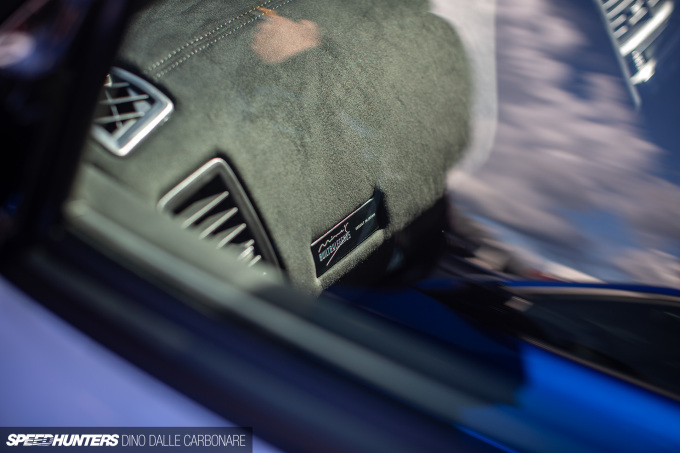 Not one surface in either car's interior has been left in OEM plastic. Custom Ultrasuede trim work elevates the cabins in a way never before seen in an R34. Even the air vents and interior door handles have been sprayed in Ceracoat Ceramic for a more high-end finish.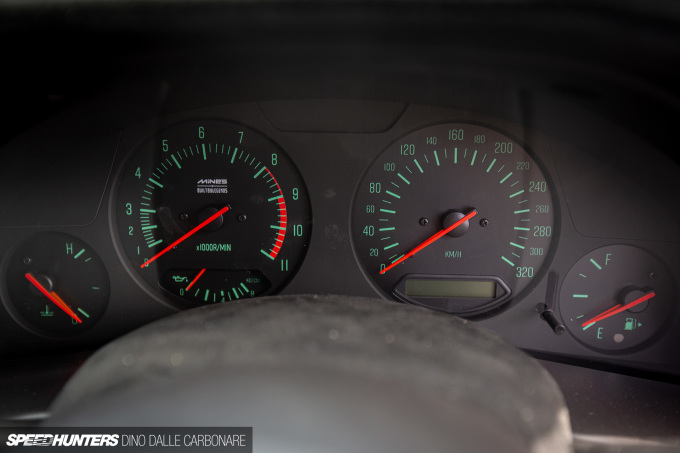 The second surprise for me were the cars' redesigned Mine's instrument clusters. The minimalistic green-on-black design brings a bespoke touch to an area that the driver will look at all the time.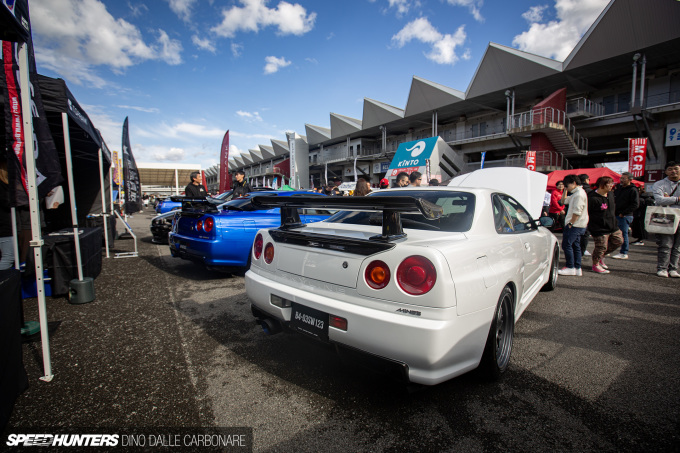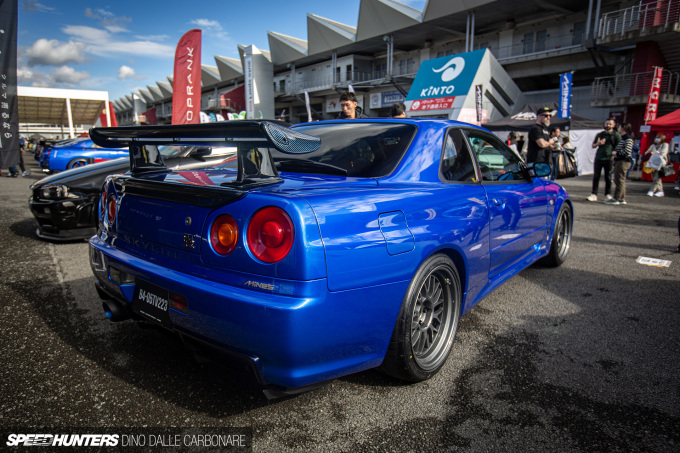 The carbon fiber continues out back where the R34 GT-R's rather heavy factory spoiler has been replaced with something much lighter. And for a direct link to the legendary Mine's BNR34 V-spec N1 demo car, there's also a trunk lip spoiler.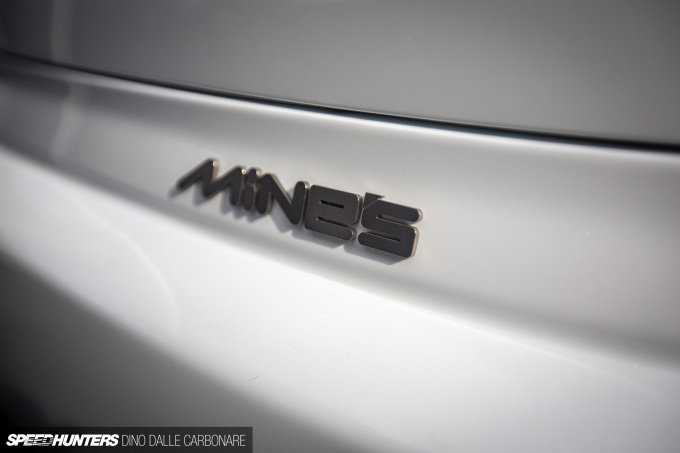 Billet aluminum Mine's badges at the rear finish the cars off perfectly.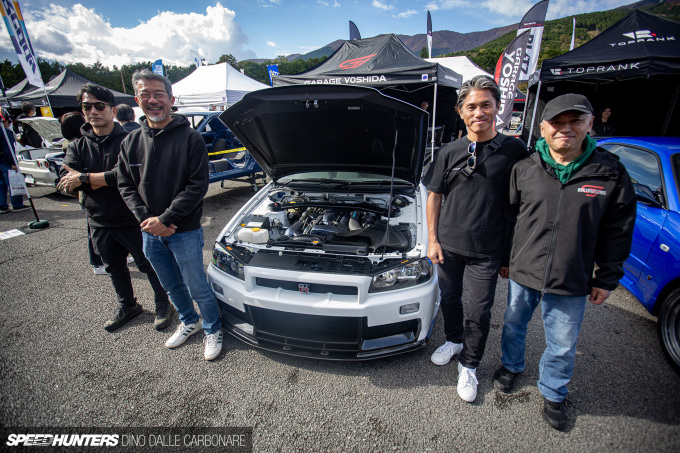 The Built By Legends team, seen here along with Nakayama-san of Mine's who hand builds all the BBL engines, must be proud to have come so far in such a short amount of time. They are pretty much the only true one-stop GT-R restomod shop in Japan.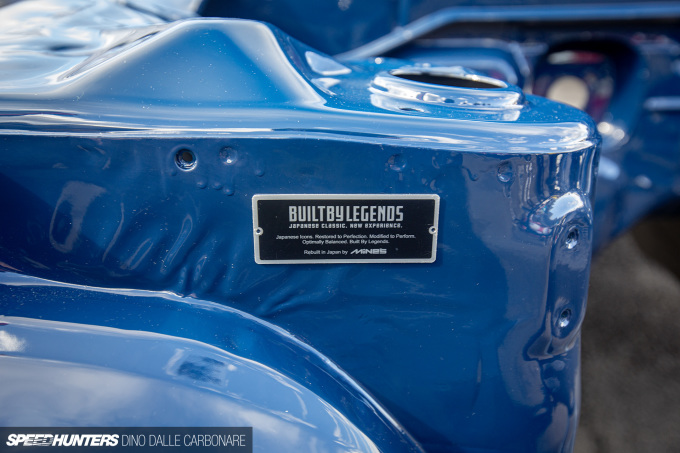 And they aren't done yet.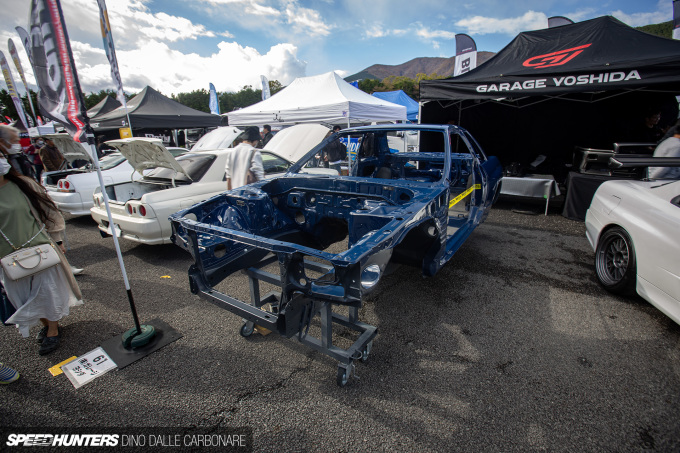 The orders keep coming in and this custom blue BNR32 bare chassis on display is their next project.
Now I just have to wait for the green light to drive one of the Built By Legends R34s so I can really nerd out on all the details.
Dino Dalle Carbonare
Instagram: dino_dalle_carbonare
dino@speedhunters.com