There are some liveries that you just can't mess with. Lancia and Martini, and Lotus and John Player Special are two that instantly spring to mind. But painting your car black and white is fair game. Isn't it?
Absolutely, although going one step further and having 'Fujiwara Tofu Shop' emblazoned down the side might seem a bit ridiculous on anything other than a panda AE86 Toyota Trueno. Thankfully, Toyota Altezza Gita owner Joshua Colaco didn't think so.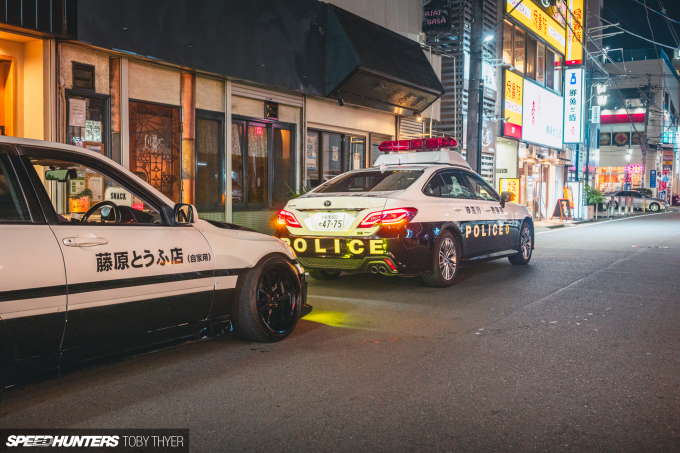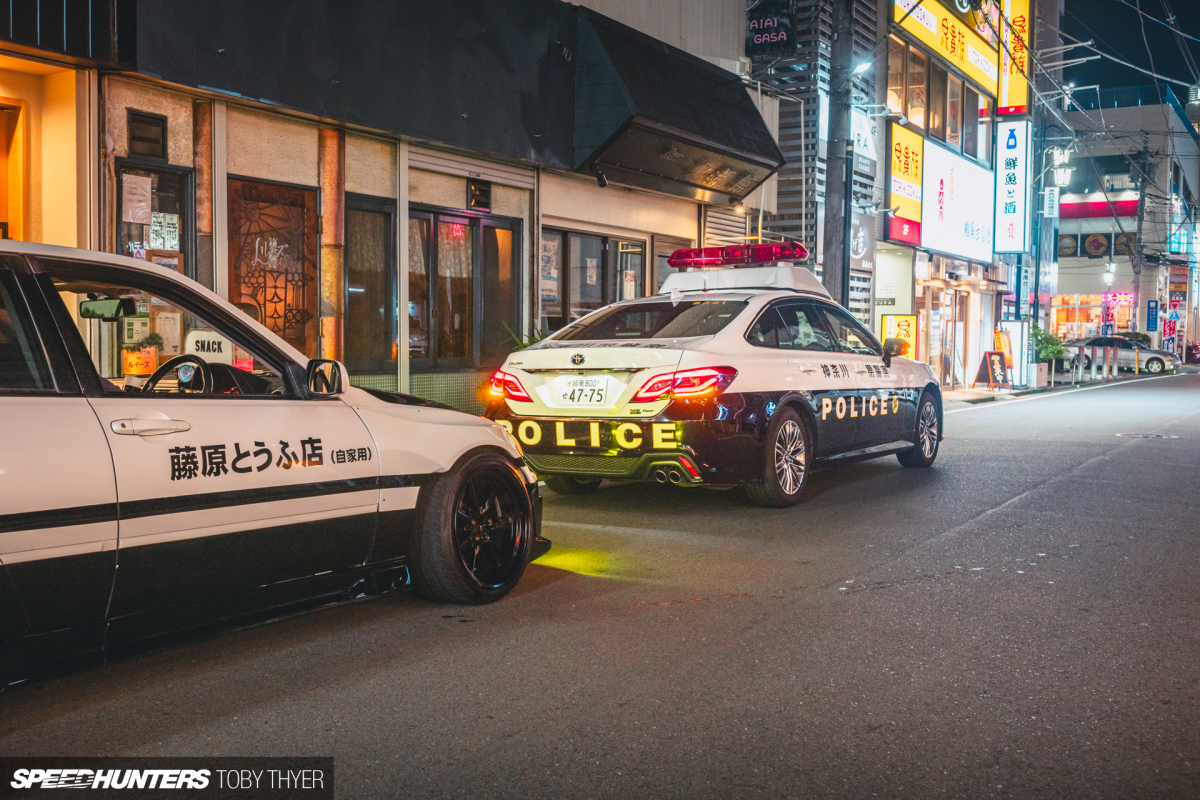 You could just as easily deliver cubes of silky-smooth tofu in an S13 or JZX100, although the latter doesn't quite have the right commercial vehicle image. The Trueno in Initial D got it right, because it's exactly the sort of car you'd expect a Japanese high school kid to be doing deliveries for the family business in back in the mid-to-late 1990s.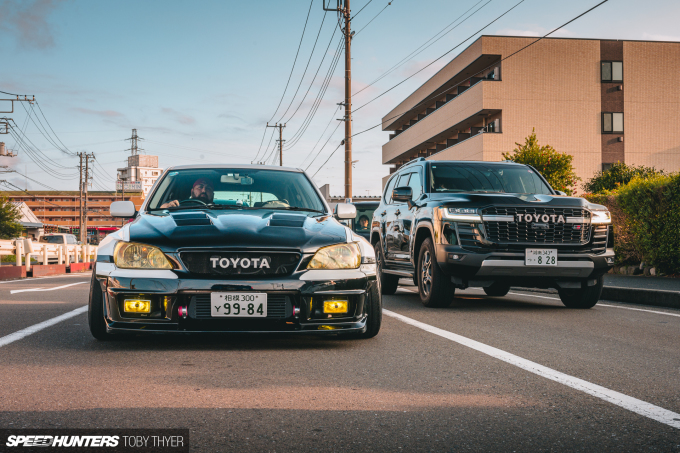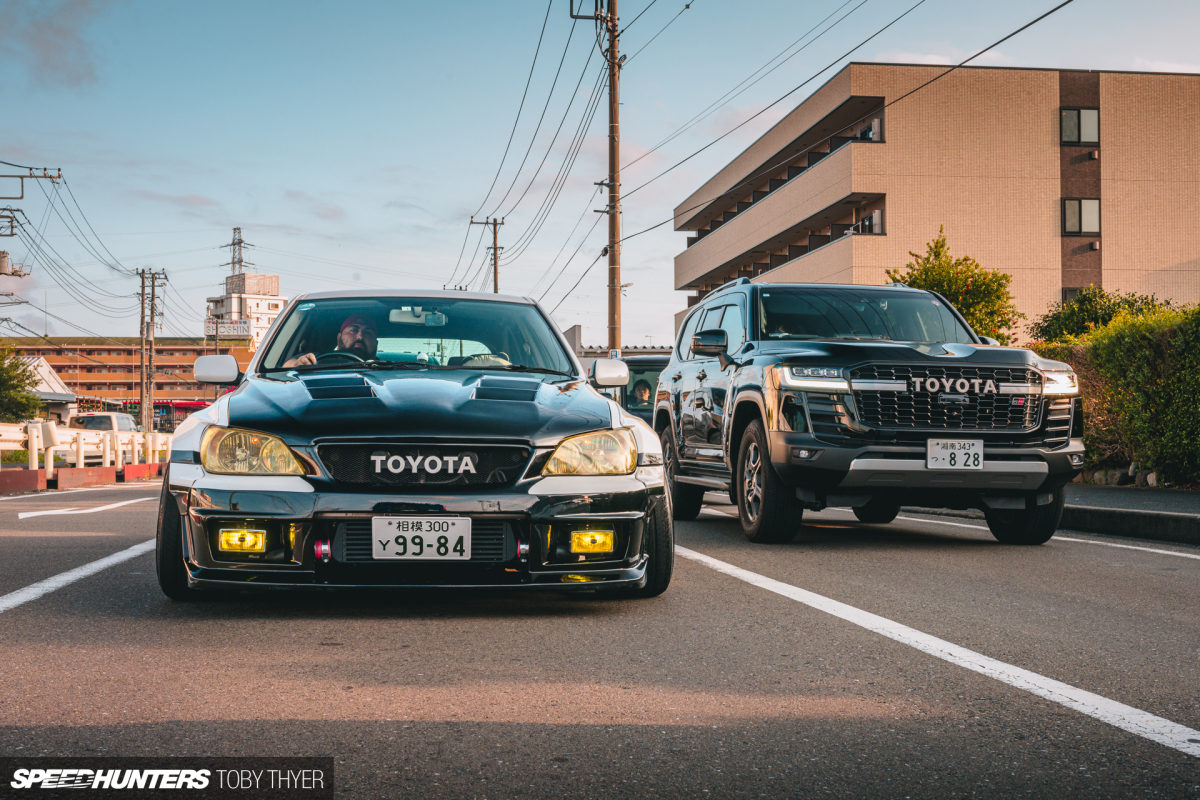 But what if the iconic anime series was set 15 or 25 years later? A Japanese high school student today may very well be driving his parents' well-loved Altezza wagon.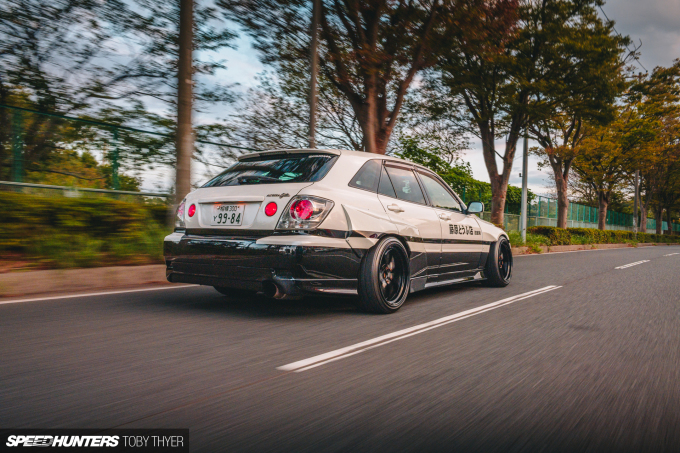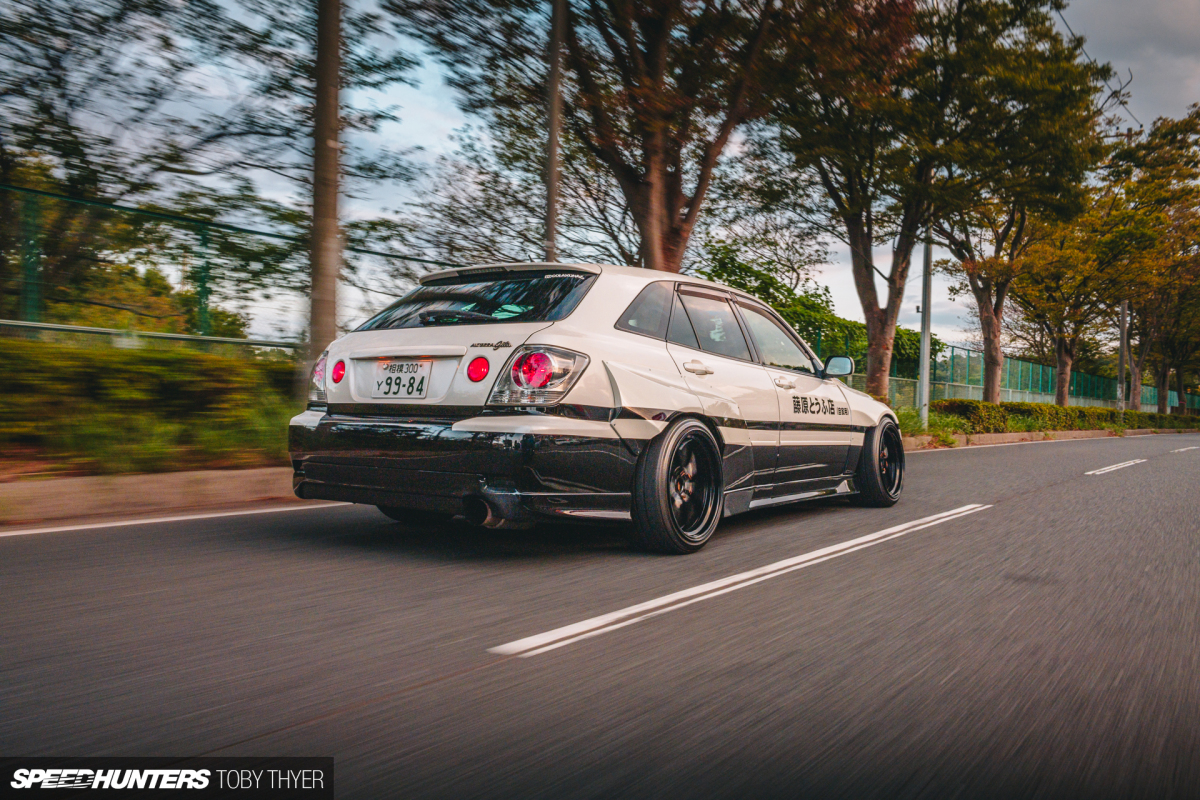 Funnily enough, the connection between the two cars is stronger than you might first think. You see, Nobuaki Katayama, Toyota's chief engineer for the Altezza, not only worked on the MkIV Supra, but also the AE86 back in the early '80s.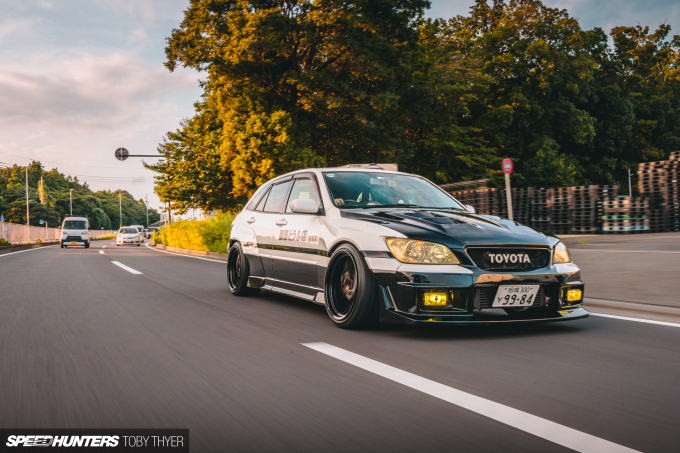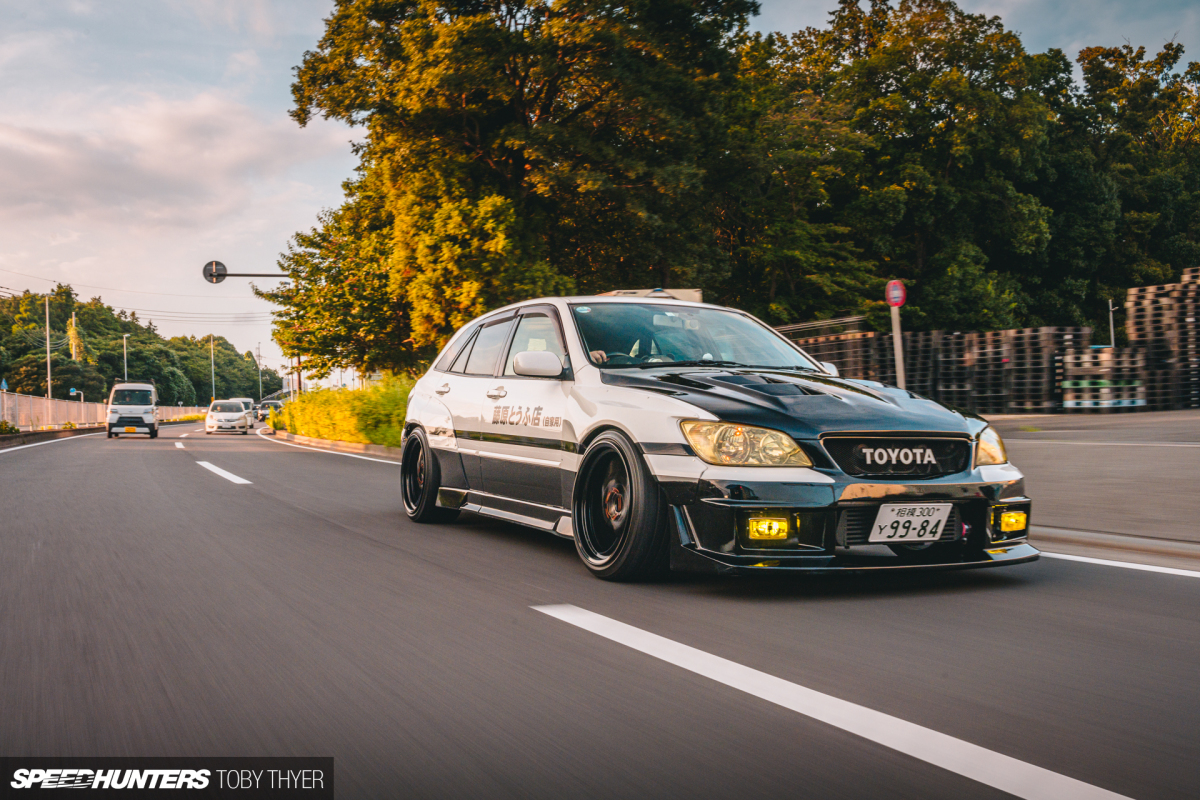 As with many great project cars, this Toyota Altezza Gita wagon started off as a 'wheels, coilovers and done' daily driver. If you look at Joshua's other project car – a drift-inspired fluorescent Nissan Stagea – you'll soon understand that keeping things stock is probably wishful thinking for anything else parked in his garage. Joshua is a fan of big wheels, and it soon became apparent that nothing in his preferred size would fit inside the Gita's modest arches. In order to accomodate the 18×10.5-inch +22 Stance Magic wheels Joshua had his eyes on, he would need to open up some space.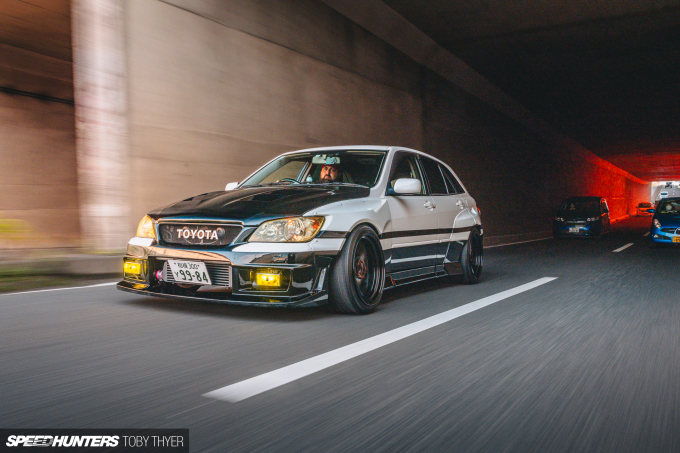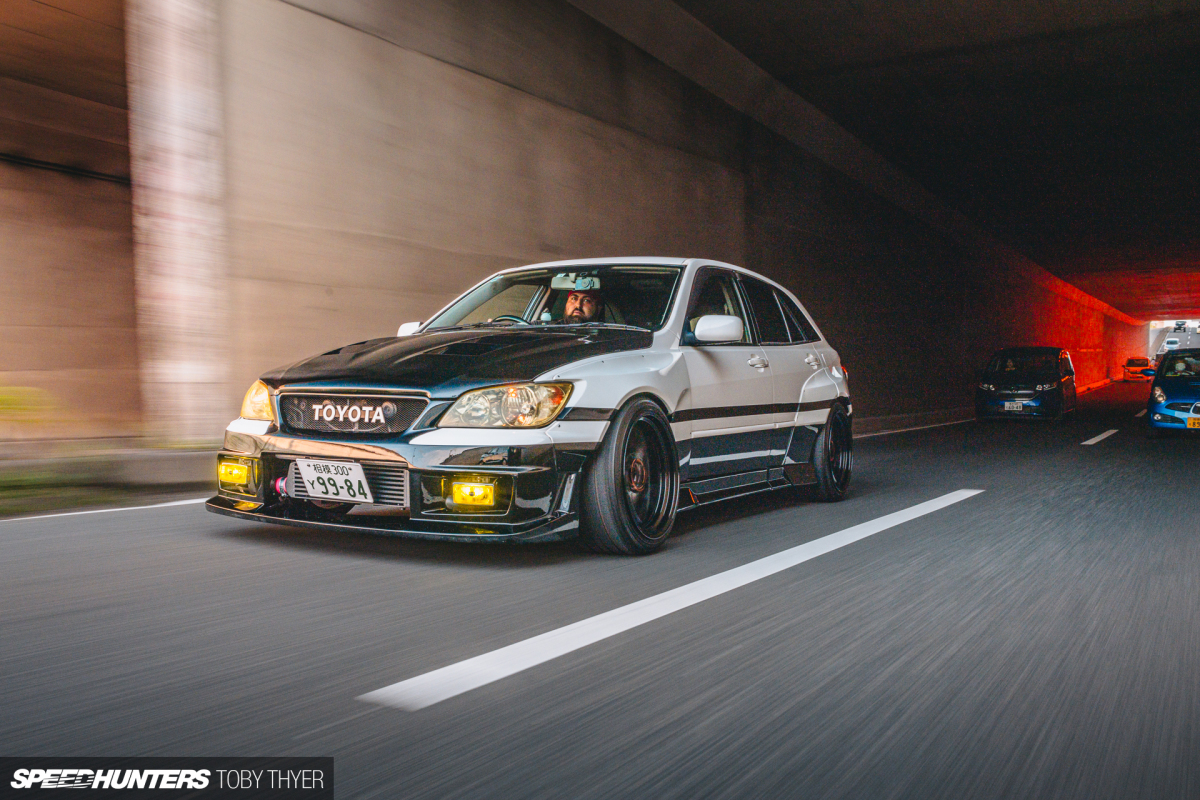 After scouring the internet for a wide-body kit, Joshua found something he liked in Russia. Throwing his trust and money into an online purchase was a gamble, but a month and a half later a wooden crate arrived in Japan with a set of over-fenders for an Altezza sedan inside.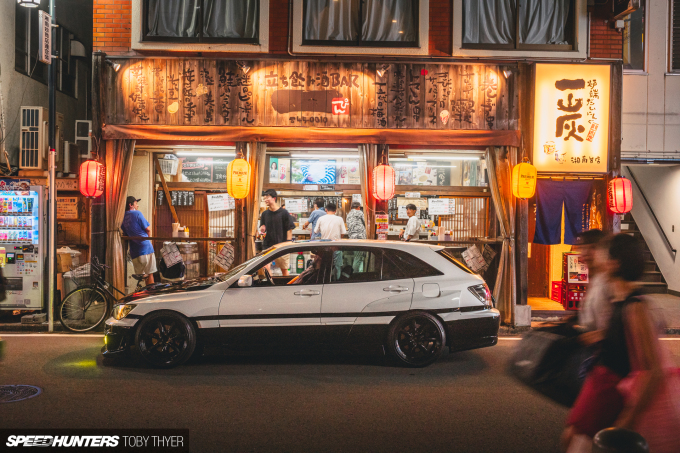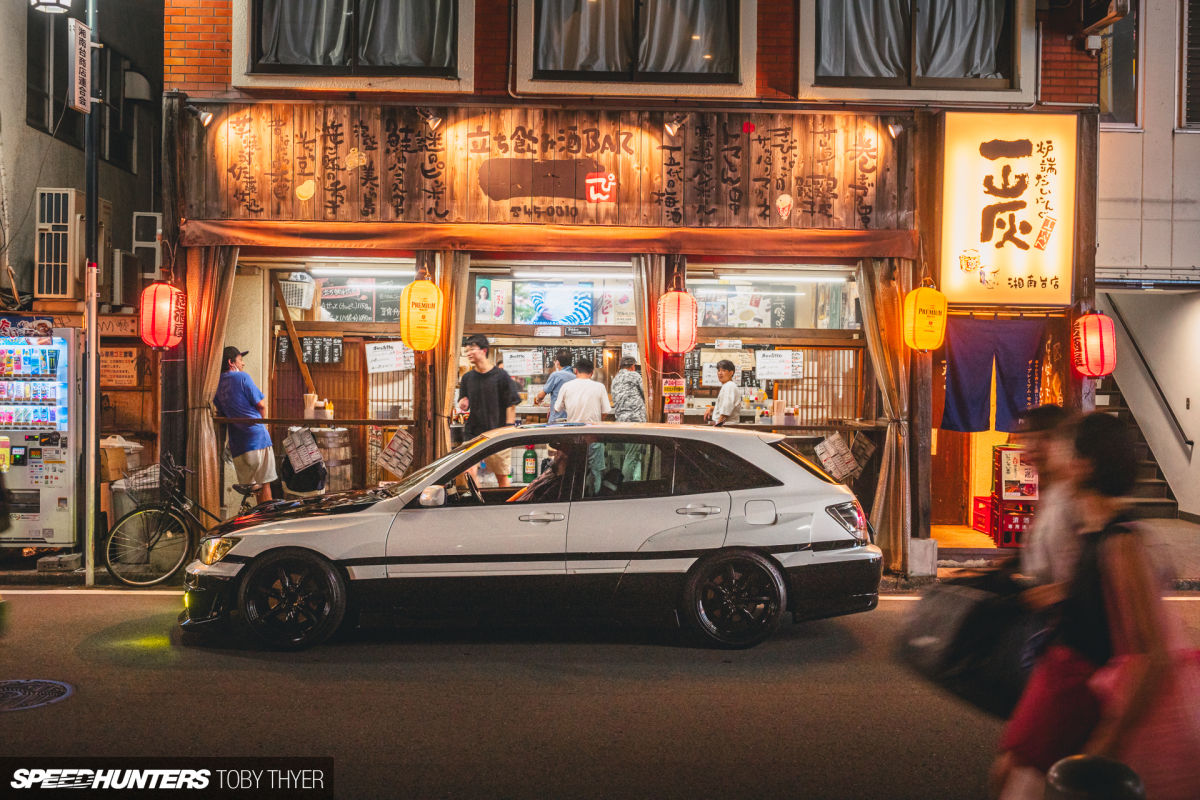 The front over-fenders integrate beautifully with the body lines of the Gita's front quarters, but standing around the car at a local train station, a heated discussion was had about the rear section falling short of the wagon's extra length. Personally, I would like to see the rear over-fenders extended back to the tail lights, but Joshua vehemently defended the current aesthetic.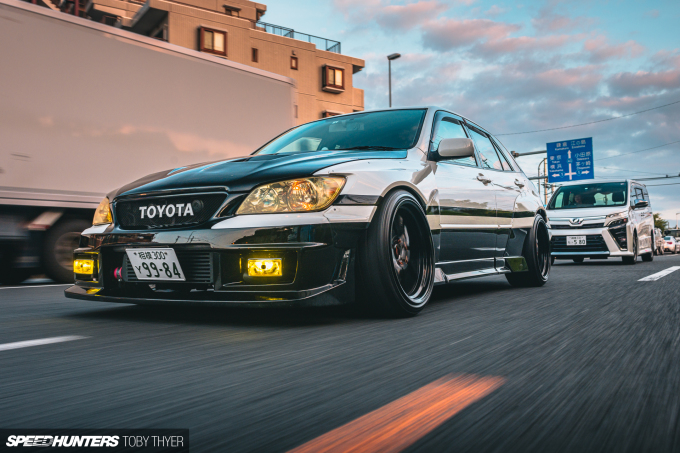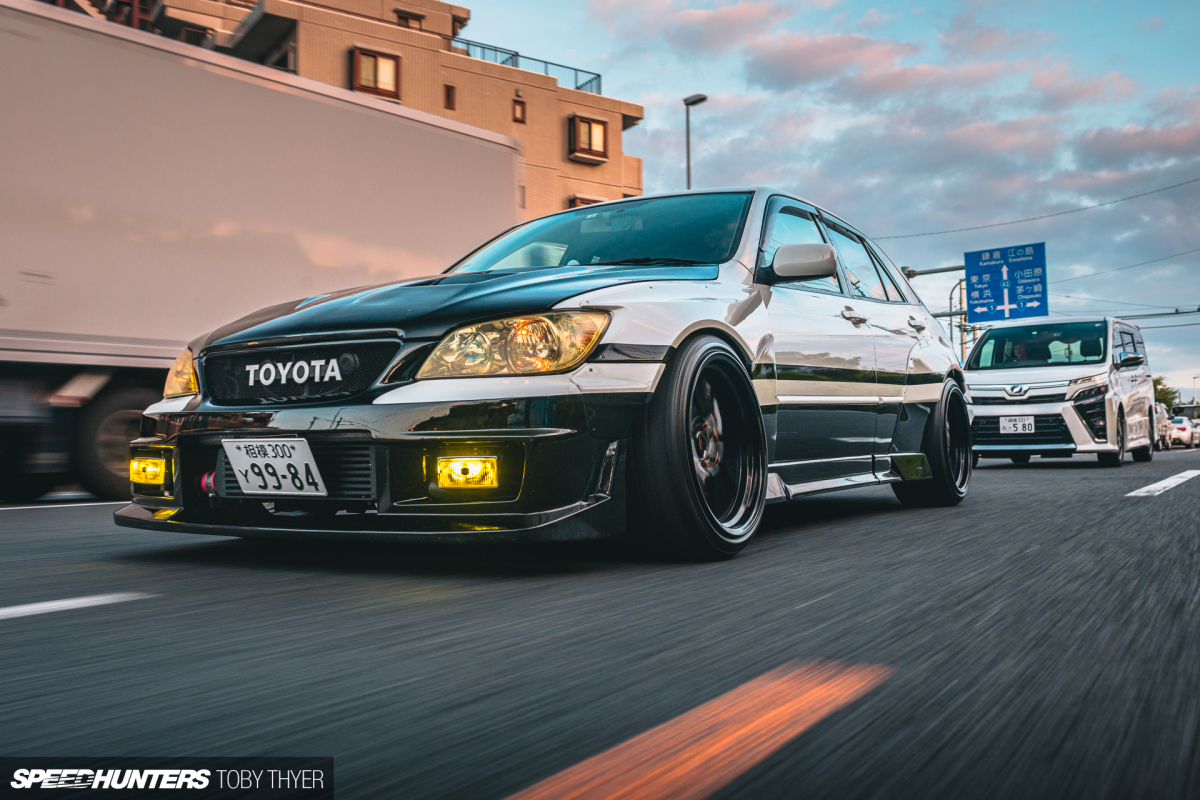 When I was first introduced to this panda Altezza, I mistakenly thought there was another connection between it and the Hachiroku. That's because, in sedan form the Altezza was offered either with a 2.0L 1G-FE inline-six (AS200 spec) or a 2.0L BEAMS 3S-GE inline-four (RS200 spec). The latter was the most popular, bringing 210PS to the Altezza sedan with a 6-speed manual gearbox (200hp with the 5-speed automatic option). Like the 1.6L 4A-GE in the AE86, the BEAMS 3S-GE was developed by Yamaha.
As it turns out though, the Altezza Gita wagon did not get the BEAMS 3S-GE. Instead, it got the 1G-FE in AS200 spec and the 2JZ-GE in AS300 form. Joshua's car – an AS200 – has the 1G-FE (160PS stock), but it's backed up by a factory-fitted 6-speed manual.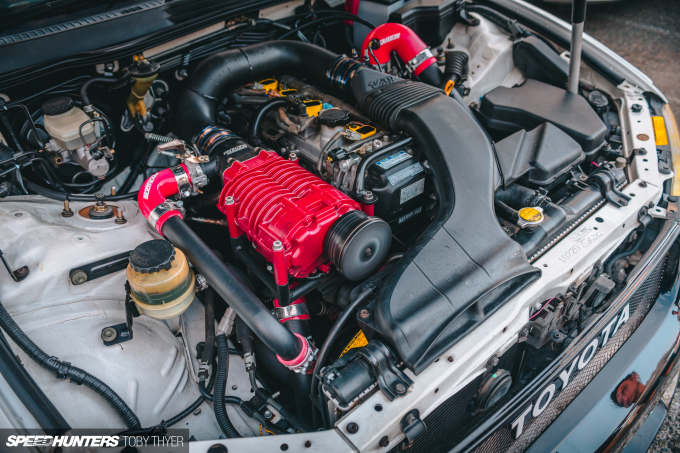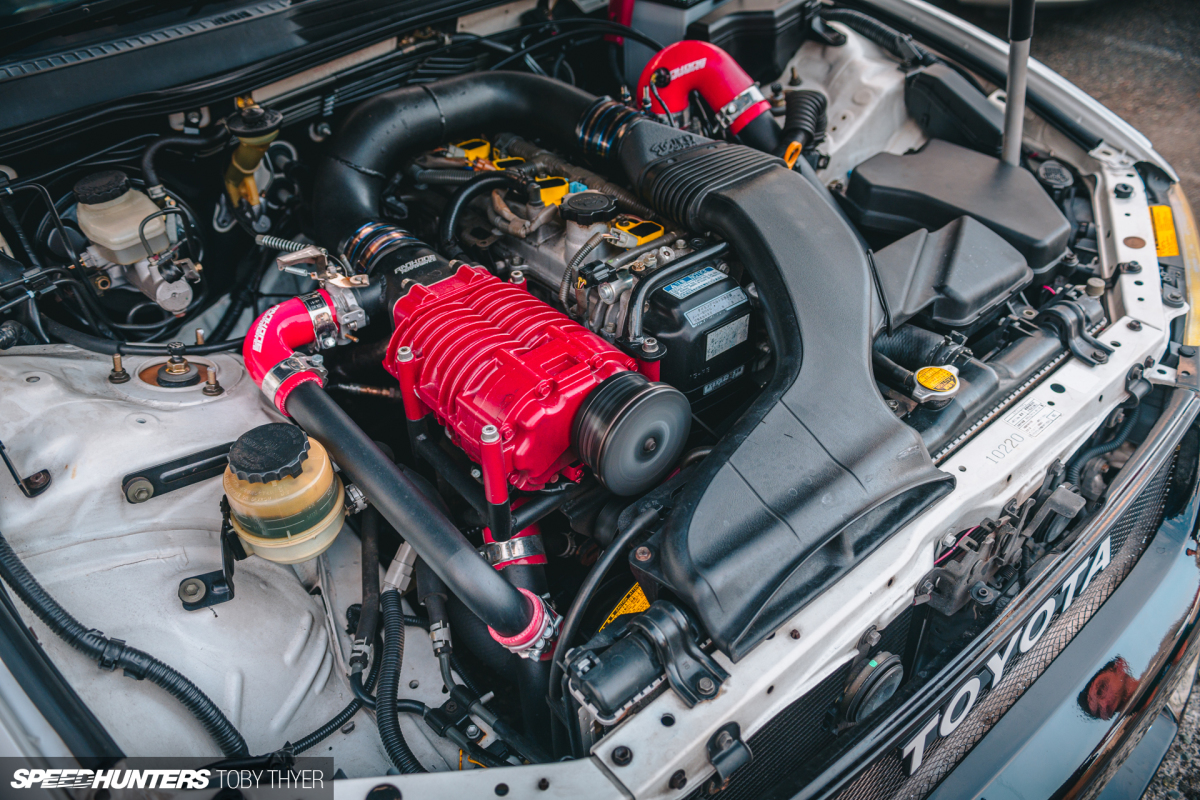 The 1G-FE was Toyota's first multi-valve twin cam engine, but by 1991 it was replaced by the 1JZ in high performance applications. It's still a decent engine though, and one that responds well to having a supercharger bolted to the side of it, as Joshua has done here.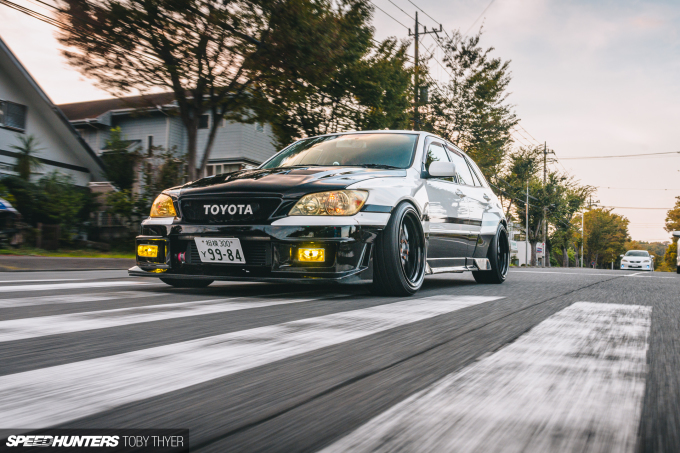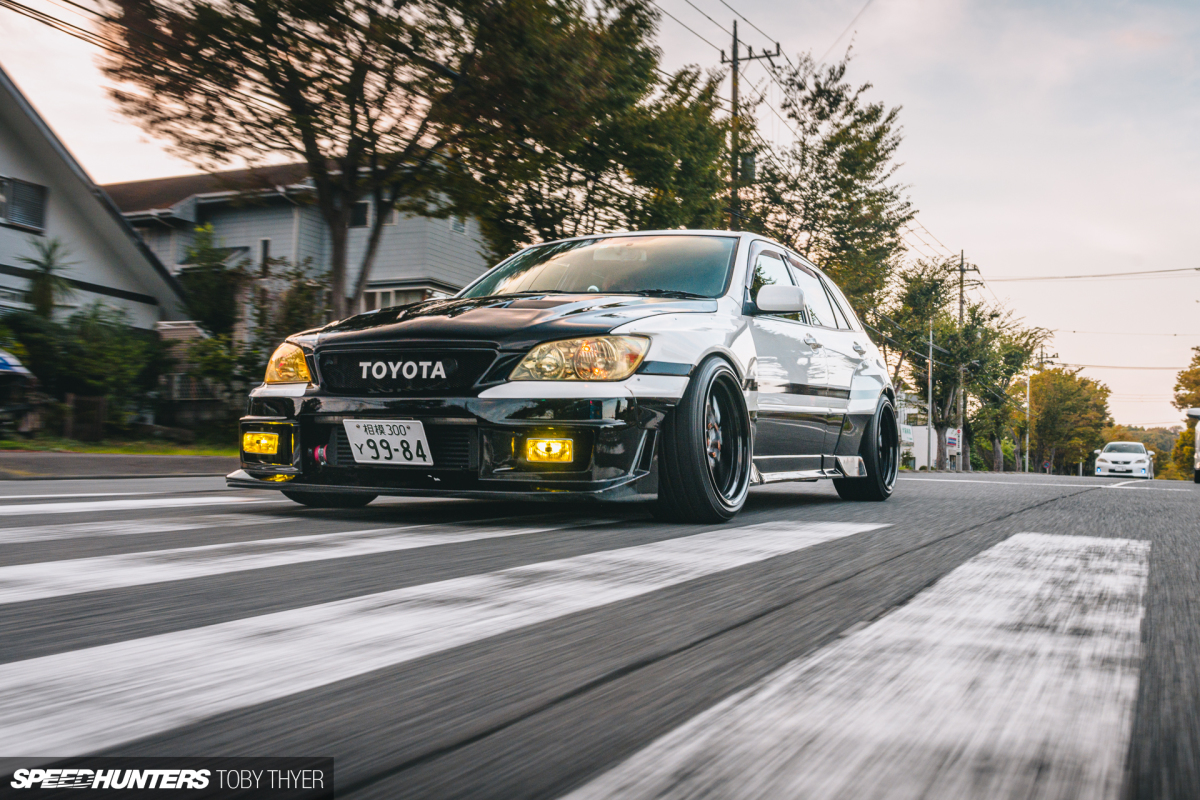 Joshua's 1G is not making huge power –  around the 300PS mark, I'm told – but there's definitely scope for future improvement. As it sits though, there's almost double the stock power on offer, which is more than enough to initiate a drift if tofu deliveries are running behind schedule.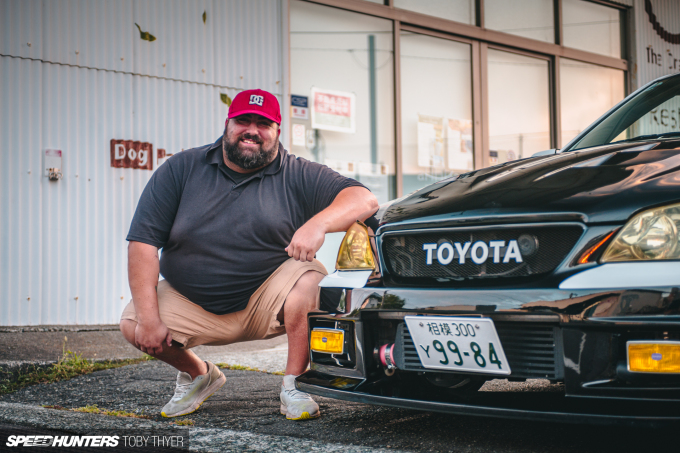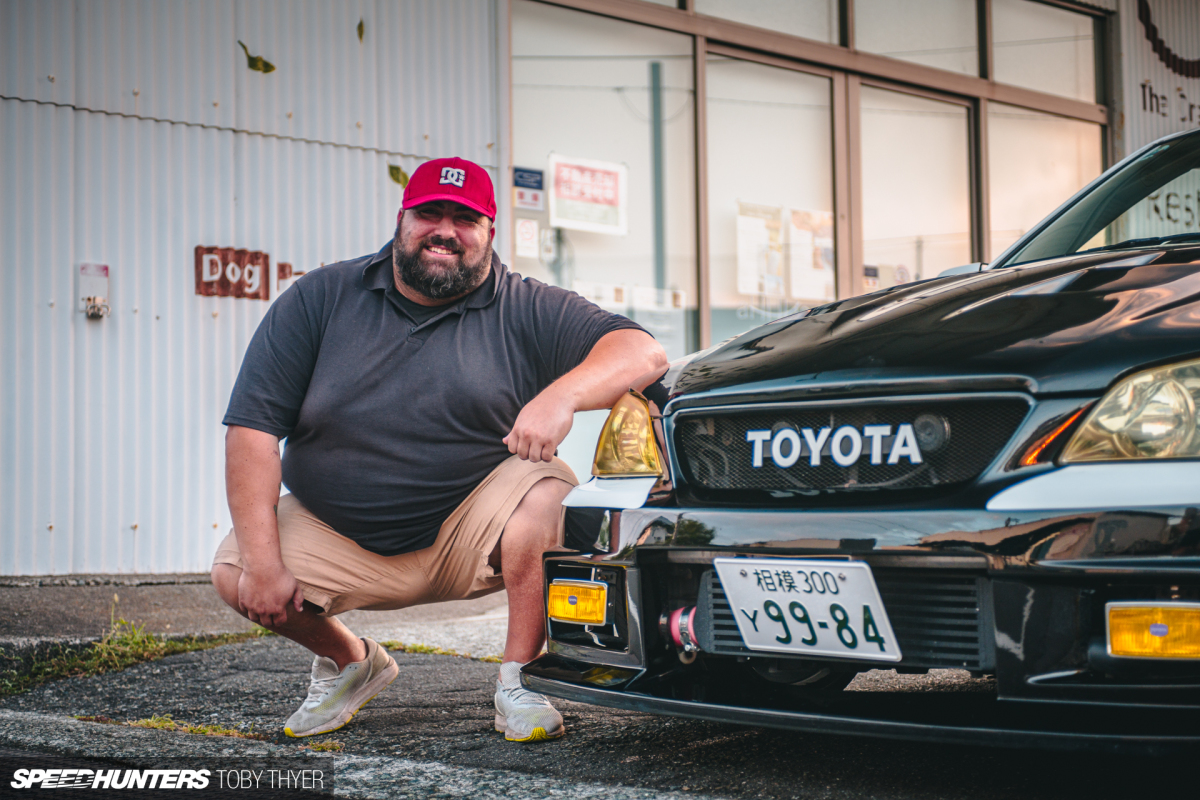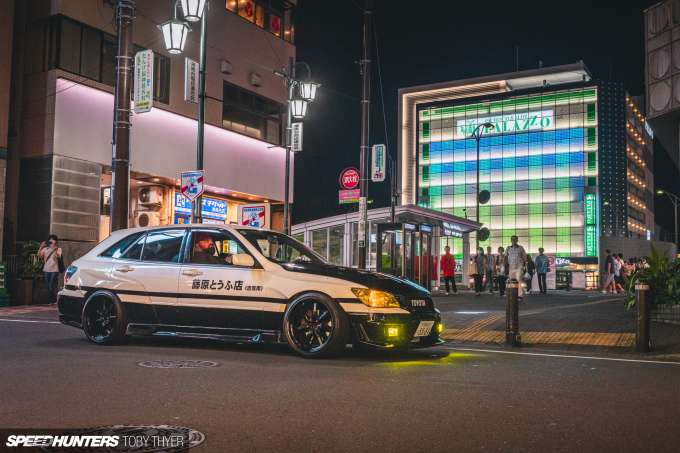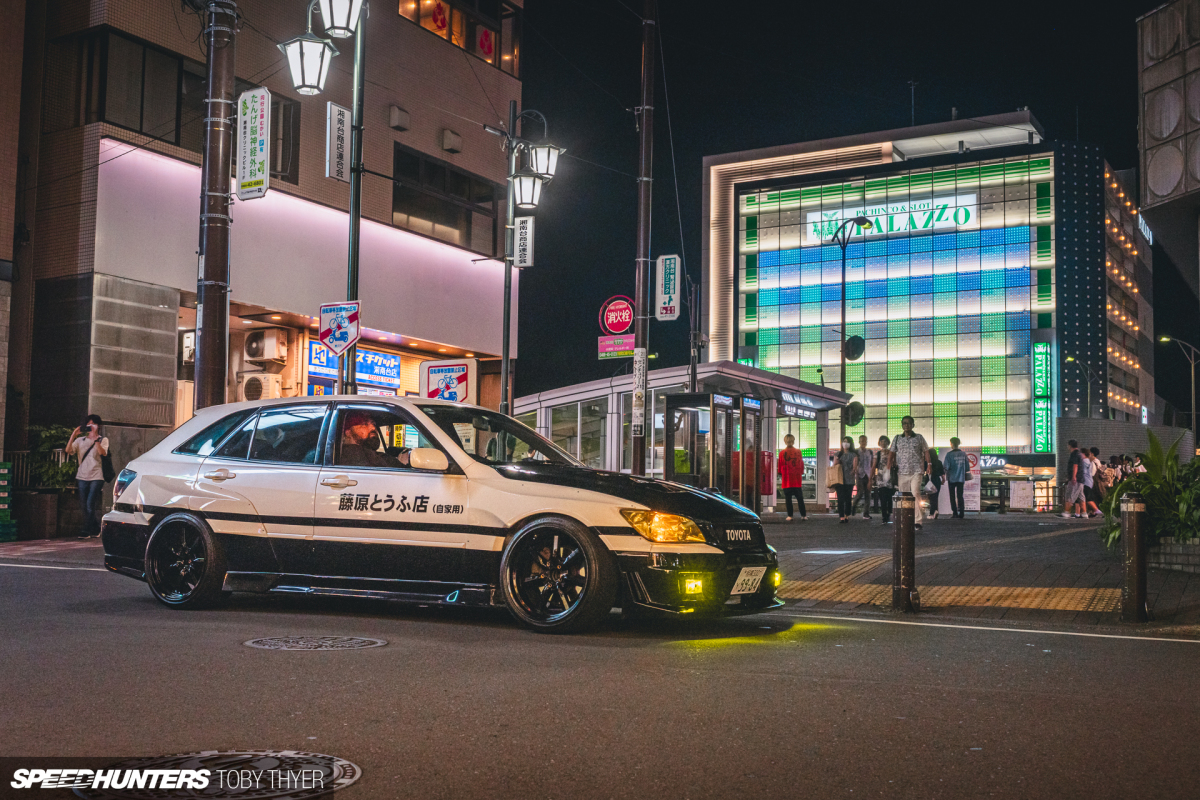 What's most interesting about this twist on an icon, is the happiness it seems to bring. During our shoot, people of all ages smiled, commented or took a few snaps on their phones as they walked past the panda wagon. Sure, the black and white livery and Fujiwara Tofu Shop insignia are instantly recognisable, but it's what Josh has done with it that sparks joy out on the street.
Toby Thyer
Instagram _tobinsta_
tobythyer.co.uk