I have a rather big admission to make. Deep down, my automotive passion lies with Americana.
I may be known amongst my peers for a love of blue and white roundels, three-pointed stars and Stuttgart crests, but the truth is that American muscle kicked everything off in the first place. Forget Brian's Skyline. I always wanted Dom's Dodge Charger.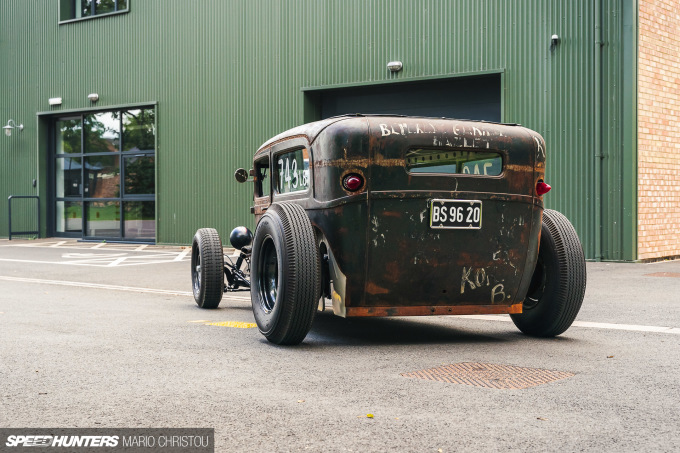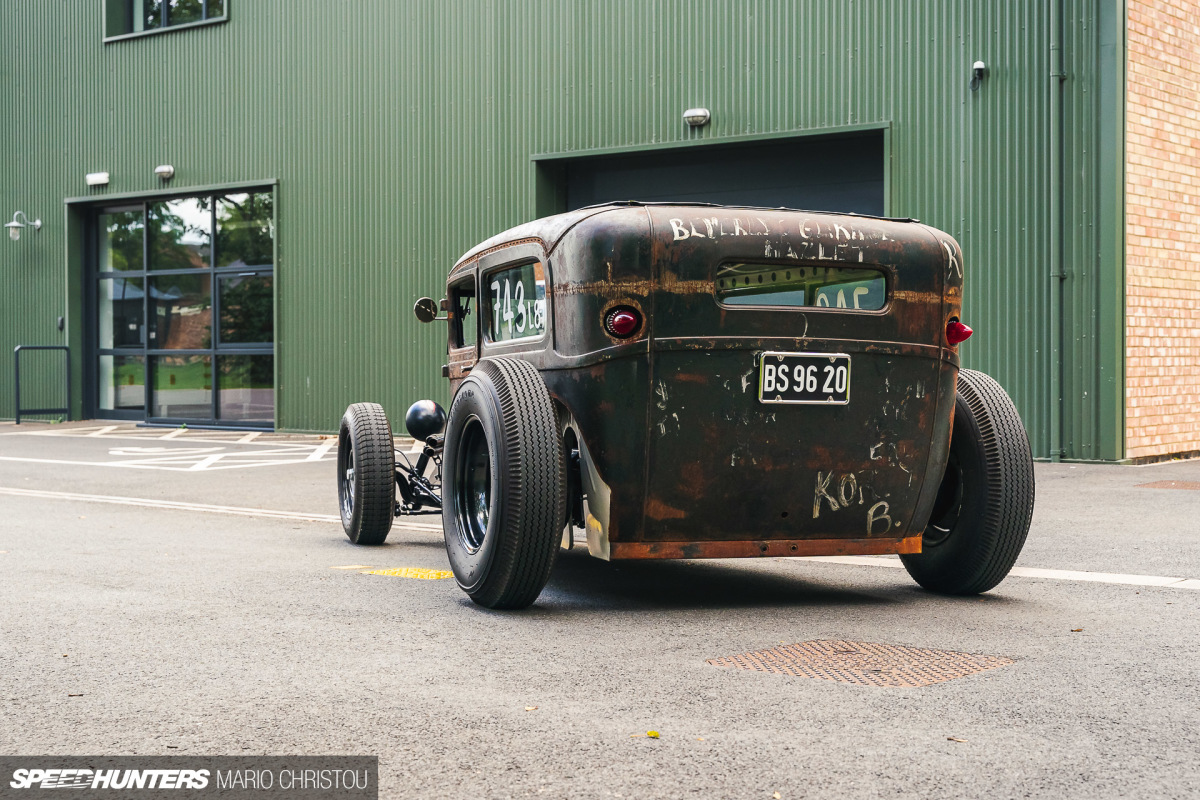 So imagine my intrigue, back in the dark days of 2019, when I heard that a friend of some friends had decided to build his very own hot rod at his dad's speed shop in Wales. American metal has a very… middle-aged reputation about it here in the UK. Younger crowds tend to mix in European and Japanese car circles, those vehicles being cheaper and more accessible to most.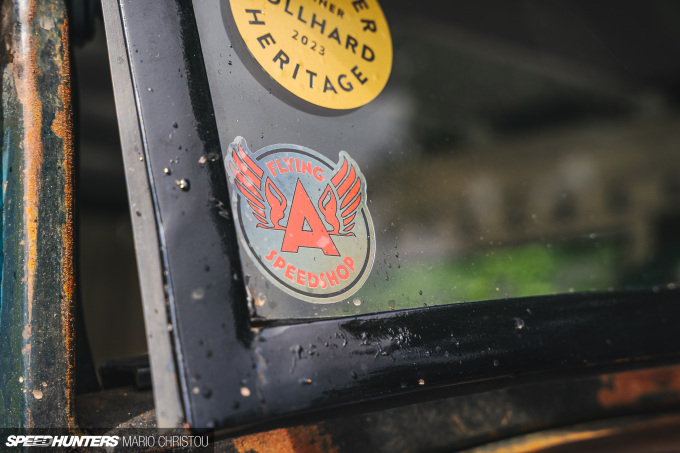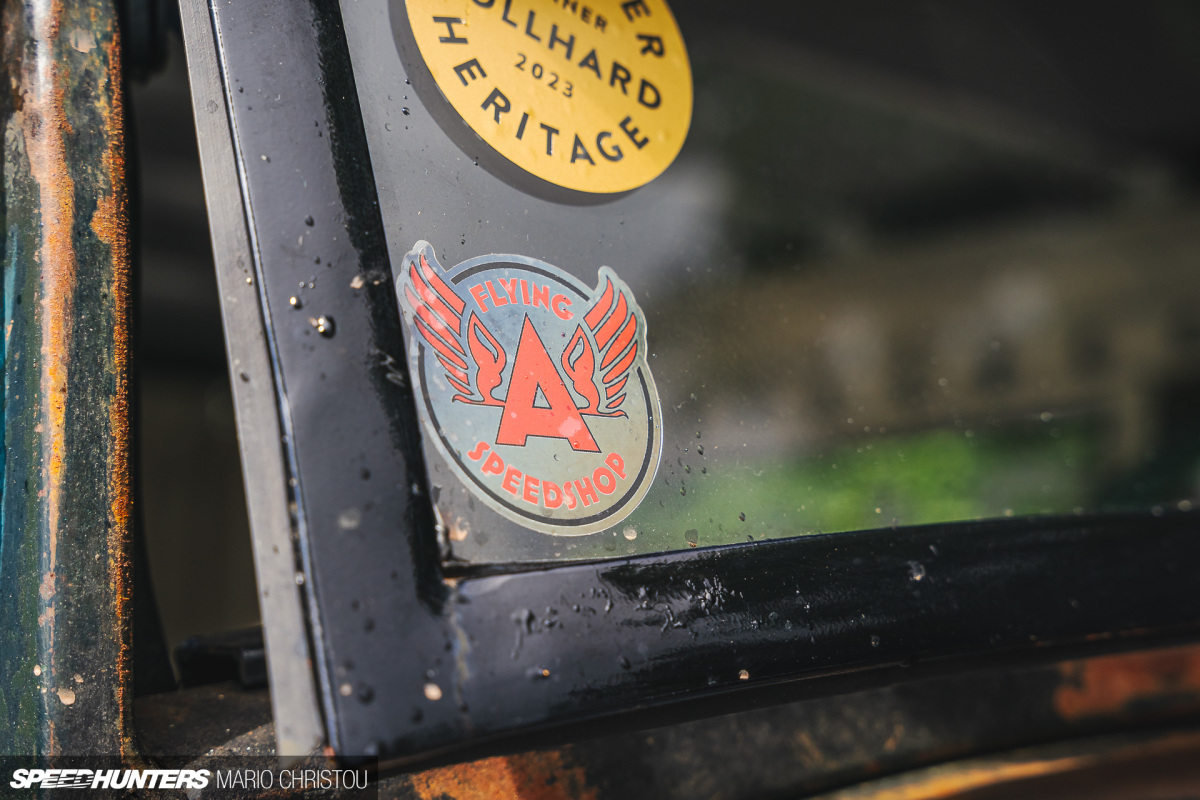 Fortunately for Ricky Dunn, AKA 'Hot Rod Rick', hot rodding runs in his blood. His parents Kelvin and Rebecca are no strangers to it, having been into customs for as long as Ricky can remember. After years of their own cars, building hot rods for friends, and throwing some magazine covers into the mix, we land at Flying A Speedshop – Kelvin's own garage – and the wild machine you're looking at today.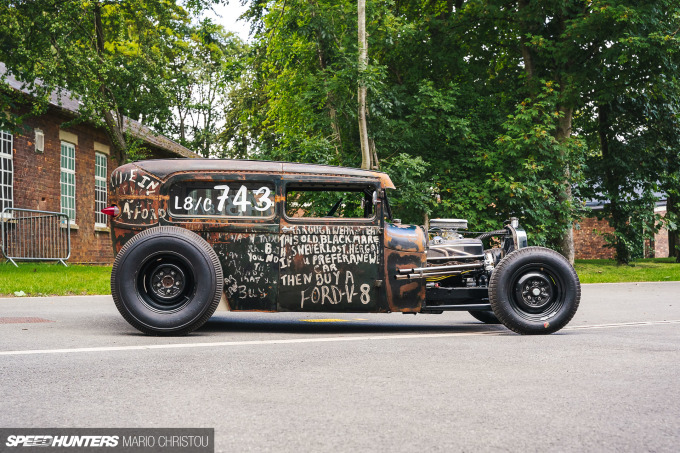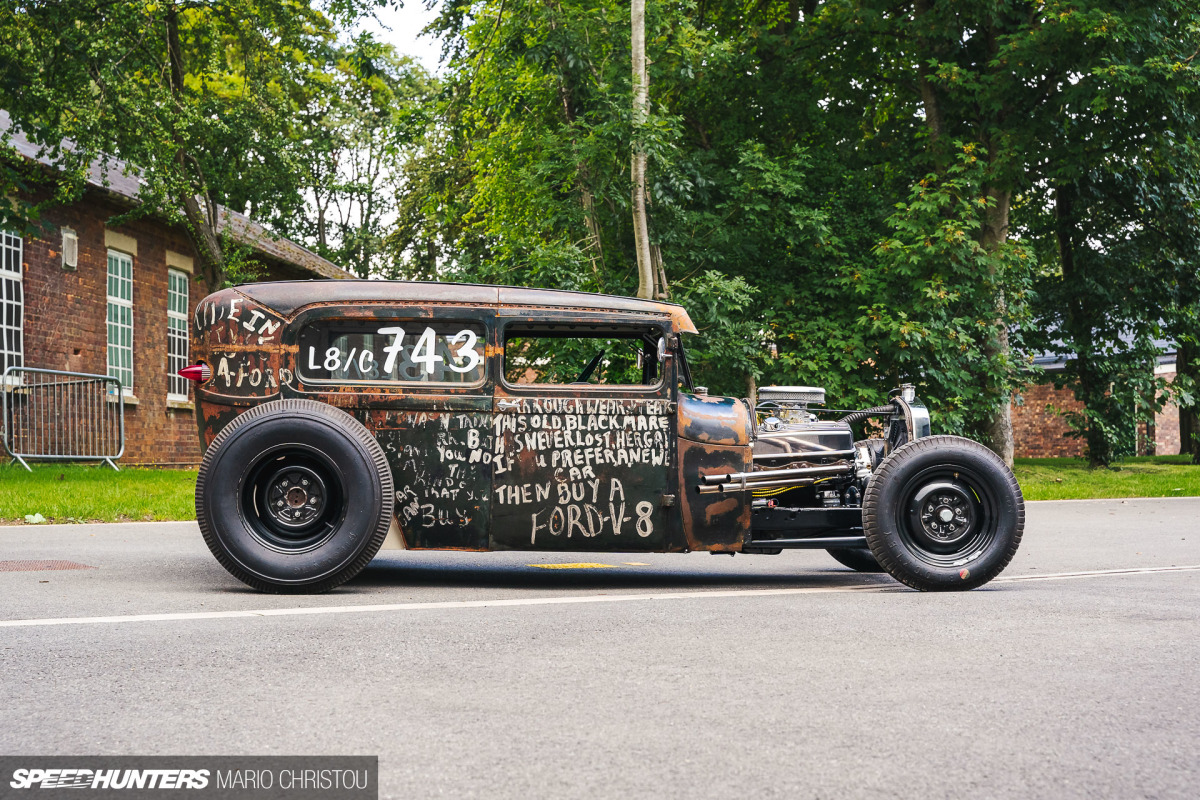 "It started as a project during our Covid lockdown," Ricky told me. "My dad already had the body flat-packed in the back of the shed, so it made sense to use it."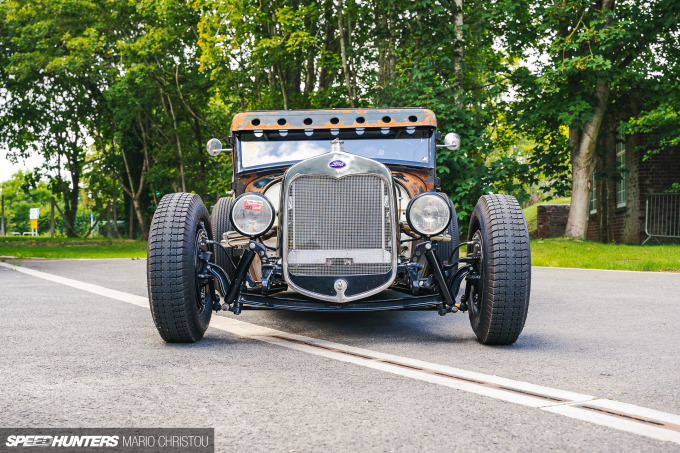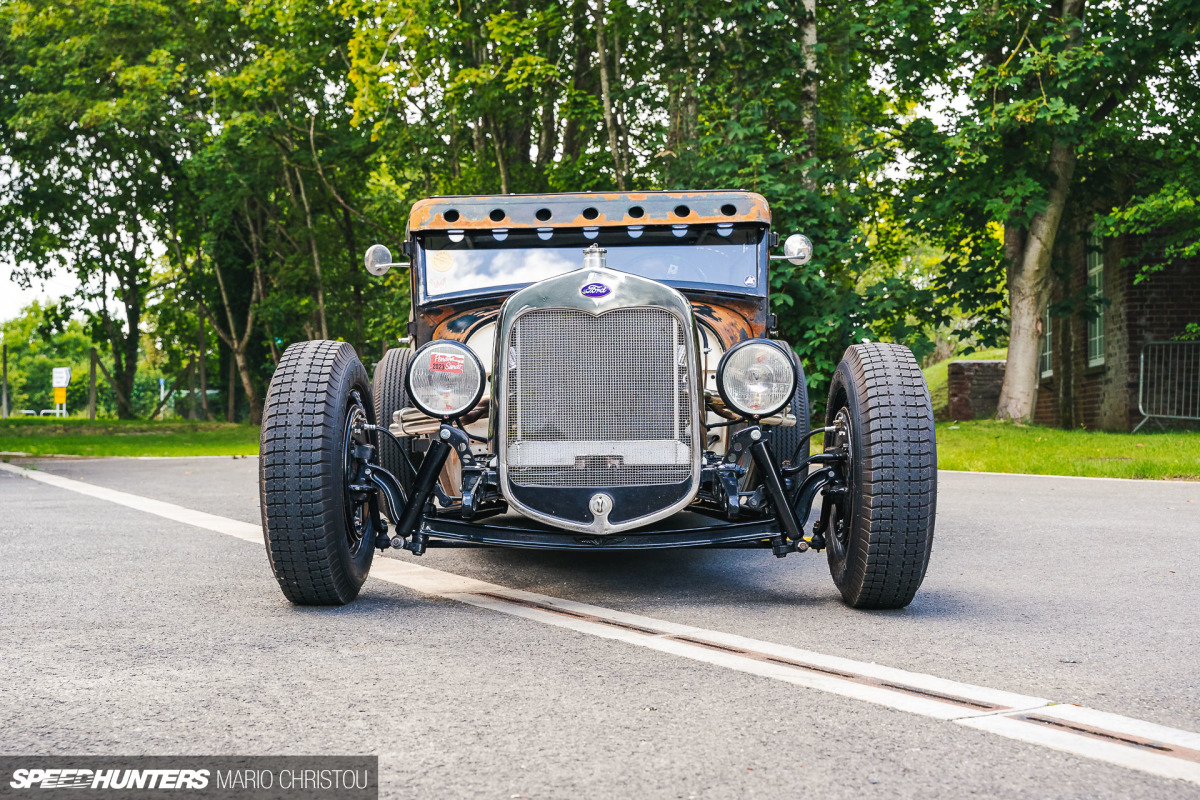 Though the body sits on a 1928 Model A chassis, this is far from a 'standard' Ford Sedan. "It's inspired by Bonneville Salt Flat cars of the '50s which have heavy roof chops," Ricky explained as we looked over the car at Rollhard 2023. A nine-inch channel (dropping the body 'shell' relative to the floor), five-inch chop top and four-inch front axle drop all contribute to the Ford's aggressive, low stance.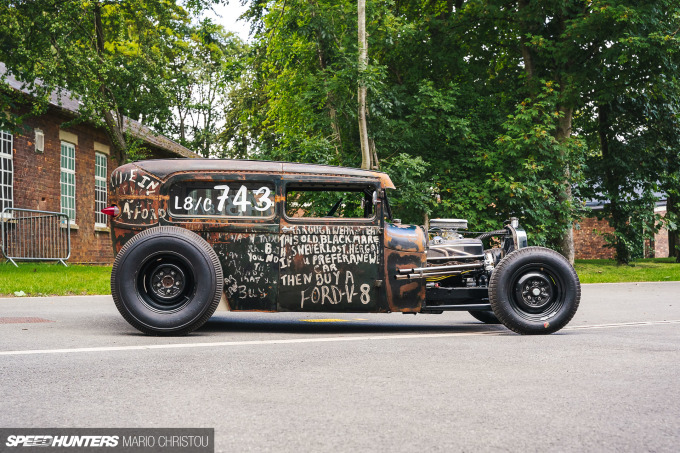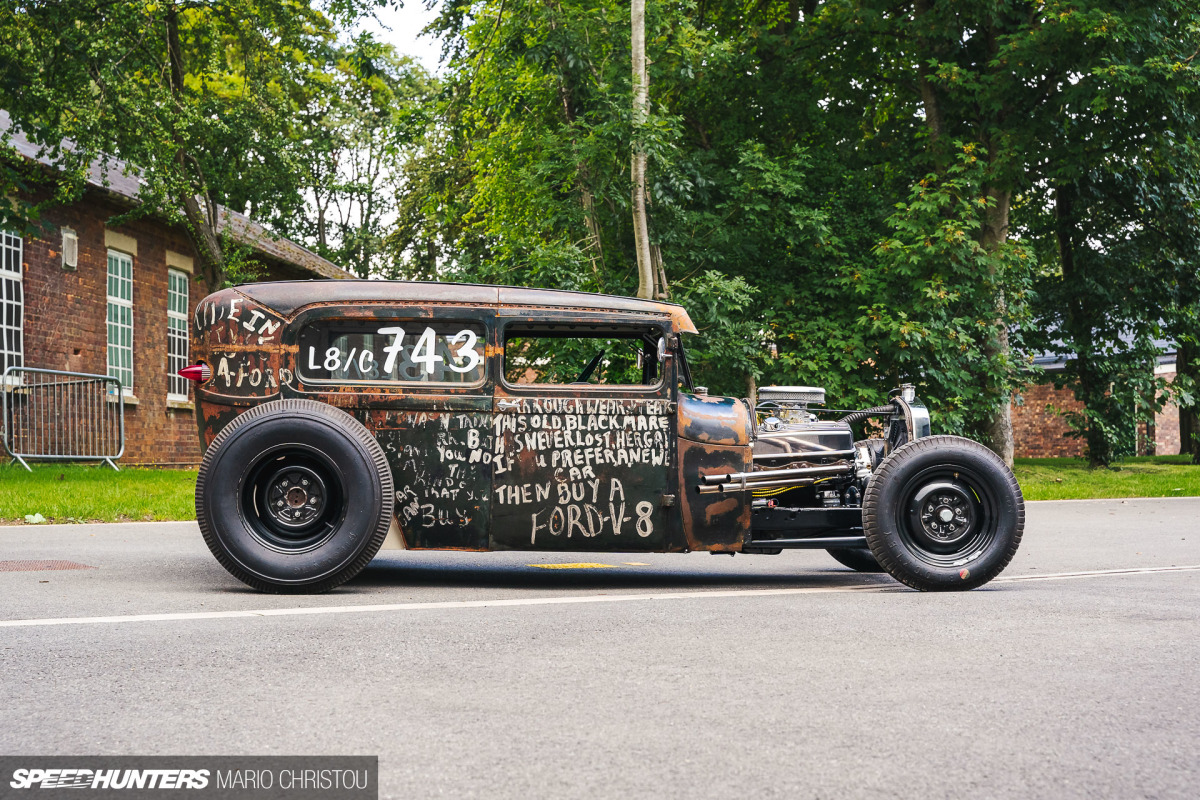 "I wanted to keep it fairly traditional to 1940s/'50s hotrod styling with my own touch of enjoying low cars, so I tried to make it as low as I could," Ricky added. What isn't traditional is the sign writing adorning the patina-riddled body.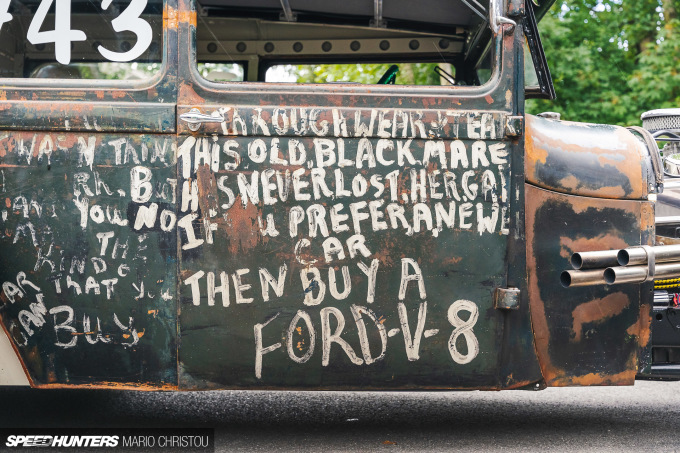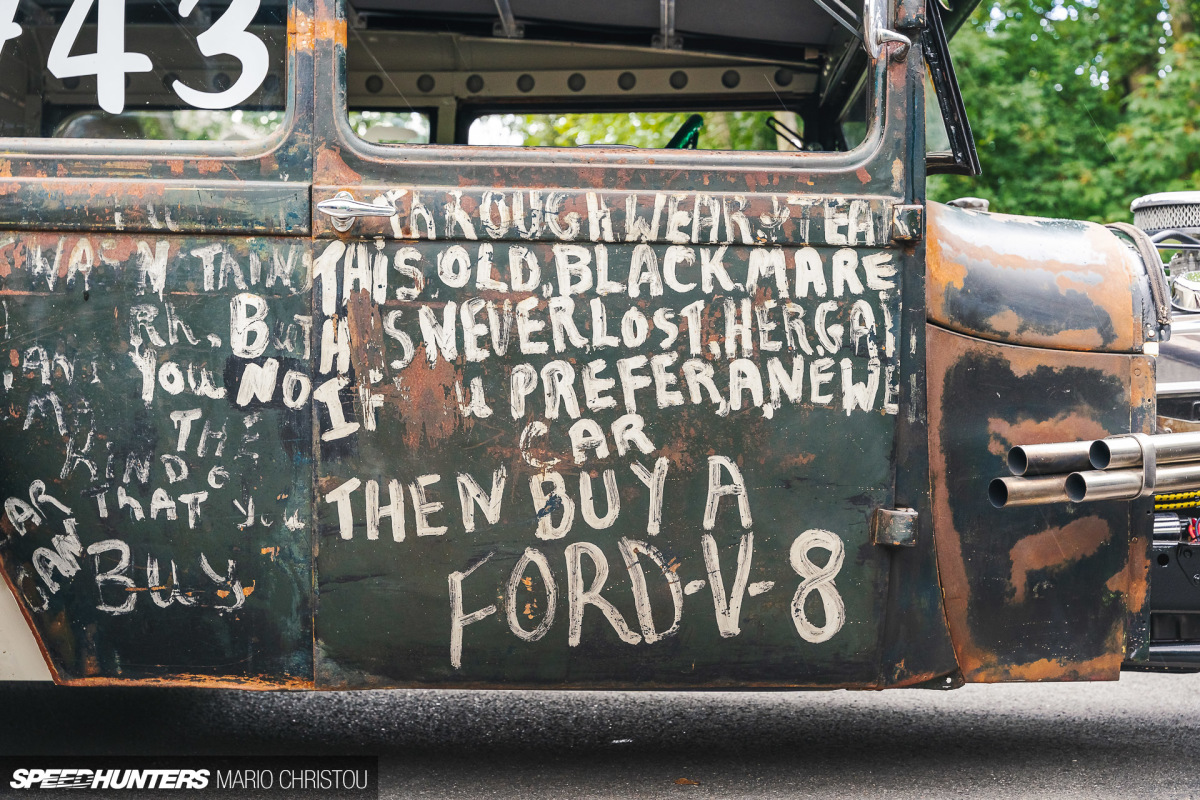 "One of my favourite details… probably the patina on the car. It's genuine patina from the mid-'60s, where the car was used to advertise a garage in a little village called Hazlet in Canada."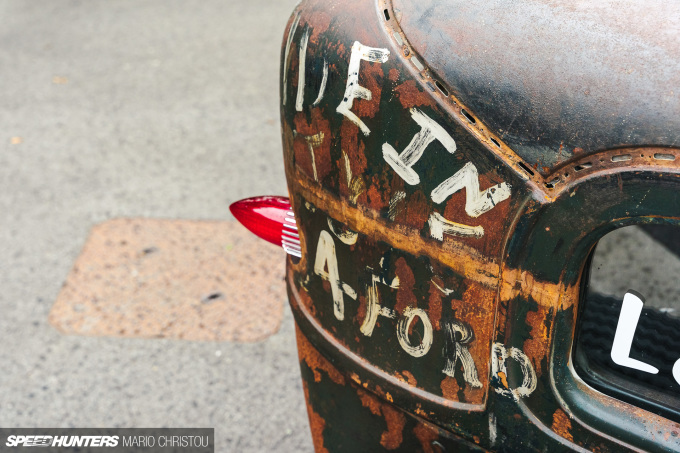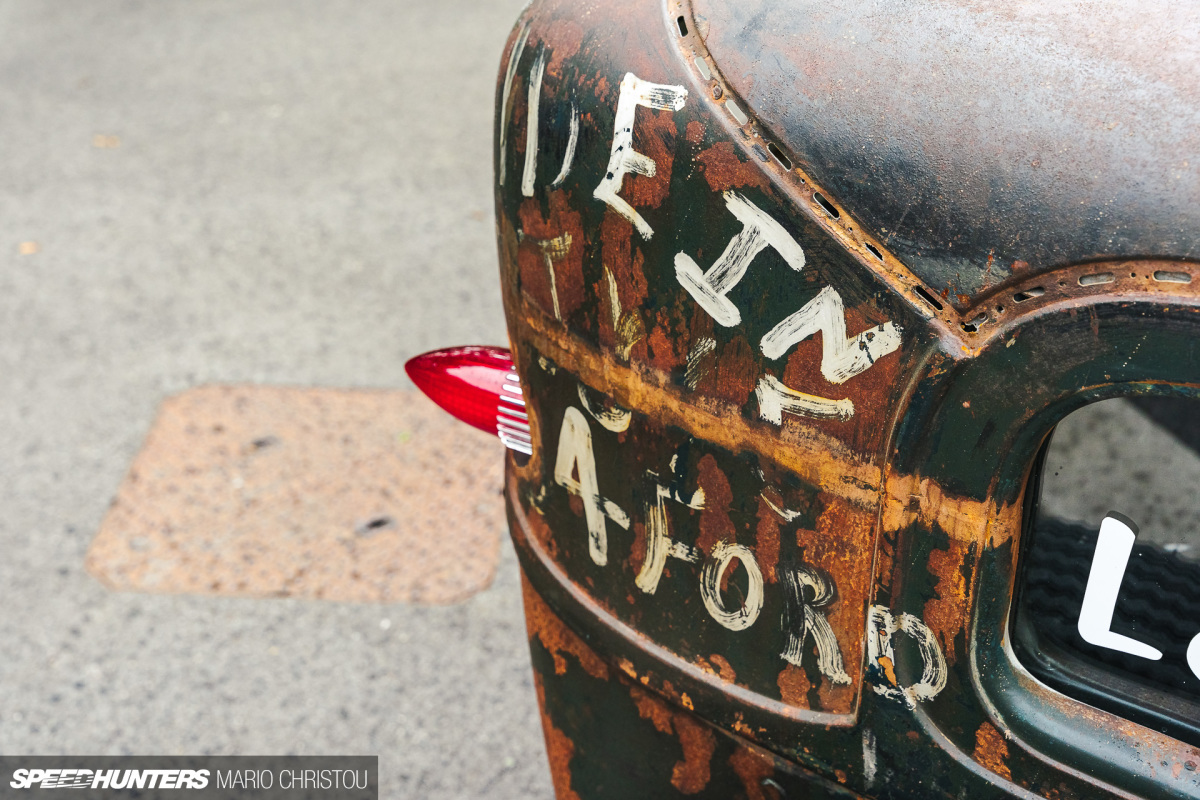 As is the way with custom cars, there are interesting details everywhere you look. Those little holes along the tops of the windows and roof? That's where the original vinyl top would be fastened, nailed or stapled to the Model A's internal wooden frame back in the day.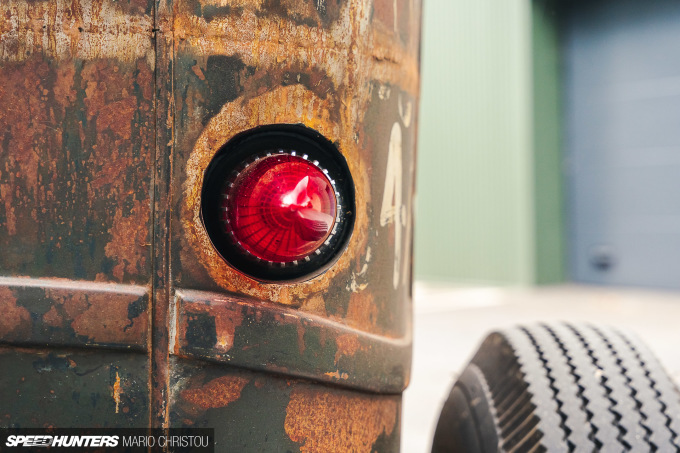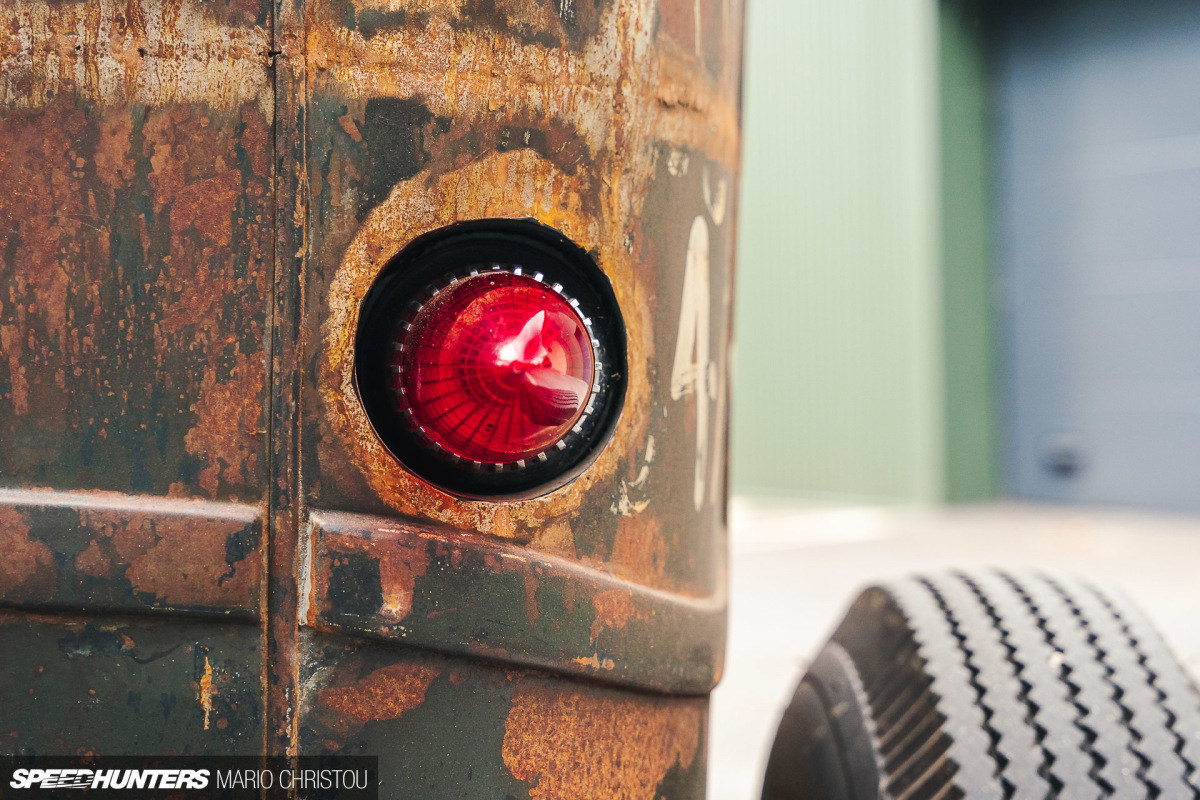 Below that, the weld line where the roof pillars were sectioned, left exposed in order for rust to develop and tie in with the car's natural patina. The taillights? They're taken a '59 Cadillac and recessed into the Model A's c-pillars. (Side note: I'm proud to say I guessed the taillights correctly. I gave myself an internal high-five.)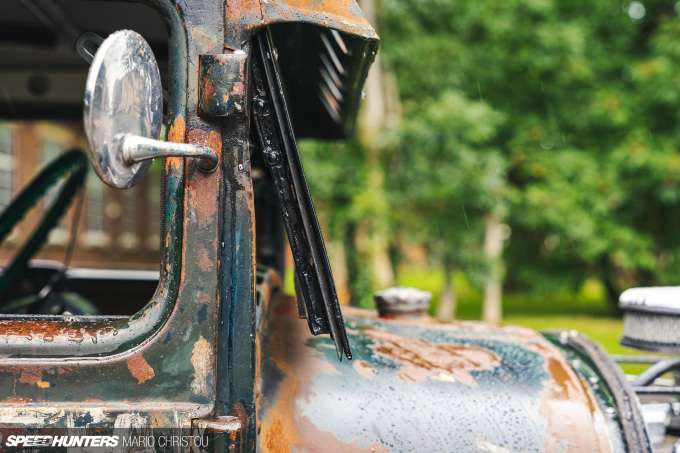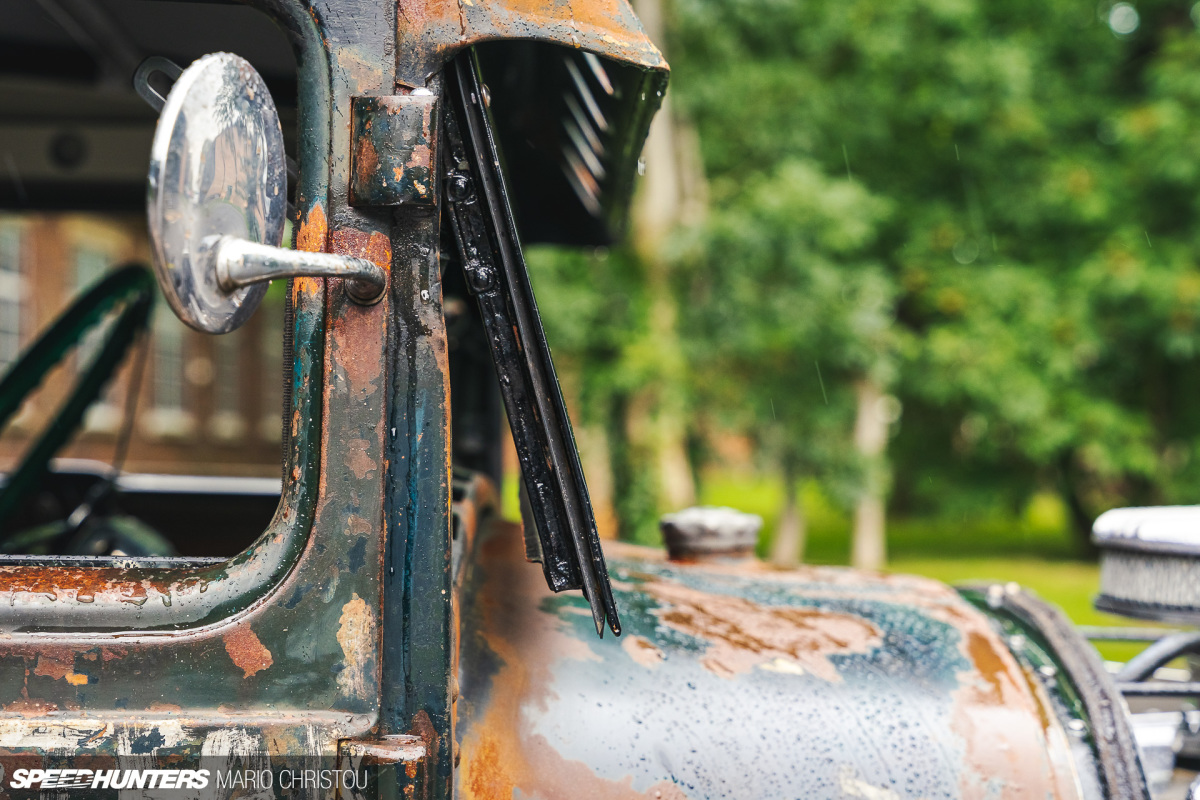 Everywhere you look there are gorgeous colours, hidden tricks and details which draw you further and further into the 95-year-old car.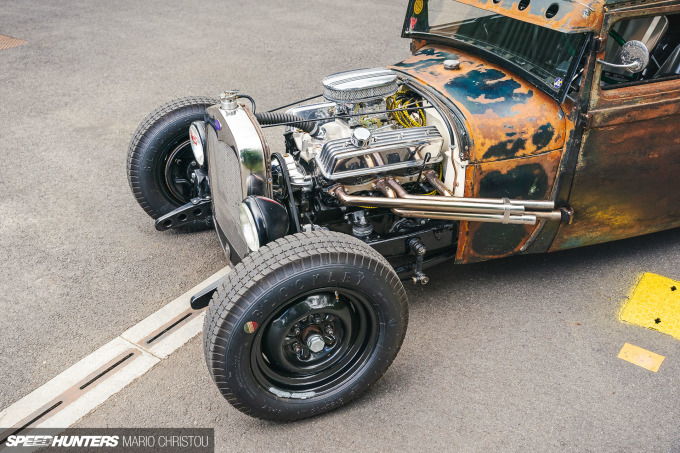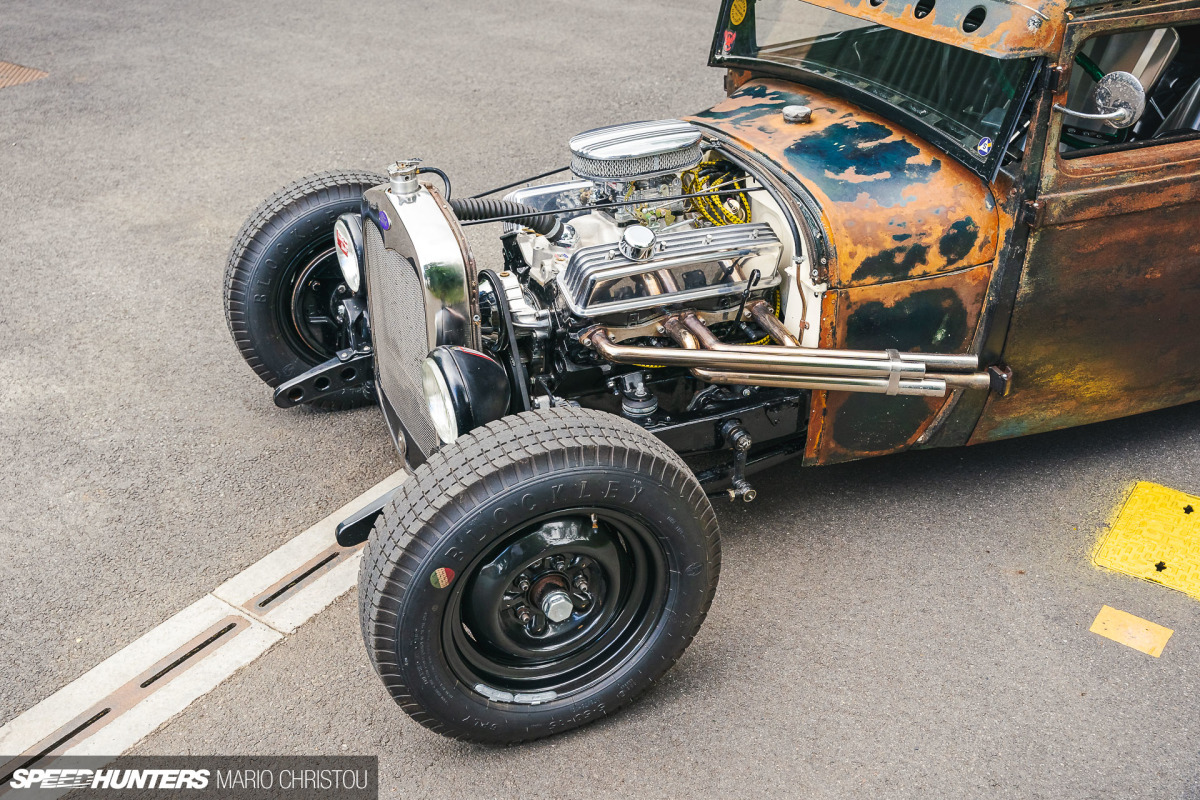 The real crown jewel of a hot rod such as Ricky's is the engine, which is almost permanently on show. The Ford runs a 327ci small-block Chevrolet engine, with Vortec cylinder heads, an Edelbrock intake manifold, 650cfm carburettor and Crower camshaft to free up some more performance from the venerable V8.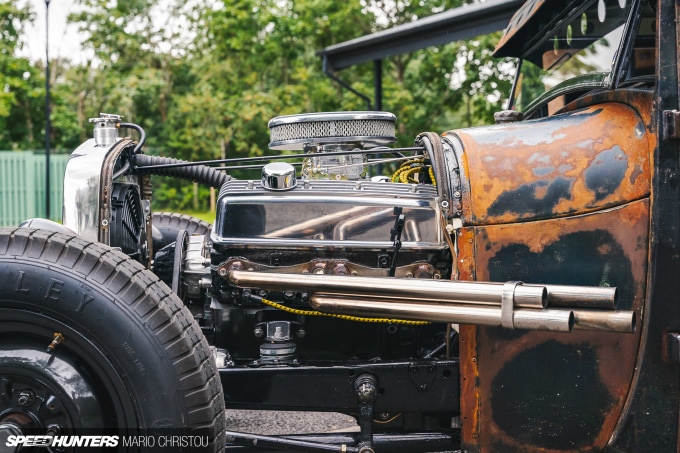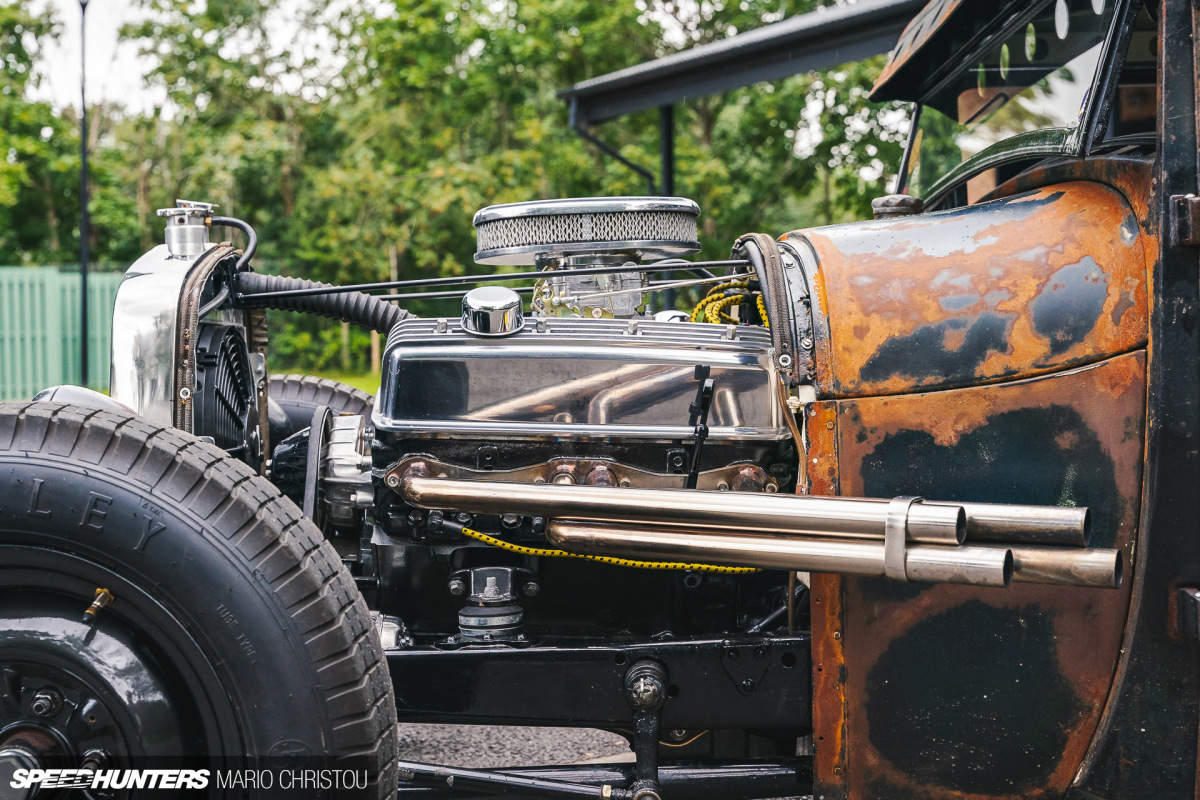 It's an absolute work of art, with immaculate details simultaneously standing out against – yet working with – the colours and textures of the bodywork. Just look at the high-polished, slightly blue tinge of the aluminium rocker covers tying into the turquoise paint that's stood the test of time. Or the warmer stainless steel straight-pipe headers, now becoming heat-stained gold, working with the copper brake lines and orange rust.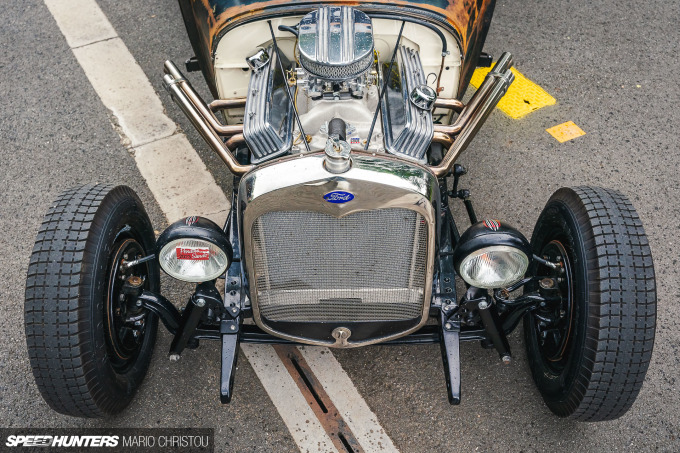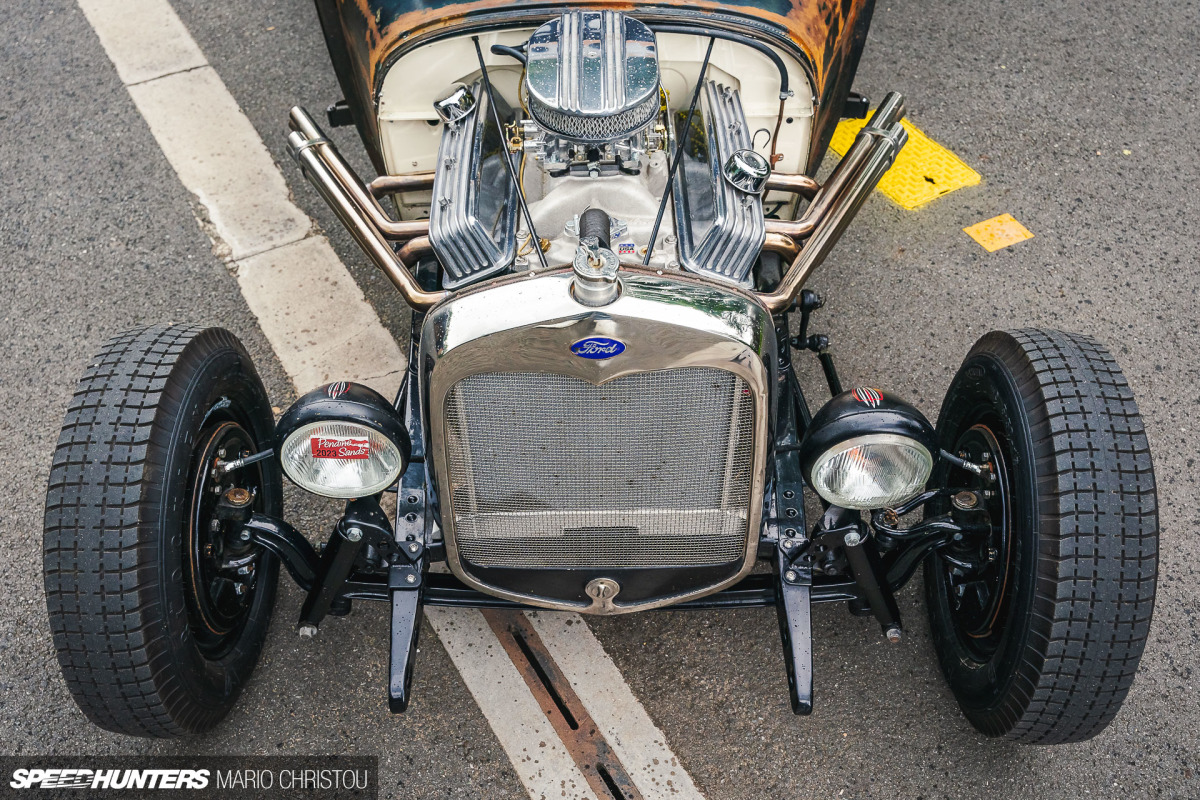 Some of you may be thinking I'm talking absolute bulls**t here, but if you are, take a second to really study the photos and hopefully you'll see what I mean. A sudden rainstorm during the shoot only helped to make everything that little bit more beautiful.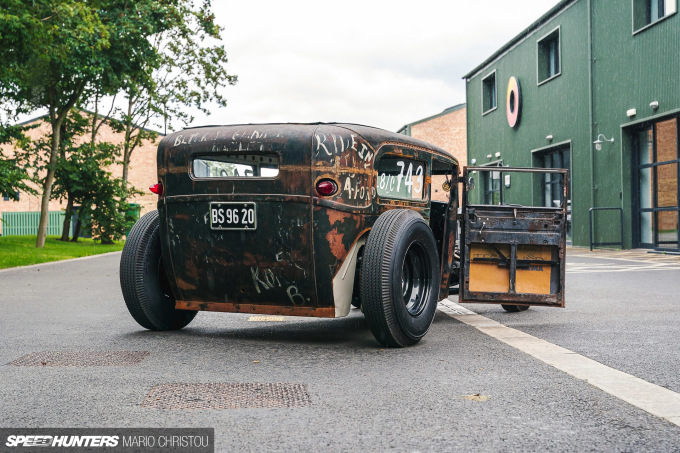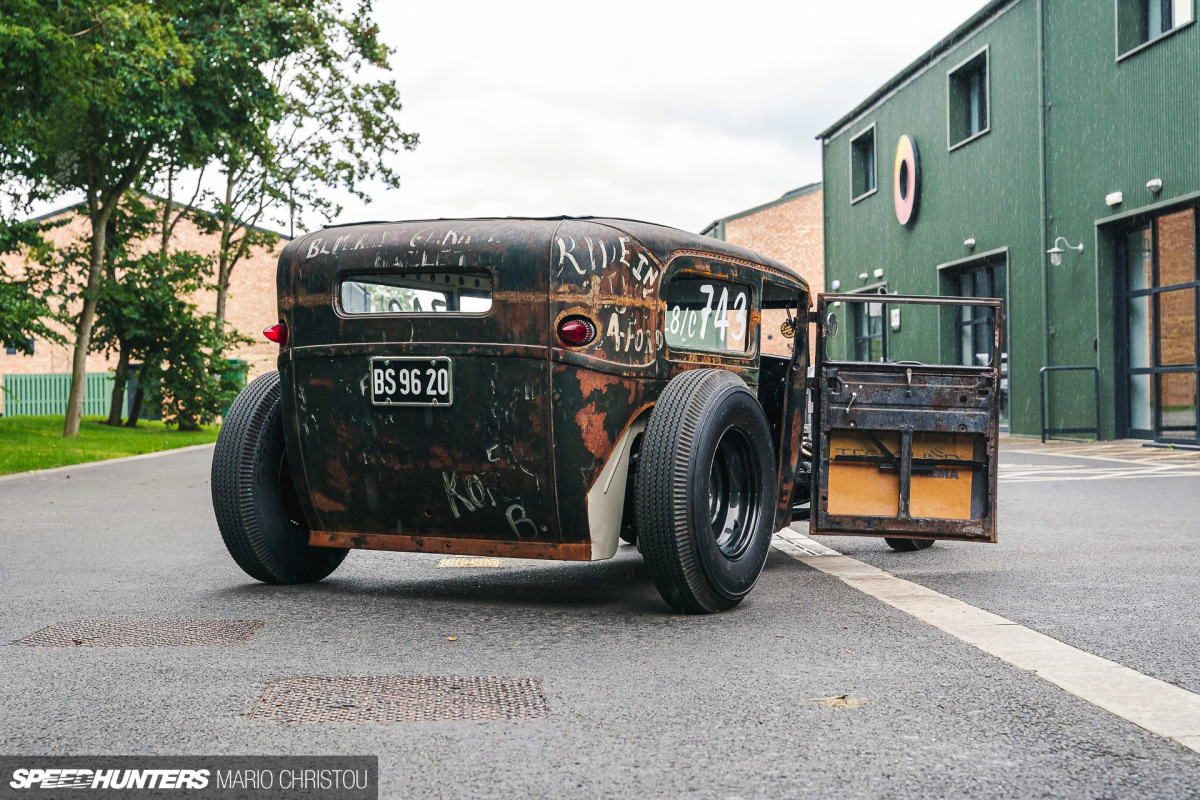 Inside the car you'll find not only one of the most ridiculous seating positions of all time (thank the channeled floor for that one), but the same mix of heritage and attention to detail as on the exterior.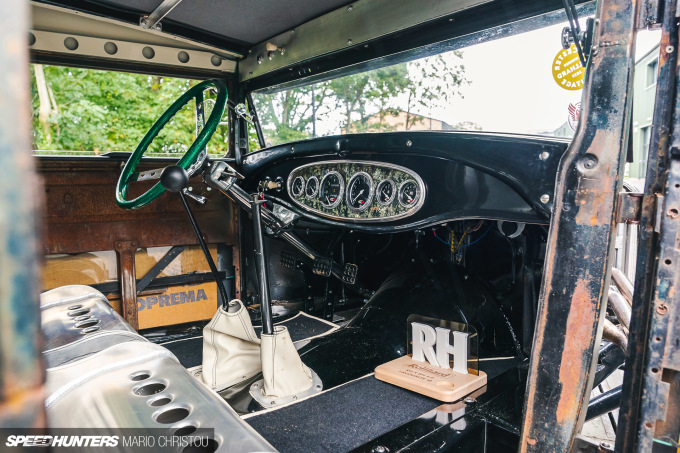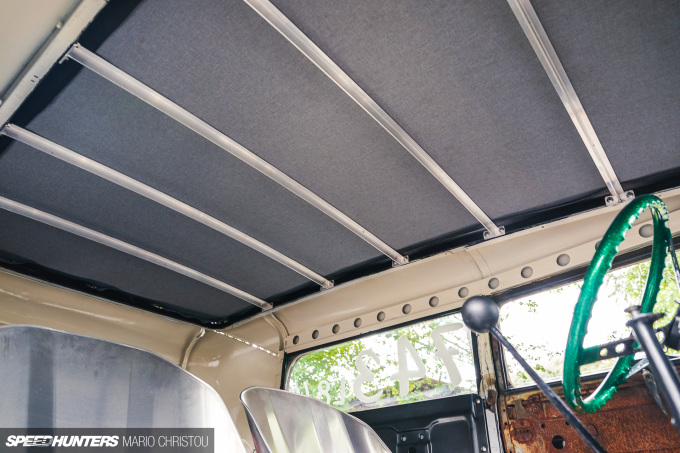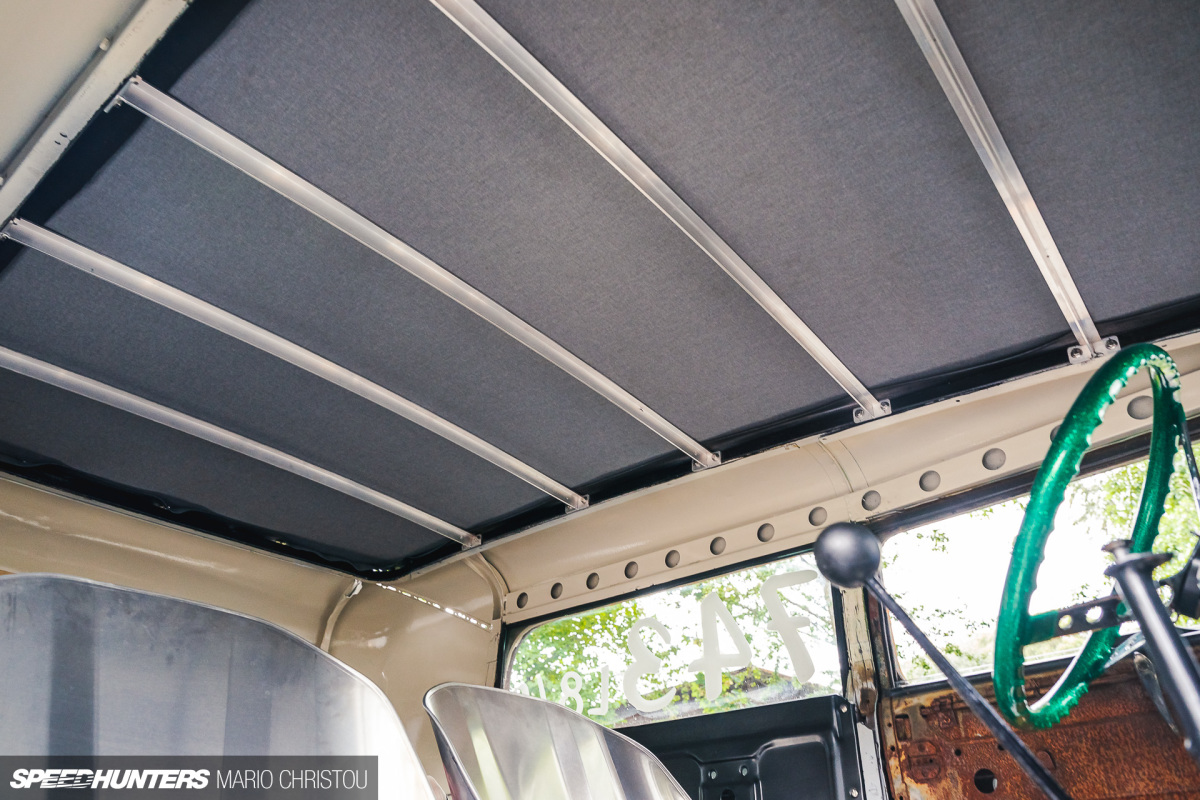 Almost everything is fabricated or crafted from scratch, including the roof bars and reinforcements. Yet details such as the Mooneyes steering wheel and So-Cal Speed Shop dash and gauges elevate the cabin.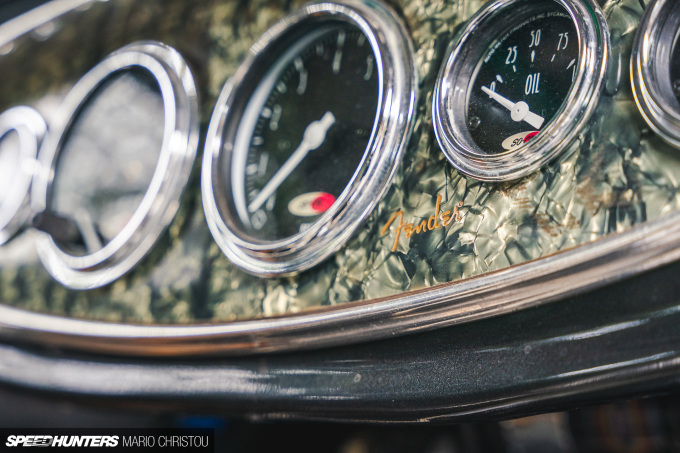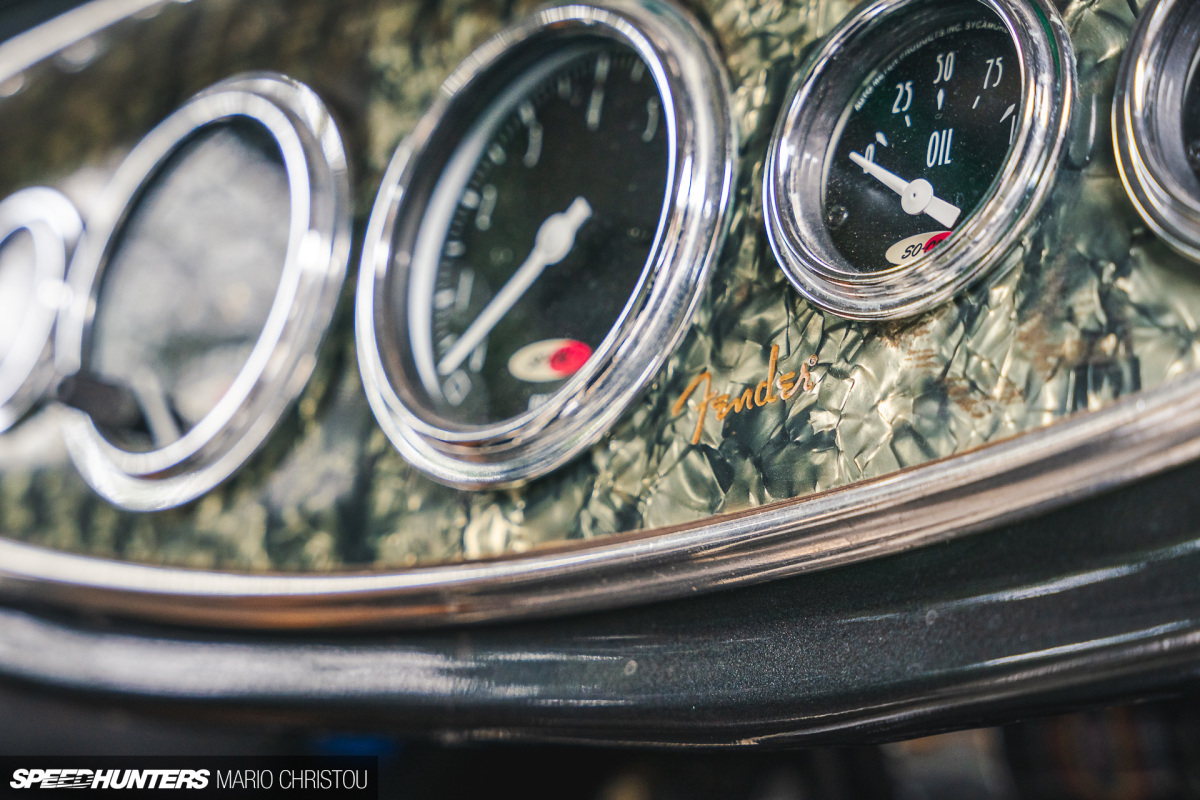 Ricky reckons the gauge surround is from a vintage piece of Fender music equipment, though he's not been able to pin-point that one out yet.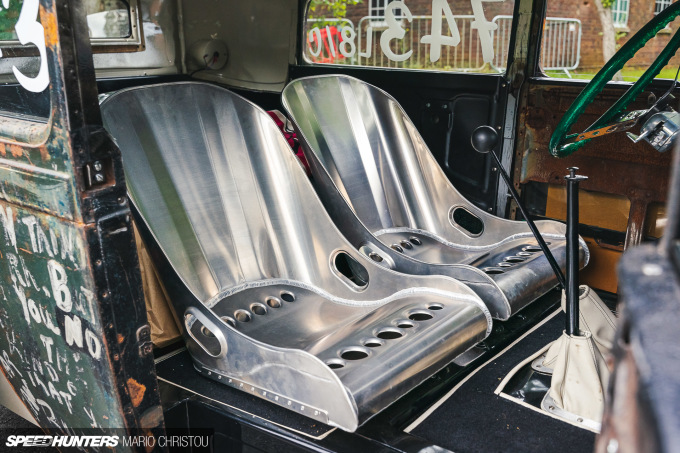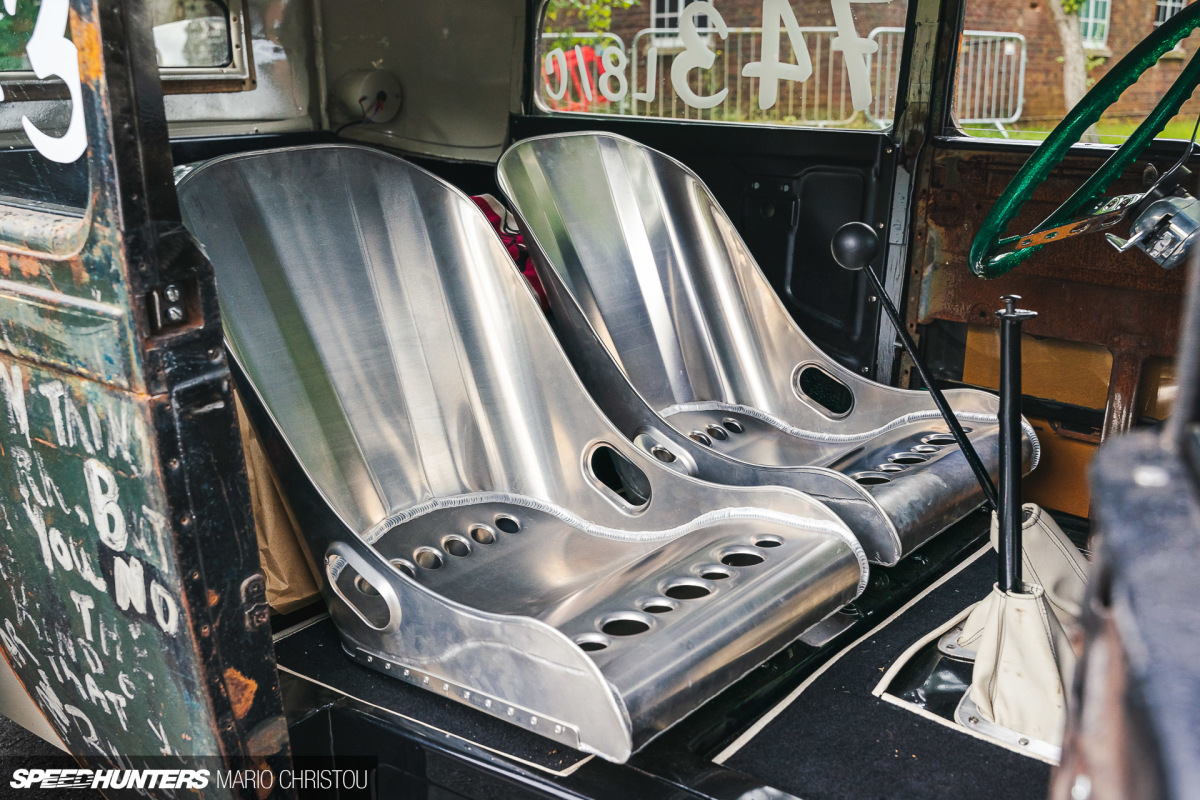 Even the seats manage to be about as simple as you can get and absolutely beautiful at the same time.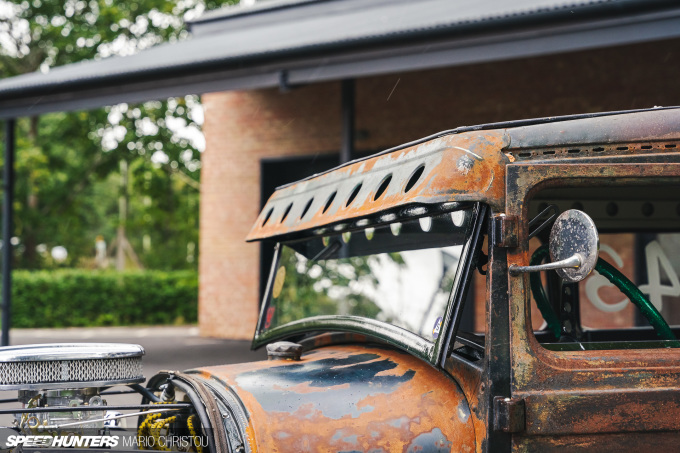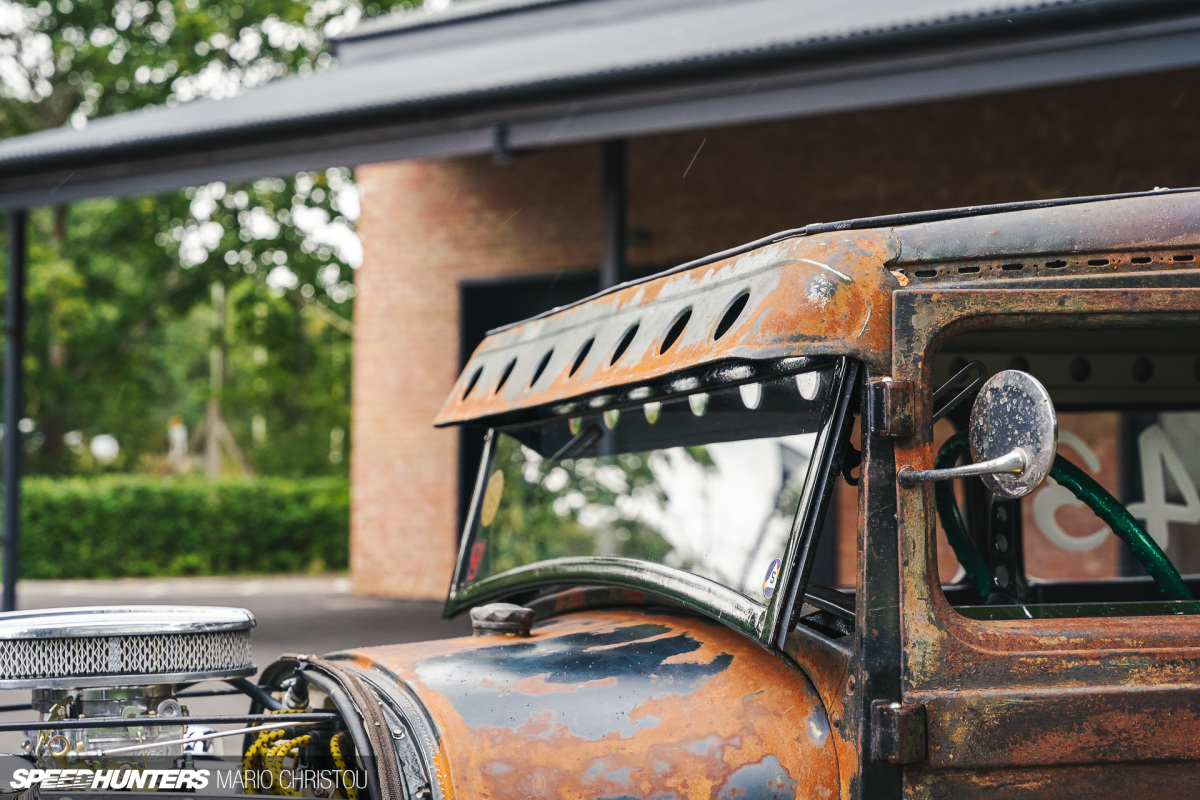 If you reduce it down to a basic formula, most of the 'show cars' you see these days are very much modern hot rods. A Mk2 Volkswagen Golf with a turbo VR6 engine on display in a shaved bay, custom interior and raised strut towers/narrowed rear beam is in spirit a hot rod, even if it isn't a 'hotted-up roadster'. They just lack a certain… charisma in this day and age.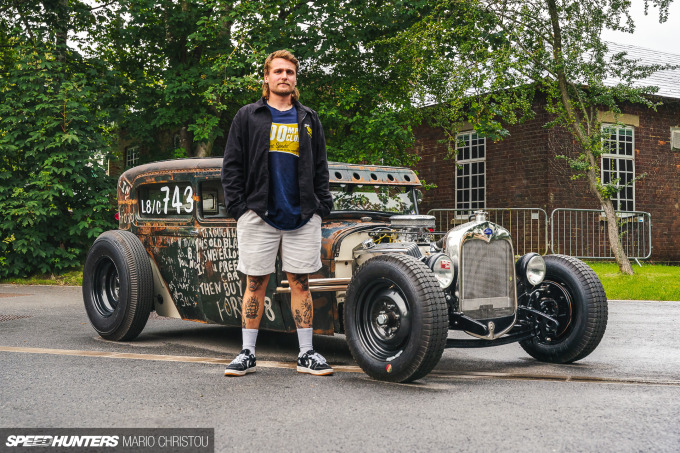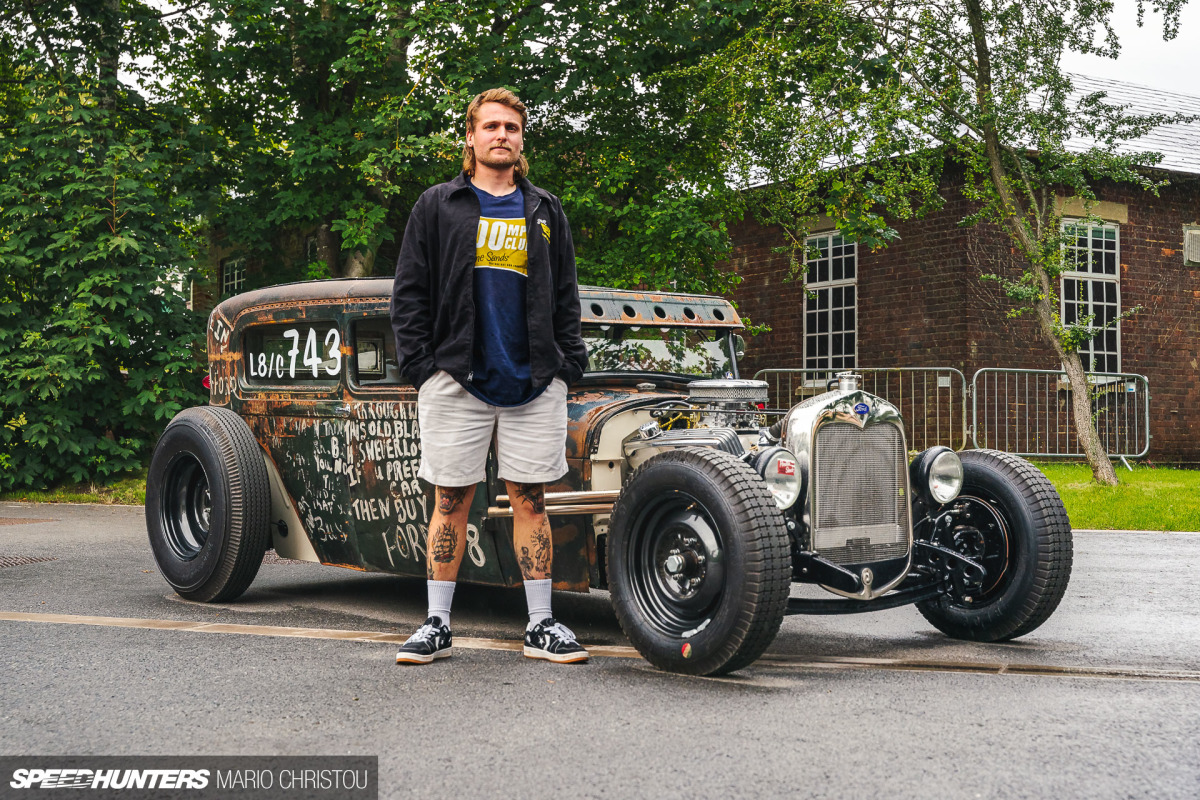 Thanks to being dealt just the right cards and having the means, Hot Rod Rick's Ford Model A is a very fresh approach to a historic style of car modification. Seeing a properly traditional hot rod built by a young owner, with modern influence and respect to the past is fantastic. Oh, and Ricky hasn't just built it in the style of old salt flat racers…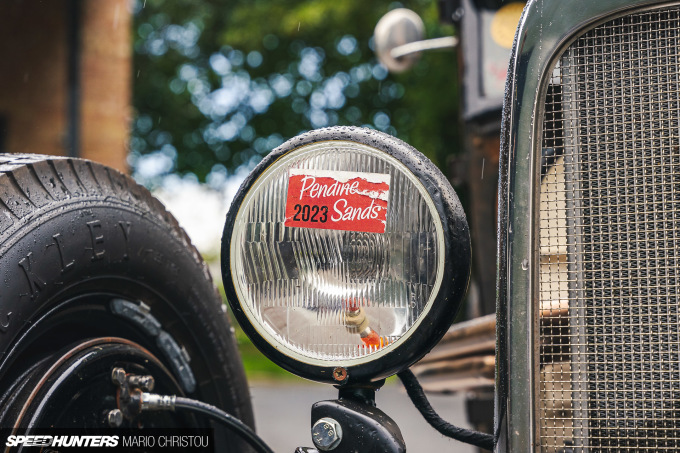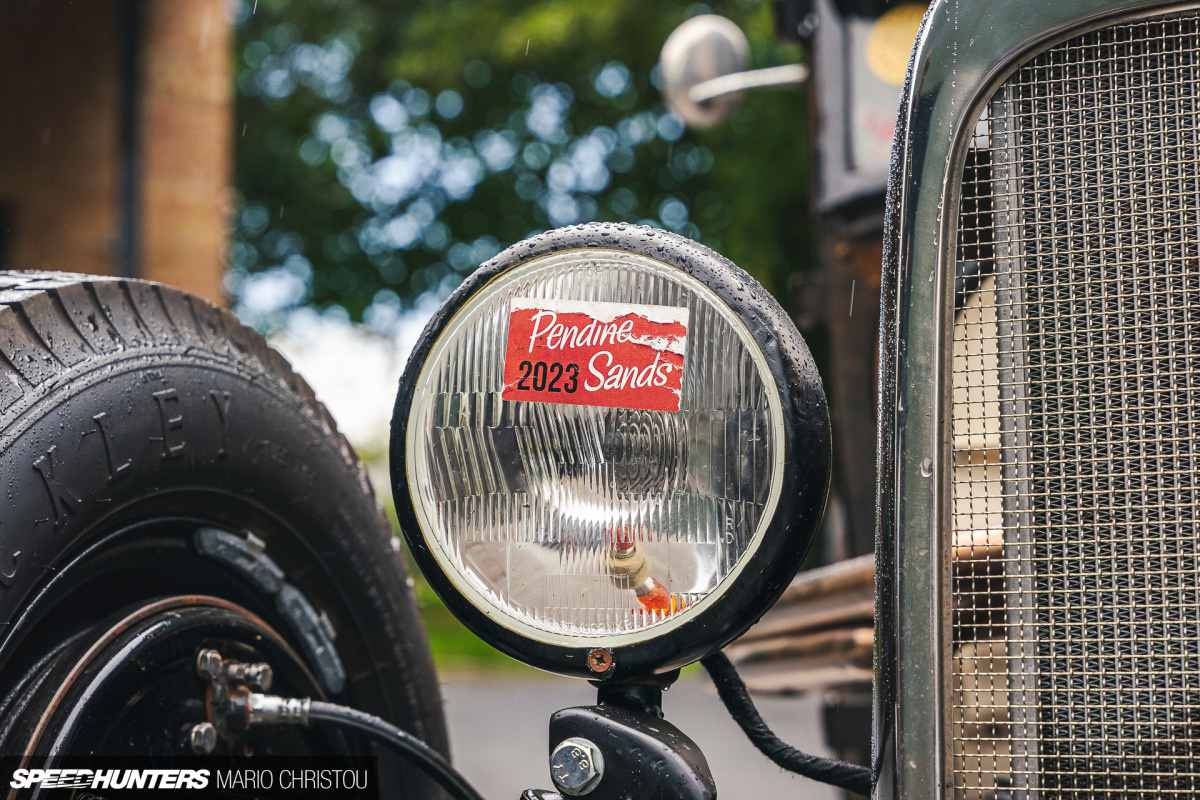 "It took me three years to build it. I set my deadline to race it at Pendine Sands for the 2023 event, for which I only just finished the car with two weeks spare to shake it down."
Ricky built his hot rod to go racing, and he did just that at a venue with huge significance for not only hot rods, but land-speed records and motorsport as a whole.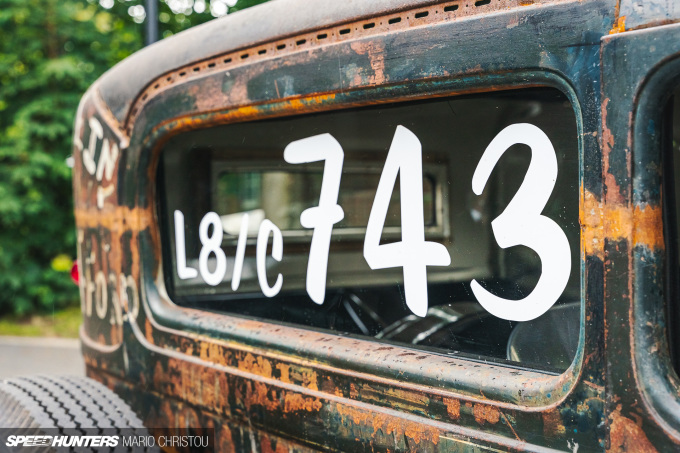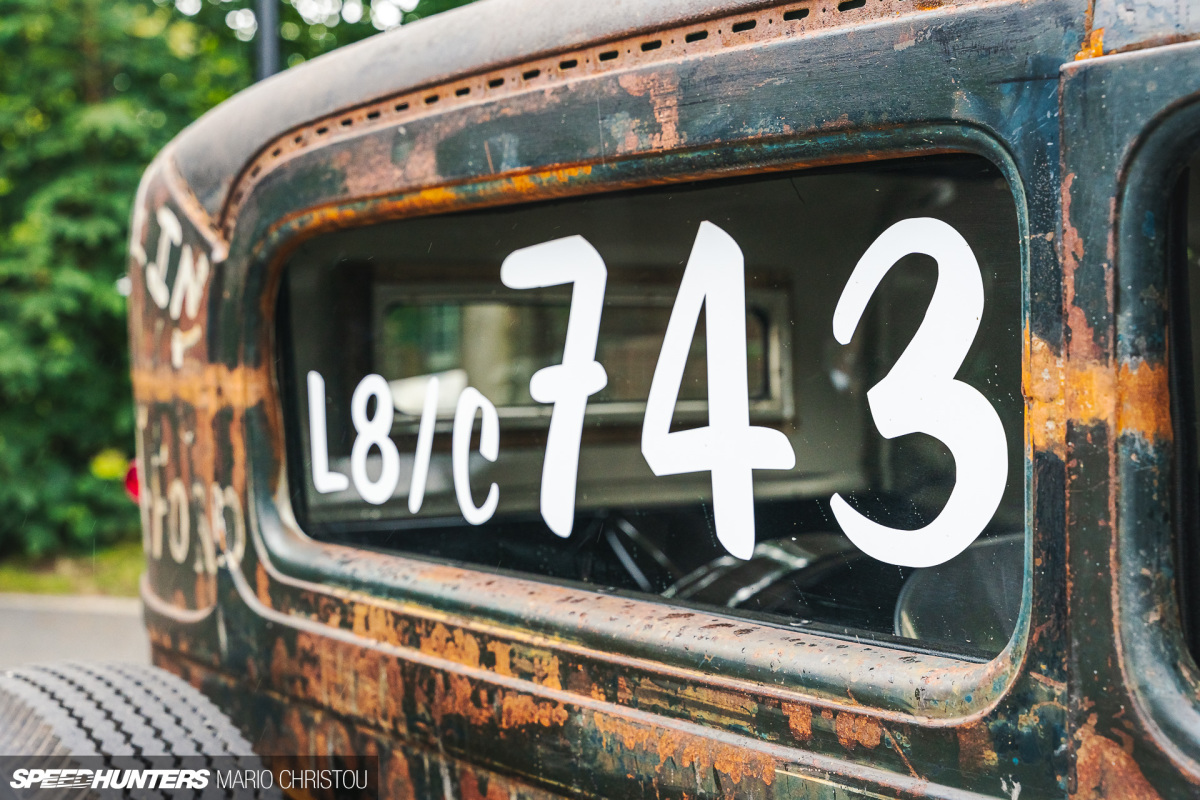 How did he do in his freshly-built sedan, up against seasoned veterans on the sand?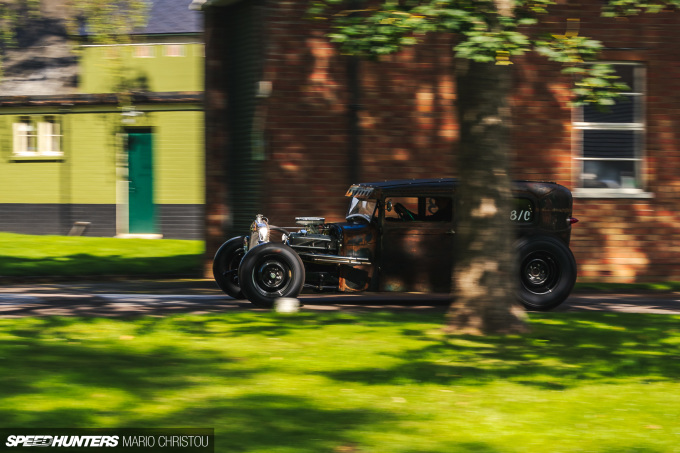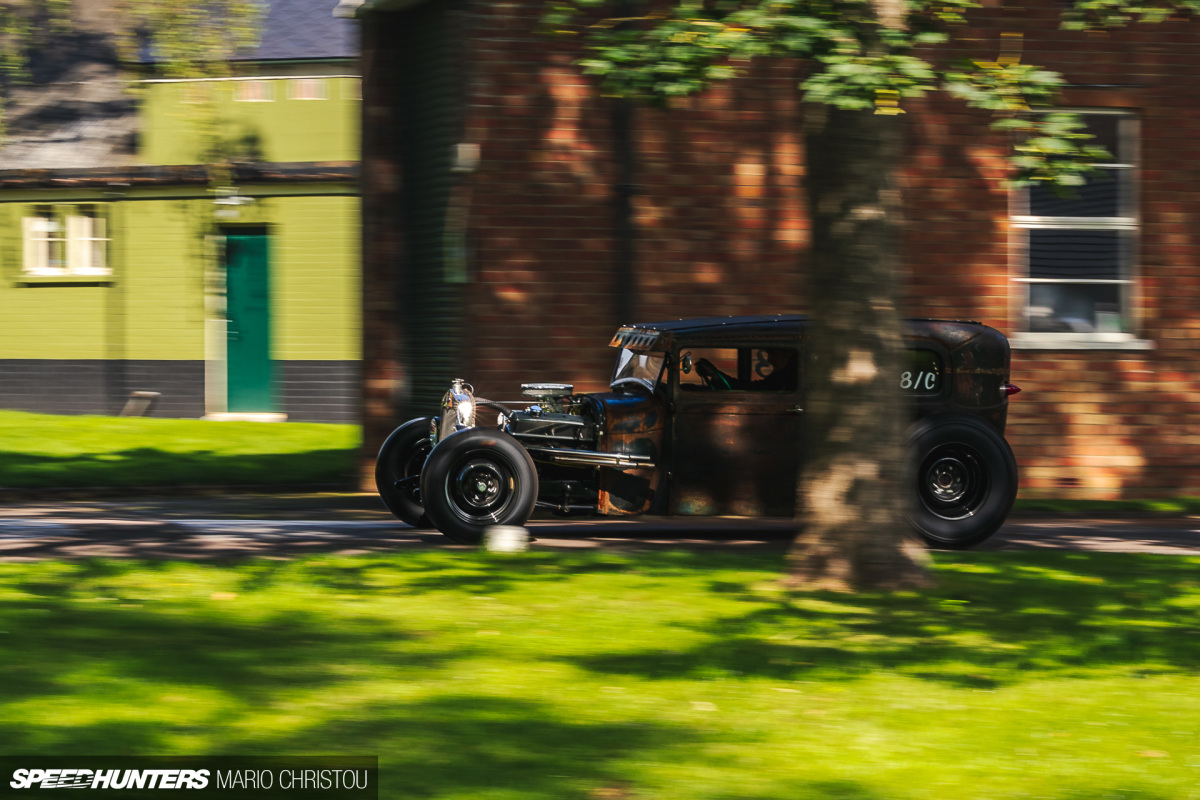 Well, using all the grip the cross-ply tyres would give him, Ricky managed to set a best speed of 110.17mph (177.30km/h) – making him the youngest ever member of the '100 MPH Club' at Pendine.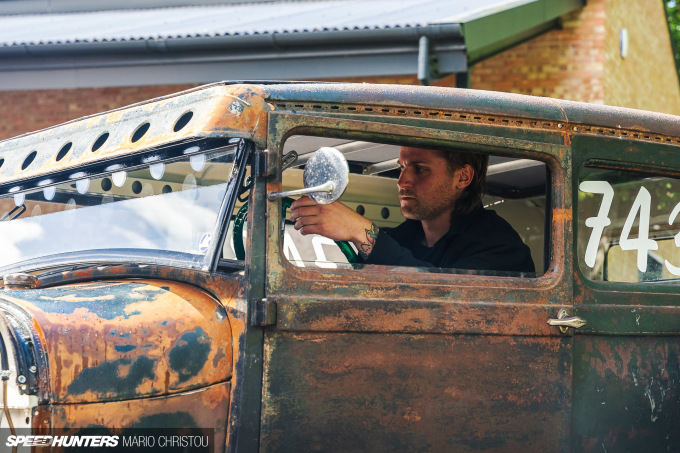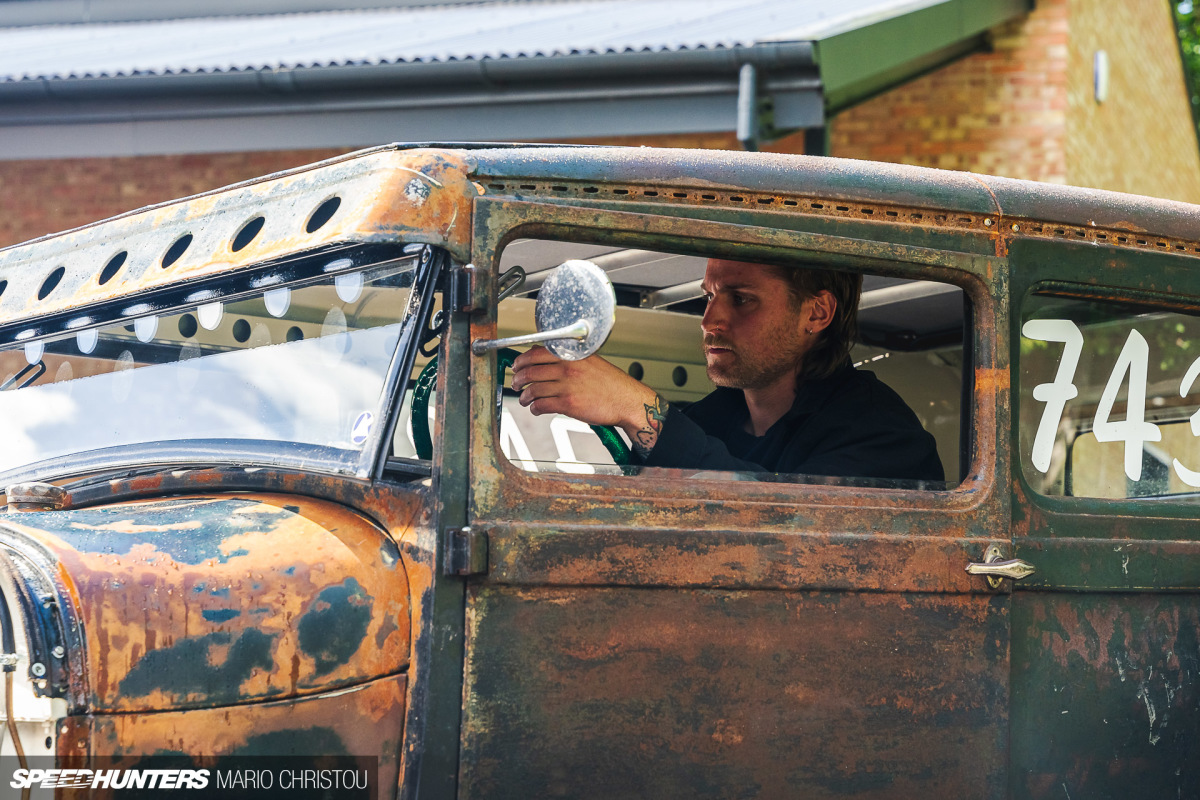 Ricky is determined to go back next year and do even better. "I want to try and beat my speed on the beach; who knows how I'm going to do this yet! Maybe I'll switch up the gear ratios and tyre size to try and squeeze more speed out of it."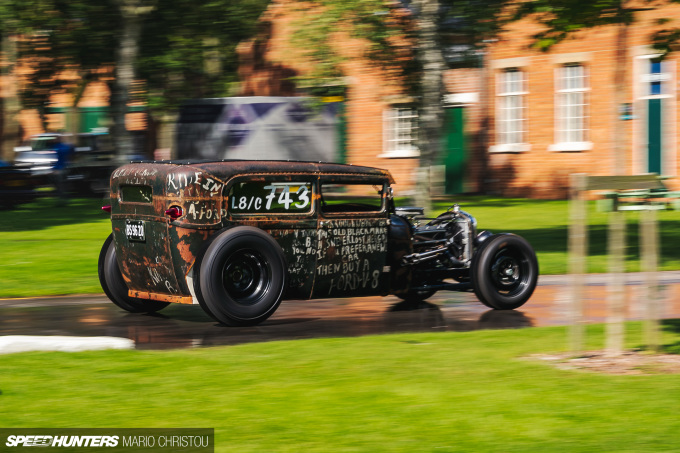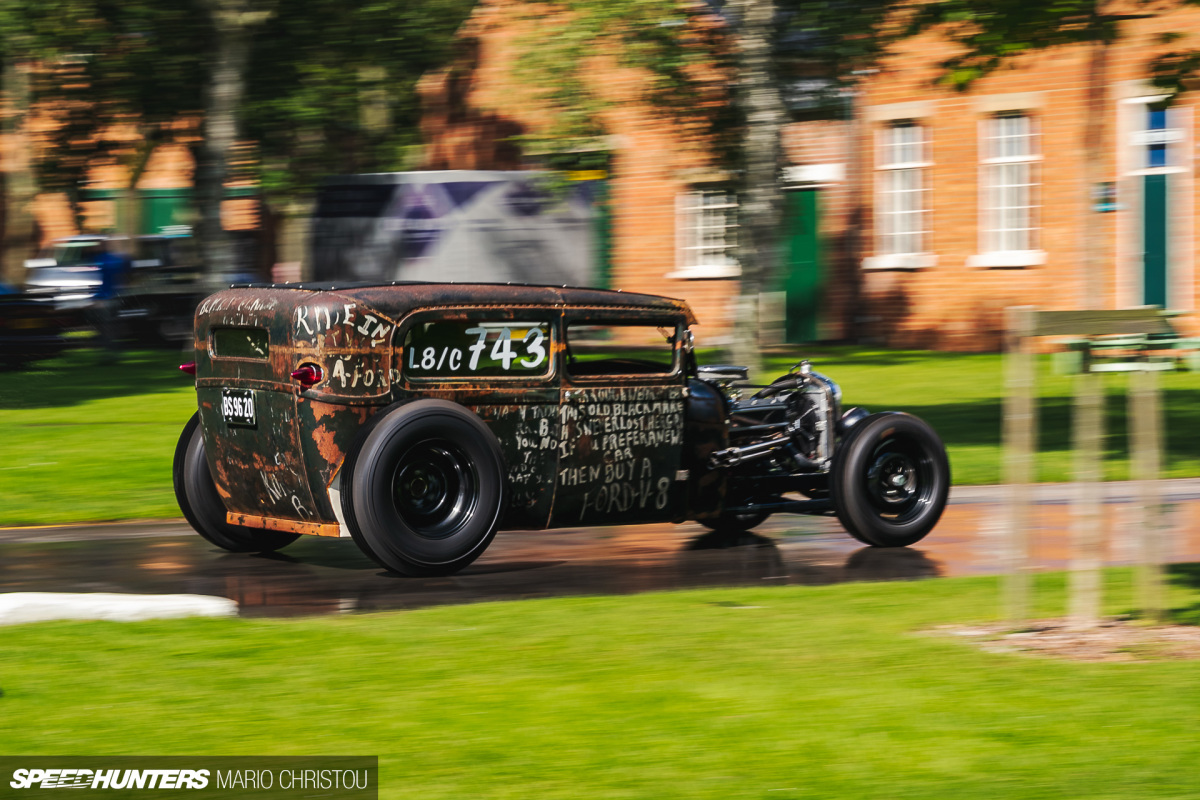 After waiting nearly four years to see the final result and shoot Ricky's ridiculous car, I have to say it could well be my favourite vehicle I've ever got behind the lens for.
This Model A has reminded me of my love for old Americana, and that's about the biggest compliment I can give it.
Mario Christou
Instagram: mcwpn