The FC3S Mazda RX-7 often seems overshadowed by its successor, the FD3S, however it's exquisitely executed FCs like Saito-san's that leave me with a soft spot for this classic chassis.
As far as street-terrorising cars go, Saito-san's RX-7 is about as perfect for the job as it gets. So hitting the roads and lanes around Saitama is exactly what we did on this particular Saturday afternoon.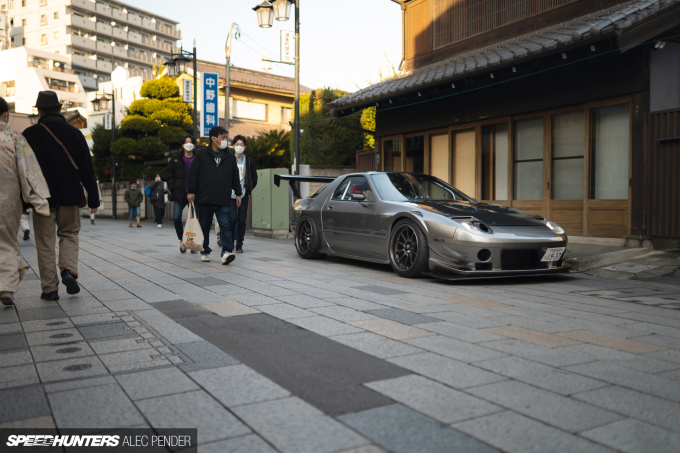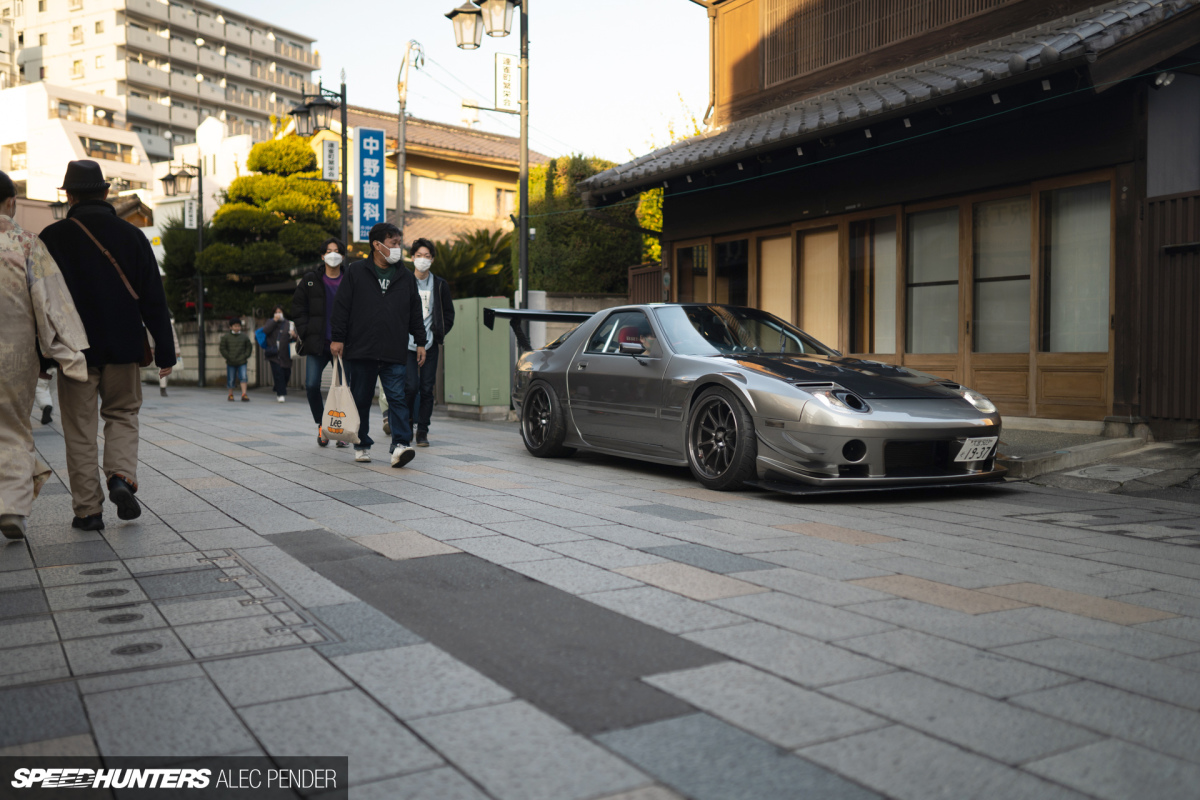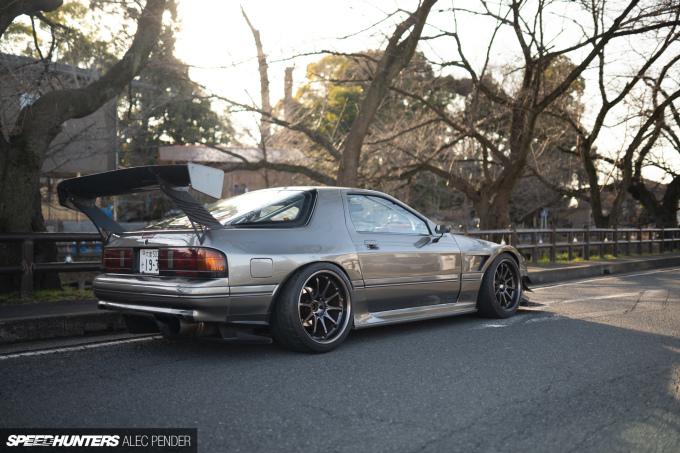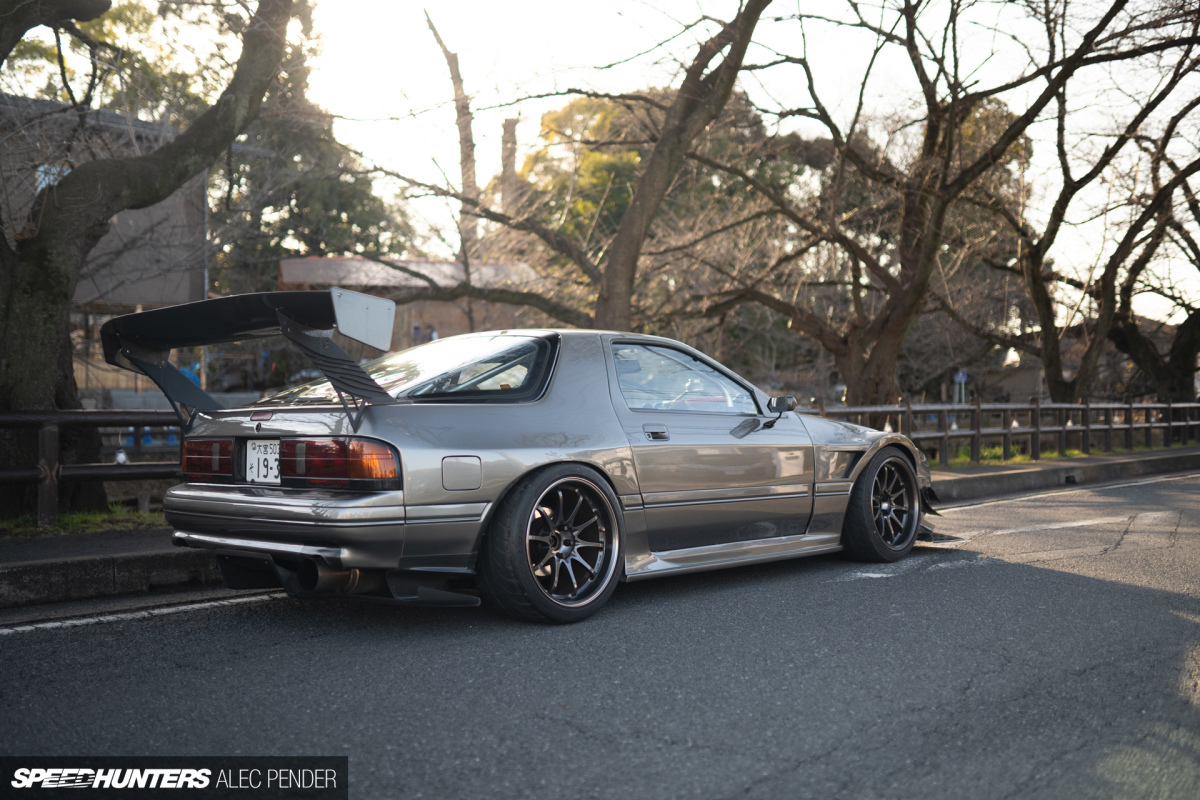 It's not uncommon to see others shooting their cars and bikes against the scenic backdrops in this small, culturally rich town, but not at 3:00pm on a Saturday afternoon. Cruising down Saitama's main shopping street, Saito-san's straight-piped FC almost stopped everyone in their tracks.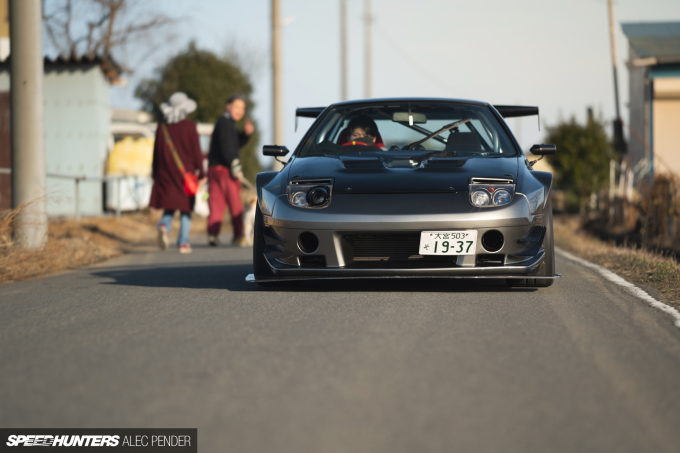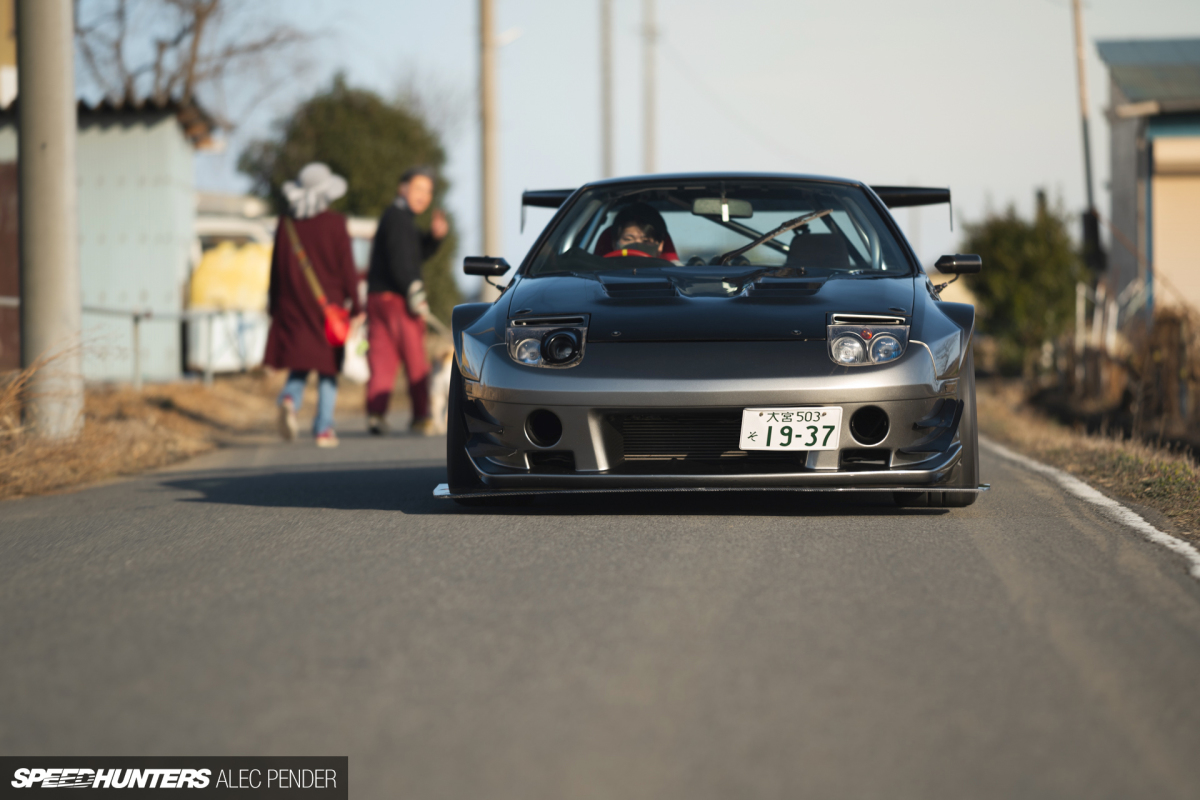 Deciding it wasn't worth the risk of a Good Samaritan alerting the police to this rowdy, rotary-powered coupe, we headed slightly out of town amongst the fields for some photos.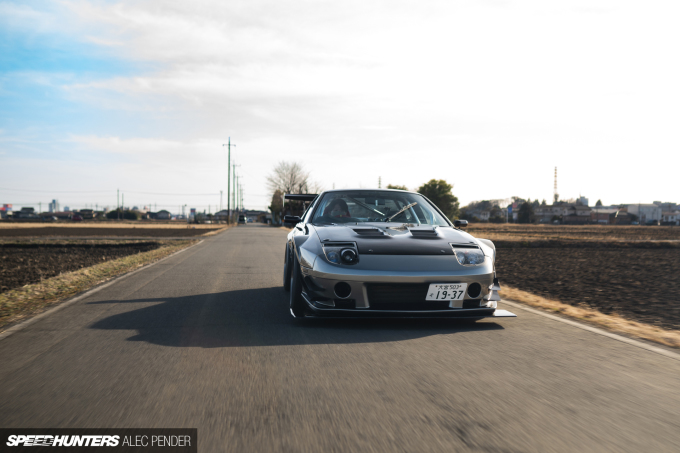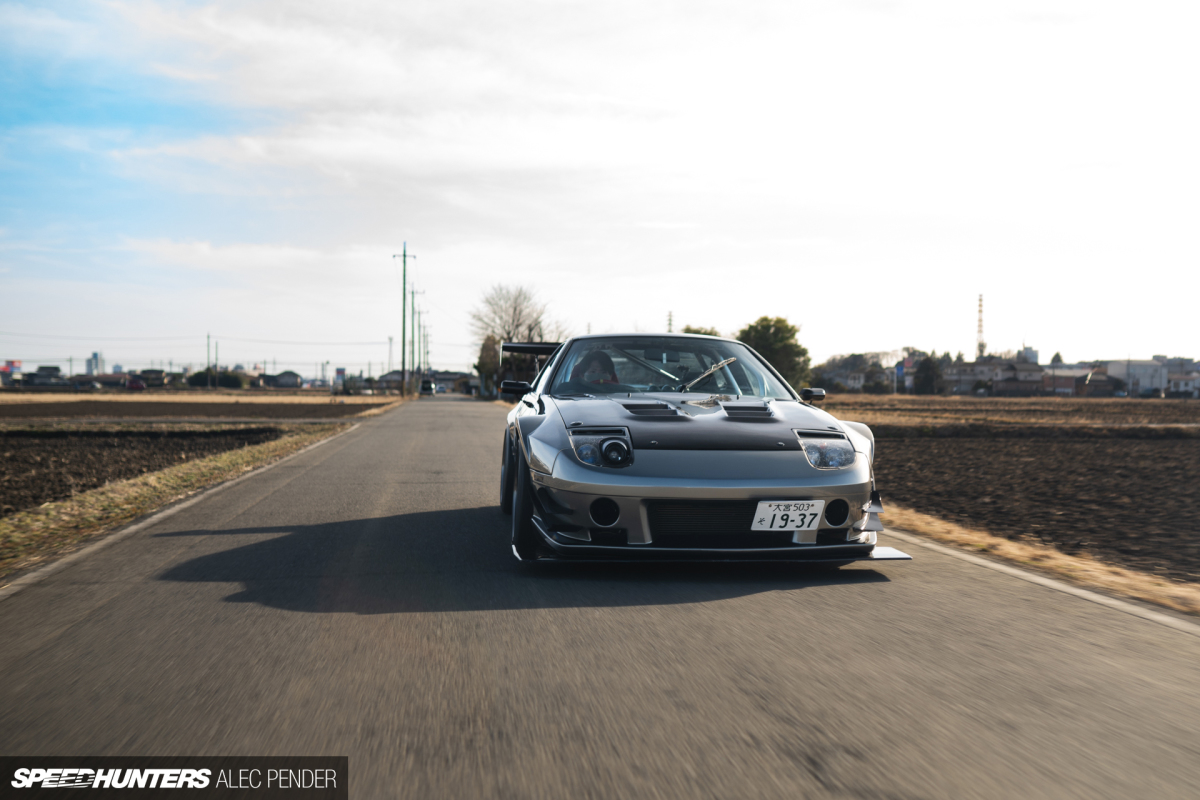 The FC certainly looks the part as far as time-attacking circuit cars go, but after an accident at Tsukuba Circuit a few years ago, Saito-san has been much more conservative with his Mazda, mostly enjoying it on the street. In fact, I was first introduced to him at Umihotaru PA, a popular parking area in the middle of Tokyo Bay, where Saito-san was out for drive with some other FC3S owners.
Saito-san's car has gone through several different revisions in his seven years of ownership. Over that time, the originally-white Mazda slowly received small pieces of aero and lost pieces of its interior.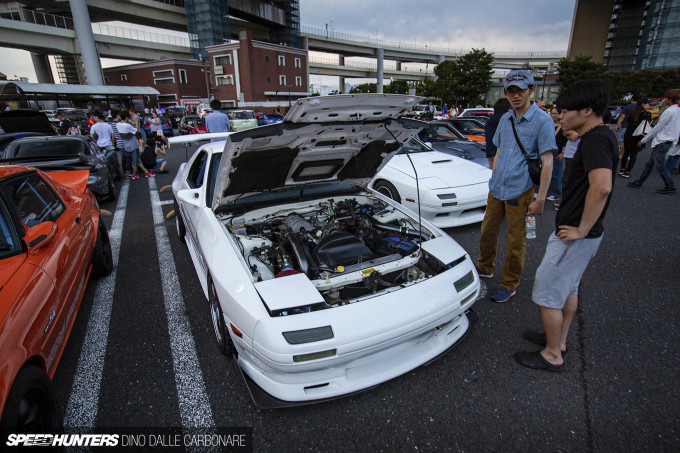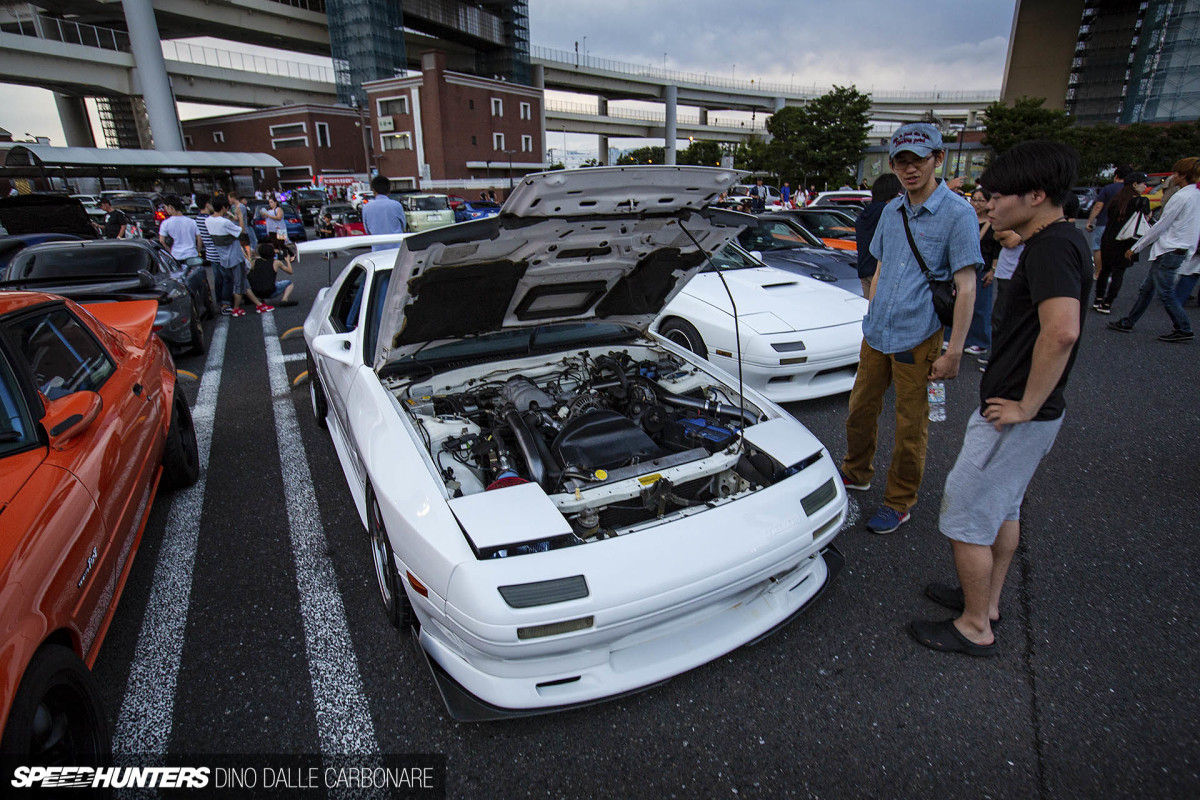 Dino actually shot the car at the annual 7's Day meet at Daikoku PA back in 2018 – a good comparison to how it looks now.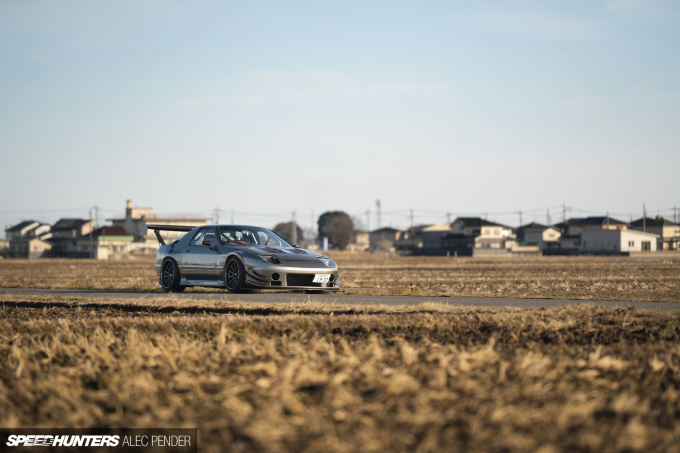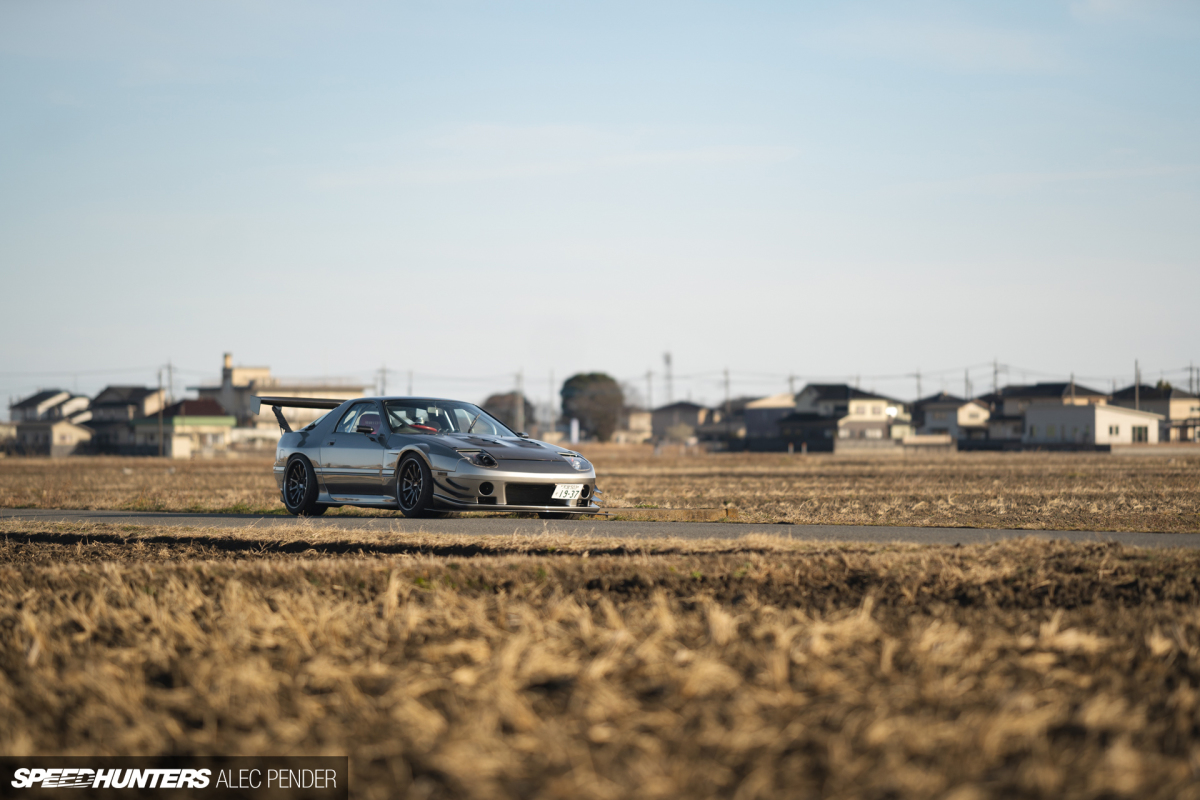 One of the standout external upgrades is the sometimes-controversial RE Amemiya front bumper (with canards) and fixed headlight conversion. While I think this adds a lot to the aggressive styling of the car, others may disagree and question the removal of the iconic pop-ups. The car still retains it metal rear fenders, but up front uses Panspeed +45mm FRP fenders to accommodate the RAYS Volk Racing CE28SLs. Saito-san runs an 18×10.5-inch +15 square wheel setup with 275/35R18 Dunlop Direzza ZIII tyres at all four corners of the car.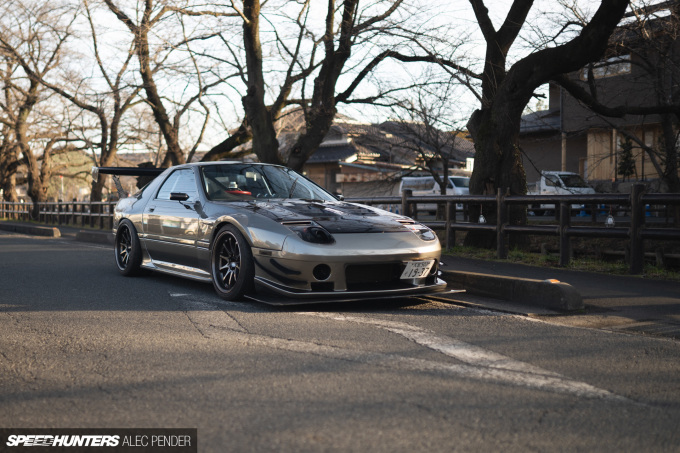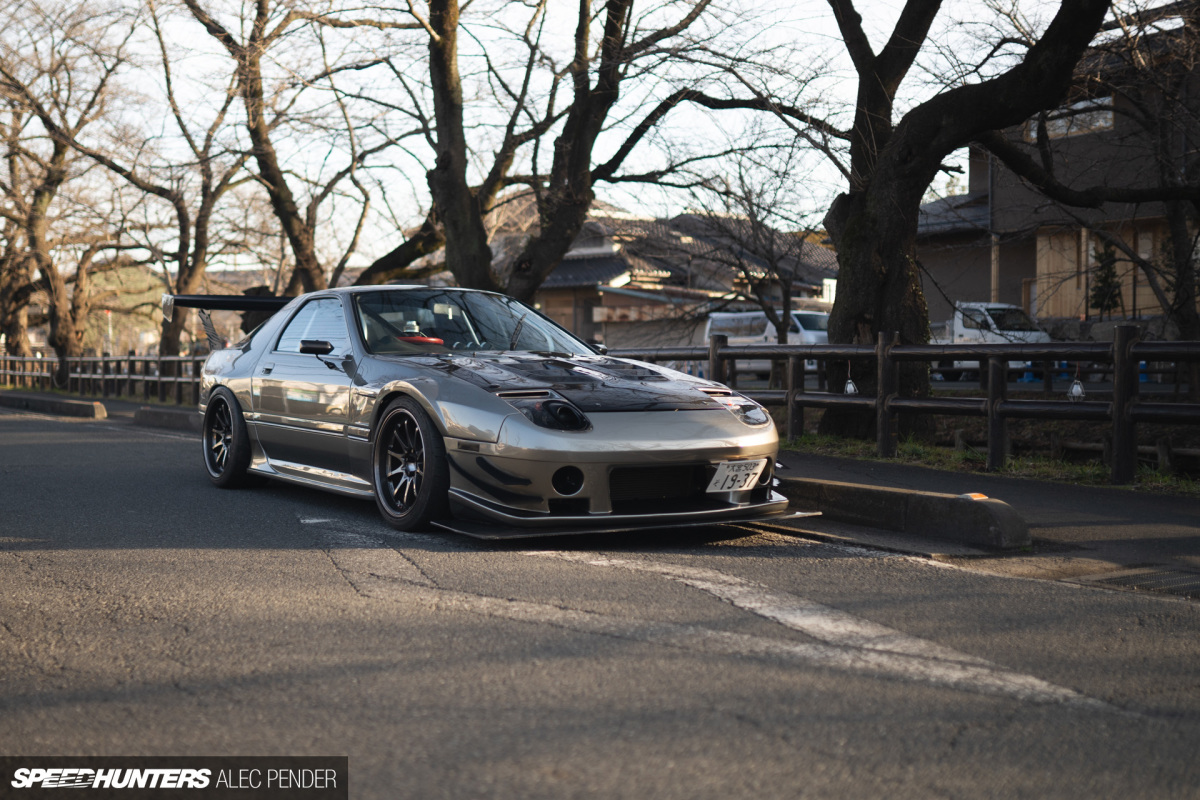 The factory hood has been swapped for a Tamon Design carbon fibre replacement, which paired with the RE Amemiya headlight induction aero allows for plenty of air flow.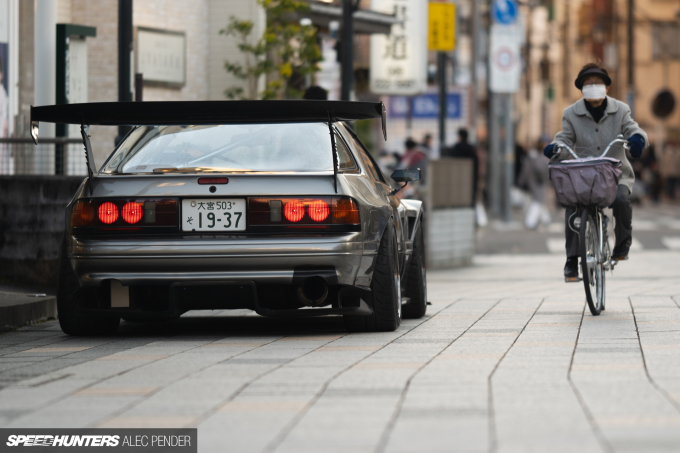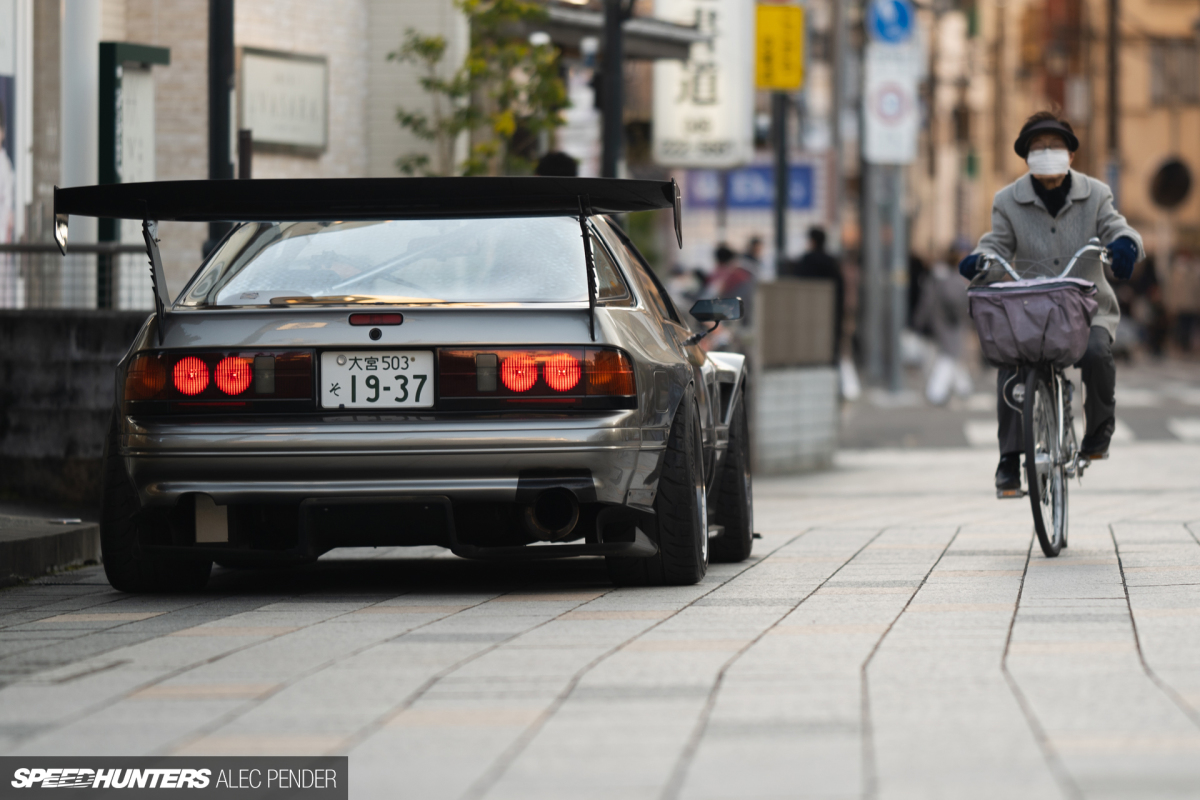 The rear of the Mazda follows suit with an Esprit 052 GT Wing, which matches up nicely with the Car Shop Glow diffuser below. Much like the FD3S, FCs look great with an in-your-face GT wing, especially when the rest of the car has been styled accordingly.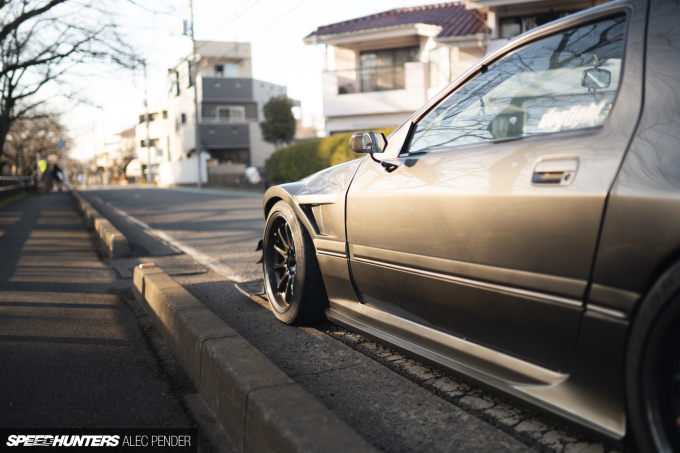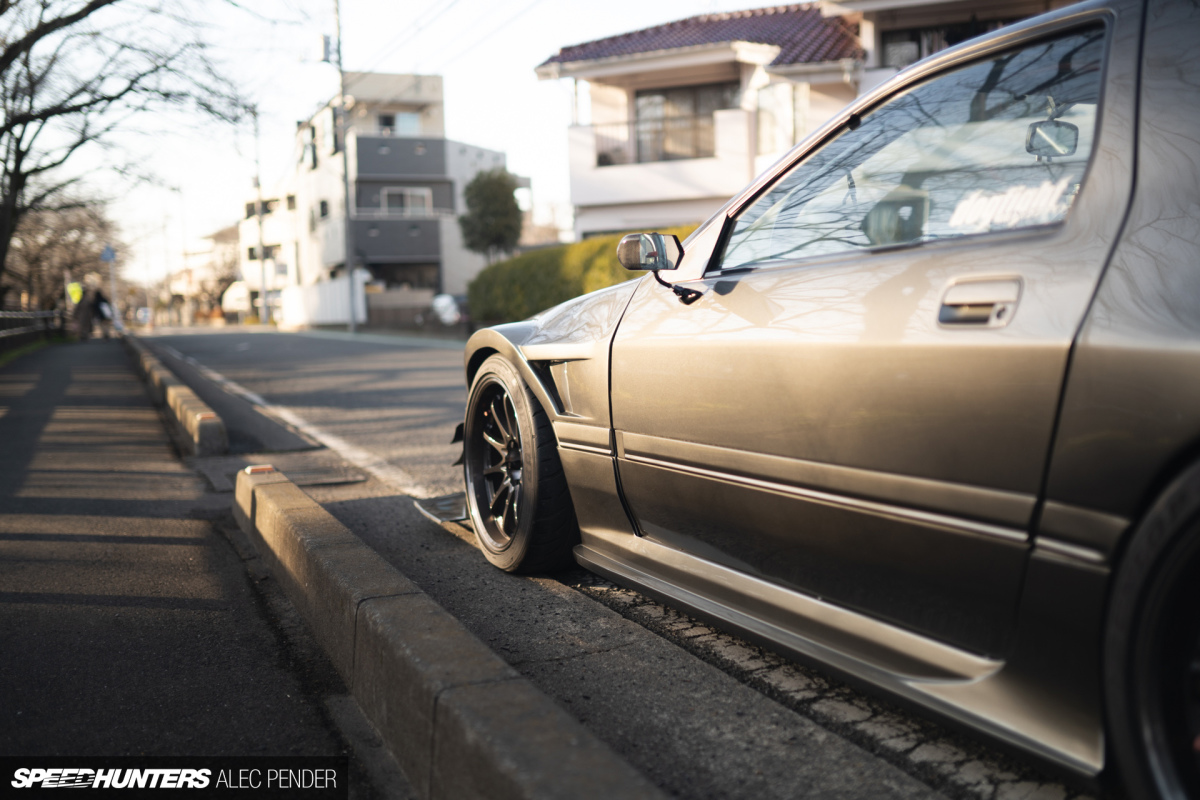 Unlike most other modified FC RX-7s in Japan which run Ganador mirrors (Saito-san's car previously too), Craft Square TC items are a welcome change.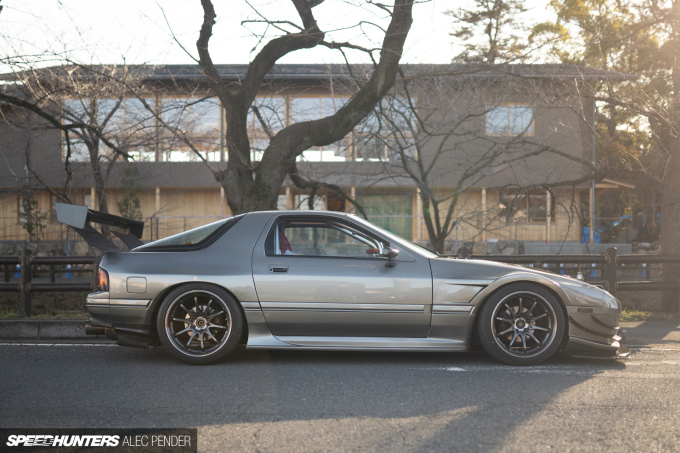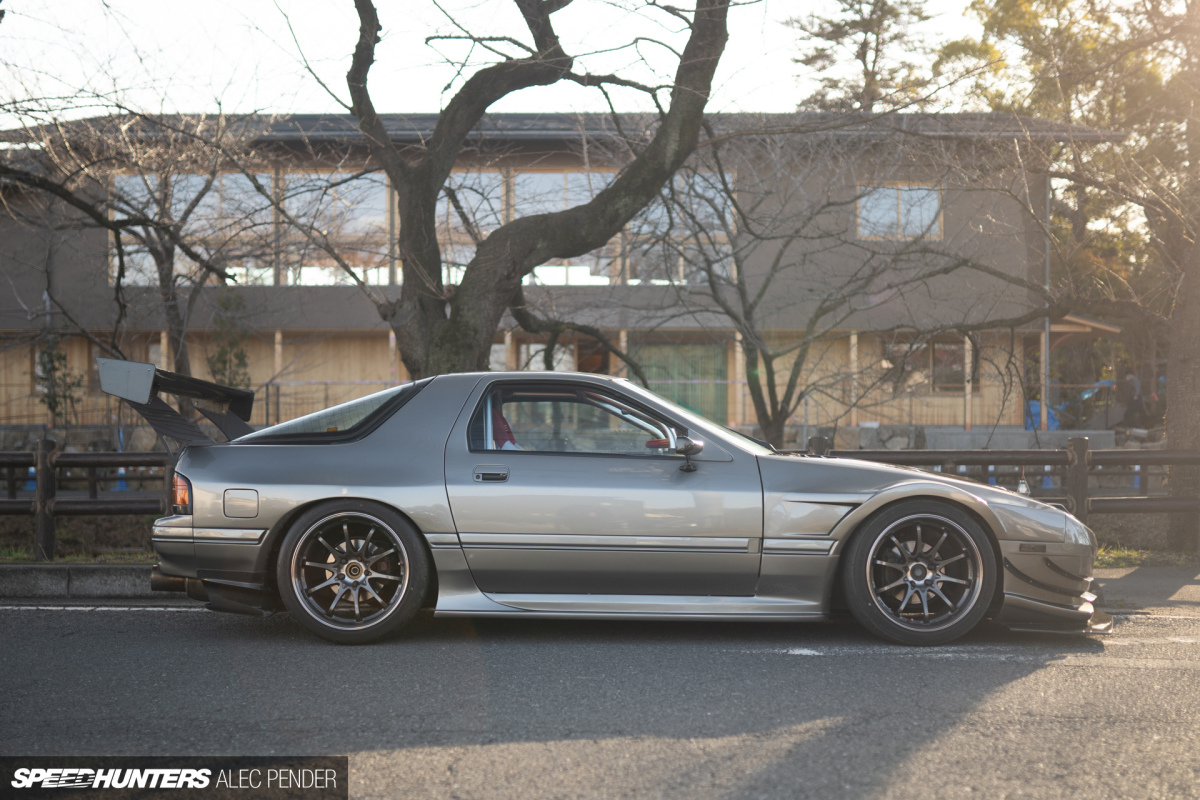 It's obvious that this RX-7 has been meticulously put together for the circuit, and I really hope we get to see Saito-san back out there soon with some regained confidence.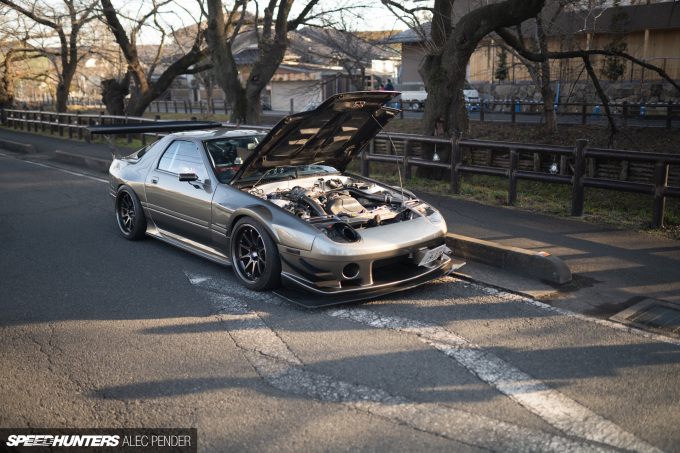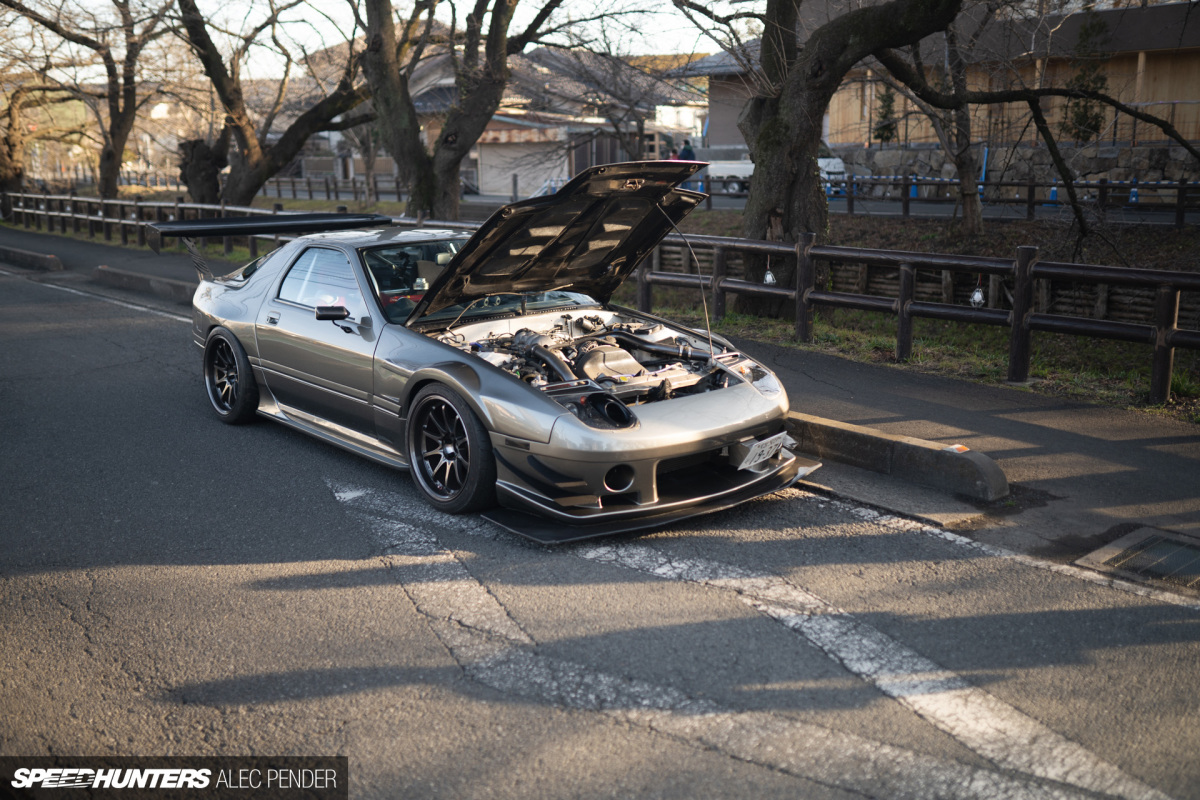 Despite the FC's track-ready appearance, Saito-san has chosen to keep the Mazda's driveline simple. The engine is a standard 13B – the car's original unit no less – fitted with a few select bolt-ons including an HKS front-mount intercooler kit, HKS Super Power Flow air filter and the aforementioned exhaust. It's all managed through an HKS F-CON V-Pro piggy-back ECU.
Behind the engine sits an ATS carbon twin-plate clutch, an FD3S 5-speed gearbox, and a Cusco 2-way LSD-equipped rear end.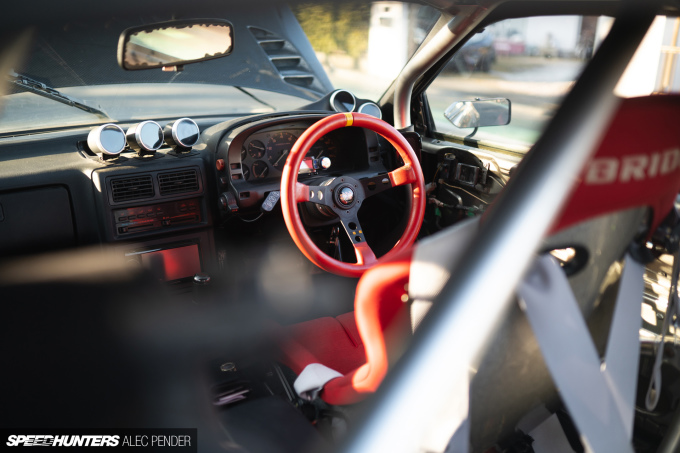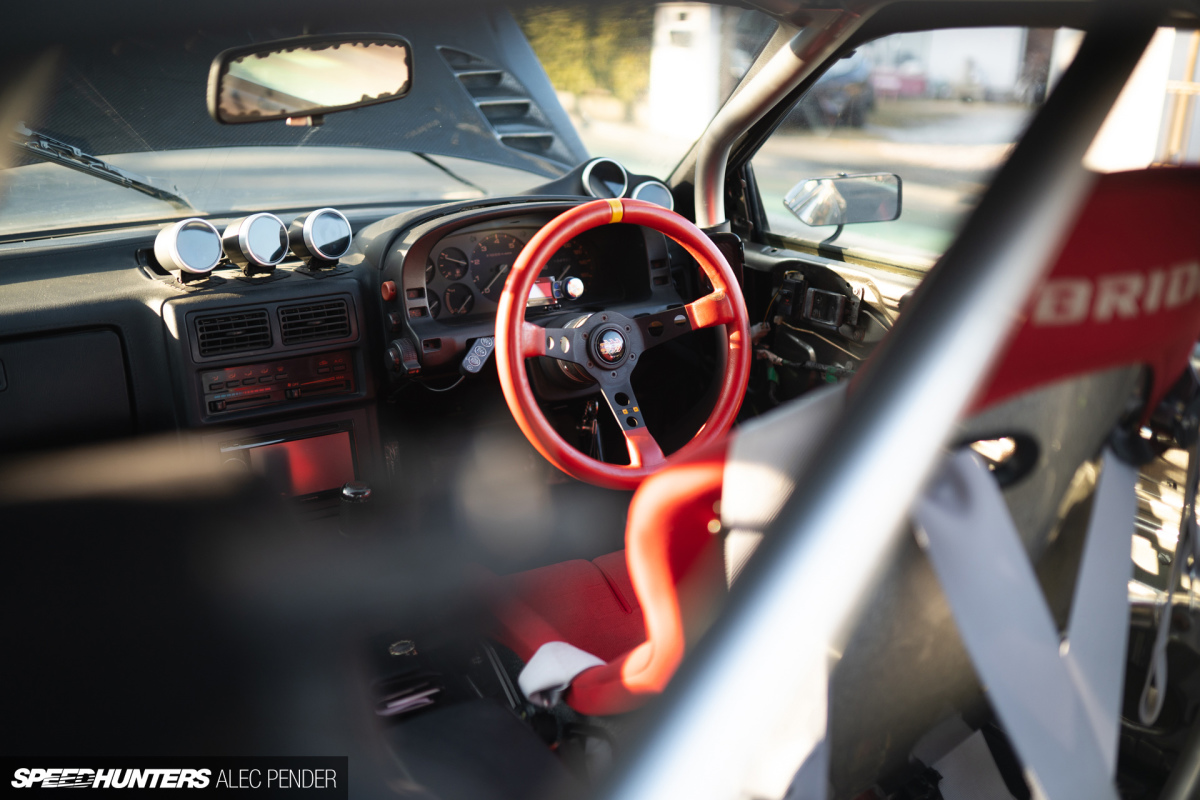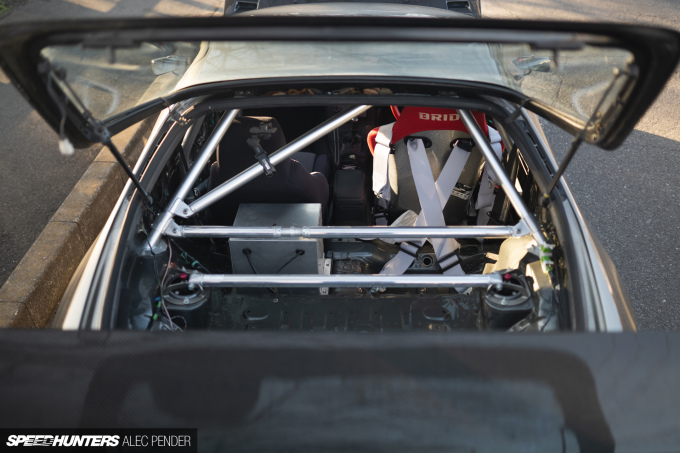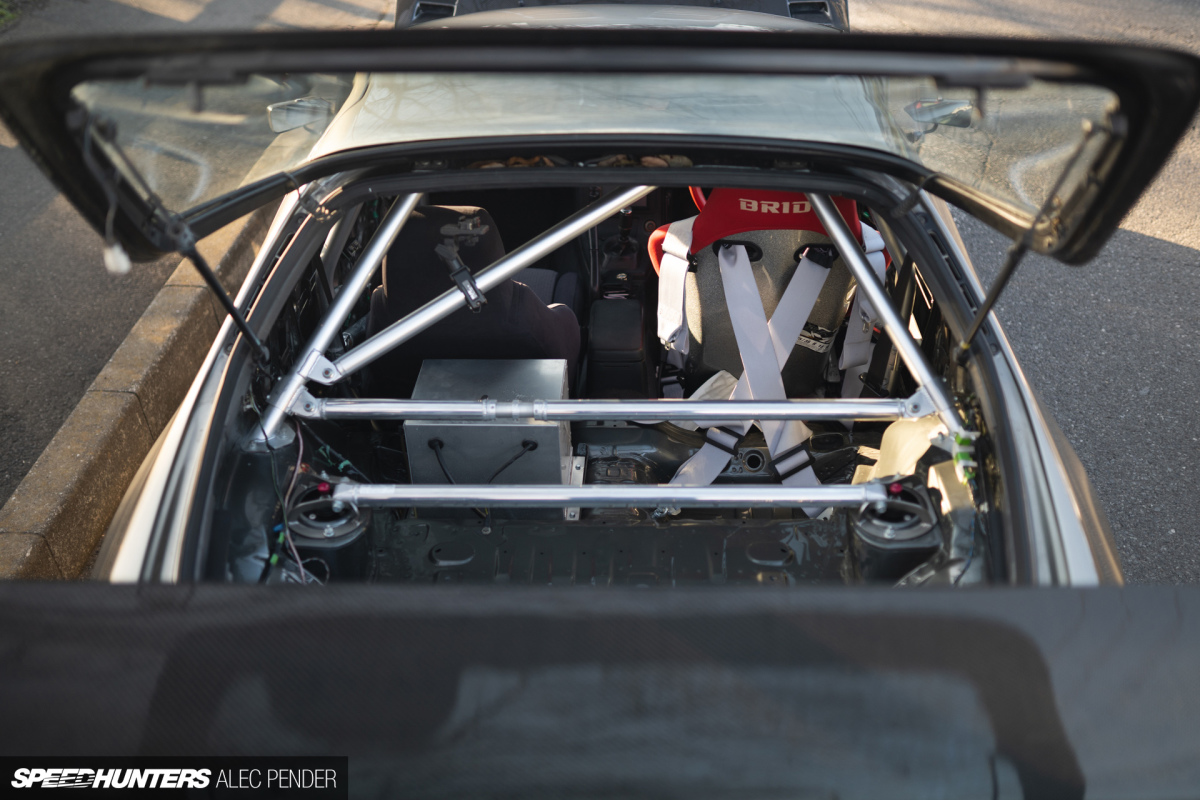 The interior is on-brand with the rest of the car. There is little left of the factory equipment, save for the dash, centre console and passenger seat, with exposed metal painted, a full Cusco roll cage, Momo steering wheel, and a Bride Zeta III seat with TRS harness added. The dash is home to five Defi gauges and a GReddy Profec boost controller.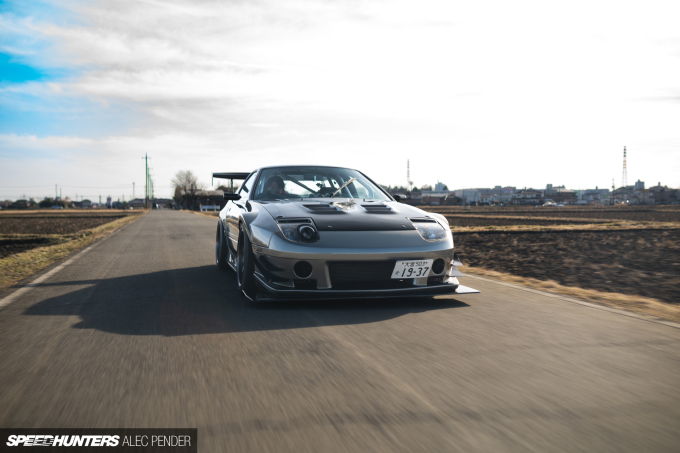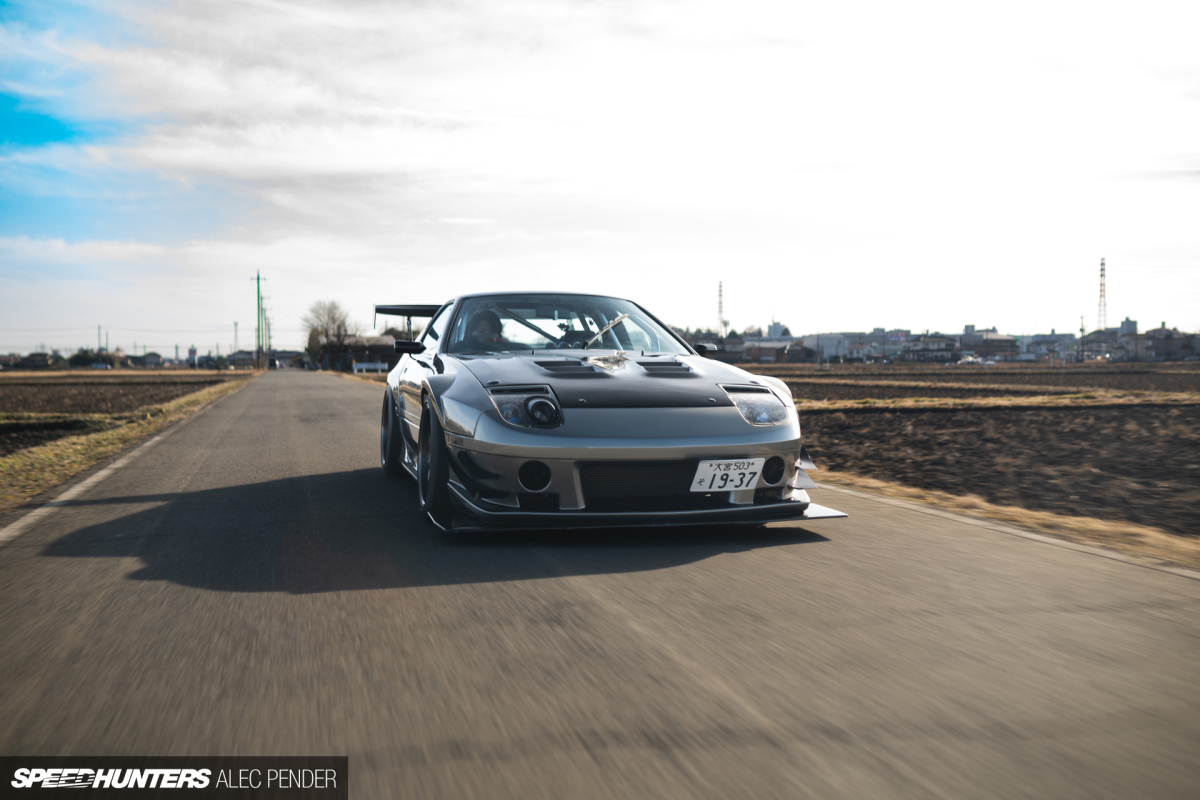 If there's one thing I love most about shooting cars in Japan, it's the never-ending spots and backdrops available, each of them setting a completely different scene. In just this shoot alone, we were able to jump between a giant field, a historical town, and a riverside back street – all within five minutes of each other.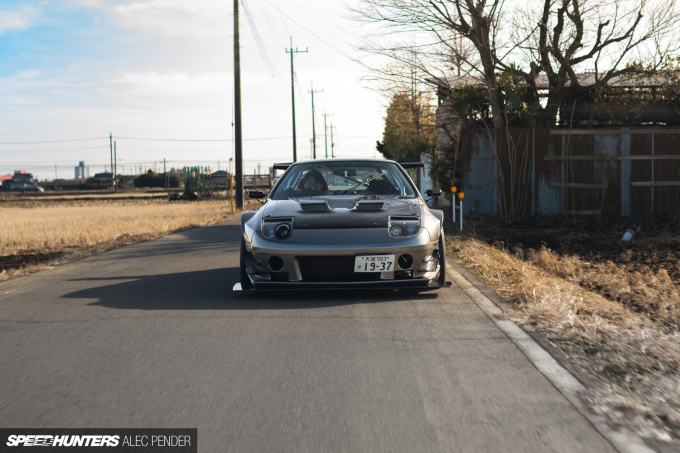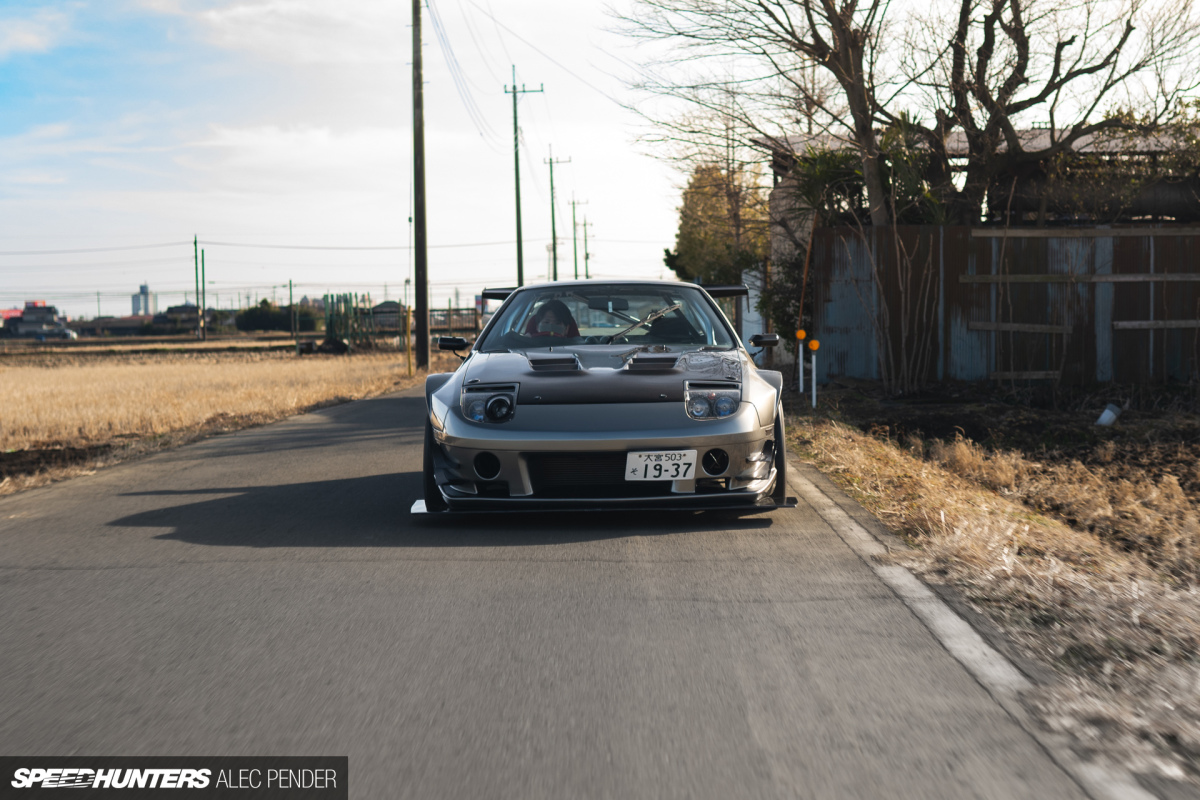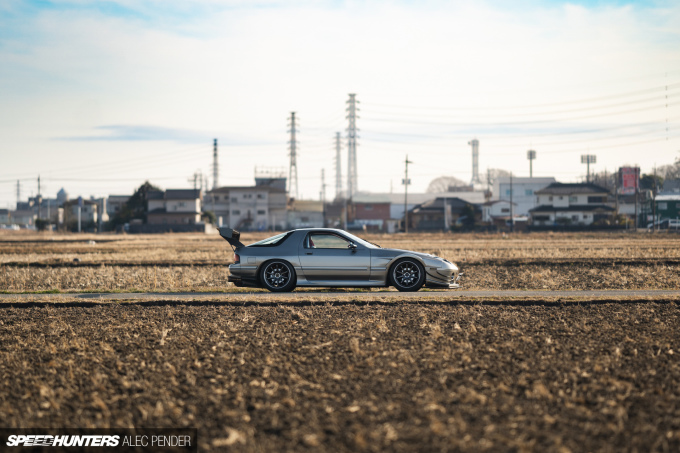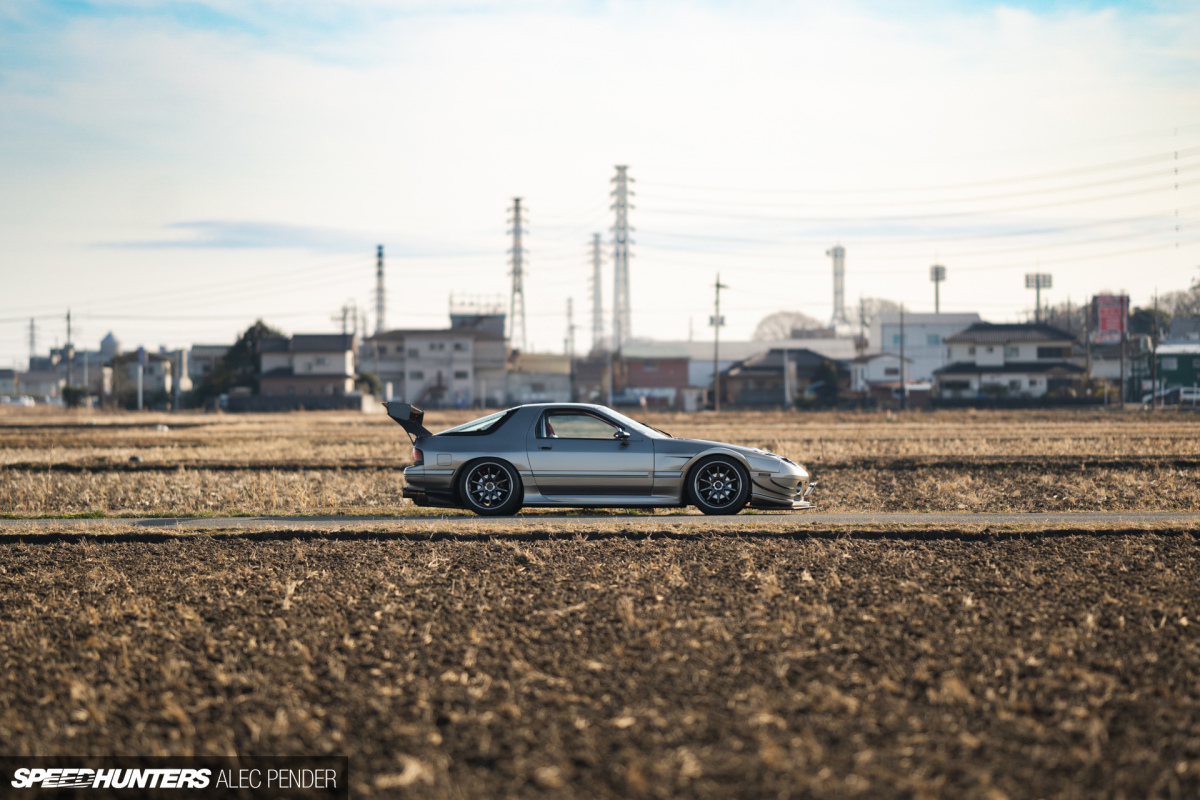 There's one consistent between all these spots that makes shooting a car like Saito-san's RX-7 so great, and that's the contrast between the subject and the environment it's in. Saito-san's FC3S looks, and is built for the circuit, and you'd typically expect to see shots of it on the track. But it's the addition of some licence plates and an almost surreal Japanese backdrop that always adds so much to the authenticity of these cars.
Alex Pender
Instagram: noplansco