Isn't it nice when we get a new platform to play with? It doesn't happen that often, especially when it comes to Japanese automakers, so when a new model enters the sports car fray it's something to be celebrated.
The new Nissan Fairlady/400Z is a welcome arrival, even if it's been a difficult car for buyers to get their hands on due to high demand and a few delays. That said, there were plenty of examples dotted around Tokyo Auto Salon 2023, most showing off the first parts Japanese aftermarket manufacturers have been busy developing for the eagerly awaited model.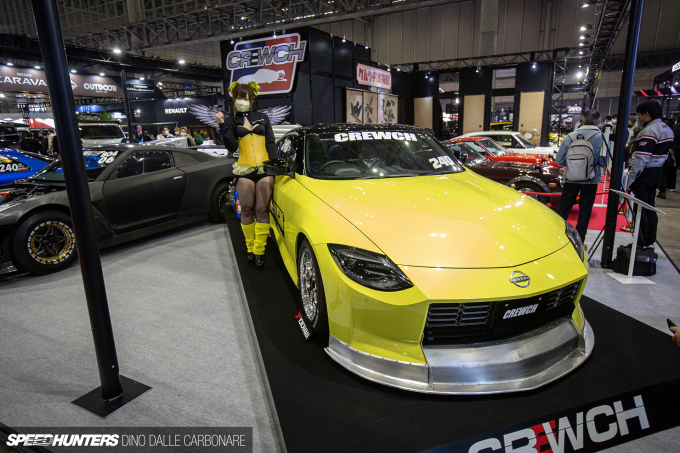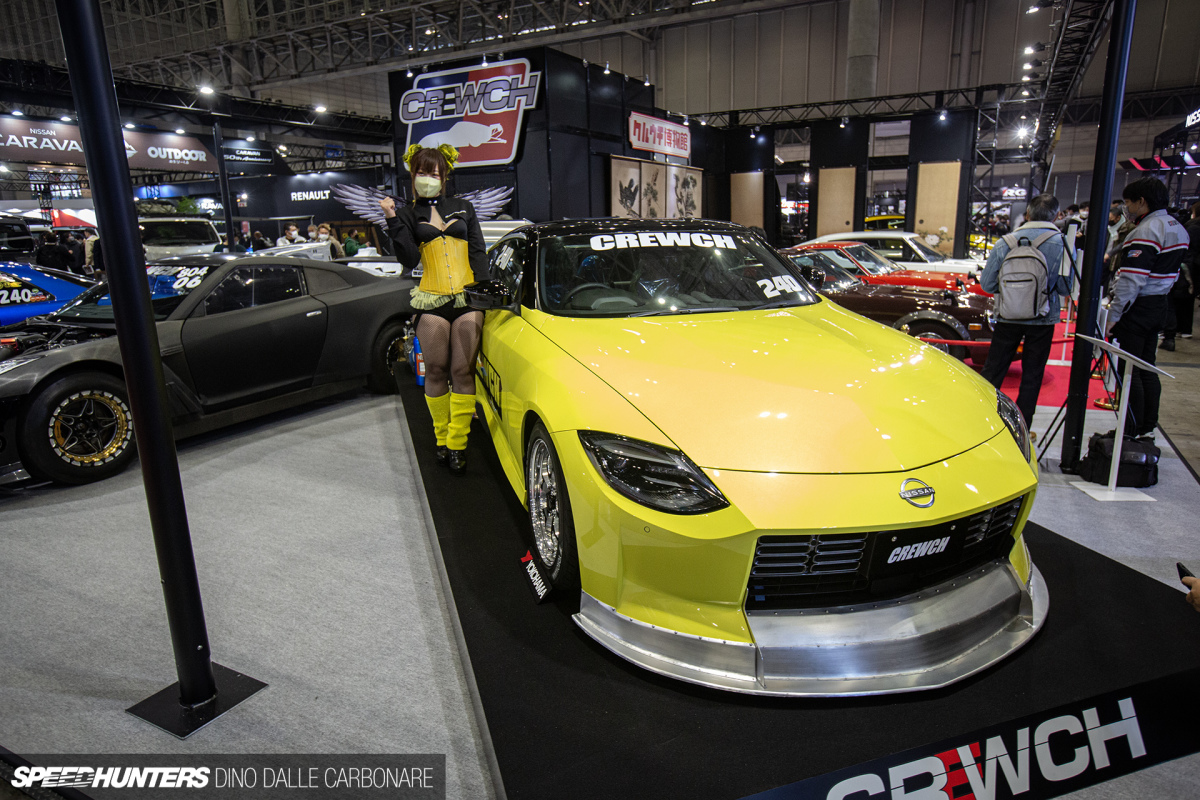 So call this a quick rundown of what I came across at the show – minus the Nismo RZ34, which couldn't have been made more difficult to shoot.
Let's start off with an unexpected drag-spec Z. The Crewch build sports drag wheels and radials, plus a pointy front spoiler and huge drag wing, both hand fabricated in aluminum.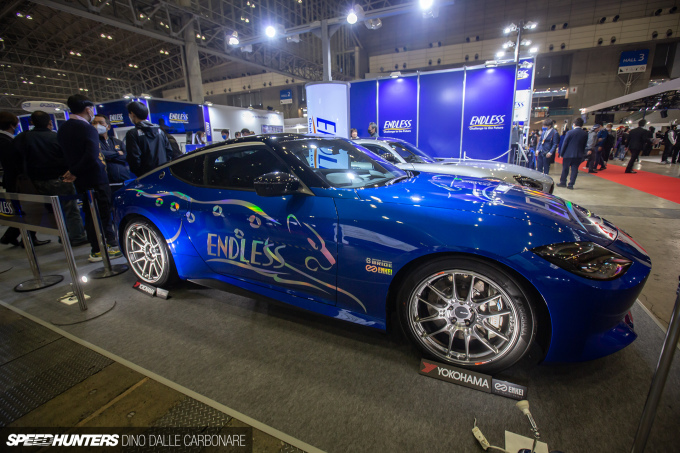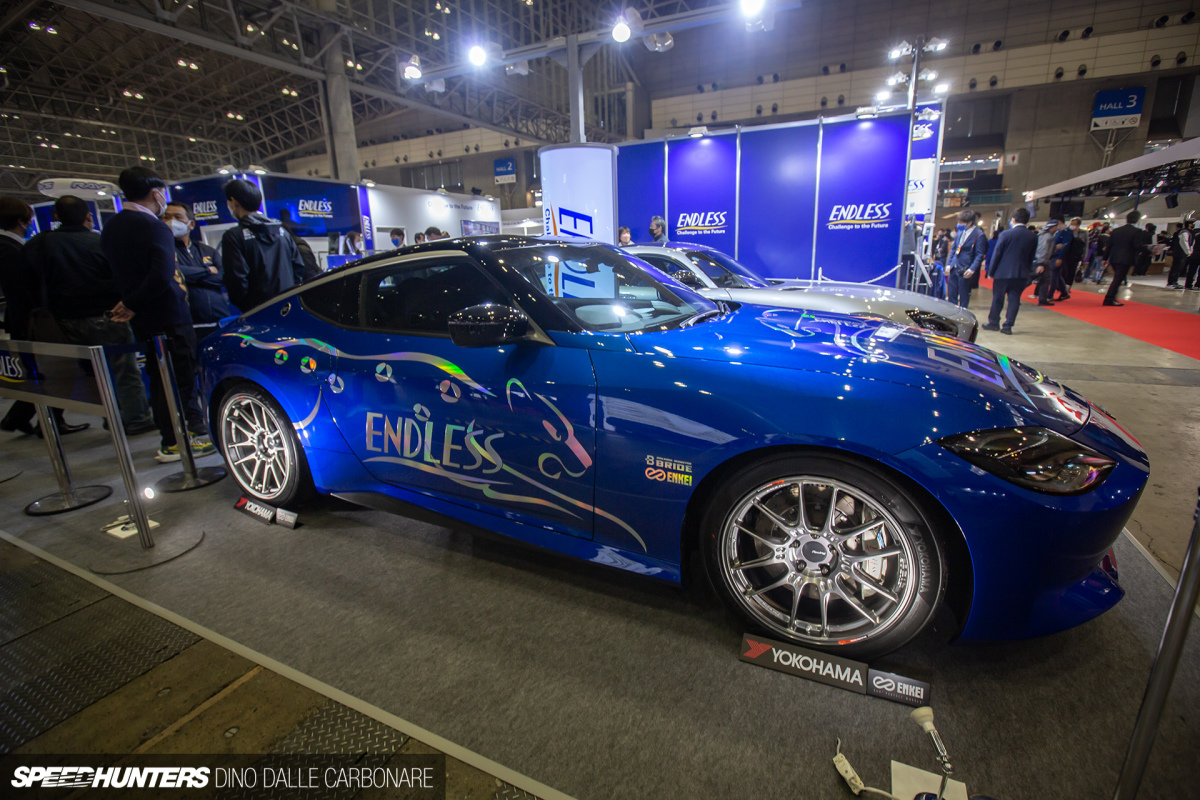 This blue Z at Endless was showing off some functional upgrades – namely a set of Zeal coilovers to lower the car over its Enkei GTC02 wheels, and – most importantly – a complete Endless monoblock brake upgrade. Push the RZ34's twin-turbo VR30DETT hard and serious stoppers will definitely be required.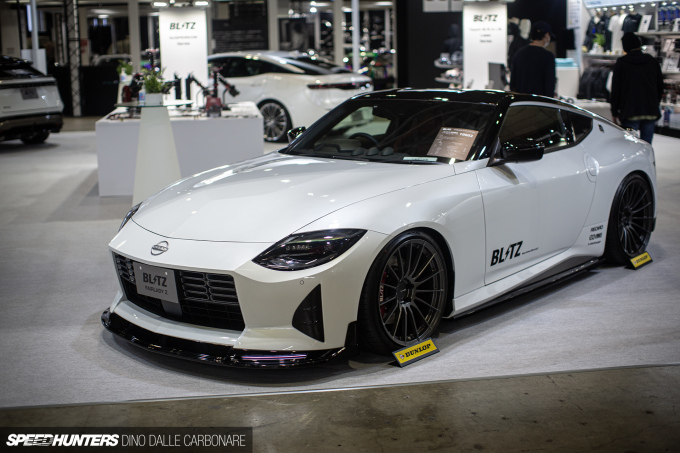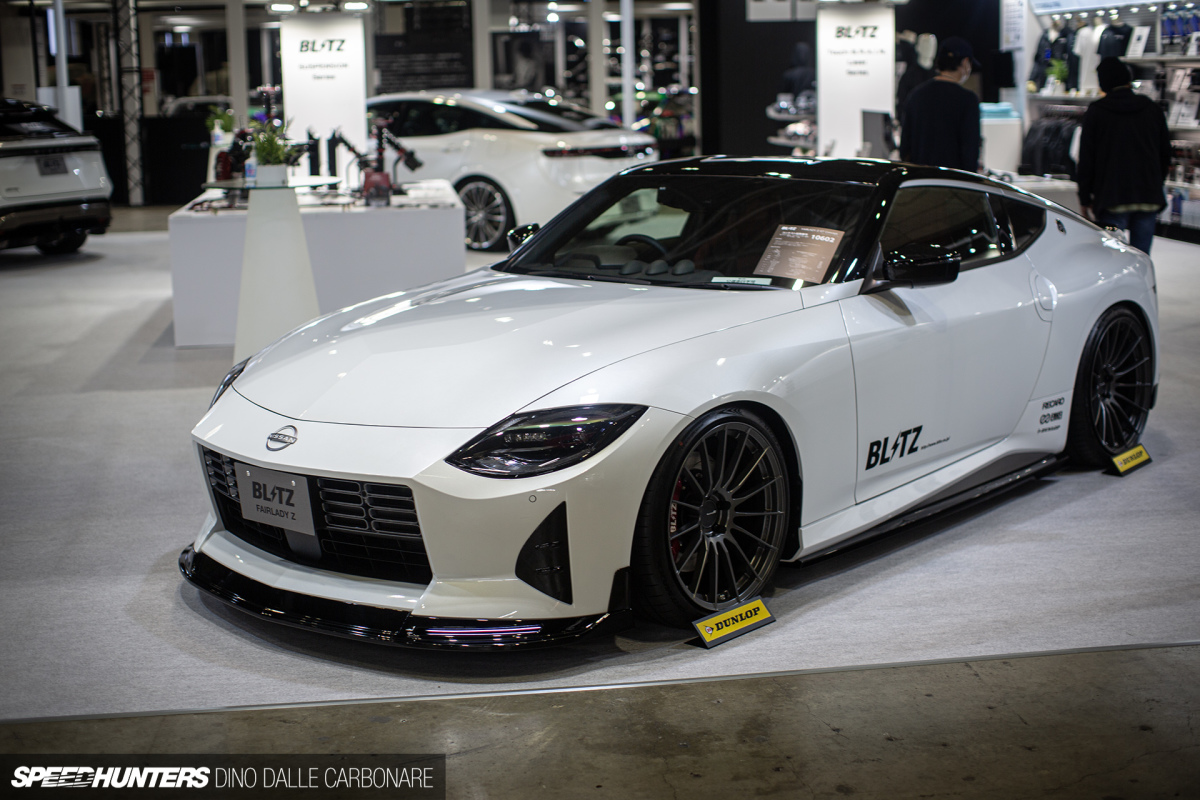 Another Z on Enkeis that I really liked was over at Blitz, and this car was showcasing a brake upgrade too.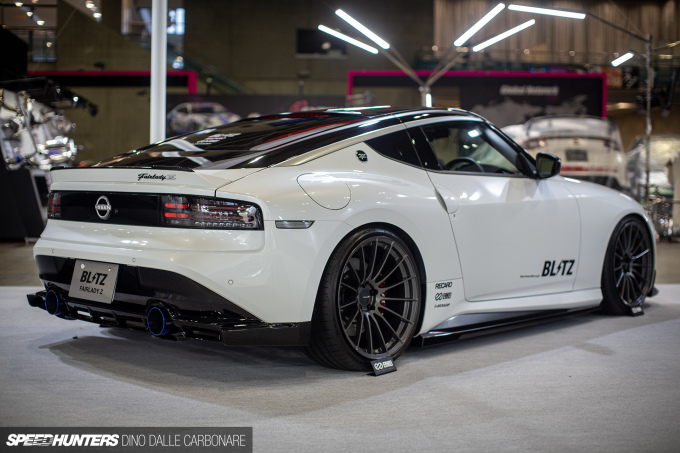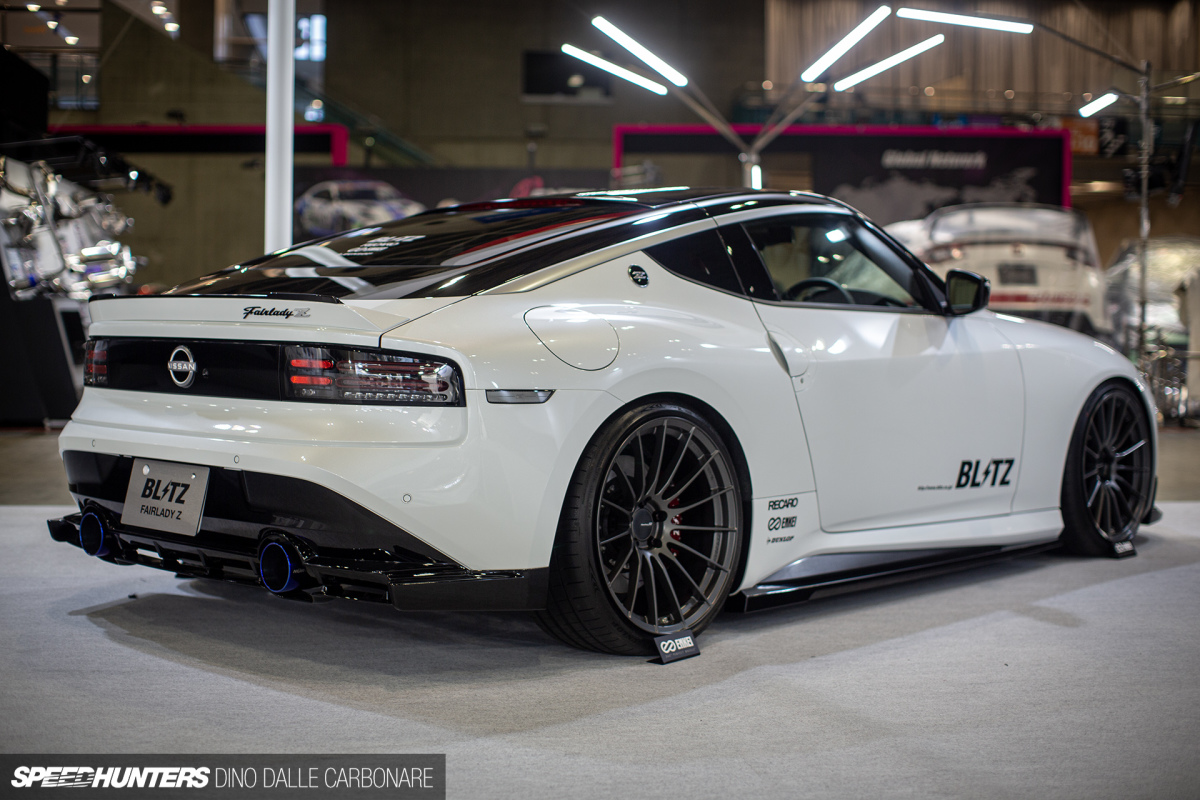 One of the new Z's best features for tuners and customizers is its ability to swallow up big wheels. In fact, the stock 19s look severely undersized attached to the car. You'll see a nice variety of aftermarket wheels in this post, but I thought I'd note just how well a pronounced concave profile suits the RZ34. These 20-inch Enkei RS05RRs serve as the perfect example, especially at the rear.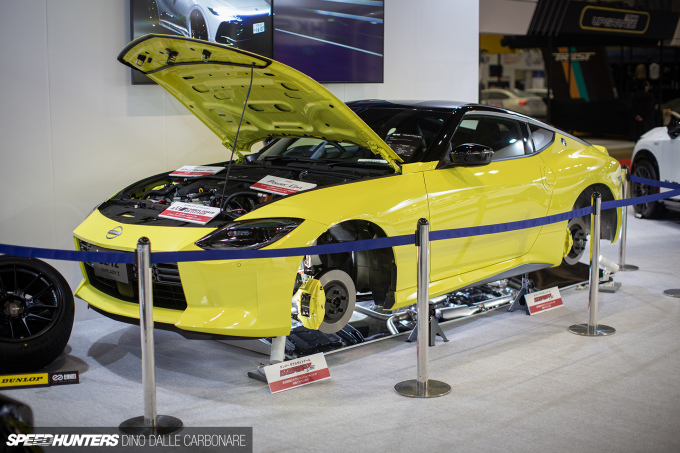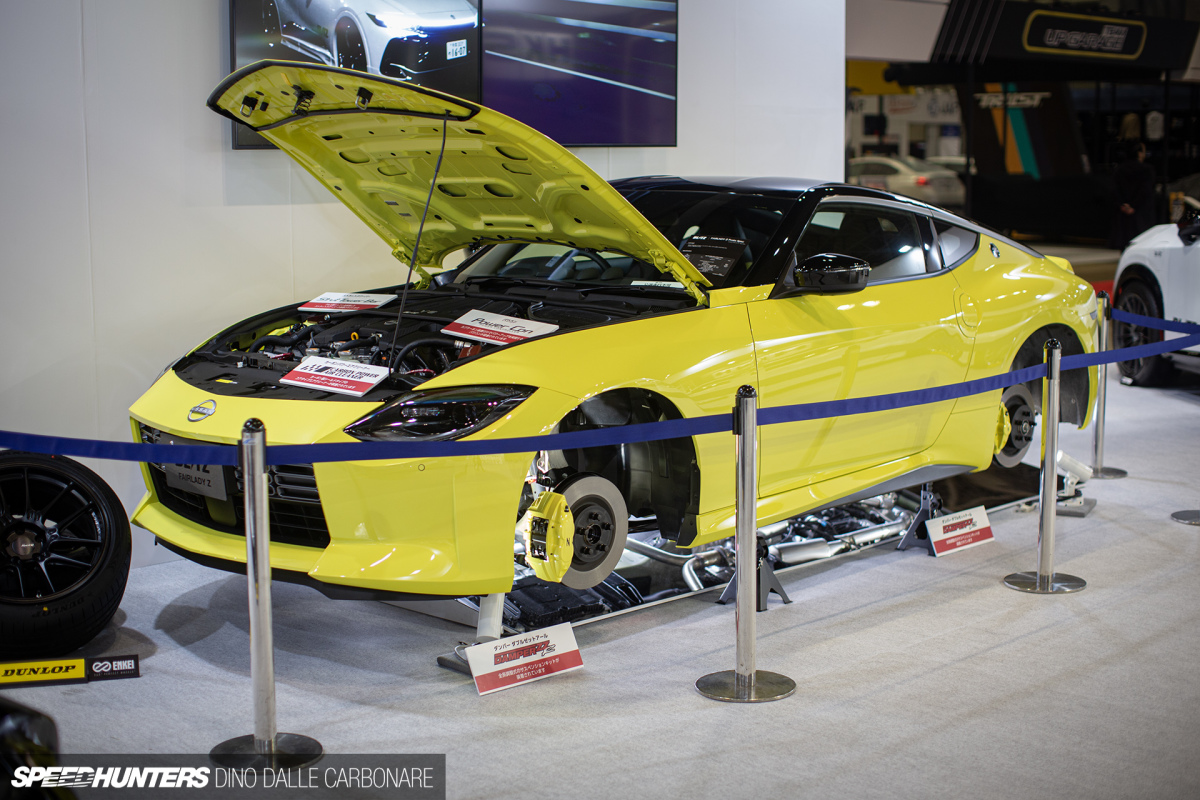 On the same booth, Blitz had this second Z on display to show off their Damper ZZ-R suspension kit…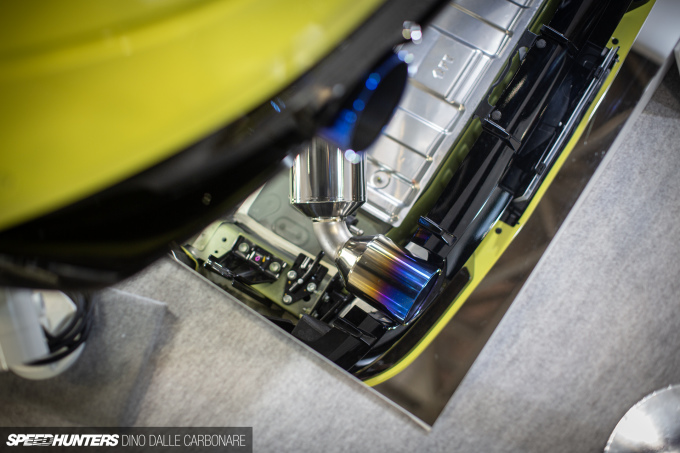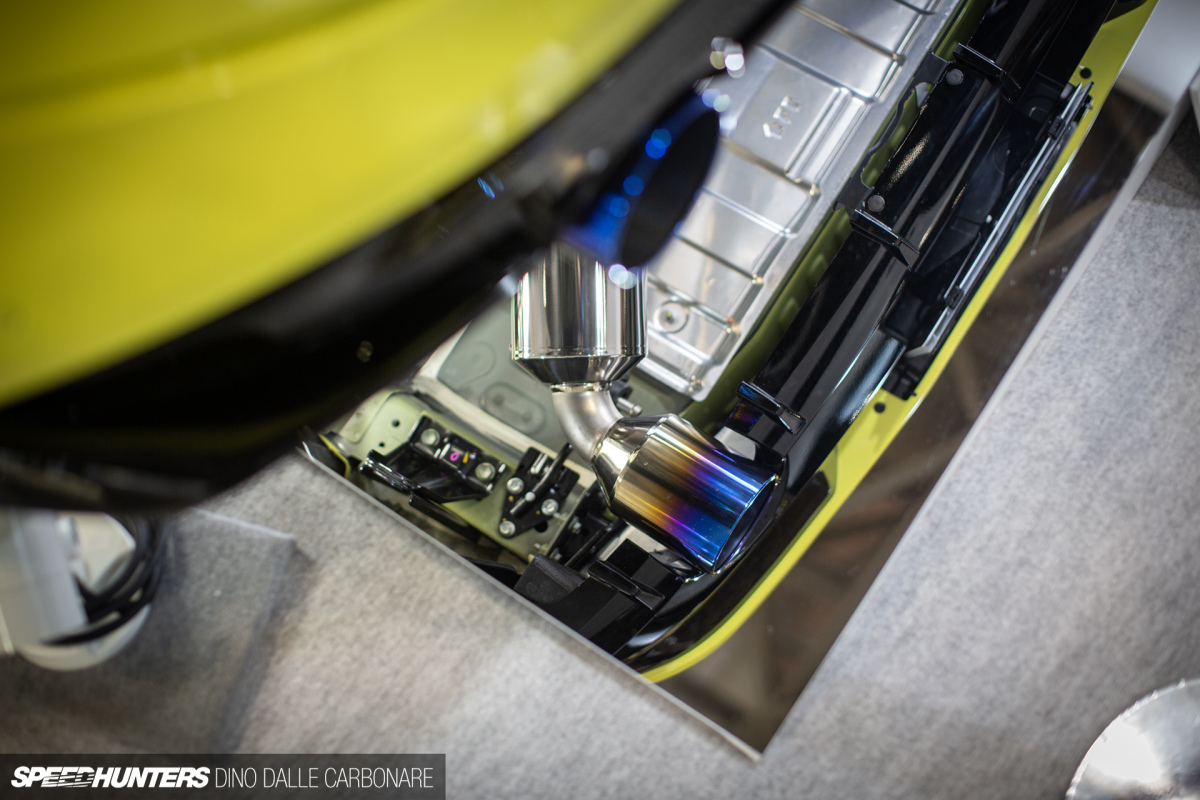 And their first Nur-Spec exhaust system for the new car.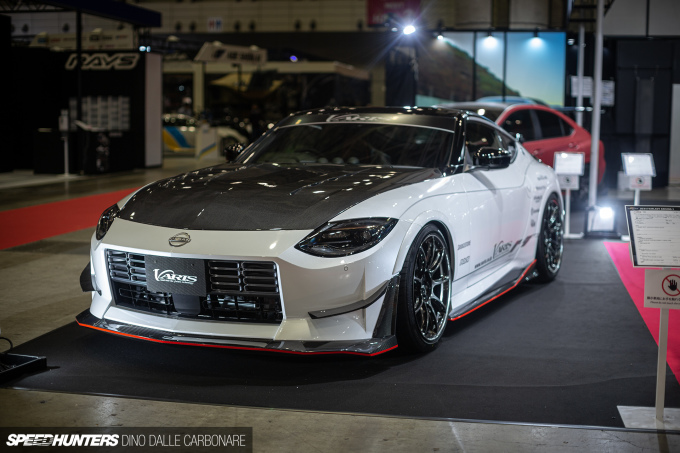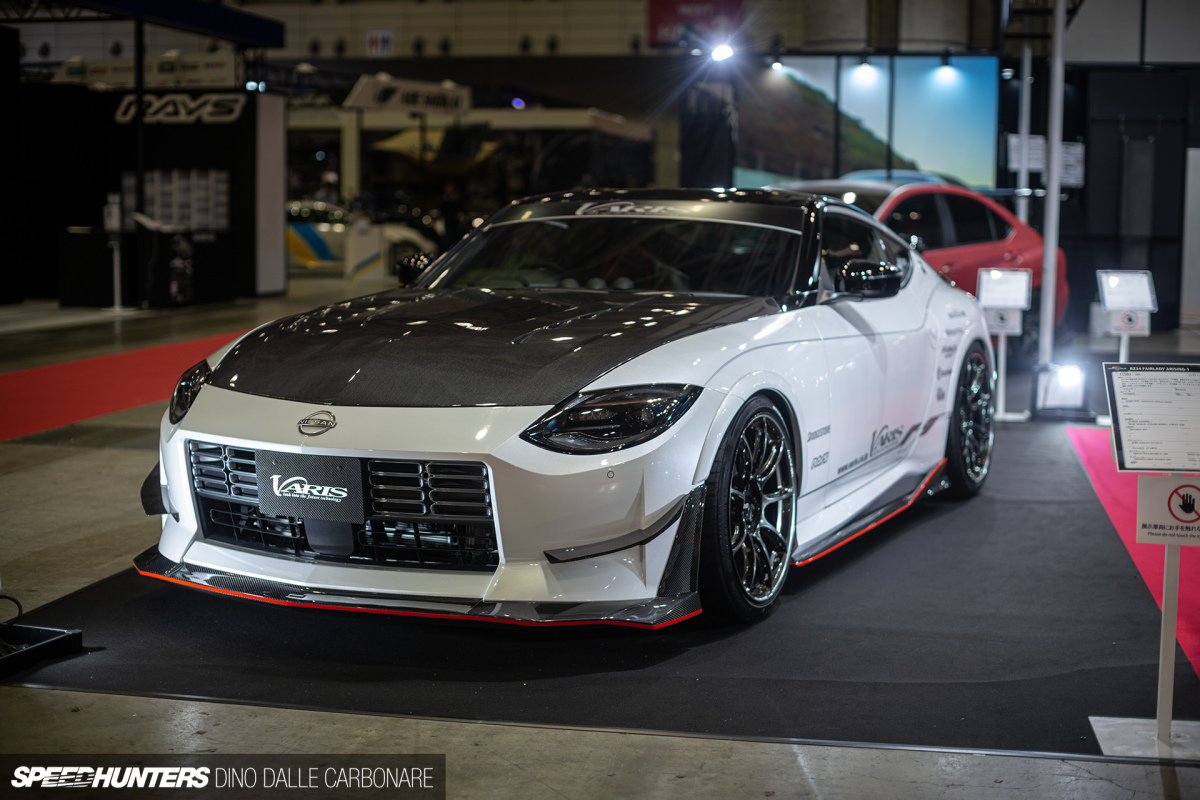 Most new Z owners will probably just want to enhance the stock look of their car with a few simple aesthetic additions, and I'm sure I wasn't the only one interested to see what Varis is bringing to the party. They always manage to have baseline aero kit on offer in lightning-fast speed for new performance models, and the RZ34 is no exception.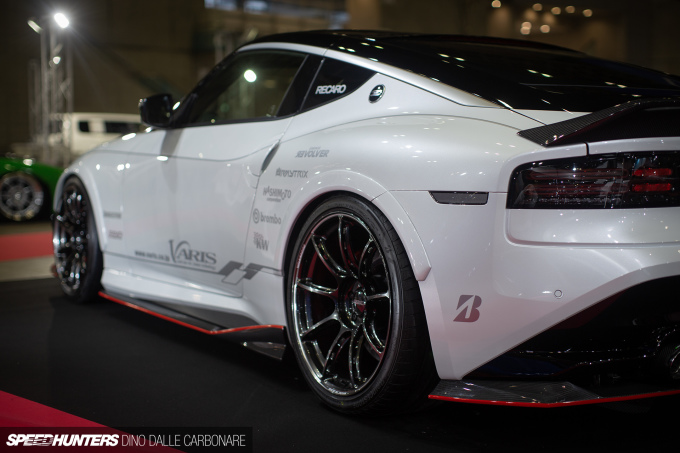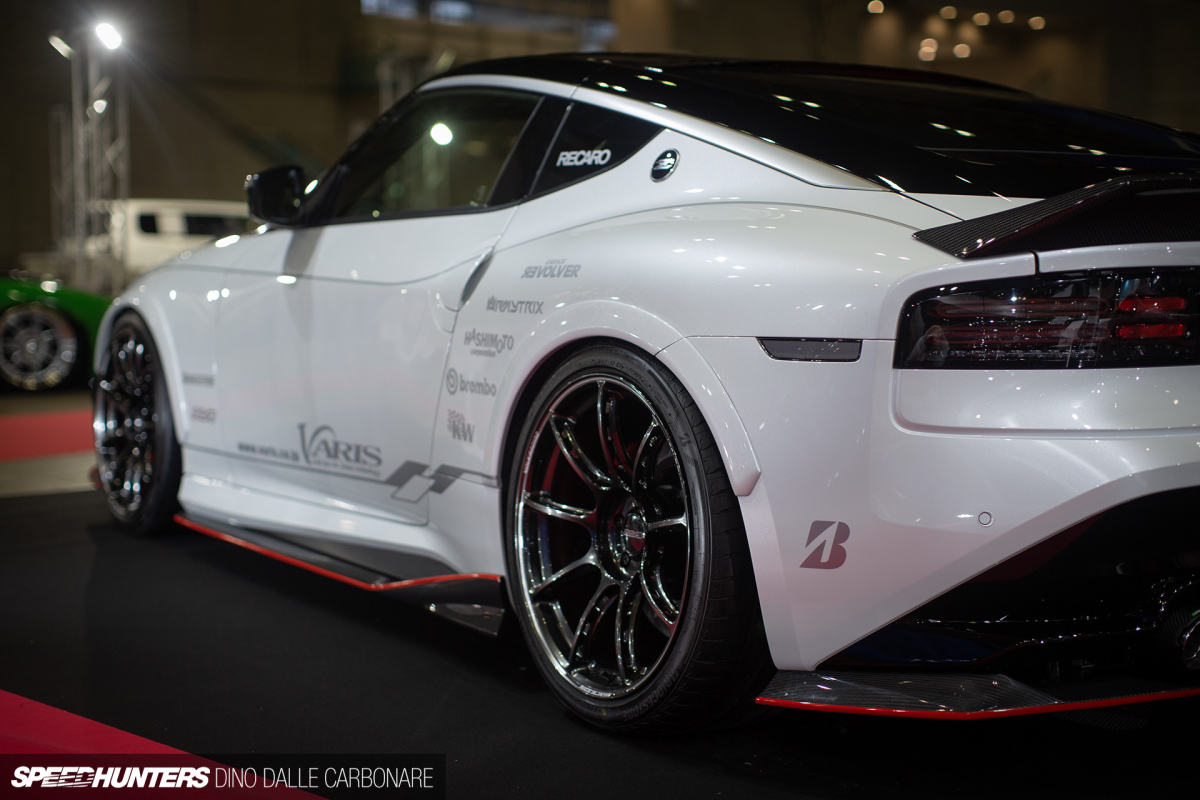 They've given the Nissan a nice injection of wet carbon with a simple front lip, side skirt and rear bumper finisher triple combo. For those wanting more, there's also a lip spoiler, a carbon fiber hood and a canard set, not to mention the fender trim pieces, which are more for helping people pass the bi-annual shaken test with aftermarket wheels than anything else.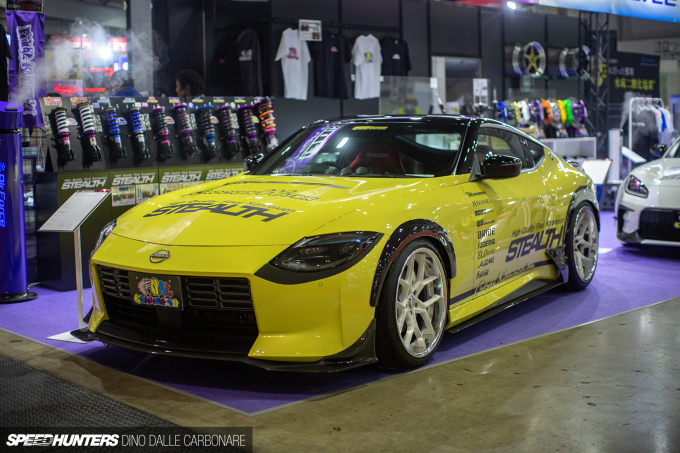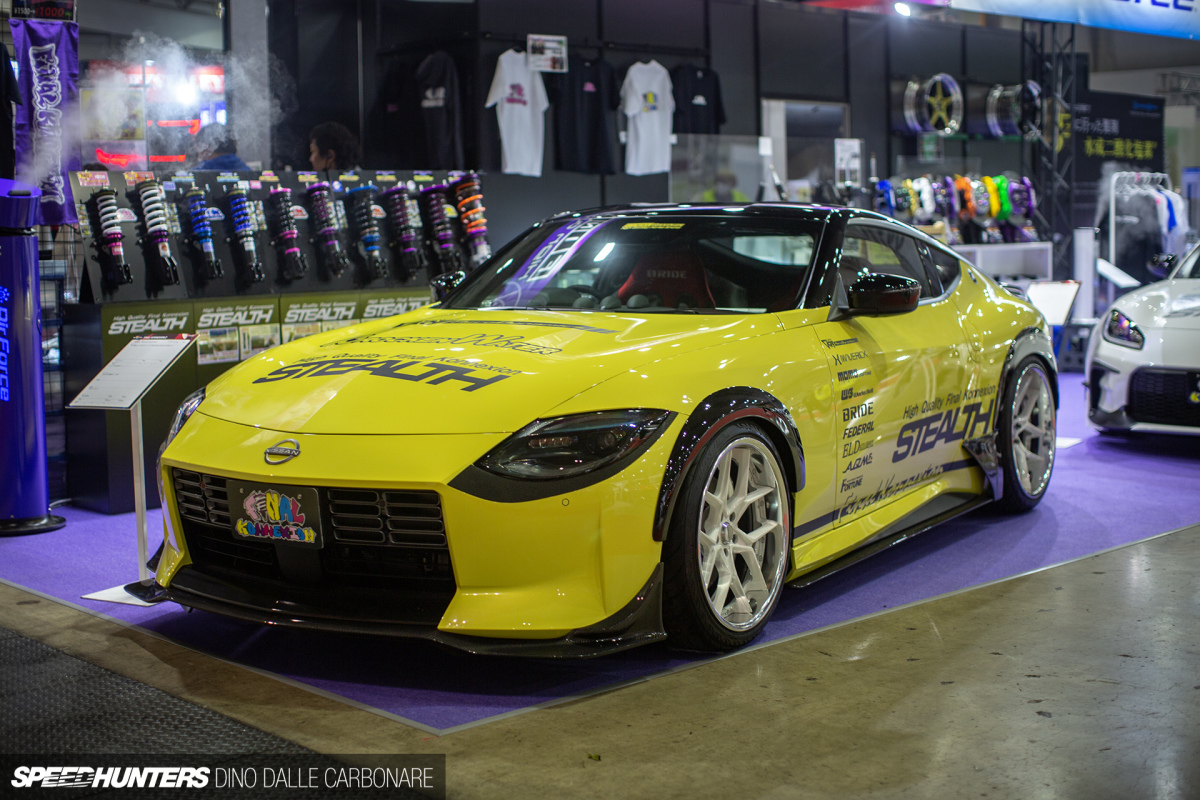 Other companies like Final Konnexion have come up with their own take.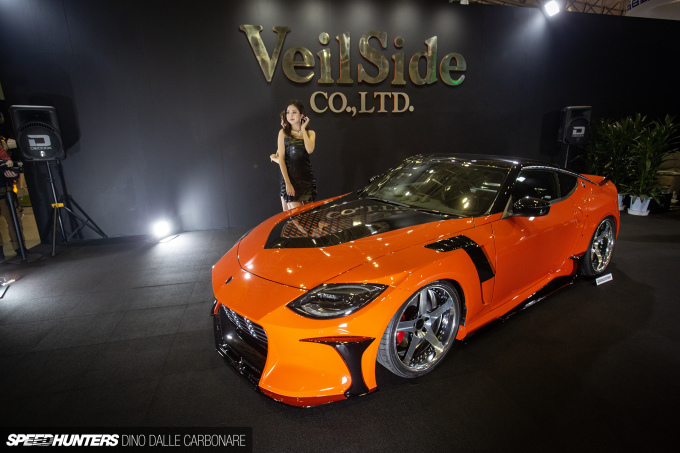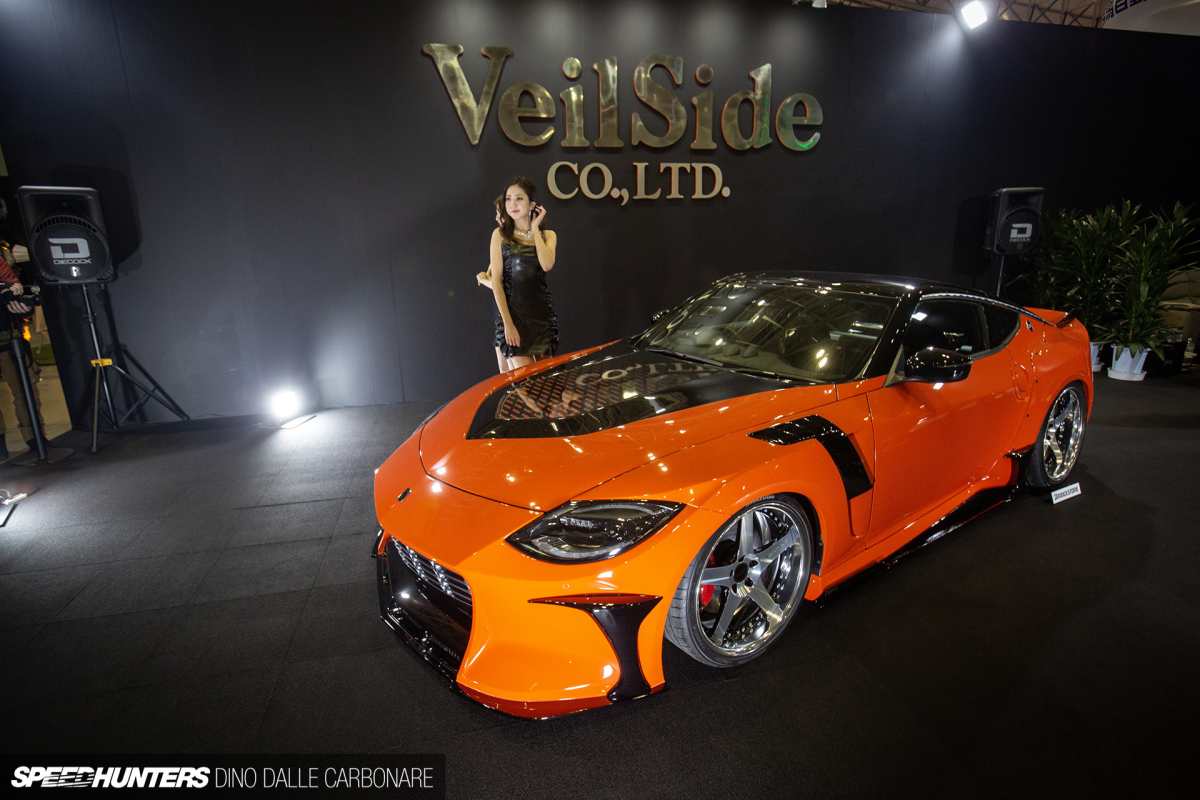 Of course, there are those who take body conversions more seriously in an effort to really transform the look of the base car. We took a peek at the VeilSide FFZ400 prior to TAS, but seeing it under the spotlights at Yokomaku-san's booth was pretty special.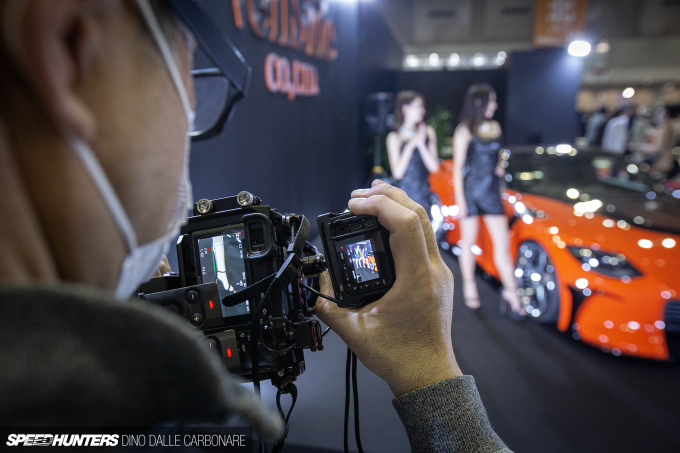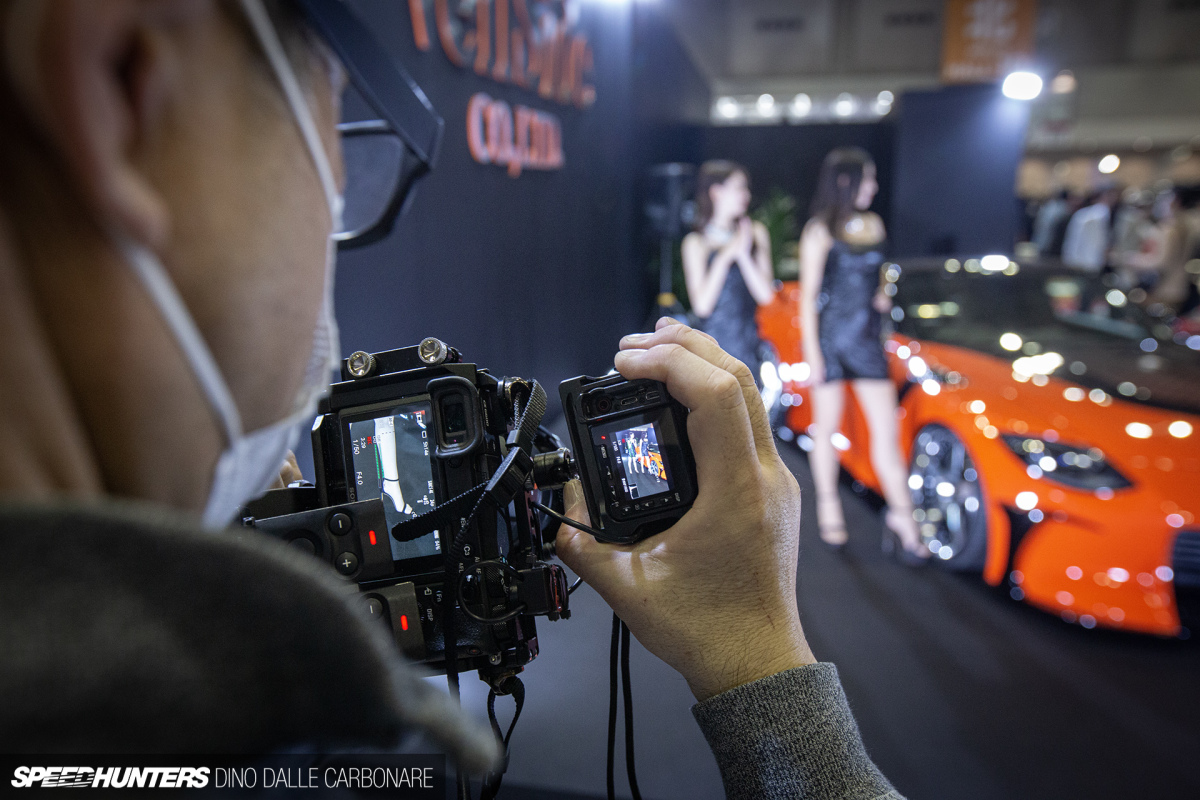 At least if you're actually looking at the car and not… feet?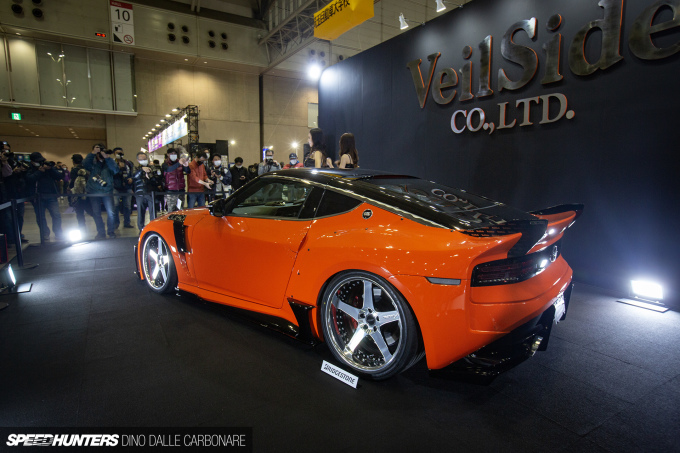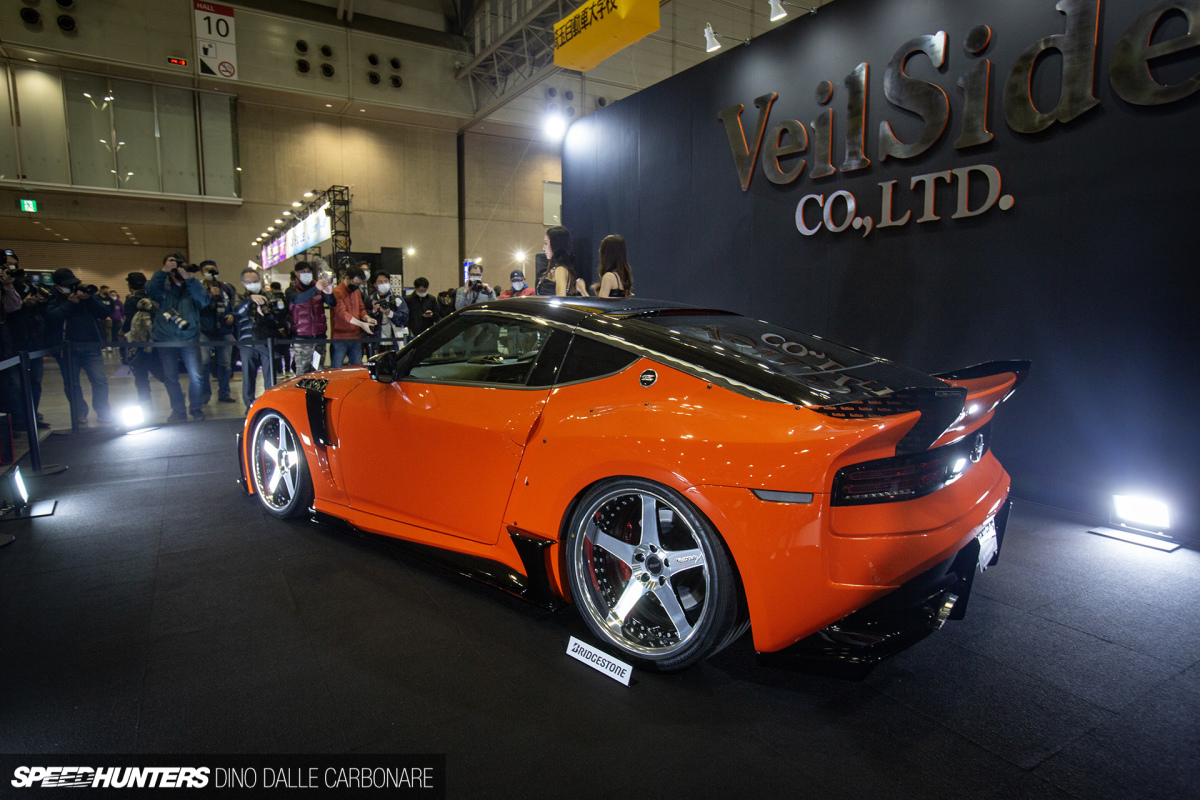 Yokomaku-san deservingly took home the coveted 'Dress-Up Car' category win, adding to his long list of Tokyo Auto Salon accolades over the years.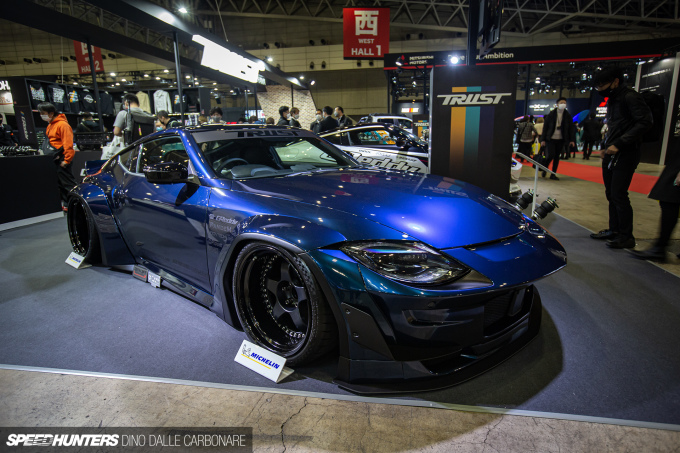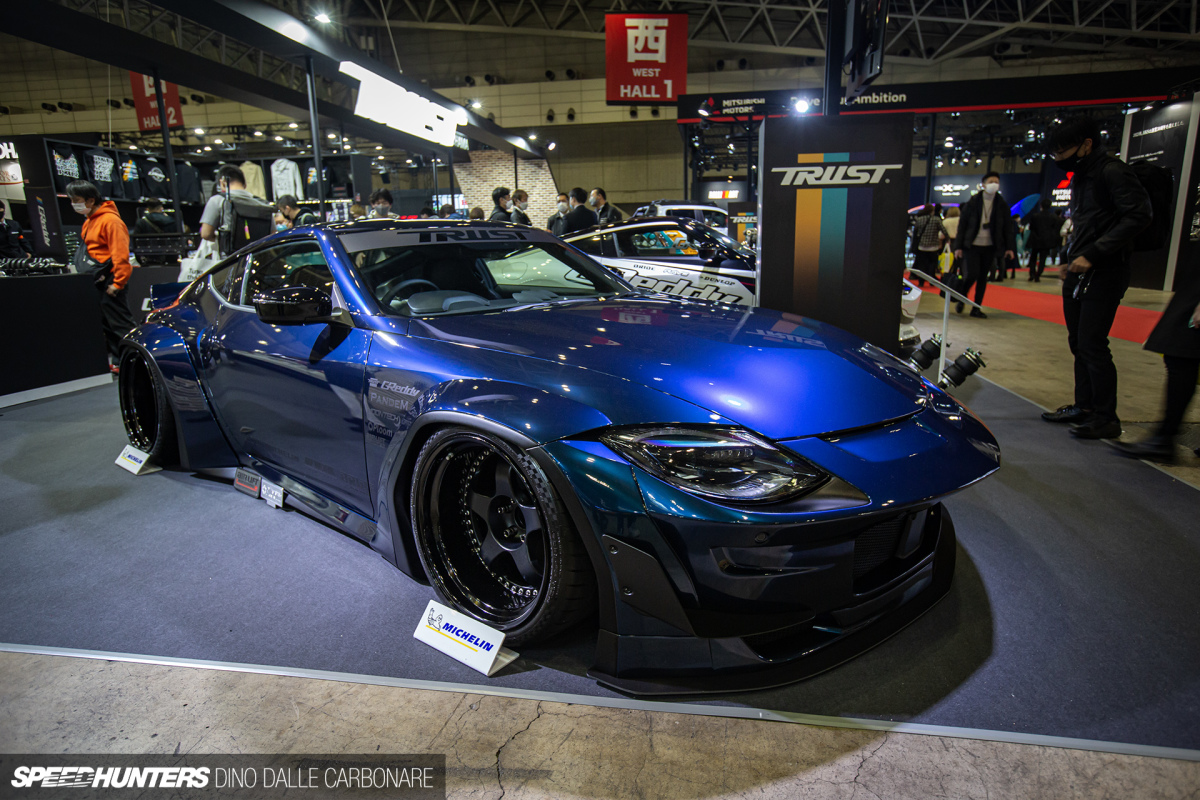 While on the subject of true body conversions, Miura-san of TRA Kyoto got in on the action too with his Pandem offering in the Trust booth.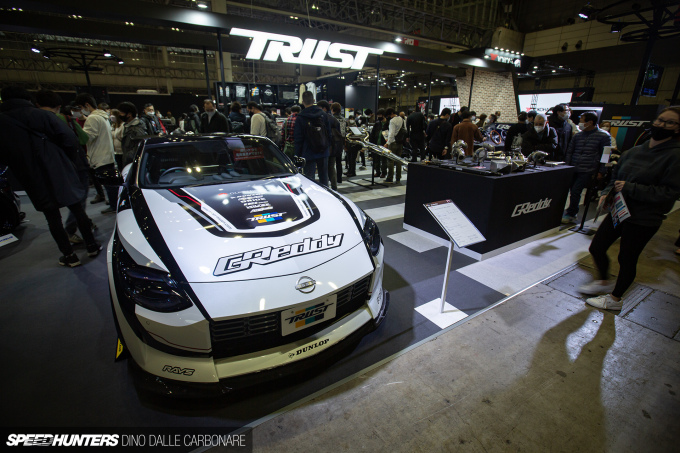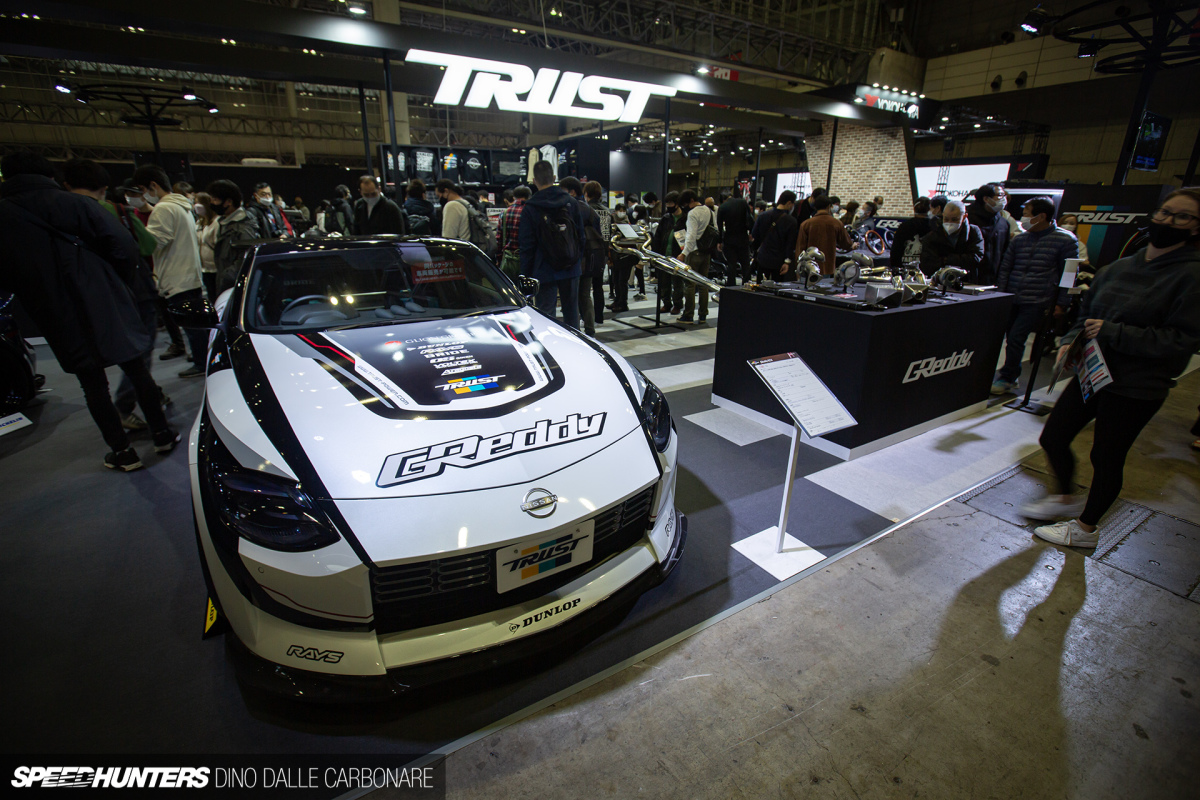 Trust also displayed their own RZ34 development car, which you'll remember I went to see the week after it was delivered.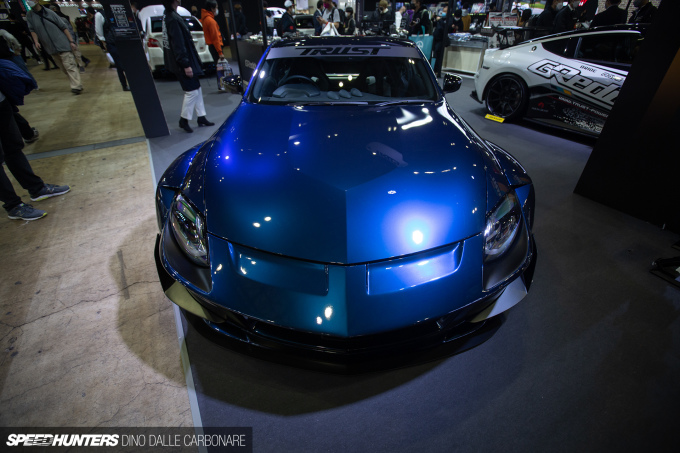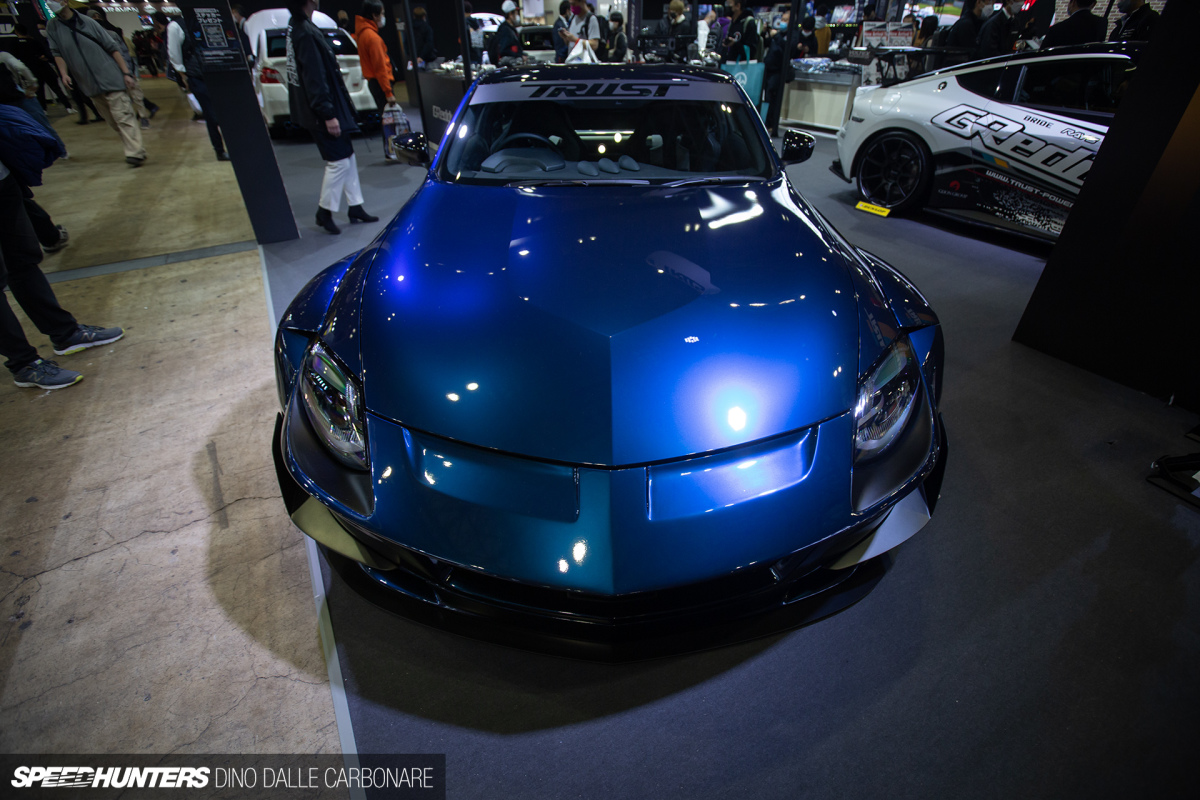 The RZ34 Pandem conversion goes far beyond an overfender kit; there's also a vented front bumper with a top section that has been pinched and pulled outward giving the Z an almost shark-like nose.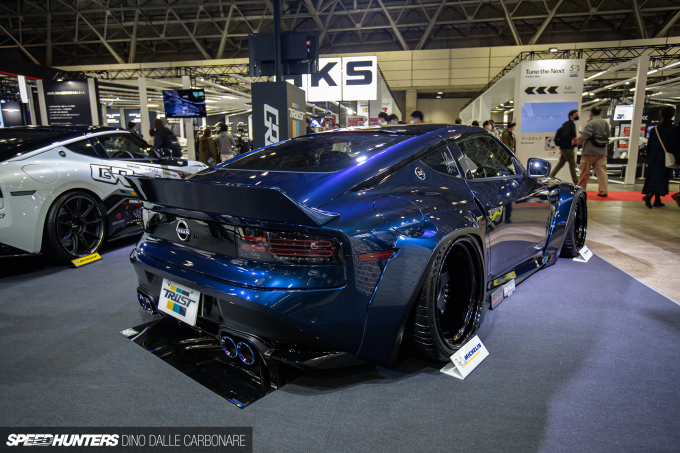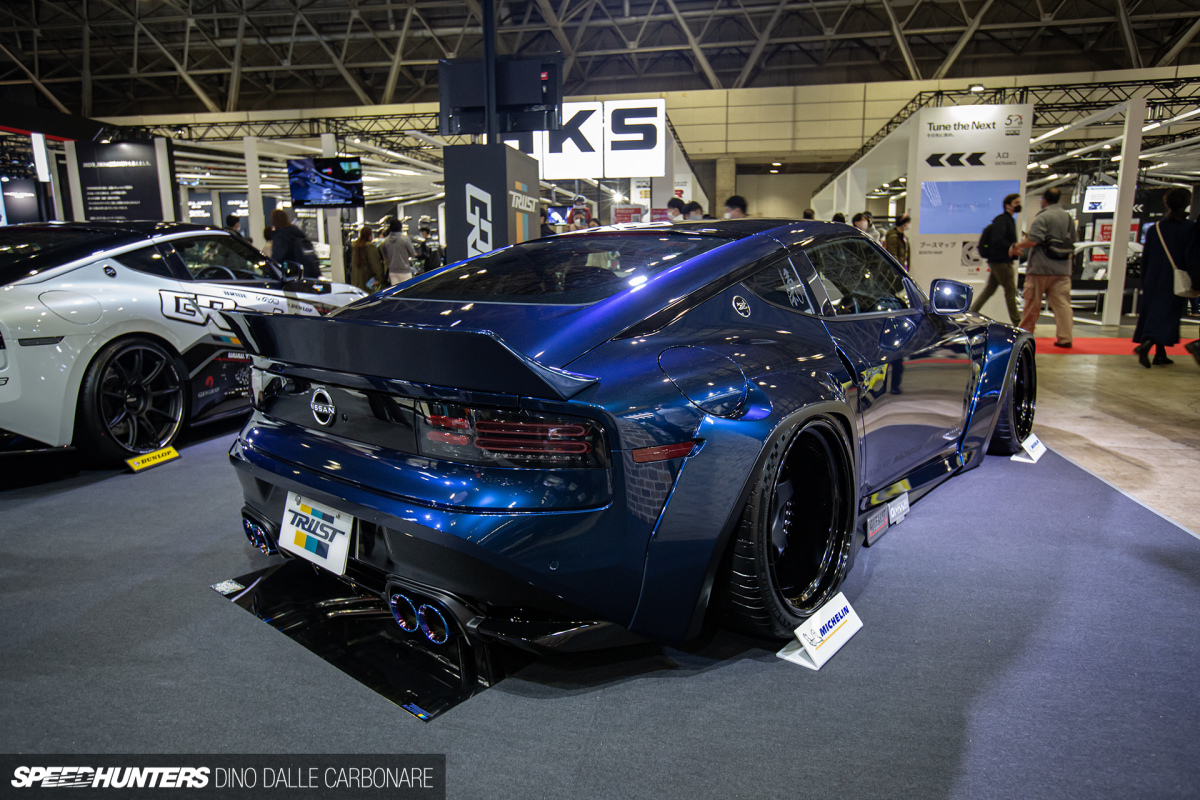 The front and rear fenders have that flat-top section, which we have seen used on other Pandem kits including the one for the GR86. In case you're wondering, yes, you do need to cut the stock fenders to accommodate the massive wheel and tire package that the kit was designed around.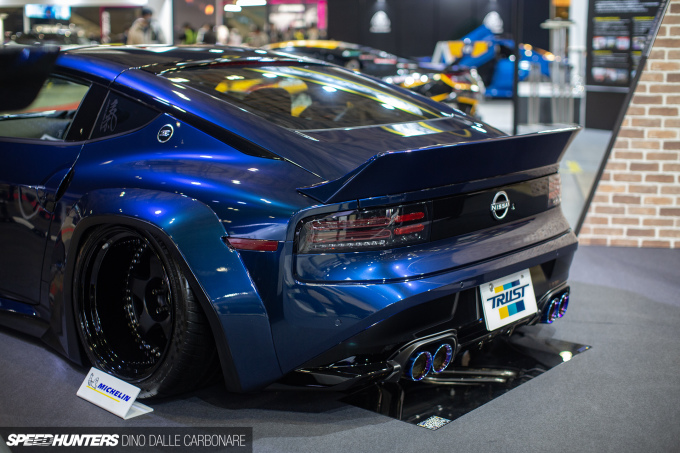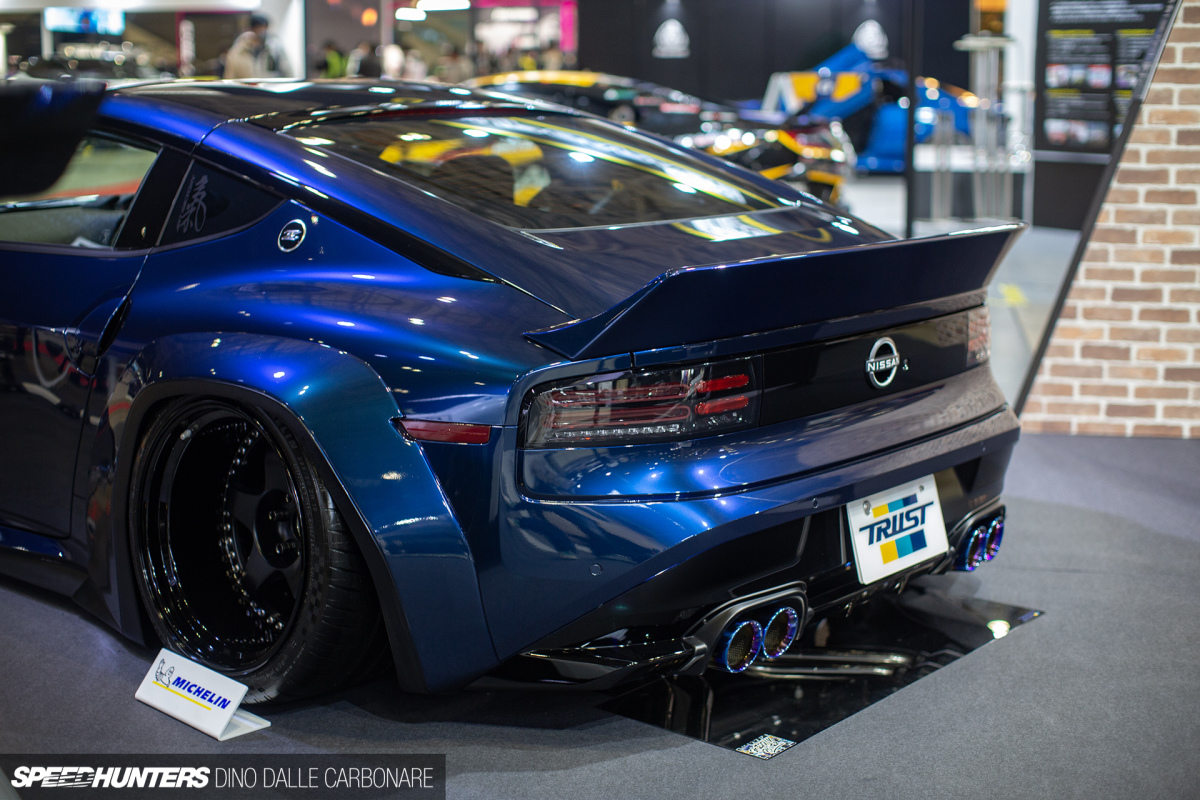 The exaggerated duckbill spoiler adds continuity and balances the rear look. As soon as I saw this kit in its entirety, I couldn't help but think that it would look perfect on a drift car.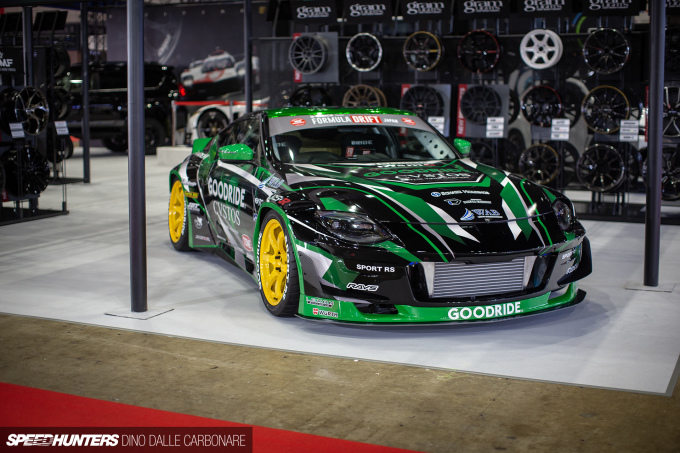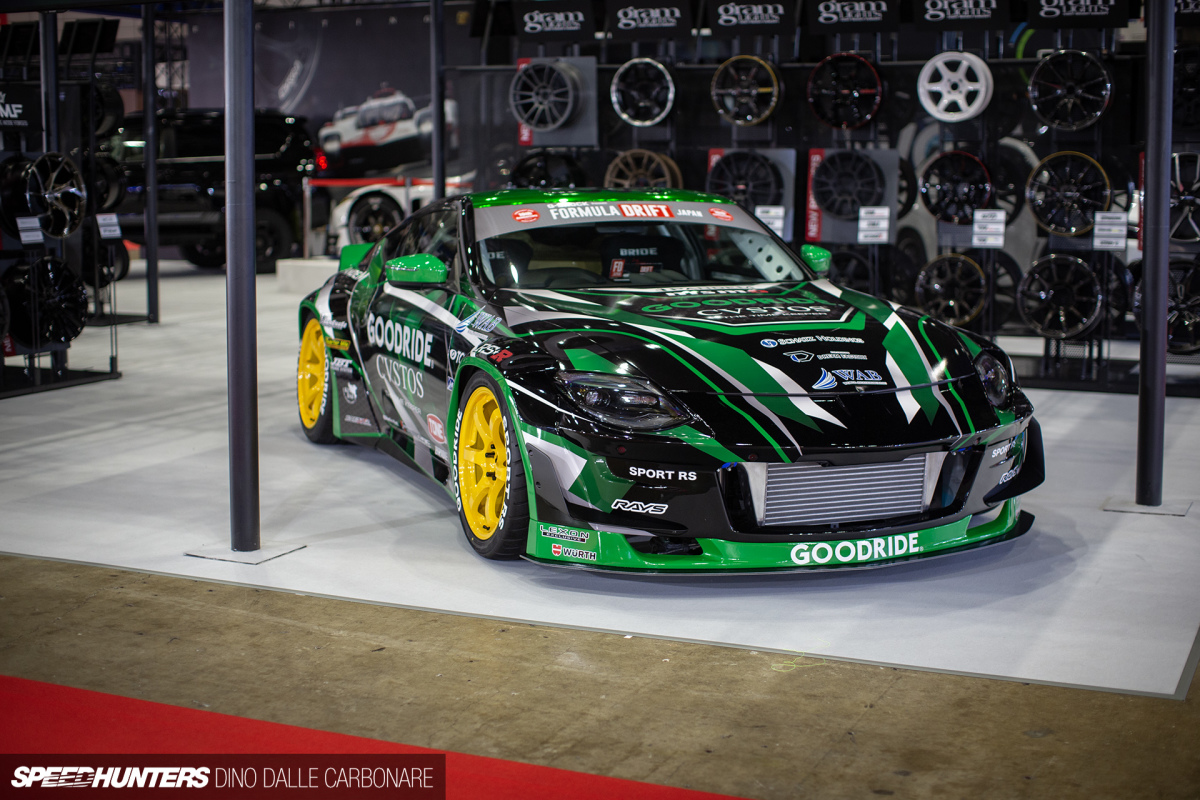 Obviously I'm not the only one that thinks this. Goodride thought the same and built this Pandem-kitted Z for the 2023 Formula Drift Japan series which kicks off in April. The car was on display at the RAYS booth, fitted with Gram Lights 57CR 2324 Limited Edition wheels, which you can get in any color you like as long as its Mach Yellow.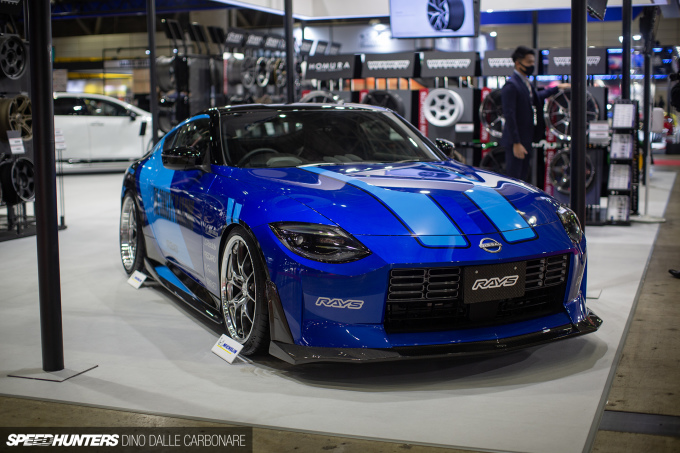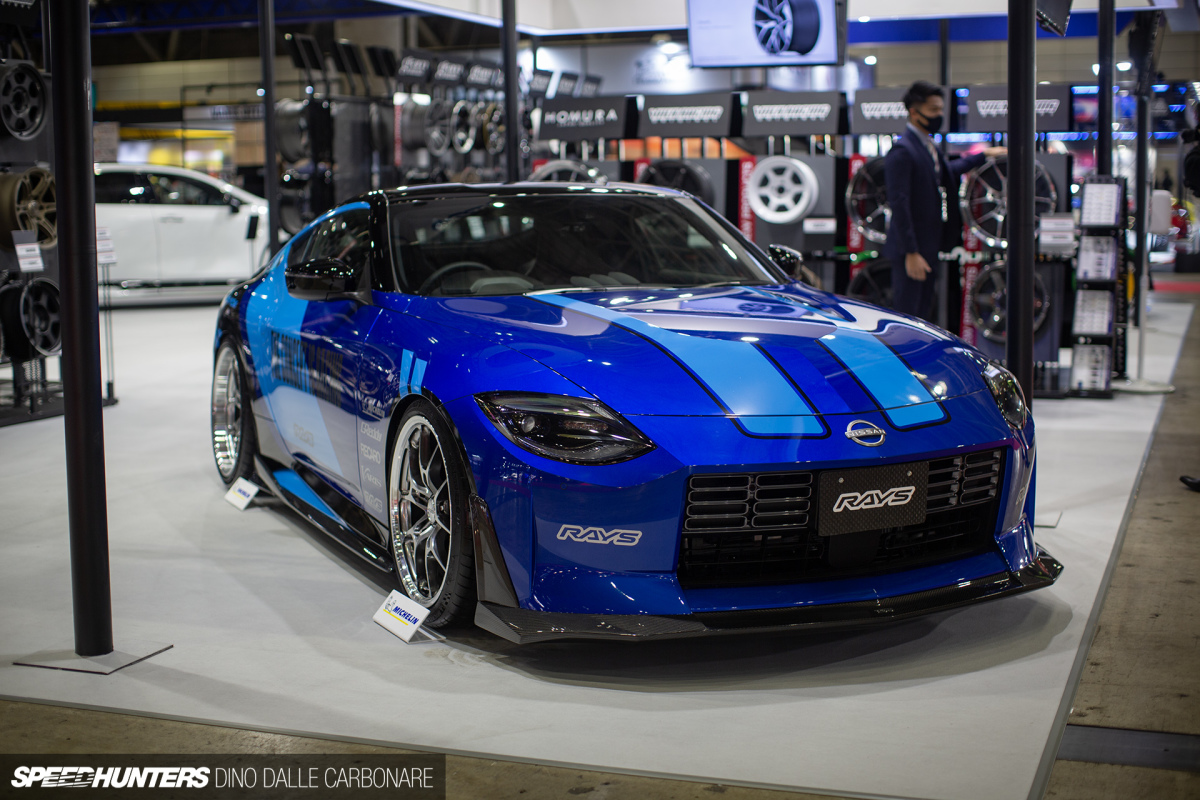 Still at RAYS, another Z was used to showcase the forged Volk Racing G025 in Shining Black Metal with a diamond cut rim edge.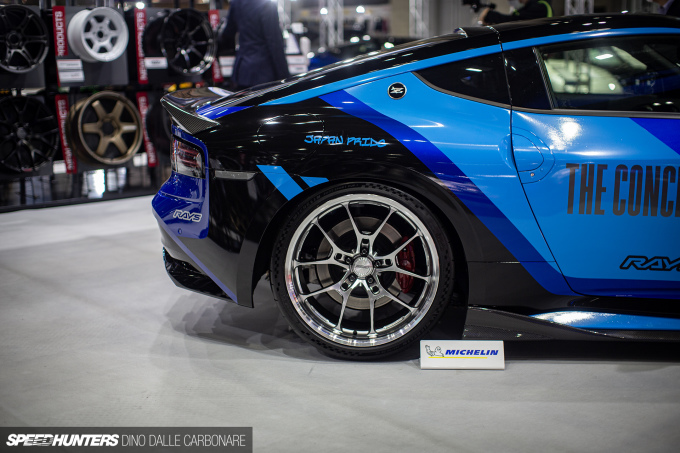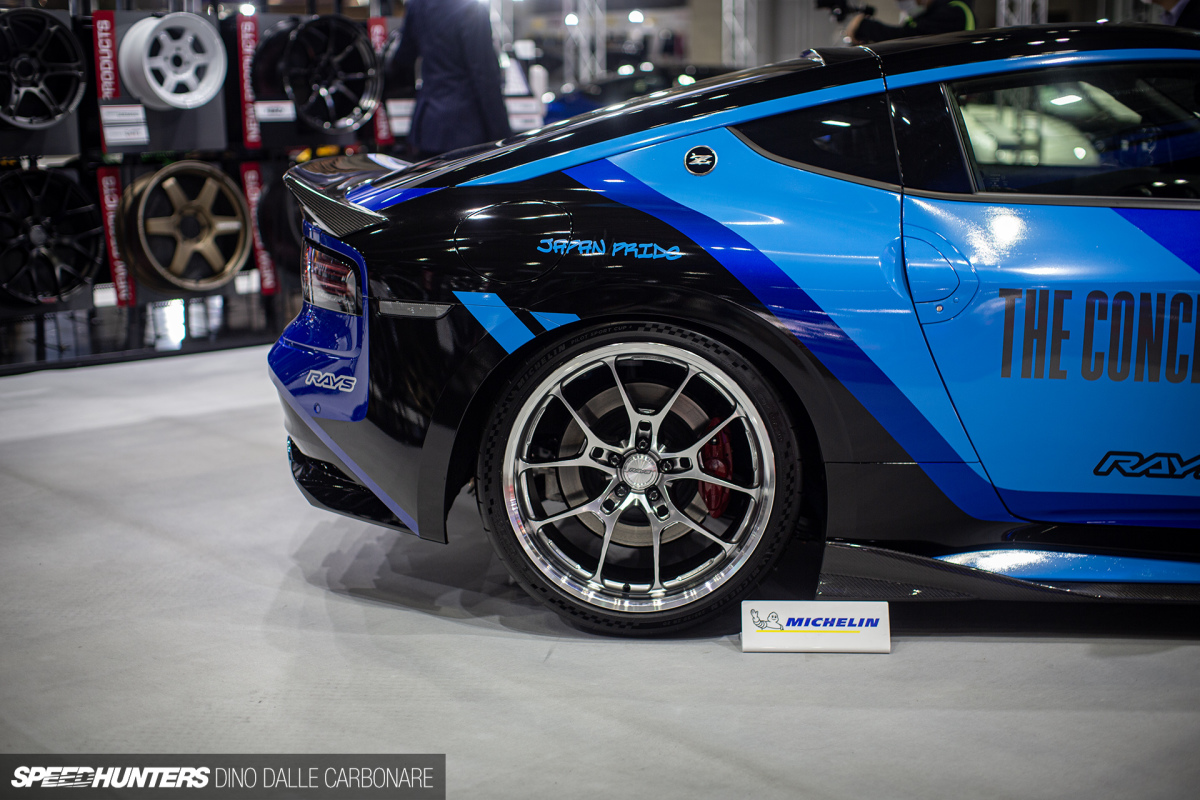 It's nice to see the Volk catalog grow to accommodate varying designs.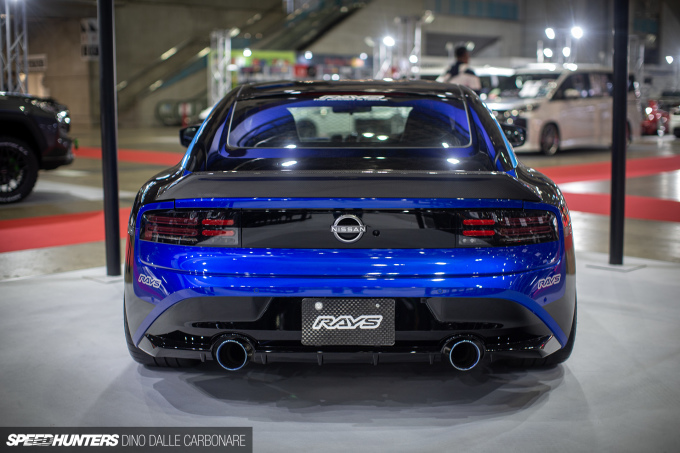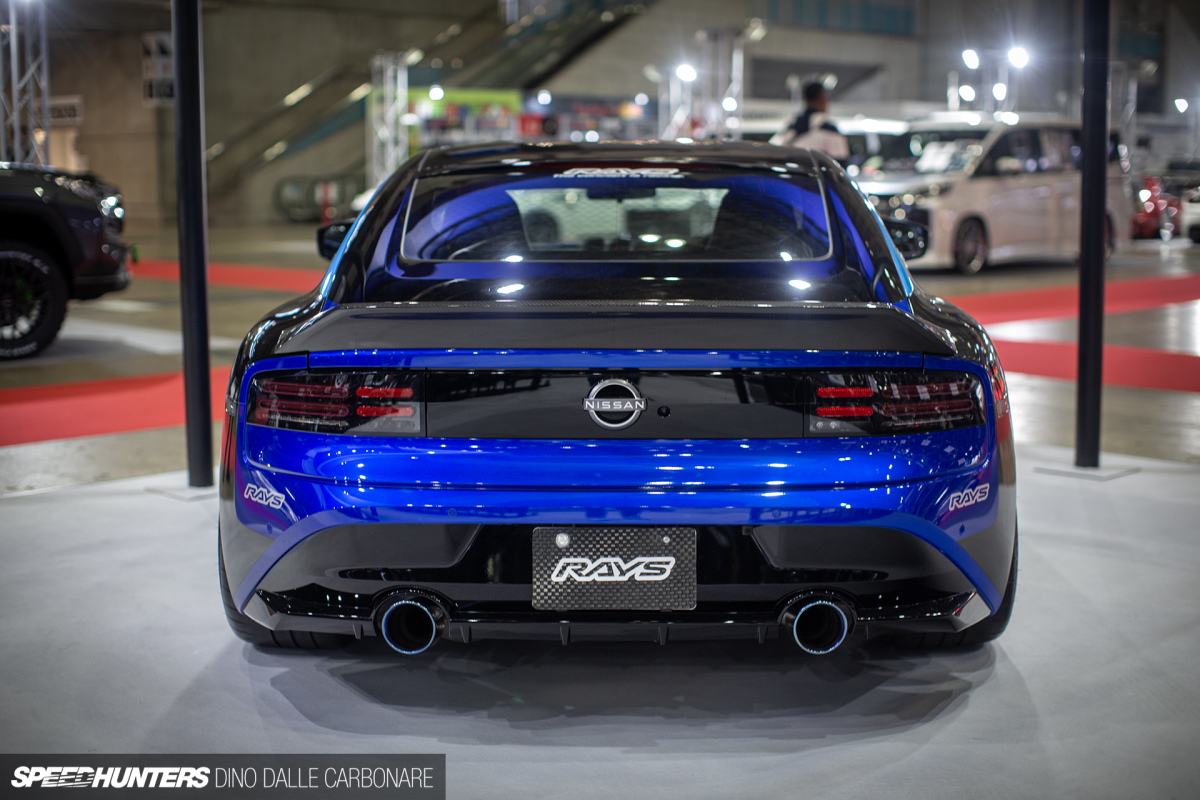 But I'm sure I'm not the only one wanting to see the new Z dropped on a set of CE28Ns, or ZE40s perhaps.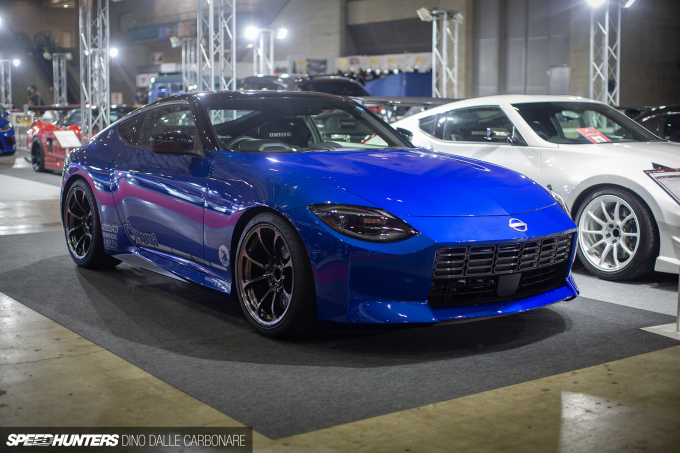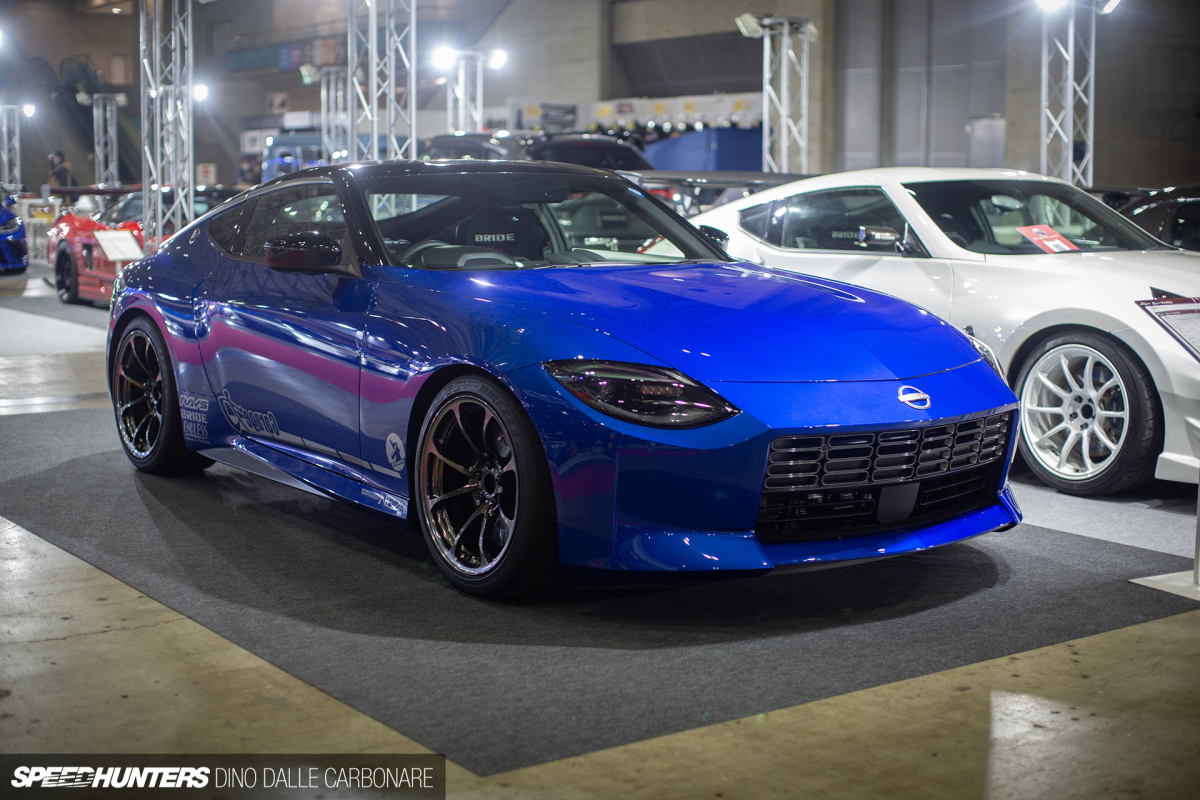 Then there's the NE24, RAYS' new performance/race wheel which we first saw at Nismo Festival last month. The NE was designed with the same philosophy as the CE and TE wheels, so we might be seeing more of these at soukokai events in the future.
Other Zs at TAS 2023 were purely showing off accessories, but it's always nice to see different wheel fitments.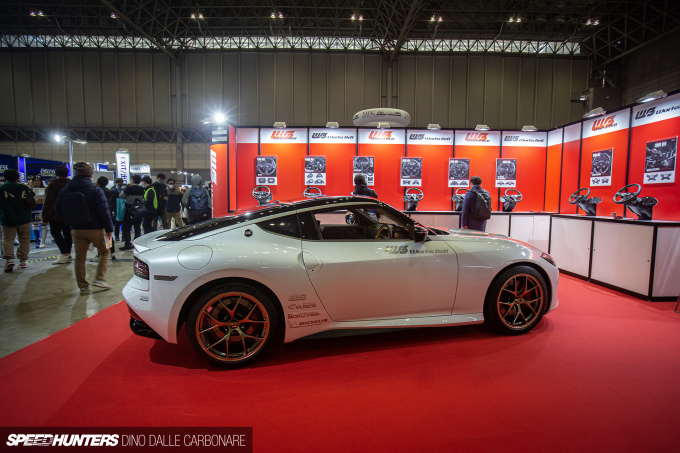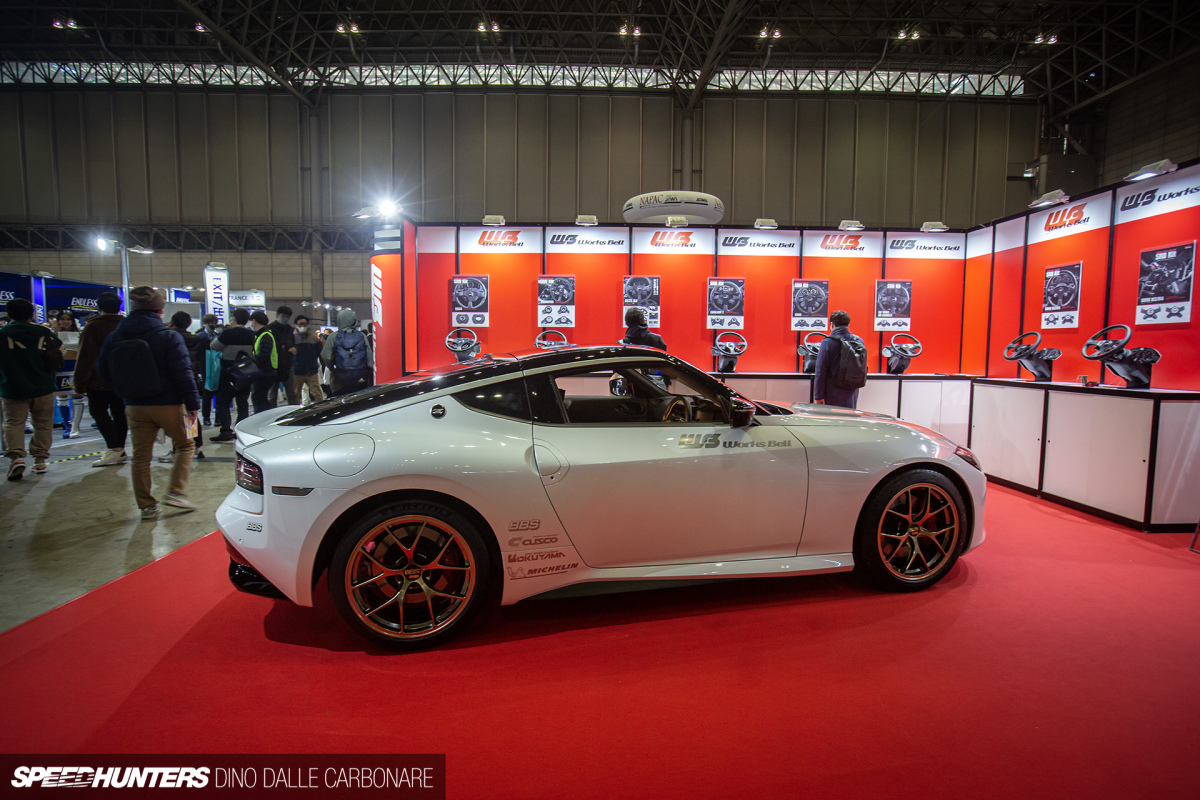 I think the BBS RI-Ds suit the Z rather well. This one was in the Works Bell booth.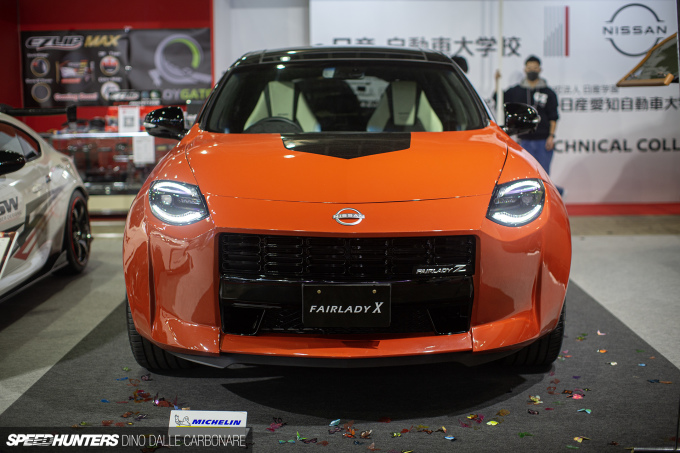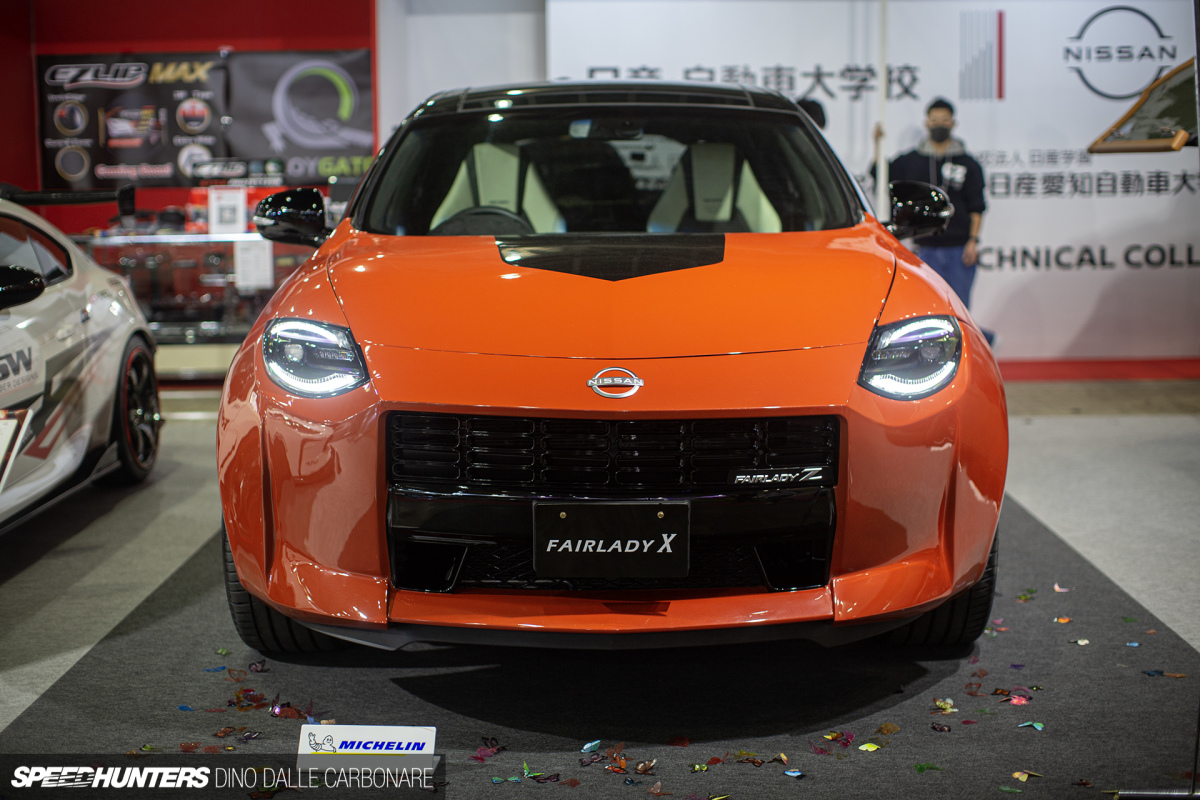 I had to include a couple of shots of the Fairlady X, a pure concept car dreamed up by Nissan Technical College's aspiring engineers.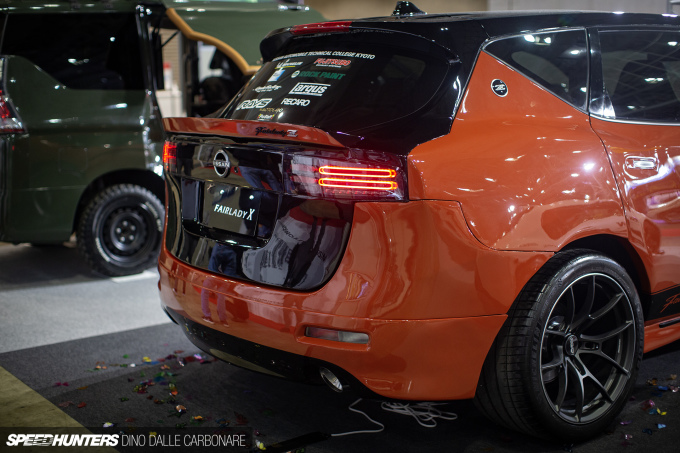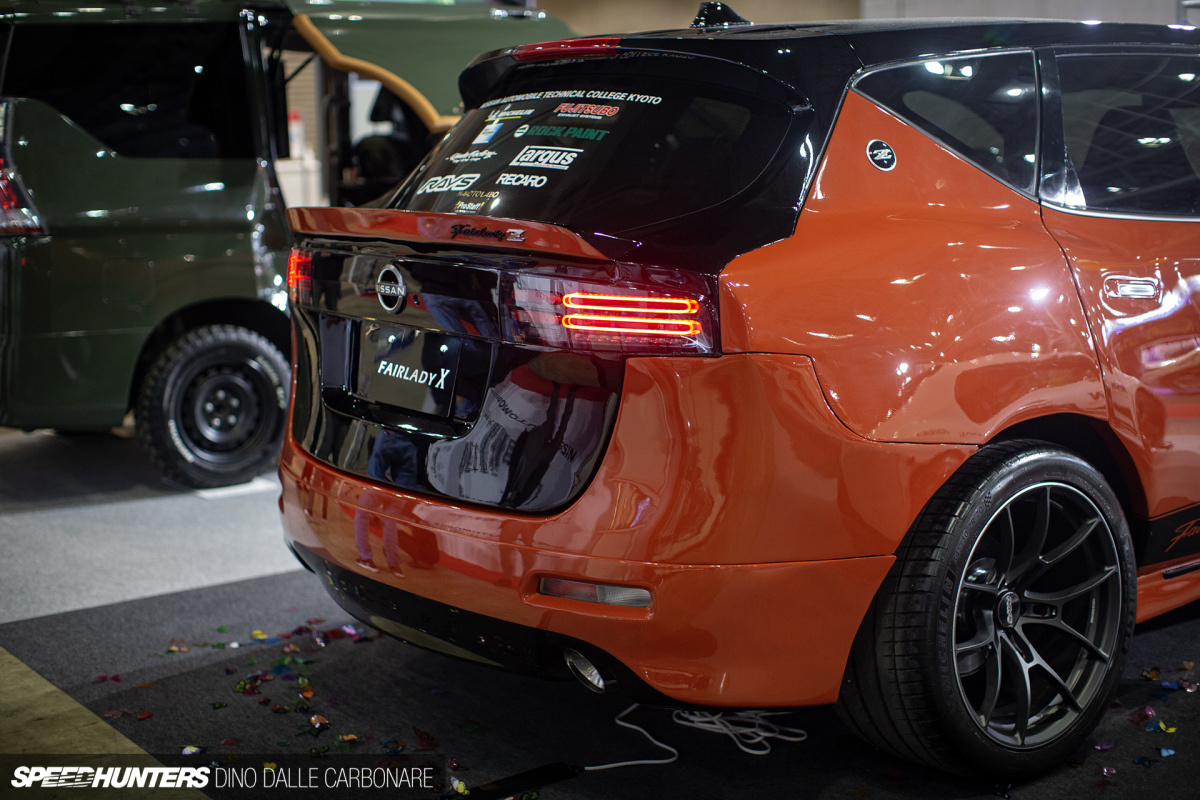 I think the idea here was to take the same approach Ford took when designing the Mustang Mach-E, but applying it to an old Nissan Murano. What do you think of the result?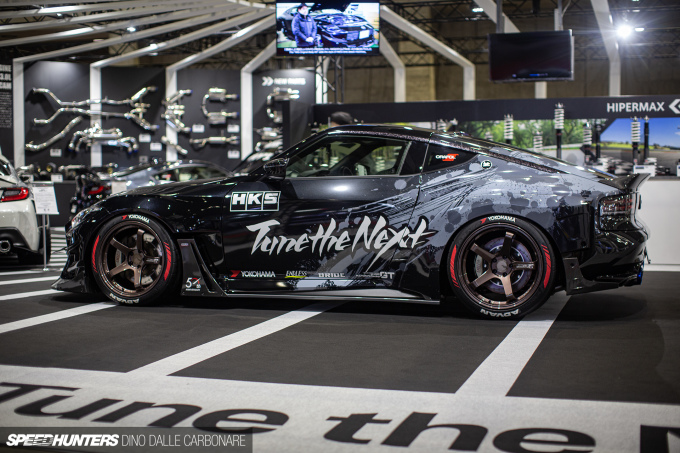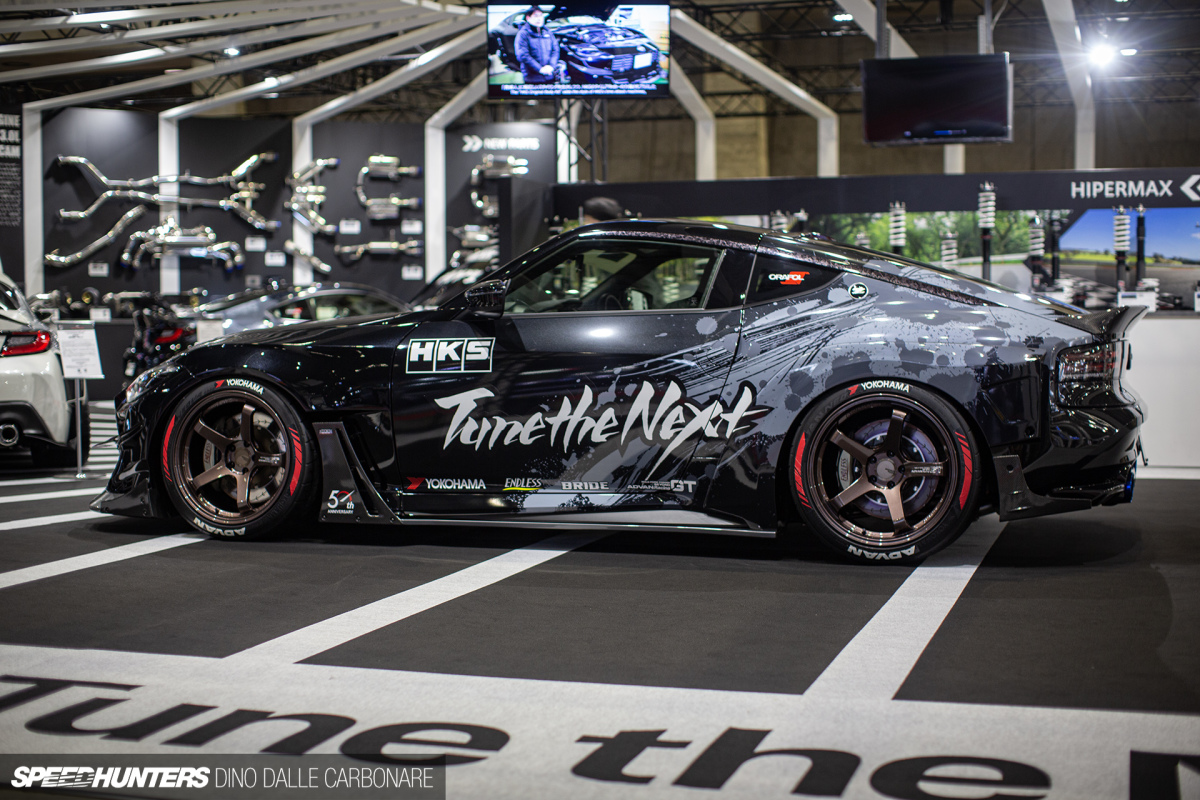 It's always interesting to see how the aftermarket world embraces a new platform. Japan is taking its tried and tested route of baby steps, which will make it fun to follow and see how everything develops. With the experience US tuners have with the VR30, they are already miles ahead when it comes to actual engine/mechanical parts and tuning, but I'm sure Japan will get there soon enough.
Dino Dalle Carbonare
Instagram: dino_dalle_carbonare
dino@speedhunters.com