Coming from Italy, where fireworks get lit and shot out of kitchen windows and people get a tad too happy consuming far too much good food and drink, New Year celebrations in Japan can be a bit of an anticlimax.
But that's simply because the start of a new calendar year in Japan is more steeped in religious tradition than anything else. It's a time to spend with family, quietly reflecting on and appreciating everything good that has happened over the past year, while wishing for luck for the next.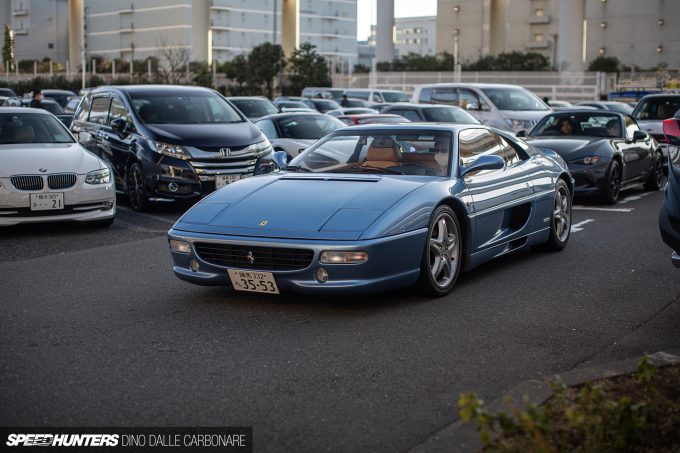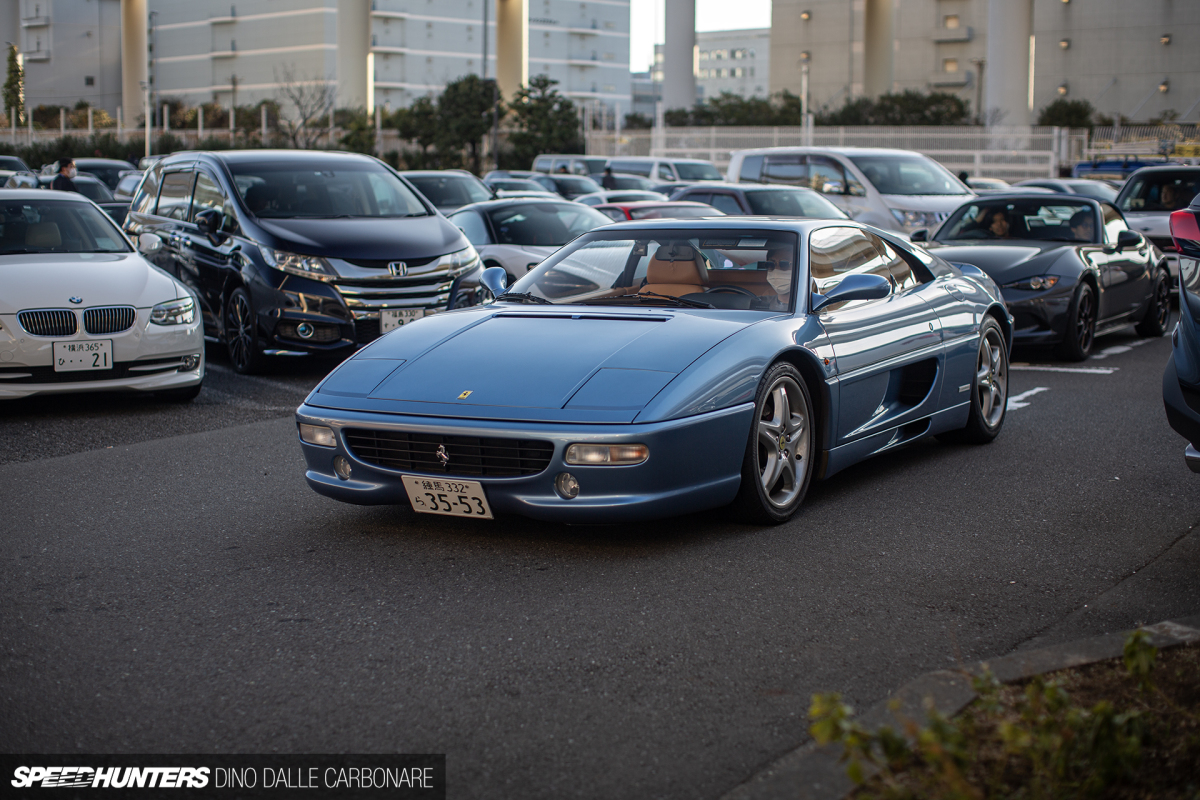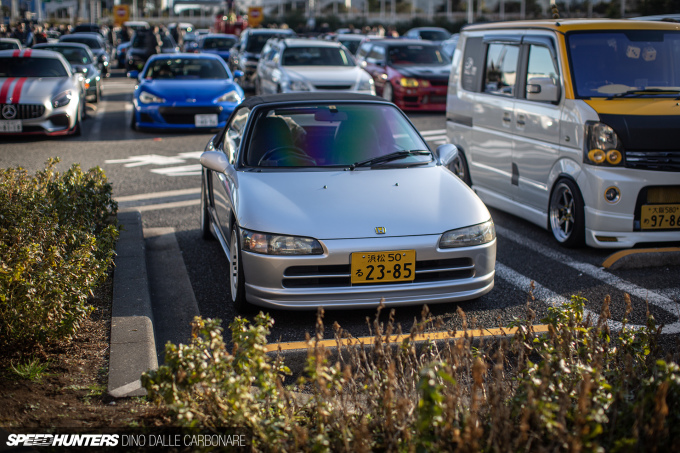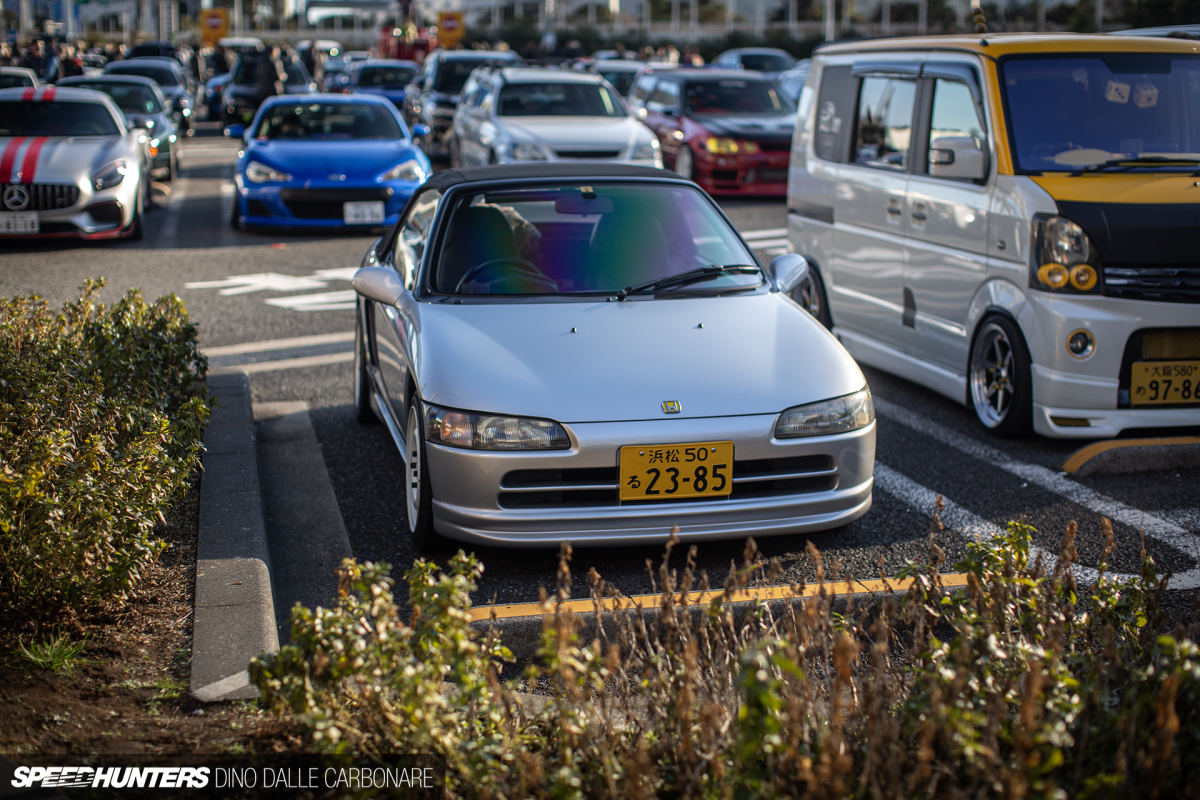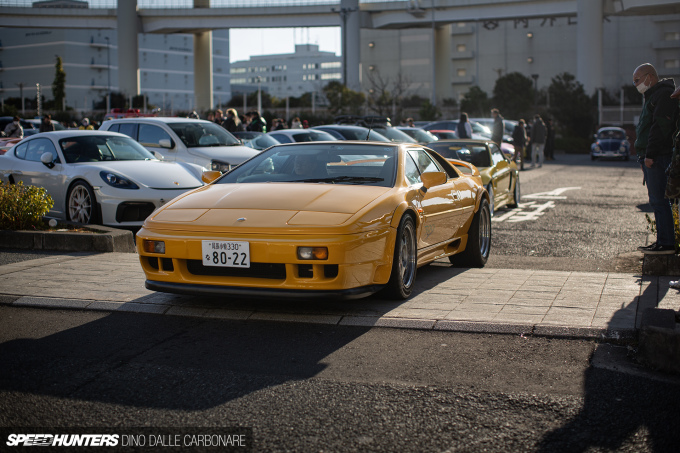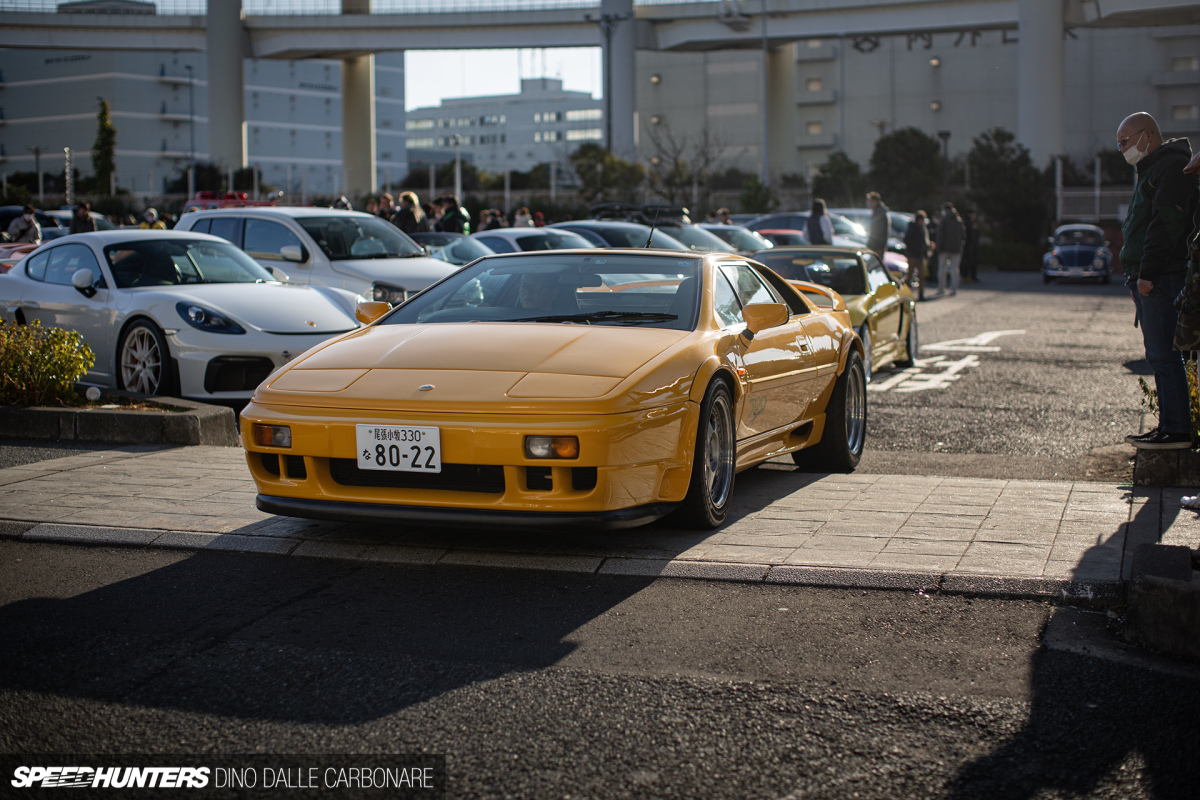 Of course, a serious amount of eating is involved which always keeps yours truly happy, but in between all the calorie consumption and time spent with the extended family, there's one morning adventure that's become a bit of a New Year tradition for me.
The informal 'New Year Meeting' at Daikoku PA on January 3 is an amazing gathering of people and cars. And this Ferrari 308 GTB on gold BBS mesh wheels was something that instantly put a smile on my face this year.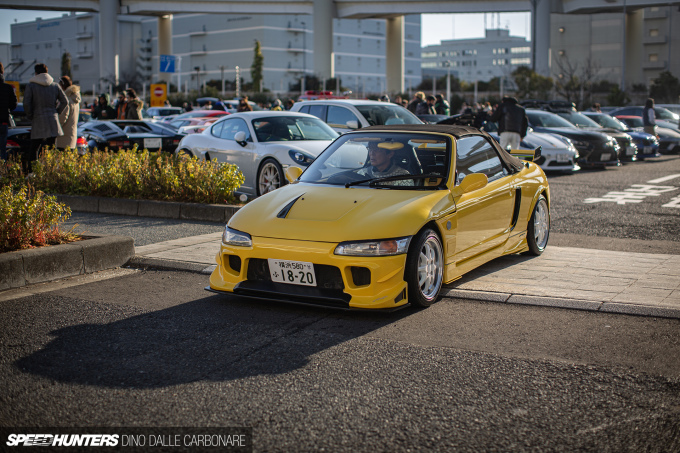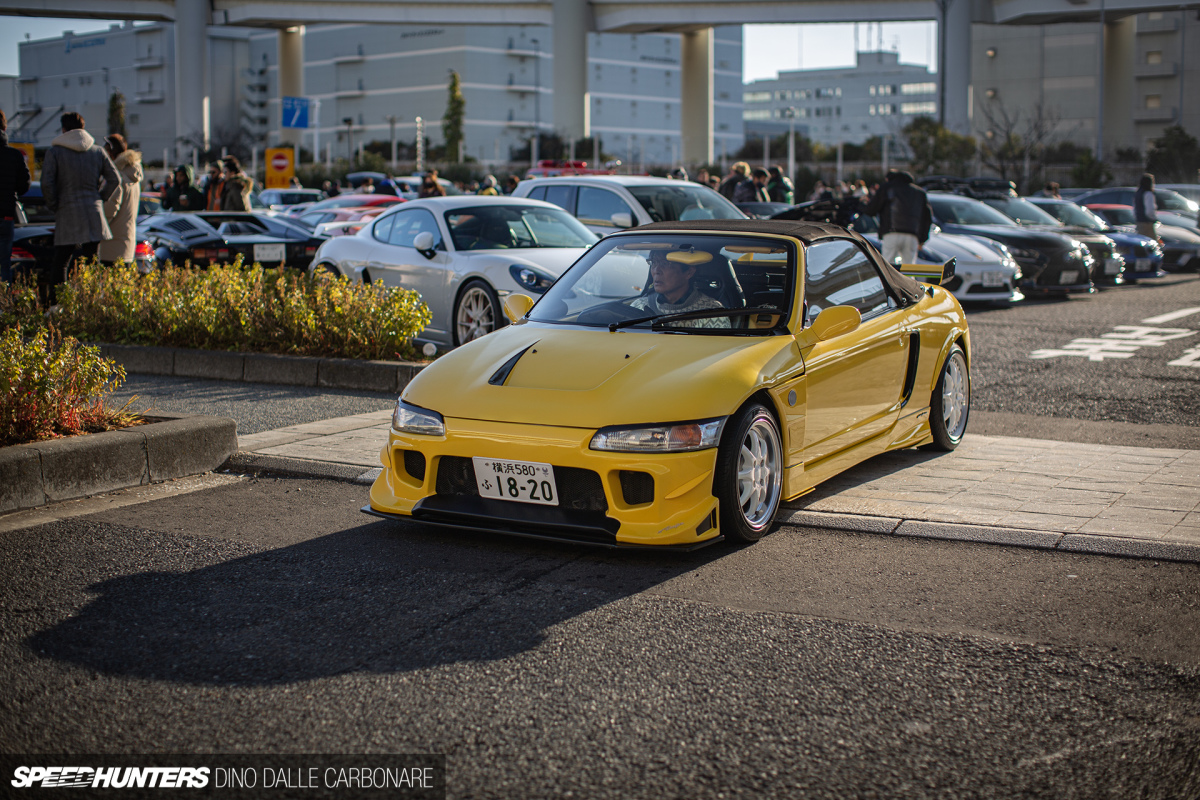 Ringing In The New Year
Everyone who attends this meet does so for their own reason, whether that be catching up with friends with similar cars or just stopping by for a quick look at what's around.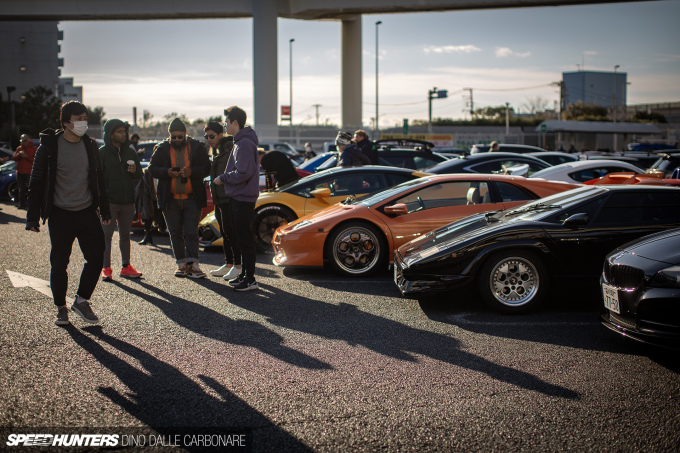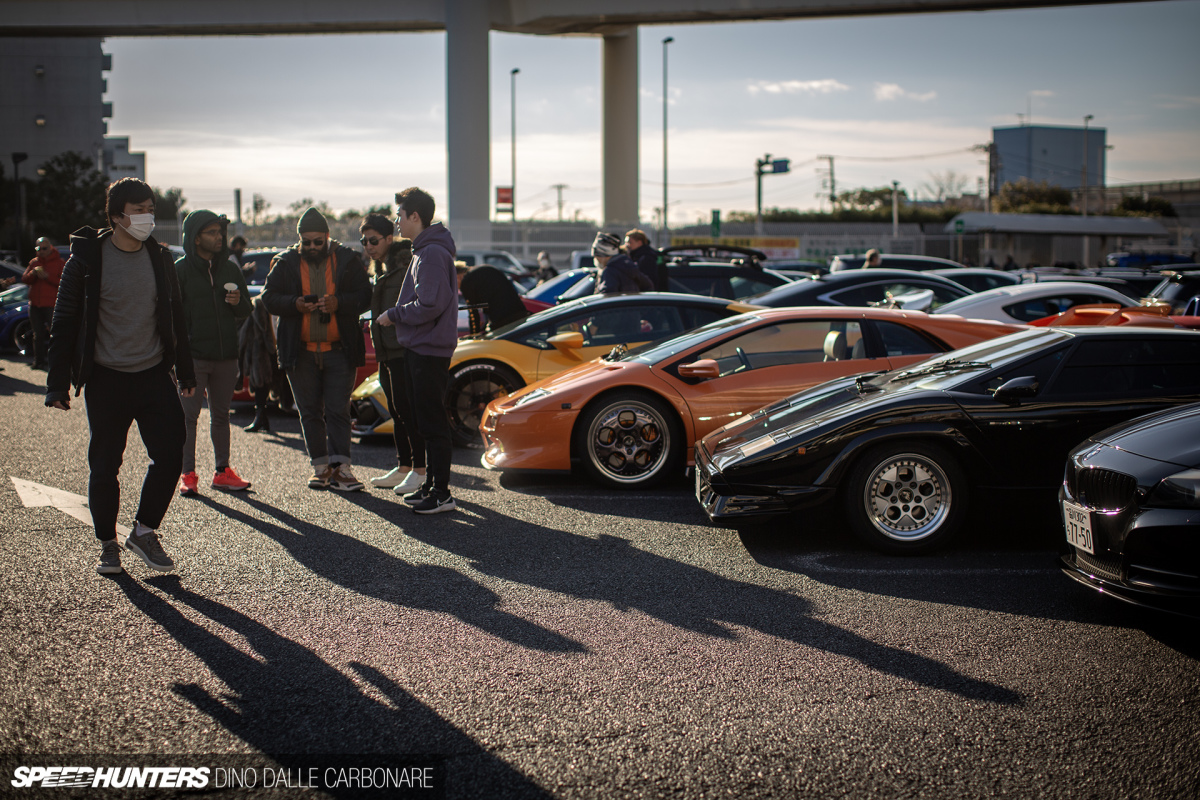 I did my best to capture it all, before returning home to meet family and do one last bit of eating to wrap up our own New Year celebrations.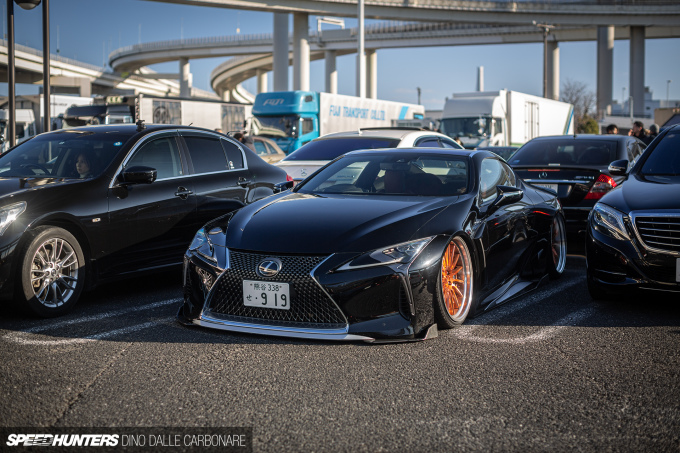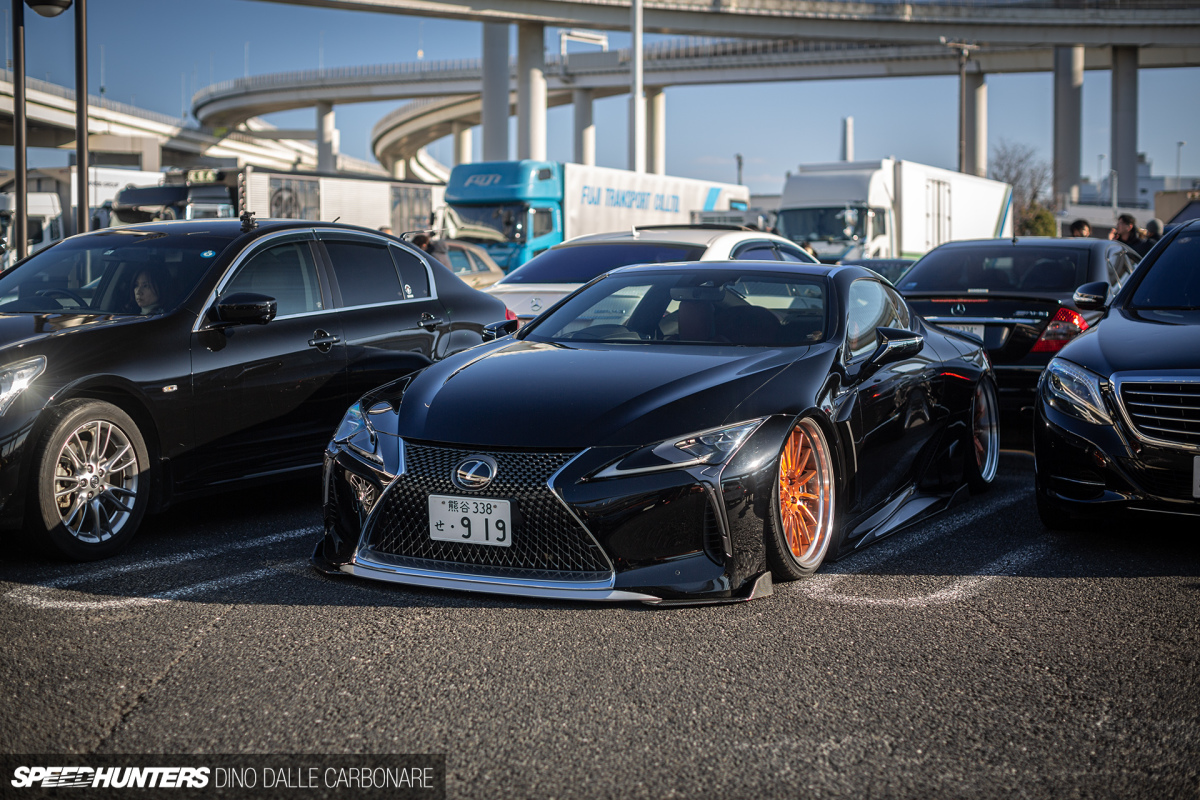 When I arrived at 8:30am, the Daikoku Parking Area was already almost entirely filled up, and it took me a moment to find one of the last spots available.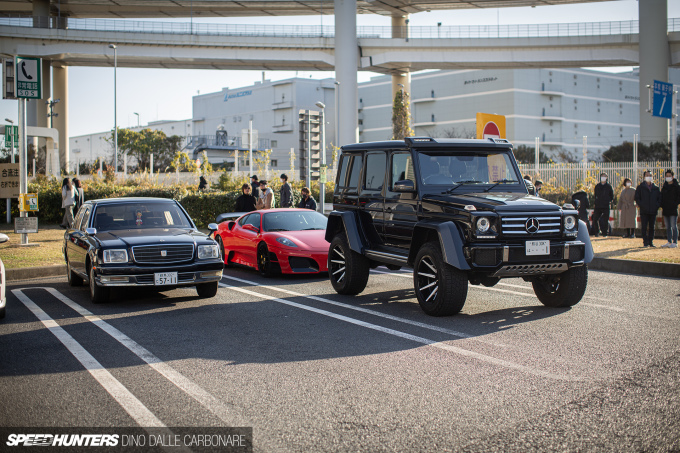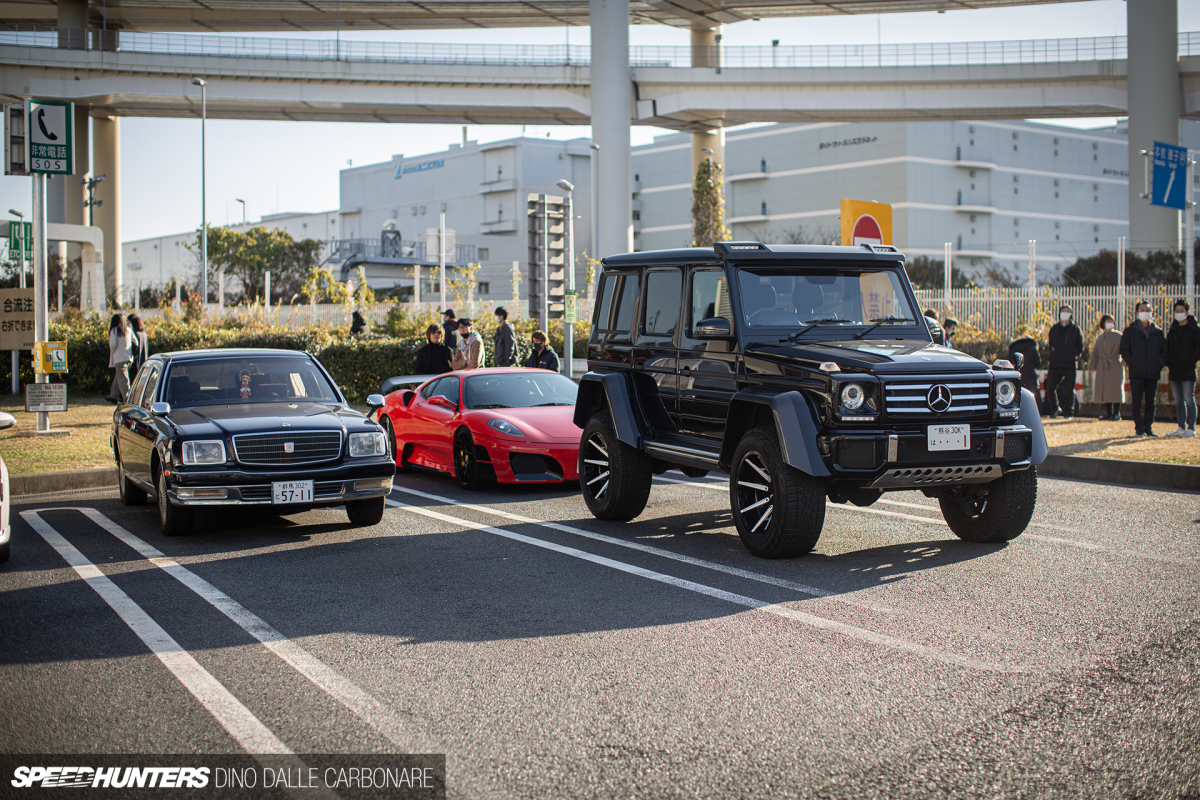 As always with big gatherings here, the 2023 New Year Meeting had already spilled over into the double-length parking spots reserved for trucks. Although, some had no choice as their vehicles wouldn't fit in a regular car space.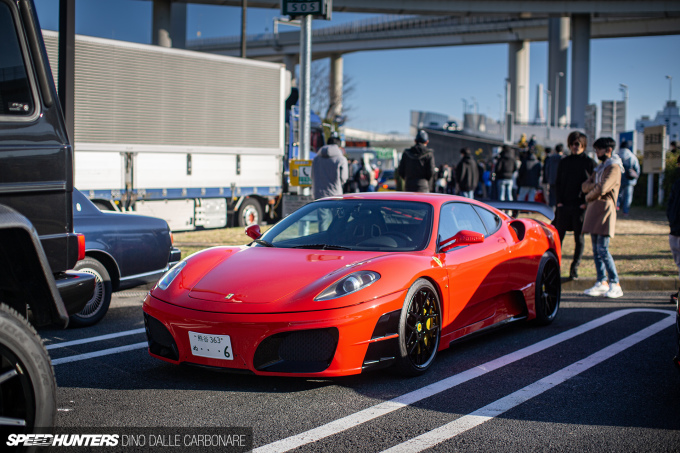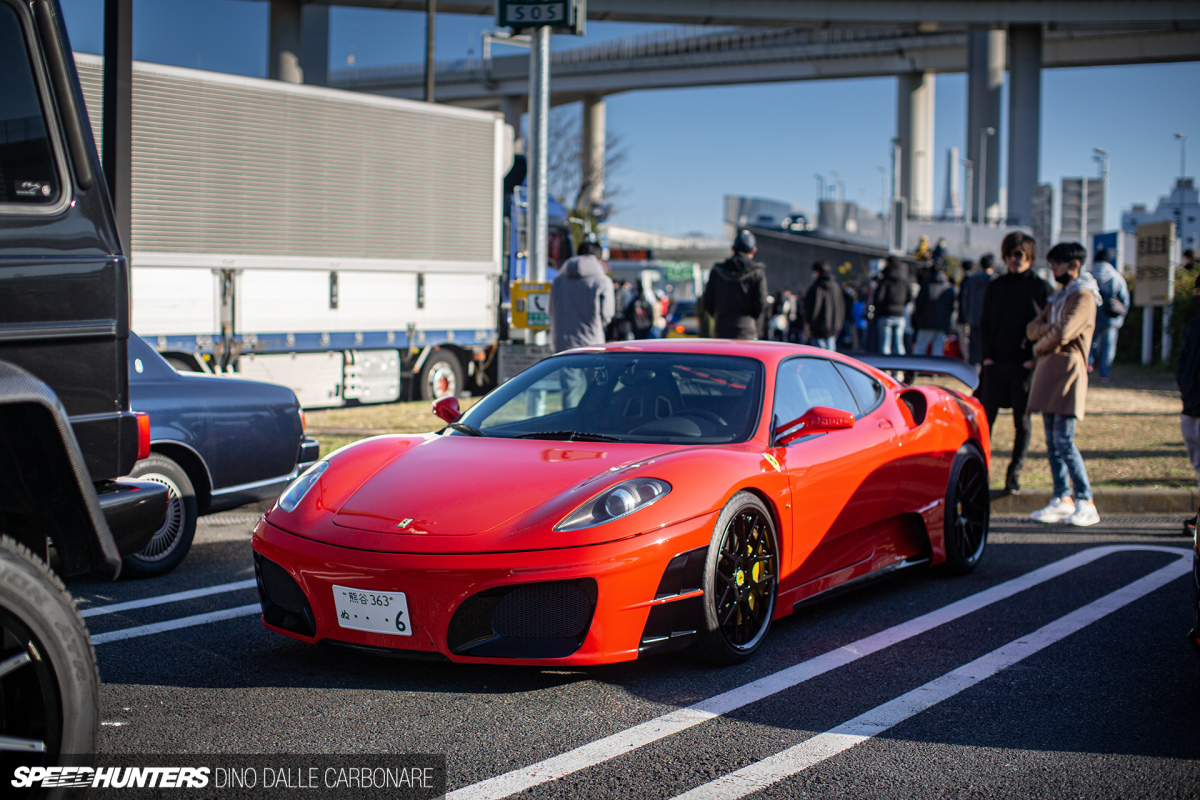 No JDM Ferrari would be complete with some kind of aero upgrade, and a spoiler of course… You always need a spoiler.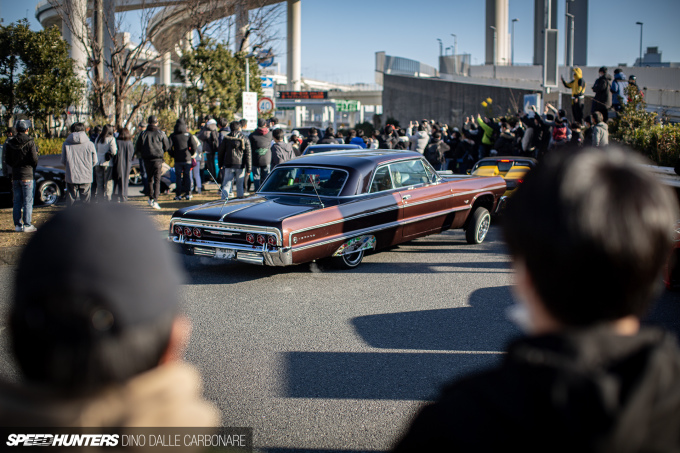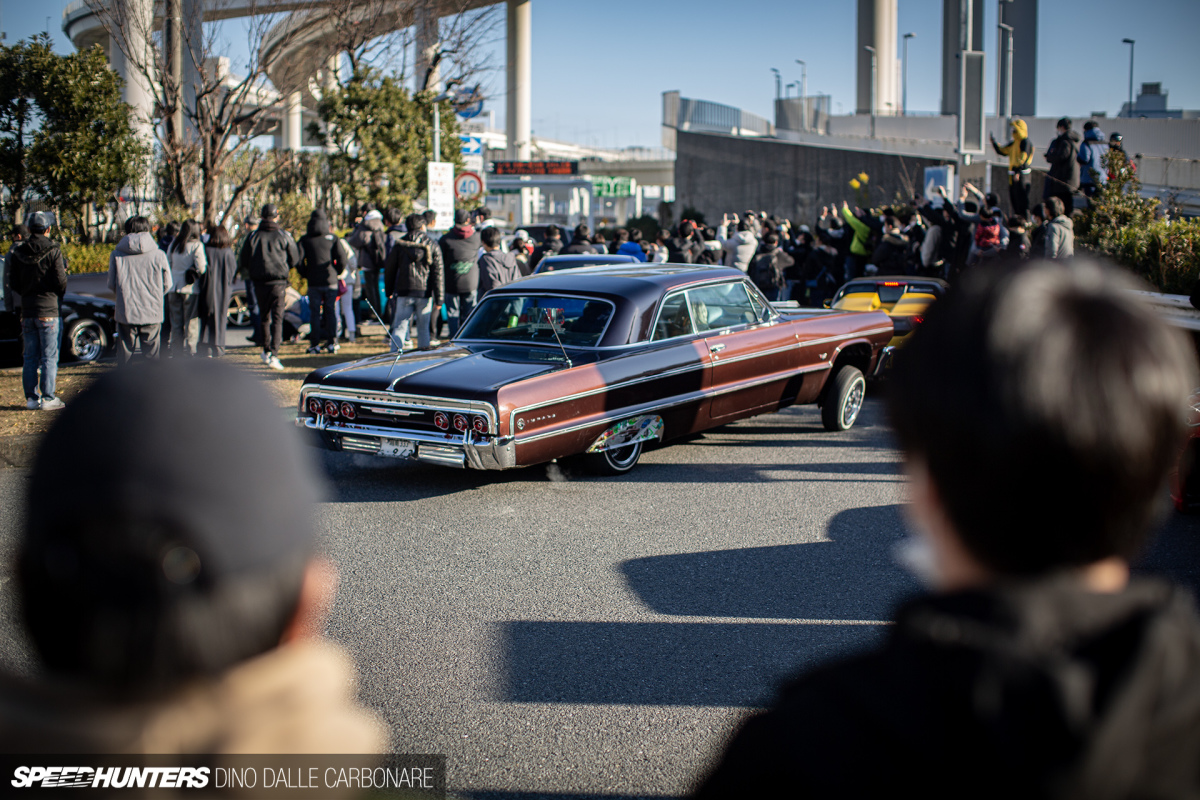 The steady flow of cars attracted a lot of people to the ramp that takes you back out onto the Yokohama highway system.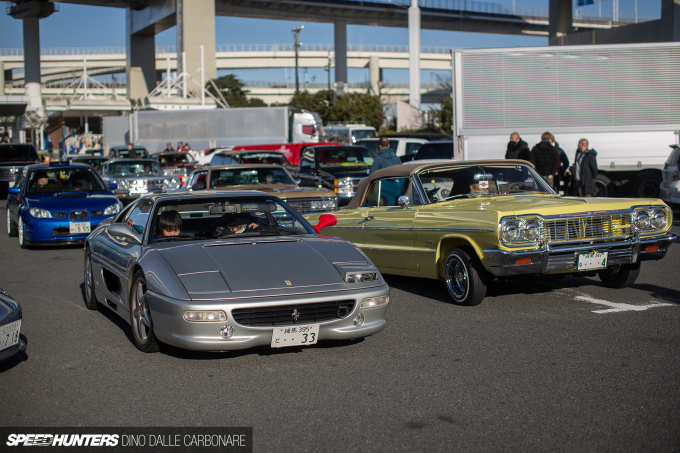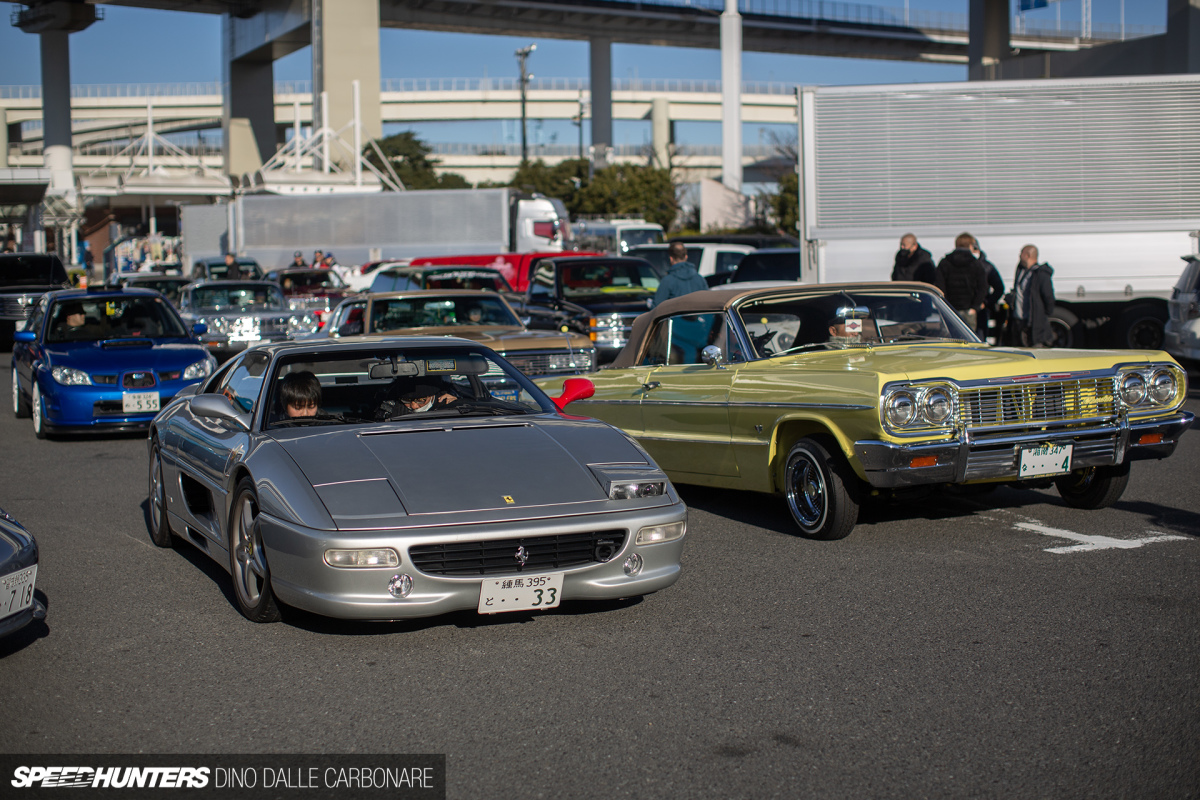 The moment I snapped this shot, I thought to myself, there can't be many other places where you'll see a Ferrari 355 next to a Chevy Impala on hydraulics.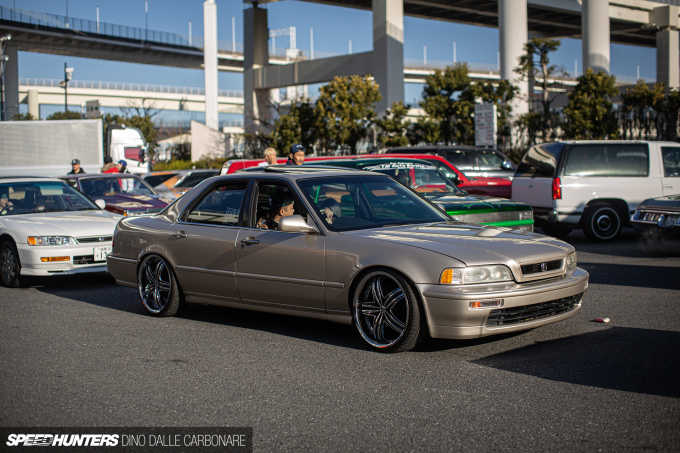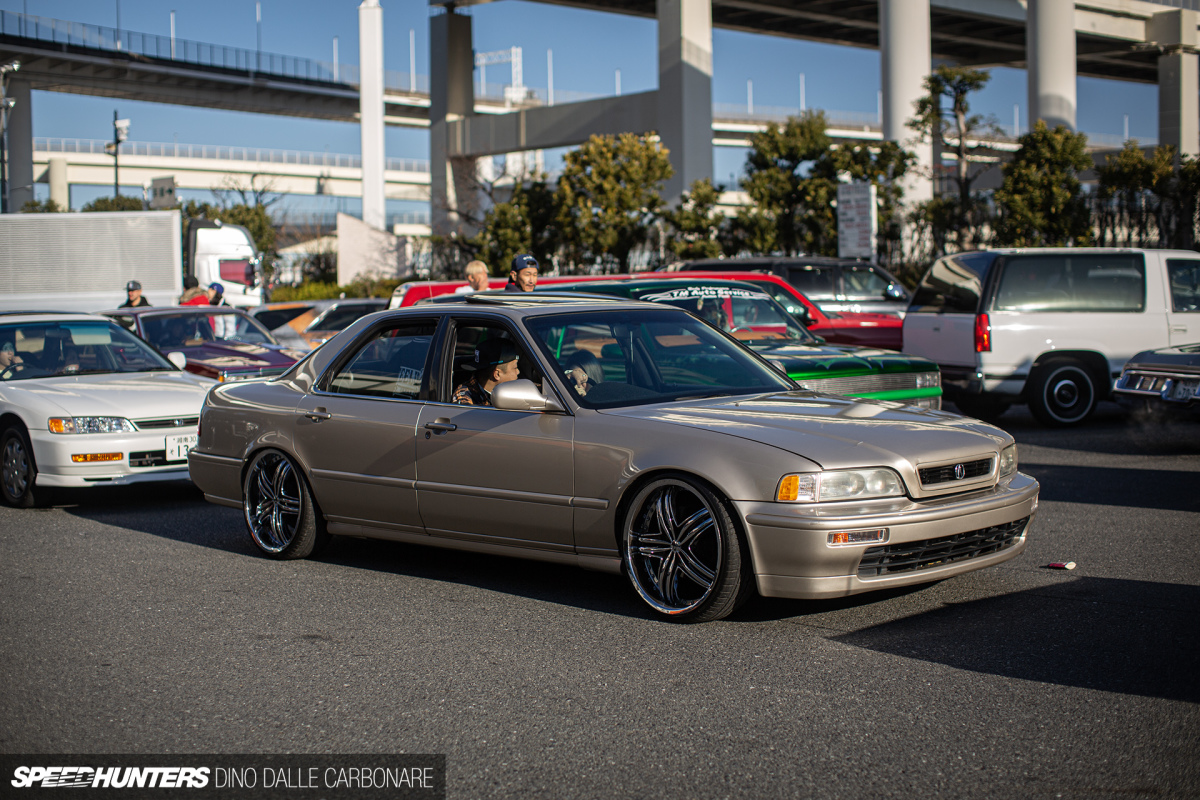 By this point so many cars were leaving that a little line had formed.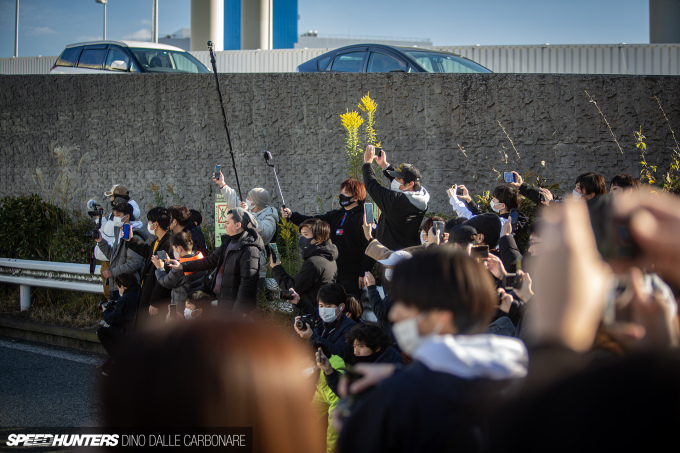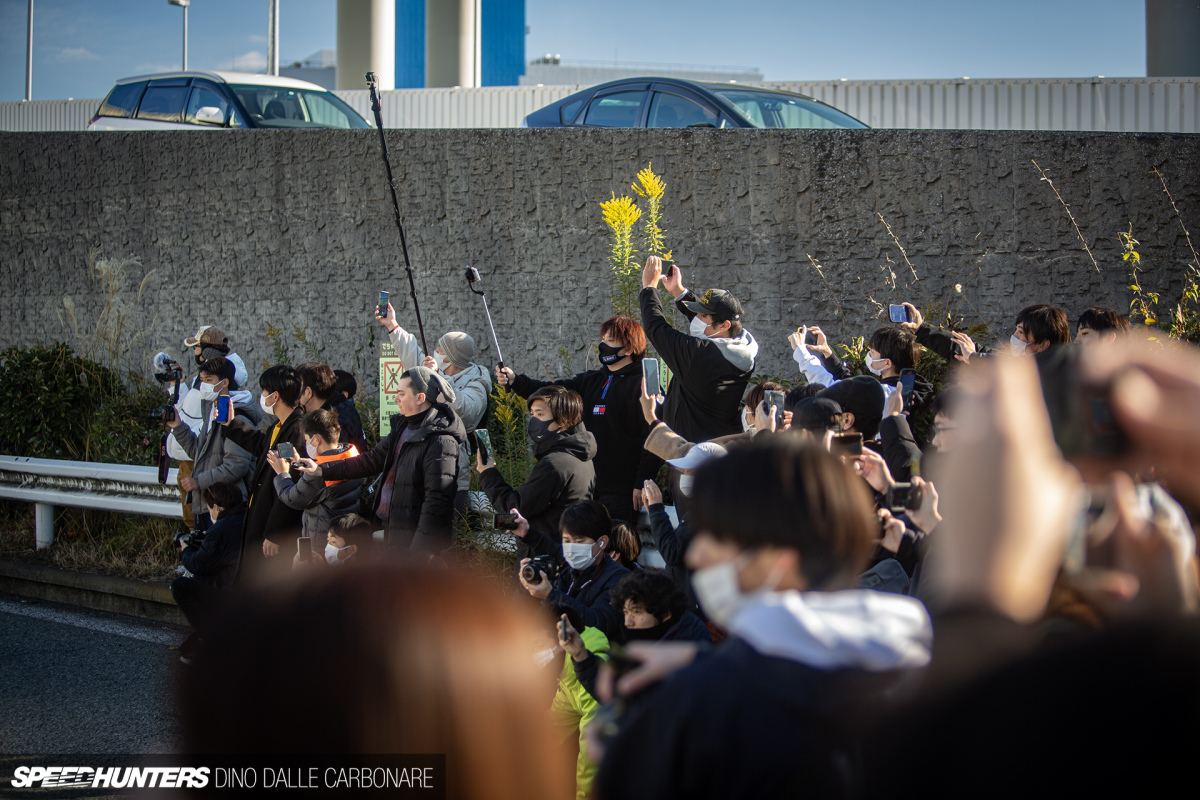 And with that, plenty of people with their cameras and phones out ready to capture any action. There were no burnouts to be seen of course – this is Japan after all – just some cheeky tire chirps on gear shifts.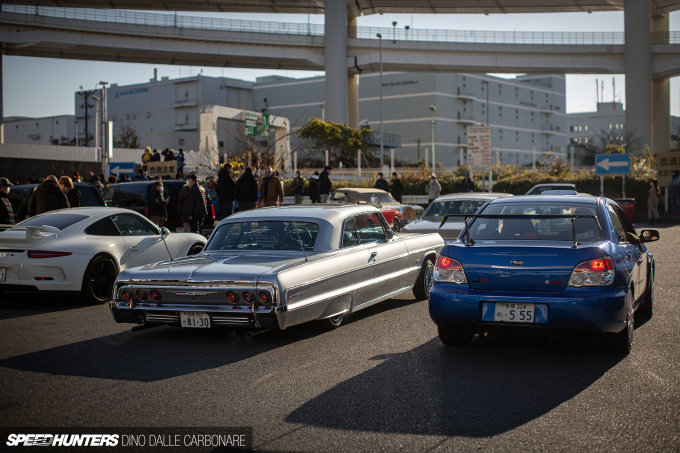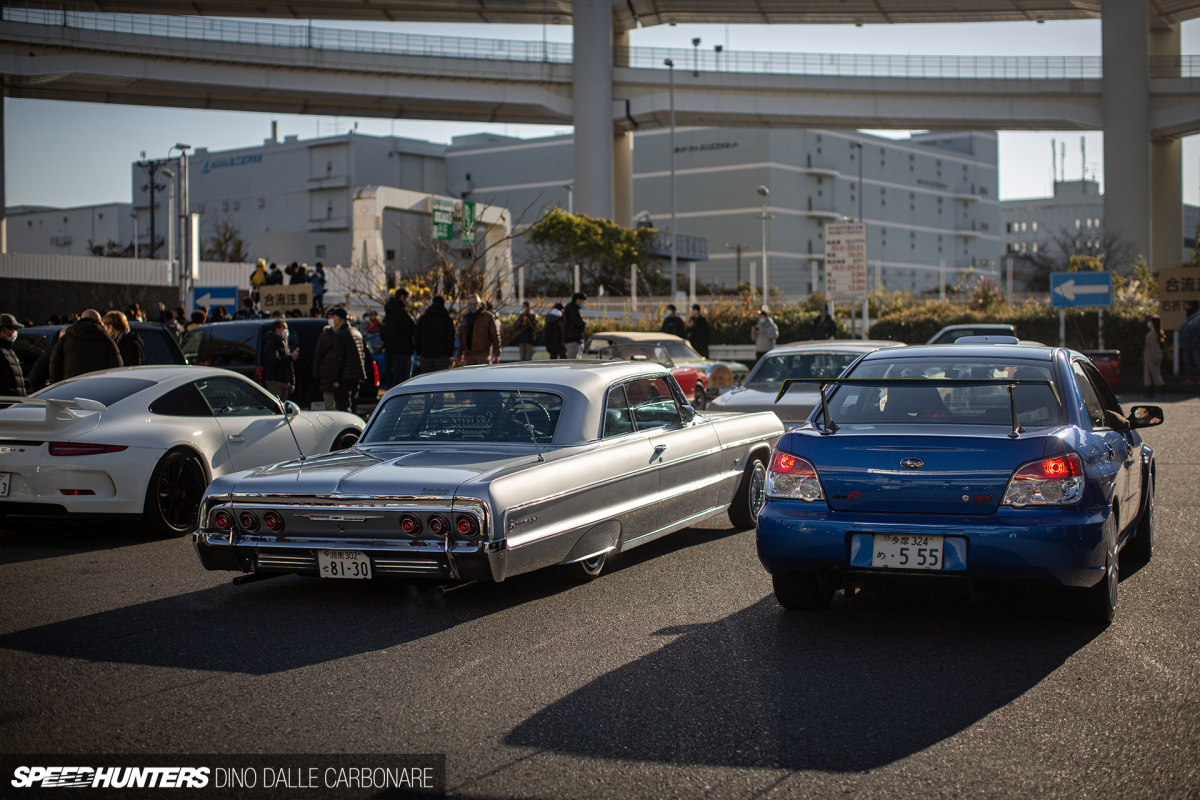 The sheer number of cars about the place was fine with me as it created some impossibly-Japanese automotive sights.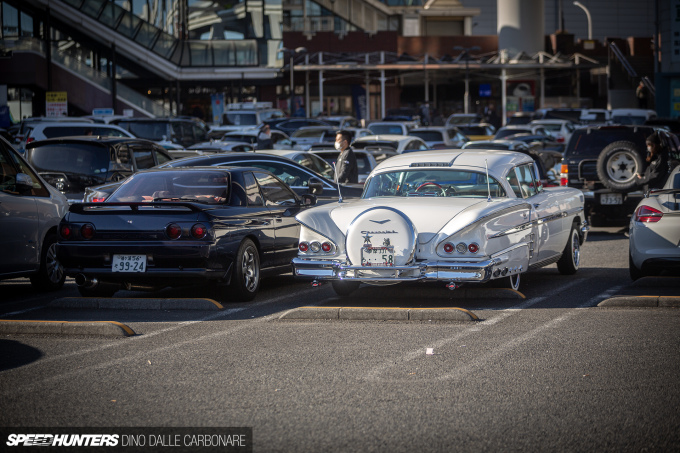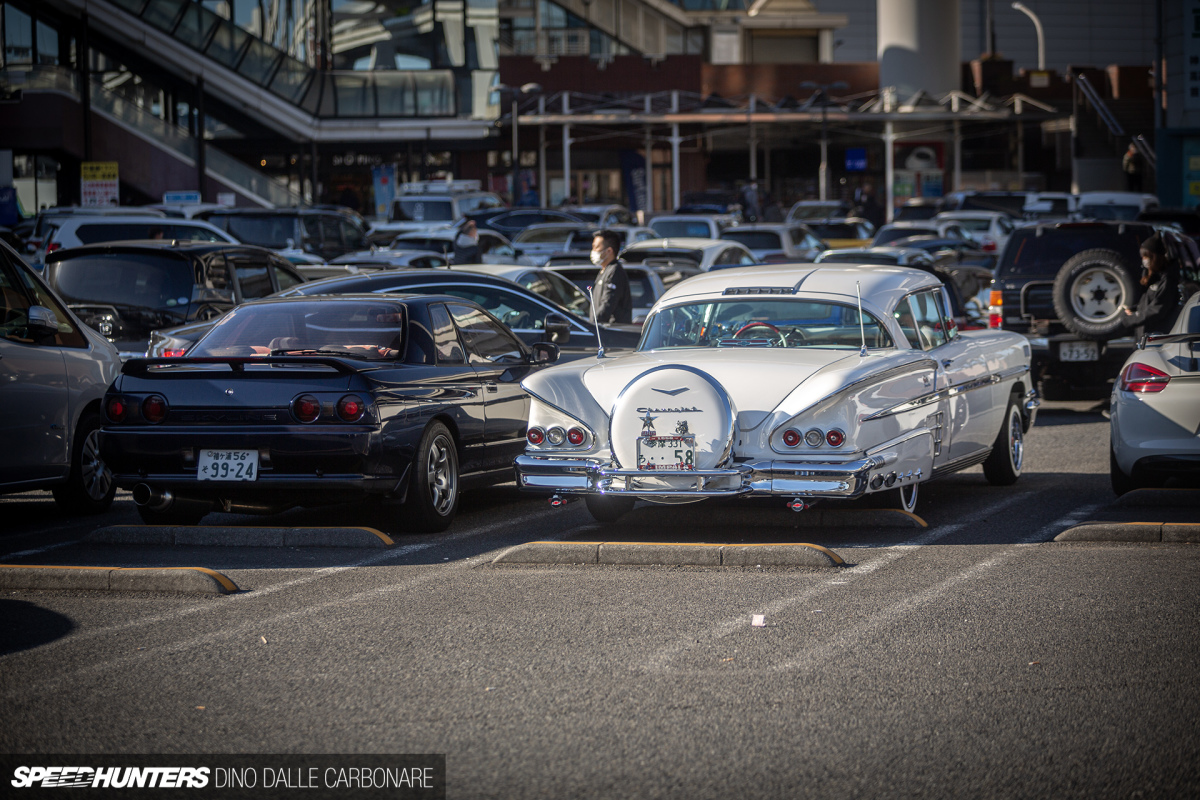 As well as some surprising pairings.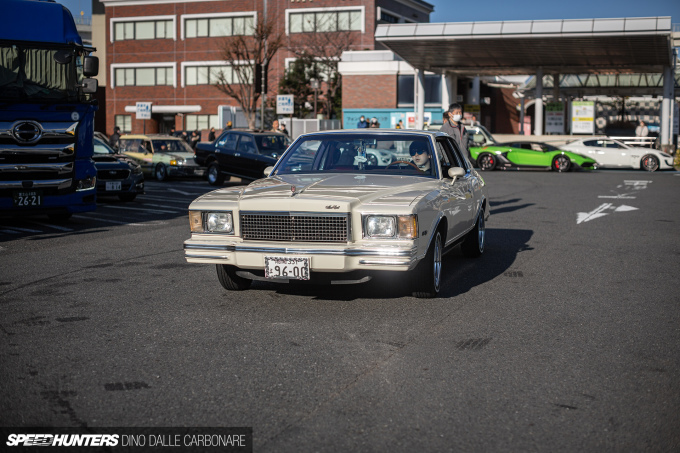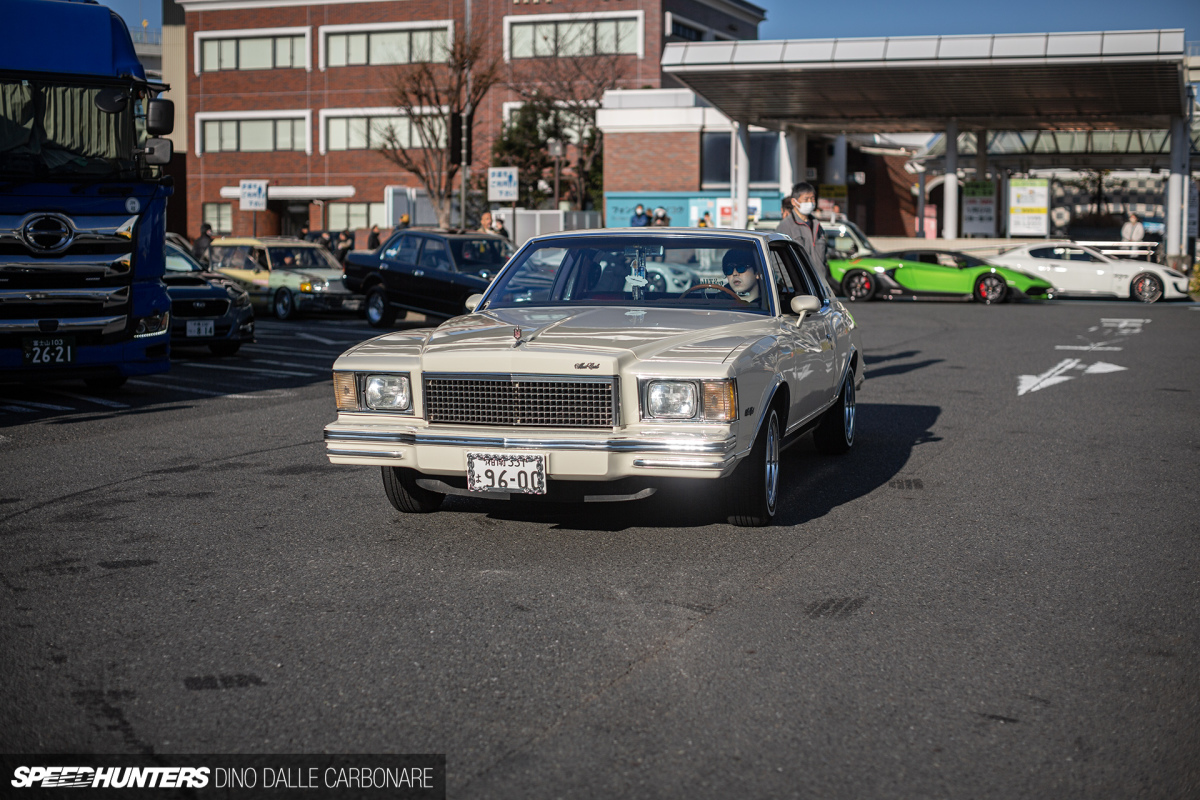 I should note that the order of this entire gallery is pretty much as I shot it. I think it speaks to sheer variety of cars you get at this meet.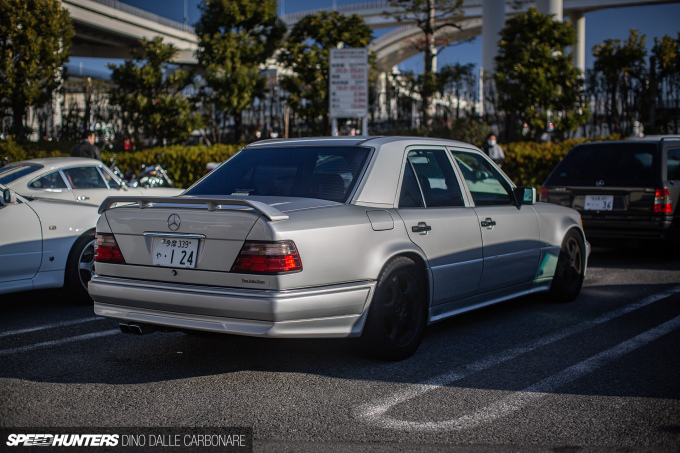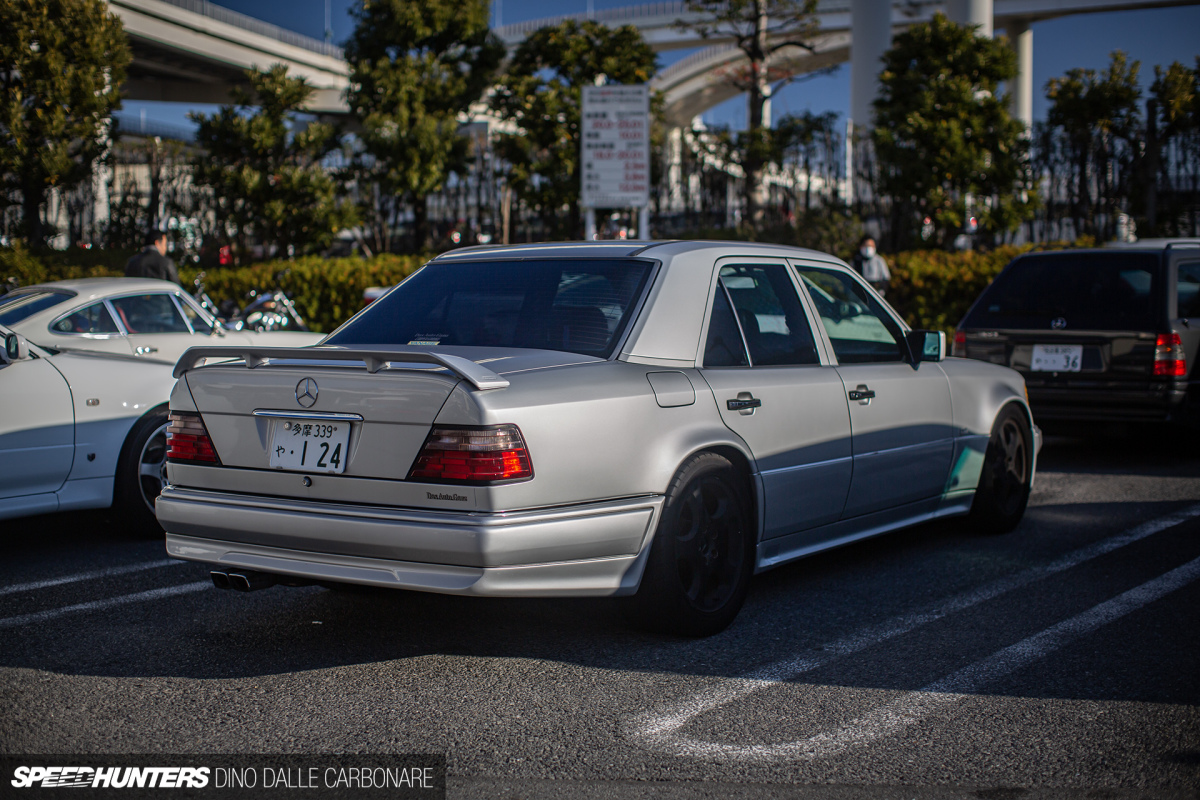 Look to your left and you'll find a W124 Mercedes-Benz looking as tough as can be.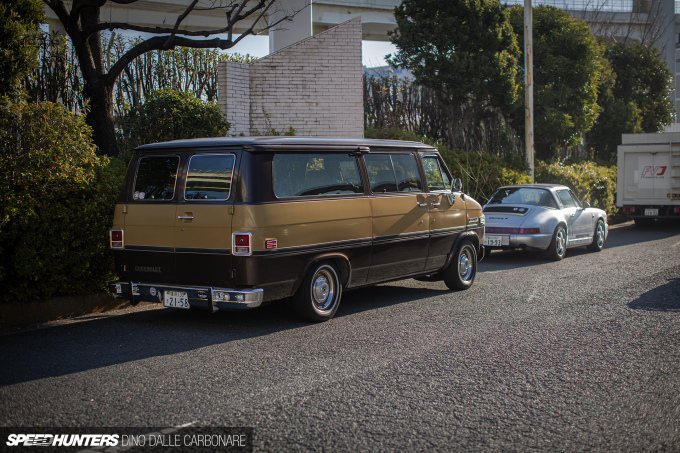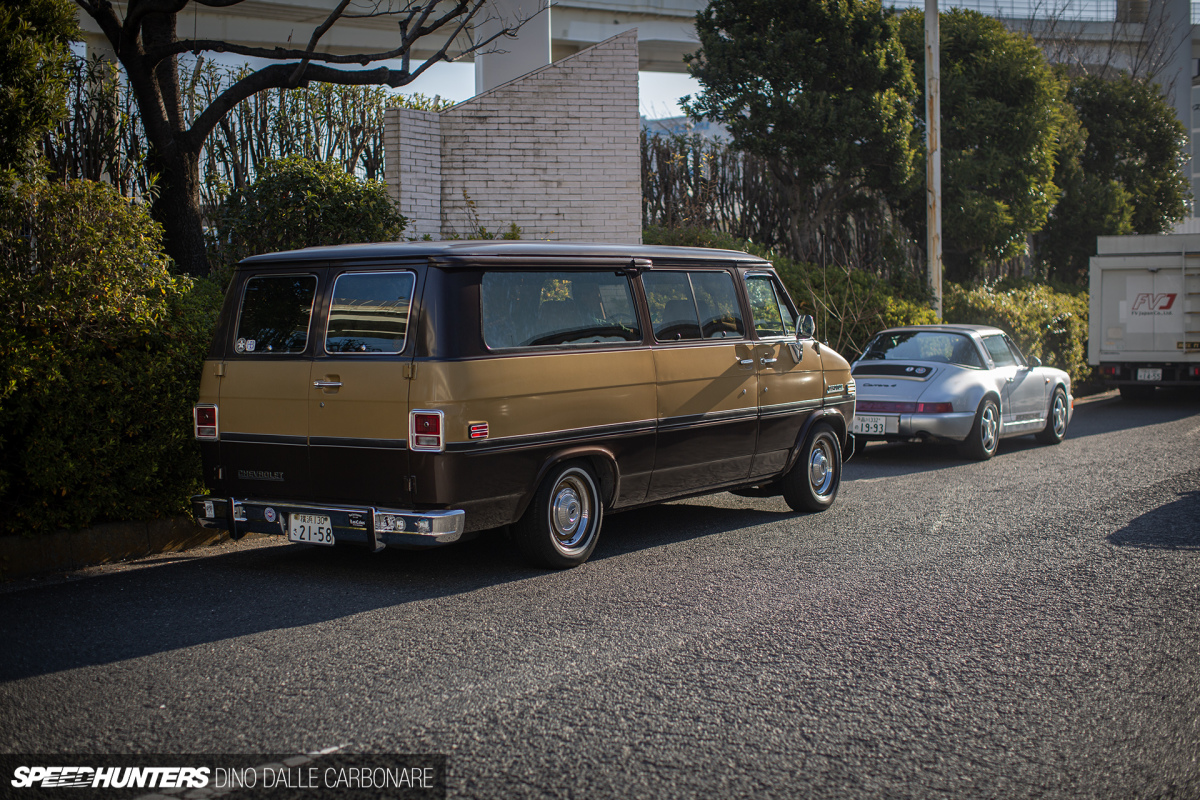 Turn the other way and you'll see an old Chevy van behind a Porsche 964 Targa.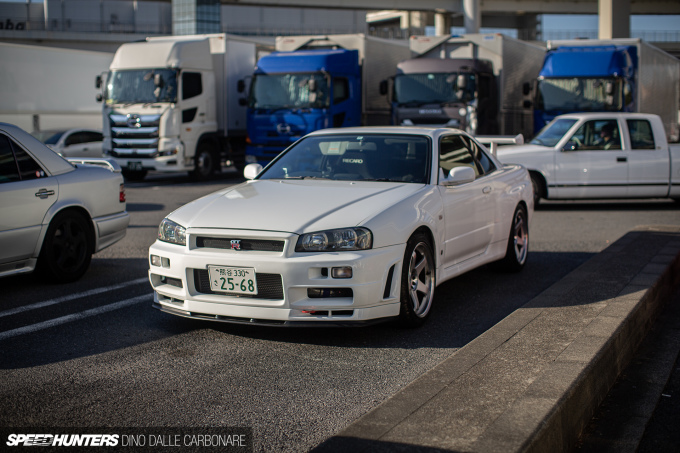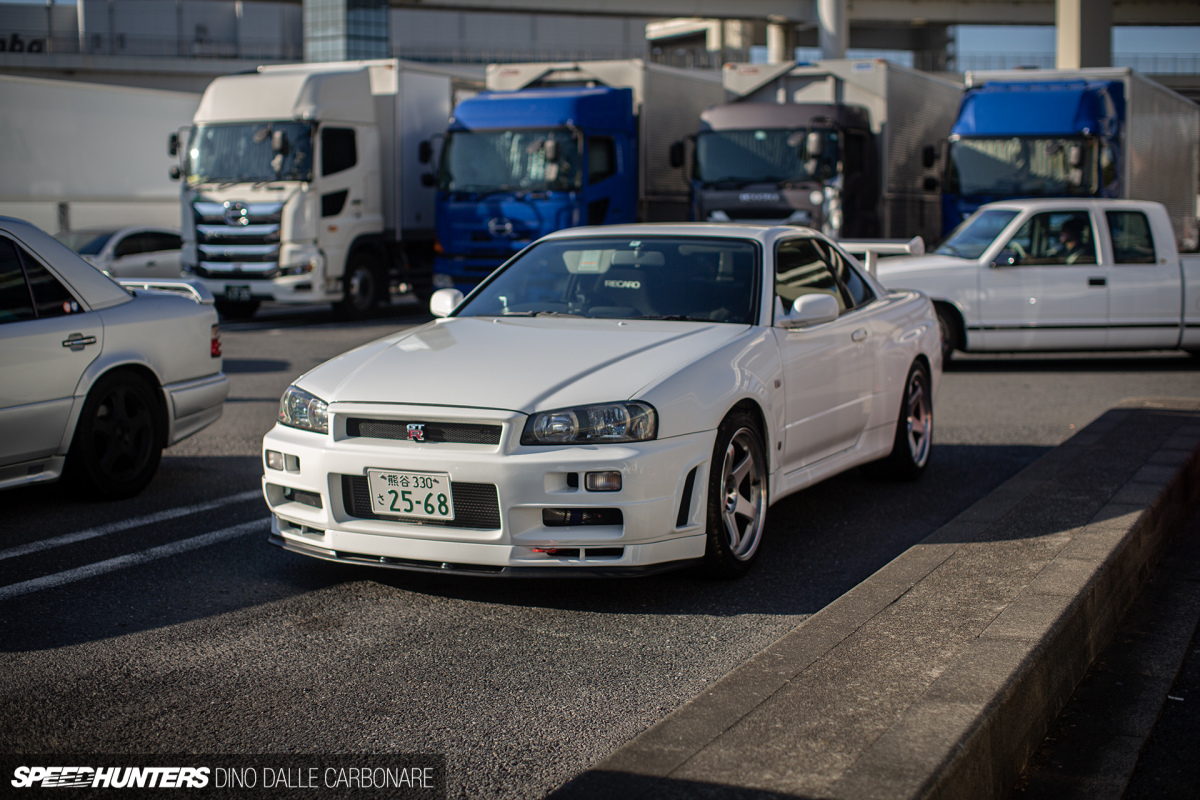 And not too far away a lonely BNR34 Nissan Skyline GT-R.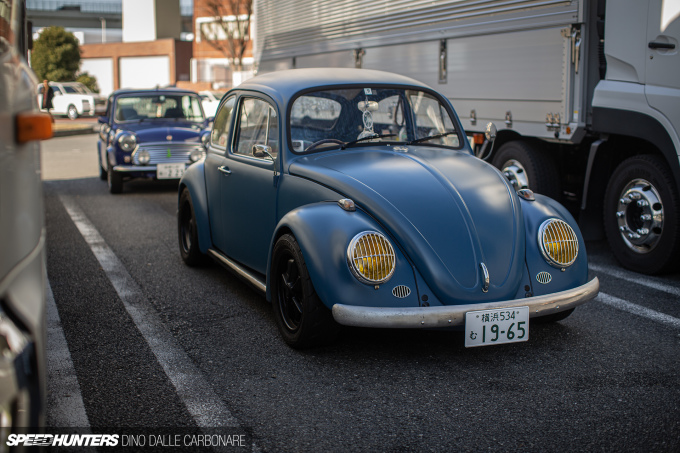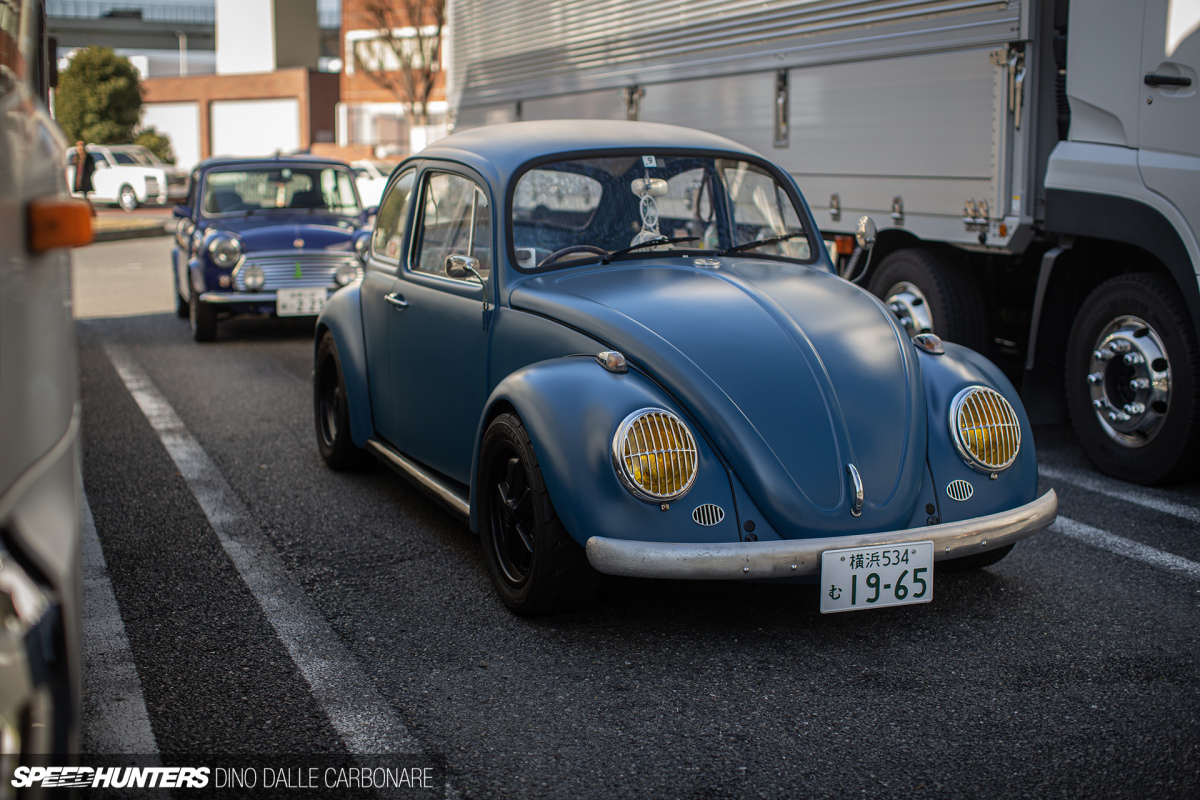 In between two trucks, a classic Mini and a vintage VW Bug.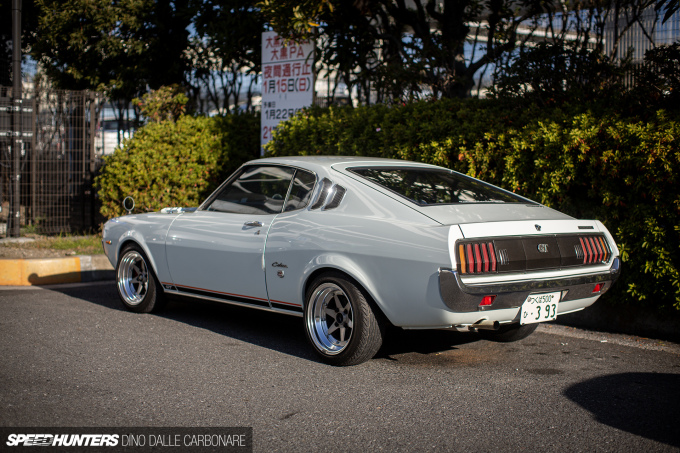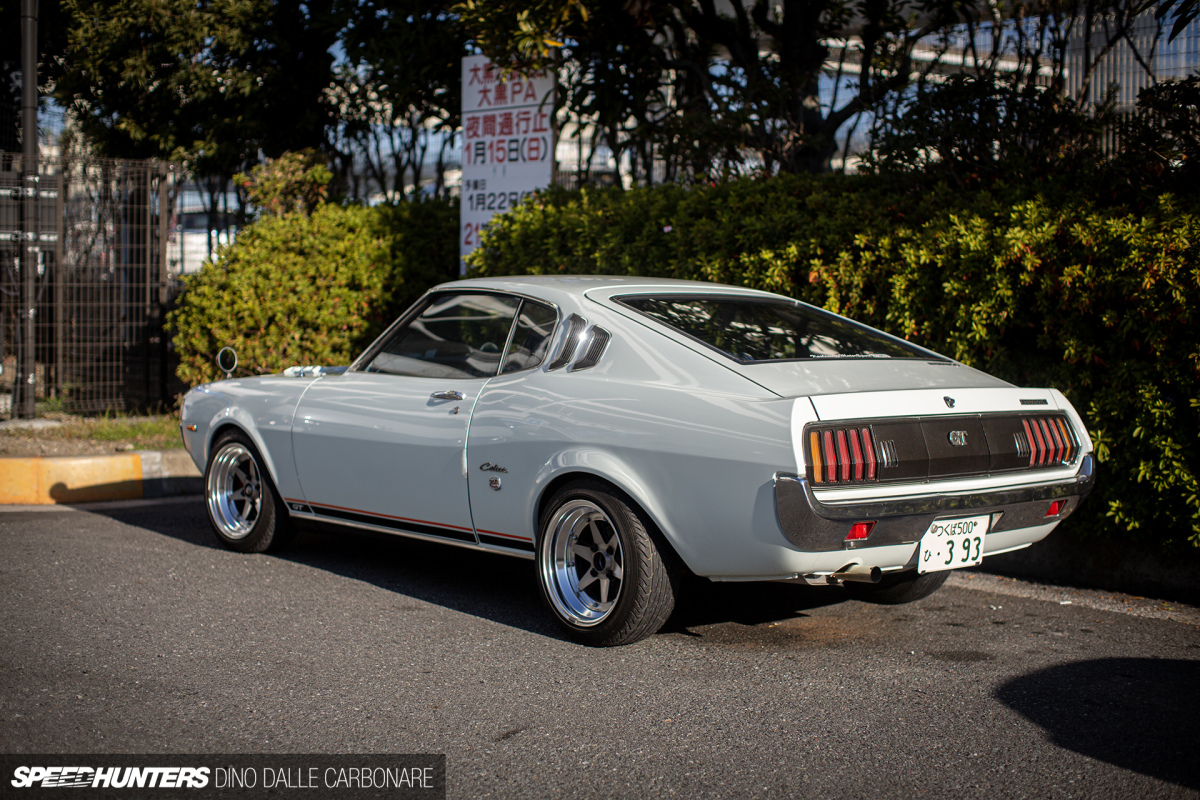 Parked up at the very top corner of the PA a Toyota Celica.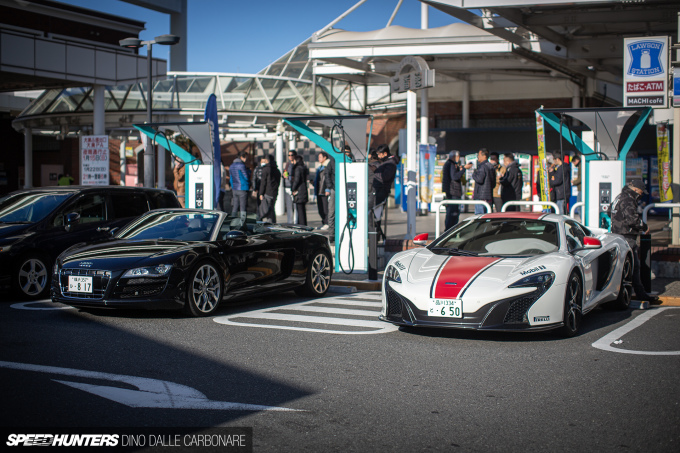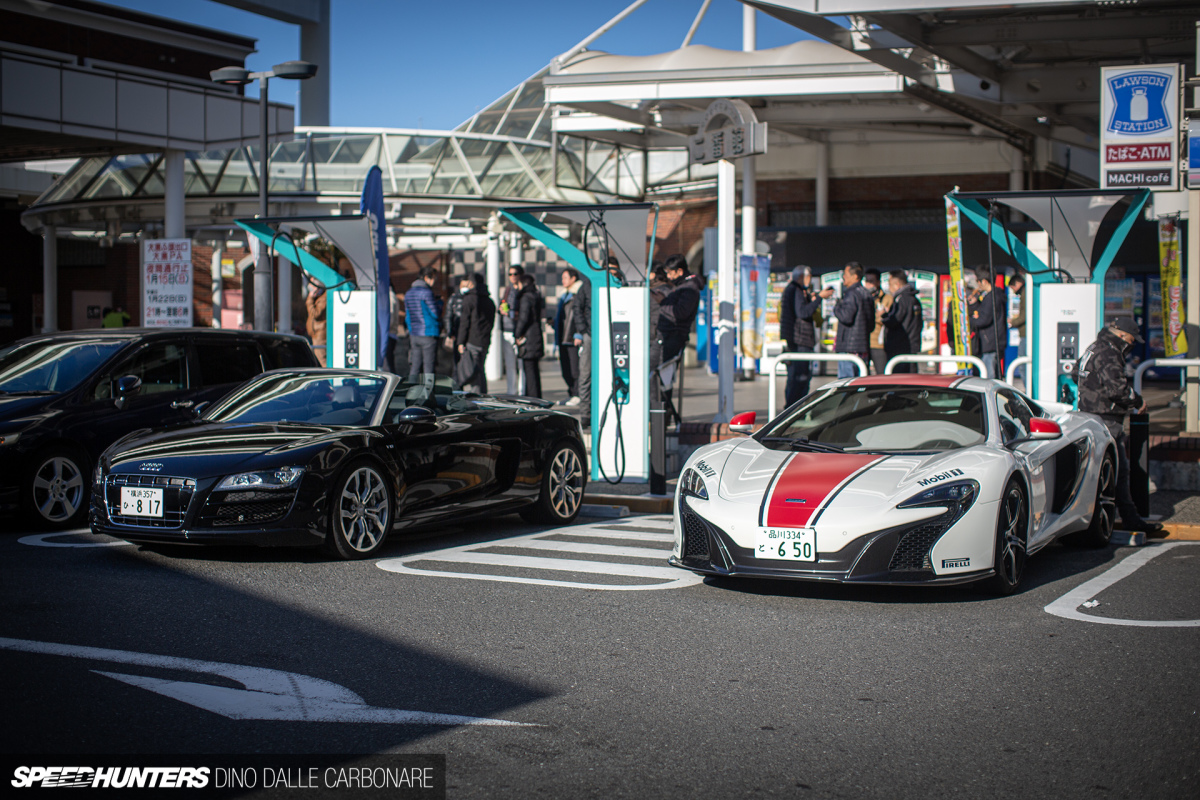 And in front of Daikoku PA's convenience store a couple of supercars. See what I mean?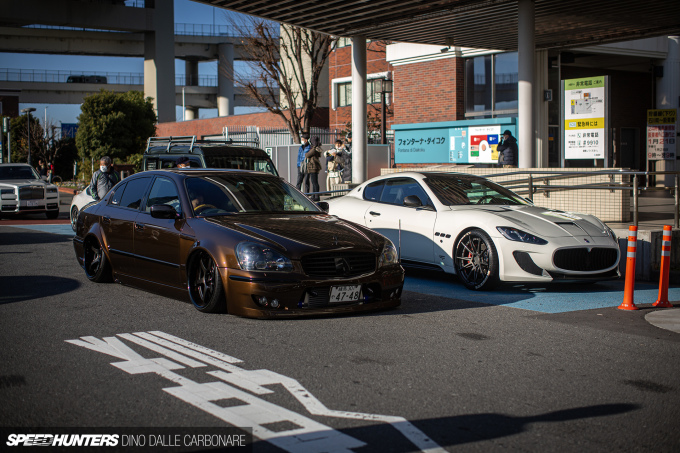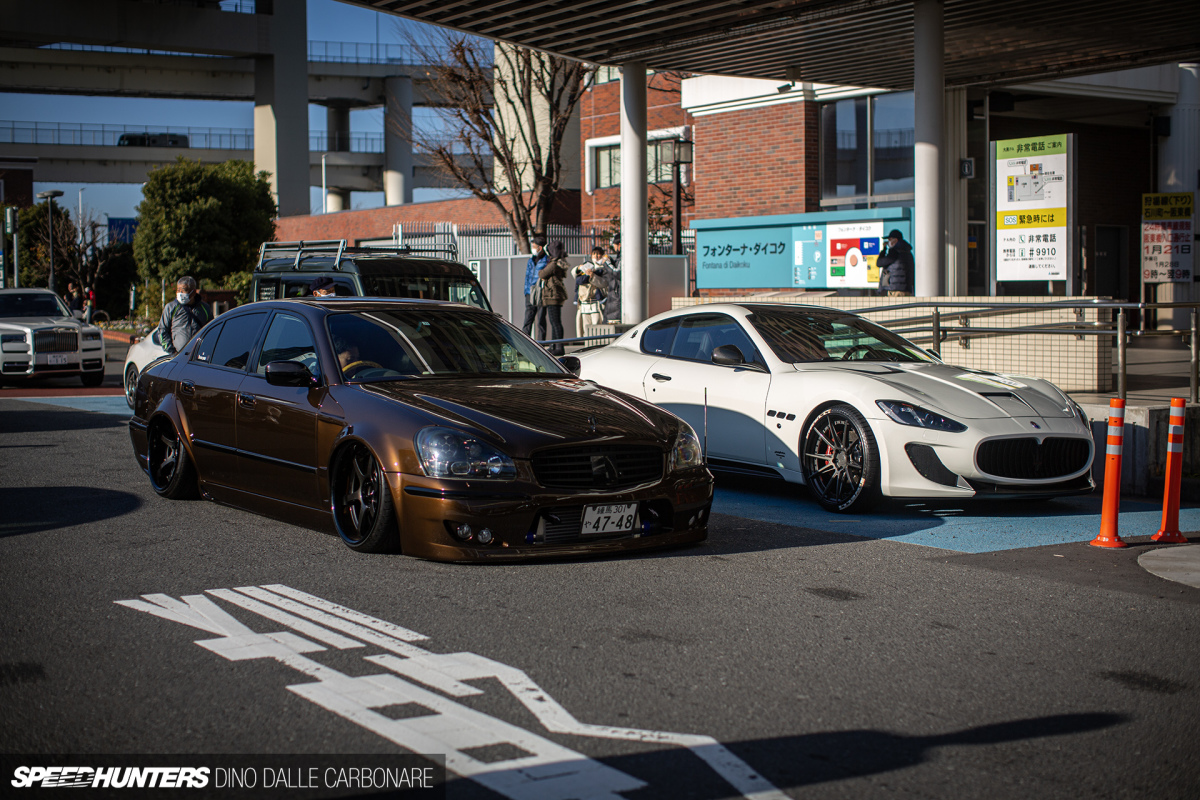 You just never know what you're going to get.
An Automotive Cocktail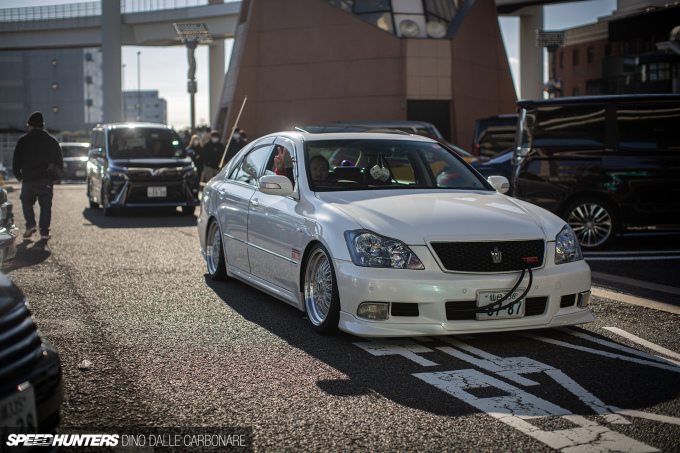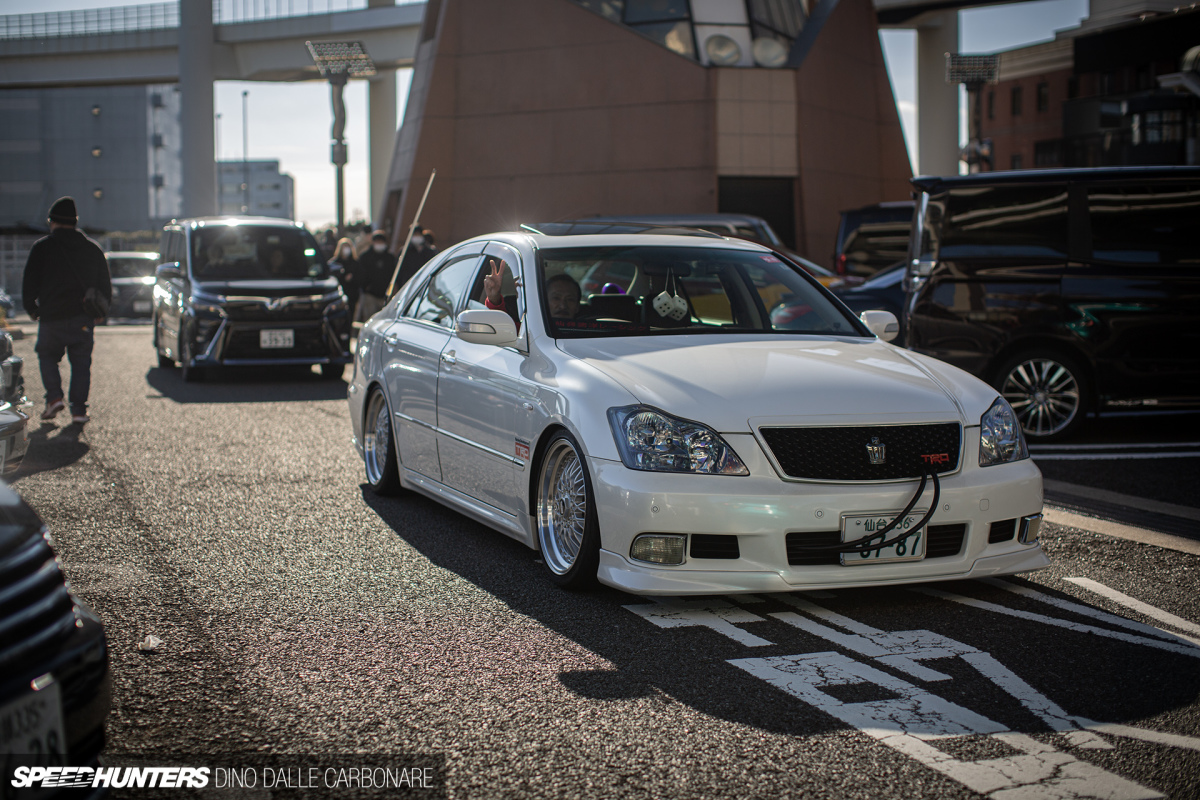 For me though, it's the domestic cars that continue to grab most of my attention.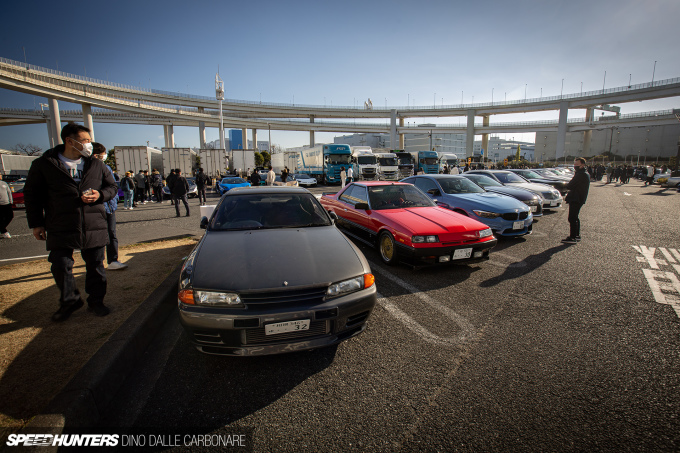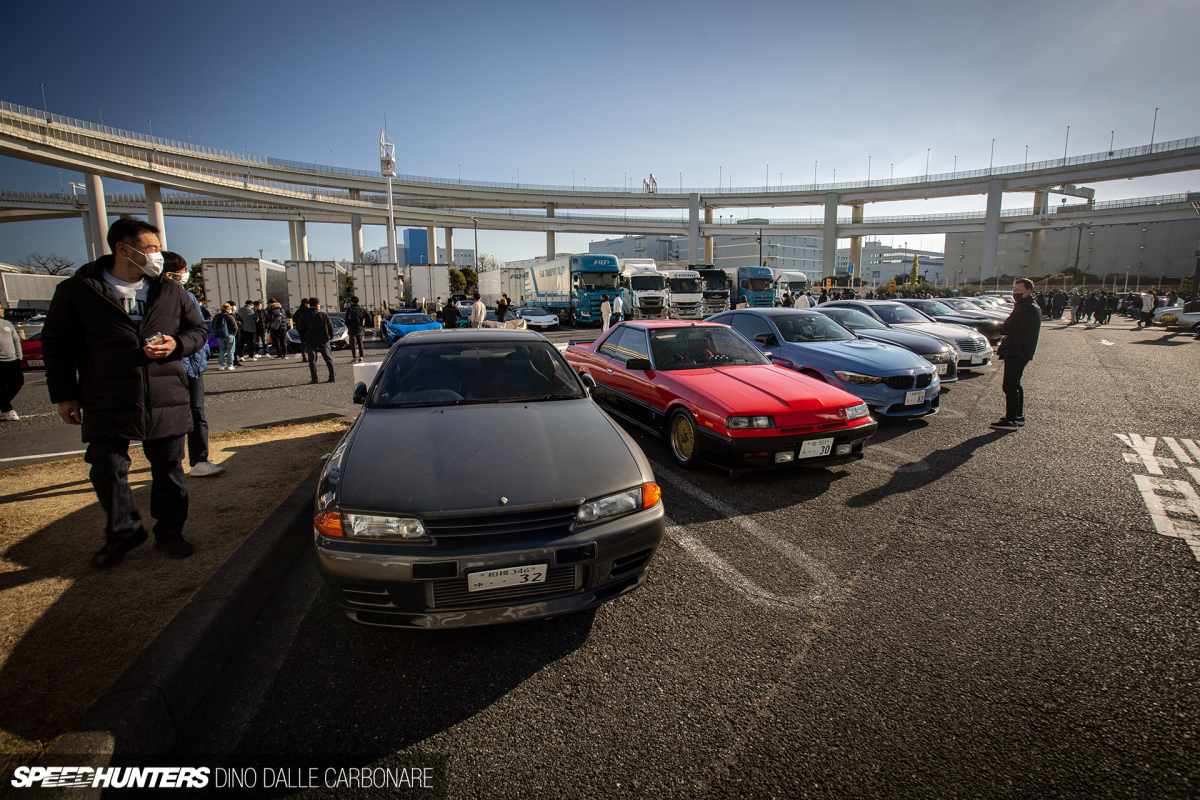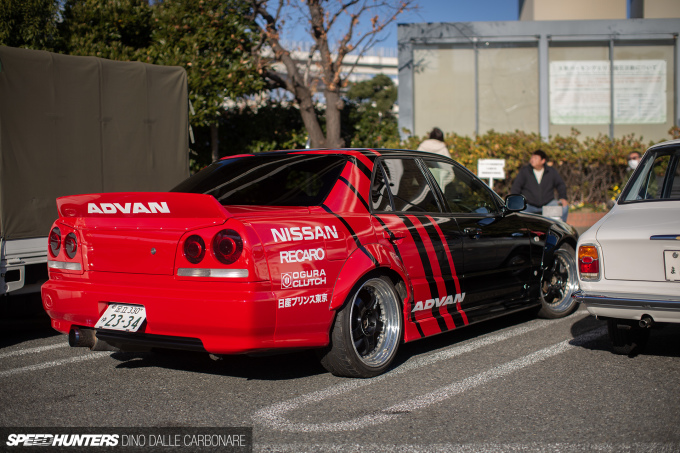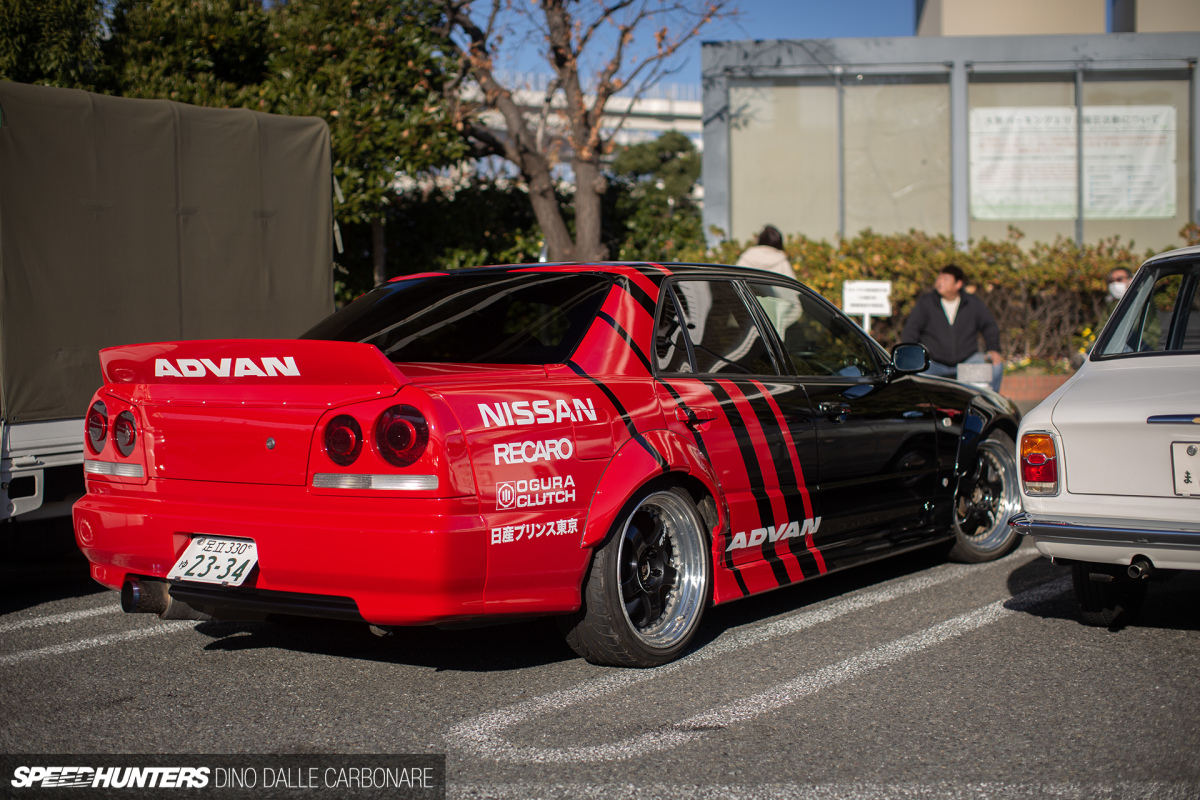 Especially stuff from the Nissan camp.
Like this BCNR33 GT-R pairing that arrived together.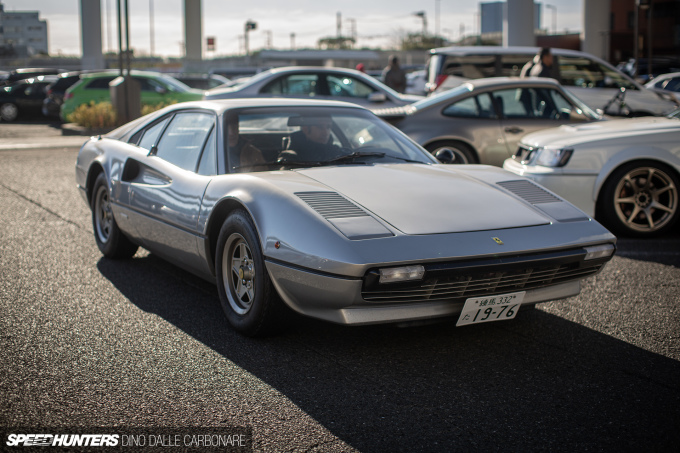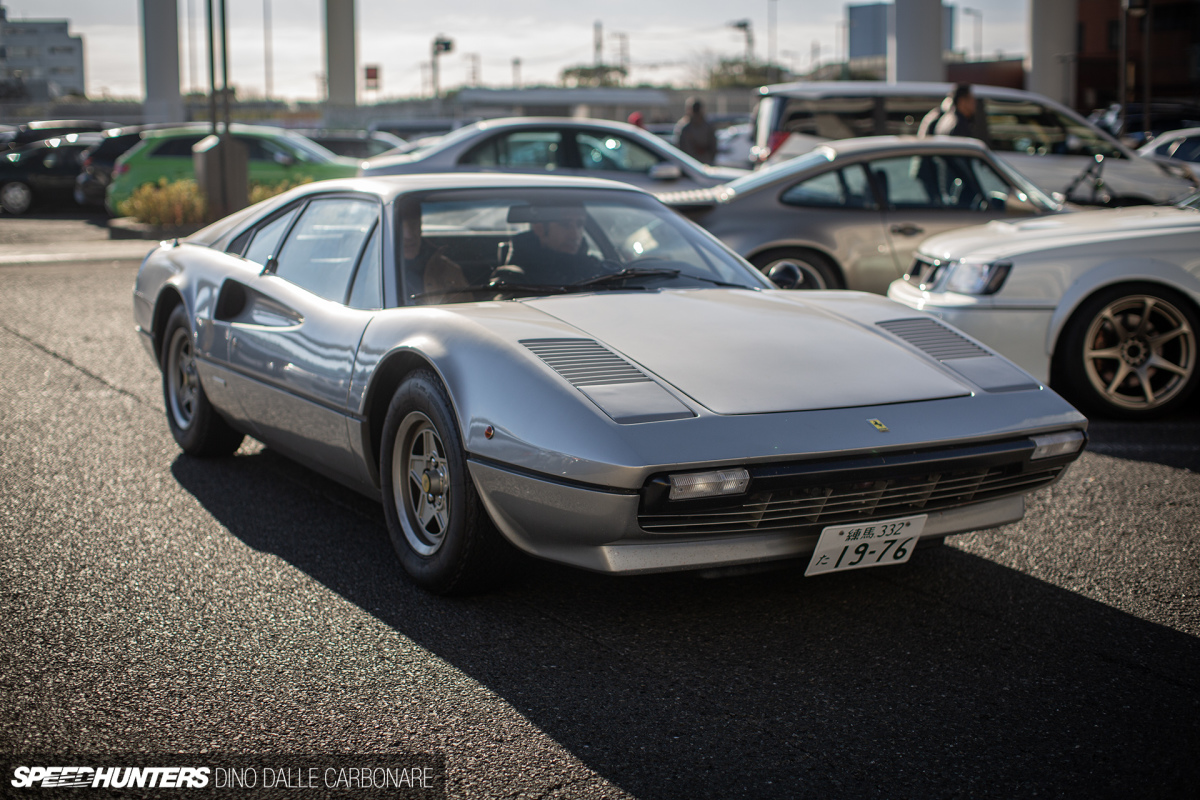 If you're of my generation, spotting '70s and '80s Ferraris always makes you feel warm inside.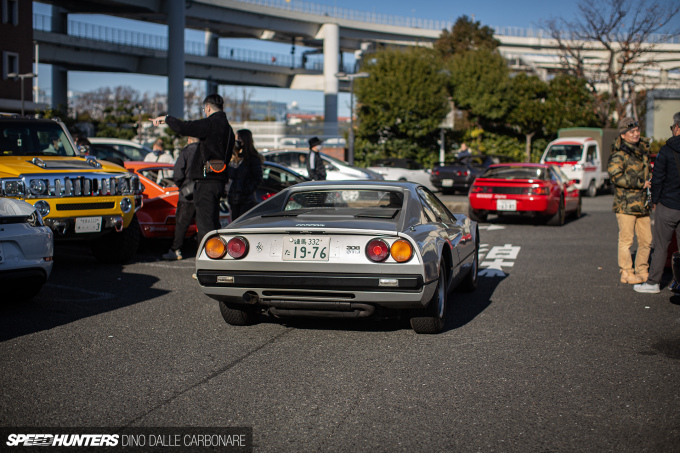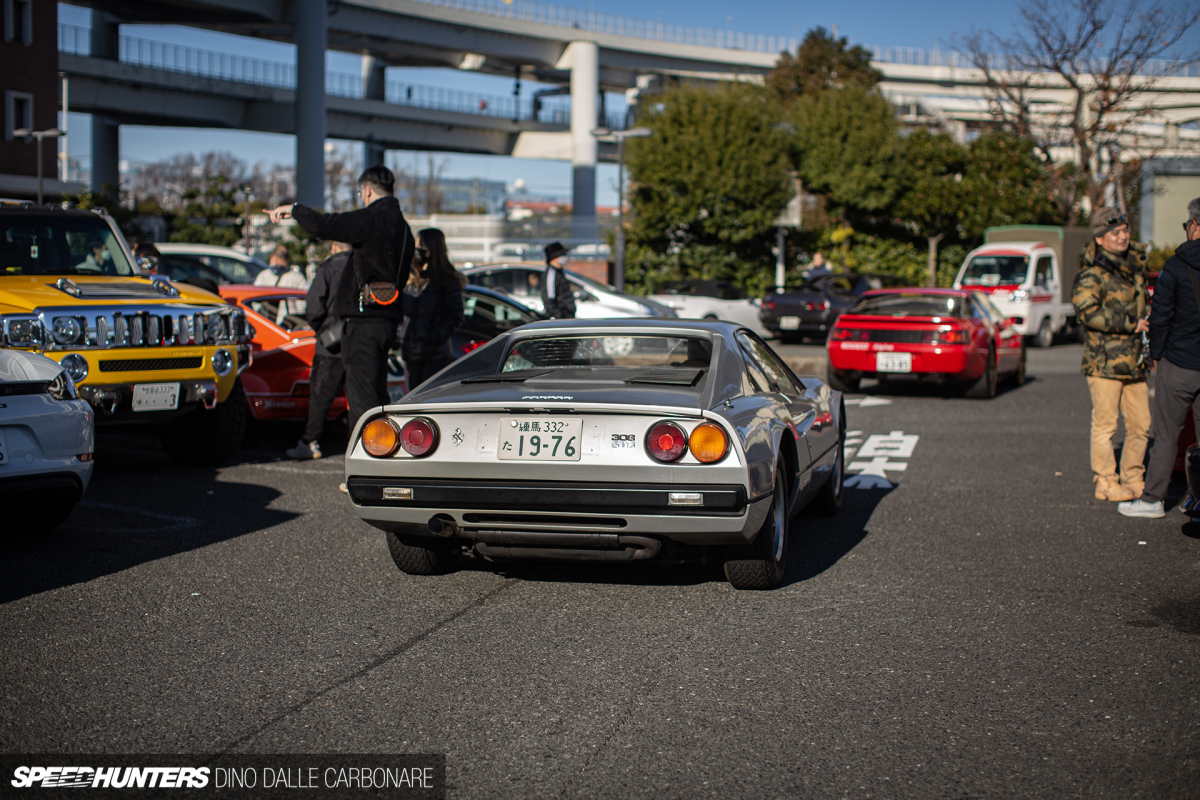 There was something so special about the Pininfarina design language of the time that make Ferraris from this era (think 308, 328 and the 288 GTO) instantly identifiable.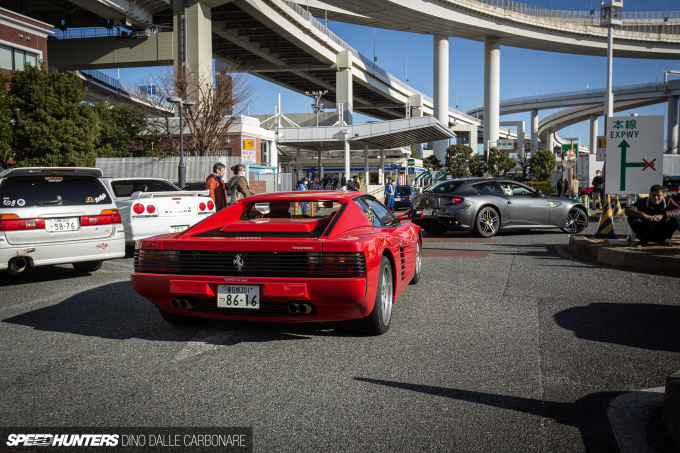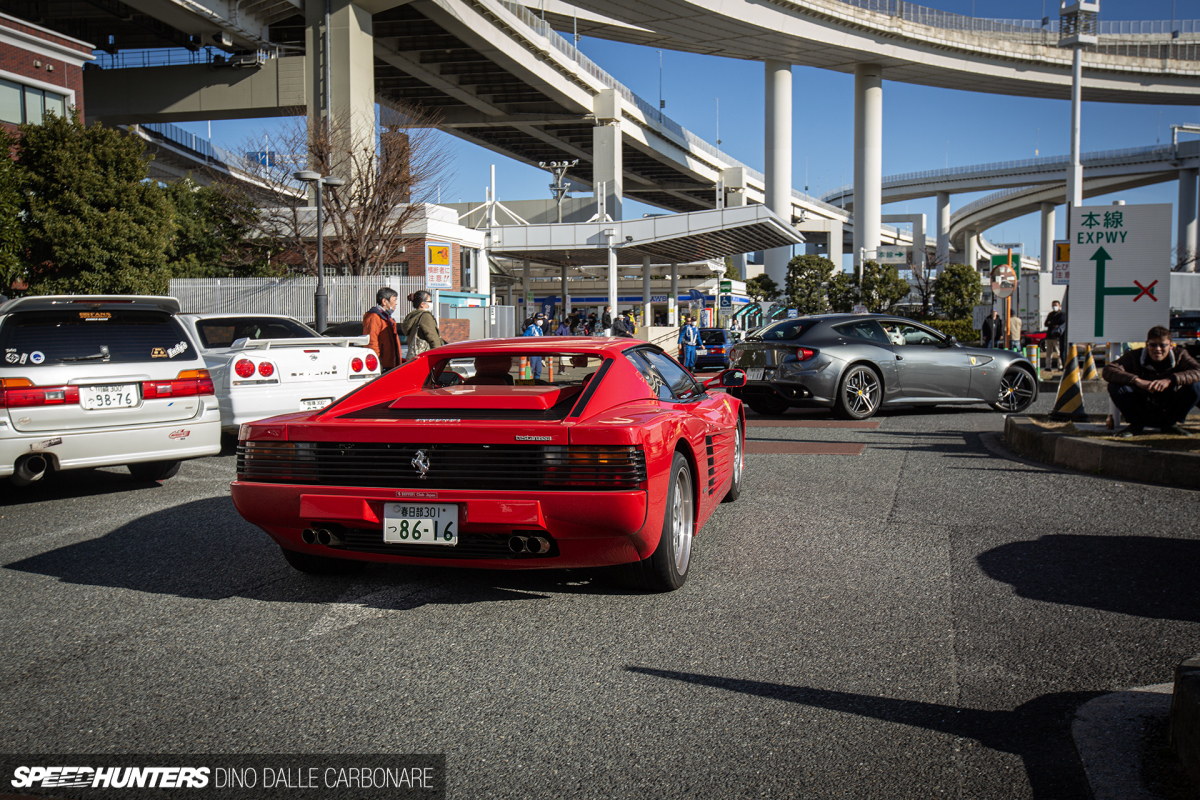 And the Testarossa, of course.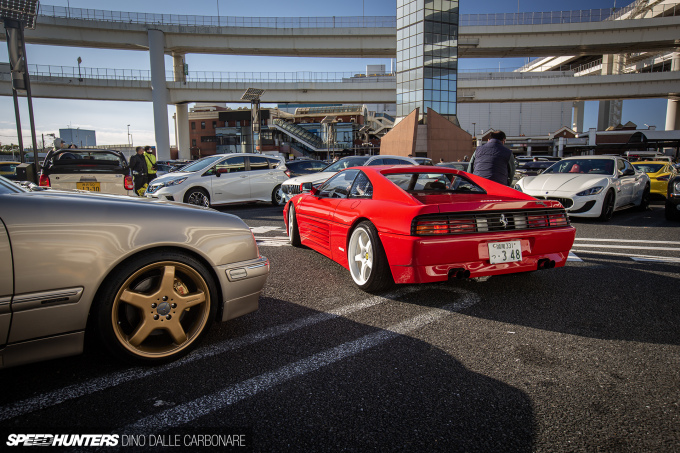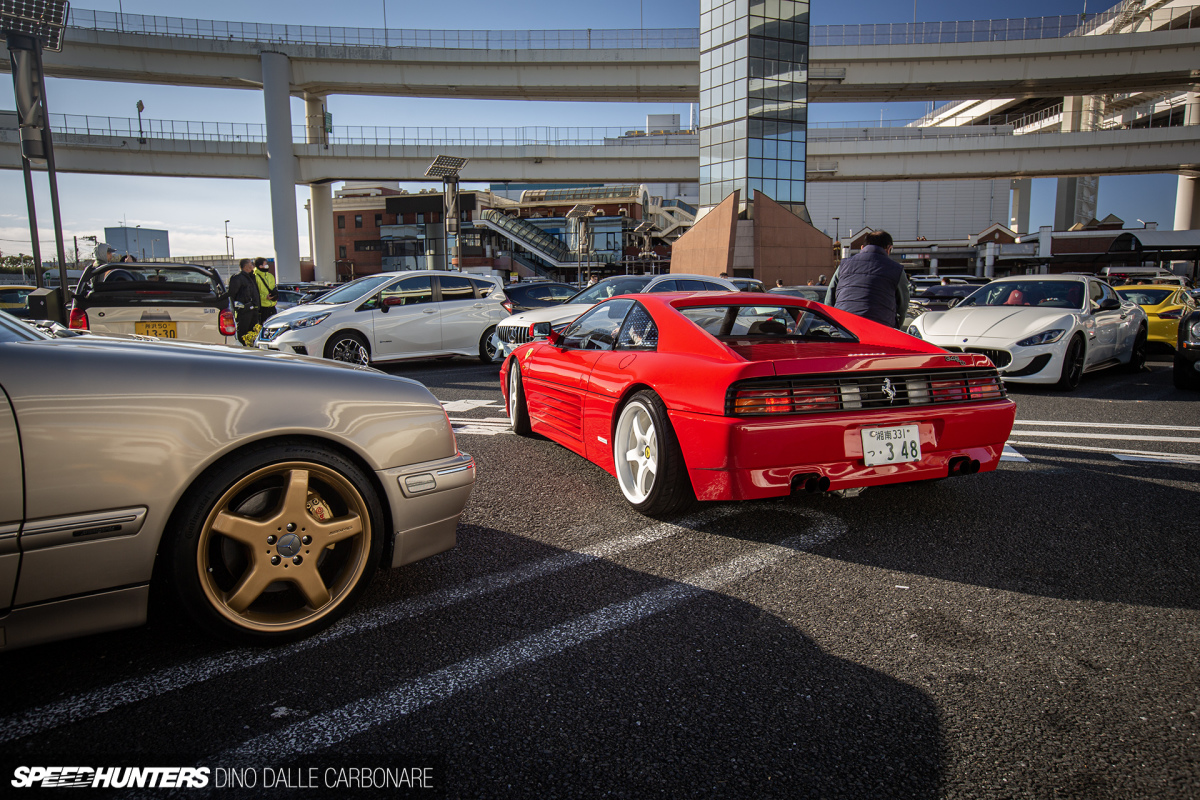 Oh, and the 348 just makes it in.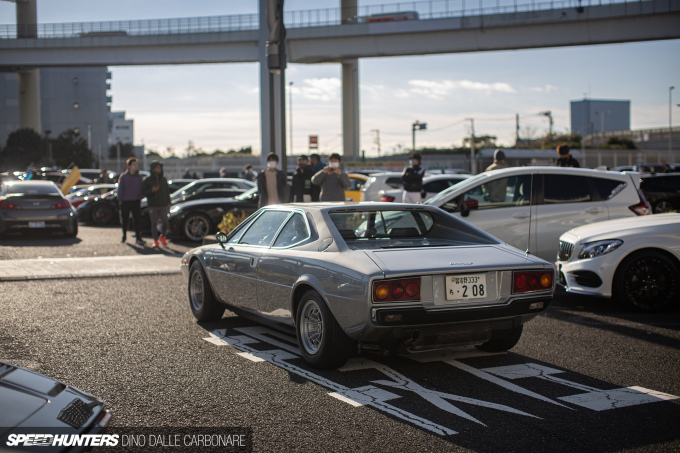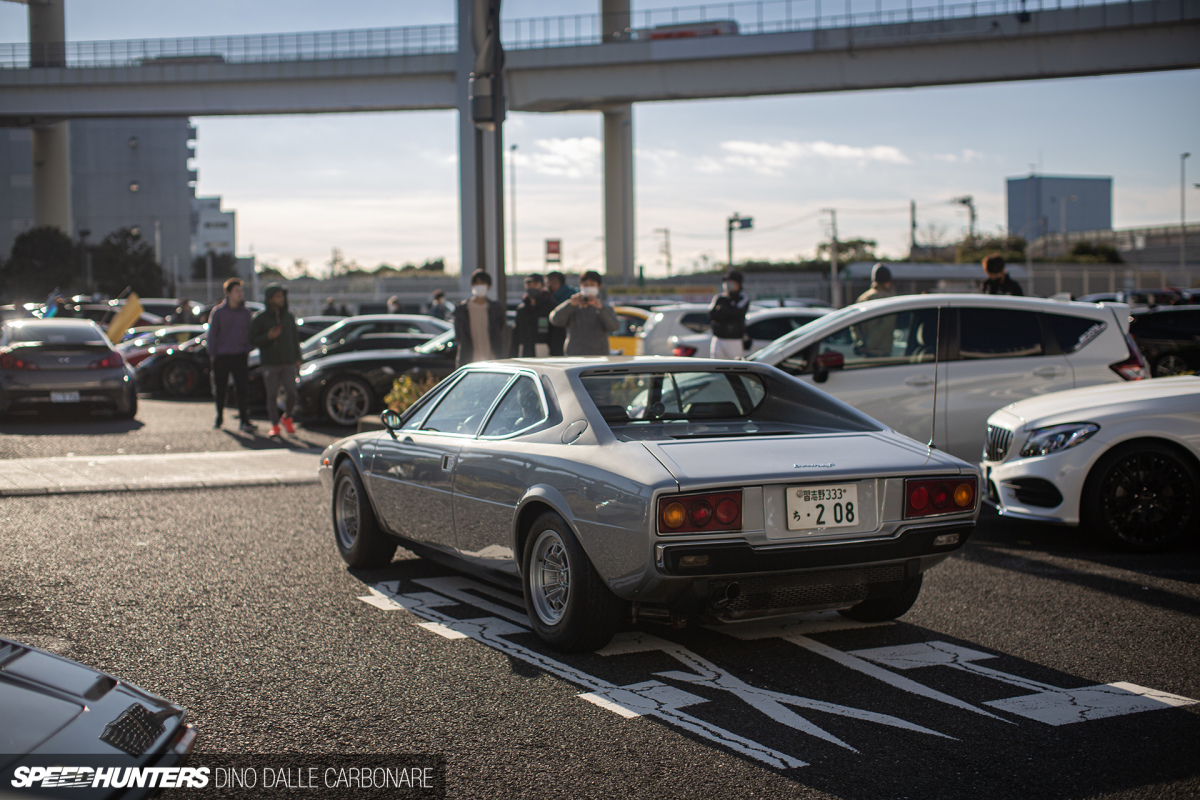 That said, a bit of that Bertone angular goodness never hurts.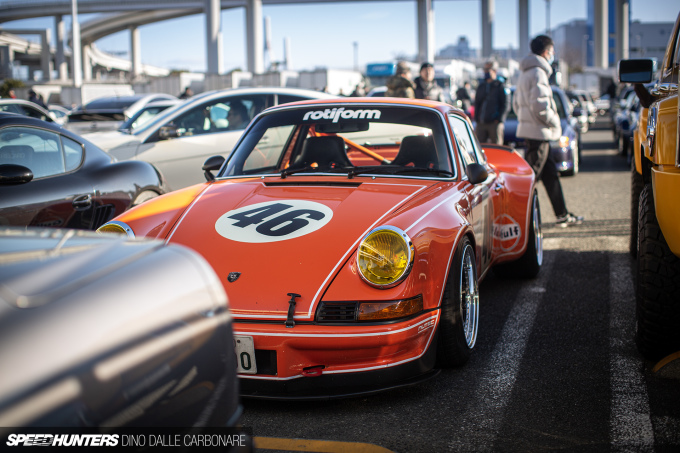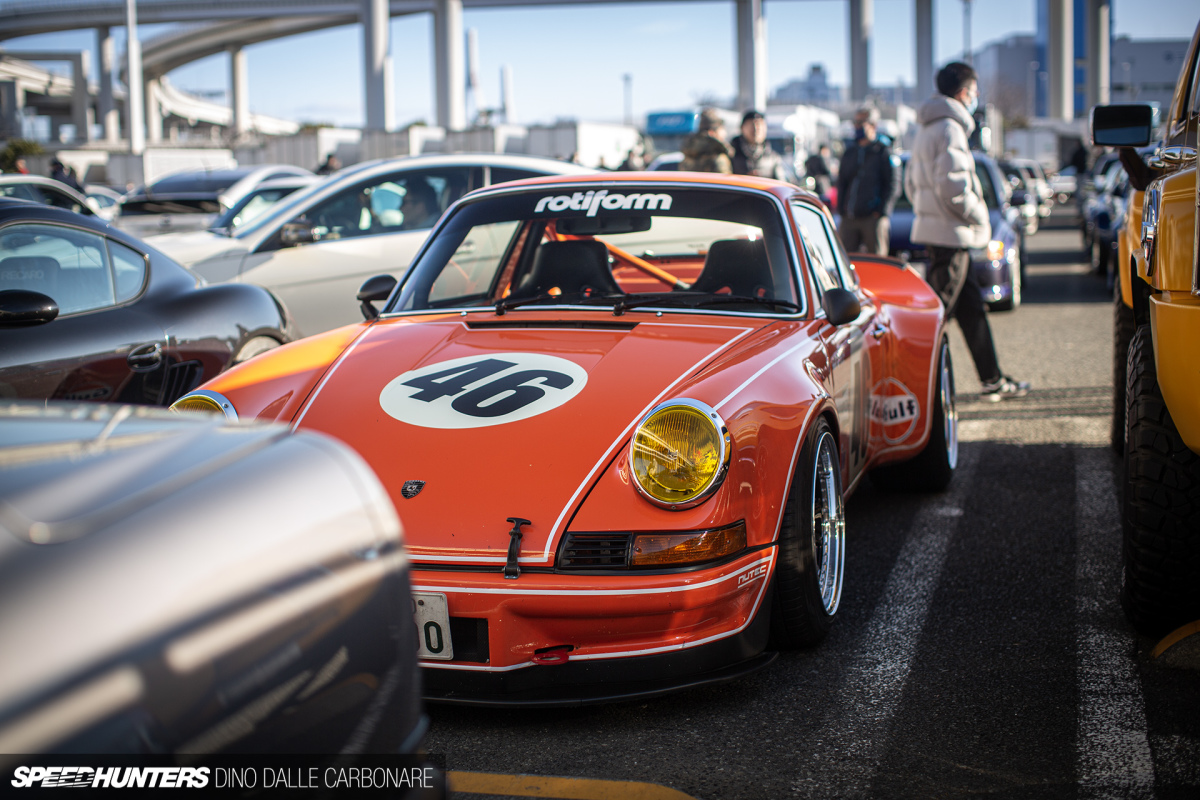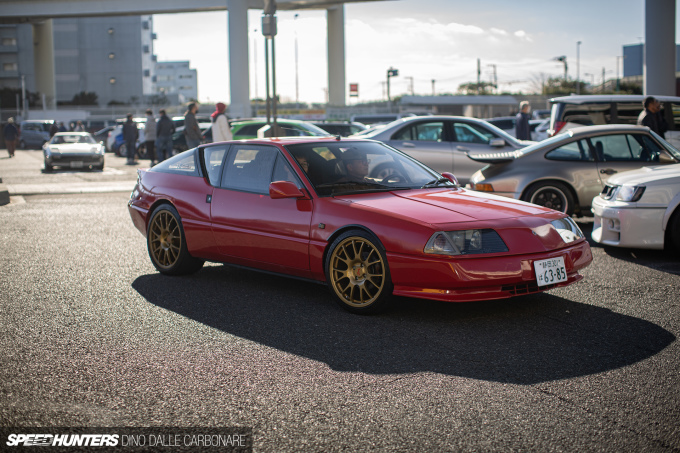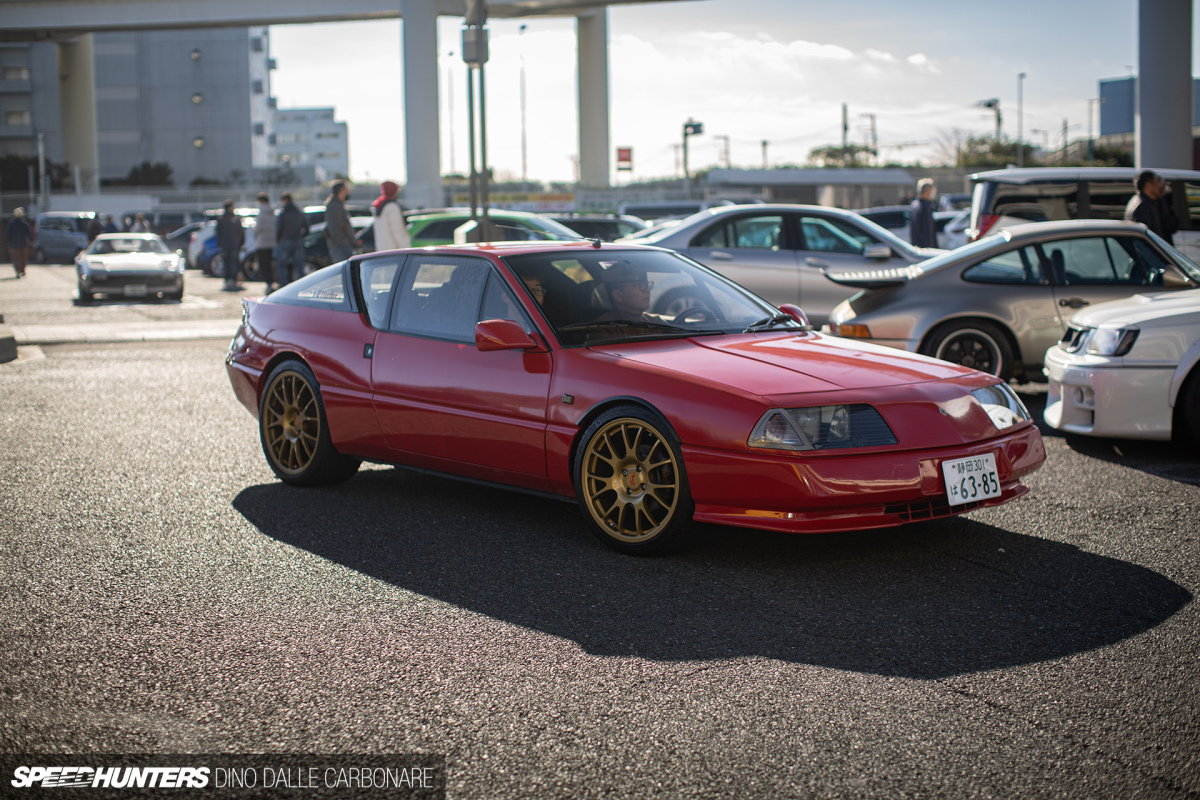 Among all the vintage Porsches that were parked up, I even spotted the French interpretation of a sporty 2+2 coupe, the Alpine V6.
How about this for a contrast. Which one would you choose?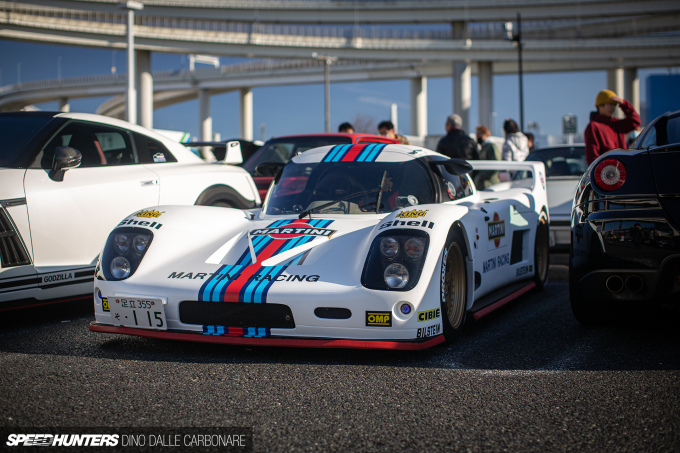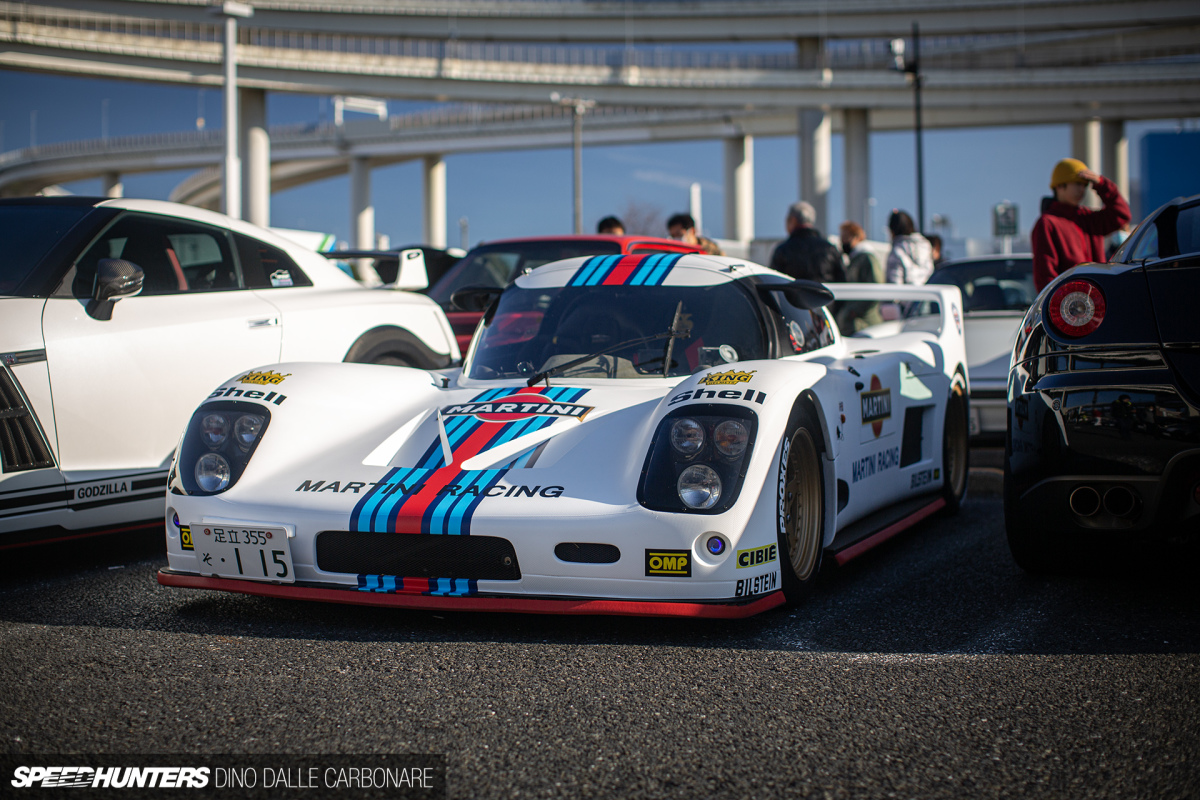 While the biggest surprises at past Daikoku PA New Year Meetings have usually been rare hypercars, for 2023 I couldn't go past this Ultima with a Martini livery. Cool, unexpected and surely a pretty crazy thing to steer around Tokyo.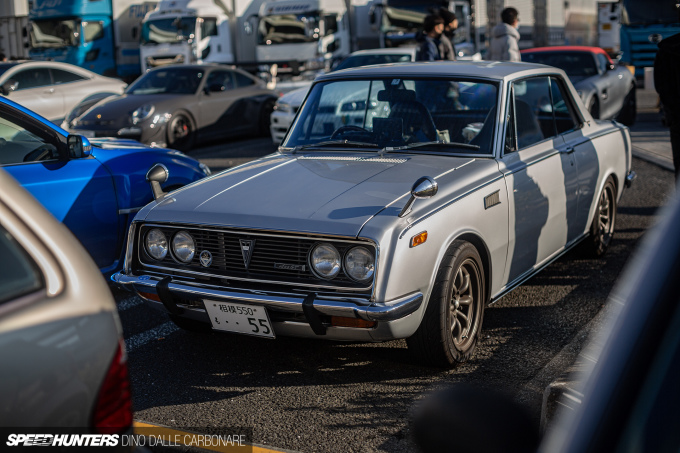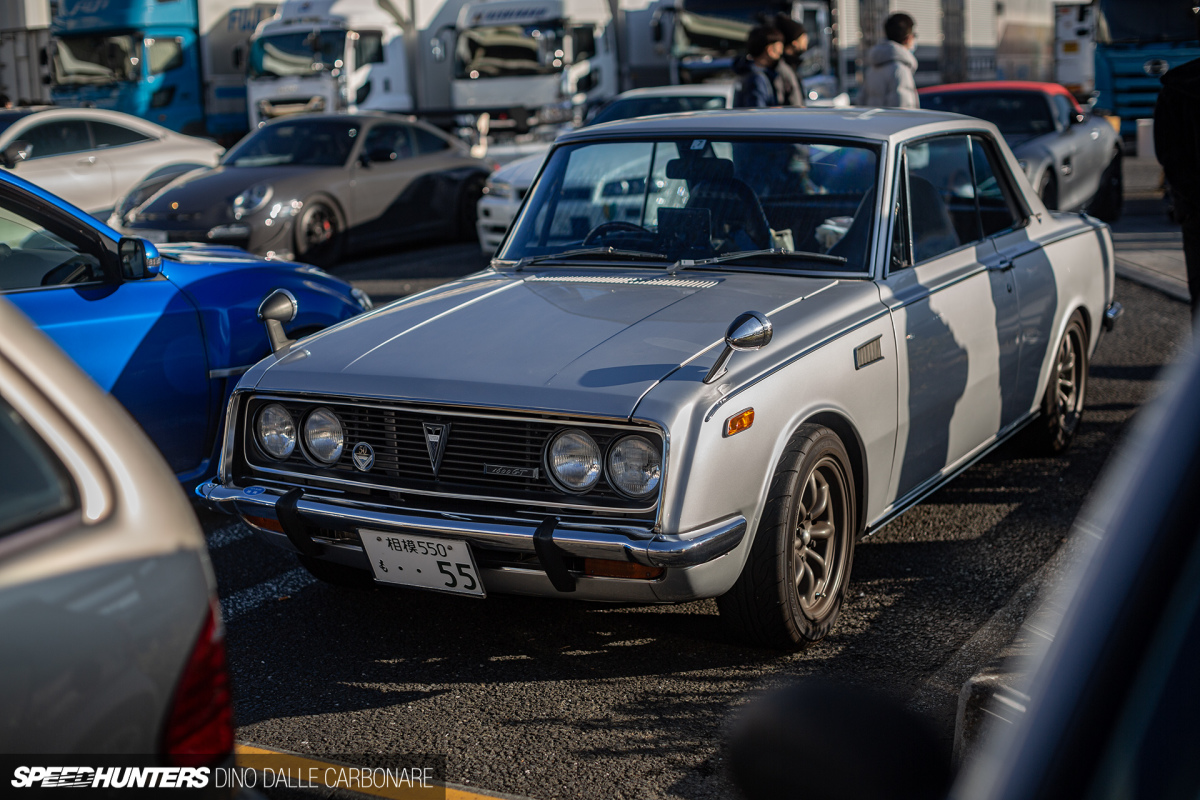 What about some new vs. old spots? This was the first time I've seen the new Mercedes-Benz SL on the street, and it was a pleasure to hear the brap-brap-brap of a sweet Mazda RX-3. I came across one Hakosuka at the meet, but the rarest kyusha find was this silver RT55 Toyota 1600GT.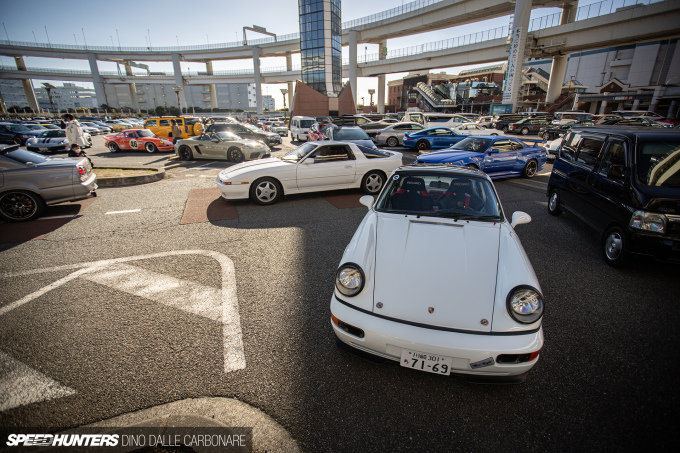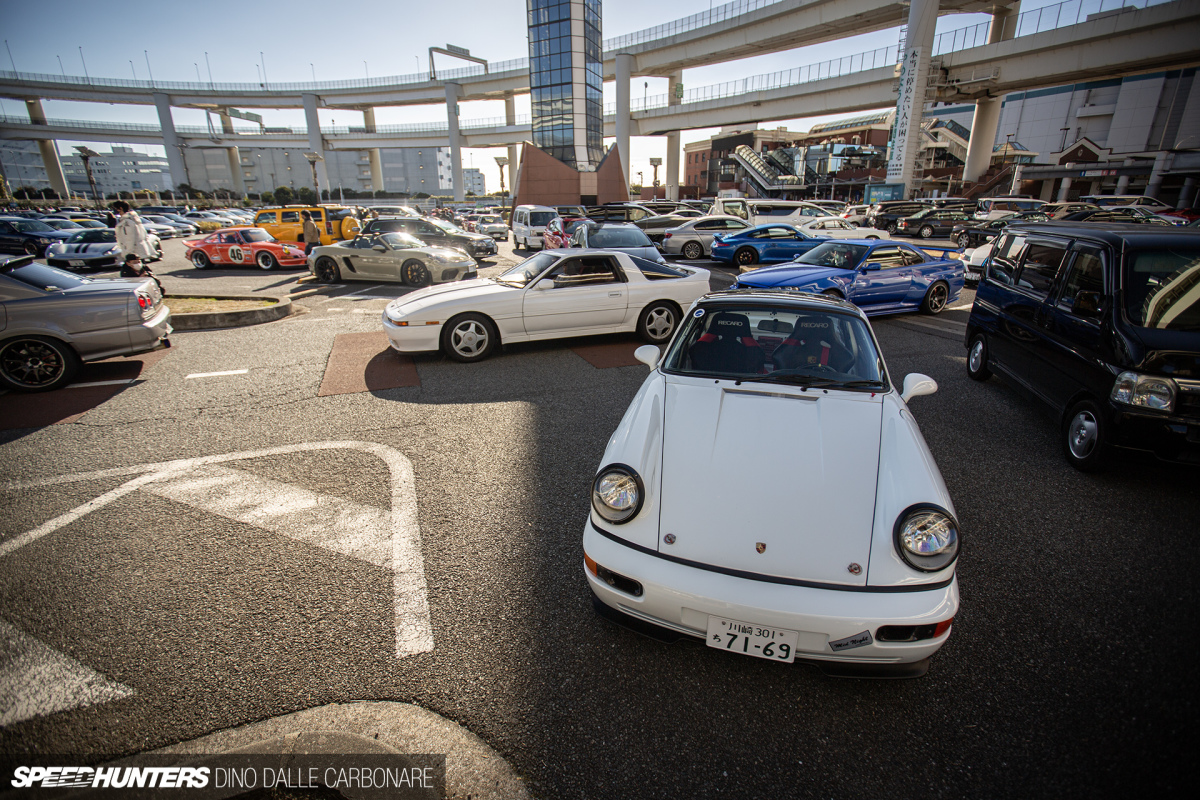 So much '90s goodness.
An Unexpected Surprise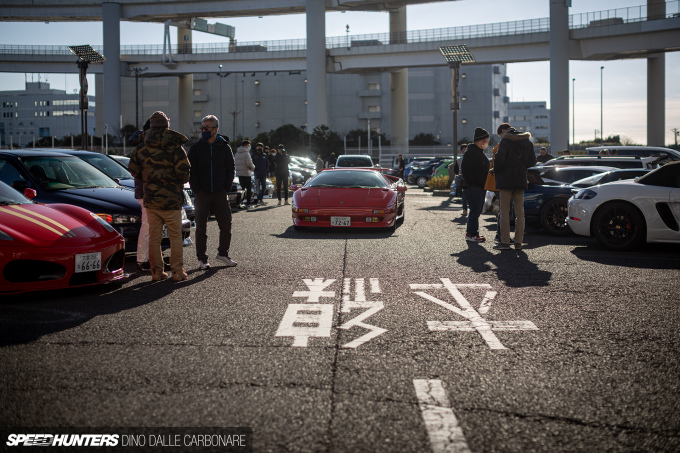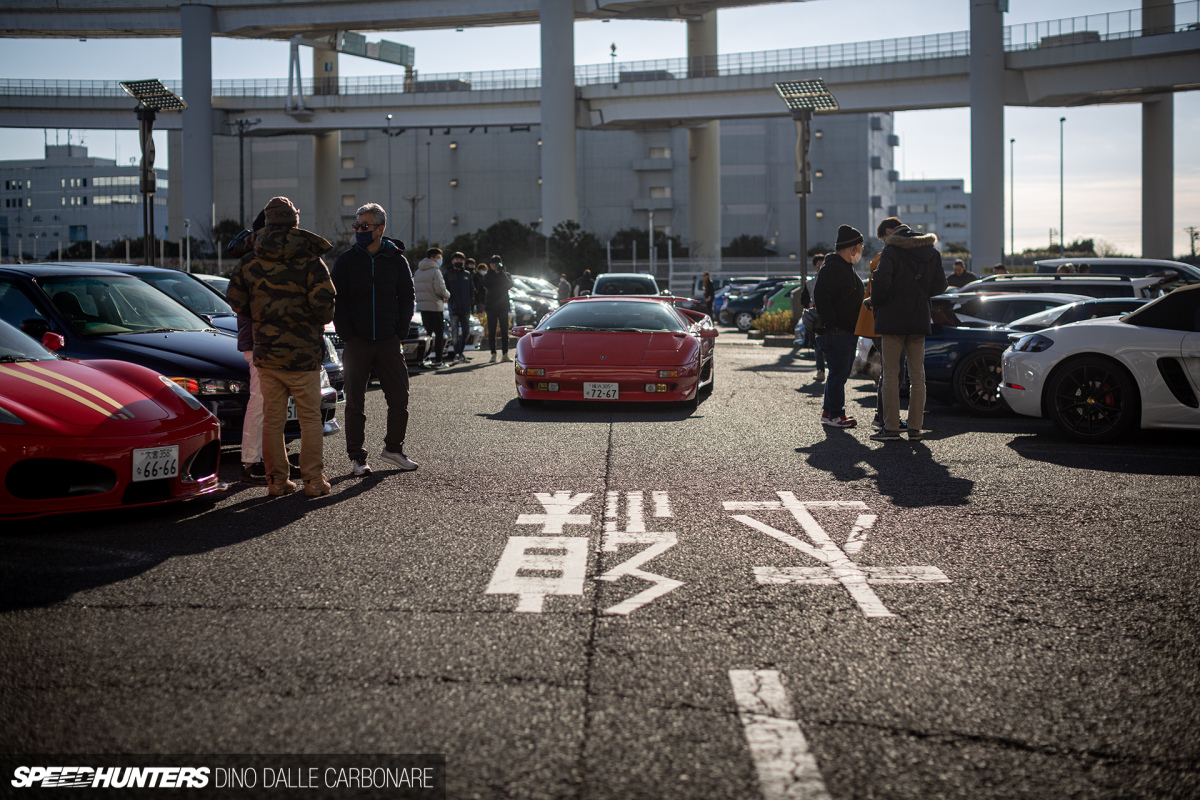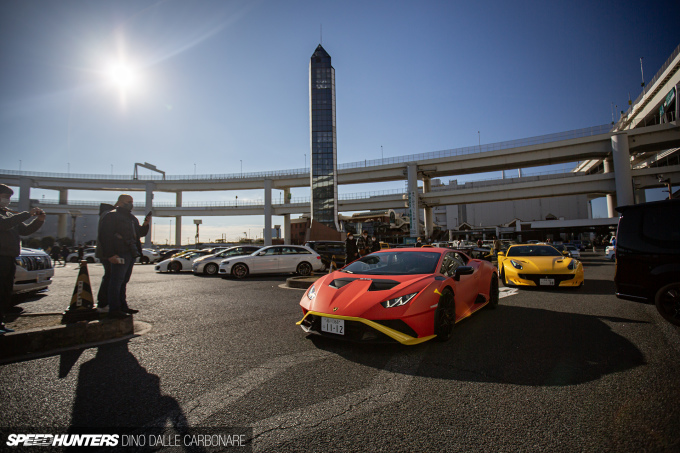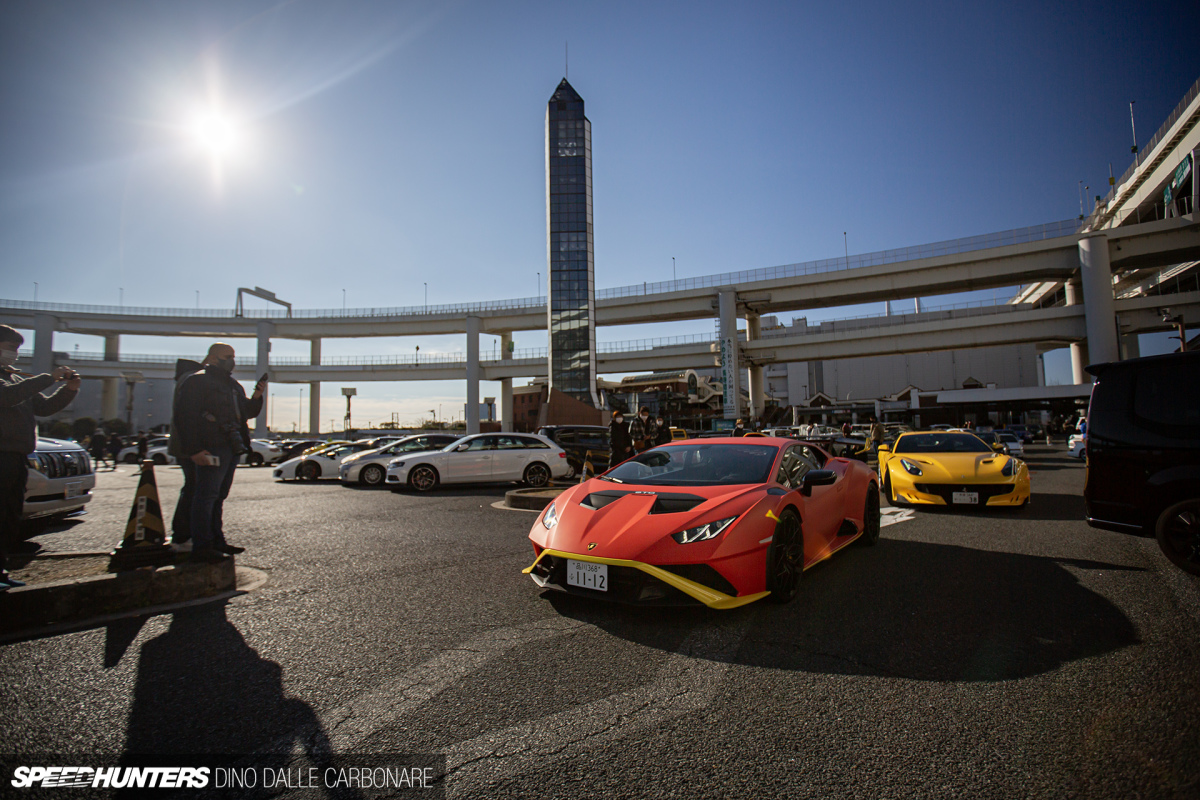 You can't have a New Year Meeting in Japan without Lamborghinis, and they were in full force with an expensive parade. The Japanese are really drawn towards V12s from Sant'Agata… and V10s from Ingolstadt.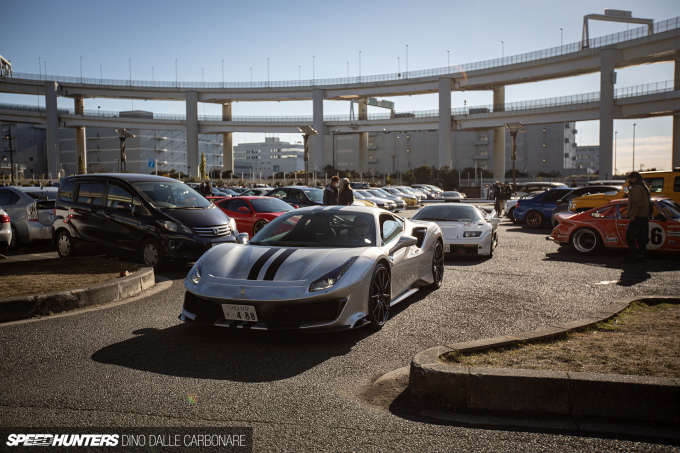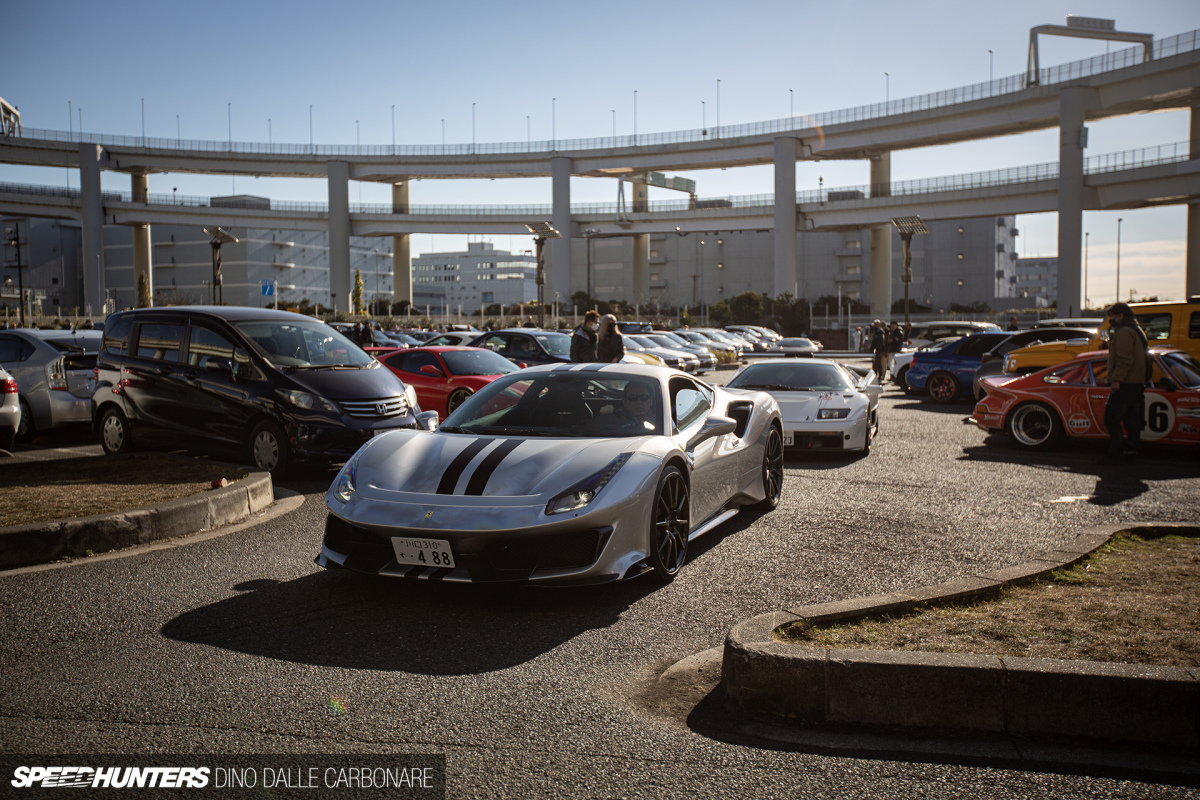 It was at this moment that I heard something ridiculously loud, even by Daikoku PA standards.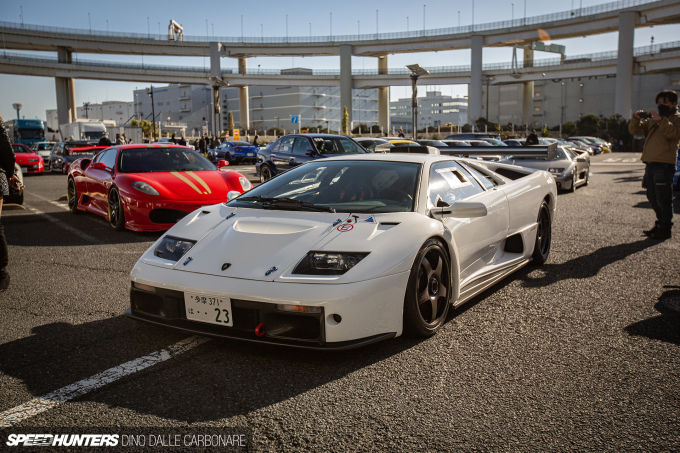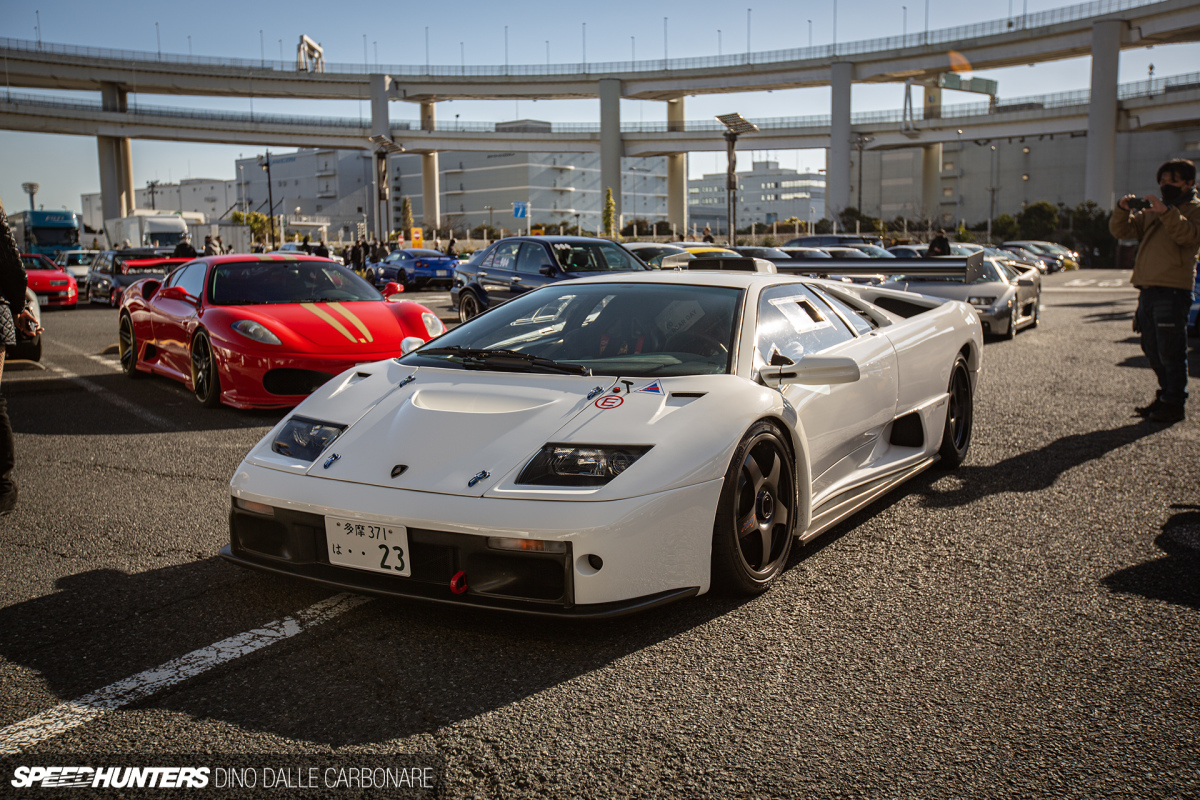 Japan really is the perfect place to road-register a race car. We've seen this achieved in many ways over the years, but a Diablo GTR wins hands down.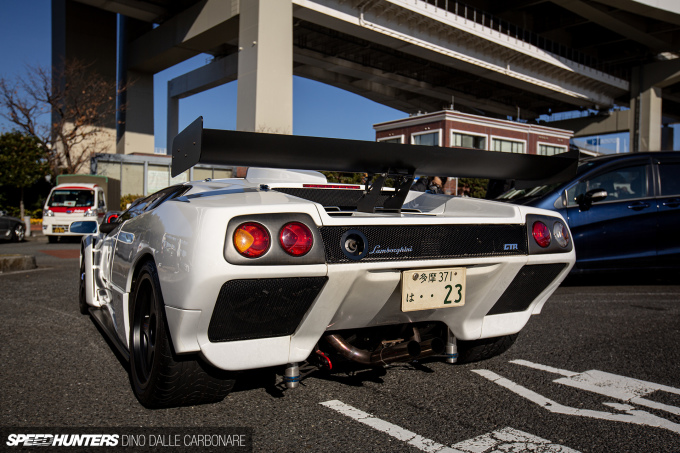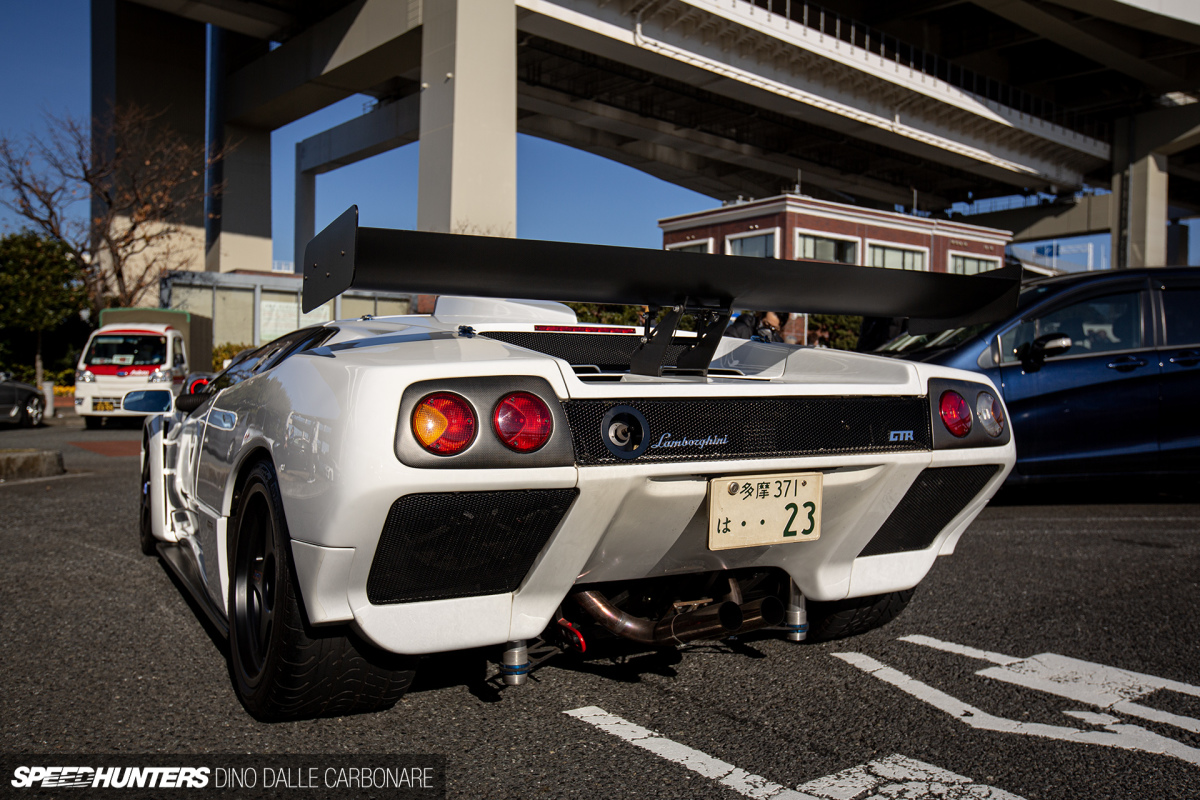 The sheer presence this white beast is nothing short of overwhelming, and that's before you even hear the un-silenced V12. All 30 of the GTR race cars built had that massive center-mounted wing, and if someone doesn't believe you're driving the real thing you can show them the air jacks sticking out the back.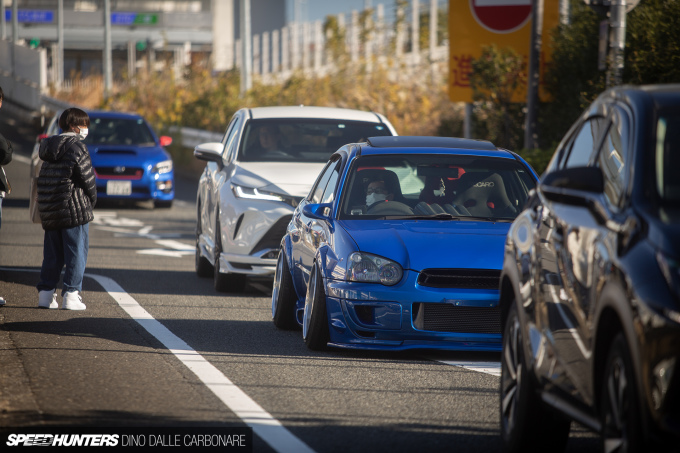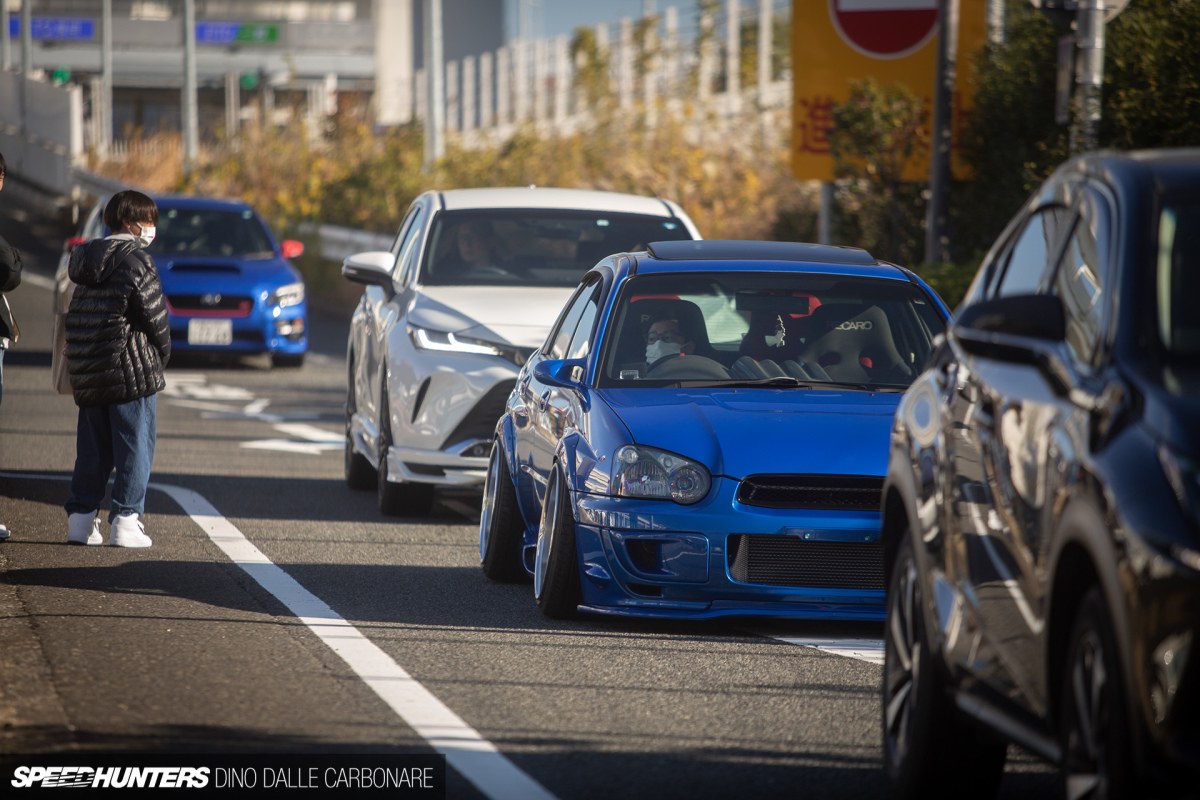 After a first initial purge of cars – something initiated by the Daikoku PA police, who were complaining about people taking up the truck spaces – it didn't take long for the car parking lot to refill with a fresh new batch of vehicles.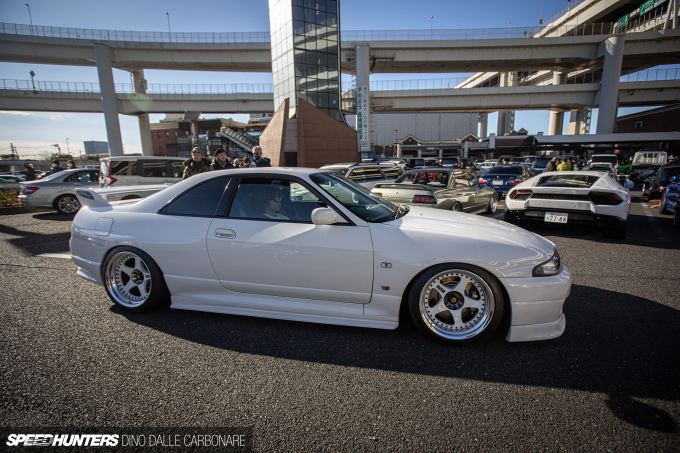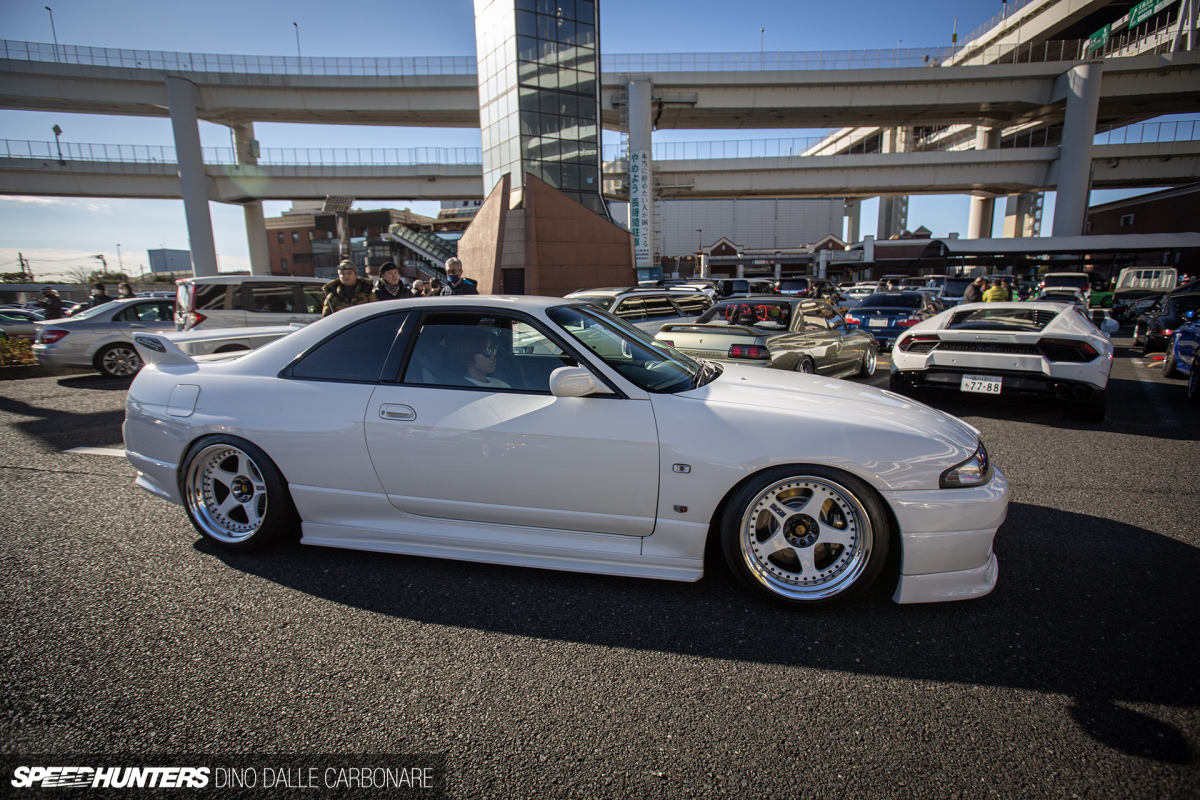 Period-correct Nismo LM GT1s might be the best wheel choice for the R33. Discuss…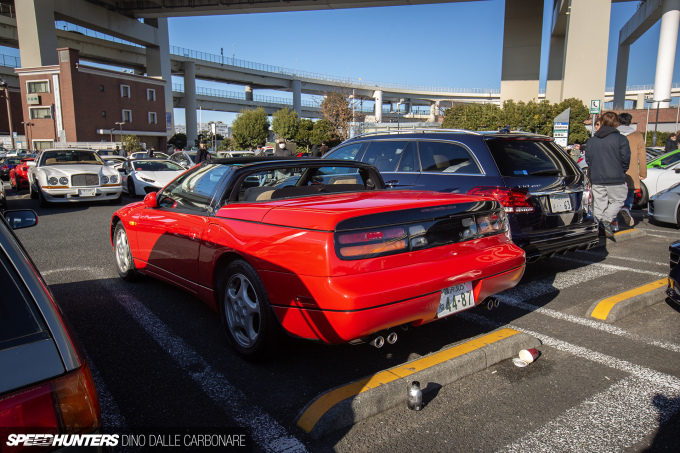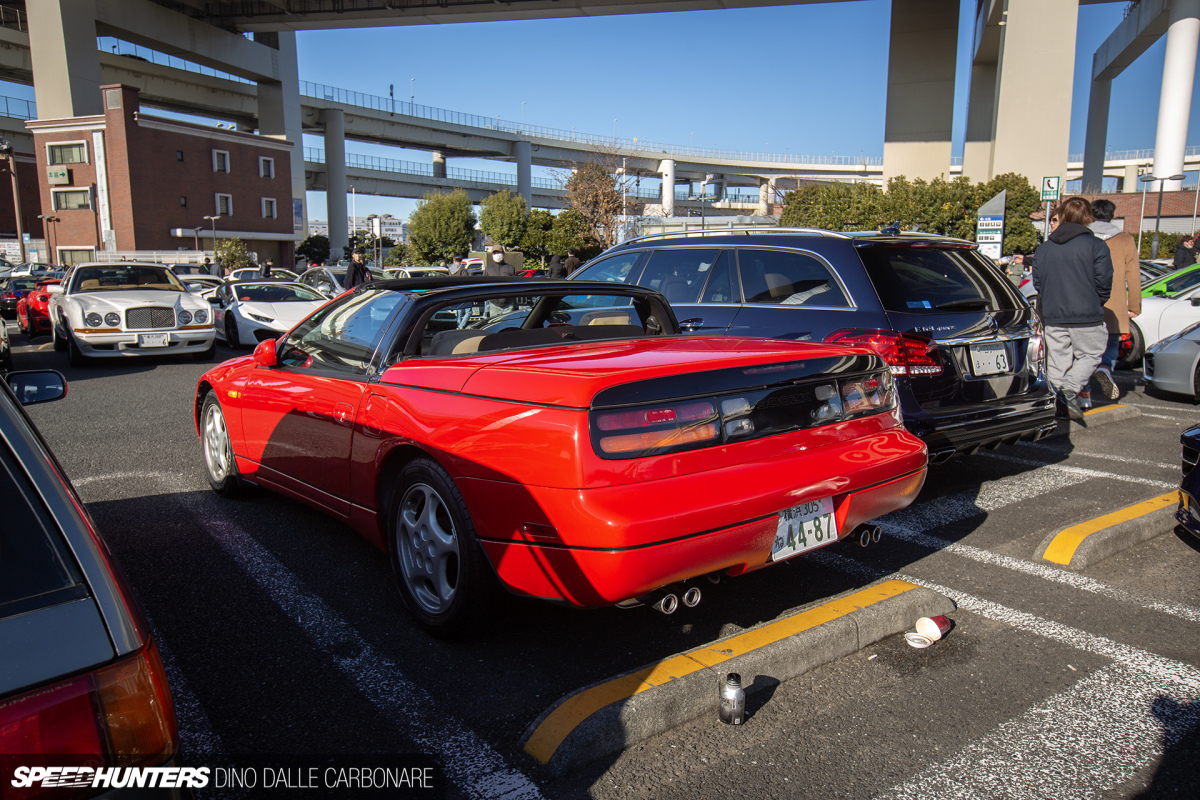 I was possibly the only guy at the meet totally amazed to see this ultra-rare Z32 Fairlady Z drop top in completely original state.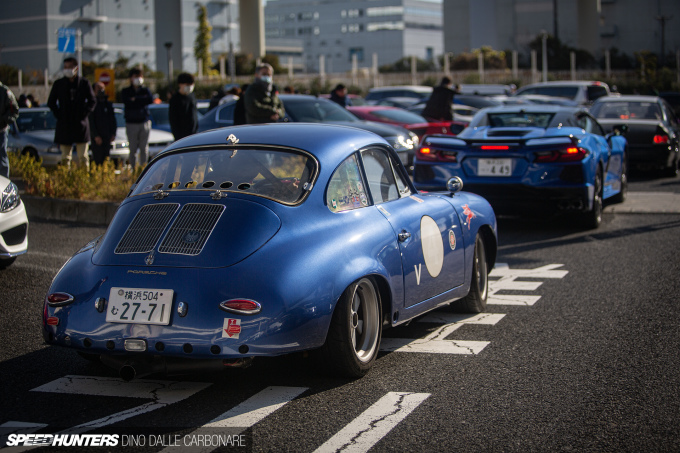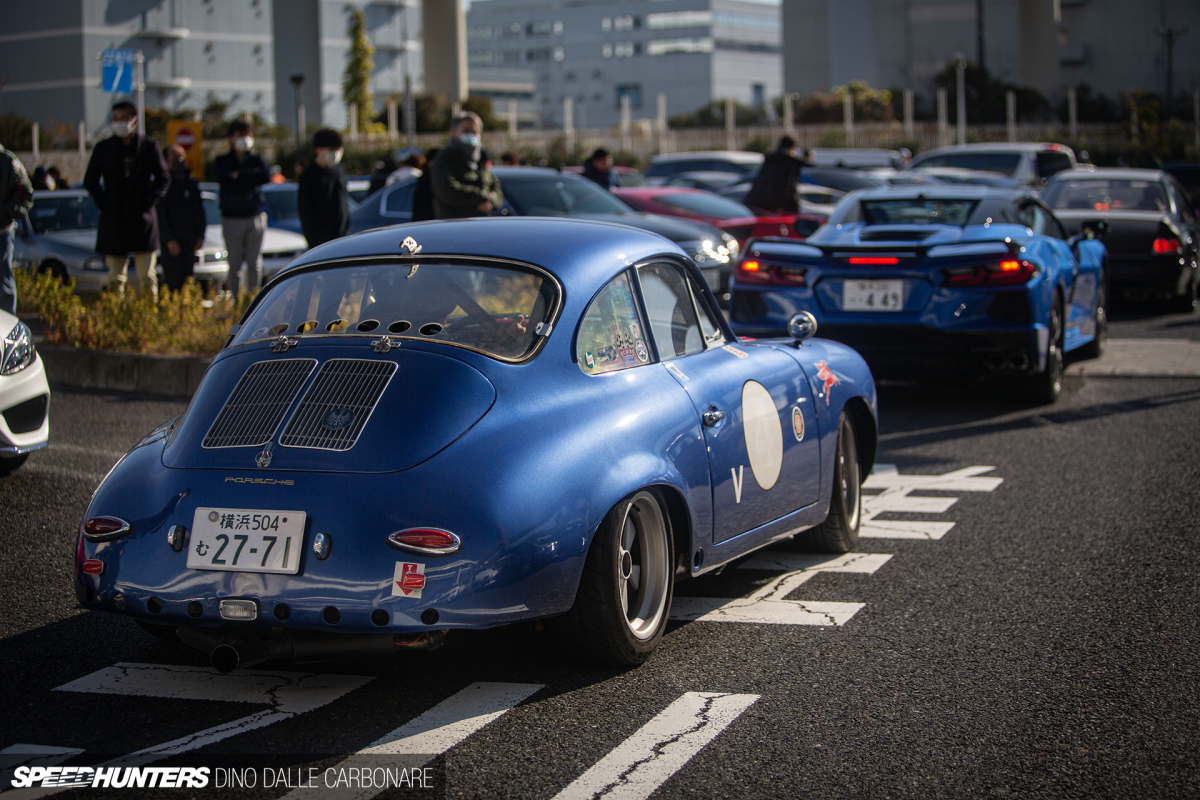 Another welcome surprise was this outlaw-style 356. It's something you don't come across often, as these old Porsches are usually kept as stock as possible.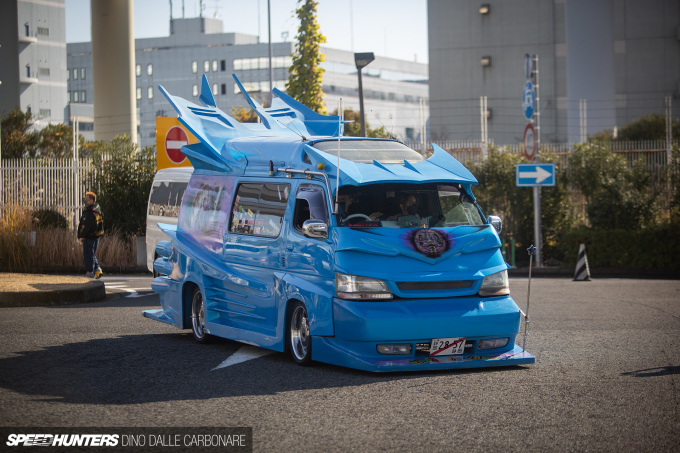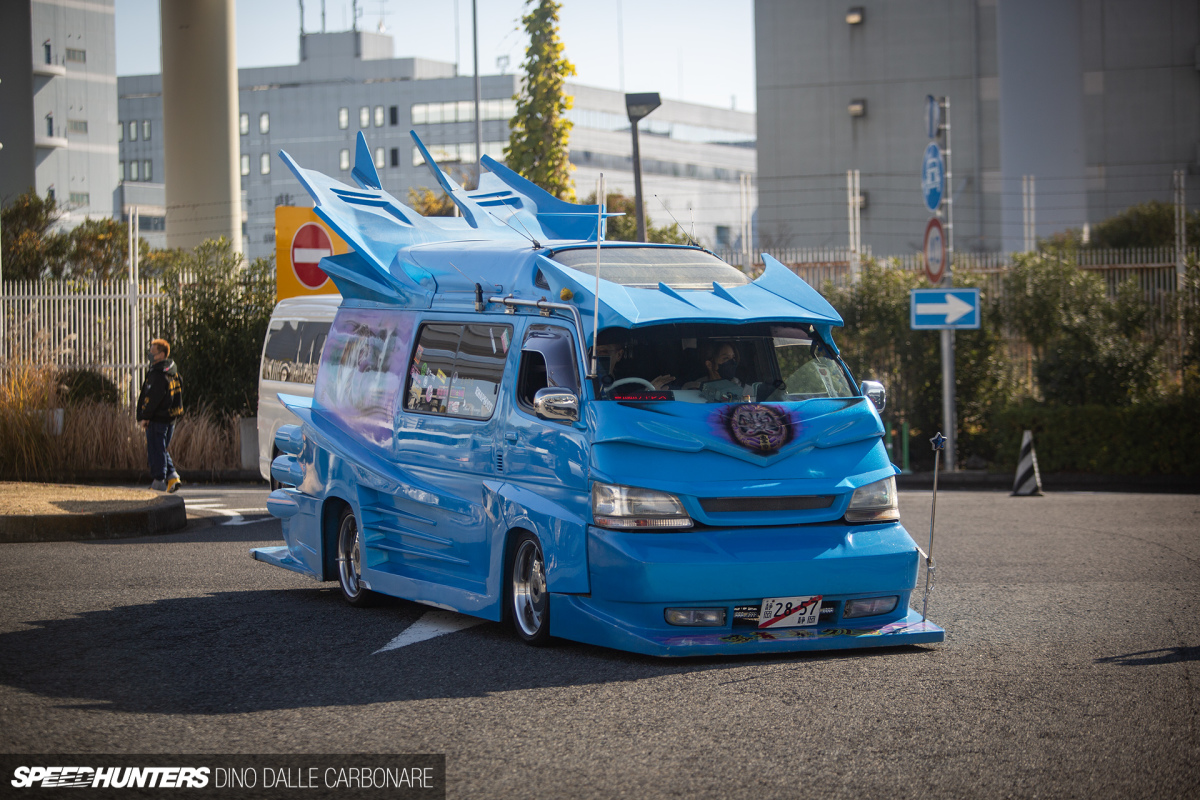 Topping off the meet for me were three crazy Toyota Hiace vans.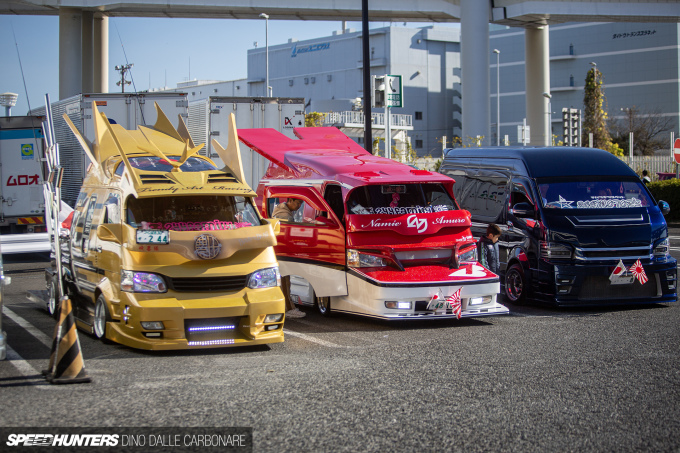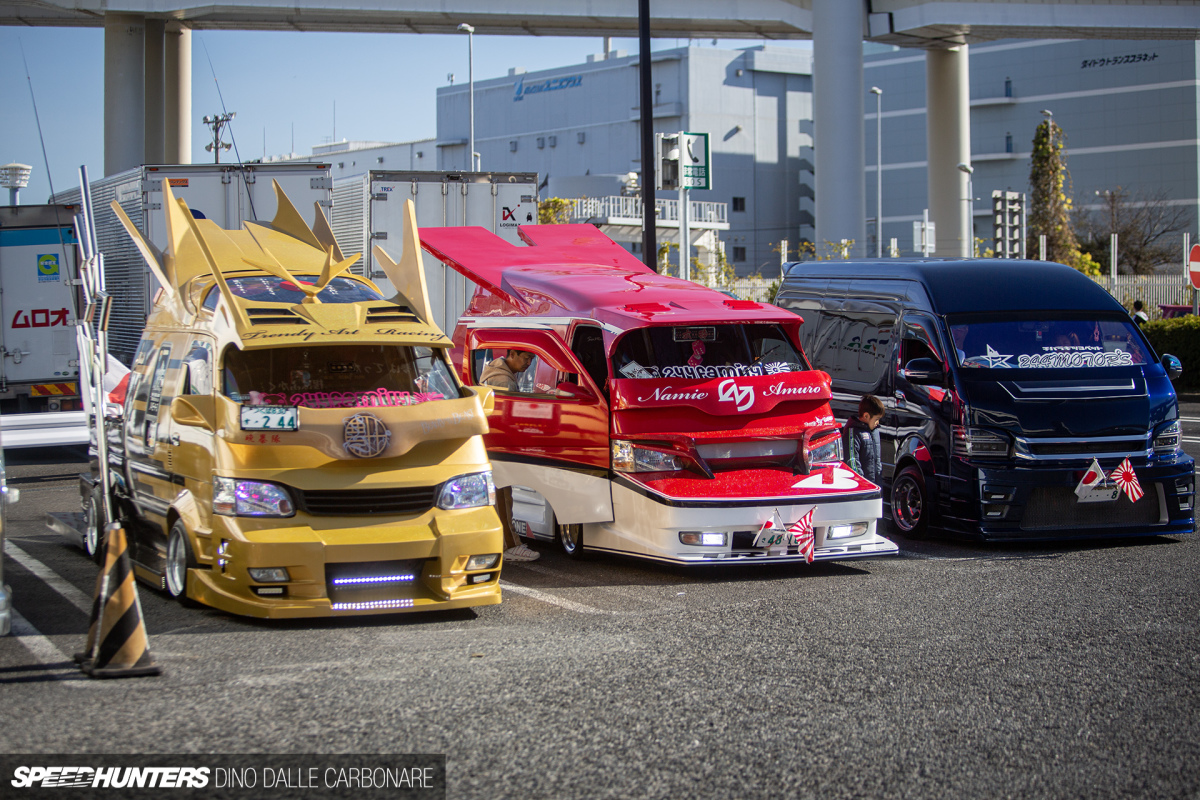 This is very much a dying style in Japan now, so seeing these fresh builds was very cool.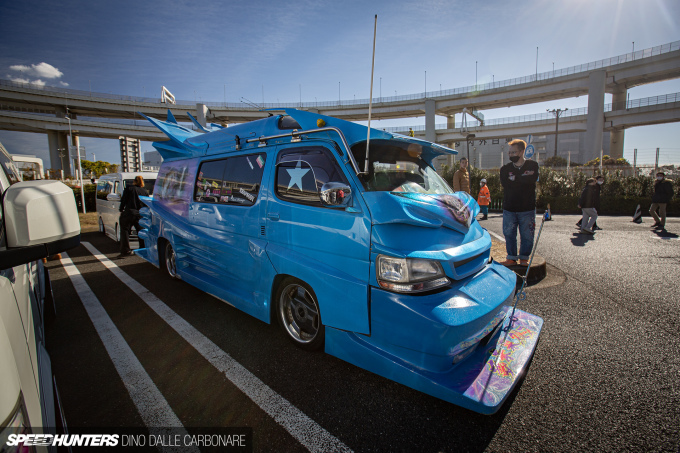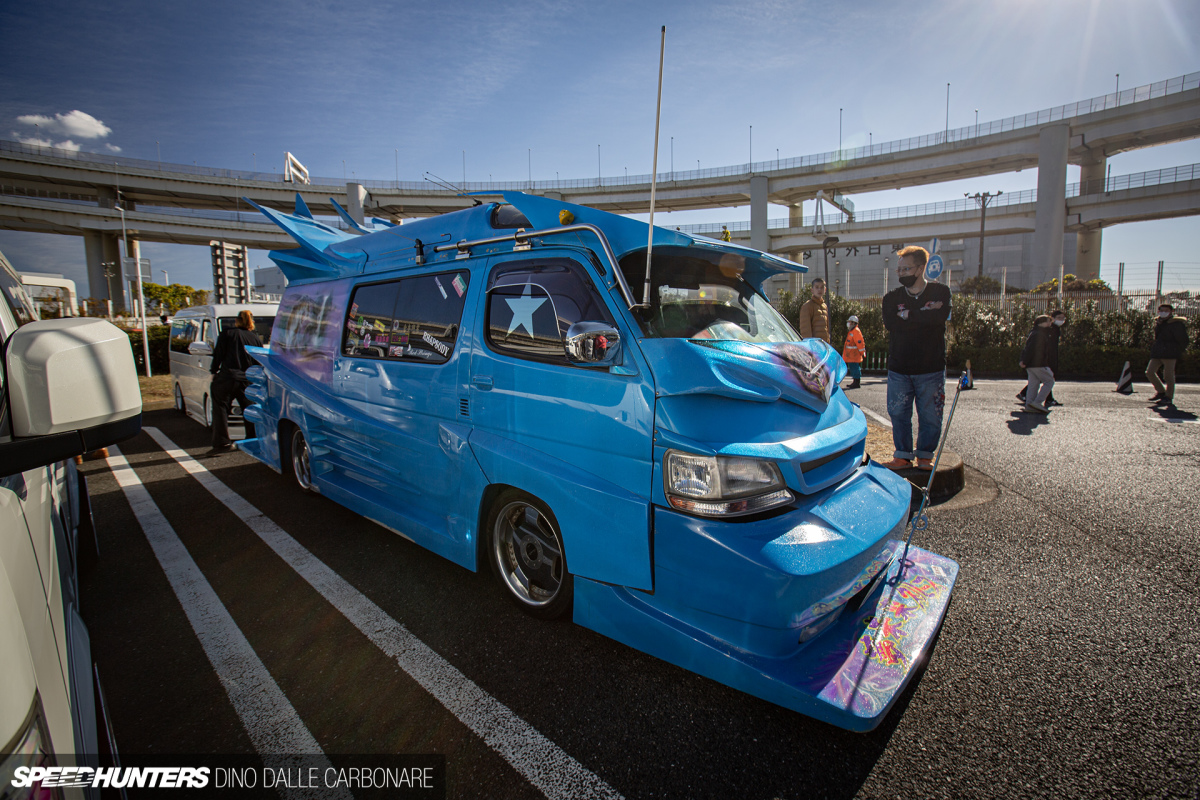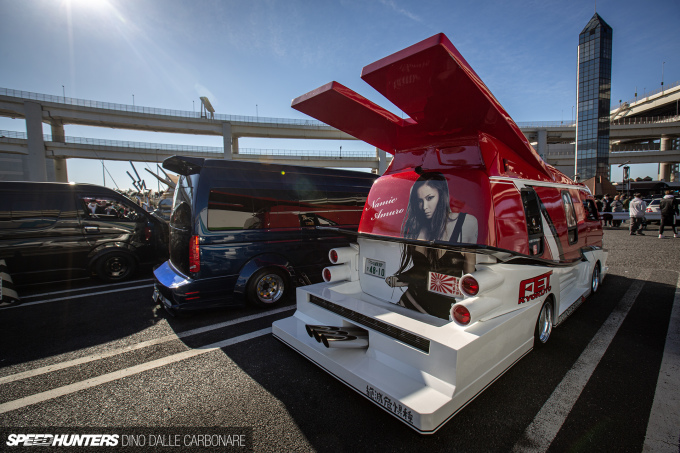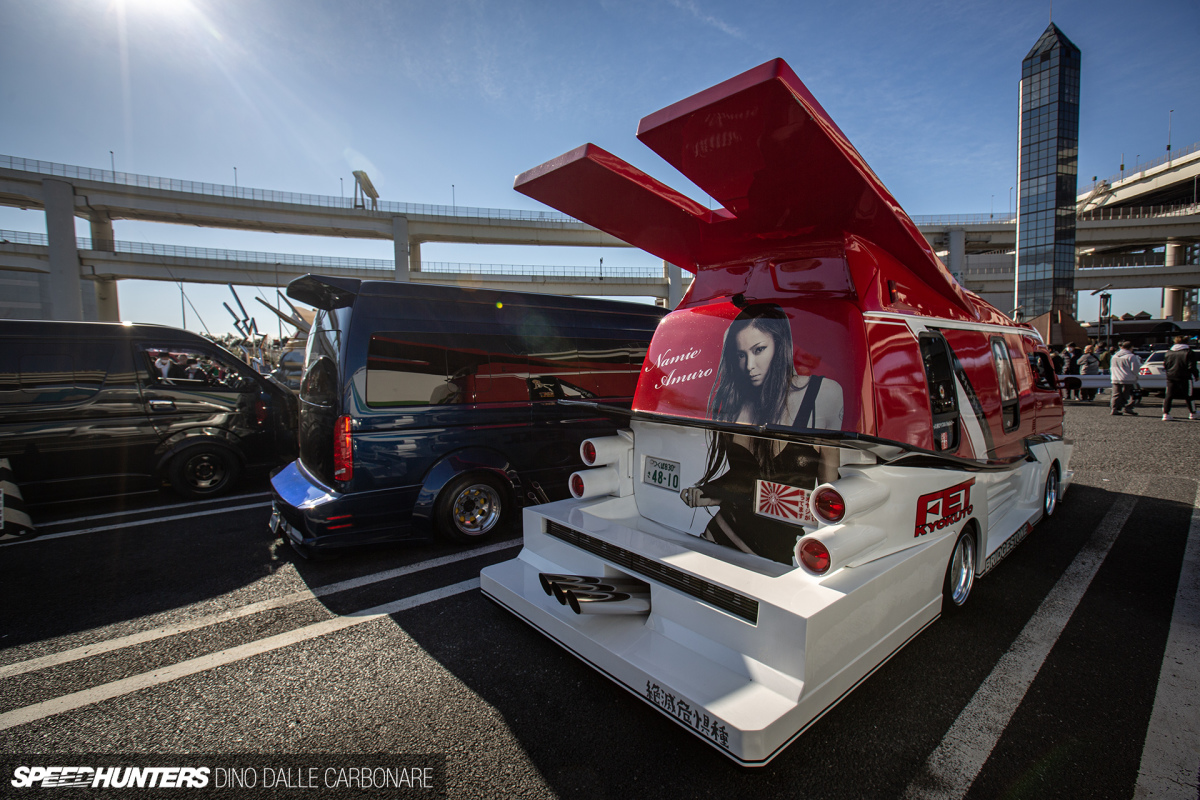 I would definitely choose the more race-inspired version with the Bridgestone and Trust livery.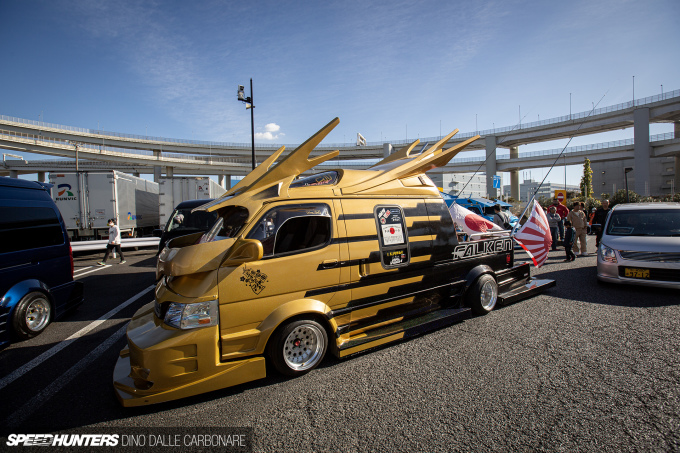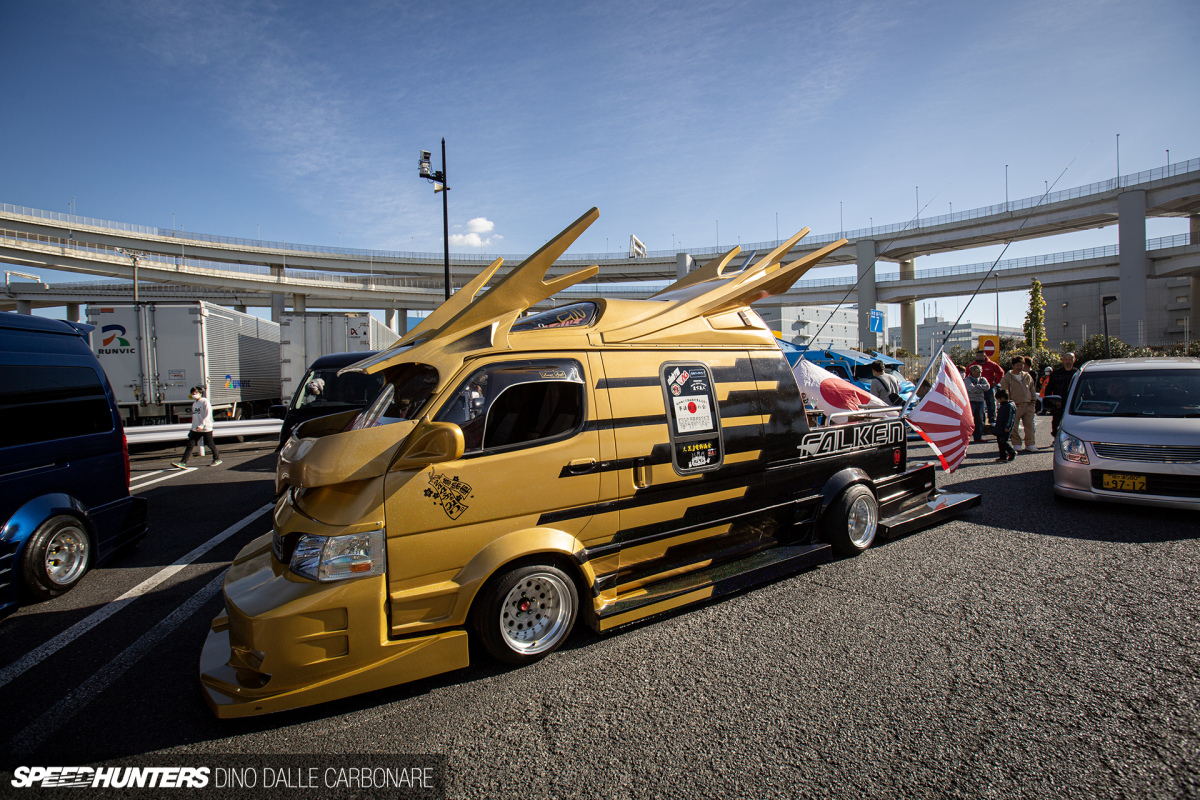 I hope this gallery from the 2023 Daikoku PA New Year Meeting has put a smile on your face. Being there did for me, and as always it was a great start for another year of Speedhunting.
Next stop, Tokyo Auto Salon in a week's time…
Dino Dalle Carbonare
Instagram: dino_dalle_carbonare
dino@speedhunters.com