Chasing Horses
Too much horsepower. It's a three-word phrase seldom uttered between autophiles. In fact, these words could be considered downright sacrilegious in many garages around the globe.
The act of transforming air, fire and a little fuel into mechanical power is a miracle of modern man. Our obsession with power is fuelled by the same curiosity to understand our universe, desire to reshape our surroundings, and drive to push the boundaries of what's possible. Power is what separates us from the animal kingdom.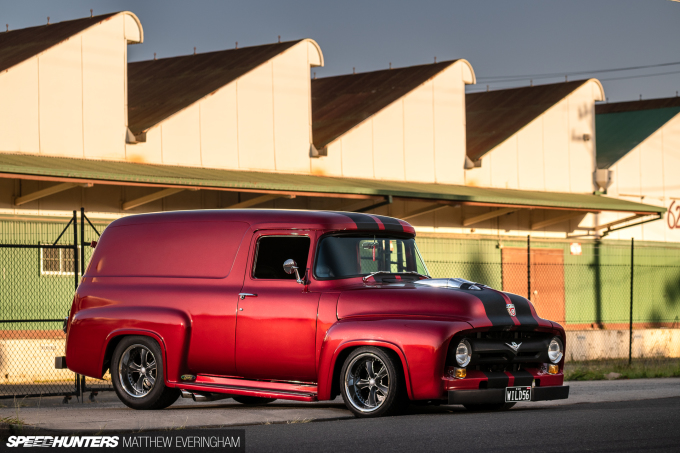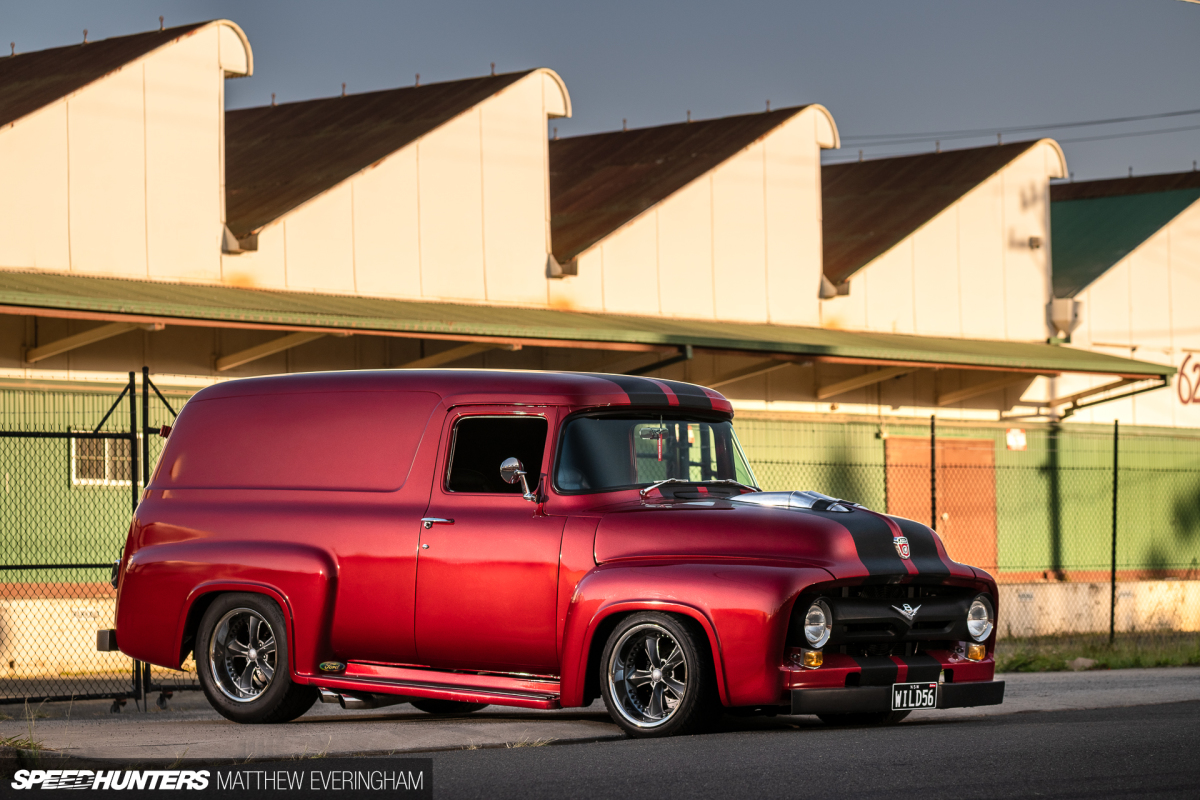 It's human nature to always want more of a good thing (bad things too, I guess), and I for one have never been sated in my quest for power in any of the dozen cars I've owned. Sure, I've been satisfied temporarily, but inevitably, a day, week, or month later the urge for more power rears its head again. But then again, most of my power increases have been quite modest. New pipes, a larger turbo, a new tune – nothing too serious.
Increasing power slowly and incrementally is easy, but going all-in and chasing large horsepower numbers adds multiple levels of complication. How high do you aim? How will you get there? This is the exact predicament Stan found himself in once the decision was made to add two turbos and a supercharger the 427ci V8-powered 1956 Ford F100 Panel Van he'd freshly imported from California.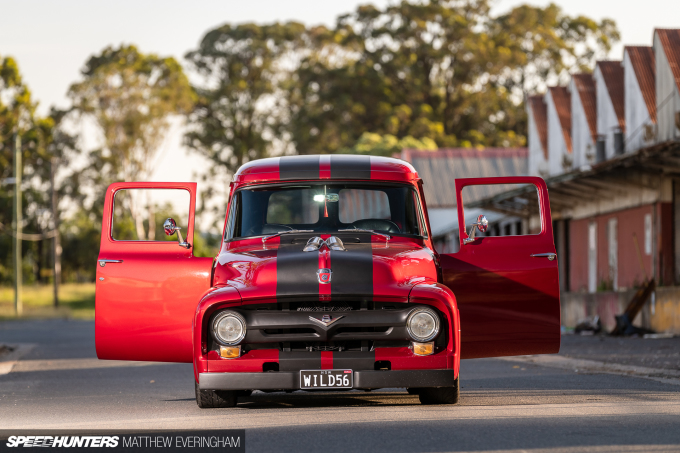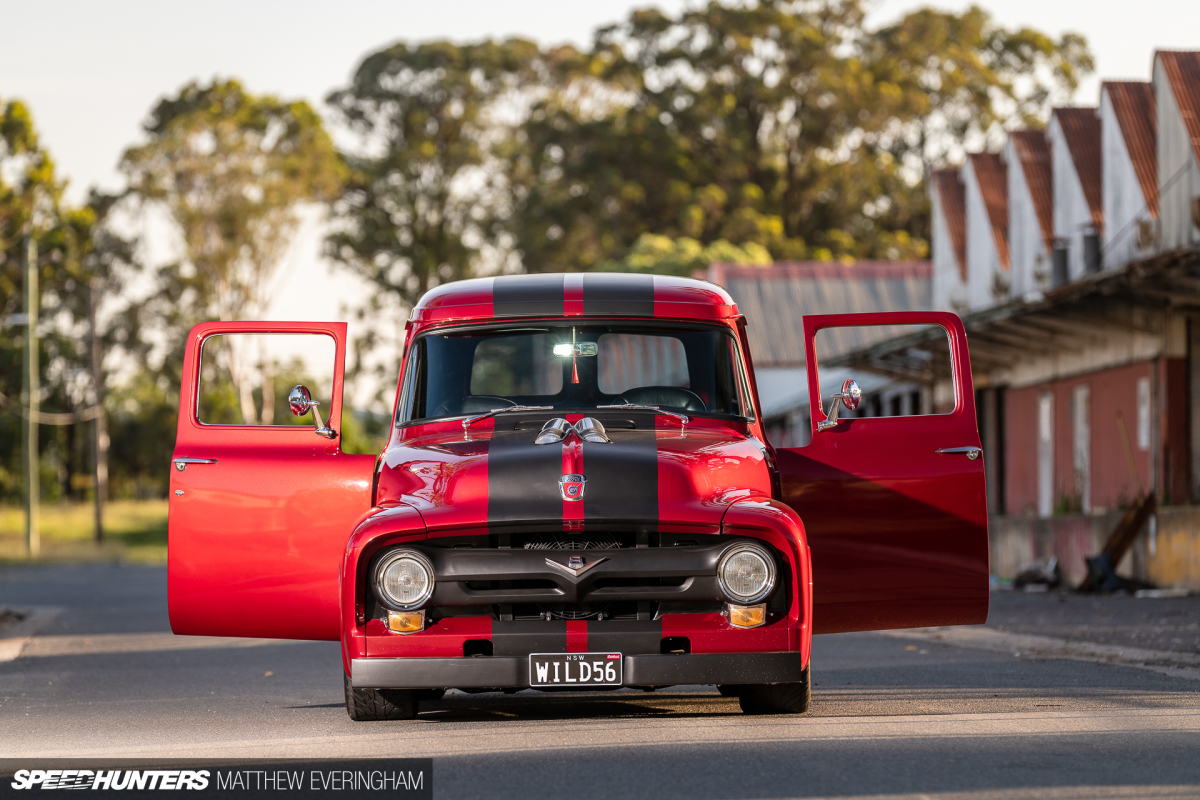 Sure, it doesn't sound like a terrible scenario, but Stan isn't an oil tycoon or a Bitcoin millionaire – he's just another regular dude, albeit with a higher than average level of commitment to a building his dream ride.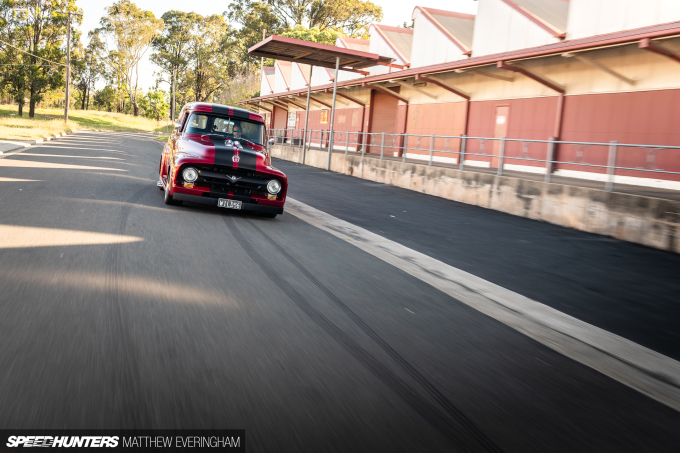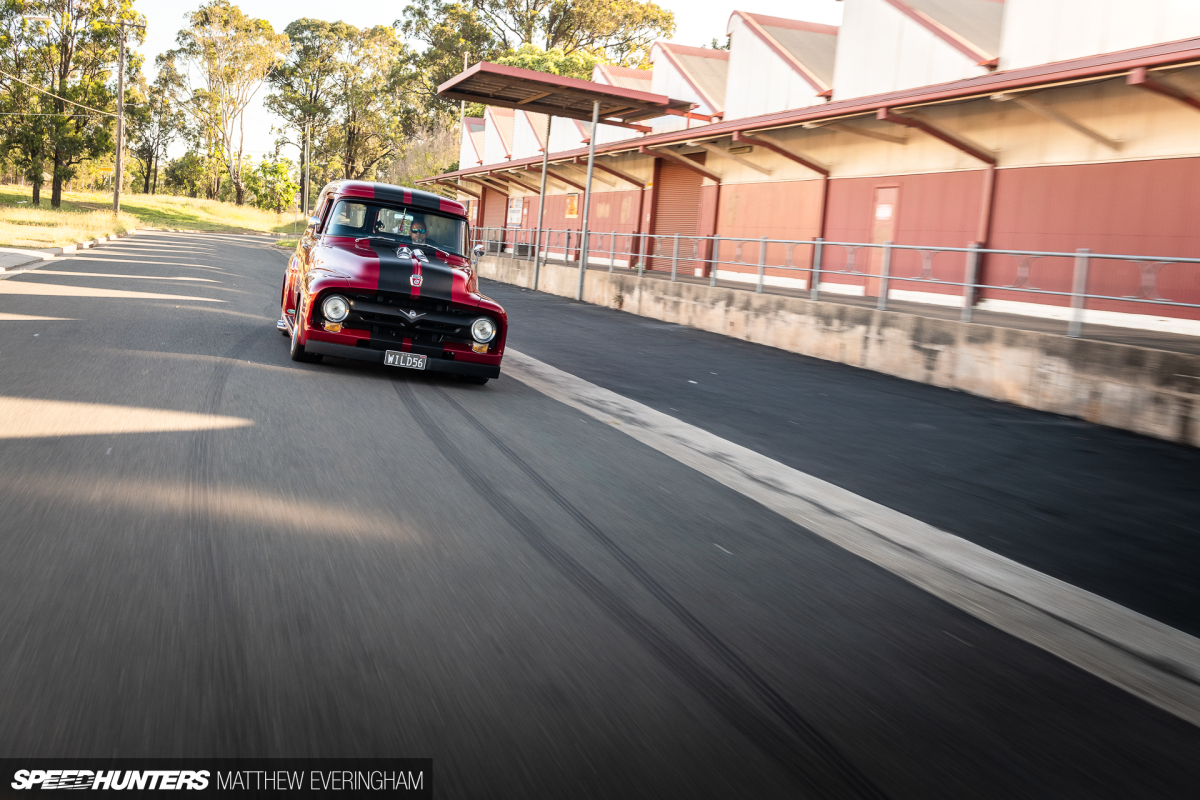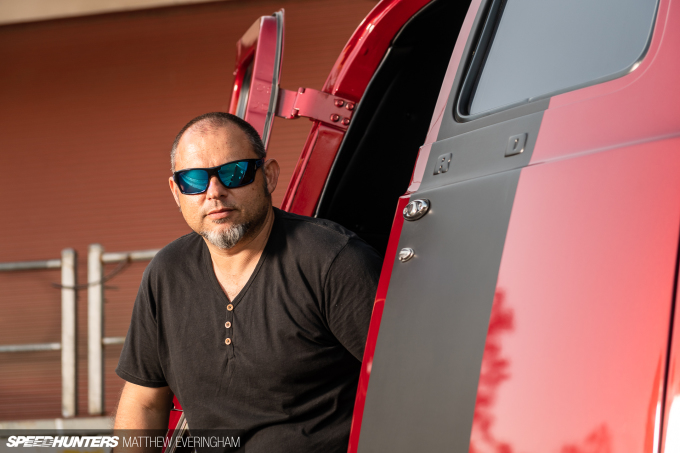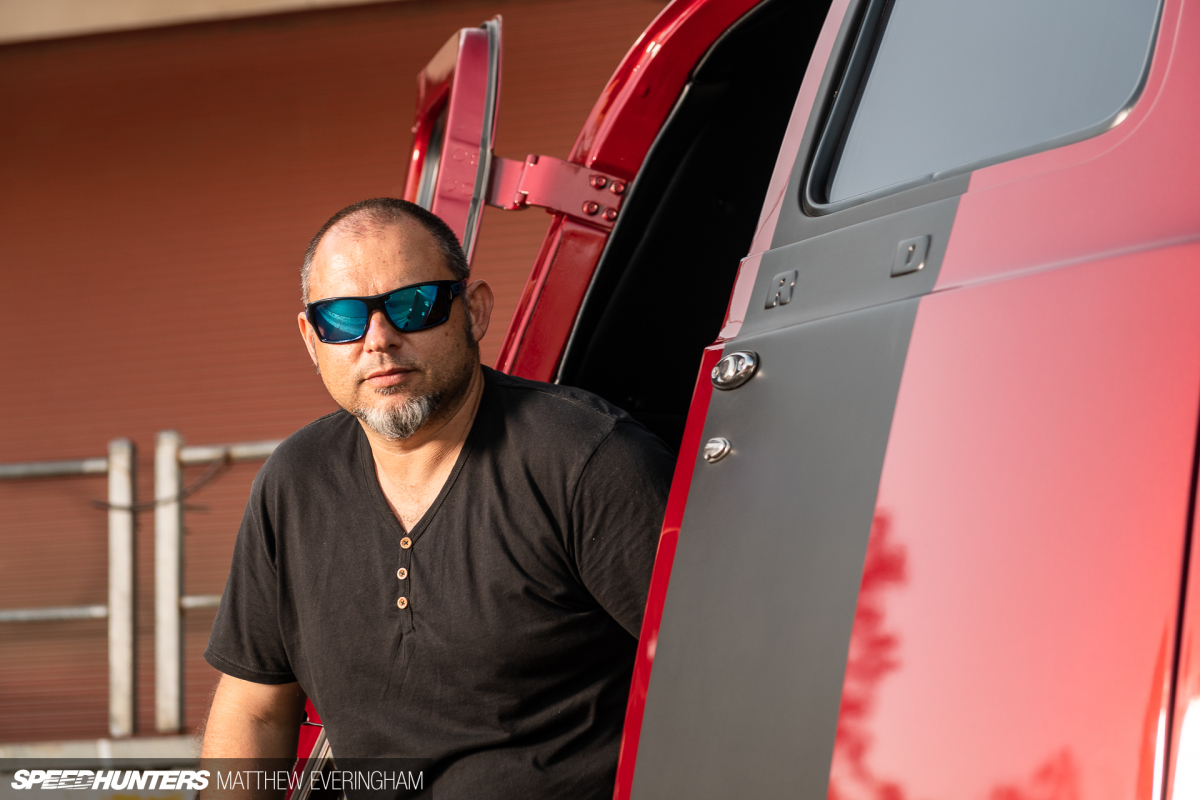 To further muddy the waters, Stan and his mates were essentially writing the rulebook on twin-charging an unfamiliar engine combo with no historical data or off-the-shelf solutions as they rolled. It surely would have been a daunting prospect.
California Dreamin'
The inspiration for long-term garage fillers will vary from car to car and owner to owner, but at a higher level, they usually fall into three categories. It's either an unattainable object of lust at a young age, continuing a family legacy, and more recently – interacting with specific models through video games and digital media.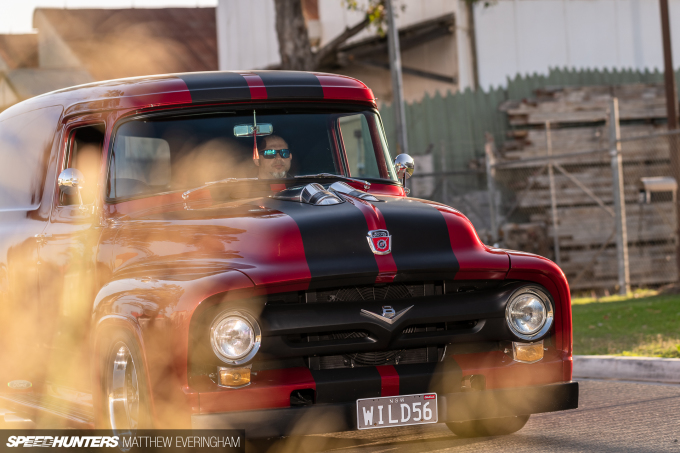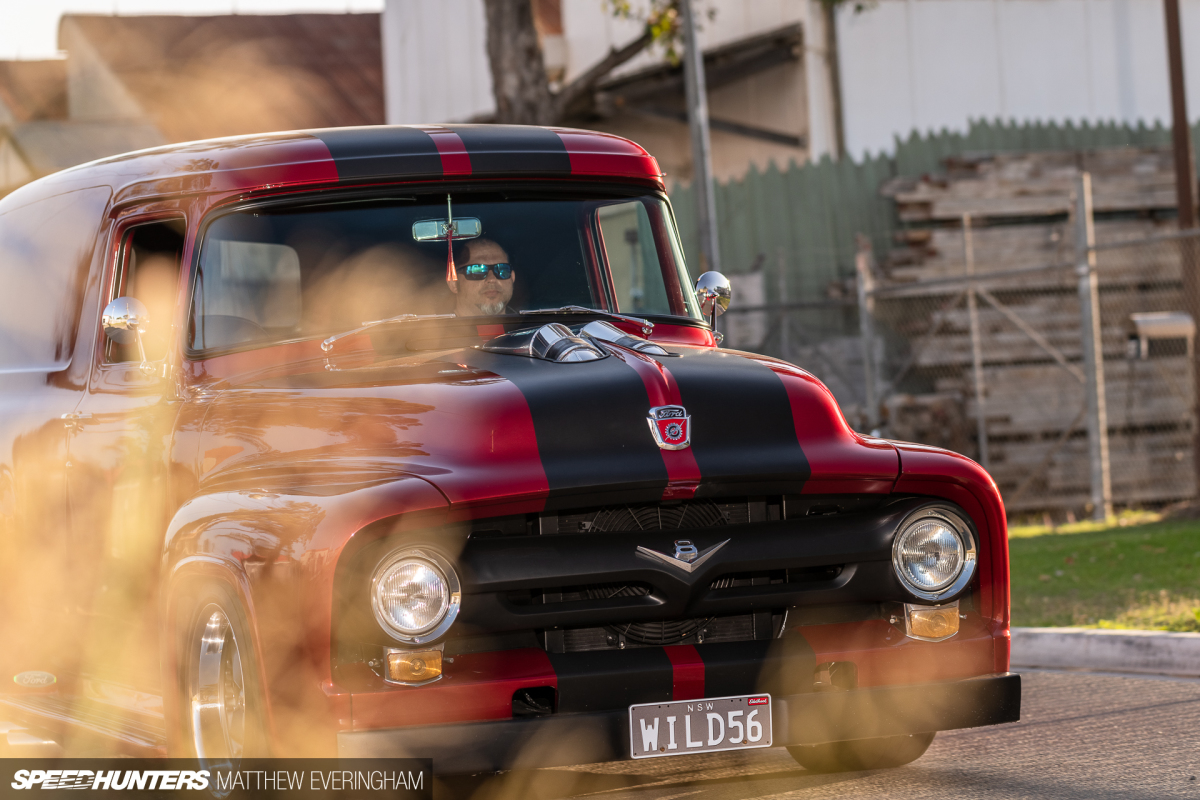 Stan's unconventional tale of inspiration involved the cinema silver screen, Sylvester Stallone, a cast of geriatric 1980s action stars, and a matte black Ford F100 pickup truck. It's mind-boggling that Sylvester has not yet been offered a sainthood for his decades of public service, and also hard to believe that the same one person (possibly a demigod) is responsible for bringing Rocky, Rambo, Stop Or My Mom Will Shoot and now this twin-charged 1,000hp monster into the world.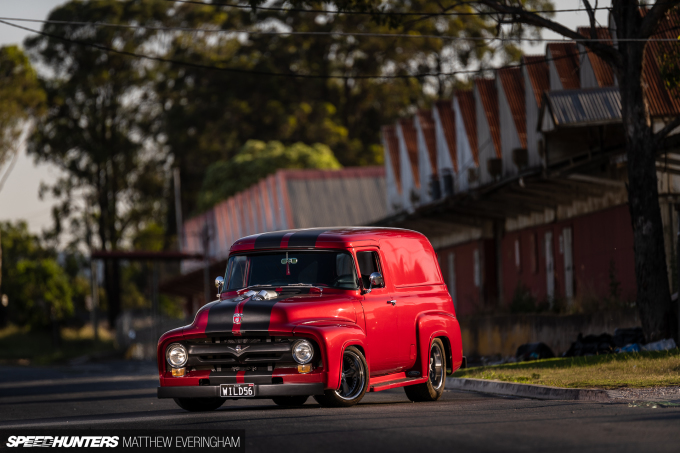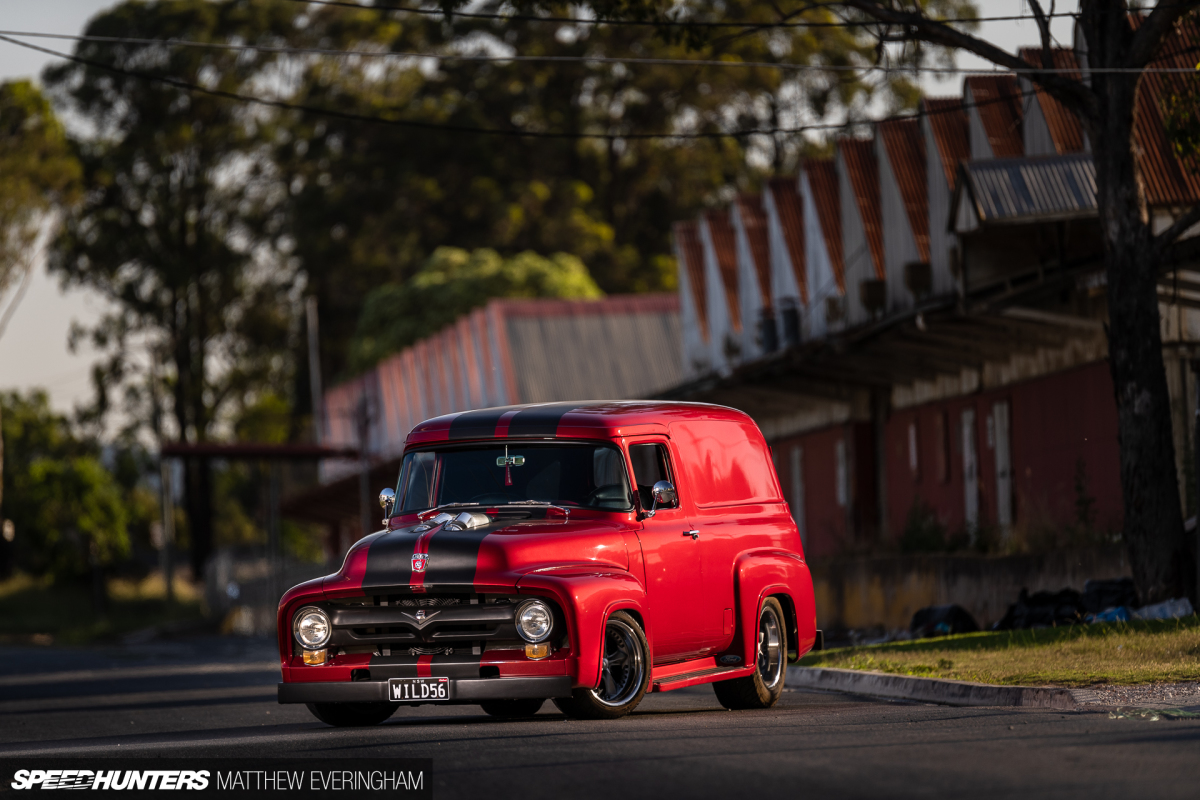 The van was purchased and imported from California in 2012 as an unfinished project, after not one, but two separate owners threw in the towel. One spent his time rejuvenating the bodywork and interior, while the second owner tinkered with the now-scrapped 351ci Windsor V8 motor.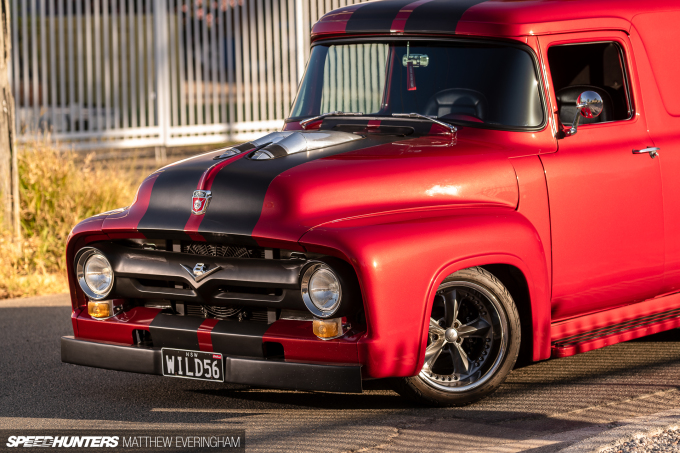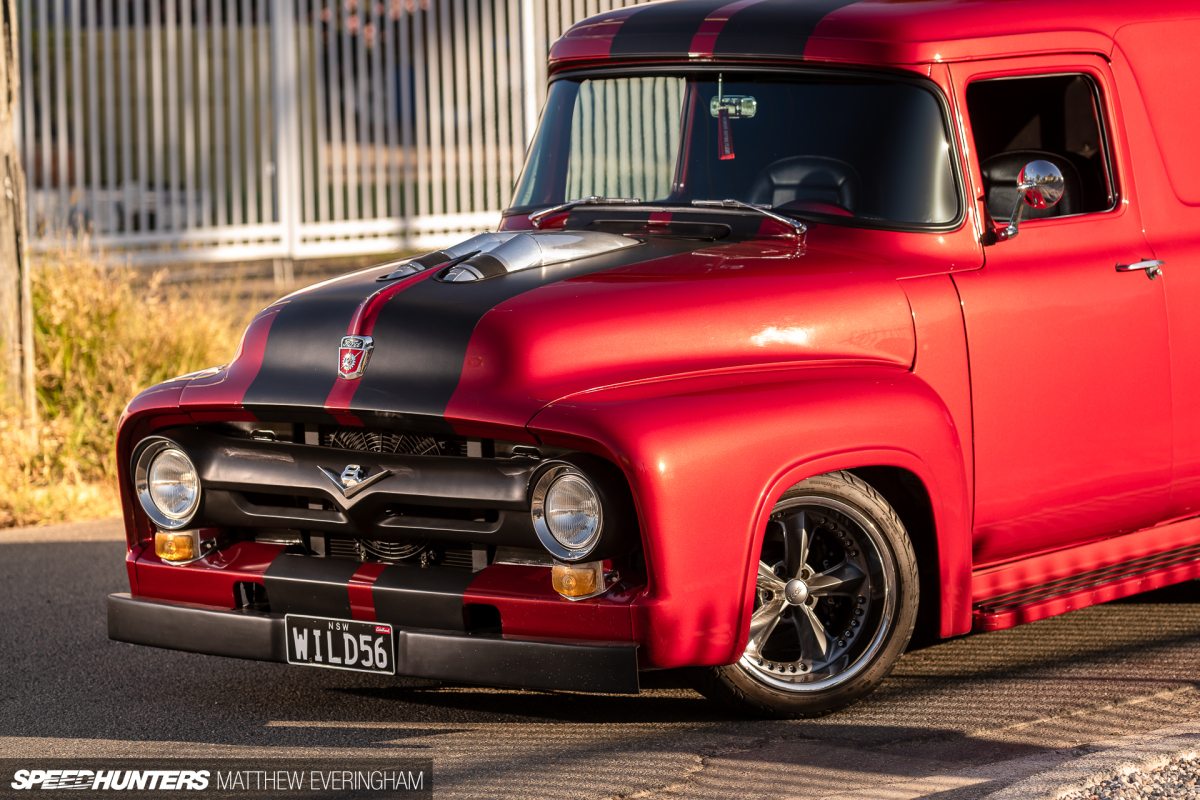 Work in Australia began with binning every mechanical component from front to back, and replacing and restoring absolutely everything from and between the radiator to the fuel cell. With less than 6,000km (3,730mi) since the big block 427's rebuild, we could be looking at Australia's youngest feeling 62-year-old Ford.
After the initial strip out, the next three or so years were spent purely in the engine bay and on the dyno at Sydney's Pulse Racing. The process went something like this: Build, test, break, repeat until the combo arrived at its current configuration. Technically speaking, the engine has only very recently been run in.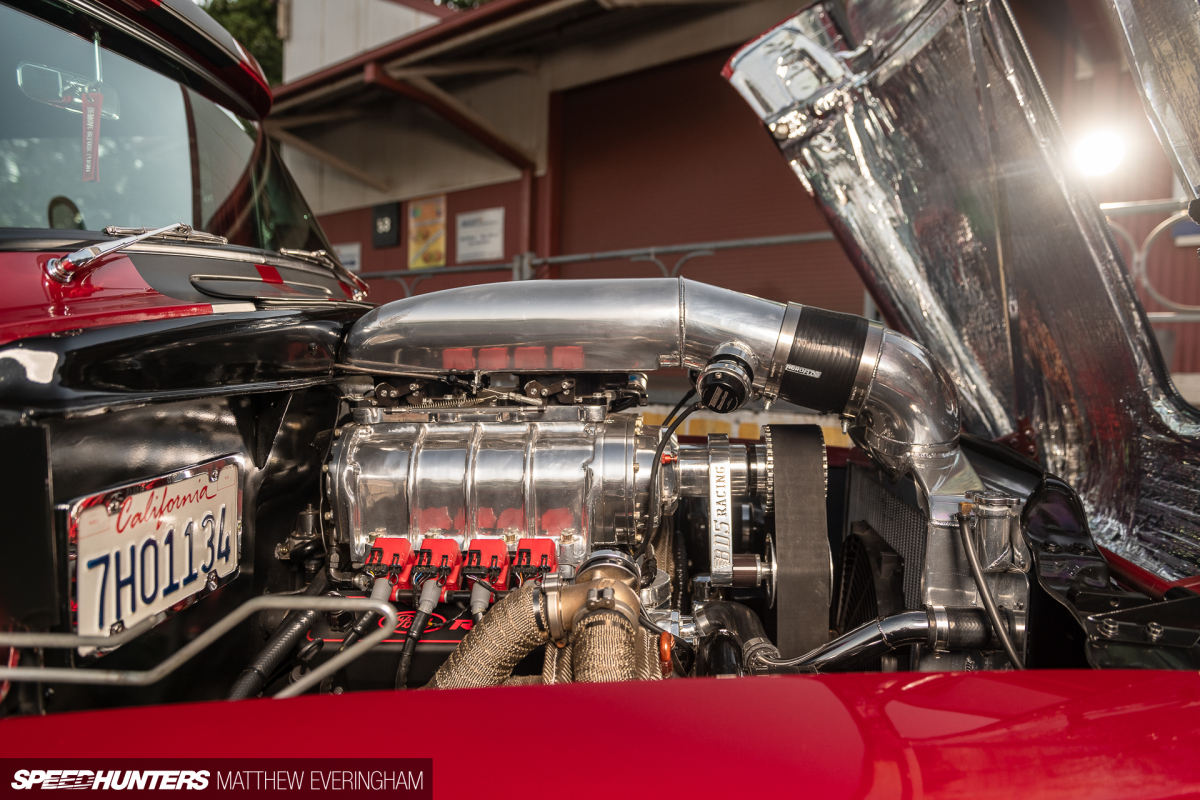 With the engine running reliably and making more than a reasonable amount of horses for the cruising and show car duties the F100 was built for, Stan's attention was focused on tidying up the rest of the van.
Dialling It In
While the tuning process may sound a little crude, it was the only real way to find the limits of the system as each change was made.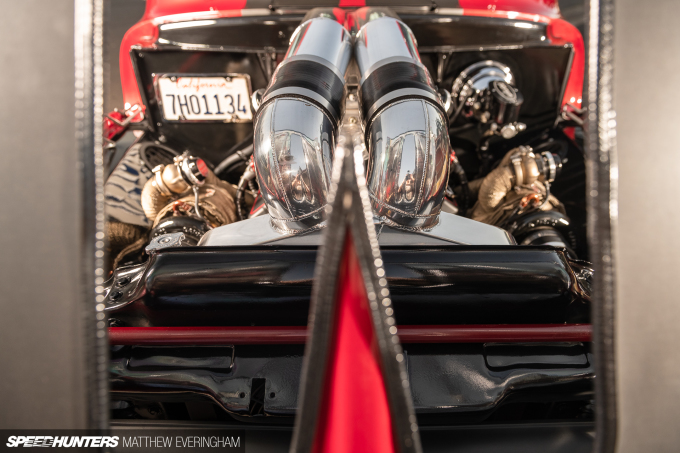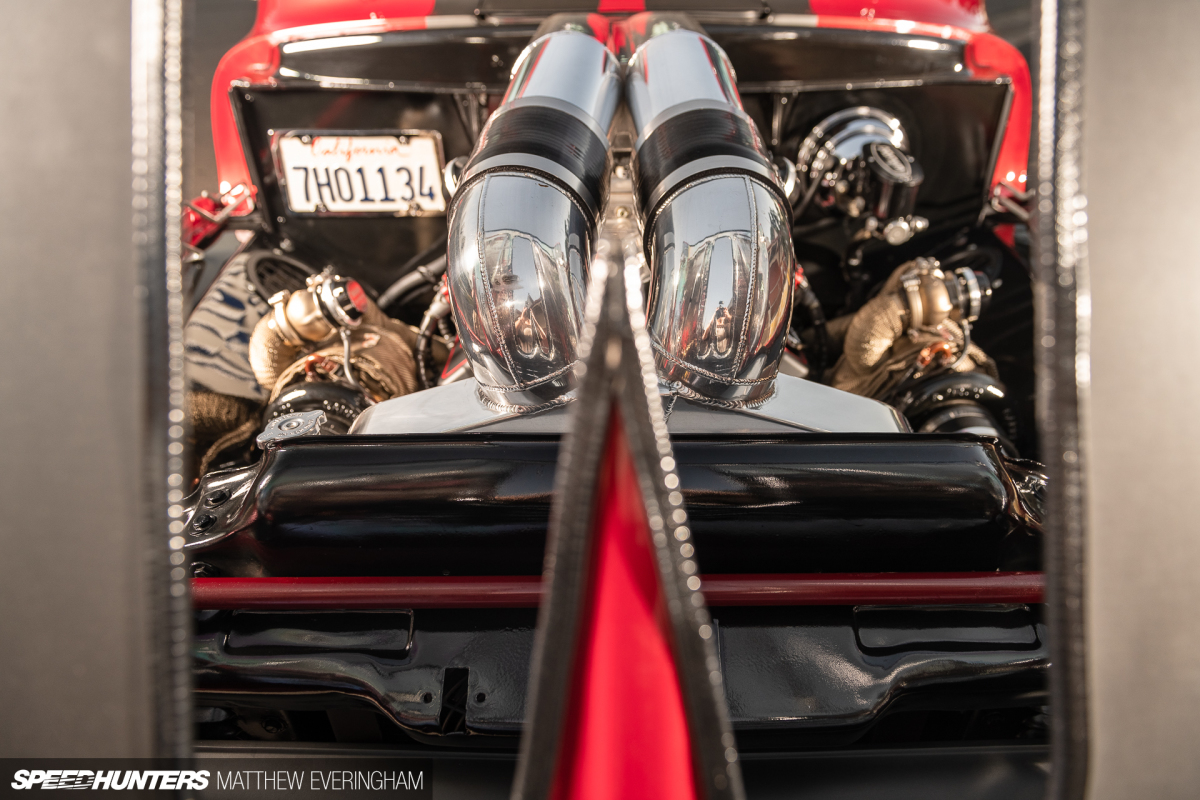 Unfortunately, when you embark on an outlandish project like slapping twin Garrett T04Z turbos and a custom 671 blower on to a Ford 427ci Windsor motor, there just isn't the same historical data, specs, or experience floating around that'd come with a more widely used run-of-the-mill engine combination.
The massively boosted setup displayed its ungodly thirst quite early on in the tuning process. The primary fuel supply is delivered via eight 1,000cc Bosch high-flow injectors, and a secondary set of four 2,000cc injectors join in when the motor is under heavy load.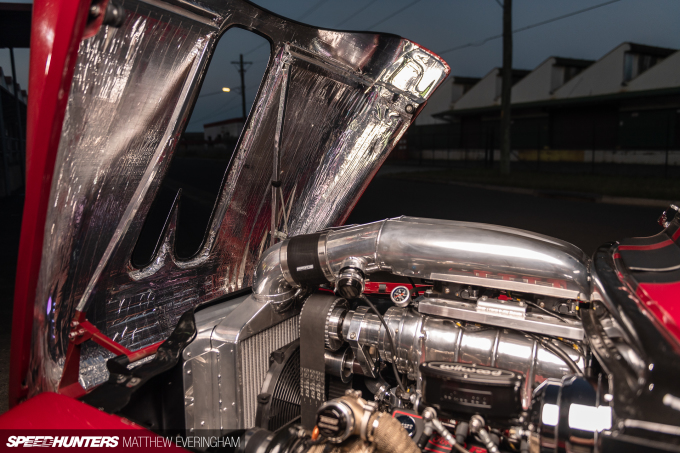 Do the maths: A whopping 16,000cc of fuel ready for a heavy squirt, the problem of fuel starvation now replaced with the attrition of expensive parts. If you gave it all of the fuel, it would want all of the air to go with it, and of course, all that shiny forced induction would happily oblige. That is, until catastrophic failure ends in metal shards and hand grenades.
Stan described the situation way more eloquently than I ever could: "The simplest way I can put it, this damn thing just wants to suck every last bit of air from the atmosphere, rip your face off, and then tear the world asunder."
While you'll never hear me repeat it out loud, I'm beginning to sympathize (ever so slightly) with Stan's claim of having "too much horsepower." At least during the testing phase.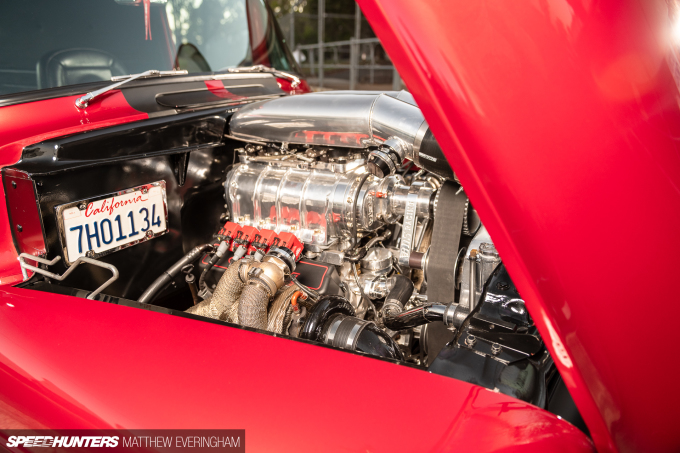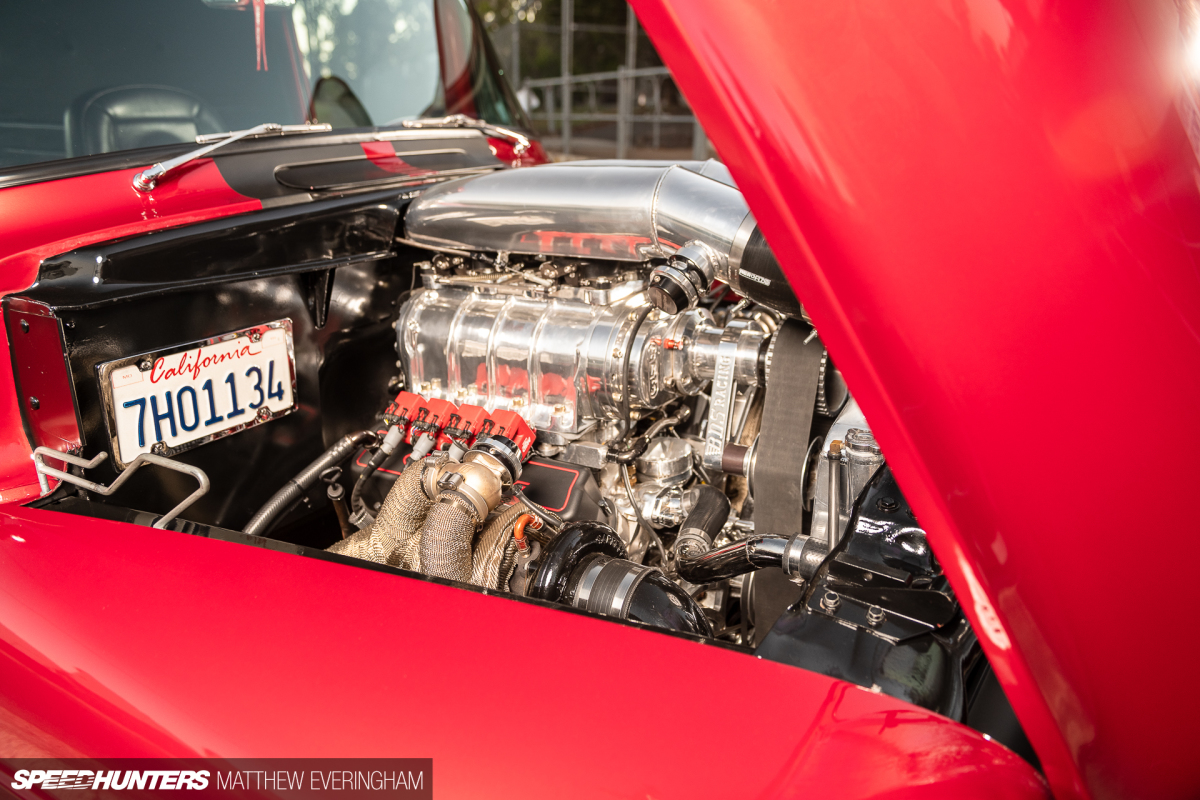 Maximum output with the twin-charged combo hitting full swing remains a mystery, and it's a rabbit hole the team currently aren't prepared to venture down.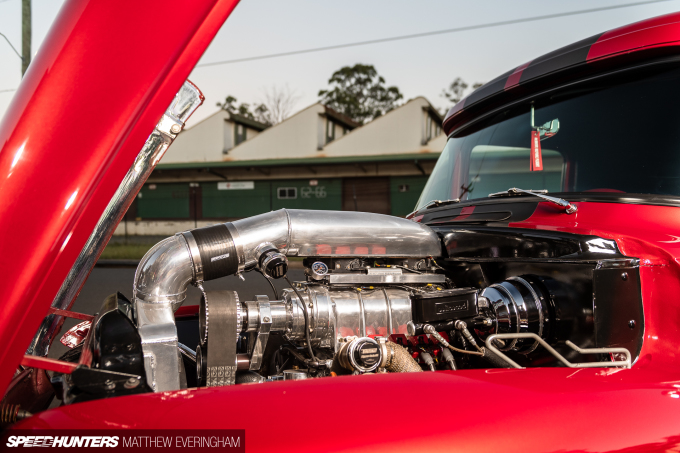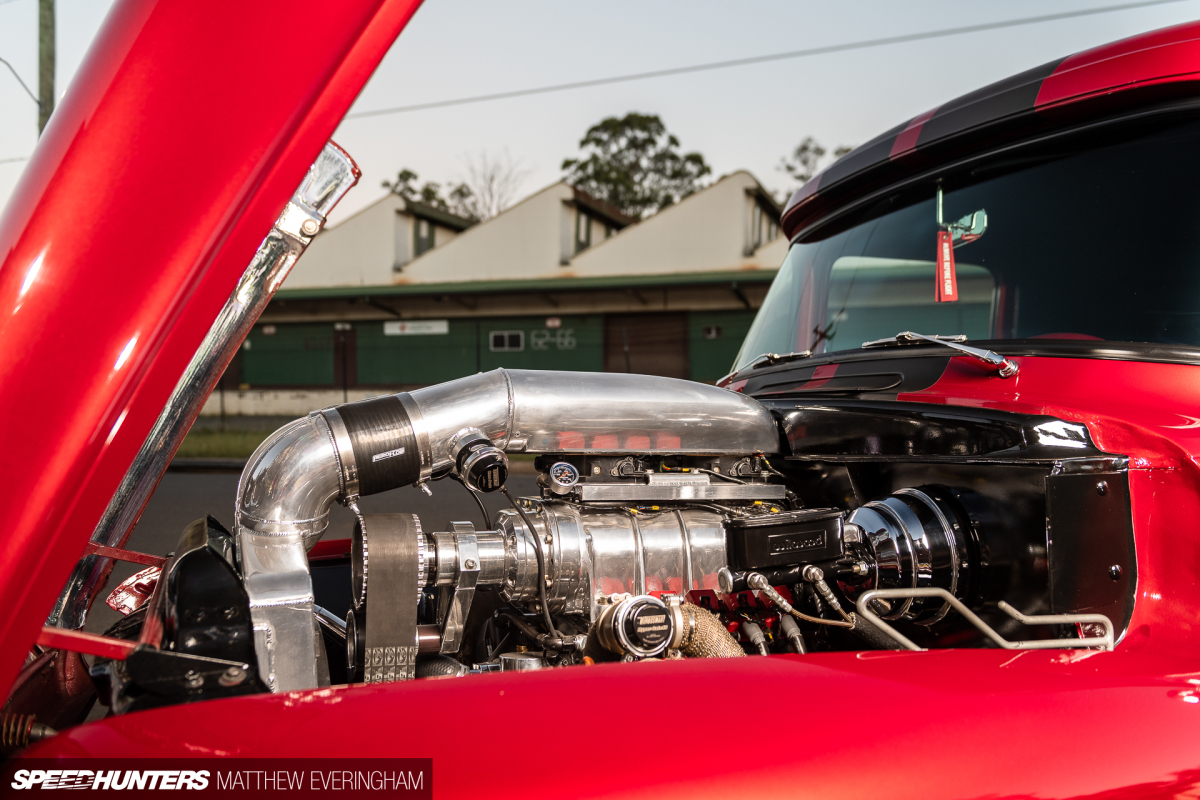 In theory, the engine is rated to withstand the anything up to 1,500 to 2,000hp at the wheels, but talk is cheap and numbers are ultimately just numbers. They do make for a pretty darn comfortable safety margin though.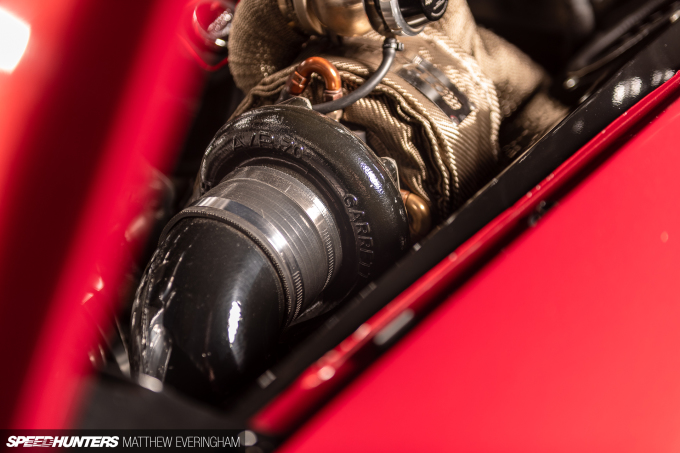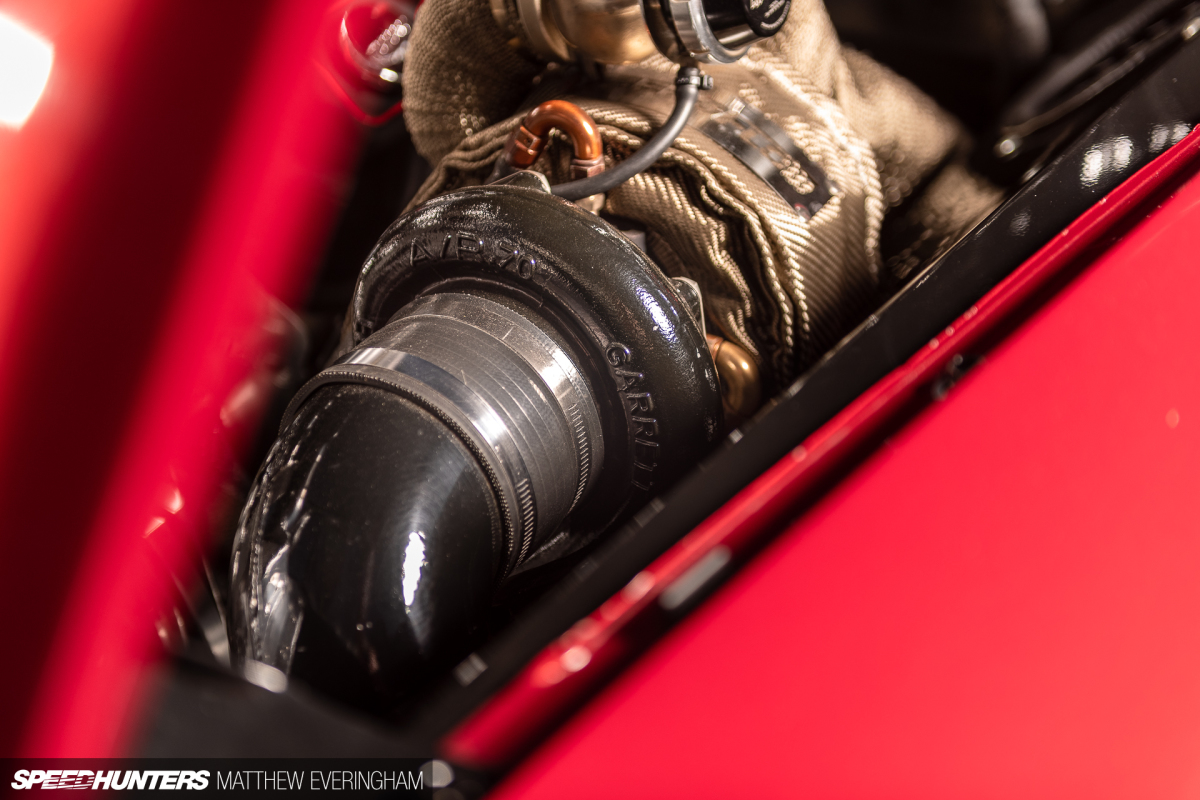 Pushing out 1,200hp at the wheels was a walk in the park for the 427ci block before blowing the original hat right off the top.
Now, a standard twin-barrel shotgun scoop mated to some piping gives the bay its unique look. Plans are in motion to fabricate a billet version that'll safely let the twin-charged unit crack back up to 1,200 horses at the rear wheels.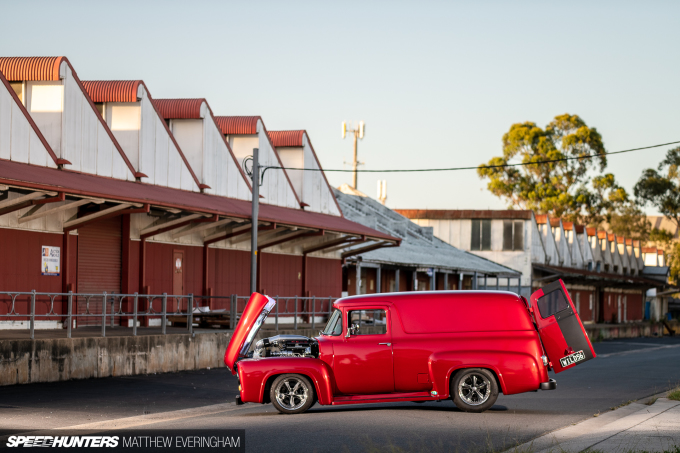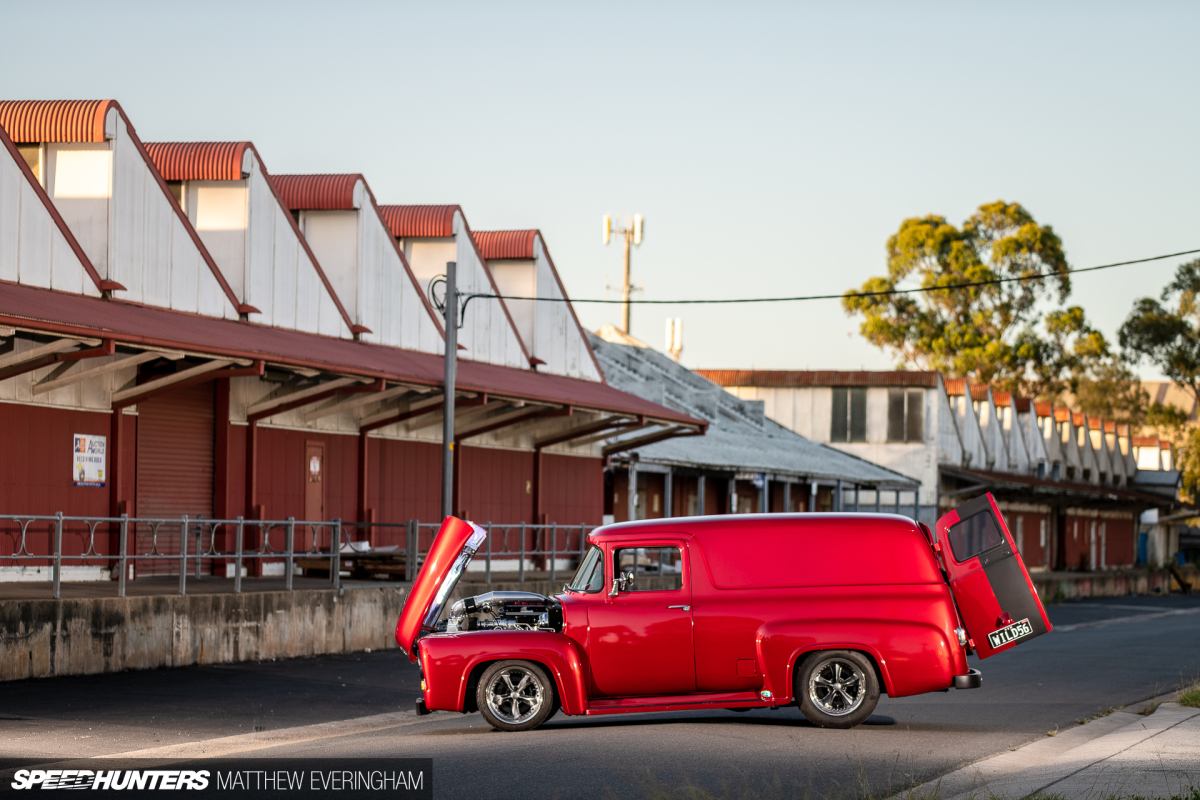 At the moment it's running 13psi of boost, delivering 750hp at the wheels with 1100Nm of torque, which I'm told is an "OK" level for cruising. From first-hand experience, it's enough to render the big red truck impossible to keep up with once the 12-inch-wide Mickey Thompson Sportsman S/R Tyres regain traction.
Whatever the final dyno figures max out at, Stan's little truck will be guaranteed to deliver a wild ride.
Matthew Everingham
Instagram: matthew_everingham
matt@mattheweveringham.com
Stories from Australia on Speedhunters
The Candy Van