'Russian it up' is a recent meme phrase meaning to fix something with improvised means.
It is true, Russians do like to experiment and find unconventional solutions to problems. Launching the Historic Drift Cup with JDM-inspired Soviet copies of an Italian people's car is definitely an original – and Russian – way to do it.
Even though it's been running for a number of years now, it was only last year that the world was properly introduced to a unique winter drifting championship playing out in the Russian city of Krasnoyarsk, Siberia. It's called the Winter Drift Battle.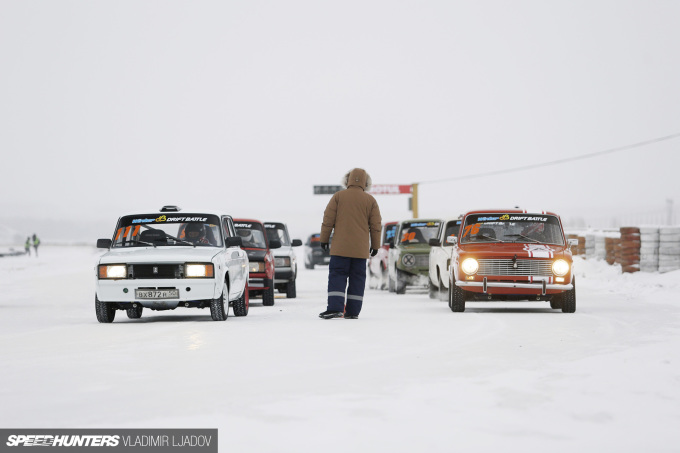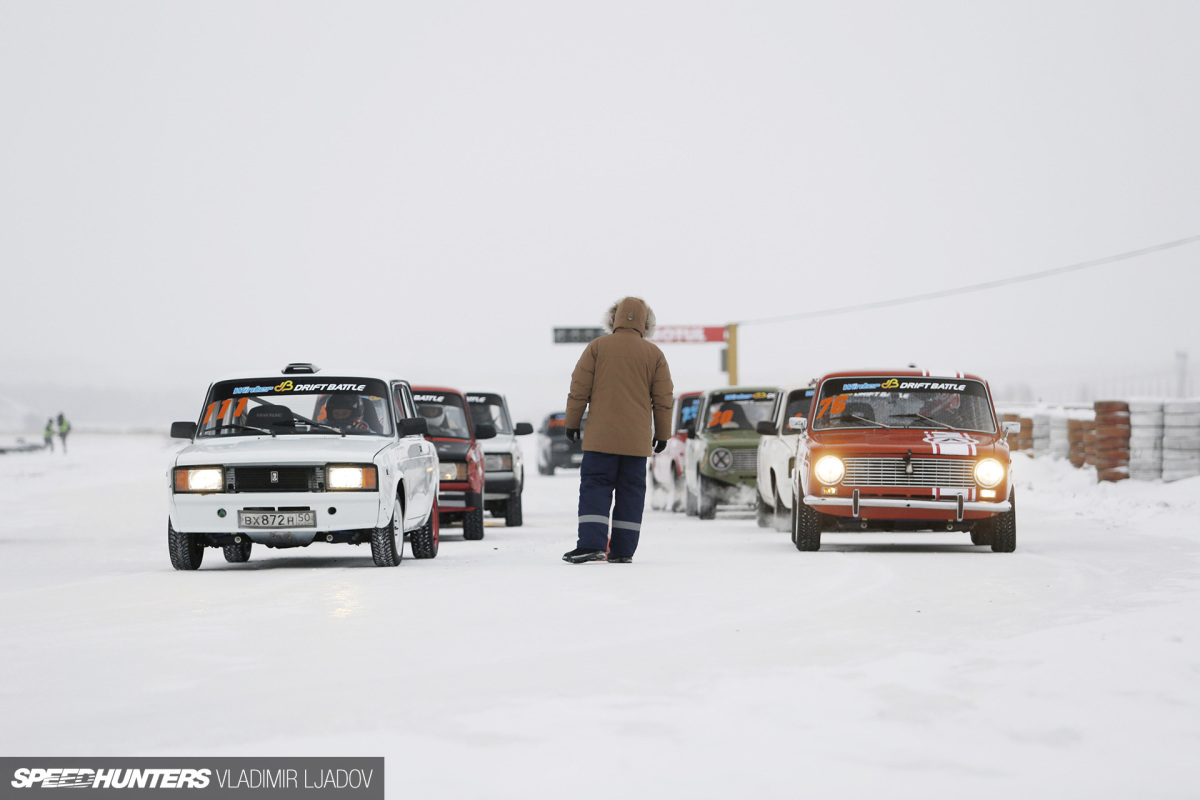 Stage I, the first round of the 2018/2019 Winter Drift Battle started one week before the New Year, and a record number of 78 competitors showed up.
74 of them were drifting in Ladas.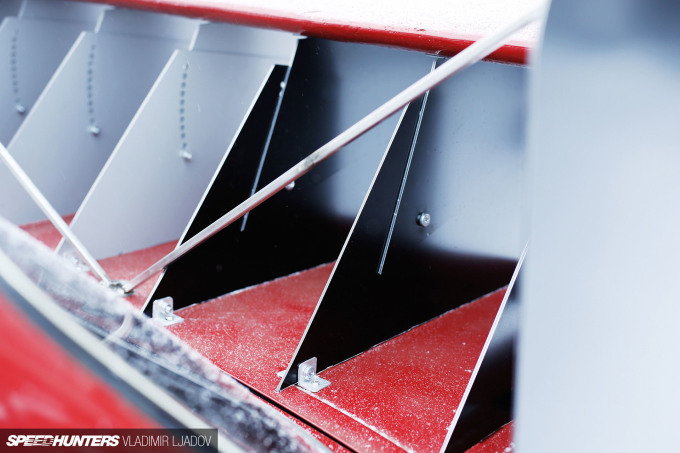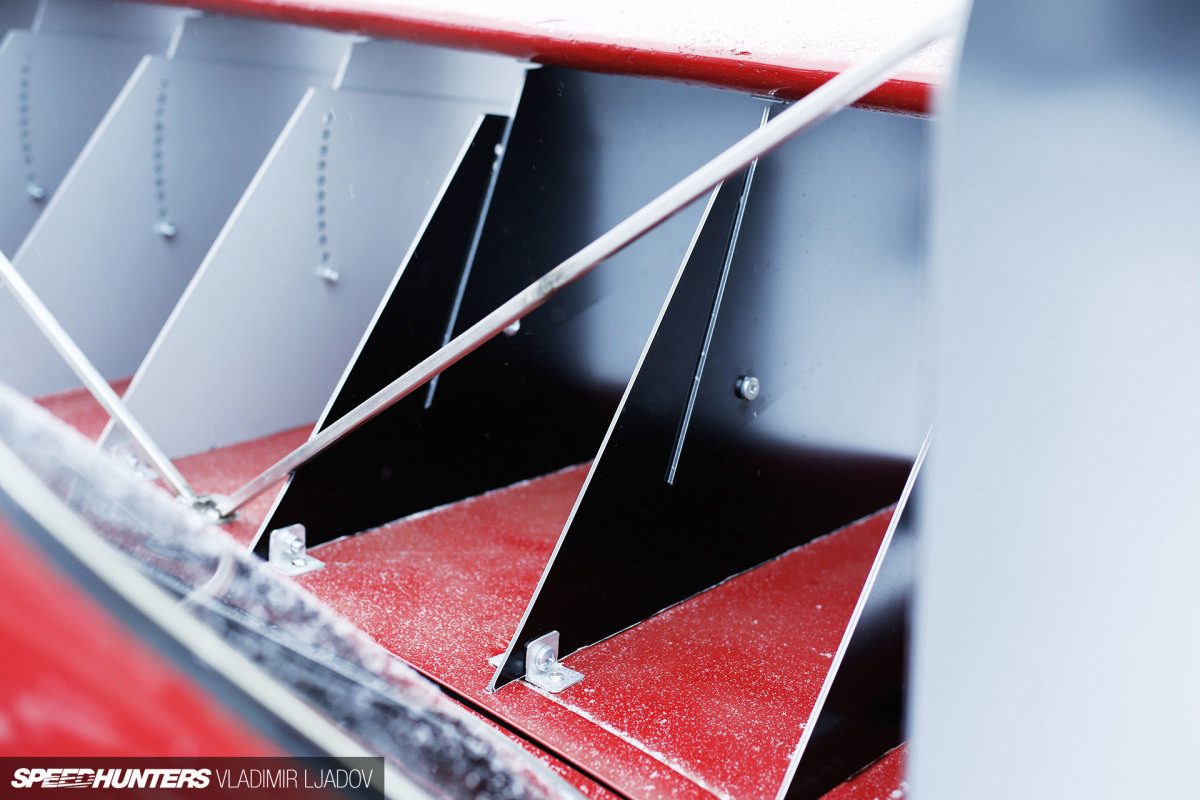 When I wrote about a Winter Drift Battle round last year, I wasn't actually present at the event; all the facts were gathered from a number of Russian vlogs I follow and interviews I made to clarify things. But this year I traveled to Siberia myself, and almost immediately three things struck me: First, how challenging the conditions are. Second, how much work goes into car setup. And third, the fact that everyone drives so well.
Let's break them down…
Challenging Conditions
Prior to this one, the last drift event I attended was Formula Drift Irwindale, so you can understand the contrast. I knew where I was going and that it could be -40°F trackside, so I cold-proofed myself with long thermal underwear, a buff, proper snowboarding outfit, two sets of gloves, two pairs of socks, and winter shoes with thermal insoles.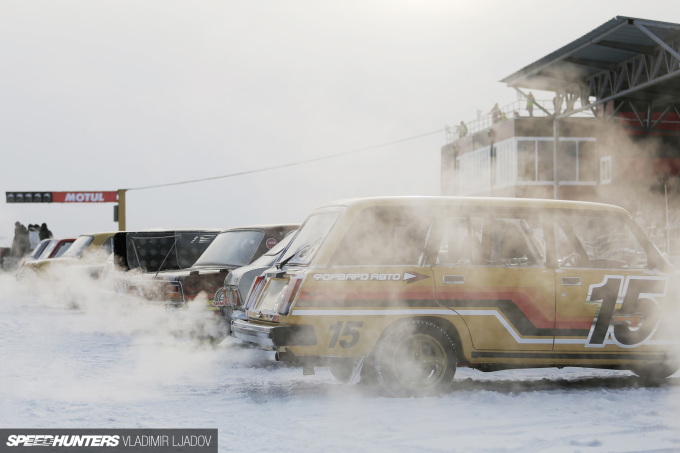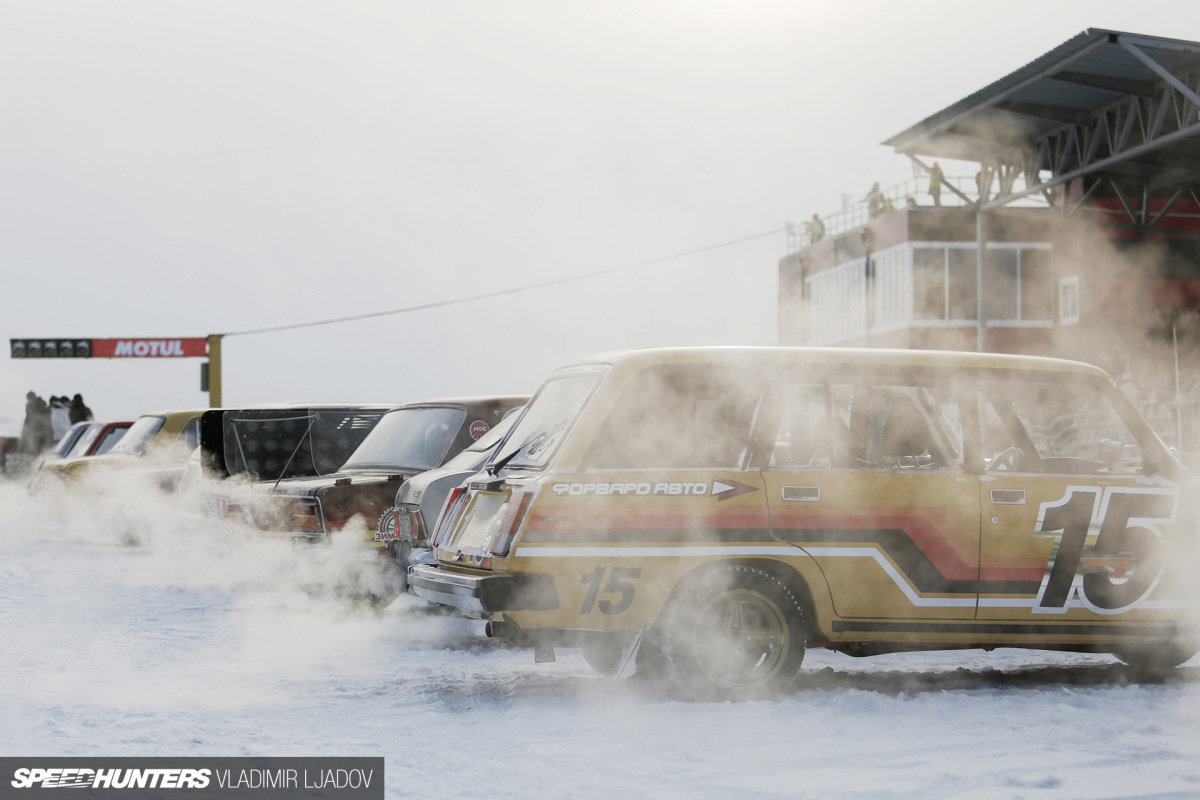 One thing I prepared for beforehand was keeping my camera's spare batteries warm by holding them in my inner pockets. I have a bunch of batteries, some original and others aftermarket, and while the cheap ones hold pretty well in normal conditions, in the cold they were running flat after 30 minutes.
What I wasn't expecting were all of the lubricants in my lenses freezing, making it difficult to handle. The zoom function was really tough to operate on my Canon 70-200mm, but luckily the focus motor worked perfectly throughout the weekend.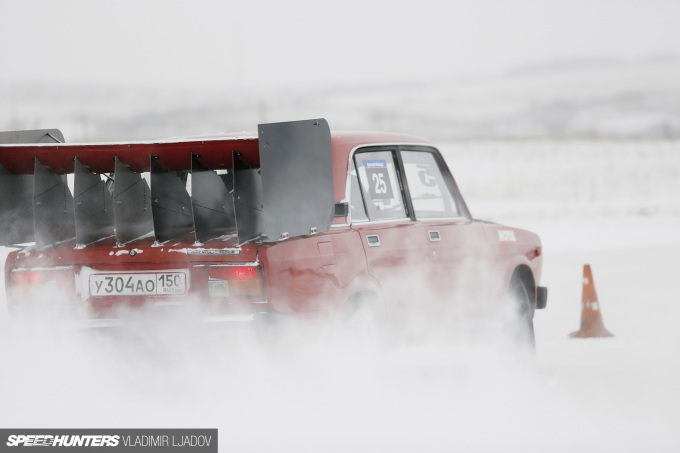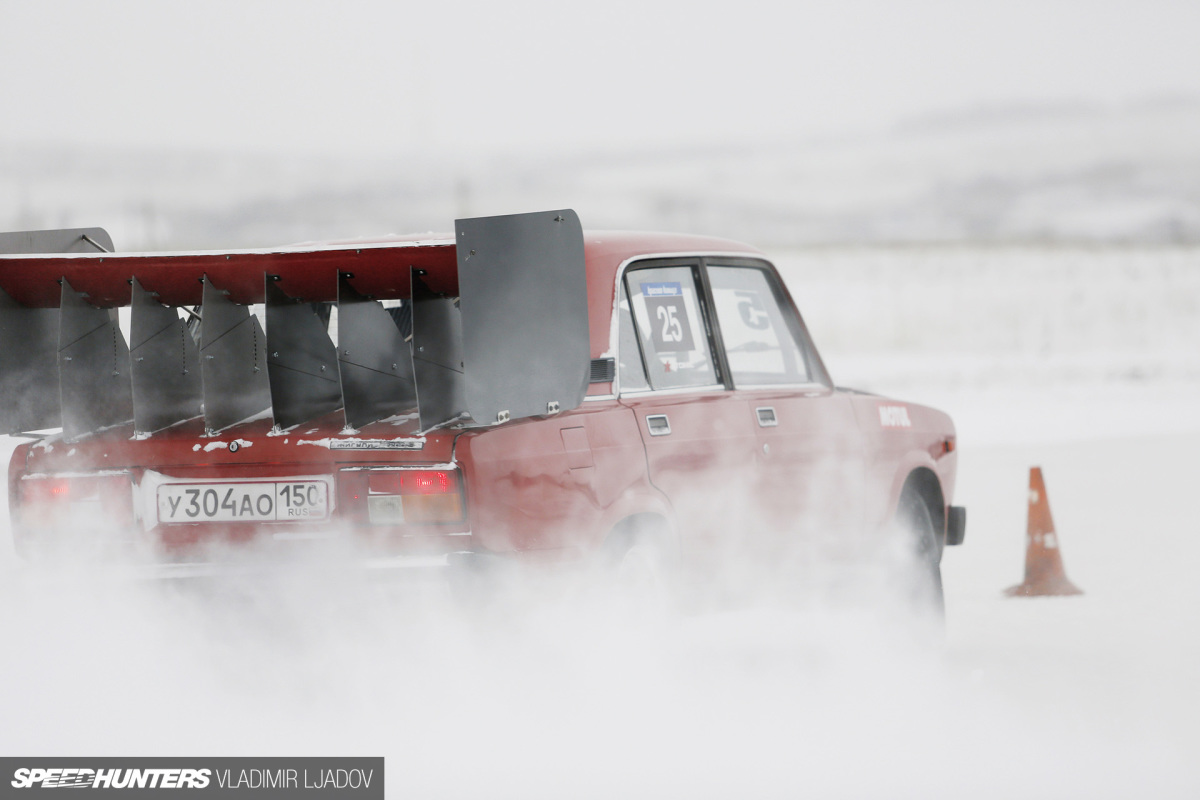 What did I feel after an hour or so at the track? My toes felt like they were freezing off, and moving around didn't really help warm them up. This was just practise before qualifying though, so I began scouting a few drivers to ride shotgun.
There was only one condition: their heater needed to be operational.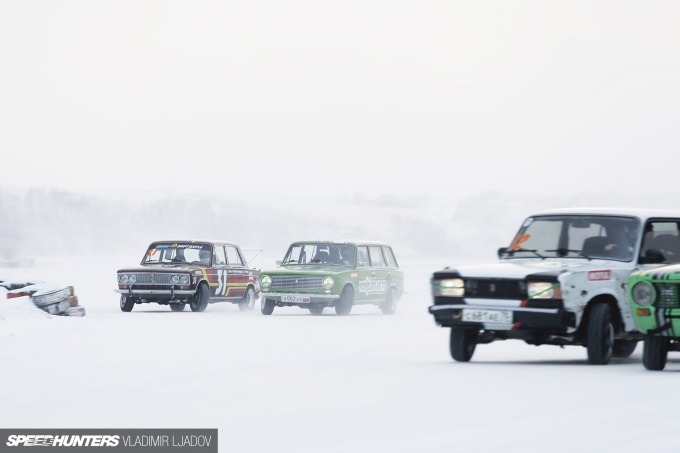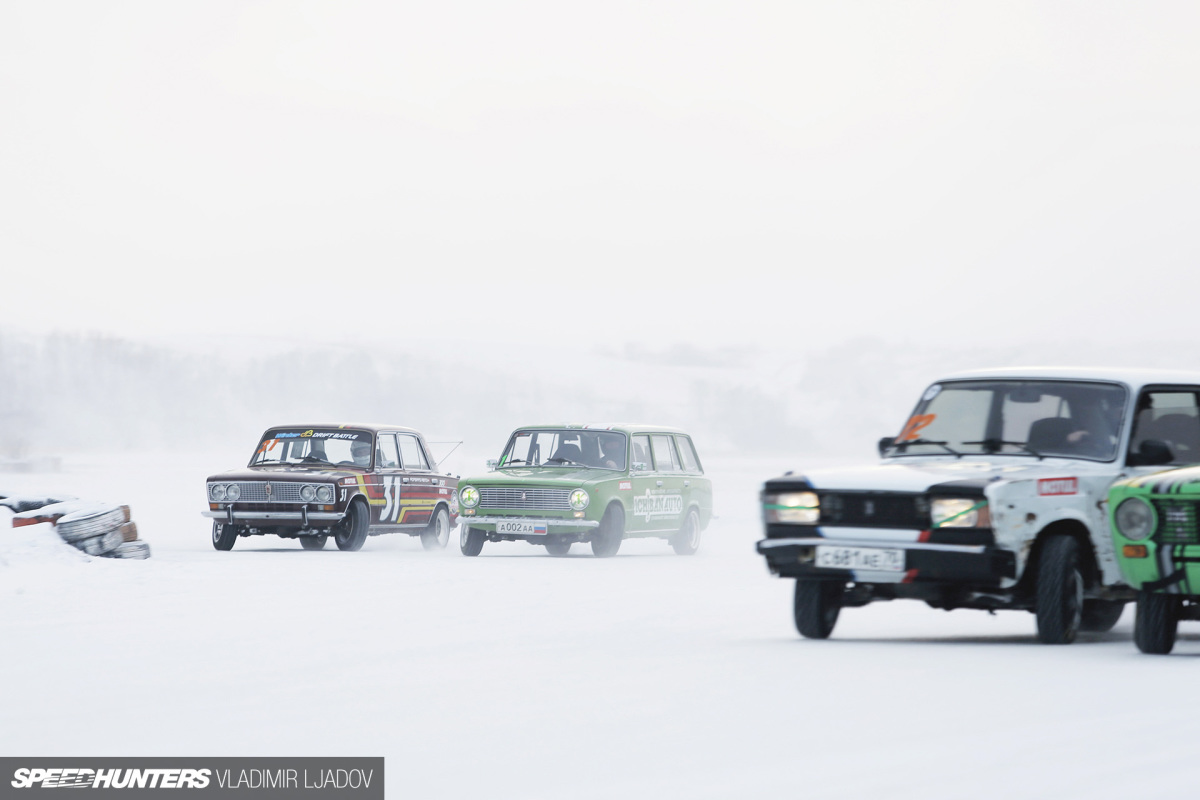 Figuring out when to be at the track and when to keep myself warm became a bit of a theme for the weekend.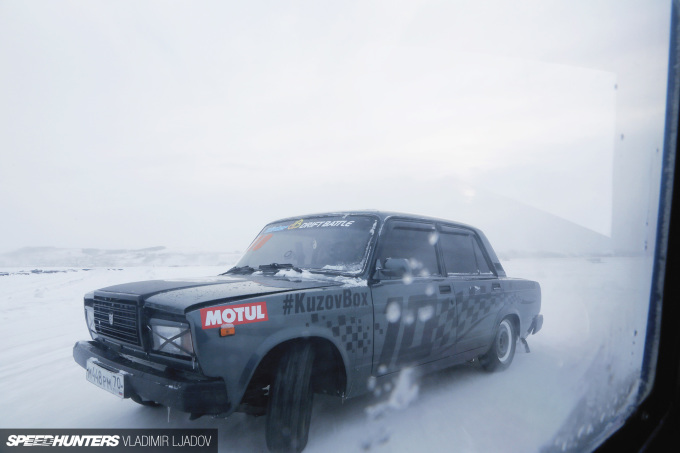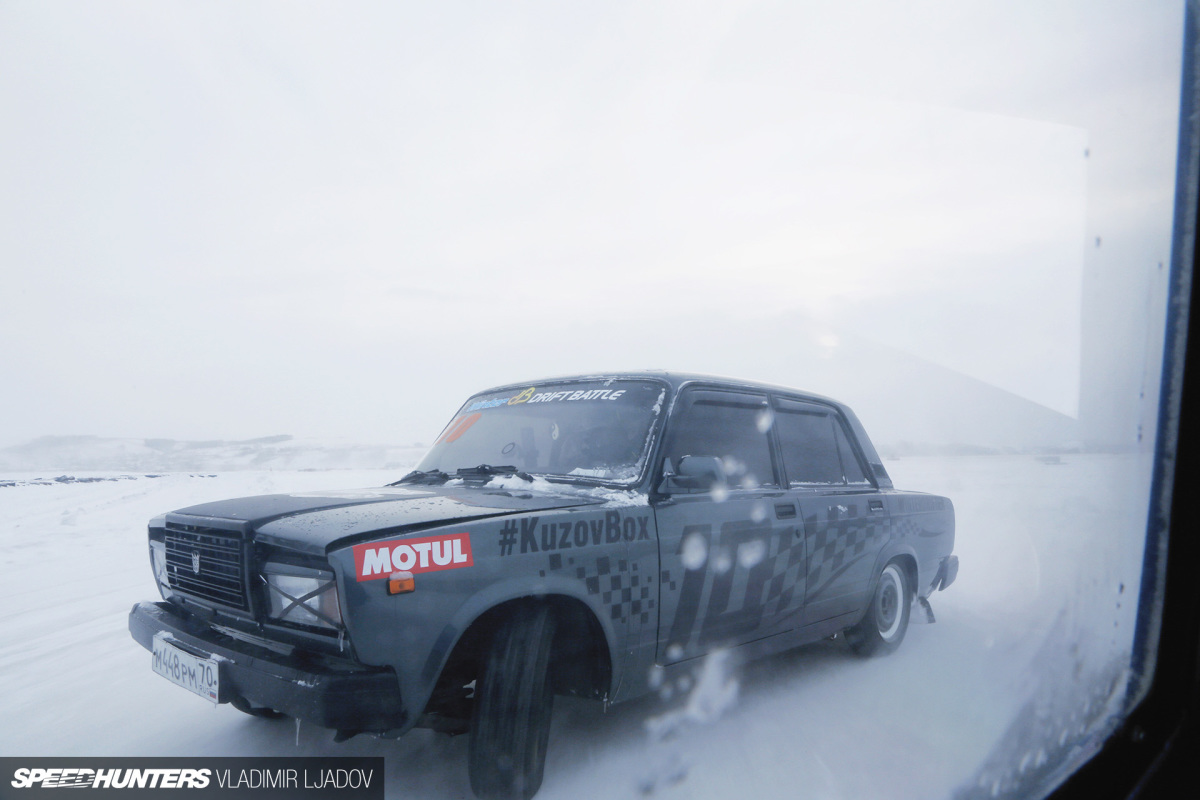 Most camera makers say that you shouldn't expose your gear to conditions below 32°F, but electronics usually work better in the cold, so what's the catch? There are a few, the main one being that manufacturers don't test their products in such extreme conditions, so they can't claim that everything will be fine.
I already mentioned that the lubricants found in camera equipment do freeze in the cold, but if your camera is plastic that will freeze too. You also don't want to drop your plastic gear, as plastic shatters really easily in conditions like this.
The last but not least consideration is condensation. You need to be careful with exposing electronics to changing temperatures, and when I came inside I kept my camera in my cold bag so the temperature difference wouldn't hit so bad. If I hadn't done this, the air would change its state from gas to liquid – on and inside the gear.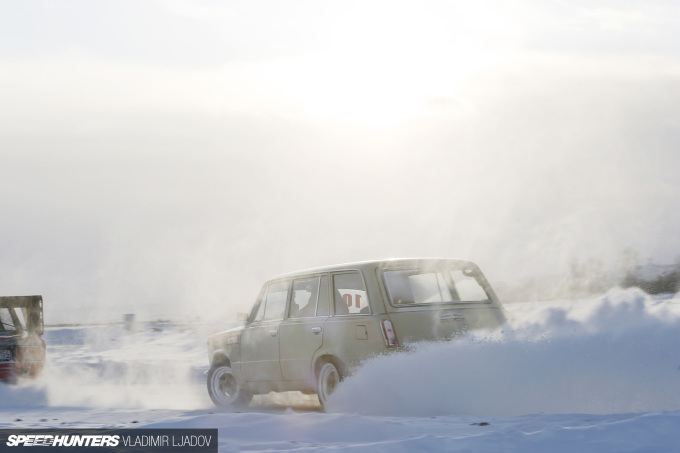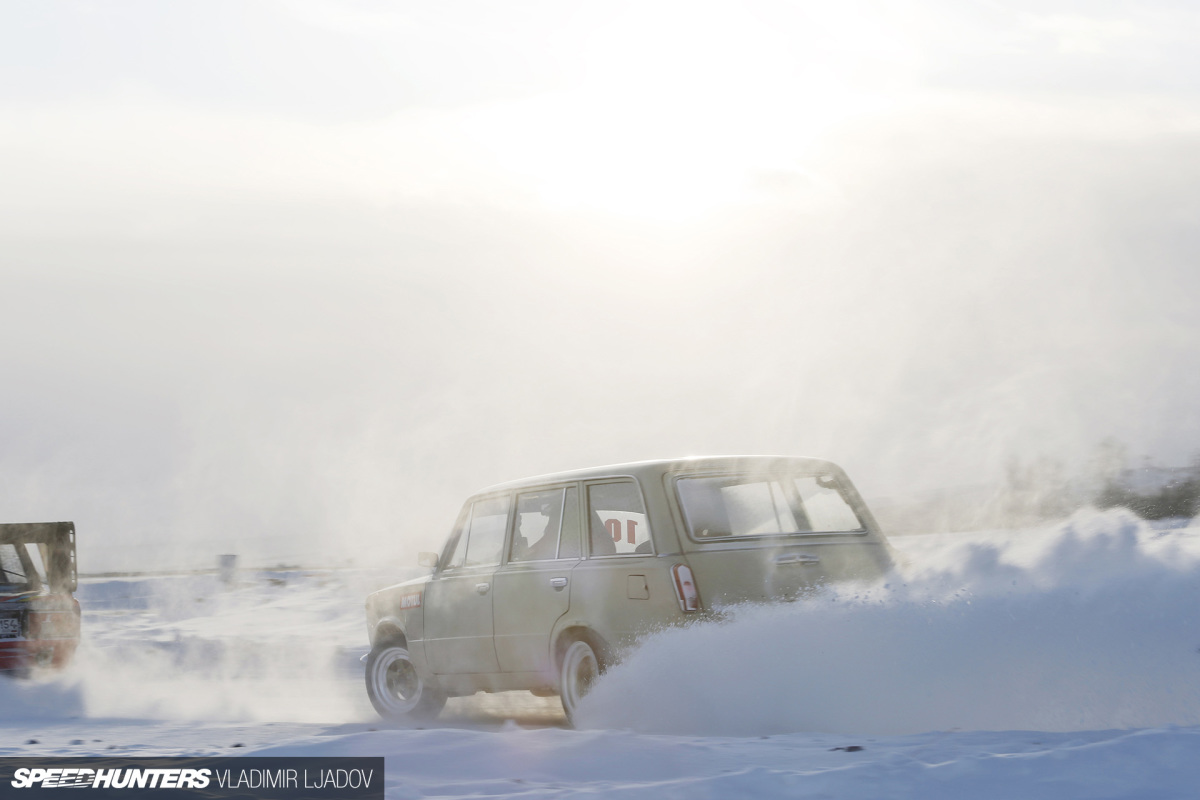 I went over everything that happens to a car in these conditions and how the competitors deal with it in last year's article, but I saw firsthand drivers coming up to the start line, waiting for their turn, and then not being able to initiate into the first corner because their steering rack had frozen solid.
Car Setup
The majority of drivers that show up to this event are driving only lightly modified cars, but there is always a bunch of guys who compete for top honors and push the limits. The serious competitors may spend up to US$20,000 on their Lada, but the Top 32 is made up of a wide variety of cars, some that would cost as little as US$2,000.
The upshot of all this is that in Russia, Ladas now have their own 'drift tax' – especially the estate cars. A few years back you could find a decent base car for $500, but not anymore.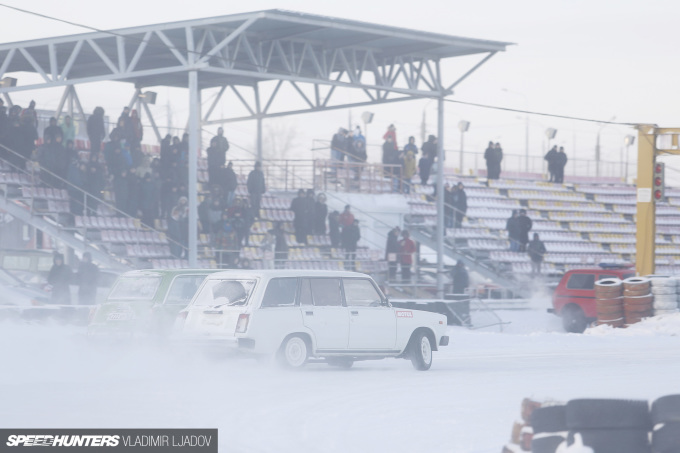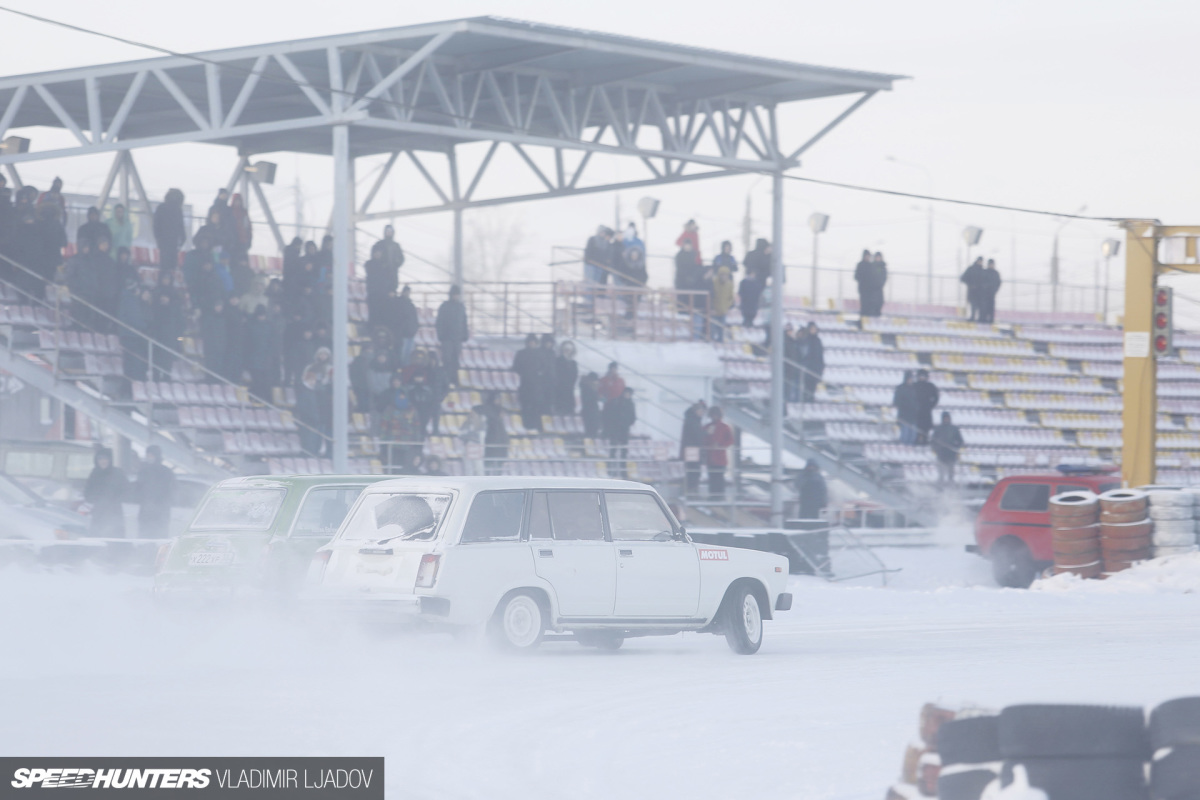 While teams will keep their car setup data private during rounds of the Russian Drift Series or Formula D, those who compete in the Winter Drift Battle series share their ideas and collectively test different approaches. It's all about improving driving and having fun while doing it.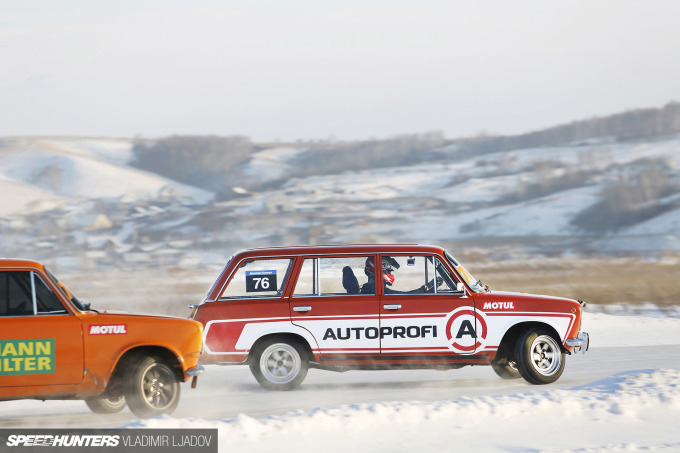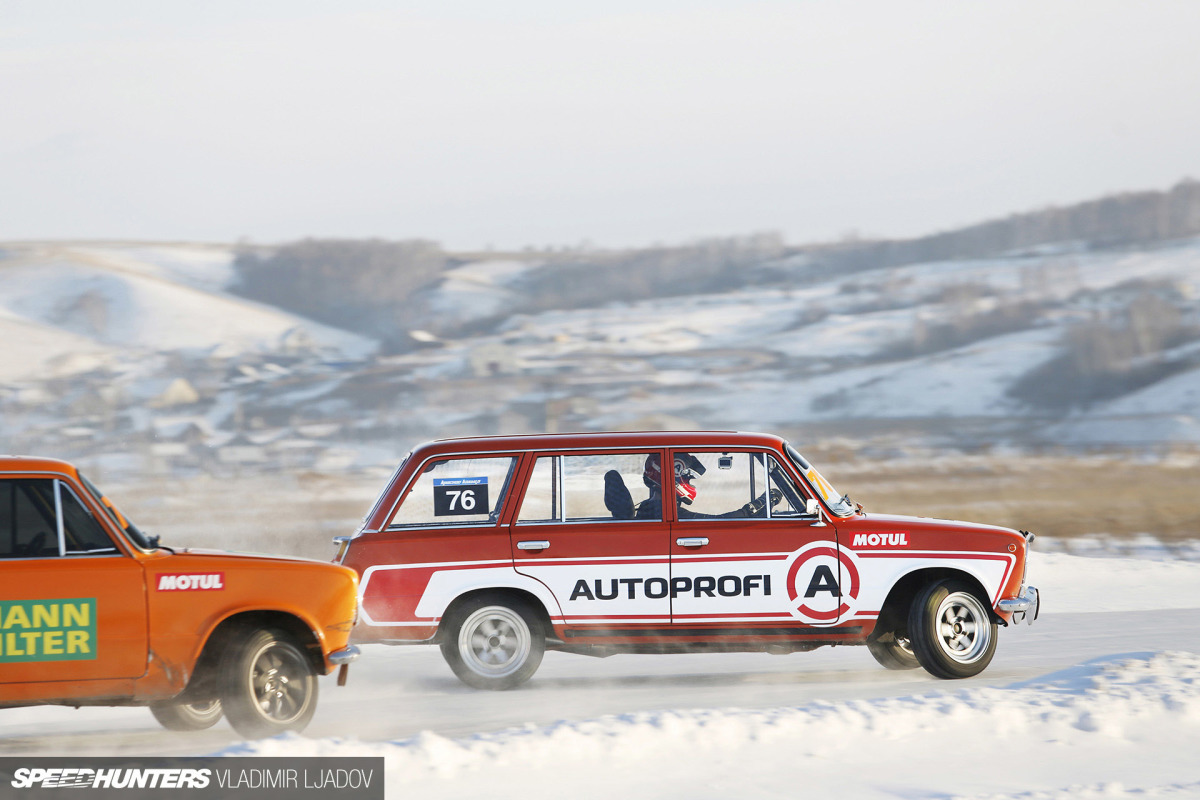 During the first round there were four extremely light cars and none of them made it far into the competition, but during the second round, when the layout and ice were different, all three podium spots were filled by lightweights.
It's quite common for engines to be lowered in the bay and moved rearward to aid balance. A range of different power plants are used, but the winning cars use the 1.8L cast iron block from a 4×4 Lada Niva. If any modifications are made to the engine, there are two main ones: a carburettor that is able to mix more air and petrol, and a camshaft which provides less power at lower revs.
Nearly every driver at this event will tell you that successful winter drifting is 95% tires and 5% the car itself. As it has been for the past couple of years, the Nokian Hakkapeliitta 8 tire in a 14-inch fitment is the one that everybody uses. Using these tires doesn't guarantee the right amount of grip though; tires manufactured during different weeks have different performance, so practice sessions are used to find the best set for Sunday battles.
New tires need to be driven for a few hundred miles in order to break them in too, so drivers who travel from different parts of Russia will usually run on them back at home in the weeks before the event.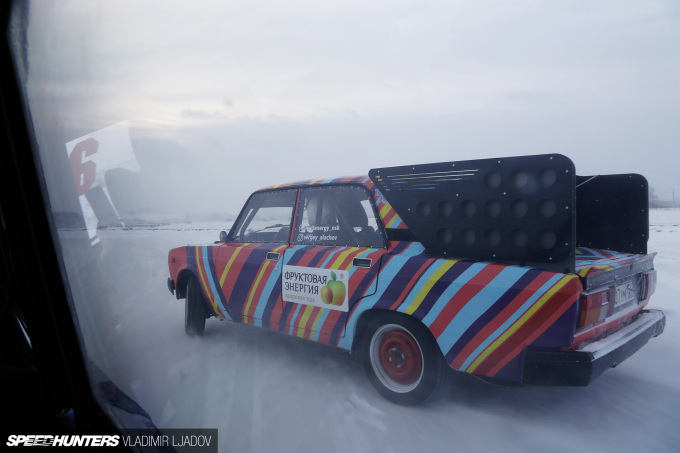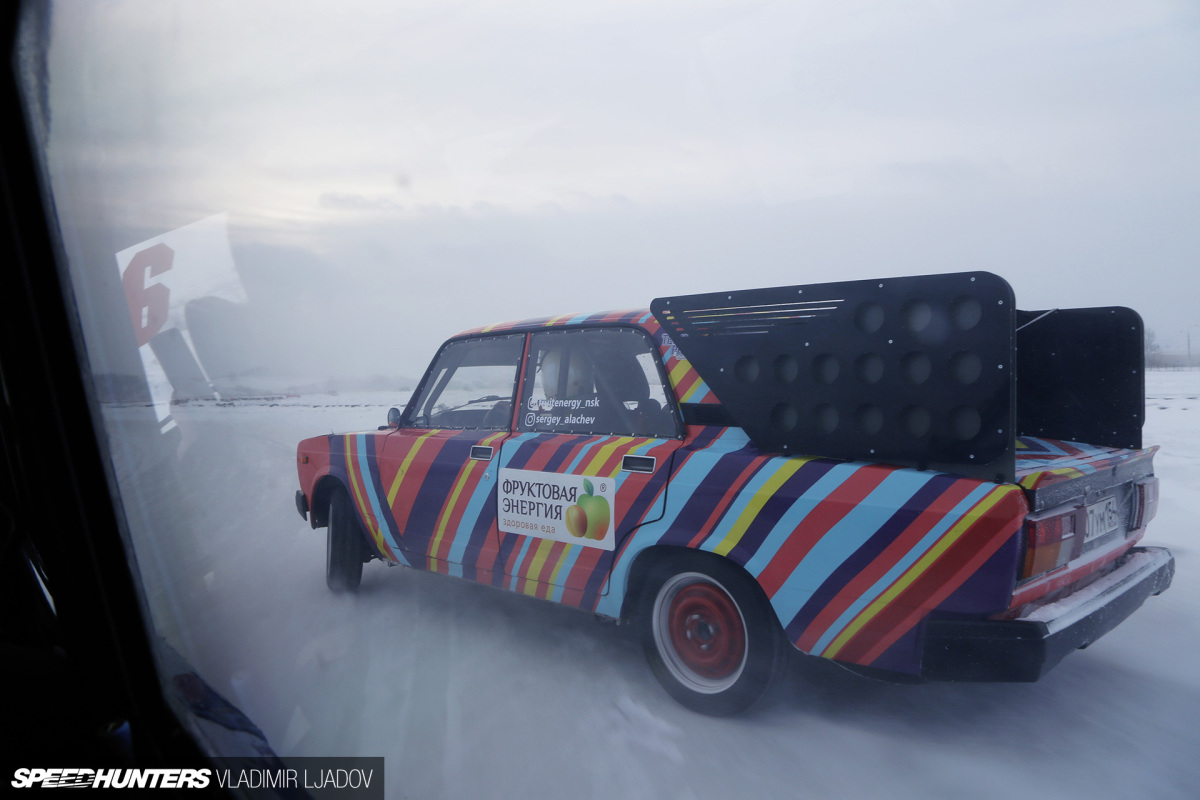 A spoiler is an essential modification for sedans, and I don't mean a simple rear wing, but huge custom panels that mimic the side drag generated by estate (wagon) cars. This aerodynamic know-how, or the 'sailing effect' as locals put it, is a must-have upgrade if you're serious about winning in a sedan. That said though, there hasn't been a single Lada sedan on the podium for last few years. The Lada estate on ice is like an AE86 on a downhill touge.
Skill Level
Siberian winters last at least six months, so bettering your driving skills becomes part of the daily routine for anyone with a car. Because salt and other chemicals are not used on public roads, you have no choice but to learn how to drive in slippery conditions from the moment you get your licence.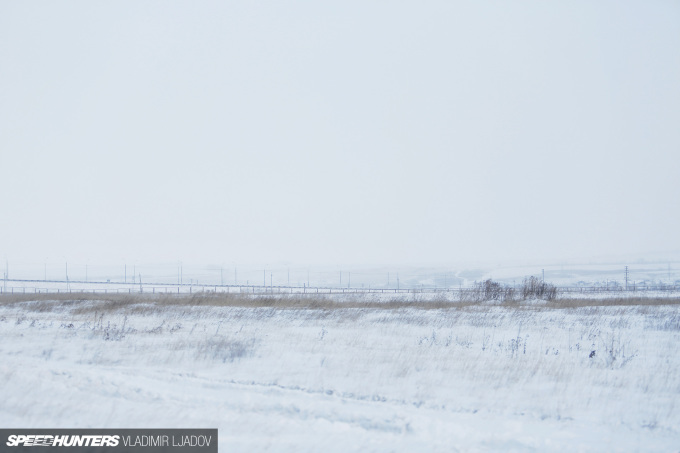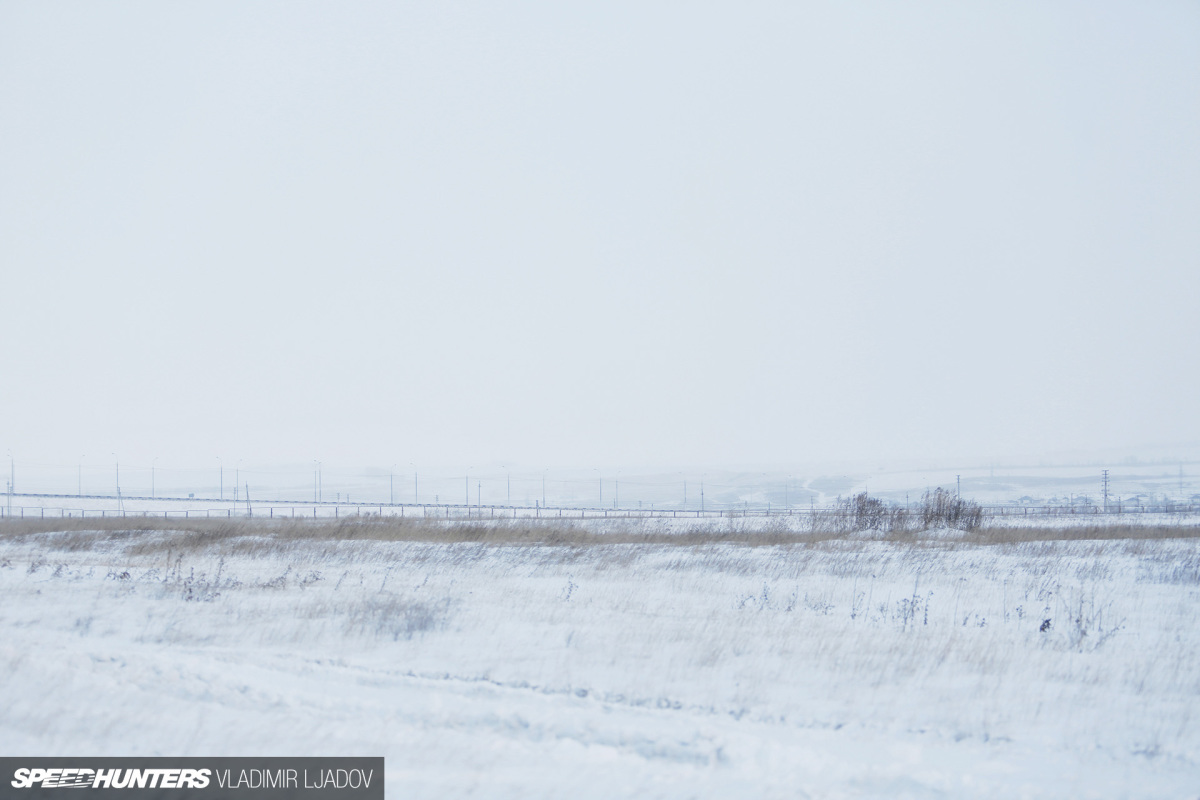 If you want to drift though, you come to Red Ring, which is open to the public almost every day. For a small fee, the track is yours to hone your sideways driving skills from dawn till dusk.
Back to the event, the lowest score to pass qualifying this year was 94 points. As I mentioned, there were 78 competitors and 53 of them scored more than 90. From this we can establish that car control is not an issue for most; where many lack experience is in the tandem battles.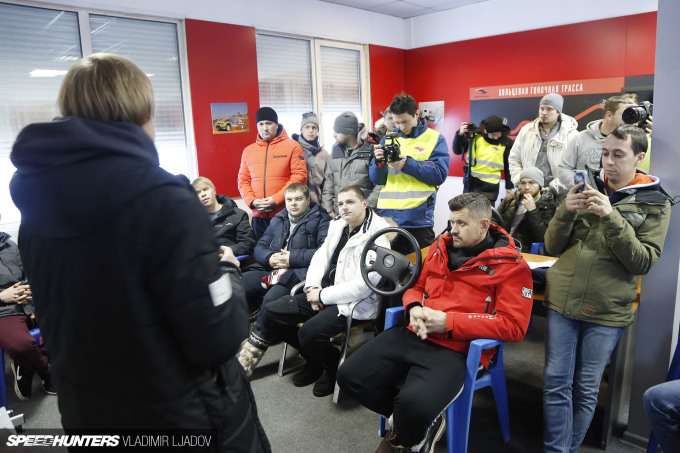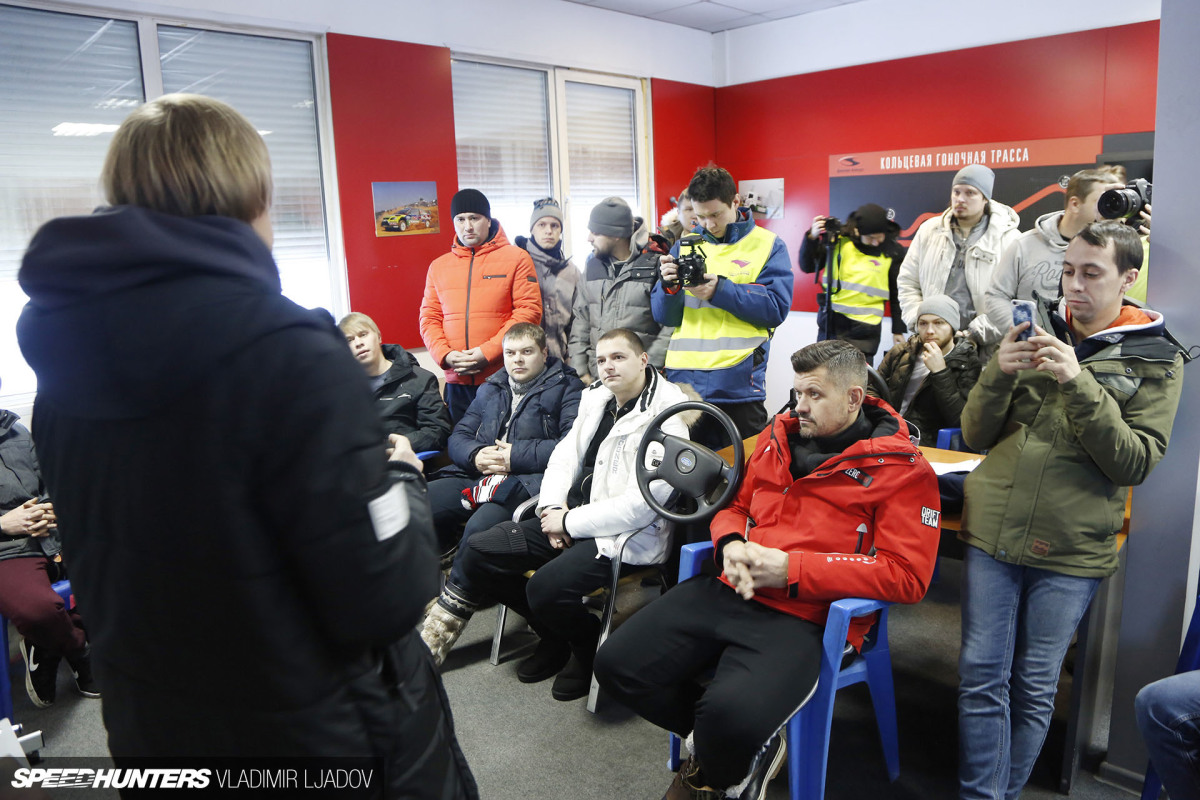 The main judge and event organizer Arkadiy Tsaregradsev gave two driver briefings each day, specifically concentrating on advice about tandem runs. Many drivers say that without Arkadiy being involved they would likely not participate, so he is an important asset. Everyone values his world-class drifting expertise.
International drivers have also take an interest in the world's biggest winter drift championship. Kristaps Blušs, Eastern European champion Dmitriy Illyuk, Ukranian champion Alex Golovnya, and D1 driver Daychapon 'Pond' Toyingcharoen are amongst those who have travelled to Russia to compete.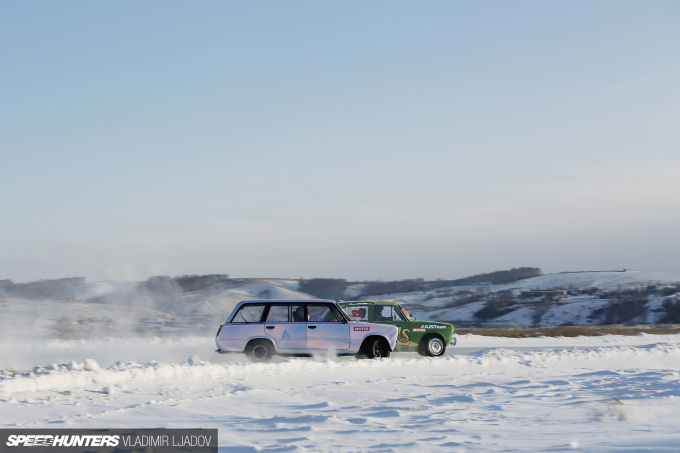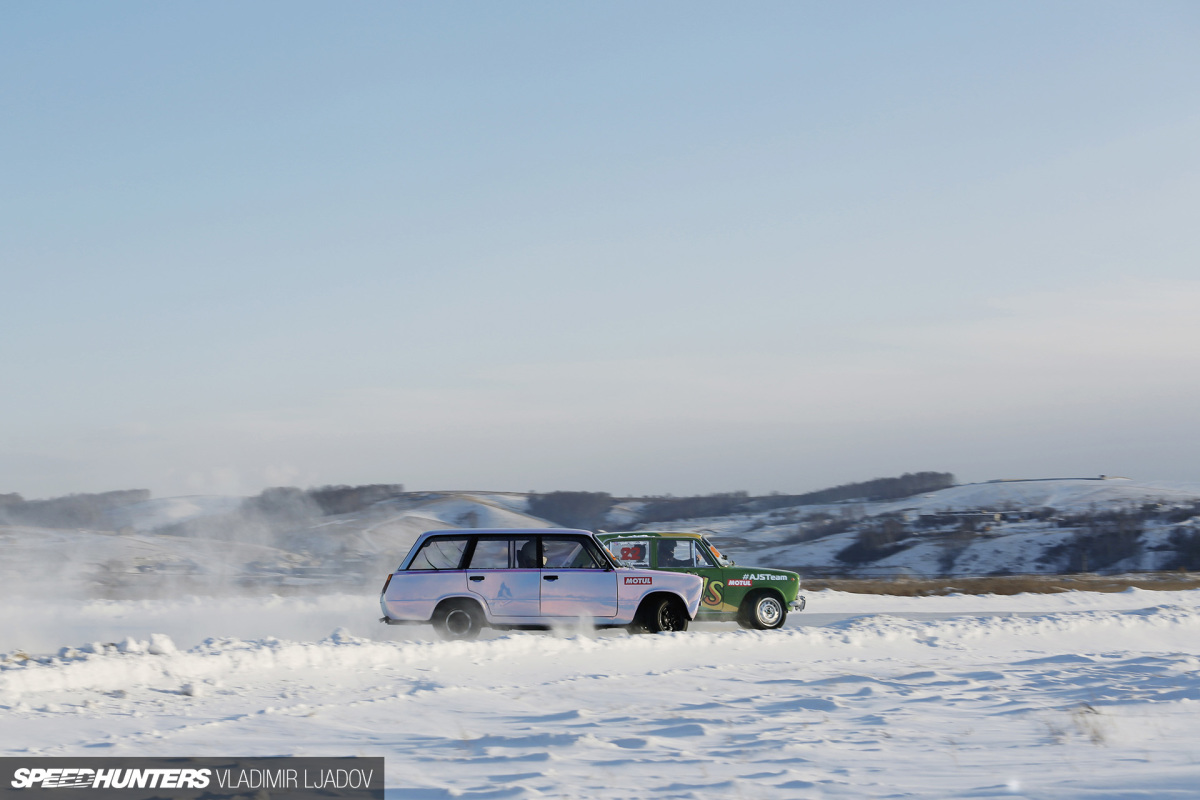 For the next event, Stage V (round five of the six-round series), another well-known driver has signed up to compete: Masato Kawabata. Of course, he'll be behind the wheel of a Lada for this one, and a right-hand drive estate has been prepared for him locally.
The question on everyone's lips is whether a D1 Grand Prix champion will be able to beat a local on ice. Kawabata-san is an exceptional driver, but whether he can perfect winter driving skills to the level of local 'Ivan from Irkutsk' in just two days of practice will be interesting to see…
Vladimir Ljadov
Instagram: wheelsbywovka
because@wheelsbywovka.com
Cutting Room Floor