Long Live Cars & Coffee
Cars & Coffee, the universal unifier of automotive admirers around the globe.
Several events promise to be the biggest, a few claim to be the longest-running, a couple insist that they are the original. I tried for a bit to learn where the first ever of such events was held and instead found myself reading about a car that was fueled by coffee. Seriously, that's a real thing, but it really has nothing at all to do with the topic at hand.
Back on track, just about anywhere you go in the States you're bound to find a local weekend morning event with a healthy mix of vintage Americana stirred up with modified builds originally assembled on the other side of the planet.
Last weekend my wife and I found ourselves in Portland, Oregon looking for a good time. So, come Saturday, we got up early on an icy winter morning, hit the road, and headed towards World of Speed USA, a Motorsports Museum outside Portland in Wilsonville. Here, we stocked up on some coffee straight away and I tested how cold my hands could get as I took it all in.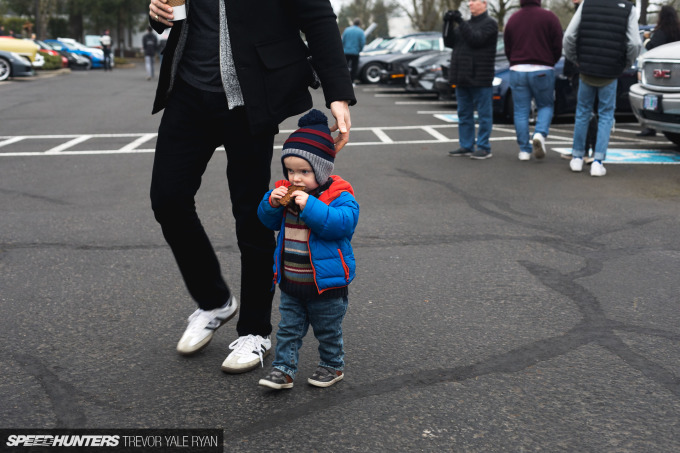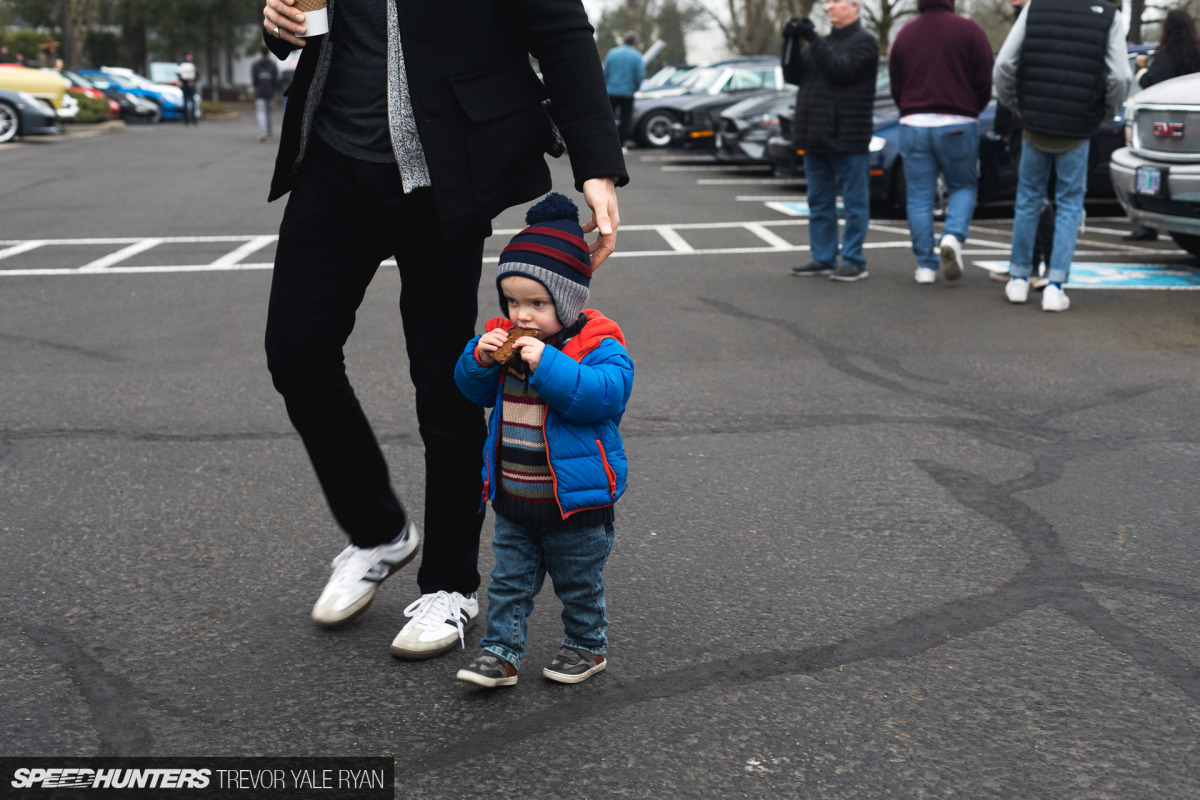 Despite the cold (or maybe it's just me being spoiled by the current 70°F weather in California) the crowd was as varied as the cars. If you know me, you'll know I glossed over the recent offerings in favor of something with a bit more punch.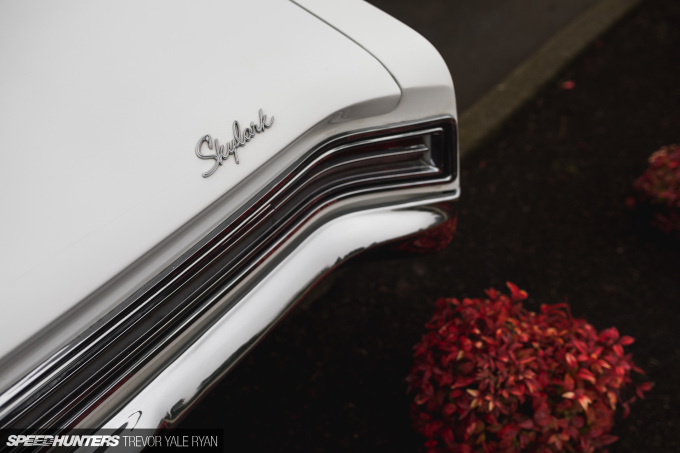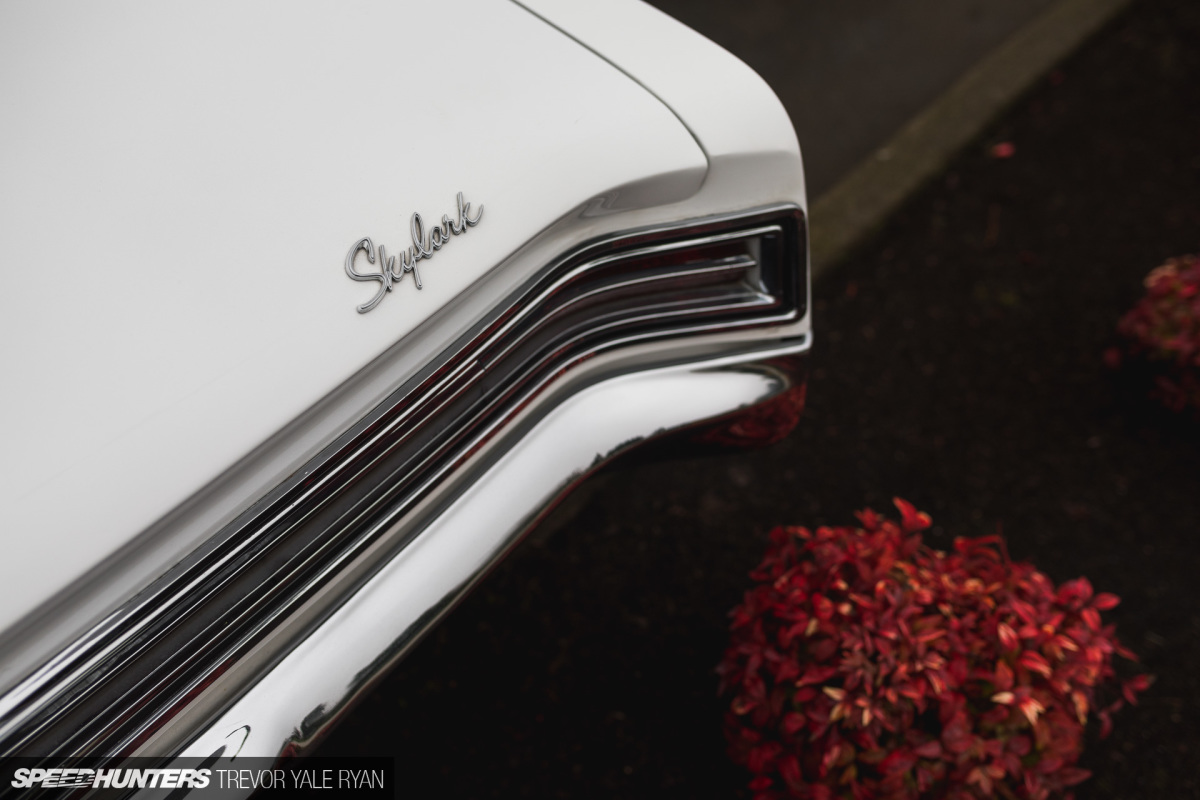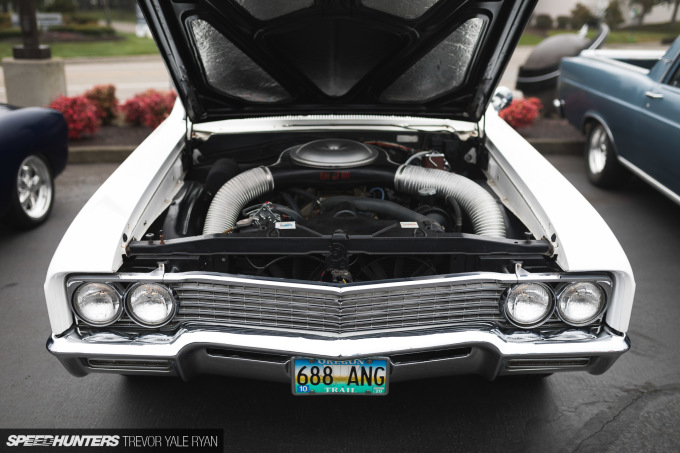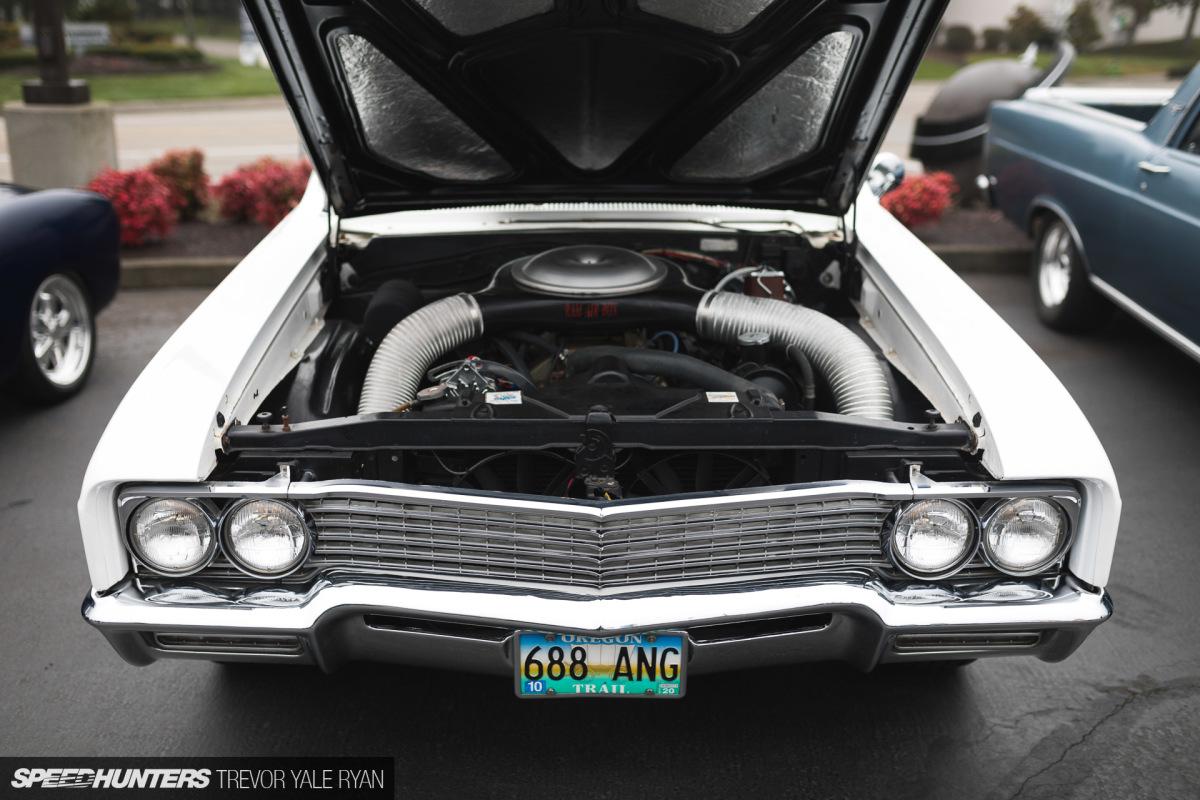 Cash value aside, I'd take this ram air-fed, V8-powered first-gen Buick Skylark any day.
A friend in high school daily drove a second generation example and it's a car that left a huge impression on me; these Skylarks have so much character and there really is nothing like a big American eight cylinder rumbling down the road in front of you.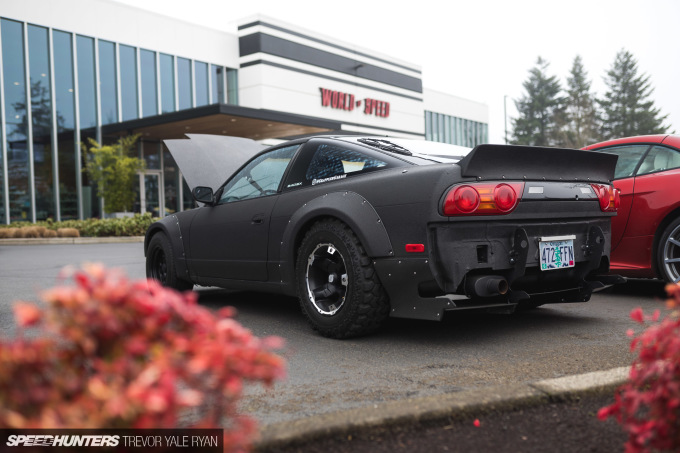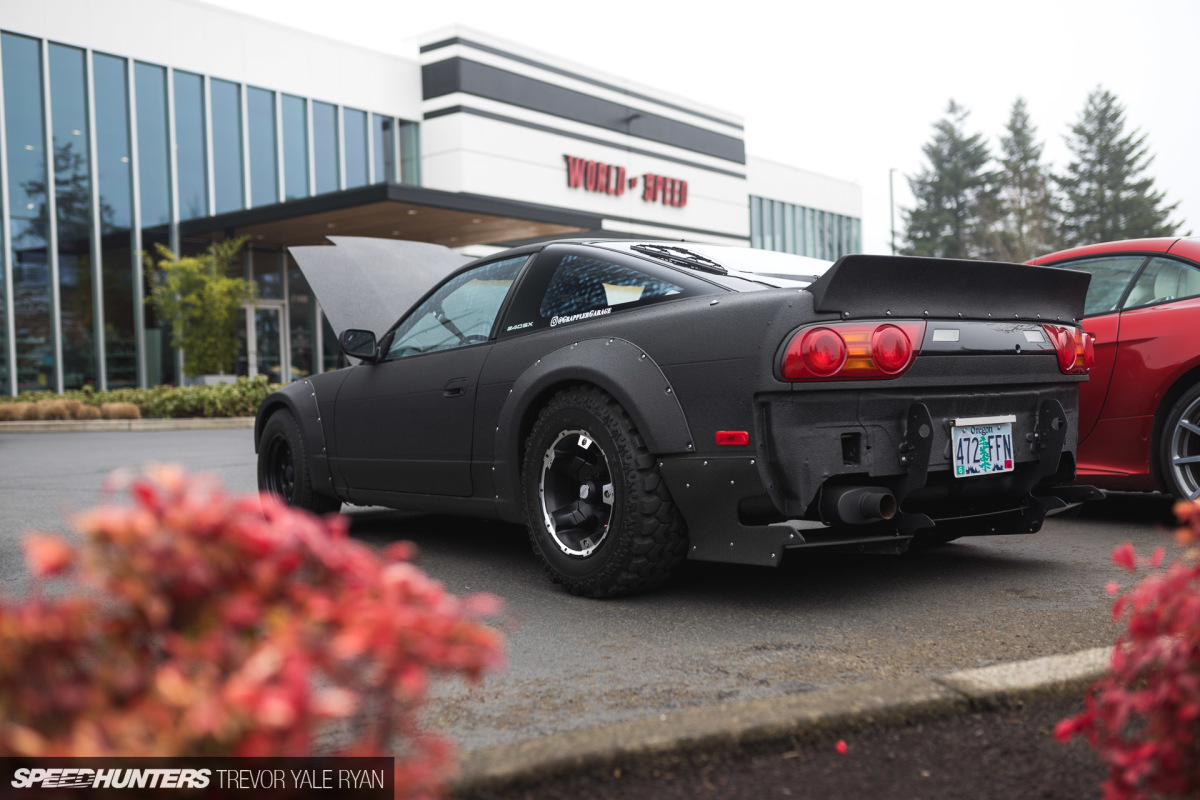 Jumping perhaps as far as possible to the other side of the spectrum from the classic Buick was this curiously modified Nissan S13.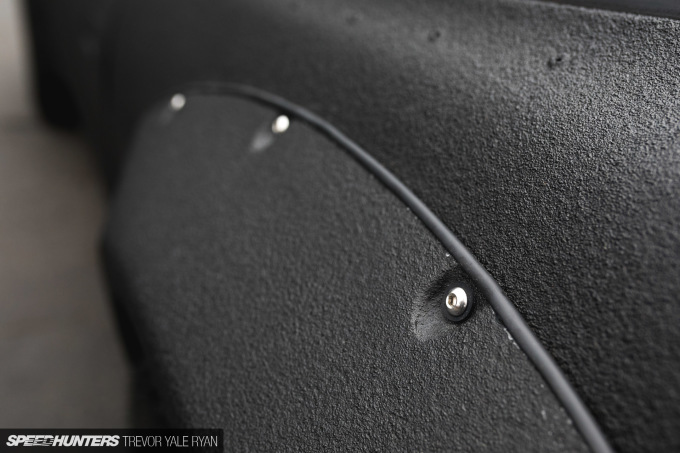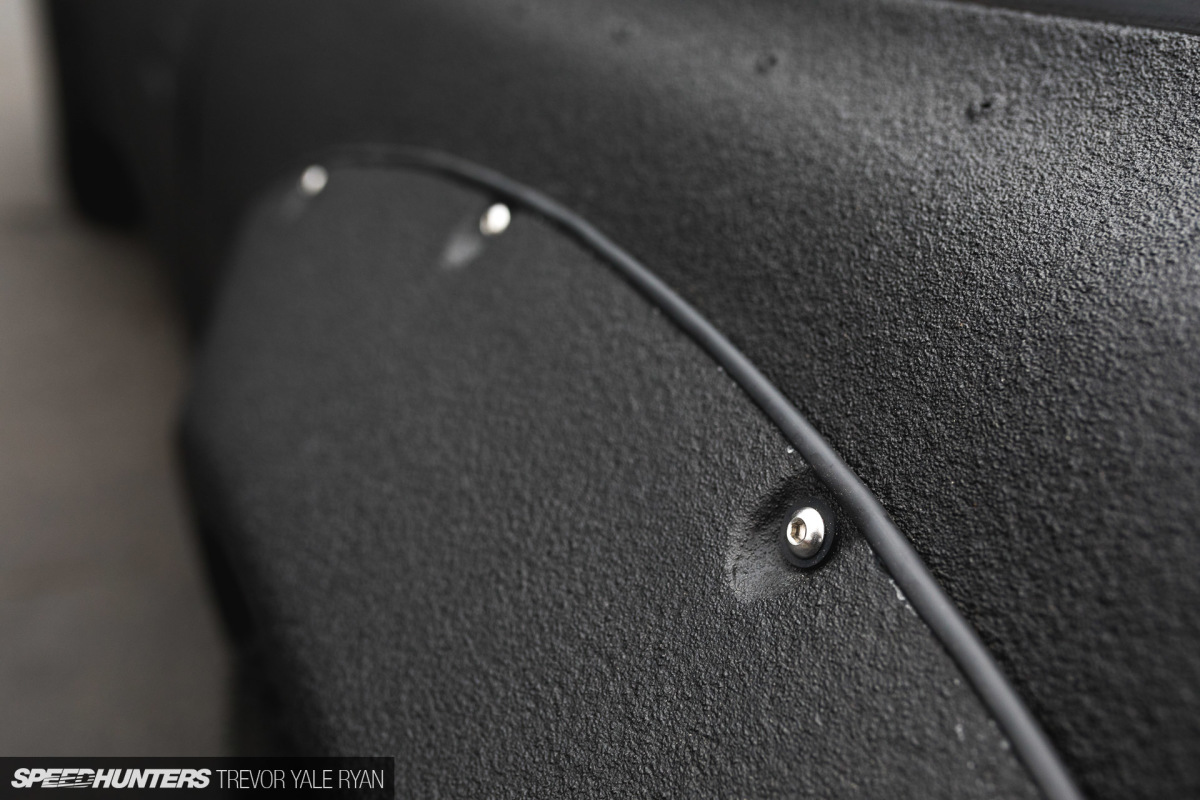 It was also powered by a V8, however, the similarities abruptly stop there. I wasn't able to talk to the owner, but it appears that the entire exterior has been coated in truck bed liner. Here's to hoping whoever drives this thing absolutely sends it off-road; it's got the wheels, tires, and ride height for it.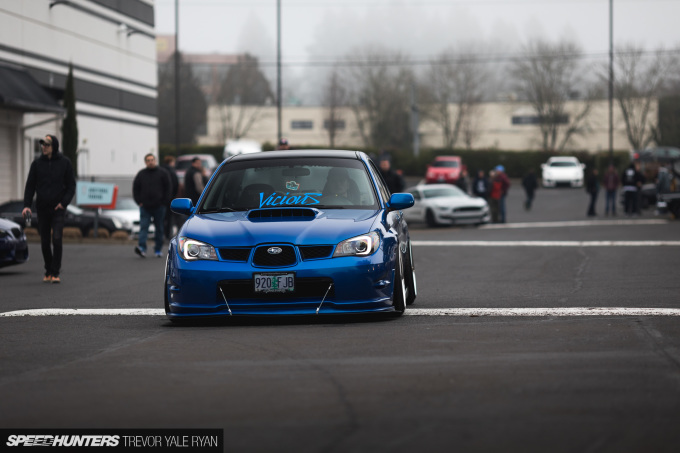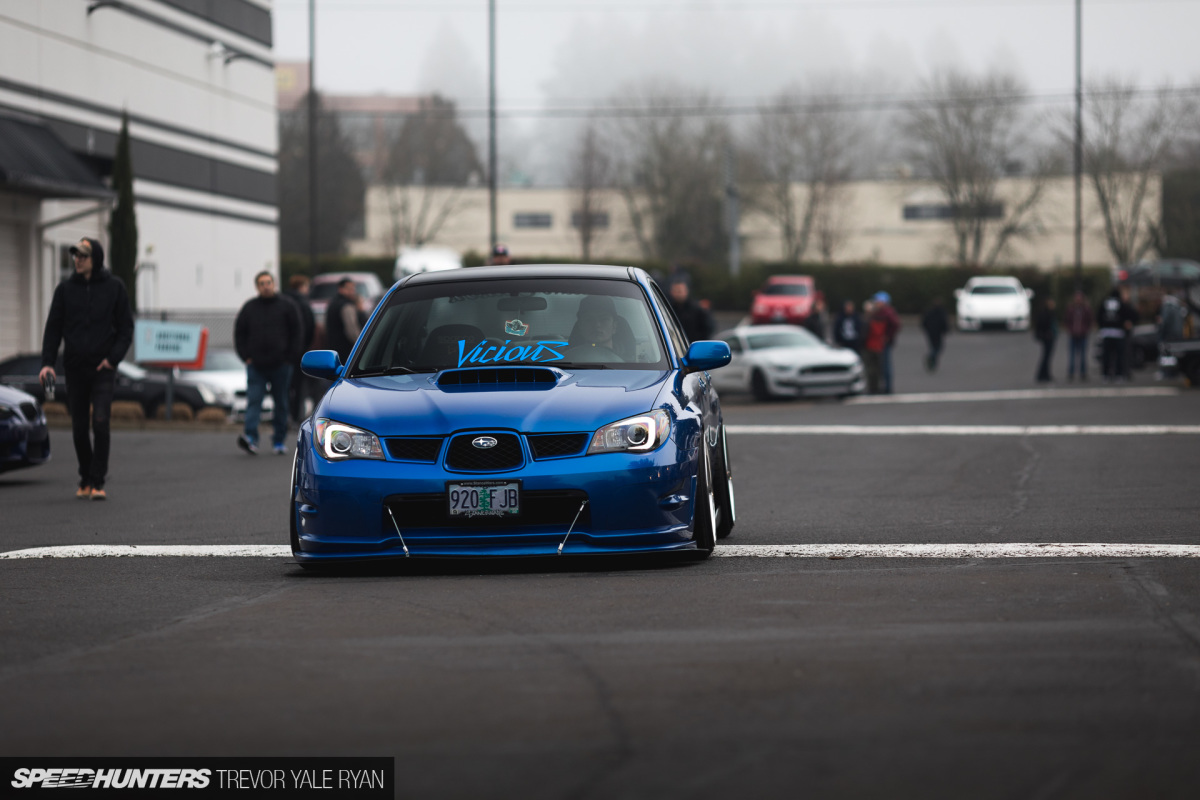 Again, here are two cars which share a certain similarity but are completely opposing in their driving philosophy. It always makes me laugh that the old school crowd slamming their rides can't seem to wrap their head around a stanced-out Japanese car with some camber.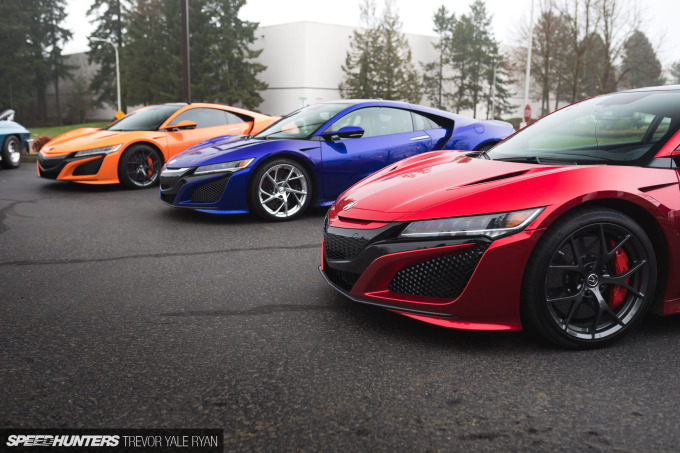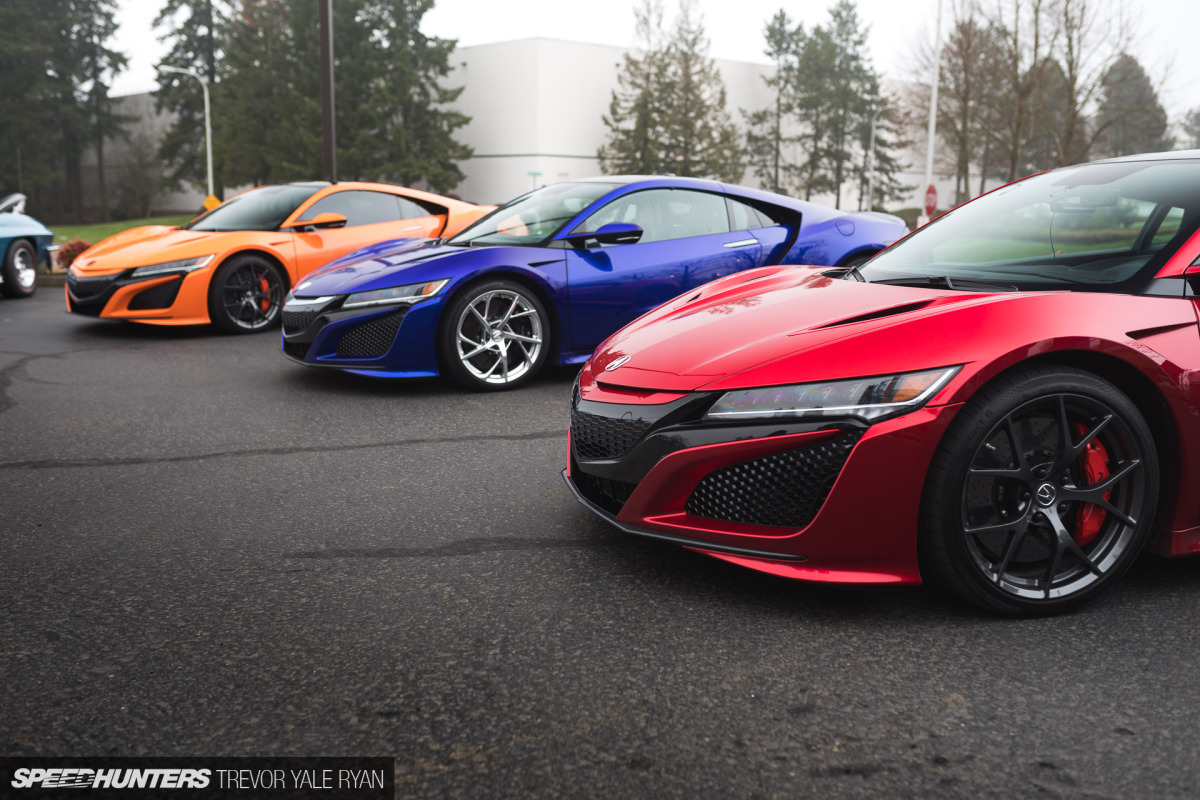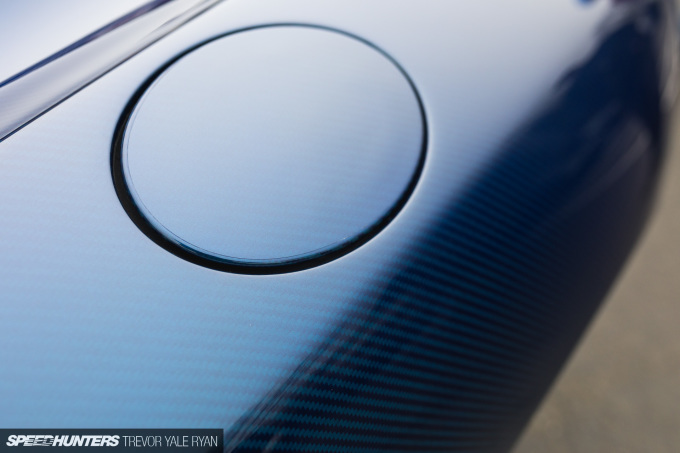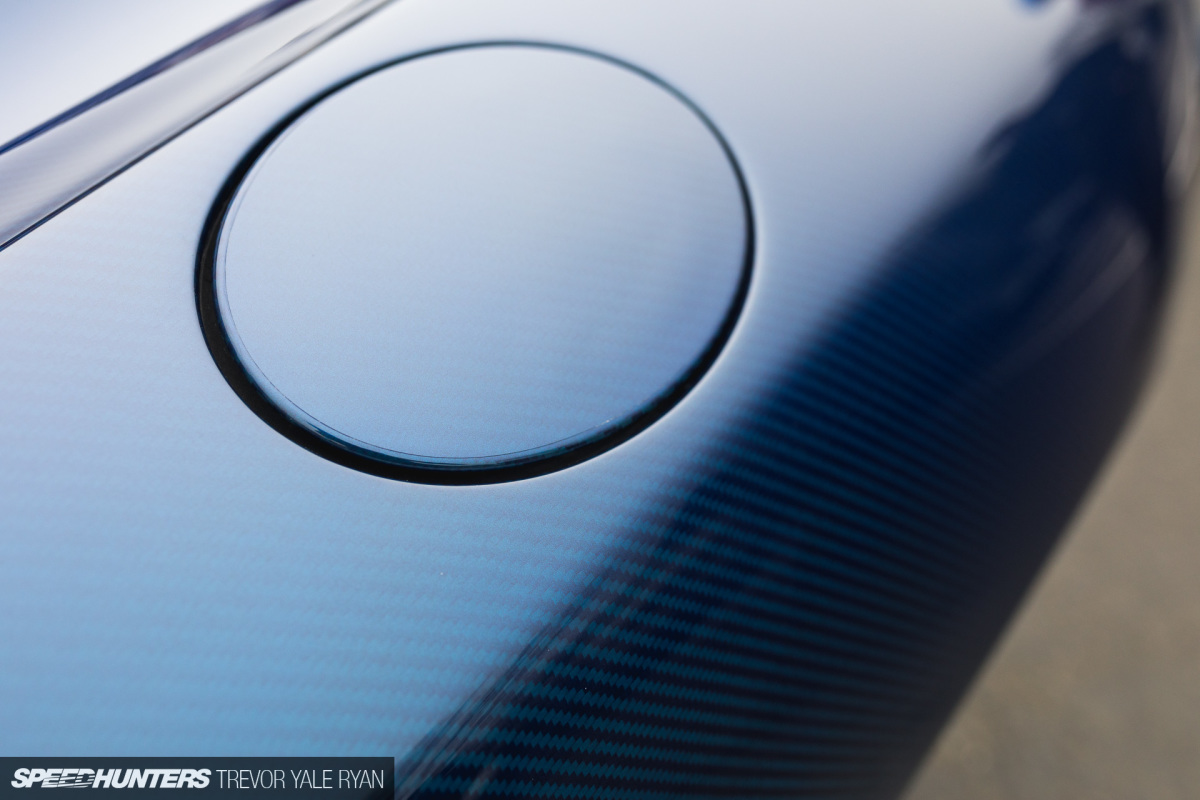 Eventually I made my way back around to check out the modern cars that made their way out, but beyond the blue carbon fiber that this McLaren was wearing I just wasn't compelled to take in the details.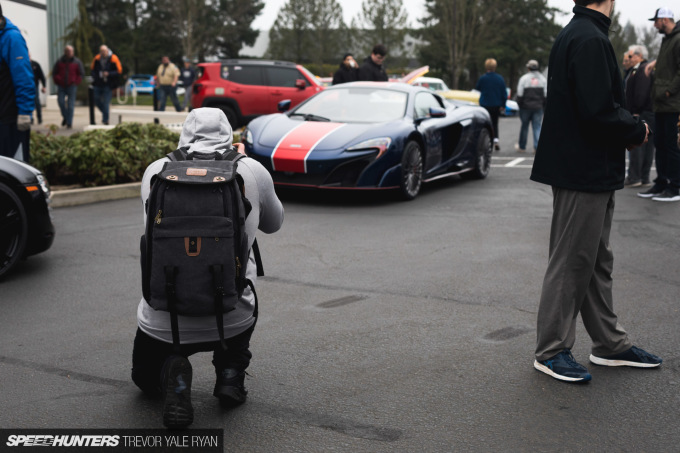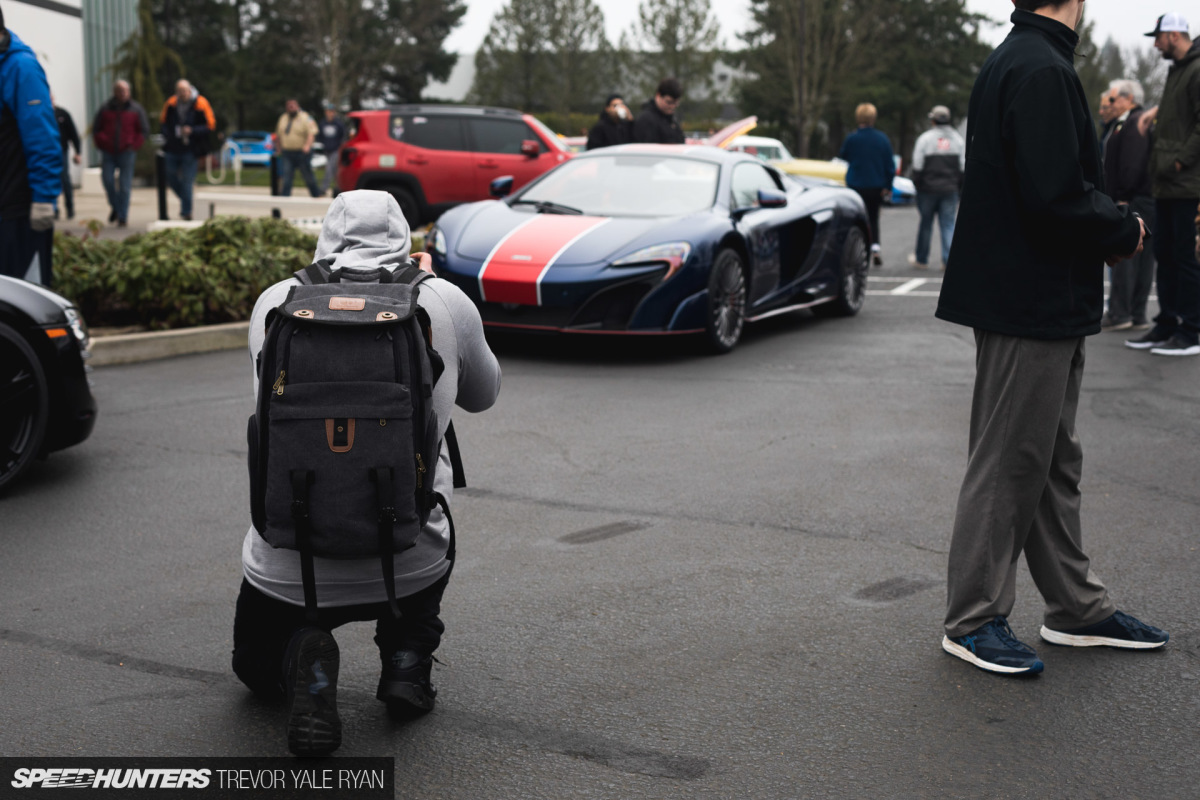 All fantastic cars, no doubt, but personally not what I come to Cars & Coffee to find.
Come One, Come All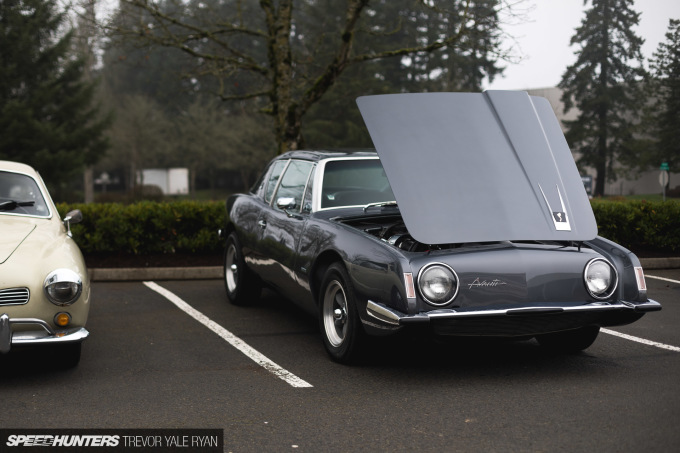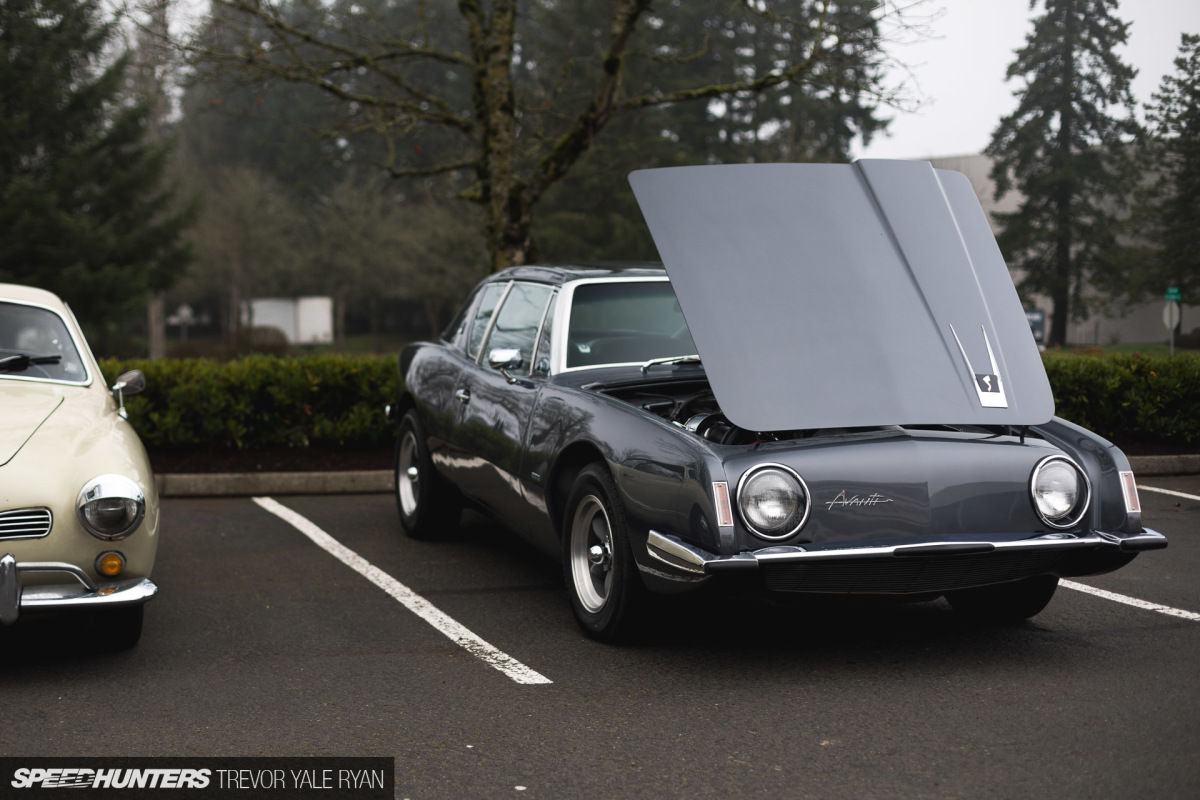 It's always the odd-balls that draw me in, the stuff that I don't even know I want to see. Cars like this Avanti, a last-ditch effort by Studebaker to remain relevant in the face of declining sales.
Perhaps building a car in 1962 which very deliberately had no straight lines wasn't their best move, and the carmaker finally went under by '68.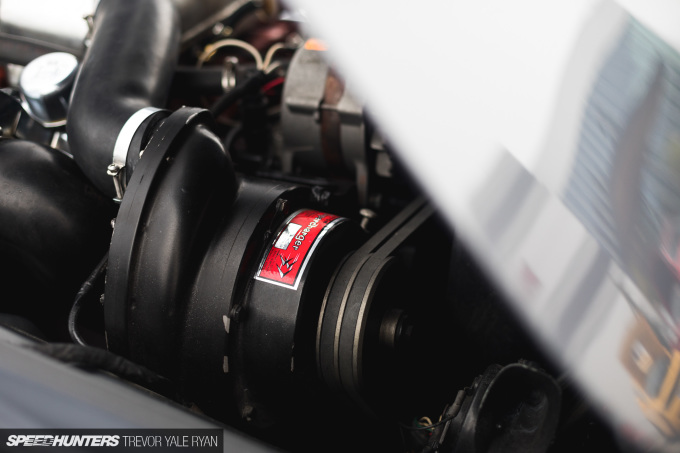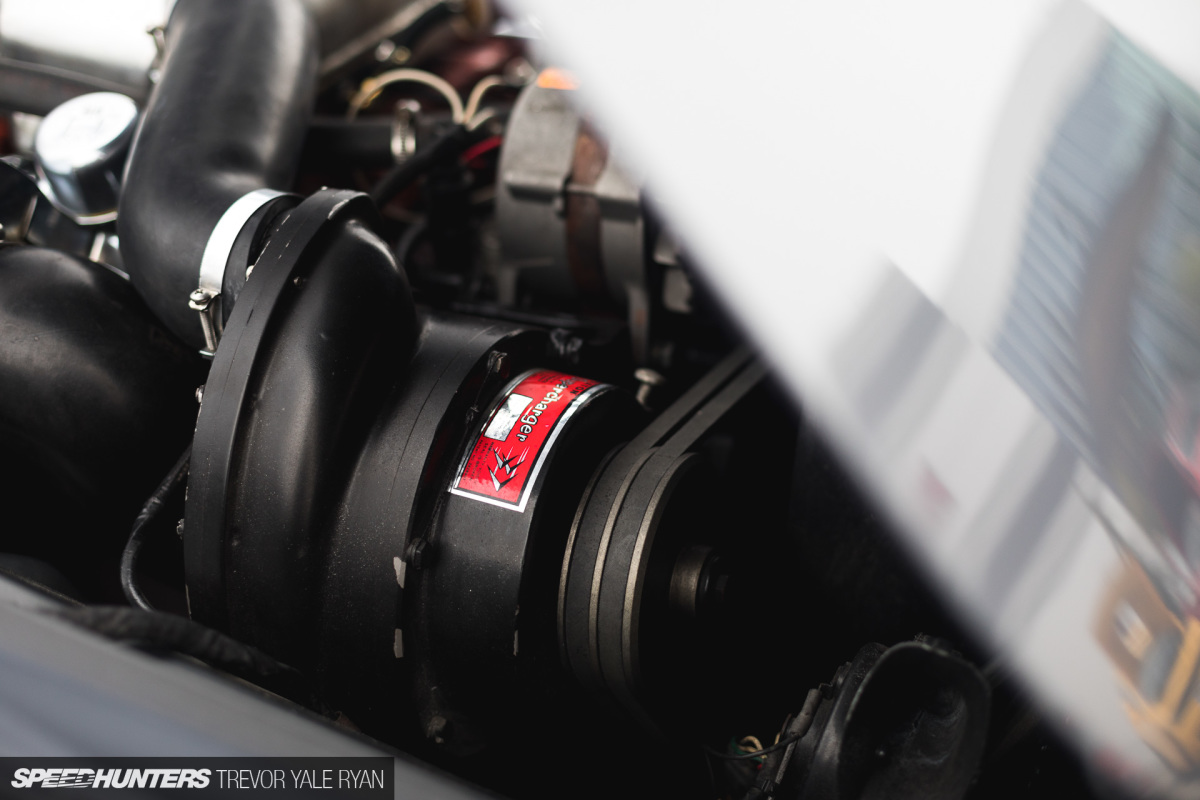 This example was supercharged, a feature which actually came factory on the Studebaker Avanti back in the day. The extra oomph just wasn't enough to attract enough people to the daring bodywork, though.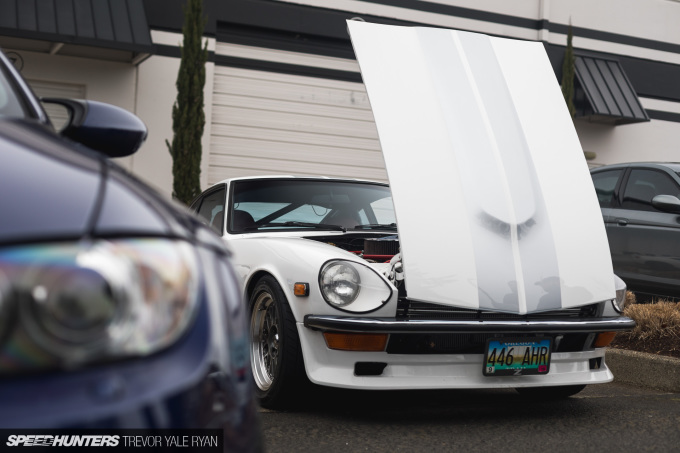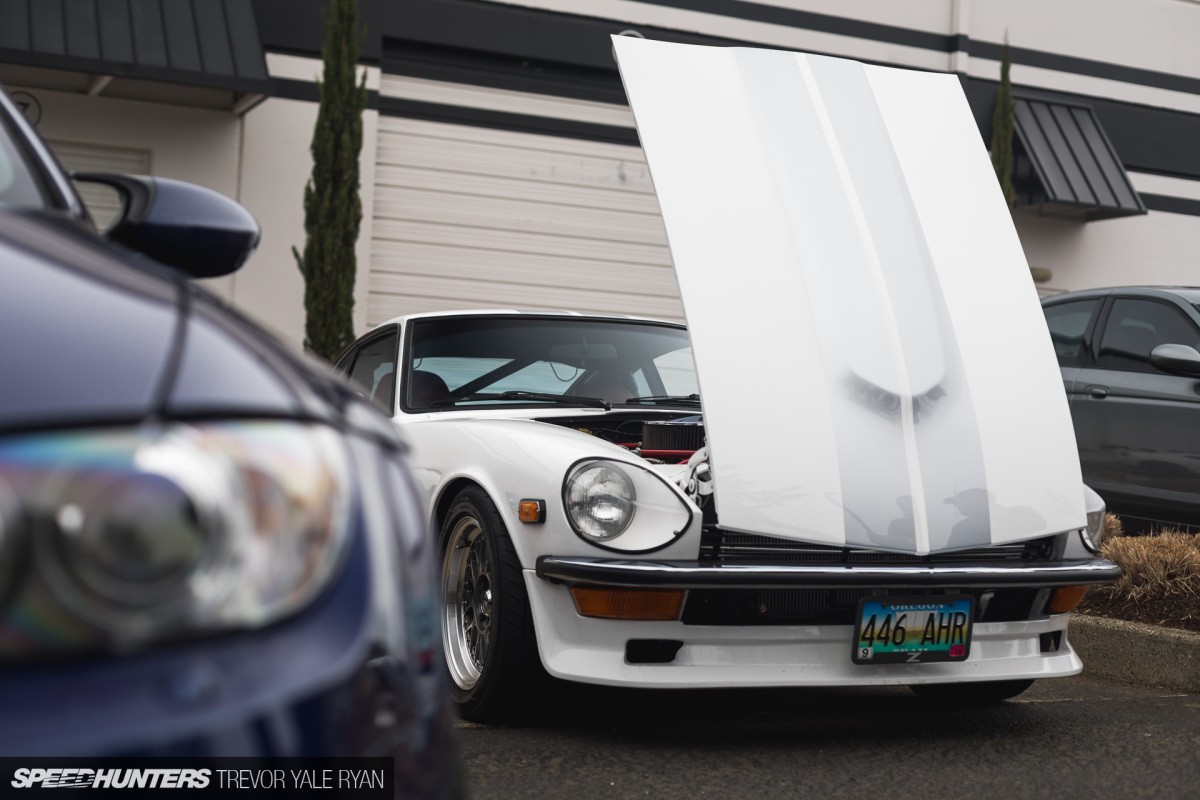 Further along this stunning Datsun S30 jumped out at me, as did the big air cleaner under the hood. Judging from the ridges on top of the block, this looks like a 1960s-era 289-based motor rather than the later 5.0L found in the Foxbody Mustang. I could be wrong, but, regardless, Ford changed as little as they possibly could on the Windsor powerplant from 1961 until it was finally discontinued in 2000.
Amazingly, if you change the cam gear to a hardened one, you can pop a '60s distributor into a '90s motor no problem, and any EFI motor can be easily stripped back to carbureted spec.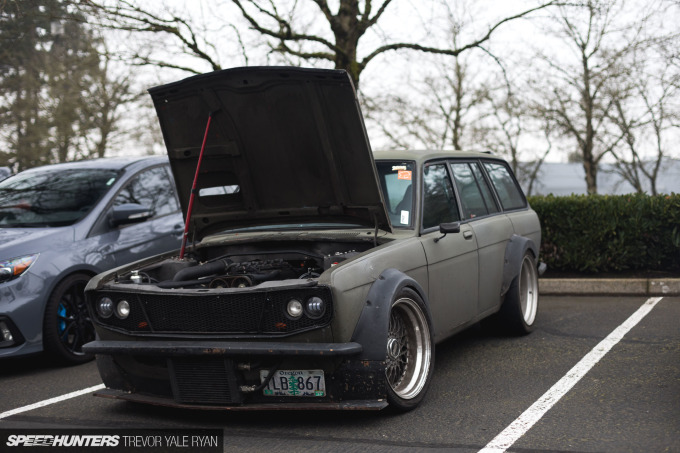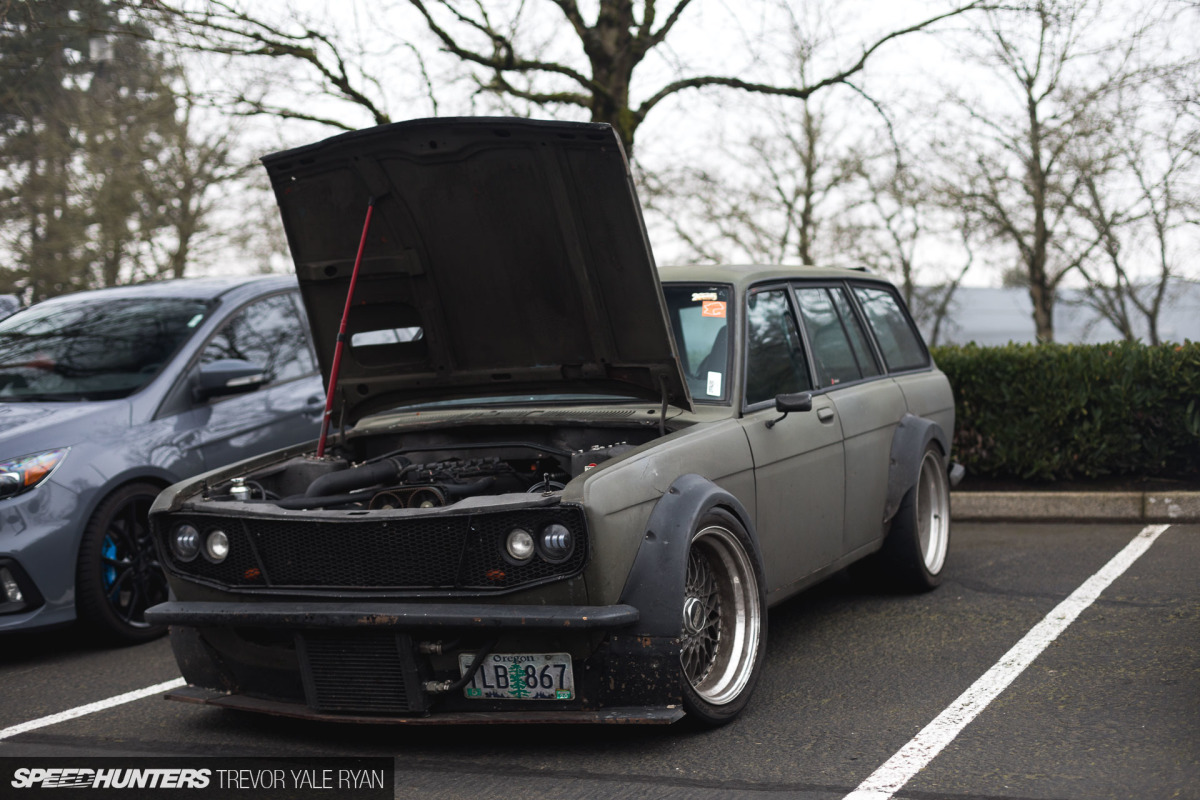 On the topic of swaps, this 510 wagon with JZ power was a hard one to miss. In fact, I've seen it once before, some 12 hours south at Laguna Seca during the Monterey Motorsport Reunion (thanks to those of you who reached out and connected me with the owner when I asked, by the way).
As you can see, it's boosted up with a BorgWarner single turbo, and I'm sure it's a riot to drive.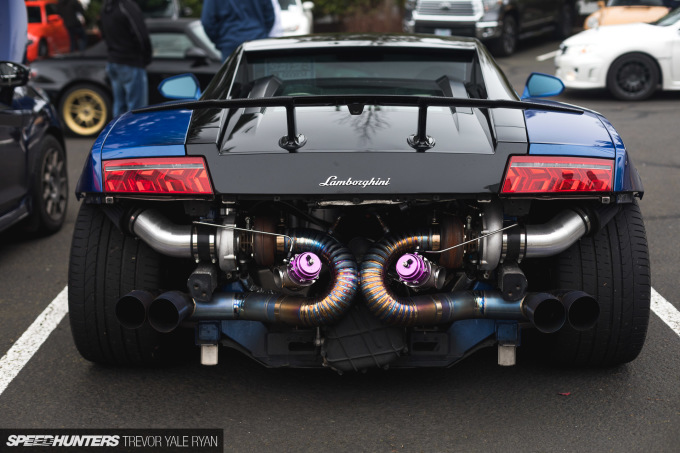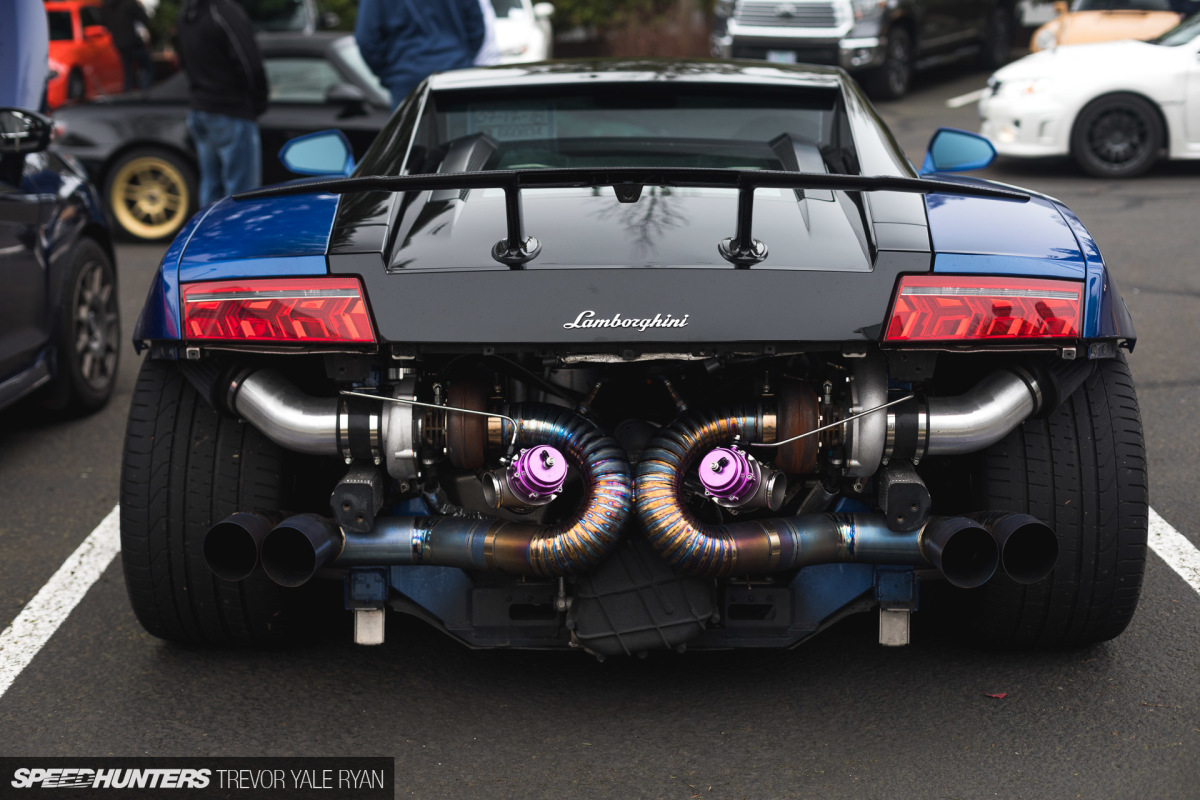 Keeping on the topic of turbochargers, it was really cool to see this Lamborghini Gallardo with the DOC Race treatment.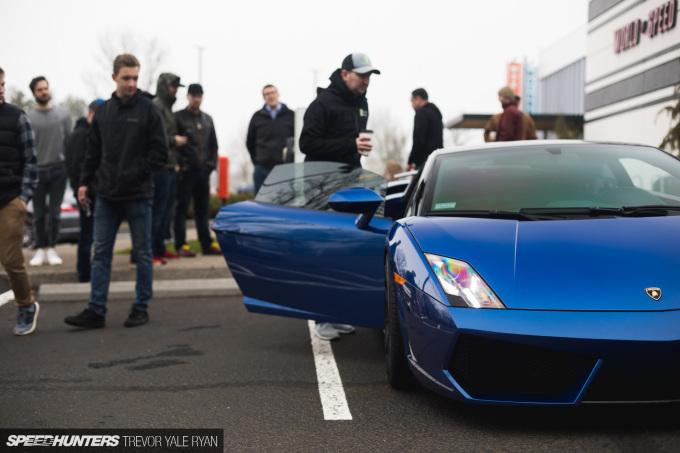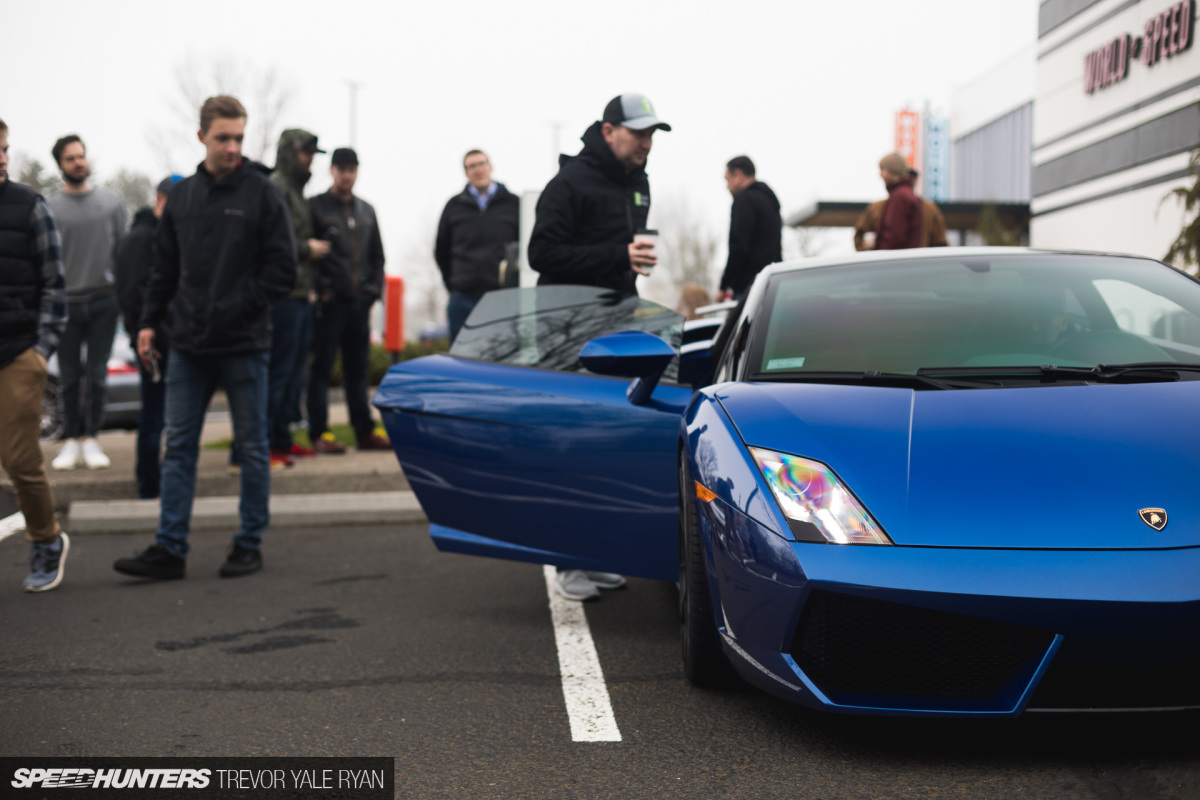 First seeing the car from the front end, it occured to me that I haven't seen that many Gallardos out in the wild for some time now. Where did they all go? Still commanding six figures on local used car listings, it appears that owners have tucked them away and opt to take out their newer toys most of the time.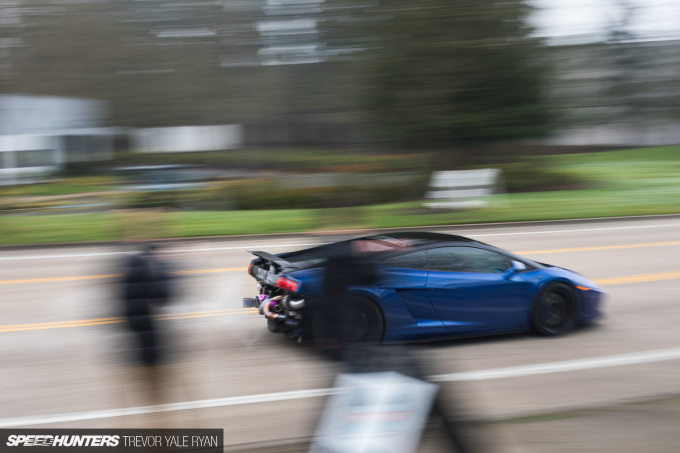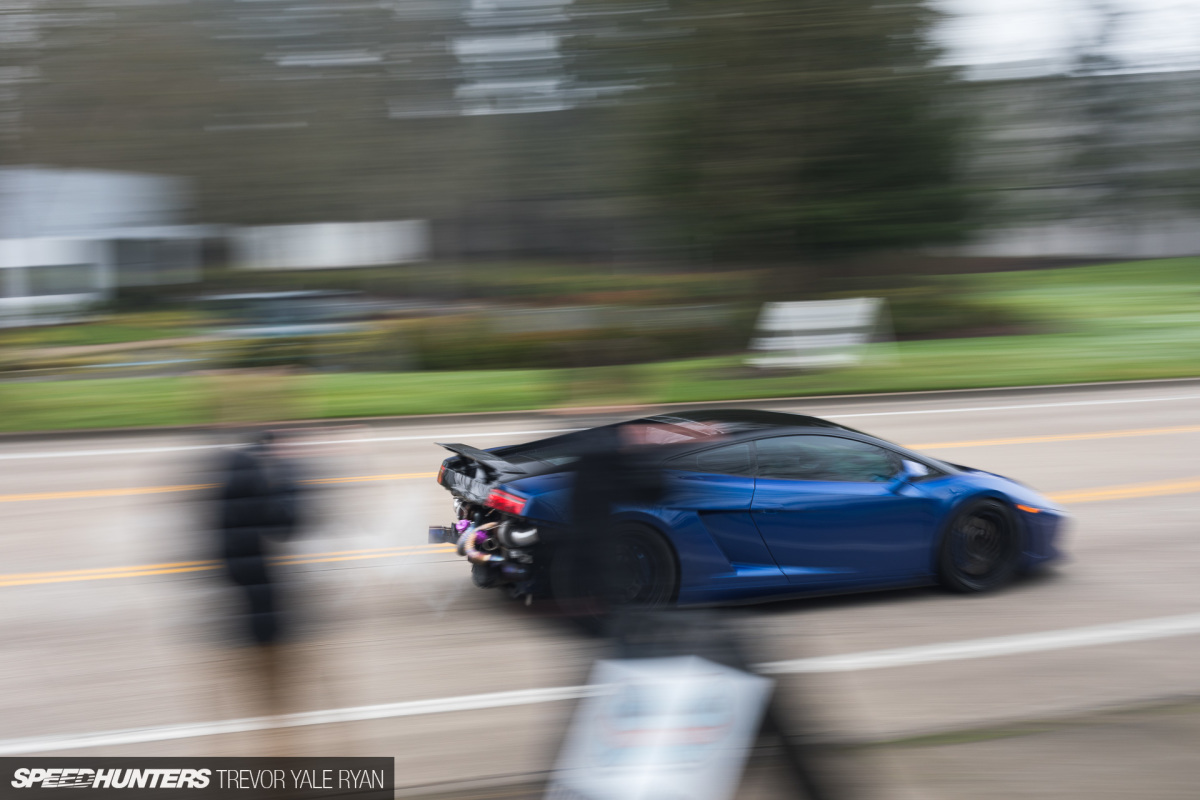 I'm sure there are plenty, but it's refreshing to see at least one still getting modified and driven.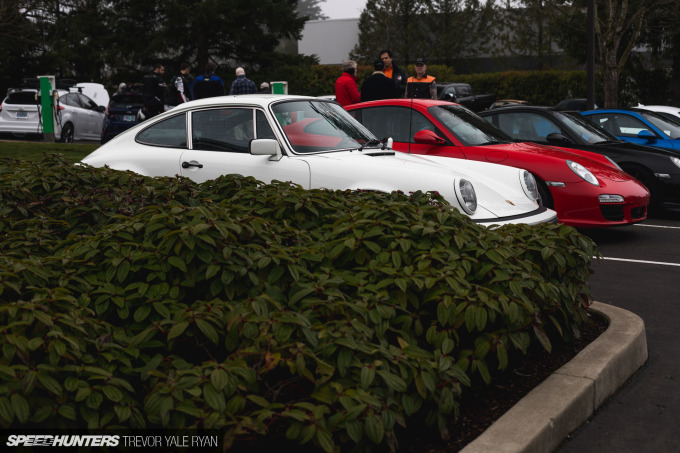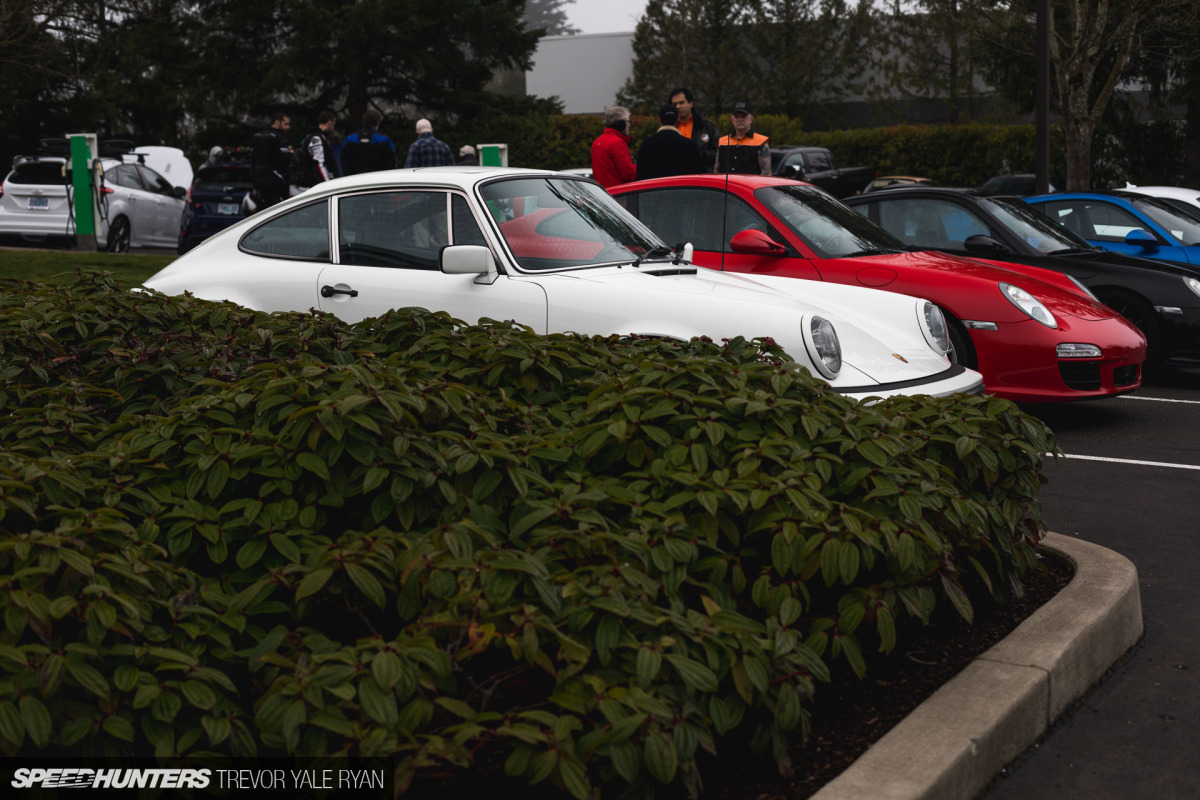 Of course, it isn't really Cars & Coffee without a whole gang of Porsche owners coming through, is it?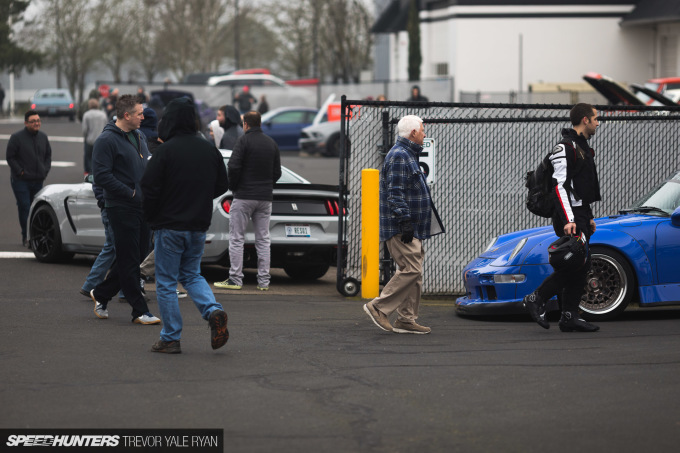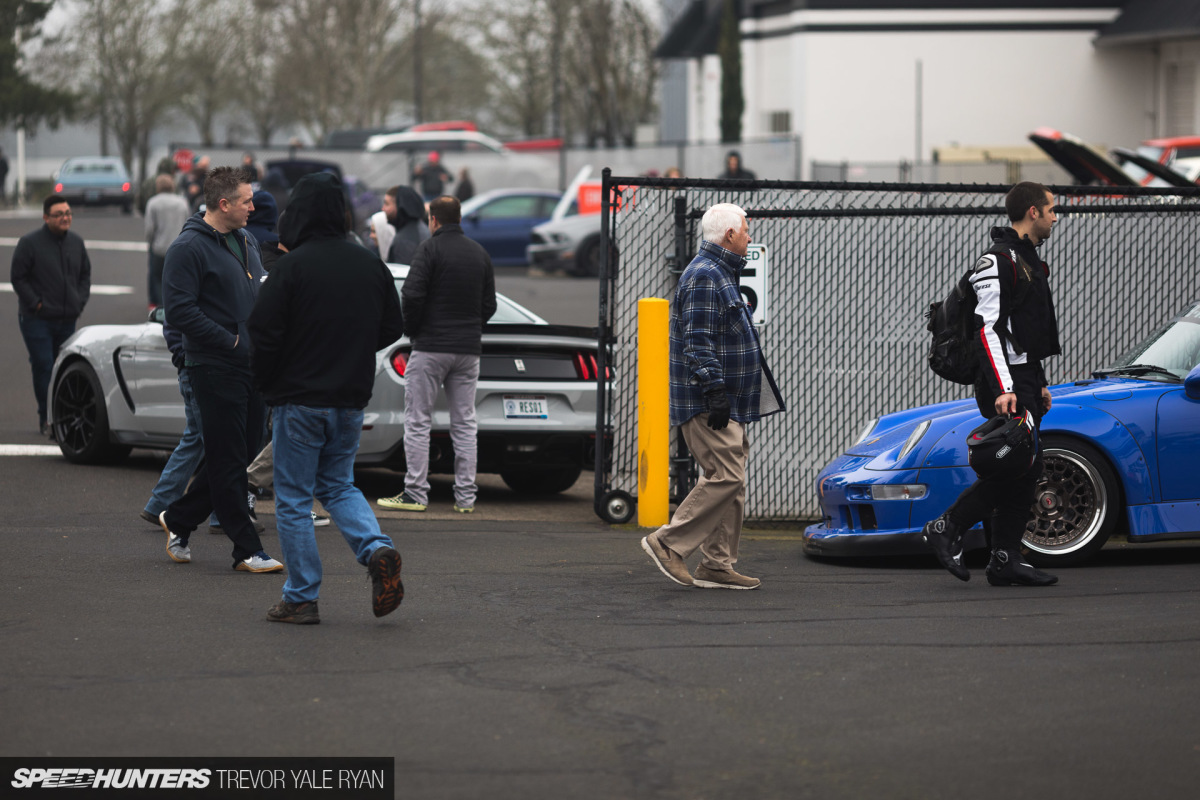 One Porsche in particular stood out, and it's pretty obvious as to why.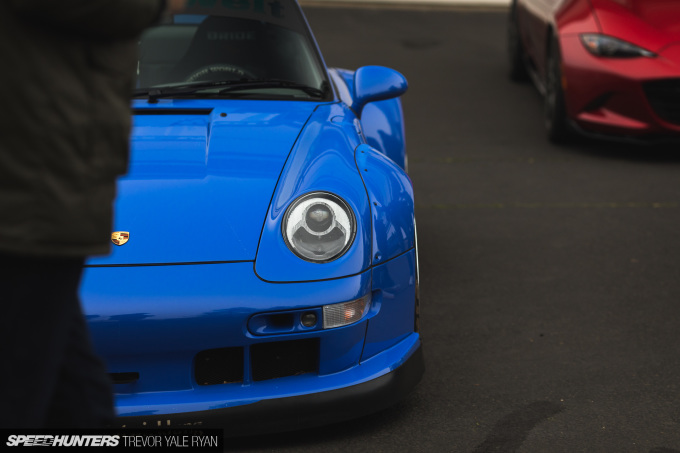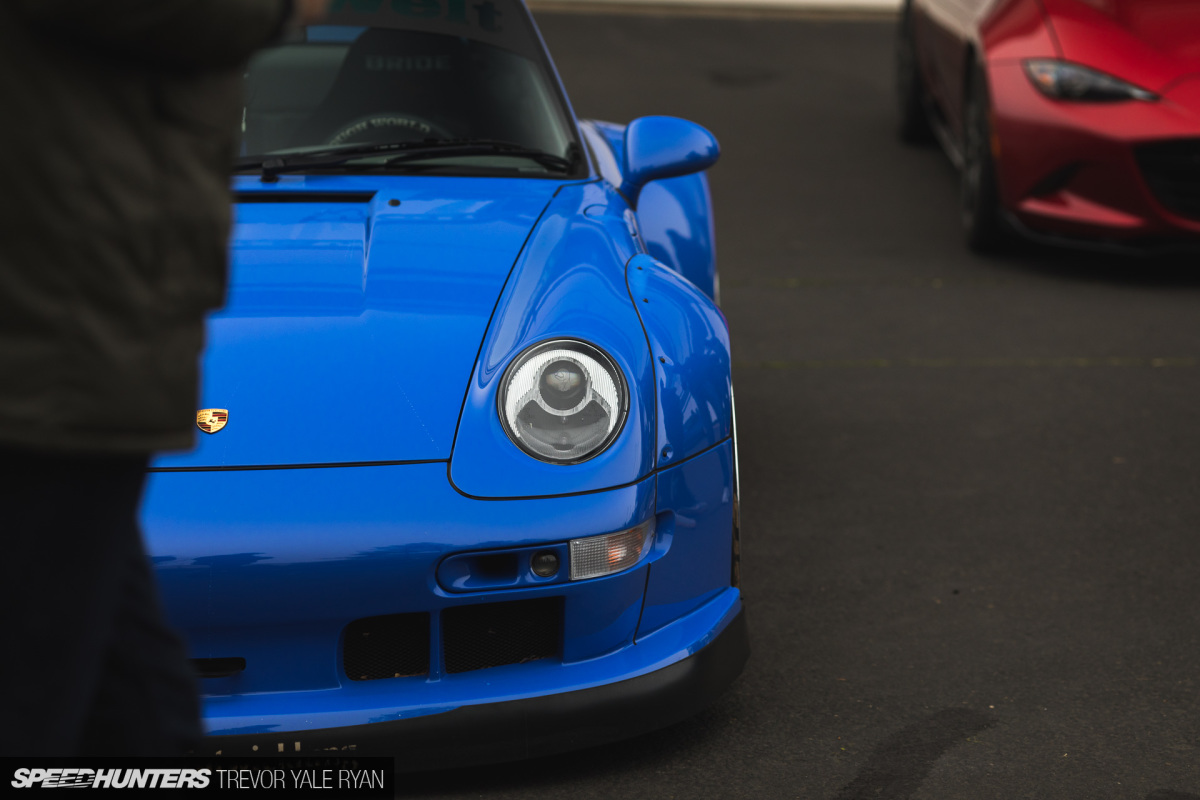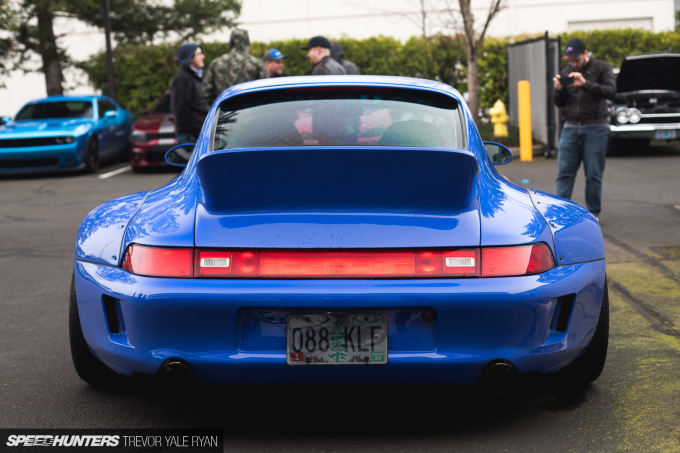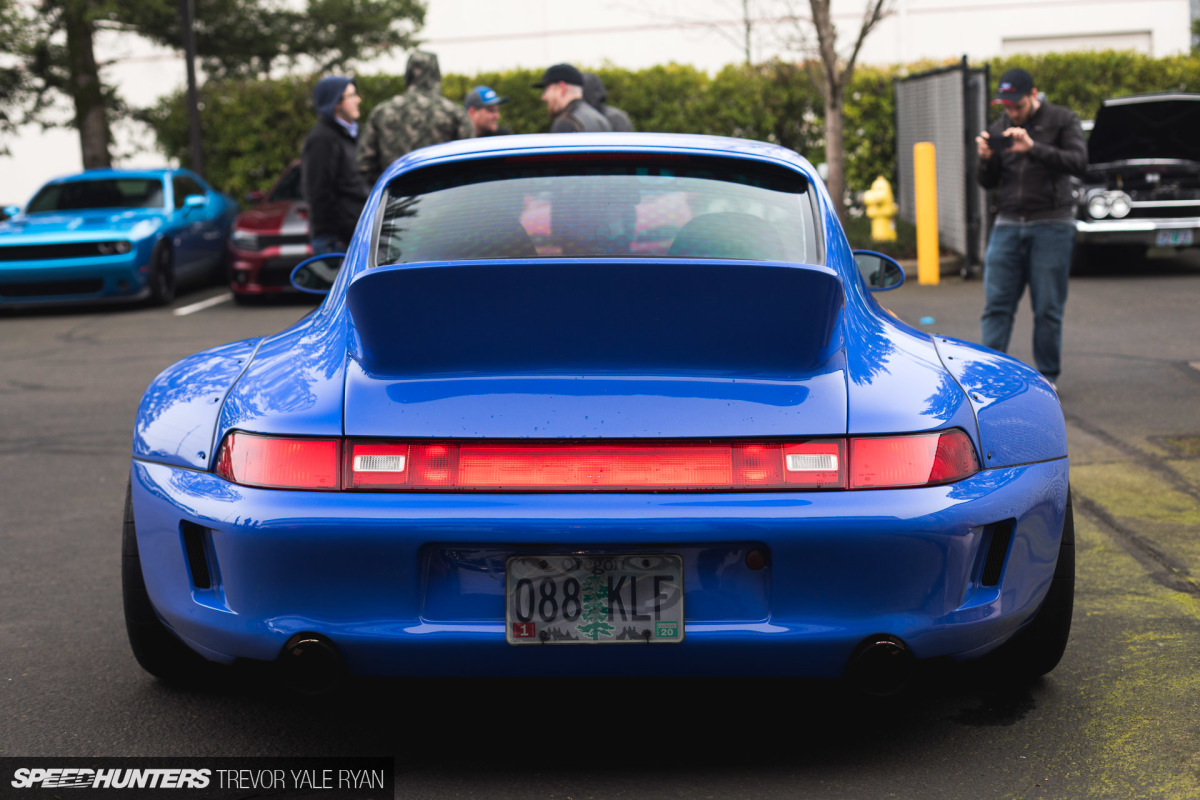 A stunning blue, bonkers Vossen wheels, and a motor pumped up to 3.8 liters. Yes, please.
If this is your bag, or even if it isn't, you can see a cool video of Nakai-san working on the car that my friend Mark put together last year when the car was built.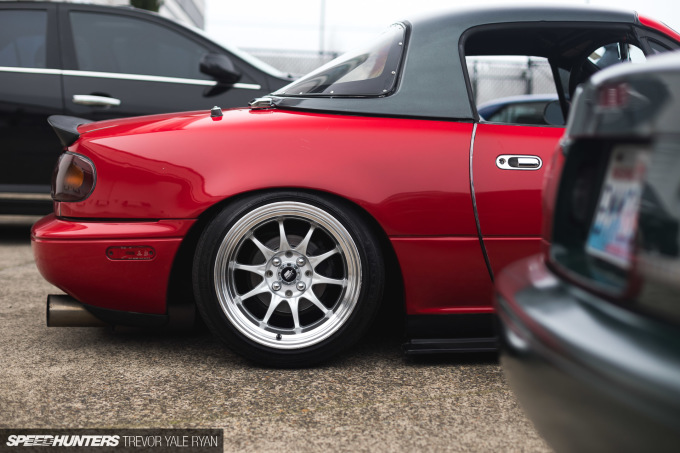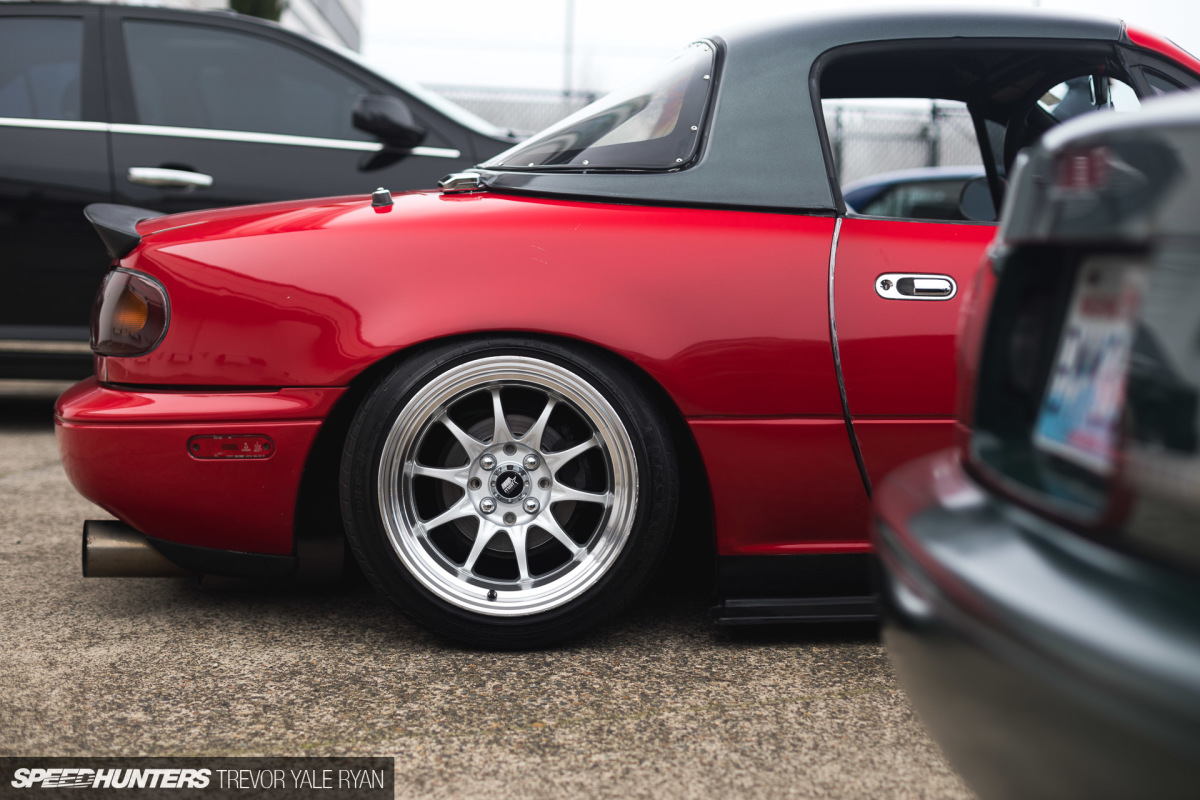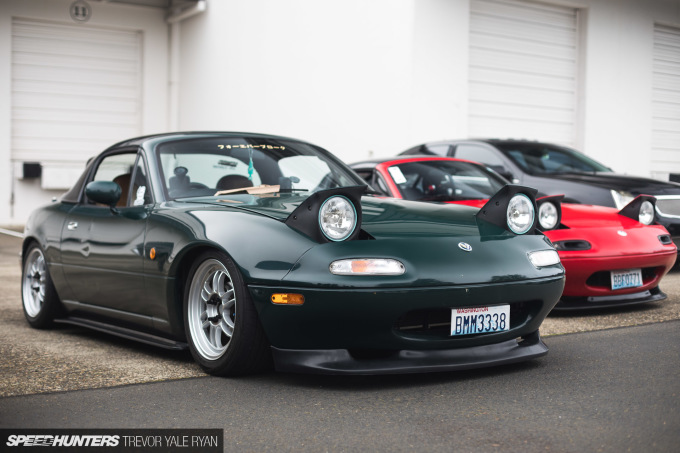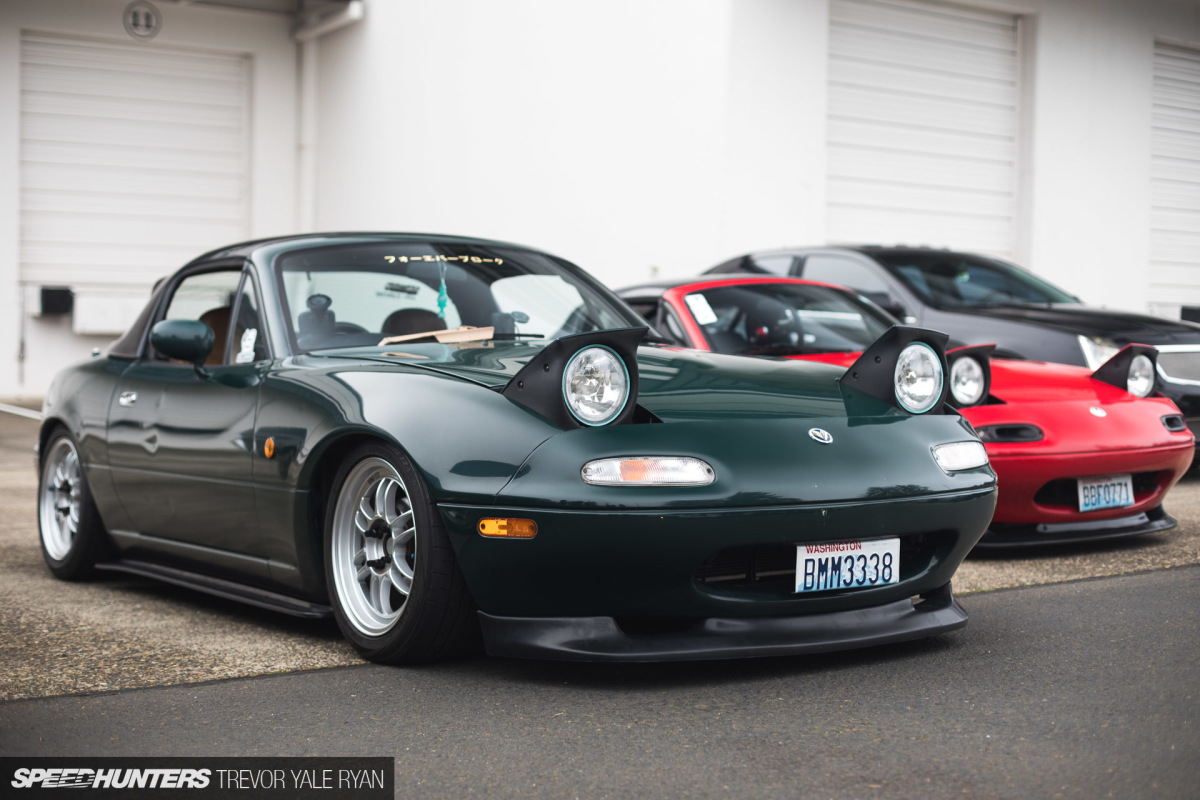 As I continued along, I couldn't resist these two Mazda Miatas. I own an NB myself and have always maintained that they're more attractive than their predecessors, but something about these pop-ups with some added low really does something for me. The green car isn't without a couple blemishes, but makes up for it given that it's a right-hand drive example.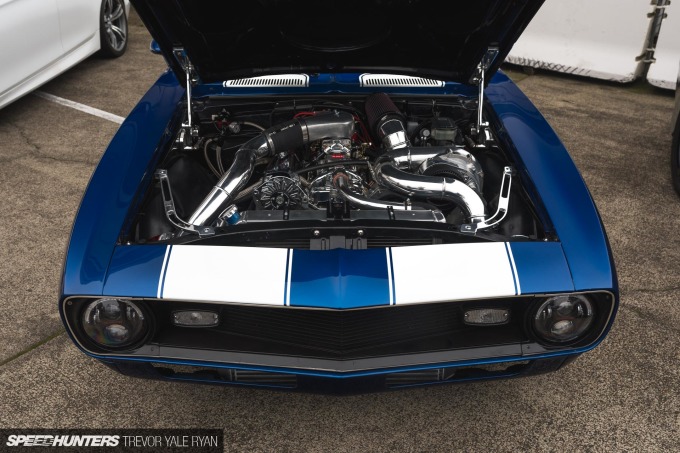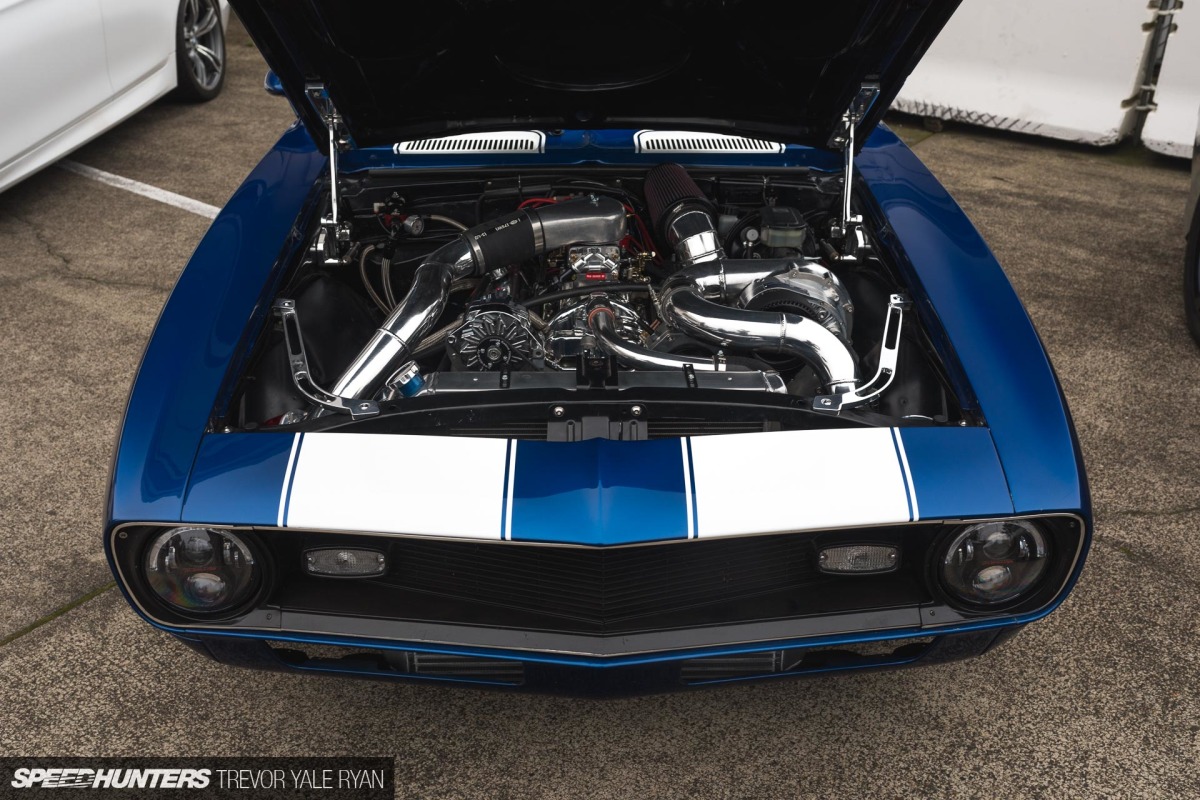 A little further along was the polar opposite to the pair of Miatas I had just spotted. If there's one thing I took away from Portland Cars & Coffee at World Of Speed, it's that variety is king, and the fact that you never know what you'll find is what makes these events so special.
If you're wondering what World Of Speed is, I'll be back soon with a quick peek around the museum.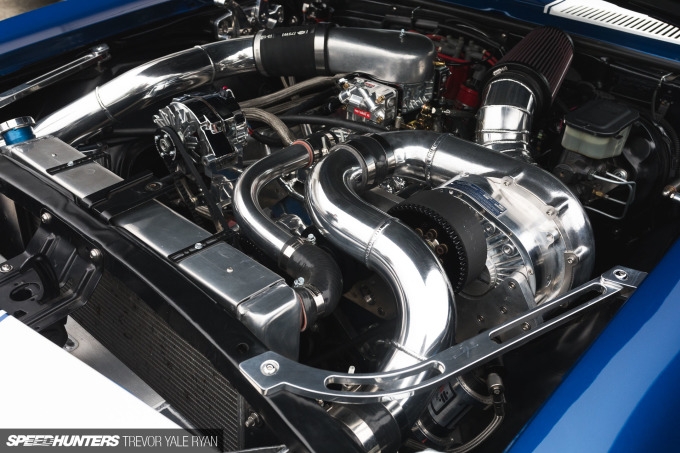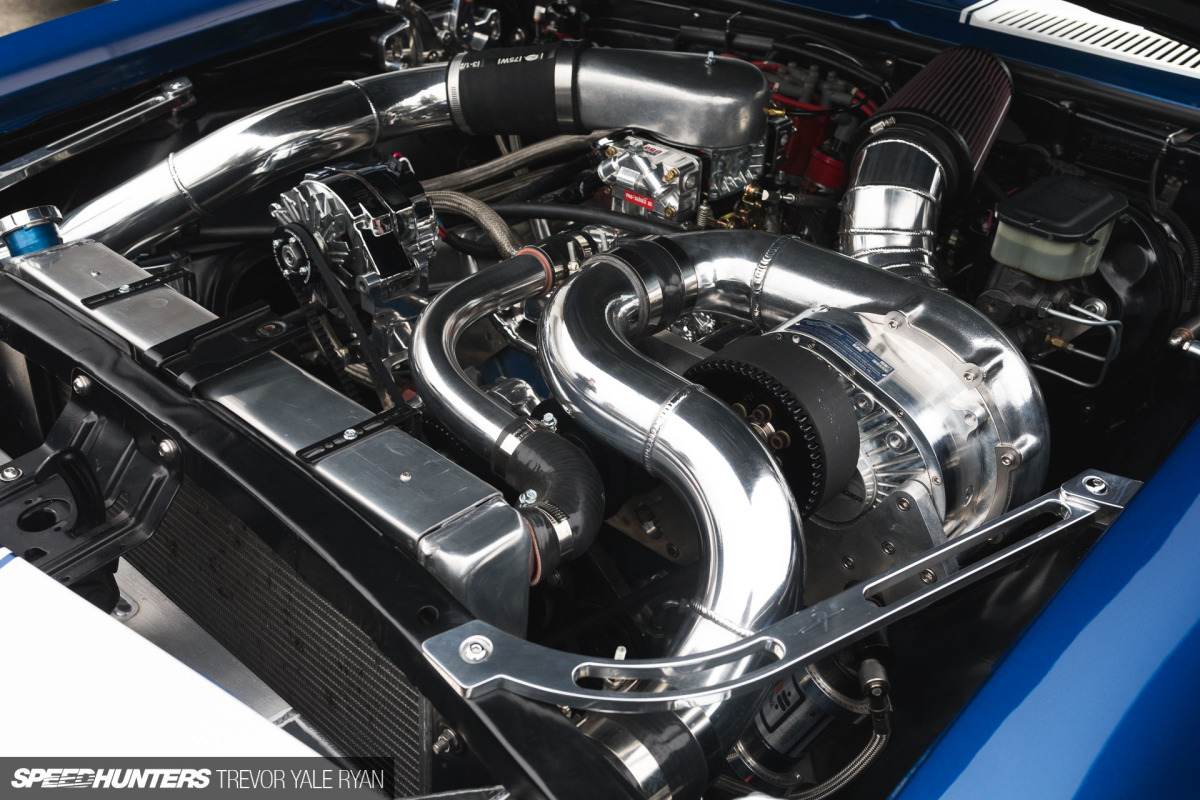 But for now, with all of this under the hood, you know I can't leave you hanging.
Turn up your volume (or maybe down if you have headphones) and have a listen to this supercharged and carbureted Camaro rolling off right after the twin-turbo Gallardo did the same. If only they'd idled there a little longer, maybe I could have thawed out my weak, frozen, ungloved Californian hands.
Chills aside, a meet like this is always a weekend morning well spent, and I'd encourage you not forget to get involved yourself. If there's a Cars & Coffee nearby — and I'd wager there is — go out and be a part of your local car culture.
Trevor Yale Ryan
trevor@speedhunters.com
Instagram: tyrphoto
TYRphoto.com
Extra, Extra