Left Behind
I'm completely unapologetic as to state of the outside of Project RS4 right now.
It's cold, miserable, wet and freezing outside. The roads are covered in grime, slush and salt and cleaning it would be futile the second I took it back out again. If you've got a problem with that, come round and wash it for me. Cue a project update that focuses solely on stuff inside the car…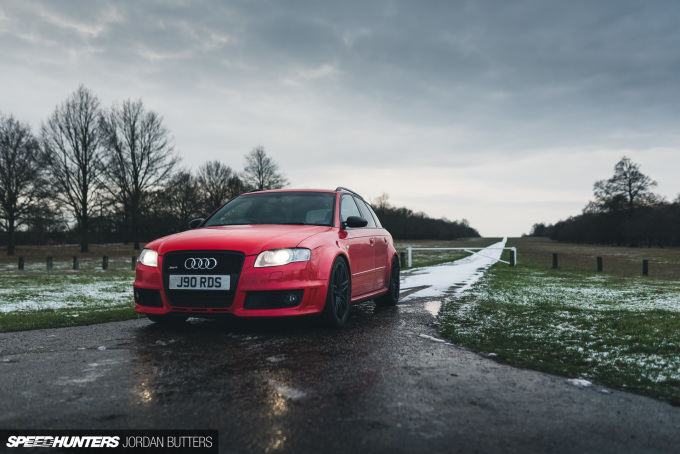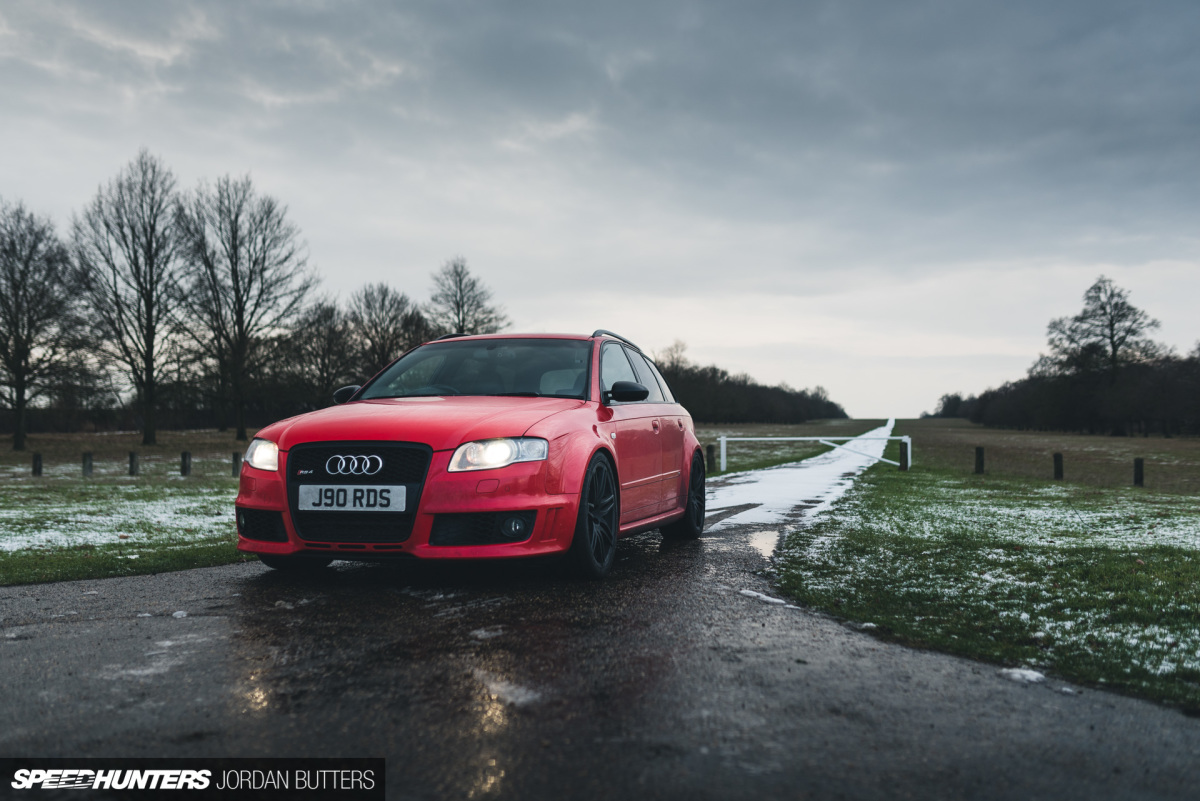 So far I've put my efforts into improving the way that Project RS4 drives, and literally haven't touched a thing on the interior since the day I bought it. However, having owned the car for 18 months or so I've singled out a couple of things that I wanted to improve.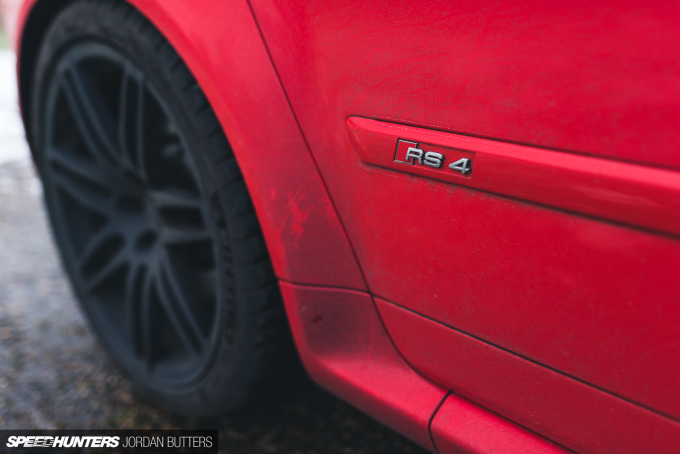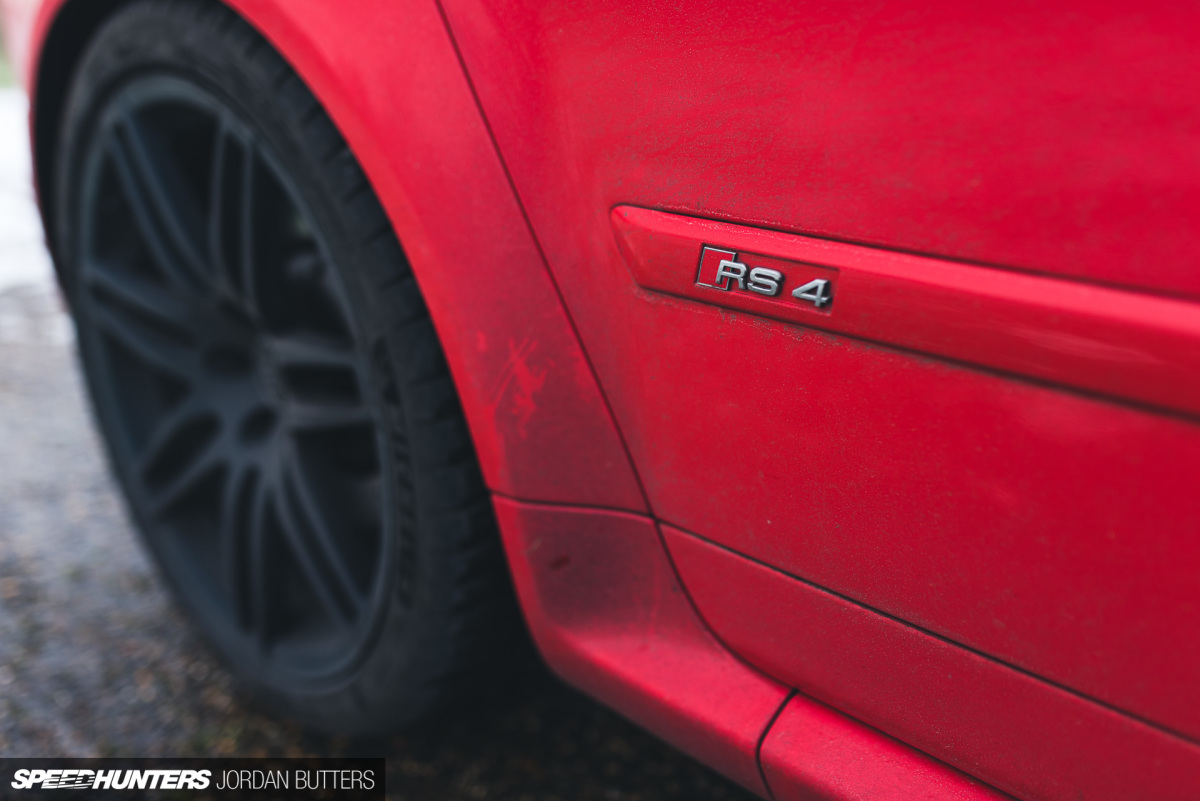 In much of my non-Speedhunters-related work I end up getting to play around with and drive some much newer metal. It's one aspect of the job that I enjoy, as it gives me a direct comparison between what manufacturers are doing with their performance models now, as opposed to last decade. This is actually a much larger discussion that I want to touch on in more detail in a future op-ed.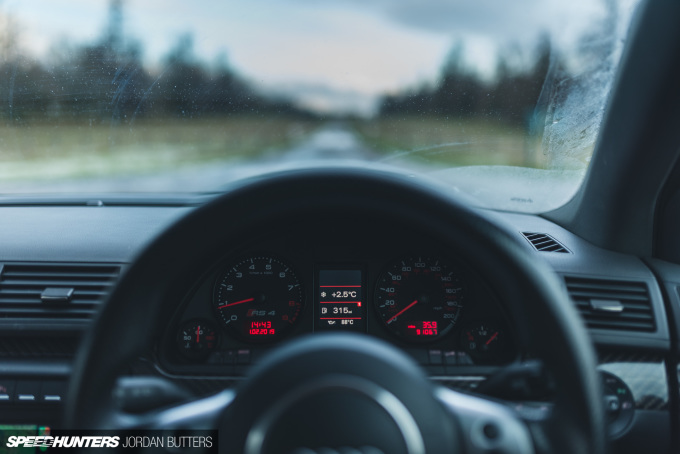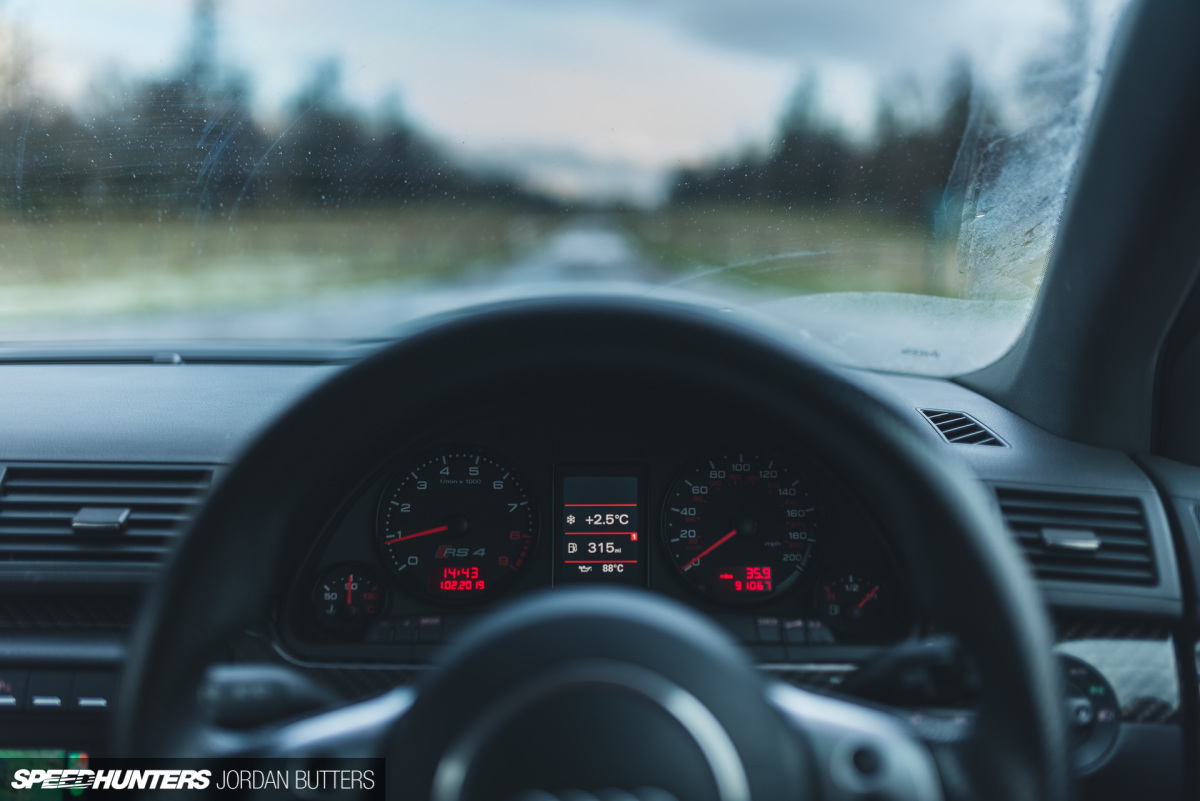 I digress – with all the work that I've had done to the RS4, in terms of the engine, suspension and footwork, my car feels like new to drive, certainly as close as a 12-year-old car can, however the one area that I feel the RS4 is dated in is in-car technology.
Don't get me wrong, the reason I chose this model was because of its drivability, but as it's my daily driver I inevitably end up spending a lot of time just plain old commuting in it. When I find a nice twisty B-road the music goes off and I prefer to concentrate on 'spirited' driving, however if I'm trundling along on a motorway, or sat in traffic then it's good to have some creature comforts to hand.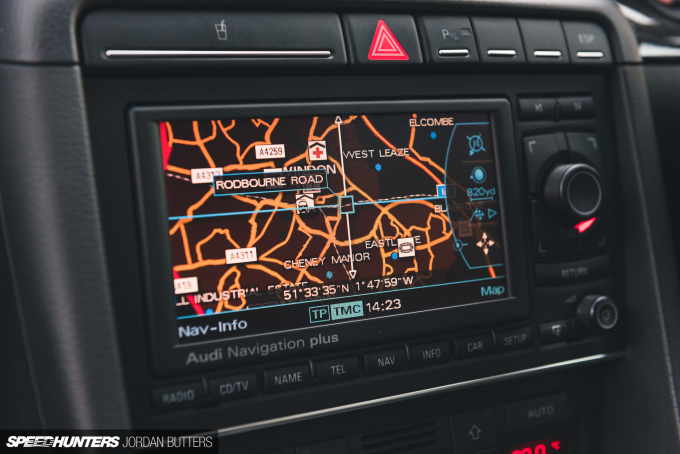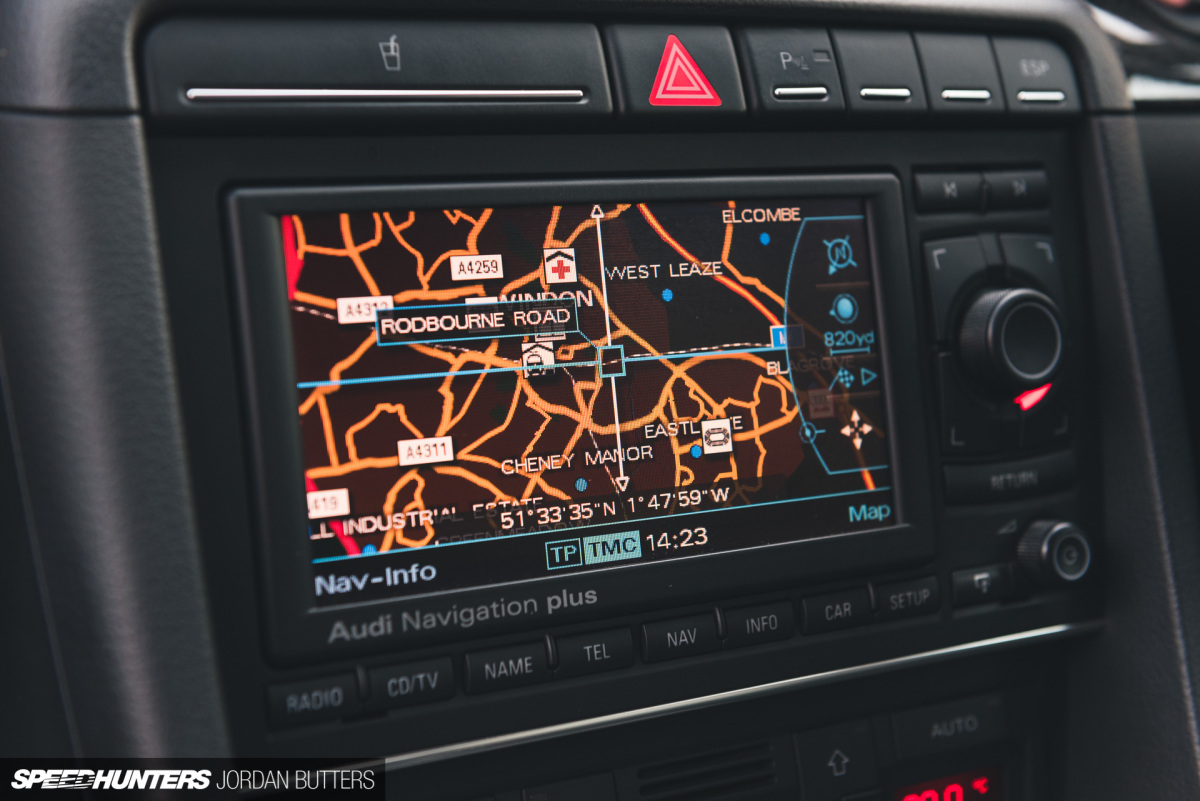 The B7 RS4 isn't badly specced in this regard; the stock RNS-E unit boasts turn-by-turn sat nav, a decent-sized motorised screen, MP3 playback (via SD Card), radio, a six-disc changer in the glovebox and a Bose sound system with active subwoofer in the boot. You can also hook in a reversing camera and TV tuner with some wizardry. Sounds good, right?
Well it was, in 2006.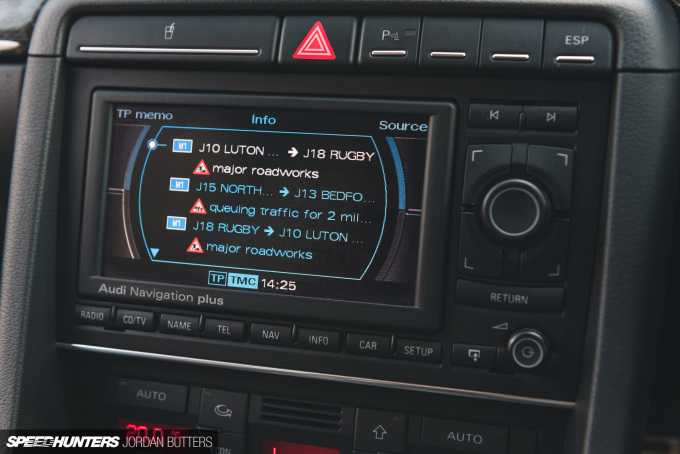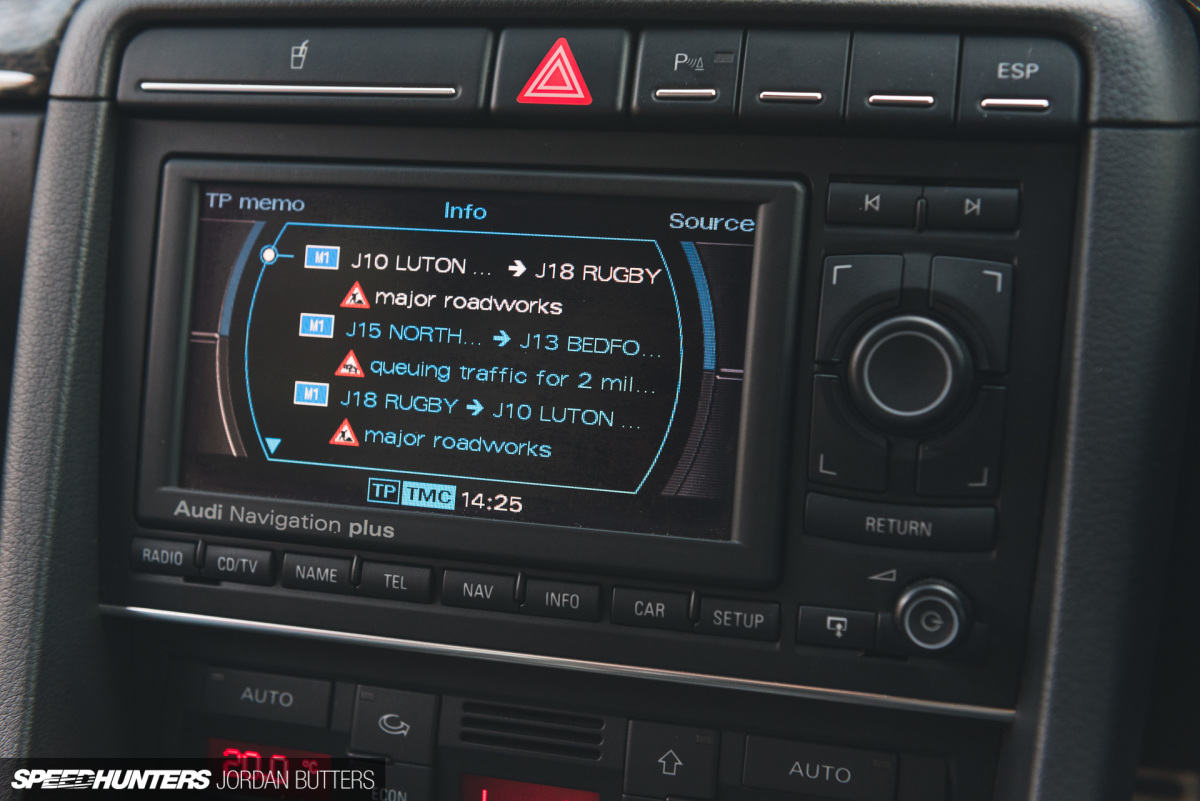 The issue is that technology hurtles along at a frightening pace. The year Audi put together my car, Mark Zuckerberg was a college student unleashing a new idea on the world, Steve Jobs had almost finished creating his first smartphone, Sony had just released their third-generation PlayStation, most of us were still using Internet Explorer (R.I.P), and Nintendo suggested we play video games by waving controllers around in front of us rather than slouched on the sofa.
Having sampled newer in-car entertainment units, one feature that I knew I wanted to add to the RS4 was Apple CarPlay. Being able to plug in my phone, use up-to-date sat nav apps, listen to Spotify, as well as answer calls and messages by voice is a game changer. To be honest, I didn't need much else – I don't own a single CD any more, I don't really listen to the radio much (although DAB would be nice), and I'm not really one for watching films or playing games in the car.
CarPlay will do me nicely.
Catching Up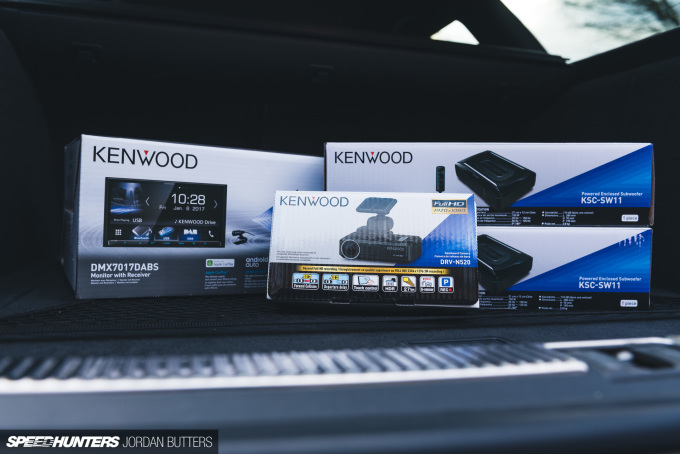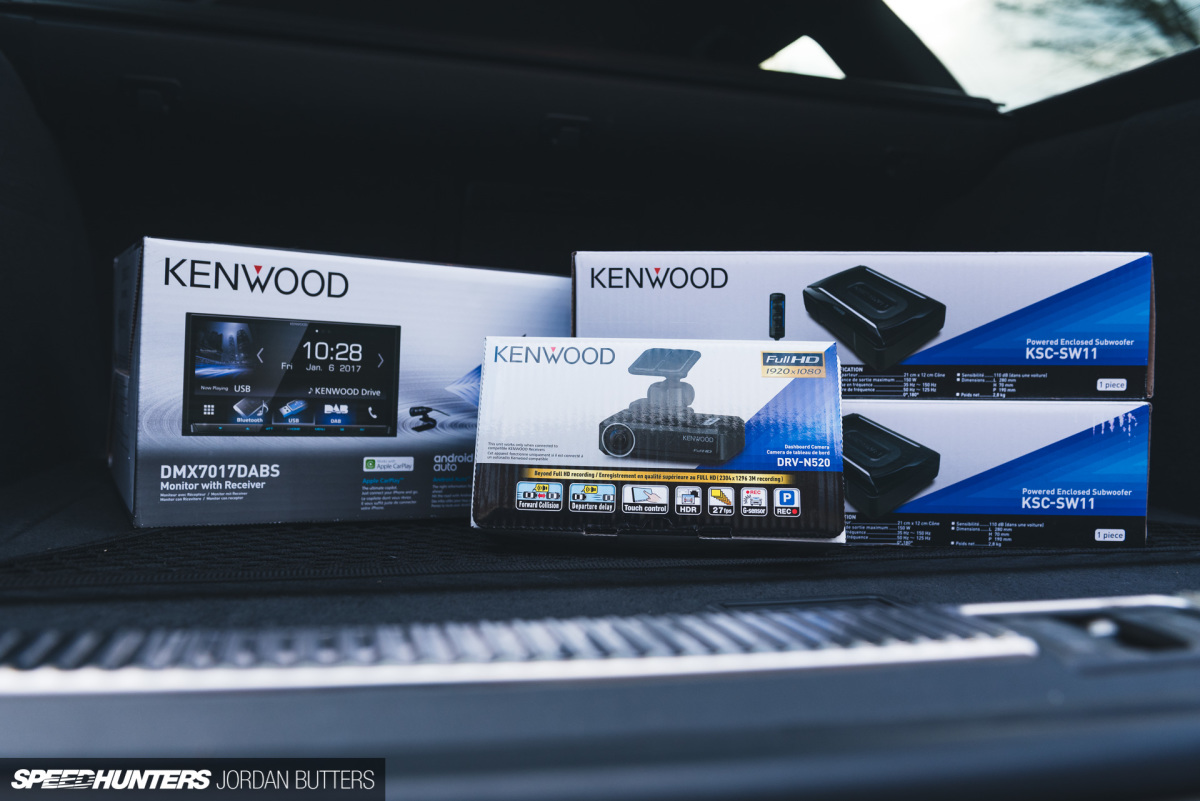 With this relatively simple specification in mind, I contacted Kenwood UK with my wishlist, and they kindly agreed to supply one of their DMX7017DABS units for my consideration.
A few days later a much-larger-than-expected box was lugged onto my doorstep by a kind delivery person – they're the unsung heroes of the online shopping generation, I tell you.
As well as the shiny new headunit, Kenwood had also sent through one of their DRV-N520 dash cams, as Paddy also recently installed on Project GTI. Now, I've never really been one for dash cams – my main issue with them was always that people seem to install them rather haphazardly, or just slap them on the windscreen with wires hanging everywhere.
So, it was much to my relief when I saw just how compact the N520 was. In fact, the first thing I did was to check that it fitted out of sight behind the rear-view mirror, which it did nicely. The main selling point of the camera, for me, was the parking incident detection, and that it links in directly with the headunit, allowing you to check footage on the main screen in the car. I always tend to 'safety' park in busy car parks, but having motion detection is a good piece of mind.
Kenwood also sent through two of their KSC-SW11 active subwoofers for me to try. While I'm not about to enter any sound-offs (are these still a thing in 2019?), a bit of extra low-down kick always makes a big difference, and the RS4's stock Bose subwoofer is woefully lacking.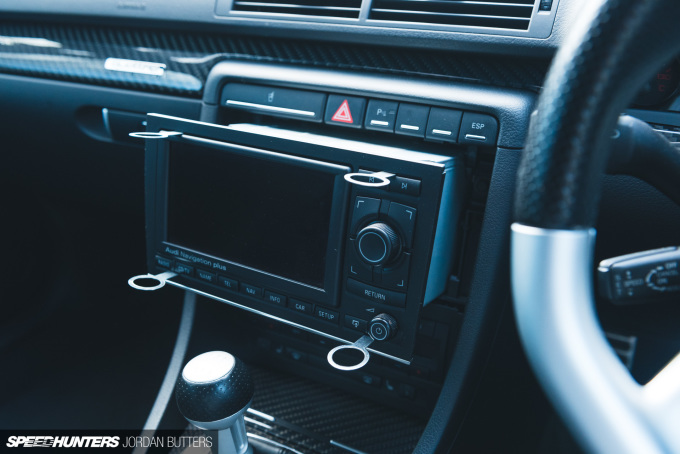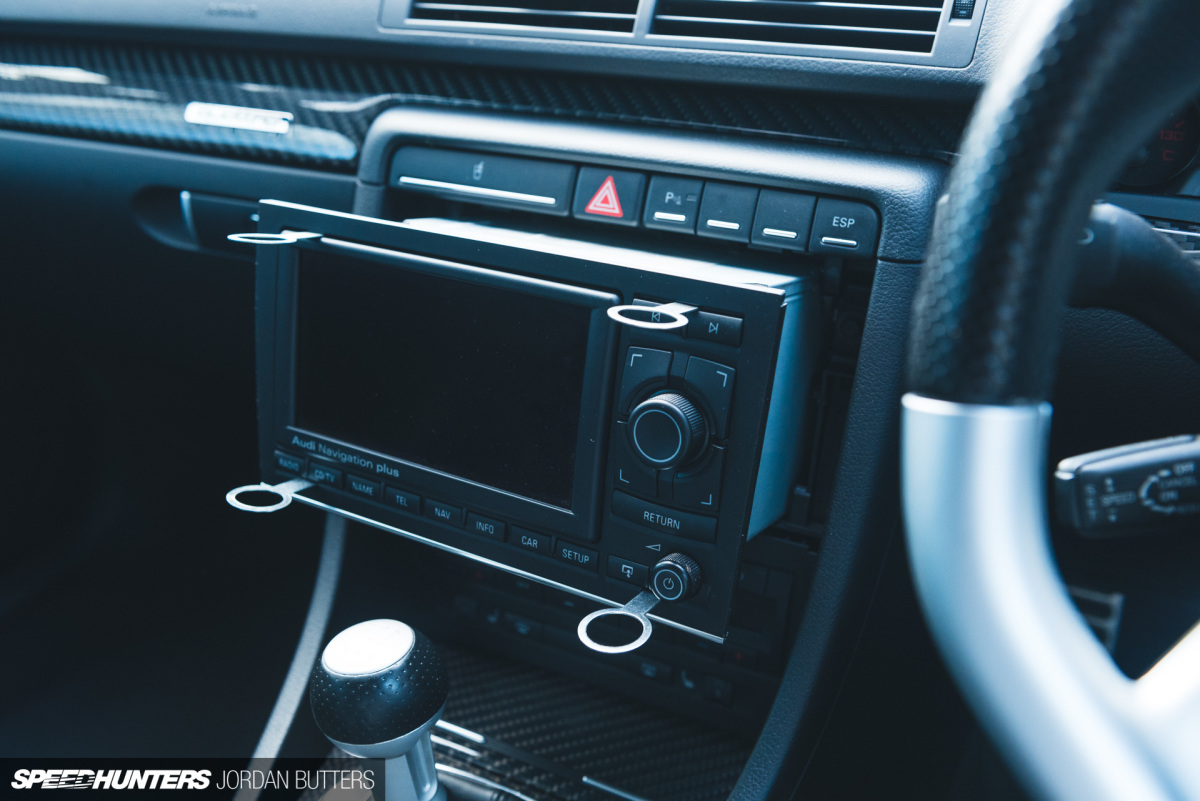 Fast forward a few weeks later, and after acquiring the relevant Connects2 wiring and fitting kit for the new unit, I headed over to my friend Bolf's house for fitting. Yes, wiring in a headunit is supposedly simple, but I'm useless and he does this sort of thing for a living, so it made sense.
Fitting was – relatively – straightforward, bar one little hitch. The Connects2 harness mated up the Kenwood unit to the Bose system nicely, however the stock RNS-E unit interacts with the car using CAN bus, whereas the Kenwood unit needs a switched live to tell it when to power on or off. As there's no switched live in the headunit loom, Bolf traced a suitable feed in the interior fusebox and hooked in a dedicated fused switched live.
We then ran the feeds for the N520 camera up the passenger-side A-pillar, along with the DAB aerial which was fitted to the passenger's side of the windscreen.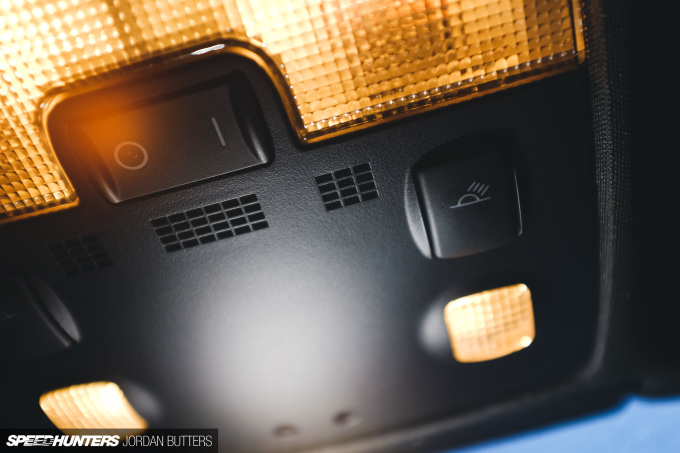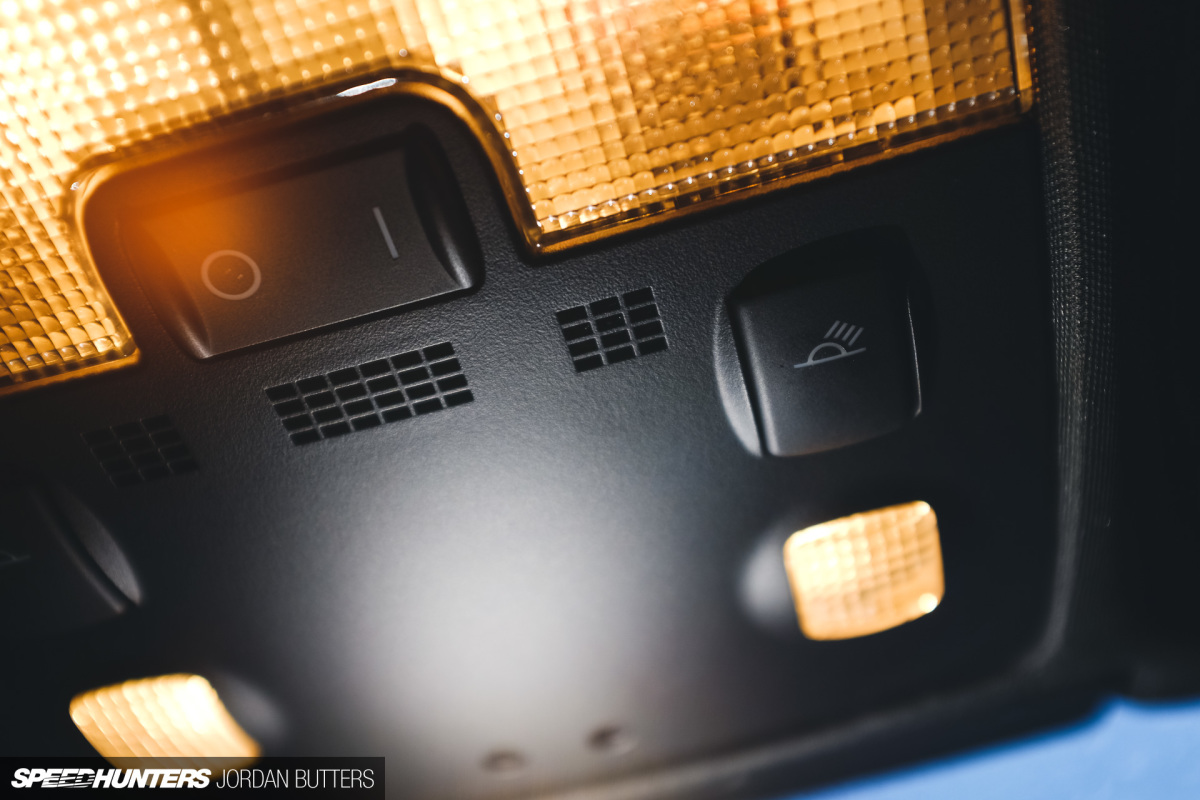 My car had a third-party Bluetooth unit fitted previously, so I retained the microphone from this and hooked it into the Kenwood unit for the phone and Siri interface. The mic was previously installed in the top driver-side corner of the front screen, however it kinda bugged me being in my vision, so I moved it into the interior light panel so it's completely hidden behind the OEM hands-free mic grille now.
A Nice Place To Be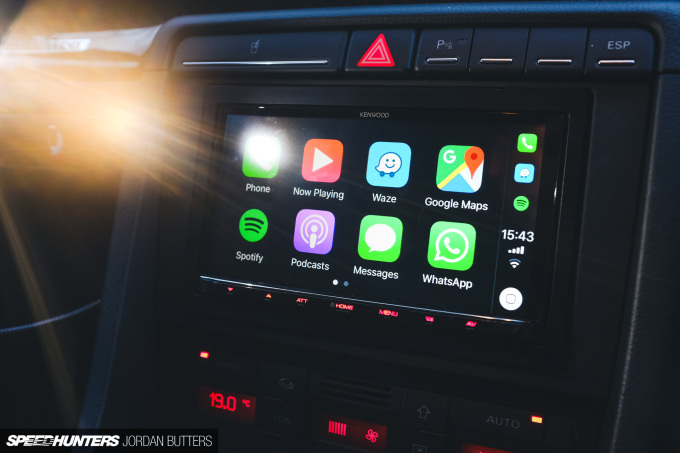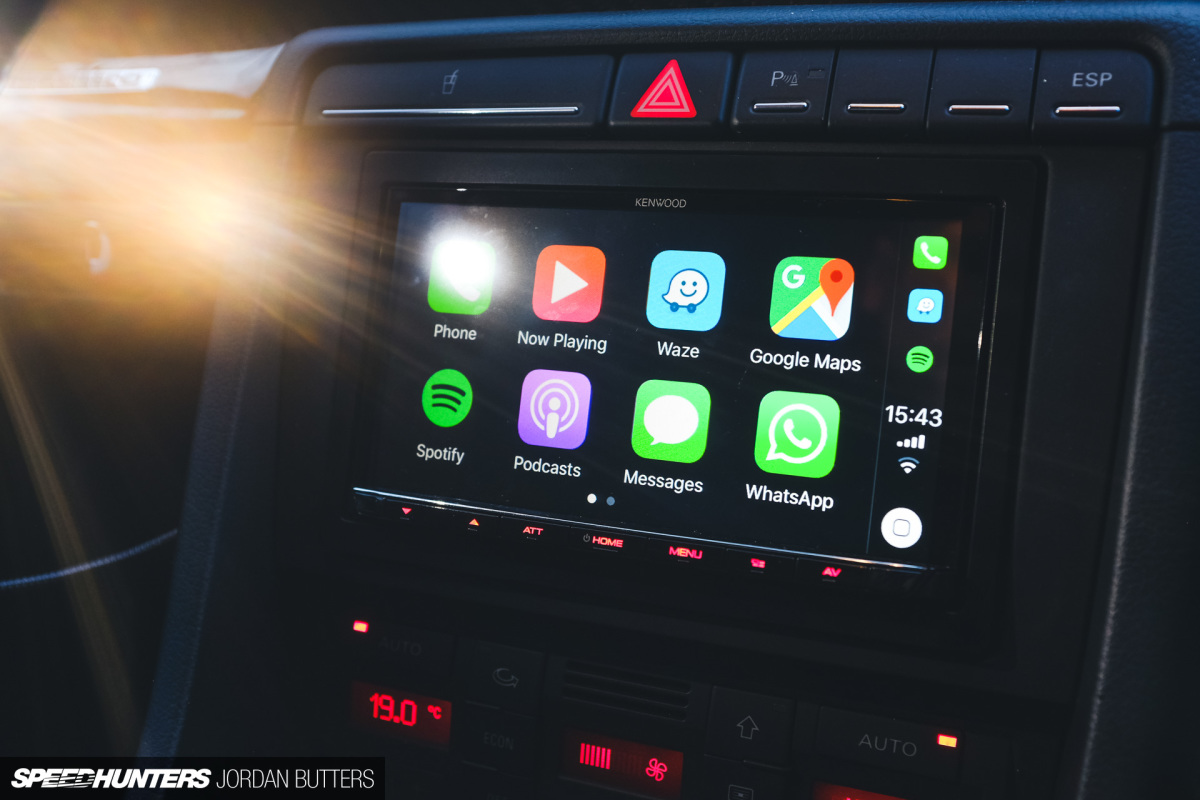 With all the wires tucked back in and the Connects2 fascia in place, the Kenwood unit looks right at home. For the time being I've left the USB port in the glovebox while I figure out where I want to install the socket – I'm thinking in the small recess behind the handbrake, or in the armrest out of sight.
I've also not tackled the subwoofer installs just yet. I was hoping to install them under the front seats, however the RS4 Recaros are huge, and almost touch the floorpan so there's no room at all under there. So plan B is to install one of the subwoofers hidden under the boot floor once the weather picks up and it's not so cold outside.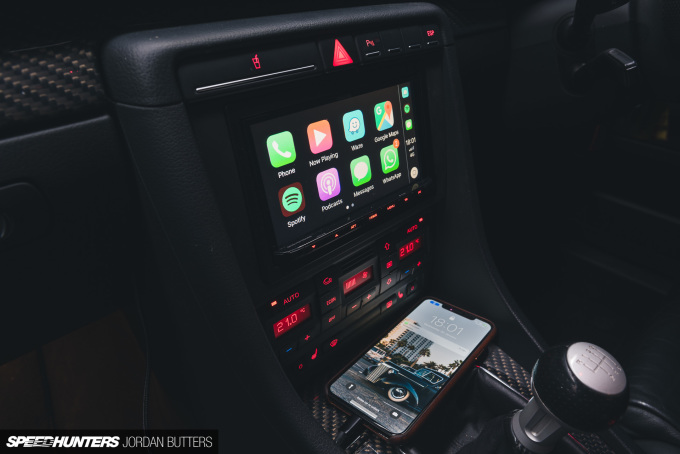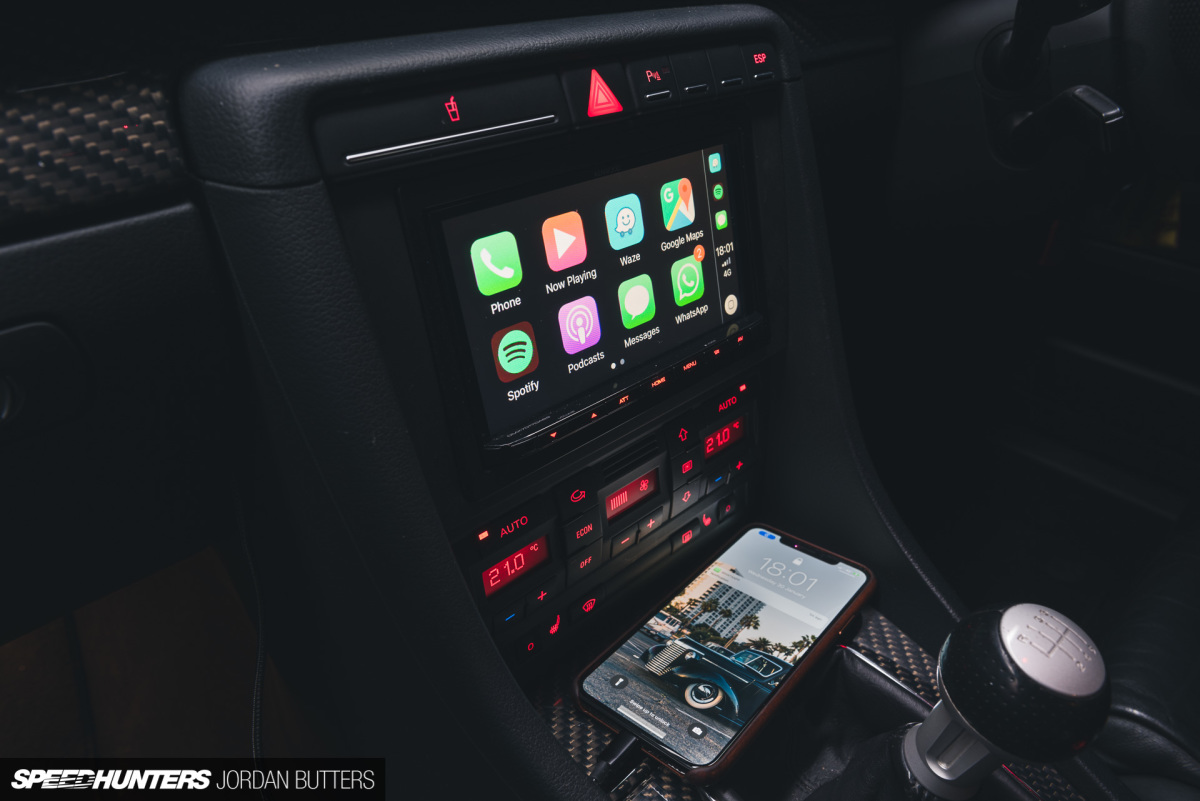 The difference that the Kenwood unit has made to the enjoyability of commuting is immediately noticeable. It's amazing how up-to-date the car now feels inside, and the touchscreen functionality is so much easier to use than the RNS-E's counter-intuitive dials and buttons.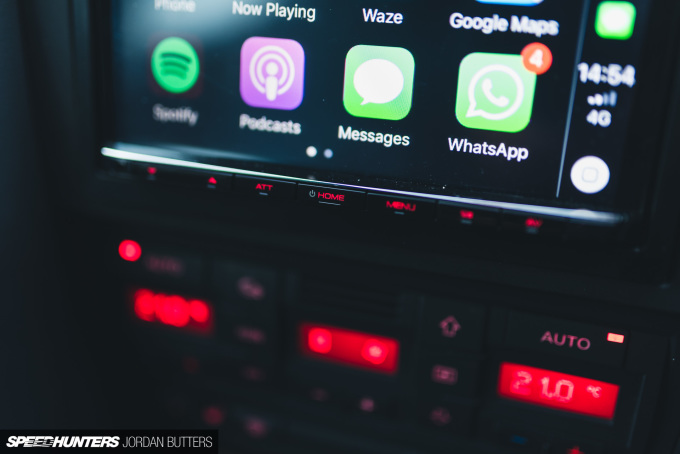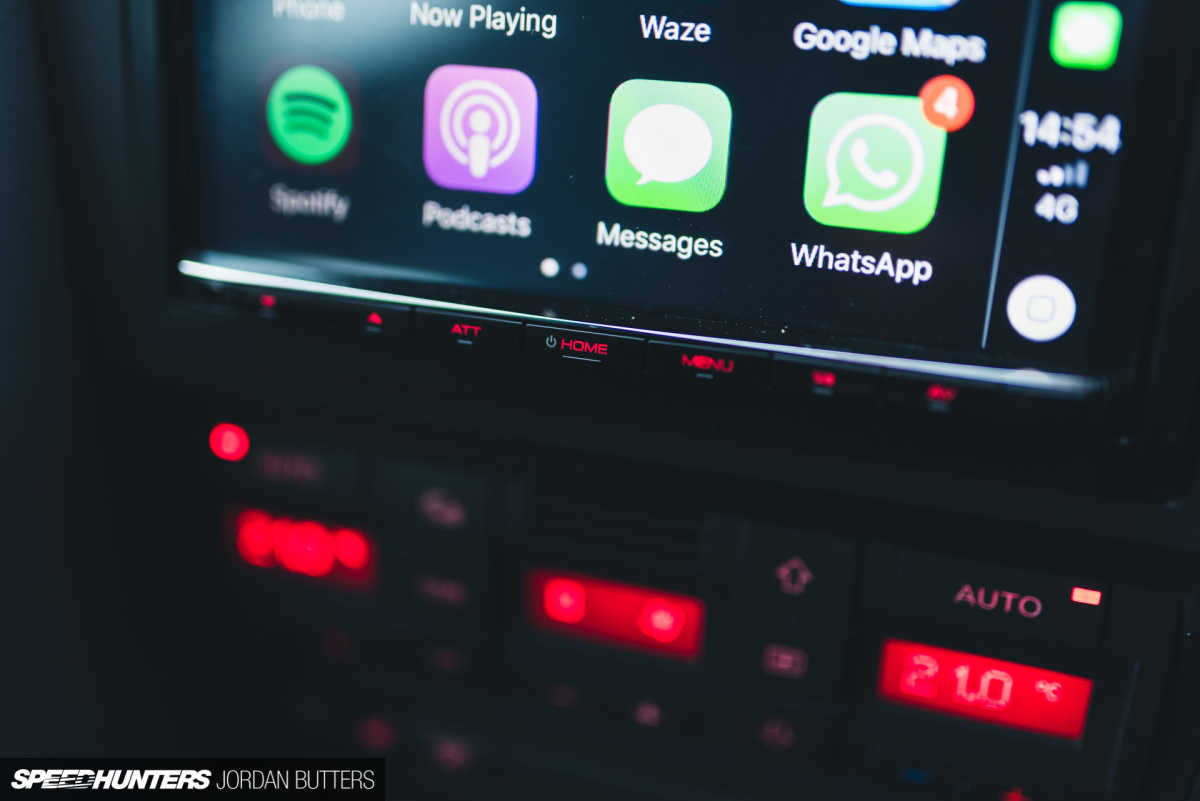 The DMX7017DABS has some really neat features, and I love its minimal button layout. The first thing I did was ensured that what few physical buttons there were matched the OEM illumination colour perfectly.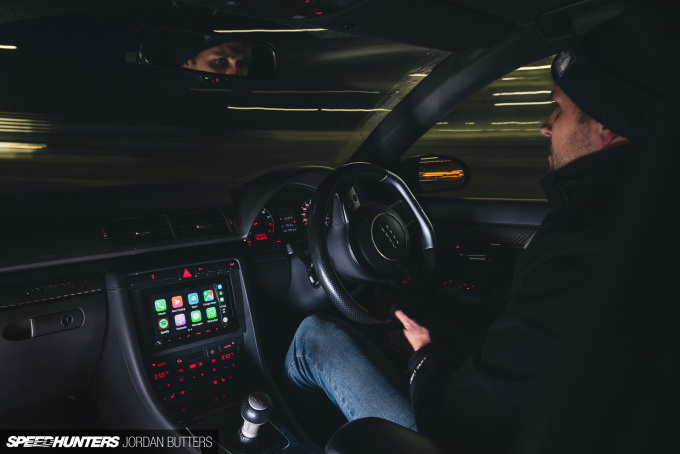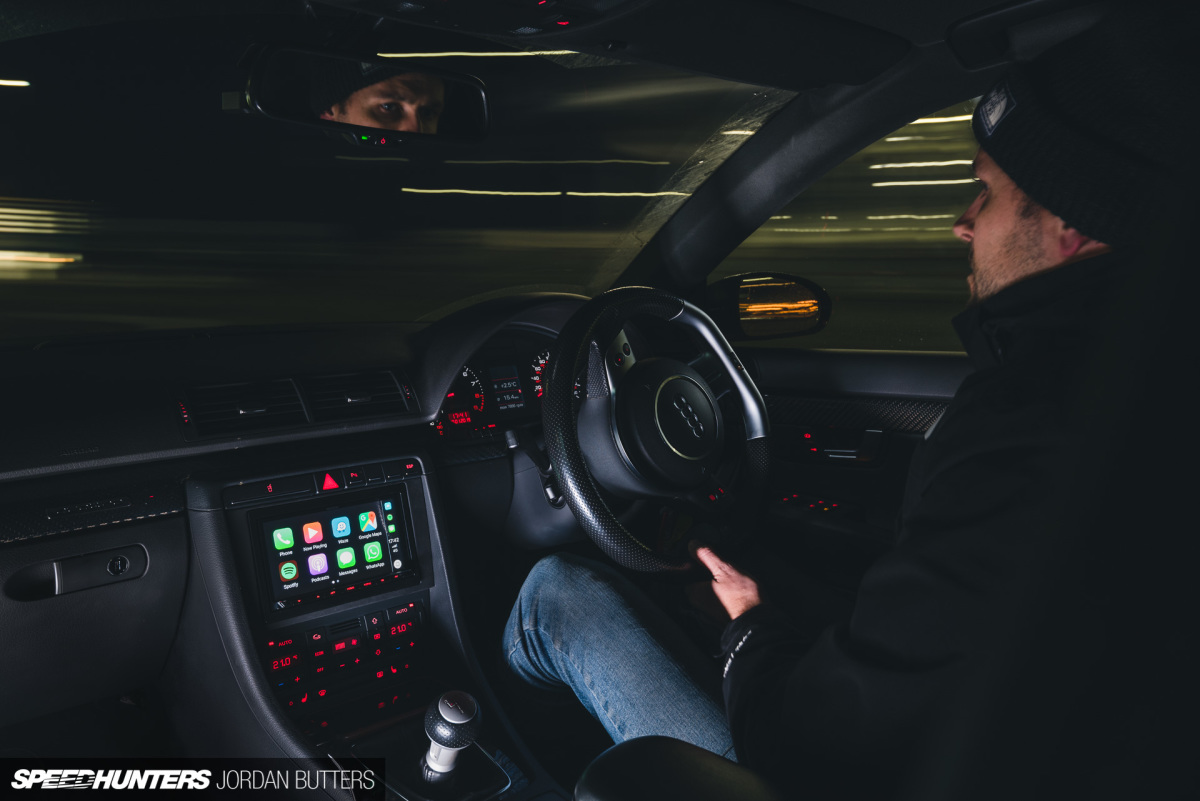 The big game changer is being able to use Google Maps and Waze along with voice commands to input destinations – the old RNS-E unit map was so out of date that I stopped using it almost straight away.
It turns out there have been a lot of new roads built since 2006, who'd have thought…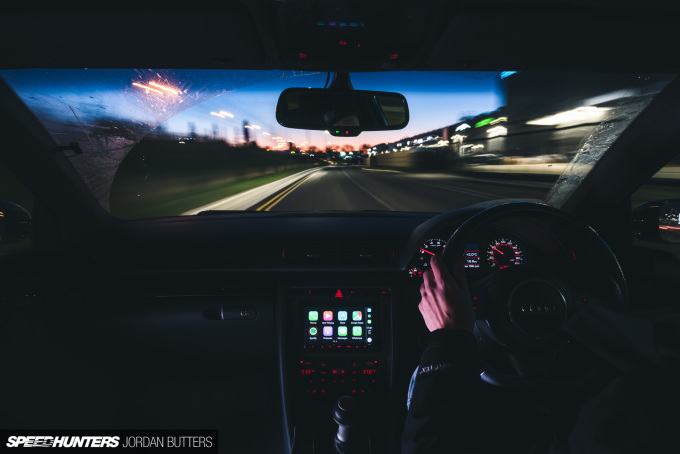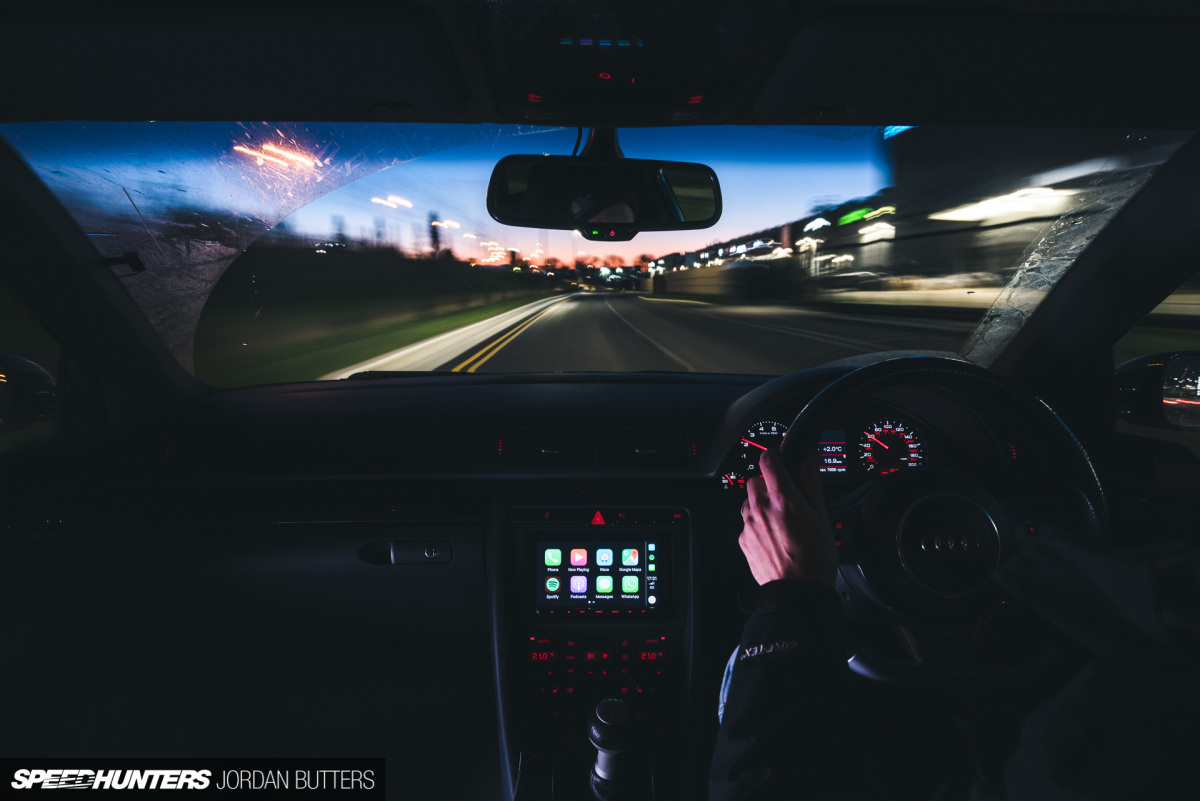 So, one largely positive update done, but there's a less exciting and more excruciating one on the horizon. The car is currently undergoing surgery at Regal Autosport to rectify the clutch issues that I've been having.
It's a biggun, and worthy of its own story so we'll catch up again shortly.
Jordan Butters
Instagram: jordanbutters
jordan@speedhunters.com