A 30th Anniversary Tribute To Spoon
Transport yourself back in time, 20 or so years ago.
You're looking to get into the car game for the very first time, and you're looking for an affordable, fun platform to get your hands on.
Being somewhat young, you don't have a lot of money to spend but you still want to have the possibility of building something. Thus, a car with strong aftermarket support will be key in your decision making.
Considering all of your options and limitations, it's quite easy to see how Honda was – at one point – the go-to car for new enthusiasts. The introduction of the Type R brand in the early '90s gave enthusiasts a new target to aspire to.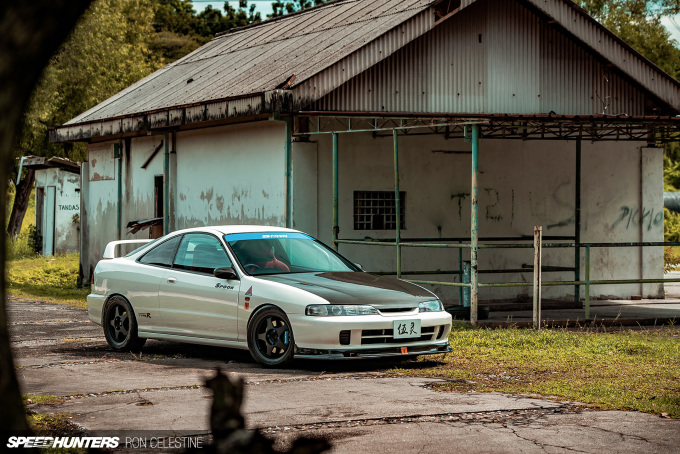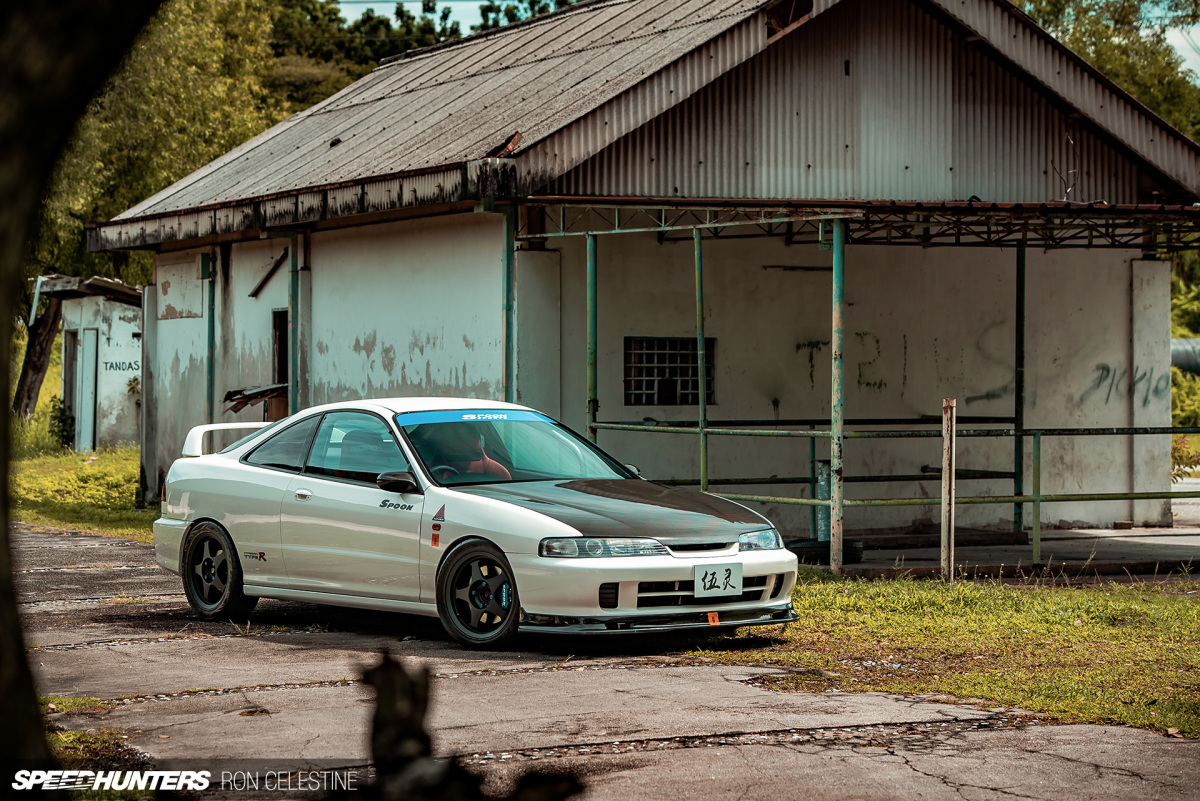 For Alex Wong, it was clear that Honda would be the best the path forward for him to take. He started off with an EK Civic and would later picked up an EG. It was only when Alex was introduced to the underground world of street racing, that the desire for cars really began to take off.
I guess VTEC does have that kind of effect – encouraging you to rev the engine out to redline so as to ensure on upshifts that you fall right back into VTEC.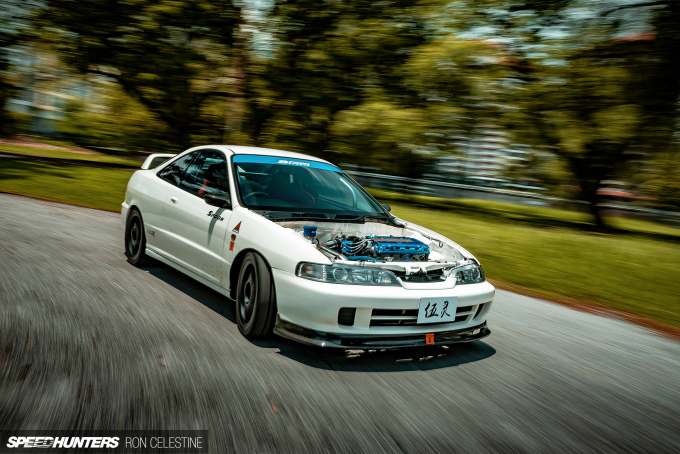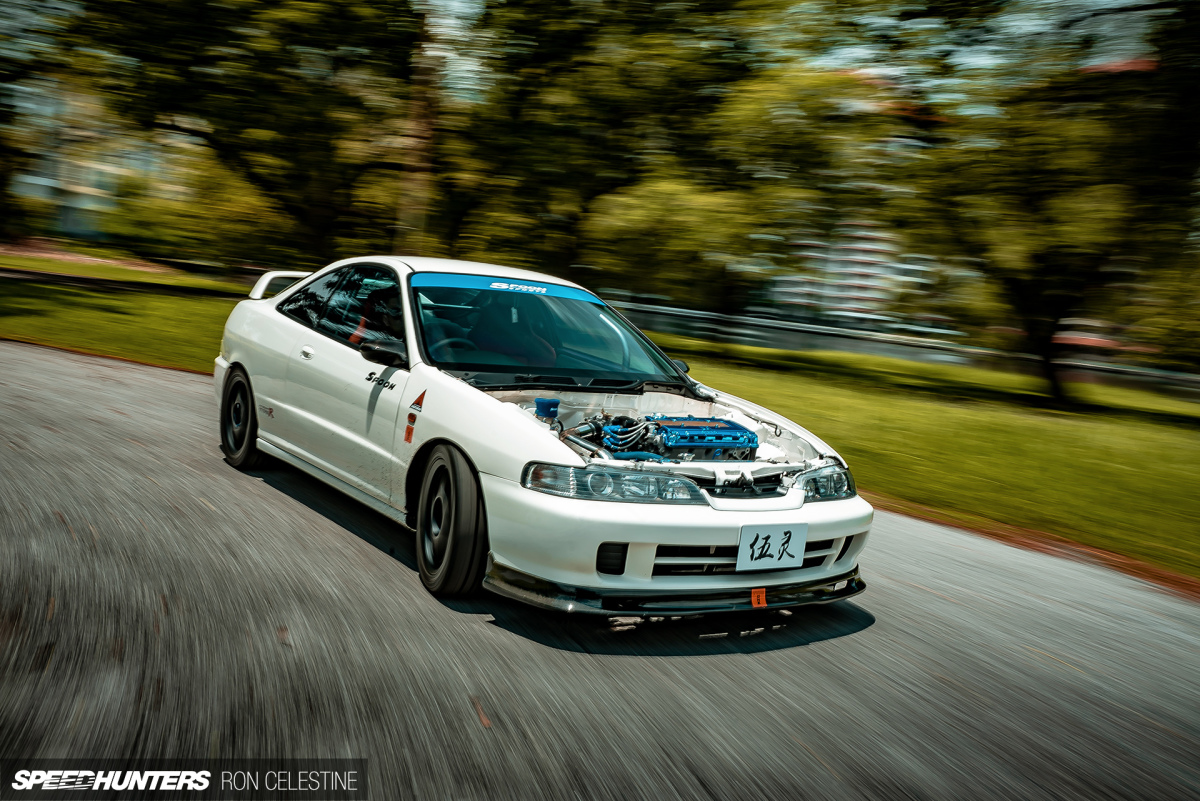 Although street racing has long since been confined to his past, it was the racing that got Alex into circuit driving, honing his skills behind the wheel, and becoming familiar with Hondas, inside and out.
As a tribute to Spoon's 30th anniversary, Alex wanted to build something special celebrate the occasion. Since he got his start by working on hatchbacks, he decided it would be fun to try his hand at building an Integra.
With that decision made, the long and arduous search began until a 1996 Integra DC2 popped up for sale.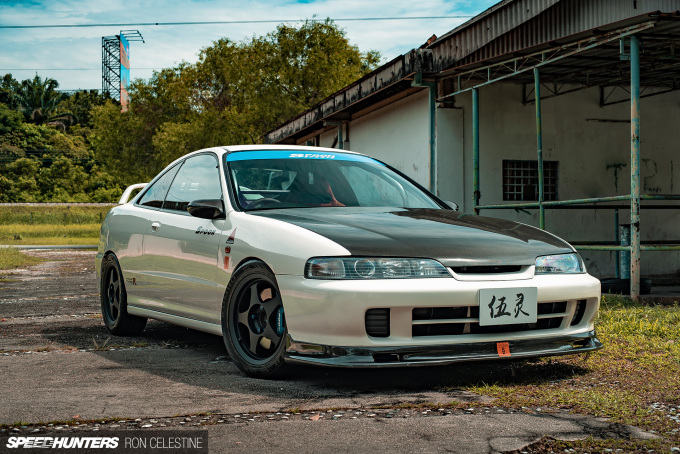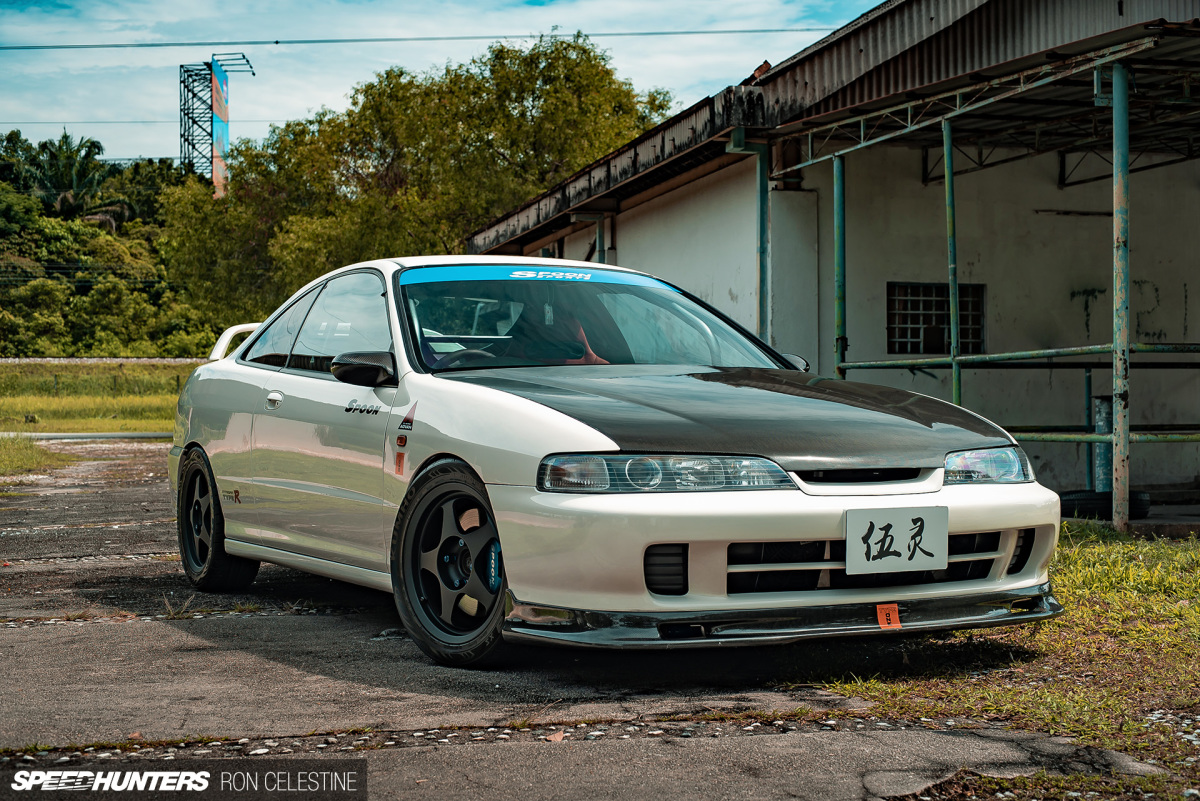 He quickly jumped at the opportunity, and waited just two months before stripping the car and having it sandblasted. The Spoon build was a go.
Spoon, Spoon and More Spoon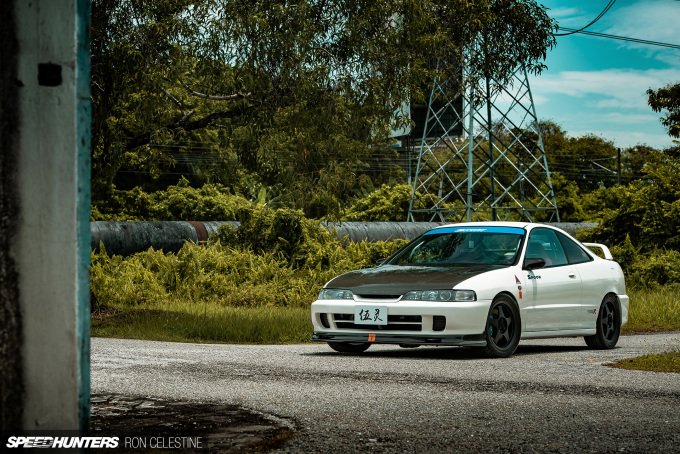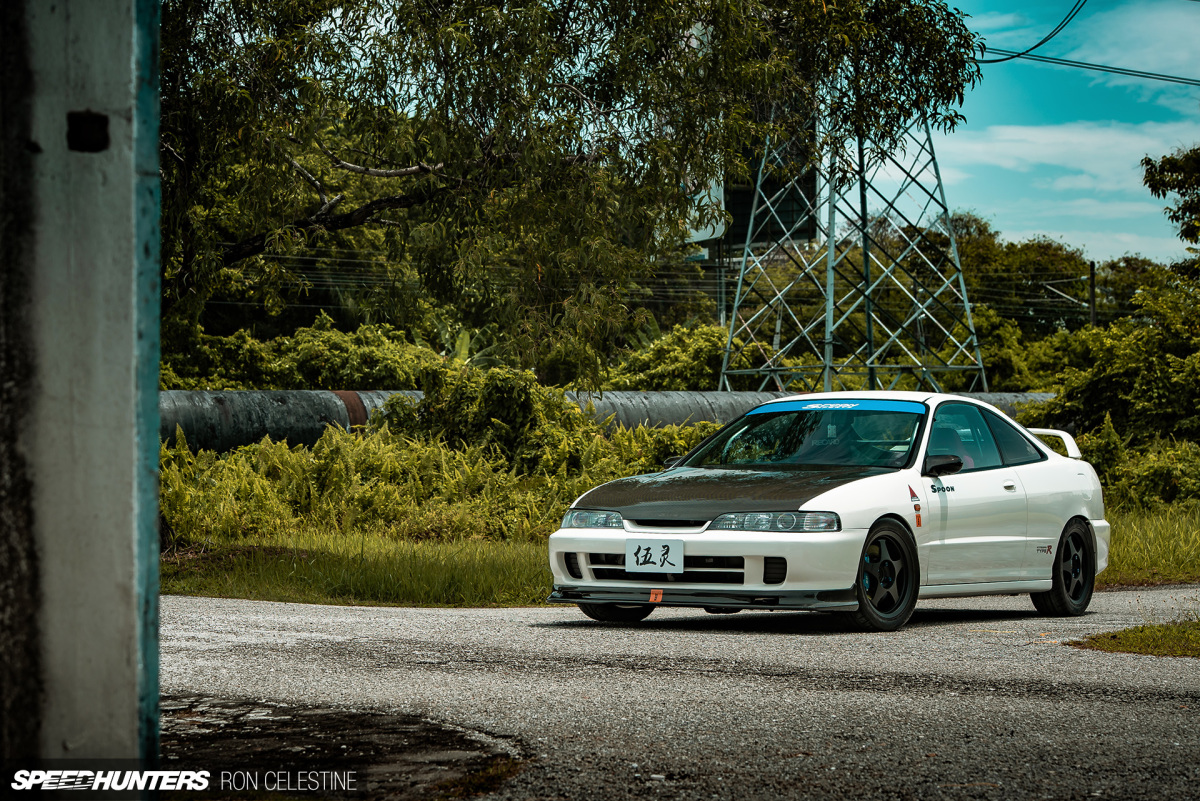 There were a few goals in Alex's mind for this project. The first, as mentioned before, was to pay tribute to Spoon's 30th anniversary along with inspiring Honda enthusiasts across the globe. It's no surprise then that Spoon parts can be seen virtually everywhere you look on the DC2.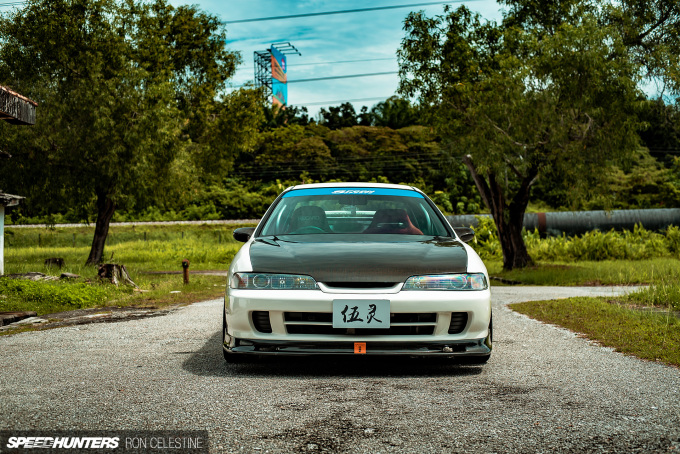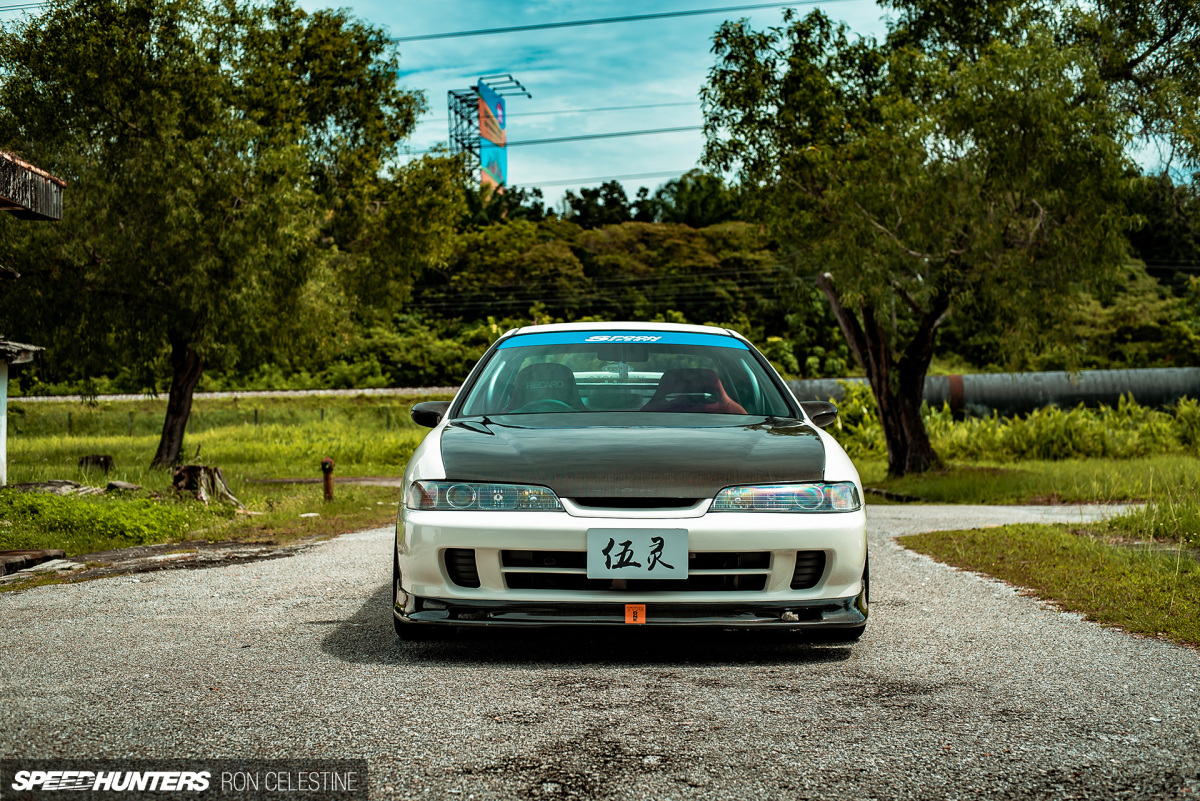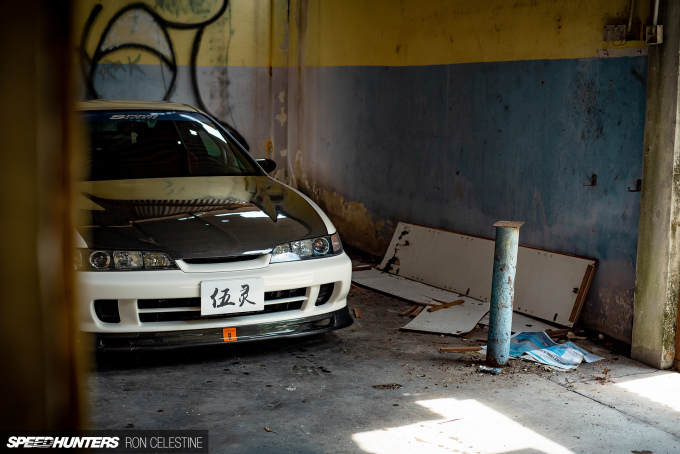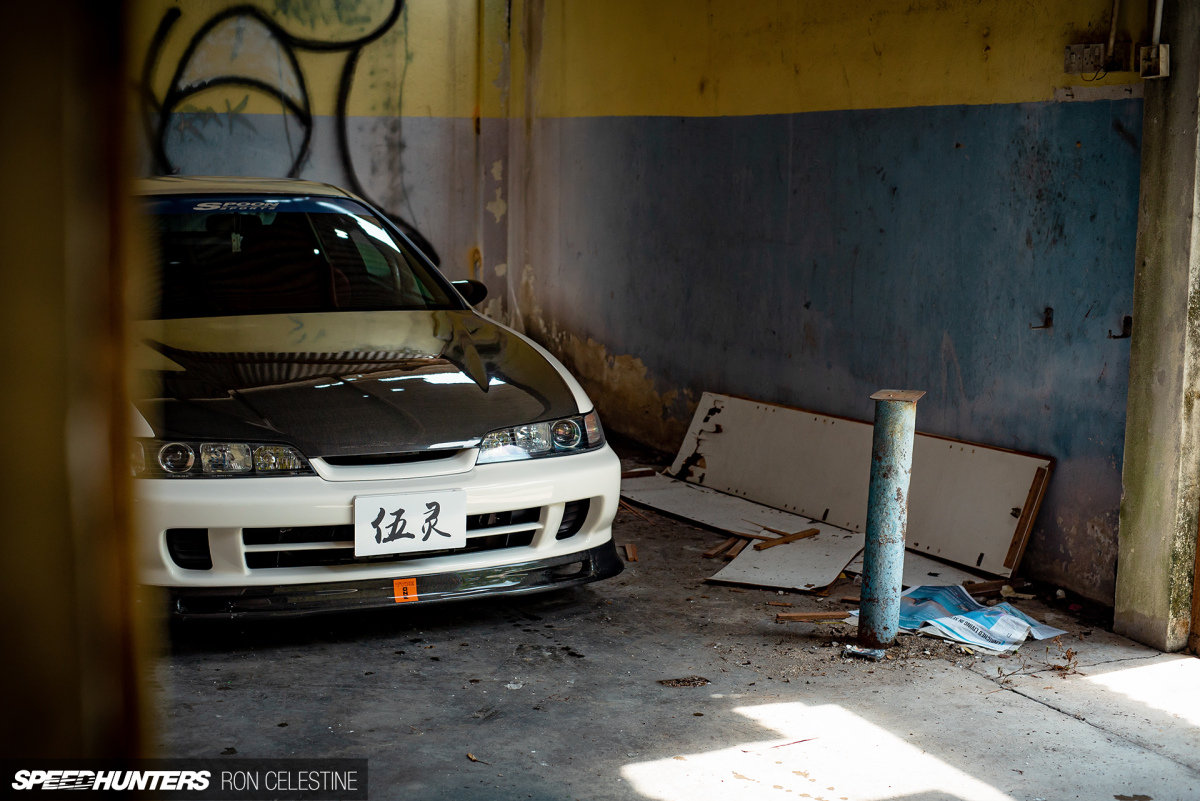 The carbon fiber hood – which still comes from the land of the rising sun– is the only non-Spoon exterior piece. This is simply because Alex thought that the Varis carbon fiber design looked better than Spoon's version.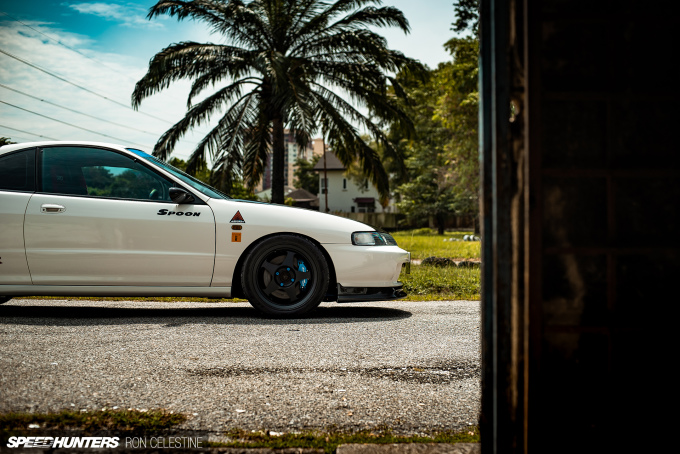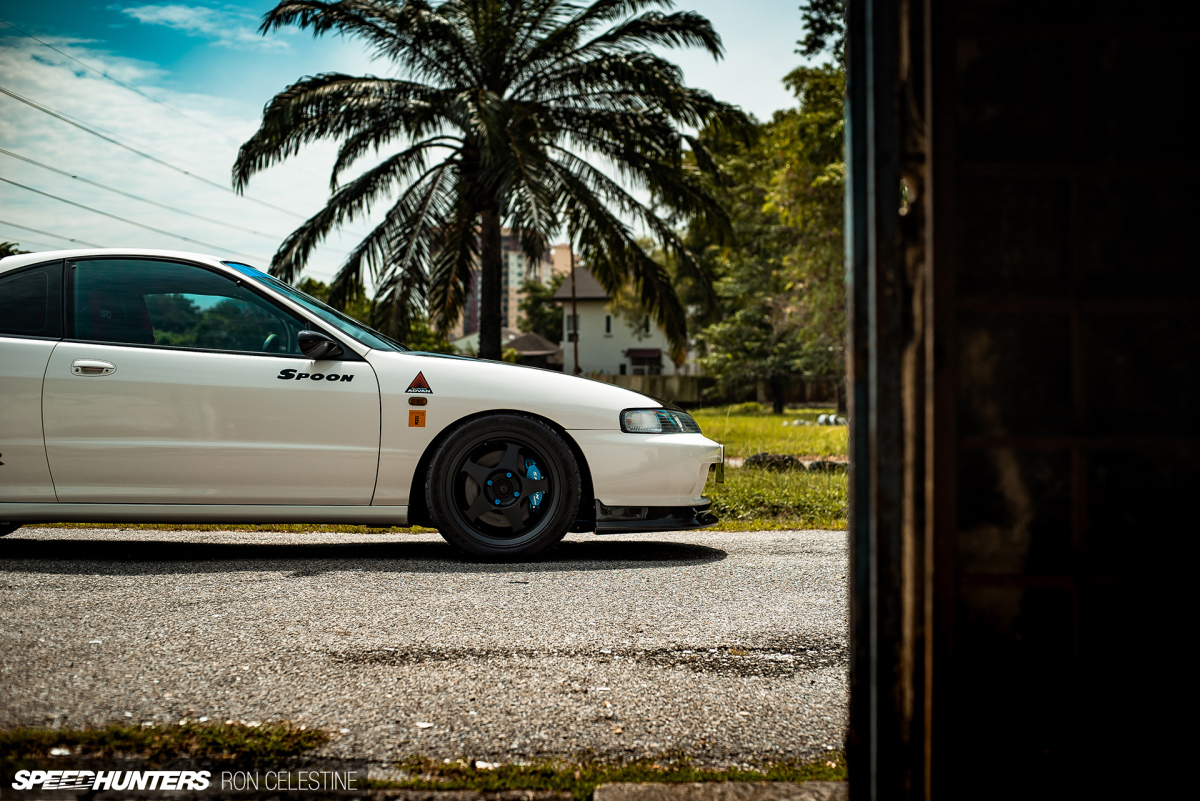 Spoon's own monoblock brake calipers work nicely with the Regamaster Evo wheels up front and provide more than enough stopping power for the lightened Integra.
The reason why Alex went with the Regamasters up front and Spoon SW388s in the rear, was that Spoon didn't have the ET35 offset he was looking for.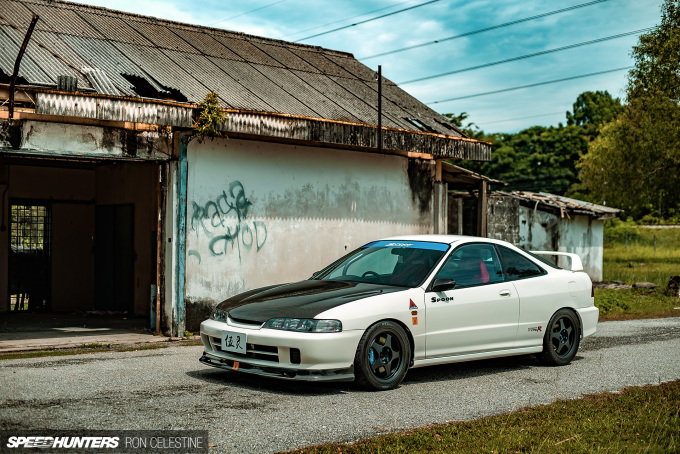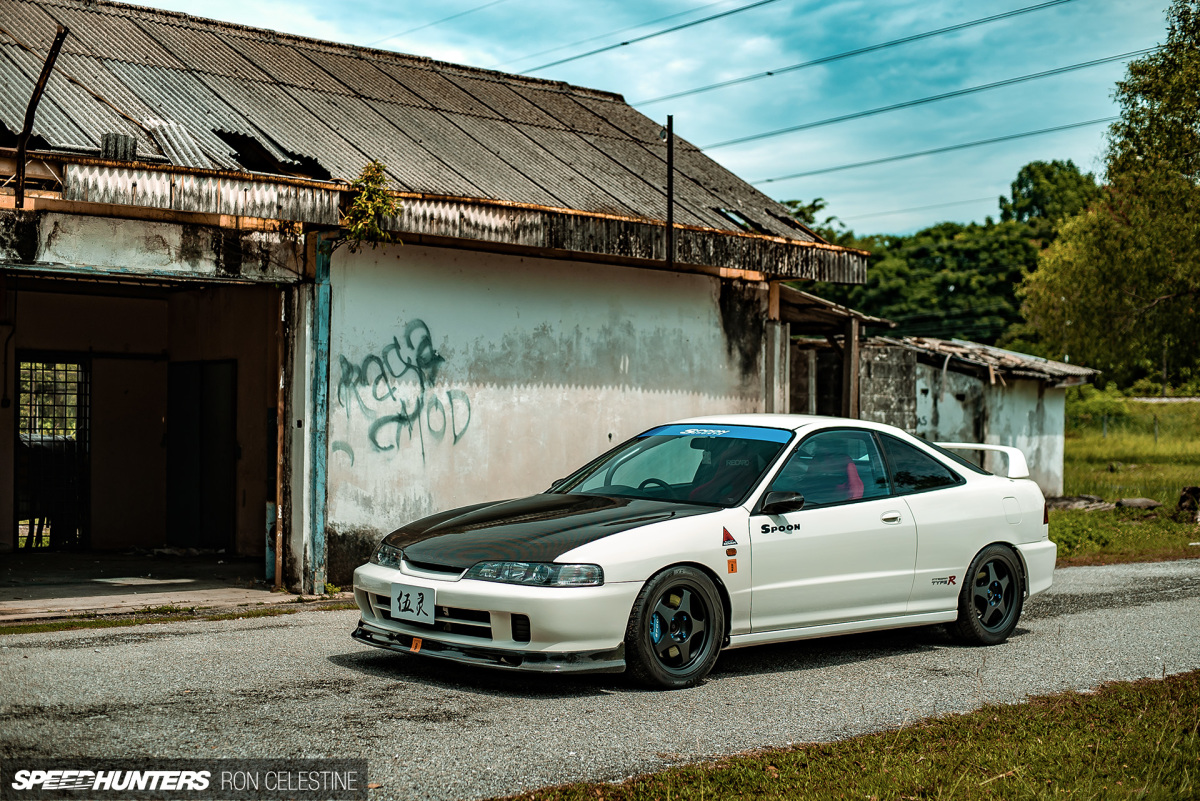 A quick look underneath the car and the Spoon theme is diluted slightly. The car sits lower on KTS coilovers and the camber arms, bushings, and other strengthening components come from Hardrace. What gives?
The answer lies in where Alex calls homes; Malaysia. I've mentioned it before in previous Malaysia related articles, but the stringent laws and penalties regarding importing parts into the country makes it difficult (and very expensive) to obtain certain parts.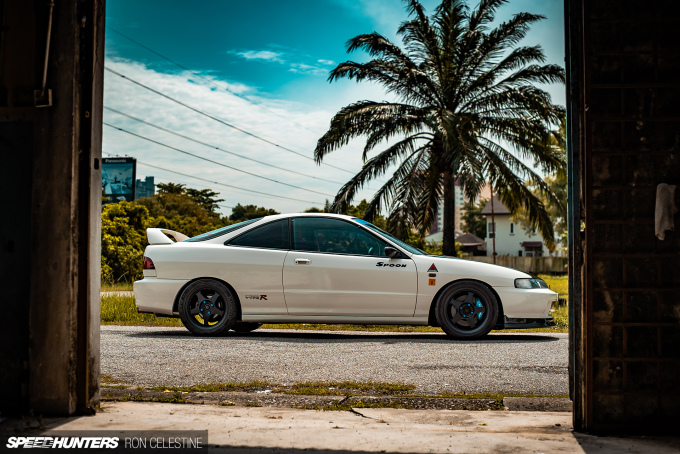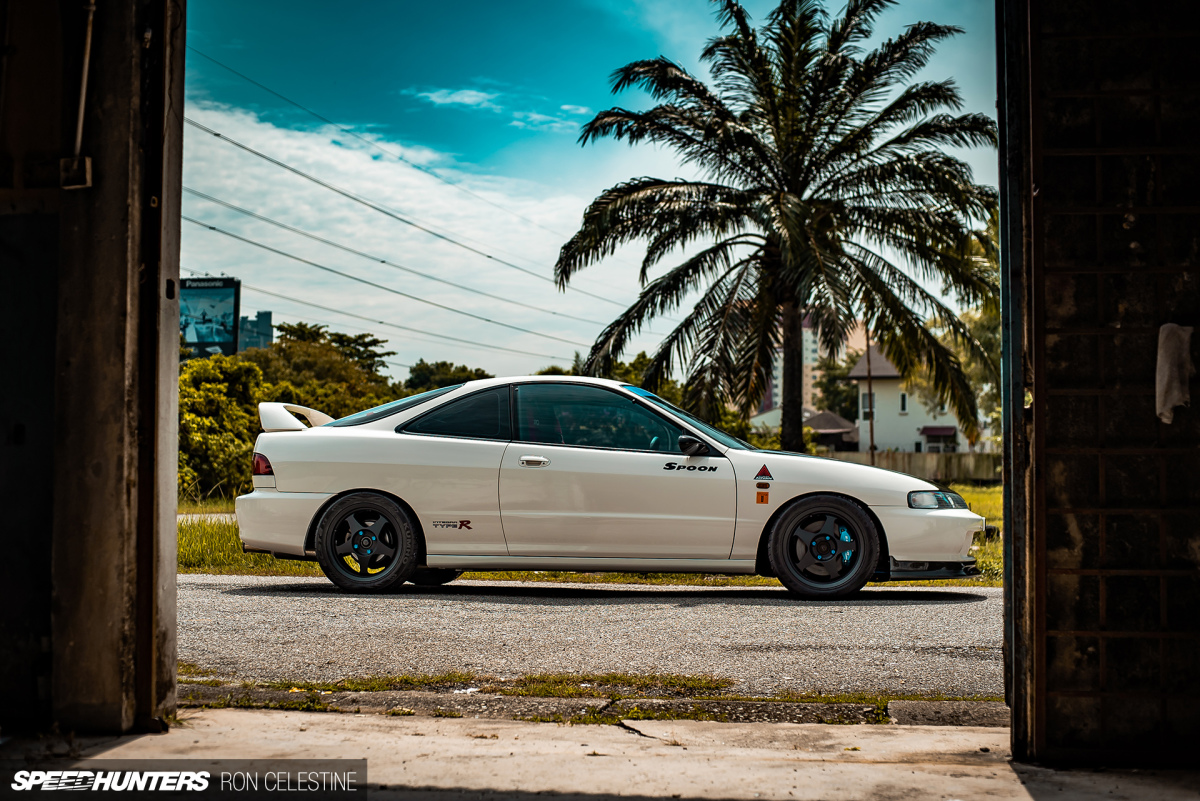 As for the suspension, Alex planned on being able to drive this car primarily on the streets of Malaysia, so if he had gone with the suspension setup provided by Spoon, it would have been far too stiff to actually enjoy on the streets.
The Personal Touches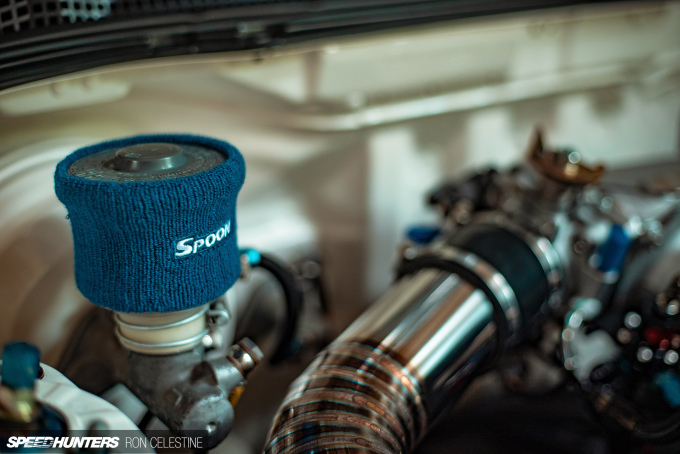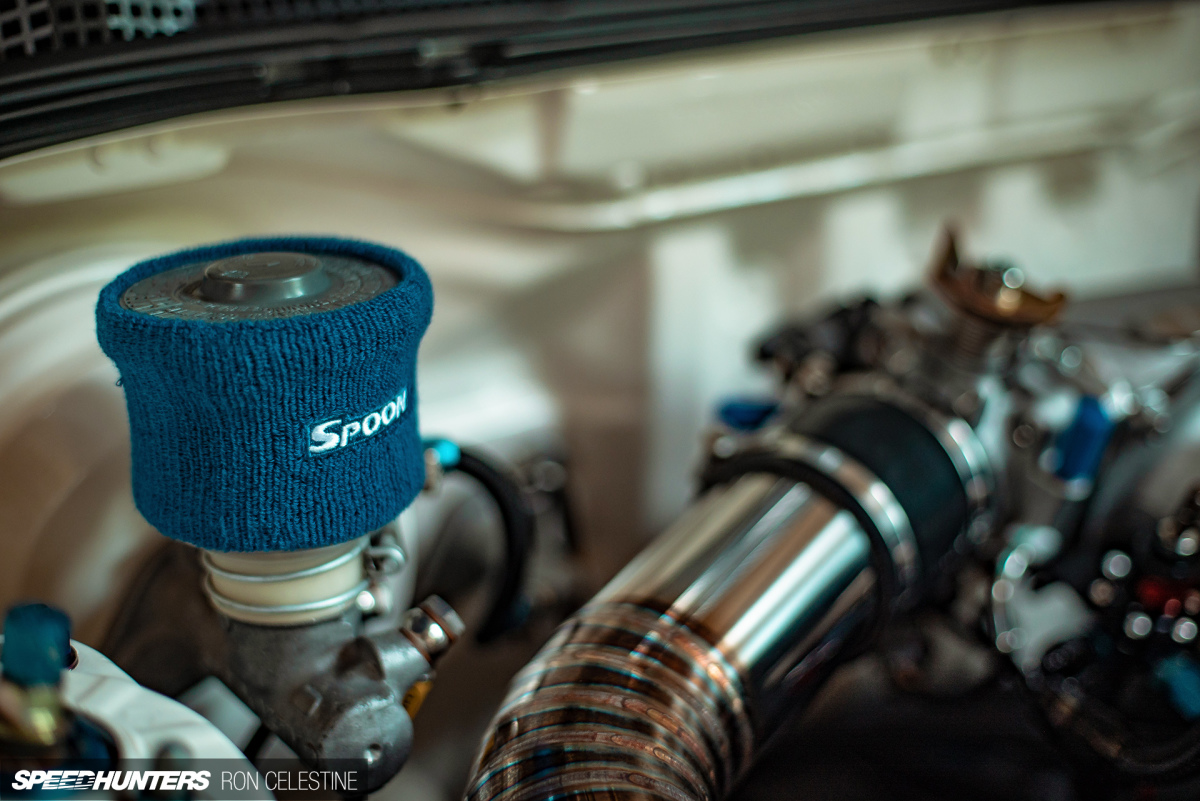 Another goal for Alex was to make sure that even though the DC2 was to be a tribute to Spoon, it still had to retain some of his character and personality – such as his love for the color blue and Star Wars.
The interior and engine bay reflect this desire to retain his individuality. It's one thing to build a car and throw all the parts from a catalog at it, but if the result is everyone's car looking exactly the same, then what's the point of that?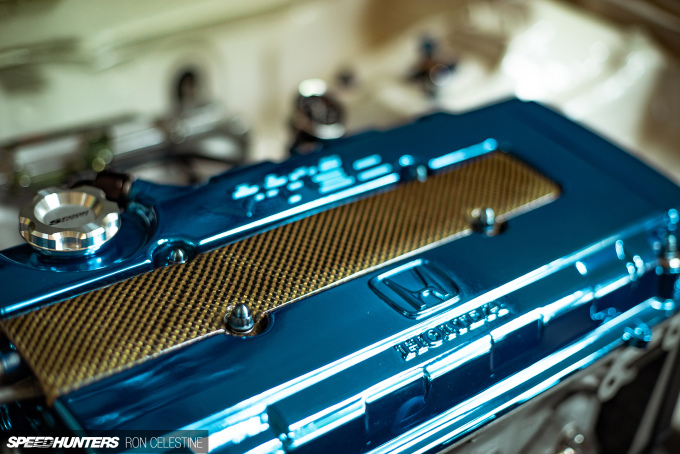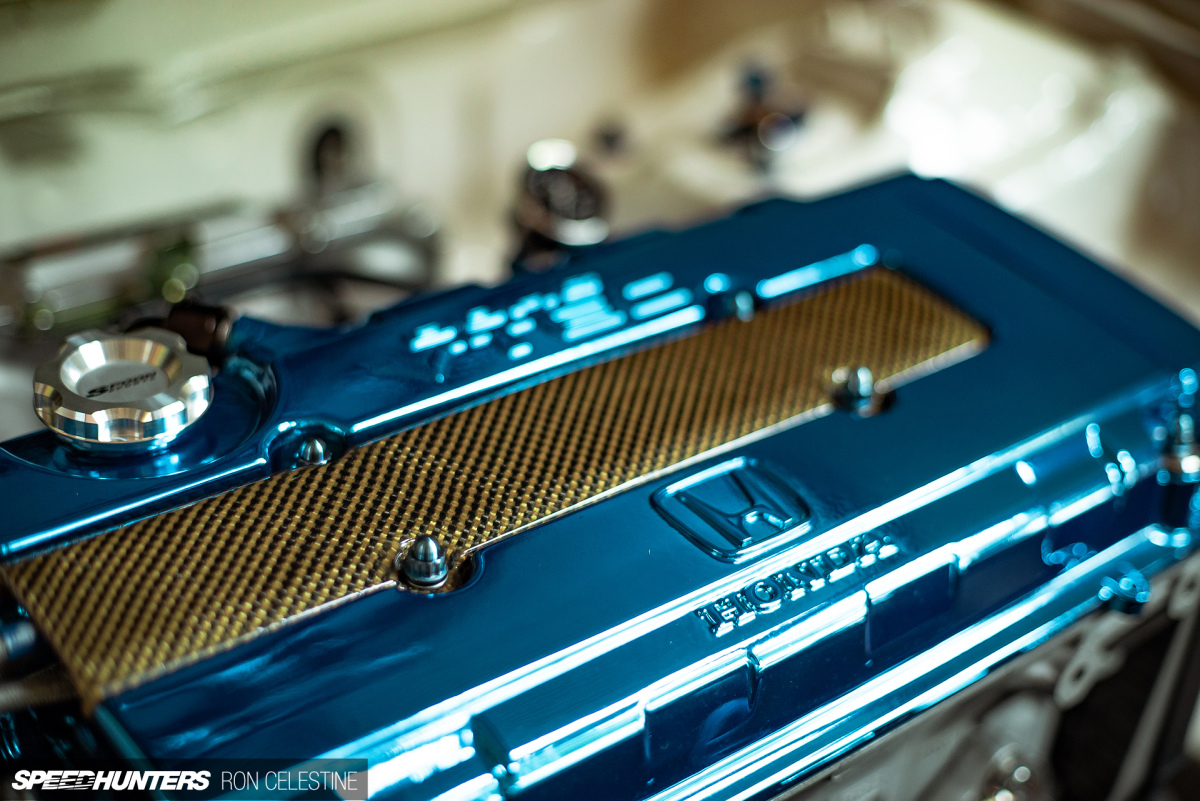 The engine cover is a perfect example of this, where he has kept the traditional Spoon Sports carbon Kevlar plug cover, but surrounded it with his own personal color. Underneath the covers, the tribute continues with all Spoon internals.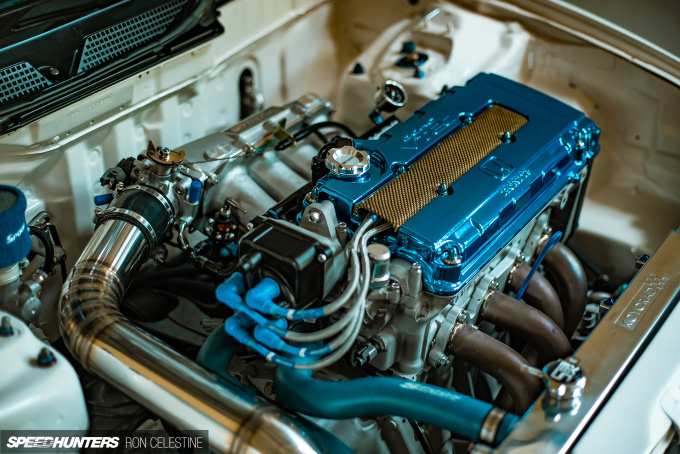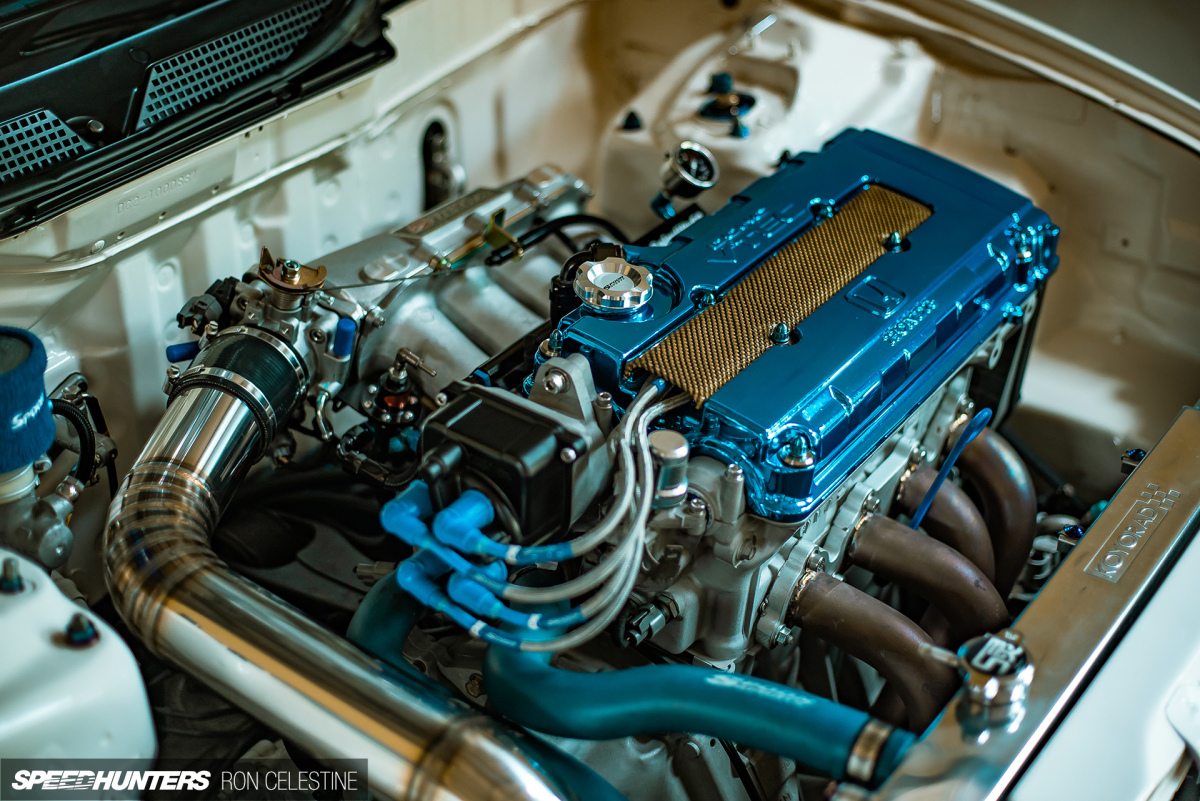 With a little over 200hp at the wheels, pushing the Integra to 9,000rpm is an experience one can never forget – and yes, VTEC is still addictive.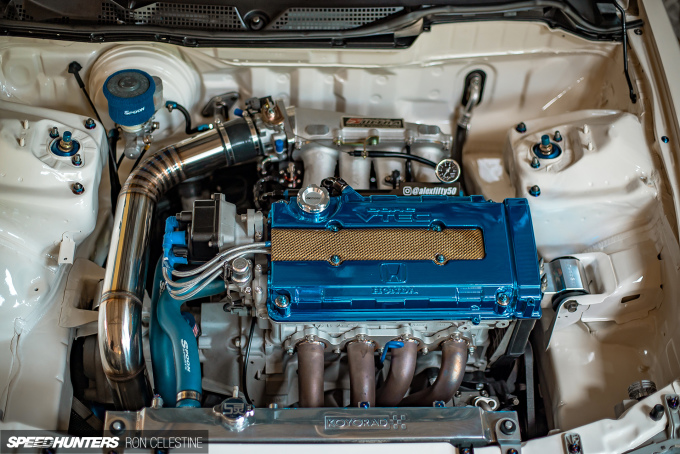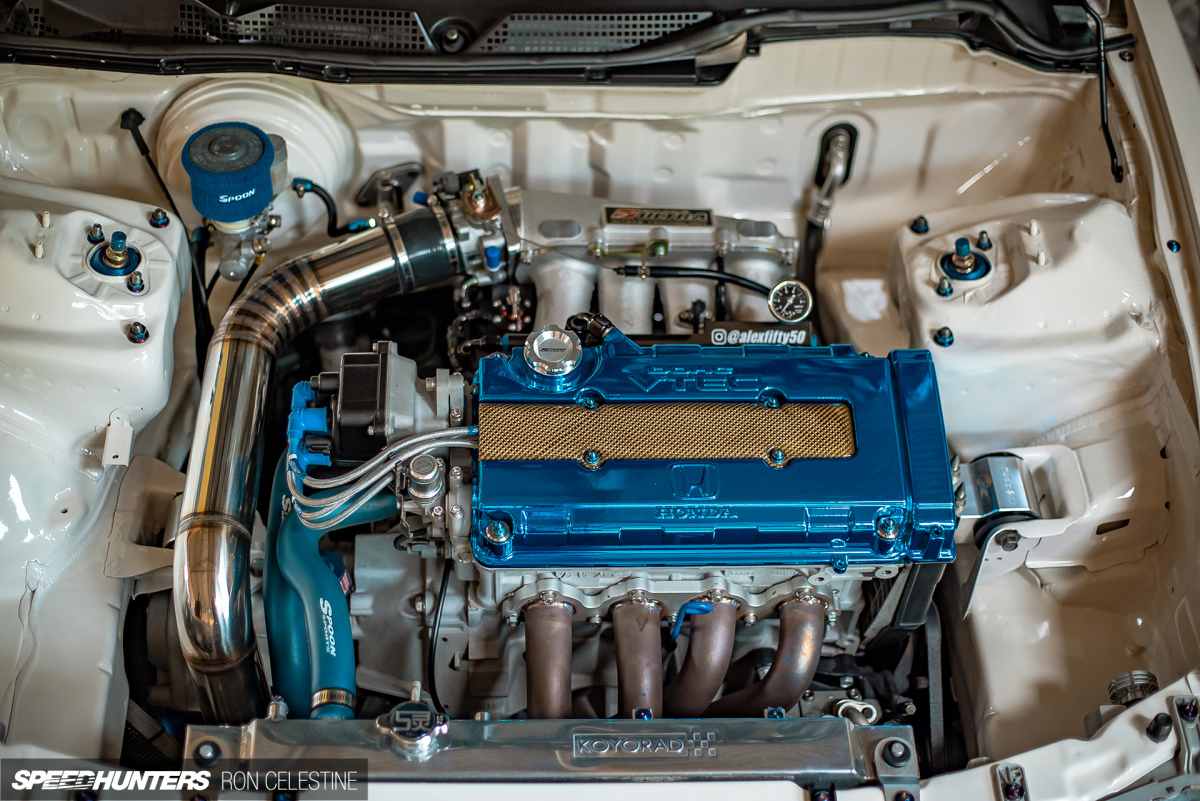 It's almost as addictive as it is to look inside a nicely executed, wire tucked and shaved engine bay. Wanting to have what the locals call a 'USDM' feel to the engine bay, it took him over three months to rewire the entire car from scratch.
The Skunk 2 intake and PLM exhaust headers ensure that the air reaches and evacuates the combustion chambers as efficiently as possible. This being Malaysia means that extra cooling is never a bad idea, even if you are still running naturally aspirated. To this end, a Koyo radiator makes sure the temps stay under control.
A look inside reveals things are still simple yet functional, asides from the 'Spoon' Storm Trooper; another nod to Alex's personality and an old blog which he used to run.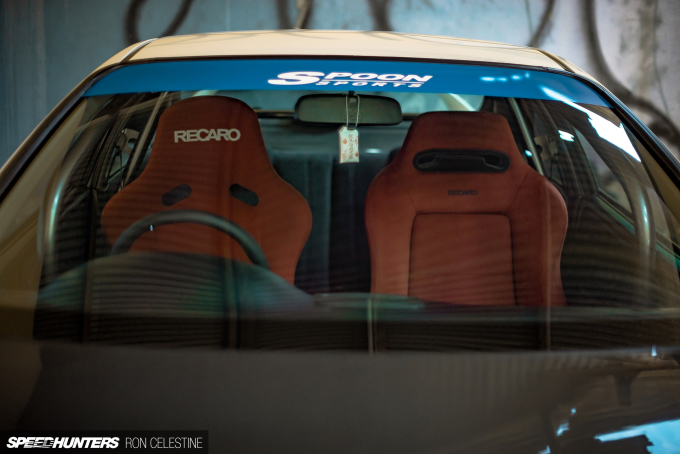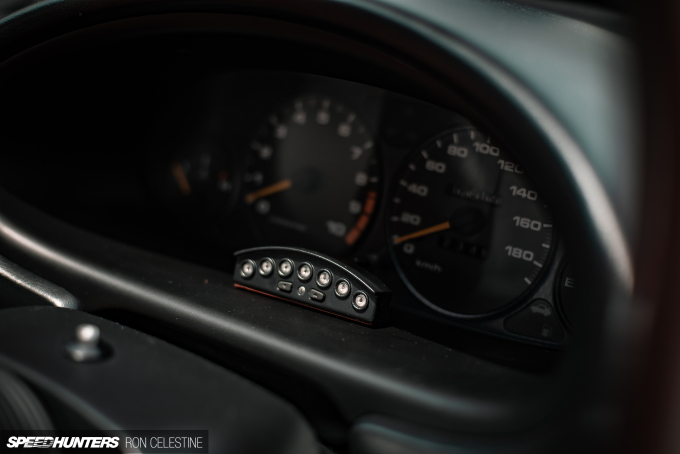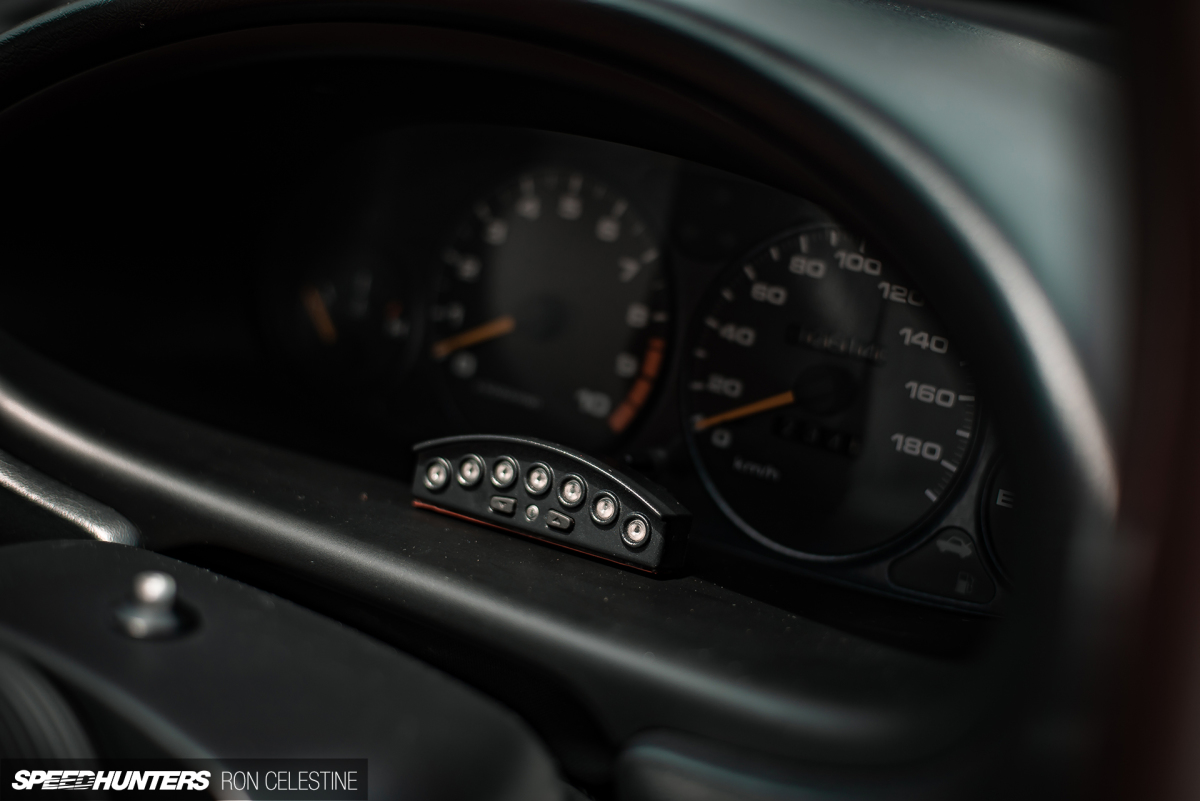 Two Recaro seats, a Spoon steering wheel and a Mugen roll cage account for the majority of the interior parts. The roll cage is the only Mugen part on the car, as Alex (unsurprisingly) prefers the philosophy and concept behind Spoon Sports.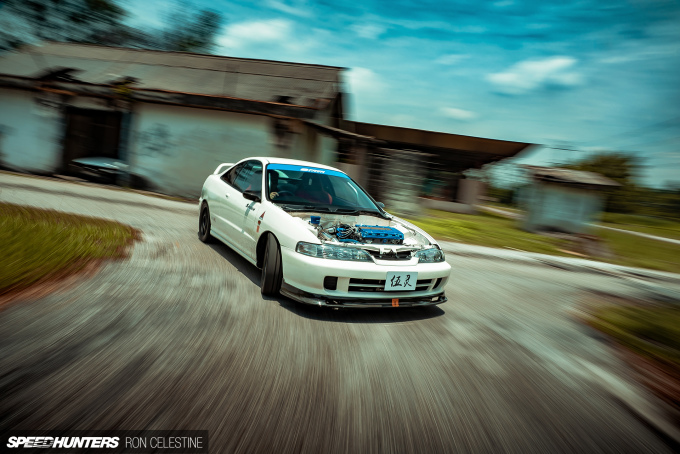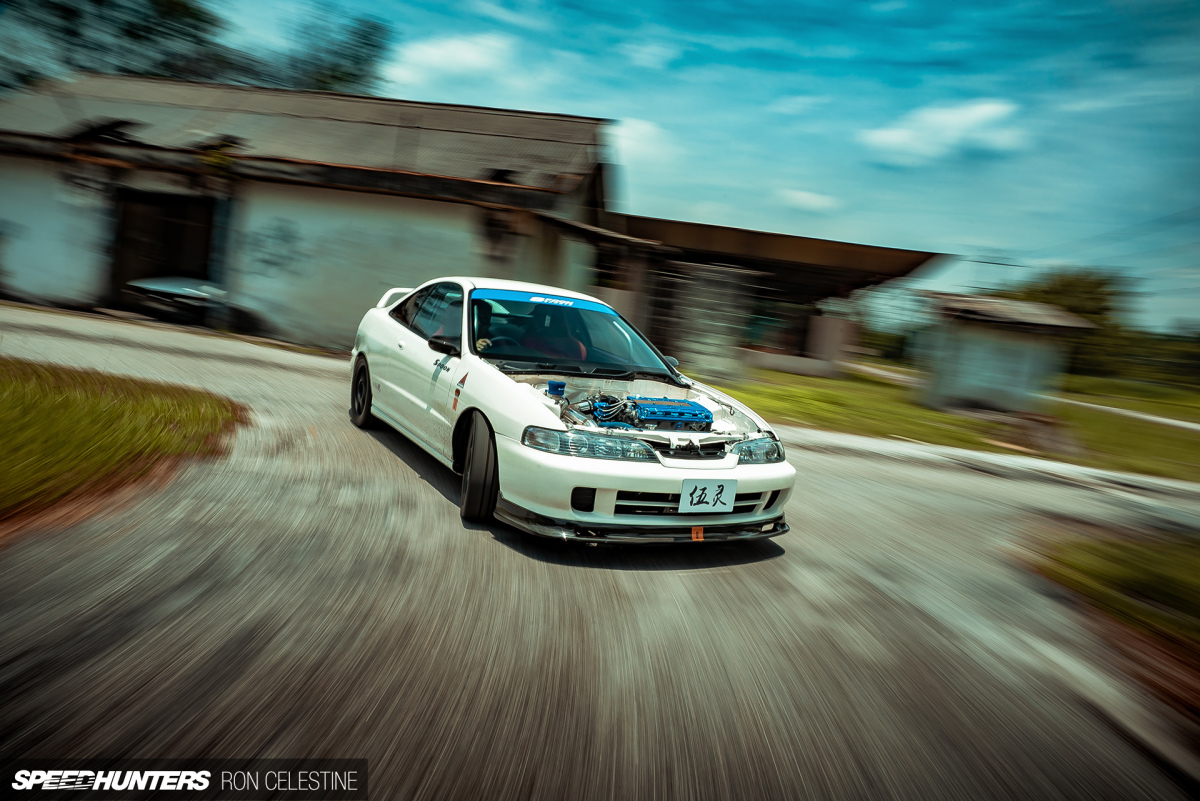 It may have taken Alex a little over a year to complete, but it was well worth it to make sure he didn't just build another catalog car.
It's always cool to pay tribute to your favorite shop or company – just make sure you don't forget to inject a little bit of your own personality into it as well.
Ron Celestine
Instagram: celestinephotography
The Cutting Room Floor