I'm Lookin' For A Dime
If you caught my Winter Jam articles a couple of months ago, you may recall a particularly bold statement I made about Marcus Fry and his influence in the world of LS-powered swaps in California's Bay Area.
I'll be going into a little more depth about how his shop, Marcus Fry Racing (MFR), came about in an upcoming article, but to hold you guys over till then, I've decided to give everyone a little break down on Marcus's LS1-powered 1970 Datsun 510 drift monster.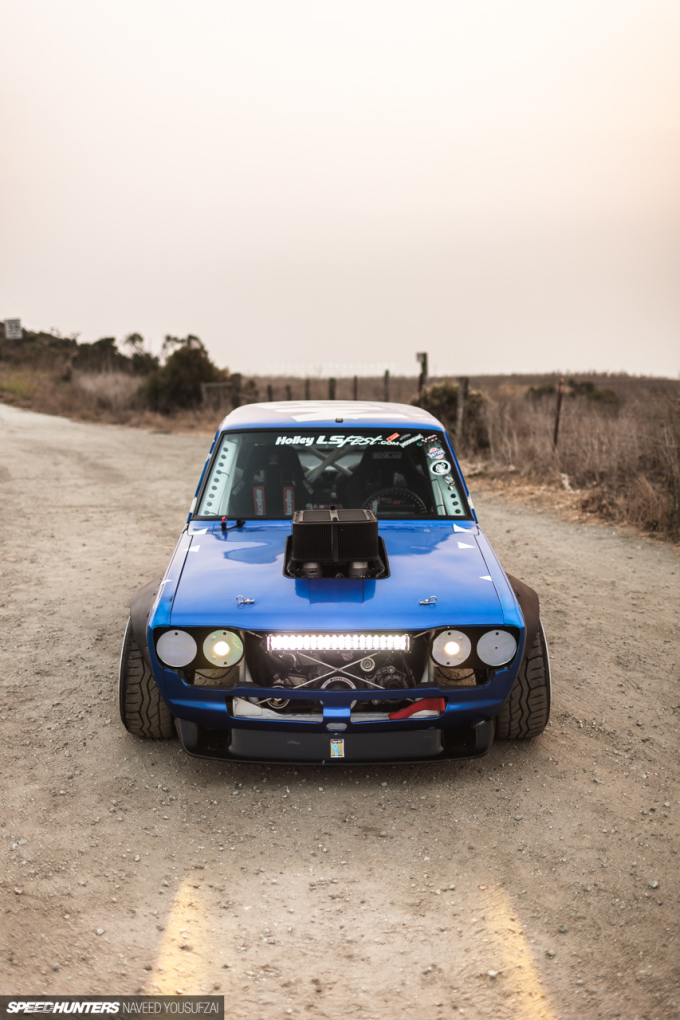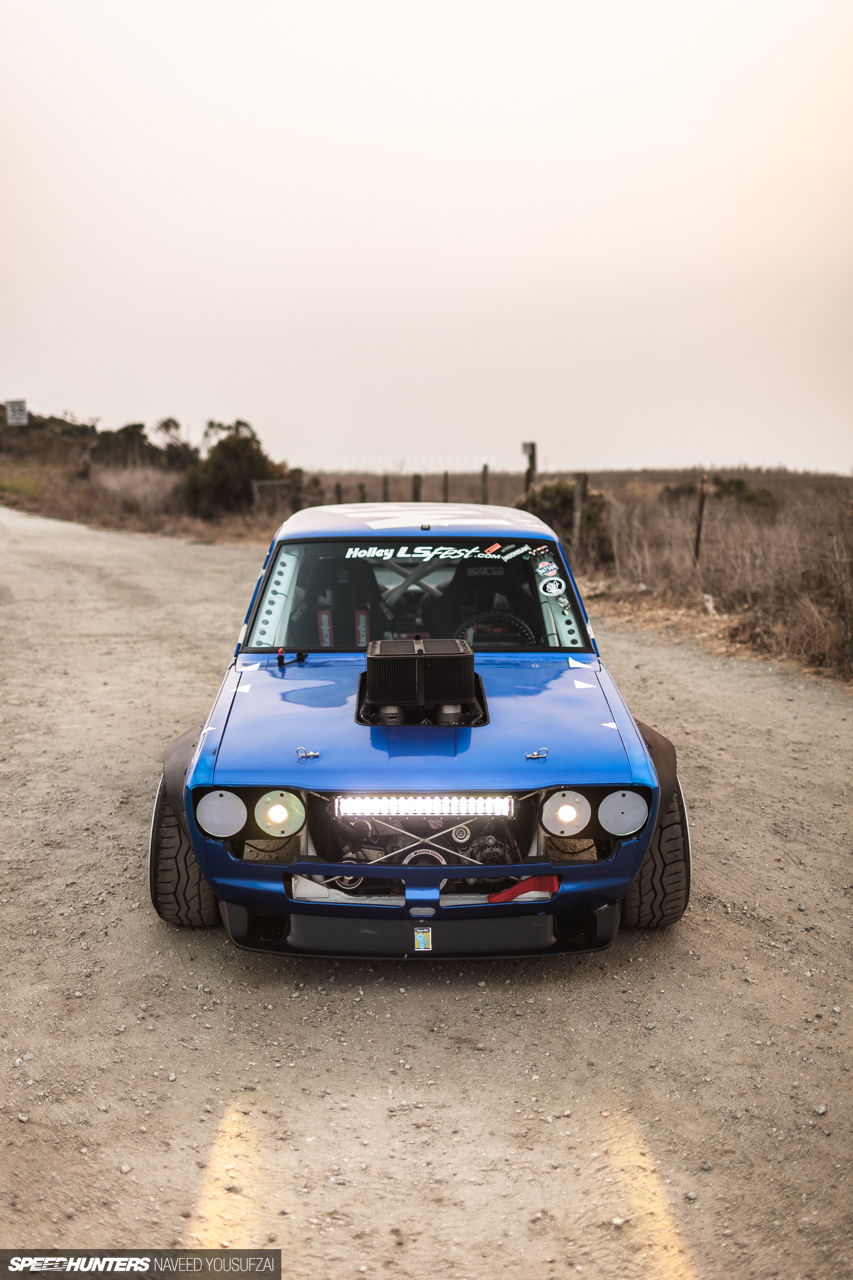 Before we hop into the details, take a moment to indulge in the sheer presence of this demon of a 510. I can't recall the last time I've seen anything that looked this angry, even at a standstill. Its short wheel base and aggressive stance with monstrous flares and exposed engine bay will strike fear into your soul if you dare stare into its eyes.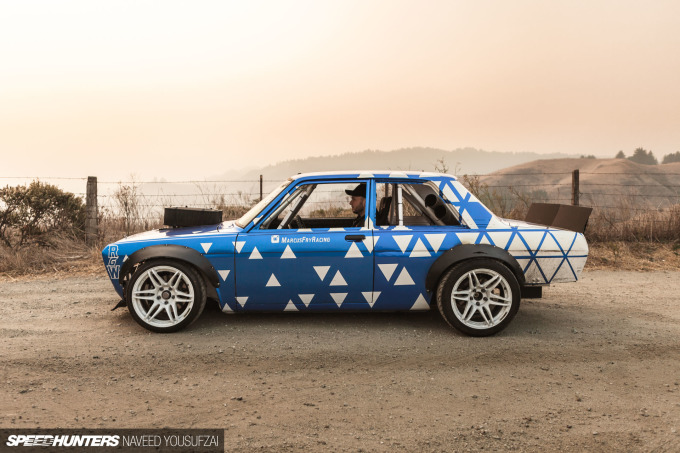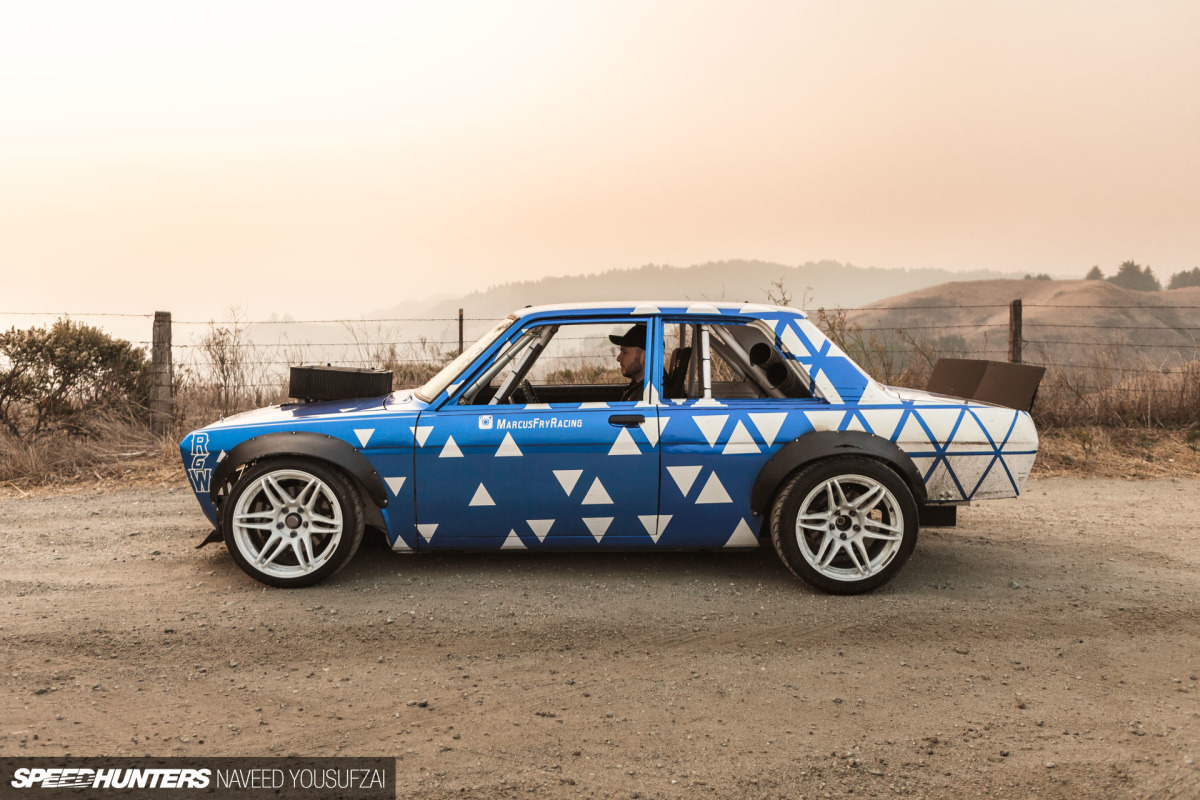 Marcus has been intrigued by the world of Datsuns – primarily the 510 chassis – for as long as he can remember. Like many of us, I think the simple engineering that went into these cars, matched with their timeless boxy design is what really sparked his initial interest. These cars just work, in every derivation of that term.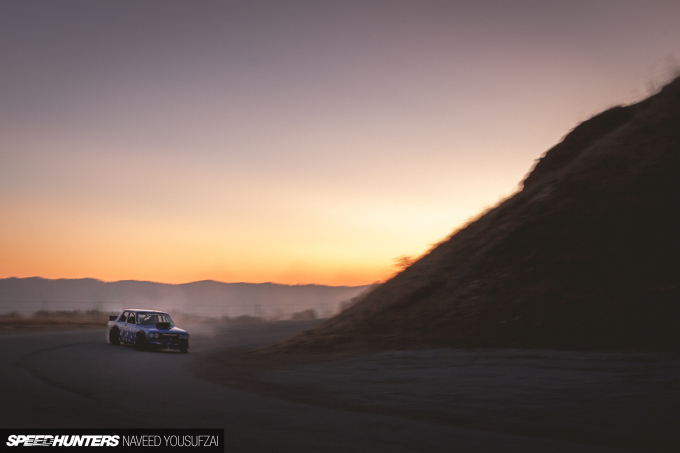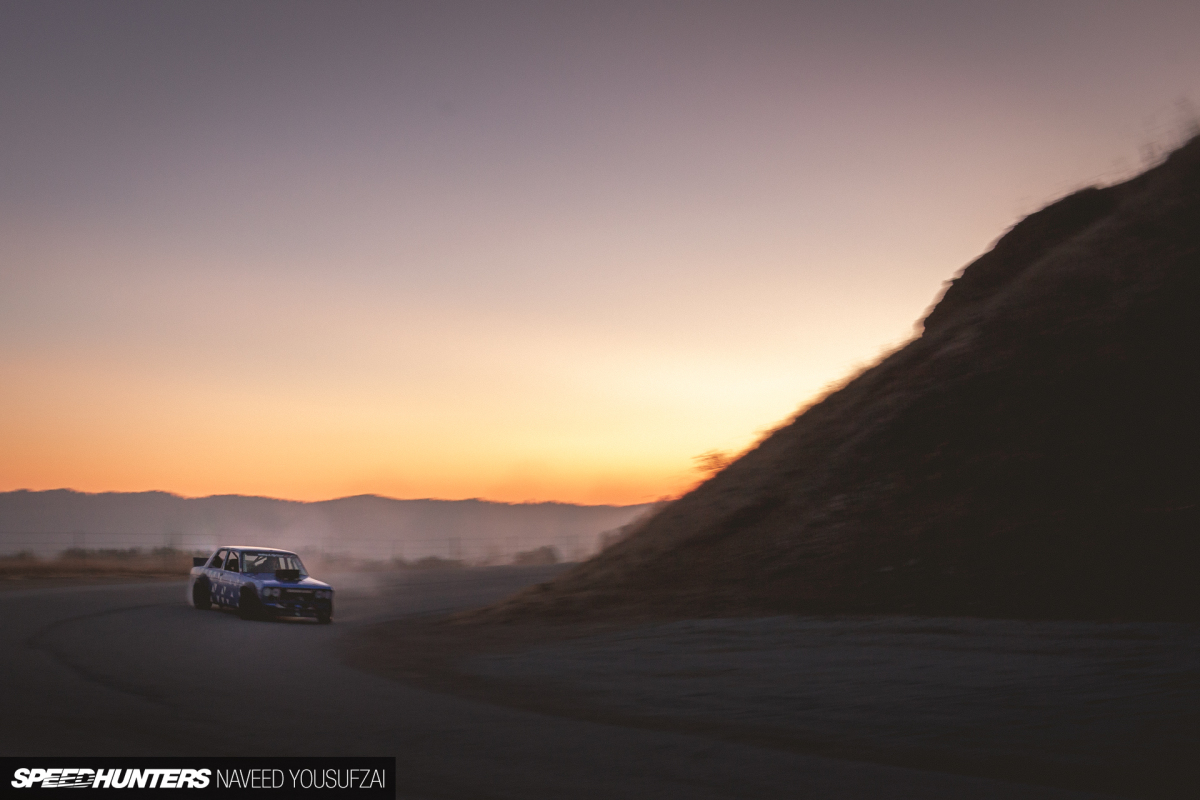 He purchased his first 510 about 10 years ago, and eventually used that car as his learning platform for drifting. But Marcus's initial interest in the little econobox wasn't to drift, but rather to build a nice canyon carver. I know, you've heard this exact vision before, but hey, we live in the Bay Area, and the canyons here are to die for (not literally though, stay safe out there, kids).
Anyways, Marcus's driving skills advanced quickly, and with that came performance enhancements on the dime to par up with his needs. So he first built an L20B for the car.
L-series engines are cool and all, but let's face it, if you really want serious power without having to fork out ten 510's worth of cash on an OS Giken T16 motor, your next best bet would be to start playing with ideas of more modern engines. With that in mind, the L20B didn't last long, and soon after Marcus switched to an SR20, which again fell short of the power levels he was after. So he cammed it.
For most people that would've probably done it, but it still wasn't enough to cut it for Marcus, and shortly after everything was pulled and the first LS1 was dropped in. Not only did the 510 get the oomph he was yearning for, but it was something that changed his life forever.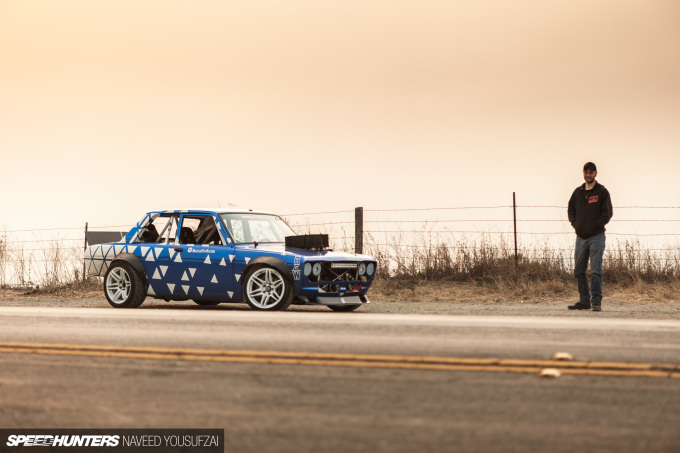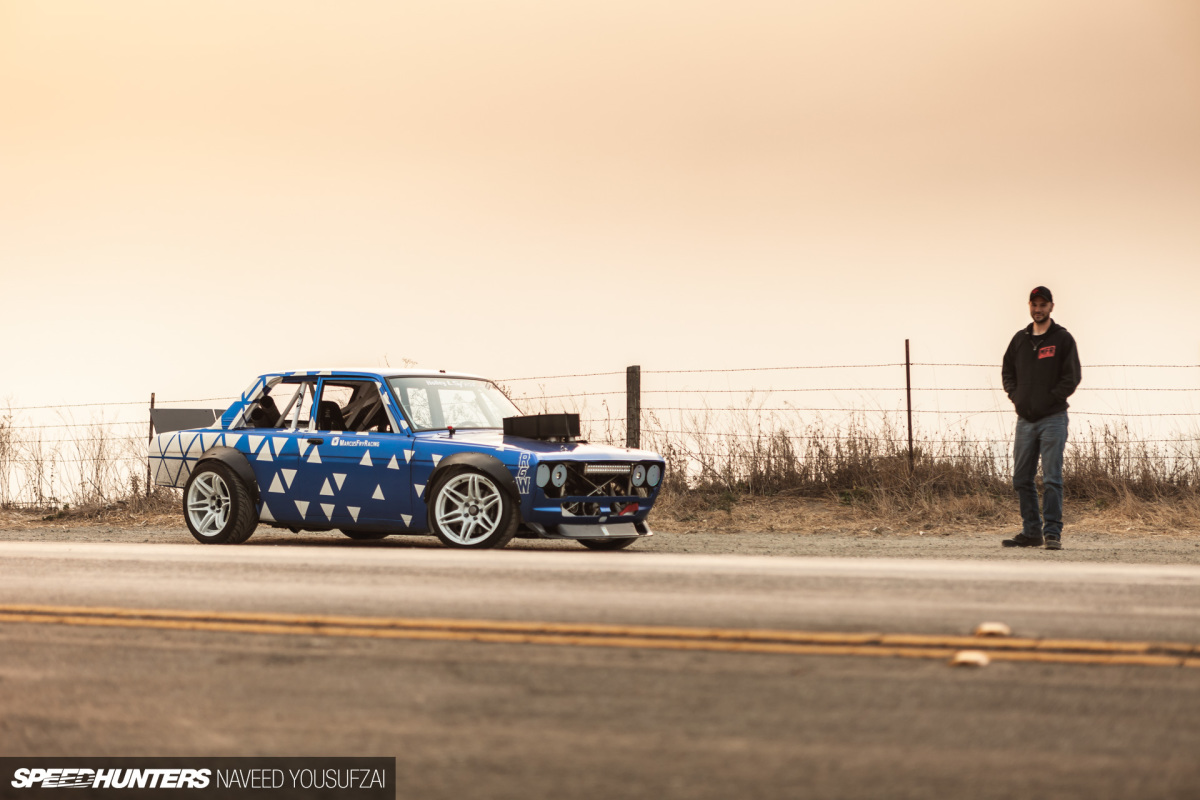 A year or so after the completion of the car, Marcus's close friend encouraged him to get out to a drift event and see what the 510 could do. With no hesitation, Marcus entered the Thunderdrift Competition at Thunderhill Raceway, and to no surprise, fell in love with the sport all together.
Fast forward to two years after this event, Marcus is driving home with not only a victory at another local drift event, but also a Formula Drift Pro license under his belt.
That's Top Of The Line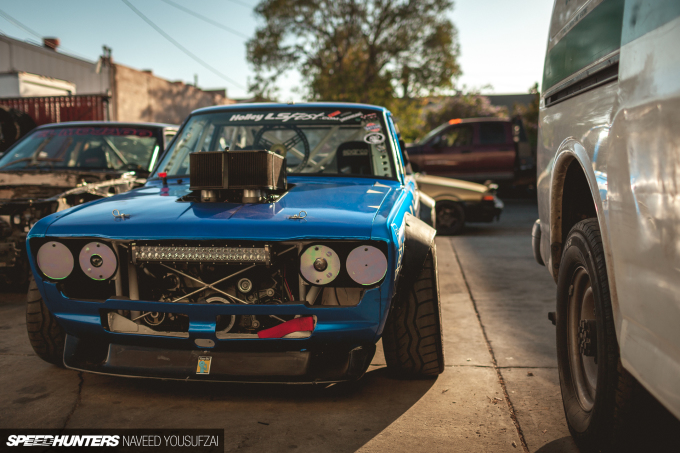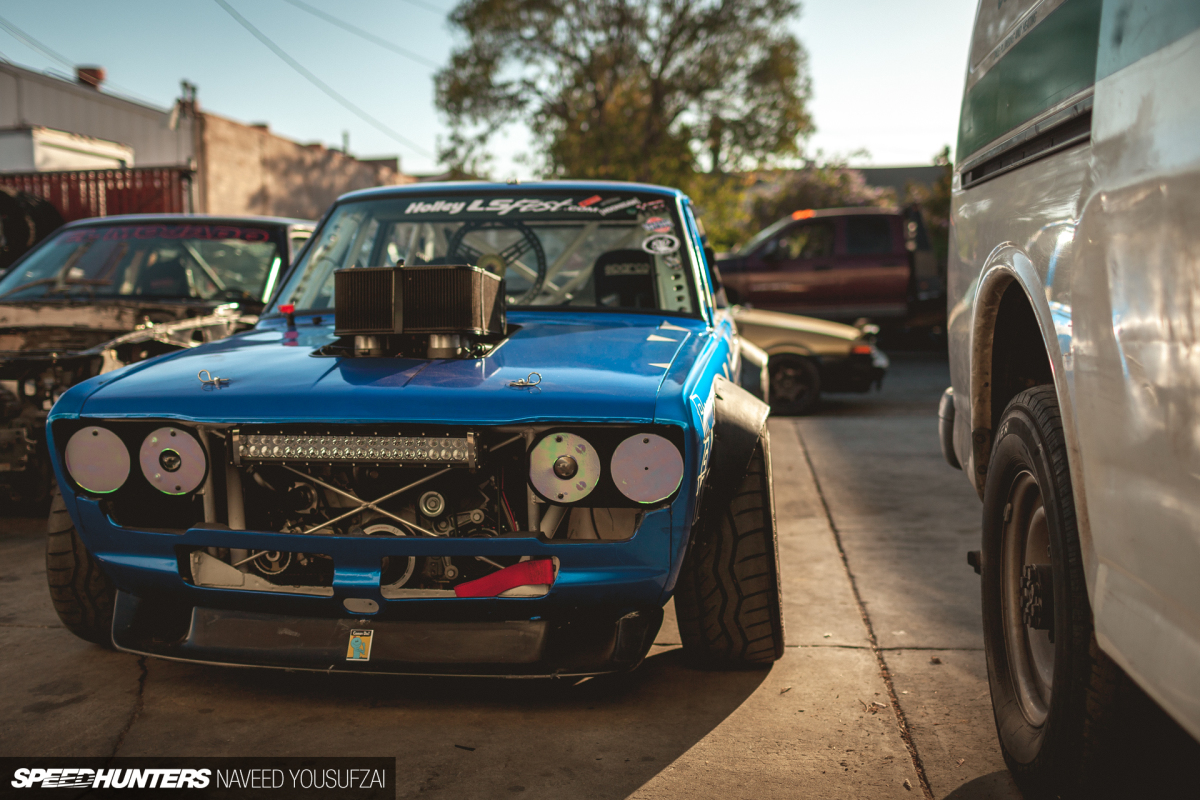 With the foundation of his pro drifting career set in stone, Marcus soon realized that his regualar day job wasn't going to cut it anymore. And like anyone with the right mindset in this type of predicament, he quit and opened up Marcus Fry Racing.
The fabrication shop has housed some of the most epic race cars, street cars, and show cars to roam the streets of the USA. That's right ladies and gentlemen, countrywide, and for good reason too.
A few months after opening up shop, Marcus took possession of his current 510 drift car from his buddy Dan. The car was built with one rule in mind: to compete in Formula Drift.
Everything on the car was designed, fabricated, and implemented by Marcus himself. Starting with suspension, Marcus built a set of custom front control arms, designed a custom power steering rack conversion, and a pair of rear semi-trailing arms using S14 wheel bearing assemblies.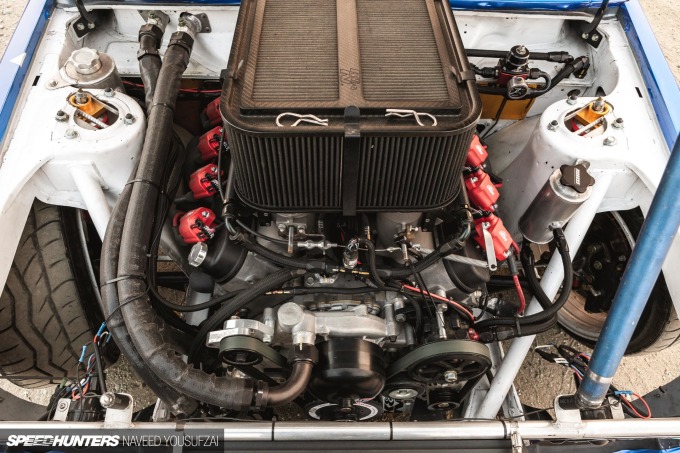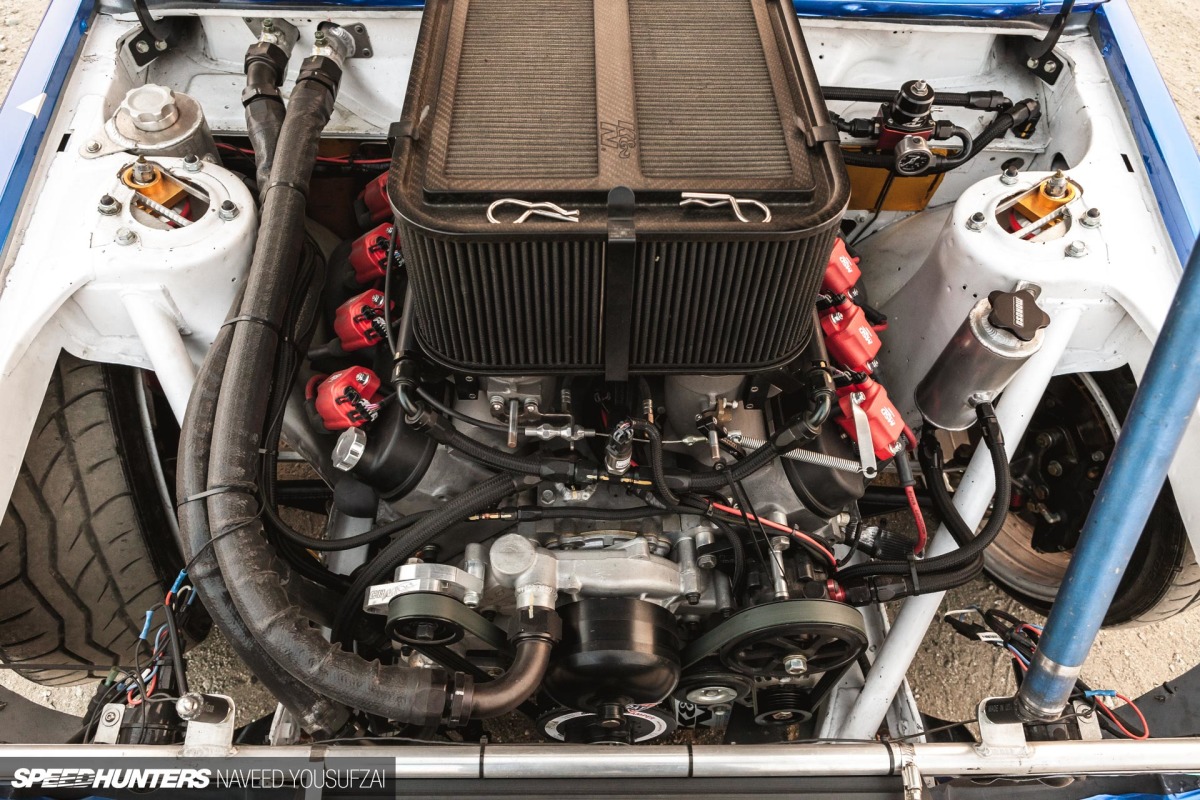 The motor of choice was of course an LS3 with a mild cam, sporting a Hilborn ITB injector setup and running on a Holley HP ECU. To keep things at temp, Marcus fabricated the entire cooling system himself f rom scratch. Fuel is driven through a custom fuel cell mounted directly in the boot, and a Canton low profile performance oil pan is paired with an ARE oil pump and four-stage dry sump oil setup that help keep this dime low and lubricated.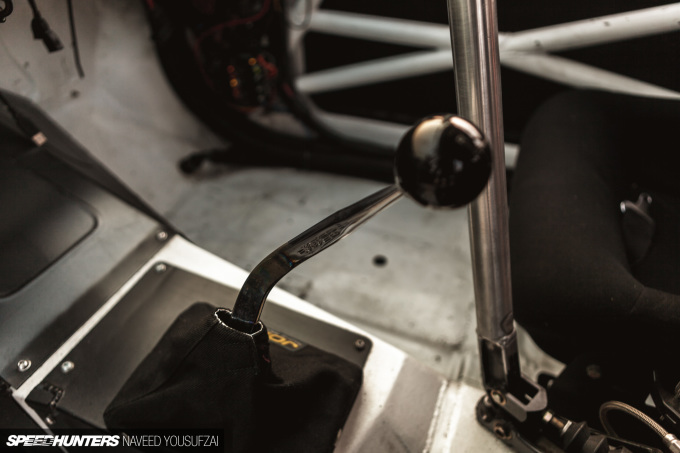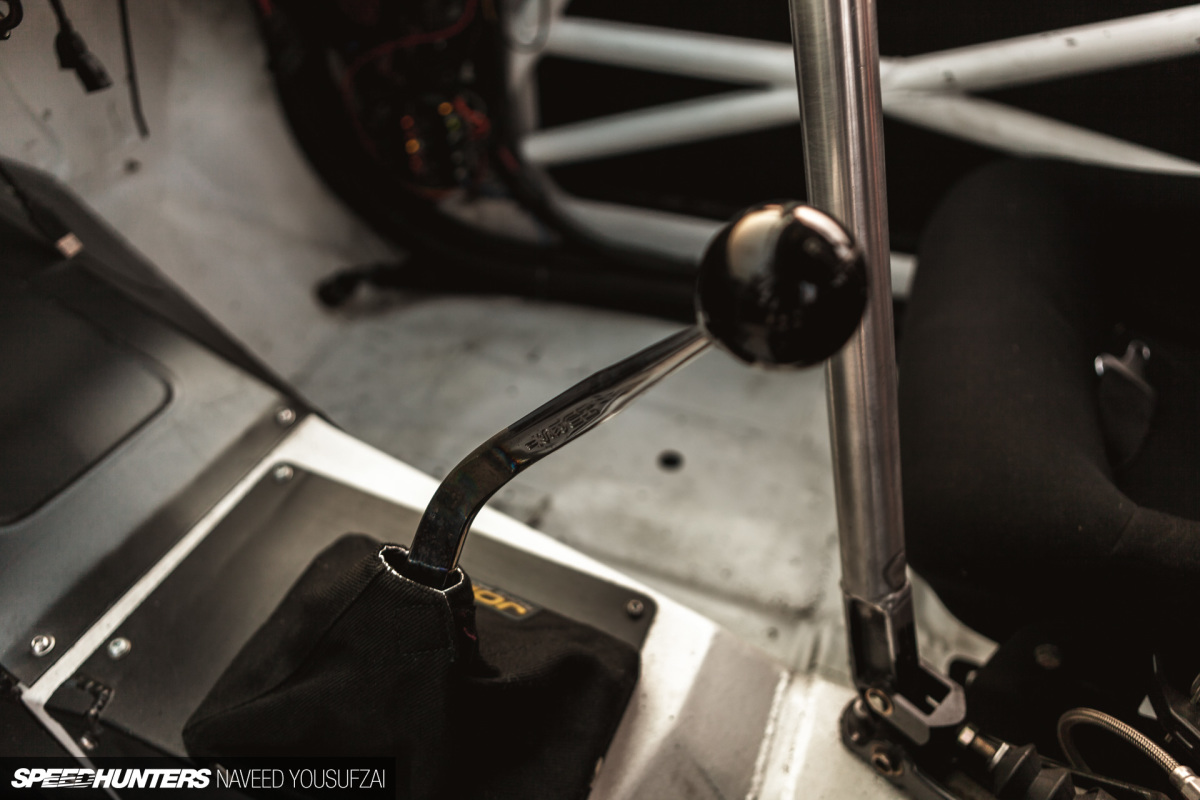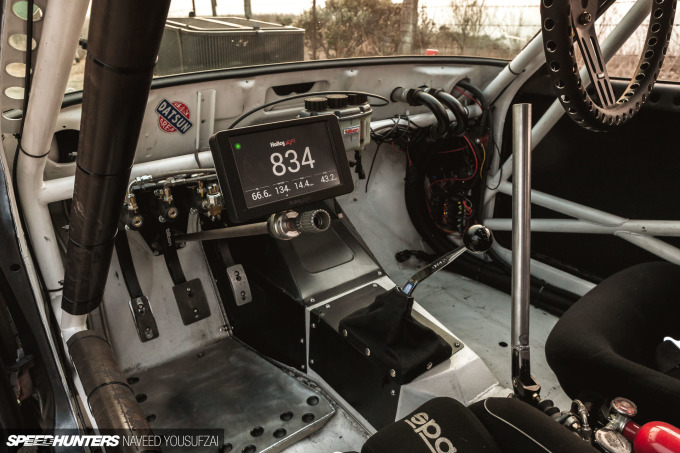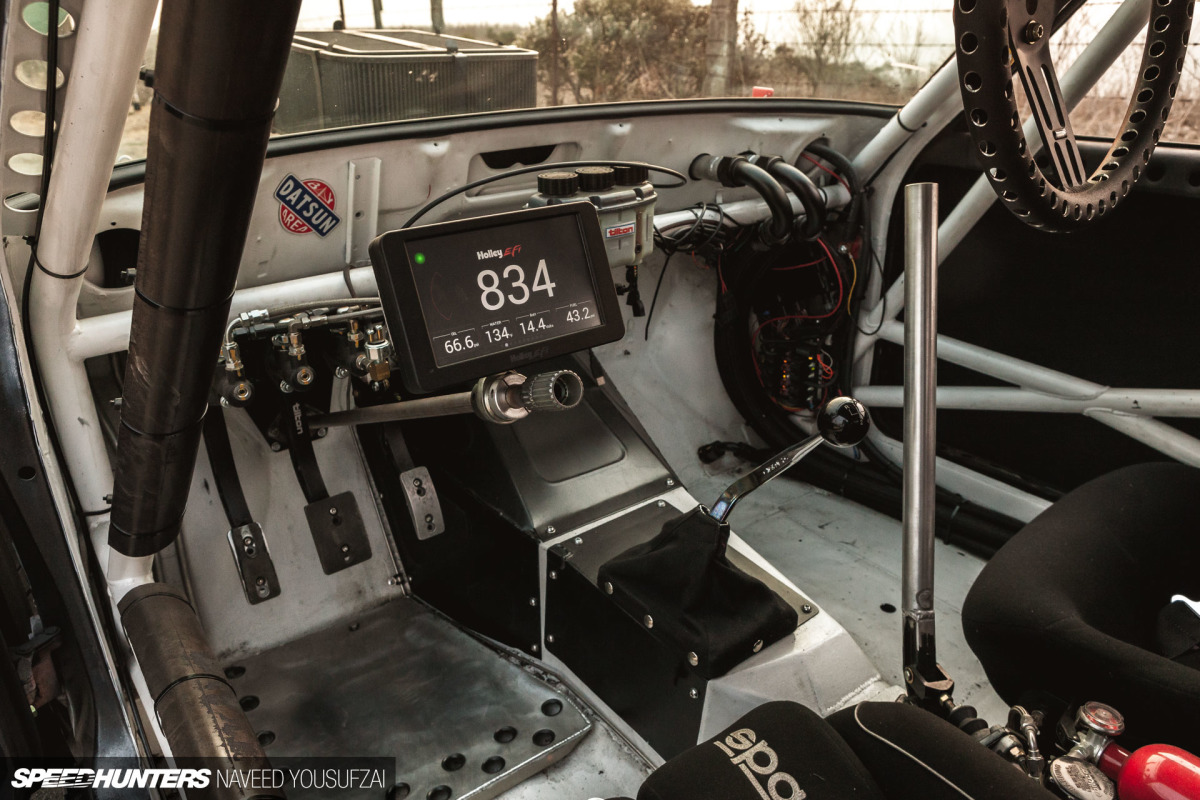 In terms of drivetrain, Marcus uses a Jerico H-pattern dog box paired with a Winters Performance quick-change rear end running a torsion carrier. The transmission tunnel was reworked to accommodate the drivetrain, and also retains removable sections to allow for access to the bell housing, shifter linkage, and anything else that might go wrong down there. The driveshaft is DSS chromoly unit with 1350-sized U-joints, and custom axles also from DSS are mated using 109mm CV couplings. The pedal box is a top-mounted setup from Tilton, and controls the Wilwood brake setup all around.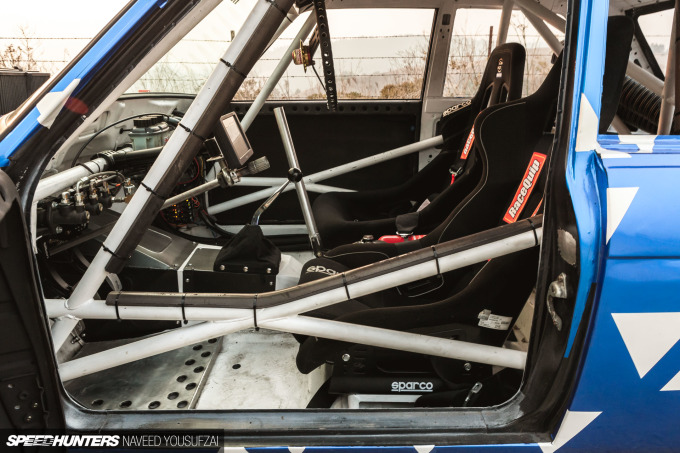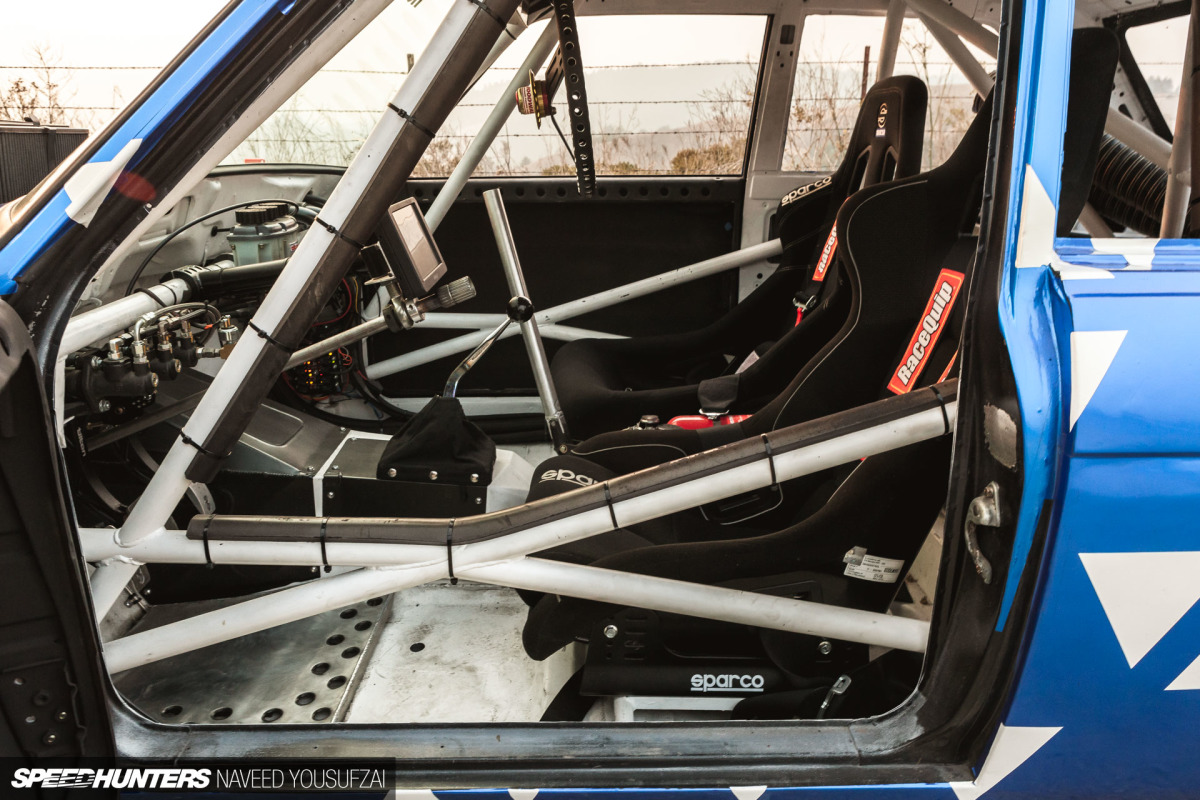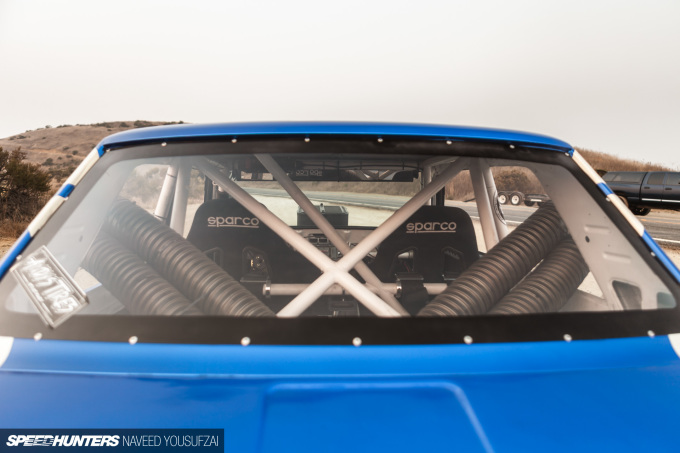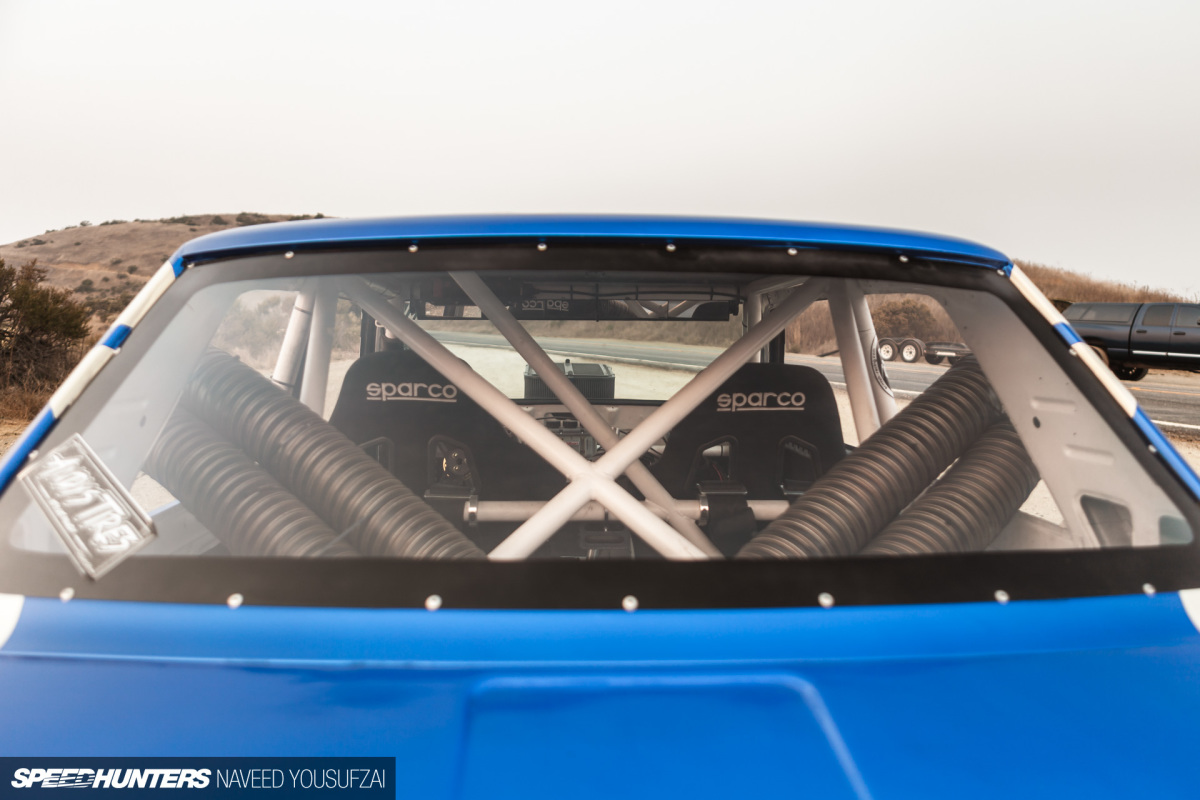 Lastly, the body on the car is mostly retained, with exception of the fiberglass front clip and boot lid. The entire chassis is tubed using 1.5 inch DOM tubing, with stitch welds running across all seams. And although the 510 chassis already has a reputation for being light, Marcus still made the decision to gut the interior entirely, save for a pair of Sparco racing seats, some safety equipment, and anything that is structural to the engineering of the car. He even went as far as cutting the inner sides of the doors, to shave as much weight as physically possible.
POV
Marcus's plans for the next year are to hopefully expand the shop whilst competing in the 2019 Formula D season. I included a ride-along video in my Winter Jam coverage of his newly-acquired Camaro, but it's safe to say the 510 will continue to live on alongside it.
After finishing up the photo session for the feature of his shop that will be following soon, Marcus decided to take me for a quick little grassroots session in some hidden secrecy area near the shop, where I nearly faced death in the face.
We were inches from un guarded cliffs, and on a section of road where there was only one lane. And even with spotters present, it was probably one of the scariest things I've ever done. Regardless of that matter though, it was epic, and I'm excited to see what the future holds for his career in FD, as well as his shops fortune in the world of custom fabrication.
Stay tuned for the MFR shop feature.
Naveed Yousufzai 
Instagram: eatwithnaveed
Datsun related stories on Speedhunters
[/exclude
Gallery