The fact that the HKS Premium Day didn't happen this year is the reason I was able to prime myself for some serious kyusha indulgence.
The JCCA New Year Meeting is a cool swap meet and gathering that I haven't been able to attend in forever because I could just never say no to seeing the action packed awesomeness that HKS always injected into their event, which was always held on the same day.
On top of that, this was the very last JCCA meet in Odaiba, as the massive space is being claimed back by the city of Tokyo and will be built upon with some other Olympics-oriented infrastructure. Needless to say, I couldn't pass it up…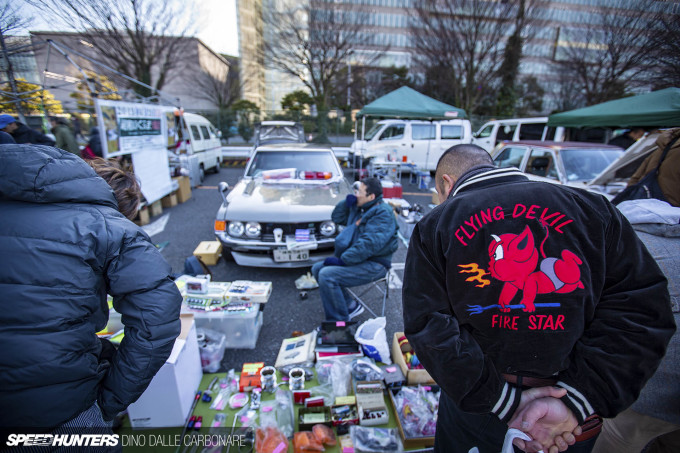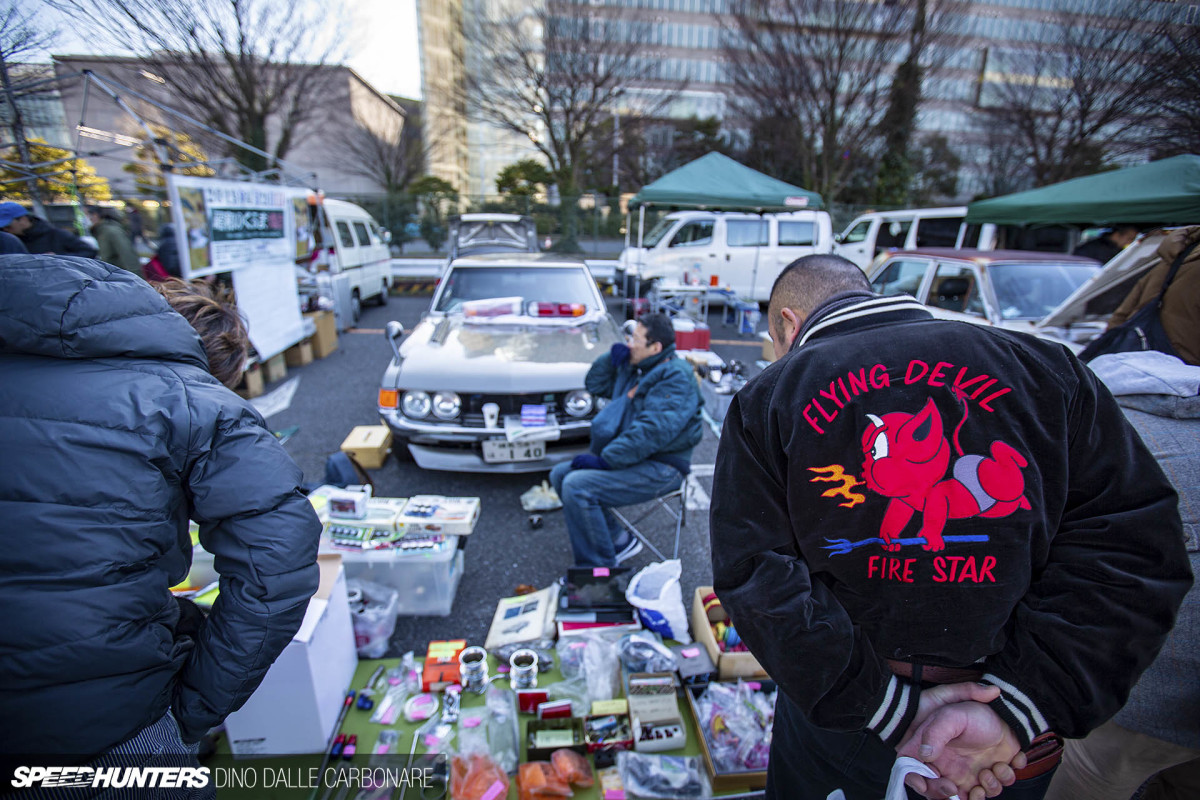 And what I meant by priming myself for kyusha indulgence is that the Nostalgic 2 Days is also coming up this month.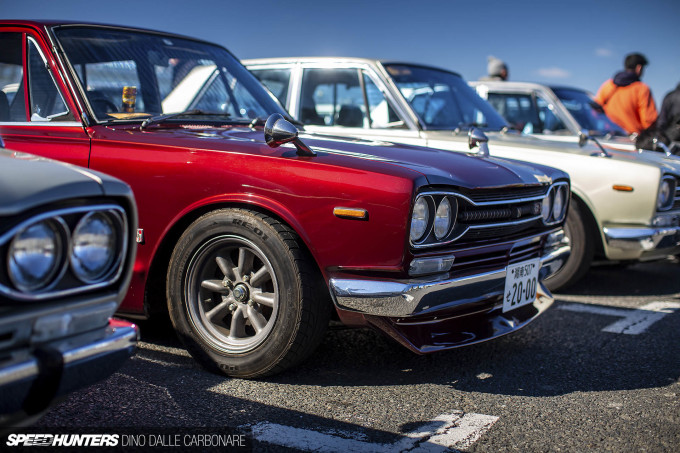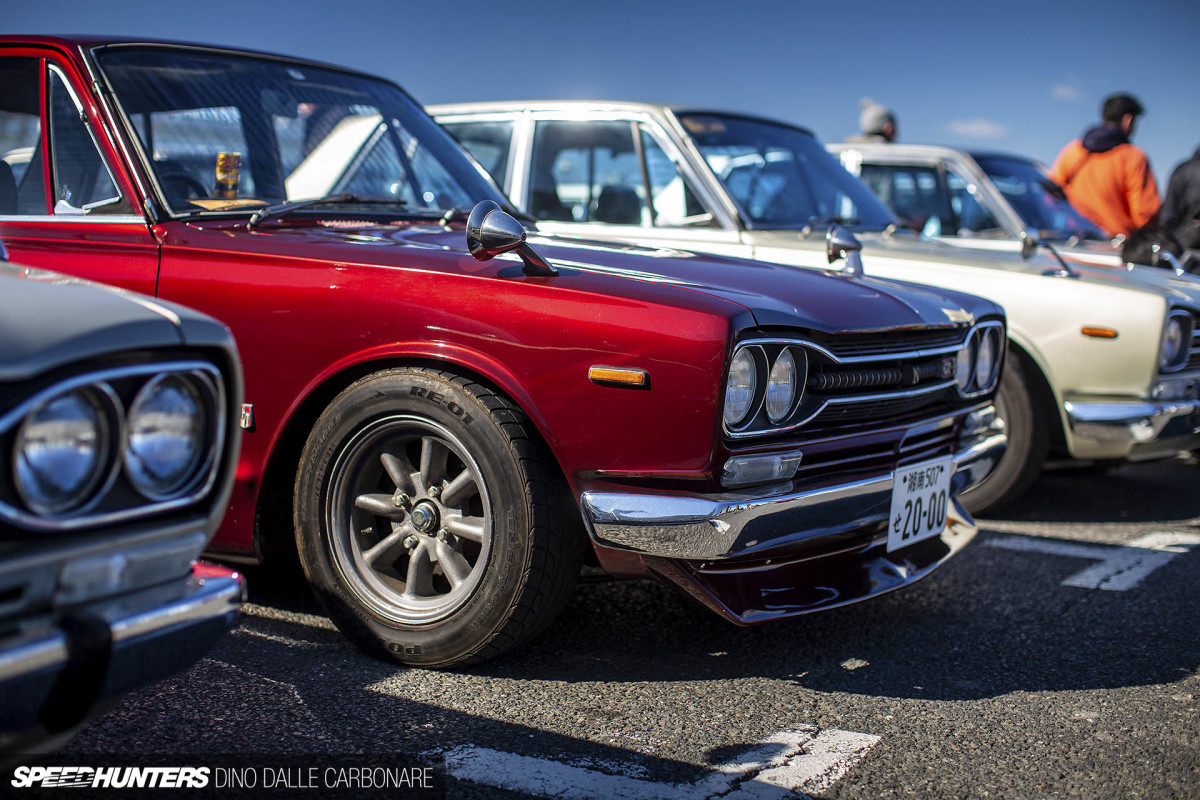 So, in other words I'll be trying my best to make you all sick and tired of seeing modified Hakosukas, Zs, AE86s and any other old school rides you care to mention.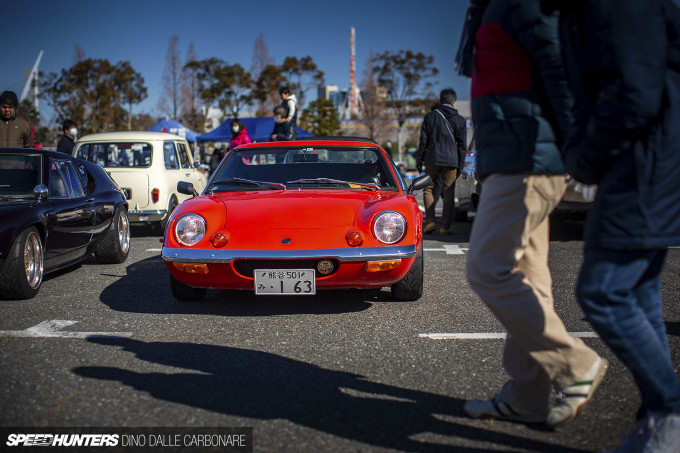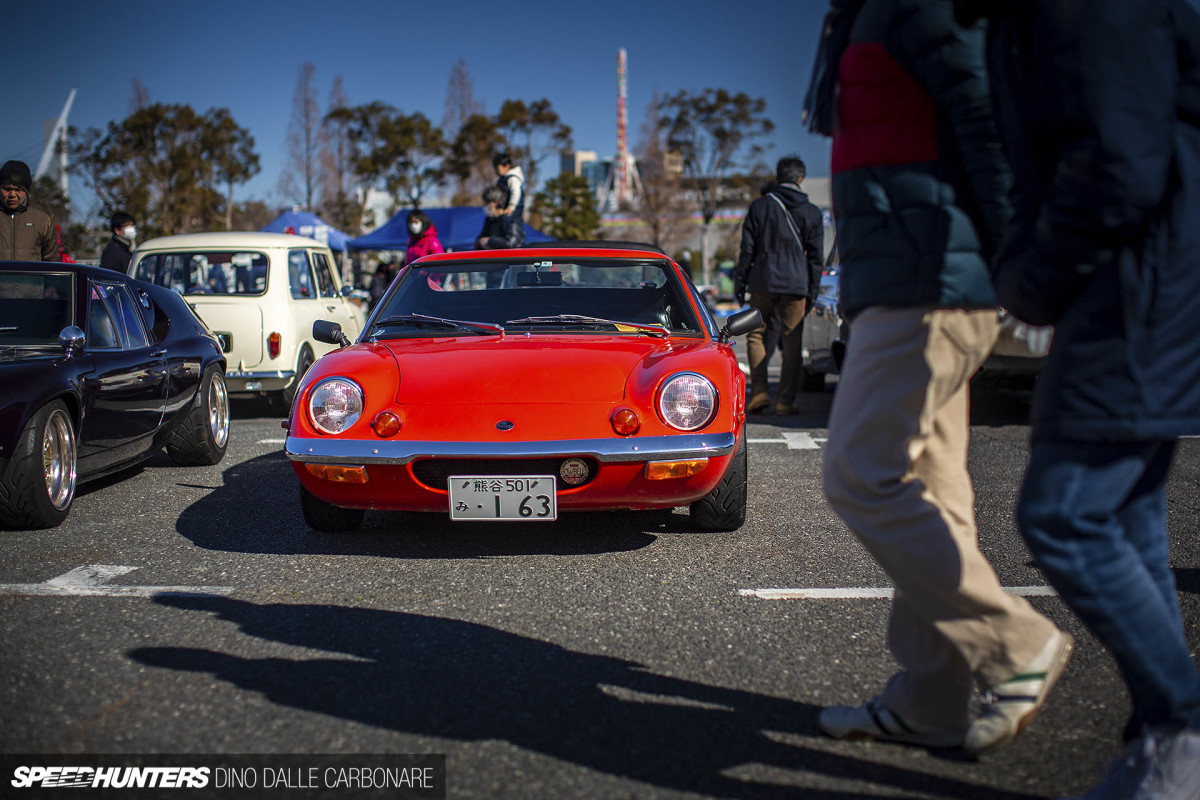 Even the import variety of course, which is always a huge slice of Japan's vintage car scene.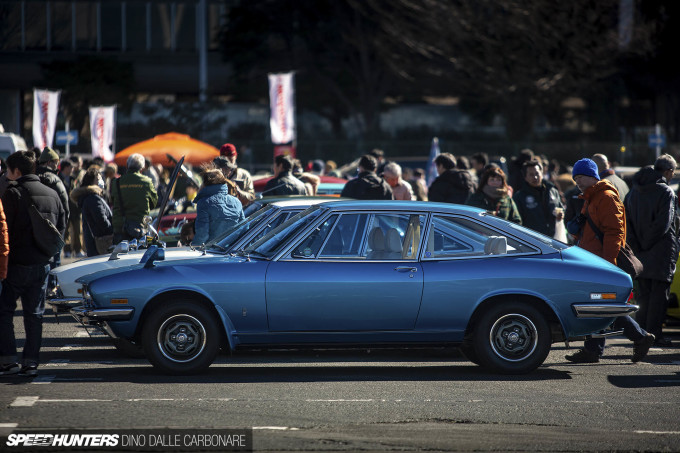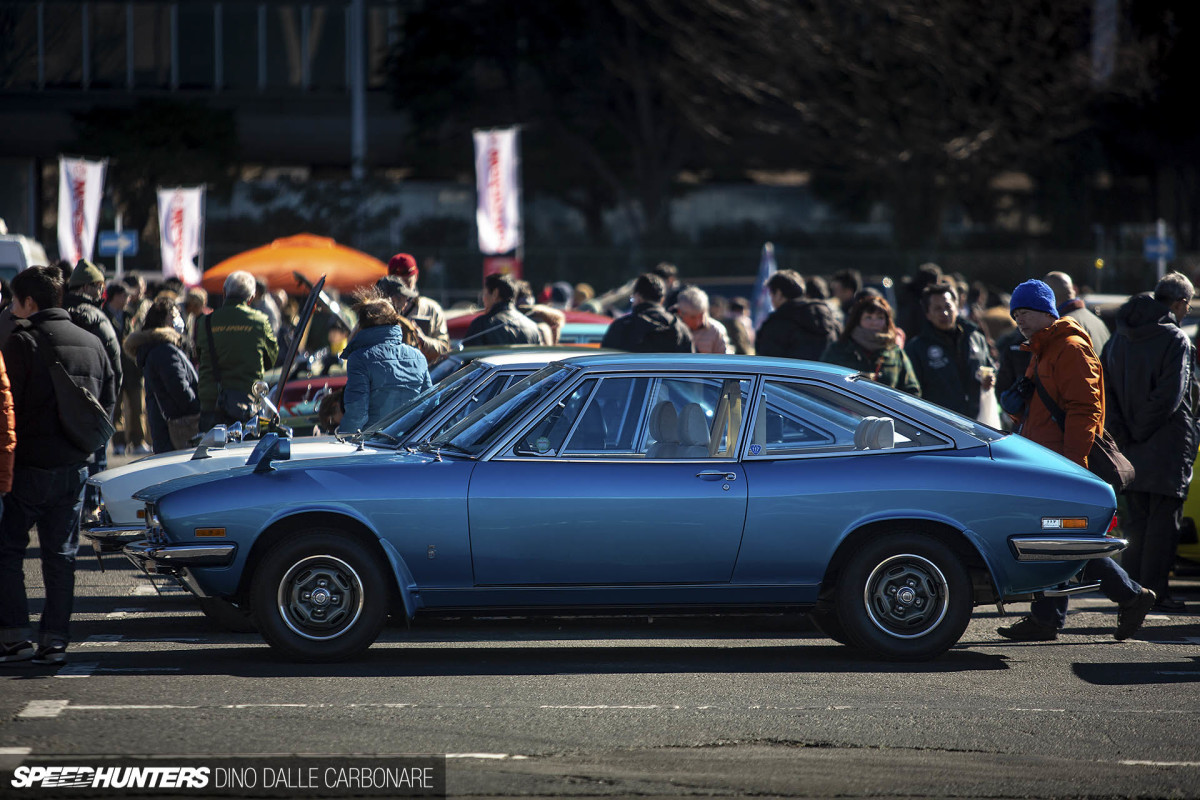 The gathering was very much split into three separate zones: privately owned entries tightly packed in the center of the venue; vendors and private resellers around the perimeter selling all sorts of bits and pieces; and a tuning shop/club section with its own little vibe in the lower portion of the massive space.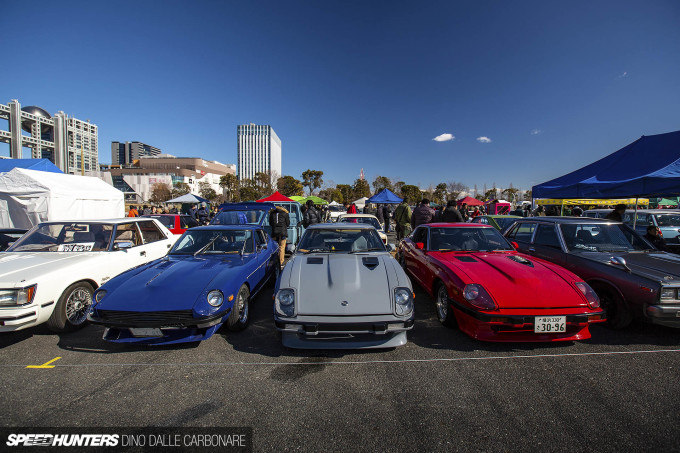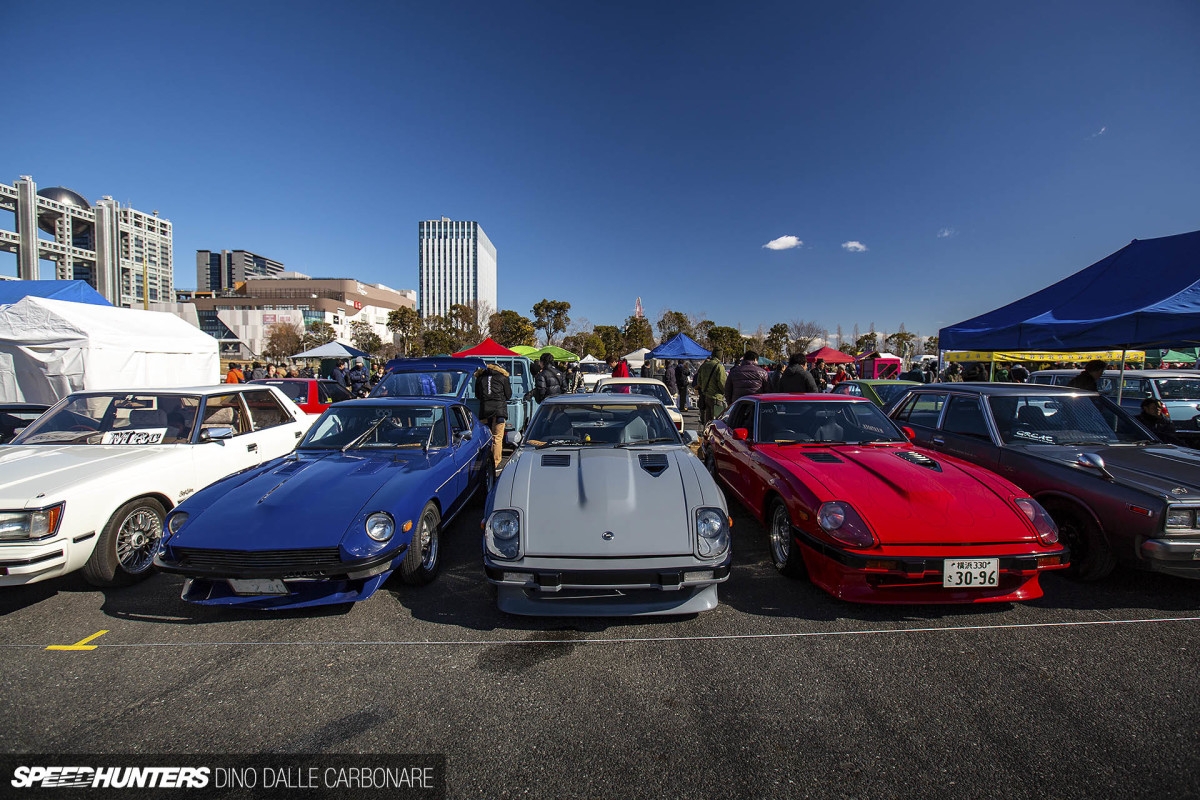 For some reason however about half of the available space was being used which didn't make any sense, with all the cars and displays tightly packed together. It sure made taking detailed shots of these badass rides difficult.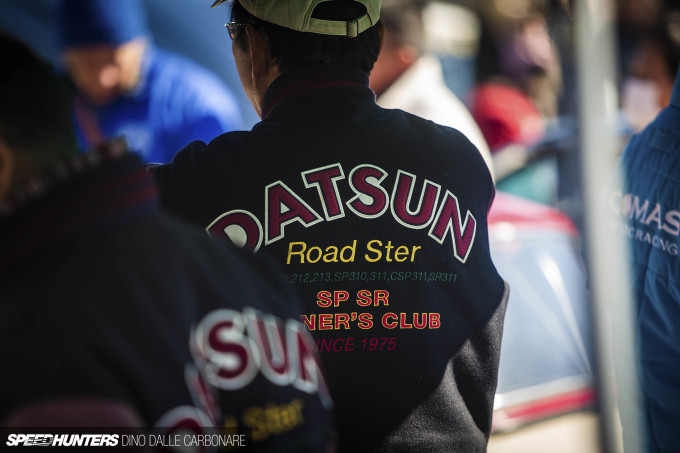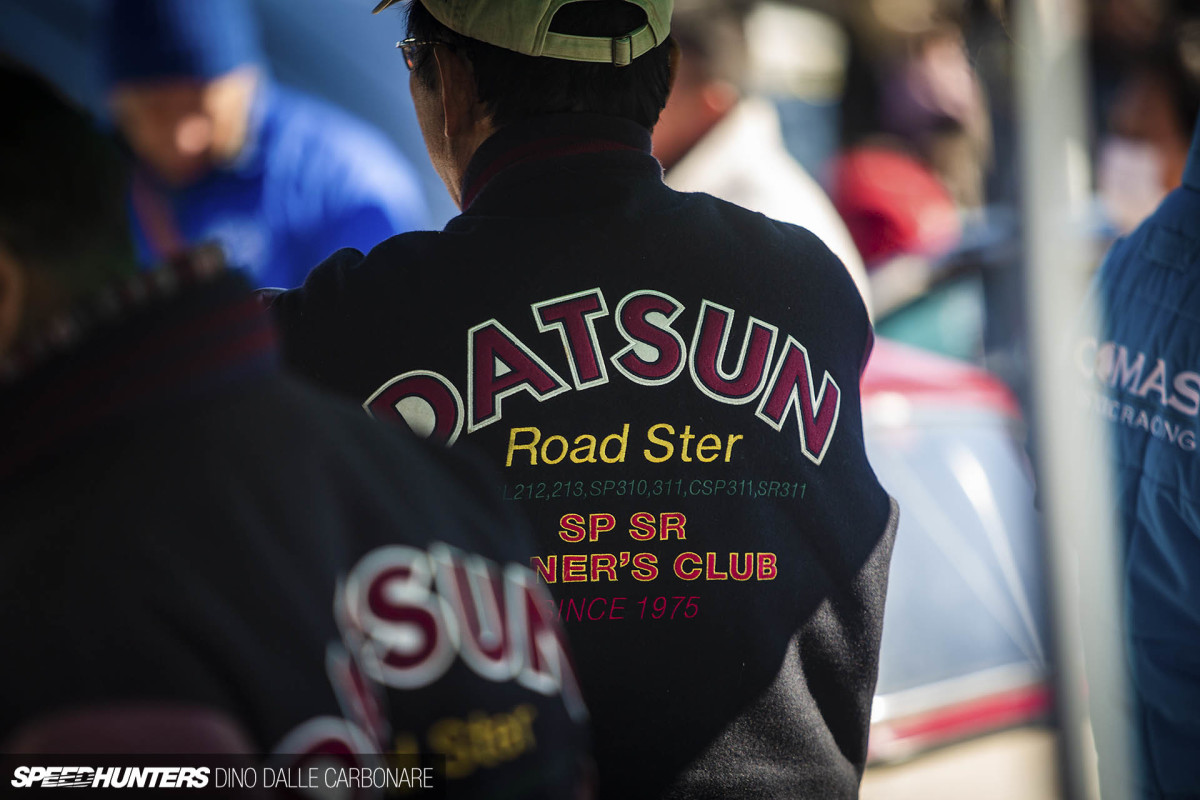 But like at any event or race series you adapt and try to capture the vibe and the unique feel about it as much as you can, and at JCCA it was the club jackets which some of the old timers were sporting that were pure gold. See how many examples you can find throughout this post.
Rarities, Replicas & Collectibles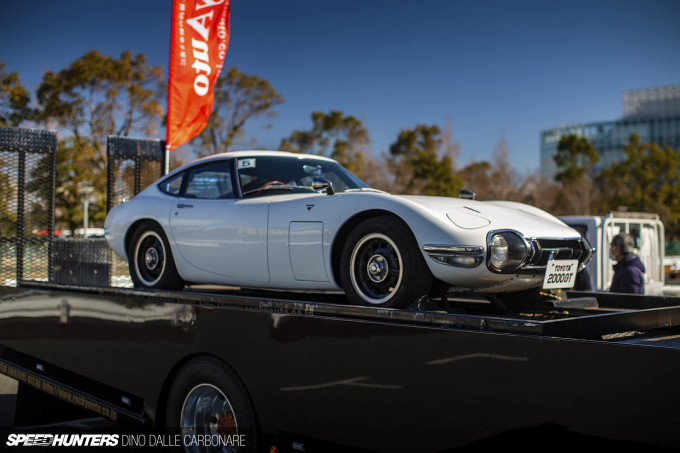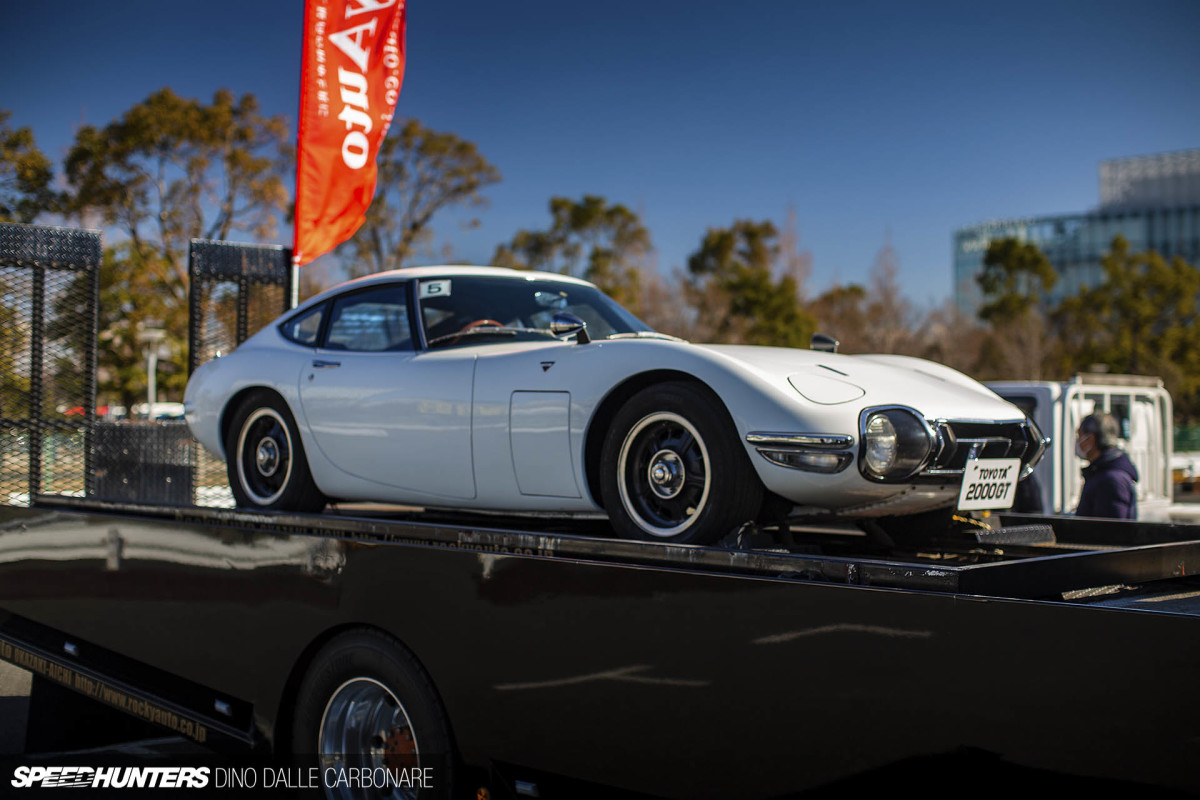 The first place I headed to as soon as I arrived on that bitterly cold Sunday morning was the little corner display Rocky Auto had set up.
I was instantly blown away by the tiny little white Toyota coupe onboard Rocky Auto's oversized loader. Watanabe-san, the man behind the operation told me it was a legit car, but from my posts about it on my social channels some called it out as a fake. It looked pretty genuine to me.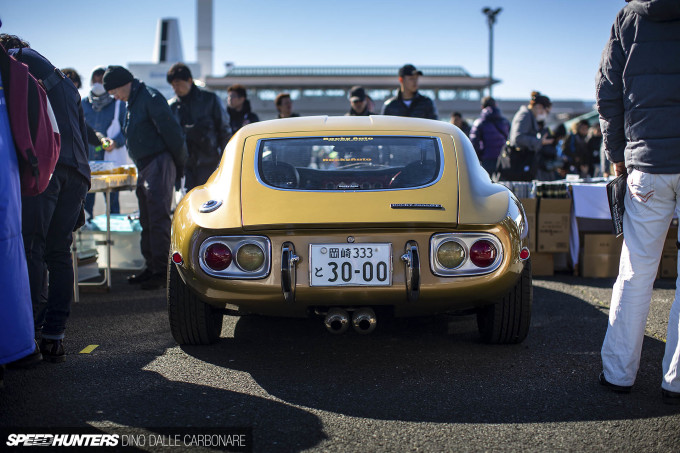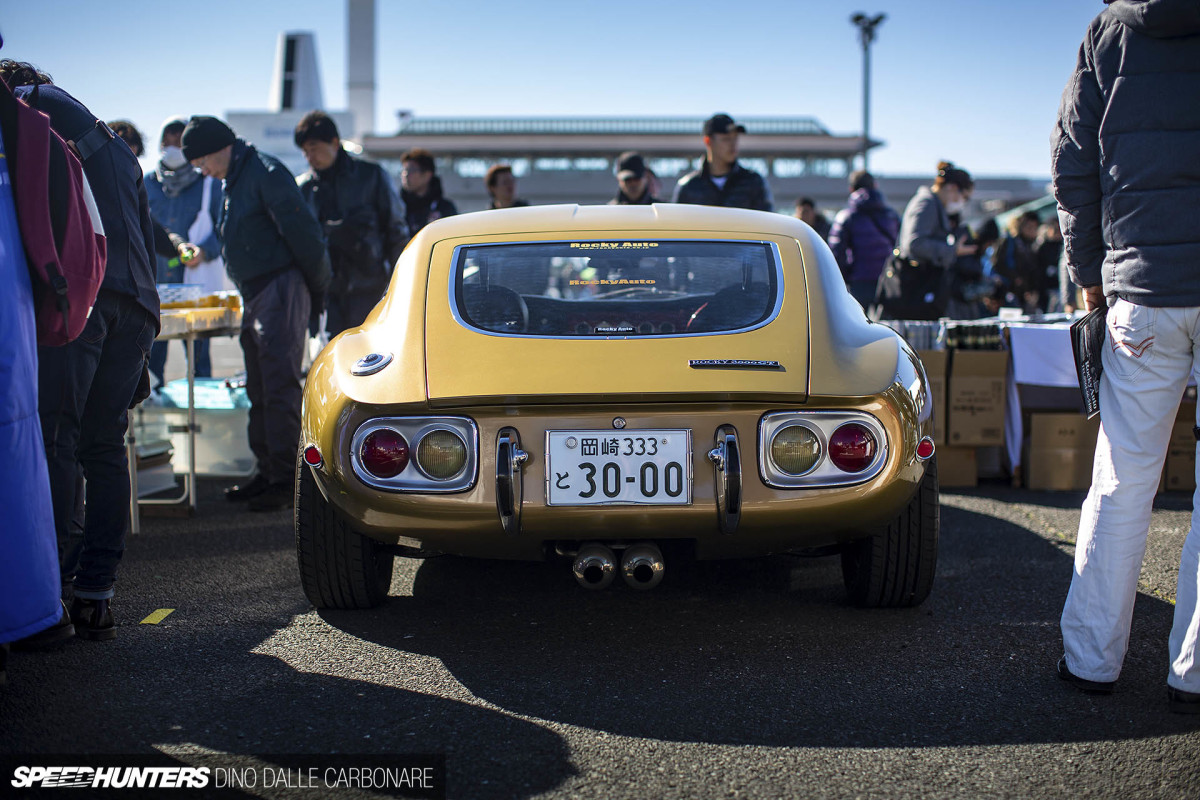 The 'real' replica was the slightly longer and wider Rocky 3000GT, which is a bespoke creation made to look like the original that Rocky Auto builds.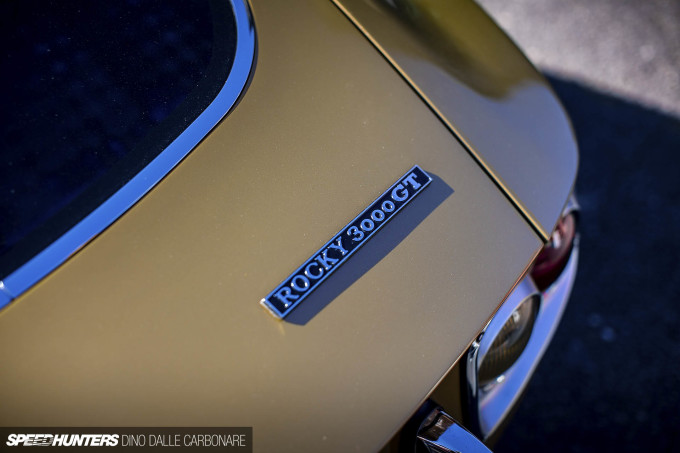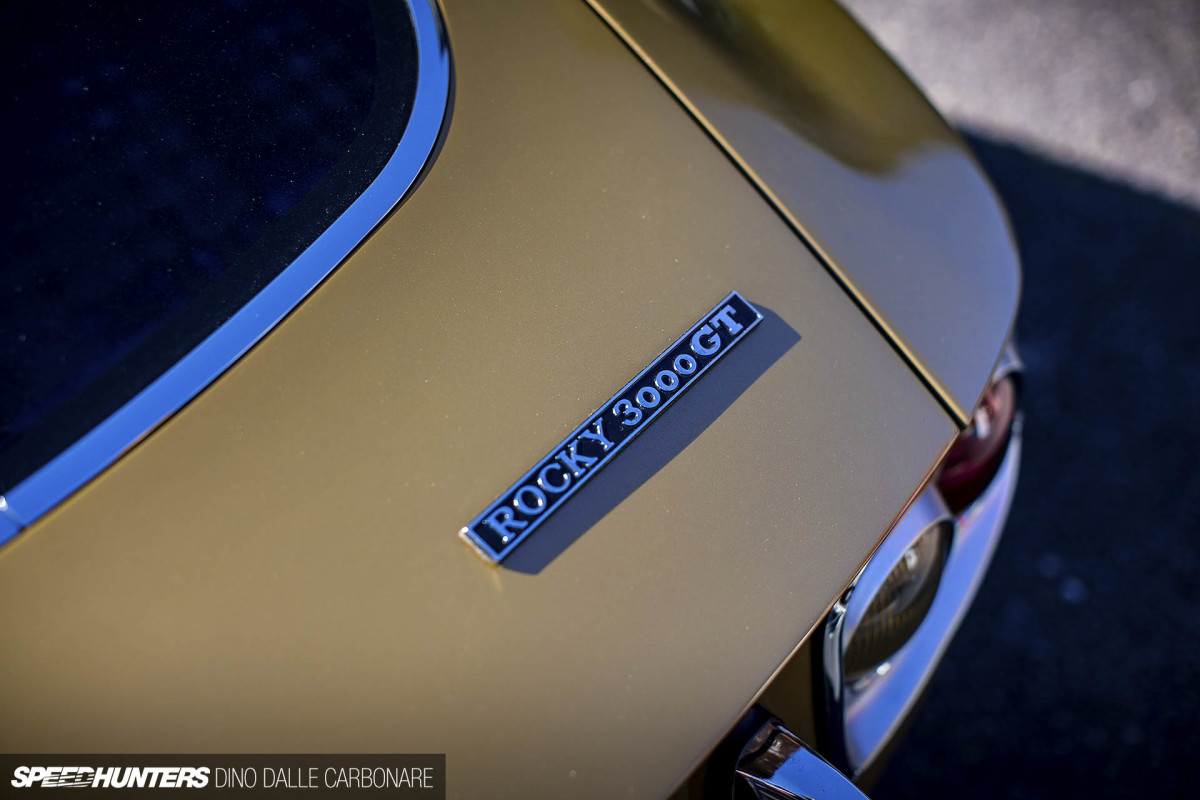 It's built around a custom one-off chassis and is powered by a naturally aspirated 2JZ. I must drive it (provided I fit, as I once tried to get into a legit 2000GT and I could barely get one leg in).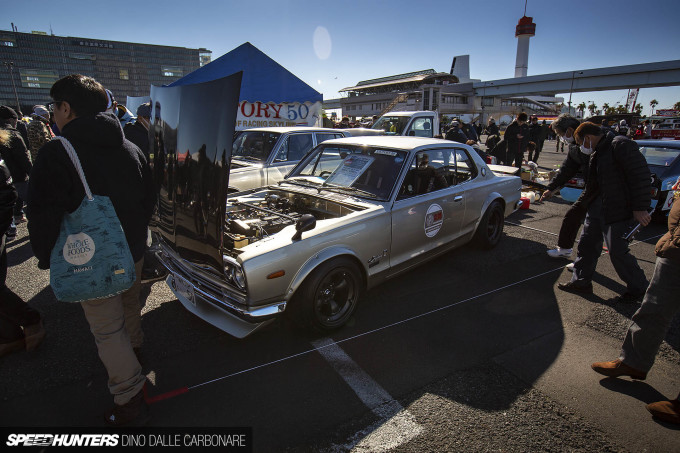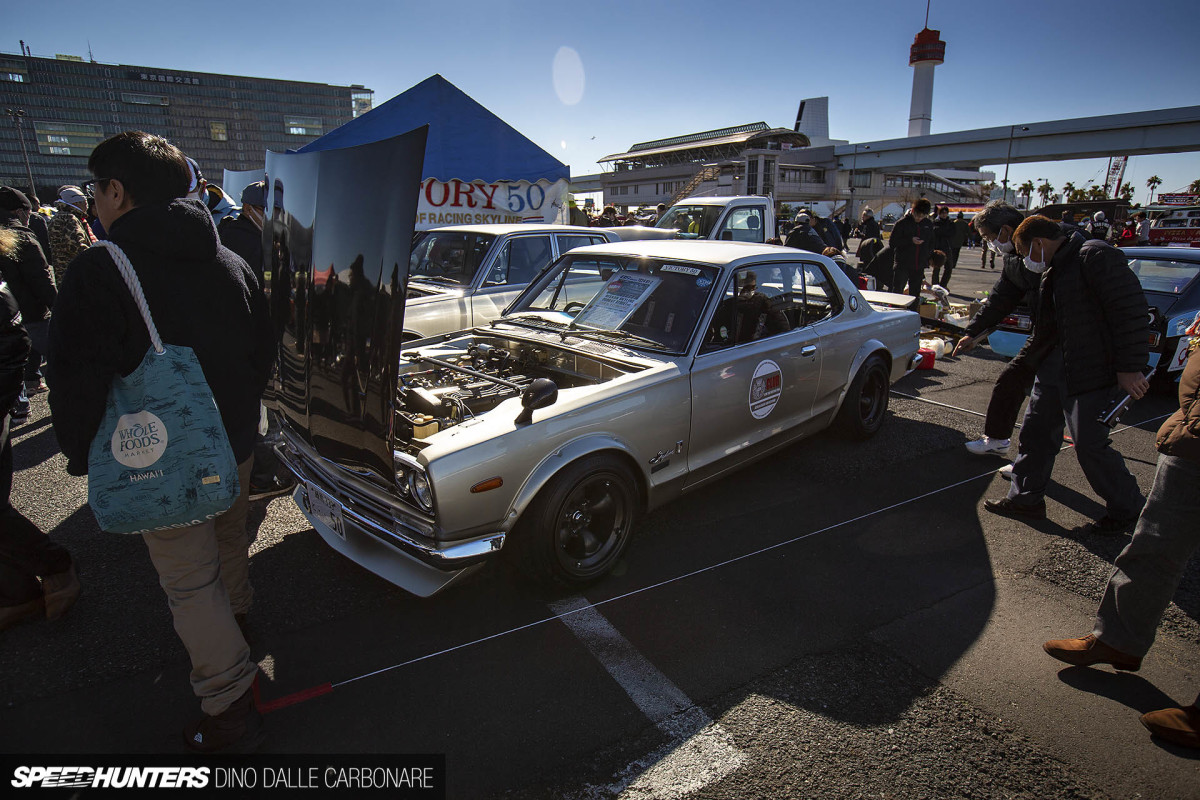 From Toyota unicorns, to Nissan ones… or should I say OS Giken.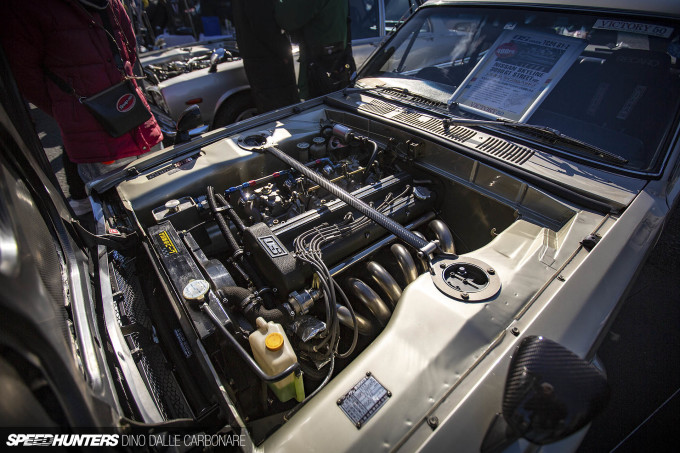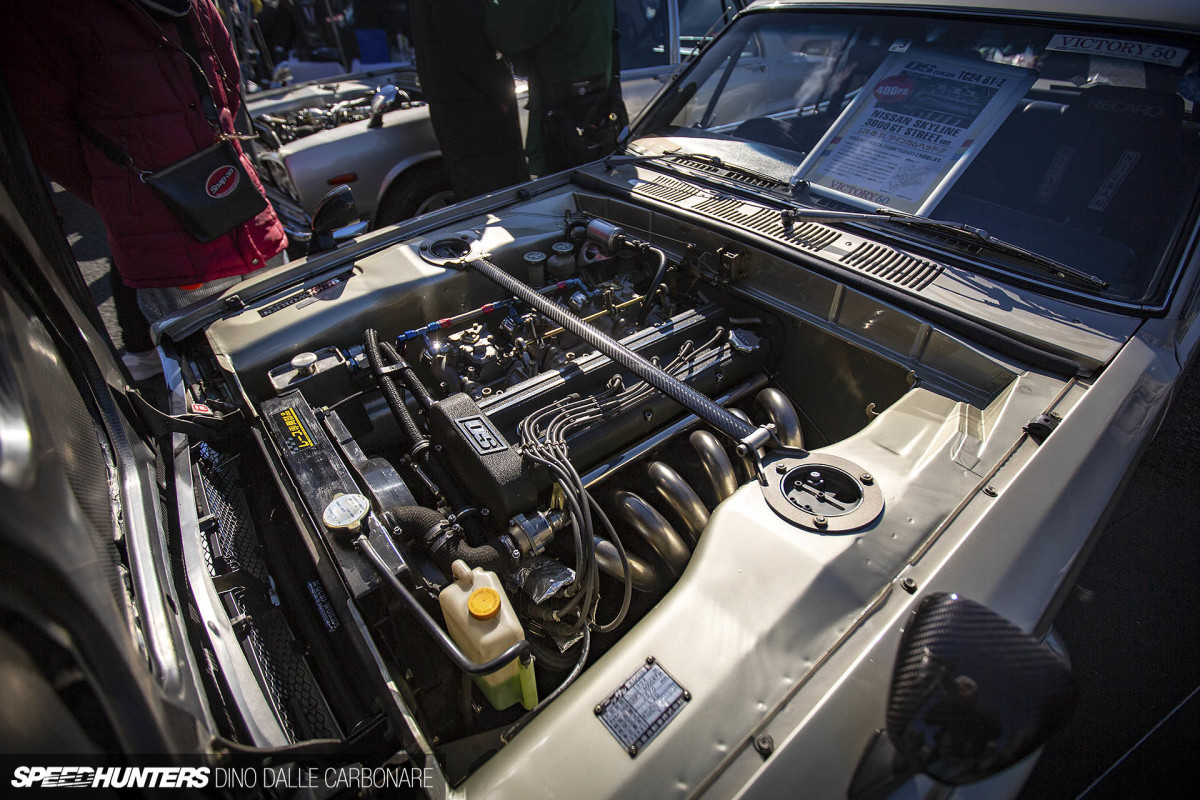 The crowd surrounding this engine bay was thick every time I passed by, and rightly so as the L-series powering this 3000GT Skyline is what dreams are made of. Built by Victory 50, the L28 donor block was machined to accommodate a slightly longer stroke and wider bore pumping capacity to 3.0 liters. It was then joined by an OS Giken TC24 B1-Z twin cam head and three Weber carburettors.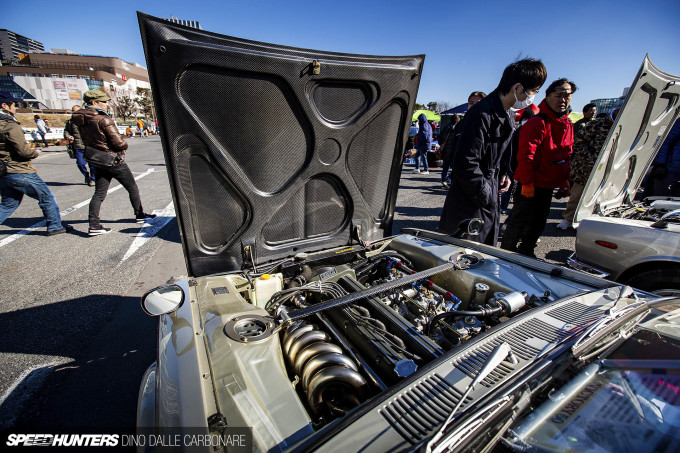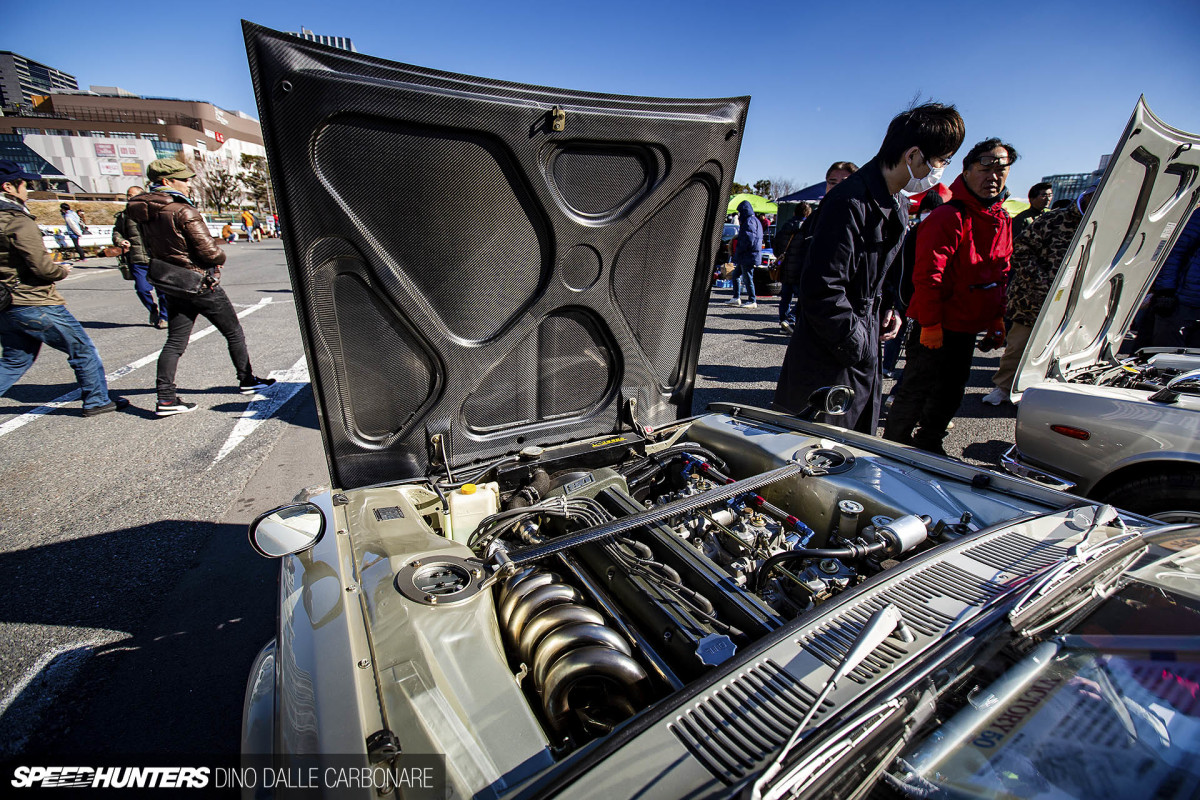 On the engine bench, this beauty pumped out 400 horses and it can rev all the way to 10,000rpm. That, my friends, is the automotive equivalent of hardcore porn. Think of the sounds this straight six pours out at as it revs to redline.
The rest of the build was immaculate and spiced up with nice little touches like carbon fenders, mirrors and hood.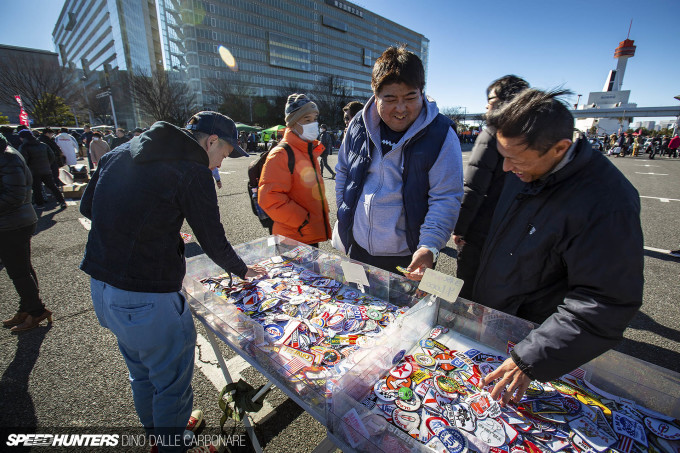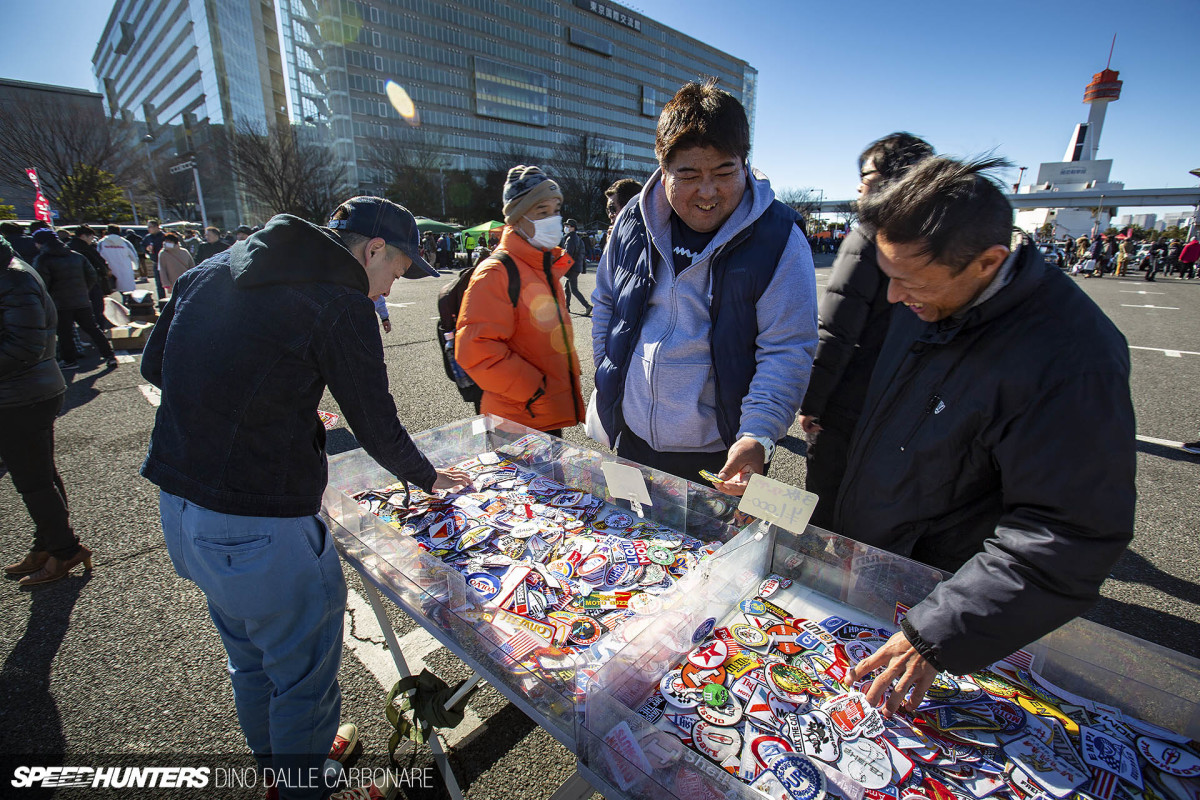 JCCA events are as much about the cars as they are about hunting out parts you may need for your build or restoration, or just picking up miscellaneous car-related things we car guys can't help but buy. Some examples below…
A Skyline steering wheel, interior trim, badges and lights.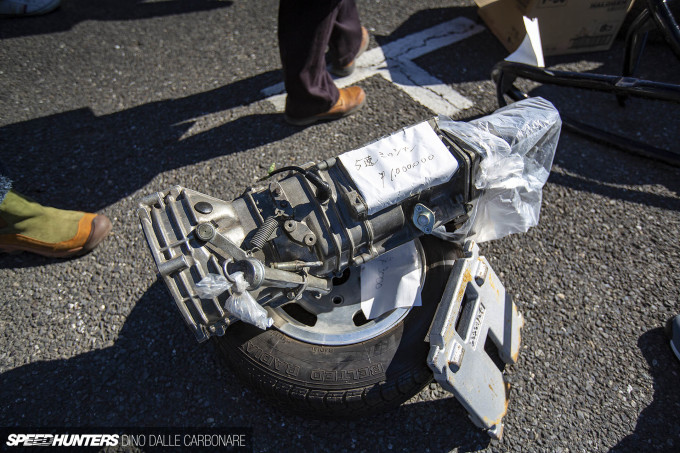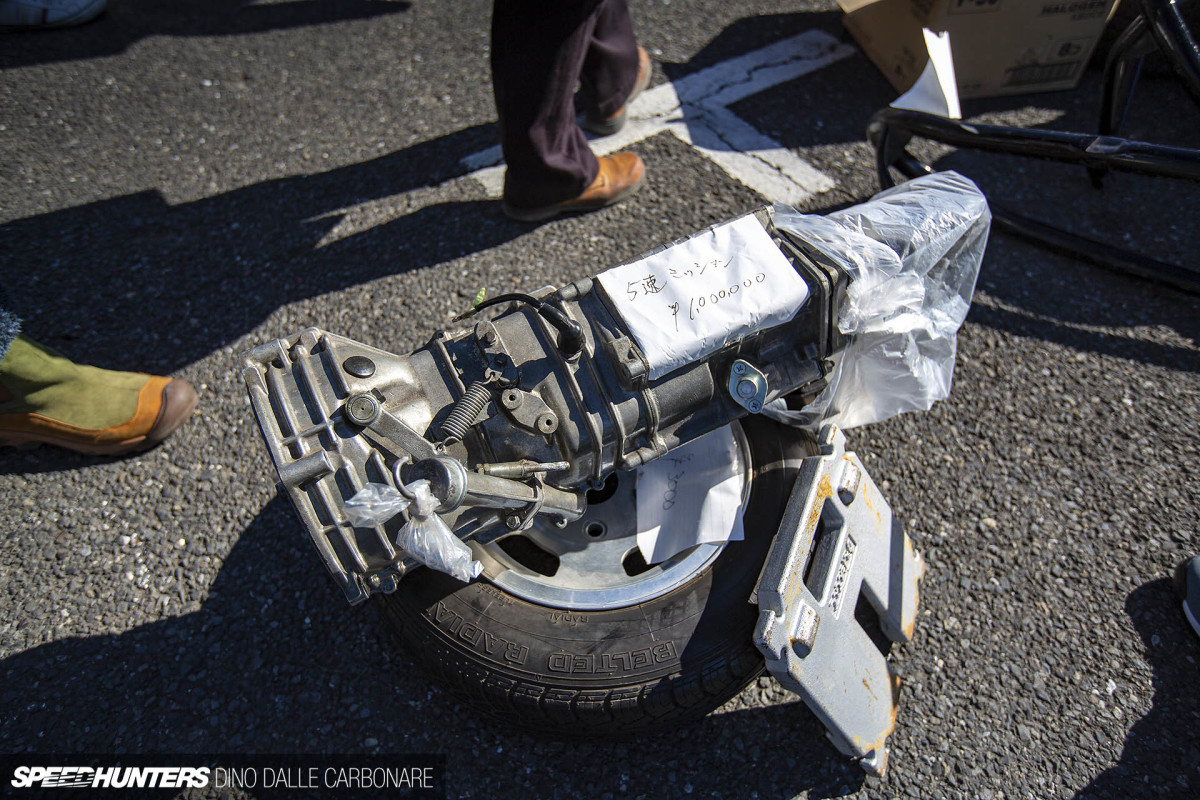 A ready-to-be-used 5-speed transmission.
Girling brake calipers off of a March 732 Formula One single seater and vintage Keihin carburettors.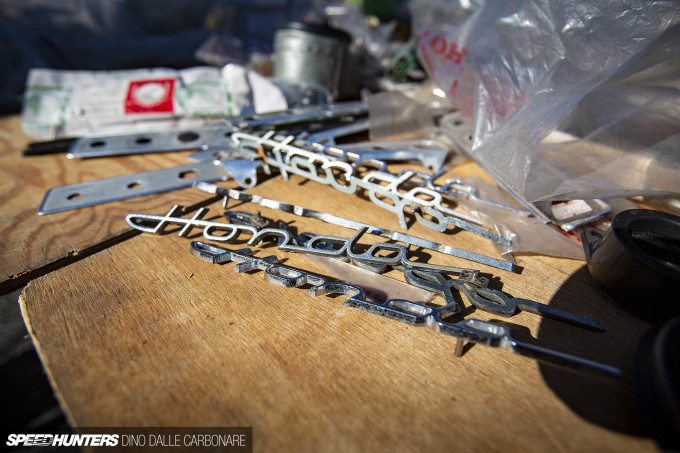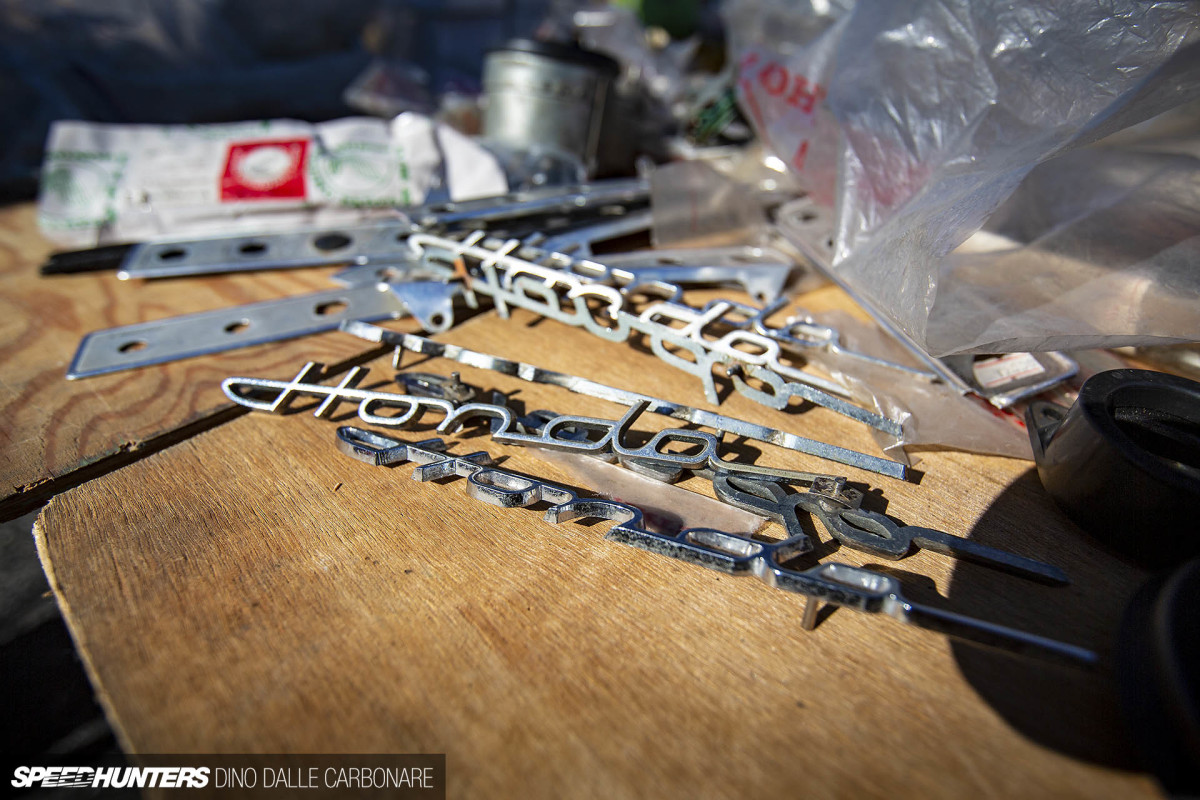 Honda badges…
American and Australian license plates and Suntory Boss windbreakers.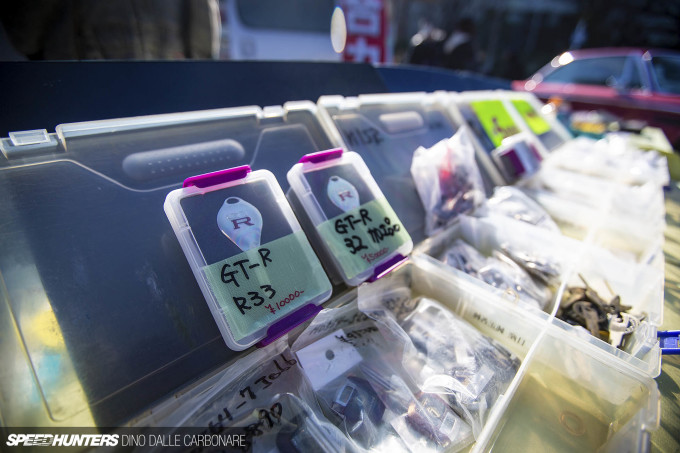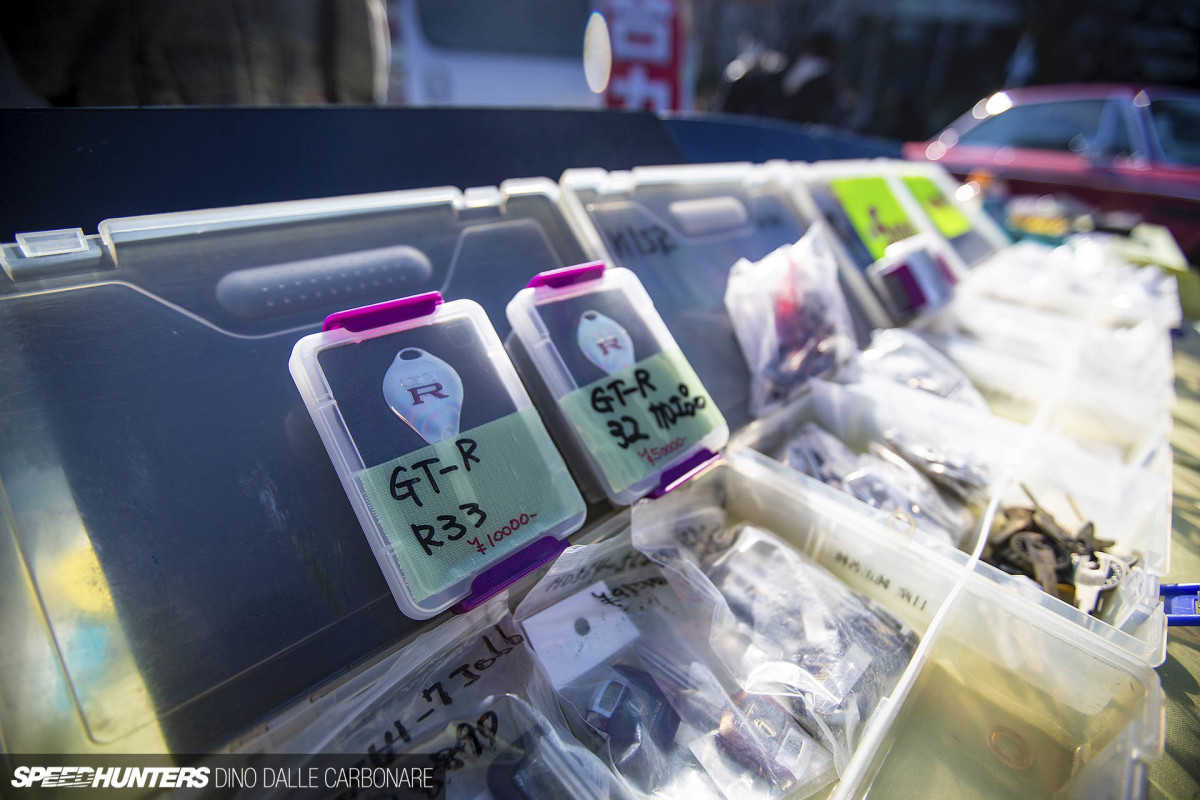 Blank keys for whatever car you can think of.
Collectable plastic models, a VCR/TV combo unit to watch all your classic otaku VHS car tapes, old film cameras and so many Hot Wheels that collectors would hyperventilate.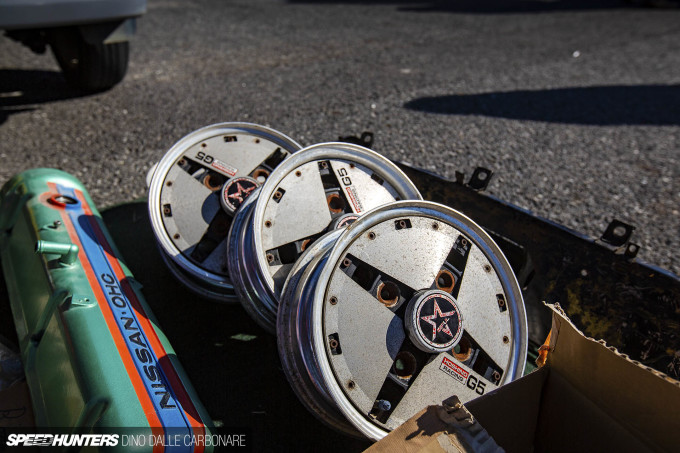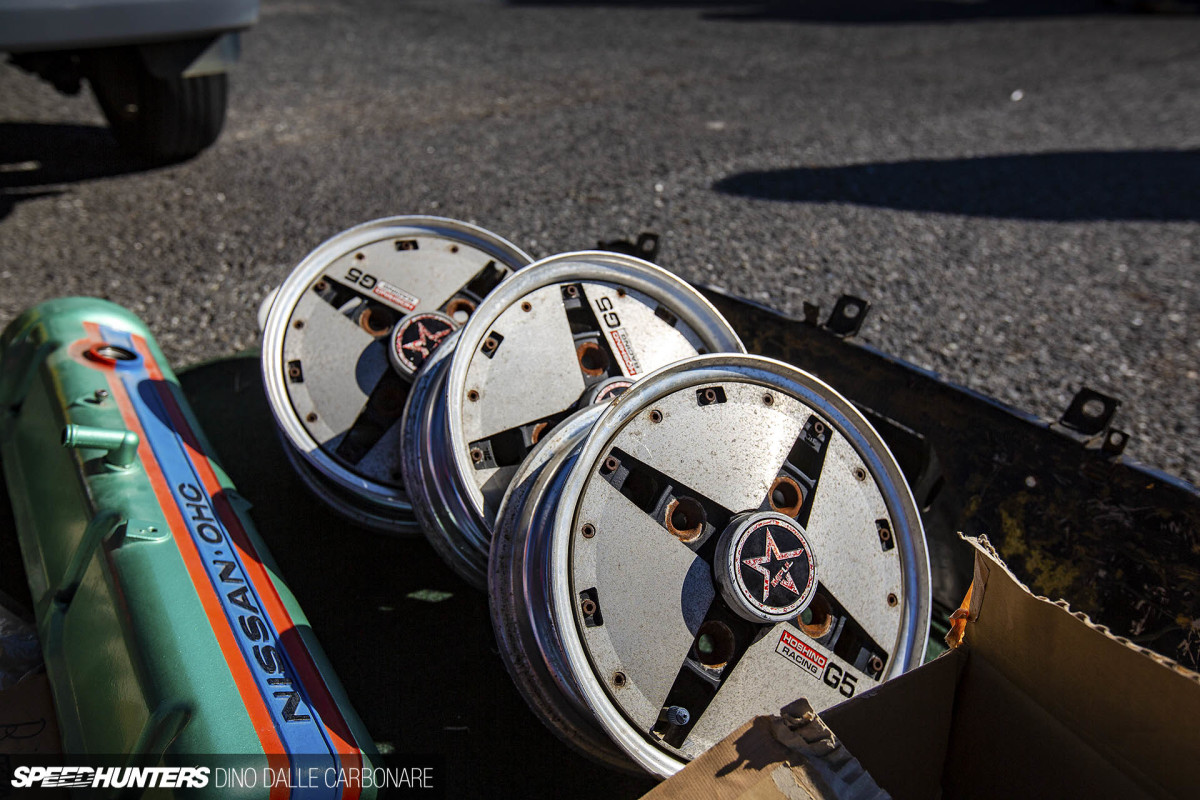 And of course, the coolest thing to look and hunt out, old JDM vintage rims like this set of Impul Hoshino Racing G5s.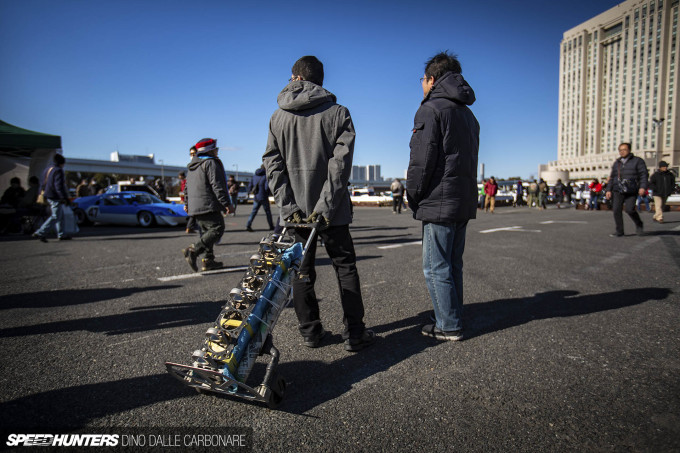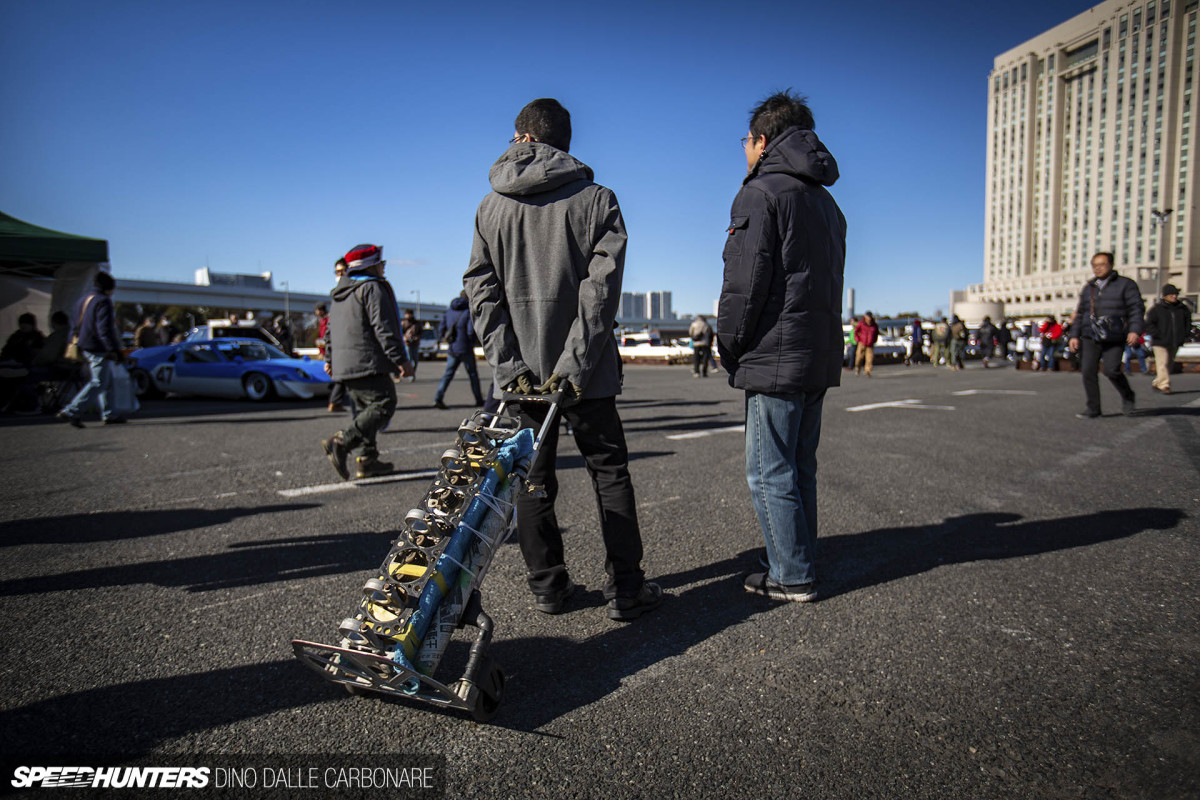 Some come knowing they will find something, and in this particular scene a happy deal-hunter has bagged himself a head. Wait, why does that sound weird?
Dish & Rubber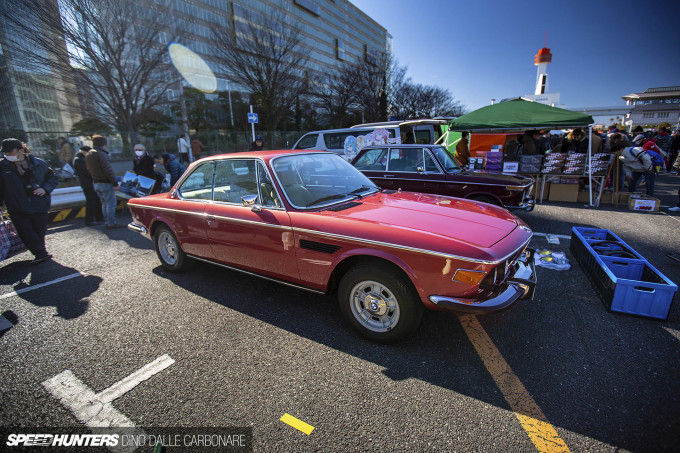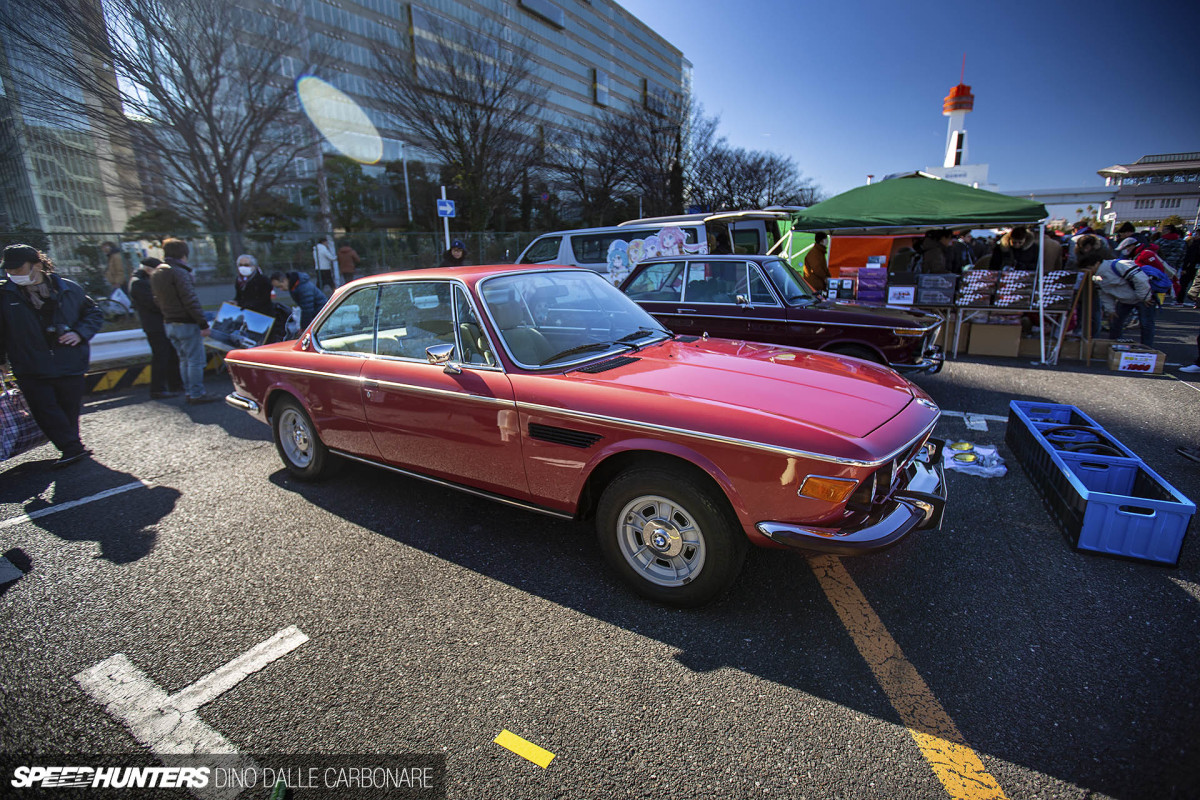 Amongst all the parts there's cool vehicles that stores show off, like this glistening red BMW E9, the car that really put that shark-like front end out there.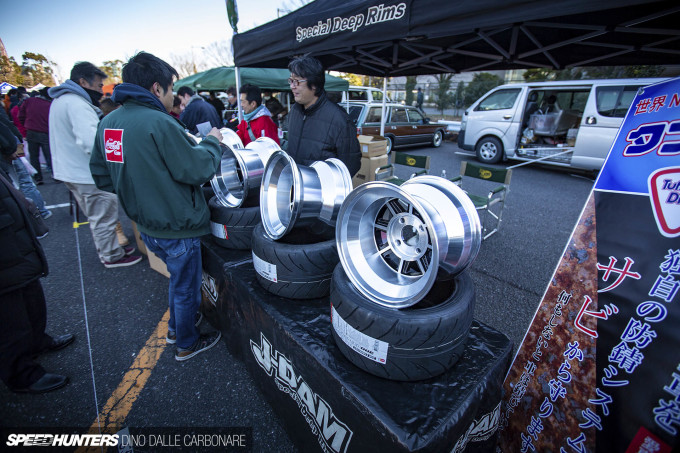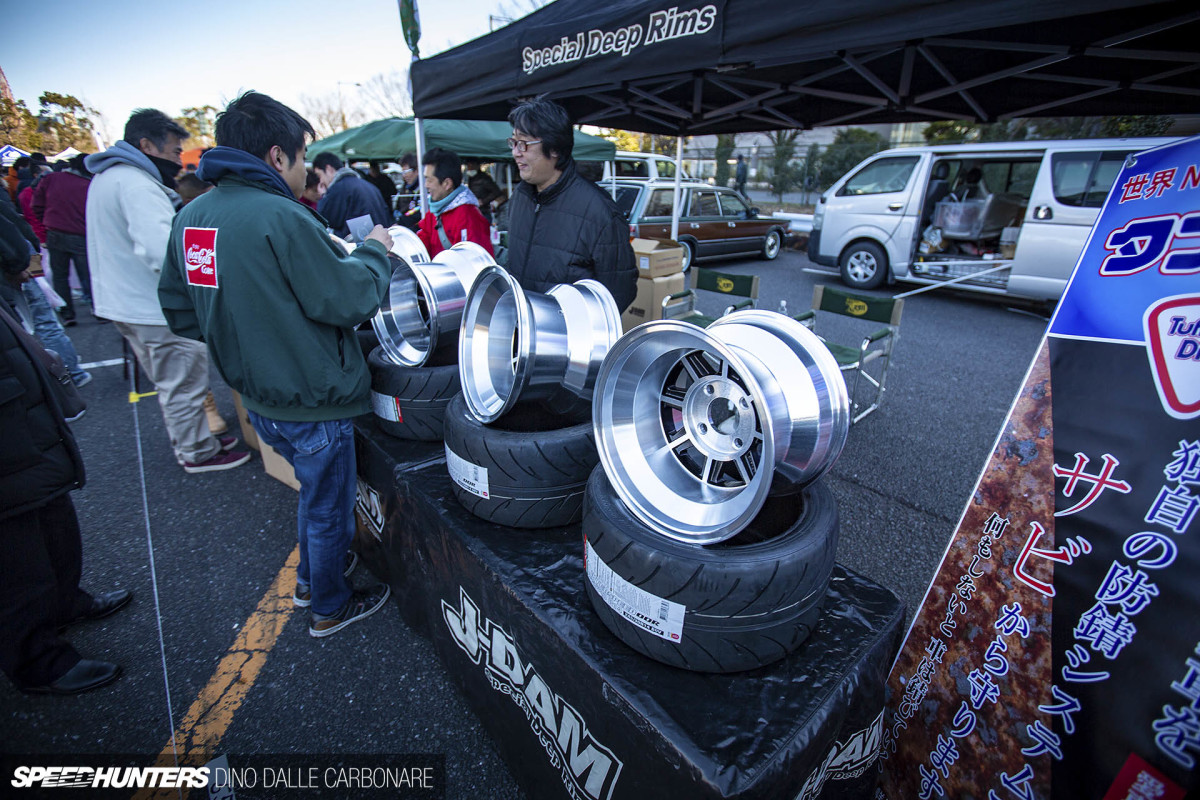 One of the things I enjoy the most about Japanese vintage car culture is that while there are some out there that go for the pristine, period-correct and factory perfect look, the majority love to fiddle around with cars, modify them and of course get them to sit just right.
Over the years there's been a rise in shops like J-Dam offering refurbished and modified vintage rims, keeping that original face but offering custom widths to satisfy even the most extreme of stretched-tire aficionados.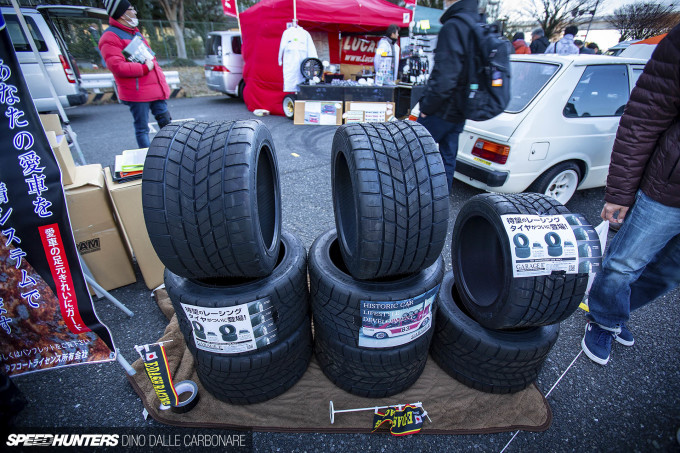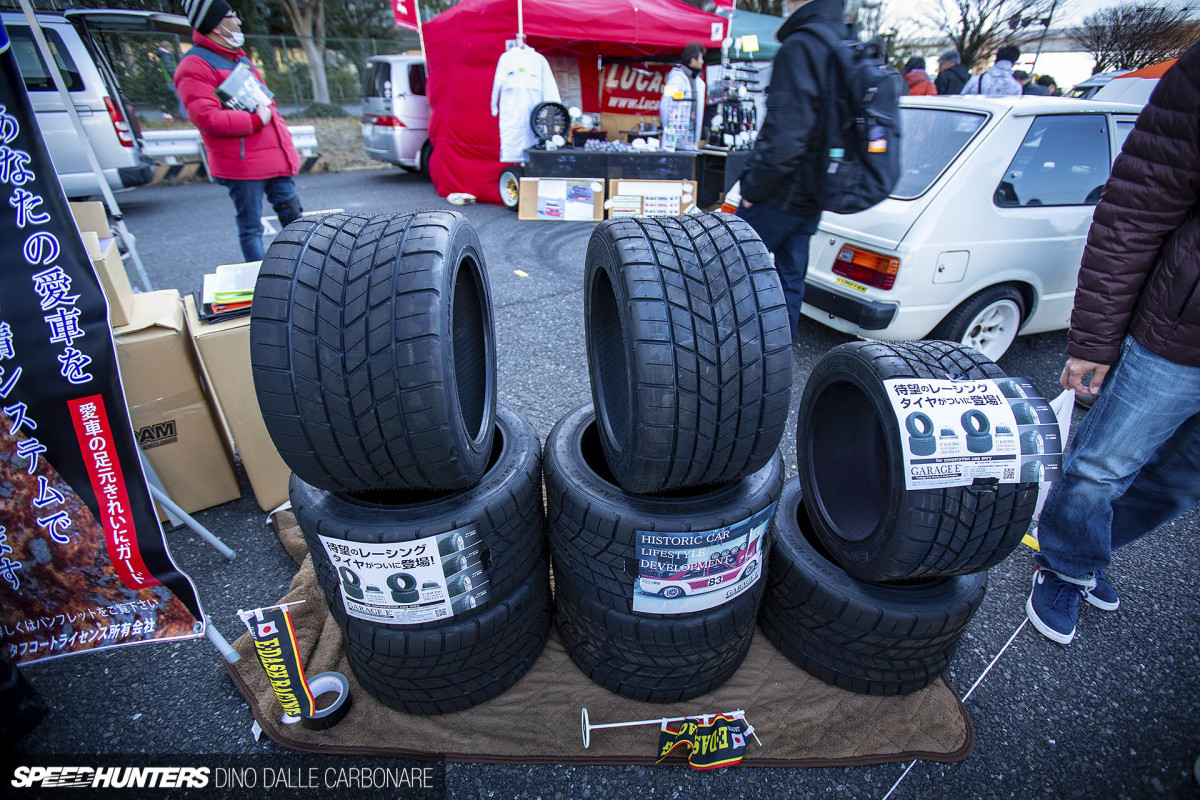 When you have 13-inches of width to play with, you need rubber to match. Please folks, don't take that sentence out of context! [Too late - PMcG]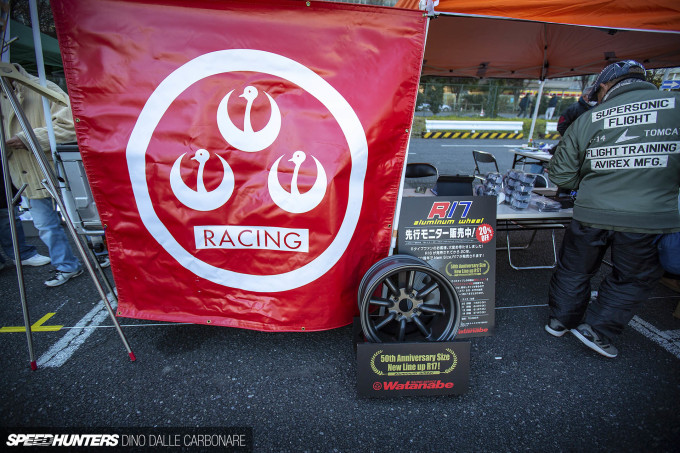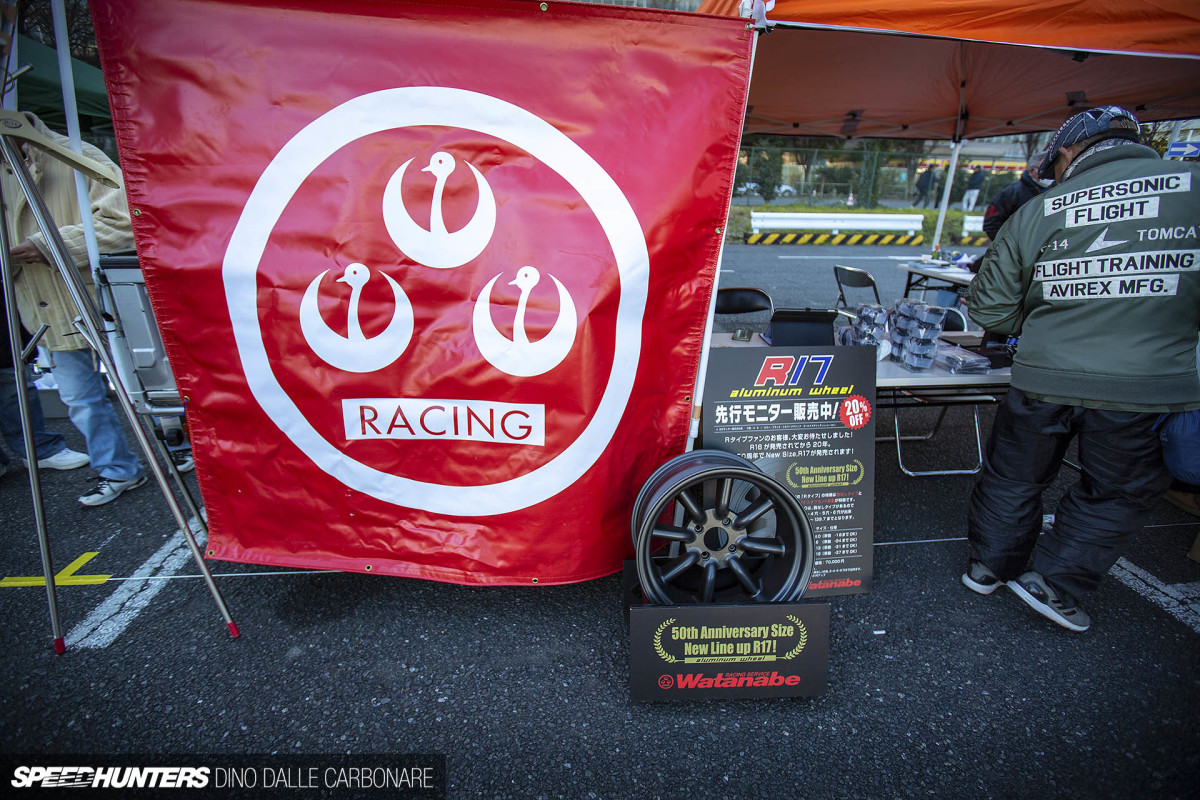 And while we are on the subject of wheels, Watanabe has just launched a new line of 17-inch wheels to celebrate its 50th anniversary. Am I the only one thinking BNR32 GT-R + RS Watanabe Eights?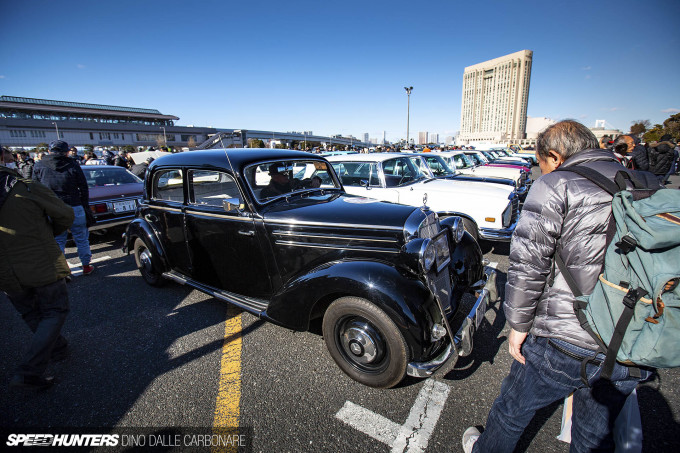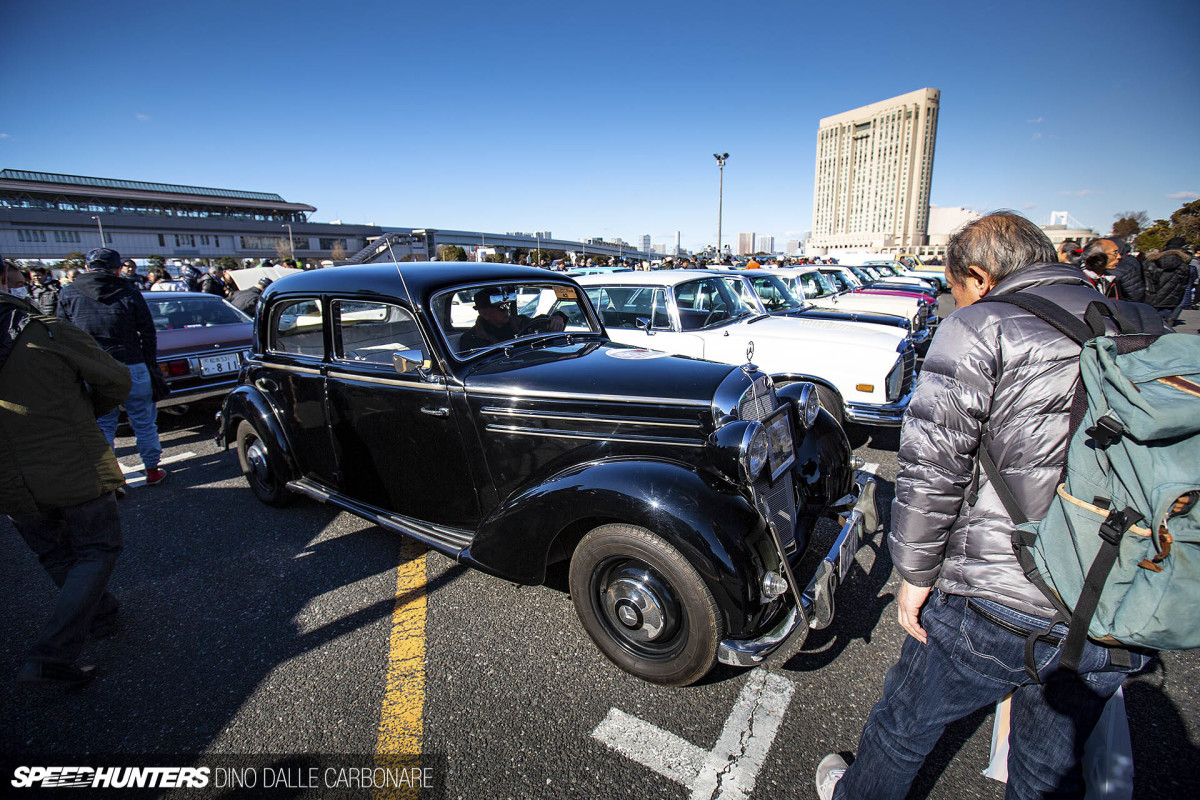 Over at the main display area, one row of cars was kicked off by this black Mercedes-Benz sedan, which I thought looked very gangster.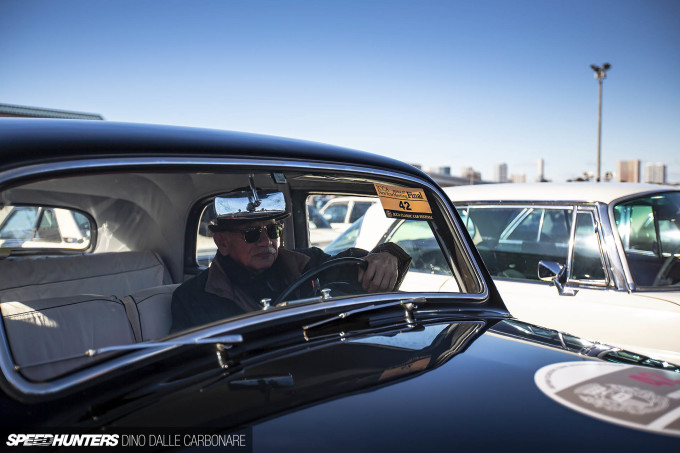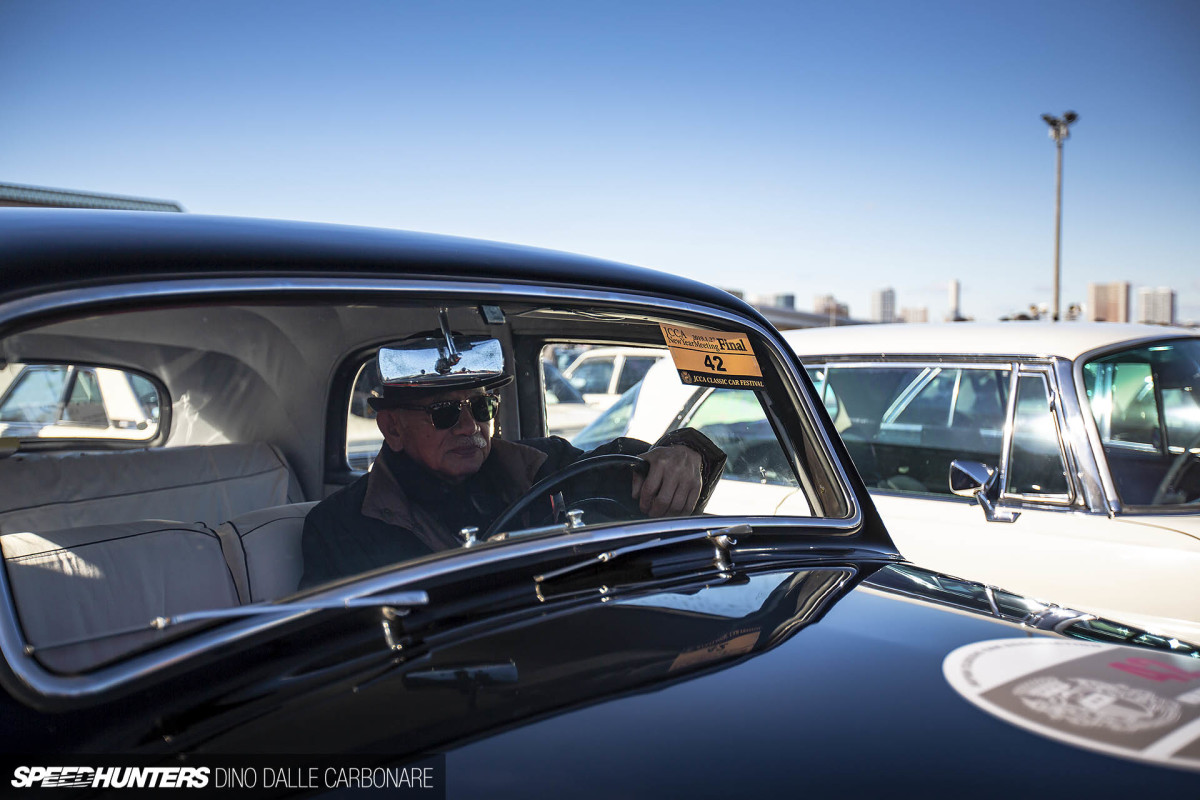 I didn't spot him at first, but the owner was sitting inside keeping warm, fitting the image of his pride and joy down to a tee. I didn't hang around long, as you never know.
Further down, I spotted a car that I've come across countless times at Mooneyes events, and one that I always like to look at – the American interpretation of a rear-engined, air-cooled, flat-six coupe.
We might as well call it the American 911, really. Thoughts?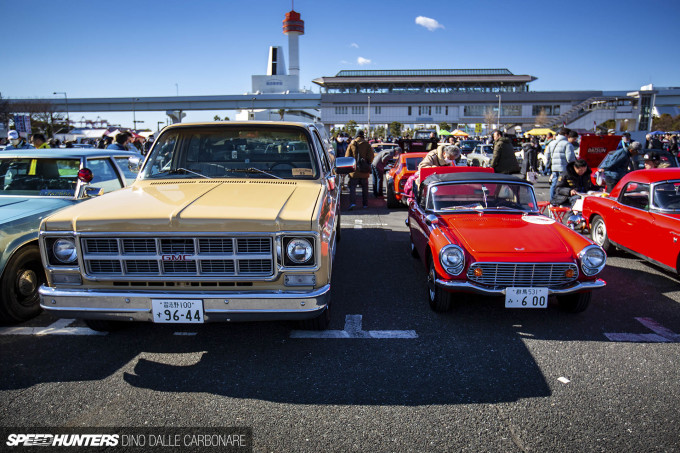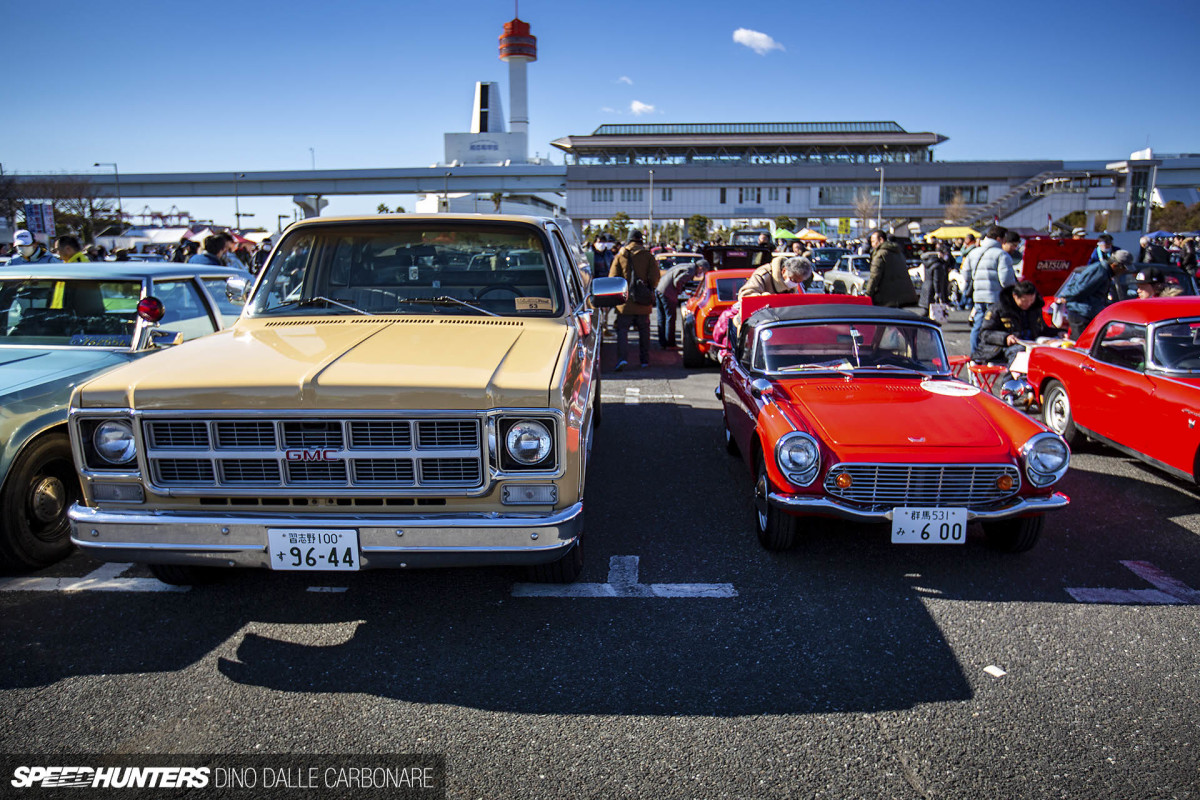 I waited patiently for folks to clear out of the way so I could take this shot, and highlight a different approach to making automobiles – a late '70s GMC Suburban versus a little Honda S600. It made me laugh as I'm pretty sure you could probably put the S600 in the back of that massive truck.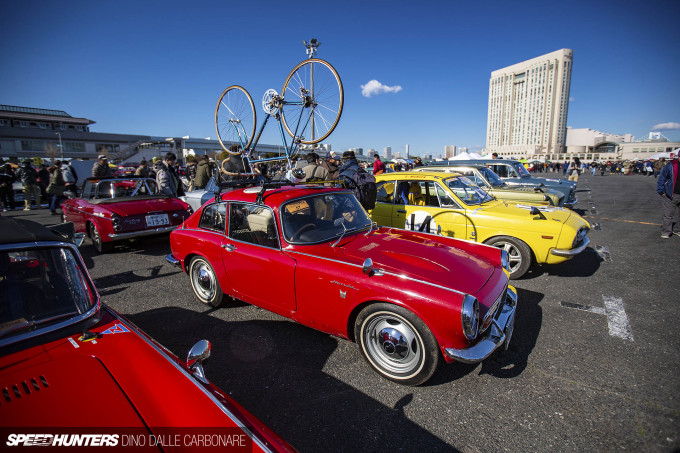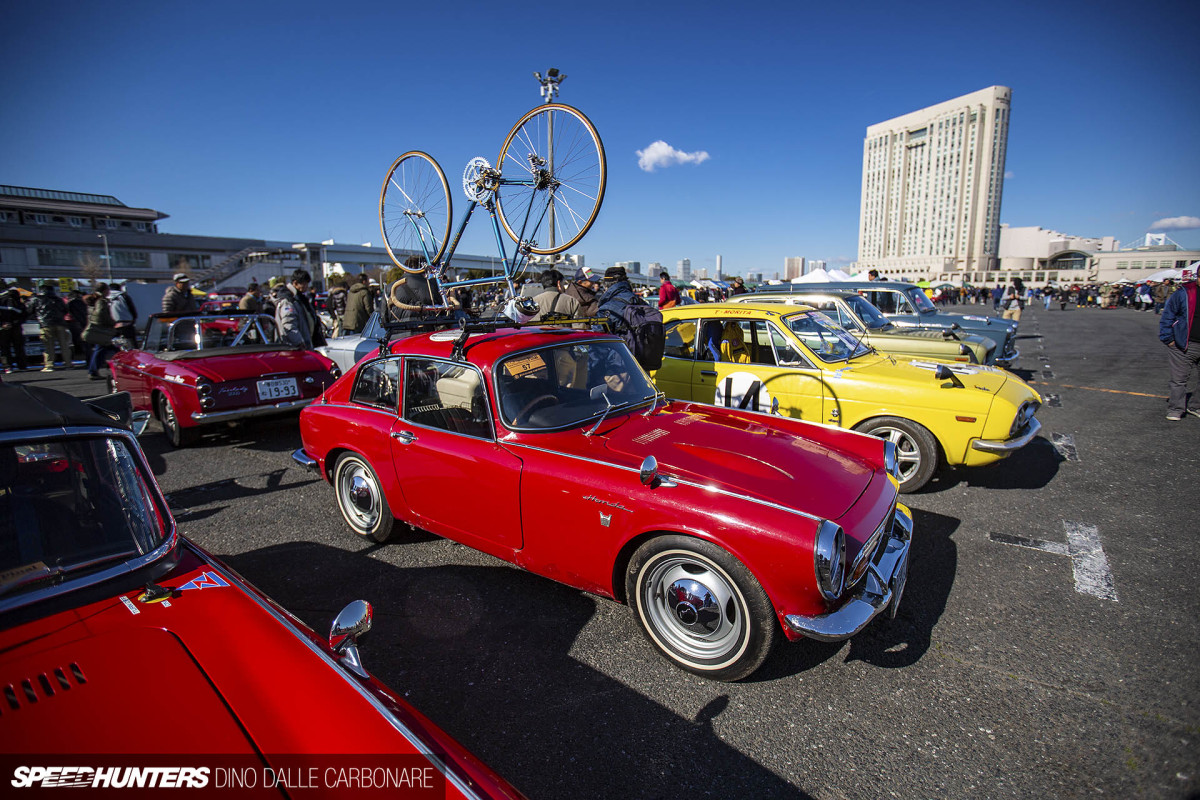 If indeed the bicycle and rack are late '60s period correct, I may have found what could possibly be the first example of hipster stanced motoring. Did it really all start in the '60s?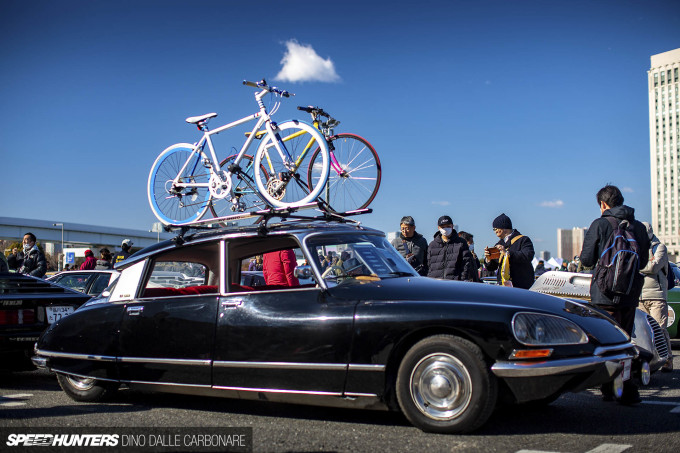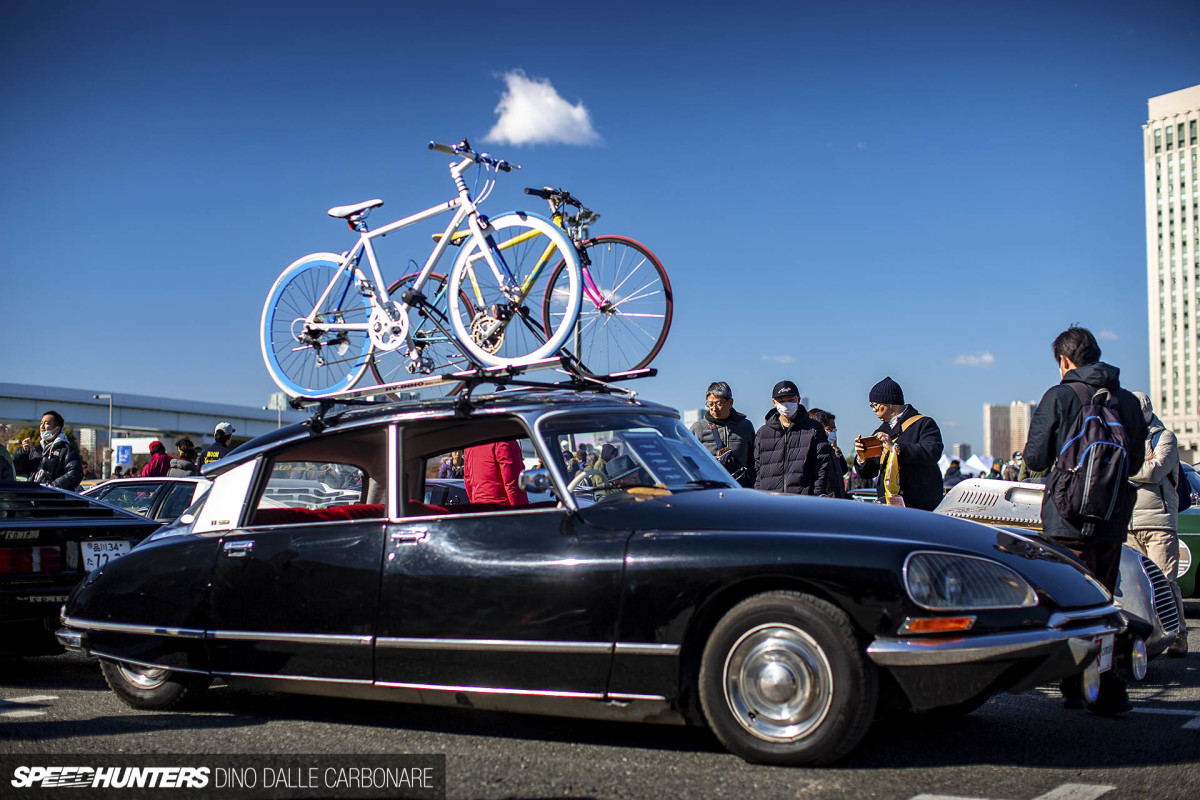 This DS23 Pallas killed the look though; maybe it was the '70s?!
The Brits & The Germans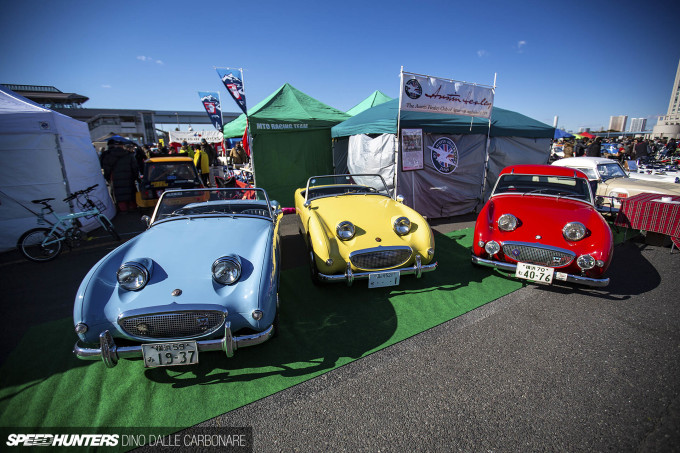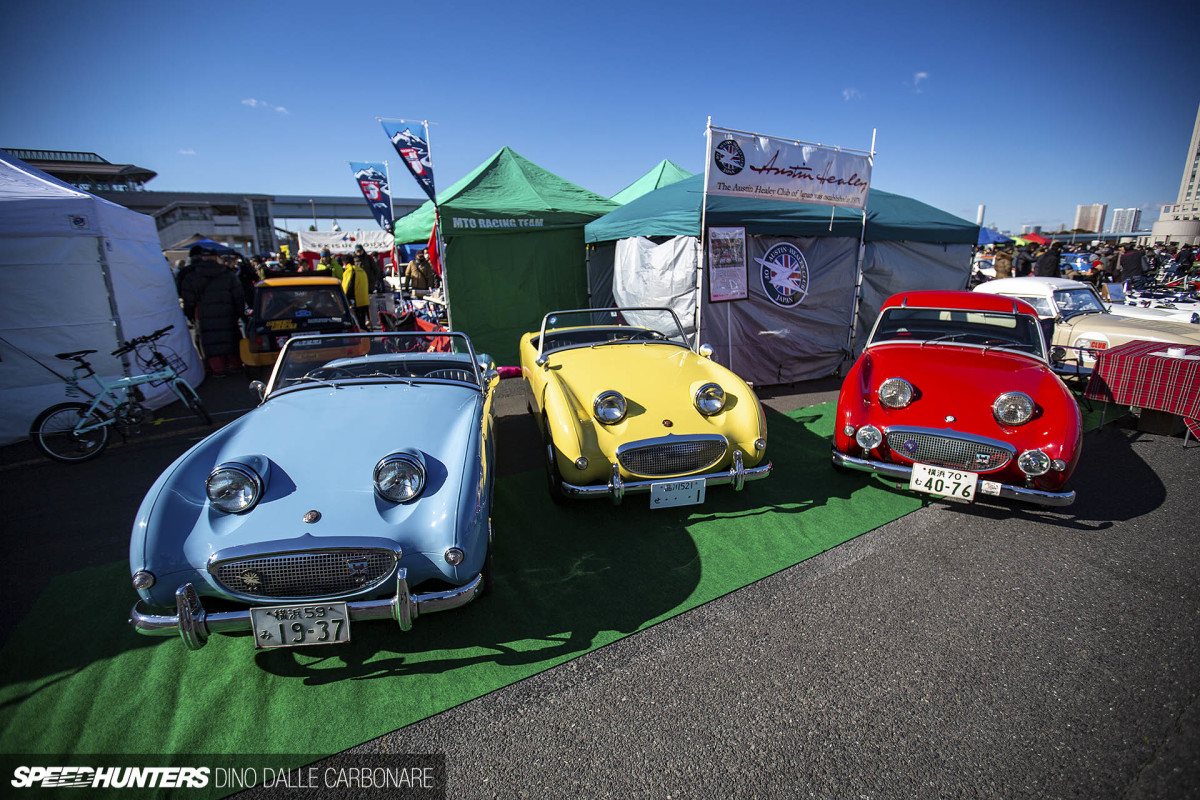 It's at events like this that you truly understand not only how much love and understanding the Japanese have for British cars, but just how much gold is stashed away in private collections.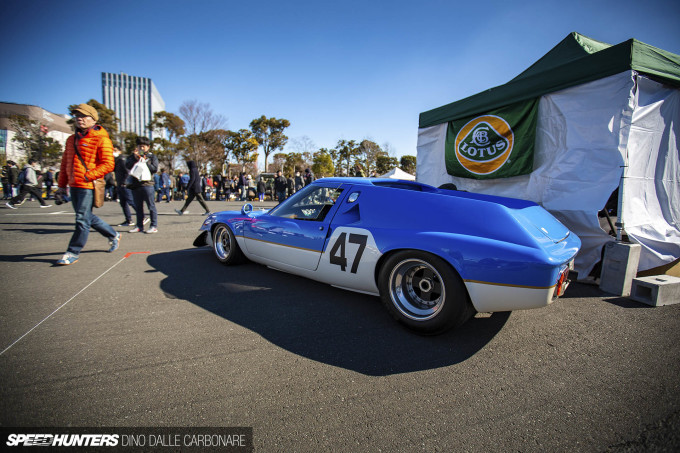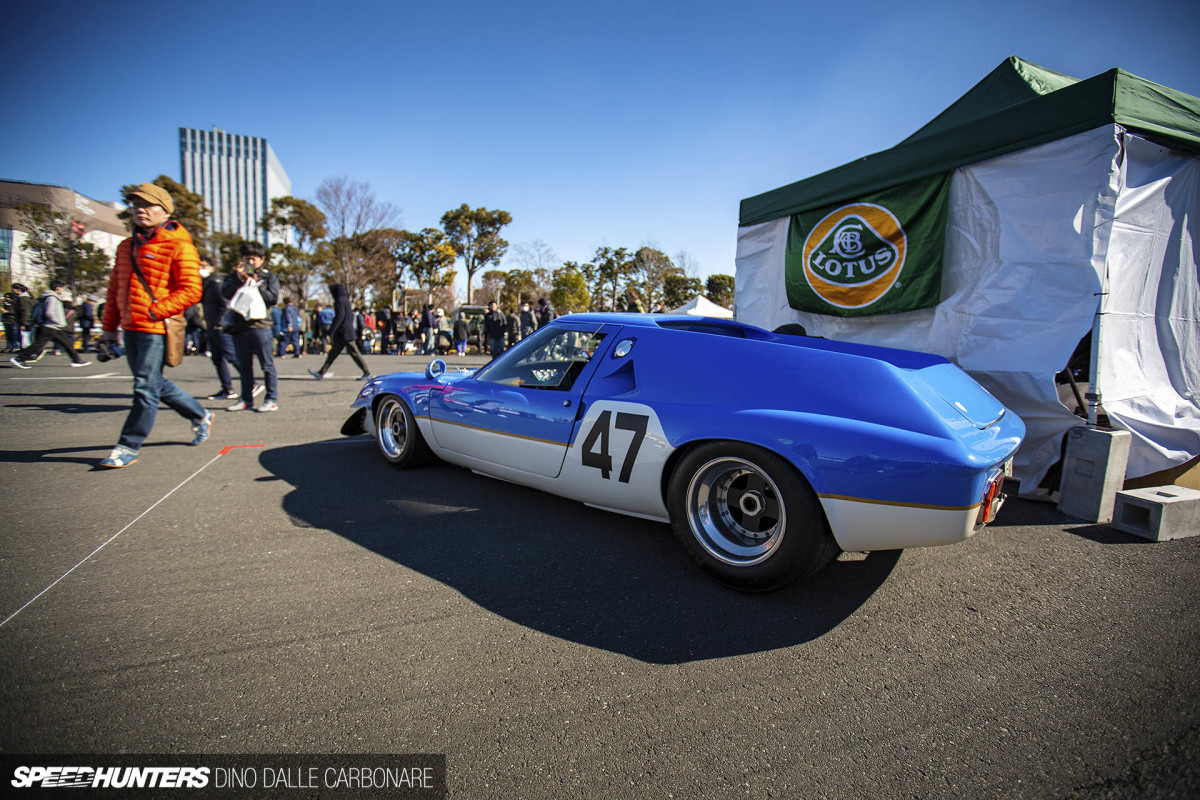 Only the guys deep into the scene really know the amazing stuff that the Japanese collect, and that goes for all makes of cars.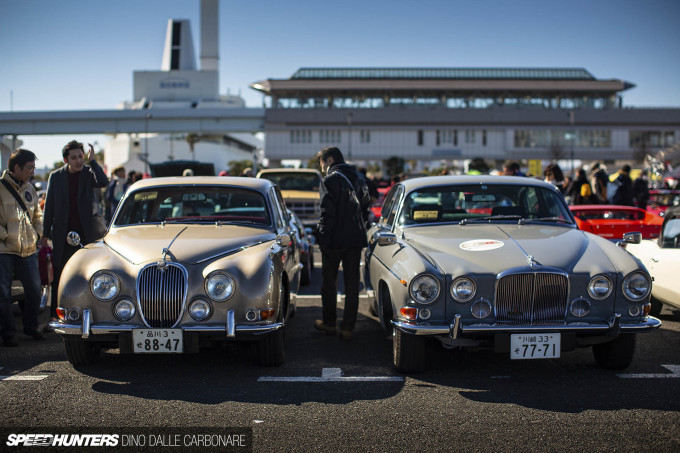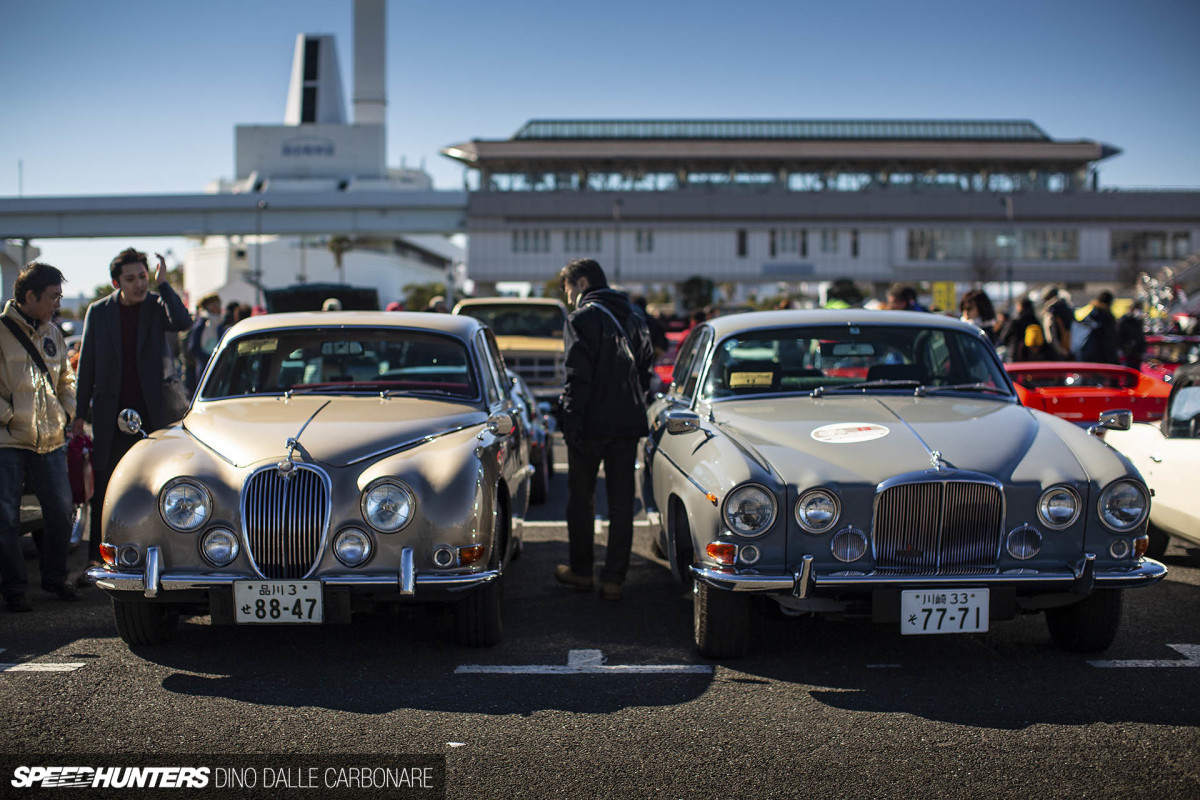 Check out this pairing, pure elegance right there.
This Nissan California may serve as the perfect example of just how varied JCCA gatherings can be, but at the same time make you realize the shocking amount of weird cars Japanese manufacturers used to make back in the '70s and '80s. These days, line ups of cars are so much more streamlined that it takes away that 'WTF aspect if you ask me. I wish there was more creativity coming from the Japanese, because they obviously had it at some point.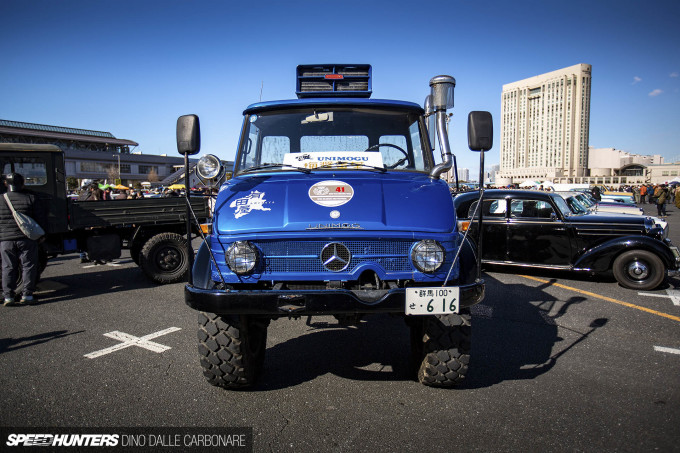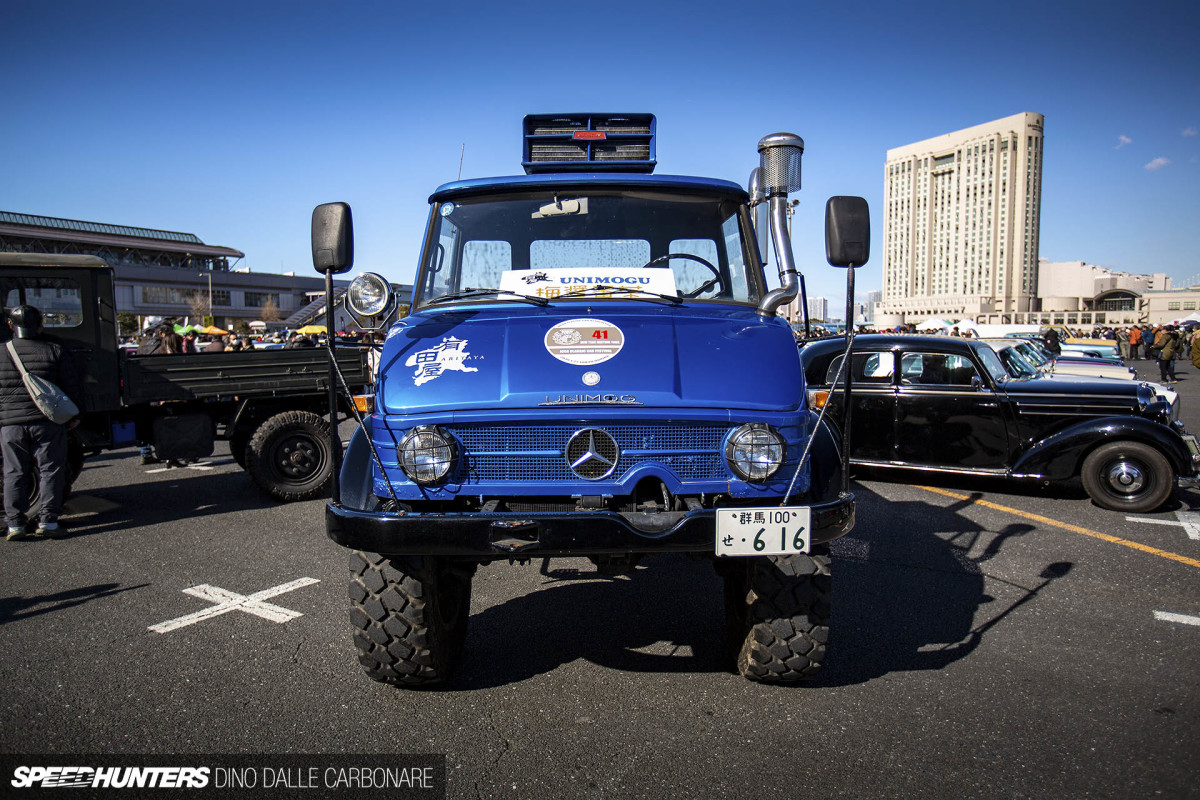 And just because Japan is Japan, and Mercedes-Benz Unimogs are the shit, here are a couple of shots of one to wrap up this post.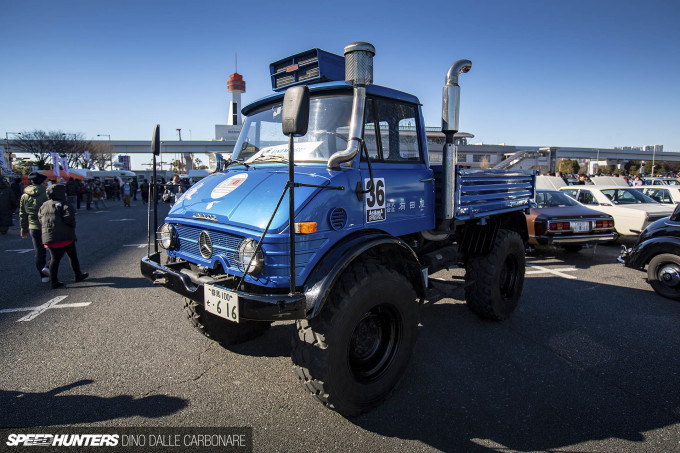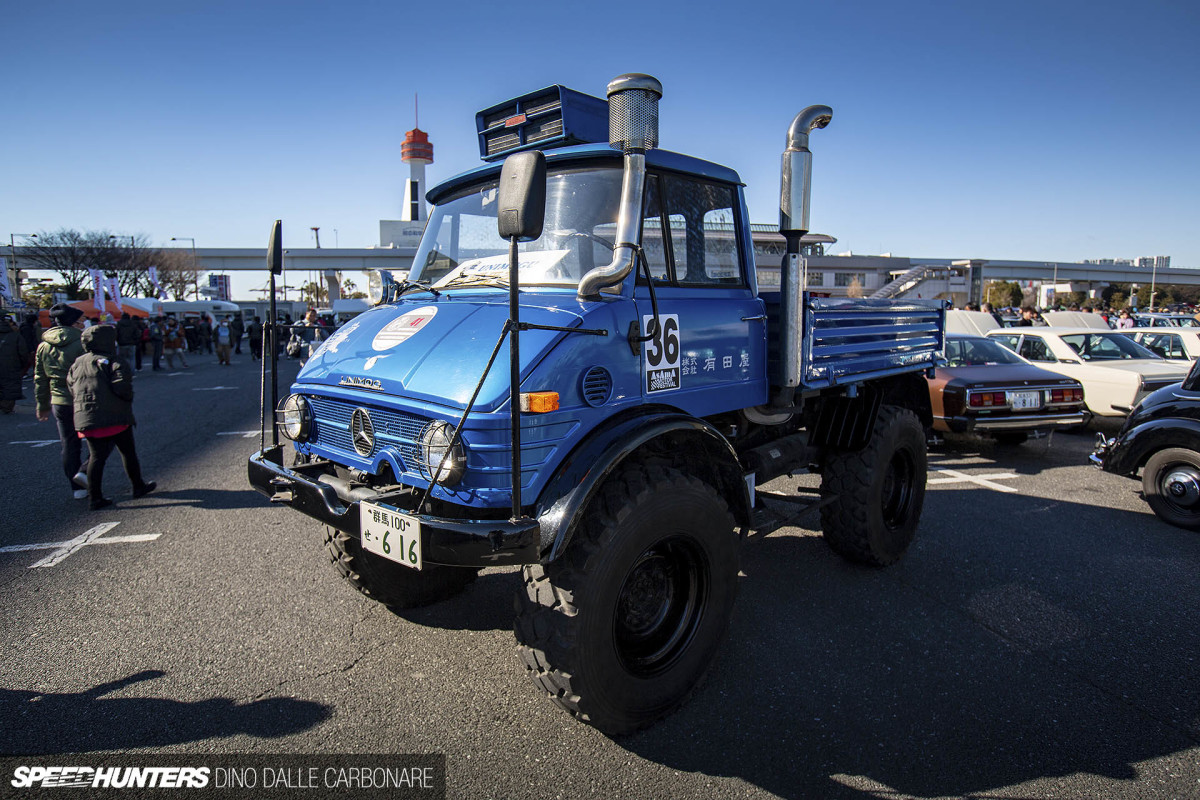 This is obviously an older model but back in the bubble period, fully decked out Unimogs were the dream vehicles of rich and successful business men. I remember reading a story about some guy that commissioned a luxury Unimog back in the early '90s and drove it daily in Tokyo. I've never been able to find more info on it.
Consider this as part one of our coverage of the final JCCA meeting in Odaiba, as I've got even cooler stuff to share with you.
Dino Dalle Carbonare
Instagram: speedhunters_dino
dino@speedhunters.com