Welcome to the world of Ultra4 racing.
If you couldn't tell from the cover photo, things are a bit out of the norm here. There are a few different classes in the Ultra4 series, and for the most part, restrictions are kept minimal. In turn, everyone has a full-blown creative opportunity to design, engineer, construct, and race whatever they please, so long as they see fit.
The vehicles in the series are big, powerful, and have some of the most insane suspension setups you'll see on any race course.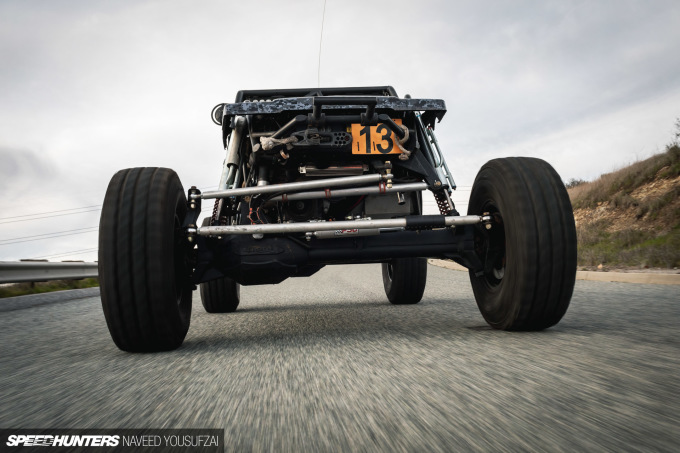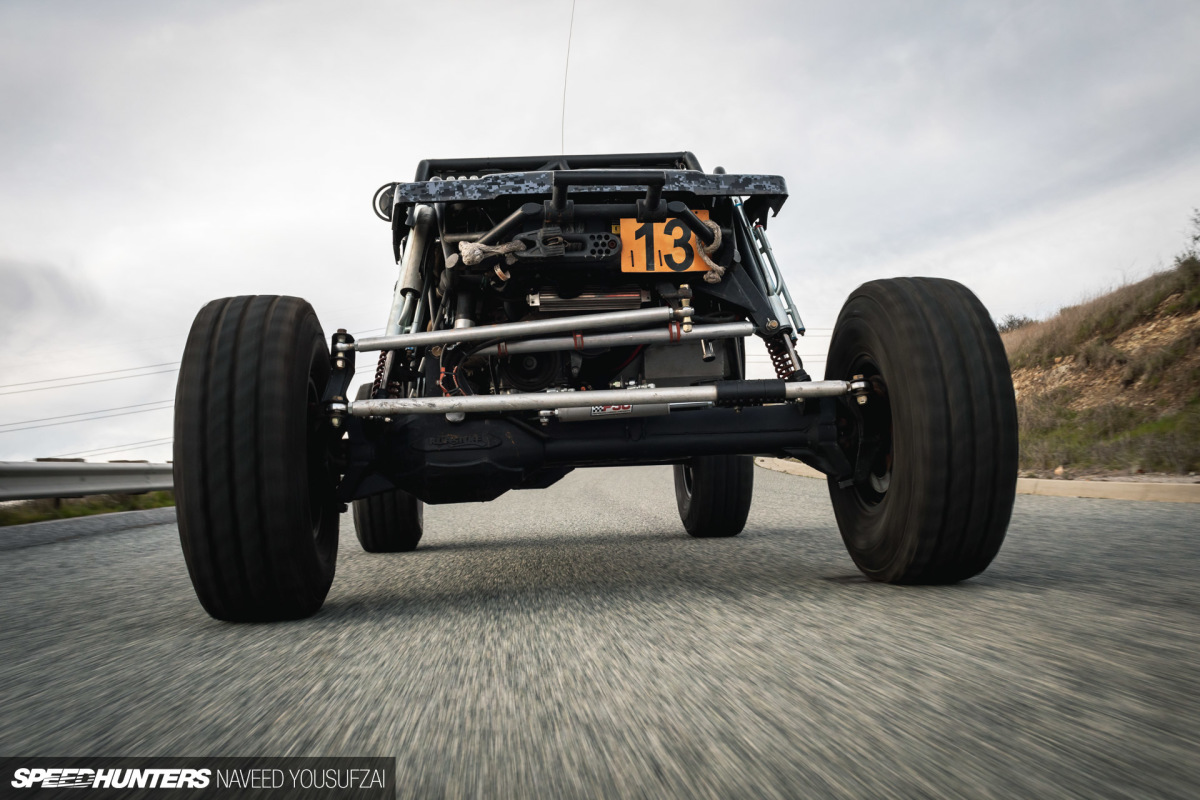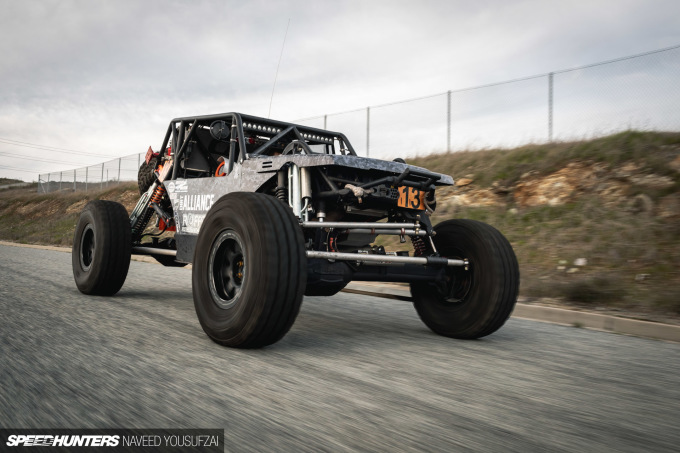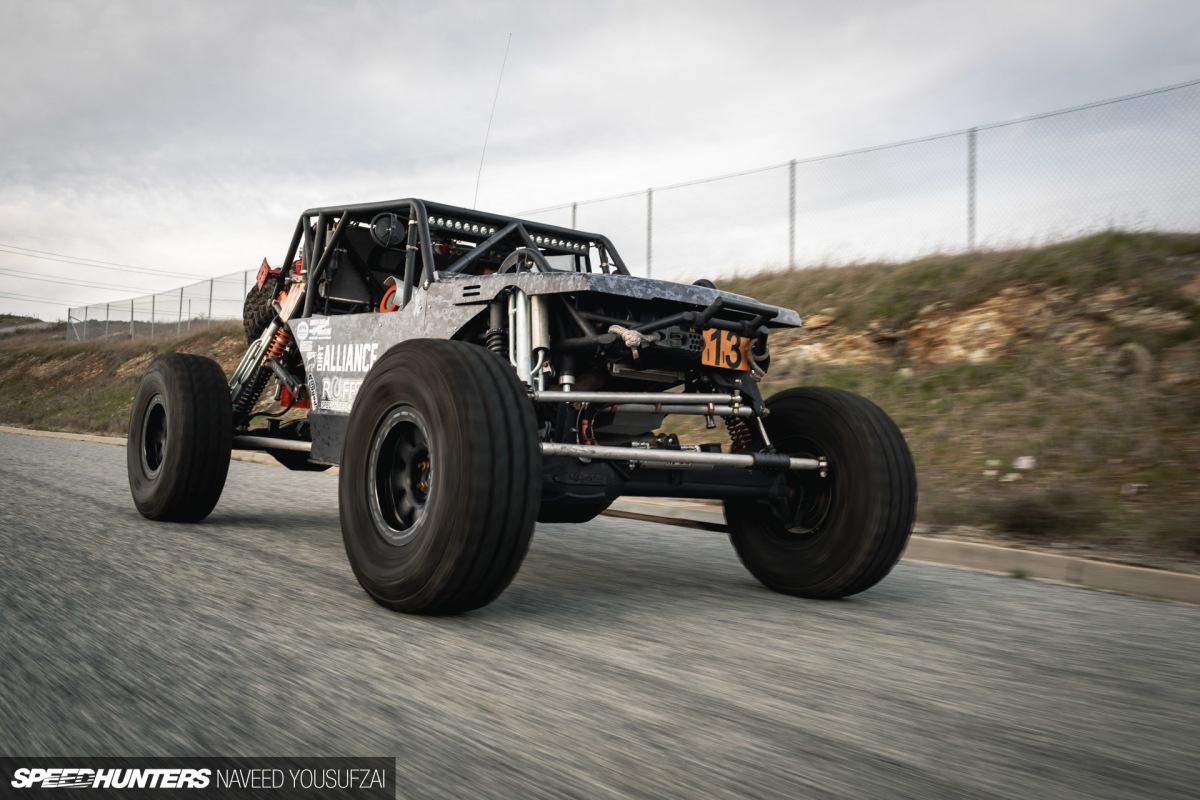 The Ultra4 series is considered one of the most outrageous and toughest to exist, consisting of eight to 12-hour endurance races that cover around 200 miles across each course. Terrain ranges from desert dunes, where vehicles can reach speeds north of 100mph, down to rock climbing in tight mountain trails, where gear ratios as low as 100:1 are necessary if drivers wish to remain competitive.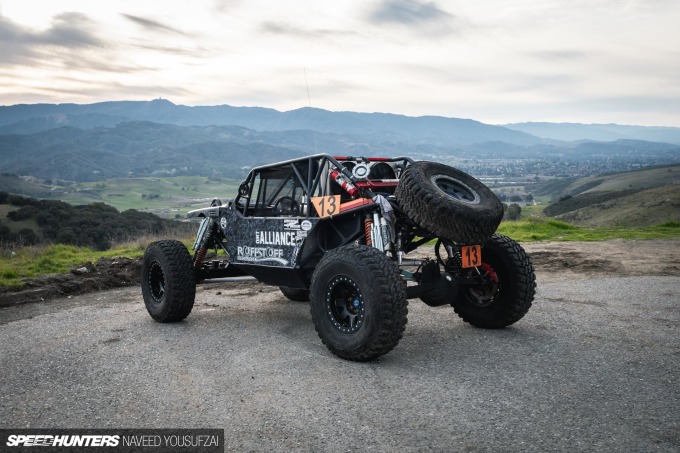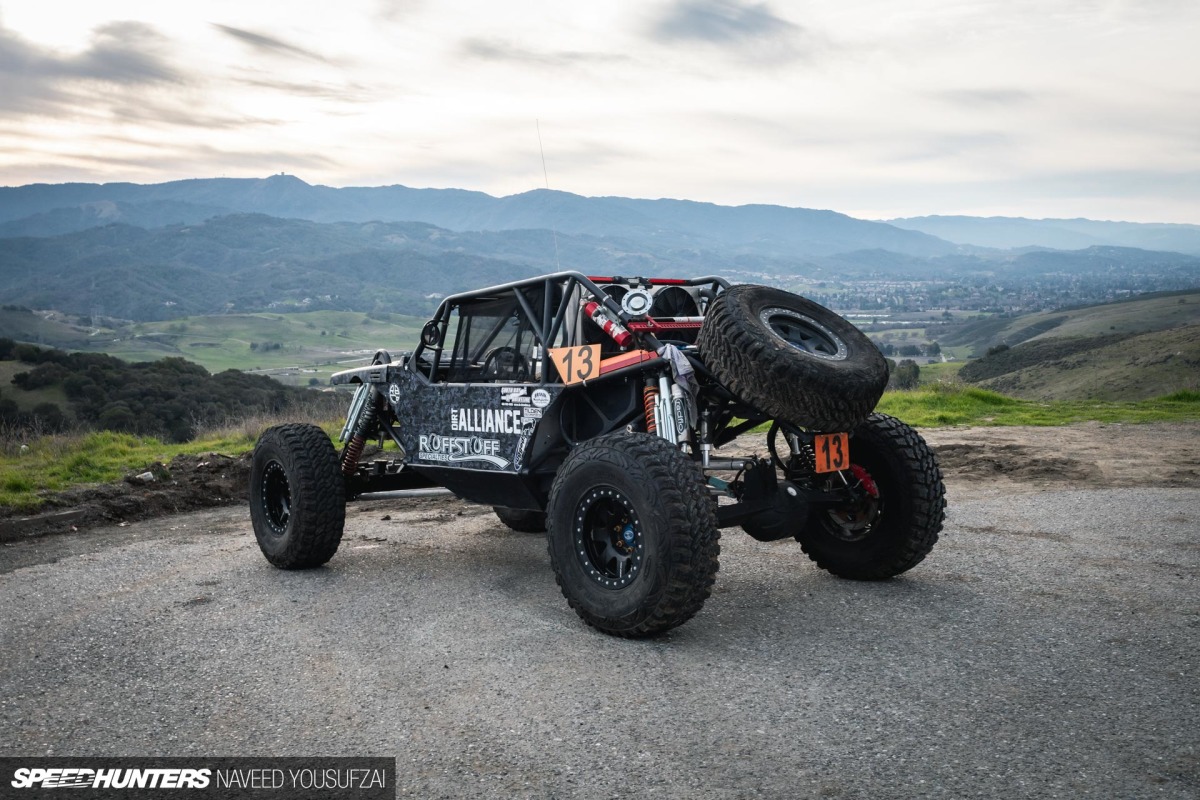 The holy grail race of the series, dubbed King of The Hammers, is the primary focus of almost all 300 teams that make up the Ultra4 series, and this year, Justin Hall is after the first place podium finish.
But before we take a dive into Justin's insane Suzuki Samurai-based rig, there's a bit of backstory that needs to be told on how this all came about.
Winning – It's What We Do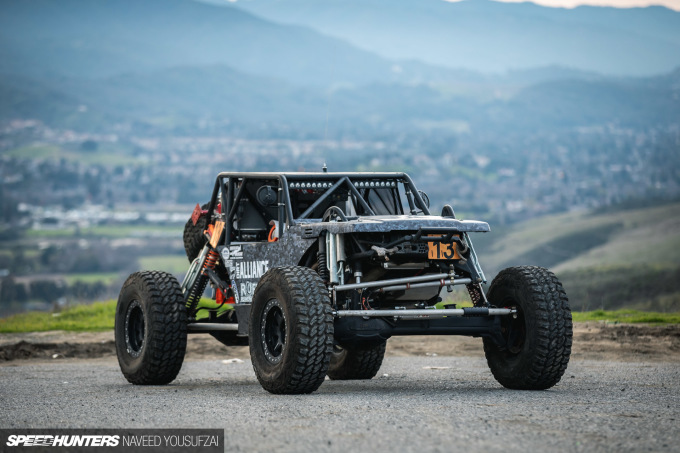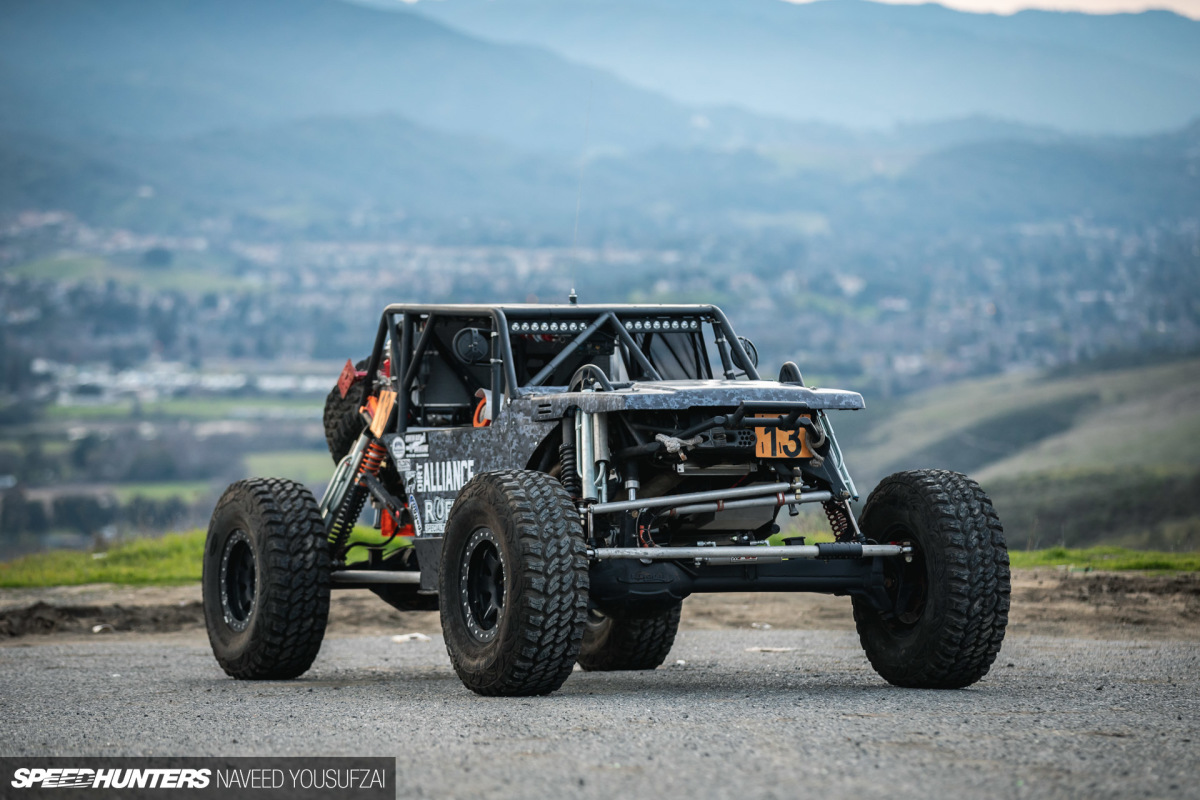 Justin has been in the world of off-roading since he was a child. His first time out was at the age of three, when he rode mini dirt bikes around the back fields of his parents' house. He fell in love with the technicalities and skill required to manoeuvre throughout rugged courses, and by the age of five, he was racing competitively.
A few years in, some financial struggles caused his parents to liquidate, resulting in not having another off-roader for many years. Throughout that time period, Justin tried to get into other sports in school, including baseball and cross-country, but struggled to find his niche in any of them. He always knew in his heart that his true love was racing off-road.
At age 14, Justin and his father decided to go halves on their first 1988 Suzuki Samurai and eventually built it into a rock crawler. They entered the truck in a few local amateur competitions, and started doing really well. But the racing eventually began taking a toll on the truck, which by this time Justin was driving to school during the week. So that project was scrapped, and they moved onto another Samurai that would be a dedicated competitive crawler.
It turns out, they knew a thing or two about building these special rigs, as they took home first place their first year out in the 2009 West Coast W.E. Rock Stock Mod series. From there, Justin eventually built an Unlimited class crawler, and again took home two national titles in the 2013 and 2014 series. His consecutive wins even led him to compete in Japan and Australia, where he yet again took home the international rock crawling title in 2018.
With stats like that, it's easy to understand why Justin went all-out in his current truck, the monster daddy of them all.
The Ultra4 Suzuki Samurai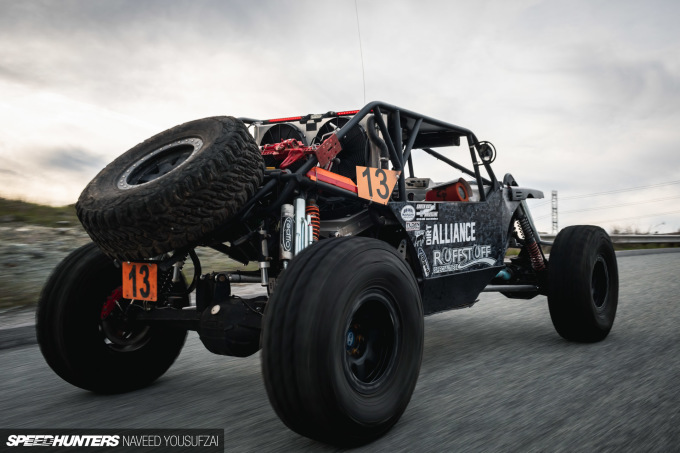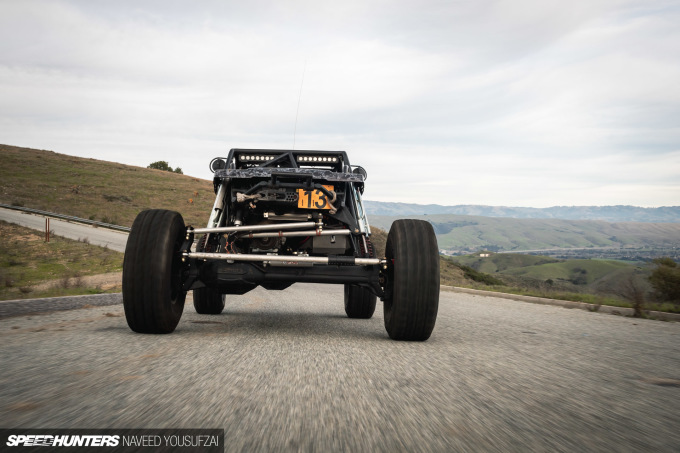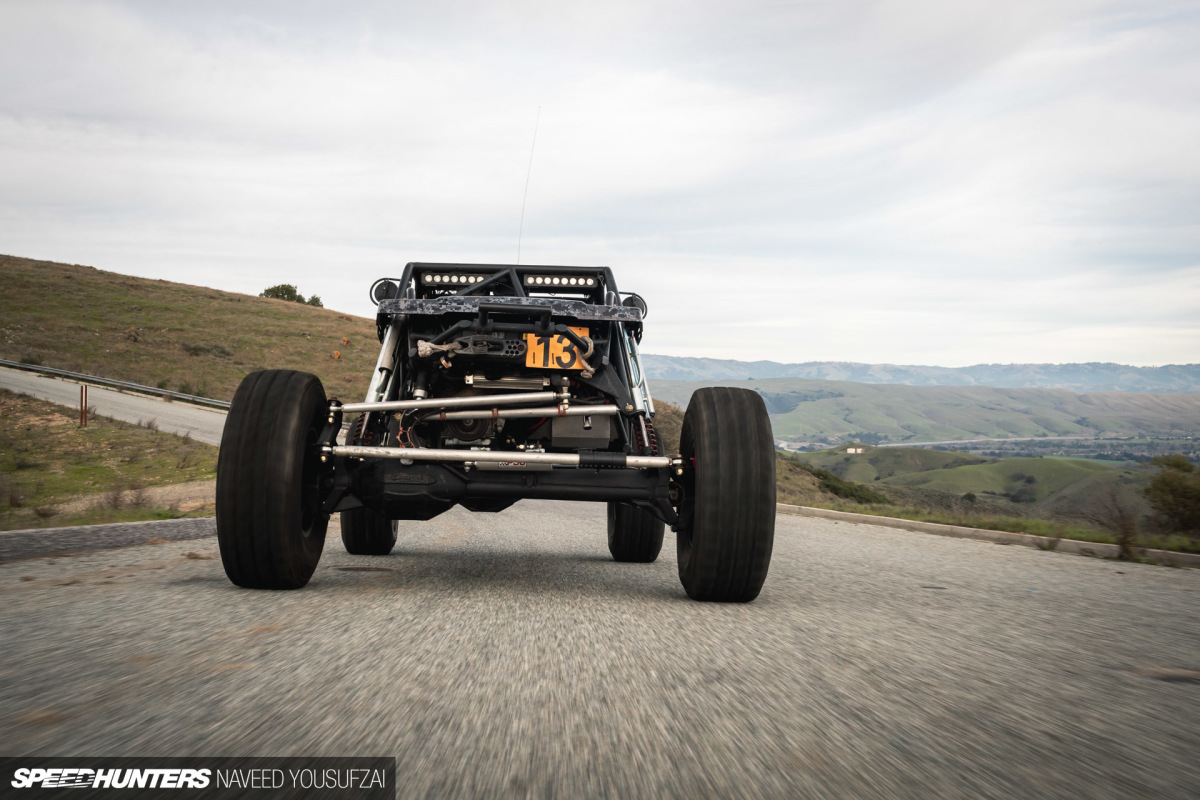 Justin currently races in the Ultra4 4500 series, where all rigs are limited to 14 inches of suspension travel, have shocks no bigger than 2.5-inches in diameter (which also must be mounted on the axle of each corner), use mechanical steering, feature a box-tube main frame rail, and run 37-inch off-the-shelf DOT-approved tires. The first race he will be tackling is the one mentioned prior; King of The Hammers.
Justin's goal was to be able to tackle this course head on, and the only way to do so would be to build a truck that can absolutely do it all. Justin explains, "The truck was built 100% by me. It consists of a complete tube chassis made up of 1.5-inch by 3-inch box framing, 1.75 .120 wall DOM tubing main chassis, and a mix of 1.5 .120 wall DOM tubing for bracing. It was built with the intention of having the lowest center of gravity possible."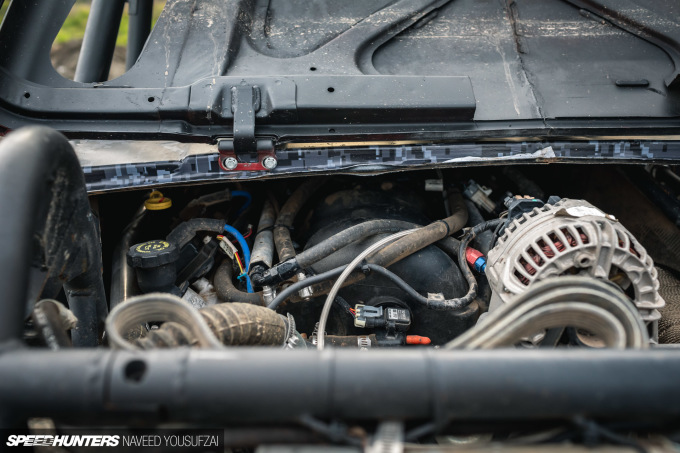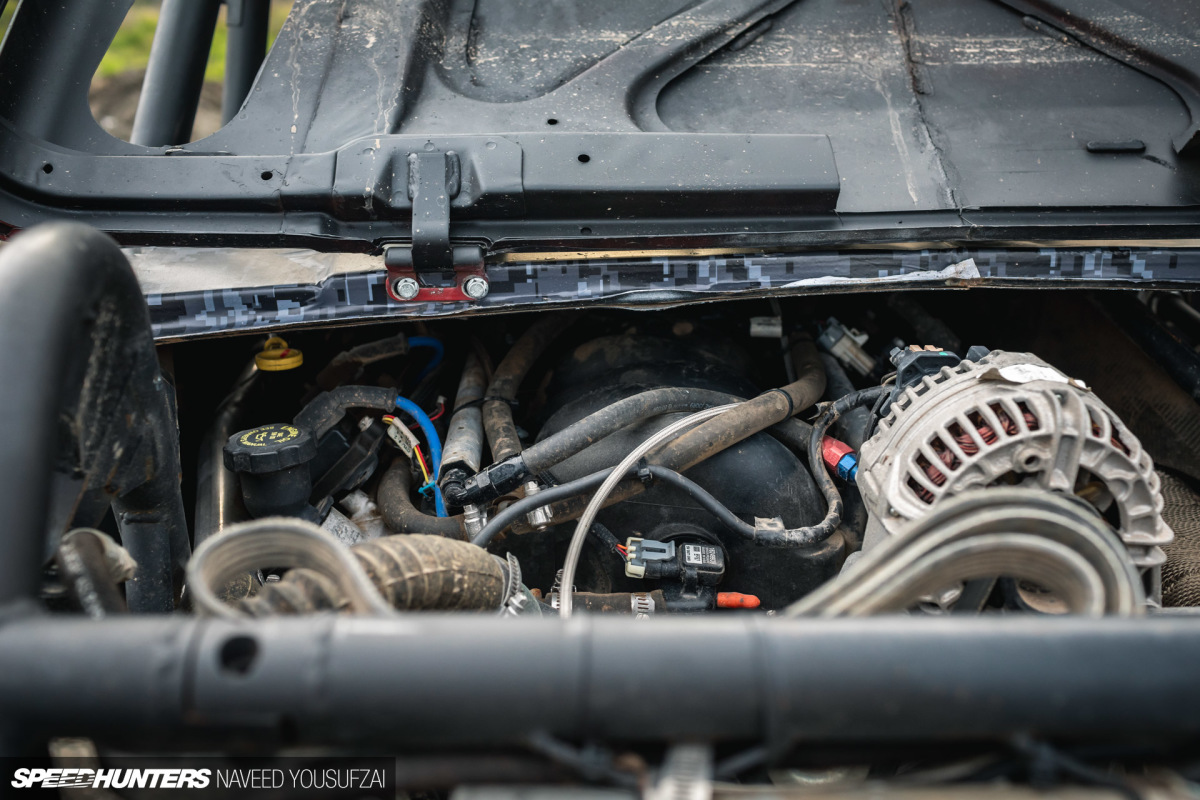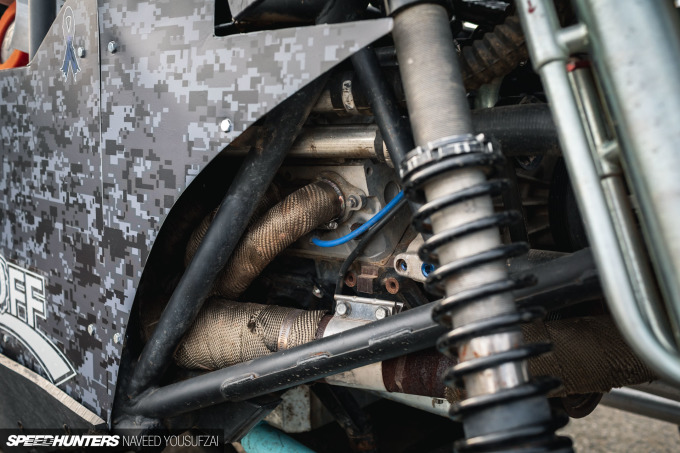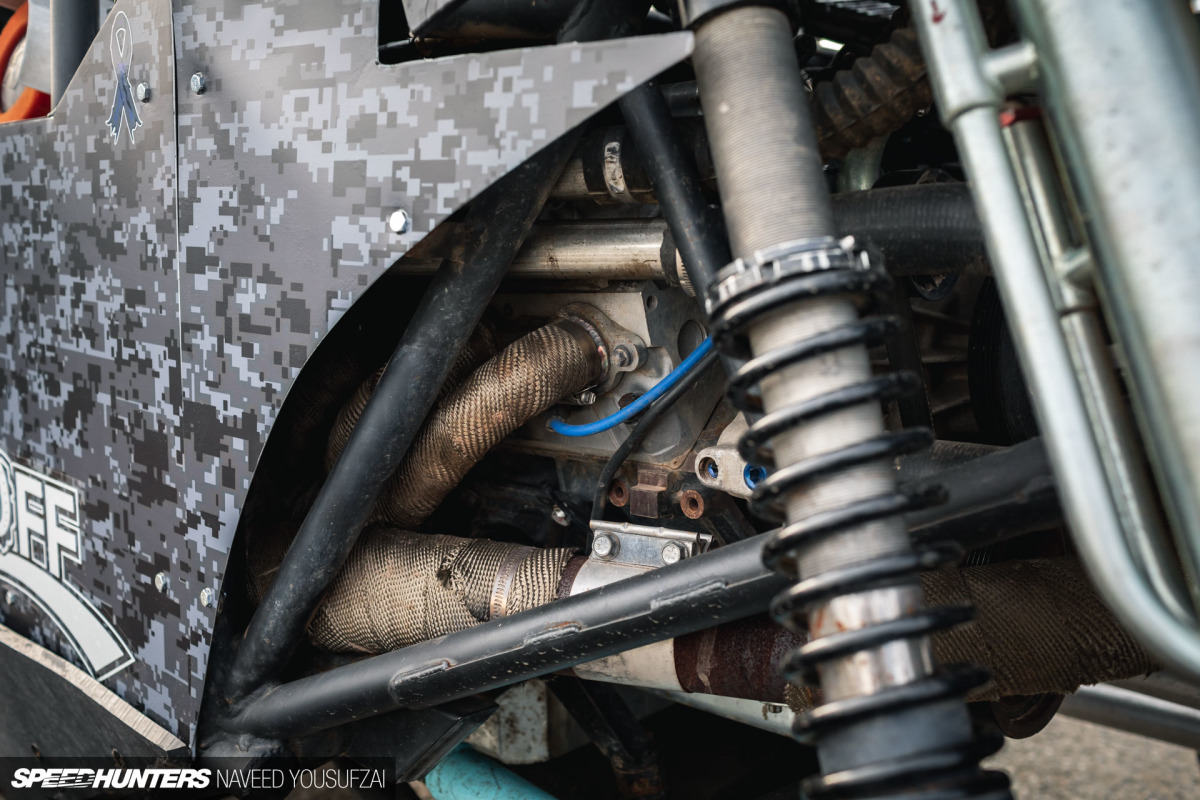 Reiterating on Justin's notes about weight distribution and a low center of gravity, one of the stranger features of this truck is the offset-mounted 6.0 LS engine which was built by Josh West of 208 Motorsports. A mild 430hp is made from this V8, and power is distributed through a TH350 3-speed automatic with 300m internals. It also uses a billet 2800 9-inch stall torque converter built by Chester Kniss at Delta Transmission. All of this is mounted directly where the passenger side seat would be in a conventional truck in the series.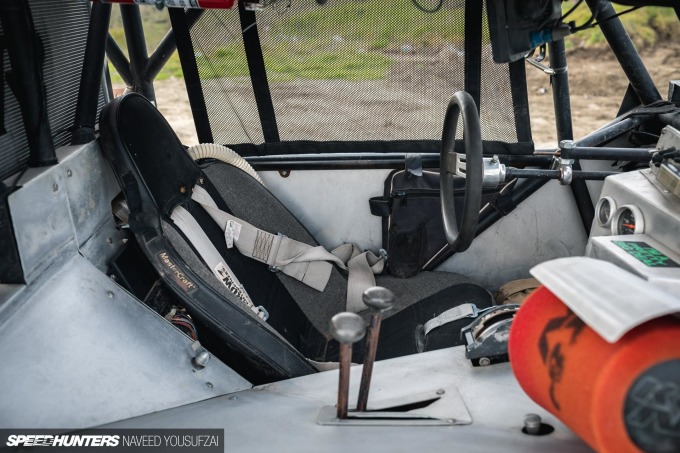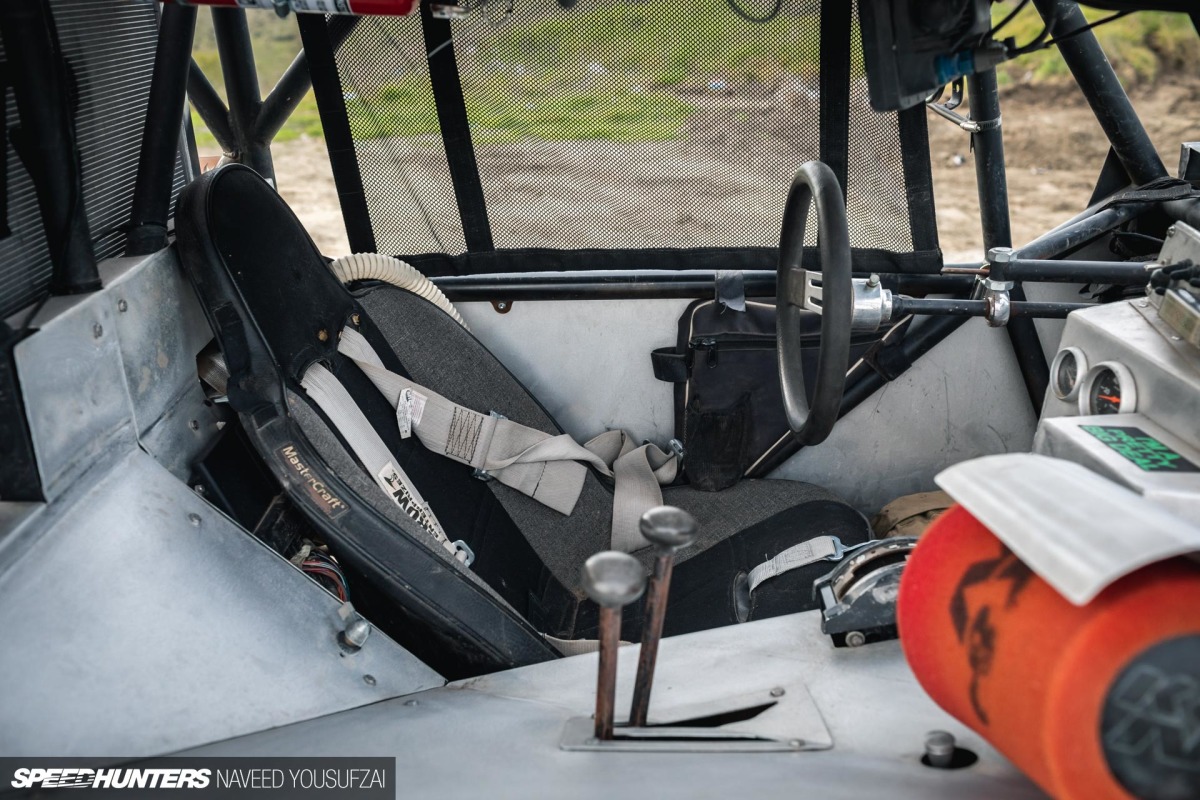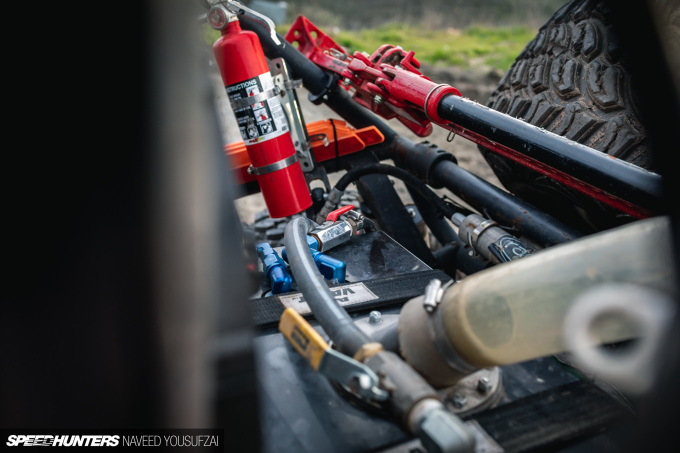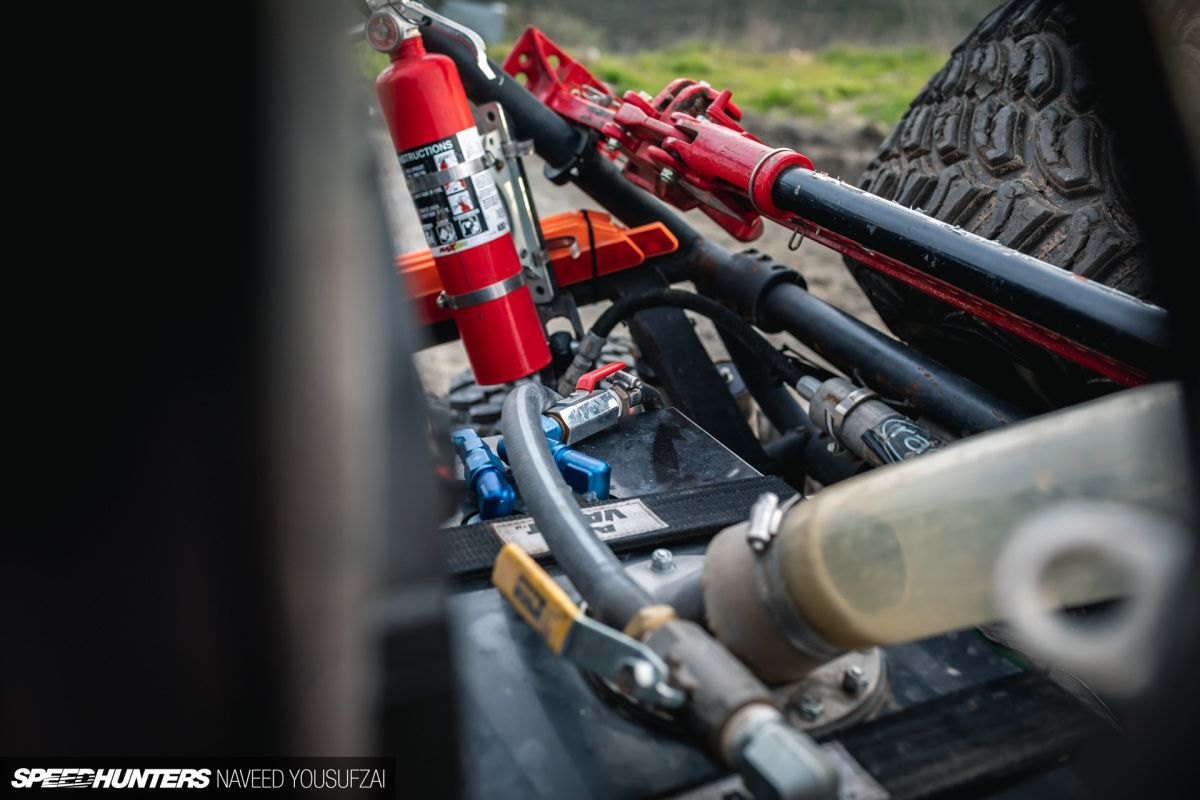 Justin's reasoning for this was purely to shave weight and lower the overall height of the truck, though it also allowed for better weight distribution. The offsetting of the motor is countered with Justin in the driver's seat along with a full tank of fuel, which is mounted directly behind his seat.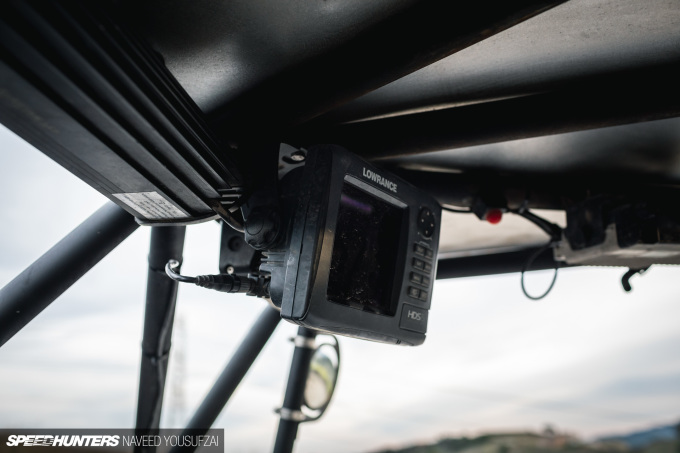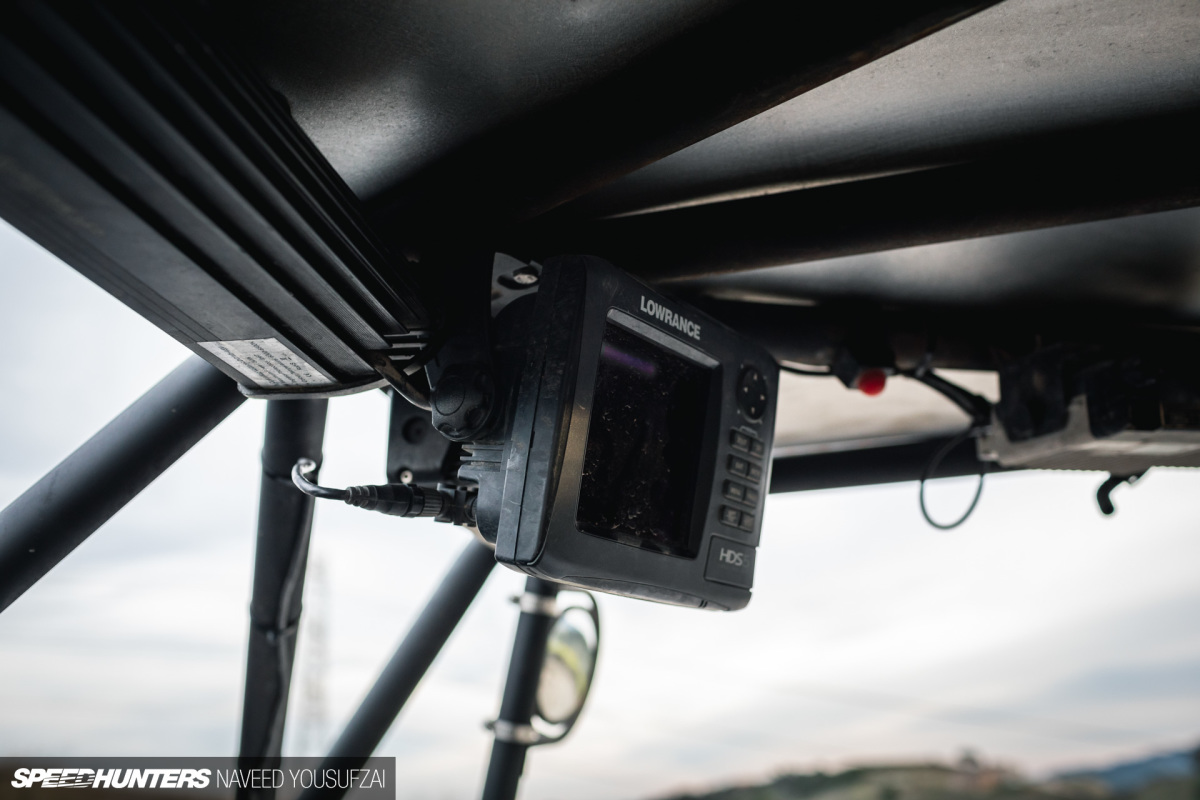 Most of the other trucks in the series run two seats, one for the driver and one for the navigating co-pilot. But with the motor taking the place of the passenger, Justin is forced to rely heavily on his GPS unit and his own instinct when racing through the course. Some call this crazy, but for Justin it's a way to challenge himself even further as a driver.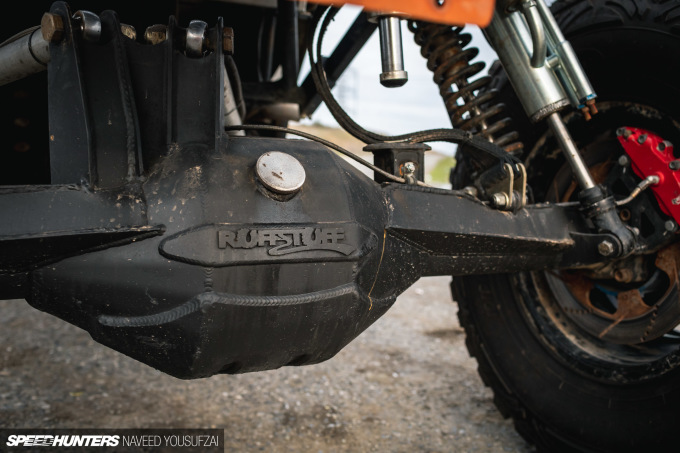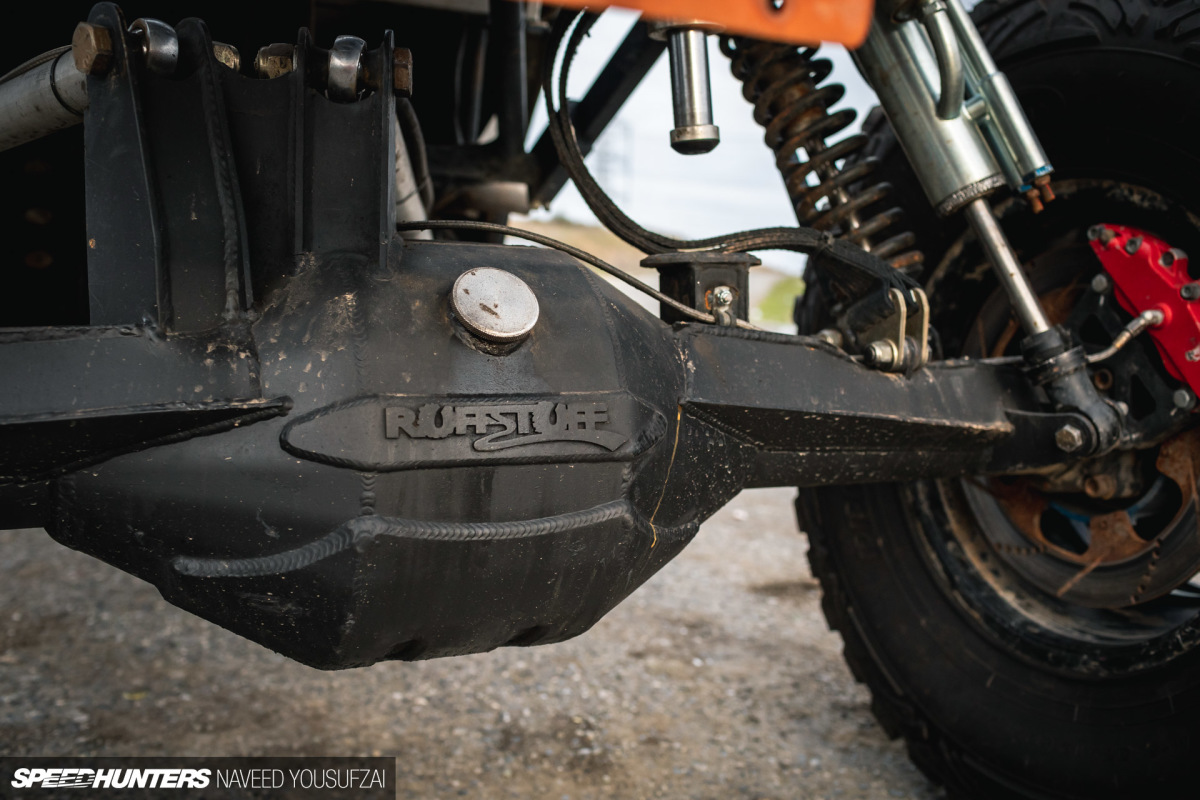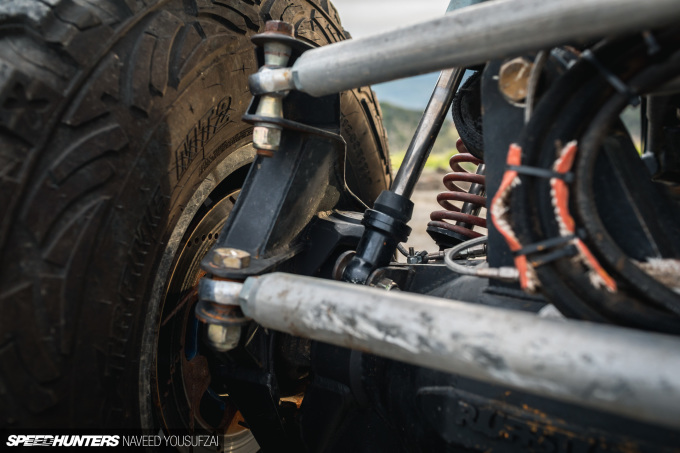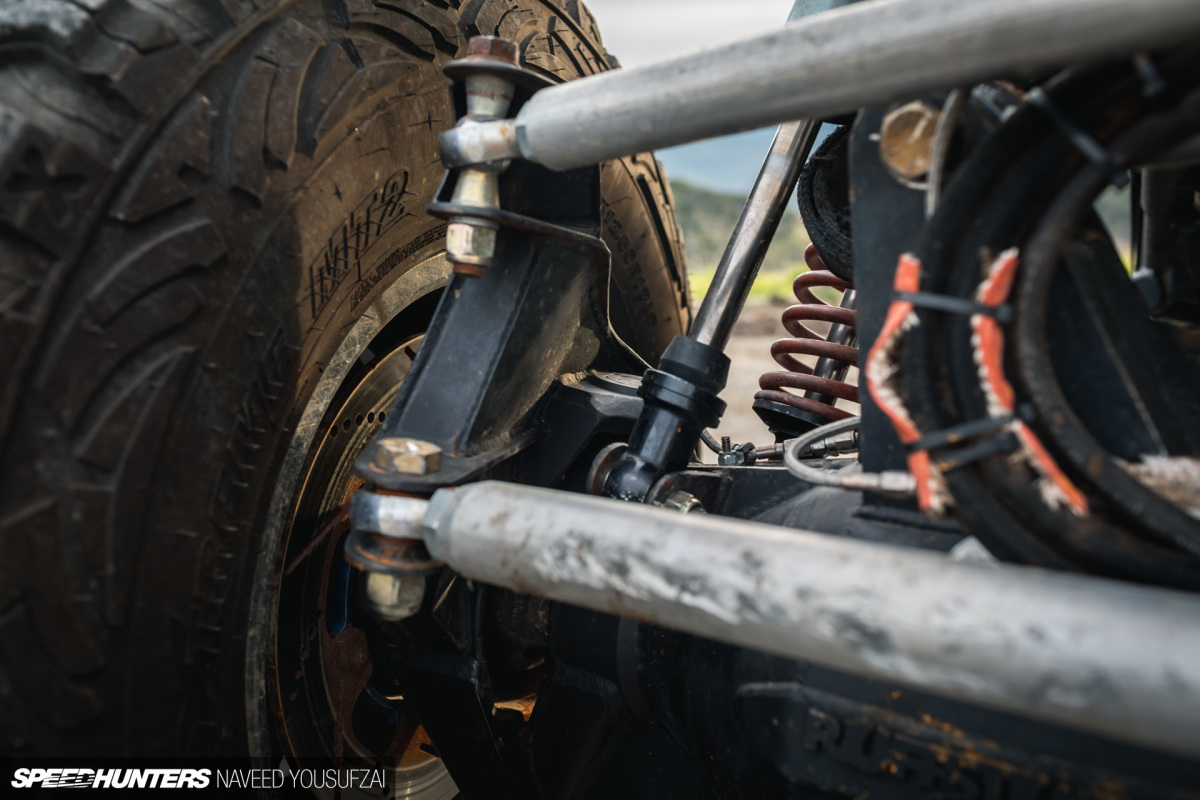 The front and rear axles are made by RuffStuff Specialties with custom fabricated 9-inch housings. Stuffed inside are 10-inch Gearworks high pinion differentials with 5.83 gears and a spool. For axle shafts, Justin uses monstrous 35-spline 300m Branik Machine Legacy series pieces, and South Bay Driveline drive shafts which utilize 1350-sized u-joints front and rear. This stuff is strong.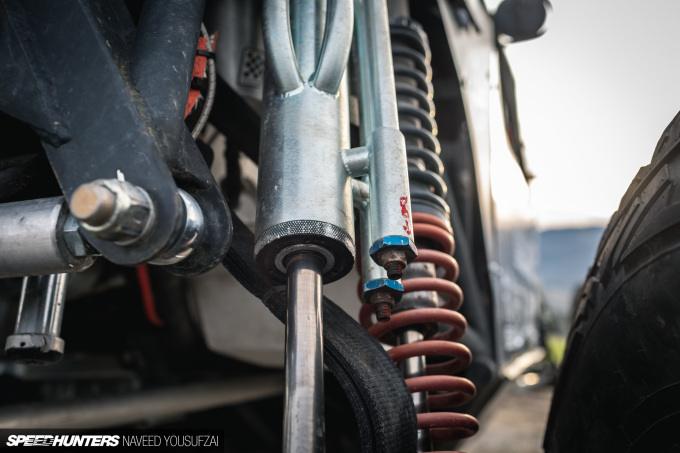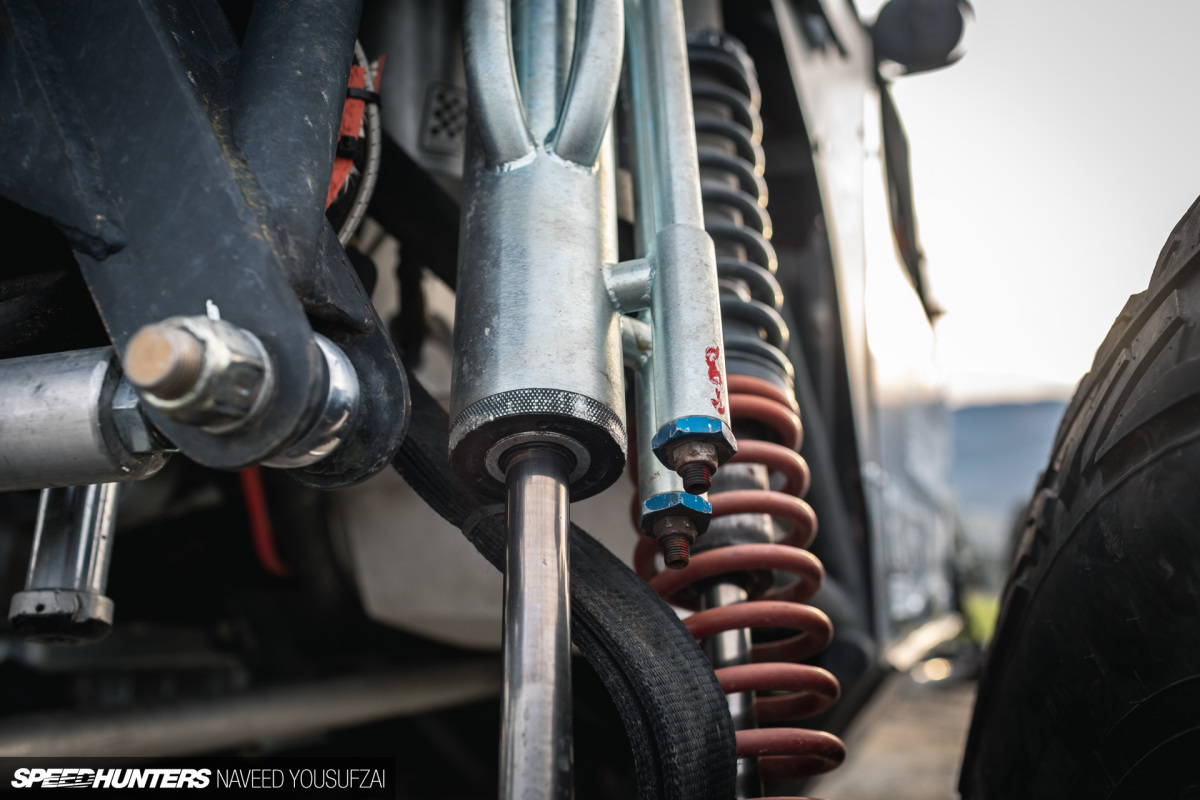 There's obviously a ton of custom fabrication going on here, but before wrapping up on the details of the truck, I must not forget the most obvious aspect of what makes it do what it does – the suspension. Radflo units control the suspension, boasting double shocks and a singular bump stop, per corner. These shocks are 2-inch in diameter, and have 14 inches of travel per coilover, which are paired with 14×2.5-inch diameter bypass shocks.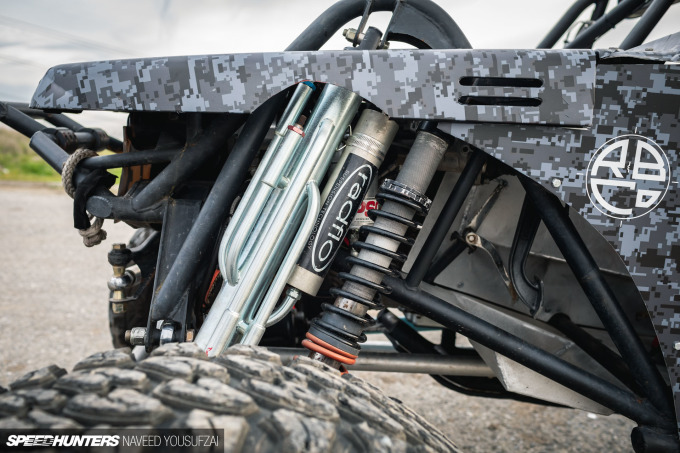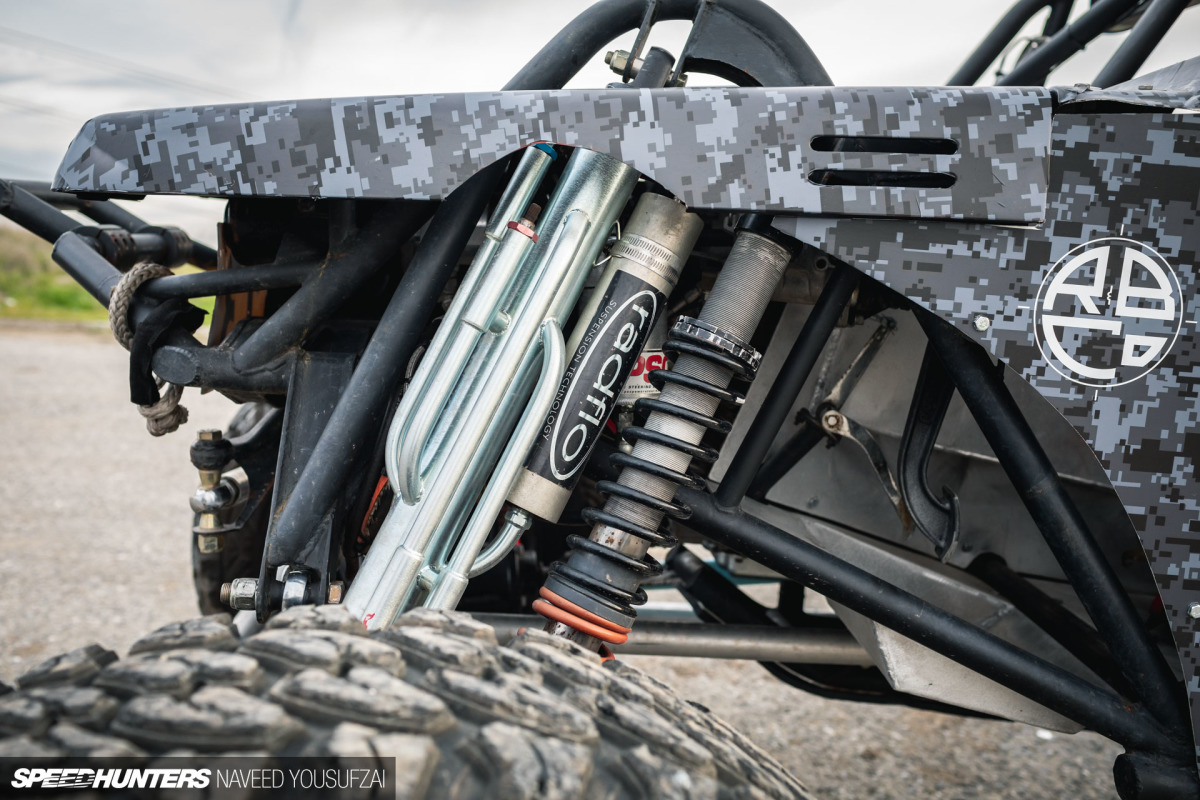 Take a pause here for a second to have a look at this sorcery. I'll wait. Tell me these aren't some of the most beautiful pieces of functioning art you've ever laid eyes on in the world of racing?
Suspension is completed with a 4-link setup in the rear, and a 3-inch up front paired with a Panhard bar, which helps keep things stabilized. Justin also resorted to a Jeep JK-style steering box that has been outfitted for hydraulic assist to help push the massive 37-inch tires around the rocks at low speed.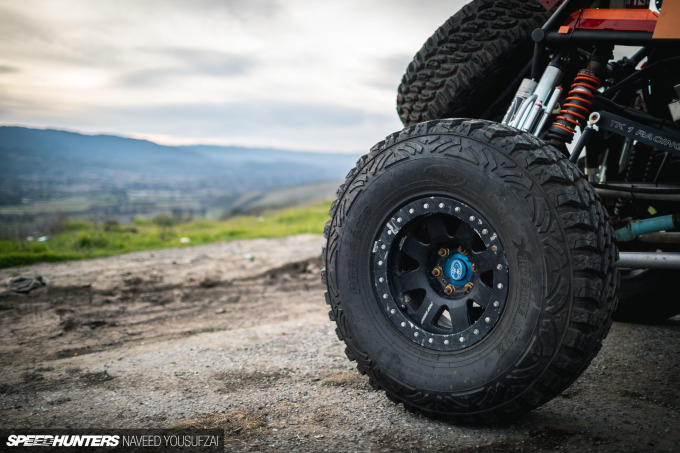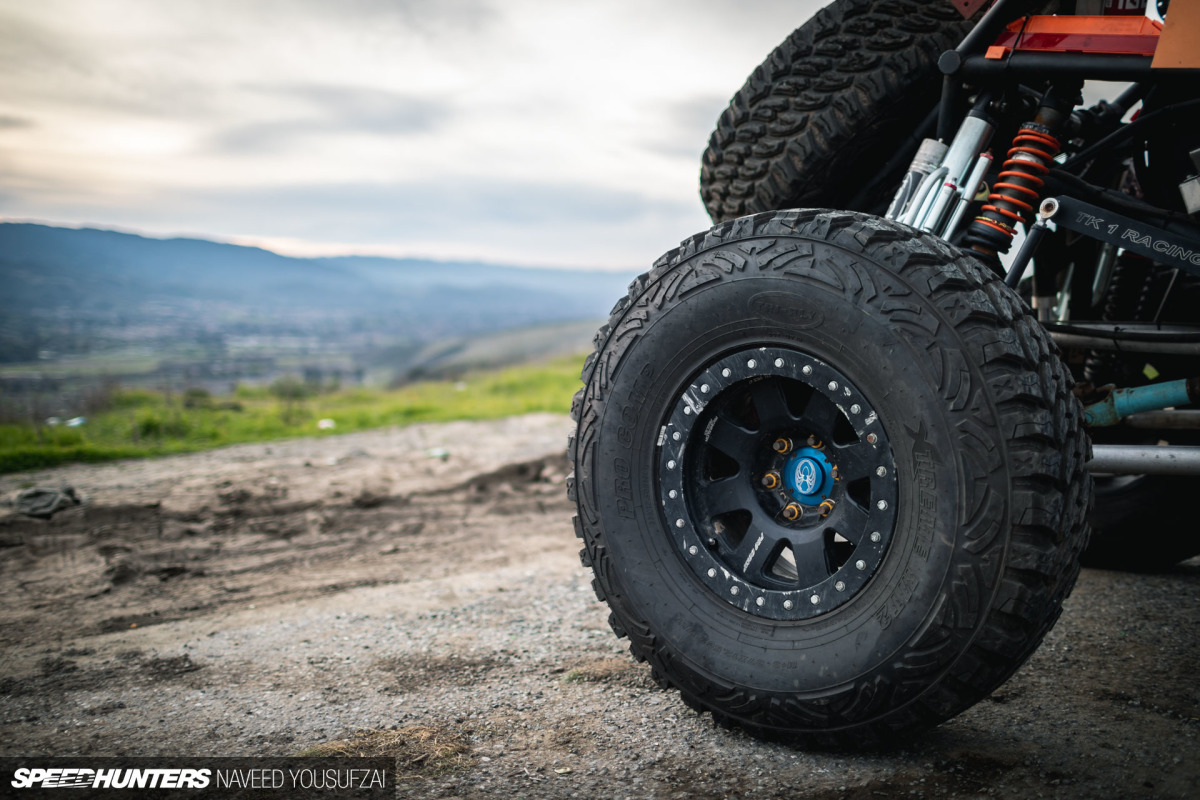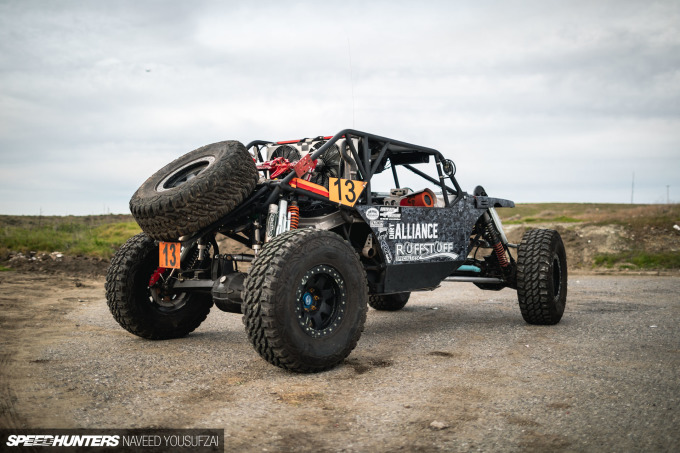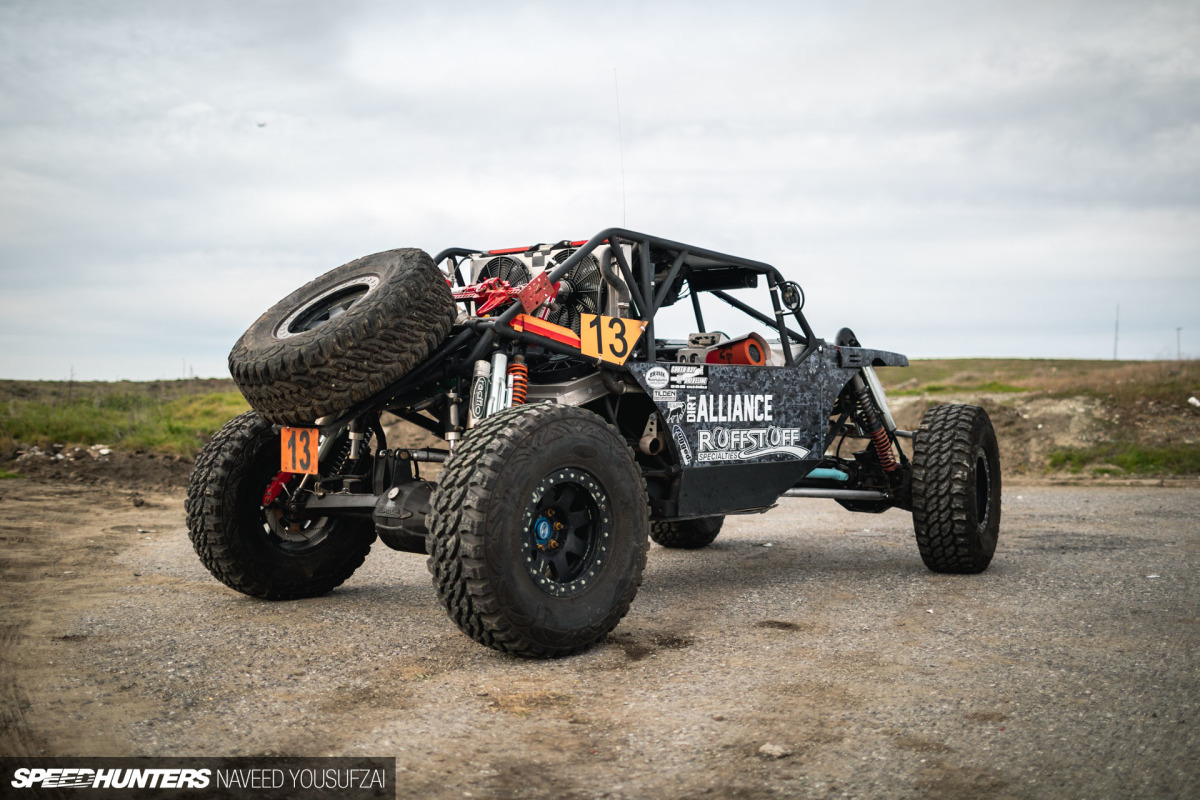 Finally, wheels of choice are 17-inch Battle Born beadlocks, with 37-inch Toyo tires, and a full-sized spare mounted out back.
There's obviously a research and development that went into the engineering of this crawler-trophy truck hybrid, but keep in mind that Justin was doing this all out of his garage at home. There was no computer-aided designs involved, but rather cardboard cutouts and precise metal fabrication with further trial and error, all backed by years of experience and knowledge.
This truck was built the good old fashioned way.
The Race Of Life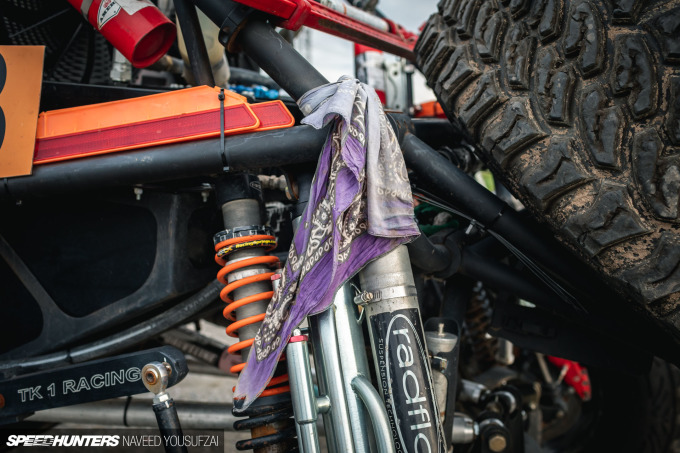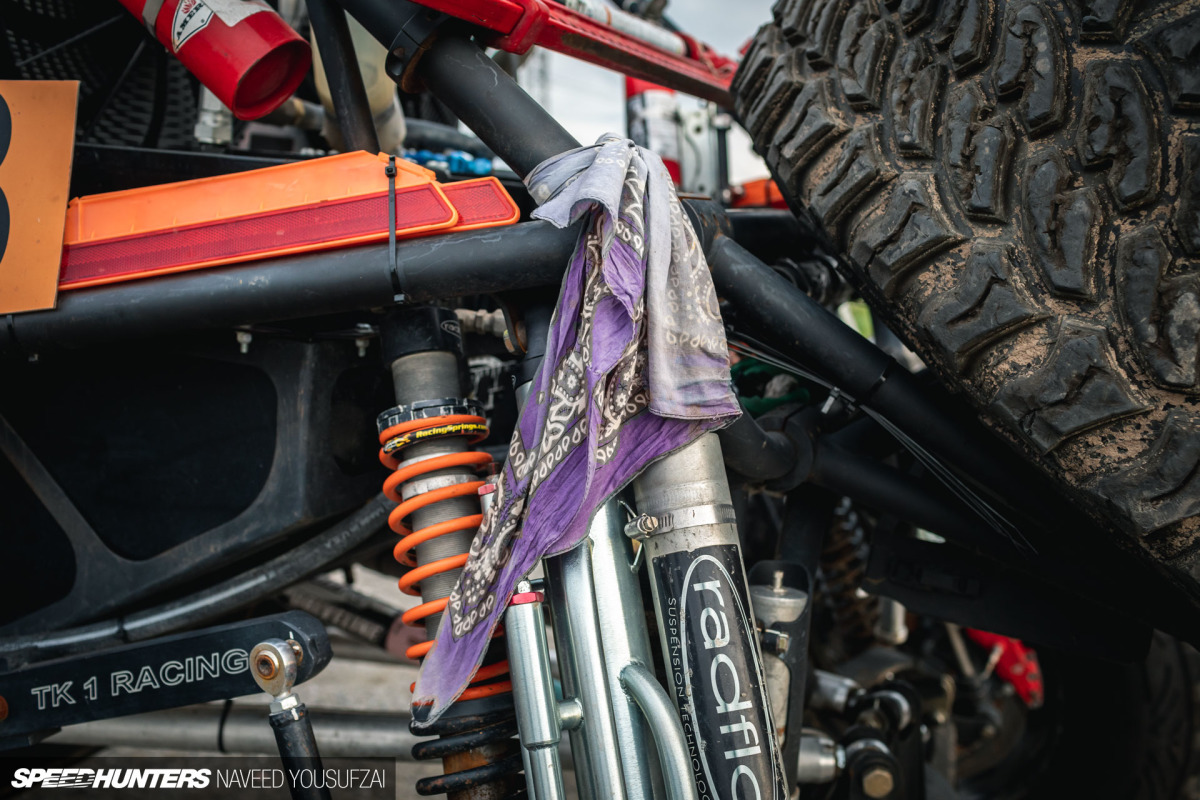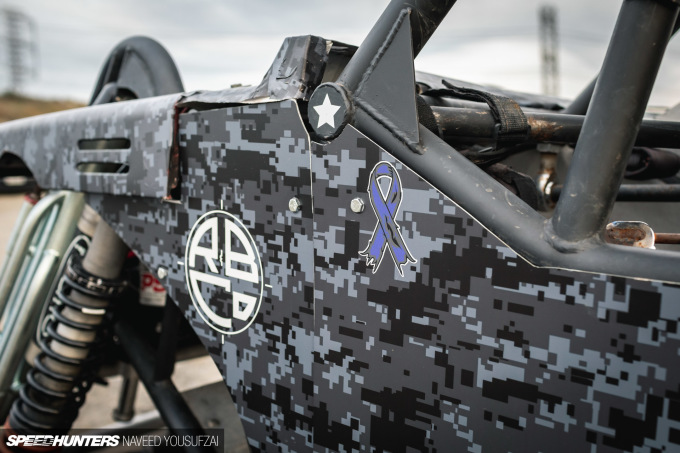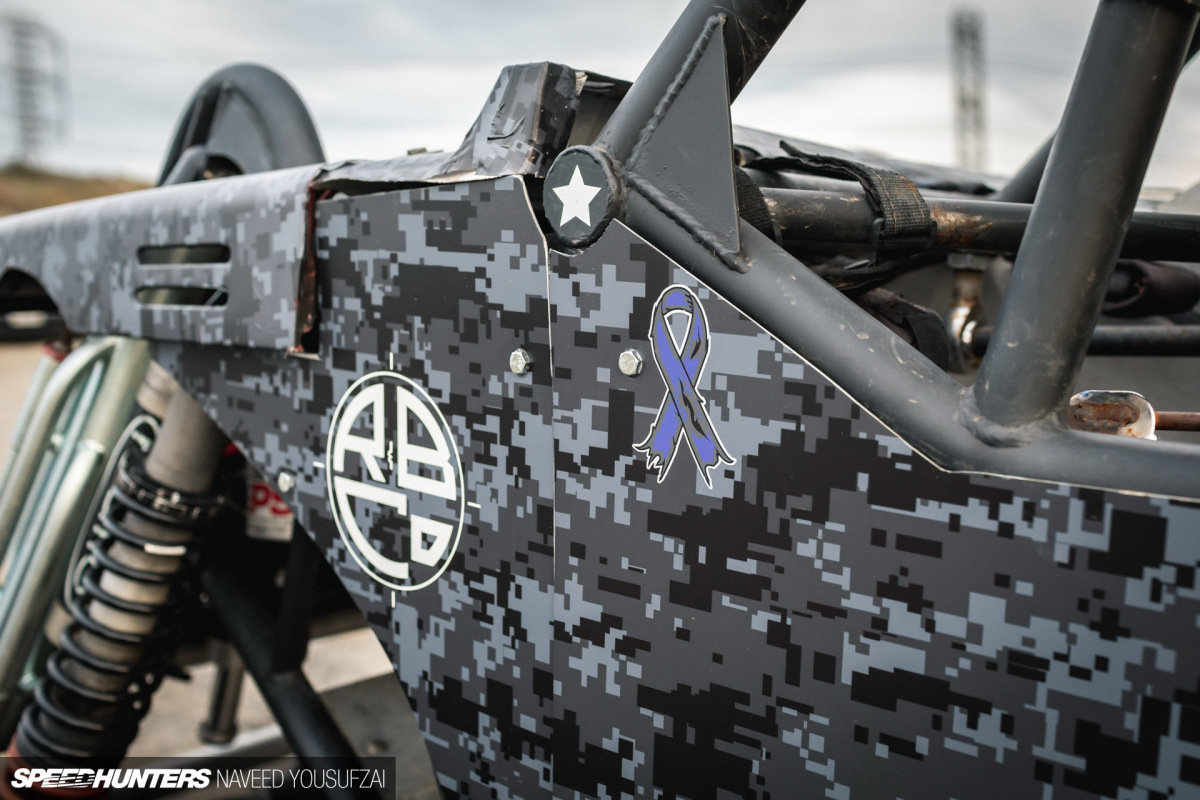 Though the 2019 King of The Hammers will be one of the most challenging races Justin has entered in, he has managed to keep his stress levels under control. And that's because this race is going to be a win for him regardless of finishing on the podium or not. You may have noticed a few purple ribbons on the side of the truck, which pay tribute to Justin's diagnosis of Crohn's disease. Justin was diagnosed in early 2008, where he was hospitalized for over a month and nearly died. But being the positive individual he is, he leveraged the life-changing event to further inspire him to reach the levels he is competing in today.
Justin recalls, "I would put in 10 to 12 hours a day after working my day job at home in the garage. I don't have incredibly fancy tools and every bracket and piece on the truck is one-off. It was a very time consuming process, and everything was a steep learning curve for me."
Between battling the side effects of Crohn's and building a truck pretty much from scratch, Justin has transpired into the epitome of what a true passion build is really all about. He plans on continuing his racing career, with aspirations of one day entering into the Off-Road Motorsports Hall of Fame (ORMHOF). And after this next season of racing is complete, he will be going back to the drawing boards where version 2.0 has already taken its foundation.
Random Awesomeness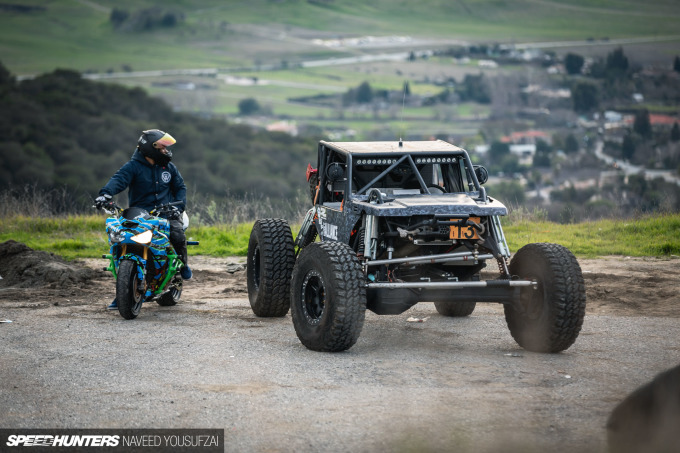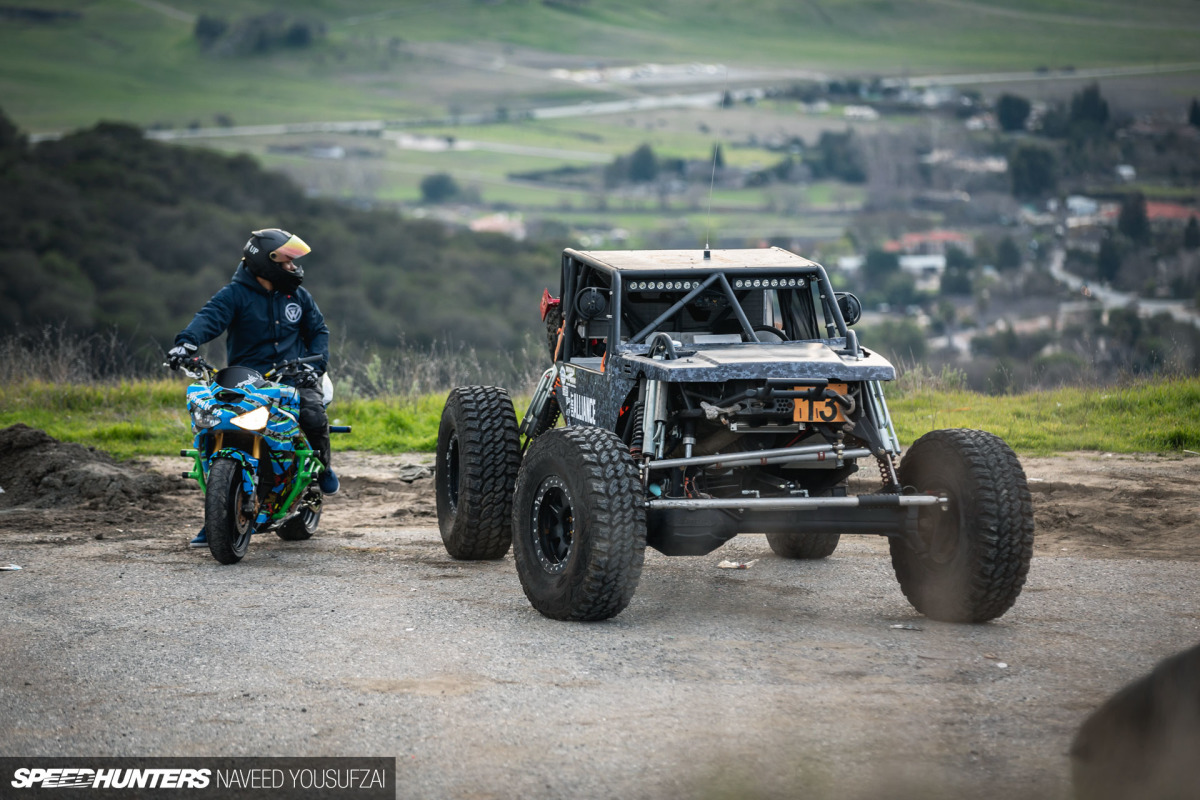 This segment may be a little unrelated, but it was awesome nonetheless. With our shoot wrapping up, we were just about to head home when a group of random stunt bikers showed up to the scene. It turned out that one of the riders had some family members who were also into the off-roading sport, so he brought the posse along to show us their segment of the world of motorsport.
It was an awesome way to end the day and made for some epic photo props, but I couldn't help but think of how coincidences like this can bring so many different individuals together. I would've never thought about reaching out to stunt bikers prior to this instance, so it was a solid reminder for me to keep an open mind when hunting speed, because you'll never know what just might come your way.
Naveed Yousufzai 
Instagram: eatwithnaveed
Cutting Room Floor