Into The Unknown
Taking a victory in one of the toughest rallies in the world isn't easy, but this year Toyota got it done real good.
The Dakar Rally, or as it used to be known, the Paris-Dakar Rally, was brought into existence as a bit of an accident when Thierry Sabine got lost on his motorbike in the Libyan desert during the Abidjan-Nice Rally in December 1977. He returned to France with loads of excitement, in love with this epic desert landscape he had stumbled across, and wanted to share his experience with as much people as possible.
Shortly after, he came up with a route starting in Europe, continuing to Algiers and crossing Agadez, before eventually finishing at Dakar.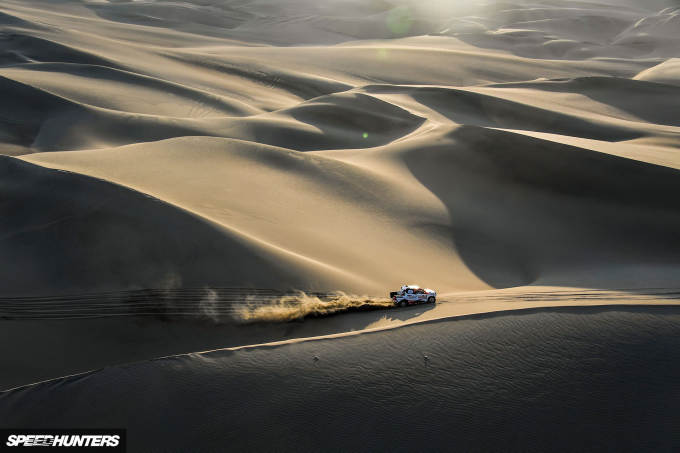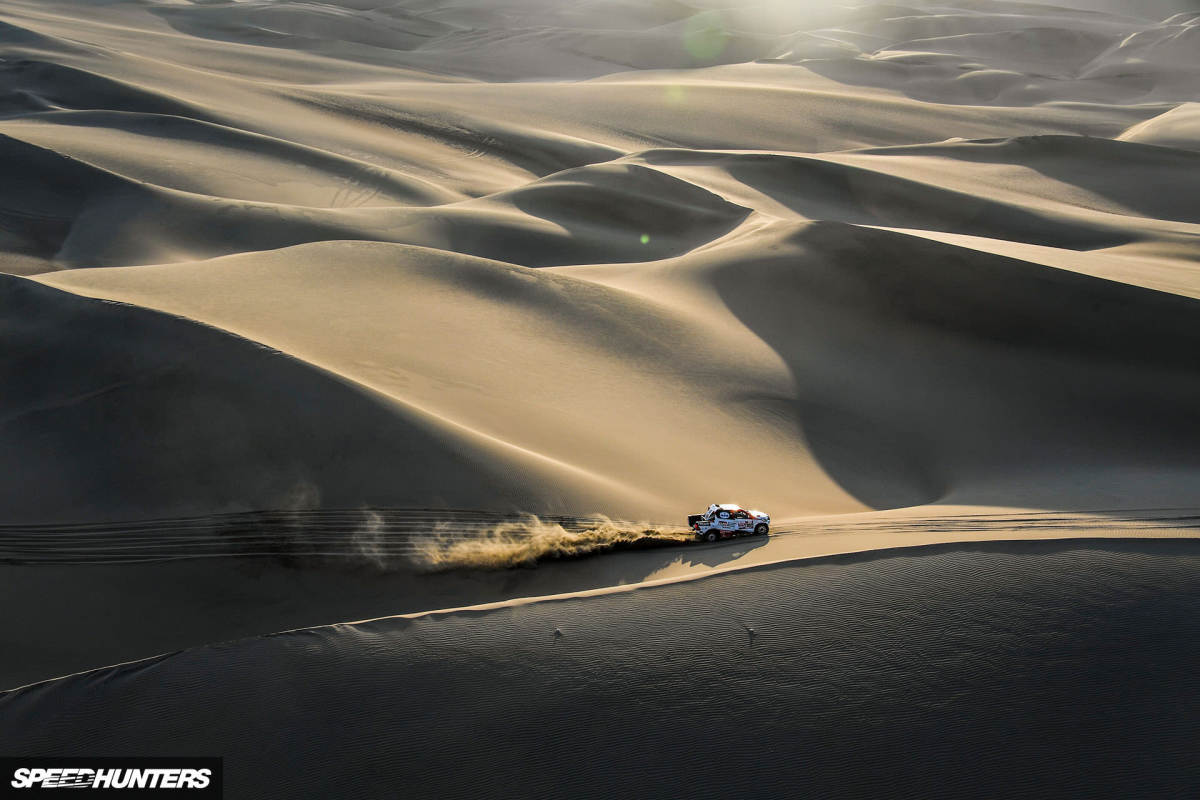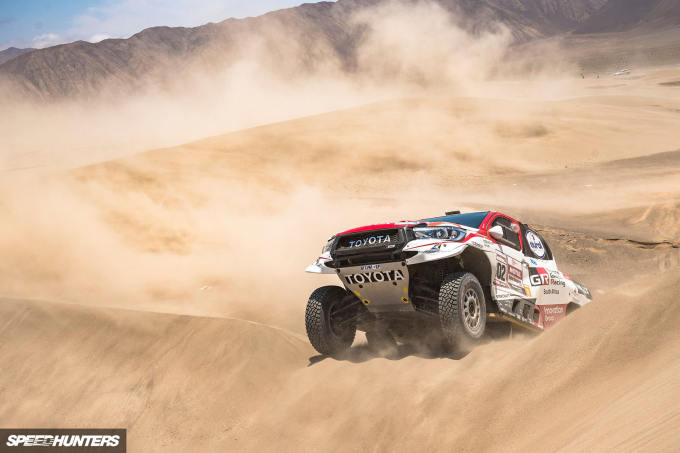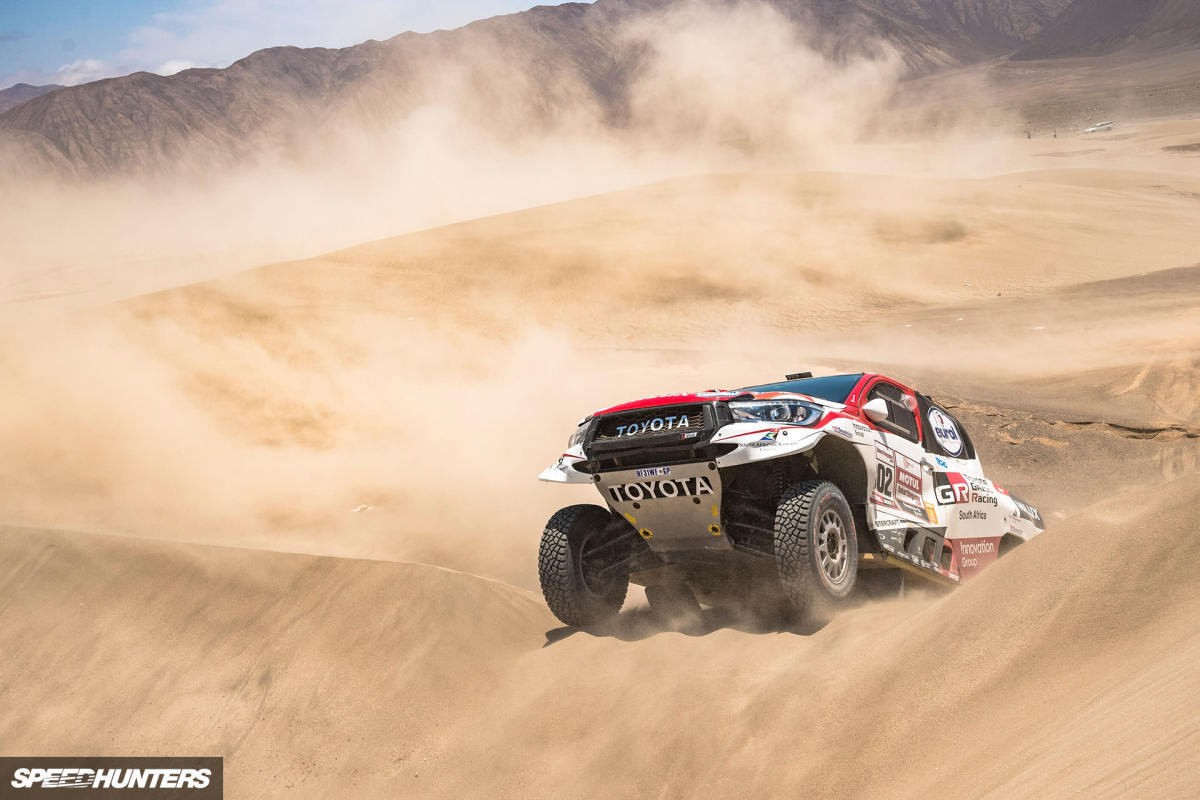 Thierry even came up with a motto for his inspiration: "A challenge for those who go. A dream for those who stay behind." He was so determined and focused, that this crazy plan of his quickly became a reality. Since then, the Dakar Rally, a one-of-a-kind event, fueled by the longing spirit of adventure and open to all competitors, has brought copious amounts of fun, priceless moments, heartache and of course celebration to racers and fans alike, all across the world.
For the first race on 26 December 1978, 182 vehicles showed up for the 10,000km race into the unknown. I don't think we actually realize how crazy this was; such a large number of racers showing up to something that they had to idea what to expect, which has eventually grown to one of the biggest racing events in the world. Every year people spend loads of money to enter this epic race and try to prove their worth.
Racers often crash, retire and sadly even die in the Dakar Rally, but it takes something really special to win this glorious race, a privilege very few people ever get.
Talking to Glyn Hall, team principal of Toyota Gazoo Racing South Africa, he said that the last few days of the 2019 rally were quite stressful, as they only had one running car left. The pressure was really on them to perform.
This was also the first year that the event was held in a single country, Peru, and from a logistical perspective it made it much easier, but because there weren't really any touring stages. Every single stage was really tough and demanded the team's full effort.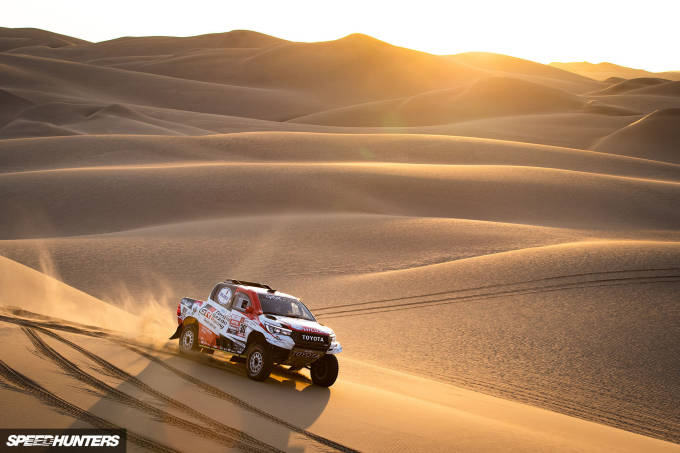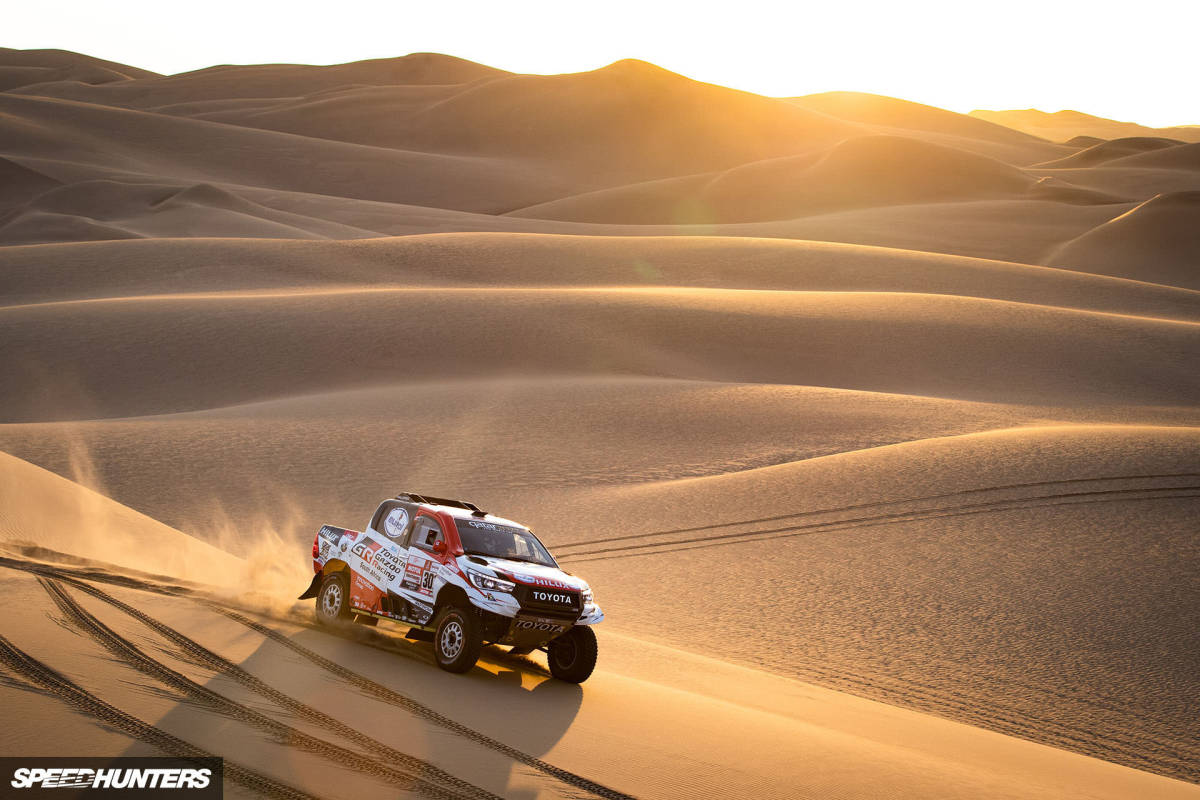 Closer to the end of the race, the cars also had to cross a lot of the tracks from previous days, which made navigation quite stressful for the co-drivers. From a sporting point, it wasn't so ideal either, as it didn't seem so much like an unexplored adventure. This year's event also had the most dune and sand stages ever in Dakar which made the race even tougher in multiple aspects.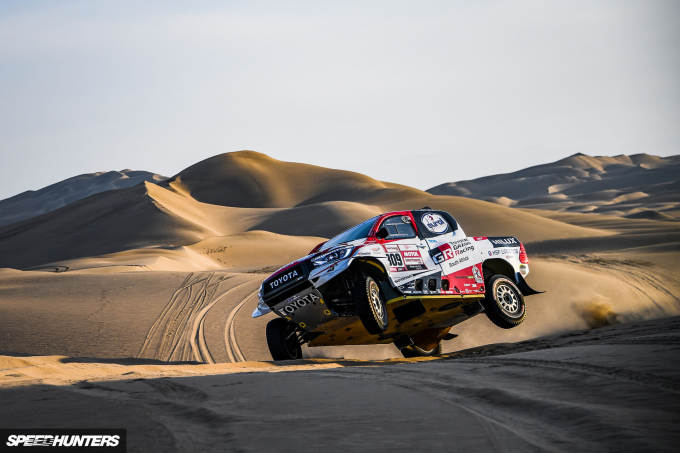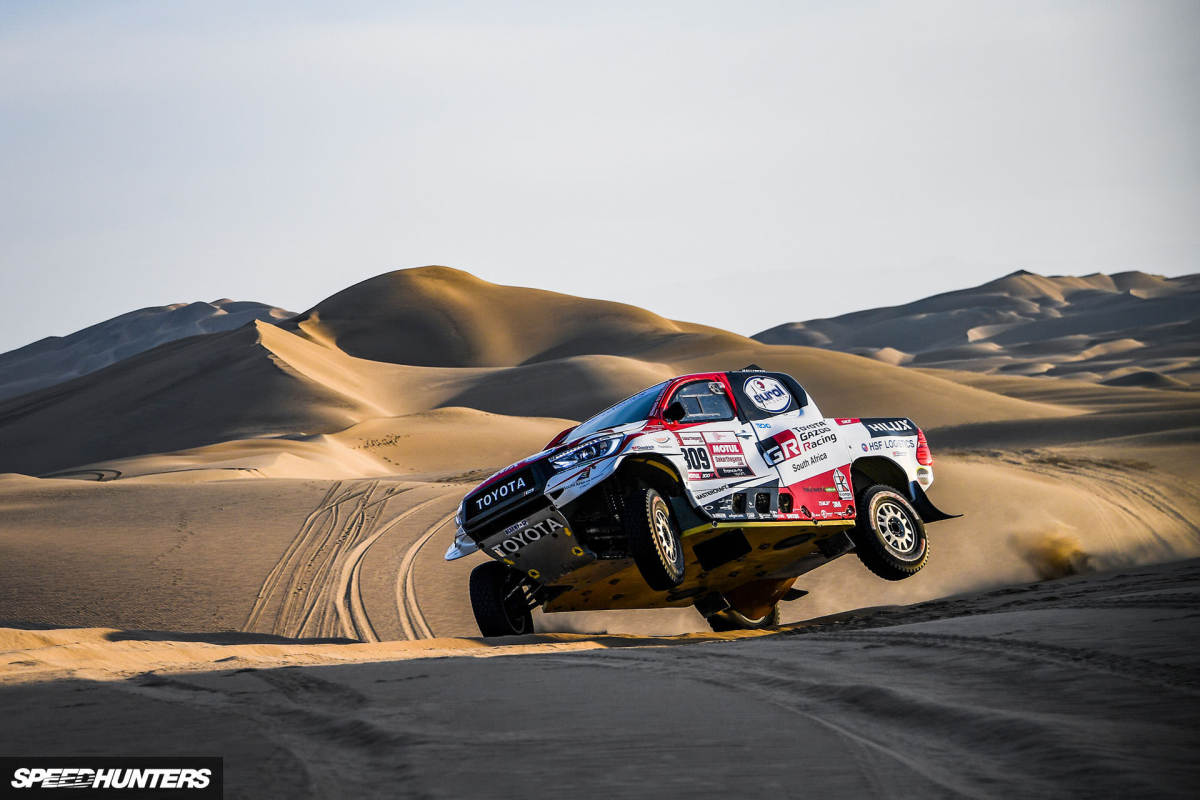 The toughest stages of the race for the team were definitely the later ones, especially Stage 9 which had lots of small dunes with big drop-offs in-between and lots of soft sand.
Many other drivers faced problems in the same stage too. Stéphane Peterhansel was ruled out of the race shortly after the start; a crash 26 kilometres in forced him to a first Dakar retirement in a decade as his co-driver David Castera had to be transported to a Lima hospital after sustaining a back injury. Meanwhile, Sébastien Loeb got stuck in the sand in the early parts of the stage, costing him a lot of time.
This all gave Nasser Al-Attiyah free reign over the stage, which he won comfortably.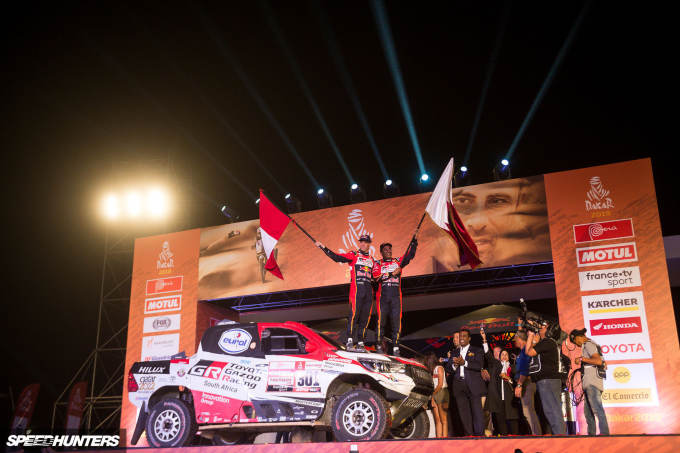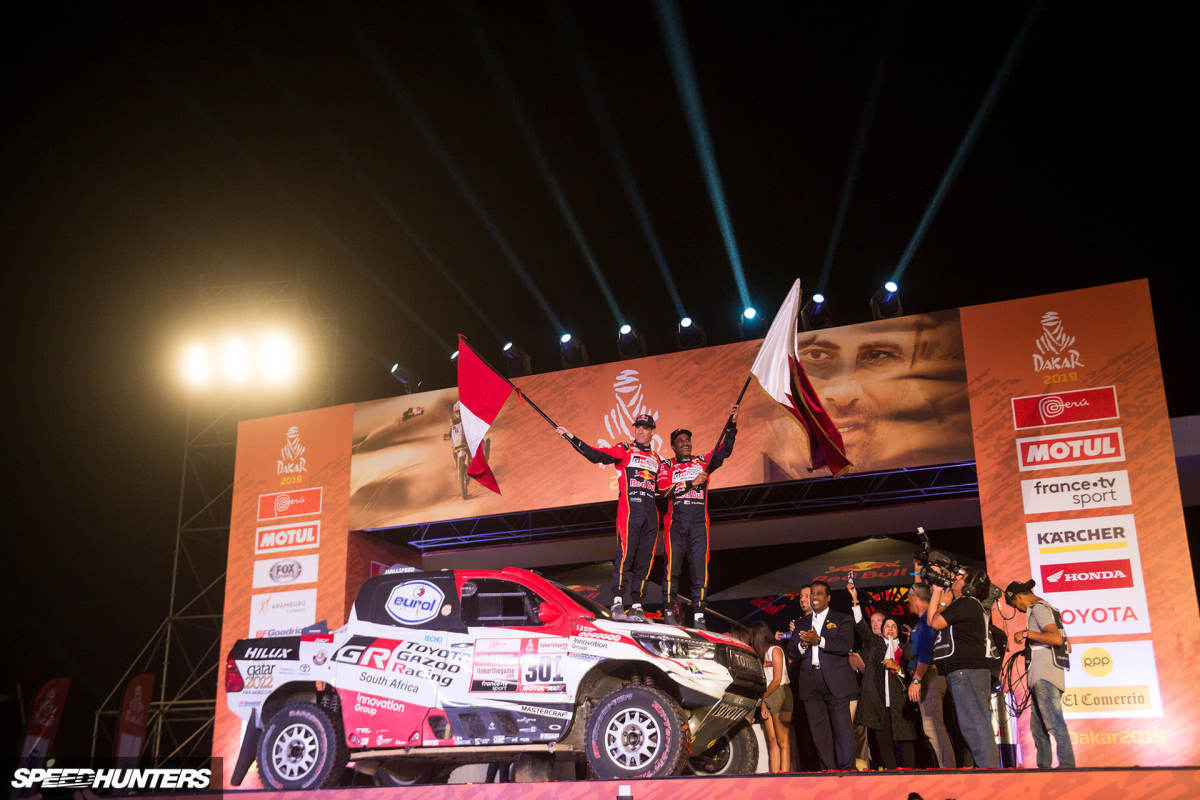 He then went on to conquer the race and helped Toyota clinch that elusive Dakar title for themselves in the ultra competitive Car class. Nasser Al-Attiyah and his co-driver Matthieu Baumel roared across the finish line in 34 hours, 38 minutes and 14 seconds in their Gazoo Racing South Africa/Hallspeed Toyota Hilux.
 Putting In The Work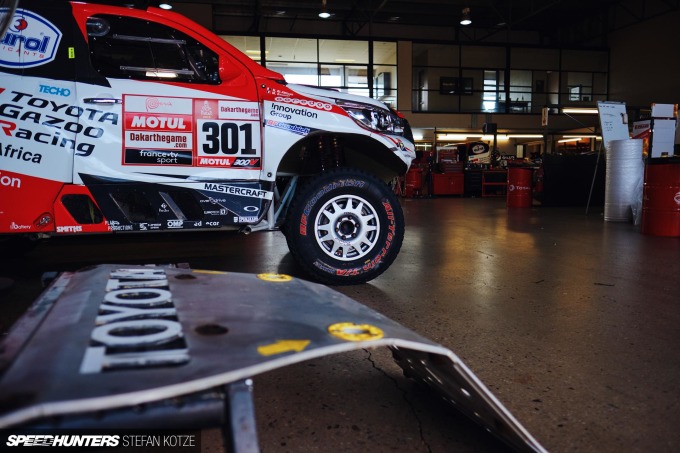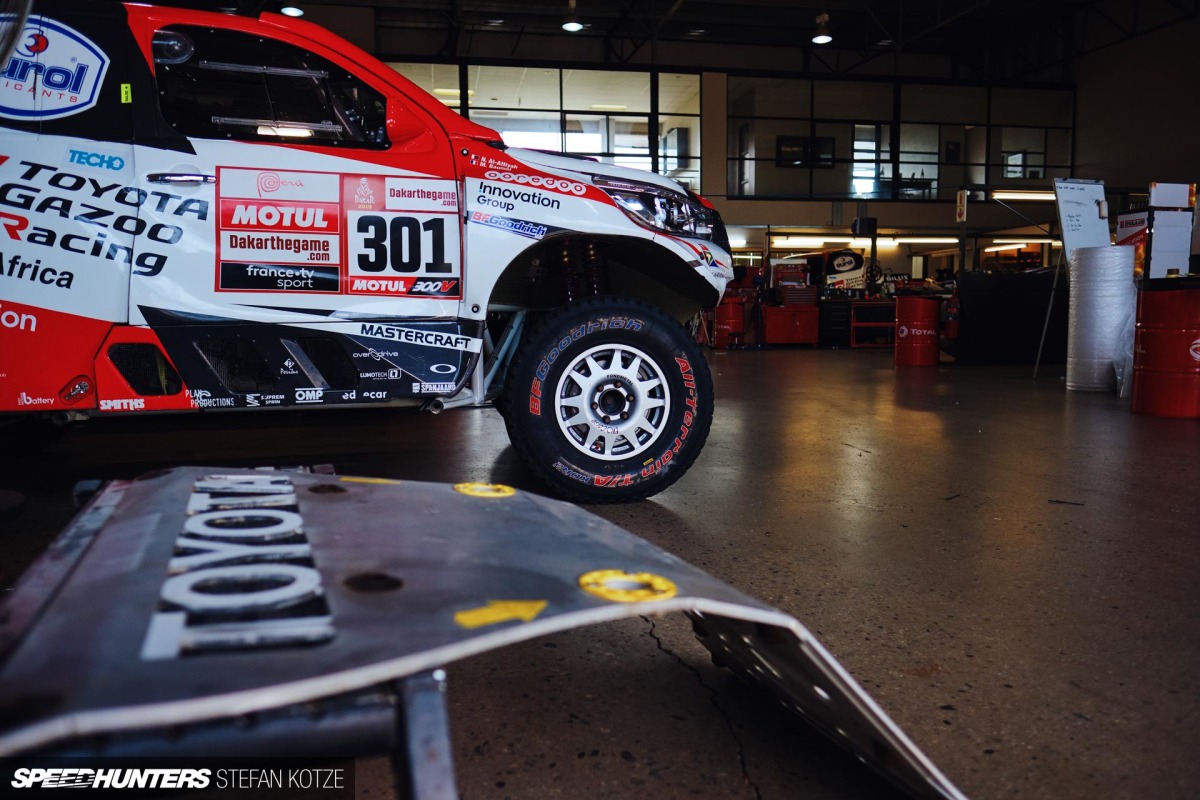 To take on a race as big and challenging as the Dakar Rally, there are a lot of factors that need to be looked at if you're going to have any chance of success.
You need some budget to make everything happen in the first place, because let's face it, without money, you're not going to get anywhere. But just having money is also not going to get you far. You also need a reliable and competitive vehicle, but the biggest factor in my opinion would be a trustworthy and knowledgeable team of drivers, mechanics and team management.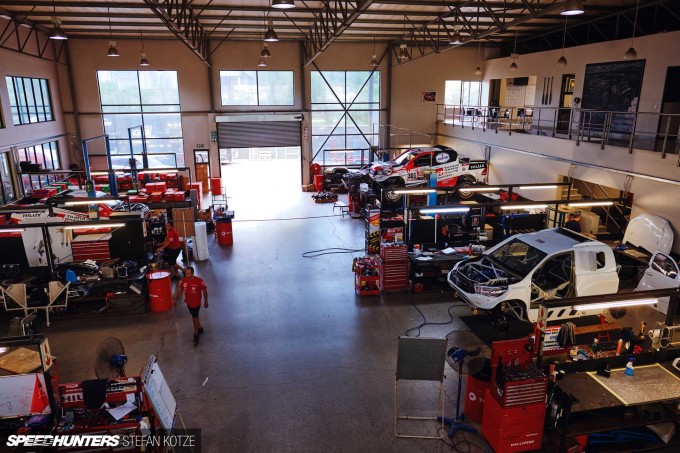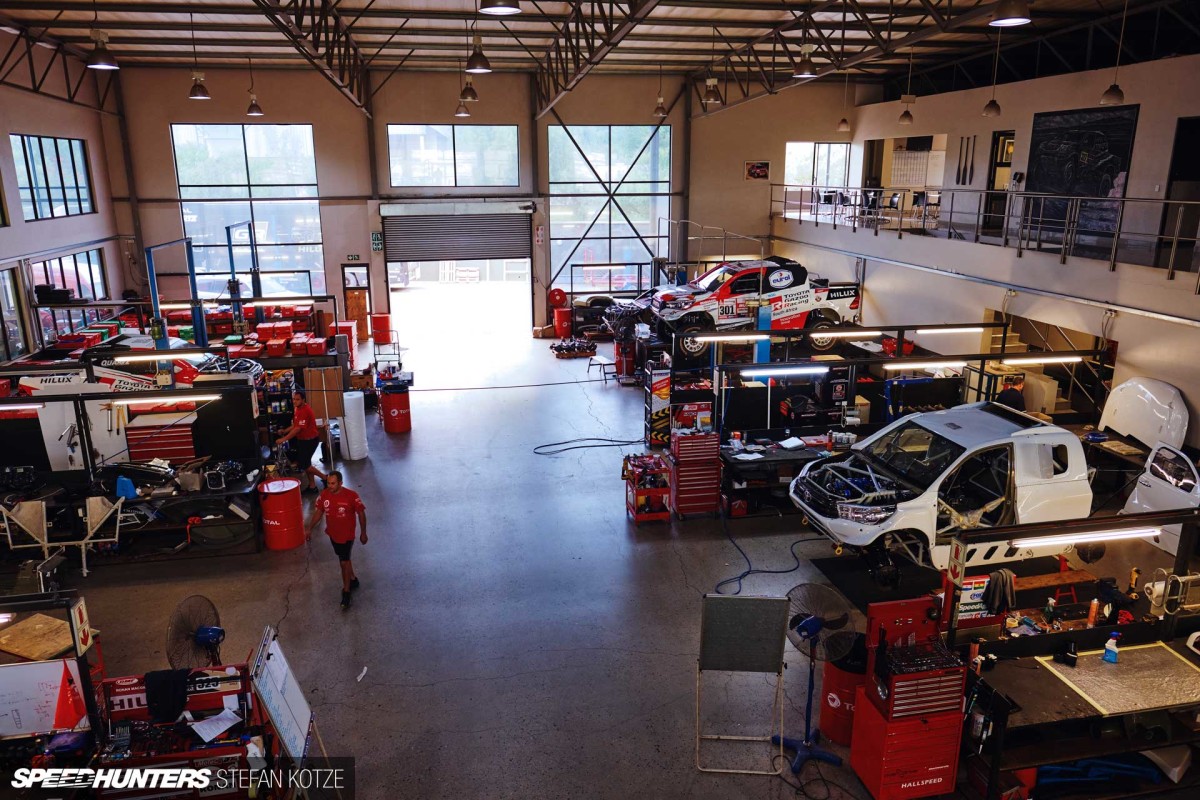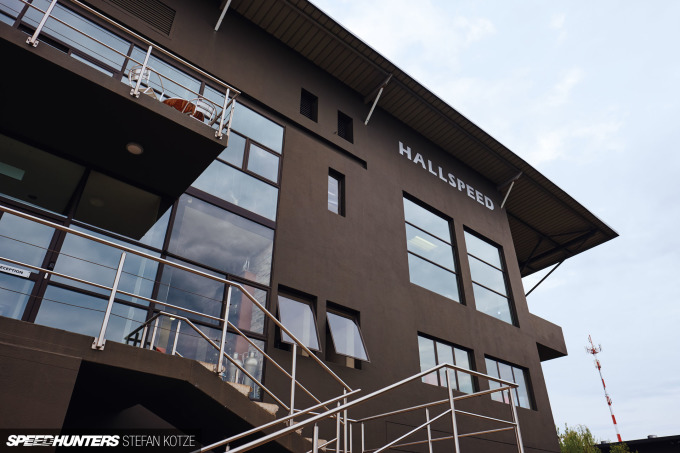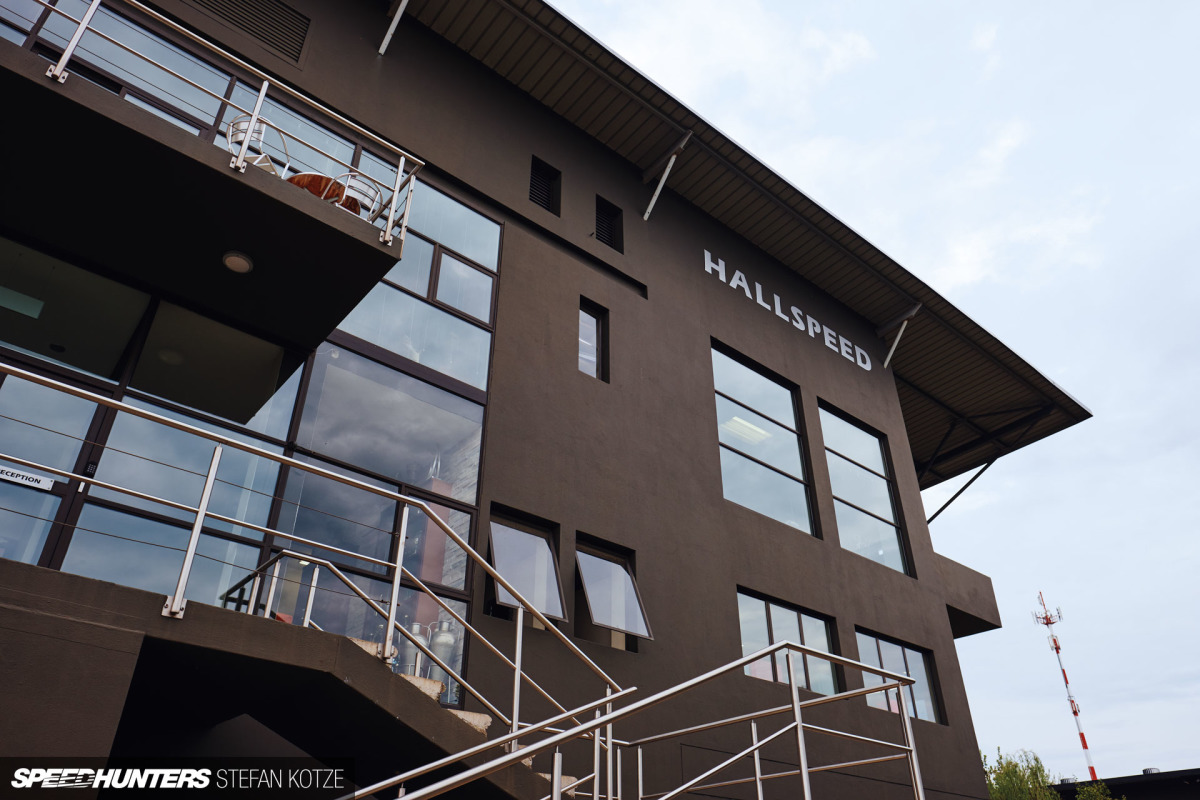 Put all of this together though and you have a real fighting chance – a chance to show the world what you're made of and a chance to have your name in the racing hall of fame.
This is where I'd like to introduce you to Hallspeed, AKA Gazoo Racing South Africa, based right here in the bottom of the African continent.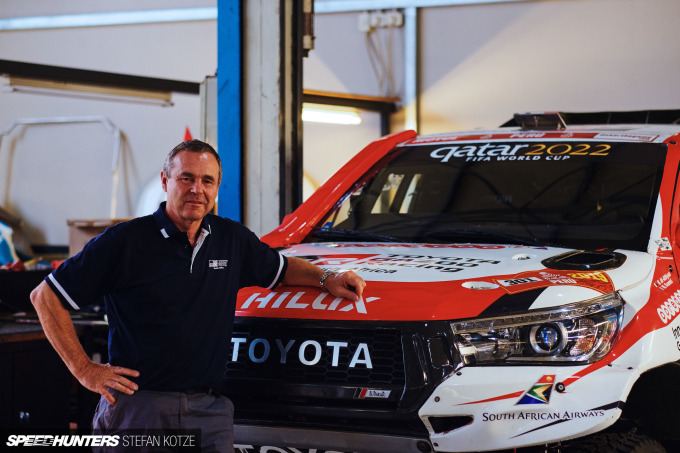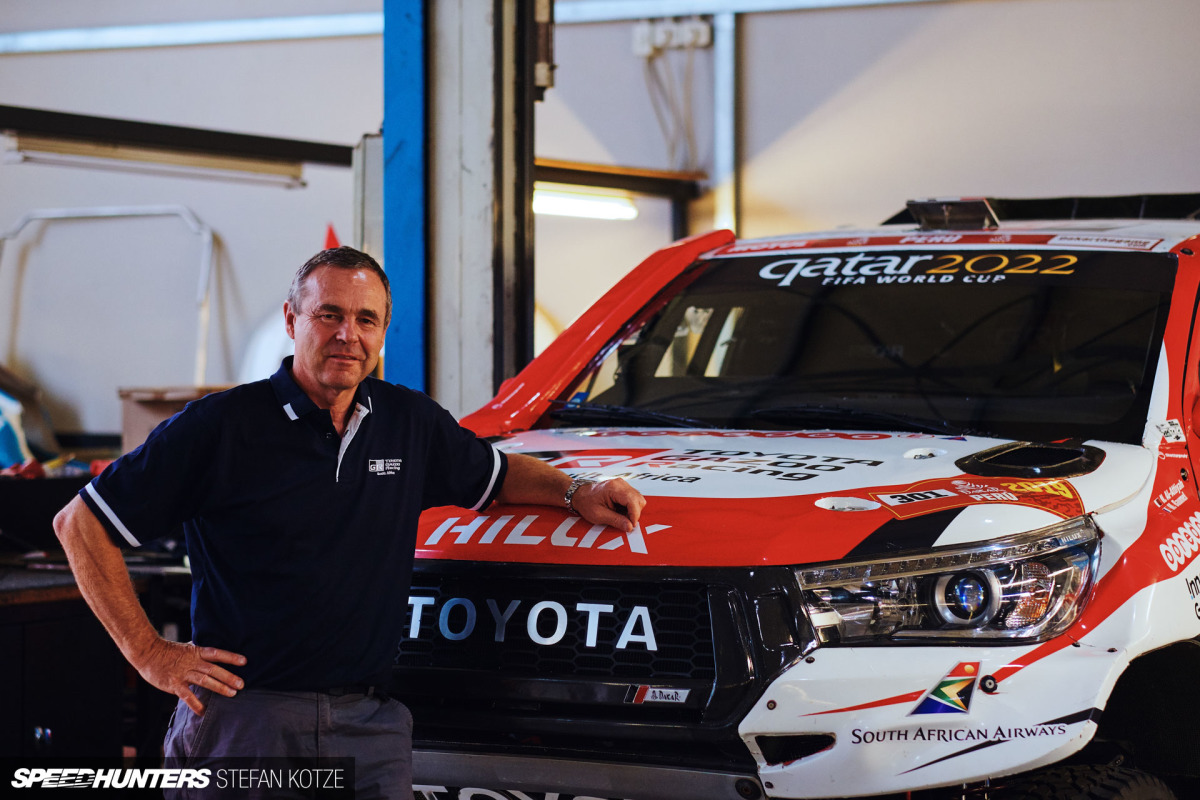 Guiding, mentoring and expertly running this small but professional outfit, is aforementioned team principal Glyn Hall.
Glyn has a rich motorsport career that started in 1975 when he joined Chrysler United Kingdom as a student apprentice. He worked in many different departments during his training, but one department piqued his interest more than than anything else. That was the competitions department, which was run by Des O'Dell, who was part of the original design team for the Ford GT40.
Glyn managed to secure a position in the competitions department after his training, and this allowed him to meet some great people in the industry like Tony Pond, Henri Toivonen and Jean Todt, as well as being part of the team that developed the prototype Lotus Sunbeam rally car.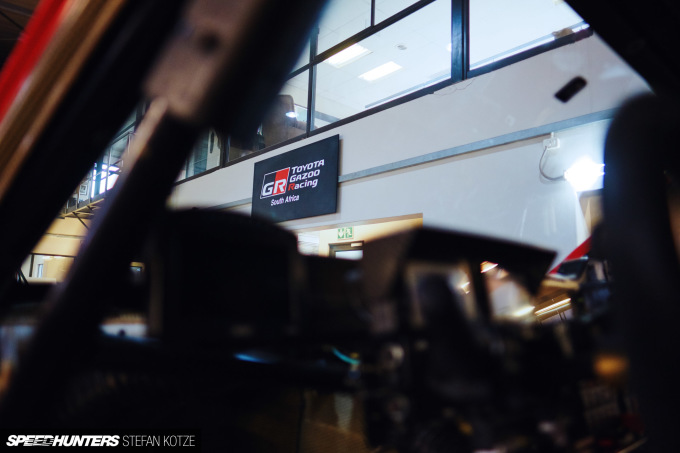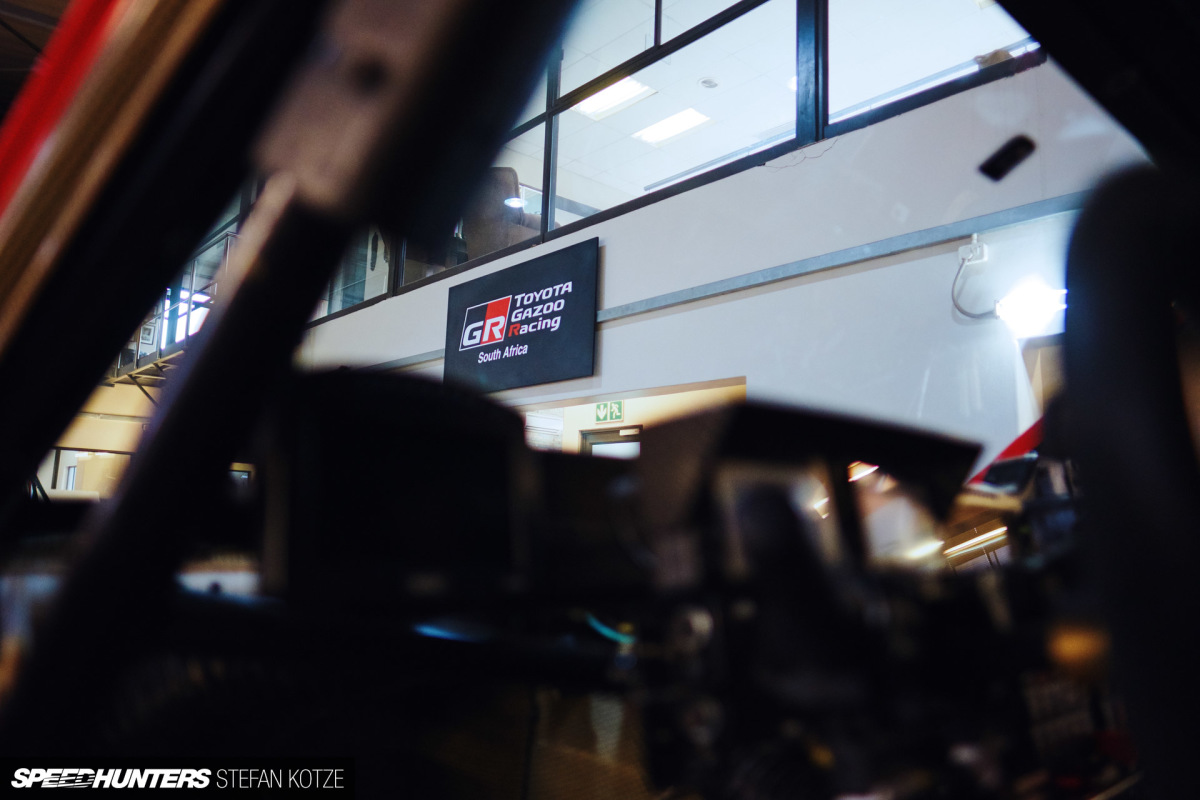 Glyn eventually moved to South Africa in 1980, and in the time since has achieved a lot as both as a racer and a team manager. In 1990, he established his own company, Hallspeed, to run the VW Dealer team in national championship rallies.
In 1996, before Hallspeed's journey commenced with Toyota, they took over the management of Nissan Motorsport, and Glyn helped Nissan to a record 29 national championships between 1996 and 2009, including two production car drivers' championships, four successive touring car drivers' championships between 2007 and 2010 and nine consecutive off-road drivers' championships from 2001 to 2009.
Hallspeed took over the running of Toyota Motorsport in 2010, and is still responsible for Toyota's teams in the national rally and cross-country championships.
Glyn and his company have enjoyed a decade-long successful involvement with the Dakar Rally and the FIA World Cup for Cross-Country Rallies. Hallspeed has built a few dozen off-road racing pickups, most of which have been sold to overseas customers.
In addition to winning numerous national and international races and several national championships in Russia, Europe and the Middle East, their vehicles have performed at the highest levels in the Dakar Rally.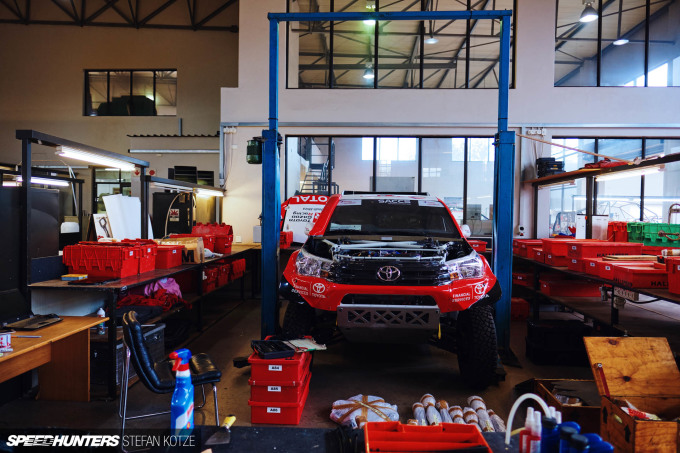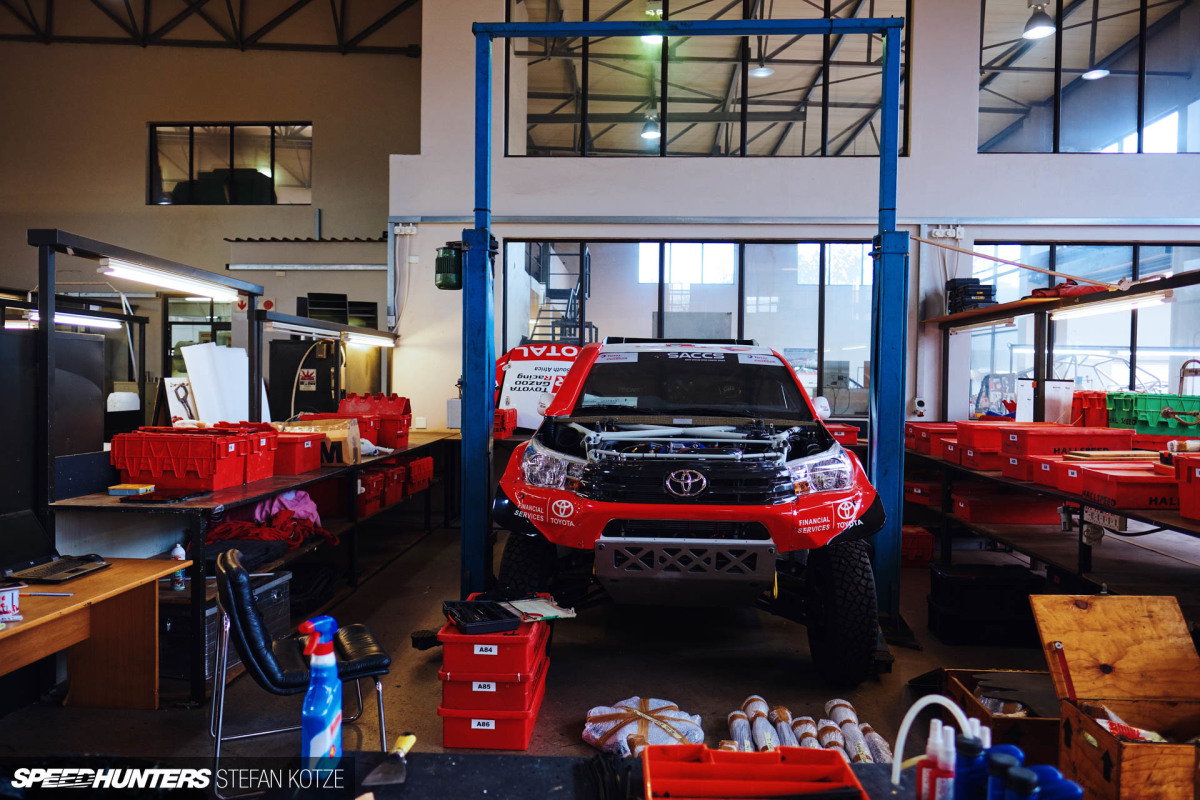 In 2012, four Toyota Hilux pickups, designed and built in-house by Hallspeed, entered the history books when they took part for the first time in the Dakar. They were piloted by two 2009 Dakar winners; Giniel de Villiers and German co-driver Dirk von Zitzewitz, as well as Duncan Vos and Rob Howie.
One was in the hands of Argentinian privateer Lucio Alvarez and the final one was driven by Argentine Orlando Terranova. Glyn and most of his team traveled to South America to look after the two South African Toyota Hilux entries.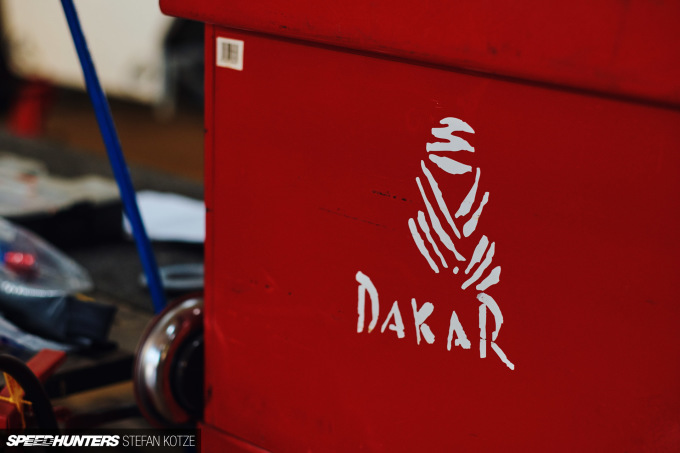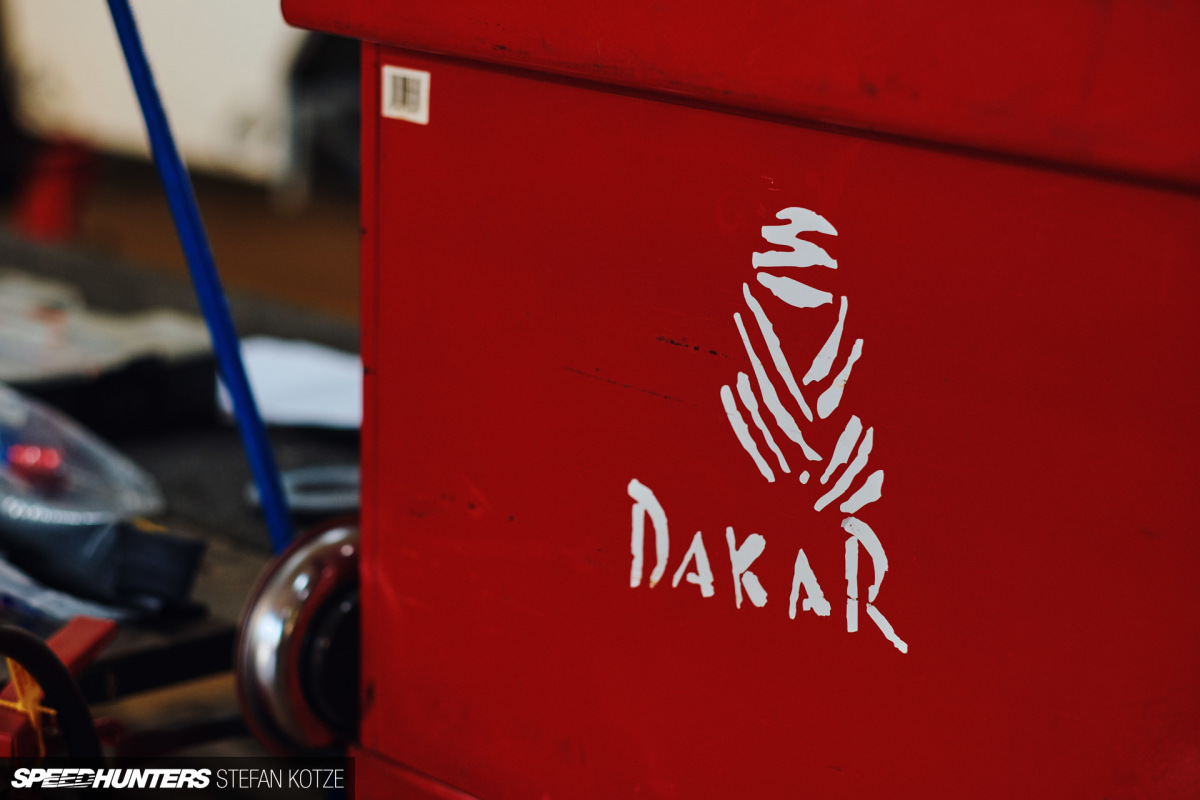 That year ended on quite a high for them, as Giniel de Villiers finished 3rdoverall, Alvarez was 5th and Vos 10th. Terranova was unfortunately forced to withdraw after his co-driver had to return home for personal reasons during the rally.
De Villiers and von Zitzewitz impressed even more in the following year's event, finishing in second and first in the class for four-wheel drive petrol-engined vehicles in an evolution version of their Toyota Hilux. It was de Villiers' 10th Dakar Rally, his fourth podium in five years, and his ninth top 10, making him the most consistent driver of the past decade, quite an achievement for himself and for South Africa.
Finding The Winning Formula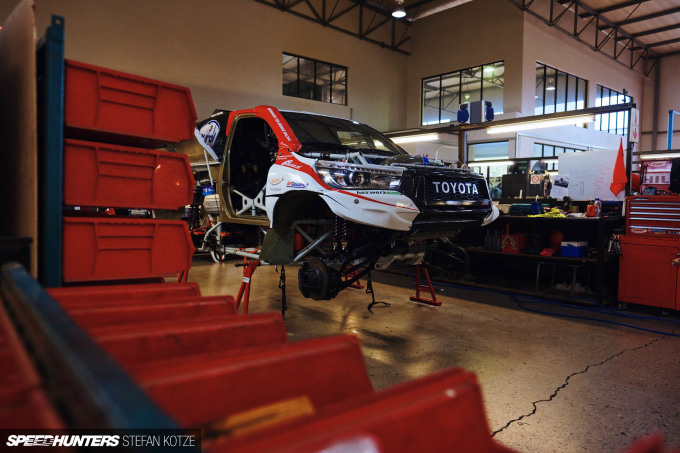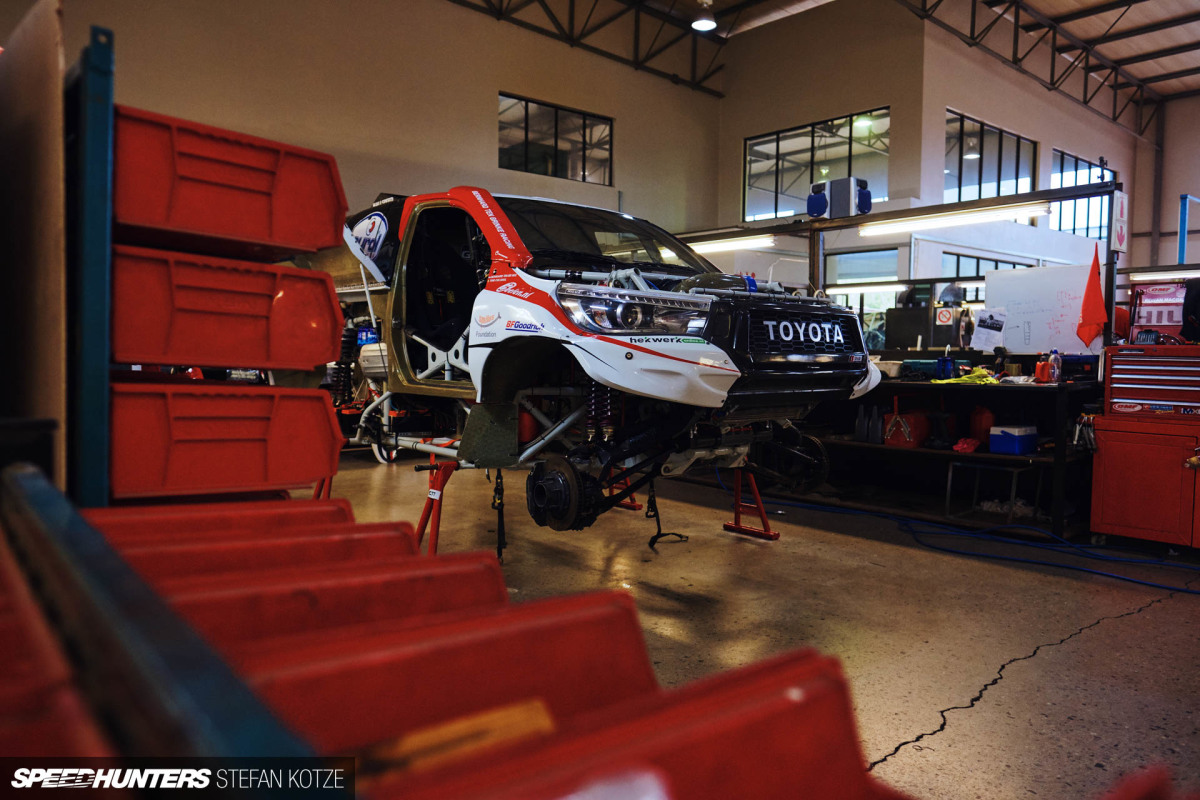 Fast forward to 2018 and the Hallspeed team came closer than ever to winning the monstrous rally. While they couldn't beat Carlos Sainz in his factory Peugeot 3008DKR Maxi, they clinched a superb 2nd finish with Nasser Al Attiyah, as well as a 3rd with Giniel de Villiers. Their other teammate Bernhard Ten Brinke suffered an unfortunate DNF when his engine failed on the second to last stage of the race.
The team had some issues with their tyres last year as the chosen compound turned out to be unsuitable for their chassis, and they believe that it was one of the biggest factors that made them lose out on the win.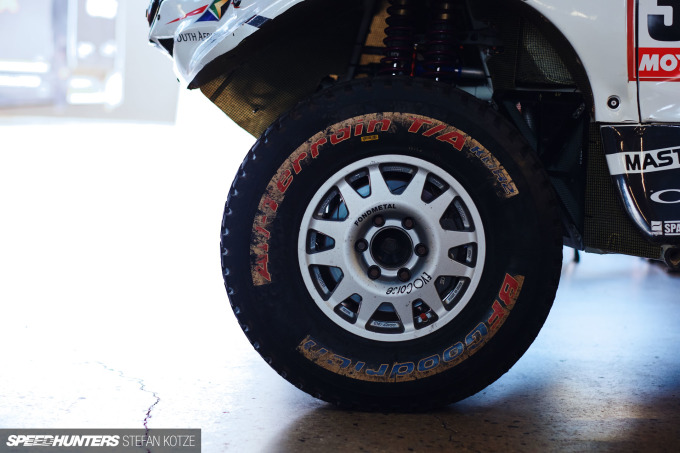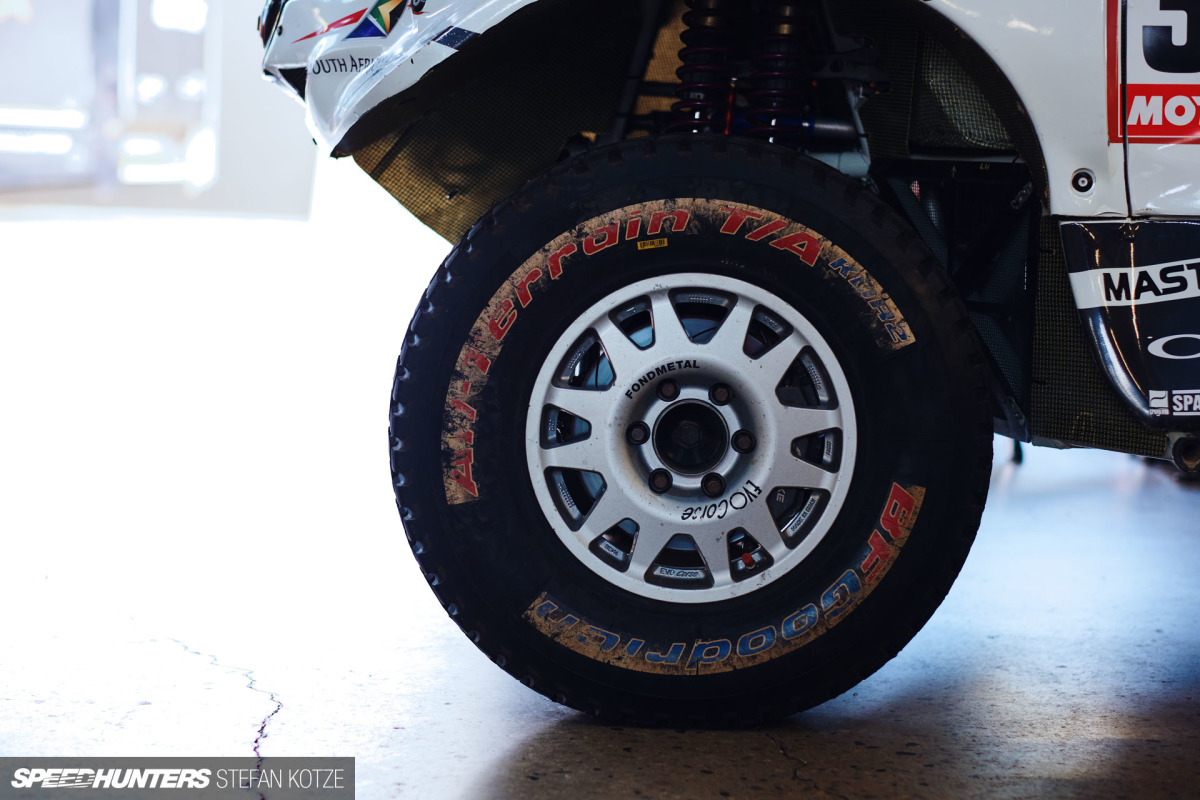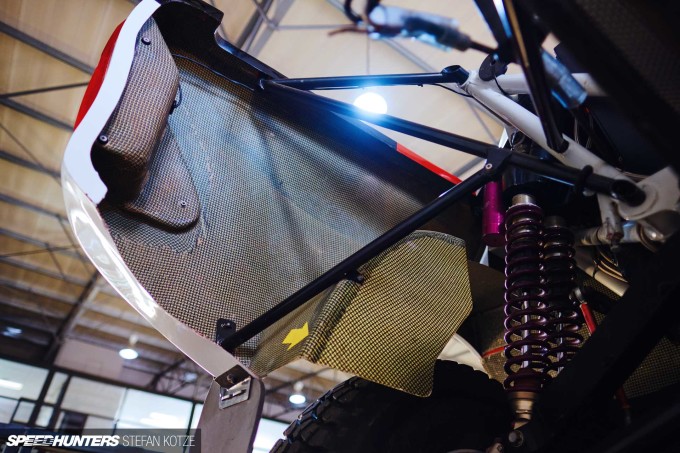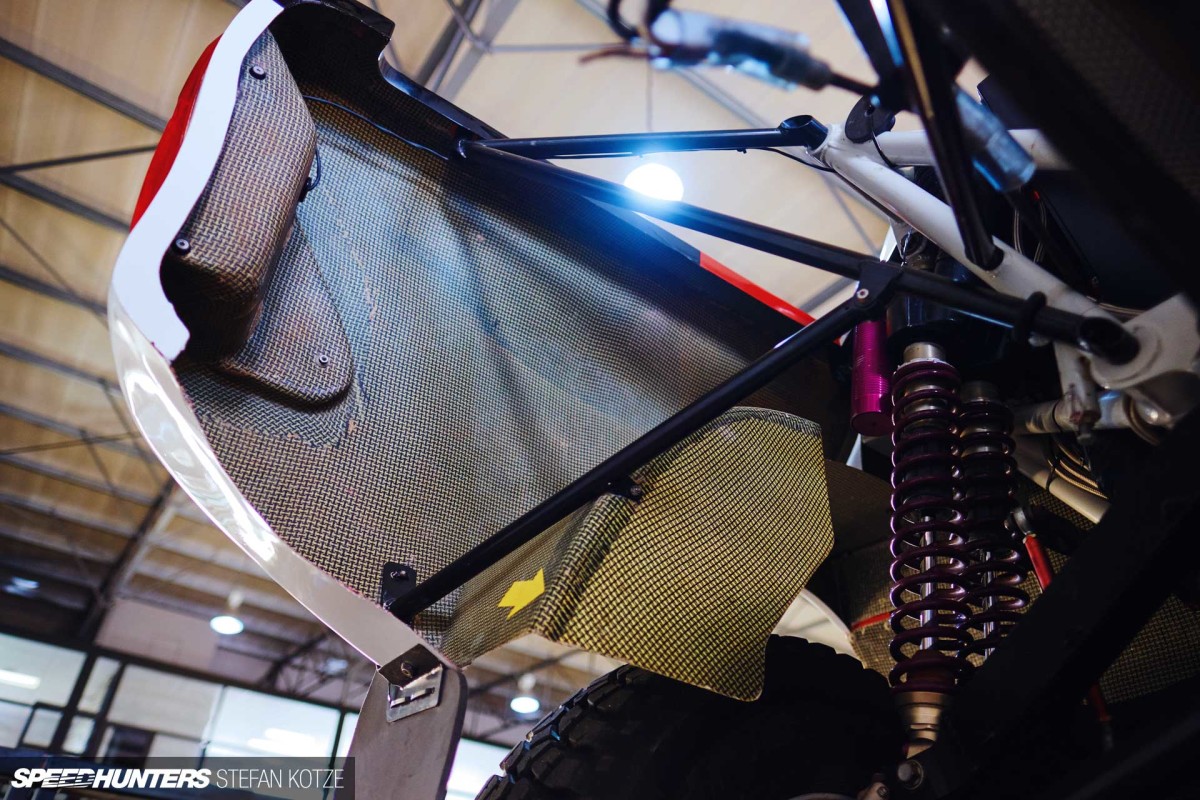 For the 2019 rally, along with Giniel de Villiers, they tested over a few thousand kilometres in the desert just north of Upington, with their new tyre of choice, the BFGoodrich All Terrain KDR2+ in 245/80×16 sizing. The team were extremely happy with the tyres' performance over the course of their tests, and were comfortable that they had made the right choice this time around.
Other changes from 2018 also included improved and revised suspension and shock absorbers.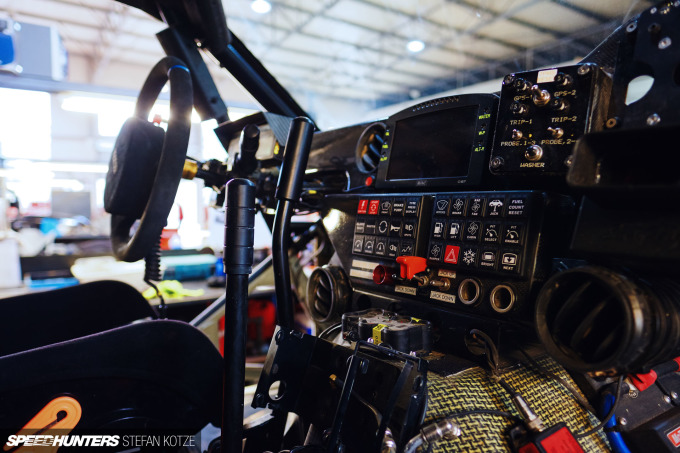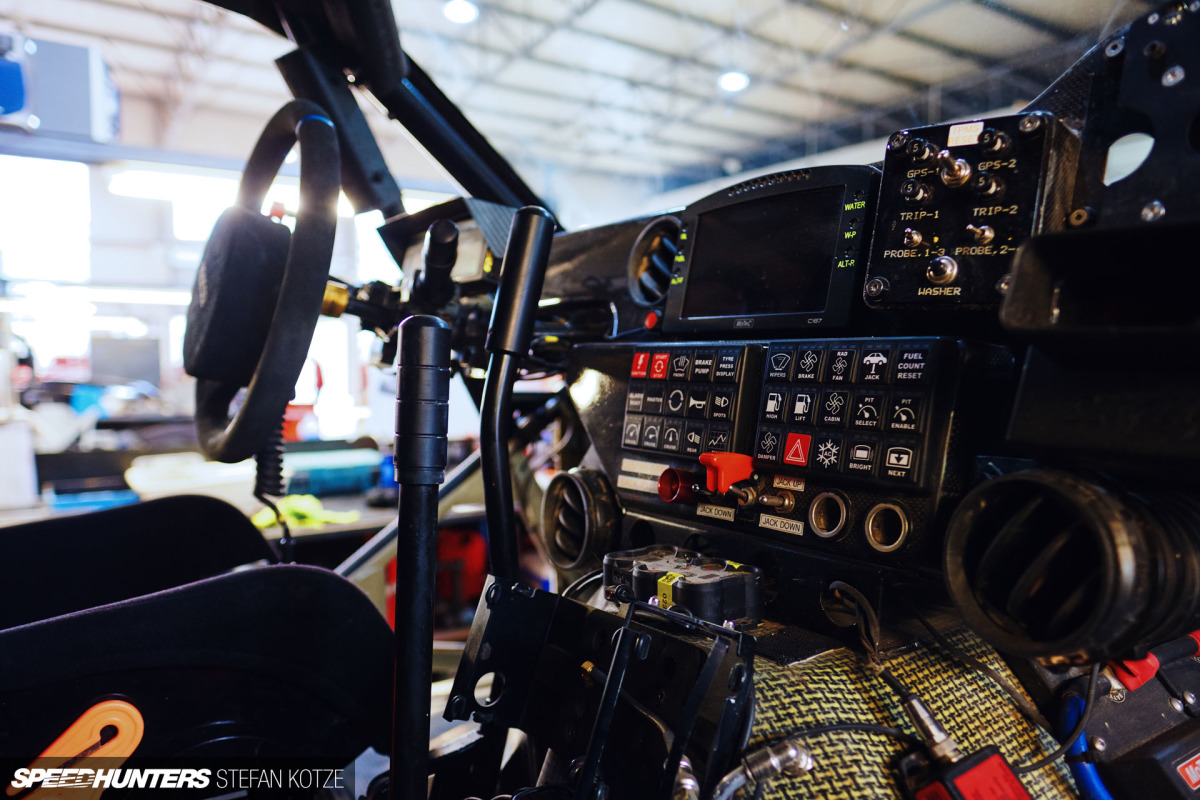 They also made tweaks to the driving position, making the driver more comfortable. They did this by lowering the position of the drivers' feet by 100mm, which meant they had to build and install a complete new floor mould and make changes to the chassis.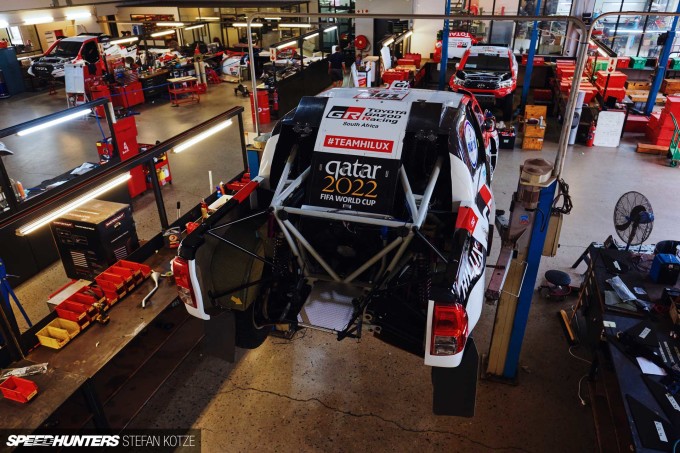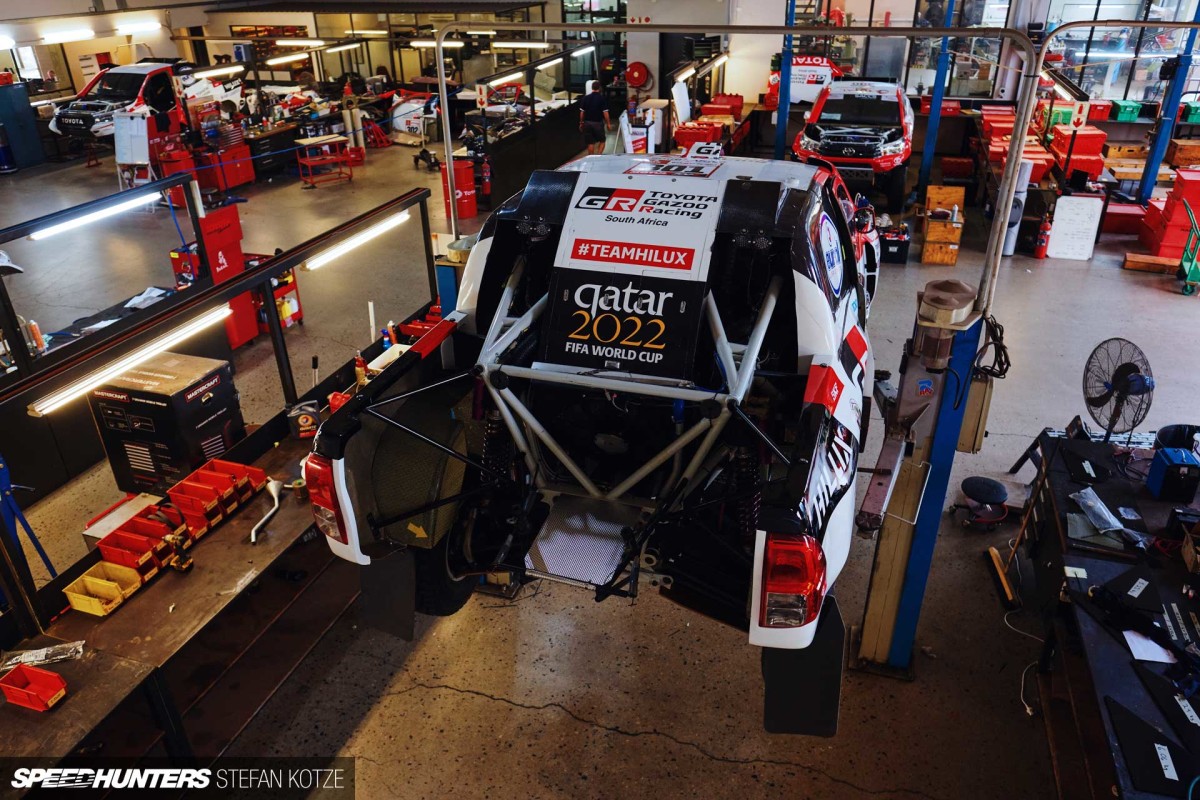 Along with that they also built a new cooling system using some production-model Toyota Hilux radiator technology. Front and rear differentials also received better cooling, and they used a new engine spec which Nasser ran in Morocco, still based on the 5.0-litre 2UR-GSE V8 from the Lexus RC F.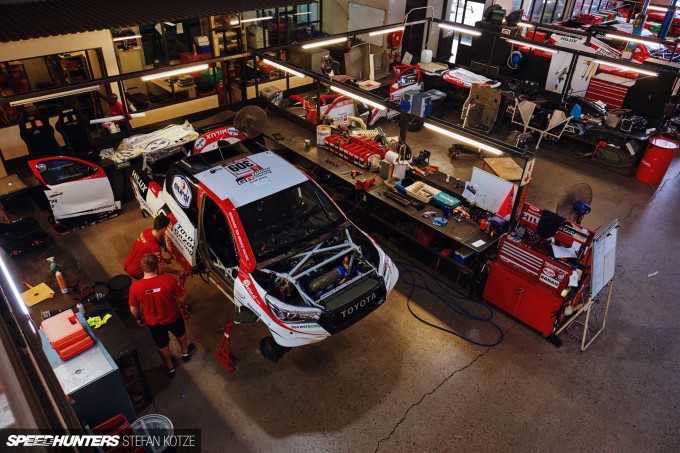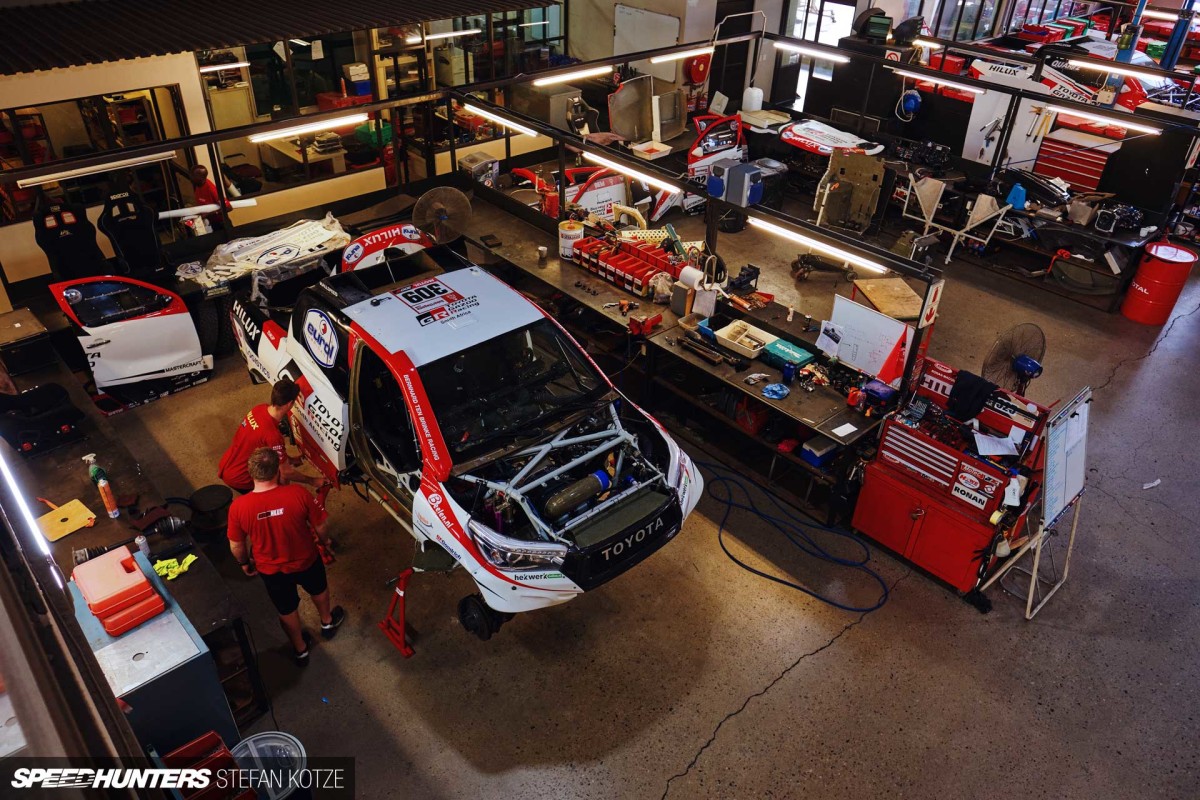 The engines were pretty much bulletproof at this year's rally and the team believes that this is because they're so well designed from the factory. They are production units, which can't be modified too highly because of regulations, so it speaks volumes about the engineering that Toyota puts into these power plants.
The exhaust and air intake systems can be customized, which all gets built in-house by the team, and the cars run MoTeC management. The engine sits quite far back into the bay, effectively making it a mid-mount setup. The car also features independent rear suspension, and of course all-wheel drive.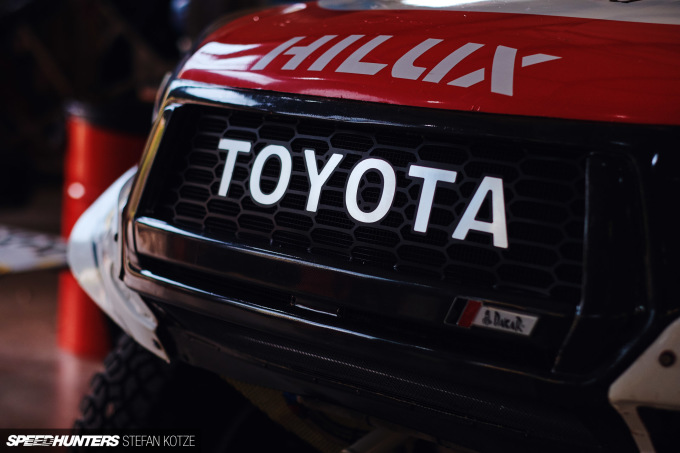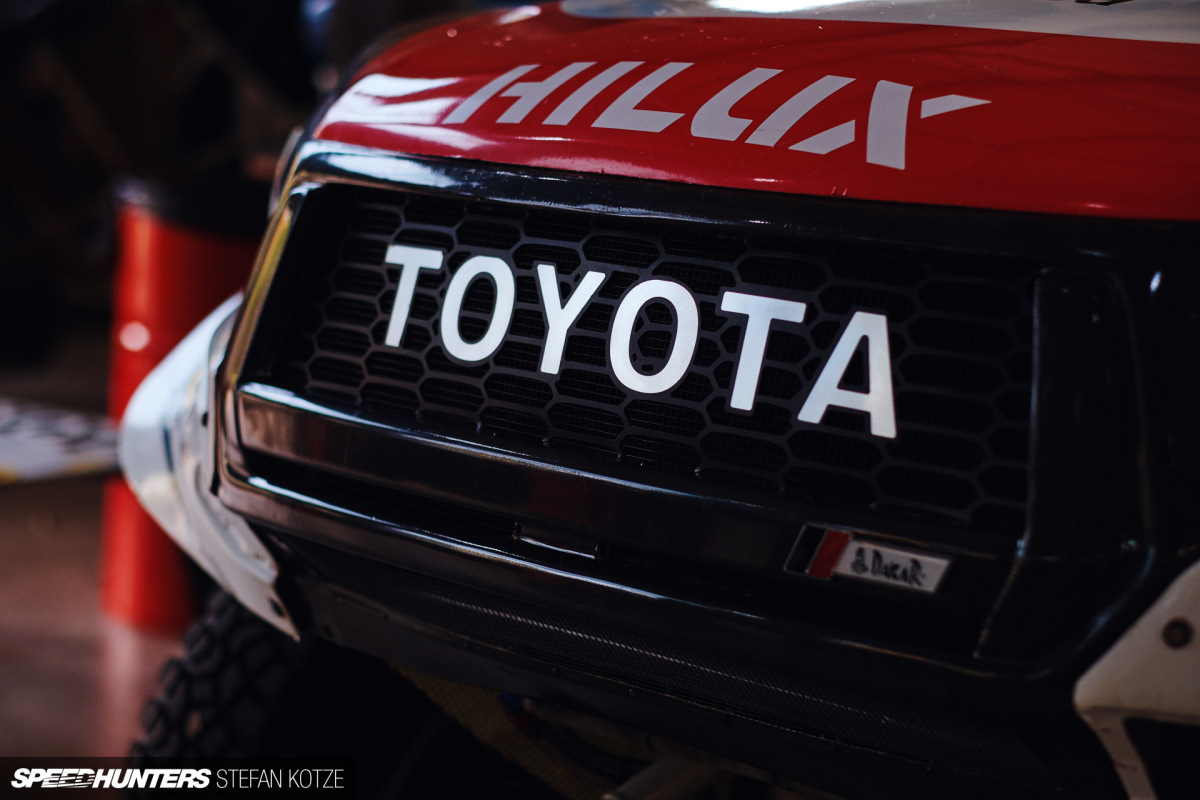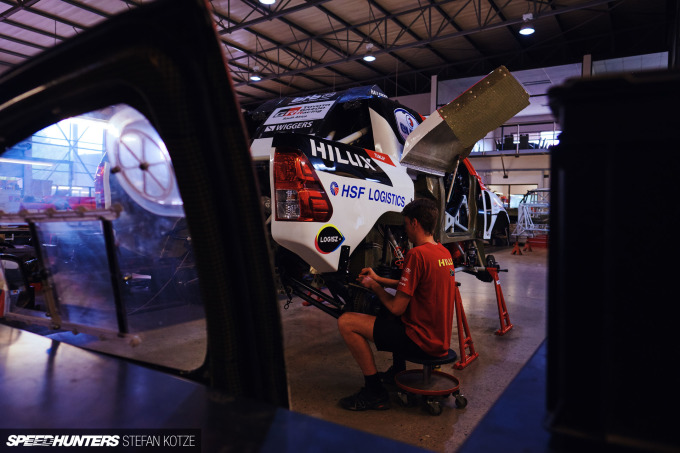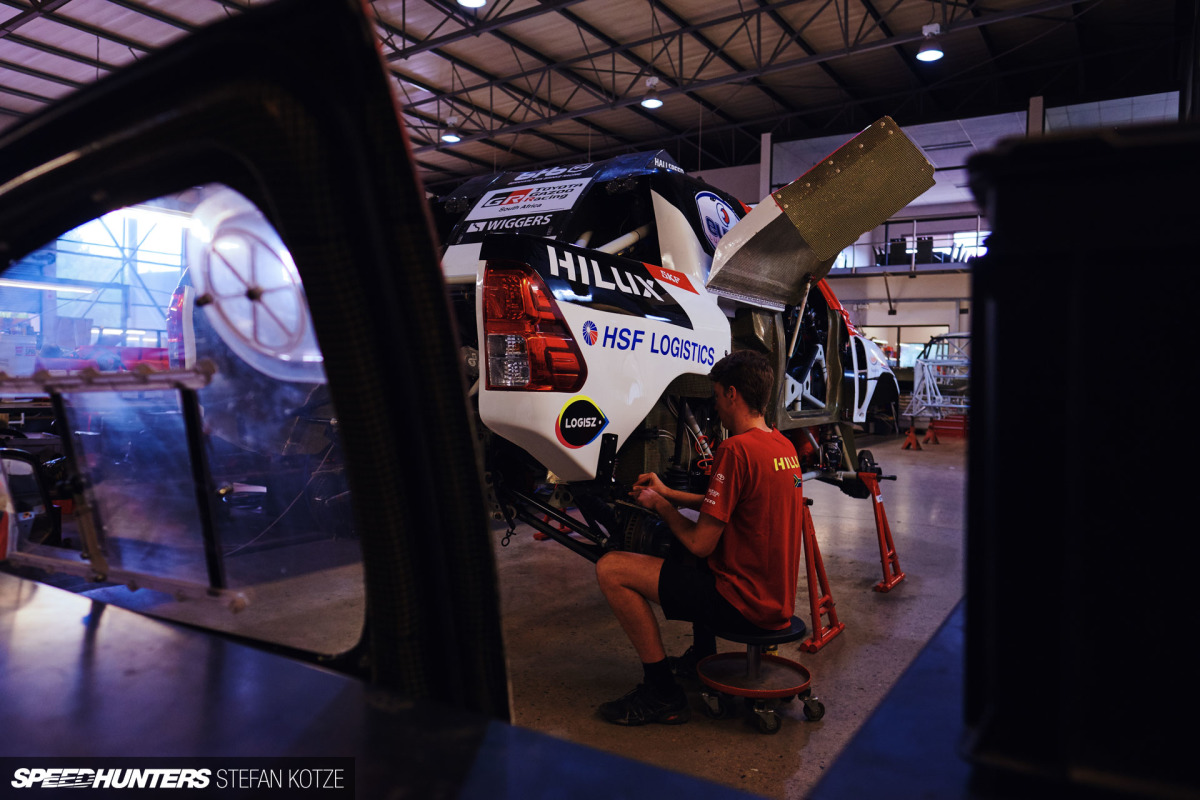 When it comes to the actual design and building of these Dakar-winning machines, at least 80% of the work is all done locally. The tubular space-frame chassis, which is the core structure and safety cell of the car, is all built and welded together on the premises, and at least 60% of the locally used parts they machine themselves as well.
The chassis is covered with body panels made from high-tech lightweight composite materials, like carbon fiber and Kevlar. To keep things more real they still use some production Hilux parts, like door handles, Toyota badging, headlights, taillights and the grille.
Hallspeed really knows how to build Dakar-tough vehicles, as proven this year.
What The Future Holds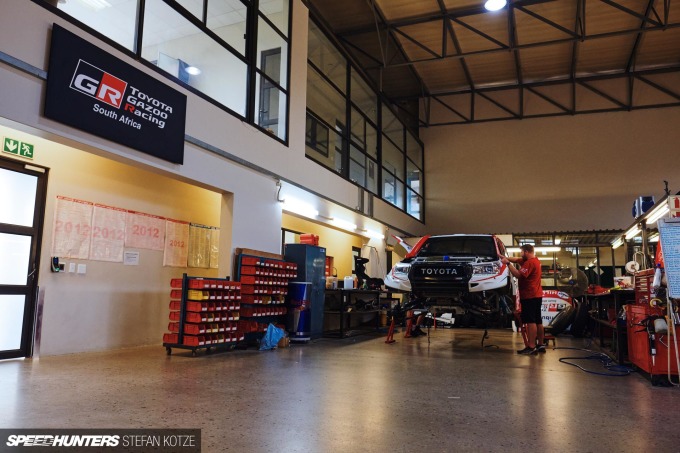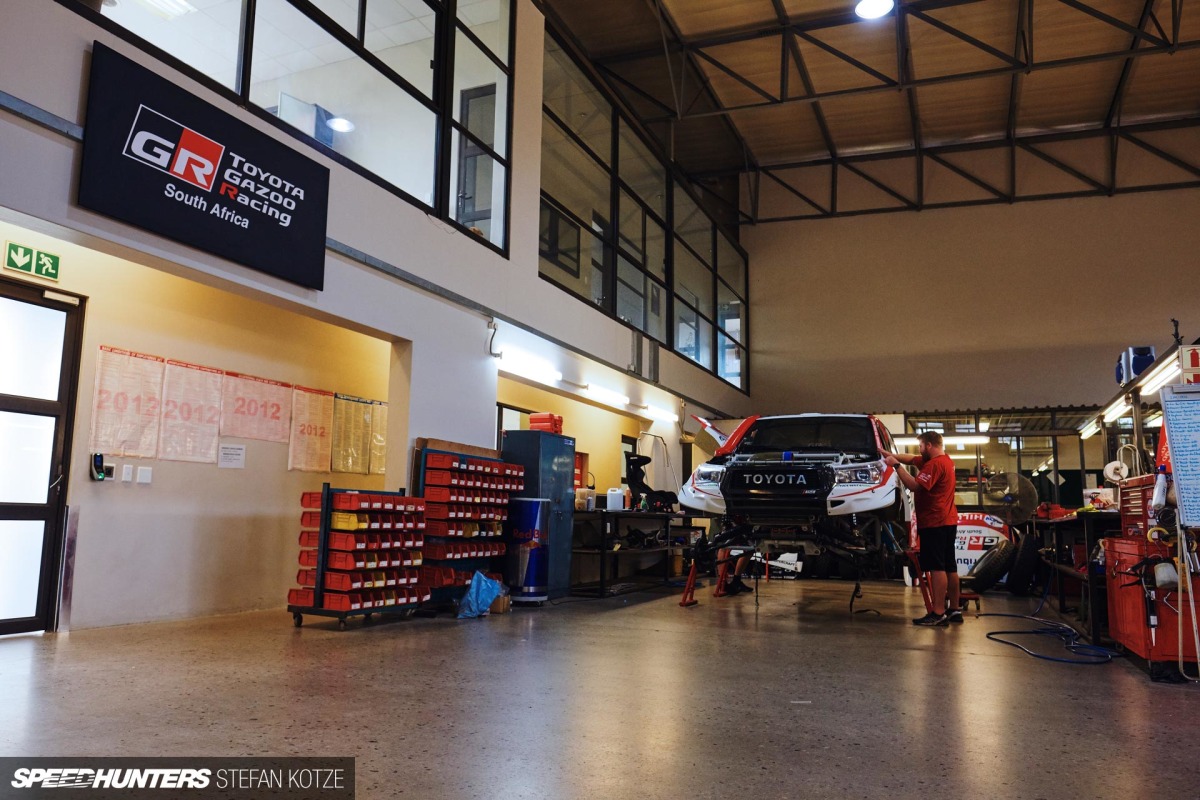 Although Hallspeed enters under Toyota Gazoo Racing South Africa, which is wholly owned by Toyota Japan, it's not an approved global program, which means they don't have massive budgets, especially compared to some of the bigger international factory teams. With this year's Dakar win though, they're hoping to get better funding for the future.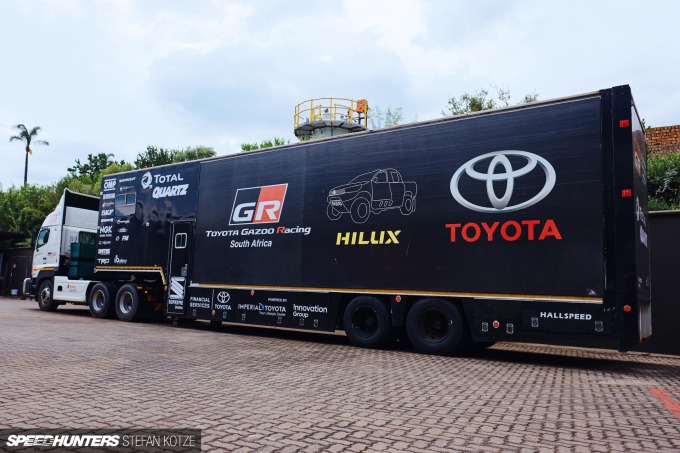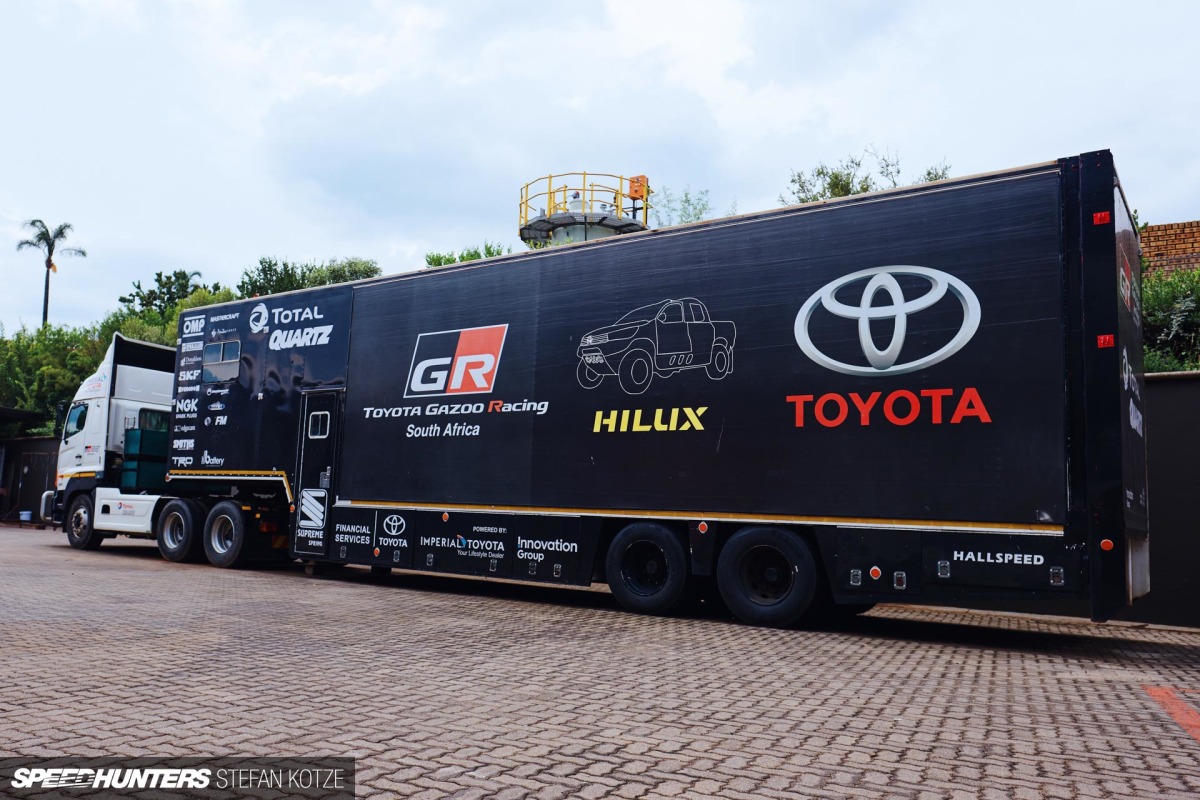 When it comes to other races now that Dakar has ended, the team are hoping to take part in quite a few this year. By the time you read this, Nasser will have already started to compete in the Manateq Qatar Cross-Country Rally, which takes place from the 21st to 26th of February, along with team-mate Bernhard Ten Brinke.
Then after that, Bernhard will also be competing in the Abu Dhabi Desert Challenge, which runs from the 31st of March until the 4th of April.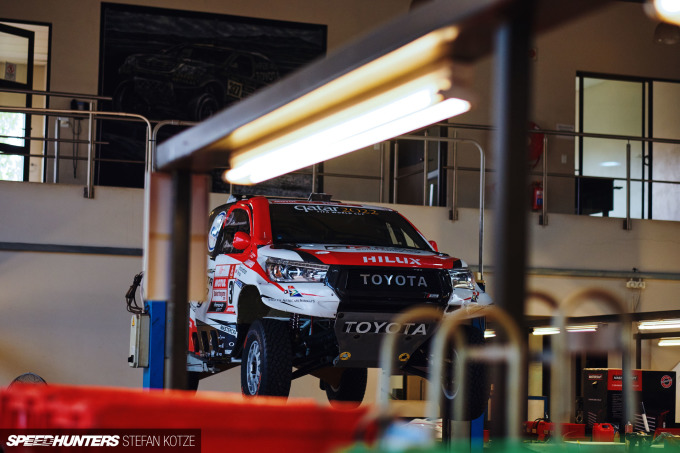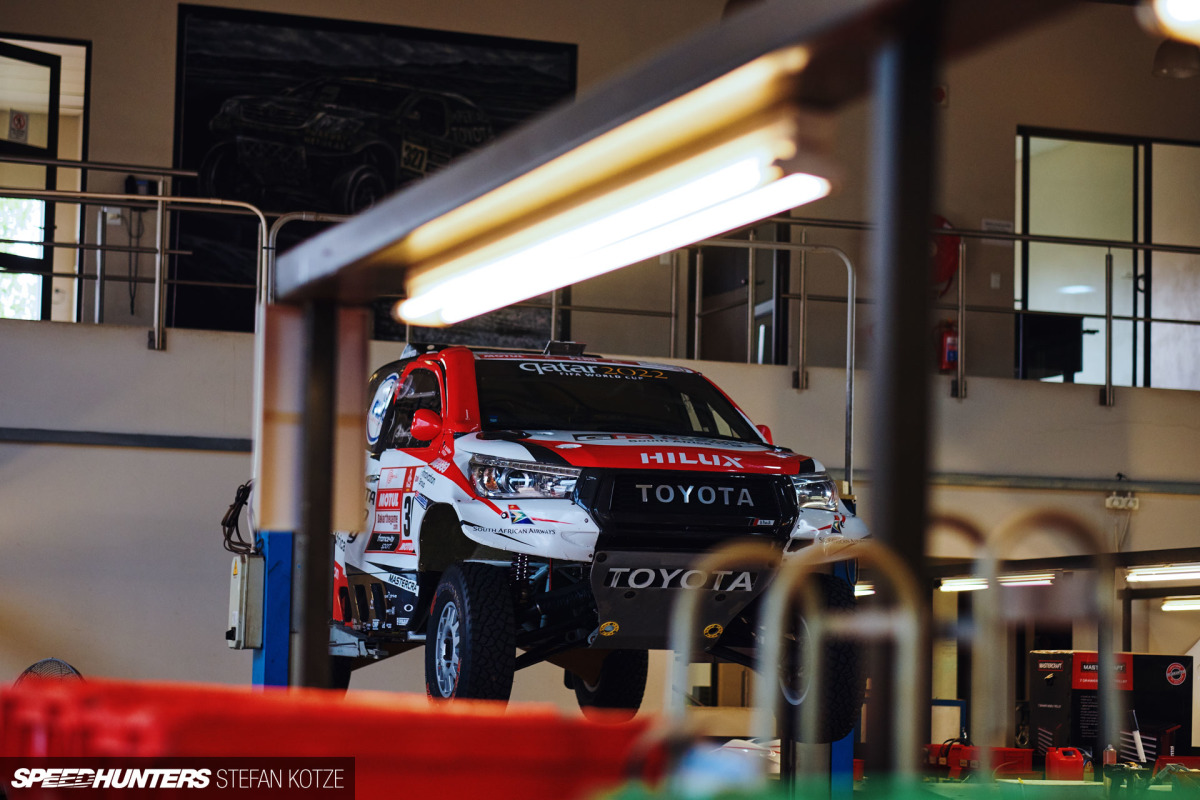 Toyota Russia has also invited the team to come compete with Nasser and Giniel in the Silk Way Rally, which crosses Russian fields and valleys, passes the majestic Lake Baikal – which is believed to be the worlds oldest lake and also the deepest – the unforgiving Mongolian desert and steppes, and lastly the amazing sands of China.
Then the Moroccan Rally is a must-do, as it's a great build up to Dakar. The terrain is very similar and all the latest rules and regulations used in Dakar are run in Morocco.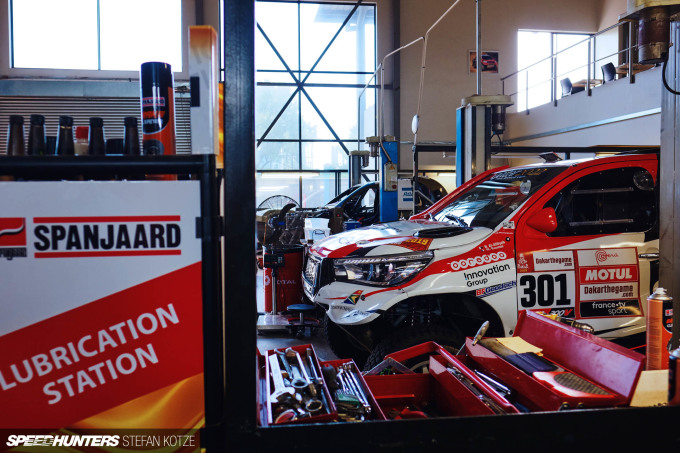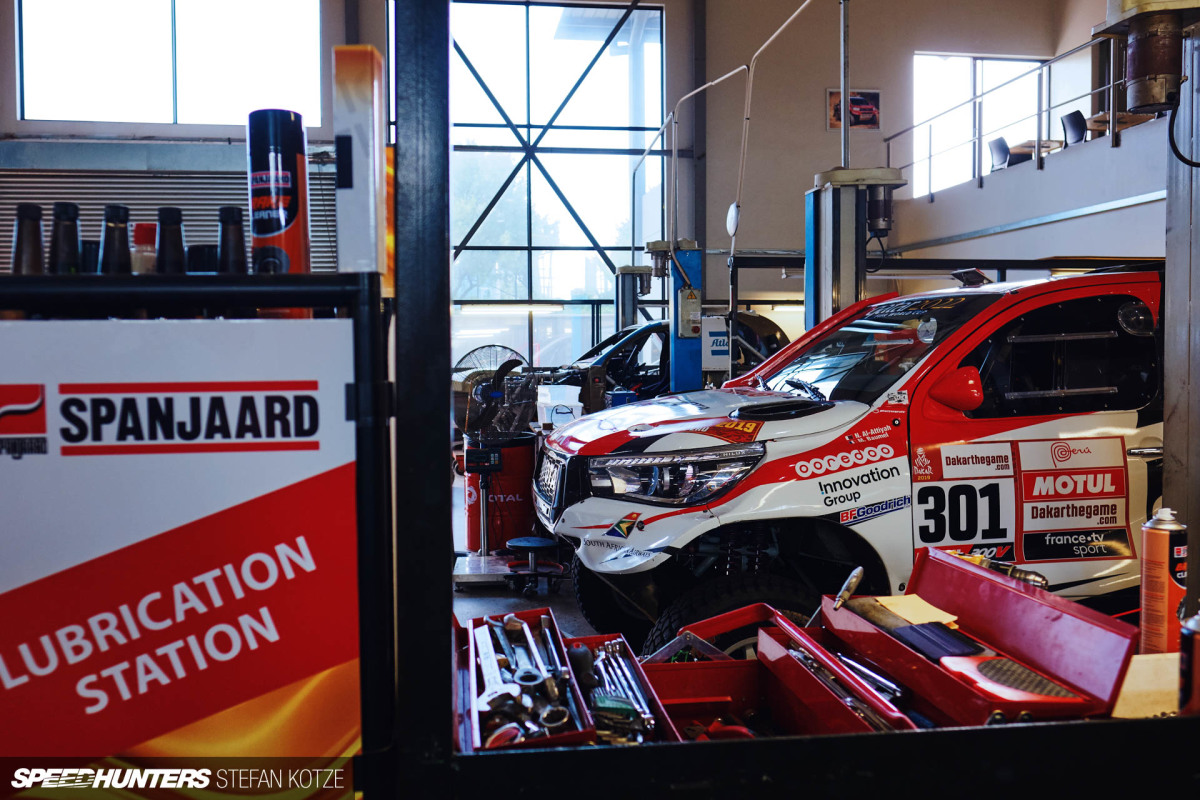 Last but not least, they'll also be competing in the local championship here in South Africa, proving their worth here on their home-ground, and of course for the thousands of local fans.
Who would've imagined that a little team from the bottom of the world, would go on to win the biggest rally in the world?
I'm sure not many, but they've done it and they can be extremely proud of this major accomplishment.
Stefan Kotzé
info@stefankotze.com
Instagram: stefankotzephoto
www.stefankotze.com
Extra Dakar Photography by Red Bull
Cutting Room Floor