JDM At Its Best
Comparing professional drifting to grassroots drifting is like comparing the Tokyo Auto Salon to the parking lot at the Tokyo Auto Salon.
One represents the perceived state of the JDM tuning scene, the other a direct and very real representation of the JDM tuning scene. So where you'll see a slammed R35 GT-R at the 326 Power booth running 15-degrees of negative camber and looking exceptionally photogenic, you will also know that there's no way anyone will actually be driving a car like that around. It's why said GT-R was rolled onto the show floor with a higher ride height and on factory wheels.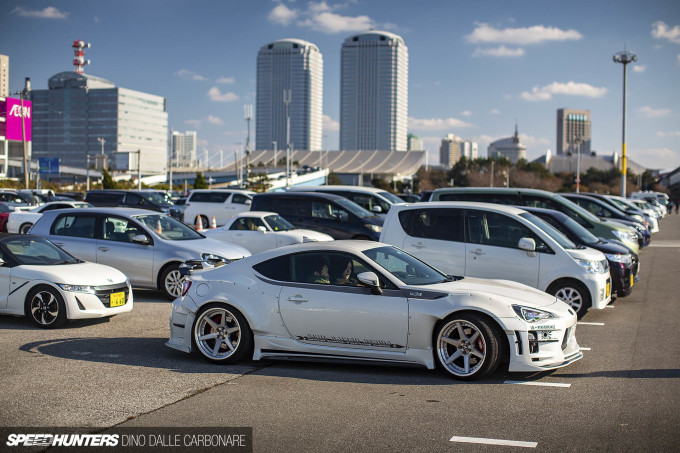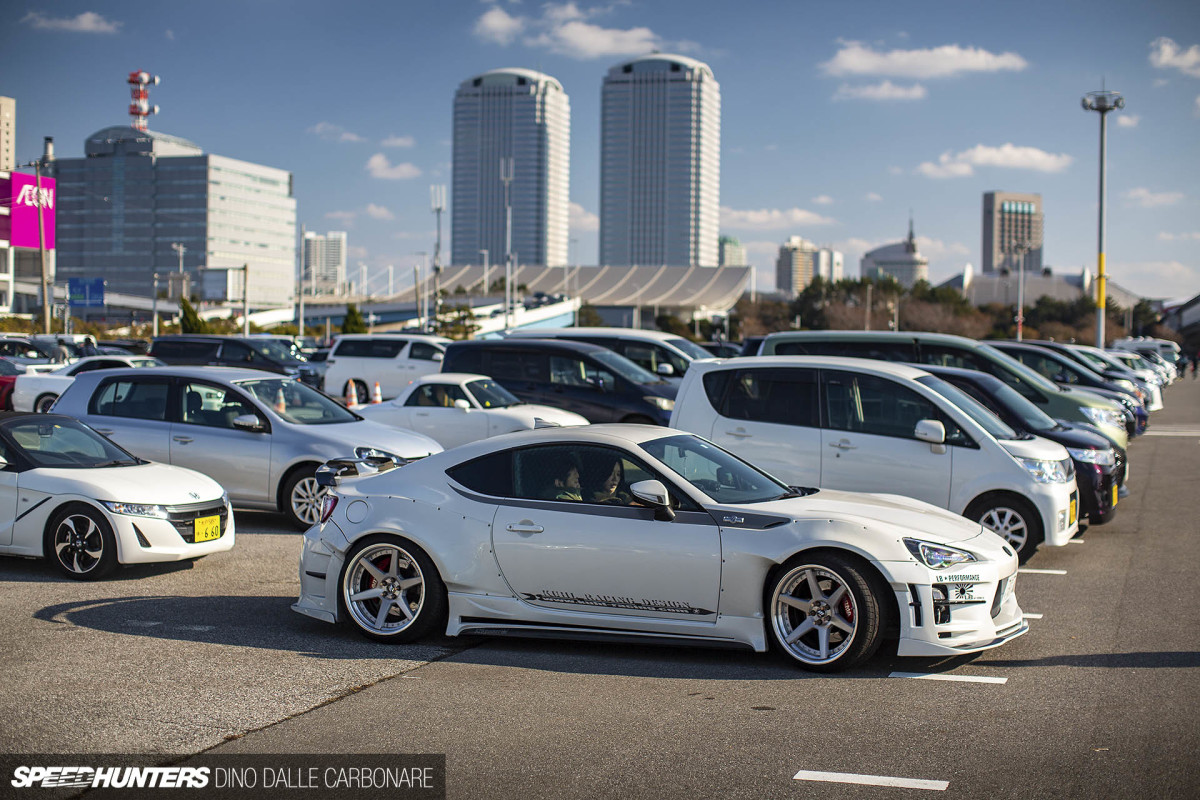 Taking a walk through the expansive parking lot at Tokyo Auto Salon is something we started doing back in the day. Before the police intervened in their usual unnecessarily protective manner, TAS Sunday mornings in the Makuhari Messe lot were a true party. Bosozoku types would drive in, in their wild kaido racers and various other kyusha rides to the sound of rhythmic exhaust revving, while bikes zoomed in between their convoys.
But those days are long gone now, and it's one of the reasons we haven't dedicated too much time to the Tokyo Auto Salon parking lot in recent years.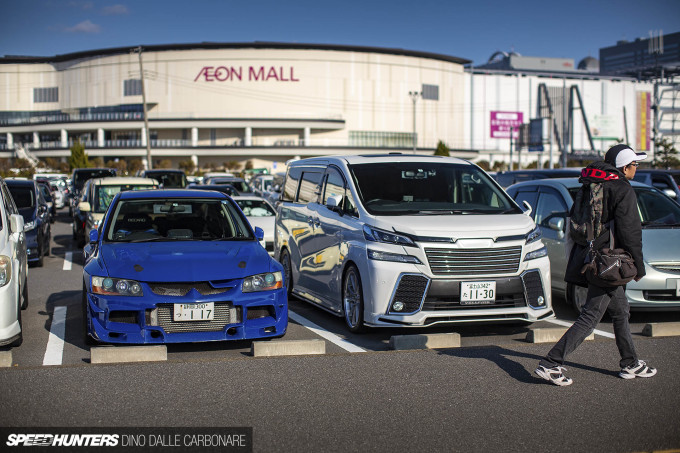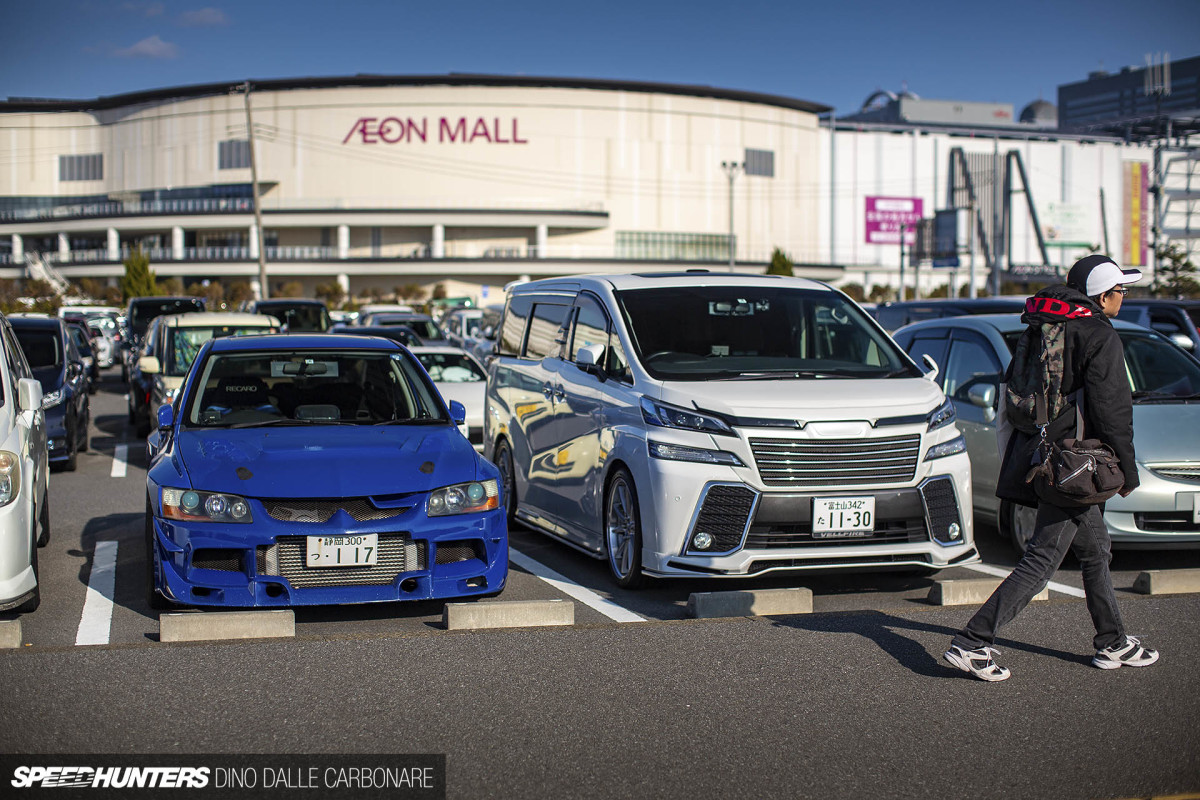 But I kind of missed it, and stepping outside after three days and almost 45km of walking inside in the halls, it was a refreshing break from the actual 2019 show.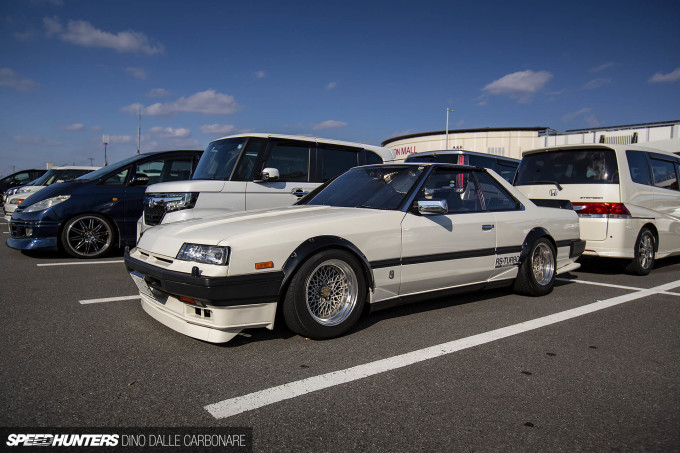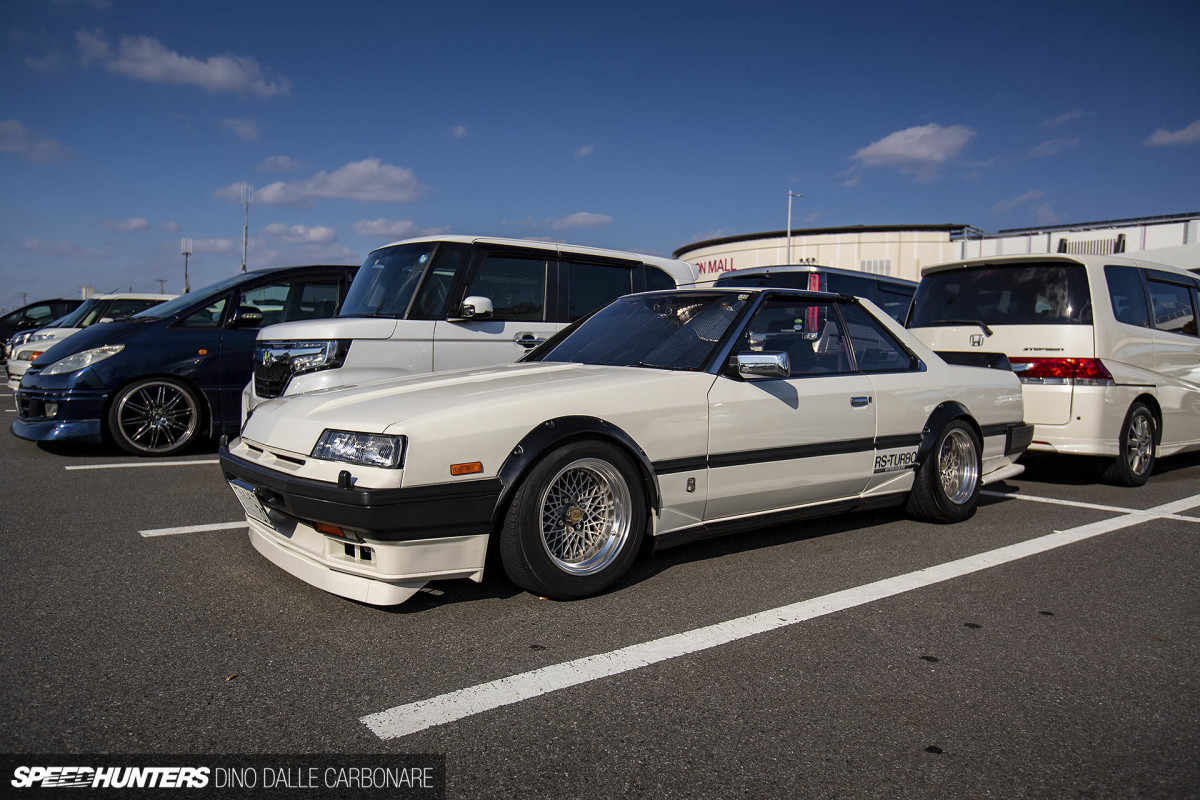 The antisocial chaos of previous years may be gone, but it's been replaced by an honest and impressively diverse selection of cars to check out.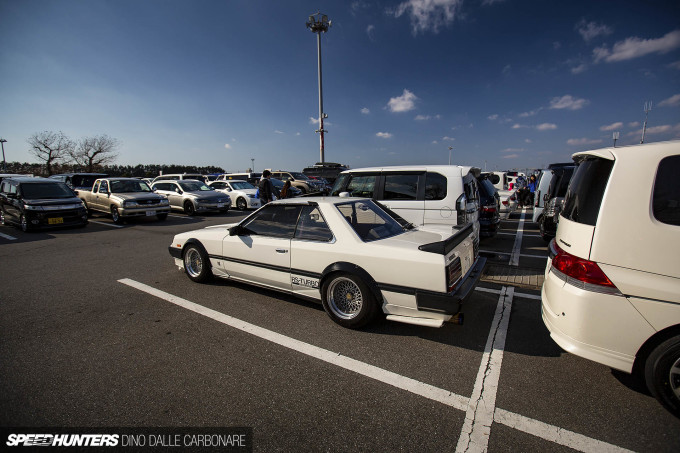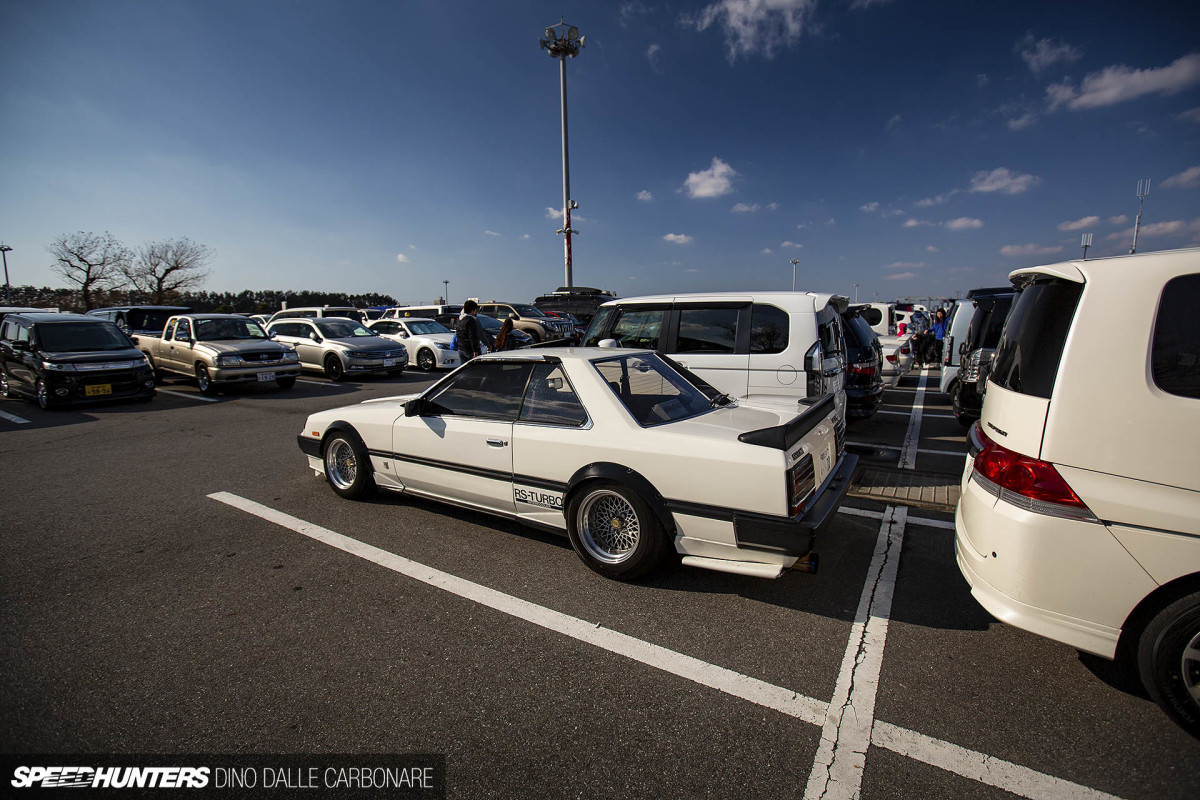 The first interesting car I came across was this stunning example of a DR30 Nissan Skyline, appropriately lowered on SSR Formula Mesh wheels and boasting some subtle black fender flares to pull the whole look together. Just look at the chunkiness of those sidewalls. Perfect.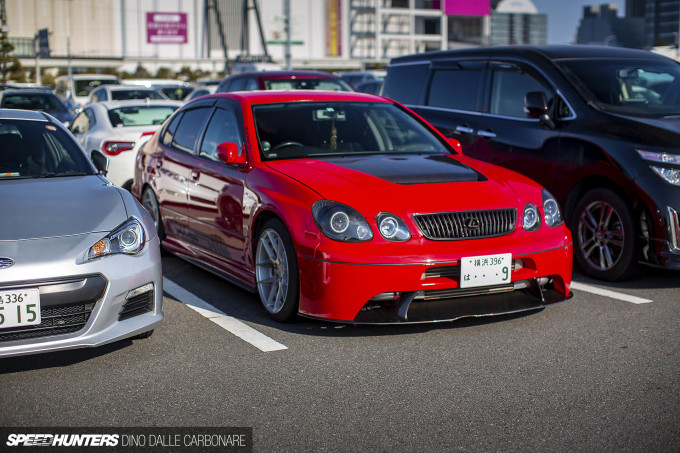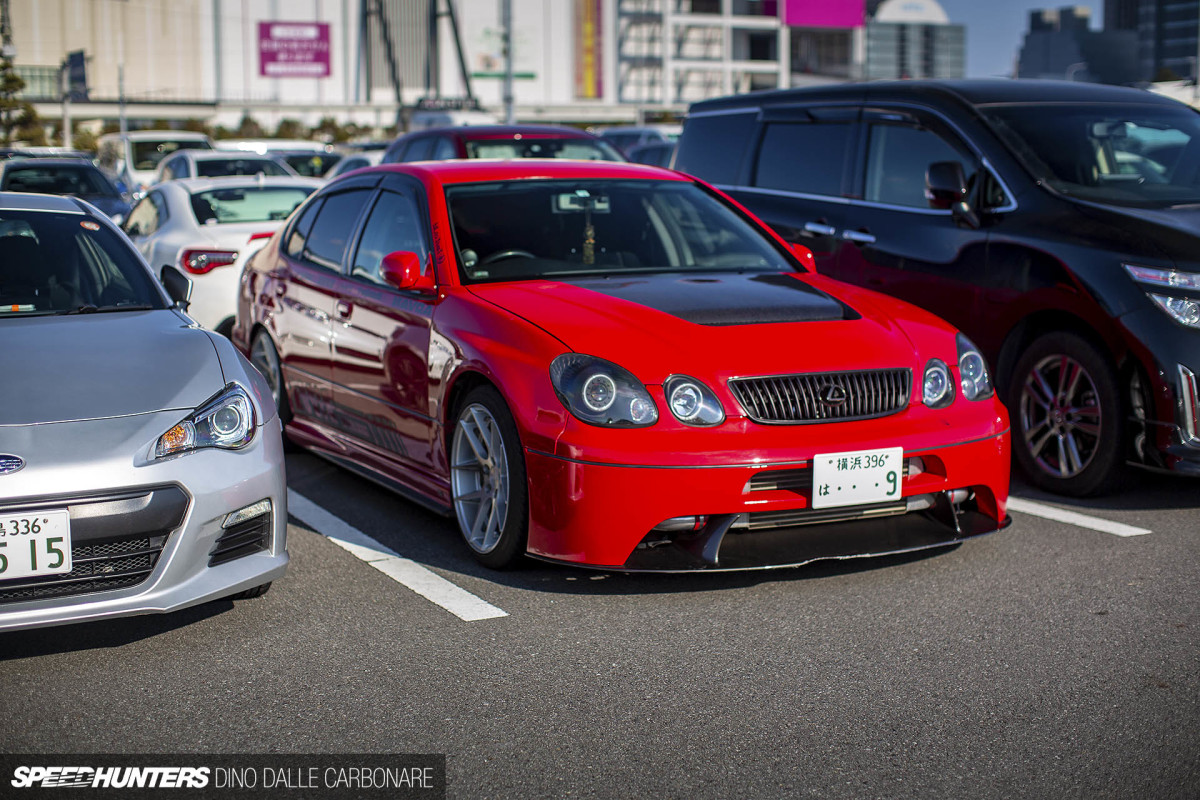 Not too far away was this JZS161 Toyota Aristo, which I've seen before at HKS Premium Day, wearing the full Ridox (by Varis) body conversion. Apart from a painful ding on the front carbon lip, it looked stunning. Varis sure killed it with the design of this kit back in the day.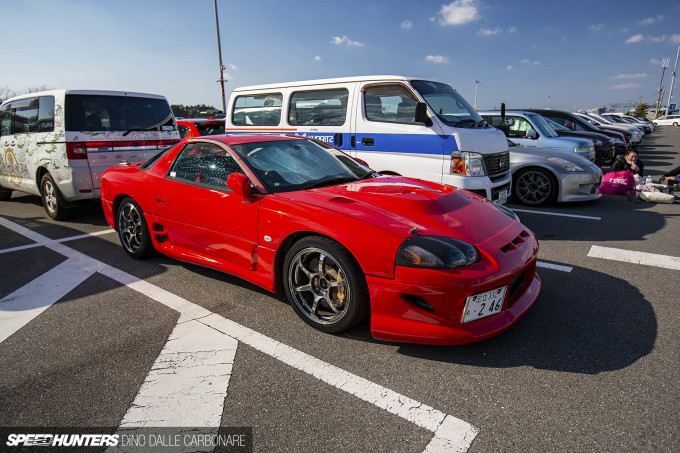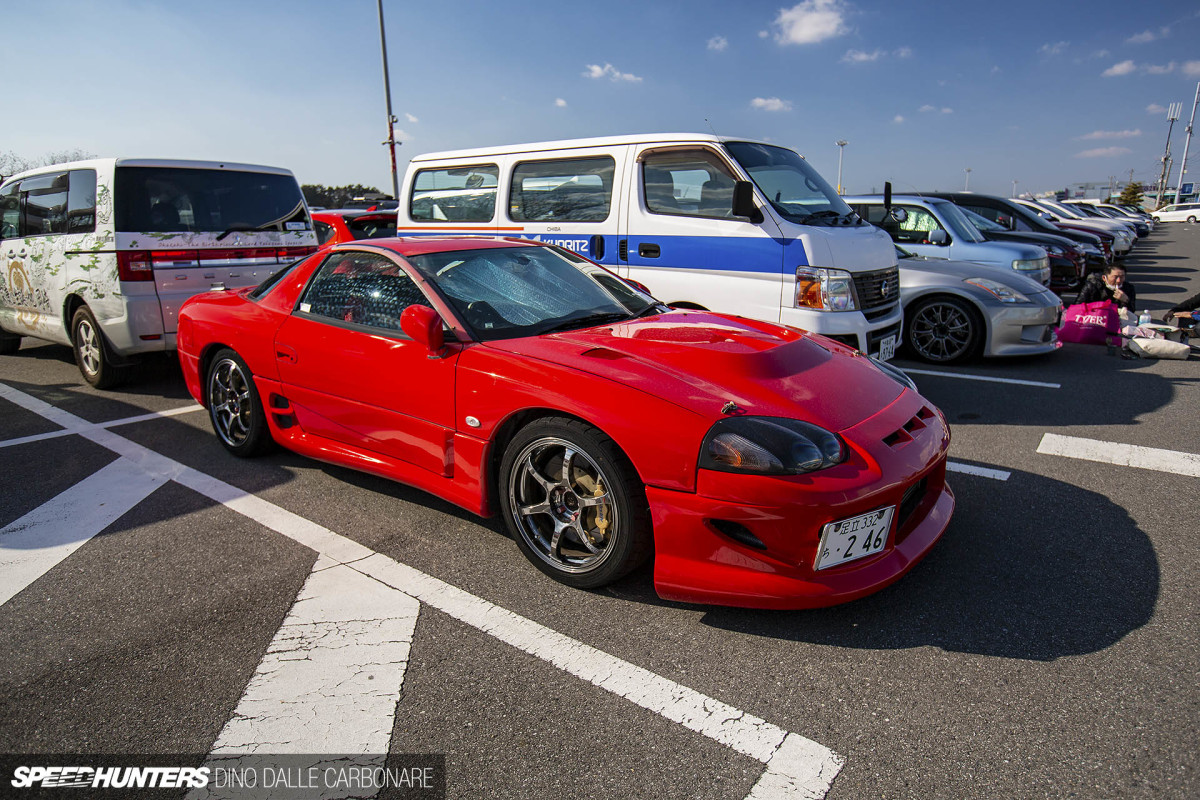 From a distance I spotted the unmistakable silhouette of a Mitsubishi GTO, so I had to go in for a proper look. This is not exactly what I would have done with my own car if I owned one, but it still had some decent aftermarket parts attached, including Advan Racing RGII wheels and a big brake kit.
You have to wonder what the hell happened with a car company that used to make some pretty cool and very advanced models… Mitsubishi really is a shadow of its former self these days.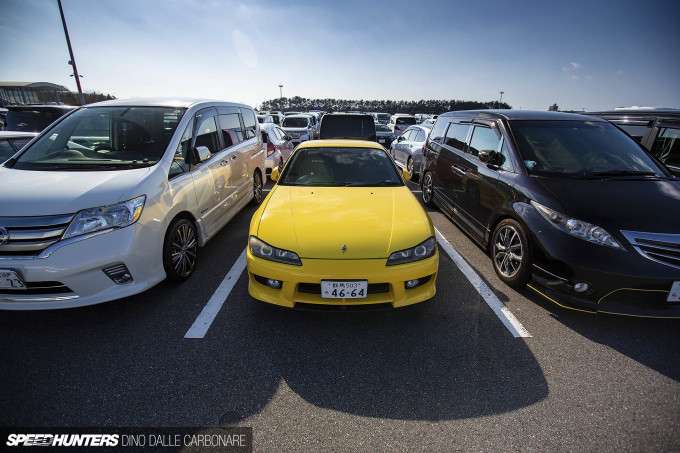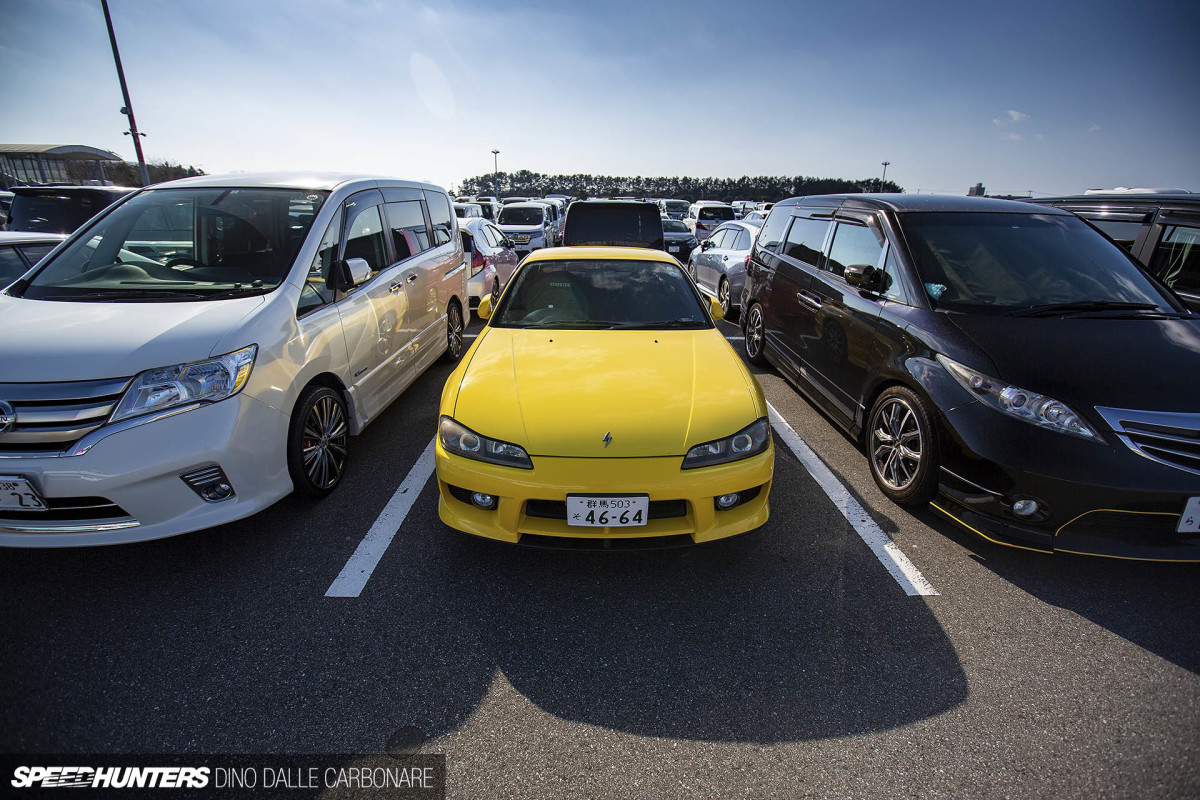 The variety of cars in the parking lot was quite representative of what you see on a daily basis in Japan, such is the passion for all vehicle types here.
I couldn't take my eyes off the TRD JZX100 Chaser with its perfectly period-correct '90s look, and be surprised at how quick the VIP guys are are slamming the new Crown on big polished rims. Oh, and a stock S15? Wow, I didn't even know something like that still existed…
Infinite Inspiration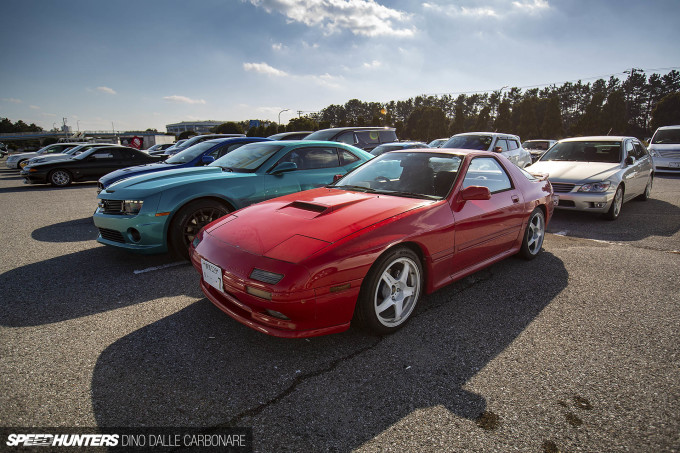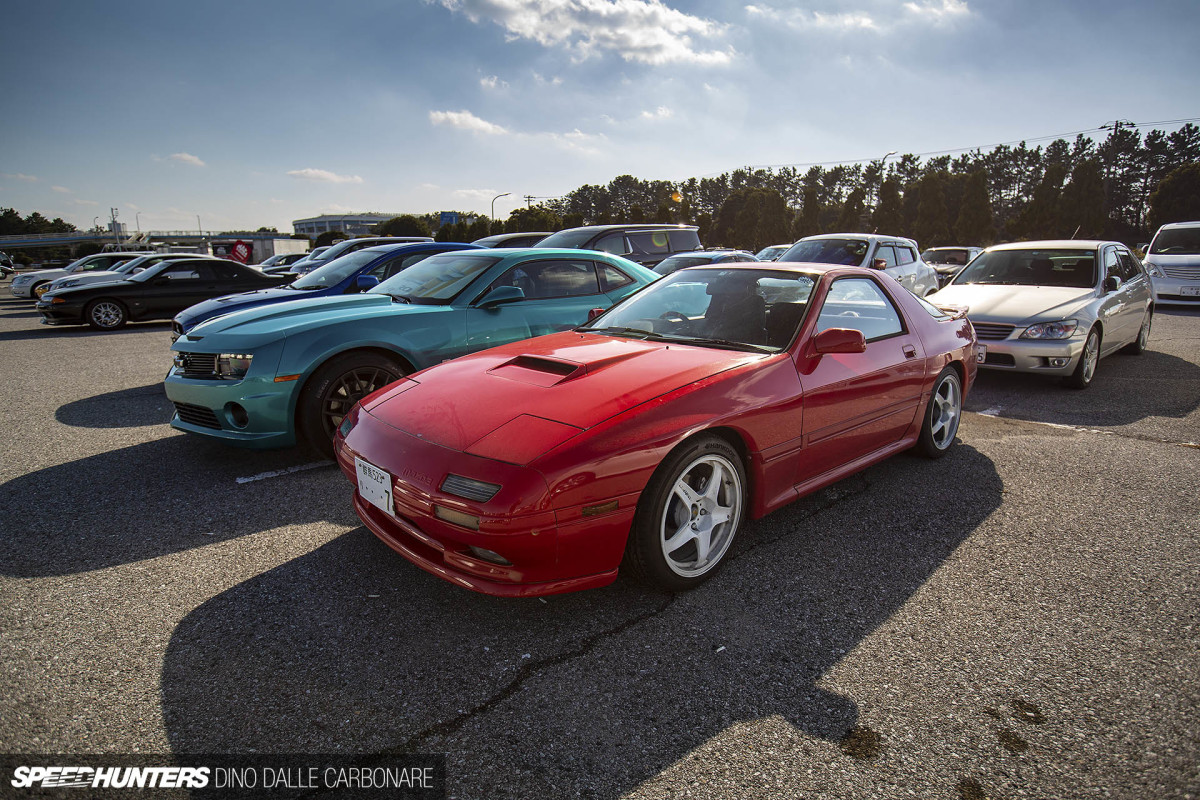 My soft spot for the FC3S Mazda is still very much there, and every one I come across has me thinking about what I'd do to one if I had an RX-7 project car…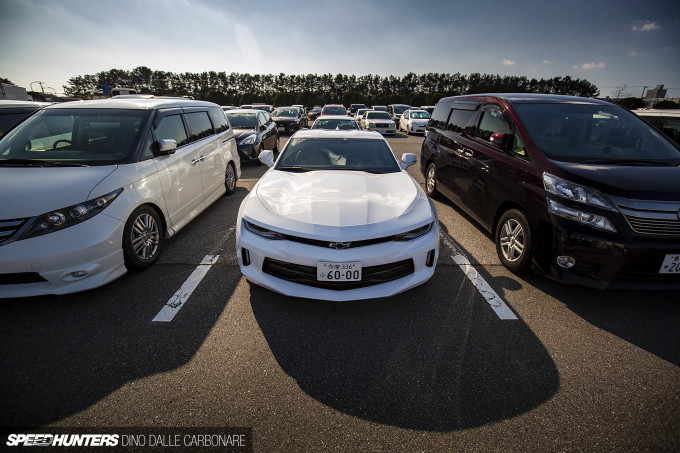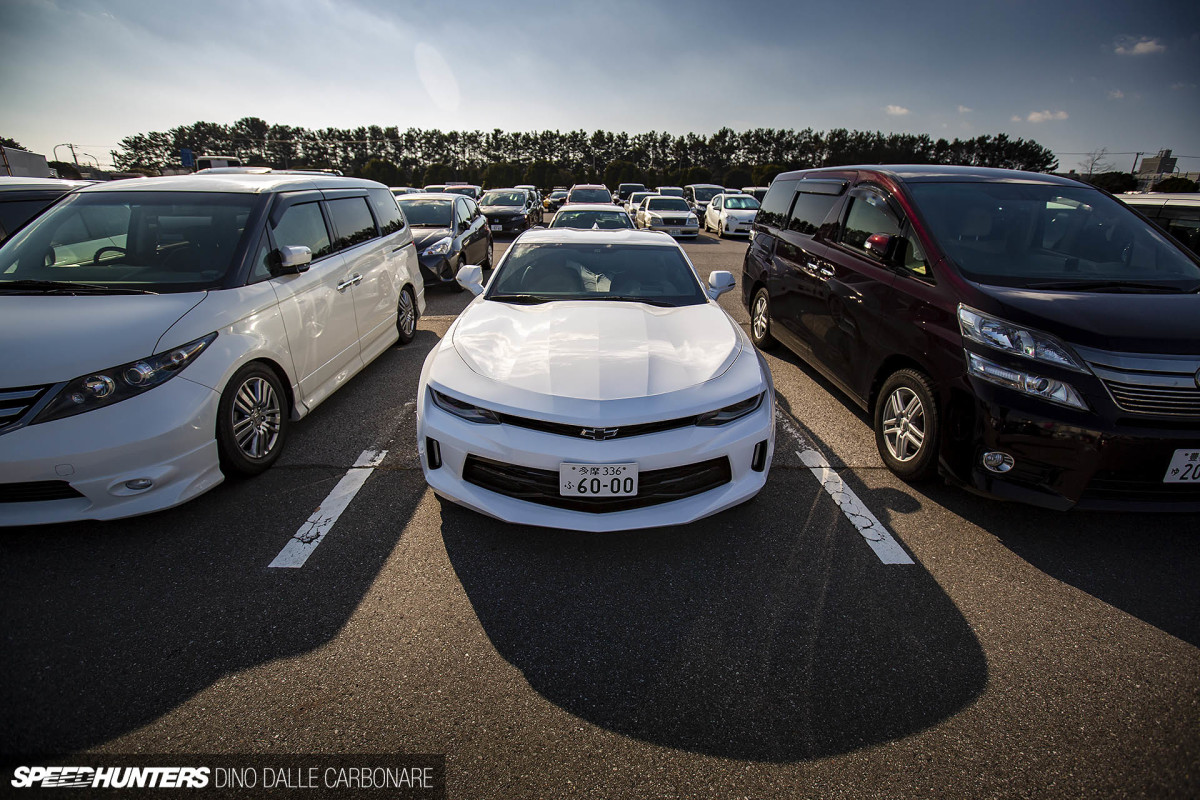 Did you spot the Camaro next to the FC? I also saw a new-gen version, which managed to look surprisingly compact sandwiched by two JDM vans.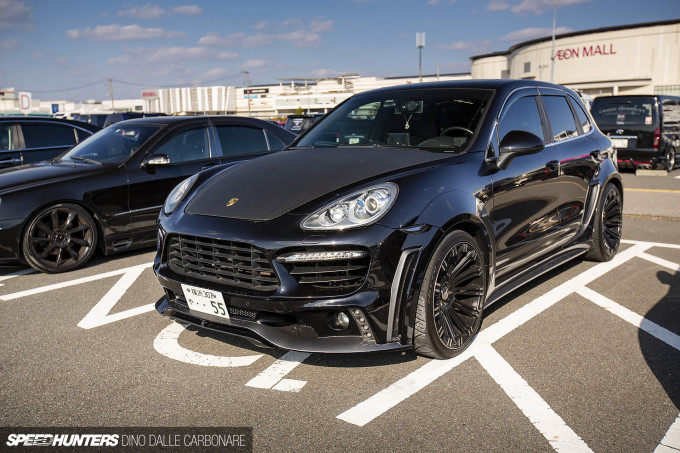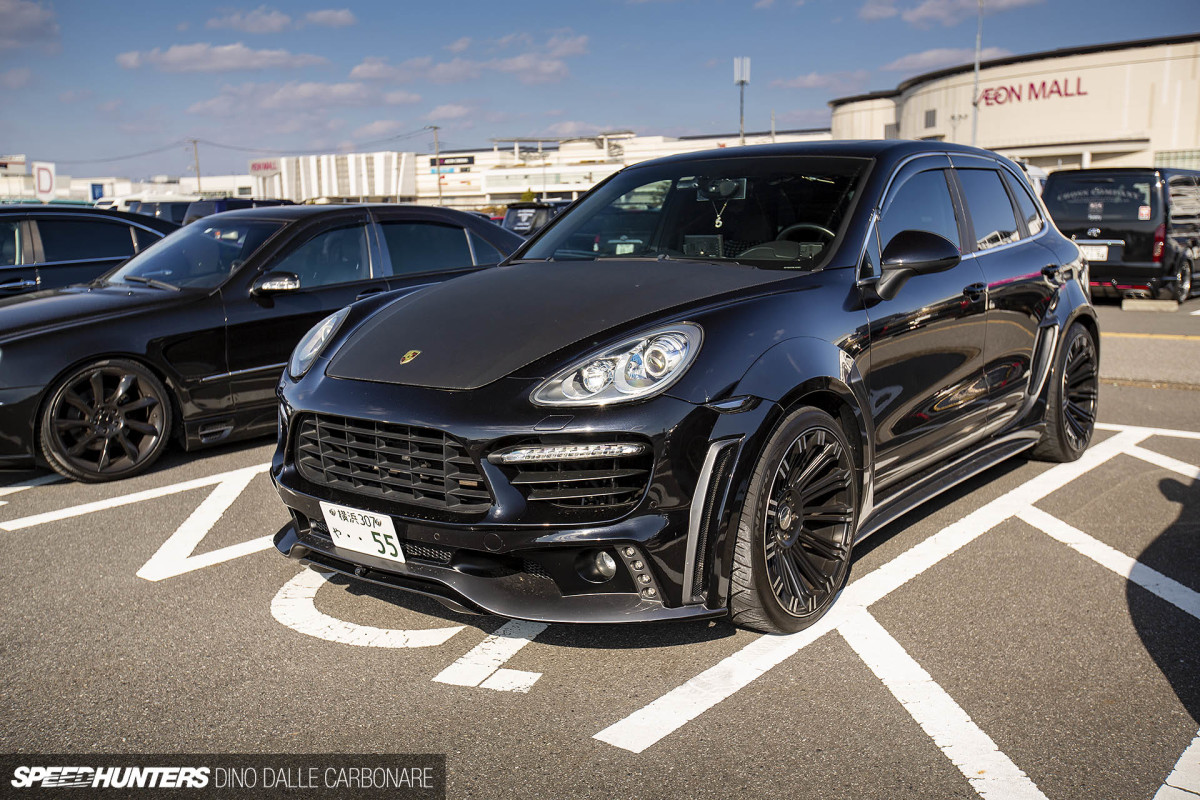 As I cut across the disabled lot there was no avoiding this Porsche Cayenne SUV.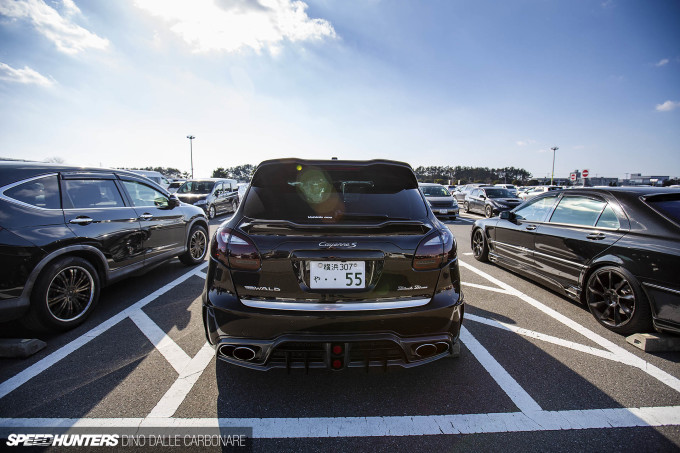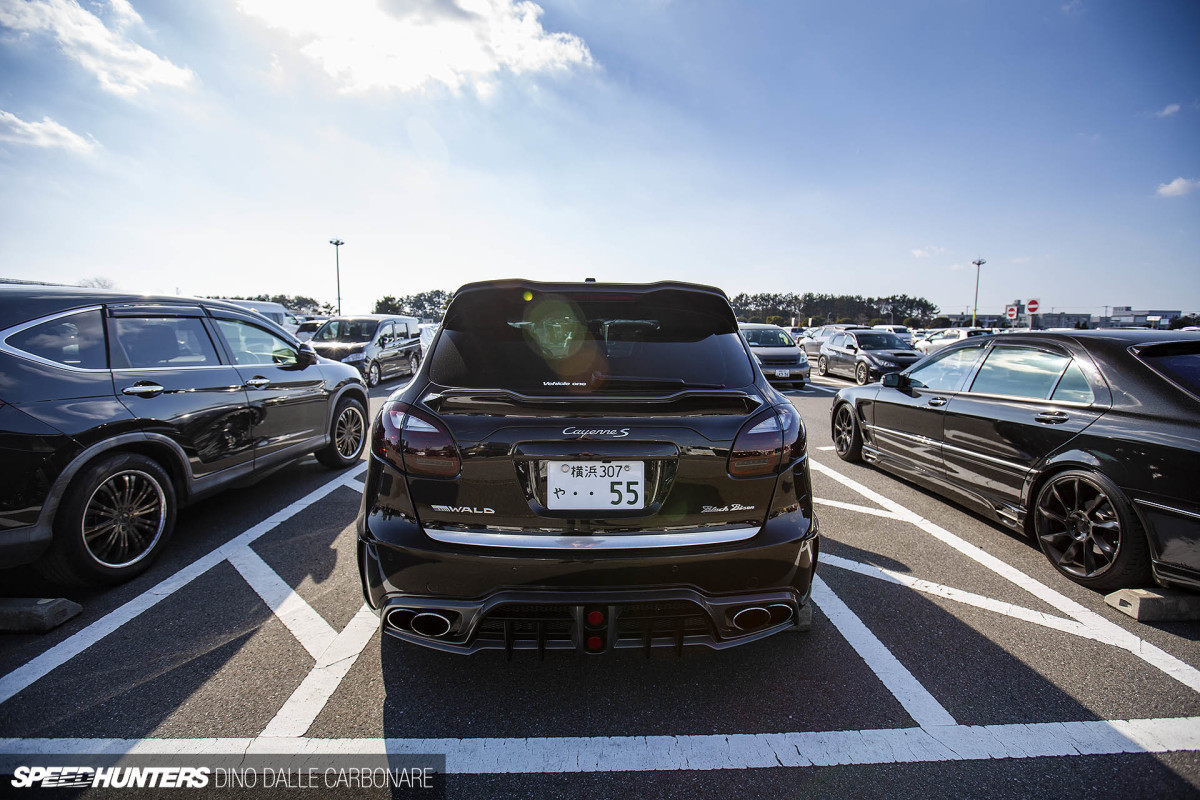 I didn't even know that Wald offered a full aesthetic kit for this panzer. If you really need to stand out in the big cities, there's no better way to do so than with a 'Black Bison' edition Cayenne S.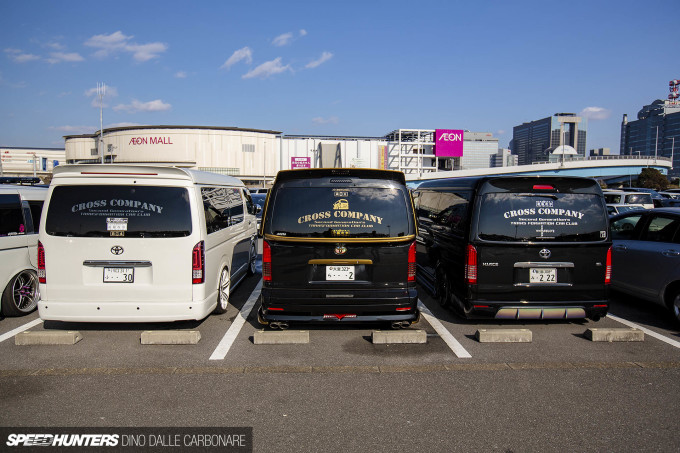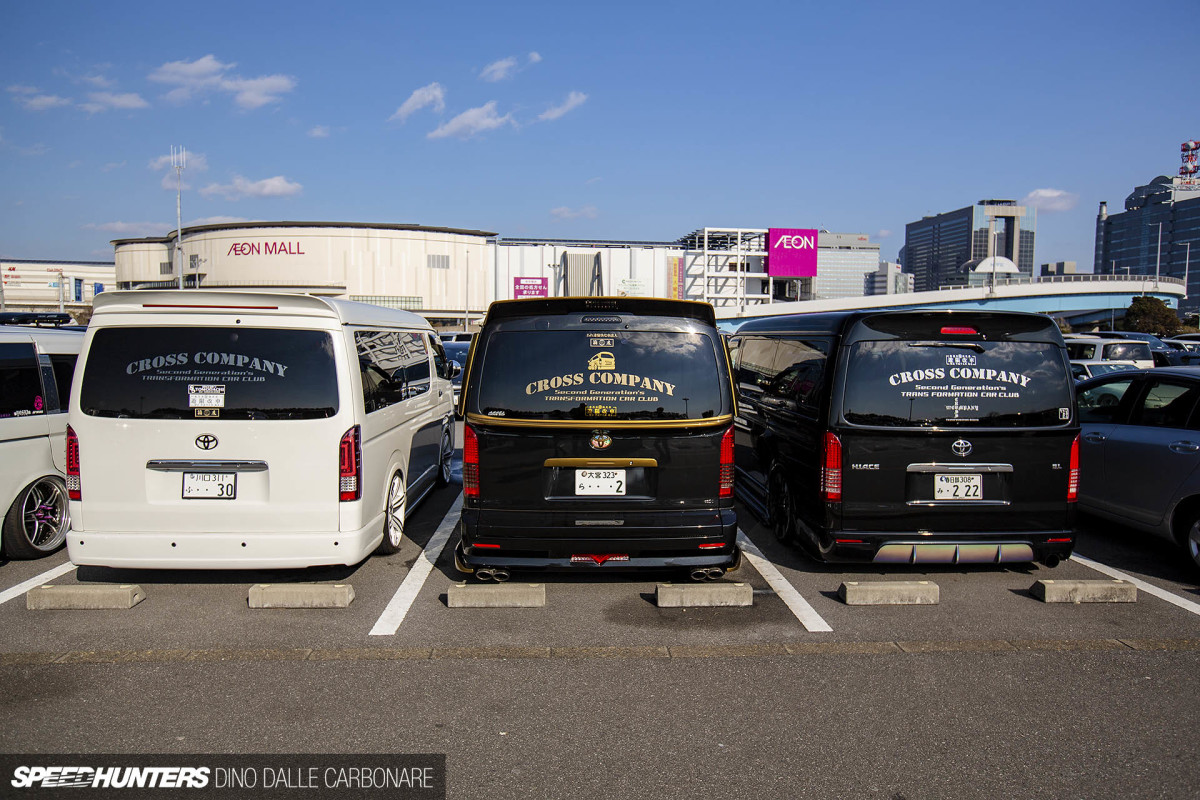 The Toyota Hiace phenomenon shows no signs of ending, even if this model remains Japan's most stolen vehicle. People love to do all sorts of things with them, no matter if they're for personal or business use.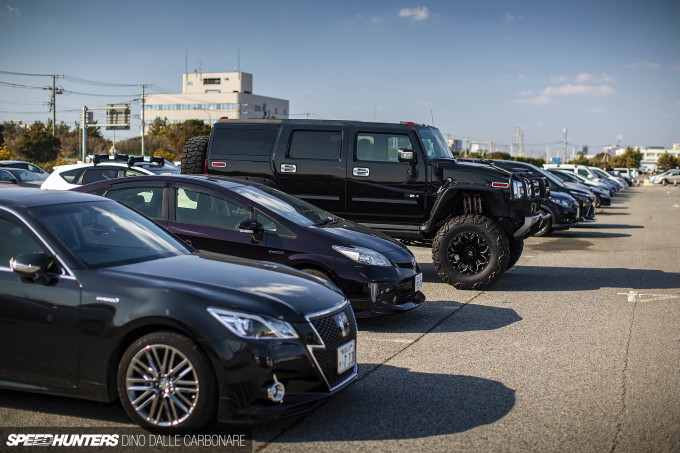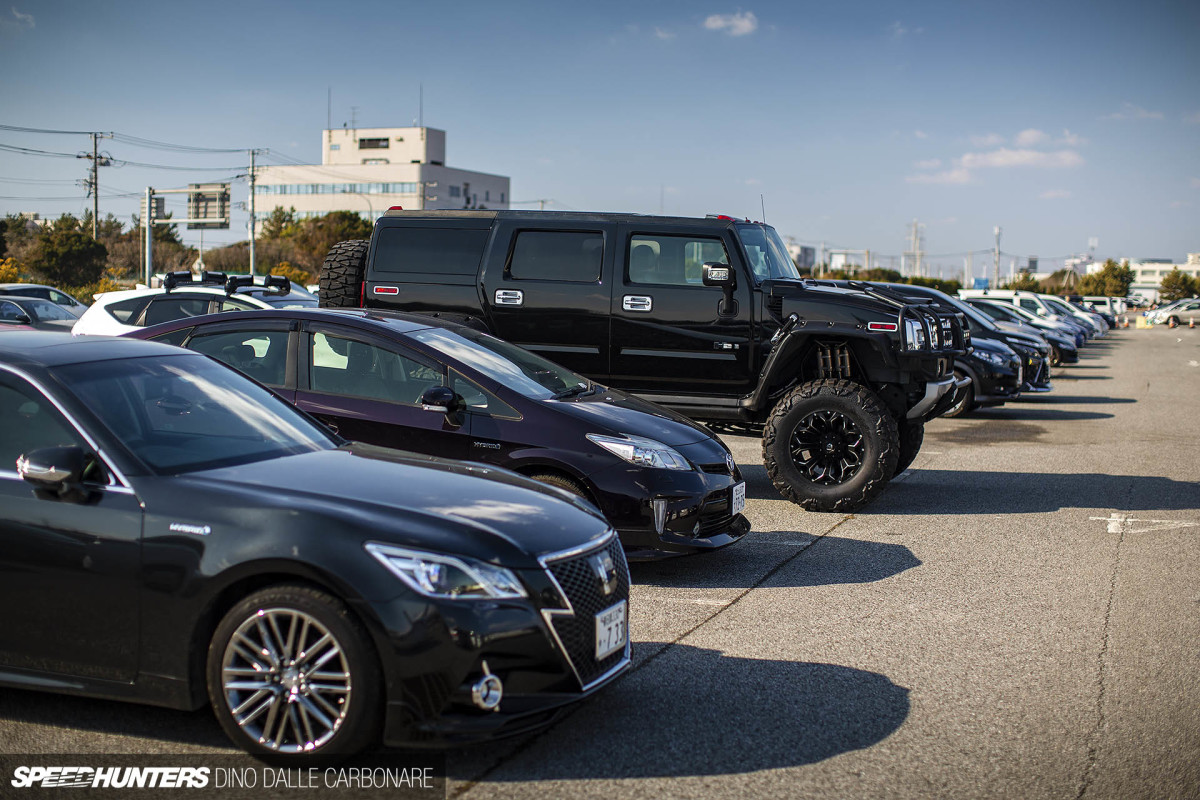 Talk about sticking out in the crowd. I love Japan for this very reason; the culture forces people to conform during the working week, but come the weekend there are no restraints and nobody would ever come up to you and criticize you for it. That's when you pull out your lifted Hummer and cruise down the road.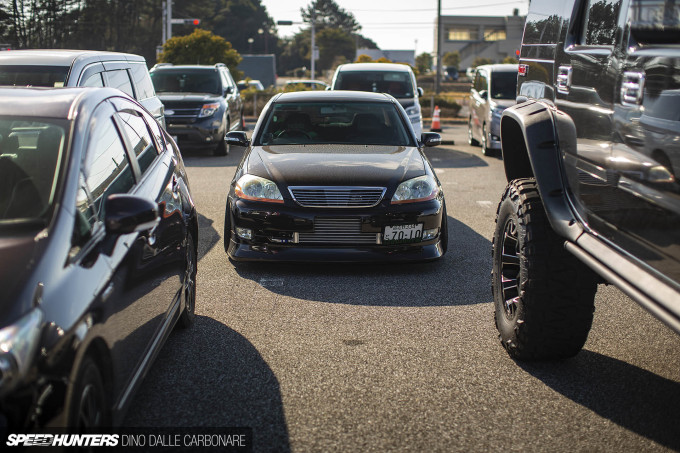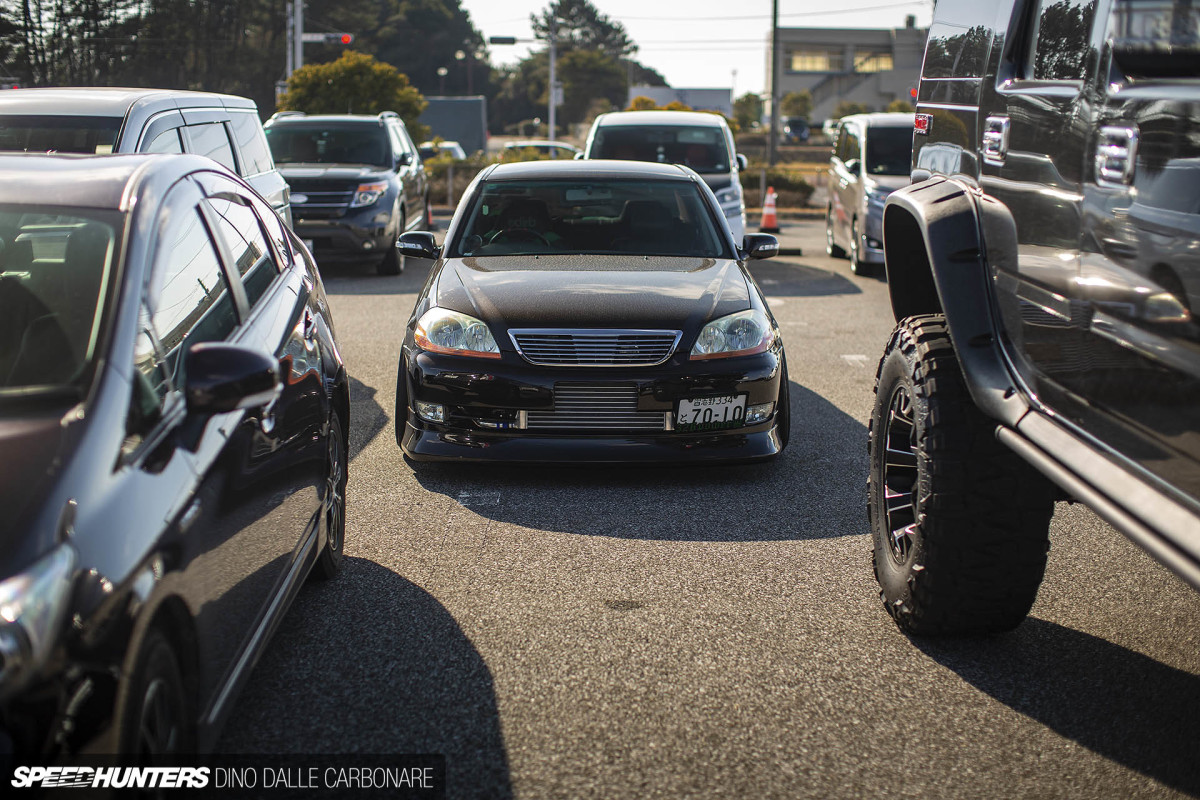 Hiding behind the Hummer was a Toyota JZX110 Mark II. I almost shed a tear, remembering how in around 2007 I came so close to buying one as a daily, only changing my mind at the last minute in fear that I'd take funds away from my GT-R when it came to tuning it. In hindsight, I should have done it and blown all my money on tires.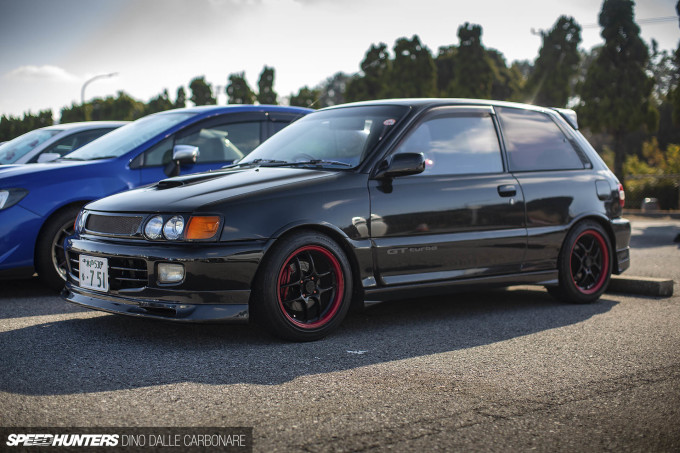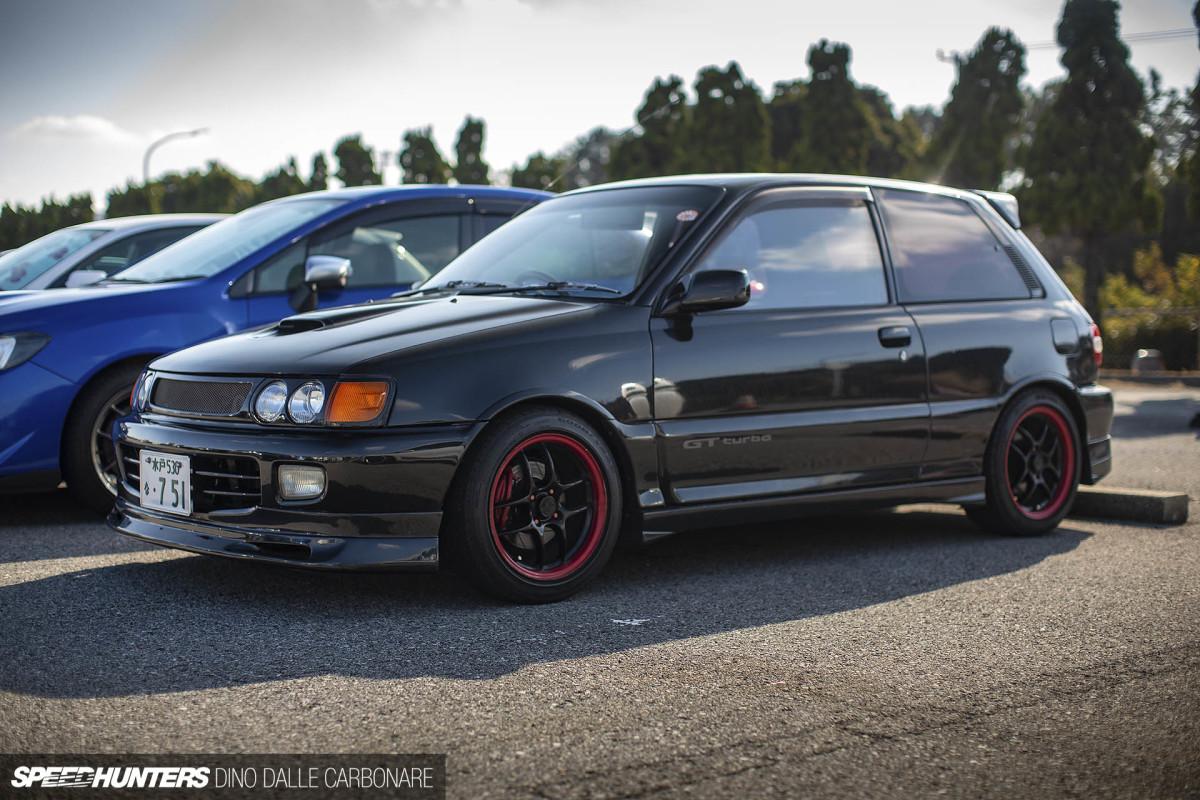 Here's another car Toyota should ask BMW to bring back for them, the Starlet GT Turbo. There's a real lack of fun, sporty little hatchbacks in Japan right now; I can only think of the Suzuki Swift Sport and Nissan Note as decent and affordable entries into fun motoring. Maybe there are a few more?
In total contrast to the New Year Meet at Daikoku PA, the parking lot didn't have many interesting imports to shoot. I did find this VW bus and a pristine BMW 635i, though.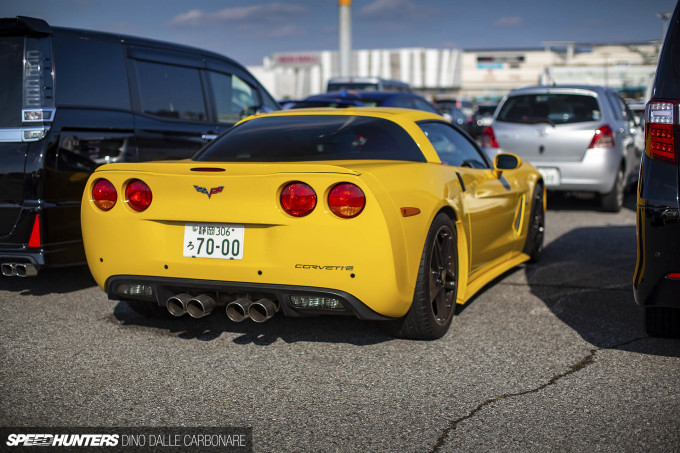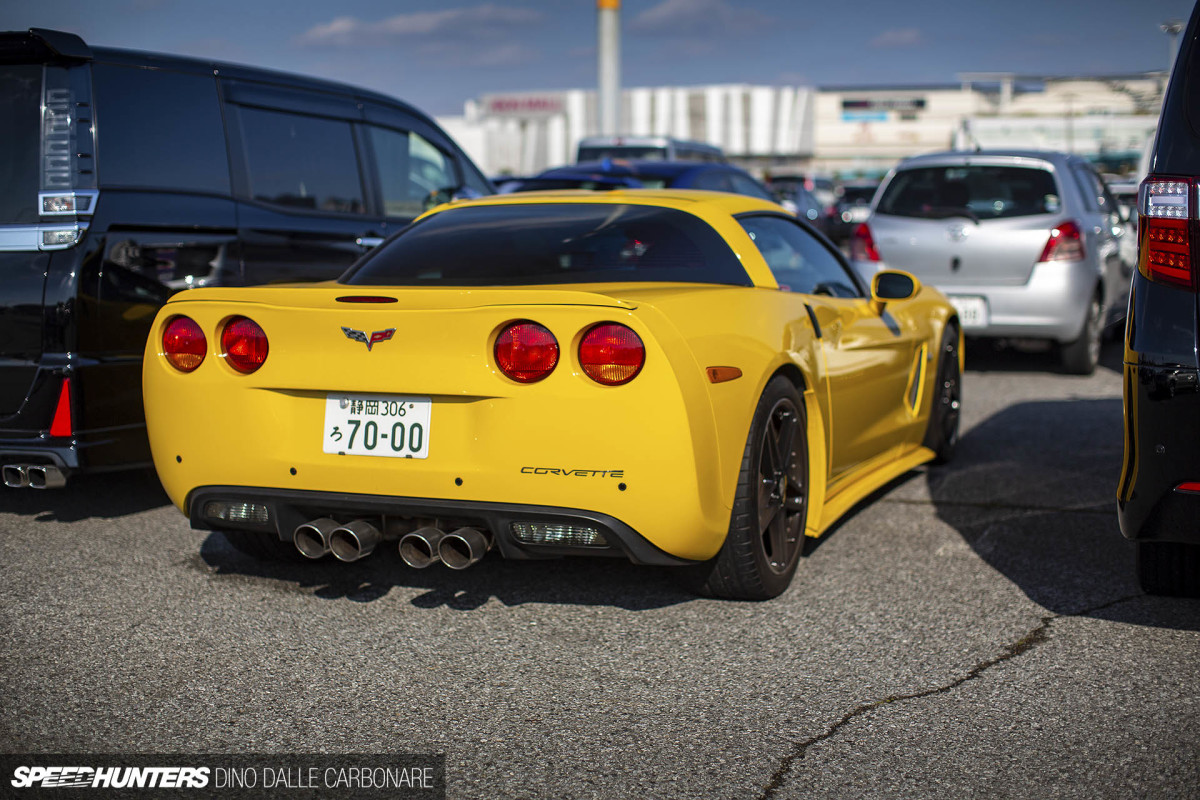 And a Corvette.
Here's a trio of R34s, specifically a pair of GT-Rs and an GT-t sedan that reminded me how good Enkei's multi-spoke RS05RR looks. The Nismo Z-tune look remains unbeatable, don't you think?
The Real Stance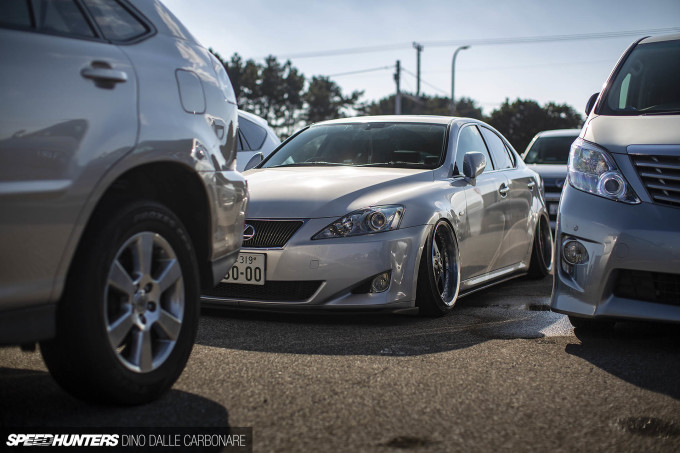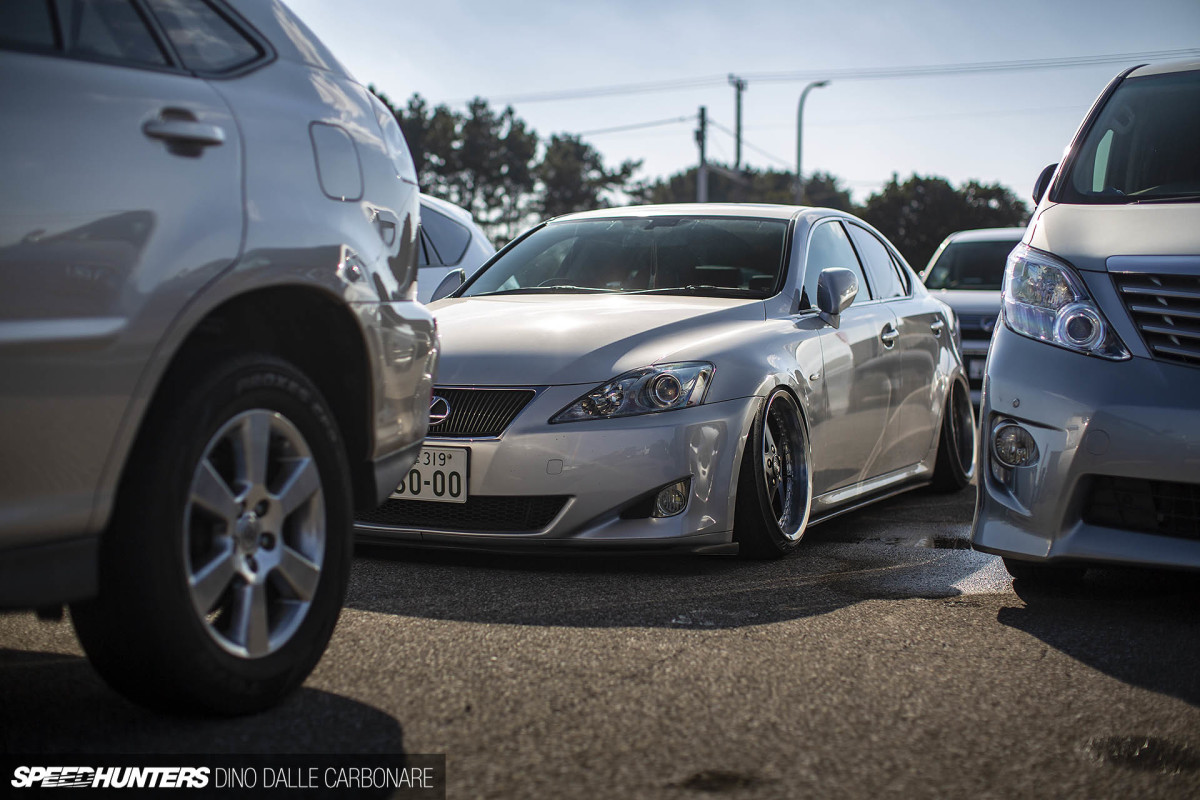 Flush and tuck is a rule of thumb for making big Lexus and Toyota sedans look their best.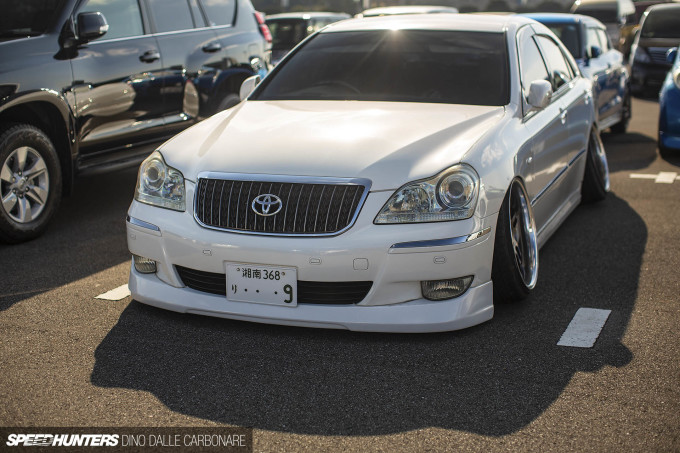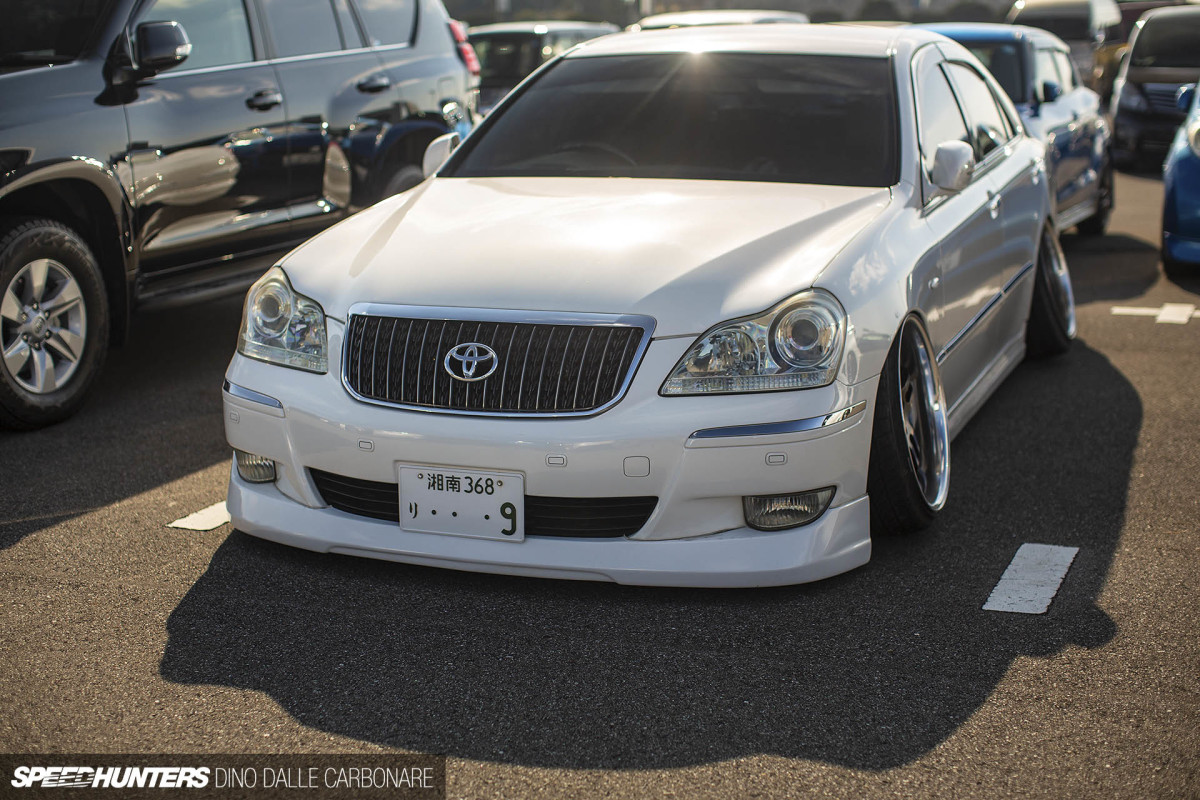 This Crown Majesta looked amazing literally millimeters off the ground. I had a peek but couldn't determine if it was static or on bags, but this being Japan the former is very much a possibility.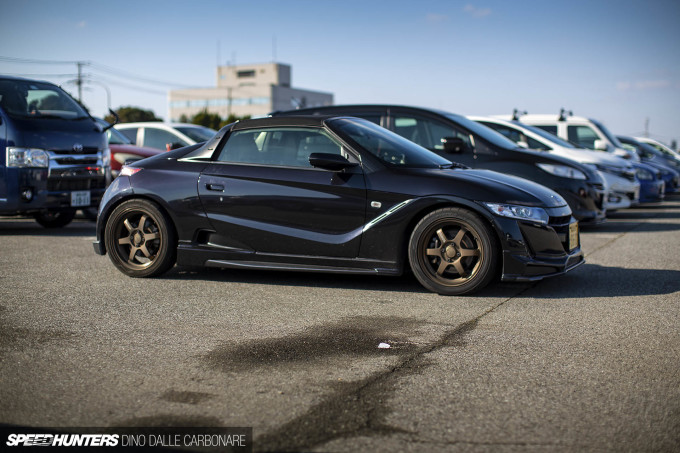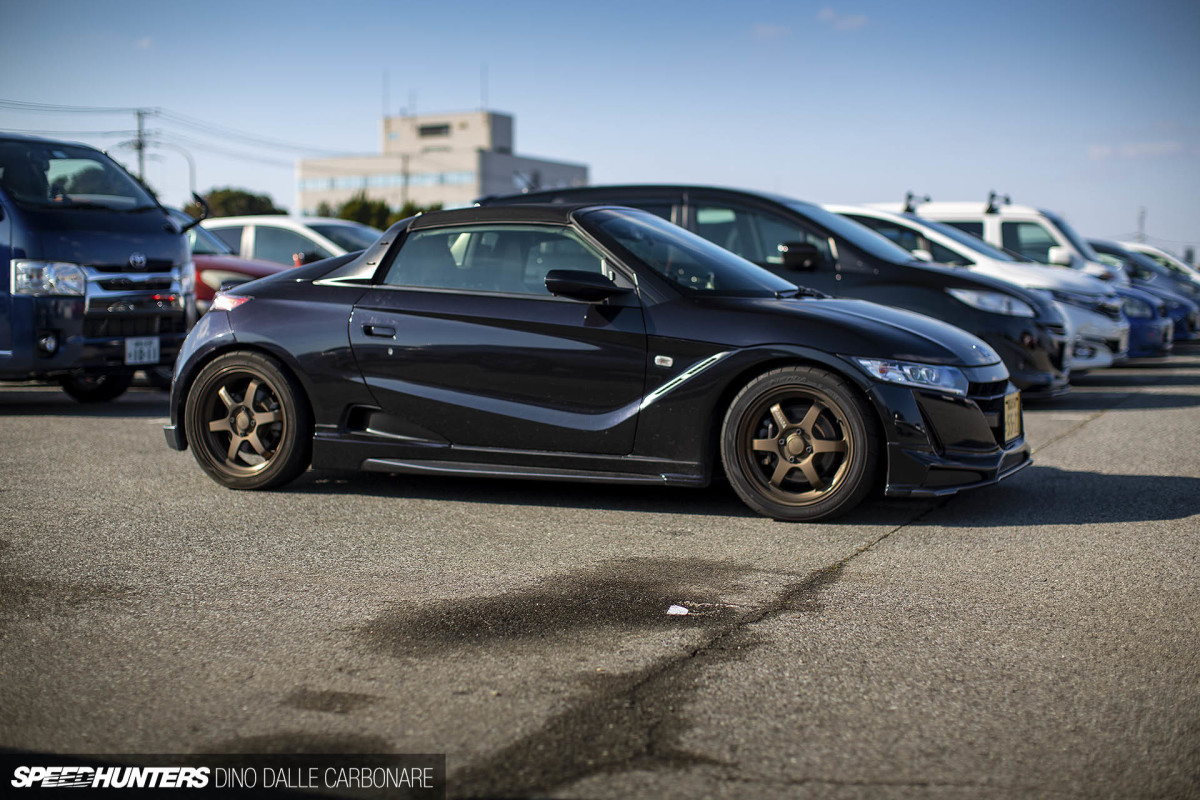 Let's talk about Hondas for a moment…
Inside the show, the S660 and the new Civic Type R remained favorites on display stands; they are still the cars tuners and parts manufacturers are dedicating their efforts to, developing and bringing upgrades to the market.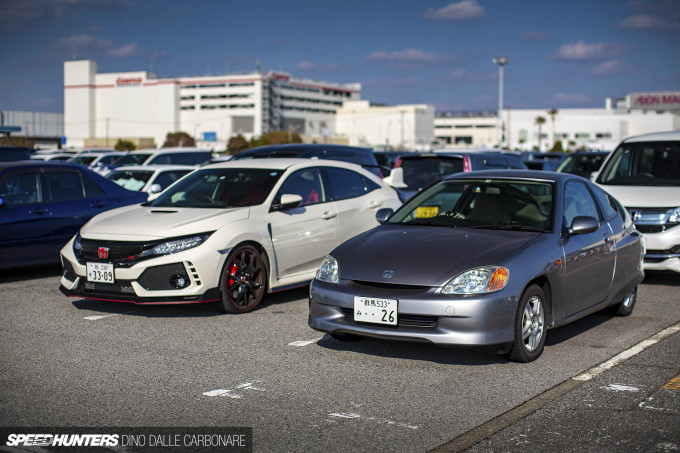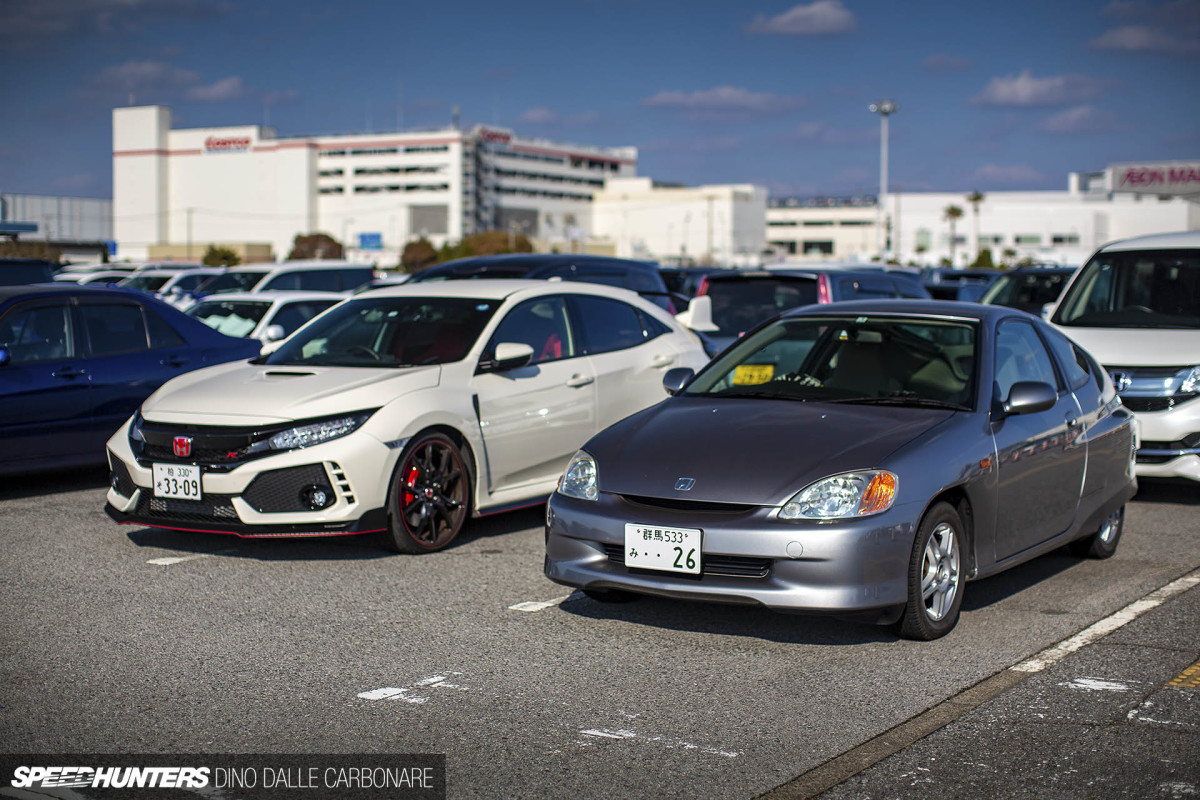 I did see a few FK8s in the lot, and it's great that Honda is thinking of enthusiasts and still creating exciting cars. The Insight, though, was a reminder where Honda has really been focusing its efforts over the last 20 years.
I'd rather we'd go back to real Honda Type Rs honestly, but that's probably wishful thinking.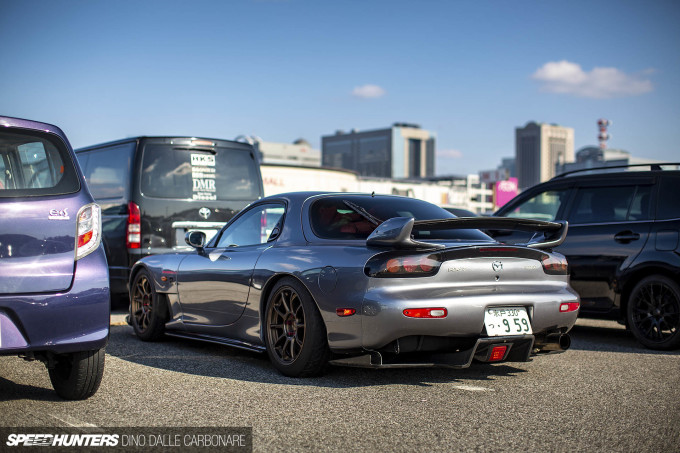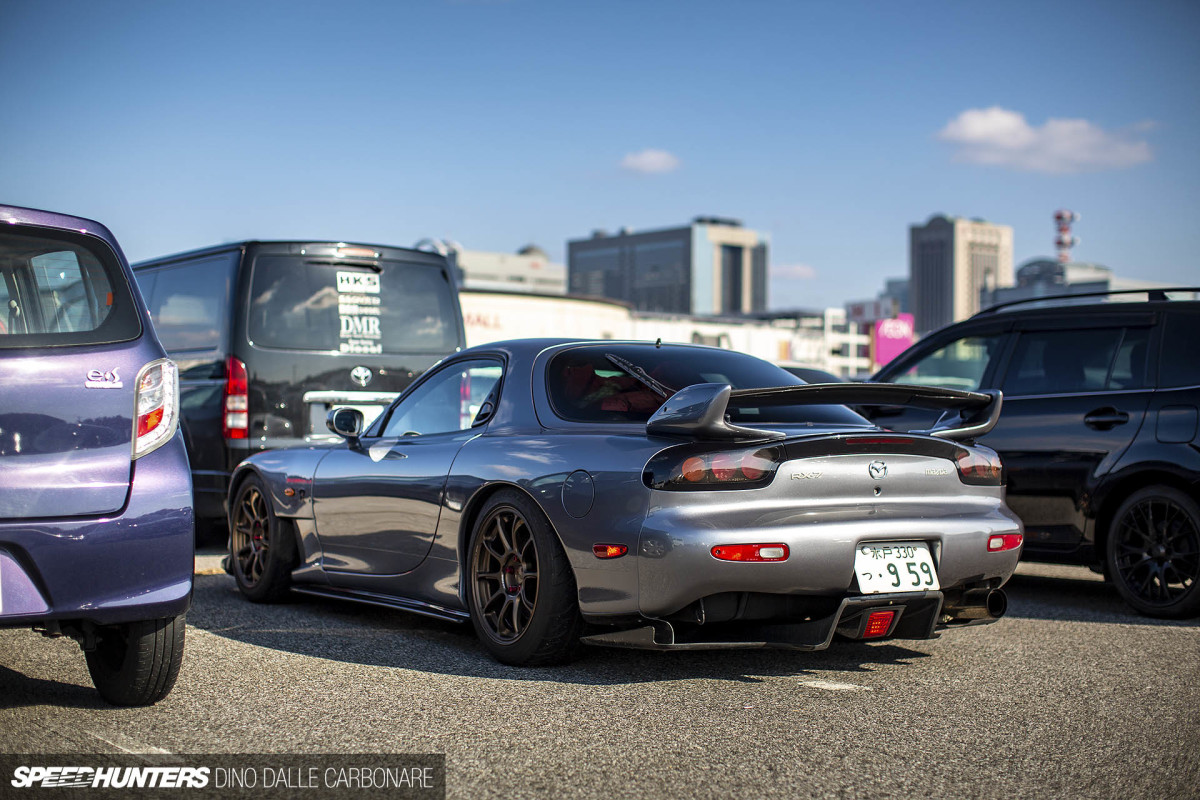 An FD3S on RAYS Volk Racing ZE40s is as close to motoring perfection as you can possibly get, especially if the car in question has a few well-chosen aero bits to give it the right look.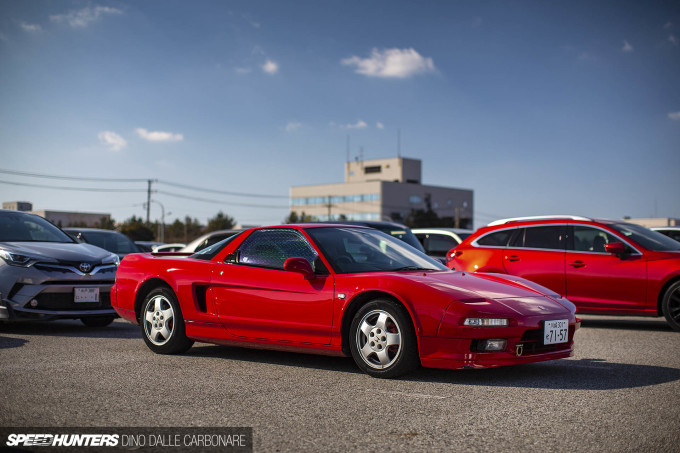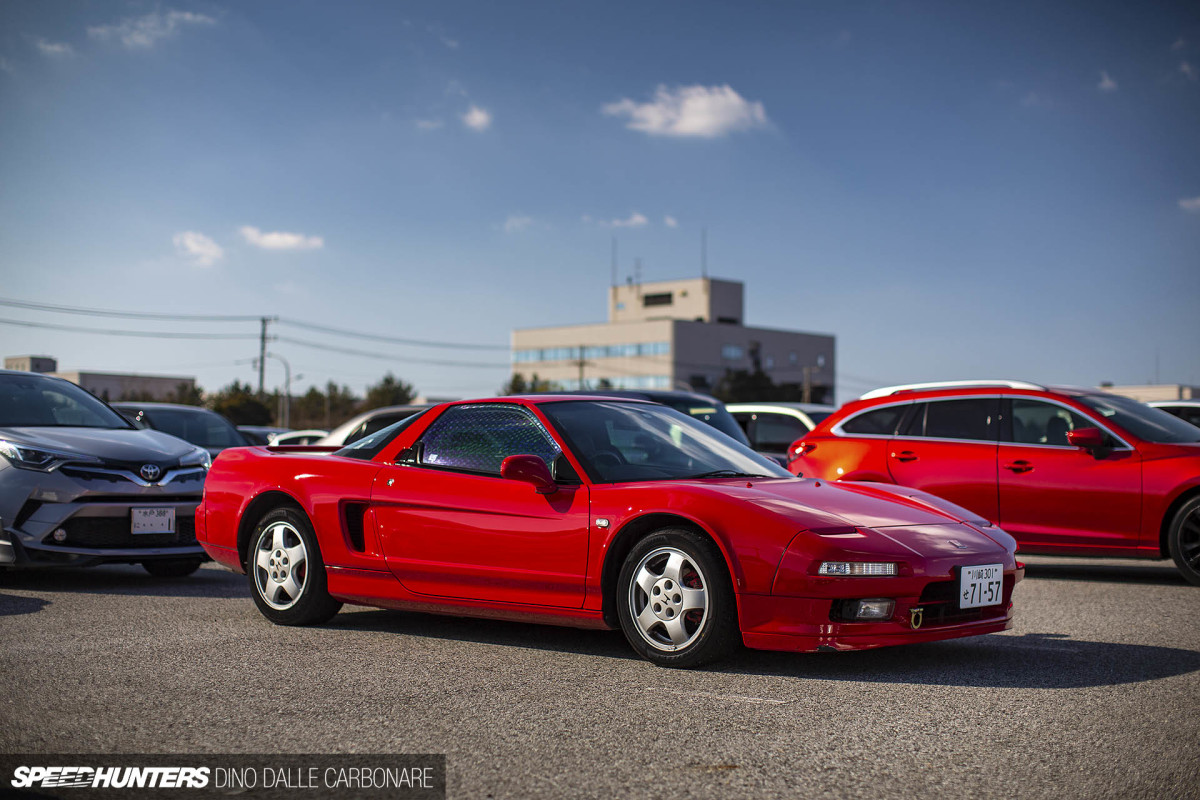 We saw a completely stock S15 further up, and this is a completely stock NA1 NSX, ride height and all. What a unicorn.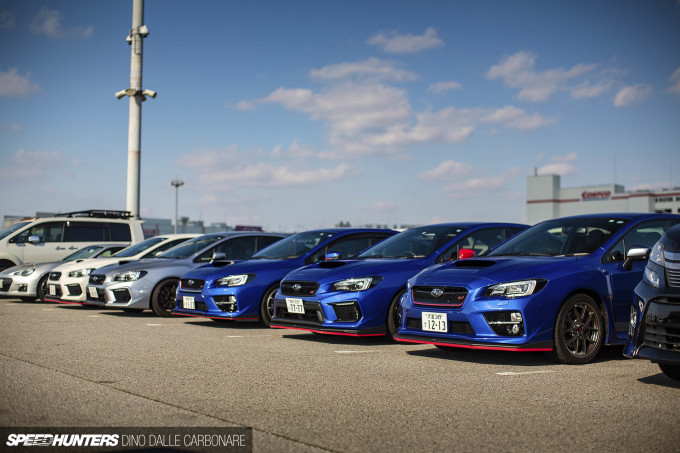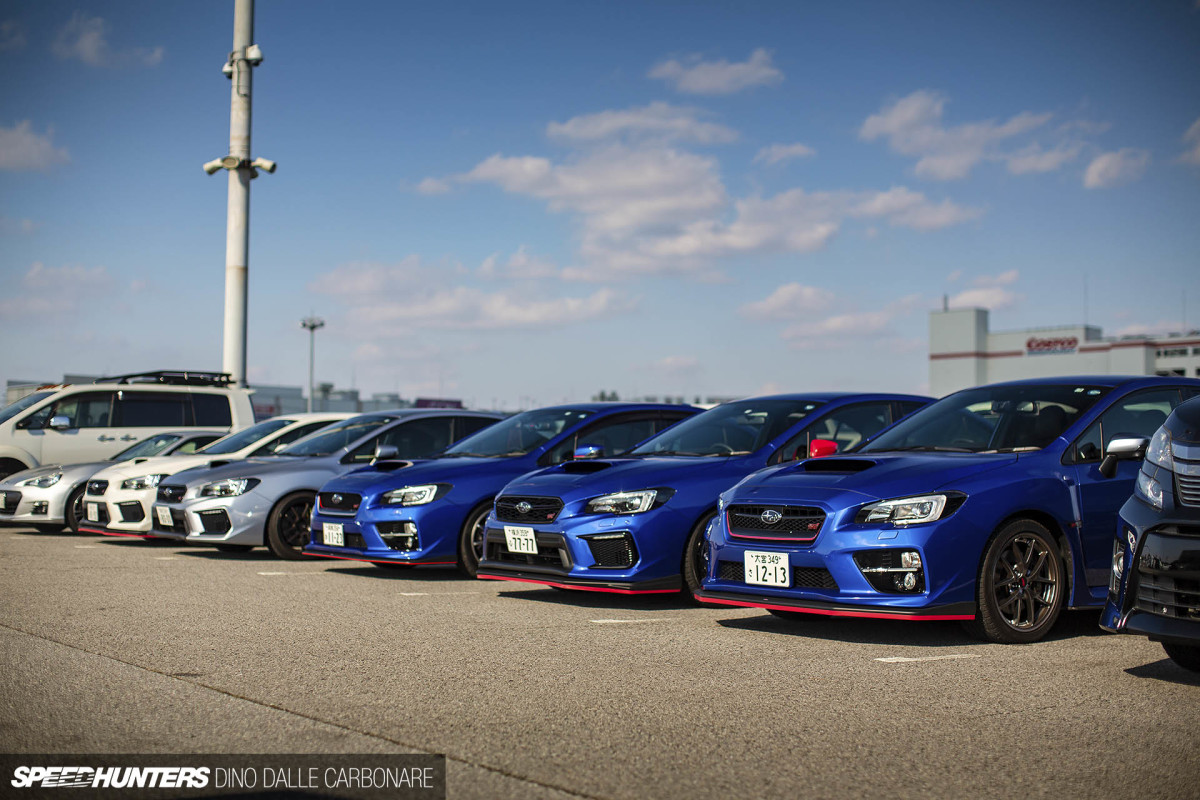 A five-strong group of STIs was a sight I spotted from a mile away. These cars still captivate the minds of enthusiasts, despite remaining pretty much mechanically unchanged for how long now?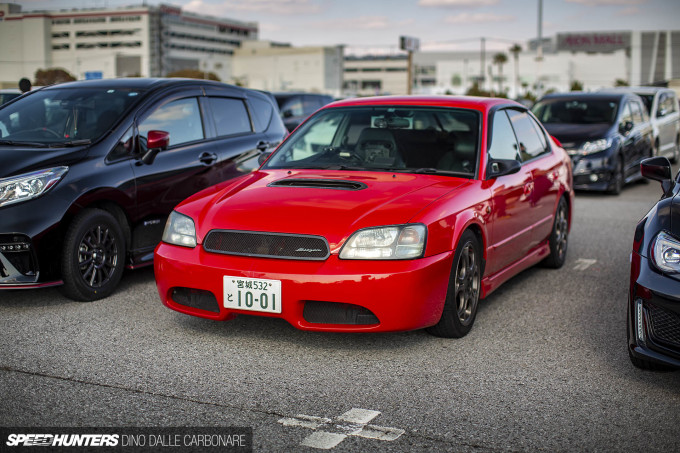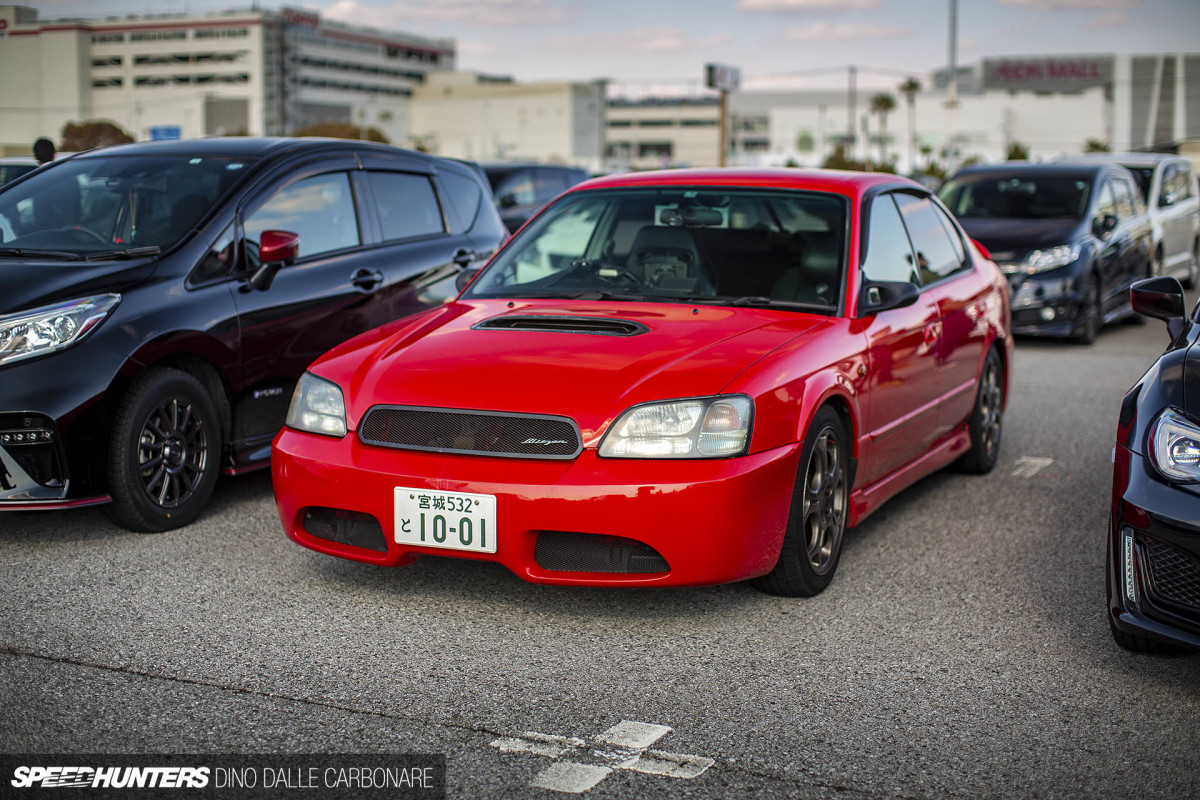 This Blitzen Legacy was the result of a collaboration between Subaru and Porsche Design. A similar special model was made with the BP5 generation Legacy, but for some reason I never thought it looked quite as good as the original BH.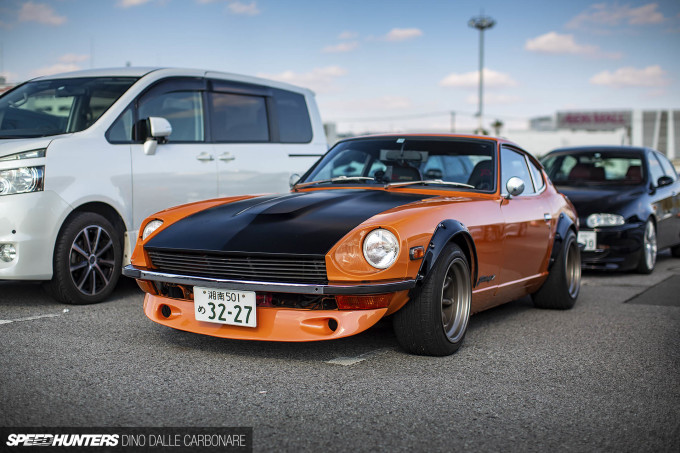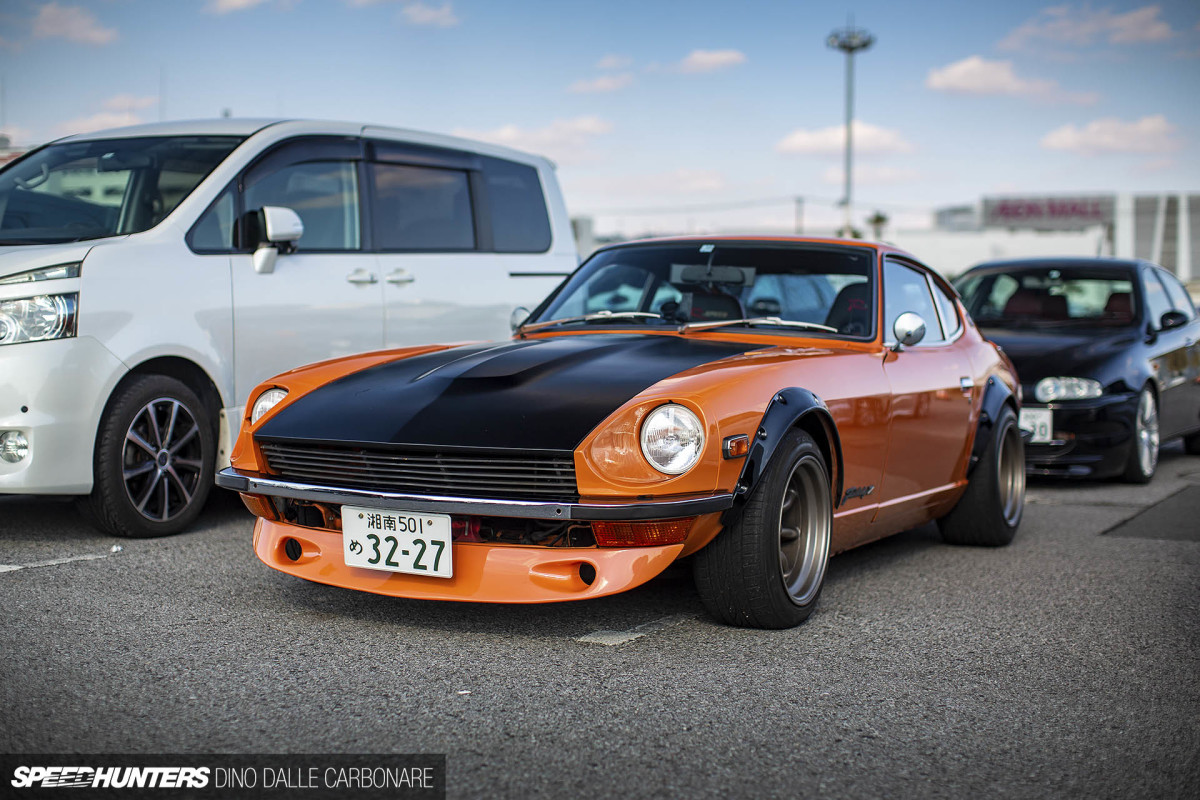 Check this trio out: A stunning S30 Datsun Z with 432R coloring, boosted looks-wise with fender flares and a rounded off front lip, and RS Watanabe wheels – can you get any more Japanese? Follow that up with an Evo, and an RX-8 on CE28Ns and you can't help but drool.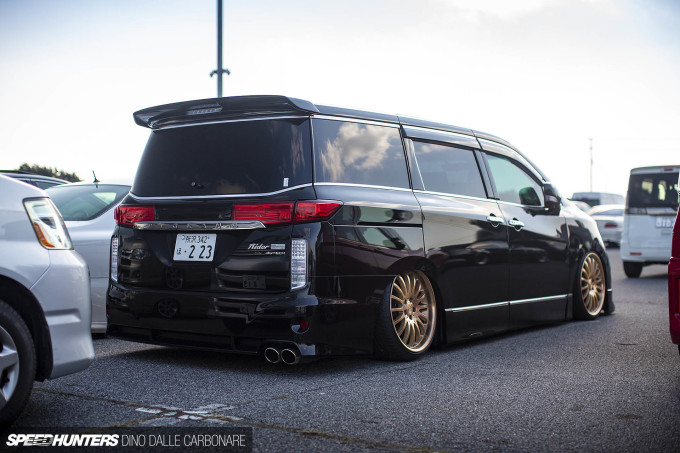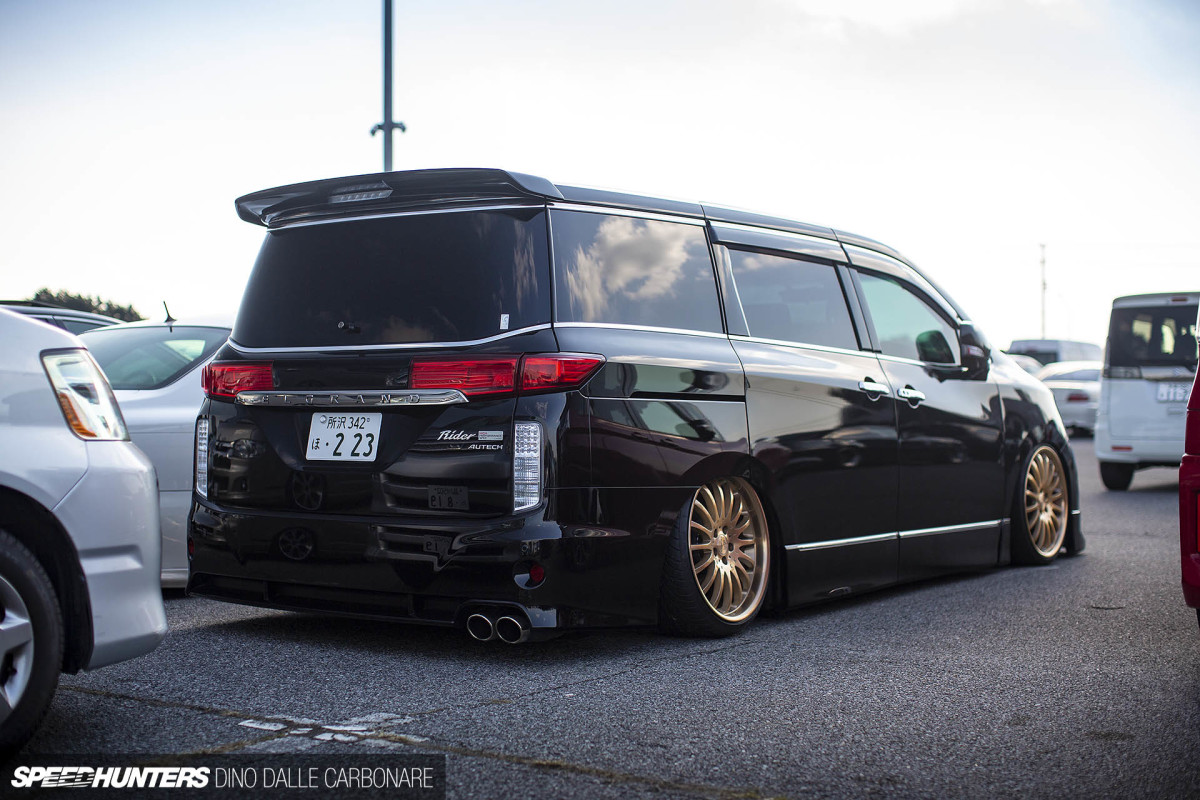 In total modern day Nissan fashion, the current generation Nissan Elgrand has been in production for far too long, but man oh man can it still be made to look mighty attractive. Just throw in air suspension and some tuck and you have an awesome family hauler.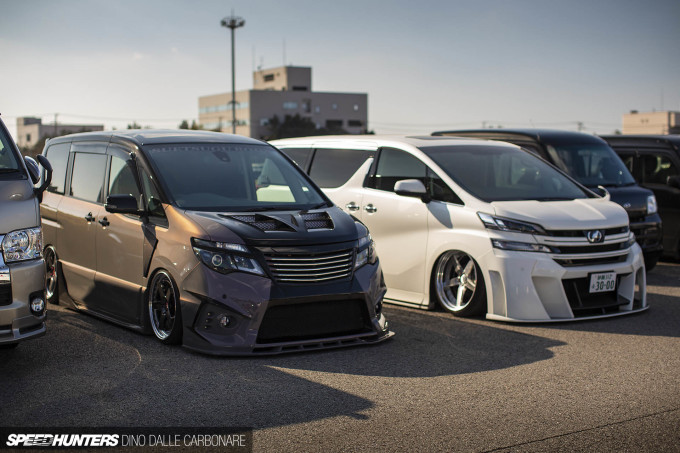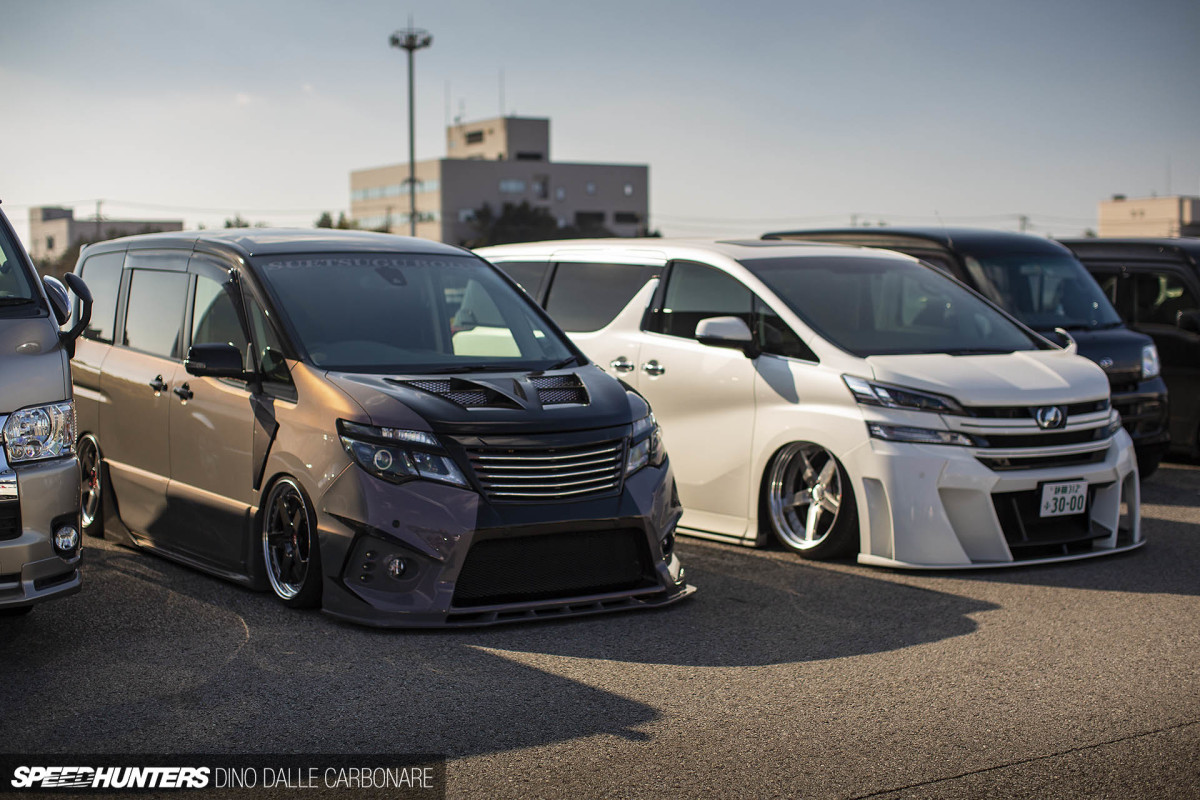 Others really take it to serious extremes.
Toyota Really Is In Our Minds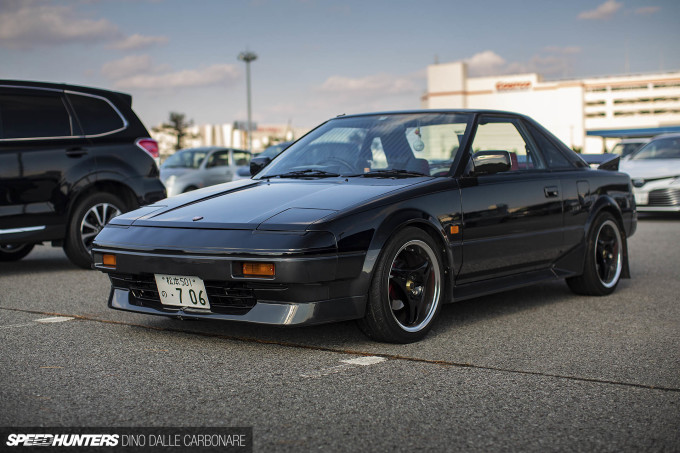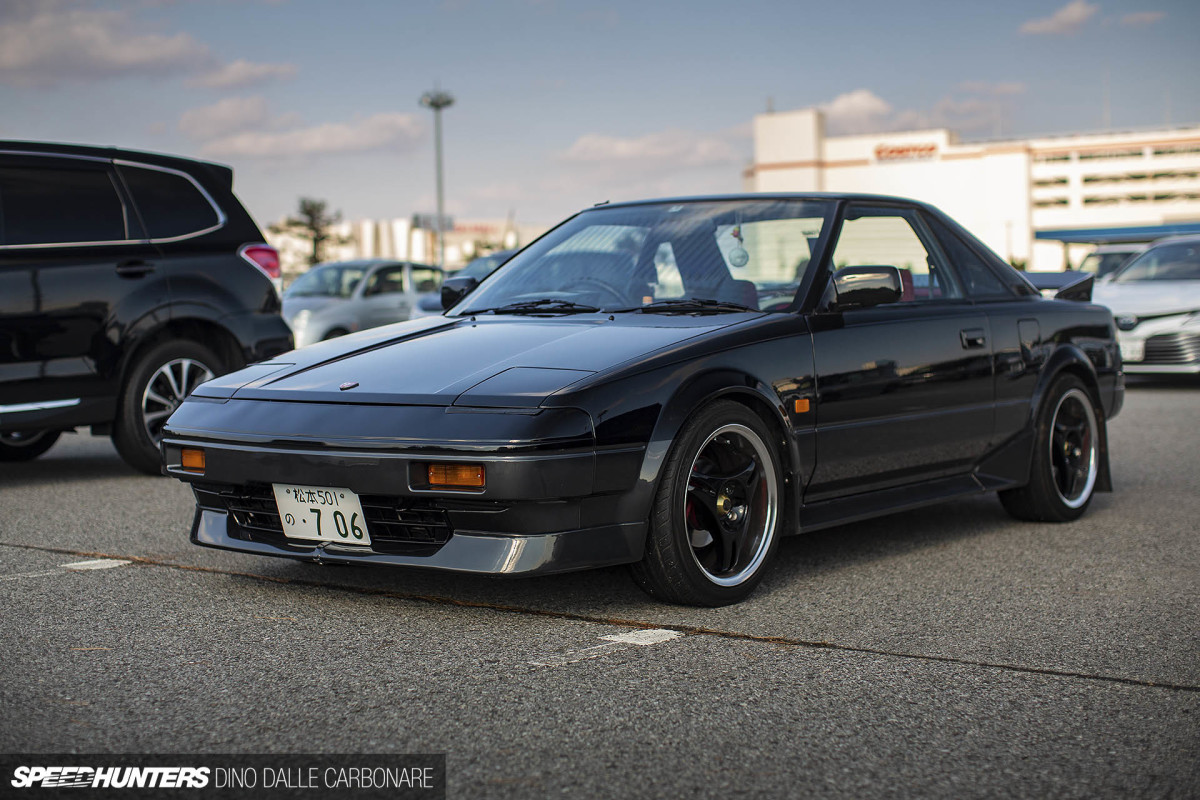 Now that the new Supra has been released, I've spent the last couple of days thinking back at all the cars that have helped make Toyota a true sport car manufacturer. Obviously I'm referring to many years back, because its latest offerings are either made by Subaru (86) or BMW (Supra).
Still, if it really wanted to, Toyota could make some really amazing cars, and Yamaha could make equally good engines to go along with them. But unfortunately, there is no need (in Toyota's eyes) to invest so many resources into what are essentially low-volume models. Who wouldn't want to see a contemporary iteration of the first-gen MR2?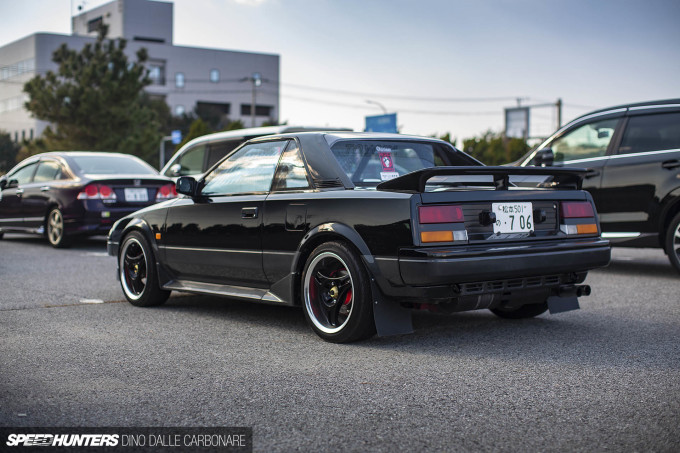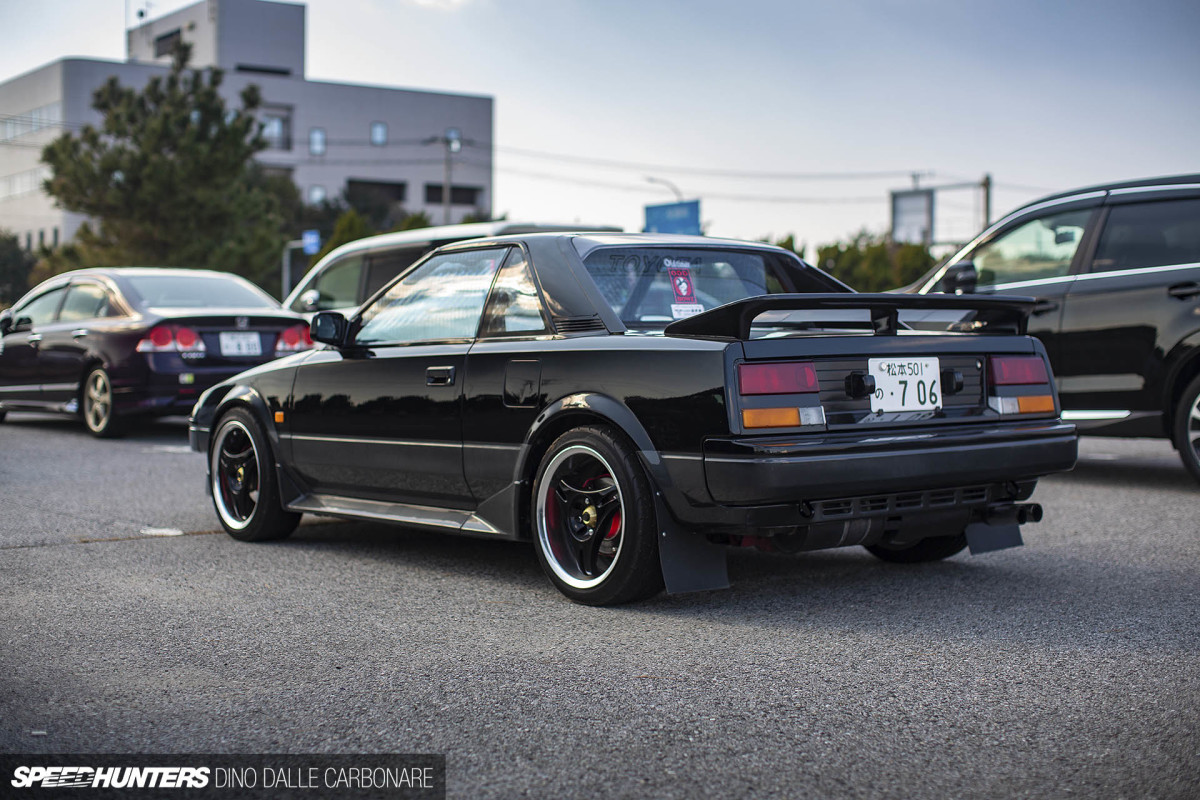 Seeing this immaculate example on tri-spoke wheels really made me think how Toyota went crazy creating so many different sports cars. The market demanded it, Toyota wanted to impress, and the costs involved weren't quite so astronomical as they are these days. If only…
Since we are on the subject of 4A-powered Toyotas, I can't help but throw a super-clean AE86 into the mix.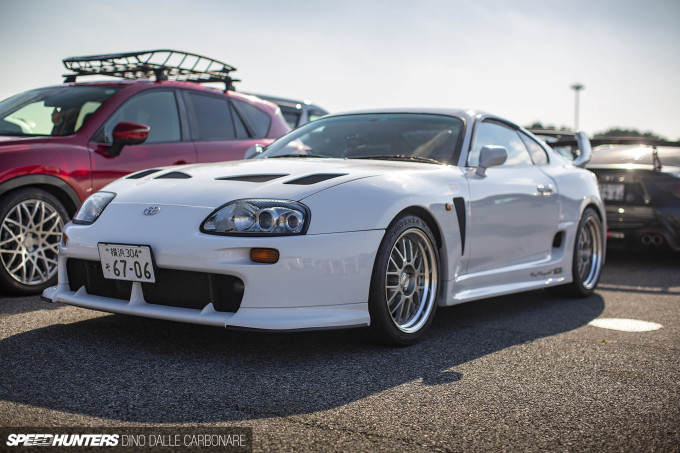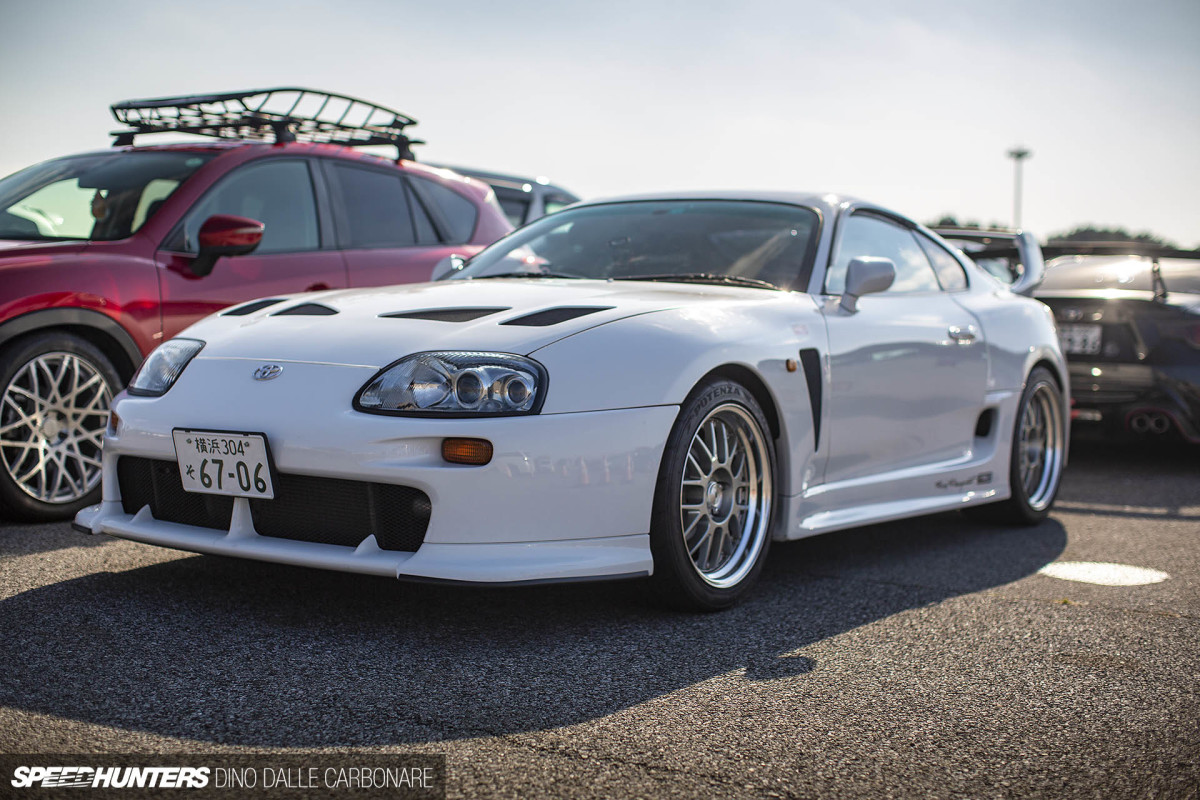 And a Supra. I've got no idea if this is a legit TRD-built 3000GT, but I don't think it matters – it looked imposing with its widened stance and it emphasizes just how wrong of a direction the new Supra is.
As I commented in Paddy's post on the new car, the A90 should have been derived from the Lexus LC, the new model possibly being given the job of reviving the Celica namesake. It makes sense in my head, at least.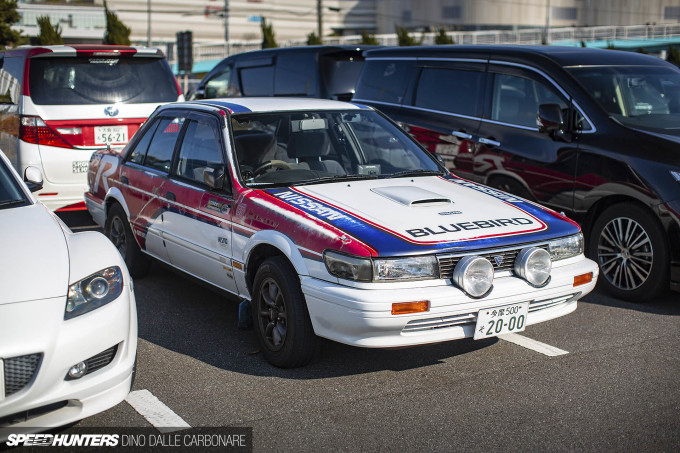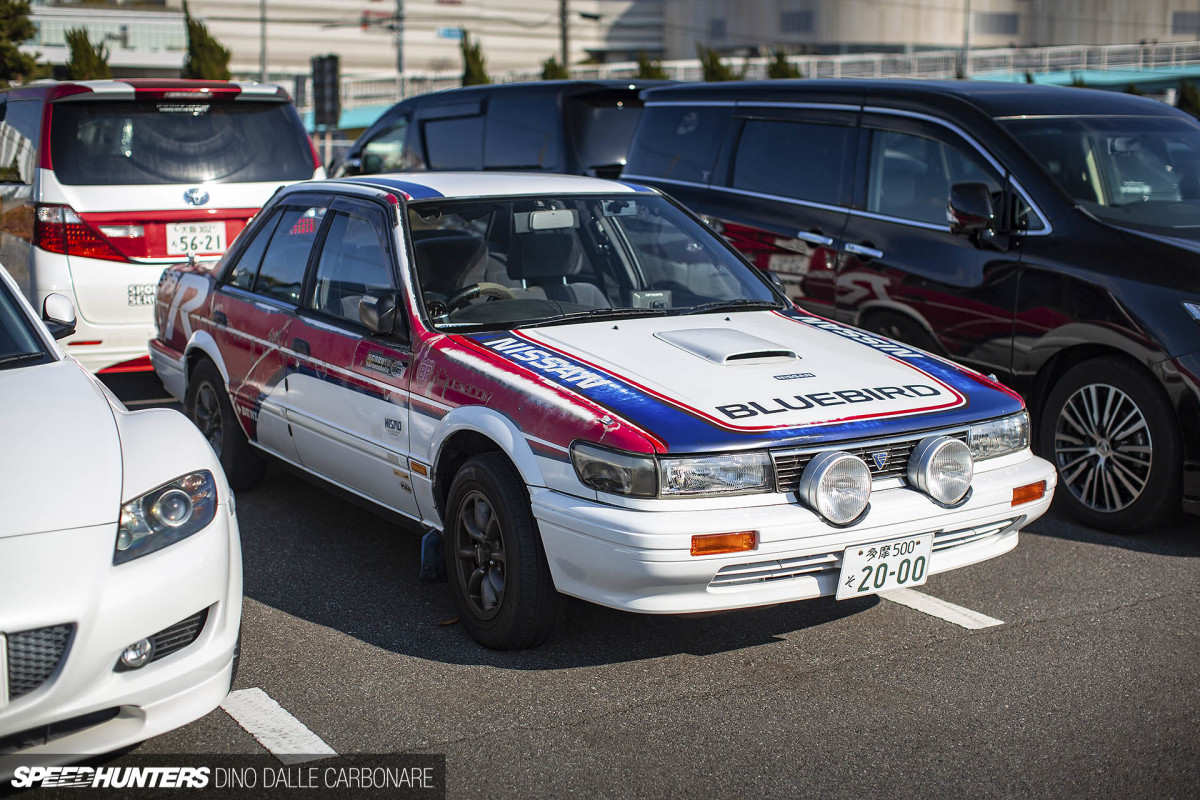 On a totally different note, here's a Nissan U12 Bluebird that thinks it's a rally car. Those are proper vintage graphics by the looks of it.
Drift much?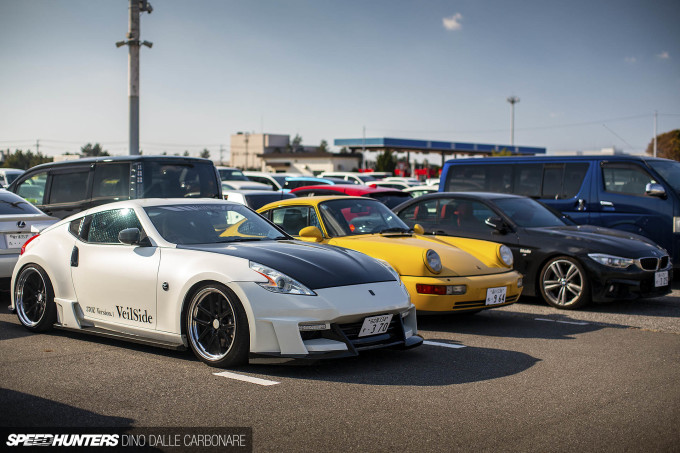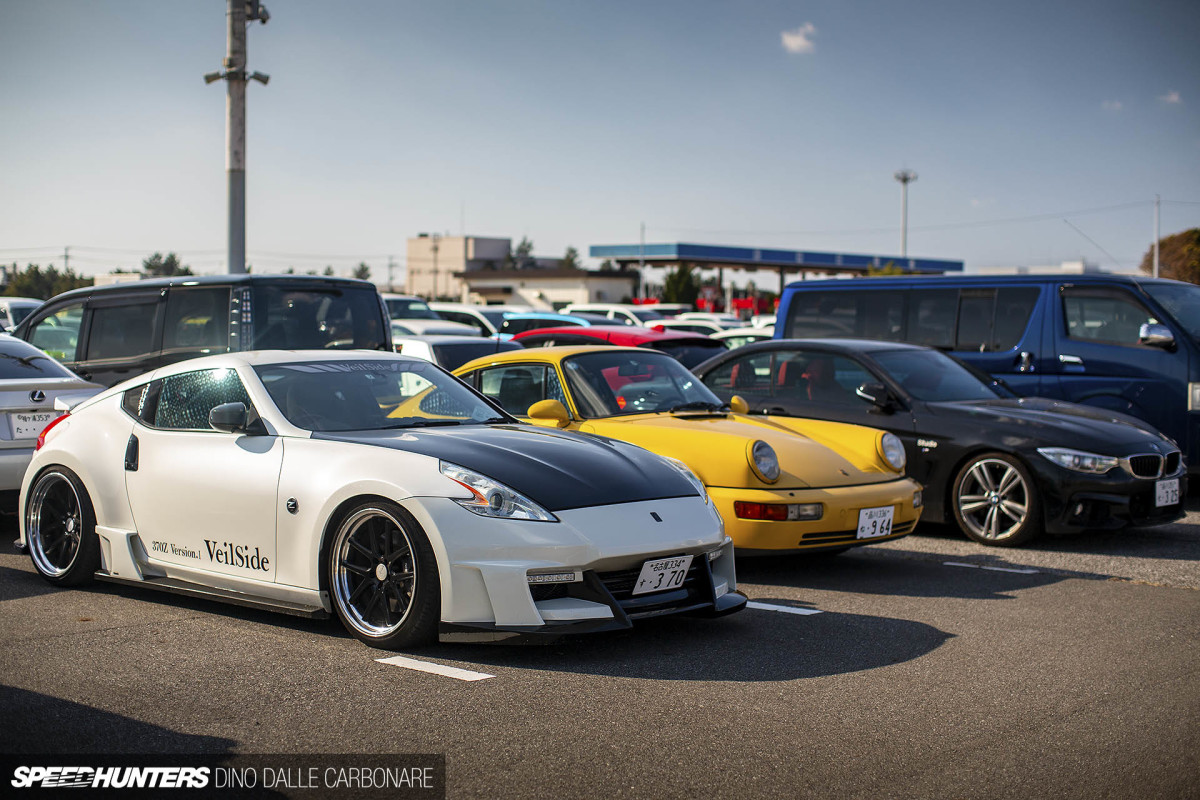 I had heard rumours that Veilside would make another attempt at returning into the scene with a booth and a few cars at TAS, but all I saw of the once legendary tuner was this Z34 in the parking lot.
That's Project Drop Top in the background sitting on its stock wheels, ready to go to its annual check where it must absolutely not be wearing wheels with an aggressive offset.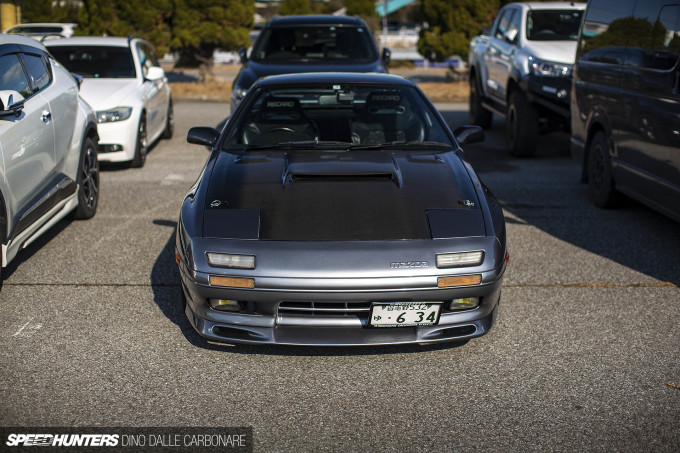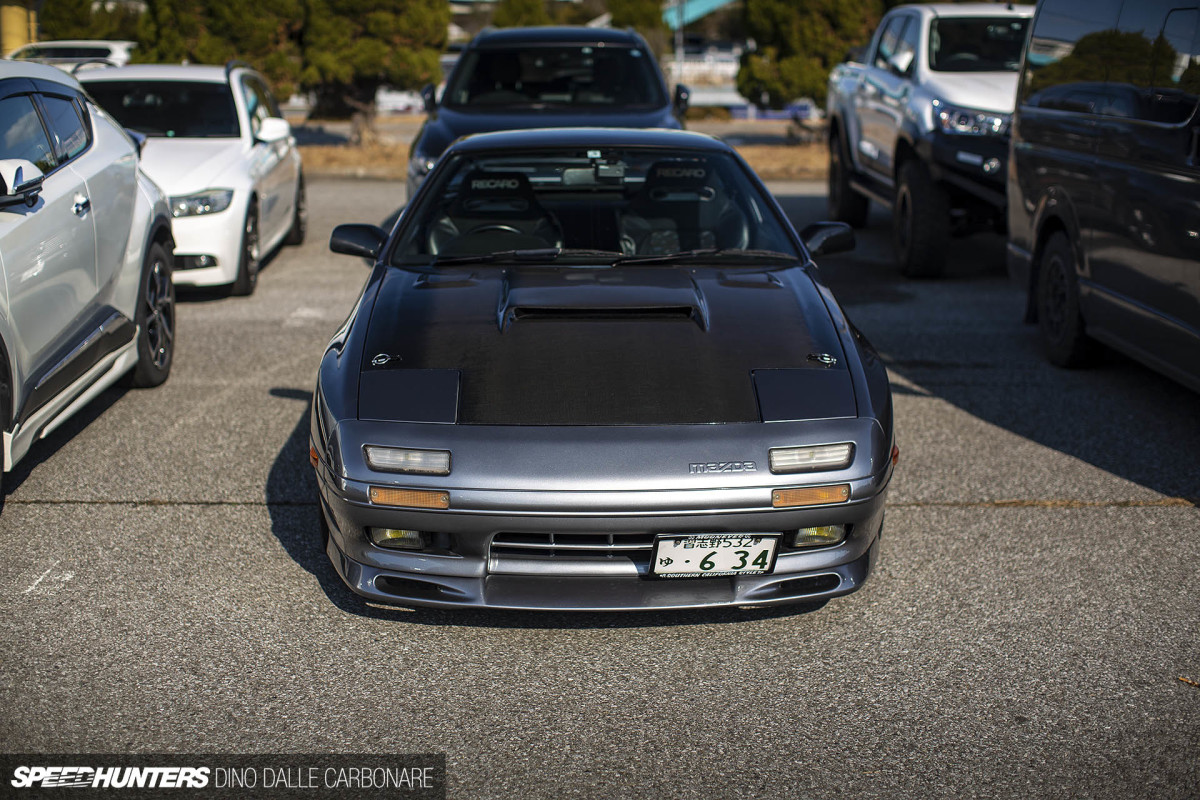 Even after a good hour walking up and down and zig-zagging across the massive expanses of the parking lot, my hunt was far from over.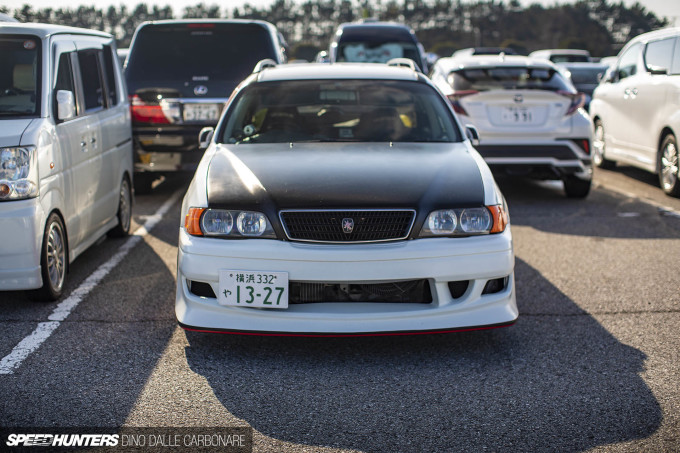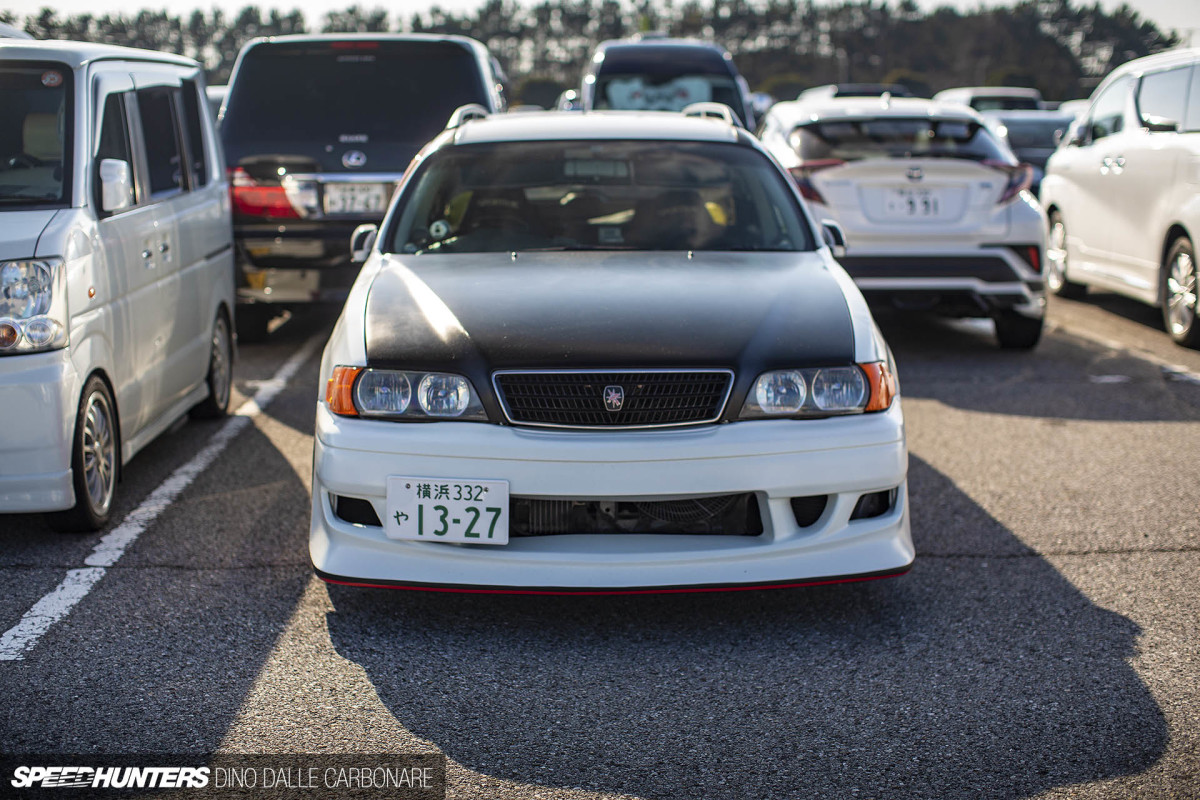 That's when I came across a rather clean JZX100. But wait, roof rails?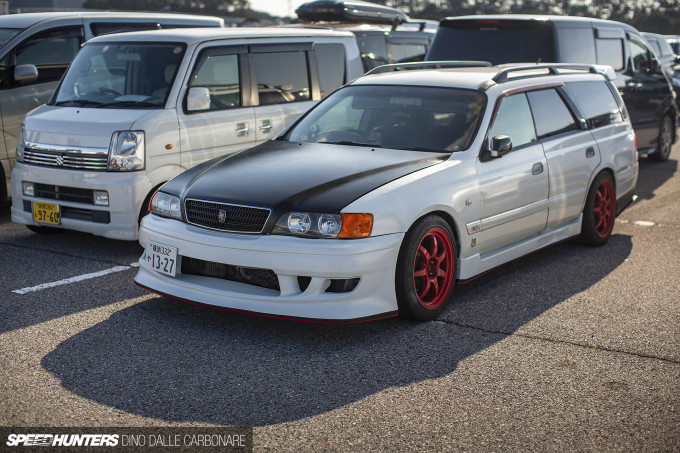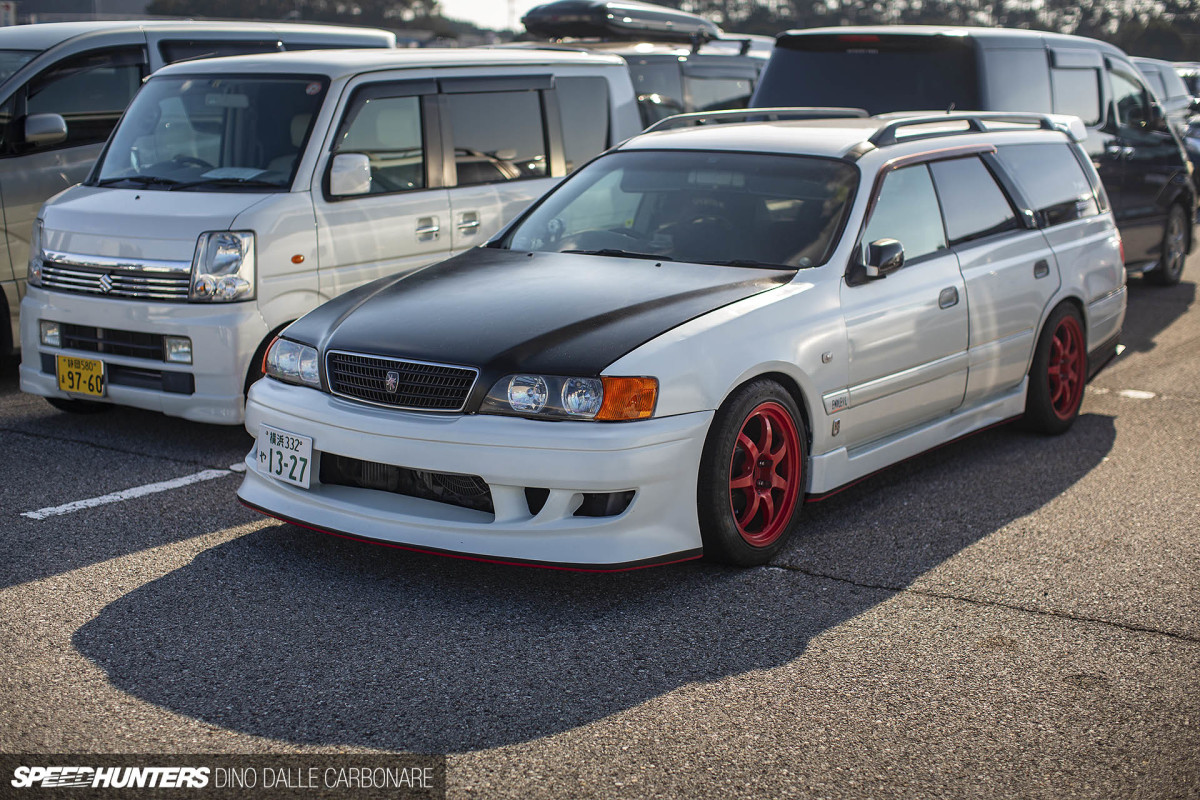 Moving to the side a bit revealed all. Obviously this Nissan Stagea had been involved in a front shunt, which always opens up possibilities for cool front end swaps. But a Chaser front on a Stagea is definitely new – talk about confusing.
Hybrids like this Toyota Aqua aren't left alone either. If there's a will there's a way, and so many cars you'd never look twice at if they passed by you get customized in Japan.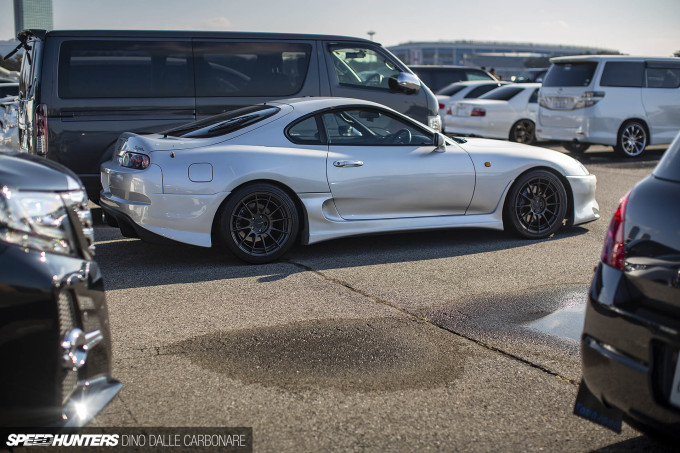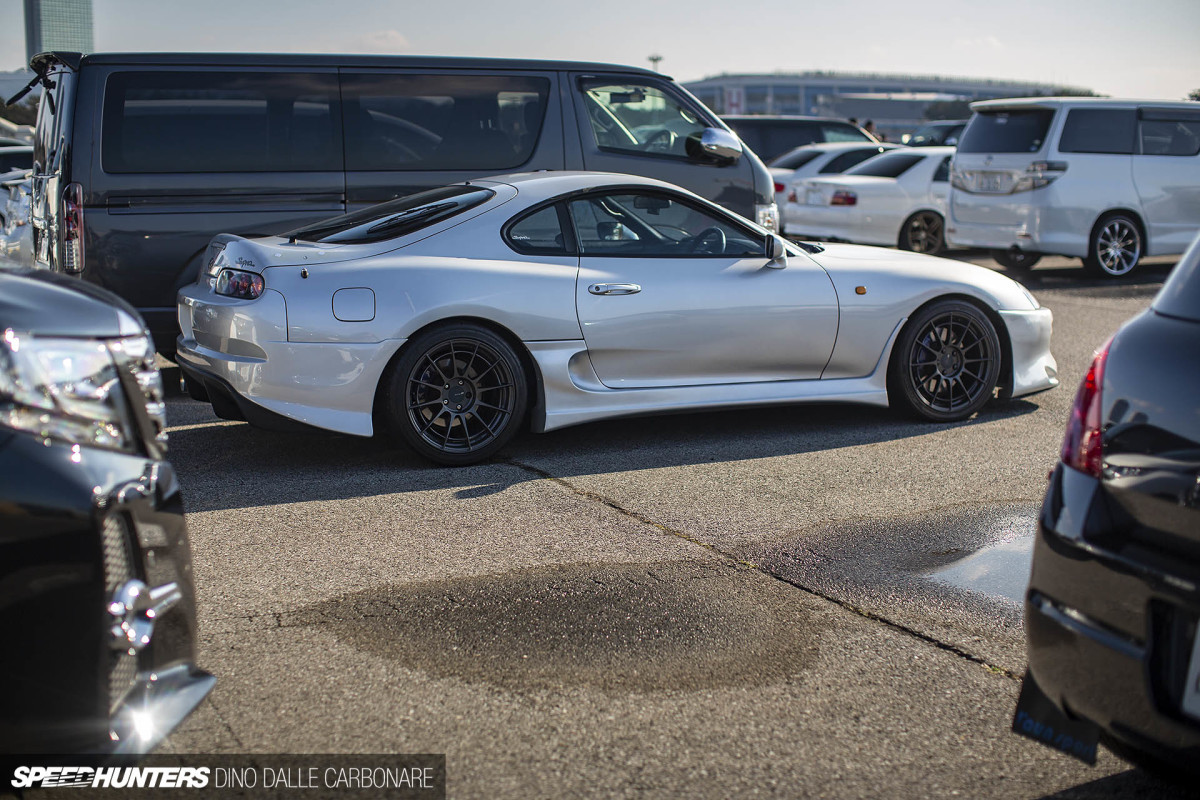 A simpler take on a JZA8o wearing a set of dark Enkei NT03RRs.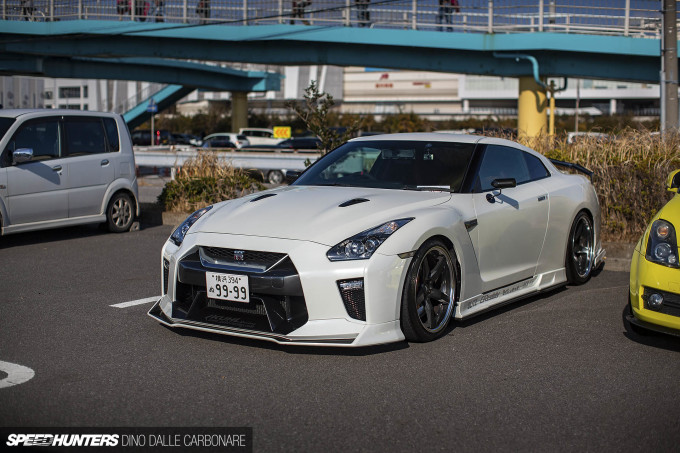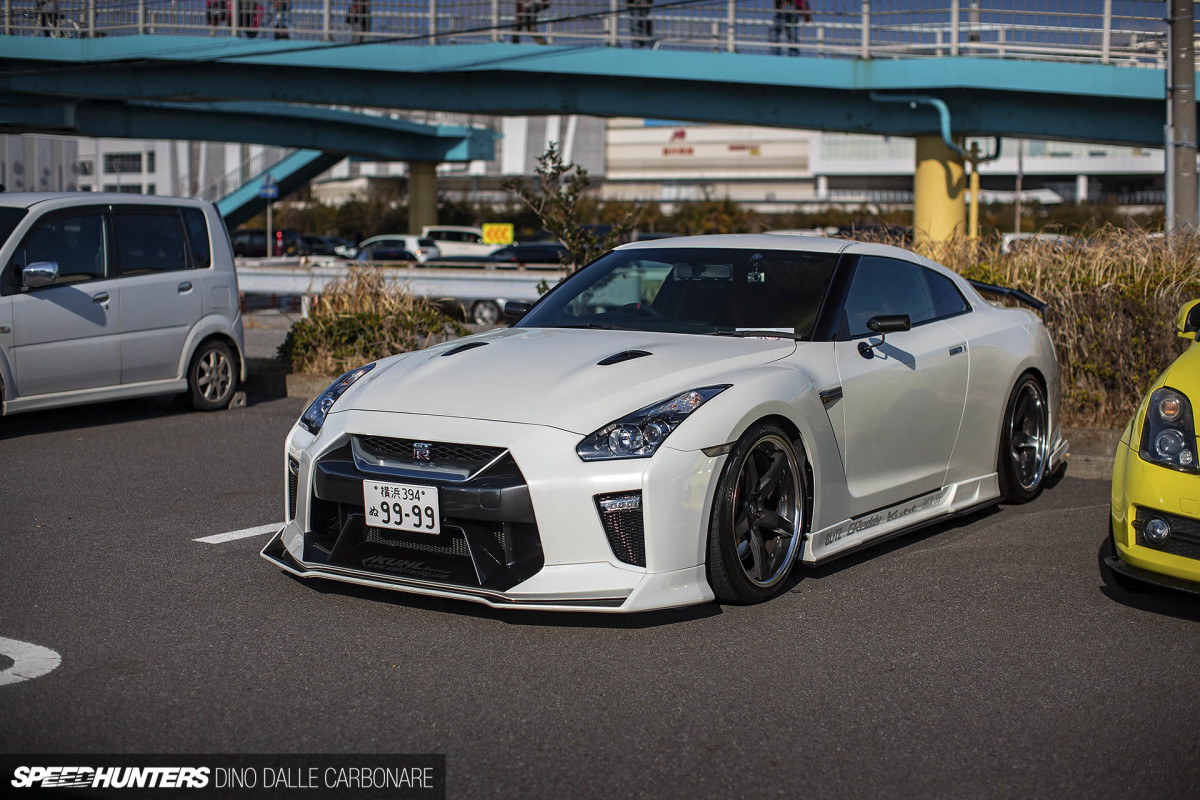 I realized I hadn't seen any R35s and then all of a sudden this Kuhl-kitted 2017 model came into view.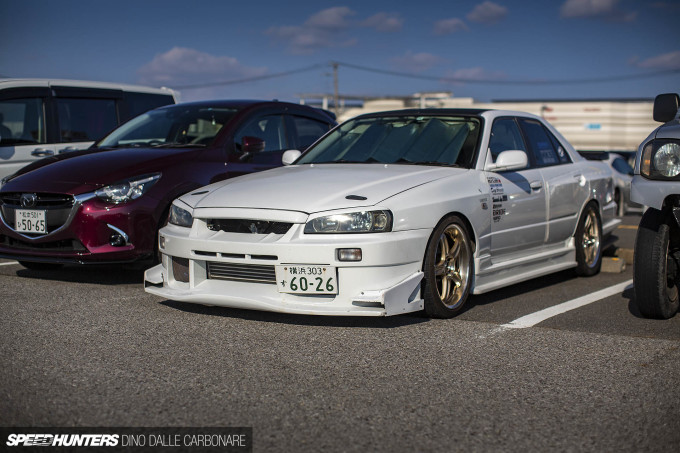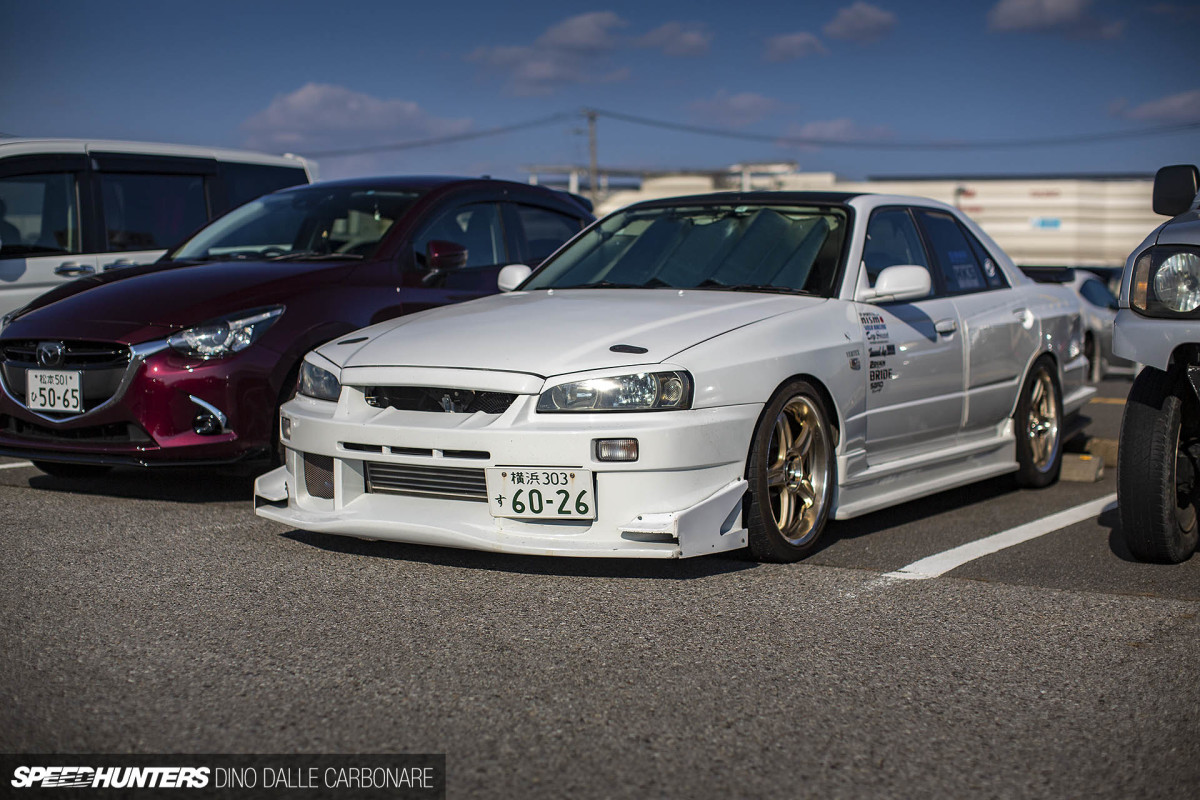 Still, it was this wide-body ER34 that I spent more time looking at. The lure these cars have is unavoidable to car guys of my generation.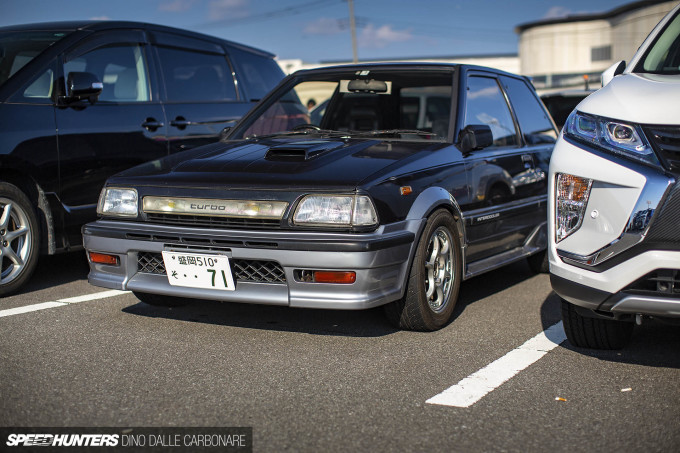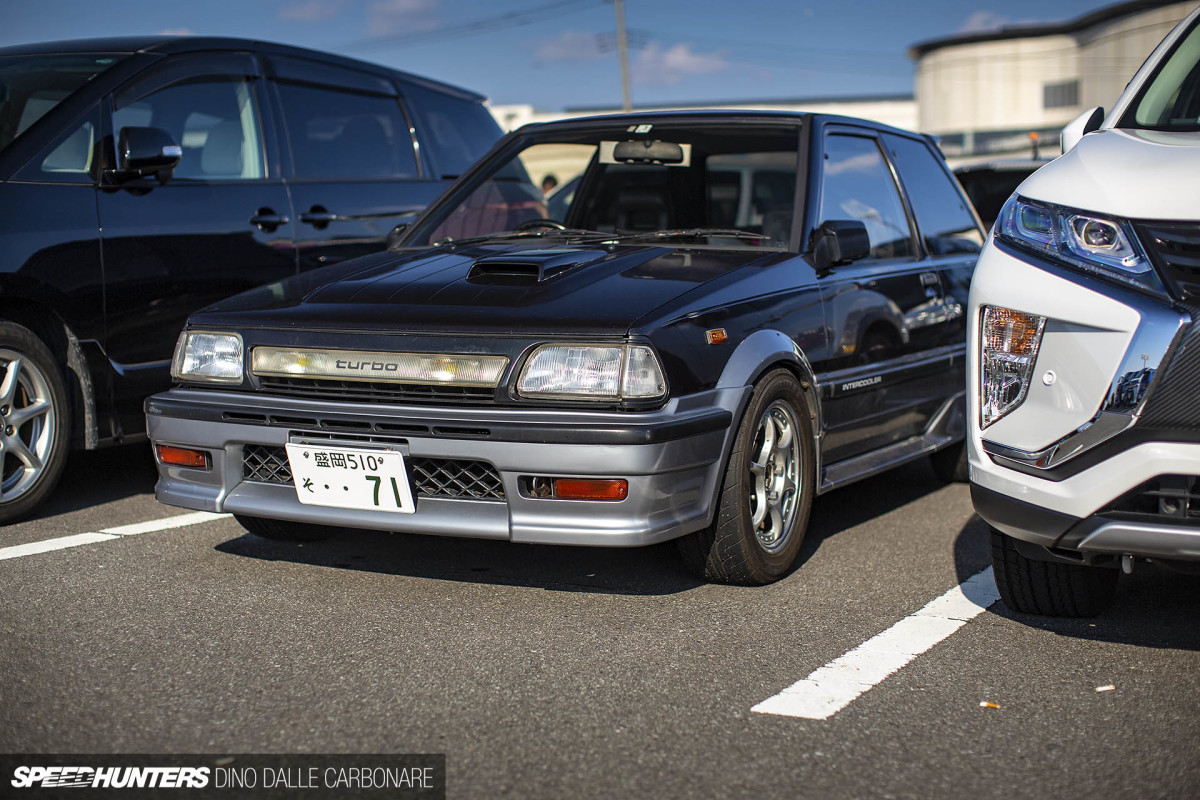 We saw the Starlet earlier on but here's  an even earlier EP71 Turbo S powered by a 1.3L 2E-TE. This more angular '80s version is even more attractive now that I look at it properly.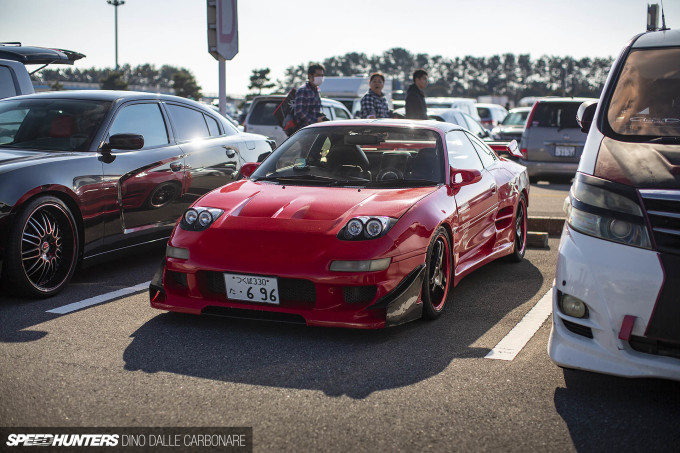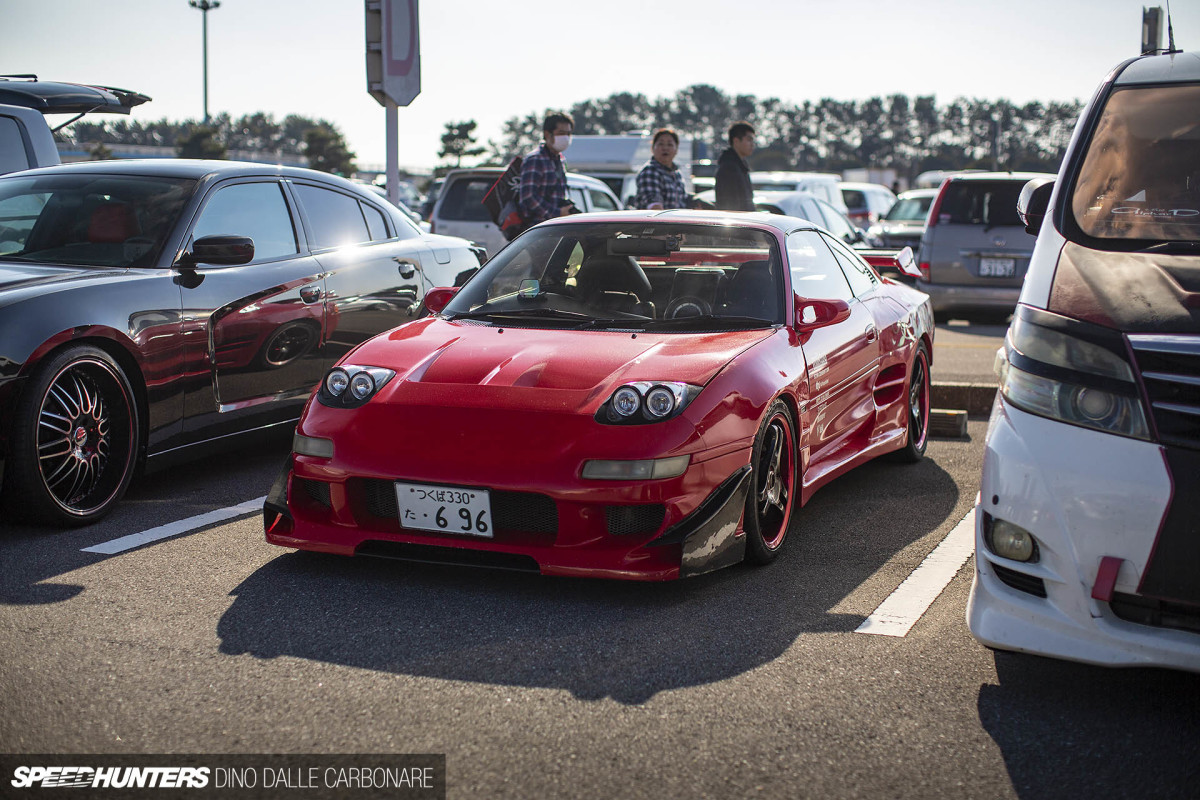 Wow, so many Toyotas. Maybe all these owners came to check out the Supra, which at TAS was still camouflaged ahead of its unveiling on Monday morning in Detroit.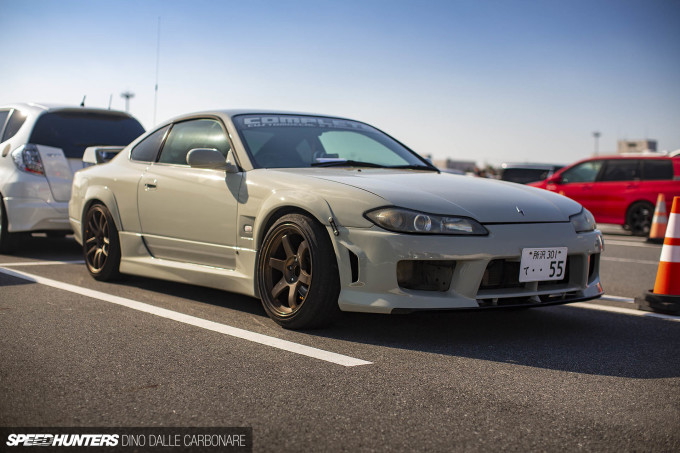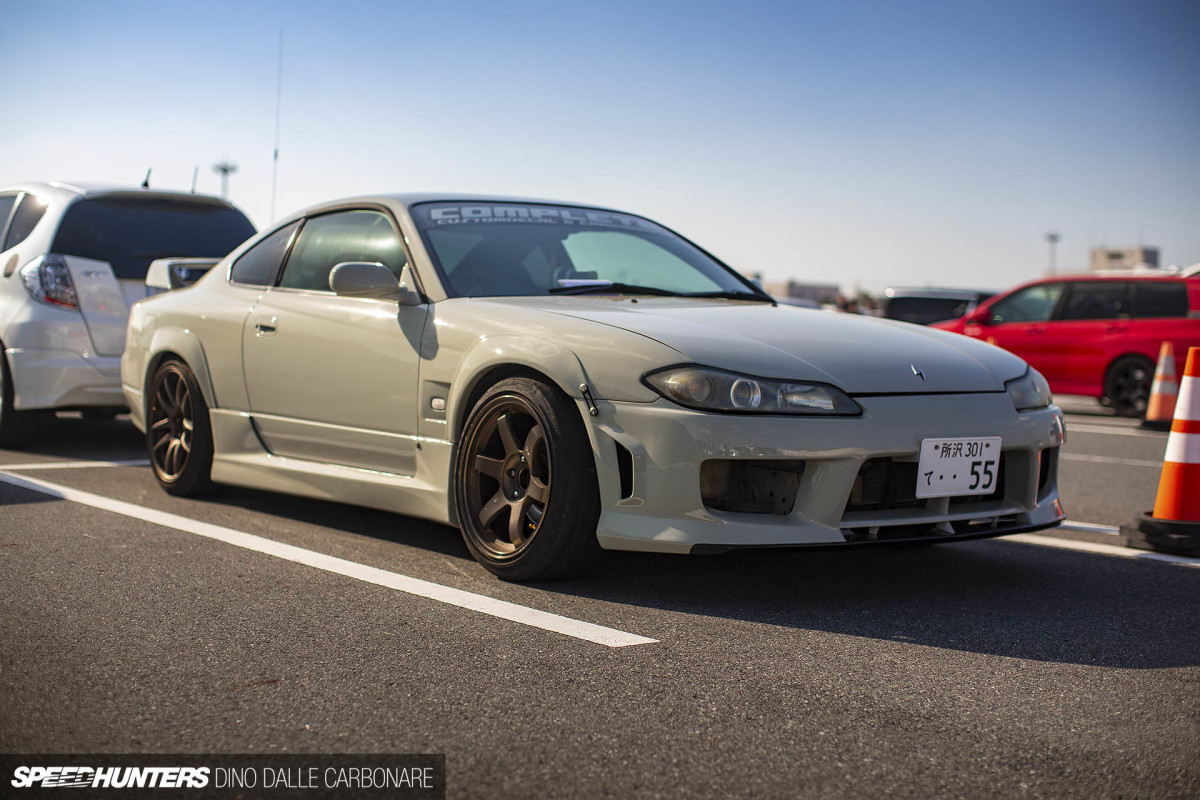 Hopefully this selection of very real, very Japanese cars have given a bit of balance to what we've so far seen from our TAS coverage. But next it's time to head back into the halls as we aren't quite done with our coverage…
Dino Dalle Carbonare
Instagram: speedhunters_dino
dino@speedhunters.com