A little while back, we had a chance to see what RAYS' Volk Racing line-up is all about, and also where it's going, using some popular wheels as examples. But while at the company's HQ in Osaka, we also explored one of RAYS' other well known wheel brands: Gram Lights.
RAYS may be synonymous with iconic forged wheels like the Volk Racing TE37 and CE28, but alongside their forging processes they've been pushing and evolving cast wheel production to new heights.
In fact, there's been so much advancement in this area that RAYS has patents for new processes for machining and painting to help differentiate their wheels from competition, but also to make it as hard as possible for their creations to be copied.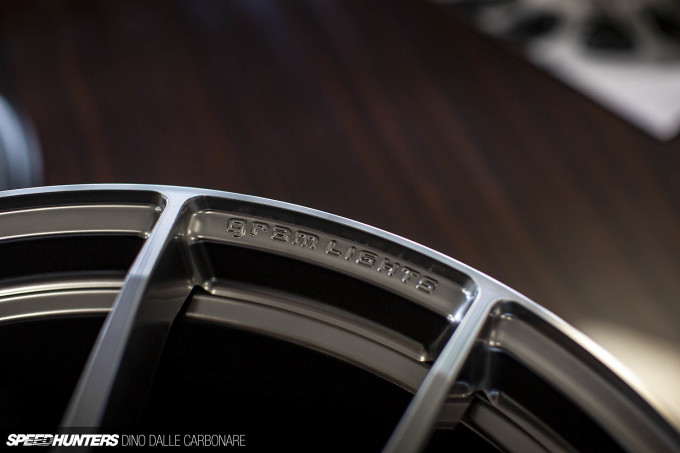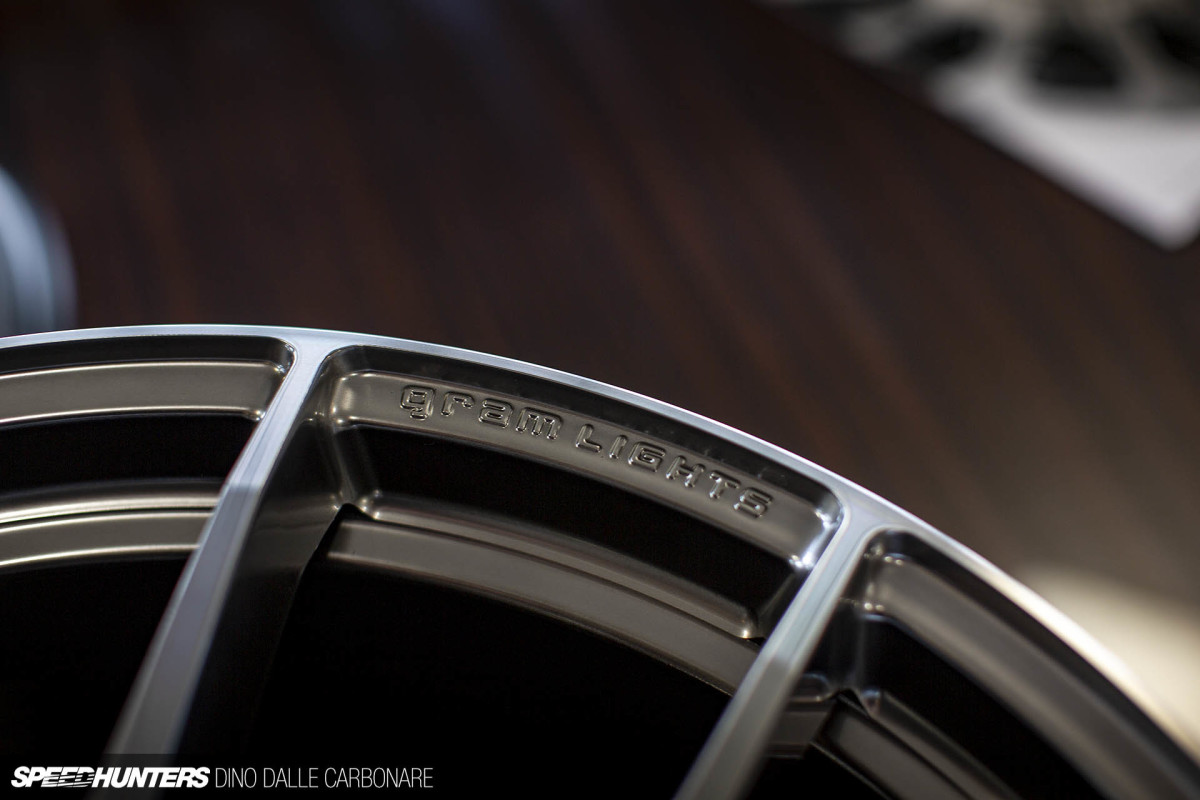 So while Volk Racing is all about performance, Gram Lights – which debuted in 2001 – allows RAYS to follow trends and push design with cutting-edge production methods and colorful finishes.
The number 57, which is used on every wheel in the Gram Lights range, is a nod back to the 1970s when RAYS first became involved in motorsports. Their cars always wore the number 57.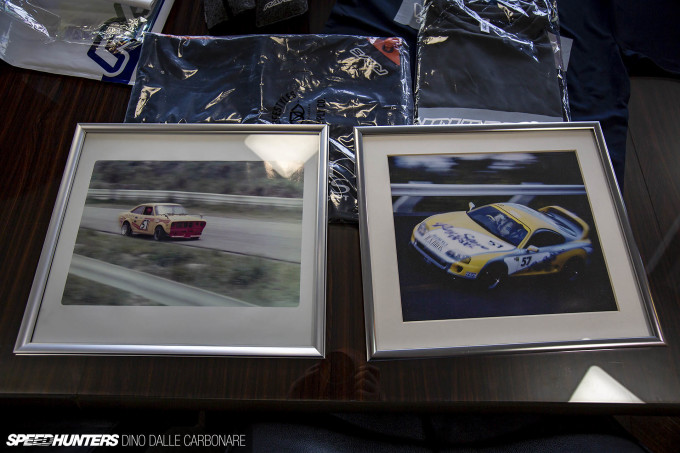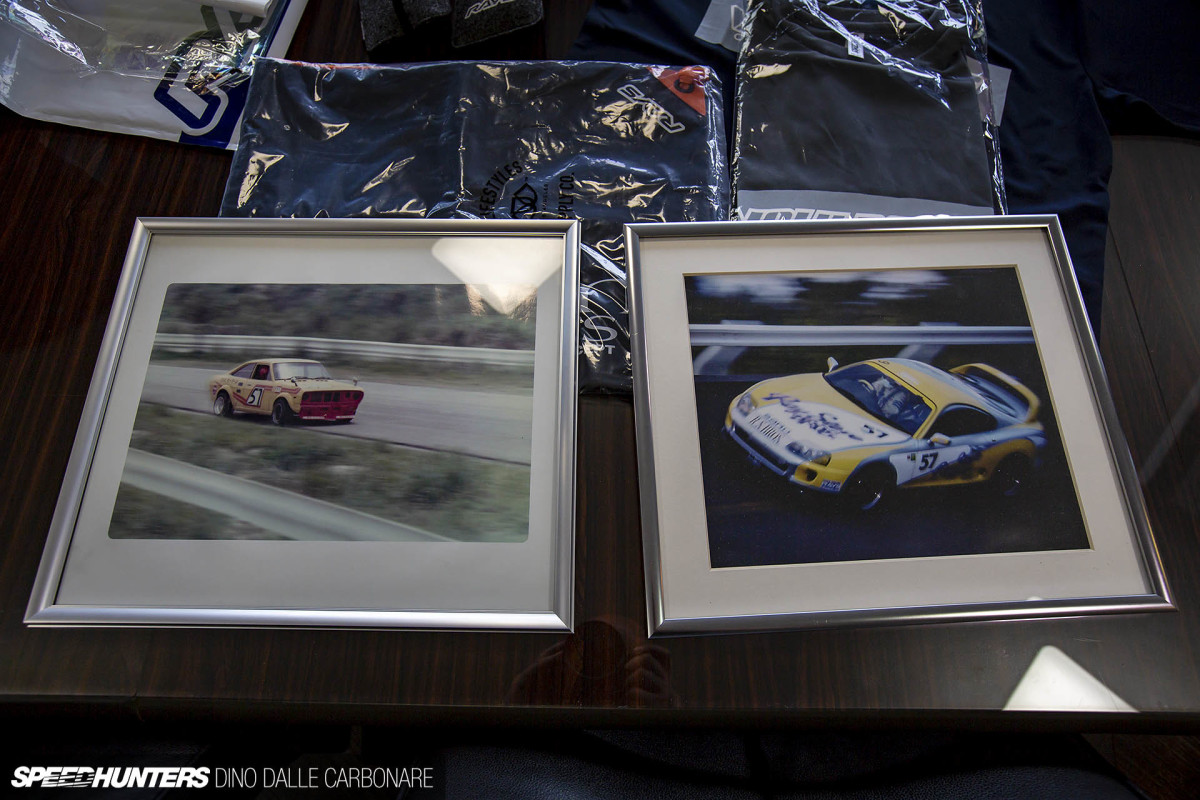 There were a few pictures of these cars on the walls of the meeting room we were in, and I just had to take them off and grab some shots. I don't know what was cooler, the little Sunny or the Supra at Yatabe.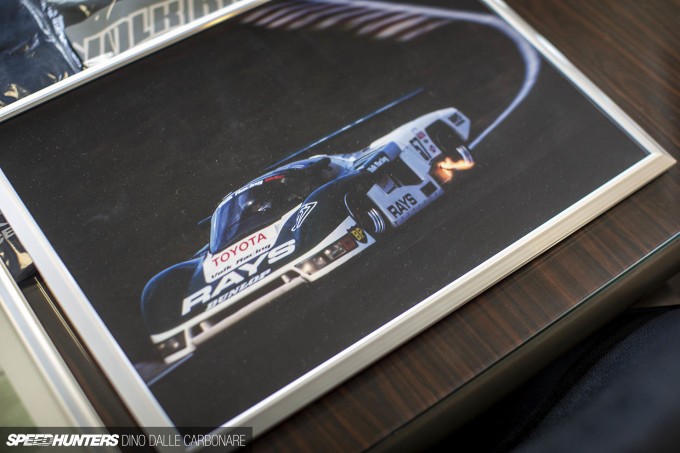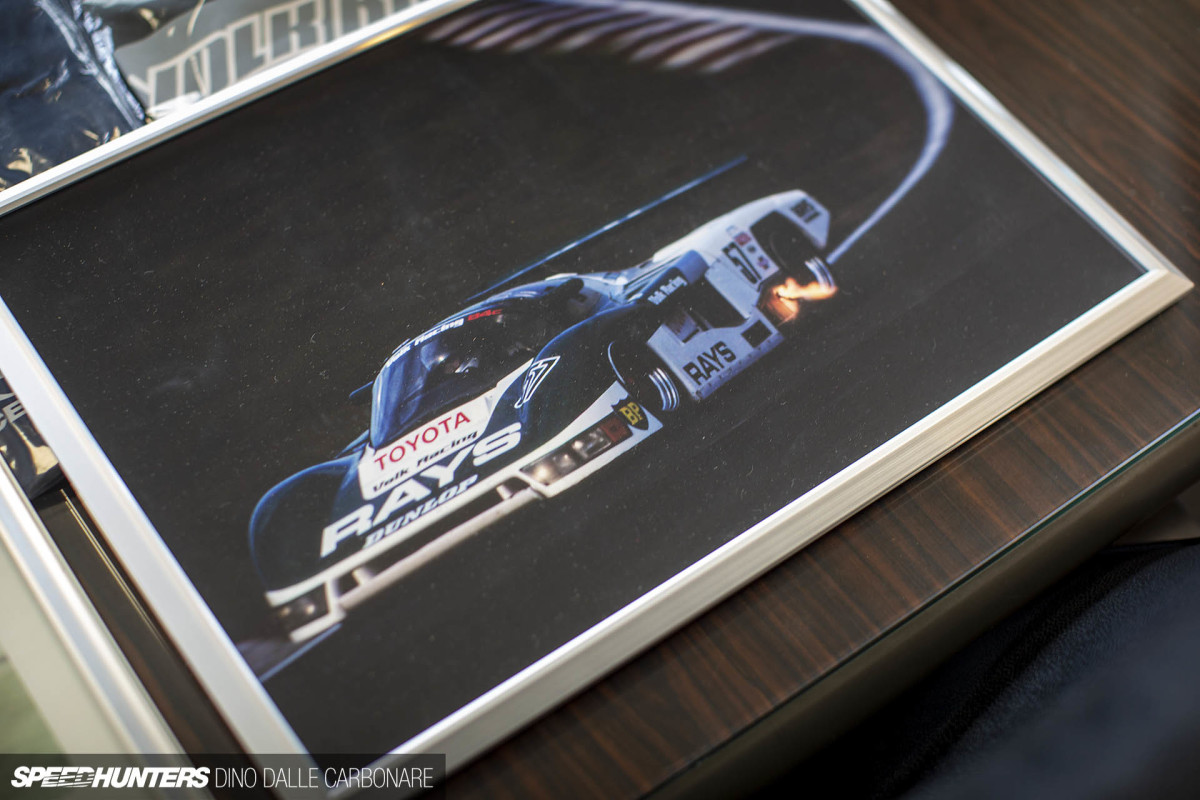 The 57 was even used on the Toyota 84C which raced in the 1985 WEC Japan race, as well as subsequent race cars that RAYS supported. 57 has become a way to identify the progression from grassroots all the way to the highest tier of motorsports, and as a parallel the way RAYS has used racing to improve and evolve their cast and forged wheels.
Pushing Boundaries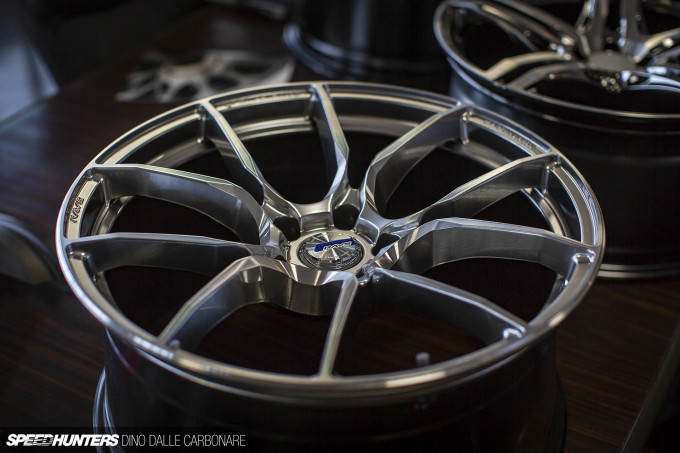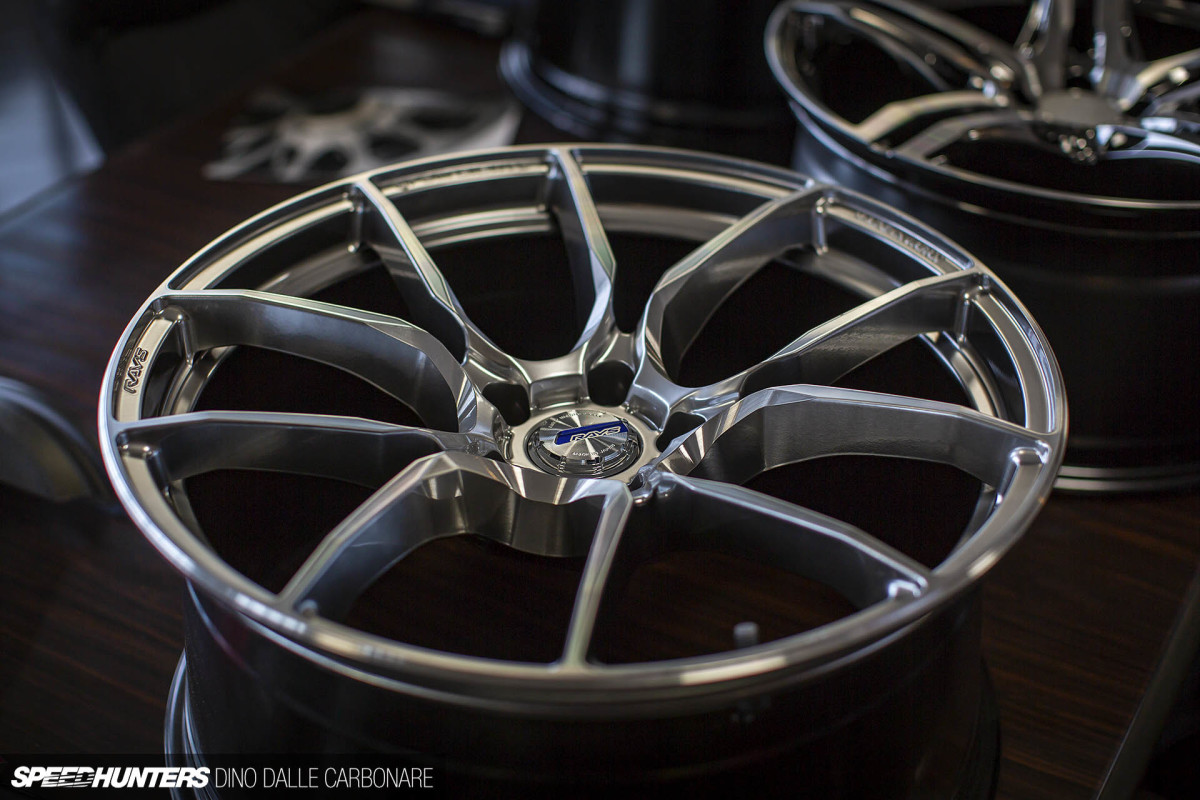 After the quick history lesson, we were given an insight into the various new machining techniques used today to set Gram Lights apart from other cast wheels on the market. The Azure 57ANA perfectly demonstrates how RAYS' own 'Hybrid Machining' allows them to create complicated three-dimensional surfaces.
The result is a sharper look, from around the hub where the spokes originate all the way up to where they meet the rim. The faceted surfacing added at different angles, as well as profiled spoke edges that fade upwards and taper in, combine to create something pretty unique. It's also much harder for the wheel to be replicated.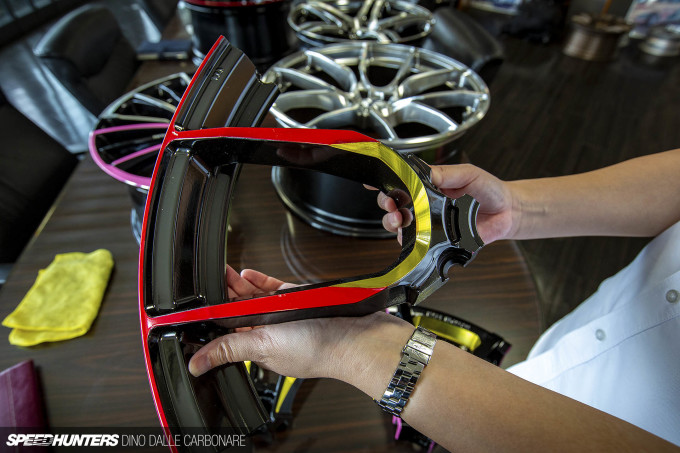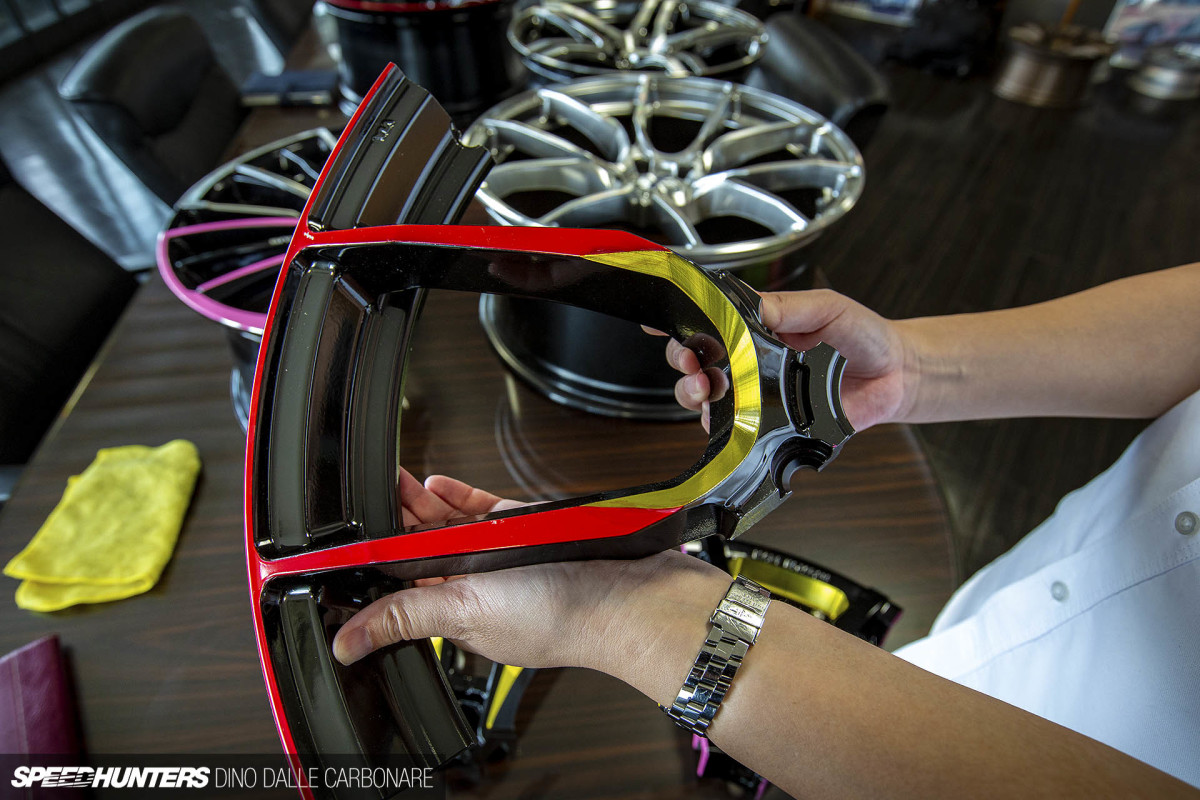 These cut-outs show the different surfaces that get machined.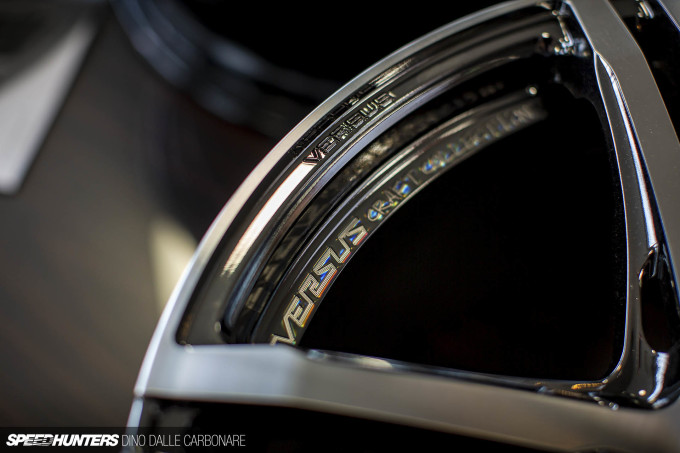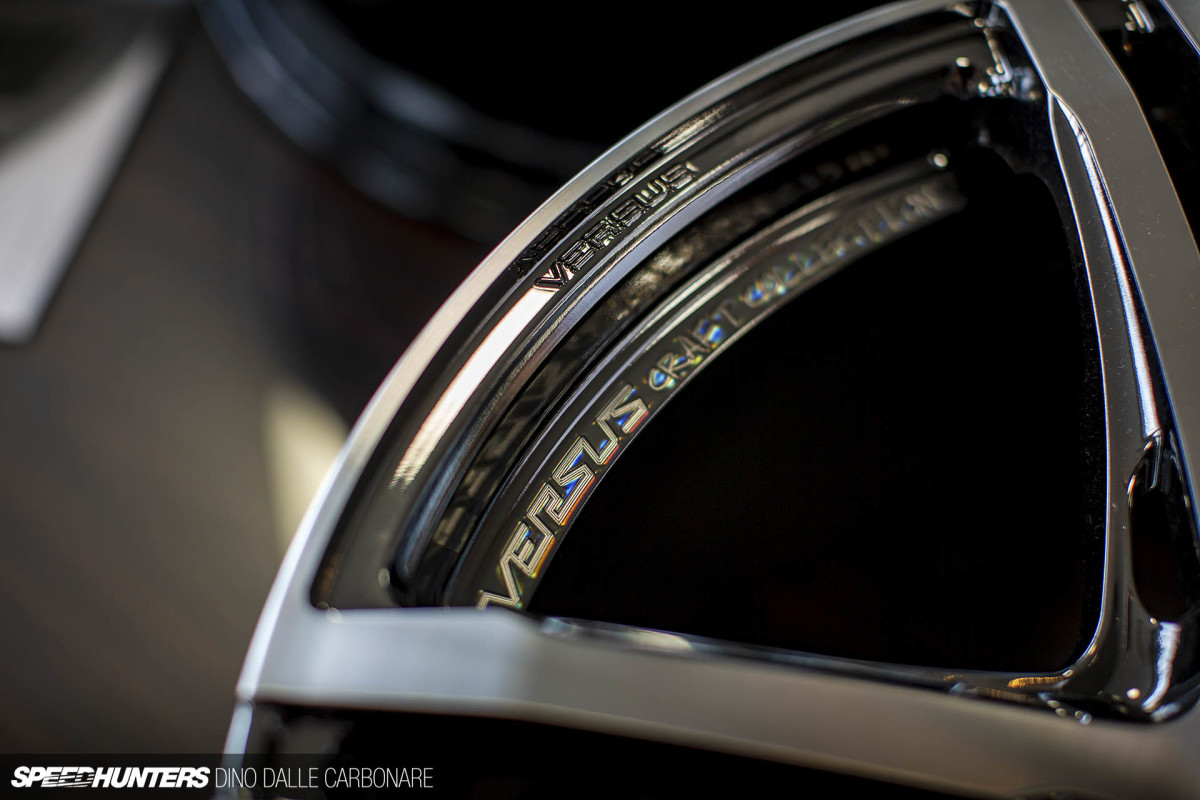 Back in the day, a simple sticker or a painted-on logo sufficed for branding, but with so much counterfeiting going on in the wheel market, RAYS has even come up with its own unique way of branding their wheels.
AMT, or Advanced Machining Technology, is a patented technology that allows RAYS to cut intricate designs into their rims, from brand names all the way to highlight lines that will then get painted. This excellent example from RAYS' Versus catalog shows up a rainbow-like finish once the wheel is given its clear-coat.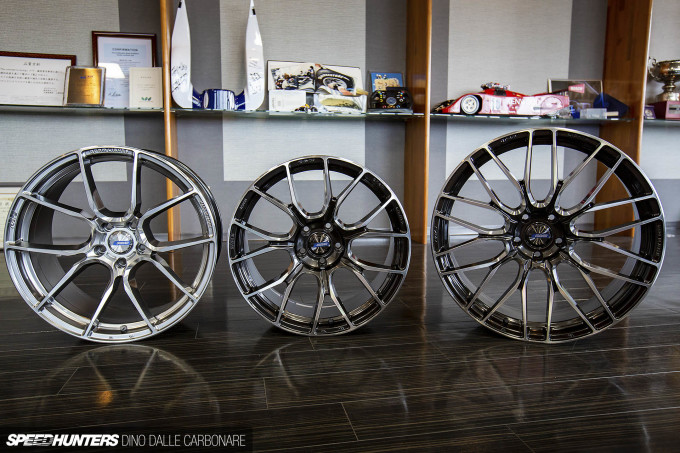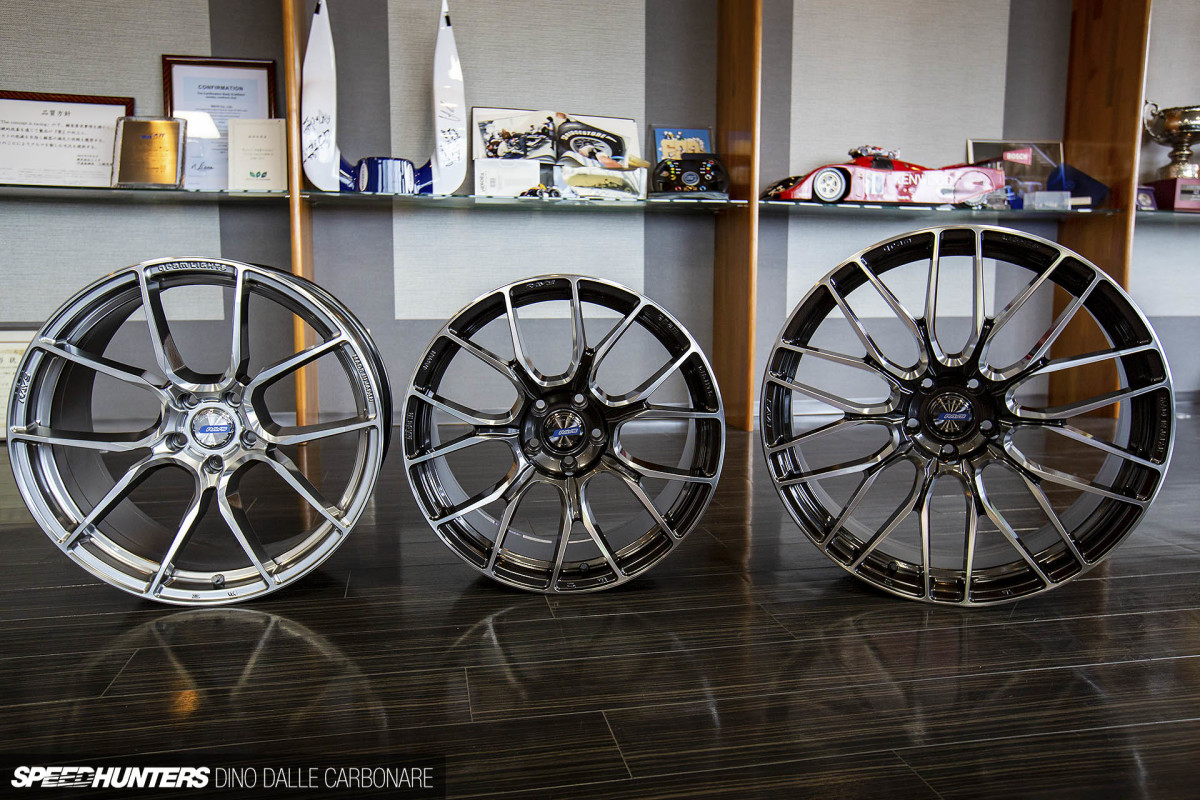 At the high end of the Gram Lights range are models like the 57ANA, the 57BNA and the 57CNA (from left to right), which are aimed at premium cars and work well with domestics and imports alike.
They employ all of RAYS' advanced machining solutions to give an almost forged look and feel to what at its core is still a cast rim.
Need More Color In Your Life?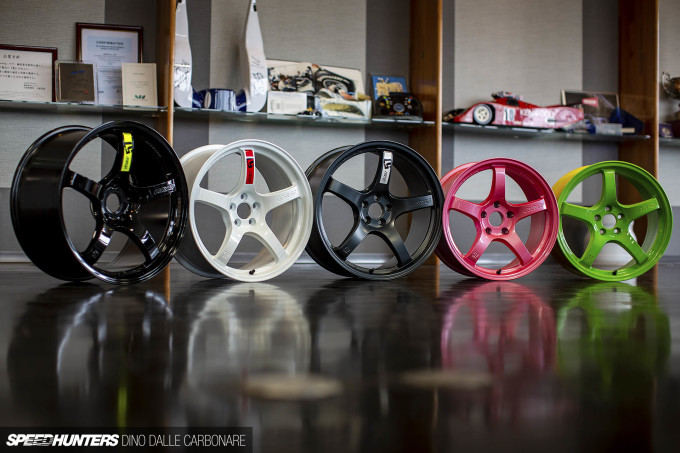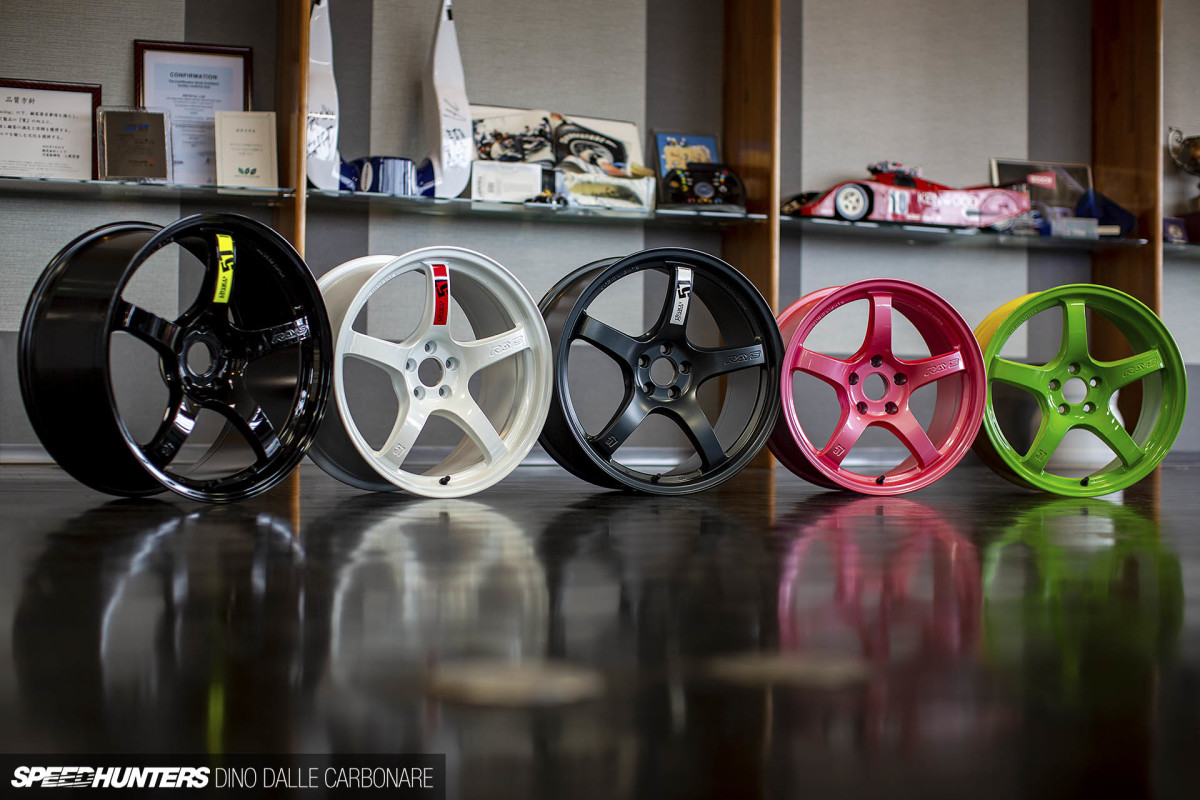 When we hear the Gram Lights name though, it conjures up images of slammed Japanese cars from the '90s riding on colorful and sporty-looking wheel designs.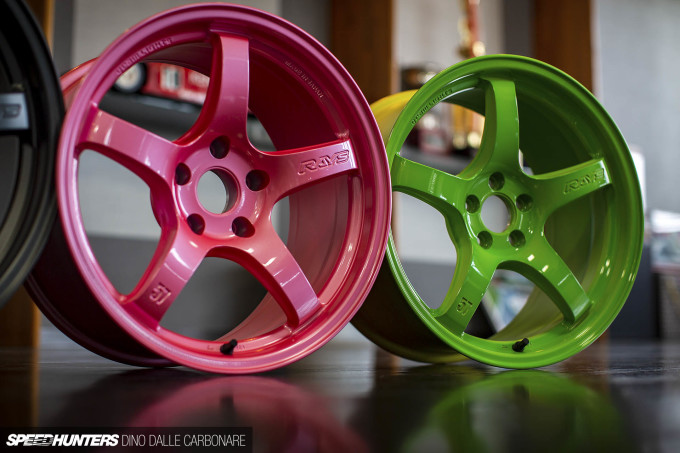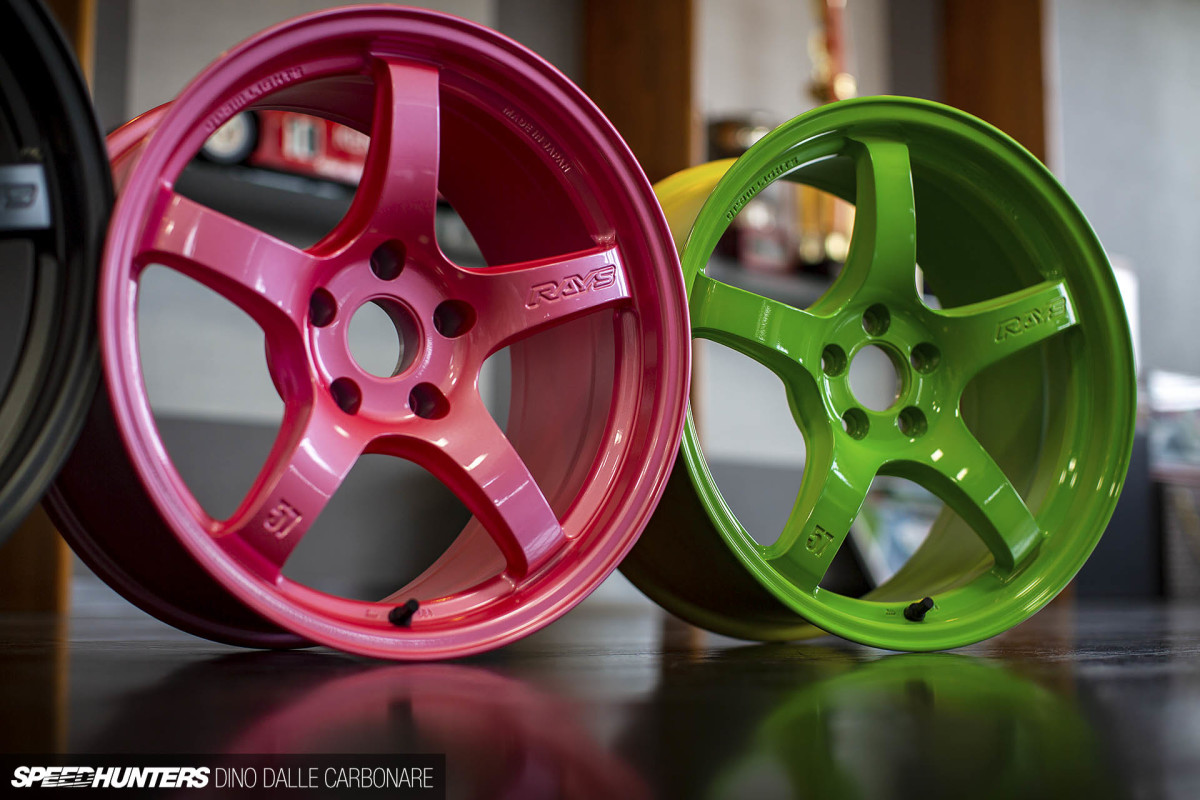 Much like the 57CR, seen here in Sakura Pink (PPP) and green (sample prototype). These are possibly the most extreme colors that were ever offered on this model.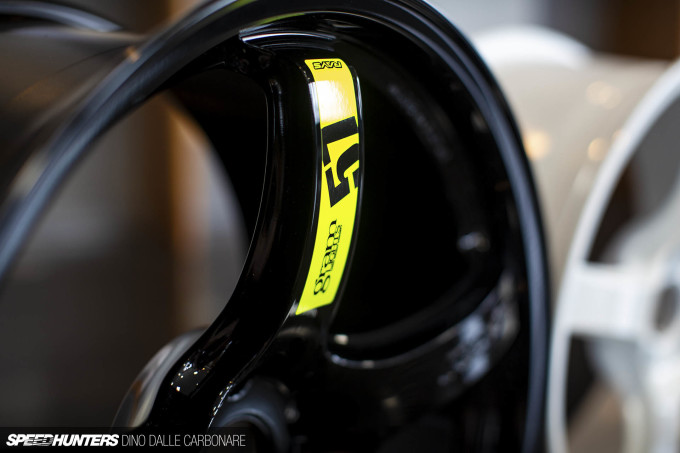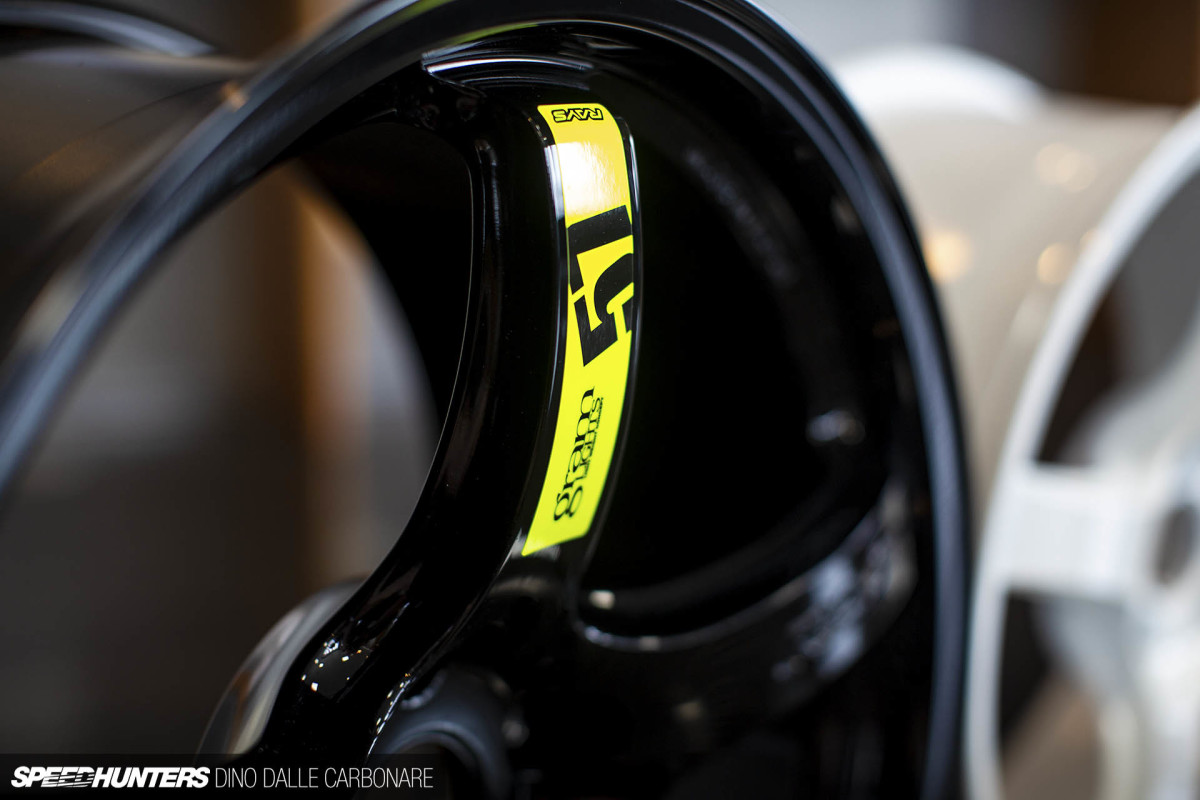 The conventional concave five-spoke design lends itself well to a multitude of car types – Japanese, German or even American, and regardless of whether they're built for grip, drift of simple daily street driving.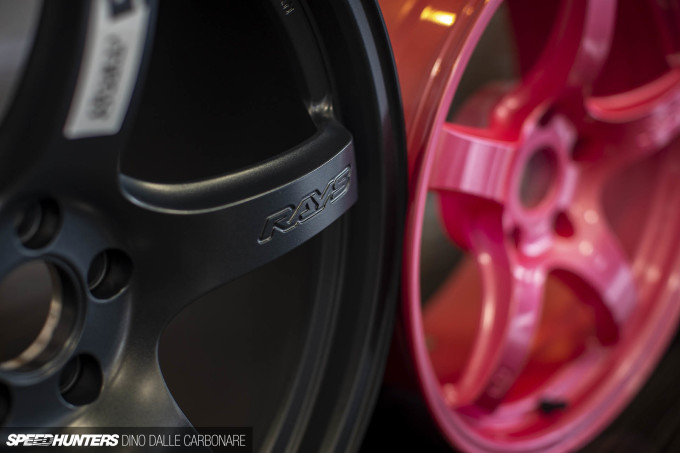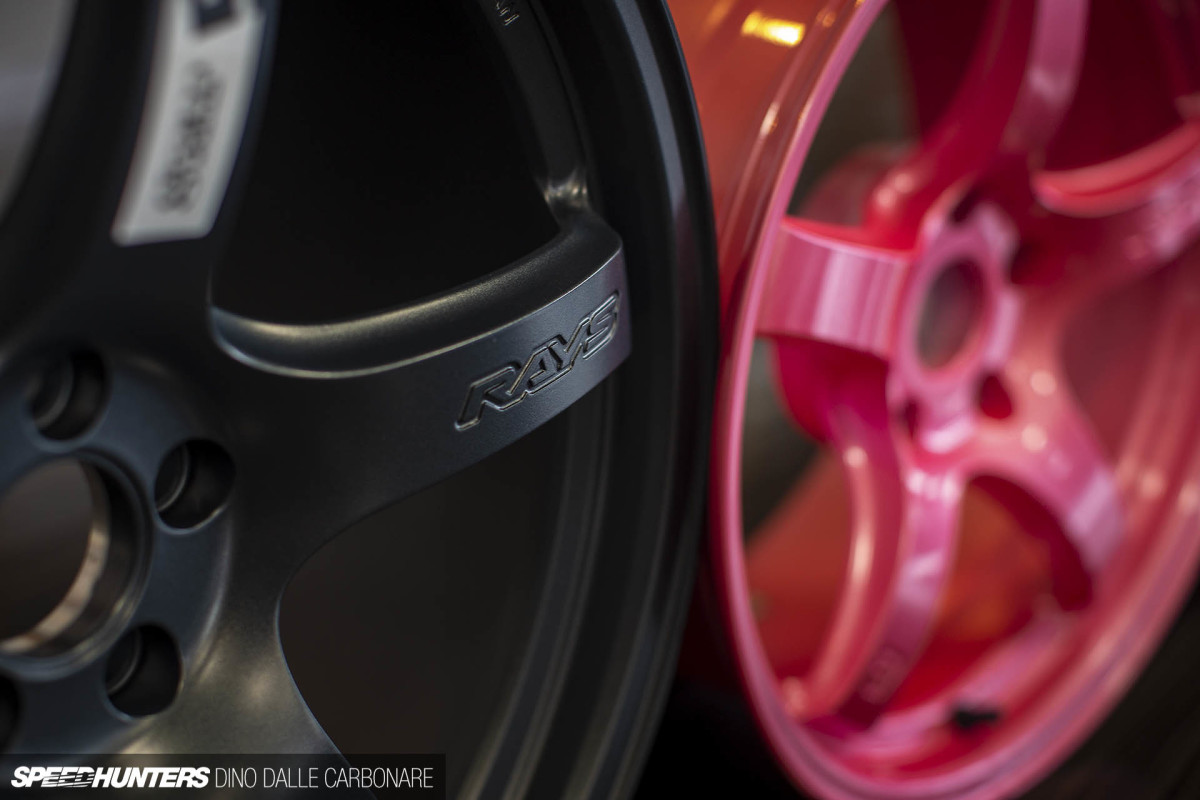 As with all their wheels, RAYS ensures that their logos are either embossed, forged or machined into the alloy – again all in attempt to curb companies that can't come up with original designs and resort to straight out copying.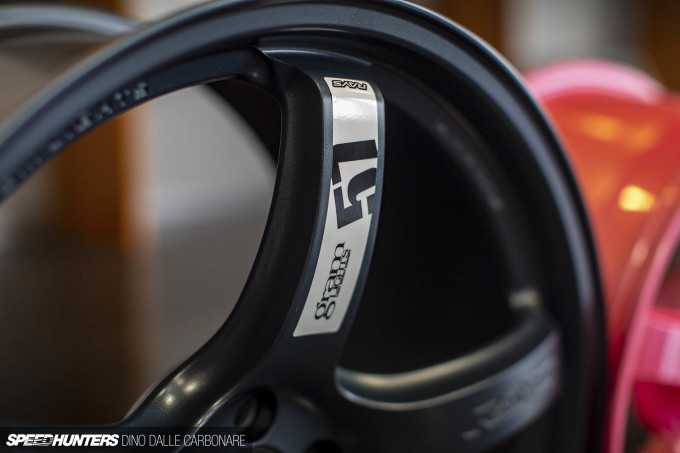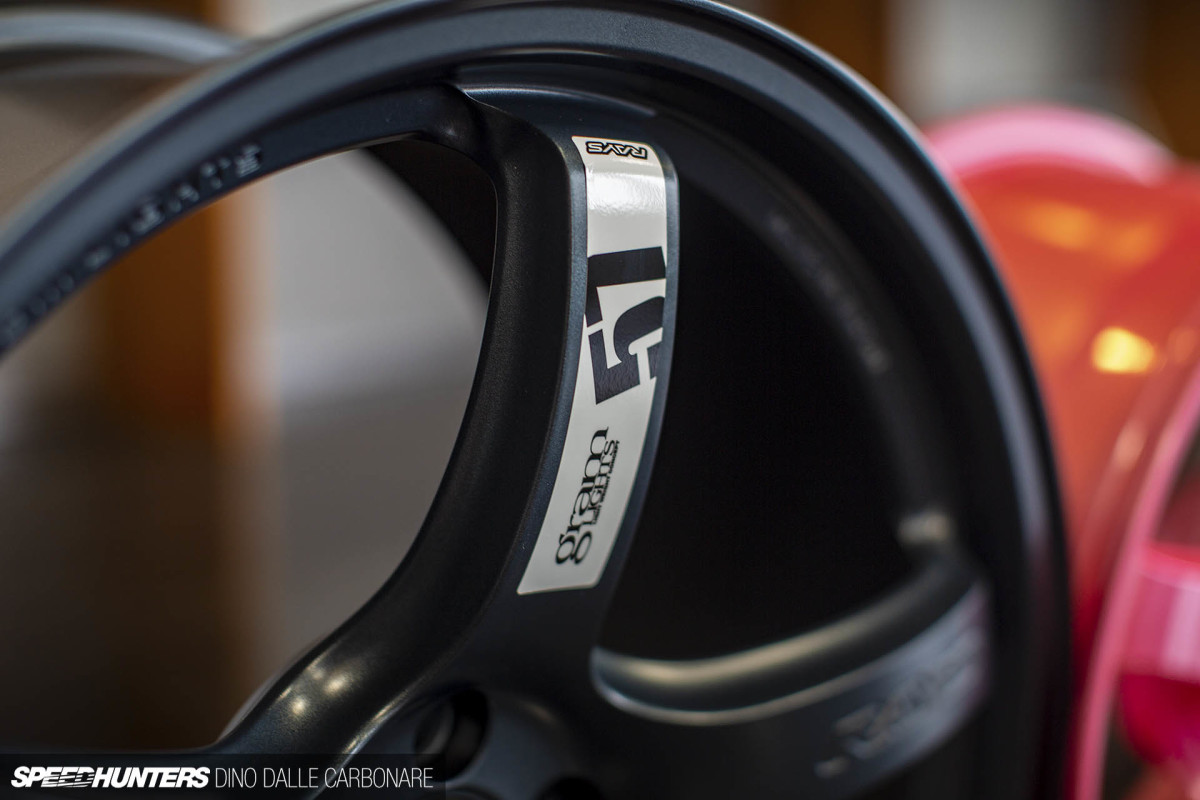 On top of that there are a selection of colored stickers that can be added to the 57CRs (and 57DR) for extra color-coordination with specific details of your car.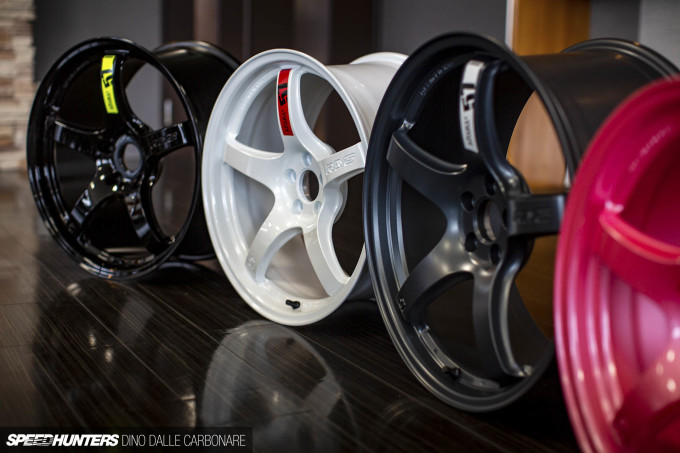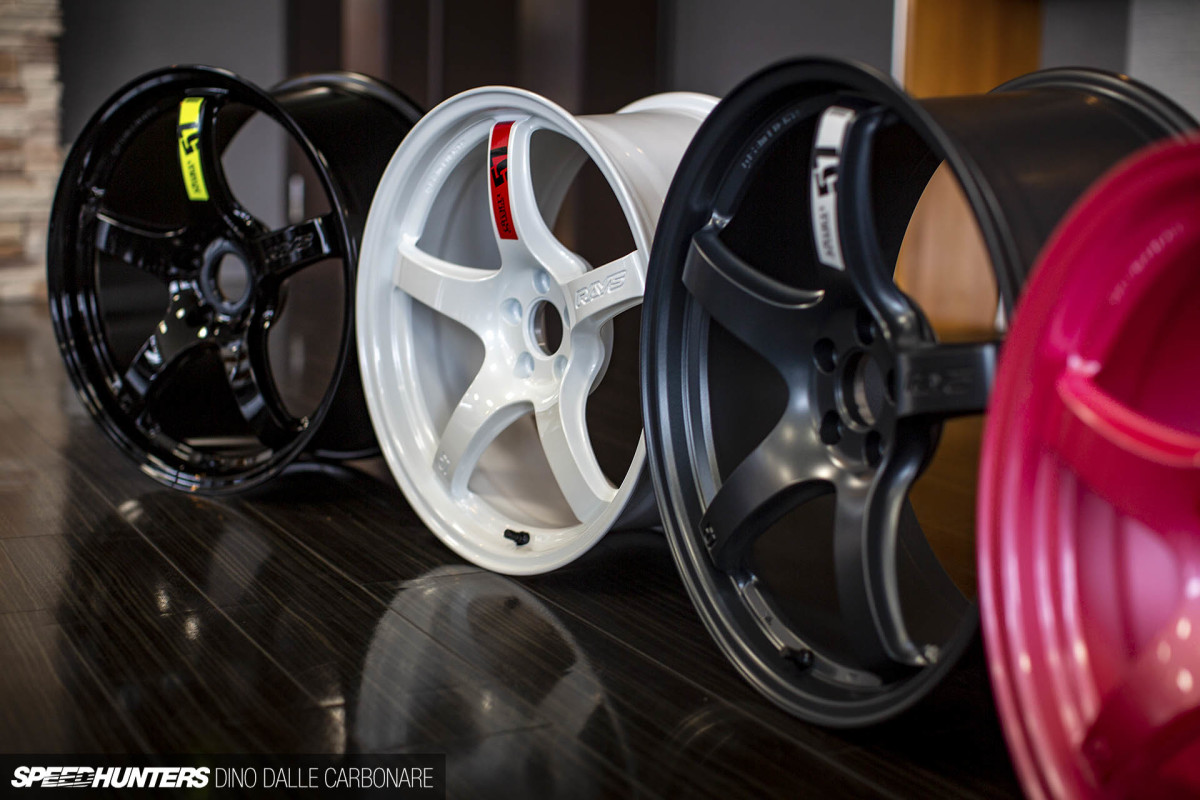 It's a very cool addition that gives a fresh feel; or you could always go without and keep it simple.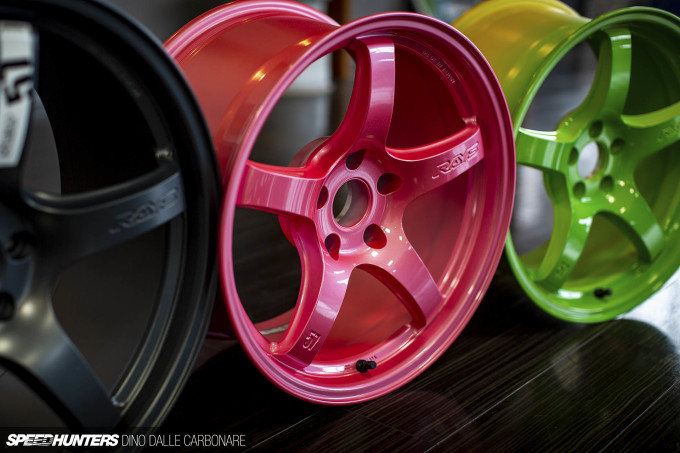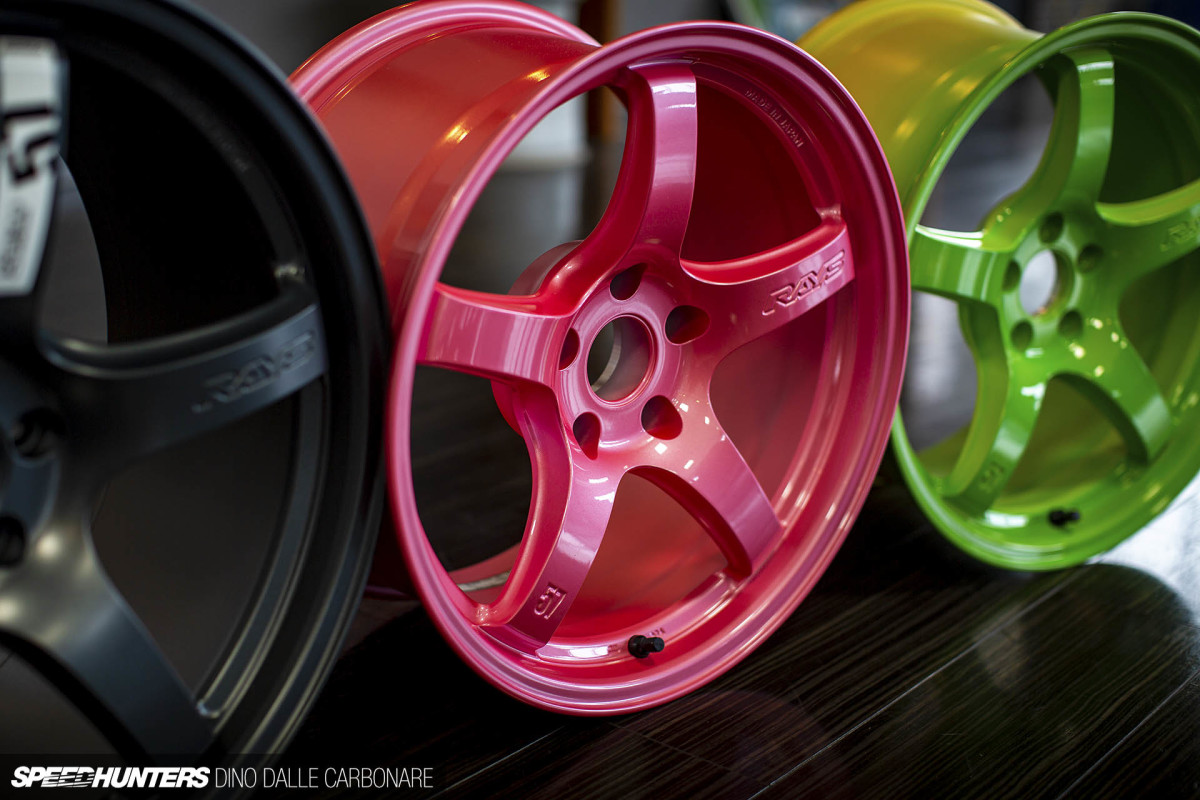 Depending on size and offset, the 57CRs is available with two distinct depths of concaveness, handy when you need to accommodate a large brake setup.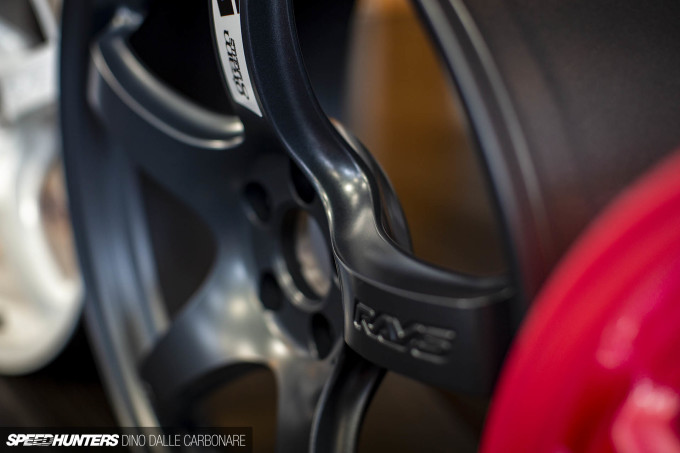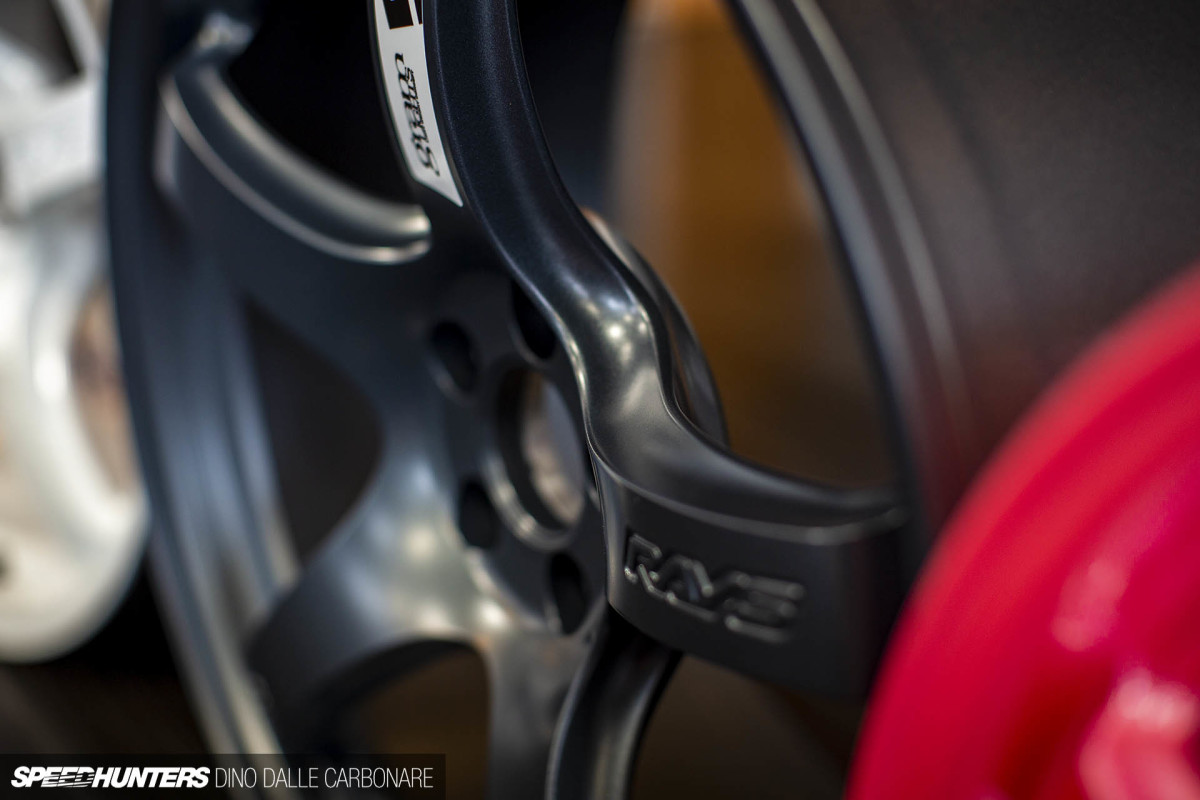 The spoke profile has a deep inset curved section that brings a new dimension to the simple five-spoke layout.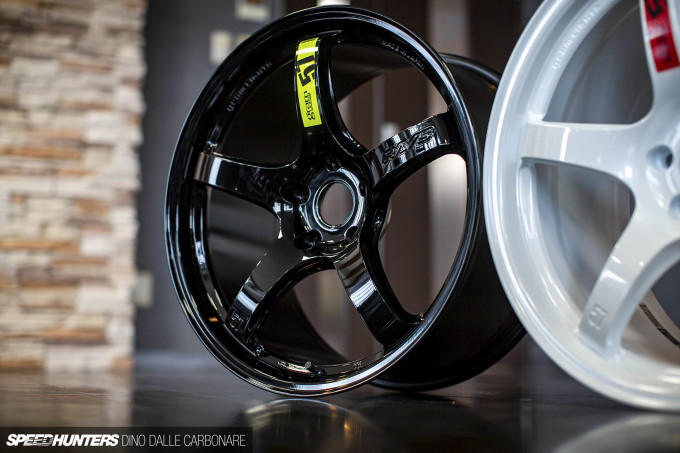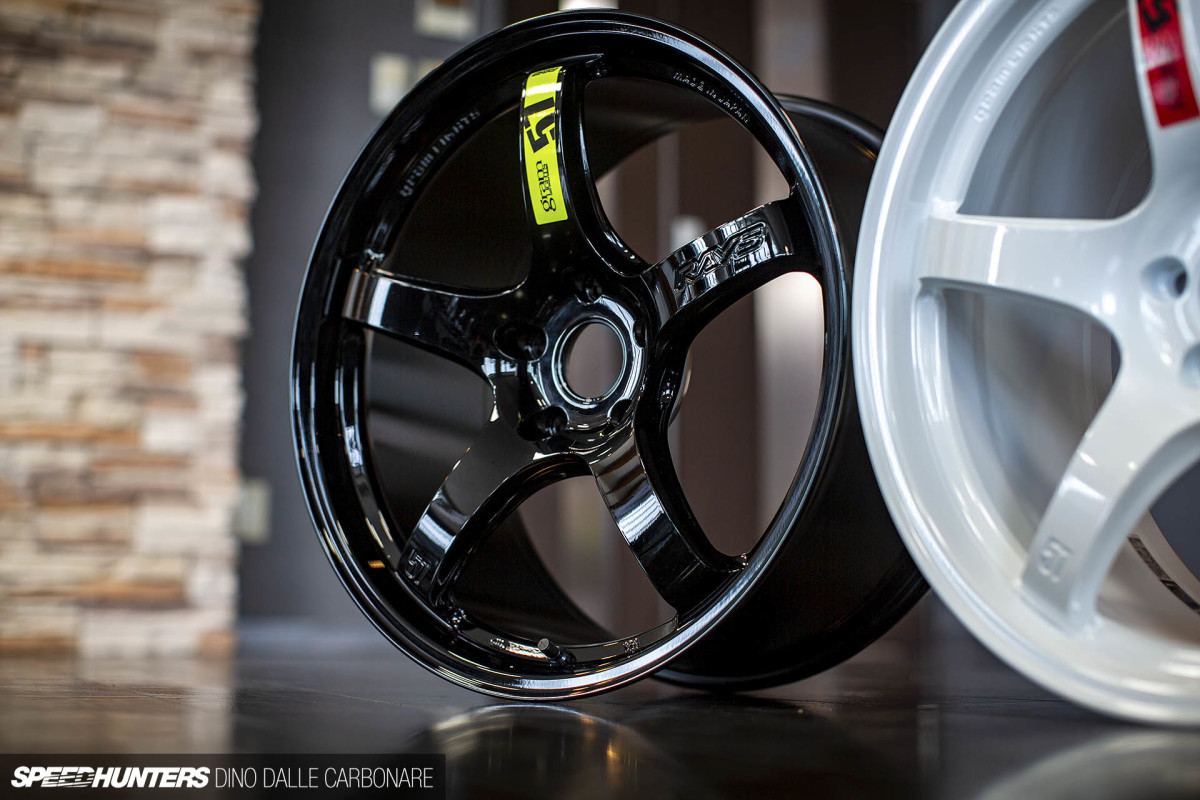 It's slightly harder to see on the Glossy Black (GX) variant.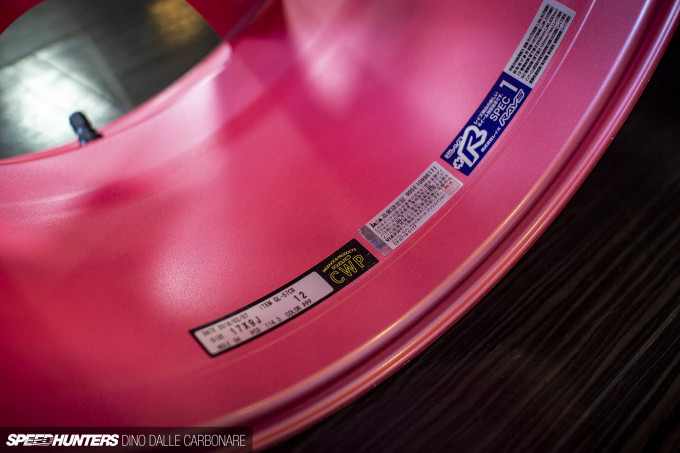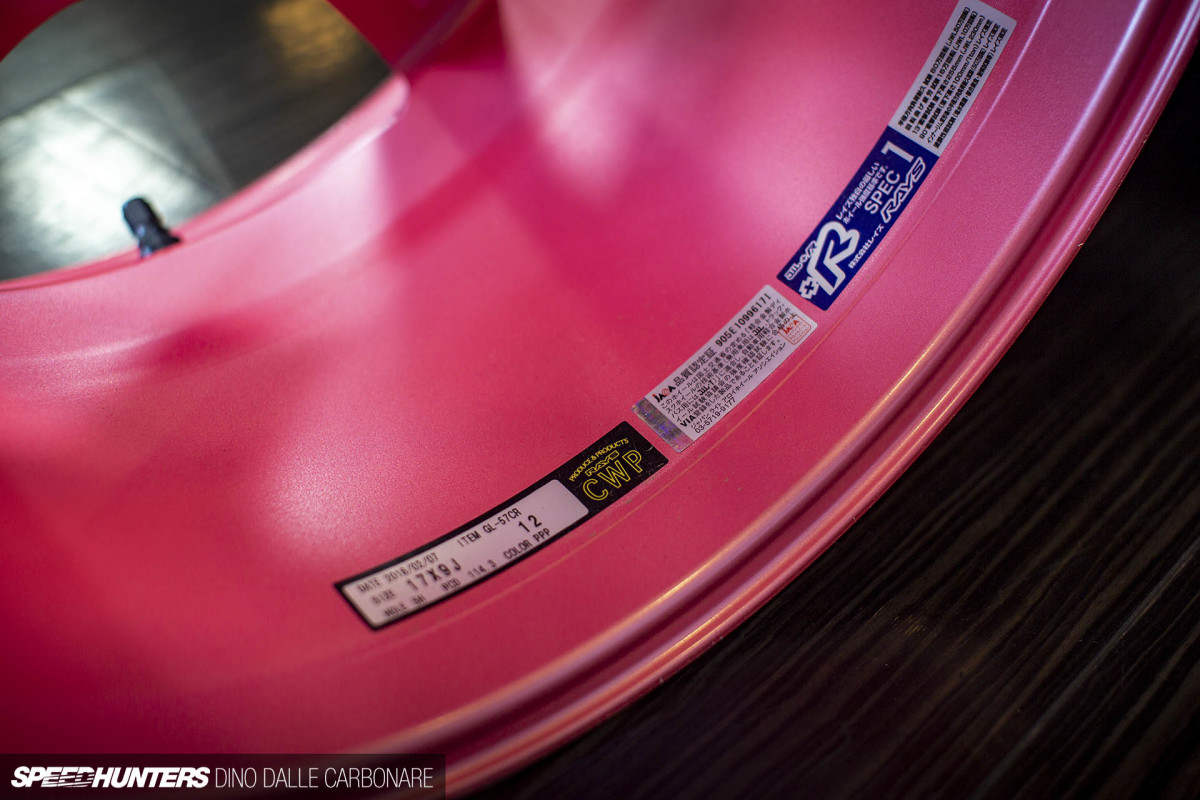 Talking to Wakana-san of RAYS, I was surprised to hear that those that make counterfeit versions of these wheels even go to the trouble of ensuring their molds have the same sizing, production and casing marks, as well as the stickers that they place on the finished rims once they are painted, inspected and ready to be boxed. That's where any similarities end though; there's a very big quality difference between a genuine RAYS wheel and a knock-off.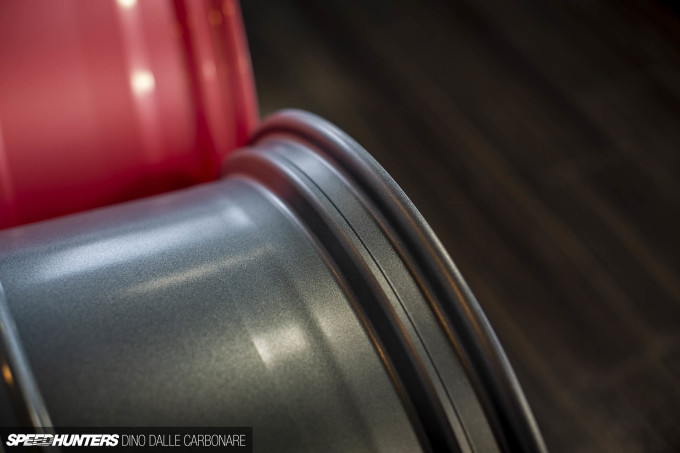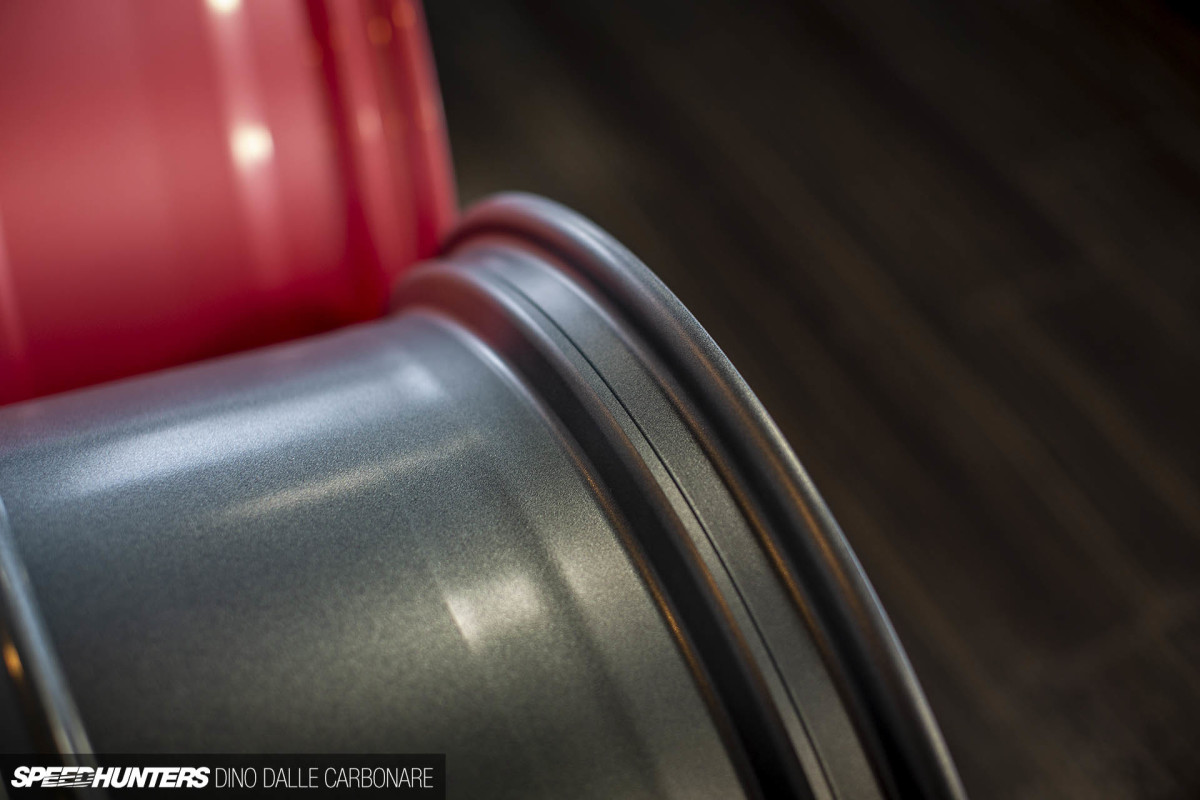 Here's a look at the rim profile, which you can compare to the various Volk Racing offerings we looked at back in September.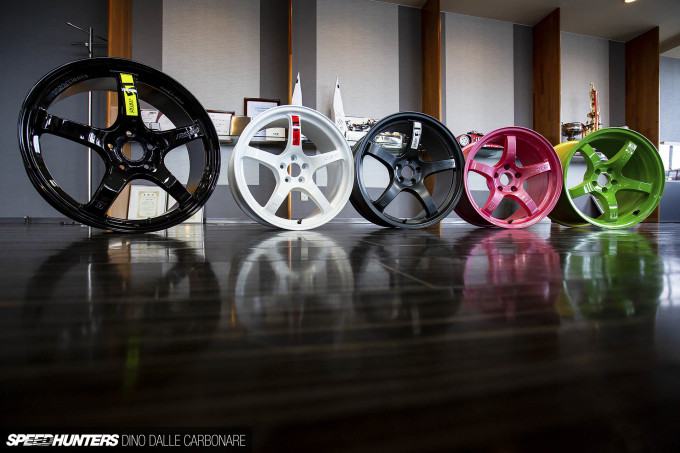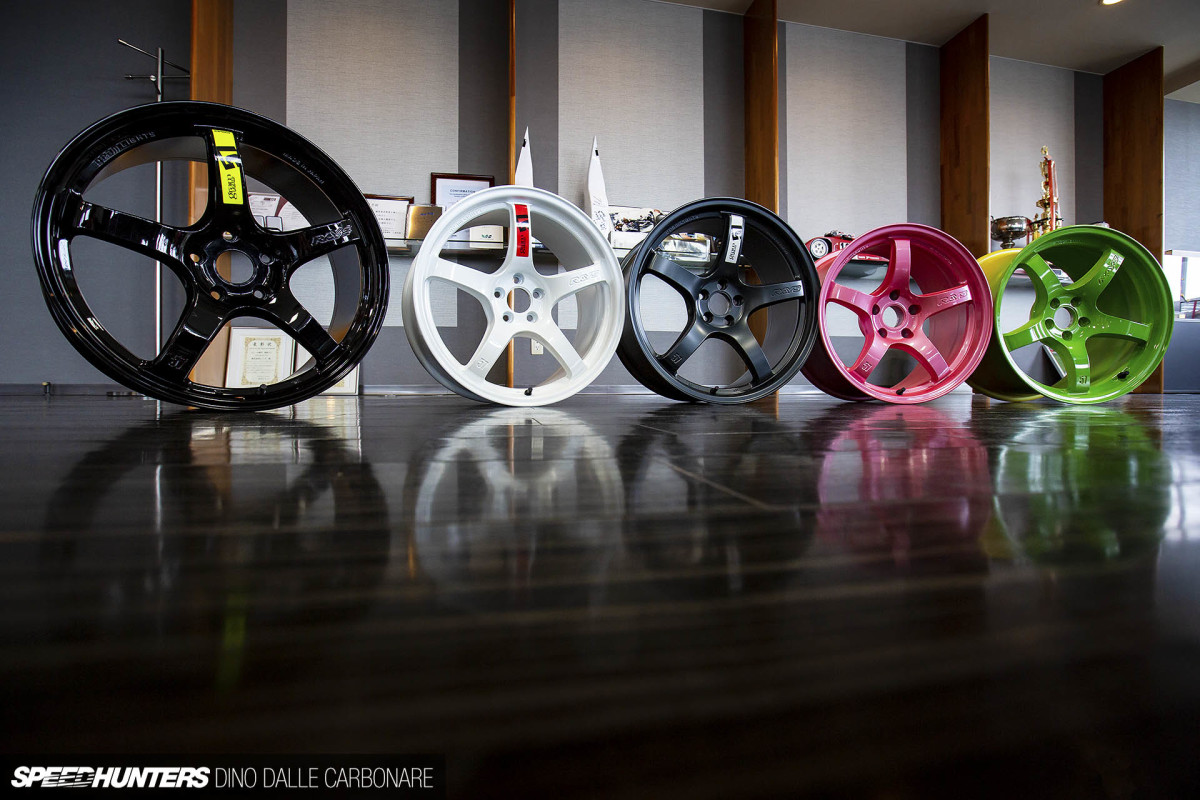 Which color would you go for?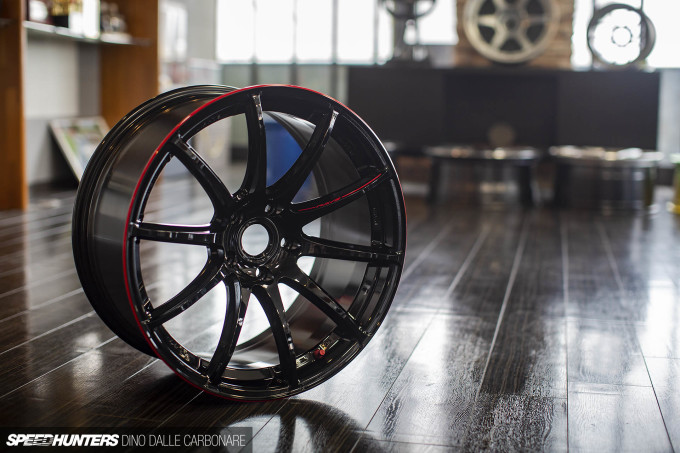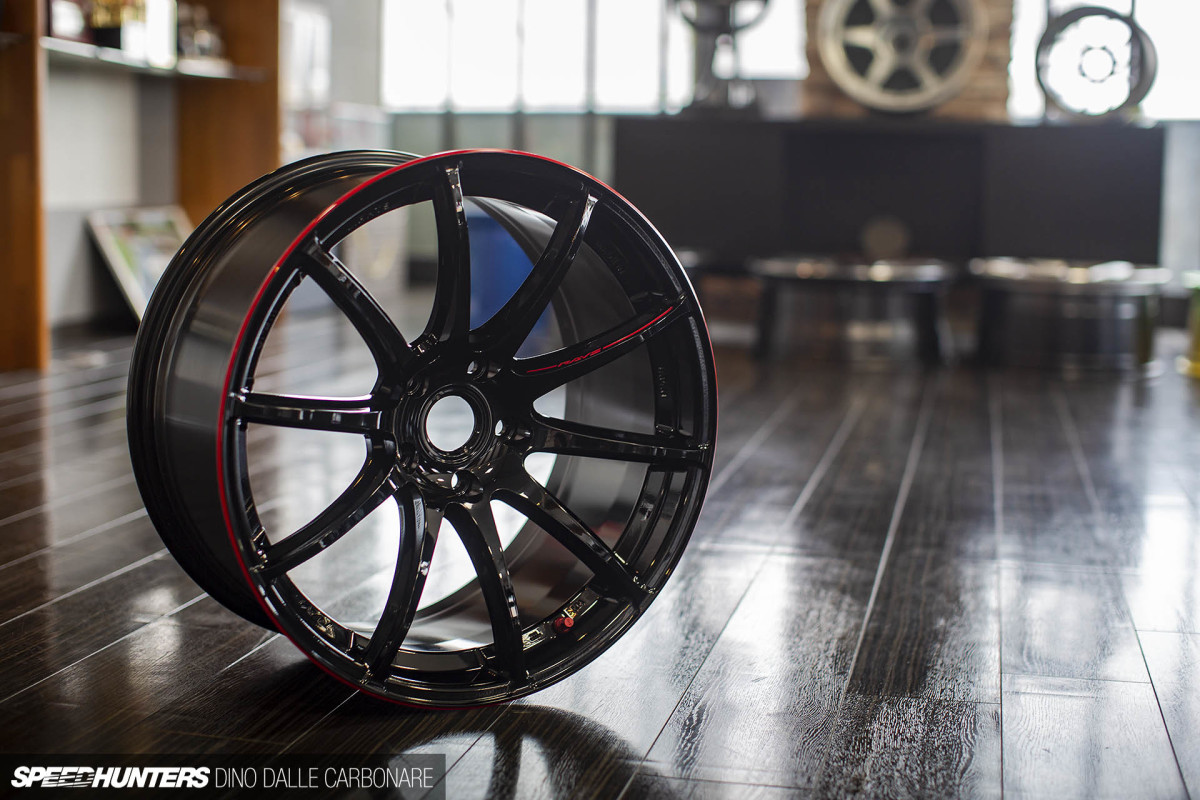 The final couple of wheels we looked at showcased RAYS' new E-pro coat coloring method. This delivers a high quality and resistant layer of color into the grooves cut by the AMT machining process.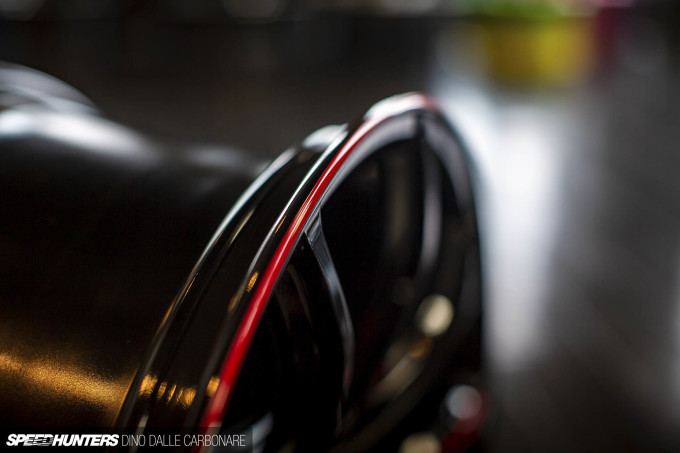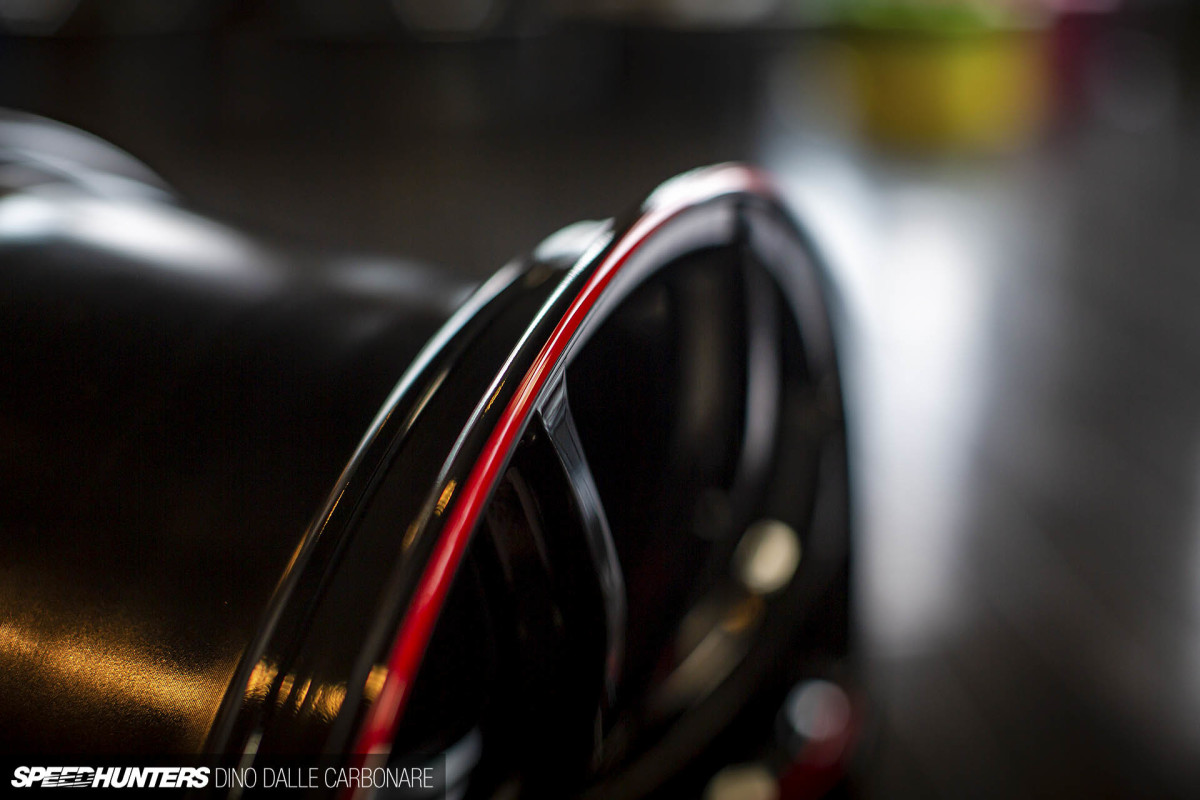 It's done for either highlight lines, as shown by the off-road-oriented Gram Lights 57Trans-X Rev Limit Edition wheel.
And of course the RAYS logo on one of the spokes' side wall, seen here on the bronze 'Overseas Model' of the same wheel.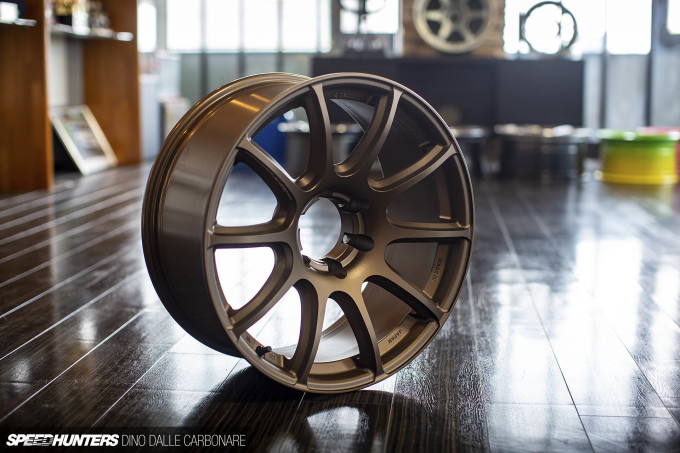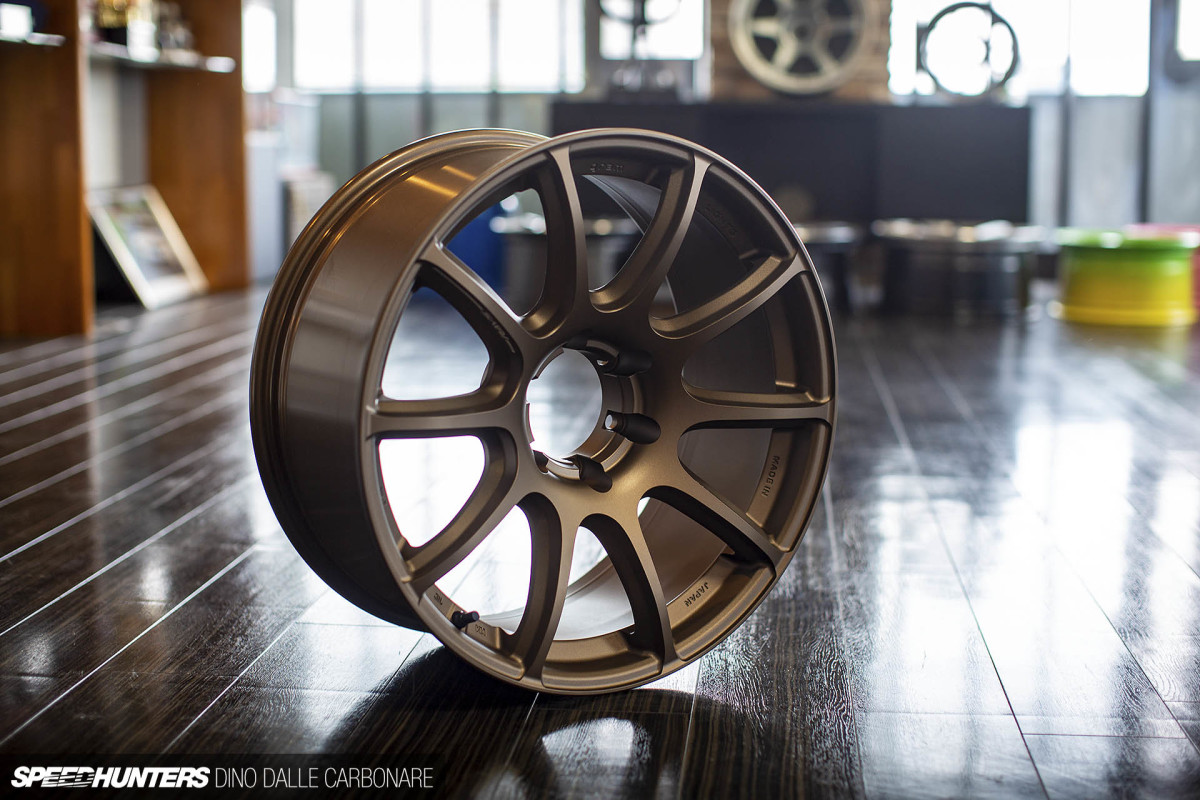 Just like Volk Racing, Gram Lights encompasses a continually evolving series of wheels, pushed forward by design, advanced production methods and innovation.
In the next and final part of our visit to RAYS, we'll delve into the wheel maker's history, including a look at some cool old school wheels I'm sure everyone would love to make a come back.
Dino Dalle Carbonare
Instagram: speedhunters_dino
dino@speedhunters.com