Compared to both its predecessors and competitors, the Z32 Nissan 300ZX is a car that's largely under appreciated. When the topic of JDM icons comes up, the Z32 is consistently overlooked, and the car is mysteriously absent at damn near any automotive event.
Pinpointing exactly why the 300ZX never seemed to gain traction is a little difficult, after all, it's a vehicle of several triumphs. It was one of the first production cars to be designed using CAD software, certain models had active rear steering, and the Nissan offered many forward-thinking creature comforts, like automatic climate control and heated mirrors.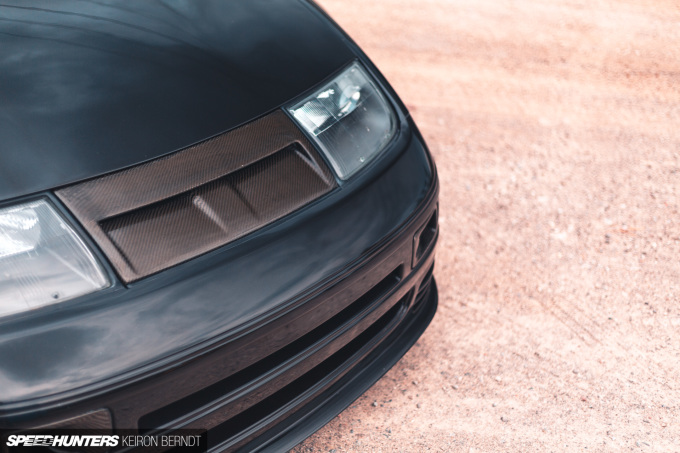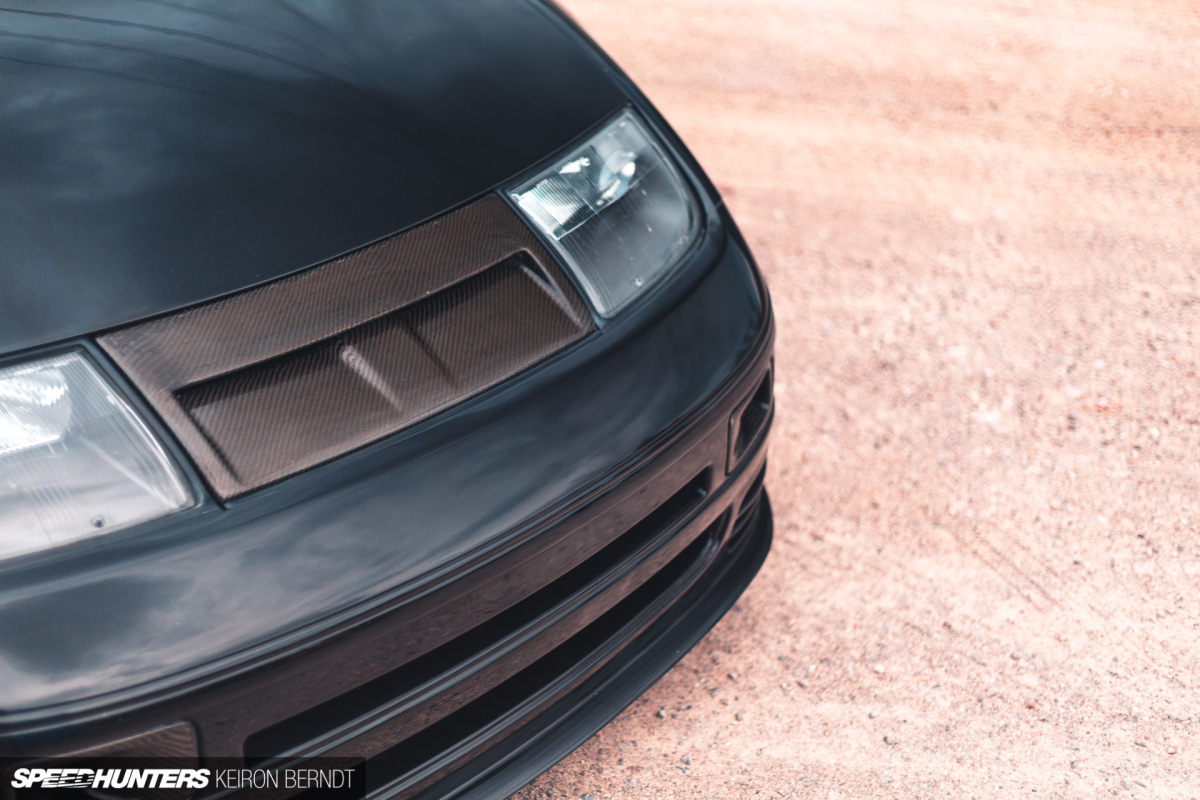 Stylistically, it was a fresh take on Z-car thinking, and the sleek headlights were so unique that Lamborghini famously acquired them for the Diablo.
Unfortunately, during its production run few were looking to Nissan, a brand known for its more nimble offerings, for such an expensive technology-laden sports car. Consumers had also begun to gravitate toward SUVS, and the Z32's relative lack of fanfare may simply have been a result of poor timing.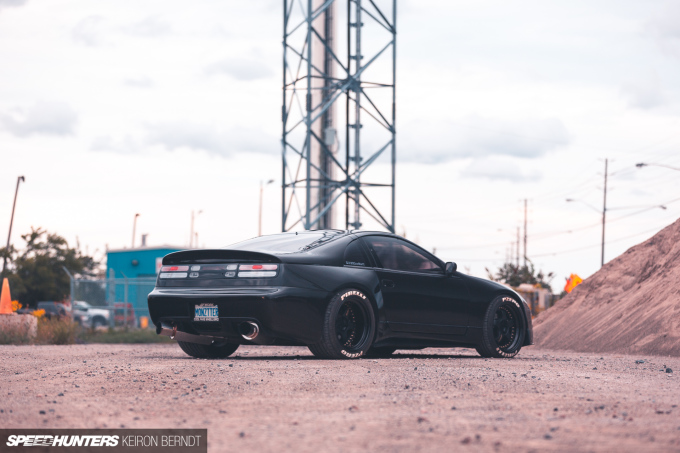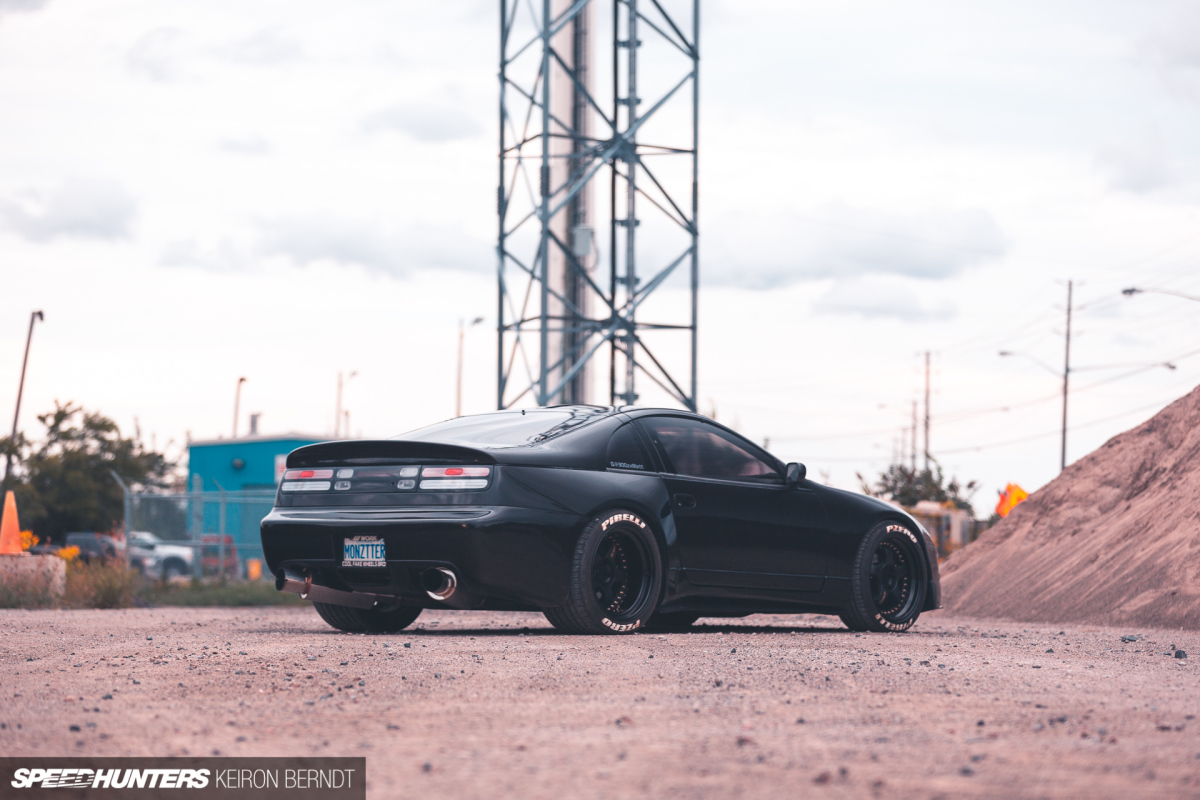 While those with purchasing power passed over the 300ZX, it was a thing of legend to children with lint in one pocket and Micro Machines in the other.
Being a snot-nosed kid at the time of the car's initial release, I can attest that it was impossible not to be intrigued by a wedge-shaped, Japanese car with two turbos under the hood.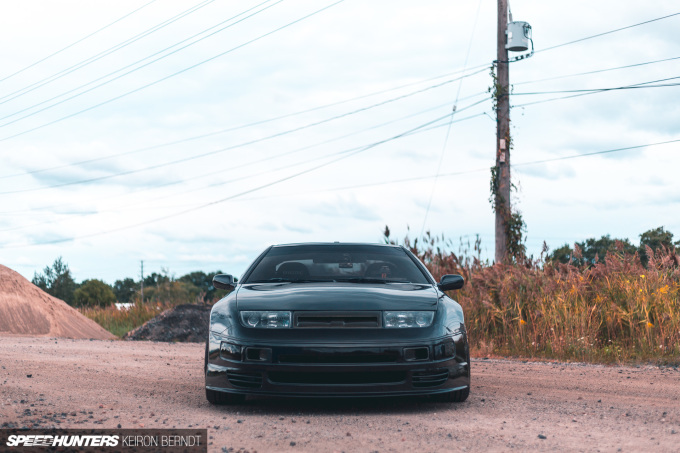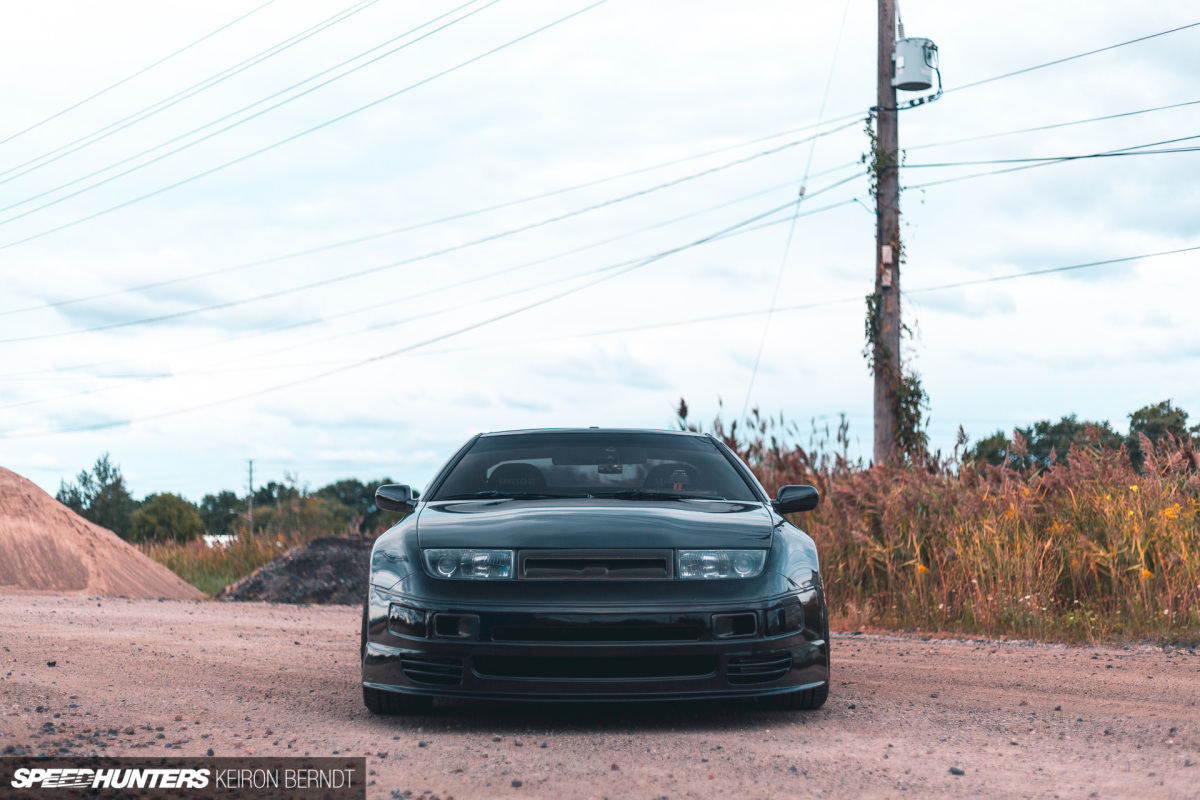 Matt Budziosz may disagree on the snot-nosed part, but admits he was five when he saw his first 300ZX. It instantly became a car he simply had to own.
Realizing his childhood vehicular aspirations took two decades, but as the old adage goes, good things come to those who wait. Conveniently, by the time everything fell into place for Matt to action his dream, an extremely pristine example became available.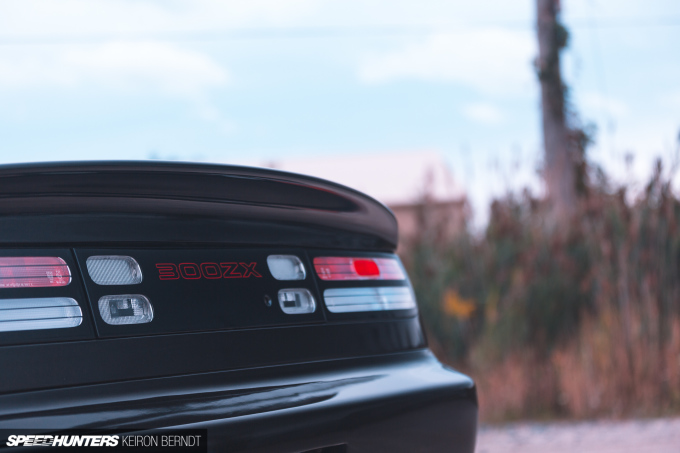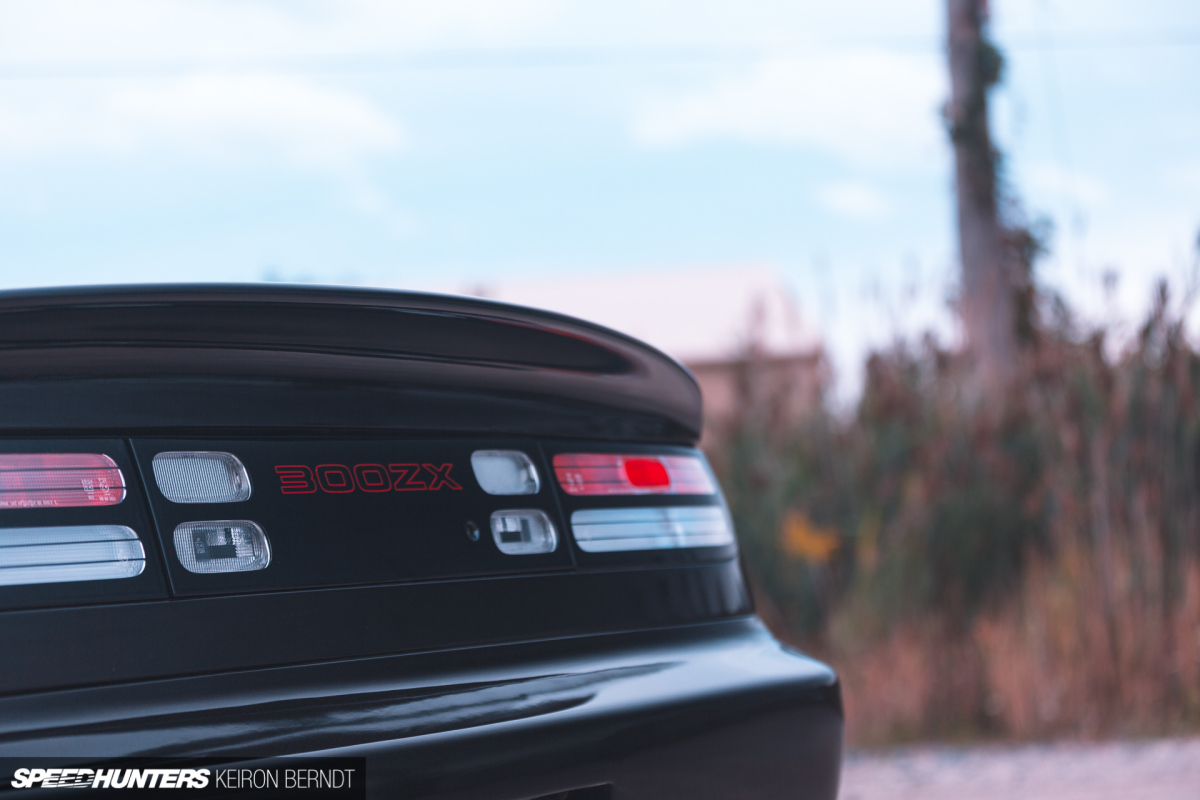 A naturally aspirated model, the VG30DE power plant wasn't Matt's first choice, but the car's cleanliness allowed him to initially overlook the lack of every enthusiast's favorite piece of snail-shaped technology.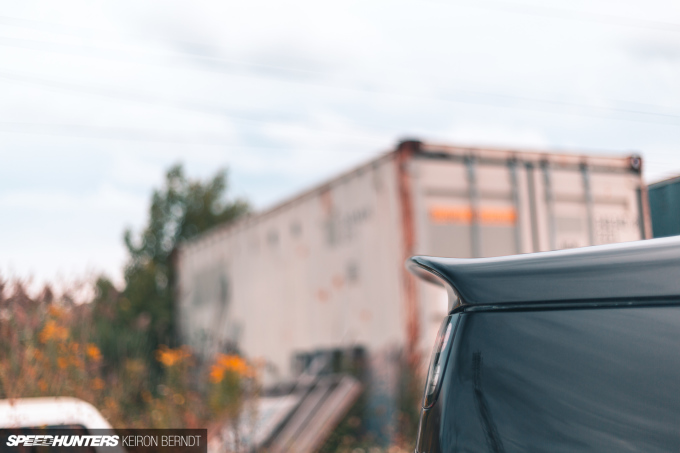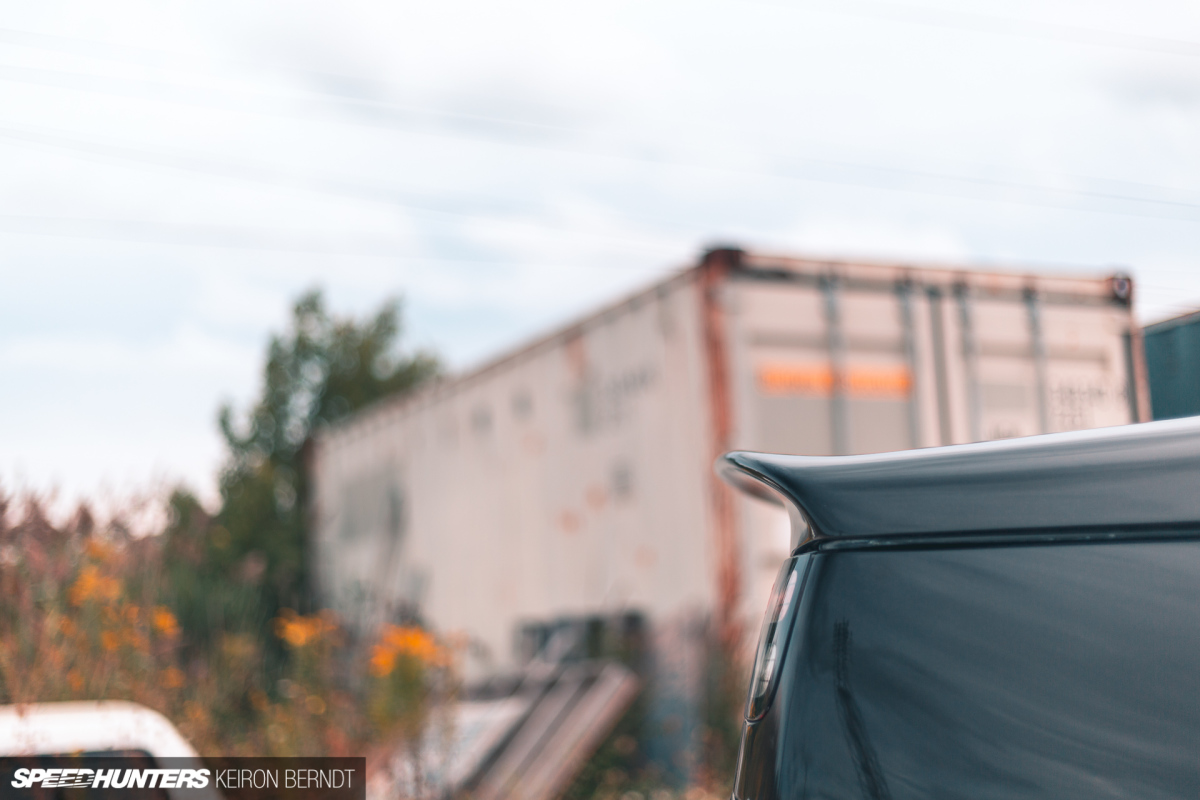 The previous owner was the type to meticulously take the car back to the dealer for service at their prescribed intervals. As a result, along with service records, the car came with all of the associated paperwork from when it was purchased, the unique titanium key, and even factory floor mats still in the plastic. It didn't have that new car smell, but it was close enough.
Being such a find, Matt almost considered leaving it stock. Almost.
From NA To TT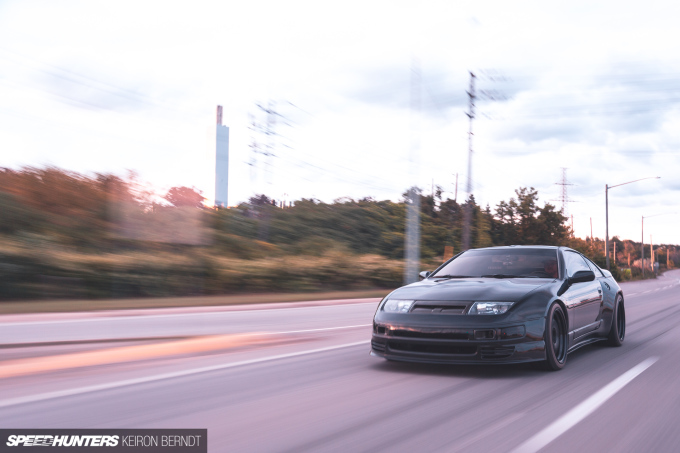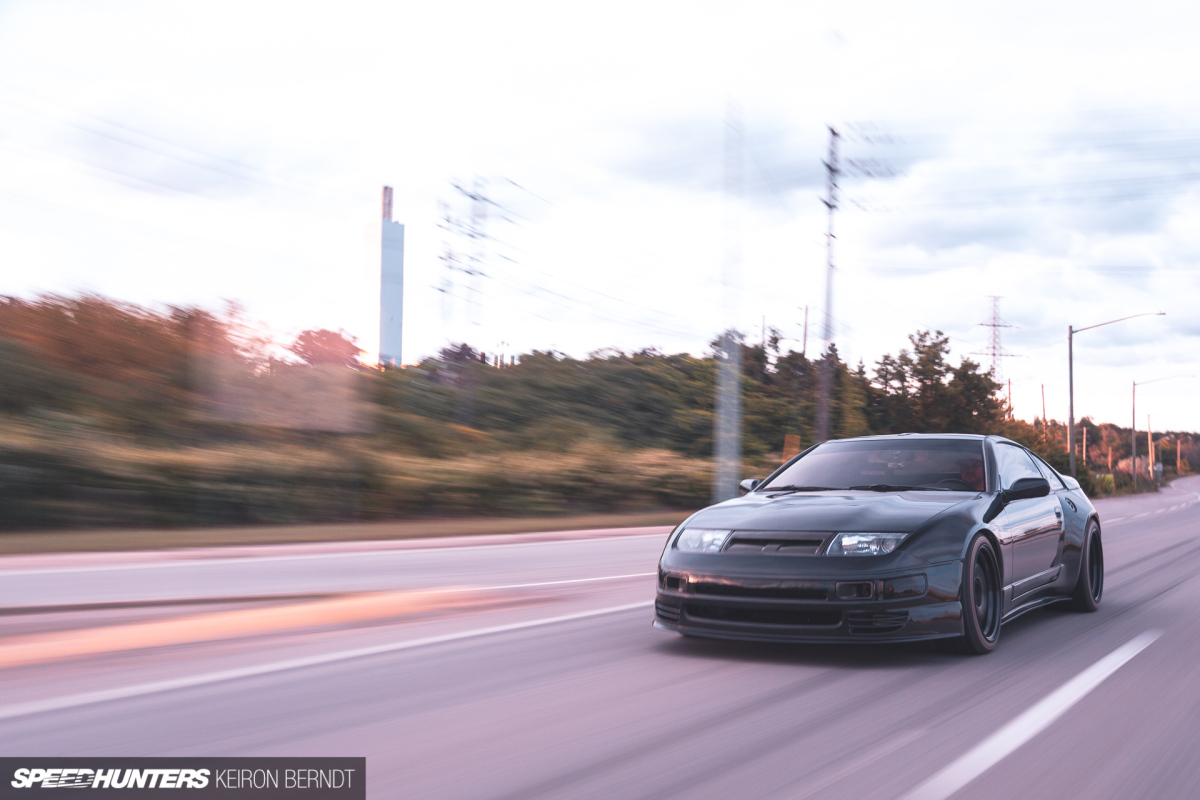 When the excitement of owning his dream car passed, Matt found the naturally aspirated motor at odds with the Z32's impressive visual presence. The car looked faster than it was, and that's not exactly something you want in a dream car.
Once Matt committed mentally to the idea of a twin-turbo motor swap, he contacted the guys AMS Motorsports to assist with the conversion.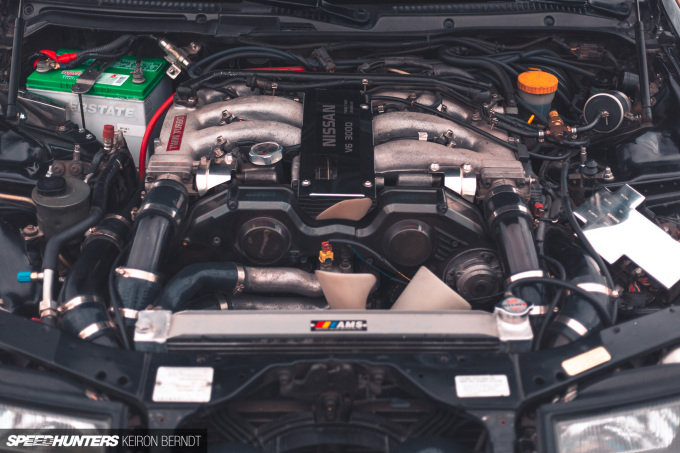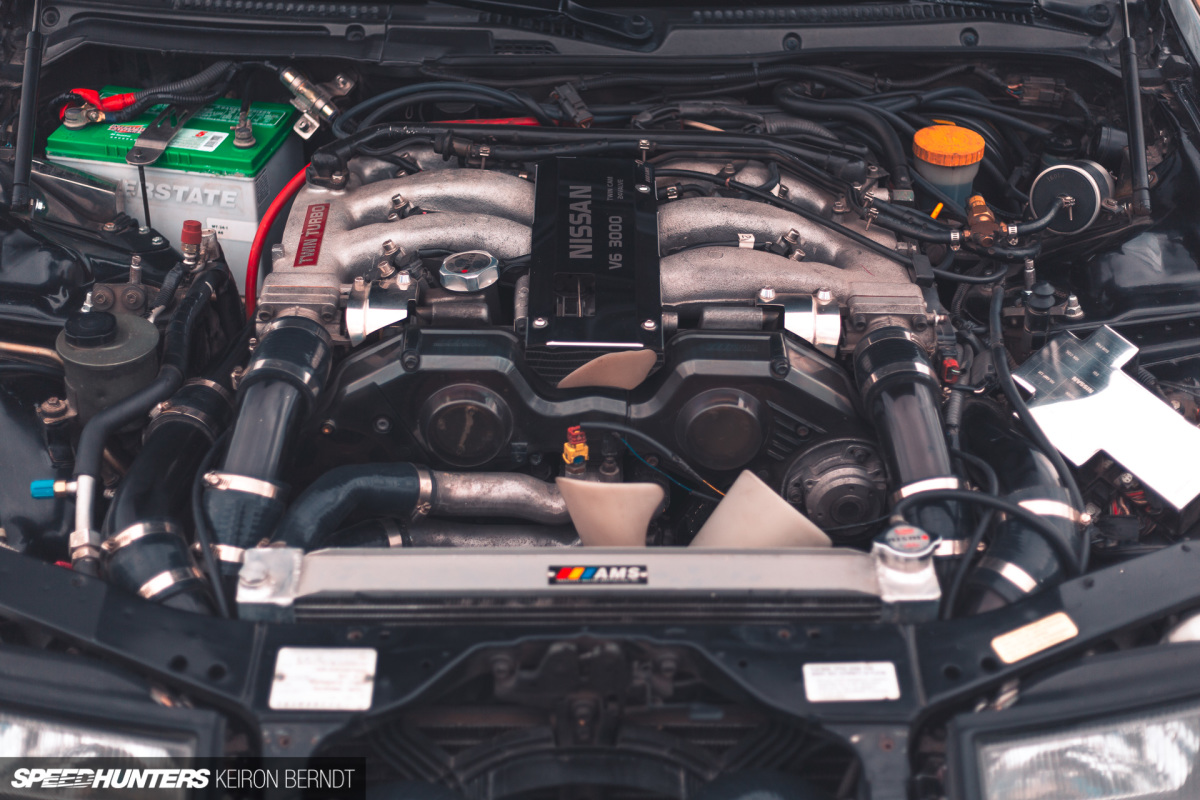 As one of the more noteworthy Z shops in Ontario, Canada, Matt knew the car would be in good hands throughout the heart transplant. The expertise within the four walls of the AMS building played a huge part in the car receiving much more than just a factory twin-turbo engine swap.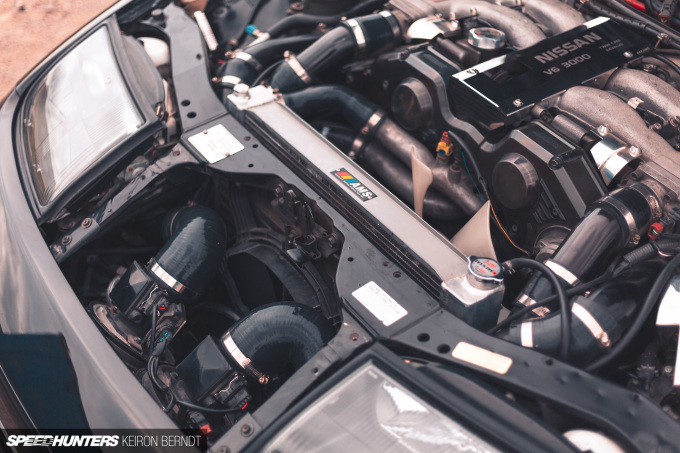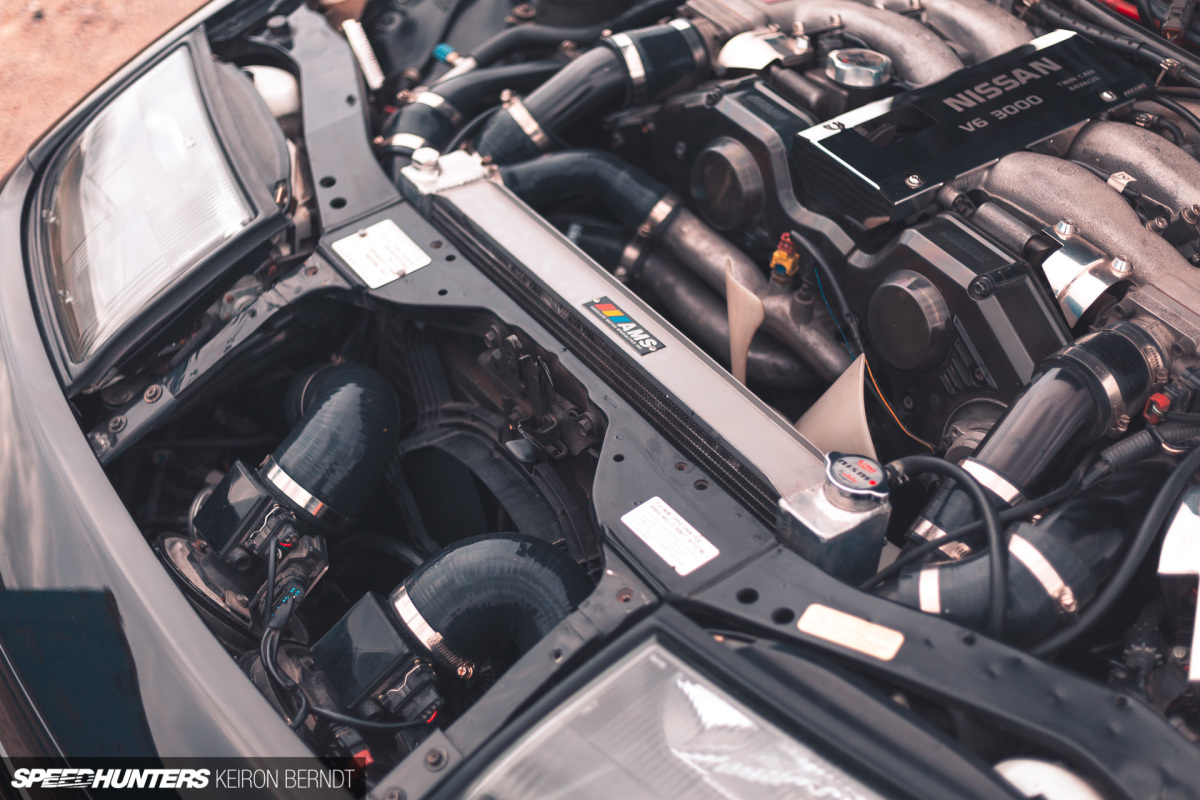 Before the VG30DETT motor was dropped into the engine bay, two Garrett GT2860RS 'AKA Disco Potato' ball-bearing turbos were mounted and plumbed with Z1 2.5-inch piping throughout. Keeping charge temperatures sane are a pair of AMS 2.5-inch Omega side-mount intercoolers, with air directed to them via AMS-designed, manufactured and installed air ducts.
To keep up with the new fueling demands, Nismo 740cc injectors have been installed along with a Nismo fuel pump. Lightweight pulleys replace factory units everywhere they could be to harness as much 'free' power as possible.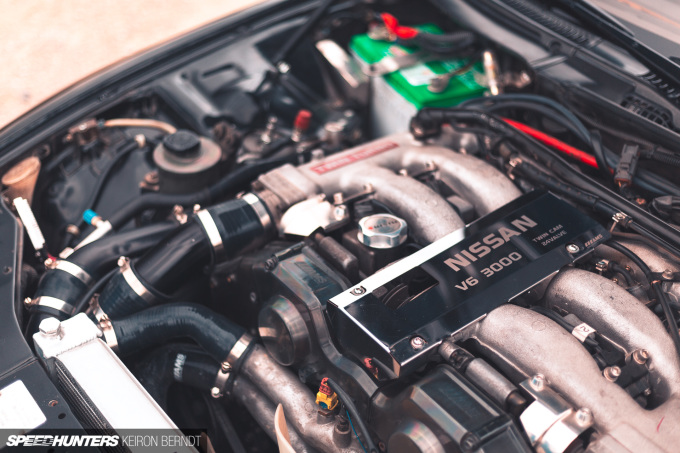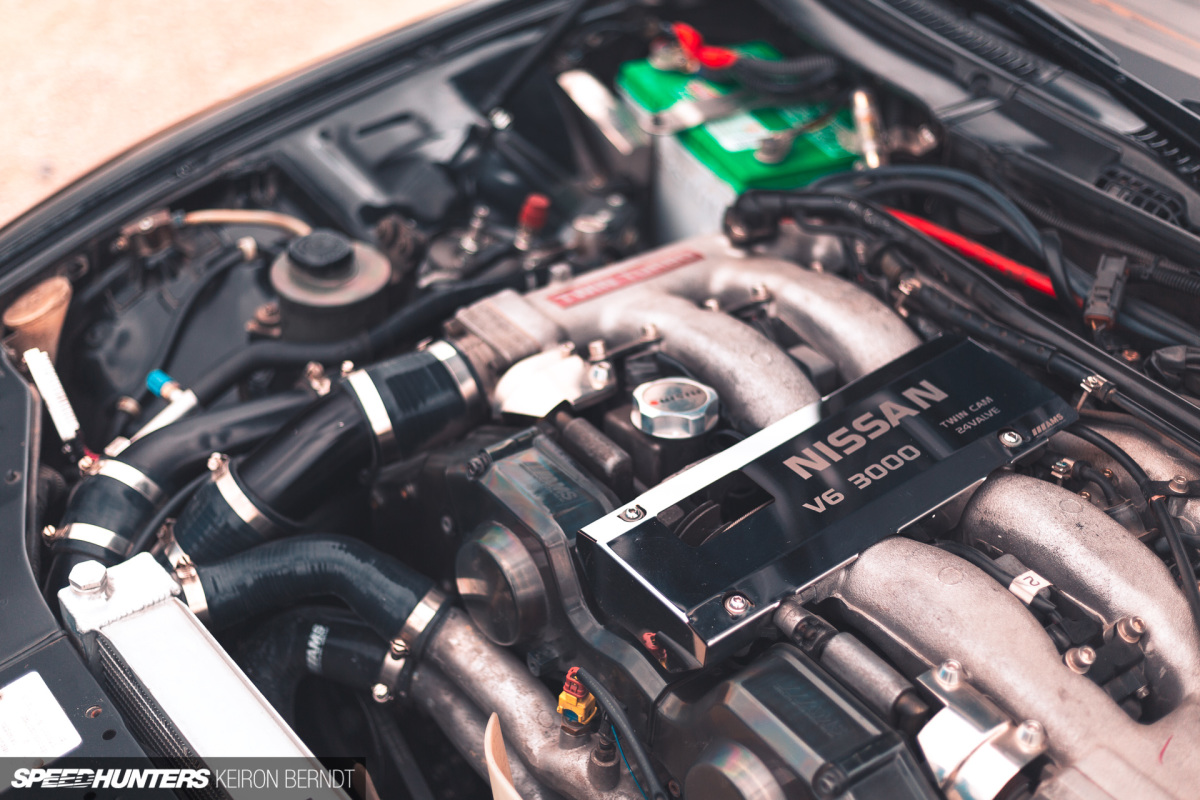 For a bit of visual flair, AMS black radiator brackets, a CZP stainless steel battery bolt down, AMS silicone hoses, Nismo oil cap, and a Nismo radiator cap have been fitted.
The 300ZX engine bay is known for being notoriously crowded, and Matt has minimized this where he could. Throttle body coolant lines have been deleted, the factory cruise control has been removed, as has the PRVR (pressure regulator vacuum relief) and EGR valve.
It's not a tucked and shaved engine bay by any means, but it works.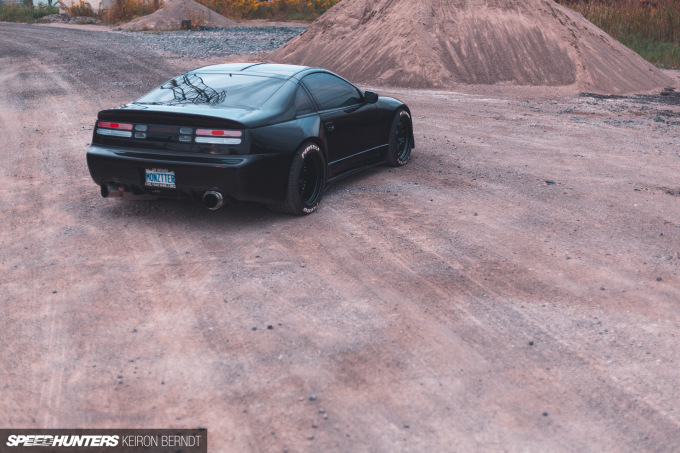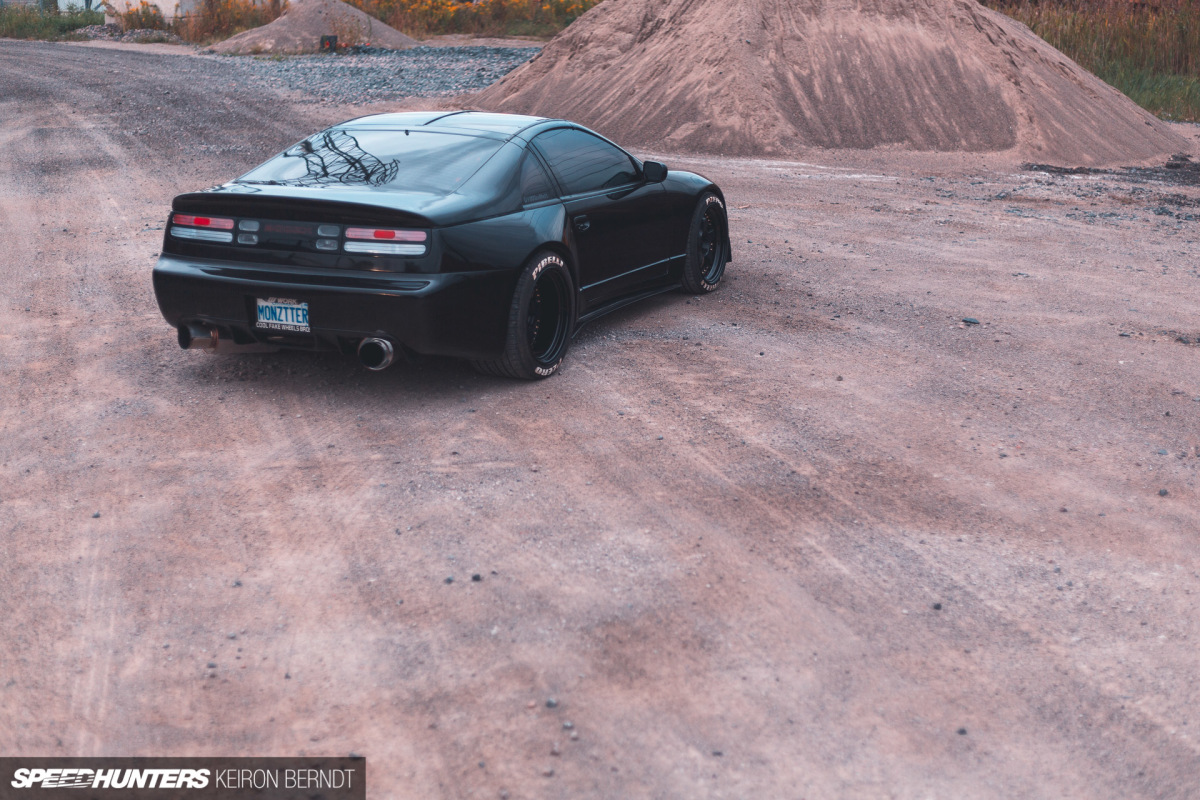 A dyno-proven 598hp and 551ft-lb (at 21psi boost pressure) is channeled through a factory transmission fit with a Fidanza 11.5lb (5.2kg) flywheel and South Bend SS-TZ Kevlar Stage 3 clutch.
Going Wide… Properly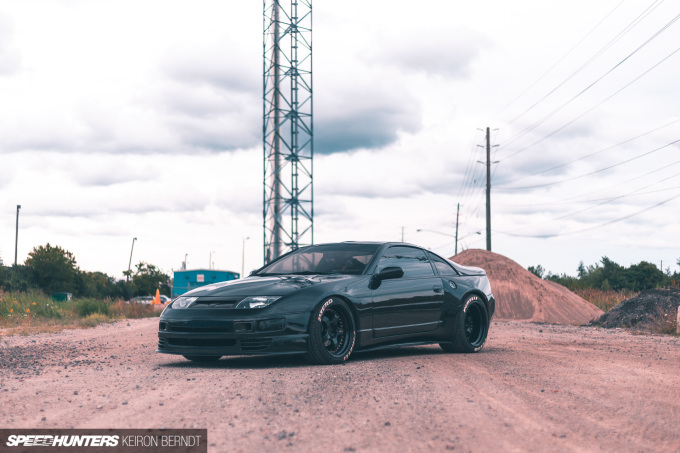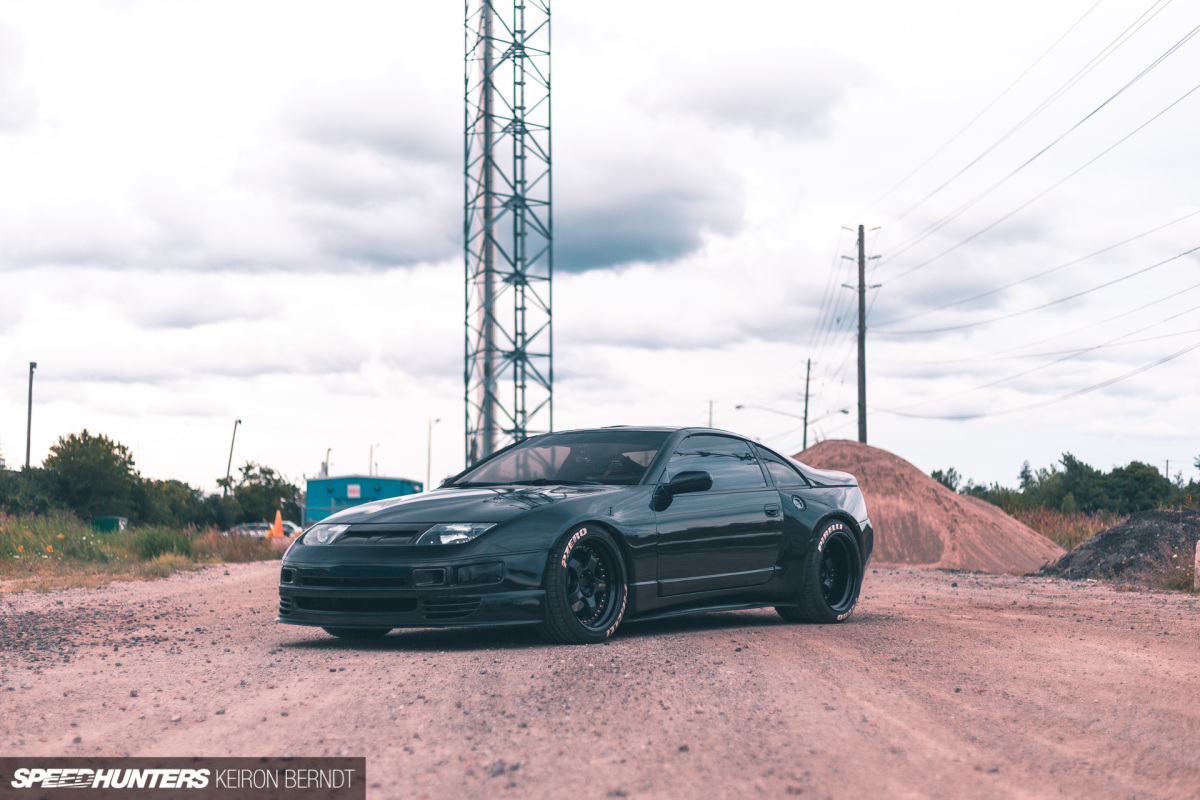 The new power levels made first through third gears pretty much useless, with any attempt to accelerate quickly resulting in a rolling burnout. Putting more rubber to the ground seemed the obvious answer to Matt's traction problems, but only so much tire could fit under the factory quarters.
There are several different ways to tackle this problem, from bolt-on flares to full over-fenders, but in Matt's eyes the only true solution was to do the job in metal.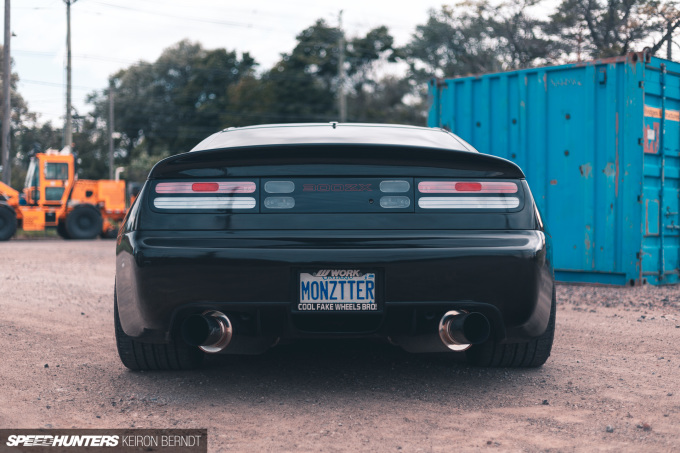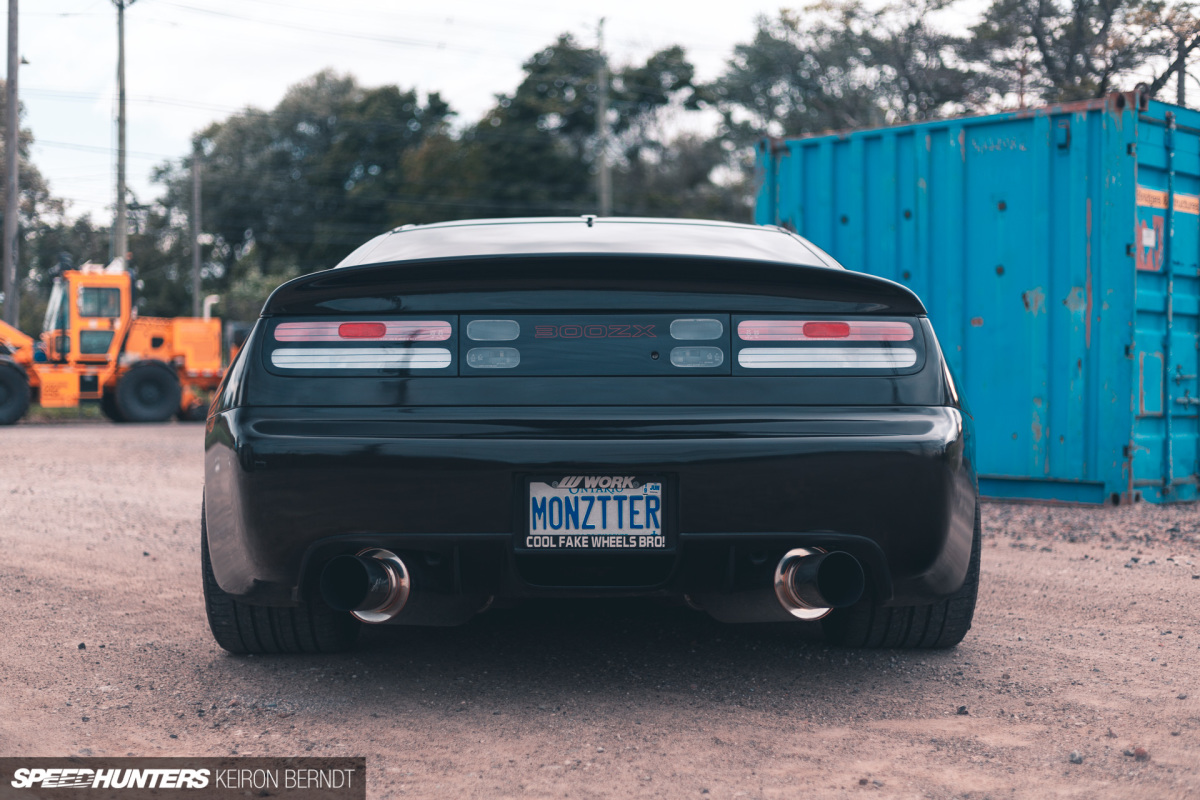 "I'm not a fan of Liberty Walk, Rocket Bunny, or really any of the bolt-on kits in fashion right now, says Matt. "It's not the look I wanted for a car I'd put so much thought into."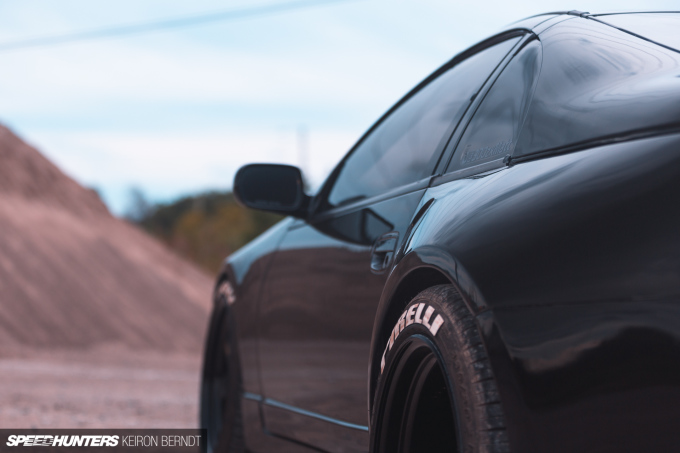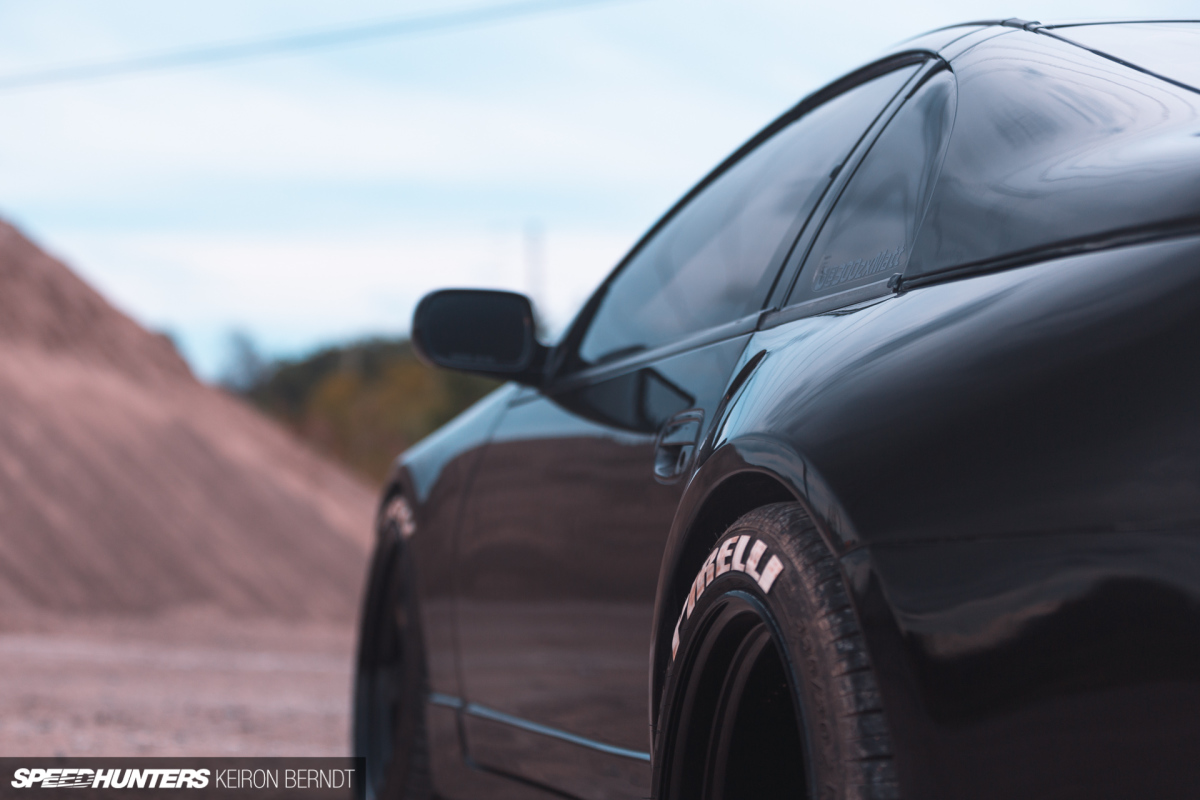 In total, the car is now 100mm wider on each side, but the factory-esque approach and deep black paint conceals much of that width.
The process of shaping the car's new body took three months and started with the Work Meister wheels. Clocking in at 18×9-inch +22 in the front and 18×13-inch +5 in the rear, the wheels are a considerable step up from the factory staggered 7.5-inch/8.5-inch configuration.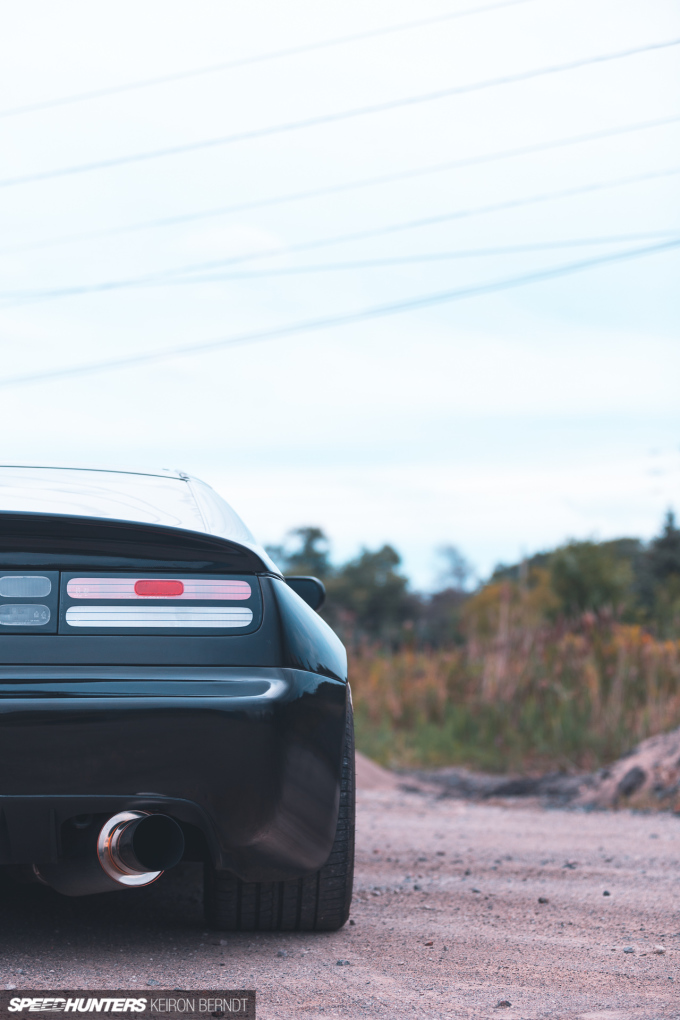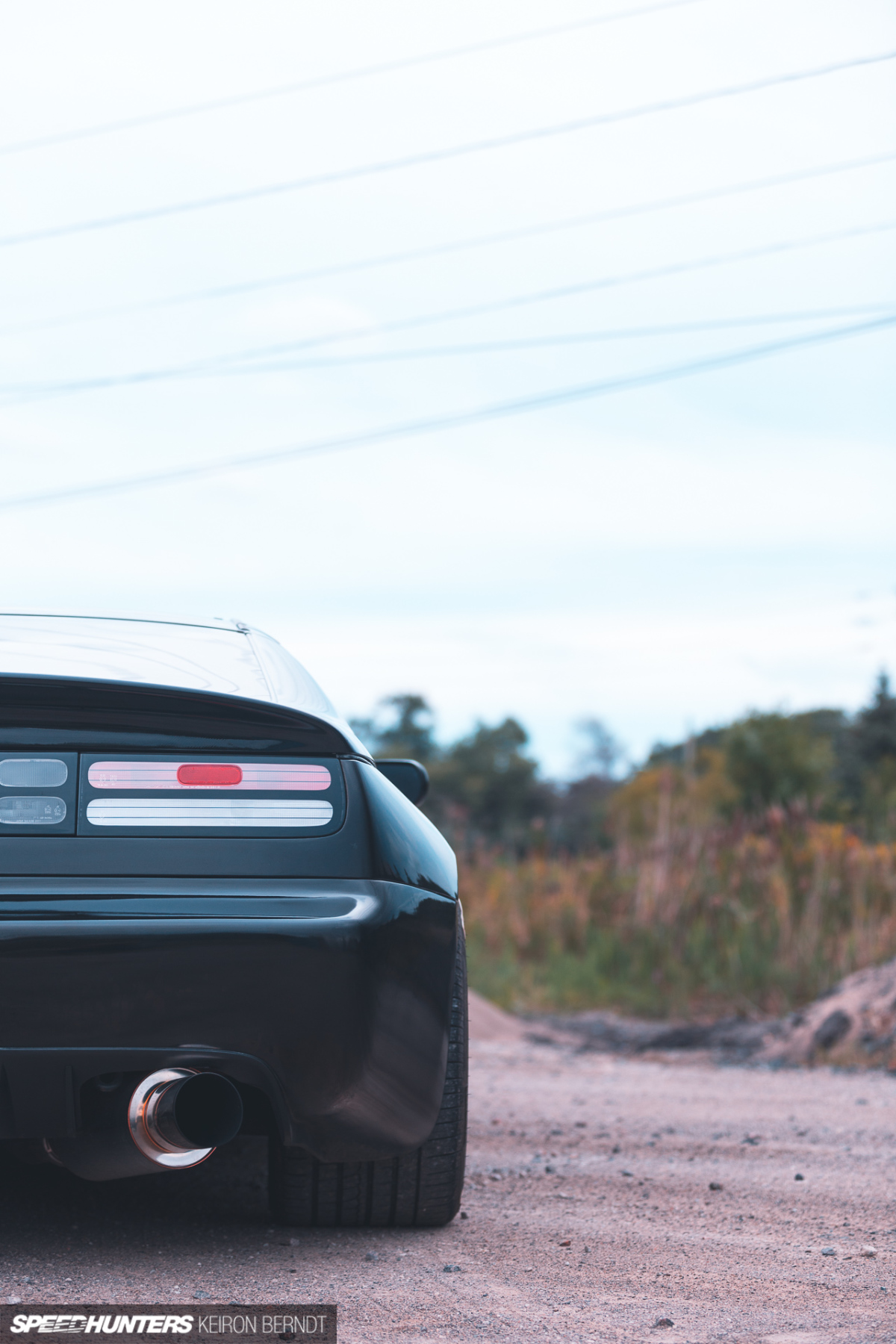 Once assembled by Cambridge, Ontario's Righteous Garage, the wheels were dropped off to Dan Forunier who's the body magician responsible for the Z32's new look.
The transformation took three months to complete, and as the photos below illustrate, it wasn't a job for the faint of heart. But in the same way you can't make an omelette without cracking eggs, you can't fit 335s under a car that is specced for 245s without making a few cuts.
An expert in his craft, Dan took care to properly address the more challenging aspects of widening the car. The inner fenders are complete, the fuel door isn't lost within a bondo-lined tunnel, and the door jambs are impeccable. Built with AMS Black Series race coilovers set at Matt's desired ride height, the end result is exceptionally cohesive.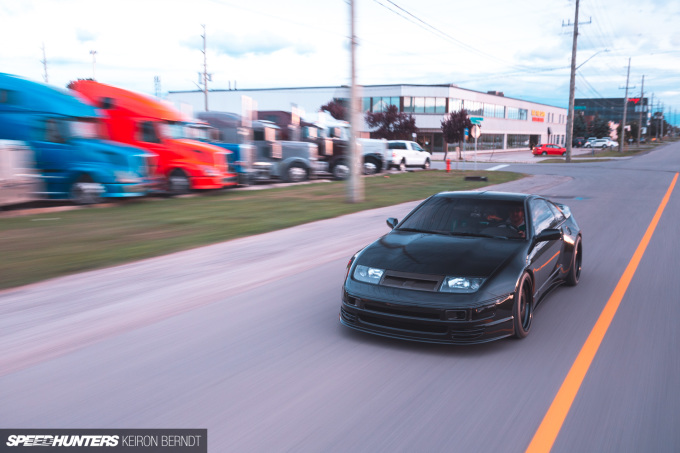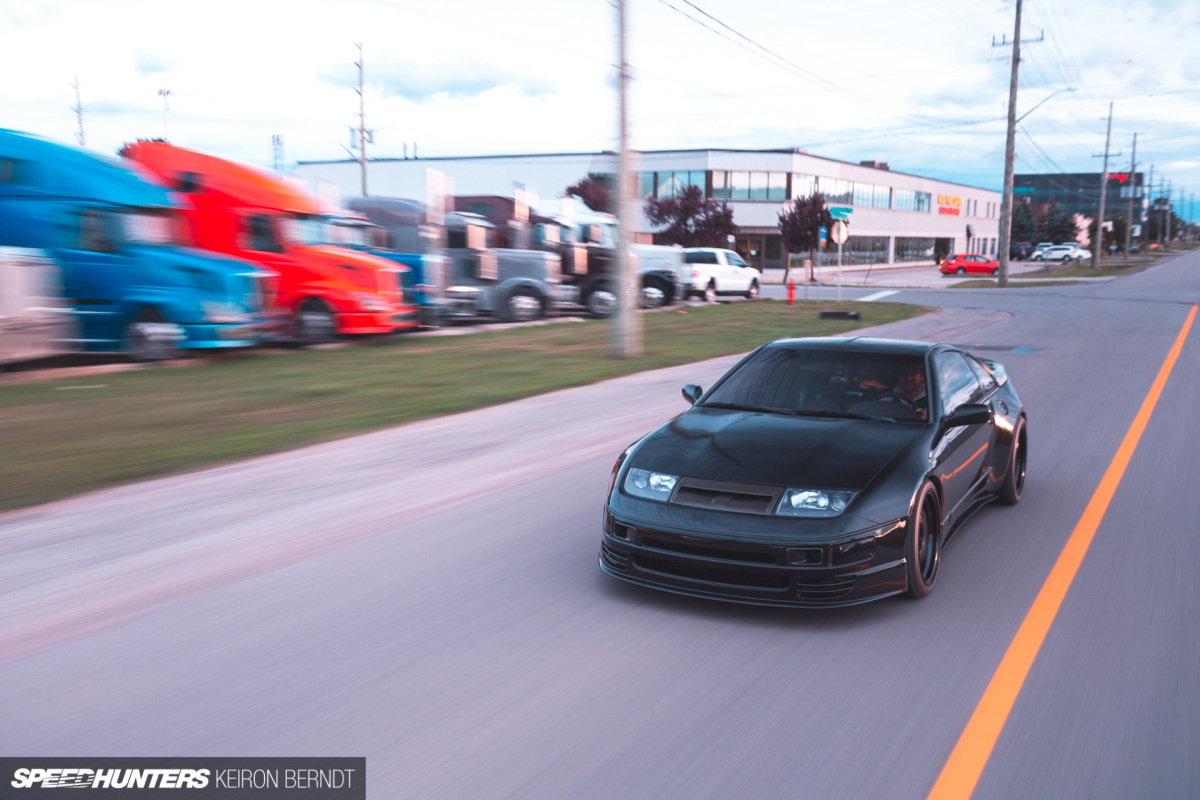 When Dan put the hammer and dolly down, the bodywork was finished out by Ink N Iron, Canada's first and only all-female body shop. Matt chose to finish the car in House of Kolor Diamond Black paint with a 24K gold pearl. The gold hue is fairly subtle, but given the right light it helps accentuate the Z32's generous new curves.
Well Rounded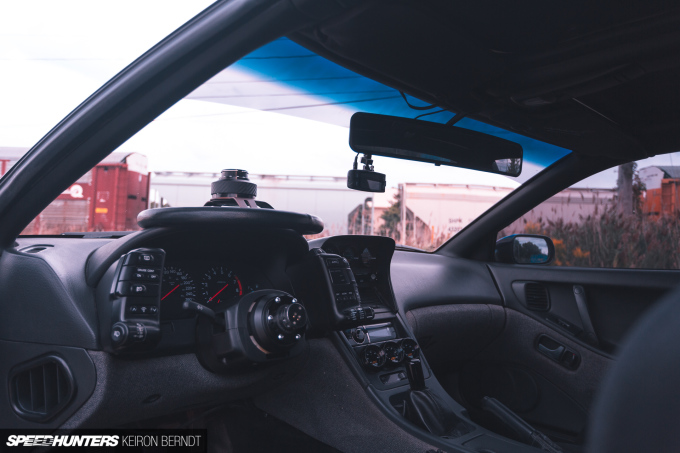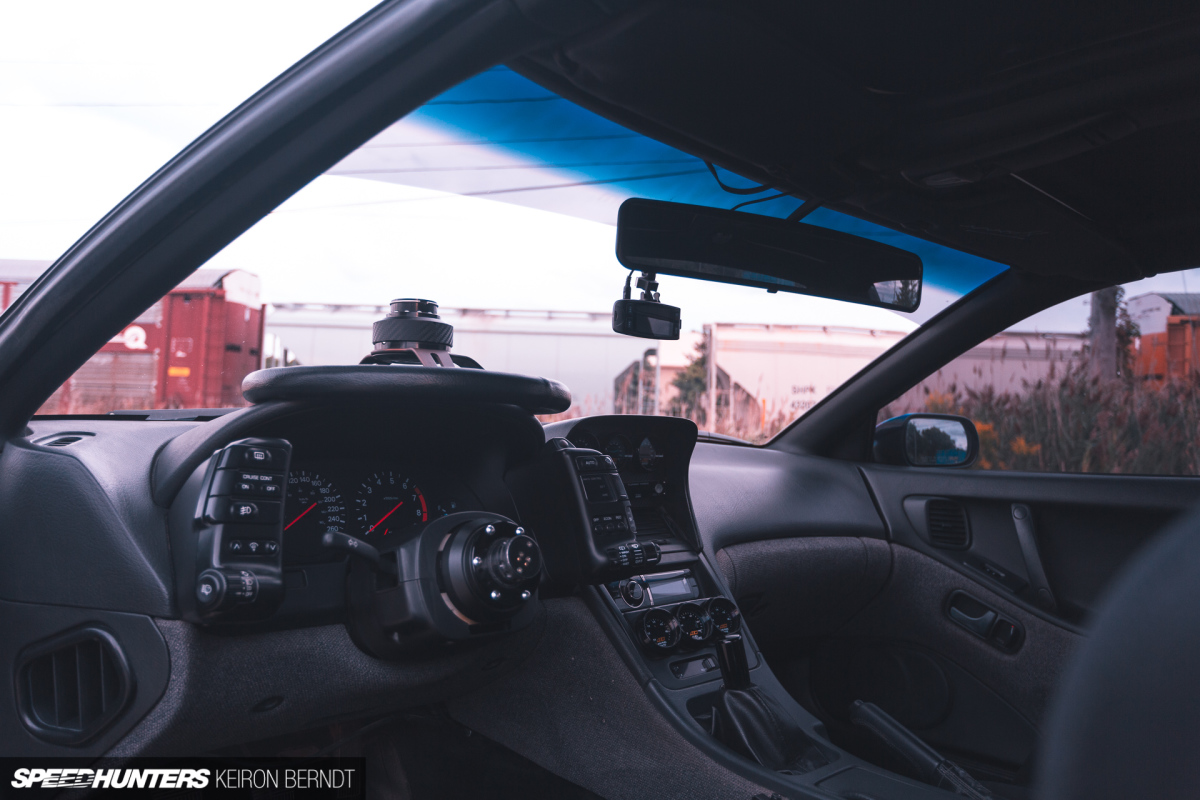 Throughout the build process it was important to Matt that his 300ZX remain a street car. So when you open the door you're greeted by a full interior rather than something that's been stripped bare.
Starting from the dash and working rearward, Matt's installed a 300-degree triple-gauge DIN panel just below the radio.
Above the center air vents is a Stillen dash pod with a custom face to house the HKS Type 1 turbo timer and GReddy Profec boost controller. Both upper and lower gauge pods are filled with AEM Electronics gauges.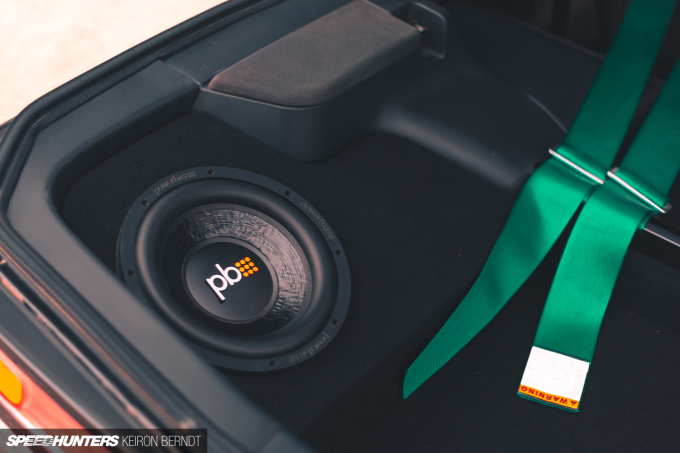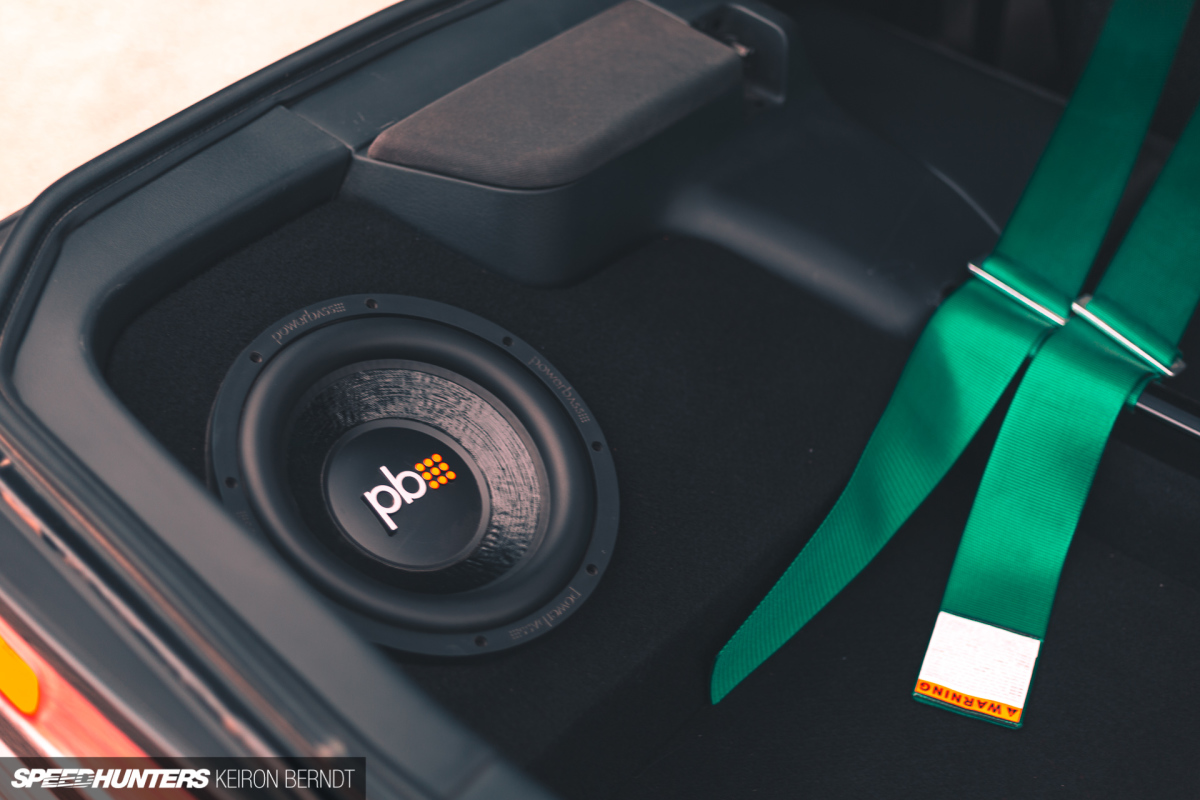 A pair of 10-inch PowerBass M-104D subwoofers are found in the boot along with a PowerBass ASA-2000.1 Class D amplifier. PowerBass 2XL-653 component speakers have been installed up front to ensure the highs keep up with the lows.
Managed by a Kenwood KDC-X996 source unit, the audio system does the best job it can to overpower the dual 3-inch custom stainless steel turbo-back exhaust finished off with HKS Hi-Power mufflers.
Silver flake Bride Zeta III seats replace the factory units, and Takata Racing 3-inch Race 6 SFI harnesses have been installed via an AMS harness bar. Keeping the car pointed on the straight and narrow is a Grip Royal Knight steering wheel.
Swan Song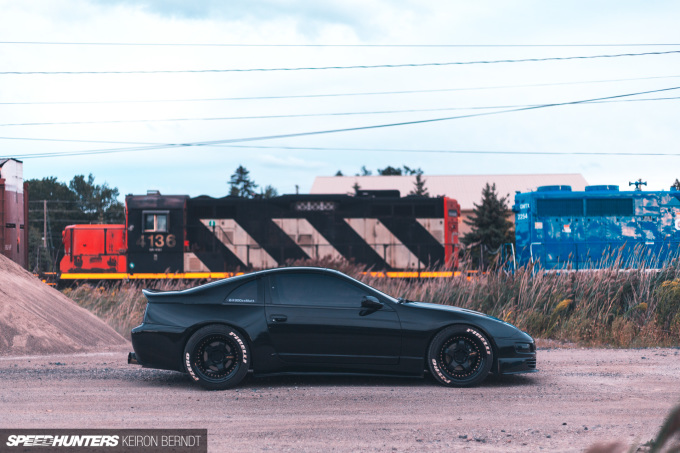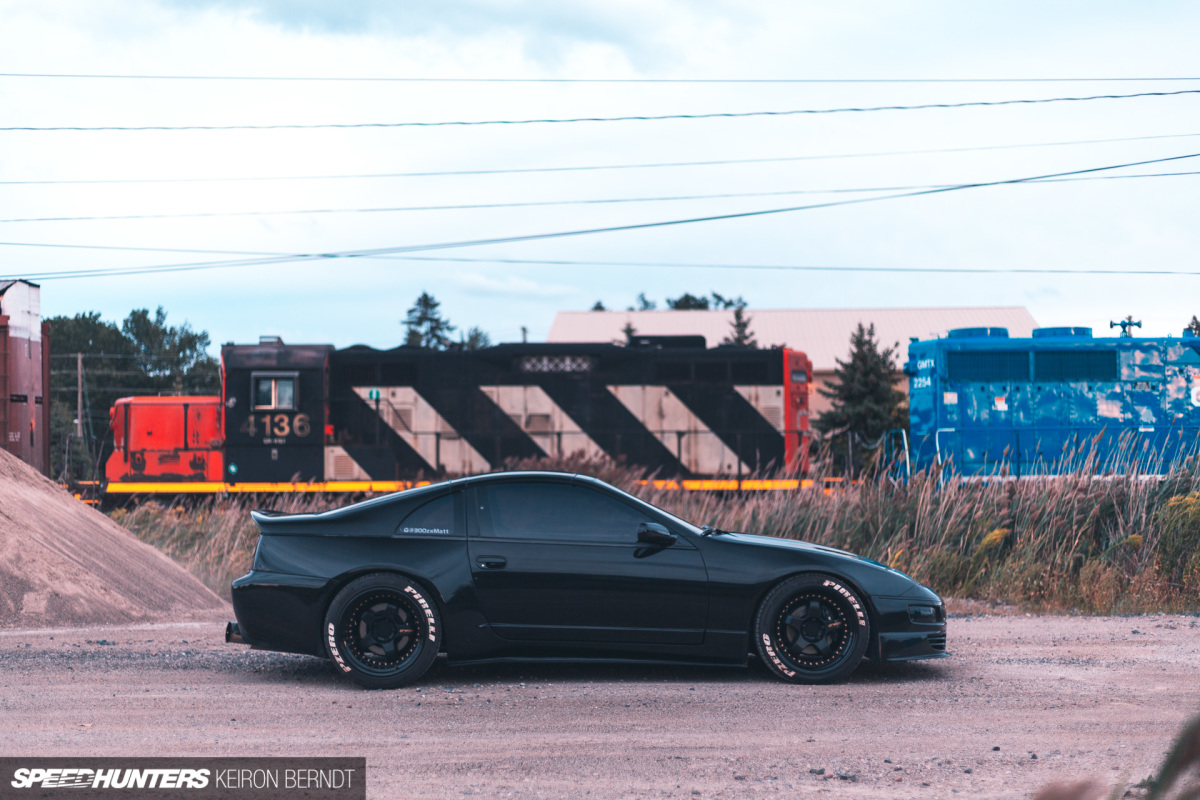 Put back together, Matt was somewhat surprised to discover that gears one and two are still a bit of a smoke show, but three and onward are a much more manageable affair.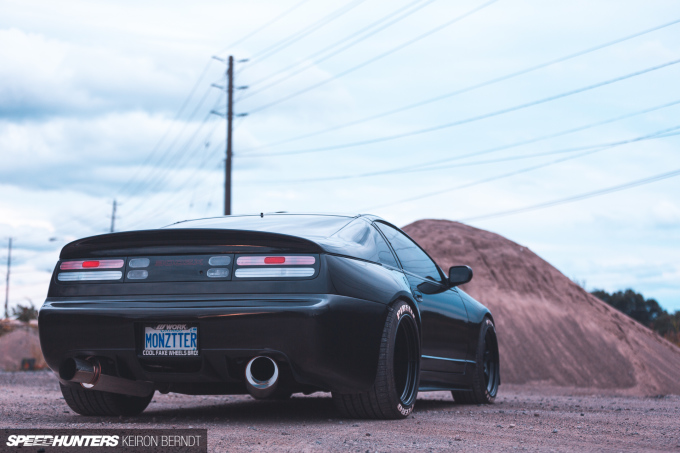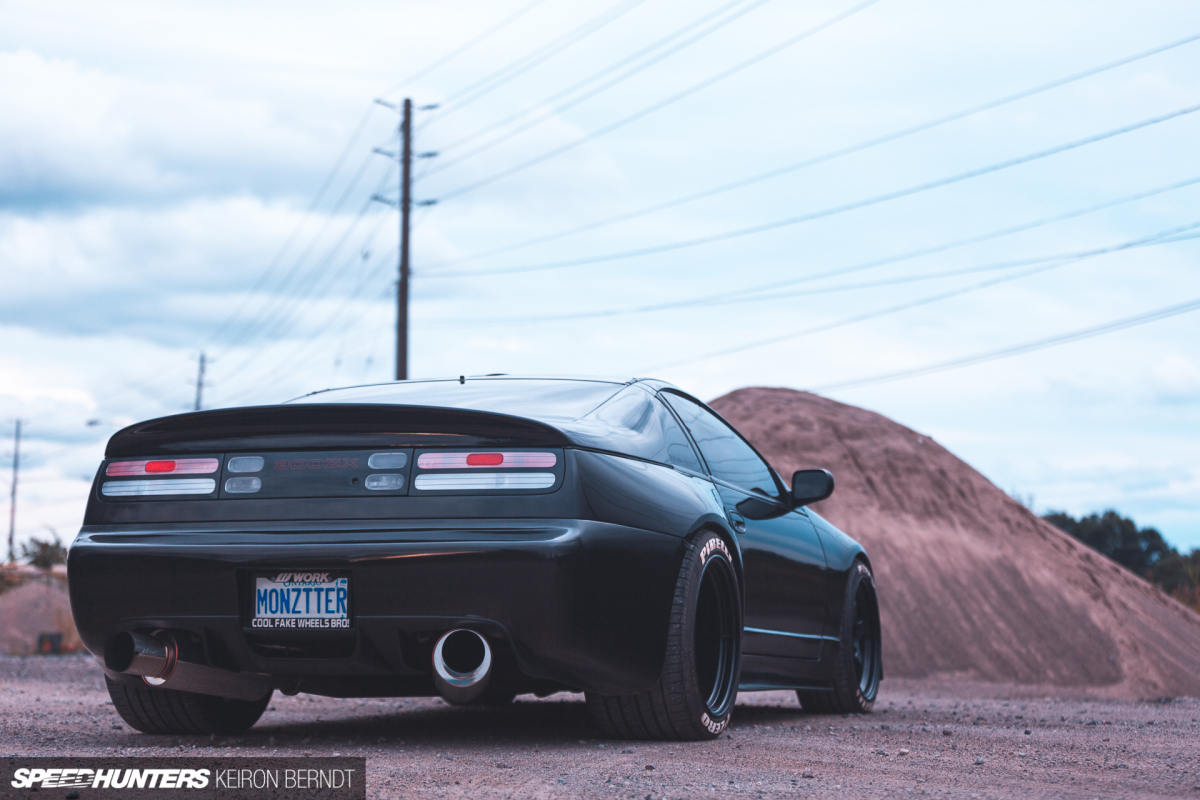 Had he been keeping the car, Matt was considering picking up a second set of wheels with slicks mounted to see if they could better contain the car's power. However, he has decided to move on from his 300ZX, and it currently sits for sale.
Matt's not getting out of the hobby, instead he's got his sights set on building another, more powerful, twin-turbo vehicle. He's currently tight-lipped about exactly what is next, but one thing he's not shy about is his desire to own a car with horsepower numbers that are four digits deep.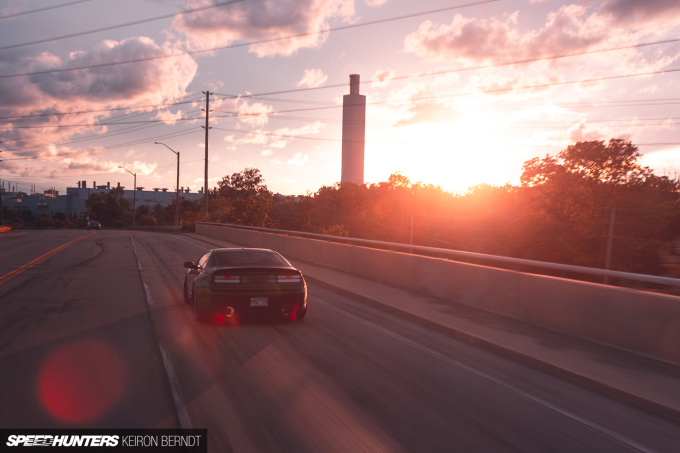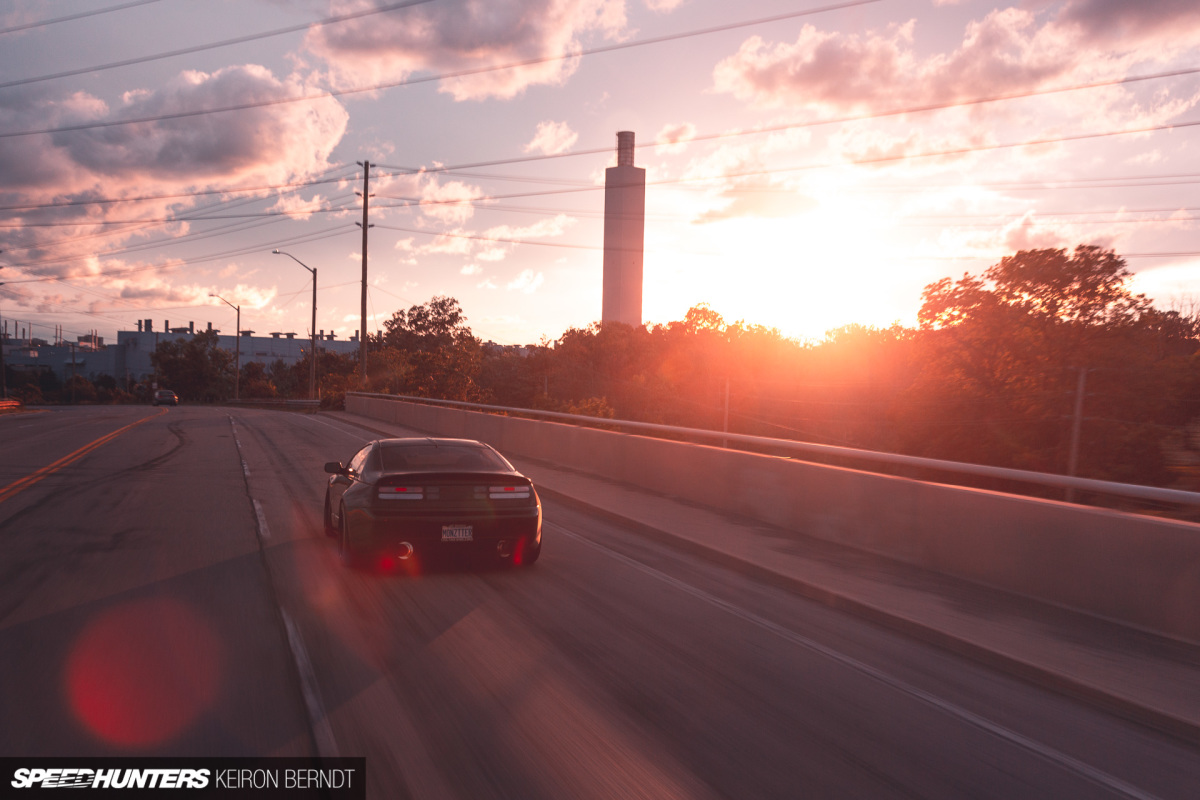 If this is the result of Matt trying to overcome 598hp, I can't wait to see what becomes of him tackling the 1,000+hp challenge.
Until then, a full list of modifications, along with an ample gallery of progress photos can be found at projectmonztter.com.
Dave Thomas
Instagram: stanceiseverythingcom
Photography by Keiron Berndt
Instagram: keiron_berndt