Camp Fire
Not every car enthusiast is the same — far from it — but behind every build is a human being. On that note, this isn't your normal Speedhunters story. Actually, this story isn't really normal by any definition of the word.
Before I jump into what happened to Allyn Pierce and his Toyota Tundra — aka the Pandra — we need to take a step back and understand what happened in Northern California last month. If you're from California, or even anywhere in the United States, you more than likely already know plenty of details from the fire season out West.
If you missed it, there's no decent way to explain what happened. I'll just share the facts: 240 square miles went up in flames, destroying nearly 19,000 buildings in Butte County. 'Camp Fire' was the most destructive fire in California history, and the most deadly in the US for 100 years, completely wiping the town of Paradise off the map.
Paradise itself can be found 50 miles north of the state's capital, Sacramento, and less than 10 miles away from where I lived in Chico when I was going to school. This is a disaster that strikes home in many ways.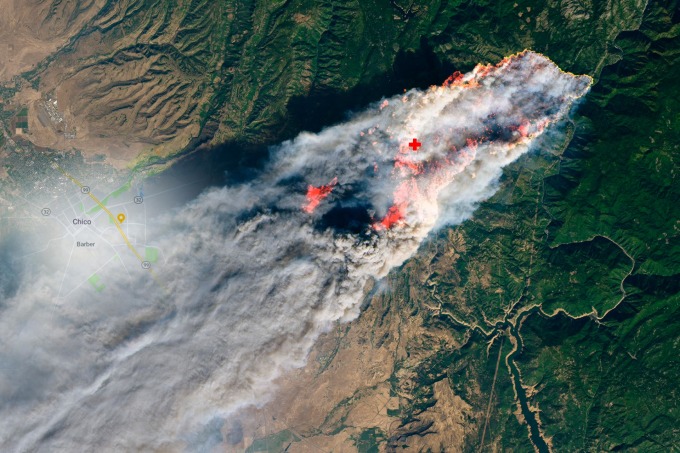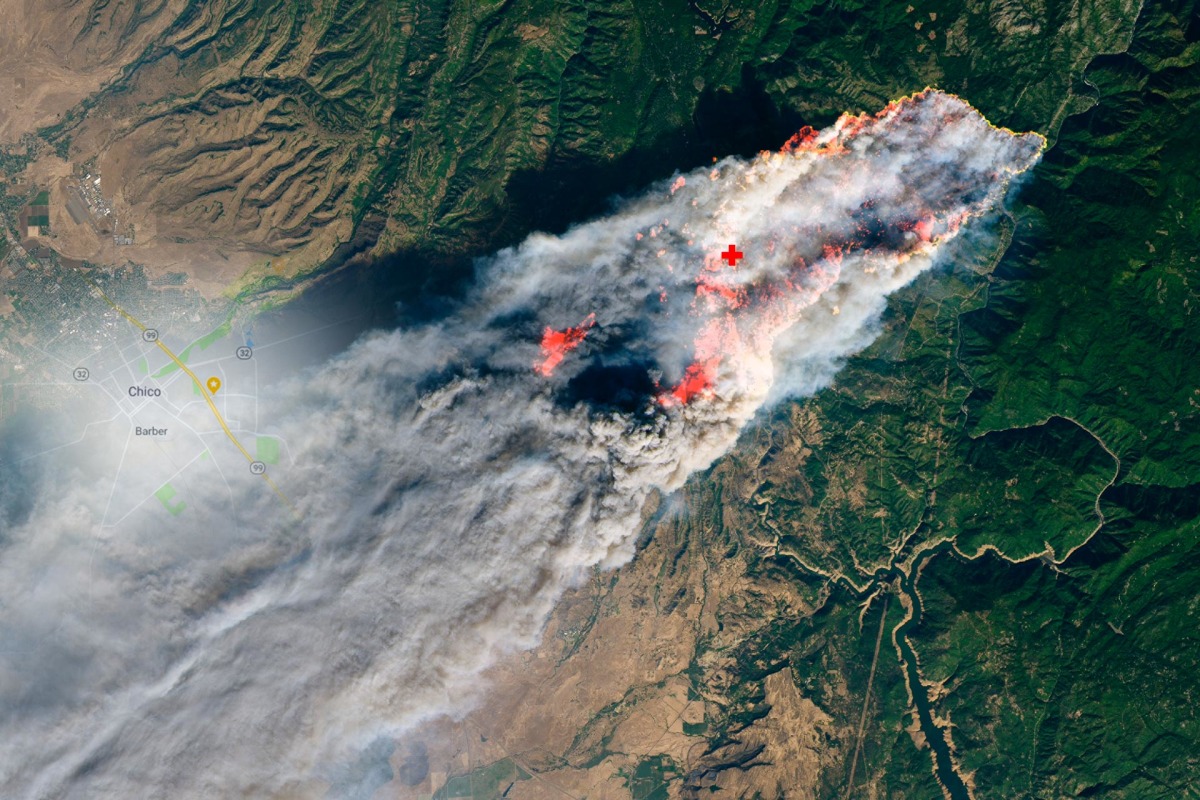 In college, I'd jam up Highway 32 to clear my mind, or head up Skyway into Paradise to find good backroads for cruising. My grandparents could see the fire coming down the hill from the main street outside their house in Chico as they evacuated; my wife's childhood home is gone, her grandparents' place is gone, and countless friends on Facebook lost everything they had in the fire; project cars and all.
Insured losses from Camp Fire are estimated at around 10 billion dollars, an absolutely mind-numbing number. It almost doesn't seem possible, just "too much."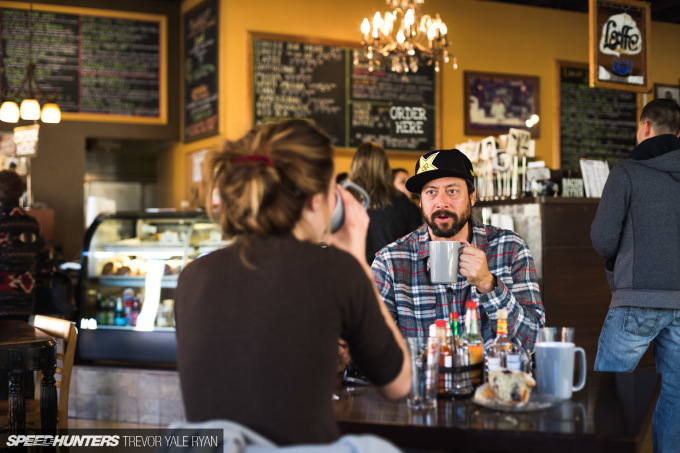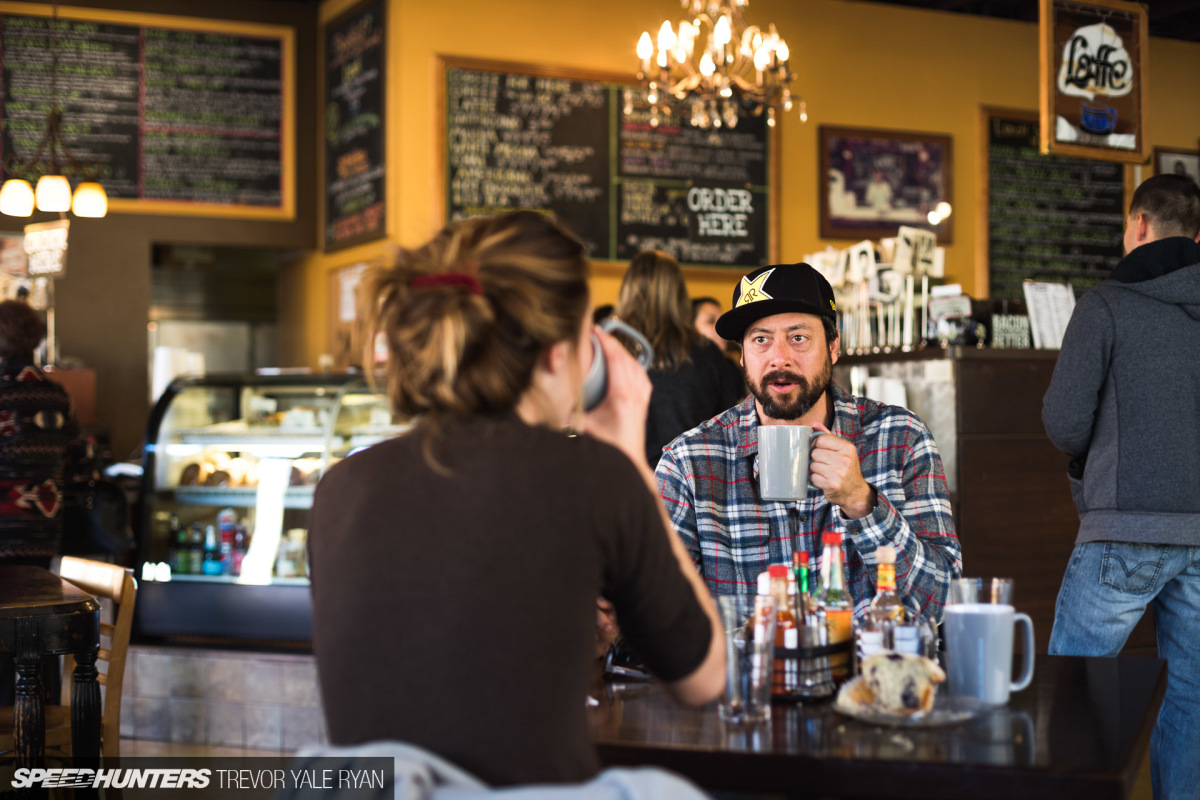 This is how Allyn described his experience as the Camp Fire erupted and swept through Paradise while he was at work at Feather River Hospital (notice the Red Cross on the satellite image above). As ICU nurse manager, Allyn prepared ahead of official evacuation orders as the sky turned a dark burnt orange at eight o'clock in the morning.
Although his unit and their patients were among the first out of the building and on to safety, Allyn himself was one of the last people out. Having previously worked as a merchant sailor, and perhaps due to the fact that his father served in the military, Allyn says emergency instinct took over.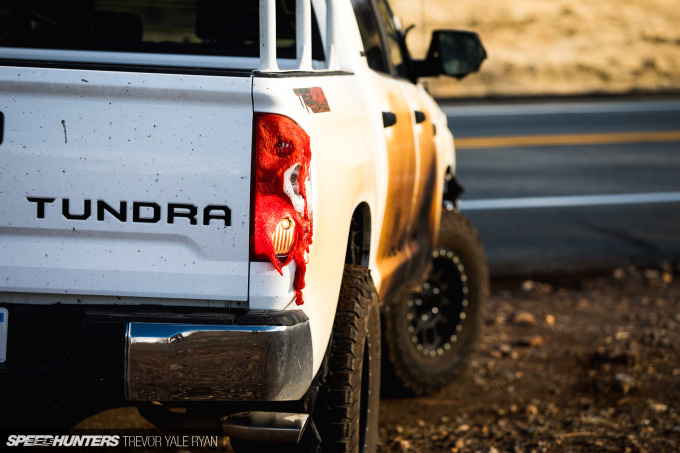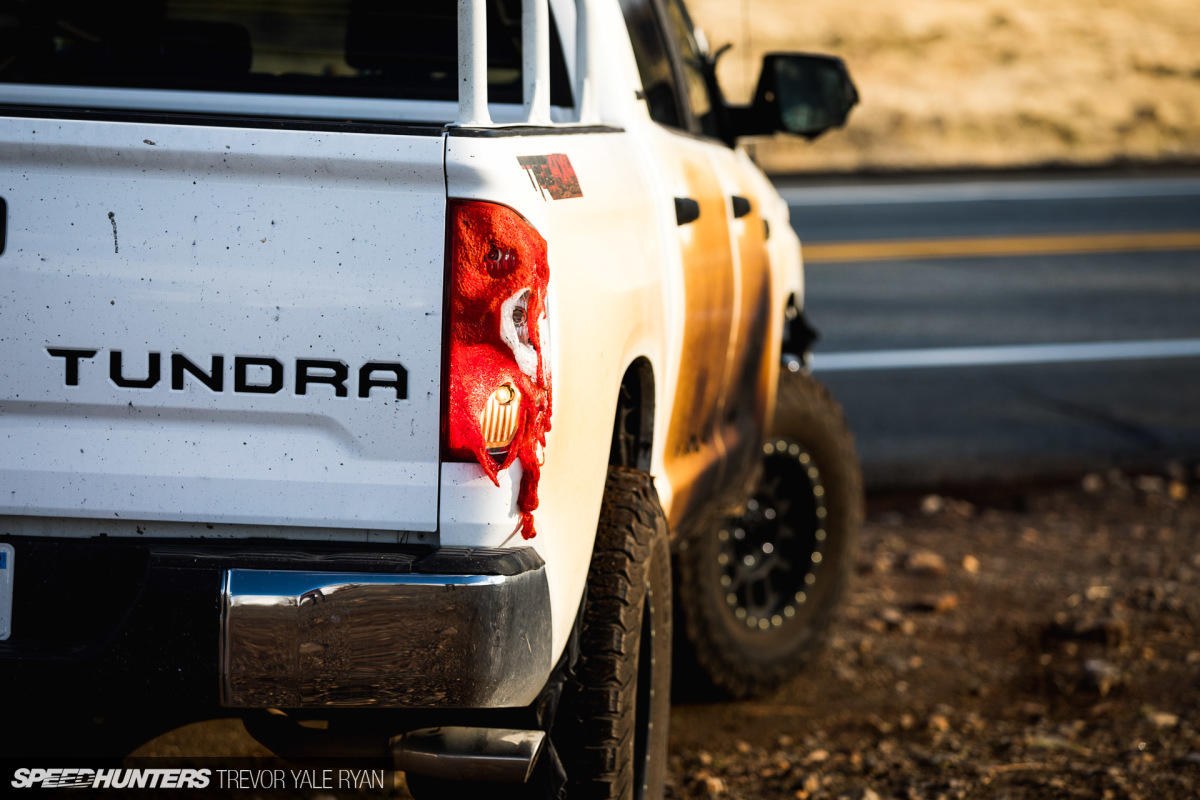 Rather than getting himself to safety he checked for anyone still in the burning building, tagging doors of rooms which were clear to aid in firefighters' efforts. Chaos broke out around Allyn as the entire town attempted to evacuate from a fire which was spreading at a rate of one acre (which is about the size of an American football field) every second.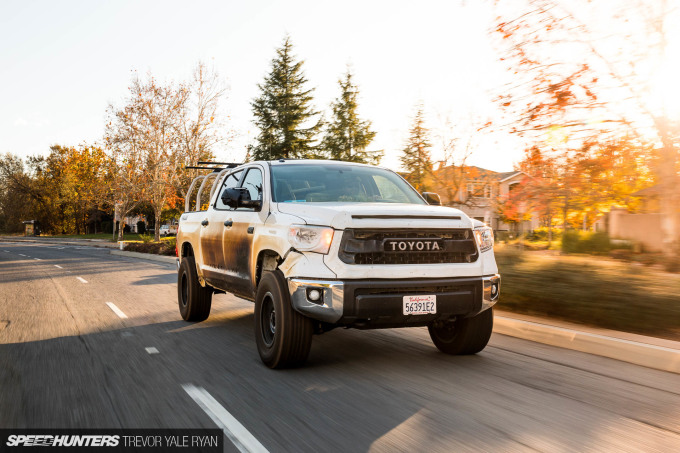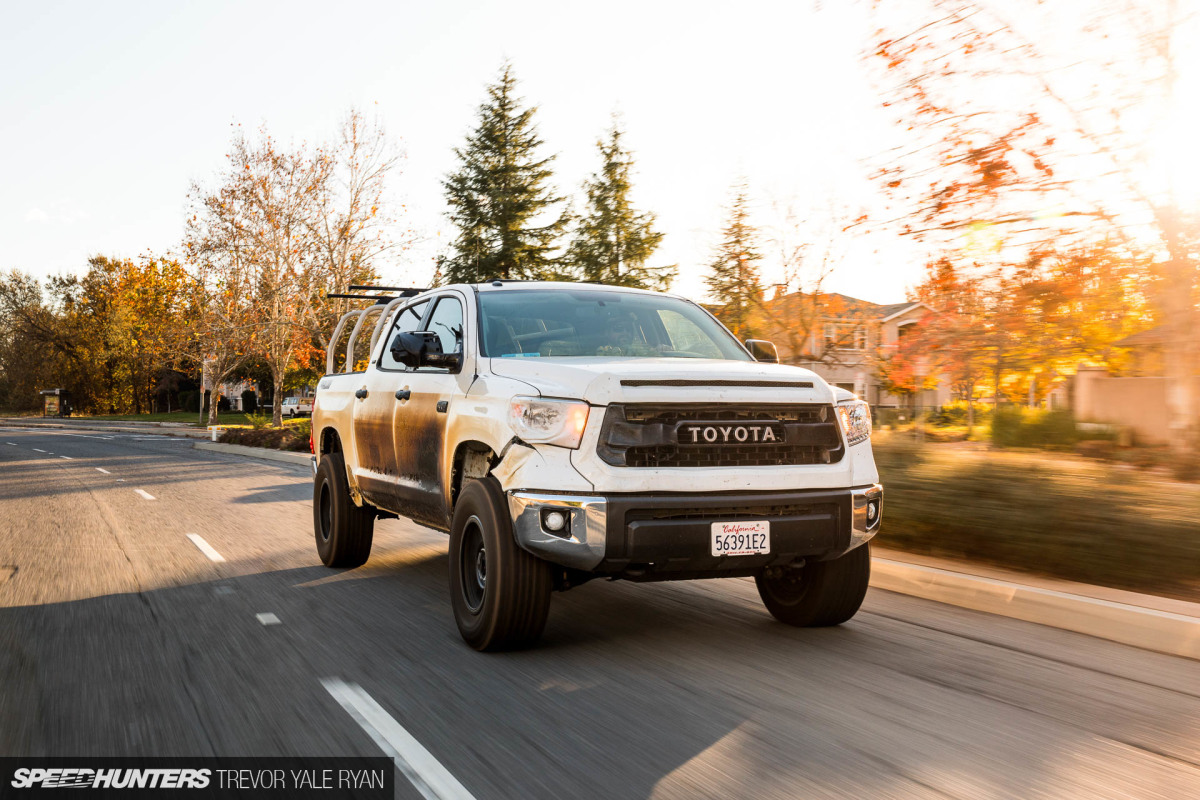 Finally, Allyn jumped into the Pandra, his Toyota Tundra — SR5 spec, but we'll get to the details later — and rounded up a few stragglers in the parking lot, yelling at them to jump in. From here, he fought traffic on Pentz Road and headed south making a right-hand turn onto Pearson to head into the gully towards the highway.
Small problem – the gully was already in flames, full of abandoned and burning cars, and homes engulfed in flames on either side. Allyn tried to keep everyone's spirits up in the truck, joking "take pics, this is the last time I'll be doing this tour!" This is where other versions of the story I've read seem to diverge, but Allyn insists he travelled just over a mile before sending his passengers safely off into a firetruck (and not all the way into Chico).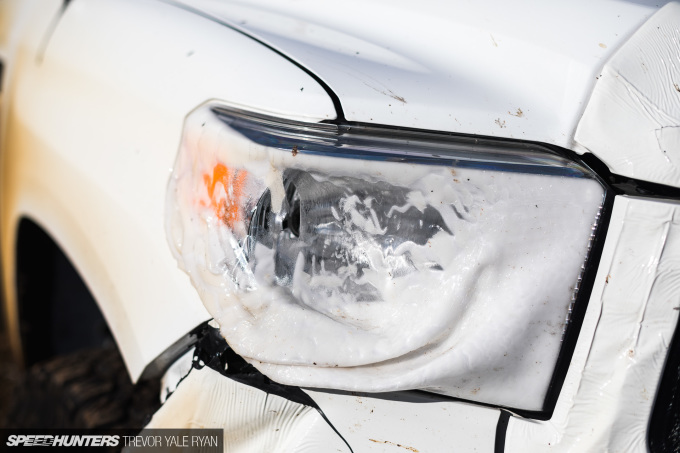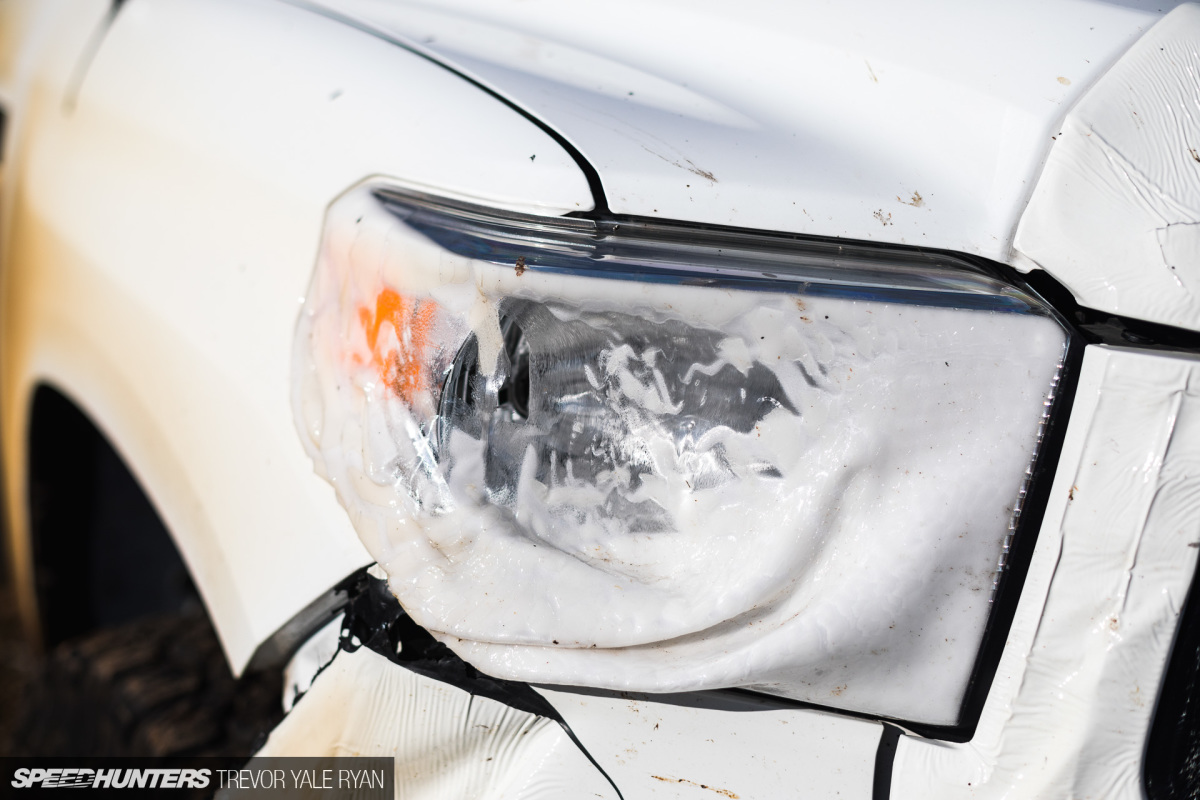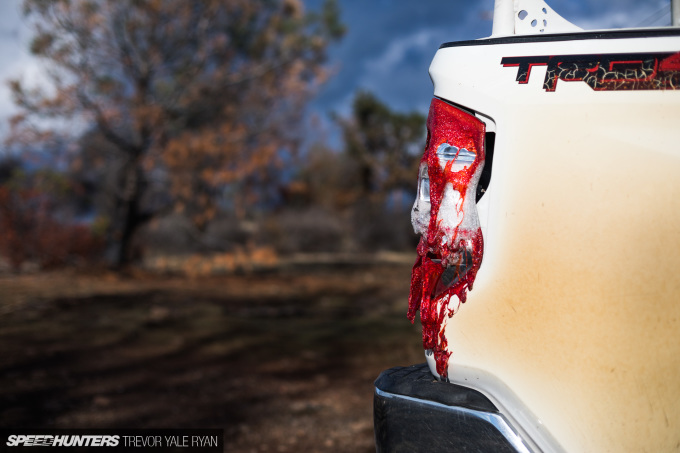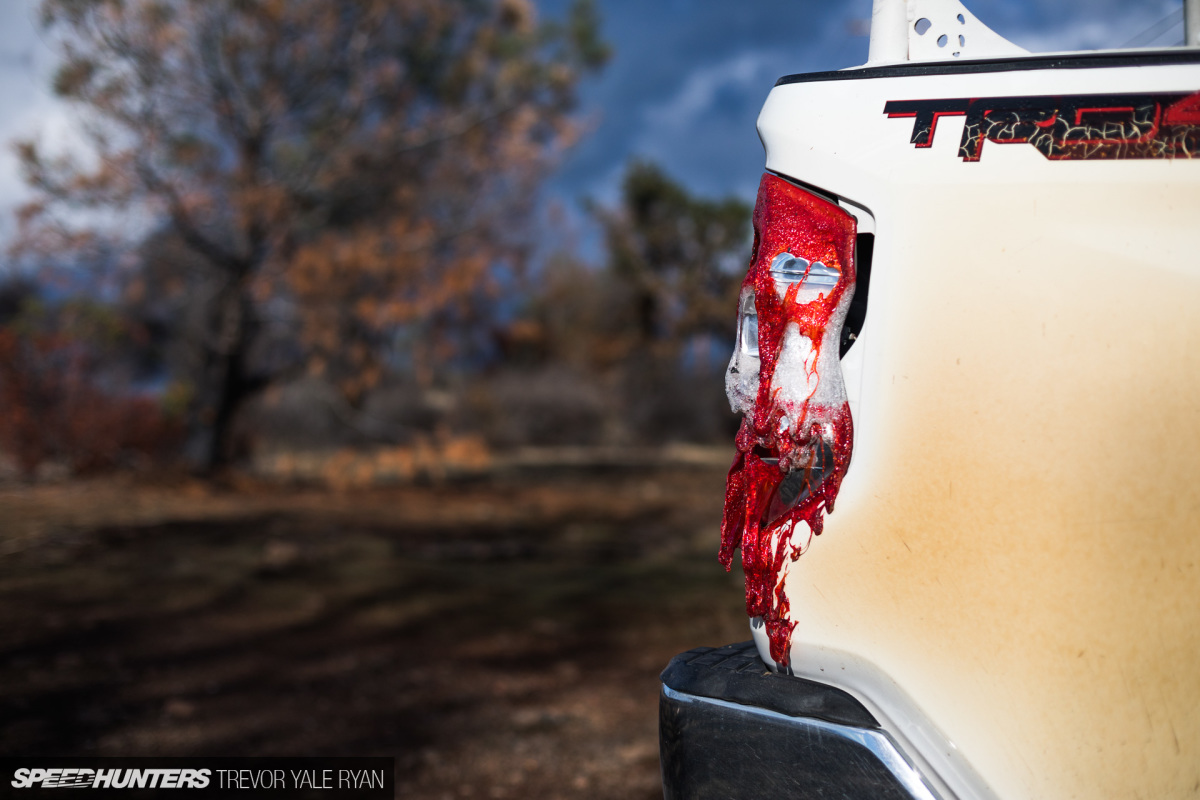 Eventually, neither the firetruck nor Allyn could proceed any further down the road; too many abandoned vehicles were blocking the path. At this point, the firefighters next to him tossed blankets over their truck and stopped trying to even fight the fire around them; they had to focus on surviving.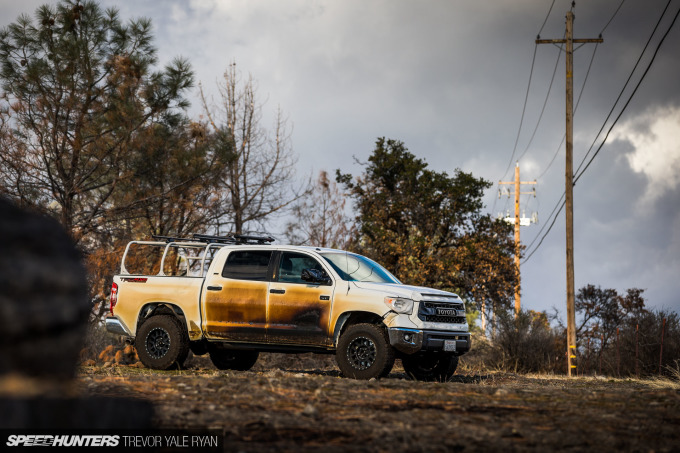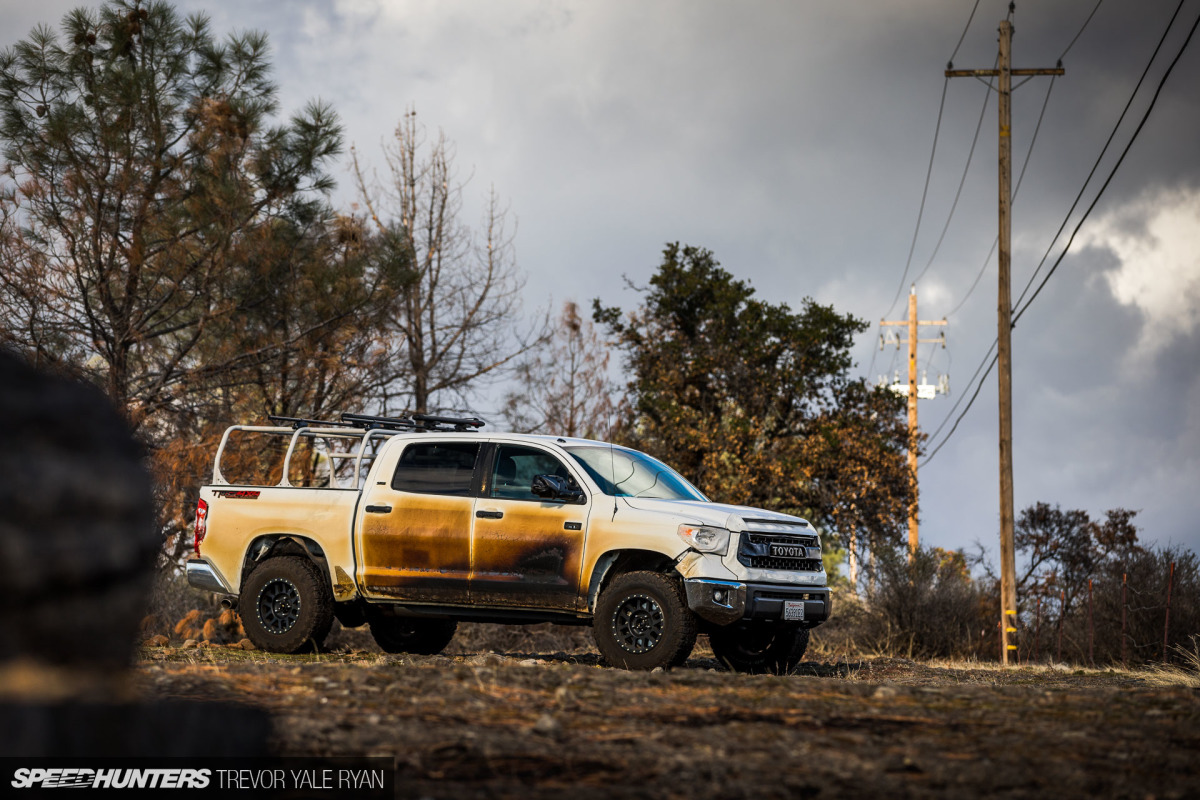 Not wanting to leave his truck and block anyone coming behind him (which is exactly why Allyn was trapped in the first place), he concentrated on trying to pilot the Pandra to a safe point. Only, there wasn't one; the Tundra was his only hope. With no space to maneuver and fire whipping by on either side, Allyn recognized that he "really might not make it out of this alive."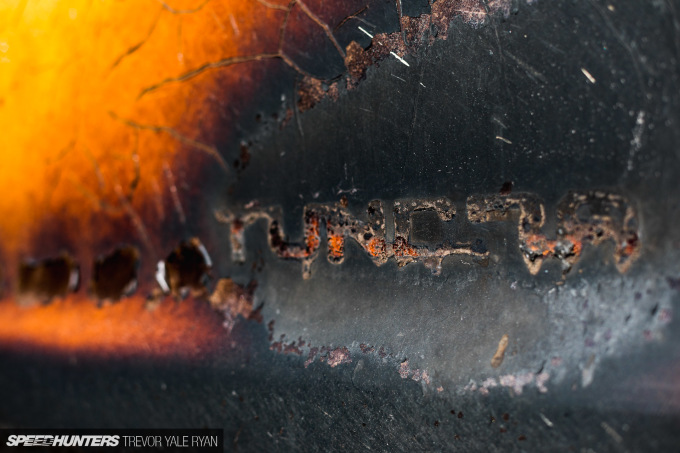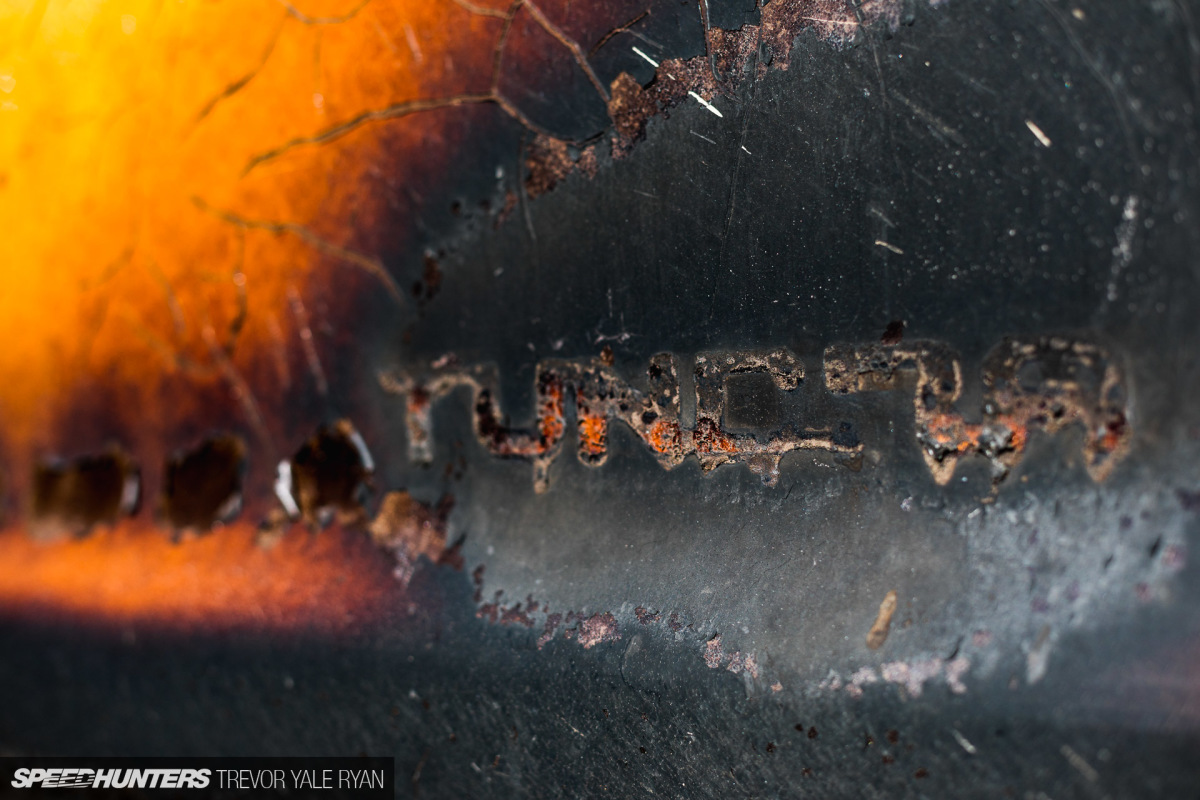 Blasting the air conditioning — as well as the acoustic version of Aha's Take On Me — this is when reality started to creep up on Allyn in his little oasis. The flames were blazing closer and closer to the Toyota, complemented by explosions from propane tanks, tires, and entire cars. "It was like a sci-fi movie, only more."
Too extreme to believe even as a script, Allyn says.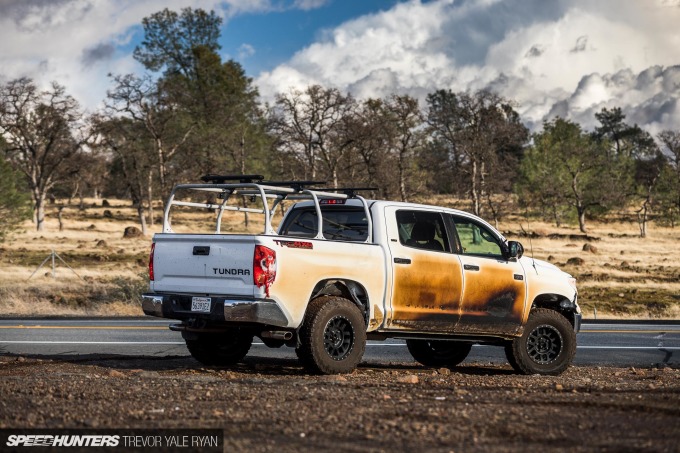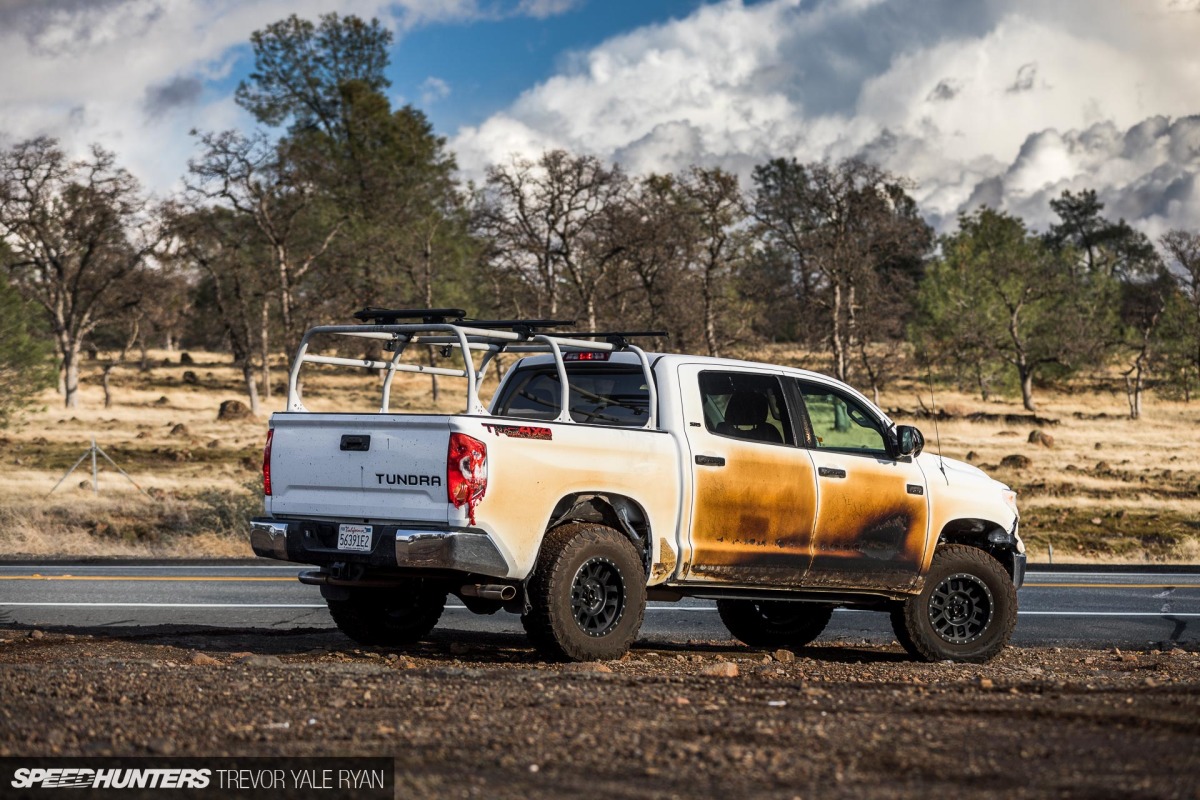 Across the inferno, a bulldozer appeared to be pulling off a trailer and made its way towards Allyn. The tractor managed to push a couple cars out of the way enough for Allyn to squeeze by, but, instead of heading out towards safety, Allyn cruised off-road through the forest to turn around and head back up towards the hospital.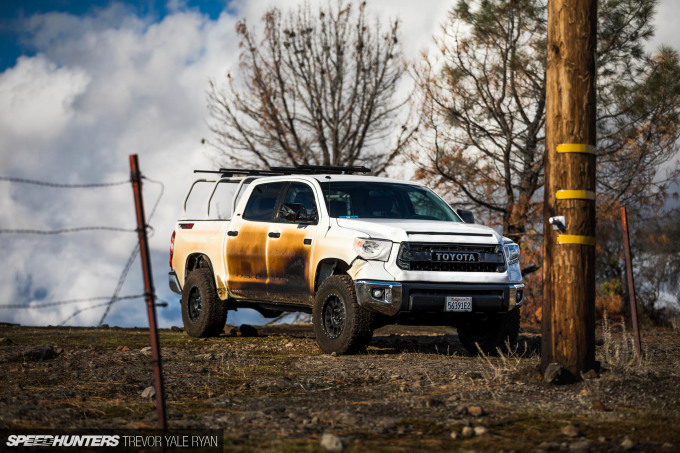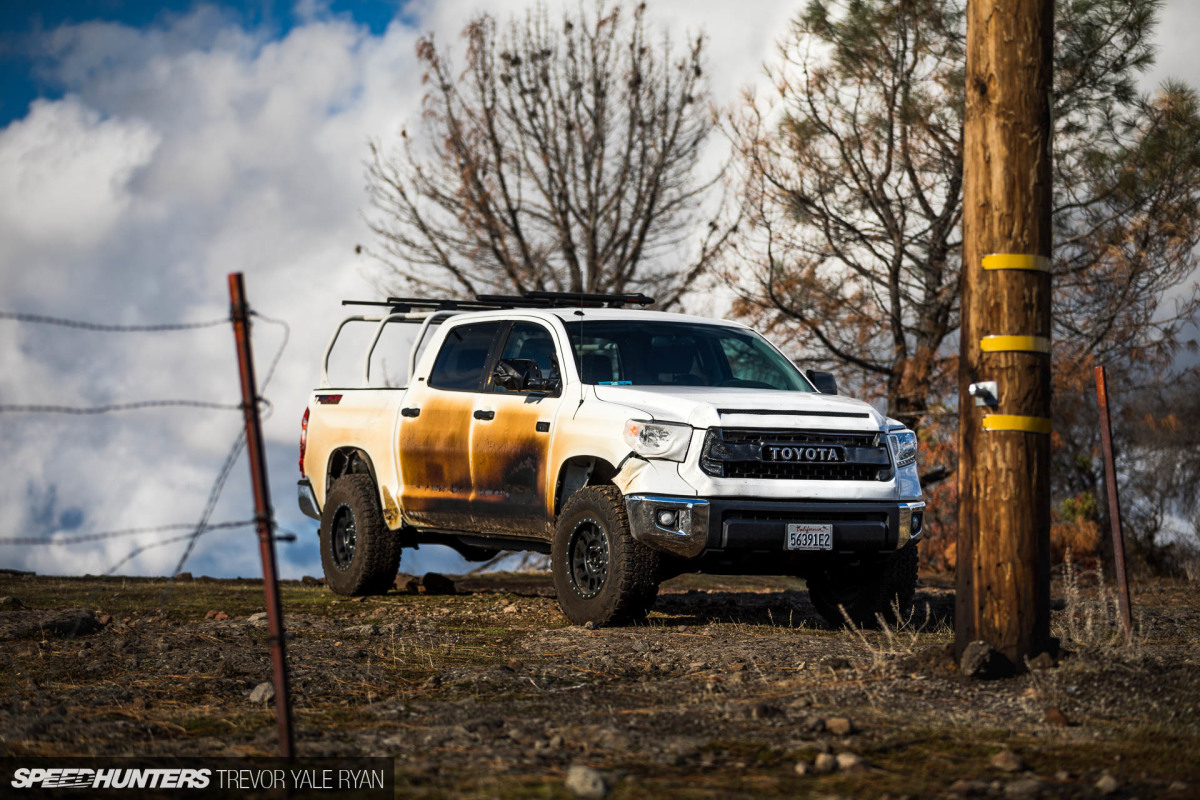 With a clear road ahead of him, and the town of Paradise crumbling around him, Allyn put the hammer down and safely made it back to the hospital within minutes. His entire journey, which spanned an intense hour and a half, was only about two miles in total, but had Allyn not been able to pass off his passengers when he did, and had that bulldozer not shown up, there's no way everyone in this story would have made it out.
Back at the hospital, Allyn raided doctors' offices and helped set up on the helipad; dozens of people who couldn't make it out of town were showing up, badly injured. "HR was burning on one side, the hospital on the other, and the entire town itself on yet another."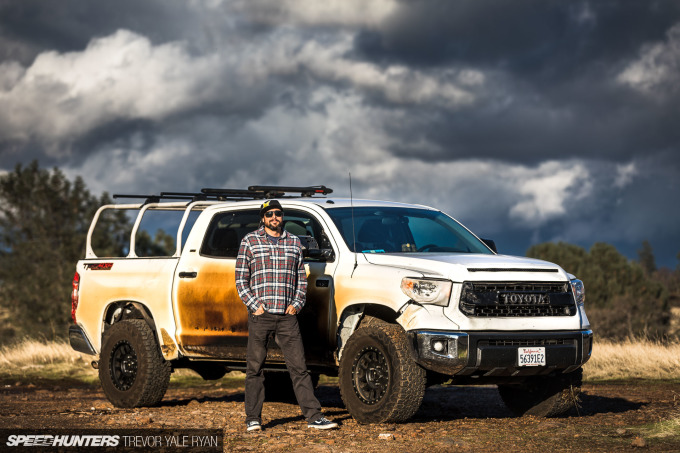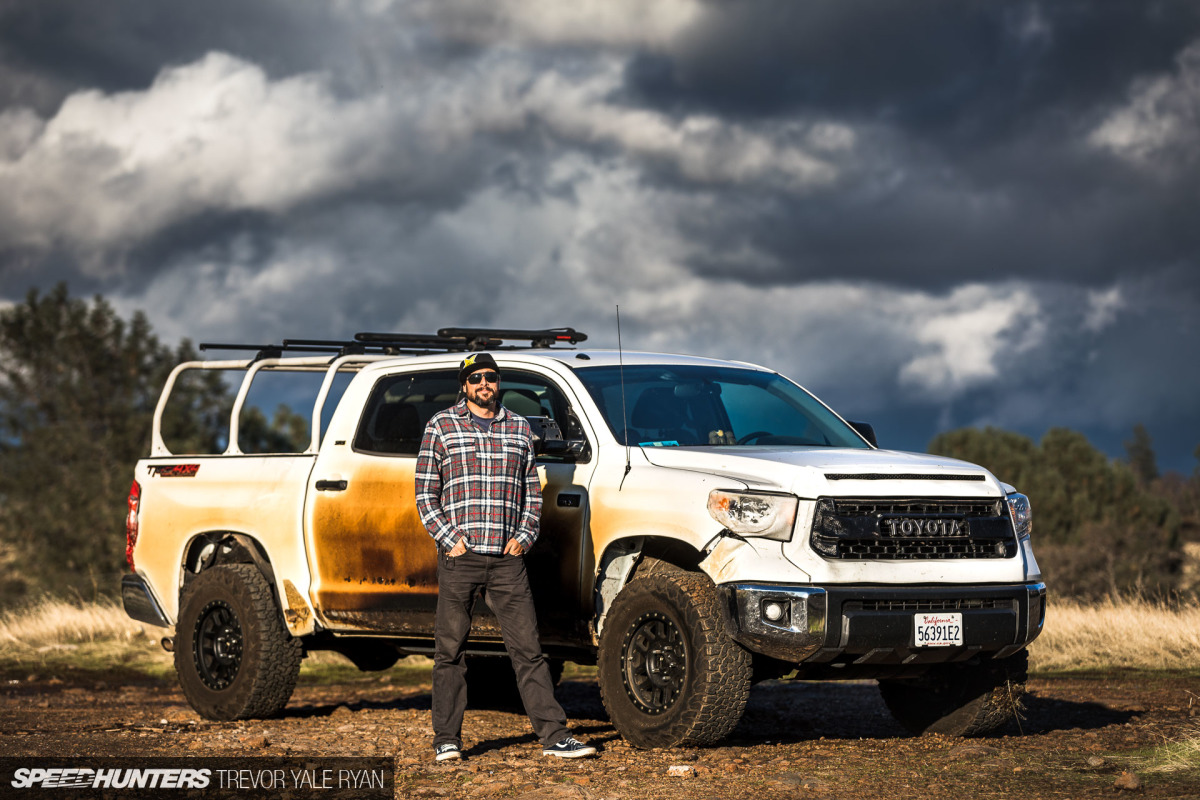 In the midst of chaos and destruction, Allyn simply went back to work. He insists he isn't a hero, saying "this is what nurses do; I'm not special." Another nurse was helping patients on the helipad with a broken foot, Allyn told me.
Eventually, everyone was transported safely down the hill, into Chico and the surrounding neighborhoods.
Aftermath
Today, Allyn, along with his wife and two kids, are staying with family in Chico. Allyn's looking for a job — Feather River Hospital, where both he and his wife worked, is closed indefinitely, if not permanently.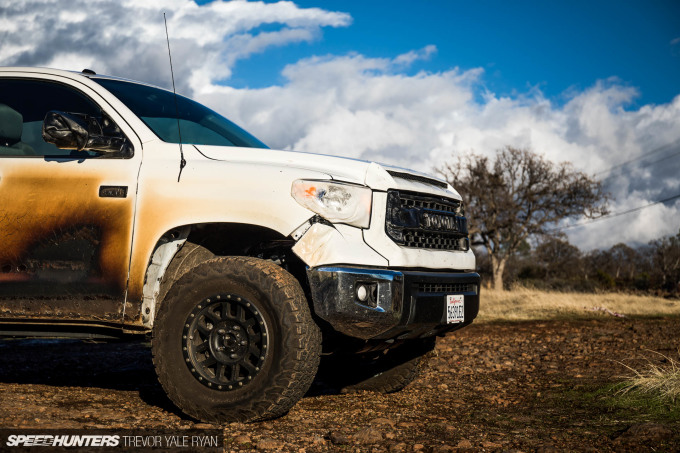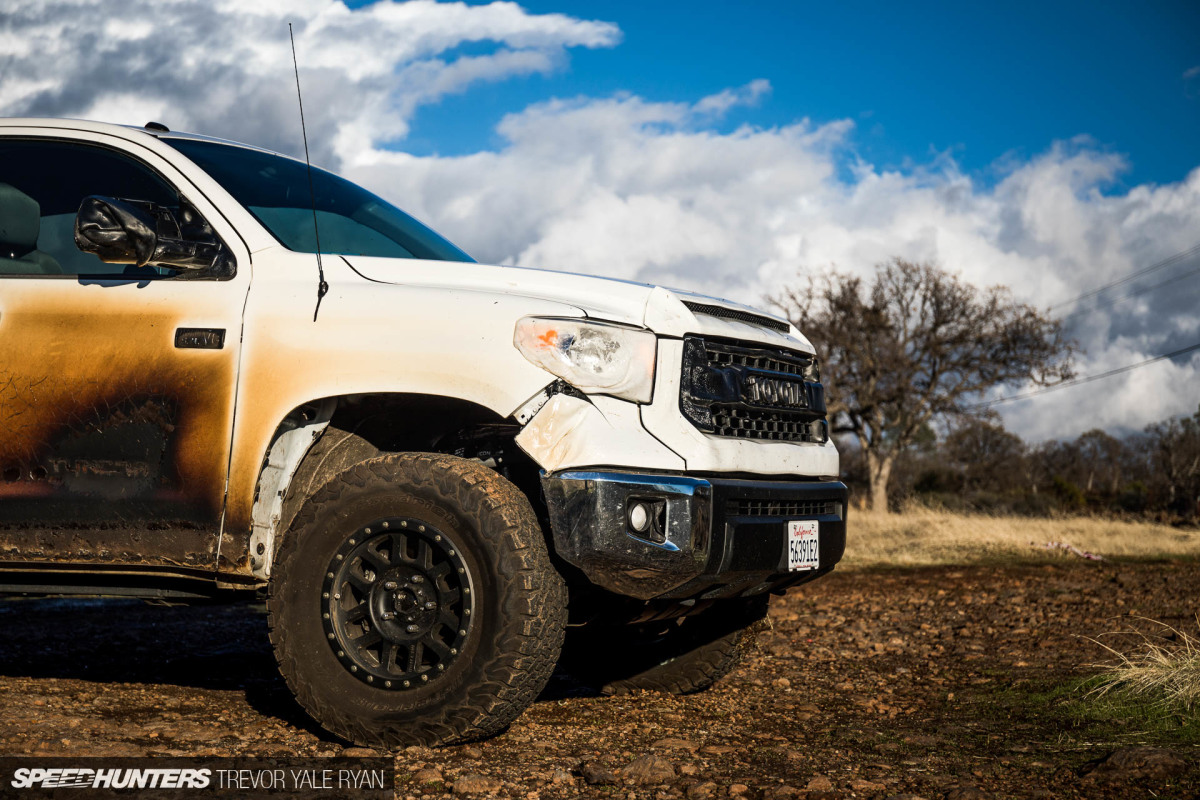 As for the destroyed Tundra, if you've followed Allyn's story before this you'll know that Toyota reached out and replaced his truck with a shiny new 2019 Tundra TRD Pro. Allyn said the social media team put a face on the corporation, and that Toyota has been really helpful throughout the ordeal. Rockstar Performance Garage also reached out, saying they would rebuild the Pandra or help Allyn build up his new truck when the time comes.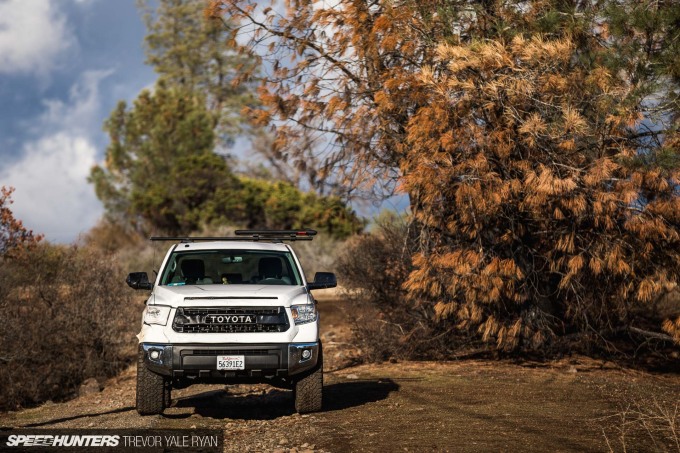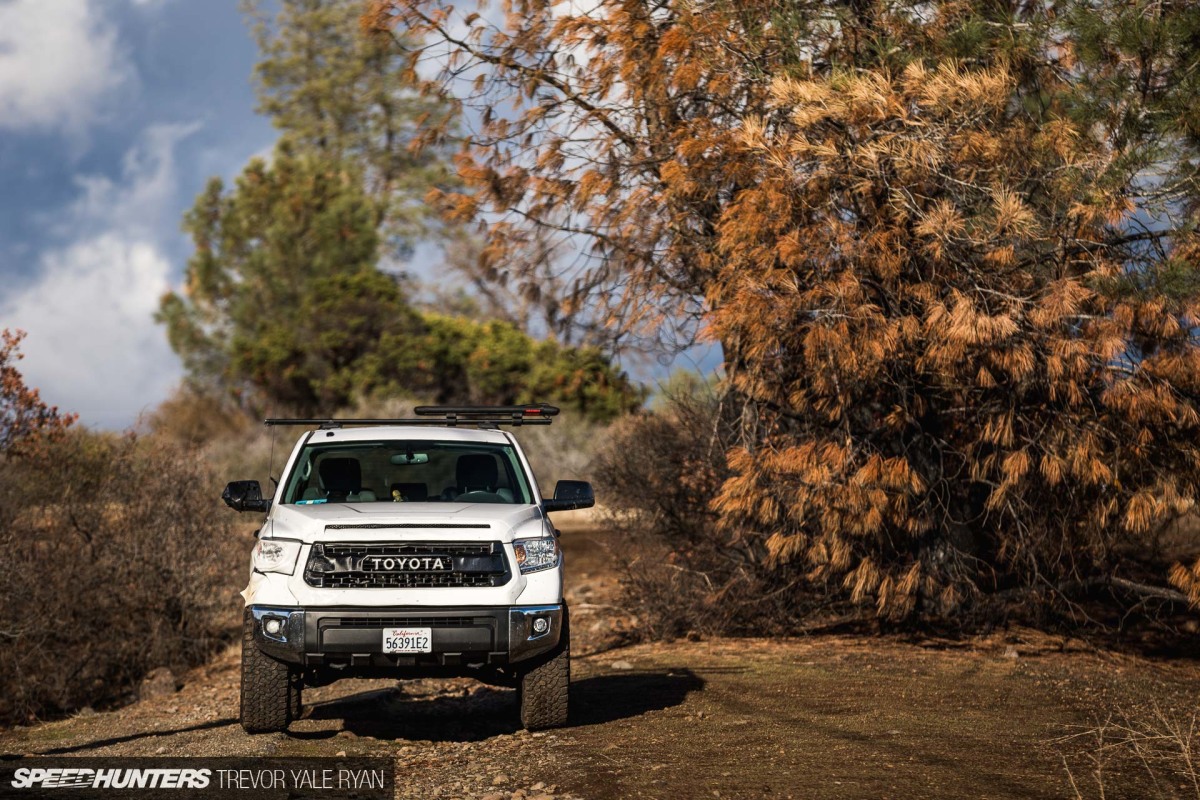 When Allyn bought the Pandra, a 2017 SR5 Toyota Tundra, it was never meant to be a huge build. It was a family vehicle — his wife's idea actually, a practical choice good for the drive to work as well as camping — but nonetheless a truck he loved and began to build. He never expected fame or this level of attention towards his car, much less himself.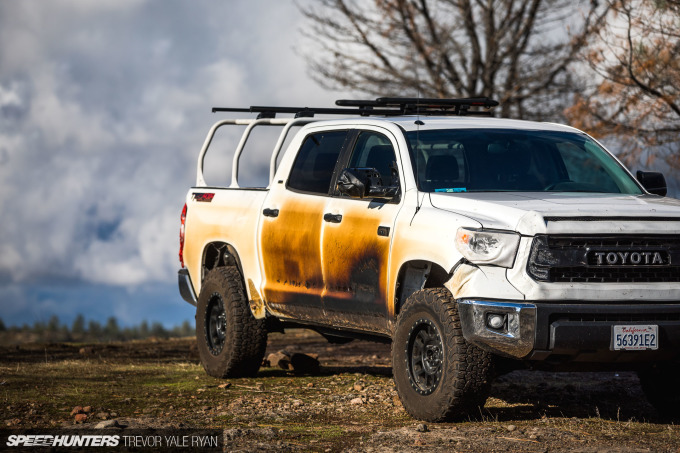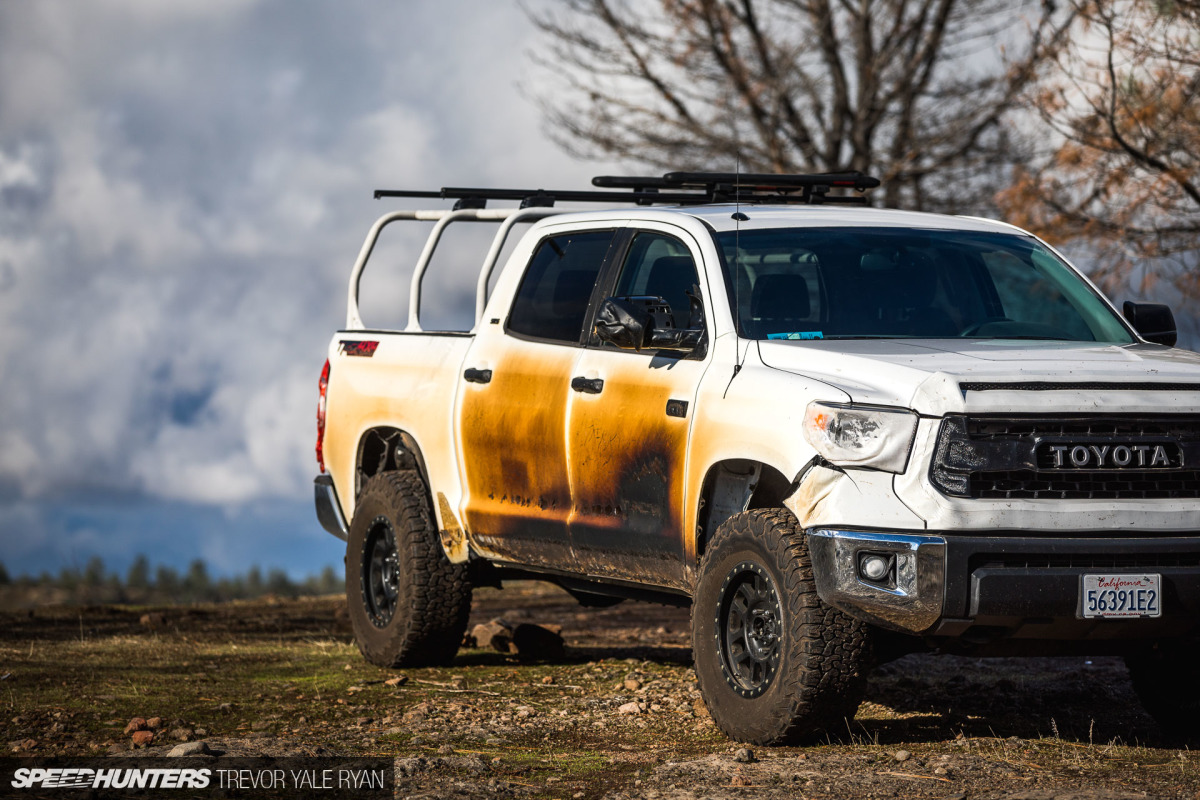 Allyn's Pandra account on Instagram had less than 200 followers before his "perfect marshmallow" post went absolutely viral. His account has 78,600 followers as of today, just a couple weeks later.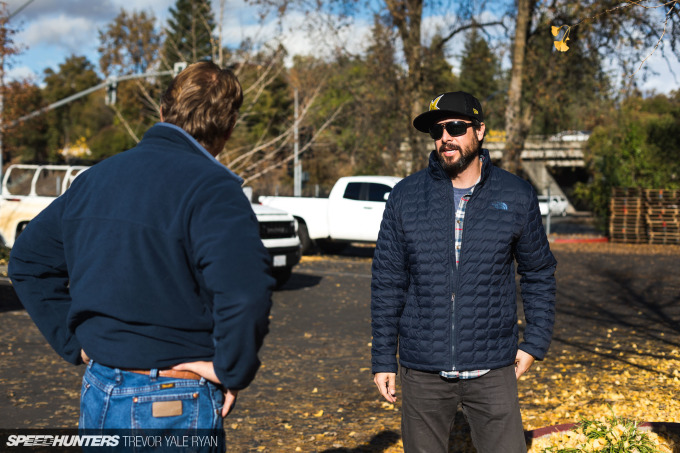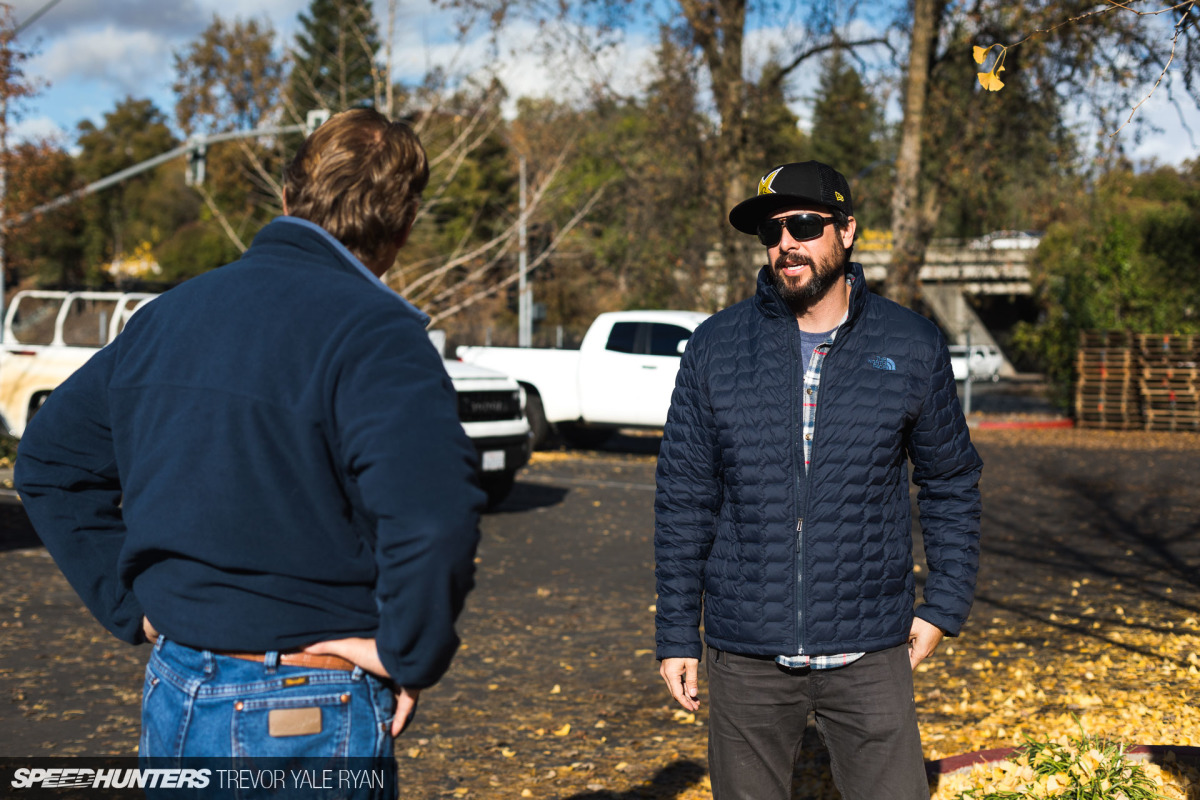 Allyn definitely appreciates the support he's received, but it's clear he's trying to adjust to his new social media audience — as well as the attention that comes any time he takes out the original Pandra — in the midst of disaster around him.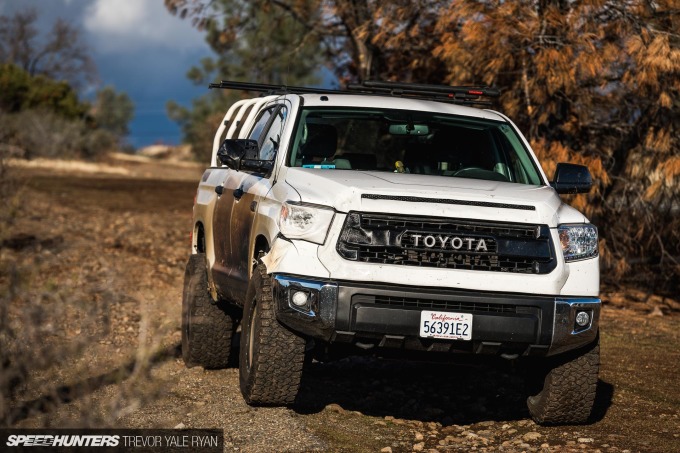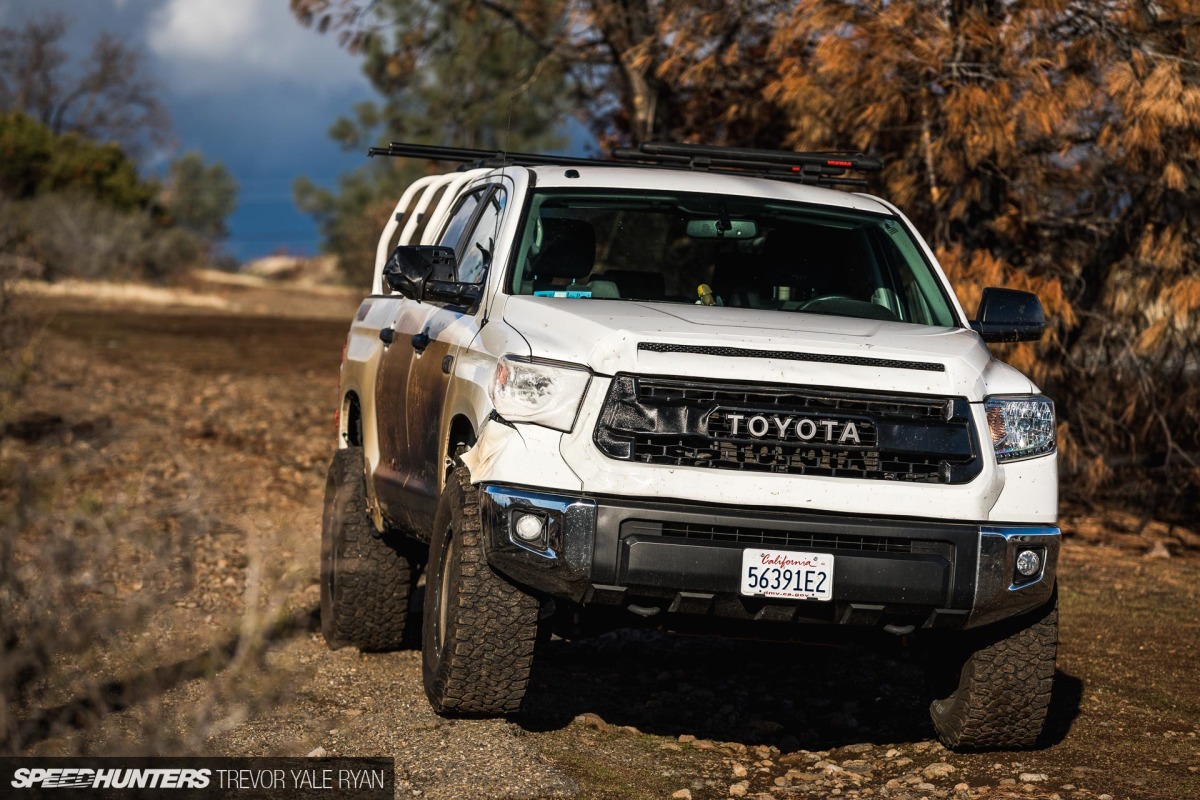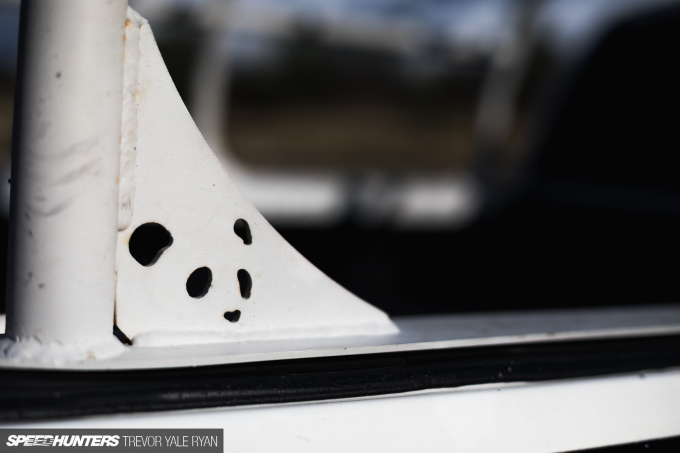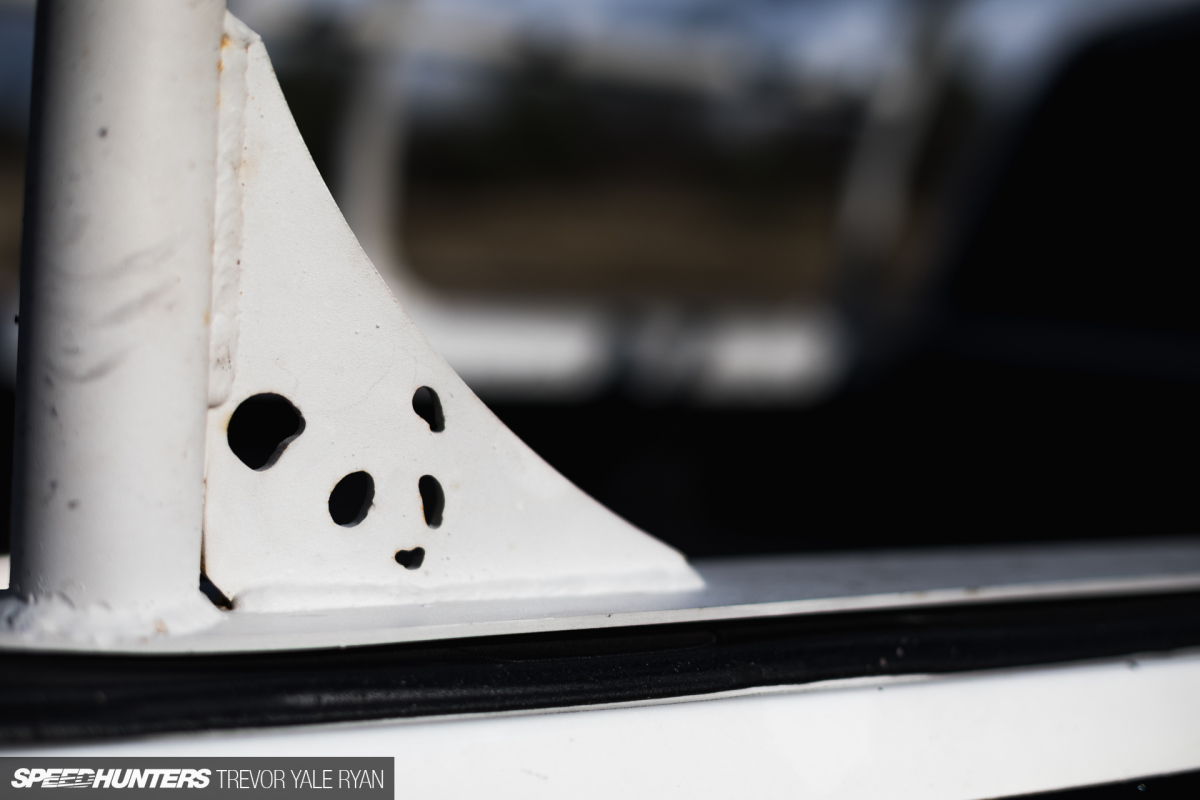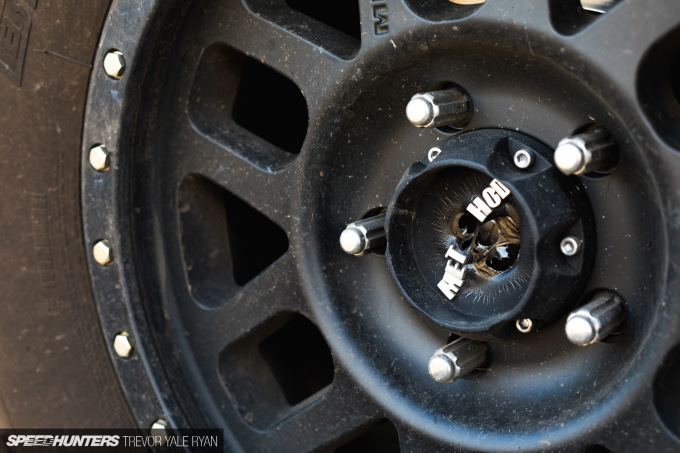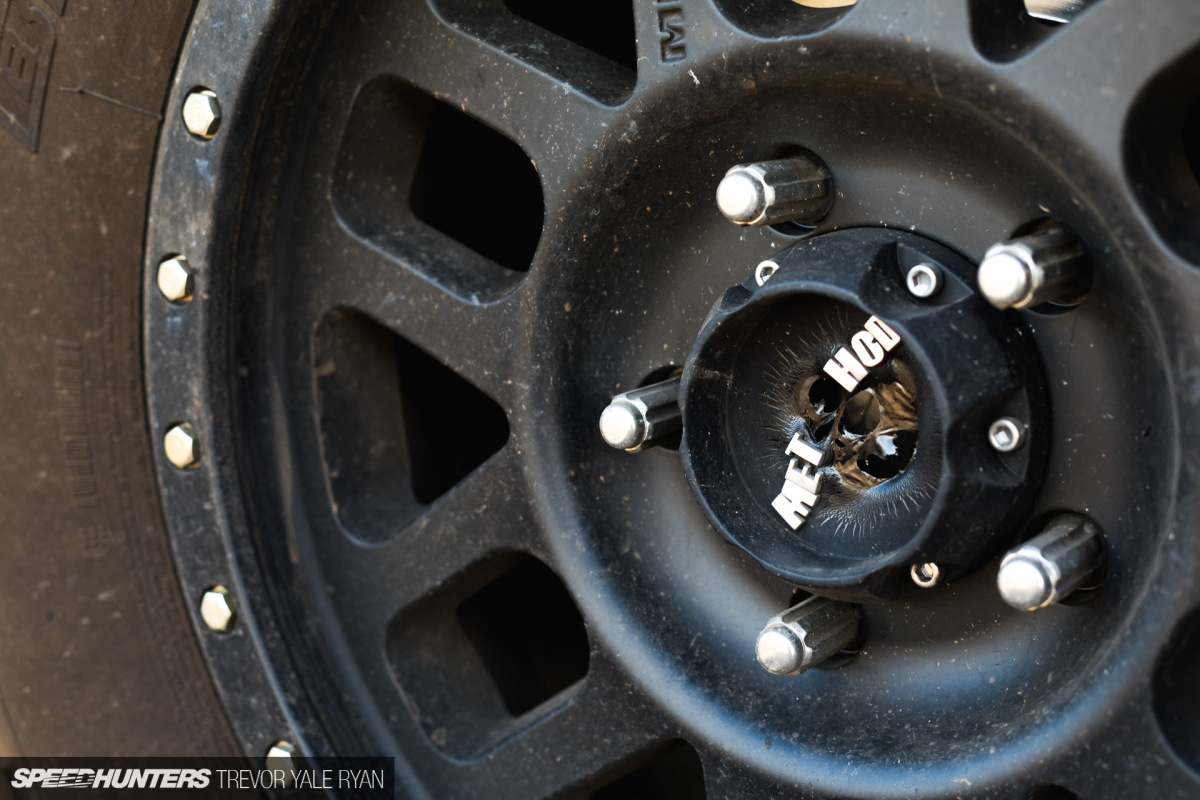 You can see that Allyn modified the Toyota as any of us might have, adding Icon suspension bits, Method Race Wheels and beefy 35-inch BFGoodrich All-Terrains. He also pointed out the rack which he built together with his nephew and brother in law at a local shop; it even has little panda gussets.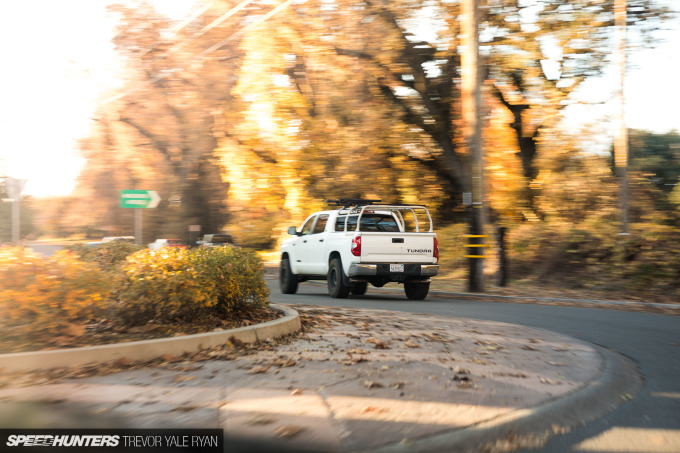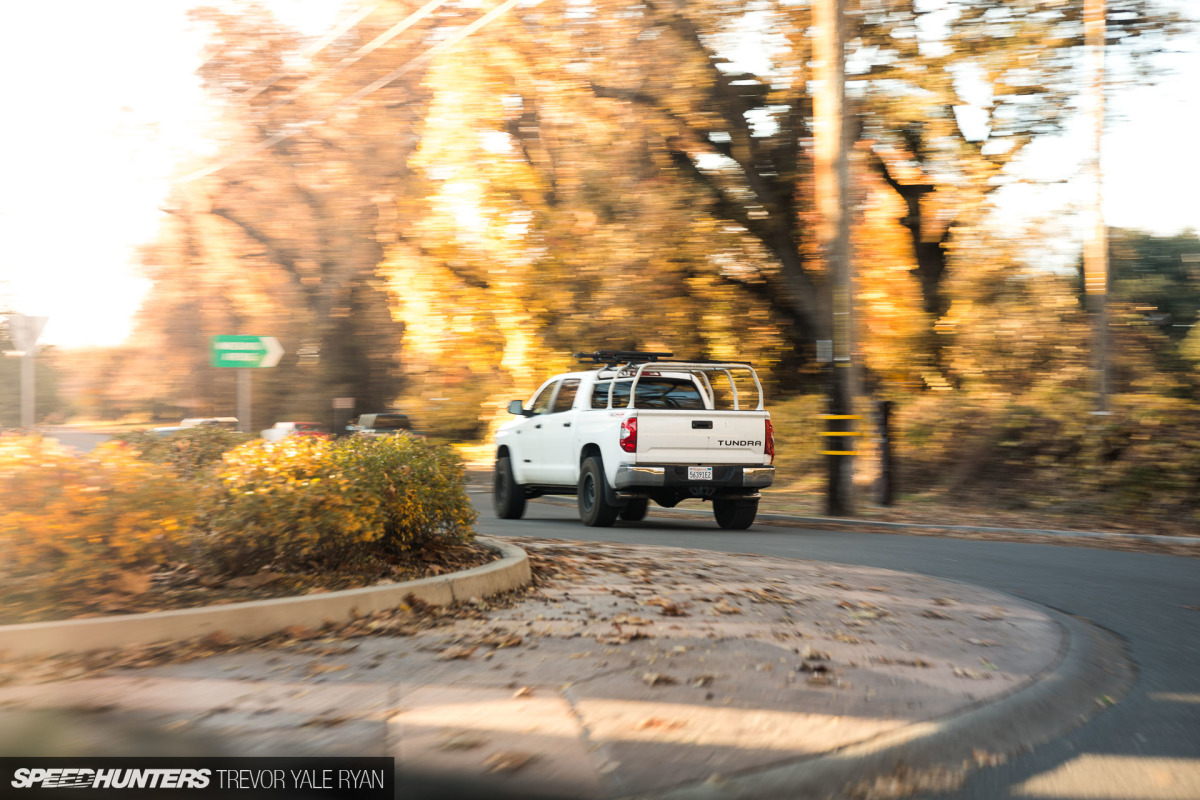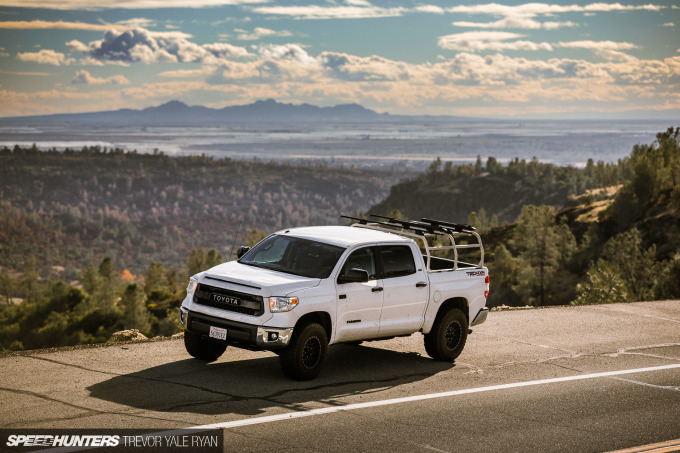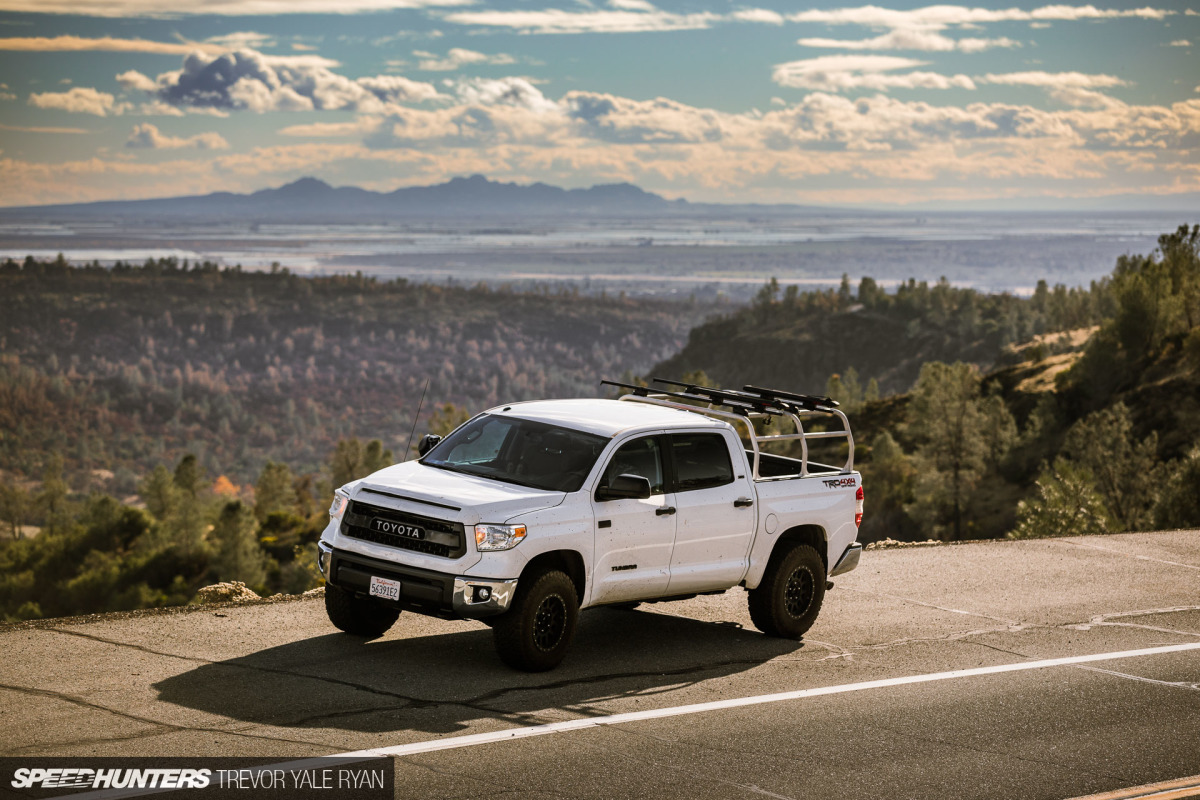 It still has a good side, too, although Allyn admits there's no way he's going to try to resurrect this truck. There will undoubtedly be countless surprises if he were to tear into it, and he didn't even want to open the hood for fear of anything falling apart. Still, after all the truck went through, there isn't even a Check Engine Light to speak of.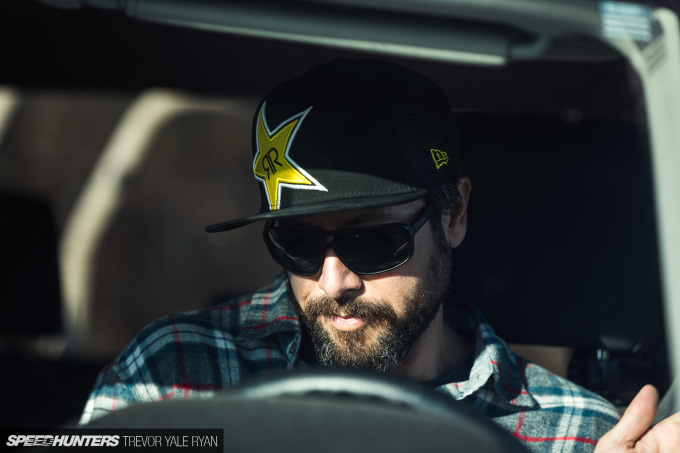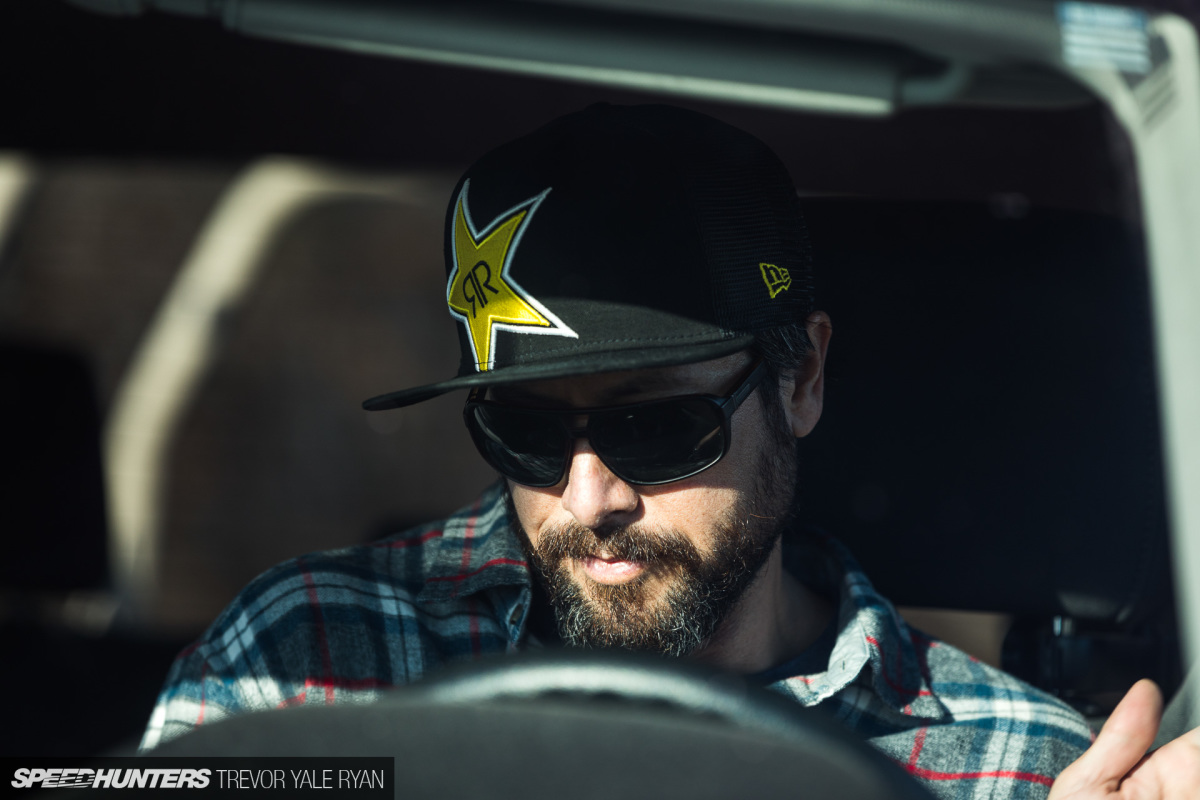 Allyn's love for Toyotas started with an FJ60, a project that he worked on with his dad. They were the second owners of the Land Cruiser and Allyn still has it today, only now with well over 200,000 miles on the clock.
From there he picked up a Tacoma, and although he loved it he says it wasn't really sized right for him; "the defroster would hit me in the face!" Passing this on to his nephew, Allyn stepped up.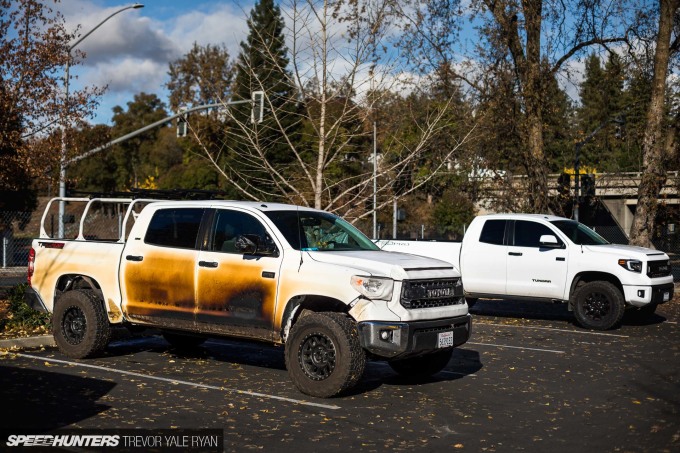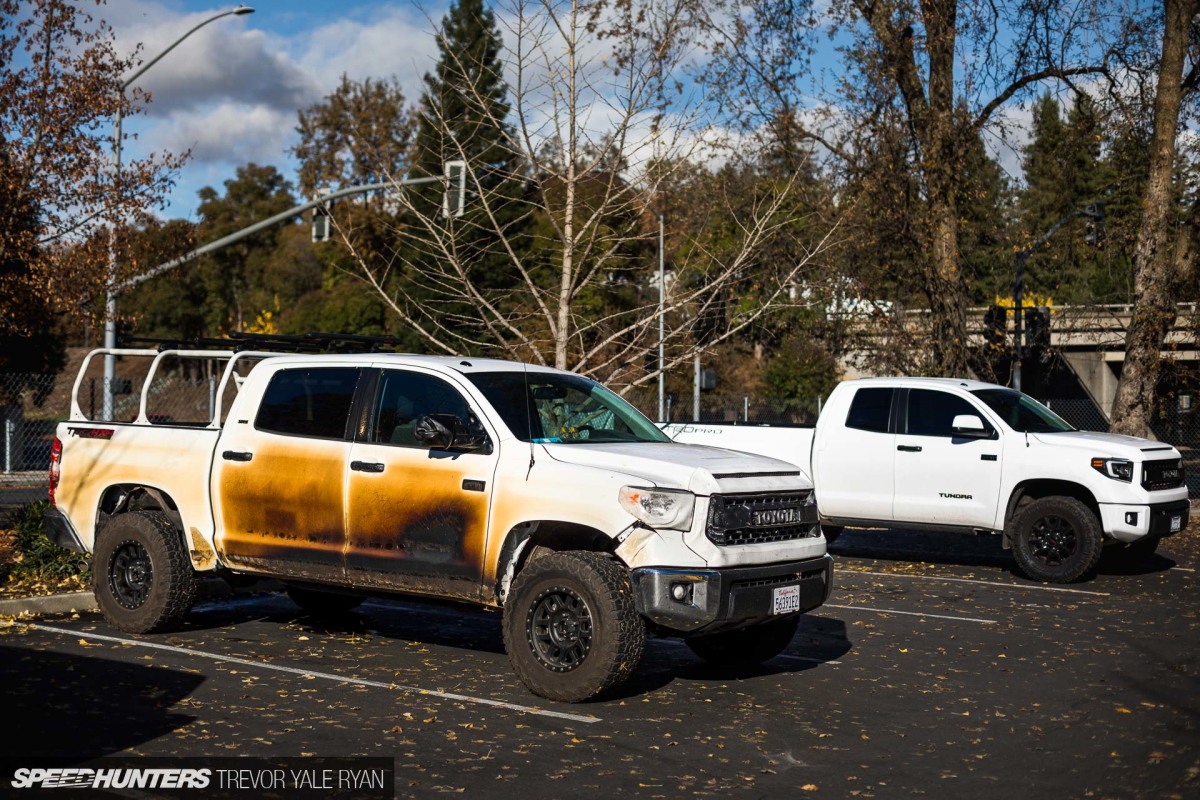 The Tundra is "the Cadillac." It's roomy, comfortable, useful, pleasant to drive, capable off-road, and has a strong aftermarket community. After what he's gone through in the pickup, he regards it as a friend.
Still, Allyn says he's definitely going to build up the Pandra 2.0 (this is not it pictured here, but rather a parking lot coincidence) and he's confident it'll be better than the first one was, but all in due time.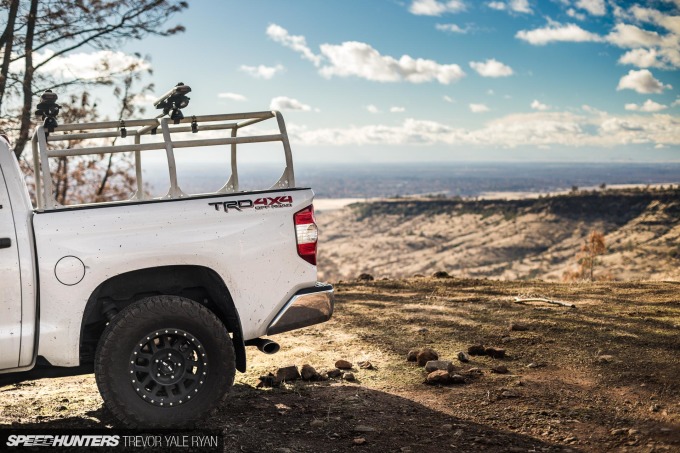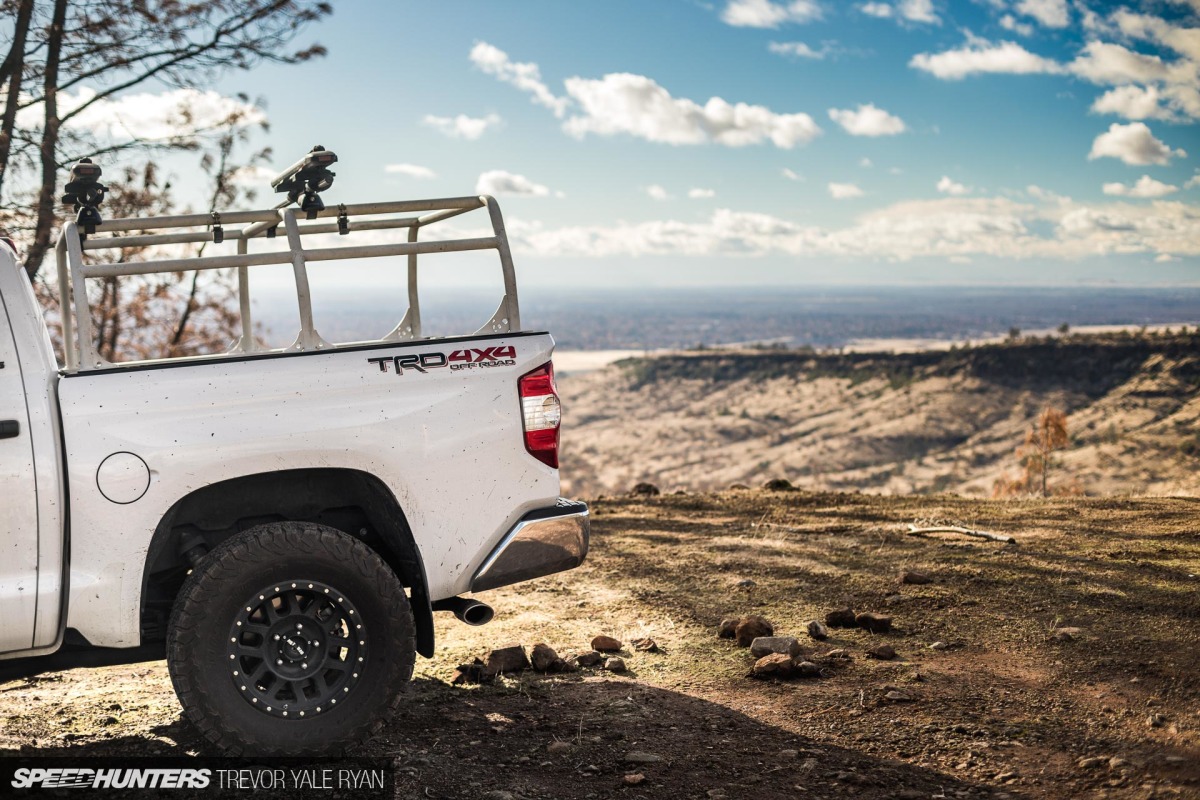 If you want to do something to contribute to California's fire relief, Allyn says you can text CAWILDFIRES to 90999 to donate $10 and until December 9th Toyota will be matching these donations. Allyn also mentioned that we consider donating to the North Valley Animal Disaster Group. If you're able, you can even rescue one of many displaced animals from the Camp Fire and find yourself with a new pet.
In the face of such devastation, it's the hundreds of little stories like Allyn's that are coming out of the Camp Fire which provide a silver lining to a dark situation. Despite so many losing so much, there is hope. Life does have a certain way of going on regardless.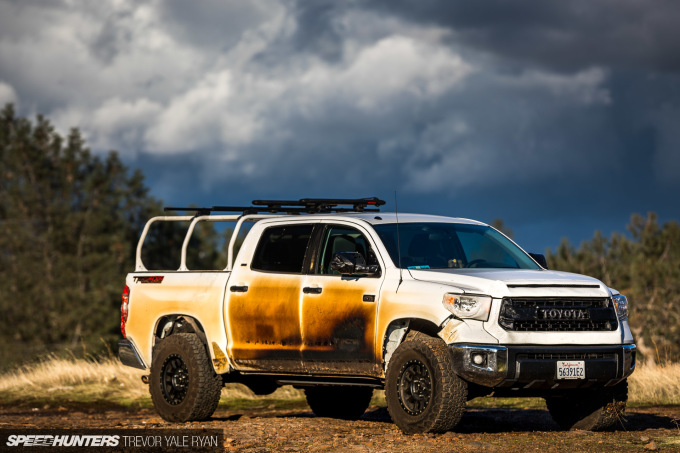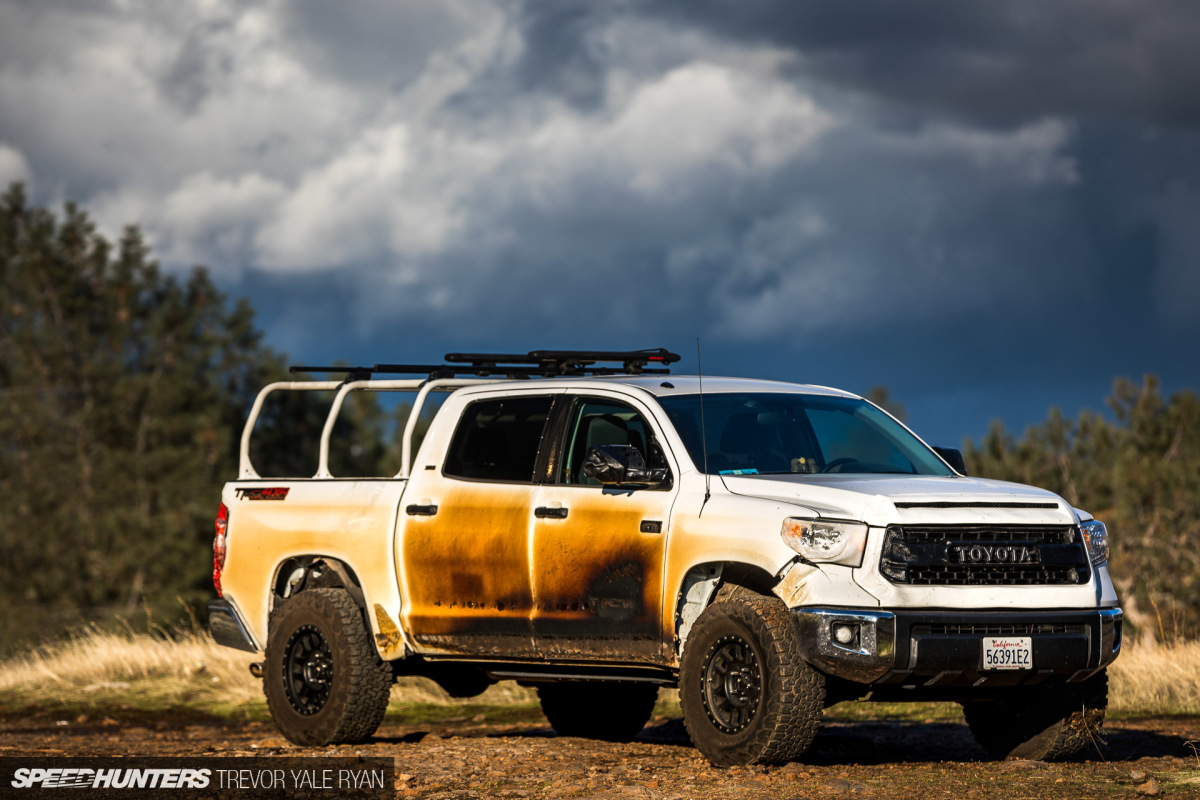 I count myself lucky to have been able to meet Allyn and spend some time with him. It's always reassuring to know that there are indeed people behind the cars (and trucks) we see on the internet.
And, often, they are some of the best people in the world.
Trevor Yale Ryan
Instagram: tyrphoto
TYRphoto.com
Perfect Marshmallow