Risk Versus Reward
Amazing roads, high-paced action, drama, misadventures, victory, and defeat. All of this happened without a single World Rally Championship car in sight.
This is not going to be a typical Speedhunters story. Rather than focusing on Rally Australia 2018 itself, I'm going to take you behind the scenes and share my first day shooting WRC.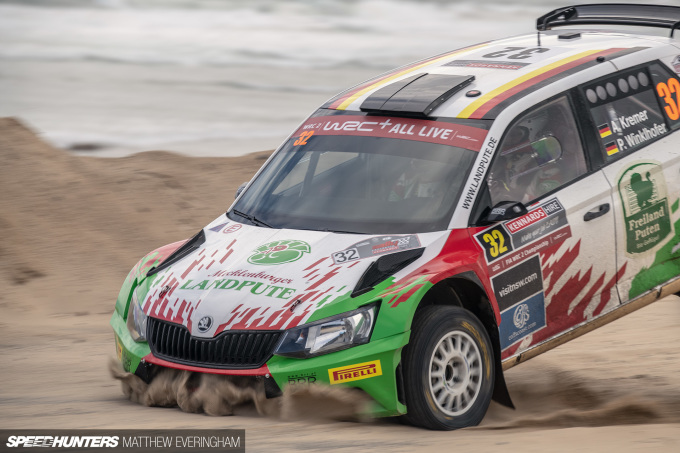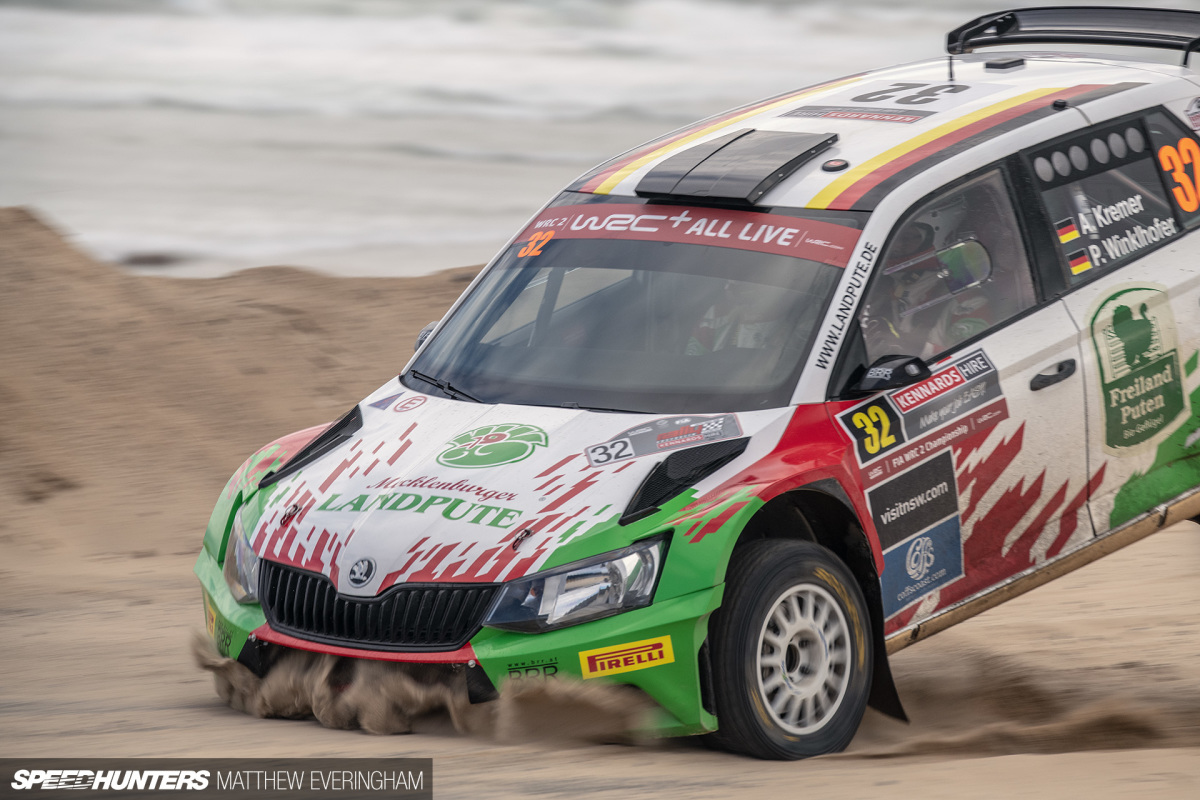 A discipline so very far from my usual comfort zone, but also a subject that has hooked me completely.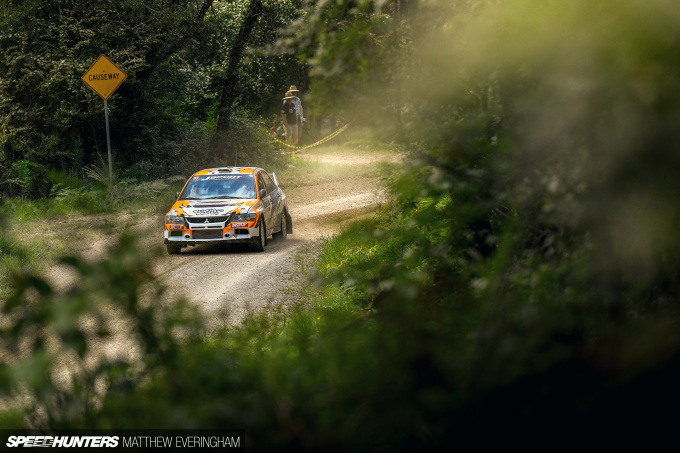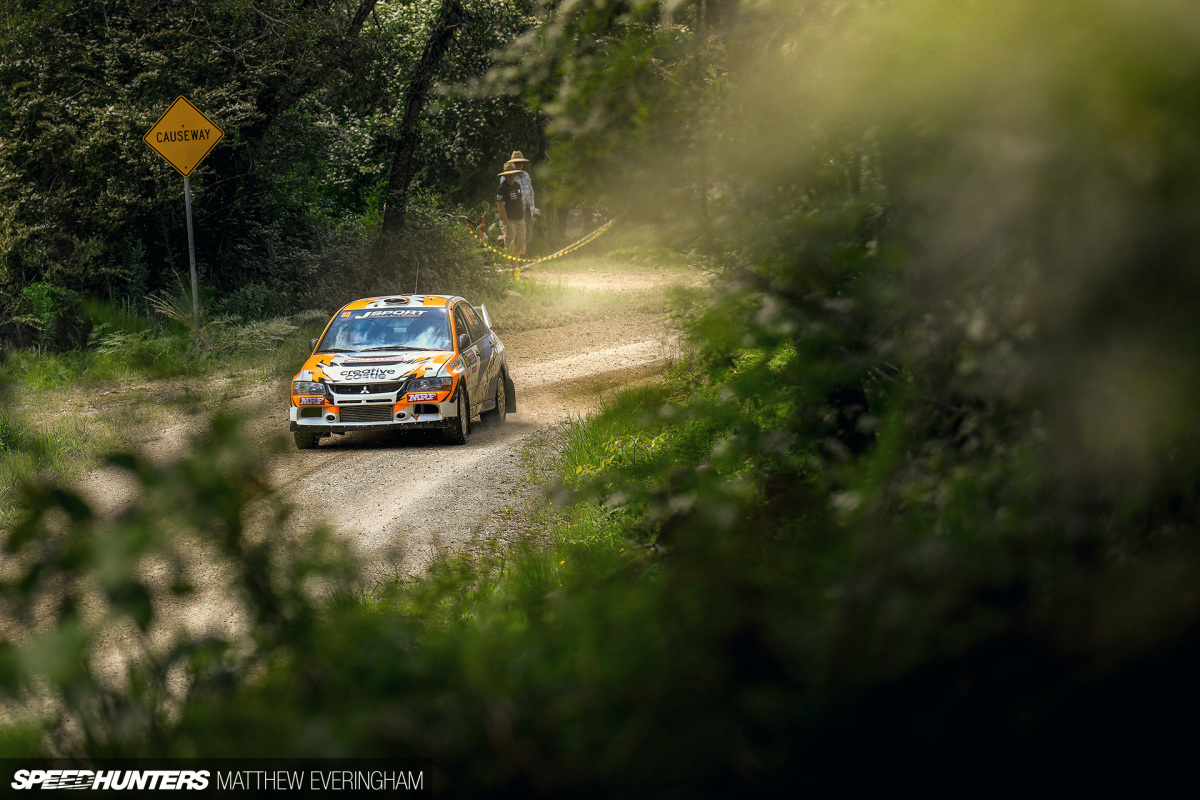 Usually, my motorsport coverage takes to the safe and simple fence of whatever purpose-built race track I'm attending. Capturing the action couldn't be easier. Often, quite literally, a walk in the park.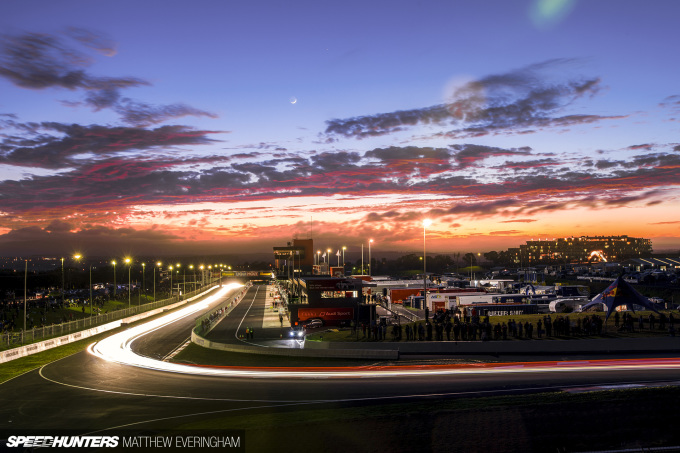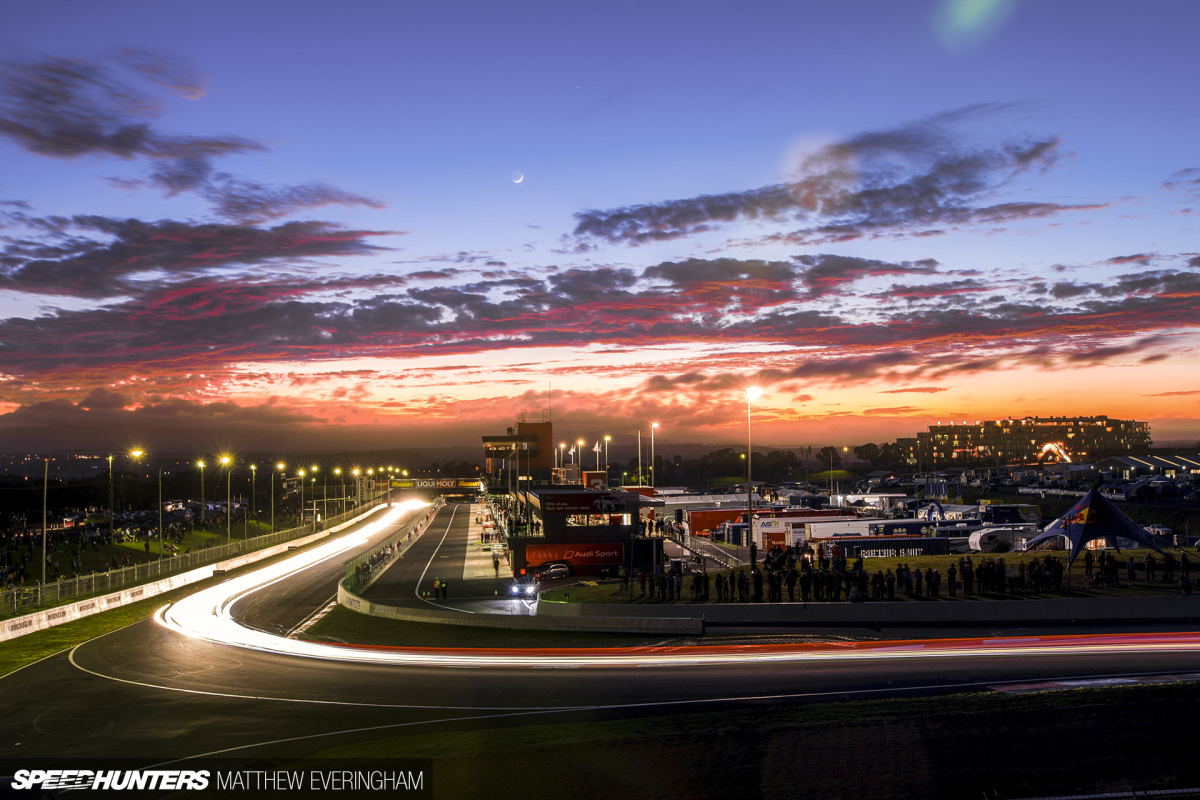 Stroll along the perimeter, find a point of interest and blast off a few frames. Continue walking, fire off a few more shots when the cars come around again on the next lap. Cars go around and around, while we reset and wait. Rinse and repeat.
See, simple.
Shooting trackside is a very different scenario to rallying, when you're shooting in the wild, chasing cars through dense forests and remote bushland, sometimes hundreds of kilometres from your make-shift operation base.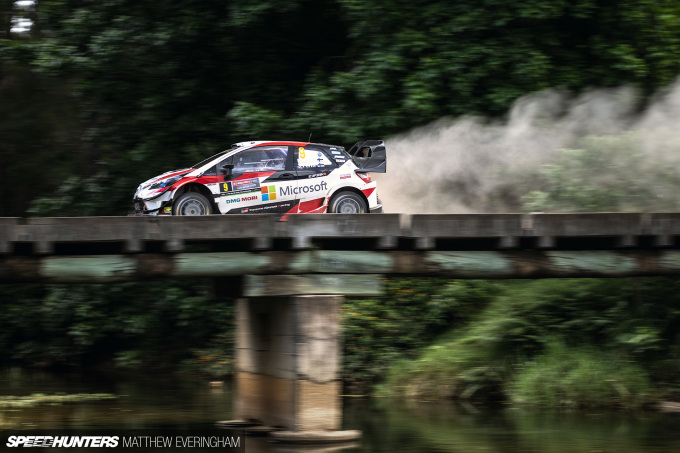 Not to mention that there's usually just one opportunity to nail that shot. Miss the moment, and you'll be waiting an entire year for another chance. Geez, no pressure.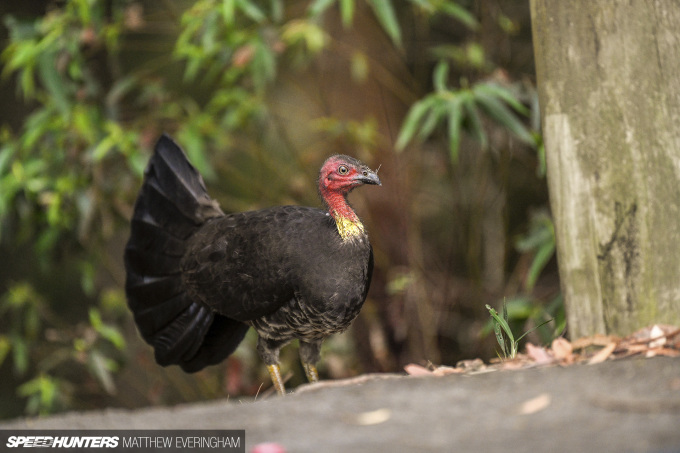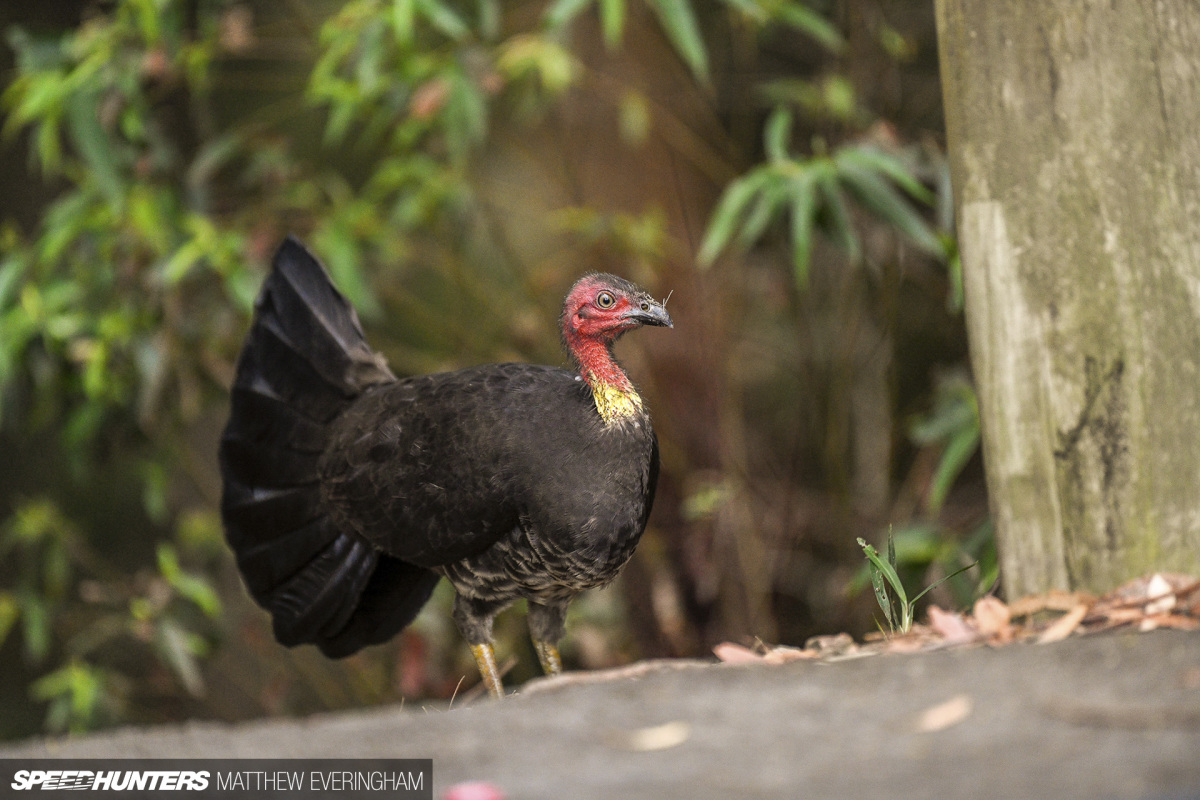 In the more remote special stages, wildlife and insects replace the track side spectators. Some are friendly, some not so much.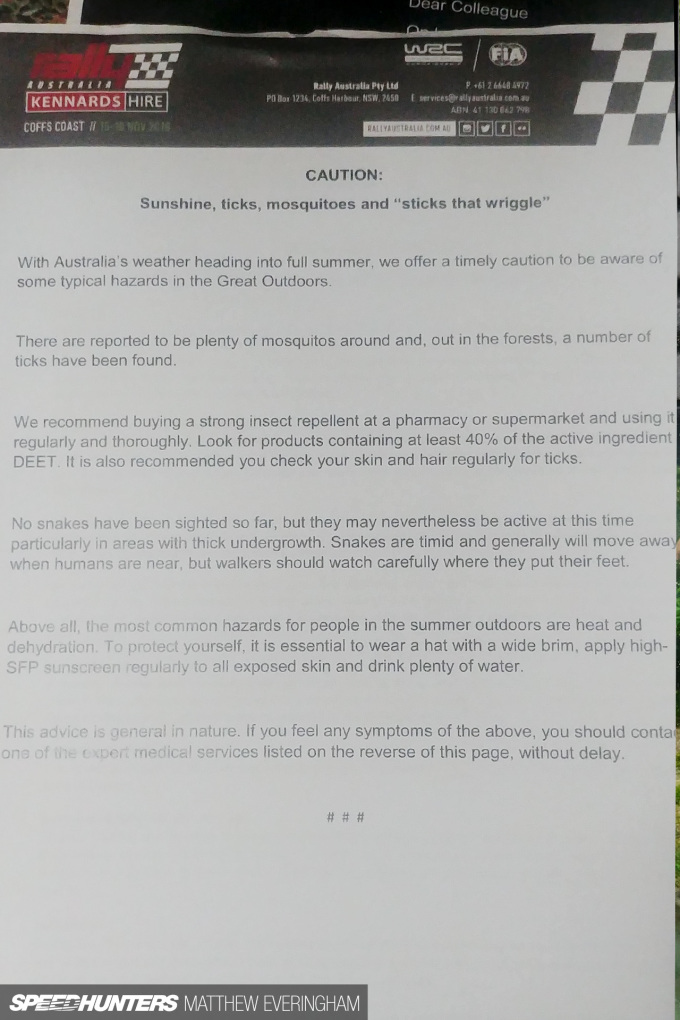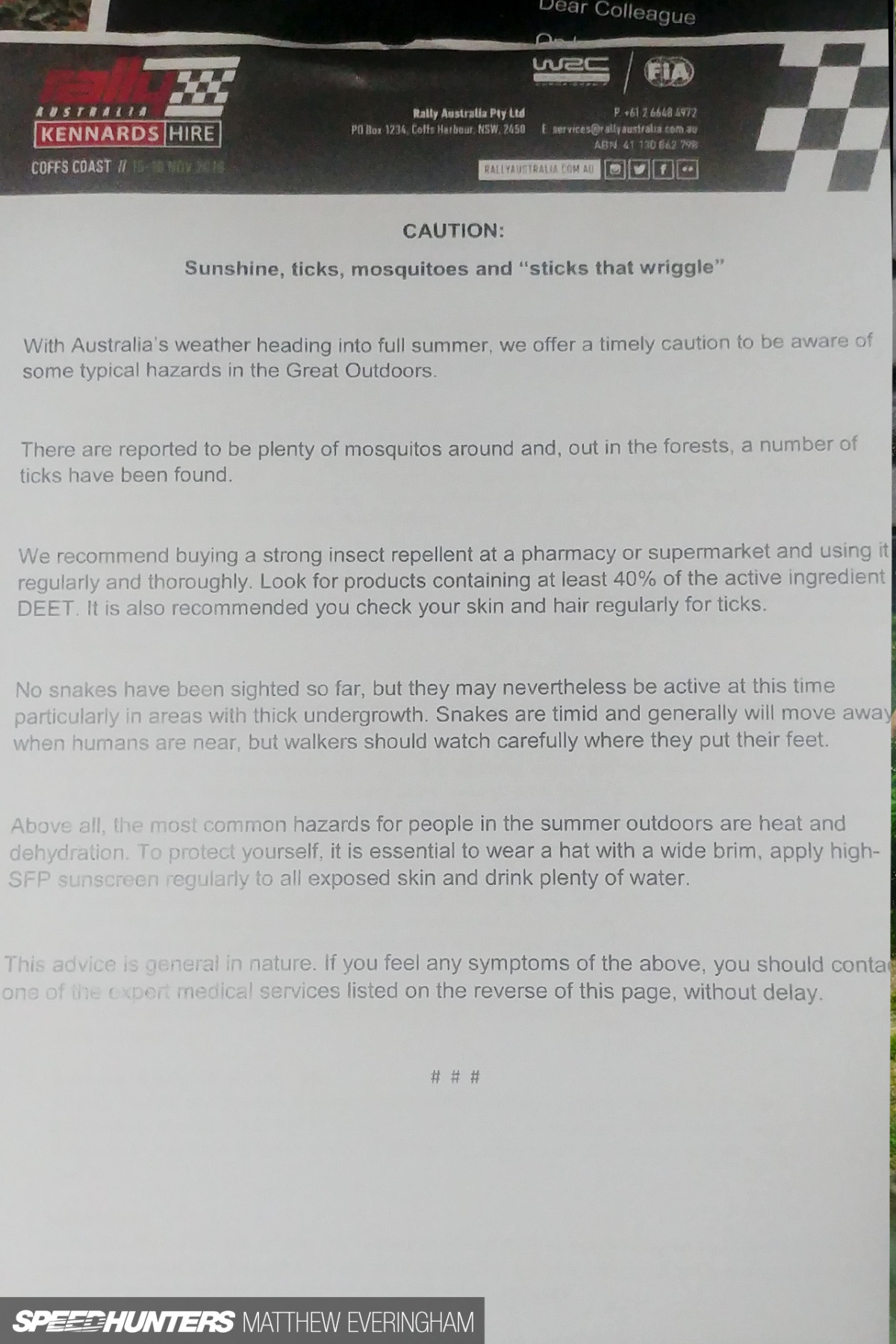 Despite Australia's reputation for its angry fauna, with a little common sense it's more something to be mindful of rather than scared of.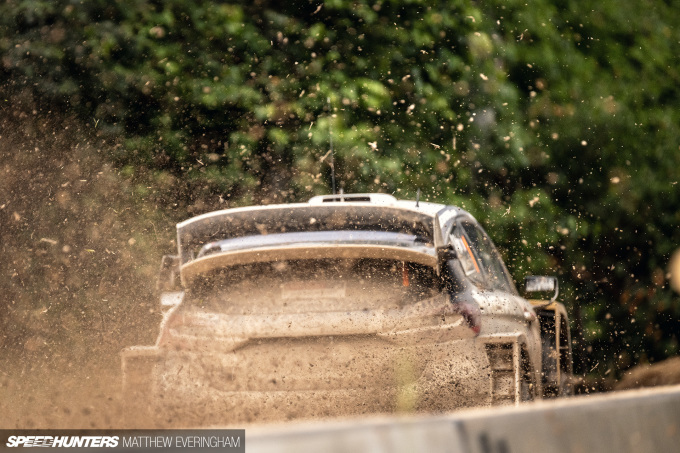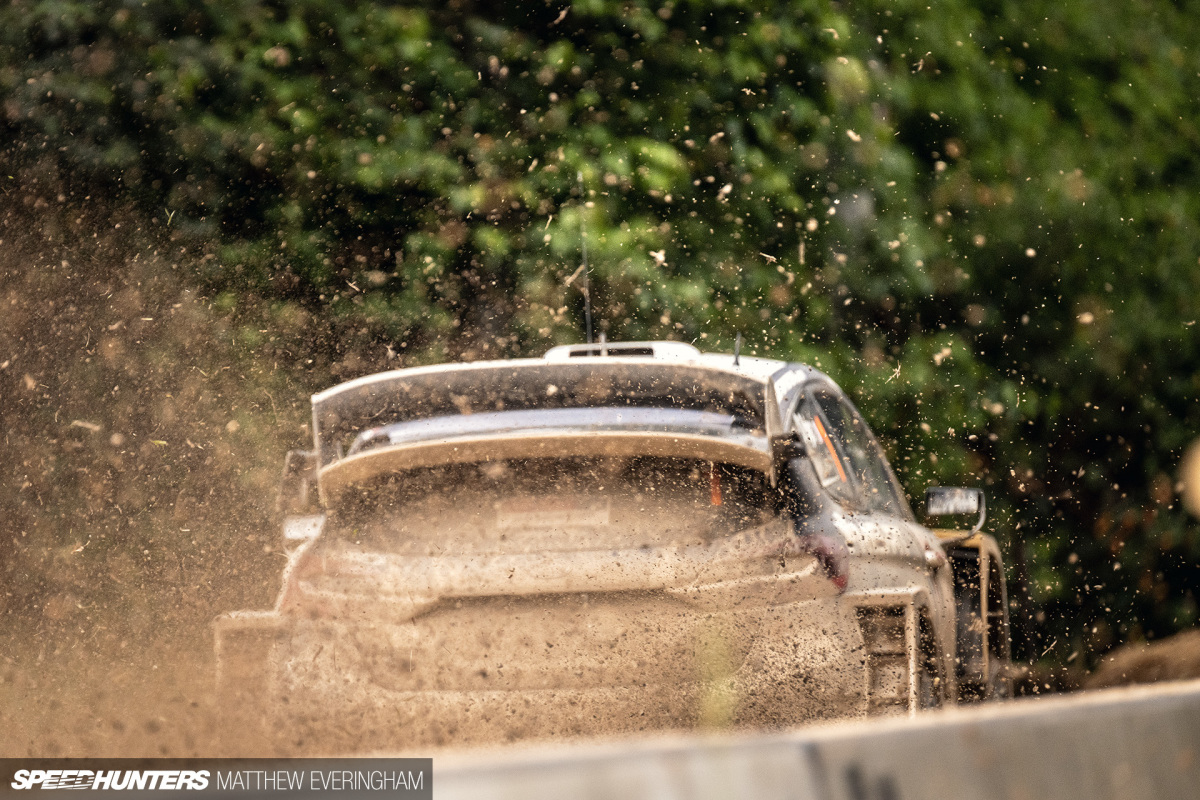 All of these issues were further compounded by both my lack of local knowledge, and a complete lack of experience photographing rallying in general. Note to self: wear long pants next year.
Getting Started
As a rule, I keep my phone-tography strictly to social channels. Why? Because as far smartphone technology has come, it seems that the camera in my smartphone is, well, quite shit. I'm going to break that rule for this story though; sometimes the best camera is the one in your hand.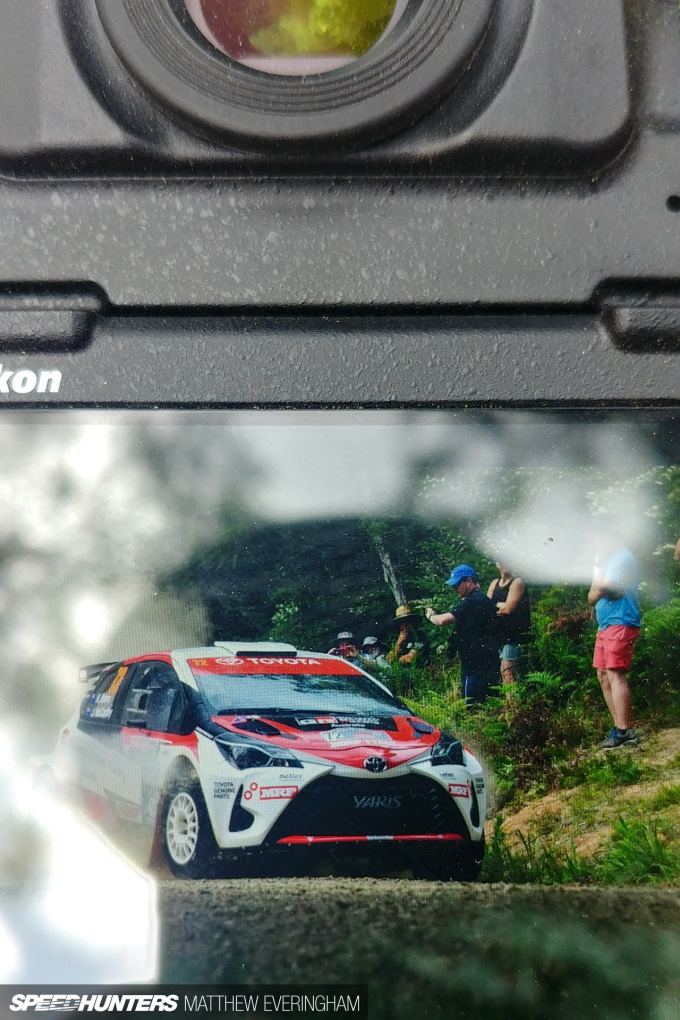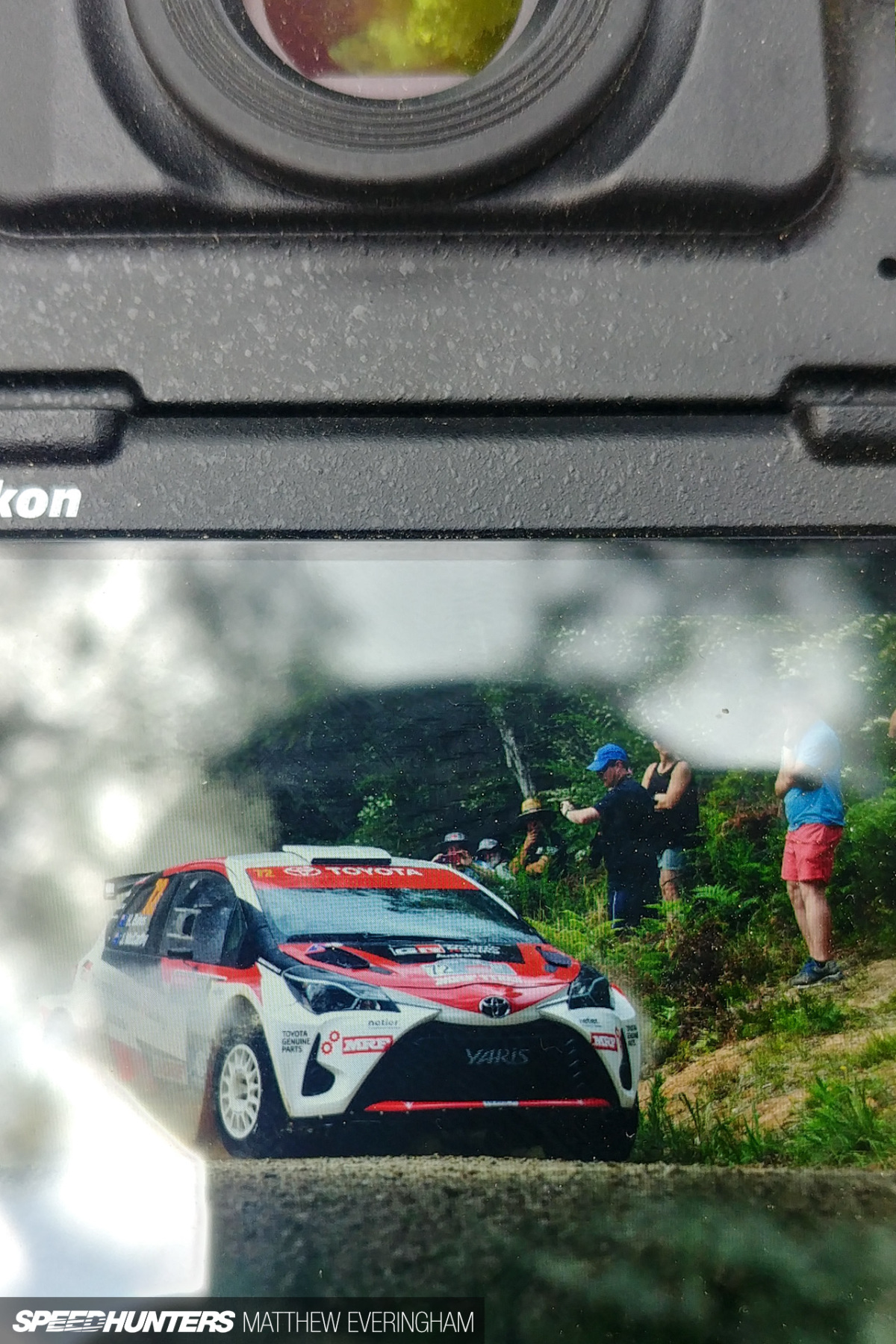 I only mention this, because some images I'll have to rely on to share the full experience were shot on my telecommunications potato. Disclaimers made, it's time to dive right into the adventure.
Since our first story Australian WRC story went live, I've had several people inform me of how lucky I am to have WRC so close to home. I'm not confident that six hours in a petrol-thirsty turbocharged Mitsubishi Lancer Evolution IX qualifies as 'close'. On a global scale, I guess it might it be?
Distance is always relative, right?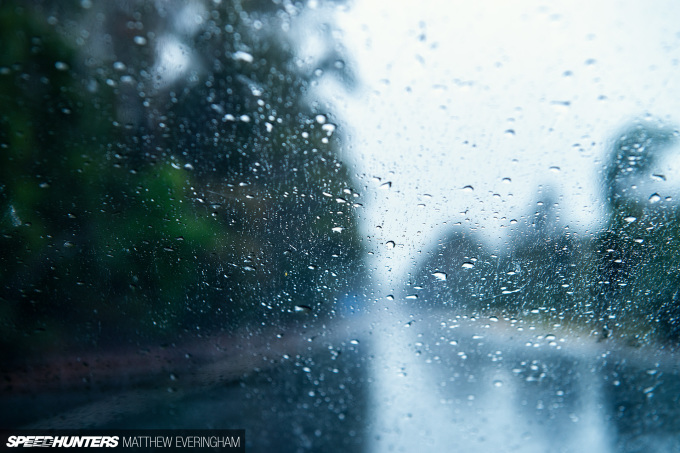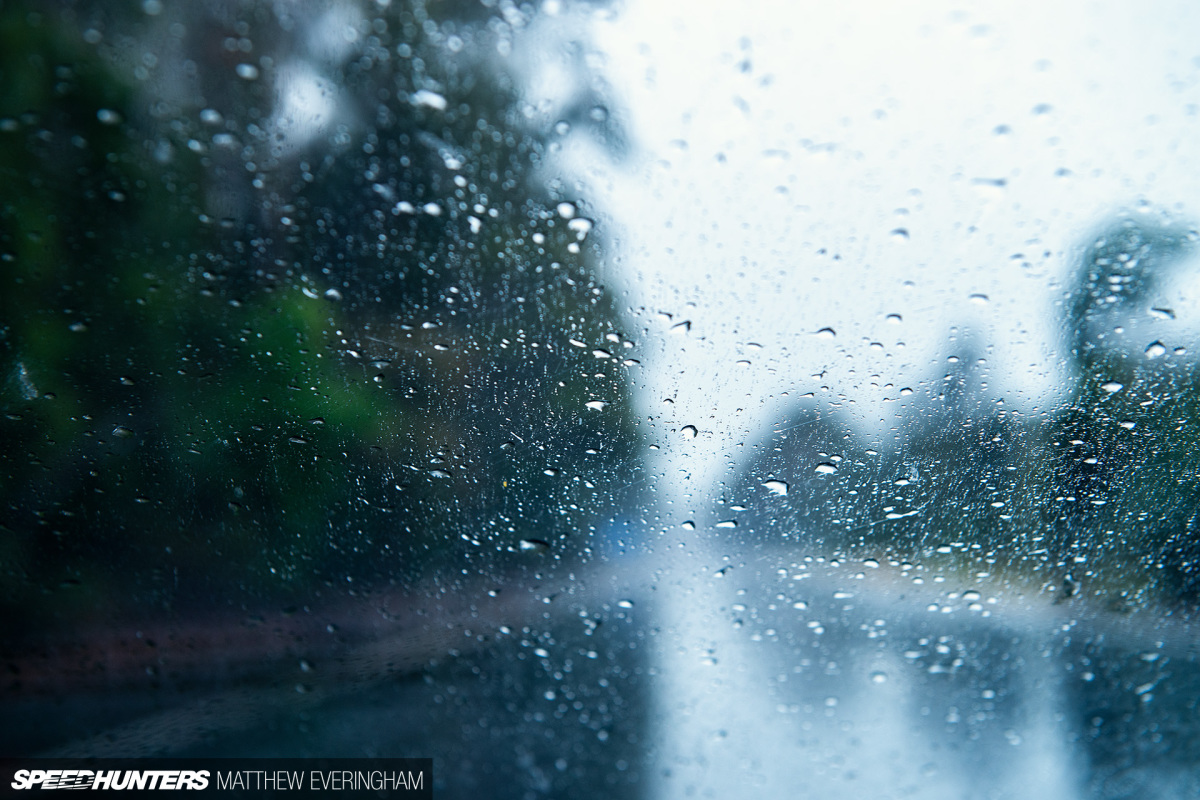 Regardless, the cruise north from Sydney to tropical Coffs Harbour was a welcome break to the routine. Long highway trips are usually quite boring, but throw in some inclement weather and you'll finish the trip with a closer bond to your vehicle of choice.
This was my first time stopping for longer than a McPitstop at Coffs Harbour, so I made sure to check out at least a few non-automotive touristy attractions. Insert Big Banana jokes here.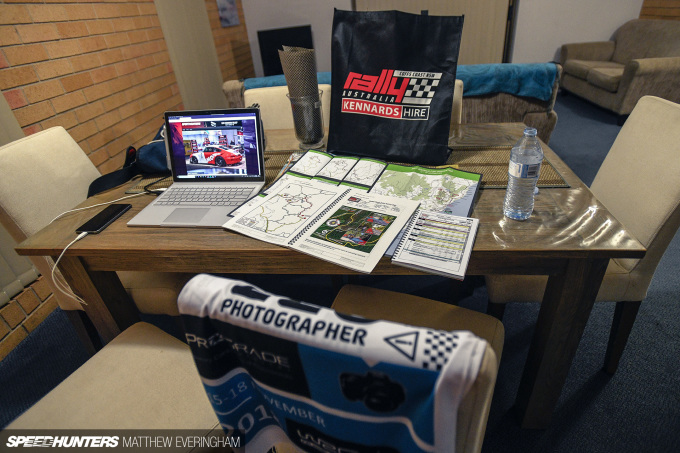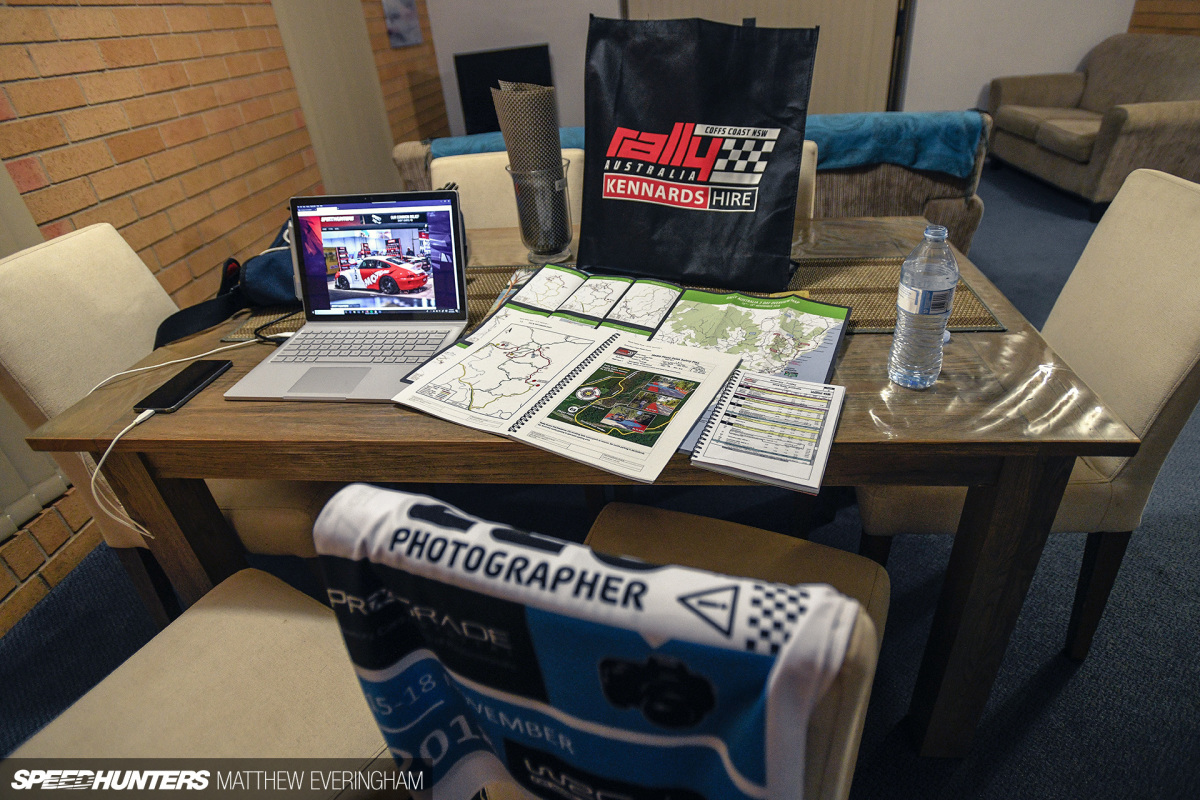 With the tourist tasks completed and media accreditation sorted, it was time to retire to my cabin and begin planning out the following day.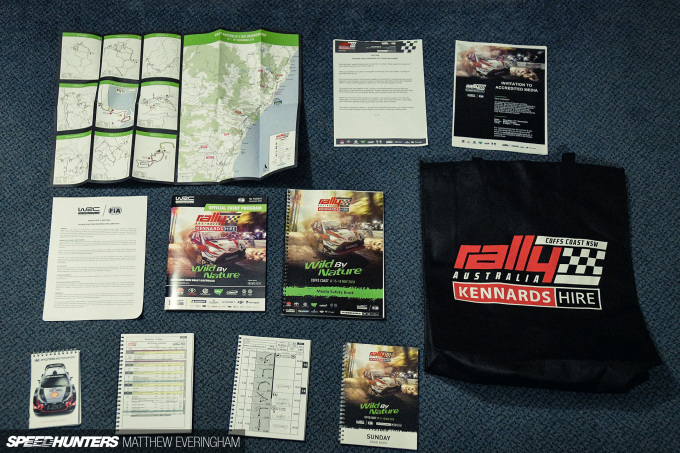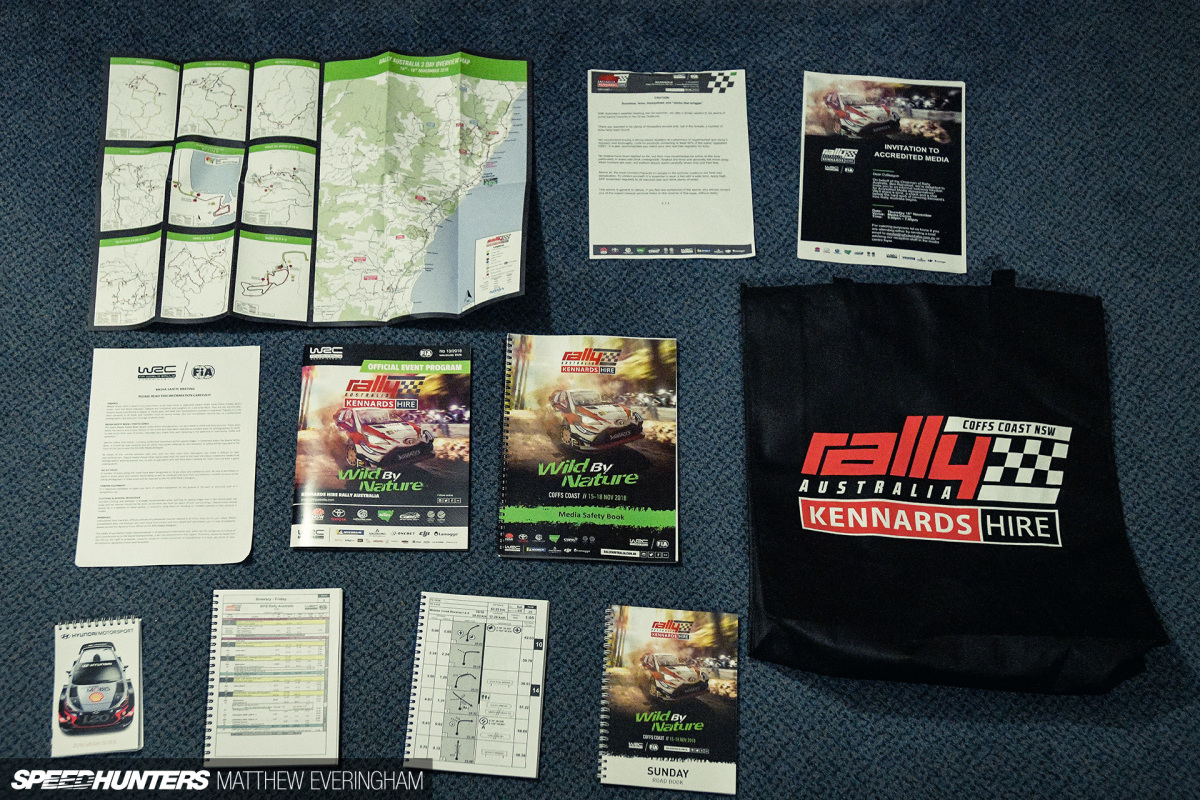 As I fumbled through information booklets, tear sheets, some 20 odd maps, and the realization I had a minimal idea of what tomorrow's format on stage would be, a wave of apprehension rose.
Had I bitten off more than I could chew this time?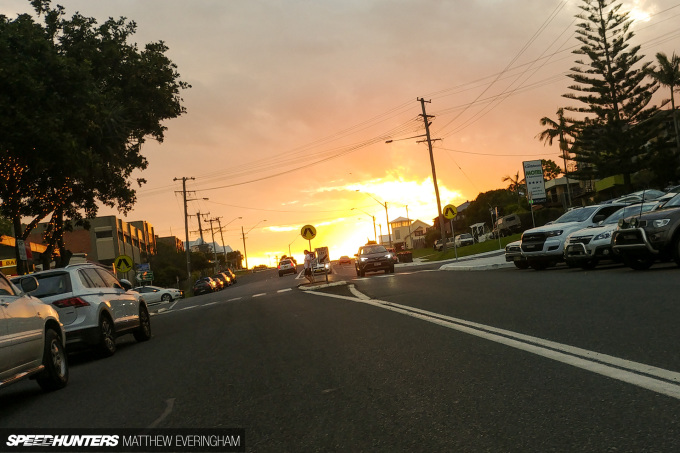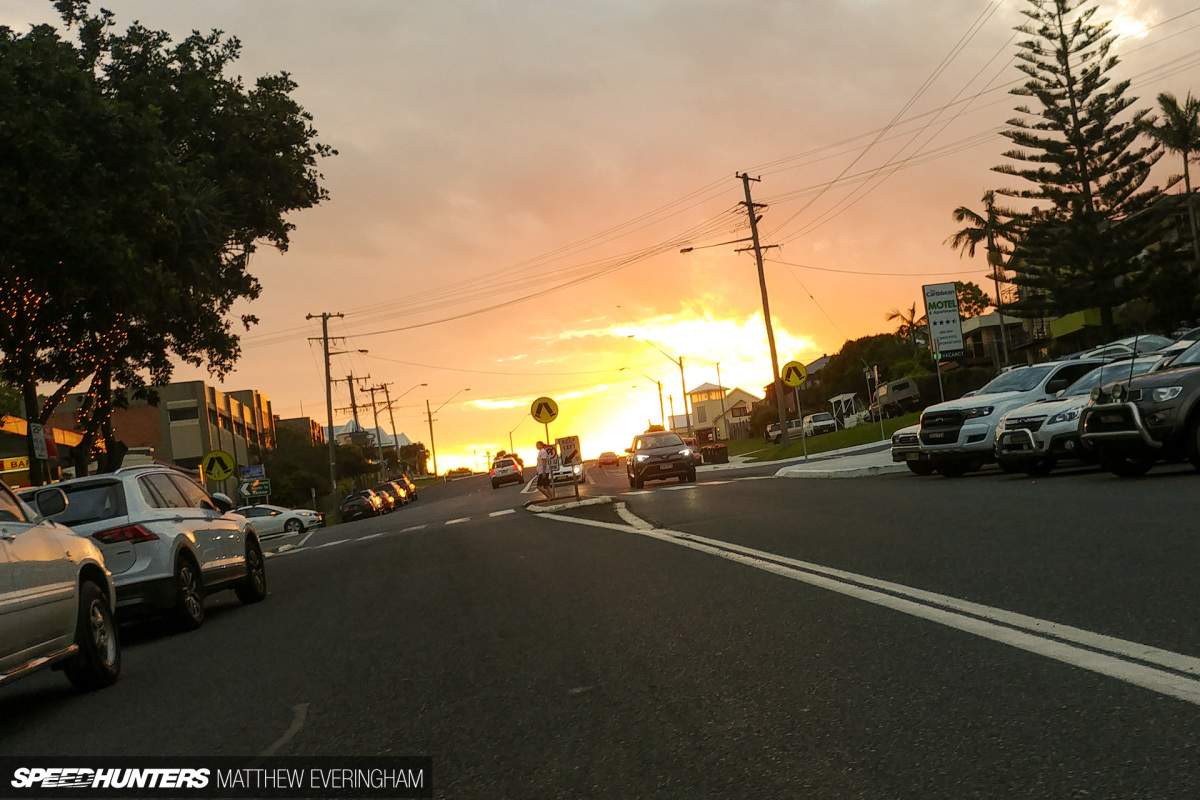 Lady Luck was on my side. A sold-out restaurant strip and a chance encounter with an old photo buddy at dinner would make tomorrow's start infinitely easier.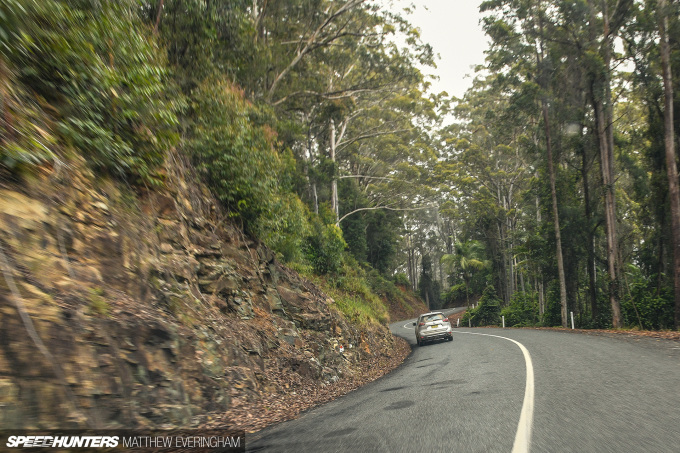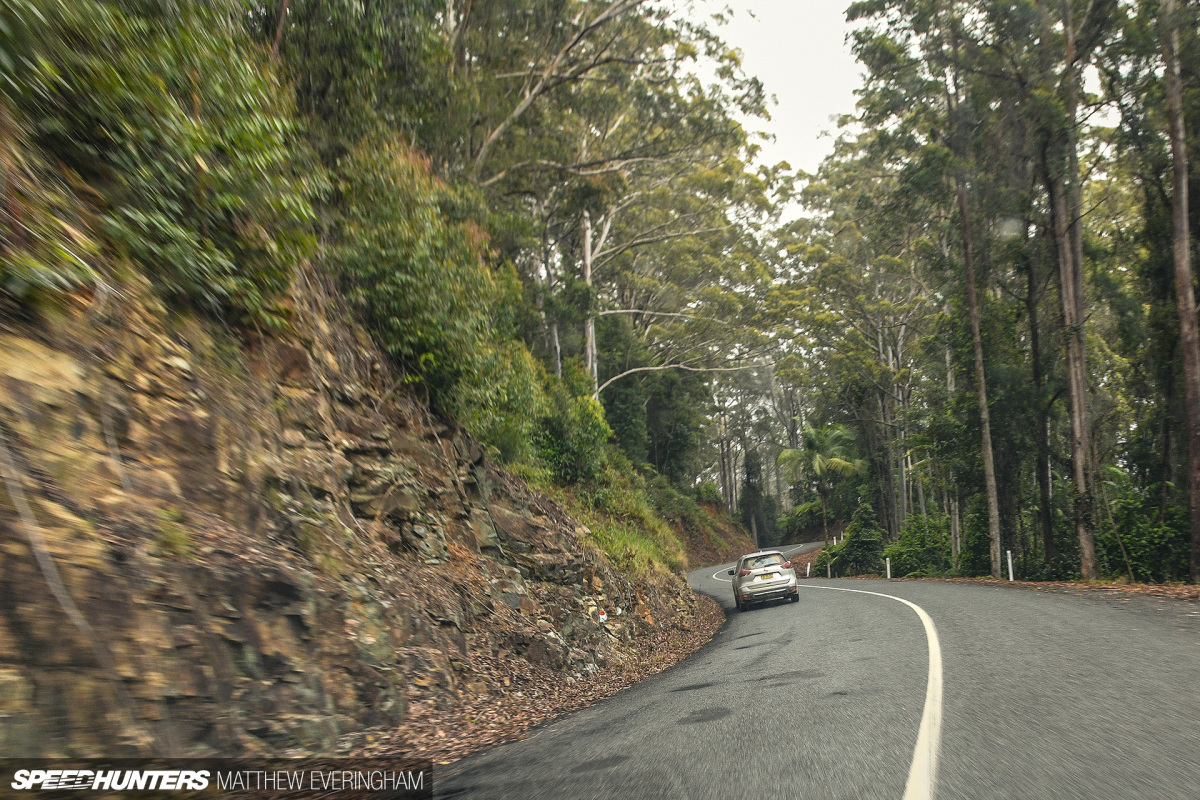 That photographer was Warren Kirby, a veteran of shooting Australian rally. In fact, overhearing old rally stories of Warren and a close friend of his, Bob Seary, were partially responsible for my pursuit of automotive photography. (Thanks guys!)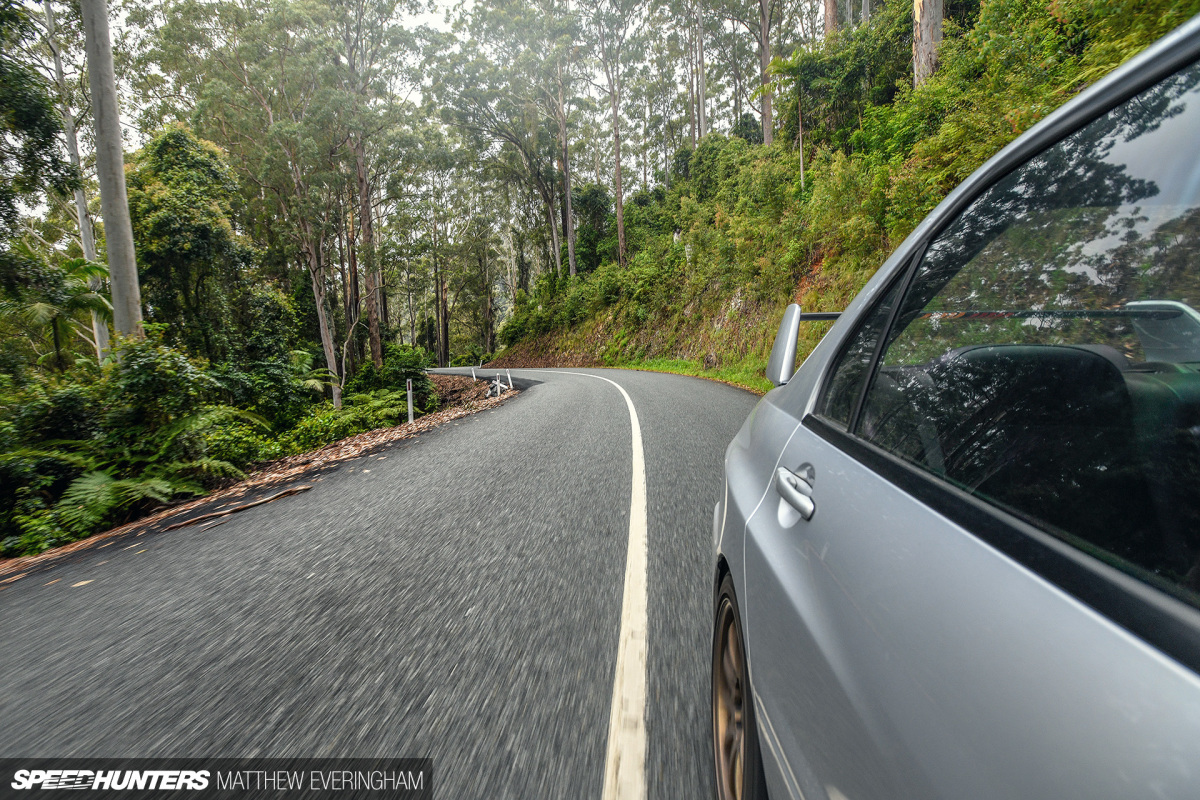 Warren had agreed to let me follow in convoy to Friday's first special stage. I'm glad he did too, as I would have never made it there unassisted. The drive out was incredible, giving me the opportunity to sample the very best driving roads I've experienced in Australia.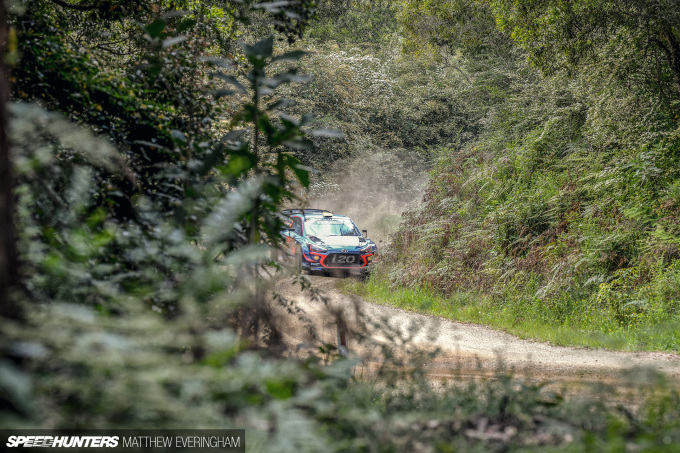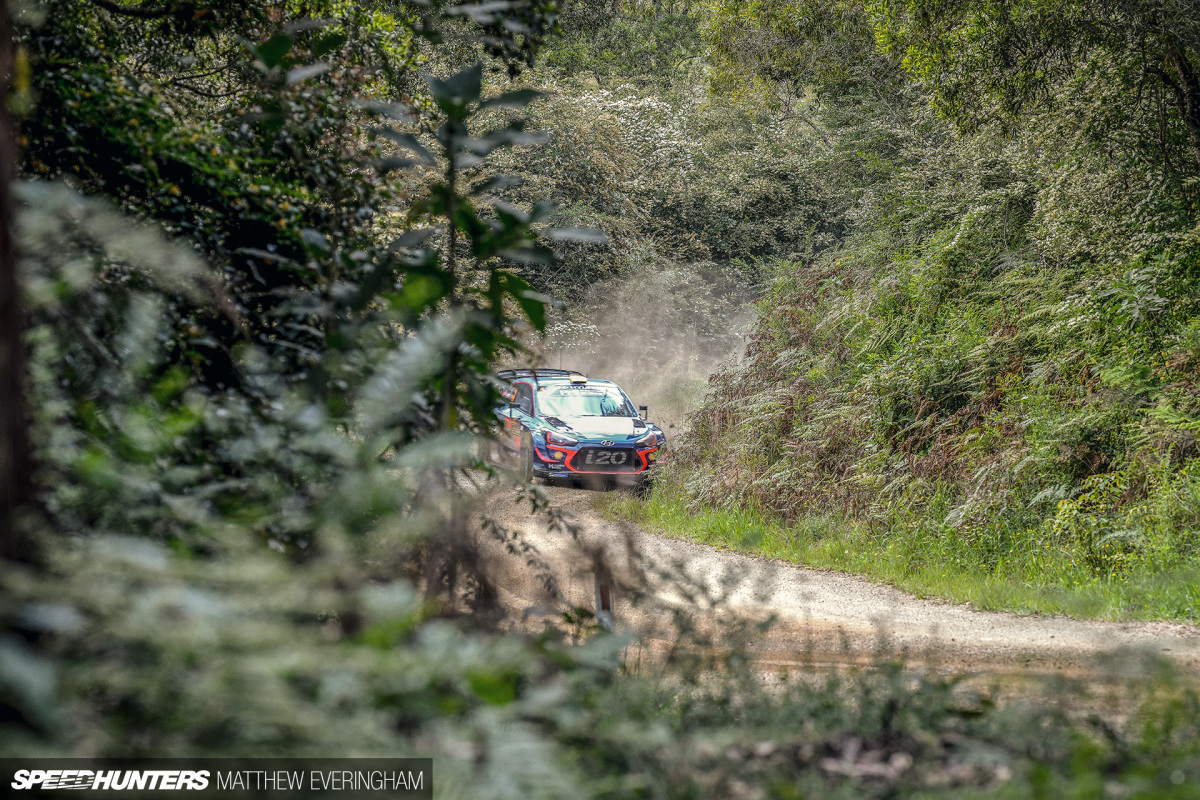 We arrived just in time. I opened my car door to the sounds of a helicopter buzzing the treetops and the first competitor ripping through the state forest.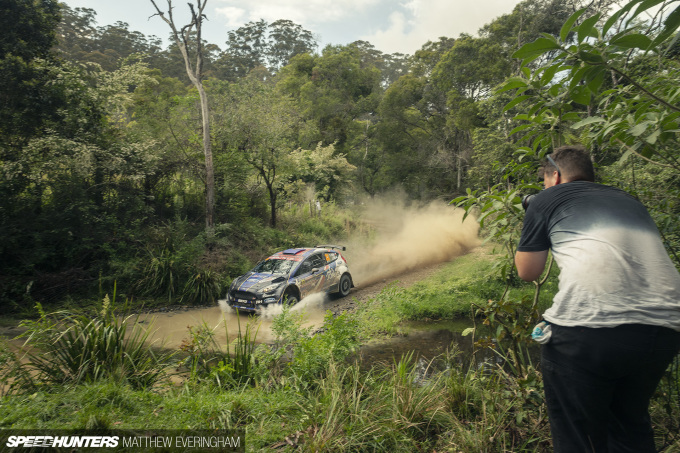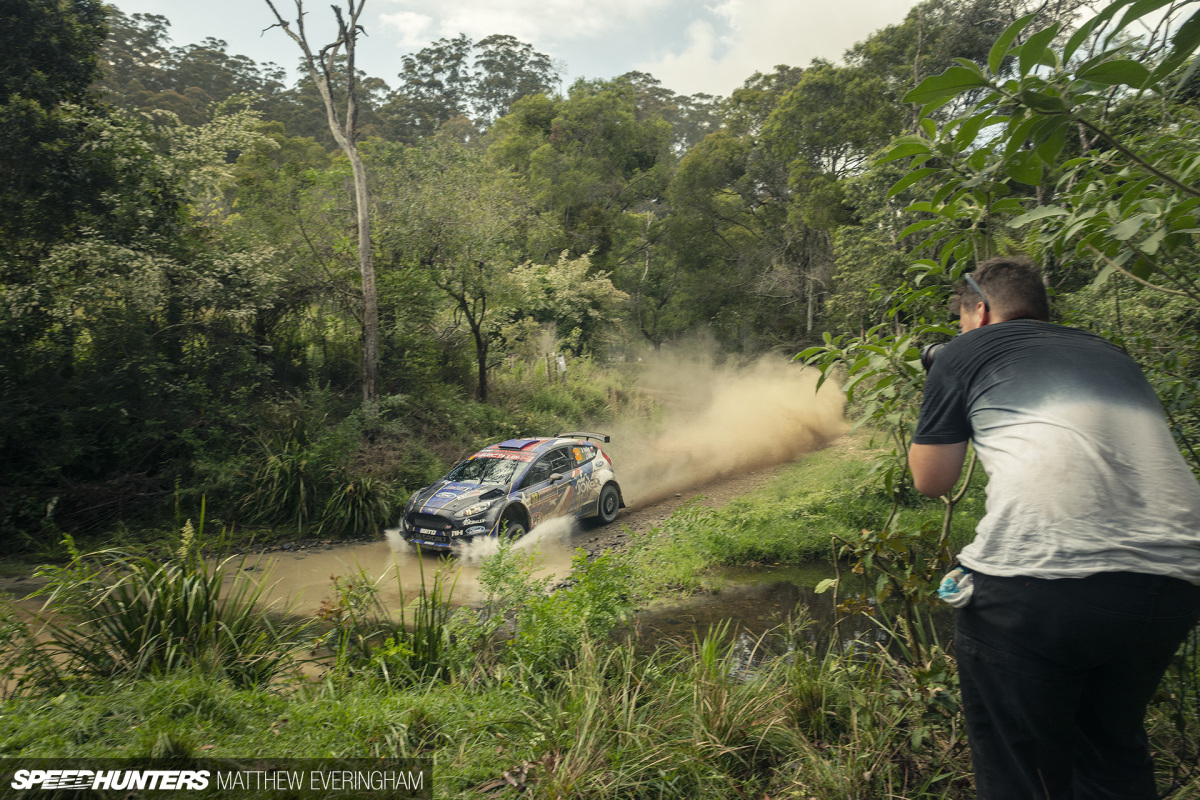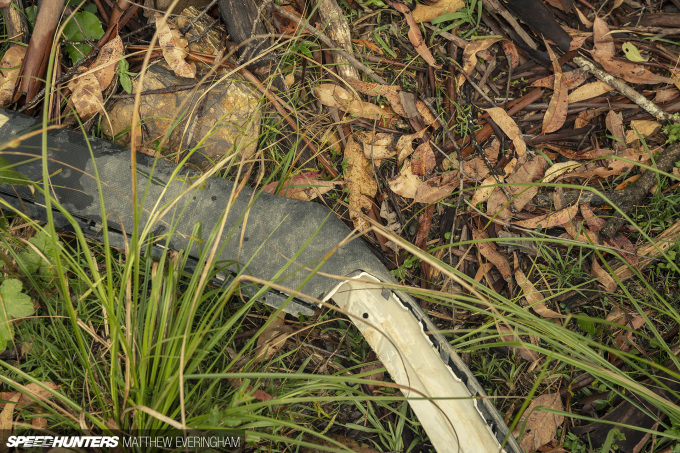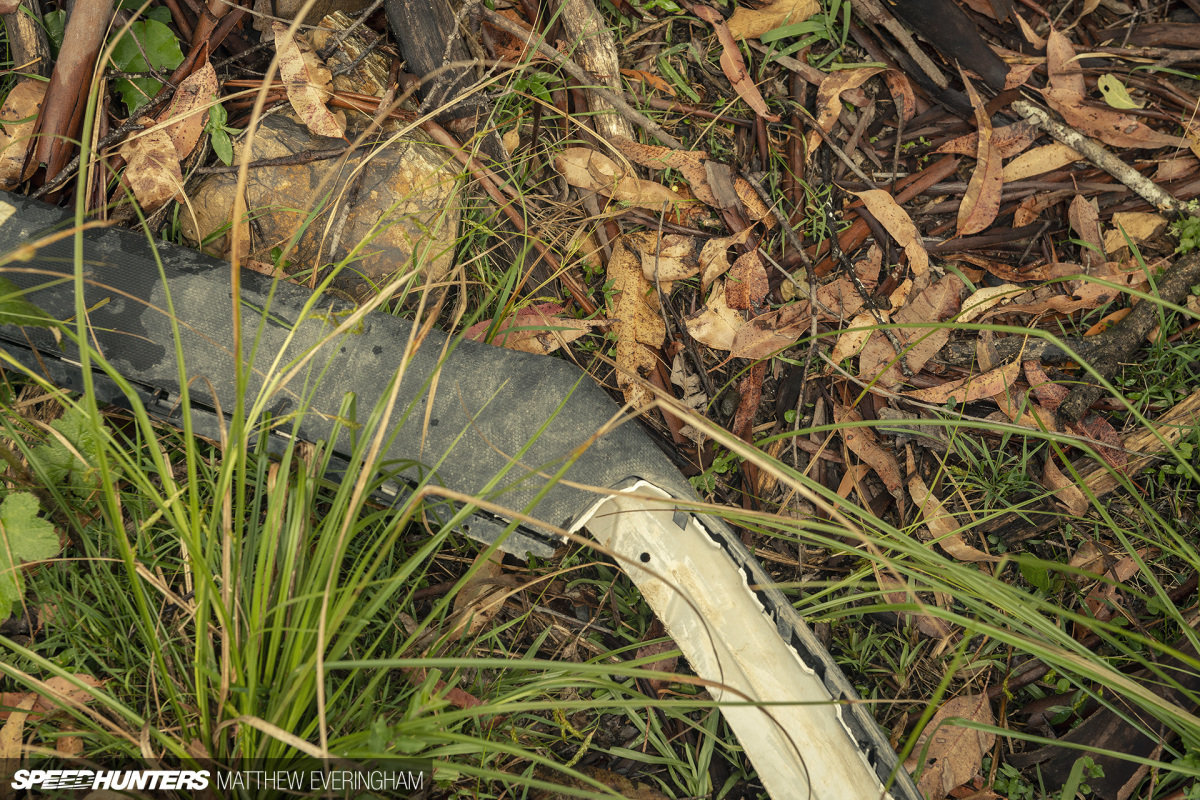 You're On Your Own Now, Kid
After capturing most of the WRC international fleet and a number of the Australian Rally Championship competitors, it was time to move again.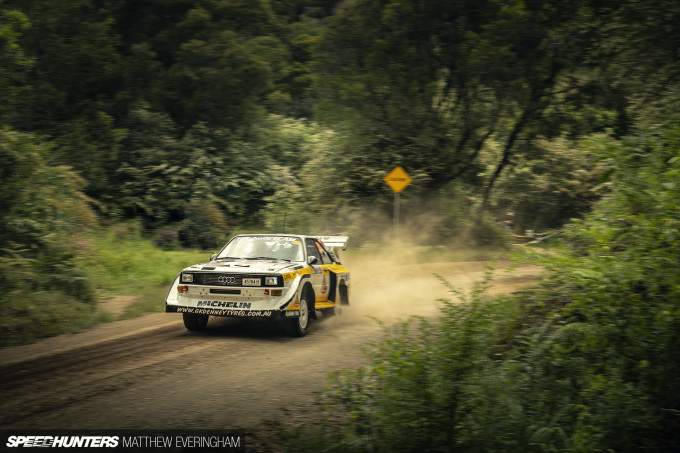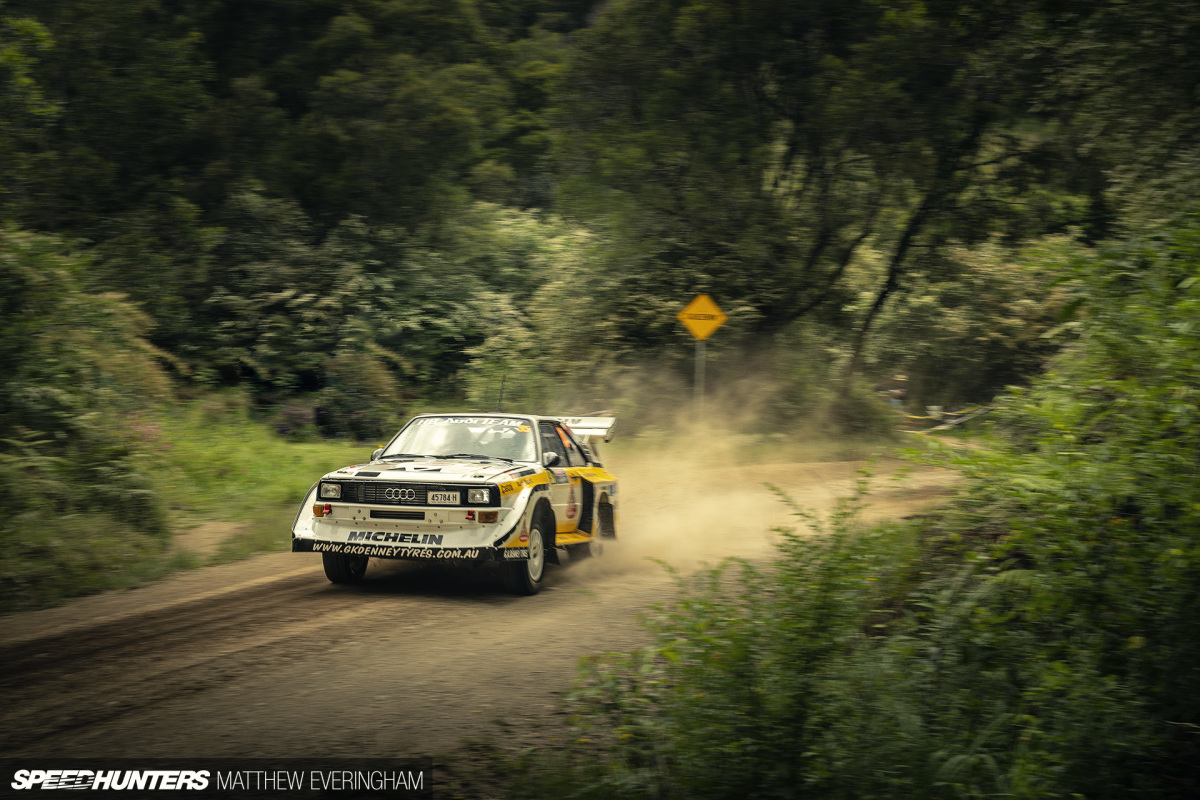 With Warren staying on stage for a bit longer, I was on my own this time.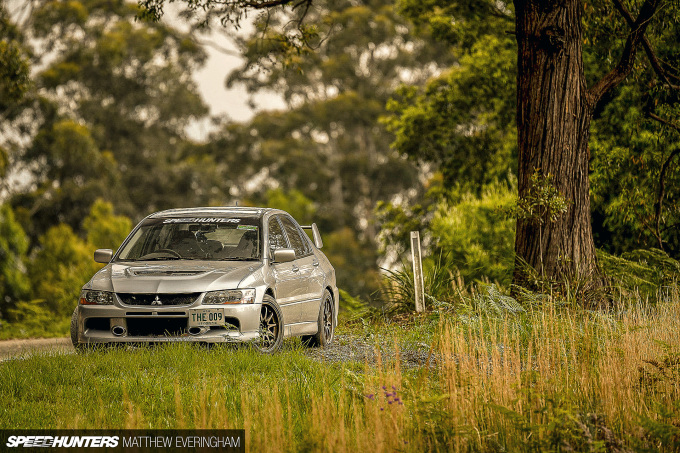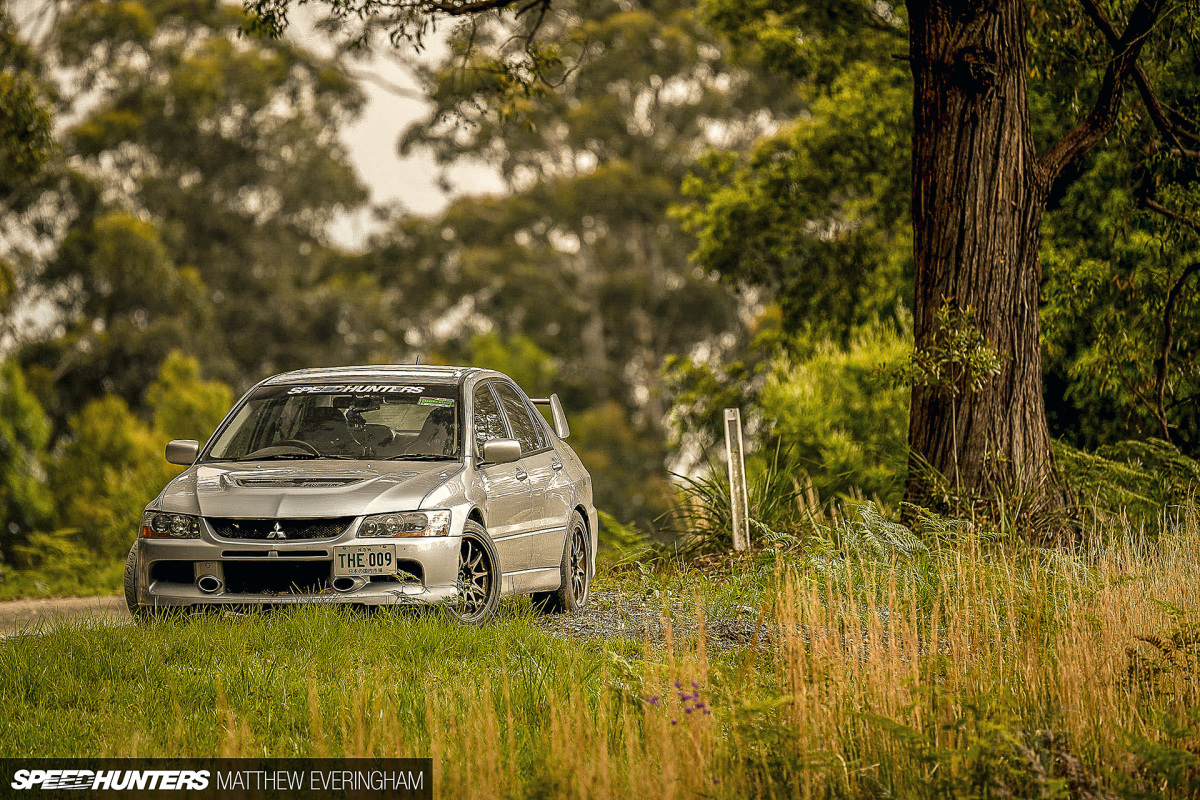 No, I hadn't painted or wrapped Project Nine in a shade of bronze, that's a fine layer of dust and dirt collected along the kilometre of forest b-roads. For the first time in what feels like forever, I had a reason to set the Evo's ACD (Active Centre Diff) settings to 'Gravel.'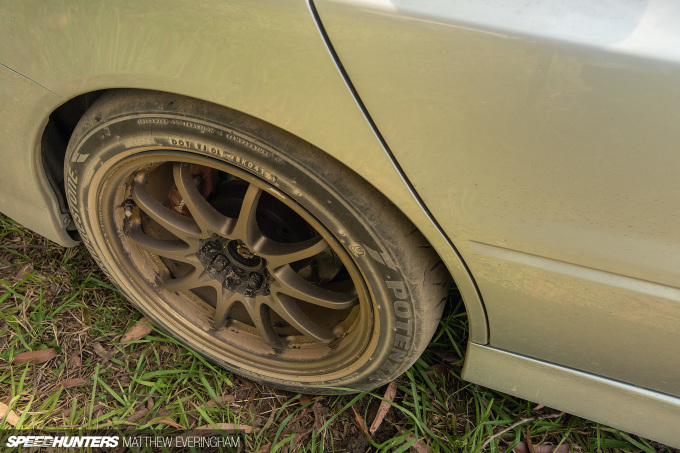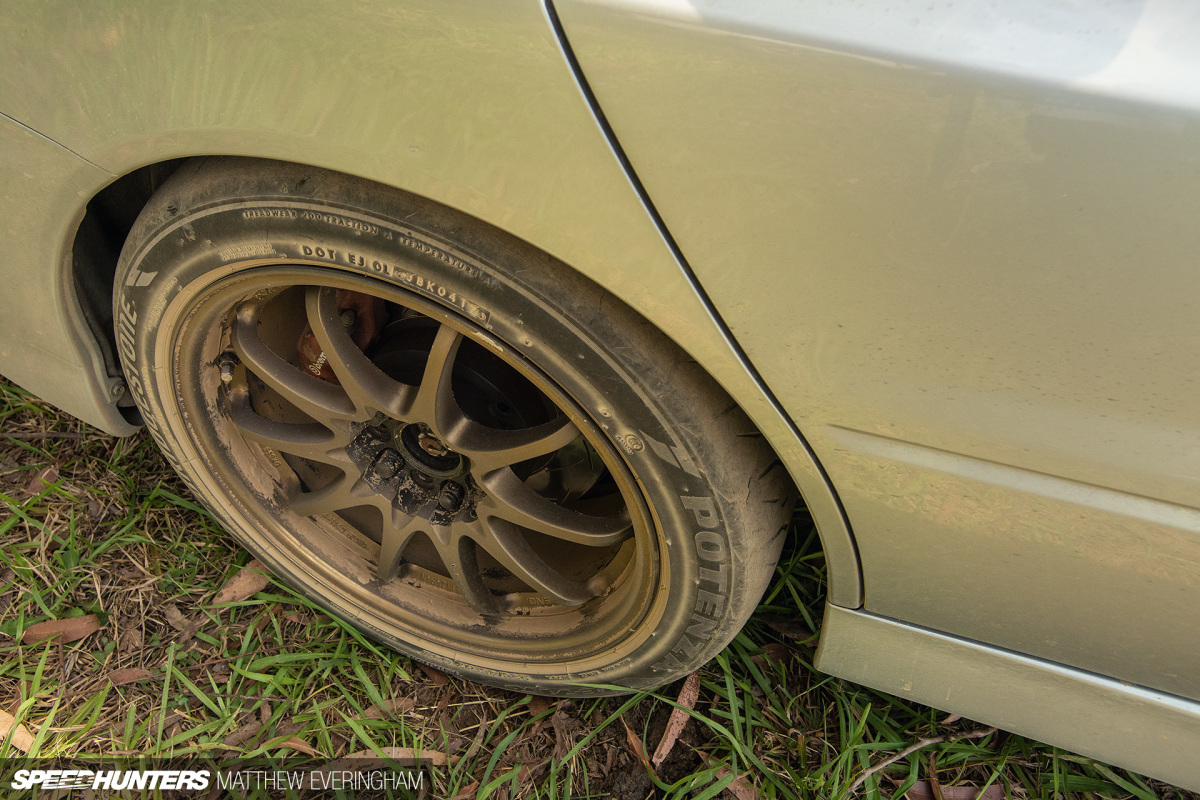 Finally, a chance to enjoy the benefits of a rally homologated car that is usually forgotten about in the city.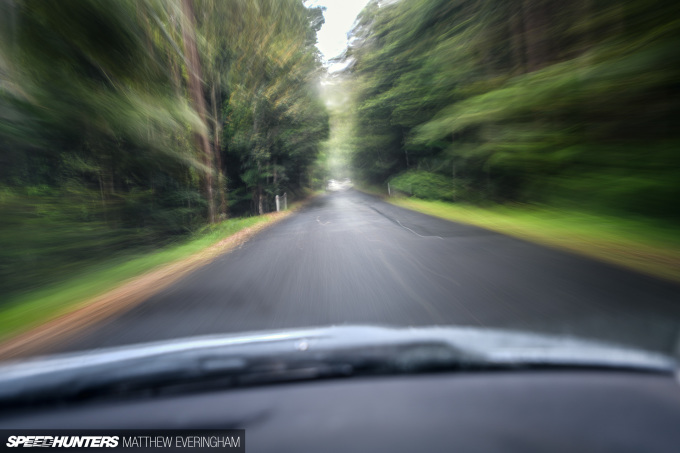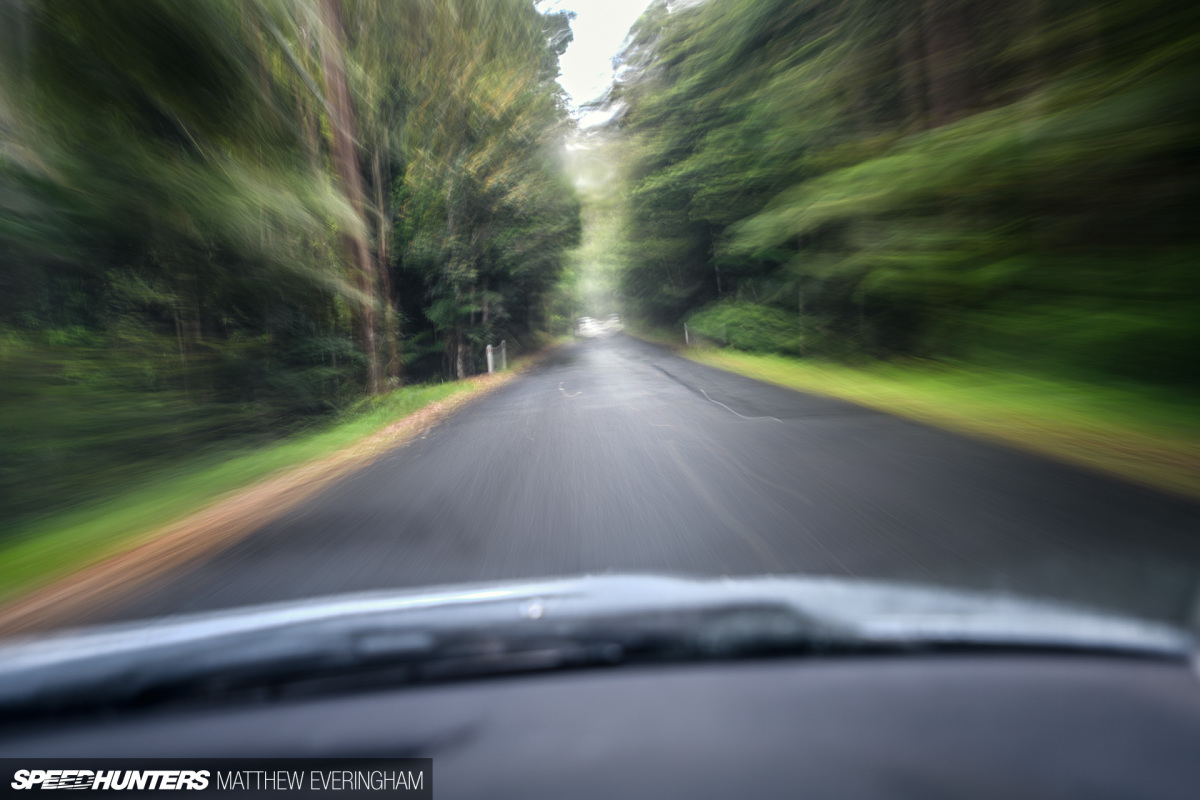 After a quick revision of maps and schedules, it was clear that I'd have to skip a special stage or two. This is why planning is so important: miss a detail, or take a wrong turn, and you could be chasing your tail all day long. I learned this firsthand, spending the next hour or so taking wrong turns and forgetting that Google Maps wouldn't have accounted for course road closures. Great.
I also mistook seeing competitor cars as a sign I was on the right track. I was close, but I was driving towards another closed road and would have to backtrack (again).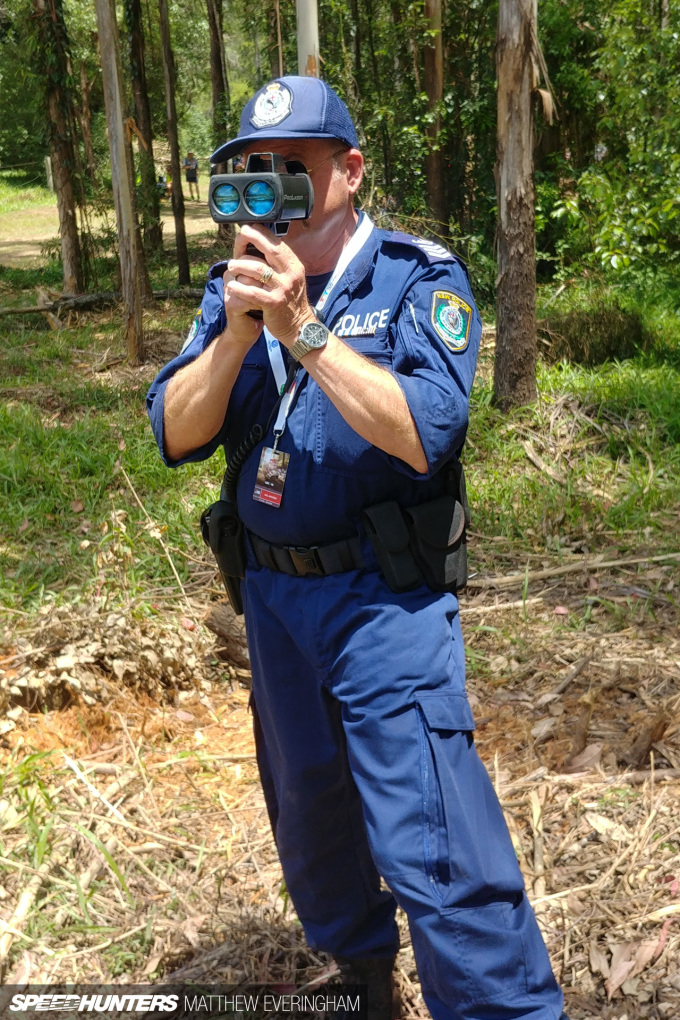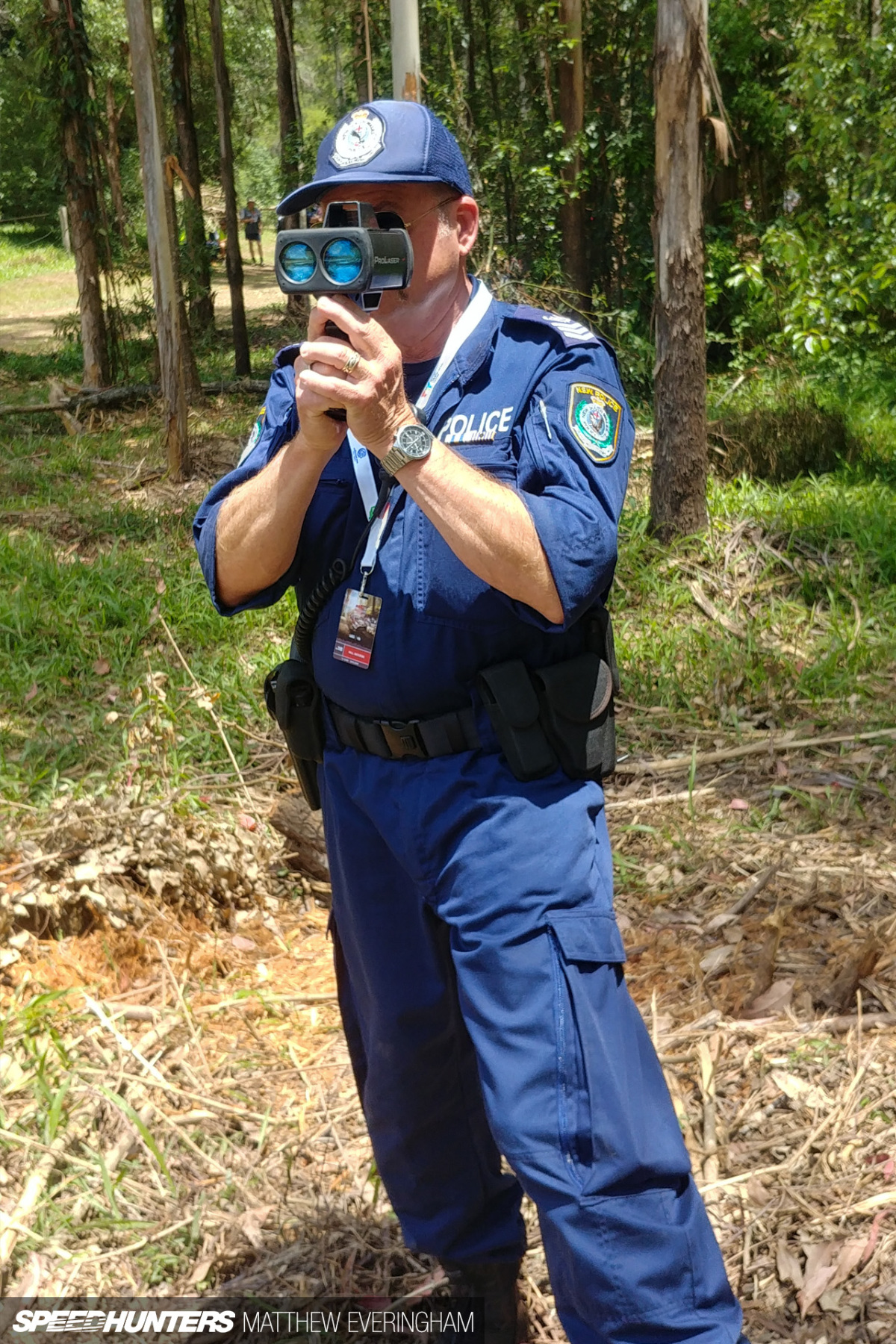 Ultimately, I decided that a safe vantage point was better than no vantage point at all, and just followed the well-placed WRC signs to the nearest spectator point for the stage. Rather than regret the location I had missed, I chose to look at the brighter side.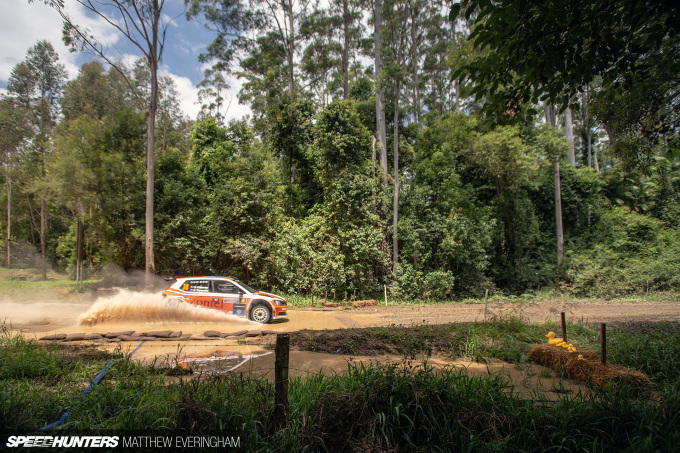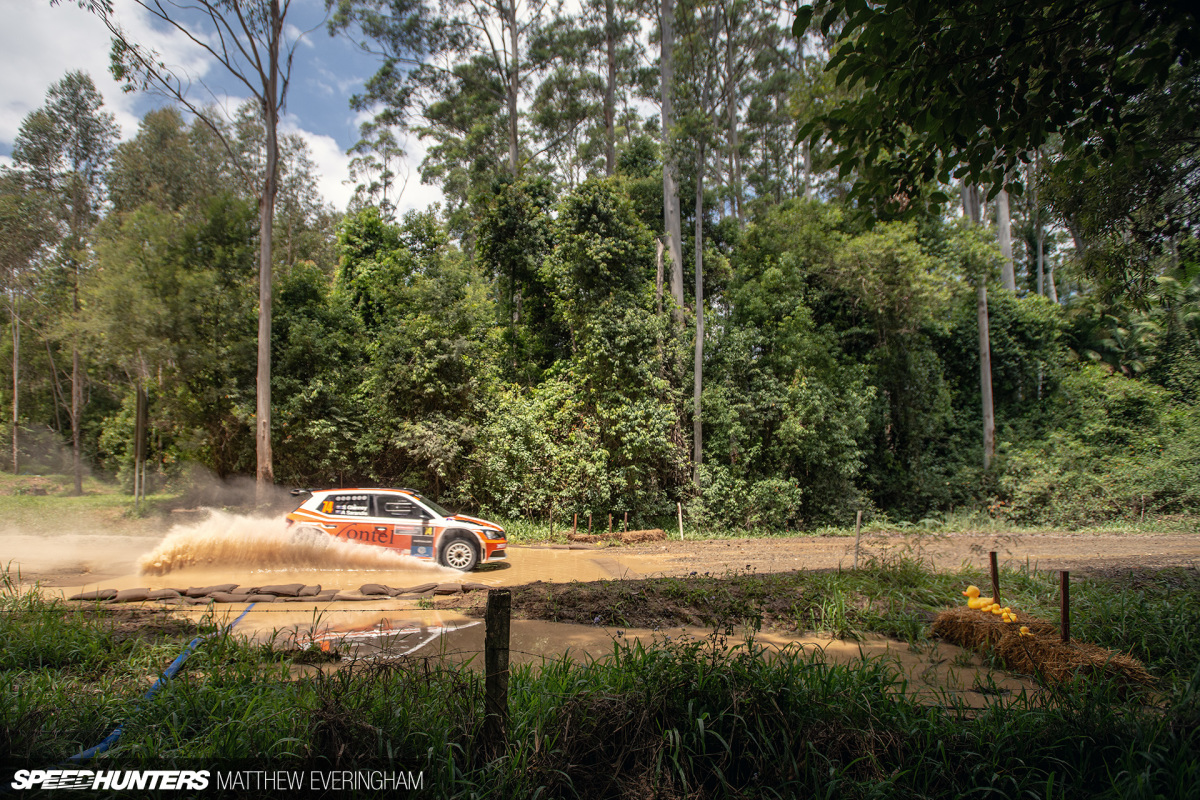 Firstly, there was plenty to see and shoot right here.
Secondly, there wasn't another single photographer in sight, so I'd have no problems capturing unique shots. There was, however, possibly a snake rustling in the bushes while I took these water splash shots.
I made my exit right after this last frame. [I would have exited the country, TBH - PMcG]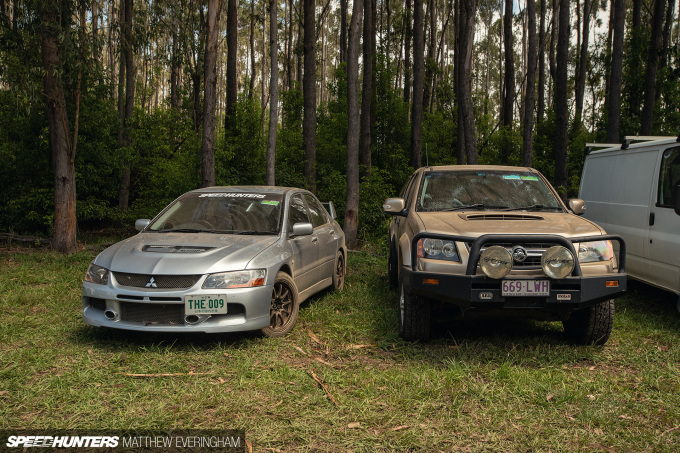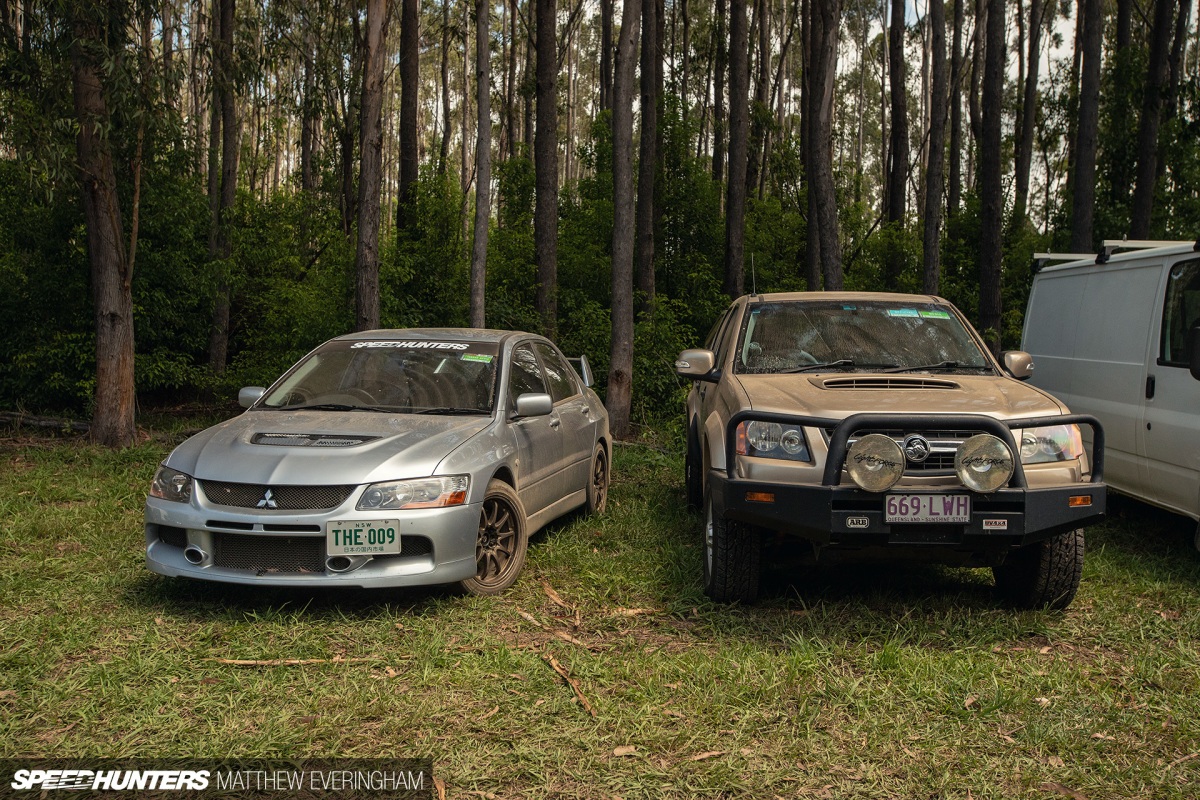 Reaching into my rear pocket to unlock Project Nine, I noticed my car keys were replaced with a new hole. F**k. This was less than ideal. Over an hour's drive from civilization, with no phone coverage for kilometres and the road in did not look terribly tow truck friendly.
I'd have to retrace every step I took, and pray the keys didn't bounce too far from my holy pocket.
After a frantic examination of the ground near the car, I asked a parking volunteer if he'd be around long enough to watch my equipment next to the car while I ran back to the stage. "Why's that? Missing something?" he asked casually. In another absolute stroke of luck for the weekend, he'd finished overhearing another conversation where a car key was handed in just a few minutes prior. After bestowing snacks and drinks to my saviors, I was finally on my way back to Coffs Harbour.
Going Super
The final special stage of the day required no maps and was promised to be 'super.' Wow, I'm so sorry; Worst pun ever. I'll try not to drop another one.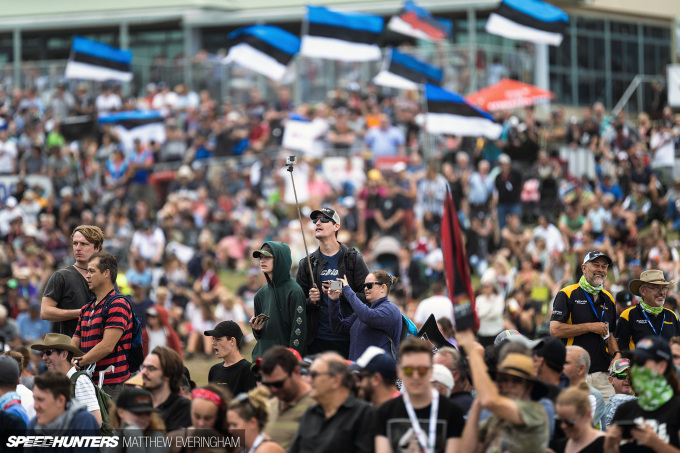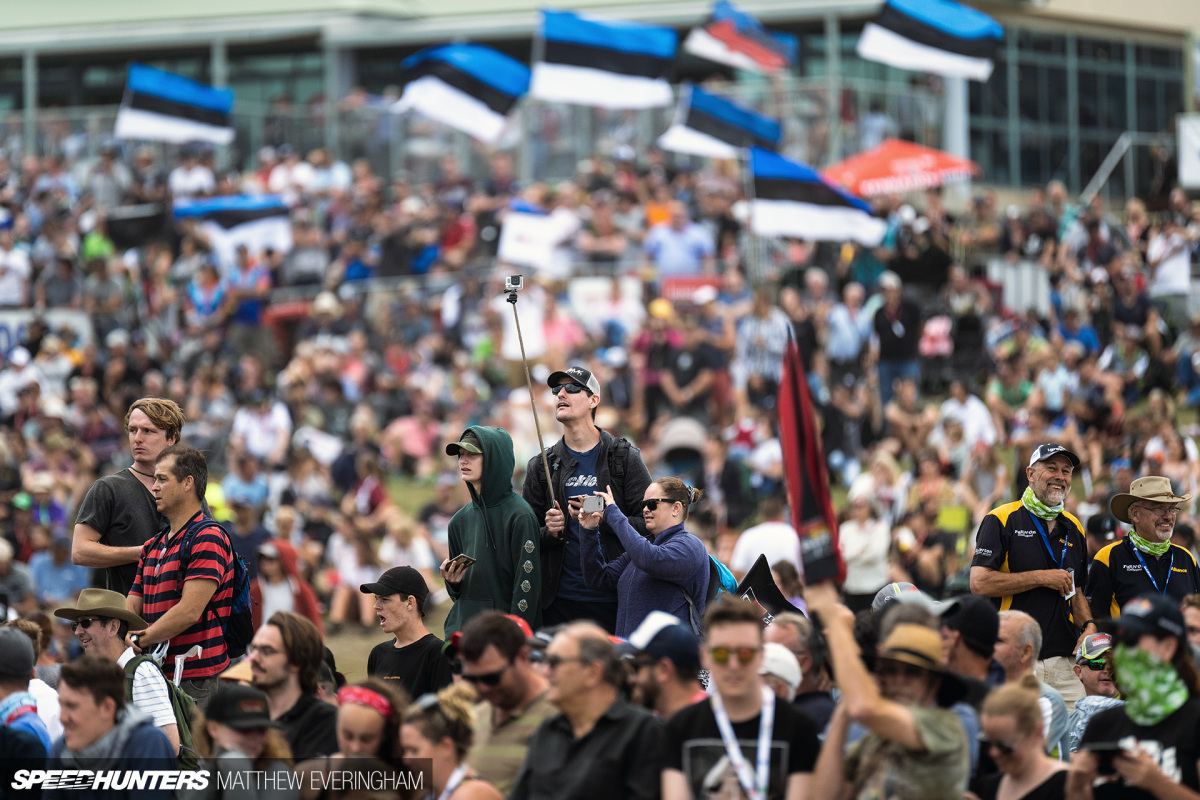 Coffs Harbour's scenic beach strip had been completely transformed into a gymkhana course, comprising of jumps, splashes, dirt and even a donut pad. Having only ever witnessed such antics through videos I was super excited (sorry) when the first cars broke out of the gates and came charging through.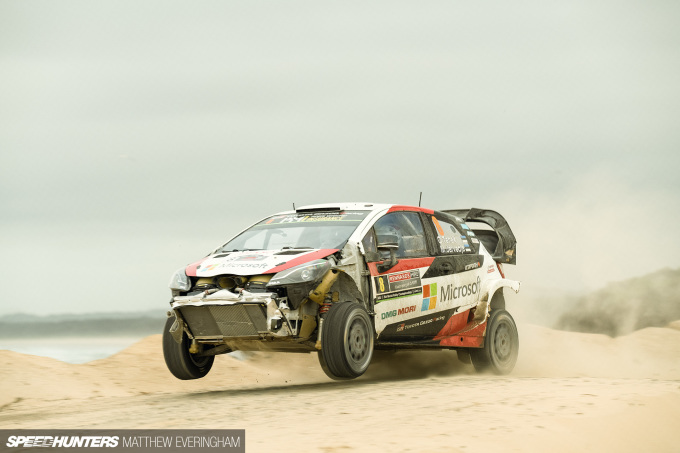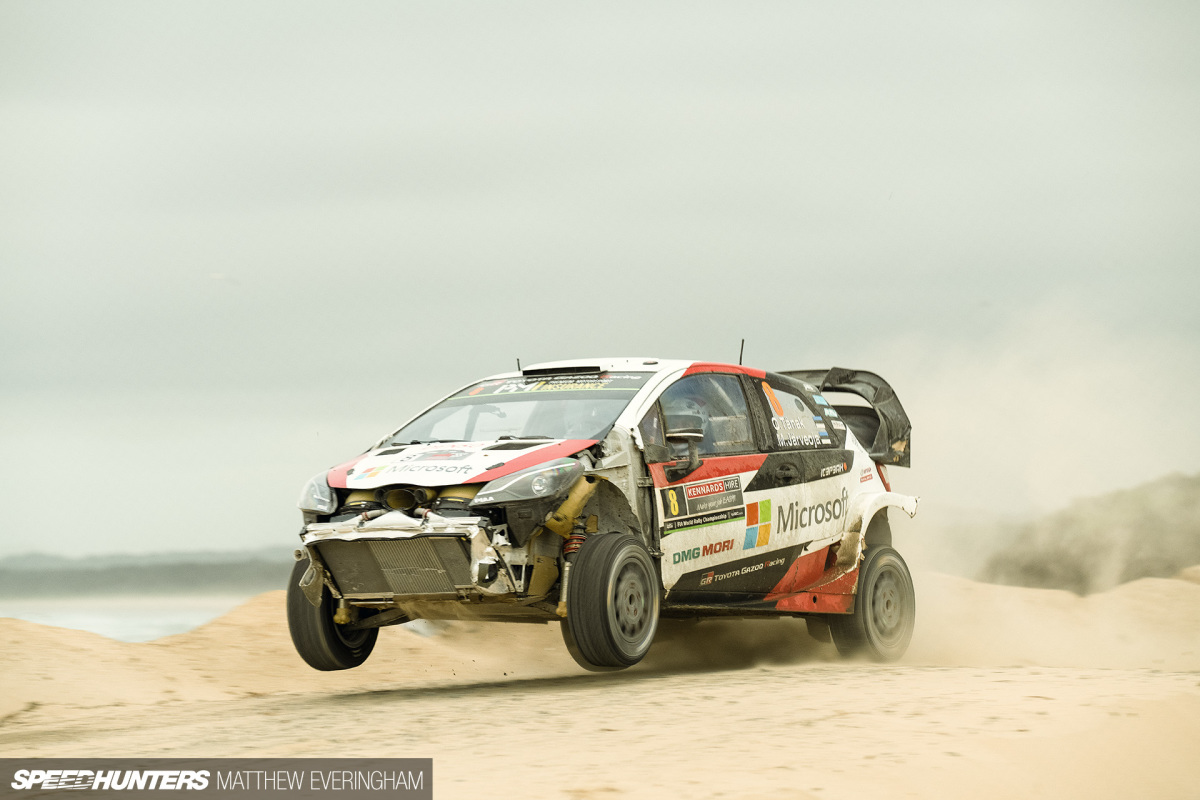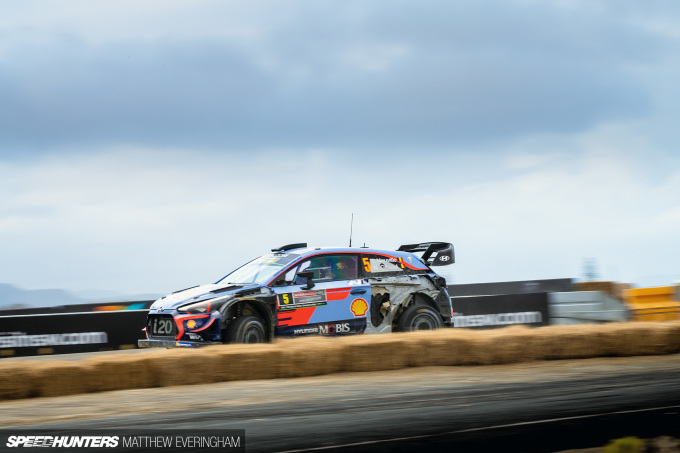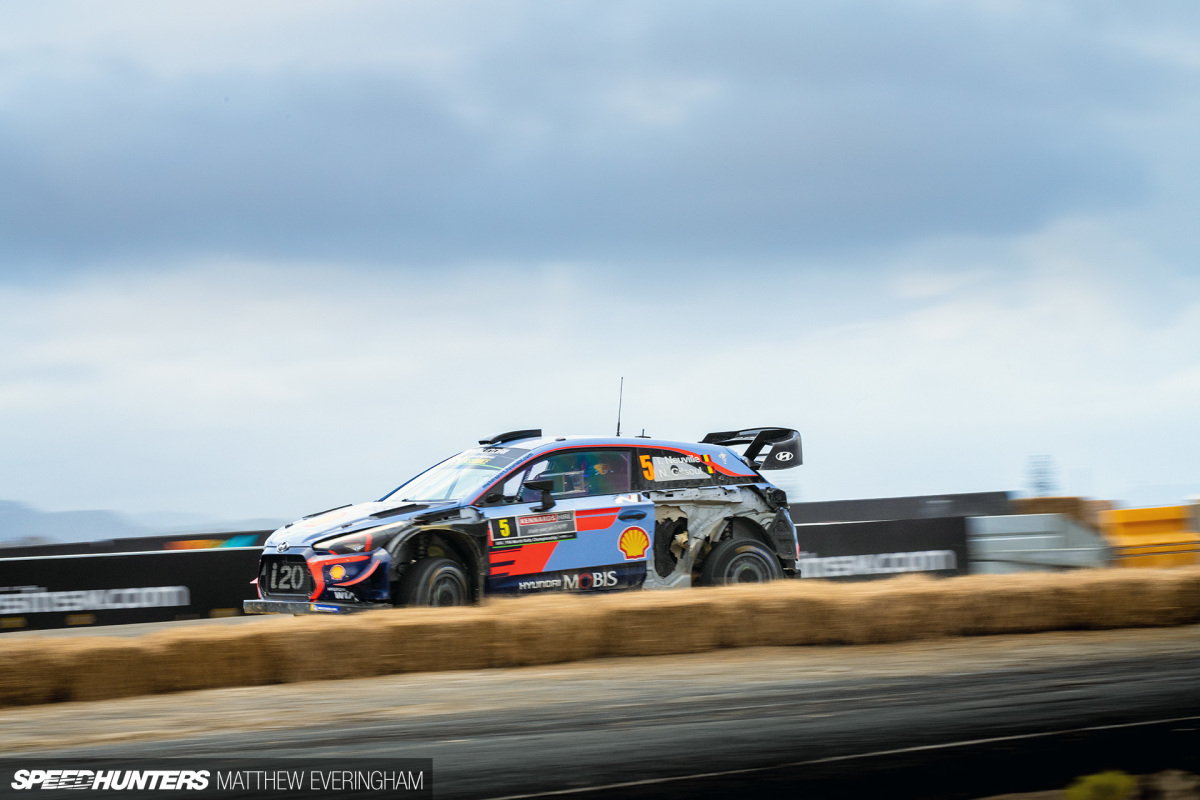 The spectator experience in this man-made rally arena was utterly different to that of chasing cars in the wild. The outright brutality and raw speed through the forests was replaced by a super special stage course that challenged driver dexterity and each car's agility at lower speeds.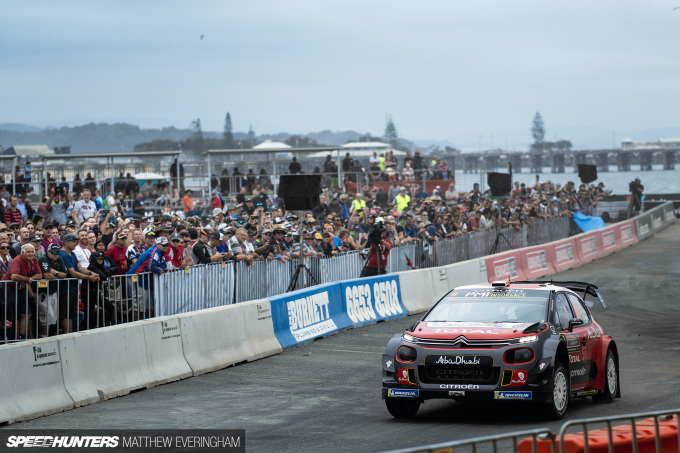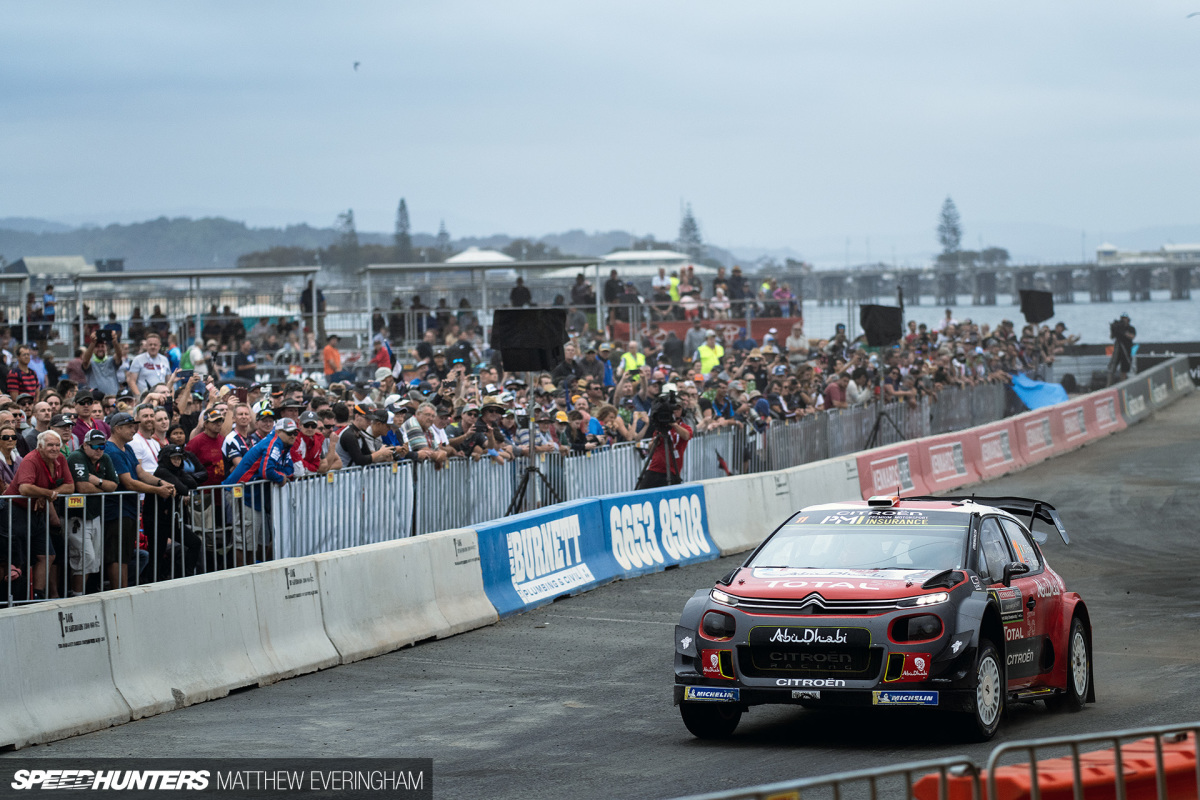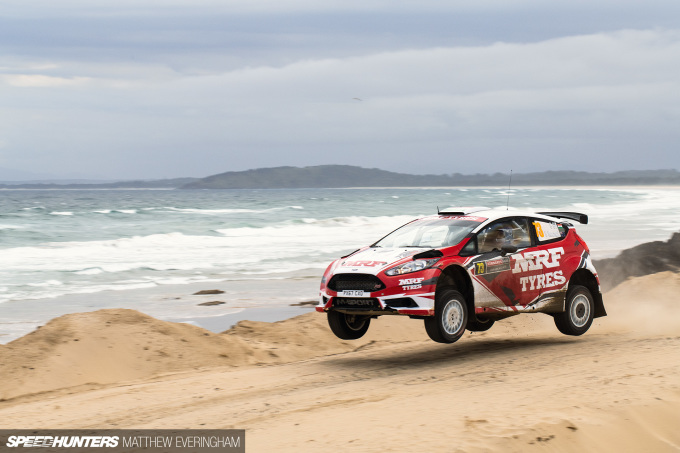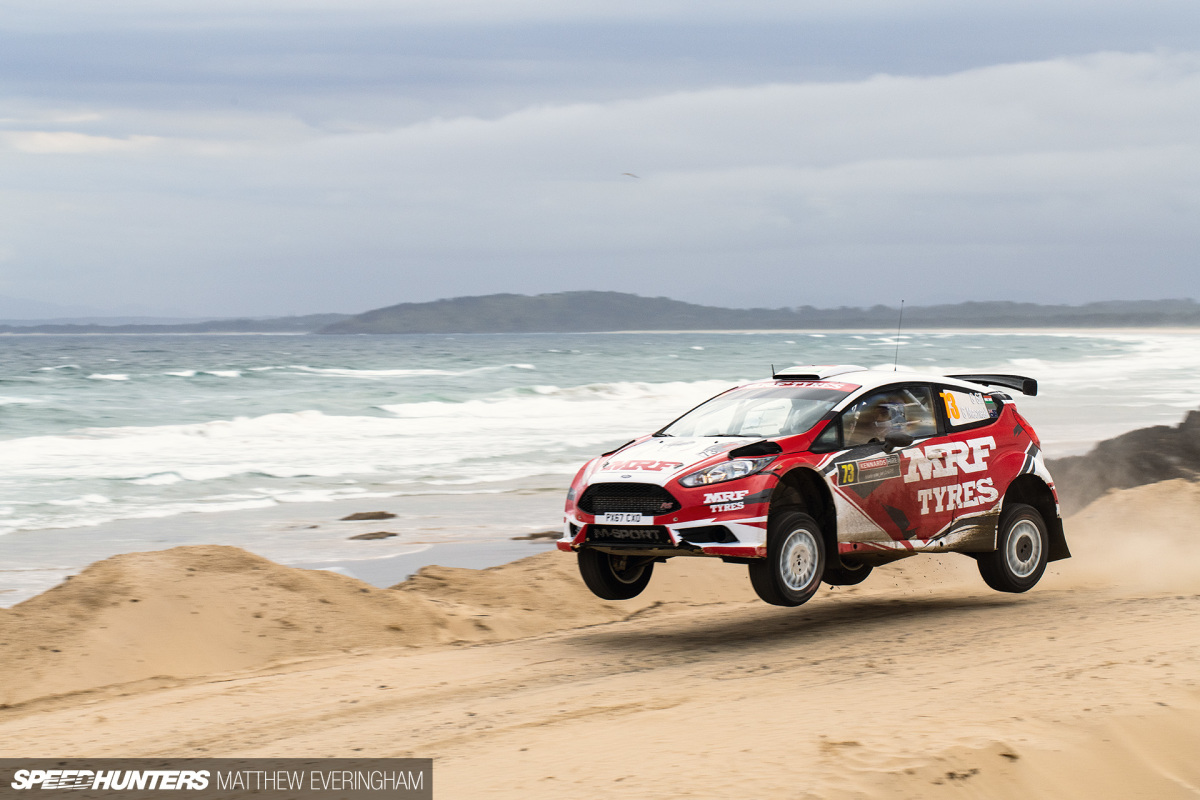 Of course, it wasn't all slow-paced; the highlight was a spectacular sand jump looking out across the Pacific Ocean. A perfect finale for a long, challenging but super (sorry) rewarding first day of WRC photography.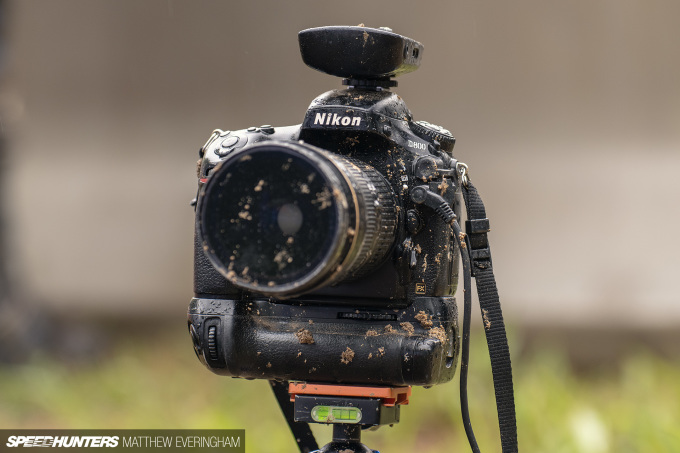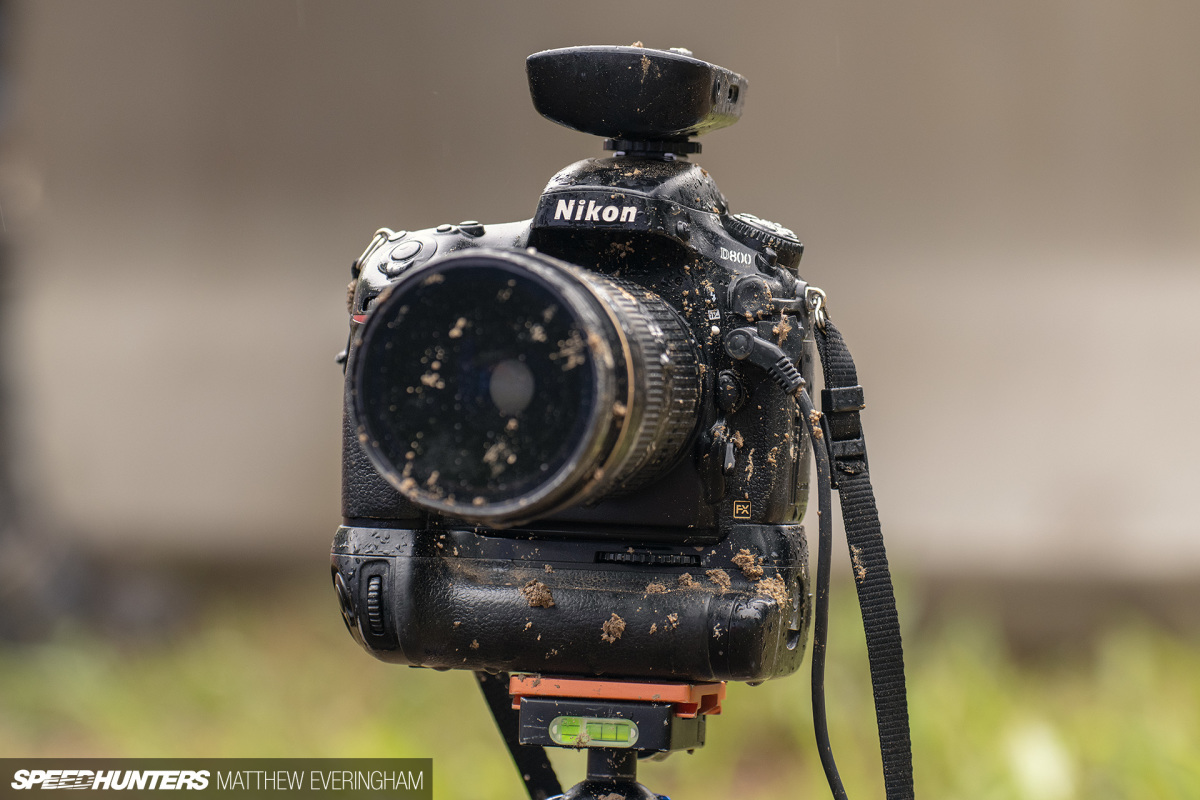 Before I could relax, there was one final business task for the day. Well, two if you include planning the next day.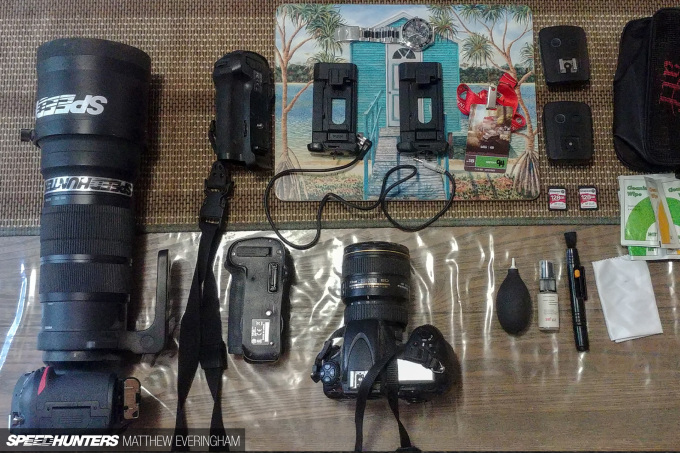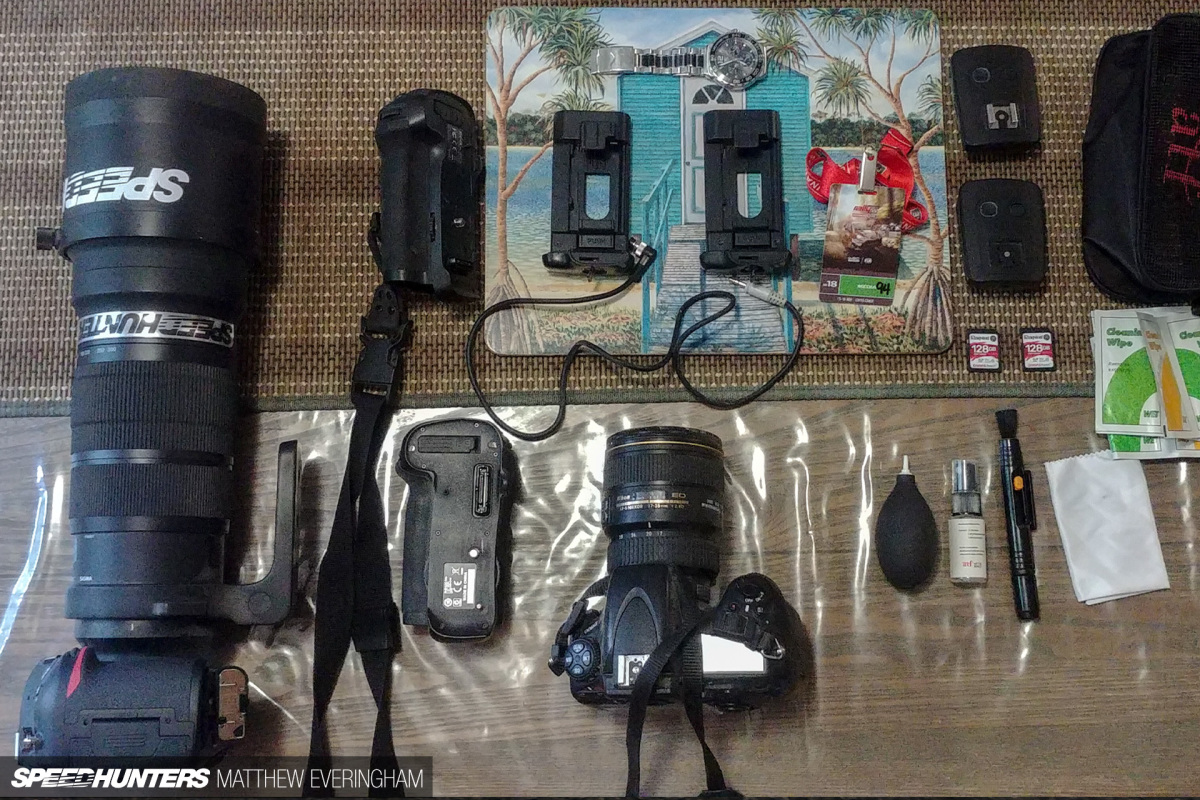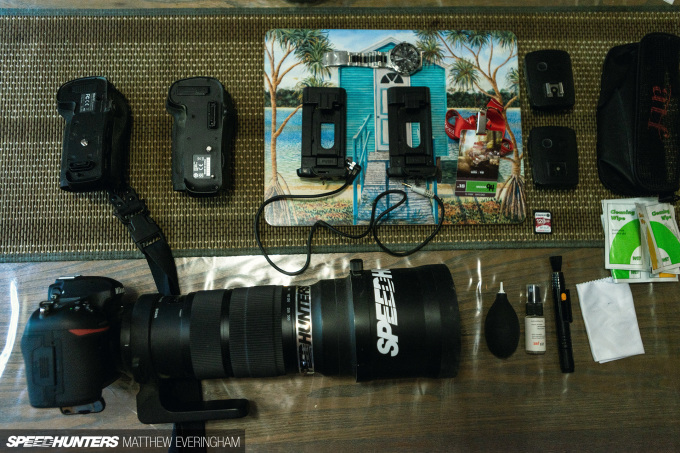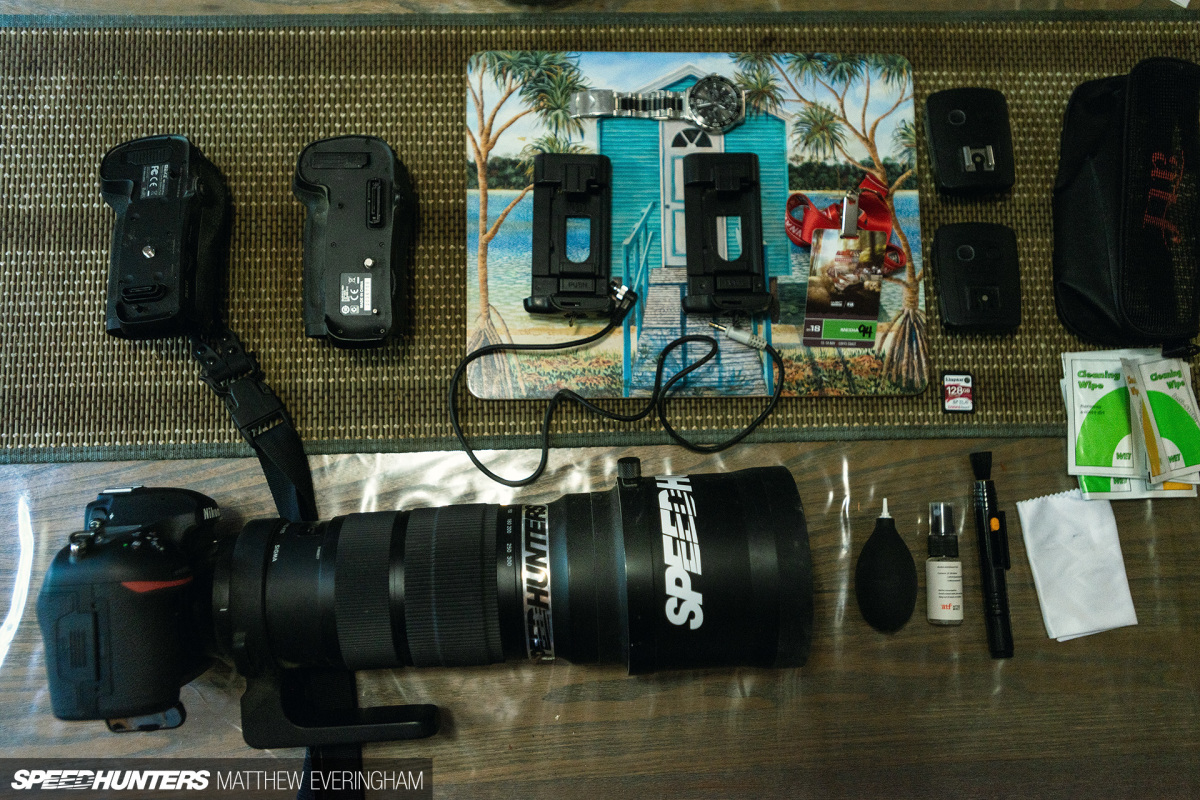 All in all, it took about an hour and a half to clean both my well-used Nikon D800 and my newest acquisition, a Nikon D850. Shooting rally is probably not the ideal first job for new photographic equipment, but at least now I can be 100 percent confident that the new gear will be ready for whatever wild conditions are thrown its way in the future.
The challenges of photographing WRC begin long before you're even in a position to fire off the first frame of action. The learning curve was steep, but the added challenge only amplified those sweet little, dust-filled moments of victory when they happen. Photographing rally solo at an unknown location with no real previous experience is potentially one of the most challenging assignments I've had, but it's also by far the most rewarding experiences I've had with a camera for years.
My only regret is not putting in the effort to chase WRC cars through the middle of nowhere years ago.
Matthew Everingham
Instagram: matthew_everingham
matt@mattheweveringham.com
The Following Day