What Car Show?
I know, I know, the Formula Drift Title Fight in Irwindale was a good couple weeks ago, but we've been on the road this whole time.
SEMA coverage became exponentially more insane as each day passed and it's only now that I have enough breathing room to put this together. Ever since Paddy tasked me with wandering around the Irwindale parking lot last year it's become one of my favorite things to do. Well, top five… Maybe ten.
Anyway, with a big car show from AutoCon expected on Saturday, I thought it would be nice to do a car show versus parking lot post but there was one small problem. Unless I completely missed it, along with all the staff I talked to, the car show just didn't show.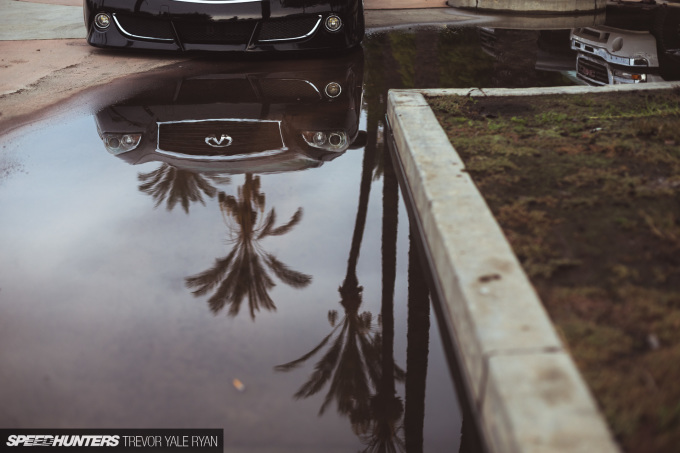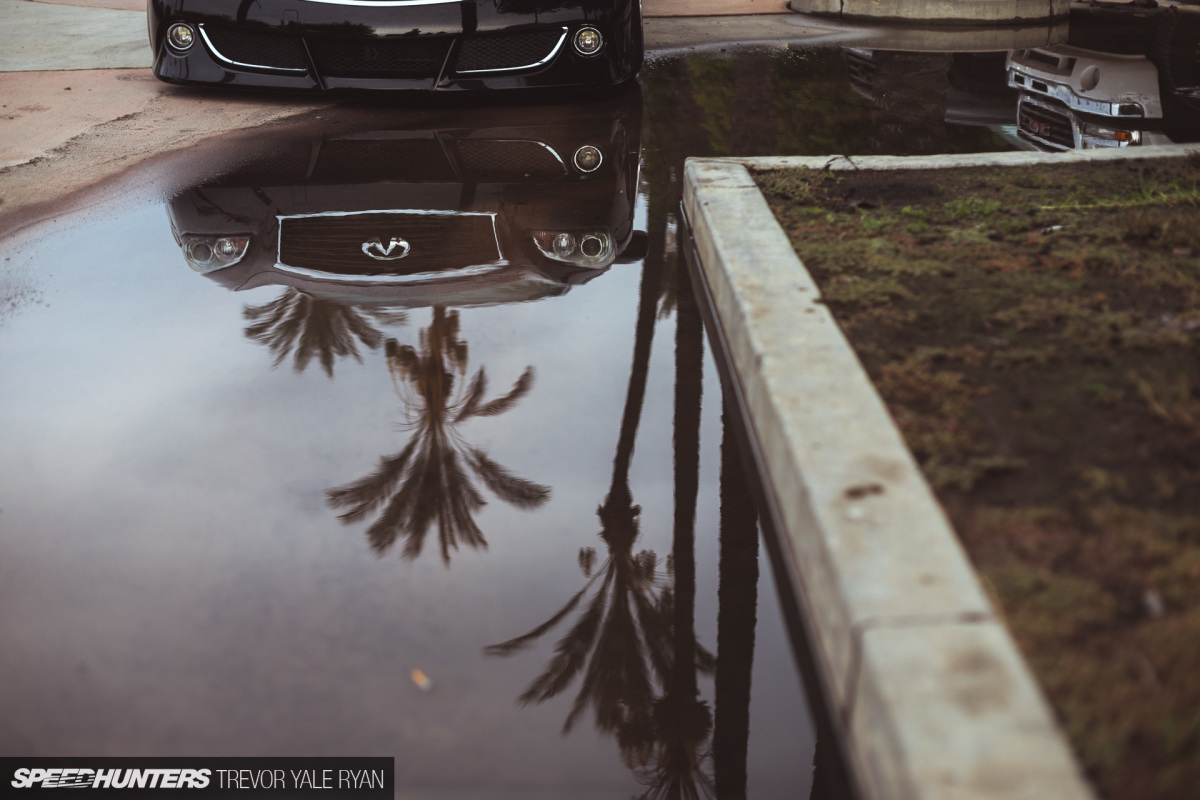 With no car show to shoot, a long walk around the giant Irwindale Speedway parking lot will have to suffice for this one. But not before a quick stroll through the paddock, too…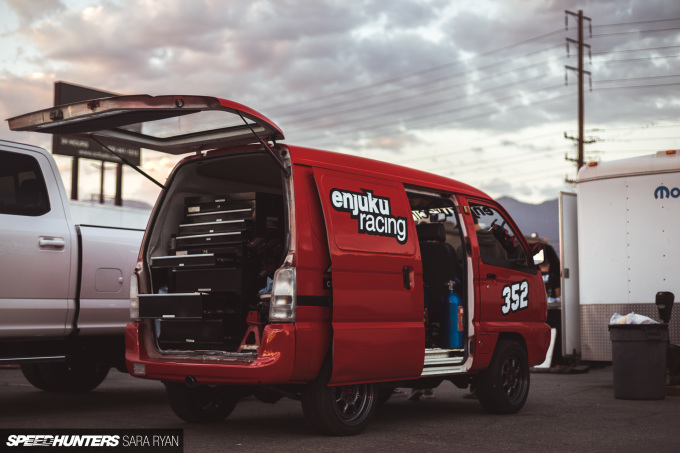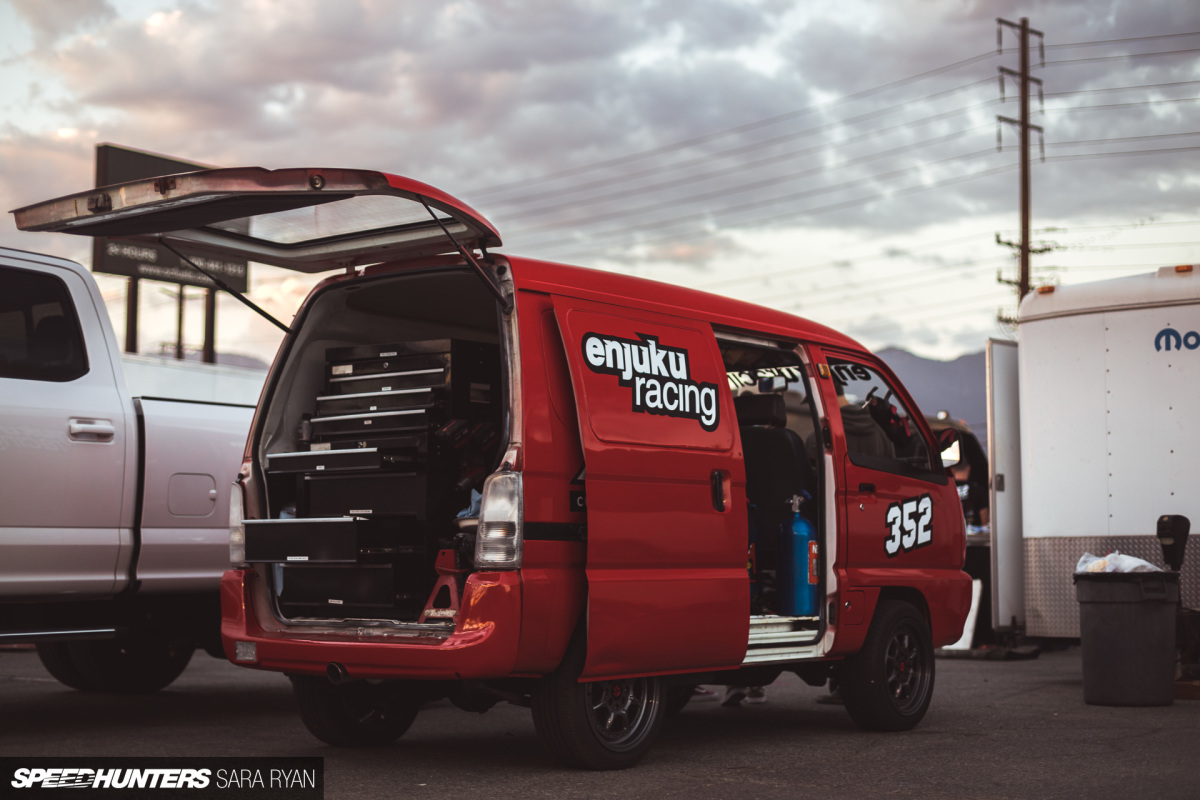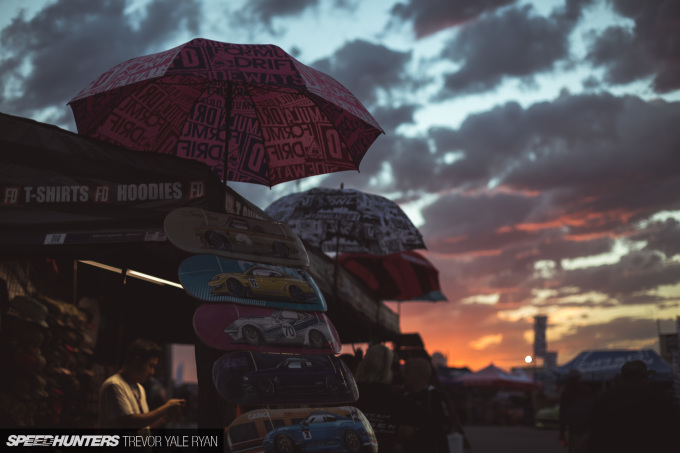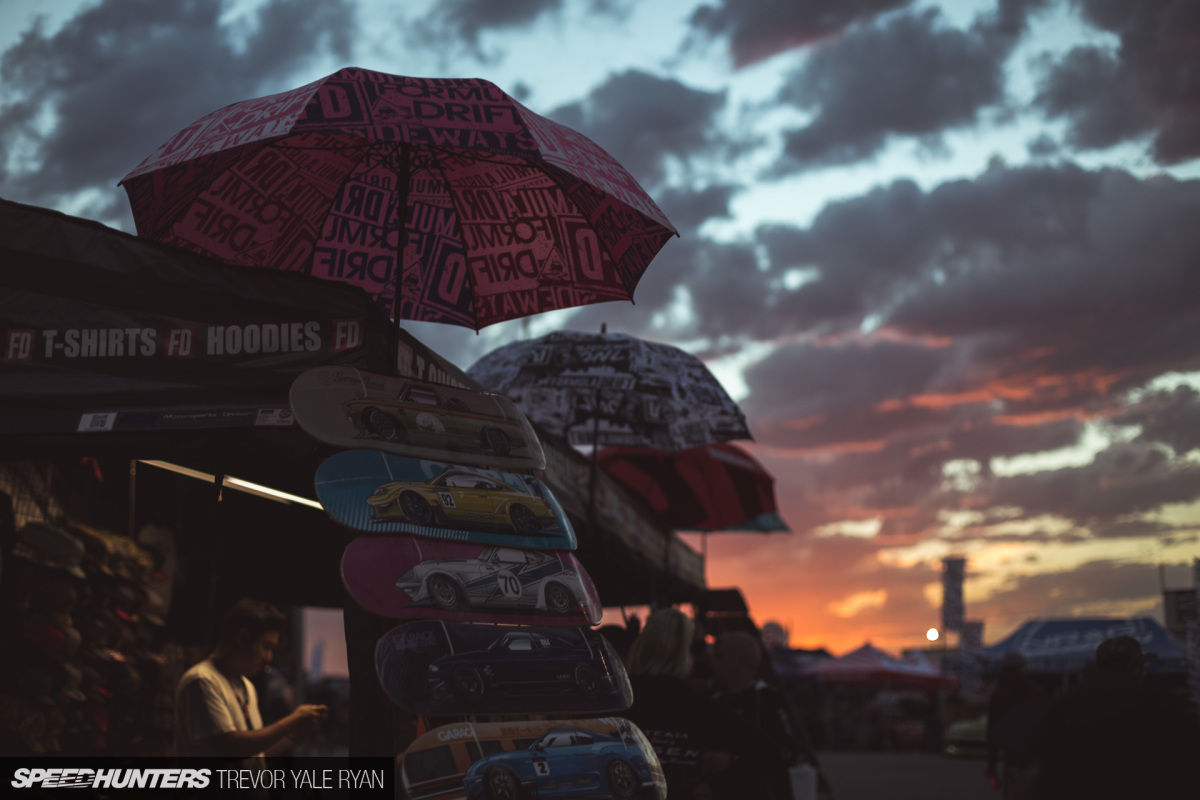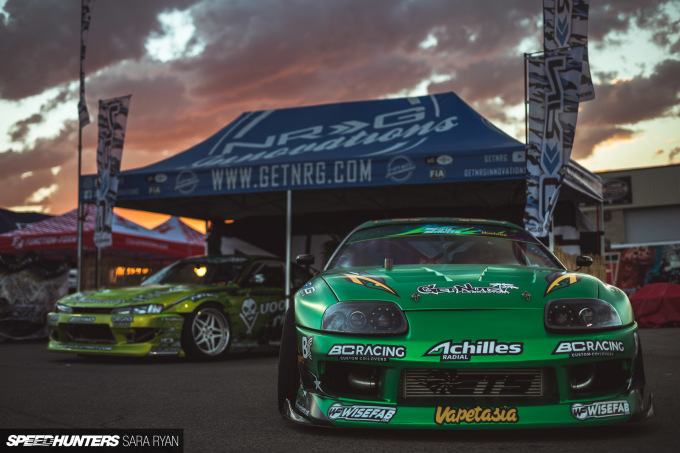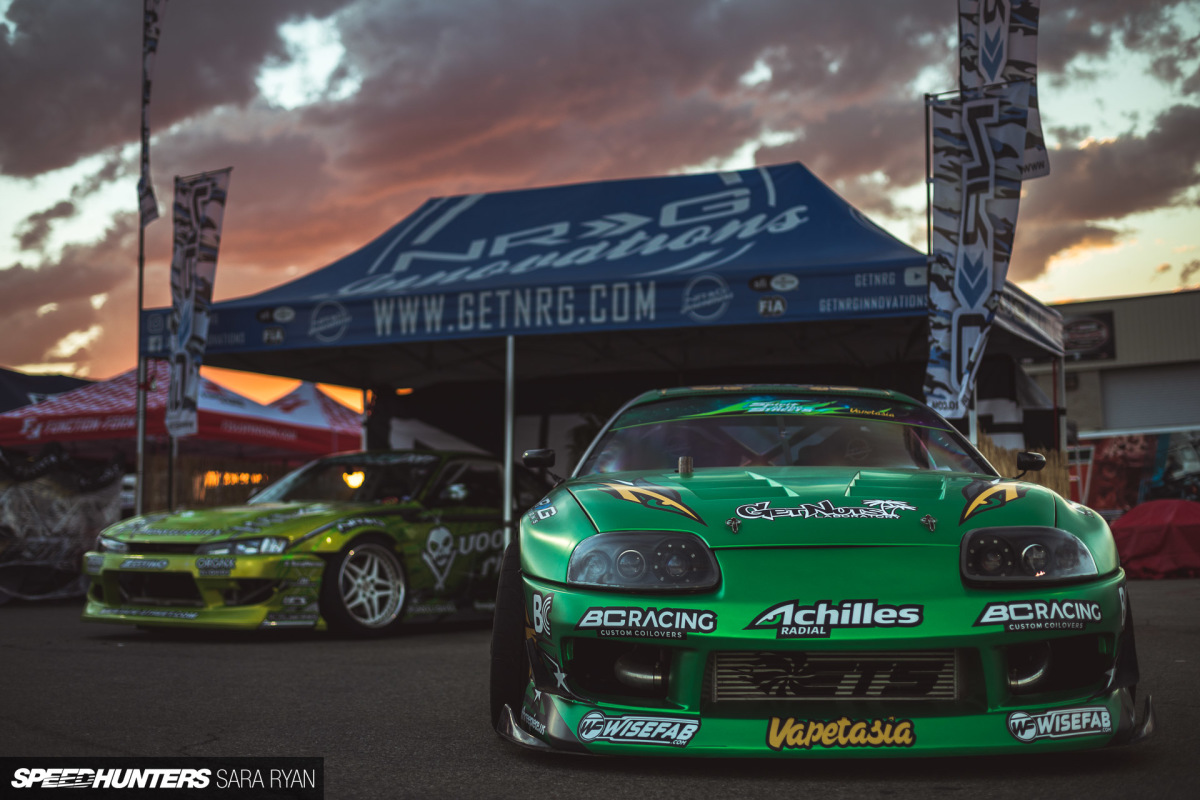 With the weird weather at Irwindale — weird for Southern California anyway, which is to say there were some clouds and even rain in the evenings — sunset on Friday night was fantastic.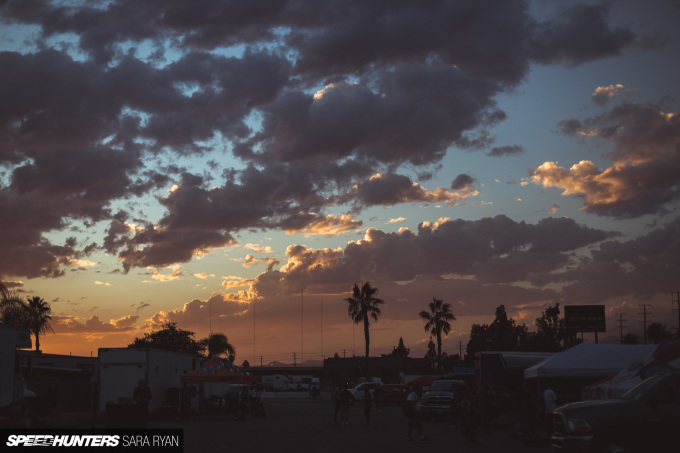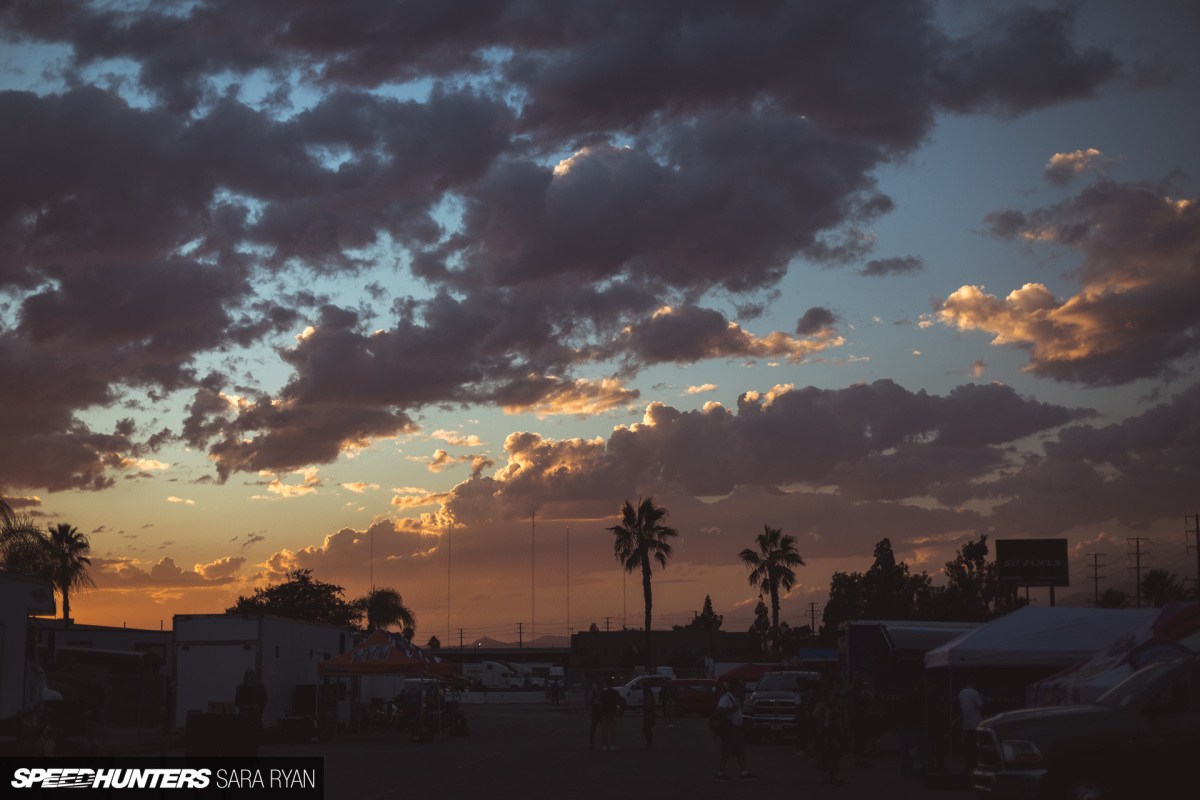 With this in mind, I figured I'd check out the car show early in the day and the parking lot around the same time as this on Saturday.
The Parkin' Lot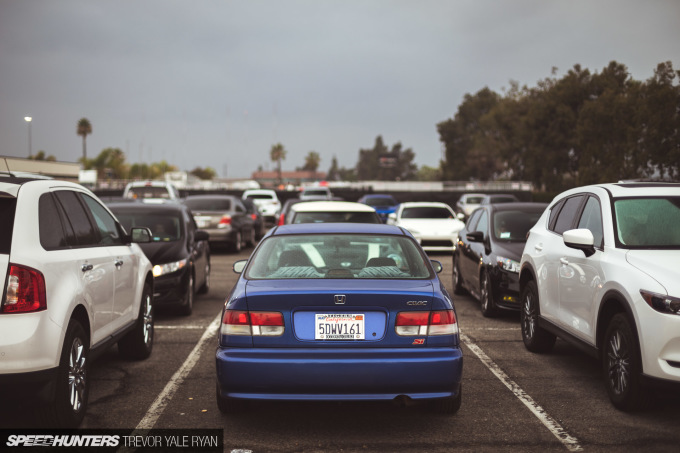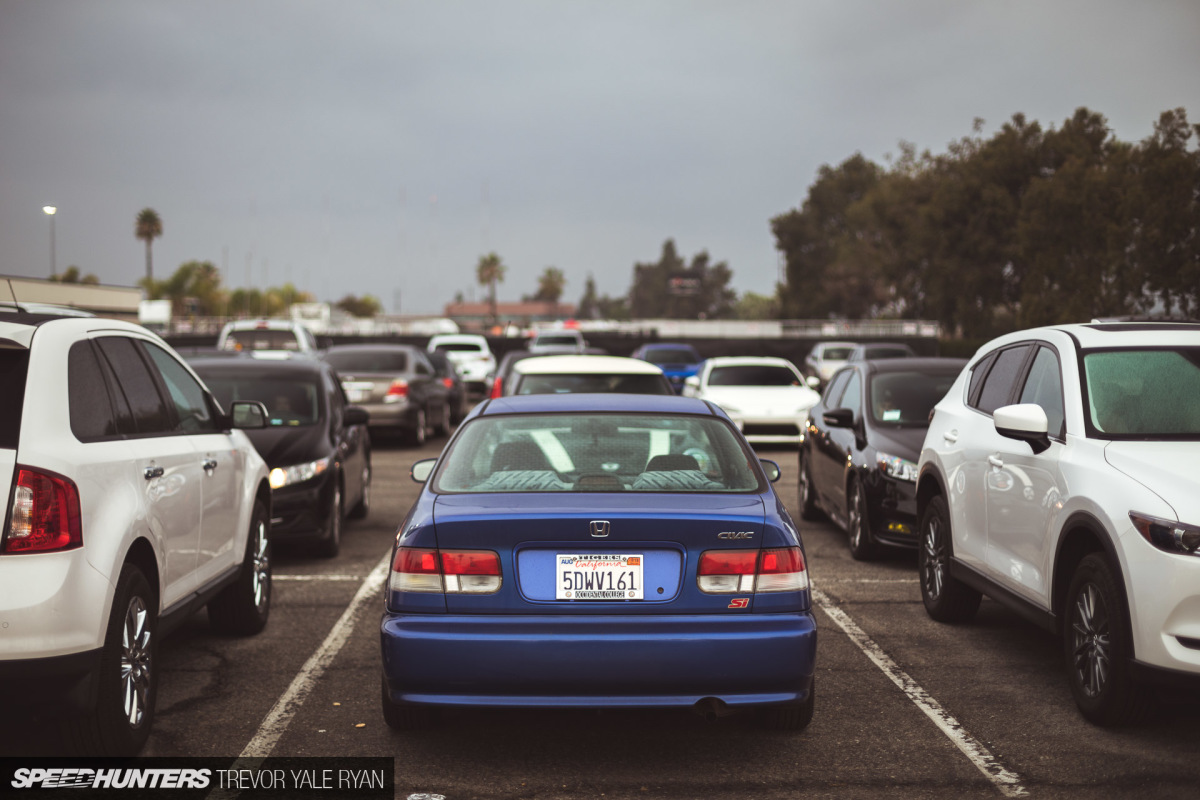 Unfortunately, Saturday didn't bring the same results as the sun went down, but the overcast skies were certainly nicer to shoot in than the usual blaring California sun. I started in the lot adjacent to the Pro2 paddock and worked my way over towards registration to see what would turn up.
This sweet little AE86 straight away caught my eye and I wonder if this guy saw my feature on the ShaDynasty crew back in May — one can always hope! They really are a great bunch of guys and own a handful of seventies Toyotas which they drift the absolute crap out of. Check out the story if you missed it yourself.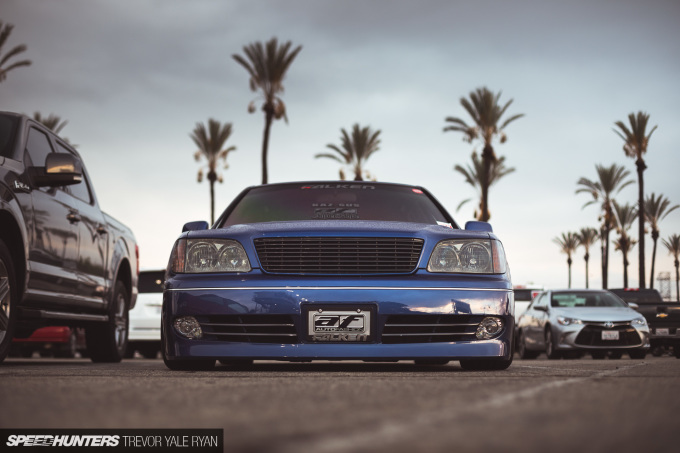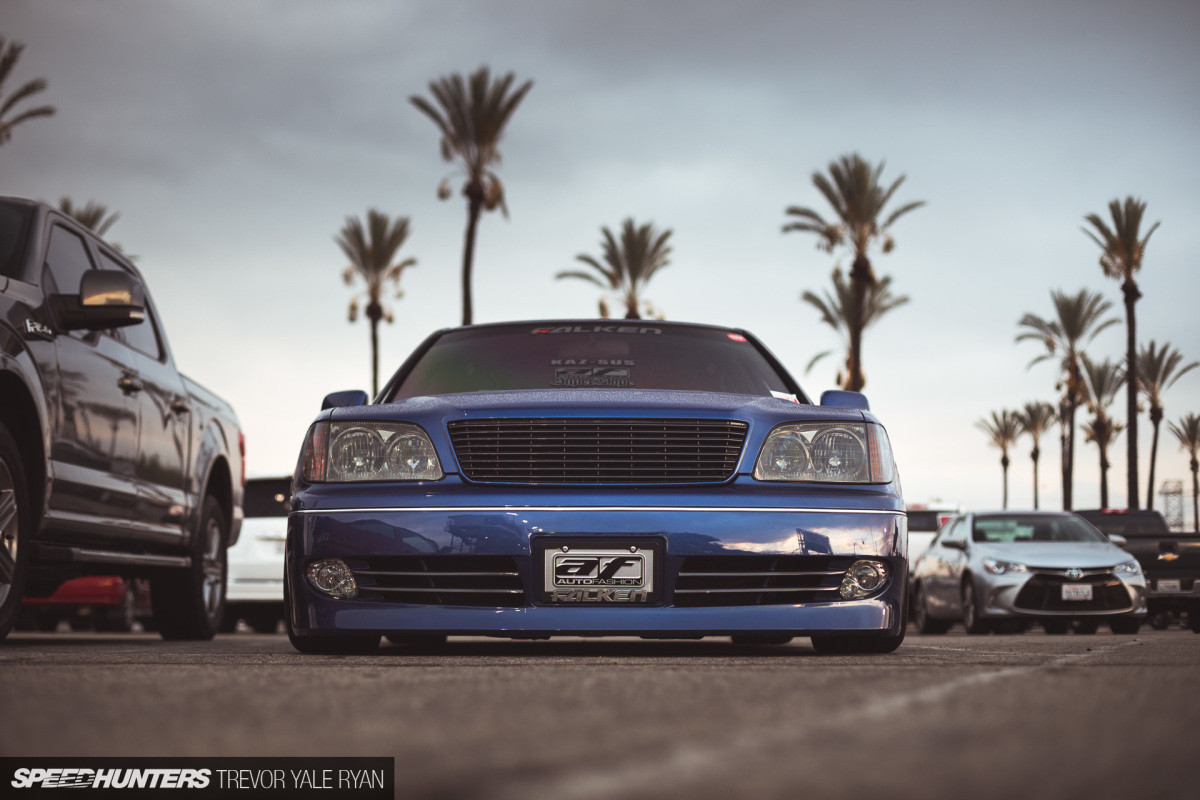 Behind the 86 was this Lexus LS400. It's a car that's been around for years and cool to see it still making an appearance and getting updated along the way.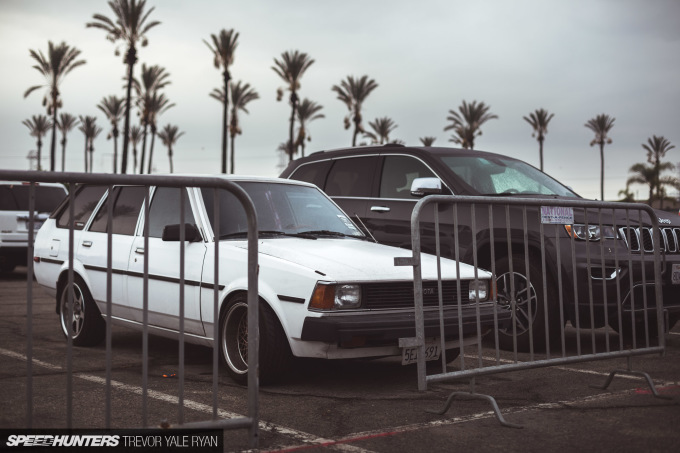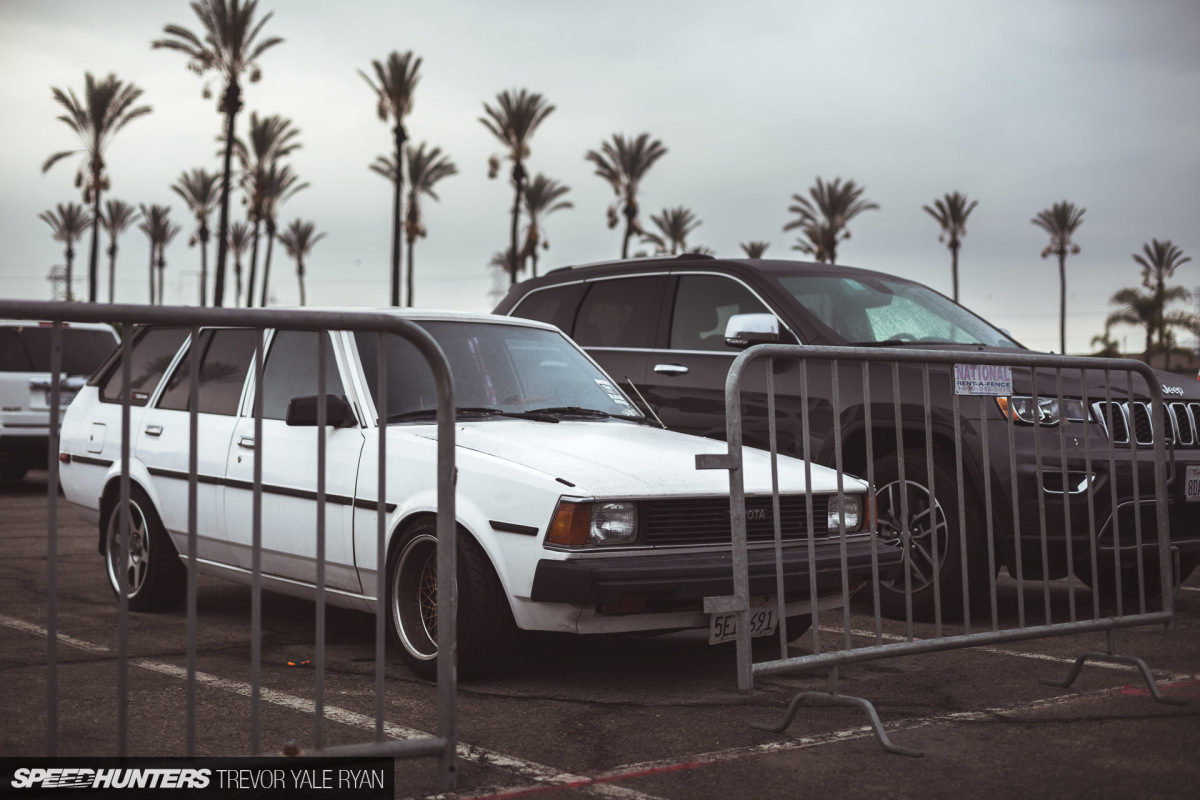 Across from registration I noticed this old school wagon with mismatched wheels in front of an even more old-school 510. Both in need of a little love, but both really fun cars to own and drive. I love how long cars can survive here in the (usually) dry California weather; there are so many good bases for projects to be found.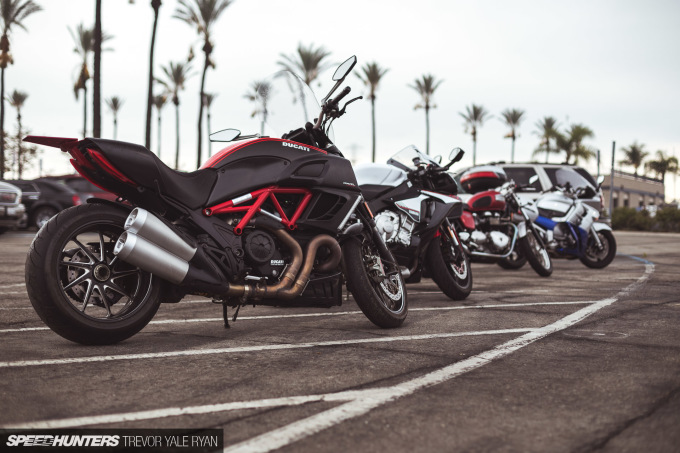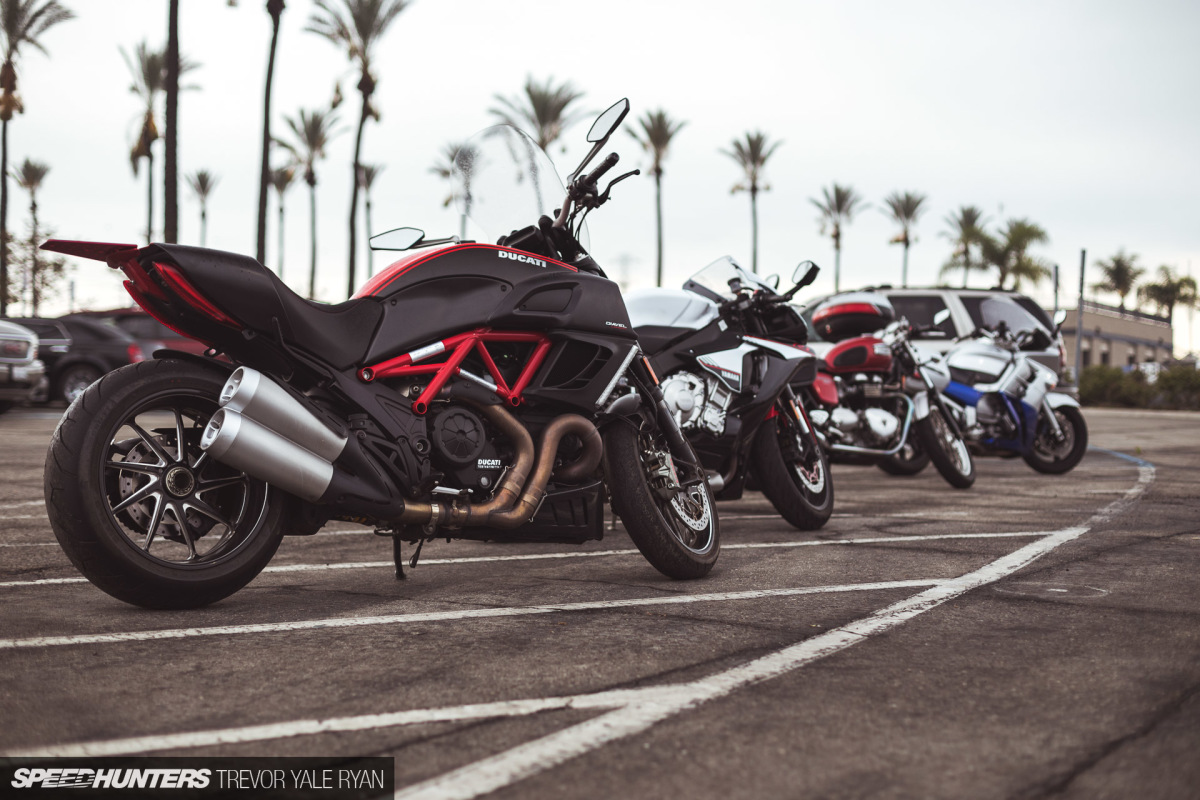 The great weather means there are plenty of two-wheeled machines out and about as well…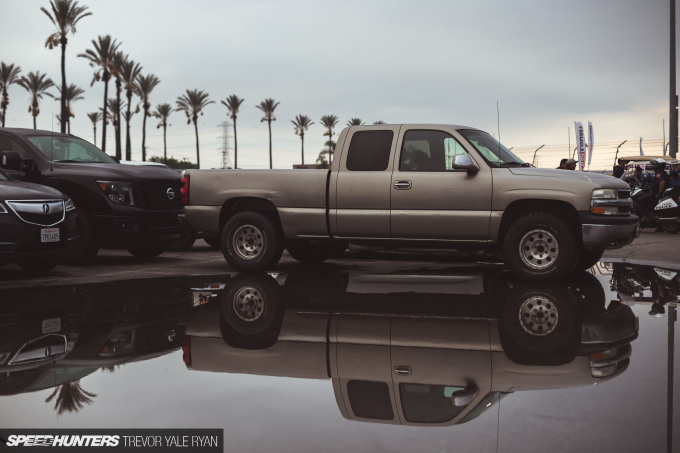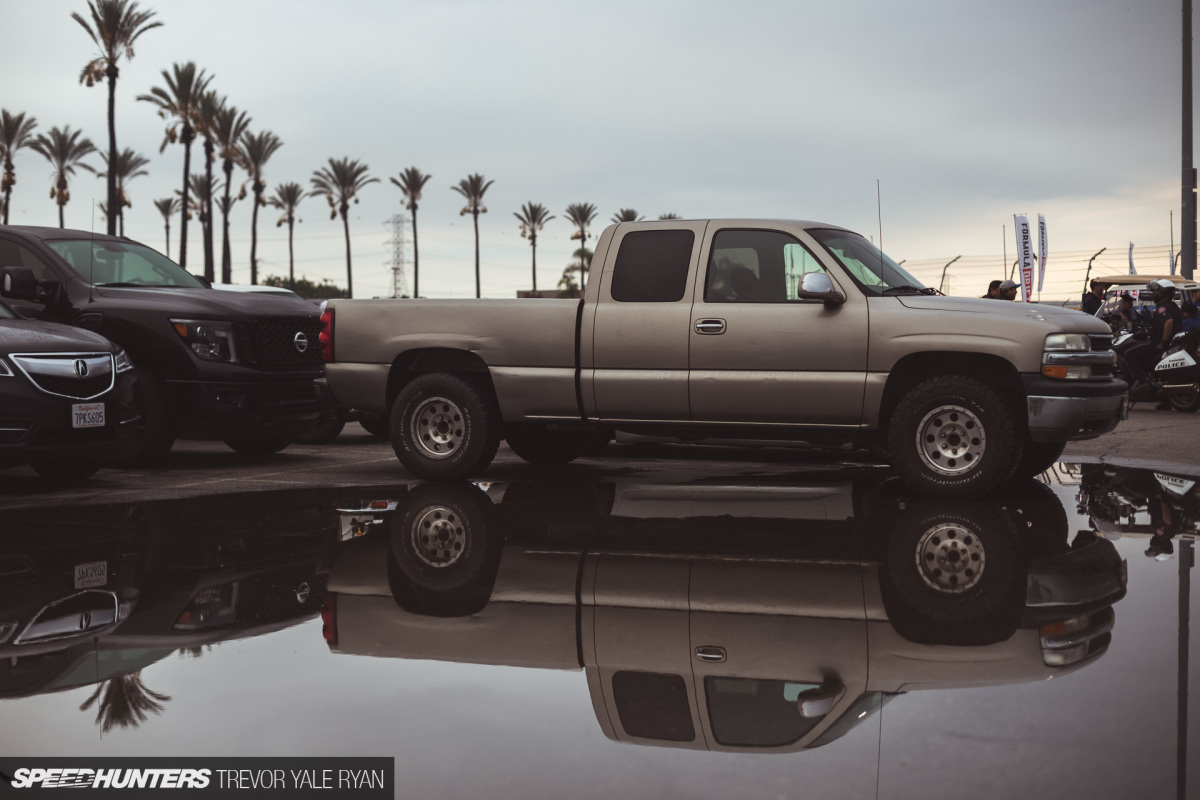 Of course, the first puddle I found was occupied by a beefy truck rather than something cool and low. Makes sense, I guess, but still a shame.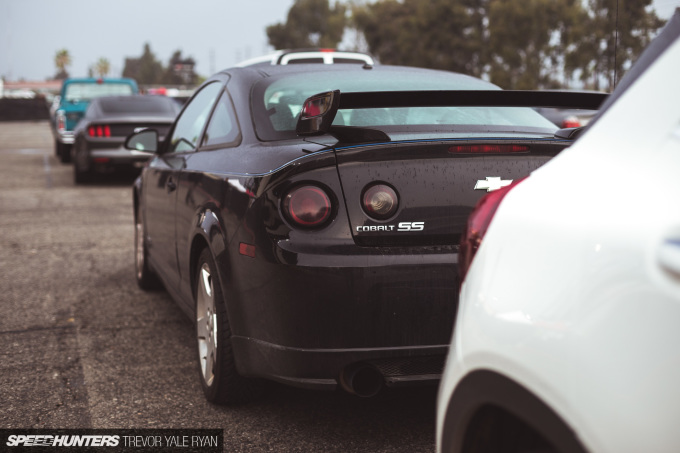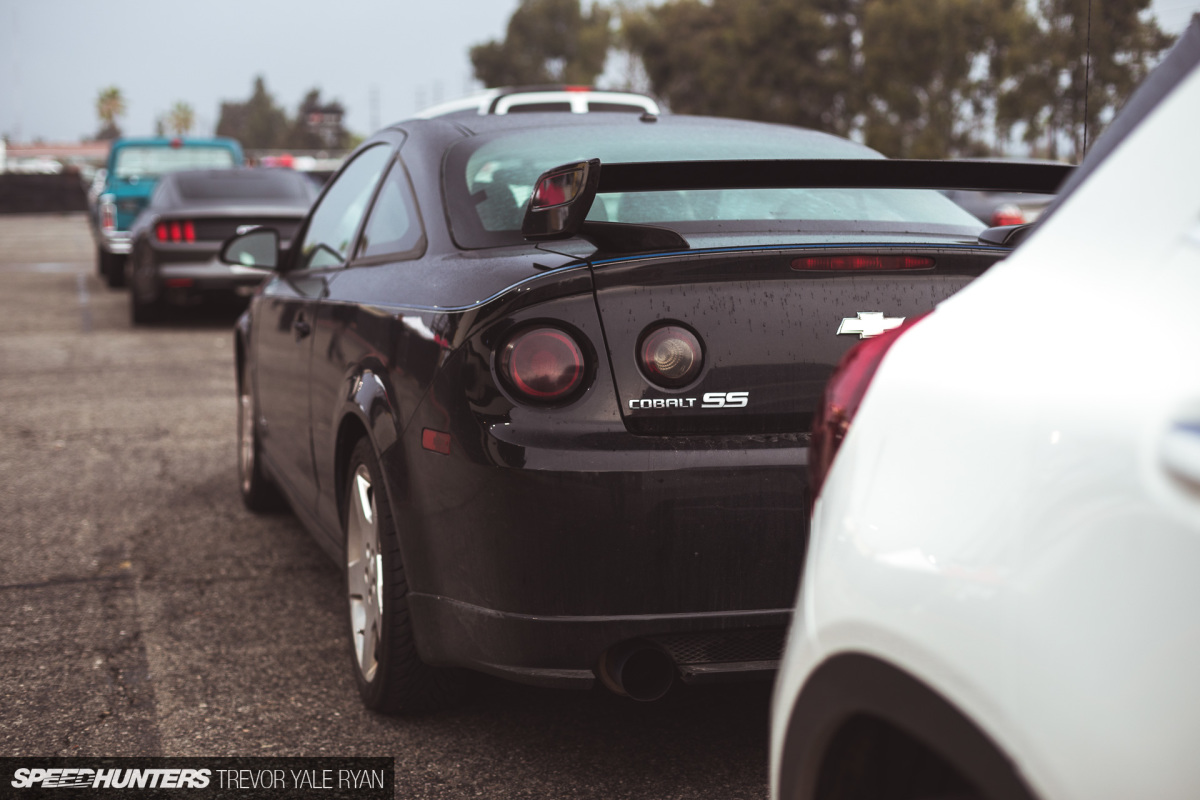 Moving on I found a really cool R33… I kid, I kid. But the fact that a FF layout is wearing the SS badge at all is just goofy.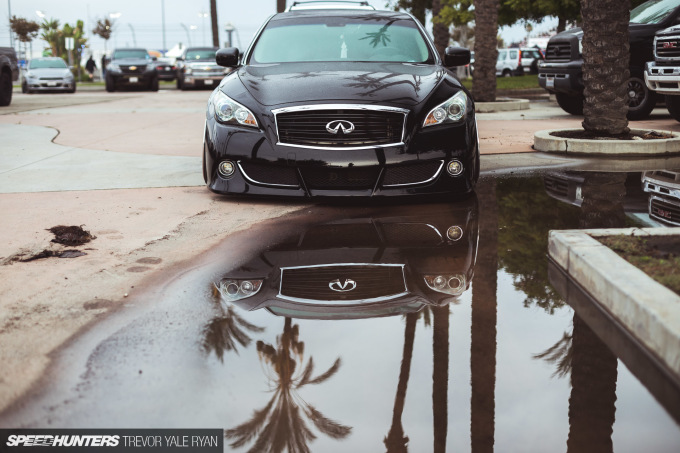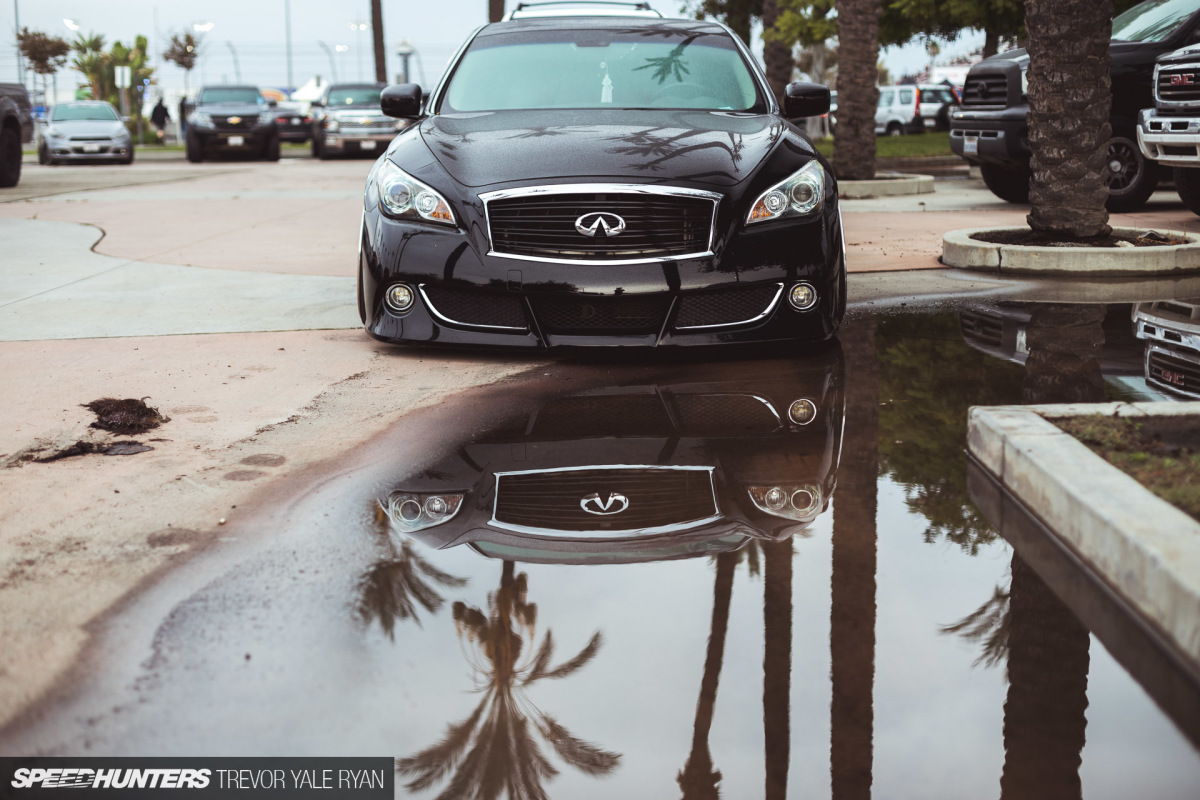 Finally, a decent puddle and a decent car in the same spot at the same time. It's always cool to see what cars people bring out to these events as it guarantees they're drivers at a minimum, with many being dailies.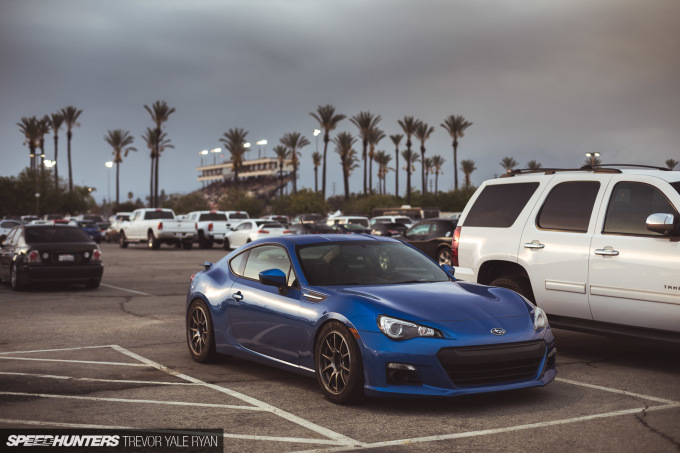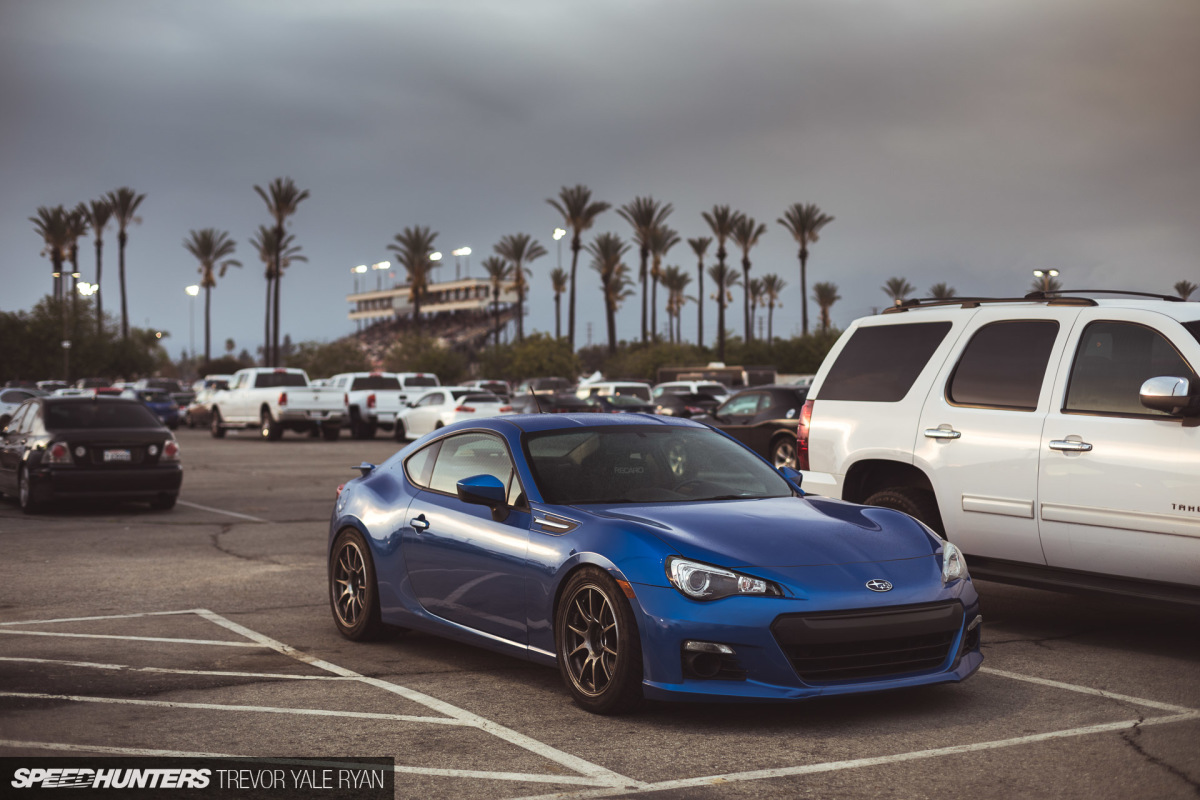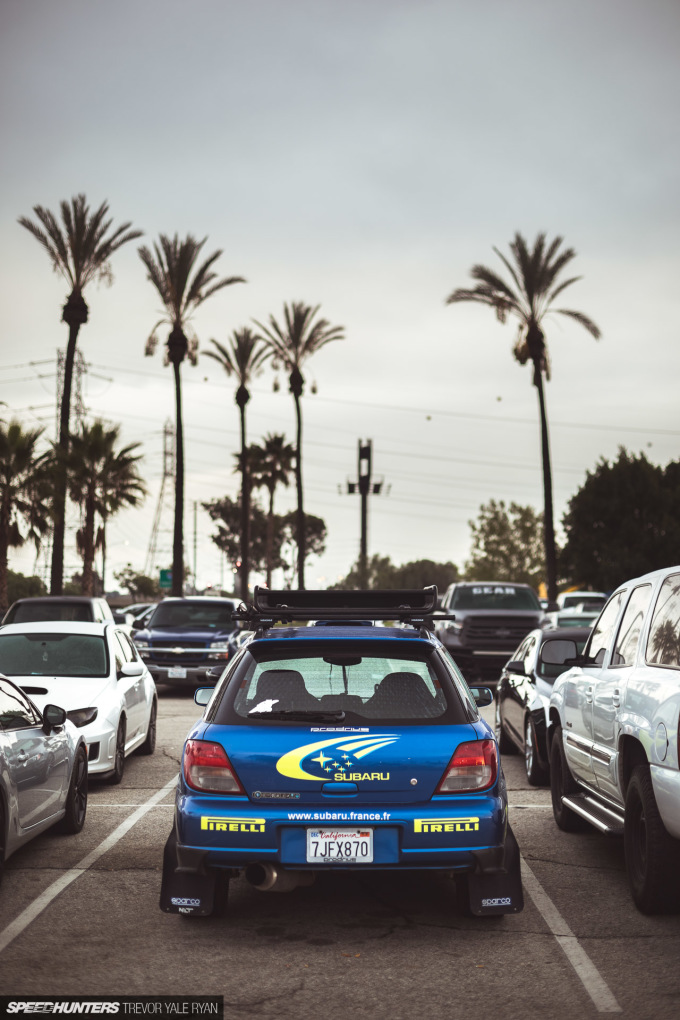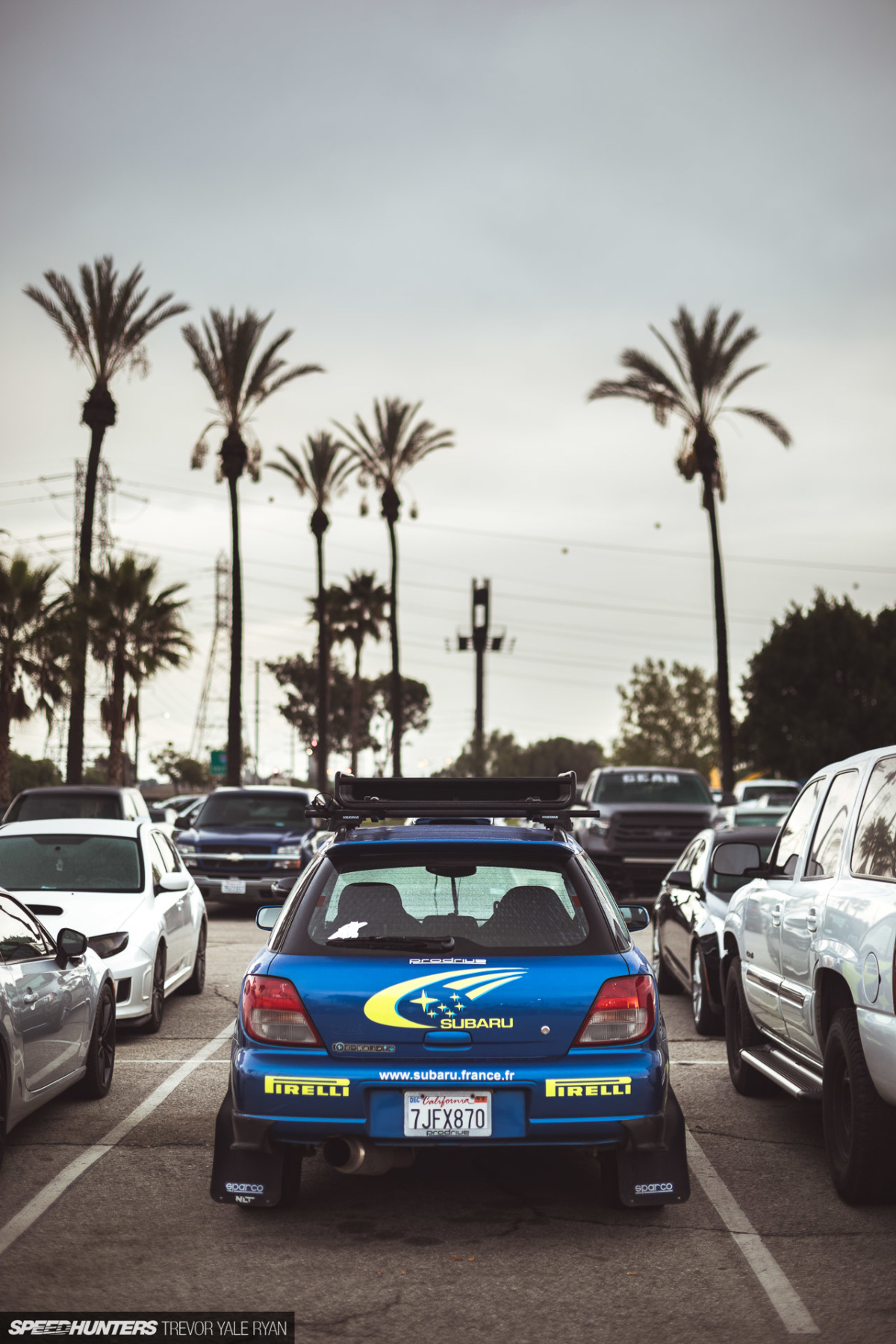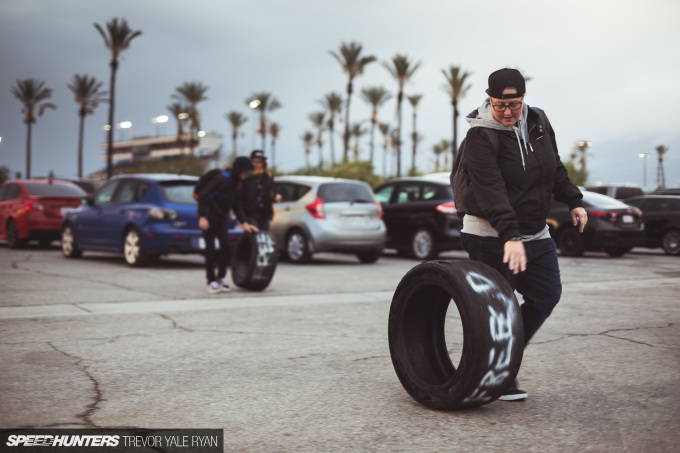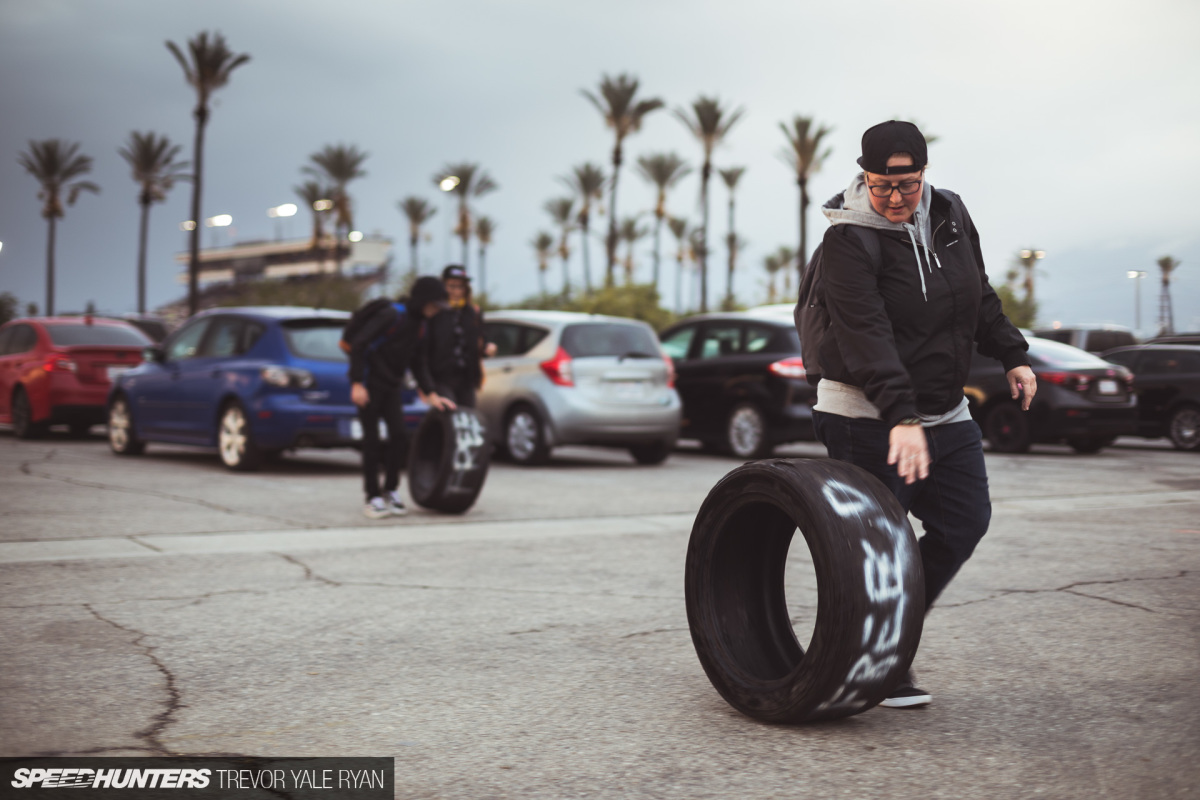 Farther and farther I went from the palm trees that line the course itself, looking for what might be hiding deep in the lot.
Behind a cute little Corolla I found something more sinister, and roughly four decades newer, hiding behind it.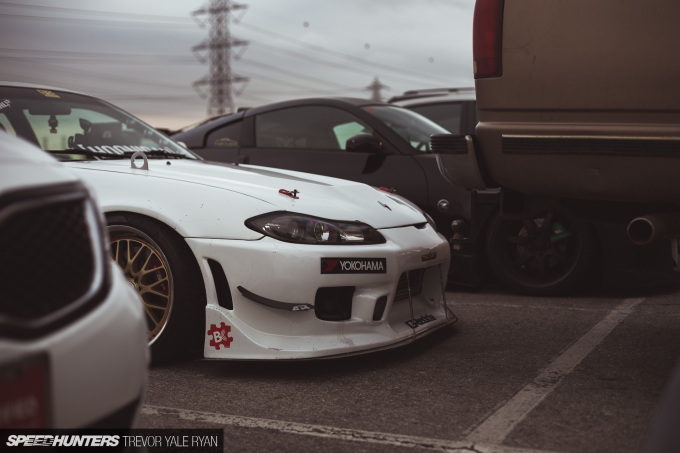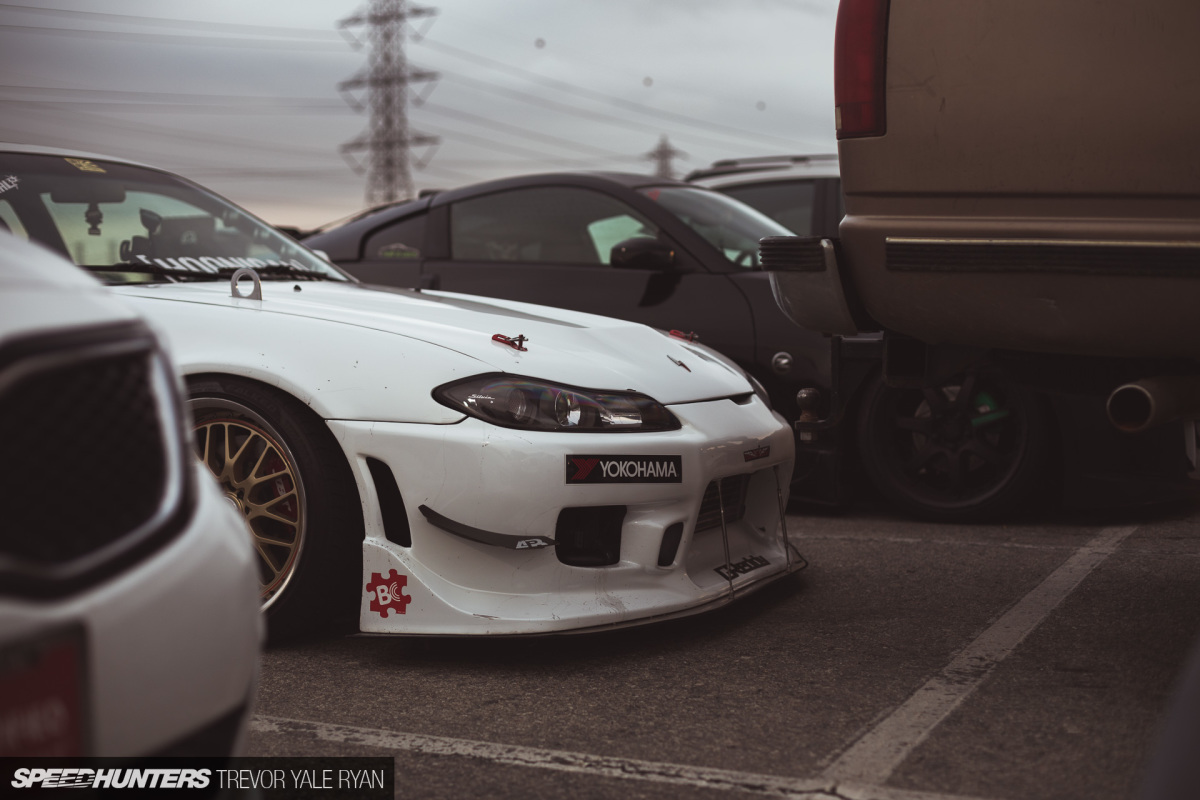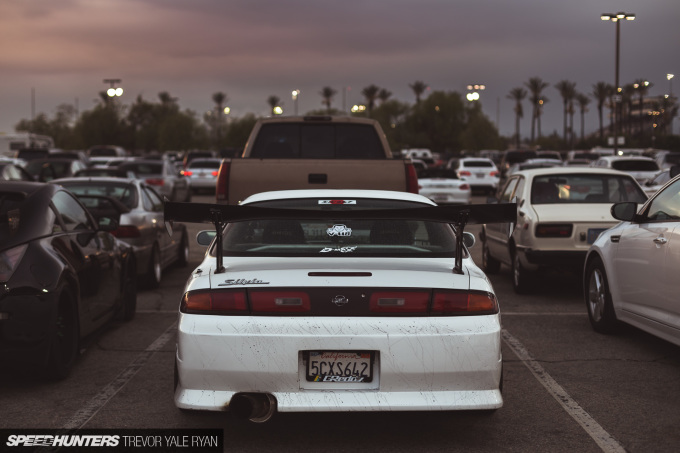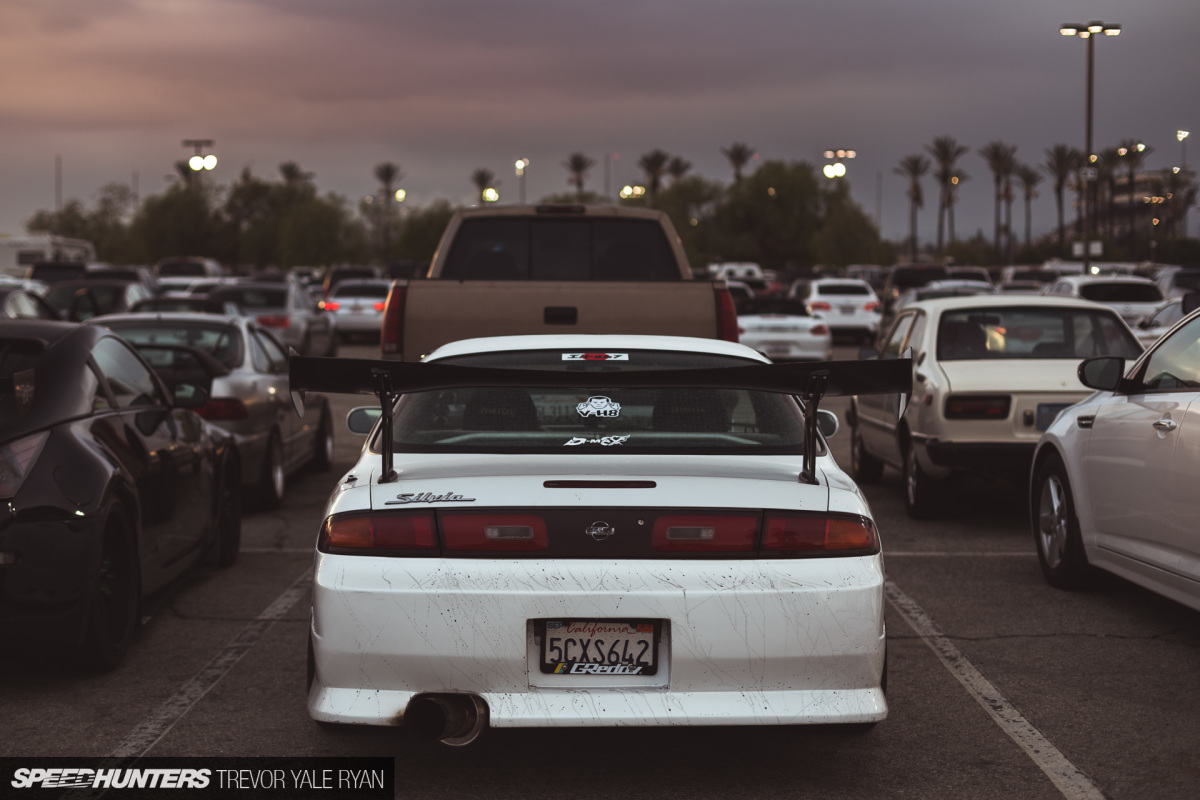 At least, it looked like an S15 at first glance, but turned out to just be a nice little 14.5 conversion; I guess I have to knock a decade or so off that four decades number. Genuinely at the end of the lot and with driver introductions starting soon I made my way back towards the grandstands.
Of course, I took a different path back, because you never really know what you're going to find. I mean seriously, what possessed this person to do this of all things? Perhaps for Halloween, or maybe it was their kid's idea…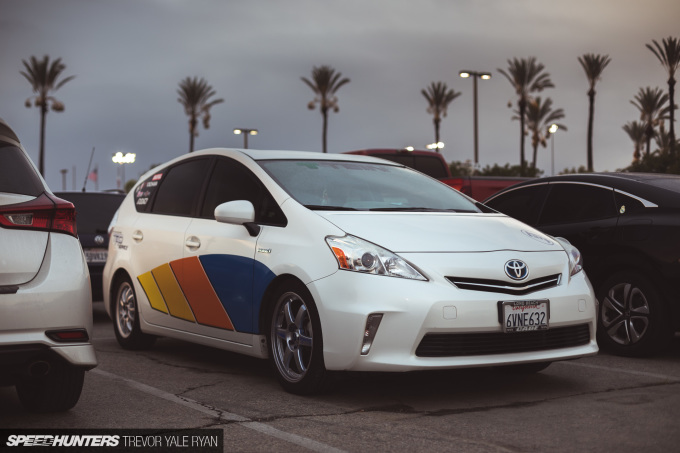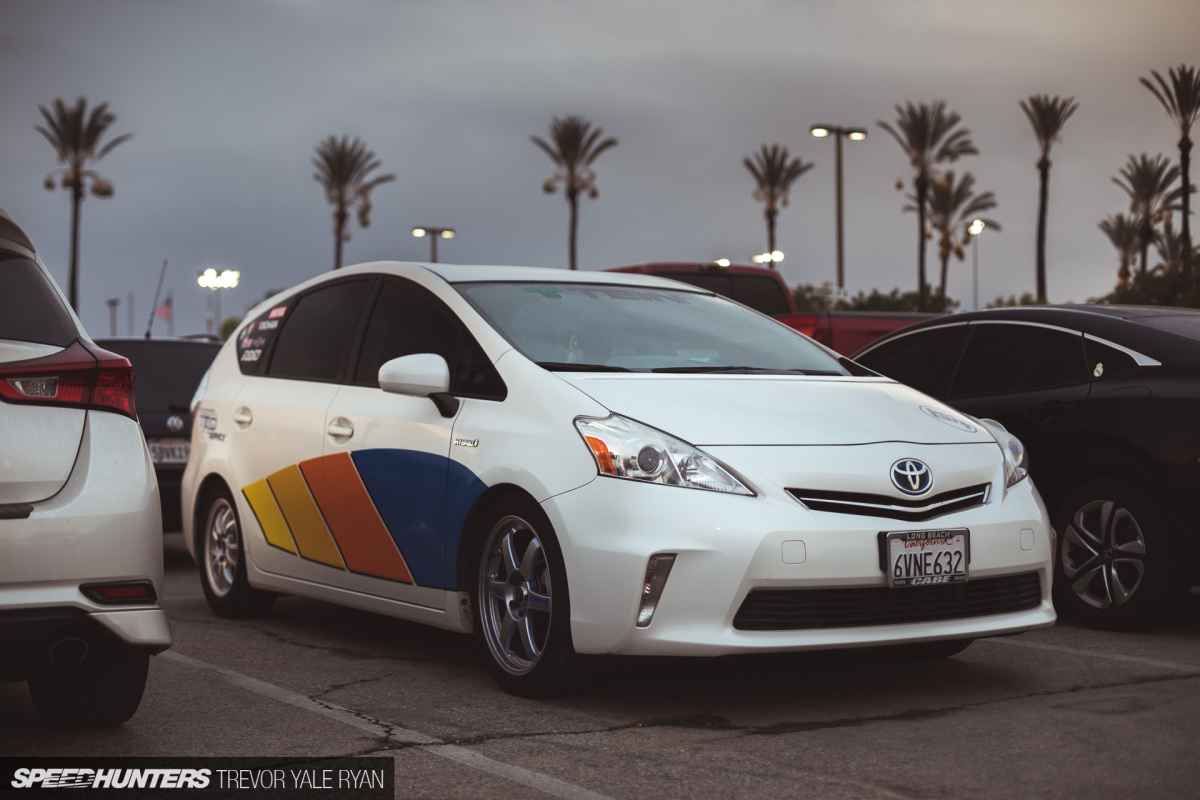 After all, who said car life has to end after you have a family? Certainly not the owner of this… beauty.
Almost back to the gate, I wasn't surprised to find people using their tailgates in any number of ways.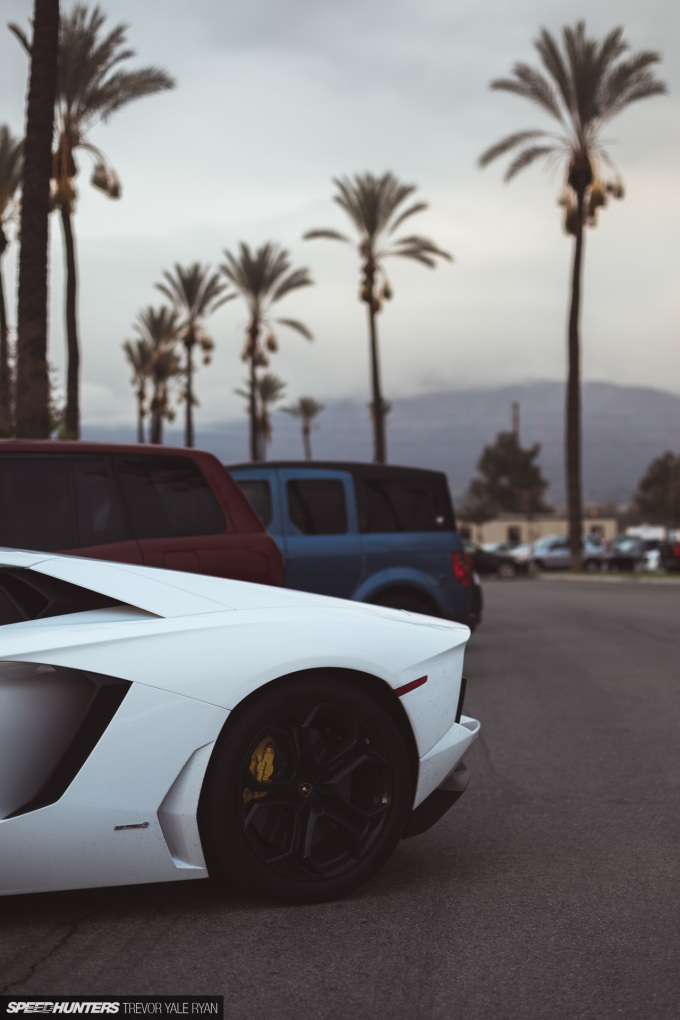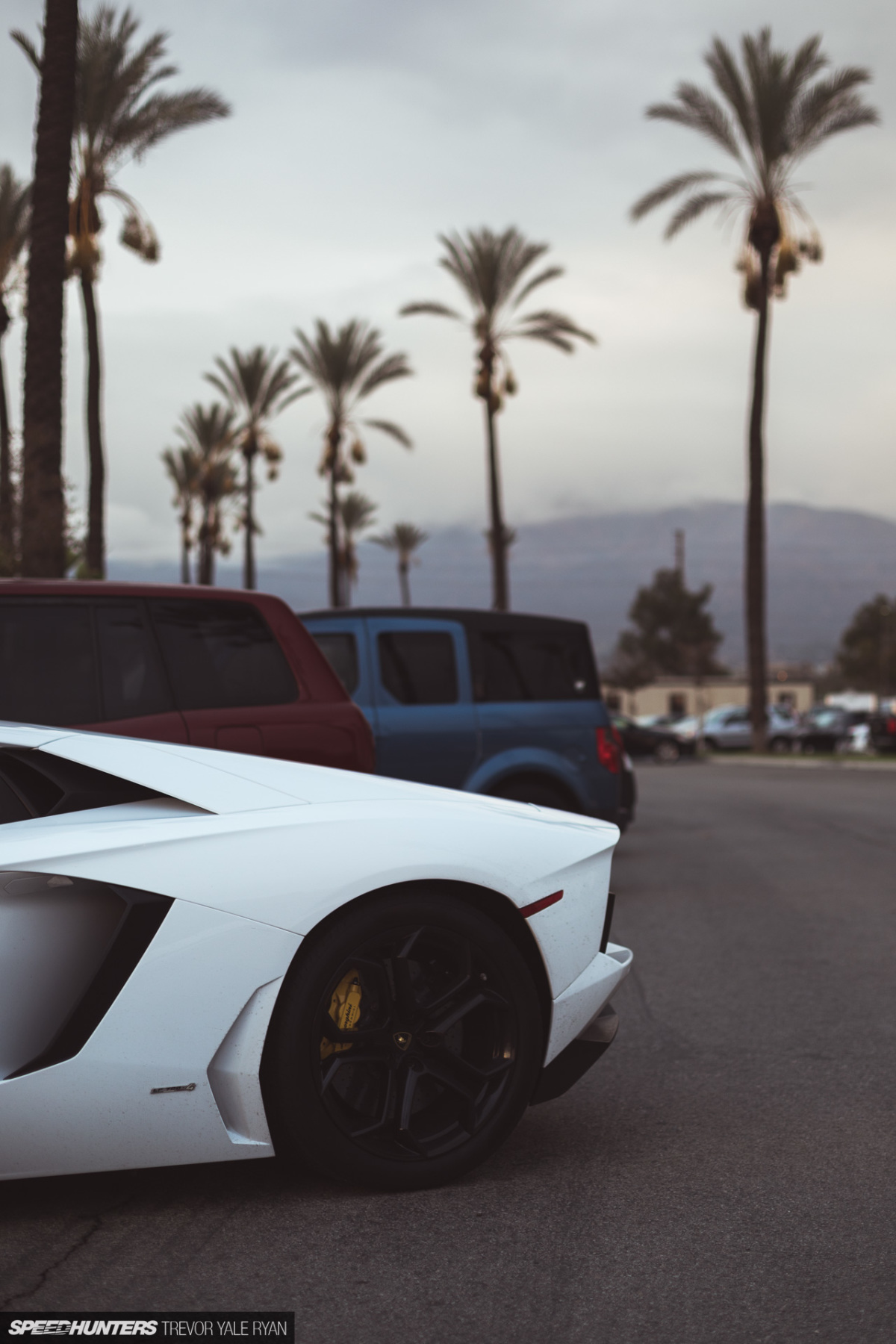 And, of course, you can't really throw a rock in LA area without hitting a Lamborghini, so it was no surprise to see this thing had rolled up in my absence. Still, it was an Aventador, so that's a plus.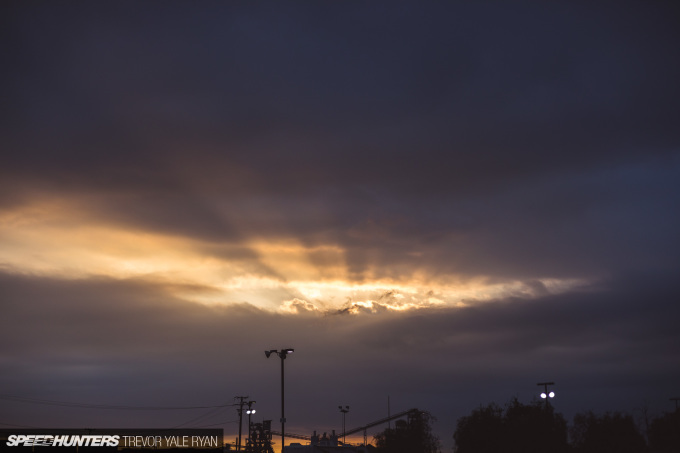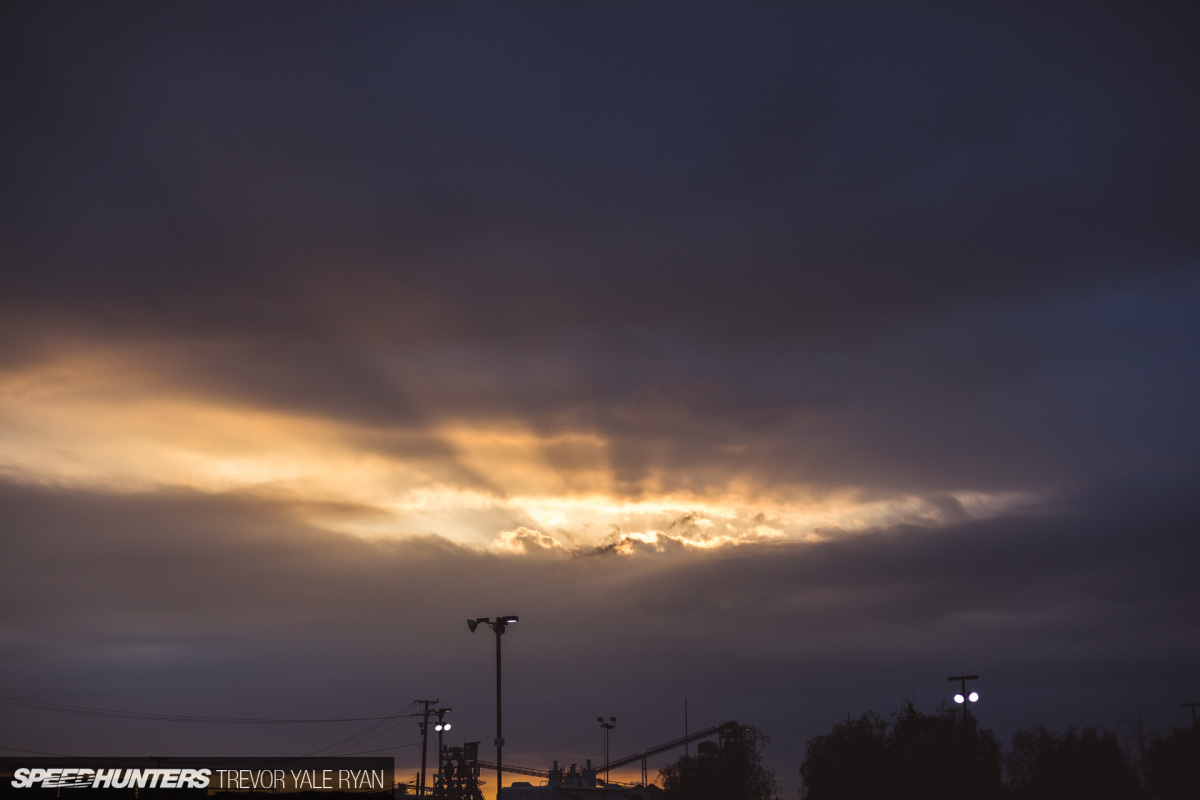 With the top sixteen about to kick off I had to call it quits on the parking lot. I'm sure there were some cool cars out there that I just plain missed, but there are a handful of extras in the gallery below.
Feel free to share a photo in the comments of the wildest thing you've spotted in a parking lot. I'm sure it'll be good for a laugh, if nothing else.
Trevor Yale Ryan
Instagram: tyrphoto
TYRphoto.com
Going Deep