At this point I don't think it's up for debate that RAYS Volk Racing TE37s are one of the most iconic aftermarket Japanese wheels ever designed.
Go to any show or track event and you're likely to see at least one authentic set, and several more wish-they-weres. Usually, we feature the versatile six-spoke on cars, but when a number of trucks pulled up to the recent RAYS Tribute meet in Santa Ana, California we had to switch things up.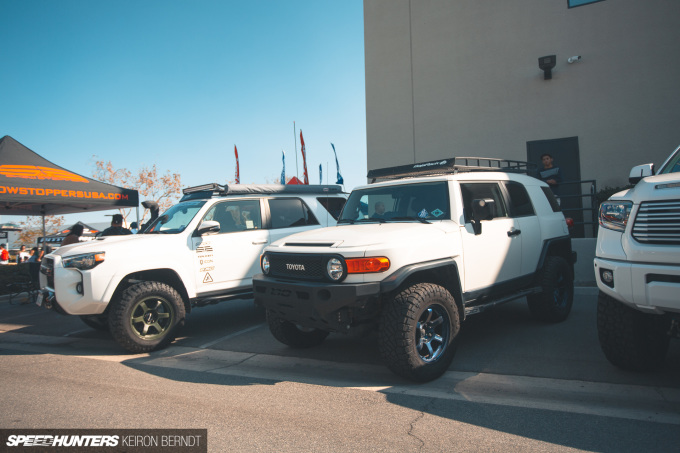 Organized by Mackin Industries, the North American distributor for RAYS, in collaboration with Super Street and held at The Enthusiast's Network HQ, the appreciation meet exclusively featured – as the name implies – a whole lot of RAYS-equipped vehicles.
Around midway through the event something surprising happened: a fleet of trucks on TE37s pulled up and parked in a row that disappeared into the early afternoon sun. They may have originally been designed for tarmac use, but when wrapped in aggressive rubber and tossed under a truck that is even slightly lifted, TE37s look unexpectedly great. For those of us considering, ahem, perhaps more sensible, family-friendly daily drivers, a setup like this is a great alternative to something slammed.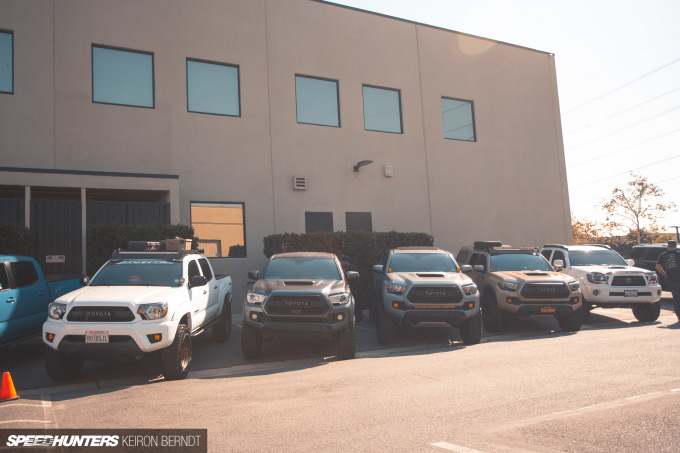 I've been considering a Toyota Tacoma as a daily driver for a few years now (I'm waiting for my wallet to agree), and seeing such a well done variety of them above certainly doesn't help me attempt to forget the idea.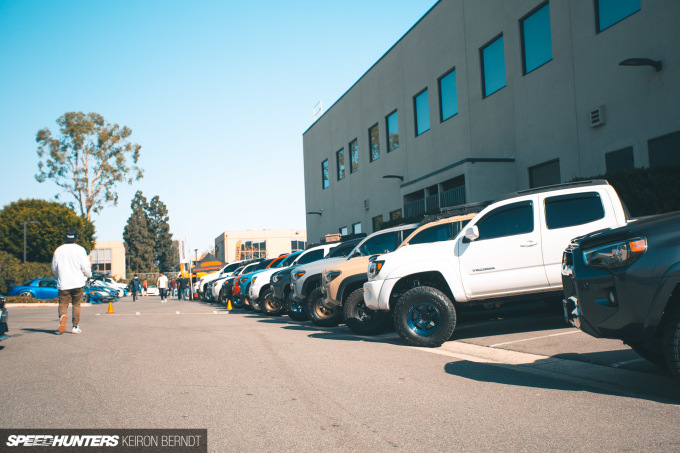 The '80s nerd in me wonders if you could do a Marty McFly-style 2018 Toyota build, but use TE37 wheels on it? A black truck, KC roll bar lights, some aftermarket bumpers and a set of gloss black TEs?
I think it could work, especially after Biff puts on that second coat of wax.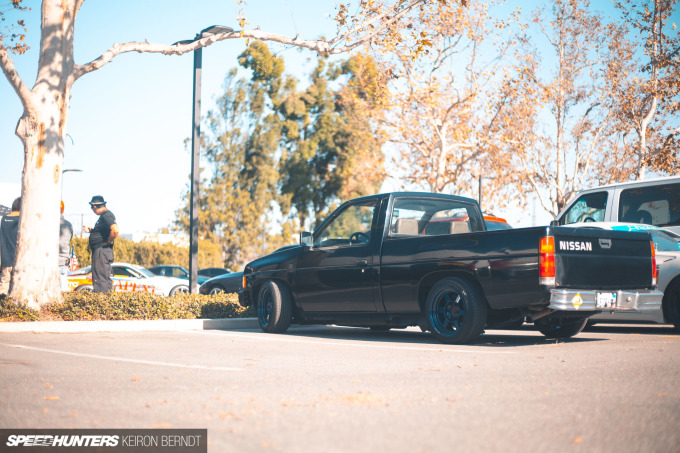 Parked on the outskirts of the venue was this little black Nissan Hardbody. The oddball six-lug bolt pattern of these trucks makes aftermarket wheel selection a bit tricky, so I can only imagine this owner's excitement when RAYS released the TE37X Progressive Model wheel.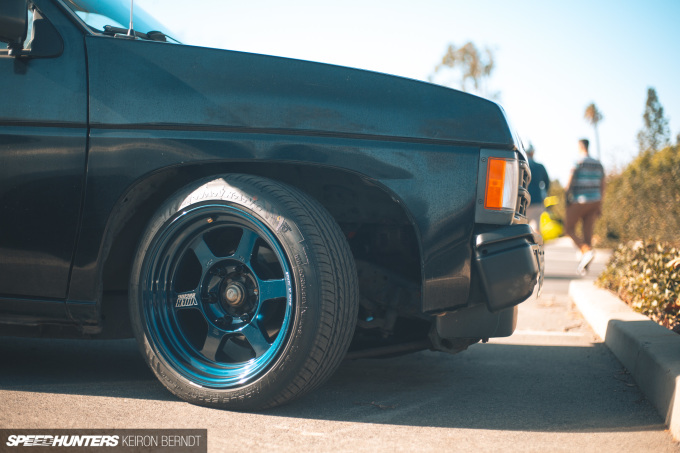 I'm not sure this vehicle's ultimate purpose is, but the bumpers suggest it's a daily. If it is a daily, it might not progress much past this point, but I see some real potential here. Perhaps with a bit more rubber, or a bit more low? The latter suggestion might be the mini trucker in me talking.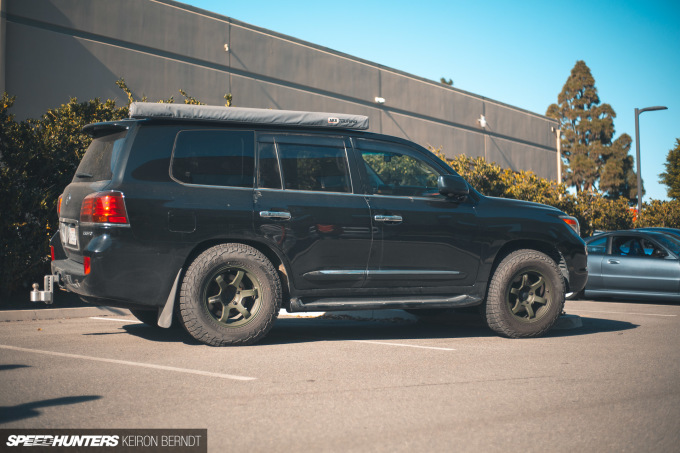 The Lexus LX 570 is a vehicle that I'd assume is more commonly found at a child's soccer pitch, or outside a mall, not at a car meet celebrating JDM wheels. But sitting on TE37 Large P.C.D. Progressive Model wheels finished in Matte Dark Green, this truck looked pretty damn rugged. Or as rugged as a luxury SUV can look.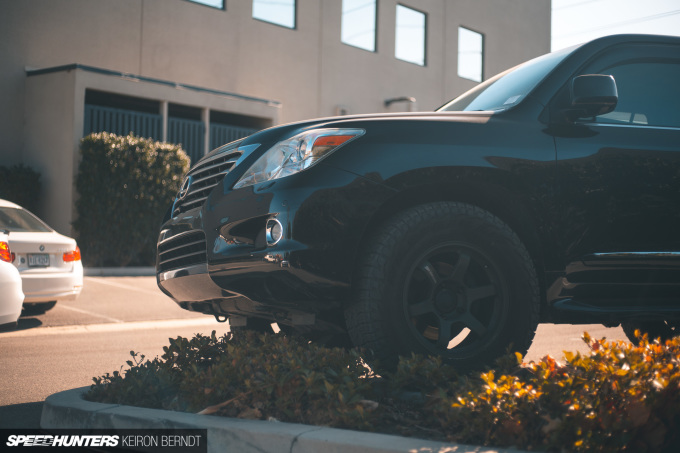 The owner must have been feeling the look of the car quite a bit because he even did a baby flex on the curb.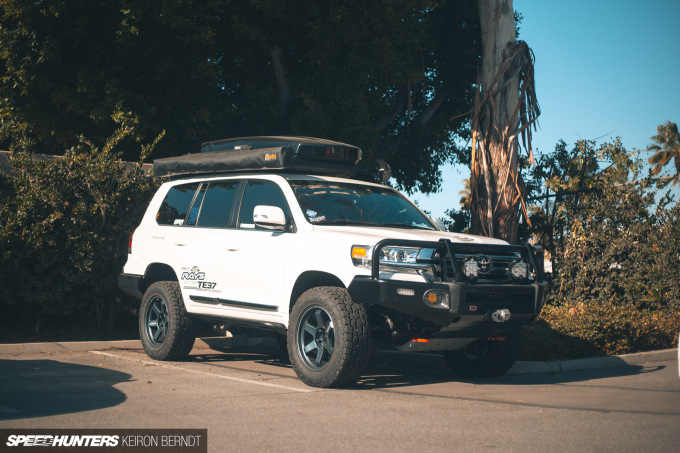 The only reason I call the LX 570s parking job a baby flex is because this Land Cruiser looks like it should have easily put it to shame if the owner felt it necessary.
The truck, a recent SEMA Show project, sits on OME BP-51 suspension, Toyo tires and of course RAYS wheels, this time Matte Blue Gunmetal TE37 ultra Large P.C.D.s in 20×9.5-inch fitment. 20-inch TE37s on an off-road vehicle – that's a string of words that wouldn't have been typed in succession as recently as five years ago.
Looking at these photos, I can't help but think the SH Garage needs another off-road build. But what would you want to see the next SH off-road build be? Something old? New? American? Import? The sky's the limit when it's just an idea.
It's safe to say the wheels are picked, though…
Dave Thomas
Instagram: stanceiseverythingcom
Photography by Keiron Berndt
Instagram: keiron_berndt