Soulless
I'm not too big on exotics, and I think many of you share this sentiment to some degree.
They're cool, no doubt, but given the nature of the market and how each hyper or supercar vastly outdoes the previous generation, they still somehow don't manage to change the landscape of car culture itself very much.
Personally, and perhaps inaccurately, I attribute this not only to the relatively low production volume of high-end vehicles, but also due to the fact that those who purchase these cars do so for a very different reason than why someone buys, say, an S2000 or an old school Celica.
This isn't always the case, but it feels like all too often when chatting with the owner of a Lamborghini, Pagani, Ferrari, or what have you, that they just don't get it. It's like anything else they own, outrageously expensive and state of the art; another toy in their bragging material toolbox.
Their relationship with the car lacks the intrinsic depth that comes with tinkering and restoring or driving and enjoying; it's soulless.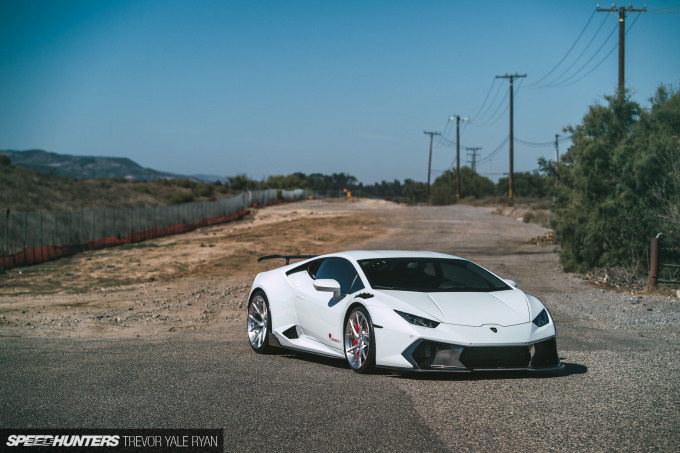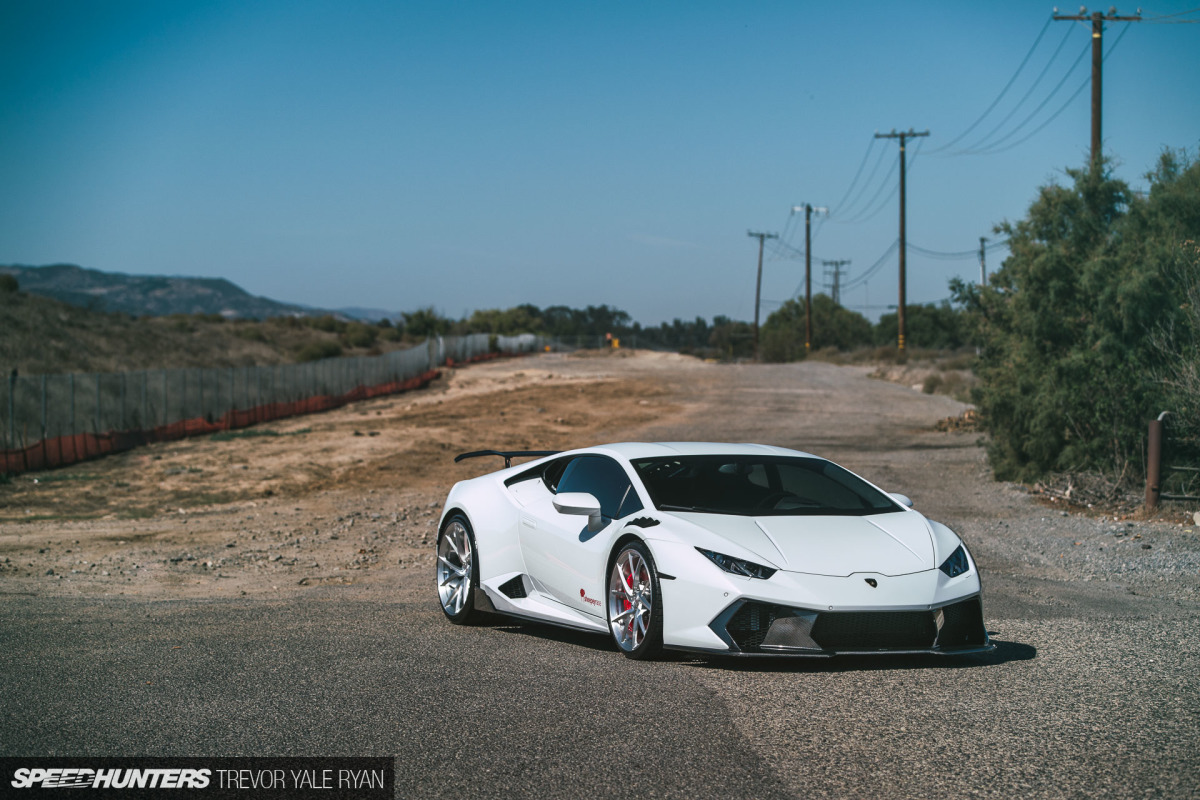 But every now and then a magic combination of personalities hits the nail right on the head. First, you need someone who's purchased a Lamborghini Huracán to enjoy the experience itself rather than the external clout that owning a car like this can bring. Then, that same someone needs to know the right people to modify said Lamborghini, no holds barred and 1,000hp.
Now, you have my attention.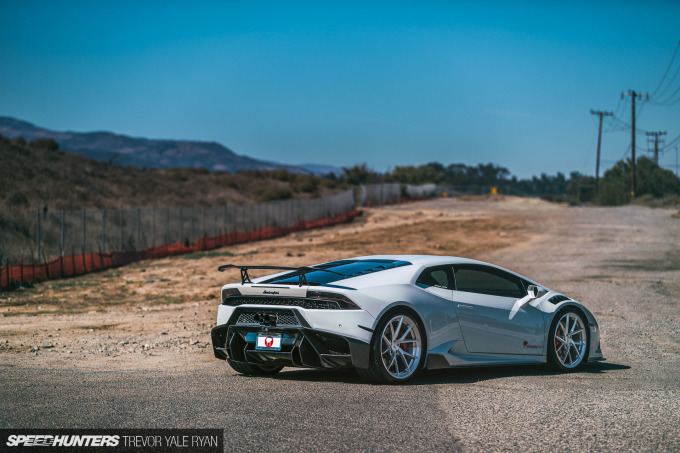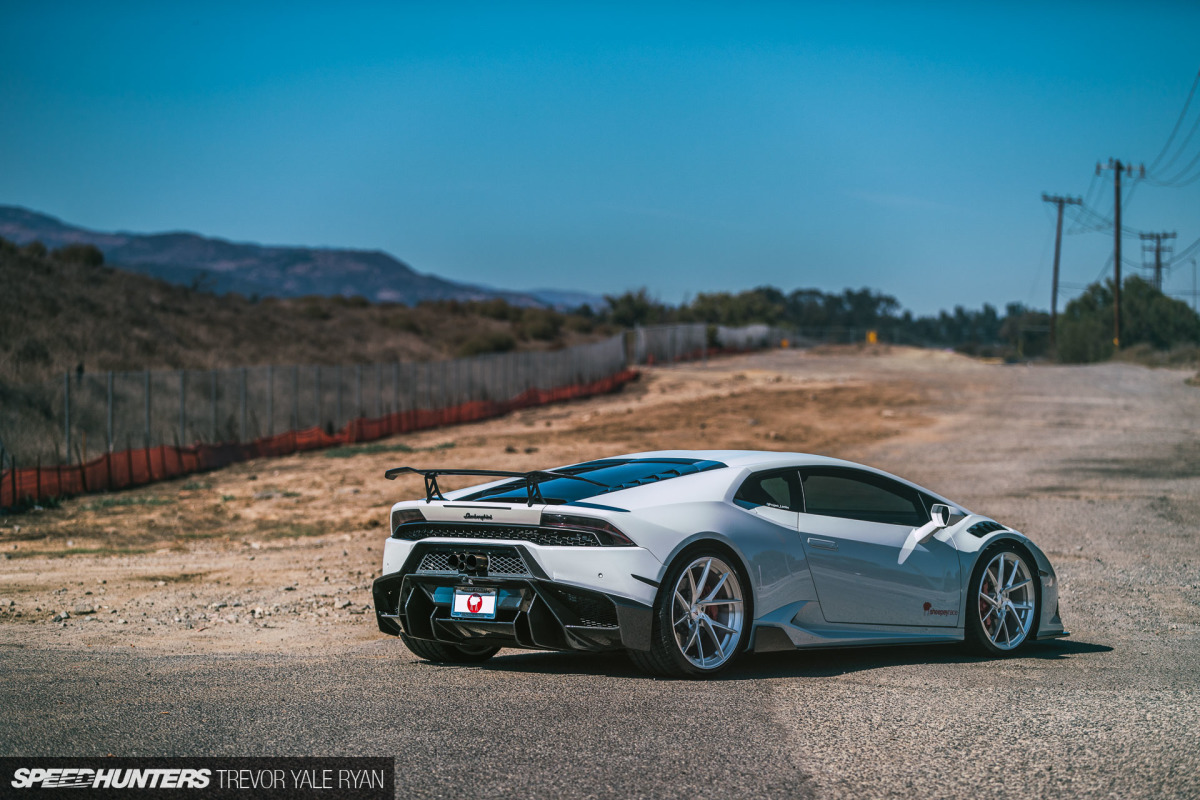 This was essentially the mental process I went through when I received a text asking if I'd like to shoot a Ferrari and a Lamborghini during the busy week before the 2018 SEMA Show. "Not really" was my first instinct; I'd always rather find a cool shakotan-inspired machine that's living a renewed life with its owner than visit with some exotics.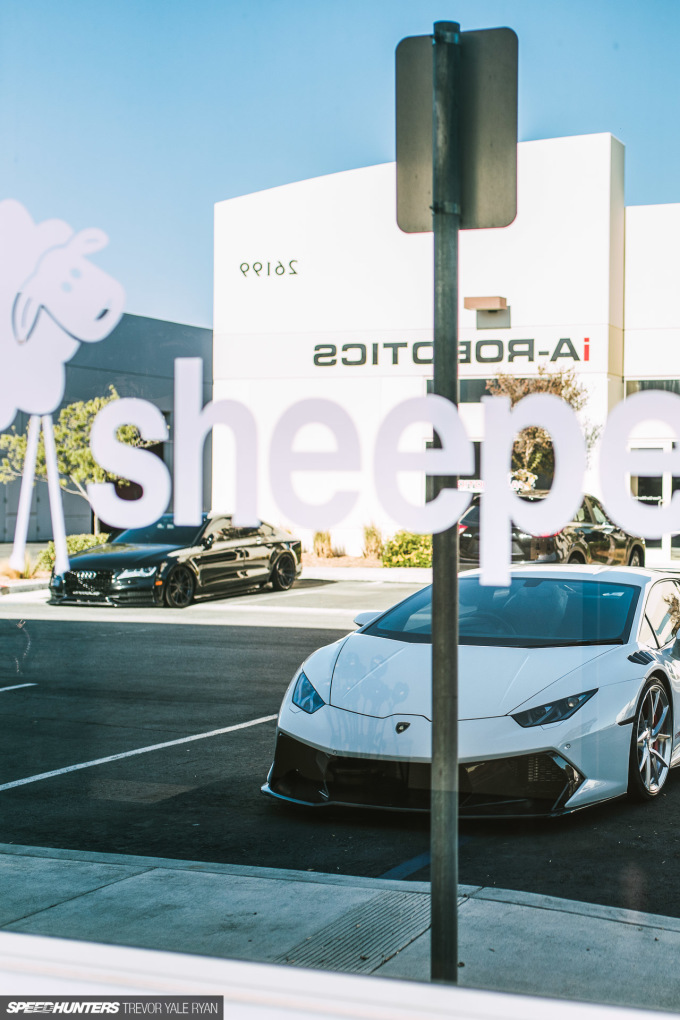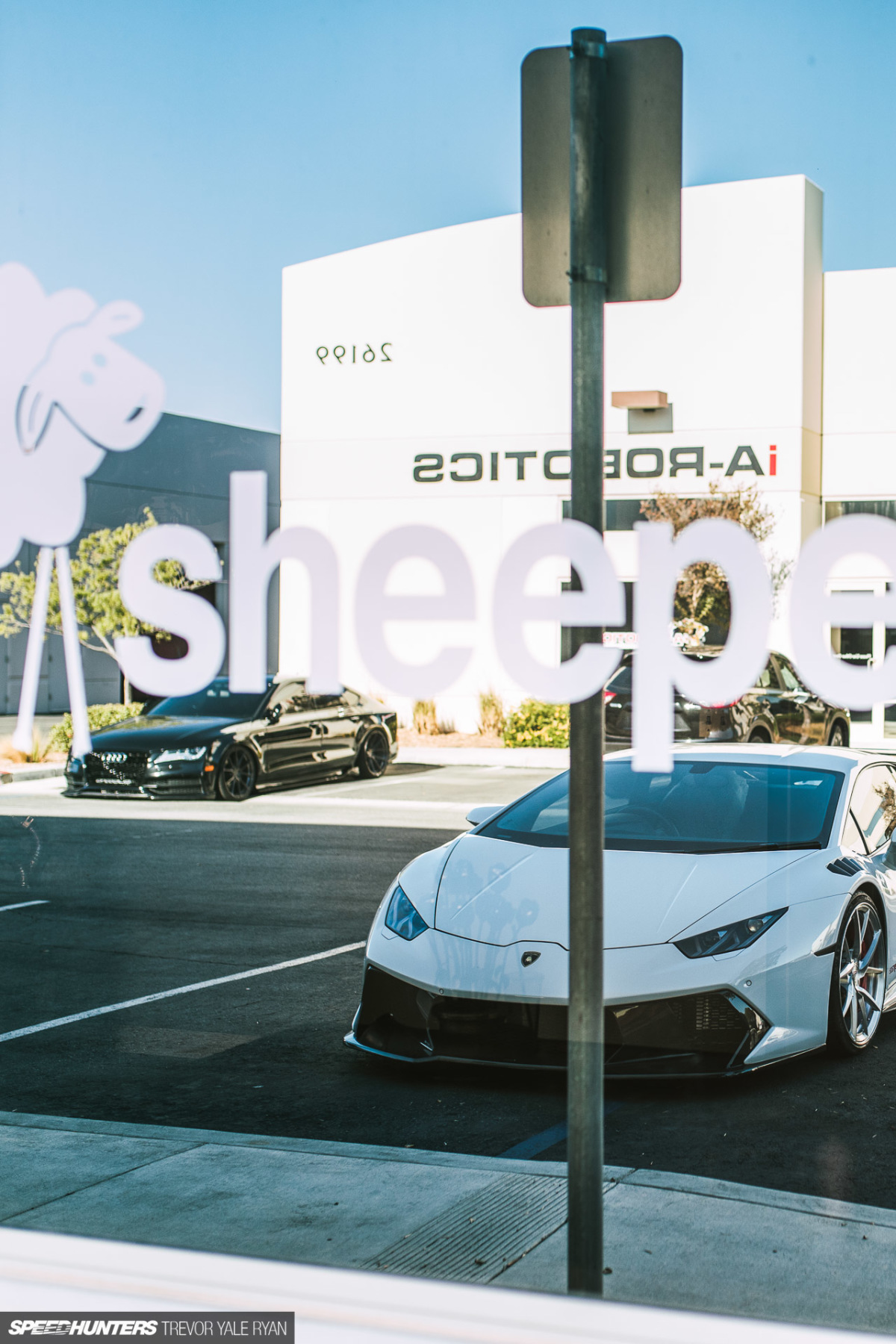 However, when I found out that Sheepey Race was involved, I said sign me right up. It turned out that finishing off the Ferrari just in the nick of time was a bit of a wild ride for the workshop, and one I documented before the show even started.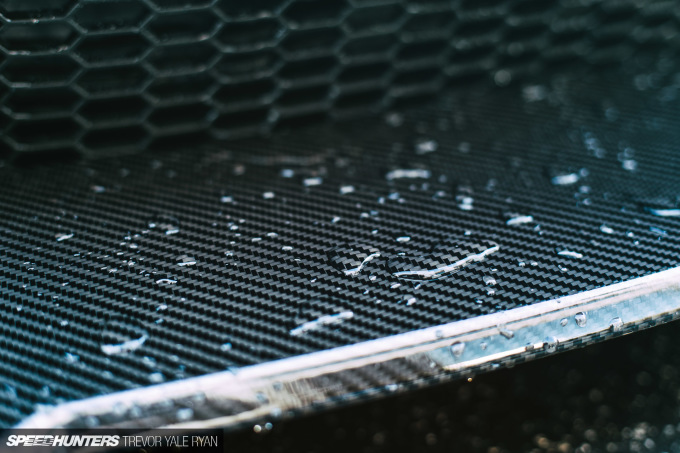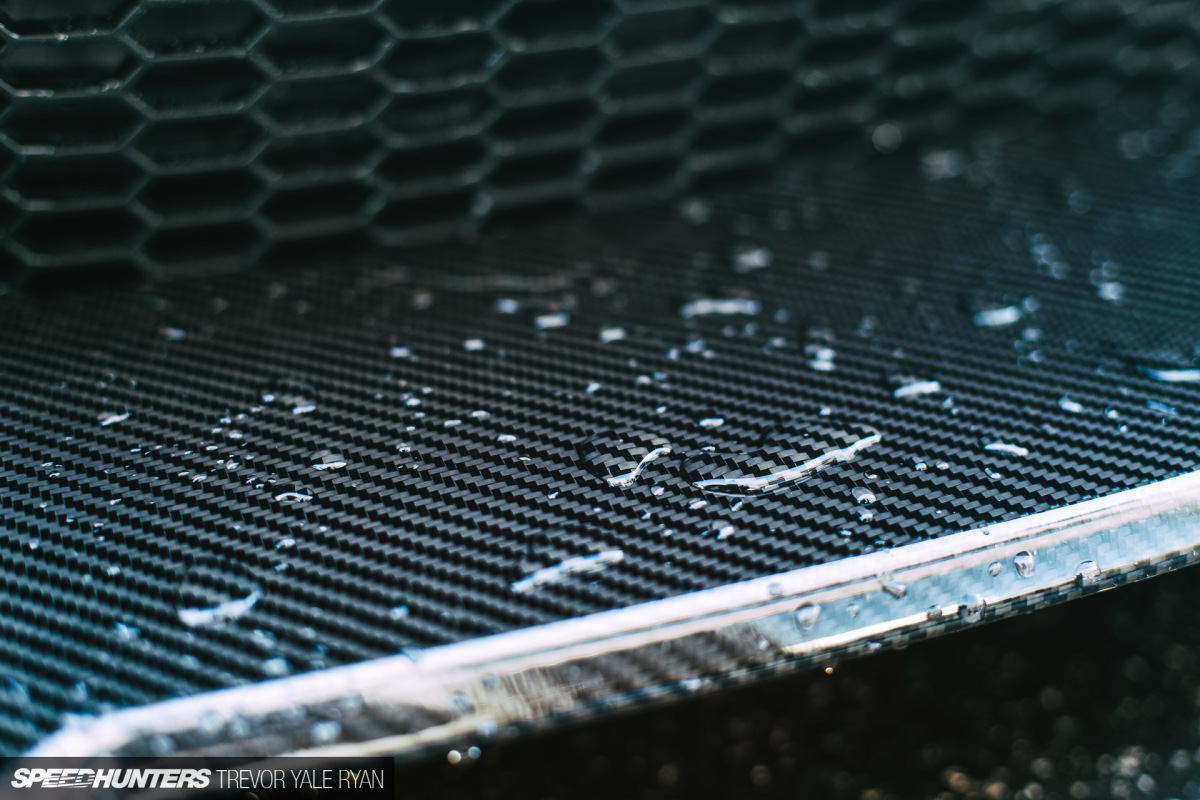 This Huracán, on the other hand, was already finished. When I arrived, it was getting a final wash down before being shipped off to Las Vegas. The plan was to take it around the corner with Greg, who is part of the growing Sheepey Race team, grab a few shots, and call it a day.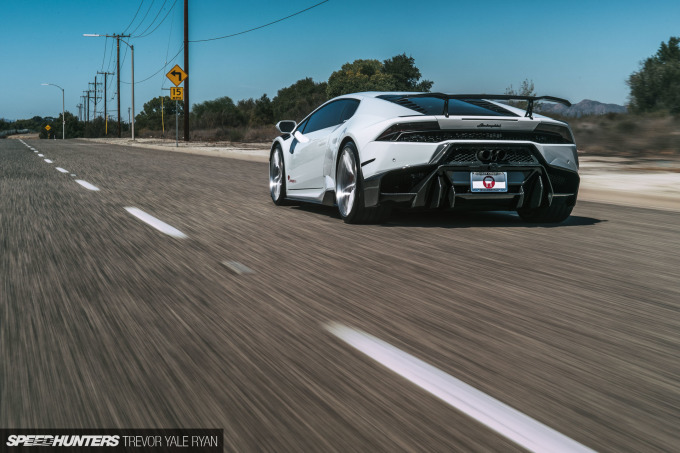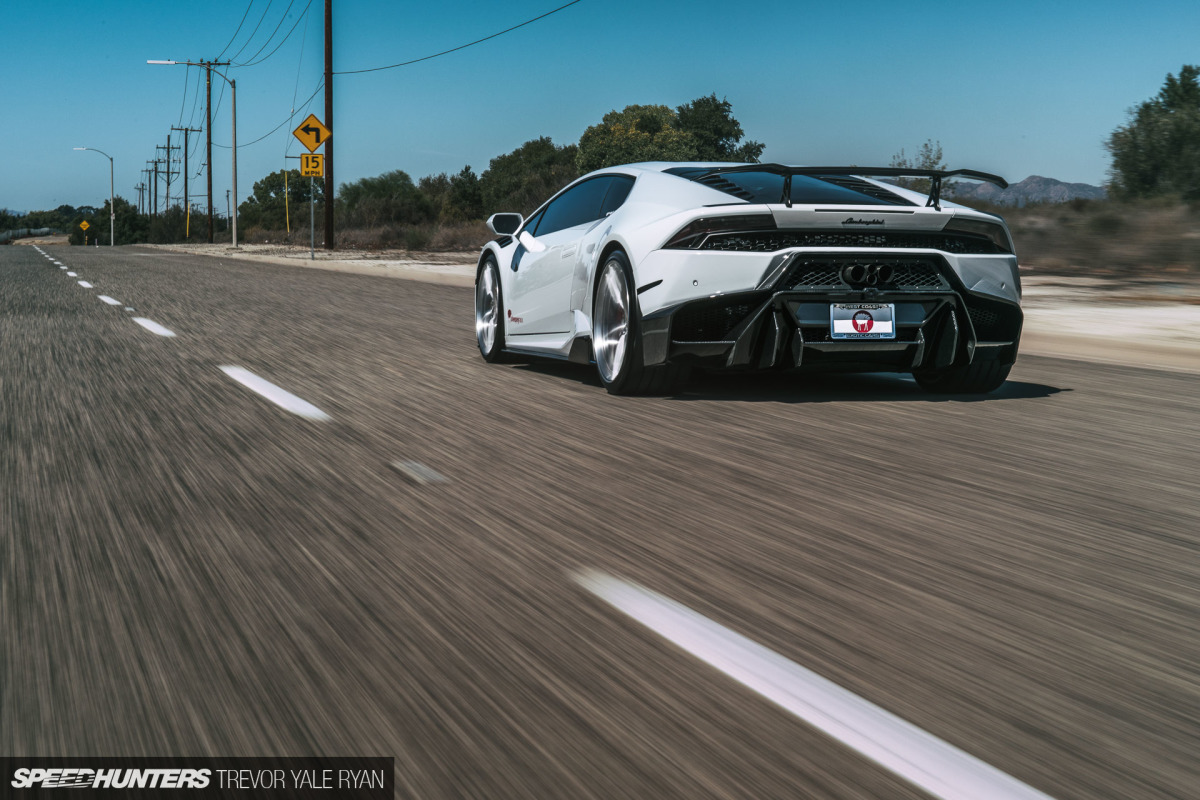 Nothing to it…
That'll Buff Out
Well, things don't always go as planned.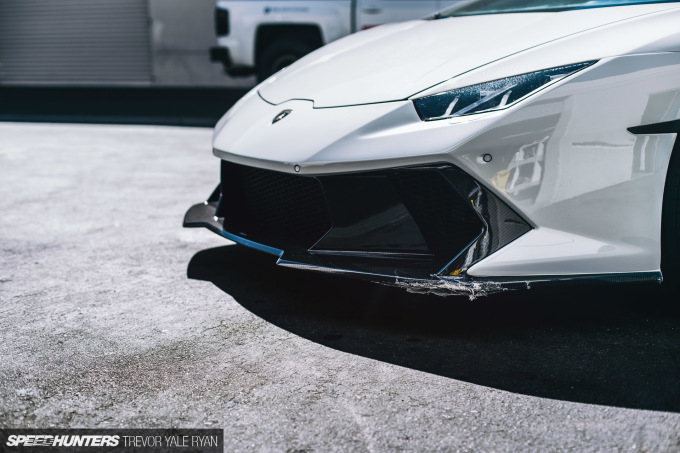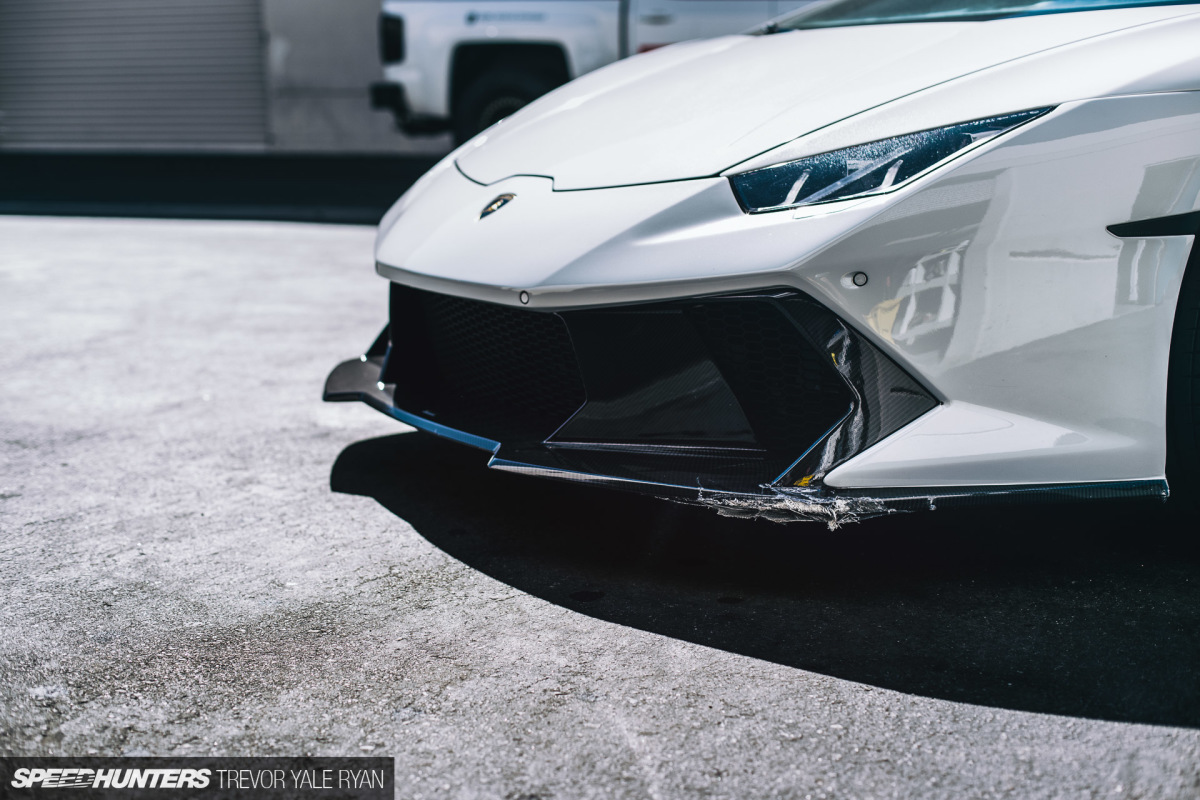 Anyone who's driven in California knows the state of the well-used roads here, and upon exiting a gas station with an egregious slope and a scattering of potholes we were reminded of this the hard way. The front-end lift system, while really good, just wasn't quite enough.
My heart sank; the workshop was already busy enough finishing off their Ferrari 458 for the patient tow man. How could they possibly remedy this situation in time for the show? Remember, today was the day it would be sent to SEMA. Surely our shoot was over before it started?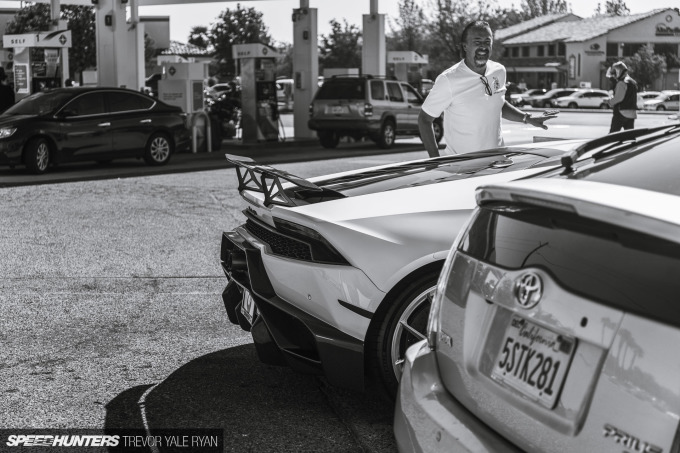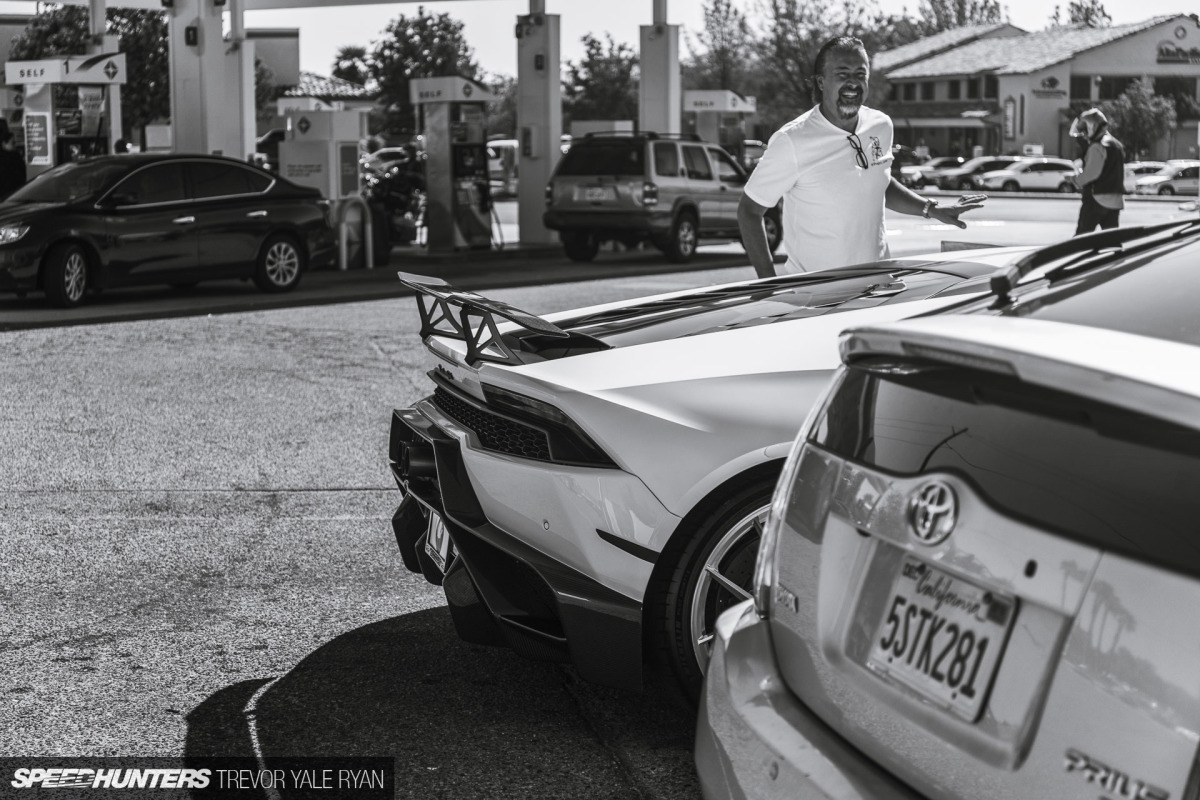 Greg, though, had high spirits. He gave Alex Soto at Sheepey a call, who in turn called their body and paint shop down the road and said "stop everything you're doing!" Luckily, we were able to drop the Lamborghini off early in the afternoon, but not before thoroughly enjoying ourselves with the car.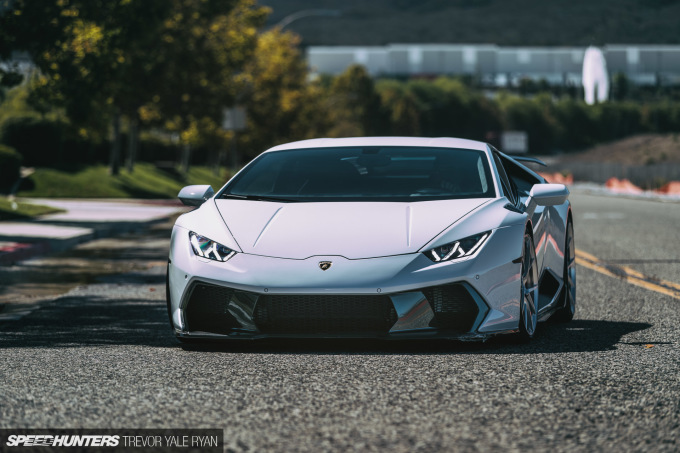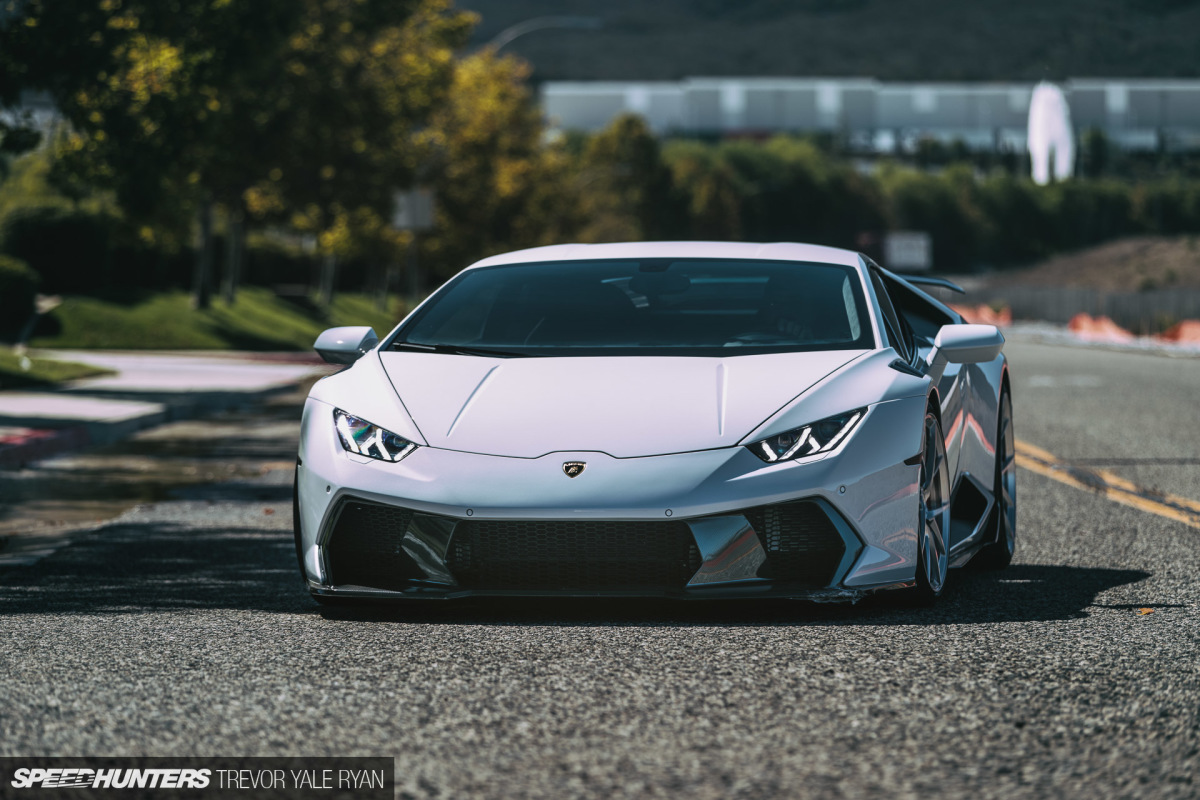 As Greg said, these things happen, and we shouldn't let it get in the way of getting some cool shots. So, if you have sharp eyes, you'll notice the splitter isn't perfect [I think Stevie Wonder can see that - PMcG]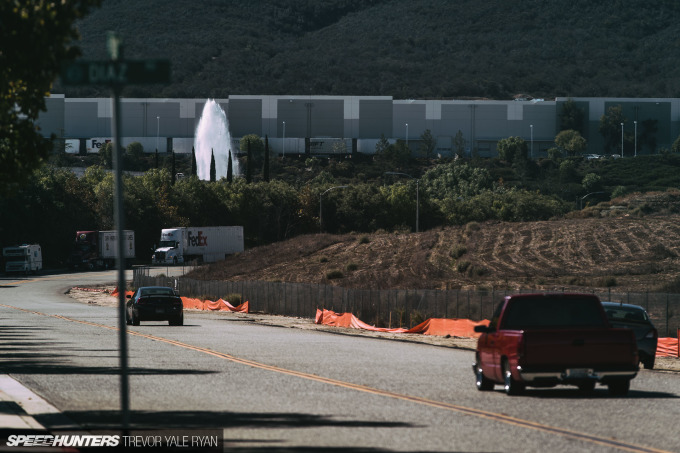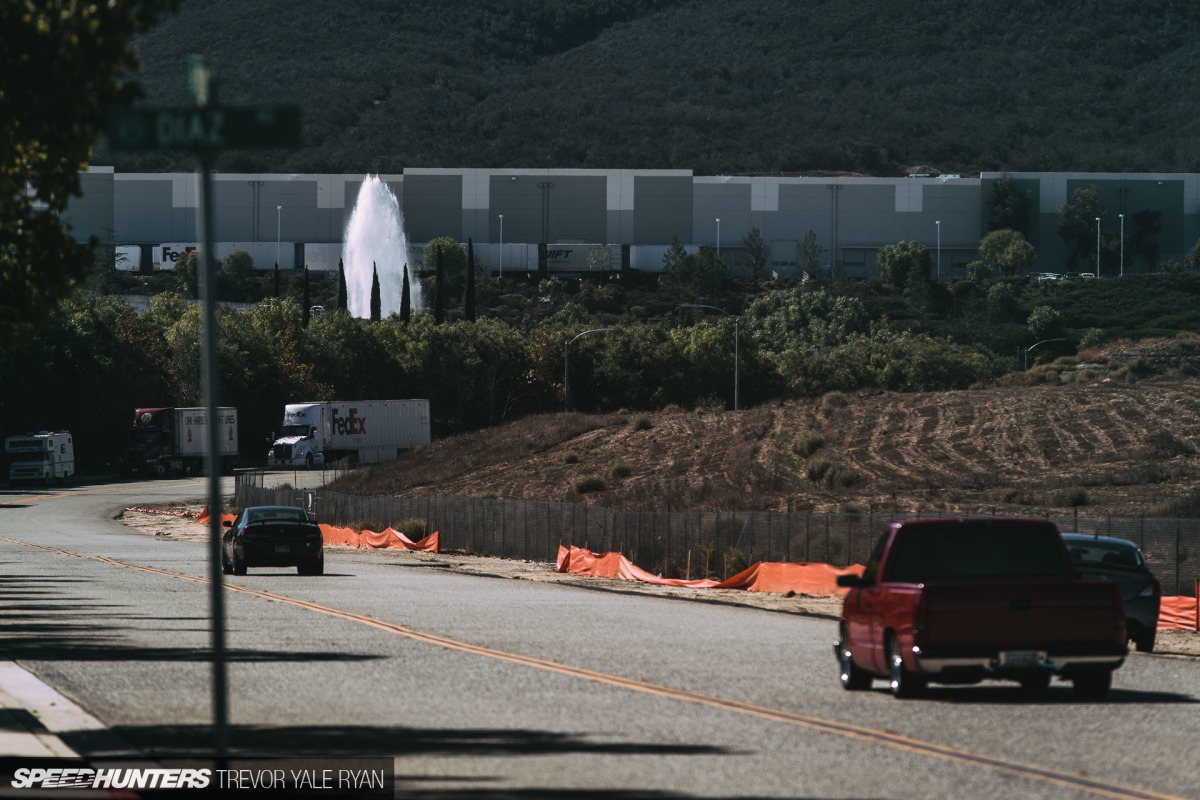 You might also notice that a half-mile away someone knocked over a fire hydrant resulting in a huge jet of water shooting towards the sky. I'm sure there are at least a few good jokes in here somewhere, but I'll pass. Really, it was safe to say we weren't the only ones coming short of a perfect afternoon…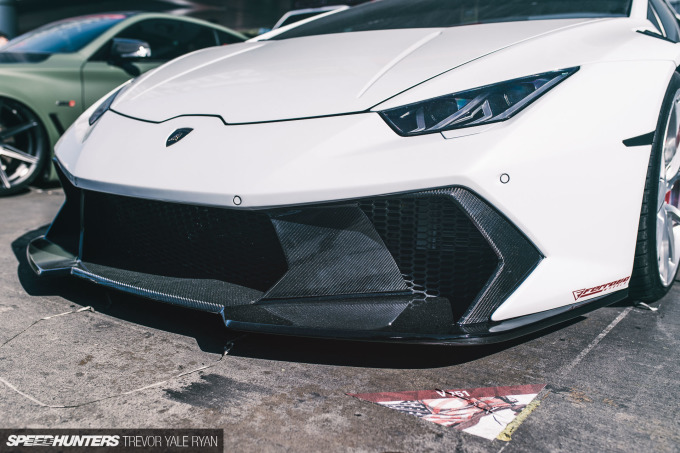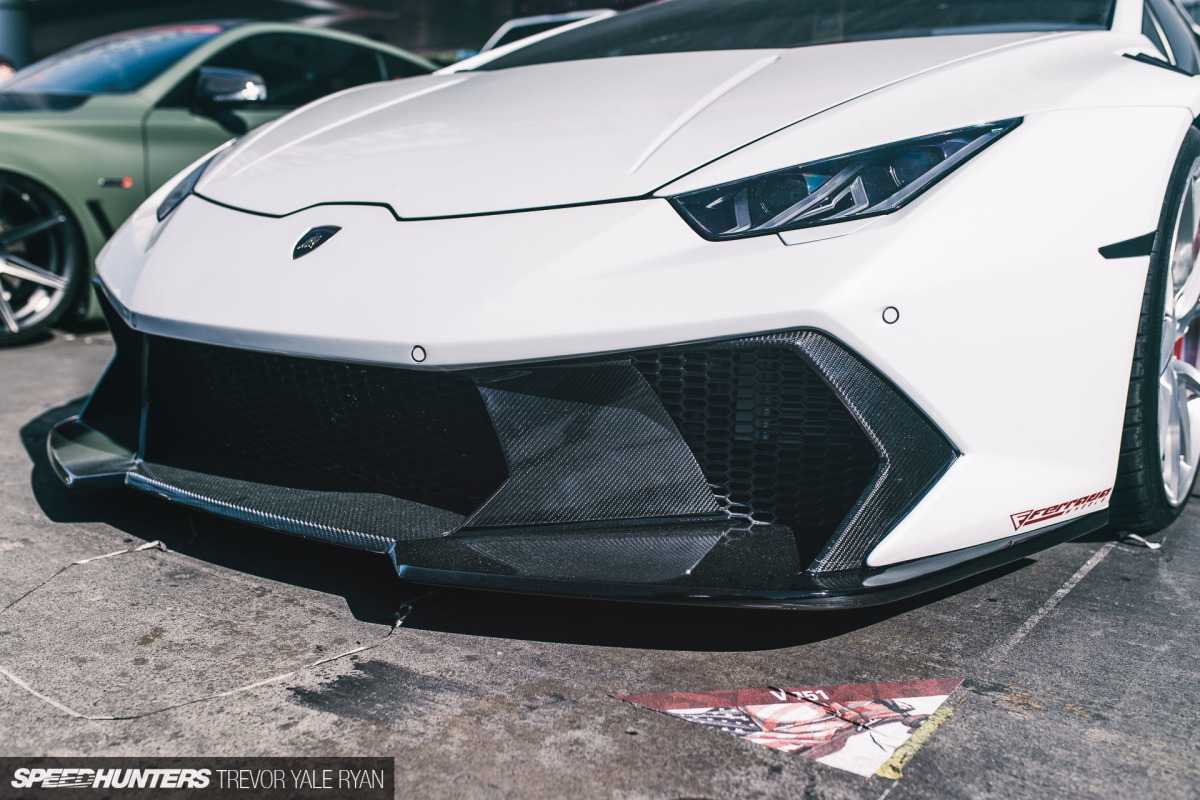 Anyhow, later that day the quick fix at the paint shop went off smoothly and when I saw the car a couple days later at SEMA it looked as fresh as ever. I wouldn't be surprised if Greg doesn't ever even bother replacing the front end as the gloss black actually looks quite nice.
Endless Power
But what is it that really makes this Lamborghini worth a closer look?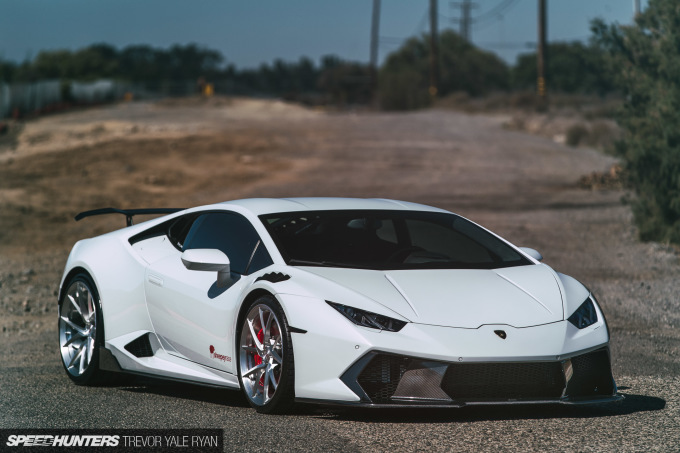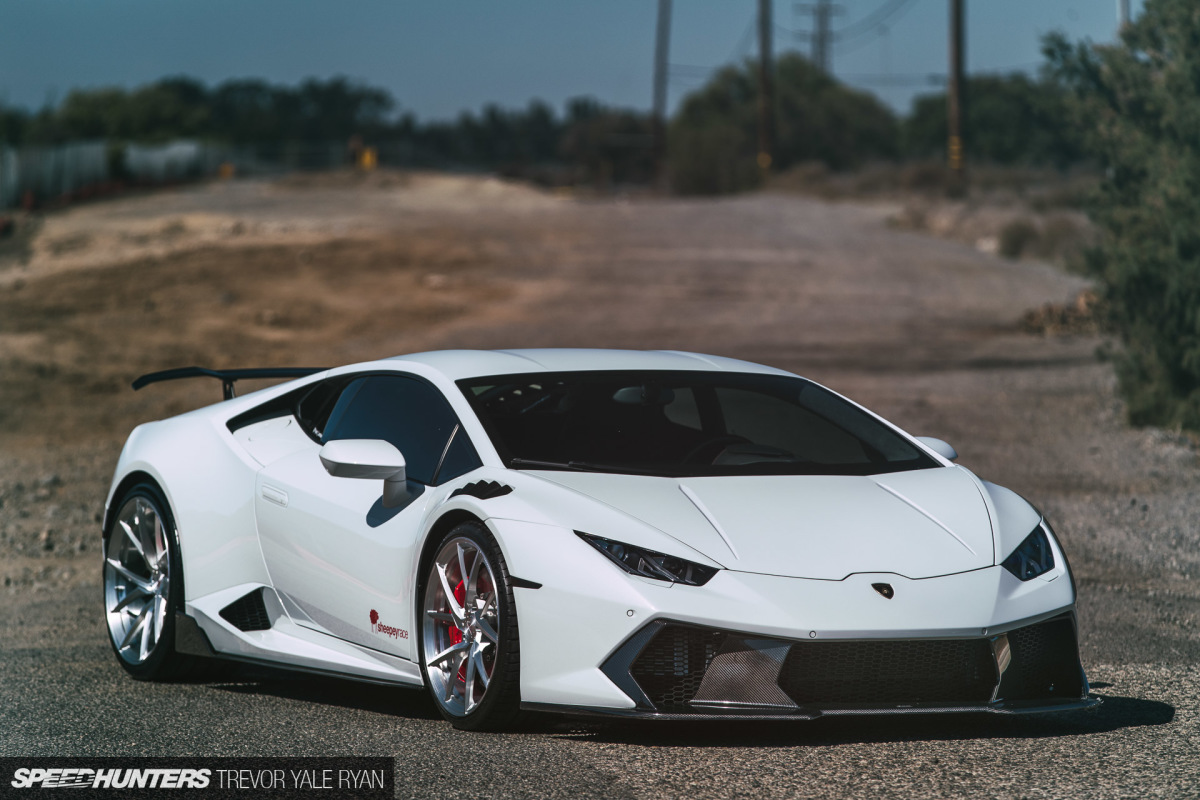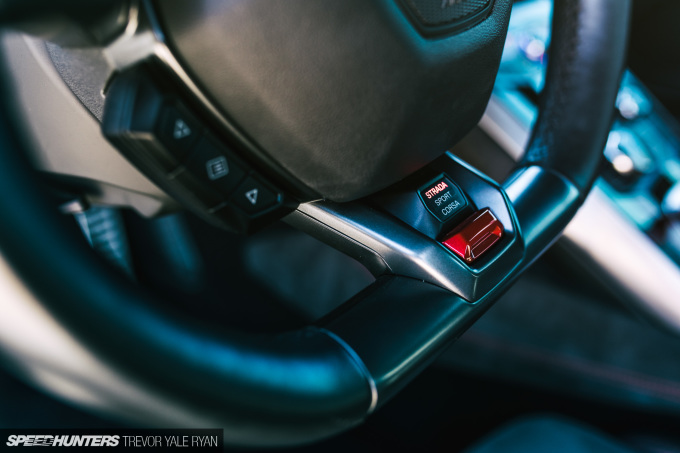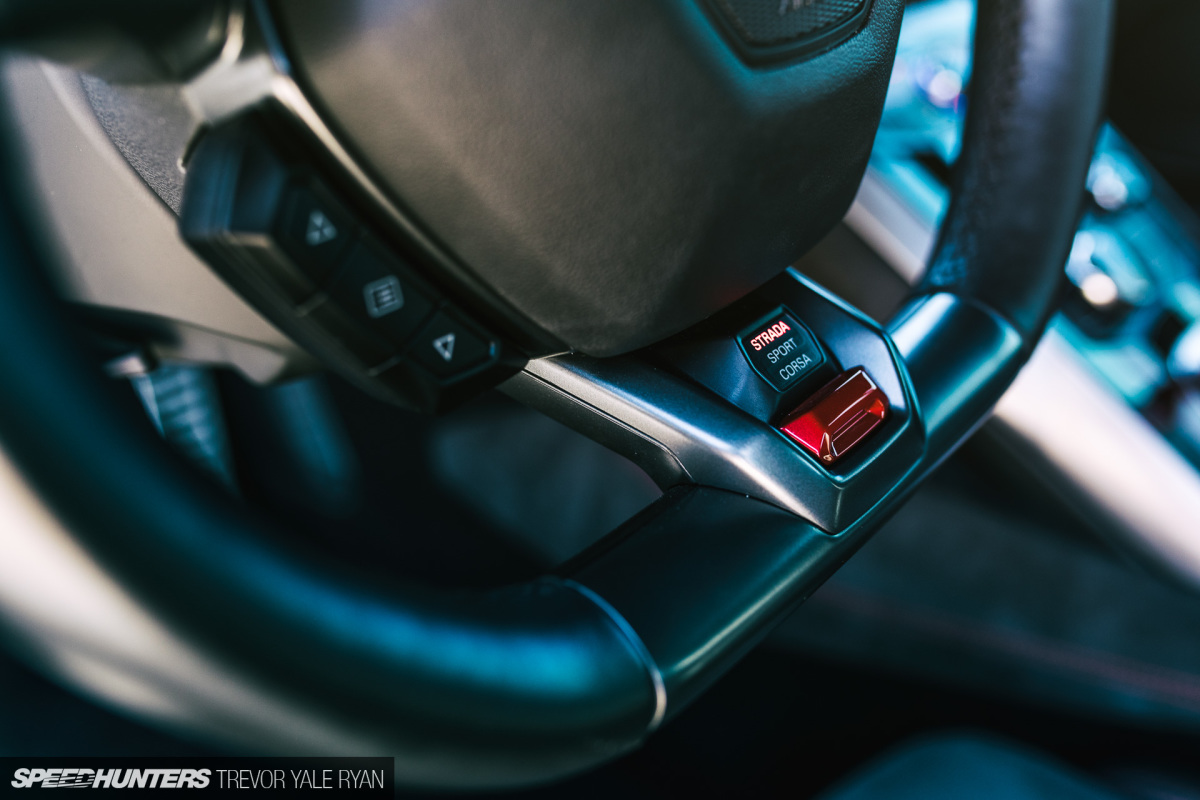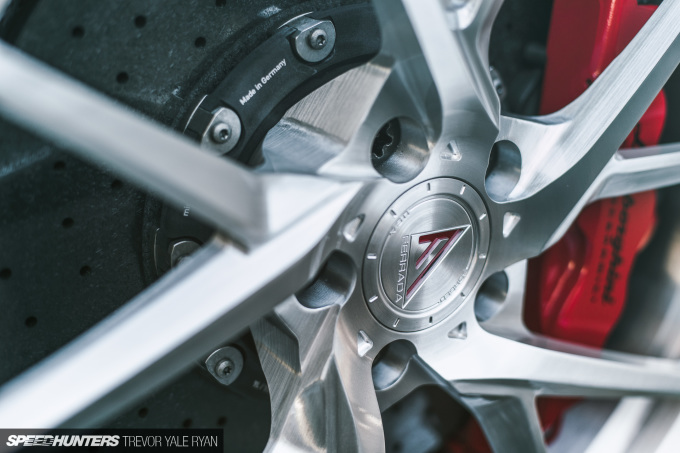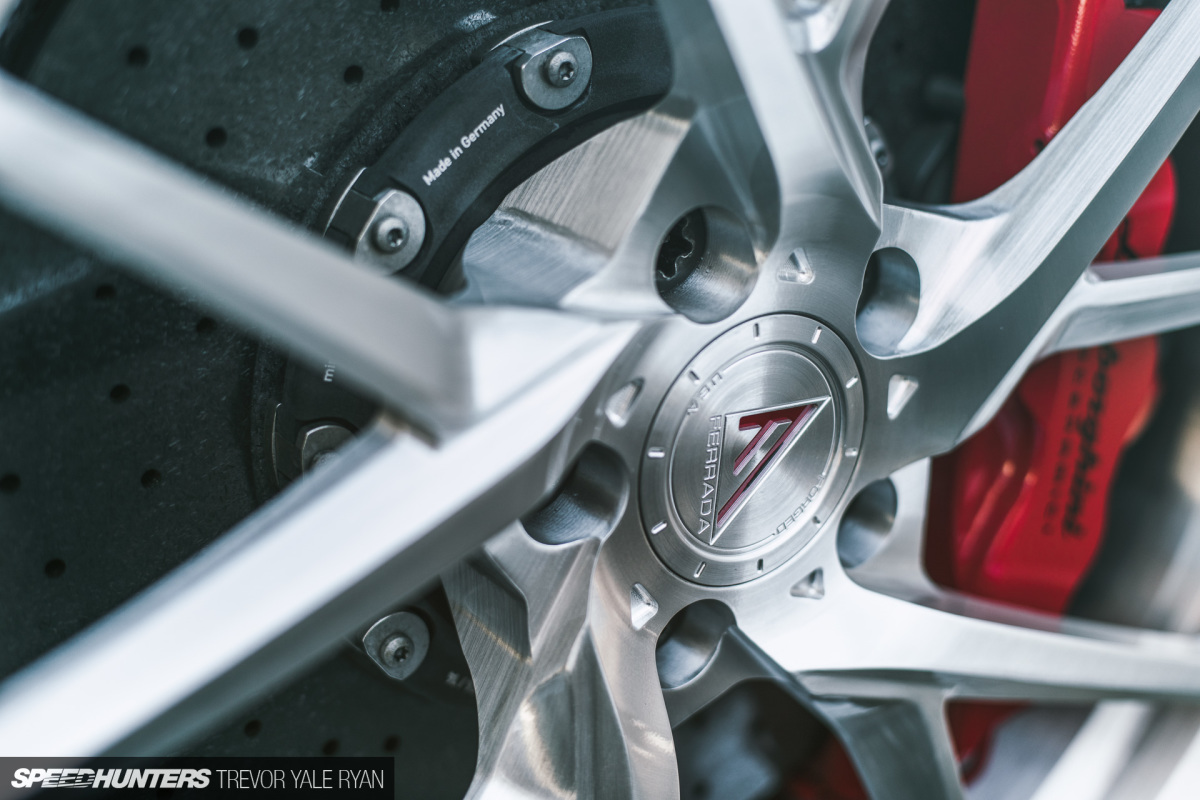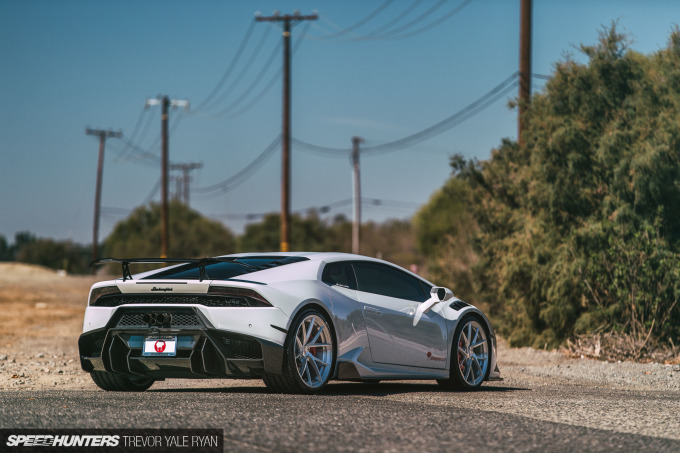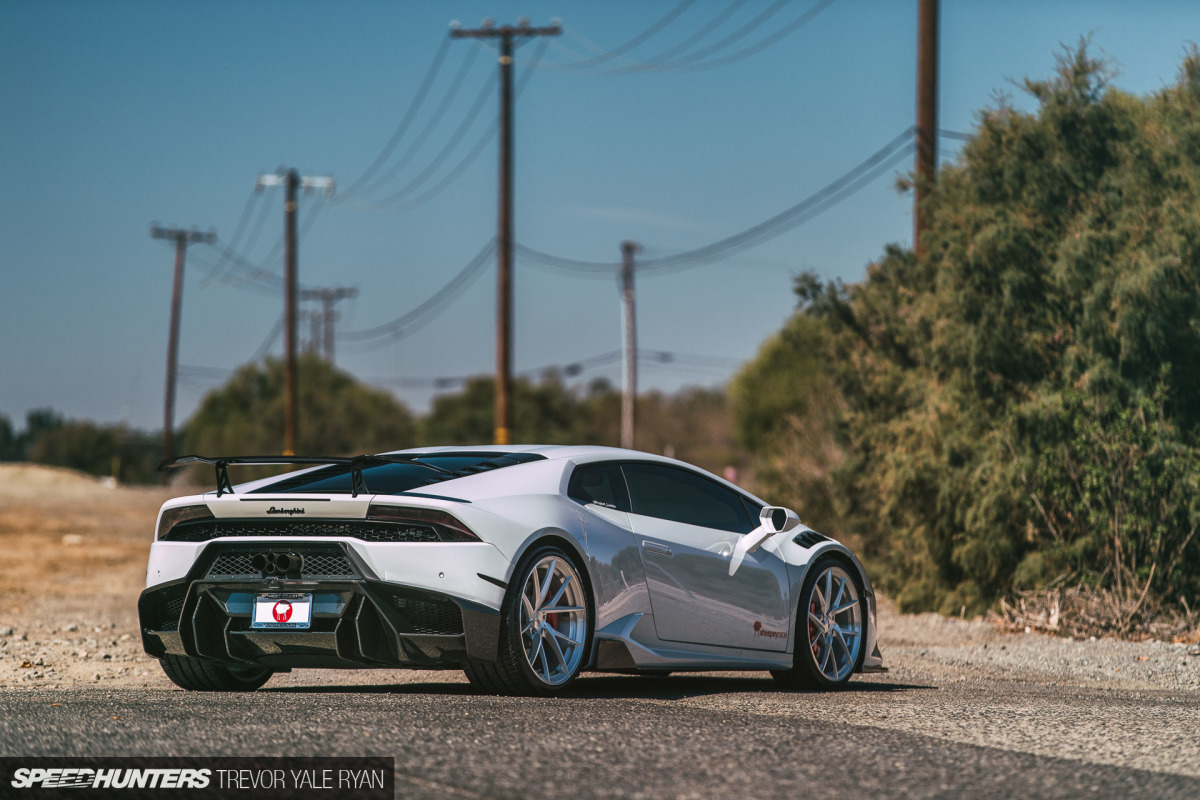 Inside, it's as every other Lamborghini is. Outside, a stunning white matched by equally stunning Italian design, further complemented by alloy-finish Ferrada wheels.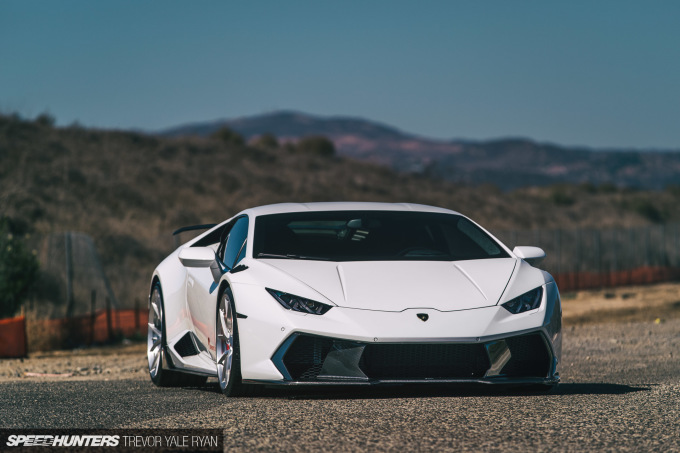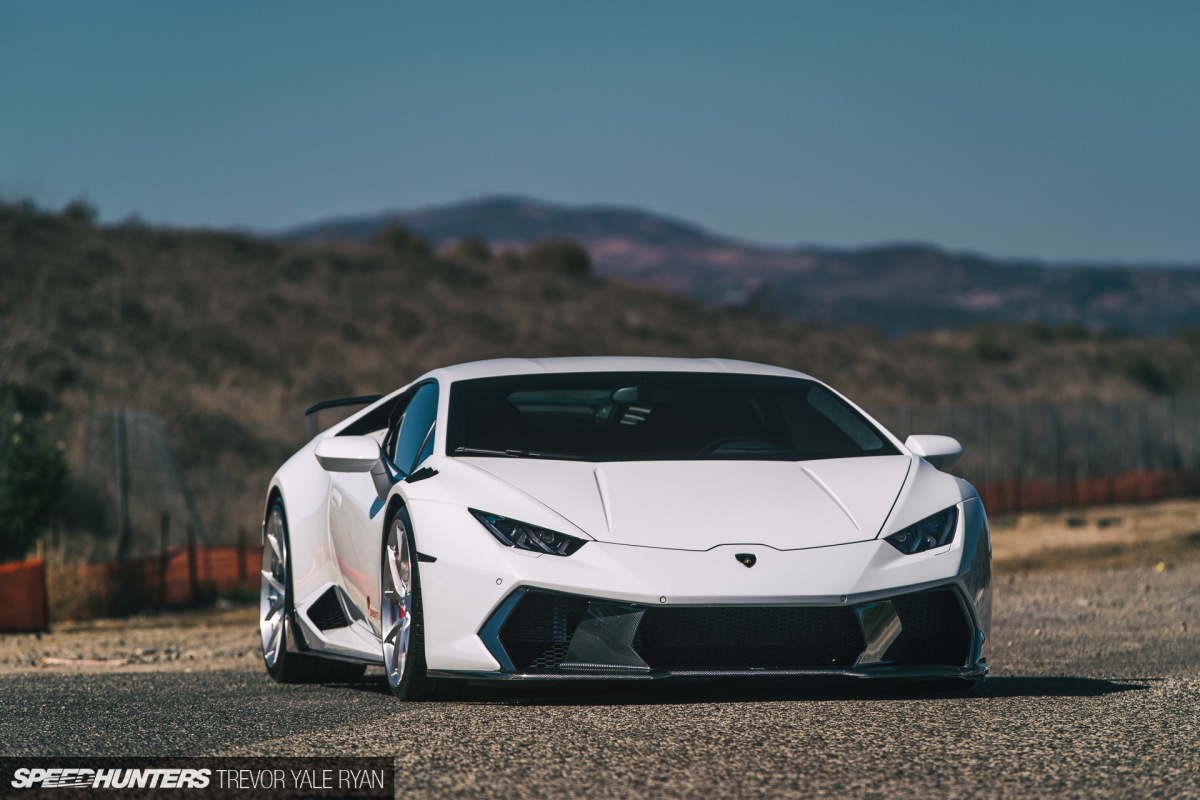 You'll also notice the full Vorsteiner Huracán body kit, which is just the right mix of subtle and aggressive. Despite its relative rarity, it's not what you could consider brash or attention seeking.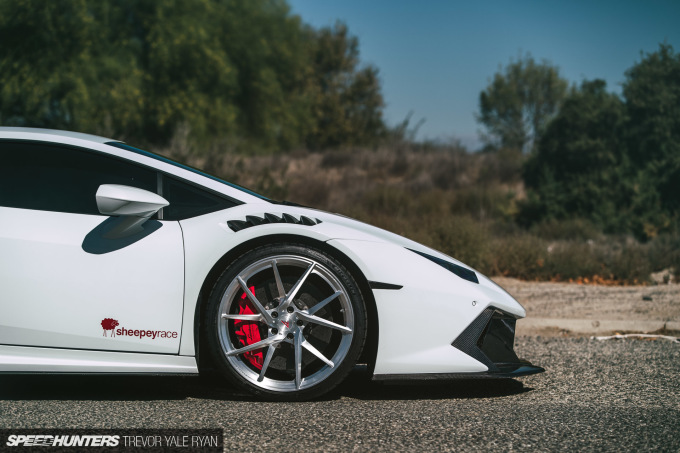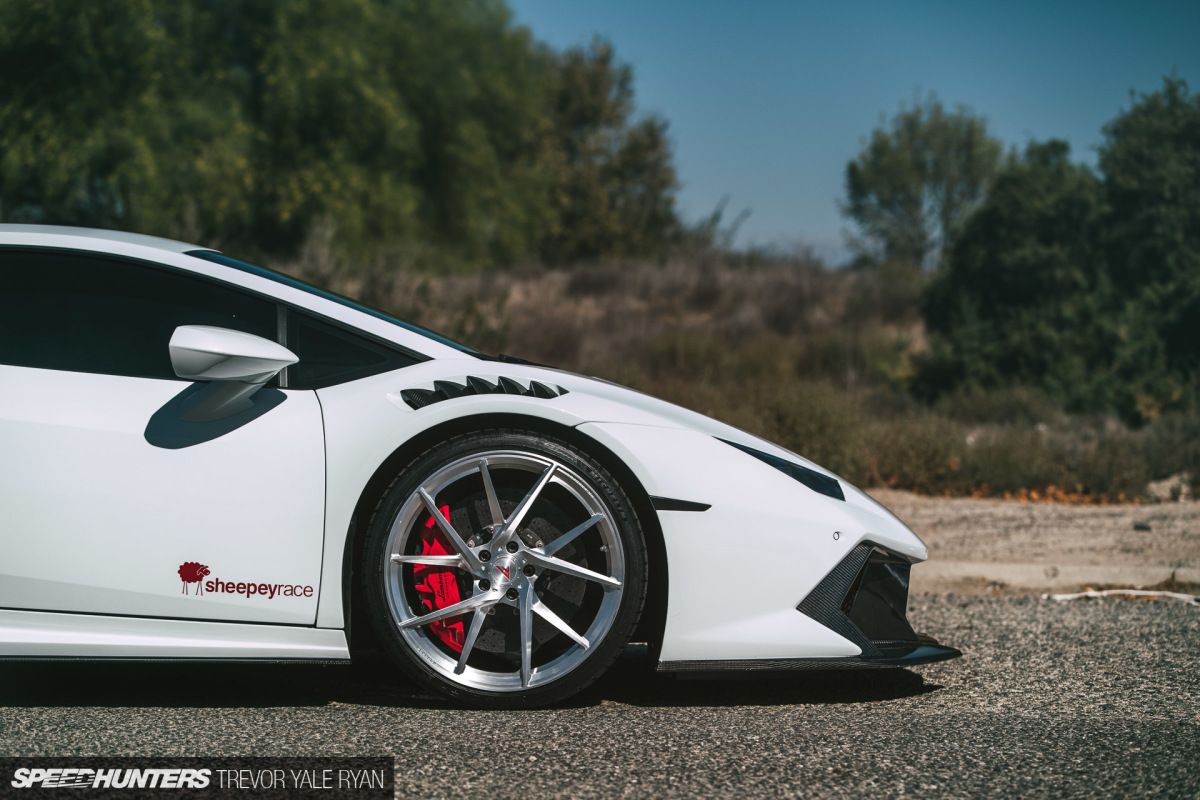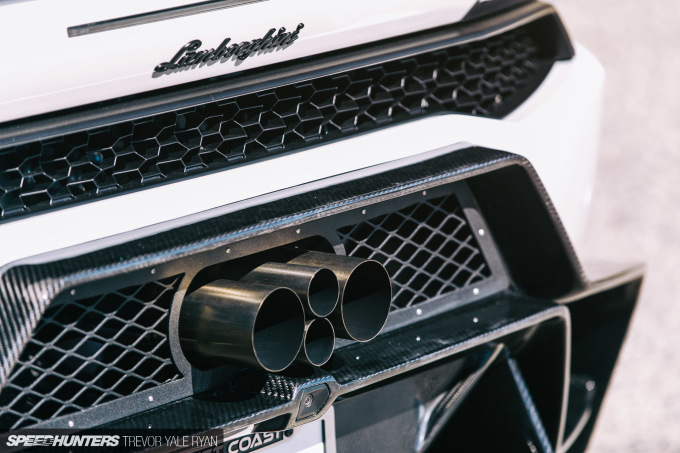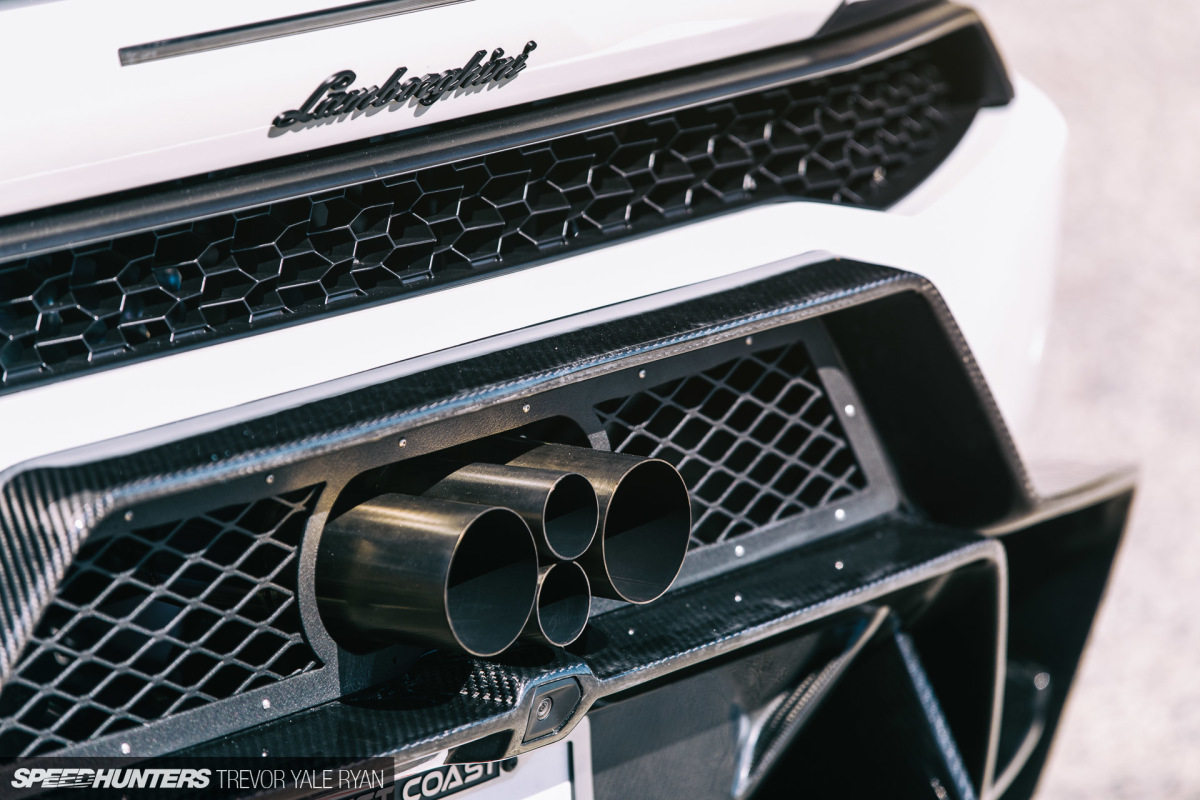 Without the subtle Sheepey Race sticker along the side, and the not-so-subtle exhaust situation in the rear, this could almost be any other slightly-modified Huracán wearing fancy wheels. Key word: almost.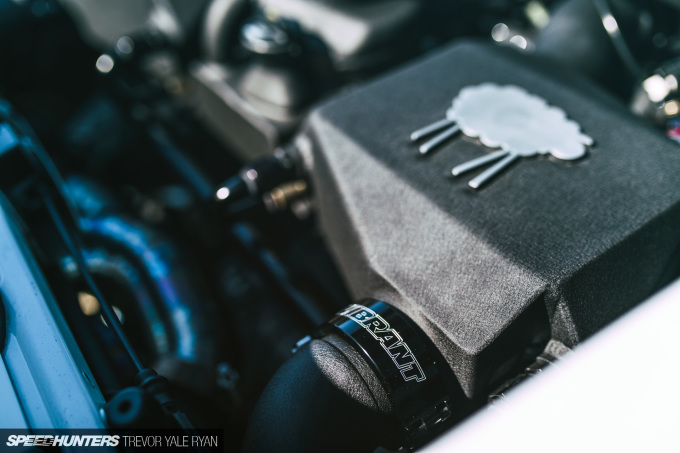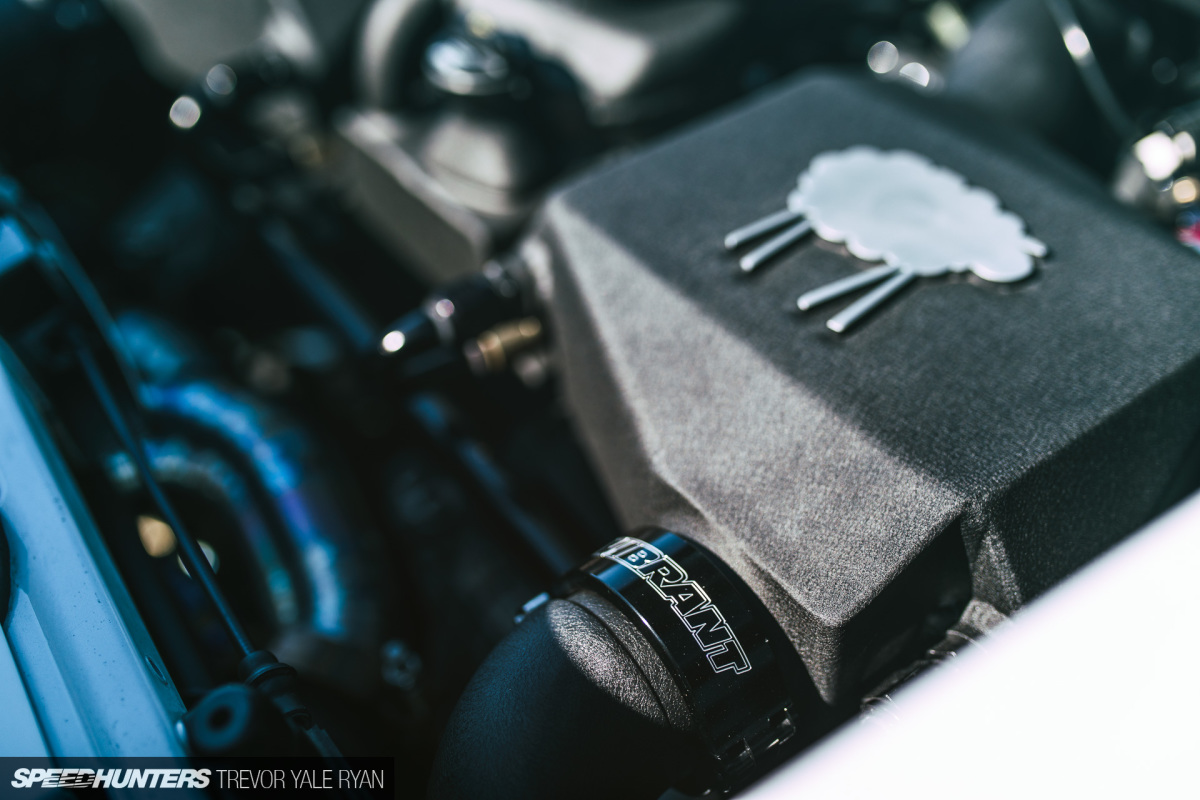 This is Sheepey Race we're talking about…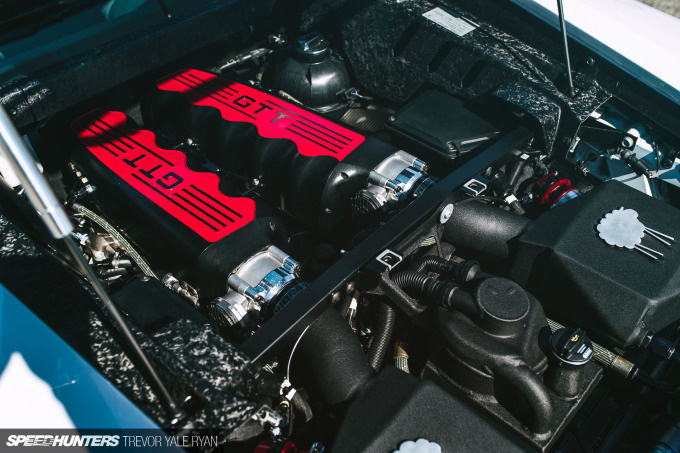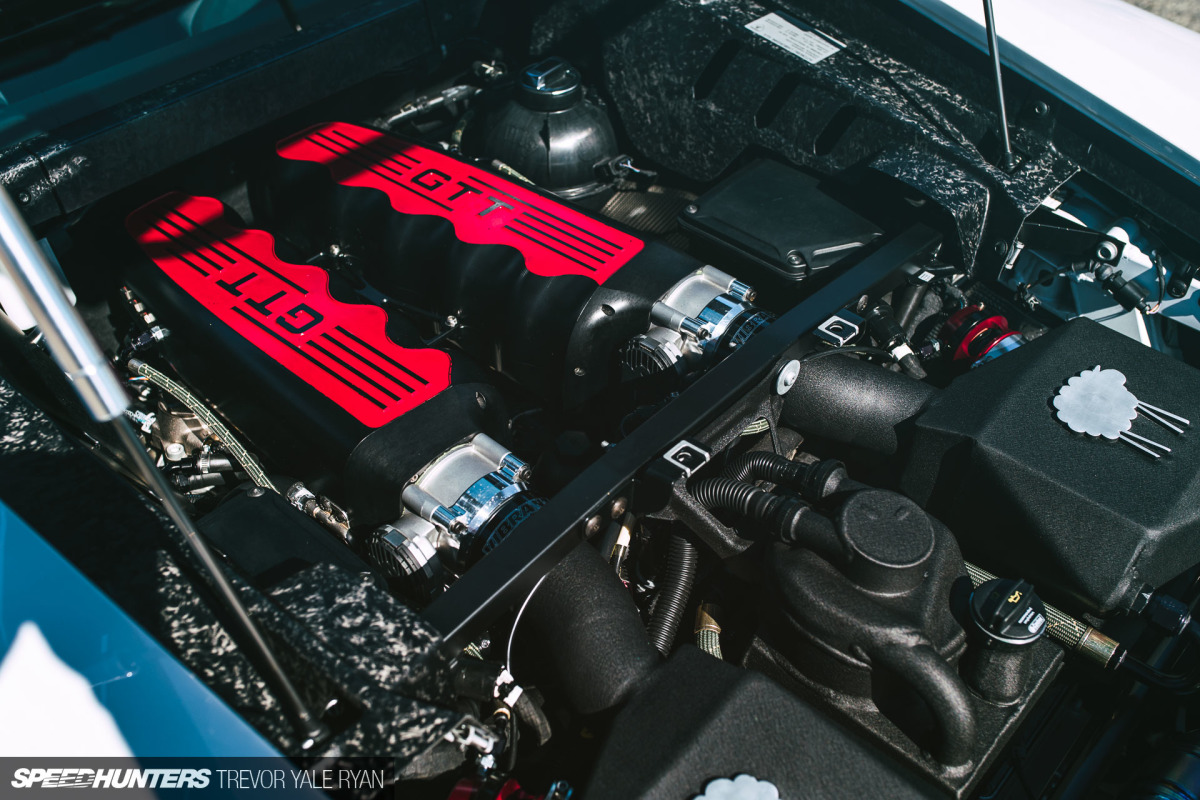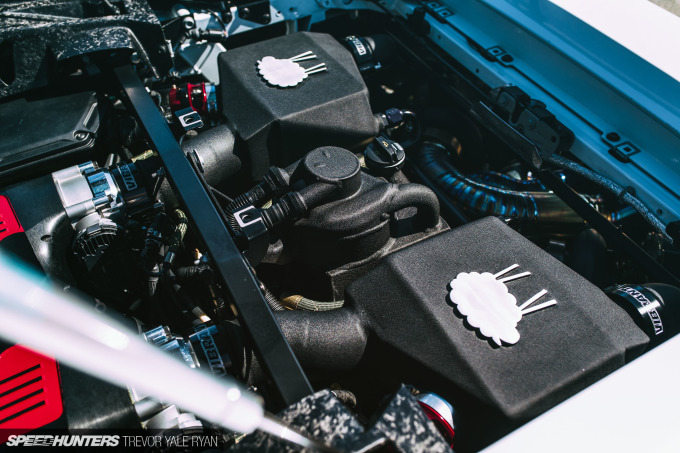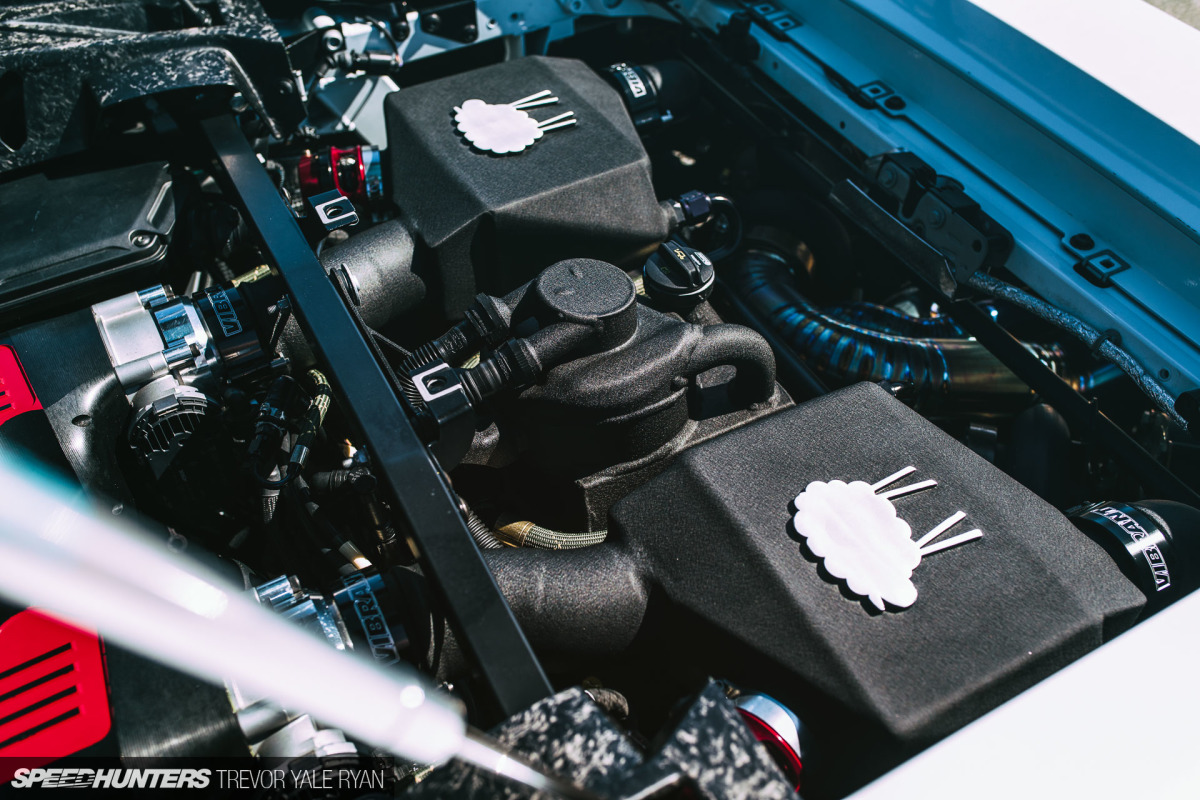 Under the engine cover is where things intensify. The V10 now wears a Gosha Turbo Tech full billet intake manifold, one of only a couple in the States. Air is compressed by two turbochargers and forced into said intake manifold via twin CSF air-to-water intercoolers, meaning the aggressive external styling is more than matched with a powertrain that wants to go fast. Very fast.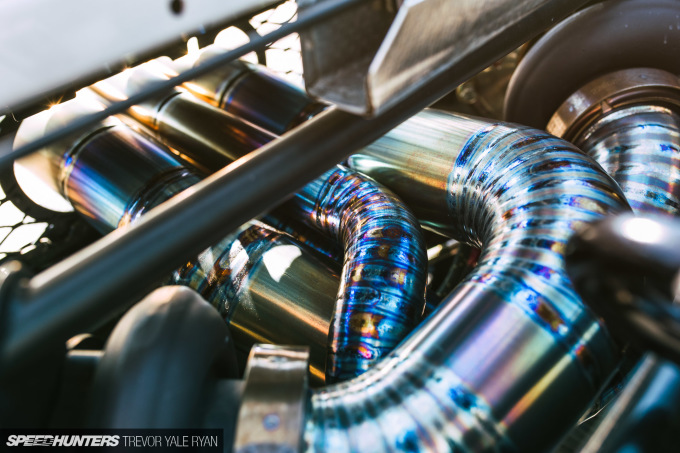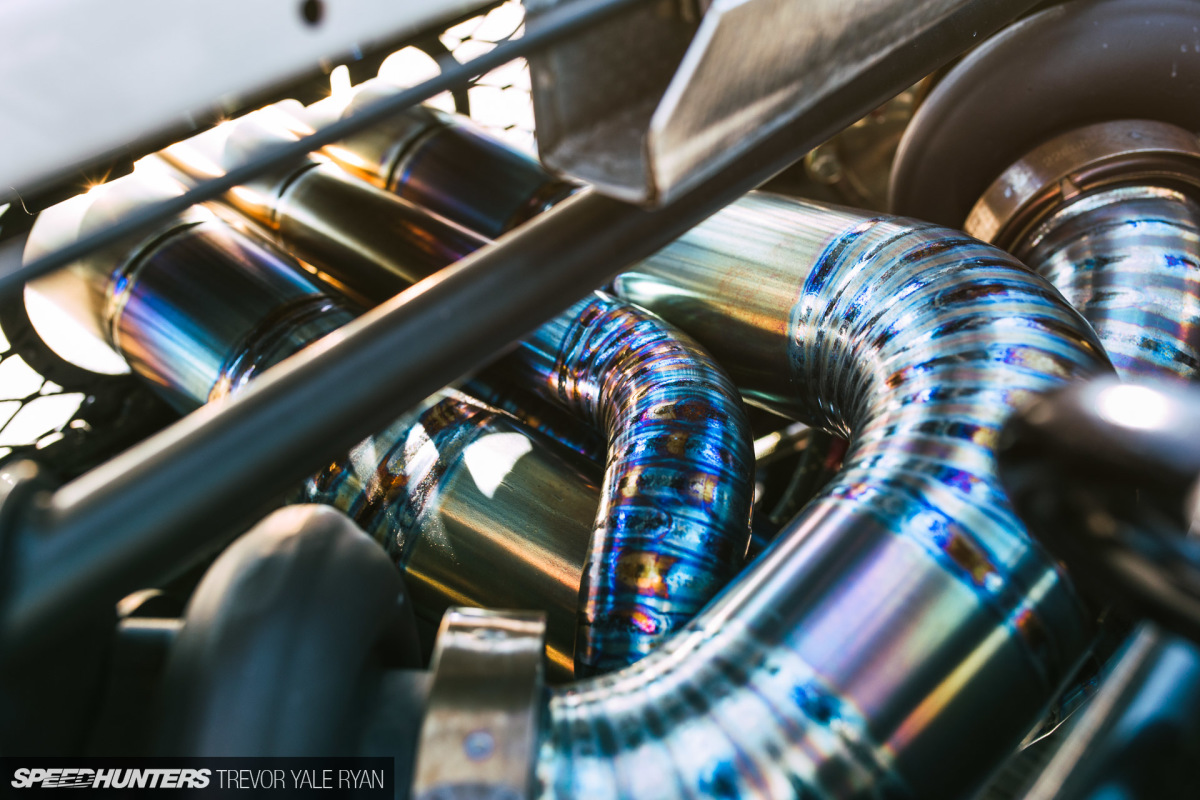 The pair of second generation Precision Turbo 6466 turbochargers bump power to 1,000whp on 12psi with VP MS109 fuel. For the street, the Syvecs stand-alone ECU also has a 5psi tune good for 800hp at the wheels.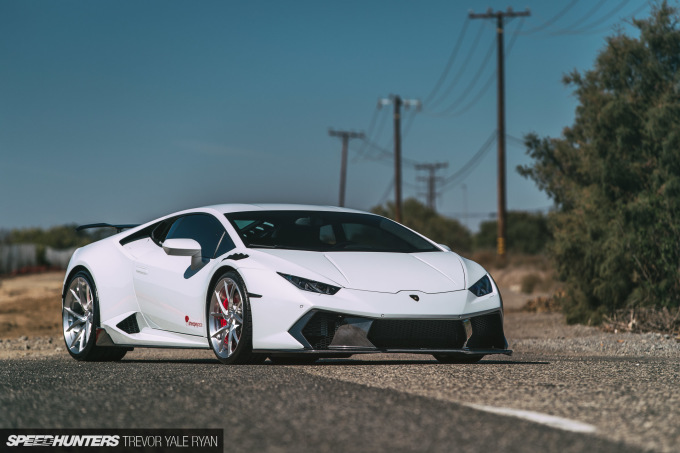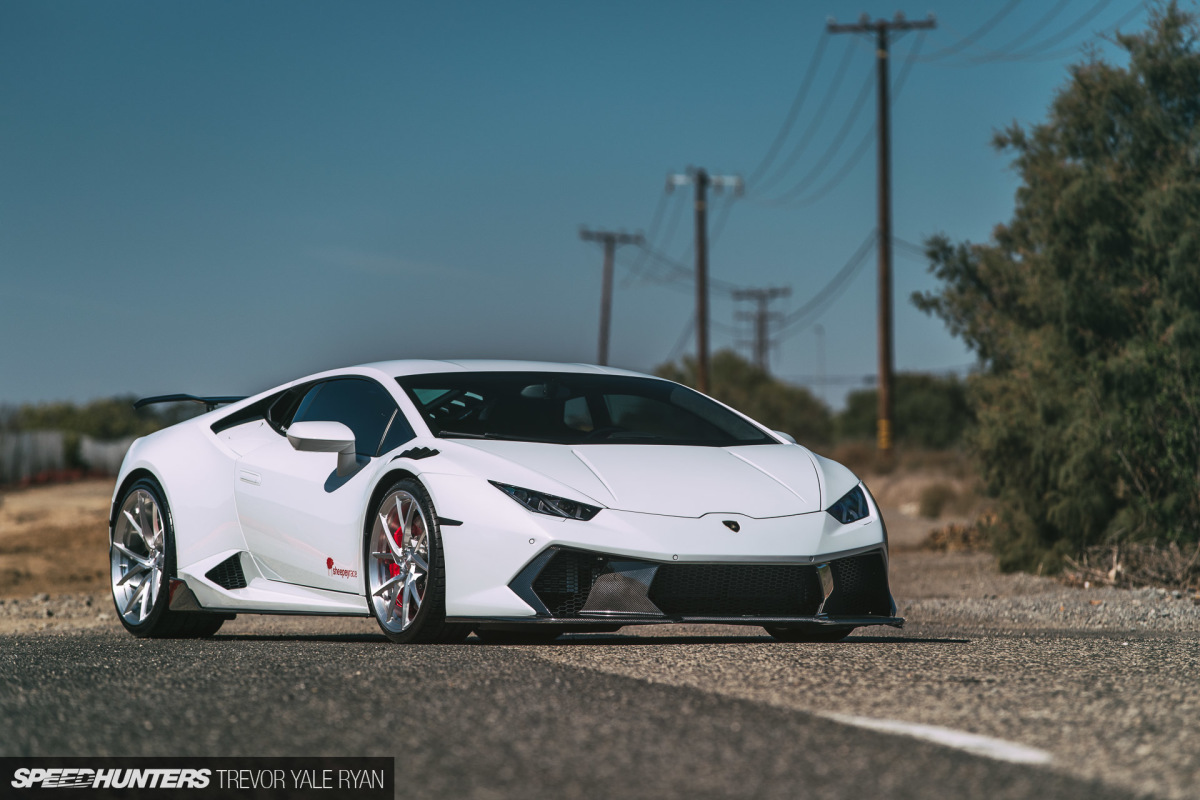 This considerable jump in performance is accompanied by a carefully considered adjustment in ride height courtesy of a set of H&R springs.
And of course, it sounds absolutely mental; I have never in my life wanted a V10 so badly. This was by no means an all-out pull either, the car just looks like a bullet no matter how quick it's going in the moment.
New Spirit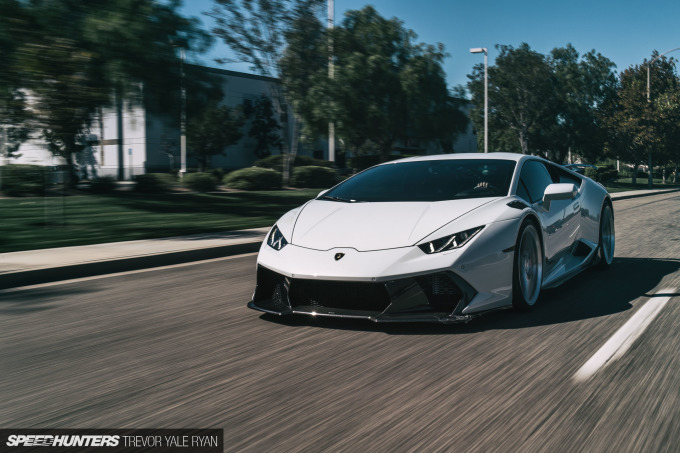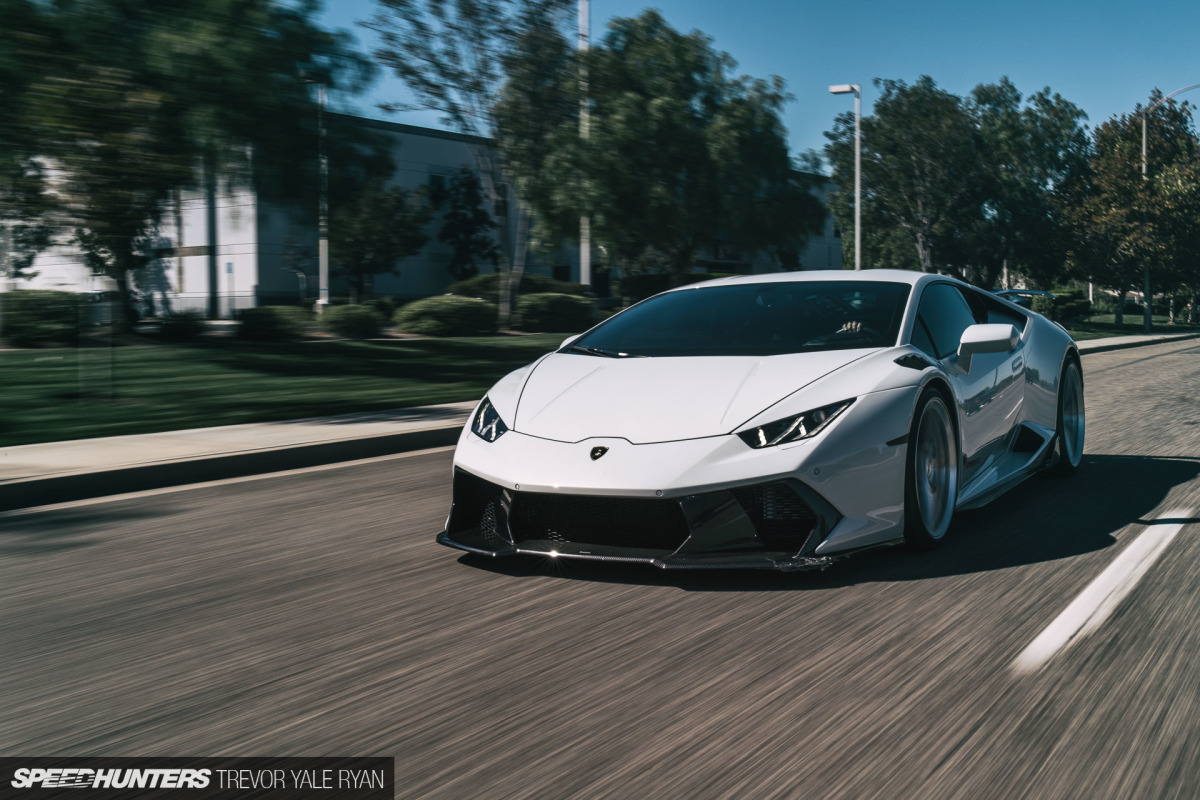 That's what I love about this particular Lamborghini. It's a Huracán that's been injected with the energetic spirit of its owner Greg and the rest of the Sheepey Race team. It's a car that stands out because its insane looks have been bested by even more insane performance, the way I wish all cars were built.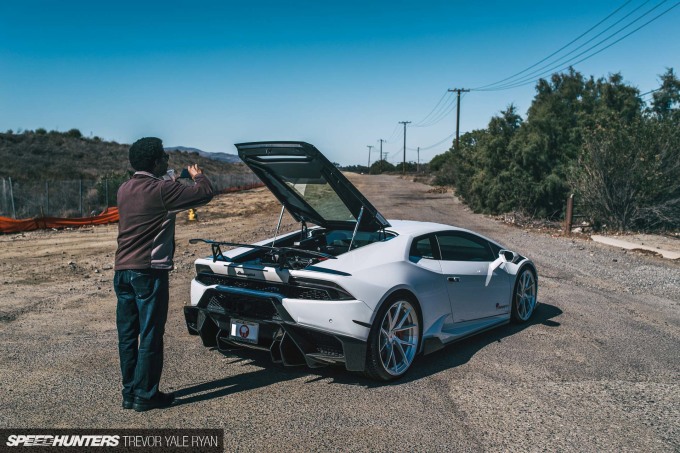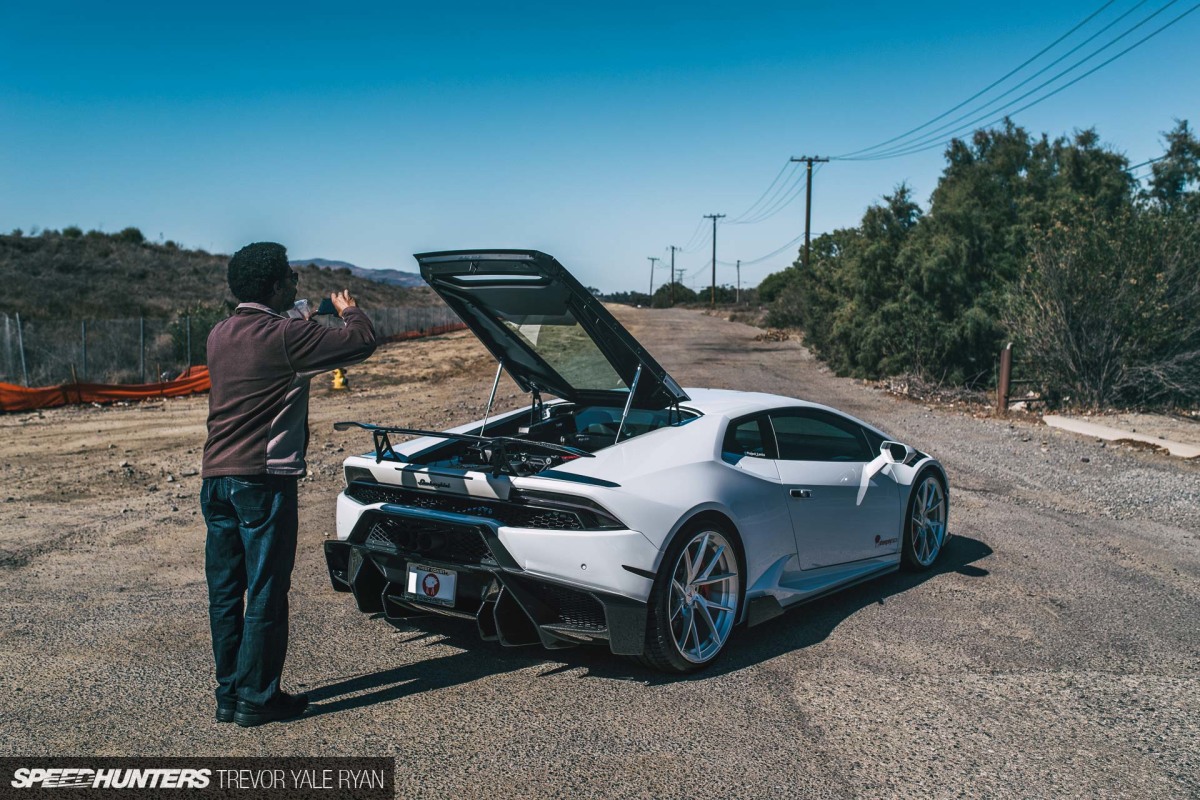 Sure, Lamborghini styling attracts attention no matter where you go. But when you pop the engine cover on this particular Huracán, people come out of literally nowhere, phones in hand, ready to snap some pictures. I genuinely have no idea where this guy came from or where he went after snapping this shot.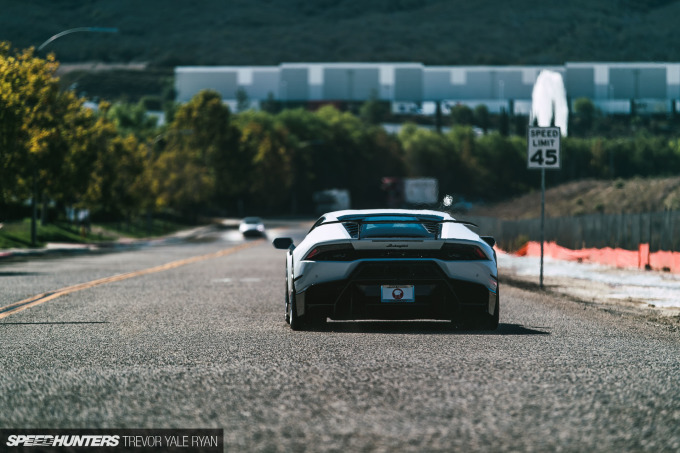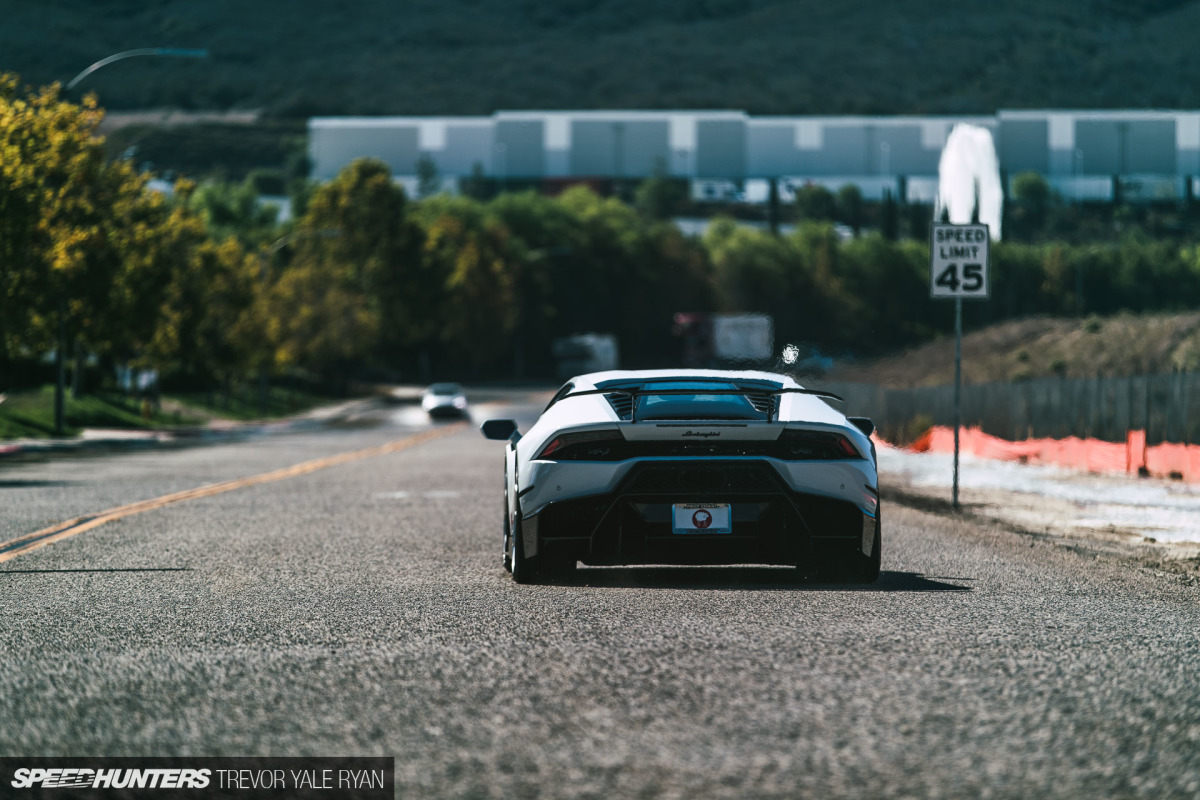 In a world full of relatively rare exotics which still manage to feel like they're a dime a dozen, it's always nice to see something different.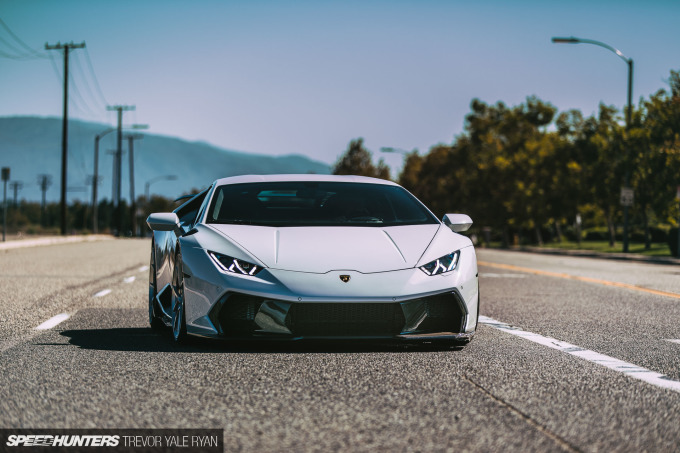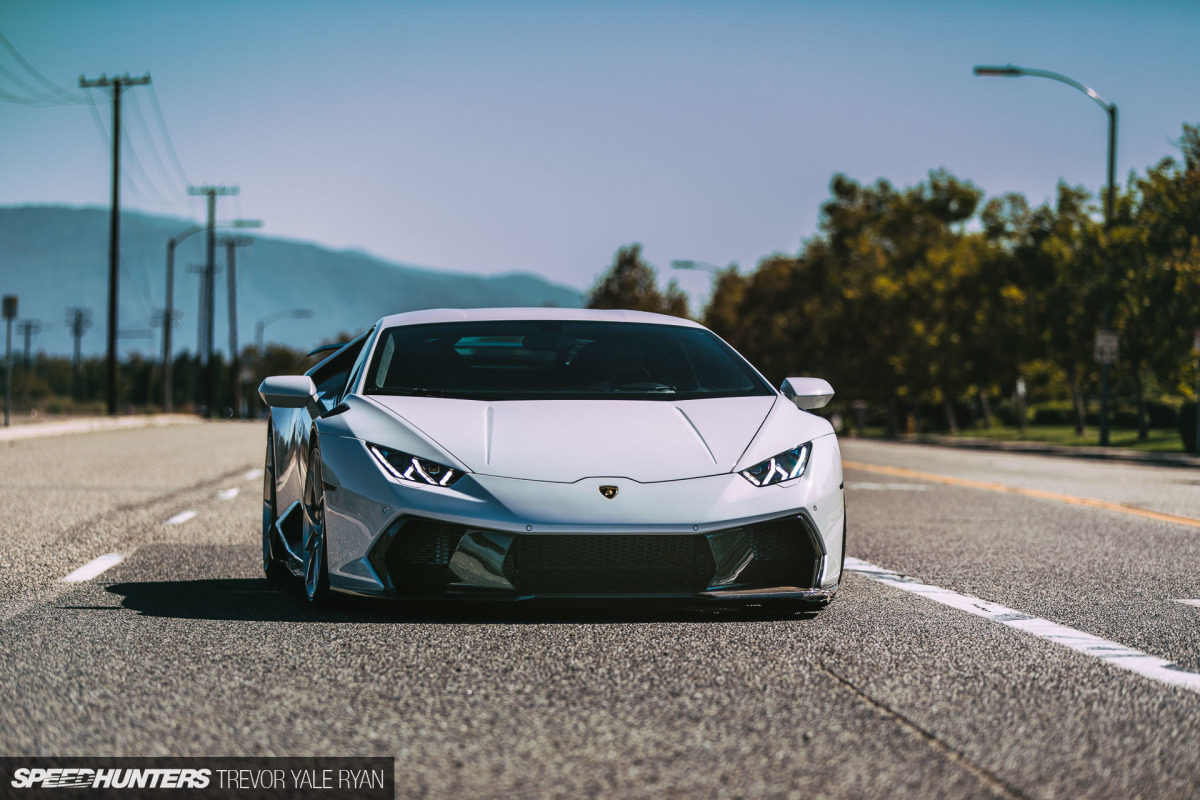 It's refreshing to see this sort of development on high-end cars for a few reasons. First, from the factory, the tech in the latest-generation of supercars always eventually find their way into the models that average folk can actually afford.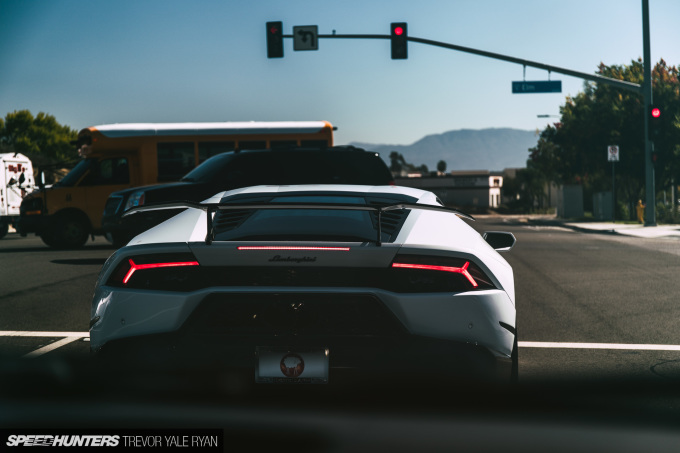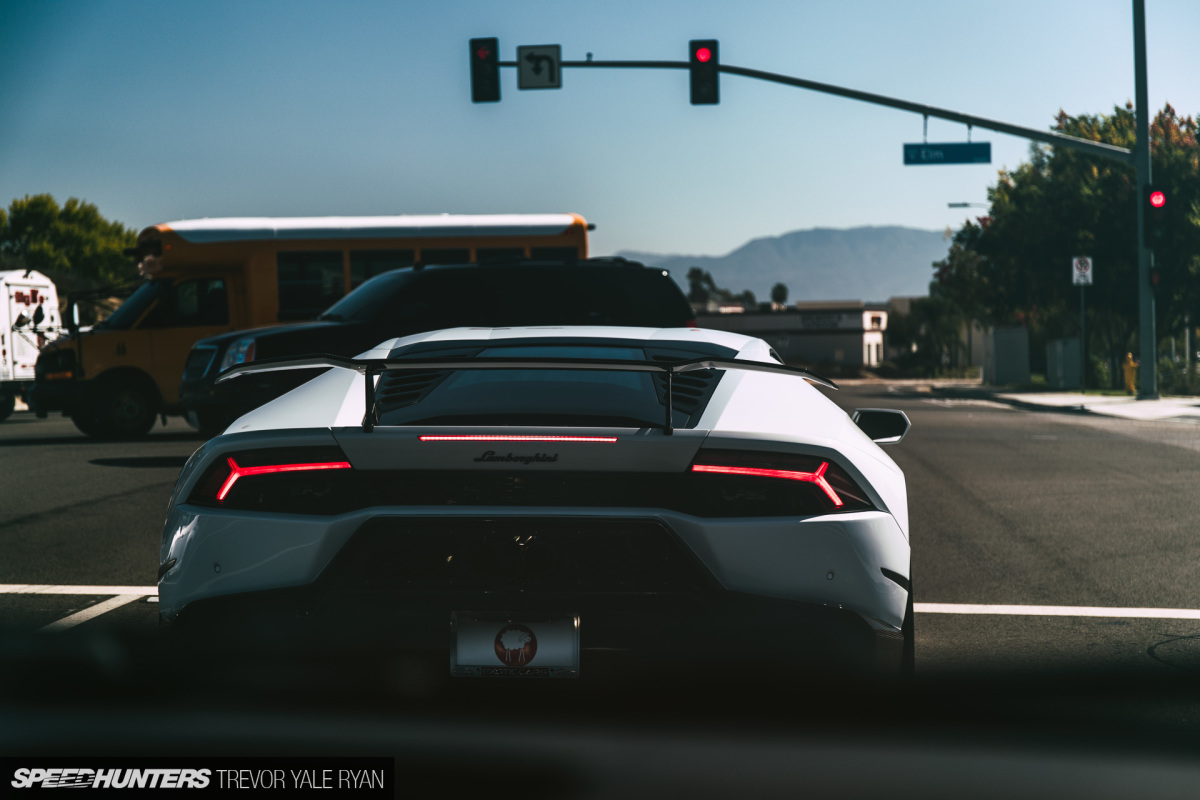 From the aftermarket perspective, it's cool to see that there are still some people who are just genuinely interested in modding and driving their cars, regardless of the value or prestige the car may have in its factory form.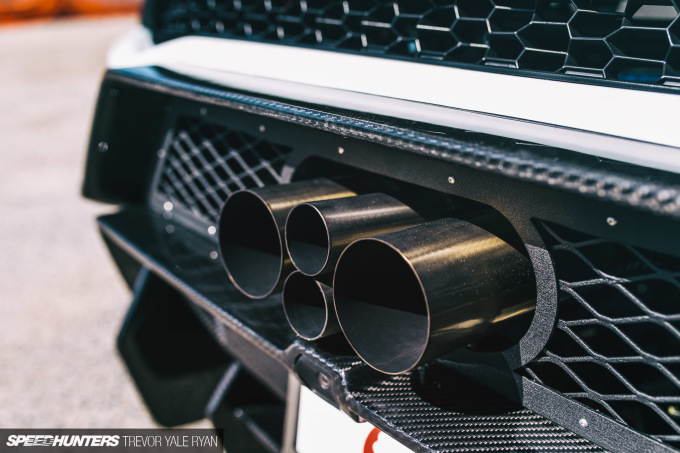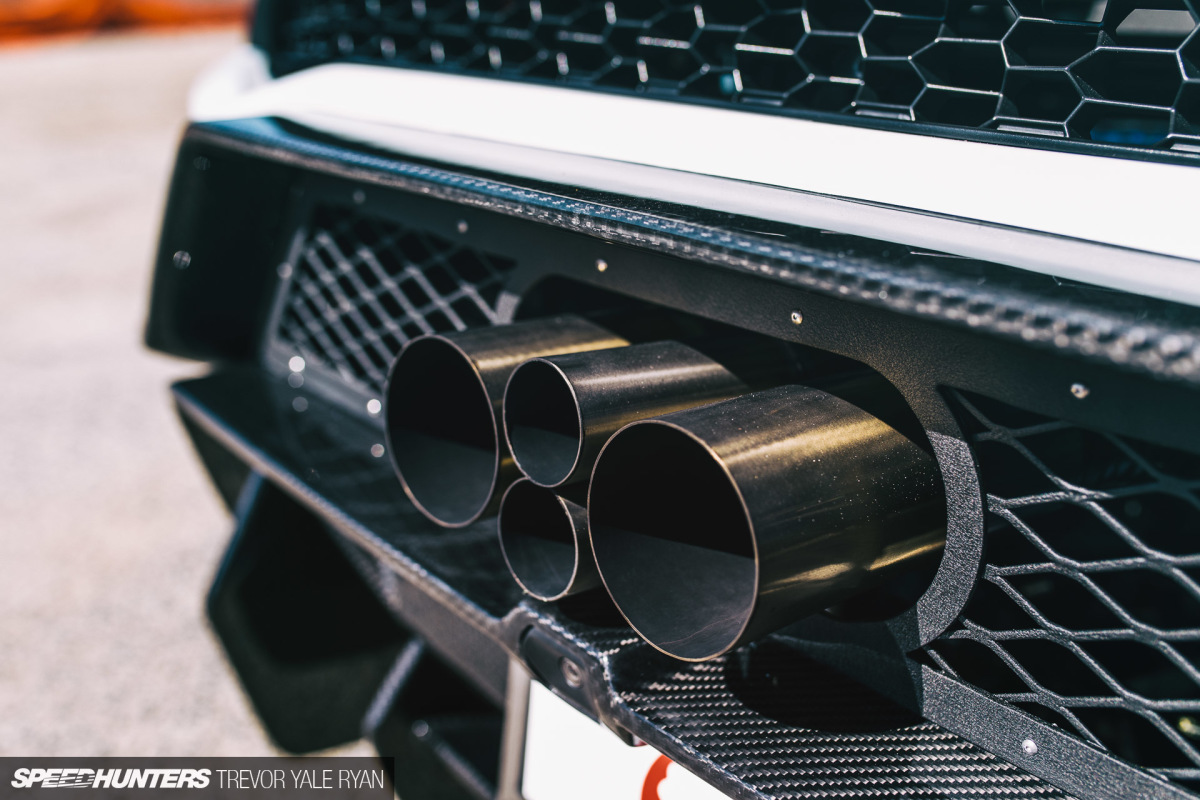 Akin to the factory development trickle-down, there's the Sheepey trickle-down too. You can buy complete turbo kits for various Mitsubishi, Honda, Toyota, and Nissan applications, as well as any number of other Sheepey Race parts, namely intercoolers and radiators.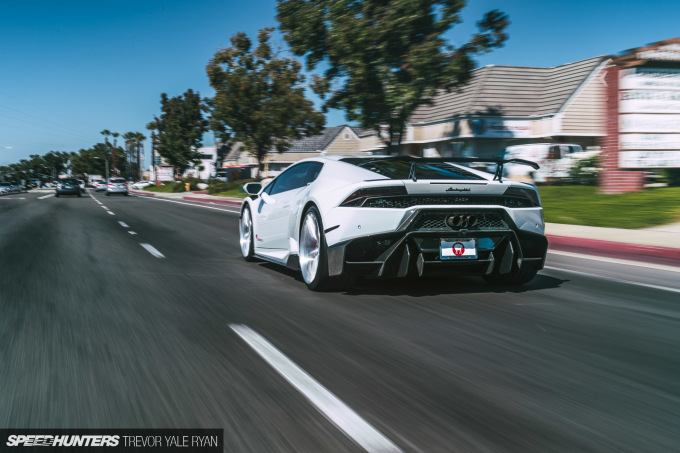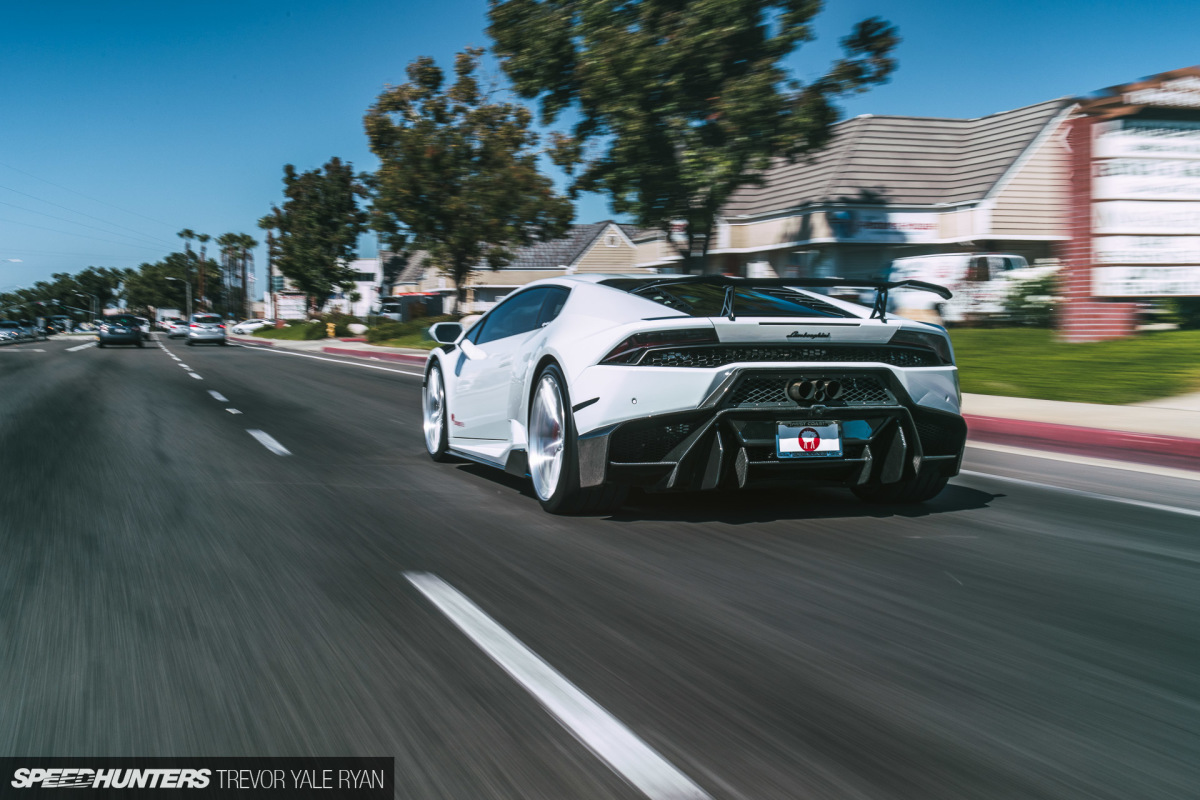 That's what's so inviting and enticing about car culture to me. The fact that we can all own and be responsible for a little piece of this development, be it from today or decades past.
All cars, regardless of their cool factor or quality, carry with them the hard work and dedication of designers and manufacturers alike. It's what we do with this base, and why, that actually matters.
Trevor Yale Ryan
Instagram: tyrphoto
TYRphoto.com
Cutting Room Floor