As of late, it seems fairly easy to find yourself lost in an ocean of Datsun Z and 510 stories whilst scrolling through the internet.
There's obviously a huge hype around the vintage scene, and I'm not saying there's anything wrong with that either. If anything, it genuinely makes me happy seeing people dedicate themselves to keeping old timers on the road. I personally can't get enough of it, but it is nice to see people take on the unconventional side of vintage cars. So, I'm here to share a different story, on a little truck, that doesn't need to compensate for a little something else… if you catch my drift.
No, it's not going to be about the bluetooth-driveshaft equipped lifted trucks found last week at the SEMA trade show, but more so about a subculture found in the world of trucking.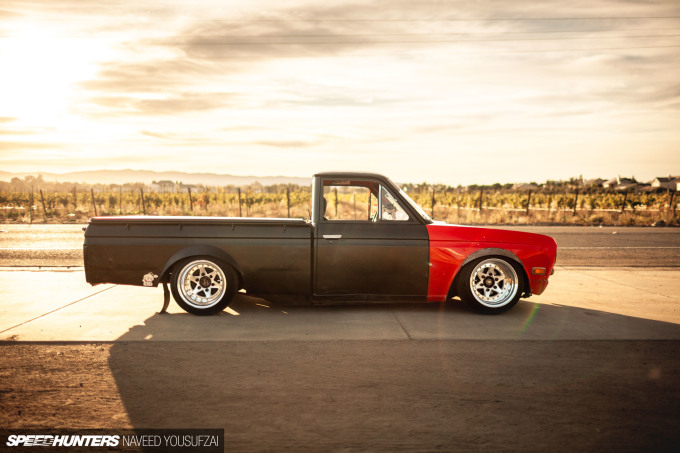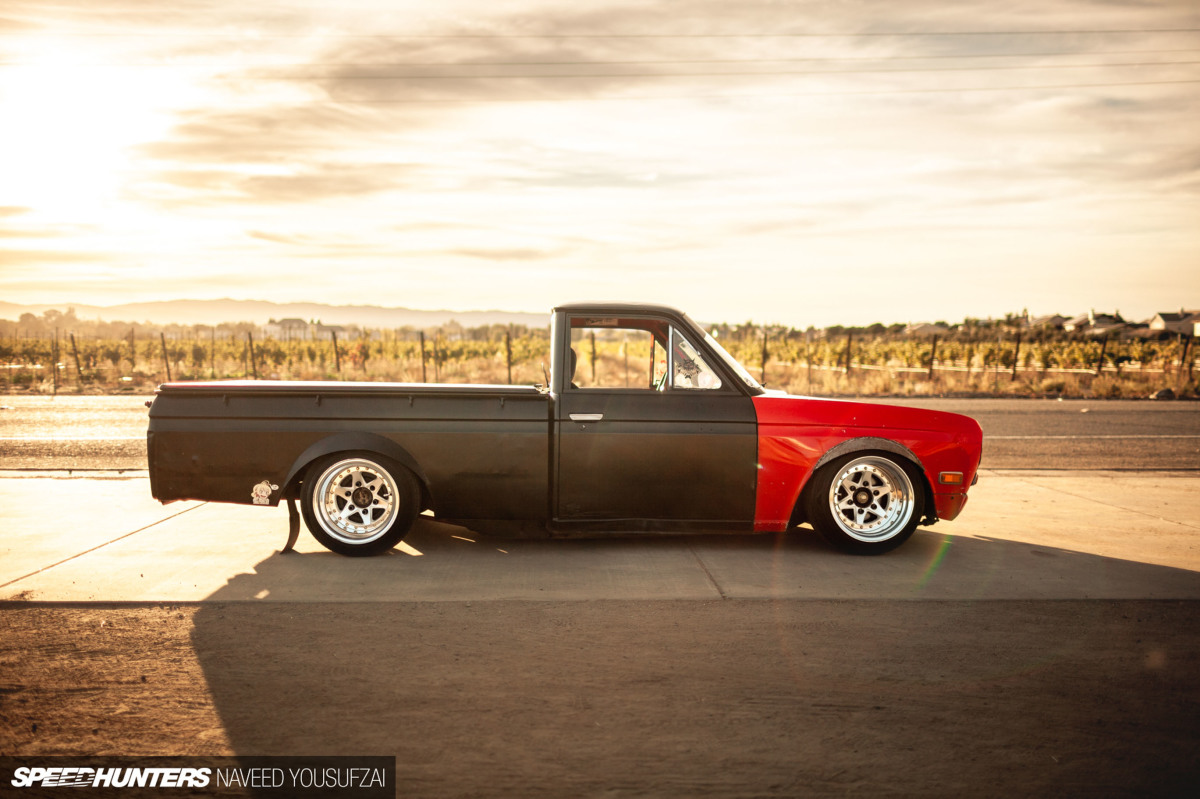 Mini-trucks have been popular in the world of automotive enthusiasm for decades. Their roots go far back into the mid 20th century, post World War II, where demand for utilitarian vehicles by veterans were met by all the major players in the automotive manufacturing industry.
The Americans engineered tons upon literal tons of Detroit steel to haul, tow, and even casually drive along the roads for leisure. The Australians created the beloved Ute, which combined sports car characteristics with utilitarian function. And the Japanese – well – they obviously went for common sense.
Though Japanese engineers at Toyota and Fuji Heavy Industries (now Subaru) all dedicated teams to target this niche market, Nissan was arguably the best at tackling the consumers' desires. They designed small sized trucks that were economical, easy to maintain, cheap, and were an immediate success amongst the global market – especially in the US.
Thousands upon thousands of their trucks were exported to the US, and were primarily used as work mules around farms, replacing gas-guzzling American trucks, with their arrival being timed perfectly during the oil crises in the early 70's. With that said, it's easy to understand why these trucks have continued living even in modern day.
As time passed by, the youth in the nation began taking the trucks in as hand-me-downs, and as we all know, decided to get creative. By the late 90's, mini-trucks managed to disrupt the automotive world by creating their own subculture. There were trucks of all sorts, ranging from lowriders sporting hydraulics and Dayton wheels, to drag machines with crazy tubs and ridiculous amounts of horse power.
The mini-truck scene essentially created a cult like following that still exists today. This is what drew Carlos' love for the scene, and what ultimately led him to purchase his 1972 Datsun 521 in 2013.
A Special Gift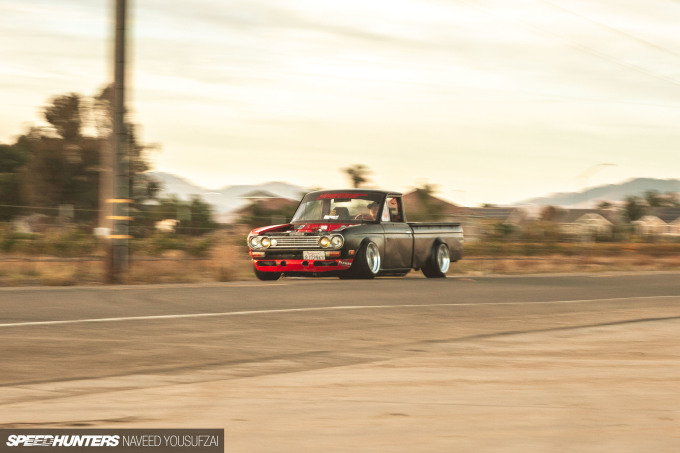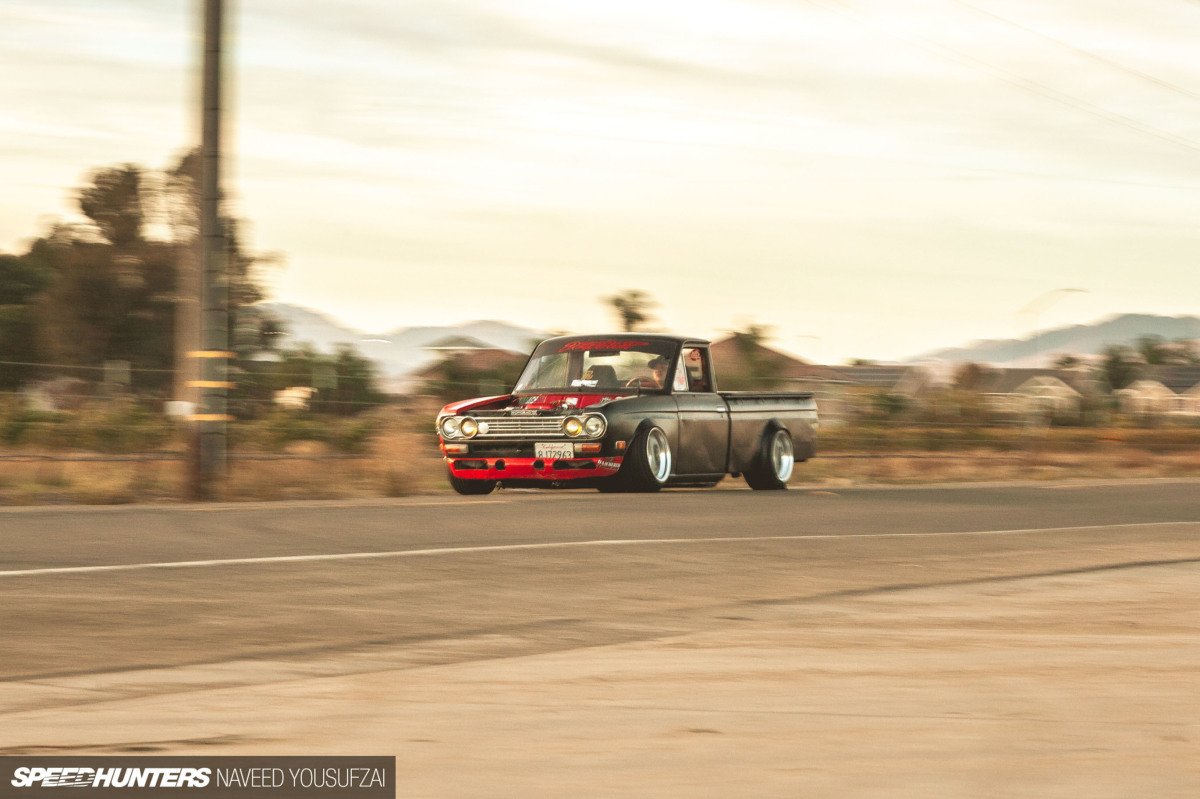 Carlos' love for old cars comes from a family history dating back to the early 90's, where he grew up wrenching alongside his father on his 1979 Ford Bronco. It was a project he vividly remembers, as it set the foundation for understanding how to build a custom truck, which he utilizes to this day.
They spent months converting the truck to 2wd, lowering the suspension, putting custom Eagle wheels on it, and so forth. When the project was finished, his father, brother, and himself would take it to car shows, giving Carlos the experiences that every child dreamed of while growing up around cars.
As he grew older, he came across a couple of other cars and trucks that he tinkered around with, ultimately leading him to the 521 he owns now.  His cousin, Enrique, called him and told him about a beat up old truck he wanted to unload, and only wanted 500 bucks for it. Struggling to come up with the cash at the time, his girlfriend surprised him with the purchase of the truck, knowing he would cherish it for as long as he owned it.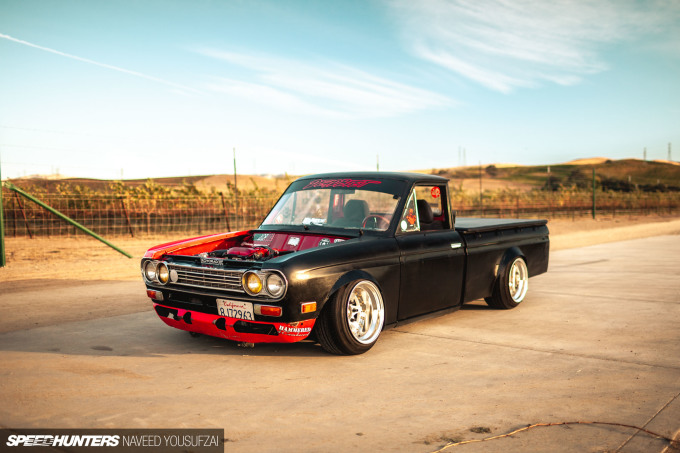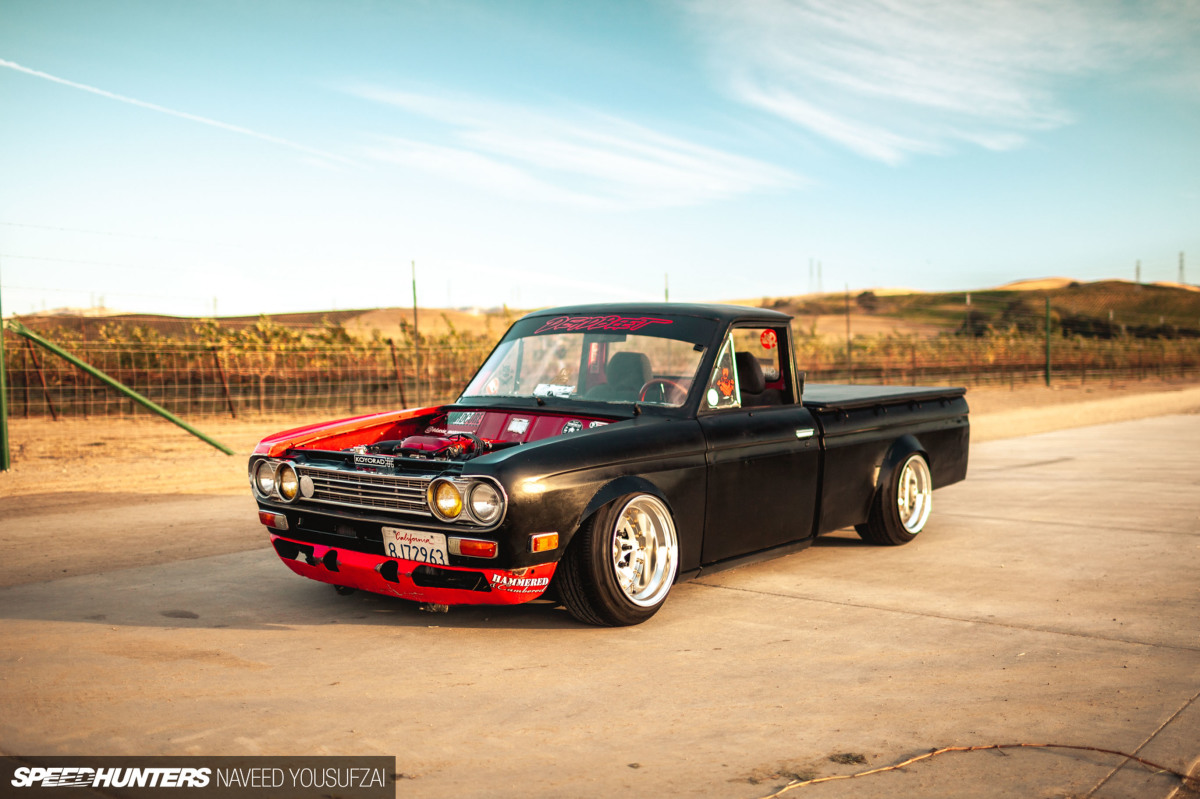 The mini-truck was basically trashed and hardly even considered a rolling shell. It had no motor, the brakes were toast, and someone at some point painted it using house paint, but Carlos' vision was clear. He wanted to ensure the truck got the proper treatment it deserved, aiming towards a ratty JDM inspired theme. He managed to execute this rather well by holding on to some of the old, beat up pieces and incorporating them into the build.
Resurrection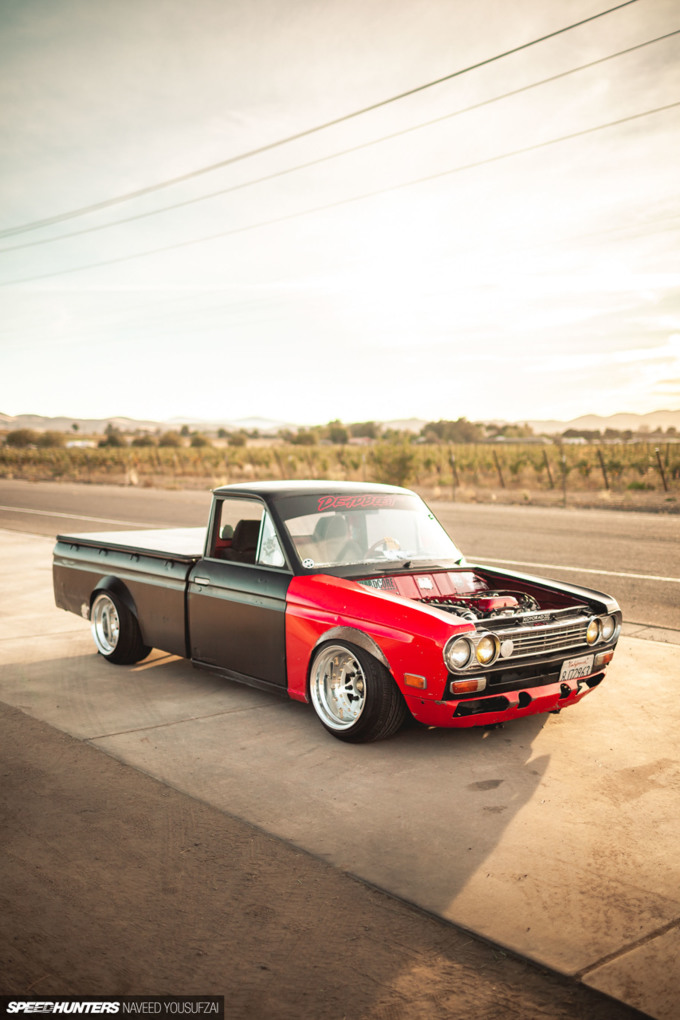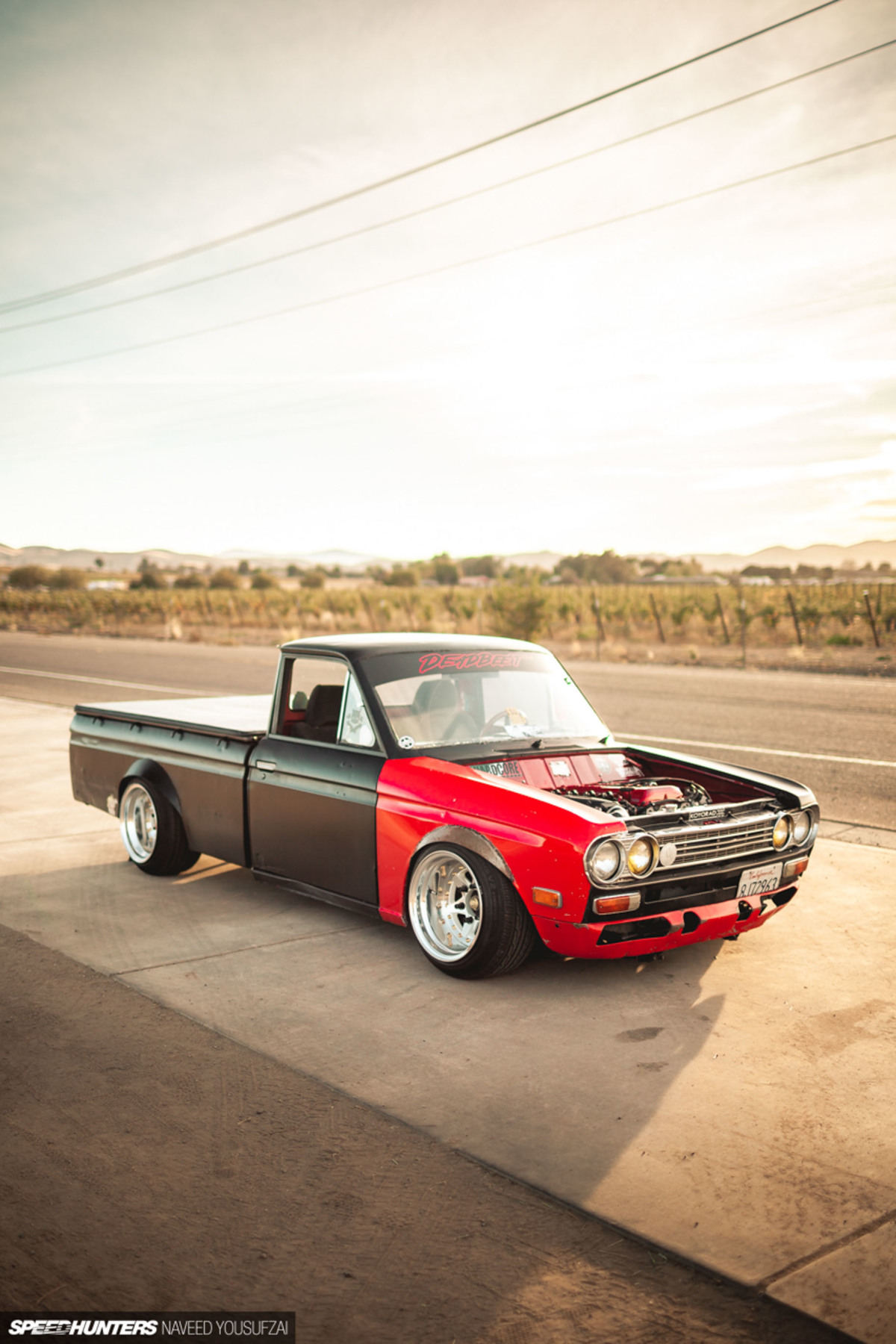 The first thing Carlos did was prep the car and paint it matte black. The front end was rather beat up with buckled fenders, dents all over the hood and bumper, and so forth. He managed to source another front end off of a red 521 from his local newspaper ads. The initial plan was to clean it up and paint match it to the rest of the car, but things ended up panning out differently.
The funny story with that is that as he completed putting the parts on, he got a call to help his cousin near by with some house work. The lending hand ended up taking up the majority of the day, so he never finished the paint work, thus leading to the signature red fender his truck is known for.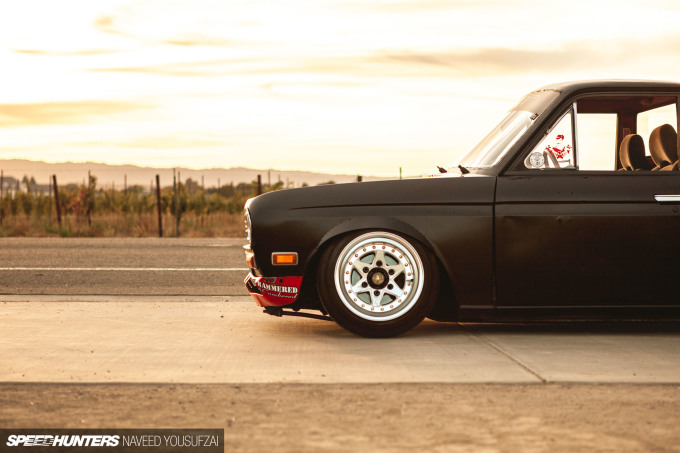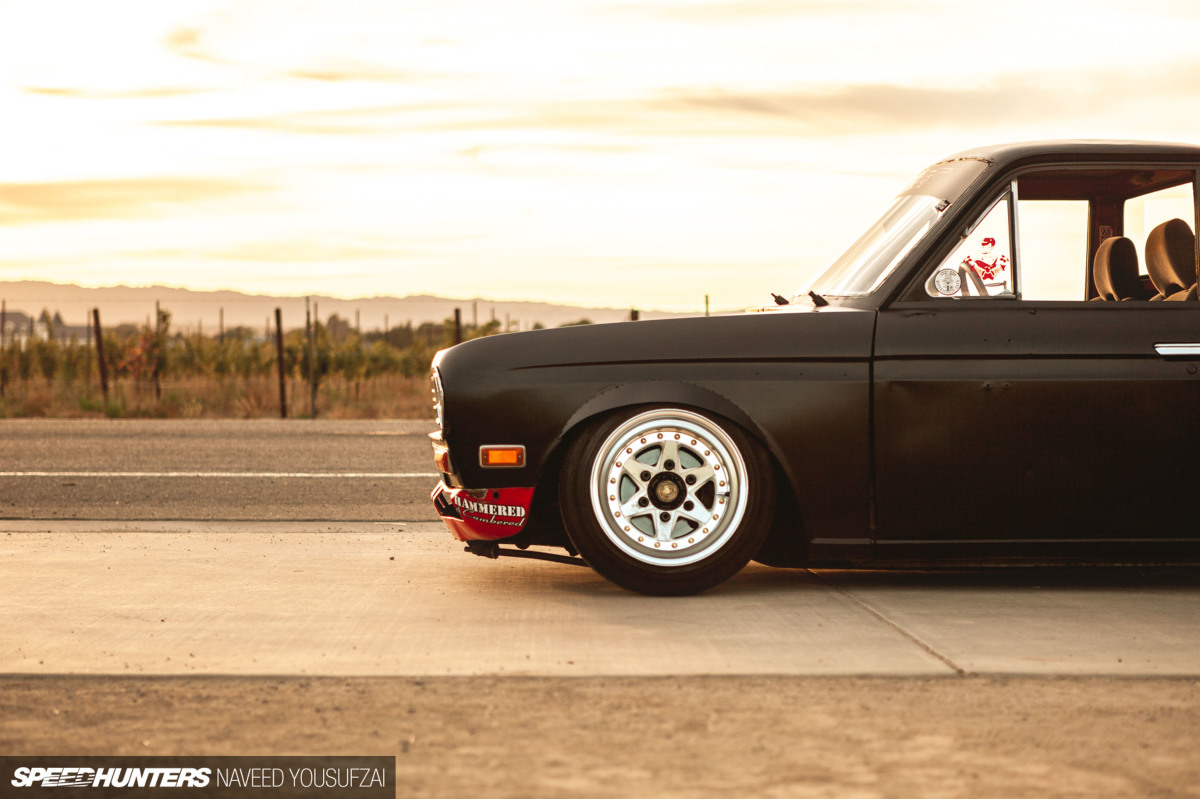 I enjoy hearing stories of this sort because it embodies the mistakes or constraints that ultimately end up working in our favor when building a car. Don't you just love when that happens?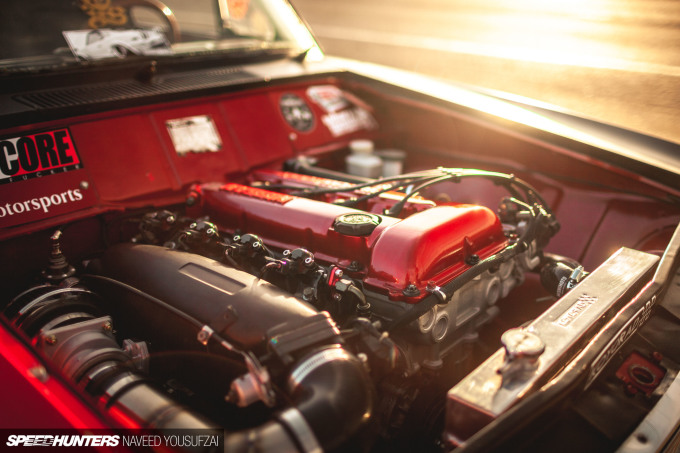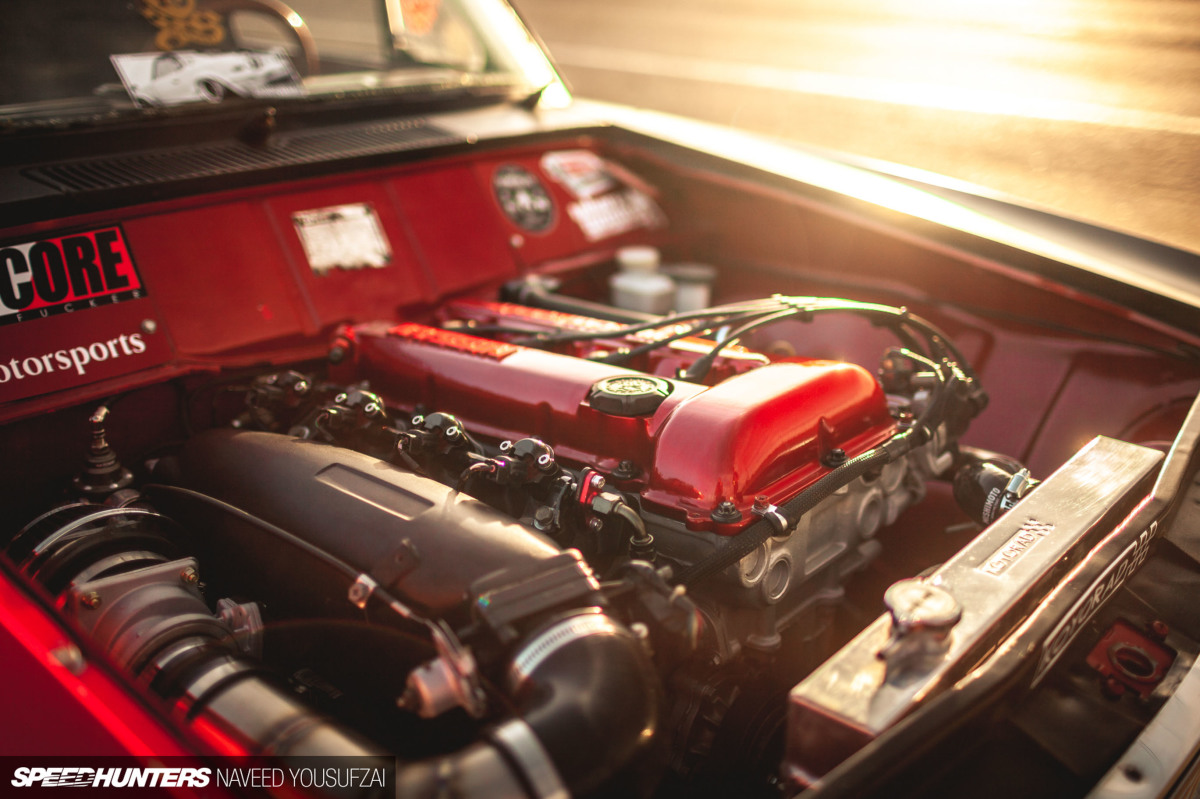 Months went by and the build progressed. He managed to get the truck to a point where it was daily drivable, sporting a KA24DE motor from a USDM 240sx, and ended up driving the truck everyday for a few years. It served its purpose in getting Carlos from point A to point B without any major hiccups, though things took a serious turn shortly after.
The itch to take the build to the next level surfaced, so he sourced an SR20DE JDM motor from a local parts distributor that ended up having low compression on one of the cylinders. He had no choice but to have the motor rebuilt by J's Wire Tech back to factory spec with the exception of some Jim Wolfe Tech cams, Tomei fuel pressure regulator, Holley fuel pump, Koyo radiator, and a custom center exit exhaust. The goal was to not go overkill, as the power to weight ratio on this setup was plentiful for his driving needs. After all, the truck is still his daily driver.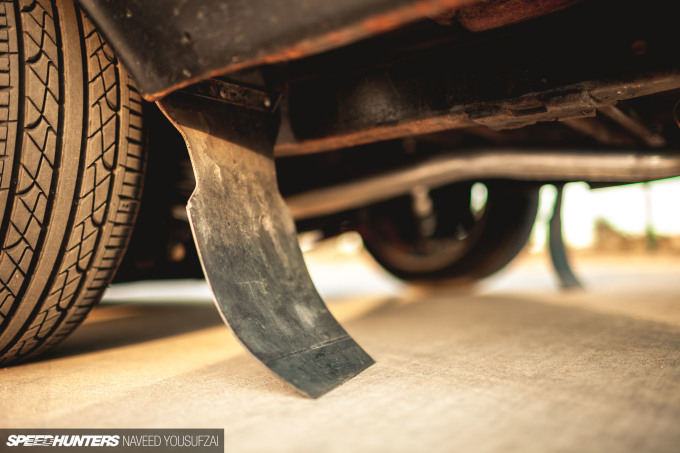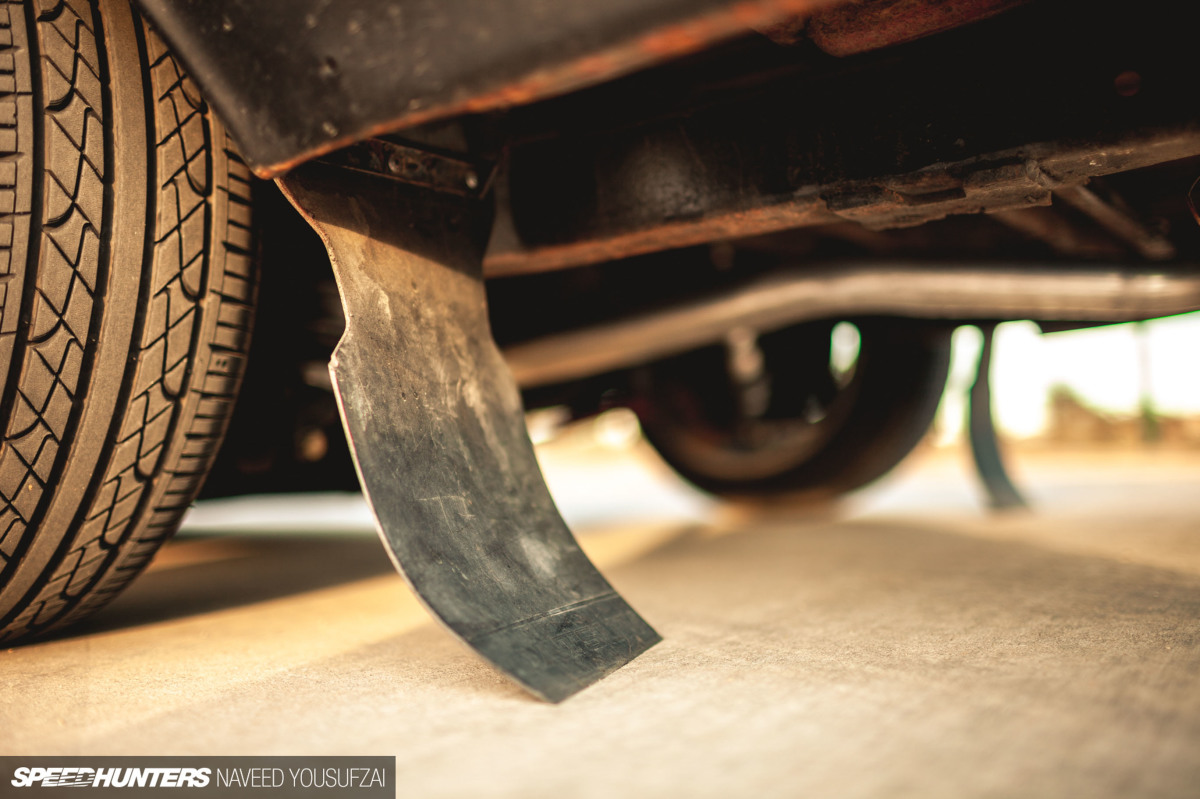 Most of the custom pieces on the truck relate to the suspension. The truck was slammed an incredible 11.5-inches from factory height using an assortment of suspension bits from other Datsuns, fabricated to keep geometry precise and handling at par. Disc brakes were installed to replace factory drums, and a custom triangulated 4-link setup was engineered to keep the ride smooth at the height it's at now.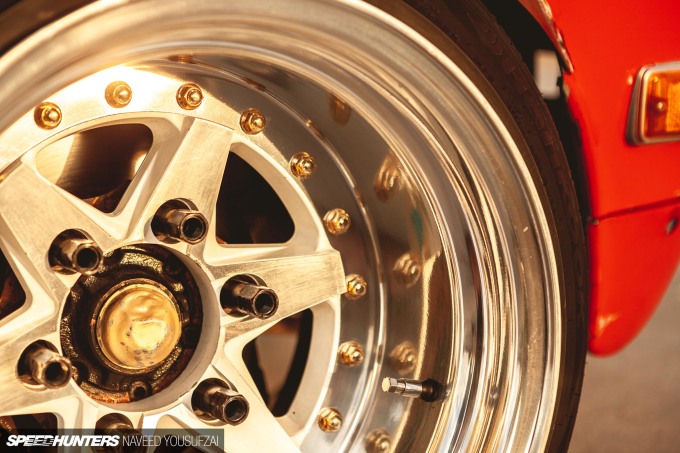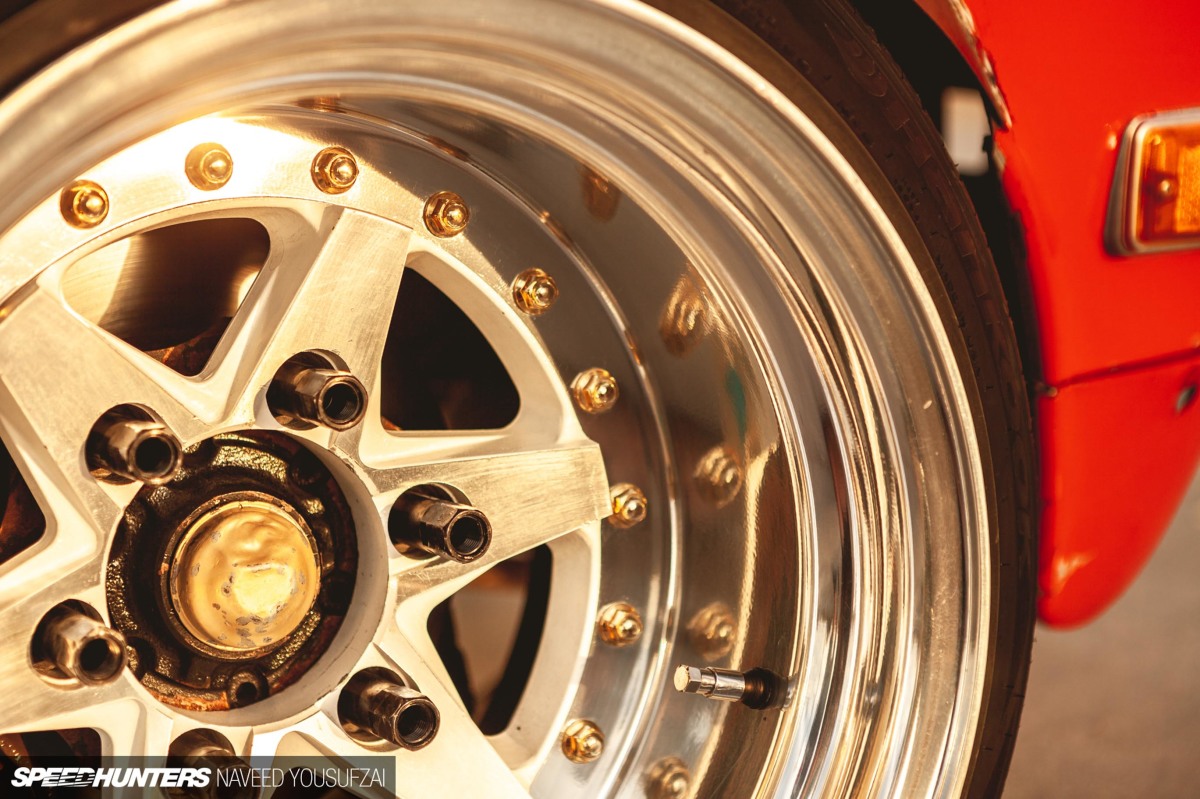 As mentioned before, the matte black paint and red fender prolonged after the motor swap, but Carlos decided to add a bit more character to the truck by doing custom metal flares all around to fit those 1 of 1 SSR Interceptor wheels, which is probably my favorite aspect of his build. The wheels' build date are stamped 1987, and sport an aggressive 15×11-inch ET-38 specification.  They are basically the Longchamps of the mini-truck world, as they're 6×139.7 lug pattern, and were new old stock when Carlos came across them. They are absolutely gorgeous and do the truck perfect justice, both when static and in motion.
I always tell people that the best part of building a car (or truck for this matter) is the hunt for parts. There's an extremely satisfying sense of accomplishment when coming across cool things like these wheels, so always remember not to give up when feeling discouraged. It'll always pay off.
The interior was kept simple, adding carpet, insulation, and stock S14 seats to keep things comfortable on daily duties. A water temp gauge was installed next to the original tach, the factory steering wheel was replaced with a wooden Nardi, and a Pioneer head unit replaced the factory unit, because music is a big part of the scene, but that's a story for another time.
The Future Is Bright Red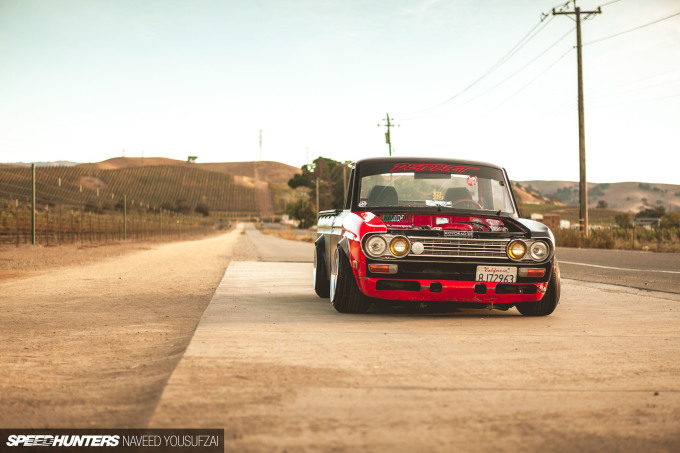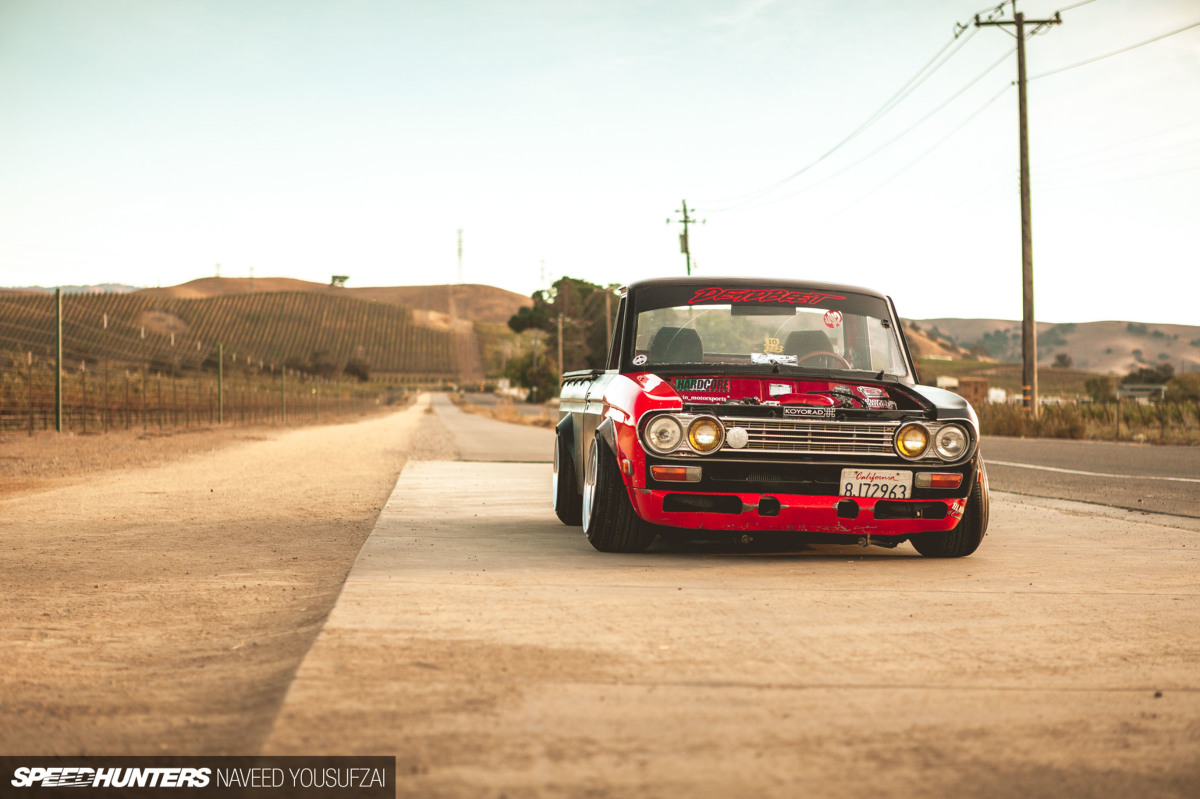 Carlos' mini-truck has clearly seen a tremendous amount of love and road time throughout the years under his ownership, and that's not going to change anytime soon. Future plans for the truck are to completely redo the body work as this phase of the truck has reached its peak. A custom 'Victory Red' paint job from the Cadillac ATS V, smoothened body work, new suspension setup, and maybe even some sort of livery are ideas living in Carlos' mind, which just might see their way on to the truck in due time.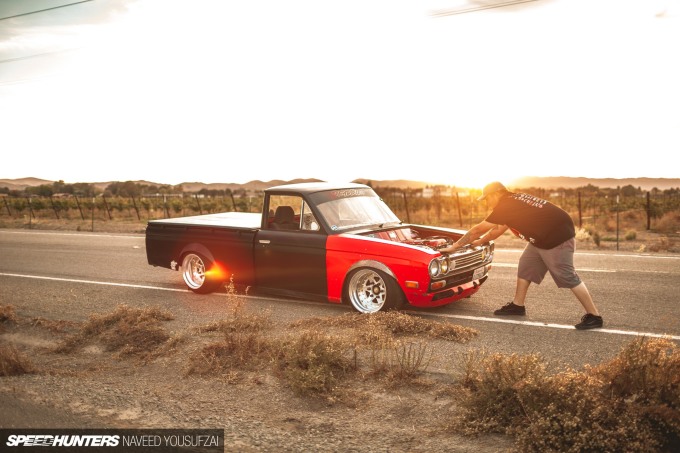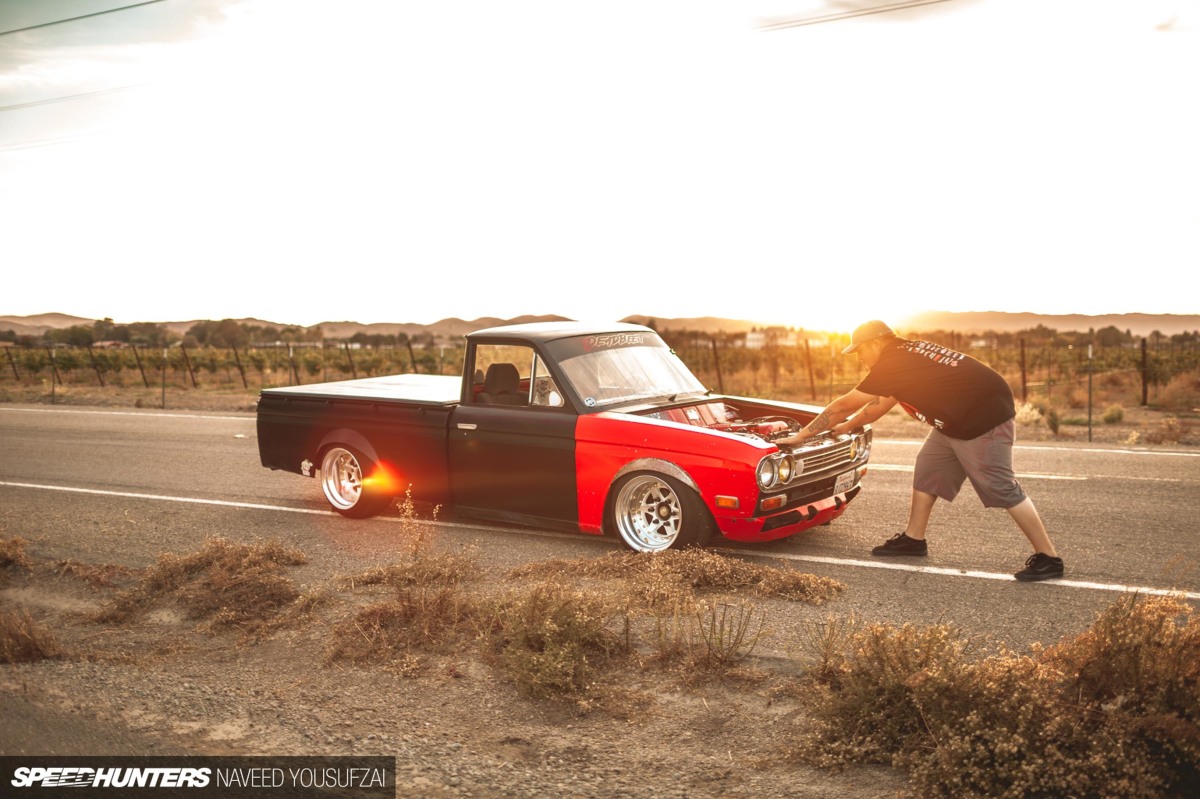 Reiterating the beginning of the article, it truly is heartwarming to see Carlos' passion for this truck progress forward. For many, five years of ownership just might start the itch to move on to a different platform, or even a different passion. I've seen that play out in my own life.
But there's a certain type of lifestyle associated with the mini-truck scene, and it's one that I don't see disappearing any time soon. The current owners are only the early vines in the heirloom of tradition that gets passed on from generation to generation.
It will continue to exist, and I love everything about it.
Naveed Yousufzai 
Instagram: eatwithnaveed
Never Enough 521