Sweet Balls of Fire
If Goku was any car, it would be David Mazzei's four-rotor RX-7.
While I'll be the first to admit that I don't know much about Dragonball Z, I do recall there being quite a few fireballs, and as Rob Dahm's video below shows, Mazzei's FD isn't shy with them either.
David's car may not be the world's first four-rotor FD, but it has to be one of the best sounding, fireballs included. Of course. his car doesn't sound this way by accident. Reminiscing on the glory days of F1 when the V8s and V10s screamed and howled like high strung banshees all day long, he began to plot a way to bring those sounds and feels from the '90s into a modern RX-7.
Step one, was obvious. The Mazda 787 and 767 factory racecars, and specifically the Le Mans winning car, the 787b, powered by none other than the famous 4-rotor race engine would be the primary inspiration. Their pitch and sound at 9,00RPM rivalled that of an F1 car revving at 18,000RPM, courtesy of the rotary firing once every revolution, compared to a piston engine which only fires once every other revolution.
Additionally, Walker Morgan of Morgan Performance Fabrication, created an equal length manifold to ensure the correct pitch and tone of 600Hz at 9,000RPM.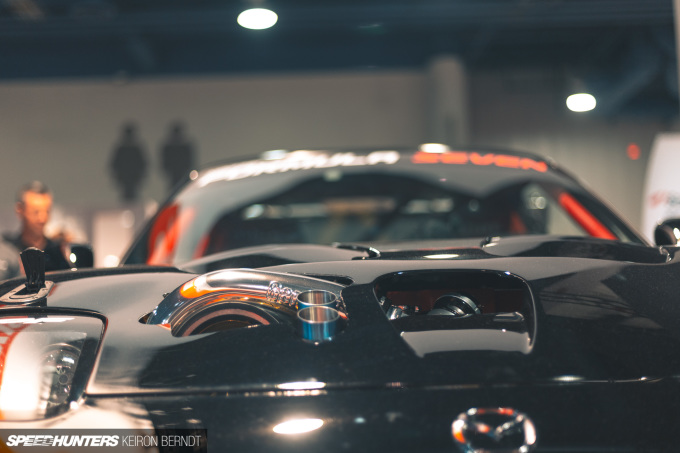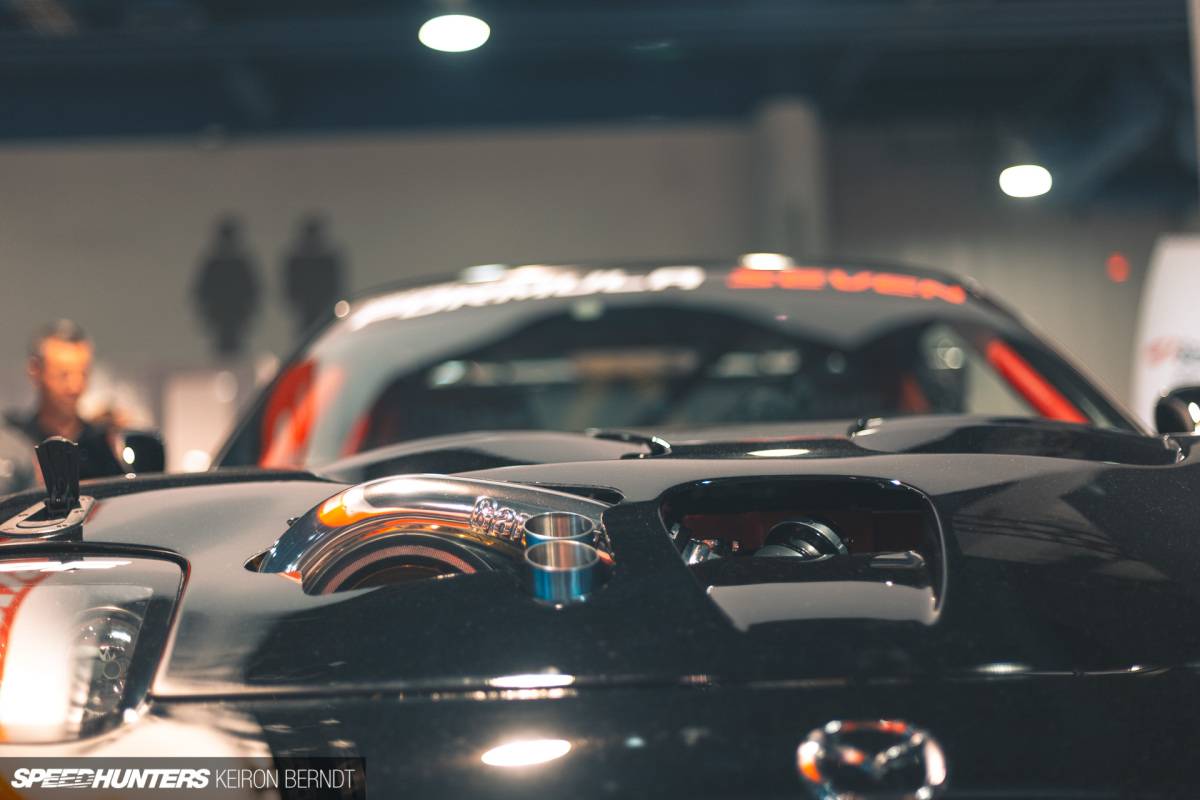 Building a car that would perform in a visceral way was his first priority, as it was built to drive and entertain. Second, came the accessories and styling that accentuate the look and feel of the car so well.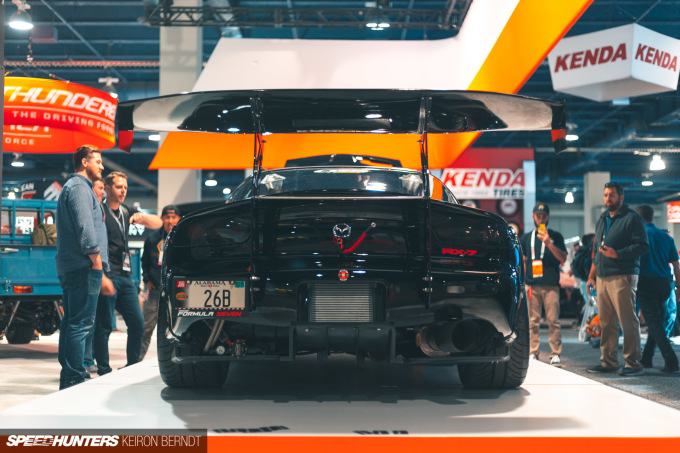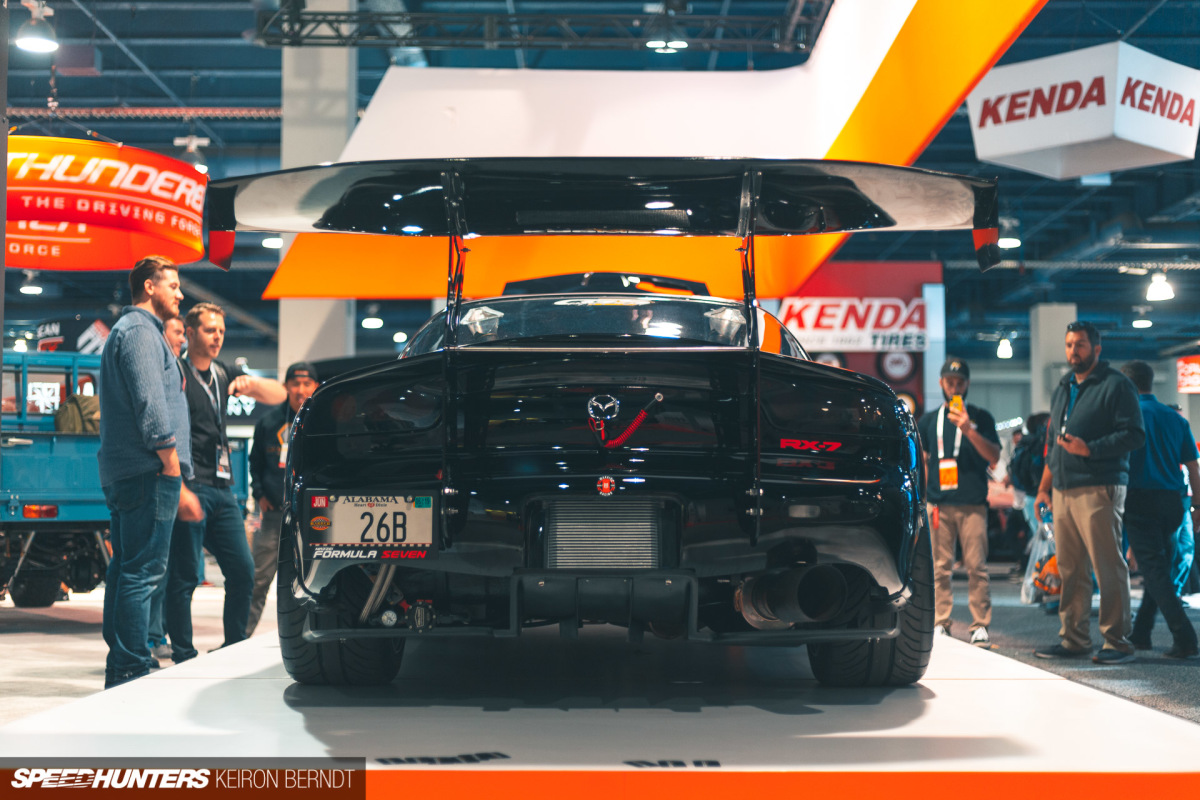 When I asked David for some power figures his response was priceless: "We decided to call it quits at 20psi, as the car was spinning tires on the dyno, reading 1,000whp and 650ft/lbs." While he assured me that a thousand wheel horsepower is plenty to have fun with, he's confident that the four-rotor can put down more than 1,400whp at 40psi.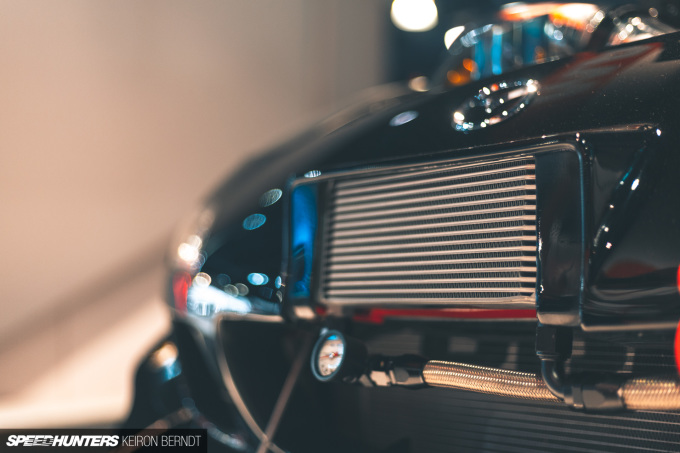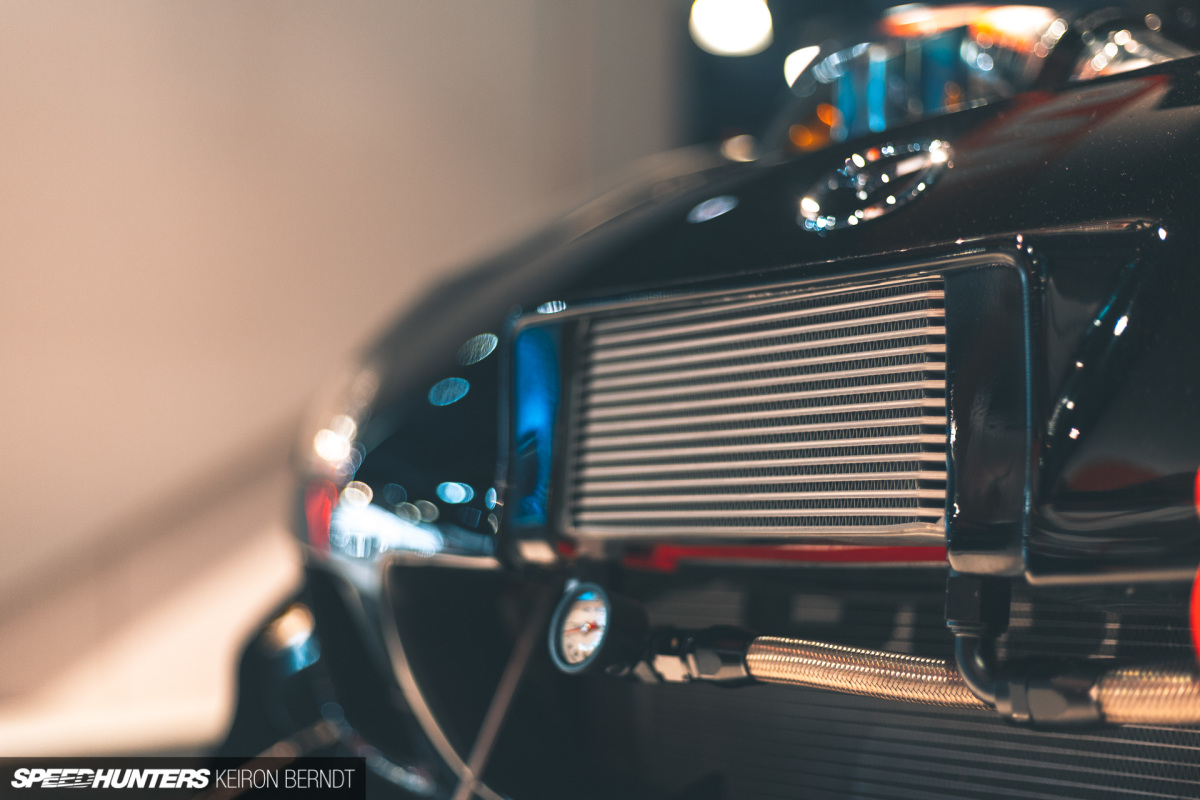 In any of the driving videos of the car, the boost has been turned down to 12psi – resulting in 680whp – due to the FD3S' behaviour from his past driving experiences with the car.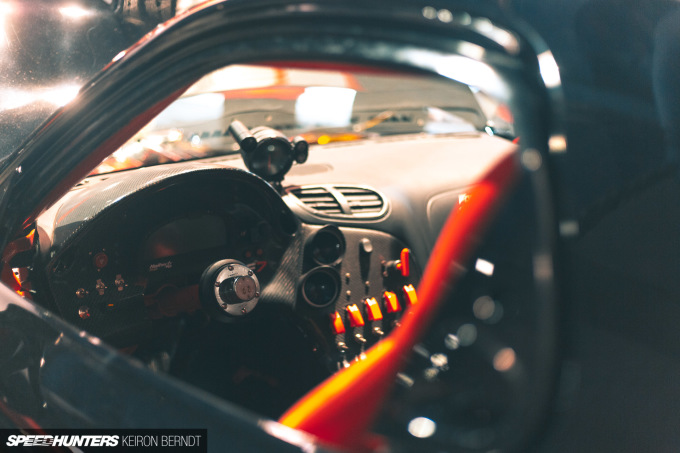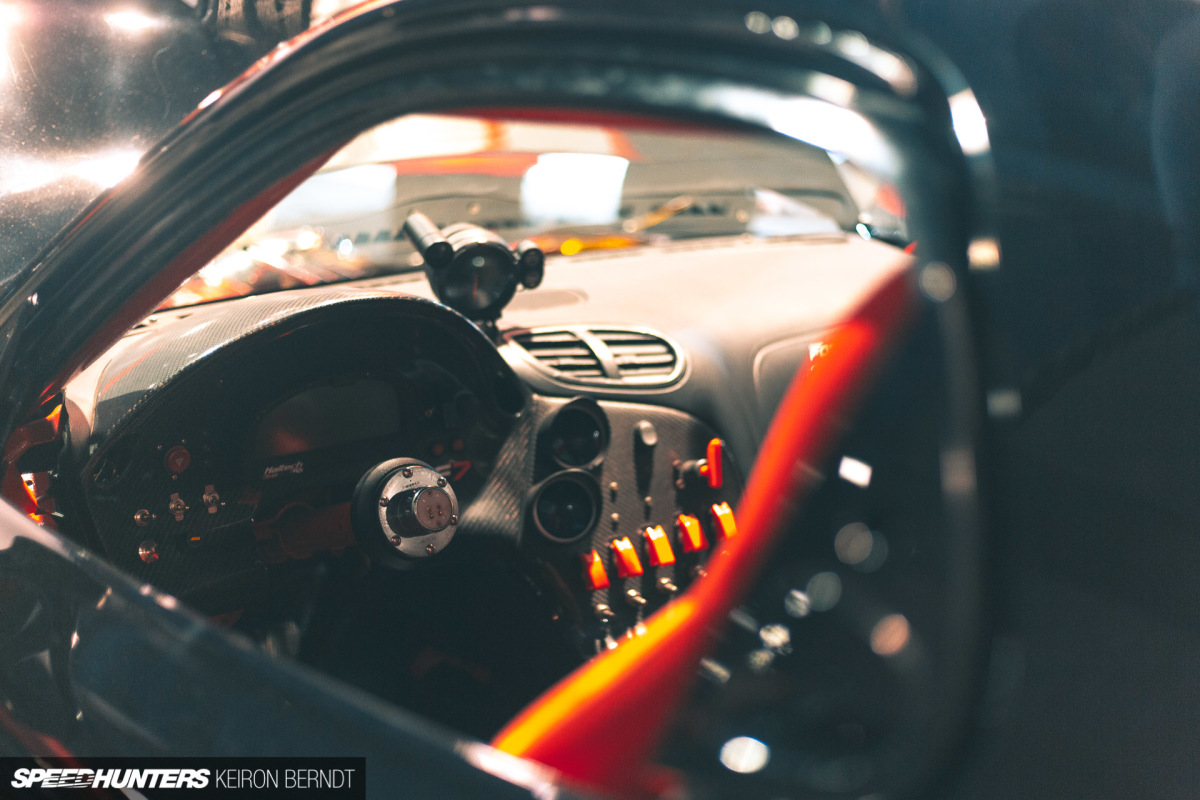 In my opinion, this car was one of the gems at SEMA, and like many SEMA cars it had quite the journey in getting to the completion stage.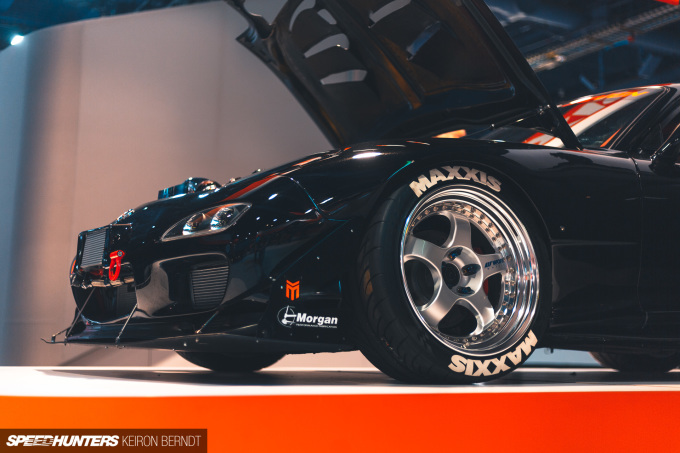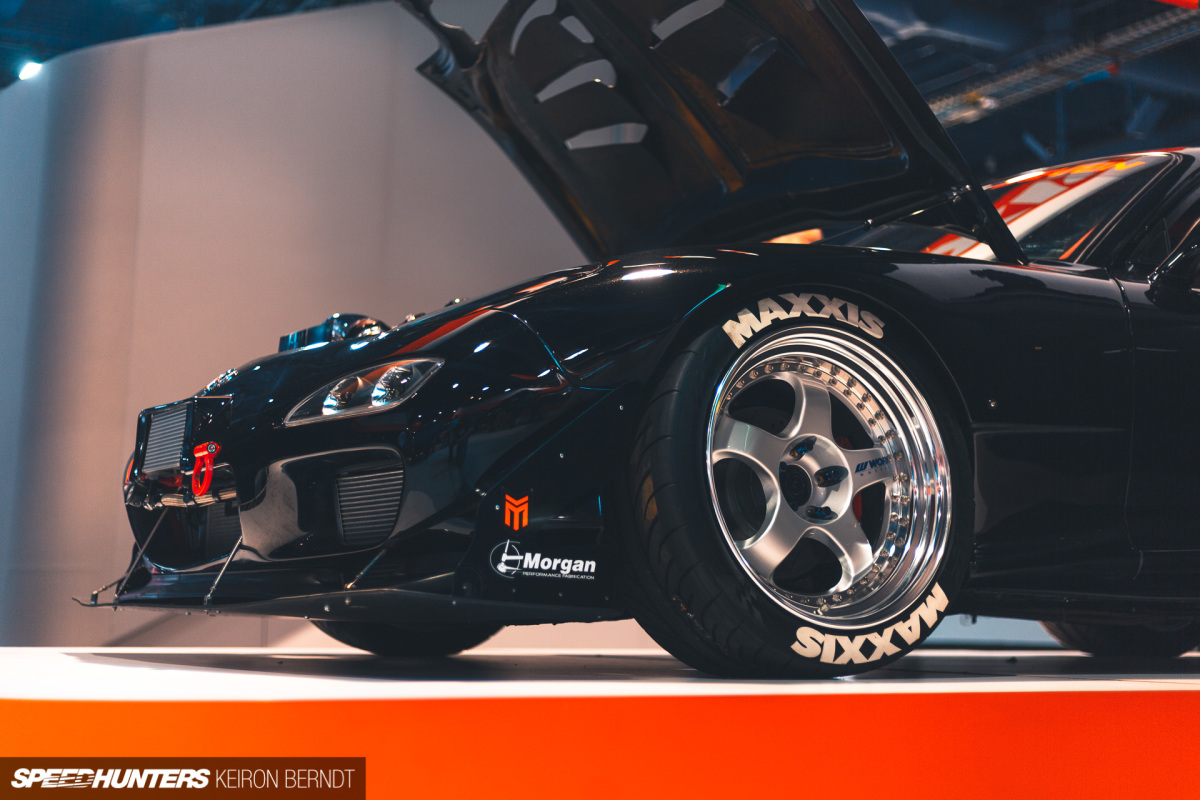 The project started in early 2016 and while it was a running car through 2017, it had to be torn down and rebuilt due to some engine complications. Buying a 'drop-in' setup (without an ECU, fuel system and wiring) sometimes doesn't go to plan, especially with high horsepower builds as David found out.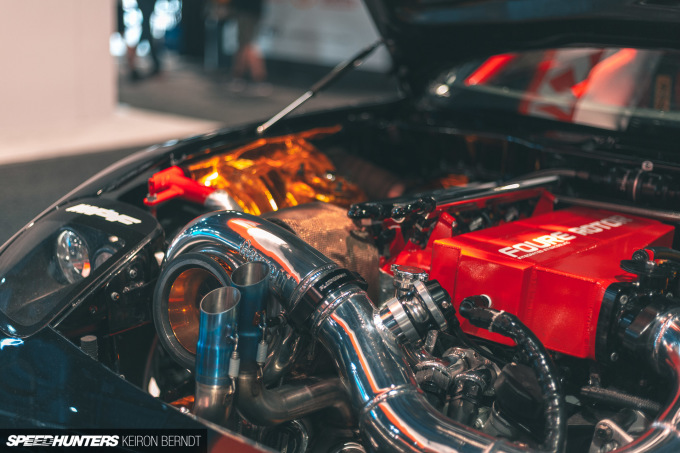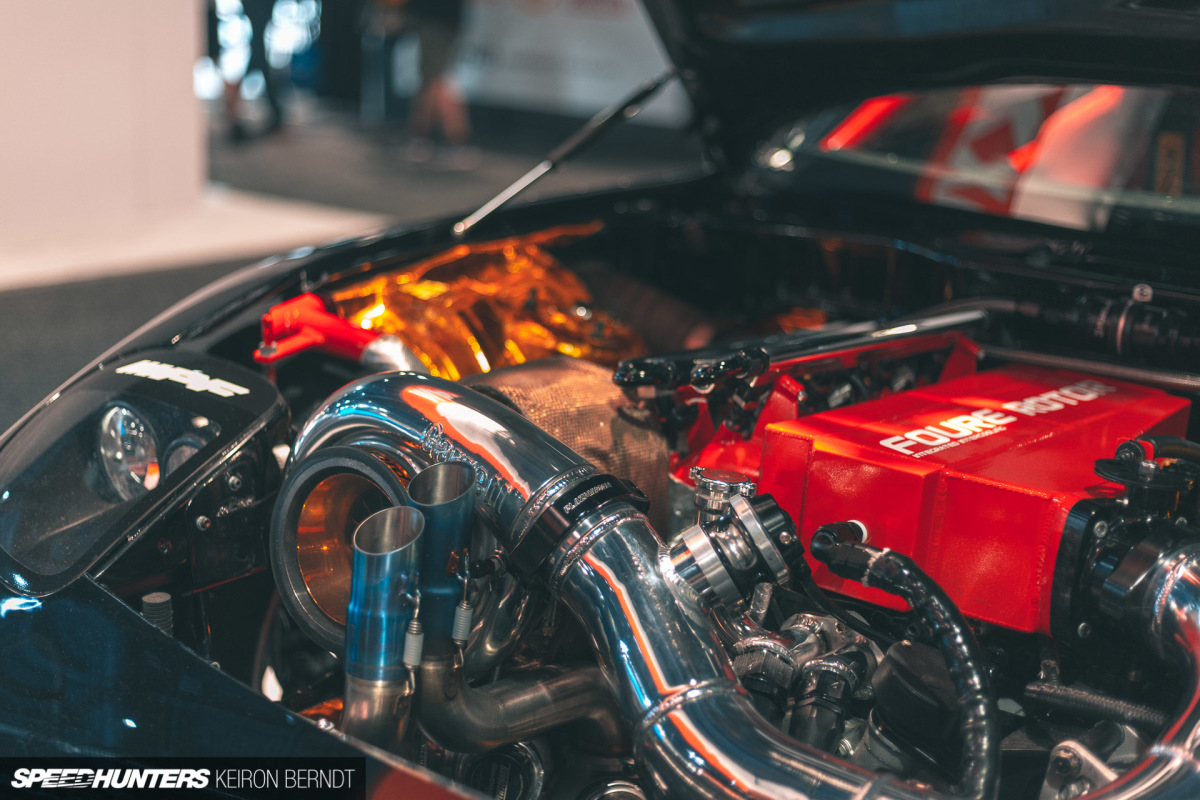 The previous setup arrived late, and had an oil pump with the wrong gear ratio which in-turn destroyed the shaft. The exhaust manifold wasn't correct either, with incorrect tube sizing and insufficient wastegate priority, leading to excessive back-pressure and uncontrollable boost. The list goes on…
With a handful of friends and rotary experts, work on the second iteration of his car began in May 2018, and was buttoned up just weeks before SEMA which included a full engine rebuild to correct the extensive list of issues along with many chassis upgrades.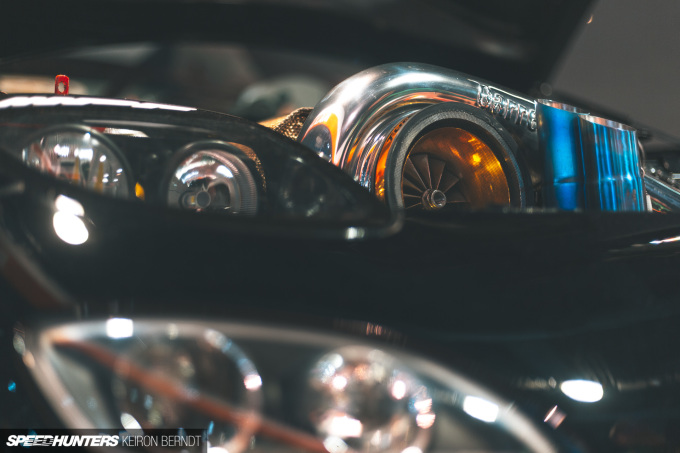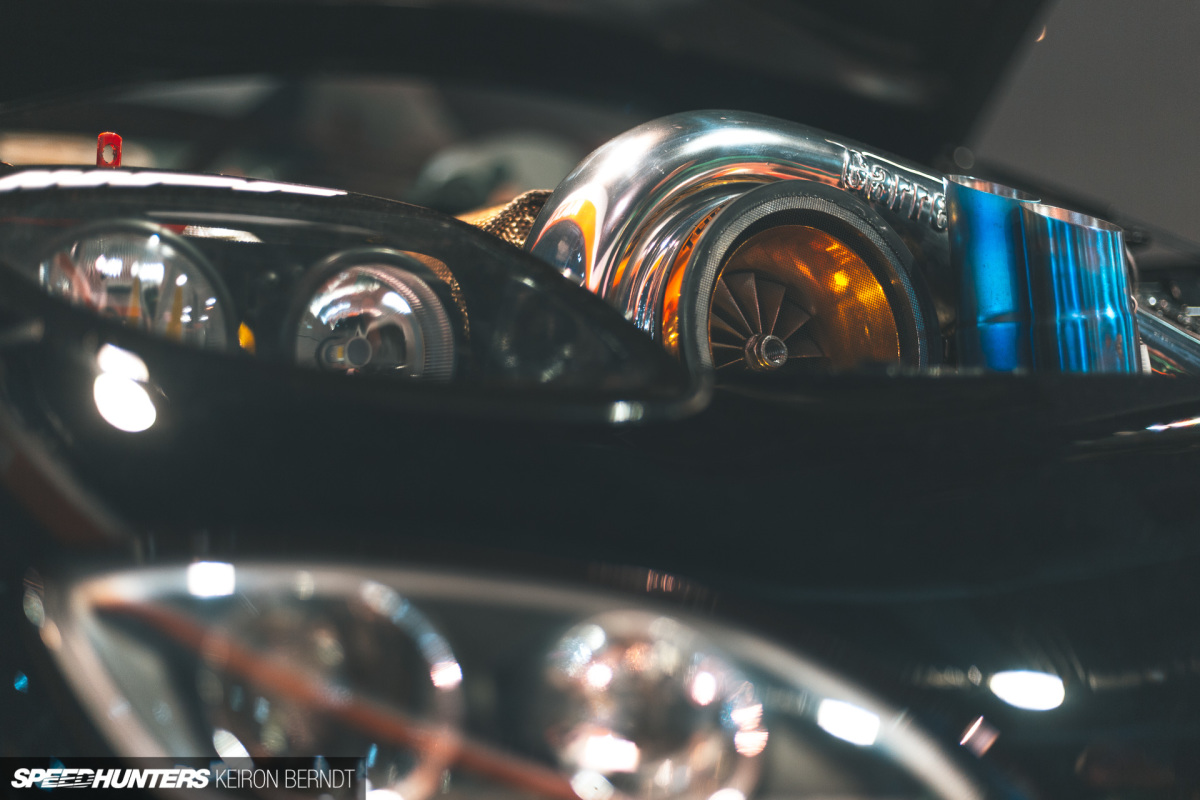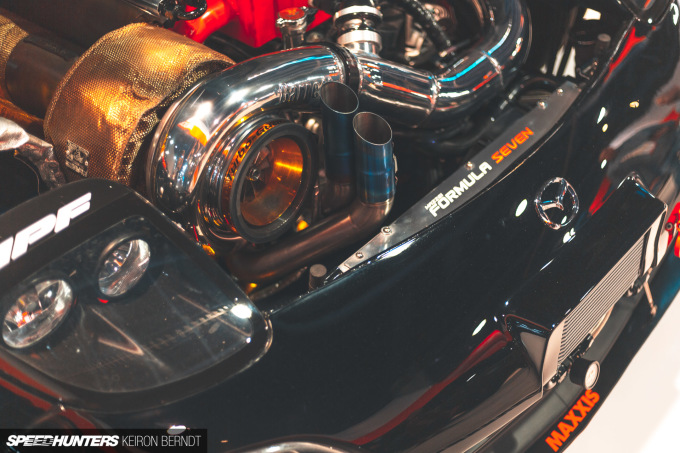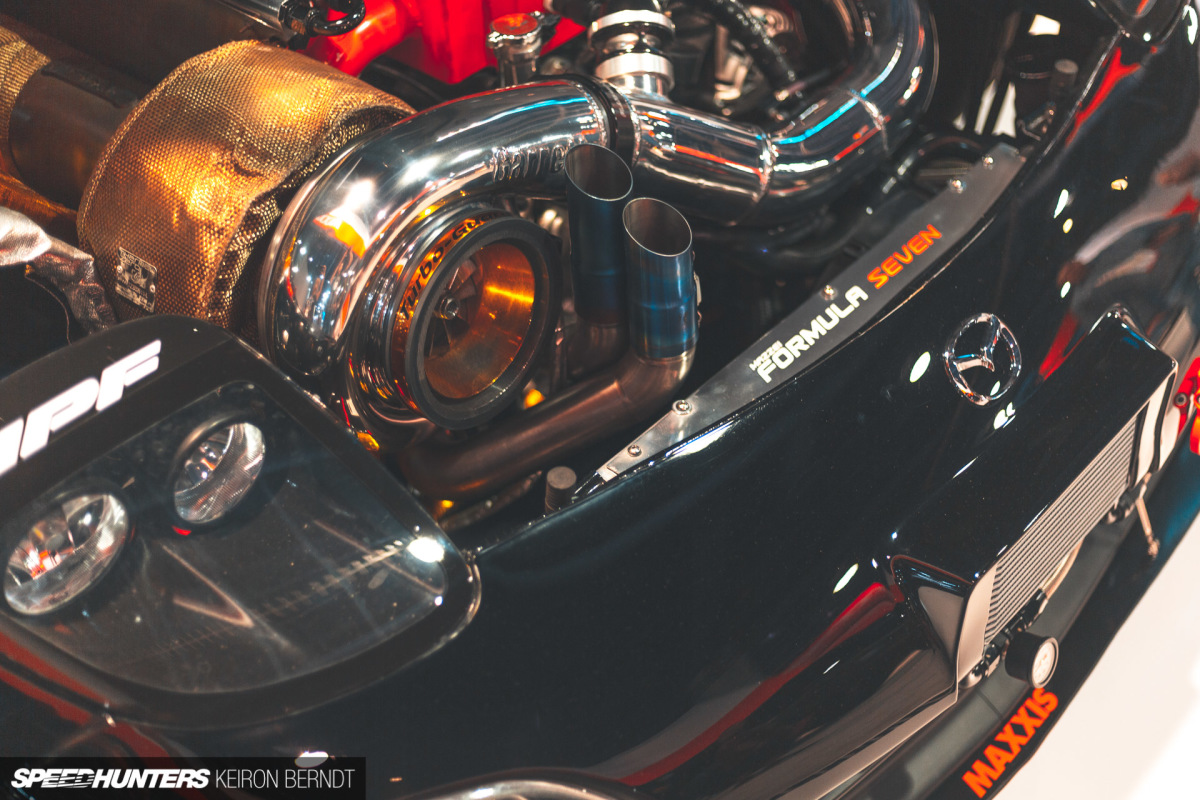 With a new tubular front end fabricated, they opted for a larger radiator and turbo (a GTX553 98mm Generation 2) along with a rear-mounted intercooler water core for the integrated inter-cooled intake manifold.
While this wasn't an easy project to tackle, David is proud to say that he couldn't have done it without everyone who helped make it happen. Ever since he was a kid, owning and building an FD was nothing but a dream.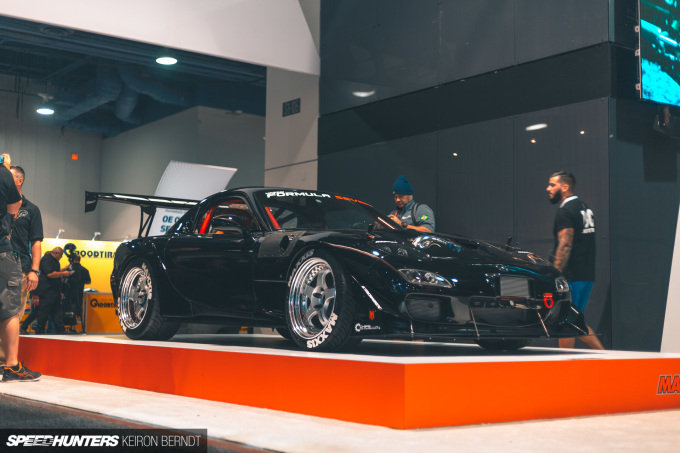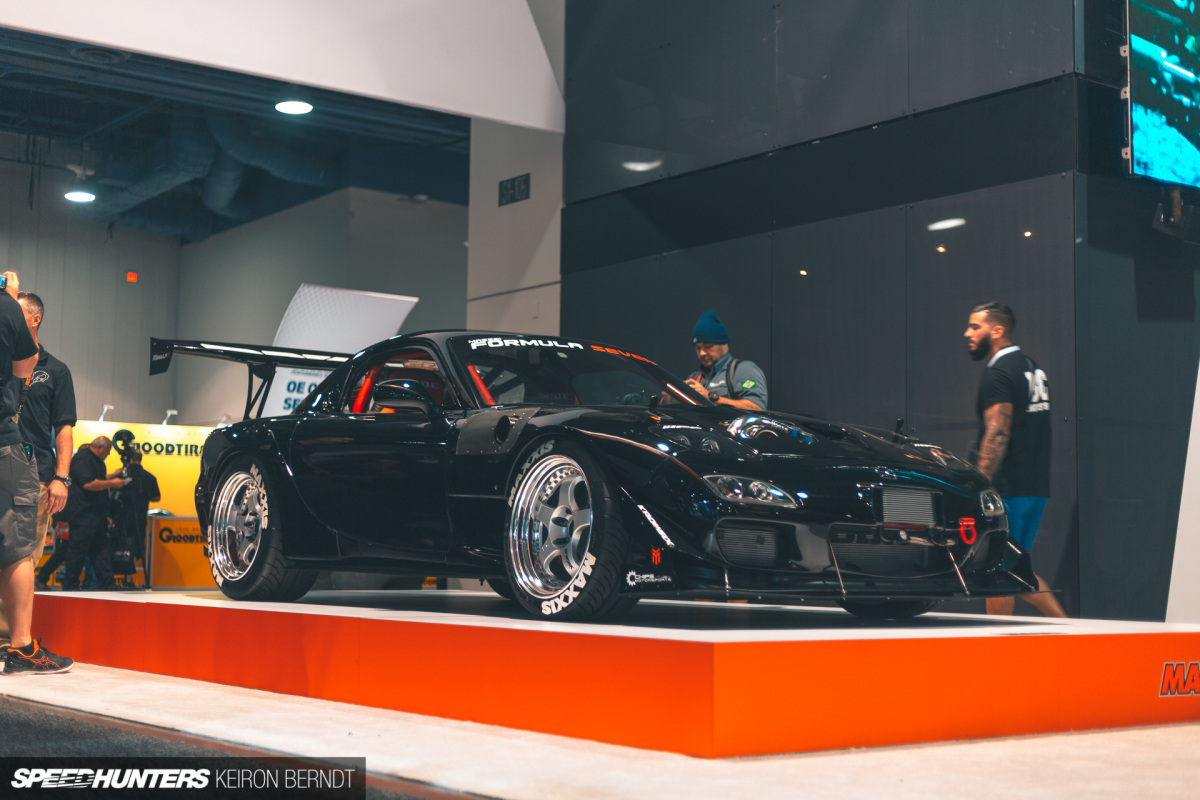 Fast forward a few years of penny-pinching, riding the bus, and a lawn maintenance gig; he was finally able to buy one. Ever since then, he has been putting in the time and effort to research and develop how to make it more reliable, and crank out even more power.
But that's not the end of the story, as David has something in the works which he can't quite share yet. He did mention that it will be a rotary powered, transaxle based, rear-engined hypercar. That's all he would say, no matter how much I pried. I guess we'll have to check back with him and his team in the months to come…
Keiron Berndt
Instagram: keiron_berndt