Petite Personality
The classic Mini is undoubtedly one of the most amicable cars ever built.
We're cruising the streets of Birmingham on a cold Saturday morning in Nick Shaw's unforgiving turbocharged 1973 Mark 3. It makes a hell of a noise: the loud whine of the straight-cut gearbox, whistle and crackles from the turbo and exhaust and occasional frequent sounds of loss of traction reverberates off the surrounding walls and buildings.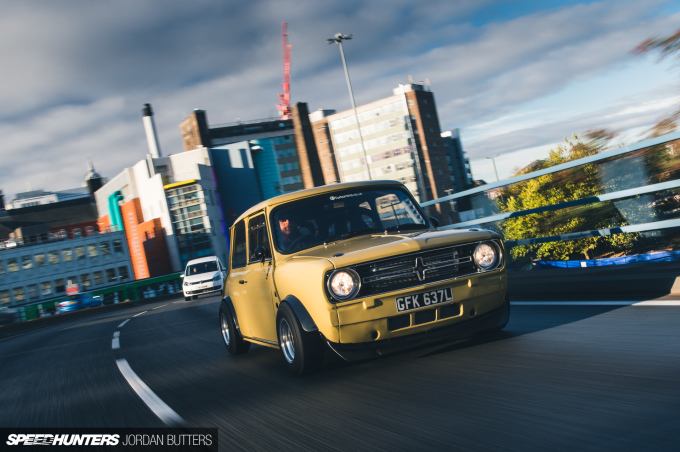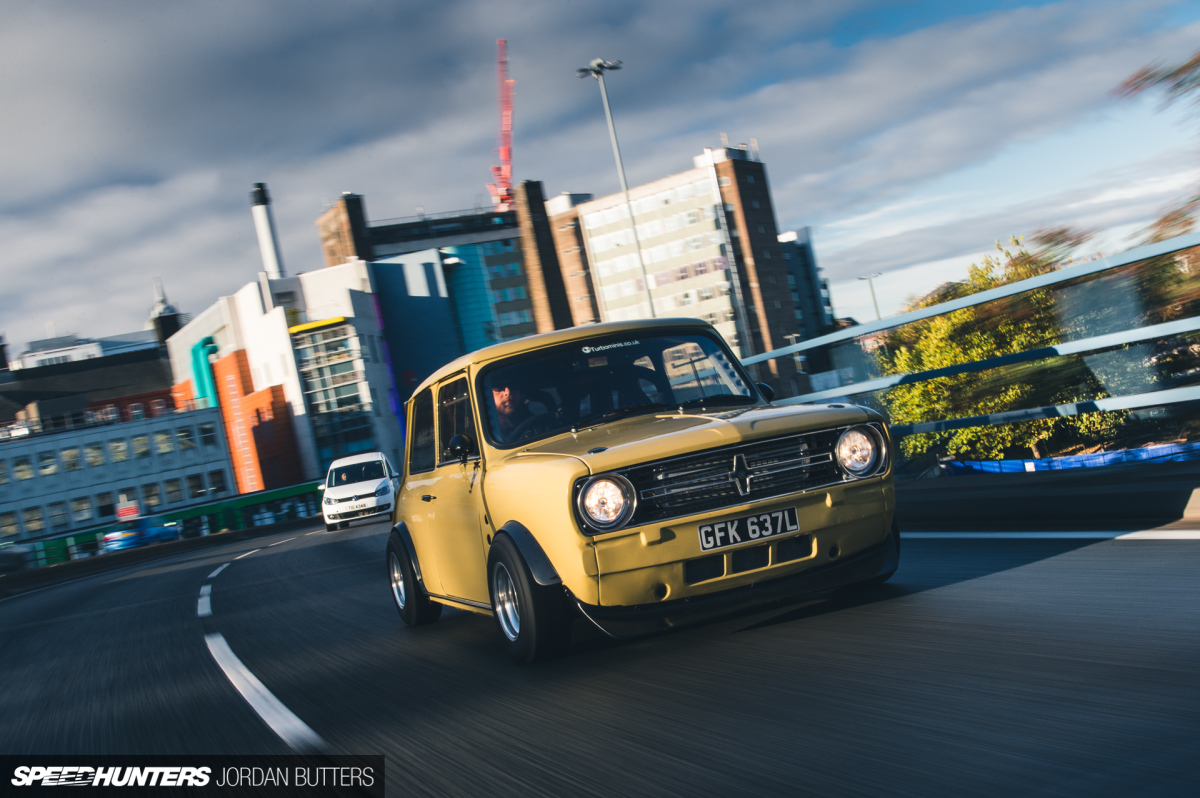 Innocent bystanders – non-car people I tell you – spin around on their heels as we approach under a cacophony of mechanical sounds. They're prepared to be offended, the scowls on their faces showing clear disdain for whatever it is that dares offend their eardrums on this peaceful morning in the city.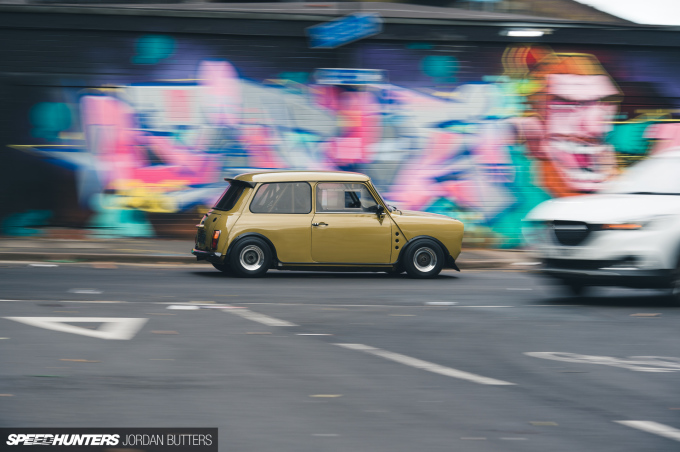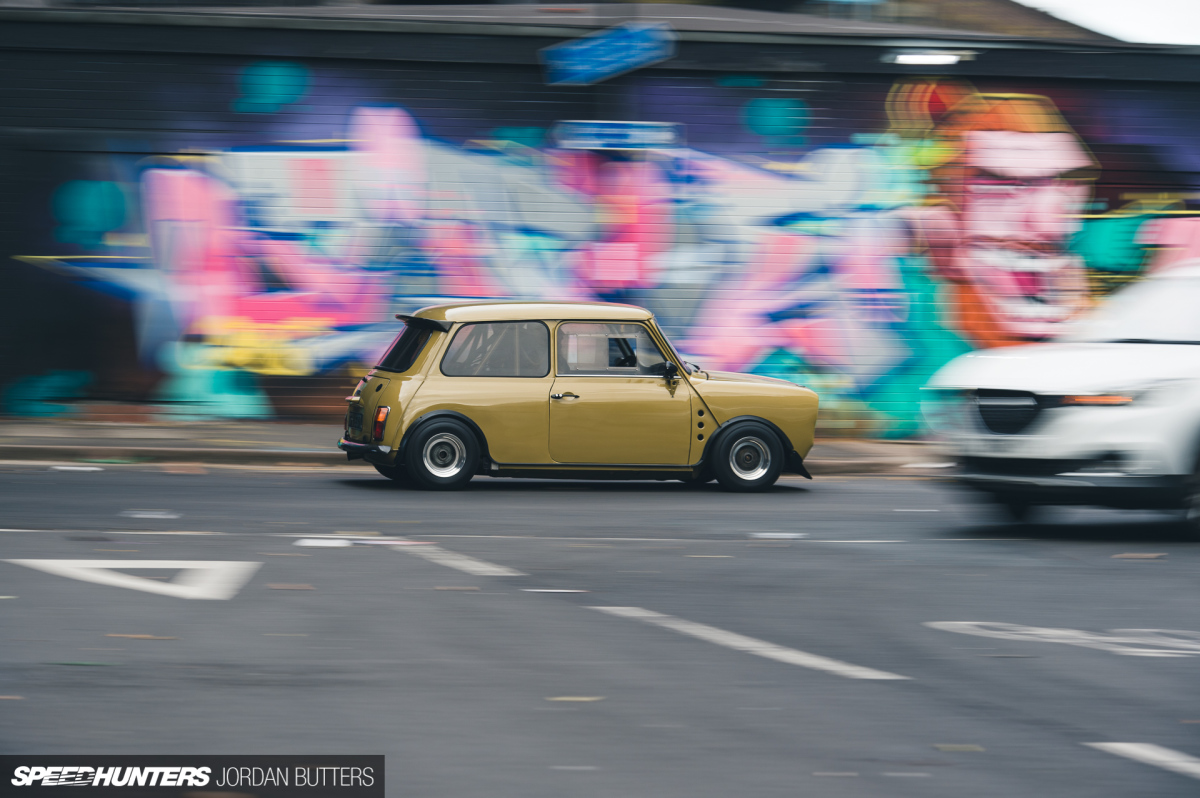 But then they see it's a Mini, and in an instant a smile appears. The raucous is forgiven, and people reach for their smartphones to capture a moment as we whizz past.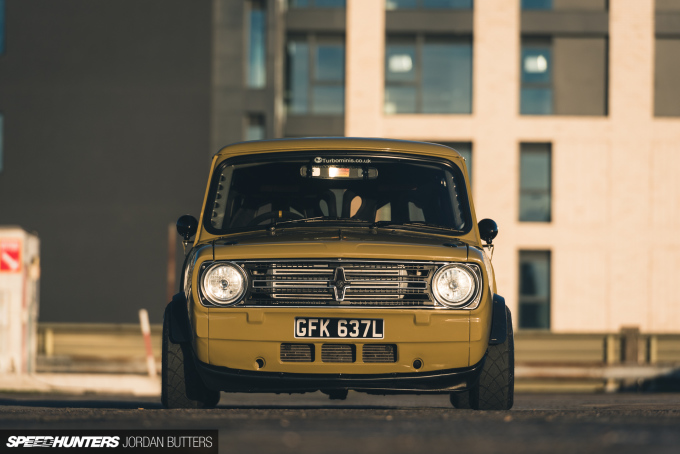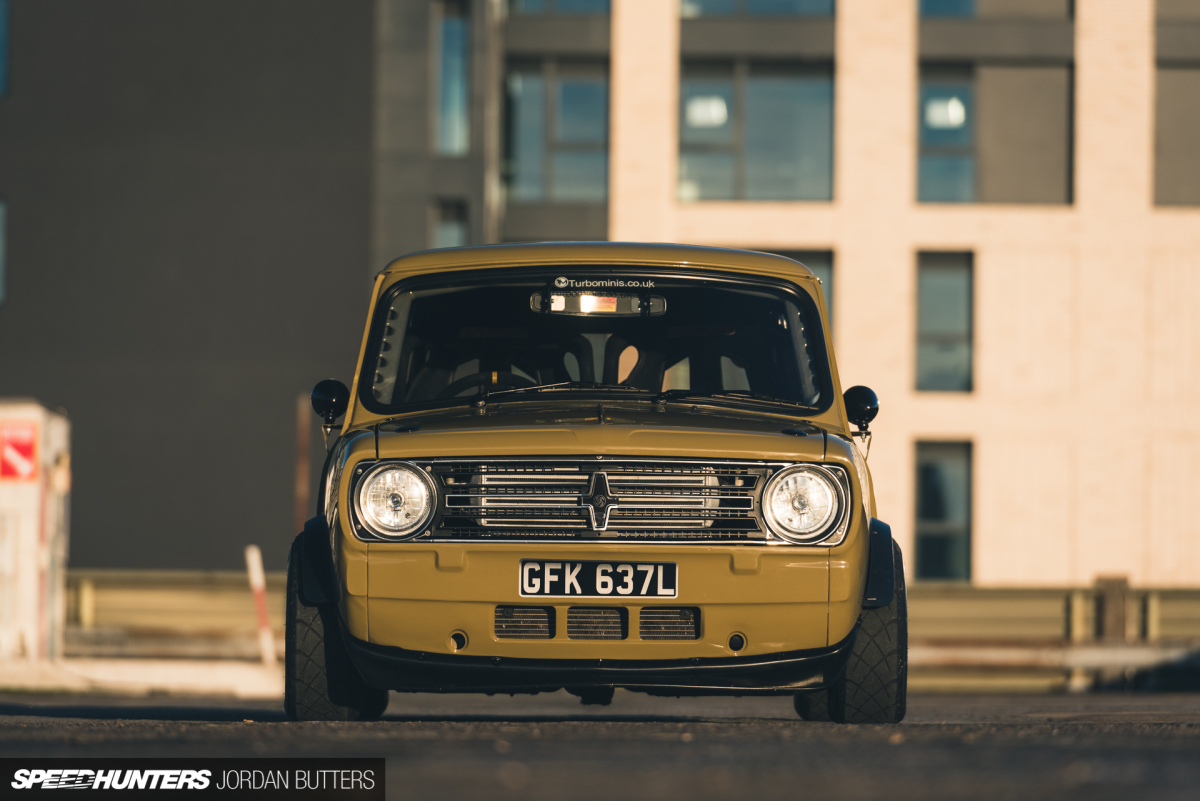 We're in Britain you see, and almost everyone has a soft spot for this great British classic.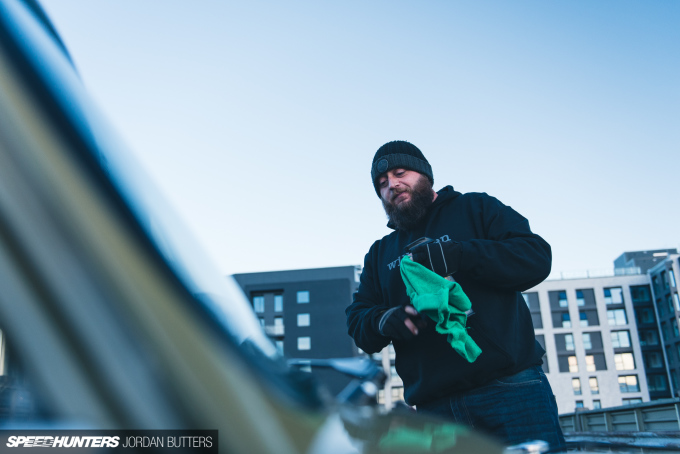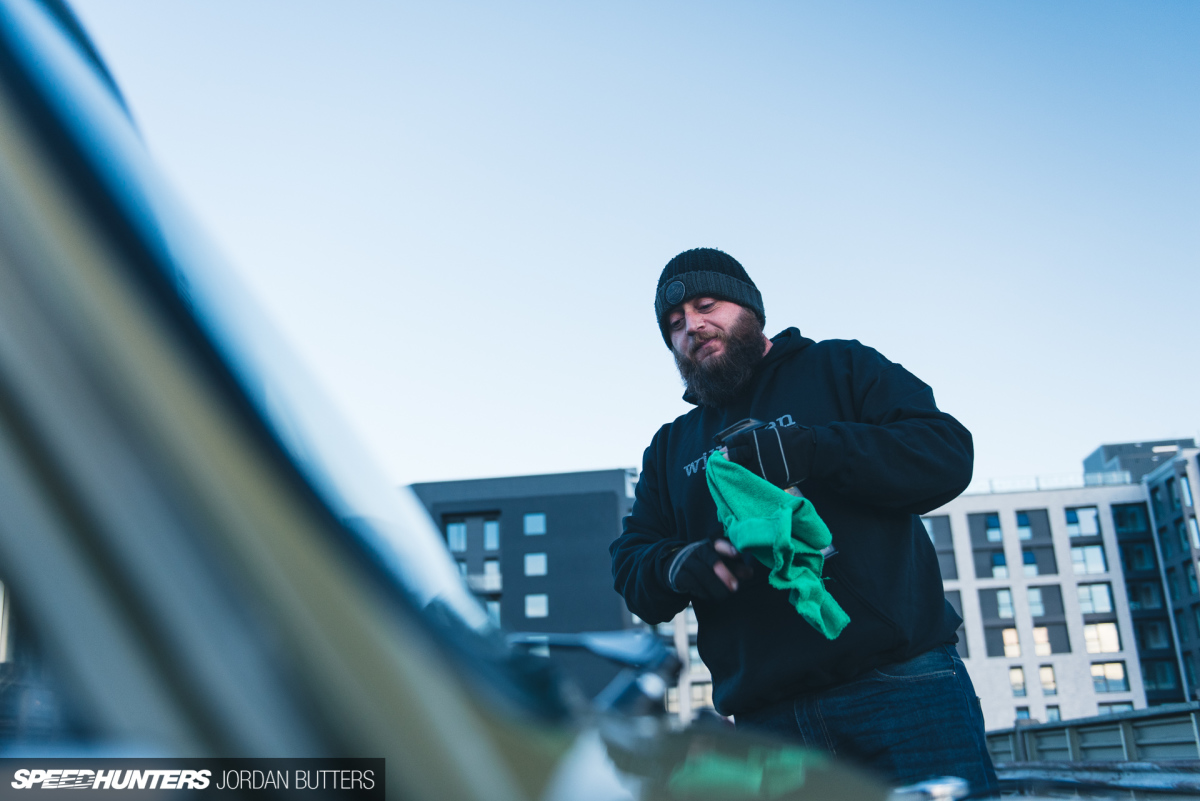 What they probably don't know, and the main reason why I love this little scud missile as much as I do, is that Nick built the car largely with his own hands in his garage at home. It's not the most powerful example out there, nor the most extreme, and he doesn't obsess about making sure that it's an immaculate show winner either.
He hasn't built it by following any predetermined recipe, for internet fame or any other ridiculous 21st-Century concept. In fact, Nick's pretty puzzled as to why his Mini has gotten so much attention since he finished it earlier this year.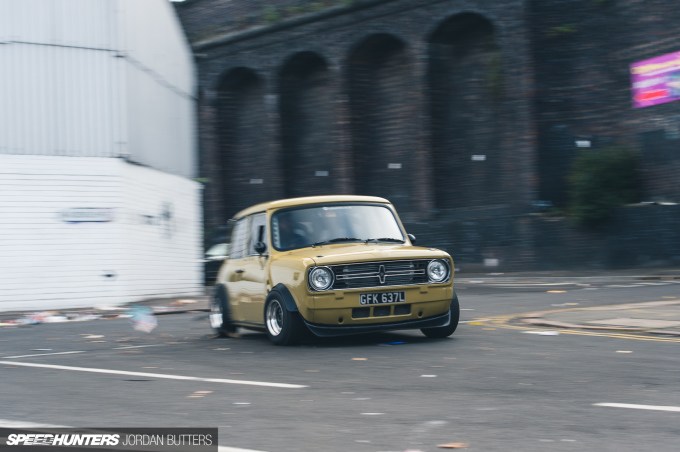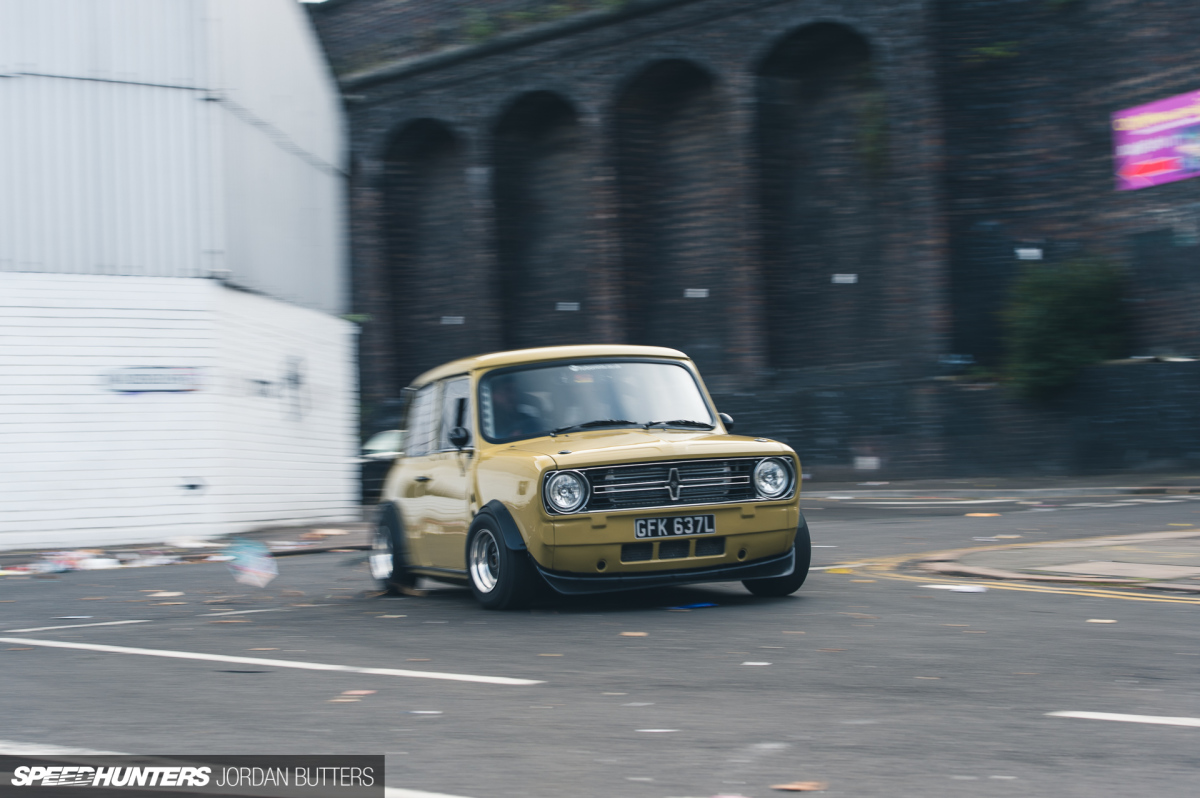 I know why. It's just a good, honest build that strikes just the right balance – it's extreme enough to be ridiculous, but not so ridiculous that it can't be used on the road.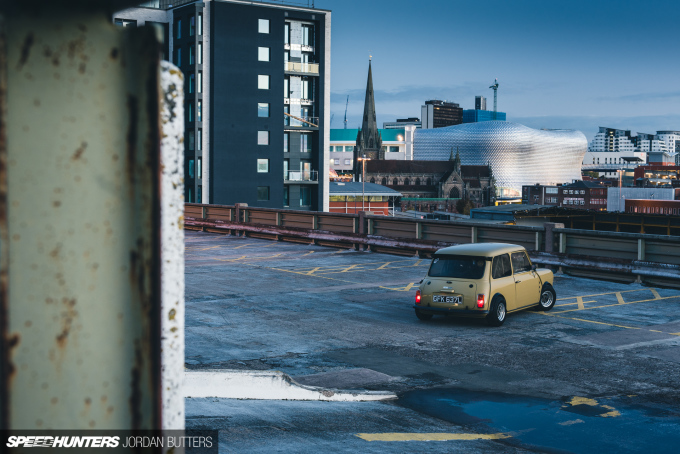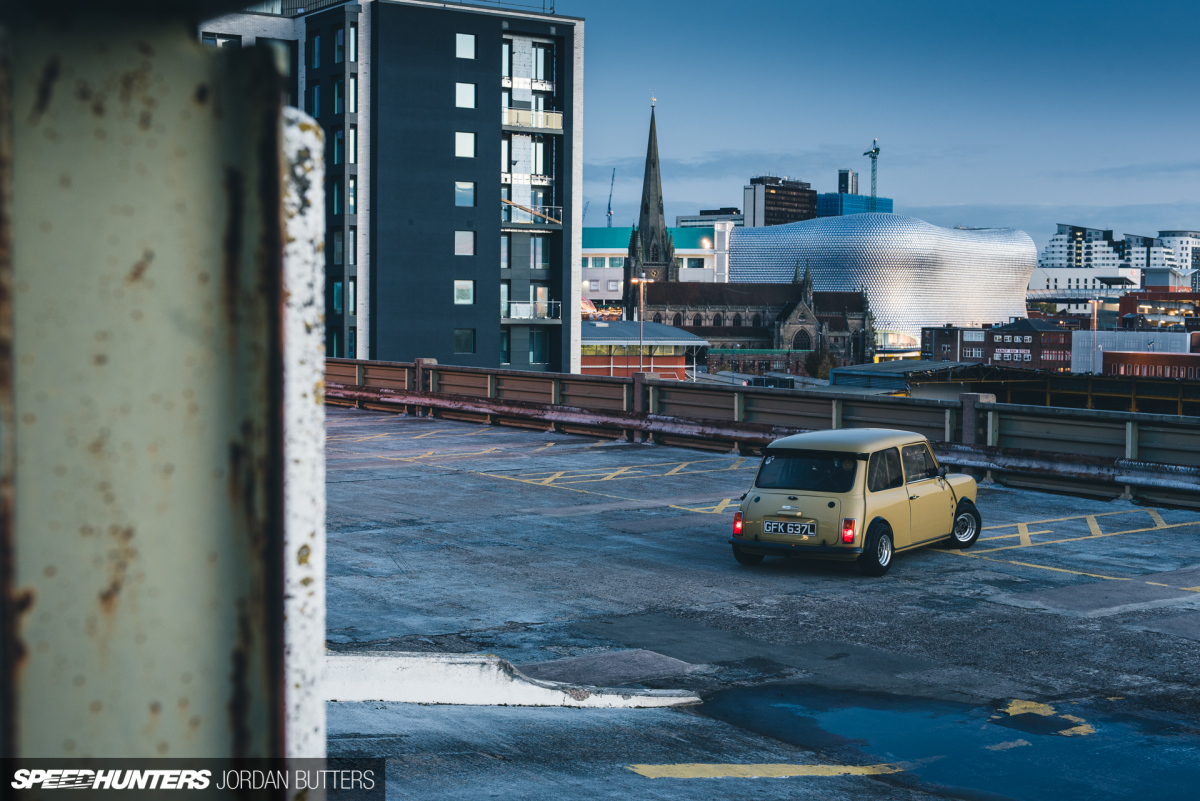 This is the second Mini that's been in Nick's possession. The first, also turbocharged, met a rusty demise (as is often the way) and was replaced with this car in 2006. Nick turbocharged this one, and ran it until it popped back in 2012. A year later the big rebuild began, which eventually became the car you see in front of you.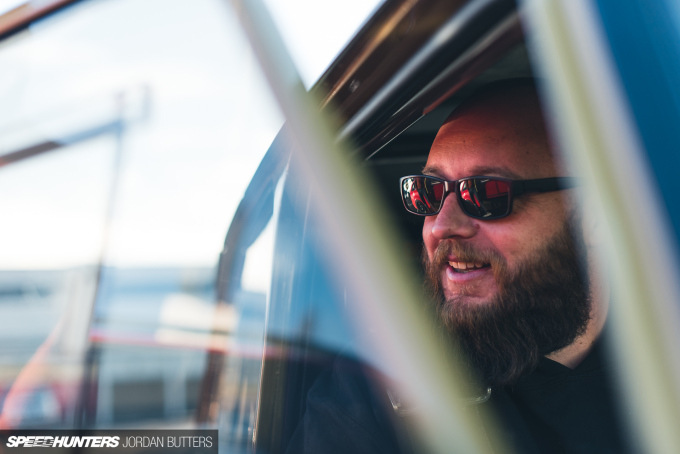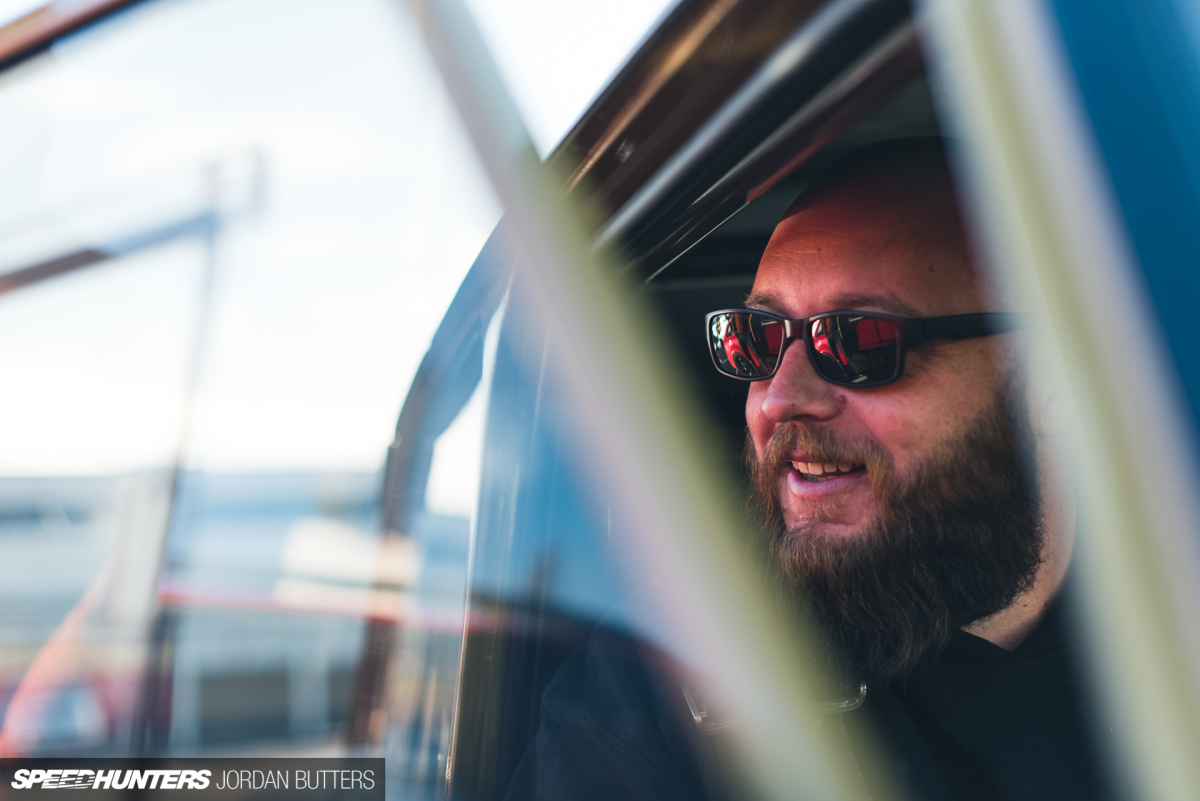 "At least I'll have some cool memories to remember this one by the time it rusts away", Nick comments, reflecting on all the attention it's been getting.
Little Looker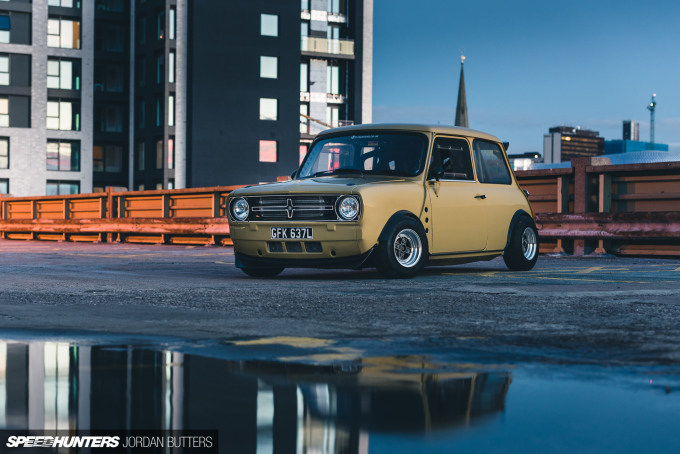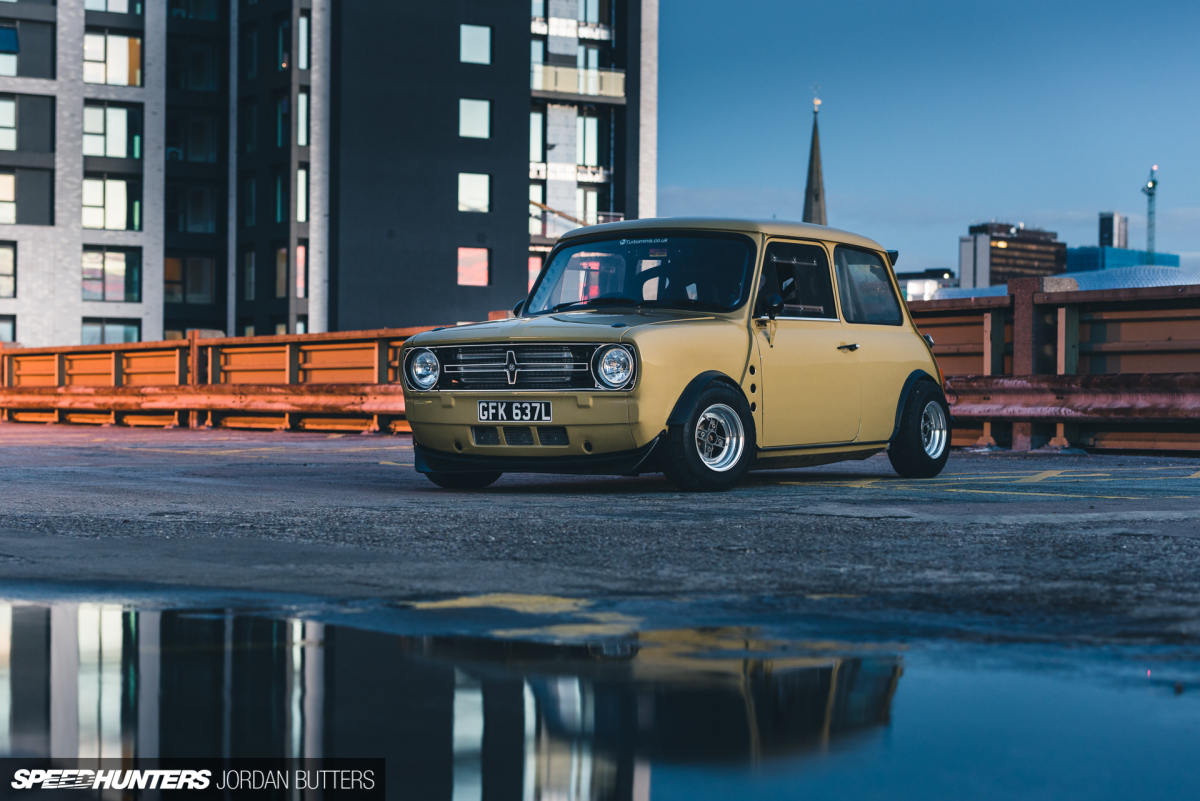 There's clear influences that have been drawn from other areas of car culture in this build. If you don't know your Minis then, at a glance, you might not realise just how much has been done, but the car tastefully blurs the lines between several subcultures – JDM, traditional Mini, track-inspired, drift-inspired, retro and modern at the same time.
Take, for example, his fondness for JDM machinery (Nick's daily is an Evo V), which has clearly influenced some of the exterior styling on the Mini. The front lip, which Nick says "is a terrible fit but it had to go on, I like it too much" was sourced and imported from Japan, and is complimented by a similarly JDM-style rear spoiler. You could almost imagine them looking quite at home on a Starlet or similar.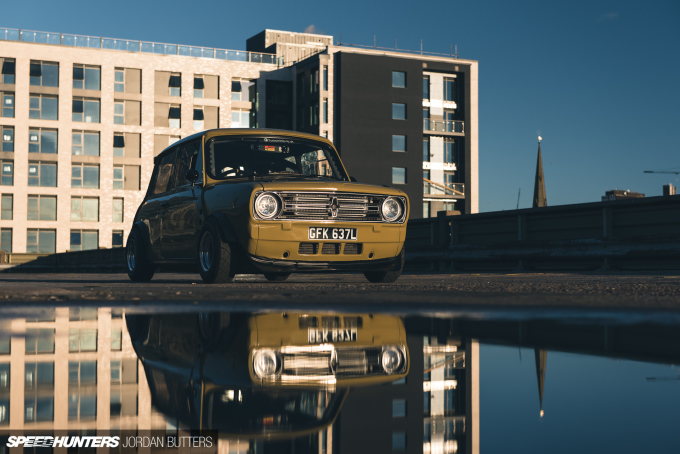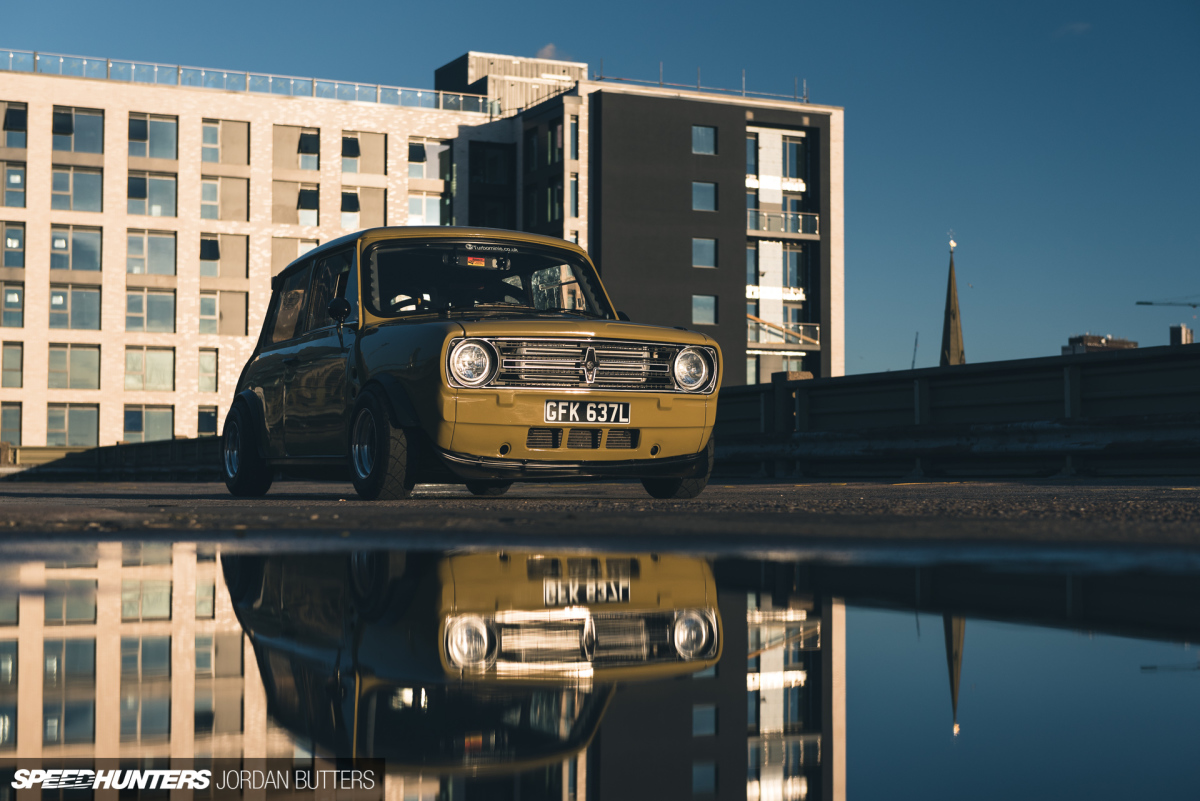 The plan was originally to utilise a full fibreglass round-headlamp front end – because lightness – however the fit was that unbearable that Nick scrapped the idea and stuck with the original British Leyland Clubman steel wings and front panel. This has, however, been modified so can be released quickly.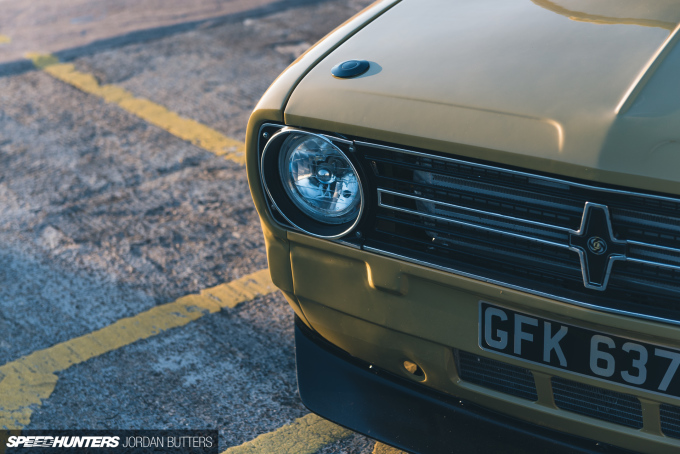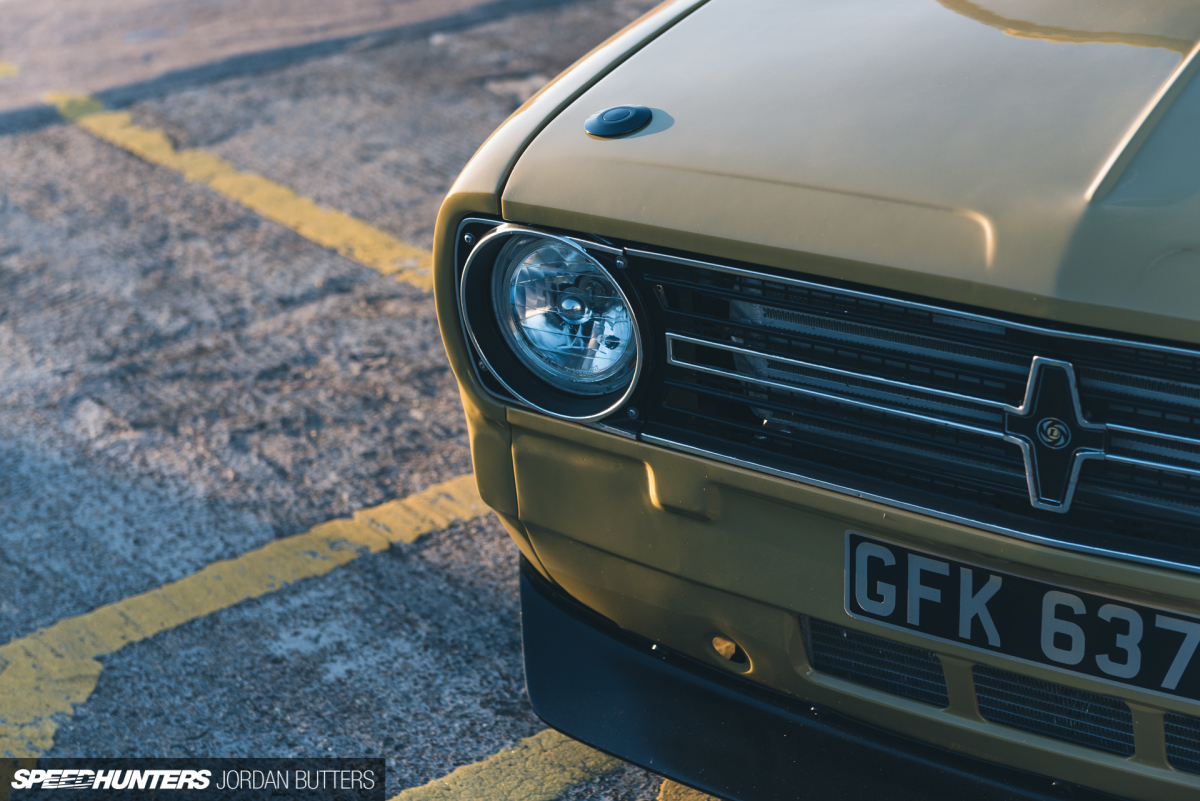 The front panel was then smoothed and shaved of the bumper mounting points, sidelights and indicators. Nick incorporated the latter two into custom headlights that he built himself.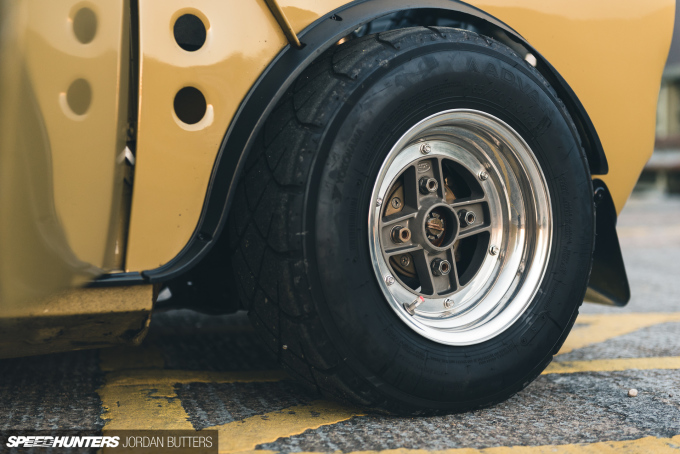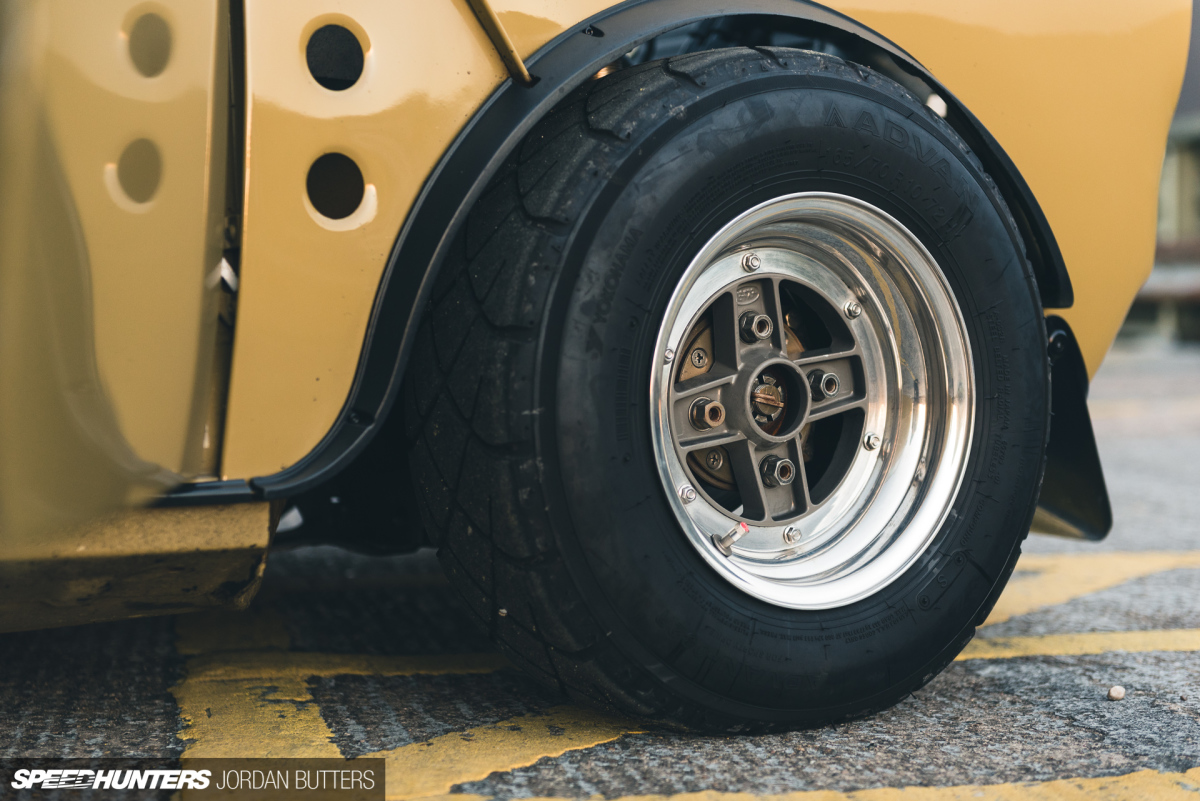 A set of original Mini plastic arches (fenders) cover the Mini's 165/70R10 tyres. Said rubber is wrapped around a set of SSR FLII 10×6-inch wheels, also imported from Japan.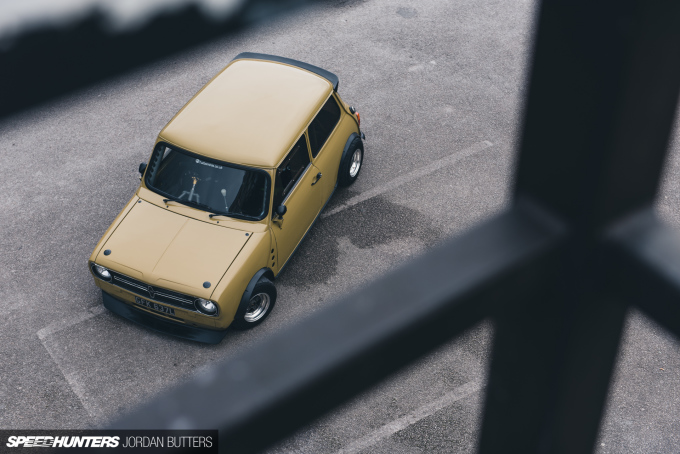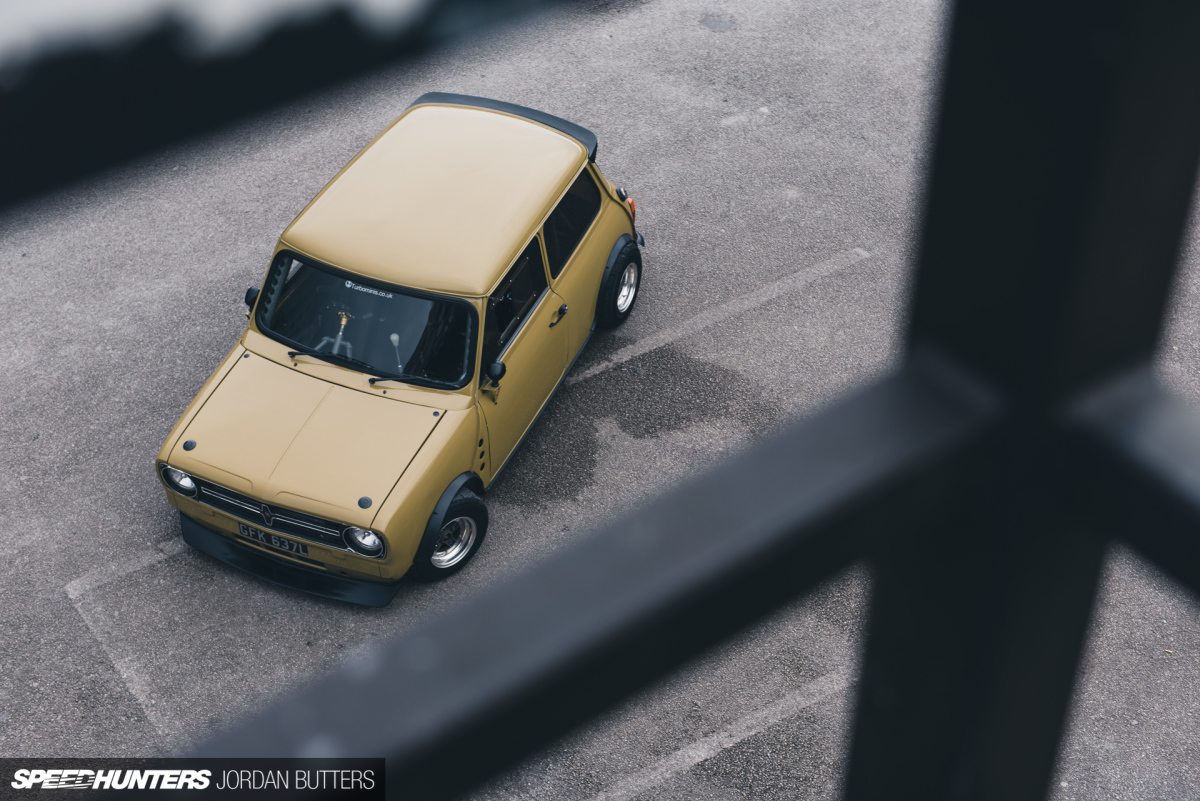 Lightness is the order of the day for the rest of the exterior, and every gram counts. Of course hinges and supports are unwanted metal, so a fibreglass bonnet is secured by four bonnet pins – it simply lifts off when access is required.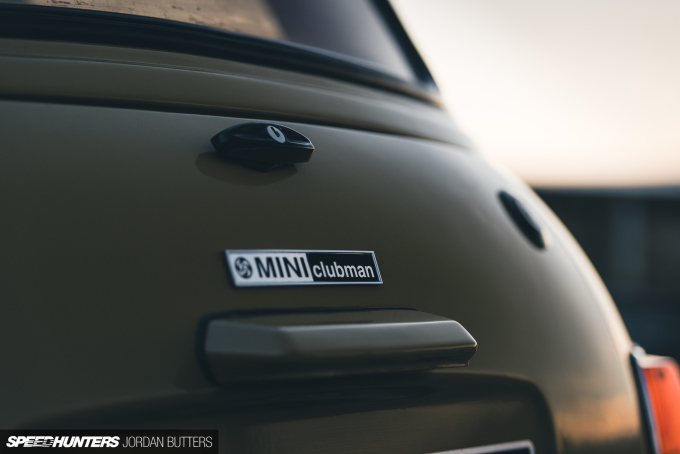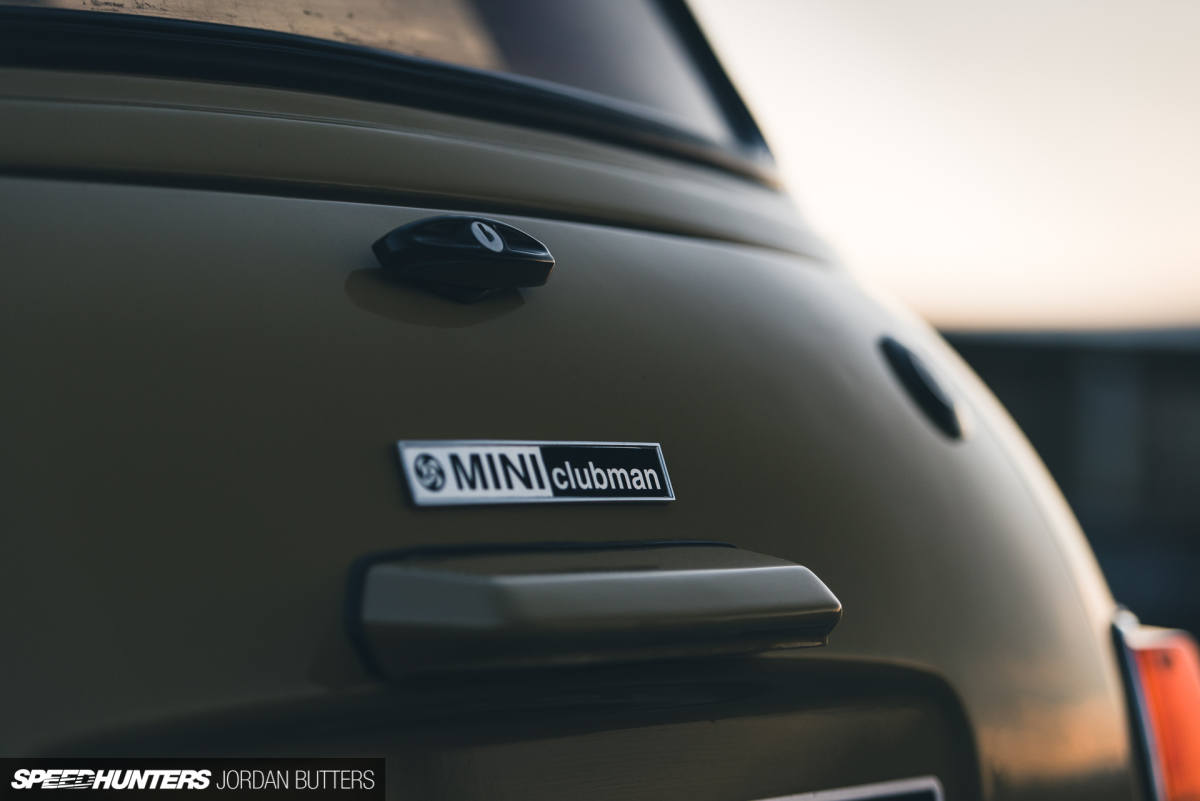 At the opposite end the boot lid is single-skinned, although alloy hinges have been used to keep the cavernous boot practical. Below, a fibreglass rear valance houses a custom centre-exit exhaust and the rear is finished off with a carbon fibre rear bumper bar.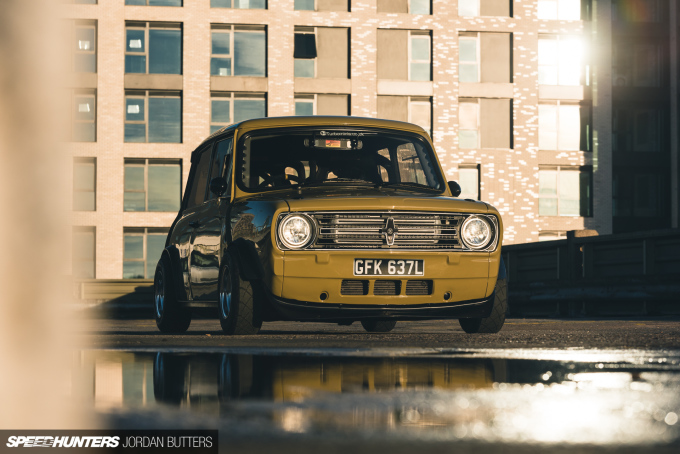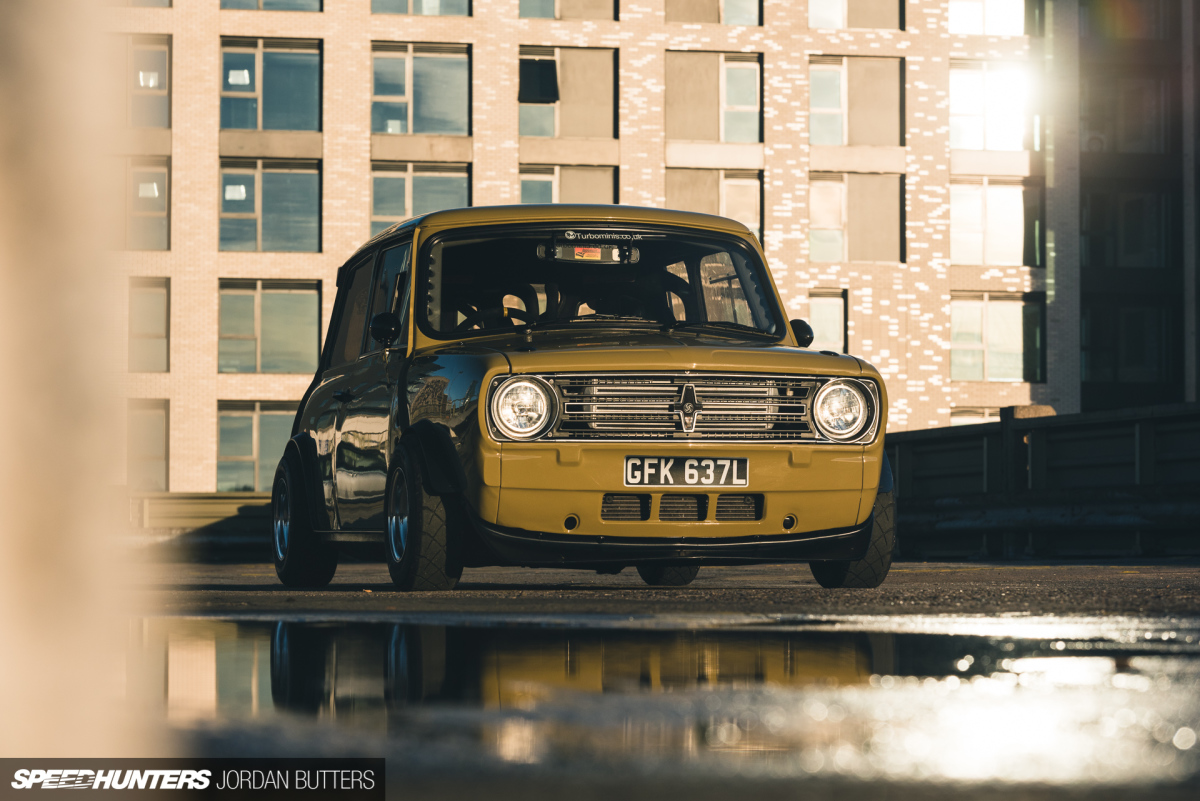 Nick gutted the doors of all inner metal work, before adding aluminium outer skins, and polycarbonate windows all around remove almost all heavy glass from the little Mini.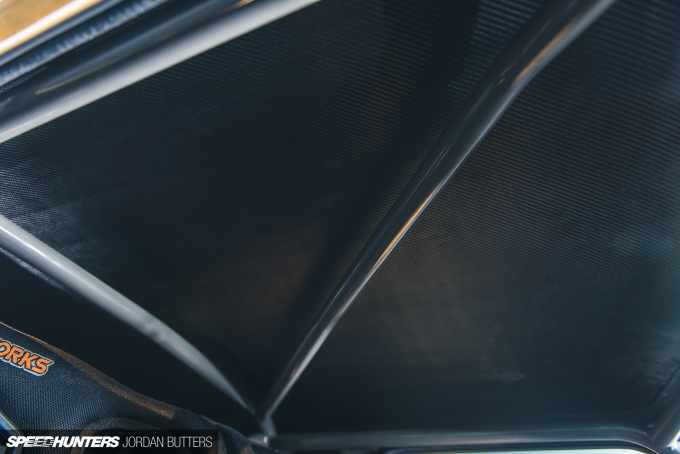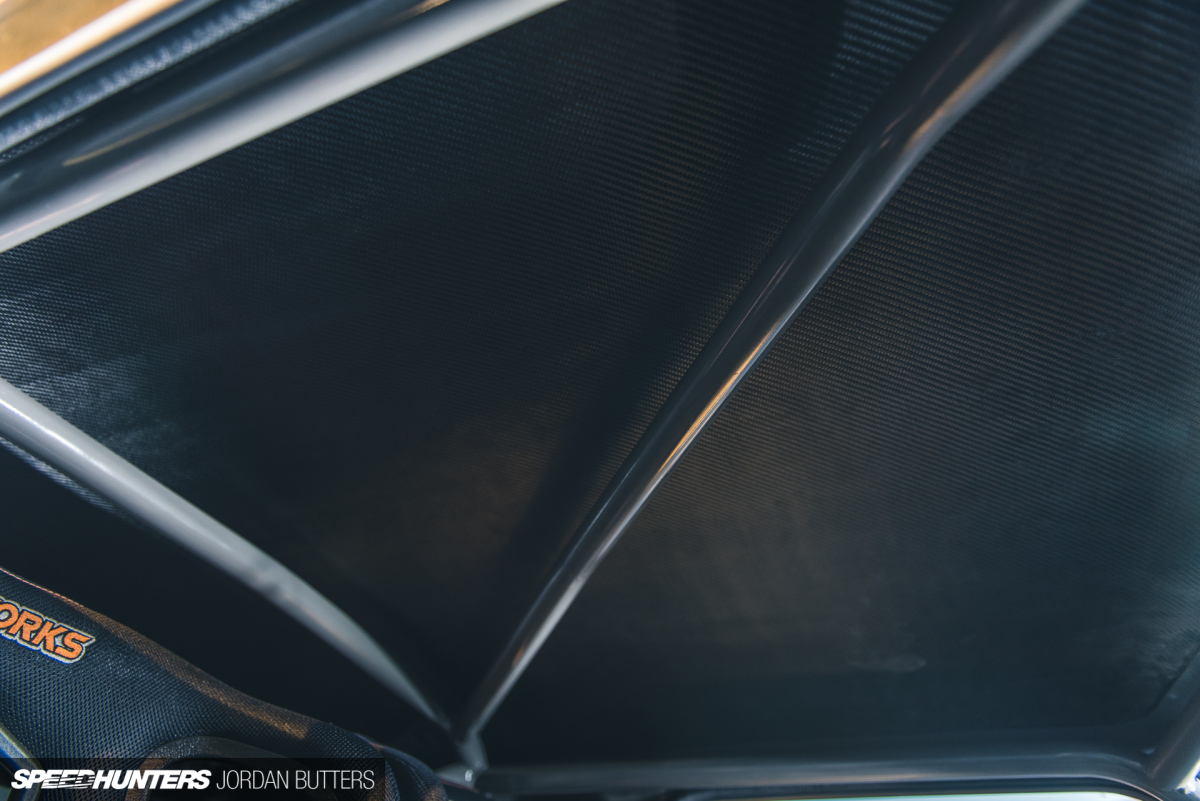 A full rollcage from Owens Fabrication adds a bit of weight, but is now a necessary precaution. It's tied into the chassis at almost every point imaginable so adds rigidity too. In case you didn't notice, the roof is carbon fibre as well.
Littered around the car extra weight-saving additions (or should that be subtractions?) jump out at you – Nick's in his happy place when he has a punch and flare die in his hands, so there's speedholes a plenty to be found. The tiny wing mirrors, for what they're worth, are mounted on meccano-esque Swiftune mirror mounts.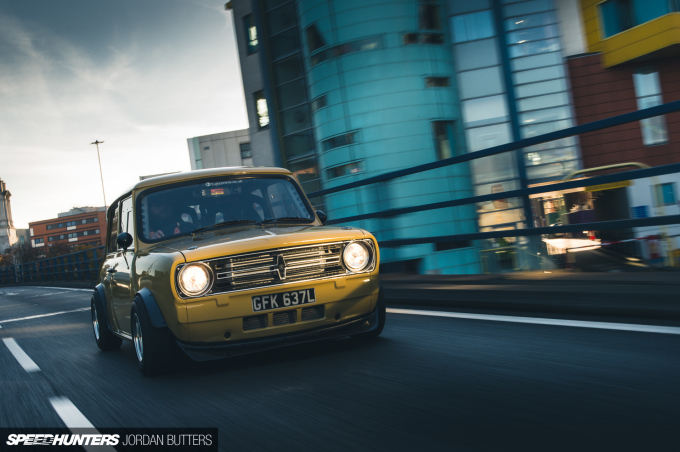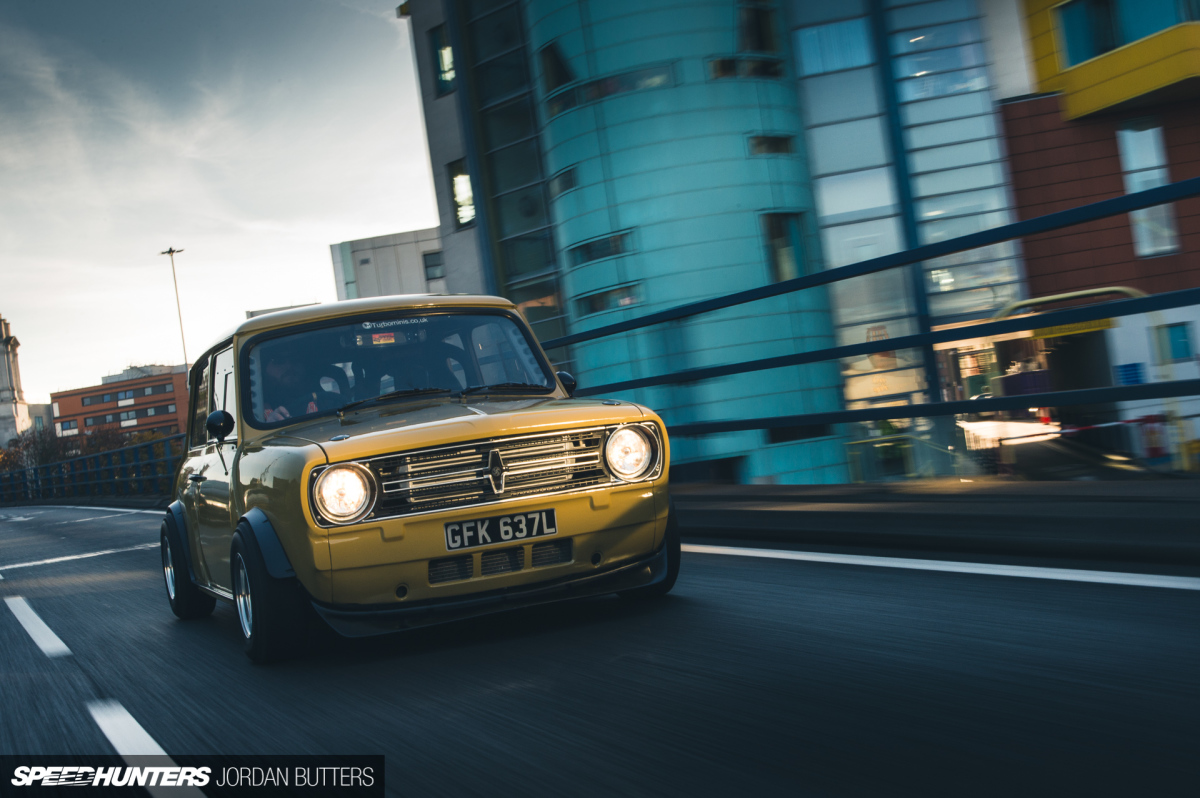 Nick's choice of finishing hue is Harvest Gold, which sounds like a delicious cereal bar, but is actually an original Mini factory shade.
Tiny Temper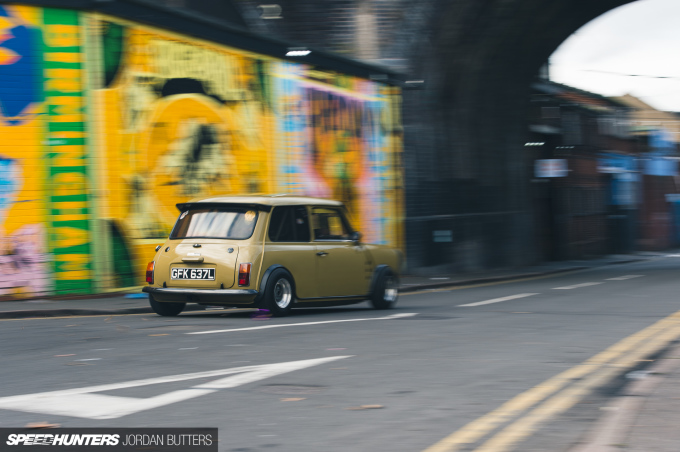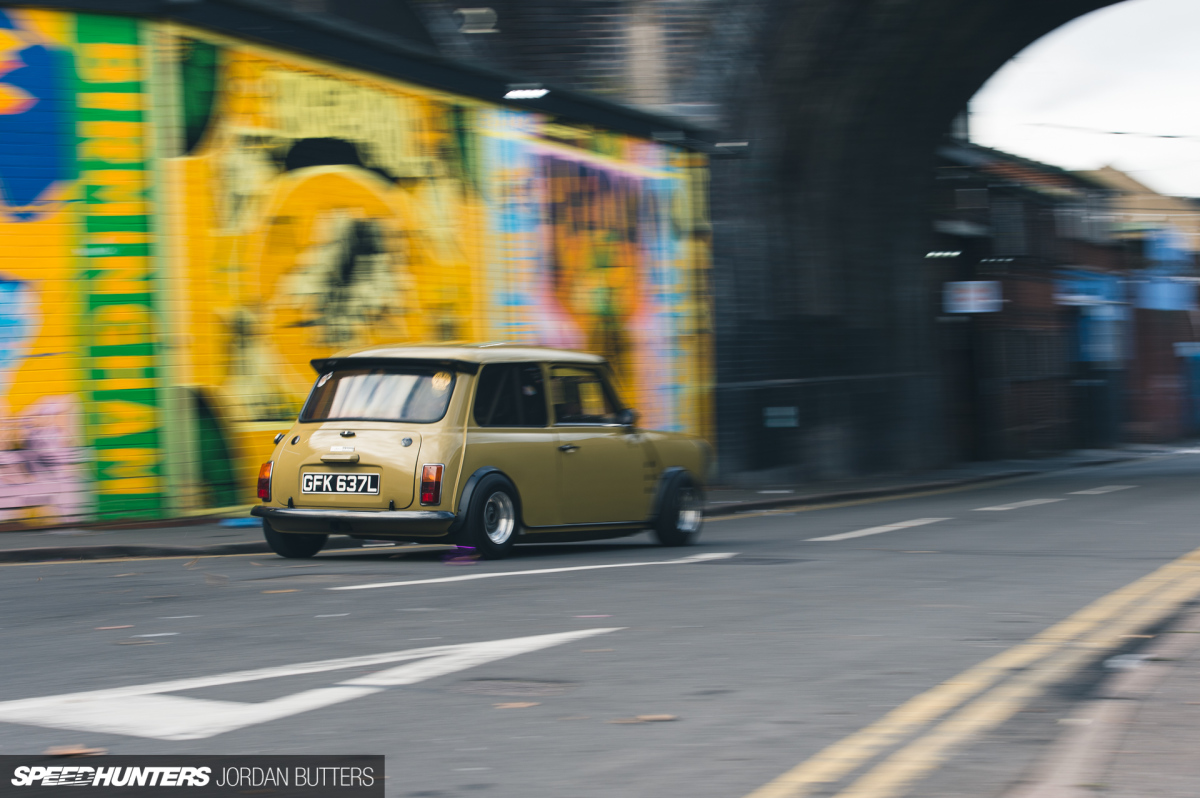 There's a lot of custom work that's taken place out of sight too, such as the flat boot floor and tubbed rear arches. The roll cage passes through and ties to the rear suspension mounts, which have been turreted to strengthen the rear coilover setup.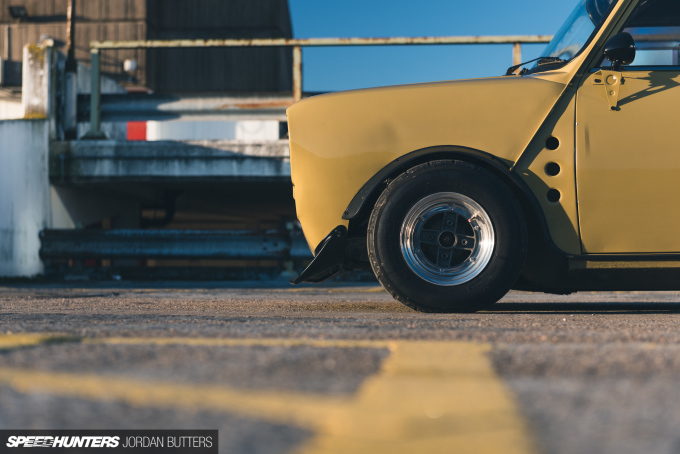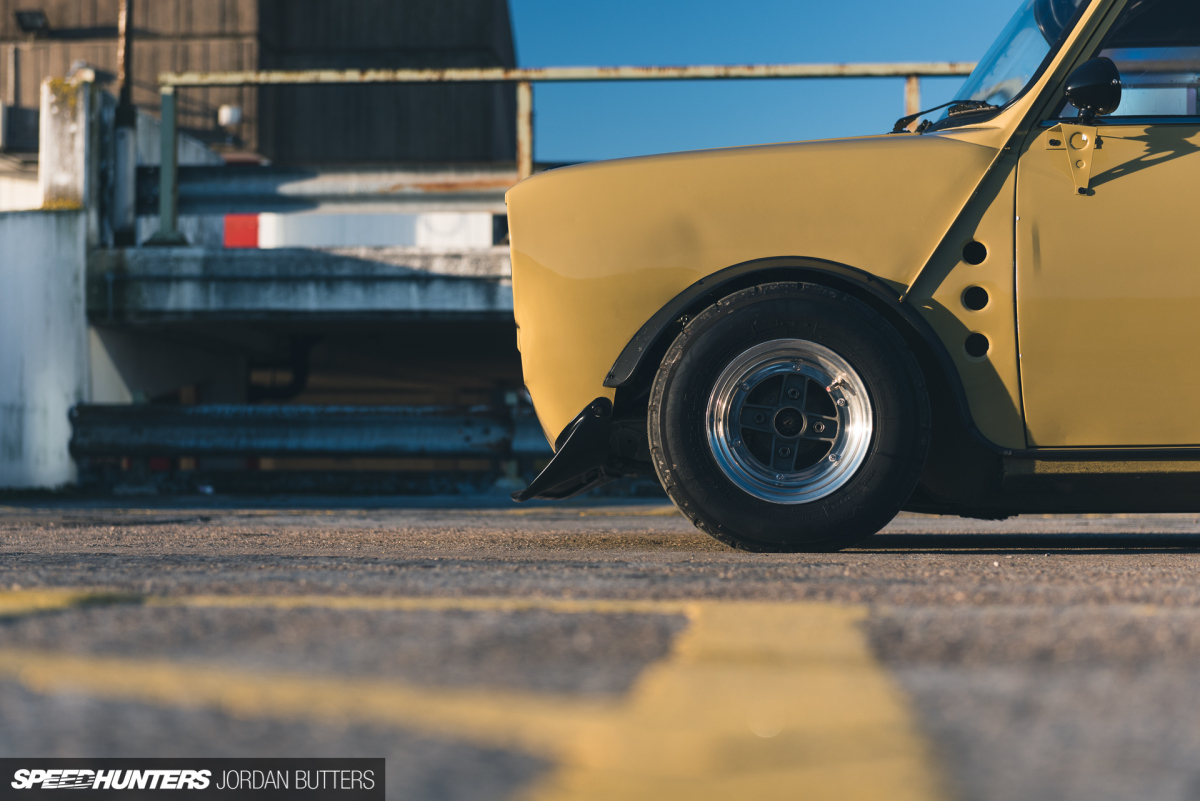 Up front, Nick modified the front subframe himself and converted the suspension to a Protech coilover setup – he fabricated custom bottom brackets to kick the bottom of the units out as much as possible, before remaking the tops of the inner wings to position the top mounts as high as possible for an improved operating angle. The rear beam was then modified for better operation and geometry too.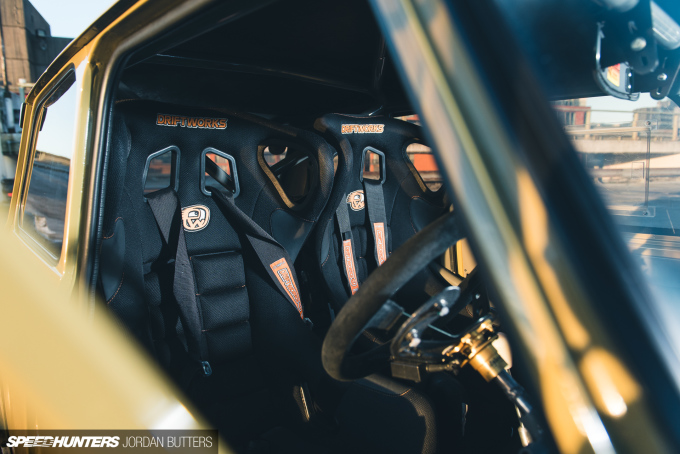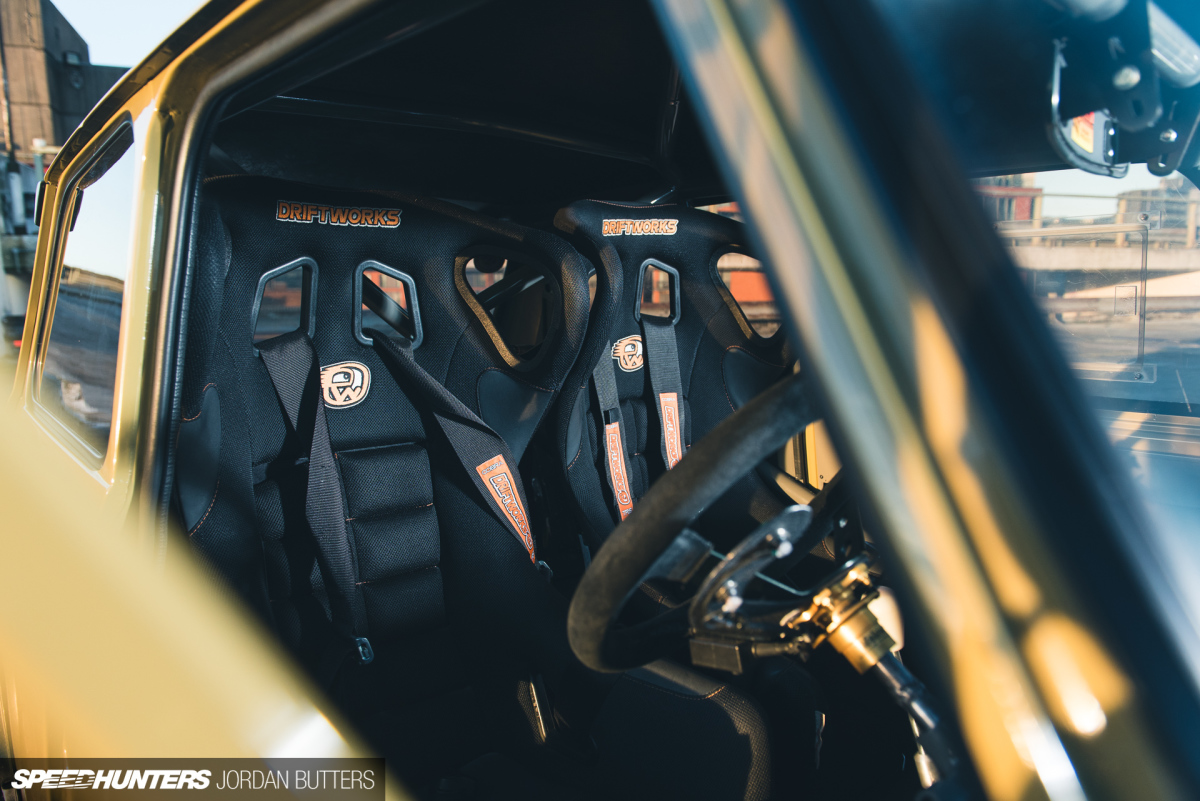 Inside, which is coated in a contrasting charcoal grey, a pair of Driftworks Cobra Evolution FIA seats occupy the vast majority of the interior – I'm not sure how Nick got those seats in there, but I doubt they're coming out.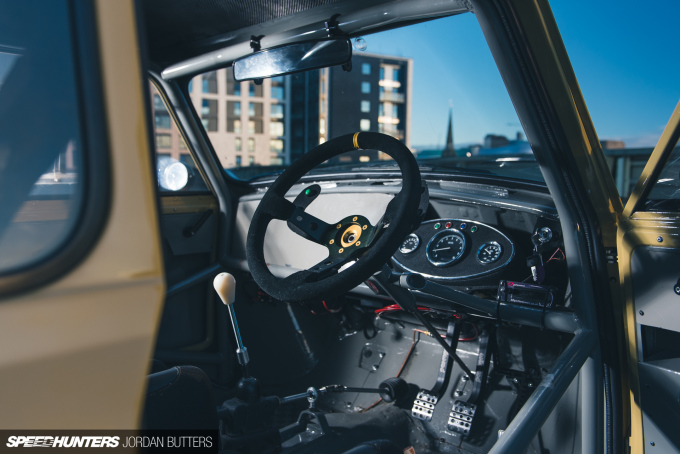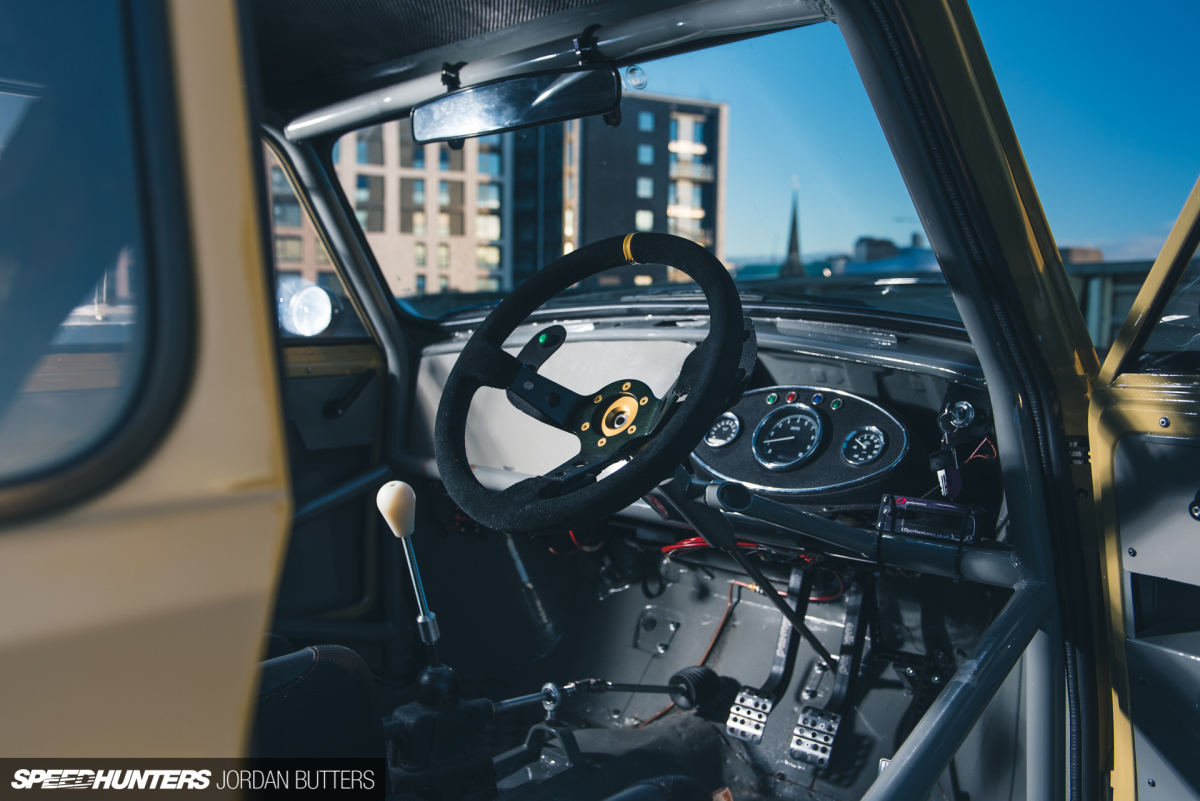 The gear linkage has been moved inside the cabin to provide more room for the exhaust underneath, while a custom-mounted centre binnacle houses Smiths tacho and boost gauges and a custom wideband AFR gauge. Inside the driver's door panel Nick has access to all the necessary electronic controls. Custom wireless steering wheel controls sit where you'd expect to find the flappy paddles on newer cars too.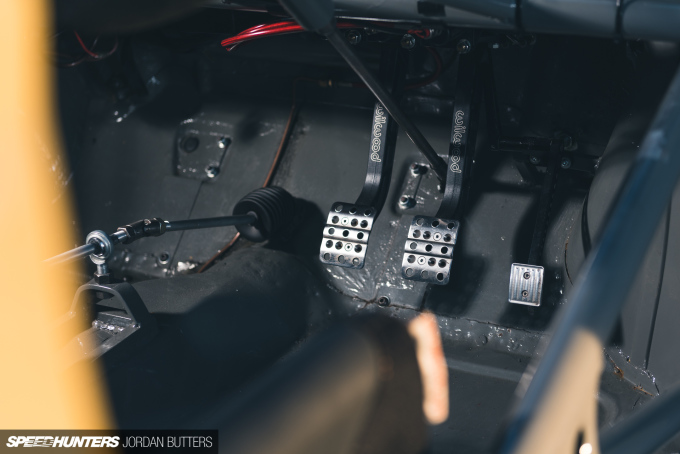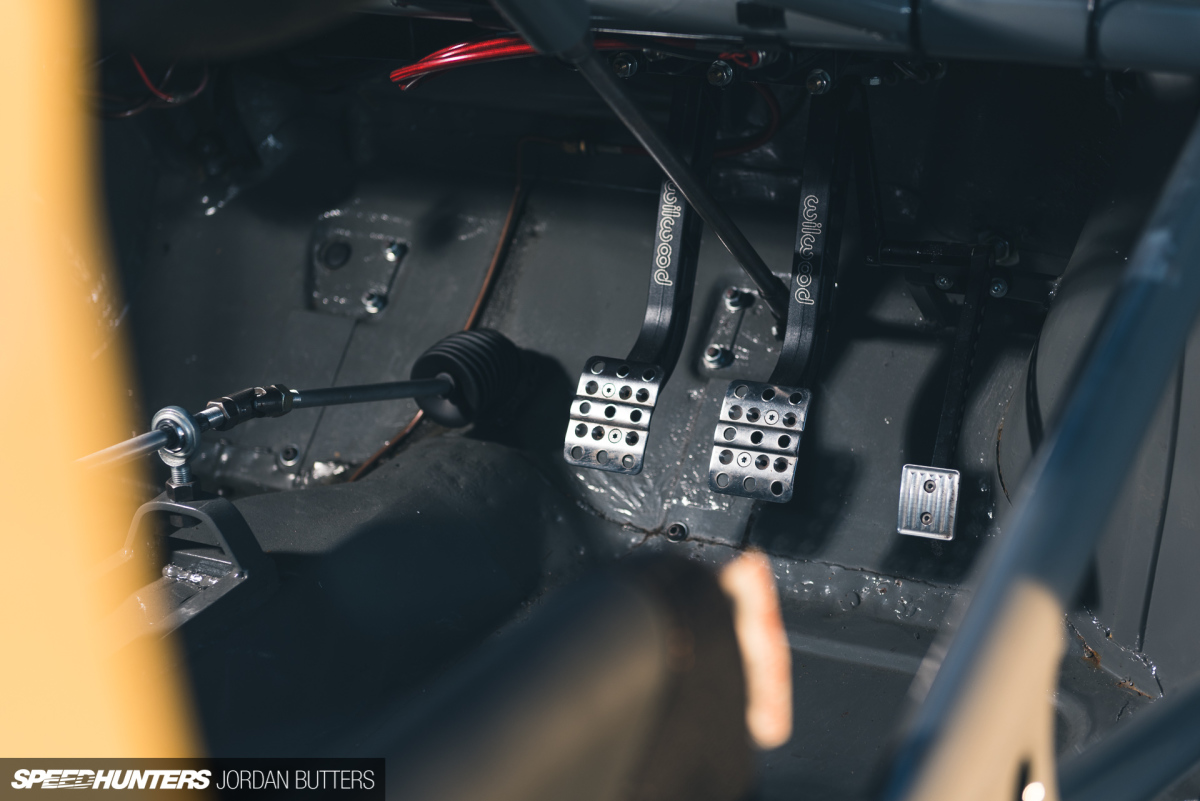 A Wilwood bias pedal box helps to bring the Mini to a stop. Cooper S calipers up front with grooved 7.5-inch discs and modified alloy rear drums make sure of it. Stomping on the furthest right pedal brings the smiles…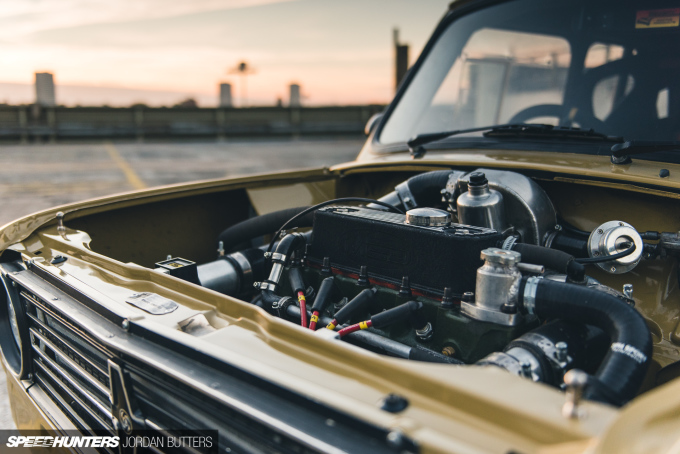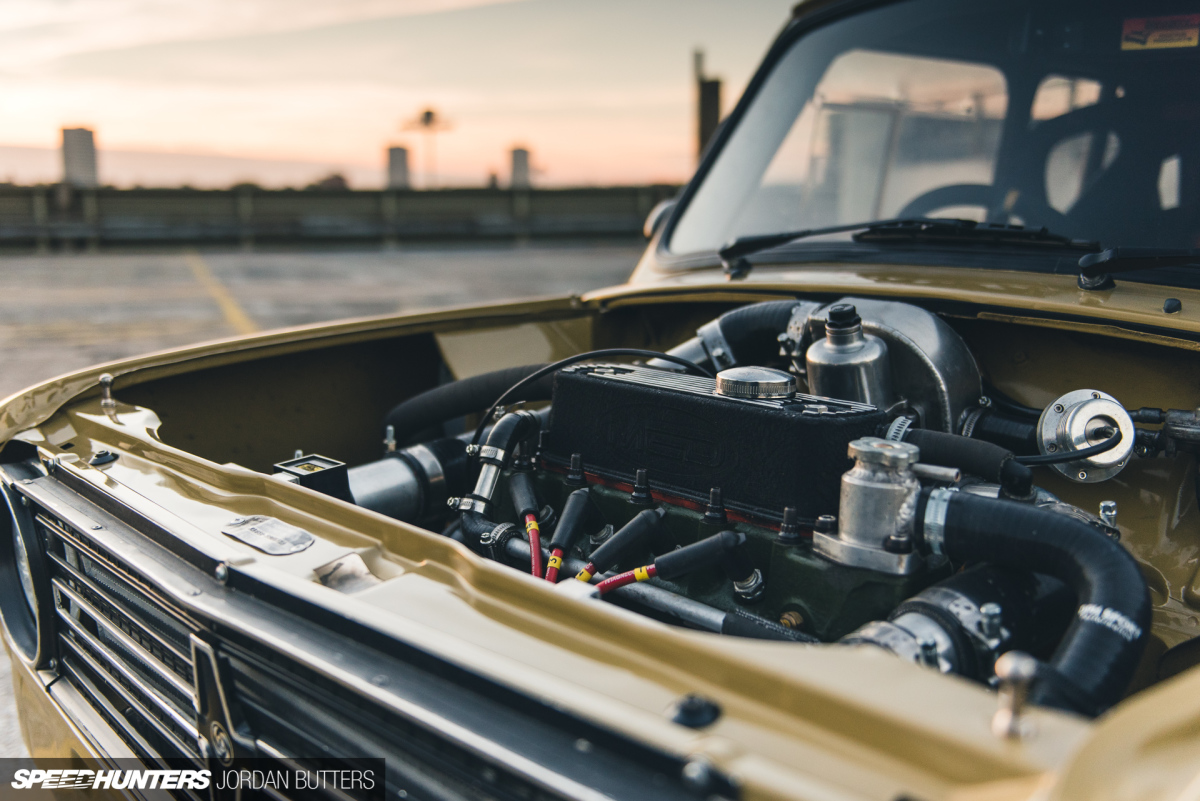 Nick's no stranger to turbo Minis and, bar the machine work, has built each of his engines himself in a modest home garage. This is the second engine that this particular car has had – the last one, running around 200bhp for 40,000 miles, was given a fitting send off sans bleed valve at Santa Pod in 2012.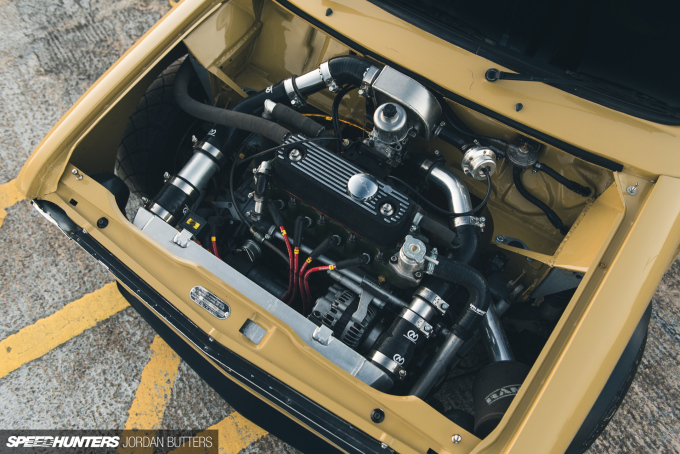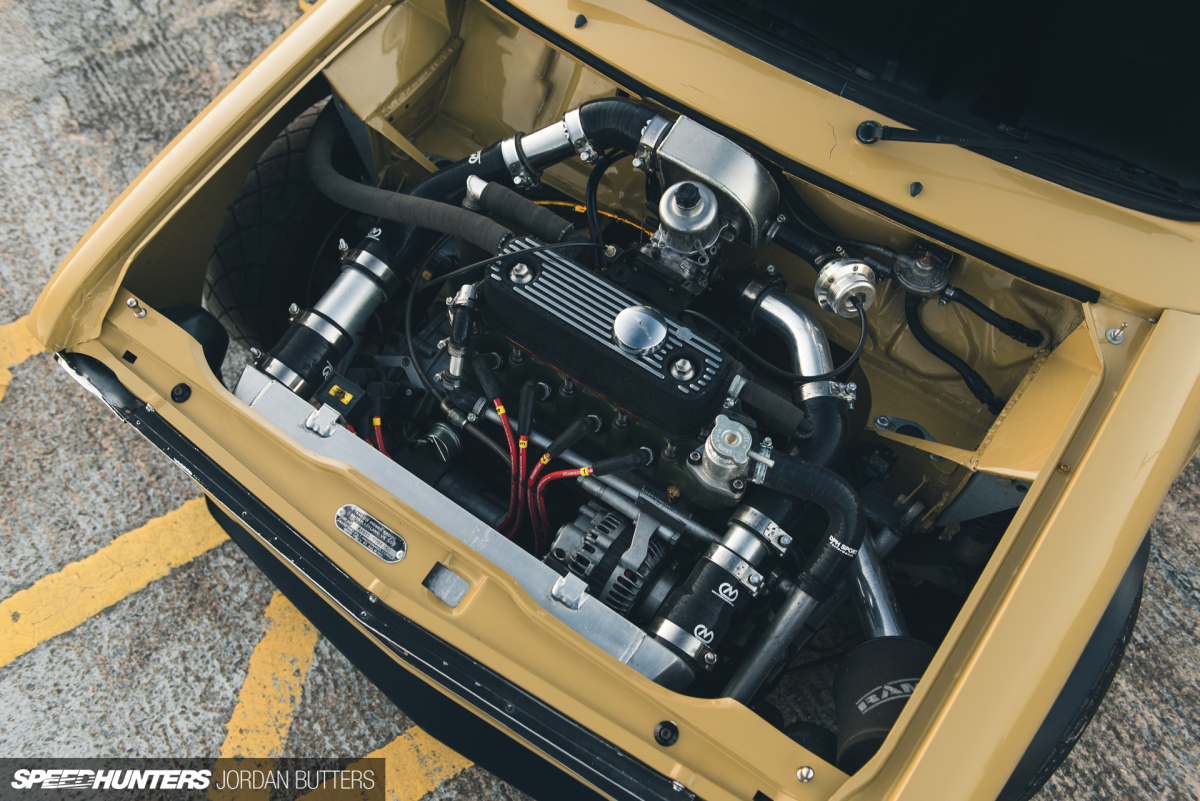 Thankfully, with a wealth of both his own experience, and a vast aftermarket Mini tuning industry at his fingertips, rebuilding for more power wasn't an issue. SH Engineering (no association) supplied a race crank and machined the block, which Nick then assembled complete with forged 18cc Omega pistons and a custom camshaft. A Turbo-Mini flowbenched head was bolted down with ARP studs, complete with Rimflow valves, Piper springs and titanium top caps.
A modified Metro turbo manifold carries the exhaust gases through a 2.5-inch custom exhaust, crucially spinning a Garrett GT2056 turbo along the way. This sends 20psi (1.4bar) of lovely boost through a custom intercooler setup and into a Fusion Fabrication plenum.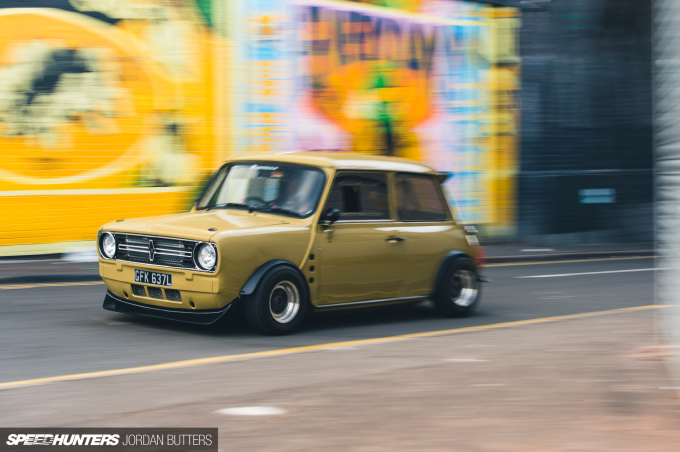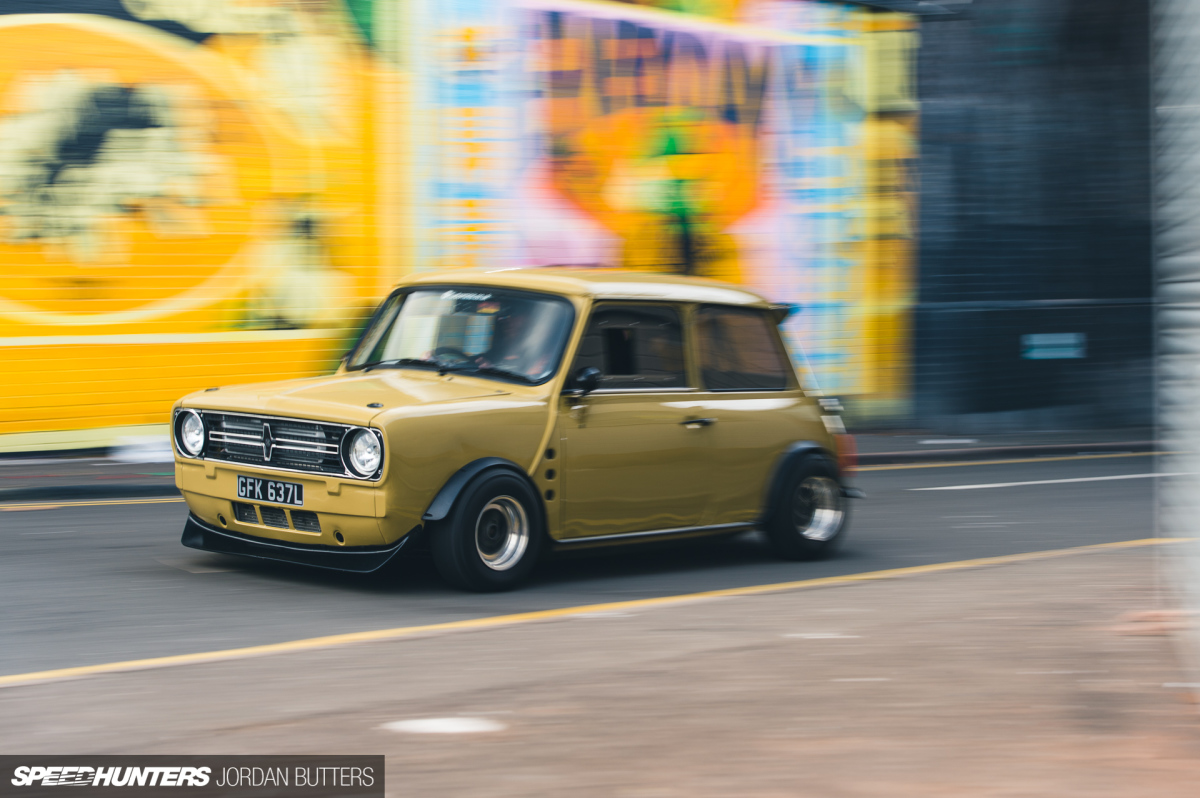 Nick thinks it's around 250bhp when all is said and done. His last dyno session in a friend's garage recorded 236bhp up to 7,000rpm at which point he was knocking on the dyno's speed limit. There's an extra 1,300rpm that's not been measured before the rev limit, so 250bhp sounds about on the money.
Add that number to the svelte 600kgs (1322lbs) kerb weight and you're looking at around 417hp/ton – that's more than some pretty imposing supercars.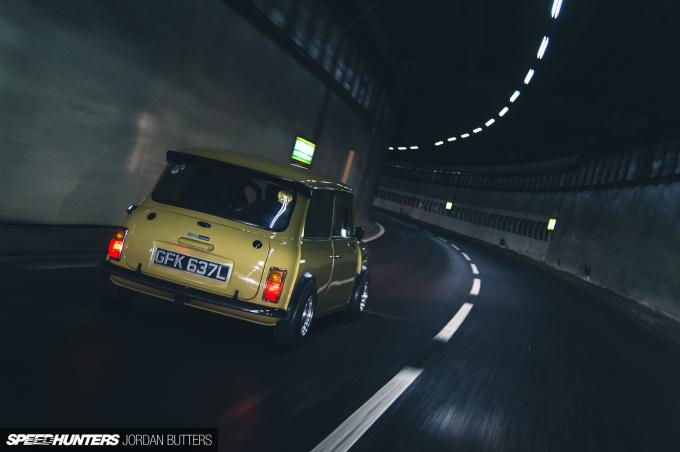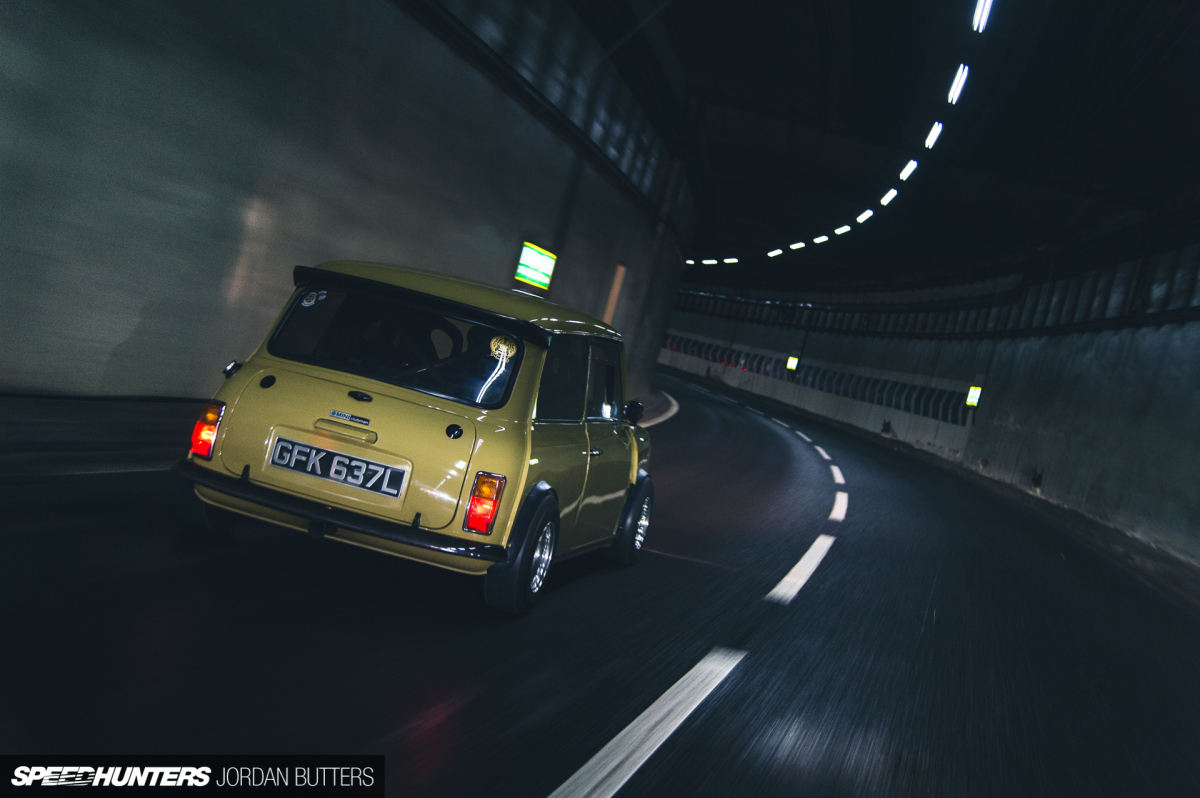 The straight-cut, close ratio box makes the most incredible noise when out on the road, but the biggest battle Nick faces is grip. An AP Rally clutch plate and Quaiffe ATB LSD helps to put the power down, but even with the sticky Advan A032R soft compound, the Mini has little trouble lighting them up in the first few gears.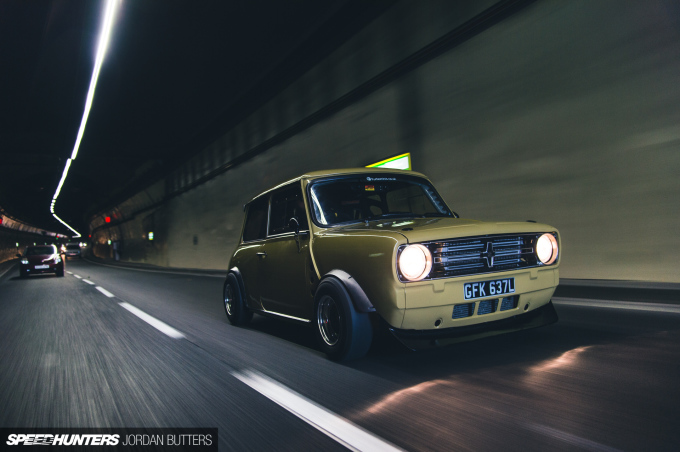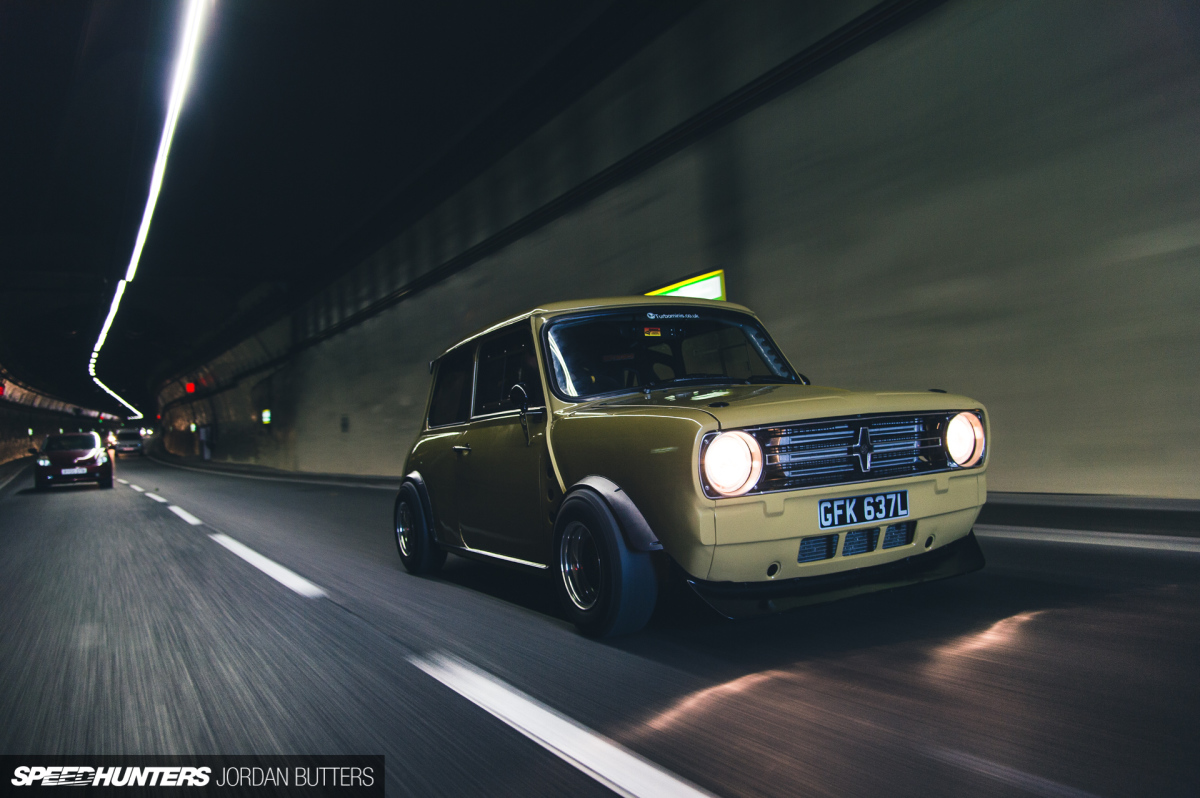 Nick's keen to stick with a 10-inch wheel to suit the Mini's aesthetics, but faces the struggle of being very limited on tyre options at this size – 165 is the widest road-legal tyre that he can run at this size. Jumping up a wheel size or two opens up his options, but I agree that it does look very cool on the 10s.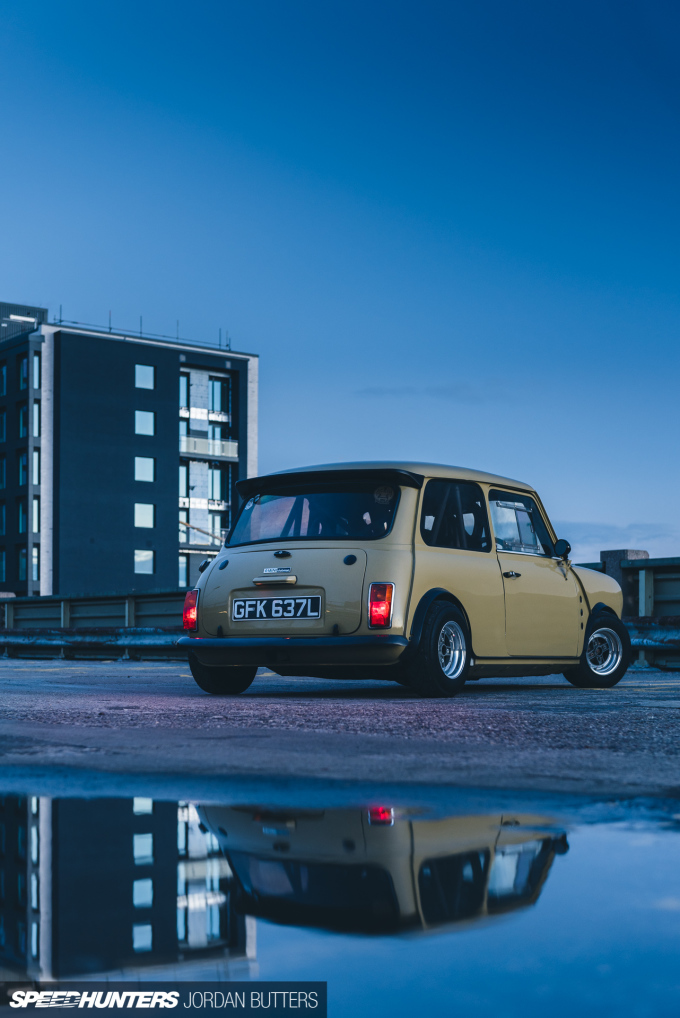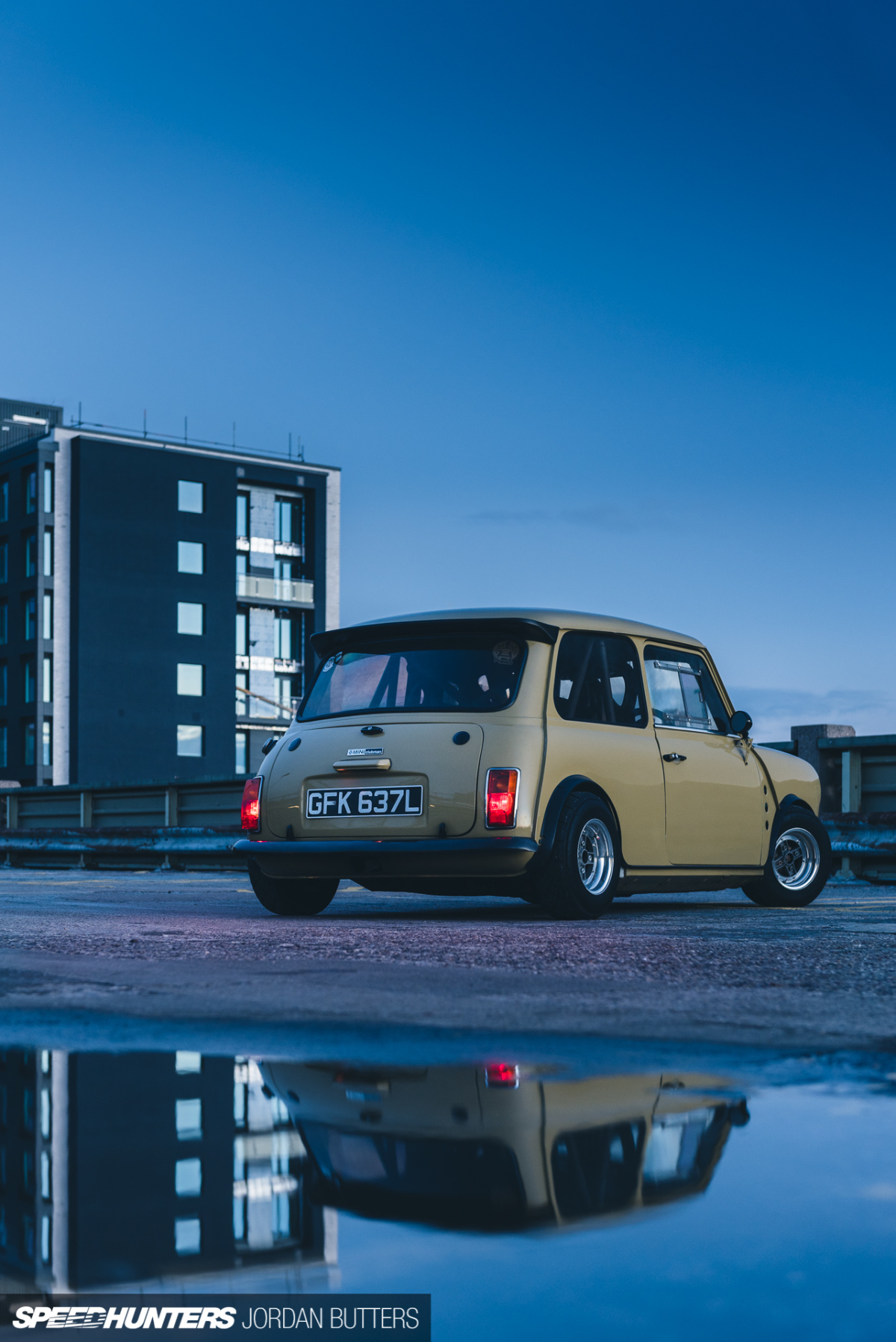 Nick says that the end goal for the build, if there is such a thing, is for the Mini to run a 12-second quarter mile. He suspects there's a bit more power, a bit more weight reduction and – somehow – a bit more grip to be found before he gets there, but he's enjoying the journey along the way.
Having experienced this thing for myself, I don't blame him – I can assure you that it's absolutely hilarious from inside. A very cool car indeed.
Jordan Butters
Instagram: jordanbutters
jordan@speedhunters.com
Nick Shaw's 1973 Mini Clubman Mk3
Chassis:
Owens Fabrication custom multipoint T45 rollcage, tubbed & turreted rear arches, flat aluminium boot floor
Engine:
1293cc A+ block, forged 18cc Omega pistons, Specialist Components forged rods, SH Engineering race crank, custom camshaft, steel main strap, alloy adjustable timing gear, Retrosport timing case, water pump inlet plate, alternator bracket & dizzy blank, custom-mounted Nippon alternator, electric water pump, Swiftune oil pump, alloy fuel cell, custom fuel feed with original external filler retained, aluminium internal fuel hard lines, Turbo-mini.com fully worked and flowbenched offset valve 12G940, Rimflow valves, Piper springs, titanium top caps, 1.5:1 full roller rockers: custom spaced, Retrosport heater take off & stat, ARP 11 head studs, alloy rocker cover with breathers, modified Metro turbo exhaust manifold, GT2056 Turbo, turbo carb, Fusion Fabrications plenum, Megajolt ECU, home-made loom, alloy front mount radiator, alloy front mount intercooler, 2.5" turbo back custom exhaust, under wing oil breather catch can
Drivetrain:
Straight cut, close ratio gear set, Quaiffe ATB LSD, straight cut drop gears, centre oil pick up, Ultralight steel flywheel & backplate, Grey diaphragm, AP Rally plate, custom internal gear linkage
Steering/Suspension/Brakes:
Protech coilovers, custom front subframe, KAD alloy radius arms , Minispares alloy rear beam, rose-jointed tie bars, rose-jointed bottom arms, rose-jointed track rods, custom alloy brace bars, internal brake lines, Cooper S calipers, grooved 7.5-inch discs, modified alloy rear drums, Wilwood bias pedal box
Wheels/Tyres:
SSR FLII 10×6-inch wheels, Yokohama A032R softs
Exterior:
Full restoration, original mk3 shell, Harvest Gold exterior, Charcoal interior, polycarbonate bronze tint windows, JDM front splitter, rear spoiler, carbon roof, fibreglass bonnet, lightweight doors w/ aluminium skins, no inners, alloy hinges, single skin steel bootlid w/ alloy hinges, fibreglass rear valance with custom silencer exit, custom turbo bulkhead box, Carbon Weezel bulkhead blanking plate, Carbon Weezel rear bumper, removable steel front end, smoothed & shaved front panel, custom headlights incorporating indicators & sidelights, Swiftune mirror brackets
Interior: Custom mounted centre binnacle, Smiths PROLED tacho, Smiths boost gauge, custom wideband AFR gauge, electronic boost controller, custom wireless steering wheel controls, custom drivers door panel with wireless switchgear, Driftworks Cobra Evolution FIA bucket seats, Driftworks 4 point FIA harnesses, rear seat and bins removed
Cutting Room Floor