Do It Yourself
The Toyo Tire Treadpass was, as it usually is, full of some of the best cars at SEMA.
For the most part, these are cars that have all been built in a very Speedhunters-esque way, and each one easily deserves a feature. In the company of so many quality builds, one in particular stood out; Shawn Bassett's full carbon 240Z.
When talking to Shawn, the owner and builder, we found the car's story stood out even more. What's remarkable about Shawn's 1972 S30 is that he did just about everything on the car himself, including the carbon fiber bodywork. In fact, his Z had only been out of his home garage one other time before its red carpet debut at SEMA. Even better, this was Shawn's first ever time to SEMA and, as such, he thought he'd better make it count. I certainly think he did a good job at this.
It all started years back when Shawn was racing sport bikes and, one day, borrowed something with twice the wheels at a track day. To his surprise, he found he was much more naturally adept at going fast with four wheels rather than two, and he started to scratch his head a bit. Eventually, Shawn decided a Z car was right for him, due to their relative quickness and price tag.
The hunt began and Shawn ended up purchasing this chassis for $1,100 four years ago off Craigslist. The original goal? A simple restoration.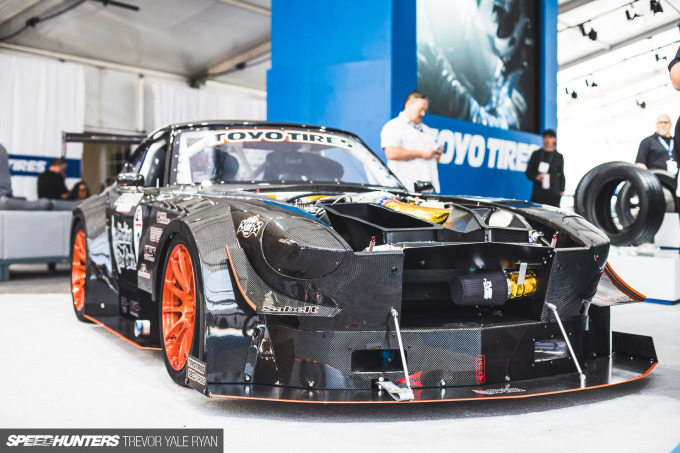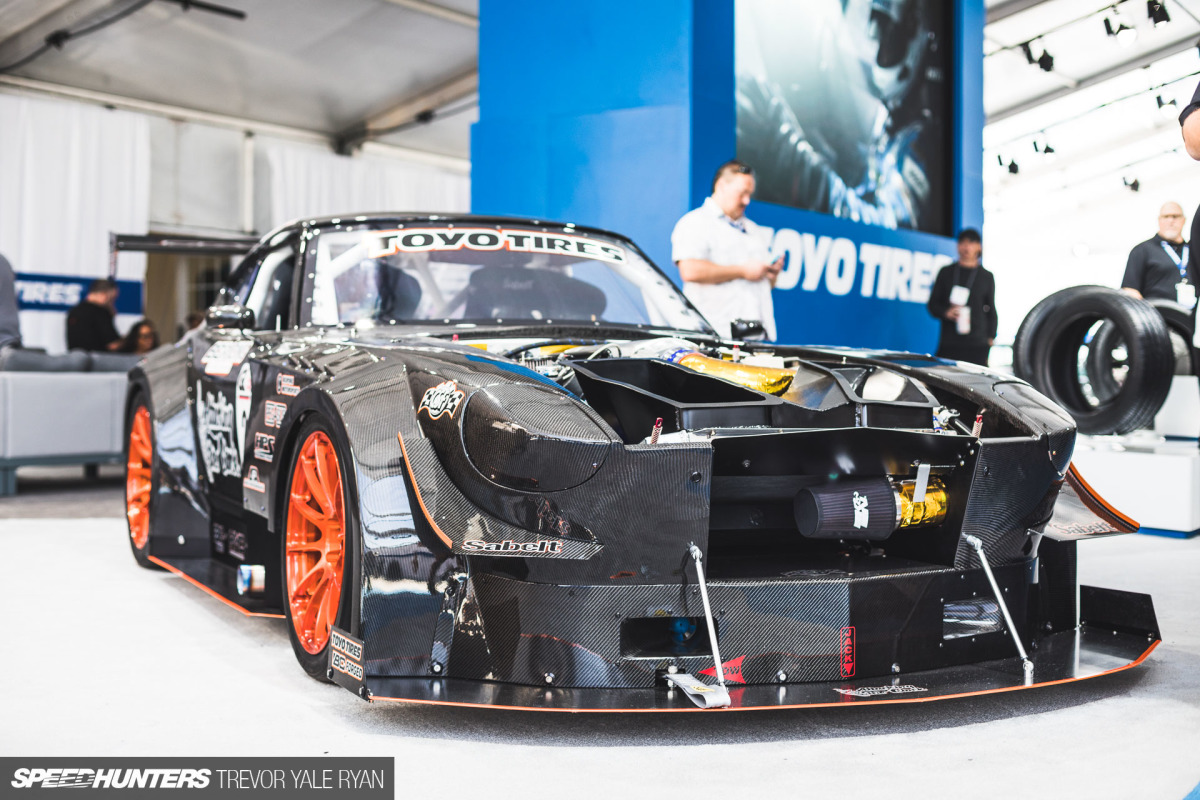 Once Shawn began pulling body panels and stripping the paint off, he realized the car was "essentially an enormous heap" which many, if not most, long-forgotten Z-cars are these days. Shawn says, realistically, it takes more like three unrestored 240s to piece together one decent car.
Ultimately, the realization of the state of his chassis didn't depress him; instead it inspired an "Ahh F it" sort of attitude in the best possible way. The decision was made to dump in an astronomical amount of time – and surely money as well – to make it something special out of what he had sitting in his garage.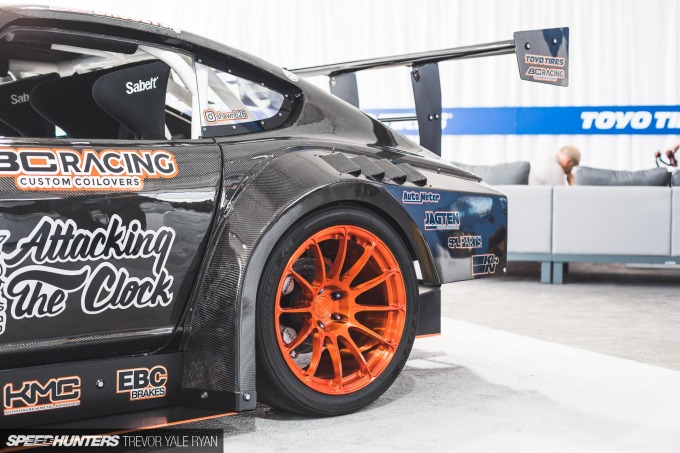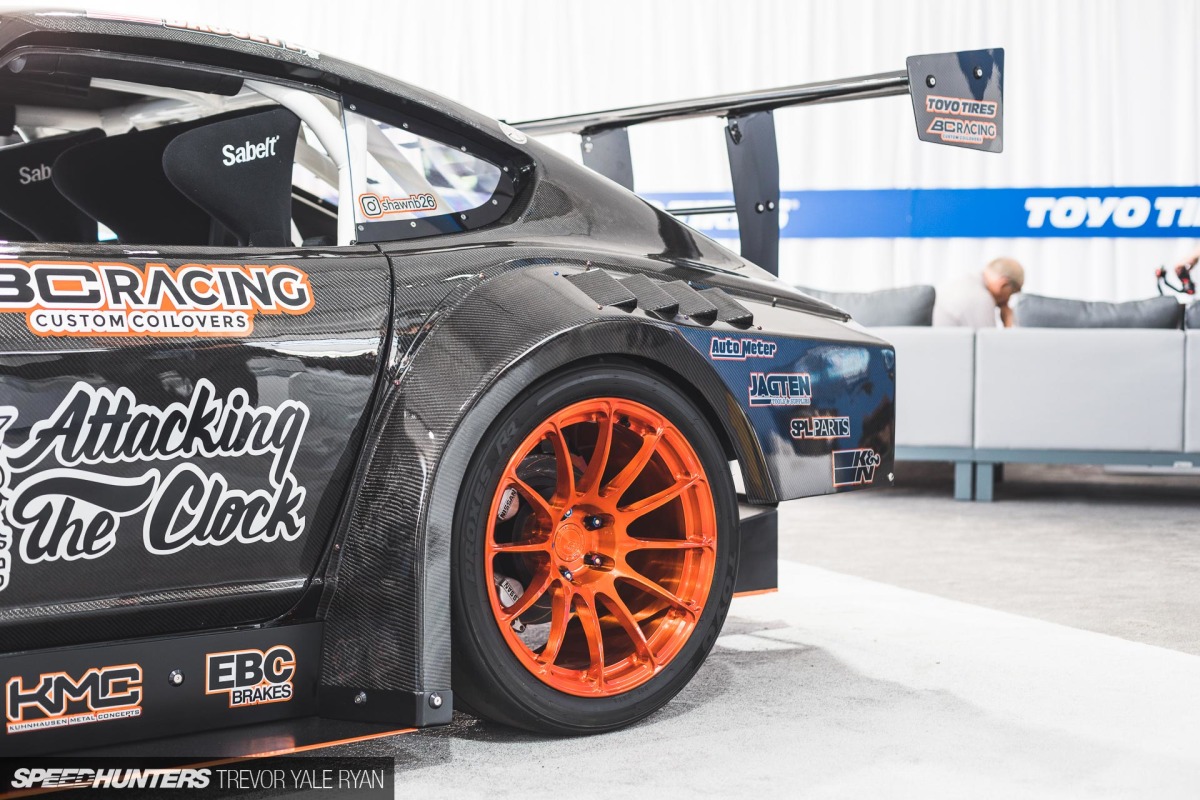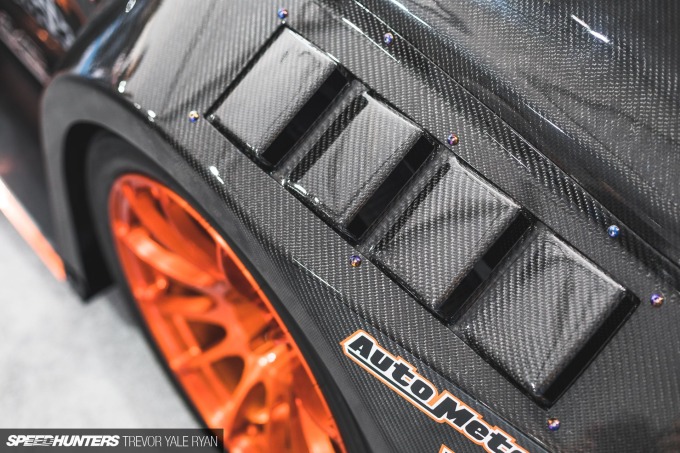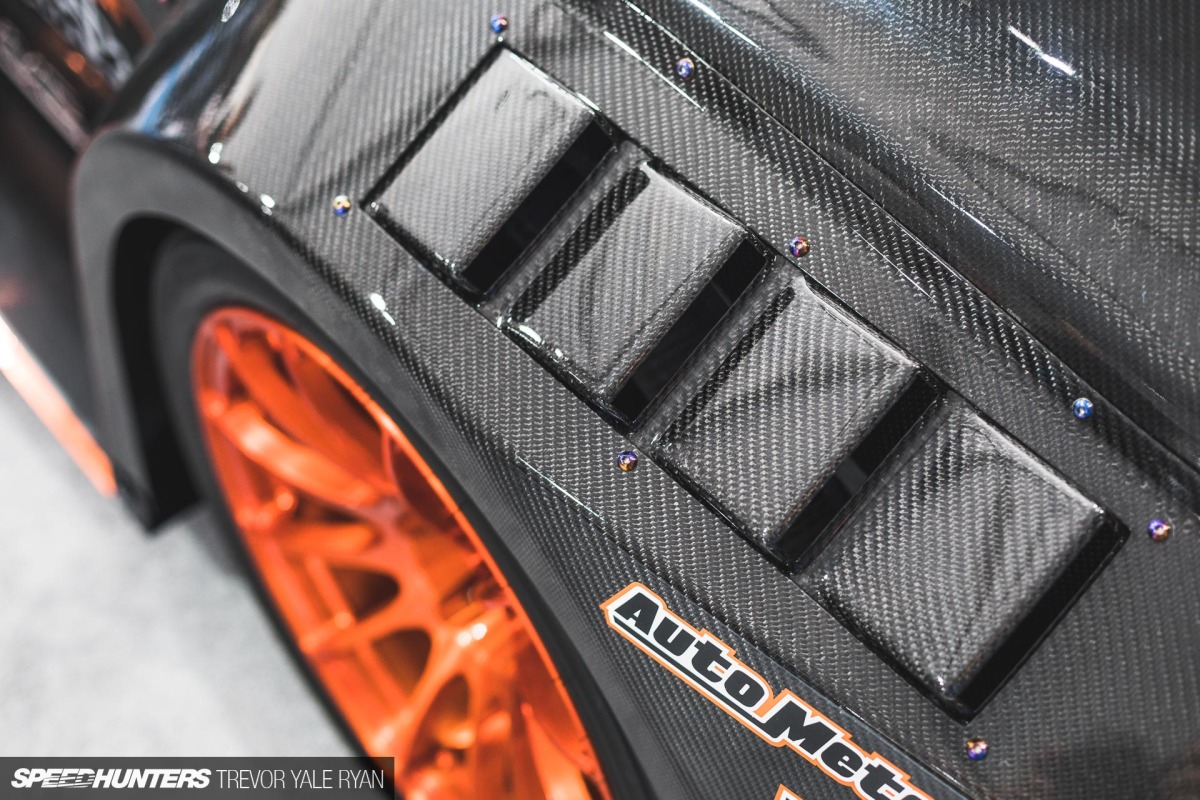 Shawn views the final product as his Mona Lisa, the pinnacle of all his skills in one hand-built car. It's not like it all came out of nowhere, as Shawn does have a background in carbon fiber work, but he said he always spent time building parts and cars for other people. Until now, he never had the chance to treat himself to a proper composite creation.
If you think the car is just some sort of one-trick SEMA show car, you couldn't be more off-base. Shawn modestly adds that the car is not really a SEMA build per se, but rather a properly engineered race car. There's still development to be done, but the goal for the car is to attend Pikes Peak in 2019 after a couple of Global Time Attack outings to get warmed up. After Pikes Peak, he'd like to tackle the World Time Attack Challenge in Australia.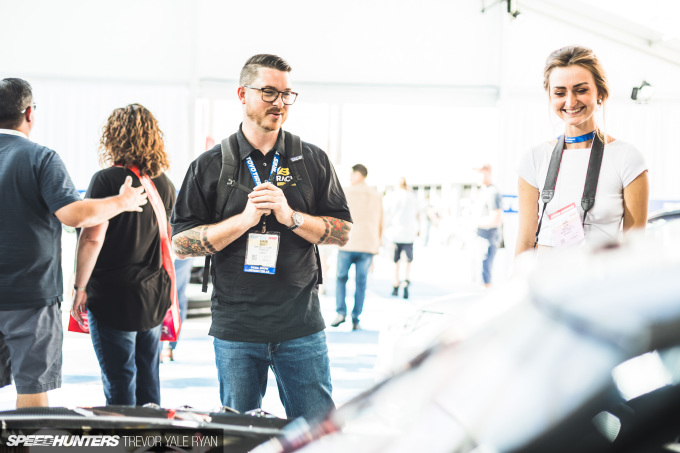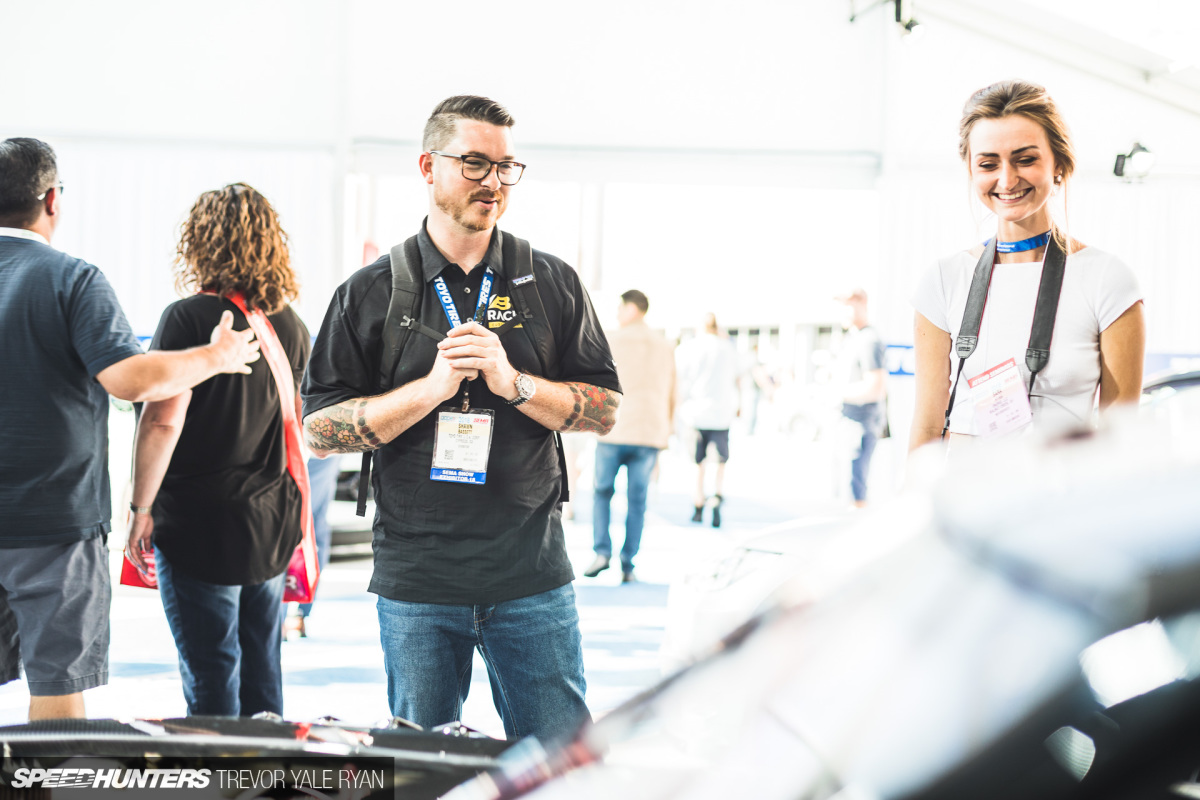 What's exceptional about Shawn's build is its accessibility. At least, for him anyway. He built this car completely on his own in his 800 square-foot garage because, like most of us, he was on a budget. Not too many people can afford a build has clean as his, but with the right skillset Shawn proves it's completely possible to do it yourself.
Certainly lacking any of your usual DIY flaws, let's take a closer look at the technical aspects of the car.
Heart Of The Beast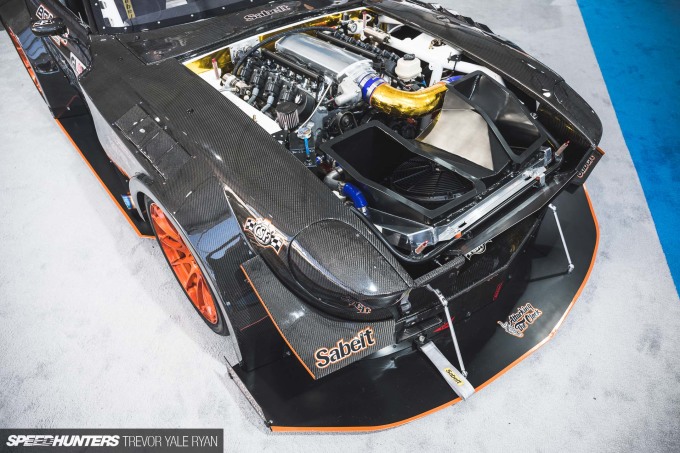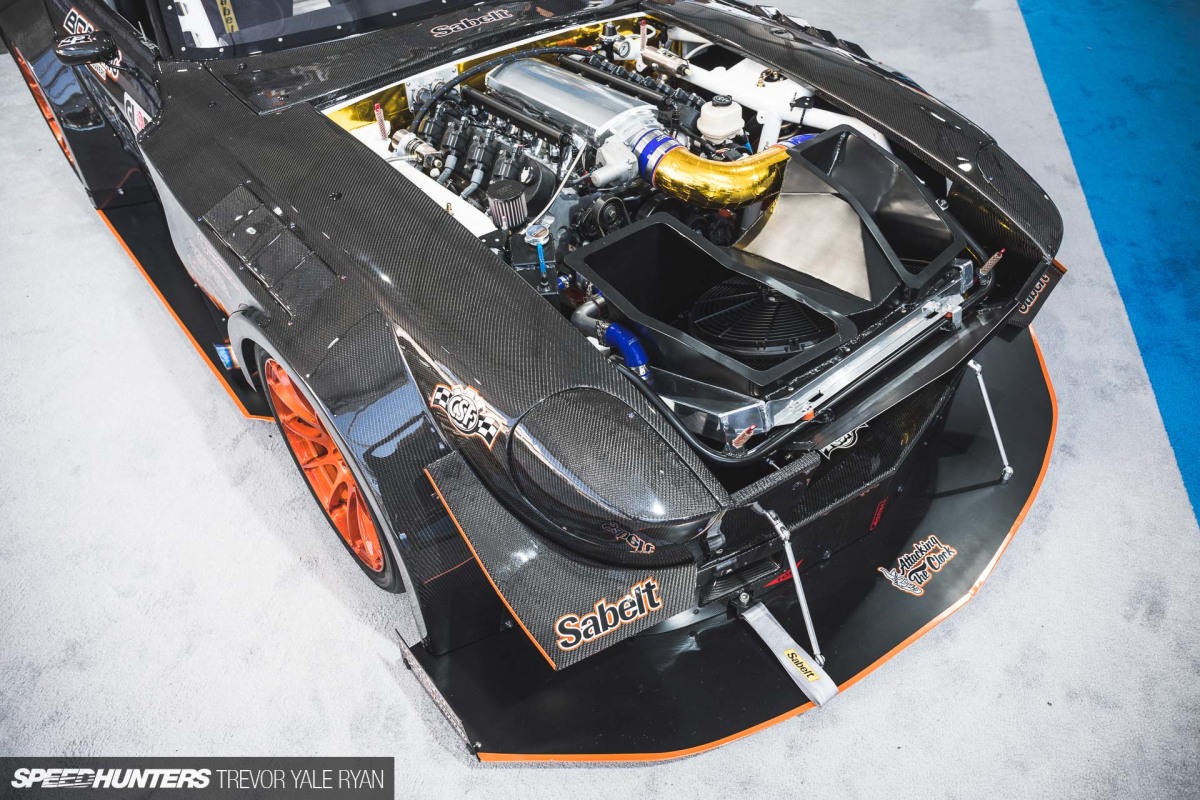 First off, it's pretty obvious the thing is V8-swapped with a full-on tube frame holding the 5.3-liter LS engine in place.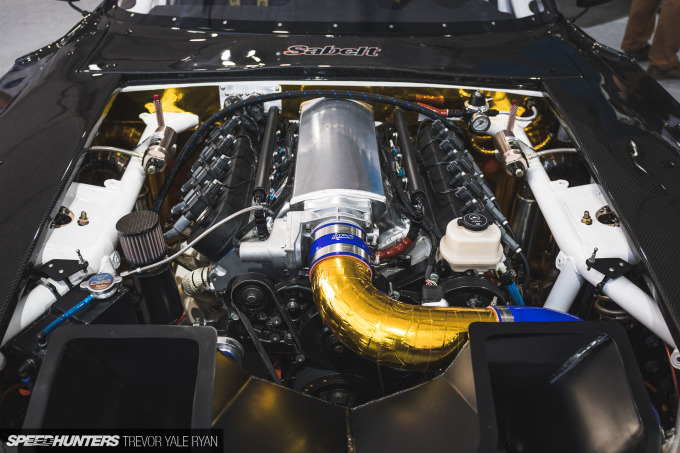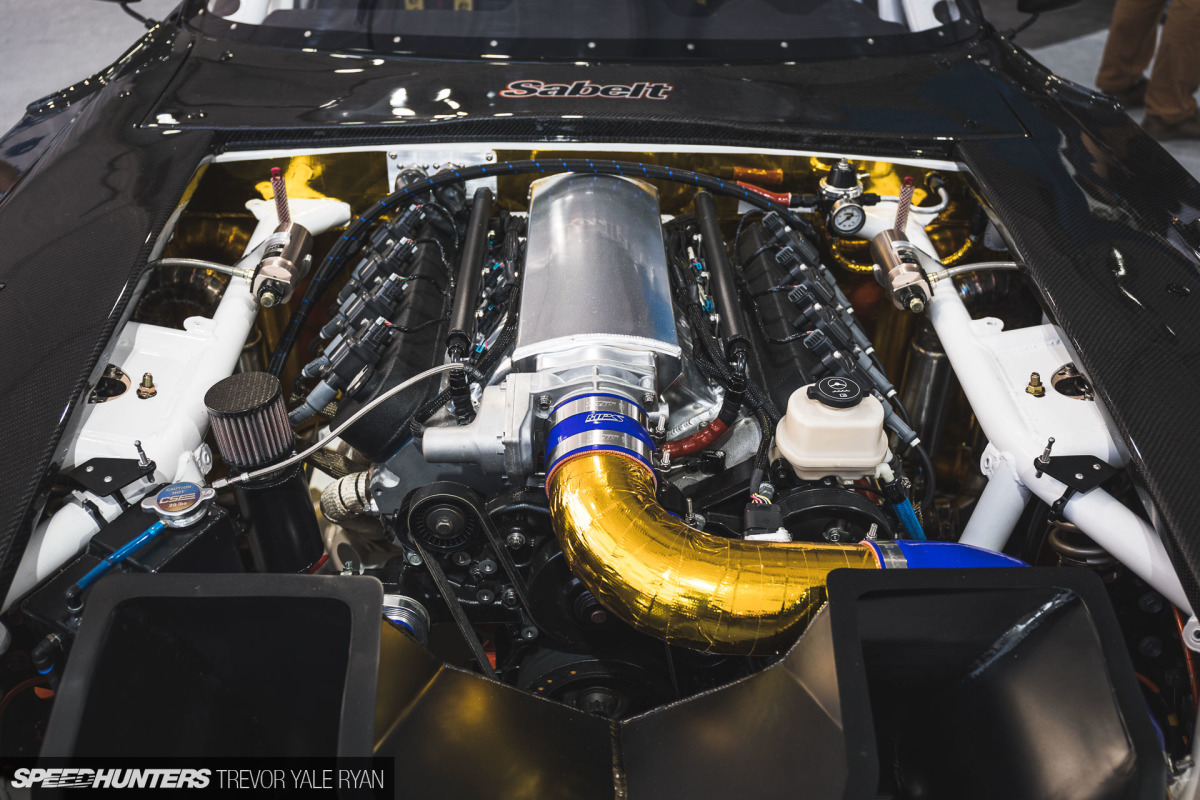 Air comes in via an aftermarket intake that feeds an LS3 drive-by-wire throttle body. From here a Stage 3 Brian Tooley Cam allows ported and polished LS1 heads to breathe in before sending the spent fuel out again through custom headers, finally expelling the exhaust from the side of the car.
Power is sent through a built T56 6-speed back to a viscous limited slip differential made for an S14. It's nothing massive, either, with the V8 making in the neighborhood of 450hp.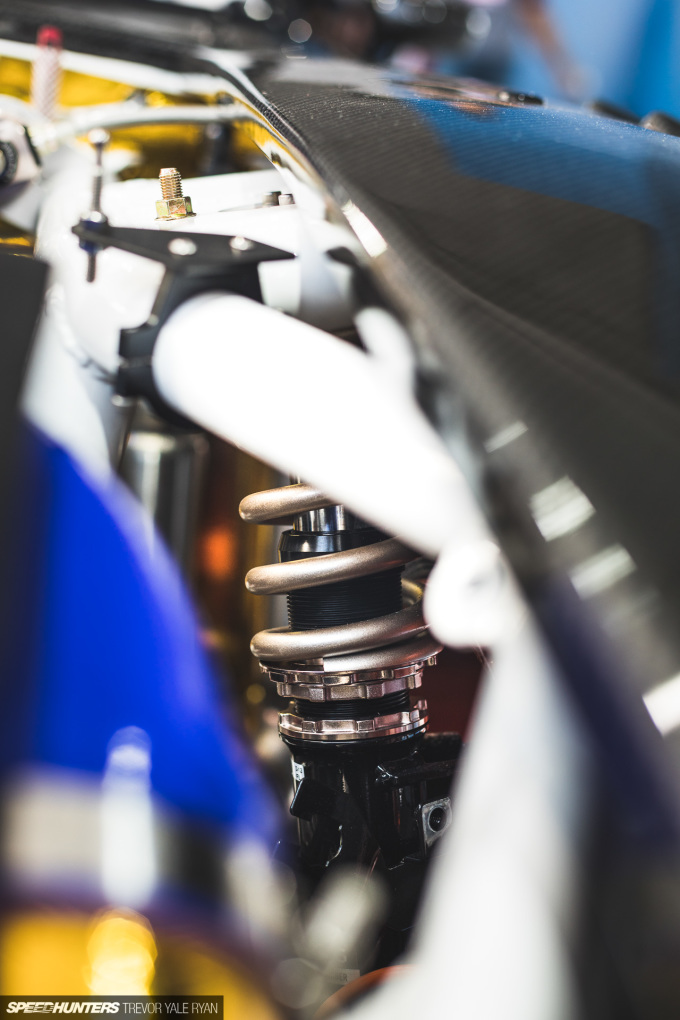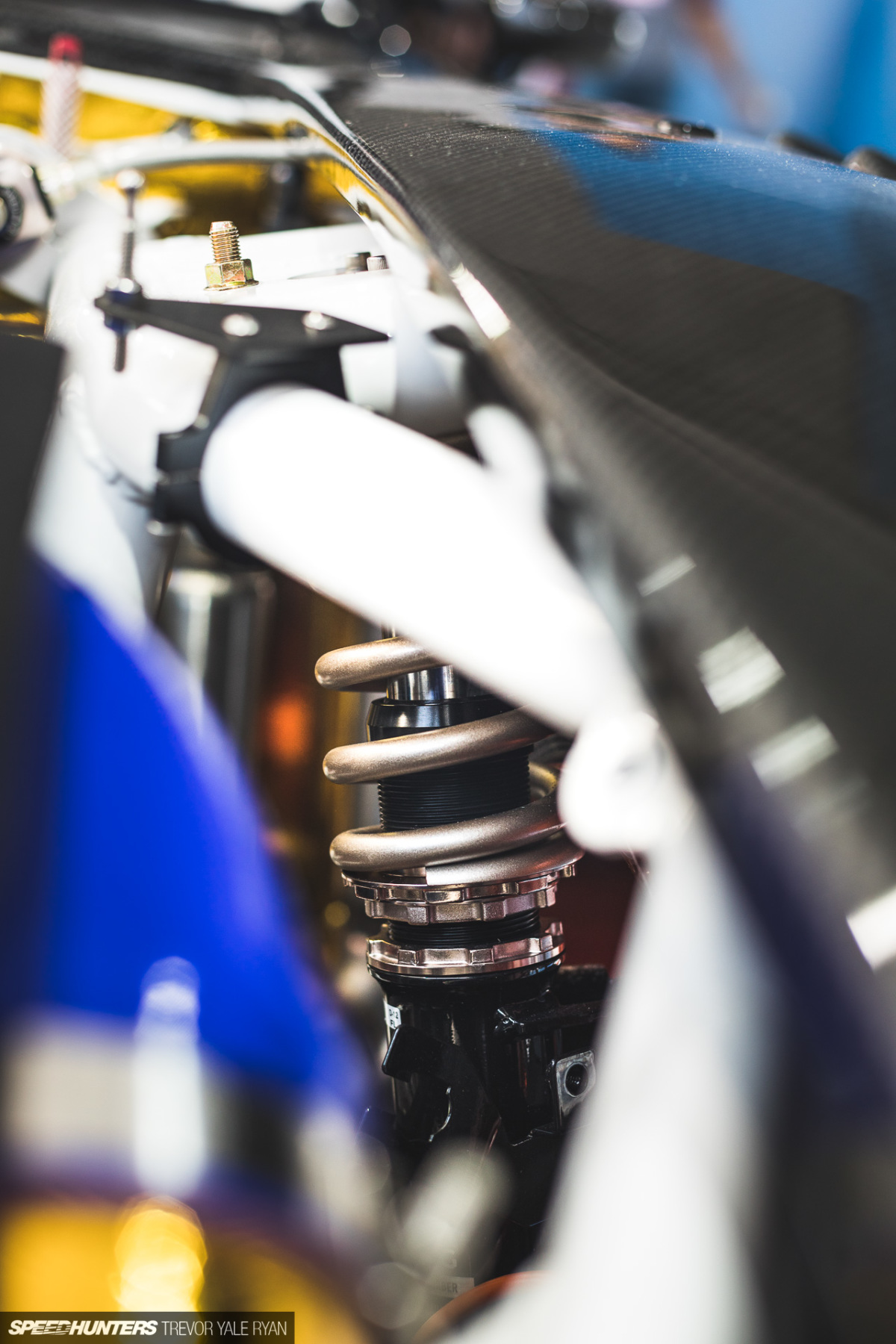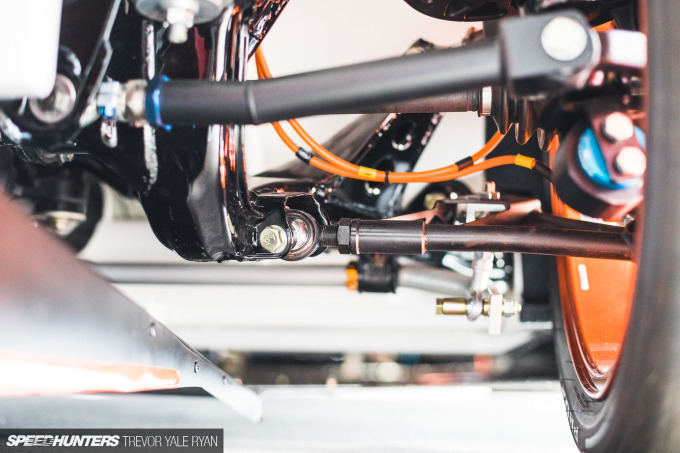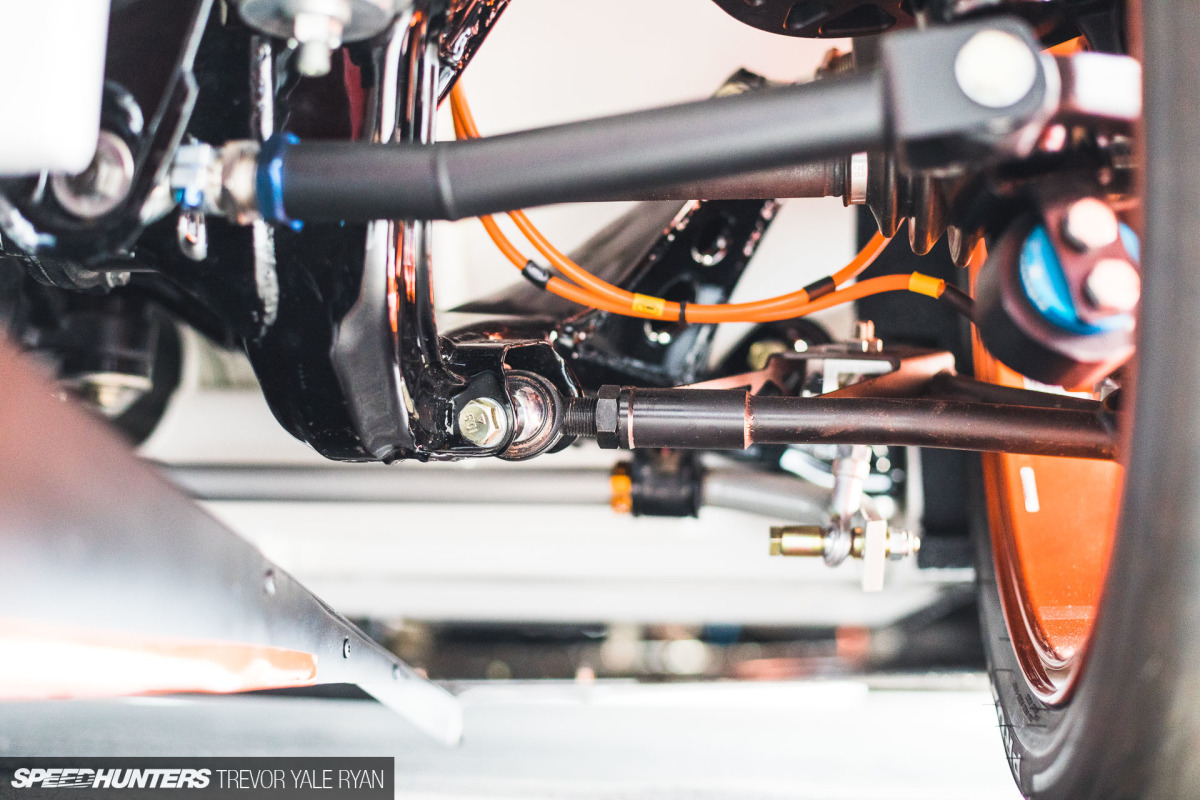 More notable is the chassis itself and the S13-based suspension bolted to it. All four corners wear BC Racing ZR coilovers with Swift Springs mated to SLP Parts A-arms. In the front, a GK Tech splined sway bar helps keep the grippy stuff on the road while out back Shawn's made use of a White Line sway bay.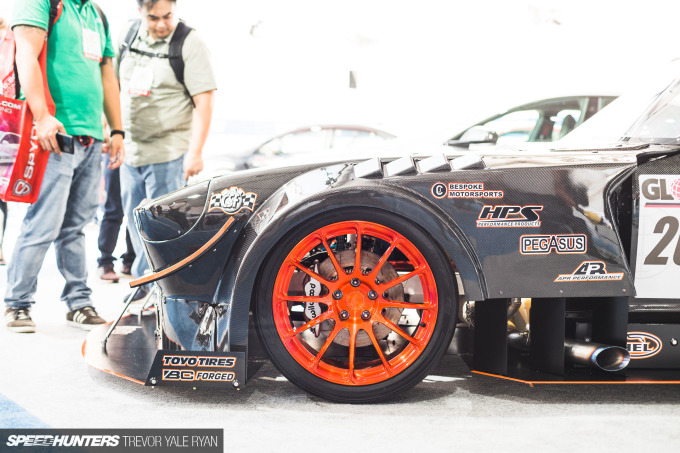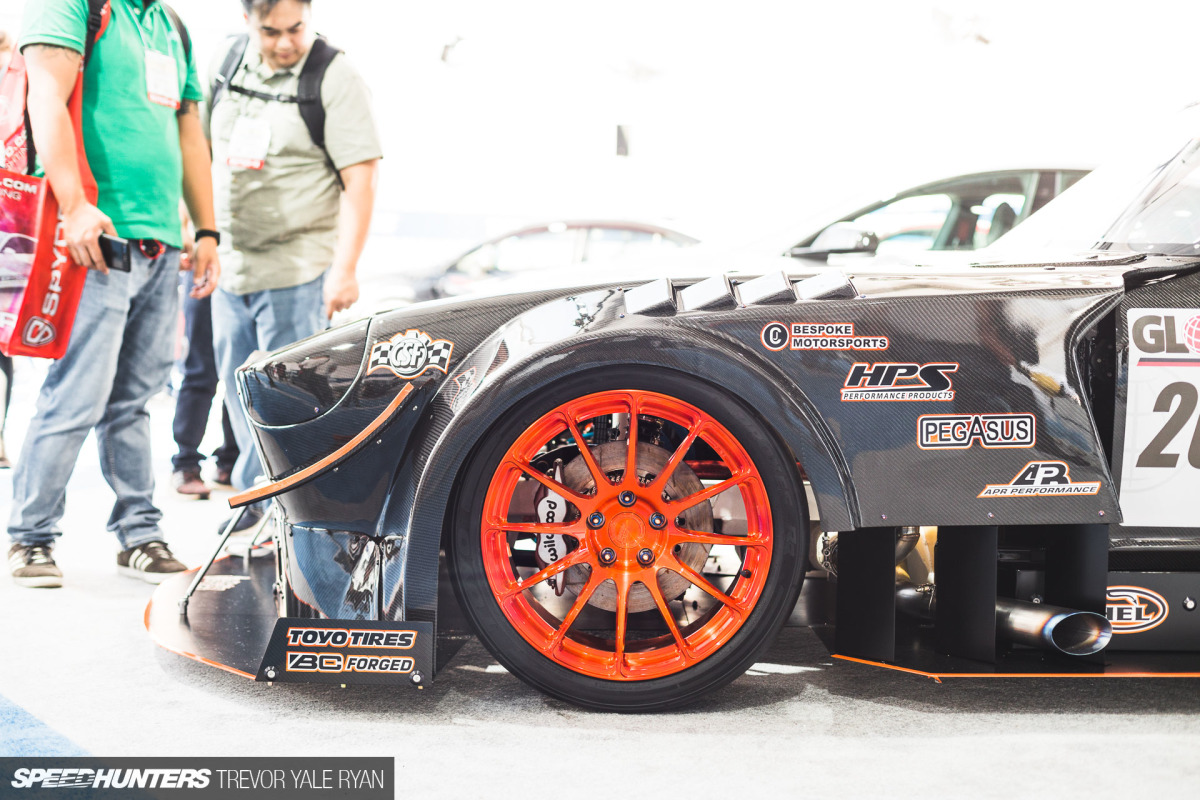 Wilwood disc brakes sit inside custom BC Forged Wheels which are wrapped up in Toyo Proxes RR slicks all around the car. The rear tires measure a healthy 315 while up front they're just a touch narrower at 285; a lot of rubber for this car which is this light.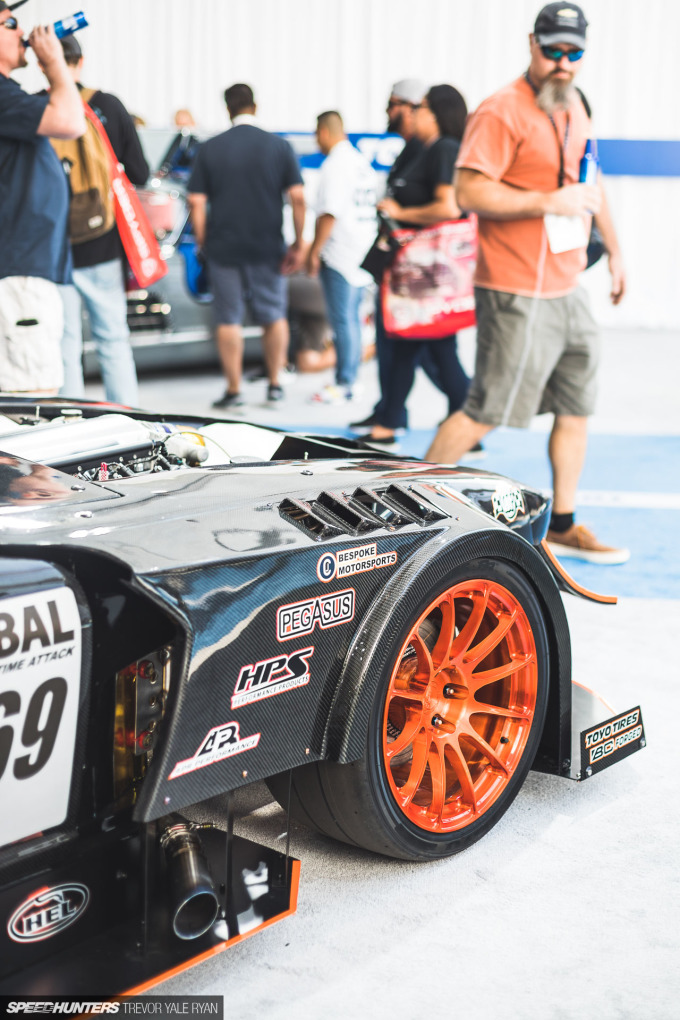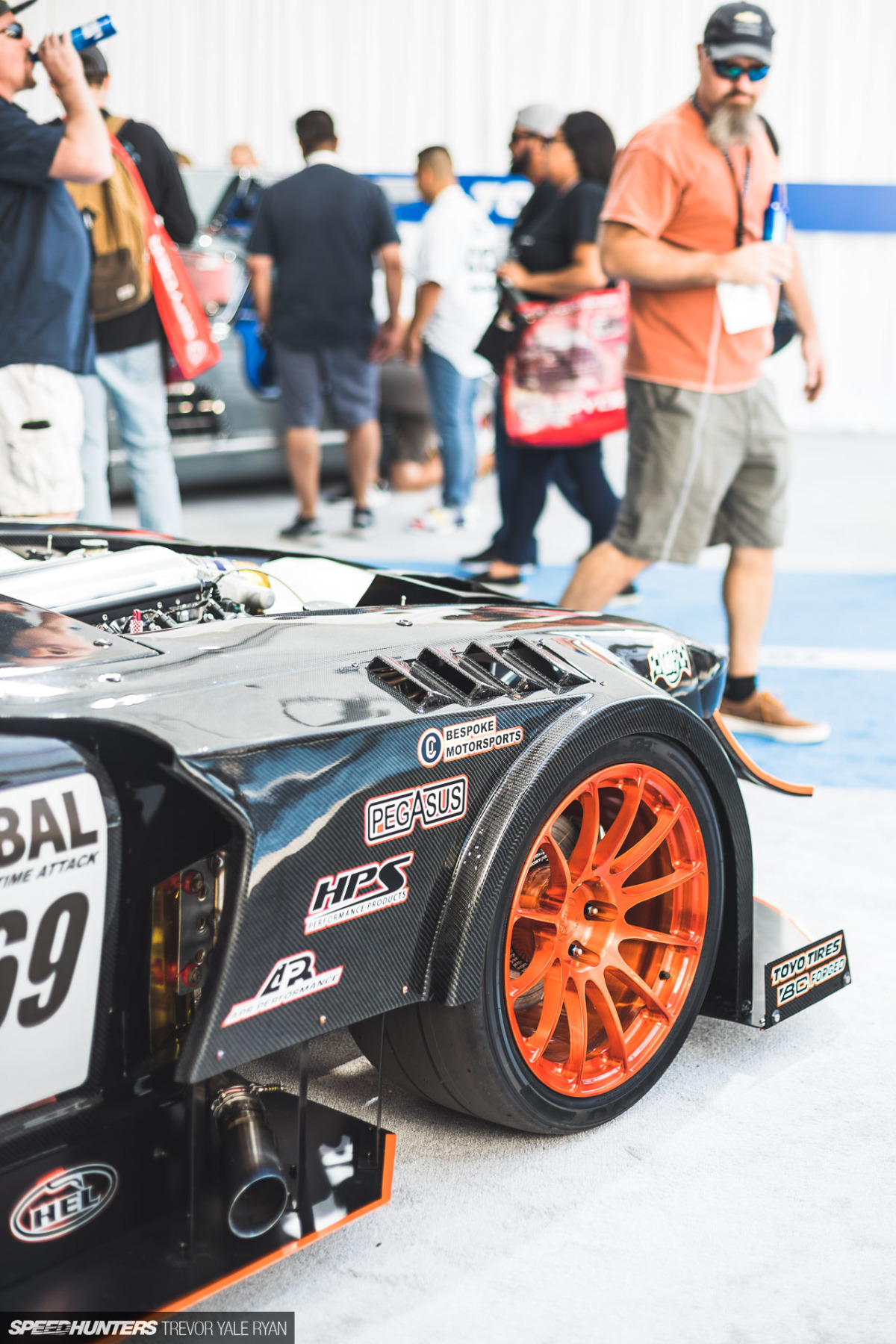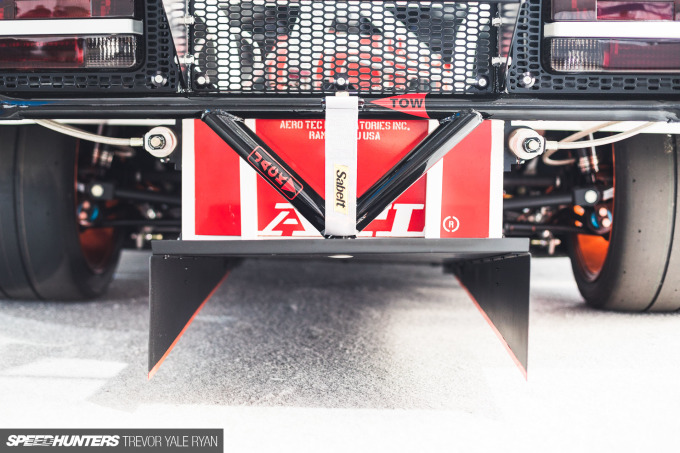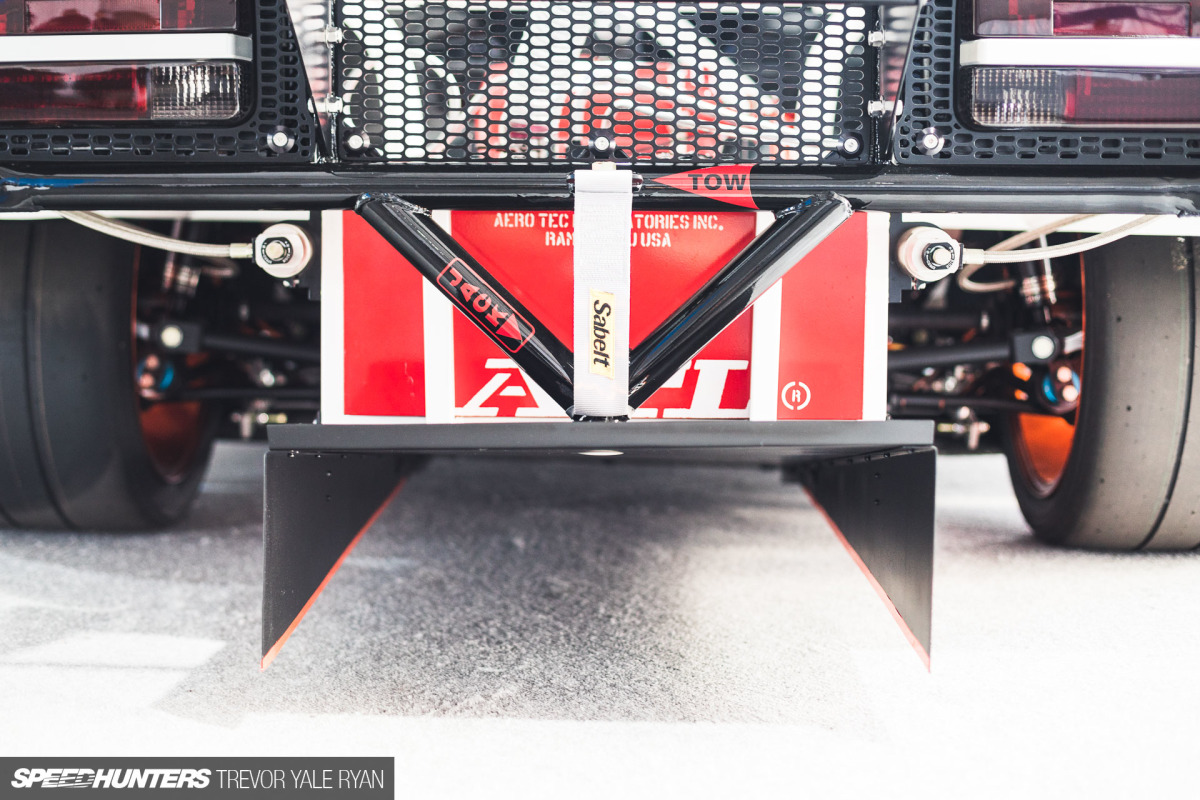 This is not to forget the awesome home-grown CF aero, a topic far too complex for a simple chat at the SEMA show. Hopefully I'll have the chance to follow up later on and learn a bit more about the development of not only the incredible bodywork, but the downforce-inducing parts as well.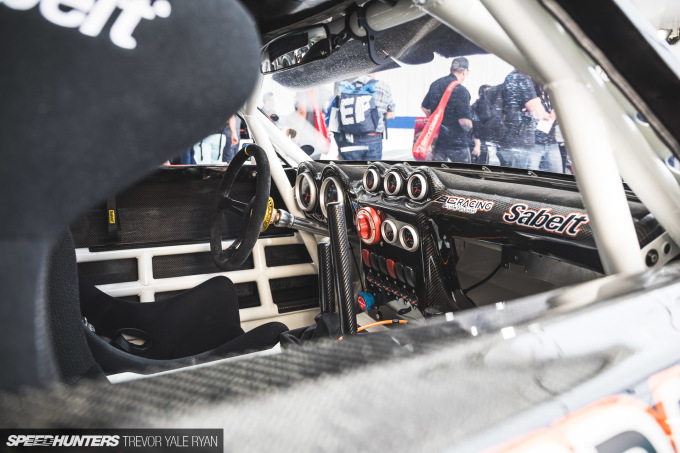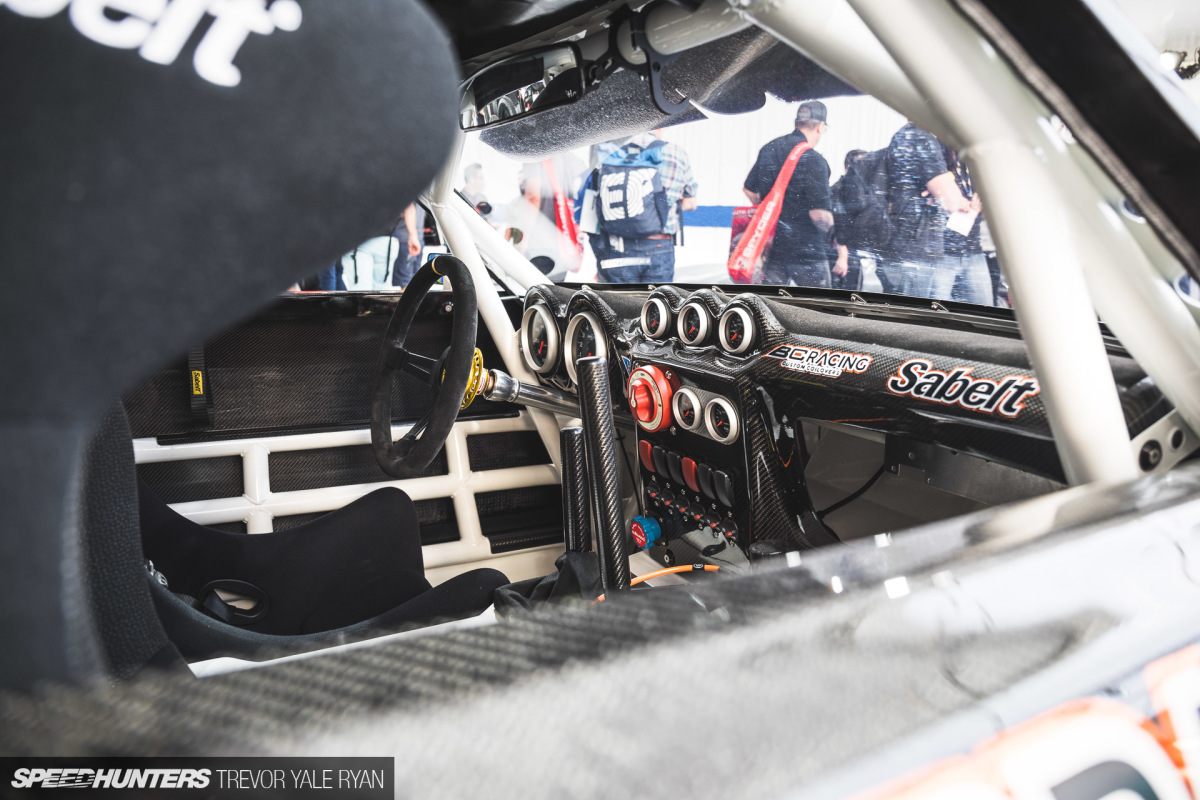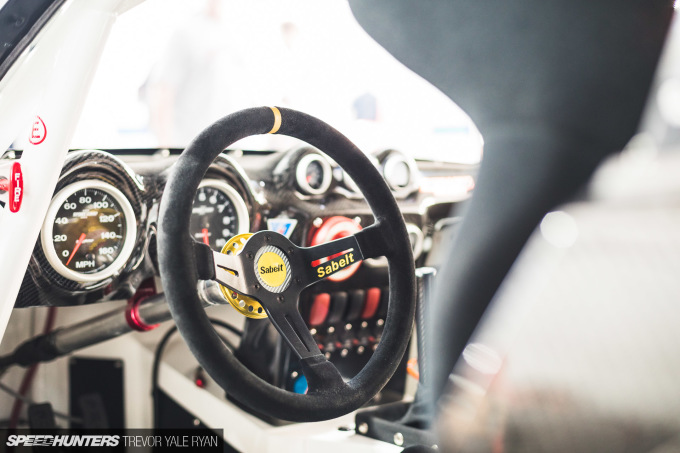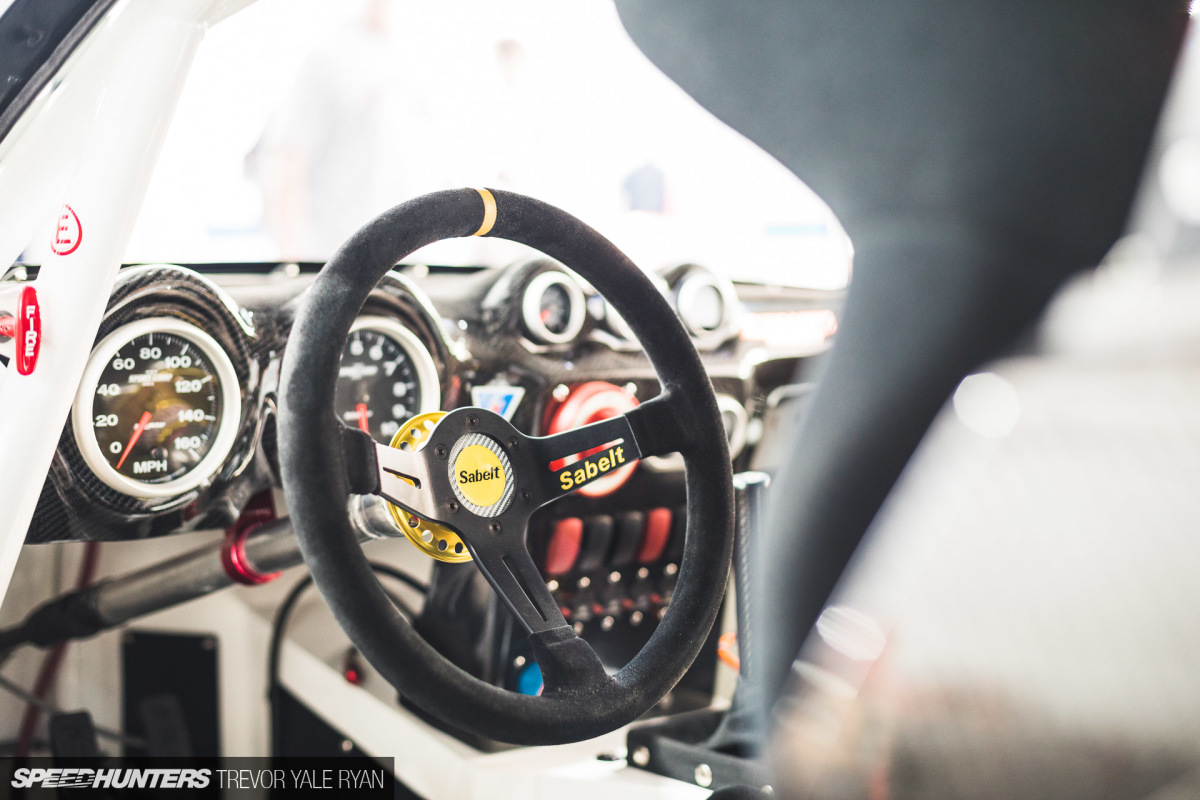 Moving forward, Shawn hasn't cut any corners inside the car either. The full carbon dash, custom of course, blends nicely with the stark white of the FIA spec cage and Sabelt odds and ends.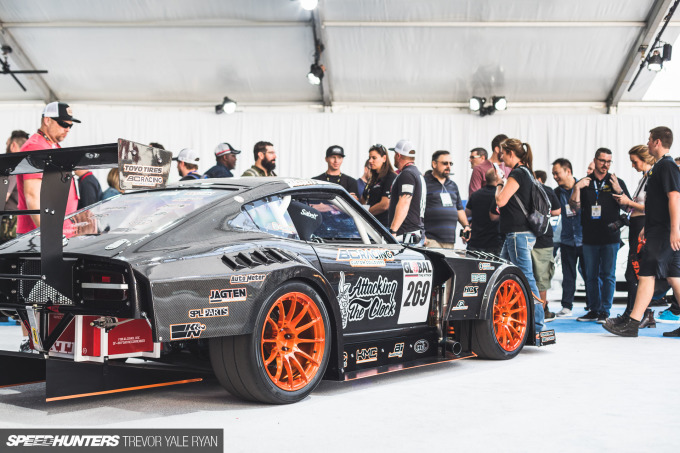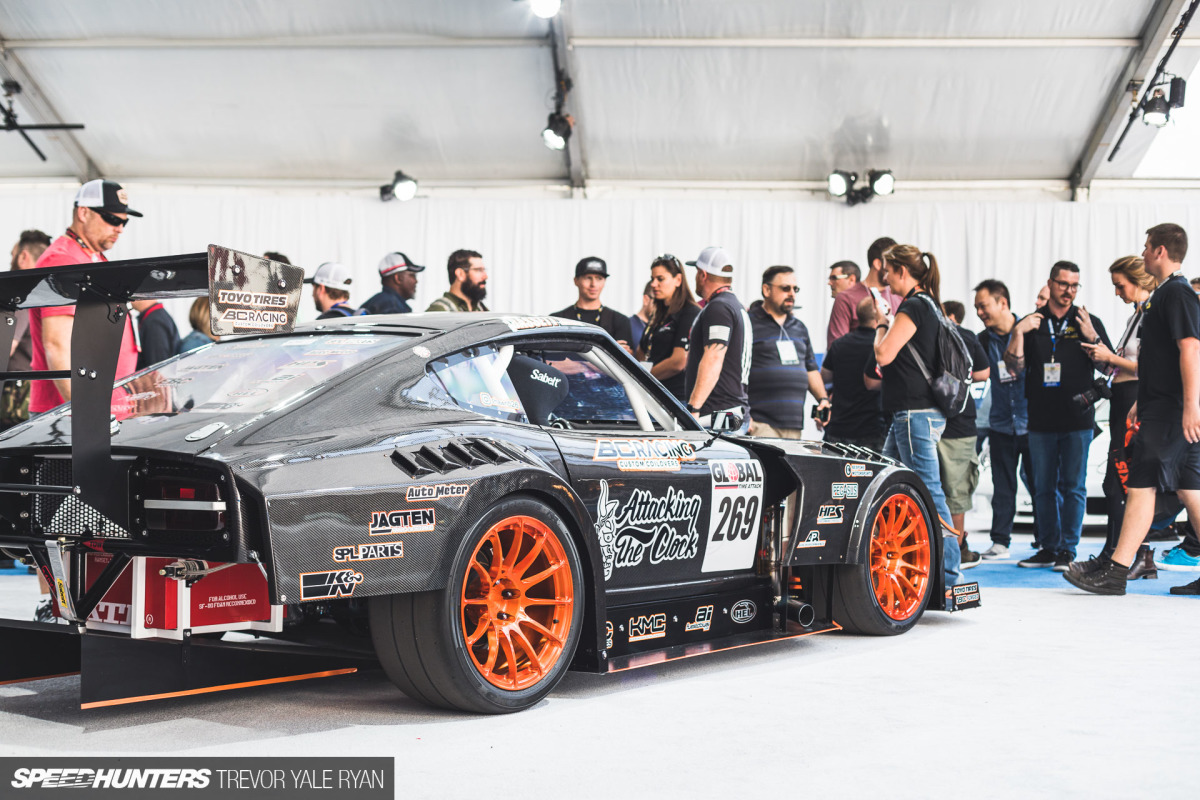 For all intents and purposes the build itself is done.All in all, it's a car that means business, but exactly what the 240Z's business will be is yet to be seen.
The lightweight S30 will be an absolute rocketship at Pikes Peak, and I'm looking forward to seeing where else it ends up, too. You can follow along, as well as take a look through the build, on Shawn's website or his Instagram.
If this is how Shawn starts a project, I can't wait to see him finish it from behind the wheel.
Trevor Yale Ryan
Instagram: tyrphoto
TYRphoto.com