Love For The Wheel
The light bulb, the printing press, the steam engine, even the internet – all are critical inventions that changed the way the world functions. But amongst that list is an art form that truly embodies the concept of innovation. An invention so crucial to the expansion of the world that without it, we may have been extinct already. I'm talking about the wheel.
Now, before I get into writing a novel about how the wheel was invented, and how it changed humanity, I'll skip a few thousand years to modern times, where the wheel is not only a tool utilized in everything from the automotive to the engineering industry, but has now become a craft in the world of artisanship, both in large manufacturing firms and private shops.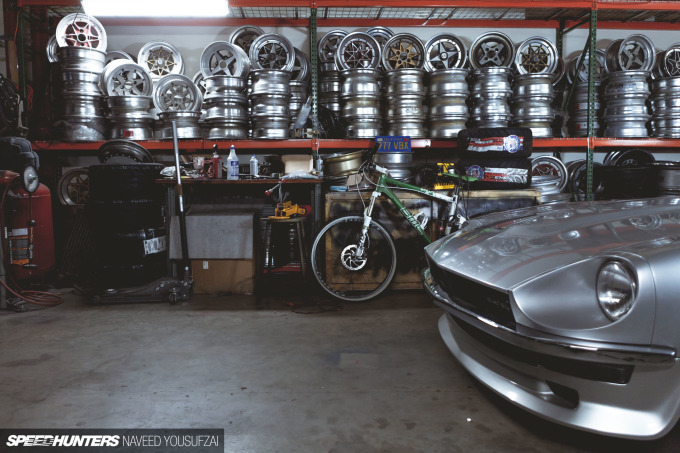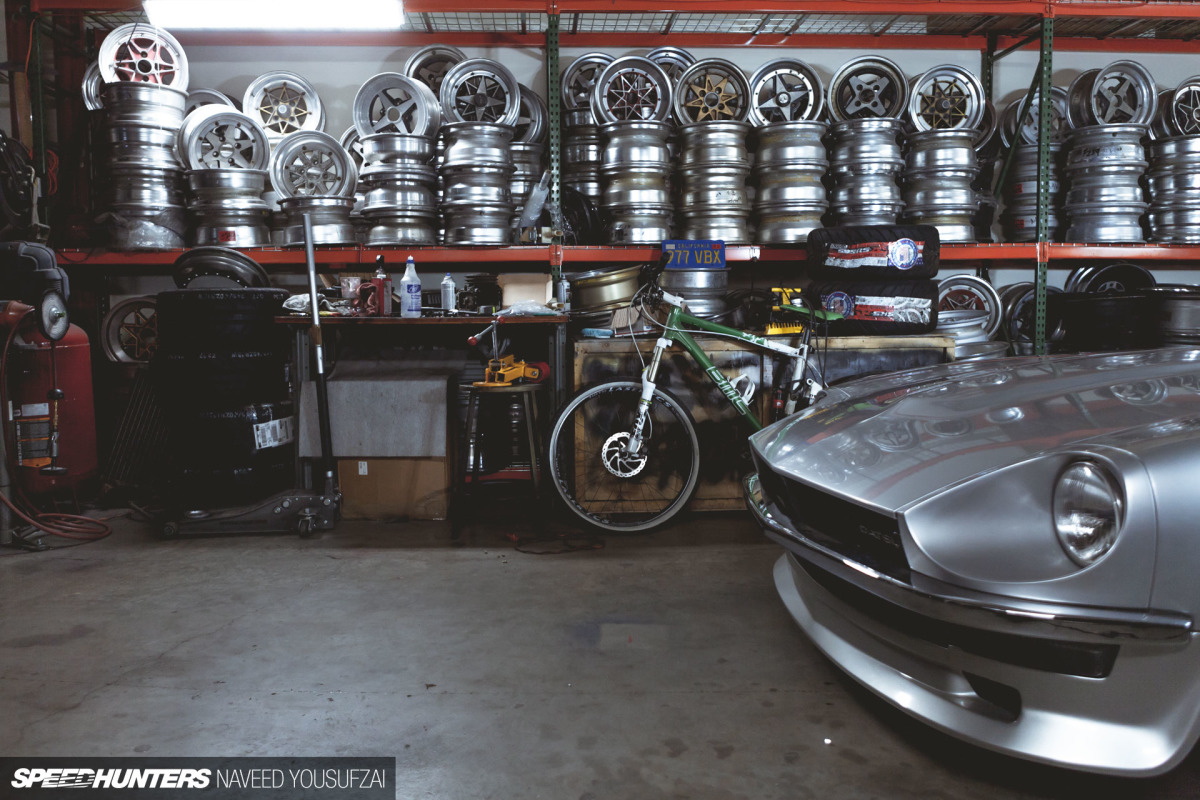 But what is it that these said artists try to embrace? Who decides what characteristics make a wheel, good? There are so many components that go into making a wheel, ranging from construction materials, to structural integrity, and even weight concerns, all while tying it together with aesthetically pleasing design.
It also bears the question of what if these artists aren't looking to become the next thoroughbred in the industry? What if they aren't looking to create the new best thing, rather take what has already been done, and enhance it? The latter is exactly what we'll be discussing here, shedding insight from one of the best in the industry, Matt Kochaon, better known as Love20Bee.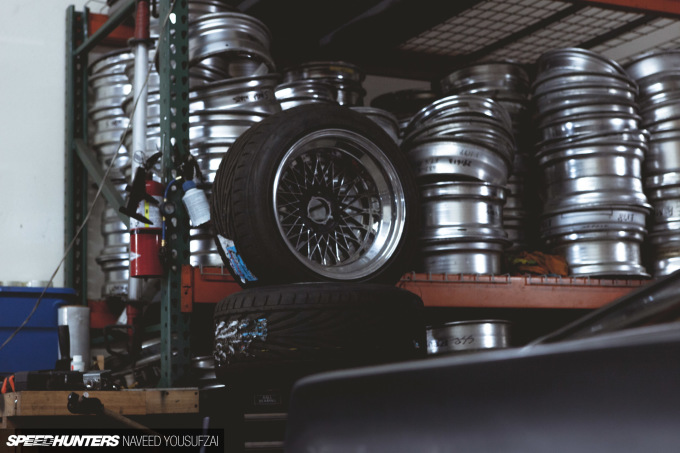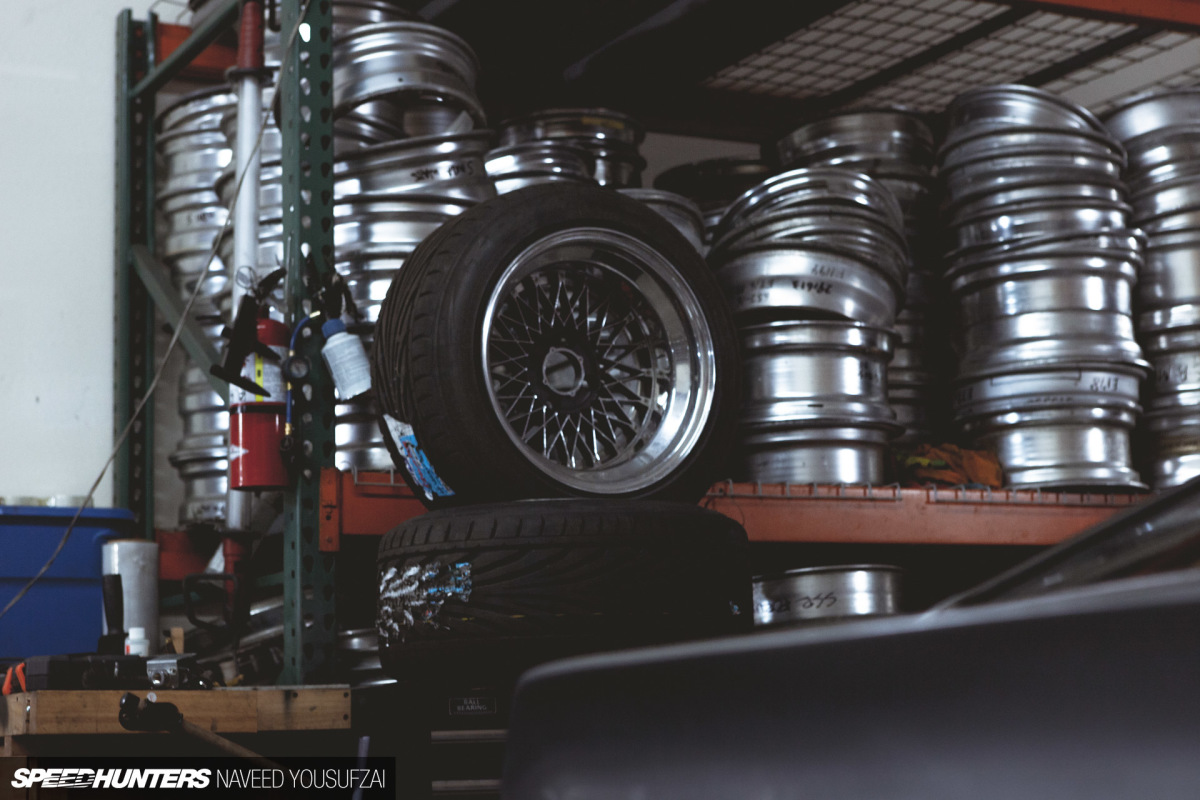 Matt has been a part of the automotive scene in Southern California since 1979. At the age of 16, after working numerous summers to save up for his first car, he found himself purchasing a 1980 Toyota Celica. As his ownership progressed with the car, so did his desires to modify it and make it his own. Little did he know that this would become the foundation of a 39-year streak of obsessional love with the JDM car culture at large, but more specifically, JDM wheels.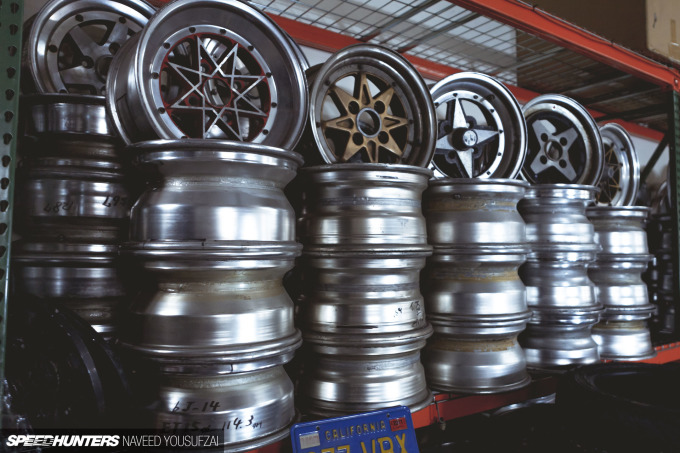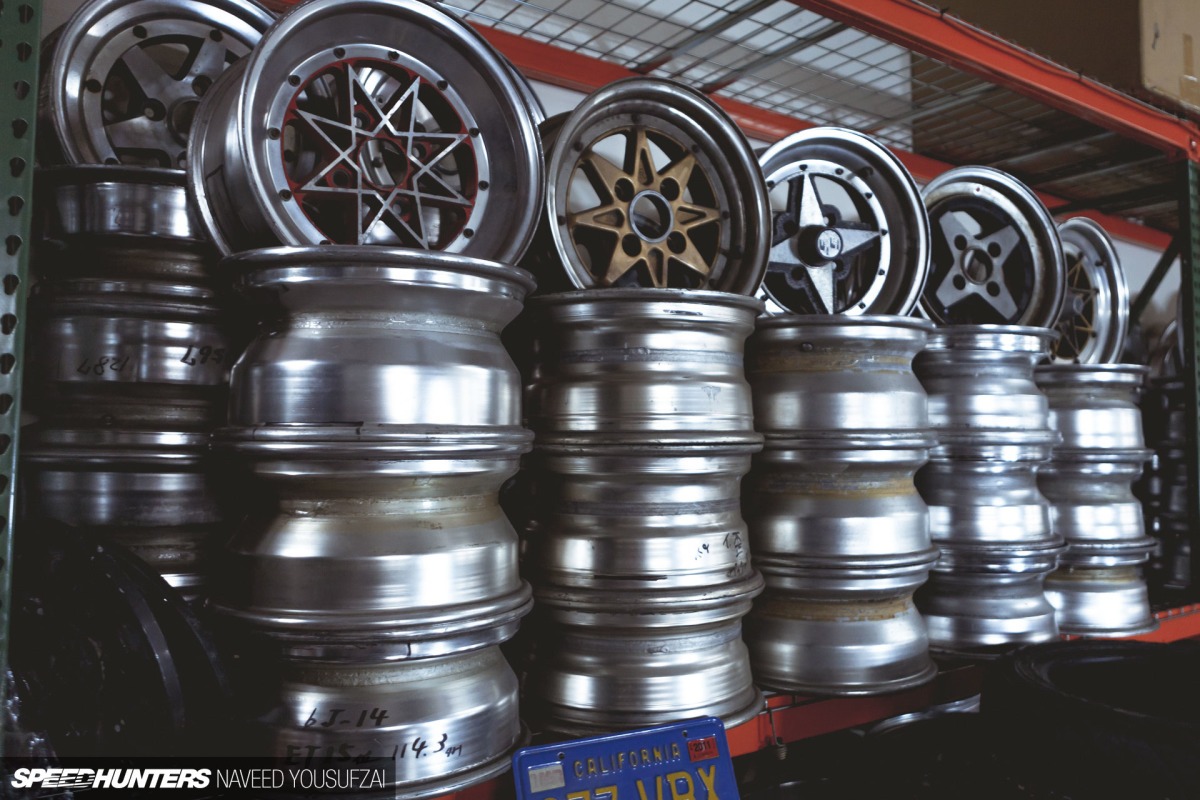 As decades passed by, Matt found himself building numerous other cars, but his focus was always aimed at the wheels of choice. For Matt and many others – myself included – the decision of wheel choice is always carefully considered, as they can totally make or break the aesthetics of a car. So, when he found himself troubled amongst hundreds of choices, he simply bought them all.
But with all of the wheel purchases, and searches for even more, Matt became frustrated at costs of rebuilding these wheels to spec. So in early 2017, he decided to take matters into his own hand by leasing a small shop and began building the wheels himself. What he didn't see coming was the amount of friends, and friends of friends who found themselves on the same boat, always dealing with high rebuild costs and not-so-great quality. When they reached out for help, Matt's efforts quickly became a business.
Love20Bee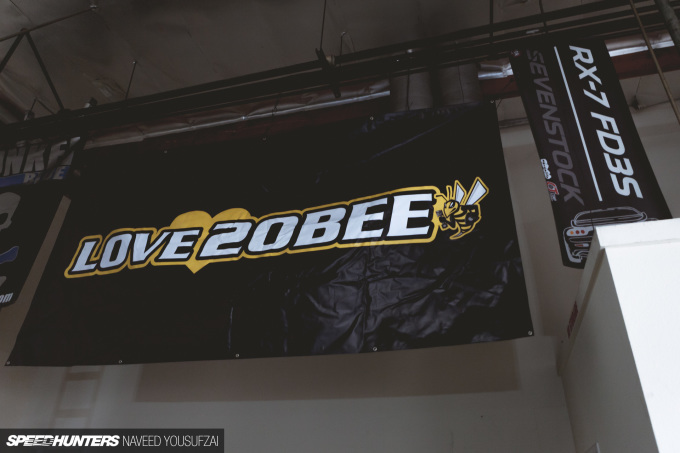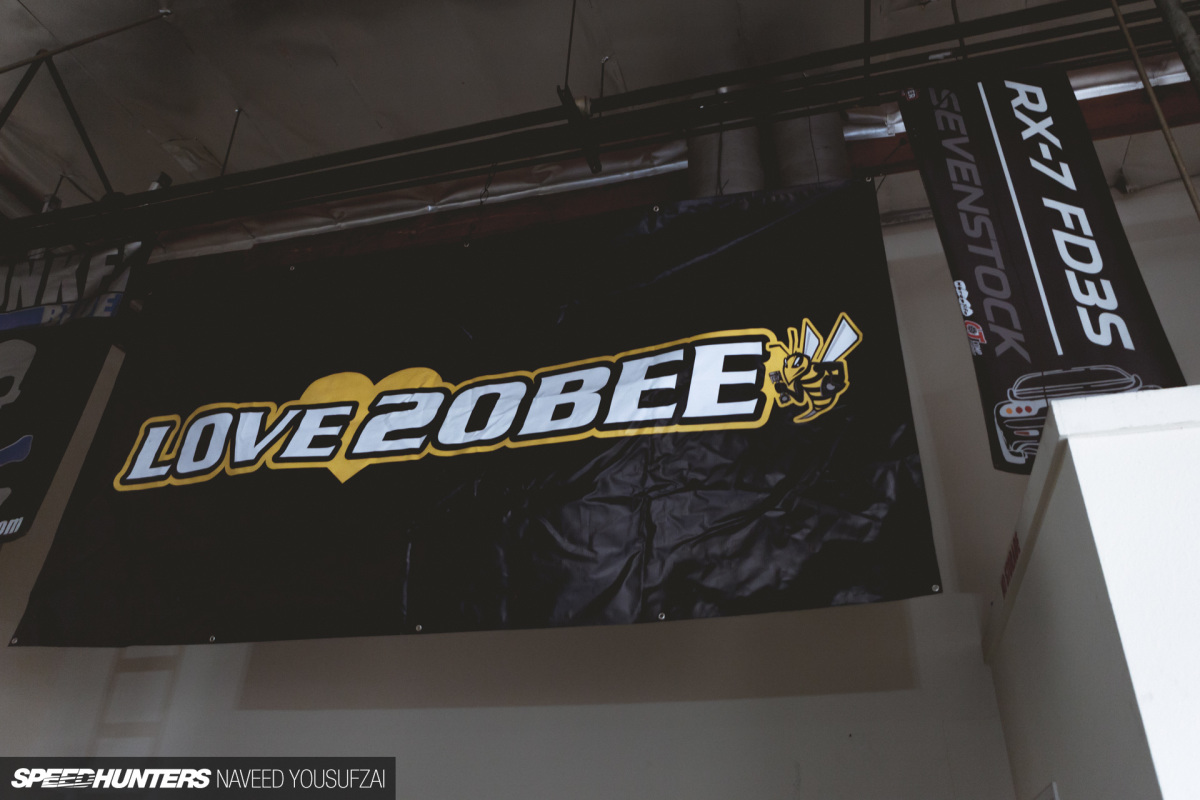 At this point, you're probably wondering how the name Love20Bee came about, and it too has an interesting back story.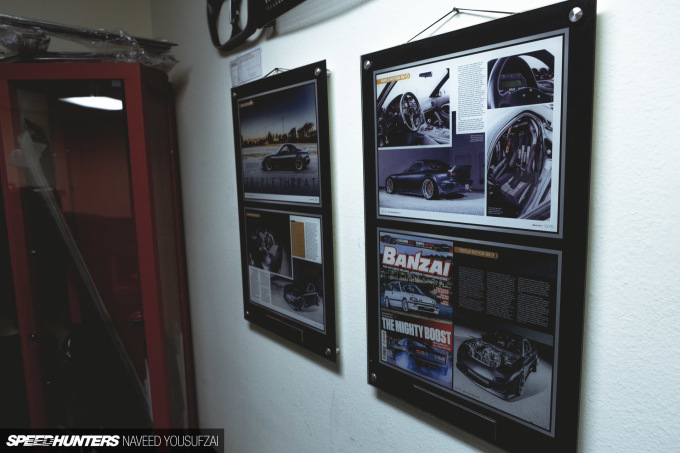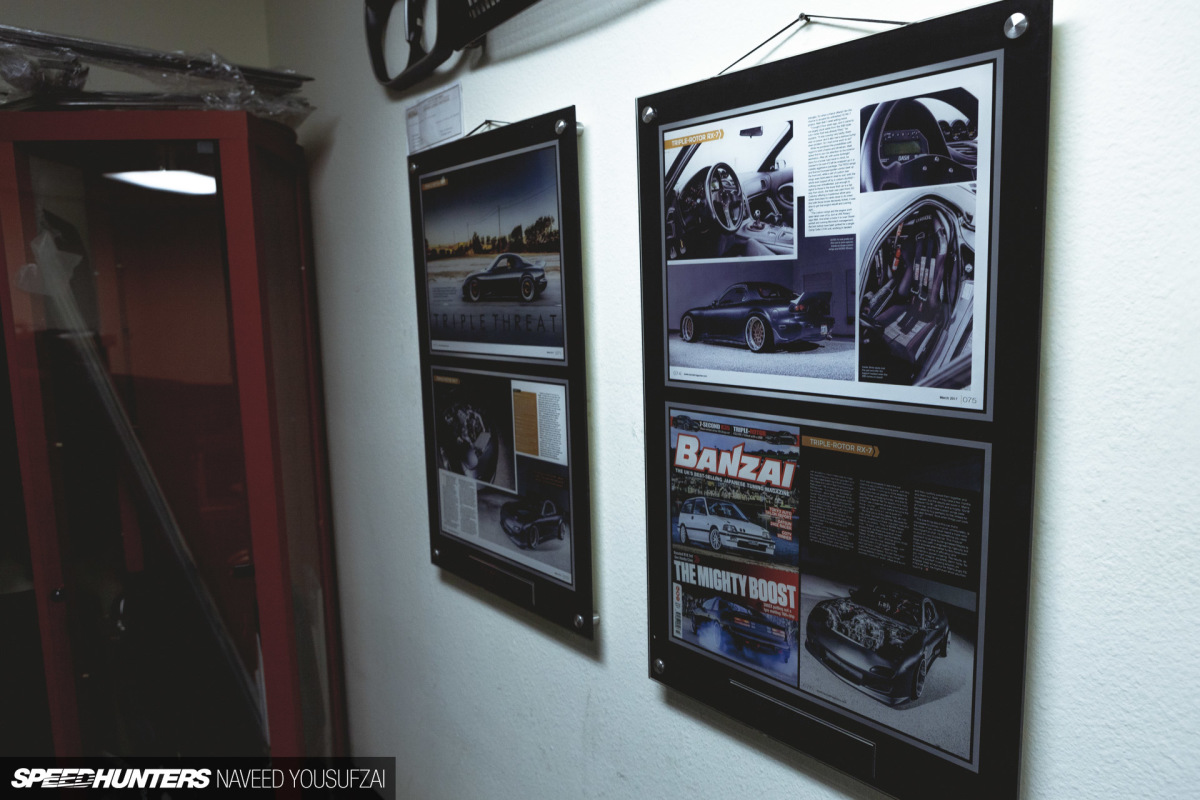 In the early 2000s, Matt was a proud part of the rotary community. He built an incredible FD3S Mazda RX-7, rocking Bride seats, metal fender flares with super-wide Work wheels, and a gorgeous three-rotor 20B engine built by Juni of JRX Rotary. The car was so recognized that it even became the logo for SevenStock – the largest rotary enthusiast gathering in the world. It's safe to say that Matt's FD was well ahead of its time.
Matt realized the impact this car made on the rotary world, so to pay homage to the community, he decided to name his company after his prized 20B motor. Needless to say, it also serves as one of the catchiest names in the wheel industry.
Little Wheel Club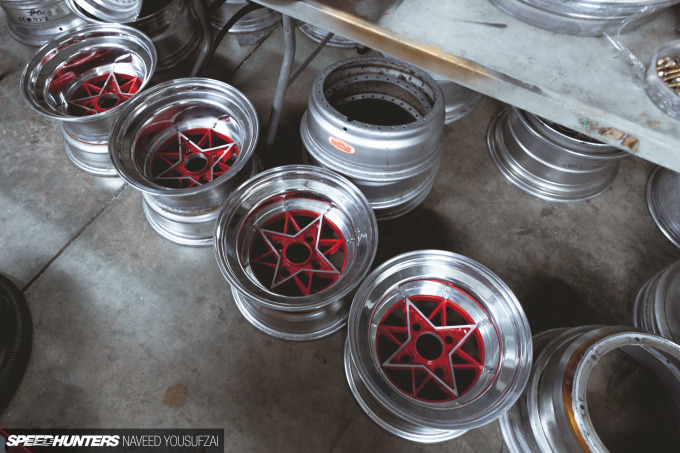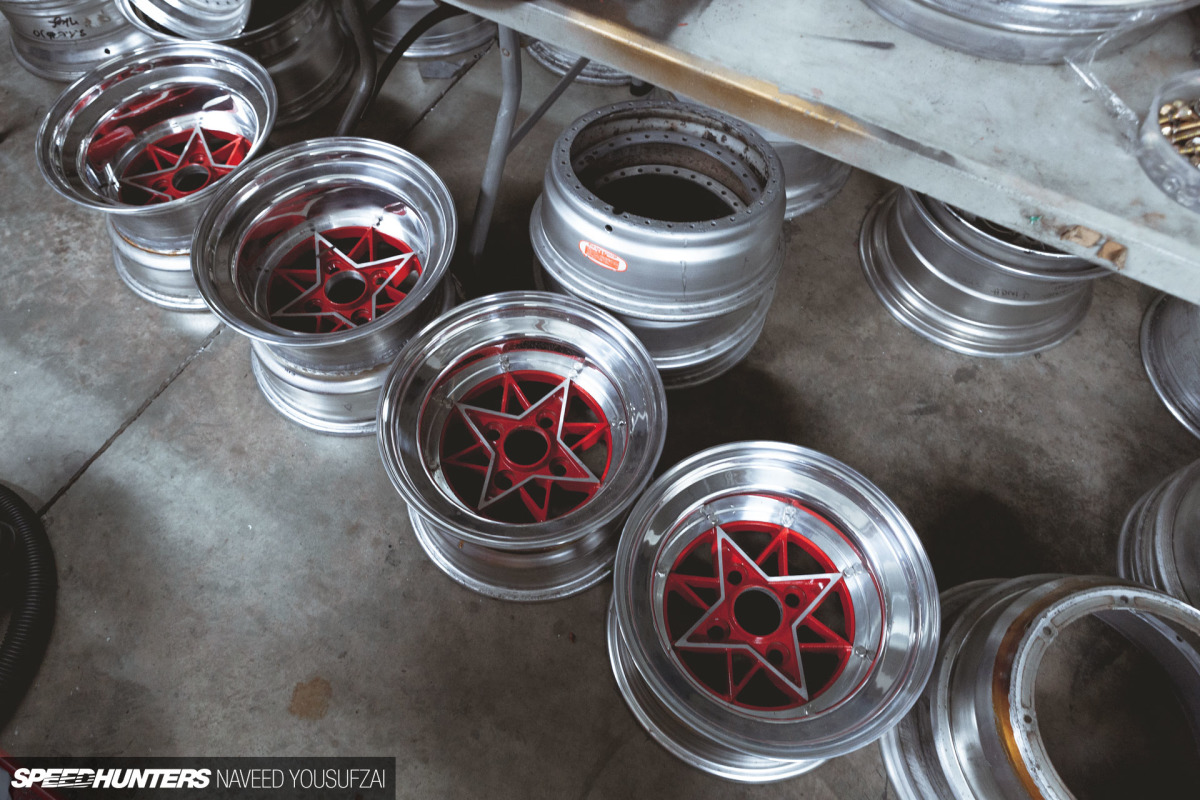 Love20Bee finds its niche in smaller diameter JDM wheels, while also building some of the craziest shit you'll ever see. They're constantly pushing the boundaries of what others are too afraid to do, whether it be due to lack of knowledge or straight up failed attempts. Just walking around the shop was quite overwhelming, with mountains of some of the rarest wheels ever made.
One of my favorite wheels they were currently working on were a custom set of Auto Bahns. Digging deeper into the history of these wheels, they were only offered in the early 1980s, and came in one-piece form. Matt loved the design, but didn't care for the factory specs, so being the artist he is, he cut them, had custom lips and barrels made, and turned them into a 3-piece design, with an ending width of 10 inches.
Sure, it may be doable for others as well, but take a second to really dissect the quality of the work. Everything is as precise as it should be, looking like they came straight out of the factory.
Although wheels are the primary product of Love20Bee, that doesn't necessarily mean you wont find awesome accessories around the shop as well. Across the showroom, I couldn't help but notice an assortment of center caps laid across the front desk.
Next to them were reproduction Mazda RX-3 parts, which Matt is also offering along with a few other miscellaneous pieces and aero dynamics for other platforms, which I'll touch on more in just a moment.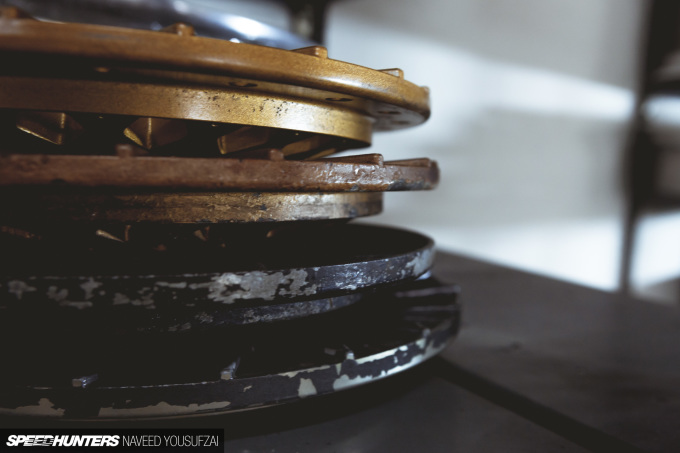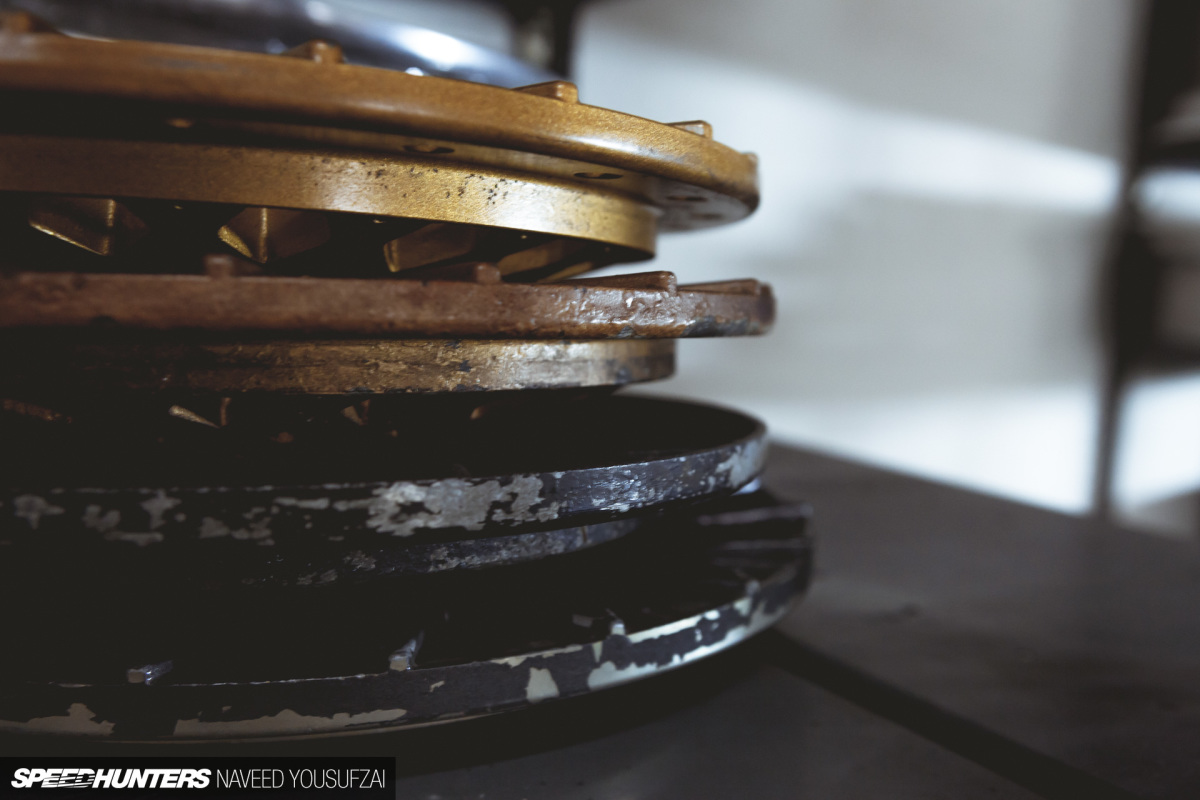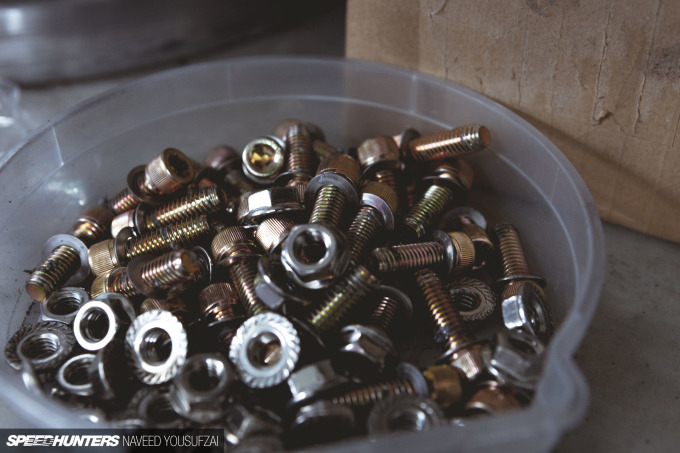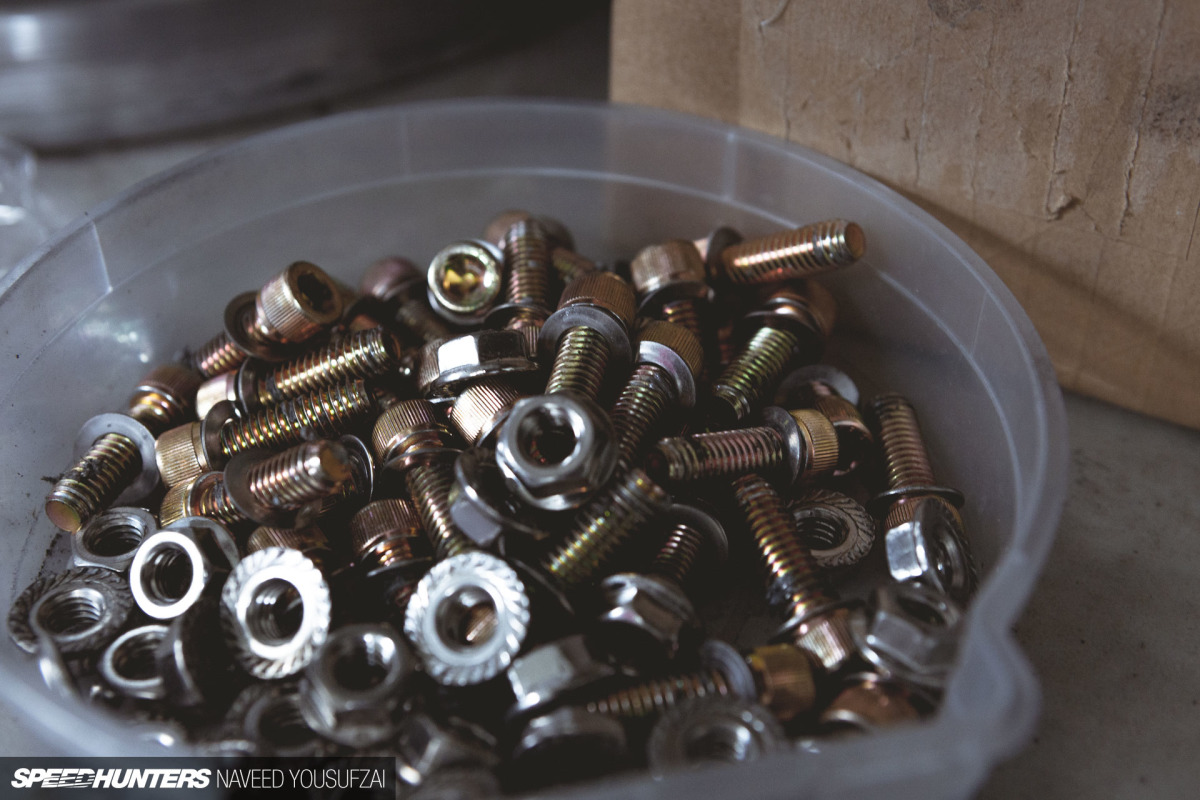 As I continued peeking around and poking my nose into little odds and ends, I noticed a few racks' worth of faces waiting to be built. Beside them were assortments of different sized lips and barrels, and even more pre-built wheels just floating around. For someone like me who tends to hoard wheels, this was truly a glimpse into wheel heaven.
Love For The Z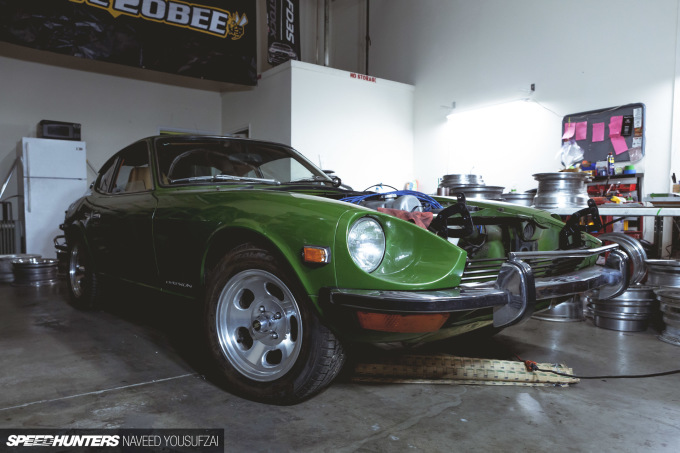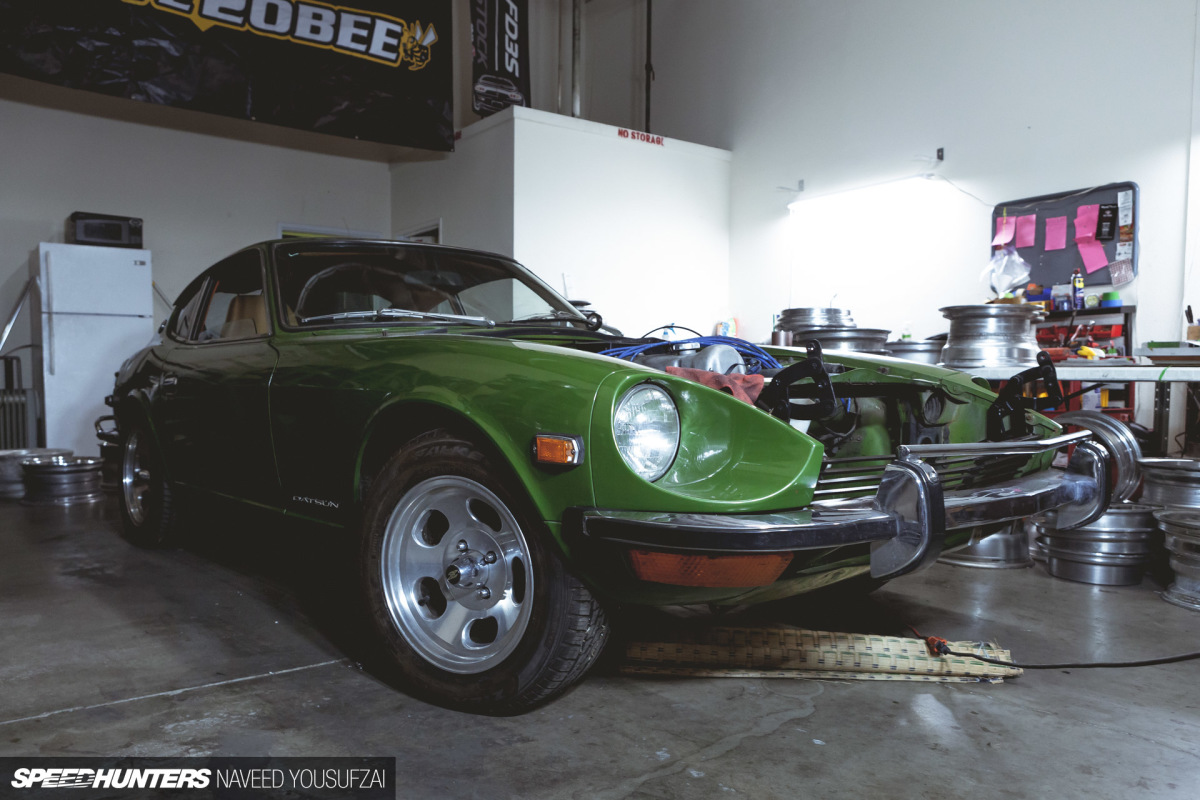 Walking into the back of the shop, I couldn't help but notice a pair of Datsun 240Zs. The green one was a customer car that had been sitting around for a few decades. It may look rough around the edges, it still shows great promise for a future build to come; the car is all original and has relatively low mileage, with no rust, a rare thing in the world of Datsuns as we all know.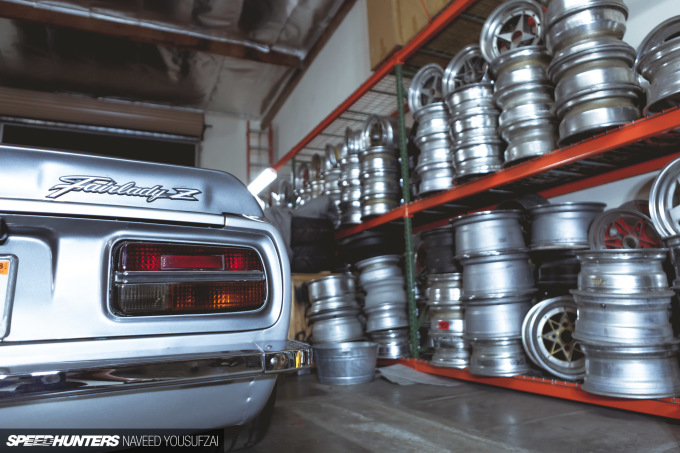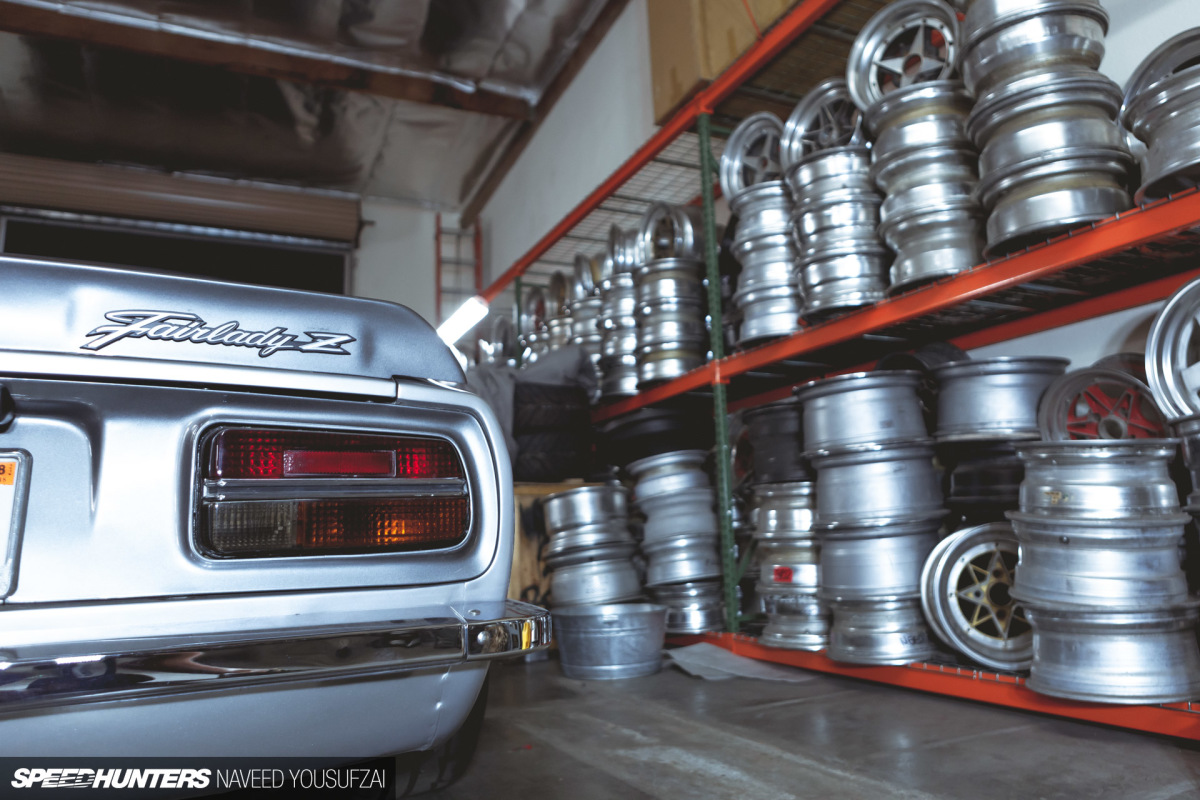 The second Z is Matt's prized possession.
Growing up in the '80s, Matt constantly obsessed over the 240Z. His limited income at the time wouldn't allow him to take ownership of one, but he foresaw his future knowing he'd eventually make it happen. Come 2014, he purchased a set of SSR Formula Mesh in 16×11-inch and 16×11.5-inch that he completely fell in love with.
The mesh style wheels were always a design he was keen on, but the biggest problem with this specific set was that he didn't own a car to put them on. Regardless of that matter, he purchased the wheels anyways, and soon after found himself purchasing this Z from a private seller at the other end of the country.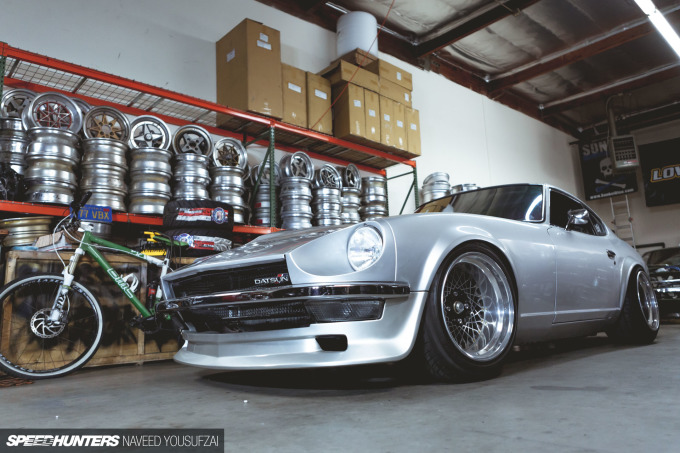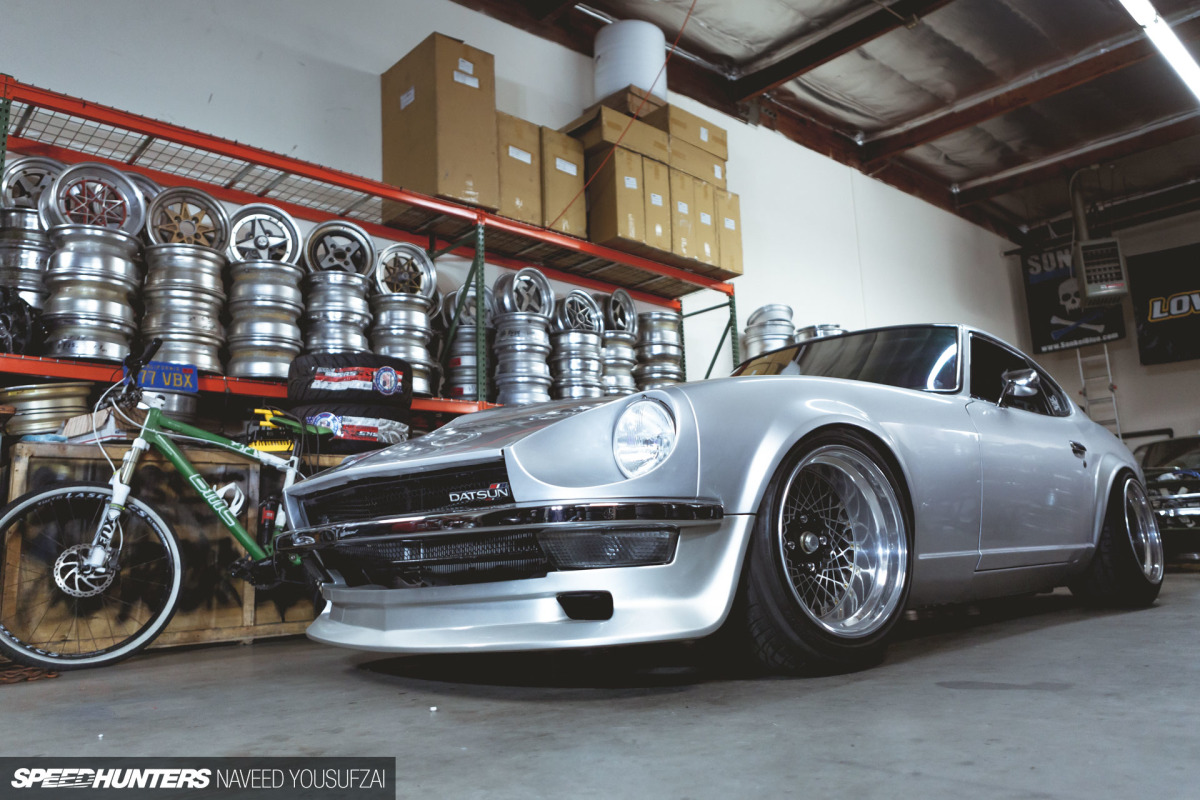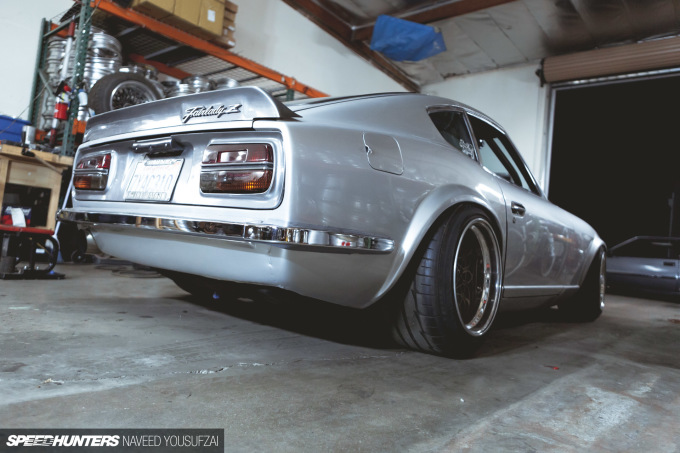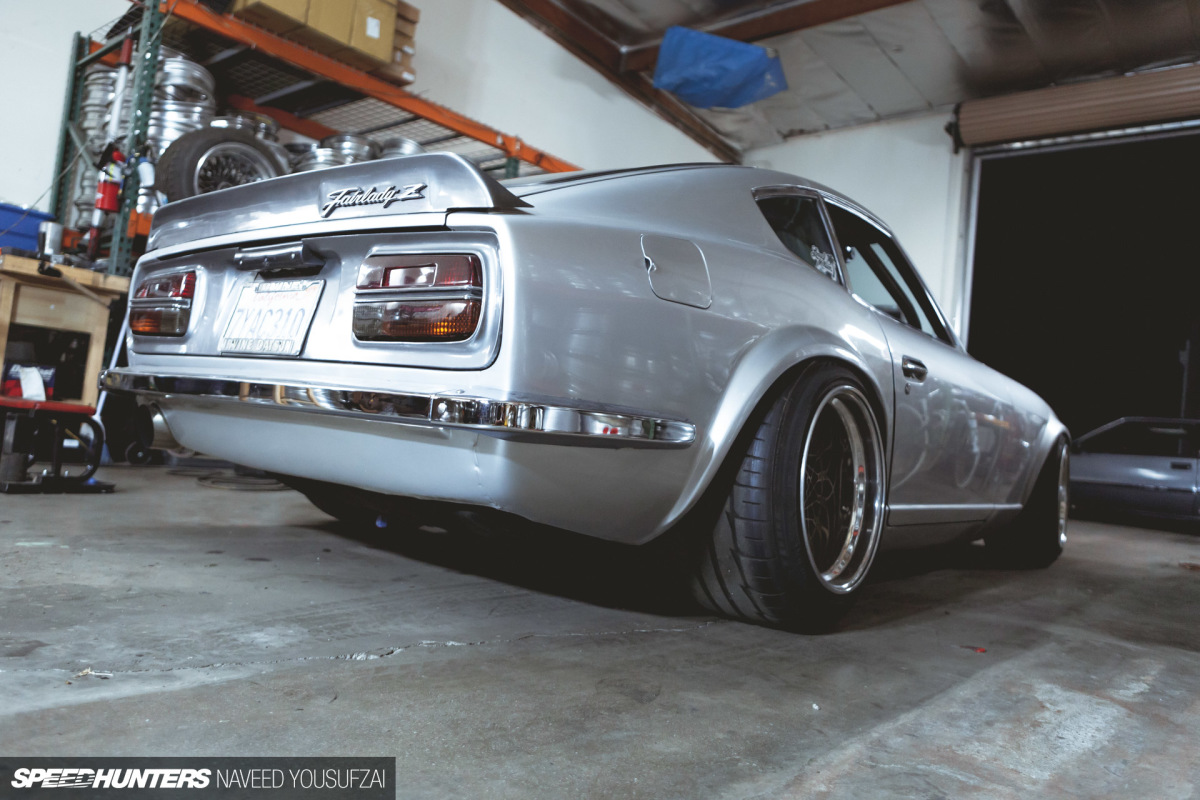 Before the car even arrived, Matt already had a vision in mind. The theme would be 'old school', as he planned to incorporate ideas found in the glory days of the '70s and '80s, not so much the generic bolt-on flares and BRE lip seen with many Z builds today. His solution meant going full-blown custom, mating Volkswagen Mk2 Rabbit flares to the body and blending them in. He took it a few steps further by modifying the front flares to follow the contour of the BRE front lip as well, which is a subtle but tasteful move in my opinion. The OG theme was kept alive with all new chrome trim pieces, a fully built L24 with triple 45mm Weber carbs, and a functionally-low stance. I can say with confidence that Matt's Z is one of my favorites, as it's kept quite subtle and mostly true to original form. You really have to take a second glance at it to notice the widened wheel flares and modest upgrades.
Neglected By Most, Loved By The Bee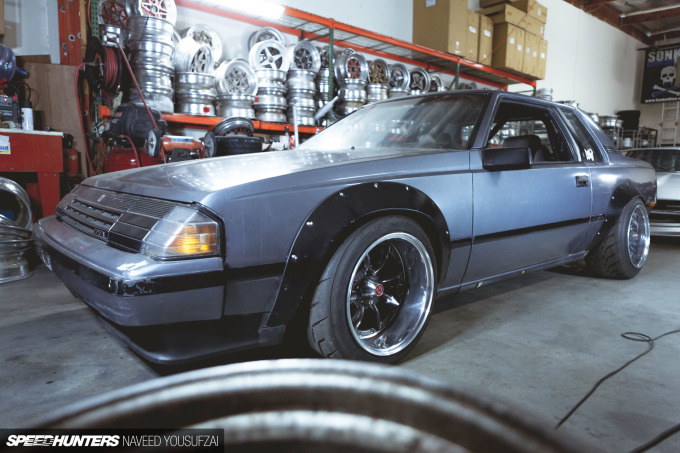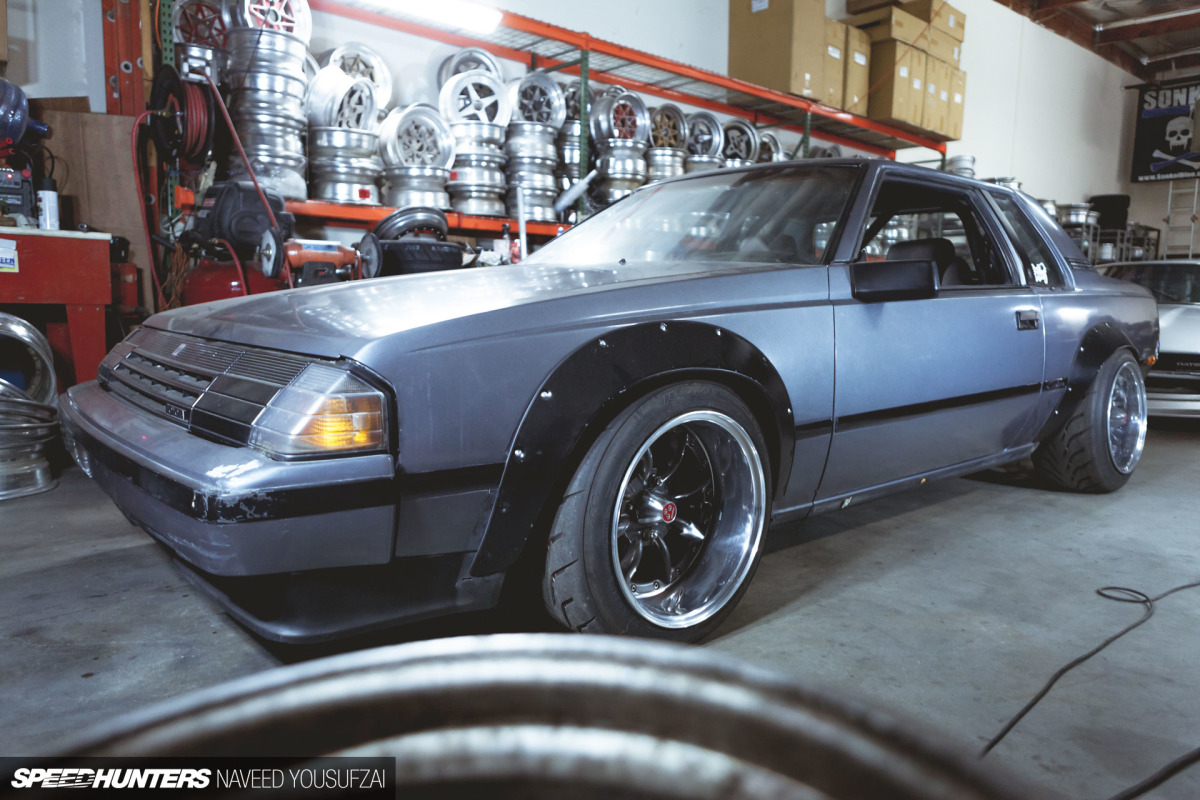 As things were wrapping up at the shop, I couldn't help but also notice a third gen A60 Celica sitting out front, so we brought it in to get some photos of the current work in progress. When I asked Matt why go for this generation Celica, he made a comment of them being underrated and untouched. I suddenly realized how true this was.
If you read my recent article on Cary Miller's pro street RA21, I touched base on some of the more historically significant Celicas that did rather well on the closed circuits. But for some reason, the A60 didn't never really did much, and thus left it forgotten, precisely proving Matt's point. So he decided to take matters into his own hands, and started fabricating custom aerodynamics for the car. He's already started with flares, but other aero is in the works and will eventually be made available for the public, with hopes to revive the A60 generation in the JDM enthusiast culture.
An Emerging Icon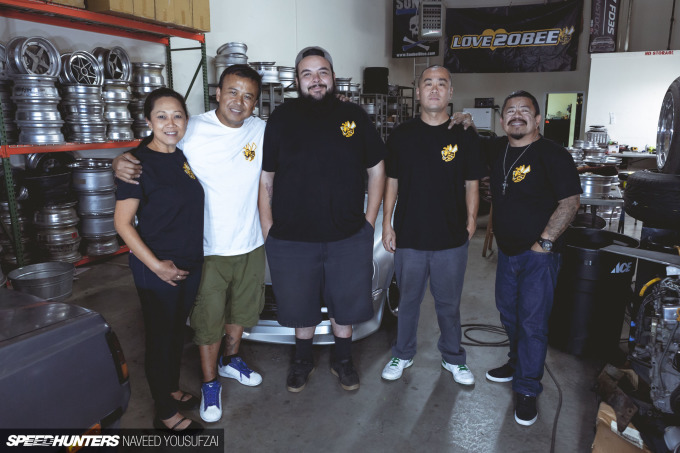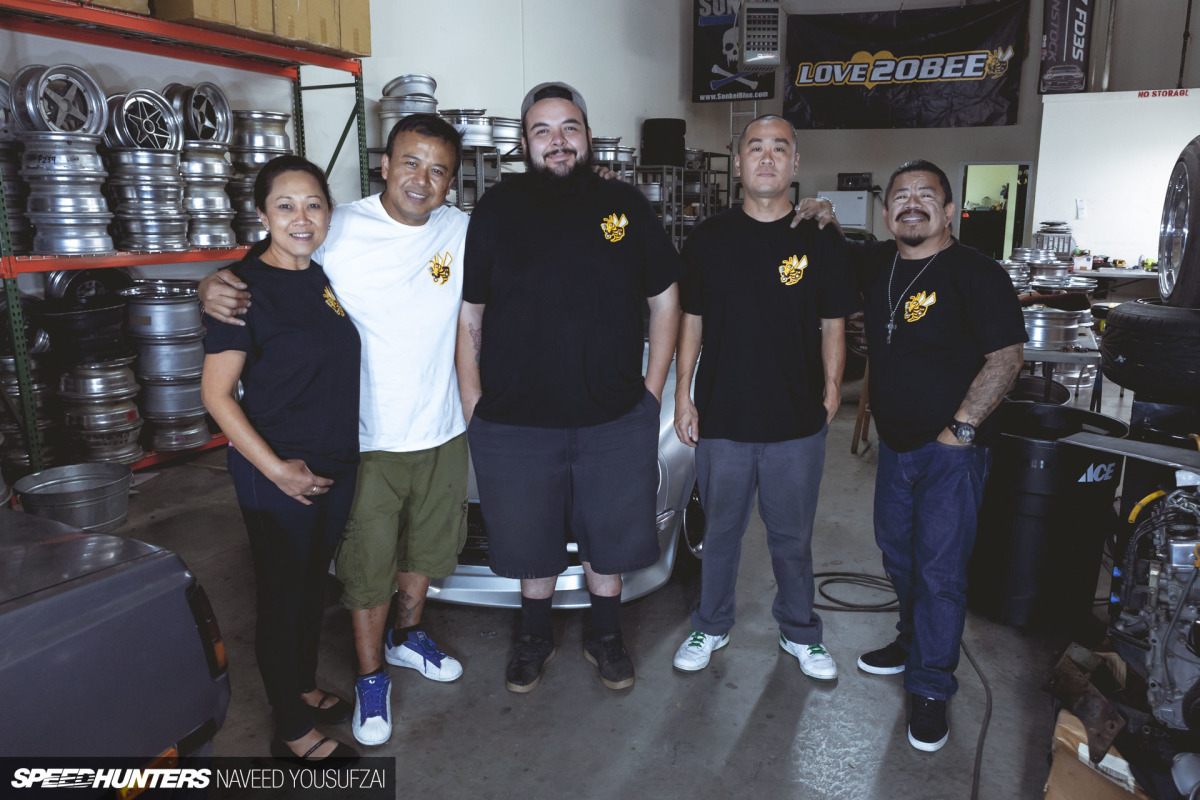 It's easy to see that Love20Bee is not your average wheel shop. Matt along with his team have formed a family that takes great pride in their work, and have a strong passion for the industry at large. As I mentioned before, their main focus is, and will always be wheels, but it dives far deeper into the roots of the community as well. They're quickly becoming a one-stop-shop for any and all classic Japanese parts, whether it be wheels, aero, restoration bits, and so forth. This is exactly the type of shop I enjoy learning about, as their mission isn't always to turn a profit, but rather provide for a community that they are apart of.
I'm happy to say that it has been a privilege to be able to share the story of an emerging icon in the realm of vintage Japanese automotive shops. This is only the beginning of a long story to come.
Naveed Yousufzai 
Instagram: eatwithnaveed
Gallery
Take a look through the gallery, and let me know your favorite wheel from the bunch. Mine are the SSR Star Sharks and Hayashi Streets.