What is it about the promise of ground beans and boiling water that makes a great car meet?
It seems like a bit of a loose connection when you think about it, but globally 'Cars and Coffee' events consistently draw some of the most varied and eclectic groupings of vehicles.
A friend of mine has a theory that it's not the coffee that brings out the best in the car community – it's the time. His theory has some loose math linking undesirables that end up in ditches to a particular time of day. Noon is the time he picks as the tipping point, and after that events run the risk of getting worse with each passing hour. He mentioned this theory to me at the beginning of this season, and while he mostly said it in jest, I don't think he was all that far off.
But, unraveling the mechanics behind why cars and coffee events are unanimously great isn't the intent of this post. Instead I just want to show you how we do cars and coffee here in the Greater Toronto Area.
Engineered Automotive has been holding their Cars n'Coffee events since 2010, and it's easily one of the best in the city, perhaps the entire province.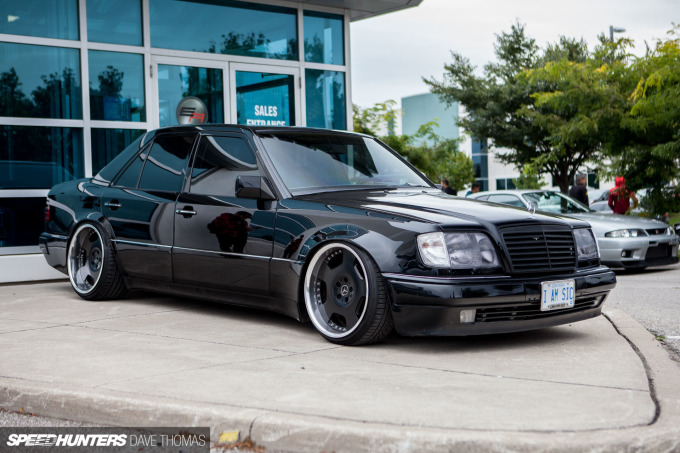 The shop itself deserves a proper introduction outside of this post, but until I get a chance to go on a guided tour you should know that Engineered Automotive (EA) is a high quality outfit responsible for keeping many of the more exotic vehicles in this post on the road.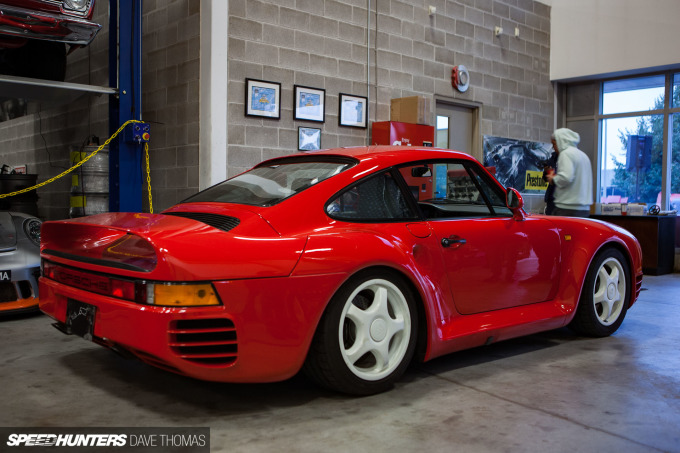 Currently the Renault Alpine A310, Porsche 959, and Jaguar XJ-22 are all shop residents, either in for storage or some sort of routine maintenance. That is on top of a showroom full of poster-porn vehicles.
Come One Come All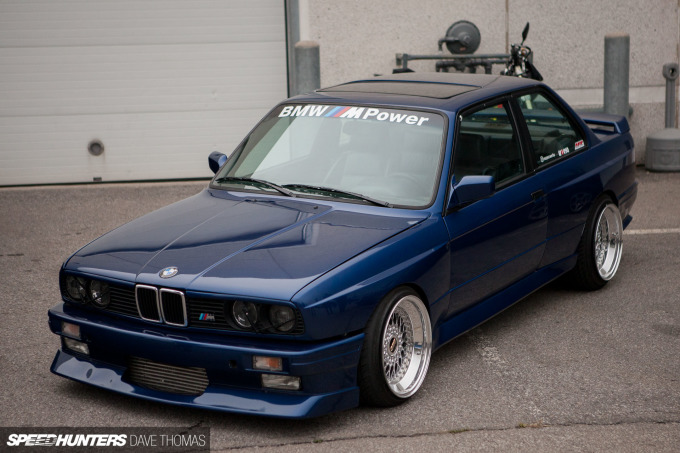 On the first Sunday of every month (or second Sunday if there's a holiday) EA opens up their parking lot to every walk of enthusiast. The front of the lot is typically reserved for special interest vehicles, but the rest of the lot and adjacent streets are come one come all. Every month the event seems to grow in size and there's a little bit of everything present.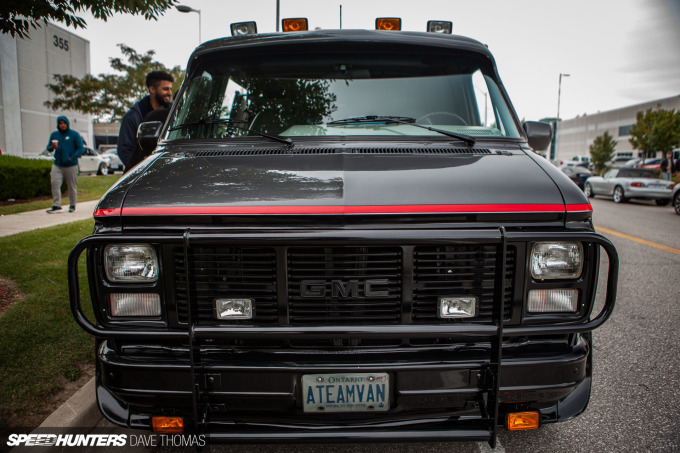 When I say everything, I do well and truly mean everything.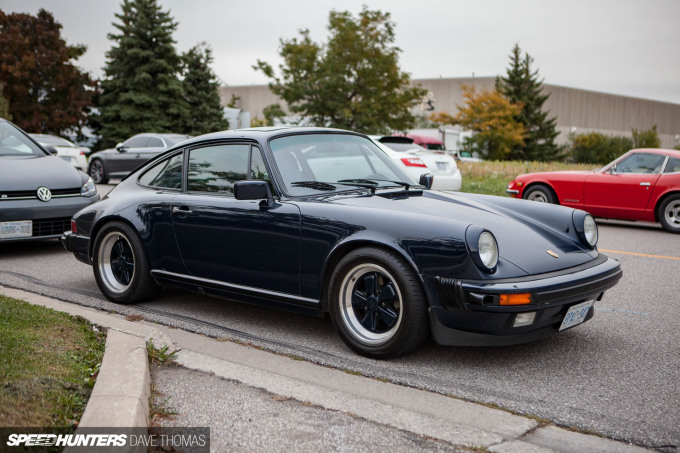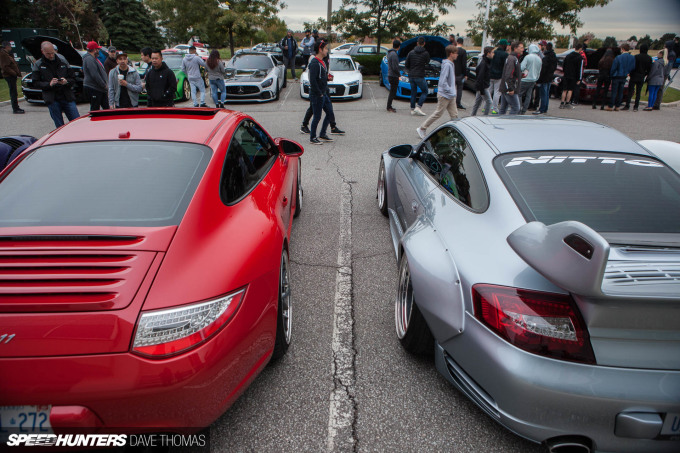 P-cars are a constant at cars and coffee events around the globe, and here in Toronto we have our fair share in any variety that turns your crank. Up, down, new, old, narrow body or wide – if you can't find a Porsche you like at Cars n'Coffee then you probably don't like the brand.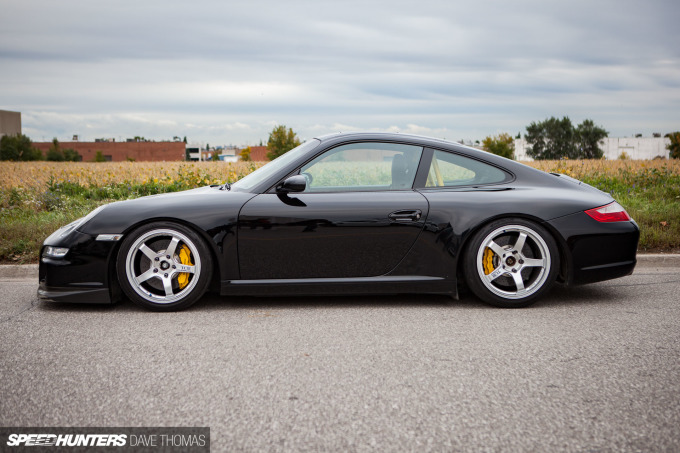 Of the Porsches present, this 997 on Japanese Advan TC III wheels was my personal favorite. The ride height, sidewall thickness, and colors were all perfect – at least in my eye.
My intent was to take more photos of it, but unfortunately I've got a bit of an issue with staying focused at an event like this. At the sound of an interesting exhaust note I tend to wander off to in search of the source, often forgetting what I was originally looking at.
I'm sure I am not the only person touched with a bit of Automotive Attention Deficit Disorder. My hamster-like focus might be a problem with some publications, but thankfully variety is well appreciated here.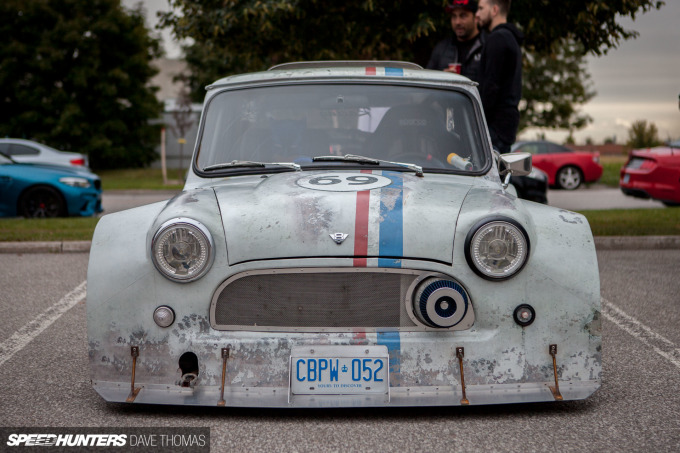 A car that did manage to capture my focus for longer than usual was this event's 'Best of Show' winner, a very wide, once original Austin Mini.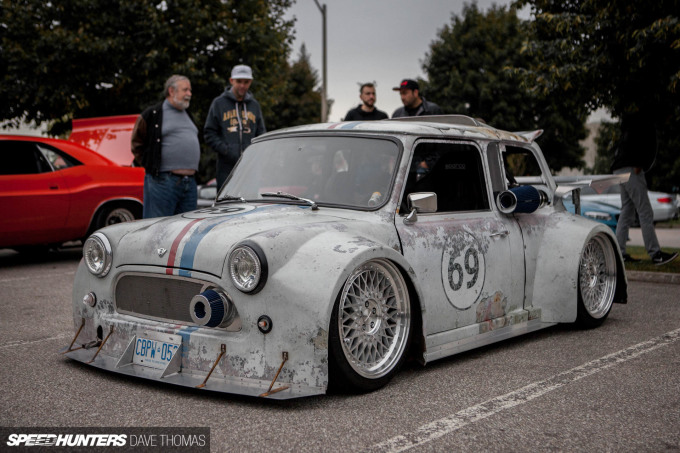 I've posted the rear-mounted V8-powered car before, and at that time the car was already wearing the weathered Herbie The Love Bug styled wrap. New at this event was the aero, including the actuated rear spoiler and front diffuser.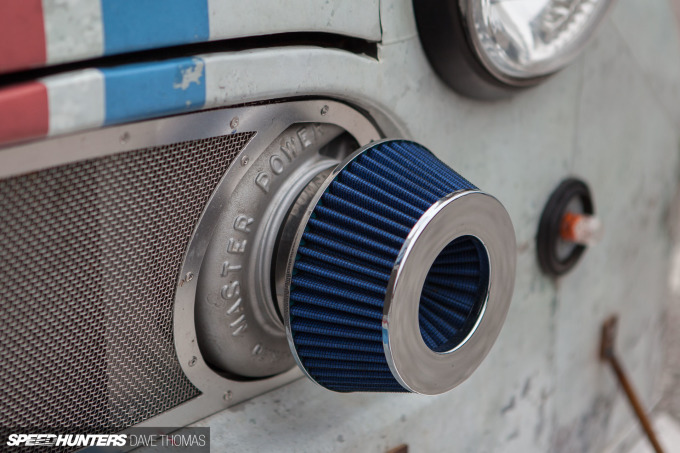 Also new was the presence of a Master Power turbo in the grill. Judging by the intake in the side window, the turbo has yet to be plumbed, but perhaps it's an indication of something to come? With winter just around the corner the owner's got a few months to make it all work before cruising season starts again.
Child Of The '80s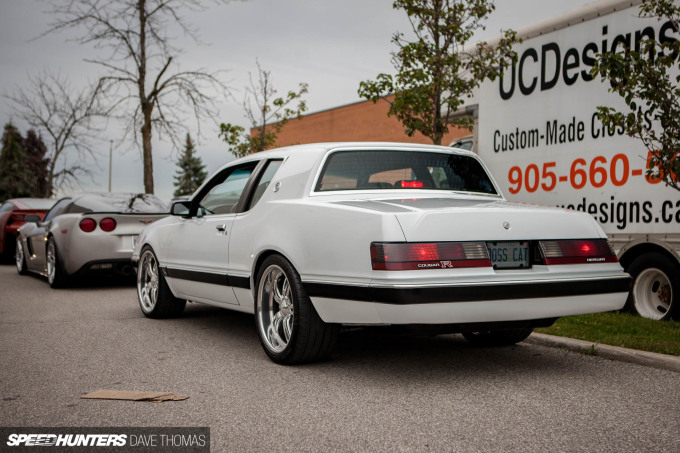 Based on some of my previous work, some of you may have guessed that I'm an '80s baby and thus a '90s child. What relevance does my age have to do with anything? Well, it means that I'm plenty familiar '80s and '90s automotive oddballs.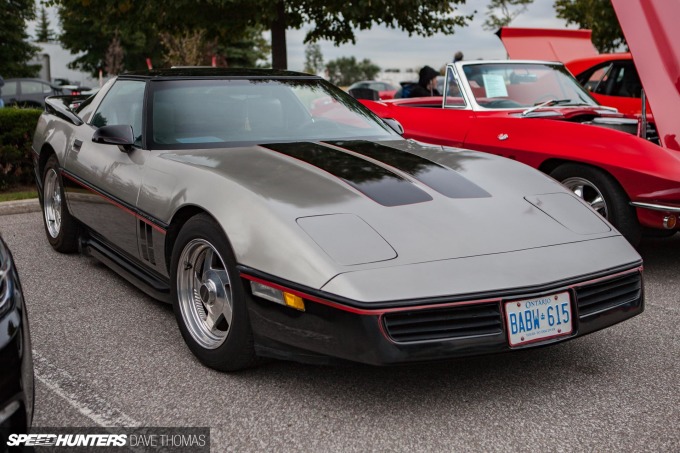 Two-tone paint, copious amounts of plastic cladding, cheese wedge aerodynamics, emissions-choked V8s – these were traits of the car cars I watched drive by at an impressionable age, and plenty were alive and well at Cars n'Coffee.
The distinct exhaust note of a 5.0 V8 Fox Body Mustang with Flowmaster mufflers might just be the sound of my generation. American cars of this era did not have the best interiors or handling packages, but enjoying them is simply cemented into the fiber of my being. On the flip side, I also totally appreciated the exotic cars of the day, even though they were much harder to come by in the wild.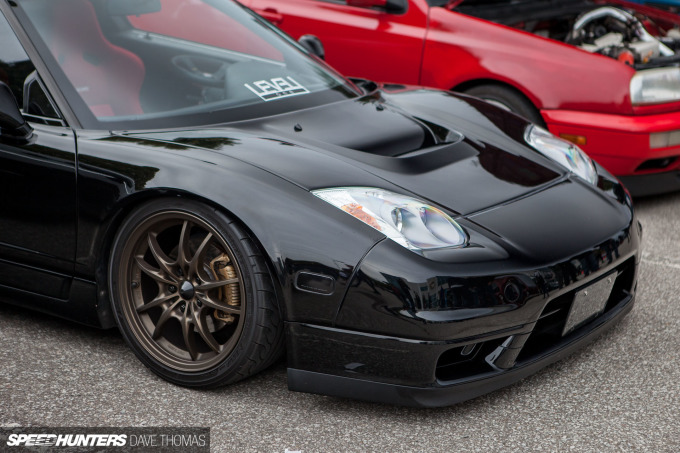 So seeing a black NSX, a powder white Testarossa, and a yellow Diablo all posted out front of EA brought a smile to my face. It's like all three drove straight off my childhood poster wall.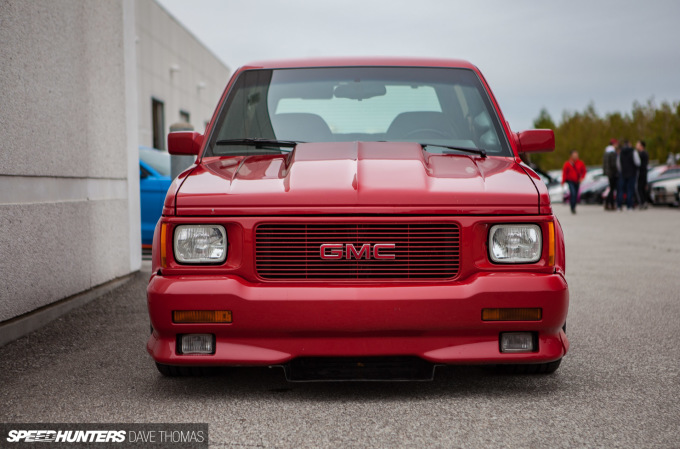 My favorite '90s icon of this event however was this Typhoon owned by a friend of mine. He's had the truck as long as I've known him, but before this event it was in hibernation for a long eight years.
It's back out now though, and is without a doubt the only GMC Typhoon on Work Emotion T7R wheels. Who would have thought Japanese wheels would work so well on a '90s turbo all-wheel drive truck?
Show Stealer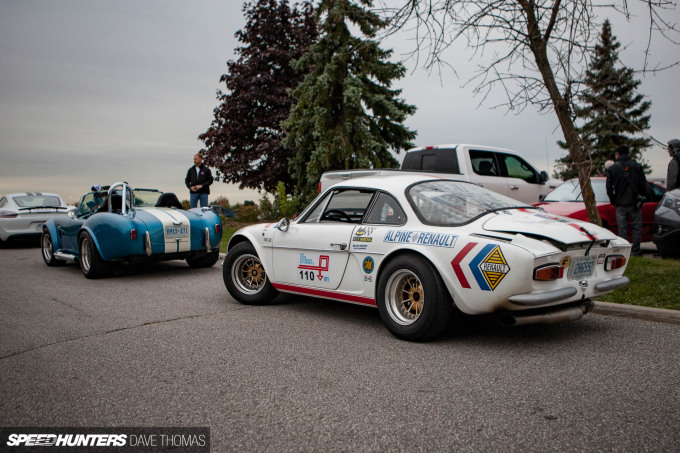 Each Cars n'Coffee Toronto event has always had one car that I've never seen in the metal before. At this event those honors went to an Alpine 110.
Standing out at an event full of exceptional cars, including a black F40 (which is not the Gas Monkey one, by the way) isn't easy, but the Alpine did it quite well. There was consistent traffic around the car all day long.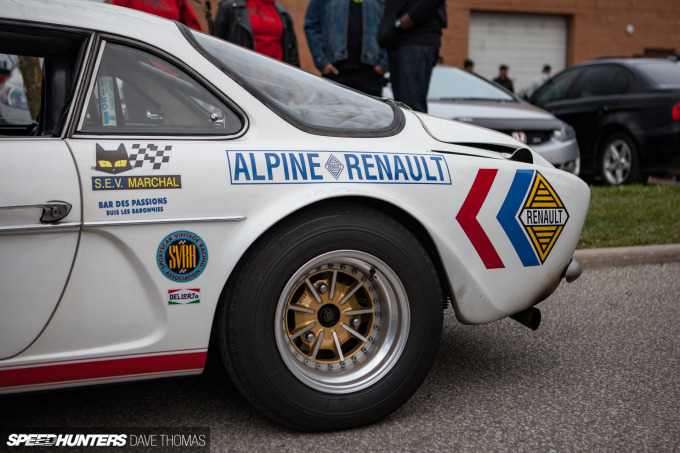 It's one of those cars you just know was driven home with a bit of a heavy foot, just so the owner could hear the carbureted four cylinder sing.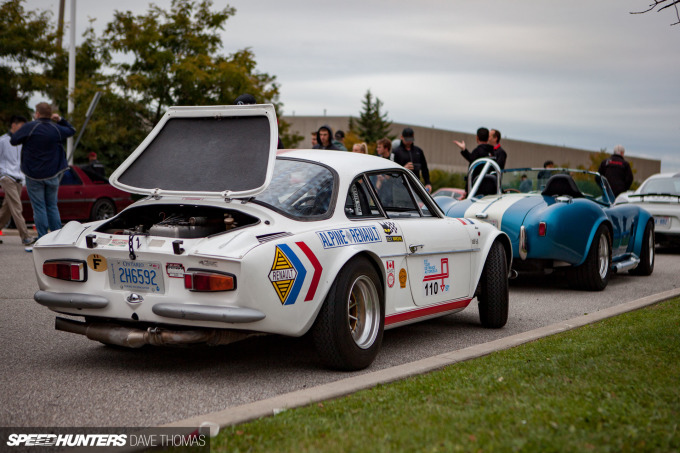 Sadly, winter is creeping into the air in Ontario, and Engineered Automotive's Cars n'Coffee is over for the season. But as as sure as the clock strikes 12 twice a day it will return in 2019, likely better than ever.
Dave Thomas
Instagram: stanceiseverythingcom