If you cast your mind back a few months you'll remember that we teamed up with Nigel Petrie of Engineered to Slide to announce that Speedhunters would  start looking into the two-wheeled world.
You may also remember that Nigel was working on a project for BMW, an R NineT with a customized RAYS Volk Racing TE37 fitted to the back.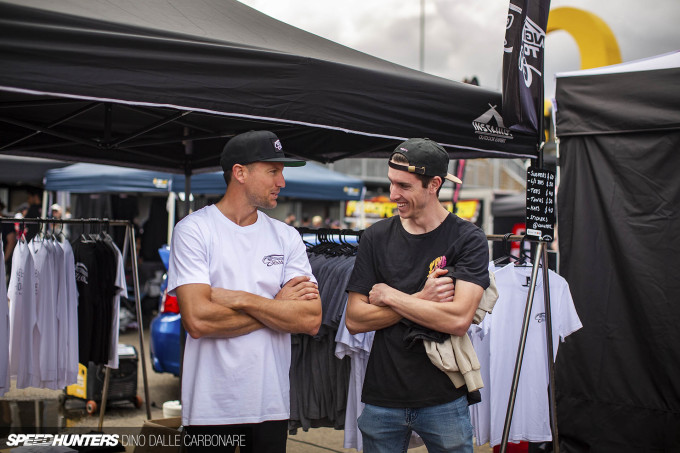 When I saw Nigel today chatting to his fans at his booth. I thought it would be the perfect opportunity to chat with him about his now completed bike project, and better still, push it somewhere a little quieter to grab some detail shots of it.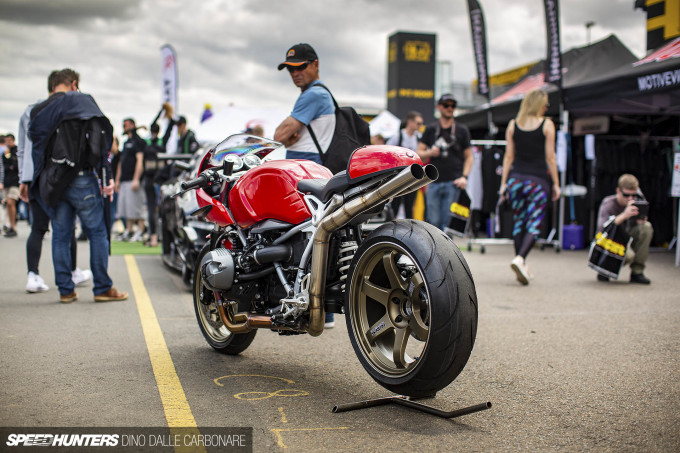 With so much happening at the event and nobody wanting to miss anything, a little garage at the back of the paddock served as the perfect backdrop to immortalize his latest creation.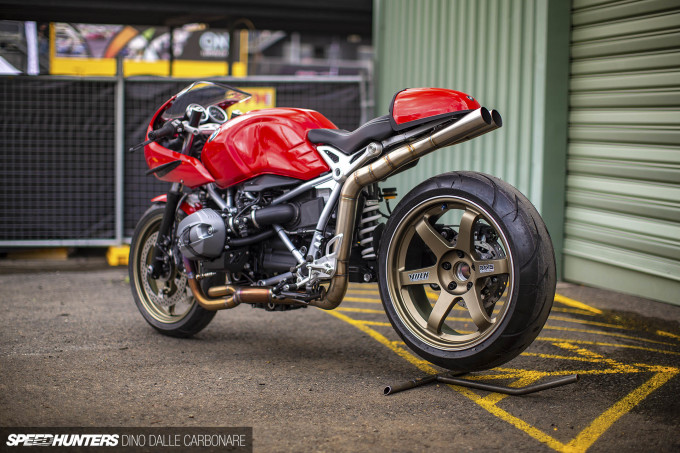 As Nigel explains it, all in all, this was a pretty simple project to get done with the majority of the work focusing on the one-off exhaust system, the rear wheel and of course and paint. Oh, yes, and the little carbon fiber canards that were added to mimic Nigel's 180SX. This was pretty much what the theme of the whole bike is; a two-wheel version of his famous drift car.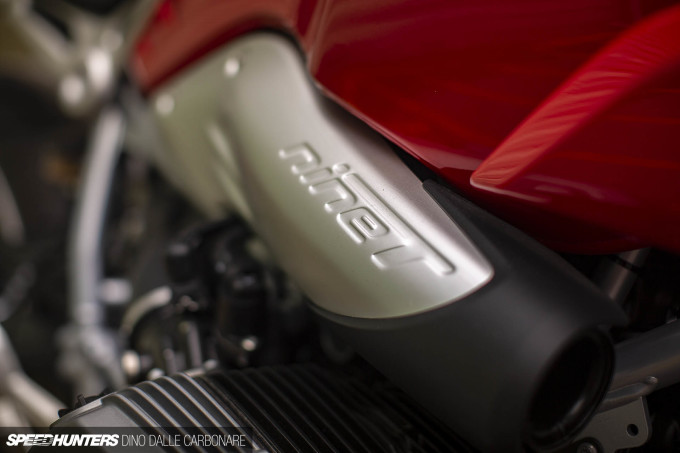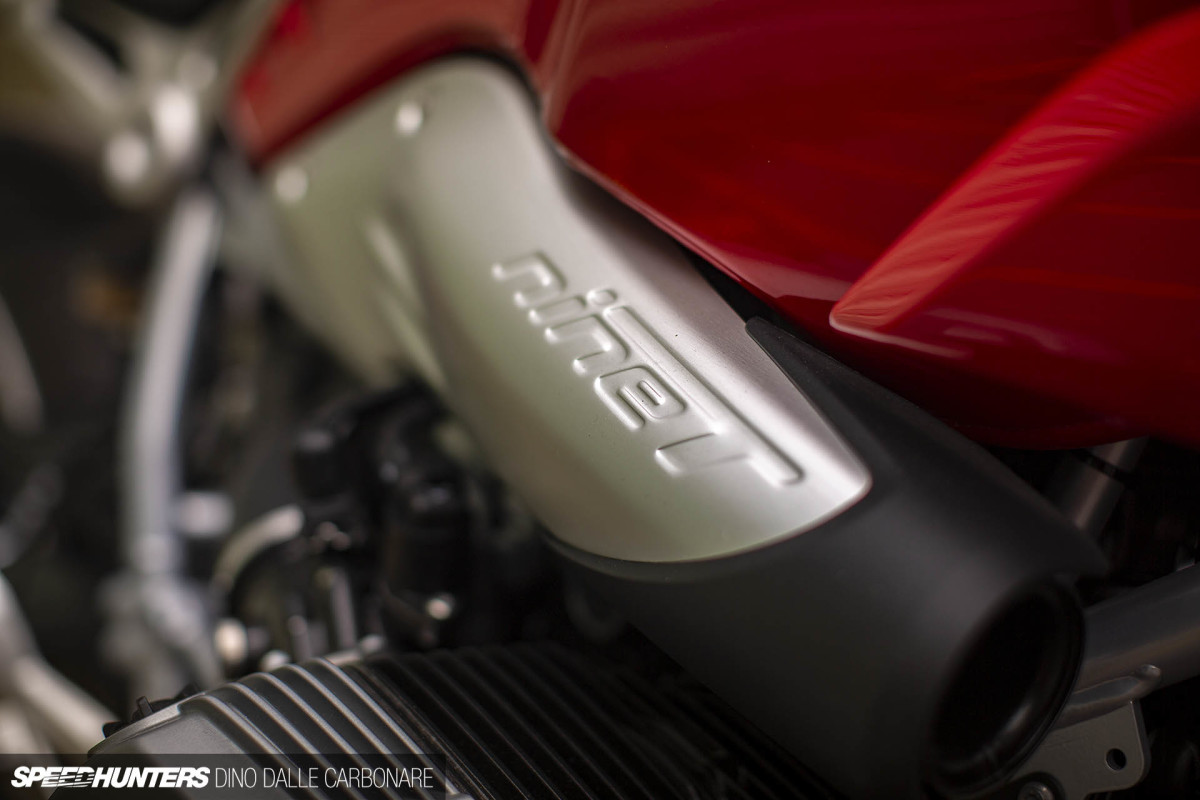 This is a NineT like you've never seen before.
The stock exhaust we saw back in May has been replaced by a hand fabricated 2-into-1 system that snakes up along the frame and tucks under the saddle, splitting into a twin set-up for a more balanced look out the back.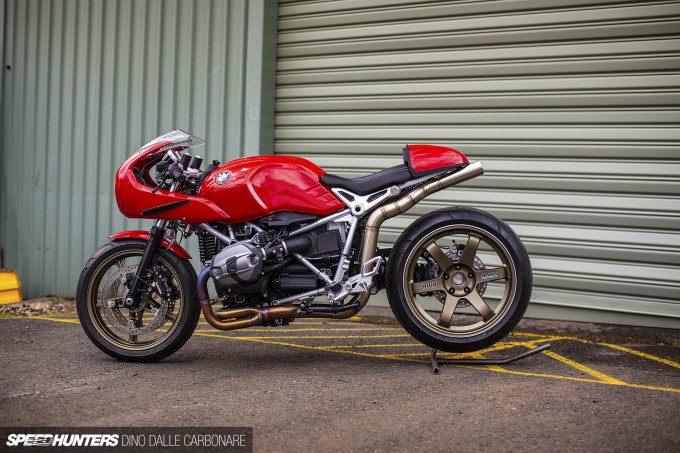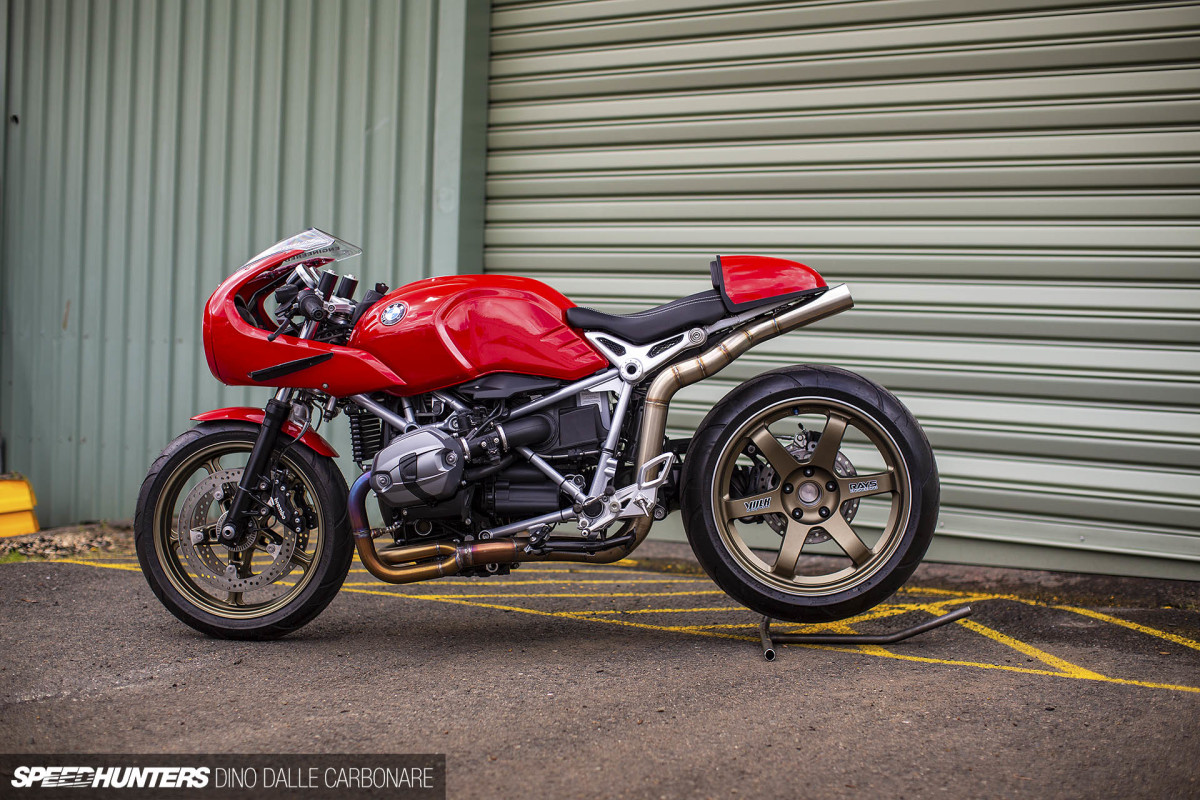 The red really helps to emphasize the fusion of old school inspired design with the modern, high-end execution BMW is known for. The big air-cooled flat-twin adds visual drama.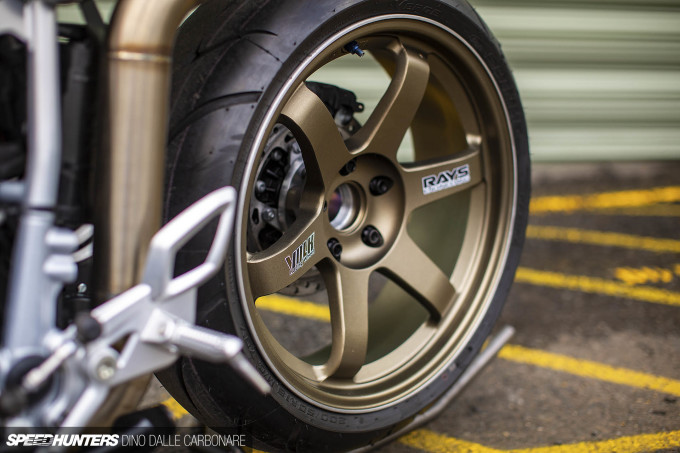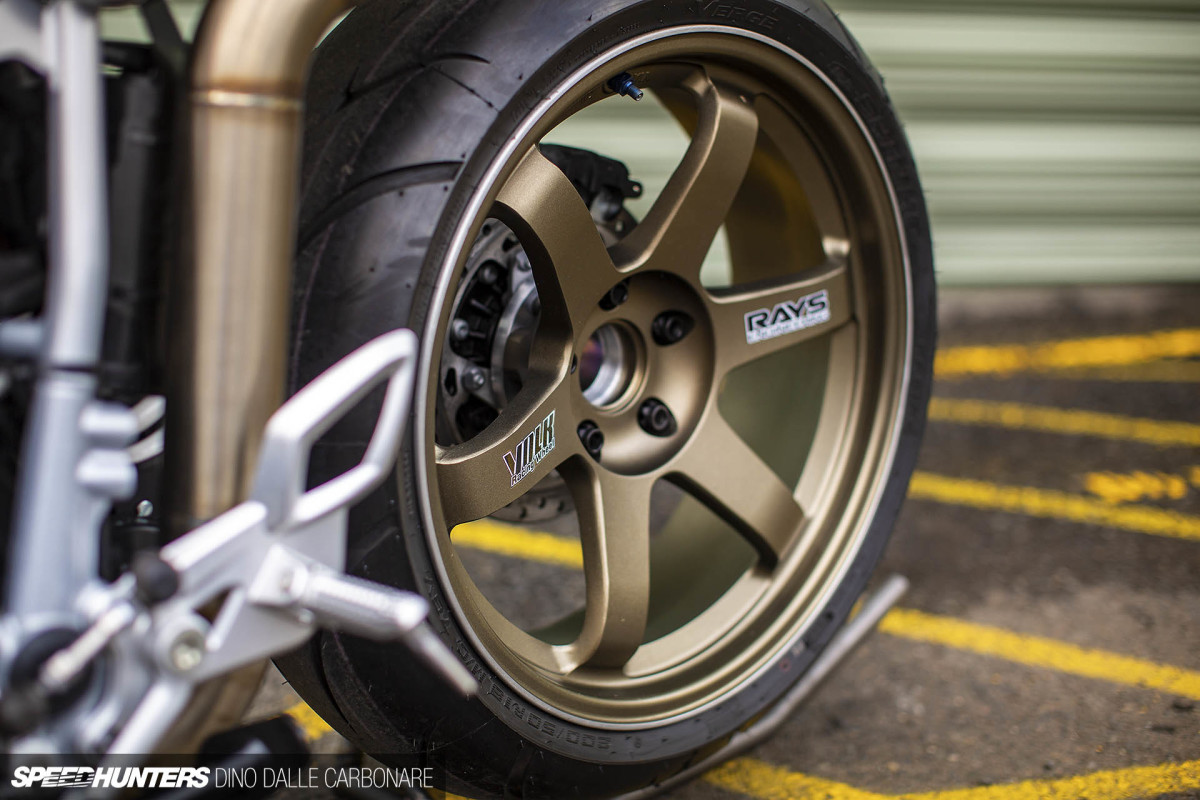 What grabs the most attention is the rear 18-inch TE37. What was once a 10.5-inch wheel was cut and narrowed to 6-inches in width, to allow the 200/50R18 bike tire to bead properly. Nigel did a really nice job of smoothing away the weld and matching that trademark RAYS bronze finish. Of course, the stand is also something he fabricated, because he wouldn't have it any other way.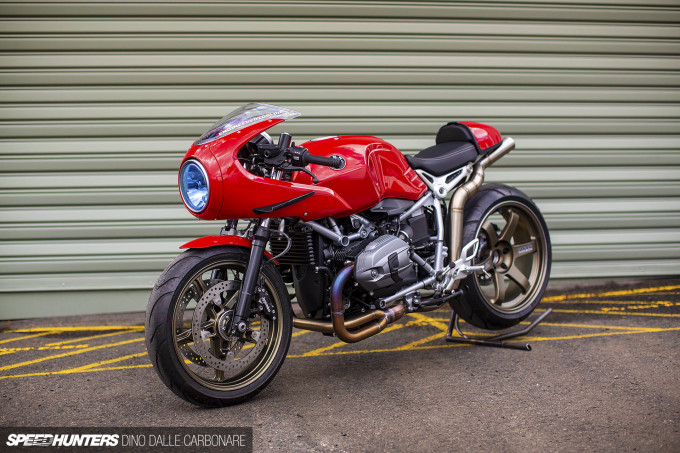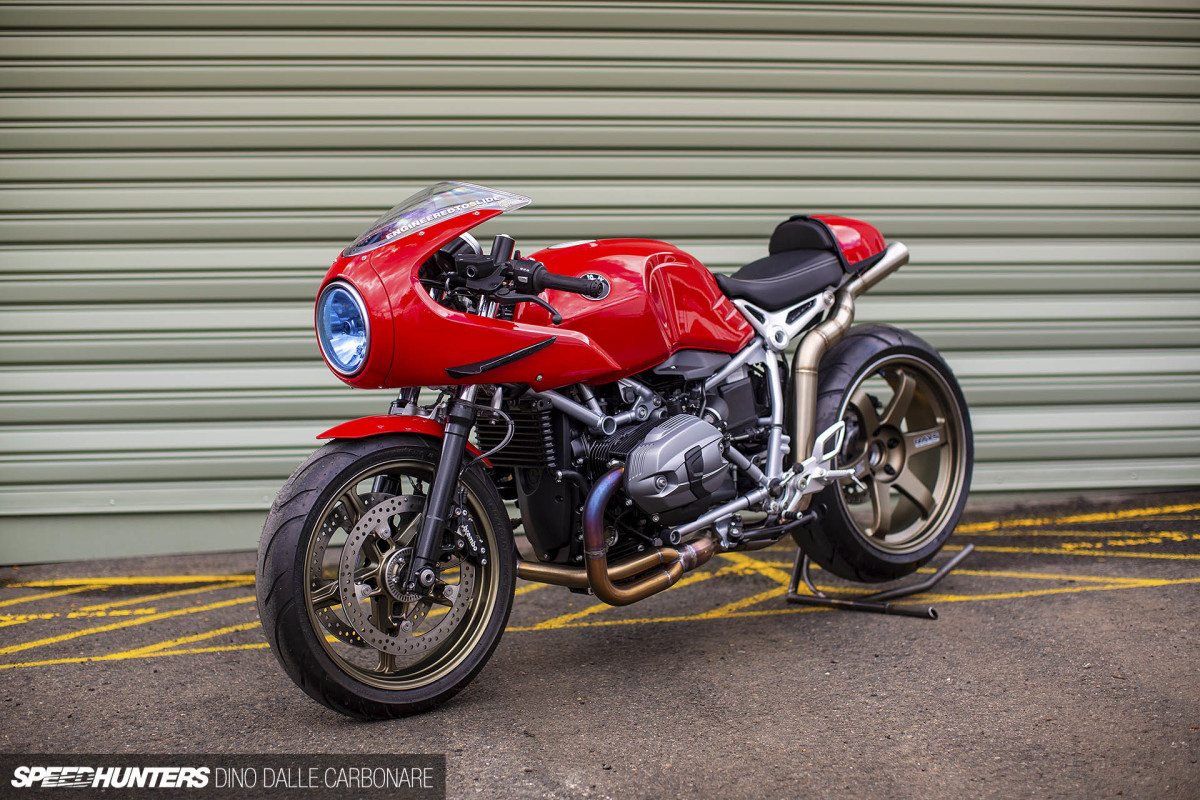 This will have hopefully come as a nice unexpected spotlight from WTAC, but stay tuned for more from Sydney Motorsport Park.
Dino Dalle Carbonare
Instagram: speedhunters_dino
dino@speedhunters.com