A year's worth of work comes down to this weekend.
With the Formula Drift finale well underway at Irwindale Speedway, qualifying is now behind us. While we now have a clearer picture of how the rest of the weekend might go, it's still far from over. As with any motorsport, anything can happen.
This weekend I've been poking around Fredric Aasbø's camp as much as possible to see if Papadakis Racing can pull off an upset. It would be a challenge for anyone, especially considering that even Aasbø himself describes Irwindale as a course where he's "not too confident."
It doesn't look that way from the outside, but Aasbø remarked that, in terms of drifting, the track – and anyone who can nail their line here – is legendary; it's a place Aasbø says requires both "commitment and precision." With the steep bank on the oval transitioning into an oppositely cambered infield, it's definitely a tricky layout to master.
Still, if anyone can do it, it's the Norwegian Hammer.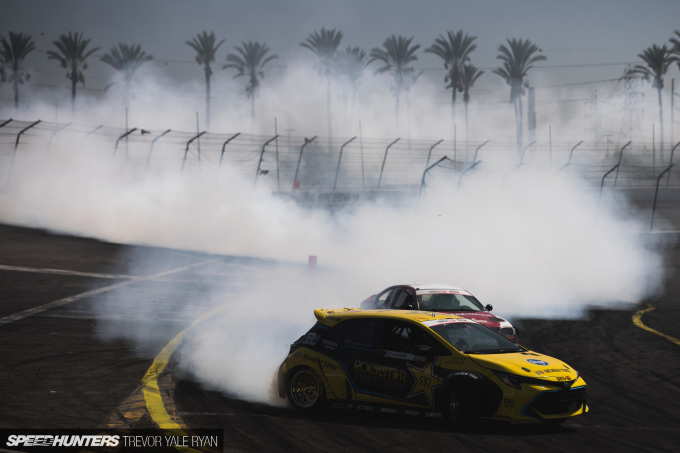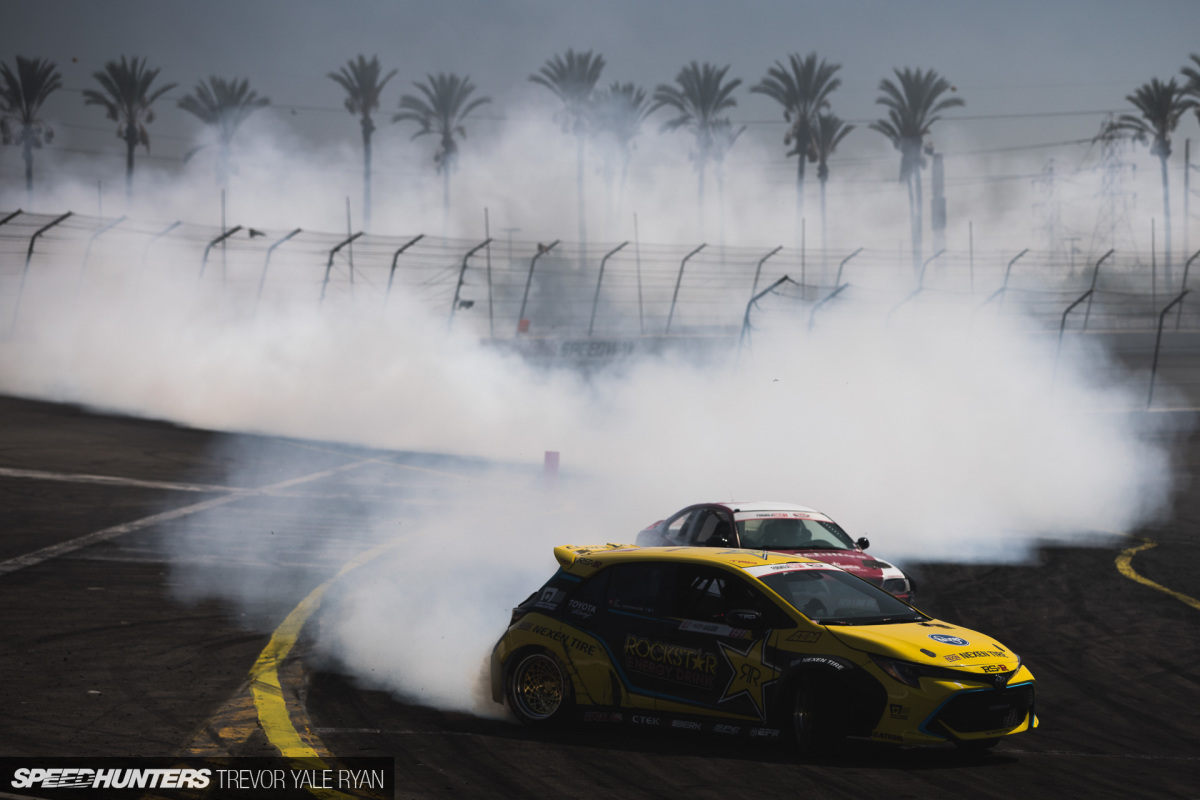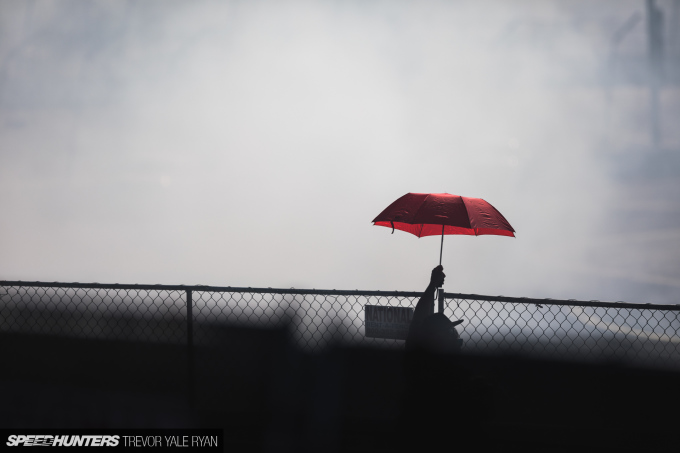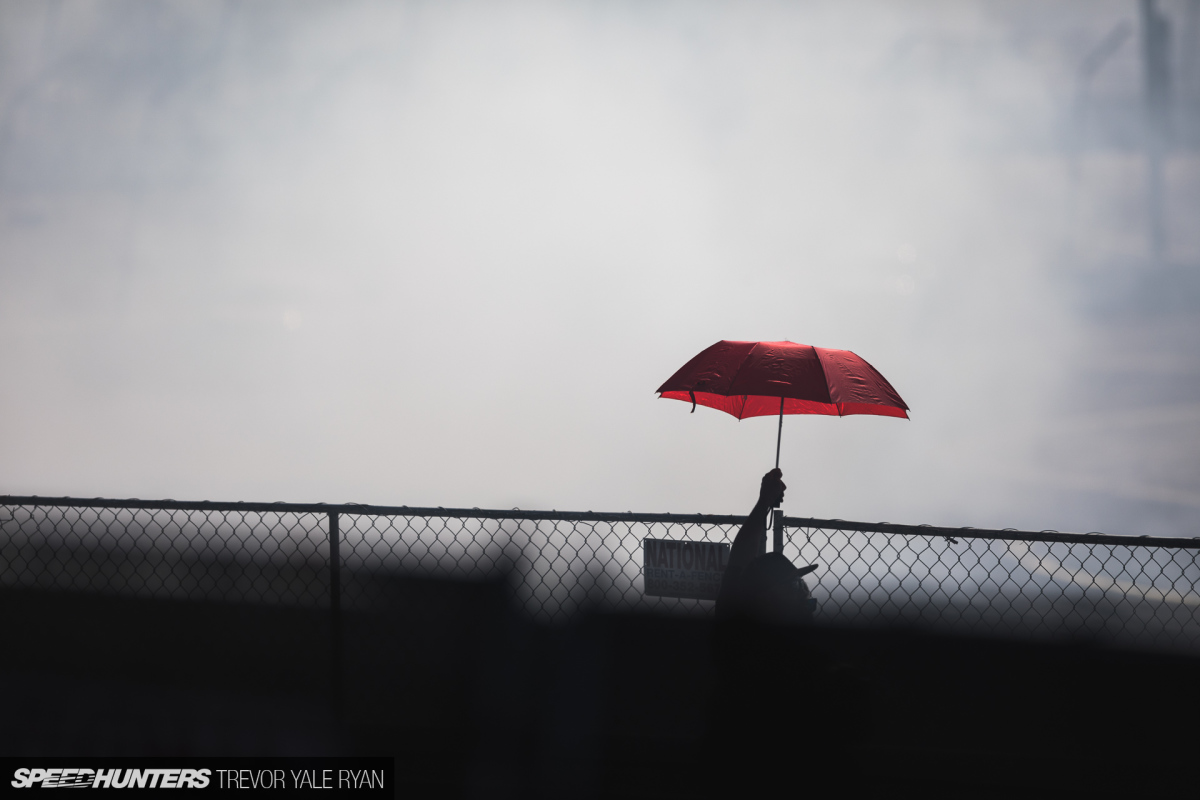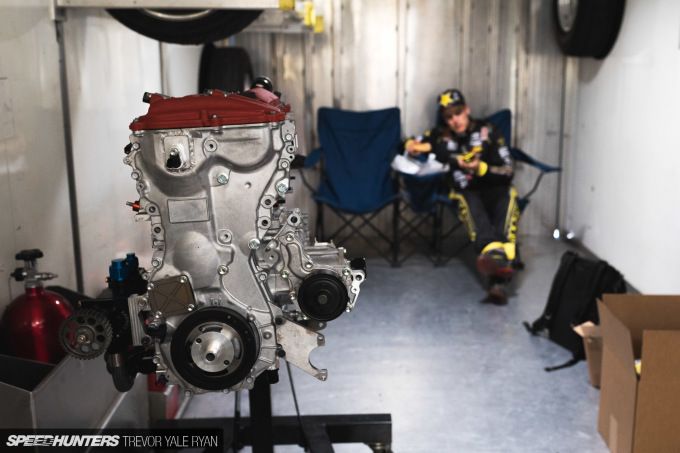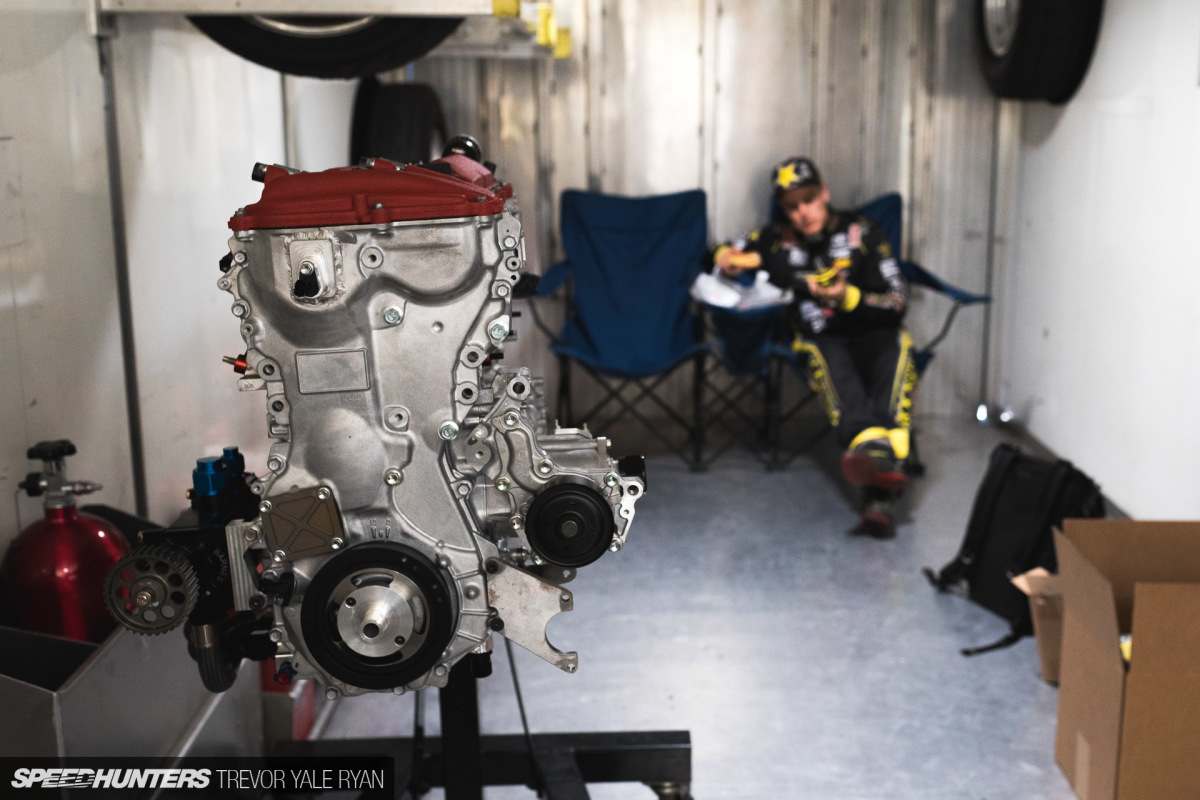 Further compounding the challenge, the weekend hasn't been silky smooth for Papadakis Racing. A couple of hours into Thursday practice, Odi Bakchis bounced off the wall and made contact with the Corolla.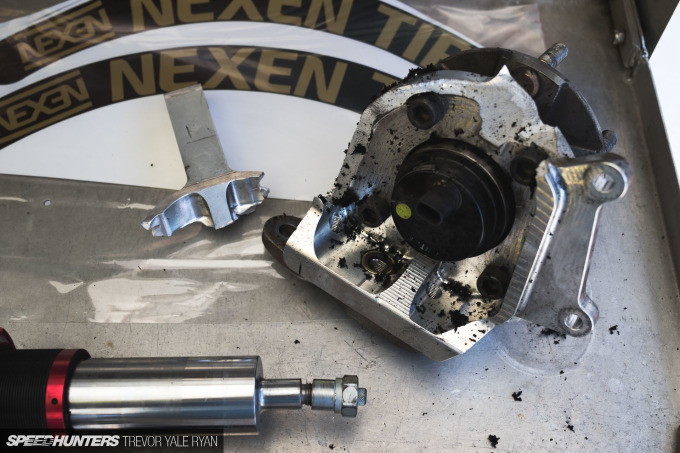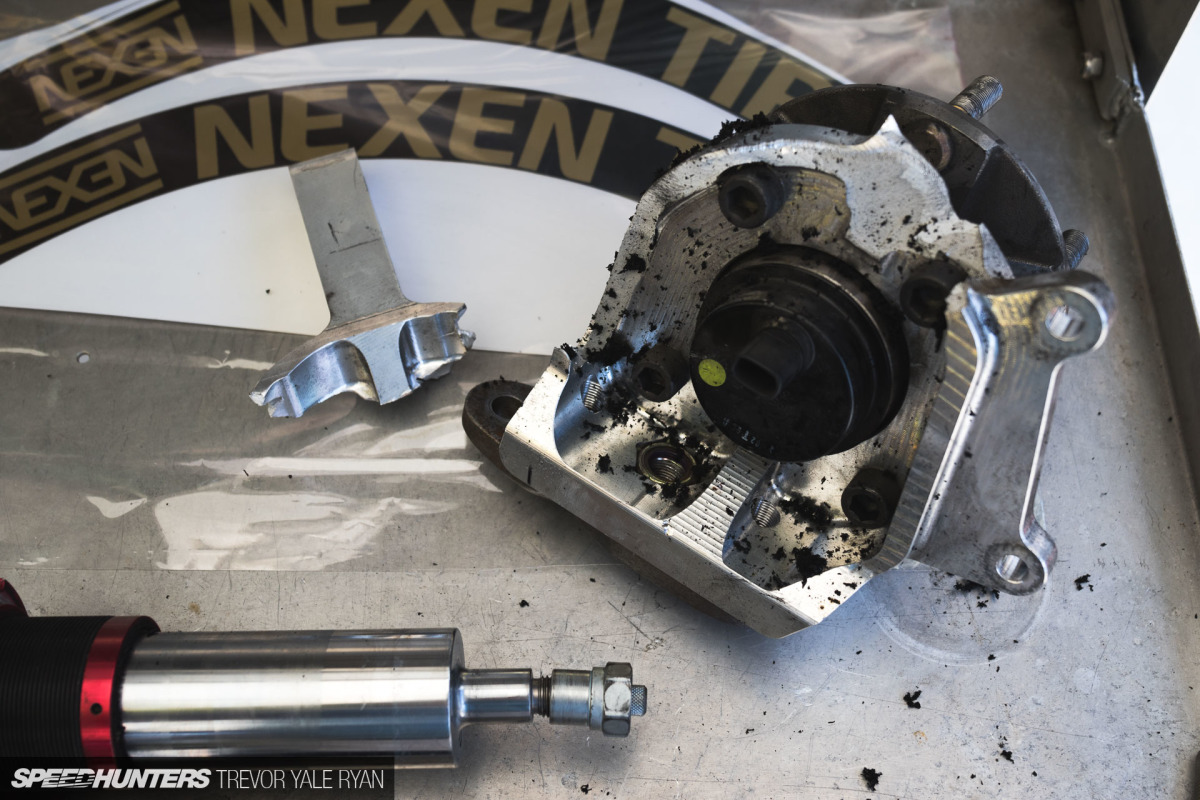 Furthering their issues, when the team pulled the Toyota back into the pits to replace the shattered upright and other suspension bits they were met with a dead generator. What might have been a relatively straightforward assessment now had to take place in the dark.
This also meant that a few hours would be spent fixing said generator rather than working on the car or (ha!) relaxing.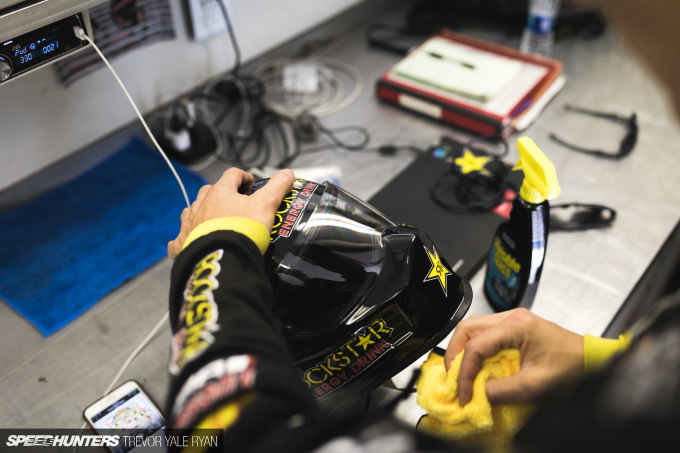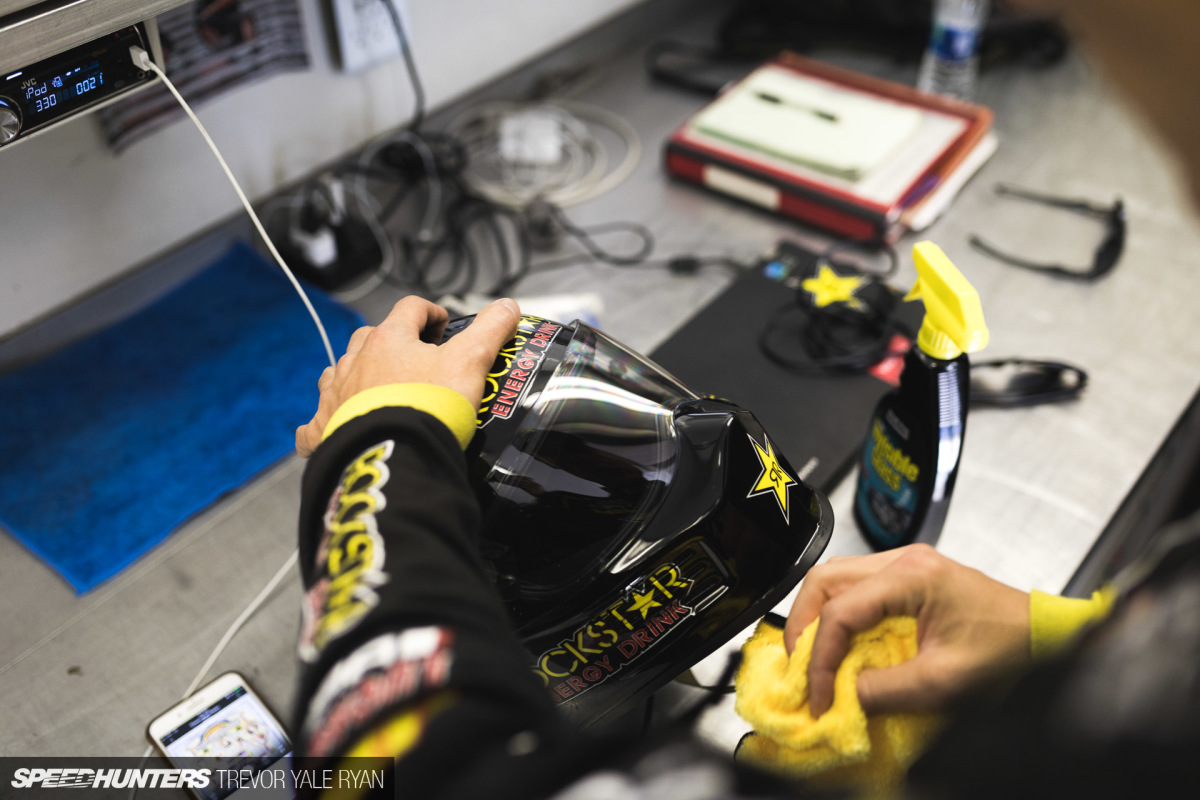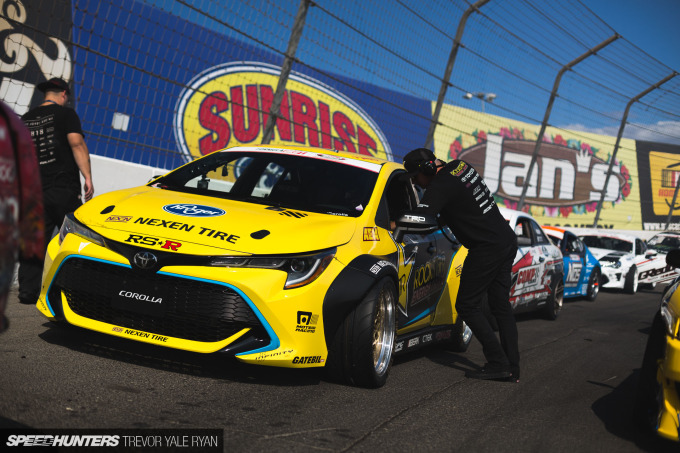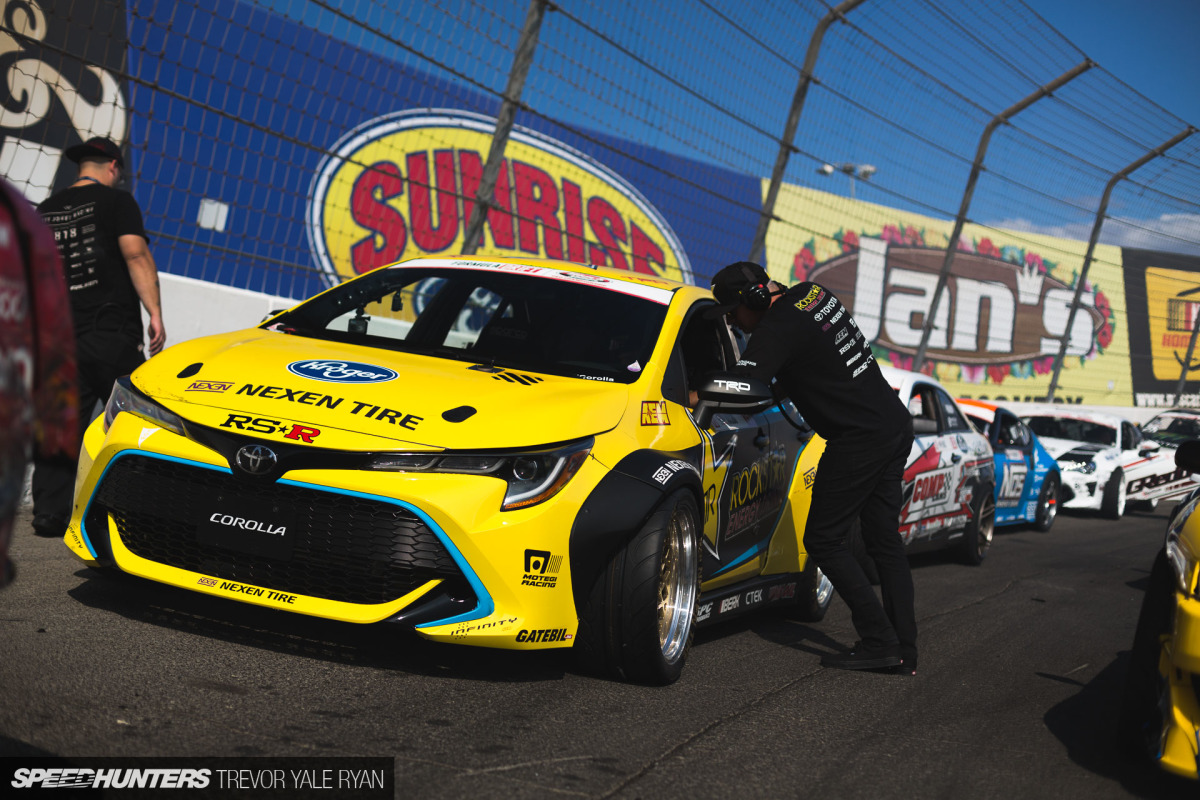 Still, the team had the car ready to roll the following morning with a few additional tweaks going into the chassis after the practice session.
From last year, they've played with the gearing so that Aasbø maxes out in third rather than in fourth and before qualifying the boost was turned up as well.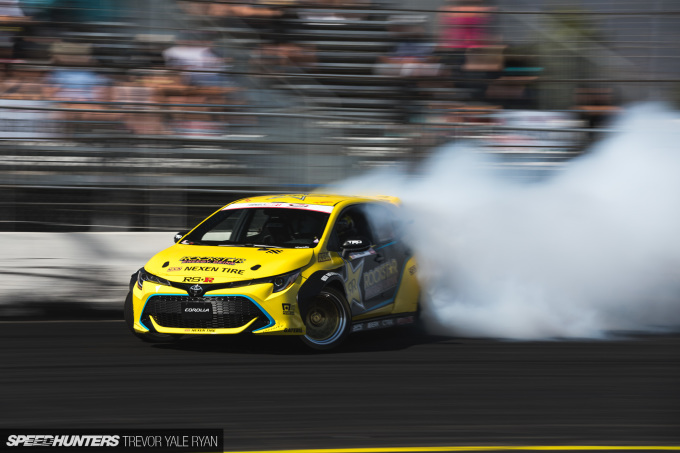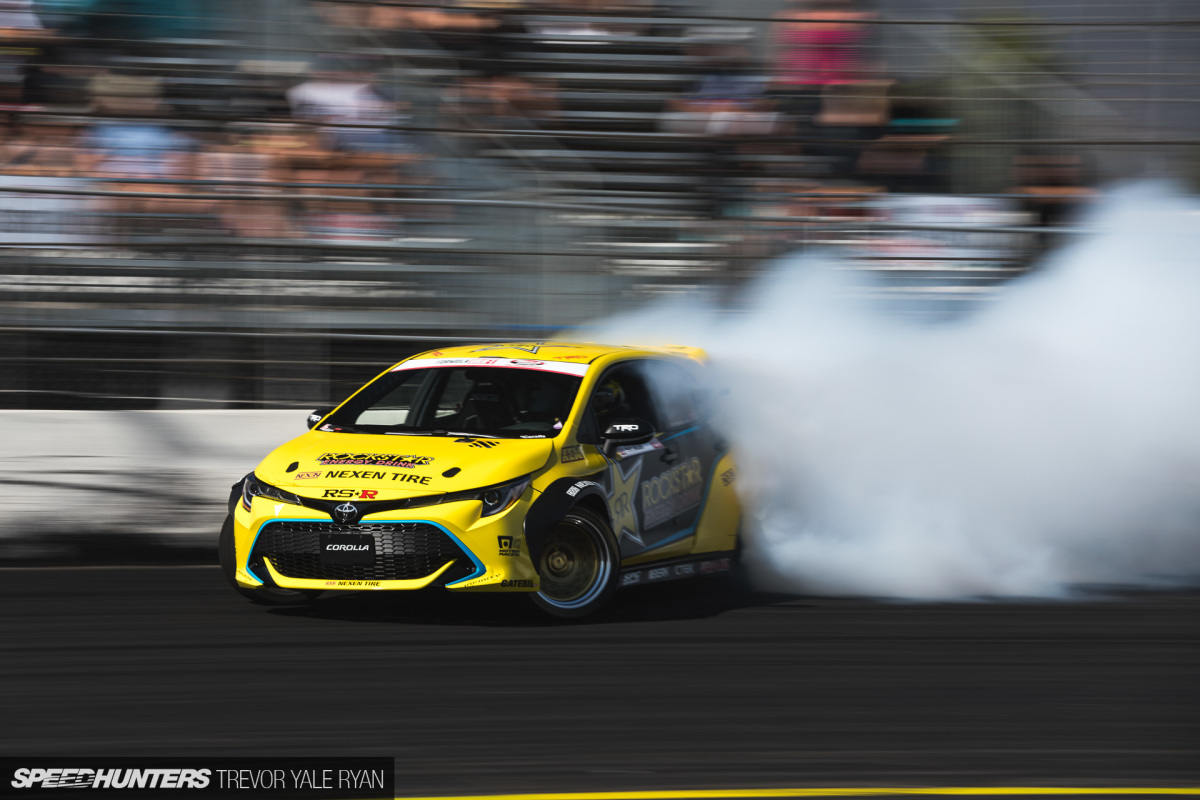 With the Corolla still wearing evidence from the bump with Bakchis the day before, Aasbø laid down a solid 94 which was good for third at the time during his first run.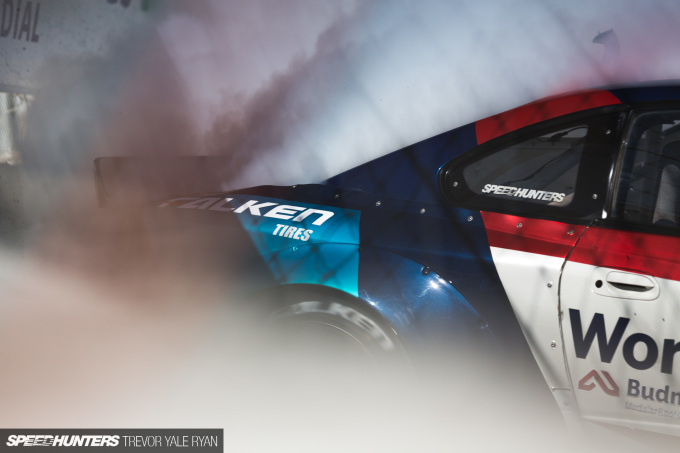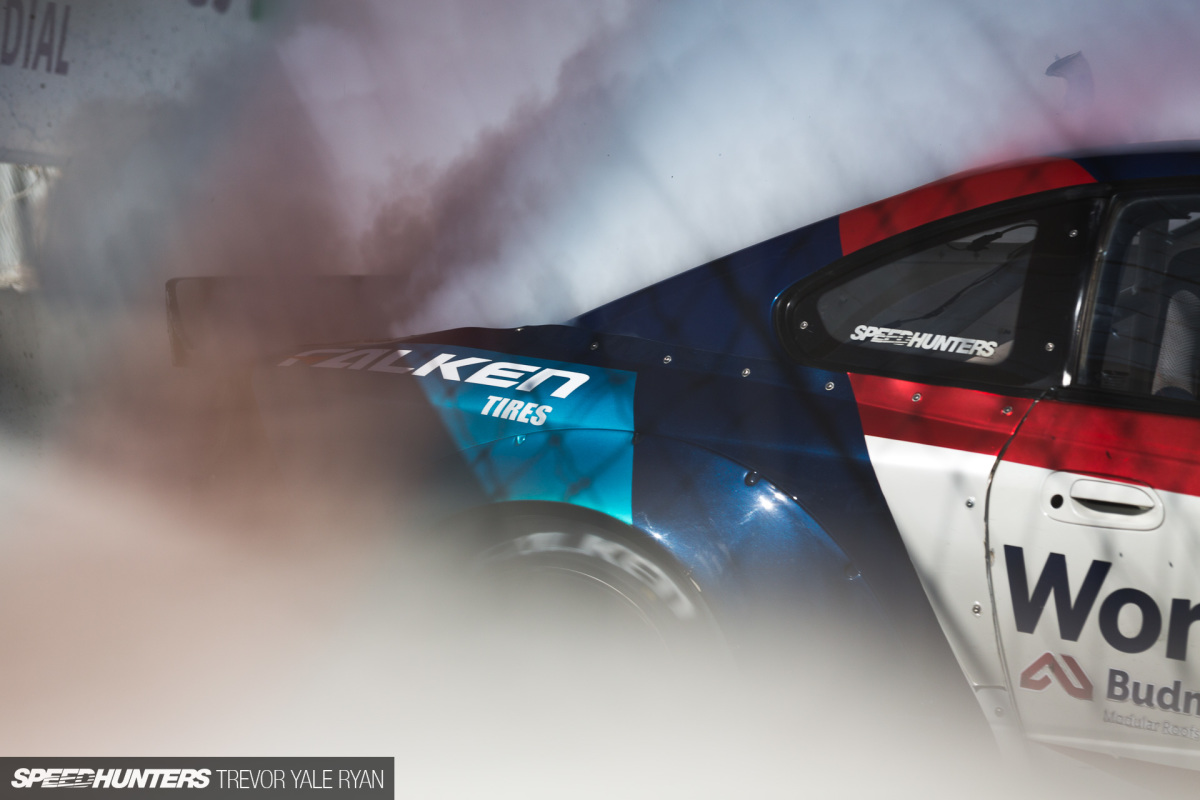 However, the Worthouse camp were quick to respond, with both Więcek & Deane scoring identical 98s to finish off the first run of qualifying.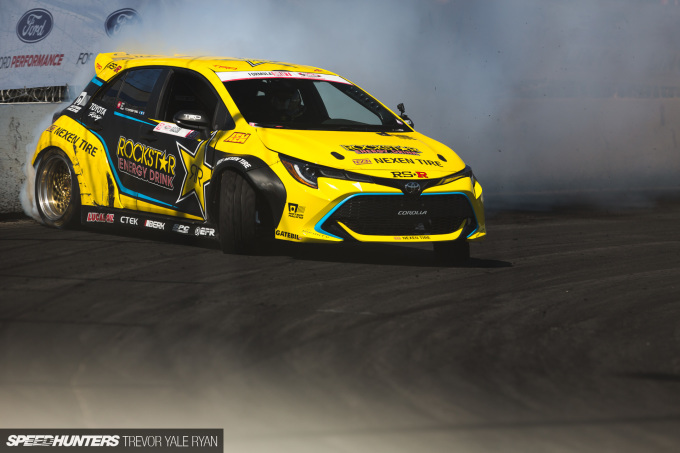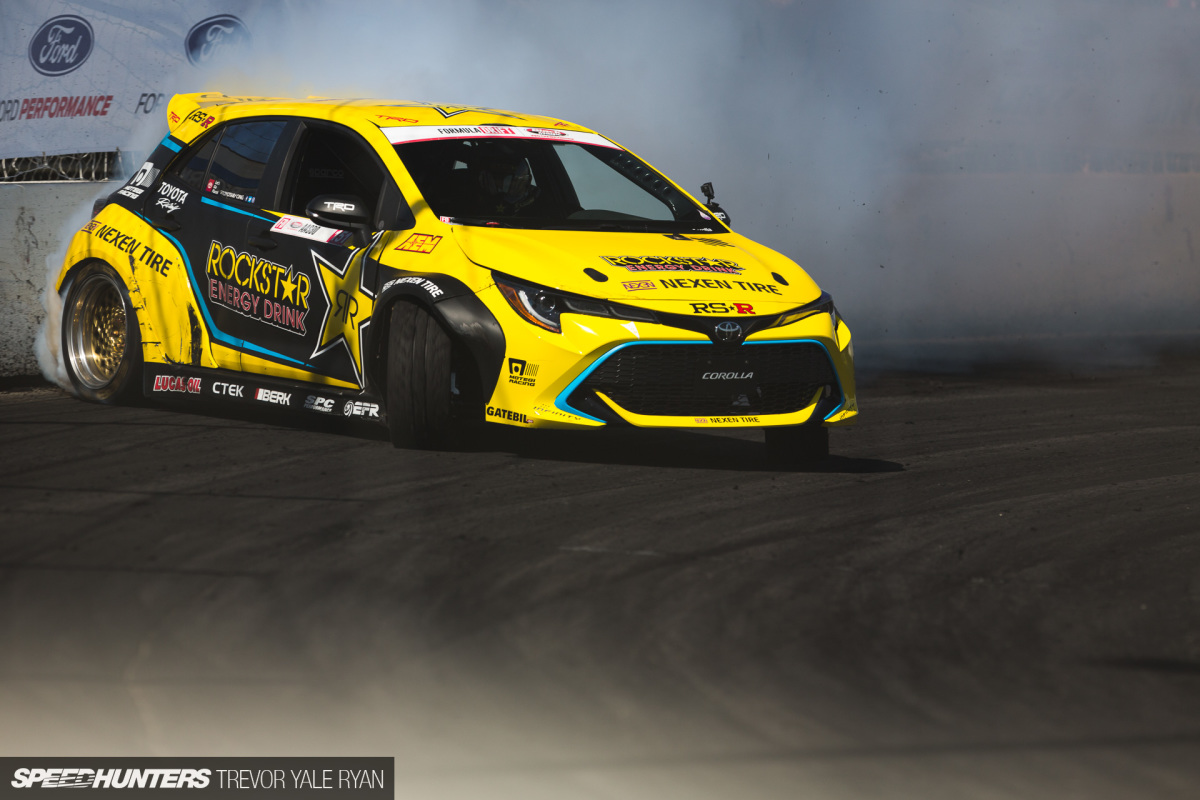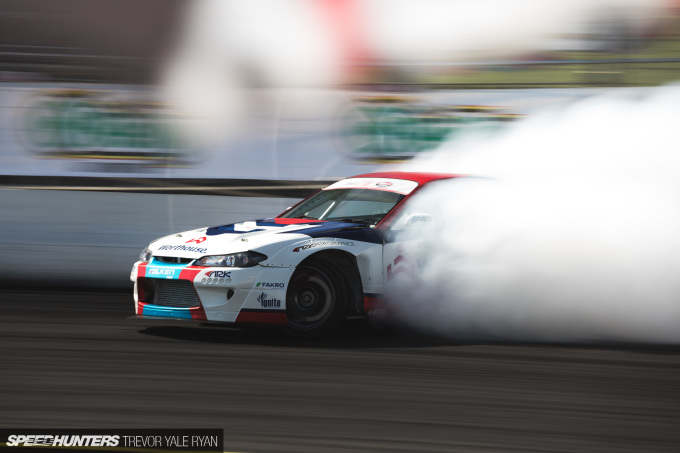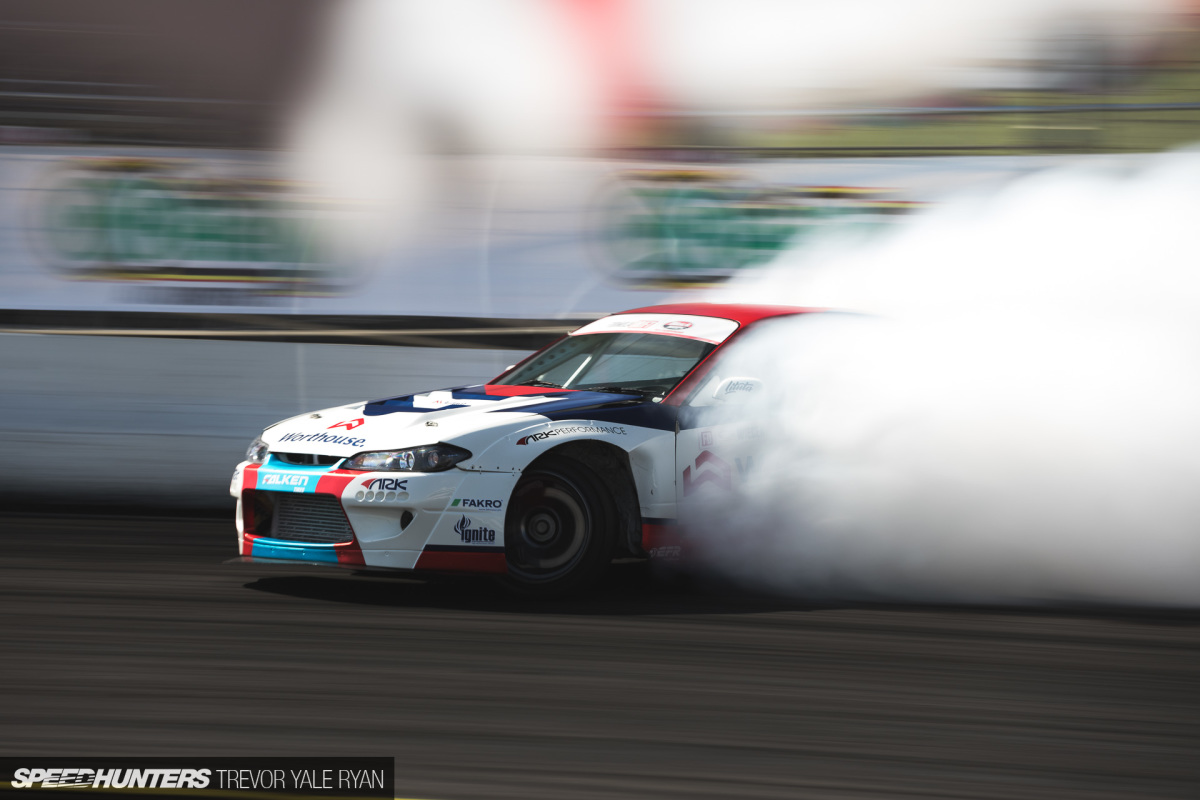 Cutting to the chase; Aasbø improved with a 96 on his second and final qualifying run, resulting in fourth place.
However, with Deane taking top spot (99 points) and Więcek right behind in second (98 points), Aasbø's battle is still very much uphill. This means that the earliest which Deane and Aasbø can potentially meet in competition is the Top 4. If this happens, Deane will already be champion due to an unsurmountable points lead. Więcek is on the other side of the bracket, so neither Deane or Aasbø can face him until the finals.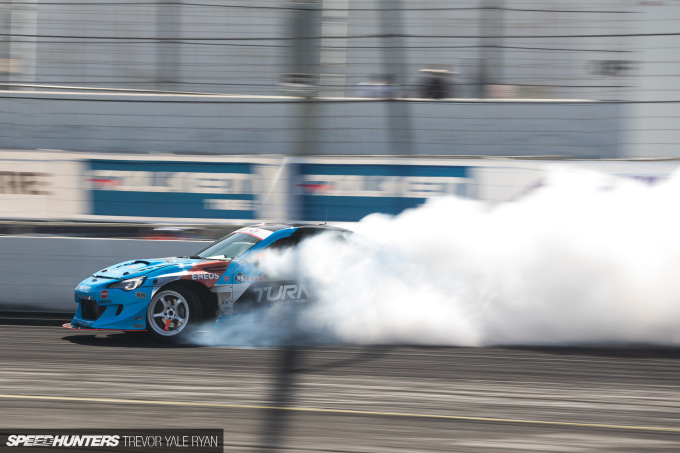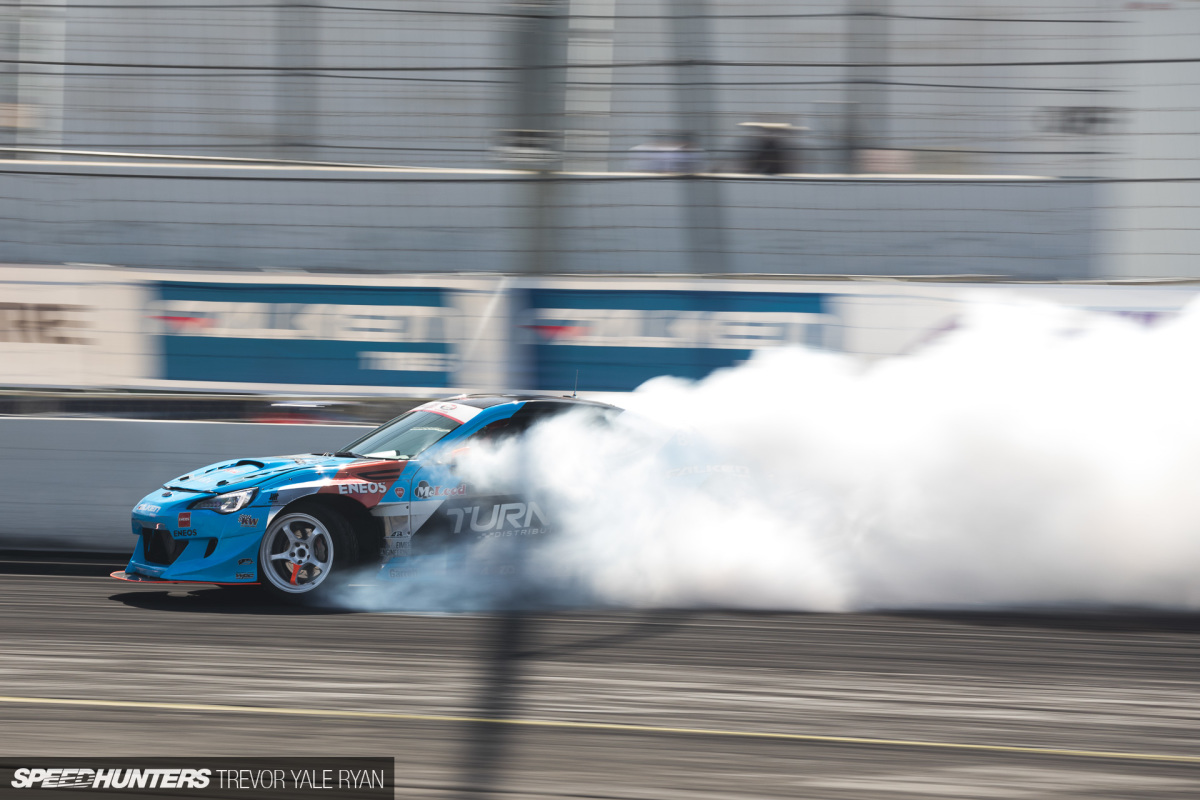 All three have bye runs for the Top 32, as does Daijiro Yoshihara who qualified third with a 97 after an 85 on his first lap around.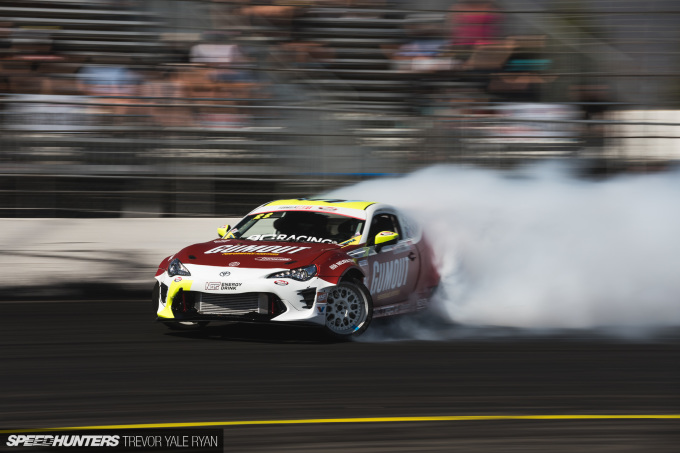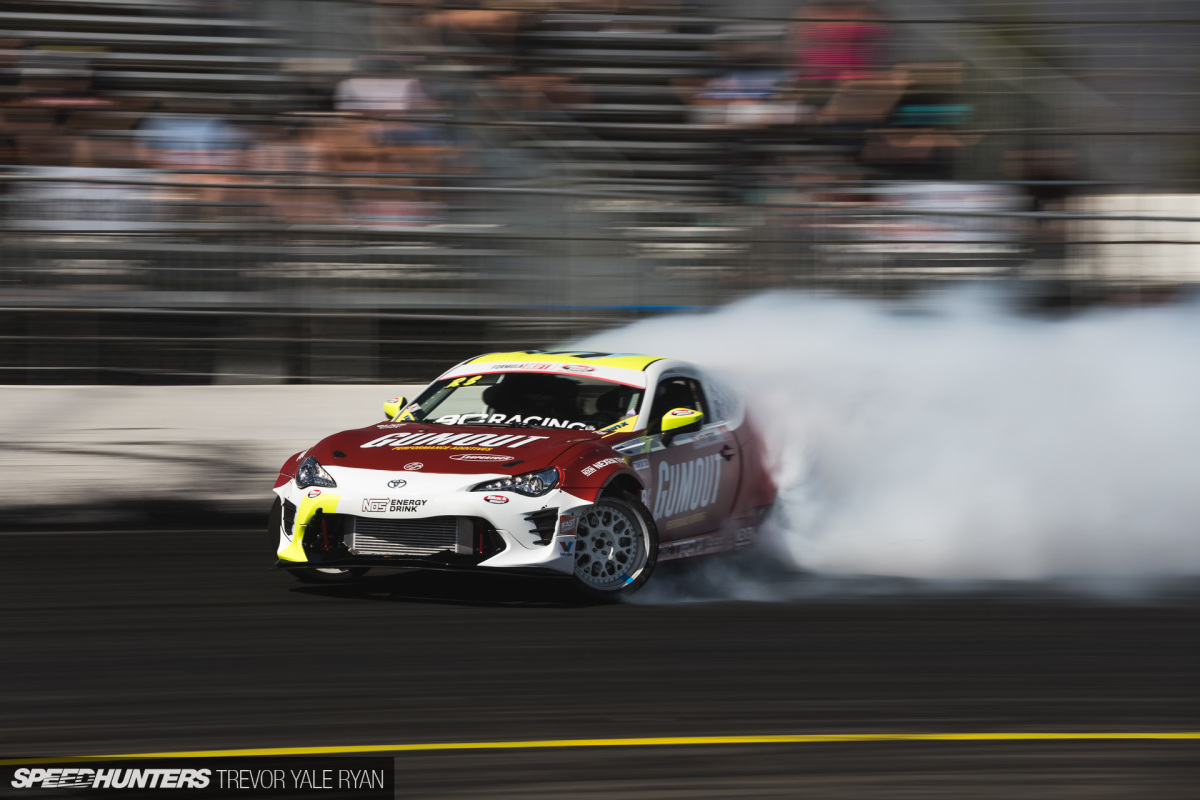 Finishing off the top 5 is Ryan Tuerck, who has also earned himself a bye run in the first round of competition on Saturday.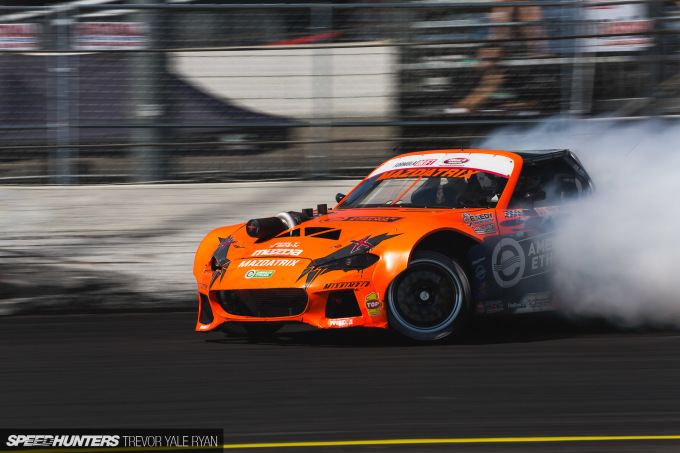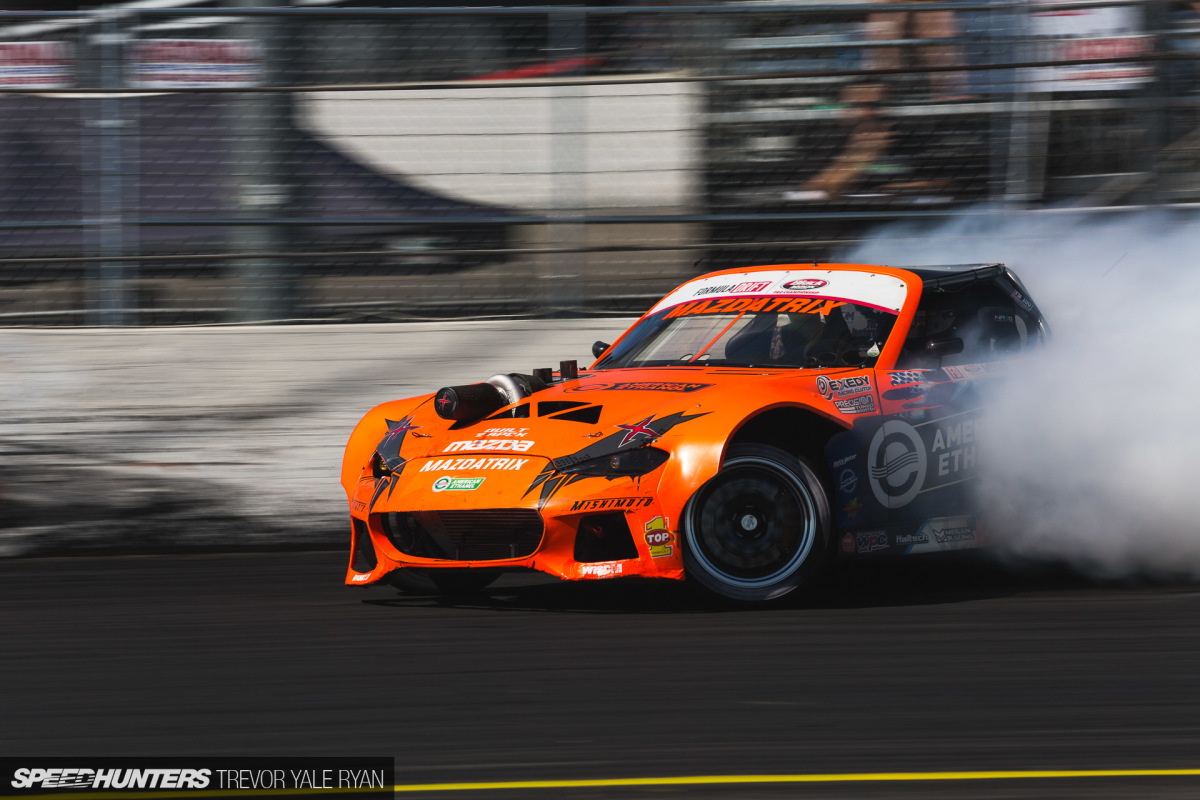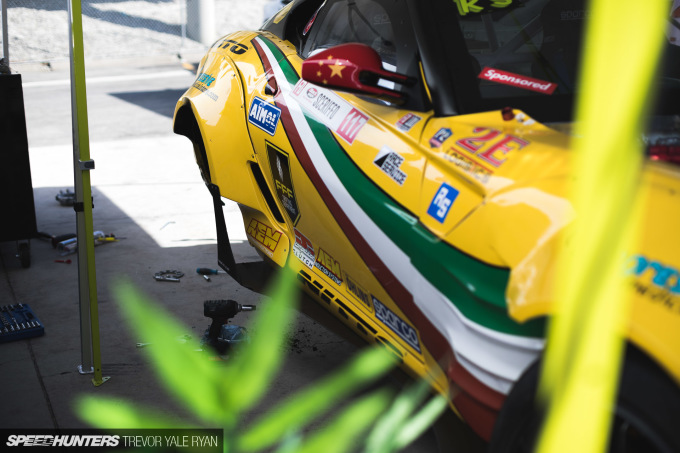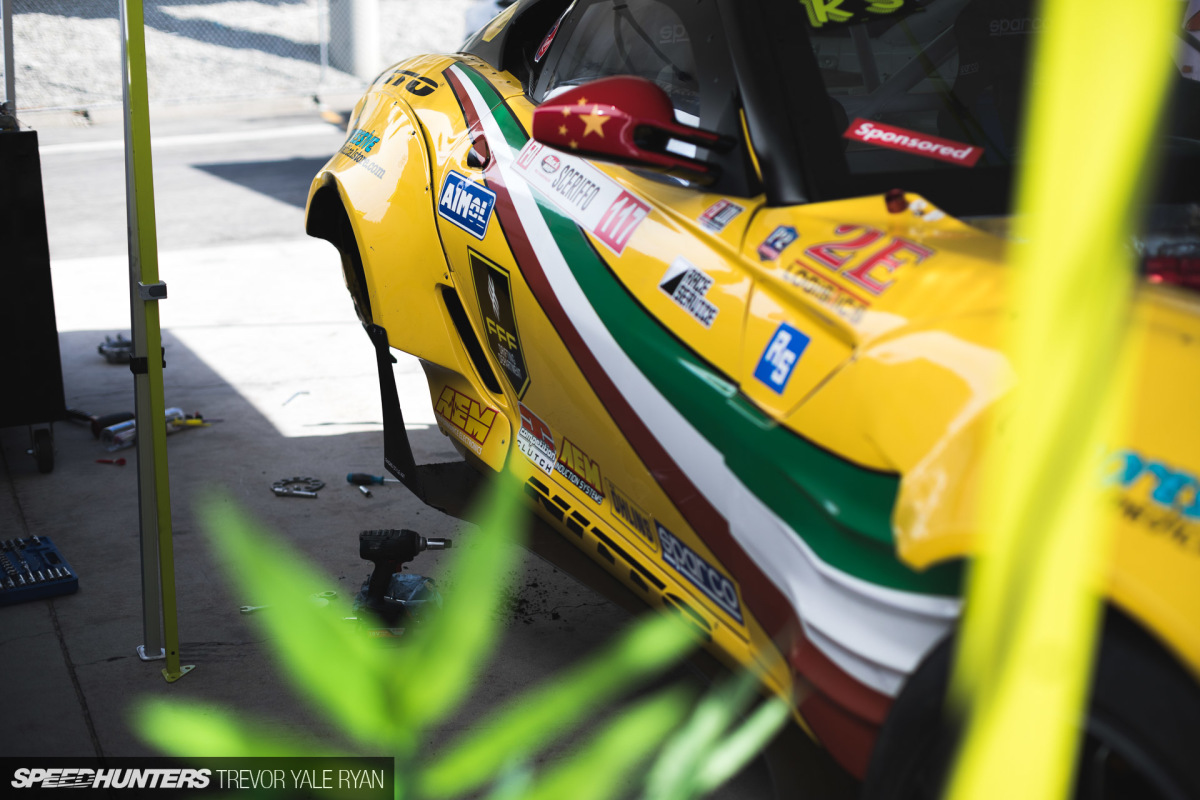 Others had some unfortunate results in qualifying. Kyle Mohan earned double zeros and Federico Sceriffo found more bad luck in California, this time in the form of a K-wall which caused his wheel to separate from the rest of his car.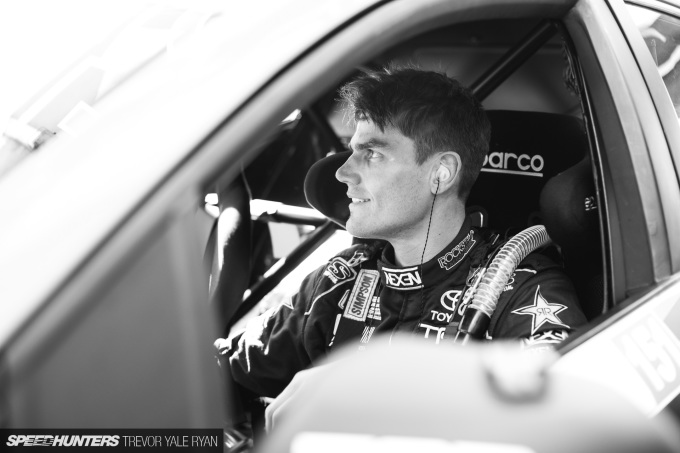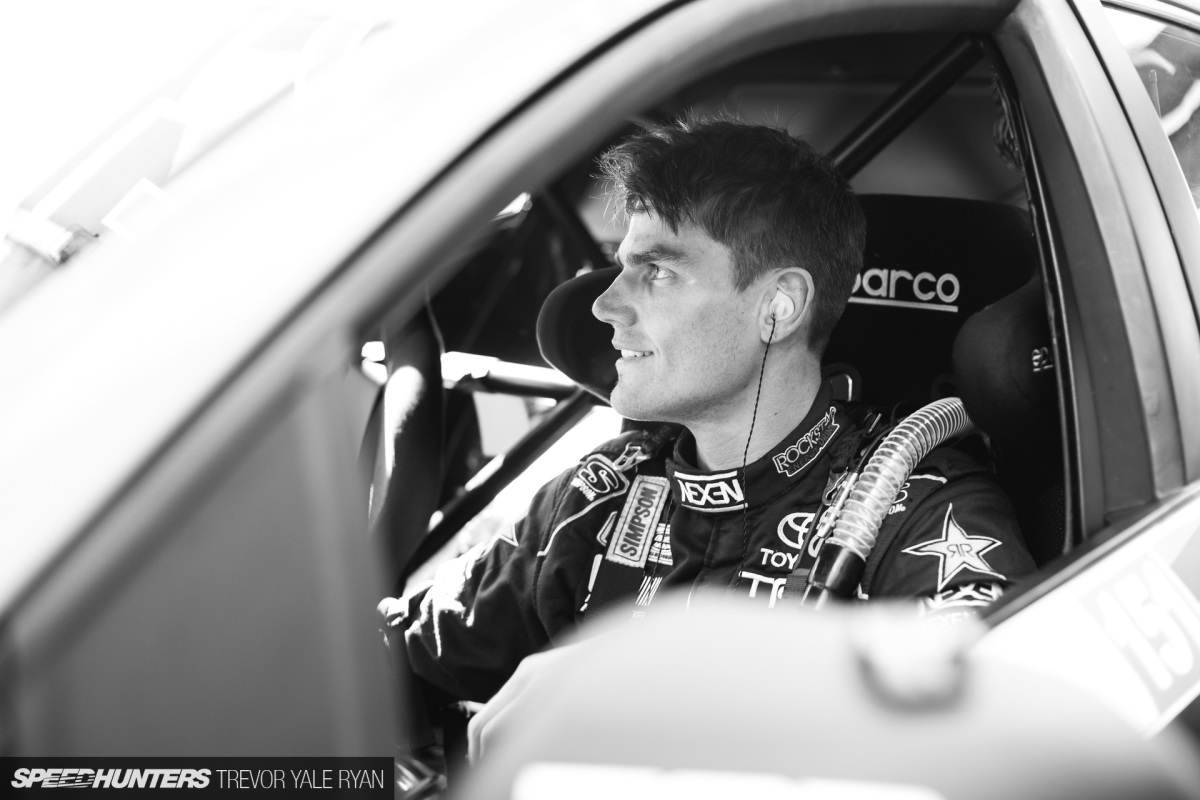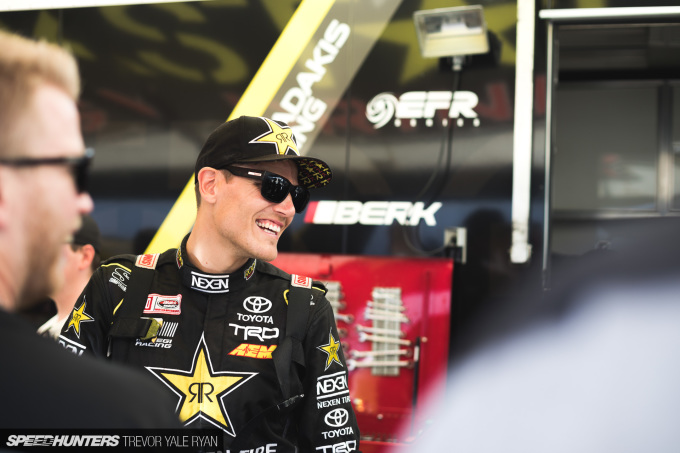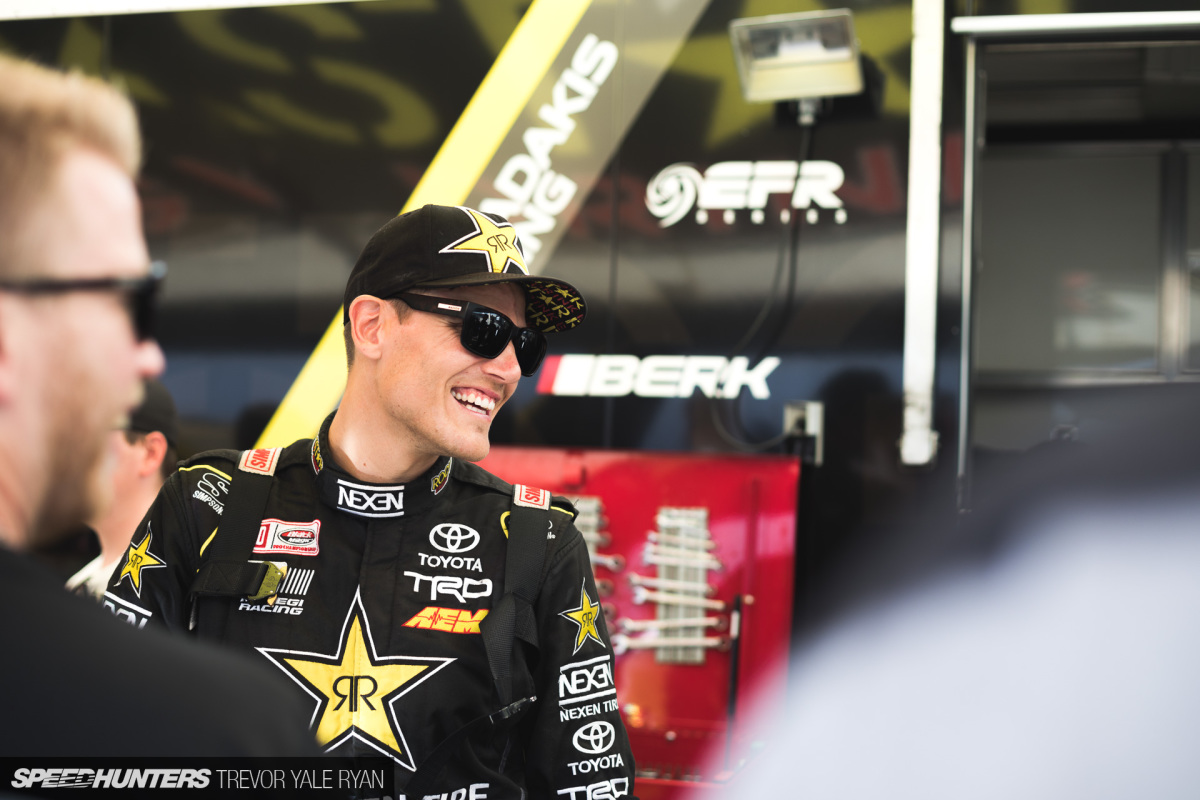 Back in the paddock with Aasbø and the team, he simply described qualifying as "super fun." From behind the wheel he felt his second run was stronger — and his score reflected this — but recognized that it definitely wasn't perfect.
Still, Aasbø's happy with where he ended up after qualification, especially considering this isn't his strongest round. He said the Corolla has felt great all weekend and the team will only need to make small tweaks for competition.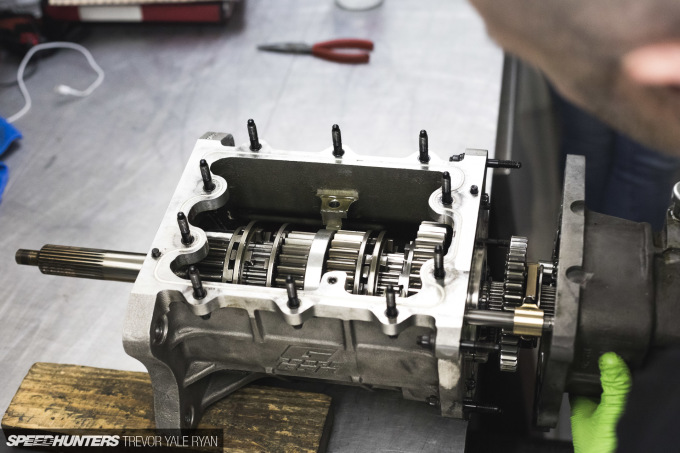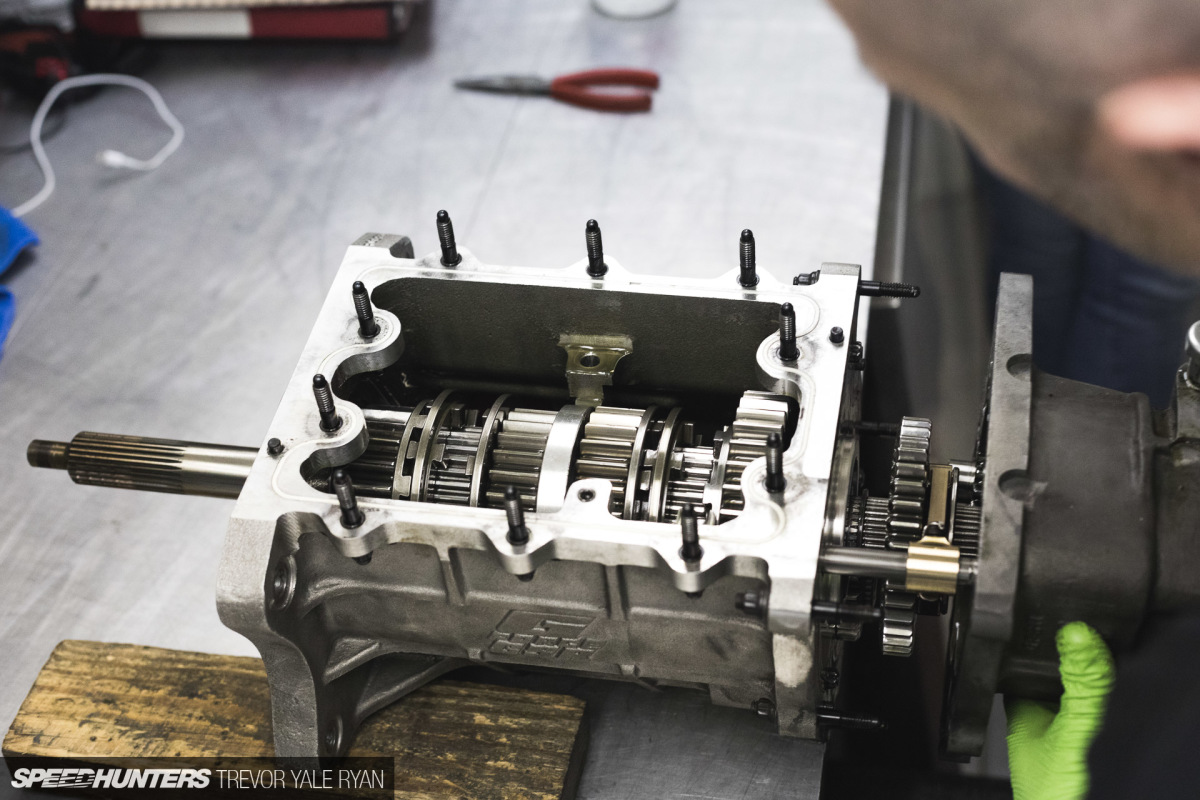 One such tweak was to swap out second gear for something that'll favor the tandems a little bit more on Saturday.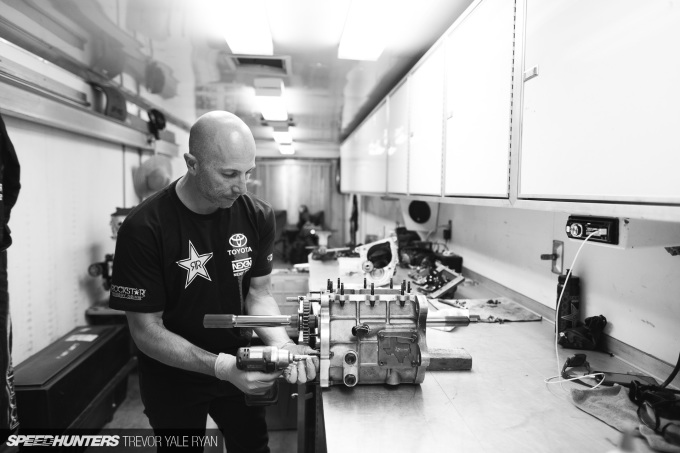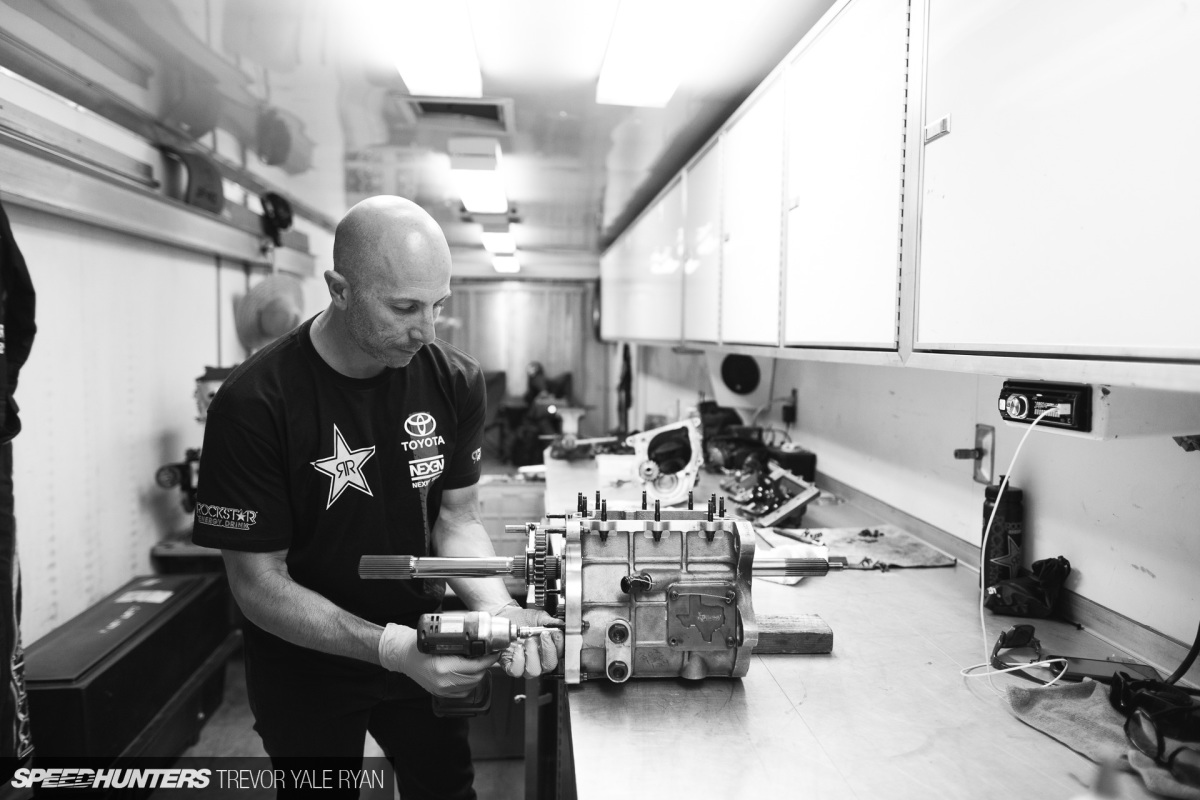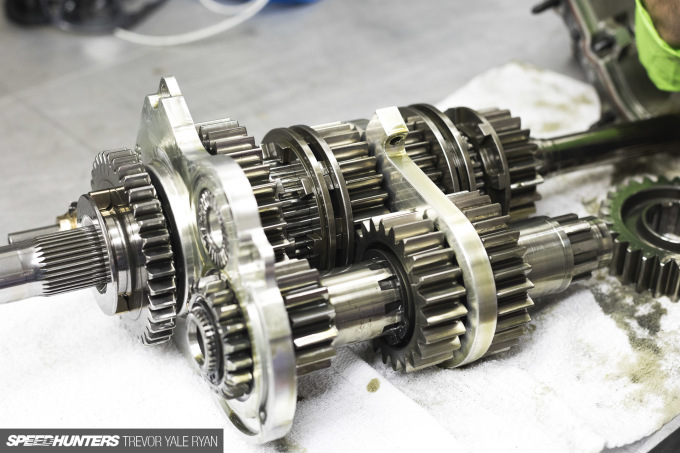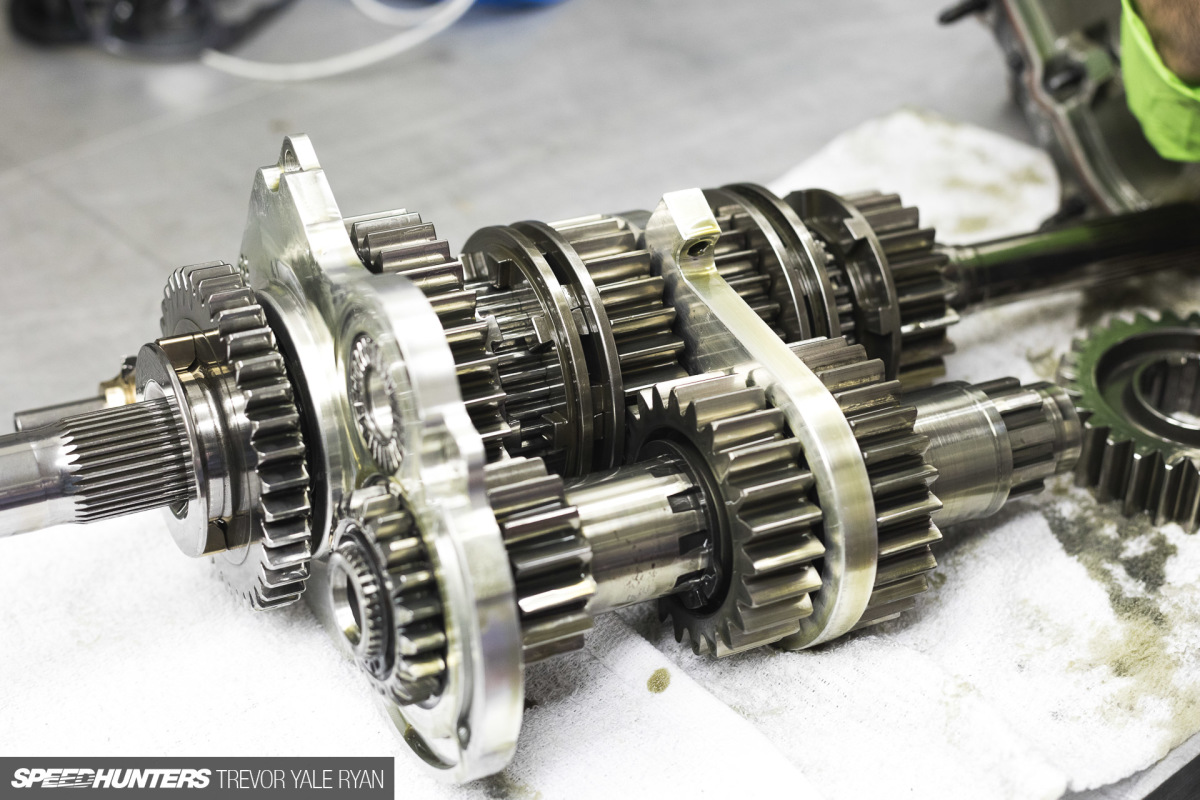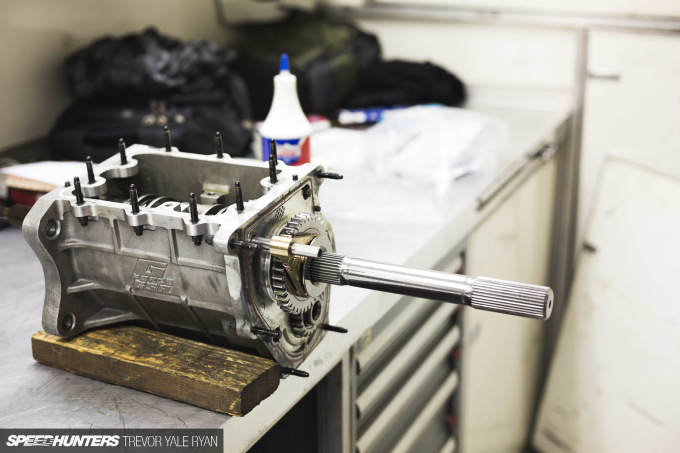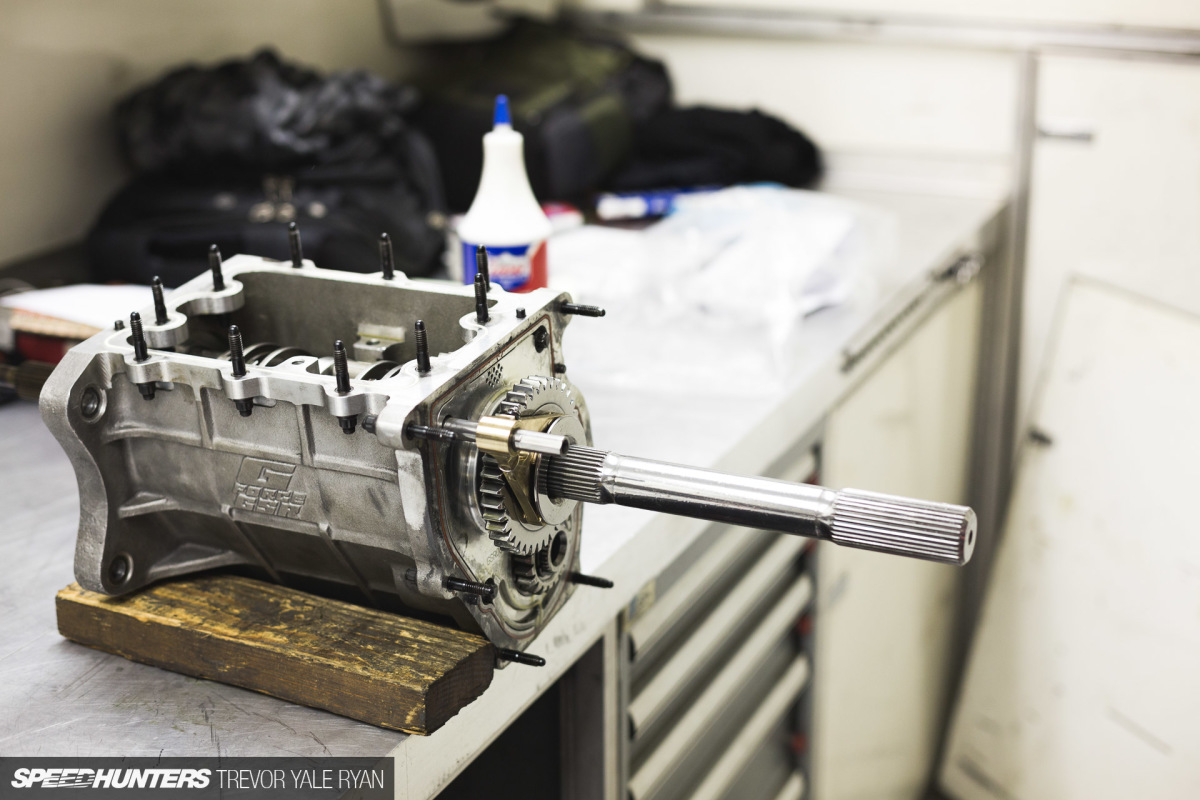 I watched in awe as Stephan Papadakis disassembled and reassembled the gearbox in a matter of minutes; there's something very satisfying about the gentle clunking of gears as the pieces unfold and go back together.
I could have nerded out in here much longer, but with the Pro 2 guys revving up in the hot pits, I headed back inside the oval.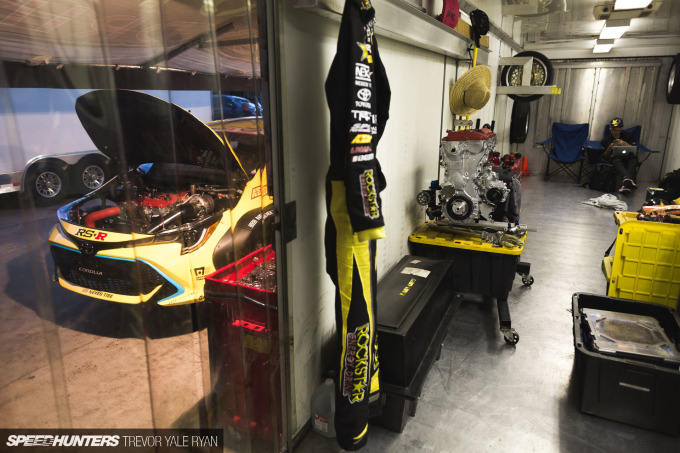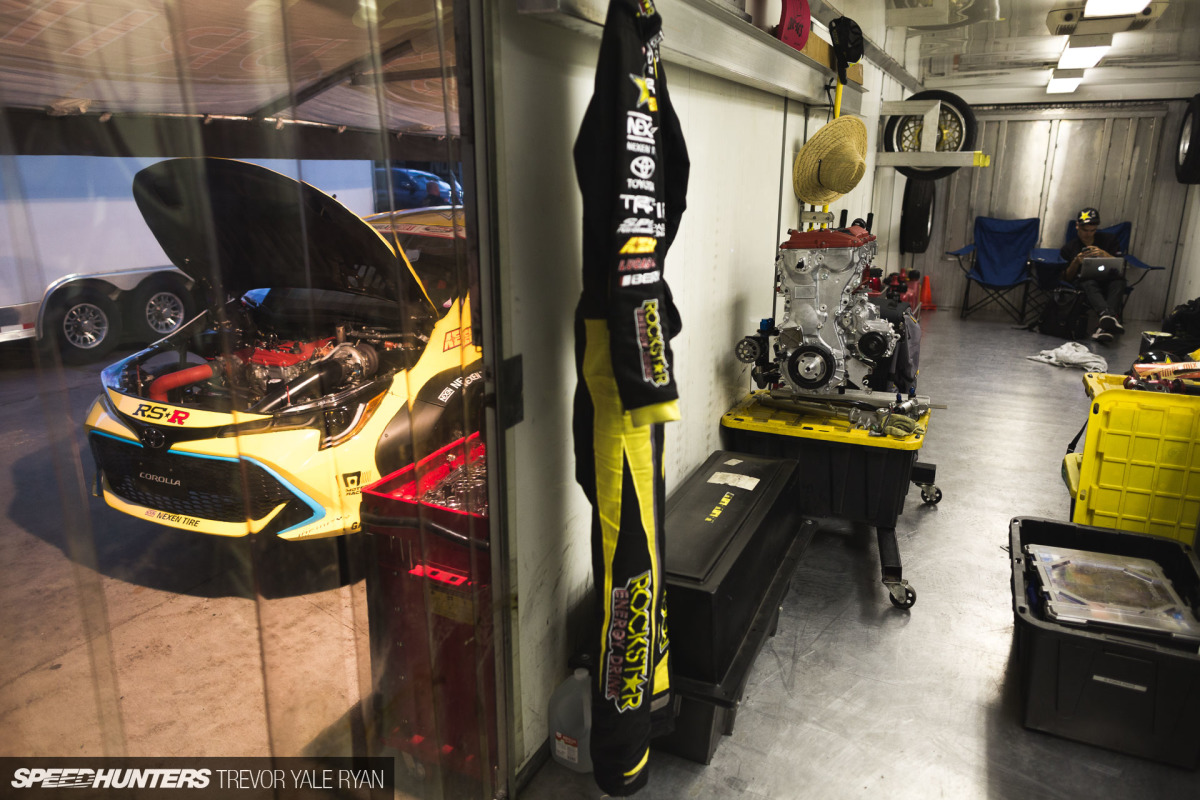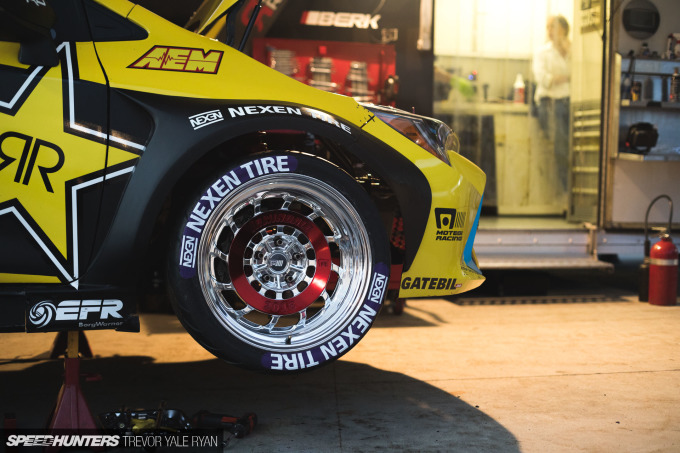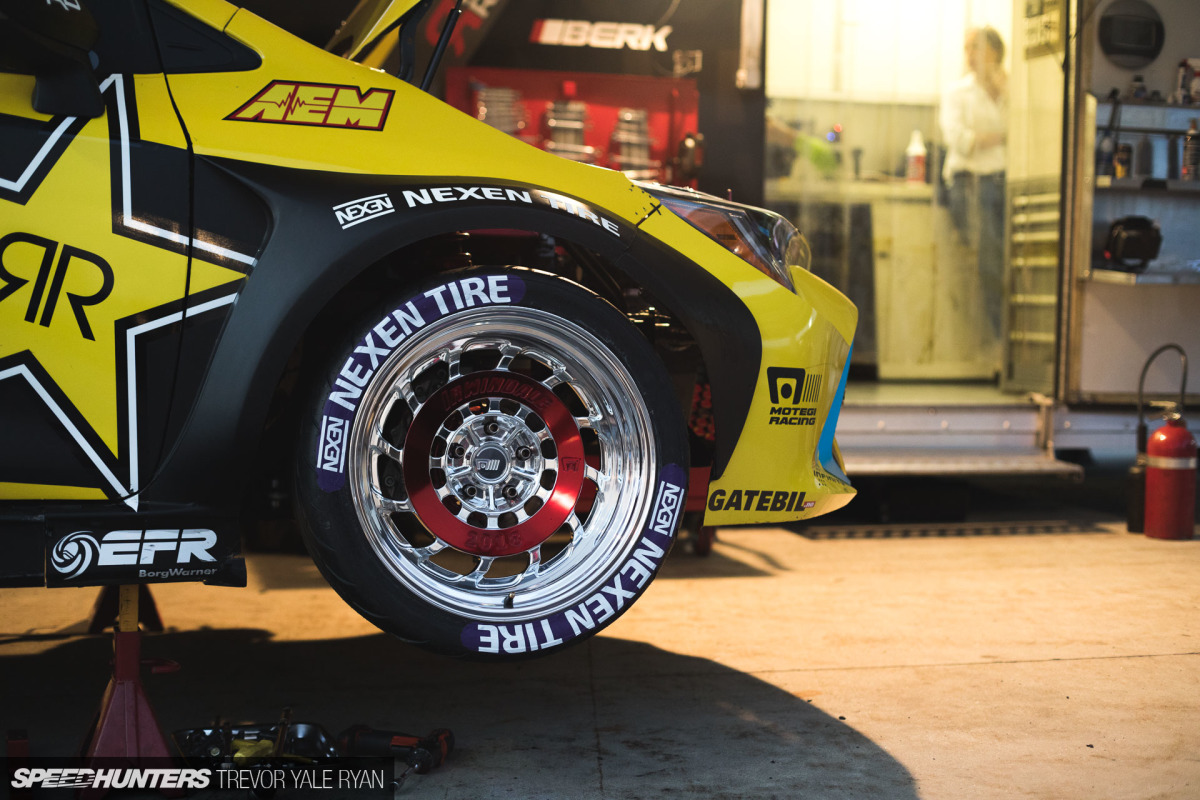 But not before I grabbed a couple shots of Aasbø's new wheel setup for tomorrow. I've gotten used to the gold meshes, but these are pretty damn cool.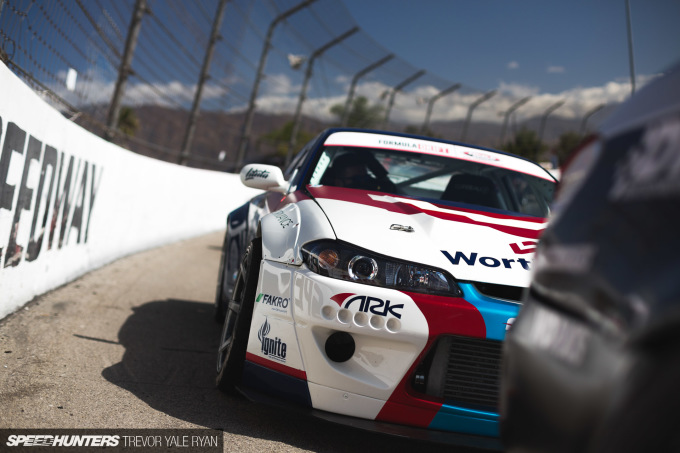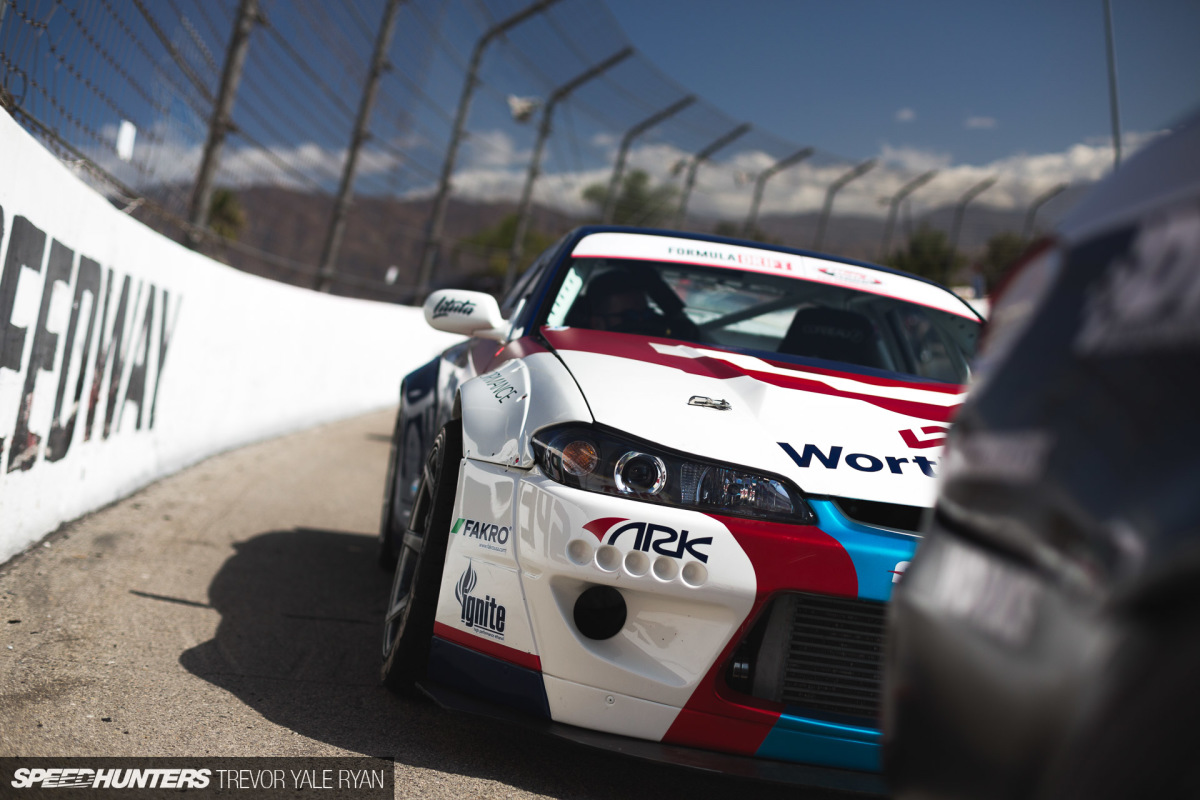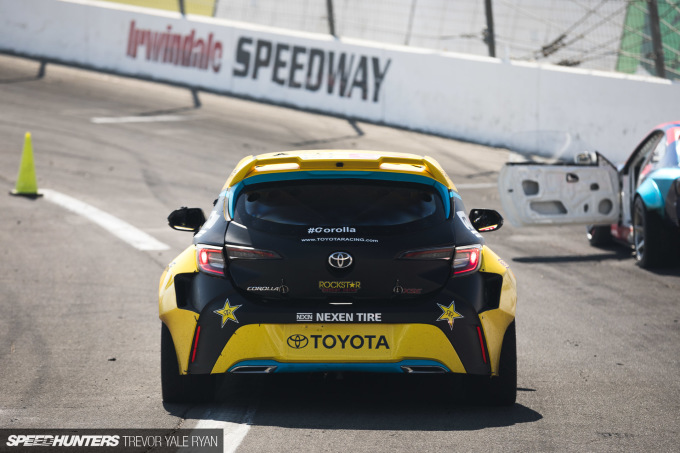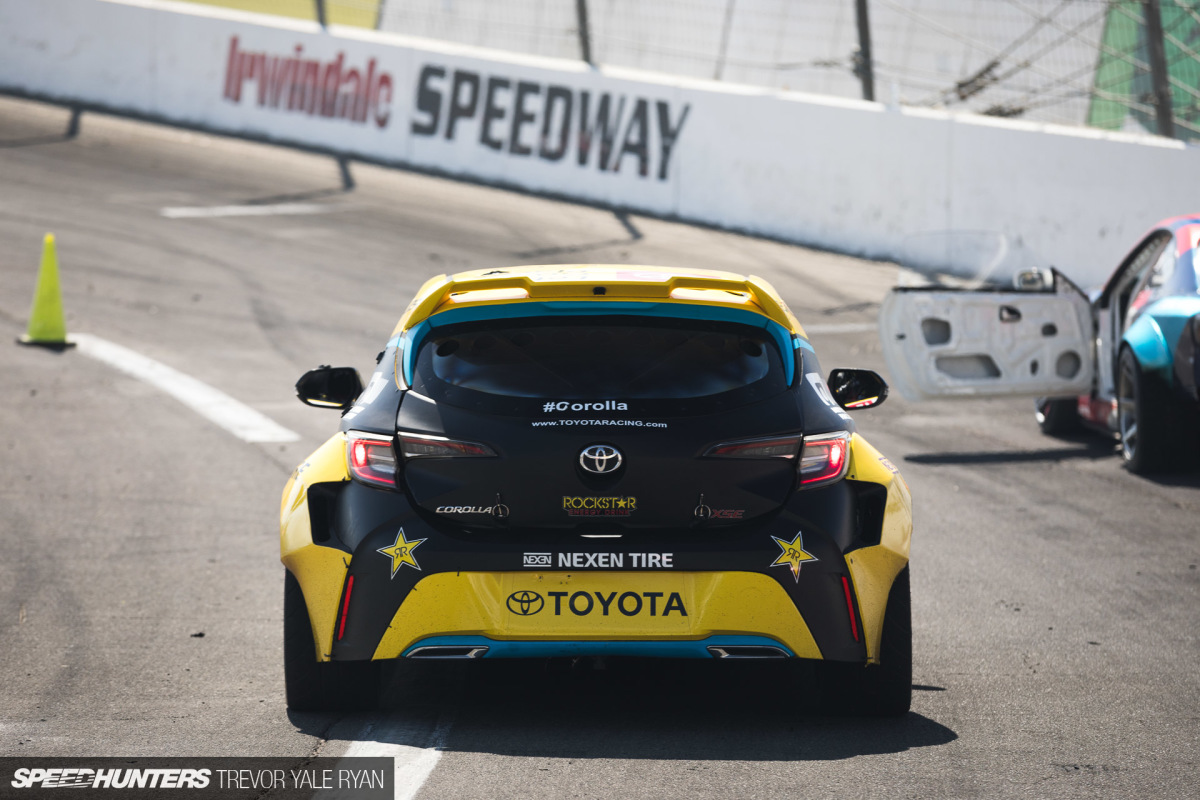 When it comes to competition, Aasbø is now 52 points behind Deane. This means that regardless of Deane's result, Aasbø must win every single battle he faces on Saturday. In Aasbø's own words, he's up against some next level guys.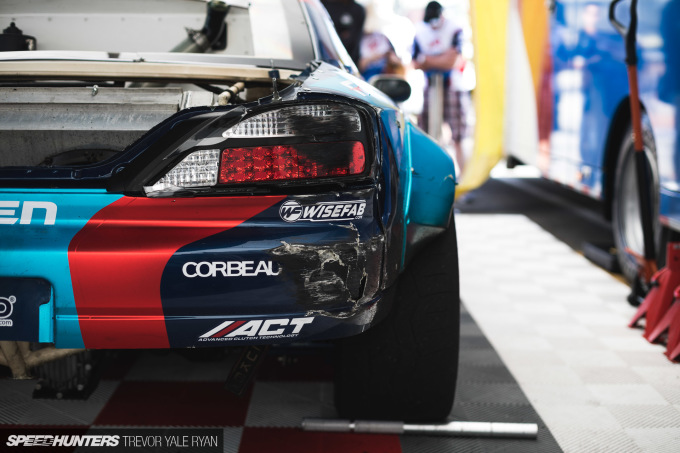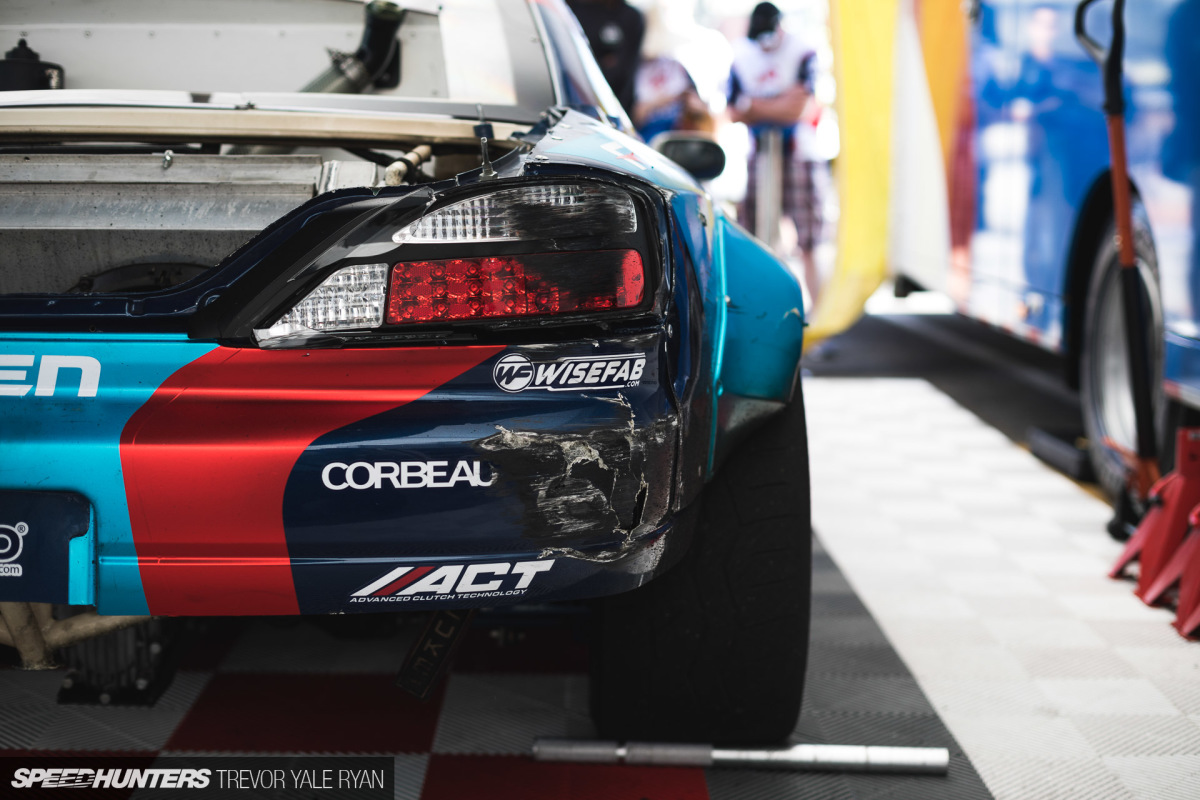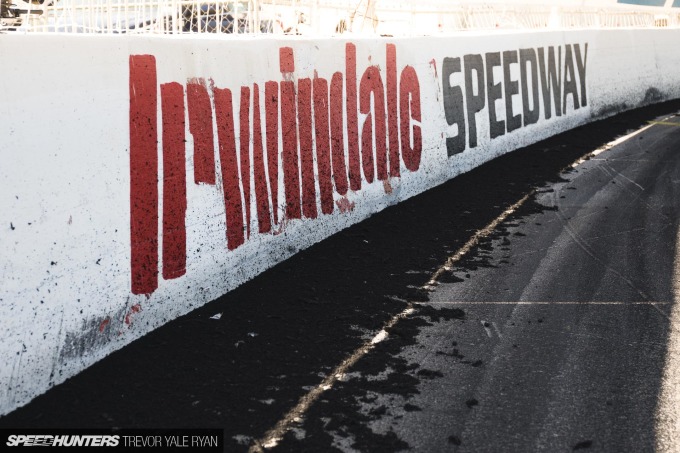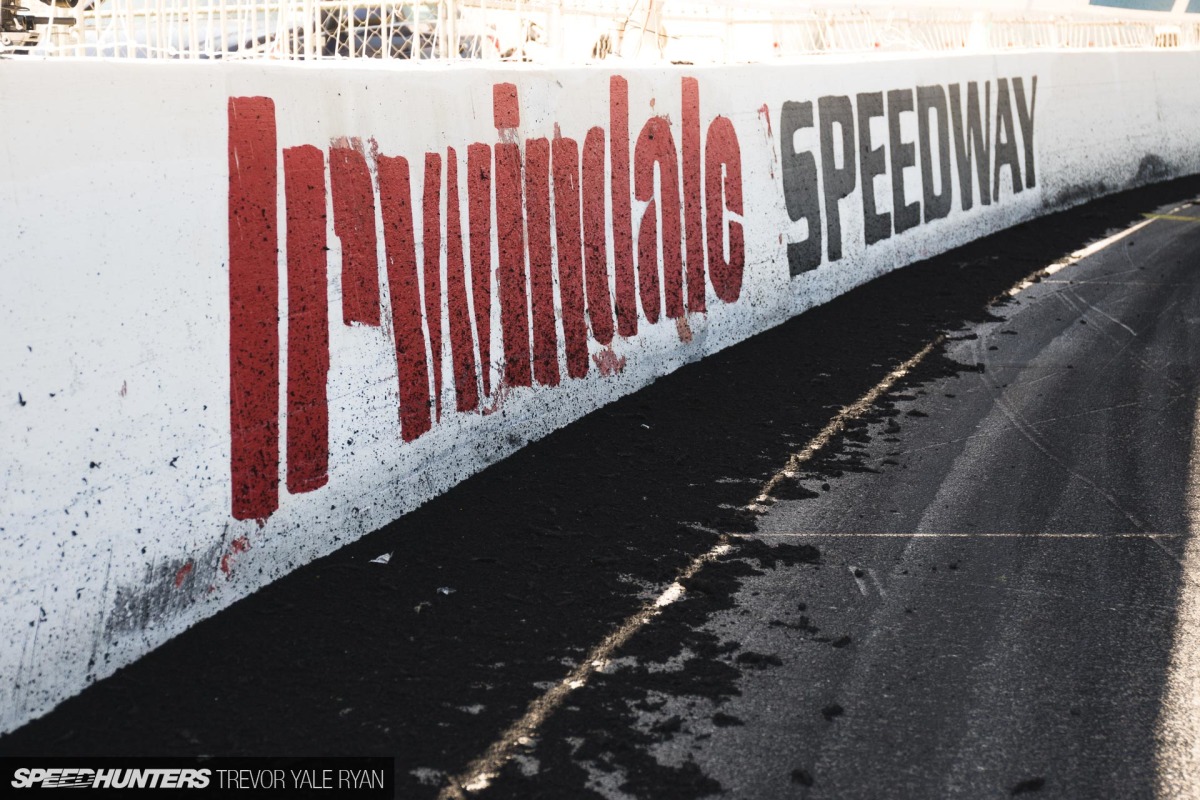 If Deane only makes it as far as the Top 8, and Aasbø wins the event outright, the two will tie in points. Depending on how Formula Drift break the deadlock, it's likely that Aasbø will be awarded the championship for more wins over the season (three versus two).
However, if James Deane gets into the Top Four, it's game over for Aasbø. Then , there's the matter of Więcek nipping at Aasbø's heels, too.
As things stand right now, it's still anyone's game at Irwindale Speedway.
And lady luck may have her say as well…
Trevor Yale Ryan
Instagram: tyrphoto
TYRphoto.com