Jets
If you haven't noticed, Monterey Car Week is no small ordeal. Seeing so many fantastic cars in such a short amount of time has a strange effect on you. Your expectations become skewed, your standards are raised, and your sense of reality gets a bit off-kilter. One major aspect of Car Week that I've mostly glossed over is the 'party culture,' if you will. There are exclusive events, high-dollar get-togethers, and mansion parties happening in and out of Monterey all week long.
For the most part I can't speak for or about any of these events going on; if you've met me, you probably know that I'm not really the sort to dress up. But as this is such a significant part of Car Week for so many, I thought it best to get a proper taste of the goings-on this year. So, I put on some decent shoes and found myself at McCall's Motorworks Revival.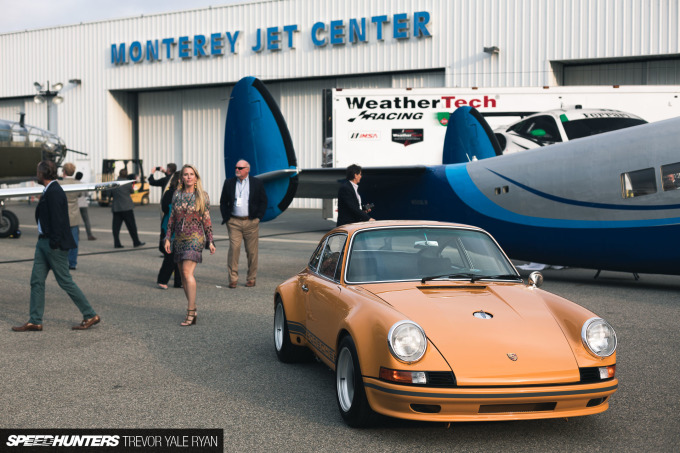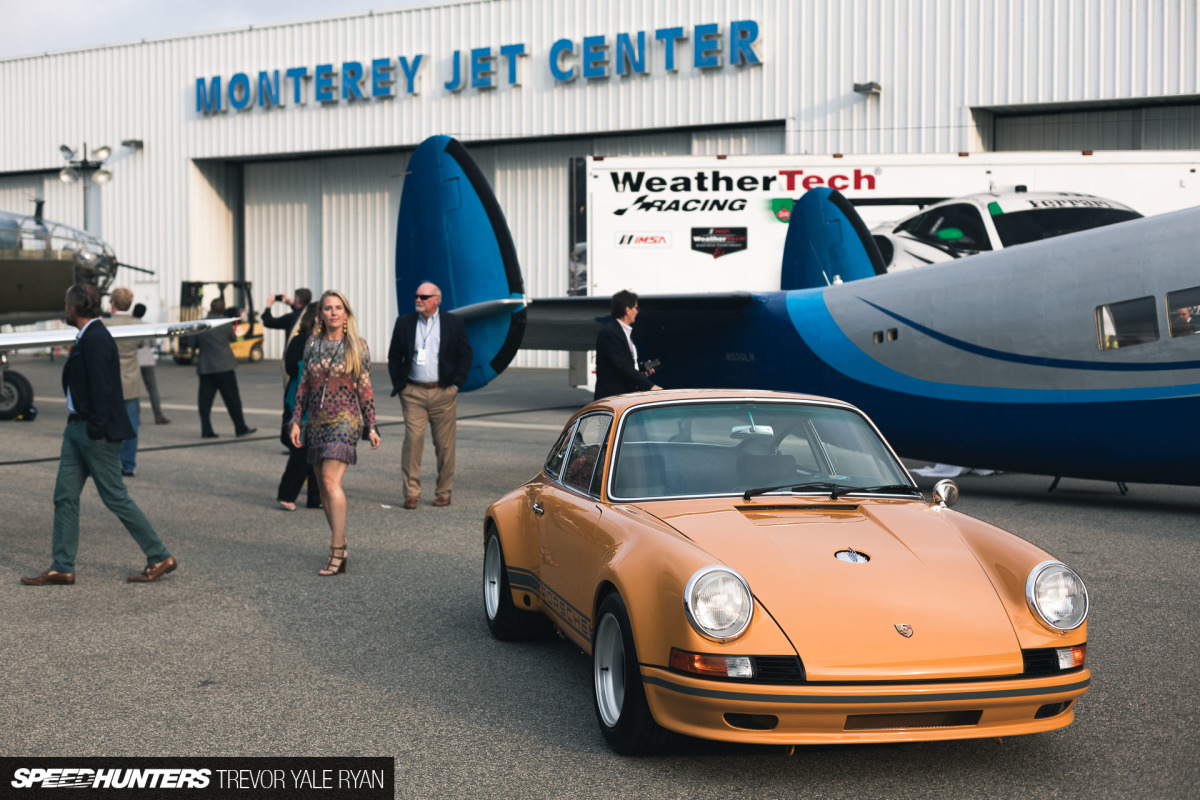 As the 27th annual event at the Monterey Jet Center, this gala is far from the first go-around. I figured that it would be both a good time as well as representative of what this side of Car Week is all about. With the usual ticket price for this sort of thing hovering around $200 to $500, could it possibly be worth it? Over 3,000 other attendees definitely thought so, most of whom seemed to come for each other.
Of course, I really showed up to see what cars would, and I couldn't even make it in the place without noticing a few Ferraris parked outside and around the corner. Snapping this F50 as we drove by, spotting one in the wild during Car Week just doesn't inspire the same excitement as it would any other time.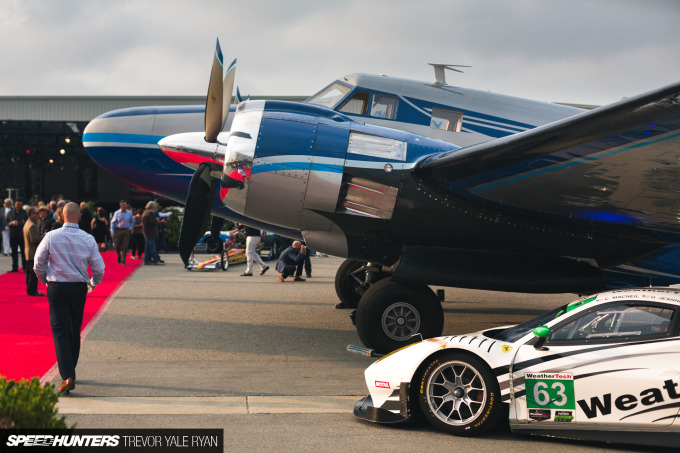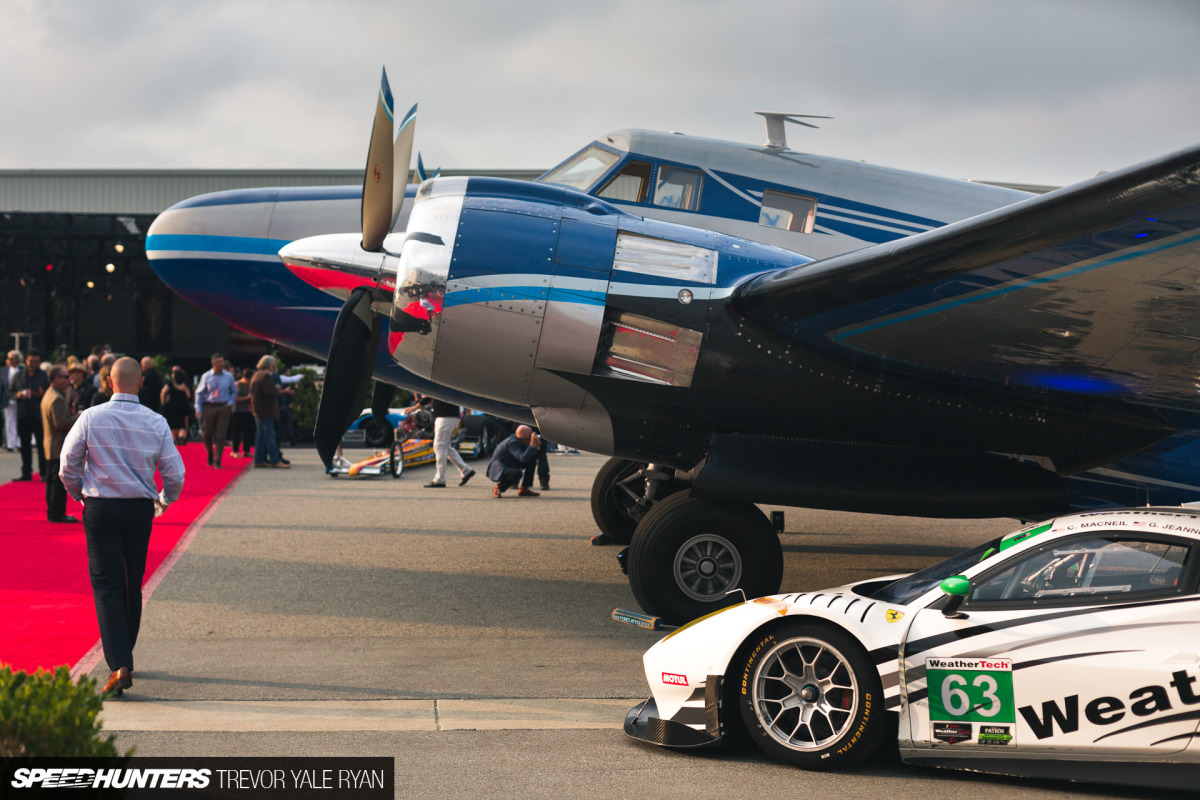 And while Monterey Car Week takes a lot of the actual hunting out of Speedhunting, I figured I'd better do the journalistic thing and get the complete picture of the week-long extravaganza.
On entering I was greeted by a Ferrari 458 Challenge car under the wing of a sixties-era 36 cylinder-powered Howard 500. Neat.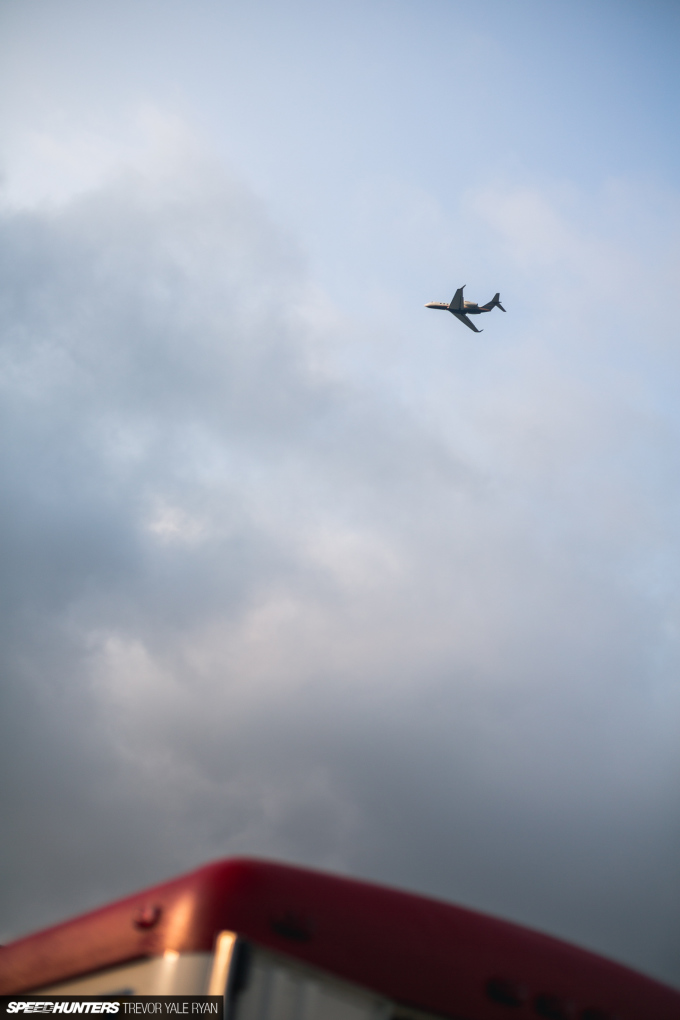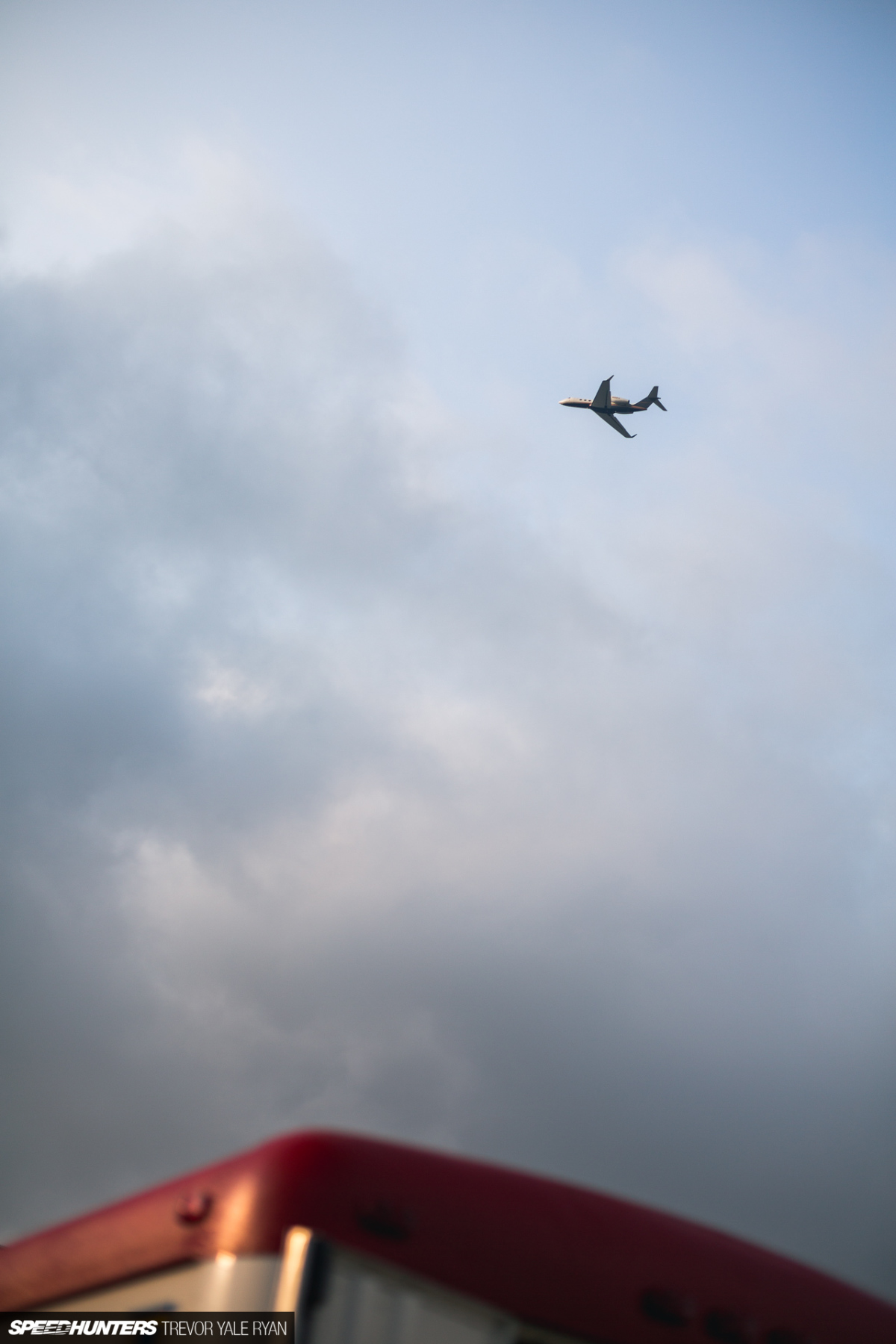 With all the fancy cars and jets artfully positioned about, an old van was not what I expected to see. With Pierce Manifolds owning this vintage delivery vehicle there were a number of fantastic carburetor setups inside. There's a story here somewhere, for sure.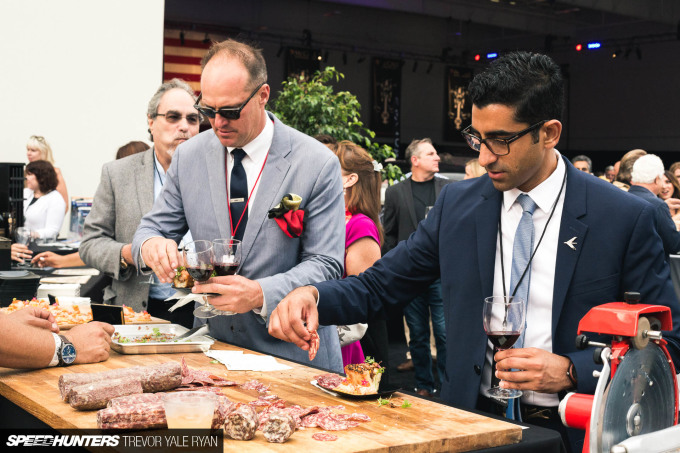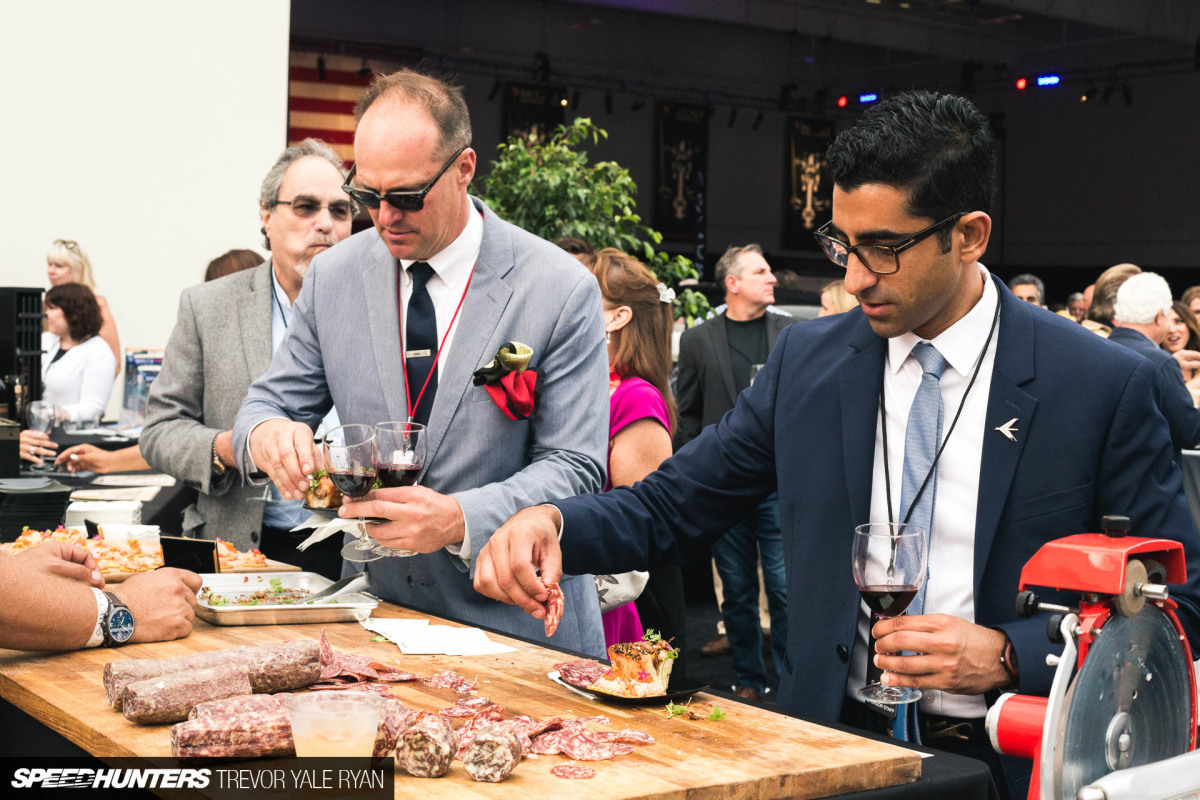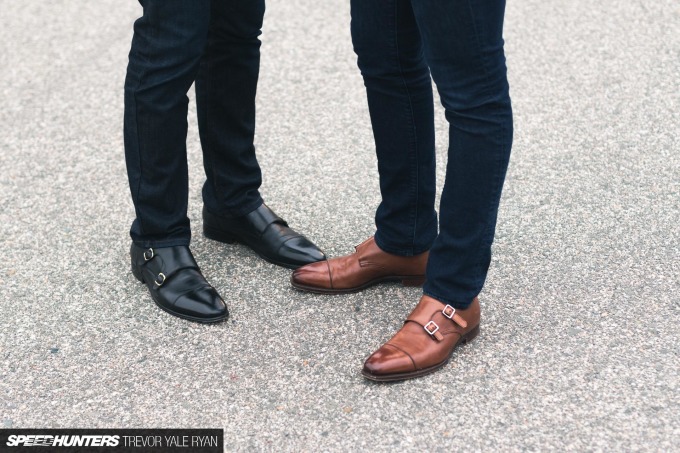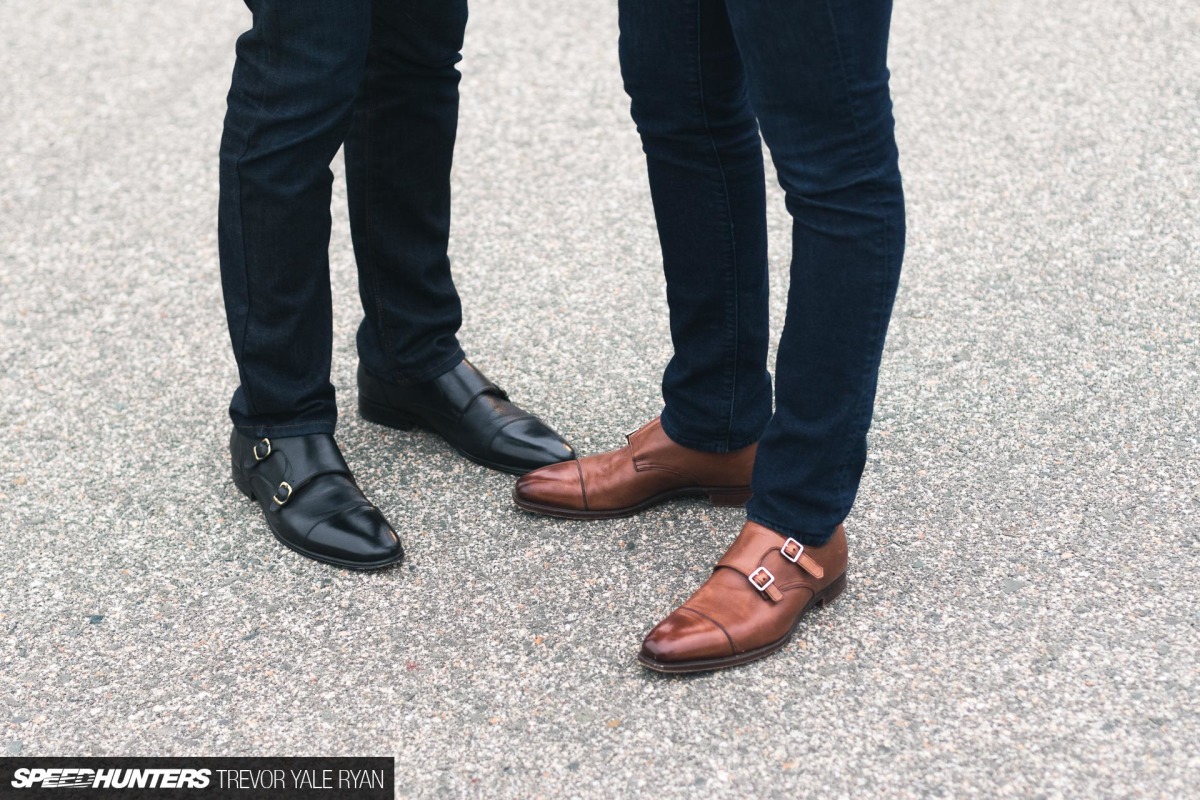 Most others, as mentioned, were more interested in the array of gourmet food and beverages that could be had everywhere you turned. In complete contrast to Laguna Seca where rotaries run wild and racing is king, this event was strictly a social ordeal. Not that a huge part of a race weekend isn't the people, but you catch my drift.
Horsepower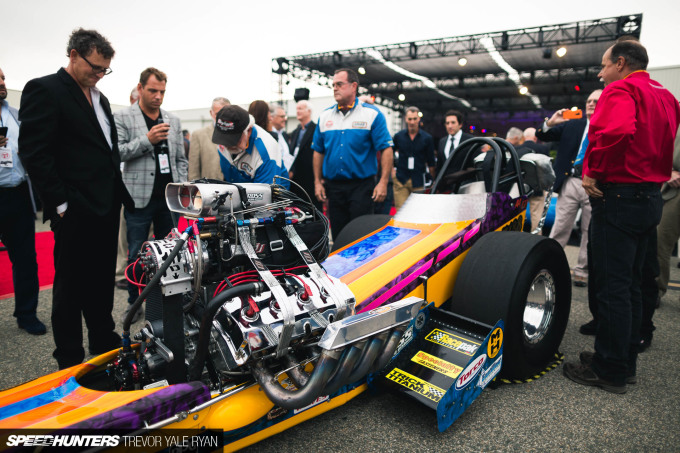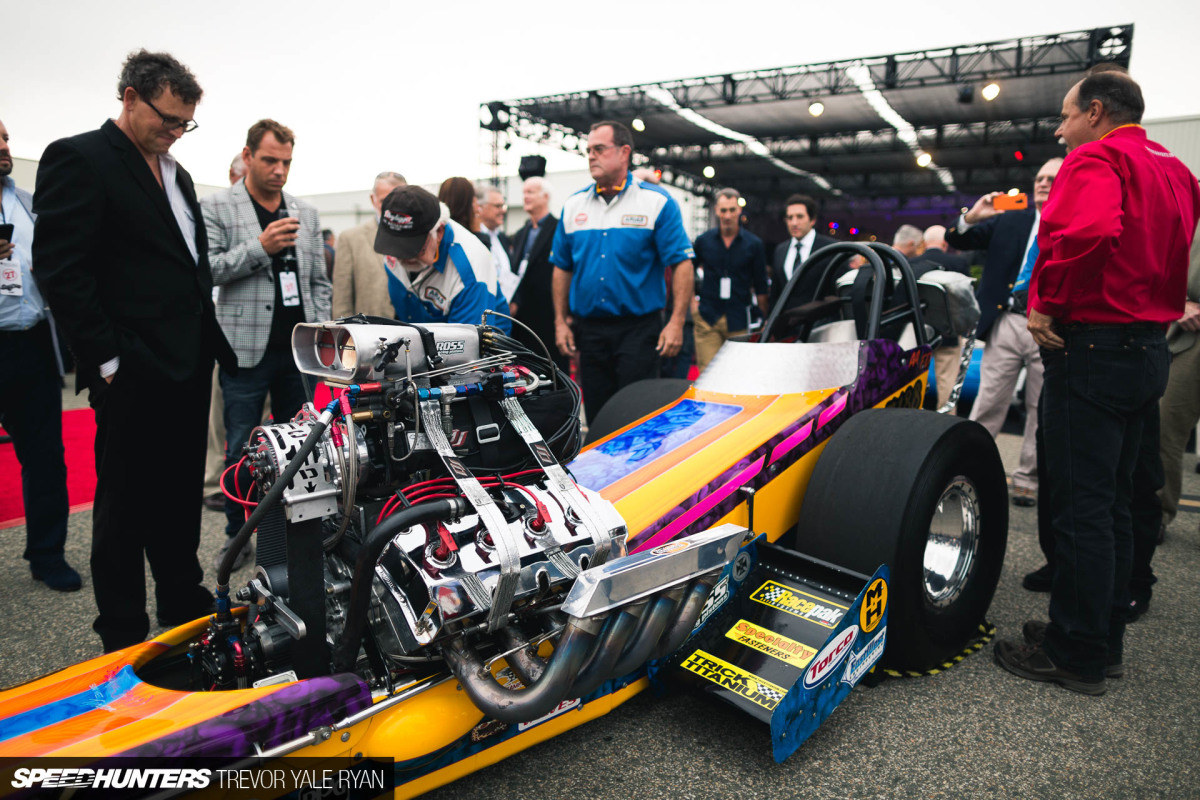 As most normal folk were busy networking and trying to meet someone nice, I felt that lot of the machinery at McCall went underappreciated.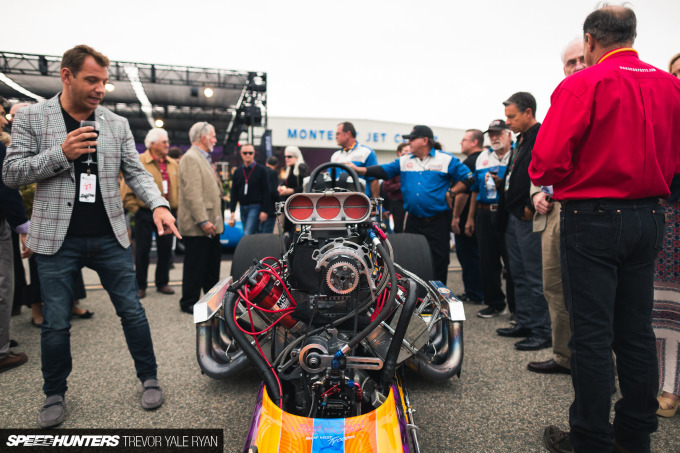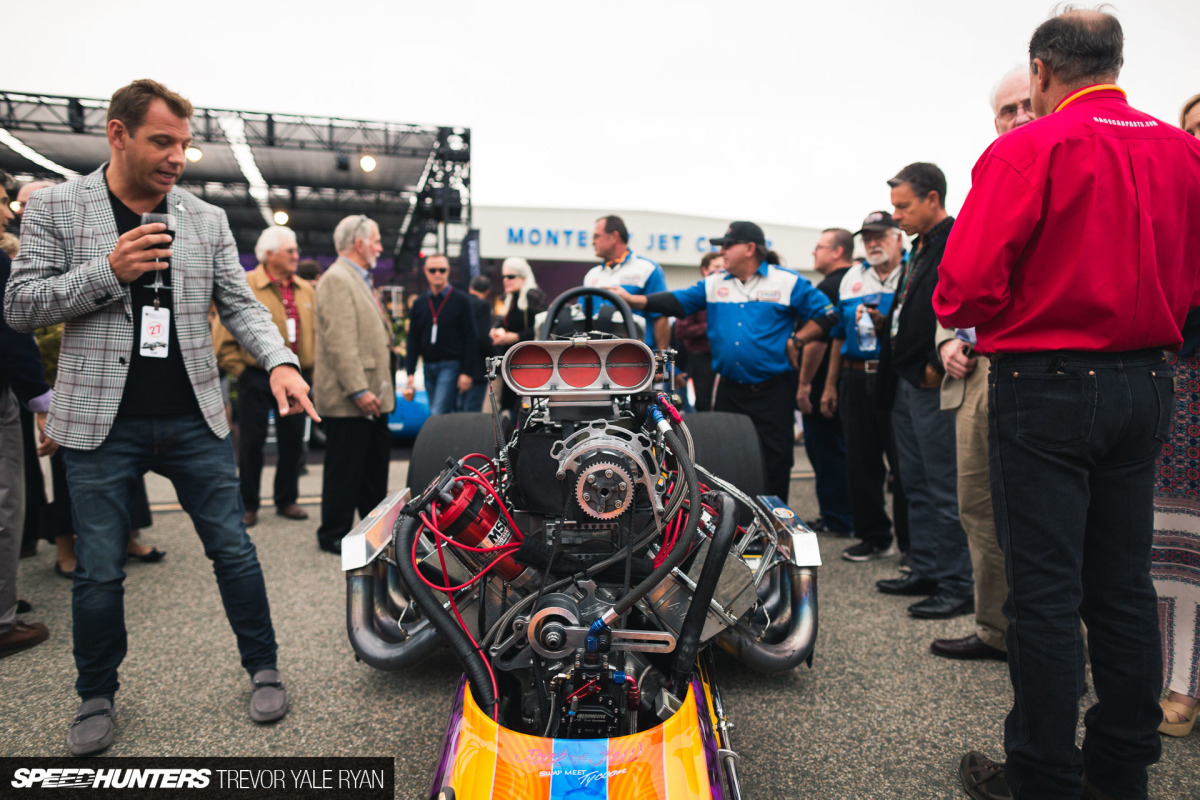 And as enticing as the variety of tasty meats were, I made sure not to get too distracted from the stuff here that was built for speed.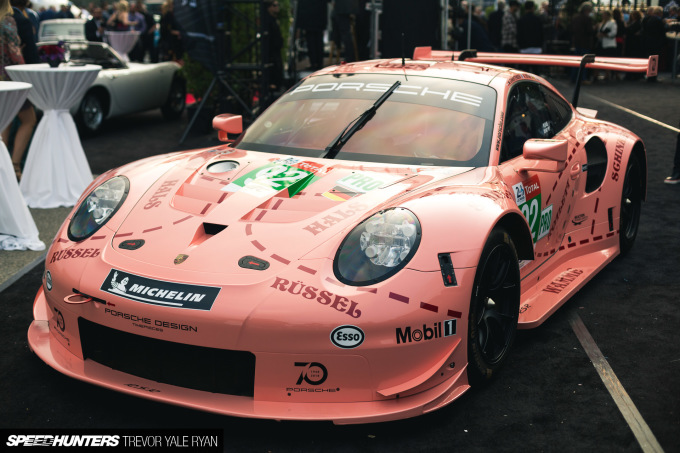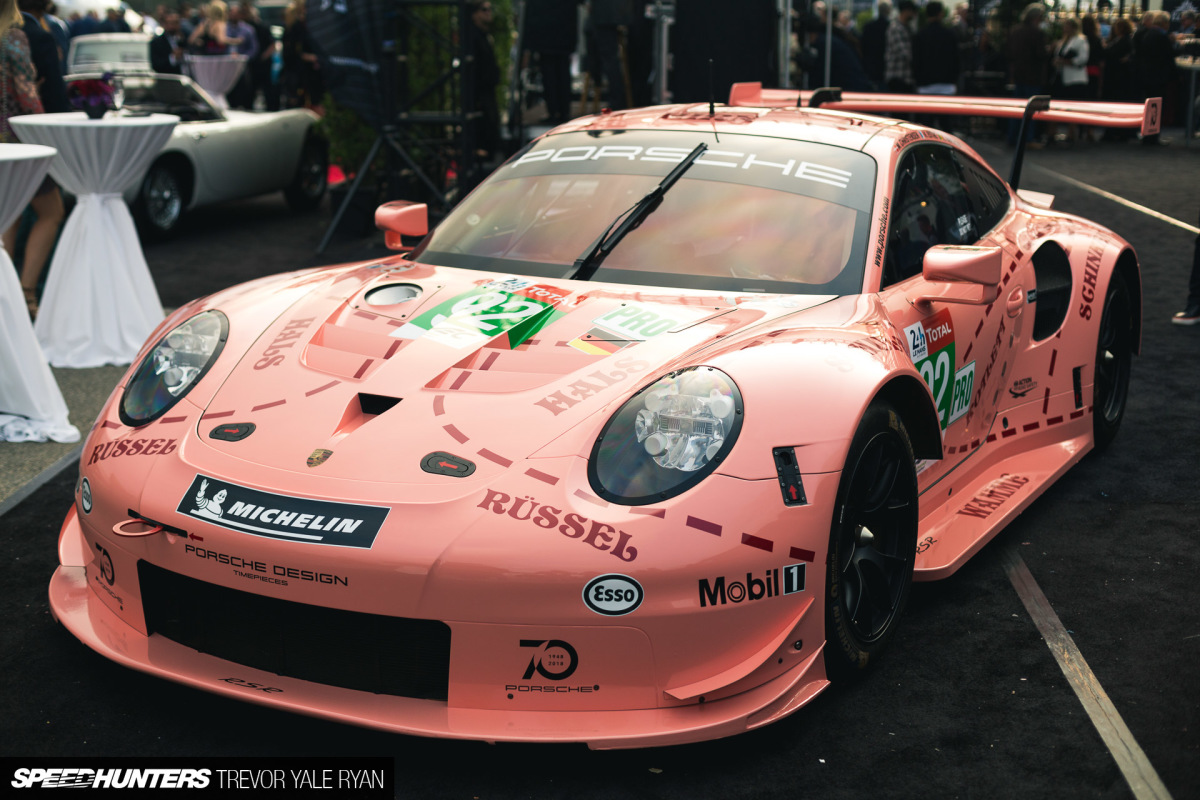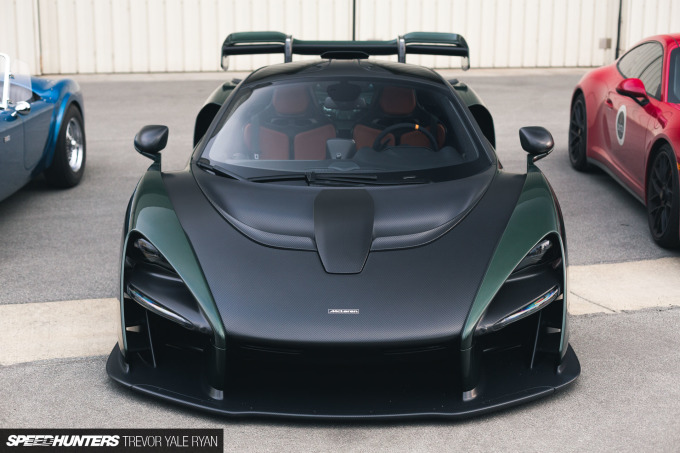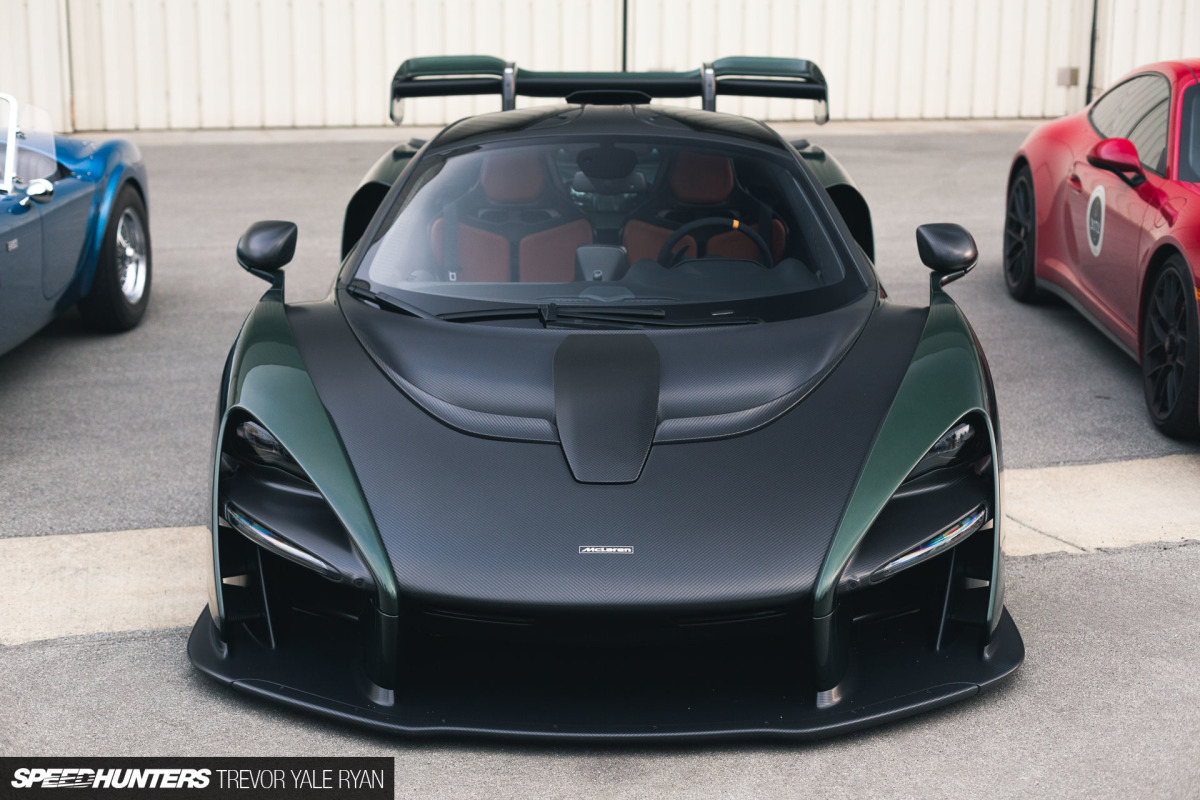 In the back corner I found a McLaren Senna parked up. In the week after this event the car was taken around Laguna Seca at a track day, so it's nice to know the owner isn't just a hard parker.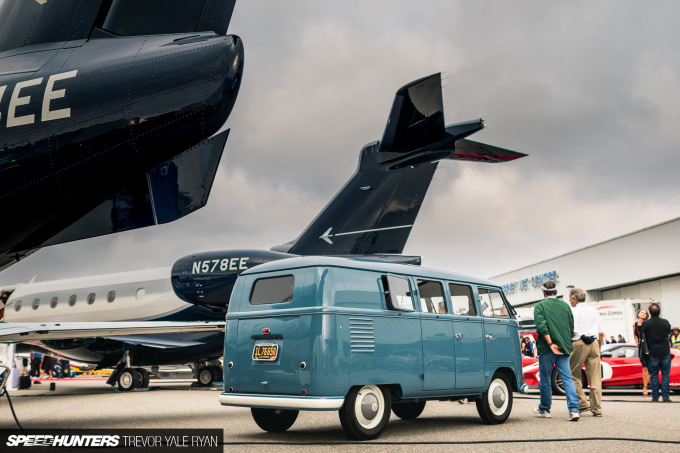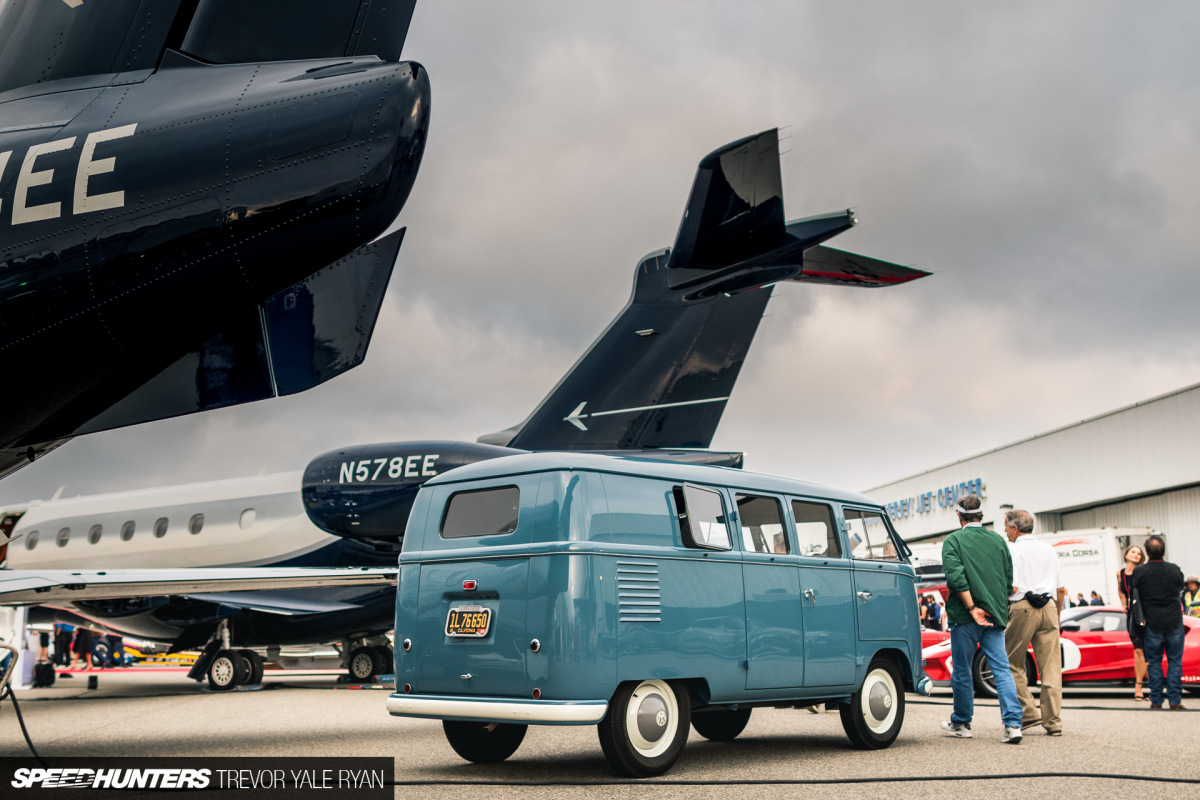 It was cool to see an old bus tucked between these two jets, too.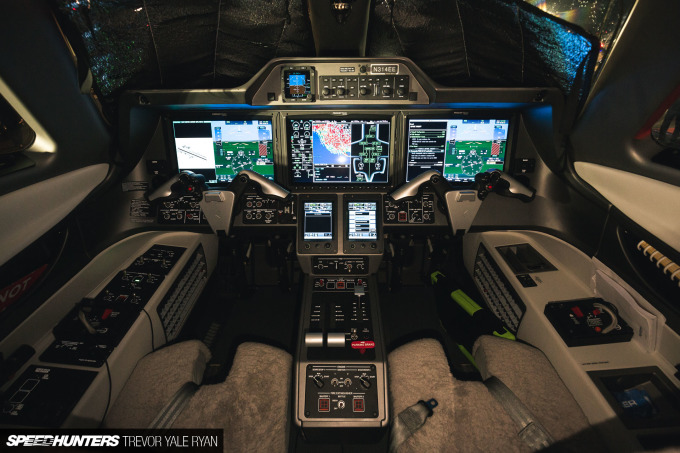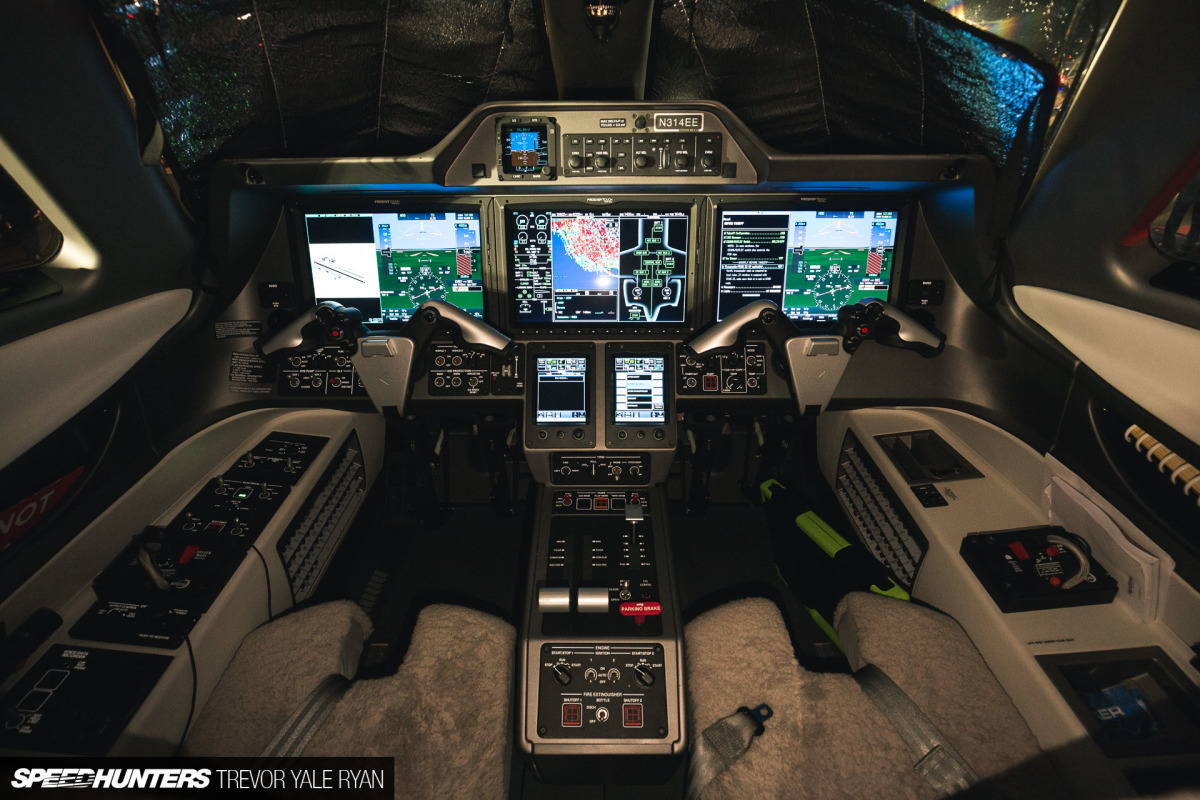 Although technically an automotive-centric event, McCall's Motorworks Revival seemed to be more about the jets themselves. I couldn't help but take a poke around a couple.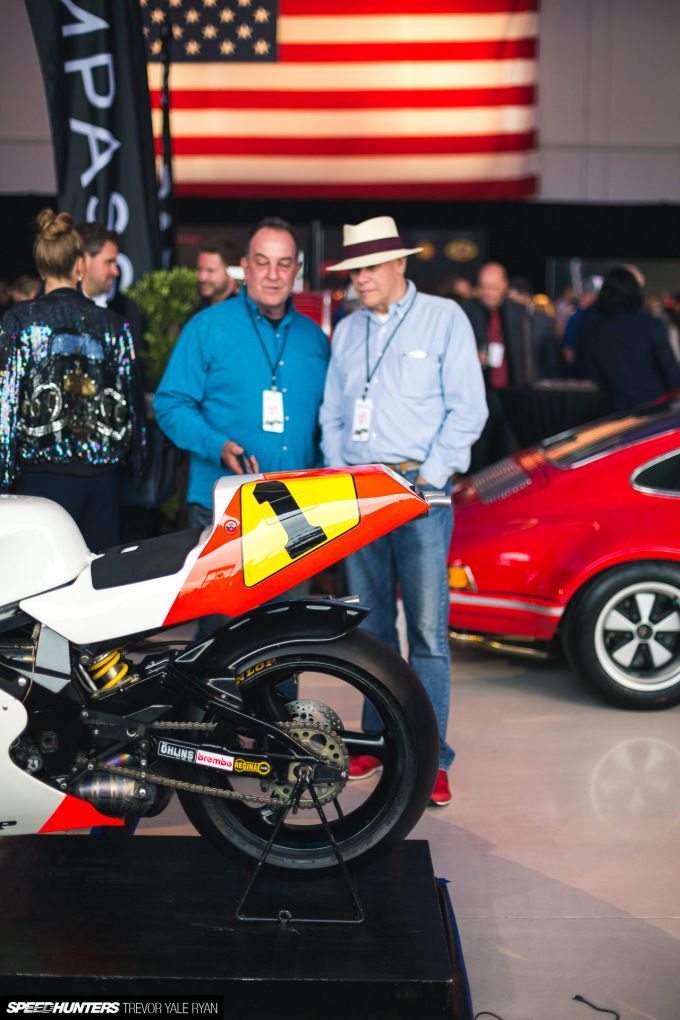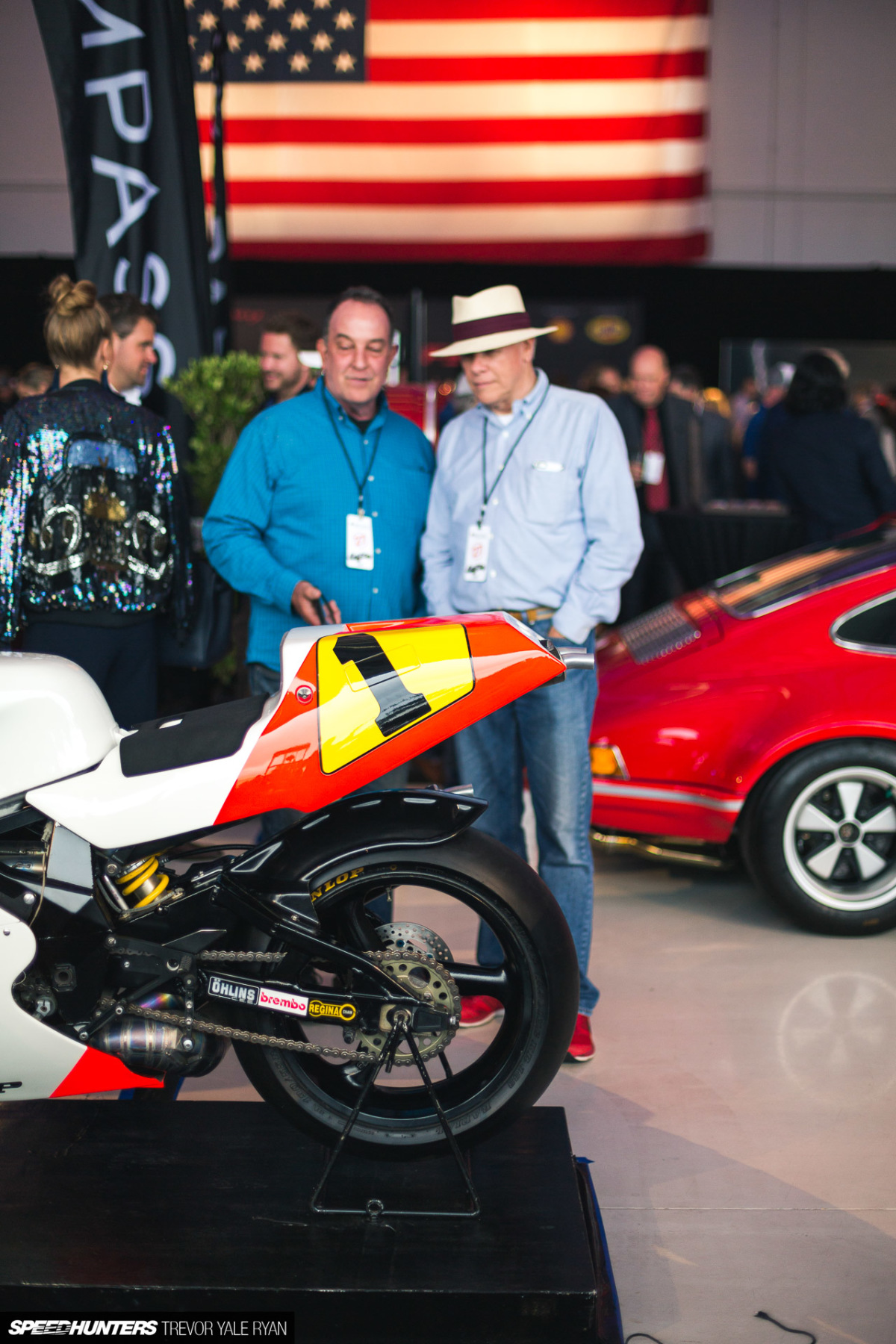 Making my way back inside, the problem was all the people.
The Tripod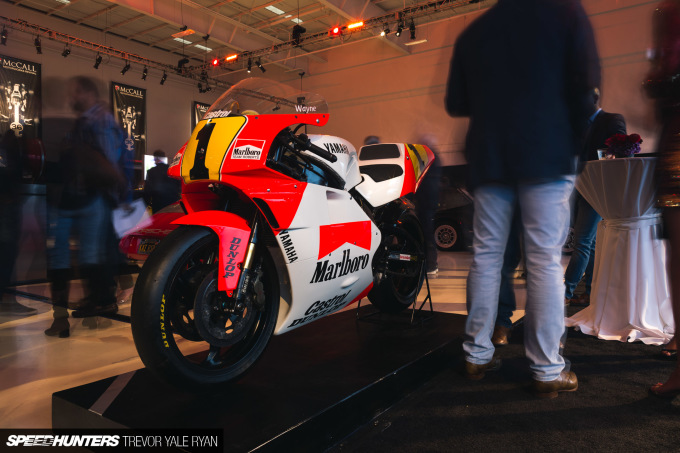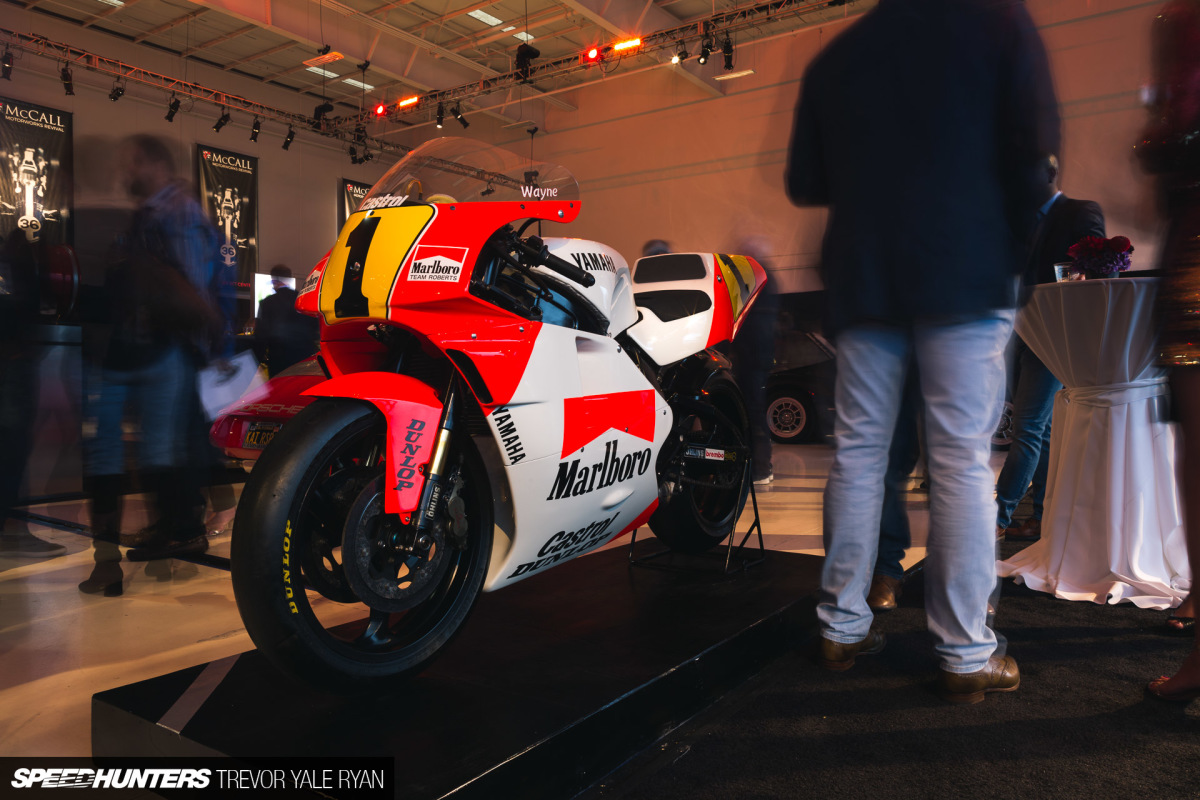 As much fun as talking (sometimes) is, I'm not very good at it when I have my camera on me. To further this, I threw in a tripod for good measure.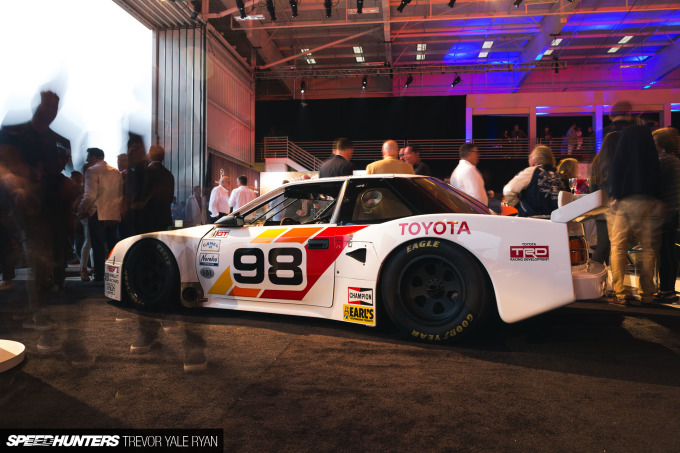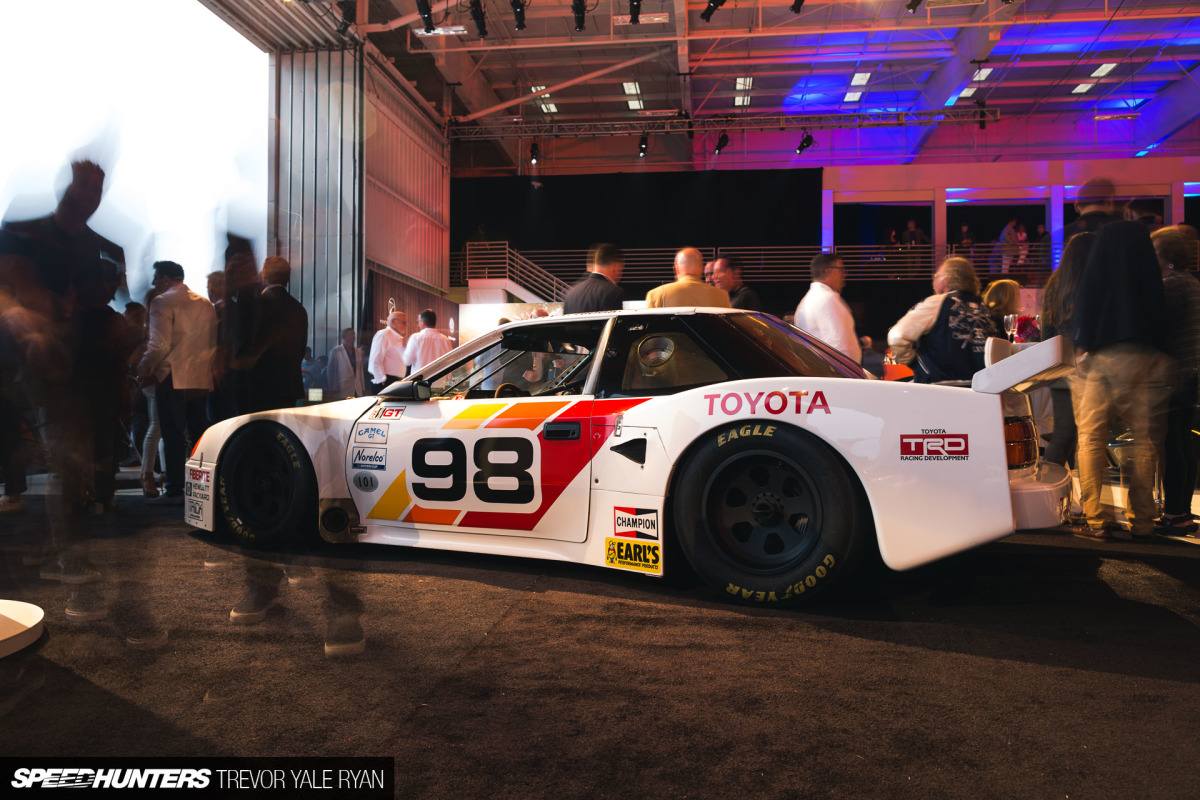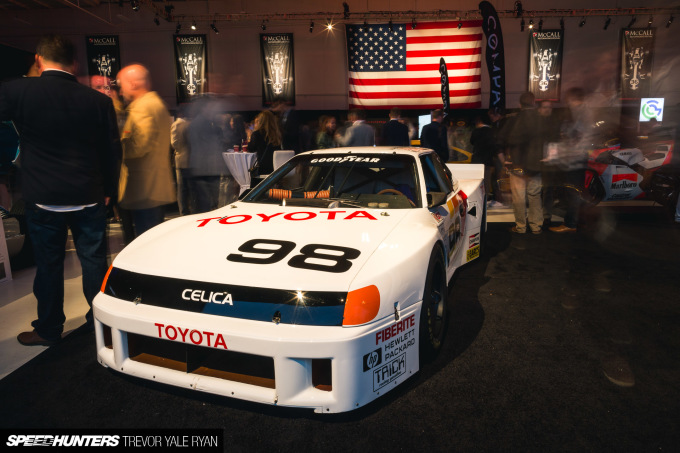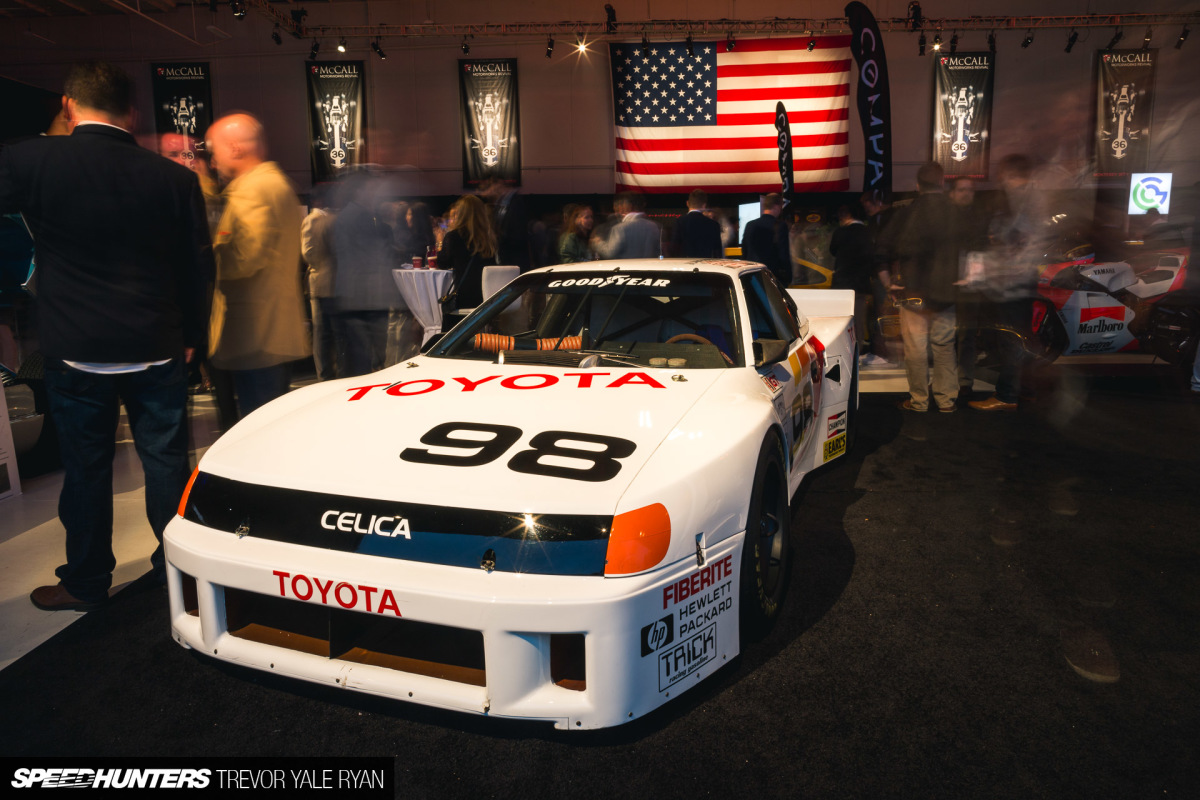 With each long exposure shot (including the throwaway ones) taking some 20 or 30 seconds to capture rather than a fraction of one, I've never really enjoyed the process.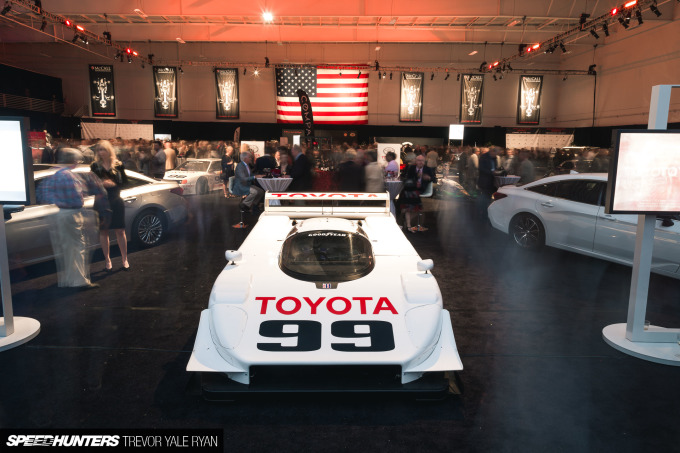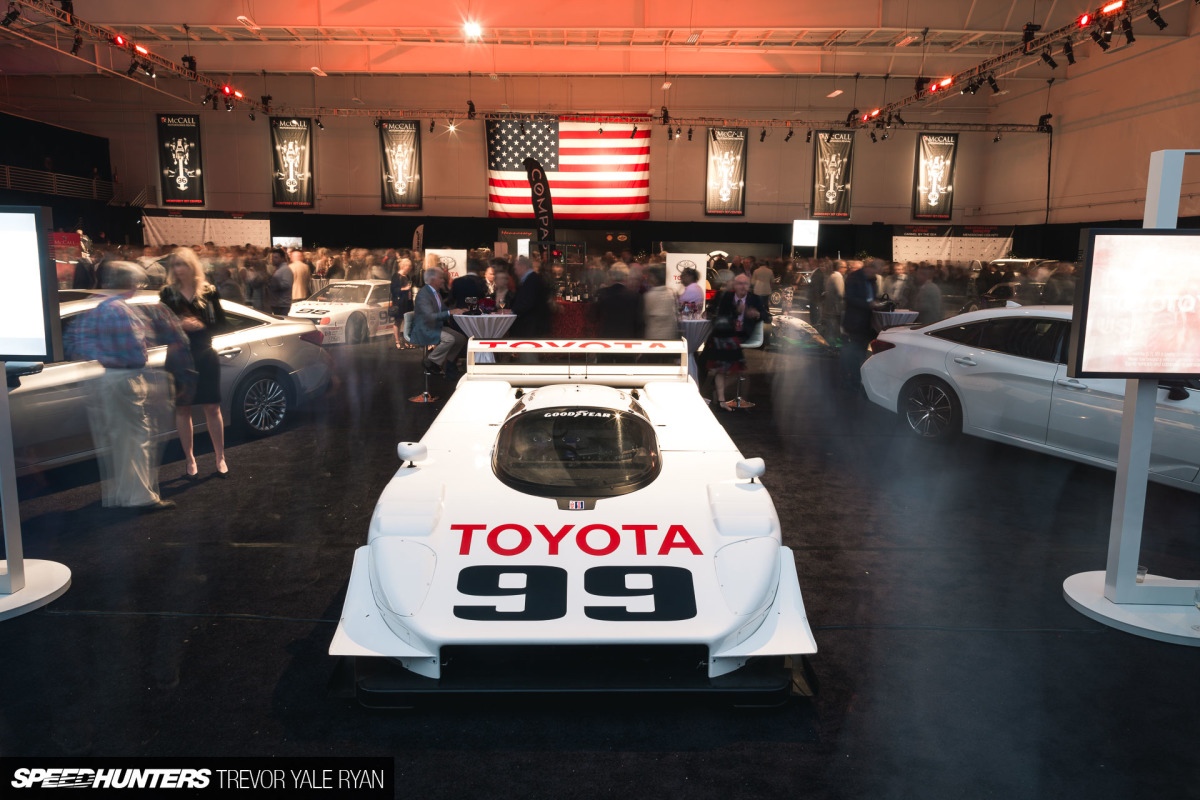 But the extra work means it's more satisfying to get a decent result, and with the place totally packed it was really the only option I had.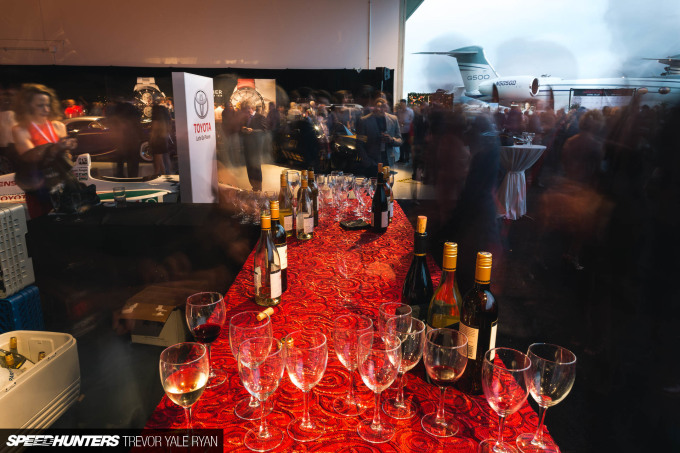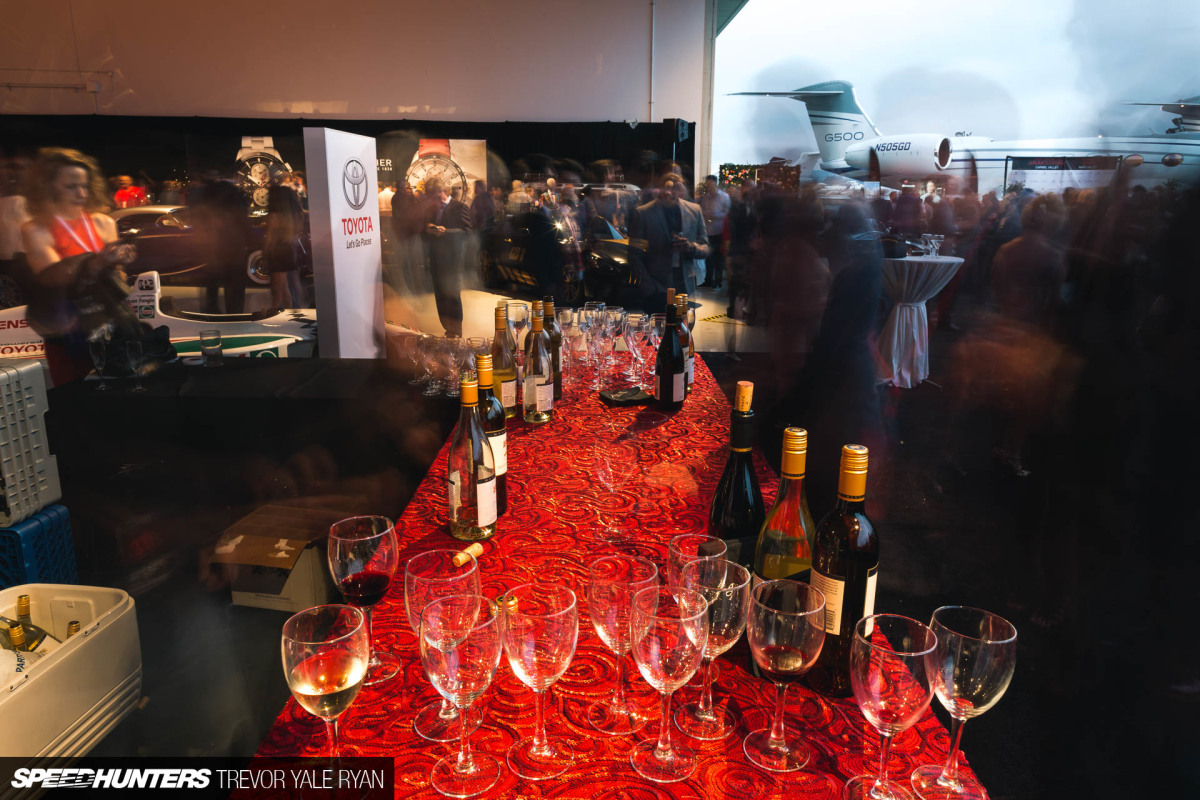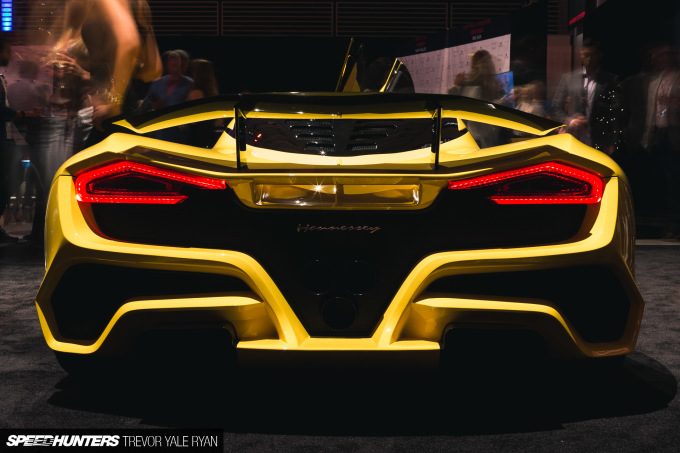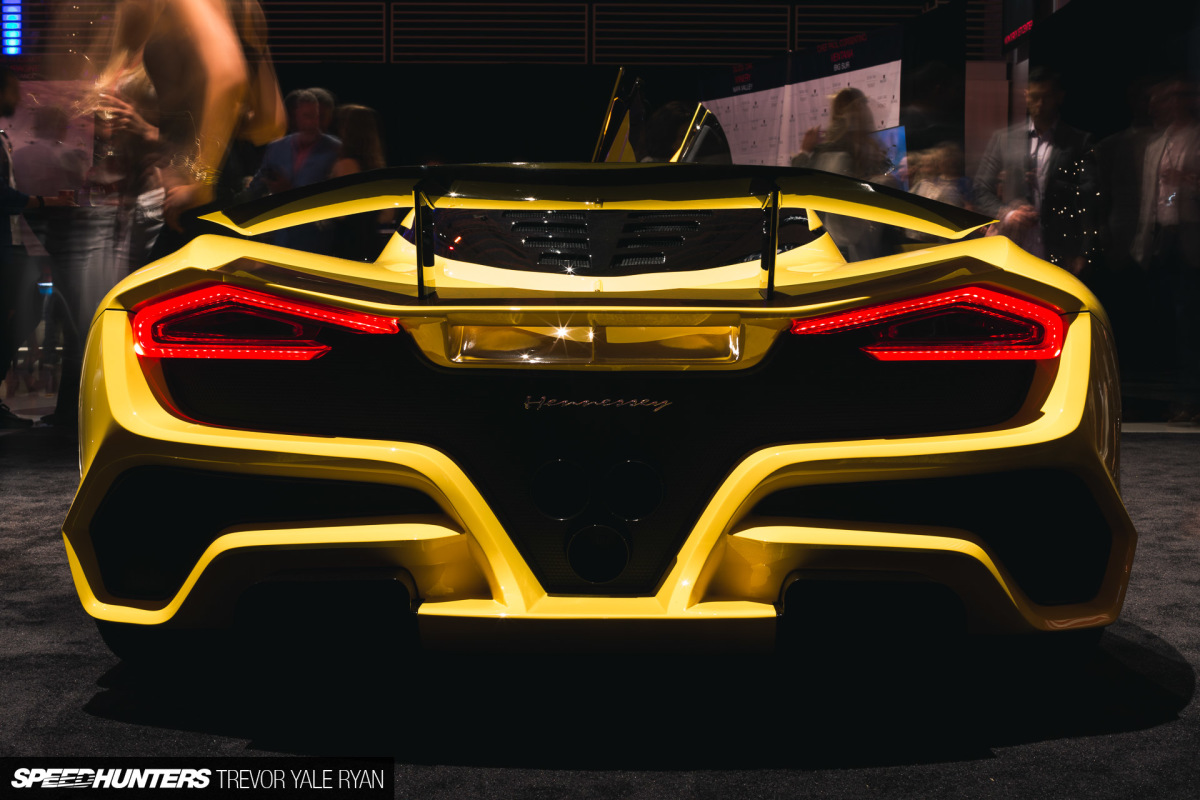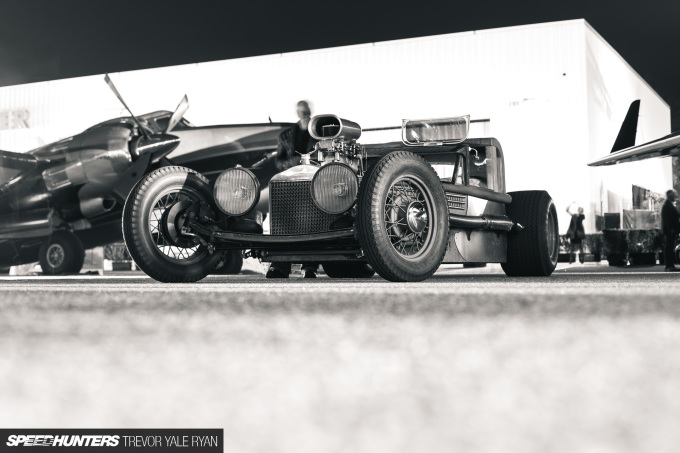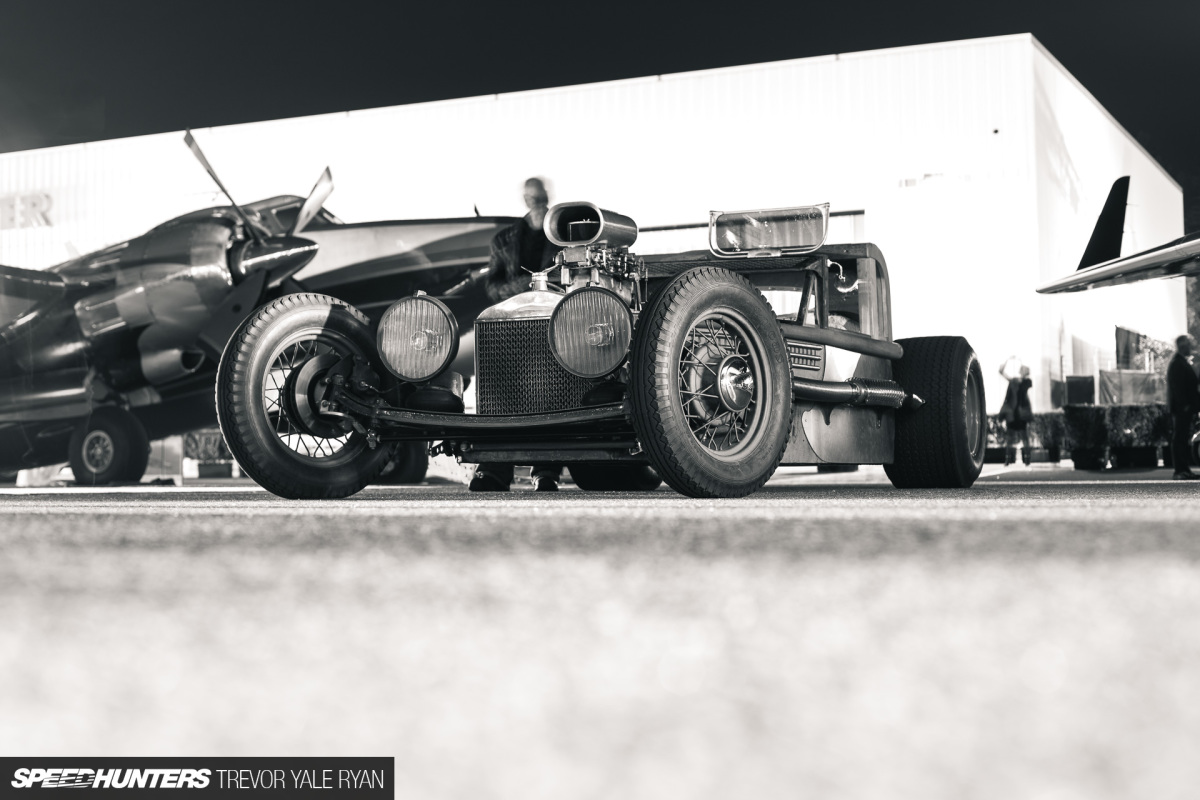 With the evening turning to night, I packed up the tripod and turned my attention towards what was actually happening around me.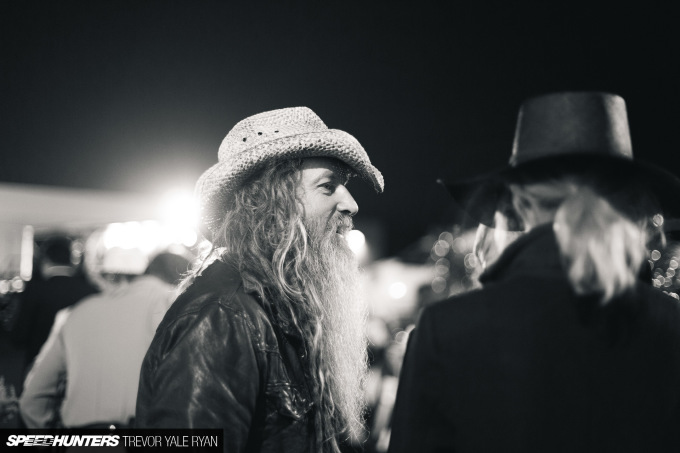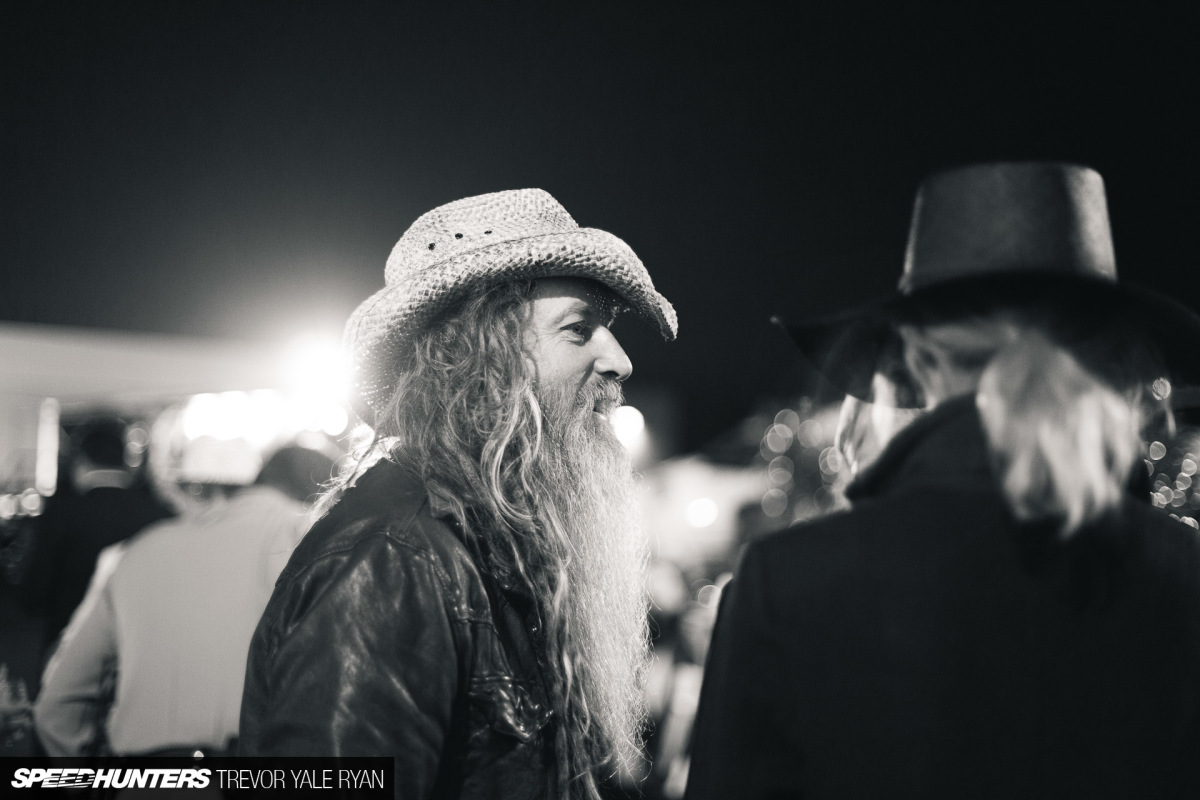 Magnus Walker had popped in and was hanging around a RUF Yellowbird, which I didn't really get any photos of since I already had, and he couldn't seem to take more than three steps before being interrogated.
I noticed Peter Brock wandering around, along with Adam Carolla talking with Gordon McCall, the evening's host. There were a number of other automotive celebrity figures here, too, but with the party itself amping up I figured I'd seen enough; another long day of shooting was ahead.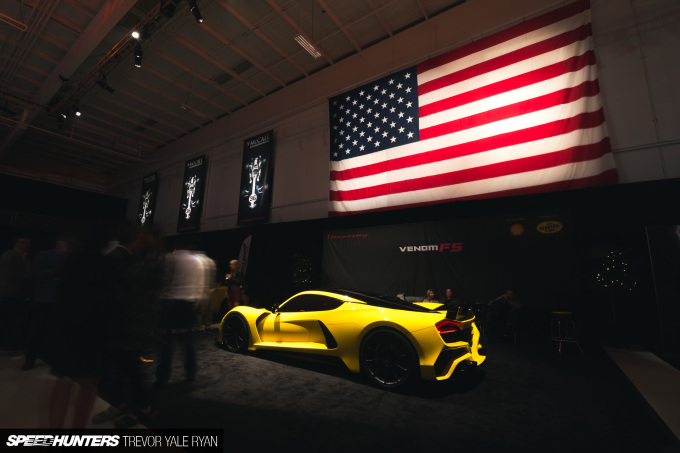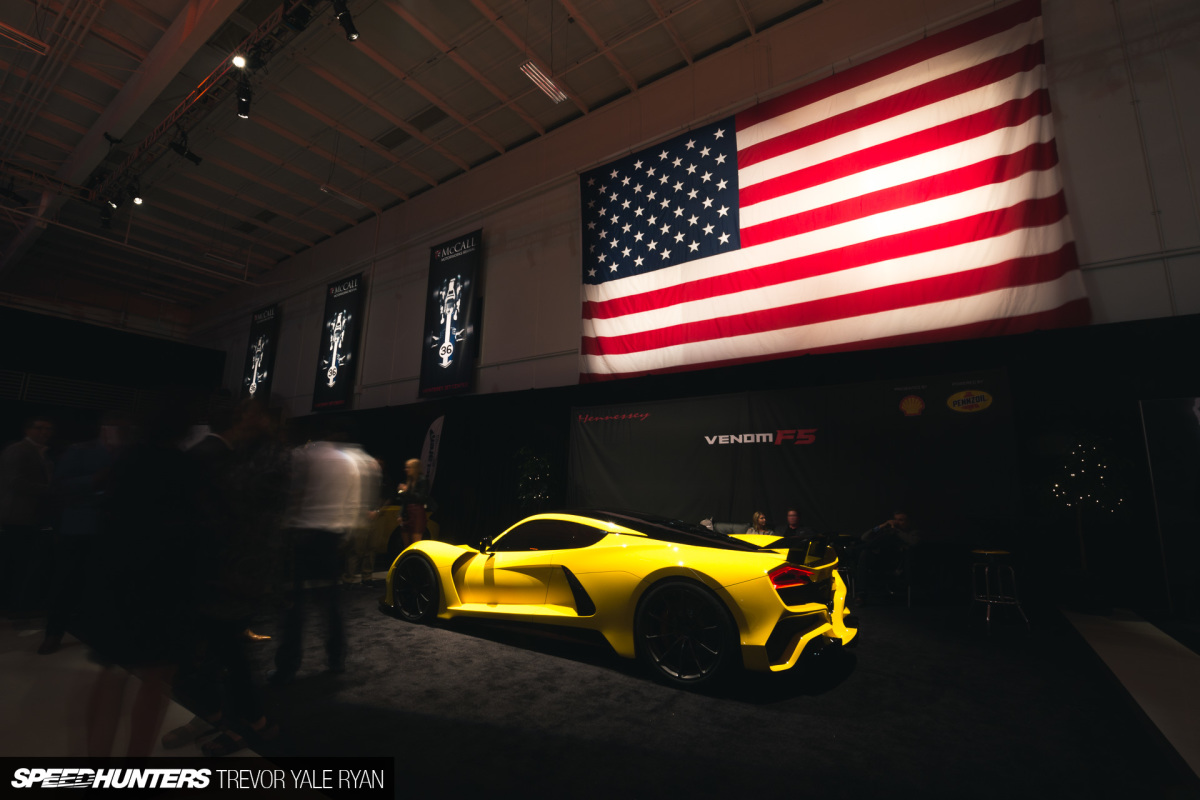 McCall's Motorworks Revival is akin to rolling Monterey Car Week up into one night: endless champagne and expensive cars surrounded by thousands of people, with the added bonus of miscellaneous private jets – if you're into that. The high price tag means it's a segregated affair which is, somewhat unfortunately, true of most Car Week events.
As much as I wanted to dislike it becuase of this, I have to admit I personally had a great time. And, despite trying my best not to, I met a few interesting people and did in fact make some good contacts for future stories. If you've ever wondered, now you know. And if you haven't, regular programming continues with more from Laguna Seca coming up.
Trevor Yale Ryan
Instagram: tyrphoto
TYRphoto.com