Welcome To Pebble Beach
This year was the first time I made it to the renowned Pebble Beach Concours d'Elegance. I felt as though I knew exactly what to expect and, frankly, I expected it to be boring. Cars are meant to be driven, not parked, right?
Firstly, the cars are driven, although not in a way that promotes much excitement. So, as fun as the periphery of the show was I already had it in my head that I wouldn't enjoy the concours bit. I know this might seem awfully cynical, but this is Speedhunters after all. Speedhunters.
I've always thought concours was little more than an exercise in wasting money, but having never experienced the high end of this, what if my opinion on the matter was was little more than pompous guesswork? We've all seen photos from the event, but what would it be like to actually be there?
What if I was the one who didn't understand? It certainly wouldn't be the first time, nor would it be the last. We really all should always keep that option in the back of our minds…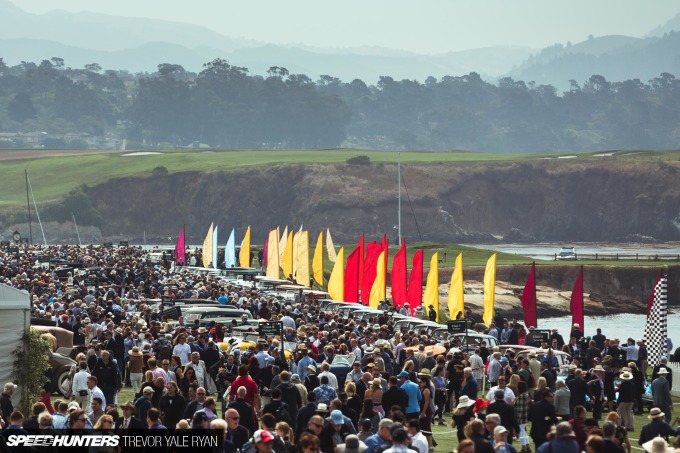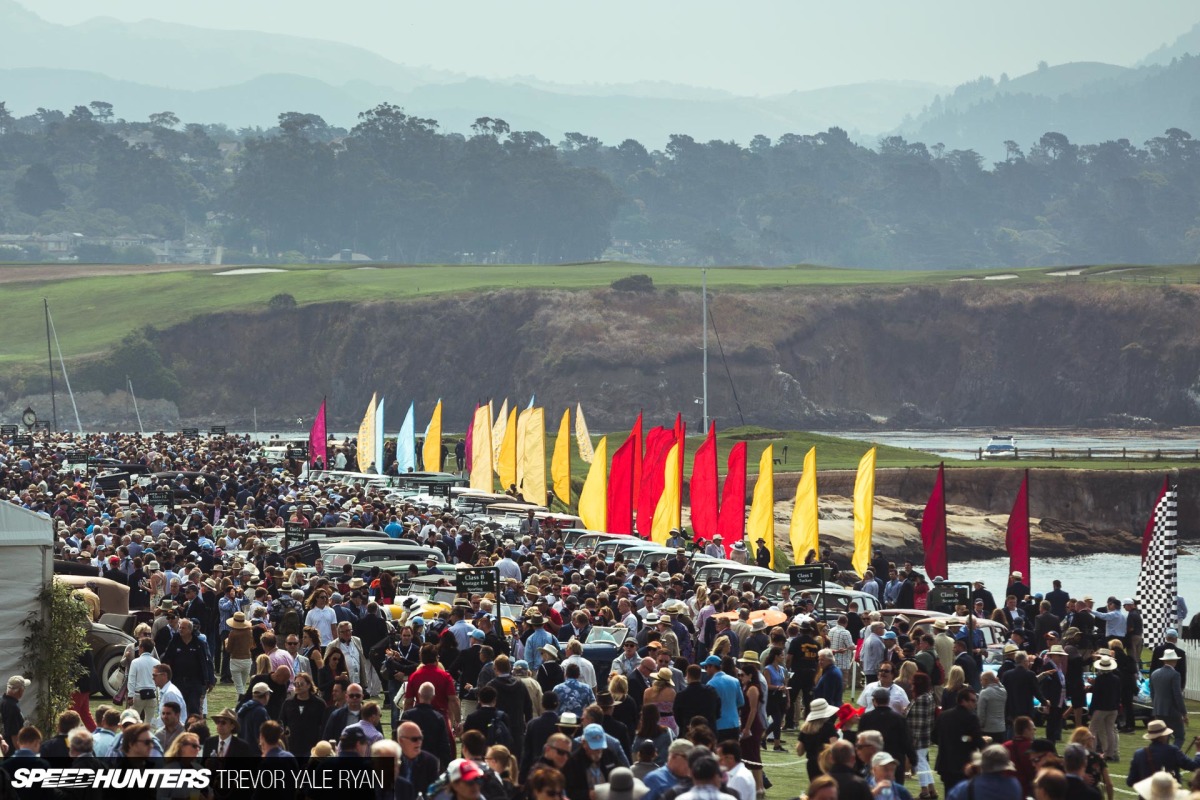 With near 20,000 other attendees stuffing the show full, my mind was slowly opened up as I traversed through the sea of people.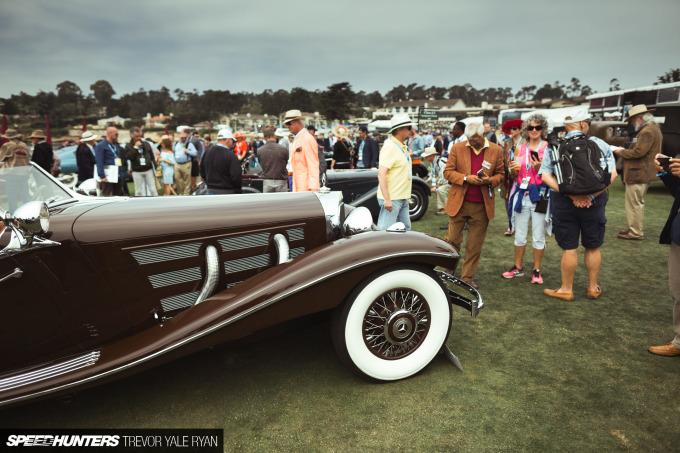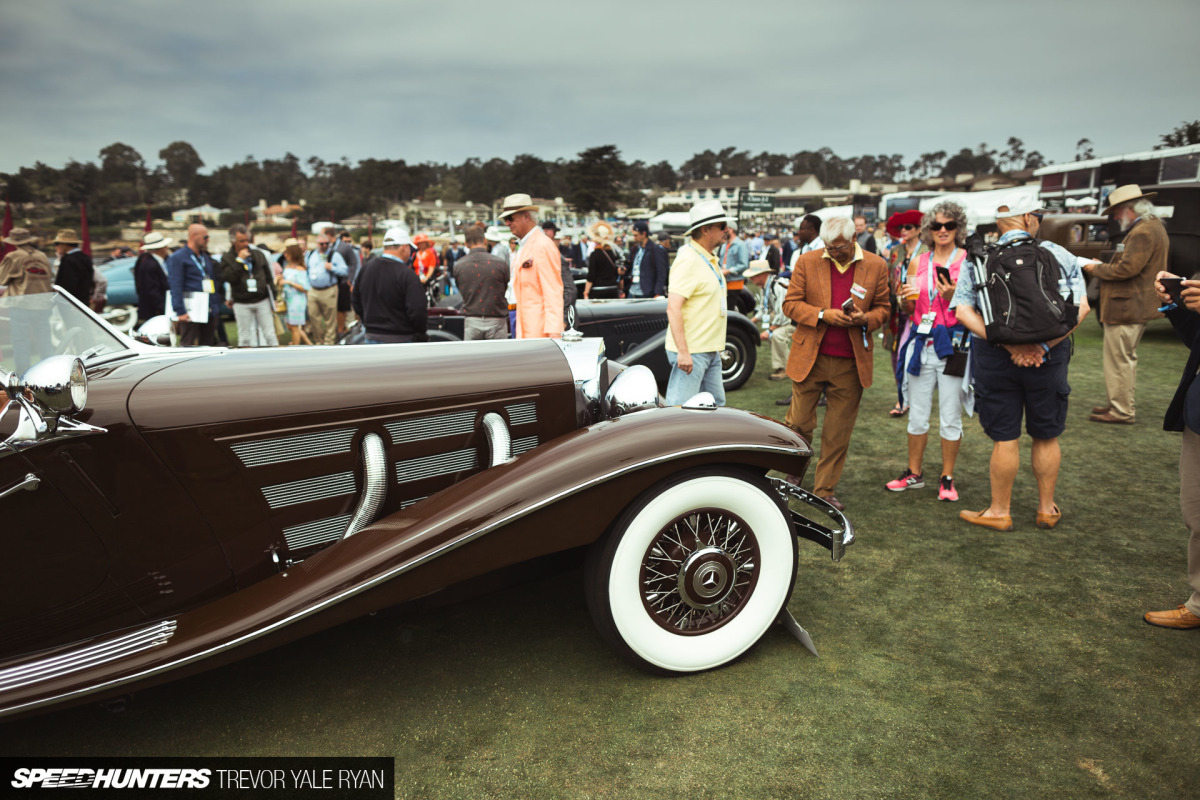 Beyond the human barrier, there was some truly special machinery on display. Whether it's your cup of tea or not, there's no denying the completely insane level to which these cars are restored and maintained. Let's not forget that the vast majority of them are incredibly rare, too.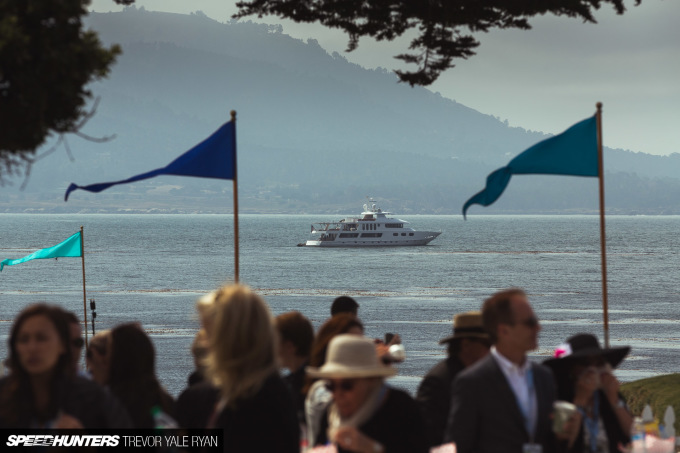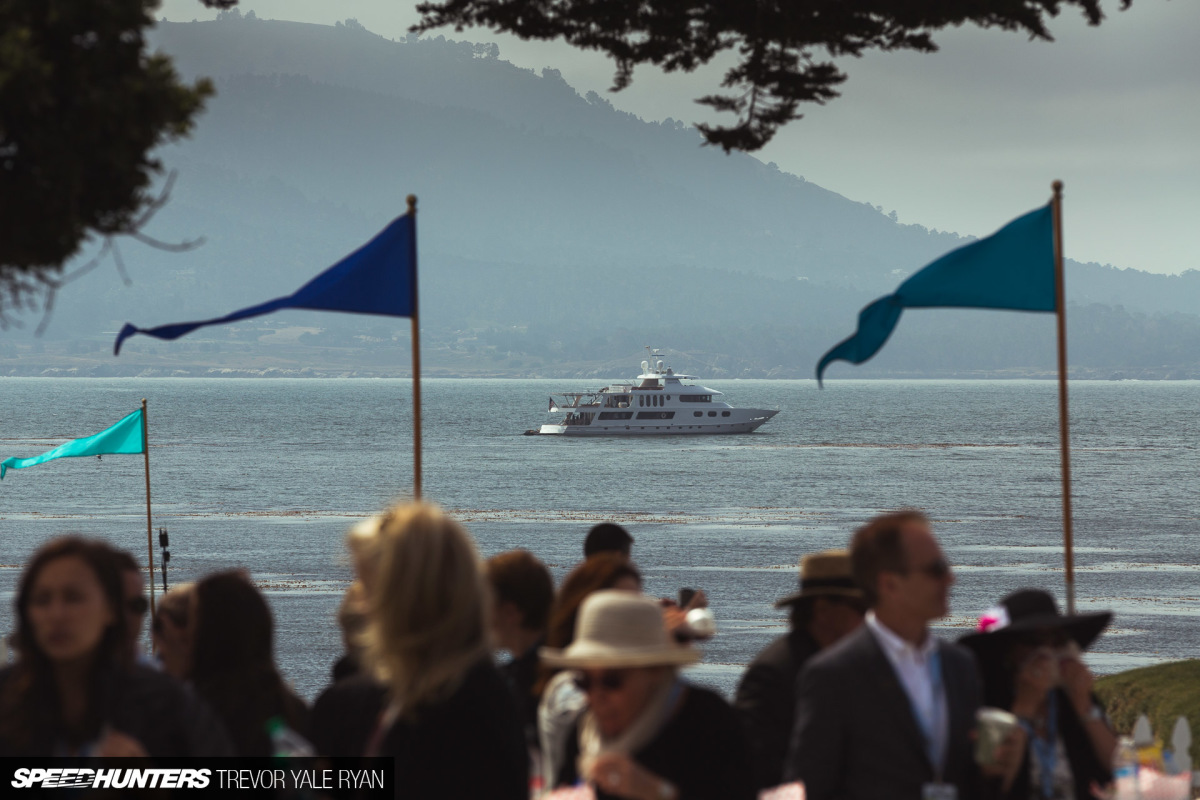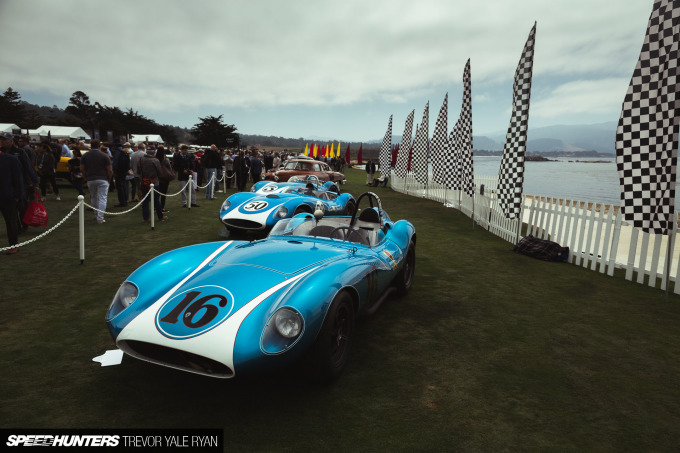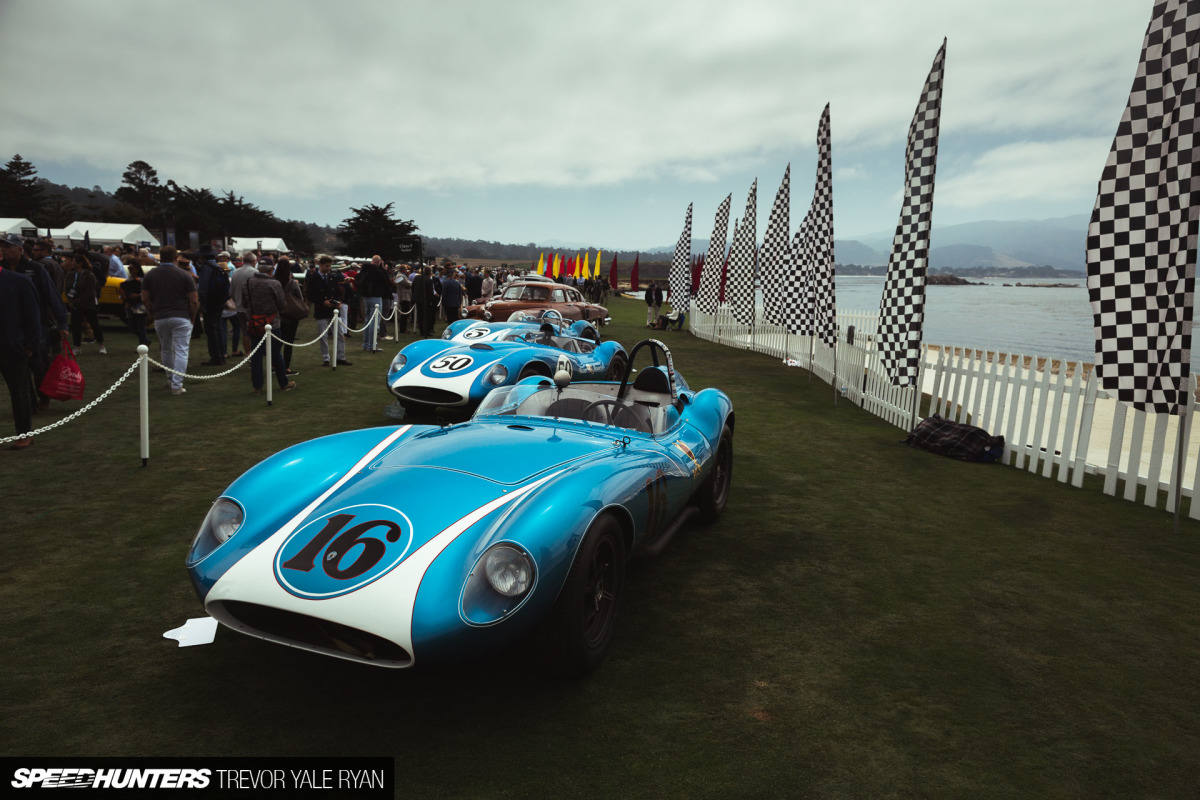 Walking onto the green of the Pebble Beach Golf Links you're greeted with a beautiful view of Carmel Bay. It's quite fitting that the most prestigious car show in America would be held here; the atmosphere is that of pure class.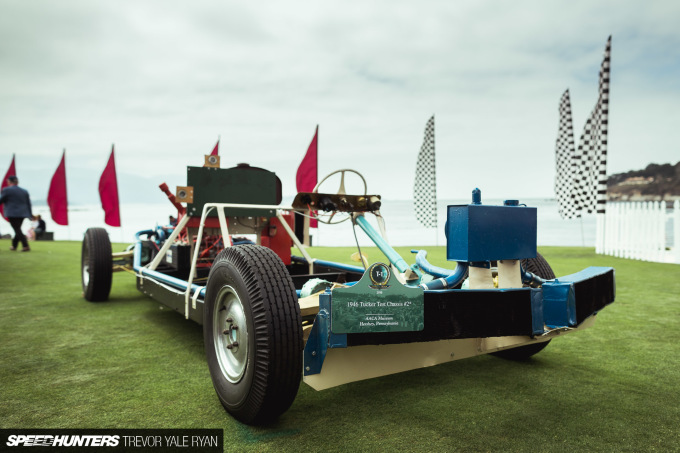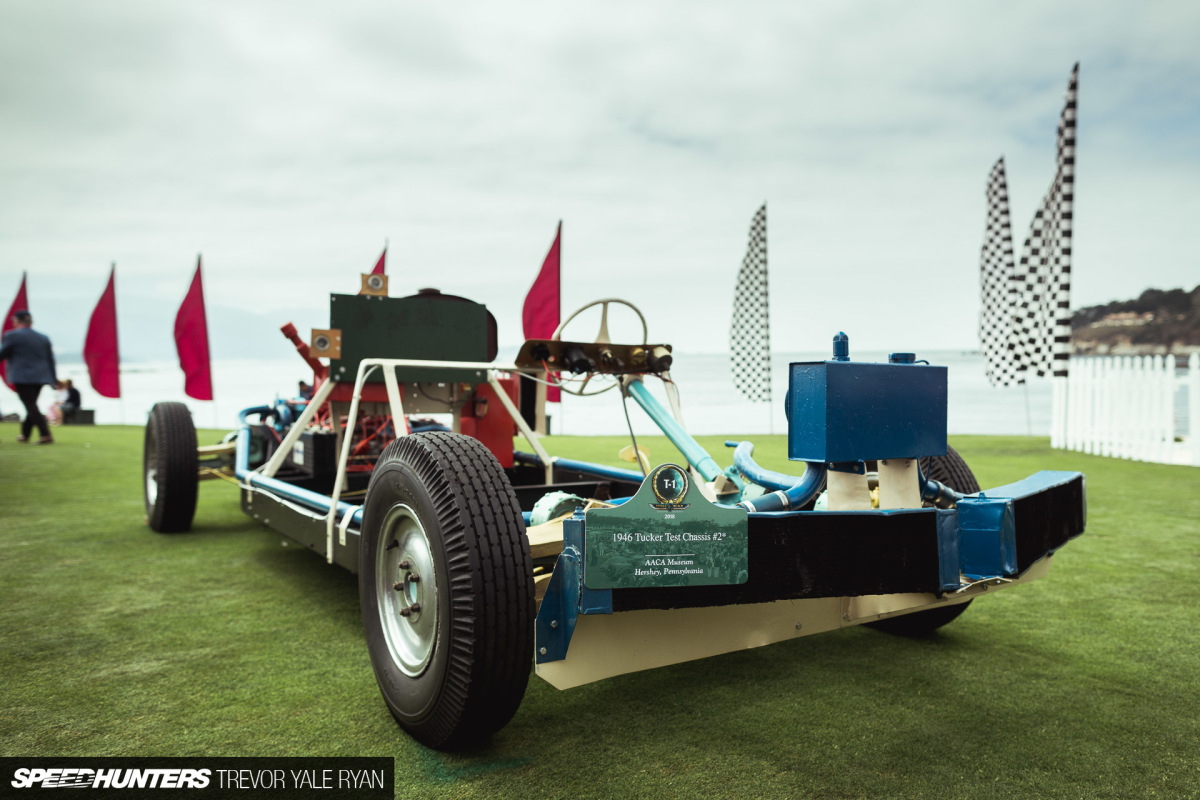 This year's event would feature several special classes: Motor Cars of the Raj, Rollston Coachwork, OSCA, Tucker, Postwar Custom Citroën, Vintage-Era Sporting Cars, and Eisenhower Era Dream Convertibles.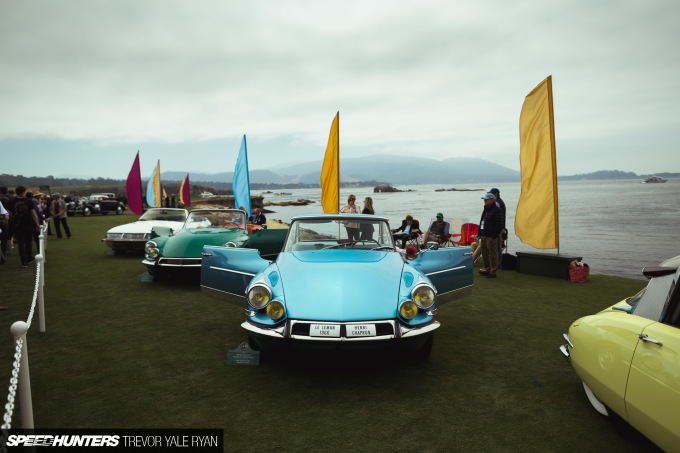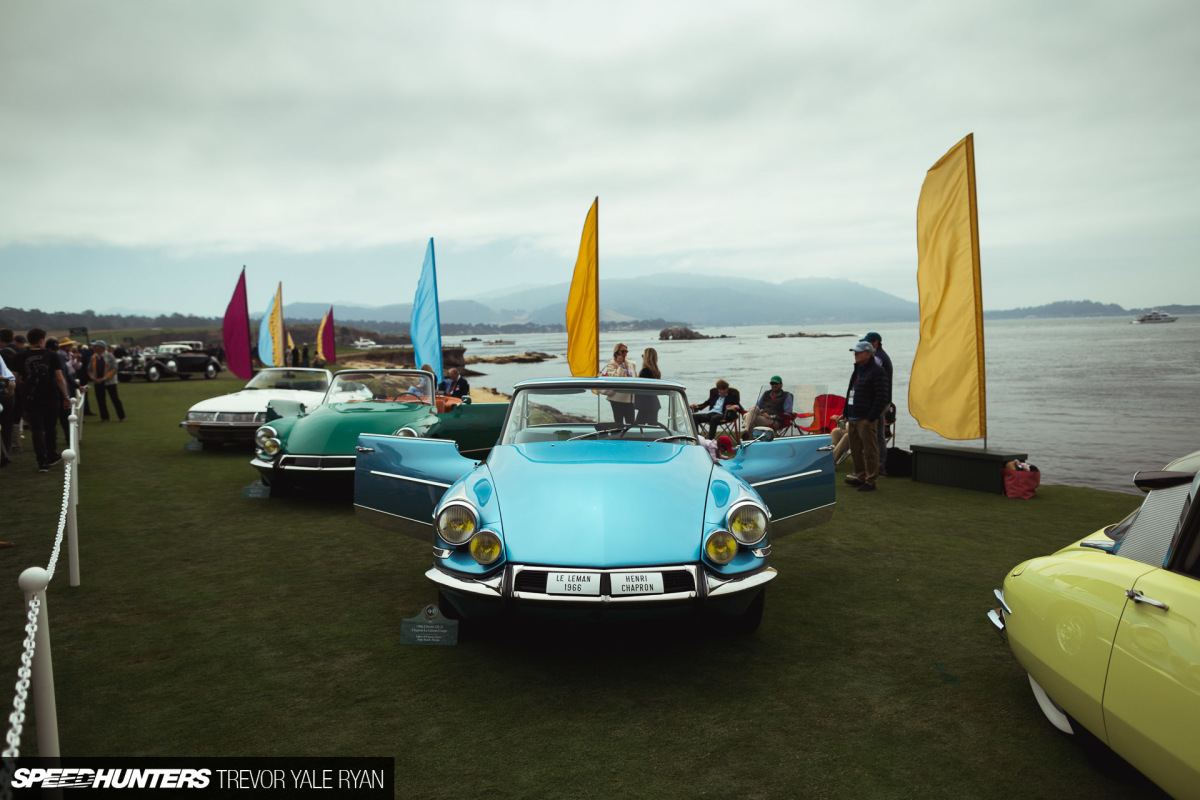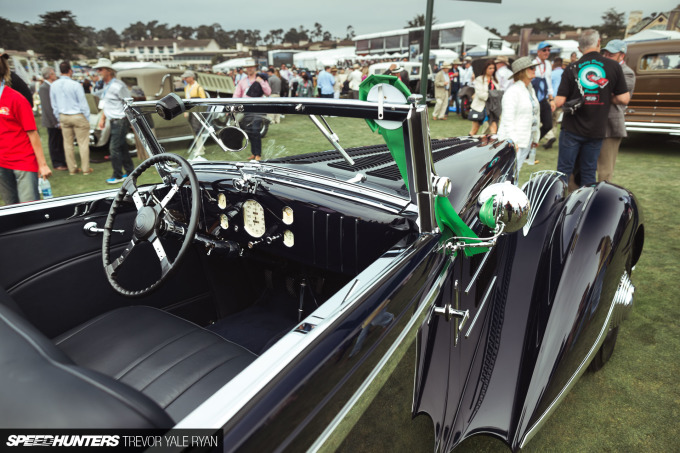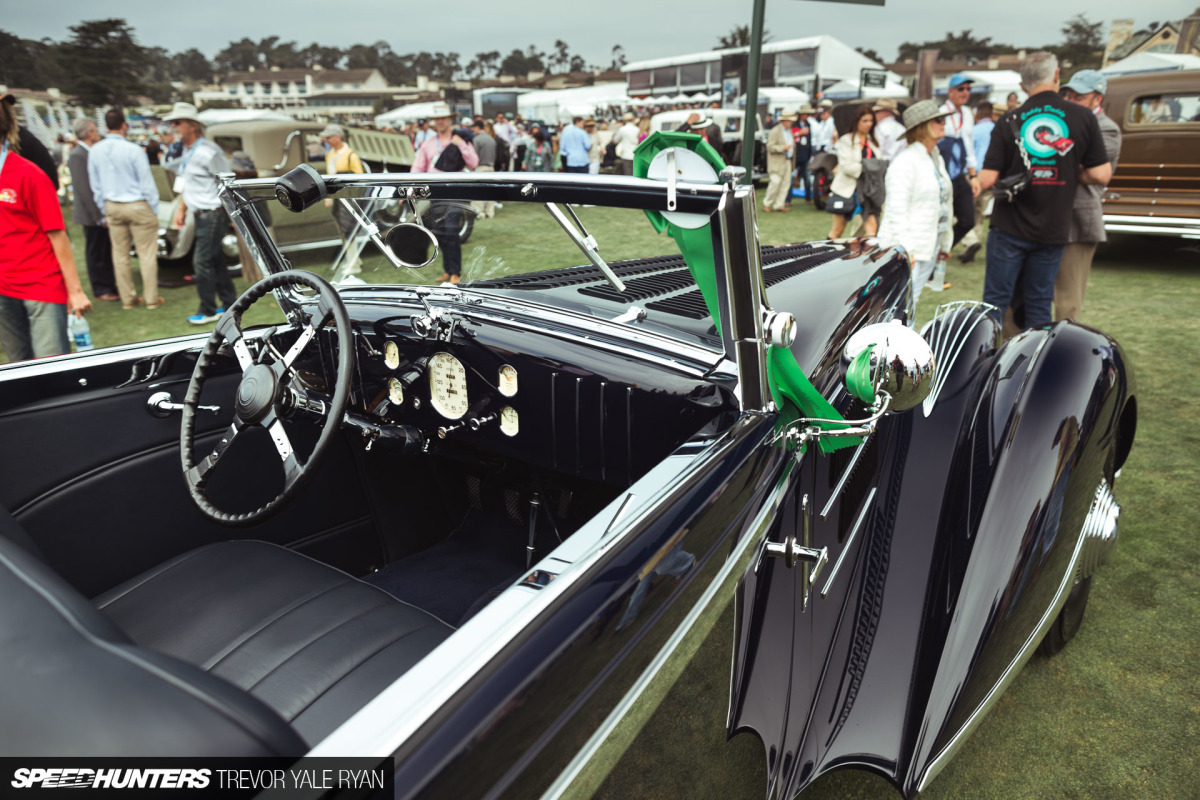 For as much as a sourpuss as I was before I showed up, I seemed to be having an awfully good time admiring the like-new quality of the array of 200-odd vintage cars on display. But time for some speed, yes?
Vintage Performance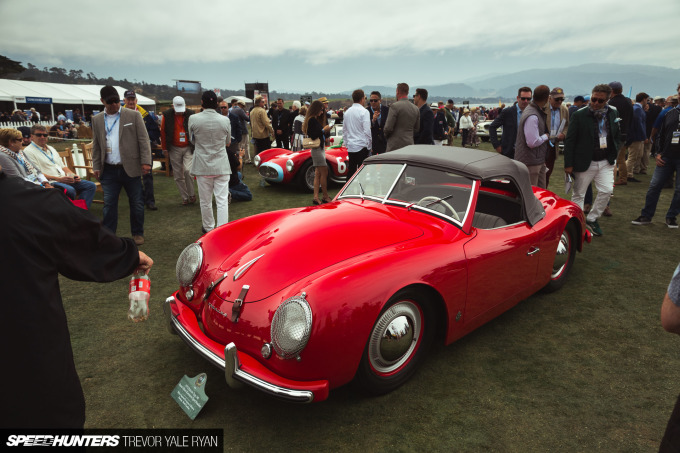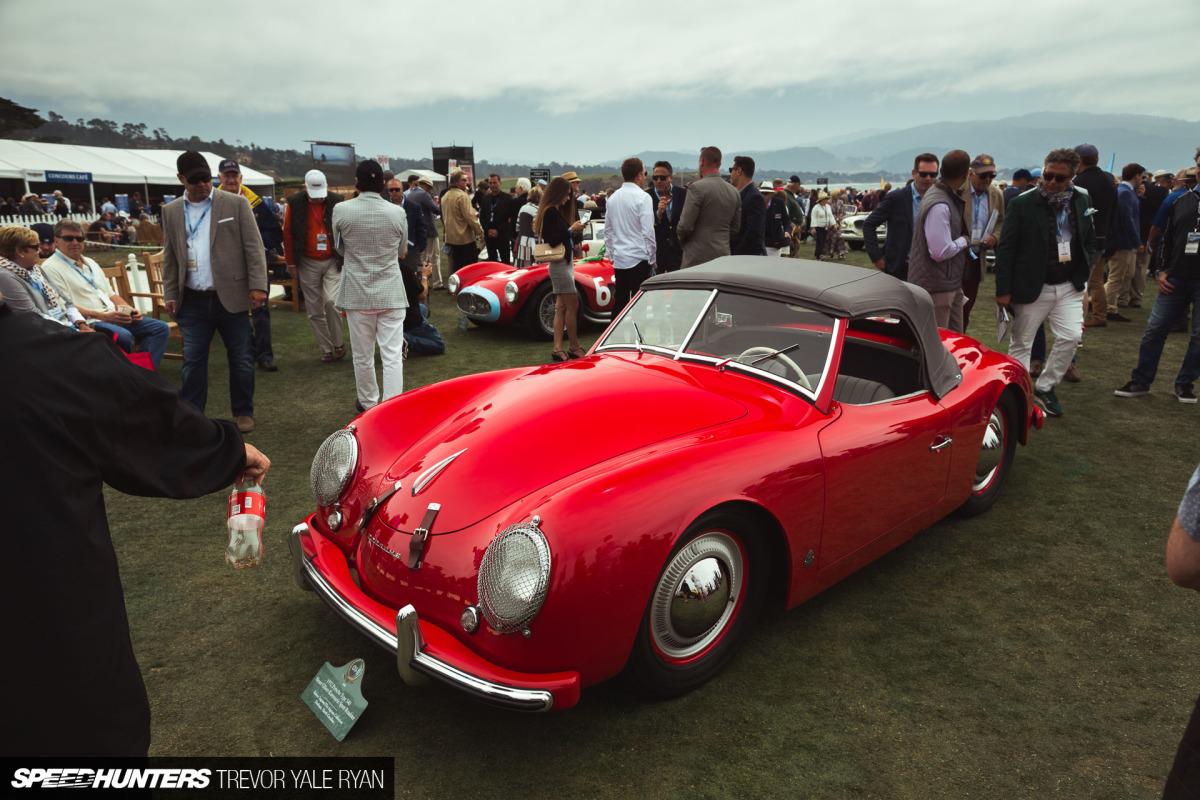 I took particular interest in this '52 Porsche Type 540. The standard bathtub shape is there, but this is just one of 16 America Roadsters ever made. It wasn't cataloged nor promoted in Europe, and with the coachbuilder losing money on each car they simply stopped.
It could make it to 60mph in under 10 seconds, and topped out at a touch over 100mph. Speedy for the '50s, no doubt, and stunning to take in.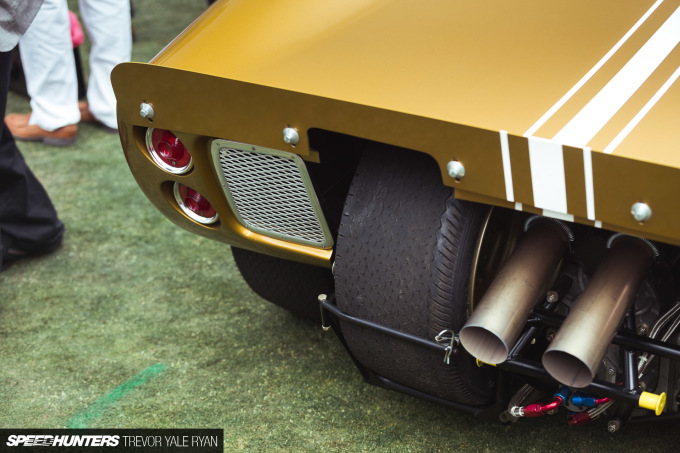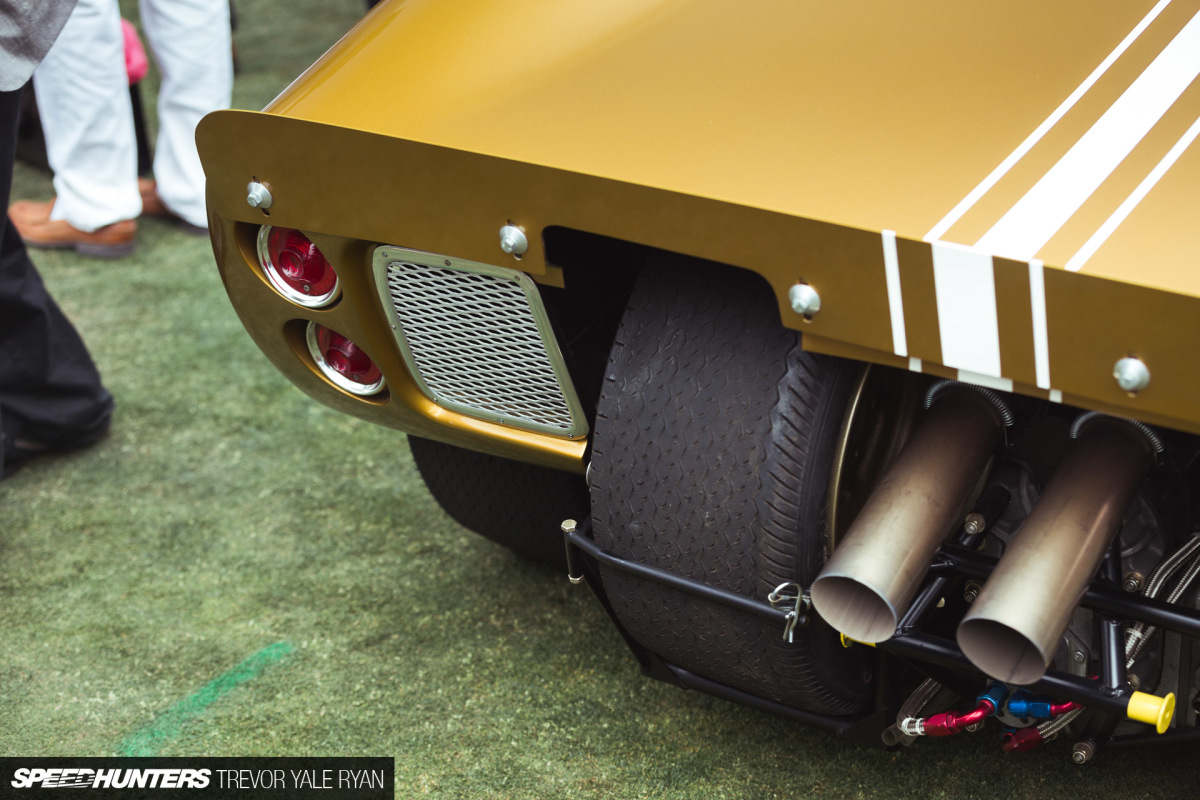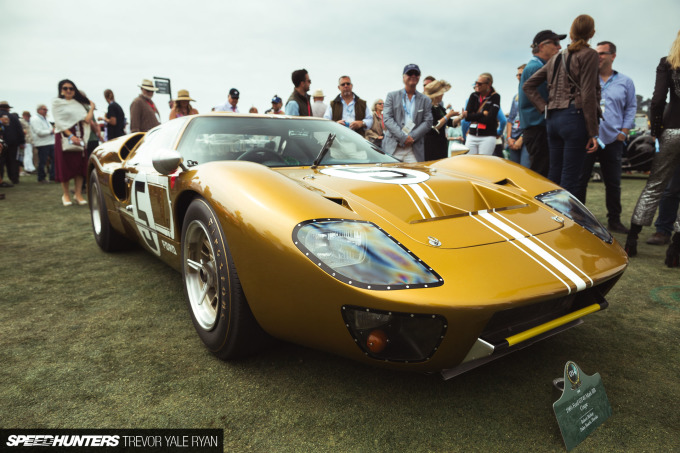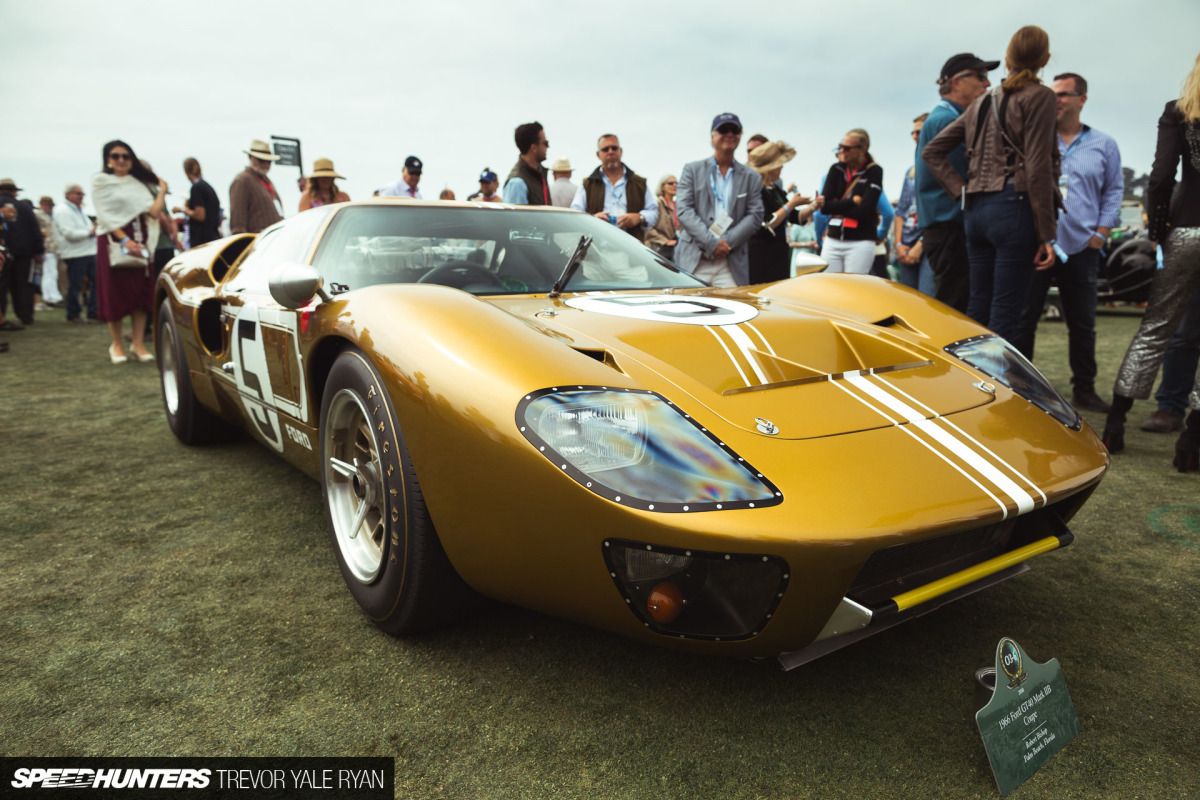 Further along I found this Ford GT40. You may be thinking 'not another GT40'… but it turns out this specific car is a Mk II-B, something I'd never even heard of before. Being fairly well versed on the chassis, perhaps this is just a complete oversight on my part, but it's entirely indicative of the sort of old school performance machines you'll find at the Pebble Beach Concours d'Elegance.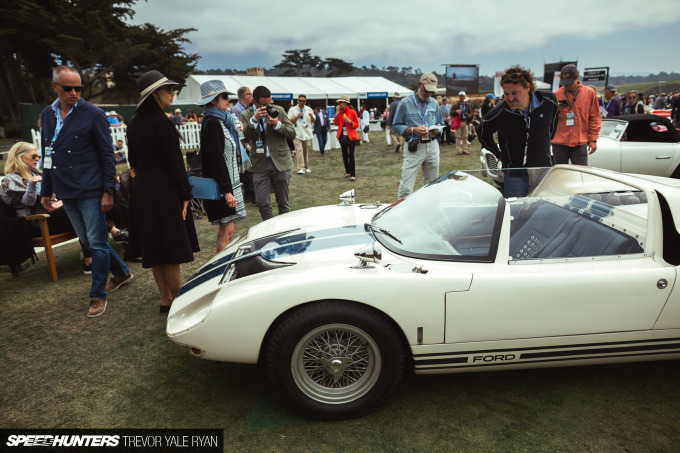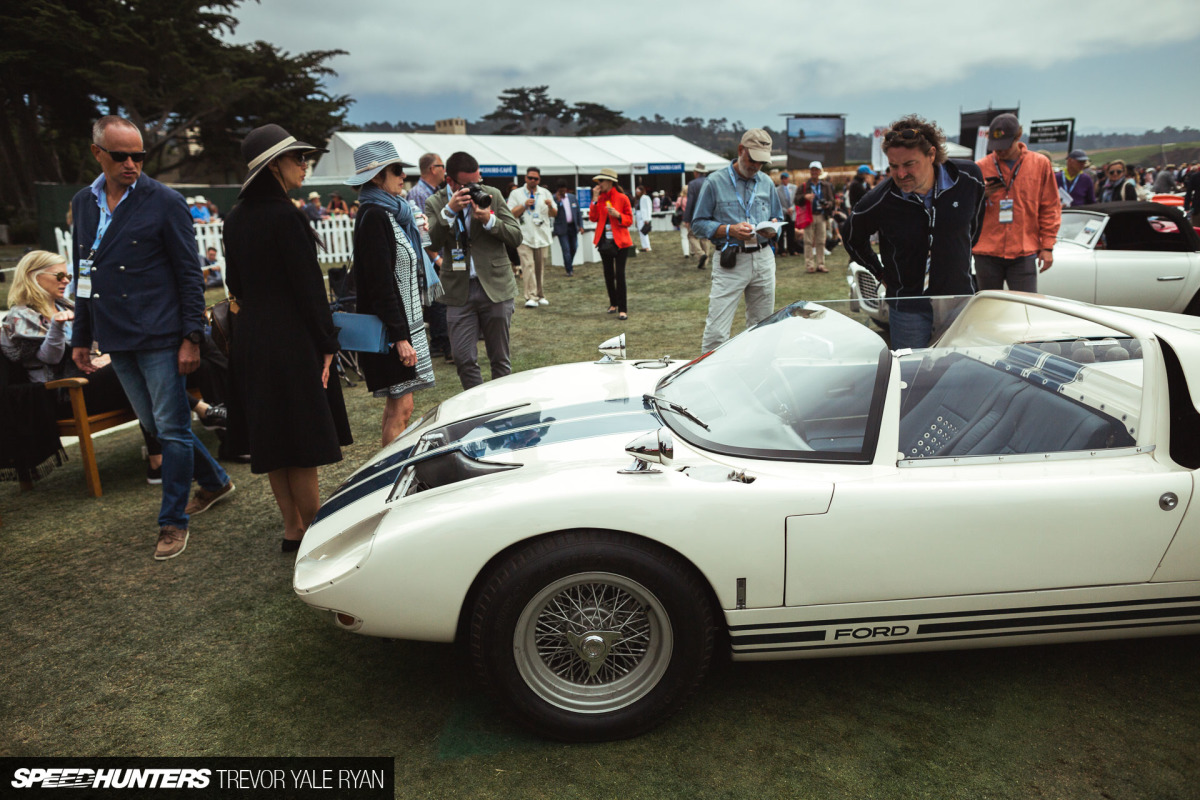 Nothing is too rare to be found here, and I was beginning to understand this whole concours thing a bit more. I'd be truly terrified to drive something like this GT40 prototype in anger, and maybe that's OK. What would really be the point, anyway? Perhaps the fact that these cars exist at all is more than enough.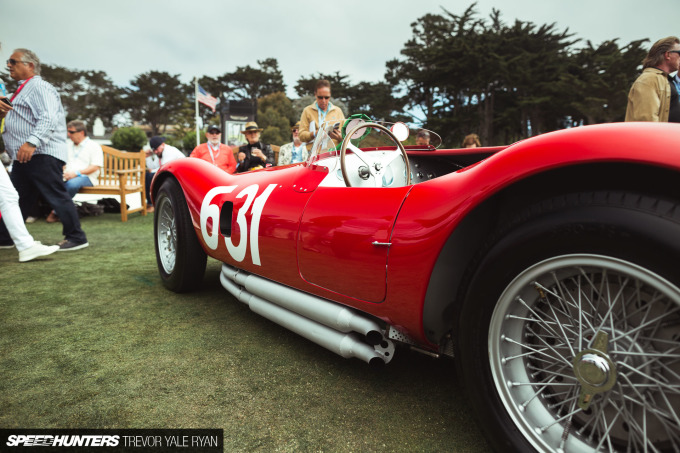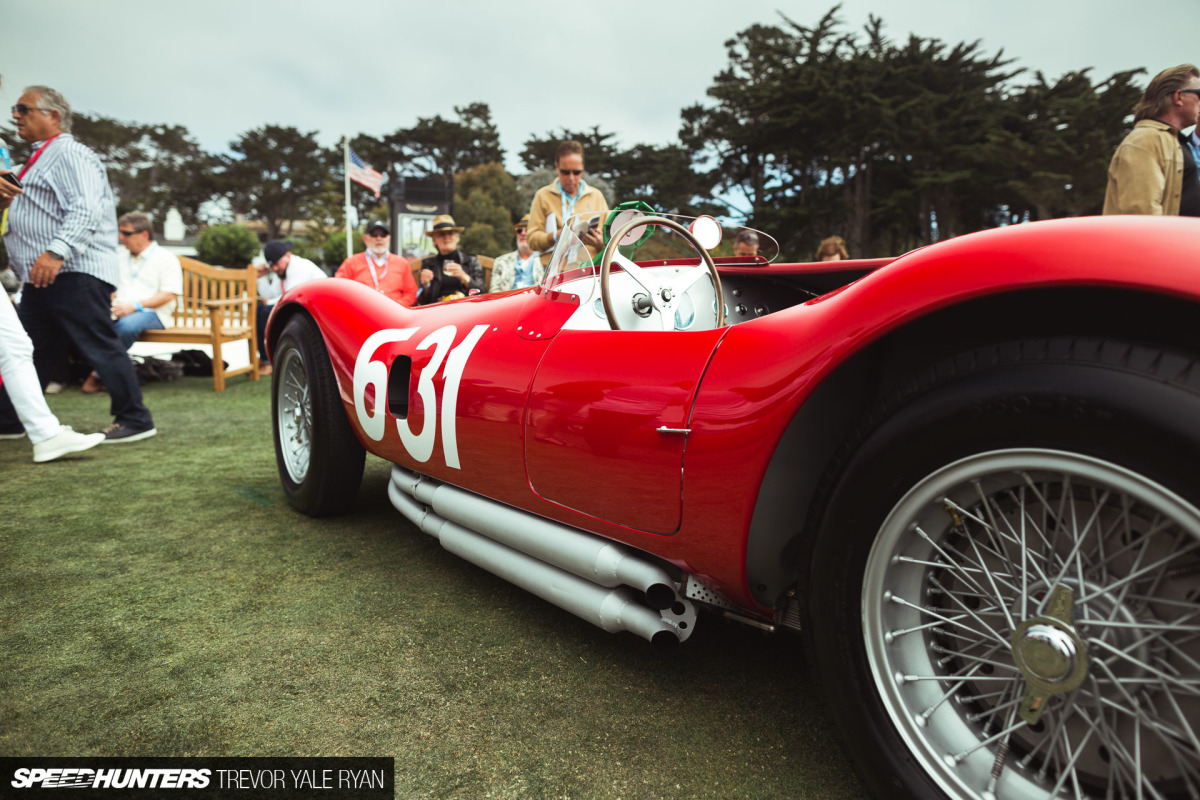 It's more of a mobile museum than a car show, and there's plenty of opportunity to learn something here. One bit that was most striking looking at all these old school racers and road cars alike is how far we've come in terms of safety. There's just about no crash protection whatsoever, but at the same time this is part of what makes these vintage machines so special.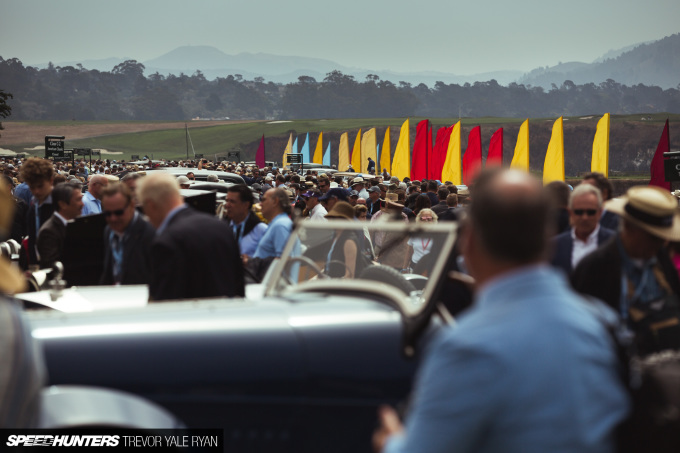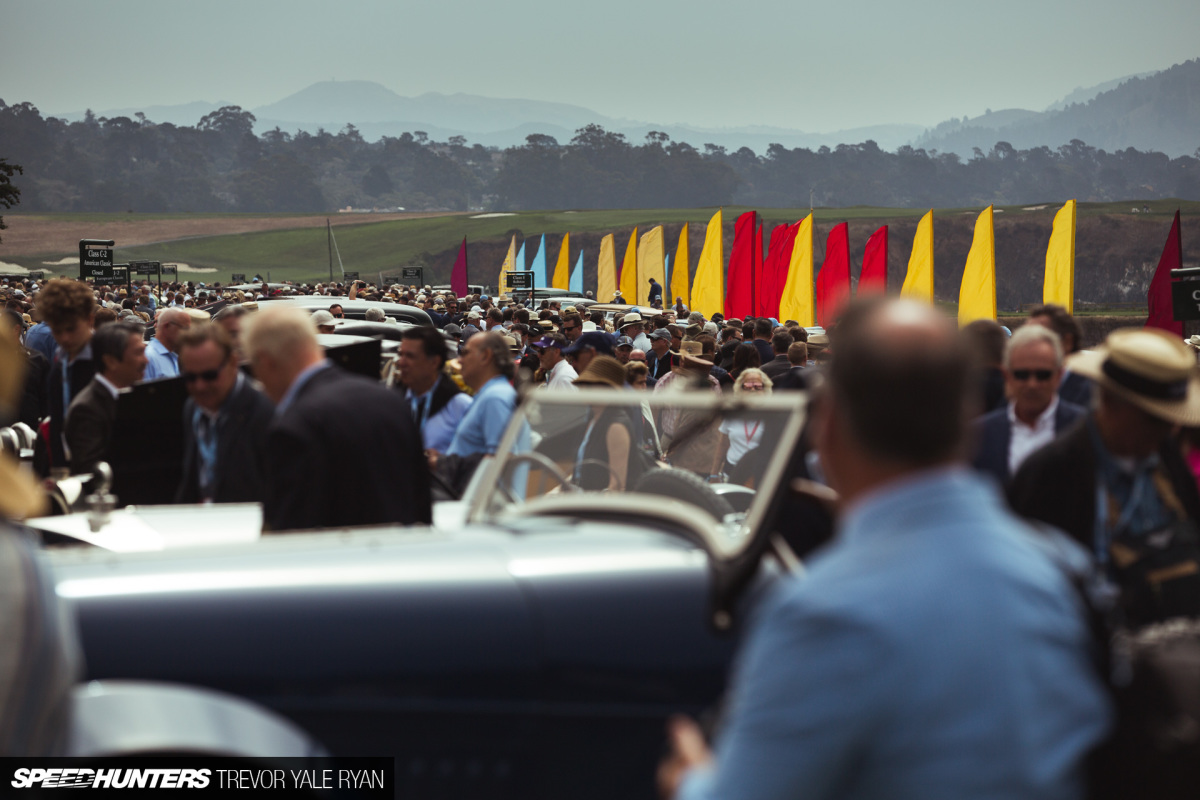 As captivating as the irreplaceable metalwork from decades past is, and with so much going on around me, it was honestly a bit hard to focus on just the cars themselves at times (read: there was a bird, and all cameras in the area pointed at it). Persisting through the crowds, I was rewarded with more awesome racers.
Breathe In Breathe Out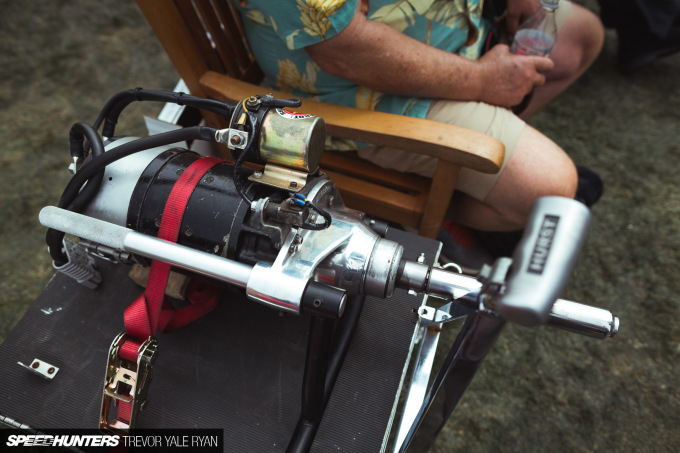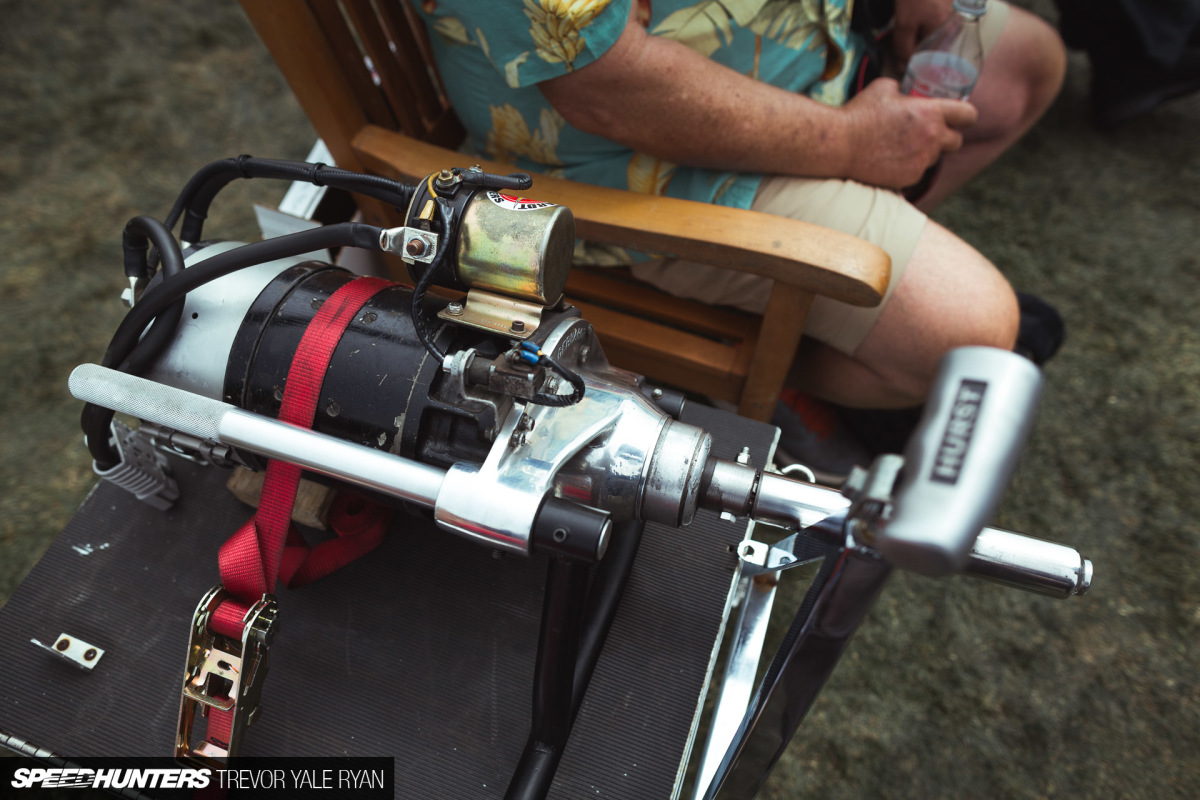 When I spotted this external starter motor I knew I had to be in the right place.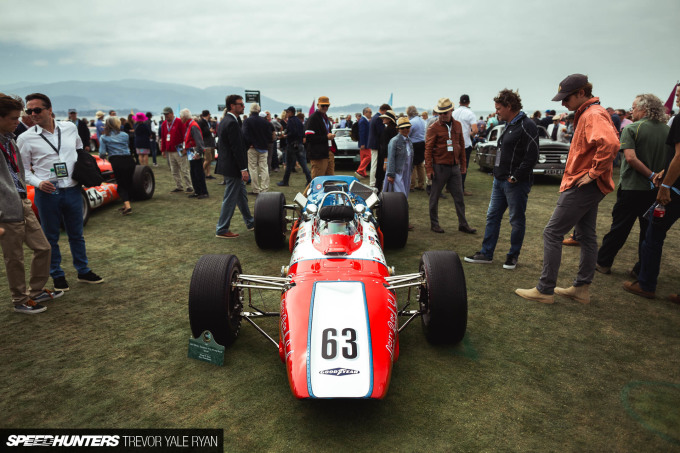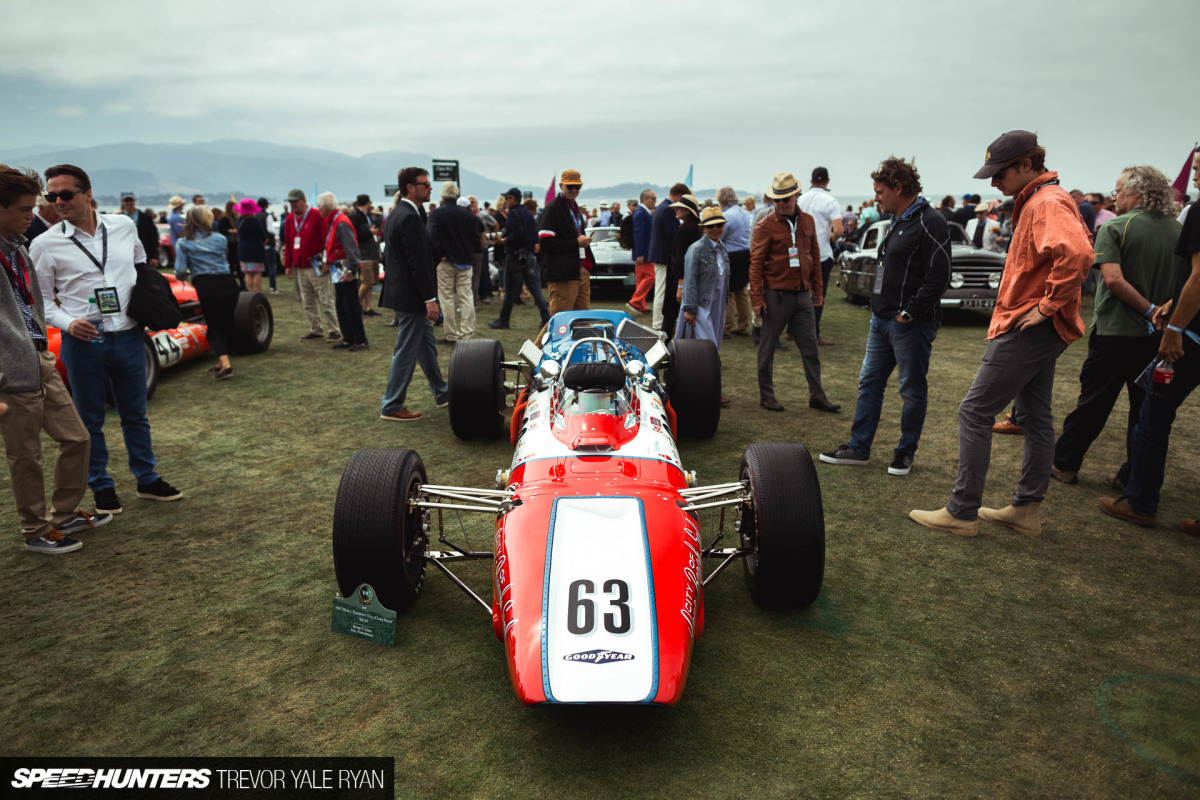 This '67 Indy 500 car, the Mickey Thomspon 'City of Long Beach' Special, was an absolute piece of art. Previously wearing period patina, the car has very recently been completely restored to museum-quality condition. Again, concours was sinking its teeth deep into my mind. Get out!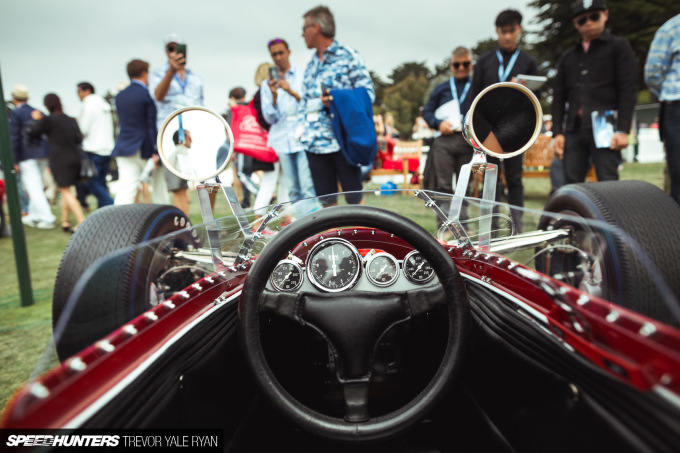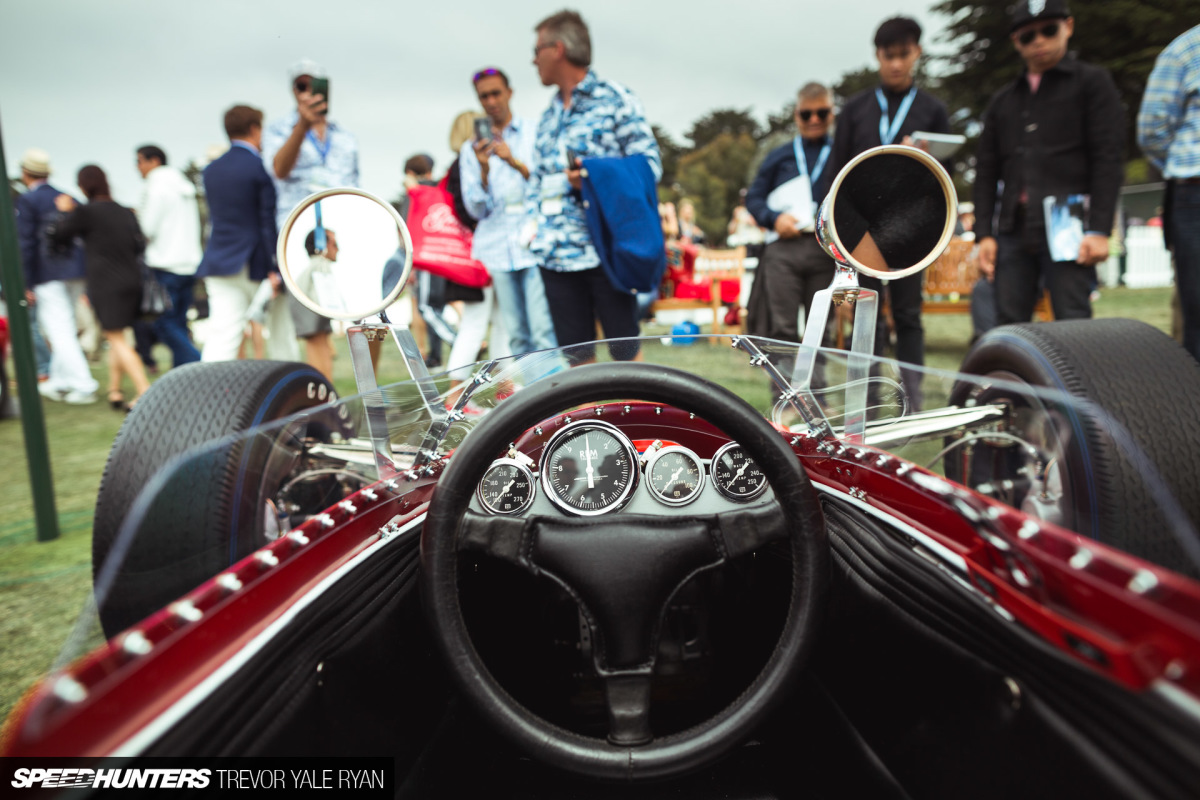 But seriously, how cool is this view? We're left to only imagine what it would be like at speed, but without concours events perhaps this car would be little more than a barn find that remained as such.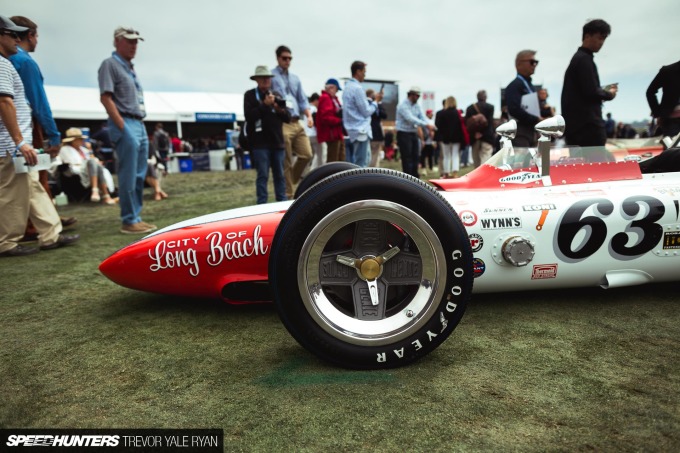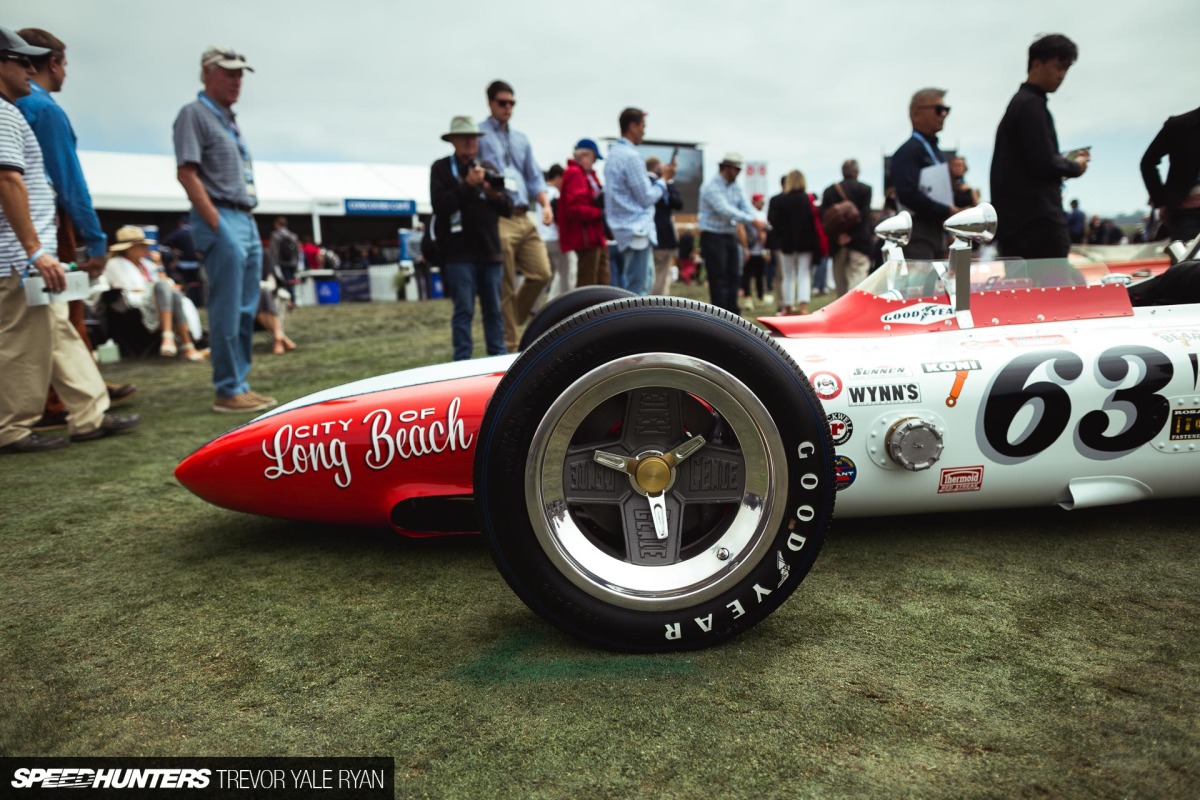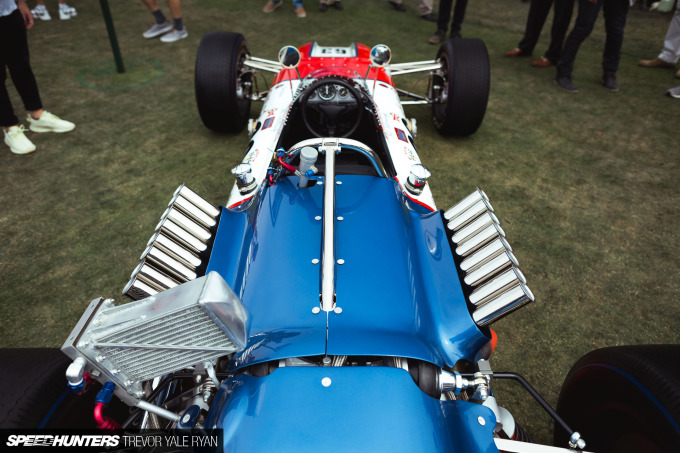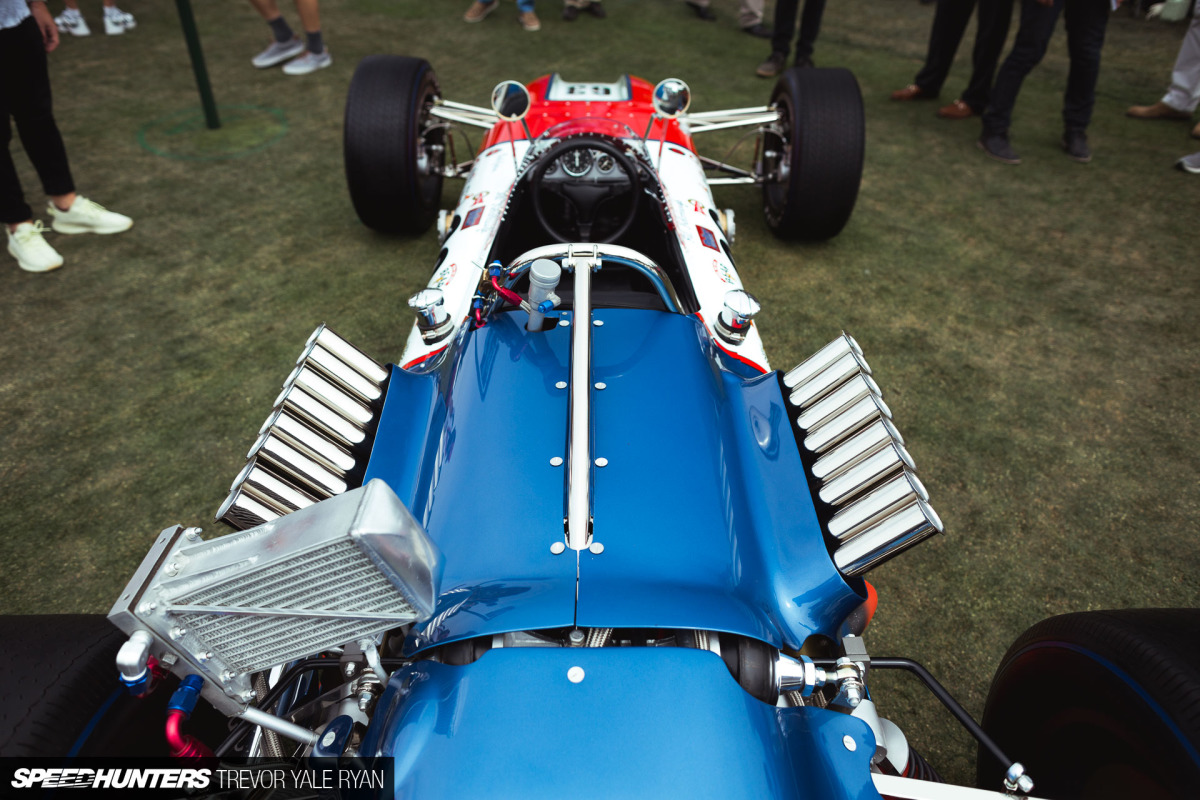 What struck me most about this car, and the surrounding ones, was the intake and exhaust design. It's so simple and straightforward.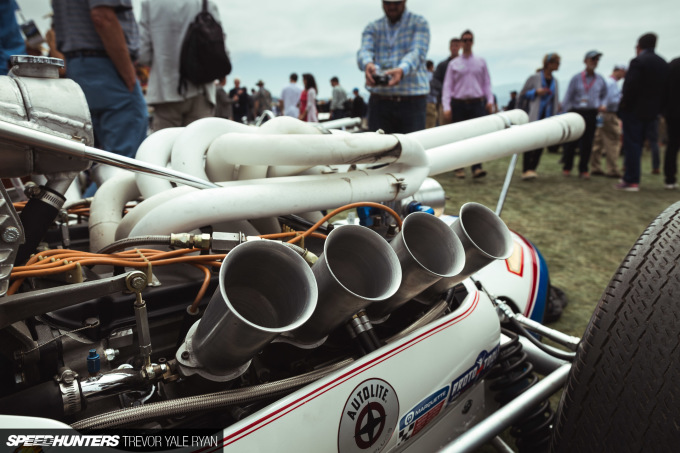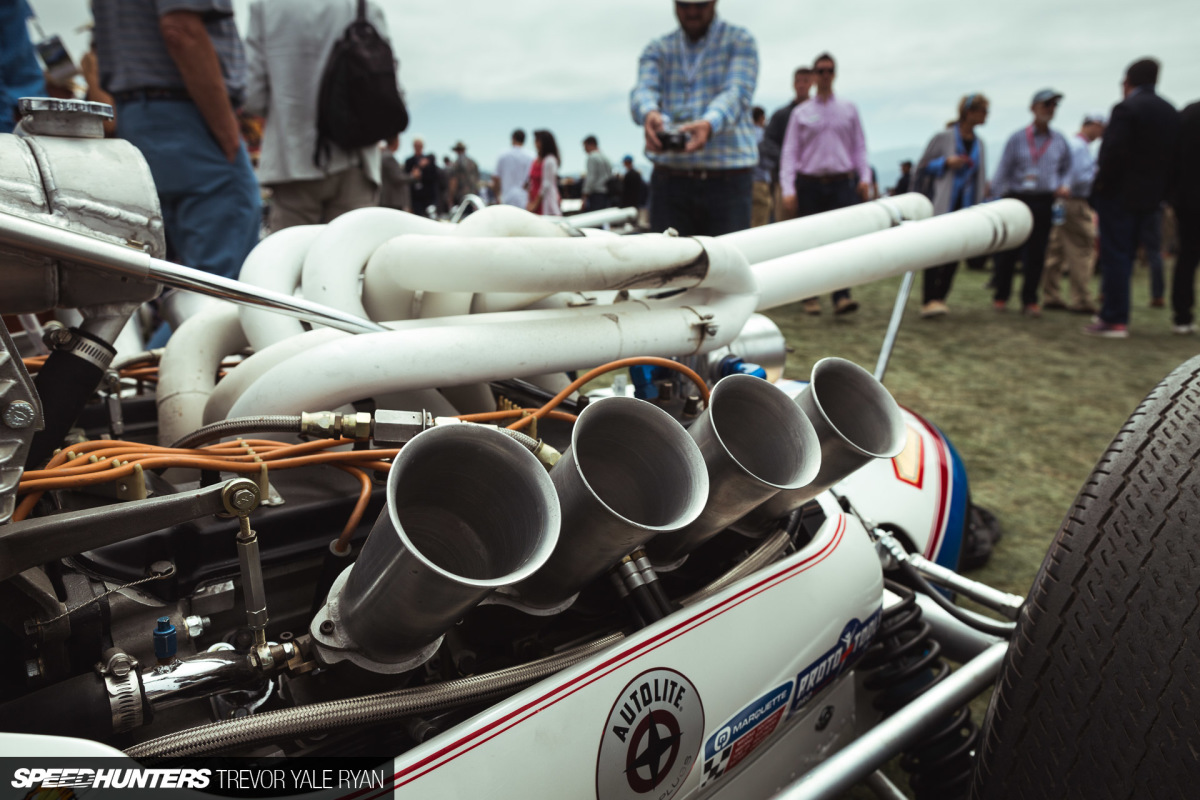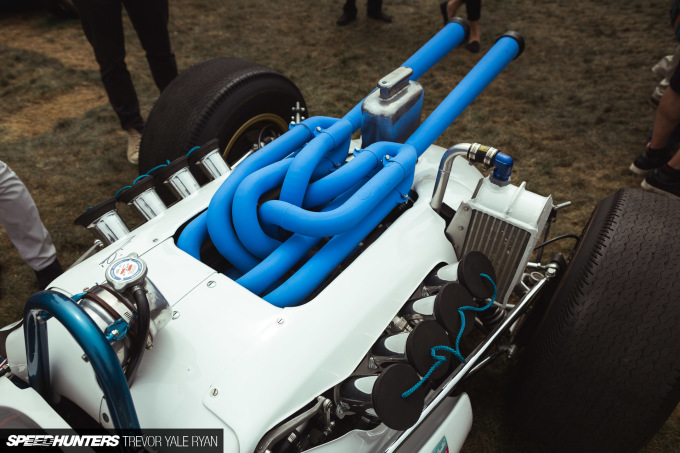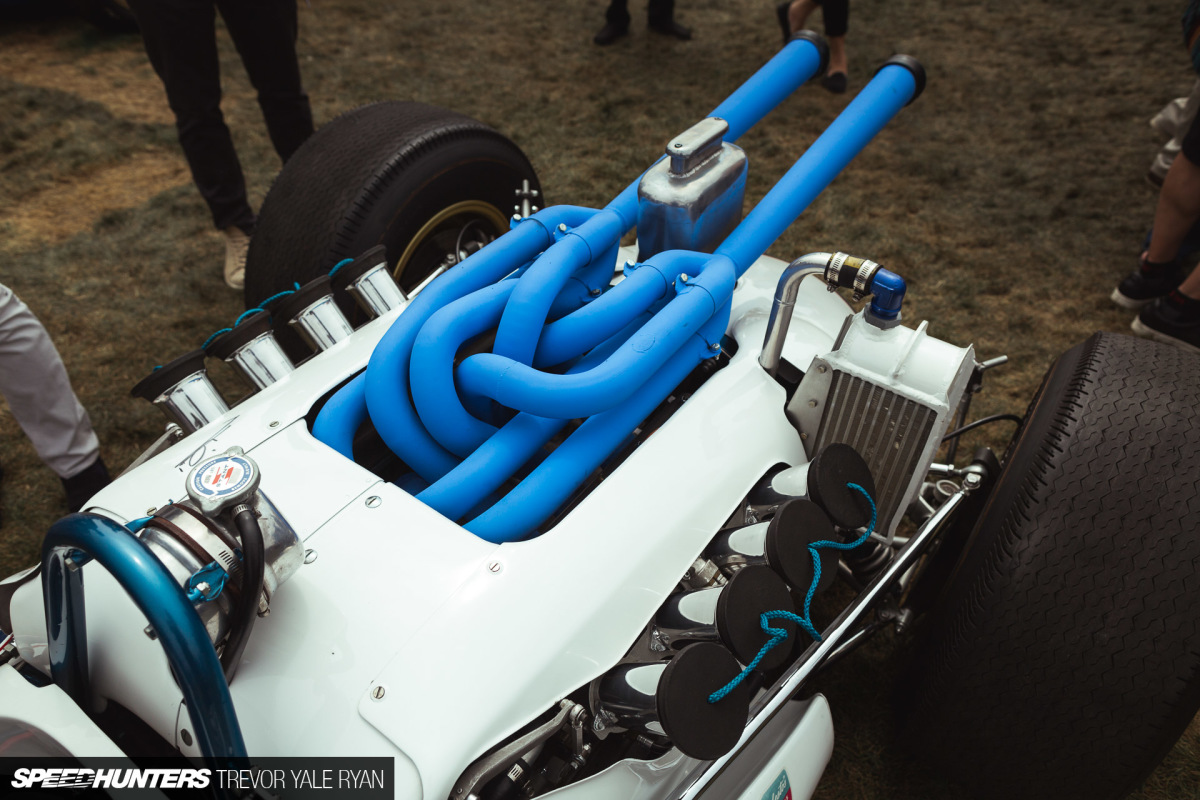 Air in and power out. Loud noises and a gigantic smile are surely involved, too. Similar to how safety regulations shape the cars of today, technology has completely changed the design of the racing engine.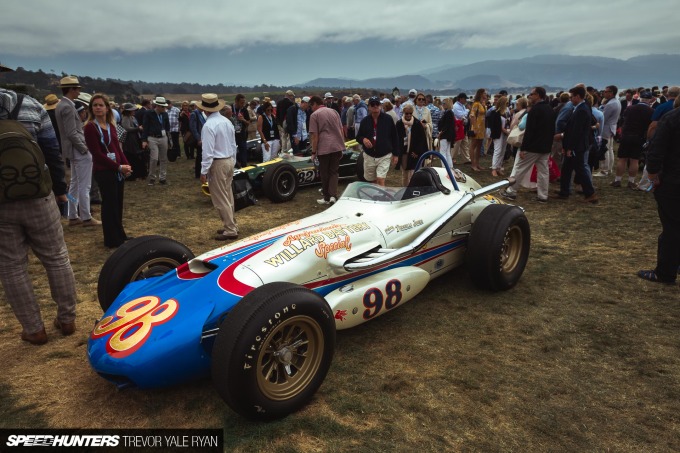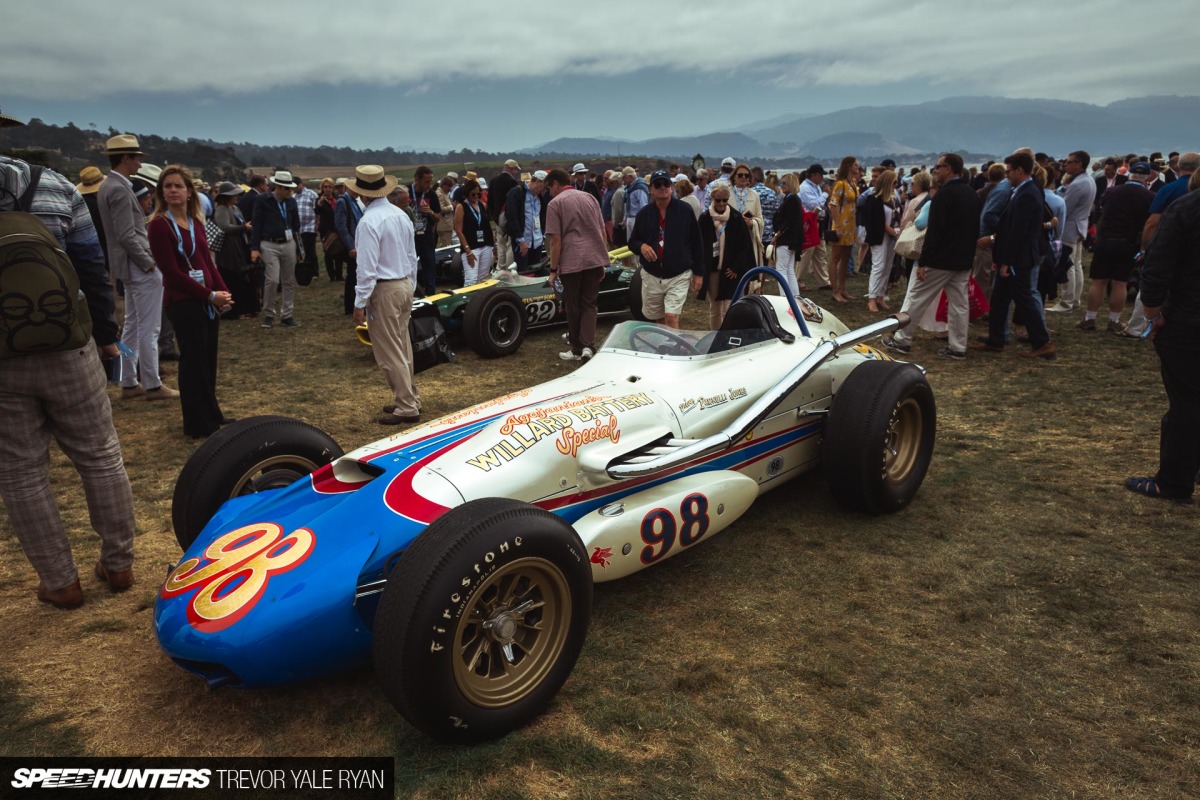 Horsepower is king, after all, but getting up close to these incredible designs truly does inspire a sense of awe and appreciation for the old-fashioned way of doing things. What is this that's happening to me?!
Yesterday's Tomorrow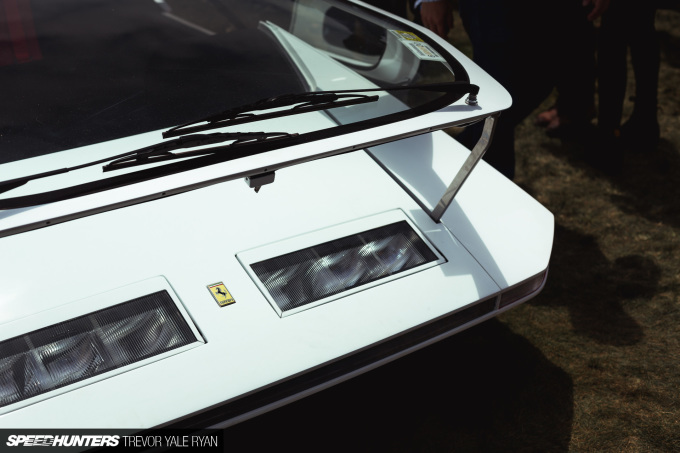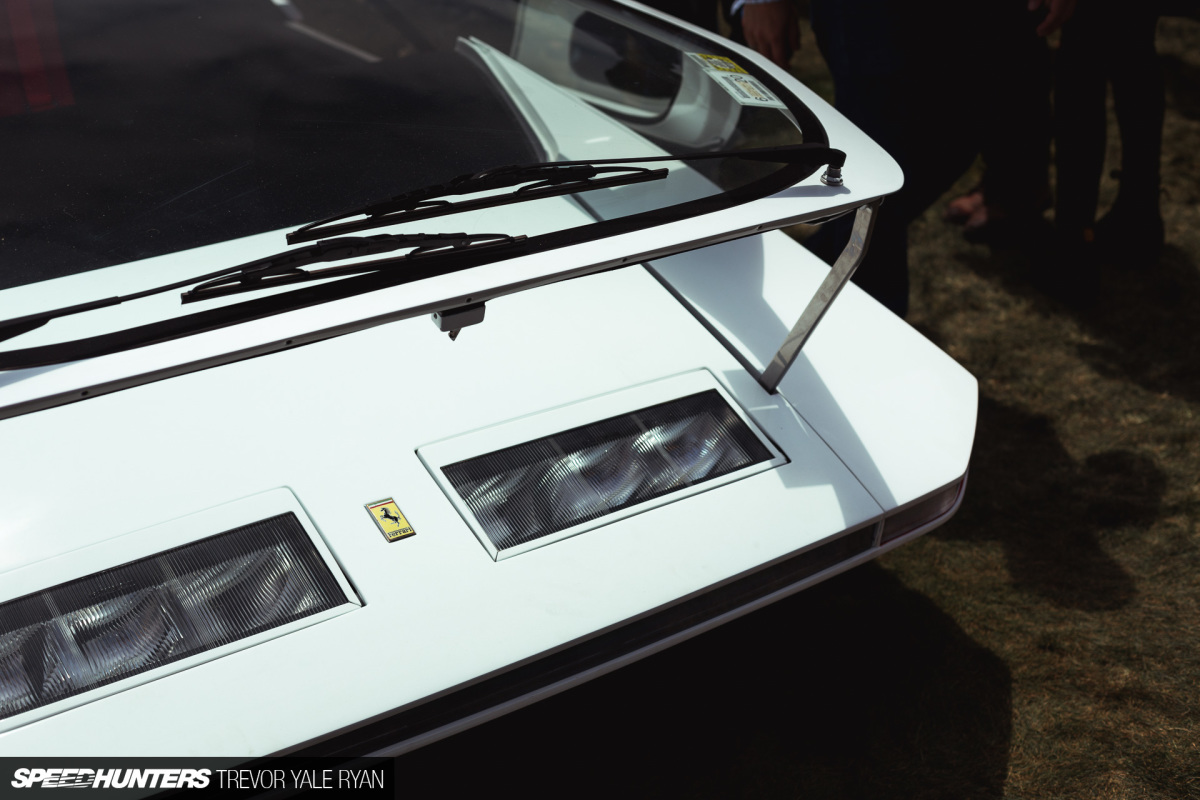 Switching it up, plenty of Ferraris lined the lawn at Pebble Beach, but this was the only one that mattered to me. Designed by Paolo Martin of Pininfarina, the Ferrari 512S Modulo concept was unveiled at the 1970 Geneva Motor Show.
It's obviously the only one ever made, and it actually started life as one of 25 Ferrari 512S Group 5 'sports cars' which were built in 1969. Eventually upgraded to 612 Can-Am spec — which involved a 620hp 6-liter V12 capable of 7,000rpm — the car was completely stripped down after testing was completed.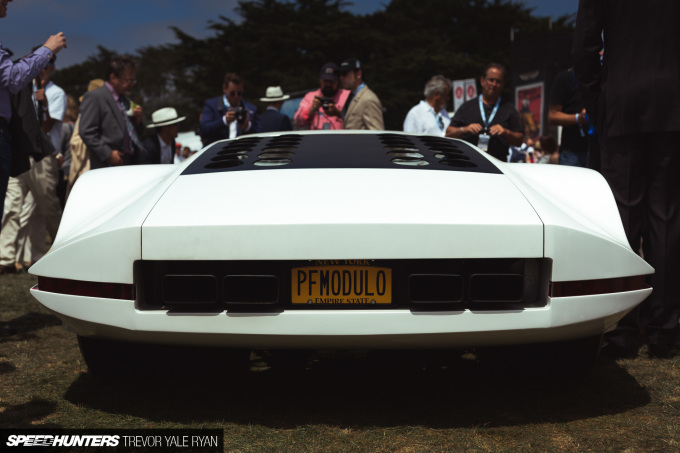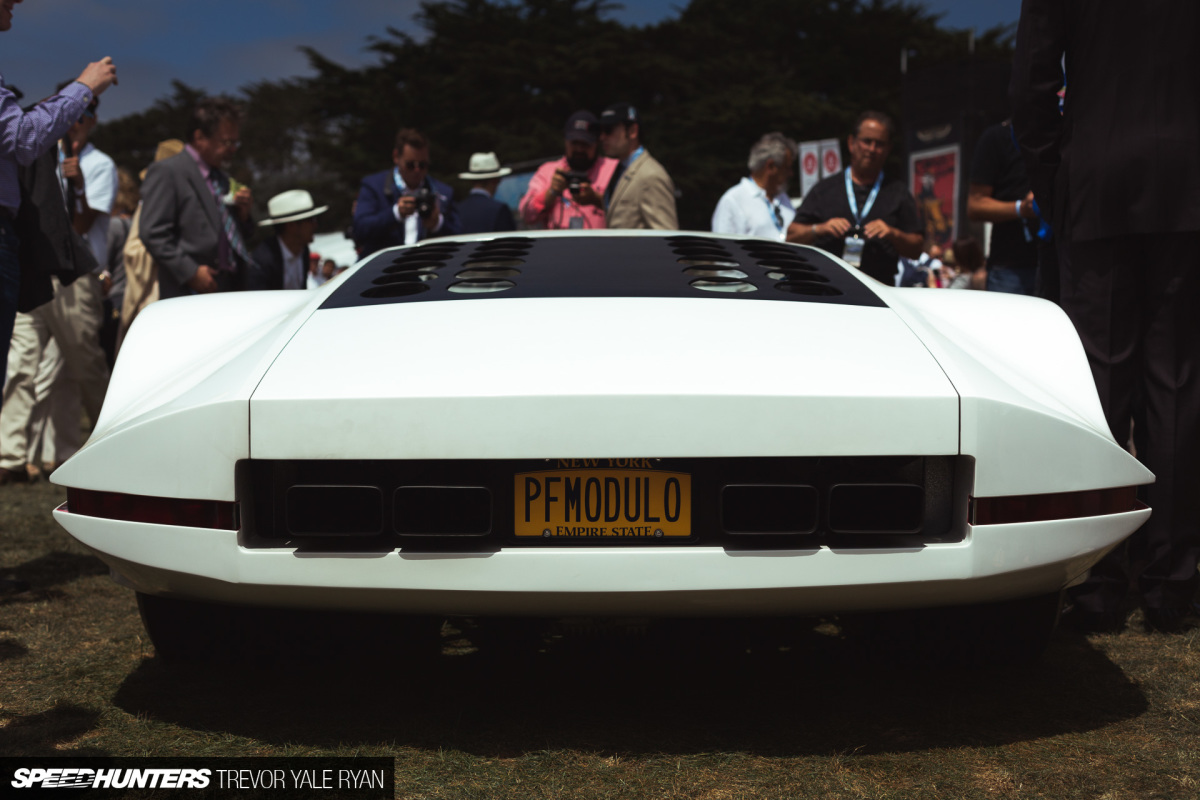 From here the car was sent to Pininfarina with the intention of creating a one-off concept for the upcoming Geneva show. Mr. Martin seemed to go a little bonkers.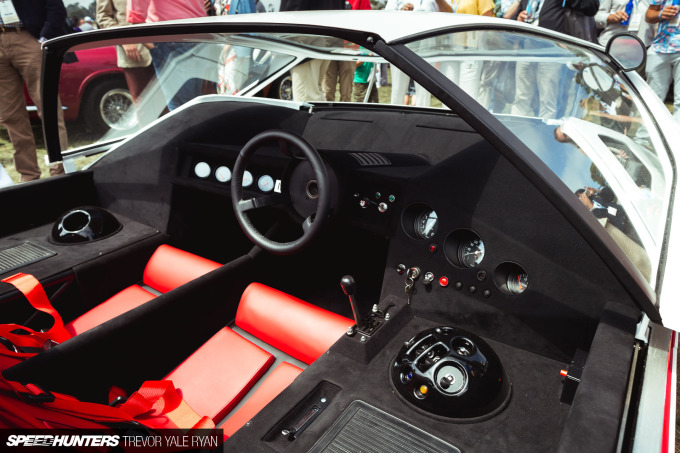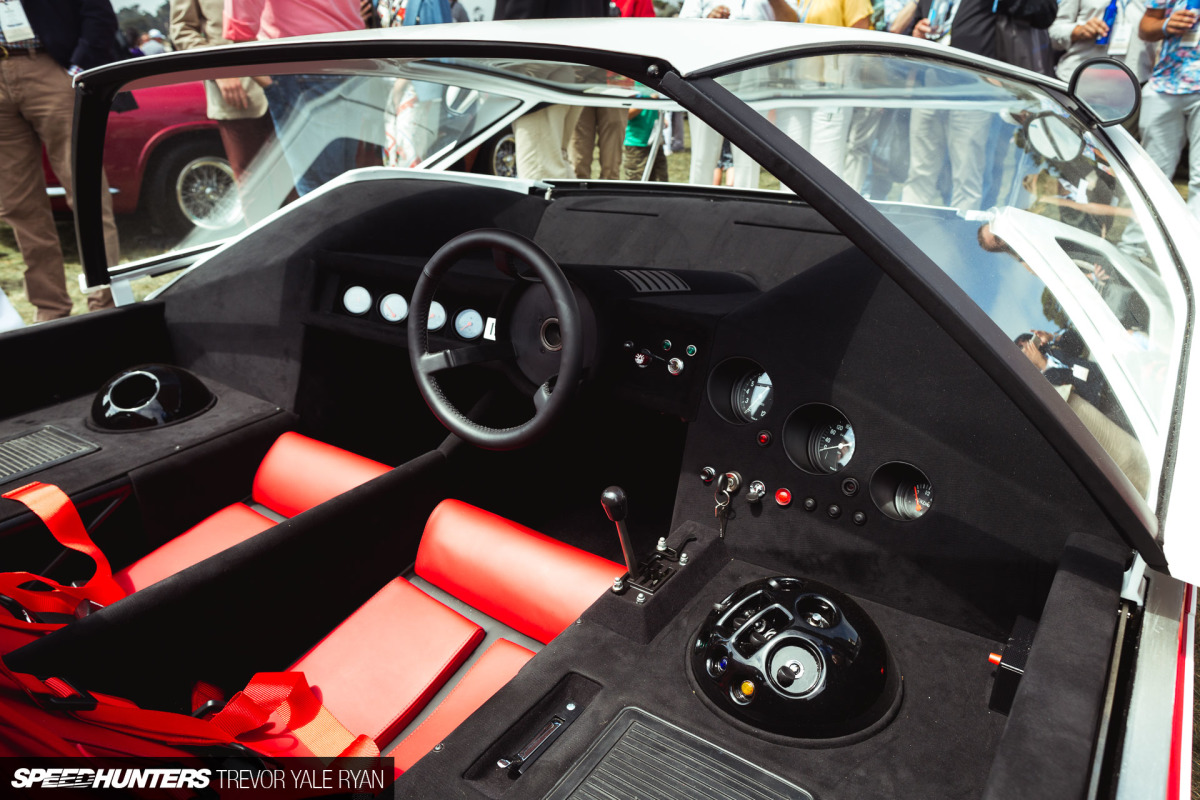 Actually, completely bonkers.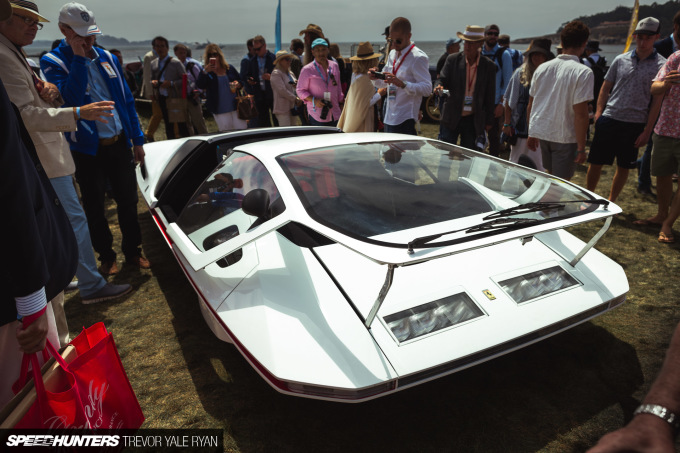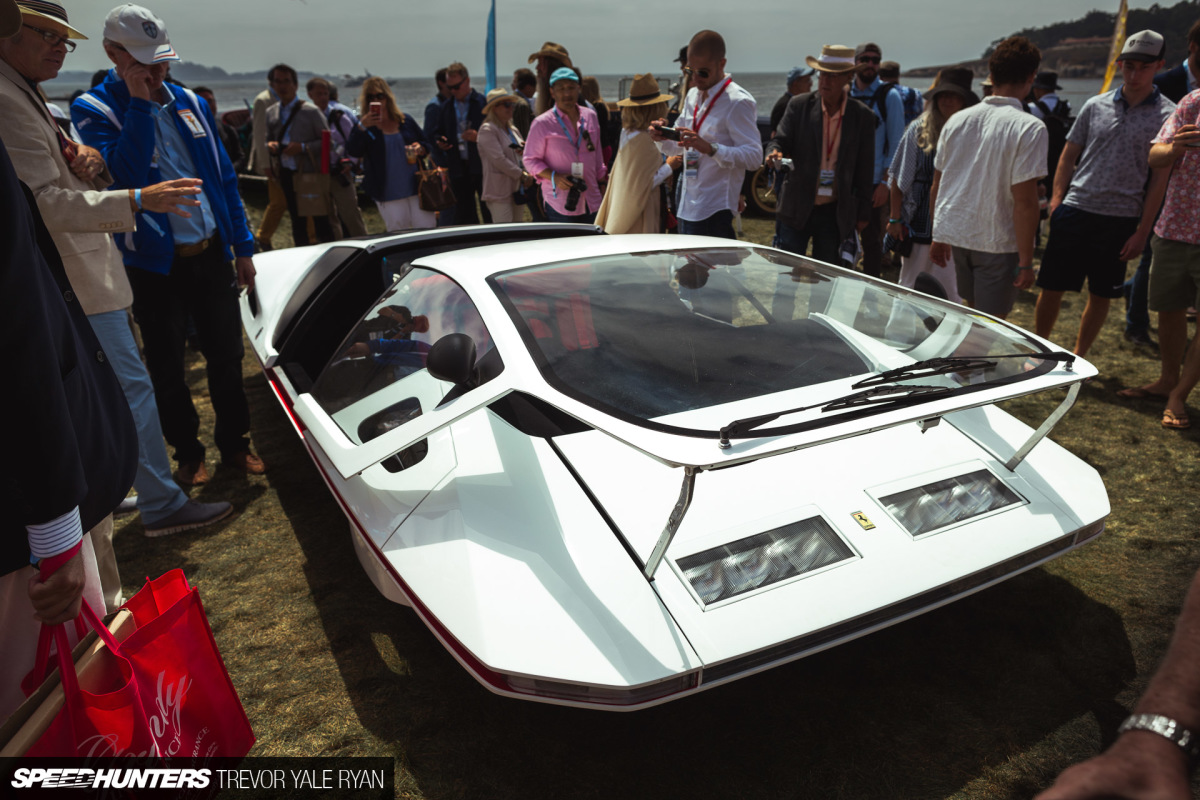 Fitted again with the original 5L V12, the car saw its first-ever drive on the road earlier this year thanks to James Glickenhaus, the new owner who has been restoring it for the past five years.
As wacky as it appears, and with no real relevance to Ferrari road cars old or new, it's no different than a concept car from today. And yet, getting to experience this one-off oddity from Ferrari today is a special, bizarre experience unlike nothing else.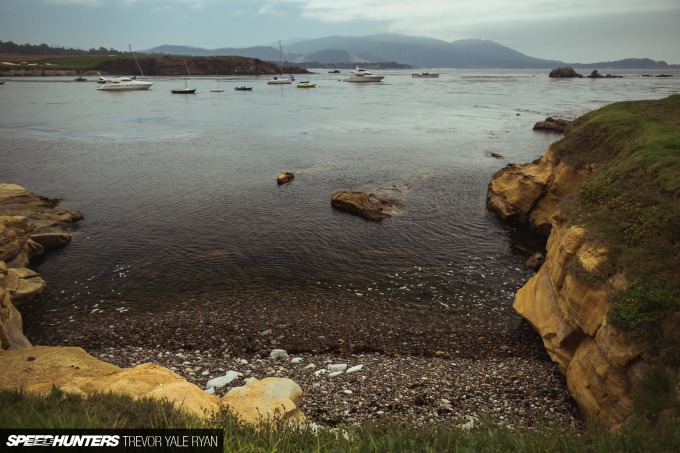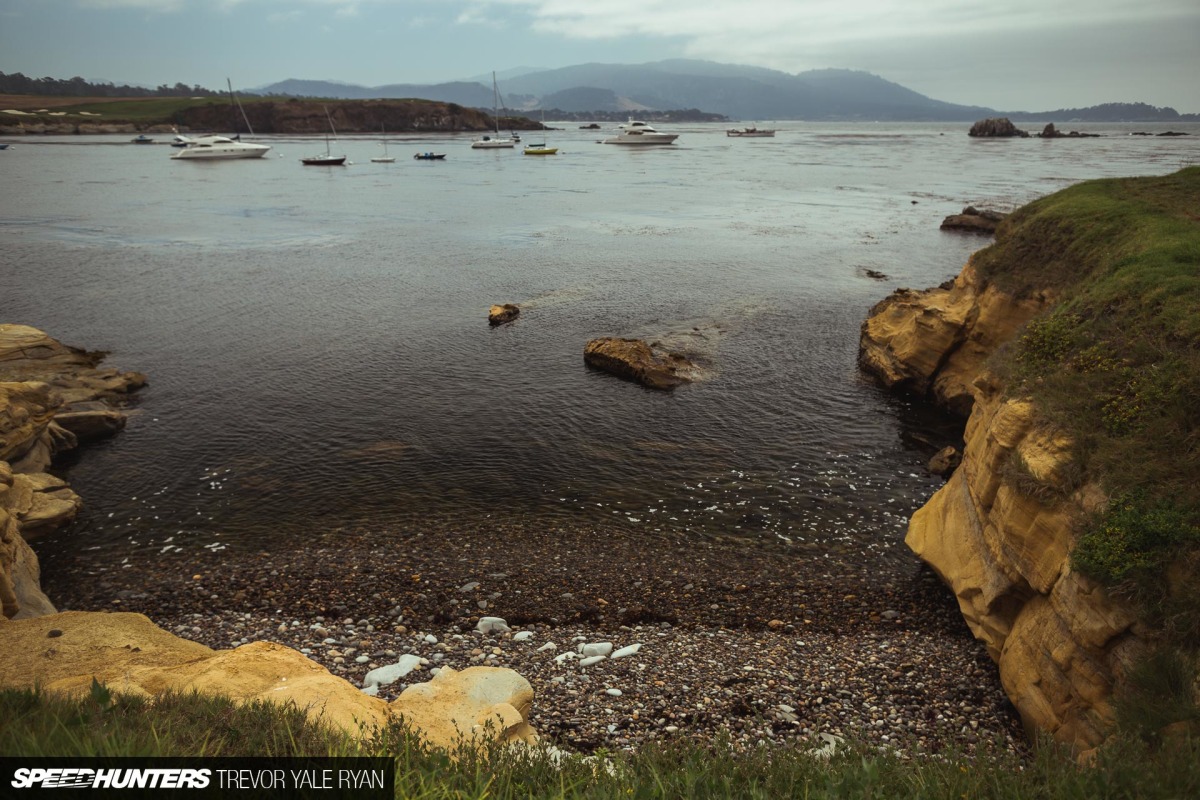 Finally reaching the end of the show, all that was left to do was plow through the crowds again. Seasoned veterans of the event were busy picnicking — suits, champagne, and all — while I was trying to wrap my head around my surroundings.
Initially thinking it was the sort of thing I ought to check out just once, I left wanting more. With the vast majority of cars from the featured time periods long gone and forgotten, it's obvious that the Concours d'Elegance has an important place in preserving history.
There's a certain magic to it all, getting to see the forgotten speed of decades past. A certain magic you can only find at Pebble Beach.
Trevor Yale Ryan
Instagram: tyrphoto
TYRphoto.com
Casual Sunday