It's In The Blood
Craig Saywell lives and breathes rotaries thanks to memories forged in his formative years back in New Zealand. His passion has never waned; the urge to race has only grown stronger with time.
This RX-3 Savanna coupe is the culmination of dreams, hard work, and encouragement from his wife Vicky, who also shares his penchant for rotary-powered Mazdas.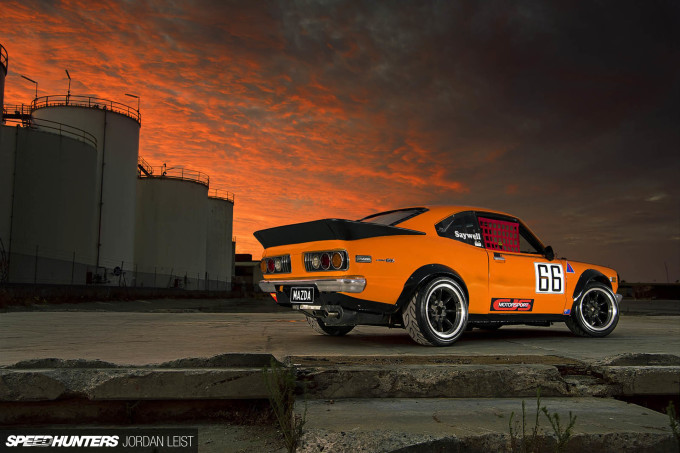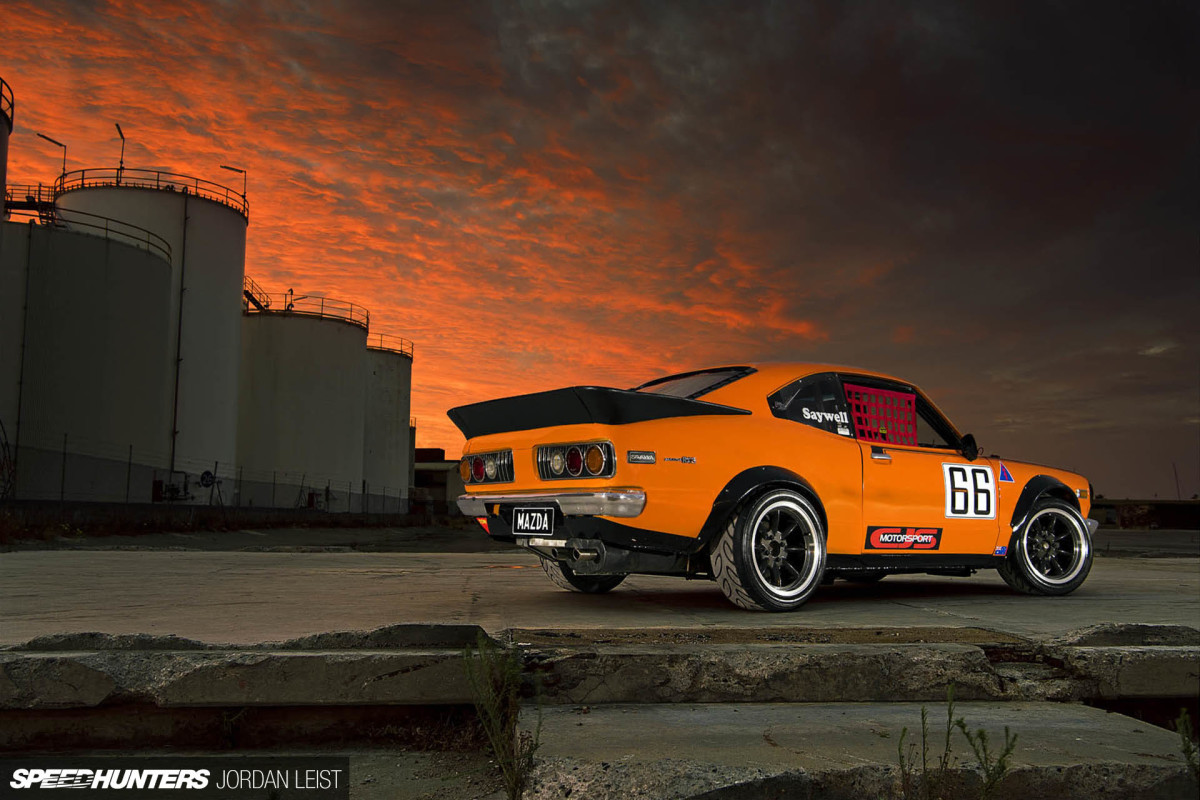 "My dad was a panel beater when I was a kid, and I was always around cars," says Craig. "I spent numerous weekends 'helping' dad at the panel shop. We also frequented our local stock car track and I recall sitting in an RX-3 when I was around 10 years old. It was something about the noise and smell that crept its way into my blood."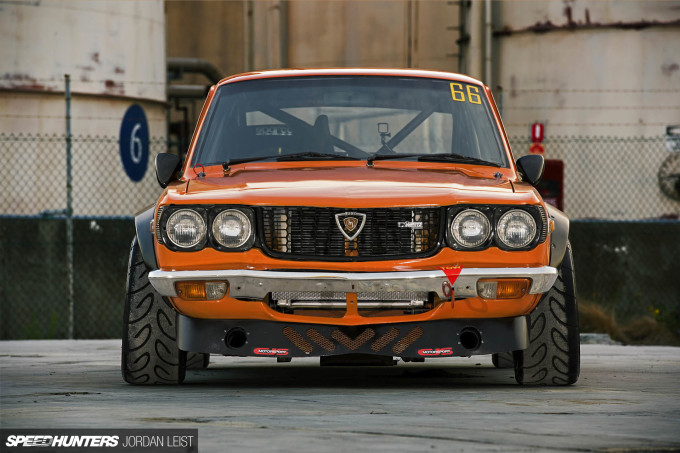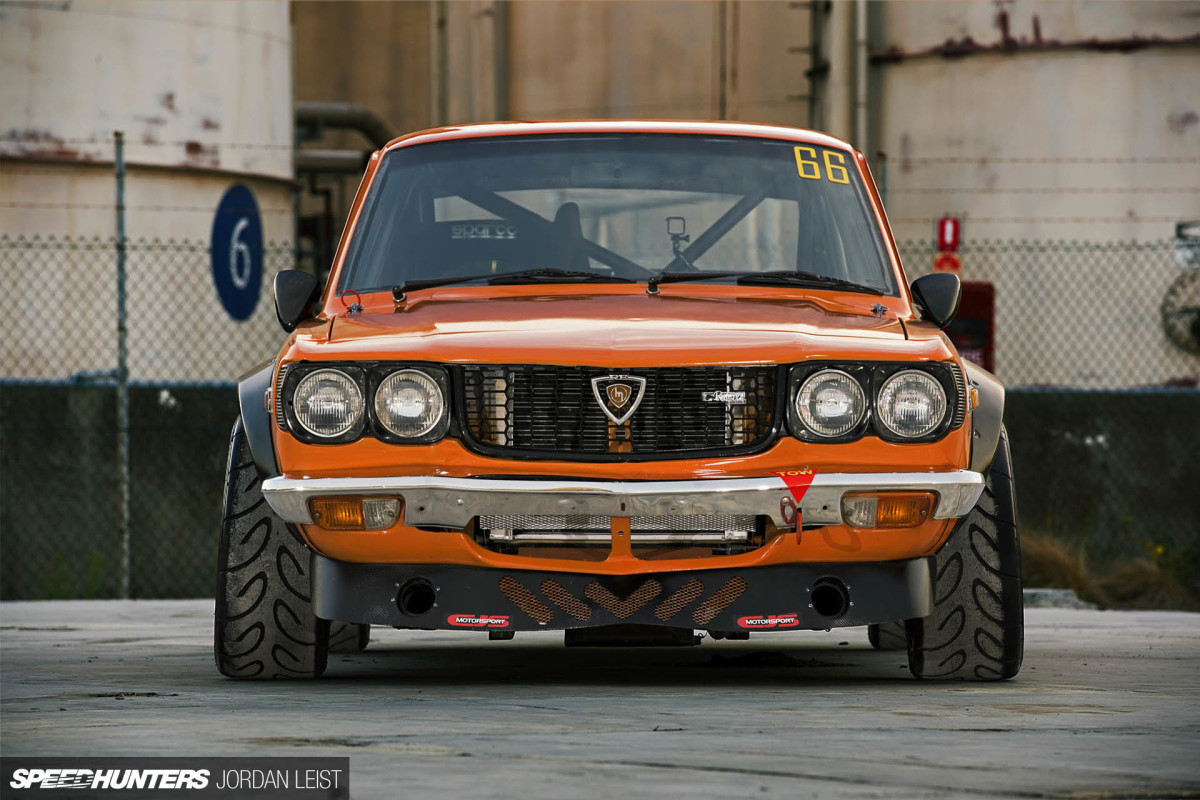 "My obsession with everything rotary started when I got my hands on an original RX-3 coupe. I quickly found I had a natural talent and passion for turning spanners as well, so that was a real bonus. I developed an increasing circle of mates who also had an affinity with the old school Japanese stuff too," said Craig.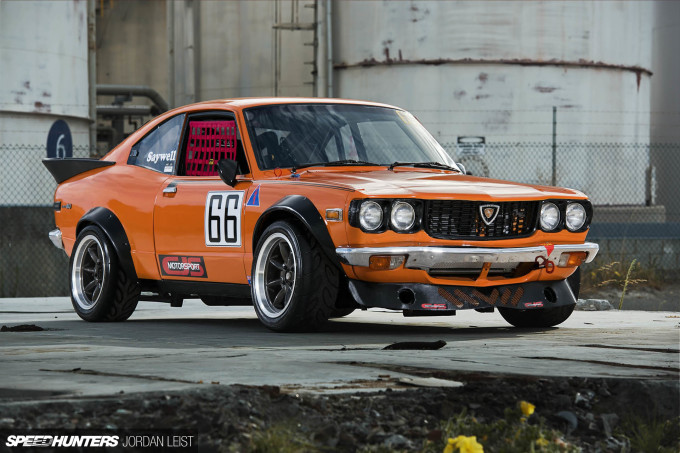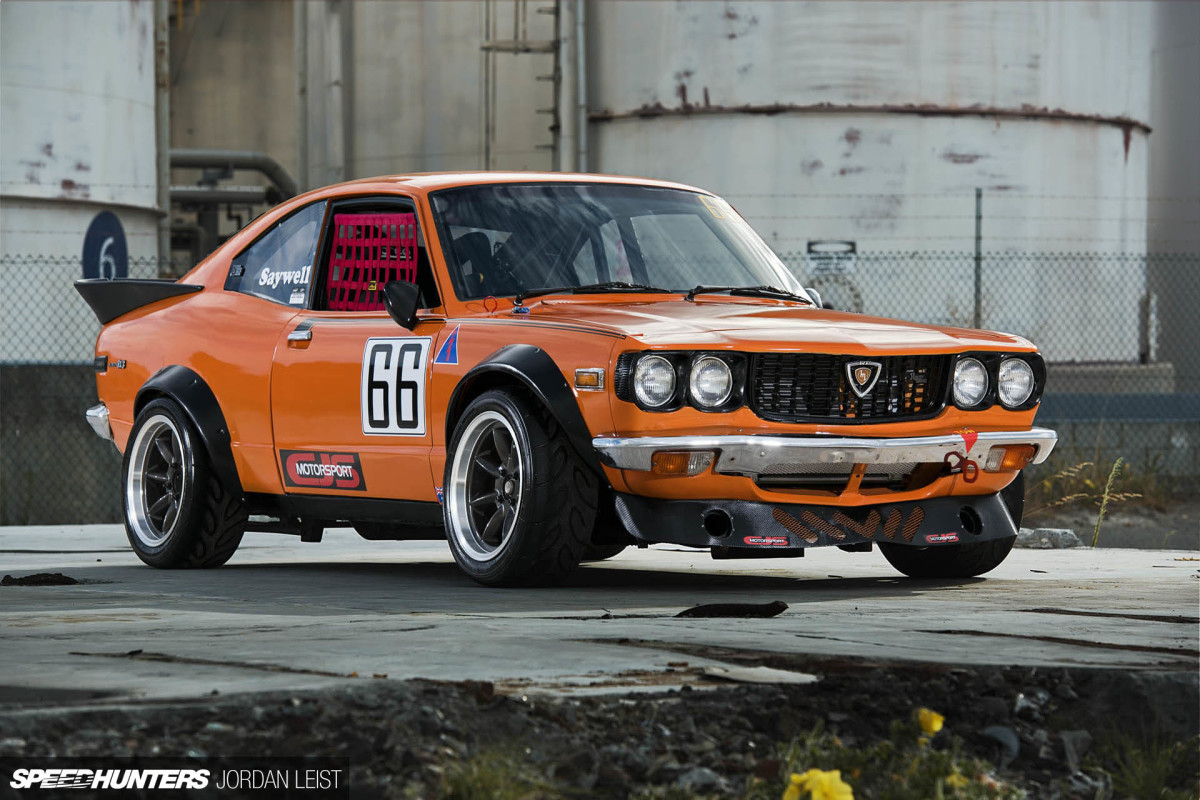 Back in the day, Craig created quite the beast, a '72 RX-2 four-door sedan he called The Troll. "I purchased it as a rotted-out shell and turned it into a purpose-built circuit racer completely by myself," he explained. The attention The Troll received was mostly due to the supercharger Craig had fitted. "As far as I was aware it hadn't been done previously, but I'm sure there will be someone out there who claims they did it before me. So for the record, in 1989, I custom-made everything in the garage at home to fit a Commer TS3 truck scavenge pump [a blower once you convert it to suck air and fuel rather than just push air] to a bridge-ported 13B."
The combination stuck right out the bonnet with a Holley 650 Double Pumper carb jammed on the top. Craig continued: "I ran it on a dyno and from memory it was producing something like 290hp at the rears. People today still talk about the noise it used to make as I ran it at 1:1 so the straight cut blower lobes were spinning at rotary RPM. It only made 7psi boost, but man it fixed the rotary curse of having nothing downstairs."
The Saga Continues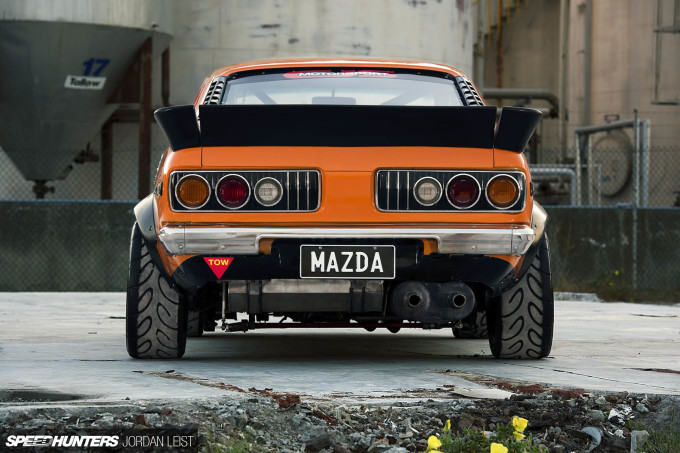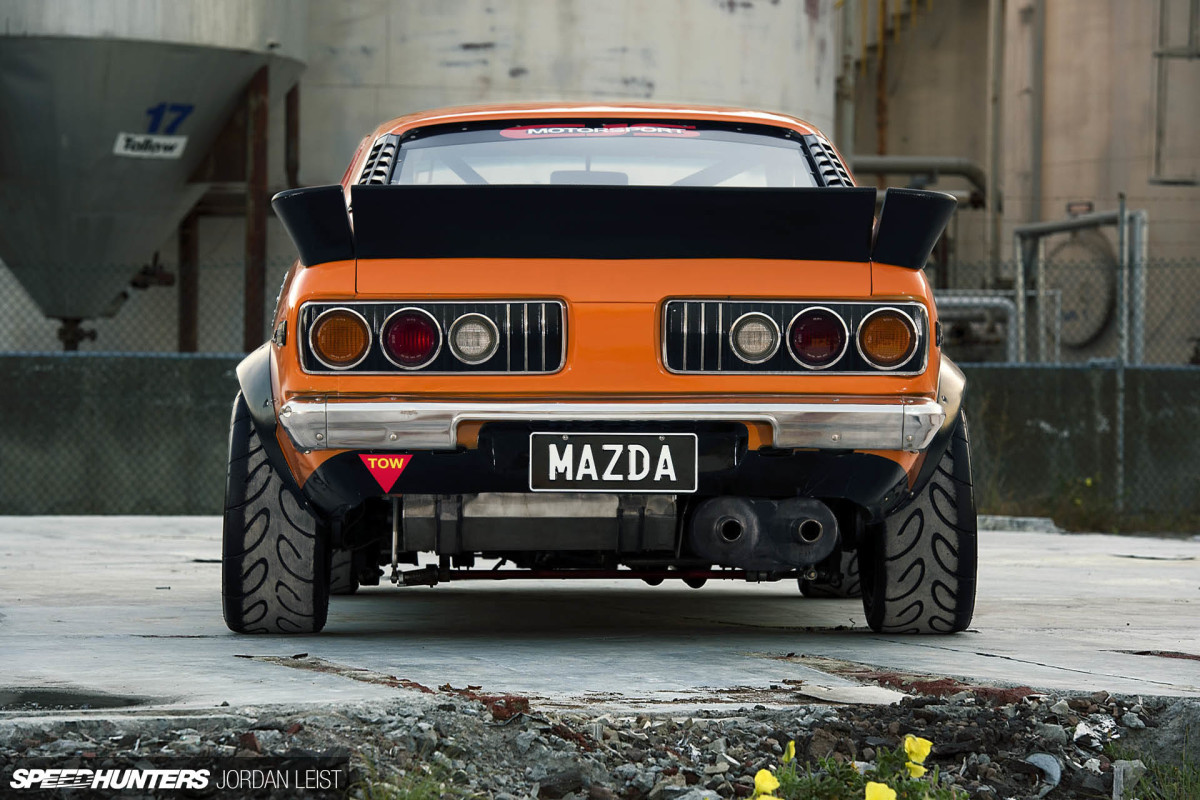 Fast forward a heap of years and this RX-3 is now Craig's pride and joy. As soon as I saw the car I was in love; it reminded me of all the plastic model kits my brother had collected back in the '90s. To see an RX-3 coupe with massively flared guards, the old school-looking aero and retro wheels in real life, well, it was almost too much for me to handle. I could easily see why Craig was so proud of it.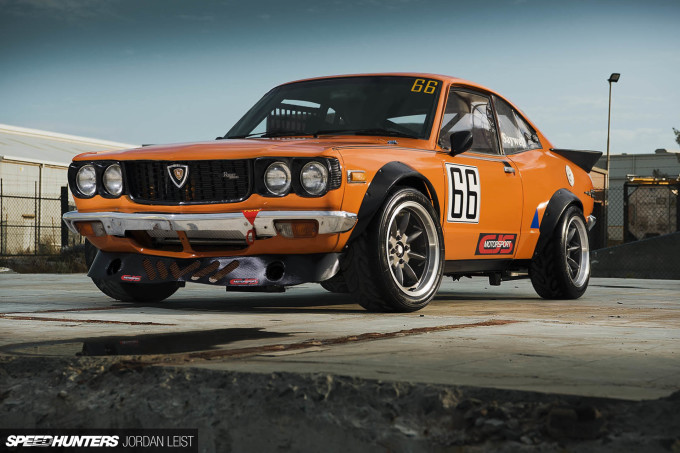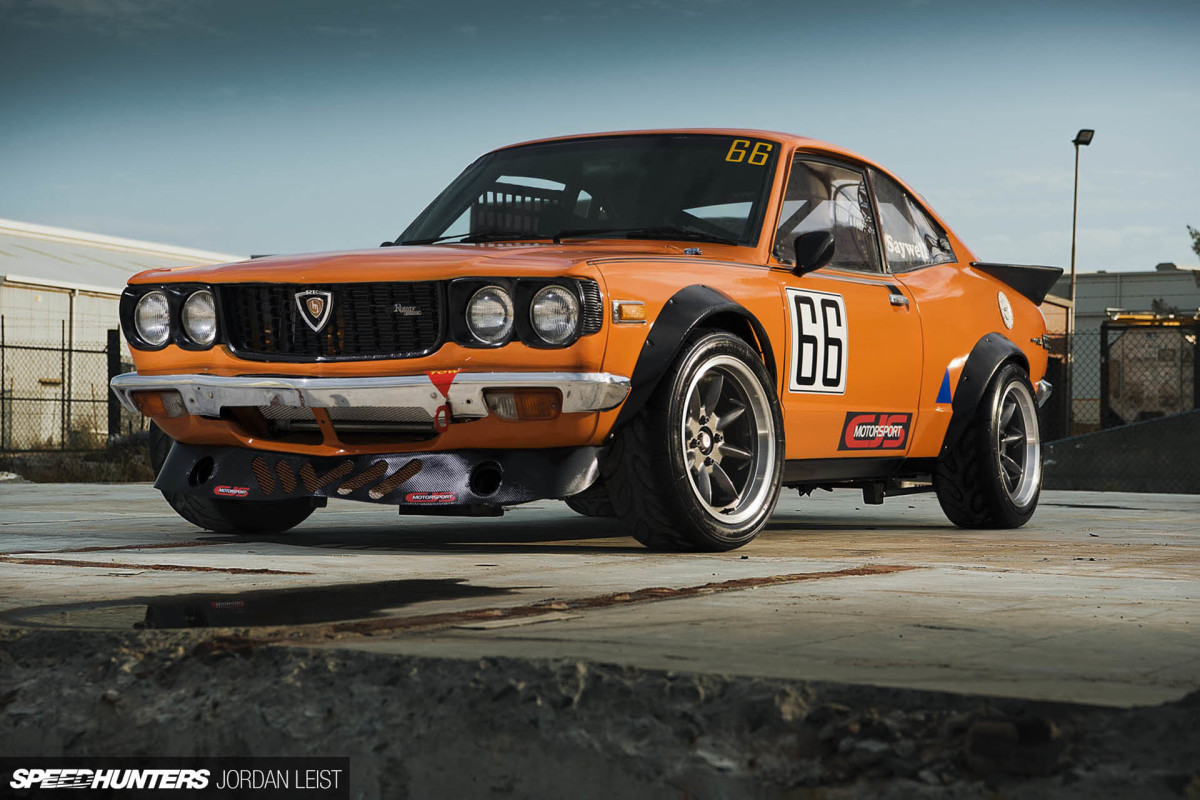 Craig bought the car from the East Coast of Australia as a ready-to-go racer back in 2016. "The plan was to race it in the WA State Speed Event Series, and a few other events here and there," he explained. "The car was far from what you see today; it was rather rough around the edges. I can't help myself sometimes, I have spent countless hours re-doing stuff and tidying up bits and pieces. It was an excellent platform to start with, it just needed some attention and updated components."
Upping The Ante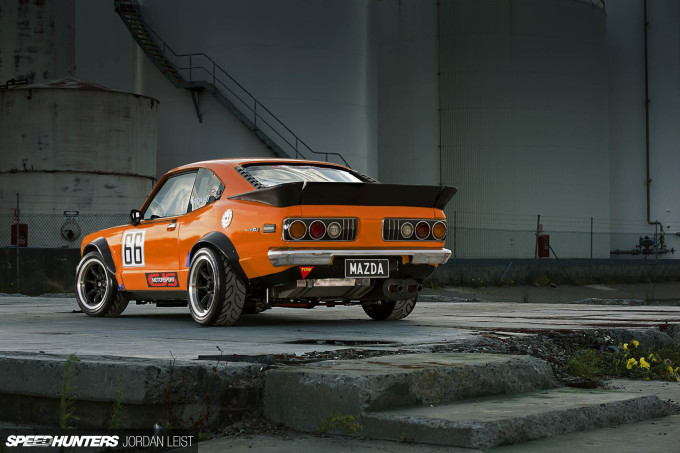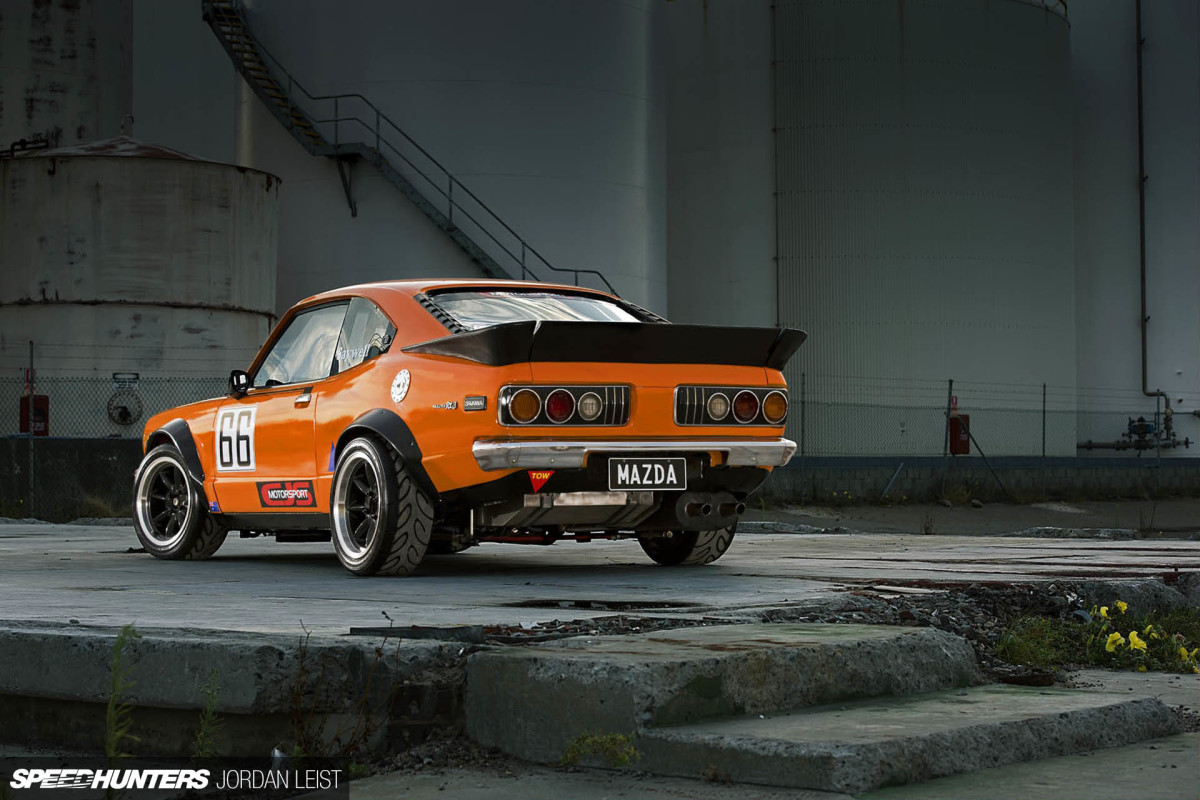 "The car was showing the signs of a few hard seasons of racing so it needed a bit of body work to bring it back to its former glory," says Craig. His old man decided to get involved, and the pair massaged the panels before laying on the retina-searing Dulux EE97 Orange. The custom flares, whale tail spoiler, and front air dam all add to the funky aesthetics of the coupe.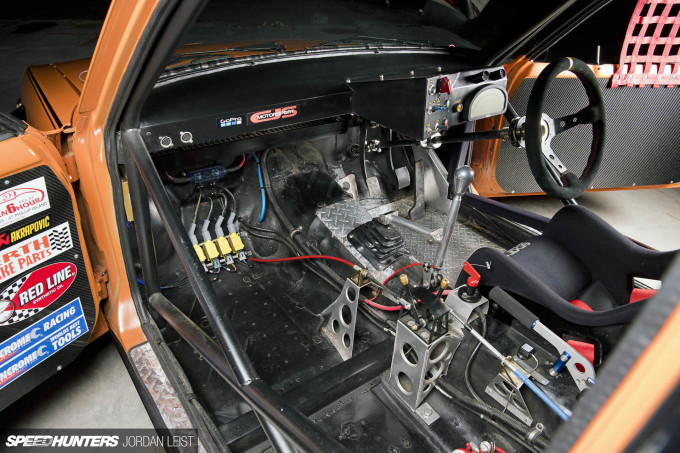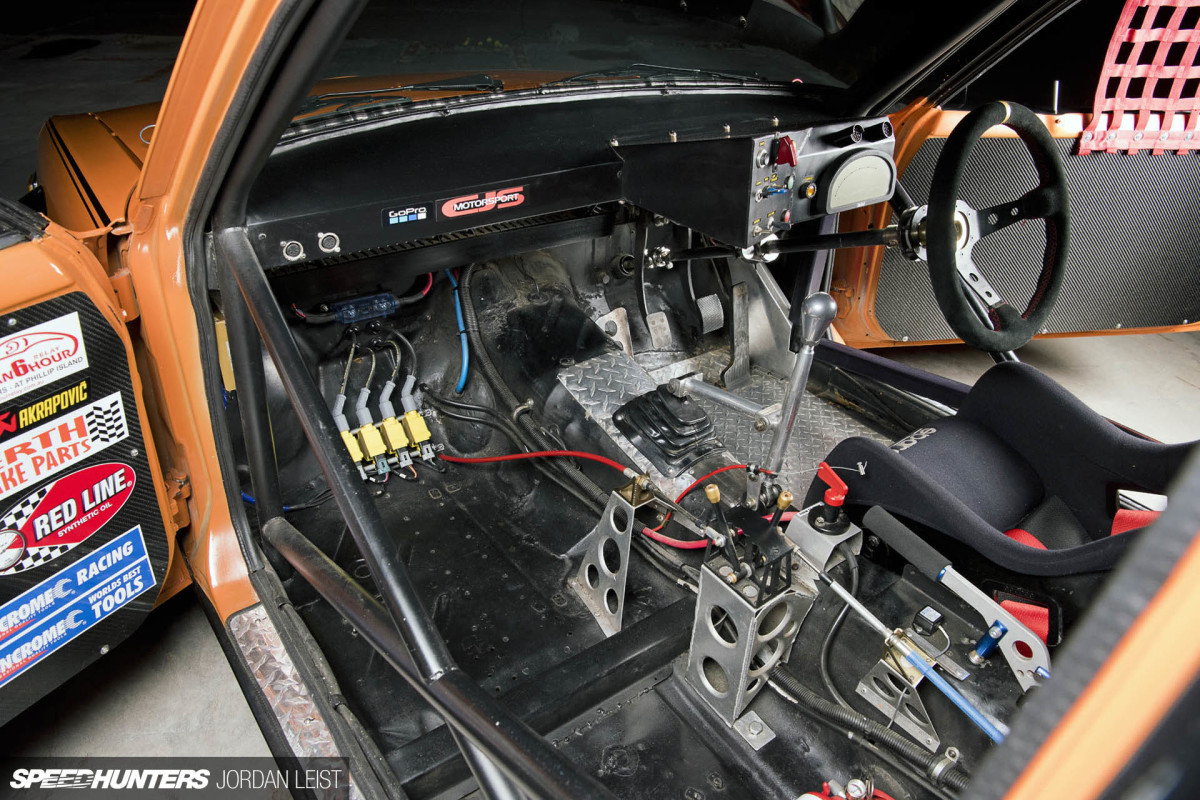 Inside the car is all purpose. No carpets, no cup holders or audio gear – just the sound of a rotary at 10,000rpm to rattle your head. That is real carbon fibre on the door panels, and the adjustable anti-roll bar controls and brake bias controls aren't there for looks. A MoTeC dash, a heap of switches and a full cage complete the theme.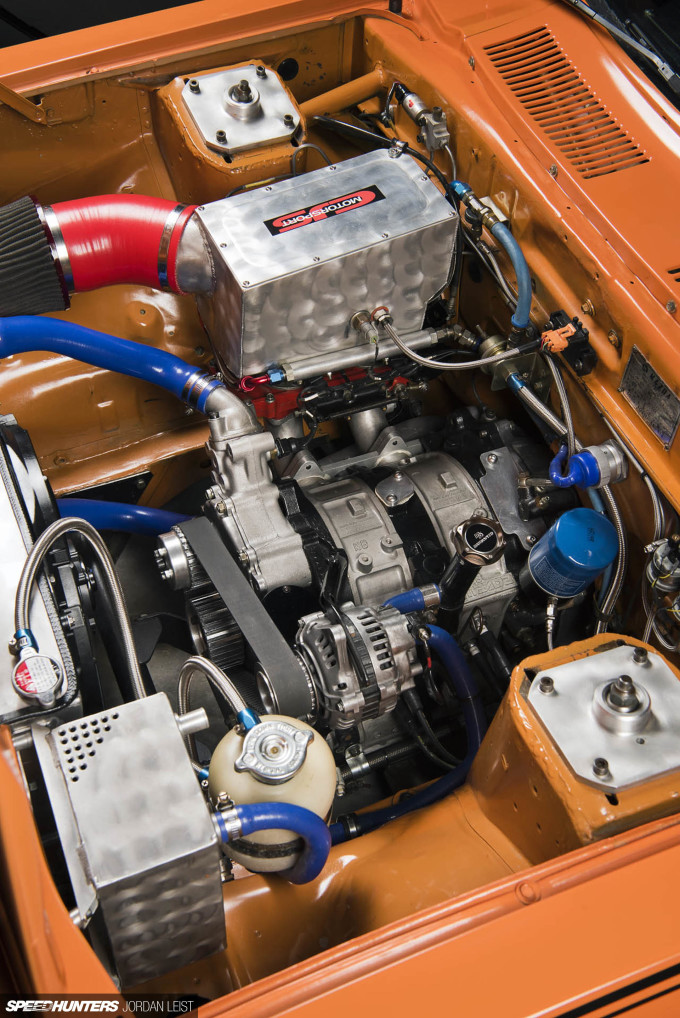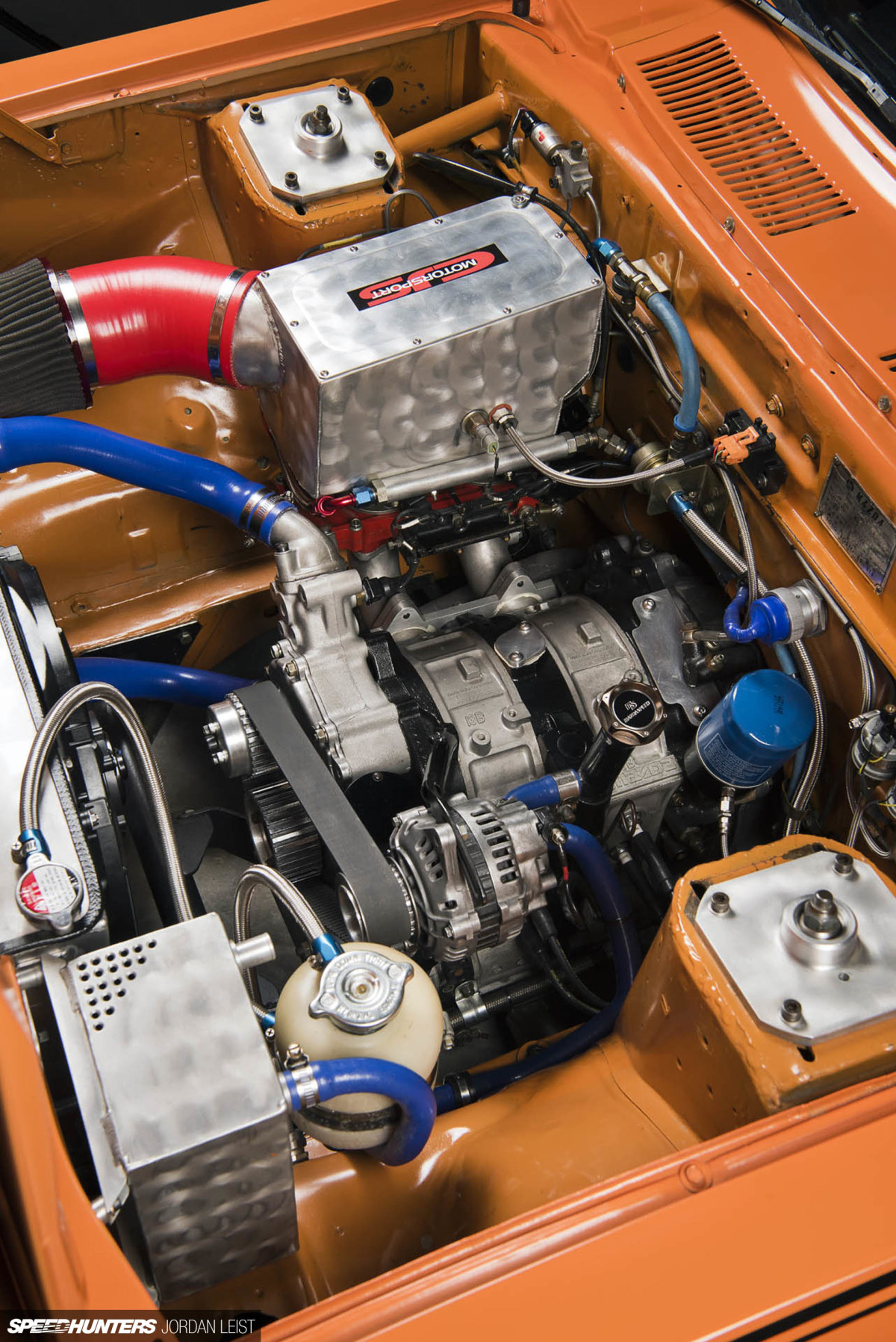 Under the hood is what draws the people in like "bees to honey" says Craig. "You just don't see and hear these things on the roads anymore, so people are inquisitive and want to see what is making all that racket."
The extra-lumpy idle is from the 250hp peripheral-ported 13B built by Rohan Ambrose. The donk wears a 48mm throttle body fed by twin fuel pumps, with the spent gases being expelled by a decent-sized twin system. A MoTeC M84 ECU controls the symphony.
A reverse leg, straight cut, 5-speed dog 'box is noisy but efficient, and that's all that counts. A bronze, solid plate clutch gives Craig a good calf workout, whilst the power gets laid to the ground thanks to a spooled, Mazda BT50 diff. Porsche 944 disc brakes are fitted all round.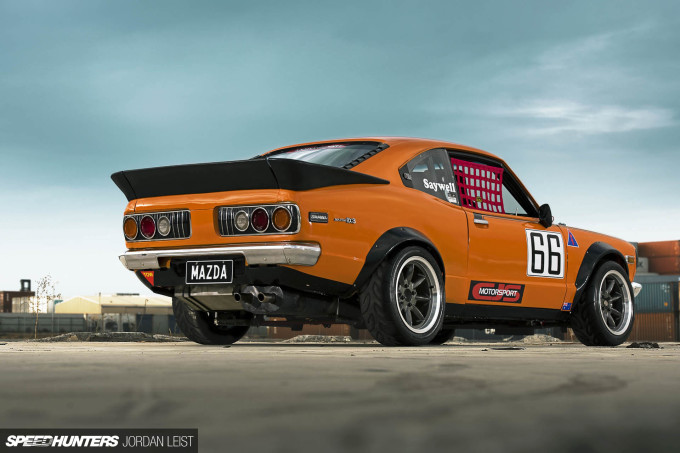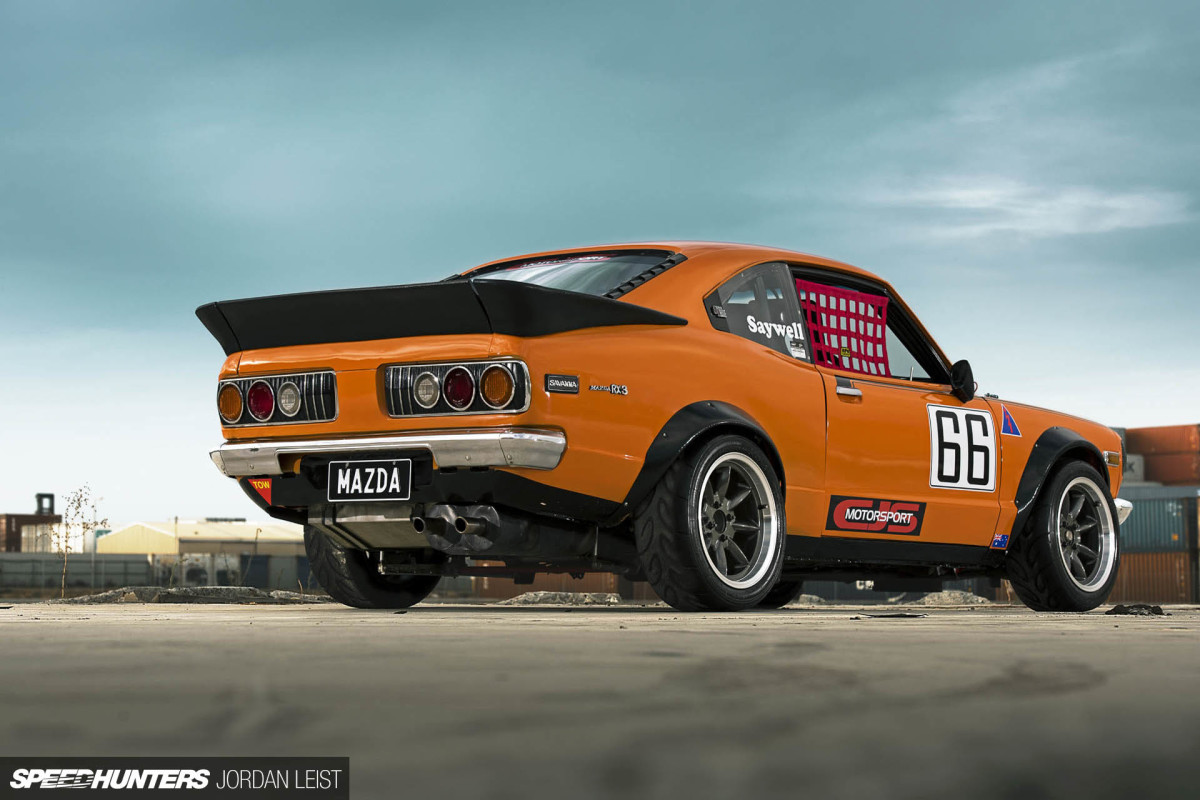 The back of the car was converted to feature an adjustable 4-link with a Watt's linkage and anti-roll bar. Height adjustable Eibach springs are located on all four corners.
Ticking All The Boxes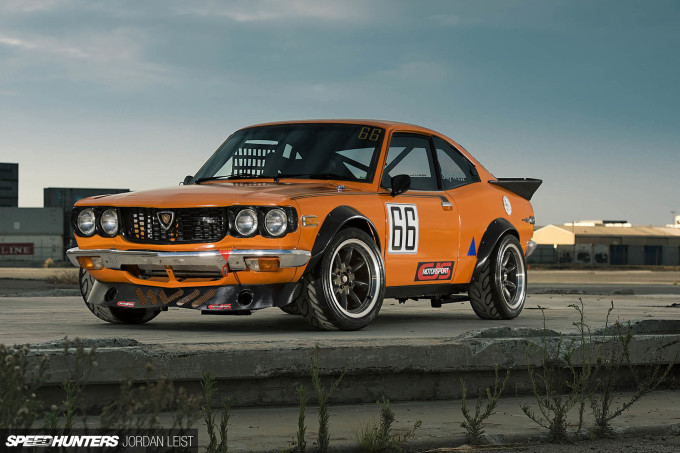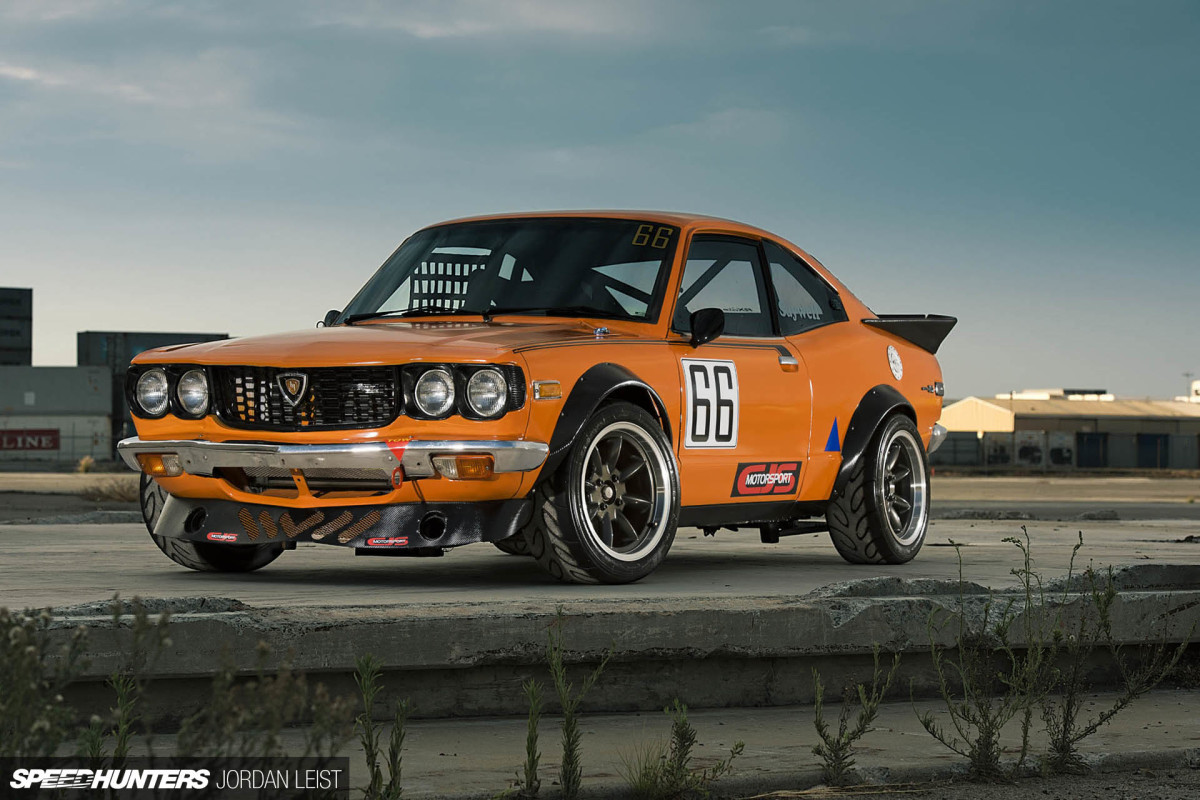 "I love the simple fact that it's a genuine RX-3 coupe with an old school style I am so familiar with, but with modern upgrades and performance to match later model machines," says Craig. "This car has all the stuff I dreamed about having when I first started working on early Mazdas back in the mid '80s. It turns heads wherever it goes no matter what town we pass through or event we compete in. Everyone wants to know more about the car and recite fond memories of either having one, or getting scared shitless by some mate who had one."
Jordan Leist
Instagram: jordanleist
Website: jordanleist.com
How To join the IATS program: We have always welcomed readers to contact us with examples of their work and believe that the best Speedhunter is always the person closest to the culture itself, right there on the street or local parking lot. If you think you have what it takes and would like to share your work with us then you should apply to become part of the IAMTHESPEEDHUNTER program. Read how to get involved here.