AE86
Praise for the AE86 as a chassis seems to be unending.
Some people hold them in such high regard because of certain legendary drivers or iconic media, while others swear by them based off their experiences alone. Regardless of whether you like them or not, you'll most certainly understand why they are coveted the way they are.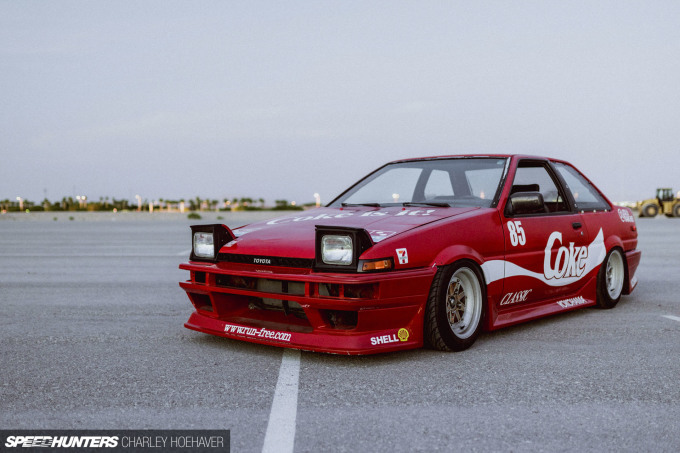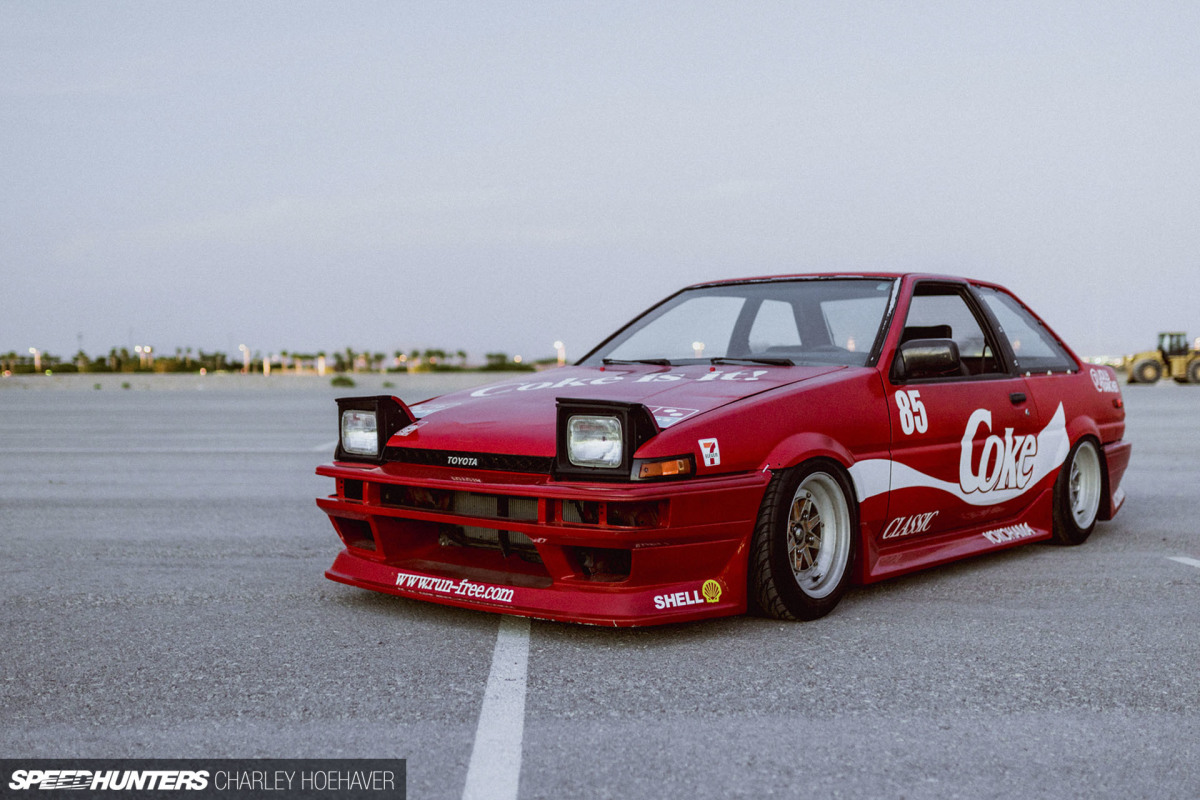 Diehard AE86 fans and owners alike have certain ideas about how these cars should be built and treated. Are these ideas reasonable? Of course they are, but at the end of the day other people's ideas don't build your car – you do.
Ian is the type of guy that would tell you he doesn't care about what people think about how he built his car. All that matters to him is that it can get down, and boy does it friggin' boogie.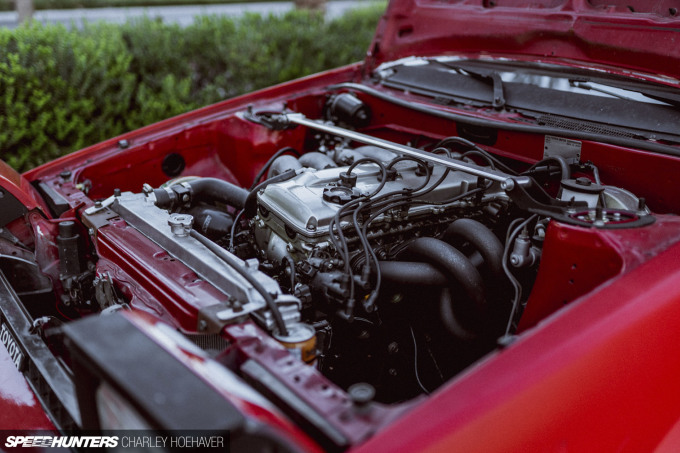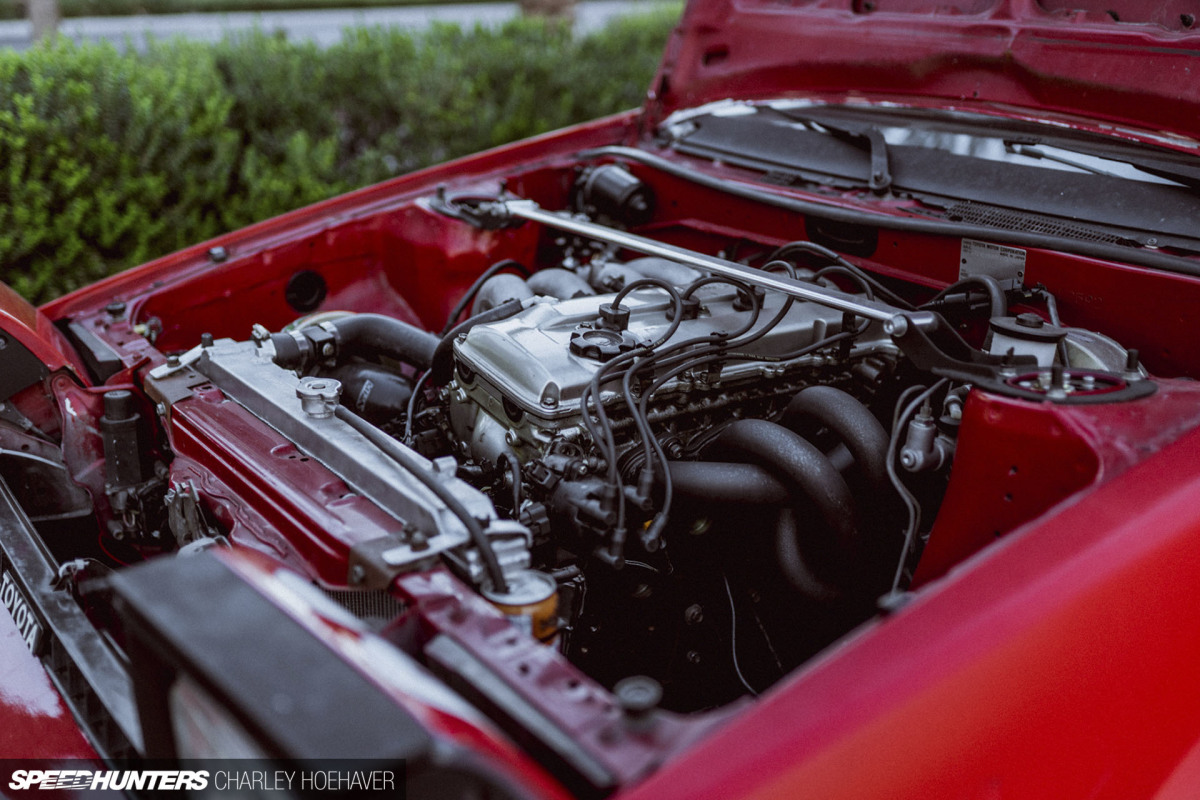 When Nissan's KA24DE is brought up it's often met with much discontent and downright dismissal. It's understandable; everyone stateside feels duped that they didn't get the oh-so-desirable SR20DET in their beloved S-chassis. But to Ian, the KA24DE is something that's just perfect for him.
It wasn't his first engine choice, though. The notable BEAMS 3S-GE was the 86's first heart transplant, but after it spun a bearing at its first drift event Ian decided to return to his Nissan roots. Ian's arguably more known drift car of choice is his L28-powered 280ZX, so it was only natural for him to swap his Toyota to another no-frills Nissan motor.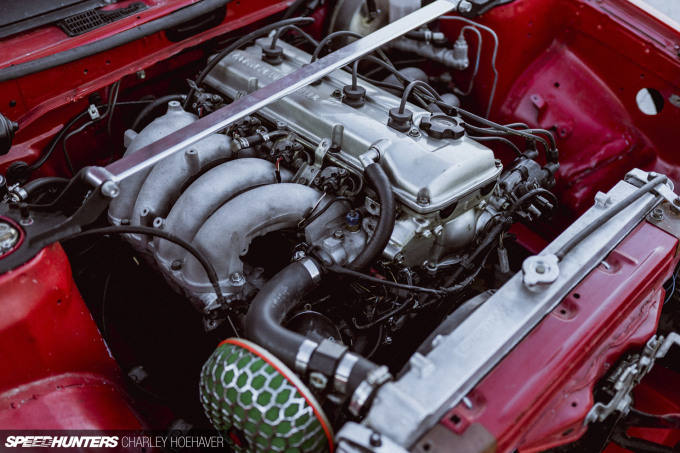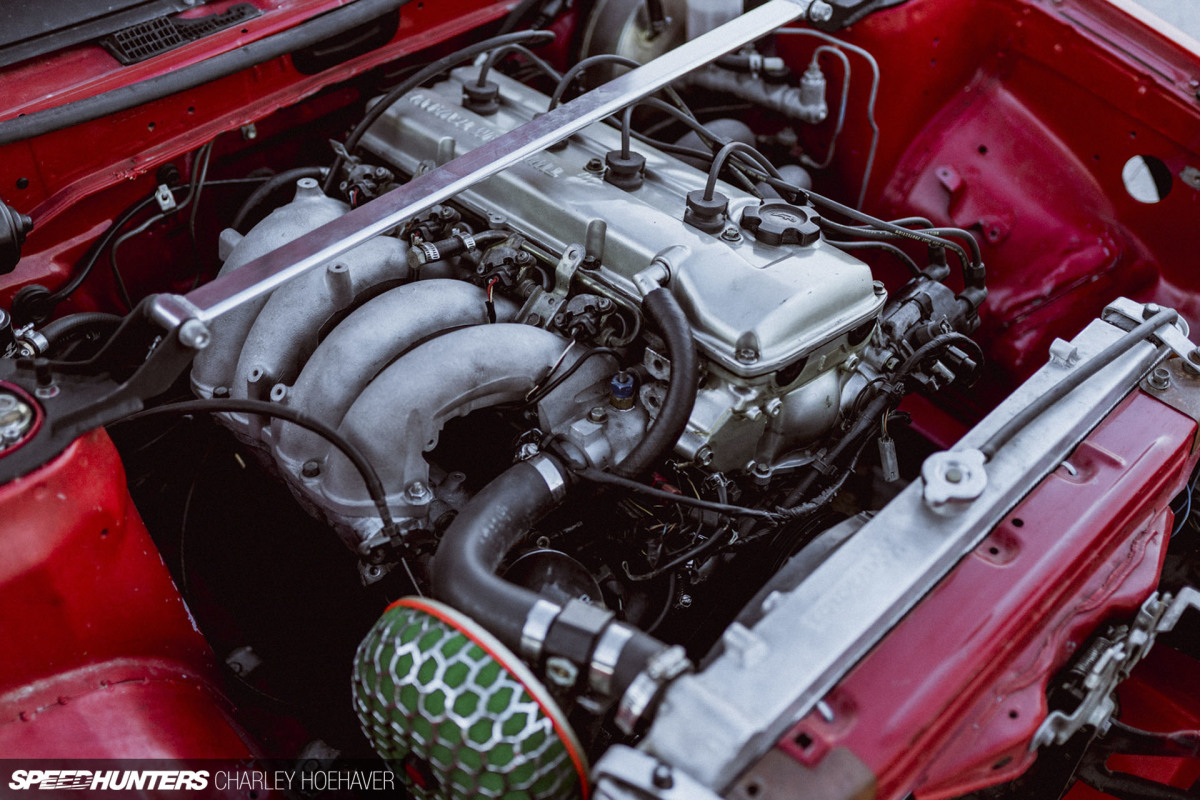 To some, the KA's anaemic, almost 160hp is entirely too little power to be acceptable, but it's more than enough power when your car weighs only 1800lbs soaking wet. After seeing Ian rip his 86 around the lot we shot in, I can tell you firsthand that it's got more than enough behind it to really get sideways.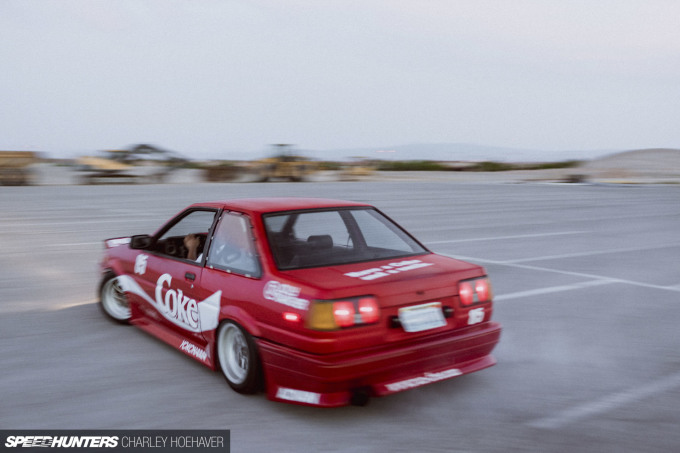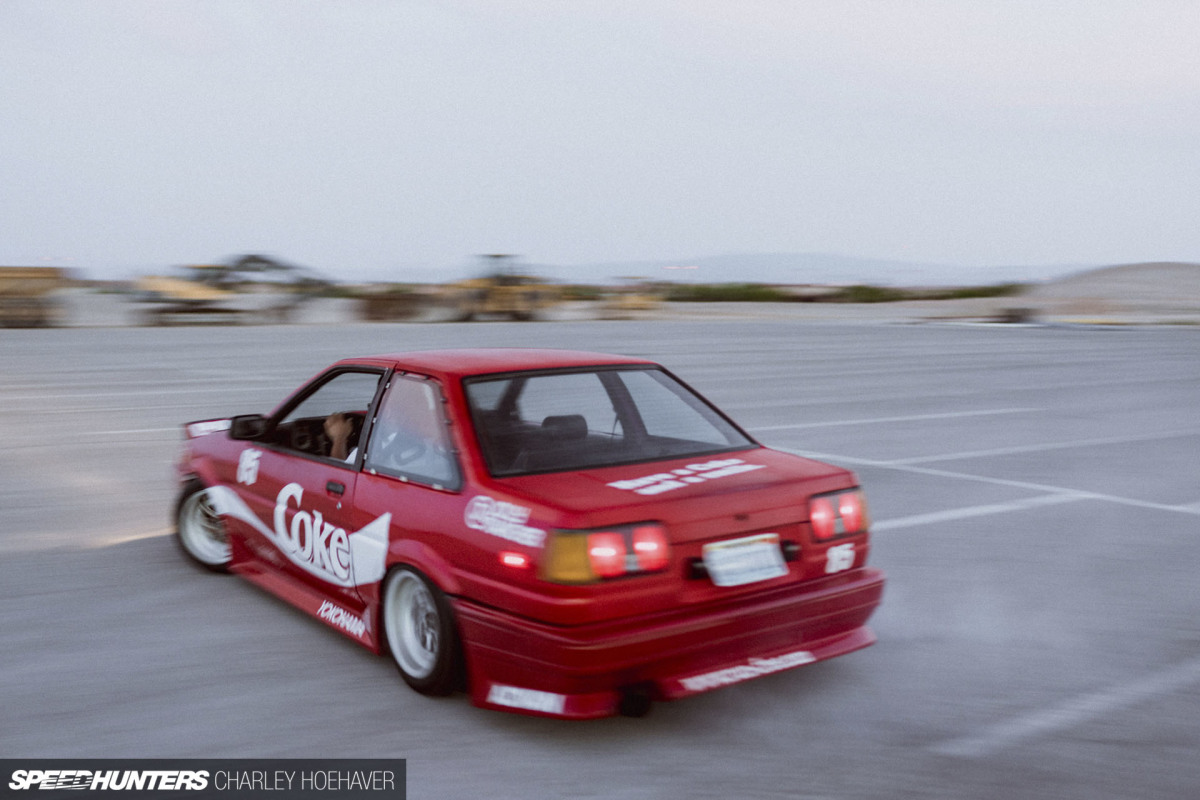 Nowadays people get lost in the building process, forgetting that the whole reason they built the car in the first place was to drift. Immediately after we finished shooting, Ian blew every gear but fourth and it didn't concern him in the slightest. After all, a transmission for his car is under $200.
While swapping over to the generally undesirable KA24DE might be sacrilege to some, it's a big reason why I love Ian's AE86. Instead of over-building the car, he put in a simple engine that can make moderate power and do exactly what he needs it to do without worry.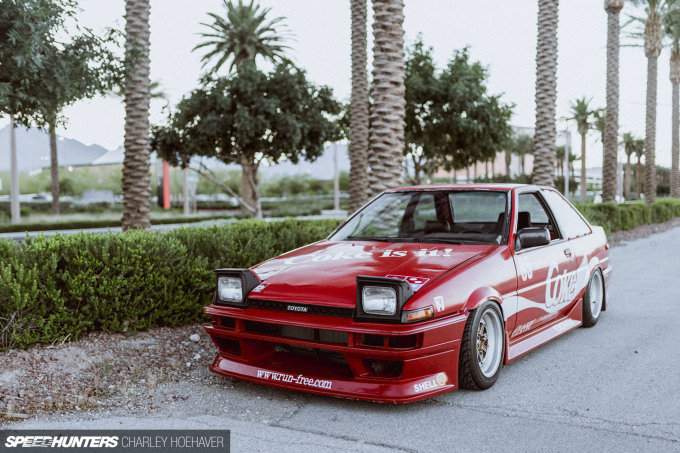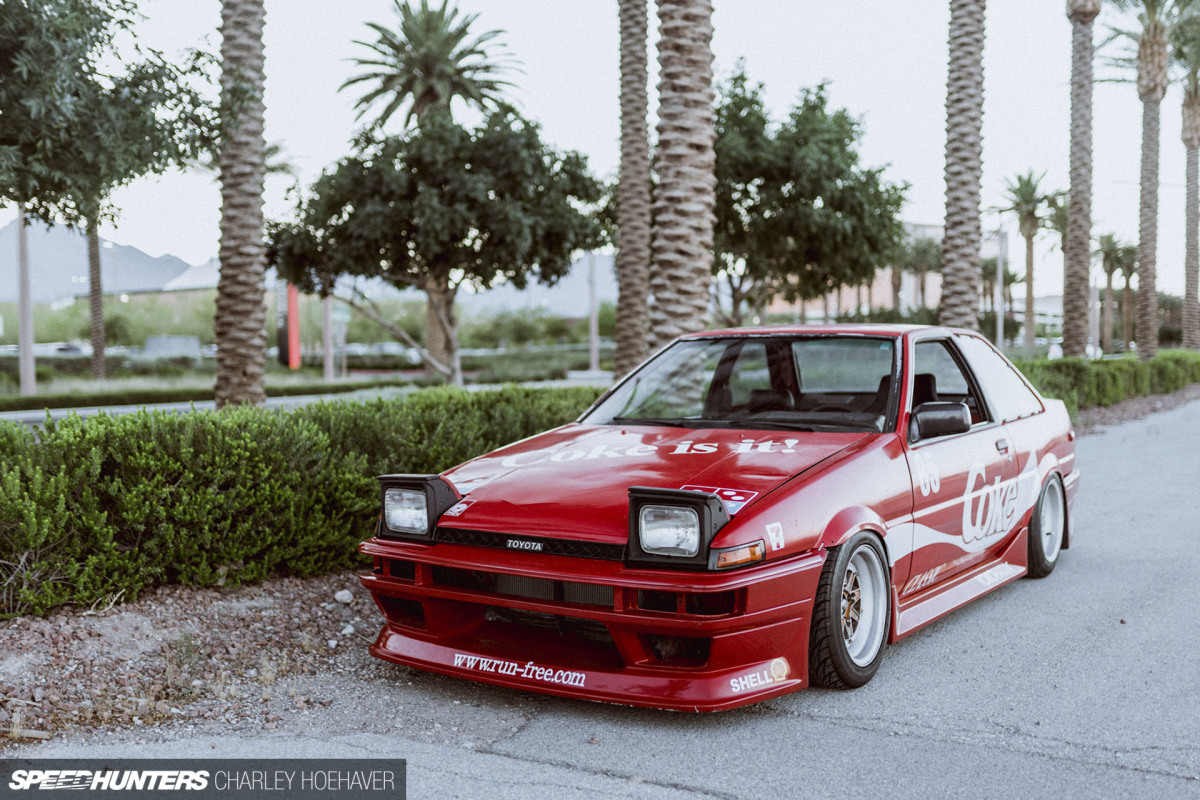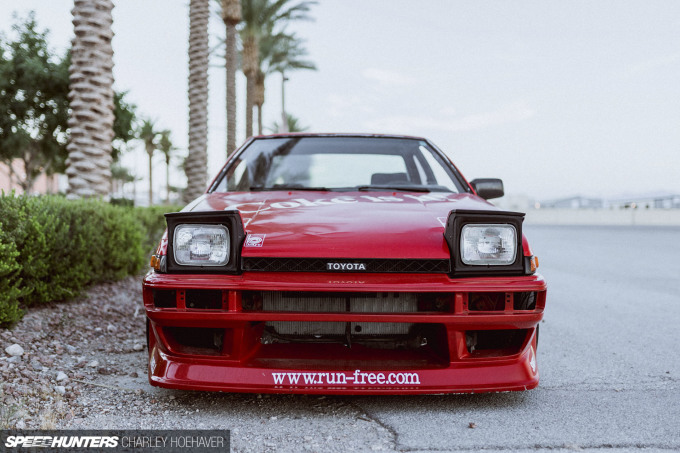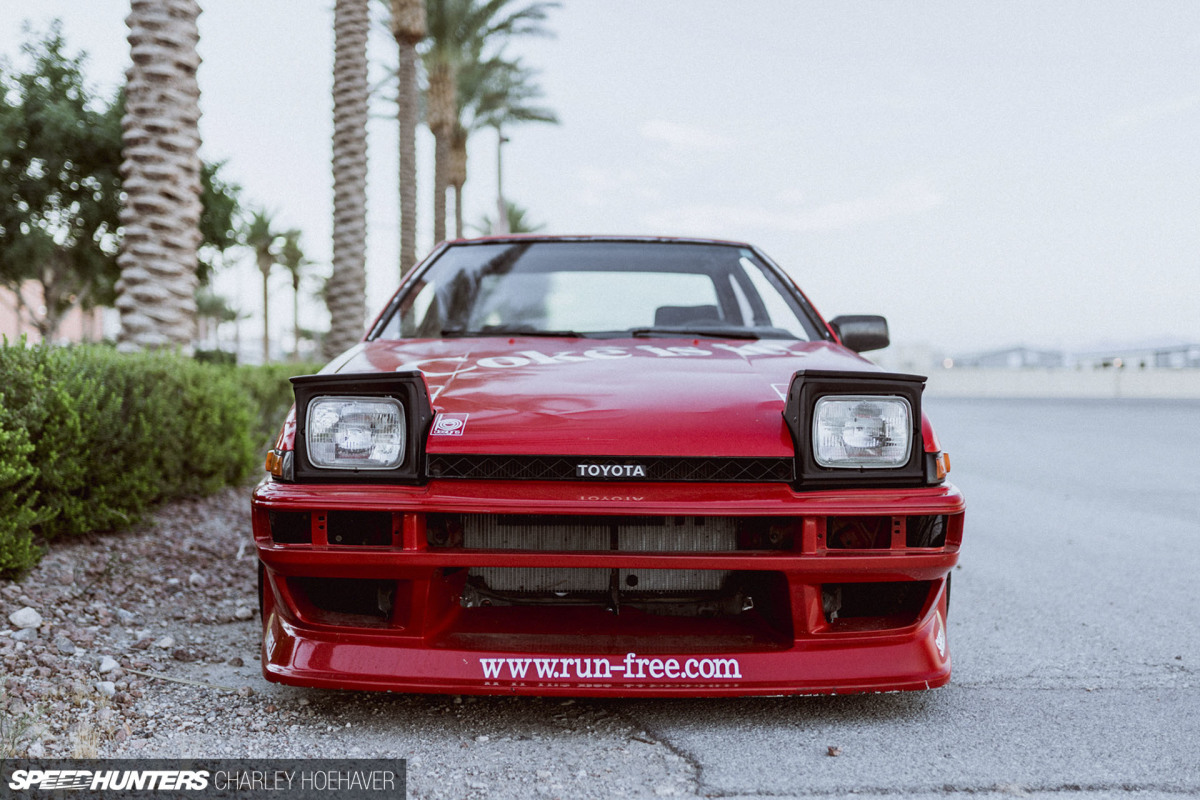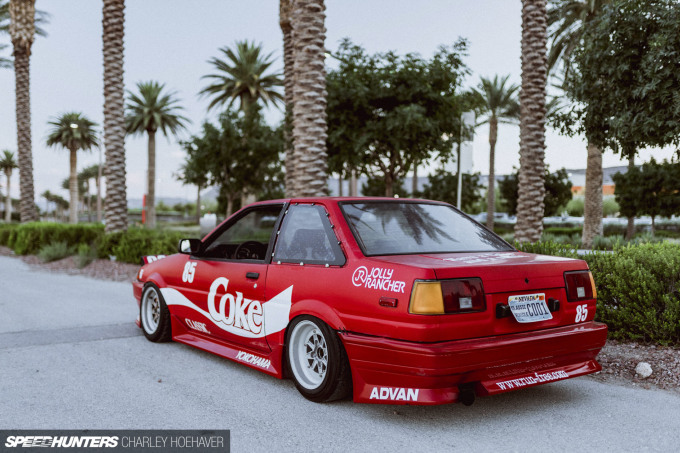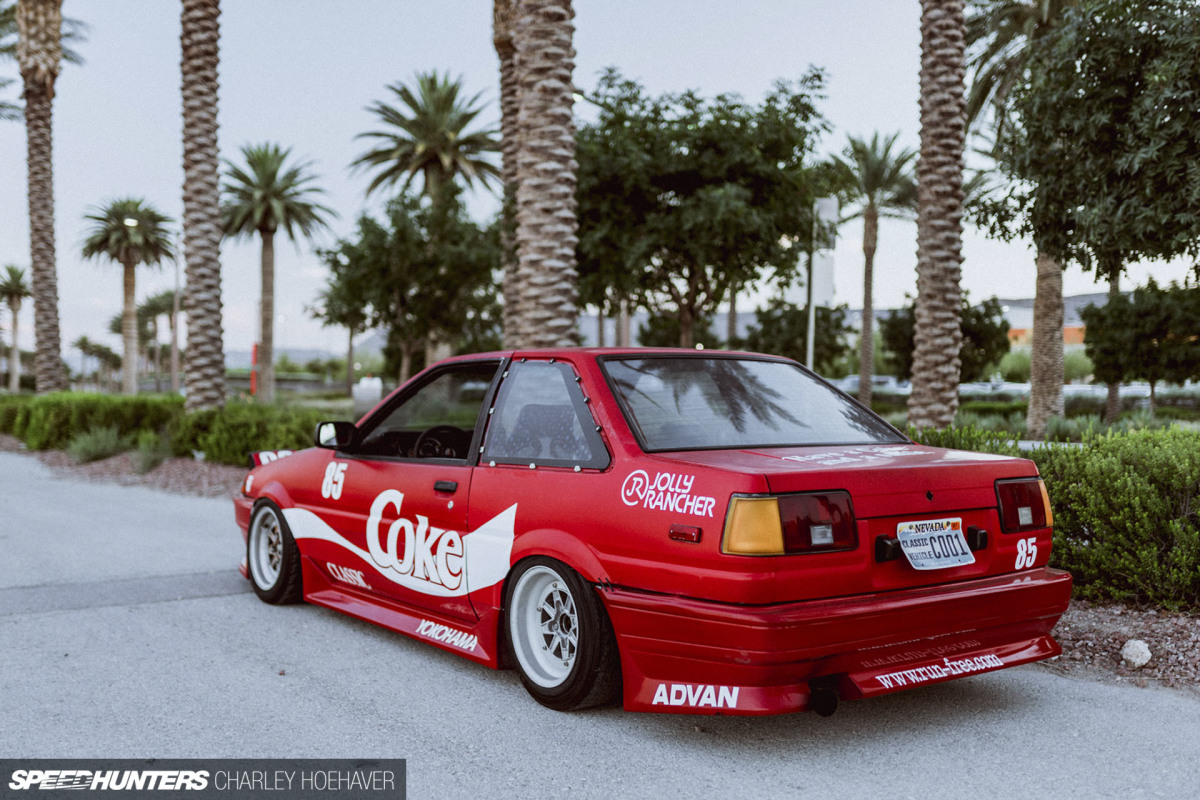 Besides the slightly unusual engine choice, Ian's 86 oozes style, and style is one of the most important parts of drifting. The immediate draw is the well executed Coke livery, something that reminds me of Japan's famous Grand Champion race cars. The battle-worn Run Free Type 1 aero kit complements the livery in a perfectly period-correct fashion.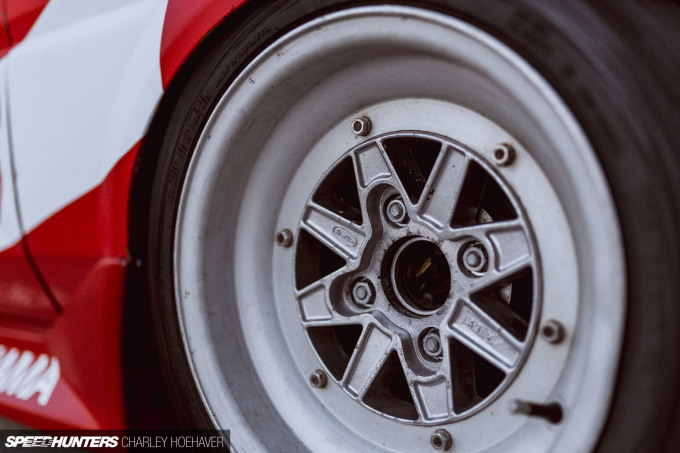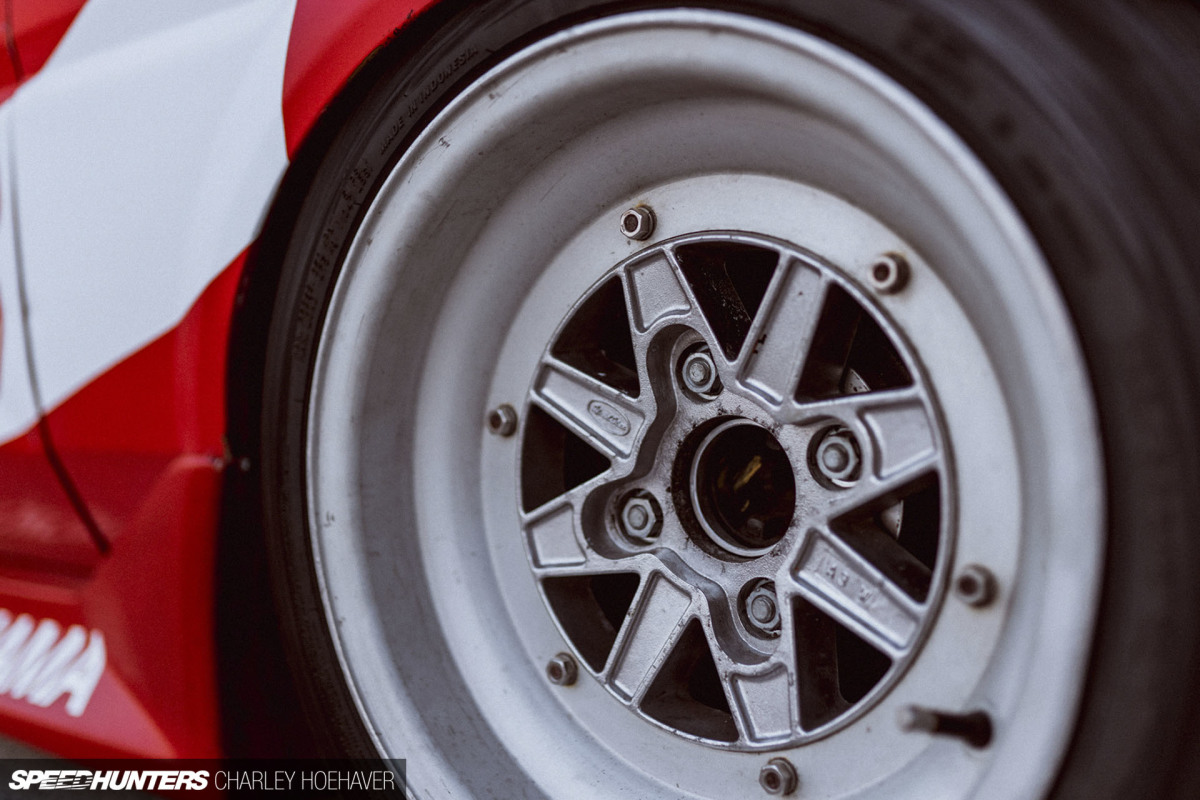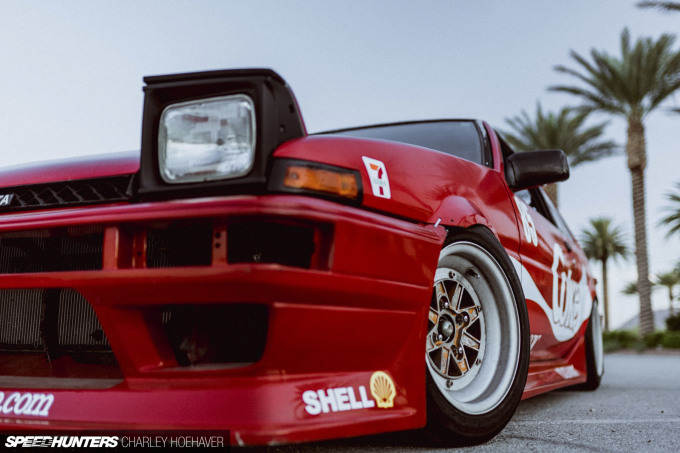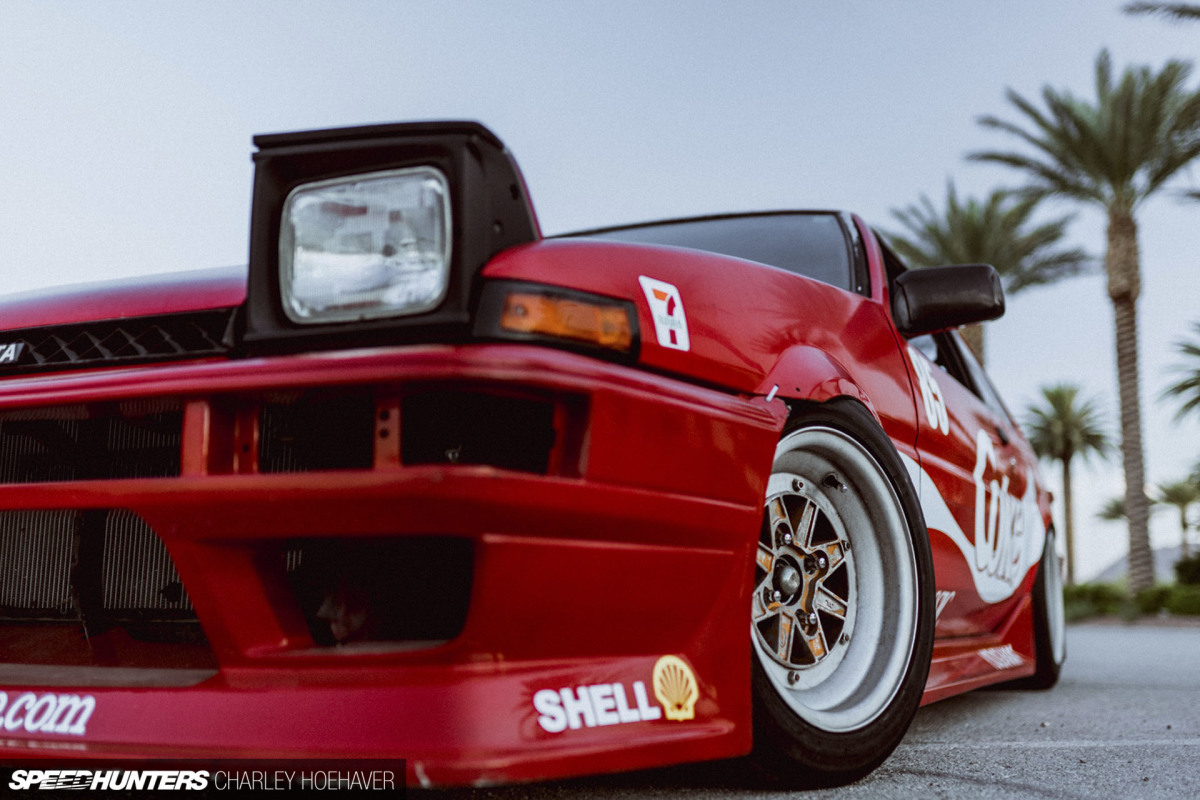 As if SSR MKIIIs weren't rare enough, Ian's set were originally 4×120 and off some obscure Honda. After having them re-drilled, they now sit flush just inside the fenders tying together an already unorthodox AE86 in an even more oddball fashion.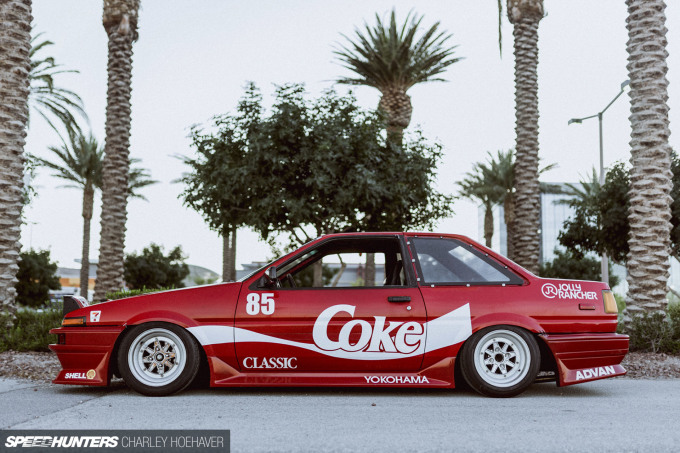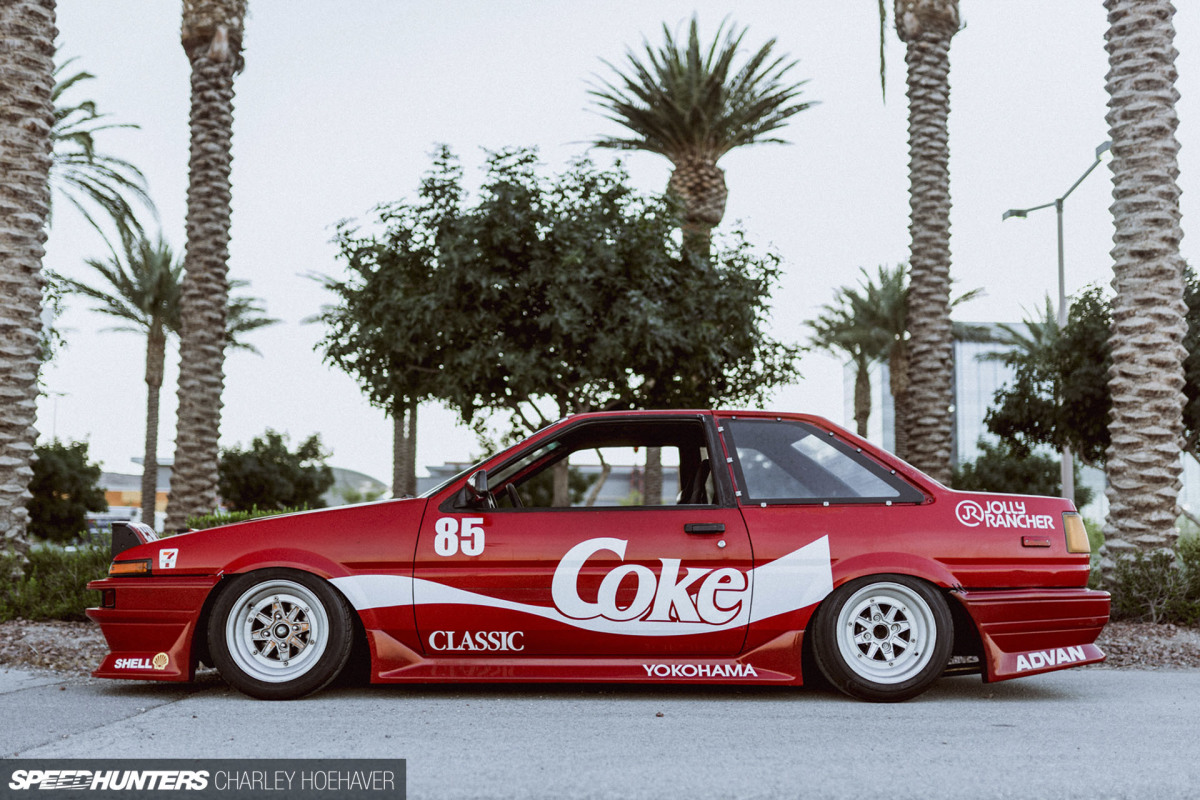 Is it perfect? No, nothing really is, but it does exactly what all good drift cars should. It drifts, it looks good doing it, and when it inevitably breaks fixing it isn't a nightmare.
It's definitely not your standard 86, but it still performs like one all the same. In my book, anything that keeps the iconic AE86 spirit alive is worth acknowledging.
Charley Hoehaver
Instagram: centru
How To join the IATS program: We have always welcomed readers to contact us with examples of their work and believe that the best Speedhunter is always the person closest to the culture itself, right there on the street or local parking lot. If you think you have what it takes and would like to share your work with us then you should apply to become part of the IAMTHESPEEDHUNTER program. Read how to get involved here.
Gallery