Craigslist Is Dangerous
Above all else it's passion that produces some of the best feature cars to grace this site. Not likes, trophy-hunting or anything of the sort. Plain and simple passion.
If there's one thing Scott Johnson has, in almost overwhelming abundance, it's a passion for building cars. Scott got hooked fairly early, at just 13, and he was all-in from that point forward. His first car was a Datsun 240Z he purchased for $100. Several S30s and Z32s soon followed, but today he's thinned his heard to a solitary twin-turbo 300ZX.
BMWs came later and as somewhat of an after thought. He picked up his first one, a 1995 540i, to drive while he rebuilt the motor in his Z32. In the process of making the fiver an OEM+ styled daily driver, Scott fell head-first into the world of top-tier BMW modification.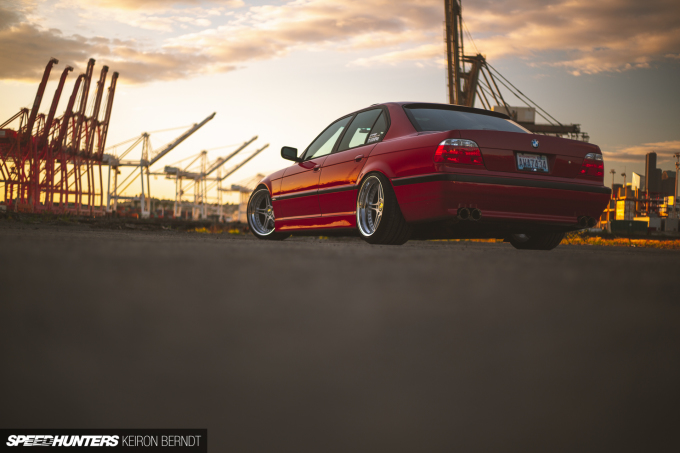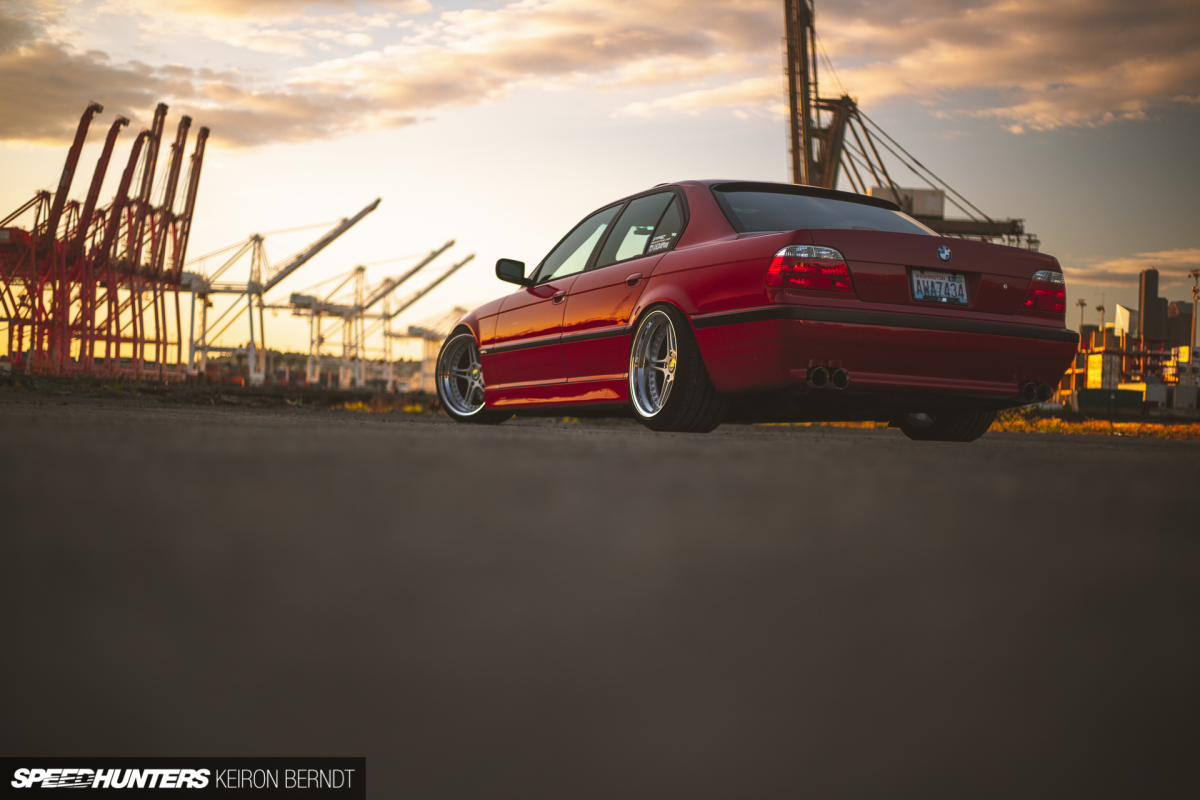 Scott's 30 today and he's owned more than 50 BMWs in total. Currently his count hovers around 15. Some might consider him a hoarder, but it's really not hoarding if the stuff you're collecting is cool.
His ever-changing and ever-growing fleet of cars made storing his collection at home a bit of a nightmare, so naturally he bought a firehouse to solve the problem. Along with his brother, Scott converted the building into a shop and storage space where they can build whatever they want, whenever they want.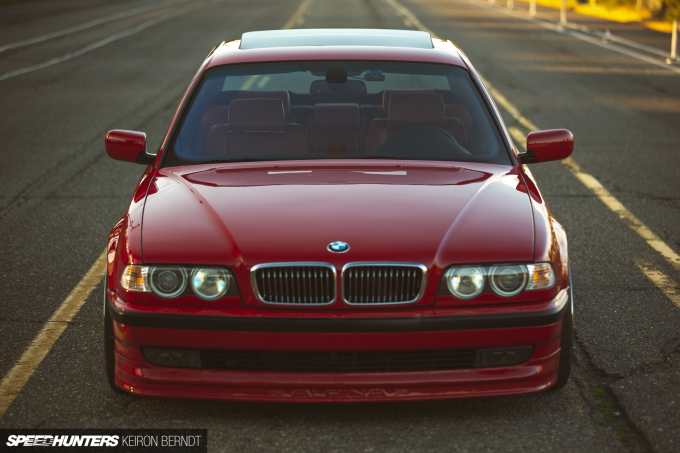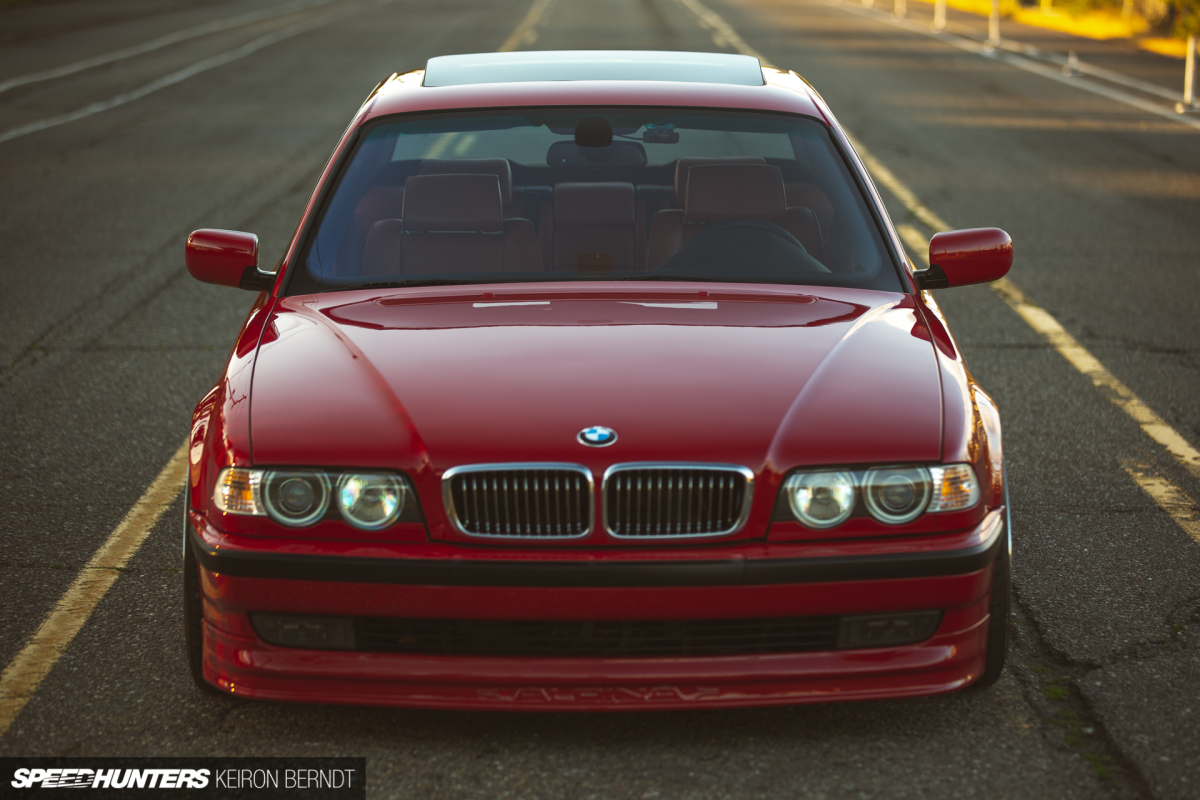 With a space to build, Scott, his brother and few friends started an outfit called Studio 62, specializing in BMW swaps and builds. All the guys have full-time day jobs, but that hasn't stopped them performing five S62 swaps over the last 18 months in a variety of different BMW chassis.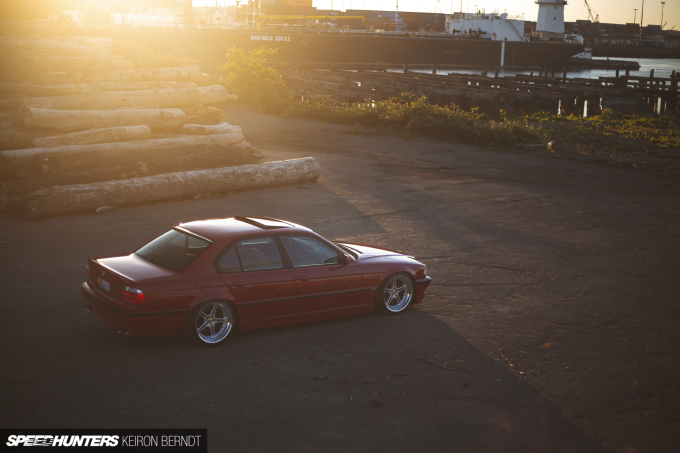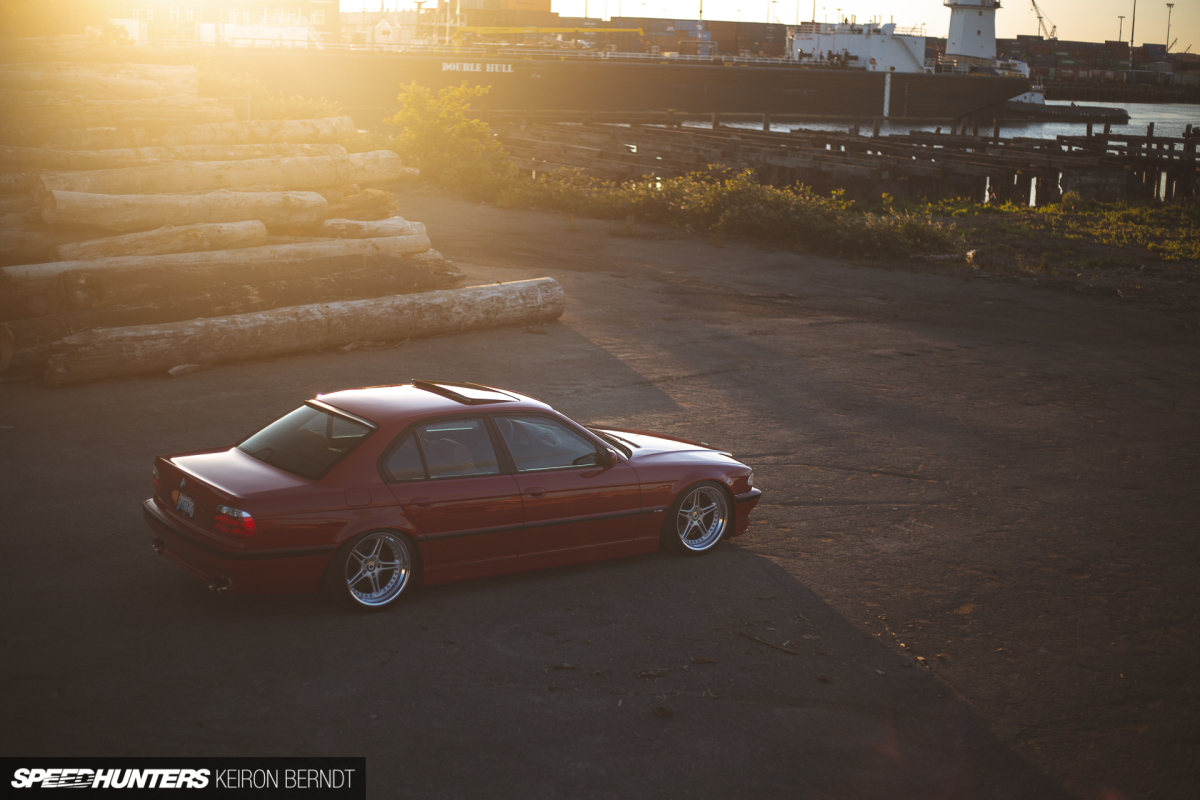 Buying and selling more BMWs than can be counted on 10 fingers and 10 toes, one car Scott doesn't plan on getting rid of anytime soon is his Imola Red 740i. The car is one of just 172 US-spec 740s to come from the factory painted in this particular shade of red, and Scott is the car's second owner.
A nearly sight unseen Craigslist buy, initially Scott didn't have extensive plans for the car, but it was automatic, so at the least it needed a proper transmission.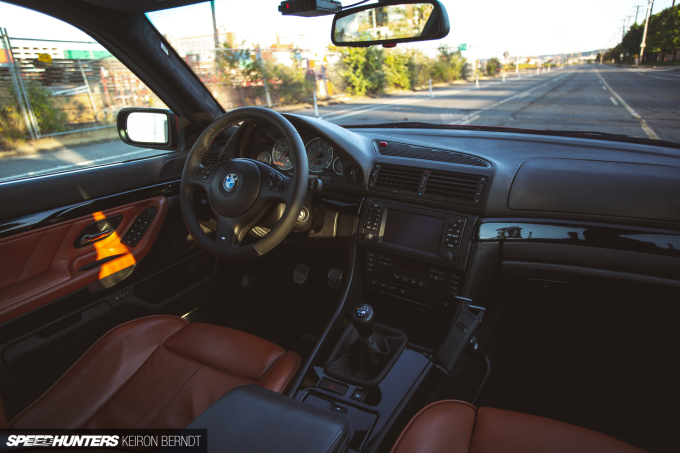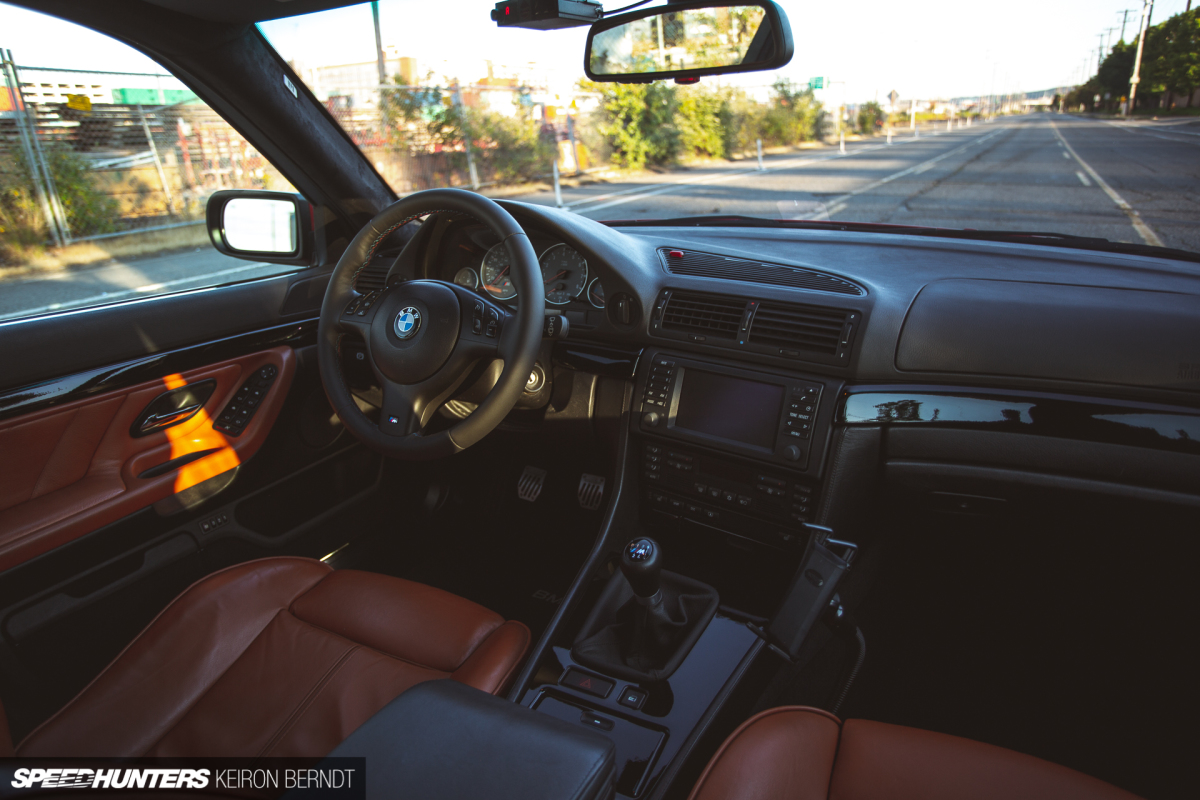 From there I'm sure most you can predict what happened. You turn one bolt, then another, and another, until suddenly you're surrounded by a pile of parts and flipping through your phone, greasy fingers and all, looking for more.
In the end, Scott's plans for a simple transmission swap turned into building the 'M7′ that BMW never did.
Escalation Point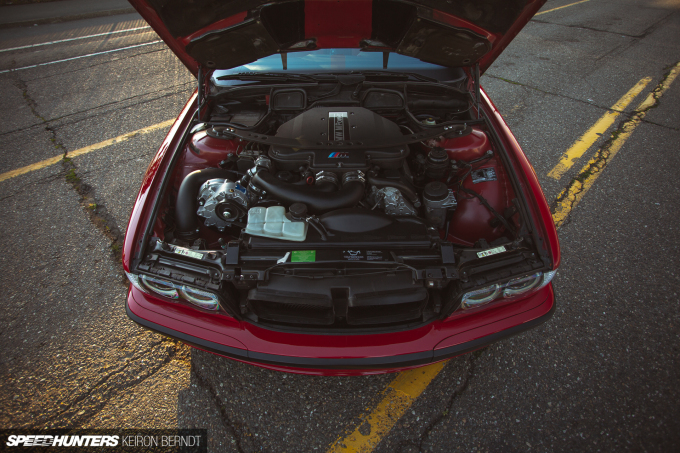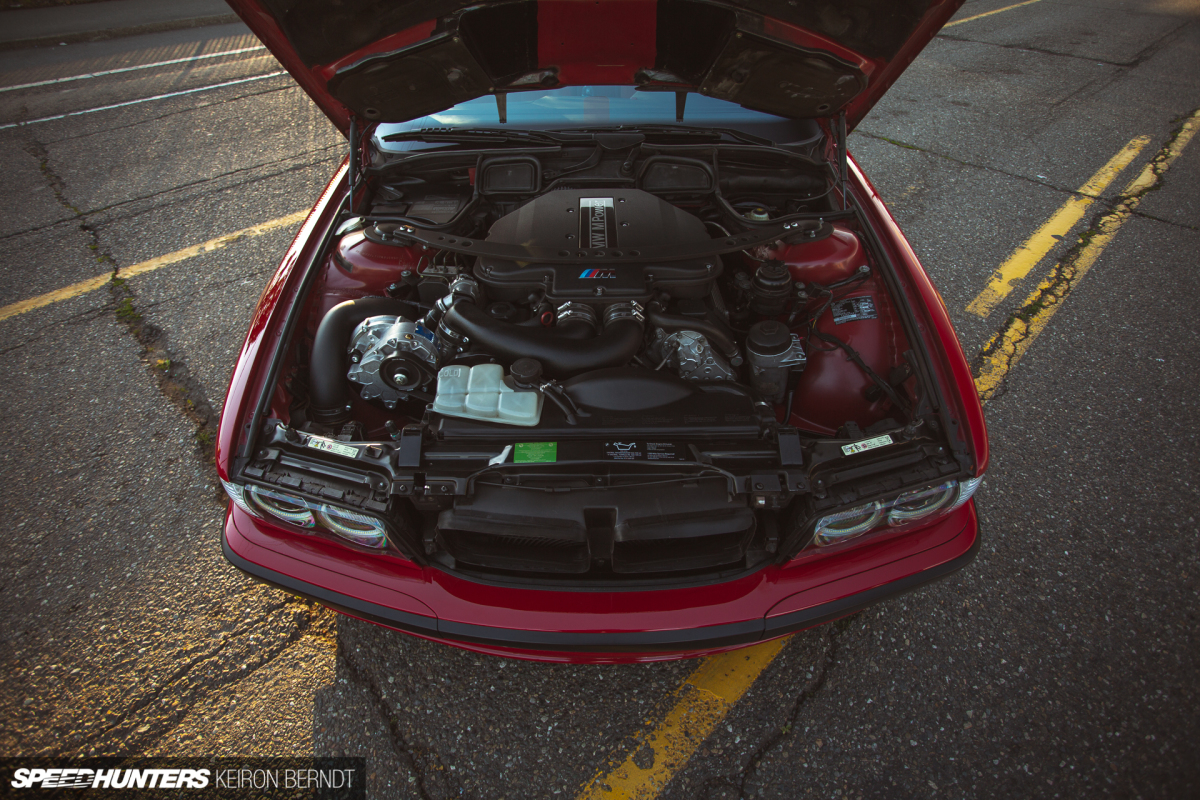 Prior to building his M7, Scott helped build an M5 wagon out of a wrecked E39 M5 sedan. The experience left him intimately familiar with the E39, so that's what he used as a donor for his 740.
As if putting E39 running gear in his 740 wasn't enough of a challenge, Scott decided to do it all in three weeks, just in time for Bimmerfest 2017.
In addition to swapping the motor, Scott replaced every suspension item, seal, bearing, and hub component on the car. He also fitted the M5 steering box and differential while everything was apart. "It took a bit of fab here and there but in three weeks I had it on the road," he told me.
Two hundred shakedown miles later, Scott pointed the car toward California and drove it 2500 miles to Bimmerfest without so much as a hiccup.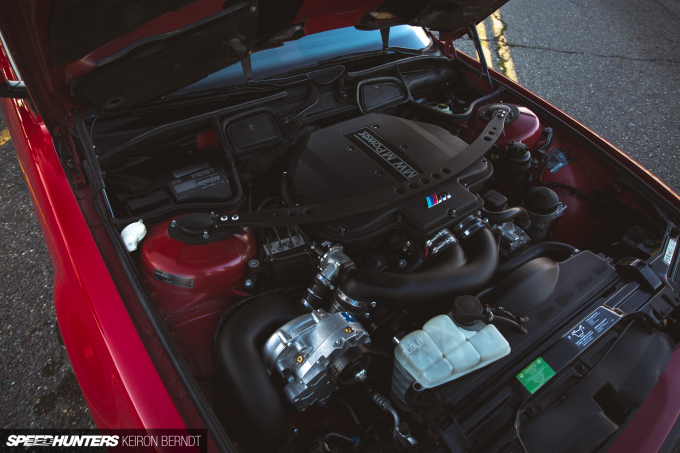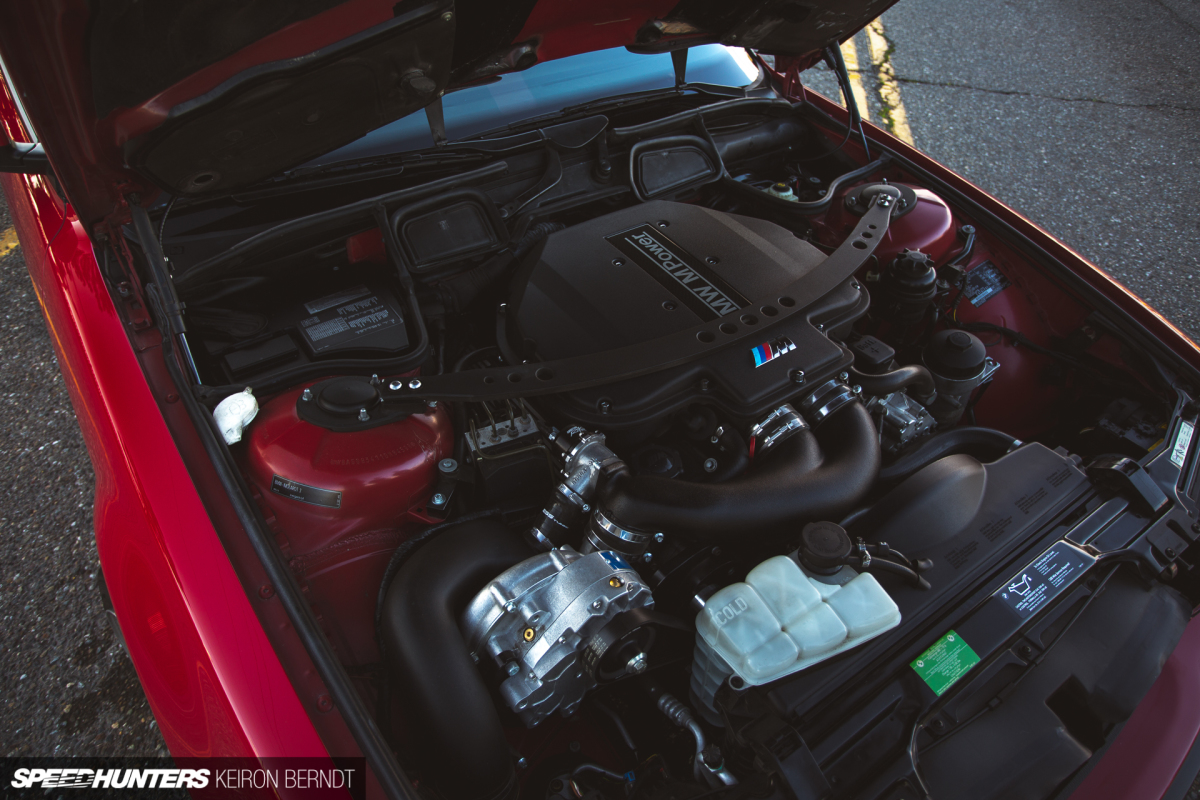 However, I'm sure you've all noticed Scott didn't stop there. The S62 motor turned out to be a great match for the chassis, but Scott wanted that extra little bit more. Boost was a quick and tidy answer, so a supercharger kit from ESS Tuning was installed. Of course, the blower install kicked off another round of modifications.
Going For Broke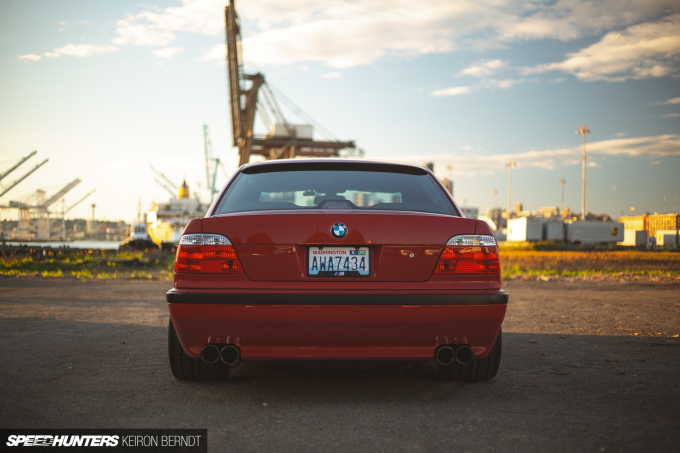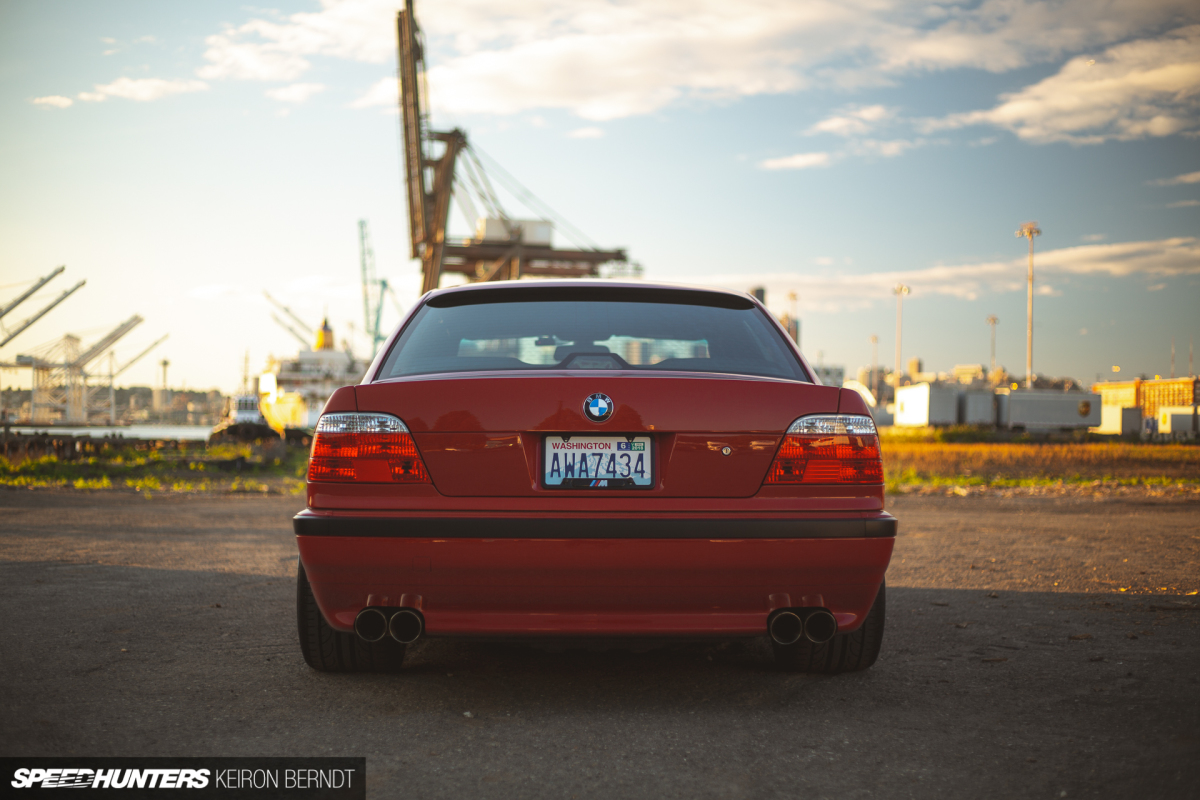 In 2017 the 740i was 16 years old and had acquired its fair share of wear and tear. Knowing it was now not a car he would be parting with anytime soon, Scott tore it down for a complete respray. Having already replaced every bushing under the car Scott took the same approach to the exterior. The black trim you see on the car looks brand new because it is brand new.
Not one single corner was cut on the exterior restoration and it certainly shows in the final result.
As you can imagine, with the exterior now spotless Scott couldn't leave the tan interior looking like an old catcher's mitt. Black would be a natural option for a red car but, almost too expected. The leather that drapes the interior today is a result of a painstakingly search through material swatches from a variety of manufacturers. In the end the interior color was inspired by one similar in BMW's own catalog.
Three interiors gave up their plastics to complement the seat re-trim and the headliner is done in Alcantara.
To the uninitiated the BMW interior looks alarmingly factory, but to those who know it's far from it. Exactly what Scott wanted.
Wheels & A Drop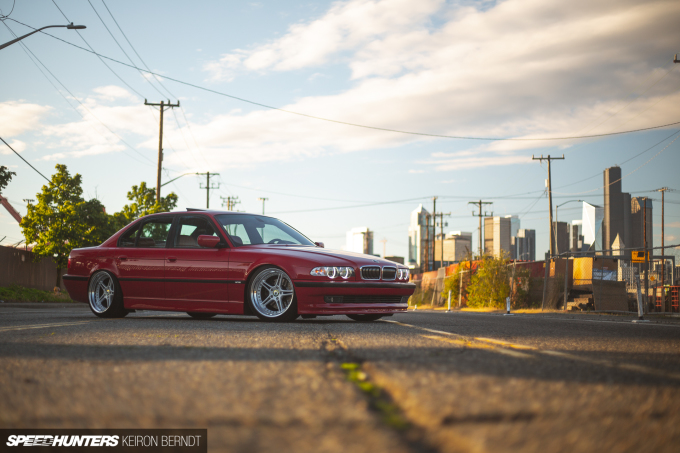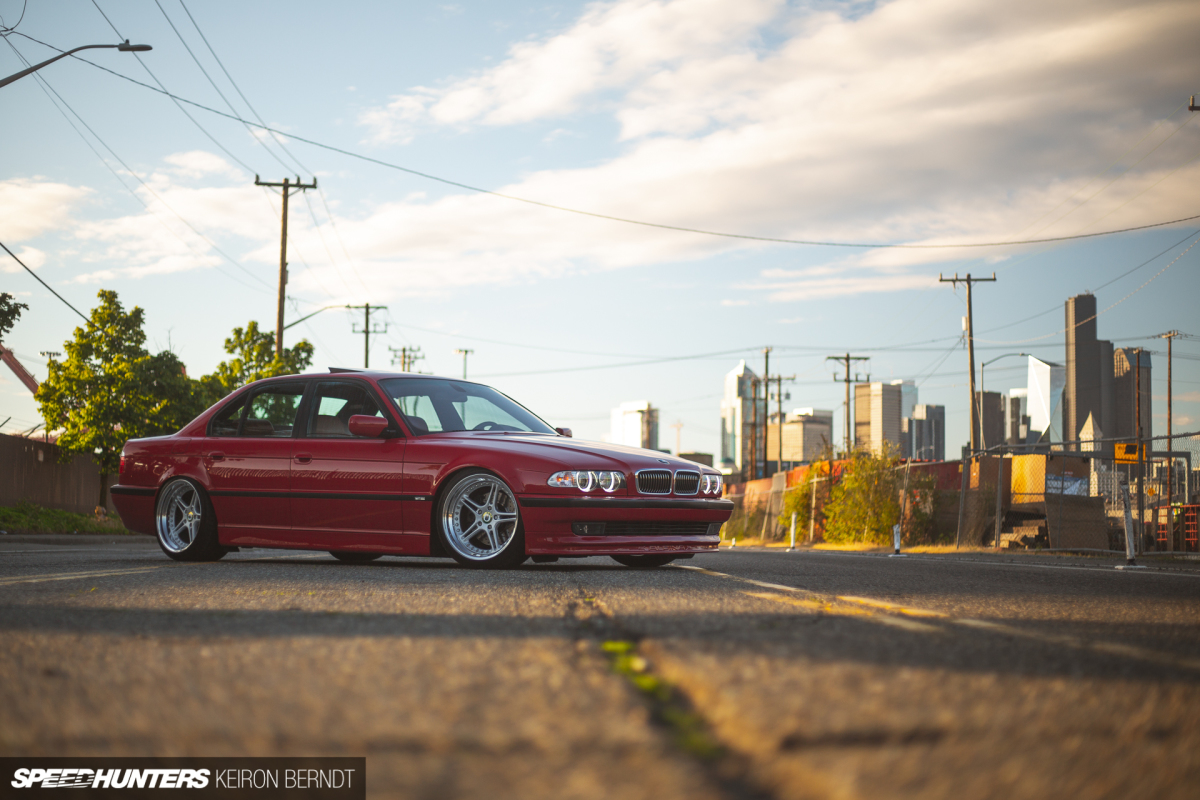 Rounding out the build is where a lot of BMWs today seem to start and end: a lip kit, a suspension drop, and wheels. The latter are NOS (new old stock) split five-spoke RS2s from Racing Dynamics.
With a healthy 550hp under the hood Scott didn't want to make any compromises in the rubber department so he made a tire combination of 255/35 and 305/30 fit under the car at a respectably low ride height.
The fitment looks absolutely flawless. According to Scott, as it sits the car is an animal in the corners and a monster in the straightaways.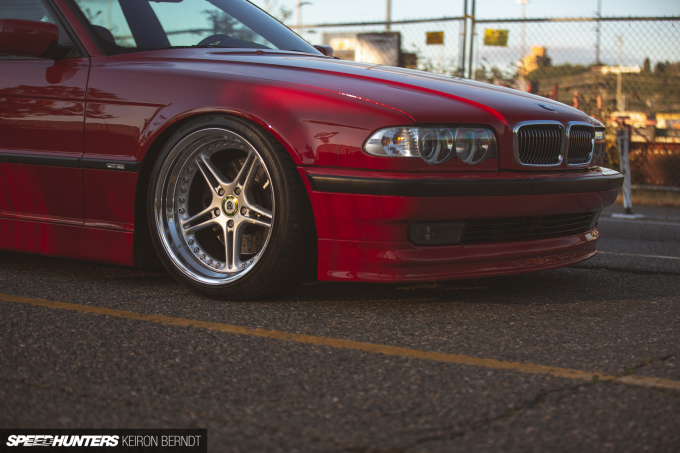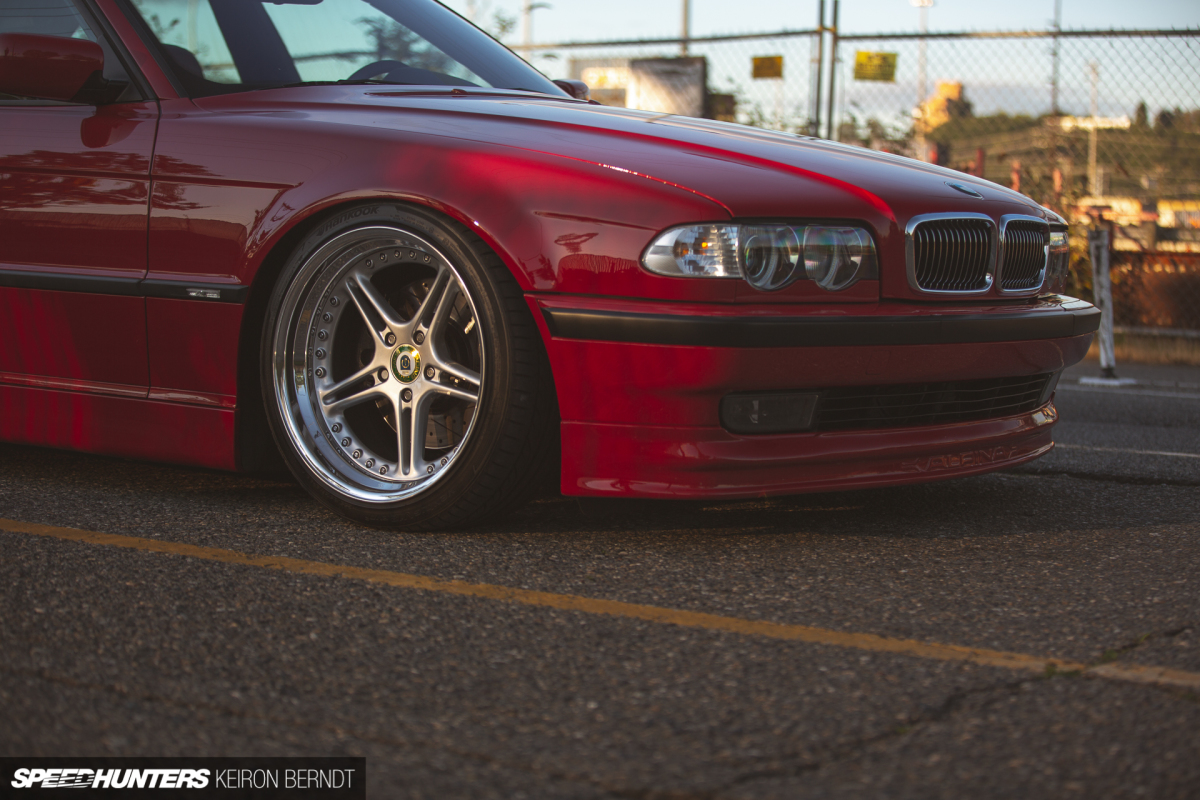 The only other body modifications are an Alpina front lip, custom roof spoiler, and a rear bumper that's been modified for dual cut-outs.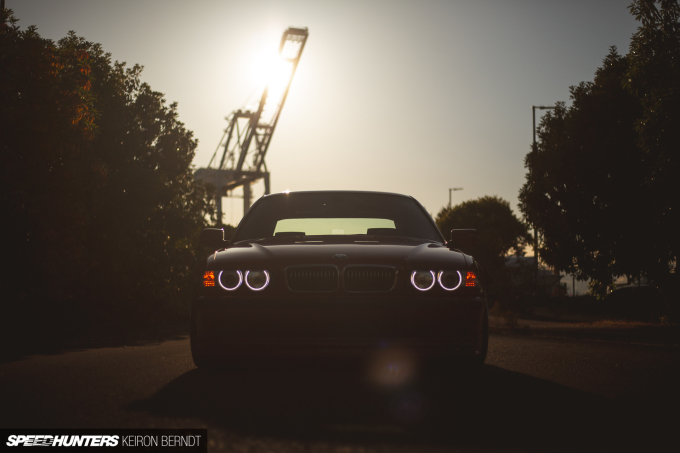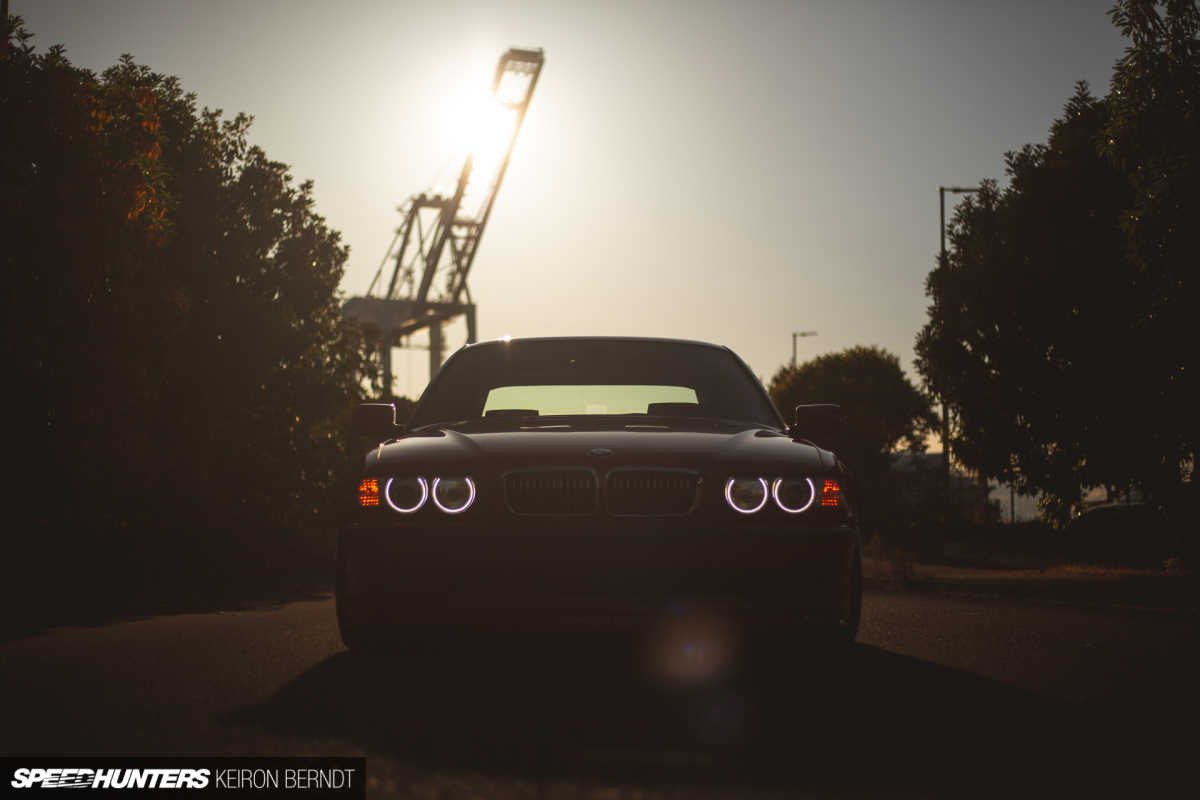 OEM Euro clear corners, and OEM halo headlights tidy up the front end and give the car a little distinction when the sun goes down.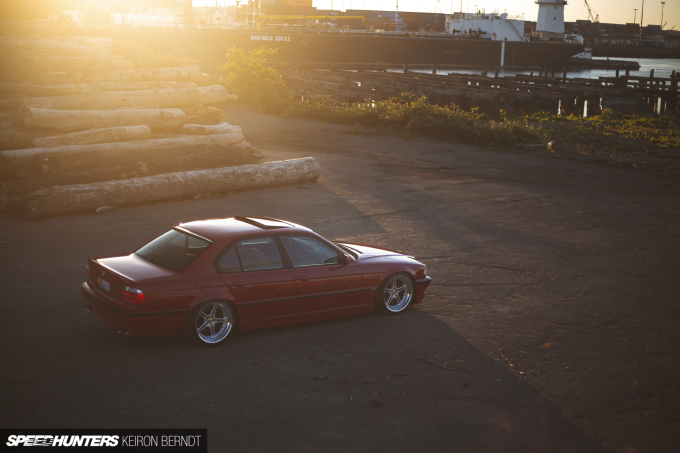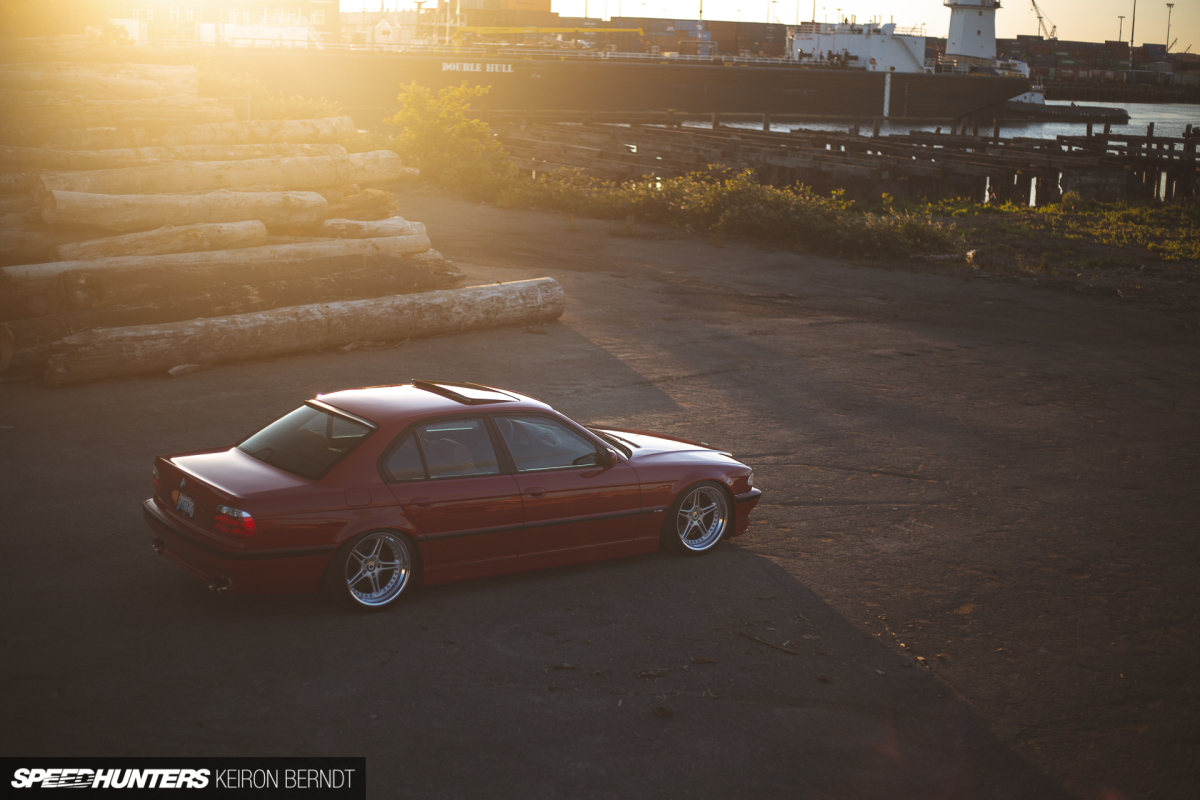 If you think that at this point Scott is done with the car, then perhaps I did a bad job of portraying just how carried away he is capable of becoming.
At the time of writing (Scott may have already changed his mind), the future of this car holds larger 405mm Brembo brakes, headers, methanol injection and more boost. Then Scott says he'll be finished. Probably.
Dave Thomas
Instagram: stanceiseverythingcom
Photographed by Keiron Berndt
Instagram: @keiron_berndt
Keiron Berndt Photography