The Mill Mile
Still recovering from the madness that is Hot August Nights, I figured it best for a change of pace. As cool as classic cars are, a static show can only take you so far. You can learn a lot about the history of a build, the process the owner went through to bring it back from the dead, and you can leave inspired to get back to work on your own projects with fresh ideas and motivation. But the whole event becomes much more alive when the cars are turned on. The best automotive events always involve speed.
As I said in my last post, my favorite event at Hot August Nights is the downtown takeover – I think I need to modify that statement. That would have to be my favorite static event, but those where cars are in motion are the most fun to shoot by a long shot. Even without a camera they'd always be my top pick, and I'm sure you feel the same way. So without further ado, lets hop into the Mill Mile Cruise.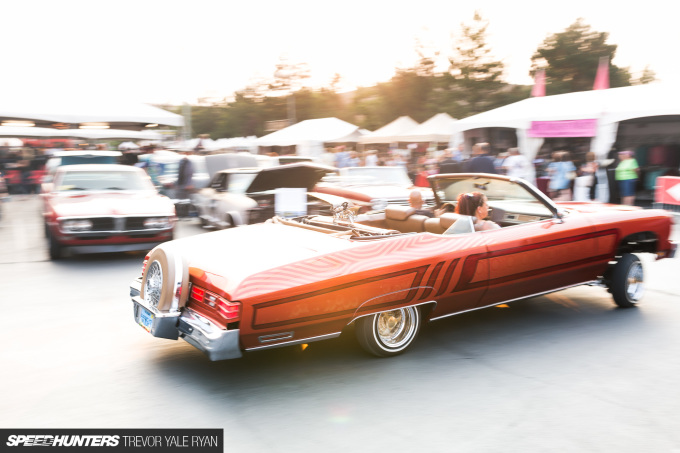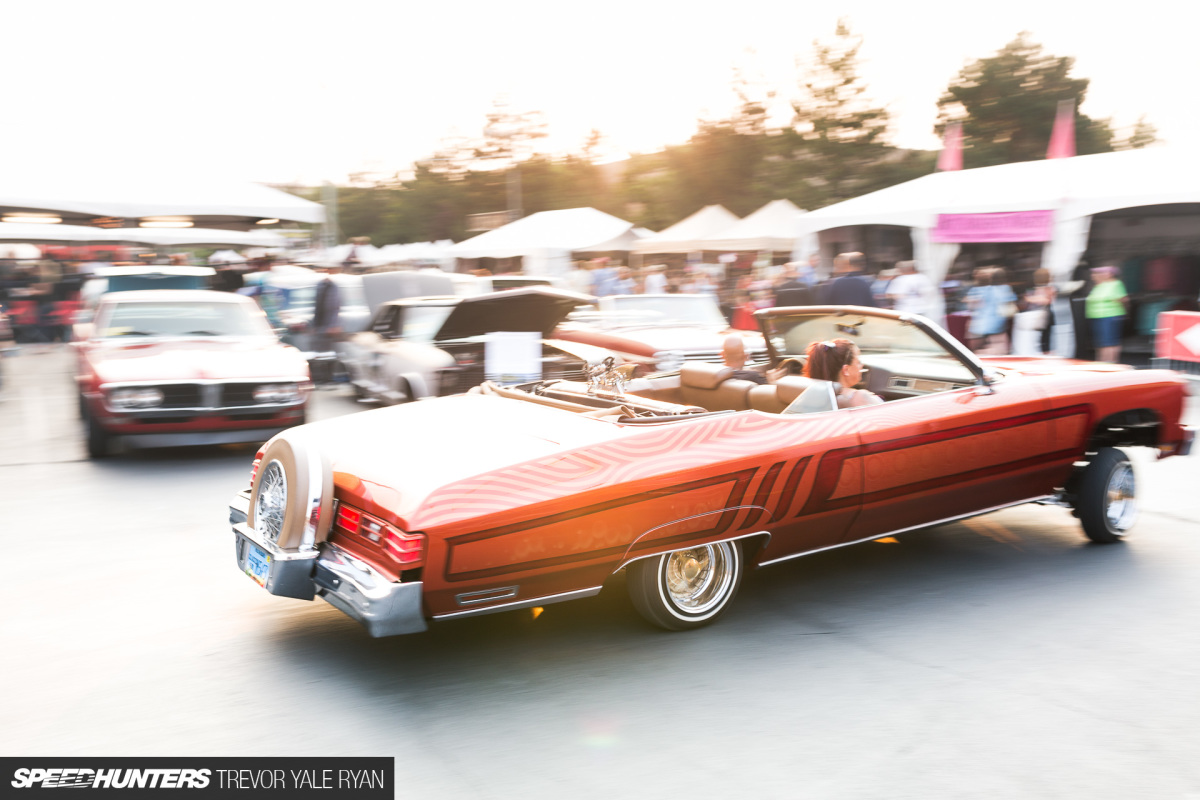 Initially I thought this would be a designated route through town where I could post up on a corner and take photos of the cars as they went by. While this is sort of the case, the cruise really takes place from casino to casino, with designated lanes at each casino's show for the cars to drive through.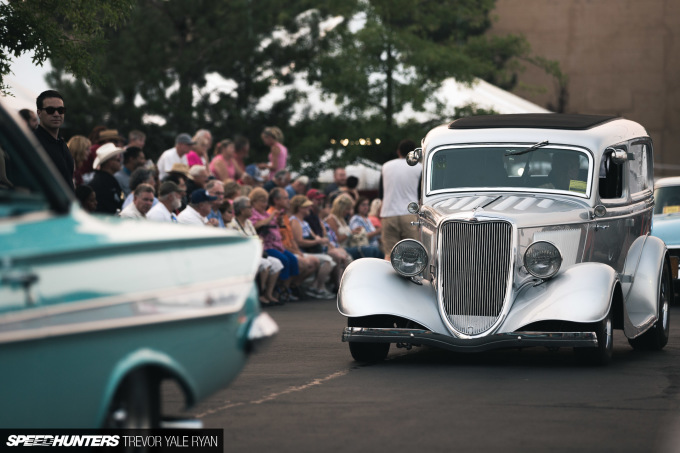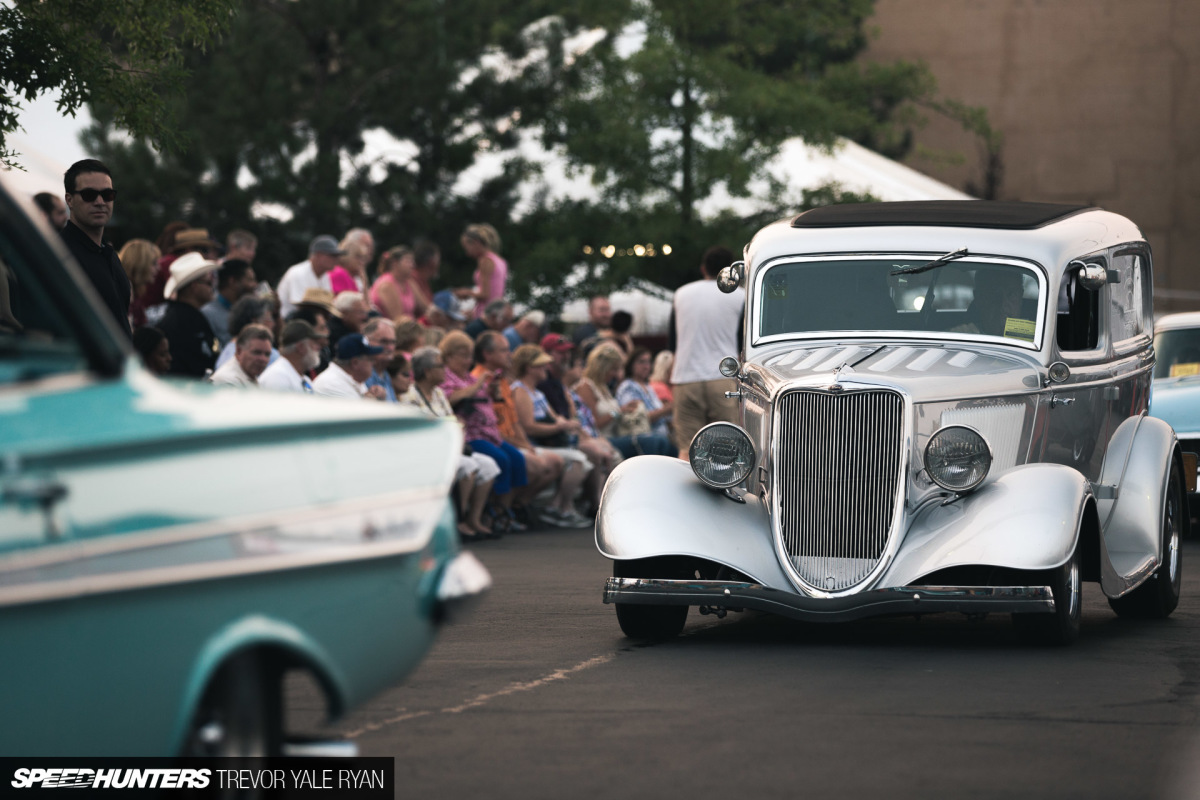 It takes all the hard work out of Hot August Nights as you're able to pick a show you like and watch as other ones come through to visit.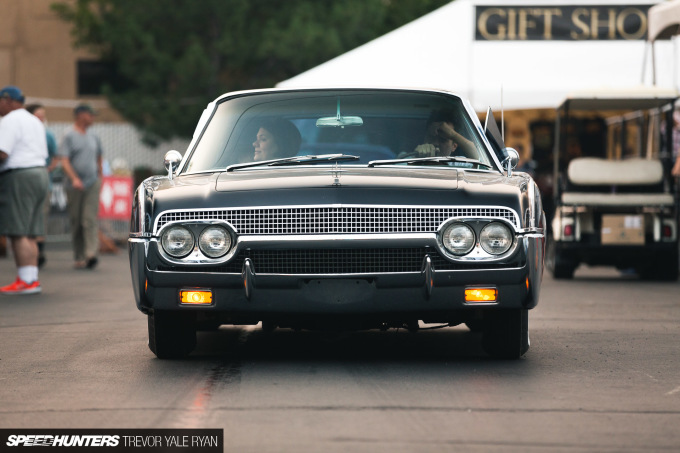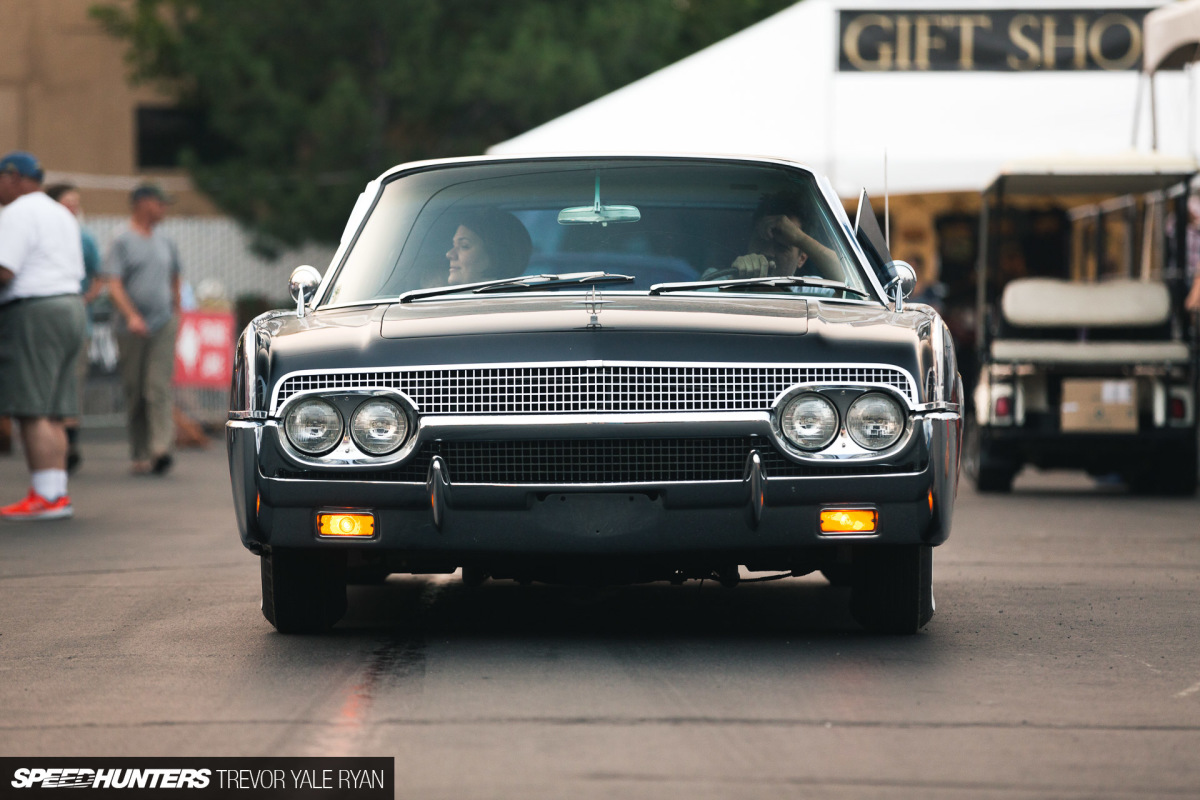 I took particular liking to this '65 Lincoln Continental. If you're into the model, Naveed's just given us a closer look at one.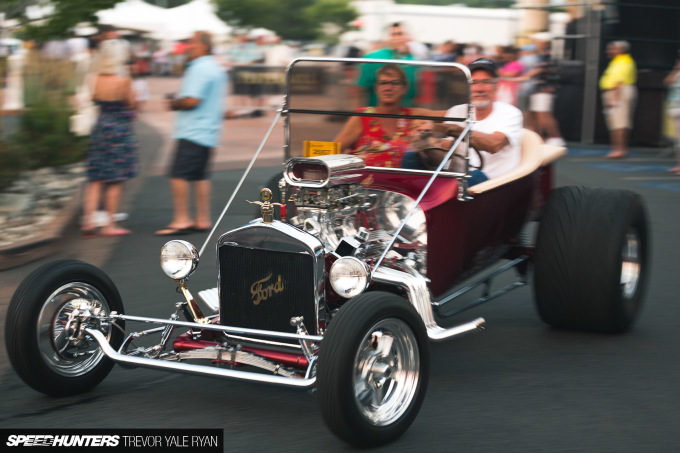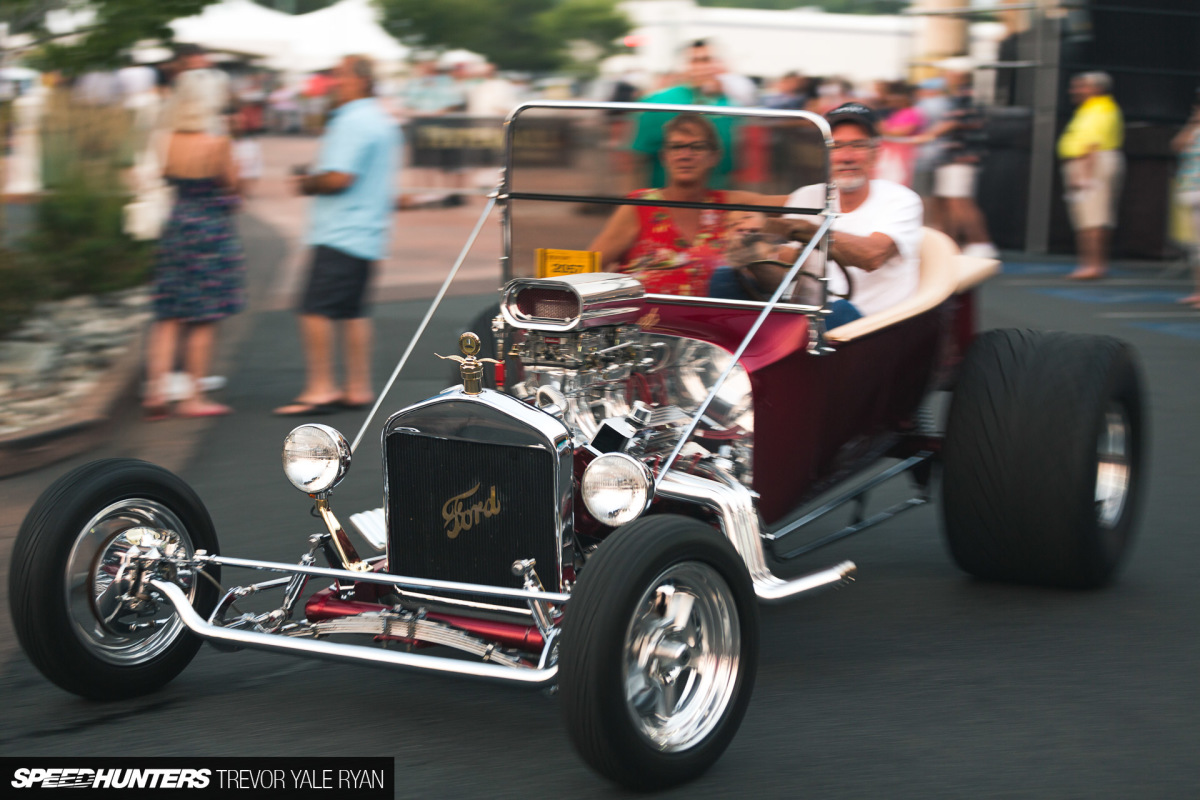 Although it seems many like to say that Hot August Nights is just row after row of the same thing, it really isn't. Even the cars that are the same aren't, and if you love old school muscle you will find a bit of everything here.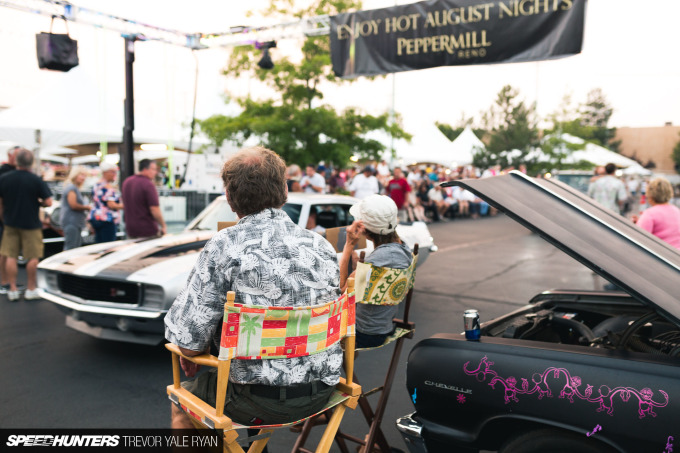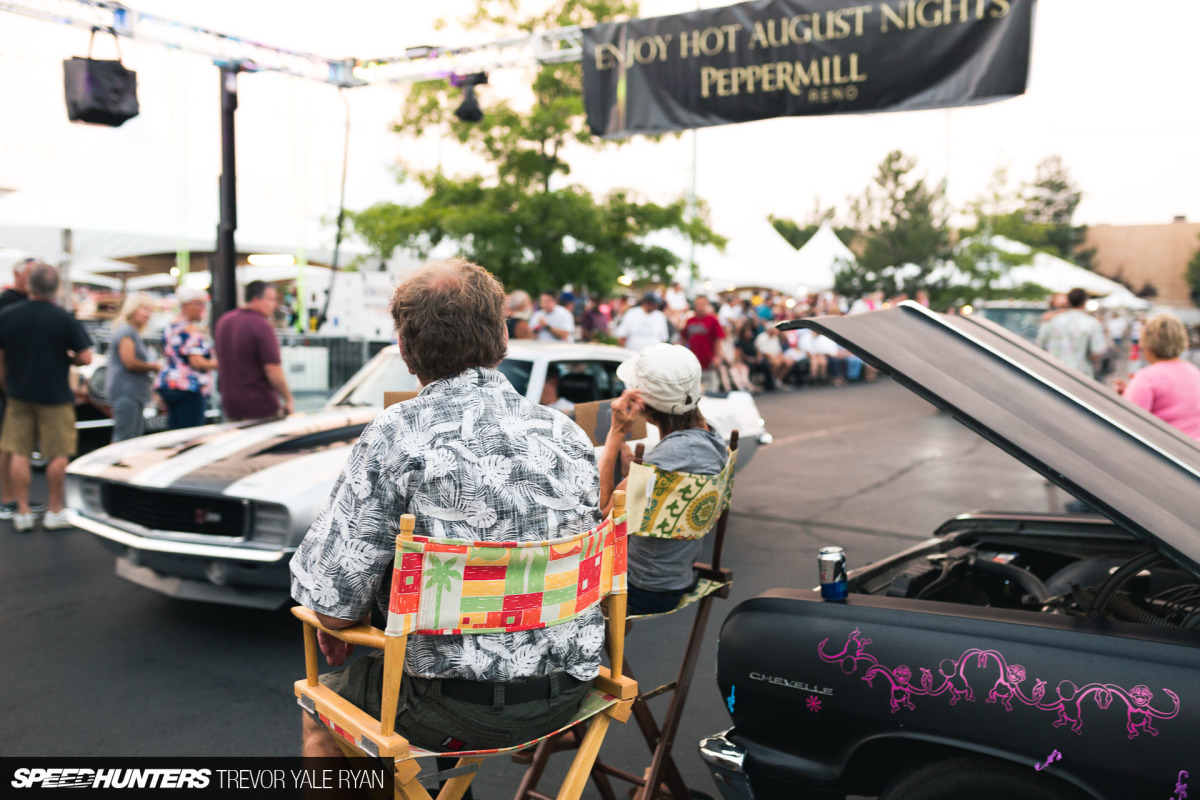 I averaged 10+ miles walking through the downtown areas and casinos hopping from show to show each day, but this first night was definitely the most relaxing.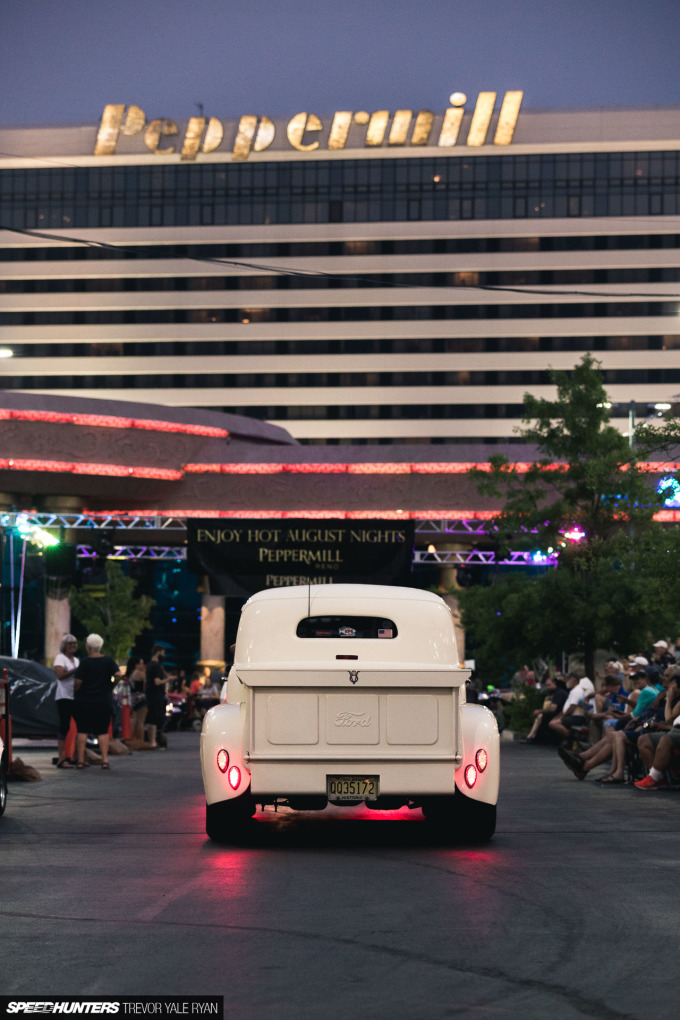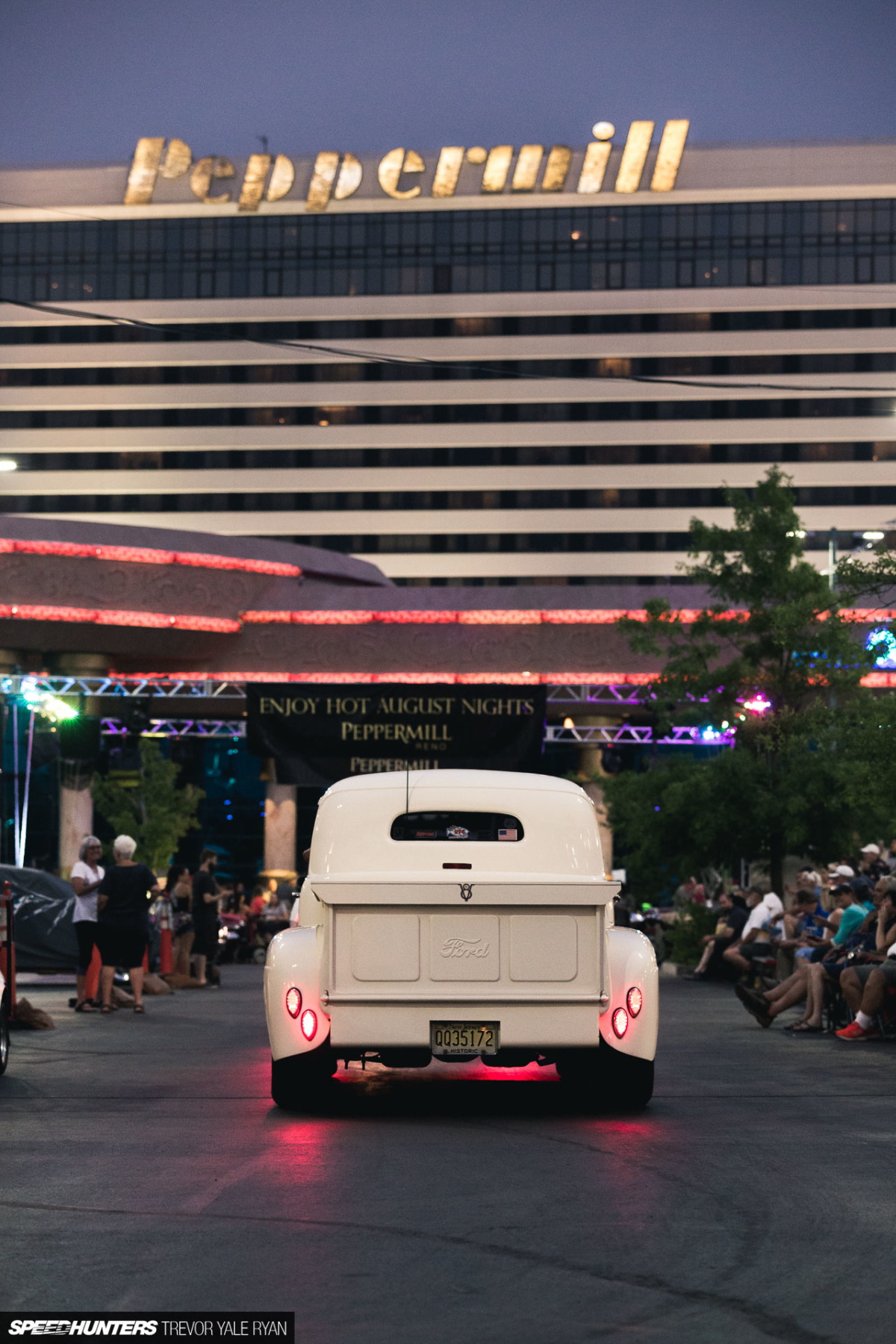 I posted up at the Peppermill, checked out the kick-off party, and let the classics cruise on by. Getting to hear the rumble of the big V8s and seeing the drivers' excitement as they drove past was a nice change from the rows of parked up classics. But as fun as it was, the cars were going a bit slow…
Autocrossing Classics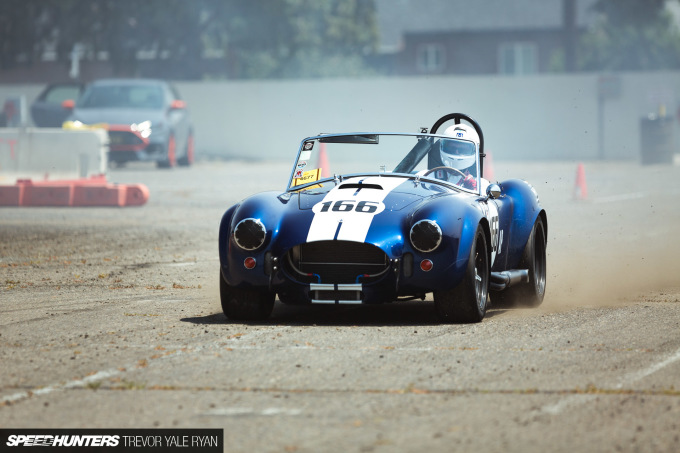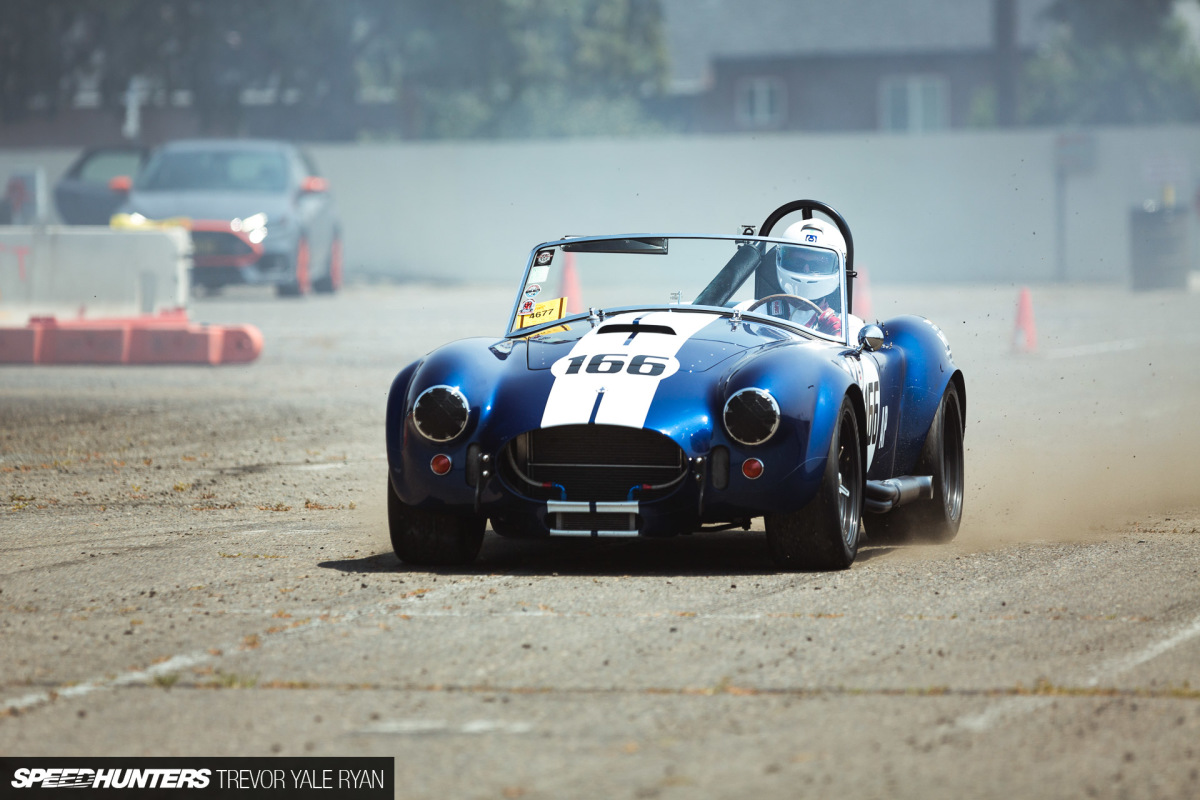 Later in the week I figured I better fix that so I went over to the Reno Livestock Events Center, because that's a thing here.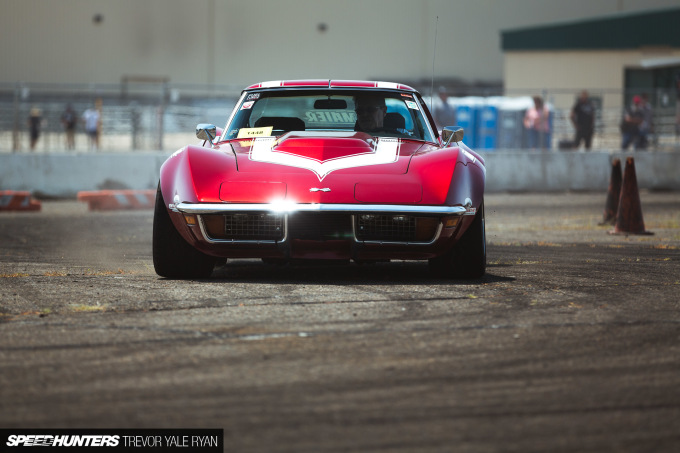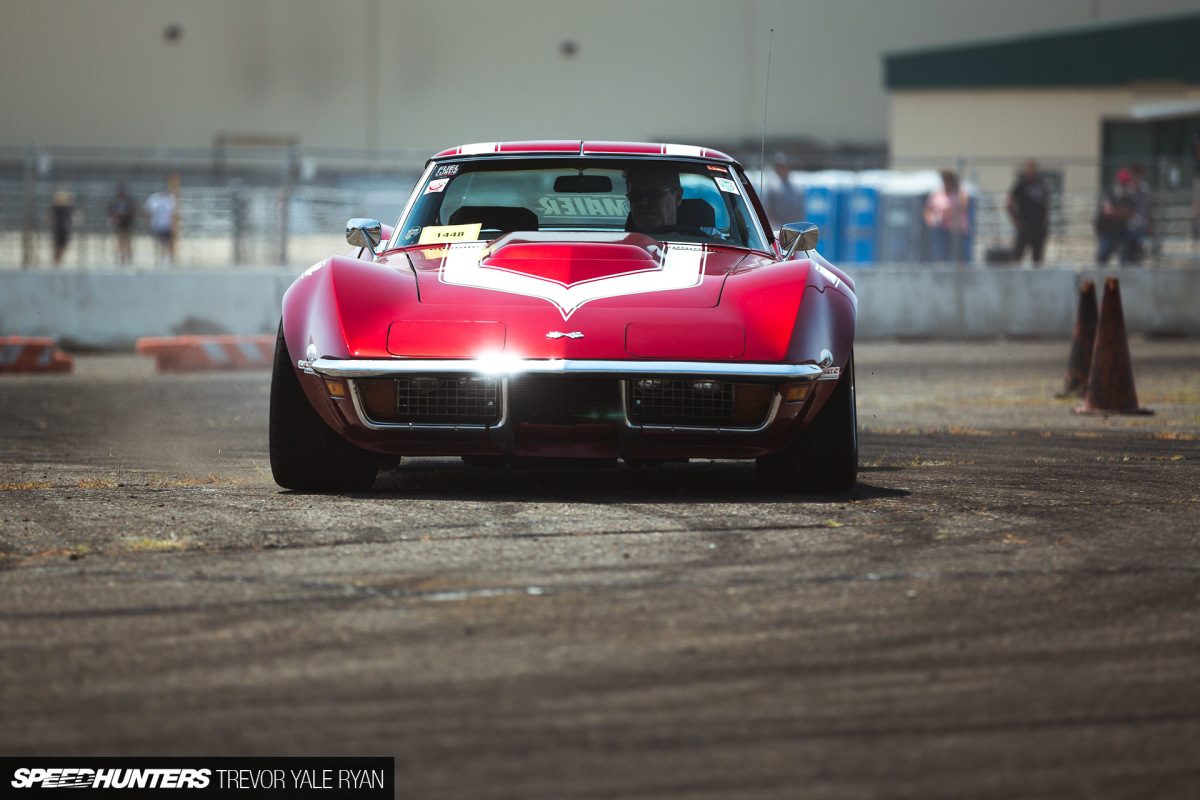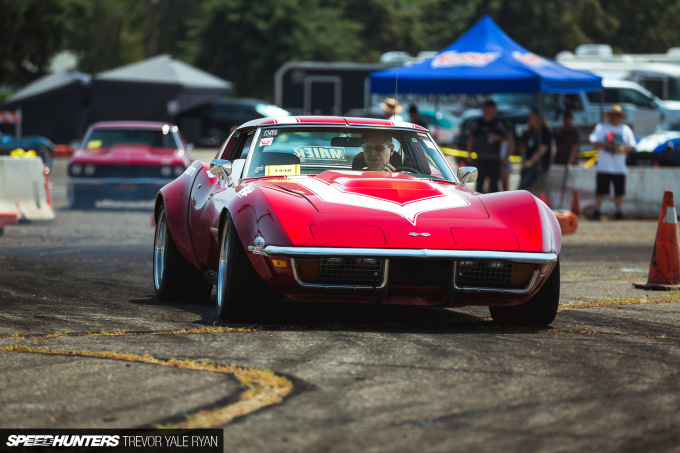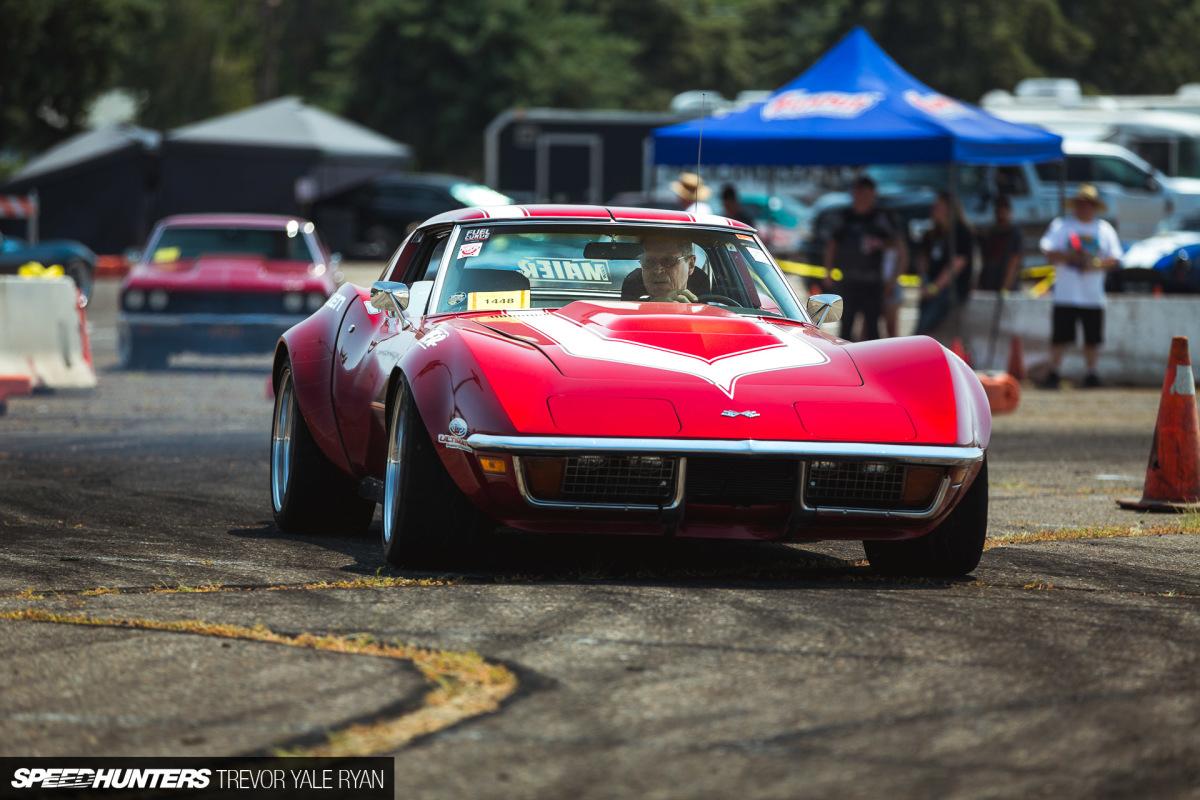 I was not disappointed either. It's really cool to see guys flying around in highly modified versions of the cars they probably admired in their younger years. I wouldn't be surprised to find myself pushing a sixth-gen Mustang around a similar course after a few decades pass.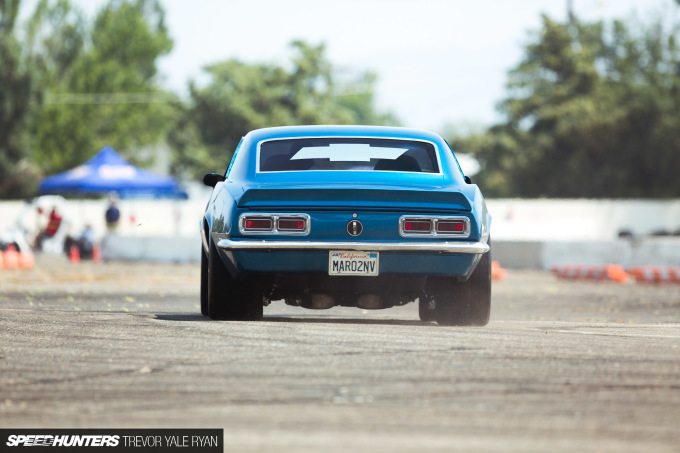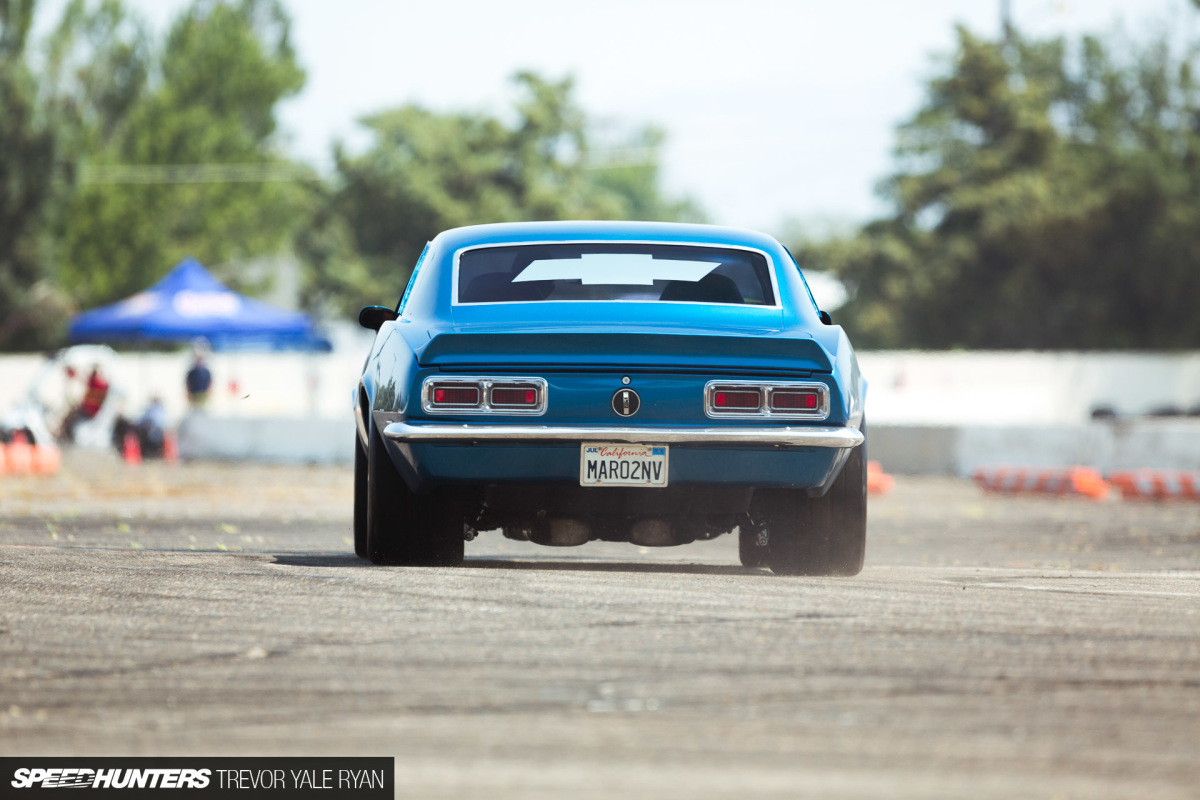 While not my favorite cars for the money, at some point the market will drop out and the performance cars offered today will be available for a fraction of their current cost. The real question will be if there's enough aftermarket support to keep their finicky high-tech systems running. I also wonder when the cars of today will be considered classics, or if they ever really will be…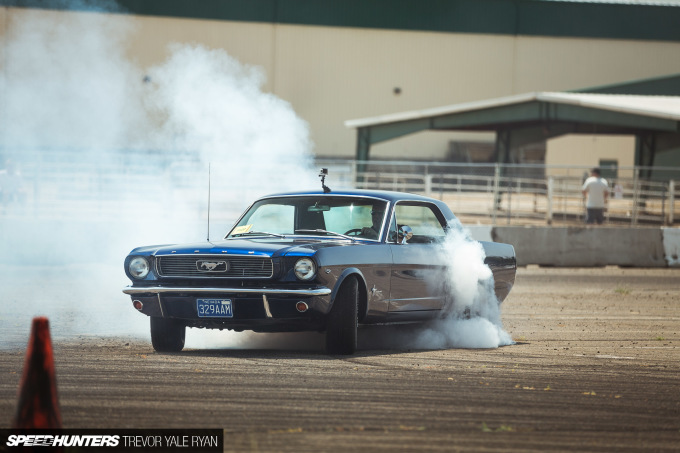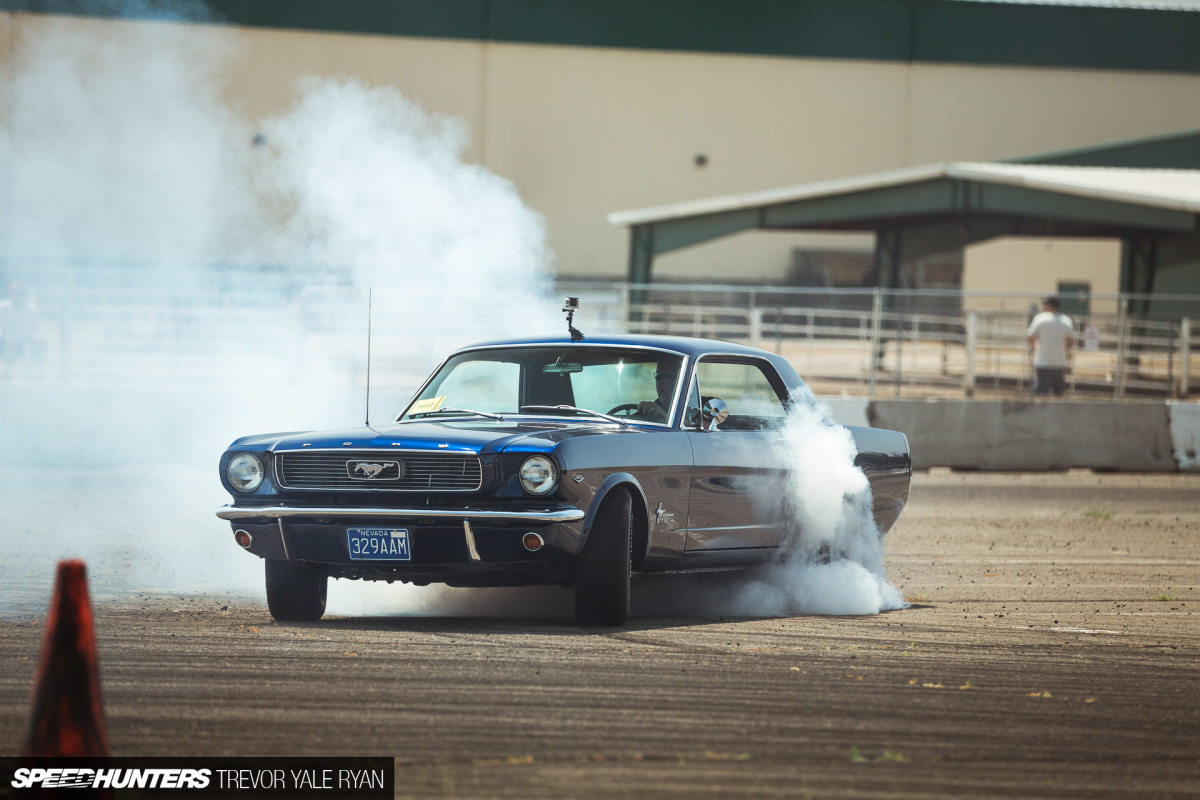 Regardless, I wasn't thinking of any of this while I was out shooting; I was too busy looking for the corners on the short course where drivers tended to get the most out of shape. When this '66 Mustang was overcorrected after it started stepping out, the driver decided to keep the loud pedal mashed.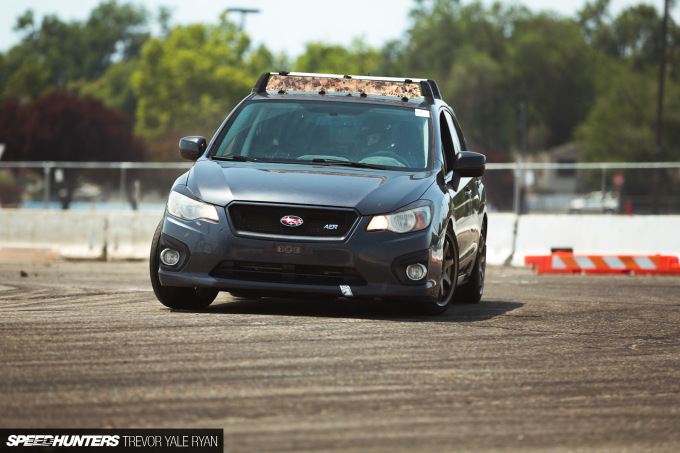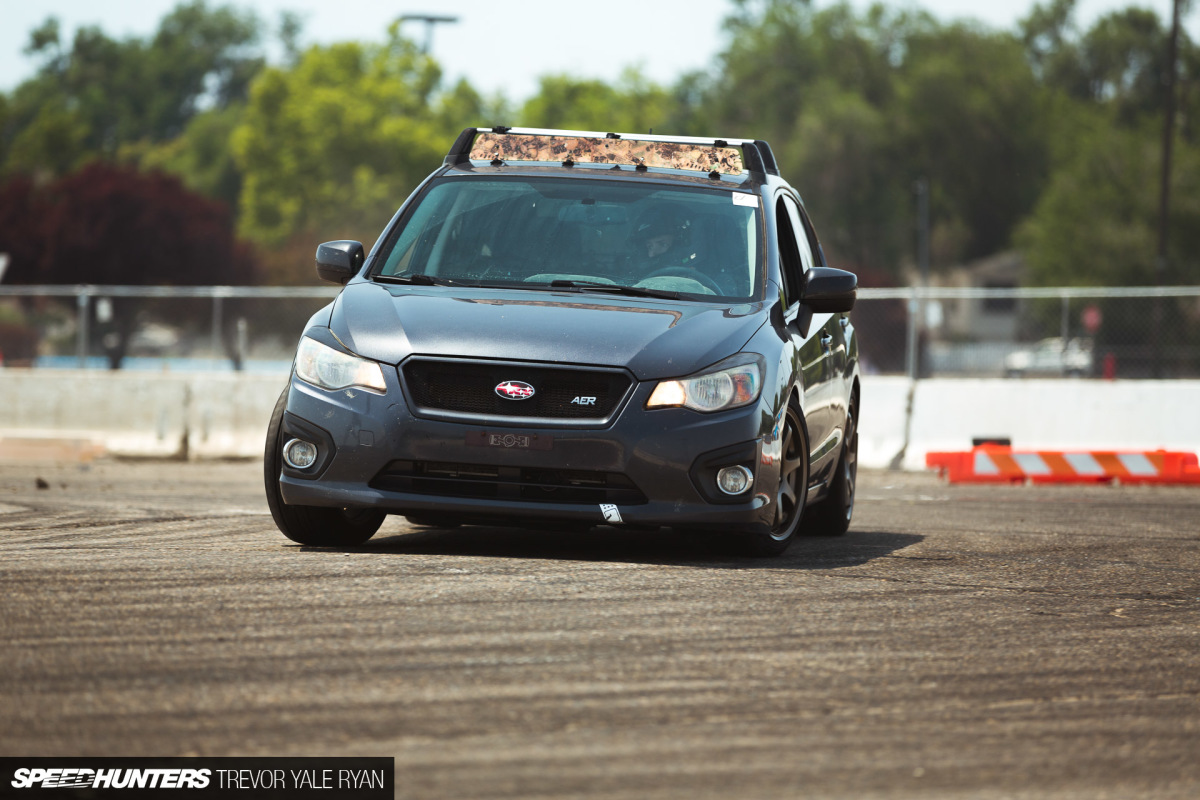 It really is a challenge to get a big, old, heavy American car to behave, so it made sense that I saw a couple other makes and models out on the course. What didn't make sense was this Dodge Ram pickup; it was absolutely flying, too. Well, flying for a truck, anyway.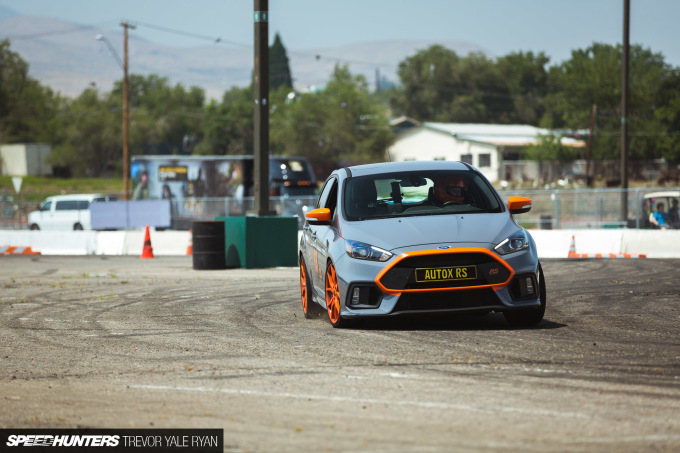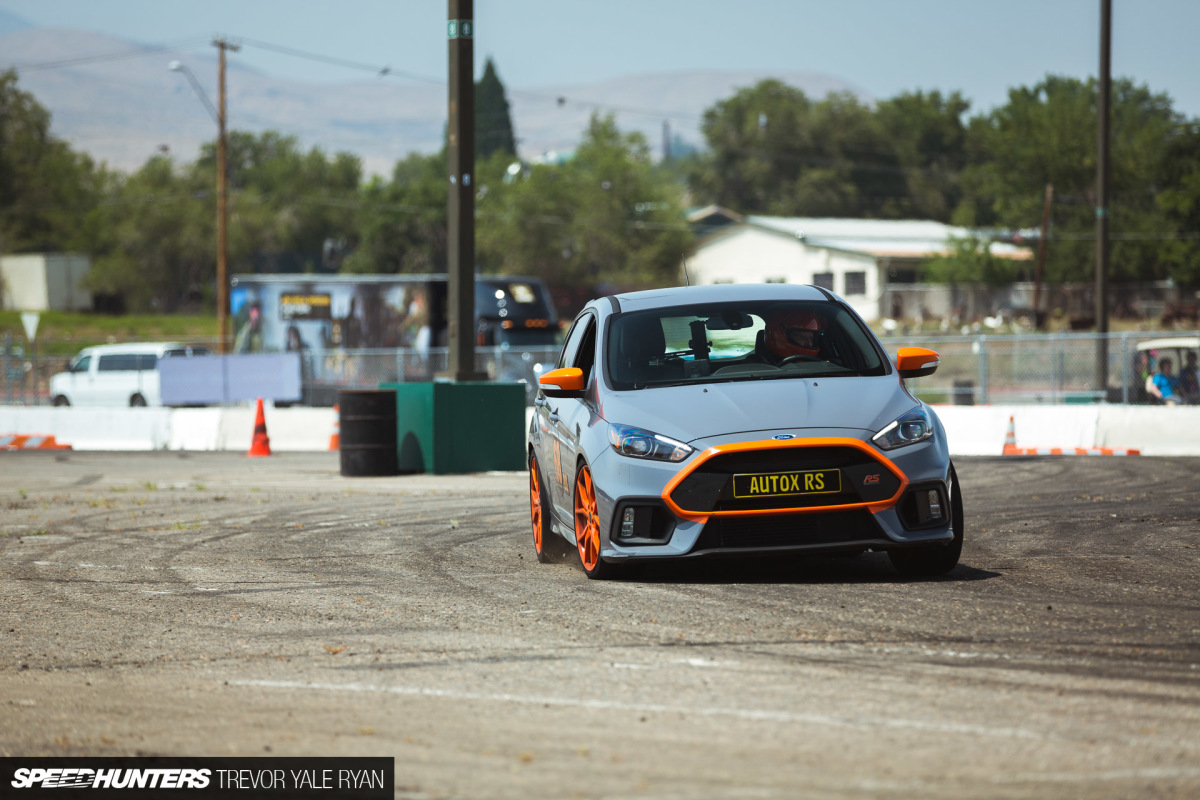 I recognized this orange-trimmed RS from last year and remembered catching him three-wheeling through a couple turns.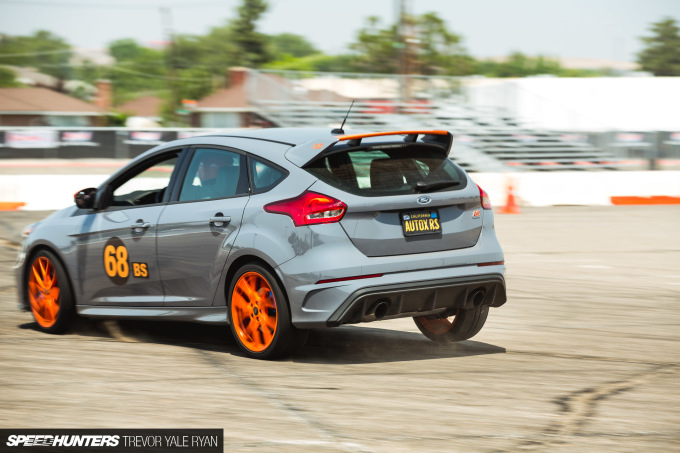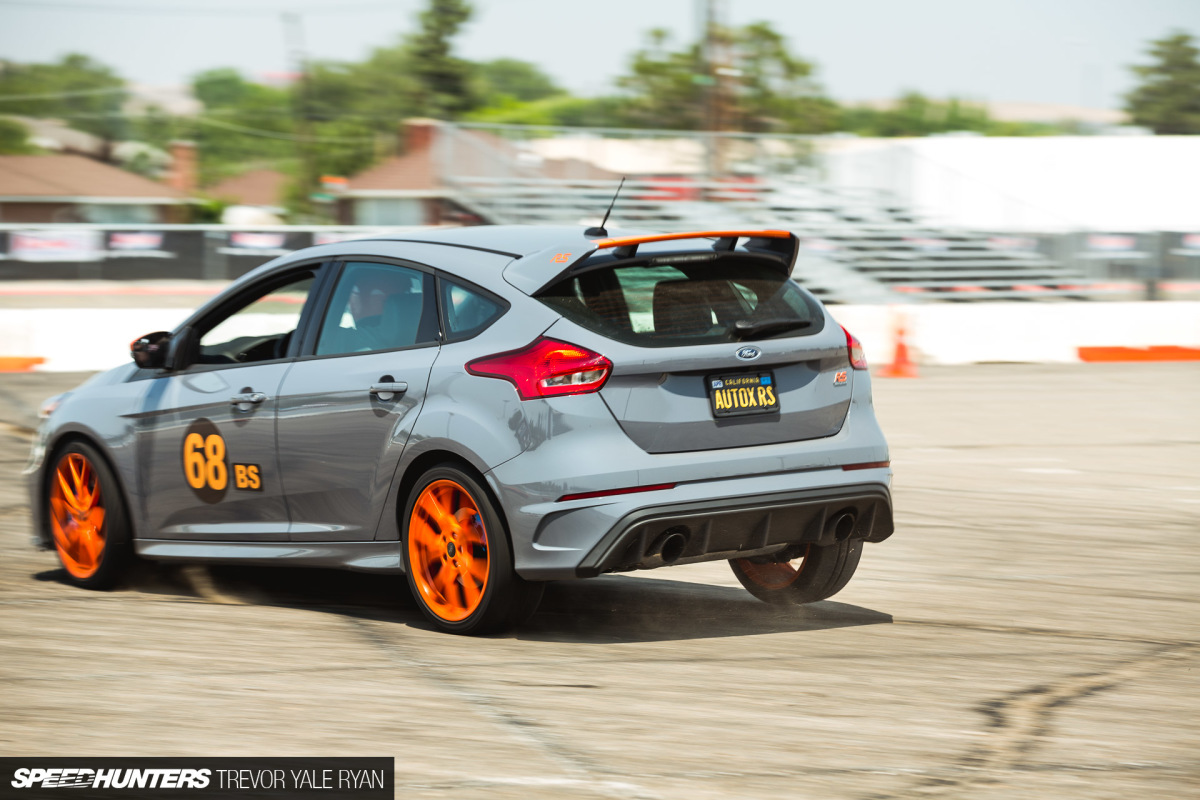 While there was a bit of tripod action going on this time around, the layout didn't allow for it like it did in 2017. However, I was interested in seeing how the AWD hatch carried its weight as compared to the RWD big-bodied classics. The lines and braking points aren't the same at all, and you can actually see the power being delivered differently.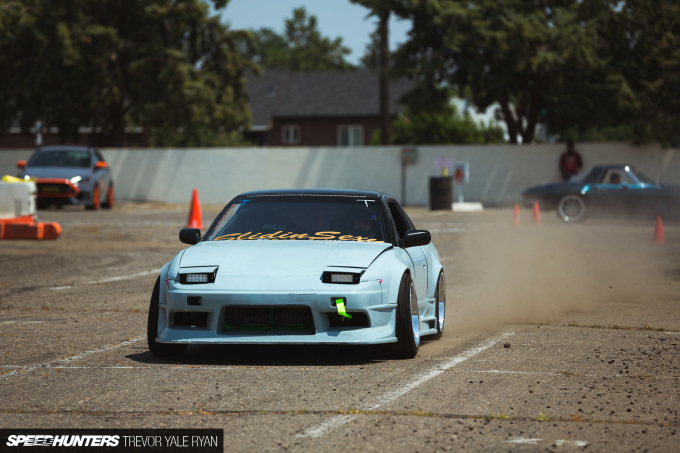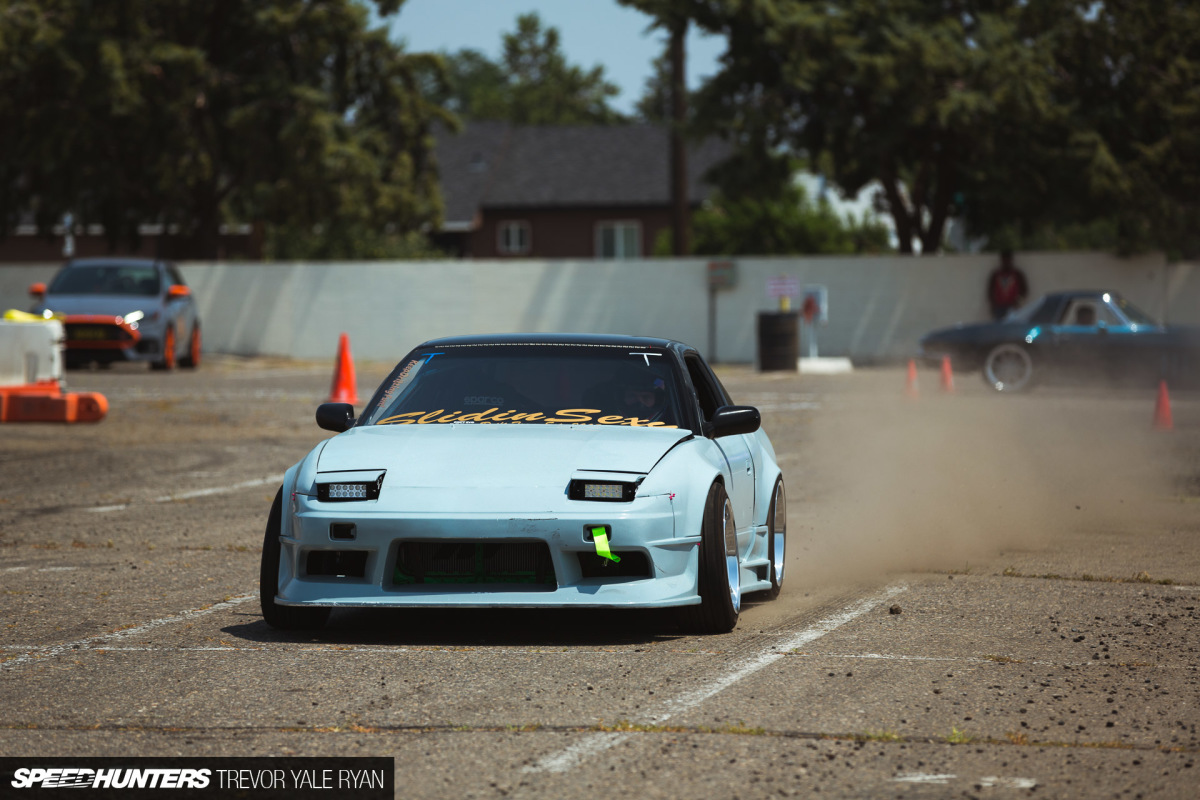 Also, being the course for a four-day drift event, a couple of the drift drivers couldn't resist getting in on the grip action. Coverage of Drift Evolution's Hot August Nights event will be coming soon.
Straight Line Speed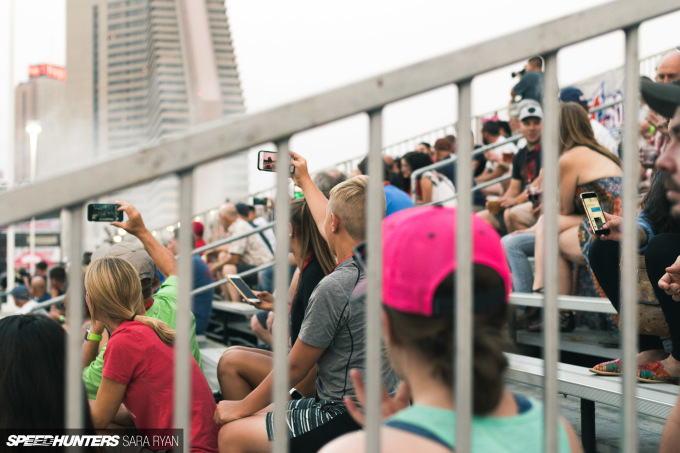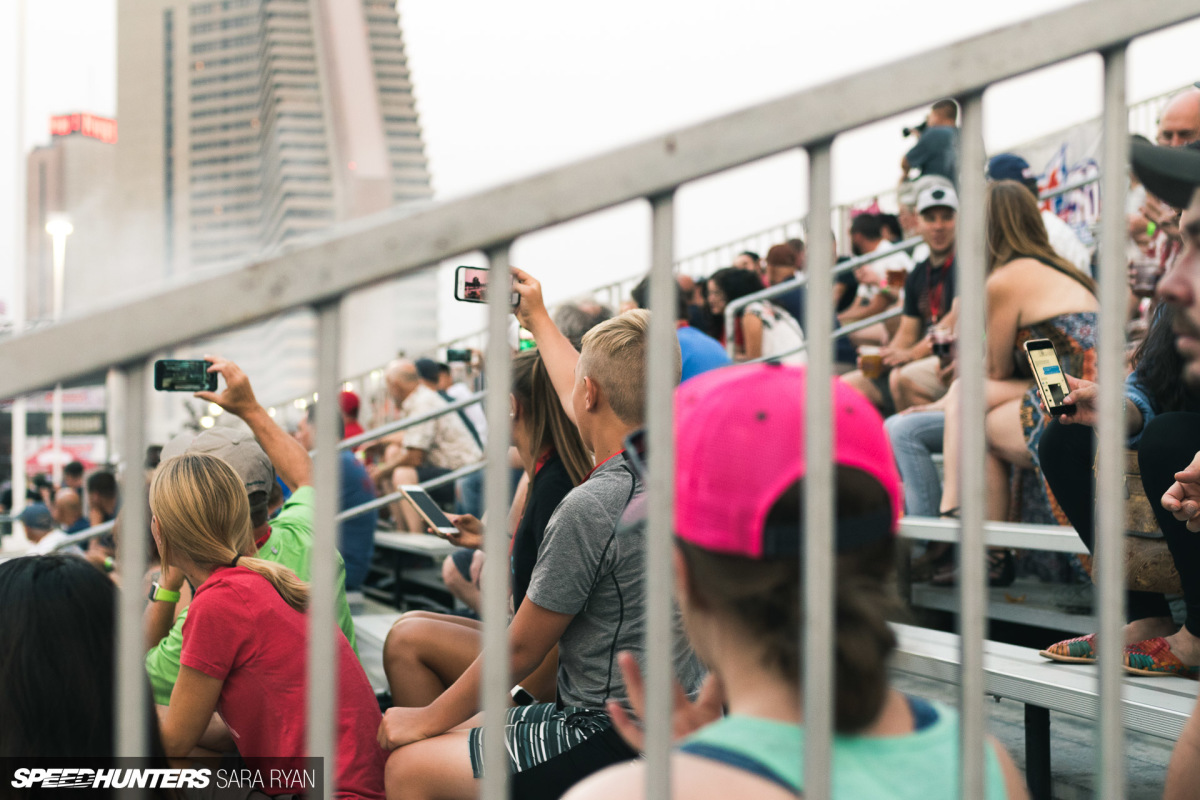 If there's one thing that American cars are known for it's going fast in a straight line. Thus, it's the eighth-mile drag races set up in the parking lot of the Nugget Casino that attract the biggest crowds here at Hot August Nights.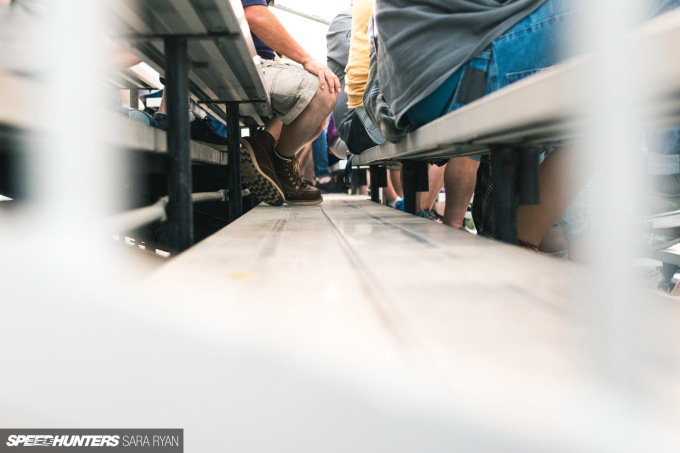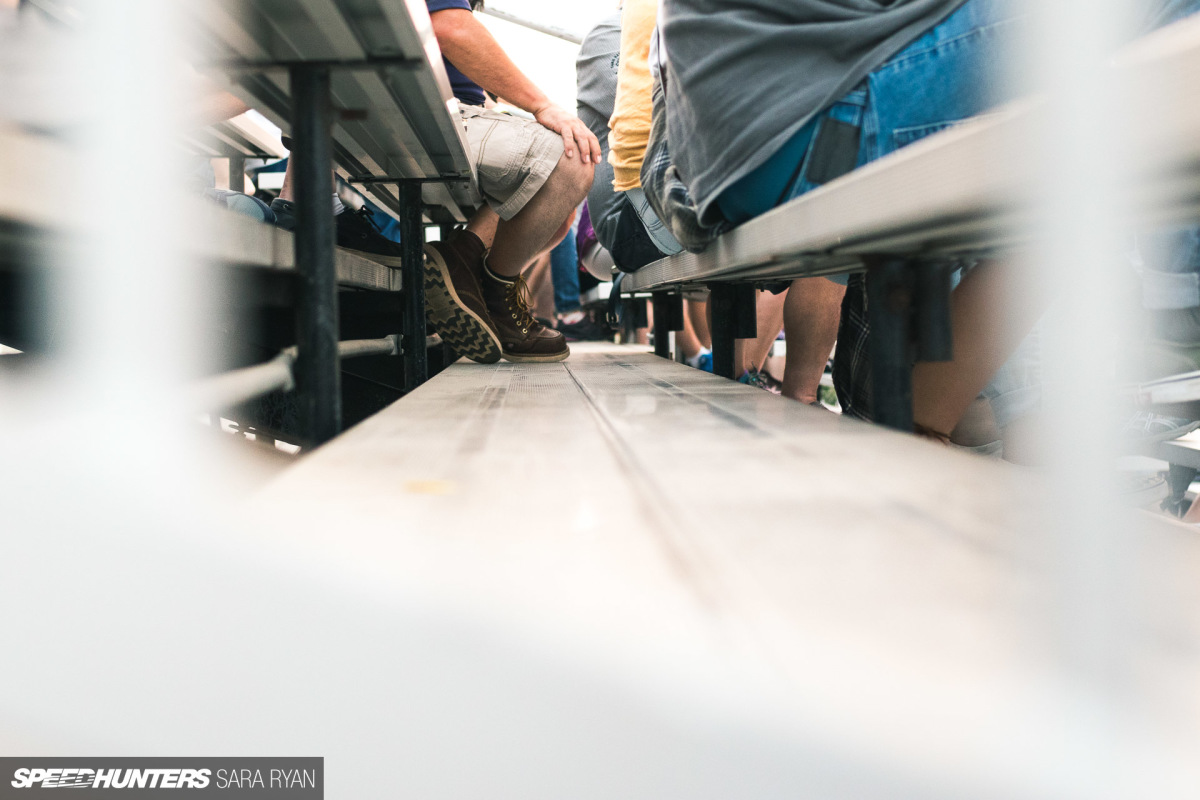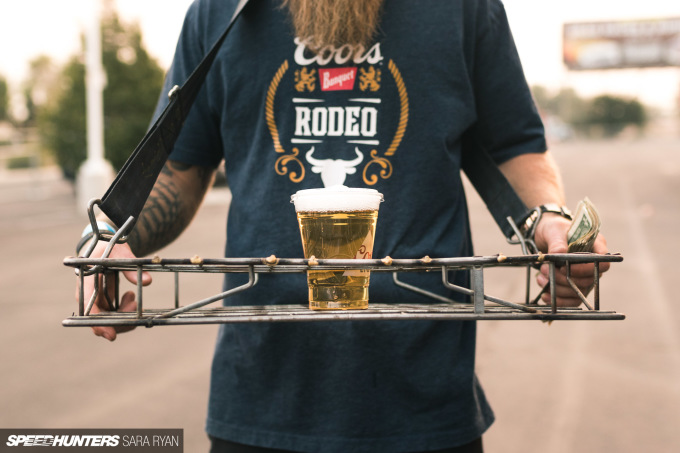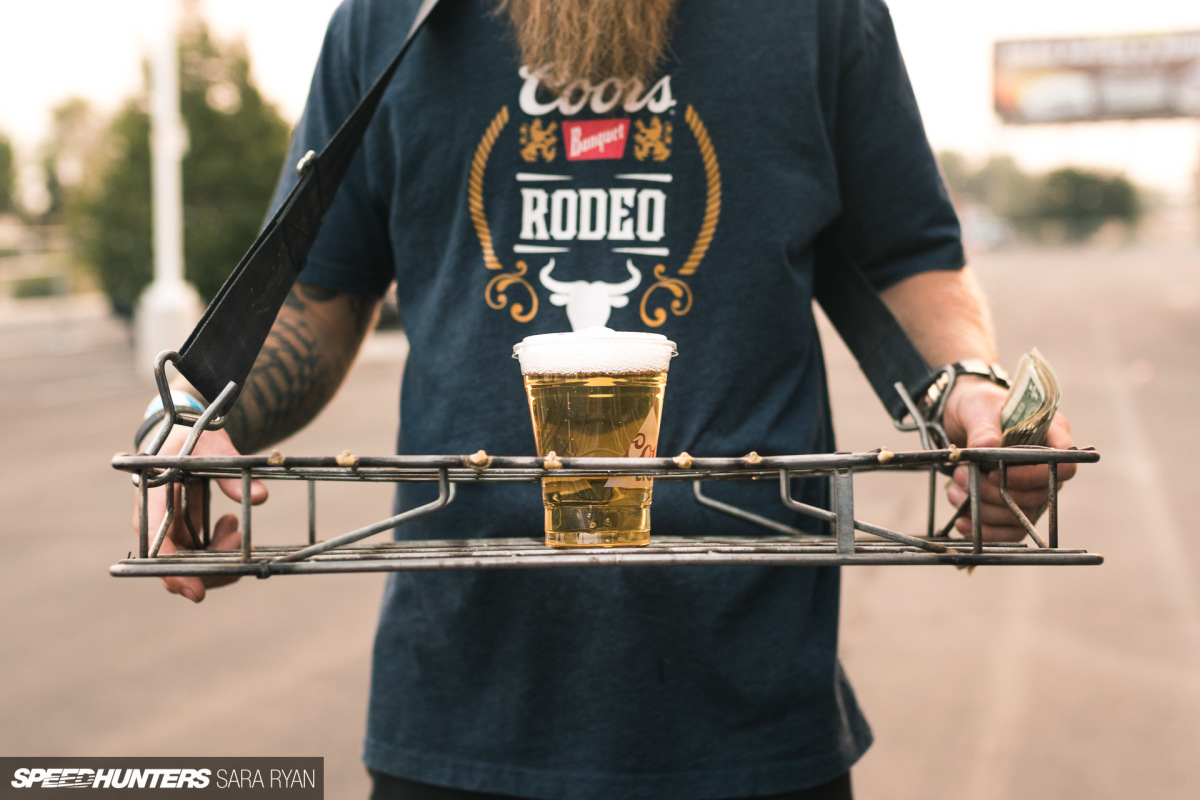 It's very much an American pastime, complete with all the touches of commercialism we've come to expect at any race stateside. Overpriced burgers, beer, and everything in between…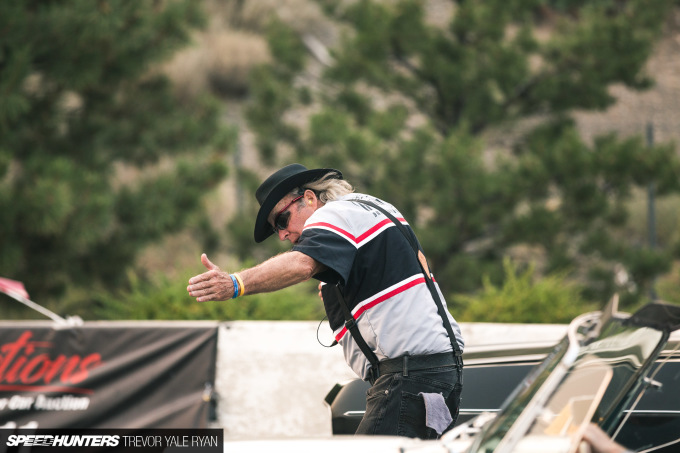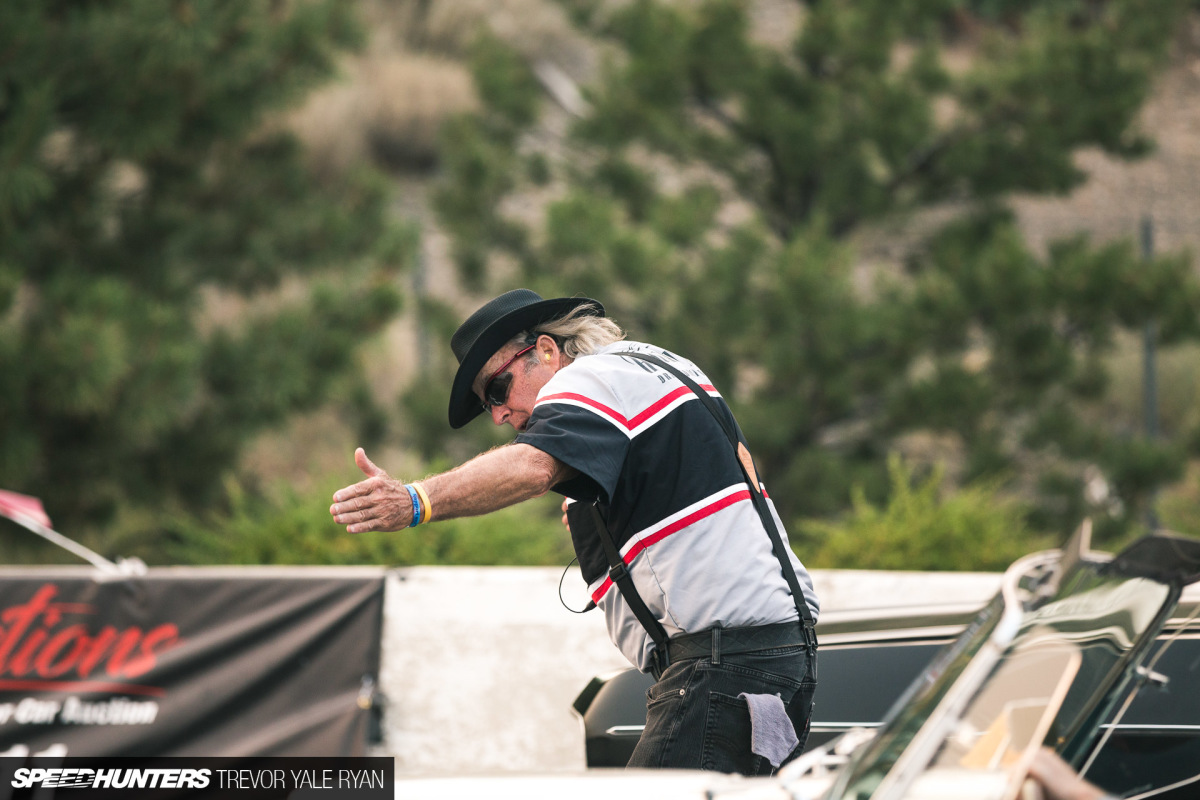 This is the sort of thing that you should plan to spend your entire evening either watching or shooting, so we arrived a bit before sundown.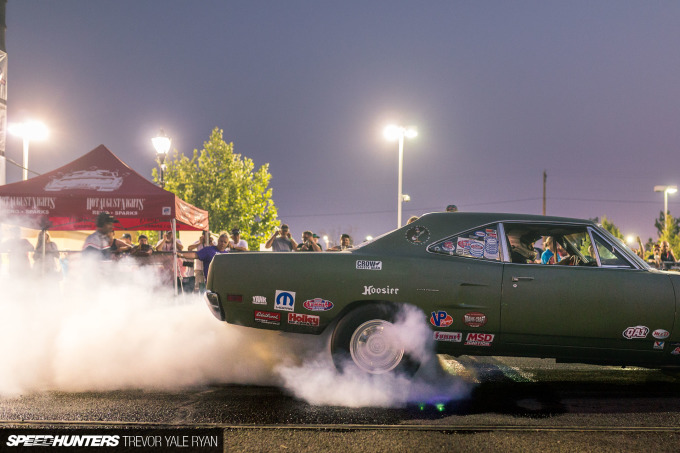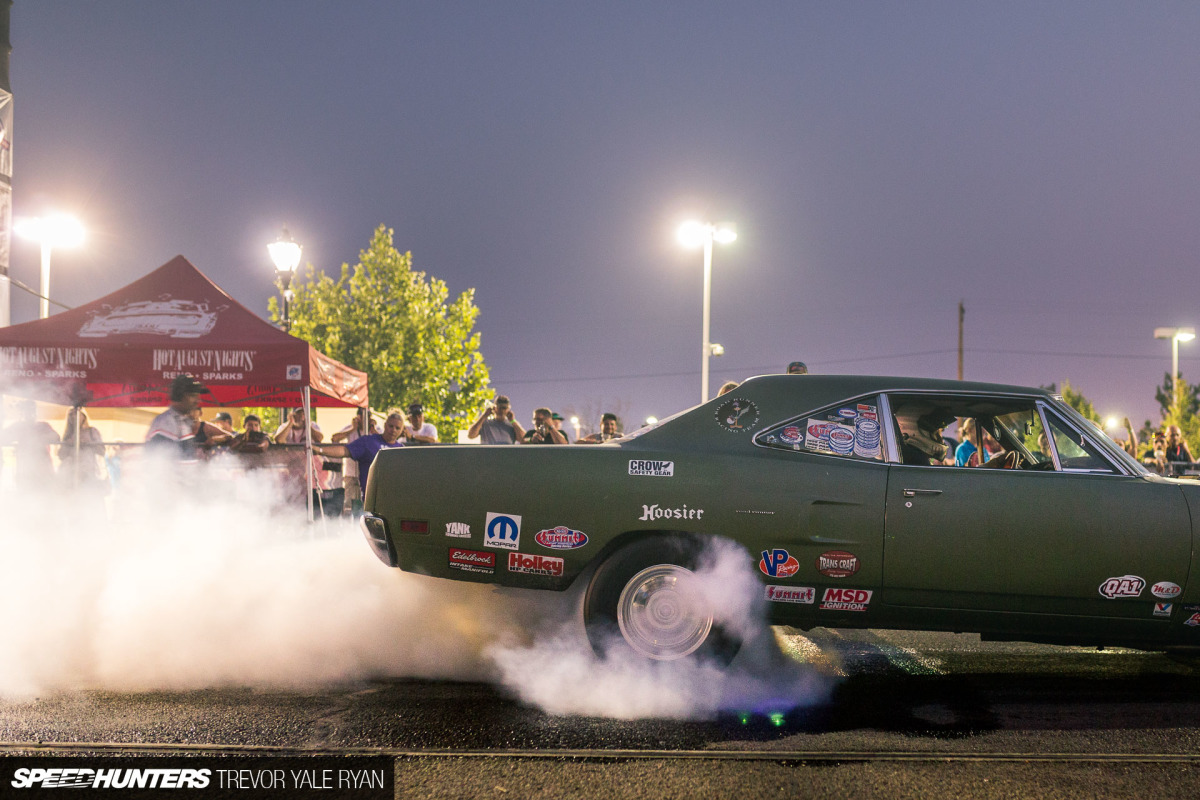 And hung out well into the night.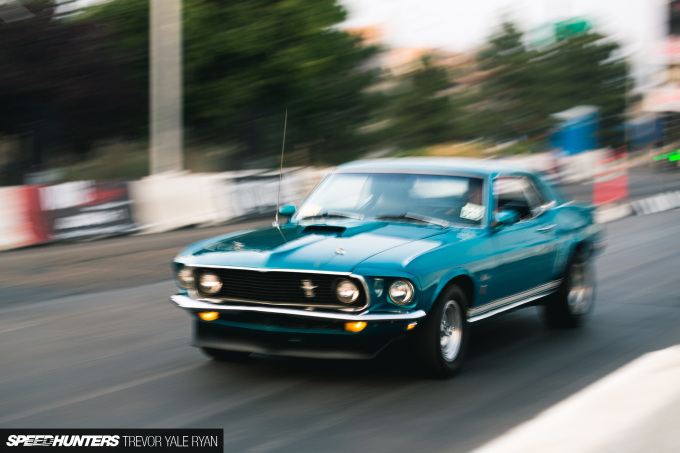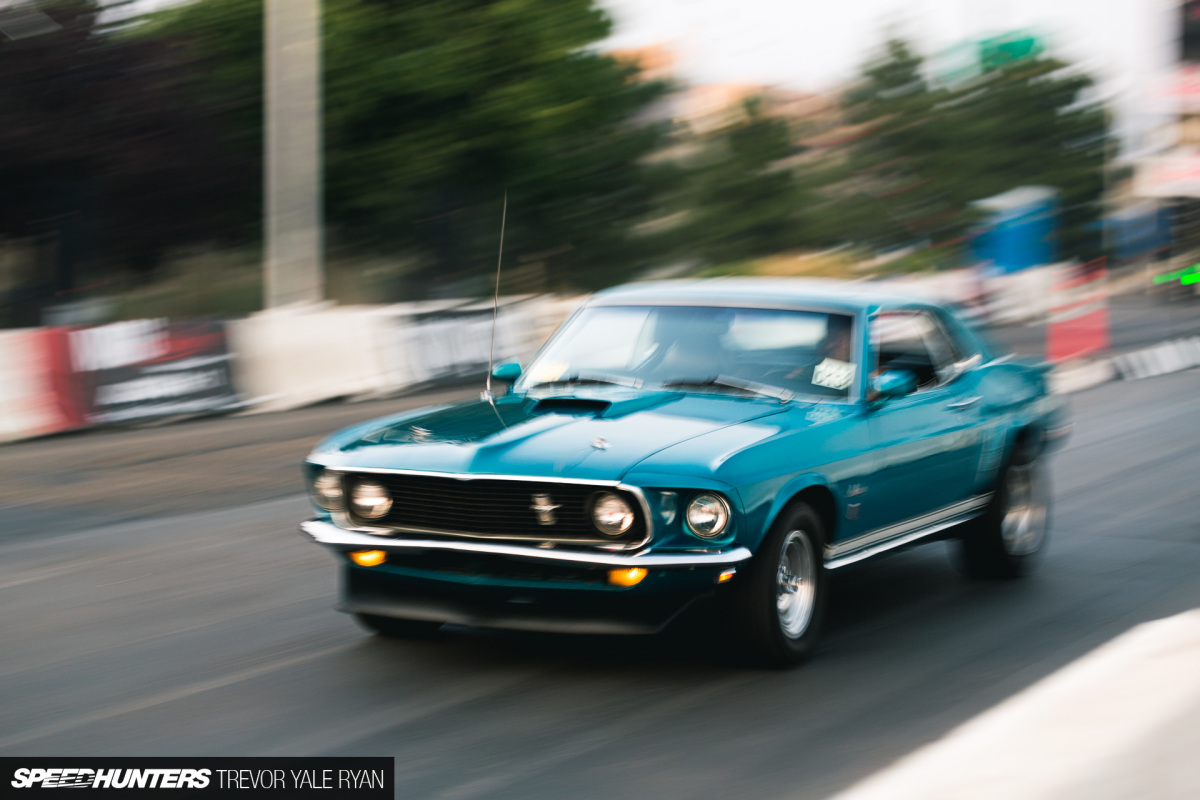 If you've ever driven an American car from the 1960s, it's pretty obvious that cornering ability wasn't high on the priority list of the designers. And while the drag strip isn't really what they were built for either, these cars are certainly more at home here on the Nugget Speedway than an autocross course.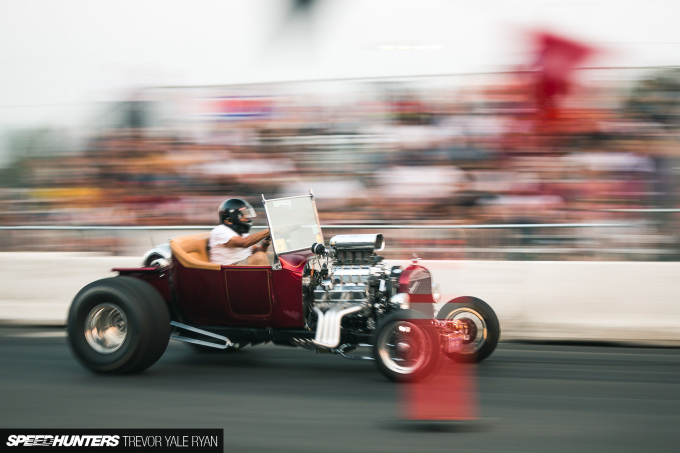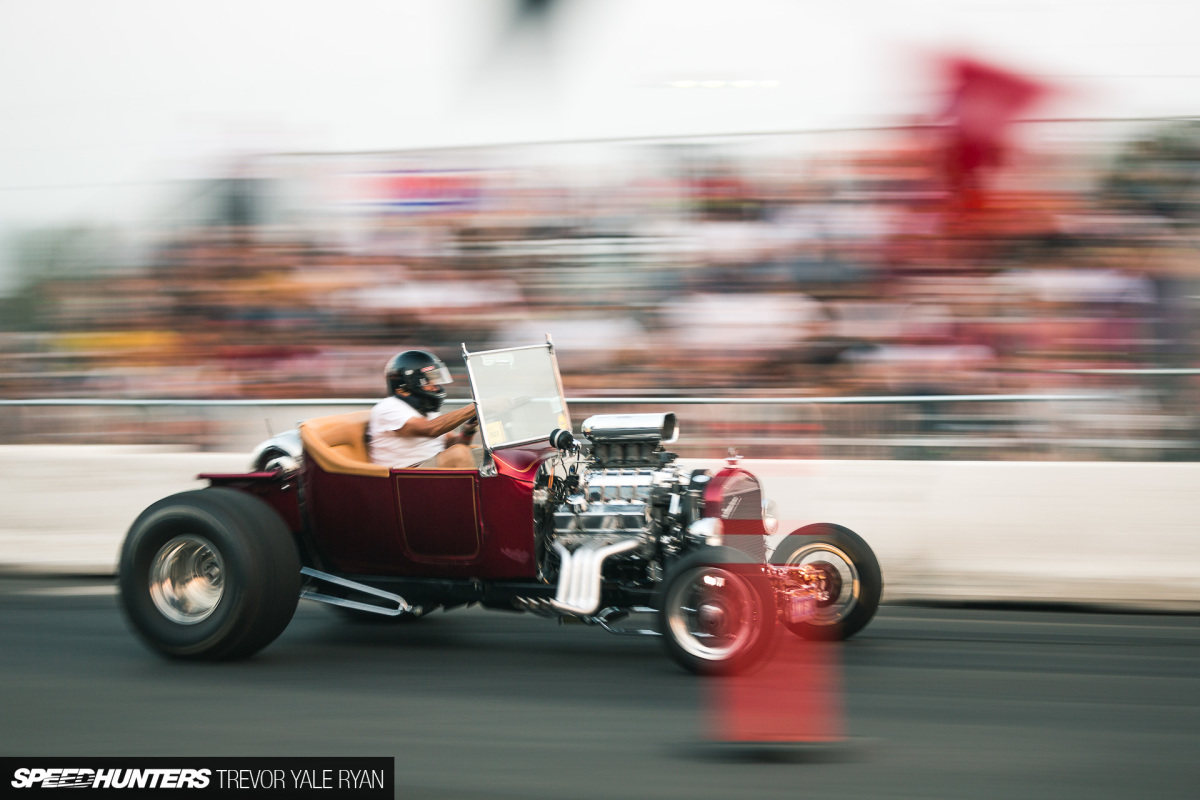 Each car here, regardless of initial intent, has been built to handle the abuse. Also, safety third. Or maybe fourth.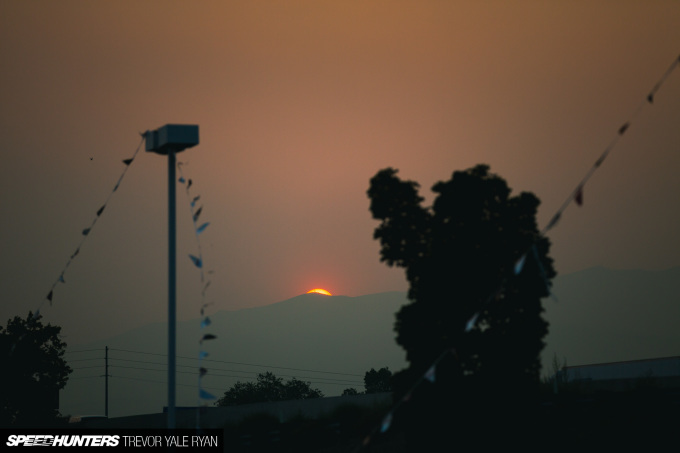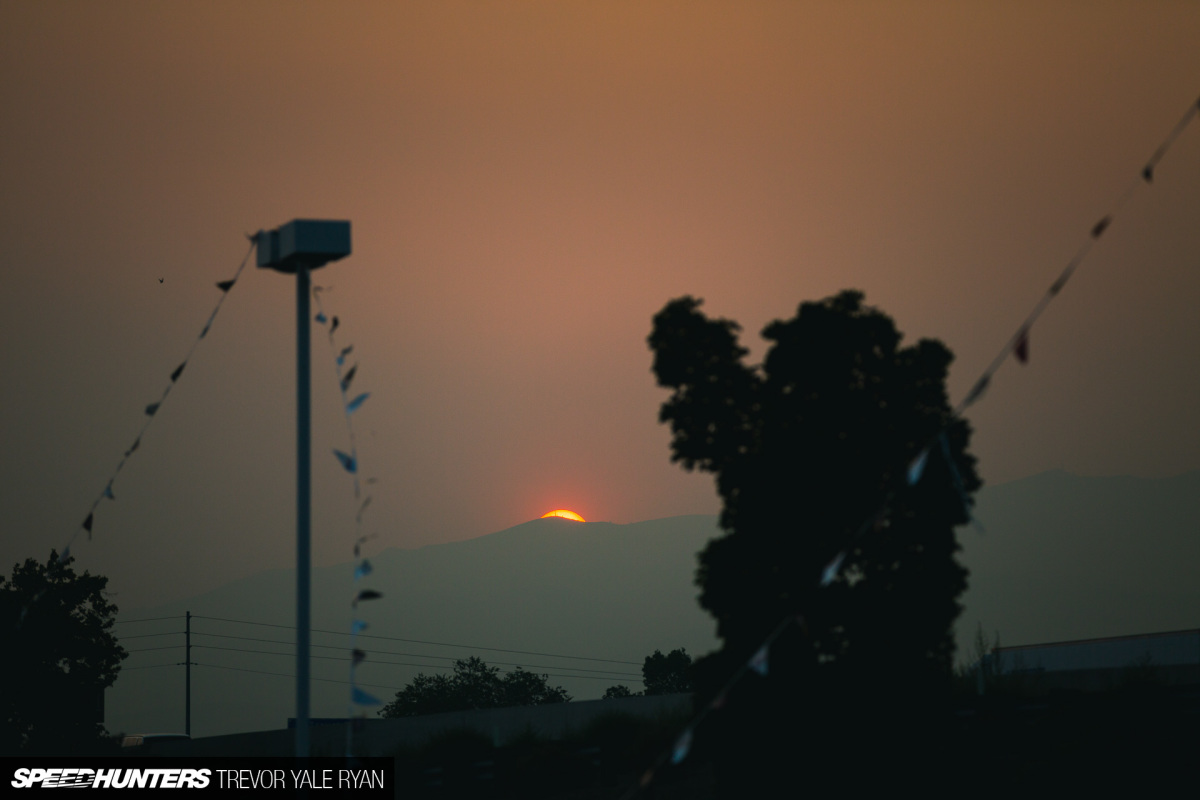 Finally the sun went down in the smoky sky, but the night was far from over.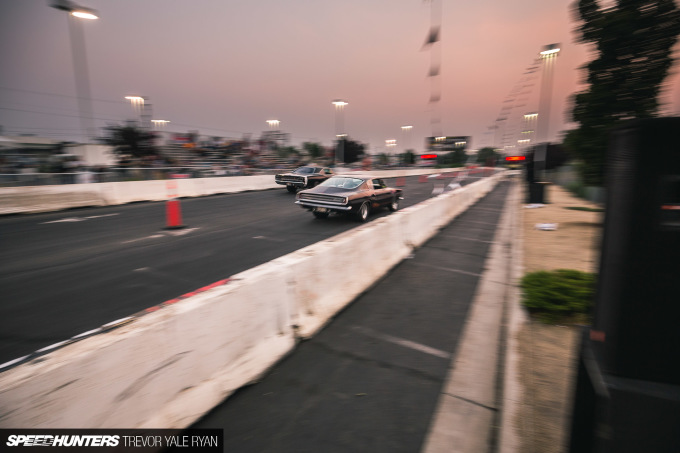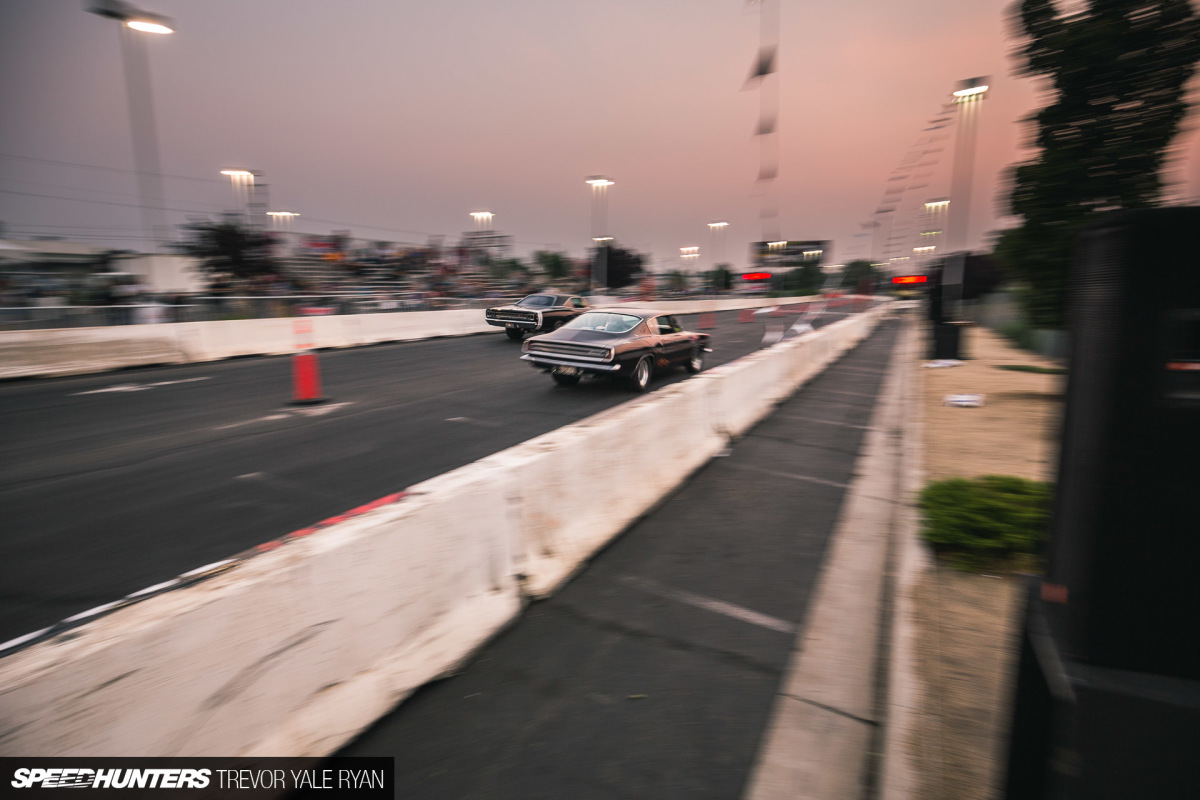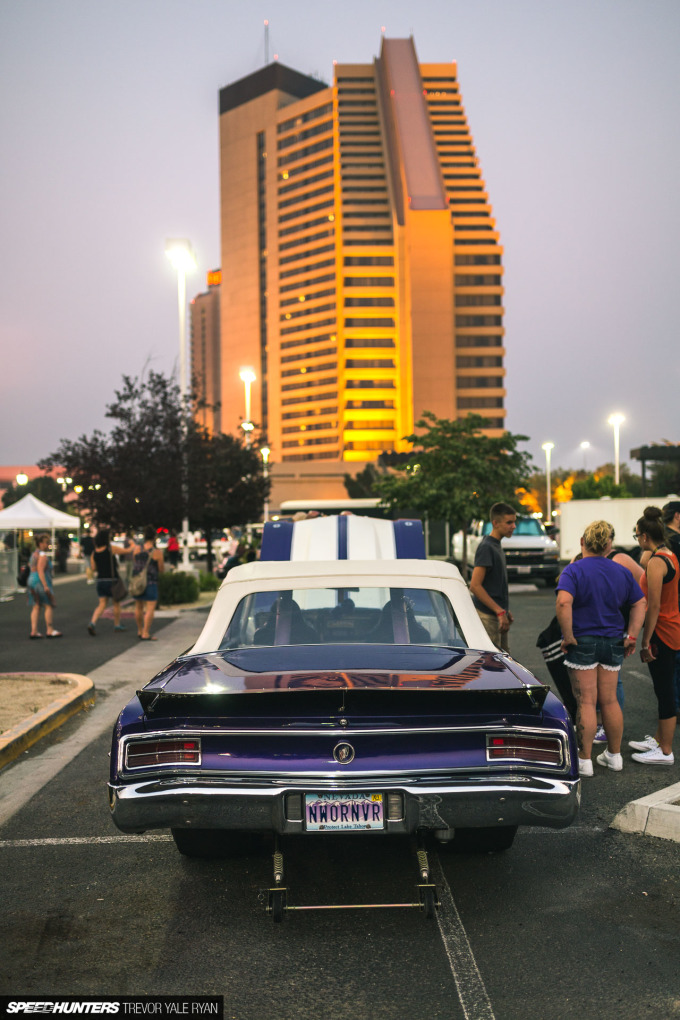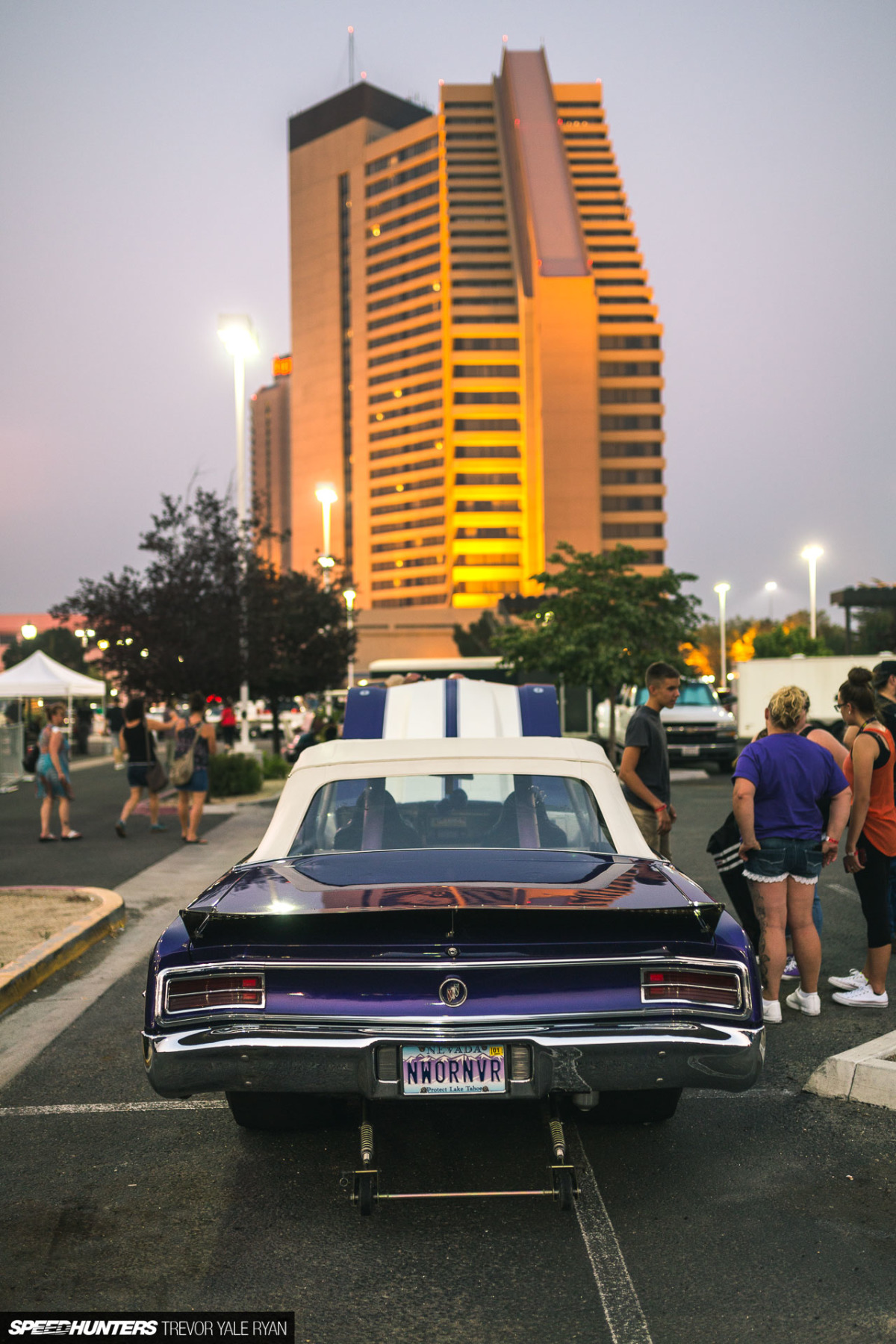 It's always fun hanging out in the paddock where, at most events like these, you can get up close to all the cars. The owners are generally quite friendly, too, and quick to share the ins and outs of their builds.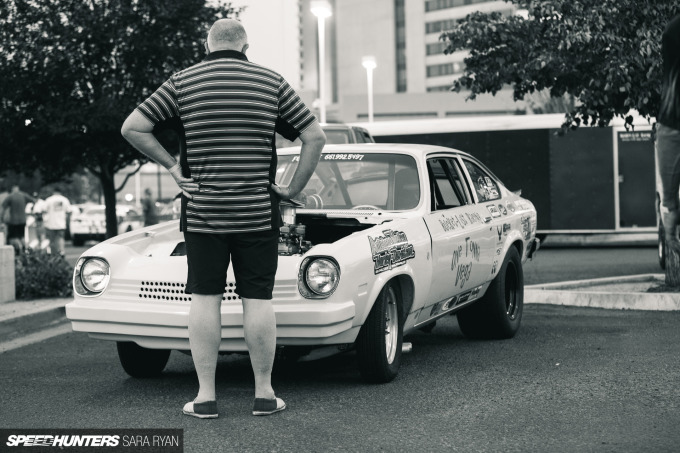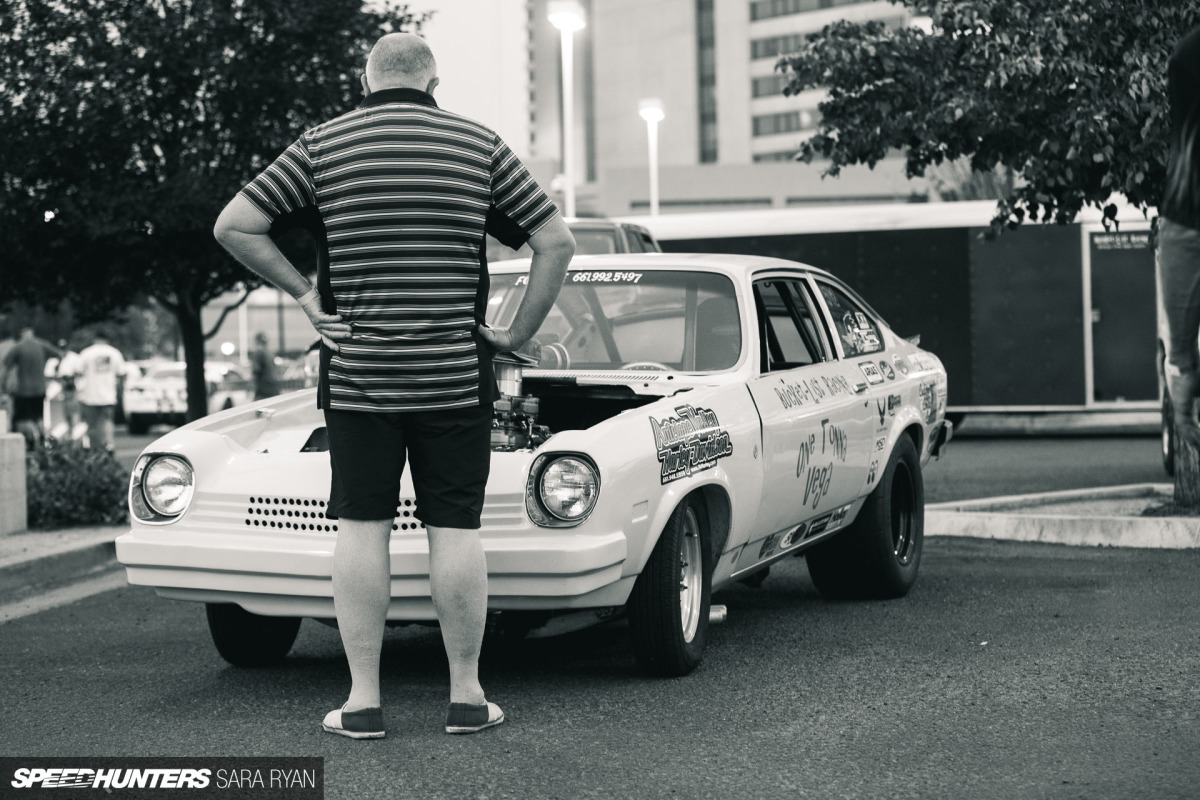 An incredible amount of work goes into turning these pokey old cars into what you might call sub-10 second monsters at an ordinary drag stip. Although here, at the eighth-mile in Nugget's parking lot, this 10-second quarter mile time is irrelevant.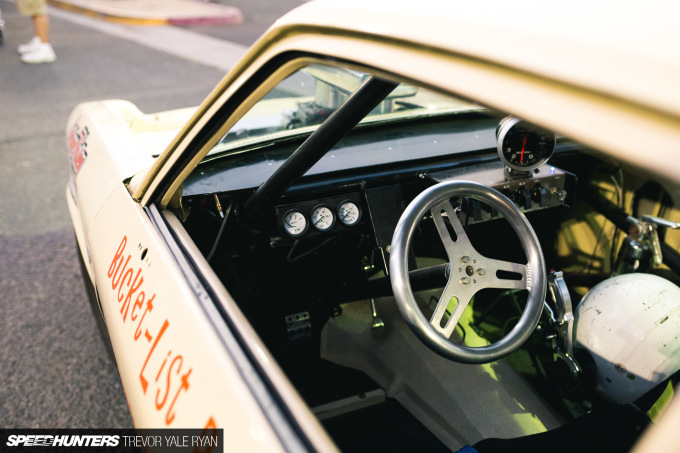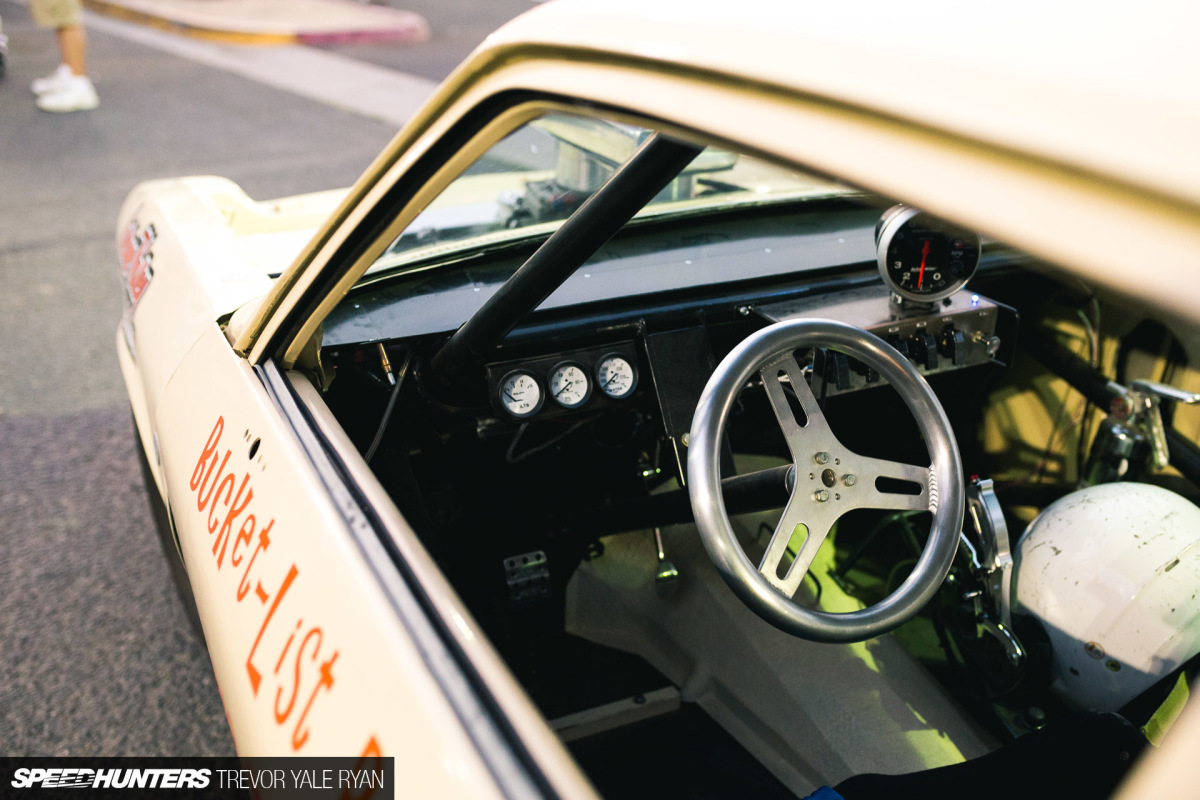 This track is a five-second course, and this magic number five is actually as fast as you're allowed to go here due to the safety rating that the makeshift drag strip received. Still, it's blazingly fast, and a number of cars out were getting disqualified for running just a touch too quick. In years past the the Nugget Speedway was an eight-second track, so I'm guessing the braking zone has since been extended.
Something Different
At events like this, it's always nice to spot something completely out there. Something totally different; something that you wouldn't find anywhere else but here.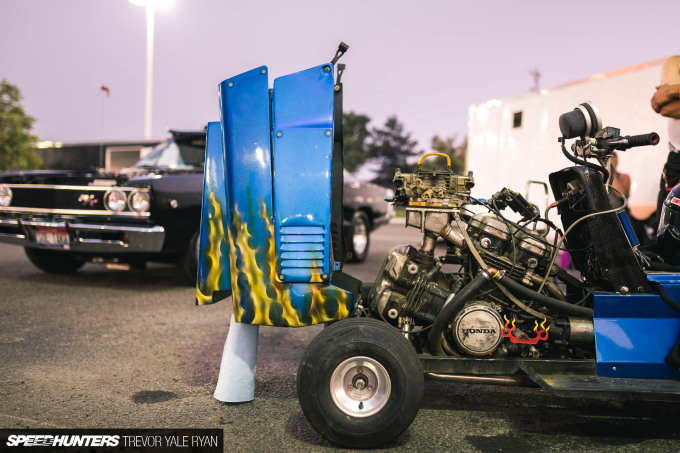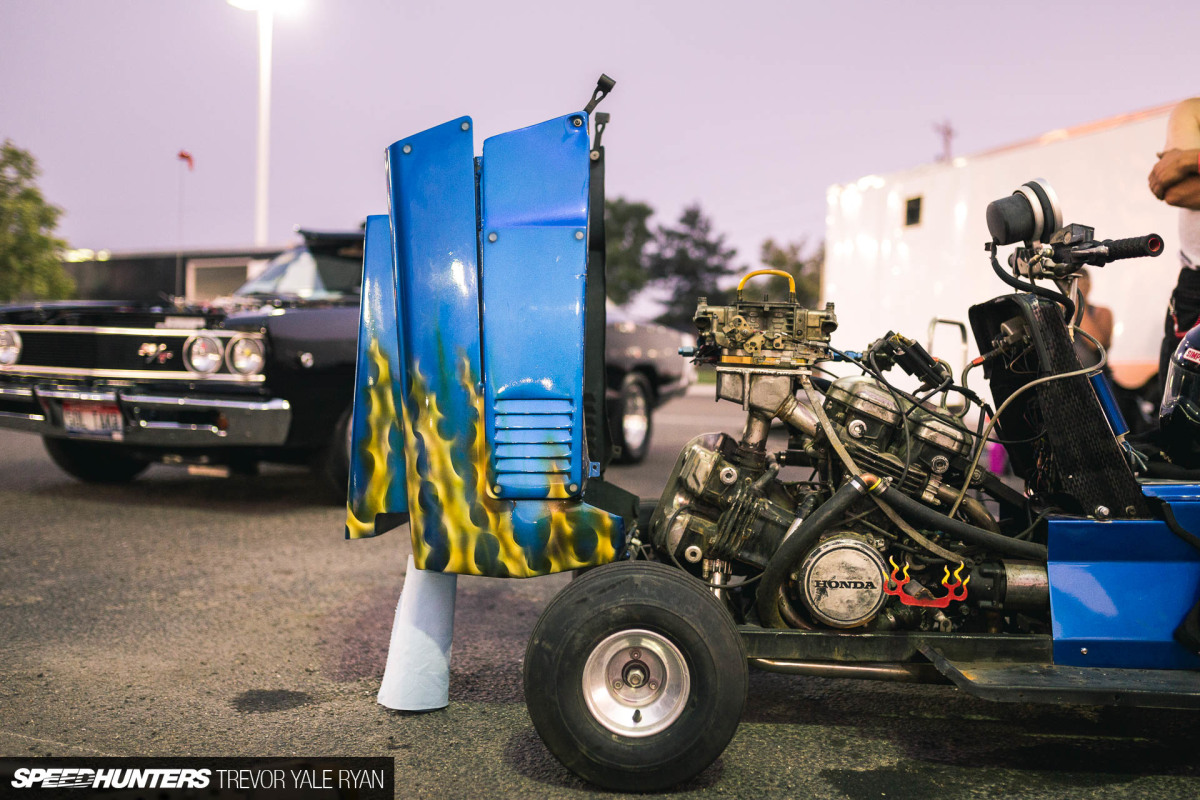 I'm confident that this easily qualifies as 'out there.'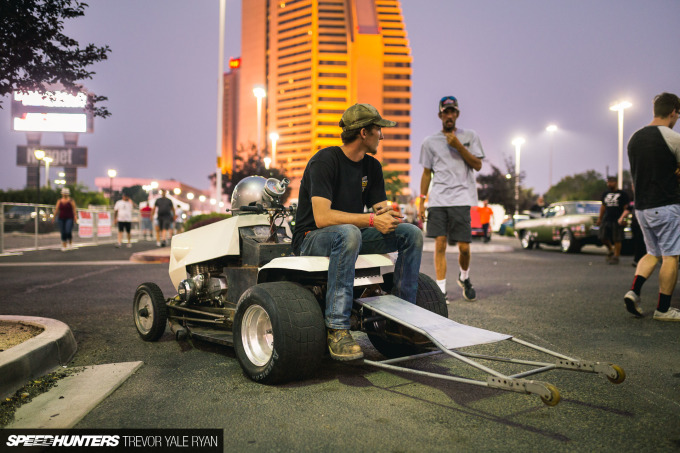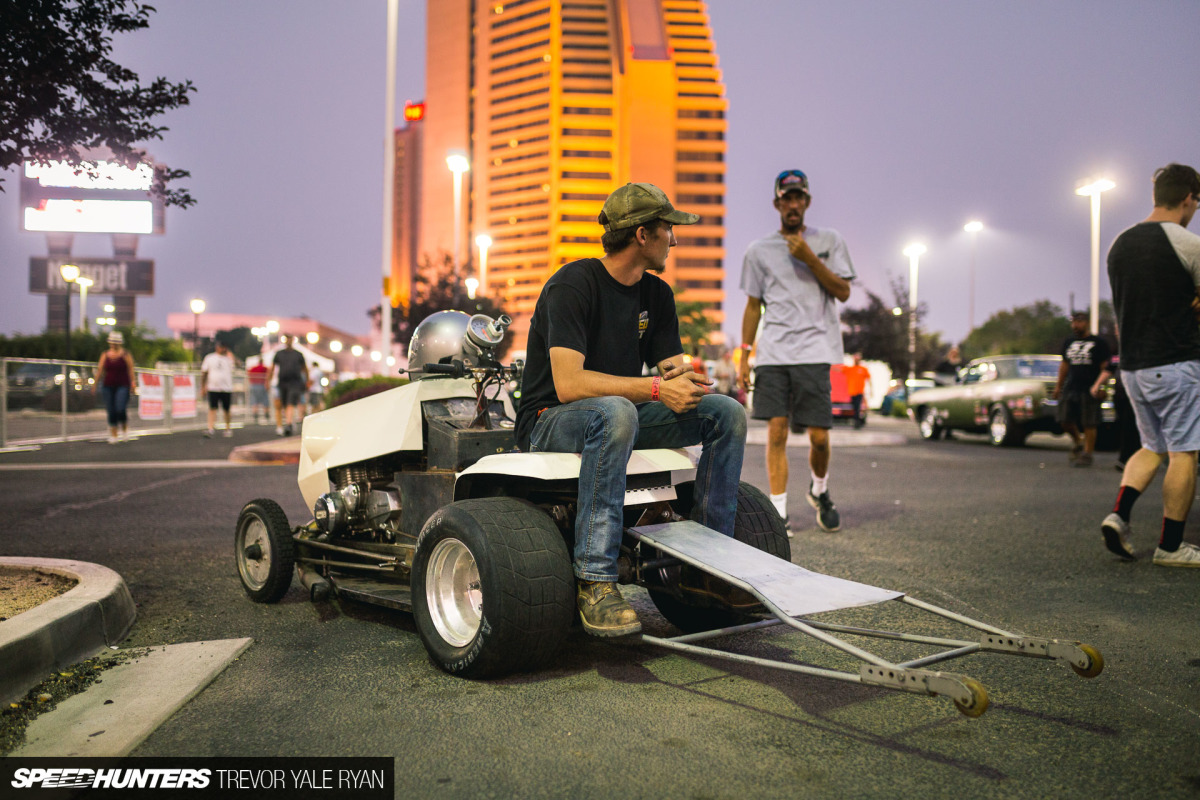 Have you ever seen a lawnmower with ladder bars?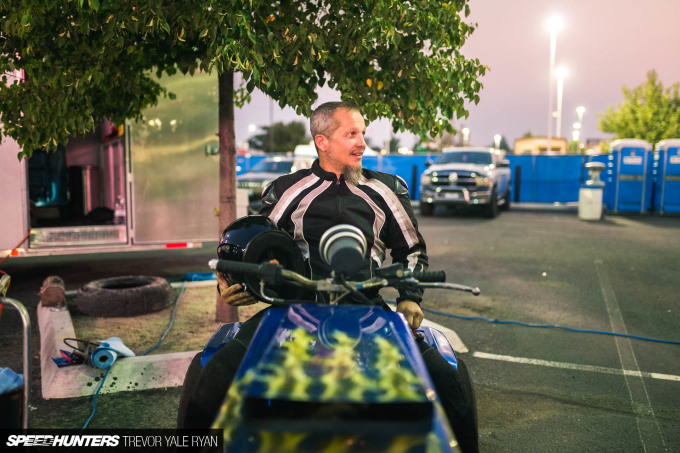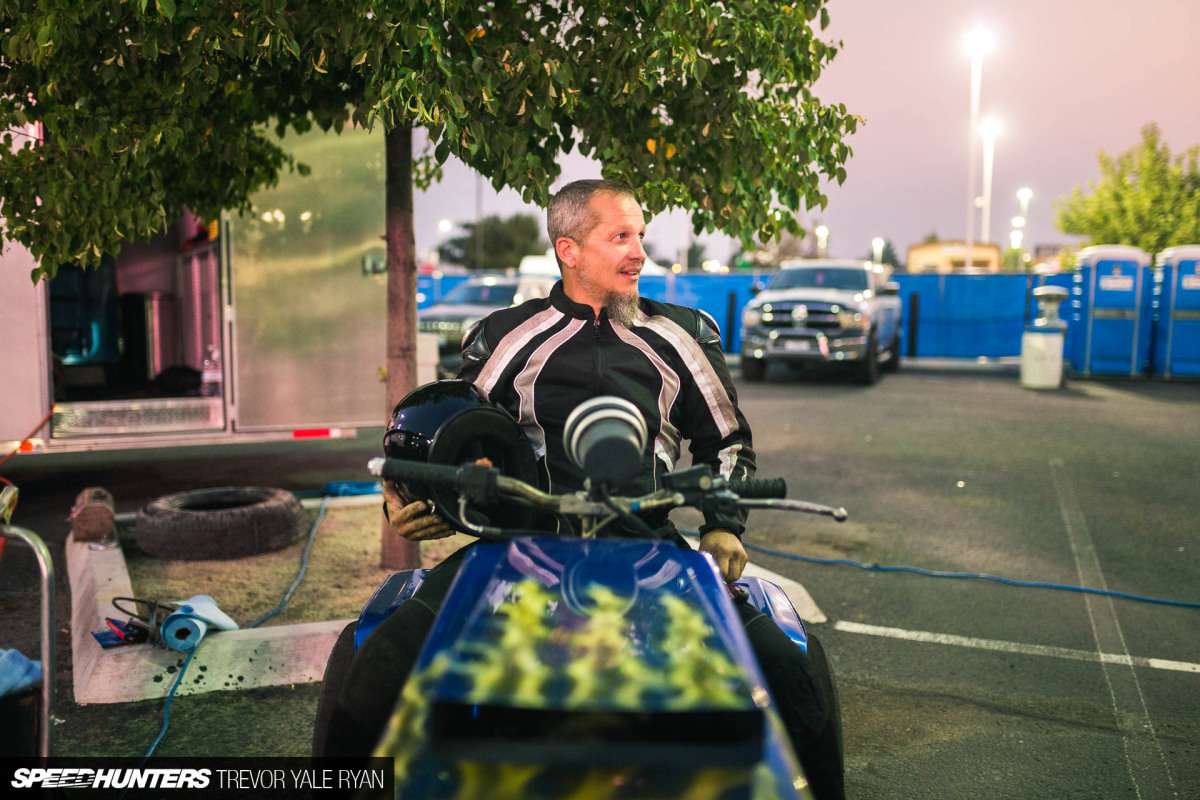 It's definitely unconventional, and this driver says he's broken into the nines in the quarter mile. This would put him at around 130mph as he crosses through the deep end. On a lawnmower.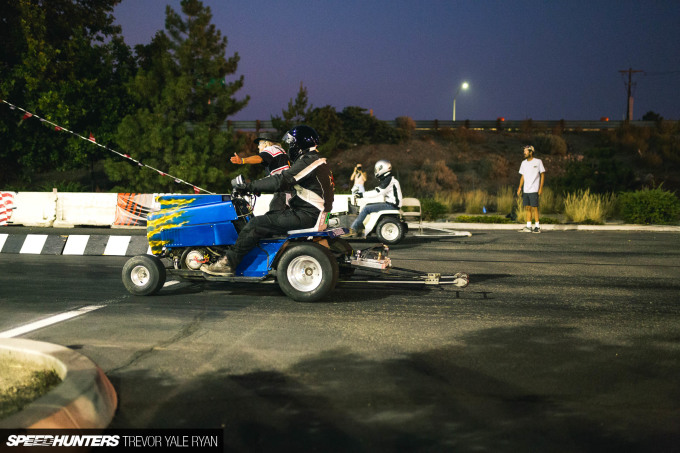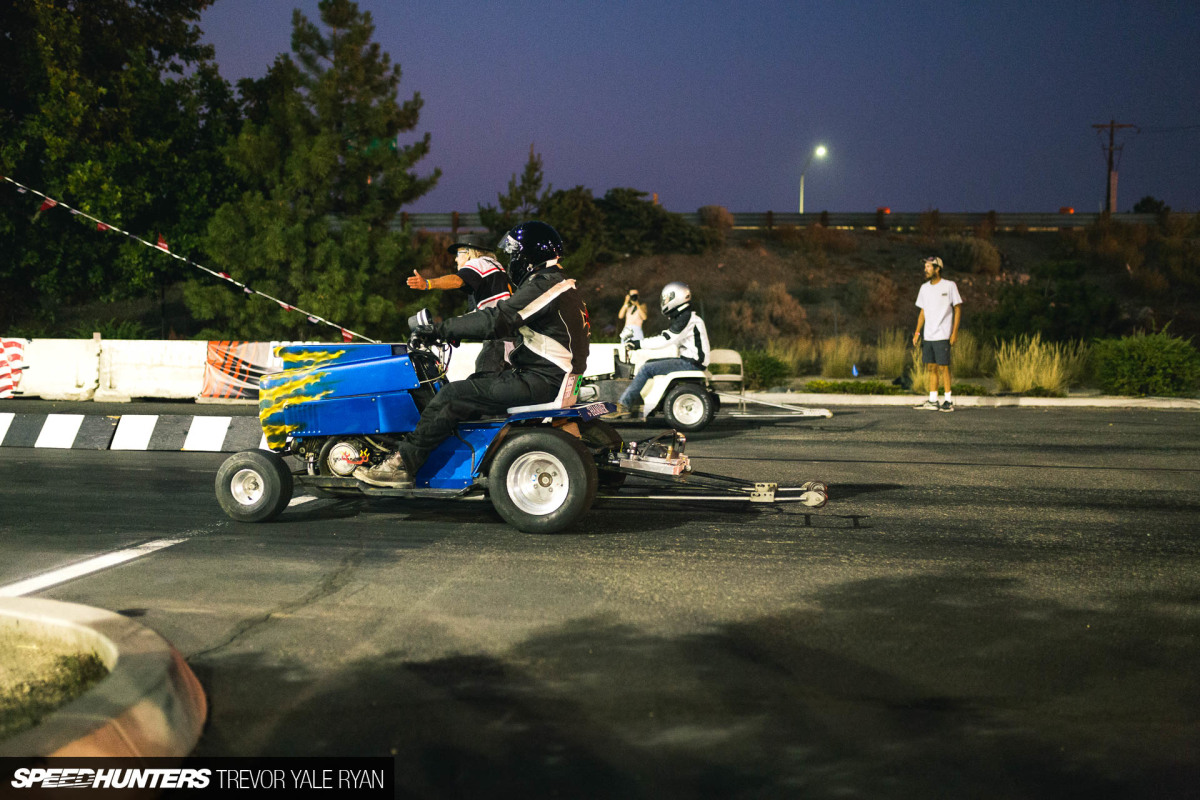 It can't be much more dangerous than doing the same on a motorcycle, but something about it feels so wrong. While I missed his name, the gentleman on the blue mower says his wife agrees.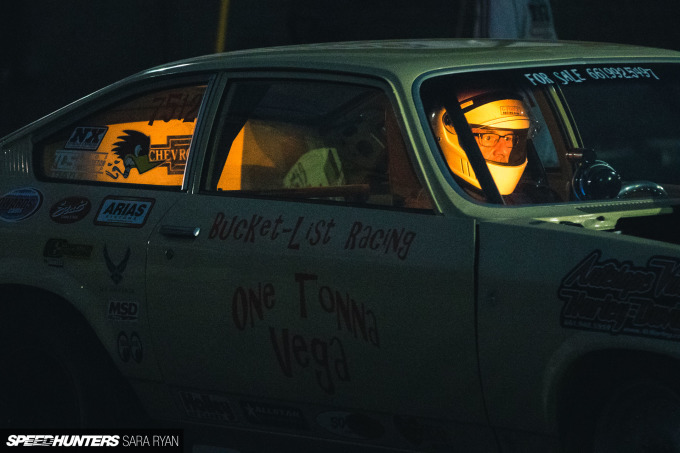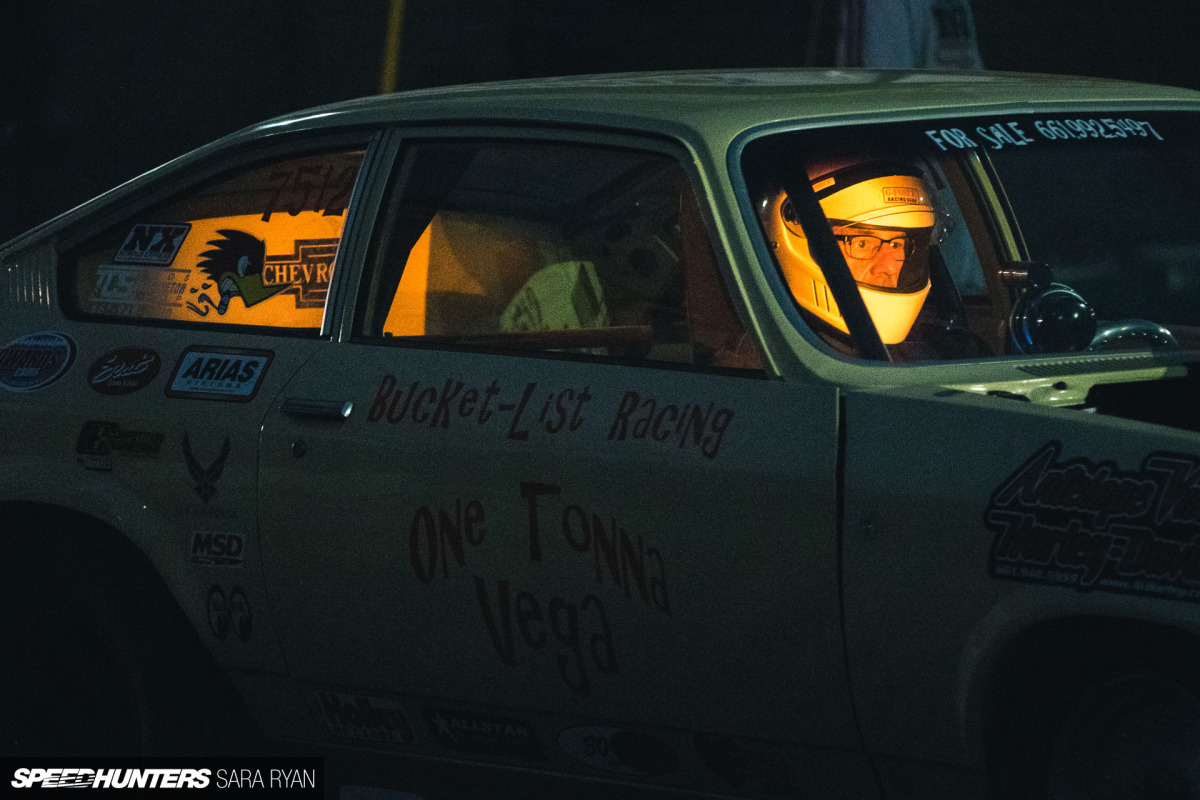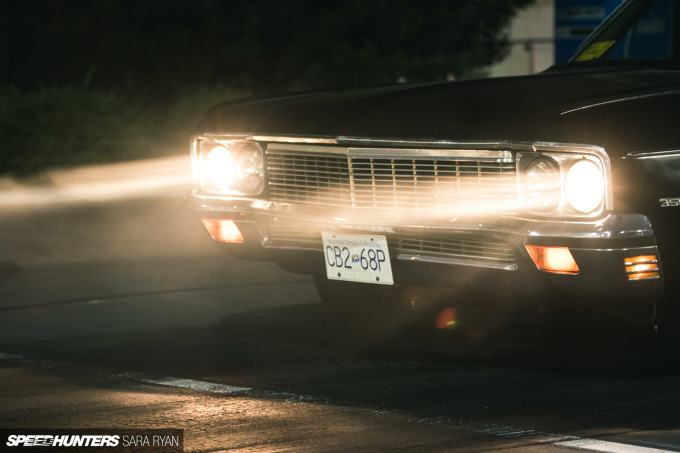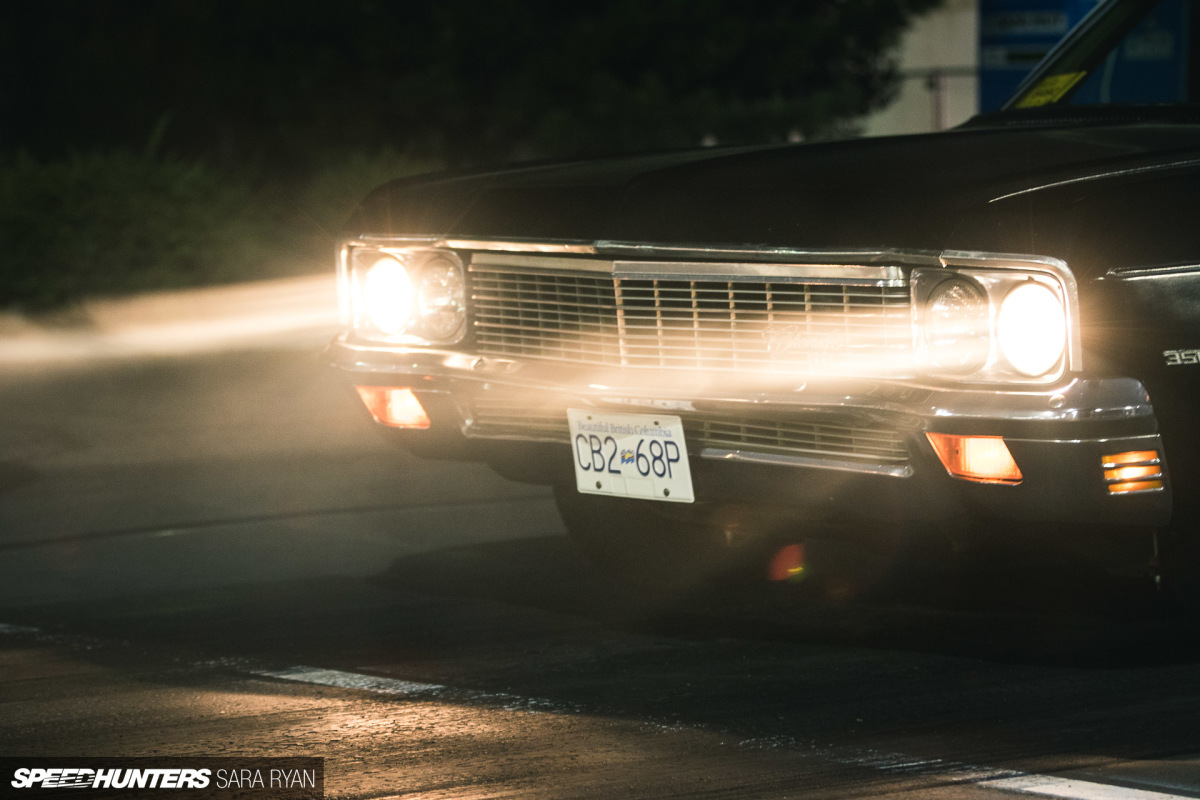 Drag racing definitely is a sport that takes a bit of gumption, especially once you start eclipsing the 5:1 pounds-per-horsepower ratio. As a rough rule, this is generally what it takes to dip under the 10-second quarter mile mark, while hitting five seconds in the eighth would require twice this.
That is, a 2,500lb car would require at least 1,000 horsepower, and that's assuming it all hooks up just fine and the shifts between gears are perfect. Of course, this never quite happens in the real world, where your best friend is raw power.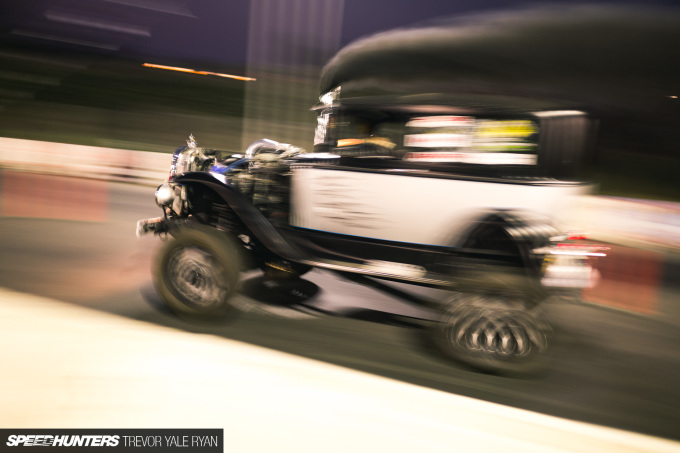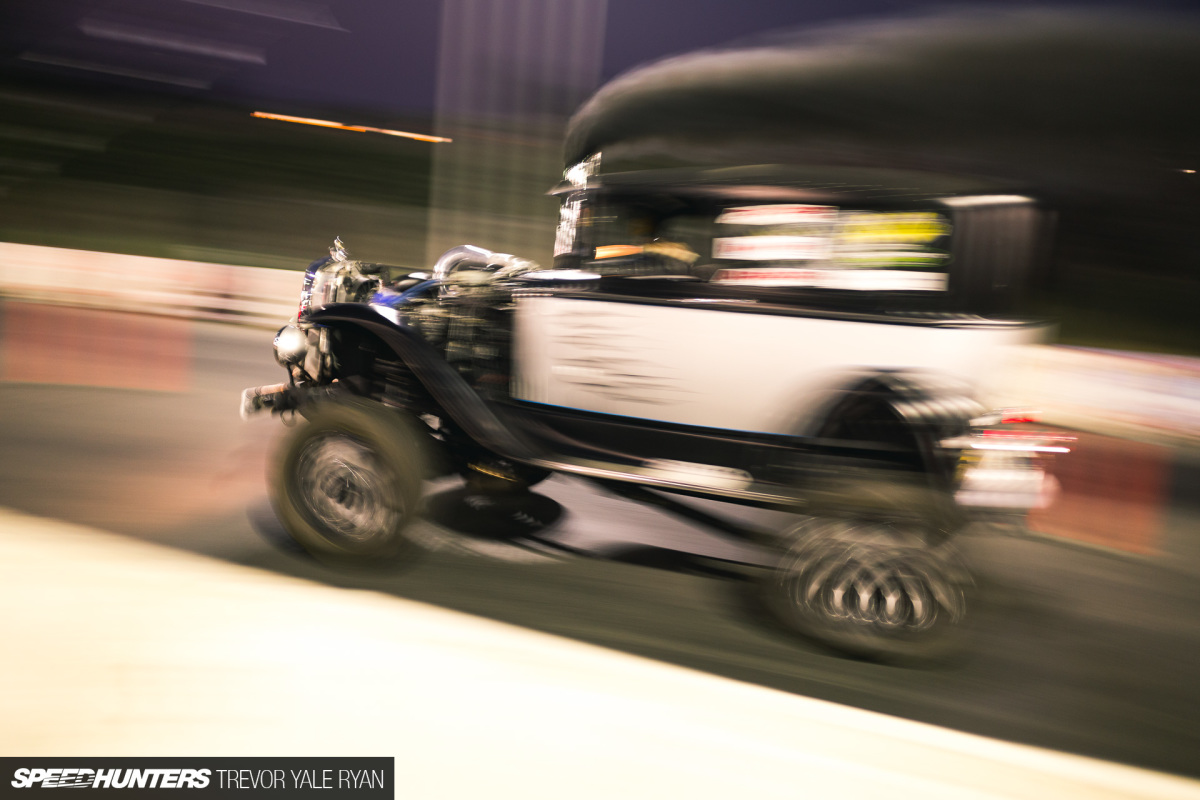 This 12V diesel-powered Ford Model A has plenty of it. While the tractor motor made a measly 100hp and 400ft-lb of torque, these figures have been bumped up to 1,096hp and 1,505ft-lb. This is possible only with 85lbs of boost, courtesy of a pair of turbochargers. It's complete and total madness, and something you wouldn't find anywhere but a drag strip.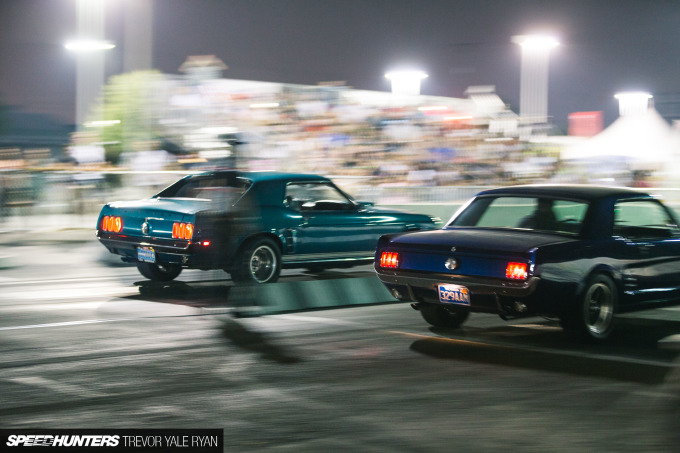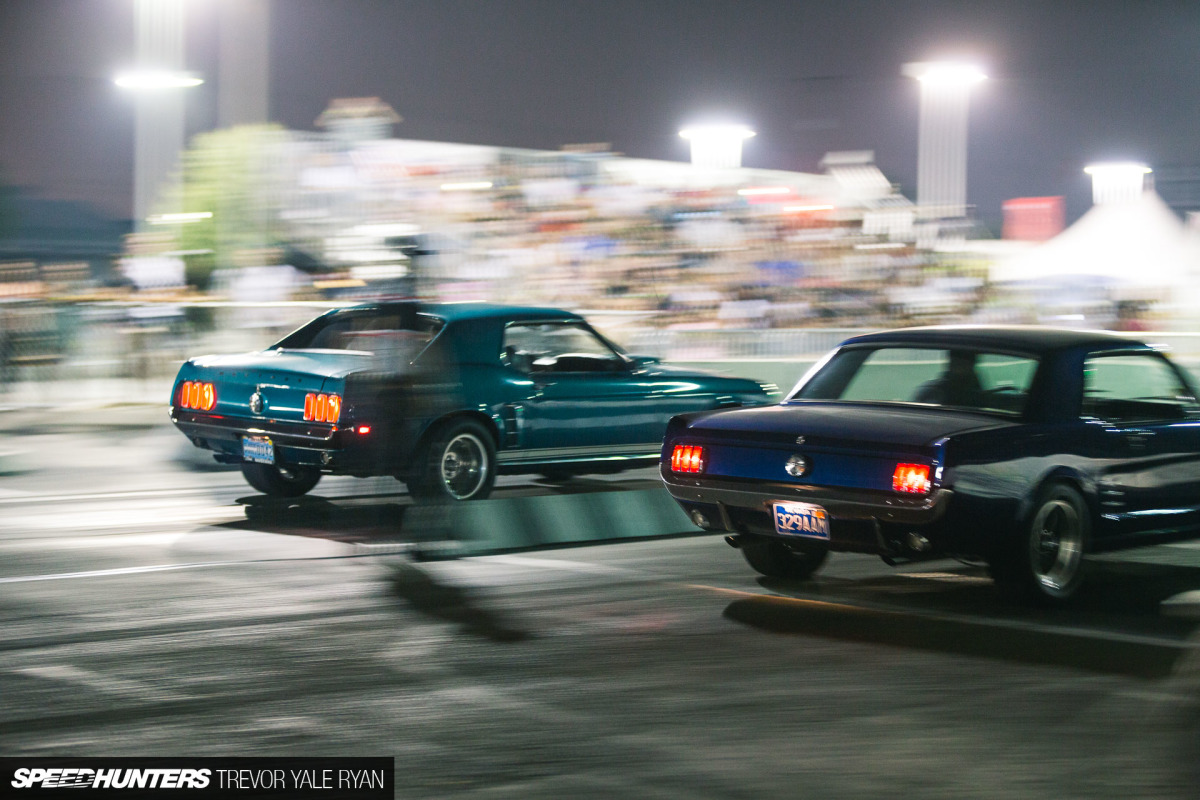 The big horsepower cars have the fastest times, of course, but this is a place where you don't need a high-dollar build to have fun, either. But with an increasing number of drag stips shutting down as noise complaints grow, this outlet for street racing and outright speed is slowly vanishing.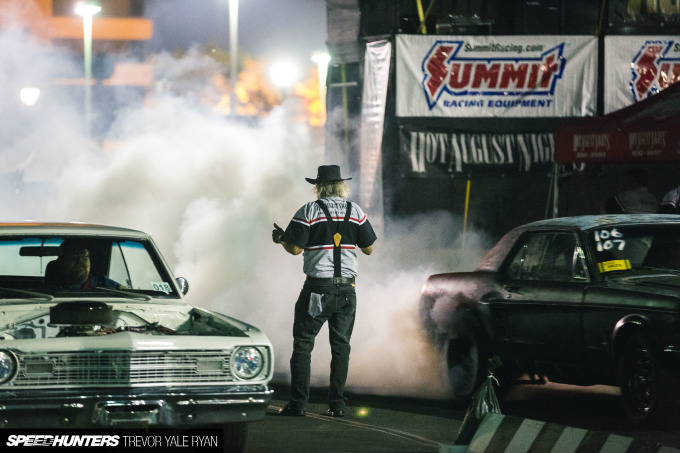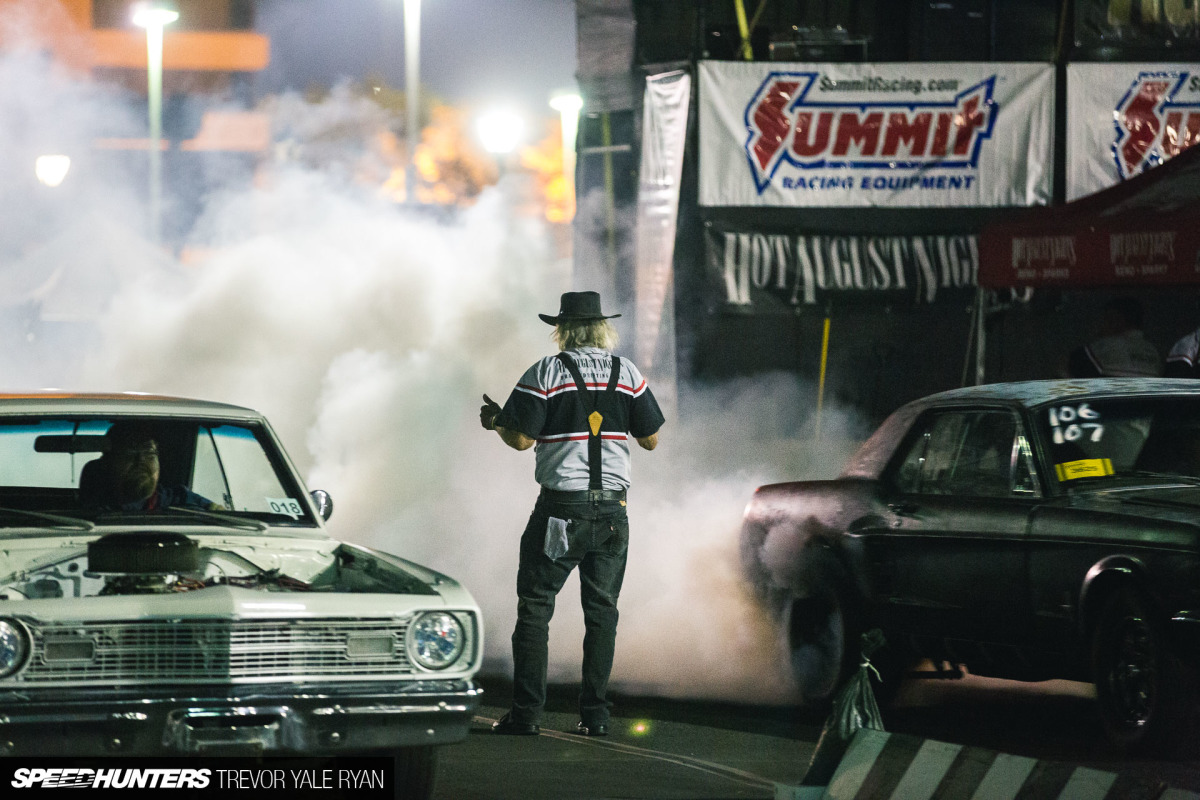 It's really up to us to ensure that this doesn't happen. If you've never been to out to a quarter mile event, go watch one. Better yet, bring your own car out and open it up.
There's nothing quite like full throttle, and I'm glad to see Hot August Nights evolving to include this side of things.
Trevor Yale Ryan
Instagram: tyrphoto
TYRphoto.com
Cutting Room Floor