Classic Collectability
When I reached out to Arman Mariano to shoot his red '72 Mercedes-Benz W114, his response was that "old school Benzes on bags roll together." So, instead of meeting up with one classic Mercedes in Los Angeles, I was treated to three.
I've always maintained that these are very good-looking cars, and ever since I came across one at Shukai last year I've been keeping an eye on the classifieds for the right one to come along (spoiler alert: it hasn't happened yet). The recipe these three guys have applied to their cars is one that's tried and true, but I enjoyed how each owner has steered their respective build in their own direction.
What was most surprising to me upon looking at the cars in more detail is how original they are. All three are '72 models, making them 46 years old as I write this. And yet all three are making use of their factory motors and their original interiors remain intact. The builds are all simple and straightforward, complete throwbacks to a bygone era.
This isn't to say that details have gone overlooked; each car is special in its own way. But what is it that makes these uncomplicated, old cars so special?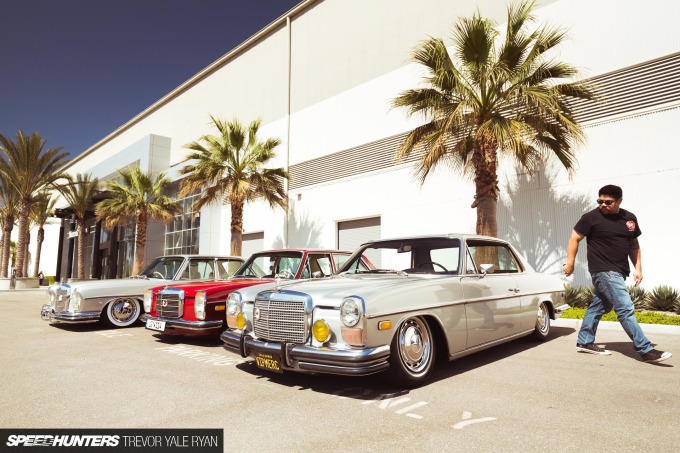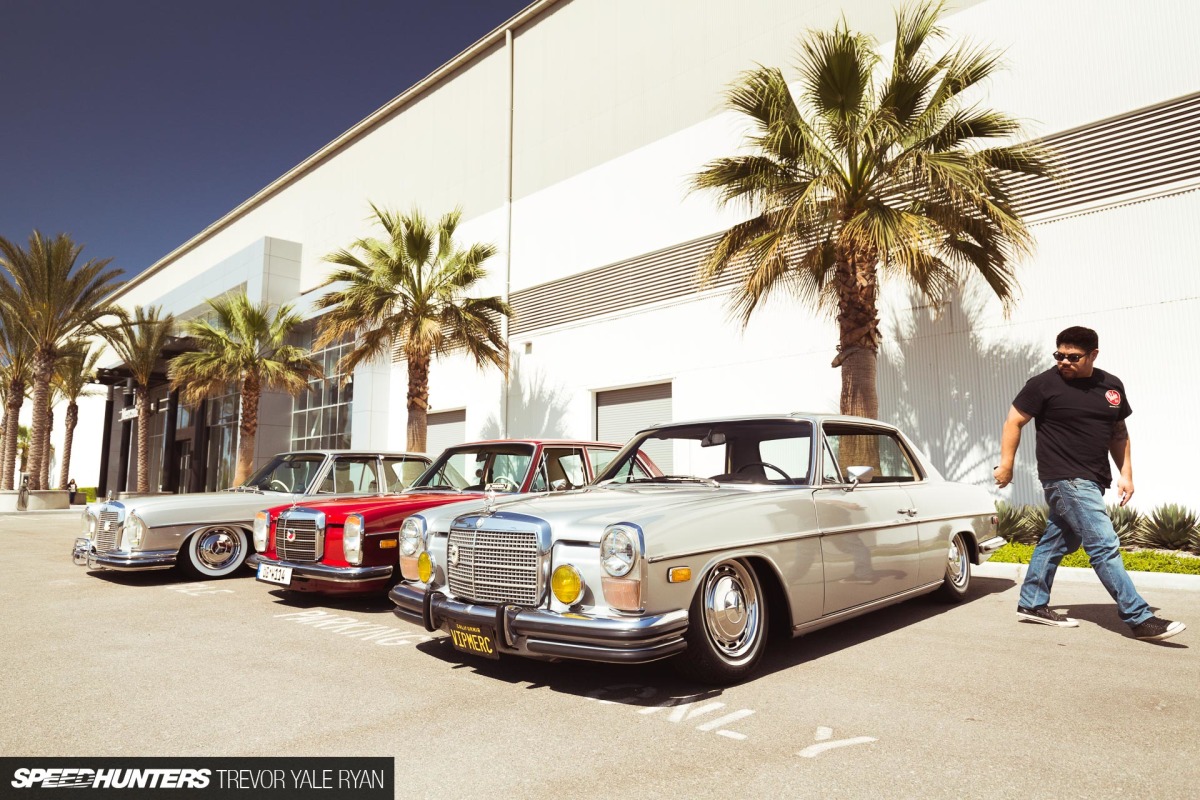 It's really a case of all classic cars coming back into fashion. Where a Lamborghini Aventador or a Porsche 918 Spyder may have a certain presence, they really aren't universally regarded as cool. And they're a bit obvious, to say the least.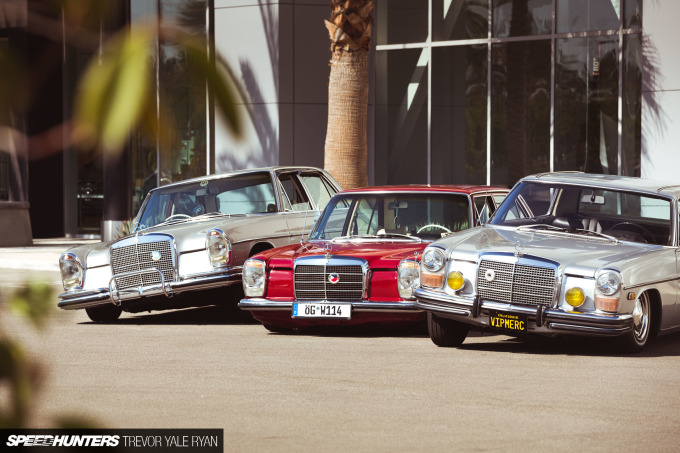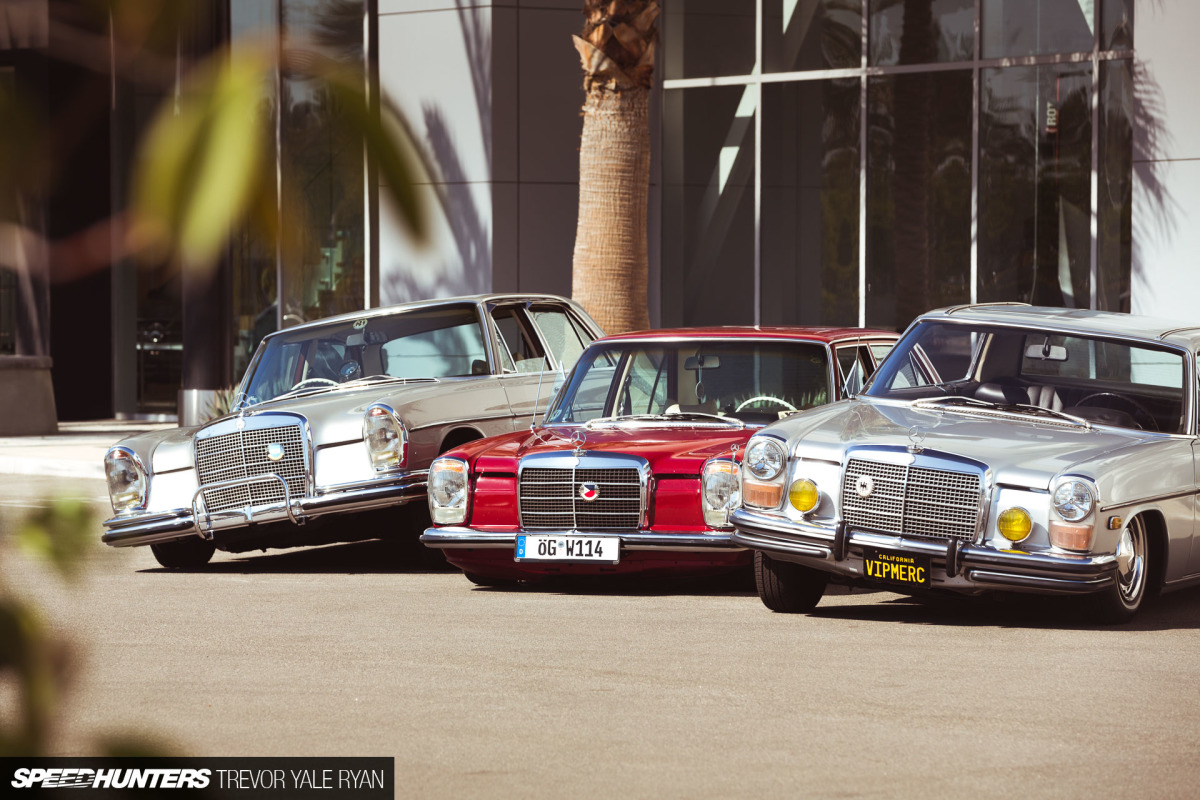 Another huge factor in the rise of these classics is the relatively non-prohibitive cost. If you look at the style-per-dollar ratio – if that's even a thing – of the aforementioned Aventador or 918, and compare it with almost anything (especially something German) from the '60s or '70s, supercars will lose every time.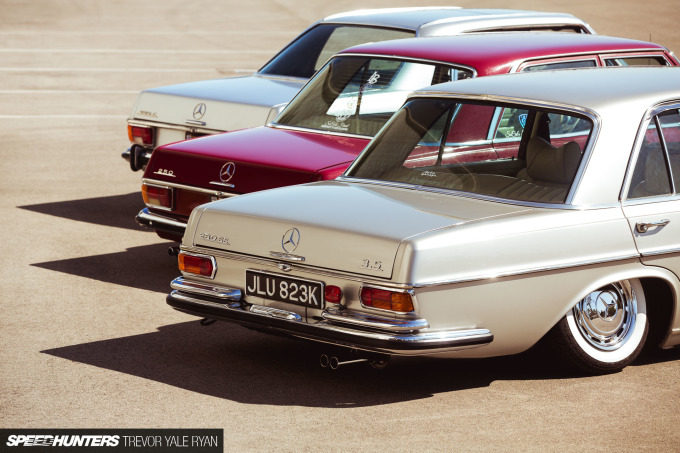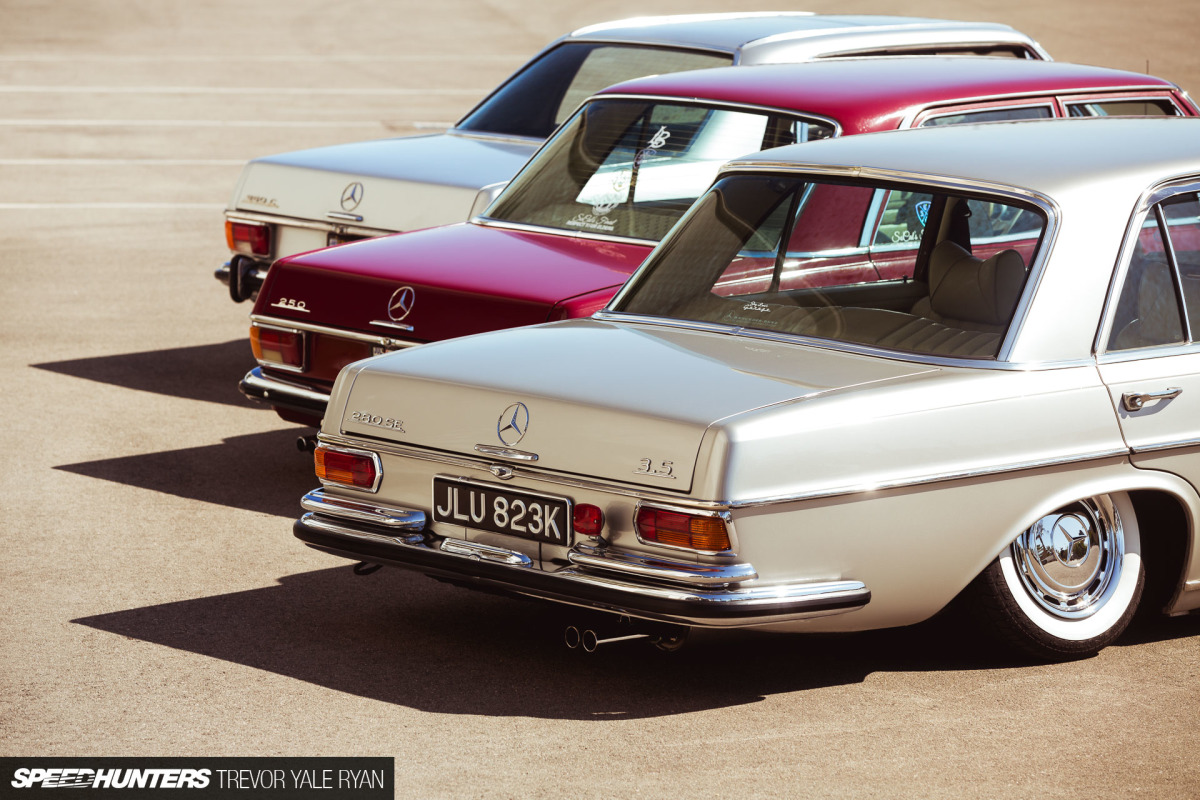 But as classic cars become mainstream again, particularly these W114s, it's becoming harder and harder to source a decent near-stock example as a starting point to a project. And that's what I love about these three cars, which were built on the cusp of the rise in popularity of this chassis.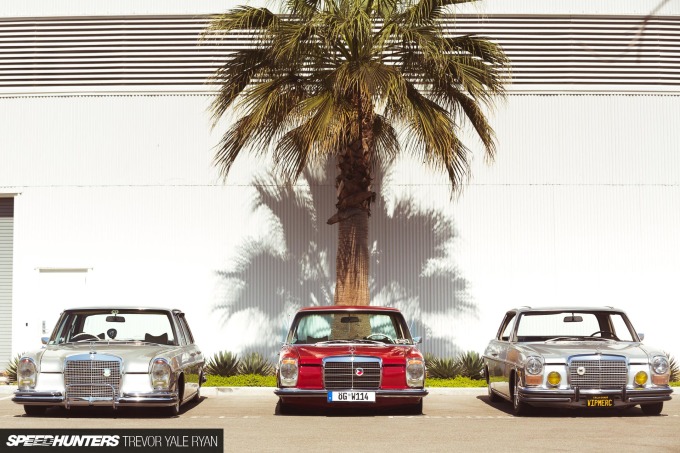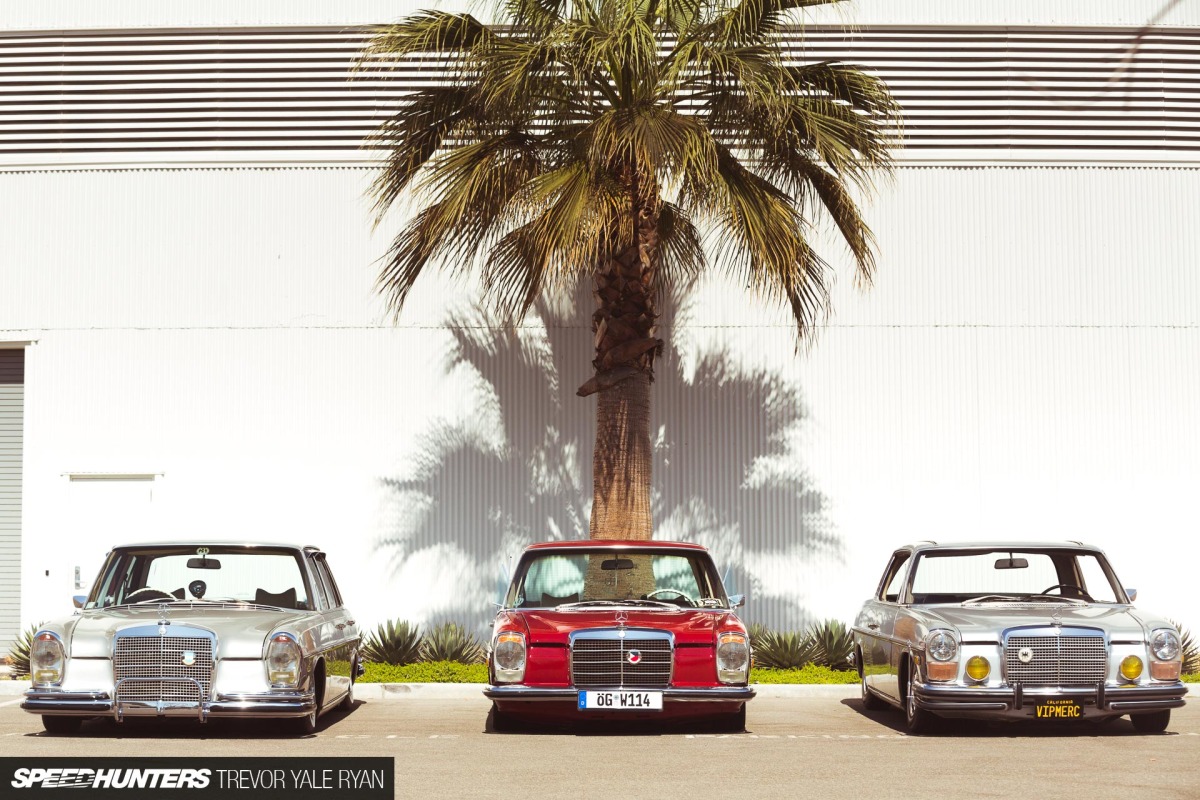 These aren't bandwagon cars, and all three are undeniably full of character. Of course, the same is true of their owners, so I'll dive into some proper introductions.
Charles Chung's 250C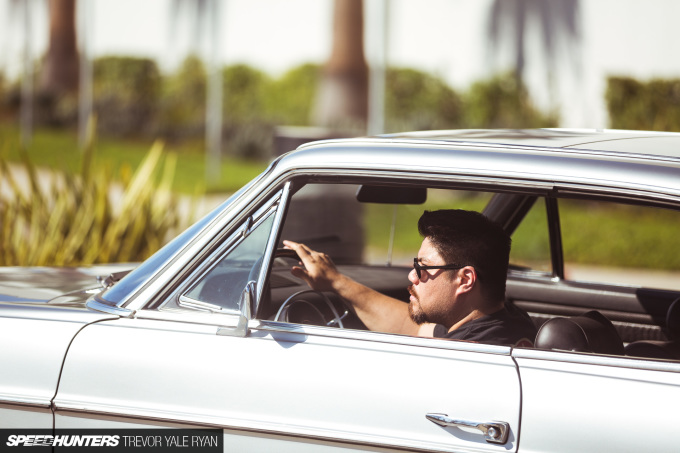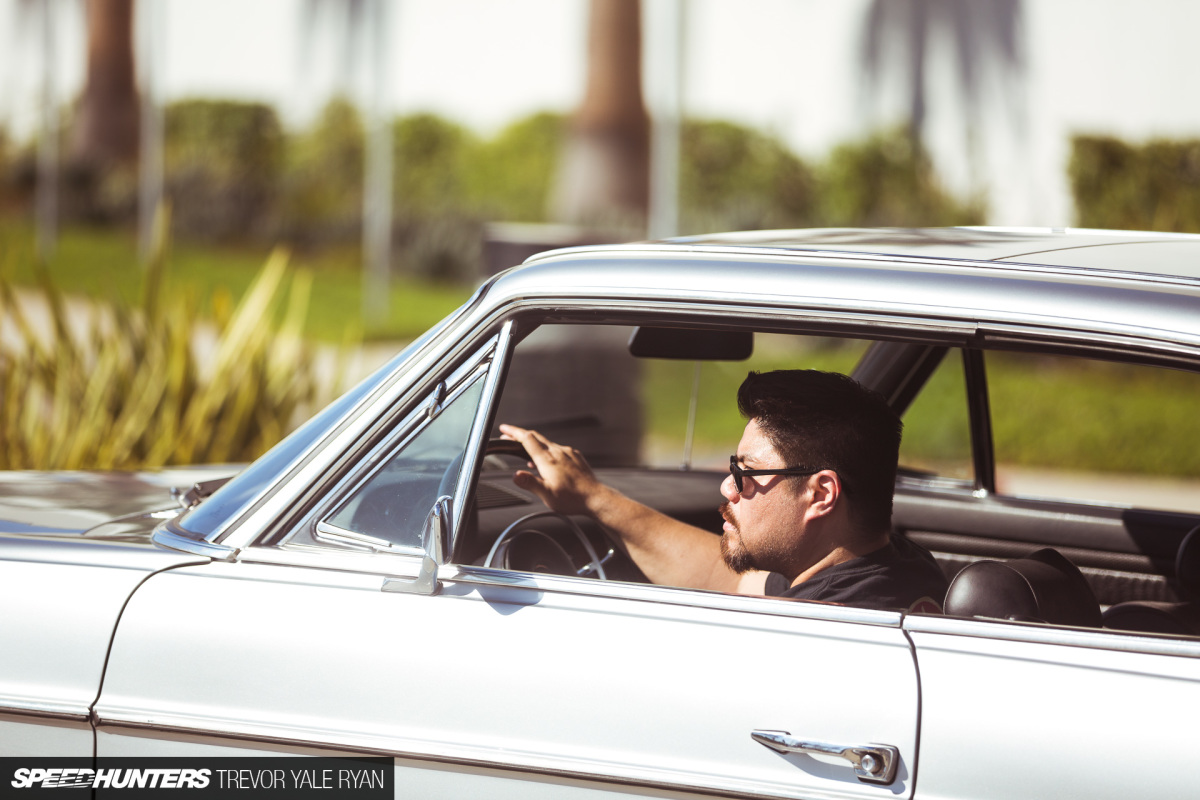 Moving down the lineup from right to left, Charles Chung's '72 is a prime example of what can go right when you play OEM+ with a vintage coupe.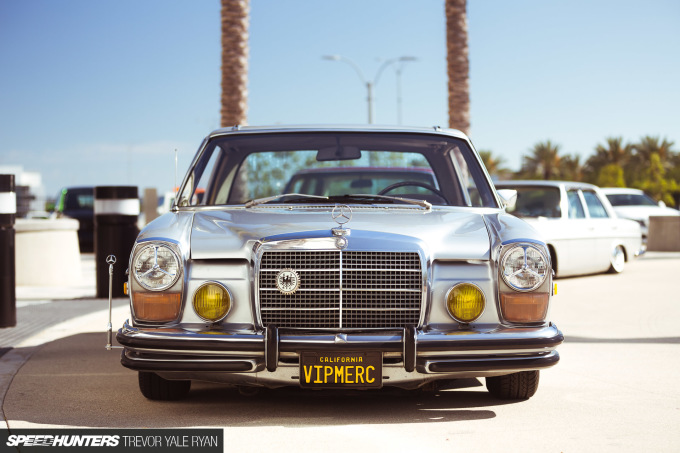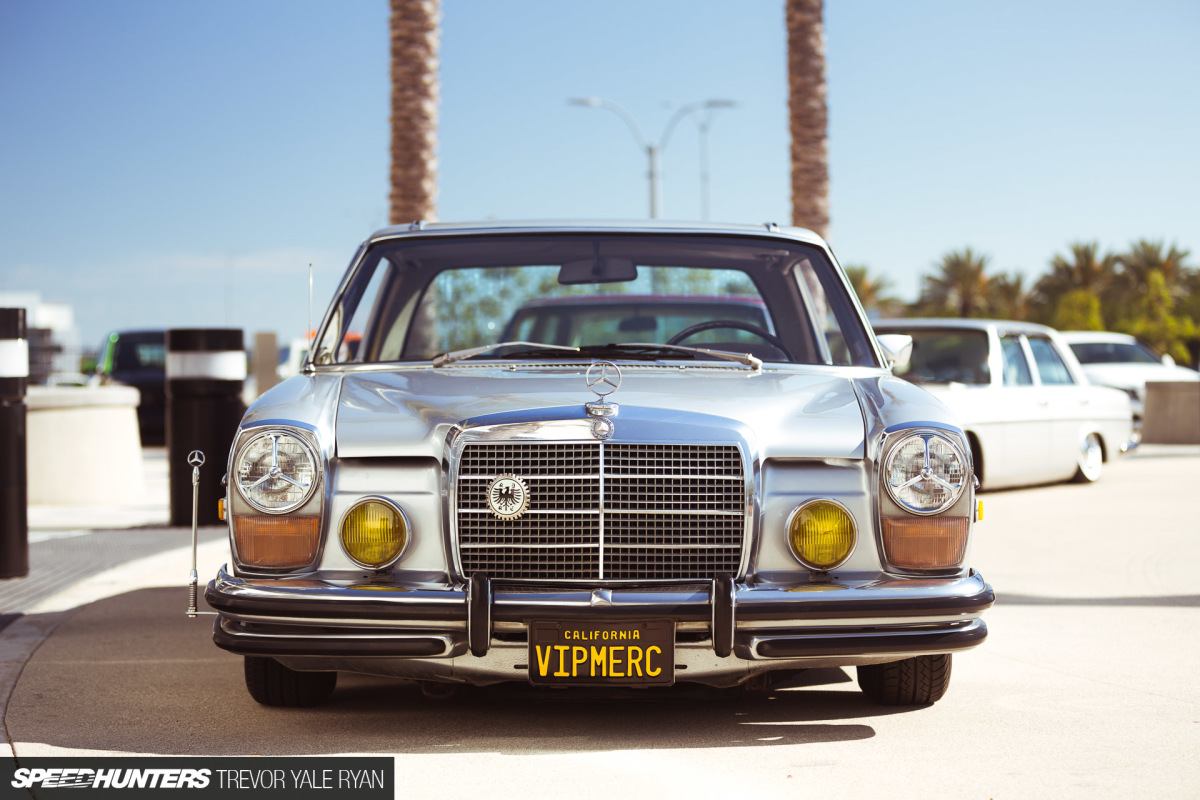 Preferring a busier front end, he's retained the US-spec two-piece headlights and added covers from a motorcycle. With yellow fog lights and old school Mercedes parking poles on the passenger corners, Charles' continued this theme as your eyes wander around the front end towards the back.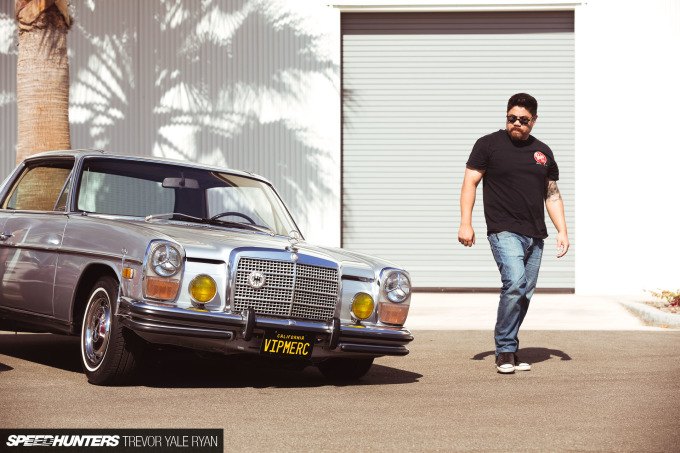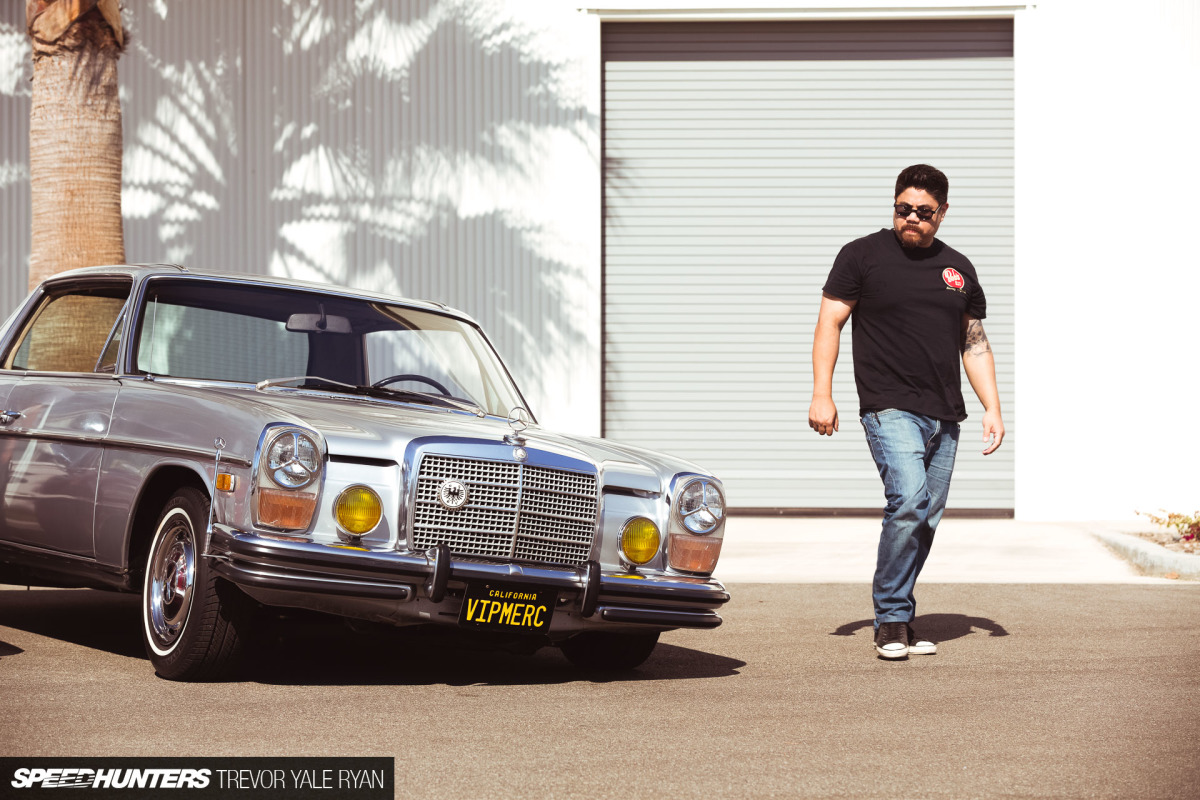 The stock 14-inch wheels with polished hubcaps contrast nicely with the insane stance of the car when its aired out. Coupled with thin-stripe white-walls and the factory DB-180 grey paint, it's a clean and complete old school look.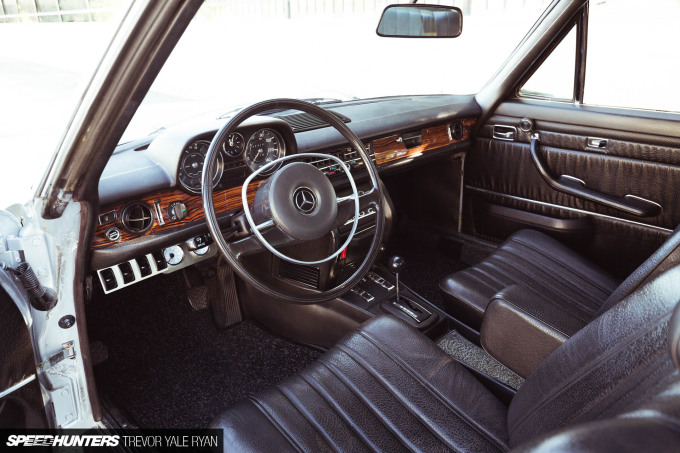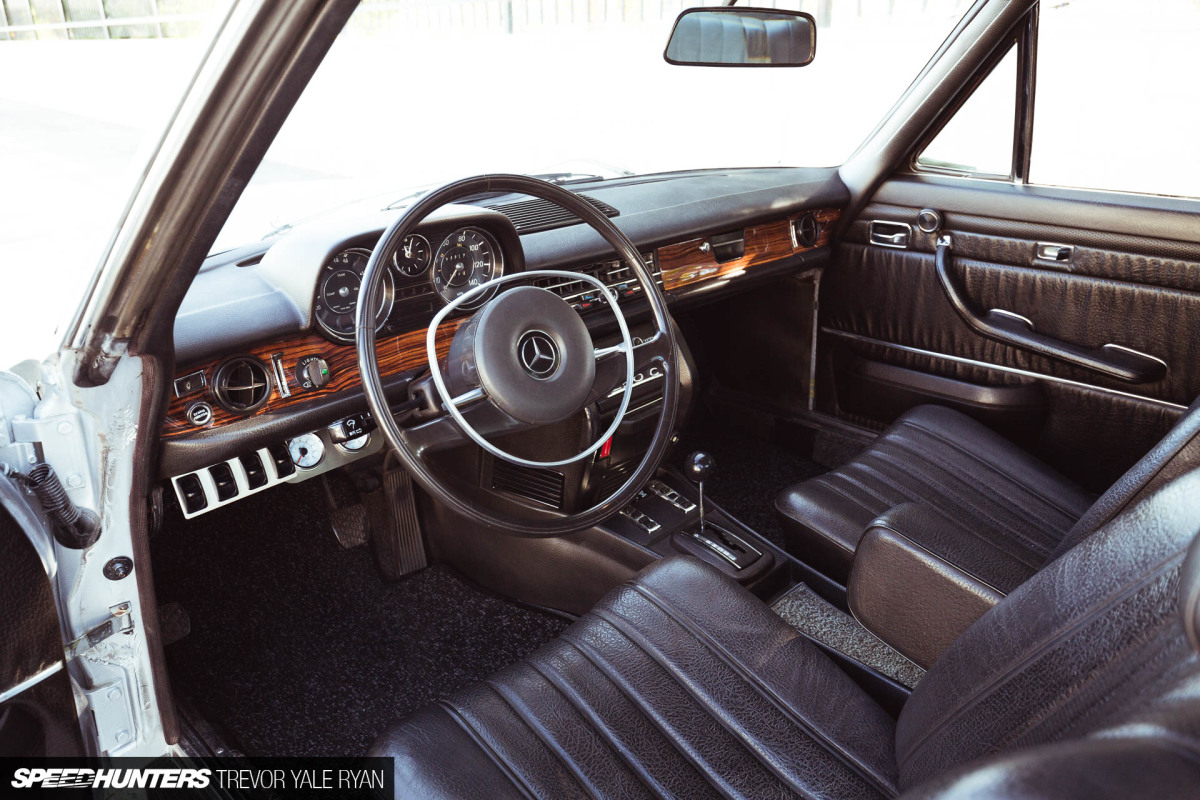 Inside the car it's an entirely factory affair. While new cars today seem to lack the same aesthetic and tactile experience, that isn't an issue here. Although this car is coming up on 50 years since it rolled off the showroom floor, everything looks brand new. If all feels new too; the seats are comfy, the dials on the dash work and click nicely into place.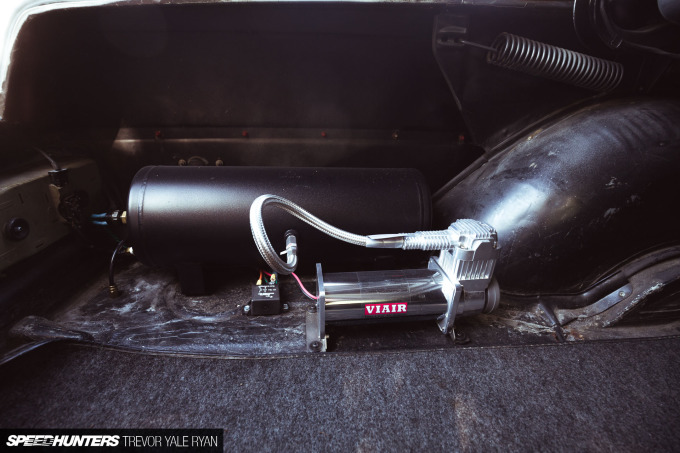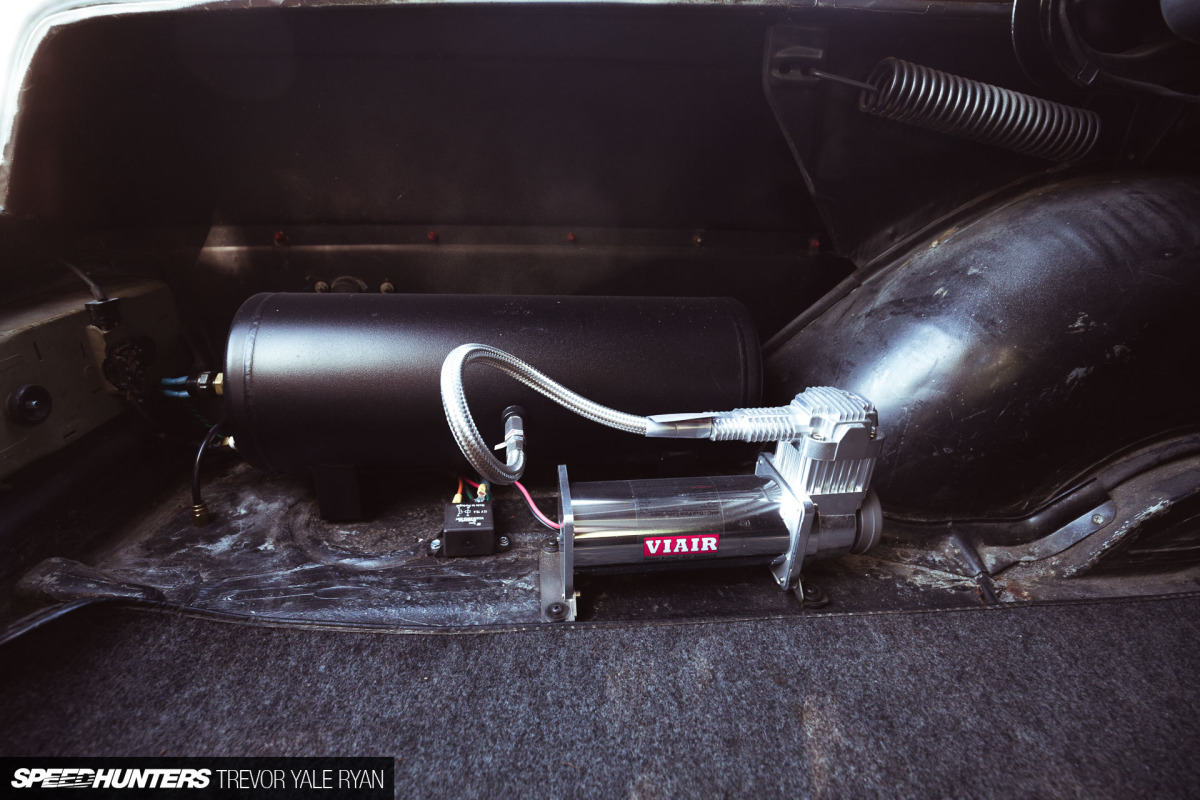 The only addition is found to the left of the steering wheel where four switches and dual needle gauges reside. Of course, this is for the custom air-ride setup which Charles had installed at Hot Spot Fab, not too far away in Santa Fe Springs, California. It's a tidy kit that fits inside one quarter panel, leaving the rest of the trunk completely useable.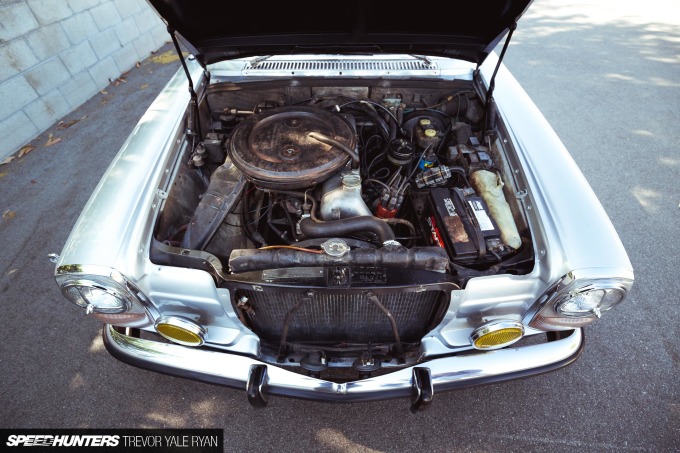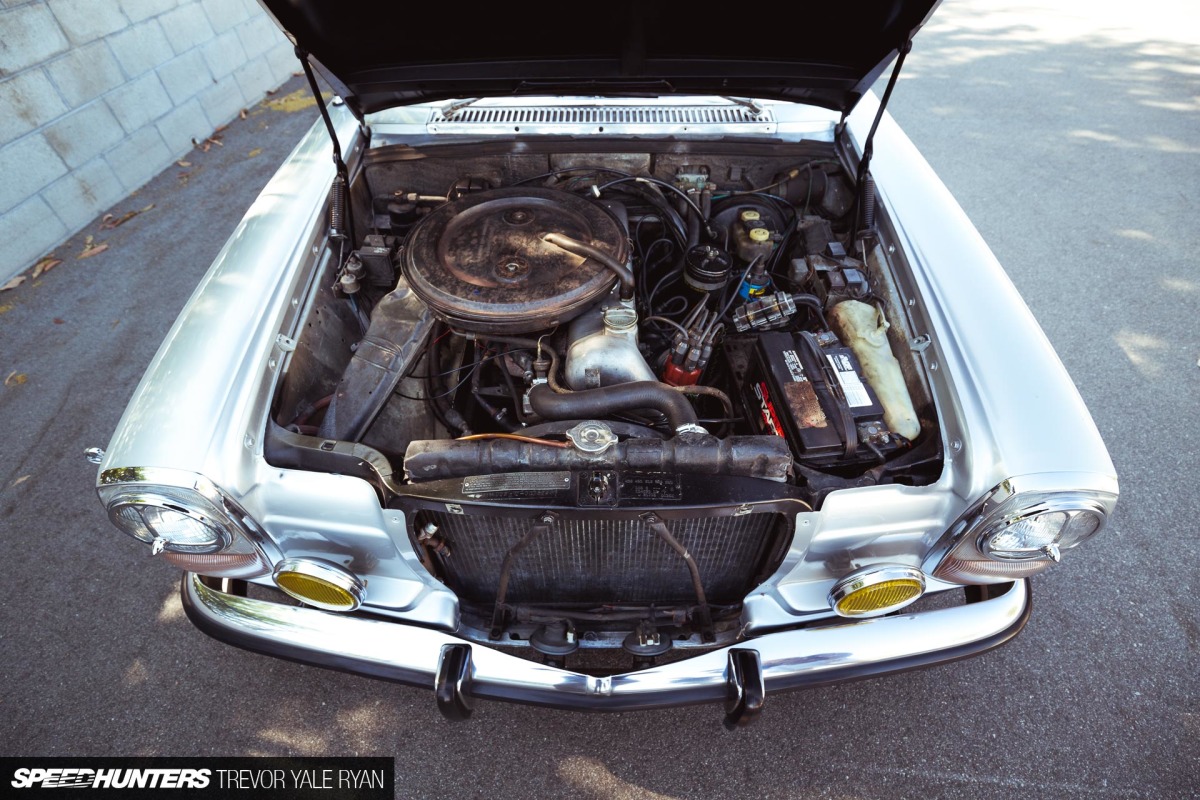 Under the hood you'll find the factory M130 2.8L straight six with dual Zenith carburetors. It's all stock and Charles plans to keep it this way for as long as he can.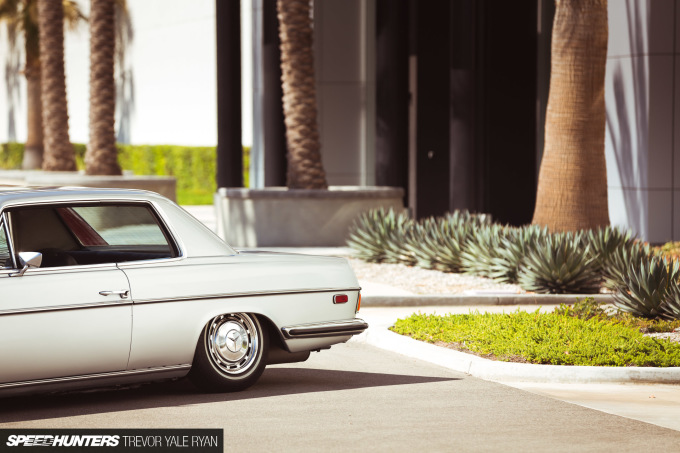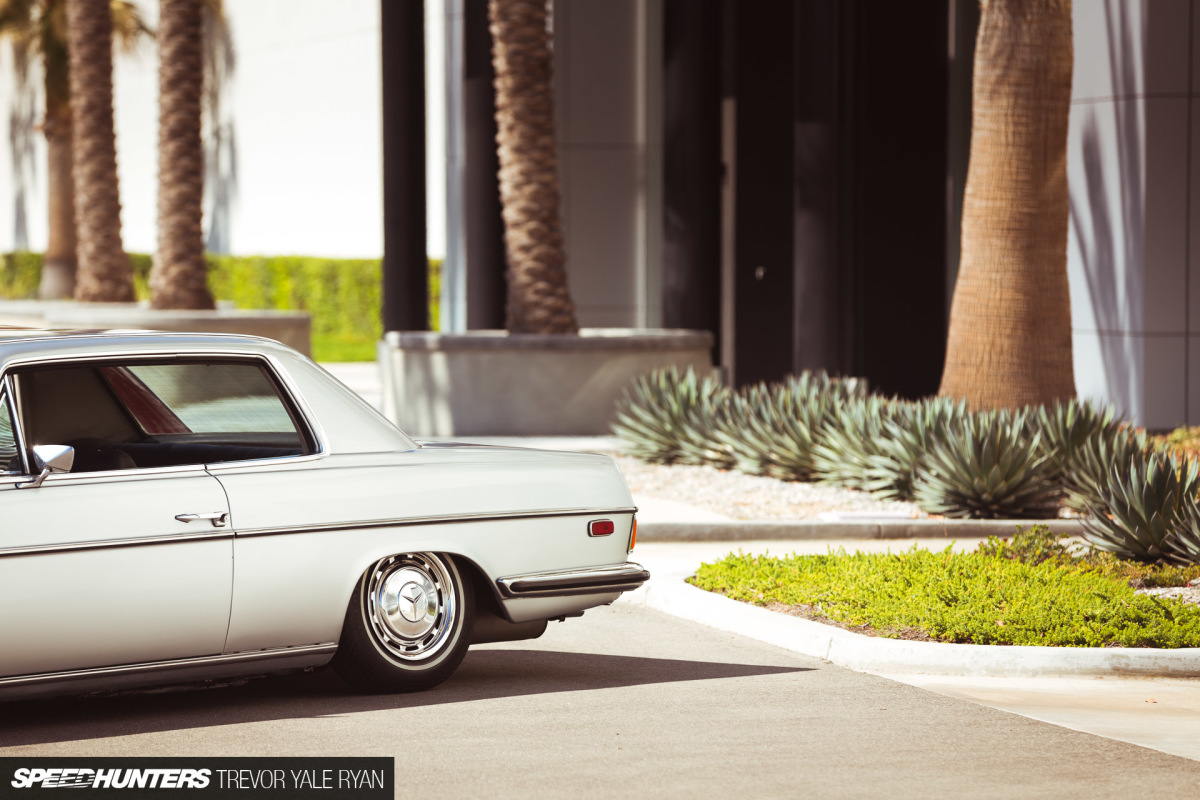 Charles chose this model because he'd always wanted to restore a car, always wanted a coupe, and always wanted a Mercedes. He started researching cars which had good aftermarket and enthusiast support but with a leaning towards '60s styling, and the answer was obvious.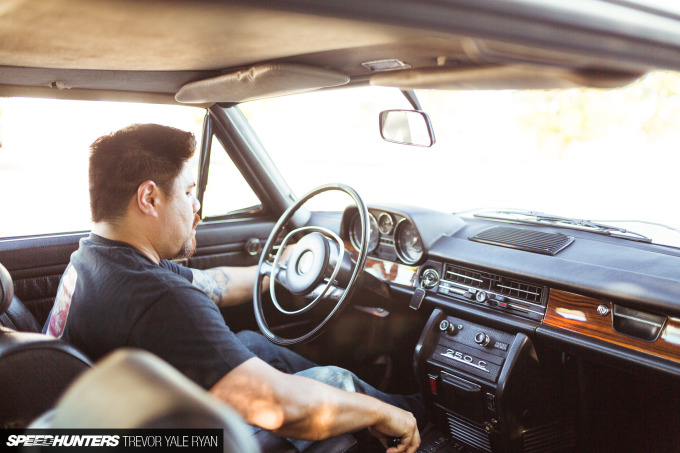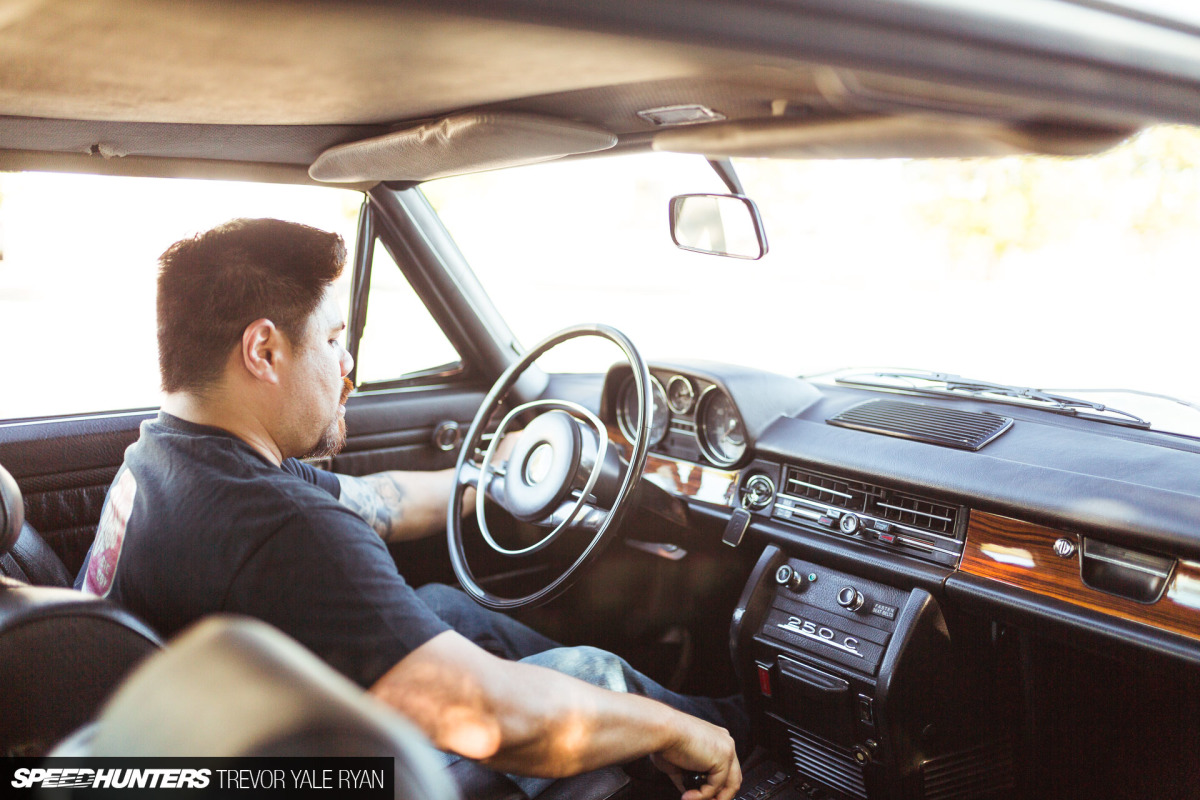 As these cars (as well as many other classics) are beginning to interest even non-enthusiasts as investment opportunities, Charles was fortunate to arrive early to the party. Having owned the 250C for 11 years, it's a car that he built to be used rather than parked, choosing to restore it rather than swap everything out.
Arman Mariano's 250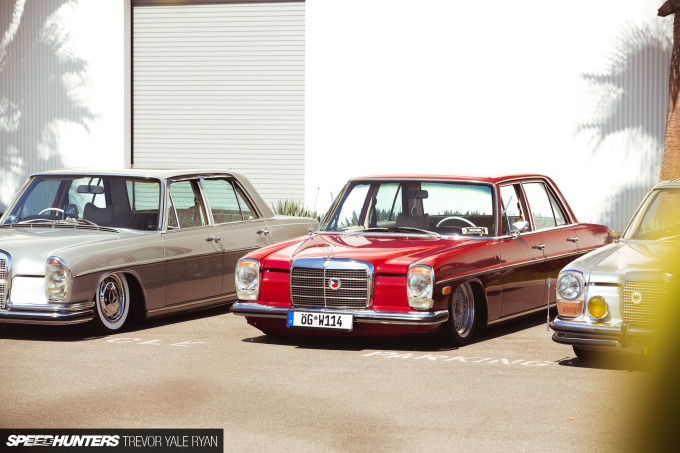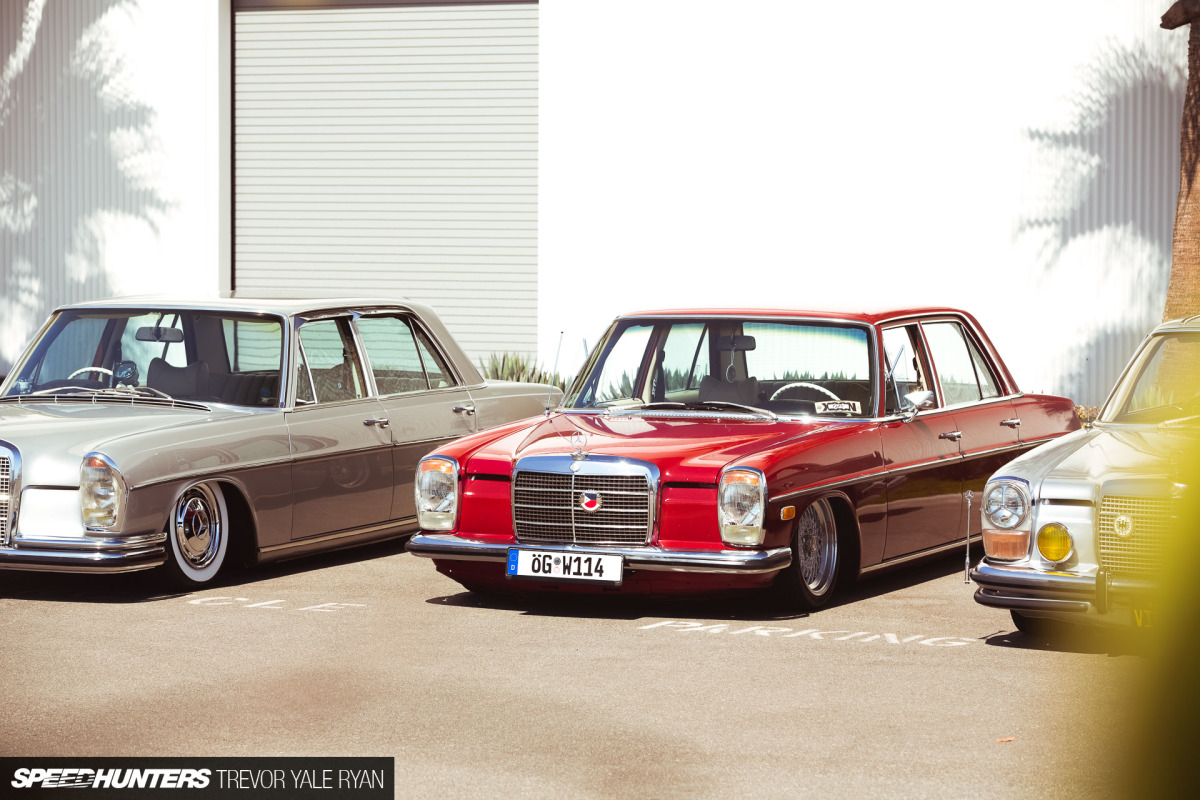 With two more doors than Charles, Arman Mariano has gone with the standard 250 from 1972. Again, the air-ride setup is the most major deviation from the factory formula for the old Mercedes-Benz.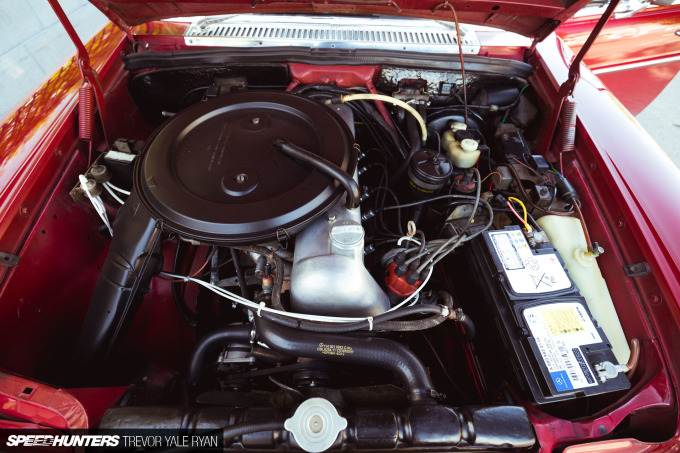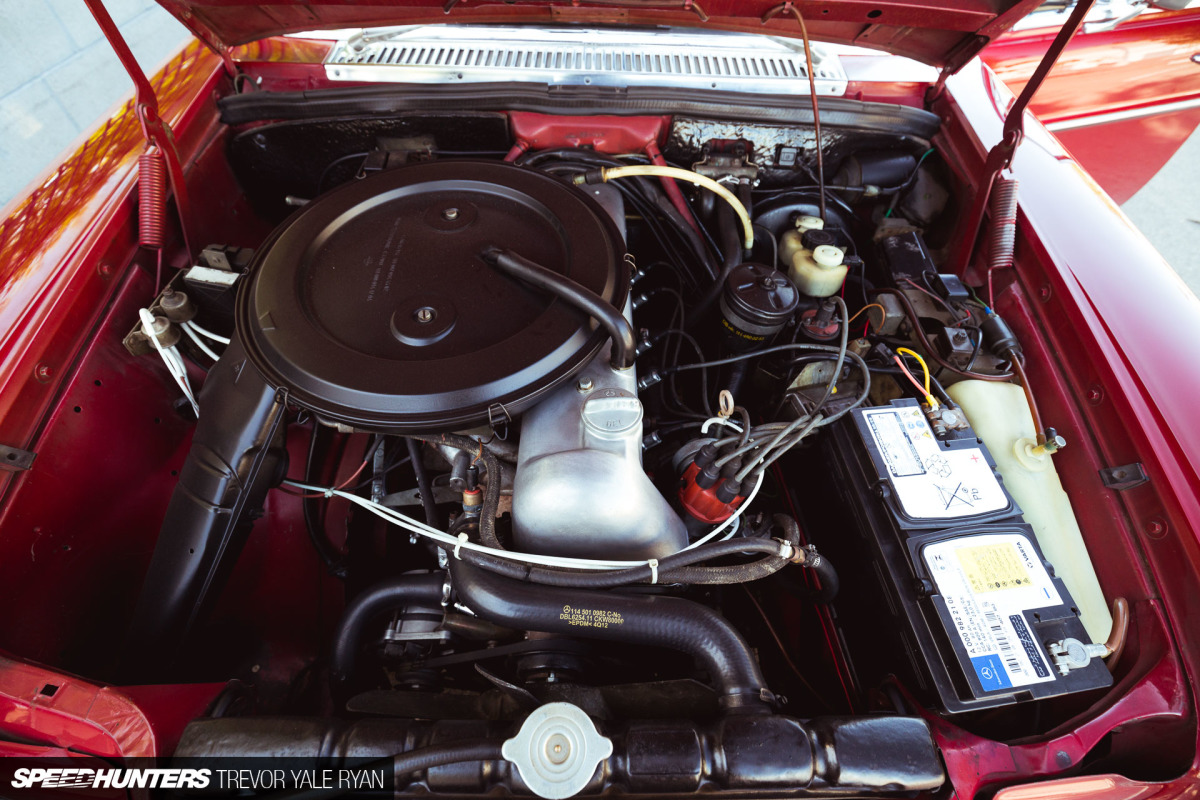 Pop the hood and there's a numbers-matching and fully rebuilt 2.8L inline six very similar to Charles' one. One difference lies in how the motor sources fuel, with a pair of Stromberg carburetors under the air cleaner in Arman's 250. Being straight piped, it's also a good bit louder than the first car I looked at.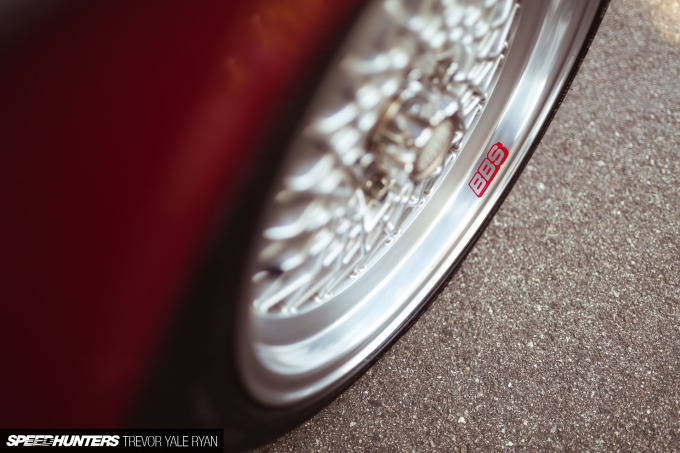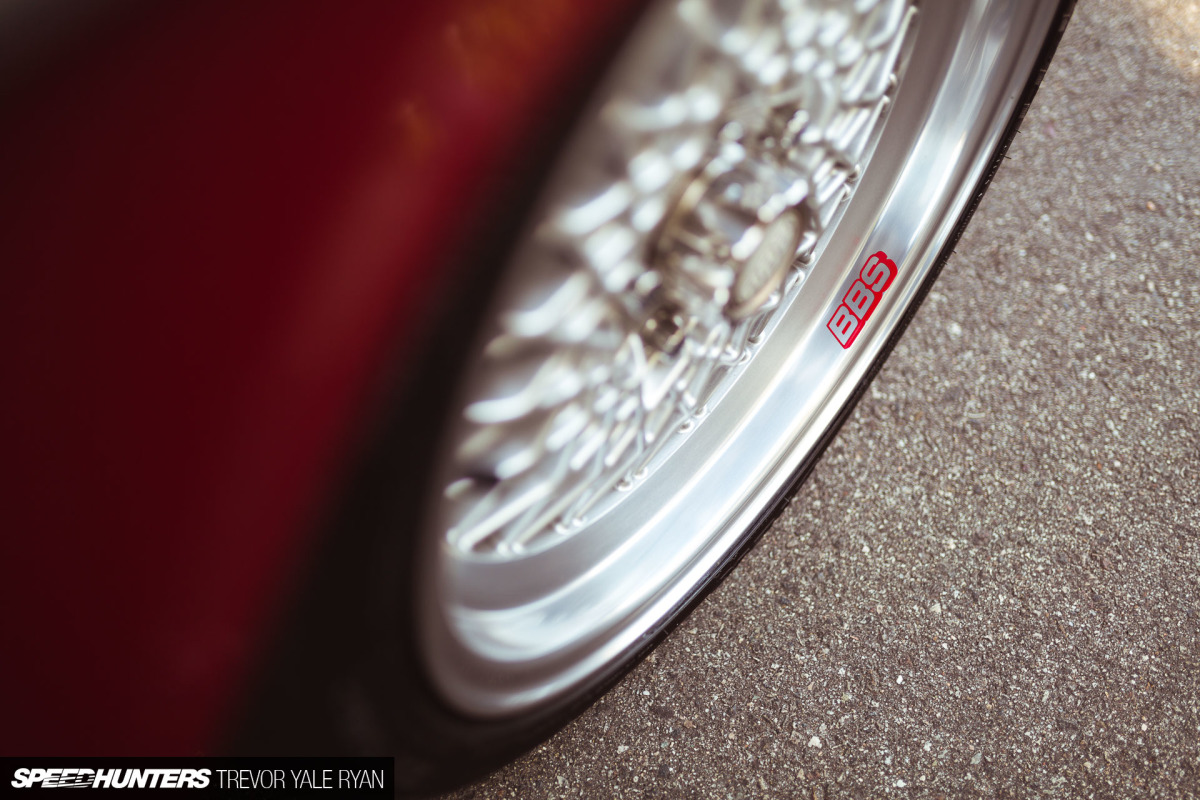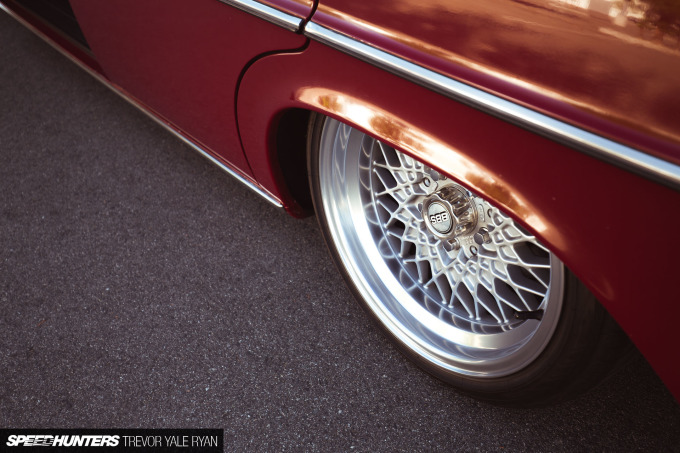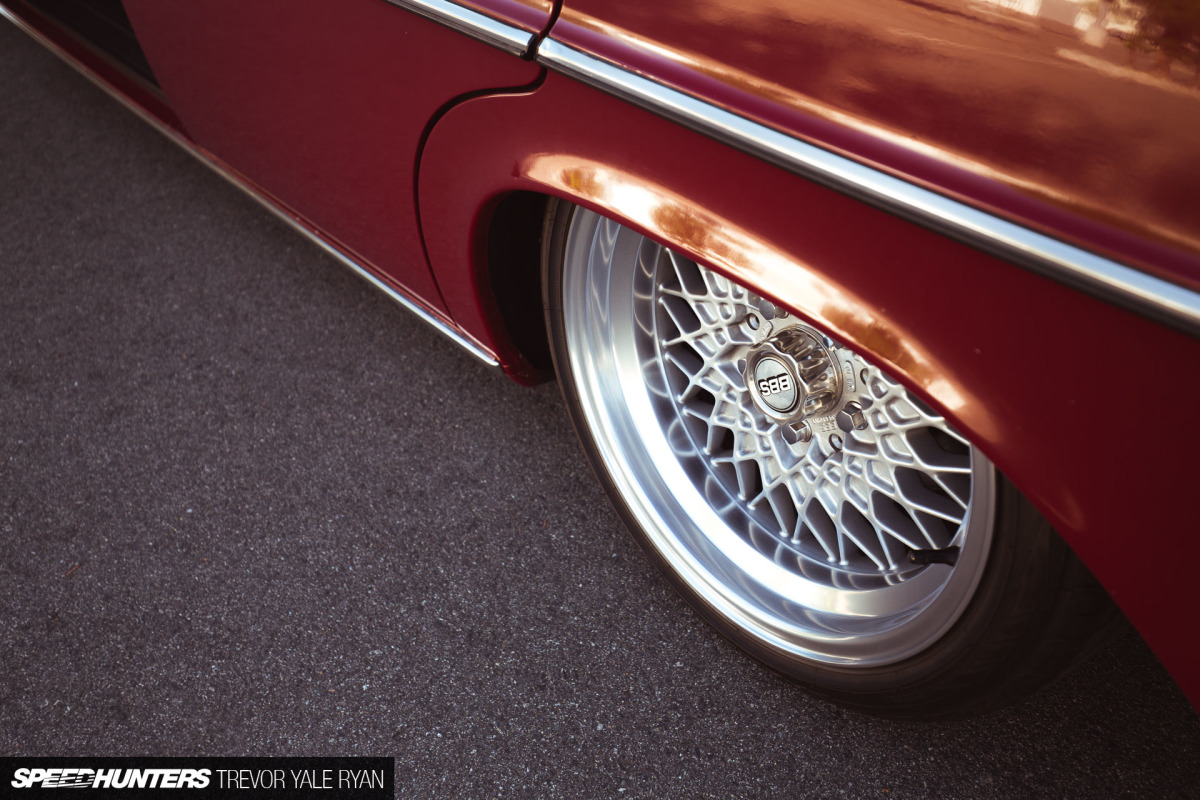 With the power sent through a rebuilt 4-speed automatic, it arrives in the stock rear end before travelling out to BBS RA wheels. While the others retained factory options, Arman's choice to go with mesh BBS wheels works very well; it's awfully hard to find any car that these wheels don't complement.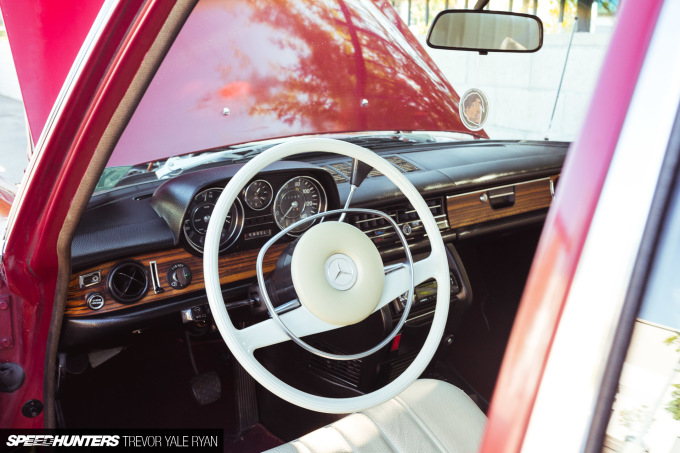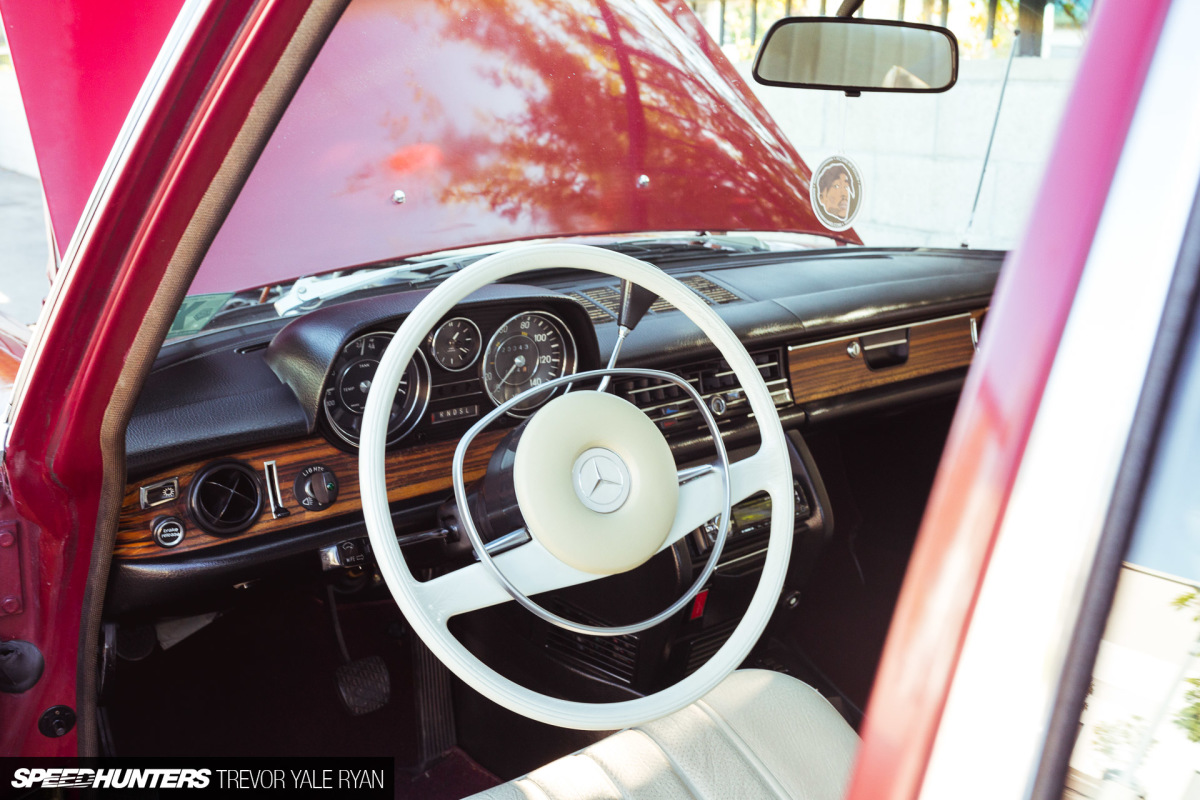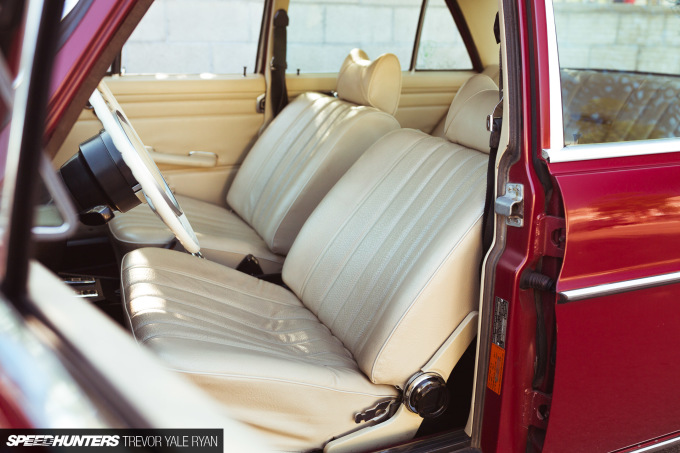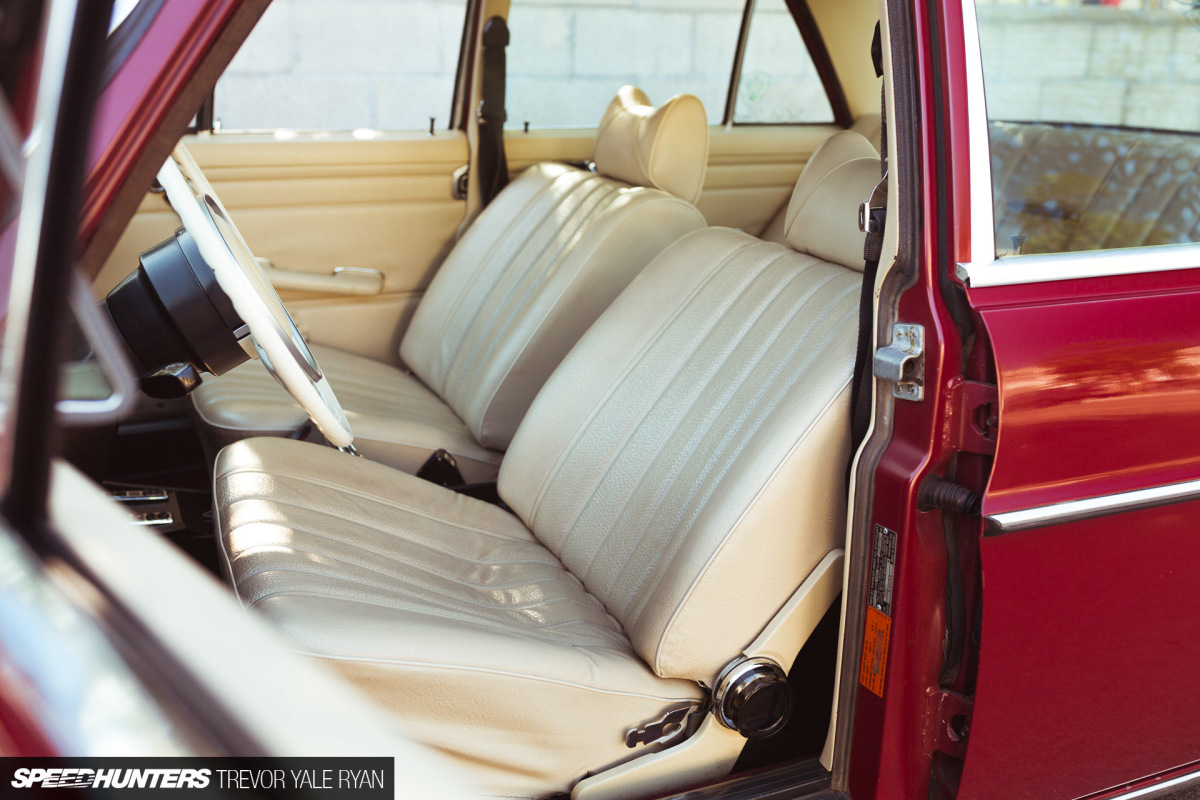 Indoors, the factory ivory interior is in tip-top shape. Door cards, steering wheel, seats, and headliner; it's all there, exactly as it was in the '70s.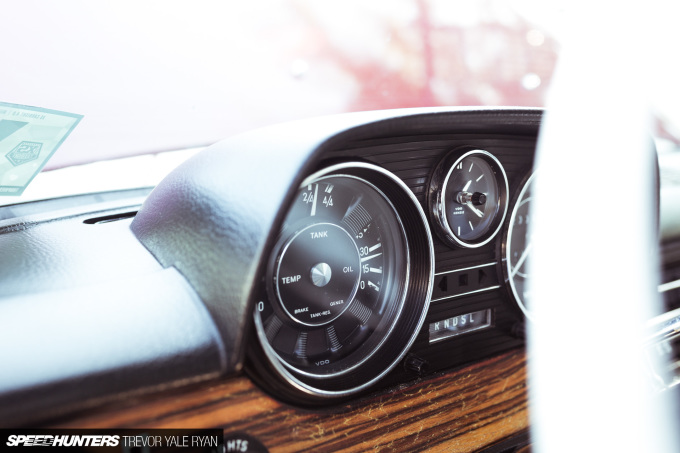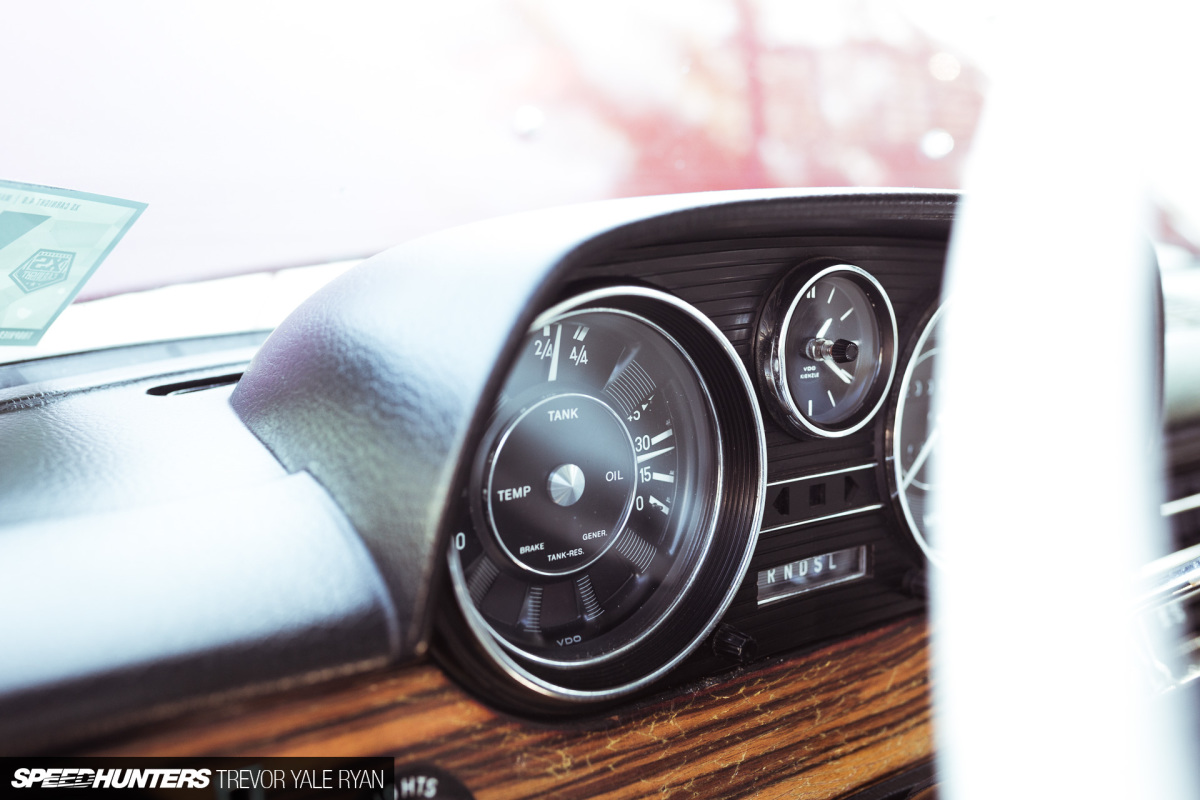 Again, I'm struck by how much better the reserved design looks in contrast to cars you can purchase new today.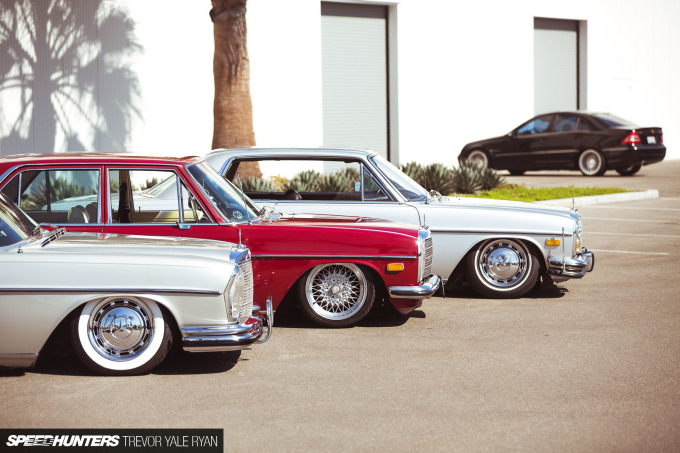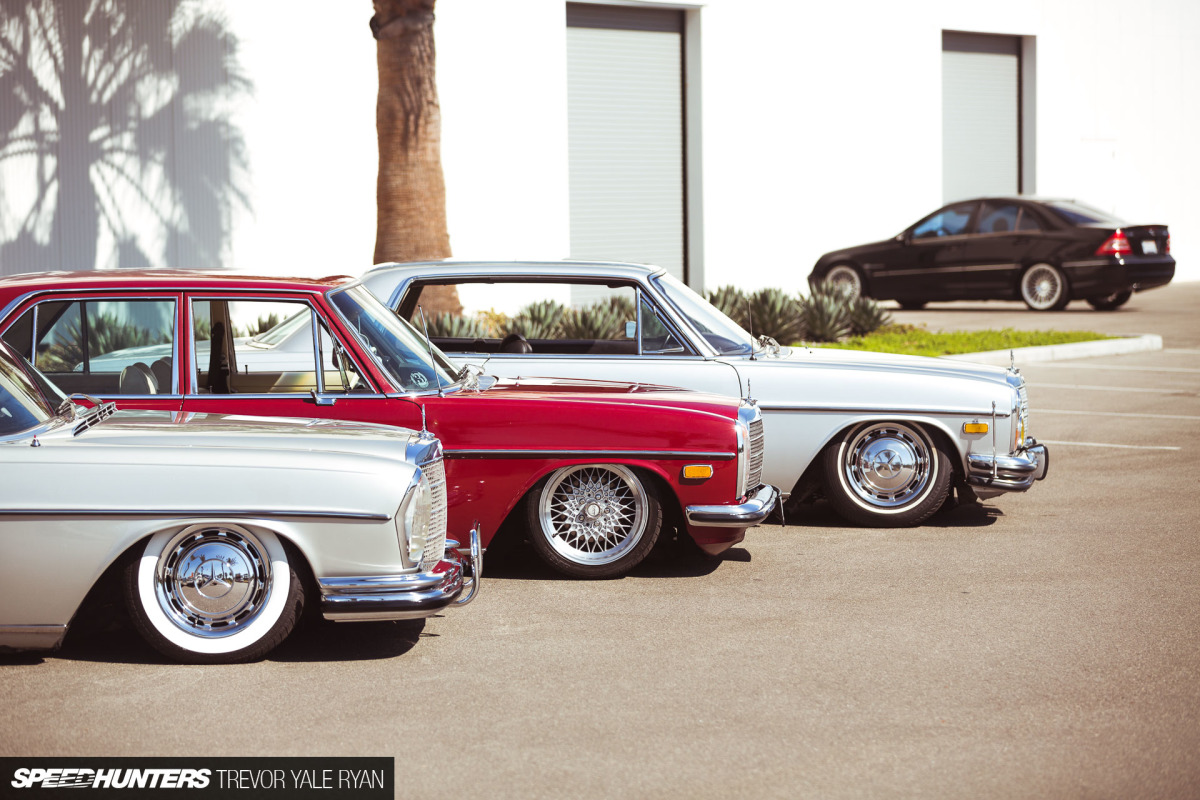 On this note, I learned that finding a car with lots of good options in the first place is the way to go if you're looking for a W114. Always being towards the luxurious end of the spectrum, even in the '70s Mercedes-Benz offered a number of options that are worth holding out for. Before getting this car Arman actually had a '71 280 that he was planning to install air suspension in, but things changed when he came across this particular example for sale.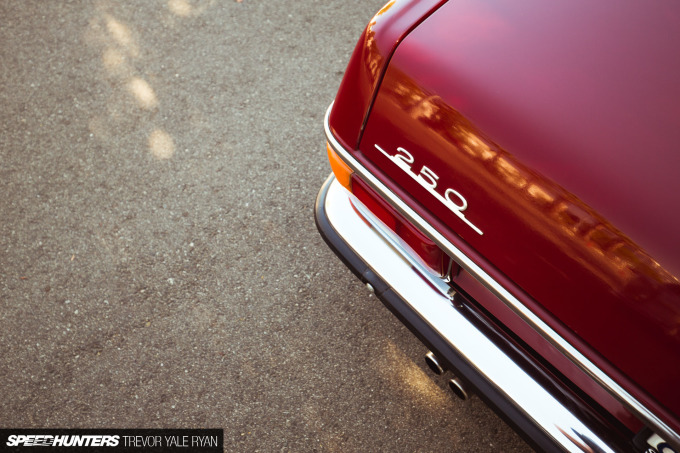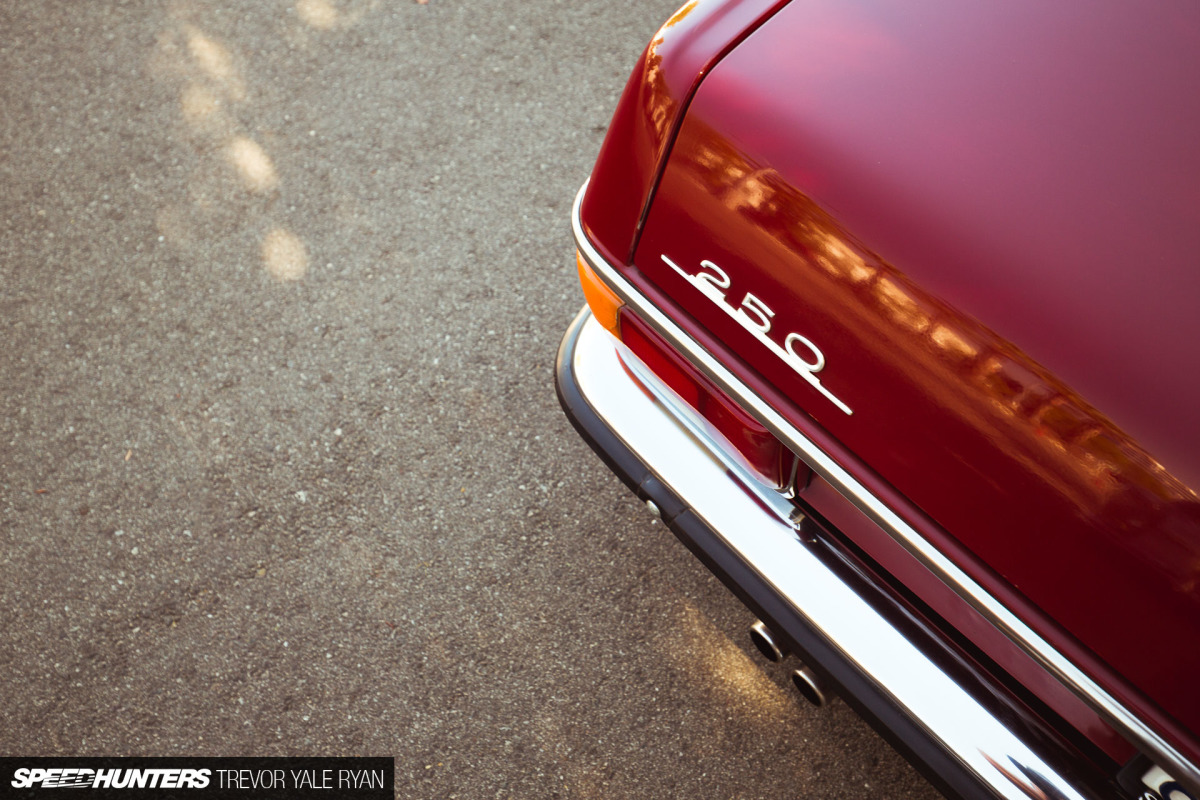 He tried to buy the W114 from a Craigslist ad, but someone beat him to the punch with an offer well over asking. Six months later he came across the 250 at a show in Long Beach where he passed his info on to the new owner, requesting the first spot in line should he ever sell it.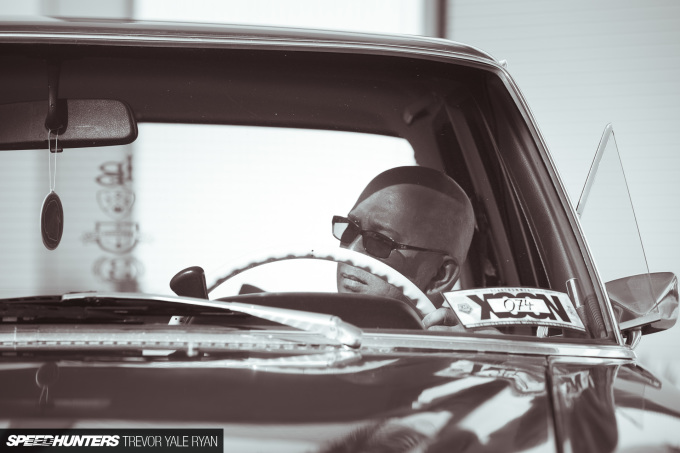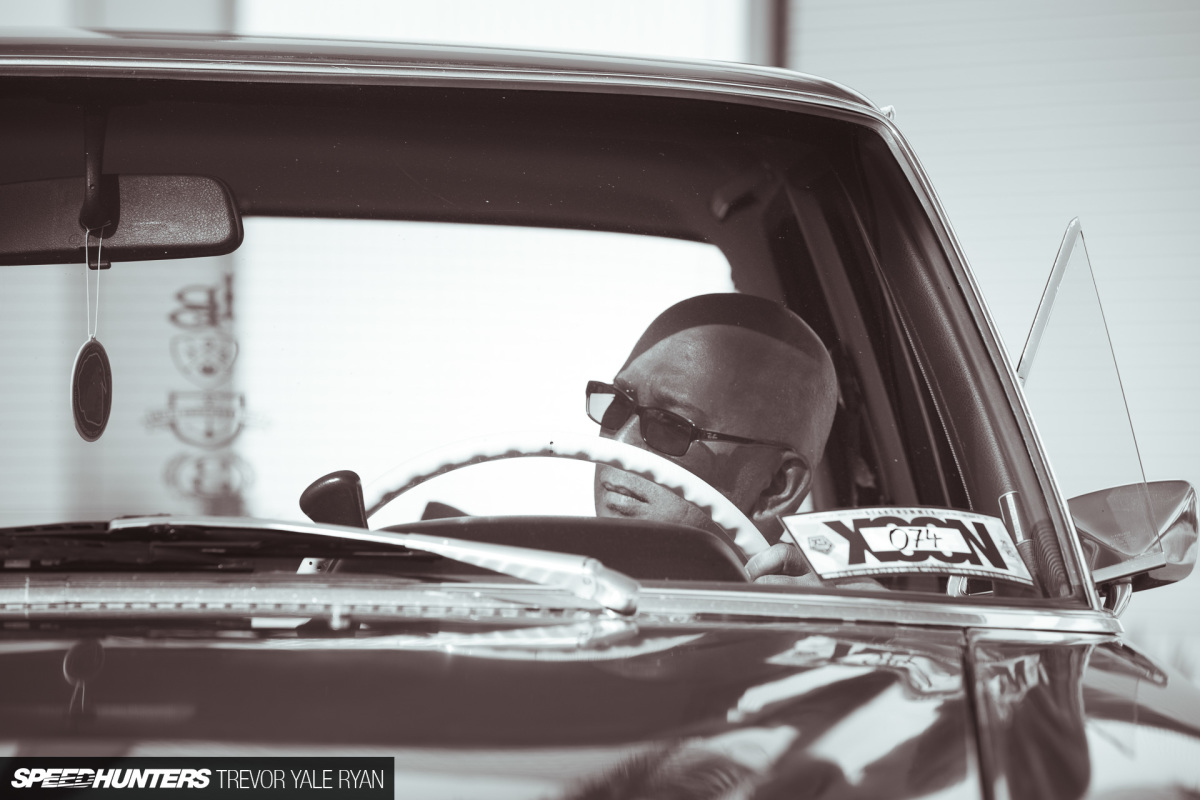 Three months later the car was in Arman's garage, and after replacing the cut springs with bags he was well on his way to making it his own. With a long history of modifying Japanese cars in the '90s, Arman got into the German scene after his eldest daughter took interest in a '90 E300. Arman now also owns two W201 190Es and a W114 wagon on air.
Jimmy Uria's 280SE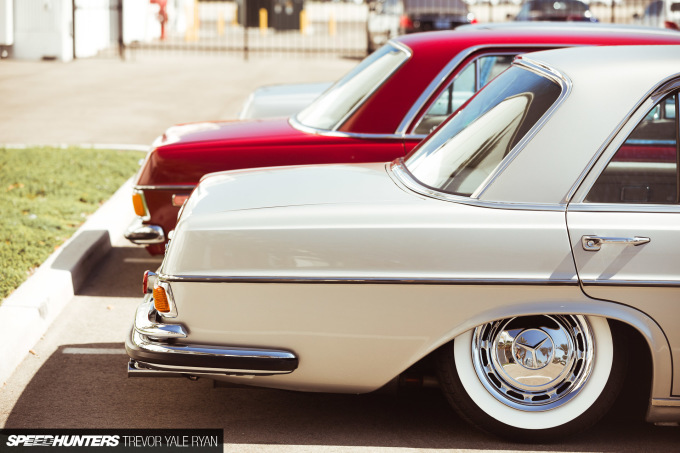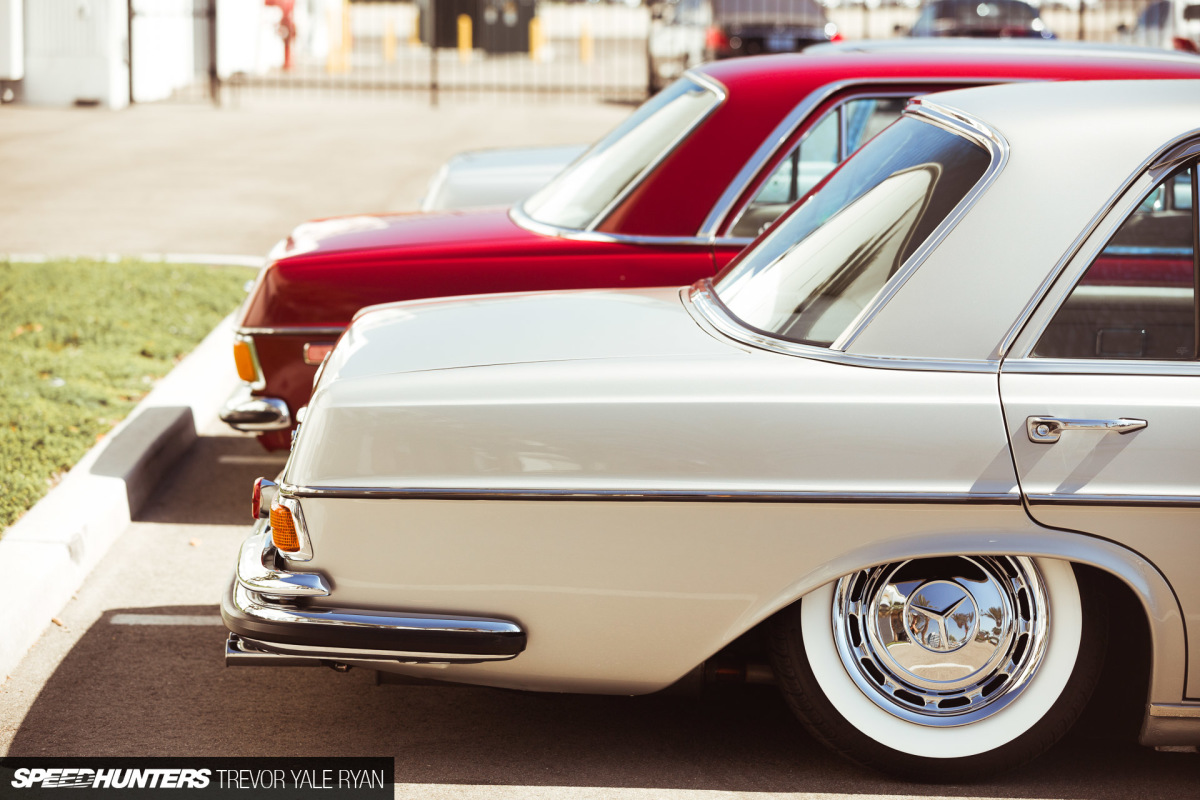 Finally, we'll wrap up the trio with Jimmy Uria, whose car has actually graced these pages before.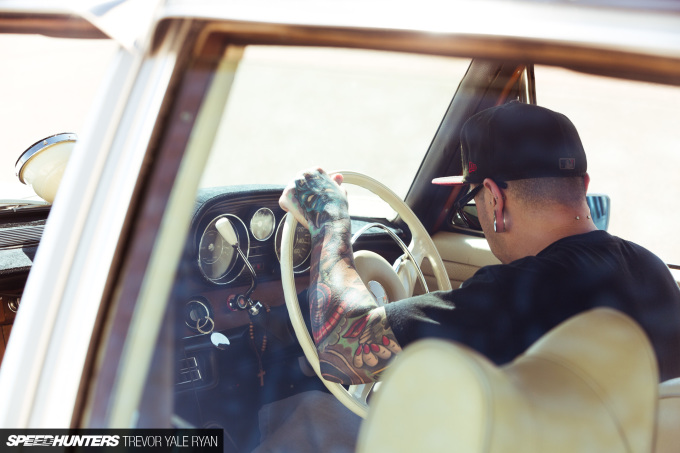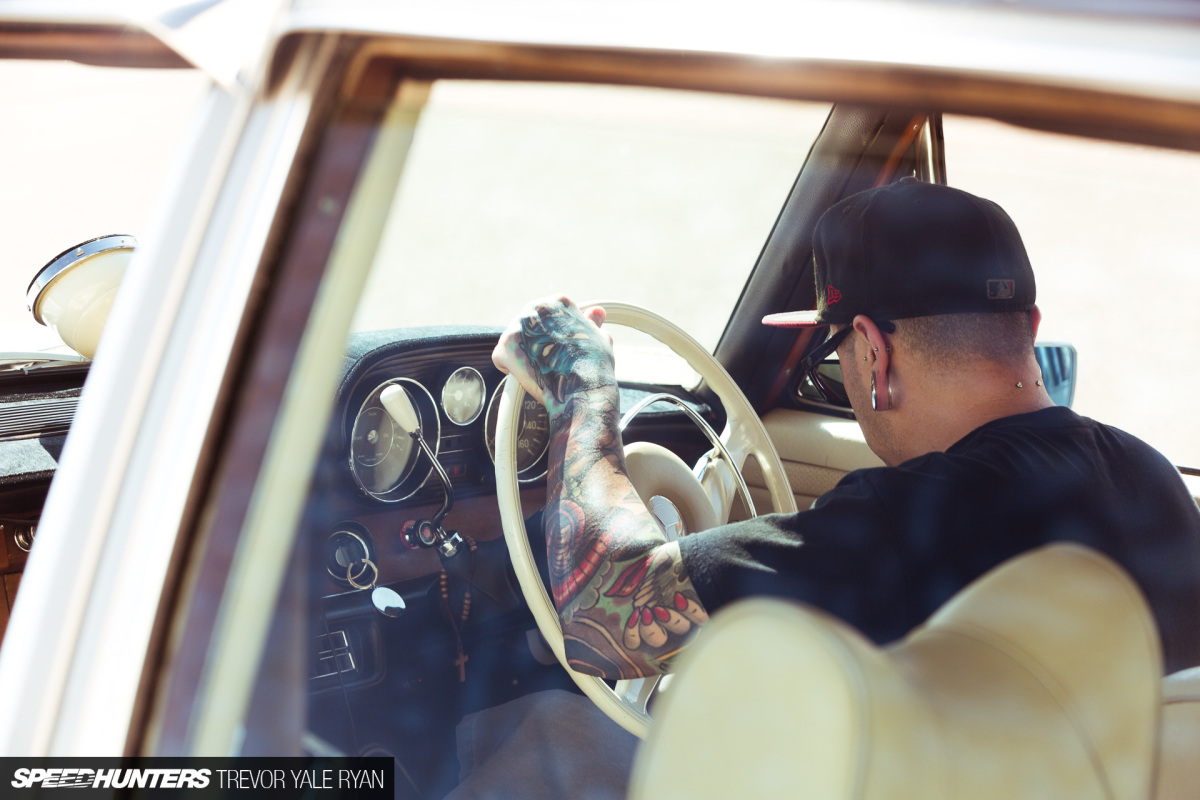 While on the whole it may appear that not a lot has changed in the 30 months since his last feature, Jimmy has collected plenty of rare odds and ends to complete the detail work on his imported, right-hand drive 280SE 3.5. And while I refer to all the cars as W114s, it's worth mentioning that Jimmy's is technically a W108.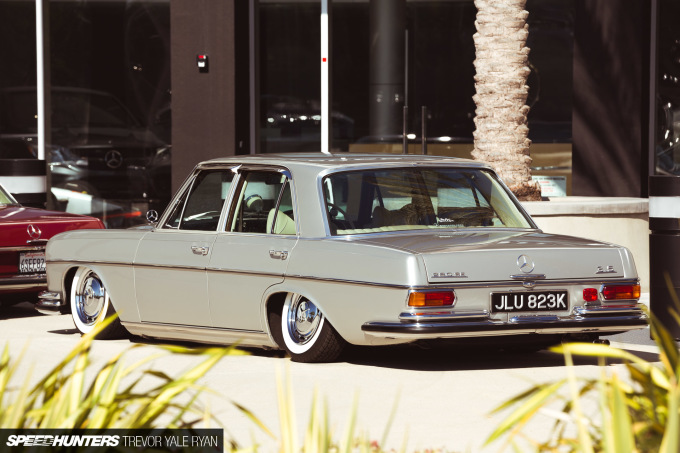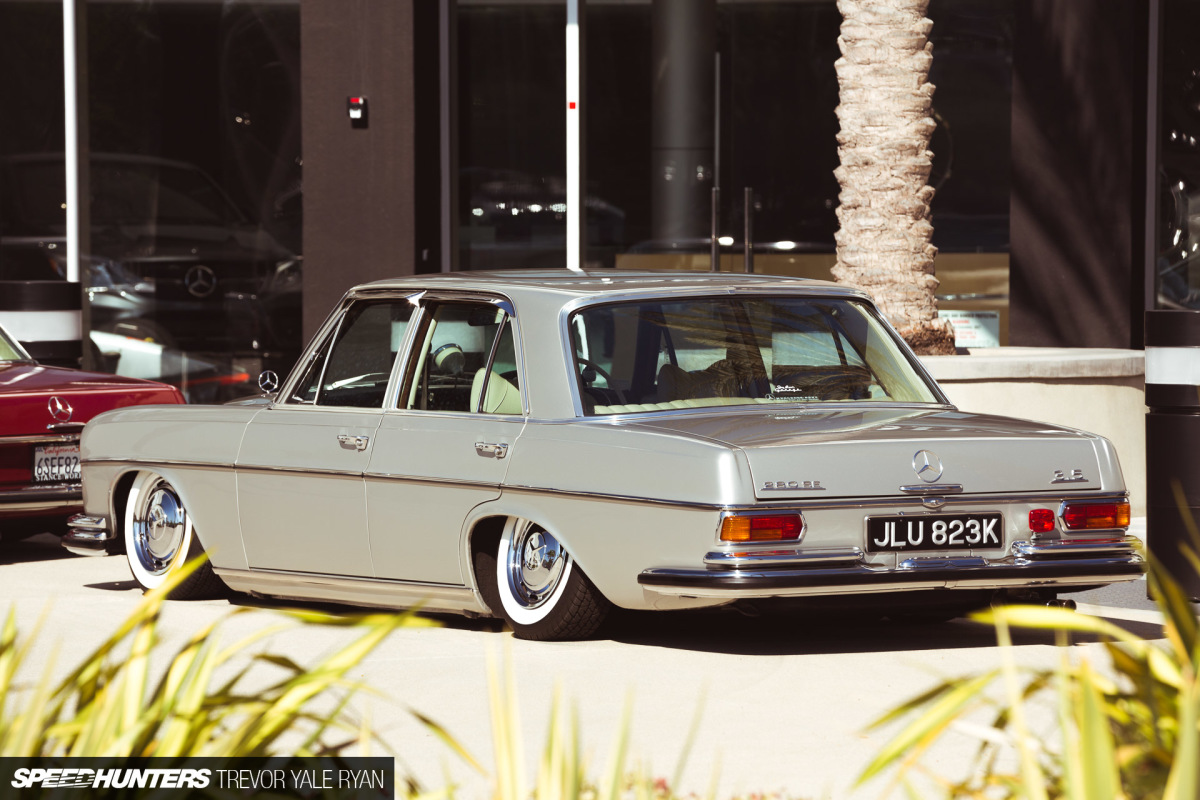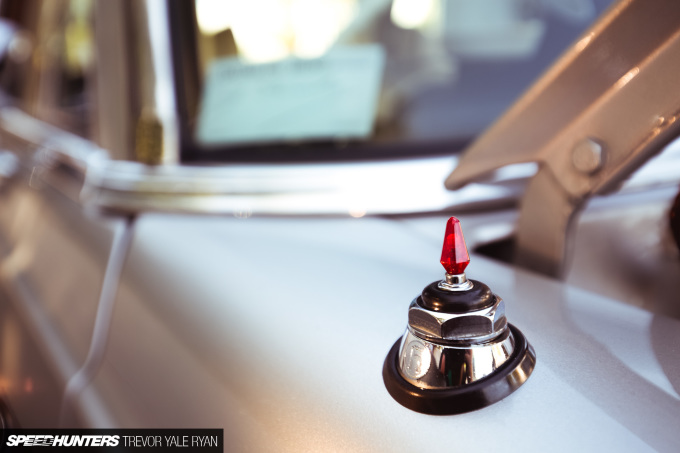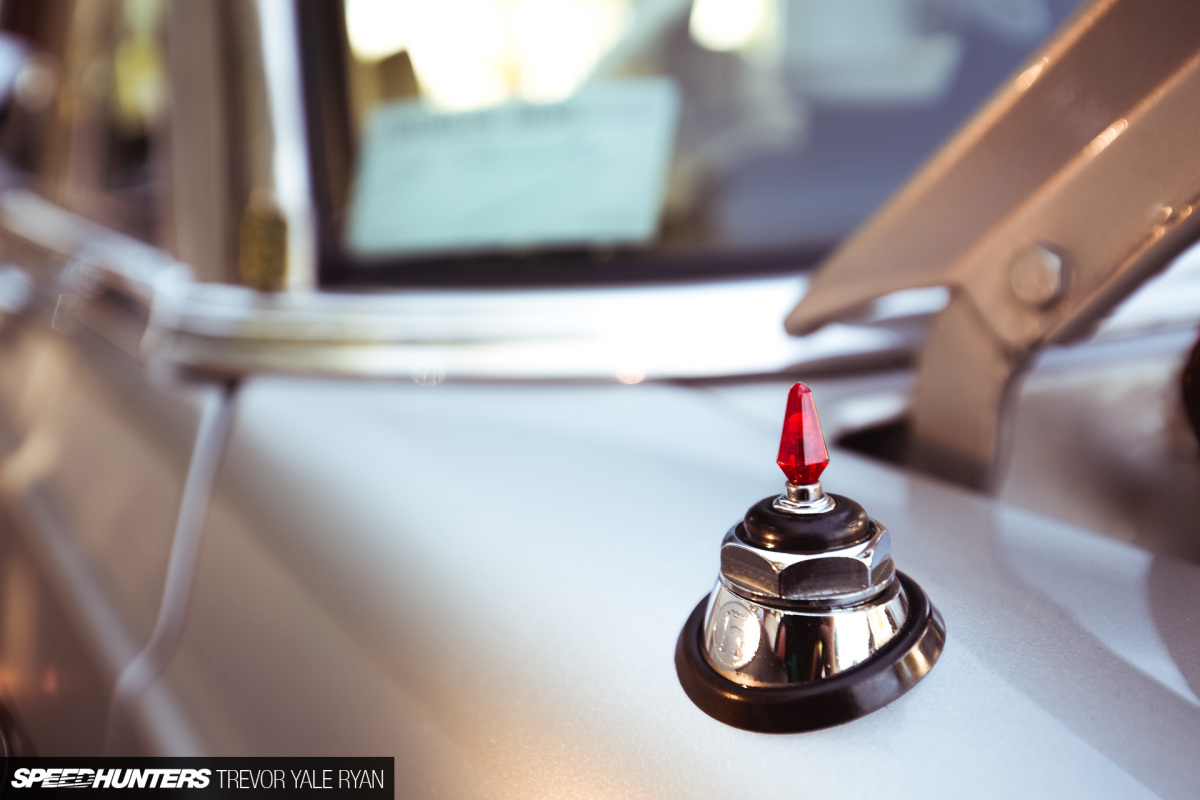 You'll spot these details all around the car, though, which has been resprayed with the factory silver-grey color. Details like the European headlight/foglight setup and window visors, along with an antenna setup so rare that chances are only a few will know exactly what they're looking at (but I can assure you it's expensive and was a major pain to adapt to the car, which is a plus). All of the trim has been re-chromed and re-polished, and I love how the 280SE has been modified exactly as if Jimmy was building it in the '70s.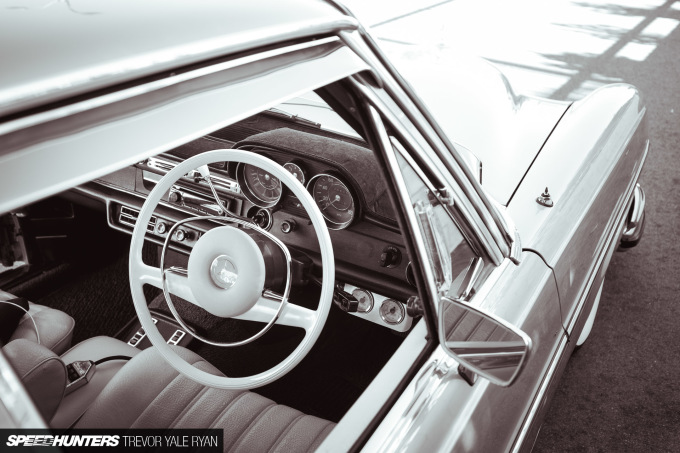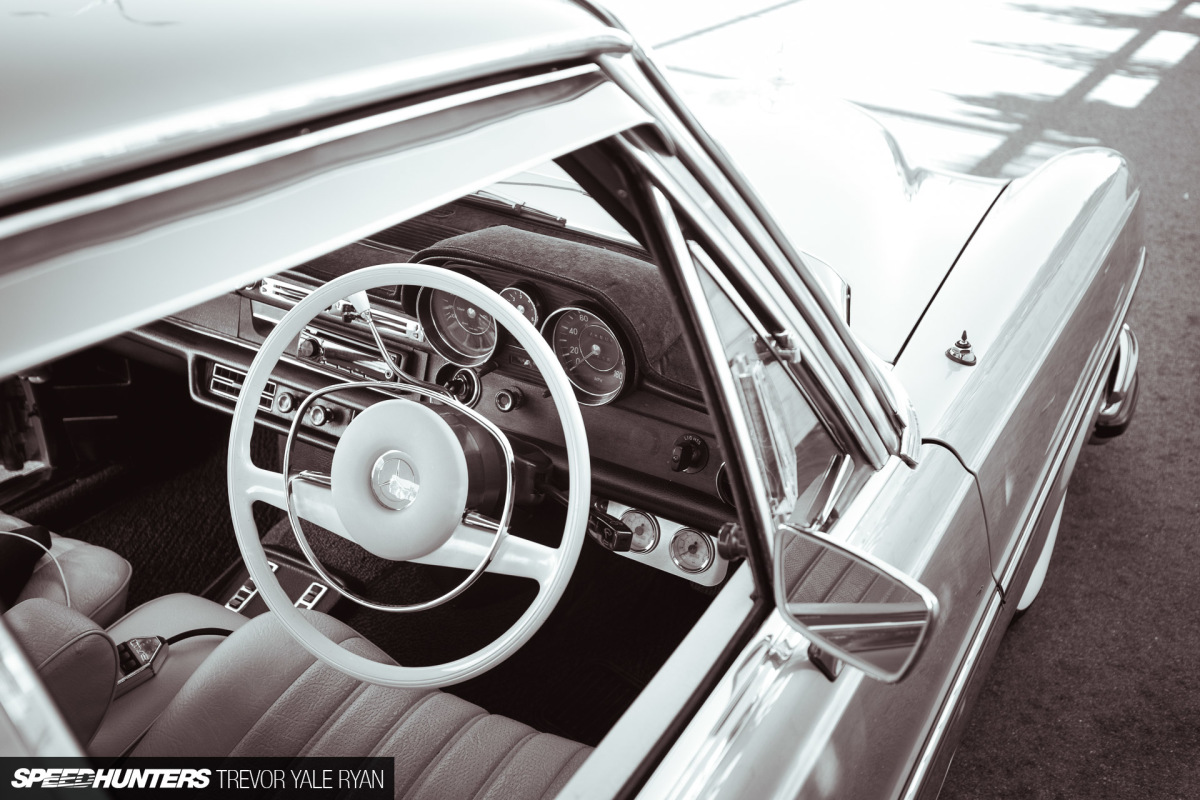 Most of the interior is stock, but Jimmy has painstakingly found and added loads of old OEM options. Options which include the ivory steering wheel, long armrests, c-pillar reading lights, and chrome door sills.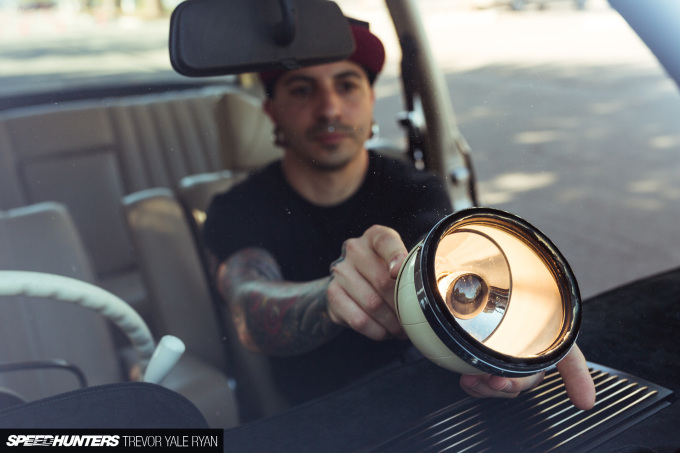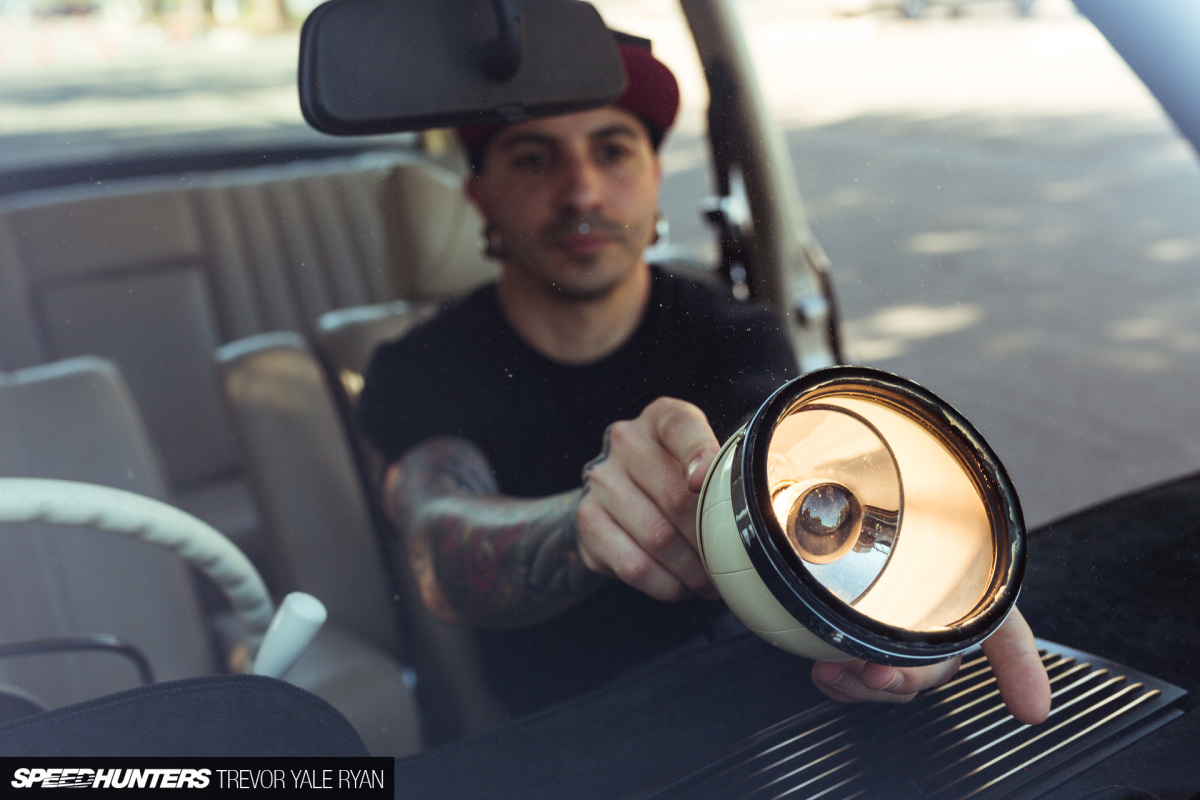 Perhaps most obvious would be the European optional spotlight that's fixed to the windshield. I also quite liked the compass that lives opposite the spotlight, as well as the vintage thermometer hanging on the vent window. With all of these fancy high-tech gadgets, Jimmy may as well go back to a flip phone.
The trunk houses dual Viair compressors and a 5-gallon tank, but there's still plenty of room left over in the back end of the 280. Space for period correct goodies, like the 'car bandage box' which sounds cooler if you yell it in German: kraftwagen verbandkasten!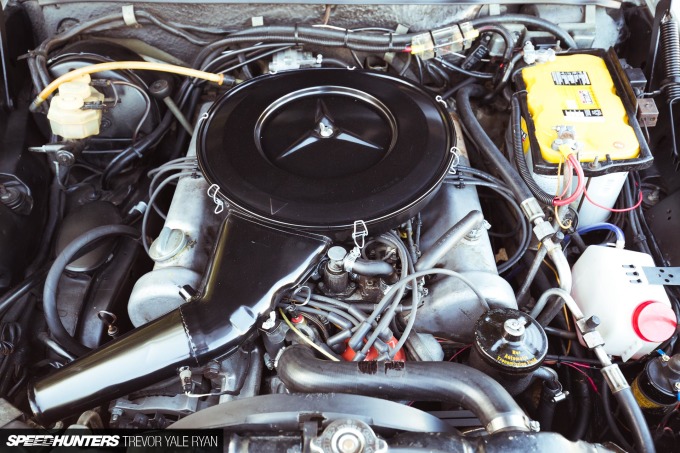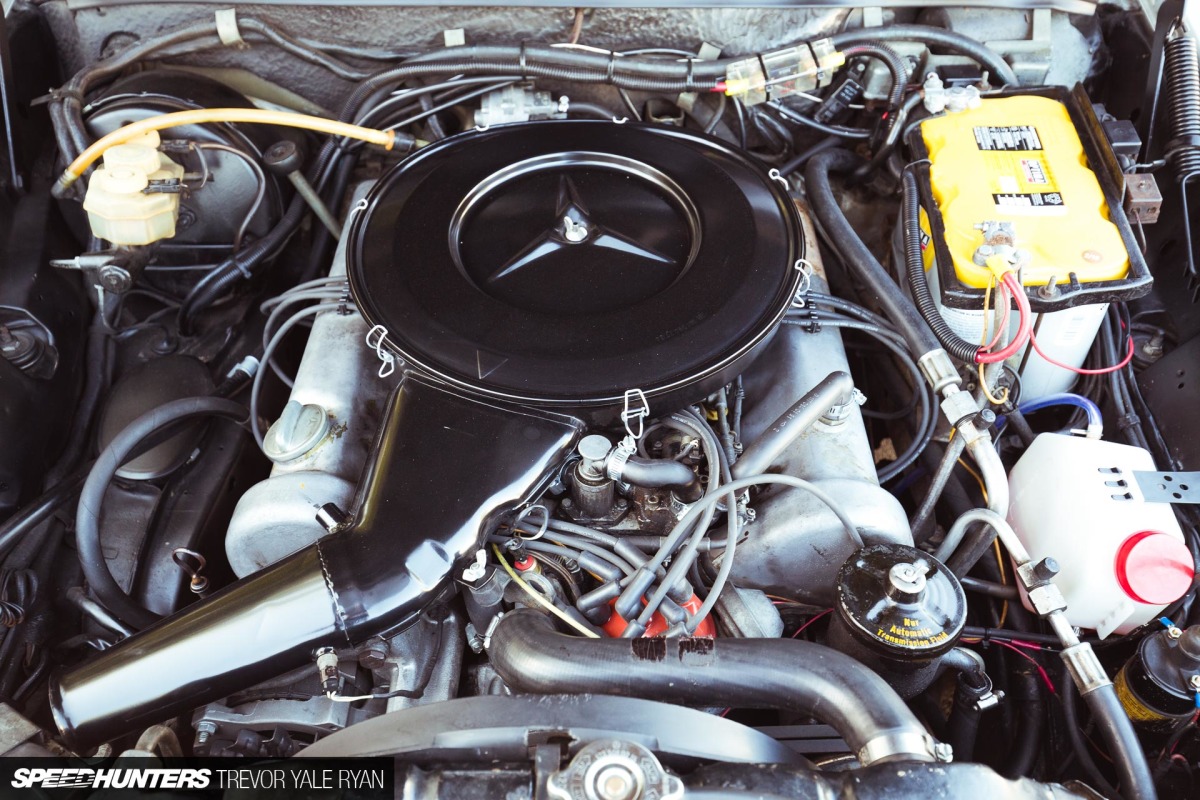 The original 3.5L V8 may not be much to look at, but as with the rest of the car Jimmy has sourced a number of OEM and new old stock replacement parts to keep the old girl going. This includes the entire exhaust system, helping the 3.5L set itself apart from the other cars with a deeper, fuller rumble.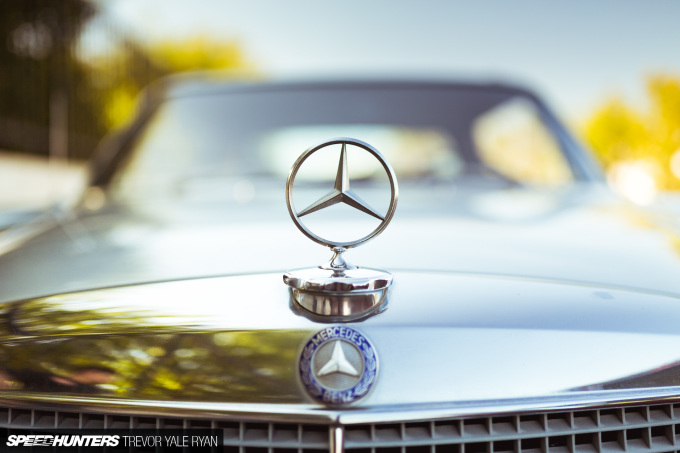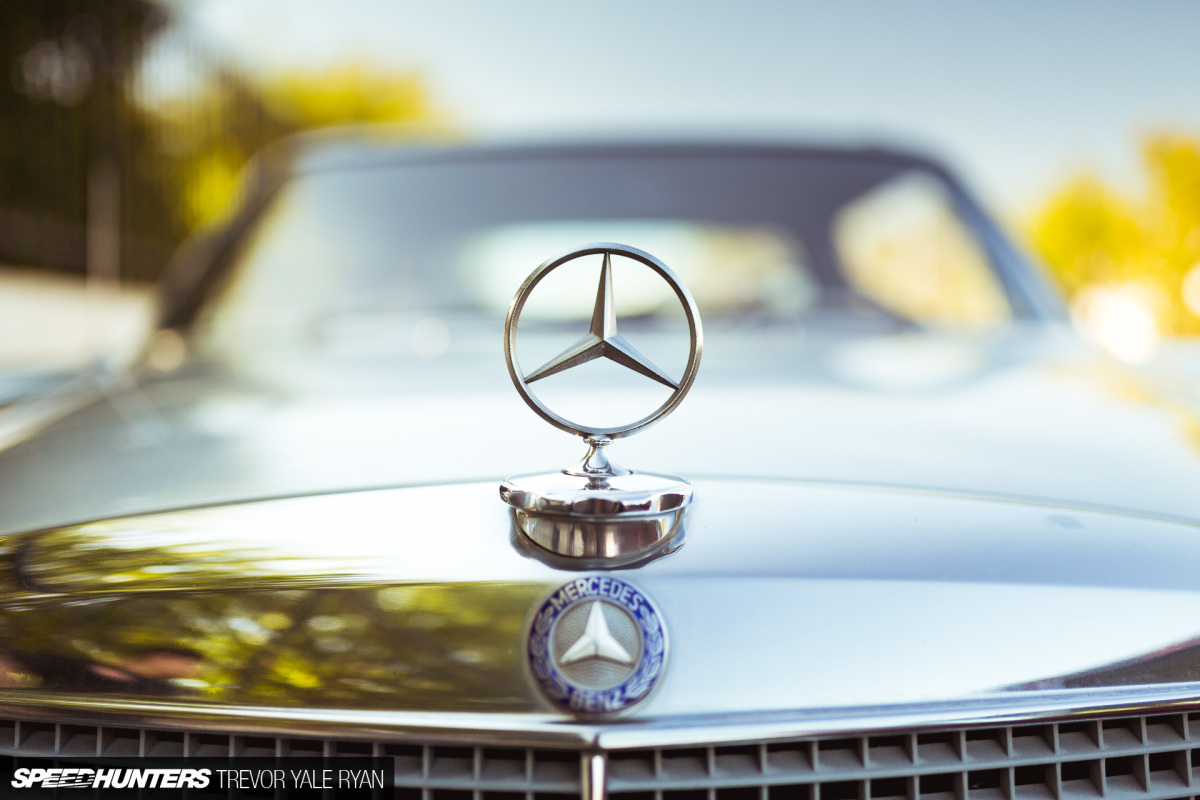 It's been six years in the making, and I'm sure the next time I come across Jimmy's 280SE he'll have found more charming tidbits for it.
Worldwide Appeal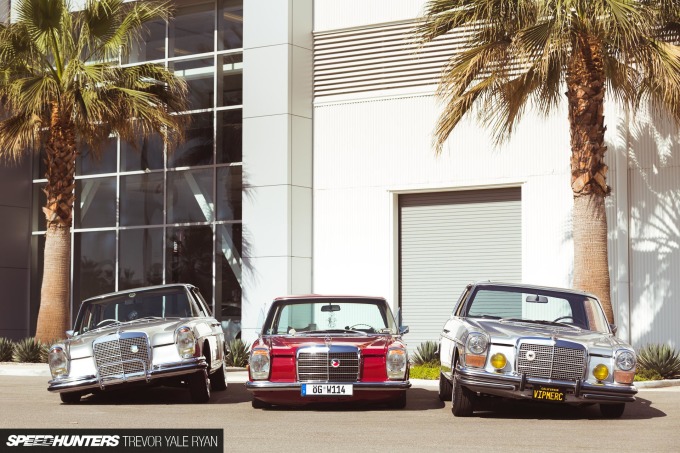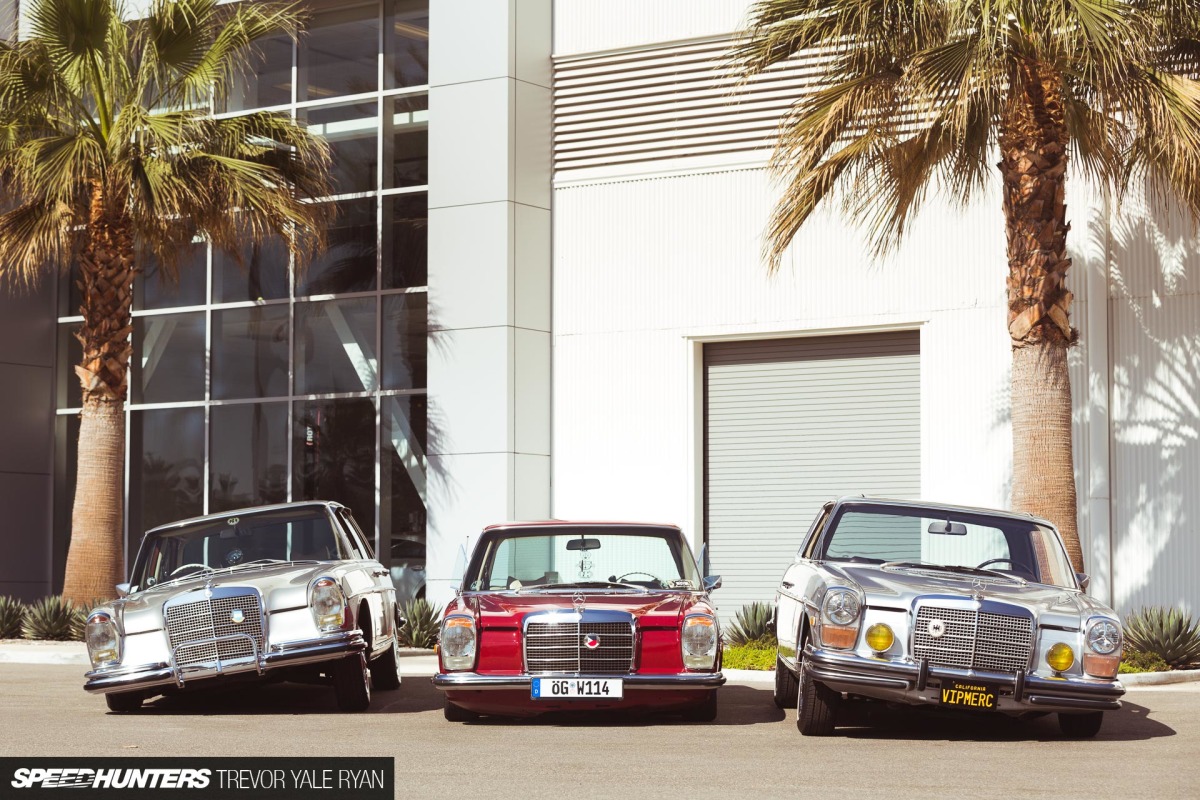 As unique as these cars are individually, each still retains a large amount of original Mercedes-Benz DNA. Still, rife with detail, they very deliberately express each owner's taste.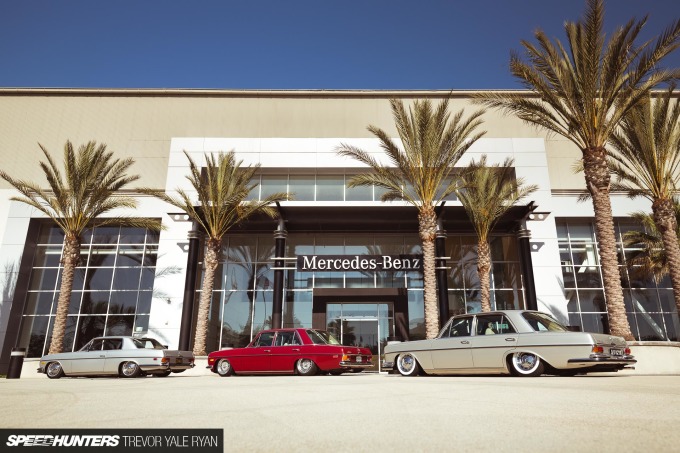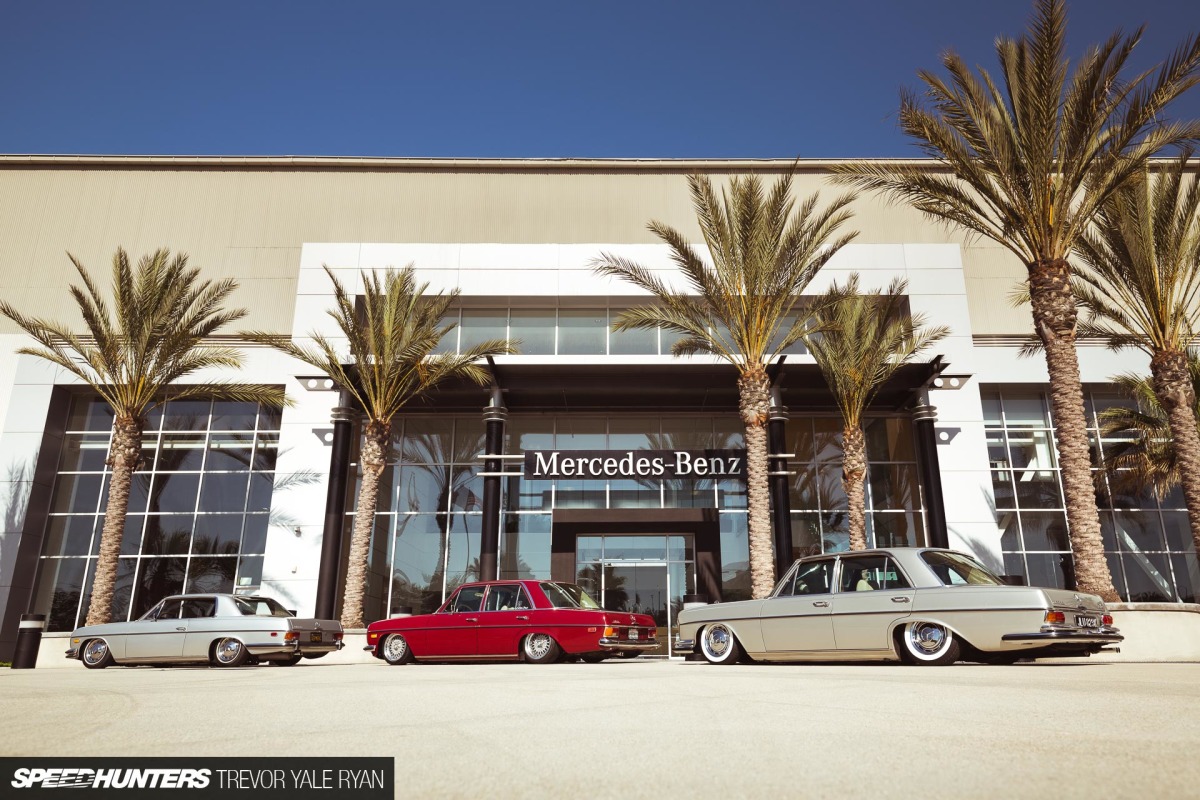 You've perhaps noticed that I was taking all these details in the parking lot of a Mercedes-Benz USA facility in Southern California. This lot is home to several meets that Arman has helped organize in the past, and it's also where you'll find him from 9-to-5 during the week, or something to that effect, anyway.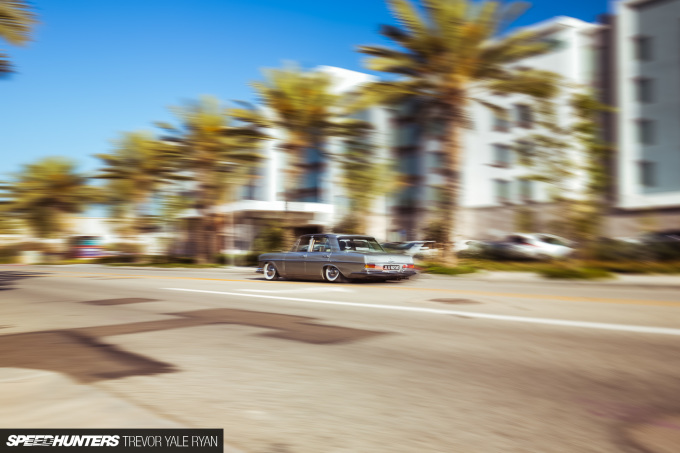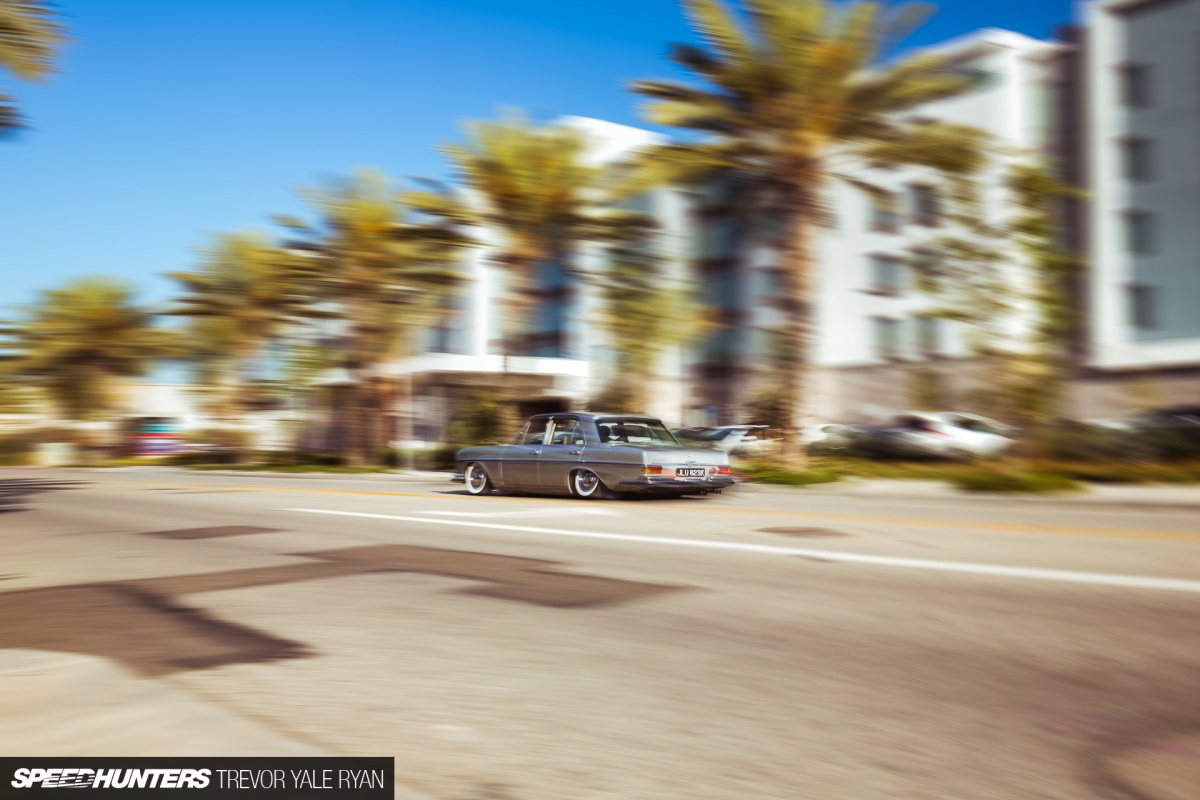 Talking with the guys, I learned there's a global community when it comes to the W114. That shouldn't be surprising either given that this car was offered in numerous markets around the world. Spanning from the 200 Diesel series on up to the 280 (and including W115 variants), nearly two million of these were sold.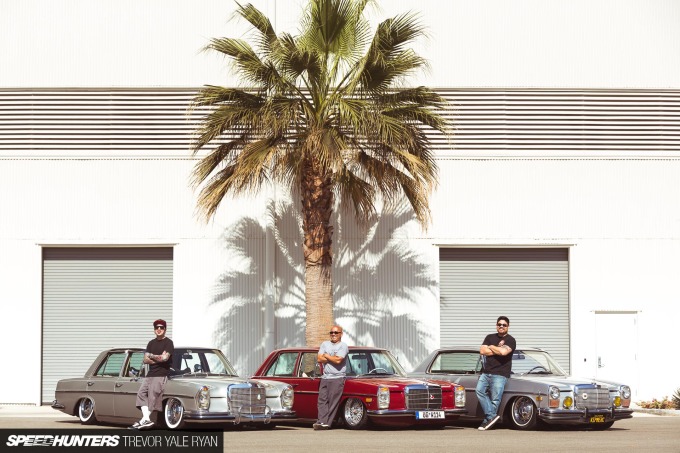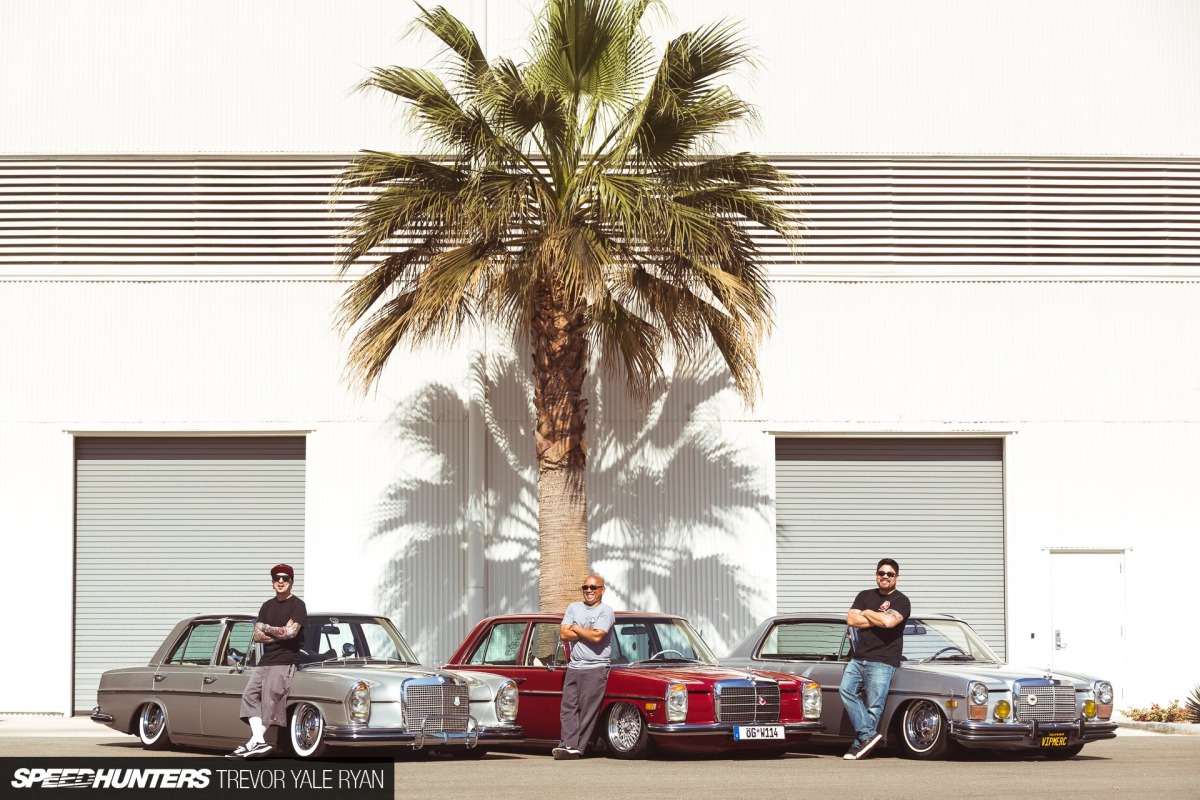 Having built these cars a bit before the classic craze brought them back into mainstream style, Charles, Arman, and Jimmy have helped dozens of others source parts and customize their W114s. In fact, they can't help but laugh when they attempt to describe the number of questions they've received over the years.
But as classic cars become viewed more and more as investment opportunities, I'm sure the popularity of old school Mercedes will continue to grow, as will their values. What I'm not sure of is whether this is a good thing or not.
Having more widespread interest in older (and modified) cars throughout different demographics could very well help reverse anti-enthusiast legislation. With the global crackdown on modification becoming more severe, anything would be welcomed in this regard.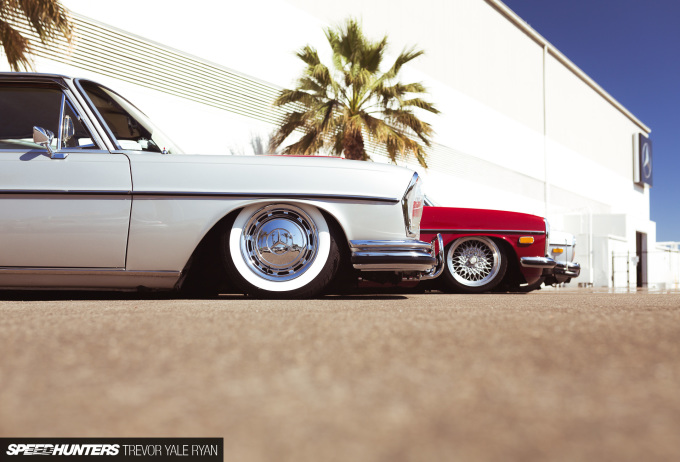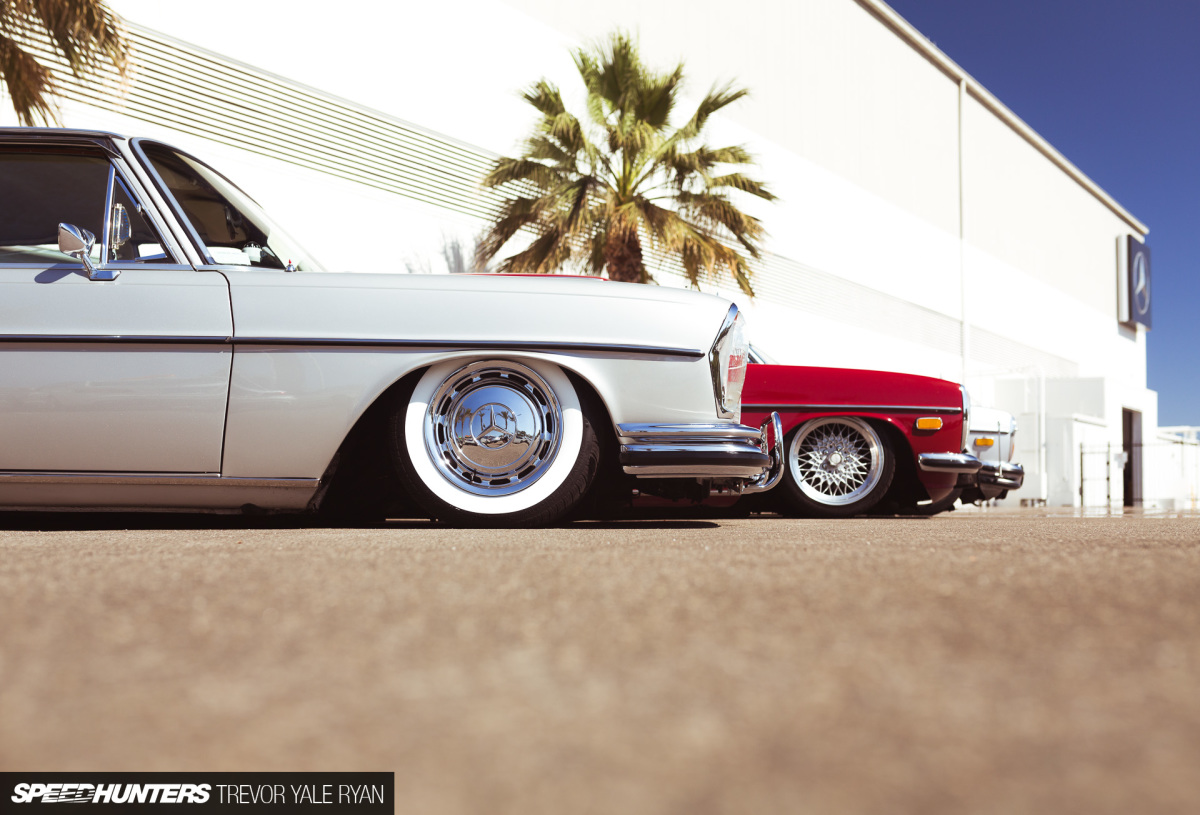 But at the same time, will the increased interest skyrocket prices to unobtainable levels? Or, perhaps worse, will Cars & Coffee events become diluted with a bunch of cookie-cutter classics owned by people who bought them to make a buck?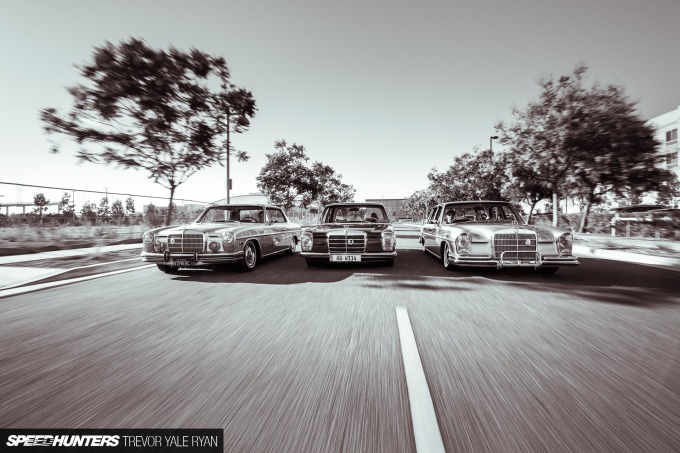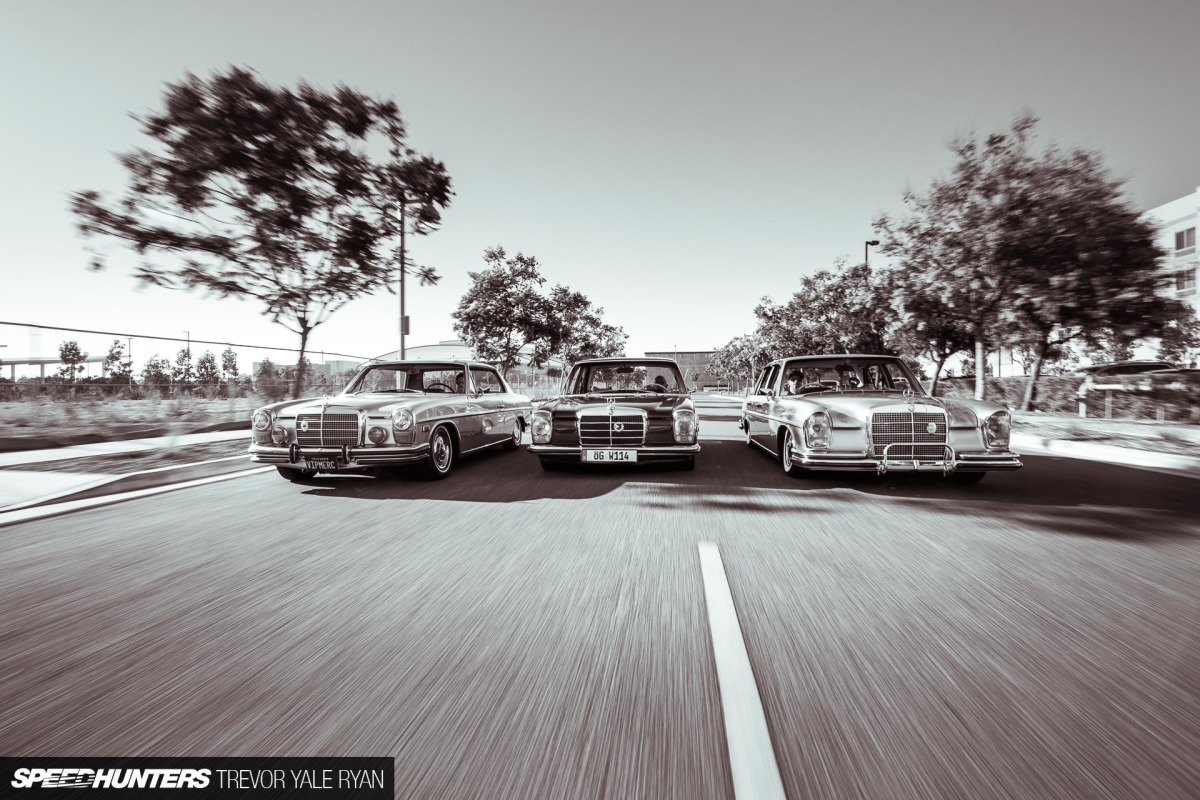 Impossible, so long as people continue to love and build their own cars rather than copy someone else's. The fever is definitely contagious, but it's up to the real enthusiasts to ensure the newcomers who catch it have a proper appreciation for what they own and build.
With guys like Charles, Arman, and Jimmy cruising around, I'm really not worried for the future of car culture.
Trevor Yale Ryan
Instagram: tyrphoto
TYRphoto.com
Style With Mercedes