Lowkey Attitude
Humility in the modified car scene is seldom seen these days, but Western Australian resident David Maier has his ego kept in check two ways.
Firstly, he's part of a group of great mates who all own savage cars of their own. Secondly, he's simply a down-to-earth bloke. Like most Aussies, Dave can take the piss out of himself and will have a laugh if you have a crack at him too. Nothing is taken too seriously.
On the other hand, his BNR32 Nissan Skyline GT-R is one serious machine.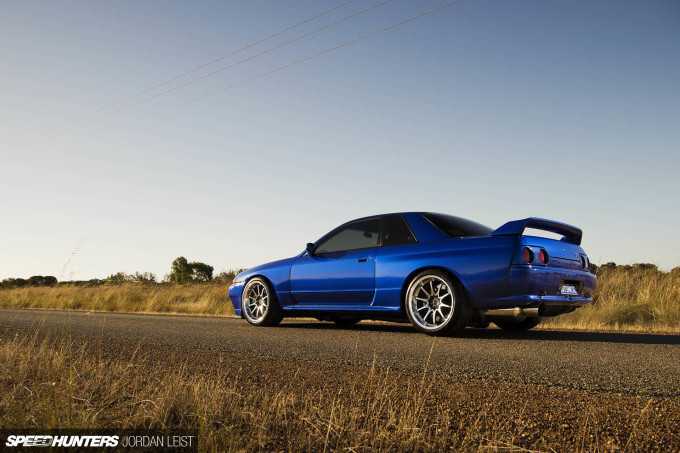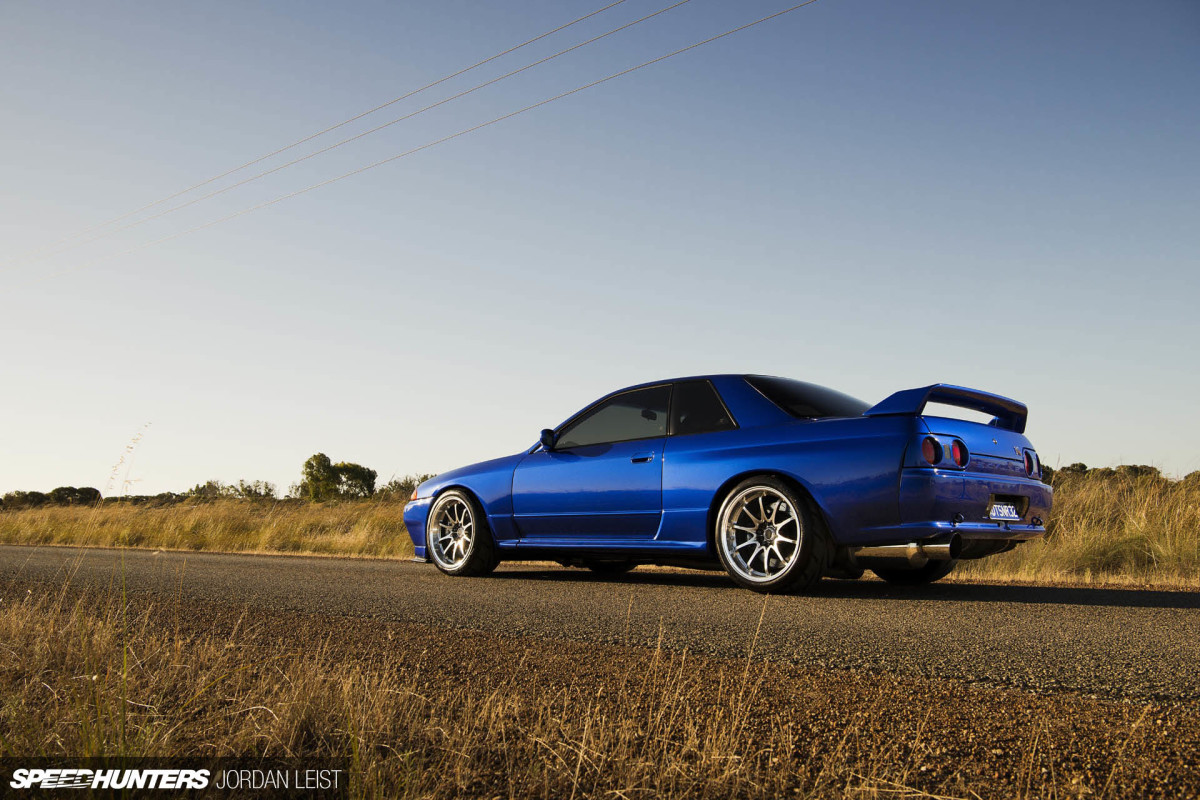 With sharp looks, a great attention to detail and a heap of finesse, the Skyline stands out on the street. Strict licensing regulations in Western Australia mean that an ultra-slammed stance and wild exhaust note aren't achievable without getting the attention of the local constabulary. For what he is allowed to work with, Dave has done a solid job.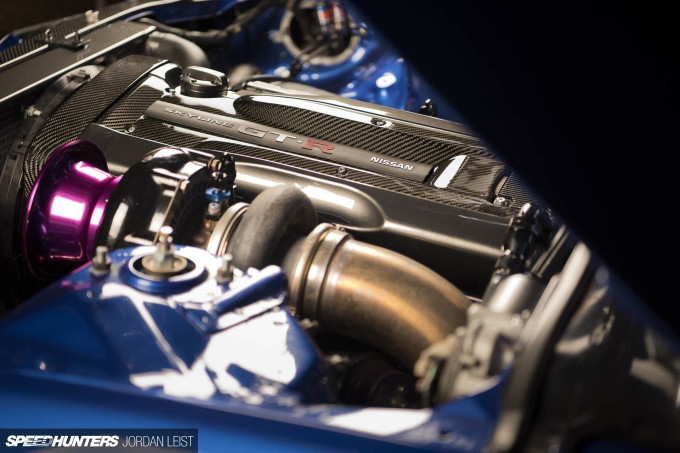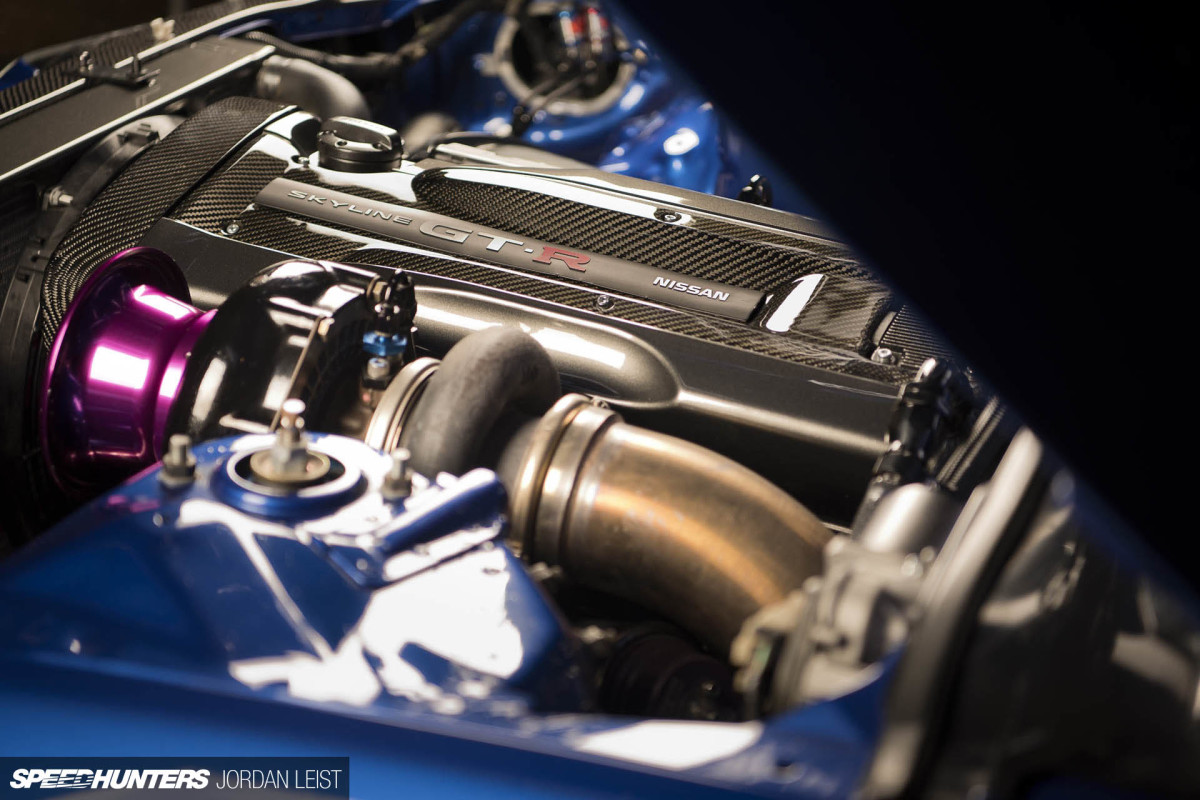 When I explained how much I loved the car at the shoot, he thanked me for the compliments and just replied, "yeah, I guess it's alright." Talk about an understatement. But that is Dave, his attitude is refreshing.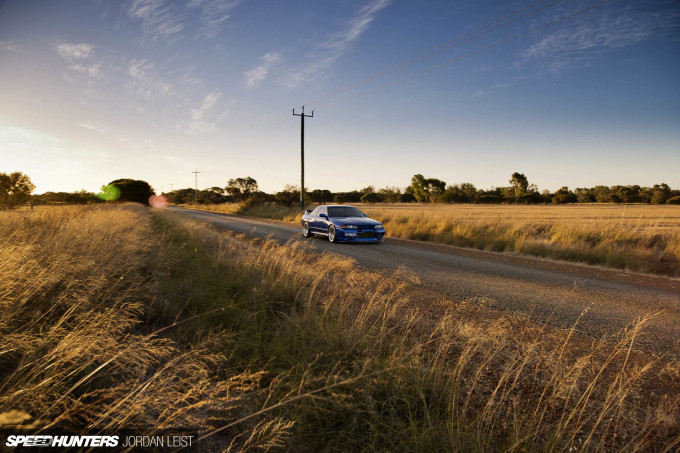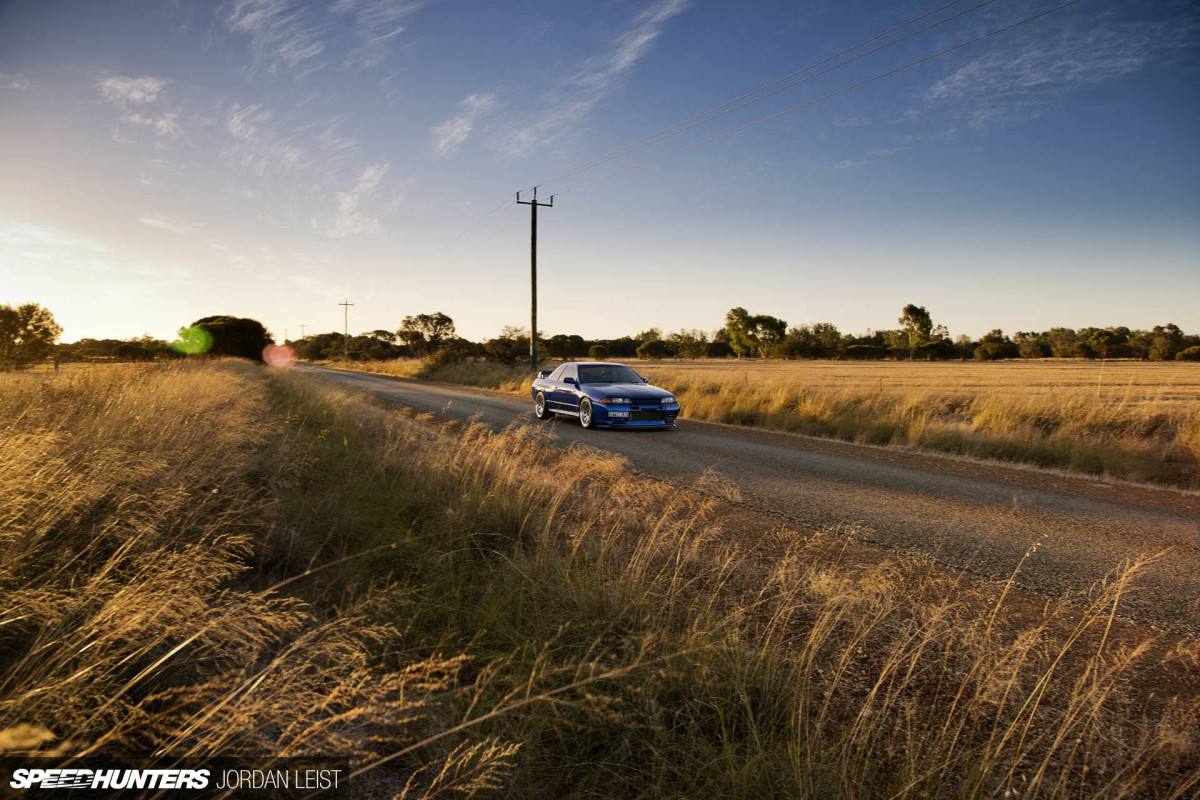 Where It All Started
Dave came from a family that had no interest in cars, so where the passion came from, only Dave knows. "When I was young I loved playing arcade-style computer games like Need for Speed, and I loved to watch any kind of auto racing," he explained. "My dad recognised my passion and would take me to the rally stages and V8 Supercars. I was very lucky to have a father who would support my interest at such a young age."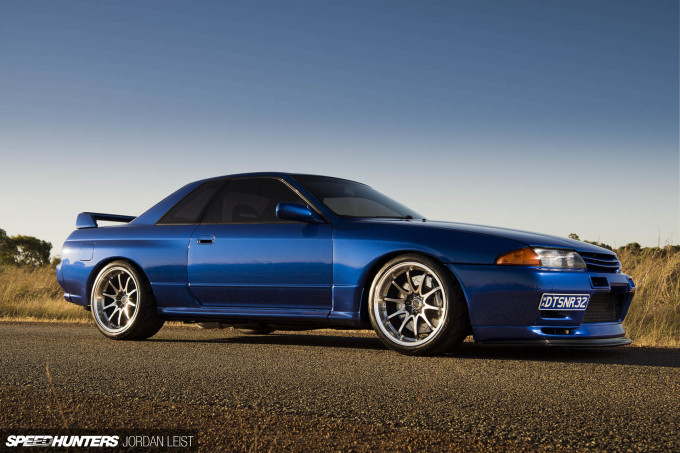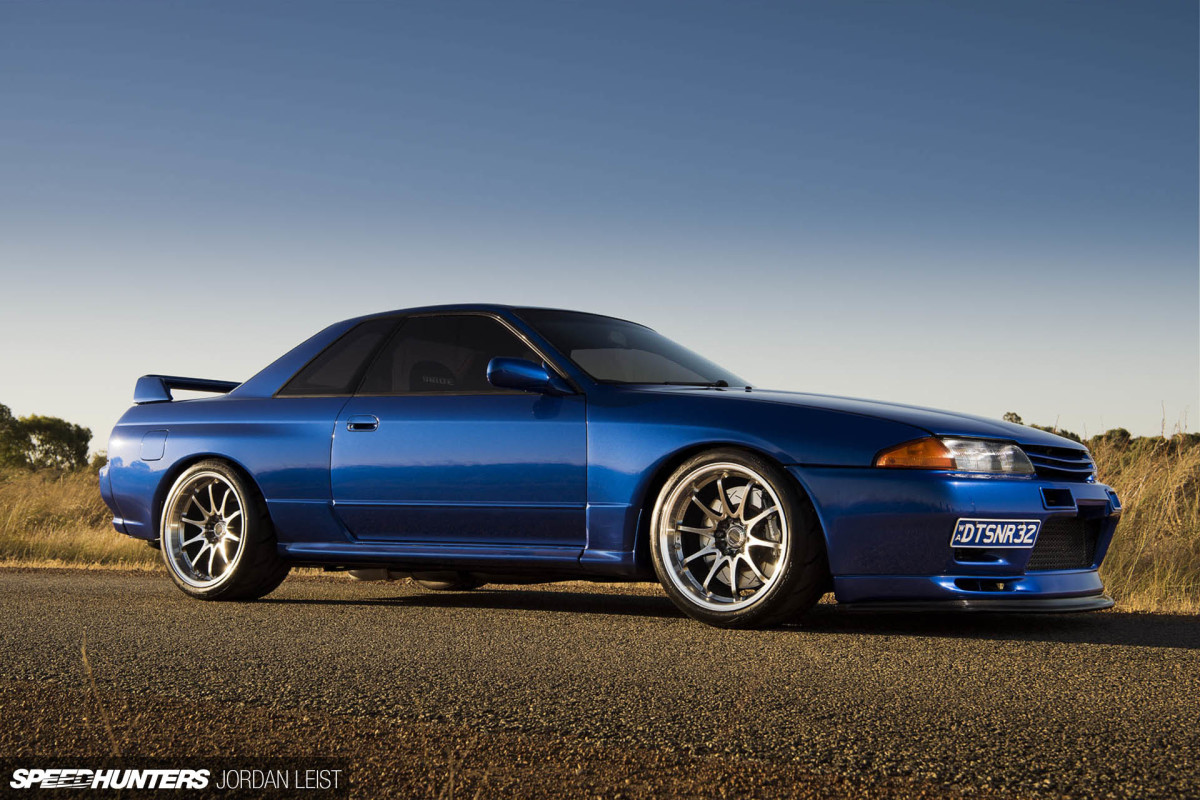 As time went on he started going to car shows like Motorvation and Autosalon, and that's when the Japanese styling and performance bug really hit. "It was around that time that a mate's brother in high school owned an R33 GT-R and took us out for a spin. Later on I had the pleasure of driving it and I was pretty set on buying myself a GT-R after that."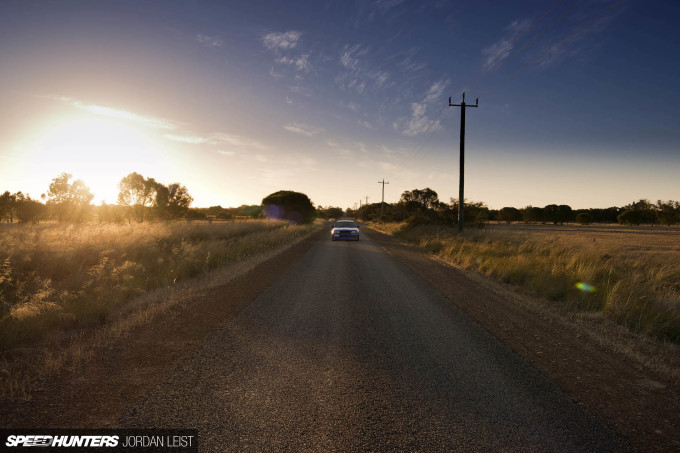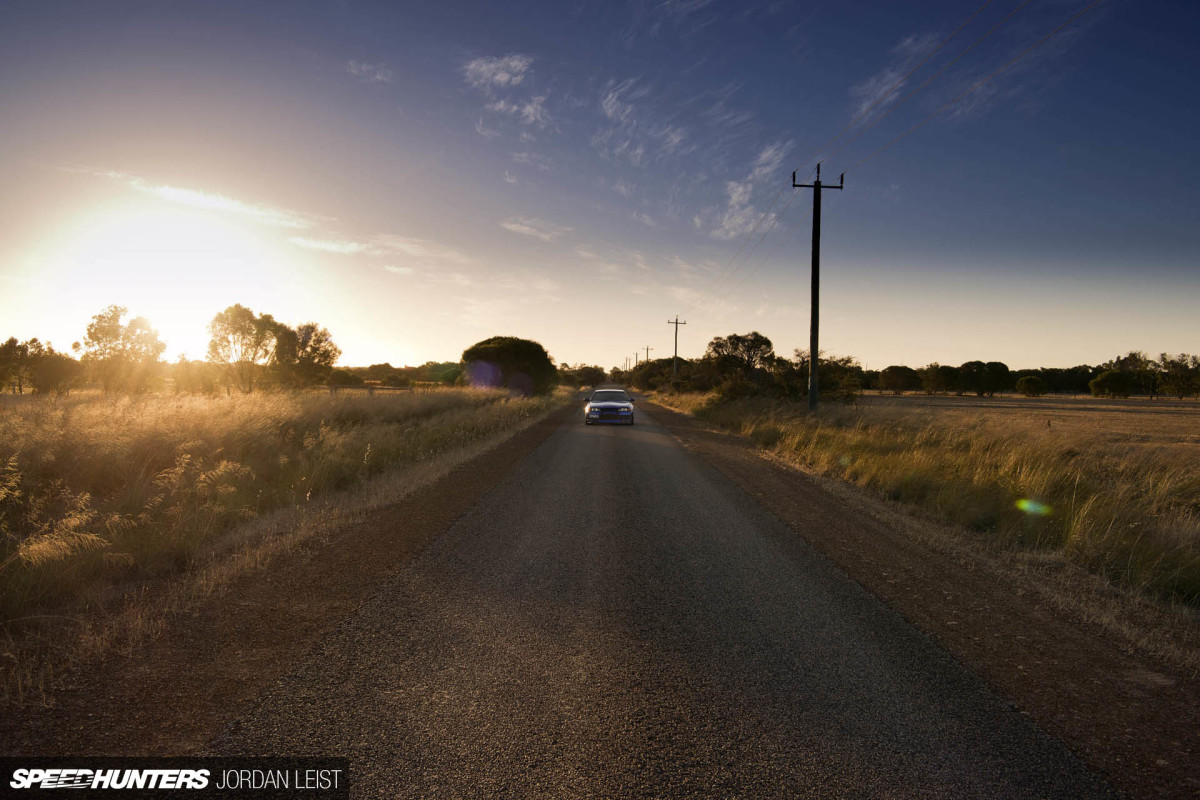 It was 10 years ago that Dave finally scored a project to start on. "After no luck in Perth, I found this one in over in Melbourne. I flew over the next day and brought it back with me. It had a straight body and had no rust, so it was a winner."
Patience Is A Virtue
The rebuild took almost seven years, with Dave in no real rush to complete the project. "Plenty of people could have smashed it out in no time, but I really enjoyed those late nights, old school hip-hop playing in the background, and swinging spanners. I loved the car building process; it was therapeutic."
In 2016 the go-easy approach got a bit of a shake-up, though. "My wife-to-be, Shantelle, told me that the GT-R had to be our wedding car, and that I should knuckle down and get it done. A week out from the ceremony it was back on the road and complete for the big day. In my eyes, that was quite an achievement and I was glad that she was the one organising the wedding stuff."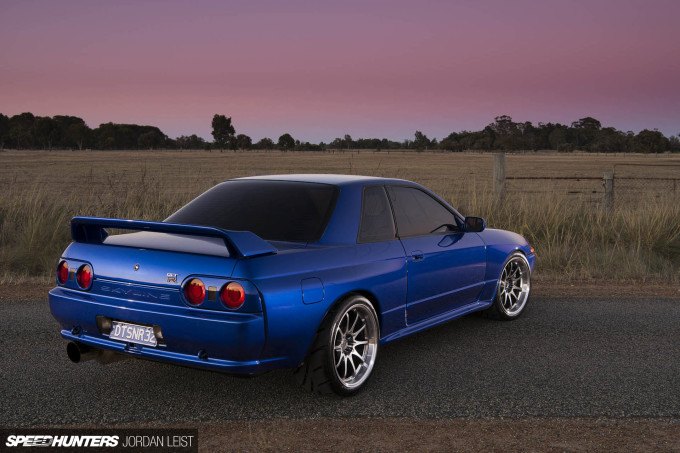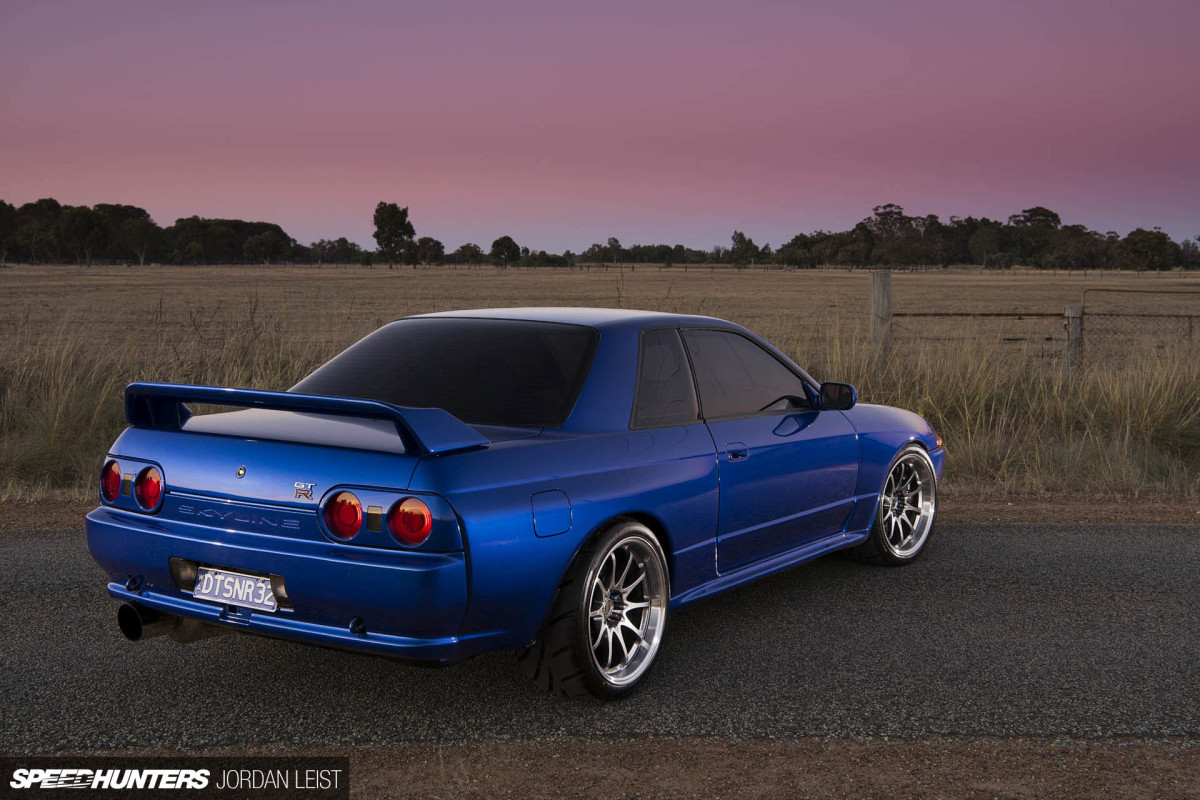 Follow Your Own Path
"For me, it's important for the car to have soul; when you drive it you should be one with the car," says Dave. "Every nut and bolt has been cleaned, polished and zinc plated; the underside of the car is clean enough to eat off and is all freshly painted. Just knowing that parts no one ever sees are as clean as the rest of the car makes me feel good."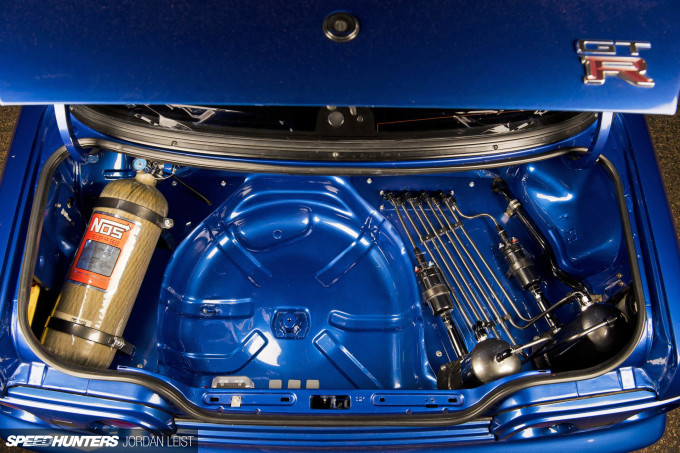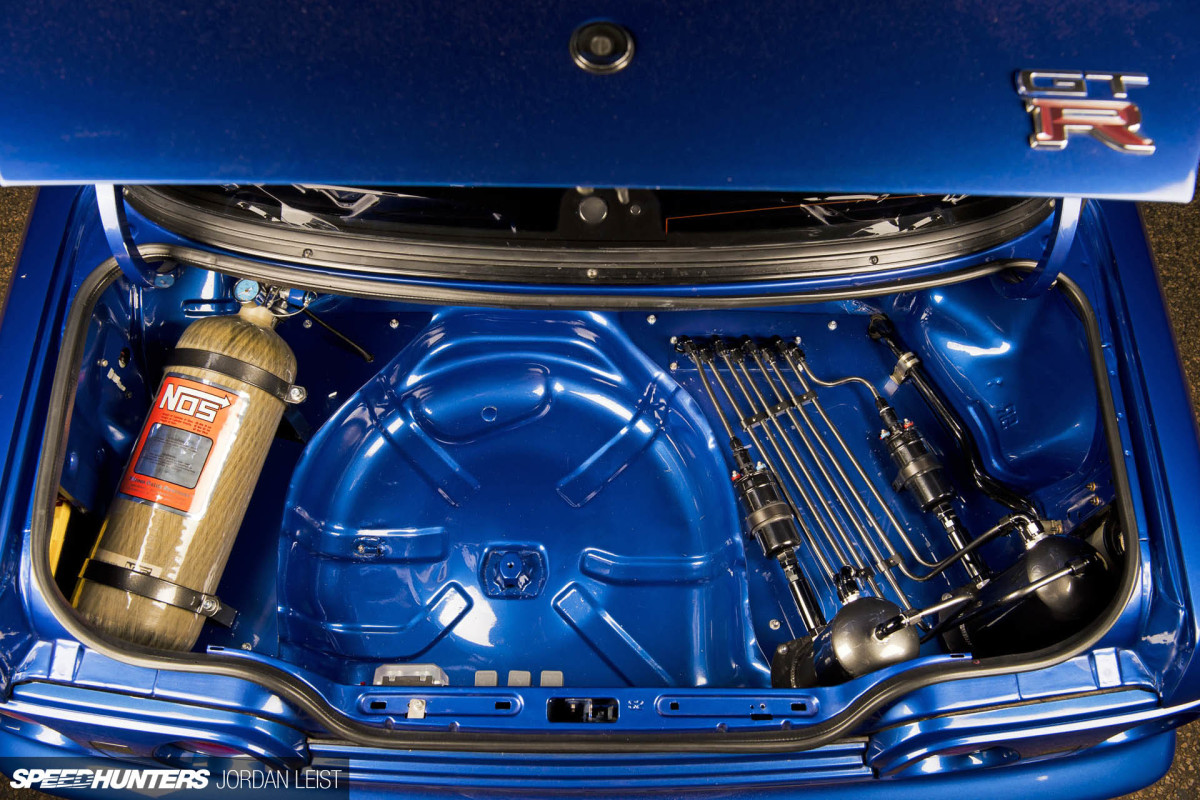 One look under the trunk lid and you can tell just how fastidious Dave really is. The fuel system he has created is a real thing of beauty.
"The surge tanks are mounted on an aluminium plate which has two Bosch 044s supplying fuel to the injectors. The boot has 3/8th hard lines which go into a removable panel. Underneath the car I have four runs of -6 Teflon braid and a run of -4 Teflon braid for the nitrous. Once I was happy with the hard lines I removed them, etched and painted them to match everything else," he explained.
The surge tanks, hard lines, subframe and suspension arms are all finished in Mazda Graphite Mica.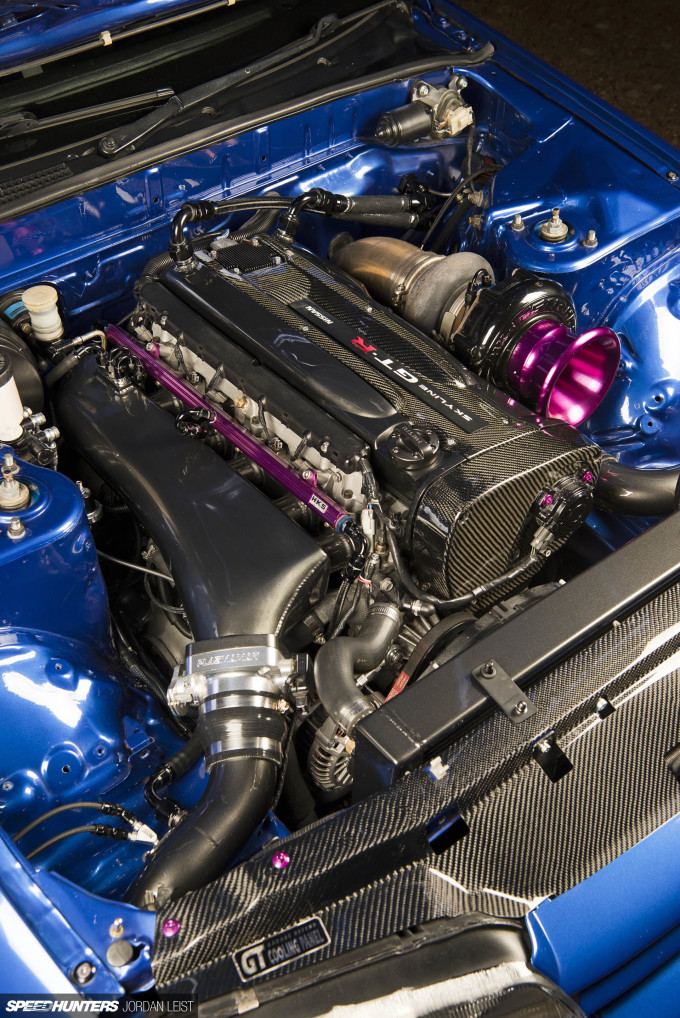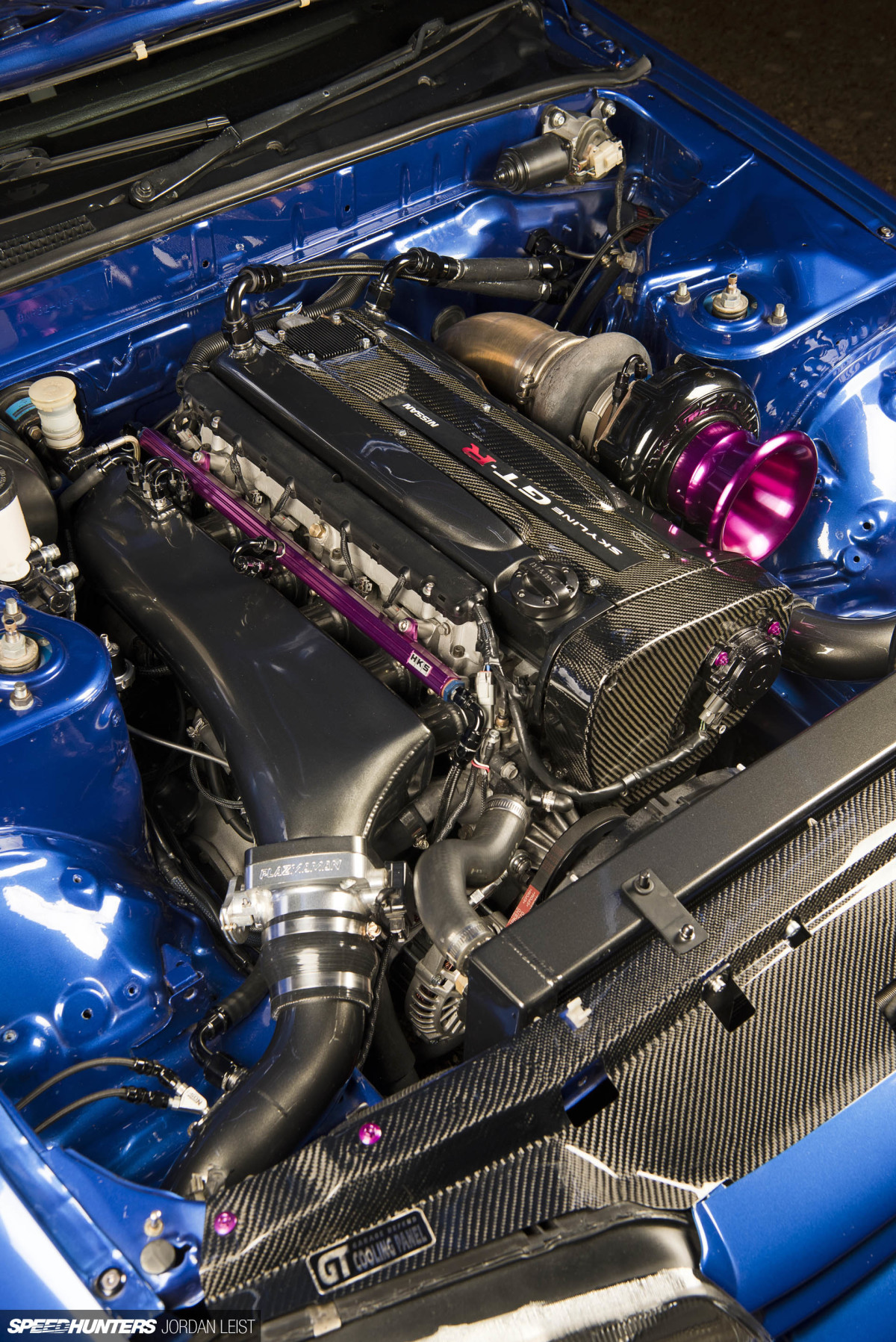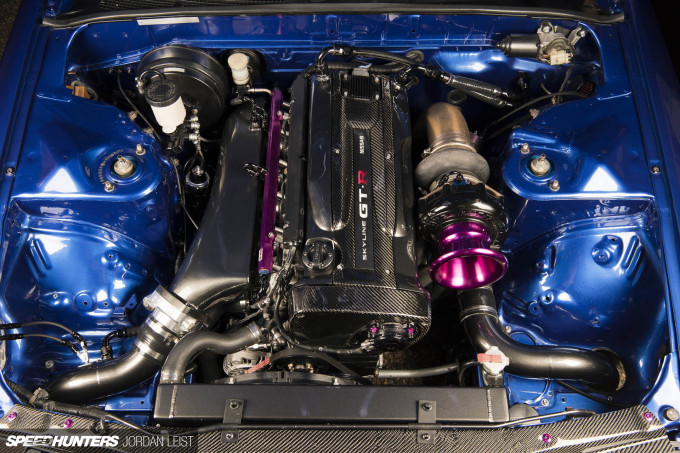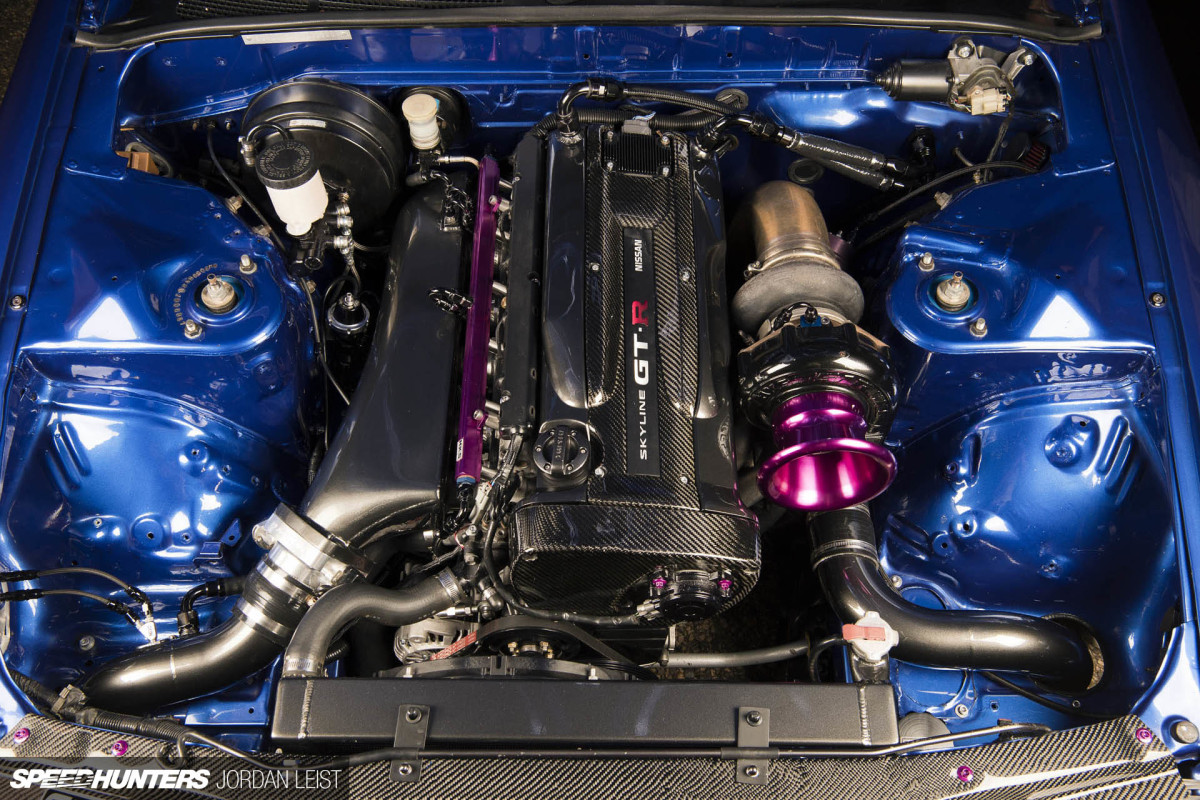 At the other end of the Daytona Blue R32 is a super-tidy engine bay graced with carbon fibre and purple anodizing. The RB26 is equipped with Eagle rods, CP pistons and a pair of Tomei Poncams. Outside, a JUN plenum wears a Plazmaman throttle body, and boost comes from a HKS T51R turbo running a 60mm external wastegate. Pulling the ATTESA-ETS fuse and running it up on the dyno in rear-wheel drive has netted 430whp on a very 'basic' 13psi tune, which is more than enough for the street. When the time is right, Dave will properly tune the car to see if he can better his 11.6-second quarter mile ET at 190km/h (118mph) he ran way back in 2009.
Built For The Streets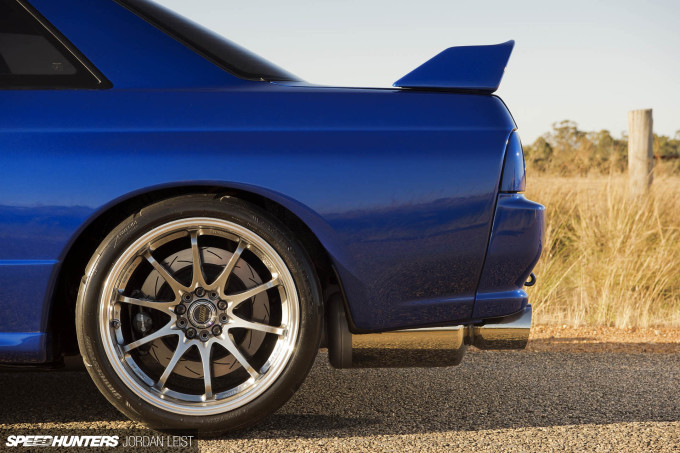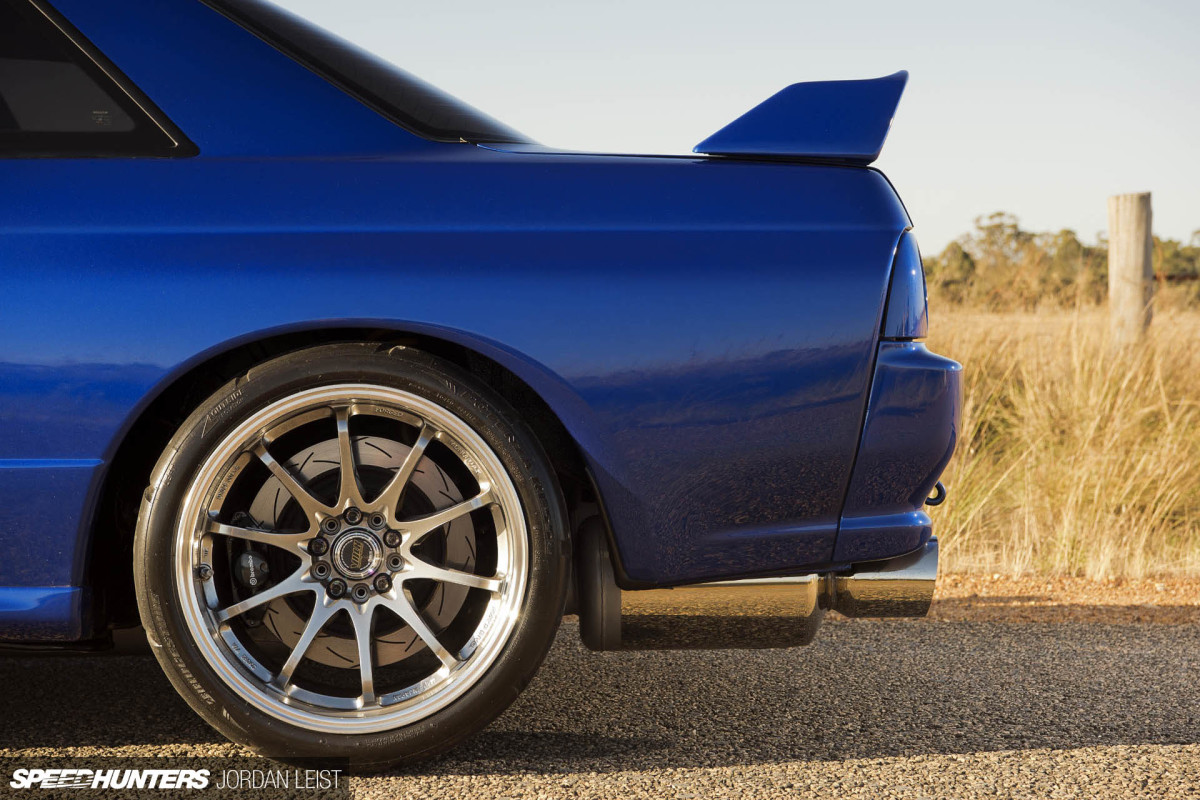 As mentioned before, Western Australia's modifying regulations are pretty damn strict, so Dave has had to make some sacrifices to stay 'legal'. The car rolls on 18×10.5-inch RAYS Volk Racing CE28 wheels shod with 285/35R18 Bridgestone Potenza RE55 tyres. Endless Zeal Function X coilovers and adjustable arms front and rear get the 32 closer to terra firma.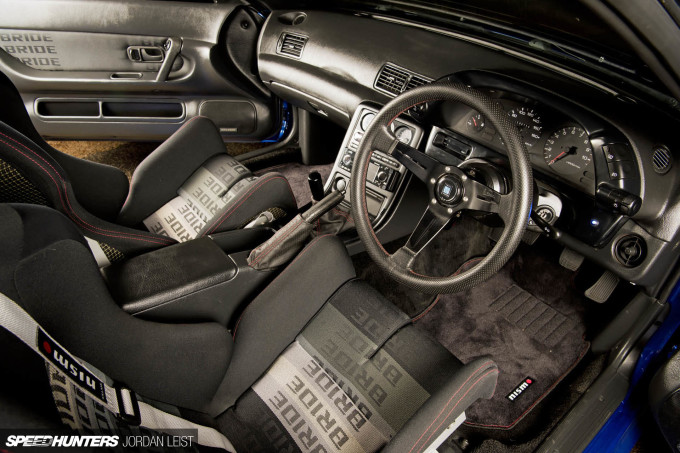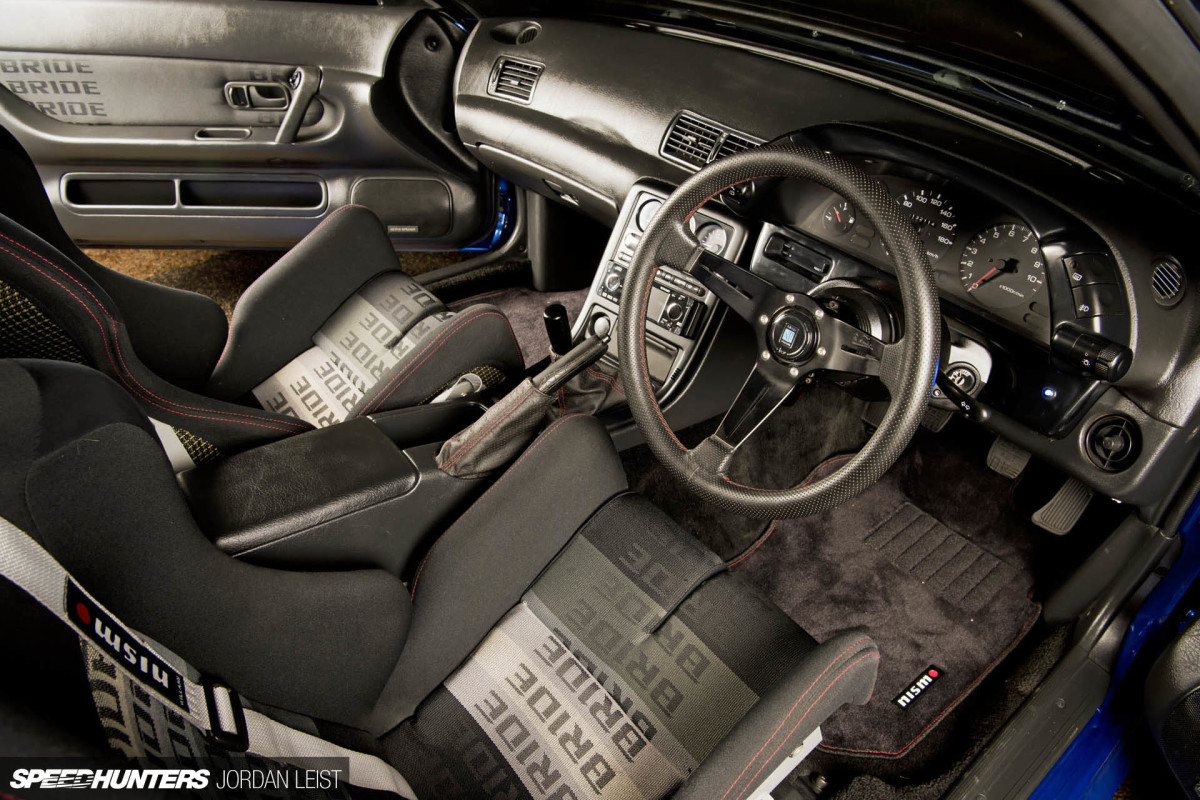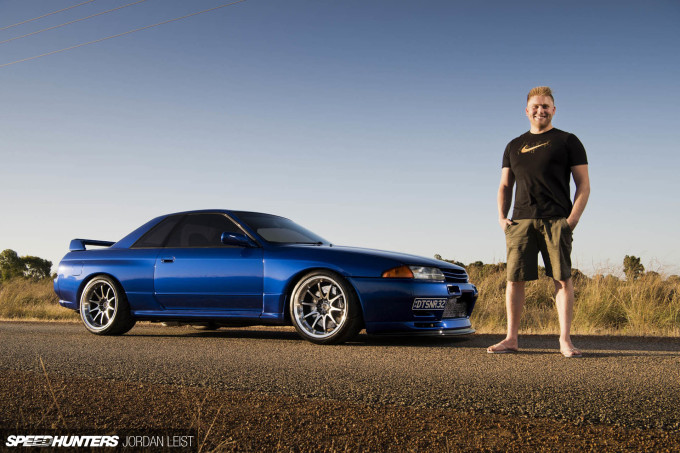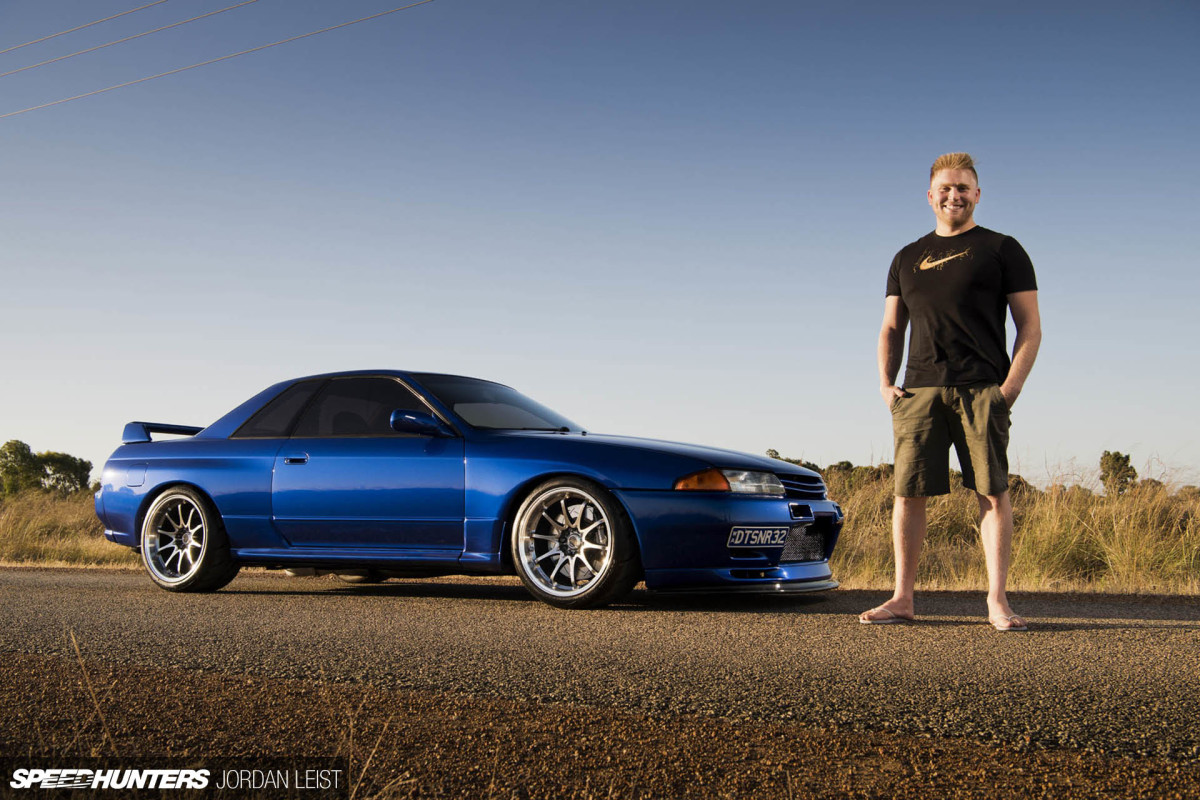 "Now the car is finished and the wedding has passed, I'm going to enjoy it as is, eventually turn up the boost, probably scare myself, then just cruise it," says Dave. "It'll be the car that will always stay with me until one of my boys is old enough, and if they're interested in it, they can have it."
Jordan Leist
Instagram: jordanleist
Website: jordanleist.com
How To join the IATS program: We have always welcomed readers to contact us with examples of their work and believe that the best Speedhunter is always the person closest to the culture itself, right there on the street or local parking lot. If you think you have what it takes and would like to share your work with us then you should apply to become part of the IAMTHESPEEDHUNTER program. Read how to get involved here.