First Impressions
I enjoy nice cars, I'm addicted to caffeine, and who doesn't enjoy an early Sunday morning get together with fellow automotive enthusiasts? If only there were an event that somehow simultaneously catered to all these desires… Oh wait, Cars & Coffee. Right.
I'm not sure what it's like in other places around the world, but here on Australia's East Coast C&C-type meets used to be really big. These days both the frequency of events and attendee numbers have slipped. In their prime, however, these meets were sensory overload; every Sunday was a surprise. I can recall hundreds of the most amazing, head-turning, desirable and rare cars, some of which I'd never anticipated seeing in our Great Southern Land.
Standing out in crowd of this calibre is an exceptionally tough gig; it takes something extraordinary. Two years ago I came across such a car, and even now, faced with the additional test of time, it still ranks as my all-time favourite Sunday morning discovery. Let me take you back to my very first impression…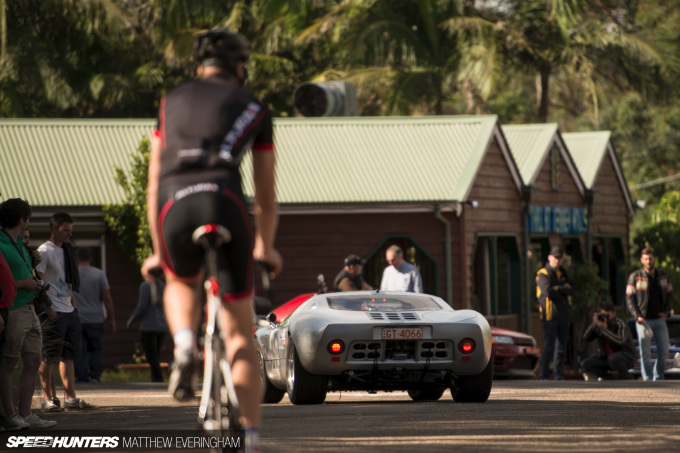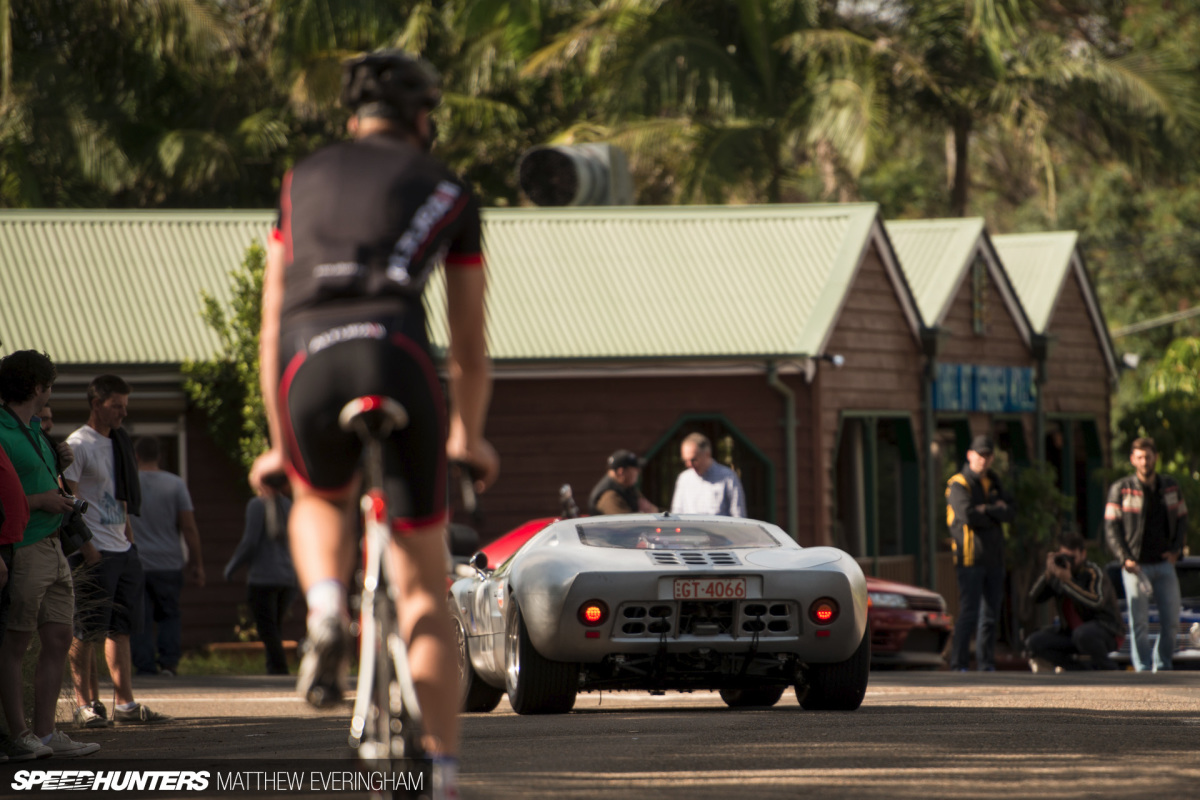 I remember making my way through row after row of pristine, and mostly stock collectible cars. I remember the smell of my bacon and egg roll, and the taste of my coffee. I remember stopping in my tracks when I first saw the early golden glow of the morning sun dancing across the raw aluminium panels of one of the world's most iconic silhouettes: a 1960s Ford GT40. Surrounded by suit and tie machinery, it looked like an absolute fucking rock star.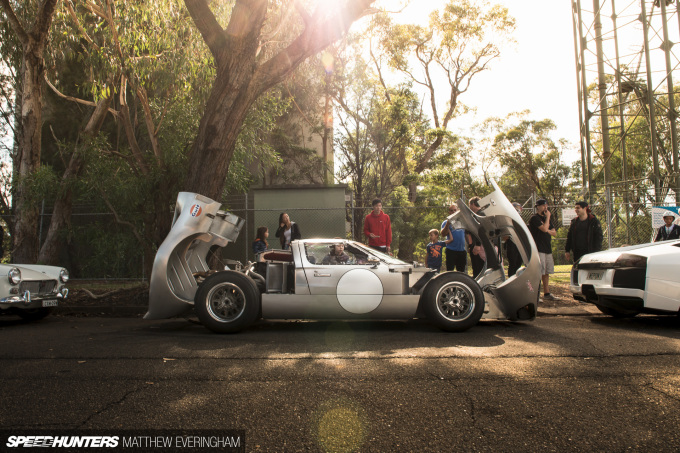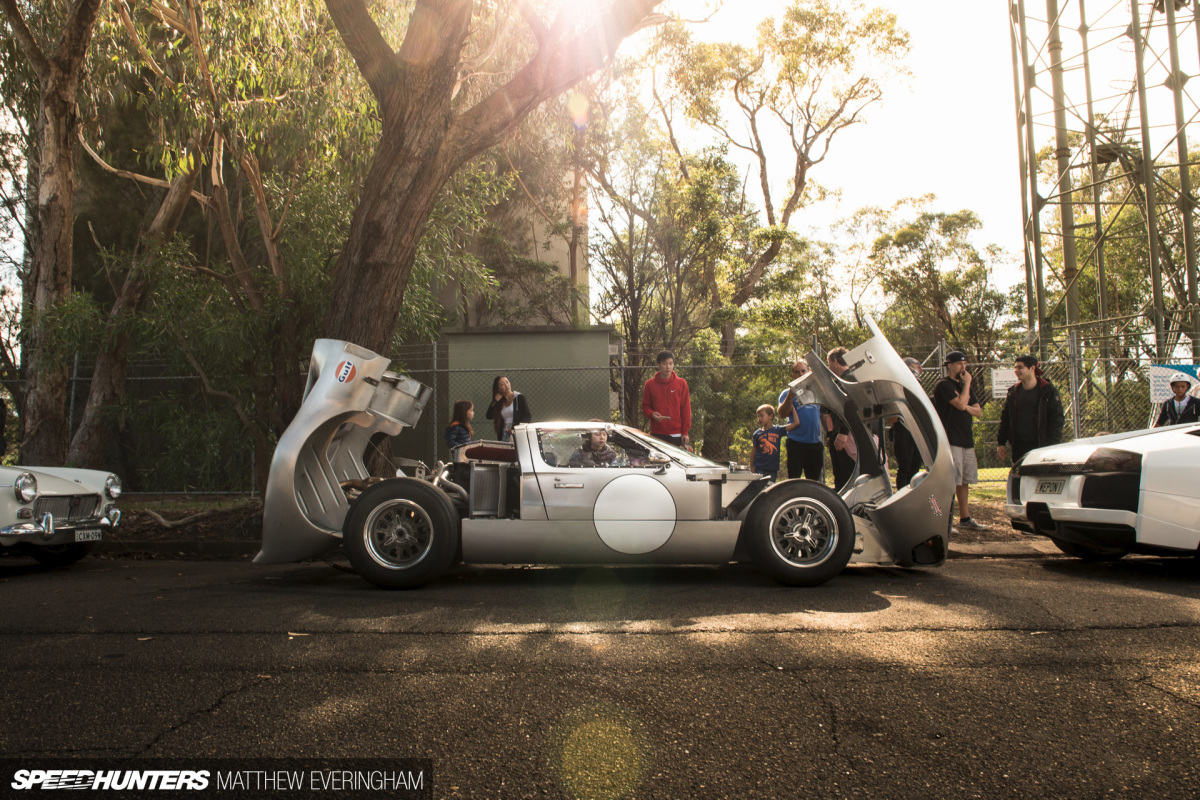 It's not often I'll play the fanboy card, but this bare creation had me feeling weaker at knees than a schoolgirl discovering new feelings at her favourite boy band's concert. At that second I made it my mission to tee up a backstage pass. Risking life and limb, I waded through the veritable mosh pit surrounding owner/builder James Cowden. I needed some alone time with this incredible machine, and while sparking up a cigarette, James agreed.
Henry Vs. Enzo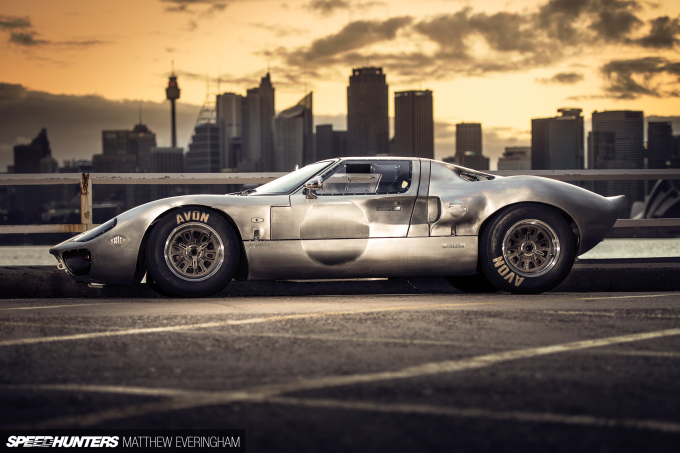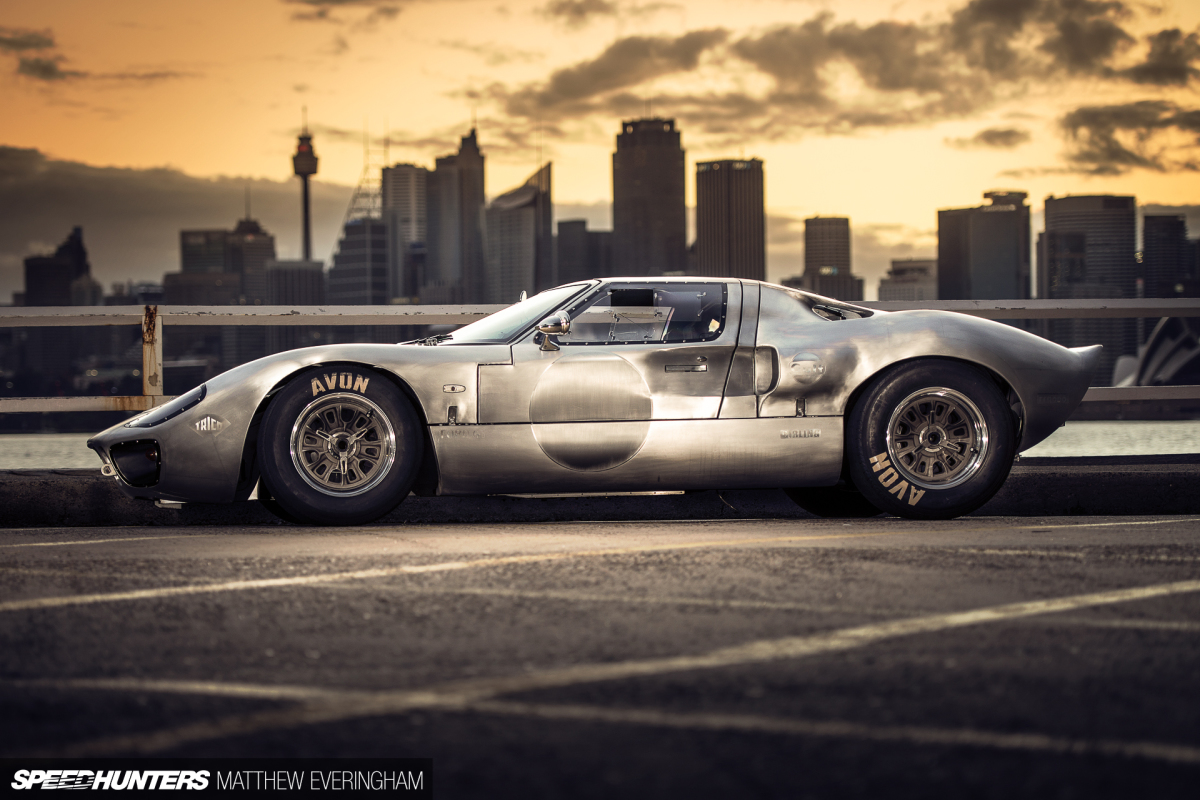 To fully appreciate the build, I think it's essential to know the heritage of the original GT40. Are you ready for a micro-history lesson?
I bet you didn't know that Henry Ford II nearly bought Ferrari in 1963. The transaction looked like a sure thing, right up until it was time to put ink signatures on the final contract. Enzo Ferrari refused to sign due to a few reportedly small details. To no surprise, this really pissed off Ford.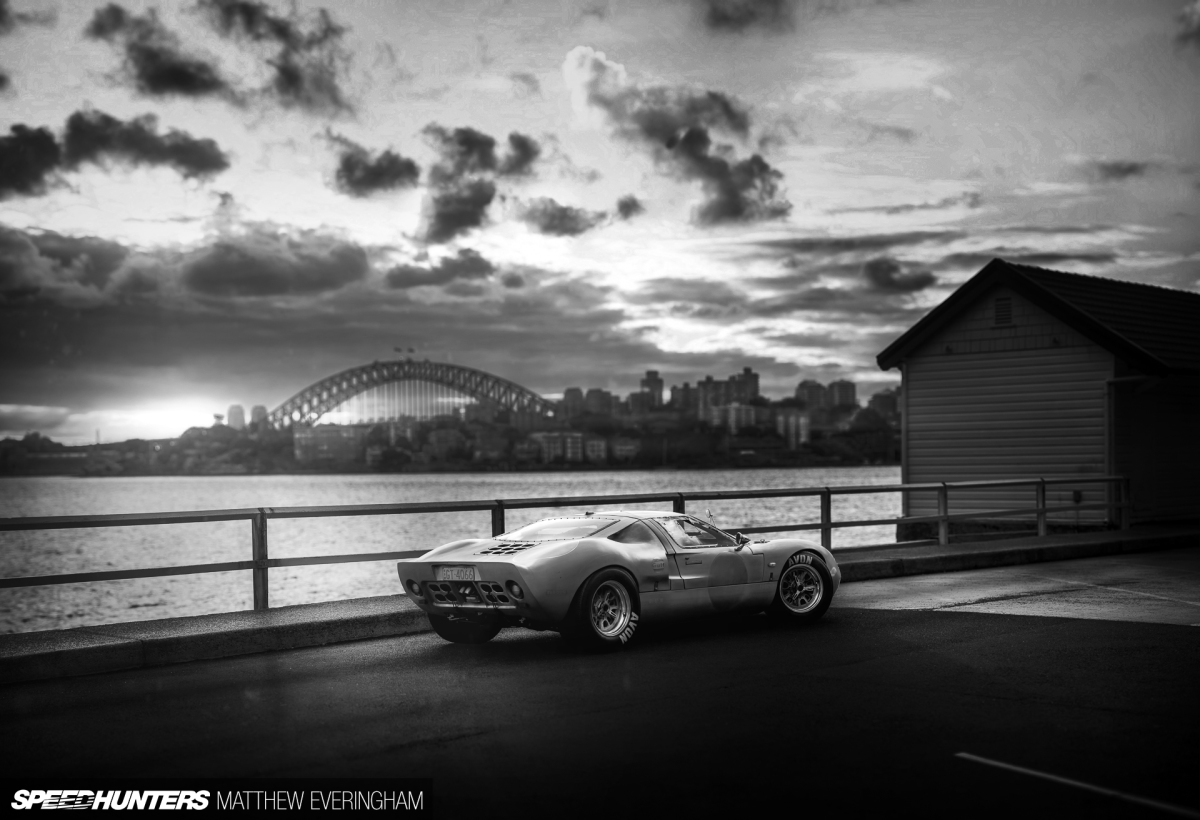 So what was his response to not being able to buy a motorsport team? Henry Ford II decided to make one himself, and to make it better.
Ford demanded his R&D team build a Ferrari killer, and they'd take the fight to Europe's most prestigious motor race: Le Mans. Building something that could not only survive the gruelling 24 hours of competition, but also utterly humiliate the odds-on favorite was never going to be anything less than a monumental task. Failure was not an option either.
The first couple of years were a harsh lesson: not one Ford finished the race in 1964 or 1965. Up until this point in time the main advancements in motorsport technology revolved around more horsepower, but this was about to change. The racing program was given almost unlimited resources and some of the world's sharpest engineers were put on the payroll, including one Carroll Shelby.
In 1966 the GT40 returned to Le Mans and did the unimaginable. After two years of embarrassing DNFs, Ford absolutely dominated the competition with a clean sweep of the podium – that's the first, second and third steps. They also went on to win in '67, '68 and '69. Mission accomplished.
Along with taking home all of the silverware, the GT40 was responsible for ushering in a whole new era of innovation, and speeding up racing advancements as the competition struggled to stay competitive.
One Night Only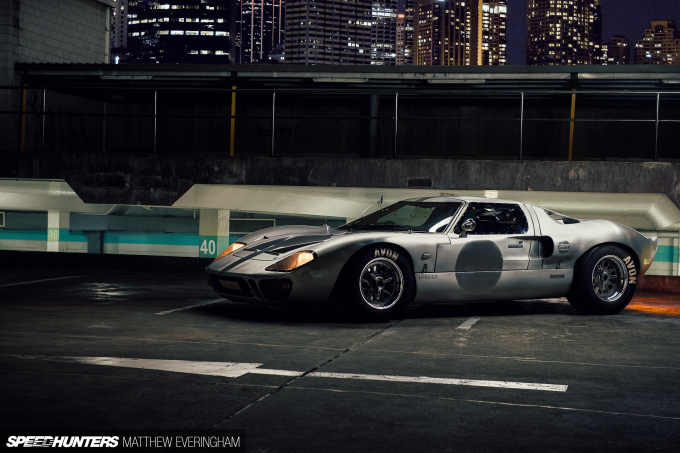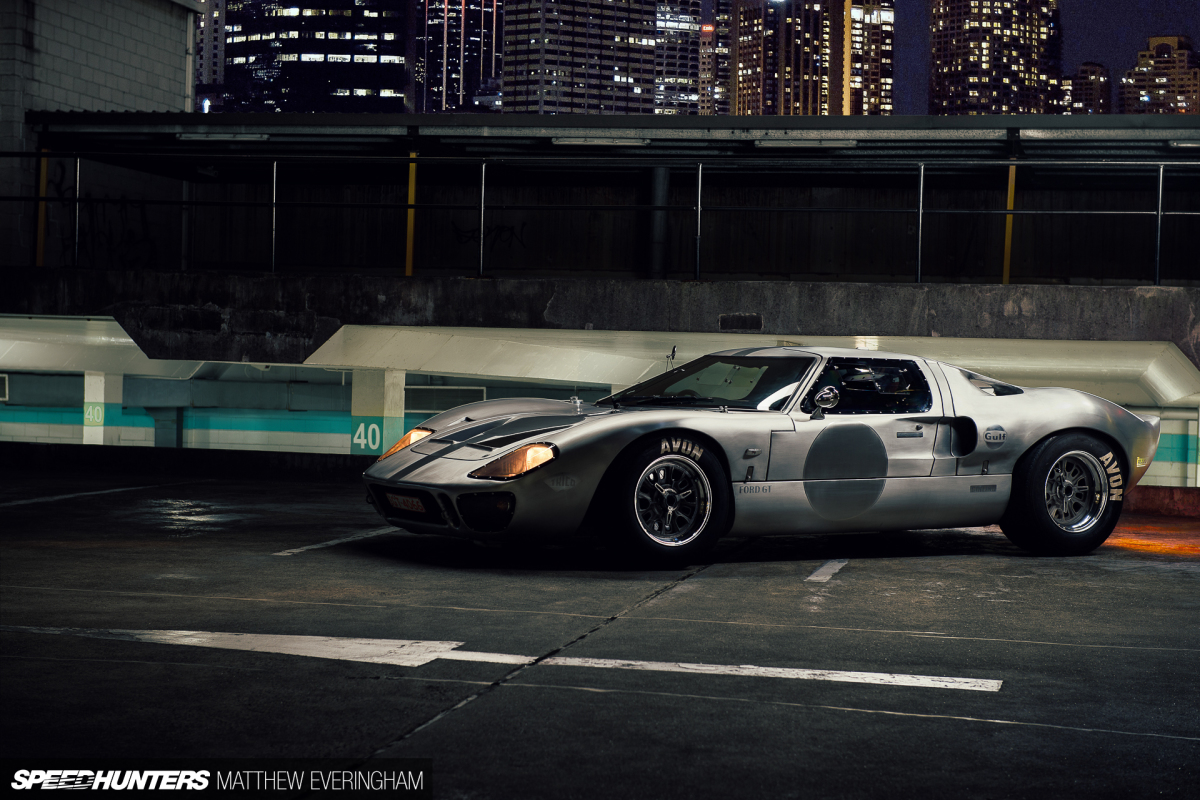 Knowing all this, you can see why Jim's raw interpretation is just so perfect. Half a century on, this blend of a cafe racing and street fighting GT40 can still be found in the wee hours of the night, cruising, brawling and poised to kick arse. The opposite of a garage queen, it even hits the race track on a regular basis.
In our age of mass-produced instant perfection it takes a lot to stand out above the crowd; it takes a different approach. This reproduction 1966 Mk1 GT40 has precisely what's needed to be a star.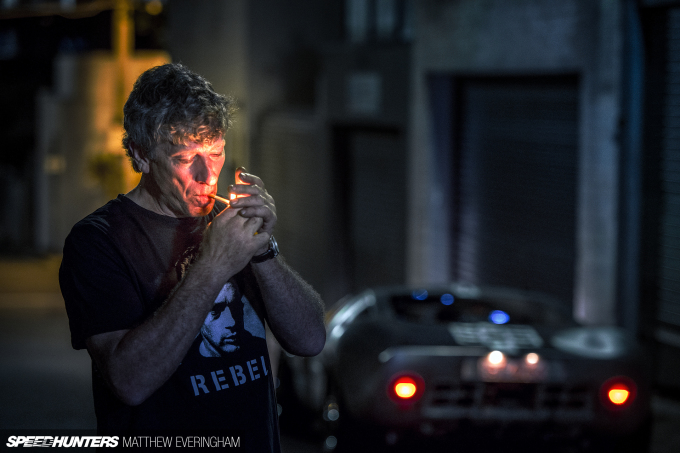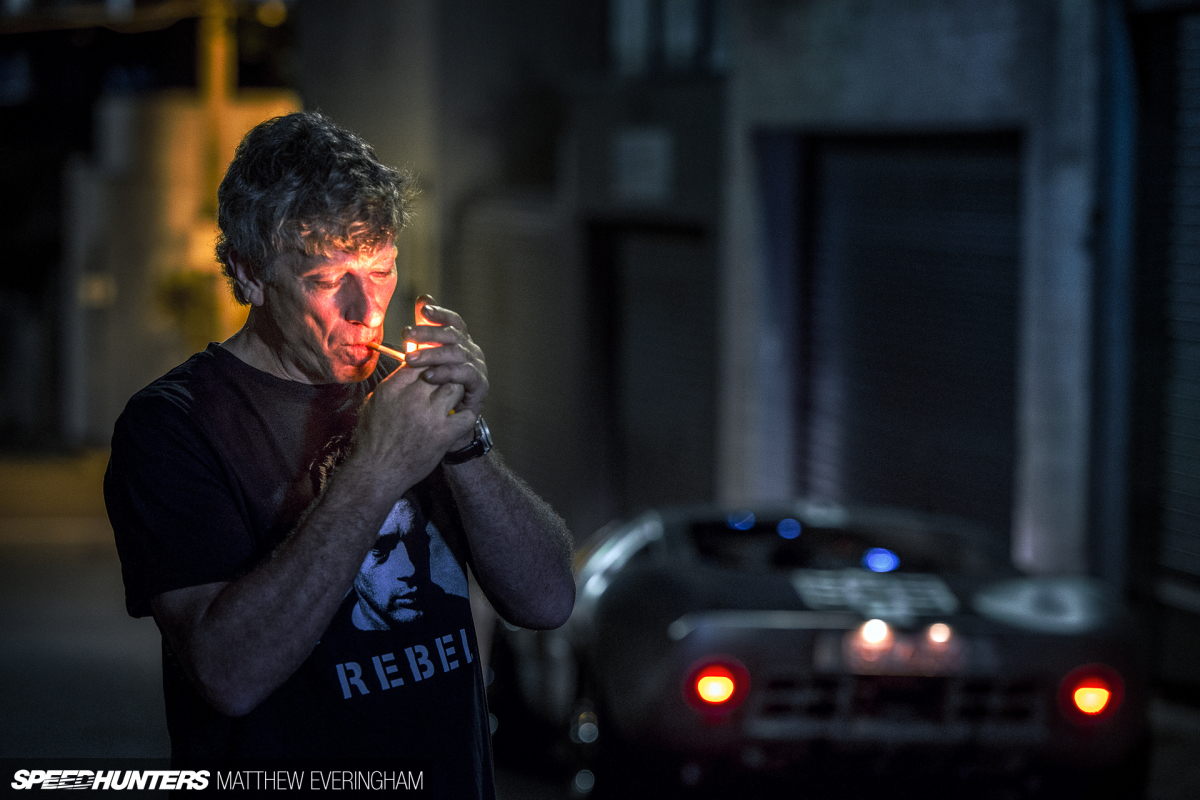 Jim lovingly hand built the car from a frame, a steering rack, and two rear uprights over a long eight years in a tiny garage. To clarify, when I say 'hand built' I don't mean slapping ordered panels together himself. I mean quite literally that every inch of panel work on this Mk1 was crafted from flat aluminium sheets by Jim's own two hands and the tools in his small backyard workspace.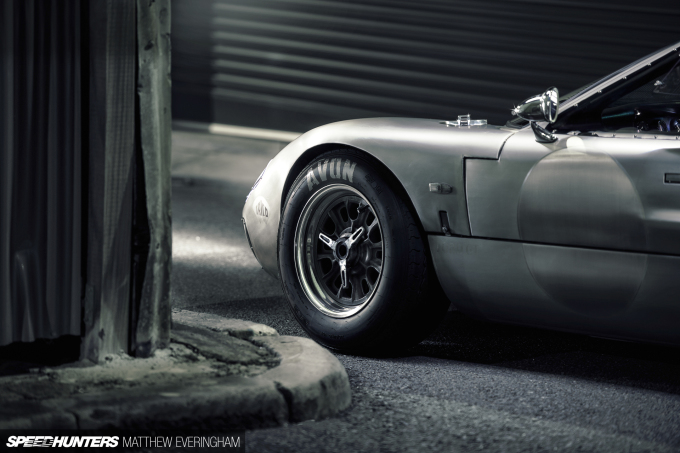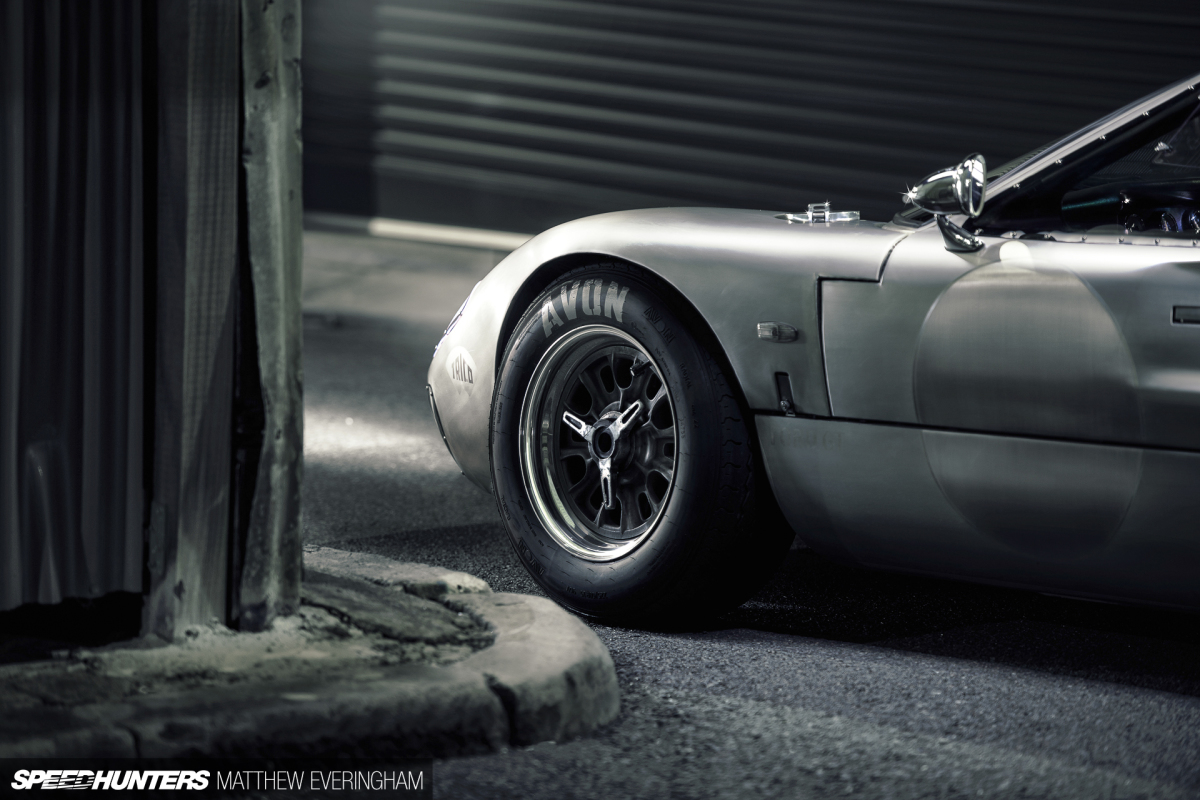 Realistically, he could have settled to drive the fruits of someone else's labour in the form of a GT40 kit of which many exist, but did the world need another to-the-book replica?  Not too dissimilar to Henry Ford's decision to push his company's abilities by building his racing cars, Jim used his project to find out exactly of what he was capable of. And boy are we glad he did.
Pick a corner, any corner, and look. Start by looking at nothing in particular and see where your focus drifts to. I guarantee that wherever you look, something will grab your attention. It could be the centre-locks on the self-cast replica rims; it might be the laser-etched interior labels or even the hand-sanded decals that ripple against the light like holograms.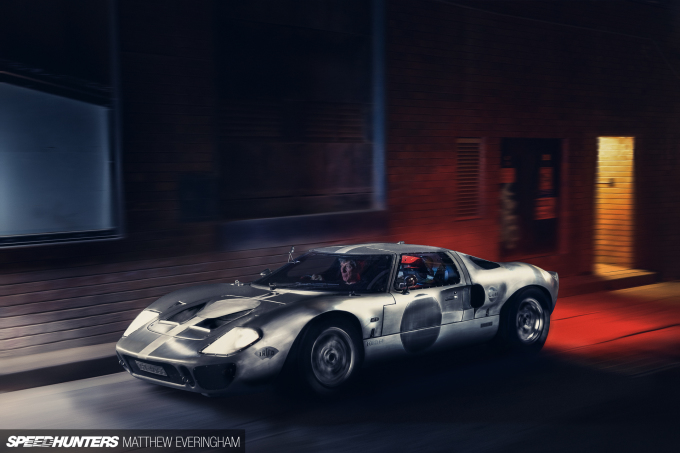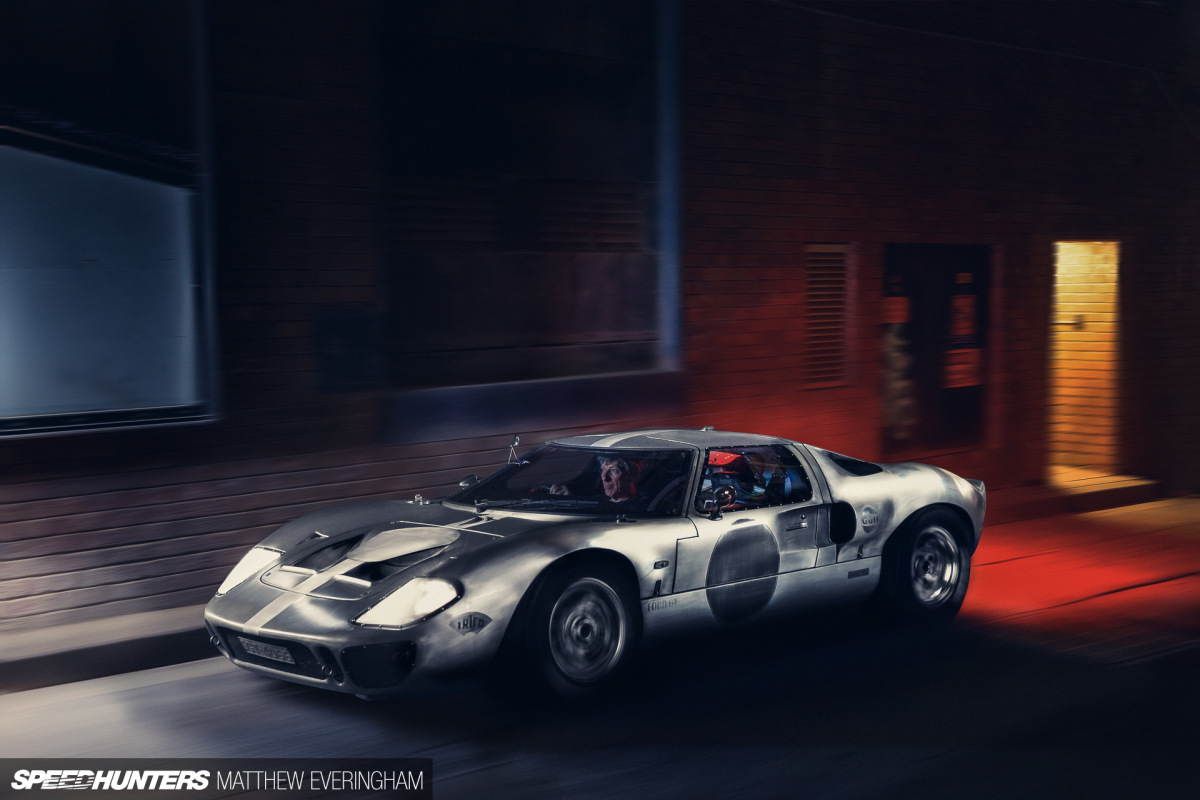 The attention to detail is equally apparent from across street as it is right up close. Talking about the unique bodywork, Jim laughs, "I like to think of it as the Signature edition." The aluminium body was something that he'd thought about doing for a long while, mainly just for the hell of it. After a moderately sized mishap that saw half of the original fiberglass shell destroyed, it was taken as a call to action. Sheet happens.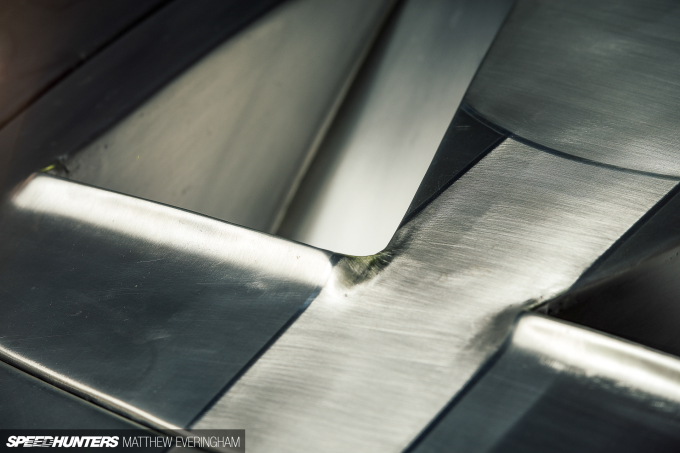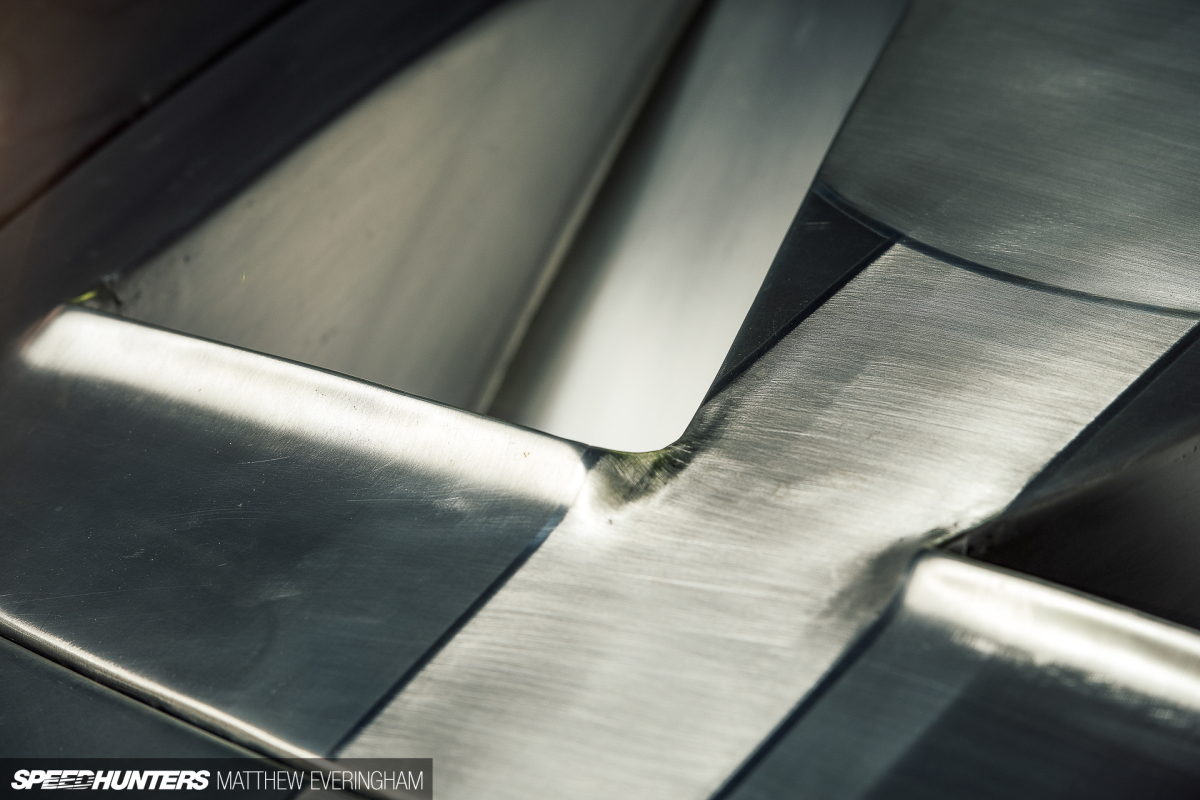 The GT40 was retired back to the shed for almost a decade; the fibreglass shell was used as a reference, and the painstaking process of building the body in aluminium began.
It was the first time that Jim or anyone else in his motley crew had attempted something like this. Naturally, they learned a lot along the way and would probably do a few things differently on any subsequent builds. Yes, there are a couple of rough areas when you get your nose up close, but frankly, that's part of what makes this car so appealing. It's actually interesting.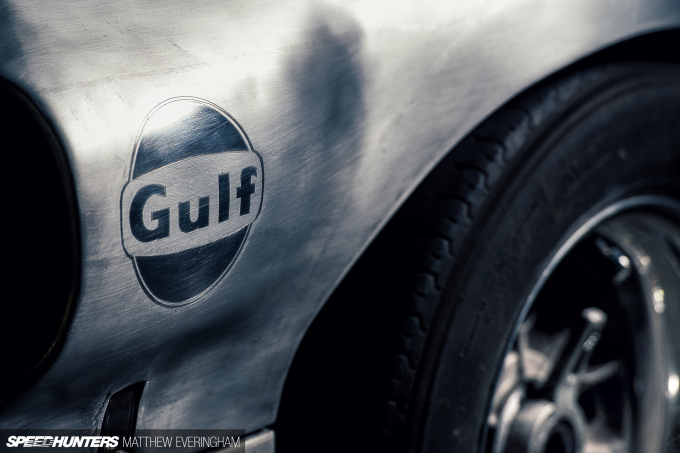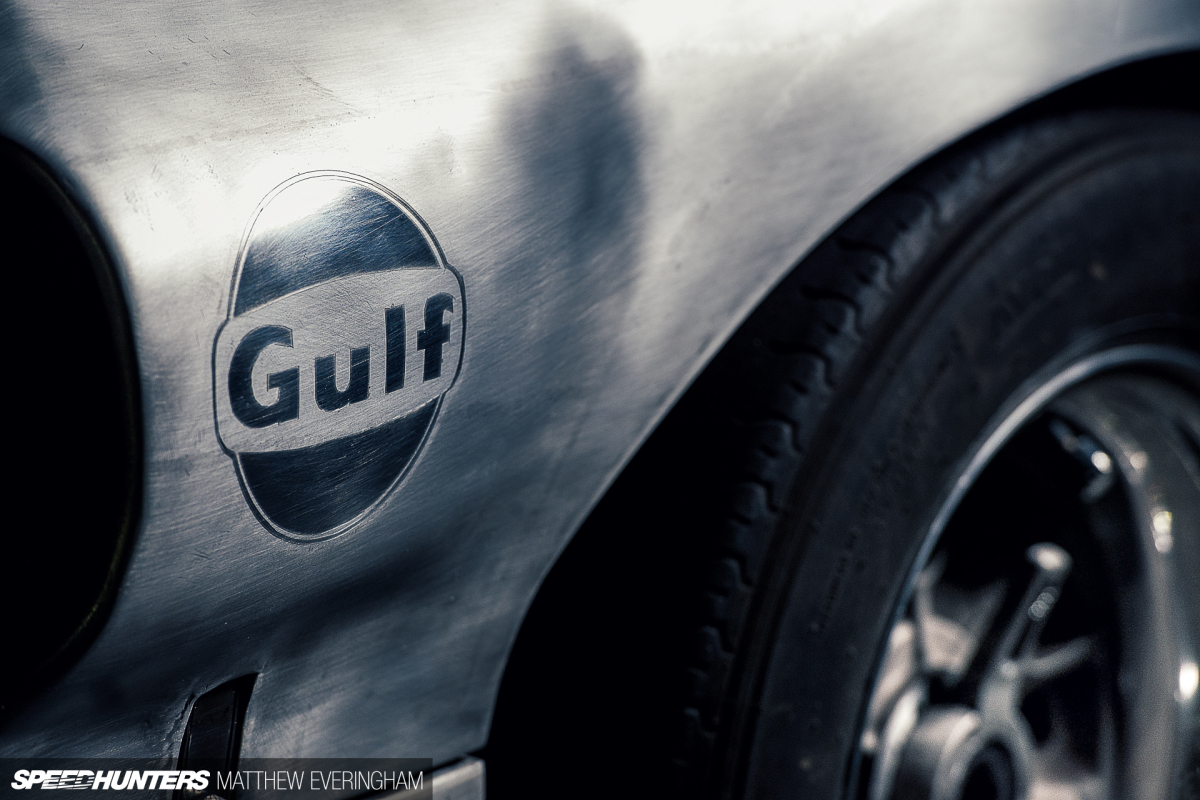 The raw and rough details that you'd never see from a factory build are what set this car apart. After all, they're a pure byproduct of the overall intention of this build.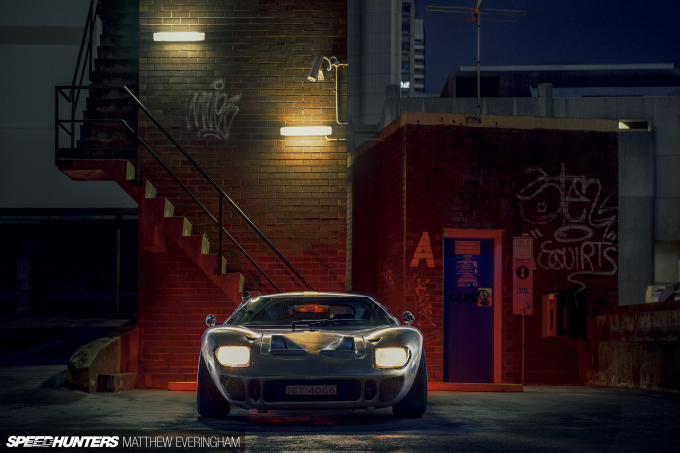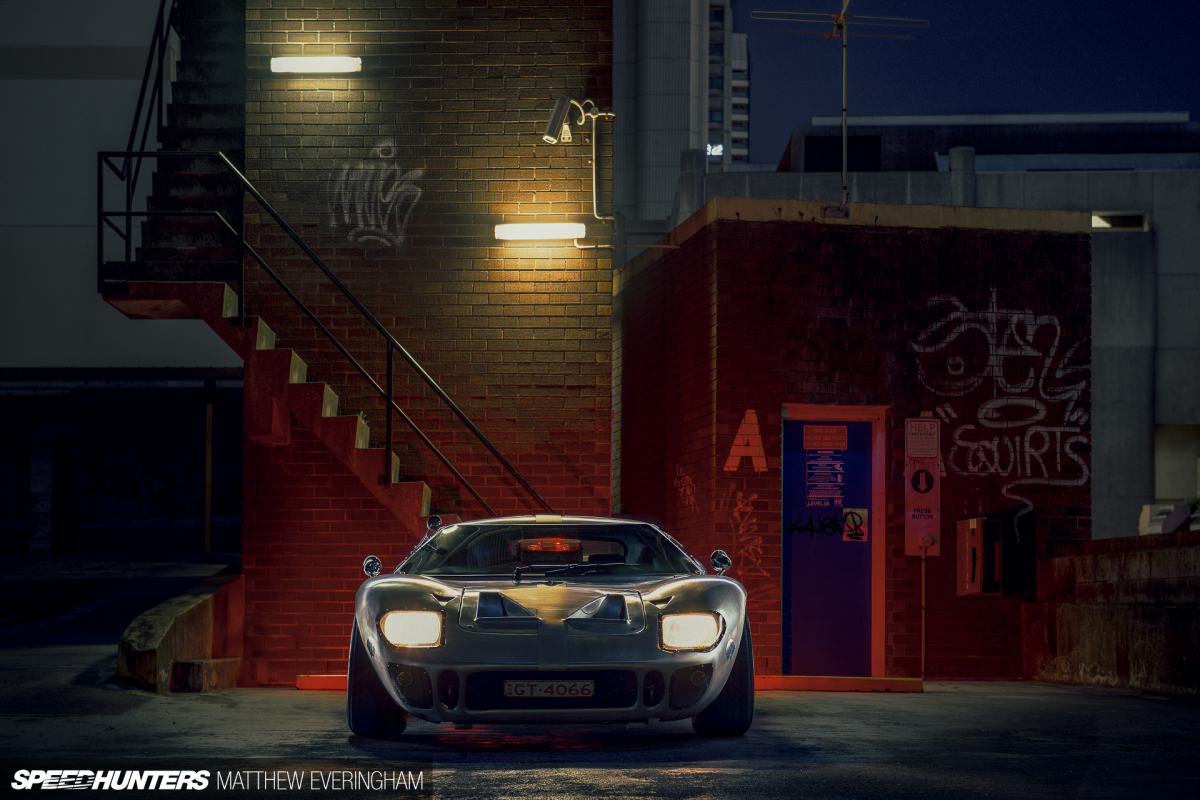 Staying true to the heritage and raw nature of the original GT40, there are very little in the way of modern conveniences. In fact, non era-accurate equipment is limited to an almost unnoticeable reversing camera.
The amount of effort to create an authentic experience is borderline crazy. If parts couldn't be found that reflected the period, replacements were either handmade or designed up and sent away to be manufactured. Overall, the build quality is phenomenal.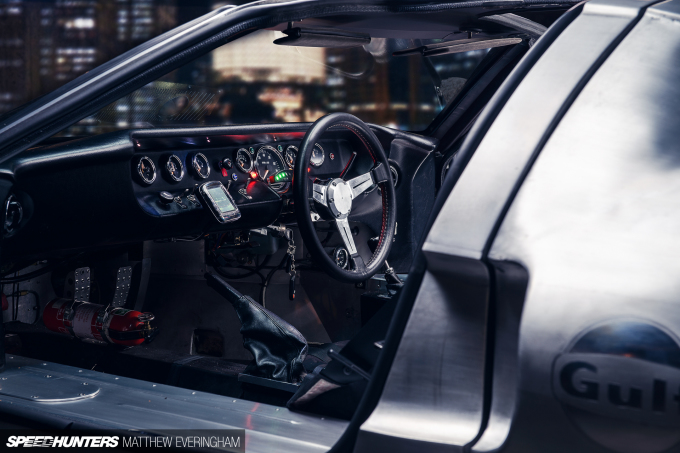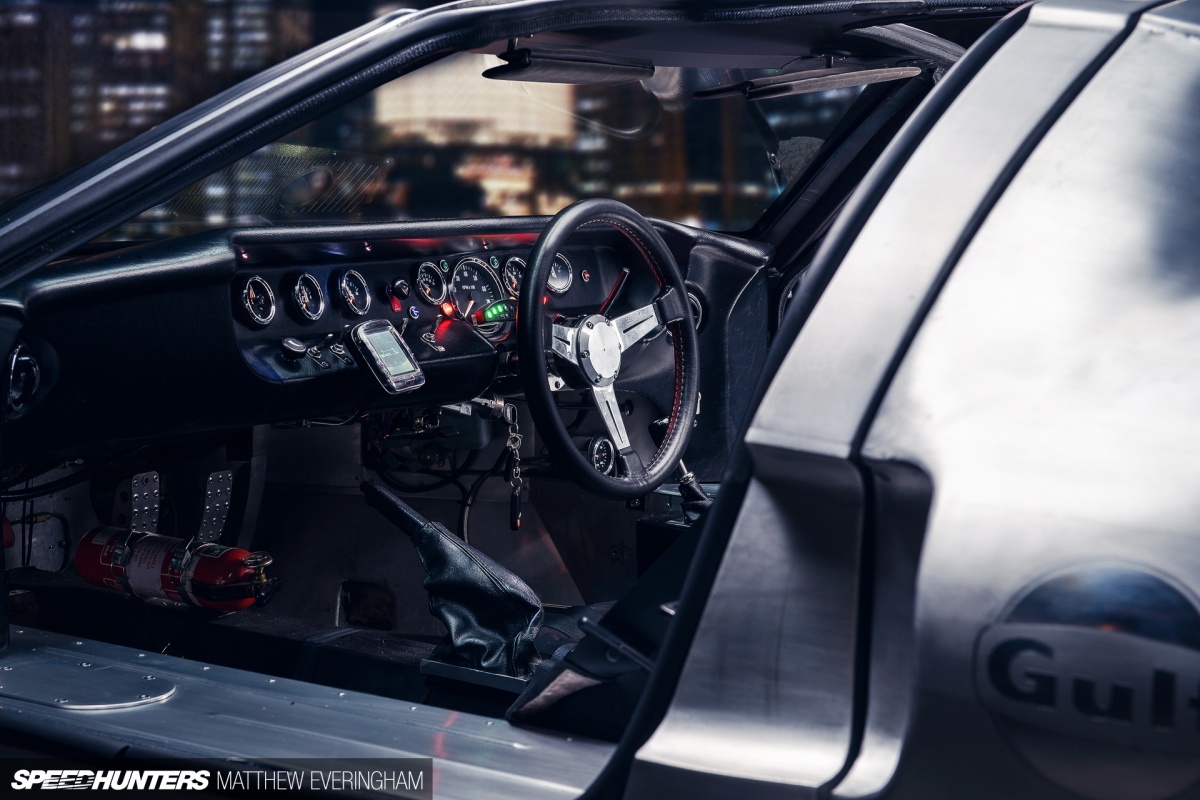 Inside and out, it's an automotive time capsule. Well, it feels like one at least. Sitting behind the wheel and staring at the switchgear and dials, you feel naked without a pair of open-backed tan leather driving gloves and goggles.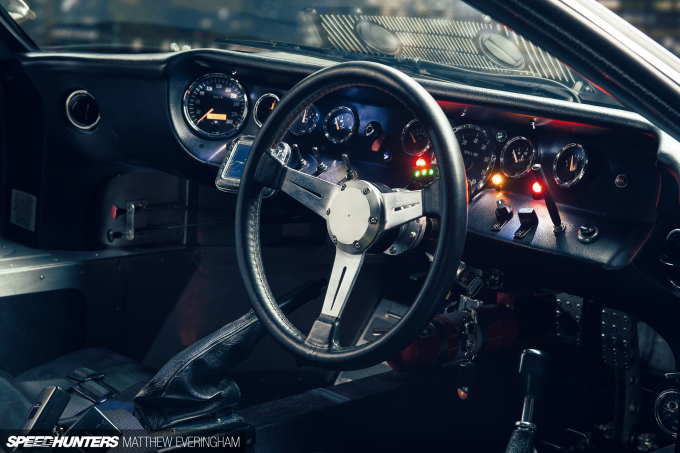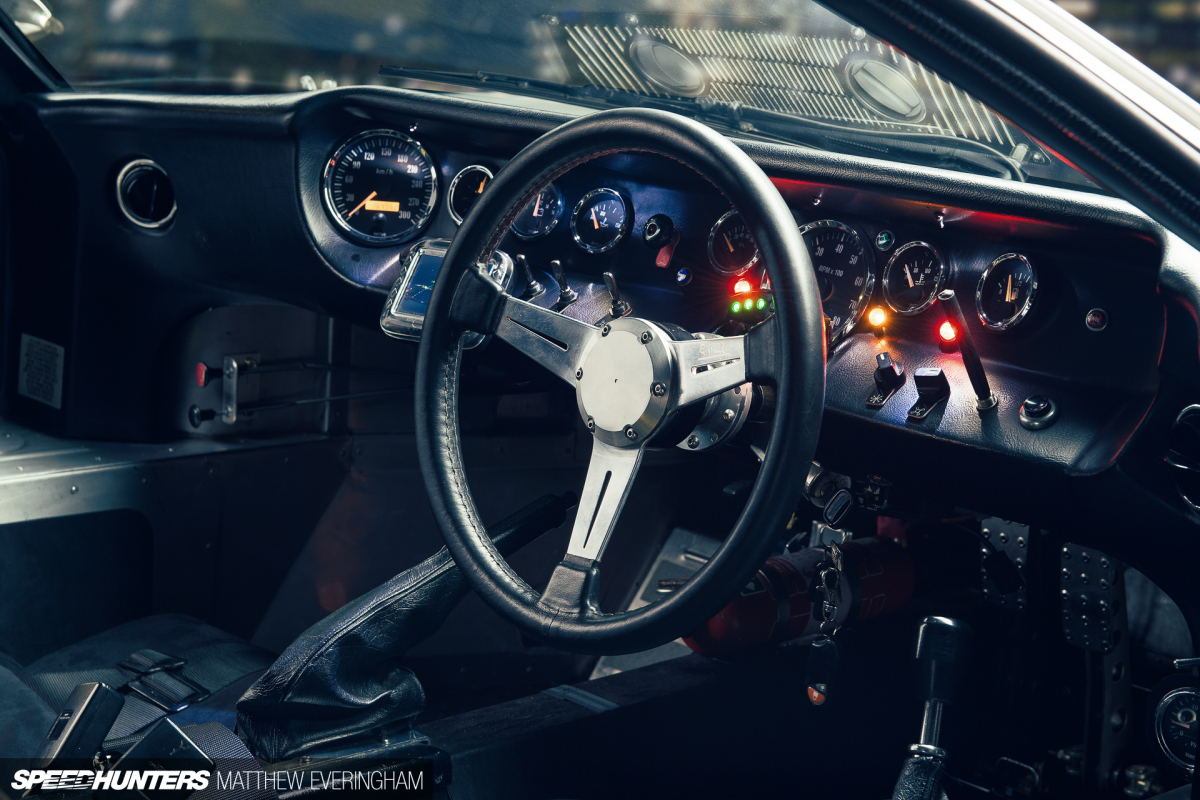 While the gauges are modern VDO units, they've been modified to the original and period correct faces.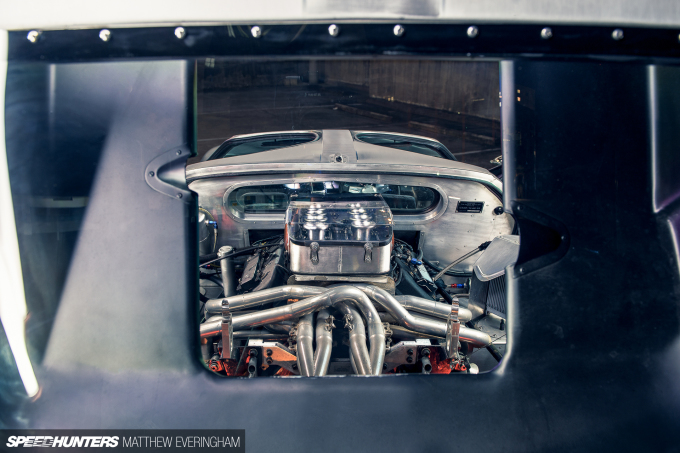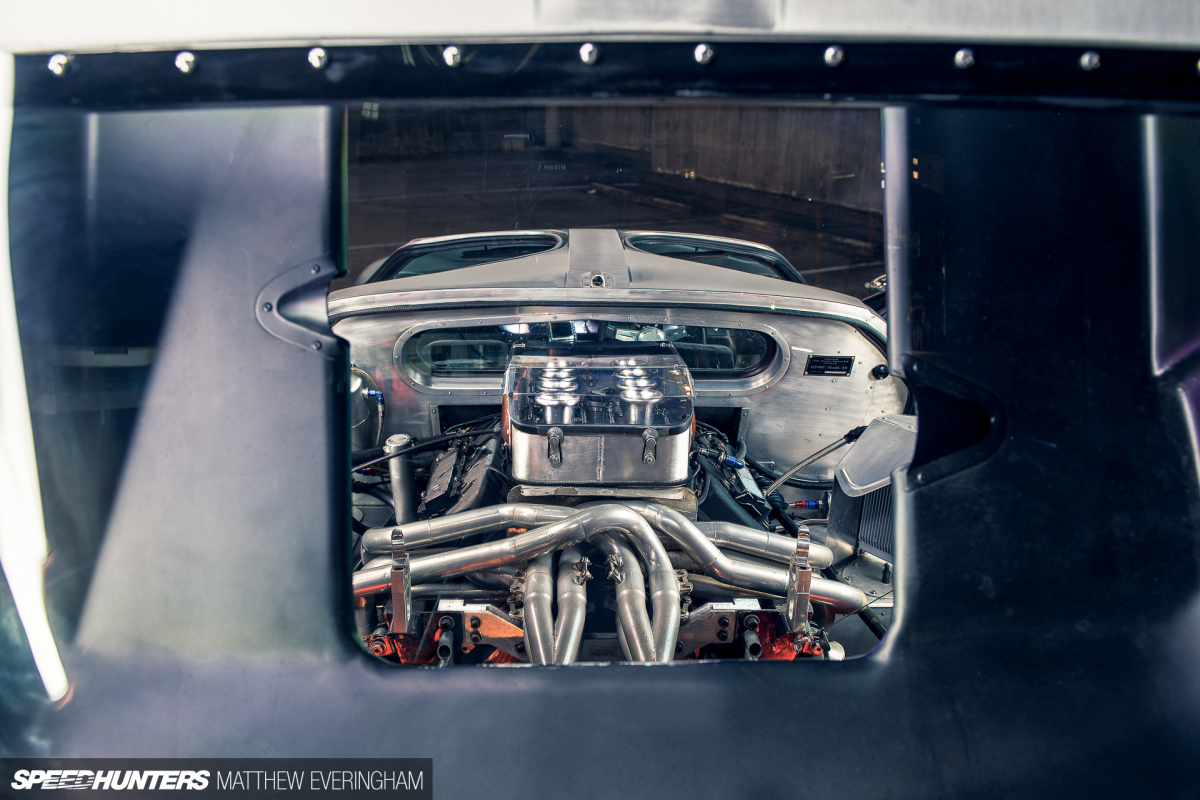 Flip open the rear cowl and you're presented with an old-world view of industrial-looking pop rivets and eight glorious intake trumpets. The engine itself is a modern Ford Modular V8 displacing 4.6L. Aside from the individual throttle bodies, the engine is mostly standard, but benefiting from a dry sump. Many of the ancillaries, such as the extractors and radiator, were also handmade. The pipework is outstanding, but as amazing as the whole system looks it sounds even better. More importantly, it all comes together and goes hard when Jim mashes the loud pedal.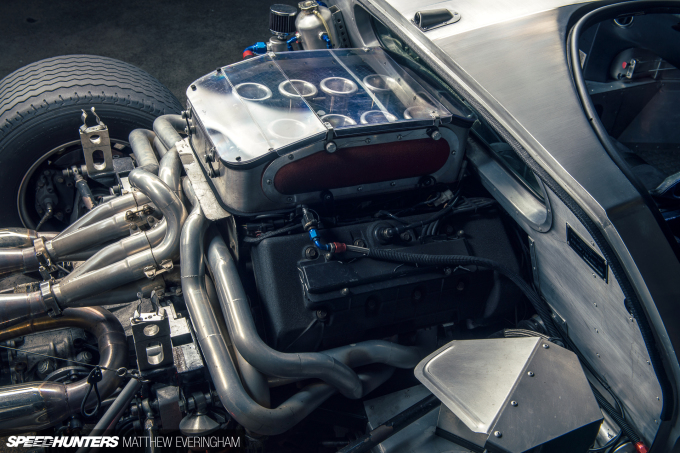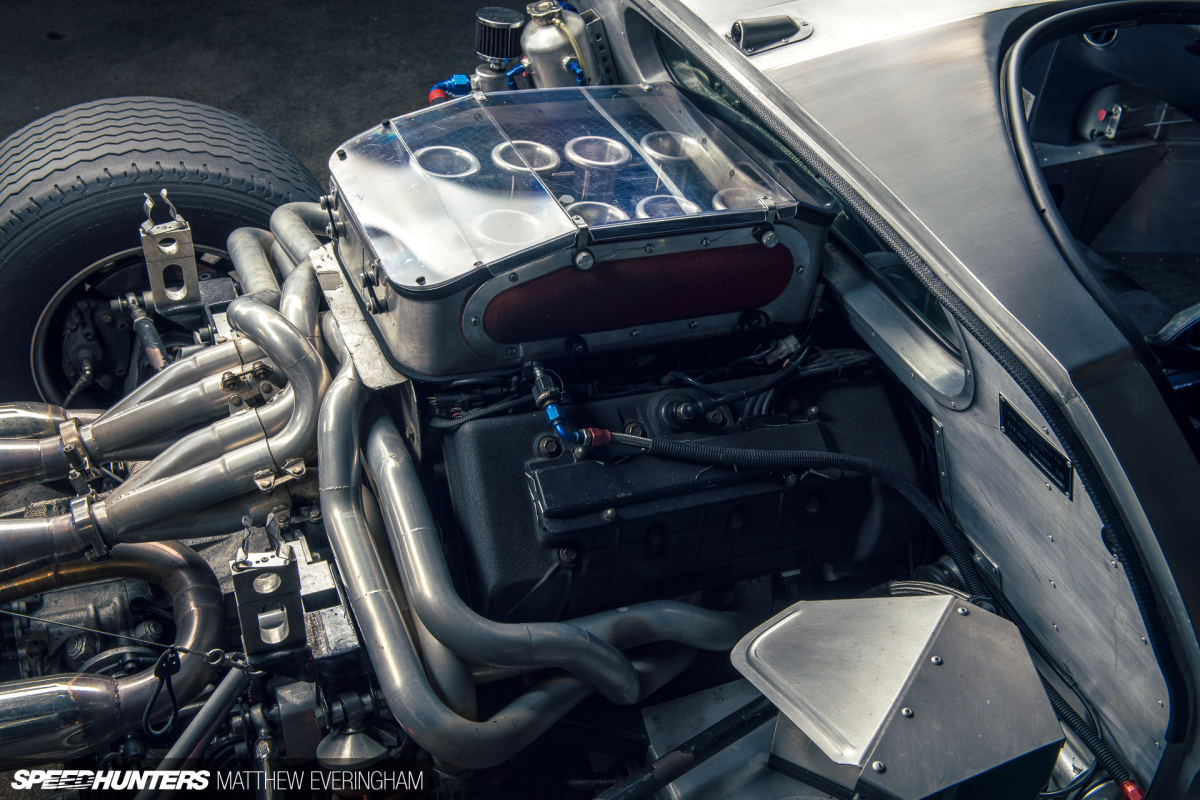 Funnily enough, when discussing the lack of creature comforts, Jim pointed out that the throttle body octet sitting atop the engine is his "eight-track" stereo. A deep, throaty burble down low and more of an angry roar up in the top half of the rev range creates a very memorable soundtrack indeed.
The engine connects to a 6-speed Getrag transaxle featuring a Torsen differential, with the adaptor also designed from scratch by Jim. A set of made-to-order Bilstein dampers work in concert with custom springs, and the rest of the suspension is, you guessed it, also handmade.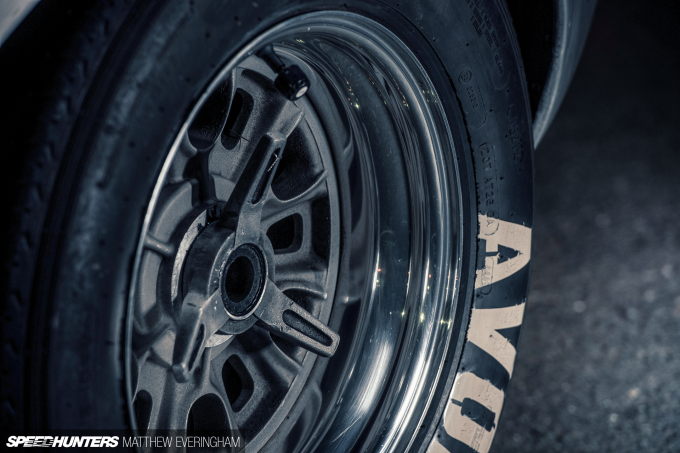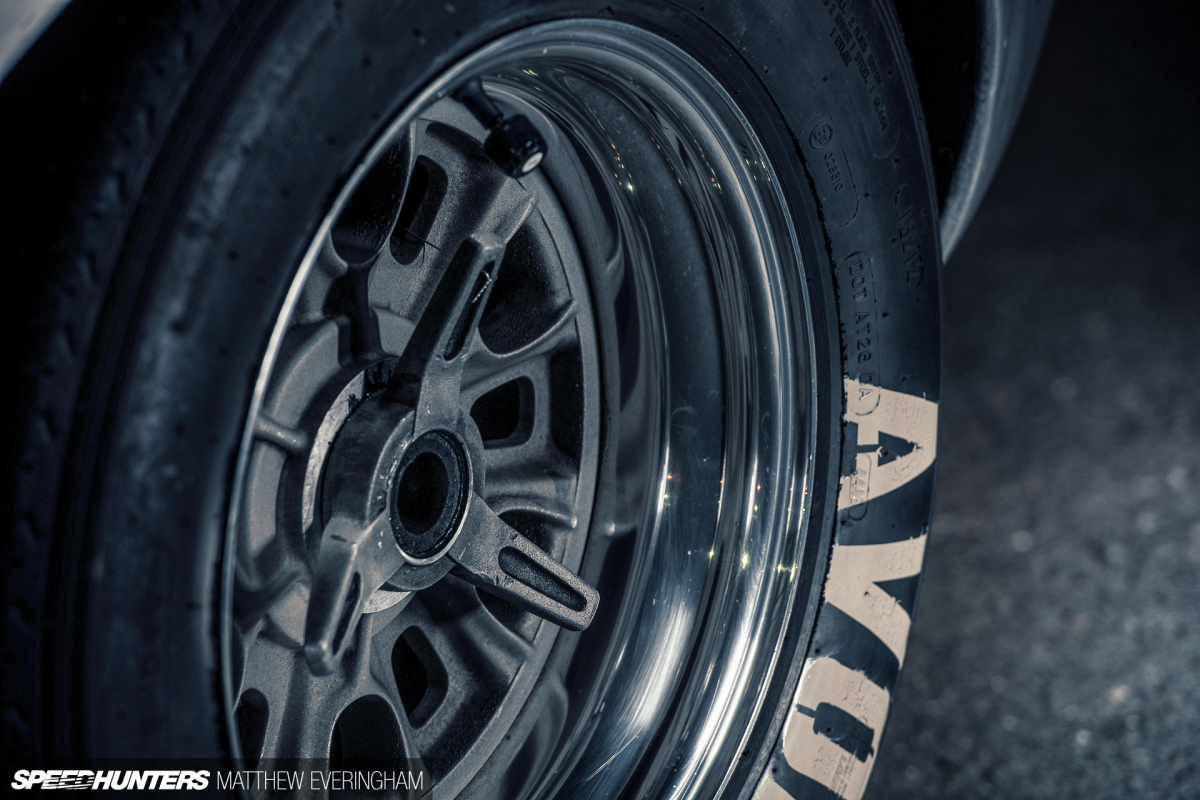 Every facet of the build received the same level of dedication. Rather than just finding a suitable set of wheels to blend in, the perfect 15-inch centre-locked units were created. The barrels were a special order while the centres themselves come from a set of casting dies Jim that made himself.
Wrapped around each wheel are Avon tyres. They measure a reasonable 225/60R15 on the front, but at the rear the somewhat ridiculous 295/50R15s are so broad that they practically look like cubes.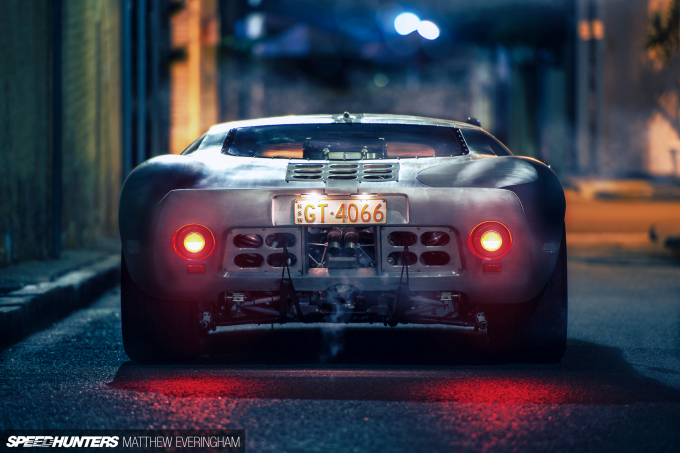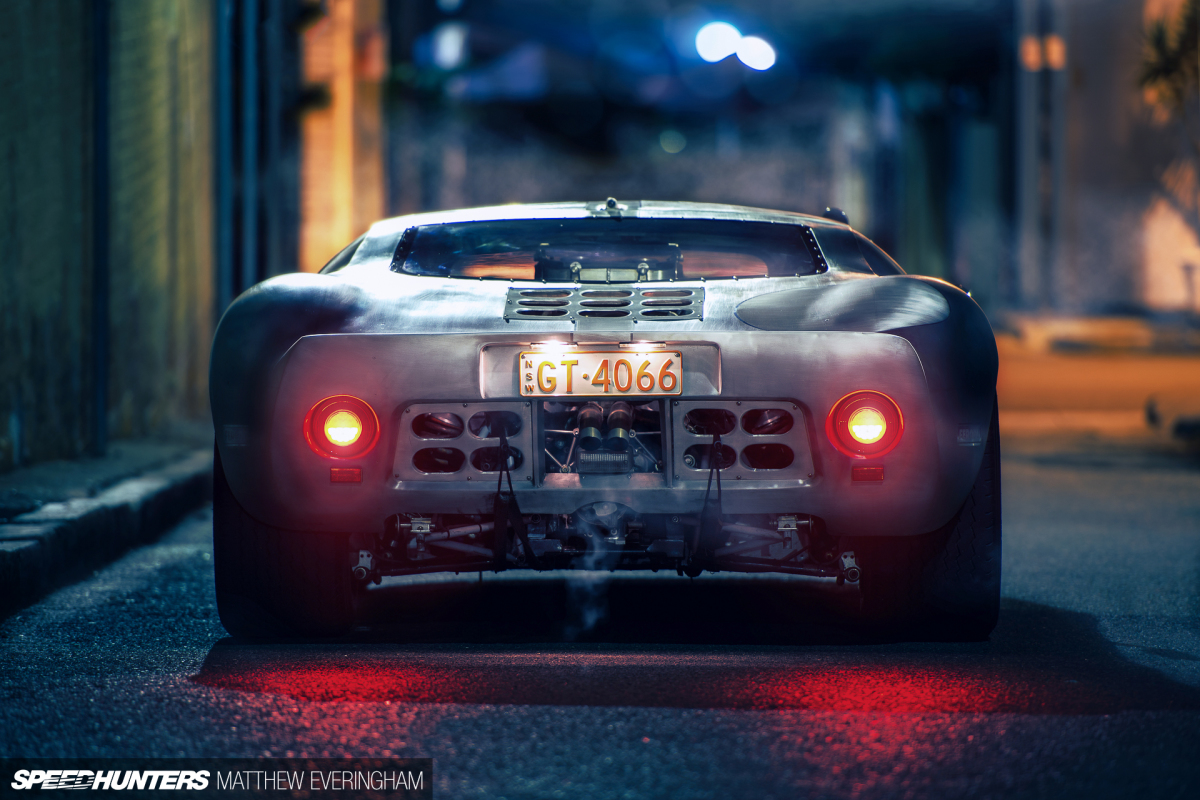 As a photographer with two left hands, I can't begin to even fathom the difficulty of undertaking a project of this magnitude. Of not only needing to produce the finished goods, but having to also learn and refine a lot of new skills and processes on the fly. From a young age, we're taught that nothing truly great ever comes easy and this is proof. This charismatic GT40 is the closest to a rock star that steel and rubber can get. And it's also a great reminder that occasionally character can – and should – outweigh an impressive spec sheet.
Jim would like to thank Rick and Albert for their help throughout the build, and also their wives for motivating the boys to so frequently hide in the shed with him. He tells me that they're all planning the next complete ground up build, this time a Ferrari 206SP.
Matthew Everingham
Instagram: matthew_everingham
matt@mattheweveringham.com